McDonalds
McDonalds Complaints Continued... (Page 9)
1085+ reviews added so far. Upset? Call McDonalds corporate: 800-244-6227

McDonald's in Amarillo Tx I-40 and Ross Osage. The manager is allowing people to bring in food from am outside source into you store. She or the cashier has done nothing about it. If the manager would get off her phone long enough to pay attention to what's going on and do something, you would not have gotten this message. You know this is cross-contamination and is not taken lightly by the Health department.

Ronald Ricket
from Stevensville, MD
I ordered my food at the drive thru. Went to the first window and paid. Went to the second window and an employee named Crystle asked if I ordered a peach tea and Mc chicken. I told her I did. She told me "the next time someone tells you to wait for your total you wait for your total." I was in shock and asked her to repeat what she said. She said the above statement over again. I told her she cannot talk to a customer like that. She then told me to "shut up". I asked to talk to the store manager. An assistant manager came to the window and apologized. This McDonalds is located in Chestertowm Maryland. I cannot believe you employee people like this.

Tom Powell
from Montreal, QC
This happens OFTEN. 2 coffee, 2 muffins, 1 correct of each. 2 years ago I started to count 58 visits 32 correct these are regular visits with a mix of food and coffees. I just stopped going there for over a year until recently and low and behold. No change. ordering 2 coffee - 2 muffins and getting one wrong coffee one wrong muffin. I mean come on. It was 4pm I was the only one in the line I even asked the speaker guy if he got it right, then again when I paid. I just knew it would be wrong. I asked again when she handed it to me which one had the sweetener, she told me even asked what kind of muffins she told me.

Went to McDonalds on Mcgavok pike in Donelson, TN. I ordered a ham biscuit and hash browns. Got to work and the biscuit had to be leftover from the day before or later. The hash browns were soaked in grease and cold. McDonalds your quality has never been great...but in the past year or so, it has dropped to the bottom of the barrel. You all need to give it up and shut down.

Barbara Ann Alexander
from Springfield, MA
Complaint is regarding t.v. commercial. "I'm lovin; it' phrase I believe is an extremely selfish phrase. to the eyes, heart of a toddler/pre-schooler/early grade schooler. How about 'Wish you were here' or "Come join us'. That leads to conversation w/caregiver-opens/closes the reality of going to McDonald's. Instead of sitting there as a very young child with 'mixed' feelings.

Sheila Smith
from Scarborough, ON
I went to McDonald's inside Bramalea City Centre, 25 Peel Centre Drive, Brampton, Ontario L6T 3R6 today. I ordered two coffees, one Bacon Egg McMuffin and one Hot cakes. Fortunately my spouse and I were eating in, otherwise we would have taken home an incomplete order. When I took the food to our table, my husband undid the Hot Cakes and found three individual servings on butter but no syrup. He went back to the counter and was told "We are out of syrup." (Why didn't they tell me that when I ordered them. Do people eat pancakes with butter only?).
He came back to the table a little stunned and I went back, with the pancakes and asked "Do you actually think people eat pancakes with butter only?" I got a blank stare and asked "Do you want your money back?" I said "Well, yes. But I will order a Sausage Egg McMuffin instead". She gave me my money back and then I paid her for the Sausage Egg McMuffin. I found it particularly annoying that I was not told in the first place there was no syrup and they expected someone to eat them like that. However, if I had been going through a drive through i would have been stuck with it. Not professional at all.

Linda Katsis
from Toledo, WA
Chehalis, WA. Wal-mart in-store McDonalds 4/16/2015 at 5:30 PM, ordered one of your NEW spicy chicken sandwich, paid $5.17, dark brown bun top very dry, such small piece of spicy fried chicken that it fit inside the middle of the bun not even close to edges, stingy amount of mayo, one small slimy piece of lettuce, tomato slice was only acceptable piece of food in entire sandwich, first bite was so dry & mostly bun that I had to ask for more mayo, was given 3 pkgs (& used/needed all 3 too!), have been big McDonalds fan forever (I am 68 yrs. old), my son had his 1st job at McDonalds, our entire family ate breakfast there every Sunday & loved it but am so very disgusted w/this last spicy chicken sandwich (NOT the $1.00 spicy chicken sandwich but the big $4.79 spicy chicken sandwich) that I will never order it again and will most certainly let my friends know what a terrible & expensive sandwich it is. I am one unsatisfied customer! Thank you for your time and consideration in this matter.

taco
from Ormond Beach, FL
McDonalds...1376 West International Speedway, Daytona Beach, Fl. 32114. Every time I have been to this Charlie Brown restaurant, the drink station area is so sticky and garbage all around. The tea dispensers are always empty, the bathrooms are so disgusting and smell like urine, there is only one person taking orders while others are bumping their gums. I have had to walk out, without ordering, the last three times I went inside. Today was one of those days. Today was so ridiculous that a worker leaving her shift yelled through the place, back to the employees, "people are waiting on their food!" Not once have I seen the acting shift manager each time I have gone there. This place is ran by unsupervised management and def needs to be clean-slated and given a new life...especially due to the high volume of tourists.

Willie Jang
from Vancouver, BC
I visited the Drive thru at the location in Richmond at Alderbridge and No. 3 Road. I have visited seveal months aga and ordered a vanilla latte. Upon picking it up and using the coupon for a free specialty drink, the semployee asked for an additional 30 cents. I asked why and I was given the response, we are independant and our owner told us to charge for syrup. I was taken back and called the corporate office to complain. I was told this would be taken care of with your independents.
I ordered a latte with an extra expresso shot.yesterday and I was asked again to pay 75 cents for the expresso shot. I asked not to have the additional charge and I was given a vanilla latte ?????
I am very diappointed that this location continues to make their own rules. I have visited a number of different locations and I have never been asked to pay for a specialty drink charge. I would like a response to this and some explanation to the conduct of the owner.

Pat Simpkins
from Tuscaloosa, AL
I debated about going to McDonalds' or Bojangles' (they are right across the street from each other) so I stopped at McDonalds'; big mistake. I walked in ordered food and was waiting on my change. The cashier did not have enough pennies. She gave some money to who looked like the manager. Since she did not have any pennies, she gave me 2 pennies over. As we joked about the 2 pennies another customer walked up and said to me "you are in the good". Since I was not speaking to this customer, I said I am talking to the cashier! Then the manager came out behind the counter, looked at me and said "What is she waiting for" (very RUDE) to the cashier. I said 2 egg McGriddles'. She slammed the food on the counter and said "have a nice day" as if that would help her rudeness. This happened at University Blvd East in Tuscaloosa, AL. Please let this manager know, I was waiting on McGriddles' this morning but from now on I won't be waiting on McDonald's any more! Get some customer service training.

With ref. to order no. 24736 placed on 12.04.2015. The order was suppose to reach me in 29 min. but was delayed for more than 1 hour. Also, the products reached to me were not looking fresh and not at all hot. Even on asking for 50 Rs. coupon due to delay (for which I got the msg), the executive said he doesn't have that and would be adjusted next time. Very poor service and not at all expected from McDonalds. Highly Unsatisfied.

Scott Beetham
from Colorado Springs, CO
Tonight, I went to the Colorado Springs McDonalds on Fillmore and Stone street, waited in drive thru lane #2 while two cars who were behind me got their orders taken in lane #1. I got tired of waiting and didn't want to order anything by the time they go around to me, and had to wait in line behind all the other cars who had ordered ahead of me who were behind me to start with, but didn't make the mistake of getting in lane #2. This isn't the first time I've gotten bad service at this McDonalds. I sometimes go to this store for breakfast because it's conveniently on the way to work, but on at least two occasions I couldn't get a large coffee because they were out of cups. Many times they are out of other items like apple pie. It's called fast food because the customer is suppose to get a meal quickly, with the same level of customer service as any other McDonalds elsewhere, but at this one the only fasting you're likely to get is the kind where you drive away with nothing. This store is poorly managed, and after tonight, the Burger King across the street on Fillmore just gained a regular customer who use to go to McDonalds.

On several occasions, when I am at the Walmart at Quarry Bend in Sandy, Utah, I have attempted to buy a hot fudge sunday and have been turned away because the ice cream machine is allegedly broken. I have not heard that excuse at any other McDonald's. I think, the personnel at this particular McDonald's just do not want to bother exchanging the empty ice cream bag with a fresh one. Especially, if that individual is about to go off shift.

David Rayburn
from Horn Lake, MS
Placed order for two sausage and biscuit and two senior coffee in drive up-there was a sign that there was free coffee with any breakfast sandwich, got to the window to pay the lady charged me for two senior coffee, I ask why she said there was a charge for the coffee. I usually buy at a McDonalds on Goodman Rd in Southaven, Ms but the last two times I visited there; there has been a line all the way to the street and one time after placing the order they told me I would have to come in to place the order they were having technical difficulties- The difficulty they were having was no one to wait on people. I usually get free senior coffee at local McDonalds-is there different policies with different stores??

jennifer
from Weymouth, MA
I worked for mcdonalds in weymouth on main street for three years. It was awsome in the beinging but a knew manager came on board named shannon toomy. Right away, I noticed she had an attiude with fellow employees and customers. As a result of that, I left for another job and when I left three other people followed me. She is not manager material and I am suprized she is still there. While I was still working at mcdoalds my husband needed surgery and I had to take a month off from work to take care of him. Shannon gave me a hard time. She said you have a choice working here or family. Well when it comes to my family, I am there for them she didnt even care! A former employee of mcdoalds in weymouth

Rosendo Morales
from Tucson, AZ
Just try to get food through drive thru, and get a 3 piece chicken meal large... They have me a salad instead, I ask to change the order and they did ,.. Good and ok but when I asked the receipt they pull me out from the window and park on the waiting parking ok, now I'm asking for a change but the manager or whoever isit said and insisting that I gave 7 dollars in which I gave 20 dollar ,. And that I have no change bec they were the same price .. I paid almost 7.75 actual but my bill was only 5.80 dollars.. And keep on arguing that I don't have a change and the freaking manager with a very thick Mexican accent was rude .. Could you send this guy to a seminar? How to handle customer complaint... All I want is to get my change and I the right to get it but he's pushing me that it has the same price , while talking to him He just turn around and go back to his store... WoW what an unprofessional gesture...rude and no manners,.. It made me snap so I'll find this complaint site right away..I still have the receipt with store # 8800 broadway ,.. Tucson AZ store # 10511..

kim westerfeld
from Kingsland, GA
Took grandchildren to mcdonalds in kingsland georgia...play area is absolutely dirty, even the play tree they crawl is so dirty that you can see it all over it. The girls hands, faces and feet were black with dirt...the seats near play area were dirty. There was no sanitation in container..an empty wipe container..ask for wipes to clean the girls..person working would not get any, said he didn't know where they were...He never offered to get us any help... Another grandmother ask to speak with manager, the guy said he was busy...never went to get manager or wipes..we went to bathroom to wash hands and face before we let them have anymore of their food or ice cream, there were no paper towels available.. I have lived in Camden Co...all my life...But I will not take my grandchildren to that Mcdonalds again..I believe that the play area is unsanitary, and it is hard to take them and not let them play..So until I know that it has improved I find a other business to go to.

I was pulled into McDonald located on 1410 n. Lemon st. Anaheim, CA 92801 drive thru to get my coffee around 5:25pm 04/09. And this guy "Raule"told me "wait 3 minutes. Wa are brewing fresh coffee" So I pulled into reserved area and waited about 5 minutes, and this guy did not come. So I decided to come in the store, asked for coffee and this "Raule" told me "I am off work". There was no apology nothing but he kept saying "I am off work". I did not want to argue because I was already late for my school, so I asked "Alfonse" for the store manager and he said "there is no store manager". So I asked "Alfonse" to write down all the names (the guy name, your name, and store manager) and number I can reach. So I came outside, I noticed this guy "Raule" circling around the parking lot and waited for me to come outside. I ignored and drove away and he literally followed me about 2miles. I was about to call police but I've lost him.

Gearldine Cherry
from Laurel, IN
My complaint is regarding the store in Memphis, Indiana. It is a 24 hour store. Lately when I go there after work, the drive thru is closed. I have a very bad back. I hurt too bad to go inside. I am very disappointed when I can't get anything. I understand that they may be short of help. Surely something could be worked out. It has happened numerous times in the past month.

I know your stores are franchised . store # 26590 I visit this store and ask if they had the quarter pounder DELUXE they said NO ! so I ordered a quarter pounder value meal . I pulled up to pay for my meal $7.01 I gave them a twenty and one cent I GOT BACK 13 ONE DOLLAR BILLS ! then I went to pick up my order and asked why the Downer street store has the DELUXE and they did not . the server got the manager and I ask him . " oh we have the deluxe " well I was told NO ! " it is a number 5 ! I will correct them on that " he did nothing to even ask me if I still wanted the deluxe . all I got was a " sorry sir " as I was handed my meal and closed the window . the only reason I stopped at this store was because I had just finished shopping in the same plaza .normally I go to the one on downer street . I HAVE GREAT SERVICE FROM THIS STORE ! IF I go to MC Donald's again I will drive pass this store to any other one ! this has left a sour taste for MC Donald's ! first insult was getting all ones back for change ! then to treated like just another person with a complaint and BRUSHED OFF AS ONE ! you need to RETRAIN THE WHOLE CREW ! or is this the way they are trained .

earlier that day my daughter & I went to McDonald to order some food, the workers took a long time to serves the food they talk a lot instead of providing they services that we pay our hard earn working money. During my time at McDonald I noticed that the workers where making milkshakes & mc flurry 's & there wasn't anything wrong with the machine ,I ordered a milkshake & a mc flurry the worker who was taking our orders shouted with rudeness there weren't any milkshake & that the machine was broken when I saw two other workers handed out four milkshakes to other customers.Everyone who were ordering their foods were shocked about the girl outburst & rudeness that some of the customers left.The place is filthy & the services is bad they gives you something else instead of what you order.Someone need to go & investigate that place because I was treated unfairly & so is my child that we left the place .

Ordered Steak Wrap and small plain Sunday at 1.20p.m on 1/4/2015 I received the Sunday straight away after 2 minutes the young lass said there will a 2 min wait for wrap could not believe what I was hearing 26 c with a Sunday soon becomes a drink the training needs to be smartened Up I was not impressed when the girl bought the wrap to the waiting bay she certainly didn't look like she was enjoying the job all I ask for is great service which I know you guys are known for sadly Wodonga is not living up to your standards I will leave this with you hoping you can turn standards around Regards Ann

I am Asian American. I walked into a busy McDonalds Store with My bleached t shirt, shorts and blonde hair .I was tired and anyone could've seen it in my face. I wanted something , anything to make me feel better. I stood in line and waited to be called. The manager then opened another register and started calling people out of the first line. When my turn came, she walked away and started working on other tasks leaving me hanging . I don't know if it could've been my hair , me being half Asian, or my bleached t shirt that lead her to make me feel unimportant. She just took two orders at a very fast welcoming pace , what will it take to just take one more. I don't understand. I felt as if my appearance caused her to leave me waiting. I don't think people in her position should make decisions upon people appearance, especially with McDonalds prestige reputation. I was at Store #2747 , The Manager's name is Celeste. I believe someone should scold her for her discrimination against poor-looking people. I'm too nice to do that so I hope this would bring on corporates attention. If I was Bill Gates, this complaint wouldn't be necessary. I could've bought a ton of Mcdonalds stock with the time I spent writing this. I lost faith in Mcdonalds as an Investor . I think Wendy's is a better Investment now.

patronized the Coopersville, mc donalds and ordered a big breakfast. proceeded to work and to eat my breakfast. only to find that I didn't receive any syrup for my hotcakes. called the store and complained, and was sent a coupon for another breakfast. I redeemed it last week for another breakfast same as before, proceeded to work as before only to find that I was shorted butter for my pancakes. I immediately called mc donalds in Coopersville and asked for the manager. talked with her explaining my problem, she said she had checkeed the order herself and was confident everything was there. it seemed as though all she wanted to do was argue and tell me I was mistaken. believe me I have a lot more to do than spend my time on the phone reporting a problem. I did not dream up the shortage, why would I. last but not least, I do not lie and certainly felt the attitude was totally unprofessional.

Niecy Burkett
from Delray Beach, FL
This is not exactly a complaint but the closed thing I could find to tell you my suggestion. Have you ever thought of serving wheat buns as a choice instead of white buns? So many times I want to get something from McDonald's but prefer wheat buns , so much healthier than the white buns you serve. So I go some place else.

Chris weiland
from Rialto, CA
I go to McD all the time on Baseline and Riverside ave. In Rialto ca....My son can't have Cheese and I always order him a Mcdouble ..No cheese with ketchup only...I go almost every day....they never get it right.....well 10% of the time they do ...sometimes I'm 5 miles away when I figure it out...they never do anything to compensate me for the countless times they do this to me.....Very Frustrated......how hard can that be....McDonald's do something for me.........Please......or hire smarter people...

Holly Spille
from Cincinnati, OH
My husband and I went into the McDonalds at 5020 Delhi Pike Cinti, Ohio on Sat. 3/28 at 18:18. We went there as I had been sent a complimentary value meal from a previous complaint for being in the drive thru for 23 minutes. First we ordered and went and made our drinks, sat in the lobby for approx. 10 minutes, no food. We watched the employees behind the counter fake boxing, talking on cell phones (later we discovered I think that was the person in charge), eating and drinking and having a great time. We finally went up to the counter and ask about our food. They said well what did you order. Then the food was prepared. As we were sitting in the restaurant eating there were teenage kids laying in the booths and the place had garbage all over inside on the floor, ketsup was dripping from the stools where you can sit at a counter and eat. The next thing about 10 kids came in the door and finally a girl came from behind the counter and made them leave.
The kids working behind the counter had the own personal drinks sitting on the trays that are used for patrons and had to move them when someone was dining in. Another employee had a sweatshirt on of a college team and the hood up as he waited on customers. It was a mess. I worked in this particular McDONALDS when I was in high school myself and I have to say that it has drastically went downhill. The Board of Health would not be to happy that the tray my food was served on had the employees drinks sitting on them behind the counter and moved them to put my food on. I think someone needs to get a handle on this place. I know there were three other couples our age (mid 50"s) that will find another place to stop when we are looking for something fast as this place on Saturday was disgusting and management should not be management. Oh but one thing I did forget due to the fact that we were one of three patrons in the place when we came in and they forgot our food they did offer us a free apple pie. It still does not make up for the fact the place is not a place that you would want to frequent again. Thanks for your time.

Emily Del Rosario
from Grants Pass, OR
Grants Pass Oregon: Walt-Mart at 135 NE Terry Lane has a MC Donald's restaurant inside the store.I am an animal lover,but other than real service dogs,I don't think MC Donald should allow long haired Chihuahua or any mute where they prepare food.I complained too the person behind the counter and he said they can allow service dogs in.That dog was not a service animal.

Keisha Worthington
from Seattle, WA
Got to the McDonald's on mission and Hamilton in Spokane wa. On March 29 2015 at 1:15 pm ordered 2 mc chickens a cheeseburger sprite with light ice coke with light ice and a sweet tea light I lie and lemon. Everything good so far and then got to the pick up window and I'm in a truck by myself asked for a drink carrier and the girl became rude. This happens a lot at his establishment they are always rude when asked to do something extra. Told her she didn't need to be rude and she got even worse. As long as I have been alive 41 yrs I been taught always treat the customer good not at this McDonald's and I will not be going back there. Usually go 2 or 3 times a day. Thanks a used to be valued customer.

Chris
from Birkirkara, 04
Hi I go to McDonald's 3 days in a weak and most of the days I go I find something wrong. I order a big tasty no sauce and ice tea many times I found the burger with sauce, or the drink water only without any taste. Today I went to airport and, the burger was OK but the ice tea was water and the chips without salt, now I'm watching for another place to go for thanks!

Richard Armstrong
from Burnham, PA
every time, and I mean everytime I go to the store in Lewistown pa or electic avenue pa,something is wrong, these stores are going down hill and fast. my food is always cold, and I mean very cold, this morning my egg mcmuffin went right out the window!!!! of my car. either its cold, wrong order, no napkins or straw, or u ask for drink no ice, and you get ice!! always mest up, sick of waisting my money on these dives!!

Warren Brown
from Glendale, AZ
Could you please explain this to me. I am extremely offended and I did not like viewing the flag hanging upside down. You have lost a faithful customer Boycott McDonalds PHOENIX (KSAZ) - It is a story that has been trending on social media. A flag flying upside down at a Glendale McDonalds restaurant. Was it disrespectful, or a simple mistake? A Marine reservist saw it, and took matters into his own hands. FOX 10 spoke with the reservist and the restaurant's franchise owner who is a former Marine. He explains how the flag ended up being flown upside down. "I actually thought it was plain disrespect that someone would raise our own nations flag upside down," said Elias Marzeleno. Marzeleno, who serves in the military as a reservist in Arizona, said he did a u-turn when his girlfriend pointed out the flag flying upside down outside of a McDonalds near 67th Avenue and Camelback this past Saturday.
"I looked around to see if anything was out of the ordinary," said Marzeleno. Flying the flag upside down is recognized as a symbol of distress. Marzeleno said once he determined there was no problem, he took matters into his own hands. "I actually went to try to lower the flag, but it was knotted in such a way you couldn't lower it, so I went to the car, I got my knife, and I cut the rope," he said. "Being a Marine myself, and going through the Vietnam War era, we're gung-ho but we need to curtail our feelings sometimes and take more logical steps than overreact to it," said Steve Lanini, the franchise owner. Franchise owner Steve Lanini said it was an unintentional mistake that could have easily been resolved had Marzeleno talked with a manager first.
"If you're familiar with how you fold a flag, sometimes if you get the hooks on wrong, you pull the wrong way and it goes upside down, it's happened I'm sure over the years and this one wasn't caught," he said. Regardless of how it happened, both reservists say the flag should never have flown upside down. They say whoever raised the flag should have looked up. "No, I'm not disciplining any body as a matter of fact, to this day I don't know who did it," said Lanini. The restaurant now has a sign on the door notifying customers apologizing for the incident. Lanini says they bought a new rope and will be raising the flag again soon, the correct way. "Believe me, it was a mistake, we don't do that," he said. "All I want people to know is to have basic protocol to raise our flag, and give our own flag respect," said Marzeleno.

I have gone to McDonalds in Moberly Mo. quite often with my children. I have seen numerous times of a manager being hateful to her employees. I couldn't believe things I have heard from a manager. Last time I looked at her name tag so I could contact you. Her name is Renee, taller, dark hair, skinny women. Pretty girl really. The first time I saw her a girl had messed up on the cash register and Renee had to help her. The teenage girl told her she was sorry and Renee said "good you should be" and walked away from this girl. This little girl was surprised and hurt at the comment. I told her not to worry about it, she must be having a bad day. The second time I was there a guy messed up on a sandwich and she yelled to the back "how long have you been working her God!"
The third and last time a girl was asking her a question and Renee rolled her eyes and walked away and the girl was left no knowing what she was supposed to be doing. I understand people have bad days. I work with customers all day long. If something bad happens you can't take it out on the next person. As a manager she needs to learn how to manage. You don't yell at these kids and make them feel like crap. You encourage them. Help them become better. If you encourage and help someone, the better a worker will become. If you discourage them they will be timid and not be as good for you. If she doesn't like her job, she should not work there.
I just think she needs more people skills and management skills. These poor kids are trying and are learning. For most, this is their first or second job. Shooting them down does nothing for her or them. The first time I passed it off as a bad day. The second time I was just feeling WOW. The third I couldn't help but let someone know. Thank you. Hopefully making our managers better to make a team better. Thanks again.

At the havenwood McDonald's Baltimore MD drive through....again my order was not completed properly. I paid for an item never received. This happens often to me so I imagine it happens often to others. This time I was feeding 3 young girls who were extremely disappointed. This is not an acceptable business practice.

Doreen Wagatha
from Charter Township of Clinton, MI
Went through the drive-through ordered a cheeseburger a large HighC orange and the fries with no salt. I waited approximately five minutes before the girl came out with my order and tells me there's no salt. I went inside the building and there's all kinds of salt by the pop. I talk to Joel of the manager who was not very polite and asked why I was told there was no salt. He told me he doesn't know what's out there he just know there's no salt in the back. I cannot believe a big place like McDonald's does not have any packets salt in their inventory.

Cynthia Edwards
from Sanford, FL
I went through the drive thru on Friday evening March 20 2015 at around 7:15 and ordered three kid meals. I drove to the window to pay and the girl Marilyn told me $12 and some change (I think $12.22) and I handed her my debit card. She gave me my card and receipt and I put them in my purse. i drove to the second window where a young man was very confused and could not figure out my order and that is when Champagne also appeared at the window and after a few minutes Champagne informed me my order would be $12.22 and I told them I paid at the first window that I was not paying again. Champagne then firmly said I did not, to produce my receipt. I could not find it and then they informed me Marilyn had charged me the wrong order and I said no I didn't that Marilyn had said $12.22 before I handed her my card at this time the three children i had with me were getting frightened and cars were lined up behind me so they asked me to pull over and find my receipt so I did and indeed she had charged me the wrong order.
I then gave my daughter my credit card and told her to go in and pay the difference even though they were the ones who made the mistake not me. When my pregnant daughter went in to pay the difference she had said she did not see why we were responsible because of their mistake and Champagne became very rude and threw the receipts at my daughter and she pushed them back at her and i saw what I thought was a man in my daughters face yelling at her so i got out of the car and went inside and by this time there was a third person named Karen who said she was the manager who had came forward because Champagne was yelling "you will only get whats on the receipt you produced" and said my daughter assaulted her and we were absolutely horrified and then Champagne launched at us and Karen had to push her back, actually push her over two times. I could not believe what I was seeing. We were embarrassed, angry and so confused that this was all happening with my grandson and his friends watching, the customers in the store all over three kids meals.
I sent my daughter in to pay the remainder owed and Champagne turned it into a brawl. The manager Karen said Champagne told her my pregnant daughter assaulted her and I said no she did not and that I wanted the security video of this event and she said she could not do that. We were assaulted by your manager in training Champagne and I am seriously considering legal measures. The man I thought was yelling at my daughter was Champagne, which is a girl with an attitude. I did everything right and did not deserve to be treated like that. We have been going to this McDonalds for over 25 years and we go at least twice a week after my grandsons baseball games.

Sara Bissinger
from Lancaster, PA
I went to the Mcdonalds on columbia Ave about 7:30pm last night. I waited about 5 minutes. They were not busy at the time. they may have had one or two cars in the drive thru. they also had 2 other customers inside that were waiting to get their food. I was not even acknowledge that I was even there. No one said Hi or we will be right with you. After 5 minutes I left. This is not the first time I have been in this Mcdonalds. They seem to cater to drive thru than inside. I know they are busy at times but when they are busy inside and the drive it seems drive thru gets there food first. No one gets theiir food in the inside of the store. every one seems to be helping people in the drive thru lane. I have waited for food a lot of times. It seems lately its getting worse. I can go to other locations and get faster service and the other employees seem to be more attentive and happier. Everyone at this McDonalds seems to not be happy and dont care about anyone. I have gone to this McDonals before and wait a long time jhust to order food and then wait even longer just to get the food even when they are not busy. I will not go this McDonalds for a long time. This McDonalds needs to work on customer service and lesrn to get the food out quicker than they are now. Sometimes they food is also cold when I got it. If they cant do there jobs right maybe they should not be in business there or get other people that can do the job the right way.

Mittie Ballard
from Madison, MS
I went to the drive thru and order 2 big breakfast and 3 large sweet teas and a sausage biscut and the total was $12.25 and when I went to the window to get my order they handed me 1 tea I told the associate I had order 3 and she said well she didn't charge u but far ! so she came to the window and told me it would be $2.76 far the other 2 teas so I handed her a 5 and she never gave me my change she just gave me my tea and said have a great day I know it's just $2.24 change but every time I go there and the associate is at the window she seem to be having a bad day are either she don't like her job cause she has a real mean look on her face and this isn't good for this company cause I far one don't like it.
The shift leader has a bad adatuide also she was behind the associate saying something about me cause she and I have had words before about a over charge I'm trying to let you all know how this store is being run by some very rude people and you need to come here and check on this store this whole store needs new managers and associates. I hope you come and check it out because I'm not going back there and I eat there 4 or 5 times a week but seems to be going on when the store manager isn't there cause he's very nice and he always try to make your rite if he's there they don't say a word back to you if it's not right they just fix it for you so that's why I think it's the shift leaders there and this one associate. Thanks Mittie Ballard

I called on the phone and someone pick up and awnser and said hello how are you and said ok OK and hung up right when. I was asking about employment.

judy davis
from Wichita, KS
we went through long john silvers about 8 last night. we used to eat there all the time but not any more. we asked for fresh food. the fries was hard and cold and all the food was not fresh and tasted like it just came out of the refrigerator. my husband ordered 3 chidken and 2 fish platter and got 1 chicken 2 fish and 3 shrimp. we did not order that and everything tasted terrible.

Ordered a Big Mac and a cup of coffee at the McDonald's in terminal A at ICH. Saw them pour the last drop of the pot into my cup and thought well this sucks but...... Got my sandwich, found a table and took a bite. Bread partially frozen, sandwich fixings all (including the meat) ice cold. No line no waiting no excuses. Took the sandwich back to the counter and told them "it was not fit to eat". The 3 people working the store just looked at me like I had 3 heads. I walked away and dumped my coffee. Didn't even want to taste it. Not interested in getting my money back as that would imply that all is forgiven. It's not. McDonald's at this location sucks. Don't eat here!!!

Lori Powlen
from South Bend, IN
Went to McDonalds on Bremen Highway in Mishawaka. 2 weeks ago I went Saturday morning 8:00 am on my way to work and ordered egg white delight and md mocha. I was asked what I ordered and they gave me my sandwich and told to pull forward for Mocha. I did and waited and waited. I counted 15 cars that went thru behind me and saw some of the cups handed out the window were also the McCafe drinks. After 15 minutes I was getting ready to get out of my car to go in when the girl finally came to window and gave me my drink. She said sorry and said she made me a large for waiting. I told her 15 minutes was ridiculous and now I was late for work and to let her manager know that I would be calling later that day. I did not call because my kids told me if I did they would remember me and do something the next time I ordered.
I didn't believe something like that would happen but it did anyway. I went this past Saturday, again at 8:00 am on my way to work and again was told to pull forward. I told the guy working that the last time I had to wait 15 minutes and please don't forget me. I got my Mocha in about 3 minutes and he smiled and said have a nice day. I thanked him and told him to have a nice day also. As I was driving to work and took a drink it dribbled on me every time. When I got to work I took the lid off and found a cut out in cup where you take a drink. I was lucky I had coat zipped up and it didn't burn my skin or cause an accident. I feel this was intentional and will never return to that McDonald's and will let everyone know what happened to me. This has never happened at any of the other McDonald's in the area. I feel there needs to be more training at the Mishawaka store or a change in employees. They may think it is funny, but this could cause a serious accident.

Solomon Grant
from Brooklyn, NY
I live in Crown Heights Brooklyn and the McDonald's on Utica and Eastern Parkway is disgusting. This McDonald's has homeless people come and hang out in the restaurant for hours. Some even sit on the floor by the door! The tables are sticky and filthy and cleaned so sporadically that they smell awful. I have never seen so much garbage on a floor in a McDonald's in my life. It overflowed from the garbage bin and nobody bothered to pick it up. This is literally the most disgusting place that served food that I have ever walked into in my life. I'm very surprised the Department of Health hasn't shut it down. I was so hungry that I ordered my food anyway and left as quickly as possible. Than on the way home I threw the food in the trash. Just looking at it made me sick and I couldn't bring myself to eat it. Shame on McDonald's for allowing such a disgusting place to stay open. Shame on you McDonald's!

Sheldon Lemco
from Orlando, FL
I just called the complaint department for McDonalds and a Cristina answered so was so un professional that I had to repeat myself several time for questions I all ready answered. She was not paying attention or understanding anything until I repeated myself. The fact is that when I told her that I waited on line she have told her that I was inside the store. She then asks if I was inside or in the drive through. I had this happen all through my conversation with Christina. This fact tells me that McDonalds does not care about complaints or their lack of Professional service. I feel that the New CEO should be made aware of the lack of Professional service that McDonalds has now. I have been a Customer of McDonalds for 49 years however if things do not improve soon, I will turn my Business over to Wendys since Burger King also has bad service.

christy hurst
from Chanute, KS
Yes, when I went by my local McDonald's this morning, was hoping to grab something real quick and head home this morning. Having things to do I was hoping to grab and be done. I proceeded to ask for 2 breakfast burrito's. However, when I quickly pulled up ans asked the girl at the window, did you put sauce in the bag, she very quickly say's yes. Guess what, I got to my destination, hoping to quickly eat and get things done this morning, when I dump things from my bag and NO sauce. I did call the store, a joke !!!

Richard Beyer
from Ypsilanti, MI
Ordered a meal but did not the the fries ask the cashier they said they did not charge me for fries i said okay then i will buy went to hand my credit card now cash only after they took my card 3 min before to pay for the meal this Is BS they told me can't do anything sorry sir how can a company mess up an order then not make it right even when i said i would pay. Very Bad Business.

nathan hopgood
from Coburg, VIC
At 735am 8\3\15 I was ordering 2 frozen cokes and 2 sour mellon frozen drinks in the drive thru and the actual manager of the store Jake was abusive I drove up to the window and he said don't use that language ???? I didn't know what he was on about i have a speech impedament i treed to speak and place the rest of my order but he rudely slammed the window closed i really found that offensive and abusive coming from a senior member of there team really bad for a family restaurant.

My daughter who started work for mcdonalds leckwith road Cardiff UK, she was nearly 17 she started her training she worked 4 hrs first day and she enjoyed it she was so exited to go back the next day,on the next day she went in where she met with a manager,who was covering for holidays, she was told,not to smile at customers, and just to take there orders, she took the order from a customer when the manager wiped the order from the till told her to give his change from her head my daughter was very nervous she gave him 10 pence to much,he them told her not to serve any more customers bearing in mind he was training her,he told her he would show her how there floors were mopped,after mopping he called all the other staff,laughed and said l had to train her on how to mop a floor,then said to her that she fancied him,also made her search through all the wasted food in the rubbish, so she would know what customers threw out,she was belittled all day In front off staff by this manager,l could go on, she was only 16 she lasted a few more days,then had the cheek to say,she was not good enough to work for them,is this how they train young people,she was made to look feel stupid,and degraded, lm going to flood facebook and Twitter then see how mcdonalds react

Diane silva
from Livingston, CA
went thru drive thru window ordered fresh chicken nuggets and tenders were not fresh not even hot. I ask them three times if fresh they said yes lie I ordered iced tea asked for just a little sweet im diabetic, got home tea was sweet had to throw it out. I don't like wasting my money. will go elsewhere.

Linda miller
from Pittsburgh, PA
Took my grandson his order was all wrong but the bad part was my Big Mac was ice cold and hair was in my French fries.

Joe Rippe
from Clover, SC
See the email response below from McDonald's customer care department. Well, I have serious doubts that you really care about your customers, us early morning ones anyhow. I visited your Lake Wylie location again this morning, interested to see if anything improved. This time it was 5:10 AM. Door was locked. There were two women inside talking but you were not open. Do you just not care? In this day and age when so much interest is placed in customer satisfaction I am amazed that this keeps happening. Well, carry on, do as you please, it won't affect me anymore, I give up.
Sent from my iPad
On Nov 22, 2014, at 5:01 AM, <McDonalds.CustomerCare@us.mcd.com> wrote:
Hello Joe:
I want to thank you for taking the time to share your recent experience at the McDonald's in Lake Wylie, SC with me. Your feedback is very important to us as it allows us to better understand how we can improve our service to you.
I am sorry that the restaurant was not open during its normal business hours. Please be assured that we want to provide you with an exceptional experience every time you visit us. From your email, it is clear we did not meet your expectations. Again, I am truly sorry we disappointed you.
I want you to know that I have already taken action on your feedback. After reading your email, I immediately shared the information you brought to our attention with the local franchise owner of the restaurant you visited. Additionally, customer feedback is reviewed with our regional McDonald's consultants as part of our ongoing commitment to improving our restaurants' operations.
Again, Joe, thank you for sharing your feedback. We appreciate your business and we hope to have the pleasure of serving you soon.
Ashley
McDonald's Customer Response Center
ref#:11543317
--------------------------------------------------------------------------------------------------------------
Please do not "reply" to this email response. No "replies" can be received through this mailbox. If you wish to contact McDonald's Customer Response Center again, please visit our website at www.mcdonalds.com
--------------------------------------------------------------------------------------------------------------
Our food. Your questions. Get more answers to your food questions by tweeting @McDonalds or asking us on Facebook. Visit our FAQs to learn more.
You wrote:
Your door states that you open at 5 AM. The last three times I have stopped, slightly after 5AM the door was locked, closed. If you aren't opening until say 5:30 or 6:00 please say so. This is the only fast food place on my way to work so if you are not opening as advertised I need to make alternate plans.

jason chedester
from Elyria, OH
I order some food we only got half and they gave us a crack foam cup of ice tea and I got it home the cup break tea every where all over my carpet that store is every bad. It is the McDonald's in Elyria, Ohio.

Rebecca chafin
from Edgewater, FL
I worked for Mcdonalds in New Smyrna Beach Florida from 11/12-02/15 and was treated horrible. I was sexually harassed from the day I started till Feb, 2013 by a manager. I told a different manager but nothing got done until 4 months later. They allowed him to quit instead of firing him so he could get a job at a different restaurant. I was so uncomfortable working because they allowed him to come in and he would always stare at me. That is just not right!! Then I worked with a bf/gf and they would always fight. I would find the gf on the floor in the office crying cause they would be fighting all night.
Again nothing was done to separate the 2. I was never late for work in the nearly 3 years that I was there, would come in when asked, stay late when asked and when my Granddaughter was born took 10 days off but they called me in 3 times and I went. My GM Cody tatro told me I coudn't be employee of the month and never was. then last week I was sexually harassed again by another crew person and when I went to work three days later there was the same man who had done that to me. i walked out on my job and the owner blames me.

Bruce Michael Perry
from Reno, NV
On 23 Feb.'15,i went to the McDonalds off of Oddie Blvd./Silverada ,Spark's,Nv. The Crew Was Friendly,courious as usual,However,i brought my Lap Top,and got onto McDonalds Free WI-FI,because of that,alone,I gotten Malware,onto my Lap Top,then when I brought it back home,i couldn't use my password to login,I had lost all of my personal information,my writing projects/comic book conception artwork,I couldn't even download it onto my flash drive,now I cant even upgrade my dell d610 latitude,Now,im looking at loss of future royalties off of all 13 book's on Wicca,I was intending on publishing,I,will be expecting compensation for loss of intellectual property,and all that time and effort into typing it all on my Laptop,Now,i just found out that,im losing my place to live,pending ssi,disabled and in a wheelchair.I will be expecting compensation,of a newer upgraded Laptop,please have McDonalds contact.

This is the Absolute Worst I have Ever seen Any Mcdonaldd restaurant! They are Not busy and this store is Absolutely Disgusting! Trash overflowing out of can, all over floor throughout restaurant. Not 1 clean table at all even the "party area" that is closed is Absolutely Disgusting! Employees walked through lobby numerous times and just ignored the mess.

I sent a compliant Friday but I guess the wrong place. I was in Bangor on broadway always stop on the way home for a to go order. Got my meal and got by the driveway to go back in took a fry it was cold ate another one it was cold too. I had to throw them away I can say usually they are the best fries not this day.

On Tuesday the 2nd of April 2013 my family and I visited McDonalds on the Chester road Birmingham near castle vale. On entering I noticed how dirty the restraint was because it was hard to find a clean table. This should not have been the case as only 5 tables were occupied. One of which was occupied by 5 team members. After finding a clean table my partner then had to find a clean high chair! This became an impossible task to. So my partner got the baby wipes out and did the job herself. On returning to the table with my food my children commented on how dirty the floor and tables were.( they ate 6 and 8 my eldest). We then started a meal which all I can say was cold and stuckto the bottom of the box.
I have now been in the restraunt over 30 minutes and I have not seen anyone with a cloth a broom or a mop. So if they can't keep the front of house clean what's happening out back?
That was my last meal this week I have been unable to eat food and keep it down since!

I'm currently staying in Brunei..I wanted to lodge a complaints on the bad services of Brunei mc Donald. The issue is the staff was very rude when myself called in ask for delivery 2 times and my sister also called in twice and we get the same feedback and answers from the staff. My house is just 15min away from mc Donald, while we call for delivery, they say not going to deliver it. While I ask, you don't want to do business? And the staff reply me, ya...I don't want to do your business. Mc Donald is worldwide business and how could it be this kind of bad services and attitudes from the staff. I hope to get a feedback ASAP

i recently went into mcdonalds in wigston leicester to order some food for my 5 year child myself and a few of his friends and the way the staff spoke to me infront of them was disgusting very rude and in appropriate in front of such you g children. once the food had arrived it wascold the burgers for the kids were rock hard amd my salad was disgusting the leaves were old wilted and not an ounce of chicken was i that salad wen i toom it back to the counter to complain the staff serving was aguing back and refused to give back my money. so evetually wewalked out my child and frinds were really upset by that and its disgusting that i paid for something which was un eatable and unable to get my money back.
i would lime somethidone about this and some sort of compensation to be sent to me as an apology as my child was very upset

We have two Mcdonalds here in Mesquite Nevada. The biggest complaint is that most of your employees do not know english very well for example "Light on the sauce" does not mean put on more sauce. Another is " a number 2 " does not mean give me 2 more. Another is "Can we get are napkins" Does not mean no napkins. And on and on and on. We have lived hear 5 years and when we get food from your company it is because we are on our way out of town and it is by the freeway entrance and even after our order we check the count to see if everything is their but now we even have to check to see if it is what we ordered.
Your company in the last 5 years is batting 1000. We have yet to get everything we ordered or our order right yet, without leaving the window and going in to take the wrong order back or get our order. We would not normally complain because your men is not that expensive but we thought you should know. What really bothers us is that we finally get our order right and hop on to the freeway only to find our food is cold because we had to wait for the corrections. I would like to know if you even read this. If not we can always put out adds in our community to beware off ordering Mcdonalds in Mesquite Nevada.
Another McDonald's Customer Complaint in Illinois...
Today I went to your Mcdonalds located right by the Oakbrook Mall in Illinois. I was asked to pull up to the 3rd window and park while I wait for a smoothie. I figured they maybe there behind or busy or something like that but no its jus slopw service all together. I have waited at this window for the past 15 minutes and still no smoothie. I can't jus leave my car here, the inside is closed I can't go in and I definitely don't want to pull around to the front and get back in line. Horrible service the employee finally brought5 the drink m...
Another McDonald's Bad Review from Georgia...
My husband and I went to the McDonalds in Byron, GA. On 01/02/12. We ordered a hot caramel mocha and a cheeseburger happy meal with a coke to drink. The person in the speaker kept repeating the wrong thing after we repeated what we ordered three times. We thought they finally had it right but when we got to the window to pay it was wrong.
We told the person again and repeated it to make sure and he still got it wrong when we got up to the window to pick up our order they gave us a cold frappe which we didn't order and a diet coke which we did not order. We had to pull up for the to fix the drinks again. This is the worst McDonalds I have ever been to. Every time we go there the service is awful but it is the only one in Byron. Something should be done about the service. The best McDonalds is in Fort Valley GA.
Here is a woman upset with McDonald's in Washington...
I was recently eating at the Hawks Prarie Mcdonalds In lacey washington and i had the worst exp ever. I am a 50 year old women that visited the mcdonals and when i was leaving the store and opproching my car with my 2 grandsons the car next to me there were 2 people in the car smoking marijuana and i seen they both had mccdonals uniforms on. They were blowing the smoke at my 2 grandsons and i asked them if they could take that somewhere else the male i seen his name tag it said russell he said fuck off old lady it a free country. I have been coming to this store for many years and i will never come back because of this. I do hope you will do something about this.
This NY McDonald's customer claims a mice infestation...
The McDonalds at 340 Peninsula Boulevard, Hempstead, NY 11550-4913 has a major mice infestation. Went to the location at 1:30am this morning for Ice Cream and there were sworms of mice by the back and side doors and all in the bushes. Most of the people that saw this were just getting off of the drive-thru line and leaving. As a result of this rodent problem that they are having at this location, not only did they loose customers, but I will never eat there ever again. This problem needs to be seriously addressed and corrected with major outside pest and rodent control.

Hello,
I was in your Mc Donald's drive thru at your Keysborough store on Sunday 20th January 2013. I ordered your Pavlova Mc Flurry with extra topping of meringue buds and passionfruit toppings. I am aware there is 50 cents extra charged for each extra item you request, however I was charged $5.45. I normally get the exact same order at my local Mc Donalds in Noble Park for $5.15. I asked the attendant as to why there was a 30 cent price increase/difference as the two stores are not that far from each other, and he answered that the all the stores have different prices for different things. I thought the prices were the same across the board??I realise that it may only be 30 cents, but am wondering as to why Mc Donald's have different prices from store to store? I will also say that the Pavlova Mc Flurry was un editable due to the fact it was over filled with Passionfruit syrup/topping and it made it too sickly to enjoy and eat, therefore it had to be thrown out. I won't be going back to your Keysborough store in future and am throughly disappointed in the service and the poor quality of what I ordered and normally enjoy.
Regards,
Lainie, Noble Park, VIC, Melbourne 3174
0411 452 070

I went inside the McDonald's restaurant on Route 41 (Piney Forest) in Danville Virginia on Sunday 9/1/13 at 5:00 PM. When I arrived, there was only 1 person in line who had already been waited on. It took a few minutes for me to be acknowledged by a staff member. Once my order was placed, I proceeded to step back and wait. It took approximately 15 minutes to receieve my order. This was absolutely ridiculous as I only ordered a Big Mac combo, 2 Mc Doubles and 1 apple pie. The staff were moving about as if there was no customer waiting, very unconcerned and inattentive. While I was waiting for my food, the female employee stated to her male co-worker, "She's watching you make that so don't so anything nasty." The male employee simply grinned. This comment was extremely inappropriate, rude, uncalled for and unprofessional.
This raises the question of what things are done to the food items during cooking and/or prior to serving to the patient. It's whatg we can't see that concerns me. The other concern I have is that the cashier handling money then handles food items without washing their hands or applying gloves. This poses a major health concern! I feel that this particular location needs to receive a visit from corporate and be educated on cleanliness as well as customer service.

My daughter was told she was going to be terminated because she got a tattoo. While I'm not a fan of her getting the tattoo, she had turned 18 and got an extremely small cross on the inside of her wrist in memory of a close friend whom passed away. She covered it while at work and it got back to her manager that she had gotten a tattoo. I'm a nurse myself and work with professionals who have tattoos that cover them. I feel that is discrimination and even though she has moved on and got a better job now, it still bothers me because I feel her rights as well as others that I've heard of at the Tompkinsville, Ky McDonalds has been violated. I don't see how they can legally fire you because you got a tattoo. I realize that some states are "at will" states and can terminate you over anything. But I would really like to make a difference if at all possible with this.

Hello my name is luis and I live in greeley colorado. I have visited mcdonalds on 8th ave plenty of times and 8 out of 10 times the people in charge of making the sandwiches are doing it with their bare hands! It really grosses me out.

for the second or third time this week we have had to wait a long period of time at the drive thru once there wasn't anyone in line and only 3 cars in the parking lot and we still had to wait twice this week we didn't get all of our order so I think it is about time someone lets the company know what's going on there are numerous people with the same complaint but nobody wants to blow the whistle well somebody better be lighting the fire under somebody's ass or they are going to be out of business because people are getting tired of it we waited a long time to get McDonald's here it would be a shame to loose it over something so stupid

I recently visited McDonalds in barnsley old mill lane on the 21st march this year. I went through the drive through with my mum. I ordered a quarter pounder plain cheeseburger meal large, and a plain cheese burger and small chips. We had to wait in a parking bay whilst our food was cooking as we only have cheese on our burgers. We waited around 10 mins until we received our meals. Wen we got them I checked the receipt just to make sure it said only cheese, which it did. We drove home and opened the bag to find we had no small chips and. We didn't mind as this can be forgotten by an accident so I shared mine with my mum. I bit into the burger and couldn't believe it wasn't plain, there was no cheese on the burger but a stack of onions,gherkins and relish on my burger. The only reason I am writing this in a complaint is that I am allergic to onions and gherkins this is why I am upset, as this is very dangerous to me as my mouth and glands swell up, if I had eaten more of the burger I could have ended up in a & e. I don't think I will be able to eat at McDonalds again.

i am a night hgv driver, and in barton, near leicester.. i had drove from exeter in devon to there to deliver goods. i had off loaded and had just left for the return trip, i saw this small macdonalds and thought i feel a little tired... grab a coffee. being 0130 in the morning the doors were locked so i went to the side window. i asked for a latte and the young girl there said "i'm sorry i can't serve you as u haven't driven through the drive through" i said i can't as my lorry is far to big... she said " i'm sorry sir i can't serve you, company policy" can i speak to the manger please..
a woman in her late 20's came to the window and said with out using the drive through i could not be served, i said, but i can't go through the drive through, she said well i can get the sack if i serve u... i said ok, forget it, but if i fall asleep and kill people and myself on the m42, i think it could be down to you both, just a coffee' not much to ask!!!!

When to macdonalds drive through and ordered 2 big Mac meals when git home there was no burger in the bag so was no happy at all to find it missing! Also the sticker on the chips box was blank when it clearly states a winner every time on monopoly but sticker was completely blank! This was at macdonalds Bedford aspects leisure center. Hope to hear from you soon.

I went to the McDonalds in Chester and bought a large Big Mac meal and a large quarter pounder meal, the drinks were only half full and one of the drinks had a large chunk of about 7-8 ice cubes stuck together in it..don't see why I paid for a large meals and practically didn't have any drinks with them!! Would either like a refund or taken further.

Me and my 5 children visited mcdonalds on queen city drive in cumberland maryland on 04-28-13 and 05-02-13 both times our food was wrong I myself wanted 2 cheeseburger meal with absolutly no onion I get home open it to eat and there was a stack of chopped unions all threw them , I had to throw them away because I cant eat onions and I didnt have time to go back nor should I have had to just to have what I clearly ordered , 5-2, my daughter always gets a plain cheeseburger happymeal and this time we get home no cheese on it , a month ago they put ketchup and onions on it and forgot to give me a small vanilla shake. This stuff happens to much ,yes human error does happen to anyone but for it to happen the last hands full of times and more im not to thrilled about wanting to eat from there. Not to mention I was stopping 5 days a week for a large mocha frappe and stood in line for 32 minute, 26 minutes, 20 minutes, way to long for fast food , the management pretends like they dont see anything and the poor cashiers take the heat from the customers. Each time I walk in I hear atleast 3 to 4 people complaining while standing in line waiting so long. I work in customer service 8 years in management and I never would let a customer stand in line that long nor let the cashiers just deal with pist off customers.

Iv'e been in the food business myself for quite a while, whats exiting is when i see people eating my food enjoying and being fully satisfied. I ordered a CBO meal at store number 10798 in west Rotterdam, not only did i wait to long for my meal, but i felt disccriminated against because others where served before me. When i brought the meal back to work to eat it there i noticed you can count the onions that where put in the sandwhich. According to the advertisement you can actually see the the sandwhich draped in onions which is what makes the sandwhich. My french fries where cold as well and my job is only ten minutes away. I took a picture of the sandwhich and i will post it so that everyone can see how cheap mcdonalds has become.

Me and my husband went to McDonald capricorn muizenberg on 5jan2013 and bought four meals,three with shakes and one with a diet coke. On returning home my husband sipped on his drink but the liquid didn't want to come through,so he open the lid and to his surprise found a McDonald plastic bag in his cup.
We went back to the store to complain but the staff as well as the manager looked at us as if to say we put the plastic bag in the cup. Its not like we have McDonald plastic bags at home. All the manager did was to refund the cool drinks money not even a apology. This will be the last time ill go to that McDonald,clearly the staff don't take note of what the doing.

I was at McDonald's on 3/31/2013 in Rural Retreat order two biscuits ( sausage & egg) it took five mins. to get it ordered then it was ten more mins before I got my order because your shift leader was so worried about someone that clocked in or out I don't know all I know she was yelling at a employee on the floor and people was walking out I'm sure you lost a lot money.
I don't know but I think this could have been taken care of after the shift some where off the floor. I don't think I will go back this is uncalled for and service is the worst I've every seen and its not the first time that I've been there and the service sucked.
I think someone needs to go in there on Saturday or Sunday Morning an just watch what happens there was no straws for drinks on the floor it was just very, very bad something needs to be done soon.

Dear McDonalds, I have just been to your Lytham St Anne's Restaurant near Blackpool. I ordered a Quarter Ponder Deluxe meal, with a coffee. The manager said she would bring it over when it was ready. I waited for 25 minutes. Went back up to see where my meal was, waited another 15 minutes. By this time I couldn't waste anymore time as I was on my lunch break. I asked for a refund and was told I was not allowed. So I have basically been robbed of £5.98. I would appreciate some one to get back to me as soon as possible as this is boarder line theft.

I am writing regarding my son and his employment at the location at 505 N Main St Belmont NC which ended today 12-07-2012 due to your management. My 16yr. son Robert Setzer began working there a month ago and at one time worked 10hours in a day and received only a 30 min break, also after this each day he worked about 8hrs each day and still only gets a 30min break only.
He tried to call one Sunday to get his schedule and they told him that he HAD to come down there to get it, the problem with that is we live in Lincolnton and not in Belmont by the grace of GOD we do go to church in Belmont. He was put on the grill at the start of his employment and got burned real bad and was told to keep working that he would be alright.
When he was put on the front he was told that he was $13 dollars short and I know that my son is not a thief and he said that there was another woman that fussed at him cause she said that was her drawer and that it made her look bad but yet my son was told by this location that he would have to pay this back and they cashed his check right there in the store to get that money back.
Today before his little break he was told that he was $5 dollars short and needed to pay that and that is when I told my son no more and I am coming to pick you up. I will not have my son's name slandered like this and when is it legal to have more than one hand in a teal? Also when is it legal to have to pay back money that someone did not take?
I know that the store has cameras and can watch for dishonest workers. I have a friend in the labor board and I am contacting my personal lawyer to ask some more questions about actions that are taking place at this establishment. I have always taken my youth group of 75 to this location to enjoy the food and etc. but I can promise that we will not be coming back and I will make sure to notify all the other youth leaders in the churches surrounding me.
This is not how you treat employees and this is not how you keep employees either. No wonder there is such a turn over in your employees and this really bothers me. I hope that you will look into what is going on in this store and the management that is running it cause some other employees besides my son have said some bad remarks against things that take place there. 

I'm not the type to ever complain, but this restaurant I felt treated me horribly. I hadn't eaten in over 24 hrs and I was craving a Southern Style Chicken and I always add extras on there such as lettuce, mayo, onions, tomato. I place the meal order and the manager(I'm assuming) overhears, she comes over and tells me "You just want to get a #8, its the same thing and cheaper?" and I say "no thanks, I would just like the southern style " and she tells the cashier "just do it as a # 8 so you don't have to go through all the adds on my original order." And when I get my order, there is no onions, lettuce, or pickles on it. Is it a Mcdonalds policy to recommend what their customers should order and not oblige to the original request ?? If someone would be kind enough to reply and explain to me, I would really appreciate it. Thanks

Good Afternoon,
I would like to put a complaint in agaisnt the Woodstock NB store, I took my 8 year old niece there for lunch on Sat and the place was absolutely disgusting, you couldn't sit at the tables, you couldn't get a pop because of the spillage all over the counter, I didn't even want to put my tray of garbage near the garbage bin it was so disgusting. The floors didn't look like they had been swept or mopped in some time, I asked for the girl behind the cash for a cloth she advised she would come clean the table with the rolling of her eyes at me, my mom had already taken out an acholic wrap and cleaned the table so we advised that the table next to us needed whipped off as well, she rolled her eyes and walked away, we have a brand new inside and you can't sit at any of the tables, you don't dare get a drink. Before entering the restaurant my niece said to us "you don't want to go in here it is nasty" she is 8 years old and what 8 year old does not want to go to McDonald's, as well she would not sit in a chair and eat either, she stood as she ate. I am normally very tolerant because I know it can be busy but the restaurant was not busy the supervisor was to busy eating herself, there was 5 or 6 girls behind the counter and none of them were doing anything, my first thought was if the front of the store looks this bad what does the kitchen look like? I would have left but we had already ordered our food and we were not getting any assistance in getting a table cleaned I knew we would not get a good outcome of returning our food. I have called 3 times to talk to the manager and he is never there and I keep getting I'm not sure where he is or when he will be in. I feel there needs to be a spot check done on this store and something needs to be done about the employees.

My complaint is that i got a job there and they dont like to train you.I been working there only for about a week and i learned how to use the grill becouse there is one person there he tought me to use it but he is a employee.The other day the manager told me to use the frier and to wrap sandwiches but i never did it and she yelled at me and said i was to slow.
They dont evevn have uniforms i cant buy my cloths to work there or my shoes.I think everyone should treated the same but the mangers think that there better then everyone else.I call the store the other day becouse my aunt was sick and i had to call out that day from work and that one maneger that i have such a problem with started yelling at me and i told her at least i called and let them know.I like to work and i am a fast learner if i am shown how to do things and i like to be treated like a person not a animal.
I have some disabiliteys so i am not that fast but i do my job well and i am always on time.Someone needs to go to that store where i work and be undercover so they can see for them self how those managers treat the people.There are about 2 managers that are nice but they dont train either.The employees dont help out with the new people either i guess thats why no one stays in that store.Its hard to find a job.There are alot of good employees outthere but if they have the same experance like i do at mcdonalds no one will stay at that store.
I live in port saint lucie fla and the store where i work is on saint lucie west right by I95.I hope i dont lose my job becouse of this letter becouse right know i need the money i am looking for another job and to bad for mcdonalds becouse i am a good worker. I really hope someone finally does something about the store manerger shes the main one i got a problem with.The other manager i got problems too.
I also was dissrimanted on becouse i have a tattoo on my hand that says RIP and has a cross i think thats unfair becouse all other jobs dont say nothing about my tattoos i worked in a country club for rich people i was a prep cook and they dident care what i looked like or what tattoos i had becouse they knew i am a hard woker.I still would be there but everyone got laid off there.well thanks for your time...

I'm not sure who keeps an eye on the McDonald's staff but this has been going on for years at the Fremont,Ohio Rt. 53 McDonald's. The management there has been getting its employees from mainly family members making it impossible for more qualified people to get a job and it makes my blood boil. Its a long time coming but I feel if the higher ups at McDonald's checked their management they would find out what is going on there. One of the managers cousins also attacked a customer outside the McDonald's because he was allowed to do what he wanted.
In my opinion also that McDonald's is one of the dirtiest I have ever seen. Also in my opinion allowing more than just family to work there would open up jobs for other families who need them. Maybe someone should look into this past employees and present to see just how this McDonald's is being used for personal needs. To let this go is wrong and to allow this manager to continue to work for McDonald's is just wrong. We'll be checking to see just how McDonald's really cares about the quality of their customer service.

I ordered breakfast this morning, and it was awful. yes, i receive my order on time, but the drink was wrongly delivered. Later on when we were checking our order, we realized that most of the food was wrongly delivered. We order hotcake with sausage and yet they send us just the hotcake. And so, we called to complain about this, and they told us that they will do the delivery again.
And to my disappointment, it was screwed up again. My order was right now, but the condiment was not. How can i have my hotcake without syrup? How to eat when there's no fork and knife? How to drink when there's no straw? I hope Macdonald will be more careful and alert while packing the food.

I'm sitting here, after just finishing my lunch, doing paperwork. I'm sitting right next to the counter and can see everything that is going on behind there. I noticed that there was one employee that was mopping that went right from doing that to helping take and serve meals. Then the same person helped stock the bins behind the counter. As she was doing so she dropped one item on the floor and proceeded to just pick it up and put it in the container with the others. She then stood up and adjusted her pants by pulling them out of her crack with both hands. I glanced over and she was filling the sugar dispenser with sugar and when she got sugar dumped on her fingers she wiped them on her pant leg. There wasn't one time during the entire observation did she EVER wash her hands. I'm not sure of the employees name because she wasn't wearing a McD uniform or name tag. In fact nothing that she was wearing had a company logo or even the same colors as the rest of the people working there. Grose.

I went to to your Plainville Ct. McDonalds like i usually do for lunch. I ordered the angus meal because that is the best berger meal , of all fast food stores!!!! however, this day i was very disapointed. the roll was stale and burned , the soda was flat, the fries were cold, and the meat was way past well done. I went back the next day to complain to the manager ,and she just looked at me as if to say SO! She did not offer any appoligy or any thing!!!
This is why i am contacting you . please don't loose me as a costomer , i love Mc donalds!!! Thanks for your time. Ted Guerrette

Hi my name is Irene Rosenthal and I have been dealing with your company for 7 weeks now and have been treated like I am garbage. My story is I feel in your Albany store which I located in a Walmart where I work at. I was in your store and there was a young lad mopping the floor in a busy rush the floor was so wet when I turned I fell and was hurt. At the time of the accident no one from your staff in the store came to my aid no manger and no cashier no one the customers came and looked after me. When I fell all I could feel was my back popping and could not move. I went to the doctors got check and was put on meds . The impact was so hard that is also affected my balance and server ringing in my ears and feeling dizzy. I handed everything all doctors notes and everything else that was needed. I am just asking for my expenses to be covered and a little bit more so I can get any future treatment worked on if needed.. I have agreed to hand in proof of treatments but not at the amount you have been offering. I have not been asking for millions and millions of dollars like some people would all I am asking for is 6000.00 and I feel that is fair. I am still fighting with my ears I can not afford to get them fixed with out help. I feel I have been treated totaly unfair and treated and talked to like I am some one just looking for a hand out. This was not my fault that I fell . I was told your claims department has the tape to show it was not anything on my part. Please read this and hope to hear from someone soon that is more understanding.

I went thru the drive thru asked if I could have a second to look at the menu the guy said uhmm sure in a rude way. I pulled forward and sat at the window to pay for a few minutes. I then pulled to the next window and they gavw me my drinks but the wrong order. I went inside stood there for five minutes with no help. I asked to speak to a manger"brenda" she said hold on. There was other customer's standing there with the wrong order. When received our order and it was cold with lose fries in the bag.We DID NOT have fries! So many hands were on our food. The place is digusting! A employee was texting on her phone while taking orders!! I am beyond pissed. Brenda themanager did not say sorry or anything! !

In gila bends mcdonalds I ordered a double cheeseburger, no mustard n pickles, xtra onoins. Then a cook yells my order out n the 2 guys back with the cook bust out in a roar of laughing. I said to the cashier, do u think he will b able to make it. The manager tells the kid I was upset and calm down. I made 1comment, went to the bathroom, comeback and this kid is upset with me and almost out of control. For what happened, I think this store would be better suited with a better manager

On Monday, 8 April 2013, at 5:30 a.m. I went to the drive through at McDonald's and told the cashier that I wanted two sausage mcmuffin sandwiches, but only with egg and cheese. I told her that it was the one listed on the dollar menu for 2 for $3.79. I am a Seventh Day Adventist and I do not eat pork. So I order these sandwiches without the meat. When I got to the pickup window I asked the manager that was giving me my food if the order was just with egg and cheese, she left and another person came and gave me my sandwiches, but at the same time the cashier also came and told me that what I had ordered was from the dollar menu and that she only charged me $2.00, I told her that I was willing to pay for the balance, but she chastised me in front of other workers that I should have been more precise in what I was ordering. I don't know why the manager did not come back and take care of this instead she sent the cashier. I don't have to put up with this chastisement from anyone. I know what I ordered and did not have to be told that I was wrong when I was not. Your cashiers have no business tell the customers that they were wrong and that I didn't have to take the sandwiches. In other words I had to take this from a worker. I just told that fine and left. I need this problem taken care of and your manager should not have let this happen.

The new Texan Angus burger is still being advertised on the radio and a co-worker recommended it... I went - there's a picture on the menu board of the burger with pricing... but I was told it was discontinued a few days ago. The cashier said she's complained to the manager about taking down the advertising but nothing has happened yet. If I wasn't so hungry I would have left and gone somewhere else, but instead ordered a different burger... maybe that's their plan!

After visting your stroud McDonalds (1291) drive-thru on the 18.12.12 at 4:30pm I was disappointed to find the following wrong with my order:
My fries were cold with both my med quarter pounder meals, my med wrap meal fries were cold and my fries on my happy meal were cold. Also I ordered two of your garlic and herb snack wraps without lettuce and received both with lettuce even though the labels on them stated otherwise, my cheese dippers were cold. I ordered a orange and chocolate pie and was disgusted to find that it smelt and tasted like fish.
I do not think that even though the drive-thru is supposed to be the quickest way to receive your meals, that the standards of the food should slip or the accuracy of certain food orders should not be met.

on the 26th feb 2013 at 17-30 went into mcdonalds mount pleasant shop where was greated by a rude male (name unknown) gave order paid ant started to put the wrong things on tray when asked him about this he said it was what i ordered me said no heres what i ordered and shown him my recipt with that he snatched tray back and started curseing under his breath asked to speak to boss and he was not much better 18 mins later left with a bad taste and it wasnt the food
kind regards mr jason harding

i am writing this complaint in a frustrated and angry upset mood, i have been a long term customer at your ebbw vale shop in gwent for a number of years, with staffgetting worst as time goes on. first it was the odd forgetting a burger while in the drive trough etc...., lately it as got that bad that i totally refuse to go there and will stop friends etc... it is a very bad reputation lately when, firstly i been buying mc flurrys from them for years and they never stir the choclate, example, dairy milk, smarties in, they just stick it on the top and there is dissapointment in my children as this is the only mcdonalds ive experienced this from. recently i been buying the cajun chicken wraps that are lovely, but they are serving them up at ebbw vale with no sauce or cheese, it comes to something when you go through a drive through, then have to park up to check. the staff are very nasty if you complain, and laugh with other staff if you say something is missing. recently i saw a member of staff taking a cigarette break outside then walks in, carrys on serving without washing there hands and starts playing around with her hair. i am disguisted in this and am at my wits end , ignoring but enough is enough of chasing around after going through drive through and having to check my order with loads missing. i feel i am giving up on mcdonalds as this service is disguisting, please can you chase this up or im going to enviromental health.regards, louise.

The new Swiss onion burger looks great. I made a special trip and looked at pop and ordered 3. When I took my first bite I didn't get any onions. The second and third was dry as well, so I threw #1 away then opened up #2,3 only to see onions on each the size of a quarter. I then discarded only to leave with the mouthwatering picture.
If you want repeat business then you Must Deliver what you promise. There is a credibility gap here. I spent 36 years with McDonald's and as a previous owner, I knew I must Deliver at the counter. Walk the Talk.
I know it's. difficult but Can be done if you work at it. I have been retired from this wonderful business and Fred and Ray would be sad.

I want to share a little story with you. First of all I am 65, I was forced into retirement due to an illness. Last Friday Jan. 18th my wife and I picked up our two grandchildren ages 4 and 2. We wanted to take out to lunch. We went to the MCDONALD's that is located in Raymond New Hampshire. This was a big mistake, first off we had ordered two happy meals. We only got one at first, I paid the bill which was $21.33.
Then I was told that I had to pay for the second happy meal, that was another $2.57. When we got to our table there was a hamburger that was paid for but was not on the tray. All in all what was to be a nice meal with the grandkids turned out to be an unpleasant event.
In case you were wondering the store number is 4956. If asked I will share what happened at that location. I thank you for taking the time to read this note.

I went through the Drive-Thru at your Mission Grove #12146 store in Riverside, CA last Sunday evening around 6:15 pm. I ordered a Cheese Quarter Pounder with fries. I did not start to eat the meal until I got on the road. The cheeseburger was cold with little taste and fries were cold and unsalted. When I did get home I called the store and they said to come back in and they would give me another meal. I explained that I am very rarely in that area and would most likely not be there again for some time. Their manager was not there and I left my number but never got a return call.

Store # 11964 is a store that should be avoided. my $14.42 order was wrong and when I asked manager on duty to help, all he did was give me a smirk. At KS# 3, I placed my order at 13:00 pm and did not receive order until 13:14. It was a very simple order, I Mcdouble, 2 cheeseburgers, 3 medium fries, 3 large shakes and 1 apple juice. After waiting what seemed like forever and listening to other complaints about poor service, I was served my order. I mentioned to the manager (So much for fast food) and he gave me a dirty look. My Mcdouble had no cheese and the remainder of the food was cold and not any good. McDonalds has become so big, that they no longer care about customer service. That's fine, I have a Burger King and White Castle alot closer than this restaurant. I would give you the manager's name, but he would noy give it to me. My receipt has no info related to my time there. MFY SIDE 1 and KVS Order 94 are the only info I can give. Done with McDonalds forever...Wendell Boardman Davis, 944 Shenandoah Way, Greenwood In. 46143.

on 11-15-12 I went thru the drive-thru for fruit and maple oatmeal. When i got to my office I found there was no fruit or maple in it, therefore I had to throw it away. Last week I went thru another drive-thru for 2 orders or oatmeal. I was asked to go to the specialty parking spot and they would bring it out. I waited for 15 minutes in the car, then had to get out to get my oatmeal. More times than I can count I've ordered food from McDonalds only to get home and find that items I had paid for are no where to be found in my bag. I have given McDonalds a great amount of money and haven't received 1/2 the items I've paid for.

I walked into McDonalds and I wanted to order a smoothie and the manager randomly told me to clean up a mess which wasn't mine, I explained to her and she clearly knew it wasn't mine because I had just walked in , but instead of apologizing for what she had done she swore at me and said very offensive laungage and would not let me order my smoothie, I then told my friend to order for me and I looked at her make it without her knowing , and she spit in my smoothie , she then would not admit it even though I saw it with my own two eyes ,she swore at me again and I left , I am very angry with this service I will not go to McDonalds every again and I will put up signs and ads notifying other people, this all happened at the McDonalds in London, Ontario 1074 wellington road, the name of the manager that did this to me is Aida , I strongly suggest you get her fired, and reported as she did other offensive things to other people on the job

Store #14276 cashier KS# 3 order #321 Something has happened with the drink machine here within the last month or so. The machine is set to shut off early and a lot of the servers behind the counter are not filling up the drinks properly and the drinks being served are really short on soda. Today was the second time, this server, a manager did this to me. He was watching me from the counter and he saw me put my receipt in my pocket and when I looked at the counter, he was looking at me two times.
He approached me as I was leaving and asked about my meal and I discussed with him that this was the second time that he waited on me and I asked to have my drink filled before I left the counter and it happened with other servers too and that if he wasn't doing the job right, he would be unable to comment on other employees doing the same thing. I told him that he was the manager and that he should be doing his job 100% and also that I had worked at McDonalds in about 1966 in my high school year.
He commented on bubbles in the drink and I had watched carefully when he did my drink both times and when he had filled it almost up and put it on my tray, it was dripping of spilled soda. I rethought about doing this, because there are other McDonalds around where I can fill my own drink up, but I don't think he is going to stop what he is doing or correct the matter. He commented about the refill policy, but that doesn't stop him from not filling up out going drinks too where people have to drink what they have from home.

my name is tajuonna hayden and i was working at mcdonalds at 6950 woodridge houston texas when i was fired yesterday bevause the nugget scooper scooped a few extra nuggets as in three i kept in my box not really thinking nothing of it a crew worker hispanic says i intentionally tried to steal nuggets and told a mnanger who told me i cant fix my own luch and ive workred there for 6 months and no one has ever fixed my food but me now its a problem to once i spoke to the gm jose alfaro who couldnt clearly read tried his besty to read me policy rights told me im bein term9inated because of policty rights that clearly non of the managers or crew trainers seem to be displaying to new trainees r doing . i felt as if he picks a chooses b/c when customers come in the always have cameras out recording the managers and mexicans in a huttle chit chattin but the gm does hear about that b/c im sure the hispanic managers dont tell on themselves and who there standing around talking to . i thought i was suppose to get a verbal warning then a written then temination please help me i need my job

i ordered a quaater pounder meal. the lady dressed the burger lettuce pickles & cheese with her bare hand not tongs, the burger was cold. The fries must have been there too long they were cold and flat tasting. also there we no monopoly stikers on my drink or fries. This order was a take out order on friday night Oct 5 at a walmart in bracebridge my order # on the reciept is 35142 . I went back on sat oct 6 to let a supervisor know she said they must have run out of cups with game peices so she did give me two empty sml fry bags with the stickes on them for that. But she didn't seem concered that the employee handled the food with her hands, and that i know it was probably getting close to closing but the fries were not good, and the McDonald fries are always good. I am a big suporter of mc happy day it's unusual to have a problem with Mc Donalds it was disapoiting to have a cold quater pounder meal.
thank you, scott

Long lines even at nite both inside the store and the drive up window. No one taking orders, 6-10 people milling about in the kitchen. The order line is one person at a time...one person takes an order then goes about filling that order while all other customers stand around waiting. People stepping over each other in service area. Go through the drive thru and ordered Lg. Vanilla ice coffee....sit in the line 15 minutes to be told oh we don't have that or to be offered a medium coffee because they have no large cups, then when I say I want my money back they find a cup or coffee but the drink is not made correctly. This is occurring in numerous stores in New Orleans, if this a new way of providing service I have to tell you it is a big mistake and quite frankly it sucks. I will take my business to Starbucks costs more but the service is polite and efficient. This problem occurs at the MacDonalds on Read Road and Bullard Rd in New Orleans, at the store on Elmwood parkway and Canal St. It is a systemic problem

Sarah hughes
from London, ENG
Ok me and my family have been to the tonypandy branch twice this month for a ice cream.the first time we quid for ten mins in the drive thru only to be told when we got to the window there was no ice cream...today we went back for a malteesers ice cream for the four of us only to be told there wasn't any...I'm disgusted and will be telling friends about this.

vanisha chetty
from Randburg, GT
I visited McDonald's Old Fort Road, Durban, South Africa on 16 December 2018. Till Slip 4309. We used the drive through. We were told to park our vehicle in the parking lot and someone will bring the order to us. We drove to the parking lot and had to park in the disabled parking as there was no other parking.. We waited 15 minutes before our meal was brought to us. At that stage the milkshake was melted and the cool drink was warm. Note that I enjoy having my French fries with my milkshake. I informed the lady that brought the order to the car. She did not say anything. I am a regular Customer at McDonald's. I would like a reimbursement of my meals. Thank you.

Gerry Hambrick
from Jackson, MS
We stoped at McDonalds in Winchester Tn. on Sat 12-15-2018. My wife's bis egg and bacon was so hard that she could not eat it at all. My McMuffin was also very hard. I was able to eat it, but it was not the best. We were going on a trip and could not turn back. We love McDonalds and will continue to eat their, just thought you should know. Order number 59 at 07:12 AM

Gregory Suzanne sr.
from Saranac Lake, NY
Hello, I talked to you're CEO this summer early. the manager Mike served my wife again after all the former problems she had with him asking for KETCHUP. she just went through drive thru for a salad. the girl gave my wife her change and threw it all over the ground. she was served her salad by manager Mike at window. the SALAD was tipped all over the bag!!! this is NOT professional to McDonalds standards. I believe this manager is going to give McDonalds a bad reputation. I believe a harsh reprimand is in order sir. regards Greg Suzanne Sr. 5186376552 oh, I would of attached a photo of served salad if she wasn't so upset!

Rhonda Shaffer
from Naperville, IL
the new ordering system at ur Ann Arbor rd Jackson , mi Location is the biggest pain at lunch time its busy enough without having to try and order and then it takes 20 mins out of the 30 min lunch !!!!!!!!!!!!!! I can tell u first hand my co-workers and myself will no longer be eating at McDonald's for lunch Wendy's is a block away and u get REAL service not some stupid ass computer to order our food ..whom ever came up with this idea is a complete moron have a good day

T. Henry
from Baton Rouge, LA
I went to the McDonalds on the corner of Perkins & Bluebonnet in Baton Rouge, La. for lunch today around 11:30. I don't have the store# because I accidently threw my receipt away. Though my customer service experience was good and my food was fresh, when I went to sit down in the dining area, I hear the Manager on shift loudly fussing at an employee about being 10 minutes late from his break. Then, she proceeds to yell out loudly to the entire staff about taking orders correctly. This was very unprofessional to talk to the staff like that in front of customers. It got so bad, she and one of the employees got into an altercation (fuss match) about how she was talking to them. The Manager proceeded to say things like 'you are below me', 'I make twice what you make', 'go home and clock out or I can call the police'. The employee she was yelling at, I could barely hear what she was saying but I'm reporting this because every time I go to this particular restaurant - it's always something. I had stopped going to this one and starting going to the one on Siegen Lane. I think the Manager needs some managerial behavior classes. No one wants to be talked to like that and I'm sure she doesn't either and her professionalism was awful and did not show very good leadership skills to the other staff. Someone needs to handle that because I know I don't want to hear hollering and fussing while I am eating my lunch. Thank you.

vicky harvey
from Jackson, MS
I when too mcdonalds after I got off work it was 2.30 in the morning I am a food server anyway I when by there too get a sauge biscuit anyway I had when by there 2 nite ago but for 2 days they said they were closed it suppose too be open 24 hours anyway I sit there for 15 minutes waiting for my biscuit finally when I got it I was asking the girl that was working why it took so long she slam the window in my face I am 64 years old I dont need some young treating me that way the place is located in Gulfport on coward road an I-10 these people need too wear name tags well that done it with me I will do without before I ever go back there again this happen on dec.12 at 3.00 in the morning these young kids need too be train better

Christine Kelly
from Garfield Heights, OH
Let me start by saying I love your products! The coffee is especially great, and this is the ONLY reason I go to the awful store here in Garfield Hts, OH. I have been going to this store since 2009 and at least 3X per week. I spend $5.79 every time I come and if my addition is correct, I have paid this store about $10,000 over the course of the last 9 years. The store in which I am referring and filing this complaint has been sub par for the past 5 years. It has changed ownership and was doing a little bit better for about a month, then the owners turned it over to the managers. The service is Slow at best. I have made comments to the manager about staff working like they strolling through the park on a Sunday to no satisfactory change. The customer base at this store is lower- middle wage working class and 9 of 10 times, we are just trying to get our coffee before going in to work. Over the course of the years of coming here, I have realized that if there are more than 2 cars in the drive through, I can expect to be in line for at least 20 minutes. When there are more than two cars, I used to just go inside because it seemed to be quicker. Until, they hired this woman who is easliy confused, never makes my coffee correctly, and mumbles under her breath that she will "pray for me" when I correct her on what I want in my coffee. Today was the final straw when I ordered a blueberry muffin as I always do (they are GREAT) and this woman attempted to put it a cookie bag as I watched through the drive through window. When I tried to ask her to put it in a small sandwich bag as to not smash it, she again mumbled something and when I asked what she said, she denied saying anything. The MOD just watches everything that happens there and I have never seen her try to train or correct any staff member even when a customer has complained. It is obvious that Im not much of a complainer as evidenced by this being my first time comtacting corporate, but I am seriously thinking of switching breakfast food restaurants in the search for better and faster service. I hear Taco Bell has a pretty good breakfast with cinnamon delights.
Thank You,
Christine Kelly
Intake Coordinator
Charak Center for Health and Wellness
216-587-6727 ext 3403

Patricia garcia
from San Jose, CA
I came into McDanolds today it was 49 degrees outside. Inside it was cold. I ask the personal if they could put the heater because it was cold. They said, they didn't Know how to move the control. There were three counting the supervisor at night. They laughed and shrugged there shoulders. The supervisor told us I don't know. No one turned it on for us. We are clients of McDonald's every Saturday we are here along with 8 more people. I can't believe the supervisor is not trained on all the lights and controls and the other Co workers. That is a shame being we are locals. Please have more training on your employees. I feel at night it's more like a game for them instead of caring for customers.

Cheryl Perry 0408 675 424
from Alexandria, NSW
EVERY morning since McDonalds have opened up in Gordonvale I have bought a large lactose free coffee..This Monday morning 10.12.2018 waiting in line in drive through I was told NO lactose free milk...Had to wait till all other cars have there order before I could go..was not happy. Not all people can have full cream milk. Today I go back again to give them one more chance and NO Lactose free milk again! You are in a service station get the milk from them! No we cant do that.. I feel this is terrible customer service for anyone who can't tolerate full cream milk! I will be going to Zarrafas froM noW on where I know I get what I order.. A few months ago we were abused by one of your managers in the drive through and I put in a complainT and received a phone call the next day with an apology and was advised you will receive a voucher so you can buy your coffee each morning,,Guess what?? No voucher was ever received ... I don't think McDonalds take any complaints seriously and I will not be going back there again and will be voicing my opinion on social media as this is not good enough. I feel like I have been discriminated against due to being lactose intolerant.

Raymond Moore
from Albemarle, NC
Our McDonalds on Hwy 52 in Albemarle N.C. has the worst service of all the McDonalds I have ever been in. I went there for breakfast on my way to church, Dec 2nd 2018. They were six people standing in line waiting to be served. After about 4 or 5 minutes of being ignored, a man called for the manager. The lady working behind the counter identified her self as the manager. He ask her if we were going to be waited on and she said they had to wait on the drive up first. She announced loudly, she did not make the rules she just worked there. Almost all the people walked out. This is a very unfriendly staff. No one likes the kiosh ordering, but looks like it is being forced on us. This staff needs additional training.

Sabrina Ranking
from Atlanta, GA
For start this McDonald's is absolutely beautiful from the outside, so I decided to go inside and order. I noticed one of the employees had on a bonnet. Not any type of bonnet, but the one that you sleep in, and then when I received my cup I went to the Coke machine and there was garbage everywhere. Just nasty. Honestly I got very little ice and coke. My food was hot when I received it, but upon eating it I realized that my fries had been reheated. I was literally sick. I will NEVER go back to that McDonald's again. I love your food, but this experience has been the worst ever. If I could I would give this store 0 stars.
Restaurant # 38758
4640 S. Orange Blossom Tr
, Orlando FL 32839
, n407-839-3840

Ray Collins
from Amsterdam, NH
I live in the Philippines and probably order at least five times a week. Several times made online orders for delivery...I have three branches within a mile or less from my house and several times I'm told the branch doesn't not want to cater my order or that they can't find a branch to accept my order. Tonight I was told they no longer take 24 hour orders and then when I found out by going to the branch I was told that the branch stopped accepting orders after 1130pm cause they had to many orders. I explained that they should not cancel the order but call me and state they are behind and my order would take x-amount longer to be delivered and let me decide if that is acceptable. But, they refused and said that branch won't accept the order and the other two branches said they wouldn't cause it wasn't their responsibility to handle a branch that can't keep up with orders. That isn't acceptable! Why keep letting franchises be franchised if no matter how many you put around me they wan't catter my orders. My primary branch is at RMR square Tandang Sora Ave Philippines. They are also indangering their customers cause there is only one entrance and exit to the branch...they chain locked their second floor doors and their two other exits are always locked. I have told the security and management this is a fire concern but they just scrug their shoulders and do nothing.

Suzanne Stewart
from Elmira, NY
I had ordered two egg sausage cheese mcgriddles and got home and had two mcmuffins called the restaraunt about this and was told i would recieve coupons for my sandwitchs and recieved nothing after a month called back was told the same two more months go by nothing i guess my service means nothing and my voice is un heard not happy being lied to.

Betty Garrett
from Henderson, NC
I went to McDonald's on dabne y dr. in Henderson nc. on December 4th 2018 with 11.00 am. It the cashier 4 minutes to come to the cash register to take my order . Then it took 20 minutes to get my food. It was 7 cooks in the back cooking. The cooks in the kitchen were laughing and talking to each other. I hollered back them and asked them where was my big Mac then it took them 5 minutes. to fix it then. The McDonald on dabne y dr. In Henderson nc. Is always real slow. You need to make it the turtle restaurant please please do something about it.

Pamela Jones
from Bedminster, NJ
I cant ever get this app to work. It works perfect everywhere else (other restauurants) but not mcdonalds. Since i go there about everyday i have missed out on a lot of food and free frappas. When you buy 5 the 6th is supposed to be free. This is very disappointing. I asked the employees about it and they said other people are saying the same thing so its not just me. I am beginning to go other places more where i can get rewards. Please fix this issue. Thaznk you.

Sandra Crow
from Raleigh, NC
In the past 4 visits, I've received an egg mcmuffin that only included the muffin no egg, cheese or ham. 1 of the other visits (today) I ordered the classic meal and there were no french fries. The other 2 times the food was cold. They were busy on their cell phones and laughing and talking about what they're doing over the weekend. It's becoming where I have a hard time understanding the employees also.

Joe Condino
from Saint Clair Shores, MI
I went to the McDonalds in St. Clair Shores Mi on 9 Mile RD. between Jefferson and 9/Mack Dr. I ordered a double fish sandwich a double mushroom\swiss burger and a large fry . I paid then when I pulled up to the food window the girl ask me what I ordered I told her then she wanted to see my receipt so I gave it to her. Then she told me to pull up they had to make the burger . I pulled up and waited there for about 10-15 minutes . I ended up going in to see what was going on . When I went in and ask what's going on the kid that was at the counter said what wrong in a rude tone. This McDonalds has gone downhill within about the last year with my orders being wrong !
Looks like I'll just go to a McDonalds further away or just stop going to McDonalds all together !!!!!!!!!!!!!!!!!

Jim thorson
from Bedminster, NJ
McDonalds at the pilot truckstop in Whitefield Indiana. Server at counter never once made eye contact. The condiment counter was out of catch up in both containers, and also out of large list, as well as being disgustingly dirty. I waited eight minutes for my food, and when it still was not ready, I asked for and received my money back and left. I've never posted a complaint, and sadly this was not my worst experience at a McDonald's store, but it may be my last.

doyle wilson
from London, KY
where do they find so sorry workers. they cant get your right you make an order get home they left something out. at least seven times I have order things got home at least 5miles from their store look inside package what doyou know they left something out again.makes me very mad I don't want to drive back to store to change so I let it go things I paid for but didn't get if they cant your order right and package it right fire them hire some who can makes me very upset when I go to mcdonals pay them for my order to find out something was left out when I get home thing about going to hardes from now on.

Jeffrey
from Siloam Springs, AR
I have been to mcdonalds twice n 2weeks i go wrong food cold food additude and they sent me coupons and today i use 1 and they did the same thing somebody needs to contact me now!! Manager snatched my reciept away and i dnt have a copy

myrtle armstrong
from Washington D.C., DC
I stopped at your McDonalds at 2485 Blanding Blvd in Middleburg Fl I placed an order for 3 hamburgers and 2 large sweet teas that was at 1244 am and was not served my items until 1am. This was at the drive through with me being the only car in line. The 3 hamburgers were cold and there was grease dripping from the wrappers. I went back through the drive through and spoke to the manager about the problem. Her response to me was that they had a new trainee. And she would have the burgers remade. Now you expect me to wait another 15 or so minutes? This not exceptible for service or food. I find it hard to believe that a manager would blame an employee for her not doing her job of training. How many people have to become sick or stop going to you stores before problems like these are corrected?

Carolyn Starr
from Lexington, KY
I was at your store at 2483 Nicholasville Rd, Lexington, KY 40503 , a lady came in bought food sat down said a prayer and proceeded to eat the food she bought there , when your fatass employees started harrassing her for no reason , told her she had 30 minutes from the time she walked in to finished her food and get out or they were going to call the police on her !! I will never eat at any Mcdicks ever again !!! this was so uncalled for, it is cold here in Ky . she is probably homeless and justed wanted to eat and get warm .. Your staff is the most heartless bunch of maggots I have ever seen !!!!

Upon receiving our order I double checked the food in the bag and we were missing 2 items. I waited almost 10 minutes and no one opened the window to see if we needed anything. I watched as the staff carried on conversations and ignored us. I pulled back around not to hold up the customer behind me. I arrived at the window again to be looked at and ignored by the manager. she also carried on a personal phone call while on shift behind the counter. I had to knock on the window to get the attention of the staff so I could get the remainder of my food. I clearly stated that some items were missing and I have the receipt. the response I got from the manager was " I don't remember that order, did I serve you?, no I don't think so" in condescending tone. Also when she served us the remainder of the food she just threw it in the bag and thrusted the bag out to me and didn't say anything and stormed off with a bad attitude. This manager displayed a horrible attitude the entire time I was talking to her. this occurred 28 November 2018 1035 PM at 440 Mary Esther Blvd, Mary Esther FL 32569. The name of the manager was either Alisha or Felicia. she did not show proper managerial skills nor customer service skills. I believed she should be removed from management or fired from the restaurant. if I could give lower than 1 star rating I would because that is not how you should be serving the public.

jeffrey sato II
from Fort Walton Beach, FL
Upon receiving our order I double checked the food in the bag and we were missing 2 items. I waited almost 10 minutes and no one opened the window to see if we needed anything. I watched as the staff carried on conversations and ignored us. I pulled back around not to hold up the customer behind me. I arrived at the window again to be looked at and ignored by the manager. she also carried on a personal phone call while on shift behind the counter. I had to knock on the window to get the attention of the staff so I could get the remainder of my food. I clearly stated that some items were missing and I have the receipt. the response I got from the manager was " I don't remember that order, did I serve you?, no I don't think so" in condescending tone. Also when she served us the remainder of the food she just threw it in the bag and thrusted the bag out to me and didn't say anything and stormed off with a bad attitude. This manager displayed a horrible attitude the entire time I was talking to her. this occurred 28 November 2018 1035 PM at 440 Mary Esther Blvd, Mary Esther FL 32569. The name of the manager was either Alisha or Felicia. she did not show proper managerial skills nor customer service skills. I believed she should be removed from management or fired from the restaurant. if I could give lower than 1 star rating I would because that is not how you should be serving the public.

Jane Lee
from El Cerrito, CA
I went to McD a week ago, ..their mcNuggets tastes like dried crap, w cheap used oil..their burger and meat was 1/4 of the size..tried those new bacon cheesefries, and it had 1 peice of cheese, not even melted w sprinkled bacon. I can go back just to get a pic for you. Sick. Had diarrea a few hours later.

Sonya Barton
from Texarkana, TX
My husband and I came through, after a doctors appt. for a late breakfast, because no food before appt. The staff was very friendly, and helpful, but the food was just horrible. I guess if you don't get it at breakfast time, you just are outta luck on getting it fresh, because you obviously get what was left over. It should have been free, it was that bad..Oh wait! The drinks were ok..kinda..I went inside to order, and brought it home to eat it

Jacky
from Charles Town, WV
I have a complaint about one of the manger of the mcdonalds in moorefield wv the manger named Sam she said the f word like 15 Times in front of children in the store she very rude and needs to be fired I asked her if she could not talk like that in the store she told me it was her store and could do what she wanted talked to the big manger and nothin was done and she yells at her employees all day long

Mr S.W. Ainsworth
from Johannesburg, GT
On Friday 23/10/2018 we went to you Lambton branch Germiston. First complaint Mc Donalds motor bikes parked in the disabled park, making it very difficult for me to park in a normal parking and to get my wheelchair out the car. The my partner and I go to the toilets, only to find there are no locks on the toilet doors. As these are public toilets, I find this totally unacceptable. When confronting the manger about the two problems, he just acted as though he new nothing about the motor bikes and the lock situation in the toilets. Surely if you are the manager you must know what is happening around you business.
My experience a Mc Donald's has left me with the feeling that this is a business that just wants to take your money and has no interest in the customers.
Regards

susie Winningham
from Raleigh, NC
Nearly every McDonalds downtown Raleigh N.C. the homeless are sleeping under the tables or in the booths with all they own. They hang around outside and try to start to talk to you wanting money or food. If this is what you want to support I can not understand this. Last night was my last time at McDonalds. My children love going there.

Christopher E Cubbage
from Sherwood, OR
I have had enough negative experiences with McDonalds of late that I felt the need to reach out. The simple challenge for me is that the easiest way for me to express my dissatisfaction is to quit frequenting your restaurants much like people did years ago when McDonalds experienced a signifiant decline in business. I also recognize the futility in reaching out to a large organization that is likely tone deaf to its customers. Nonetheless here goes... I drove up to a drive through this evening to get warm fries and a frosty coke. I love your fries and your coca cola has a secret that makes it better! Suffice to say a cold soggy fry did not light my fire. When I went into the restaurant to complain the manager essentially made it my fault for complaining yet admitted to serving an inferior product intentionally! Thus the slipper slope of just getting away with inferior service an delivery. Also I don not like the kiosk ordering system. Is this a people business or just a assembly line for hamburgers. You guys decide but nobody has to get a hamburger at McDonalds. You might want to remember this is just a hamburger. I can get cold fries and a stale coke anywhere. I doubt you guys care about losing a single customer.. Assuming you do what are you going to do to win back a customer?
Chris

Michael Yeager
from O'Fallon, IL
The McDonalds on 906 Carlyle Ave. in Belleville, IL 62221 has been progressively getting worse in service cleanliness, and drive through times. The management at this location is severely lacking. People are just plain out lazy. For one exception, "Scotty" , is probably one reason why people come back in the morning times. I do avoid going to this location because of the complaints listed above. Hope things change,
Michael Yeager.

Wendy Lobley
from Ashfield, NSW
Mc Donald's Arndell park.
On Friday 16/11/2018 I went through the drive thru to order to children happy meals. I was asked what I wanted I said 2 happy meals. Please note I had two children with me they both wanted McDonalds. I got to the pay counter and I said to the girl can I get a medium coke as well, she said sure I tapped my card never noting the cost never having the order confirmed. I drove to pick it up at the next window maybe 15 m away. I got to the window and was given one happy meal. I said I ordered two. The young girl turn to a young "in charge person" who said they will have to back through the drive thru we don't take cash here...............................
Here my complaint.
1. I ordered two
2. they never read my order back
3. The cash register is 15m away or may be 5 m away in the store.
I drove back thru the drive thru as I had two children who need food. As I cam back throu the said in charge woman was laughing. I did yell a bit of abuse at her but....
3. Clearly they did not hear my order
4. Its not funny to make someone drive around the block
5. I am the customer what horrible service
6. the cash register was never more then 5 m away
its not the first time I have had trouble at this Mc Donalds but this was just ridiculous.
My mistake on the nigh was I should have asked for a refund as the order offered was not what I wanted. Question would I have had to drive around to get a refund.
SERIOUSLY BAD SERVICE> I would like too know what you think of such bad service.. Or is that acceptable
I was so angry, at the stupidlity of driving around and furious at the fact the staff thought it was funny. Arndell Park mc Donald is laughing matter I am there at the sporting club regularly and all the families laugh at it but interestingly not to the face of the staff....
I am sure my complaint will just become electronic fodder but I will keep telling my story as I sit right near the shop.5 m is to far for you not service focused staff to walk what a joke worst service I have ever received.

Andy Luong Vu
from Santa Ana, CA
Dear Ronald McDonald,
I grew up with Miki Dsss in my blood and I also served the restaurant during my several first employment. I am one of your most loyal customer in the world; however, when it comes to services, I was always the extra miles kind of worker. Messing with customers is one of the most disobedience action taken while on your clock committed by some of the services. Today, I got my first classic Big Mac meal. I specifically said I didn't want Ketchup, but I got a lot of ketchup to toss away as waste to your money. I said that I wanted a medium Coke, they gave me a large Pepsi. Another service misunderstanding into the trash can of waste. In addition, the fries were soft and bitter? Why? What happened to MIKI DSSSSSS.
Validation code: 00616-12871-11818-15145-00064-6, McDonald's #616, Westminster at 0314PM

David Hill
from Yellow Springs, OH
I was at the store 11277 north main st dayton ohio and I stood at the counter. A girl at the register stood there looking out the window finally she asked me what I wanted. I can't give you her name because she had no name tag. frizzy hair black hoodie with white lettering saying pink. I asked for 2 cheese burgers small fry and mocha frappe. still looking out the window she asked what I wanted again. I had to tell her 3 times. I waited 15 minutes for my order to which they finally told me the machine was broke. They asked me if I would like something else in it's place. I said no that, that was the real reason I stopped in. and said I wanted just to be refunded for the drink. They yelled for someone named Dianne . Dianne never came they yelled for 2 more time and still she didn't come. I stood there for 25 minutes and still nobody refunded me the money. I assume that this store needs to be retrained for lack of customer service. I wouldn't have complained but this wasn't the first time of bad service at this store. I will no longer patron this store. even though I have to drive farther. I love your food and it's value but not willing to pay this stores wages and not get the product. I eat everyday at McDonalds. ks#2 side 1 order 10 date and time 11 18 2018 12:34 pm

Jerri Greene
from Lake Worth, FL
My family and many of my friends have stopped going to McDonalds for the following reasons:
The Filet of Fish sandwiches - They used to be so good and now they are horrible. There is only 1/2 slice of cheese on each one. They are lukewarm and hard when served (the last 4 times I visited), and there is only 1/2 tsp of sauce on them that covers only the center of the sandwich.
The French fries are lukewarm and are tough in texture.
The chicken nuggets are lukewarm to cold and are tough after sitting for long periods.

Diana lee
from Carson, CA
Food was done incorrectly. I called to explain and the .manager was rude and acted like I was lying. People who prepare the food should pay attention to the screens and order tiers should write down everything you say. Even if you show proof your order is messed up,theirs always one uncompassionate manager their. I request a refund for my entire order please

julie welladsen
from Kellyville, NSW
on 17/11/2018 at 1659hrs I attended the McDonalds store at Wollongong #0369 - the best part about my visit to that particular store was my purchase of my McHappy socks - I stood at the McCafe counter for approx. 2-3 minutes whilst the girl made coffees - she eventually looked up and said "my register isn't working - order at the other counter" - no apology - to which i replied "well maybe some sort of signage would be beneficial" - I then moved to the main counter where there was 3 registers and no person serving and 5 people waiting - eventually one of the staff who were cleaning tables was called to serve customers - I ordered my coffee and coconut pineapple bread to "eat in" which was read back to me "eat in" I confirmed "yes" - after waiting 18 minutes I received my coffee in a takeaway cup - I queried it to which i was told "well thats what they put it through as" - I wasnt going to wait another 18 minutes so I accepted it in a takeaway cup and then waited another 5 minutes for my coconut pineapple bread - a total of 23 minutes - the lack of staff the slow service - the way the staff spoke to paying customers was and is disgraceful

cindy brutcher
from West Monroe, NY
hello I weitnt to mcdonalds in a very bad snow storm to get myself and grandchildren dinner at restaurant nimber1515. it was a wait of 7 minutes in line until I ordered that was fine. after paying at the drivethru window I got to next window . they told me to pull up. ok no problem. after 15 minutes and the cars behind me were driving by me I waited another 3 minutes. I didn't want to go in because my grandson had no jacket for it was taking at an event we were at by someone. but I had to go in the line was long again, so we went in. I asked for manager and the man said I am one of the managers. I explained whats was going on. he spoke to another man and brought me my bags of food. I told him it was now over 20 minutes old and wanted fresh he asured me it was not cold , so I took food out before I left and it was very cold!!!!. I was upset . I said I would like some kind of reembustment he told me only thing he could do was refund me my money. I said im not asking for you to give me my whole meal but one free fry or coffee would be nice . again he told me all I can do is refund u your money. well I was hungery and my gran children were was a long nite at hockey practice.i man 62 and have never been trated like this in my whole life from a mcdonalds. id like something done. like maybe this manager needs to be trained on how to take care of customers when something goes wrong and not be treated like this trying to give me cold food. glad I checked it I should not of had to though. he should of known my food be cold after sitting this long

Mariel C. Pajes
from Makati City, 00
I ordered around 8:30 am (Order #dtcp6z). almost 9:36am still no food arrive. I call up your customer service and he told me that my order is for verification. I repeatedly told him that I didn't received any call from you! but instead of apologizing for the delay, your customer representative still insist that my order is for verification. I want a nice answer and just an apology instead. but I only received a "MAARTE" speaking words from your call center representative.
Almost every week I ordered and always suggesting to order from you because of your fast delivery service.
Until now, while doing this complaint, my order still not arrive!!

Kevin Boswell
from Alton, IL
4 out of 5 orders is usually missing something..
They are rude when I call to complain they will mail me a coupon
It never happens
Store at homer Adams park way
Alton Illinois
62002

RICHARD GALLAGHER
from Arlington, VA
I have complained about this site previously. They do not properly maintain (clean) the iced tea dispenser. Sometimes, their iced tea has a distinctly sour, spoiled smell and taste. I live on iced tea at home and know from experience that tea will "turn" after two days at room temp. I had followed up with this site's supervisor previously, who let me know their procedures & checklists specified daily cleaning. She also told me that on the days in question, their night shift had NOT cleaned the units. This morning's visit was at 0530 this morning just as they opened. I went thru the drive-thru. The tea was distinctly sour, spoiled! Clearly, the units had NOT been cleaned the entire Veteran's Day weekend! Otherwise, how could the iced tea have been so disgusting just at this morning opening? The local food service inspectors should audit their shift records and cite this McDonalds with a fine appropriate for the risk they have subjected their customers. An appropriate inspection placard should be posted.

Sandra Purcell
from Havertown, PA
My daughter had ordered food from the menu and had paid for it at the first window. When we got up to the next window to pick up the food, I decided I wanted a Diet Coke. The gal told me it would be $1.07, I handed her $1.10 (one dollar bill and two nickels). She dropped the change outside the window and told me she dropped it I kept my mouth shut and gave her and additional quarter. When she handed me the drink, it was not full (about two inches from the top. When I asked her to fill it up, she told me she couldn't that it was done automatically. Really, she couldn't top it off.
I am 67 years old and have never made a complaint before,but this whole experience is uncalled for (not a good customer service experence at all.

hope deleon
from Azusa, CA
i went to get something to eat ordereds a 10 piece chicken nugget meal. got to my house and sat down to eat picked up a chicken nugget and bit into it and realized that i was biting downon a chicken bone. its not so much a big deal but i have a 6 year old who was sharing with me snd she would have ate it and choked on it and something where to happen.

Angela Shepherd
from Charlotte, NC
On 11/7/18 about 9pm I went to the McDonald's and ordered a McRib combo and this is what I got after setting at the first window for a while before pulling up to the second window to pay. Then they had an attitude because I pulled up. They folded the meat in half and placed in on a regular hamburger bun that was mashed and then half wrapped it.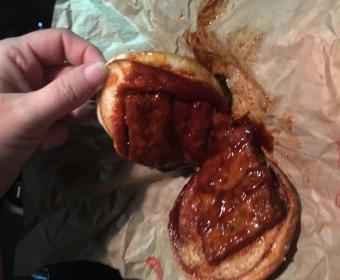 I would like to make a complaint about one of your franchises that is located in Izmir/Turkey. It is the Ege Park shopping mall franchise, where i always order my Mcdonalds via an app called "yemek sepeti" . Today i ordered my double cheese, coke and fries are king size. The app gives 70 mins for delivery. So they did deliver my menu in 70 mins; however, it was really cold and the coke was the smallest size and halfway poured. I only live ten minutes walking distance away from this franchise. I wonder how it took to bring it 70 mins. Even though it did, it was such a shame for i did not get what i wanted. I believe that this franchise is a shame to Mcdonalds image. If you check the comments in the app, you can see everybody complains about their late delivery and reckless preparation. If any responsible reads this complaint, please audit this franchise. I did not appreciate getting wrong products while paying the king size cost.

bob
from Newport News, VA
I went to Mcdonalds 11.07 on and ordered 2ea egg mc muffin meals and the the receipt indicated a mcgridlel and a large sweet tea. I ordered 2 large unsweet teas.and they subs bacon egg & cheese biscuit. THEY ARE VERY UNATTINTIVE AND DONT LISTEN . THERE ORDER ACCURACY IS USALLy 99.9% incorrect THE STORE NUMBER IS 1750. THE ORDER NUMBER IS1389

timmie Cantwell
from Carlisle, PA
Friendly complaint, Your coffee cups, the lids do not seal on the cup tight enough today 11/7/18. I stop to get a cup of coffee while taking a drink the lid popped off. This allowed the coffee to spill down my chest resulting in a very hot moment. I think your organization could design a better cup and lid, so this does not happen to any other of the McDonald's costumers.
v/r
Tim cantwell
Loyal concerned customer
4222 Carlisle road
Gardners Pa.
tcantwell1 2@gmail.com
Have feedback for McDonalds?
Thanks for your feedback!
Sorry. Please try again later!