McDonalds
McDonalds Complaints Continued... (Page 15)
1038+ reviews added so far. Upset? Call McDonalds corporate: 800-244-6227

Stephanie Abernathy
from McDonough, GA
I stop at mcdonalds store 1938 just about every morning. Half of the time their mocha machine is down or not working. This morning I stopped by there and ordered a med hot mocha and she charged me for a med mocha, ran my debt card and when I got to the second window they then informed me that the machine was warming up and it would be about 10 minutes and offered me a large coffee instead. This really aggravated me because I love the mochas and this store always seem to have problems with this machine or they just don't want to use it. Not really sure if I will be stopping by there in the future any more.

William Smith
from Salt Lake City, UT
I went into McDonald's and ordered a large drink. After approximately 30 minutes I was approached by the manager and informed I had to leave. I was told, i had, had enough time to drink my soda, and was asked to leave again. management was very rude, disrespectful, and demeaning to an everyday customer and I take exception to the treatment I love and respect McDonald's and it's properties. I am giving HissingKitty this information in an effort, to resolve this issue to prevent McDonald's reputation from becoming tarnished further. The McDonald's was in Taylorsville Utah on 5400 South and about 3850 West at approximately 6 a.m.

Norma Wilson
from Fayetteville, NC
My main complaint at the moment is regarding the new coffee cups. I've seen these at other McDonald's and didn't like them. Now they're at the local McDonald's that I visit daily (West Jefferson, NC). These are the worst coffee cups that I've ever seen. They will burn you when the coffee is hot. The lids don't fit properly and continue to leak. I've spilled more coffee on my clothes with these cups than any others. I continue moving the lids around trying to find the spot where it doesn't leak.
Then I've noticed the coffee gets cold much faster than in the other cups. They are shorter and wider so they don't fit in my cup holder in my car easily either. Trying to reach down to pick up my cup from the cup holder is a major problem sometimes. I have a problem trying to pick up the cup because I have to pick it up from the top and I'm afraid the lid won't stay on. The cup seems to be made out of cheaper material and is flimsy. Please bring back the old cups! I buy several cups of coffee daily from McDonald's! I don't even make coffee at home anymore because I love McDonald's coffee so much. But if I continue having to fight with my coffee cups like this I may just have to start making it at home again!

Jeff Juranek
from Los Angeles, CA
The McDonald's in my neighborhood, located at 11300 National Blvd., Los Angeles, CA has had a broken milkshake machine for the last 3 months. Every time I go to this McDonald's, about once week, the shake and ice cream machine is always down. It has been my experience that the customer service has gone down over the last year, food is often cold, and the cleanliness is poor.
I have spoke to the local on-site management, and they are not helpful or courteous. My request is for the Corporate Office to get some help at this location. I would like to support my neighborhood McDonald's, but I am not happy with the service or capability of the staff. Please help.

James Stagner
from Sherwood, AR
I went through the drive through to get a breakfast special (egg, bacon cheese, biscuit) with medium coffee and received my order and drove away since other patrons were in line too for their order. Got to work and pulled out my biscuit only to find they had left off the egg. This is the second time I have not received my correct order at this McDonalds on Arch Street in Little Rock Arkansas.

Lindsey Prince
from Raleigh, NC
Went to McDonald's the manager was already yelling at the staff to get on line and help prepare food. Well she got on line herself and I noticed she was making my food (I had a big order) she did not have on any gloves after just coming up front touching the computer screen then going back to prepare food not washing her hands or putting on a glove to cover the huge band aid on her hand. I also asked for no pickles or onions and of course there was.

Denice Krumdieck
from Cincinnati, OH
After paying for my order I sat in my car for 13 minutes until I got my food. There was a problem with the fourth car ahead of me. Instead of making that car pull to the side to take care of what ever problem they were having they let that car wait until it got its order. This made me 15 minutes late to work. When I did sit down to eat my order is was cold and the fries where not fully cook. I eat at McDonalds at least three times a week. I found this unacceptable.

Robert
from Janesville, WI
I frequent McDonalds several times a week. I stop in for lunch at the S Park St location in Madison Wisconsin. I stood in line for at least 5-10 minutes. I was the only one. Employees just walked by and act if I wasn't even there. I finally left and went thru the drive thru. I don't want any response from your company. I can assure you I will not go to another McDonalds.

sandra gortz
from Fresno, CA
A am a regular customer of the McDonalds in Fresno, Calif, 689 Nees Ave 93720, and usually go for coffee through the drive-through. Yesterday, at 4:45 p.m. I ordered a medium decaf coffee. When I drove forward to the pay window, the girl was laughing as she took my money. When I went forward to the pick-up window, the other girl was smirking as she handed me my coffee. When I got home and opened the coffee, I saw dark sludge instead of coffee. Apparently she was too lazy to make fresh coffee so she gave me what was left from the first morning coffee. I guess these two employees think it is funny to give an old lady a cup of sludge. Who knows what else they do to people's orders for a laugh?!

Debra Brown
from Decatur, GA
The McDonalds location at 1429 Riverstone Pkwy, Canton, Ga 30114 was understaffed during the morning of Wed, Feb 24,2016. I went inside because the two drive through windows were impossible to even enter. The biscuit I received was tough and not in the condition it should have been. The outside trash containers were overflowing with trash and trash was on the parking lot pavement. I left with a very unfavorable impression of this location. This is not the first time I have felt disgusted with this location. Major improvements in staff, management and maintaining the location sorely need to be made. As much money as McDonalds takes in, surely someone could improve this location. Disgusting way to start my day for sure.

Debbie Fuoss
from East Chicago, IN
I went to McDonald's at 100 Sauk Trail South Chicago Heights, Il 60411 Store #1924 on Feb 23,2016 18:32. I have had several issues at this location in the past few months. I have contacted the store directly previously and it seems things have not been addressed or if they have nothing has changed. So I have decided to reach out another way because there is no reason for preventable issues. Last night I went inside to eat with my 2 daughters. I think it is first of all very unprofessional for employees regardless if they are clocked out to be hanging out in the dinning room. There were 4 employees one I assume was on break because by time we left he was headed back behind the counter.
During his time in the dinning room in his uniform myself and my daughters had to listen to his personal phone call which he was not quite about. Dropping the "F" word every other word and complaining about not taking care of no babies 2 & 3 years old that are not his! My order was not correct and I didnt even waste my time going to have them fix it because I have dealt with Veronica the manager on duty other times and she is EXTREMELY RUDE! While waiting for my order a customer hands her a cell phone with some lady trying to place her order over the phone or asking about orders all while the manager continues working while on the cell phone. This particular McDonald's is a joke with the employees and how they are allowed to behave!!! I asked 2 people why every time I have been in there not one but both Ketchup pumps are completely empty and no one had a response for me....
I wasted $15.00 last night there with RUDE service and ignorant phone conversations from employees topped off with my order not correct! What does it take to get these issues addressed at this location?? Customer service at that location is unacceptable! I work for a company and I am in charge of the companies customer service from who is hired to all of their training and expectations! So I am not a customer that is complaining in order to receive free product. I am complaining because all around it is unacceptable for a billion dollar company to not have a handle on its employees and continue to allow them to get away with their behavior. I would like to speak to someone on the phone regarding these issues.

Phil Griffin
from Melbourne, VIC
I attended Mc Donald's at Stawell on the 20/02/16 at 9:11 am. I ordered 2 x Mc Muffin meals, I x Coffee with 2 sugars, 1 x med sprite and 1 x extra hash brown. There were three cars in front of me and four behind me. I then waited until 9:27 a.m. before I got my meal. I understand that they may have been busy but honestly 15+ minutes to get my order. Not good enough. I could have driven to Ararat and got served faster. I have complained about the service at Stawell before and gave them the benefit of the doubt but after this I will not be returning to Mc Donald's and will be getting my food and coffee elsewhere. That whole place needs a damn good shake up. You have now lost a customer and will lose more. Wake up at Stawell or shut it down. Not darn good enough by a long shot.

Lois Cole
from Laguna Niguel, CA
I had my dinner at the McDonald's at 27331 La Paz RD in Laguna Niguel, CA 2/19/2016 Time 18;05 They gave me the round disk, that I am familiar with Although they brought my dinner to me
At that time I told the server there was 2-3 big splatters of Ketchup on the floor as you step into the booth, I didn't see it until I sat down I told the server and he said he would clean it up, well I finished my dinner and it still wasn't done.
I went to throw the trash away, which a young lady was just starting to empty, it was full and people were putting their trays trash and all where normally just trays go, I told her about the spill and she immediately put out cones. There was only one person taking orders and if I am not mistaken she was the one who was emptying the trash! I told her the register was posting so I could see the charges, she just kind of brushed it off.
The people sitting across from me were upset bc there was just enough Ketchup for the little container to not even fill. There soda"s are so watered down. My fries looked as if they had been put in the fryer a second time. I frequent this McDonald's at least two times a week Drive thru the prices on some items are not posted. Senior coffee went from .59-.79 Soda's are no longer $1.00 now $1.79 a few days before $1.69 prices are not posted. I could go on and on.
Why is there so many different people working there, never the same people like there used to be? Who knew what they were doing, someone always cleaning the floors etc.

I am an Australian university teacher living in Guang Zhou with my wife and eight-year-old son. At 3.50 p.m. on 18/02/16, my wife purchased Chicken McNuggets, fries and a Happy Meal from McDonalds at Zhong Shan Si Lu, Guang Zhou, China. My wife and son ate their nuggets and other foods at the time of purchase and brought some nuggets home for me which I ate at about 6 p.m. We had nothing else for dinner that night as we all, for some reason, had little appetite.
By 3 a.m., my son was vomiting violently, followed by myself, which was repeated another four times for me and an alarming nine or more times for my son throughout the early morning hours. My wife also began vomiting, three times from about 6 a.m. to 9.30 a.m. When my wife rang the respective McDonalds reporting that we had all suffered food poisoning from eating the chicken nuggets, she was met with (words to the effect), "We sold many nuggets to many customers, but you are the only ones who have complained.There is nothing wrong with our food."
This was from the manager, "Ye Jun Tao", who initially proved quite reluctant to give his name. I find this somewhat dismissive response totally unacceptable, if not reprehensible, particularly in view of the fact that my wife and child required medical treatment for nausea and diarrhea, the latter which I also suffered from, albeit less severely. Furthermore, as a result of the illness we all suffered, my wife and I had to absent ourselves from teaching for the day, as did my mother-in-law who tended my son who was kept home from school.
My wife's major concern was not getting a refund, free meal voucher or even an apology; rather, she was concerned that the contaminated chicken nuggets would continue to be sold, potentially afflicting other customers with food poisoning. I can only hope and pray that this food doesn't carry Bird Flu virus, the outbreak of which has been a major health concern in this country. We have enjoyed McDonalds in both Australia and China for many, many years, but now our confidence in the quality of McDonalds products has been severely compromised, if not shaken.
We would very much appreciate McDonalds earliest investigation of said franchise, at least for the sake of protecting future customers. For the time being, however, we will be avoiding dining at any McDonalds restaurants until this matter is resolved.

Lorraine Yates
from Surrey, BC
Sunday Feb.14/16 at 6 p.m. I went through the drive through at the Scottsdale store in Delta B.C. 120th street at 72 ave. North Delta B.C. Canada. I ordered the COB sandwich for the first time. I had to wait 5 minutes or more in the holding area parking as there were no chicken burgers ready. This is not a problem, I thought I would get a really fresh product. The lettuce on the sandwich was a wilted mess, just slimy, there was almost no dressing or bacon in the sandwich and the bun was verging on stale tasting. For the most part I usually get the fish sandwich and am always pleased with that, tried something new and it was not up to par at all.

Suzanne Livingston
from Citrus Heights, CA
I was at the McDonalds at 10355 Folsom Blvd. Rancho Cordova, CA and I noticed they were charging 9% sales tax instead of the 8% sales tax for Sacramento County. This is illegal. I questioned it and was told that the owner raised the sales tax. The owner can raise the price of the food but he can not arbitrarily raise the sales tax. It is what it is for that County. It wasn't the small amount that I was overcharged but if you add that up for every item sold daily, weekly and monthly; the owner is getting quite a bit of extra profit. If I do not hear back from the corporate office, I will take this complaint to the County of Sacramento and let them know that this McDonald's is overcharging the sales tax.

Dwendolyn Wilson
from Columbia, SC
On 2/13/2016 I went through drive-thru and ordered a southern chicken sandwich, which I had a coupon for a medium fries and medium soda. I paid at the first window and move to the second window for my order. As I approached the second window a you black male was standing there, he looked at me and walked away, I sat there for about three or more minutes waiting for him to return to the window.
The young lady from the first window came up and handed me the fries and sandwich, i told her I did not drink coke and asked for a sprite, she never returned. about another three minutes the young male return and gave me a coke, I told him I wanted a sprite.
He gave me a angry look and took his time to give me a sprite. The fries were barely warm but I didn't want to say anything to him because he had an attitude already. I don't like complaining.

Jose Miranda
from The Bronx, NY
McDonald's in the Bronx on Fordham Road is the worst. As soon as I arrived there was no one on any of the registers. The female on the grill had called a co worker to let her know there was a customer. The employee arrived and said if the customer was desperate for his order.

Stephanie Alston
from Baltimore, MD
I ordered a fish sandwich and I asked for fresh French fries. I noticed that the fries were being fried in the fryer furthest away from the front and that there was only a small amount of fries after he dumped the order out. but did not think anything of it. When the fries were done the manager he is African American with a bald head laughed along with the assistant manager and a worker and stated fries right out of the grease. After I left the store I noticed the fries were not very hot, then a woman who had been in the store said all he did was but an order of French fries that had been sitting there back in the fryer and gave them to me. I have had other issues with this store but choose to ignore them (even though I should not have) but that was the last straw. I will not be going back to this store Number 2606 again.

Nancy Aderholdt
from Montreal, QC
I have received for Christmas a McDonald $25 gift card. I presented in 3026, Rue Notre-Dame Ouest in Montreal, QC. 3 times and the card does not. Yet I turned online and was told that the balance is $25. That must be the magnetization of said card is not working. But what inconvenience caused by this card. I sent HissingKitty the card number so you can help me find where to cancel it and return a functional me I would be grateful or at least contact me.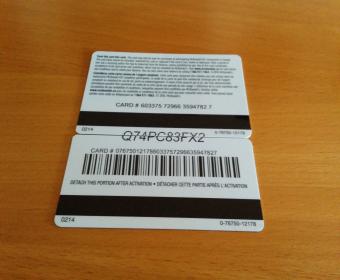 karen bedell
from Minneapolis, MN
Every week for the last year I have been ordering chocolate chip frappes on Wednesday, Thursdays, Fridays, and once a week the frappes machine has been broken, now this morning which is 1/7/2016 at 7:00am in the morning they are cleaning the machine but every week once a week something is wrong with the machine. They should have this machine replaced and also clean this machine at night not during rush hour for work. The address of this Mcdonalds is at 300 n. moorland road in Brookfield, Wisconsin.

Reita Gillette
from Matawan, NJ
I am terribly upset over the fact McDonald's doesn't think Florida is a Southern State and will not serve breakfast all day. I am a 5th Generation Florida Native. I am as Southern as they come. I would appreciate them changing your views about Florida people and treat us accordingly. I love McDonalds and stop often. Please make that change.

Dave Aurand
from Orlando, FL
As it was early morning, I ask if the food was fresh and hot! Neither was the case. The fish had dried out on the edges, the cheese had a crust on the outer edges, and instead of being steamed, the bun was grilled for a fish sand. The fish was down right cold! My wife had the Buttermilk Chicken, and that was also cool. I asked for a fresh food, not something that was in a warmer drawer. I asked when I went through the drive thru, if it would be HOT. The guy said because of the time, (3:20 am) everything had to be cooked!
This store was just rebuilt and is not more then two or three weeks old. Before the old store, we also got very bad food. This time, was no different. On the occasions of having the Buttermilk Chicken, (10 or 12 times) it tastes like they were fried in OLD OIL, they were very dark, and NOT golden brown. They also had a burnt taste to them. I called and talked to Pebbles, and she said to come in at my convenience, and the order would be replaced. As an ex employee, I find that pride no longer exists at McDonald's. This is the type of thing that drives McDonald's customers away.

I went through the McDonalds drive thru in New Lebanon ohio around 9:30pm, got my daughter a happy meal and a vanilla cone in a cup, on my way home I noticed a rotten smell from the ice cream so I tried it thinking maybe it was just me, and it was not. The ice cream tasted like rotten milk. So still thinking it might be me I went back and had my father taste it, he said the same thing and went and brushed his teeth and told me to take it back. I decided to go into the store instead of the drive thru, I told the lady that came to the counter that the ice cream was rotten and all she kept telling me was that they get cleaned every night and asked if I wanted a refund or a new cone.
I asked for a new cone since my daughter really wanted one. I tasted it again while standing there, still tasted and smelled rotten so I told her I didn't want it and she threw it on the counter and started working on someone else order, she came back and I asked her to try it so she did, facing away from me, she turned and said they must have added milk to it and that it taste ok to her and yelled for someone to get a bag of vanilla ice cream, as i'm waiting there I watch the other employee add a new bag to the ice cream already in, so I just got some cookies. Clearly the ice cream was bad, they should have shut it down and cleaned it not add fresh ice cream to try to cover it up.
The ice cream made me sick, and this needs to be taken serious because my daughter would have ate this. I work at a fast food place and this is not excepted. I'm very curious to see if anyone else took theirs back too. This is very upsetting to me since we go there all the time, your serving the public and you need to follow the rules that is why their there. You can make someone very ill by added fresh ice cream to rotten ice cream.

Kimberly A Sears
from West Dover, VT
On December 15, 2015 at approximately 10 p.m in the evening I went through the drive through location of McDonald's located in Derby, VT where I placed an order for a Crispy ranch chicken wrap, a small fry, and a McDouble burger. The total came to $13.13 which if I may add isn't all that cheap but I just remembered I added 2 small strawberry shakes. When I got home my husband opened his wrap and began eating it when he literally bit down on something so hard it broke a piece of his tooth off and pierced a small hole in his tongue that bled for several moments.
I immediately took a photo of the bone as well as put it directly into a zip lock baggy a for prove we are not lying. This is quite devastating to us as we are both loyal customers and have been for quite sometime now. I'm so upset and so mad that we don't even know where to go from here I'm that upset. This "piece" of bone was not small by any means so we need to come to some sort of agreement on where to go from here on what can be done for us now.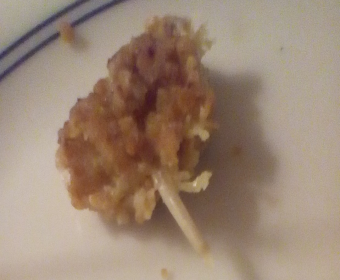 Michael Fuller
from Wilmington, DE
This is a ongoing problem. I stop at McDonald's store #7312 twice everyday; and I've noticed that a lot of times they refuse to accept my Valid Coupons; even the little Free sandwich/ French Fry Stickers. Yet I can take the same Coupon or Sticker to another nearby McDonald's and they accept it without a problem. Store #7312 will refuse a valid coupon/ sticker on Monday yet accept it on Tuesday. If I order a breakfast sandwich and want to exchange sausage for bacon; one day they'll charge extra; yet others they won't. Where is the consistency with McD's corporate policy?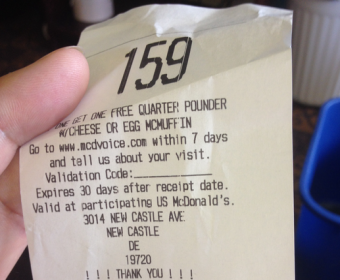 Winona Stoecklein
from Burbank, CA
I downloaded the McDonald's app, this week, after seeing it on my coffee cup. I wanted to get the buy 5 get one free coffee. It worked the first time, but the next day at another MCD'S it just kept spinning and wouldn't work, even after I had opened MCD'S internet. I am very frustrated, because I have tried to use it several times and it just spins or says timed out, or tells me they are having a problem and please sign in again. Tonight, I went to the McDonald's in Oceanside, and tried to get the special of buy one get one free happy meals for my grand kids. I turned my phone off and on again three times but it kept saying, sorry there is a problem, please sign in again.
I finally had to pay full price, which was very frustrating, when it says right on my app that it is buy one get one free. They were supposed to have the toy's from the peanuts movie, but said that they ran out. They gave them a sponge Bob toy instead. This is unacceptable, since they are trying to collect the whole set, and were so disappointed.I also ordered a chicken lettuce wrap sandwich with no sauce and it was loaded with mayonaise. We regularly go to McD's several times a week, and hope that this can be resolved.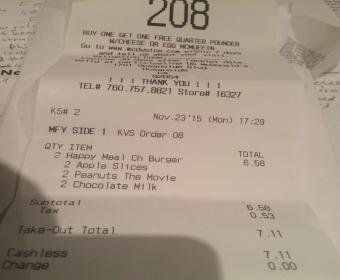 First off all we went to get our food the hot chocolate tastes off just hot water so we was not happy. We phoned support and spoke to the manager they said call back and we refund your order as we did. The mango pineapple smoothie made my partner very ill. She left half off it and it doesn't look right at all so we are looking to go see if she got food poisoning. This should not be happening, if so we will take it further.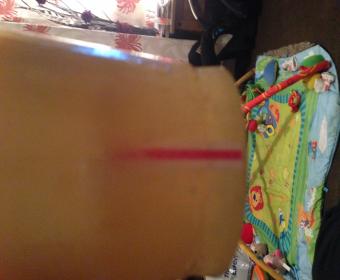 Eva Leo
from Plainfield, IN
I go to the McDonalds on 38th St and 465 Indianapolis, Indiana every single workday. They know who I am. I am there EVERY DAY!!!! Although now I am never going back. I put up with my food order being wrong at least 2 days a week. I never complain about that. I put up with getting diet coke when I order a coke. I put up with getting chocolate chip cookies when I ordered oatmeal. But today is the last straw. I went through the drive through with a $50 ordered a $7 breakfast and they refused to take the money. Don't you people have a marker you can swipe over a damn bill to see if it is real. I reiterate. I am in there store EVERY DAY.

Alicia Hernandez
from Wittmann, AZ
I purchased 6 gift cards @$5 each for a total of $30, these were given to my grandchildren for Halloween. When one of my grandchildren went to use his gift card he was told the card had no funds. So my question is this my other grandkids used their cards and the one was told no funds were available, does mcdonalds just pockets the rest of the money. This is very frustrating because they were supposedly activated at the time of purchase, they were in sequence how can five be activated and the other not, but still was charged the $30. To top it off you can't argue because the cashiers are rude and there's a line waiting. This matter needs to be resolved and my $5 be returned or another gift card issued. Hopefully, this can be resolved, I realize its $5 but if you charged all the people an extra $5 can you imagine. Please help.

Dan Eastman
from Baton Rouge, LA
I visited the McDonalds store # 10548 at 4979 Jones Creek Road, Baton Rouge, Louisiana 70817 on November 9th at 1:55 PM. As I got to the counter there were two ladies together being helped by the only cashier, who had to change the register tape(he seemed like a trainee). There was also a gentleman in front of me and he was there before I came in. After what seemed like five minutes he was not happy and walked out the door without ordering. It became my turn and I was the only one at the counter except for the two ladies waiting on fries. Another person who acted like the manager took my order. It took over 9 minutes to get my order.
My main complaint is that you have people walking out your store and I do not want to go back to this store which is in my neighborhood because the manger seemed like she had a "could care less attitude" She knew I had been waiting for my order and she never came over and said she was sorry. With the five minutes before the guy walked out and the time I received my food it was almost 15 minutes. I'm also a business owner and it is sad to see someone getting paid and not having respect for the customers. You lost one persons business today and now you will lose mine and people I know in the area. We have many other choices.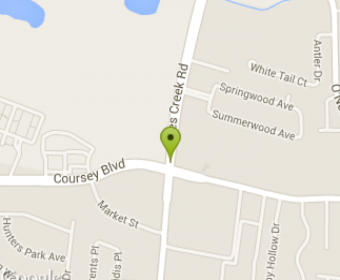 I went through your drive thru on Saturday October 17th @ 10:05 am to get a large coffee , and the lid was not on all the way and I wore the whole cup of coffee , my cell phone was in the middle part between the seats and it was ruined and the passenger side seat and floor is stained from your coffee. I called your 800 number with my complaint on Saturday the 17th @ 10:40 am and was told that someone would get back to me on Monday the 19th and I have never heard from anybody. I did get a survey to fill out last week about how my complaint was handled, I replied to it saying no one ever contacted me. I want someone to contact me personally. I want my car cleaned and my cell phone replaced. The employee that gave me the coffee without the lid being on all the way couldn't apologize enough to me. All your employees knew what happened. No manager came to the drive thru to make sure I was alright. I will be looking forward to having this issue resolved as early as possible.

Lola Antonio
from Bolton, ON
I have some concern about food handling and safety of the products in these restaurants. I went to one of your restaurant at 2625 F Weston Rd., North Your, Ontario to pick up a coffee and a muffin on Nov. 2, 2015 and I was served by a person with very long painted fingernails and they're digging in my muffin. So I asked one of the employee if that acceptable and she told me that they're allowed to have extremely long fingernails but I was in a hurry to argue with her and try contacting McDonald via customer complain.
I work in a food manufacturing industry too and we're all required to wear hairnets, not allowed to have long nails let alone painted,and gloves and most of your food handlers don't even wear gloves while making orders and I don't want my food to be made like that and my question is, does McDonald 's really allows that? I have to stop buying foods from restaurants if that's the case. Thank you very much and I hope my concern will be addressed for the safety of all McDonald customers.

Mrs Carol Beaumont
from Lincoln, ENG
I moved to Skegness in July 2014 and was happy there is a McDonalds but the cleanliness leaves a lot to be desired. The ladies toilets have always been bad but when I went on Friday morning 6th November they were disgusting. There was dried up feces on the top of the toilet seat. The underneath of all the toilet seats are unbelievable to say the least, I doubt they have ever been cleaned, the floor was filthy, didn't look as though the sanitary bins had been moved for days, the sinks and taps must have had more germs on them than the toilets. In fact, I don't think there was anywhere clean in the toilet area at all.

Erika Frober
from Memphis, TN
This morning 4:30 AM like every morning I stopped by your place of business to purchase my daily cup of coffee. My order usually a large black coffee no cream no sugar, but this morning I added a Sausage McMuffin. As always I had to wait quiet a time. So as I was waiting, I was looking through the window to be served, I notice several large roaches running up the wall and above the coffee table. So the manager finally came with my order. So I told him Sir you have roaches climbing the wall. His respond was "I take care of it" and handed me my order. I did not leave the window, I just sit there to see what the manager was going to too. He just started filling the next order. After he noticed I did not move he just took a napkin and reached up and smashed several roaches and continue his routine. My respond was " O my God". He just looked at me like there was nothing wrong with the whole situation. This is just nasty. I just left and dispose my food as well as my coffee in the trash. Believe me, I feel like this was totally out of line, his response, as well as his action, as well as his like of apology. Hope to hear from you soon,as well to hear what action was taking to clean this mess up.

Pattie Johnson
from Los Angeles, CA
We were at McDonalds in Carson city Michigan on Friday morning to get breakfast, around 10:30 am, there was a woman waiting to get coffee and no one would wait on her, she was there for about five minutes, they completely ignored her, and she finally walked out, and their employees were not organized no one knew what the other was doing, we had to wait about fifteen minutes for our food, and there were people still waiting to get their food, I was totally unhappy with the service there, this is suppose to be a fast food place, well this was not. All of us were waiting and the employee that was the cashier was told to go on break, that should not have happened until all were served their food. We do not live in this city we were on a trip, but still it was not very good service.

Linette V.
from Minneapolis, MN
I work the night shift in the hospital and dread seeing this employee working as he so obviously HATES to make what i order, a mocha frappe. I have heard him throw things around in the back and swear when he has to get the machine parts/blender from the dish washer. tonight he took it one step farther, he threw the parts on the counter in front of me by the mocha maker. I finally said something which was "careful Marty, you're going to break something" to which he replied something to the effect that it was not my business/not my concern. Then i said he did not have a very positive attitude for which he said "i was entitled to my opinion". I then told him i was entitled to my mocha frappe. I spend 3.99 when i work for these on a regular basis, that adds up. I bet if he got a dollar every time i ordered a frappe he would have a whole new attitude.
My co-worker, Emily, wont even go down to order if he is working, so i order for her. I've spoken with the other night staff, a lovely lady, who has heard all sorts of complaints about him, mostly from women. I do notice he does not make the snide remarks to male customers who order the same thing and will add choc sauce to the sides of their cup but not mine. This is not fair! Seriously, he is intimidating making one not want to order from him but he is the one that is usually working. i can hardly wait for tomorrow night to do it all again! i decided it was time to actually make a formal complaint, he crossed the line for the final time with this ANW hospital employee of 40,000+ hours. I was working here when the hospital held the vote for which restaurant we wanted! This was at the McDonald's located in ANW Hospital, 810 E 27th St. Mpls, MN 55407.

Toni Smith
from Kennesaw, GA
First of all the drive thru window is always backed up around the building and have to wait in line forever at drive thru. Then when you go inside it is even worse. Line backed up and no one taking orders at the register. No one comes to front to say anything such as we will be right with you or something. Then it is nasty over where you get your drinks. The tea container, the tops are off and anything can fall in the tea. The lady that was at the drive thru was very rude and unprofessional.
This is customer service and she does not need to be in customer service. Very Very Rude. She act as though she is doing us a favor, however it is the other way around, you are going to loose lots of customers at this store because everyone was complaining. This is the worst McDonalds I have been to. I plan to never return there.

Janice E. Sherrieff
from Saint Petersburg, FL
Granddaughter and I went to this restaurant and bot ordered the dbl cheeseburger meal, medium fries "NO SALT". Got food to go and once we were about five blocks away, we realized our food was cold, including he fries which should be finger burning hot. The only thing that was hot on my burger as the pickles, bread was cold, not toasted and the tea looked like weak water with a dash of color. I spent over $10 for the two meals and was not happy and didn't eat my meal. My real complaint is that I was too disgusted to go back, considering it took so long though there was only two customers ahead of me. This is the first time I've ever had such a bad experience at this particular store, normally we do drive thru, but today I decided to go inside, BIG mistake. would normally rate this particular store a five whenever I visit, in or drive thru, but this was THE second worse experience at a McDonald's. This past Monday, I had to wait about 20 minutes just for fries at one on 34thStreet and 13th Ave. No. Totally getting tired of bad fast food!

John P Lanzo
from Shawnee, OK
First off, I have never complained to any company before in my life. I arrived at McDonald's at 1 30 pm. I ordered pancakes and sausage and 2 sausage and biscuits to go the girl said no biscuits after 2 pm I said it was 1 30. no biscuits available. So I said OK sausage muffin. She gave me the price and I paid. No receipt she and said my number was 181 I asked for a receipt she said no paper in printer. I waited til 5 of 2 and she called out pancakes and sausage muffin I went to the counter and the food was on a tray I said I ordered this to go she said no I did not I asked to talk to a supervisor none available I asked for a manager none available. I understand staff calls in and your of people happens. I'm a 68 year old man I worked in las vegas as a casino shift manager with 6 supervisors and 28 dealers working with me. CUSTOMER SERVICE means keeping the customer happy so they return. you listen to their problem and solve it -- you do it in a professional manner. I understand some of your employees are starting their first job. Customer service is the key. I was hired to open the firelake grand on the highway and took pride in teaching casino games and the way to customer needs.

Chrystola
from White Hall, AR
First this week I ordered a sausage and cheese biscuit and when I opened my order is was a egg and cheese biscuit. Today I asked for a large coffee and the girl charged me for a small coffee. This is ridiculous.

Brian Muffie
from Bradford, PA
I was in the Jamestown store today right off interstate 86 in NY. I ordered my normal #4 with decaf, once I left to go to my next store in Gerry NY I realized there was no hash brown ...I was a little upset, but it was short lived. I have been visiting this location 3 times a month for about 1.5 yrs. I am an Area Manager of a similar kind of business. This store had some really bad service issues ( speed of service). But over the past 4 to 6 months you have really got some good people, the lady that handed me my food today was so sincere and inviting with a fantastic smile. You also have two black women that have been there, one handing food through drive thru window and I believe the other might be a manager of some kind that you also get this feeling. I know I am rambling on this McDonalds, but in this town it is very hard to find good help like this, please send my congratulations to this Manager and give them a pat on the back for me, the changes are noticeable and I would love to offer them jobs. But I will not because I know just how hard it is to find people like this.

Melanie ONeal
from Murfreesboro, TN
I went to the McDonald's on Lebanon Pike in Murfreesboro, TN. This is the McDonald's I usually visit since my work is just down the road. Over the course of the past 6-8 months, the service has increasingly gotten slower, so I changed locations. For a while, I started going to the McDonald's on Lascassas Pike and the service is exceptional!!! Tonight I went back to Lebanon Pike and AGAIN, service is terribly slow. I guess I'll be seeing the Lascassas Pike location again. By the way, multiple people I work with have had the same experience with Lebanon Pike McDonald's!

I've been to this McDonald's three separate times with my daughter and all at different times of the day. My complaint is the service is extremely slow there this last time I was there was 8:50 pm October 14 2015 there where two cars in front of me and I waited 12 minutes to receive a 4 piece chicken nugget, medium fries and apple pie. The line was going so slow, the cashier at the first window was giving there orders through her window so they didn't have to wait. Finally once I got to the window and received my food I asked why it took so long to receive it the gentleman said because they are under staffed. Besides all of that the place looks very dirty and run down. This McDonals is Located Pleasant St., Attleboro, MA 02703.

Debbie Taylor
from Los Angeles, CA
I went to the Sand City, CA McDonald's to get dinner. I spent $45.01 didn't get everything.Called to tell them I didn't get sandwich Yolanda was very rude and hung up on me very unhappy with this store! Not sure if I will go back since she did terrible service when she came to help me. I ordered my breakfast large size to get the fries since of course they had no hash browns. She said no I couldn't even order a meal since they didn't have hash browns and refused to give them to me after spending all that money and not giving me everything I am so upset with this service. to hang up on me when I call also is so unprofessional I could of went somewhere else. I hope she isn't management because I felt she was racist by the way she treated me. Since I work by there and go there daily I just might have to start going somewhere else if she is there!

Randy Estes
from Springfield, OH
Want to the McDonald's on Hillcrest Ave. in Springfield ohio today and order 5 breakfast sandwiches. When get home, 2 of the sandwiches were wrong, and cheaper sandwiches at that. This has happened a few times now. I feel that it is sad that a person has to unwrap the food before leaving the window. People don't take pride in their work.

Patricia Ball
from Cadillac, MI
The McDonald's in Lake City Michigan is THE WORST I have ever been too, 9 times out of 10 your wait TO ORDER is a minimum of 10 min. I guess that tells you how long the entire wait for ANYTHING ends up being. they NEVER have any pull up into the Waiting space. I have gone there for coffee and waited for approximately 20min. I have complained to the manager but nothing has ever been done. I was in line this afternoon to get a cup of oatmeal, I ended up pulling out of line (I hadn't gotten to order yet) because I had ice cream in the car and didn't want it to melt. We frequent quite a few McDonald restaurants and Lake City is by far the very worst. It is not ONLY the driver through either. I won't even mention how many times the order is wrong.

Ronney Poor
from Tulsa, OK
It's hard for me to understand how a 24 hour drive through can be closed down. I was told they were receiving freight and was closed due to being out of food. This McDonalds is in Catoosa Okla in front of the Hard Rock Casino at 2:45 am, at one of the busiest times ( 9/2/15 ). I call it RUSH hour after the clubs close down. There were 7 employee's standing on the side of the building smoking and no trucks being unloaded or even a truck in the parking lot! I guess I will start going to What-A-Burger!
Have feedback for McDonalds?
Thanks for your feedback!
Sorry. Please try again later!