Booking.com
Contact Booking.com Corporate
Toll free phone number: 1-888-850-3958
---
Booking.com is an online reservation website for travel, air flights, car rental and hotels. What began in Netherlands is now operated by Priceline. The site operates in 42 languages, offers over 200 destinations and is supported by 184 offices in 70 countries. Over 13,000 associates are on staff.
To reach customer care call 1-888-850-3958 or find help here. If you want to contact CEO team, Gillian Tans and Darren Huston you may address a letter to them with: 4147 Eastern Avenue, SE, Suite 300, Grand Rapids, MI 49508-3405. Corporate office phone number is 616-254-3400.
Customers are able to book travel reservations easily from iPad, iPhones and Androids. Included options include apartments, hostels, B&Bs and villas. Social presence is found on Facebook, Twitter and uniquely informative LinkedIn.
Booking.com Contact Information
Report complaints to corporate and get satisfaction
Booking.com headquarters address

800 Connecticut Avenue
Norwalk
CT 06854
United States

Company website

1-800 phone number

1-888-850-3958

Support email address

support@booking.com

Better Business Bureau rating

A+

Customer service hours

24 hours a day online
Browse reviews of other Travel
Top Booking.com Complaints
Browse more than 84 reviews submitted so far

Roxanne Bailey
from Conway, SC
Yes I'm very un happy I couldn't get to go on my vacation Booking.com still charged me even though I didn't get to go my job is closed I'm a server and no money please refund my money for a vacation I didn't get to go on

The McLean Group
from Euless, TX
Booking.com unilaterally revoked our confirmed booking costing us over $38,000. This breached our contract. Booking.com further bulled us to rebook a lesser but more expensive property and offered an enticement which it has still failed to pay to date. Booking.com's policies are deceptive trade practices and must be brought to the attention of the house and senate for regulation purposes.

Rina Meyer
from Cape Town, WC
I booked an apartment on 15 November. The hotel immediately took money from my credit card. However, I have now sent them 5 messages with certain questions about our stay there but they have not replied to ANY message - I sent some messages through booking.com and when they did not reply, I also sent the message to their indicated email address. They do not bother to reply. Therefore I want to report them as this is terrible service. They charge a huge amount and also state that the email address can be used in emergencies as there is no front desk, but if they do not answer any email after 6 days, how will they answer in an emergency. This is very bad for the name of booking.com as all the accommodation I have encountered through booking.com have always answered very soon and politely with all relevant information required. This is the first accommodation that does not answer and they should be punished by booking.com

Stephen, Donna Fairbanks
from Cambridge, MA
I'm writing to you after posting the following review:
Let's rename this place the UNfriendly Inn. We arrived from Maine for a whirlwind overnight stay in the Boston area so our time was limited. One other reviewer said he was annoyed b/c the door was locked and he had to wait 10 min. before anyone appeared. We waited in front of the locked door on the porch for 45 minutes - glad it wasn't winter. When we arrived at 1:30, we found another customer who had preceded us and was also waiting. She had flown in from Texas for a 2 PM doctor's appointment ......that she missed. We had been told previously in an email that we could drop off our bags prior to 2 o'clock check-in and the desk was always staffed. We made numerous phone calls to the Inn from both cellphone and the outside phone with no answer. With our vacation ticking away about 45 minutes later the clerk strolled up the street. Were we annoyed to be told that we hadn't called while we were there ? Yes. If you get your thrills from unreliability and gambling where you'll lay your head, this may be the place for you. We accepted the clerk's offer to cancel and went to the Marriott instead. We booked through Booking.com and found them attempting to be helpful but woefully inept. It would have been nice if they had offered to pick up the difference in the increase in rate with a new lodging but no offer was forthcoming. Please be aware if you do book through them, there is a real possibility of an unsatisfactory experience and customer service and satisfaction appears to be a low priority.
I have used Booking.com before and found it was satisfactory but this was truly a miserable experience and although your staff did make a limited effort to help as we were frustrated even more by a dying cellphone, the best resolution we walked away with was cancellation of the reservation, a vow to never return there, and a bumbling and somewhat impersonal approach to resolving our dilemma.

I was booked for 2 queen size beds, but the booking assistant texted me that they contact the Motel 6 in San Antonio,Texas & wait for 48 hours. The manager said they never got the message about the change. Oh! I put I'm hoping for a king size in texting. That manager still charged me for 2 queens . To me, it was unfair to be charged for something I didn't want at all. I want to know if I can refund of the money I had lost.Plus I didn't confirm this reservation for 2 queens.

Mary Williams
from London, ENG
I had booked a two night stay through Booking.com for London weekend away with my Husband. We were on our way to the accommodation when I thought I'd ring the person who owned the apartment just to let them know we were running a little late. The person had no clue, he then went on to ask if I'd booked through booking.com and told me he'd took the accommodation down over 6 months ago. I'd already paid £130 straight to booking.com...this meant my husband and I had no where to stay. We eventually found a premier inn to find out we could only stay one night at a cost of £156 without breakfast, we had to find accommodation for the following night of which we thankfully did at another cost of £135. The extra's that we ended up having to pay for ate at our spending money, to the point we couldn't go out for food at anywhere nice, we had to McDonalds and Sainsburys to eat. I have received the £130 back but I want the other monies back as compensation for this put my husband and I out the whole weekend. I have receipts for the other accommodations as proof. If you need them of which I'm sure you will I will gladly send them you via email.

I booked a rental car via rentalcar.com. They connected me to Europcar at George Best Airport in Belfast, N Ireland. I have two complaints with these people.
1 They doubled charged me for a satellite navigation system. The car they rented me had a built in Satellite Navigation System and then they charged me 12 pounds 50 per day for it also. Fraud.
2 They have just informed me that there is damage to one of the tires and they want to charge me for it. The agent who checked the metal exterior of the car with me at pick up definitely did not check the tires and frankly I have never had to check tires before. I did not damage the tires when I had the car. Nor was there any other damage to the car.
The rental return directions at G Best City Airport are terrible.
Jennifer McManus

Hi! I am still waiting for the security deposit of $1,500.00. We booked house on Aukai Ave, Honolulu,Hi for the month of June 2019. June 1 - June 30th we paid the owner direct since he e-mailed us & said that he wouldn't be paid any money until the day that we moved into the property, there was a "contact the Owner" tab on your request page, the house was #7181055 the ID #HA-TD0ZJZ I have contacted the owner so far have not had any response so I would like you to follow up on this request for us. I called & talked to someone in your office Allili I believe she said she would follow up with the owner & I was to stay on the line but it just has been too long so I would like you to find out what is happening I get me back my security deposit asap! Thank you in advance, Rob Murphy 1666 Stony Brook Drive, Salinas, CA 93906 PH:
831 444 0467

Frank M Bender
from Shannon, MS
I never got an email and after several calls , I still don't. The number everyone gives me is 1888-850-3958 which has told me for 2 days they are too busy for my call and I need a confirmation number and a 4 digit code .. Again how do I get?? please cancel my reservations and I will never use you again. Thanks and would appreciate your help!

Not happy at all. Website shows one thing and actually mostly false. Booked a stay, booking.com suggested to install app on phone. When I looked for my booking and price- I found the phone app had listed the very same dates/ room, etc for $45.00 less. Of course, no one would honor it. Will not use this site again.

john a noble
from Germiston, GT
Reply-To: Booking.com <noreply@booking.com>
Confirmation number: 1287726603
PIN code: 1237
It's almost time for your trip!
Are you ready for your upcoming trip in 6 days?
Your FREE cancellation is still available before 23:59 on 8 June, George Town time. After this time, cancelling will incur a charge.
Manage booking
Paperless confirmation
Tanjung Point Residences by Qlik Management
508 Jalan Tanjung Tokong, Tanjung Tokong, 10470 George Town, Malaysia
+60 4-609 1333
Check-in Date: Check-out Date:
Wed 12 Jun 2019 - from 15:00 to 22:00 Sat 15 Jun 2019 - from 07:00 to 11:00
Cancel booking
Contact property
Make request
Manage booking
The Fine Print
A damage deposit of MYR 300 is required on arrival. This will be collected as a cash payment. You should be reimbursed on check-out. Your deposit will be refunded in full in cash, subject to an inspection of the property. Please inform Tanjung Point Residences by Qlik Management in advance of your expected arrival time. You can use the Special Requests box when booking, or contact the property directly with the contact details provided in your confirmation. Guests are required to show a photo identification and credit card upon check-in. Please note that all Special Requests are subject to availability and additional charges may apply. Payment before arrival via bank transfer is required. The property will contact you after you book to provide instructions. This property will not accommodate hen, stag or similar parties.
Hi,
see above a deposit was made using a Lloyd's bank debit card in the name of J a Noble, Elizabeth Loadwicks brother..
On leaving we were informed that the deposit would be automatically returned within a week .This has not happened and there has been no reply to e mail send to the accommodation, Tanjung Point.
________________________________________
Copyright © 1996–2019 Booking.com. All rights reserved.

brad ritchie
from Chester, NY
they told me that my reservation was unavailable. then a month later say I have confirmed a reservation.witch I did no such thing.then took all my money.fucking pissed

Charese Stephen
from Sandton, GT
Morning. I have booked accommodation at Umdloti Resort 506 booking reference 3485026884 and have a a booking charge on the invoice of R410.00 . According to booking.com I should not be paying an admin fee.

Paul Harris
from Hereford, ENG
Cannot remove the only star, will give this booking a zero. Booking,com needs to get its act together and verify weather a guest house means what it says and not send people to a doss house like the one we were sent to in Cardiff. We demand our money back and will be taking this to the small claims court with the pictures we have taken of the place we were sent to by this company. When we arrived we could not get in because no one was there to meet us. After phoning the owner on the phone gave us the number of the digital locks into the property and into the allocated room. Boy what a room. No TV no tea making, not much of anything. The room itself was just about big enough for a cat to reside in. Décor, door handle, bed and other, needs to be looked at. The proverbial building works with scaffolding was there as well. When booking with booking.com the picture we saw looked nothing like the place itself. Trying to verify that the accommodation on the PC, was what it said when it was booked was like looking for a needle in a haystack. More than a very disappointed punter I am leaving now to sort this out.

I had booked accommodation at "Najlepse Miejsce - pokoje i apartamenty w Krakowie", some months ago (Booking Confirmation Number:1884.102.458, Pin Code:6914), subsequently upgrading our accommodation from a 2 person double bed room to an Apartment for which I had paid a deposit of over 700 PL. Zt. Upon our arrival at the facility on Wednesday, 27/06/2019, I had requested an Apartment inspection prior to finalizing our booking, which was accommodated by facility personnel. Upon entering our allocated "Apartment", my Wife and I were totally shocked by the very crammed and small size of our allocated room.
Our concerns are as follow:
* The very small room space housed a cooking area, a very small dining table for two which was affixed to the wall, the seating configuration of which obstructed the entry door into the shared toilet, bathroom and laundry room when in use.
* The remaining room space contained a sofa (in lieu of our requested double bed), which when opened out, obstructed ease of passage to a noisy external roadside balcony (as opposed to the promised garden view), also creating a hazardous trip/falls risk due to a restricted walkway passage.
* The Sofa/Bed was limiting, as it was located opposite a wall-mounted TV which was restrictive of one person watching TV whilst the other person wishing to sleep or seek privacy to read?
* When I had raised with Staff, the lack of seating and space for a possible visit from a local family member, staff stated that we could go to one of the local restaurants?
* The Free Onsite Tenant Parking Offer was restricted to any available street parking which I was assured by Staff to be safe and vandal free in a crime free neighbourhood, yet, all Facility fencing, windows and doors were either double locked, password controlled or electronically secured?
Our conversation theme continued as We and a Staff member proceeded to walk from the building onto the footpath where my Wife became tearful as she walked away, later stating that she was most upset and angry over the "disgusting" apartment.
I had subsequently declined Apartment occupancy on the basis of the above also the poor resemblance between what had been marketed and what in fact was on offer. I also am seeking the refund of my Booking Deposit, due to the most disappointing experience my Wife and I have been exposed to..
Kind regards
John Zadolinnyj

Martha Brackeen
from Chandler, IN
I booked a 7 night stay. I had never used this service before and mistakenly booked it thinking I had a chance to review before it was locked in. I was wrong. I contacted them immediately and was told I would be charged $661.00 instead of the total 794.65. I booked this months in advance and thought they might understand. I now find that I could book the same hotel for $619.00 instead of $794.65. My reservation is for next month. I hope it's decent.

Peter Davies
from Barry, WLS
On January 18th 2019 I booked accommodation at the Opera House Hotel on Symi, Greece through Booking.com. The confirmation number received from Booking,com was 2065530974. Payment was made in full to the Opera House at the time of booking.
On March 28th I received an email from Booking.com which stated that the booking had been cancelled "because of an invalid credit card". During the period between January 18th and March 28th my debit card had been changed by my bank as part of normal banking processes. I subsequently discovered from the owner of the Opera House Hotel that the cancellation came from Booking.com and was obviously not from her as she had already received payment. A number of issues arise from this as follows:
1) Why was no attempt made to contact me prior to the cancellation?
2) Given that I had already paid the Opera House Hotel, why was an attempt made to access my debit card? This is a major concern.
3) I was lead to believe that the problem was caused by staff at the Opera House Hotel although it was clearly the fault of Booking.com. Why have I not been contacted by Booking.com to at the very least apologise?
Finally I found it impossible to email Booking.com. They offer telephone numbers but trying to find an email contact on their website is impossible.

Pat Callender
from Walton on Thames, ENG
I made a complaint to Booking.com on June 2, 2019 in which I pointed out that I had been misled about the false advertisement of a hotel in the Kensington/Chelsea area of London. The accommodation was totally deficient, cramped, dirty and should never have been presented to the traveling public The operator ended by informing me that Booking.com is only an advertising agency and it is the sole responsibility of the potential customer to check the reviews of the property. In other words there is no responsibility at all acknowledged by Booking.com where fraudulent ads are persistently being published. This would imply that the customer has no rights although Booking.com may be perfectly aware that an inordinate amount of negative complaints have been forthcoming and they will still carry on publishing such ads. Had I prior knowledge of this, I would never have patronised Booking.com in the past and will certainly not be doing so in the future. I would however suggest that Booking.com consider the damage to its reputation as it continues to pursue such a policy.

Rosenberg Motel 2027 25th street Galveston, Tex: #29 This was the north end of the island,older end i understand, and the people were friendly, BUT this was very gross,Its not even plausible to get a partial star its that bad,Had what looked to be clean bedding, very old,the fitted sheet was in fact a mattress skirt, my son and i looked at the mattress for bugs, i wish i did not look at mattress, looks like it came from off the curb, to the point it was rotten material,there is way too much to type,i brushed my teeth with my green tea,the water smelled of rust,i would not shower there, 2-3 inch gap under front door,wooden floors painted over the rotten ones the motel is wood. I am sure this place is mostly housed for the workers etc.no way i would go barefoot,or lay my stuff on the floor.It needs to be reviewed before more renting, they also made me secure, by card or cash when i got there$20 to be refunded after they would check room at check out, no problems on refund.Best thing was the location...should have been a $30 rental, i usually dont rent high end,rooms, since there isnt a need as we stay out mostly its just to sleep, butt his was BAD

Booking number 1147372428 Apartment dirty dilapidated not what advertised dingy and dark the bed worn out
cupboard doors hanging from hinges no crockery all the owner were interested in was to get the money asap so I am cancelling this booking with no
cancellation fees please remove this property from your listings to protect other people and your good name
Kind regards
Isabel van der Vyver

crystal miles
from Lancaster, TX
i cancelled the reservation with Grand 2054 and I keep calling booking about my refund and they say they cant get in contact with GRand 2054 if they don't want to contact booking back about my cancelled trip them they don't need an account with booking Grand 2054 knows he hasn't refunded me my money I had the bank give me a temporary credit and to get the money from Grand 2054 and he didn't get the money to the bank wells fargo and wells frago charged me for the money because they couldn't get it back from Grand 2054 what is going on with this account 1168564006 pin 8168 I sent in all the documentation for the refund I need them to send me my check

Robert Ross
from Palm Beach Gardens, FL
On March 18, 2019, I received an email from Booking.com that said "Your reservation at Centro Capital Centre By Rotana was recently canceled. We've issued you a refund of AED 327.02. It should be credited to your account in 7-12 business days." It is now April 12, 2019 and I still have not received the refund. I have tried contacting customer service via email several times and have gotten no response.

Armando Triana
from Lakeland, FL
Bathroom with garbage and dirty towels at Days inn by Windham Miami Intl Airport on April 8 2019 confirmation 2584.640.707
Pin code 7886
I had unpacked before I went into the bathroom. I don't know if beds had been changed
This never happened to me before out of more than 100 hotel stays
I had to get dressed and repack
I was given a less convenient room farther from elevators in another floor

Donna Insco
from Goodyear, AZ
This was the worst hotel that I have ever stayed. I am 82 years old and have traveled the world.The rooms were filthy it was 5:00pm and our room still had not been serviced we only had one towel. The worse thing was we paid $932.00 for three nights
Please respond to me
Donna Insco
702 238 5013
Booking.com confirmation # 7000652965

Merlin
from Fayetteville, GA
Unfortunate that I am traveling to attend my mothers funeral so got online and booked a hotel for one night with booking.com. I spent over an hour trying to find the right hotel, checking reviews and such only to check email and got a confirmation but was to 2 different places. One was a real flea bag hotel. Noticed both confirmations were from booking.com. so called. They said the had a glitch in system and would try and get me a refund for Flea bag place as it was there fault. Not only that, I have no reservation at place I originally tried to book and now can't get one as they are full... Thank god I called.... Now night before leaving for my trip I will have to spend a lot of time trying to find another place on short notice.

We filed a complaint about La Demeure de Charme (Troyes, France) with Booking.com. The owner of that accommodation stole money from our credit card and kept denying this. We provided irrefutable proof of that theft to Booking.com and asked them to take appropriate measures against La Demeure de Charme. After approaching Booking.com repeatedly during 2 months they finally promised us 'Nous vous garantissons que nous ferons tout notre possible pour trouver rapidement une solution'. Their promise of swift action was made on November 28. Since then we haven't heard anything at all from Booking.com.

wynita douglass
from Morristown, NJ
I booked a room @ McKinley Grand in Canton Ohio. I was supposed to pay at hotel. They charged my card in Ohio while I was still in Ct using the same card. My bank declined the transaction and sent me a fraud alert. McKinley cancelled my reservation in the meantime. I was told that there was no cancellation fee. I called the hotel while on the road explained everything the gentleman I spoke with told me to come that everything was taken care of. The funds were withdrawn from my account and I arrived on the 7th and checked in. I checked my account on my way upstairs to my room and found that the funds were returned to my account. I returned to the front desk and informed the receptionist that I would not be staying there as the room charge had not been paid. She took my card and attempted to run it. I was informed that there was a note not to accept my card on the file. On Dec 10th they charged me 247.40 and refunded me 123.70. then on Dec 14th they reversed the 123.70. The room reeked of marijuana and mold. I was not going to stay there as I was there for a youth football tournament and had my 2 youngest children with me. What can I do I already spoke with my bank but I felt you should be aware of the practices of this establishment. I wasn't expected to arrive until 12/7 they initially charged my card on 12/6

hi
i made a reservation on booki
İ made a reservation but i didnt realise that it was a problem to cancel it
Res number is:1131.608.613
Pın code:3443
altough ı cancelled ıt 3 mınutes later
they drew the money from the bank
its right ıf a cancel ıt 2-3 days later or one week to staying date
they dıdnt help me at all
altough i will not stay they drew one week price
i need help
thank you

Keith Wren
from Adelaide, SA
1) No keys available therefore our belongings were at risk. They were supposed to be in a lock box but this did not exist.
2) WIFI not available
3) No Hot tub as mentioned in the details
4) Cash withdrawn to pay as our contract was cash only - but payment deducted from my credit card.
5) Taps in both showers came off in your hand
6) Carpet had not been vacuumed or the house dusted for some time.
7) It was filthy behind rubbish bin in cupboard and behind door in the downstairs toilet
8) A minor point but attention to detail - the clock in the kitchen needed a new battery
My review of this accommodation states all of the above.
I feel that I have been treated shamefully, overcharged and with complete disregard by the owners.
I have used your site for many years without any issues but I am so disappointed with this place.
I await you comments.
Many thanks
Keith WREN

Lidia Huidan
from Poole, ENG
Hello,
My name is Lidia Huidan and my email address is lidia_huidan@yahoo.com
I have stayed two nights from Saturday 24th November 2018 - Monday 26th November 2018, booking reservation number 1459516854 pin code 8057 through Booking.com at Twin Palms Hotel Weymouth United Kingdom, 24a King Street DT4 7BH.
After two days after, on Wednesday 29th November 2018 I have noticed that from my bank account are missing another £80 and they have been taken by the Twin Palms Hotel Weymouth, 24a King Street, DT4 7BH.
I called to the hotel and they told me that they used my details from my bank account from Booking.com.
I have asked them why did they took my money from my account without my consent, the man I was spoken to he start to swear on me and calling me inappropriate names.
I stood for couple of minutes without telling no words and I was shocked about his attitude and the way he was talking.
Please, help me to get my money back because I think this is rubbery and financial abuse.
My phone number is 07365818031.
Many thanks in advance.

I am a returning customer of Booking.com and have never been so disgusted and belittled in my life. I went to visit in Carrolton, Texas and booked my room at a great rate with Booking based on the pictures that were on the site. However, only to arrive to a trash hole. The first room had food left in the refrigerator, the second room air did not work, then the third room had mold and curtains were deplorable. I complained to the staff and was told no one could accommodate me. I then returned from my visit only to find the elevator was not working and a friend with me had to use the stairs with a handicap condition. I requested extra towels to be told no one was working the counter so I need to come get them. Then to awake the next morning with no elevator and to have to drag my luggage down stairs with no front desk assistance. After speaking with someone at Booking, I was told to submit pictures and a valid complaint, to result in nothing but an I WILL GET BACK WITH YOU for about 2 weeks. When they finally got back with me, they offered me $20 dollars on a $90 stay. This outraged me and I felt as if they thought I went to stay for free when clearly I have used this company many times with no complaints. I plan to take this further....

gary ogden
from Bolton, ENG
went to the hydro hotel parked up went and watched football went to bookin after was told wasent booken in by yourselfs had to find another hotel at short notis at a cost ov 95 pounds not happy at all

i need urgent help. i submitted booking on Booking.com, i did not receive anything, trying to get in touch with their customer service for the past few hours but there is no response. will arrive hotel soon. this is very upset.

hi, this is shewa kidane you charge me for 2 room (4 adults 4 children) that is not correct. 1-The booking was 1 room 2 adults 4 children. THANKS.

Robu Elena Diana
from Amsterdam, NH
Hello,
I am having issues getting an invoice from the location "Luxury Living' booked through Booking.com, by the travel company New Concept Travel for my business travel to Houston.
I have constantly tried to send emails to booking.com, 5 emails so far to customer service, but no feedback so far. The travel was paid with my company card and they will soon block my card for not closing the expense with the invoice.
I am providing the details:
- location Luxury Living Apartments, Houston, 880 Alabama Street
- period 19-24 of October
- reservation number 1178708624
- PIN 1208
- Booking agent gabriela.manole@newconcepttravel.com
- telephone number provided by booking in the reservation +12819658689
In addition, I would like to mention that the location had/has no telephone number listed on the booking website and when I arrived on 19th, 8pm, there was no one at the reception. As I did not have the number provided to the travel agency, I had to book, pay and stay at another location. At the location the wifi was not functioning, the TV was not set up, I have to text back and forward with the admin guy until he could come and set it up for me.
Booking.com should normally check that the properties listed on its website have all the necessary details available. I am very disappointed, and mostly that now it does not reply to my request supporting in one way or another to get the invoice.
I am still hoping for a reply, thank you,
Diana Robu

Michael E Carter
from Wildomar, CA
Hello, I notified the owner of the following I'm notifying booking.com for assistants
"I am notifying Book.com about this situation of renting your apartment on October 17, 2018 18, 2018. The manner in which you choose to meet me and provide access to the property was unsatisfactory. Being told not to mention that I had booked the room on booking.com which, is a legitimate web site and business was not in the best interest of your customer. In fact here is actually what you said in your text: "Pls do NOT mention booking.com or Airbnb or something like that with the front desk or any resident here"
Then to have me meet you at the Wells Fargo right across from the hotel seemed shady. Additionally when asked you could not even tell how many keys were there for the apartment.
I told you and you agreed I should cancel my reservation which I did. In the manner in which this was handle is both unprofessionally and unethically I am requesting a full refund $192.36 immediately.
On 10-22-2018 $24.36 was credit to my account which is unsatisfactory
Thank you in advance for your cooperation
Conformation Number 1404690797
Michael E. Carter
Please feel free to contact me at: mec1914@icloud.com or 951-796-3075

Emma hunt
from Rochester, ENG
U
Dear Sir/Madam
I wish to bring to your attention the outrageous and quite frankly dangerous situation you placed myself and my daughter in last week.
The circumstances were that I booked via Booking.com a 4 night surprise for my daughters 21 birthday. I made the booking 9 months previously.
I use Marriott on many occasions for work and leisure as do my friends and family. We have never had a problem.
On 17/10 I landed at JFK ar approx 2100 hrs. I switched on my phone only to receive a message From Courtyard Marriott via Booking.com that my reservation had been cancelled. The message was timed earlier in the day whilst I was in the air and unable receive the tsunami/emails.
I immediately contacted the hotel who literally did nothing but stated that they were overbooked and that this was the reason for the cancellation.
Both my daughter and I broke down in tears as not only did will feel vulnerable but we did not know what to do. I contacted Booking.com who stated that the hotel had cancelled and offered nothing apart from a $25 taken without prejudice. I have, since returning home sought legal advise for this despicable treatment that you feel is satisfactory. I have been advised that the legal fault sits with yourselves.
To date, I have not recorded any explanation or apology from either Marriott or Booking.com. How you feel can treat people like this on what was supposed to be a joyous occasion is beyond comprehension. An the duty of care for us being none existent.
I am still furious and will take it further if a satisfactory response is not forthcoming.
I want to emphasise that we were 2 women , myself and my daughter , left alone in an foreign airport, vulnerable without anywhere to stay despite having booked the room and break 9 months previously
We eventually found a place to stay some 3 hours later by our own determination and through our own device, literally to ensure we were not sleeping dangerously in a vulnerable place.
I would also like to add that I had been in contact with the hotel right up until a few weeks before my daughters 21st birthday regarding additional surprises for her.
I look forward to hearing from you.
Regards
Emma Hunt nee Brown
17/10/2018 to 21/10/2018 @ Courtyard by Marriott Times Square west
Booked via booking.com over 9 months ago
Emma Hunt

john currie
from Glasgow, SCT
1ve contacted you last week but no answer, its regarding a booking on the 7th october at the Burnside Hotel Bownes Windermere, book n/o 2053451958 the hotel has free parking and youve seen fit to charge me £24 for 2 nights which is a disgrace its like a stealth tax anyway I am looking for a refund asap or I will be taking it up with the proper chanels, IE Ombudsman or whatever thank you mr currie the hotel booking was bk67214/1/3

Sheila Acciaro
from Hamilton, ON
I went to booking.conm and punched in tHe dates September 28 to September 30 to stay at The Oakes over looking the Falls. It showed a two day stay for 159.00. I tried to book this and couldn't find the deal when I looked at the rooms. I then called them and spoke to Toyna. She advised me to refresh the page which I did and it still showed the Oakes at 159.00 for two nights. She said she would call me back in 5 minutes after talking to the manager. I waited almost an hour and then we called back and spoke to Seth. He advised he would called back. He never did. Then I recalled and spoke to Julian and he basically said we can't have the room for that price. I asked to speak to the manager and he said no. For one thing, your sight said that price 159.00 and no one there helped up and basically told me I was beat. So much for booking.com and I am going to call the spectator and have an article written in the paper about the false advertising. I have never had a place post something and then the manager does not check with the situation. My advic don't even look on booking.com because they have false advertising. If someone wants to reach me my phone #is 905-548-8582

margi kelly
from Liverpool, ENG
I reacently booked the park hotel in barcelona in which i stayed for 6 days, im absolutly disgusted in the rooms i was put in, i say rooms as they had to move me from my 1st room as it was discusting compleetly from humam pooh in the bath, wall paper hanging down cracks in the walls, the wooden floor opening up, lipstick marks on the mirror, the room was 222, I complained packed up again and moved to 625 the cleaner was out side the room as she must of just cleaned it, i thought within secons i moved the pillow to put my pjs under the pillow to have to call the cleaner in to remove the biscuit crumbs from the new bedding they had put on? in this room cracks in the ceiling wallpaper was ripped and re pasted but coming off the wall, the bath was rusty along the rim of where the shower glass was as it wasnt on properly, the electric plugs didnt work 1 out of 3 worked, then the water came through theceiling a slow drip first then i had to put towels down to wipe the mess up, they came and fixed it, I took my grandson with me and the price we paid wasnt fitting for the state of the room I was in the hotel from the 8th until 14th august confirmation number 1532092337 i paid 866.70 euro
I had no issue with the staff at the desk they was friendly, helpful and chearfull
thank you

Clara Limon
from El Paso, TX
I booked a room at Pine Cliff Resort in Ruidoso, NM. I submitted my credit card info and I was emailed a confirmation number. Later I received an email informing me that credit card info was a problem and to resubmit info, I did at least 3 times, would not accept my credit card. I called Pine Cliff and was told Booking.com had overbooked that's why system would not accept my credit card. Pine Cliff no longer had available rooms. I was left scrambling looking for a place to stay less than a week away. The system Booking.com uses is not working. It needs to be fixed.

Tanja Dumican
from Maidenhead, ENG
I put in a search for 1 night accommodation on a certain date for 6 adults and 1 child. The search threw up anongst other places Eden Island Apartment 70A14. I proceeded to book it, checking that it accepted 1 night. I then got a confirmation email to say it was booked, with booking.com also saying it was confirmed and then about an hour later got an email from Pascal saying the following:
Hi Tanja,
i'm sorry but i Don't rent my apartment for 1 night
3 night minimum
many thanks
pascal
I'm really cross as after I got the confirmation, I sent all the details to the rest of the party. Now we have to search again!!!
Not at all happy!!
Tanja Dumican

Linda Mckay
from Glasgow, SCT
i booked 9th and 10th June for family room intheHarsden Hotel blackpool Onthe 7th of JUNE I receiced phone call from booking .com telling me that
Ithe hotel could not accomodate me Ibooked The MORAY WHICH WAS DEARER after several phone call and emails regarding my refund of£50 39p iSTILL HAVENT RECEIVED THIS iTHINK IT IS TERRIBLE THE WAY IVE BEEN TREATED I EVEN SENT A LETTER TO AMSTERDAM WITH A COPY OF MY BANK STATEMENT TO PROVE IT HAD BEEN TAKEN OFF STILL DIDNT GET ANY CONFIRMATION I also sent a photo from my phone too Iwould appreciatte it this could be dealt with Ihave spet a lot of money on callsIam a pensioner and cant afford this the numberis 1467300141 LINDA MCKAY

ronnie mcculloch
from Glasgow, SCT
I booked a holiday in blackpool England for four nights bed and breakfast.i paid the amount of£74.80p through the booking site on the internet.the payment was taken from my bank the nationwide building society on 27th may 2018.when I got to the hotel I was told my balance to pay was £74.80p when I explained I had already paid this amount to your company I had to pay it again.the date it was paid for the second time was 20th june 2018 I am not at all happy with this service as I am a pensioner and can ill afford to lose this money.the hotel I was in was GARVEYS PROMENADE HOTEL BLACKPOOL ENGLAND.i have a reference number from them that I have to furnish you with it is1807407715.i hope this matter can be resolved as soon as possible.thank you.

Barbara Richards
from Stafford, ENG
I booked to stay at the Mews in Rhyl for the 12th July and spent 4 nights there with my son, the place was a disgusting shambles. I'm now receiving strange emails from Booking.com which claim I didn't show up. What on earth is going on?

Harry Zhang
from Colchester, VT
I booked a hotel in Burlington, VT through booking.com. I received the confirmation email which indicate "all set". When I check in my hotel this afternoon around 5, the hotel representative told me that my reservation has been cancelled. I was shocked and called booking.com. a CSR checked the system and told me that this is because their system is randomly select some one to "cancel" the reservation and I was unluckily selected. This is the first time I have met such ridiculer things on hotel booking. I was shocked that I was treated like this. The CSR only send me a link with a few other hotels for me to re-book. She never mention any compensation for my loss. Due to this unexpected event, I have to spend an hour to rebook another hotel and I missed my conference banquet tonight. I have to take UBER to another hotel.
So I request a compensation of 200$ for my loss. And I need a apology from booking.com who should guarantee such event will never happen again.

mrs christine goodwin
from Lancaster, ENG
we booked a 3 nights stay at the anchor hotel from the 13 of july which was absolutely horrendous they knew I was disabled but had to climb 3 flights of stairs to the room I went to walk round the bed and caught my leg on the corner of the bed which cut it badly and bled a great deal I went and showed them at reception she replied cover the corner with something I returned to the room and the thud thudding from the horrendous loud music from the huge downstairs pub they owned was absolutely unbearable it brought on a terrible migraine attack my husband went down to tell them we could not stay in the room I was sobbing outside in pain.they said they would offer a room in the new dunes but we would have to pay another 80 pounds we had no alternative but to pay it as we had travelled so many miles that day all the way from Fleetwood in Lancashire . the next day we went out when we return we swiped the card to get in several times but it would not unlock the door this happened every time we went out and my husband had to keep going back to the hotel for to let us in this also happened to the other people along the row as well if a child had been left inside and afire had happened no one could have got to them.the maids had the same problem opening the doors and one had also cut her leg in the first room we were in on the bed too .the stress was so bad that on the motorway home my husband had tocall an ambulance and pull on to the hard shoulder to take me to wakefield hospital with severe chest pains were I remained till 11 oclock that night where I was found to have had a severe angina attack .we did not arrive home till 2am the next day the whole holiday was ruined they new at the hotel were pensioner and I had mobility problems I do not think we should have had to pay a further 80 pounds when I said this she said I had already had a free night which is untrue be cause we had not spent the night in the first room at all . I have now been given a letter from the doctor at wakefield hospital to take to my own doctor to refur me to hospital at home for further investigation.we feel that we should be compensated for the disgusting treatment we received.

richard
from Glasgow, SCT
at the request of my lawyer i am giving you one last chance to resolve my issue, i will not attach pics and video as i have already done so 8 times,
i have all the names of agents who have been asked to call and refused just ask for more pics.
i am putting in papers to court if i do not get a response from you within 7 days, i am asking the judge to request one of your agents to appear in person so they cant hide behind a computer which they have done so far.
i can be called on 07897500502. 11 am till midnight.
Yours Richard thank you. copy of this email also lodged with my lawyer at his request.

Ty Mair
Brynsiriol
Fishguard
Pembrokeshire
SA65 9LL
11th July 2018
Dear Sir/Madam
Re: Hampstead
Britannia
We arrived on the Sunday 1 July 18 for a 3-night stay, with a one-night brake and a further night stay. I could not use the car park's disable bay as it was being used by an able-bodied person's car. This person later also blocked me in front of the hotel's grounds so that I could not get out of the hotel's grounds. If there had been an emergency I could not have escaped in my wheelchair. He was very foulmouthed and uncouth to me because he had to move his car. There was a large sign saying 'NO PARKING' right in front of the car. Maybe Mercedes drivers feel that are superior to disabled people! The second and third day we were able to have the disable bay, which is smaller than usual and I had difficulty getting out and in the car, and the next car had not left a lot of room.
I have a large 178kg electric wheelchair. It cannot be loaded or unloaded from the car on the slope, which the disabled bay in on. So, it had to be taken out or loaded in either on the road or right at the bottom of the car park. Twice we had to stop because they wanted to get out and we had to reverse all the way up to the top and then drive down and finish unloading the chair. We then had to drive back up to put the car back in the disable bay. My dear wife is also disabled and had to do all the walking and humping. When we are setup she has a stroll on the back of the wheelchair to stand on and does not have to walk.
We were taken down a smelly corridor to our room G5. The door was fairly easy to navigate, a massive large light on the ceiling, a very large bed (2 singles pushed together), small wardrobe, 2 small tables, TV, light, fan, large bathroom.
There was no window, and with no air coming into the room we sweated every night as the outside temperature was very hot. We assumed that the hole in the bedroom and bathroom ceilings were extractors or at least the bathroom is/was, but they were not working just a noise of 70dB coming from the holes all the time. If they were working, where would the fresh air come in from? There is only from the smelly corridor. The smelly corridor, there is a sweet smell that is being used to cover a pungent smell. We cannot put our finger on it.
There is no air conditioning.
When we complained we were told that there was absolutely nothing else we could have. We had tried calling Booking.com telephone number three times and after one minute 20 seconds it cut out each time.
The reason why we came to London was to go to see a specialist as I have two complicated illnesses and there are no consultants in Wales to help and I am getting very ill. I also have asthma, which can play havoc with other problems. The odours in the corridor did not help and I did not get much sleep, 4 hours. When we complained we were offered a free breakfast and told that there was nothing else. The person said that they would provide another fan, which did not turn up.
The toilet was hard to flush 4-6 handle movements, and the toilet seat was loose on one side.
The breakfast worst ever had most disappointed breakfast ever. It was cold, the fried egg was like rubber. Bacon was impossible to cut, mushrooms were foul tasting and absolutely cold, I left the scrambled egg it looked!! Sausages were cold and hard. Toast was hot. Before sampling the free breakfast, we were going to have breakfast every day at the hotel but the meal was so awful that the other days we went to a nice café about 200 metres away.
Local pest control was visiting the hotel!
We had booked 3 days plus a further day later in the week. We were so unhappy we telephoned Bookings and cancelled the last day. If we could have done we would have cancelled after the first night. We asked if we could change our room and we were told there was nothing else available. We cannot see this as we never saw many people around or at the restaurant or staff for such a large hotel.
Our reason for using the Hampshire Britannia Hotel was that Derek had to attend the Royal Free Hospital to see a specialist as there is no such consultant available in all of Wales for the serious illness. Possibly because of the terrible problems encountered during our stay it has caused a flare up of his illness.
Somebody said that this was a 3 Star hotel although we have found no evidence of this. We feel that we have grossly overpaid for the very bad experience and we look forward to hearing your comments on the matter.
Yours sincerely
Derek and Sharon Hand

Yonca Akova
from Ulus, 07
I I did a reservation through booking.com to St Martins hotel for 19-22 May 2018 for 817 pound one week later Booking.com sent me an email the price went down 717 pound. They advertise having price match policy but when I contacted Booking.com and the hotel they both rejected to help me. I asked either to cancel or to have cheaper price for the reservation. I include the ads I hope you would help thanks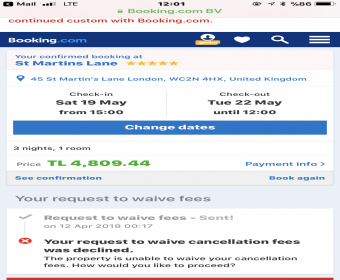 Have feedback for Booking.com?
Thanks for your feedback!
Sorry. Please try again later!