Target
Contact Target Corporate
Toll free phone number: 1-800-440-0680
---
Welcome to the Target complaints department for customers. If you have a problem with either service or products at Target you can call 1-800-440-0680. If you would like to contact the CEO, Brian C. Cornell in a posted letter you may address the letter to him at Target Plaza South, 1000 Nicollet Mall, Minneapolis, MN 55403. You may find answer to concerns at the shopping experience page of their website.
Recently, Target complaints have increased due to a data breach where credit card information was stolen. There was also a substantial customer boycott of Target due to a new bathroom rule passed in 2016. Because of both of these items the stock price has decreased and many wonder if the retail giant can compete with Walmart and Amazon long term.
Target Corporation is the second largest discount chain in the United States and operates mostly in North America. You will find home goods, food, pharmacy and clothing in their large outlets. With 1790 stores and over 355,000 employees Target operates 37 distribution centers. It is publicly traded on NYSE:TGT and in 2013 reported sales of US 71 billion and revenues of US 72 million.
Founded in 1902 by George Dayton and called Goodfellow Dry Goods Target opened its first Target store  in 1962 and in 2000 became Target Corporation. Unlike their primary competition Target does not sell fire arms and as of the early 1990's even stopped selling toy guns that looked real. They do sell colorful gun-type toys. Since 1996, unlike their primary competition, Target has not sold tobacco of any kind. Their motto is: Expect More. Pay Less. 
If you need to contact corporate in another way there are many options. Other forums to share your experience might be in Target Corporation social media arenas such as Facebook, Twitter, YouTube, Pinterest.
Target Contact Information
Report complaints to corporate and get satisfaction
Target headquarters address

1000 Nicollet Mall
Minneapolis
MN 55403

Company website

1-800 phone number

1-800-440-0680

Support email address

contact@target.com

Better Business Bureau rating

A

Customer service hours

24 hours a day
Browse reviews of other Department Stores
Top Target Complaints
Browse more than 344 reviews submitted so far

Rex L King
from Denver, CO
I shop at Target Stores a lot and tonight I was there and bought a pair of gloves (getting a little chilly out) The gloves were 30% off and when I got to the register to pay she rang them up at the normal price. I told her they were 30% off! She said that I needed an app on my phone to get the 30% off. I told her I don't have a smart phone just a flip phone. She said that I couldn't get the discount then. The lady behind me in line was nice enough to let me use her app an I did receive the discount but I shouldn't have to do that.
I am retired an on a fixed income an I am not getting a smart phone. There should be some way the cashiers can take care of discounts when customers don't have these type of phones. I guess that is what I have to say.

I will never shop at Target again. I was told I can only use one coupon,I was trying to use two. When I told the store manager Leon at target store 1040 Dale Mabry, Lutz, FL 33548 they policy was four coupons he's said it was corporate policy. I advised him corporate policy is four coupon he got very annoyed. So i didn't push the issue further with him. He allowed me to use one coupon and even asked if I was going to purchase the rest with this transaction.
When I contacted corporate customer service, the customer service said she will call him because the policy is four coupons . She asked me to hold on. When she got back on the phone her attitude changed toward me. She said he refused the coupon because i was buying to much. It was not a inventory issue but a coupon issue because he allowed me to purchase all the items without using coupons. I feel like I was mistreated and bullied because I want to use coupons (which are in their coupon policy limit).
I made the same call to Target customer service two weeks before this incident, not in the spirit of complaining but to figure out the coupon policy. I even contacted the manager to ask the policy. I was told the policy was the same a targets corporate website. I feel singled out and humiliated for trying to use a coupon and have no recourse to help this situation because they lied to cover themselves. When Target let their managers amend the coupon policy as needed they also allow managers to lose business.

Today, November 23, 2016 I was at the Target store in Hanover PA - 31 Wilson Ave. I tried to purchase the Beats powerbeats2 wireless earbuds for the online sale price. I was told by the sales associate in electronics I could not do that. So I went to the customer service desk and asked if they price matched there online prices and was told yes they do. When told I was trying to purchase the Beats he told me they couldn't price match them. I said you just told me you price match your online sales.
He then become rude and ignorant and told me that they don't have to price match nothing. I was trying to price match the online sale price and use the cartwheel app to purchase the beats earbuds. After being disrespected and treated like garbage I left the store disgusted on how I was treated at this store today. Totally shocked that there is a sign at the customer service desk that says, only to be told that Target doesn't have to price match anything. Not sure if I will be going back to this location anytime soon, and will be letting people know how I was treated.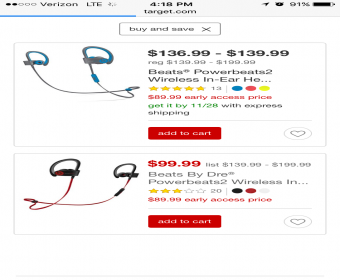 Alan DeBellis
from Buffalo, MN
I have shopped for 40 years at Target it is the place I prefer to shop. I am almost 70 years old now and need a motorized cart to shop. I have talked to many people at the store for over a year now about the condition and safety of there 2 carts but they never get fixed. One cart you can't steer well it just wanders all over causing you to run into things, other carts, shelving, even people. The other cart won't stay running and needs to be turned off and back on to reset it all the time not fun or safe for me or other customers around me.
After many times of trying to get someone to fix the problem I have given up and have made the move to Walmart for my shopping needs even though I don't like to shop there there carts are always in good working order. I still need to change my pharmacy to another, that in it self is 30 to40 thousand dollars a year. store level personnel should have been able to handle this problem.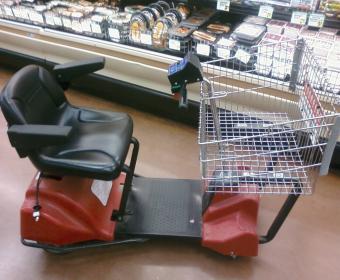 Shirley Bates
from Fayetteville, NC
On Saturday, January 02, 2016, Upon entering the store I was followed by several employees including a plains clothes security man who left his post outside to follow me inside. Walking through the store there was a Black female employee who walked in front of me until I turned into one of the bath aisles (I used to work for Walmart and other retail stores so I am familiar with this tactic of following someone without being behind them). When I was at the bath items, several other plains clothes security personnel (a total of four - of which two females were together) surrounded me in that one aisle as I was looking at items, in particularly, plastic woven baskets similar to the ones Walmart sells.
Realizing what was going on, I left to look at flower vases - the reason I had visited the store. I selected two different styles of glass flower vases to purchase. I looked around the remainder of that section for a while and returned to the bath aisle I had previously been in. This time no one else appeared which allowed me to view items in peace. After looking at several items I wanted to know the price of one of the plastic baskets so I proceeded to find the price checker.
Not being familiar with the store (I rarely ever shop at Target) I did not know where the machine was located. I noticed a Caucasian female worker nearby and proceeded toward her. I was half way near when the Black female employee (the one who had earlier followed me while walking ahead of me) approached the other female employee and began talking. I stood before them, somewhat In between, while they carried on a conversation without acknowledging me.
After approximately five minutes, the Black female employee abruptly left and then the other Caucasian employee asked if she could help me. I was about to ask the location of the price checker when I noticed it, which the Black female employee had been standing in front of, but I could not see it. I then tried to obtain the price of the basket for what seemed like several minutes with no success. As I was about to ask the employees if the machine worked, it suddenly beeped without me placing the basket underneath to be scanned, as if it had been turned on. I was then able to obtain the price of the plastic woven basket.

Mary Ann Hasty
from Lady Lake, FL
I wanted to buy a bike that needed to be assembled. The clerk told me to come on Thursday and it would be put together by 3 P.M. I went and the clerk in then told me the bikes are assembled Mon. Wed. AND Fri. not Thursday. One trip wasted. He said he would put a hold on it and I could come and get it on Saturday morning. I went to pick it up Sat. morning. Couldn't find it. The clerk said they must have sold it. TWO TRIPS WASTED! I talked to the manager and he did apologize and said I could probably find another bike or have the last one in stock assembled. I said the only way I would buy a bike from you now is if you gave me a good discount for my time and gas. He said we sell plenty of bikes, I don't need to do that. I told him again what I thought of Target and left.

I am very upset at target, I bought a vacuum cleaner for my daughter a year ago. The box was never opened and I can not find the receipt. I tried returning it to the store they said they no longer carry that vacuum cleaner so it was worth nothing. I came home and got online the vacuum cleaner is available on line for $119.99 it is a Bissell rewind smart clean. I called customer service the woman would not help at all, she just kept saying this is our return policy like she was reading it from a paper not even trying to help me. My daughter and her husband moved to San Diego, Ca. it would cost me more money to have this shipped. I live in the Greensburg, Pa area, this where I bought the sweeper. I also was able to return numerous things for her that was at Walmart and Bed Bath Beyond which they can me a gift cards for the returns since nothing was opened. there was no problem with them. I am very upset I will no longer buy anything from Target. I could understand if the box was opened but it has not been touched. My daughter husband is in the Navy we did not know they would have to move across the country. I do have a redcard with target, which I am going to throw away because of the way this was handle.
No more Target for me.
Lori Miller

I am completely offended at your Target Commercial that is airing in the USA in SPANISH. We are Americans, and as your commercial is broadcast in America, your commercials should be in ENGLISH.

Friday before last- I had enough money in my account to finally purchase a 55" Phillips Flat Screen LCD TV with a 3 year service plan- Total $1,078.00. I made the mistake of going to the Target Store at 4575 West 11th Eugene Oregon. I was declined the purchase- all said and done, the reason for my decline? I hadn't spent ENOUGH money in the previous year to "qualify" to spend such a large amount. Hmph. I then proceeded to the Walmart store at 4550 West 11th, Eugene Oregon. Where- lo and behold!
Walmart had ABSOLULTELY NO PROBLEM with my money. Despite my not purchasing anything with them for the previous 4 years. Therein I purchased a Sanyo 55" Flat Screen TV LCD, complete with service plan for about two hundred and fifty dollars LESS. How Target stays in business with their patronising attitude- is beyond me. My apologies Target- for not being 'worthy' enough to spend even more money in your stores. And I apologise also- for my complete unwillingness to spend any more there- ever.
Later that month I went to the Target store in Van Nuys, CA. A large sign on a baby T-shirt display read "Clearance 70% reduction and more." I bought 3 T-shirts for my grandson and checked out. When I got home I realized that I hadn't received the reduced sales price. About an hour later I went back to customer service for the reduced price and they said those T-shirts weren't really on sale. So, I went to the department and shot a picture of the display and brought it back to customer service.
A representative was sent to check it out and came back with the sign and said it wasn't supposed to there. I showed the manager, Eduardo, the picture and he said sorry, we don't do our sale price tags this way and refused to sell it at the in store advertised price. Still have the pic in my phone.

I just came out of Target located in 100 Parsonage Road, Edison, NJ. I had purchased 3 items of clothing and pulled out my Target gift card to use that I had gotten from the store in June when I returned a girls' Champion performance legging ($15.00). My child wanted an all black color legging but I had gotten her one with a some colors on the waist of it. When I went to pay for my items, I was told by the cashier that there was no money on the gift card. I realized that the gentleman who had helped me return the colored leggings did not put the $15.00 on the gift card.
The cashier then asked me if I kept my receipt. Obviously, I didn't. Who would think that anything like this would happen? I just want you to know that this can be prevented easily. Perhaps, the person at customer service should check to make sure that the amount is on the gift card before they give it back to us (the customer). I am upset that I lost the $15.00. I hope that by telling you this, this will not happen again to me or anyone else.

veronica guzzone
from New York, NY
Please be informed that myself, a group of family members and friends have decided to boycott your stores until you remove the Spanish speaking commercial from the English speaking channels. We do not speak Spanish and we find it offensive that we are subjected to non-English speaking commercials in this country and on main stream media. There are Spanish speaking channels that can reach those who understand Spanish so why not advertise there. How effective would it be to advertise in English to those Spanish channels? Until these commercials are removed we will take our Target business to Walmart.

Michael R Heineman
from Evansville, IN
I cannot believe you would allow a male to go into the ladies restroom. Not only is a morale issue it is a perverts dream come true. Has the world gone mad. This pandering to 1 percent at the expense of 99 percent is out of hand. what about a lady or childrens right to privacy. I will shop at Walmart where they still have common sense and respect the rights of the majority. would you let a male guest go in the restroom with your 12 year old daughter at your house? how about your wife. political correctness is the bane of a civilized country. your either born a male or female. why invite a firestorm over a basic right that has worked since the founding of this country. This is not progressive thinking it is sick.

Colleen McGinty
from Las Vegas, NV
No complaint. Just want you to know I agree with your restroom policy. I am not worried about a transgender person being a threat in the restroom. I will continue to shop and support Target.

Cindy
from New Baltimore, MI
I went to target to purchase a shark steam mop, I was pleasantly surprised to see it was on sale for 109$ after picking up a few other costly items, I went up front to pay for my items, the steam mop rang up for 129$, I questioned the cashier who called over the customer service cashier, he went over to where they kept the item and came back saying there was no sign I went back with him, showed him wear the sign was and told him he took it down, I understand that mistakes happen and it was probably last weeks sale, if he would have explained that I would have purchased it anyway, I spent 345$ yesterday and walked out feeling like he called me a liar, I will never spend another dollar there, if something I want is on sale at target I will go to a place that price matches, they will get no more of my money!!!!

Jane Oates
from Glenolden, PA
Today I tried to use my new Target card with the chip. I did not know the I needed to set up a pin. There were too many people in line so I paid cash to check out. I called customer service and waited an hour to s/w a manager who told me I cannot be credited the 5% discount bc "I failed to follow instructions" additional "this is my failure". I stated Kmart, Macy's can all use phone numbers and never make the customer feel stupid. My mother is currently dying and I may have forgotten to select a pin 2 weeks ago. I have never been treated so poorly. Evidently I'm too stupid to shop at Target". I have shopped at Target for years and had this credit card since 2014, but will never go again.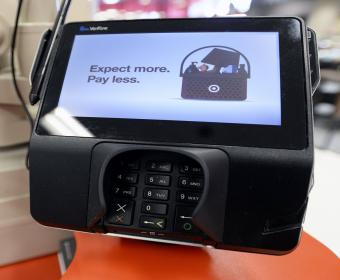 Judy McKinney
from North Liberty, IA
I have been shopping at Target stores for years. Your recent decision to allow those people who have chosen to be a different sex, (transgenders) into the restrooms/dressing rooms of their choice is a huge disappointment to my family and thousands of others around the country. Any person could dress up and SAY they are a transgender, enter a restroom where a young girl, lady is and brutally attack or rape them. What about the rights of these young women/girls to their safety and privacy? Where is the common sense?
We will NEVER shop at a Target store again. I hope you are prepared for the litigation that will occur when something happens. My rights as a woman count as much as the person who biologically is a MAN, no matter what he thinks he is. Please take a common sense approach to this matter and think of the safety of all the young women/girls who will be shopping at your stores. I would appreciate a response from someone from the corporate office who can explain this decision to me.

I went to Target today and purchased several items totaling $160.00. When checking out I attempted to use my Target Red Card. The cashier told me my card was denied. I asked why and she said I needed to call the number on the back of the card. I used my bank card but was unable to receive the 5% discount when using my card. I did call Target when I got home and was told my limit was only $200.00 because I didn't use the card recently I told the rep I hadn't used it much since the security breech and waited until I got a new card. My previous limit was $4000.00 and is now $200.00. The rep said he would have it increased, but I am not sure if I will ever shop at Target again!

My husband and I purchased a TV for Christmas. We needed to return it to the store. Not knowing the difficulty we would have not having the receipt customer service said if we didn't have the bank card or receipt (which we paid with cash) we had to only exchange it the same department which would be 008 that means TV's or accessories. This was ridiculous I went to the department it was a waste of time especially when it was no need for those items. I asked for a store credit, customer service said that was not there store policy. I felt humiliated. There should be a different policy for the Christmas holiday. So I end up bringing the TV back home, a TV that doesn't work great and was purchased from Target.

Juan Garcia
from Chicago, IL
As of today who have lost a long term loyal customer, I will not endanger my wife and my daughters, you can thank your new bathroom policy, you just gave the green light to sexual predators to attack our loved ones, I used to like target, I was even a team member in CA on the flow team, we'll I have just lost all respect for your company. I will cancel my target red card, I just applied for a Walmart card and was approved...you might be thinking that my 2,000 yearly dollars are chump change but imagine if millions of customers did the same thing, oh and it will happen, this just the beginning. Enjoy your losses. Ex customer Juan

Lynn Harrell
from Macon, GA
It is very disappointing that Target is allowing transgender employees and customers to use the bathroom of their choice! With this decision to give transgenders their rights you infringe on MY rights as a woman. Personally, I do not want to share a bathroom with men and I have 2 daughters who I do not want to have to share a bathroom with the opposite sex. I will not shop at any Target store until this decision has been changed. I appreciate your consideration with this concern.

Ann cronin
from Santa Ana, CA
Santa Ana NW location. Entrance to store was filthy. Vodka bottle , cups, and trash everywhere. Purchased four Lysol promotional items, buy three get one free. All items were charged to my account so I proceeded to customer service for assistance. After scanning the items staff determined that one item did not qualify. Their remedy was to refund the items and have me repurchase which meant that I would be required to reenter the store, stand in line again. Just not the service I would expect. Would have been wonderful if they could have given me credit or taken a moment to retrieve the correct product. The store was not busy and the supervisor should have assisted

Brenda Powell
from San Antonio, TX
I was on my facebook page and a friend of mine posted something that should not be selling at a Target store. You are selling a product called syringe pens. Age 4+. In light of all of the heroin overdoses this is not appropriate. Let alone being showing at a doctors so the kids are not afraid. Only as a prop. I wend send you a picture of it but there is no where to put it.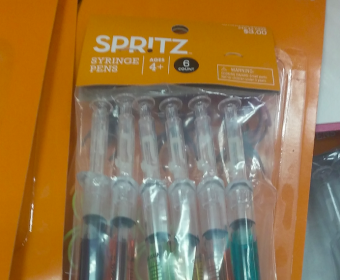 Maureen Brown
from New York, NY
On Thursday, May 7th, I went to Target as I usually do on my shopping trips. I wanted to pick up 4 12-packs of Ginger Ale which were advertised in the Target flier on sale. As the shelves were empty of Ginger Ale I asked one of the floor workers if there was any in stock. The young lady called the storeroom and relayed to me that there was Ginger Ale in stock but as they were shorthanded that day there was no one available to put it on the shelves. She then advised me to come back the next day as the shelves would have been stocked by then. I knew the item was on sale until the 9th and I wanted to make sure they had time to stock the shelves so I returned to the store on the morning of May 9th. Unfortunately the shelves were still empty of Ginger Ale. I again approached one of the floor workers, who called the storeroom and relayed to me that the Ginger Ale would not be stocked on the shelves until Monday.
She then kindly advised me to go to the front of the store and ask for a rain check since the sale would be over by Monday. I went to the front of the store where I asked one of the Help Window clerks for a raincheck on Ginger Ale. She told me and not very kindly that Target doesn't give rainchecks for items that are put on the shelves by the company (Ginger Ale apparently) and then proceeded to pick up her phone. As she is punching in the numbers I explain to her that one of the clerks on the floor told me to come to the front and get a raincheck for Ginger Ale. Again she told me rather nastily and loudly "We don't give rainchecks for soda that's stocked by the company!" and proceeded to turn her back to me and start talking on the phone. I then said to her that I'd like to speak to the manager or someone in authority and was told very nastily with her back to me that there was no one here. That was my experience with Target today. I have to say that everyone else was absolutely kind and generous. Also, I shop at Target at least once and usually twice per week and I have never been treated so unkindly by any of the Target staff until today.
I just turned 75 2 months ago. Shopping is not just a hobby. It keeps me active and I really enjoy meeting and talking to people. Most people like me. That woman today was mean and quite cruel and it took alot to not let it ruin my day. I also would still like my raincheck for Ginger Ale at the sale price of 4 12-packs for $12.00.

Louise
from Milwaukee, WI
On Monday, May 4th, early morning hours I went to pay my Target Bill. While waiting for a sales clerk to assist me at the service desk, a clerk came up and said that if I read the sign, it says go to lane 6. She were very rude, I said I am sorry but I did not see the sign and I continue to tell her that she do not have to be so rude this early in the morning. Her attitude did not change, so I decide just to not let her wait on me. I spoke with the store manager, her attitude then change. Customer service is very important to me and I will not be shopping at Target any longer.

Edward Cauthorn
from Concord, NH
I cant get you clowns to accept my payment over the web. My wife was just hung up on by a "Manager" that told her that she did not hit the Submit button. And this is four times in a row. Are you people just plain idiots?

My wife has had knee surgery and has to get around by crutches . She has shopped at target for many years now . She unfortunately would like to be able to use the electric carts provided for elderly or disabled people . The six time that she has recently been there the carts are never charged . She sent a complaint by email and received back a reply that said this would be taken care of . Well guess what this morning at 11:30 am after the store had been open for only three and a half hours 4 of the 6 carts they have we're not charged . I been patient but now feel I have to take this a step further with the Americans with disabilities act . Obviously target does not care about this situation . Sad to say that this has left her with a choice to never shop at target again . And we will make sure our families are made aware of the situation also .

On Monday 3/31 at 10am I went to Target Store on North Bergen NJ to buy the special they had on pepsi cans (4 x 10) no limit.
I wanted to buy 20 packs (to pay $50) but when I was ready to pay the security came to the cashiers and told them "Do not sell more than 4 per person, there is a limit, I told him there was no limit on the flyer and He replied to me I do not care, they have to do as I say.
I believe this is not a proper way to treat a customer, this is ridiculous
Sincerely
Hugo Francisco Melendez

Thomas Nastoff
from Dearborn, MI
Was in a Target store in Columbus Ohio and was shocked to see pictures of John Legend & Chrissy Teigen
They are two of the most foul mouthed Trump critics using profanity to described him and his administration.
How can you promote Americas favorite store with such wild eyed propagandist.
Really feel betrayed by Target and bet most of middle America agrees with me.
Tom Nastoff

Vicki Terrell
from Muskegon, MI
I ordered on line this lego set. I received this in my email.
Item ready for pickup
LEGO Super Heroes Marvel Avengers Movie Thanos: Ultimate Battle 76107
Qty: 1
Total Paid
$46.31
Target Credit Card Target Credit Card ****7994
$46.31
By reading this email you would assume $46.31 would be charged to my Target Account!!! WRONG!!!! I was aware if I purchased a $50.00 lego set I would get $10.00 off so I figured the $10.00 was taken off of this lego set. I picked up the toy and also spent another $65.00 at target that day. I noticed in my email I had a 10.00 gift card which I could have used on my $65.00 purchase but I thought it was taken off the lego toy. I called Target Customer service and was hung on twice. I called back and asked for a Supv. which Janelle said she was a supv in Corporate in Arizona and there wasn't anyone else higher than her. All I wanted was the $10.00 put towards what I purchased and not a gift card. She told me to read the rules on Target and that was not going to be done. However she said I could go back to the store and they could apply the gift card. That would be fine if I lived by Target but I would eat up the $10.00 in gas. Very frustrated!!!

Katrina Springer
from Enid, OK
I ordered 4 swimsuits & returned 3 according to the instructions. I have chatted online twice & finally received a refund for 2 of the items. Today I began a chat & as soon as I completed typing the issue the agent ended the chat. I then called the 800 number twice & regardless of what option I chose the recording continued to say that option doesn't work. I am just trying to get the refund for the 3rd swimsuit & should not be going through all of this.

Brenda Ramey
from Broken Arrow, OK
Today when I was in the target store, a very nice associate ordered a women's top for me because they didn't have my size in the store. When I reviewed my order via the email that came from target, I realized that the associate had ordered the incorrect size for me. Within an hour of the associate placing my order, I called your customer service number and ask them to cancel my order. The customer service representative I spoke to advised me that she would cancel my order. I asked her (two times) if I would be receiving an email showing that my order was cancelled. She assured me that I would. Three hours after I spoke with the CSR
I still had not received an email showing that my order was cancelled. So, I called customer service again only to find out that my order did not get cancelled and that it had been processed. They couldn't tell me what happened. They did offer me a $5.00 Target gift card. My complaint is that you need to hire more competent employees in your customer service department. Now, it will be an inconvenience for me to have to return the item to the store. The other ISSUE is that the top was on clearance in the store but when the associate ordered it online for me it was not on clearance. So, they charged me the full price when they placed my order nd then turned around and gave me the difference on a Target gift card. So, I will have to go back to the store and have them order the top for me again in the correct size, at the higher price, and get a Target gift card for the difference.
And then WHEN I receive the top that was ordered today, in the wrong size, I will have to make another trip to Target to return it. I don't understand why this has to be so complicated! SO FRUSTRATING!!

Paula Dolchanczyk
from Cherry Hill, NJ
On April 9, 2019 I ordered 4 pillows priced at $19.99. On April 10, 2019 I received an email that the pillows I ordered were now on sale at $13.99 each. I called customer service on April 10th to request a price adjustment and was informed by the rude sales representative that I could not get the price adjustment. When I went to return the pillows on April 11th at the store the sale girl informed me I was within the fourteen day price adjustment time frame and should have been given the adjustment!! Also on March 28, 2019 my online order had all missing items when I received it. The again rude sale attendant did not even apologize when I told him how horrible my items were just rolled into a ball and thrown in a shipping bag not to mention missing items!! You need to be more careful in your hiring process!!! So dissatisfied with target.

Julie Kukla
from Naperville, IL
As a Christian, I find it extremely disrespectful that your target ad shows a picture of a tshirt for boys for fortnite on the back of your ad. In it, it has a picture of a skeleton in an Easter bunny costume. When Easter is a time when Jesus Christ has passed and your company has put a skeleton in an Easter Bunny suit? What are you thinking???? Is that supposed to be funny?? I think its extremely distasteful and this t-shirt should be removed from your store immediately!!! This is not acceptable and I am NOT alone in my thoughts or those that will no longer go to Target!! This was the last straw!

I went to north shore target in knoxville,tn. I was picking up items for my niece and put all in bag to carry stuff to guest services while i was distracted on the phone call i was between bulleyes dollar spot and women apperal standing there talking on my phone next i know security came out wont let me finish to shop i went to guest service told them to hold this for her she come to pick it up them when i check out at the register cashier and the other co worker at target made fun of me. That was horrible never shop there before . My nieces has a red card to pick up the purchase and she work for taeget she just got the job. They made me felt like a crimal. So now me and some of our family members and friends will not dinate money to target and pull out for shopping there base on the expirence i could see if i was trying to steal the iteams i was no where close to check out and to the doors and wasnt going to head that way with those items i would of bought them for my neice bit since that happen forget i going let her take xare of it. So i rate target a horrible place to shop beware they assume your automatic a thefts even while you truely not.

sergio abaloni
from Ontario, CA
good day I am a loyal target customer for many years,but lately I been having a lot of problems when ordering online especialy iTunes gift cards, my orders always get cancelled it says a technical problems I called my bank to ask about my credit card and they told me that my credit card is good to use to purchase online I am very disappointed about this situation hoping someone will look into this problem you guys have, thank you wait to hear from someone.
regards.
Sincerely.
SERGIO ABALONI

Rhonda Karales
from Plainfield, IL
I am asking are you going to continue carrying Mossimo Clothing in your stores? I always shop at TARGET. I definitely hope that you discontinue selling Mossimo Giannuli's designs, otherwise, you will be providing more money to the CHEATS - LORI LOUGHLIN AND MOSSIMO GIANNULI, for them to continue in their bribery ways. I hope you won't continue to be associated with Mossimo Clothing. I'm sure you can find other reputable clothing companies that you can trust. I appreciate your consideration in this matter!

Suzanne grube
from McHenry, IL
I've been on phone 3monrhs to pay and fix account on hold a lot customer service notat all helpful hate wasting time put hold on account after I called and called and called to fix no luck !! Use too love target but target is making too much monies to care ! Boycotting target now for a very long long time to bad for target they should of love love their customers like on commercial good bye 2019 March

I ordered a light fixture online on 2/14/19 (order #: 1050662308534). It was scheduled to be delivered on the 22nd by Fed Ex. There was an adult home all day but Fed Ex never knocked just left a note on the door saying they would try next day because a signature was required. I waited all day with no delivery. On Monday received box with a random bulb from Target, Called was told to wait a couple of more days. (nothing) Called Target again (case #50067911) was told to wait further and send picture of bulb attached to the email he was going to send me.(never received email). Called today 2/28/19 case # 50141707 was told to wait again two more days and if I didn't receive email to call back.
To date I have been charged for the fixture it has not been delivered and the only thing I'm being told is to wait. What is it that I am waiting for? I hve wasted to much of my time getting no results. I expect more from Target Should I get my credit card involved?

My target.com password was reset and not by me. So I called immediately like the e-mail suggested to report. Had 1st agent the told me just to reset my e-mail. I could of done that with out calling. I asked if my account was OK and nothing ordered . He said yes. I asked how do you know, he said o I need your e-mail. I gave it to him he said all was OK. I ask to verify he was looking at my account, I asked what my last purchase was. Couldn't tell me. He repeated my e-mail and it was not correct. I gave him AGAIN my e-mail he said he then couldn't see anything, I just ordered something last week. I asked to speak to a supervisor because I was having my doubt I was talking with a actual Target person. After on hold for 10 minutes a supervisor Britney came on. She "finally" was able to verify my account. Not real impressed with your customer service at all!!!

Maureen Mitchell
from Riverside, CA
Dear Sirs: Our local Target at 3333 Arlington Blvd, Riverside,CA just completed a beautiful, long overdue renovation. That has been a blessing. The issue is obviously in the management staff and scheduling of stocking shelves. I have seen complaint after complaint on local Facebook concerning how inconvenient, cluttered and lack of customer service from employees. The aisles are filled with carts needed for restocking which prohibits customers from getting up and down the aisles - you can't get at the merchandise. I have never seen restocking during the middle of the day when the majority of your shoppers are in the store. The employees do not seem to be bothered to help customers - just concentrating on stocking. The beautiful new store now is junky because of this stocking issue.
I am puzzled because this does not seem to be the norm for Target. Please have someone look into our situation. Riverside loves this store.
Thank you!

Received a set of "Bose" Earbuds from my son for Christmas. Initially they worked fine in early January but problems syncing them with my iPhone & Ipad began while on vacation the week of 2/9/18. Contacted Bose who tried to trouble shoot for close to 2-hours only to be told the Earbuds where probably defective. I was also told that the Bose 1-year warranty expired on 6/20/18 (they would have had to be sold and registered on 6/20/18) which was a surprise as my son did not purchase these from Target until 12/18/18 (see attached receipt). So unless some ones records are incorrect, I can only think that Target accidently "sold us previously sold (used) & returned product". When I contacted Target Customer Service about this matter I was told you only give a 30-day warranty and it was not your problem, call Bose. Well, now unfortunately its my problem as we are out $213.24...

Everyone was rude! Rude attitude and was completely clueless only one with their head straight was this nice young woman named Janelle. No one would explain to me what was going on and when I was introduced to the "Store Manager" he was clueless and not helpful. I'll only resort to Janelle she was kind and only one who listened and made a solution to this mess. Needs to be more people like Janelle!

Pueblo Colorado - employee Rachel is RUDE! She made returning a cracked phone case (brand new in the box) an extremely painful experience. She treated us, the customer, like WE did something wrong. She has no customer service skills, and we will go elsewhere to shop where we are treated with respect. Shame on Target for having such a person represent your company.

In the past I've always went to Target to purchase black hair care they aways had a vast majority of products now they seem to have cut out most of the products that the have purchased. also they have put the hair care across from the condoms . . I will never shop at Target again and will pass this on to my friends and family members .
O

Armando Ramirez
from Hialeah, FL
Today was a day were I get in great bad moments w/this great company I came to the store it was a young man facing or standing at front of a place that I intent to buy some stuff for my grands. I made signal s to the girl that he speaking to then finally I say please do you mind can I see those items please . them he finally w/ bad actitude spoke to me and move ,Them finaly I get what I want but I still was so piss off with the man n I cama back, I told to one of the employees, to call the manager, and get what, the one talking to the girl about poppy love was him the manager, can we do something about it hes getting pay good money to take care of the costumers, them he walk away from me. first time . this the target by 1750 west 37 place Hialeah Florida. hes a not we'll educate person and less if you see that the customers very wellnew in this place. His name is short but do something about because he may be put this way around . Sincerely Your a 74 years old man, Armando Ramirez if you people, please call him the attention ,and teach him a nice way to treat a customer I know that he thought that I was a only Spanish language but dead wrong , this is my language. English speaking person put this way how many other people he have treat this way dirty way. you got my e/mail if you want to give me a nice apolozie to report this man and MANAGER THAT WHAT REALY PISS ME OFF> ARMANDON RAMIREZ SR<

david brodie
from Glasgow, SCT
this is not a complaint about your coffee (your flat white is excellent) it is about the cleanliness in your store at Braehead Shopiing Mall Glasgow UK I dont know who you employ as cleaners but the table bases ,floor and along the ledges of the windows were filthy with food stuff caked on

Eric Bach
from Madison, WI
Dear Target:
Recently we bought a storage cube, by
Furniture of America, model HFW-1453-6.
The kit has some serious problems.
1. The holes in the blocks for the long
metal screws are too small. I had to
drill them all out. They also should have
been countersunk to accomodate the wider
shank near the screw head.
2. You need to drill these holes, which
are going into a plywood-like material,
perpendicular to the grain. Because they
were parallel to the grain, one of these
blocks split and had to be glued. (I
am waiting for the glue to cure.)
3. I can't imagine one Phillips screwdriver
that would be sufficient for the job, as
the instructions indicate. I needed a #3
for the cam connectors and a #1 (much smaller)
for the cam bolts. Maybe #0 for the door
hardware (haven't gotten there yet).
4. For a high-torque application such as
the long steel bolts (number 4 in your hardware
list) you need to supply something better than
a small allen wrench. I had to clamp it into
a vise-grip to make the last few turns.
Allen wrenches with longer handles are made.
Please contact your manufacturer and get
them to fix these problems.
Best,
Eric Bach
bach@cs.wisc.edu

Kandis K Misner
from Stephens City, VA
I bought a $100 Visa gift card at Target... Used it a few times until I had around $40 left. At that time I had dinner at Applebees which came to $27.84. Somehow... the $27.84 showed as ringing up 3 times. There was not enough balance on the card for those charges but yet I was able to use the card at McDonald's for $5.88. I should now have a balance of a little less than $6.00. But am not able to use the card and it's showing a negative balance. I have phoned the Visa number on the card. Have spoken to 3 different individuals and their supervisor Jerry. They have all told me I need to fill out a dispute and have read my Yahoo email address back to me ( which I provided.. So that they could send me The dispute form).The first 2 individuals told me I need to contact Applebees about this issue. I did. They searched their records and found they had only been paid once not 3 times... So they could not remove charges they couldn't find. I delayed all this information to Jerry, the supervisor and told him that I had not received the dispute form. I still have not received any communication from the Visa representatives. While, I think it is totally ridiculous to have to go through this much trouble for under $6.00..... It is my $6.00, eand i feel it is being stolen from me. If this issue is not resolved to my satisfaction... I will NEVER buy a gift card - nor will I recommend to anyone else... That they but a gift card from Target.

Lori Clark
from Lockport, IL
Fraud gift cards was told it was stolen. I was on the target app and target sends me this response with no proof . Target app is not secure . They are aware of this problem and let gift cards to be transferred to another gift card with large amounts . They don't investigate.
Thanks for taking the time to give us a call on 01/09/18. It's disappointing to hear about the trouble you've had with your Target GiftCard and we sincerely appreciate your patience while we looked into your issue.
After review of the gift card, we don't see any fault on Target's end that would have caused the funds to be spent. Because of this, I'm sorry to advise you that we are unable to replace the missing funds.
We encourage you to visit: https://www.target.com/c/gift-card-fraud-prevention/-/N-lj9kh for additional information on Gift Card Fraud Prevention.
I know this is a disappointing experience for you. While we are unable to resolve the issue as expected, it may be to your best interest to pursue the matter further with your local law enforcement.
Thanks again for your patience with this matter.
Sincerely,
Chad
Target.com Guest Services

mark stephens
from Raleigh, NC
i feel sorry for your associates, staying open until 10pm on Christmas Eve.
i would not recommend Target to any family nor friends.
i will no longer shop at Target and will take my business elsewhere.
Enjoy being greedy Target!
Mark Stephens
Have feedback for Target?
Thanks for your feedback!
Sorry. Please try again later!