Target
Target Complaints Continued... (Page 4)
341+ reviews added so far. Upset? Call Target corporate: 1-800-440-0680

I just want to say I am a very loyal and valued customer. I spend alot of money in your stores. I live in NJ and have a second home in Naples,Florida. So I am not there all that often. On March 31, 2011 I purchased an outdoor rug. I literally had it outside for 1 month as I just got to Florida and it the raining season was starting. I had to fly back to NJ and COULD NOT bring the carpet in as it was very very wet. Needless to say I didn't make it back to Naples until 10/18/2011. The condition of the rug is absolutely molded and ruined. It is disgusting. So I went to the Target Store #2063 where it was purchased and the woman behind the counter explained your policy.
I asked to speak to the manager which was Brittany and she didn't want to hear anything. Very nasty and uncooperative. Now because of the second house situation I DO NOT AGREE with the 90 day policy. All I wanted was a store credit which I DO NOT feel is unreasonable considering the circumstances. If Target does not want my business anymore that is just fine with me. Otherwise you should at least try and be fair with this situation. An outdoor rug SHOULD not mold in one month.

I just tried to return a GPS that I had purchased a service plan for. When it was sold to me the sales person specifically said that it did not matter if I stepped on it or if it fell down the stairs it was covered. They said that all I had to do is bring it back and they would replace it with the same one or better. Now that I bring it back after 1 year of a 3 year service contract they will not replace it. What I now have to do is wait 2 days to mail it to a service center per the person I had to call because the store would not do anything. They said they would have it for a couple weeks to look at it. Then they will decide what they are going to do.
I use travel NA for work and need this every day. This was not what I was told and Target and Target Customer Service are not willing to stand behind what they represented. There were 2 of us there when it was sold to me and we both remember very clear what we were told.

I am very disappointed in your handling of the launch of your new Missoni line. Regular shoppers had no chance. Stores had people buying shopping cart loads of stuff, my local store was sold out in minutes. When I went online to possible order something for myself, out of stock on most items. Very discouraging. It makes me want to never give my business back to Target again! For fairness you need to limit people on how much of a new launch they can by, either at the physical stores or online. All your merchandise is on eBay for inflated prices, so that is what all the hoarding buyers did with it.
I just wanted to buy a sweater and see what else was there! Do you have an agreement with eBay for some kind of profit! Bad business, why would I want to continue to shop at your stores when you let greed and unfairness be your bottom line. Used to like your store, now I am boycotting because of this fiasco (not for your though, $$$).

On Saturday December 3, 2011 I was shopping at Target in Yukon, OK. I had a buggy full of items. I have until this experience loved shopping at Target. I decided to purchase some boots for my grand-daughters. The sign said Circo Toddler Boots $18.00. I selected a pink size 7 and a teal size 11. I try to watch my money and scan everything advertised on sale to make sure it scans appropriately prior to getting to check out. The pink boots scanned at $18.00 the teal $22.99. I ask for assistance of 2 sales clerks who both scanned and found what I had $18.00 for one pair $22.99 for the other. I asked for someone that I could show the sign too.
They sent a person to shoes and I showed her the sign which did not specify that only the pink ones were on sale. She basically told me that I was wrong. My point…Circo Toddler Boots apparently were NOT on Sale for $18.00. Circo Pink Toddler Boots were the only ones on sale. I wonder how many pairs of boots you sold for $22.99 to people who thought they were $18.00???? I was so upset by this point that I put everything back. Sorry Target you lost a good customer due to your misleading signs and your staff.
I like shopping at Target but getting a little frustrated that you are always out of the things I need. Not sure of the inventory system you use but it is awful. Today is was printer ink and sandwiches. So there is a loss of around $40.00. Not much but it happens regularly. Now Office Depot and KFC got my money instead of Target. My wife also has the same problems with items being out of stock in St. Cloud…in this economic environment, wouldnt you think you should have items in stock so you can actually sell products to customers???

I purchased a bike rack from one of your Target stores and the second time I used it the strap broke and mine and my husbands bike fell off. My bike was fine but my husbands back rim was bent. Since I purchased both from Target I took both into the store to exchange the rack and get my husbands rim repaired or replaced and they didn't want to help me in any way at all. They said that I needed to contact Schwinn because the rack was purchased in May 2011. They said it was passed 90 days and to contact Schwinn. I would like to resolve this matter promptly.
I am very dissatisfied in the customer service I received. First of all I asked to speak to the manager several times and in the end I still ended up with a supervisor who was not able to anything that would satisfy me. I have been a Target customer for several years and a Target card customer for a few years now and I am very unhappy with the service the whole company provides. I am going to pay off the few dollars I owe on my card, close the account and shop somewhere else.
I hope that someone in the corporate office does contact me asap to handle this matter or I will be forced to contact my Lawyer, The Better Business Bureau and the Local News station regarding the terrible service that Target provides it's consumers.

Comments: Dear Target: I am so upset at your company right now. I ordered a wedding gift in JULY for my cousin and his wife that was advertised as in stock and found out it was on back order and would be late. It is now almost September and I receive an email that it is canceled. It says I wont be charged, but I used a gift card and $2.00 on a debit that had been charged. I no longer have the gift card number, so how can I re order??????????? You also said you would credit me an extra 5.00 for future orders. I probably really dissappointed my family members with no weddding gift.
I want target to mail my cousin a gift card with the additional 5.00 you qoauted me with a letter of apology to my cousin for targets irresponsibility in customer service. If I do not here back from you I will report target to the better business bureau and never do business again. This is ridiculous. I expect that gift card to be sent to the address i originally had on the shipment asap.

I shopped at the Whittier store, on Whittier Blvd and Gertrudes. I found several items were not stocked. Corned beef hash, marinated artichokes and the skim cheese I use for my Mexican dishes(Cacique.) I spend more than 50% of my grocery, cleaning supplies, pet supply bill on items at target. And, it is a huge inconvenience when I cannot find most items I need at this store, that is suppose to sell grocery items. I have to commute to a different store for artichokes. Marshalls sells them, by the way; fyi. That's where I purchased them. The other items I had to purchase at a grocery store. Hopefully target will stock these items in the future, otherwise I will take my dollars to Wal-Mart.

Afer the experience I just had a local Target Dept Store (where I have frequently shopped for many years, spending alot of our hard earned dollars), I can only conclude that Target has a seriously distorted view of how to treat their customers! After an item I purchased was rung up for a higher price than what was listed on the shelf's large sale sign, I went straight to Guest Services to return that item because I had only bought it because I thought it was on sale. I stated that the sign on the shelf said $13.50, but rang up $17.99 and that I did not want it if that was the correct price.
Absolutely no effort was made to determine what the correct cost of the item was… no phone call, no walk-talkie page sent out, nobody sent over to check the shelf sign… no effort whatsoever! What she did instead, was apparently void the entire transaction by scanning the receipt and pressing some buttons on her cash register, then she promptly announced what my new total was without the $17.99 item… My response was huh? 'All I wanted to do was return this one item, not be charged again for everything else… Why do I have to pay again for items I am not returning… I don't understand, why did you not simply credit for the item I want to return'… After a brief exchange, she screams at me, yes screams at me 'Because that's not how we do it, this is how we do it… you're not being charged again!'
Oh really… sure why not, scream at a customer…real nice lady, yell at me because I have a problem with scanning my card twice to pay for the same items again… I don't think so… I have made many returns in my life and never had to repay for my order like this not ever! Another woman, who turned out to be Dept Manager was there and actually witnessed her employee going off on me, took over with me and sent the psycho over to the next register to harrass, I mean wait on, another guest, not once did she apologize for the pyscho lady's rudeness! In fact, she made no effort to find the correct price of the item either (shouldn't this be the first order of business here people?!) She also made no attempt to diffuse my upset over being yelled at!
I cannot believe what just happened her, I am standing there in awe, I cannot believe this lady doesn't have anything to say about her employee yelling at a customer!?! Really!!! I asked for Dept Manager's supervisor, who came over and also showed not one bit of interest in determining the correct price of the item… I said out loud 'why is nobody but me interested in what the correct cost is supposed to be?' and Ms. Dept Manager said she hadn't had time to check that out, she would have gotten to that when she had the chance… I respond 'when were you going to get to that?' we'd been doing this for several minutes now, and they were more concerned with re-ringing items repeatedly…
I took it upon myself and left to go check the price, ignoring her calling after me that they will just adjust the price for me, as a courtesy… blah, blah, blah… (Really, a courtesy, how about not screaming at customers, as a courtesy, how about showing some interest when a customer says they got charged the wrong price, as a courtesy, how about refunding an item's cost when the customer asks to return it, as a courtesy!!!
My response as I go to investigate 'no, I'd like to find out what the price is supposed to be now, and I don't want adjustment if it is not on sale, I'll go look' and I walked all the way back across the store to find out that sale sign on the shelf was only for 2 varieties of the item located in the center of the shelf and the 2 varieties of the same item to their left and to their right were actually regularly priced. So that part was my bad, damn advertising trick got me. I go back and announce that the price was my mistake, Ms dept Manager offered to adjust it anyway again 'as a courtesy' I decline again stating that 'I don't want anything other than what I pay for'.
Mr. Store Manager apologizes stating that items sometimes get misplaced on shelves and I correct him stating 'nothing was out of place on the shelf, I didn't read the sign closely enough and thought it was for all on the shelf, and that what he should be apologizing for is his rude employee yelling at me, to which he responds that he 'was not there to see that, so he doesn't know that it happened' (Ok, so I'm a liar now huh?), I proclaimed again that she had in fact screamed at me and that it was very inappropriate, and to my surprise, Ms Dept Manager actually chimed in her agreement that the woman had, in fact, screamed at me.
At that point, she kept apologizing and offering to adjust the cost of the item for me, I declined again and let Mr Store Manager know that 'this shopping experience had left a bitter taste in my mouth and that I shop here alot and spend alot of money here, but I am wondering myself how long it will be before I feel like coming in to shop here again' Both managers I dealt with in this situation were seriously lacking in Customer Service skills, and if I yelled at a customer at my job, they way I was yelled at, I would surely be reprimanded if not fired. I left the store thinking to myself, looks like Target's lose is Walmart's gain… not that either of them really cares one way or the other, but I do and I feel like they should too!

My friends ordered me a crib from Target, it was supposed to be delivered between May 19th and 23rd, 2011. A week after it didn't show up I contacted them and that's when the decided to tell me that it's "stuck in their system". They can't get into the order to cancel it or to see what's wrong with it. After weekly emails and phone calls trying to figure this out I was sent a confirmation email saying it would ship out and I would recieve it in 3-5 business days…needless to say it's been 10 days and still no crib.
I call customer service, every time talking to someone new, every time having to tell them my situation over and over and then wait 20 minutes to talk to a manager who "will figure out what's going on" and call me back but won't give out their contact information and then they don't call back so I go through the process over and over. Did I mention I will be having a baby soon and kind of need a crib. So the last time I called I asked them if they could just start me a new order and send me a new crib…still waiting to hear if that will work but I am not holding my breath.
They are also saying that I am not the only person with this problem so if there are more of you out there let me know!!

I did a survey on line for a free target $100.00 gift card,I gave all my information,and I received a phone call,answered questions,and ordered some magazines with a credit card,the person I talked to said that was the only way I would be eligable for the card, that was two weeks ago, and I was supposed to receive the information in five days along with the card. I have not received anything yet. In my opinion if you are going to have these promotinal people use your name to get business of their own,then I really think that you and them should follow threw with what you promise. I will not shop your store's because of this, and I have to travel at least fifty miles to get to a target store.

On Tuesday, June 28th I attended the Target Store at Walden Galleria in Buffalo as we normally do about once every 2-3 months. On this date I purchased $80.00 worth of merchandise, upon arriving home I noticed that (3) items were not placed in the bag (2 cans of Chocolate Ovaltime @ $9.58 plus I was charged for an extra $2.99 for a powder mix that I did not receive). I know this is a small amount, however living in Burlington Ontario it is not a matter of just getting in the car and going back to the store. All the time the cashier was serving me it was as if her mind was not on the job at hand & her customer relationship one would have to question. I was taken back a bit from her attitude.
The Ovaltime was the second item on my slip that she checked and maybe should have been placed in the bag right away.
Customer Service must be number 1 in the retail business and I feel that this person does not exemplify what Target should stand for. Thank you.

I recently came in to target to purchase my wic order on june 23,2011. My order consisted of getting a gallon and a quart of milk. You do not have a store brand of quart milk. Wic requires getting the cheapest brand. If you do not have a store brand the only other one is mcarthur milk so I went to purchase it. Your cashier and front end manager refused to give it to me. They said they do not get credit for substitutions. I have always been allowed to purchase mcarthur if there isn't a store brand. If it is not allowed then you need to get a store brand milk in a quart because I purchase other things aswell when I get wic but I will not be spending my money here if your people are going to be rude.

I purchased a pair of cherokee sandals for my eight year old son. He wore them to school and came home with a broken strap. I usually only visit Target once or twice a month due to the distance from my house, so I packed the shoes back in the box with the receipt. About a month later I attempted to return them and I was told that because they were not in a "new and unused condition" they would not return them. I asked to speak to a manager, who told me that I had had the shoes for a month and this is normal wear and tear on a product. I told her that it is not normal for a shoe to break after it's first use to which she replied, "so you say," indirectly calling me a liar.
Being that this is the second time this has happened to me in Target, (the first defective product was another pair of shoes) I knew to call the customer service line. So, I drove back home and called 1-800-440-0680 and explained the incident. First the customer service rep. told me that the item was defective, to take it to the store with the receipt and they would exchange it. I told him that 1) I had already tried that and was declined and insulted 2) I had already replaced the shoes and didn't want them and 3) this isn't the first defective shoes I have purchased from target, so I wanted a refund. He proceeded to tell me about their return policy.
I told him I was aware of the policy and that I expect that a pair of shoes would last more than one day when I buy them, that I had no way of knowing that the shoes were of poor quality and I wanted a refund NOT an exchange. He told me that I should be able to get a refund so I again explained what happened at the store and how poorly I was treated. He put me on hold and when he came back he gave me a reference number which I had to use on the same day! So, I had to drive to the store AGAIN. This time I was left waiting for several minutes.
The manager finally acknowledged me and said that "as a courtesy" to me they would do the refund this time, but that even with a reference number, the return is at the stores discretion. Needless to say, my time and money are valuable to me, so I WILL NOT be shopping at Target again. We have a Kohl's and a Wal Mart in the neighborhood, and they will be receiving the money that I used to spend at Target.

I have submitted this under a fake name because I am employed at target. part of our job is for our store to meet a quota on "red cards" which is target check cards & debit cards. i'm excellent on this & normally get several a day. however, i will no longer be pushing the target credit card or check card due to them charging my own twice for the same transaction. the way the card works is just like a check. you make a purchase, you basically have 5 or so days to get the money in your account. i always keep the money in my account just in case it is taken out unpredictably. after checking my online banking i noticed that i was charged twice for the same transaction.
I called the service number on the back of the card & was basically given the run around & the lady finally gave me a number to fax my online bank statement to. she told me to please remember to put my name, phone number, & description on it so they know who i am & what is going on. this doesn't sound very reassuring to me that they will be fixing the problem. since i work at target, i'm obviously not very wealthy, the pay sucks & they don't pay me enough to take my money twice. i will never be using the check card again & if a customer asks about it's benefits i will make sure to tell them there are none.

I am employed at target and currently 32 weeks pregnant. I have an unusual amount of amniotic fluid in my stomach which causes my stomach to appear as if I were past due. Since my stomach is so large it is very difficult for me to stand up for long periods of time. I am a cashier, they schedule me for about 5 hours a day. Which would be great but the law of my state says that I can only have one 15 minute break. I hate to sound like a whiner but two and a half hours on my feet absolutely kill me and put me in the worst pain ever.
I asked an LOD [Leader on Duty.] if I could sit down at an express check out [only helping guests with 10 items or less] so I would be at least able to sit down when not helping people. I was told that I was not able to sit down, it made the Target corporation look "lazy" and that I could just go home and come to work when I was able to work. After I was told to leave I was pretty upset and even cried. I was told by several other managers to stay and continue working like usual [without a chair]. I clocked out and left wishing I could give everyone the finger. They would rather lose a willing to work person than just try to accommodate their needs so they can do their job without being in pain.
A pregnant woman sitting in a chair while not helping guests does not appear lazy to me. If I were to see this, as a shopper anywhere, I would just assume she was resting. I hope that my opinion doesn't seem biased but I was truly offended at how I was treated by people who are supposed to insure that their employees are taken care of.

I went to your Victor NY store to purchase an offset umbrella which was on special offer. Only the floor model was available and nobody in the store knew how to take it apart despite 30 minutes of trying. They sent me to the Henrietta store. At that store I found the same product to be reduced but only to within $50 of the other store. I could get nobody to serve me so returned to the first store. They had not yet found anyone to take it apart. They also explained that it would be provided without the special tools, instructions or box, all of which had been lost.
They said the item would not be under warranty. I then went on the web and was unable to find the product and returned to the Henrietta store where I was unable to find floor staff or a manager to assist me. I went to customer service and stood at the front of the line for 5 minutes as the ladies (x3) folded items and chatted. I was not served and still do not have the item. Rather dissatisfied and will most likely not return to Target for a major item.

Purchased X-box 360 Elite with three year extended warranty for a Christmas present to my son on 12/23/09. After one year and two months the game would sometimes not read discs. After about two or three months it got progressively worse until it stopped reading them at all. I called the warranty number, the operator was very helpful and in fact she told me the "it won't read discs, right". I sent the console in to the repair facility per her instructions. In a week and a half it came back with a form letter listing five reasons for the warranty to be voided. The top item "liquid damage" was circled and the letter said that I should contact Target with any questions.
I have made repeated calls to Target and have gotten no satisfaction from them. I have tried to tell a number of Target reps this console has never been exposed to liquid other then normal levels of humidity. I was told there are pictures of the damage but they will not let me see them. I was told that this is against company policy. I feel that Target sells this extended coverage as an added profit and then denies coverage so they don't have to be responsible for the repairs. I am really disappointed in this transaction, I thought Target was a good company.

On June 5th, 2011 I visited a Chicago Target store located at 1154 S Clark Street Zip-60605. I picked up cans of Campbell's chunky soups which were on a price reduction of $1.00 per 18.5oz can tagged on the shelf. I had several scanning error at this store so I took the tag to the cash register as proof of price as the store customer price check scanner had it for a higher price. The cashier called her supervisor Michael, who said he was a GST. He refused to honor the store "price reduction" and so my visit was worthless as I did not get what I wanted. This behavior is intolerable and must be addressed by the regional management for Target Stores.

I bought 2 pair of dress pants at two different times from Target, one pair I wore, the other pair I didn't. I tried to take the pair I didn't wear back even though I kept the wrong recept by mistake. I wanted the money back, they wanted to give me an in store card or what ever you give for two dollars less then I paid, I wanted money. Wal-mart would have given me all my money back. I took the pants to Good Will. I couldn't get the other recept because it went out with the trash. I don't like your Target return policy for returns or gift cards, once you get the money, nobody is getting it back.
That is why I tell family I don't want any gift cards from Target. There is NO reason if I spend twenty dollars of a twenty five dollar gift card, there is NO reason I can't get the change back. Ex-shopper at Target.

My Husband, Frank Unger, received a rain check on May 13th for a Portable 44″ basketball backboard from Galesburg's Target store with the information given to him from the service counter associate, that it would be in a couple of days, a week went by and no backboard. We called several times to check on this item. All he was told was that there was one in Peoria, IL, Moline, IL or Springfield, IL. No mention of whether they would or could ship one in for us. I feel this was poor service policy, and we wanted it to use while our grandsons were visiting.
My husband went to K-mart and bought one there, because we got nowhere with the Galesburg. Target store. The item # was 08808254 and was priced on sale for $139.00. $20. 00 cheaper than what was spent not on sale at K-mart. We are very displeased with Target at this time, and wanted you to be aware of this situation.
Sincerely, Carol Unger

I went to several Target dept. stores in the Las Vegas valley, yet nothing in over 11 years was this bad, I went to the 605 Stephanie, Sunset and Stephanie store in Henderson 5-6-2011 to get a Mother's day card, I asked some one working their about the Mother's day cards, this person was nice to me, yet here comes the STL of the store Jay Irwin, told me to leave: "Your disturbing her while she is working" I most ask you to leave, ok, I will pay for this and leave, no, your leaving the store, or I will have you arrested, I expect her to get her work done, she is taking too long.
I went to a Walmart and bought a nice Mother's Day card for a $1.00 yet at Target I found I would of paid near $5.00 for a card.

Today I visited the Super Target on Oracle Rd. and Roger Rd. in Tucson, AZ. I made a purchase of about $75 using my debit card. I did not need cash back. I asked for the clerk to exchange a $20 bill for two $10. She said she couldn't open the drawer without a purchase. If I had asked for cash back she would have had to open the drawer. I went to the service desk and got the same run around. To me this is a very poor policy. I would expect better service from Target.

I'm so upset with Target! I bought my son a bike 2 weeks ago for his birthday. My husband finally got around to assembling it tonight. He found a bolt that is suppose to connect to the brakes busted and the reflector broken as well. I attempted to exchange it at the Target store located near my house but they couldn't help me. The barcode was not scanning properly, there was a tag with the price clearly marked but they wouldn't return it. My son is so upset, we are going on a trip tomorrow to the bike trails and he has nothing to ride. Now I have to drive far to the Target I originally purchased and hope they can fix this mistake!
Thanks Target for ruining my sons birthday present he is only 6 years old!!! And thanks for ruining his trip to the bike trails he is going to miss this experience because we were suppose to leave at 7 am and Target isn't open that early!
Severely dissatisfied, Nicole Brooks.

I purchased schwinn skates ( 082060415) on 11/13/10 at the Cicero, NY Target store. It was a Xmas gift for my 8 yr. old grandson. He opened the gift at Xmas but never tried on the skates until last week ( 04/15/11). The upper strap that secures the top of the skate broke which was defective. The Target warranty expired on 02/11/11. I was not happy since we did not realize the skate was defective and of course the weather was not conducive to use the skates until the weather was suitable. Not happy and I feel the warranty should have been covered based on the type of product which in this case is seasonal and for skates it should be for six months if it was a Xmas present.
Fortunately, I was able to contact the Manufacturer and they are going to ship a new pair for free. Target should re-visit its warranty policy and their customer service should have some guidelines as it relates to warranty as in this case skates should have a longer warranty especially if it was a Xmas gift.

Target @ Charlottetown, Charlotte, NC has absolutely no customer assistance. Suffering from asthma, I first walked to aisle to make sure there were still some 6′ banquet tables, which had fantastic sale price. I then walked to customer service, showed female the sale picture, asking for assistance to get 2 of the tables, as I'm suffering from asthma and can't manage the tables; advising her there were 6 tables still back there. The female called for someone to meet me at the aisle. I heard her make the call. She then asked me to go back to aisle & meet them.
I wonder why she didn't just ask assistant to bring 2 tables to me, rather than asking me to walk all the way bak there, again. But, I could easily make the walk again; and I really wanted those tables. I went to the aisle and waited and waited. No Target assistance came. I tried myself to get at least one onto my cart; but, couldn't. I walked back to customer service, explaining no one showed up to help AND I now want to see the manager to state my complaint. She smiled "oh there's the store owner over there, I'll call him over." A gentlemen w several other men walked over and stood behind customer service counter.
He didn't state his nm, introduce himself, nor ask "How may I help you?". He simply looked @ me; thus, I began the communication. Note: I knew I needed to be brief b/c I'm now feeling the weariness of this episode and I've still got to walk to my car; so I shouldn't wear myself out for these tables. After stating my name, "I'm suffering from asthma, but, really wanted these tables (showed him the pic, as I'm talking); I first went to aisle, saw them; came to customer svc asked for assistance; walked back to aisle; waited & waited. NO ONE showed up." This man simply says: "Did someone say we have the tables?"
So, I immediately knew he wasn't listening to me; and he wasn't going to even attempt to ease this situation for me. I couldn't continue w this. I was obviously struggling to talk by now as my voice is now beginning to wheez; which he would use to be his excuse not to understand me. He obviously didn't care; or he would've stood in front of me and listened as I'm obviously struggling to talk now. How RUDE not to stand in front of a customer or anyone speaking directly w you. I immediately knew this really was a waste of my time to come to this store.
This experience and now this manager/storeowner's ease of disrespect isn't worth me continuing to struggle @ this Target. Note: He stood to the side; behind the counter; w most surely 1000 other things on his mind. Afterall, it's Easter weekend. I didn't have his attention or he couldn't heard and understood me. The previous female customer serviceperson understood me the 1st time (when she called for assistance). AND NOW he asks: "Did anyone say we had the tables?".
You would've tho't I was speaking a foreign language and he was trying to figure what I was saying, from the side. I found this to be insulting! I speak perfect English. Don't even know another language. If he was giving me any attention at all…he could've understood me. I wasn't that hard to understand; the pharmacist understood me an hour before. Other retailers understood me this same day and gave assistance, the first time. I never had to repeat myself w the others b/c they saw the struggle I was having to speak thus THEY EACH listened CAREFULLY, the first time and stood in front of me; rather than over to the side. BUT NOT this Target @ Charlottetown.

I visited the Target store on Manhattan Blvd. in Harvey, LA. I first went into the Stage Clothing store which is attachted to Target and I parked in front of Stage. Since Target is just a few yards away and I didn't want to spend time looking for another parking space I left my car where it was, in front of Stage, and walked the short distance. Little did I know I would be unable to return to my car with my purchase since the wheels on the shopping cart locked when I passed a certain point (nowhere near the street or highway leading to Target).
The good news is that your shopping cart is safe and sound. The bad news is that you lost a sale and a customer. I had to struggle to get the shopping cart back into the store but I did it and returned everything I had just bought. I will never shop at Target again and I will make sure all my friends know about this.

Jobs are scarce right now, we all agree on this. Target has advertised weekly in our local job board, for different positions. I interviewed for one in Sales, didn't get it because I'm sure I have not enough retail experience. Ok, fine, I understand. This week, Target listed one for "presentation", 6am to 2:30 pm, NOT what I applied for last time. I was told I can't apply because I have applied with the company within 60 days. It doesn't matter that the jobs are not similar, it's their policy. How ludicrous is this?
Yes, I'm a little ticked off. I could do this job with my eyes closed. With the lack of viable jobs in the paper, to be told I can't apply for one that a monkey could succeed at, burns me.

I just closed my credit card account with Target after two years because of a $10 dispute. Your company charged me both an international service fee and a cash advance fee (for something that was not even a cash advance). This in essence is "double dipping." Charging two fees for the same transaction seems inhospitable to me. Whenever I have had the rare complaint over something as minimal as $10, my Discover card or my Visa card provider have always successfully made things right. Even if they felt I was wrong, other service providers still valued my patronage enough to waive the fee.
Your customer service supervisor at Financial and Retail Services on April 13, 2011 had no will or no power to make things better for me. She instead had the gall to offer me a 10% off card for Target. How is my spending more money at Target remedying the $10 service fee? She thinks that by my spending more money and giving your company more patronage is somehow refunding my money? Your policies and customer service make no sense.
I will be telling everyone and anyone not to get a Target card or to use a card represented by Financial and Retail Services. In fact, I was a loyal and frequent customer at Target (simply look at my past statements) and I will no longer be shopping at Target. Wal-Mart is right around the corner. Wow, you have just lost thousands and thousands of dollars for Target over a very questionable $10 fee.
Congratulations.

i placed an order from the baby registry at target and was not alerted when it came to the shipping address and it went right through to the billing and credit card information. i realized too late that the gift was to be shipped to the person on the registry instead of to me as the buyer which i wanted to gift wrap and give to her at her baby shower. i called target and they said it could not be changed. on march 27, 2011, it was shipped out and the person still does not have the item. it appears that the address that target gave to ups was wrong and the gift is in limbo between ups and another universe, as the purchaser, i asked that target give me the tracking number so that i could ask ups to direct the package to me and they refused to give it to me.
at the baby shower which i attended without my gift, two different people gave the mother-to-be the same gift which they took off the registry. it appears that the item was never marked "fulfilled" and the mother-to-be had to be inconvenienced by returning the gift to a target store. i am very angry about how this was handled and will not do business with target again. they do not know how to run a business.

Hey Target! I purchased a 42″ Westinghouse LED TV for $599.99here in Knoxville, TN on June 30, 2010. We have enjoyed watching "HI-DEF" since getting the unit. We purchased the three year extended warranty for an additional $79.00. Here is the problem in a nutshell. After loosing HI-DEF signal on a regular basis after less than a year. nd having our local Charter Cable TV service people check all their equipment for defects (of which we've replaced the HI-DEF signal box and re-turned the signal to within tolerances (+12 to -12). The problem is with the 42″ Westinghouse LED TV's HDMI circuit. It is starting to fail. All three HDMI ports run off the same circuit.
I called you and was forwarded on to Westinghouse which told me that I would have to ship the unit to their repair center. I can not accomplish that because I do not have the original shipping carton that came with the unit I purchased. I kept it 45 days, then tossed it. I bought the 3- Year extended warranty because if I had a problem, it would be nice to have someone come out and fix it on-site or exchange it for another unit that did work properly. I am a loyal customer who is not happy. TARGET says their warranty responsibility only kicks in after the 1 Year factory Warranty has run its course. I don't want to damage my TV (We really like it a lot) shipping it back to Westinghouse.
If things remain as they are now, I will be putting in a claim with you on July 1st, 2011. If that occurs, I will be telling all 4500 Tellico Village residents ( We have a local Newspaper who loves to publish articles from our members)that I have not had a positive experience with TARGET. There are two WAL-MART stores locally near by one in Lenior City TN and the other in Madisonville, TN.
Please call me My 3-year Extended Warranty # S1082062603. You can get my contact info from it
Sincerely,
Will Schmidt
Loudon, TN 37774
e-mail: patandwillschmidt@charter.net

I would like to make a complaint about a very rude employee at the Target store on 27th & Layton in Greenfield, WI. I shop there many times a week and today I went there and asked a woman that was working in the magazine dept. if she had 2 new issues of my favorite magazines in her cart that she was putting out on the displays at the time. She was rude and didn't even want to check the magazines or answer my question. She should not be working with people at Target. I was very upset that she couldn't take 2 minutes to check the magazines for me. There's plenty of people looking for a job and would be more than happy to replace that rude woman and happy to help the customers shopping at this store.
I will have to find a new place to purchase my magazines in the future where the workers are more than happy to help the customers. Employees like that at Target woman should be retrained on how to do the job and work with the customers.
Thank You,
Kim Marie Nims

I purchased a television from Target and opted to buy the extended warranty. I had a issue with the sound on the tv being a little distorted and when I turned the tv on it wouldn't power on right away. Contacted the extended Target warranty department December 2010 to get information. I filed the claim January of 2011 and shipped my tv off AFTER the Superbowl to their warranty department. I was told I would be updated via email and phone call once my television has been looked over. Well I got a email saying my tv was marked as damaged. I contacted the service center and was told my LCD panel was beyond repair and the Target warranty doesnt cover that (Now I took pictures of my tv the month I 1st called about it and in Feb prior to shipment).
They shipped my tv back to me & its came shipped in the box upside DOWN (Mind you the shipping instructions I FOLLOWED Said ship the TV right side up!). Everyone with Target has been very rude and I keep getting the run around about my tv. I have before and AFTER shots of it! The after shots look like someone dropped it and shipped my ish back to me. These Yahoo's are trying to tell me I shipped a damage TV when I clearly have proof I didnt. Im getting this a "manager will call you back in 24 hours or 3-5 business days" run around and honestly everyone is very rude. Im beyond pissed and Im NOT getting any resolution! I sent them pictures like they requseted and well Tequila you wait to hear back from us because well you don't matter as a consumer even though you paid cash for a TV that we have destroyed!
Thank you Target I LOVE the way you treat your customers!

Target charged our debit card twice, but clerk missed first draft and told wife to scan again, it was declined. Would not allow submission to debit draft again because transaction was not closed from the first swipe. Anyway wife left with no goods thinking it was a bank issue. I confirmed Target triple billed our debit card and the card was temporarily disabled for unusual activity. I re-shelved the stuff and bought it later today. But now the fourth draft from Target under an unusual watch store disabled my bank card completely.
This would have never happened had the clerk realized the initial transaction before my wife got upset and before I had to go spend another hour driving and re-shopping the same junk on my dime really irritates me. Not to mention the manger at the Target store was filled with a 'sorry for you' attitude like it was our fault for their ineptitude. Mistakes happen its how you resolve them that show who you are. Target falls flat our their butts this day. Wheres my Kmart!

What happened? Southhill mall target in puyallup wa. Don't shop there. It is run by a bunch of 12yr olds who don't have any life experience dealing with real people. They treat not only their employees with no respect but customers as well. It's a unpleasant place to shop. Who gives these children jobs in high places with no experience of life yet? It used to not be that way. New management is horrible. T-0342. Fast fun & friendly is bull now. This Target store is night and day the way it used to be. Many many agree with me whether they want to take time to say something I don't know.
Maybe if everyone who feels this way would say something, things could be fixed. So sad. A current Target employee who used to want to go to work everyday, not that way anymore. LOOKING FOR A BETTER PLACE NOW.

This is typical. People lost their Target receipt, yet somehow it's the stores fault? Grow up and be an adult. You made a mistake, accept the consequences of that mistake. It's not theft, it's not even close you drama-queen. Quit trying to have a special set of rules made just for your royal butt. There are four of the many reasons why a receipt is necessary. Like I said, be an adult and either keep track of your receipts or accept the consequences of your actions. Quit asking for special treatment you self-entitled, ignorant, falsely accusing, drama-queens. There. Now let the Target employment accusations come rolling in.

So I do not know who is ultimately responsible for the Target Display Cards, but it seems to me it's bound to garner a few sales with the Consumer inadvertently purchasing a two piece for double the price. And with Target's exchange/refund policy on intimates or bathing suits, not knowing what it is, I cannot help but wonder at how many people have inadvertently, under a false perception due to the numerous 'Mix n Match $14.99′ placards, spent money having no choice but to be out the money once the sale has been made. This is the one of the reasons I hate shopping at Target, and have tried to give up the hassle and confusion of incompetent employees!

i've just received an email from dick forrey. after doing some research, i am appalled with targets rebuff. how dare you put no money into gay causes and think that it something to be proud of . dick wanted me to boycott you because you put money into gay causes not veterans. i will boycott you because of your homophobic retaliation . grow up and stop being so bigoted.

I went to the Broadveiw Illinois Target on Jan. 14, 2011 and there were two co-workers speaking spanish. I asked for help and they told me no hablo english. How can I get proper service at Target if we don't speak the same language? I'll never shop there (Target) again!!!!

I do not feel Target met my needs as a customer. They should stand behind their offered claim to ship between 3-5 days. They need to acknowledge what they consider Standard shipping, and what the post office considers "standard" shipping to ensure their customers receive items in a timely manner.This was to be my daughter's Christmas gift, and I now have a very disappointed 15 year old who didn't receive her present from me. I understand a day or two, but since it's been so long due to their error on the shipping I feel Target and their website misrepresented themselves. In addition I have spent at least 2.5 hours on the phone with: Target.com and the USPS trying to locate an item that should have arrived at least 12 days ago.

I placed on order with Target for multiple items from which 1 item shipped out the following day. Upon checking the order status on their website I realized 2 items became out-of-stock. So I removed these items from my order and placed a second order for another item which shipped out the following day. When I inquired with Target I was told the order was 'stuck' in their system and could not be reach, found, or anything. Anything wrong with this particular order is their fault and they wont give me any information on the problem, on the items, or the status of my order or when it will actually be shipped. It has been at least 7 working days since I placed my order and it still hasnt shipped. Come on Target!!!!

The DISCOUNTED PRICE TAGS on the Merchandise differ from the prices at CHECK OUT! My elderly parents were at Target the other day shopping and they always look at price tags before they buy anything! They paid $17.99 for a pair pants that had a $15.99 price tag, and $3 for a towel with a $2 dollar price tag. They were told the Prices as shown at Check Out Registers were the correct prices because Target did not have time to change the Price Tags on their Merchandise!

krystle halvosa
from Roselle, NJ
I am disappointed as a friend of mine had taken advantage of the 50% off Beats solo2 head phones and allowed her to price match to your online price. When I got to the store they refused to allow me to do the same, I then called customer service 800 number and was advised that I can in fact price match, but it must be with another company and not target online as your prices already reflect a discount since cartwheel doesn't work online and then I would be able to combine with cartwheel. Being that these are cheaper in many other stores.
I went back to the store and told them I was advised of this rule and that I should have no problem doing this, and was told that they don't care what your customer support had advised me that they would not be matching what your corporate has told me. This is very frustrating as I am pregnant had to make 2 trips to target to leave empty handed with my child. At the bare minimum, being that your company is huge, should warrant what your own staff advises their customers. It is not right to tell the customer that you do not care what you were advised by the company and that they will not do it. I hope this can be resolved.

Norma Andrus
from Buena Park, CA
I have heard from others that Target has employed Muslims cashiers that refuse to sell bacon or any pork product because of their religion. I am hoping that this is not true. You are wise enough to know the chaos and interruption that is already present in the US because of too much catering to the Muslims. This would be a catastrophic for your business. If you cannot hire someone to do their entire job, only a part of it, and put the part they can't do onto someone else, you do know that won't work. Just how many Christian or Catholic cashiers do you have that sells condoms, do you really want to open that can of worms? Do your job or take a hike, serve your customers or close your doors.

Mariana Cortez
from Pomona, CA
Earlier today, on 11/14/15 at 4:35 PM, I purchased a PS4 video game (Destiny The Taken One) from the Target located in Pomona CA on Rio Rancho Road. After coming home from a long day of running errands and eating dinner, I opened my game case only to find it empty. The only thing inside the case is the Play Station Plus trial code and small pieces of colored paper (one beige and one purple).
It's been about 3 hours since I bought this item so I decided to go back to Target for an exchange. I headed straight to their returns department and explained to the customer service rep. the issue. As soon as I finished explaining the problem to customer service I knew by the look on their faces they were not going to exchange my item. It's that same look you give your child or sibling when you know they are lying, a little roll of the eyes and 'that look'. The cust. serv. rep. gave the game and receipt to another employee. After a few minutes of waiting the rep. comes back and says they can't help me because when I bought the game it was sealed and I had to take up the issue with the manufacturer.
When I am upset I need couple of minutes to compose myself, otherwise I will lash out. So I took my game and receipt, walked out of the store into my car and ranted to my siblings who accompanied me through the whole ordeal. We contacted other Target locations nearby to question them on video game exchange policies. We explained the same problem to these stores as we did to our local Target. We spoke to two different managers, from two Target locations. They both said the video game could be exchanged with no problem but it had to be from the Target it was originally purchased. I gave this information to the Target manager from Pomona, Hilda, and her response was their policy was different and they didn't allow these types of exchanges.
Further inquiry of my item leads me to believe that the game disc was stole from a Target employee. My younger sibling purchased this same game, from the same Target, just a few days ago. He has confirmed that the plastic wrapping on my case is different from his. As well as the fact that the case is missing a code for DLC maps (DLC maps are extra content advertised on the special edition game I purchased). We also noticed the case has a small slash on one side of the case that can easily be missed. But this slash was not on the plastic wrapping.
One of the Target store managers we spoke with, from the La Verne location, explained that all video games are checked by the manufacturer before being sent to their Target stores for consumers. I strongly believe the disc was stolen by a Target employee and they are refusing to take care of the issue. Target would rather choose to imply I, the customer, is trying to gain a free copy of this game than exchange my item like all the other locations have told me they can. My family and I were planning on doing our Black Friday shopping at Target but after dealing with the abysmal customer service there we do not plan on doing any shopping with their corporation until this issue is handled.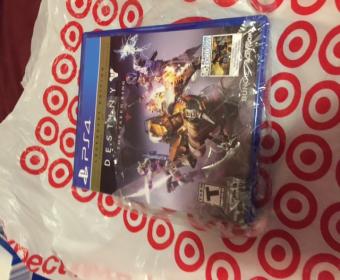 Randall Dietz
from Mount Pleasant, MI
I am very disappointed that the Target Corporation has chosen to trivialize the mental disorder that is Obsessive Compulsive Disorder with the sweater that You are selling. You should not joke about a disease that ruins people's lives. My complaint has nothing to do with the so called " war on Christmas " but rather just plain compassion for a very real illness. I will never spend any more of my money in one of your stores if you continue to sell this sweater. I thought you were better than this cruel joke.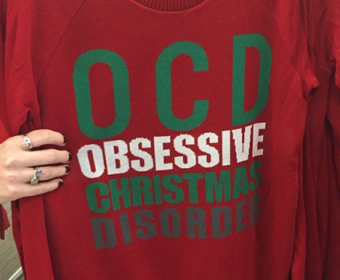 Judy Murphy
from Hendersonville, NC
This is a complaint regarding the decision to open on Thanksgiving Day. As a customer (not an employee) of Target, I feel that it is disrespectful to your employees to expect them to give up their holiday so that the stores can make a few extra dollars. This is an American holiday...it is not religious, it is not ethnic, it is not for a particular age group. I would never think to deprive someone of spending time with their family on such a holiday so that I can purchase a few trinkets which could be easily purchased at some other time. Shame on Target and the other corporations for this practice. This is Wal-Mart mentality (a store I refuse to shop in).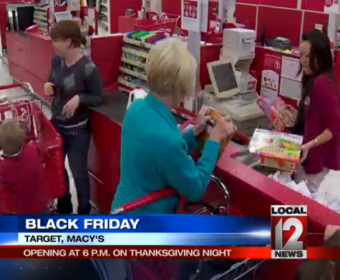 Patricia Bradford
from Cleveland, OH
I experienced the worst day of my life when I went to the Target in steelyard commons in Cleveland Ohio. I had a very bad experience from start to finish. To make a long story short I went in the cashier line first, she didn't speak, start scanning my items after that she just stood there looking all around so I ask her my total she said $113.39 I have the chip debit card so I inserted it into the credit card machine and she didn't know how to check me out with the chip debit card, I told her I'm always in target I can't swipe it I have to insert it, She then preceded to tell me that I was very unintelligent because I don't understand what she's saying, then the two customer at another register looked back in a state of disbelief of what they was hearing her say.
I then told her I think you need to work on your customer service skills and can I please see a manager, her reply was "if you don't understand me How the hell are you going to understand him" I said excuse me do you even know you're at work her reply was "I don't give a F*** about this job I'm from St. Clair I will go upside your head and let me leave this register before I do" she walked away I told the manager what happen he said he would take care of it, next thing I know is another manager is at the register saying the cashier just said I threaten her now I'm in disbelief first, I was embarrass about how I was talk from the cashier and now I'm humiliated, from the manager.
I am a district manager and I have been in management all of my life and I would never make someone feel the way that manager made me feel as if I was the aggressor and not the victim. I just left the store with the pending transaction that they said never happen on my account with no merchandise. I had to go in Walmart and shop, somewhere I never go because I always shop at Target but I refused to give them another $113.39. I tried to forget about this experience but I couldn't so now I'm going to a lawyer, the local news, BBB and all of my connections in the community are being notified because I refuse to let this happen to someone else. I also got the two customers in the store name, emails and numbers as witness. I will continue to use my resources until something is done.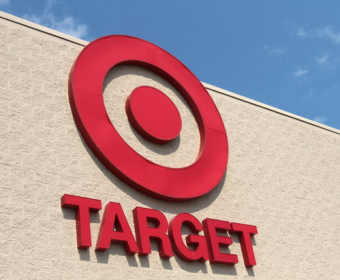 Stacy Hoover
from Buffalo, NY
I placed an order on Target.com and had issues with the site itself. Things in my cart would say something like, this quantity exceeds your limit. Well I finally got everything in my cart. I changed my billing and shipping address, placed the order and when the confirmation came through with the incorrect shipping address. I immediately called the customer service line. After being on hold for a bit, I spoke with an associate. She said there may be issues with the website. But, by that time, she said she couldn't help me because the order was processed. WHAT? She said that she would transfer me to a supervisor that possibly could help me. She transferred me to LaShawn? And it all went down hill from there. She was the rudest, kept interrupting me while I was trying to explain the situation.
Then she proceeded to say "Excuse you".? WHAT? This individual should not by any means be in customer service. I asked to speak with someone else and she refused, saying she it the top and that was it. I just wanted to see how to proceed. So now I have to run around to find not one shipment but 3 and after spending over $300. I will take my business elsewhere and I will make sure anyone who asks my opinion NOT to deal with Target.com. This supervisor should be ashamed of herself and Target.com should consider retraining her as to the skills of dealing with customers.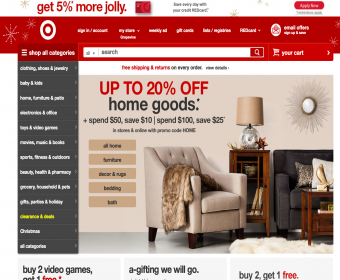 Kelley bourgeois
from Starr, SC
Went to buy an elf on the shelf, which was in the sales ad for the week. The store did not have any available, and I was told that they were still discounting Halloween products so they could put the merchandise out. Very poor customer service from Target and I'm not sure when Christmas does come around that I will want to shop with them.

Magda
from Mount Prospect, IL
Target, Where do I begin? I had a question regarding a coupon code for an online purchase so I called the 800-591-3869 Target phone number to be answered by a person in another country. I was on the phone for over 30 minutes back and forth because he kept asking his supervisor questions. He had no idea what I was talking about. I told him I received the coupon from the register and he came back and said registry. He told me Target does not give those coupons and abruptly said give me the coupon. I told him that is not how you should speak to someone on the phone. He then hung up on me. I called back and another woman from another country answered and I asked for a supervisor she repeatedly asked me how she can help and I politely asked over and over to speak with a supervisor.
She then put me on hold for 28 minutes and then it rang and she transferred me to an automated voice message asking me if I want to hear this message in Spanish press 1, credit 2, etc. Over one hour of waiting and this is the outcome. This was horrible customer service. I then had to contact Live Chat and they were of no help. This was the worst experience I have had with your company. Can you explain why this happened? Can you explain why no one was willing to help me?

Inka Yost
from Buena Park, CA
On my last shopping trip I got a $5.00 coupon for home goods. The coupon stated not valid for vitamins. I have been to the store twice to redeem the coupon and both times I was told that it is not valid for the items I purchased. The second time I told the associate to just throw it away. I must spend hundreds of dollars a month at the store with all the baby stuff we need. This coupon mess has me very frustrating. Why in the world can't you be more specific on your coupons and what they can be used for. In our household every penny counts. Thank you for listening.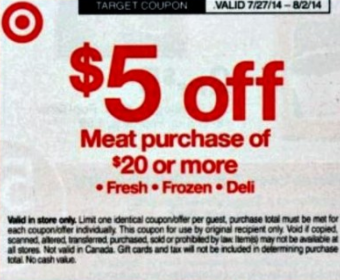 Samuel Wong
from Victoria, BC
Target order #102770270324 placed 10/15/2015 for store pickup thinking to minimize delay through delivery. After 10 days, pickup email notification on 10/26/2015 with a pickup deadline date of 10/27/2015 which is 1 day. I was on vacation after more 1 week since placing the order, I called customer service on 10/27/2015 to ask for an extension for pickup by 3 days. But was told that the "Target system" does not allow that and the order would be cancelled. It is sad that Target's marketing allows for a greater time for Target to fulfill orders but does not accommodate customers to pickup the orders. Is this the goal of selling? Not to actually CLOSE the deal. It seems Target just does not care about customer complaints or their reputation online. Thus I would recommend NEVER be a customer of Target if you value yourself.

Shakopee store, 7:30 PM, Saturday 10/24/15, cashier's name was Cheyenne. Rude, snippy, no "Thank you." She was talking about me to the next customer. I wanted some items marked off on baby registry. She was rude, rolled her eyes, made the comment, "Have you ever heard of the internet?" She was condescending and extremely unprofessional. It really put a sour fast in my mouth when it comes to target and I will no longer shop her because of this experience. The employee compliant is the easiest one to avoid Target!

jessica thrall
from Washington, DC
I bought the new Guitar Hero for the playstation 4 console for my boyfriend. Much to my surprise the guitar didn't work properly. Upon calling to see if I could return it I was placed on hold for ten minutes and then disconnected. I then recalled and was once again disconnected. I then called target corporate and was transfer to the target store and was once again disconnected threw research online I found out what I needed to know. I will be returning the $100 dollar game to get my money back and WILL not be returning to the store. If they can't even pick up a phone to answer my question they don't deserve my business.

Debra Nossaman
from Oklahoma City, OK
On your website you advertised that the standard flu shot was to be $24.99. Today I went to the Norman, Ok store at 1400 24tth Avenue Northwest. I was charged $31.99 for a standard flu shot. Your website says one thing but the stores are charging another price. Either you should take down the information on your website. To tell the store that this is want has been advertised on the website. To be this is faults advertising . I will never shop in a Target store again. I don't like being lied to. That what you have done.

Ebony Cook
from St Louis, MO
This target is ok, but customer service could improve. The staff is mostly full of young people but I don't see where the older staff is doing much to steer them in the right direction. A few months ago, I needed assistance in the linen department and used the phone in the aisle to call for help. the first time I called, no one answered. the 2nd time, someone promised to be around shortly. after 10 min, I called back and the person who answered that particular time, was clueless that had even called the first time. I spoke to a woman at the customer service desk, who acted as if she could care less about my situation.
She answered my question with an attitude and never apologized that no one showed up to assist me in the aisle. I dropped the potential purchases in the nearest basket and walked out of the store. The woman muddled something under her breath and proceeded to help the next customer. The Starbucks which is located inside of the Target, is almost always unmanned and never has pastries stocked.
They are always out of something that Starbucks should not run out of-coffee related products. As I said, the store is not terrible, but the young staff need to be re-trained on how to behave in a work environment. A lot of them are "nice enough" but work ethic needs improving. Please look into this.

Manuel Abeyta
from Lemon Grove, CA
I went to the electronics department to look for some Bluetooth headphones I asked for some assistance to see where there Bluetooth headphones were located. I seen some Bluetooth headphones for $19.99 I asked the sales man that was helping me if that brand of Bluetooth headphones were good quality since they were $19.99 I let the salesman know that I wanted to buy the $19.99 Bluetooth headphones but was still shopping.
I went back to purchase the headphones they scanned higher than what the sale price was when I told the sales man that they were on sale for $19.99 and when he went to go check the ticket that said the price was gone someone had removed it I asked him if they honored the price that was shown he said yes but that it was up to his manager but he said that target should honor that price since it was their mistake
The manager that was in charge was named Kim I explained to her what had happened and the sales man that was first helping me seen the sale price on the Bluetooth headphones told her that yes they did have a sign that said $19.99 and seeing that they had made a mistake on the pricing so he removed the sale price .Kim the manager said that there was nothing that she can do. So that's why I am submitting a complaint on target for not honoring the sale price left target very unhappy when I shop at target every week.

Debbie
from Curwensville, PA
I tried to place an order on baby registry & would not let me proceed to checkout. The item was on sale. After spending at least an hour on line trying to get order to go through, I called Target line. Took me forever to get anyone to answer. Finally, after spending another hour on phone, they proceed to tell me that they're system is not working on their end also & to call back next day to try again! Of course when I called back the item was not on sale. Took me 2 hours on the phone talking to two different people that were hard to understand. They would not give me the sale price even though it was not my fault the order didn't go through!
Finally, I got a supervisor on the phone that was nice. She gave me the sale price & straightened things out, but then the wrong total was taken out of my checking - the one before the discount. I don't know why they do that! They said the discount will be taken off when shipped. Why wouldn't the correct total be taken out to begin with! I was so frustrated after two days of spending hours on the phone and computer & being passed around to different people. Now I have to wait to have the discount taken off! It is ridiculous! What kind of customer service is that!

Terrell Bailey
from St Louis, MO
I went into the Target Store on Hampton Avenue in Saint Louis, MO. on Tuesday August 11, 2015 around 2:15, where I do my shopping, if any, on my lunch break. I only get 45 mins. for lunch. Well I got in lane 4 to check out and their was 2 people (white) ahead of me. Well when the (white) clerk got to me to check out., He lifted his hand to me as in "wait" and told the couple that was behind me, (being a white male and female), to come on since I had a basket and they didn't. So I said "ok", they can go ahead and go since it wasn't that much they had. Well when the clerk finally got to me, he was acting if I was diseased or something. I put my things on the conveyor belt and the clerk went to get a pair of gloves to touch my things. Nothing I had was frozen, wet or dairy.
All household things and dvd's. I then tried to put the money in the clerk hand and he told me to "sit it on the counter". When I put it on the counter the clerk, still wearing gloves, then took the money up with 2 fingers and held it away from him. I got my receipt with the clerk still wearing gloves and went outside to look from the window too see if the clerk was still wearing gloves to check the white lady out that was behind me, and he did not. He must have taken them off as soon as I left the store. I just don't understand it. I go to Target every Tuesday for my shopping and I never had such a horrible thing happen to me at this store. I don't want anyone fired or anything I would just like to know, Are your employees allowed to treat a customer this way?
Are their limits to what a customer should accept from an employee and not complain? What rules were made for the Customer/Clerk? I just know that I love shopping at Target and would not stop going for the life of me. I just hated to have felt like I was being "divided" with an employee at Target.

Donela Canaday
from Cincinnati, OH
I shopped at the Everett Store and left my BOUGHT items behind and when I realized and returned to get them that had been put back on the shelve. I could see if they were just items left behind but NOT items that I had already paid for. How come they weren't just held with employees knowing someone would be back for them? The one was a gift and was then not found but we finally found it in the dressing room that someone else might have re bought. Please let your employees know this that if there is a receipt that someone will be back for it. Luckily I found the outfit again as it was a Birthday gift for my sister. It was a crazy day as I was looking for my daughters keys and set the bag down. Thank you so much for your time.

Nicole Hill
from Cleveland, OH
I went into your Target, Mayfield Ohio store. I had a very nasty customer service person who said her name was Saheedah, get very smart with me because I didn't understand the new return policy on 06/27/2015 around 12pm noon. She rudely told me that I could read the sign and that she needed for me to leave her line because she had to help others. I was so horrified that I didn't return my knit top. all I wanted to do was exchange it for a different color. I walked away from the customer service desk. She wasn't aware that I was still standing on the other side, when she said "It's not my fault her stupid ass can't read" I am so deeply hurt and I will never return to your store again.

Ronda Smith
from Mason, OH
I ordered a table (relatively inexpensive), unboxed the table and moved the pieces to a location for assembly. A corner of the table top was damaged. Upon calling I was informed the mfg. could not send a replacement top, but the entire table must be replaced. Not only do I have to go through the trouble of re packing the table, it must be returned via UPS and received before another will be shipped. The time and effort I expend on this is not worth whatever advantage I seem to think shopping Target offers. It also does not look like the table was damaged during shipping as the damaged corner appeared to have been packed in that condition. I will not do this again through Target.

Shirley McDonald
from Ventura, CA
Your pharmacy department is terrible. I purchase 8 to 10 prescriptions per month and I am on your automated system which is suppose to refill my prescriptions automatically when I have @ 7days of that prescription left. Wrong, you do not do this. You did before....but not for the past year. I am sick and tired of having to call you or go to your store to remind you that my prescription has not been filled. Why do you claim to have this automated system if it does not work.
I have been on my last pill, have gone to your store to pick my prescription up only to be told....I'm sorry, we don't have that medication in stock but we will have it on Monday. OK...so now I have to go through the weekend without my medication because you failed to refill it through your AUTOMATED SYSTEM and didn't order it either because your AUTOMATED SYSTEM does not work. I will be taking my prescriptions elsewhere and I really like the store but think I should also take my other shopping elsewhere also. So sad. This is the first time I have been on this website and I am shocked to see just how many people are not satisfied with your store. What a shame.

I bought 8 speed sticks deodorant from target few weeks ago and used coupons at that time. When I went today to exchange them for gel deodorants instead of powder one. At the customer service, the lady exchanged 6 of them and then called manager because computer had some problem saying too many because we heard her telling to the manager. Manager Carn who wasn't wearing her ID badge said you can do the rest of the exchange with the license but then she took our receipt somewhere and came after some time and gave us very hard time. She was very rude and said that I am not exchanging the deodorants and I am not giving you back these deodorant and receipt till you pay the full price. Then I asked her what is her name and the customer service number so that I can notify to the target headquarter. I am very frustrated from all this. I shopped at boulevard Target, phone number 716-831-8750. Please talk to her about how to deal with customers nicely.

Rebecca Shephard
from Bethesda, MD
I am trying to set up an auto pay for my Red Card by talking to a Person. This seems to be impossible. When I attempt to set this up online, their auto-online system does not respond to " forgotten password." This, in turn, sets up a circular mobile response asking me the same question, putting me back in to the circular pattern.
I have spent so much time trying to resolve this issue that I am canceling my Red Card, thus depriving myself of 5 % discount, but saving my 86 year old body from wear and tear.
I have been unable to get a usable response on their mobile system. Seems like very poor Customer Relations to me.

Rosetta Pringle
from Orangeburg, SC
I ordered two (2) items from Target Registry on April 17, 2015. Even though the Target registry was given all the information where to deliver the items.The store did not put the Apartment Number on the order for the UPS delivery, therefore, it was returned and not replaced. I had to do a second order for one of the item. It was finally delivered on May 1, 2015. This type of service from Target is unacceptable. I had to called Target several time before the order was done. I should be given a discount on this order because of Target's incompetent service.

Colette
from Columbus, OH
I was trying to get help with a return and the customer service rep called the manager over for an assist. This manager was very rude and unhelpful. This is by far the worse experience I have ever had at the Traverse City, Mi Target store. Surely doesn't make me want to go back or encourage people to go there for their shopping needs.

I recently decided to purchase barstools for my new place as I am hosting a dinner party at the end of the month. After moving in, I opened the boxes to set up my new stools except I was delivered 4 dining chairs of a whole different line. Not even close to what I ordered. So I called your customer service on Friday April 24th. I was told that they would need to submit some paperwork first before anything else could be done and that they wouldn't even be able to schedule a pick-up until I called back on Monday. But once I called in, they would be able to expedite my order, and I could possibly have my stools by this Wednesday. This call alone was about 30 minutes long.
Today is Monday, and I called back as directed. I was told by the customer service rep that I would need to schedule a pick-up and then wait a full week before submitting a new order. He stated they could not send a replacement because the same chairs might be delivered again. Instead, they would have to submit it as a brand new order. I was escalated to a supervisor at my request. After several minutes on hold, she told me the same thing. Then. she said she was going to check on something. I was on hold another 15 minutes or so. She came back on the line and I could hear her but she kept saying she couldn't hear me and that I needed to call back in to schedule a pick-up and then wait a week before calling back to have them submit my order. Then she hung up. I checked my phone, it was not on mute and I had done nothing different. I was very calm on the phone and not hostile in any way. This entire call was about 45 min to 1 hour.
I then called right back in as she suggested and had to talk to another customer service rep even though I had my case number and told him I needed to speak to a supervisor because I had been disconnected. He finally put me on with another supervisor who told me the same information. They send paperwork to the distribution center to make sure the bin# is not mislabeled. That whole process takes about 2 weeks and they don't want to risk the same wrong chairs being sent again. I finally told her to just issue me a refund and have the wrong chairs picked up.
I am so disappointed in this whole experience. It seems absurd that a cardholder customer would have to wait an additional 2-3 weeks to receive an item that they ordered correctly when Target messed up the order. I spent a total of 1 1/2 hours on the phone with your customer care department dealing with an issue that was Target's mistake only to find out, there is nothing anyone can do to make it right.

Mary Strickland
from Tyler, TX
I walked up to wait for my prescription. The girl behind the counter was coughing her head off. When she was ready to bag my pills, she opened the pill bottle and said, see? No red dye in these pills. She still had germs on her hands. She said she had allergies when I confronted her about coughing all over the place and then touching the pills. Even though there was hand sanitizer sitting right there, she didn't use any first. YUCK!!! I won't be shopping there anytime soon or filling a prescription. How awful!!! Another pharmacist refilled my pills, but I still don't trust it.

Michael Lewis
from Naperville, IL
The frozen fish had a sign stating they were on sale for $1.99 . The sign stayed up for a full 6 days after the sale price had expired in the computer system . Myself and others were purposely deceived thinking we were paying the $1.99 price ,but at the register the item rang up as $2.99 . I purchased this frozen fish over a weeks period and have receipts to prove my claim . Had I not complained to the Manager about this intentional deception -how many more customers would be duped into thinking they were buying the item for $1.99 when they actually were charged a higher ,non-sale price at the register ?
The fact that the "sale" sign stayed up a full six days past the expiration of the $1.99 sale is proof this was a blatant attempt to fraudulently deceive the public. This is but a single example of mis-management and poor store practices that reflect the sloppy and lazy attitude of the stores upper management . I have been labeled a "complainer" by employee's at this store because I bring to their attention expired , rancid , and unacceptably green/brown meats to their attention virtually every time I shop @ this store . T
he management "team" , all the way up to "Patrick" have done nothing but patronized and insulted me ,and I have seen little to nothing done to address these issues despite my numerous complaints . "Josh" told me today I might be happier shopping somewhere else since I complained every time I shopped there . "Marco" was more focused on my use of the word "shit" then addressing my frustration and anger at having brought these issues to their attention so many times I have lost count .

I was waiting at the store cafe for a drink, and the lady working there was in the back. Another man stepped up by the register and when the lady came from the back room she took his order. Granted he chimed in, but she should have asked "who is first?" I didn't know I wouldn't be first standing at the counter with my wallet out next to the register, not directly in front of it! I left without my order cause of this. I then returned later to tell her how she should have handled it, by asking, "Who is first!" I was quite upset, so I walked back into the store to find the people I'd come with. On my way out, I saw her talking to a manager, so I went over there and told her of my experience. She said that they help who's in front of the register. I guess then it was that man's fault? I didn't and won't buy anything from that Target ever! I still say you ask, who's next in line!!!!!!!!!!!!

Linda Potter
from Absecon, NJ
Lilly Pulitzer line released today, 4/19/15--I went there at 9 a.m. (They opened at 8) and there was NOTHING left, all old out AND there were groups if women who had loaded carts, some swapping items because they had obviously grabbed anything they could and some on the cell phones, sending pictures, telling people what they got and that they are going to sell them on eBay! I wanted some nice affordable summer things for myself, and had tried online earlier but everything there too was sold out and the website crashed. I am really disgusted.

Carolyn Davis
from Brandon, MS
While I enjoy shopping at my local Flowood, Me target; their Starbucks is CONSISTENTLY understaffed and sometimes just slow baristas. I love to start my shopping experience with a latte, but it's always too busy. Once again, this Saturday, they were understaffed. There were two baristas, but one was rudely attempting to put up traffic flow poles. She could have easily made a couple of lattes in the time, she rudely pushed me toward the counter not saying a word. I told her just that, and she smartly rebuffed me. I was admittedly rude, but she was very prissy in her remarks-told me I didn't need to tell her what to do. Her name was Jasmine.
The woman preparing my latte was very sweet and did a very good job. Jasmine was obviously annoyed she had to stay past her scheduled time. While I'm sure she was still on the clock she should have to experience a true job where you are paid salary with no compensation for extra hours. Btw- she was complaining about staying 12 minutes extra. People like this should really consider not being employed where they have to deal with the public. Flowood Target should really consider getting rid of their Starbucks if they can't staff it. It makes their otherwise well run organization look poor and the baristas they employ tend to have chips on their shoulders.

agnes abate
from Commack, NY
I purchased a Nostalgia Electronics Hard Candy/Cotton Candy Machine for my granddaughter's birthday in February from Target. She used it 2X. When she attempted to use it a third time, it was dead. I no longer have the receipt, but it was purchased in February 2015. I realize target will not accept responsibilities for all of their products sold, however it would be appreciated if a telephone number or an address be given so that I could extend my complaint directly to the manufacturer.

Tiffany
from Miamisburg, OH
I will never shop at a target again! While shopping there, an employee followed me around peeking around corners. I left my buggy and was leaving and he asked me if I found everything I needed and where I left the stuff like I was trying to steal. I was going to purchase this stuff until he creeped me out! I will never be back to that Target ever again. That creepy guy should be fired for scaring customers away!

Edie Dennis
from La Puente, CA
I purchased a DVD. Sister Act 1 & 2 combo and when I opened it up there was no DVD. Not a single one. Empty. I spent $9 on an empty case. I purchased in Escondido California. Traveling with my family back to Wyoming. The receipt got thrown away when we made a pit stop and emptied our trash can. I have proof from my bank card. If needed. I am so disappointed. It was sealed just like any other DVD should be.

Waste of my time & unfriendly service.
my girlfriend & I was doing a quick shop at Target on Easter Sunday 5 April 2015 @ 2.47pm. Store Glen Waverely Centro. **1st: @ the counter- the 1/2 price tag was put on the wrong chocolate box (%40019024 box 170gm) - so no sale. Sarah & the girl who were serving us were too busy talking about their weekend instead of customer service.
**2nd: I went home & found I was charged for 2 Tobleron (%11038276) instead of 1. We drove back to Target Glen & I spoke to Sarah (who worked at the service return counter). She made no apology for the error & her attitude was quite rude as she mumble something like "alright then". I walked away and was quite annoyed at Sarah's customer service.
I wasted my time & petrol coming back into Centro Glen for 1 small cheap item. it is not about the money for me but the service from Sarah was appalling. Friendliness is important for customer service relation & not rude sale assistant.

Emily Bjoraker
from Moville, IA
I can't find Circo brand jeans for my girls! Apparently you've replaced them with ugly Cherokee brand skinny jeans. My girls loved Circo brand jeans with the cute patterns on the side. Now I have to try and find something comparable elsewhere. Do you know how hard it is to find jeans they like and that fit them properly? Bring back my jeans please!

Rochelle
from Las Vegas, NV
Pharmacists and assistants at Target, Rainbow and Spring Mountain are EXCELLENT. I would still almost 86 Target permanently right now do to the following nightmare experience:
I wanted to find more info about Target red card/debit card discounts. I looked online and called their toll free number (888)7297-331 There was only one choice listed after Red Card. Didn't want to spend days emailing back and forth, the only other option Target offered for more info.
Called the number and was repeatedly asked for my Target number. No other choice offered. Started pushing buttons trying to get a real person. Then was repeatedly asked if my card was "lost or stolen." No, I don't have a card yet.
Miracle happened and I FINALLY got a human being. His accent was so heavy I could NOT understand him. He kept telling me info that had absolutely nothing to do with my questions. After MANY requests I finally got his supervisor. Same thing happened again. I then asked for his boss. I also said I'd like to give him my cell if we got disconnected. He said that I'd have to start the whole process all over again. Really?
Finally got a Target employee who really understood my questions. Sadly he couldn't answer them, as I was in the wrong department. I asked for the highest possible person in authority at Target. Instead I got a woman whose English skills were far worse than the 2 gentlemen I had already talked to. I then hung up the phone. Target HATES their customers.

Gerald M. Kassin
from Overland Park, KS
I purchase a cell phone from you and I have had a number of problem with it, Mitch I belive is the fellows name which seem to know a lot aboutt-mobile says the phone is working correct as far as he could tell. However when I am on a answer machine sometimes no matter what I do I cannot get the keyboard to put in a number or to s=hang up the phone. He suggest that I take it over to the service desk and return it and he would sell me one that would work. The service desk would not return it because I didn't keep the box or the reicite., something I didn't keep.

I went into your Owensboro Ky store to get a baby stroller that was advertised on sale. They didn't have any in the store. I ask for a rain check and was told yeah you can get a rain check by the associate (Donna) they helped me with it.I went to the service desk to get the rain check and was told that they didn't give rain checks on that product. I ask to speak to the on site manager and was introduced to Zac and Jess, Zac said that was an item that they didn't give rain checks on but he would give me one anyway since they were out of the item, then Jess jumped in and said no that i could not get a rain check and proceeded to explain why over and over, I said i understand what you are saying but how is the general public supposed to know what items you do and don't give rain checks on when it doesn't say that anywhere in the ad that there are no rain checks on this product. I was then given the name of several stores in a 100 mile radius that i could go and get the stroller. So I said that if i had to go there and get it I would just do my shopping there too from now on and not this store. I'm sure your not worried about one person and what little bit I spend in that store, but i felt like I had to vent anyway after all if they tell me that i'm sure other people get the same answer too.

My kids received giftcards for their birthday but my son couldn't find his! I called to have one reissued fine great! Until I go to the store and my daughter goes to use hers and they closed that one as well! I wouldn't be so angry but it was a little embarrassing and when I called the lady I first spoke to was rude! I called back later with the confirmation number to be told that they only issued the one missing but he closed the other that was perfectly fine but didn't even issue a new in for that! I was embarrassed at the store but more angry because when I spoke with the first guy I asked numerous times that he was only issuing a card for the lost one and the other two gift cards on the receipt wouldn't be affected and reassured me that was the case obviously not!! This is one of my favorite stores I spend a lot of money here but I don't like being lied to or embarrassed due to somebody else!!! Hopefully they will fix this problem!!

Anna Snipes
from Lubbock, TX
A huge line at Target. There was a woman controlling the lines. She directed a woman into a shorter line. I tried to join the shorter line. She told me that I was not allowed to, in spite that another woman right in front of me (wearing a Junior League shirt) had just done precisely the same thing. She told me repeatedly to stay in the long line. Eventually, I placed the items, which were perishable, on an empty checker's stand (of which there were many) and left the store. I tried to call the store manager from that parking lot and was told that he was too busy unloading a truck from the loading dock. I have worked in grocery stores. I know how stores work. That manager could easily have taken my call, but he chose not to. Six hours later I came back to try to contact the store manger. Those items were STILL sitting there, that I had left, on the same stall. And STILL, no manager. I want a call from the district manager in charge of this area. This is now not only bad customer service, this is a health and safety concern.

Pamela Jervey
from Miami, FL
Went to checkout at express line with one item. An employee of Target's (in uniform) was ahead of me and had 30 items, which she divided up and had rung through at 10 a piece so she wasn't TECHNICALLY over the 10 piece limit of the express line. She had NO compunction about doing this nor did the cashier. After she was done, she hung around gabbing with the cashier while the express line continued to grow and I for one, kept shooting the 2 of them dirty looks to no avail. I think Target should speak to their employees and figure out who the customers are versus the employees. Shame on you! This was at the Bird Rd, Miami, FL store on Apr 2, 2015 sometime between 2 and 4pm at express lane #2.

I call in to day asking about am items the person could not speak or understand English, I ask to speak to someone who can help me he did not, he hug the phone up.

Was happy with immediate response from Target, about the checkout experience a couple of weeks ago. I also had an experience this past Sunday at check out time . Approximately 3:05 PM on register 8, the ladies name was Denise ( i believe ) . All the checkouts were busy and we stopped at the one with the shortest line, the lady said sorry i'm closed , so we moved to the next register. Denise came running out from behind register 8 pushed my cart to the side , said pardon we as she ran bye , calling for one of her friends walking bye to come back , so she could check them out , so they would not have to wait in line. ( I have good luck at target check outs )

martin werner
from Anaheim, CA
on 3-25 i used my wells fargo visa at you lincoln anaheim store. the amount was $23.94. at 11pm while on line i notised a $948.31 charge from your store from the walnut creek store. i did not authorized any one to use my card nor was i in the walnut crekk store at 1130pm. i have notified the local police and will take legal action against the target stores.

Jose Miguel Arce
from Los Angeles, CA
You can not buy in target customers do not help the contrary are not interested in good customer is a shame my wife and I since yesterday 03/25/2015 stopped buying in optical target!

Availability of Featured (On Sale) Items in their circular. Target advertises items to get you in the store and then doesn't have the items in stock. Second time in a row I went to Ocala, FL Target to get something in their ad and it was out of stock. This time, it was the Meow mix that they had a big ad on the back page of their circular for. Supposedly, If you purchased Meow Mix and kitty litter in combination (two items), you were supposed to get a free $5 gift card. Non-service person pointed to her Dumb phone and said: Look: Store is out of stock but there are two online and you can order it. Right, how much shipping would I pay on 20+ lbs of cat food and would I even get the gift card. Why are there only two available online to begin with, and most importantly, why do they continue to not have their featured products? They don't even give an email address to send complaints to.

Letidda Anderson
from Cerritos, CA
I purchased 2 pairs if Beats headphones for Christmas. 3 months later the headbands broke. I was able to exchange 1 pair without a receipt but, was placed on some list for having done so. The next day I located my receipt, returned to Target to exchange the other pair of headphones and was quoted their 30 day policy. I emailed the corporate office and received a canned response containing the 30 day policy which they themselves overrode the previous day. To add injury to insult they would not allow me a store credit to purchase a more expensive model. Target's customer service is ambiguous to say the least. More appropriately, it stinks!

Athena Wheatley
from Dublin, CA
I recently signed up for your Target Red Dot card and the representative ran one of my checks through your scanner. I received the card and now a letter indicating I have a returned check and it denotes "we realize you probably just made a mistake" and then indicates that the reason for return is "Invalid Account". I immediately contacted my bank and they confirmed that my account is absolutely valid and that at no time have they returned any draft and specifically not the draft in question. I then contacted the department listed on your letter and was welcomed by the RUDEST most SARCASTIC and unprofessional staff.
In my first communication I asked the representative to explain and she eloquently told me she did not need too do such and when I asked to speak to a manager she refused and put me on hold for 14 minutes. I telephone back with the hopes that the initial contact was an anomaly only to find the next contact was a mirrored disrespectful exchange and again Richard (ID 46789) refused not only to escalate my concerns but also indicated the only contact for complaints within Target was via a PO BOX. I am preparing to tweet this and will be destroying the card provided, however will need to attain resolution to this nightmare with an understanding of what happened why am I receiving this communication and having to deal with such insolent representation of Target.
Have feedback for Target?
Thanks for your feedback!
Sorry. Please try again later!