Target
Target Complaints Continued... (Page 3)
322+ reviews added so far. Upset? Call Target corporate: 1-800-440-0680

My son purchased Nintendo Donkey Kong Mini Mayham ds game for $30. Had he been able to test it at the store for 5-10 minutes he would not have purchased it. He is 11 and says it is utterly boring. The store offers us no recourse since the game was opened. Of course it is opened! How else would my child experience how boring the game is! It this is how Target treats their customers, they are low grade and do not deserve our business.

Yesterday I spent $385.47 at Target and when I arrived home did not have one sack that included about $150.00 ladies wearing apparel. After making sure I did not have this merchandise in car or home, I went to customer service and explained that I did not have the merchandise and the checker in putting many sacks (groceries and all) in the buggy perhaps did not place in my basket. They (security and manger) checked video and said all checked and placed and I walked out with all.
This is not true as I had at least 25 sacks and how could they view all??? Bottom Line, I have lost time, my merchandise and most of all insulted. I responded that I feel violated and they have lost a good customer!! I will not return to Target!!! They didn't seem to care nor have any sympathy that a senior citizen, well respected in her community feels violated. I would like for all Target leadership to know as a previous loyal customer......I was mis treated and will certanly not return!!!

IS TARGET stores BECOMING BECOMING ANOTHER WALMART. I used to a avid shopper at walmart till I seen how they treated and pushed their employees.
Since then I and my friends have been taking our business to target. We find target stores very clean and the employees are quick and courteous to assist you. I generally shop the target store in Blackstone Mall and have been since their opening in 2003. Lately I have been observing a few things that have upset me. They employees are still courteous but seemed stressed and overwork. I than took a look around and noticed that there not that many people working to help you. It seems the staff has been cut down a lot.
I understand the economy is tough but there is still no need to cut the staff so much that they are running around like chickens with their head cut off. That is something that I would expect from Walmart . Recently I saw a gentlemen (most likely a exec) giving instructions to a very young employee though he was not yelling he was pretty harsh that young lady walked away crying. This appalled me and to beat that I went tg Fridays for lunch a overheard a few bosses their talking how they had to cut more staff.
It seems like target is becoming another walmart and that disgusts me. Some one in the high corporate anarchy ought to be looking in that store at Blackstone valley just to see how hard those employees are working and how they are being pushed to their limits and beyond before they lost more customers like me. For those employees who are still lucky to be working there go to your bosses or who ever else can help don't go home totally exhausted, worrying about your job and dreading to go to work.
If not you will end up like so many walmart employees feel free to express yourself. There are those of you who been working there for a long time and know a appreciate how target was just a year ago( though they seemed to be getting fewer and fewer) stand up be another satistic feel free to write your own article.
I would like to remain anonymous if possible.

I purchased the Playskool Sesame Playset along with anothe item for my son a few weeks ago at Target.com for Christmas. At the time, Target.com offered the best price in comparison to other stores- only $19.00. Last Monday I received the other item in a box with a packing slip reflecting that the playset was inside too, however the playset was not inside. I contacted the customer service provided on the website and was specifically informed that the playset would arrive on December 6, 2012 and that unfortunately there was not a tracking number, however the associate could "see that it was on its way." I trusted Target because I've always thought that they were a great store and a a great reputation. I never received the playset, so I called customer service again on December 9th and spoke to "Jay." I was informed by "Jay" that the playset was lost. I stated that now the playset is $16.90 at Target.com but unavailable and unavailable at all nearby stores. I was never informed that the item was lost via email, never refunded, nothing. The phone kept breaking up and I asked "Jay" if he was located in the U.S., and he informed me that he was in the Philippines. I repeatedly asked for his last name and he would not provide it. I attempted to contact another representative but had no luck. So Target, not only do you provide POOR customer service, you did not compensate me (the customer) and you outsource. Target I expected more from you considering I just spent $170.00 at my local Target on Friday evening on groceries and gifts and I shop at Target on a regular basis, registered with Target for my baby shower and bridal shower. You have lost a loyal customer and I will take my money elsewhere.

I sent a note approximately a week ago regarding my attempt to return 2 halloween masks at Target in Forest Lake, Mn. I realized that I did not provide the correct email address. The correct address is LAB44F@aol.com. In brief summary my note stated that the problem was they said they did not take returned masks. I had bought these two the day after halloween and returned them the next day along with my receipt. They claimed that had a no return policy posted. I never saw it and these masks were with all the other halloween merchandise. My receipt did not show that these items we considered final sale. I expect Target to take back my masks and refund my money. Please let me know when I can expect to receive my refund. I was disappointed to see that Target employees were unwilling to cooperate on this issue.

To whom it may concern, I am writing in regards to your employee. I had an issue with your on-line order and I found her to be condescending, with no business sense.
She informed me that I had reached the highest level, in one phone call, to address this issue and she wasn't budging from her position regardless of the consequences to her or to your company. What should have said, 'Hmm let me check into this issue and find out why this situation happened.' May I get back with you in a couple of days? This is how a supervisor should 'handle' customers.
Again, I only ordered one product and I am clueless as to how two were shipped with two different addresses. This is an error on the online purchase for I DID NOT purchase the item that was sent to Keller. By this I mean I only clicked the final purchase button ONCE!
Miss informed me that there was a confirmation sent to me and that I had 30 minutes to resend an order that I did not place. However I placed the order and left the computer for 3 or so hours. I believe I called back at 4 pm central time and the nice woman said she would attempt to cancel the order but if not just send it back for a full credit.
I thought, well since I have it I could give it as a gift to a new mother even though it is not on her register. But after speaking to I was going to return the item because of her haughty spirit. Fortunately, for Target, I called a different number and your professional employee Bismark took care of the issue.
Nevertheless, this is a formal complaint that I want escalated and apply to personnel record. She has no business working with the public. If she continues to do so I suggest she obtain a life coach to assist her manner of dealing with the public.
This employee, according to her, is the highest level within your company for order issues. How did she get to a position of supervisor with inferior public relation skills? Dealing with the public needs an individual like Bismark, a person with more understanding and good business sense.
Target is fortunate that Bismark, who handled the ordeal with great finesse, did what they should have done from the get go! I suggest you demote to an area that never interacts with customers.

I tried for two days to order a ALIVE doll but after hours on the computer and being billed for FOUR orders and no way to delete and being told to give my Number which I didn't remember I gave us and call Toys R Us and got my order without and problems disgusted with Target. I did pay $2 more because it wasn't on sale. But it was worth it. Also, for some reason the Super Target in Savage, Minnesota has what looks like a homeless person with about a 12" long skinny beard working in the produce department without a beard net or gloves. I observed this person on a recent visit, stroking the full length of his beard with his hands and then he proceeded to stock fresh produce on the shelves. YUK!!!
The store manager must think there's nothing wrong with that. I will not buy any produce from any Target store after this incident. I have been trying for a half hour to simply order two oven mitts, and it won't let me check out. You already have my registratrion and my credit card info, but every time I try to checkout it won't even take me there. This is Christmas. I deserve better treatment than this. I won't ever use target on line if this isn't fixed.

I went to target today at Queens Place (8801 Queens Blvd, Elmhurst NY 11373) to purchase "3 cube bench" from CLOSETMAID for $ 59. I also wanted to get 3 fabric bins to insert at the button of the bench, so I picked 3 of them for $ 9 each from a company called ITSO. Since I wanted to make sure that they will fit inside the bench, I asked a worker in the floor in that same area where I picked up the merchandises if those bin would have fit into the cubes and she replayed yes, without even check the items. Since I didn't want to come back I asked again "Are you sure they will fit, because I don't want to come back and return them" and she replied again "yes", with an annoyed attitude. When I came home and put the bench together I realized that the 3 cubes in the bench were too small for the fabric bin and I was frustrated. I called the store to tell them my ordeal and the first time the person I was talking to hanged up the phone on me. I called back and asked to speak to a supervisor after I told my story again so I was put on hold. When a female came on the phone she stated that she was the supervisor so I told her my story again and she replied that she was sorry and to return the items when I had the chance. I told her that was not enough since the purchase I made was done based on her workers guidelines so another person (a male this time with an Indian accent) picked up the phone stated that he was the manager and told me that "people make mistakes" so it was nothing that he could do and just for me to come and return the items and hang up the phone on me again.
I find this very disrespectful and unprofessional, especially after I spend $ 100 with tax at the store. Furthermore, for you not to have a general complain line were the personal that work for target can be reported for the way they mistreat their customer is absolutely inadmissible. Lastly and more importantly none of the people that came to the phone said what it was truly needed, that they would have in-service the staff better to ensure this does not happen again.

i bought a ipod nano for my granddaughter on september 24, before the 30 days it quit.. could not find the sales reciept until a few days after the 30 days were up. granddaugther took the nano back to the store and they refused to do anything because it was after 30 days. they said it was past the 30 days and they couldn't scan it.. duhhh if i had taken it back before the 30 days has i been able to find the reciept, they still couldn't scan it.. i paid over 120.00 for this and they are telling me too bad !!!! it is a drop in the bucket for them and a small fortune to me. so i am stuck with it ,my graddaughter dosen't have a nano and target has the money ...good job target.. shame on you. you have lost a least two customers over this. and don't think i won't tell everyone i can.

Recently I applied for employment with your store in High Point, NC. On April 2, 2012 I walked into the store and filled out the necessary information on the computer system. Soon afterwards I was interviewed by 2 people. At that point I was told to expect a telephone call.
On April 2, 2012 I received a telephone call from a woman named Princess. She left a voice mail asking me to return her call and schedule a time to come in on Monday, April 9, 2012.
I called and spoke to Princess, who let me know to come in on Wendsday, April 11, 2012 at 10:00am. I arrive on that date and time and went to the customer service desk. There I was told to take a computer survey, which I did.
After completing the survey I approached customer service and was told to wait in the food court. Princess approached me in the food court and asked me if I'd already interviewed. I explained that I did and she apologized saying that my application was still pending.
She was confused as to why I was there. I explained that she had scheduled me to be there at that time, using the details I listed above. She claimed that the voicemail I had heard was an 'Old voicemail'. I did not confront her about this. She further said that Target was still accepting applications and that I would receive a phone call.
I hope that if I am called back, it is not by Princess. Her insinuation that I cannot recognize and operate voicemail or that I may of heard conversations wrong is insulting. I would suggest that the Target Corporation find more qualified people to operate the hiring process.

Ordered a couch on 10/24 from target.com. The original delivery date emailed to me was 10/29. I got an email on 10/27 saying: delayed until 11/4. I am now much more frustrated after receiving another email on 10/30 saying that it will be delivered on 11/7. I opted to cancel and buy locally. Fumbled around the link emailed to me a couple of hours earlier. No success in canceling my order.. Called customer service and learned that contrary to an email received hours ago, I can't cancel. Target really needs to get their online ordering act together!
Customer service was pleasant, but useless. Tried to email my complaint (almost exactly what I'm writing here) through target.com. Hit submit, and it told me to please enter a valid question or concern! Ha! Apparently my frustration isn't valid to them. This will be my last order! I recommend avoiding target.com.
I ordered a sark razor scooter online at target.com on sale plus I had a coupon. UPS returned the item back to target.com because it was damaged intransit. I was never contacted about this issue. The item is out of stock online but available at my local store. The price is now $159 NOT $122 and my coupon has expired. Target should honor the price I purchased it at and let me pick up my purchase at my local store. They will not. I will be canceling my red card and will no longer shop at target!

I was a Target on oct.29, 2012 wanted to gt the razor deal and use 2/4.00 off of the gillete proglide, and also the target coupon for the gillette progluide styler or 2 other gillette razors and wa to receive a 5.00 gift card. when i was at the check out the cashier told me that i could not use the store coupon for the 5.00 off or get the gift certificate. I told them that i should beable to. after trying for 10 mnutes told them I DID NOT WANT THE RAZORS. he gave me back the razor coupon for the 5.00 store .but did not give me back the 2/ for the 4.00 off . so now i can't even go to another Target store.to get the deal. I called the store and they wanted me to go back to the store ( 30 miles 1 way) and then call them and tey would take care of if. they also had several items in a 70% off shelf and they didn ring up at 70 % off .told them it was in a bin marked 70% off and they told me that they could not do anything about that either. i really did not have a good shopping trip to TARGET.
thank you for your time and for letting me complain, MARY JO COVELL

On 10/11/12, I brought pizza at Pizza Hut inside Target. 11627 W Hillsborough Ave, Tampa, FL 33635. (813) 814-1983. My purchase came to $11.06 and when I check my bank statement the next day, I was charge $52.06. Last, four of debit card is 6388. 00000000000429561. I email Target three times and told them about what happen, but I never receive an email back. I told my bank and when they finish their report, they mail me a letter saying I receive $40.00 cash back. I never ask for cash back. After my wife finish eating, and me I withdrawal $120.00 from the Target ATM. On 08/23/12, I purchases items at the same Target for $95.86 and when I check my bank statement the next day, I was charge $195.86. I told my bank and they mail me a letter saying I was not overcharge. I know that I then not purchase that much. I with to Target last week to talk to a manger about this. An employee told her manger and I gave them all the information I had. The manger said he would call me. After four days, I with back to Target and I had to give them the same information again. I came back the next day and the female employee said we did not call you. I said no and she told me that the camera footage show you receiving $40.00 cash back. She said for the other transaction, we could not go back that far. This is the same female employee that told her manger that we can go back as far a year because we then it for somebody else. I ask if I can see the video footage because I do not believe what she is saying to me. She said no. I would like some one to look into this so I can have proof and not someone word. If I have to get a lawyer, I will do this because Target keeps ignoring my emails. Thank you.

My loving mother in law purchased a gift for my birthday that i didn't want. I went to Target and tried to exchange the gift for store credit... I guess it's been a long time since i've exchanged an item, because they have a policy that i've never heard of. Now keep in my since it's a gift - i didn't have the receipt (no way i tell my mother in law i'm returning her gift). When they rang up the item, it was $150.00, they told me that since it was over $70, and i didn't have the receipt i could only get up to $100.00.
I'm a reasonable person; so i said "ok, put it on a gift card". They said their policy is to exchange the item, for a like item in the same department up to $100.00 in value. What? So, an item that they're going to put on the shelf and sell for $150, i can only spend in the same department? What a crock of shit. They're already making a $50 profit and they won't let me spend it anywhere else in the store?
I waited stubbornly for 45 mins to speak to the store manager. Her only reply.."it's policy". Are you kidding me? She must have been a parrot in another life, because she just kept repeating it. I could tell i was getting nowhere, so i asked for her market managers name and phone #. She said she didn't have a market manger. Look, i don't know what fancy title they call her boss, but that's who i wanted to speak with. She instead gave me a customer satisfaction card with an 800 number on it.
This 800 number goes to a third party- who then relay's the complaint to corporate...yeah right. I bet Corporate Target really looks at those complaints.
I should be able to voice my concern to a regional manager, or the store managers boss. I can't believe that they just push people over to a third party.
Moral of the story boy's and girls is to avoid buying gifts at Target. If Walmart carried the item i'm sure they would've wanted to keep my business. Maybe with enough complaints Target will change their "policy". Oh that's right, they don't actually hear the complaints.
Should they invest in reasonable store managers? My understanding was a store manager can make an exception to override a policy if they wanted to. Would that $100 gift card be worth it to them if i kept coming back?

On the 14th of September, I placed an order through the .com/website. I rec'd an email from Target.com immediately after completing my order, confirming the order, providing me with an order # and an estimated delivery date for my order. The estimated delivery date was from 9/20 to 9/22/11. Today is 9/29, and I have not yet rec'd the order. I attempted to look up the order status on line, which did not work.
I phoned the number listed for customer service, was eventually connected to a young woman who could barely speak English, and who proceeded to tell me that "due to the fact that we have a "bad computer", the order ended-up in Target's "junk pile", and therefore, "will not yet been filled." I beg your pardon, but I am writing to you from the ordering computer, which is a 2011 MacBook, used by me exclusively. She was rude, did nothing to help the situation, interms of apologies, no offer to re-order and expedite my shipping due to my inconvenience, and then disconnected the call.
If you truly do record calls for quality assurance, whom, may I ask, listens to them? I had to call back, the first woman had deleted my original order, and we had to start from scratch. This employee spoke perfect English, but asked me to repeat every single thing I said, at least once. She was slow, not very accommodating, and again, no offers to ship my order more quickly due to the inconvenience.
If we did not truly need the book cases that I ordered, trust me, I would NOT re-order them. Going forward, I will be much more judicial about trusting Target.com with my money, my order and my time. Target stores are exemplary, in my opinion, but your online ordering system is pitiful, at best. This whole situation has cost me over one hour of my time today, we've waited two + weeks for a non-existant order to arrive, and never rec'd any communication from Target to say that the items should be re-ordered due to a problem on your end.
And yet, I receive at least one email every two days from Target, telling me what to buy/what's on sale, etc. Wow. Good luck to you - you need it!

To whom it may concern:
I am writing this letter to advise you of the experience I have recently had with your corporation. Never in my life have I been so dissatisfied with a company that it prompted me to write a complaint letter; until last week when I visited a Target store to purchase items off a baby registry.
I printed the registry in store. None of the items had yet been purchased. I selected three of the items from the registry to purchase. When checking out, I made sure to ask the clerk to verify I had in fact selected the correct items - he did; and so I asked him to please remove those items from the registry. Several hours later that evening, I had noticed that the items were not taken off the registry (by visiting your website) as he had assured me. I called the store where I made my purchase. Initially, the guest services representative advised me (in so many words) "well too bad - you'll just have to see if it updates tomorrow or come back in with the items and receipt". I became upset because she was suggesting I run yet another errand to fix a mistake the store had made which is when I asked whether it was possible someone could help me over the phone. Upon this request, she did get another individual who took the receipt and item numbers from me over the phone, and again assured me it was taken care of and may take some time to update online (24 hours). Twenty four hours later, the registry still said the items had not been purchased. Needless to say, you can imagine I was incredibly frustrated that after two times of being "helped", nothing had changed and I was forced to yet again contact your store to have your mistake corrected. This time, I called a corporate registry phone number rather than the store directly. I spoke with a representative over the phone who (for the third time now) told me she had taken care of it. I stayed on the line with her, refreshed my webpage, and did see that the items were finally listed as having been purchased. I regret having been so irritable with her but was happy it was taken care of and that I didn't have to worry about someone else buying the items (i.e. "gifting" the expectant mother an errand when she gets multiples of something she didn't want). A week later, a friend of mine purchased one of the three items (of which the registrant wanted only one of) that I had already purchased and been told was taken off the registry. I was furious when I realized that the representative who I last spoke with updated only the online registry. The information my friend had printed in store said (surprise, surprise) that the item had not yet been purchased. Today, I went back to the store with all of the items as well as the receipt in an effort to make one final attempt at having this resolved. By this point, enough time had passed that additional items has been already purchased and so the (very rude and bewildered) kid at guest services could not address my concern: whether it said "1 of 1" had been purchased because I was the one who bought the item; or whether someone else had in the meantime. It was obvious there was a discrepancy between what the shoppers in store vs those online were seeing on the registry since online the duplicate item that my friend and I both purchased said 2 of 1 purchased whereas on the in store registry, it said 1 of 1 for the same item. I ended up returning the three items all together and purchasing two completely different items (let's hope you got it right this time). I truly wish this expectant mother who I know was registered elsewhere; as I would have decided to spend my money any other place besides Target after the fiasco I experienced.
I also want you to know that I myself am an expectant mother (6 months pregnant) and I am very glad I did not end up registering with you. If I had, you better believe I would have very quickly deleted my registry. Before this experience, I ordered and received nursery furniture from your website. Again, had I not placed my order prior to all this having happened, I would have cancelled it. Moreover, I will be sure to share my experience with everyone I speak with; and will think twice at spending money at your store myself in the future. Another woman I know had a negative experience ordering nursery furniture from another company and had to go to the hospital because the frustration sent her into premature labor. Had I not heard about her story, I would be doing more than just writing a letter. In the meantime, this'll do.
Sincerely,
Former satisfied customer

I purchase 39" flat screen with warrant on 11/10/2012. I was not am the mount it on my mother TV stand therefore I went to return it and at that time I was in form they will NOT GIVE ME MY MONEY BACK. I ask to speak with manager he told me I will have to call the number of the warranty that I purchase and they will refund me. I ask for the corp. # he gave it to me. I called and the person by the name Patrick said I should not have any problem getting my money if I have the receipt and I told him I do have my receipt I purchase the TV on Sat. and it is Sun. only a week had pass. I did not used the TV.
I went back in to the store and ask for manager told he what was told to me he had the lady and the cash reg. to called the person she walk to were the manager was and was talking can back and talk some more to the person on phone and she gave me the phone. He also said I could not get my money back. If I paid cash money I do not see why I could not get my money back when there was not anything wrong whit the TV. IS TARGET THAT HARD UP TO TAKE A PERSON MONEY THAT I WORK FOR. He said it's our policy, that fine but this is your job with a policy like that you all should have point it out to the customer just like it was point out to me the warranty # to call and the survey to take.
I AM SO DISPOINT WITH TARGET I WILL NEVER PURCHASE ANY BIG ITEM FROM YOU ALL AND I WILL TELL ALL MY FRIEND NOT TO PURCHASE ANY TO.

I have been a Target Shopper for years now and have always been satisfied with your products and services. At the entrance of every Target Store in the Des Plaines, Illinois area where I live, I always see signs saying HIRING NOW and whenever I apply online I am always told, "Sorry, we can't use you." I apply every 90 days and the answer is always the same. Okay, so maybe you're going to say I should get in touch with the two Niles Illinois stores where I applied and ask them. But I am not persuaded they will tell me specifically why I am "radioactive" and not able to be hired. So I thought I would tell you what I think.
I'm 70 years old, in good health, have an MBA in Finance, worked 34 years for the same Company where I served in Information Technology both as a specialist and a department head. I worked in Client Service resolving Client questions. The Company I worked for went "belly up" and I want a job. Perhaps people think I'm too old or I just want a job un-til I get something better. Well it's like this. I am free to continue working. I am not working to save up extra money to buy presents for grandchildren or stuff like that.
I want to work at Target to supplement my personal income and to learn about things which are important to me at this time in my life; things like how to shop intelligently, how to find good nutritional value at economical prices in short, how to survive by spending money intelligently and I am thinking that if I were to land a position with Target, I could learn a lot about these things. Now if store personnel think I might not like working conditions I only want to say everything with me is negotiable; pay, benefits, shift times, etc. Could anyone there tell me why I am not considered a good fit for your Company. Just thought I'd ask.

Target has lousy customer service for online orders. I ordered several items as gifts for my niece's baby shower. The items were shipped with a packing slip. When my niece opened the box two items that were supposed to be in the box were not. She called customer service and they said they would send them. A month later I called to inquire what the hold up was. I was told that even though the material was packed and shipped by Target I would have to deal with the manufacturer to get them to replace the items. I of course could not believe this but they reiterated it and gave me the phone number of the manufacturer. Of course the manufacturer thought I was nuts.
Again Target said that since the shipper said the package was delivered they could not do anything. They had no way to prove the items were not in the box.

We are having are first child, We went to babies R us, which was a great experience , i don't think i could find anything bad to say about them and then we came to target. I work with people and i have never experienced something like what i did at this target. We came to register and got no help what so ever. Apparently the person on her phone is more important and helping your customers. We asked for help, she told us to go to the kiosk, we asked for help with that and got nothing, not even a look. When i figured it out on my own we went up to see what was next . She asked us for the paper, I didn't even know there was a print out cause no one told us. Then she gave us the wrong paper because she wasn't even paying attention. After all this BS, where normally i would have lost it, we asked what do we do next, she just gave us the scanner and went on to text on her phone. So i figured it out, then my fiance tells me we didn't get a gift bag that we were supposed to get. That i do not care about. I work with people and never would this happen. Im sure ill get some email back with nothing getting done about the problem.

On 09/24/12 I placed an order on line and I was advised I would get a free $15.00 gift card for my purchase. On 10/01/12 I checked my target card and show I was charge for the gift card. I called target.com and was told the $15.00 was deducted from the item that recived the gift card then they charged me for the $15.00. I ask well when did I get it free, I was then told that they added $15.00 to my order then sent me a gift card, again I didnt see where I got it free. I ask if I could speak with someone else, I was put on hold for a while and she came back and told me our system is down so can I call back another day, I advised no I would like to get this taken care of now. I spoke with Pat REF# 3-838017592 who advised me that I had to call back later cause the system was down. Kind of funny that the first lady I spoke with gave me information then all of a sudden the system is down. After being on the phone for over 40mins I still dont know why I have to pay for a gift card that was suppose to be free. I ask Pat if I could speak to whoever was over her, she told me no one was over her, she's the top of the company.

Once again you have discontinued a brand and substituted your Target Market Pantry brand, which is an inferior product. You no longer sell Alexia Foods Fresh Classic French Rolls which are 8 to a package and contain 230 mg of sodium and 20 total grams of carbohydrates per roll. Instead, you sell Market Pantry French Classic White Dinner Rolls which are 6 to a package and contain 410 mg of sodium and 31 total grams of carbohydrates. The Target Market Pantry rolls have a strong artificial butter taste.
We go out of our way to shop at Target but don't purchase your Market Pantry brands because they are always of inferior quality to the national brands. Stop while you are ahead, and sell the national brands at a reasonable price and your sales will increase. Count me as a conscientious consumer who reads the labels and has yet to find anything better about your Target branding.

I have had the WORST experience with Target.com. When a set of packages were stolen, I called to have the items re-shipped. I worked in shipping, and my company (and others) always re-ship stolen packages. However, after an HOUR long conversation, I was told that I would be receiving a gift card.
After which, I could re-order my items and call again to get the discount applied that I had received from the previous order online. I did so, which was another 30 minute long phone call. Now, another Target.com package was supposedly delivered on the same day and stolen. I didn't know this because UPS tracked it as still in progress until today.
Am I supposed to call in again twice for an hour and a half to receive a package? Your Target.com customer service is HORRIFIC! I am telling all of my friends and family about my experience and begging them never to register with Target or buy anything from Target.com.
You know what? Other people have responded (on Facebook) that they also have had horrible customer service experiences with Target.com. You guys are getting a bad reputation. I would love to tell them that you came through and replaced the stolen items in an expedient manner, but so far I cannot.

My daughter and I were in Target last night. The Bridgeton, NJ Store. We were checking out at Reg #10. , my daughter told the cashier I am paying
$ 50.00 cash, and the rest on my target credit card.
My daughter gave the cashier $ 50.00 and the cashier holding the money still in her hand, ran up only $15.00. My daughter saw what she ran up and said excuse me but I gave you $ 50.00 NOT $ 15.00. Now the cashier was still holding the money in her hand and said no you did not, my daughter said you are still holding the money COUNT IT. Now the cashier, she got very annoyed and said oh yea.
No I am sorry, I made a mistake, just continued to be rude. I really didn't want to make a scene, but after I got outside to the car, I thought, she held the money in her hand and she didn't count it even after my daughter told her she rang up the wrong amount. I wonder how many other people she has ripped off ?????? Well I went back into the store to file a complain.
Wonder if it will ever see the main office. The store manager (?) look to be about 21. I even said am I wasting my time filling this out, He said no but I doubt it. I will not shop at Target anymore and I intend to cancel my target Credit card!

I just got back from Target and am really pissed! I bought 3 Kleenex Towels, Del Monte Mandarin Fruit Cups, Apple Squeeze , 2 placemats & 3 Sweaters. First, I gave 3-target 75cents Kleenex Coupons and 3 -50cents MQ. The Old Man cashier scan 2 of the target and 1 MQ then returned me the remaining coupon. I askedw him why? He said he already gave me credit for the first 3 coupons and he can use the remaining coupons anymore. So I said why not? It's 3 Target and 3 MQ, he didn't say anything and he continued scanning it. Also gave th 2- $3 Target coupon for placemats. He looked on it and keep reading then looked at the price and shook his head with a not so good smile with a tsk! tsk! sounds. I am so amd and my 20 months old baby and is getting grumpy so I rushed it and forgot to use my Mobile Coupon $5 off $20 Mossimo apparel target coupon. Went to Customer Service to do the adjustment but then it wasn't as easy as I expected. The lady said she need to look for the gift card I used to make it easier. I don't know why and how it will make it easier. Wouldn't be easier if I just return it and buy it again? but she didn't listen. She keep looking for the gift card so I told her I don't think you will find it because I saw him ripped it but she defended the old guy. To make it short haven't used the mobile coupon coz' she told me it will take 10 mins. to do it so I just said " I will just go back and do it and by the way HE'S RUDE!" (while pointing on the old guy). Not because am using coupon doesn't mean I won't be able to get a fair treatment like regular customers and treat me like that.

I was with my daughter in law, who is pregnant, at the Target in Rock Hill, S. C. yesterday, December 30, 2011, and she and I were looking through the maternity clothes. She needed a pair of maternity pants and found the perfect pair, right color, right size, and it was marked Clearance, Half price, so she decided she wanted them. When we got to the check out, the price rang up $34.99, the original price, and when she asked the cashier about that, they said that they were NOT supposed to be on the clearance area, only the tops were on clearance.
There were other pants there when we got this pair of pants, and it was obvious, that they were on clearance but my daughter in law did not want to argue with this cashier, so she went ahead and paid the full price of $34.99. I went back to the area and found 6 pairs of maternity pants that were in the Clearance rack but she didn't want to cause a stir so we left Target. I am very upset about this as she shops there a lot, of course, she probably won't be shopping there again because advertising something that should have been half price and then charging the full price is not right and it has turned me against your store completely. I
hope that you make a lot of money off of other people who fall for this but it is for sure that I and my daughter in law, and everyone that I talk to, won't be shopping and getting screwed by you anymore.

I was proactive this year by going on line to purchase a lot of things at Target. On 11/24/2011, I ordered several DVDS on line and received an email stating my shipping informaiton. I waited until after the specified shipping date with no items. I telephoned Target and talked with a representative. I was told to go online to reorder the items and they will honor the original costs. I was having difficulties shipping to a P.O. Box address and I had to call again.
I talked with a representative and she supposedly was going to honor the Black Friday costs for the items. I received an email stating a different cost from which I aggreed upon and was told would be the finaly cost. I had to call again to get it change to the Black Friday costs. I guess I will find out in 48 hours.
On Sunday, August 21, 2011 12:35 PM, I placed a gift order for my brother. You have deducted the funds from my gift cards and have yet to deduct the balance from my bank account. Your company did not have the decency or the professionalism to send out an email informing customers of your behind the scene issues. Moreover, there is no record of my order on the website or via your customer service when I made a call.
There is no history of my order, save the confirmation email and the fact that you have the money from my gift cards--something I could have used to pick up a last minute item had there not been a major screw up by your company. What baffles me is that I am switched to another department when I called in and was on hold for too long of a time. Really why would that be even a suggestion when you have no record of my order according to your phone service rep? Do you really expect to keep your customers that has been affected by this?
Can someone contact me regarding my order and my Gift Card money?! This is absolutely unacceptable! Here it is, more than a week later and no correspondence regarding my order. At the very least an email could have been sent to all in your database apologizing and explaining and compensating for this!! I await your reply! ORDER # 60198936098462606

I wanted to say that im a very upset customer. So 2 weeks ago i called the customer service in regards to my Targer Check Card being missing, needed to replace the card and that i have moved. The person i had spoken says that i will get my new card in 5 to 10 days, but never recived it. At this point i had called the customer service again to find out whats going on. One of the rep says they mailed out a letter to my old address, where i no longer live, to confirm the change of address. At this point i was very upset due to that i was never inform that would happend and besides how would i get it, if i dont live there anymore. Then i ask can't i just cancel my card and reapply for a new card says i cant, but honestly could not understand him.. so i requested to speak to a supervisor says he was going to transfer me but to find out that there was no supervisor and trans me to just another rep. I would have understand if they would have just inform me to call the next day. I thought i love TARGET but at this point the Reps that works the customer service line at night ruin how i felt about TARGET. Its not right how they treat customers and play there games. Lying to a customer and say that would trans customer to supervisor but pass it on to another rep.

i do not want to employee people from another country when so many united states employees are out of work. it took me about 10 calls to finally get an employee in the usa. most of your employee's hung up on me when & if they couldn't figure out what i was trying to resolve on my bill mainly because they over talk you or don't listen to you concerns. finally after 2hrs of calling t-mobile i did get a rep that listened & help i held for another 10 minutes to stress this to her supervisor. i am finished w/ t-mobile after my contract runs out!!! very very disstatified w/ t-mobile.

I am a long standing Target customer who values the company, the products, and its customer service, however after this last instance, I am completely unsatisfied with your planning for the Missoni product-line and your online shopping failures. I unfortunately learned that my order of 10 MISNI Via Chevron Blue Bath Towels have been cancelled as it was over the quantity allowed. For all my years of online shopping with Target, I had never seen a limited quantity for a product, and if this is your new policy, it should have been upfront at time of purchase.
If I would have known this, I would have supplemented my purchase with additional towels from another Target product line. However now that you have made this online shopping occurrence such an unsatisfactory experience, I will have strong hesitance to shop at one of your stores or online in the future. Especially now that they have also cancelled other items from my purchase without reimbursing me. I have filed a complaint with consumer protection.

I received and email from Target regarding Targets 2-Day Black Friday Deal online. So I went on line to purchase my grandchildren Christmas toys and one of the toys is a Holiday Day Barbie for my granddaughter. Your online add read "$35.95 online price Barbie Collector Doll- Holiday 2011. Ships free with a $5.00 toy coupon offer available " promo code TGTQES7C". The offer expires at 11:59pm ET 11/23/2011. The cost would be $30.95 + free shipping. My problem is that I wanted to purchase a Black Holiday Barbie which Barbie offers and your stores also offer.
The store cost is $39.95+tax = $43.25 and I will have to pay for shipping to my grandaughter. I contacted your complaint department of target.com and Ann informed me that target.come does not carry items in the store and that I could purchase the White Barbie and keep checking online for the Black one. I informed her that that would do me not good but cause extra work and that the Targets here in Texas has both and I questioned why only the white was online without the option to buy either. The representative "ANN" said that target.com usually carries items that are not sold in the store.
I am not sure that is true because I just this year purchased my new grandbaby's bedroom furniture and bedding from Target and since then clothing,baby clothing, equipment,etc.that were both online and in the store. I can't believe in 2011 this is happening "If you want a White Barbie you can get one online for less with free shipping and if you want a Black Barbie you have to drive to the store, pay more and I will then have to pay for shipping. This is the kind of situation that drives a person to share with family and friends. However I would prefer not to share this kind of information so I am giving Target on black Friday a chance to address my concern.
White Barbie $30.95 + shipping/ Black Barbie $ 43.25 + the cost of shipping and let's not forget that I will have to drive to the store and not sit in the comfort of my home and shop instead of put up with more black Friday complaints with Target.

I went into Target Campbelltown Mall last Thursday. Saw the advertisement in shoe area buy 1 pair of women's, men's or kids shoe & get 2nd pair for half price. I picked out a pair of sandals for my son & one for my daughter. I get to the register to pay & am told by assistant that the deals is for shoes only not sandals. Can you please explain to me the difference. I thought both are shoes they both go on your feet. Does that mean it didn't apply to sneakers, things & boots. Either she is wrong or it is very misleading advertising. Anyway, I purchased my kids sandals from Kmart.

I have found that your support of particular "groups" to solicit information and sometimes sign petitions in front of your store; extremely annoying and quite frankly politically motivated. The constant presence of gay rights/educators at the front of your store has been a problem. I avoid shopping at Target because of it (I hadn't been in Target for over a six months because the SAME organization was there last time! Okay so we know your are a corporate supporter; but it really unfair that you allow them to solicit but not other groups. I respect your decision to support what ever you want/who ever you want but if "equity" and "tolerance" is what you espouse perhaps you should put it into practice.

Please forward this to a supervisor or manager! I have literally spent over 3 HOURS trying to get this situation fixed since December 27, 2011. I keep getting transferred to the Philippines or Nigeria (?) call centers and I get nowhere. PLEASE HAVE SOMEONE WITH AUTHORITY CONTACT ME!!! Preferably in the USA!
Details:
On December 27, 2011 I placed order for 1 Deluxe Doggy Step and 1 CREAM Burrow Bed. I just got my dog back and needed these items immediately as I have serious health issues and cannot lift my Dog. I spent the extra money to have 1 day shipping and waited for my order to arrive. I did receive my confirmation email. After 4 days my order still hadn't arrived. I checked my order status online and it said the order had been canceled.
I was never notified about this order being canceled so I wasted 4 days waiting for it to arrive. There was no reason given why the order was canceled. ALL information was correct and I had enough money to cover the charges. It shouldn't have been canceled!
I went online again on December 31, 2011 and placed order for the exact same items: 1 Deluxe Doggy Step and 1 CREAM Burrow Bed and again I paid for 1 day shipping. I received the confirmation email and again waited for my order. This time I checked the next day to confirm my order had processed. This order was CANCELED AS WELL! For no reason! By this time I was very frustrated!
I thought if I called and placed my order with a live person I wouldn't keep having these problems. I called customer service and explained what had happened. She asked if I wanted to order the same items as in the previous 2 orders that had been canceled. I said, "yes! Exactly the same items!" She placed my 3rd order and said she was giving me FREE 1-day shipping to make up for the inconvenience.
This time the order went through just fine and she told me there was no reason she could see for the last 2 orders being cancelled. She apologized. I believed this was FINALLY worked out and my order would arrive with no more problems.
When I received my confirmation email my heart dropped. Instead of repeating the order as promised she had ordered 2 (TWO) Cream Burrow Beds. I had specifically asked her to repeat my previous order of (1 (ONE) Cream Burrow Bed and 1 (ONE) Deluxe Doggy Step. This was HER MISTAKE NOT MINE!
I AGAIN called and spoke with customer service. After spending over 45 Minutes on the phone I got nowhere. The Best they could do was tell me to refuse the order or return 1 of the burrow beds to a local target. In the meantime they could re-send the deluxe doggy steps but I'd have to pay for all 3 items even though I only ordered 2 (TWO!) items. I would have to pay for YOUR employees mistake?
The REASON I order online is because I don't drive. Because of Christmas I'd spent the last of my paycheck on my Target Order for my dog. I do not have the time to return a burrow bed I DID NOT ORDER! I do not have the money to pay for 2 beds when I only ordered ONE bed! Because now I can't order the doggy step until the 1 bed is credited to my account.
This is getting ridiculous! Next I looked for an address or email to physically write a letter. I used the contact me form. I explained the situation but when I attempted to enter the information it went to an error screen. I did it one more time and again I got an error screen saying my "my comment was invalid" Seriously? By this time, including this letter and searching for a REAL address I've spent at least 4 hours just trying to get a few items for my dog.
I NEEDED these items a week ago! This has been a nightmare! ALLI WANT IS WHAT I ORDERED! 1 (ONE) Cream Burrow Bed & 1 (ONE) Deluxe Doggy Step and I need them shipped ONE-Day. It's already been over a week! Now I'm going to have to spend my gas money to return a bed I DID NOT ORDER! I should be compensated in some way! I just want my original order; 1 (ONE) Cream Burrow Bed & 1 (ONE) Deluxe Doggy Step.
This is not just bad customer service this is NO CUSTOMER SERVICE! I have no idea if this letter will even reach a real person. There has got to be an easier way to deal with and process complaints. My time is just as valuable as yours. Please look into this situation and find out what's going on!

On January 3, 2013, my 13 year old daughter, D'Yani and myself searched three Target stores for a Virgin Mobile cell phone, for a Christmas present, finally we arrived at the Homewood store. She found the LG Optimus Elite which was priced at $89.99. After careful consideration she decided to purchase the phone and a $35 top up card. The male clerk asked her if she wanted to purchase insurance for the phone. I asked what the insurance would cover. He said that it would cover the phone if she dropped it and and screen cracked or if she dropped it in the toilet. She agreed and purchased the insurance.
The phone stopped registering when you plug it into the computer and she accidently dropped the phone. I called to file a claim and was informed that her insurance does not cover what the cashier said it did at the time of purchase. I have been told that there is nothing that can be done to remedy this situation. My daughter is out of her Christmas money, she is stuck with a worthless insurance policy and she does not have a phone in she can communicate.
This practice was very deceptive and shady. We will not consider making any more purchases from Target because of this incident.

I ordered an expression drink from the Starbucks inside the Geinnett Target. The drink was terrible. Burned water best describes it. I returned to the Starbucks and the Target employee stared at me and the turned away with no response. Target employees have never been helpful but this was worst than usual.

On Monday, Nov. 28, 2011 I walked into the Target in Houston, Texas on N Eldridge and FM 1960 with my wife. As my wife and I were shopping, in the mens cologne, makeup dept. The P&L employee Leon was following me everywhere in the store as if I was stealing. I asked him why he was following me around, and he said "I am just doing my job". As he continued to follow my wife and I around, my wife asked him why, and he replied like a robot, the same thing, "I am just doing my job. I left all my merchandise in the basket and asked for a Mgr.
Another black employee, Teresa the "Mgr", said he was just doing his job, and she would ask Leon why he was following us. No police where called, because I or my wife were not stealing. We left becasue of the way we were treated. Because of my race, Hispanic, doesn't mean I have to be treated like a theif. I have never stolen, nor do I have a criminal record. To be treated that way after shopping at that store for years, and spending $ there since day one was very upsetting.
No one should be treated that way, unless you are caught red handed, and Mgrs., should not stick up for the employess unless they are right. I could have swore, the reason places like that stay around is because of my $. I hate to be profiled, and I can't think, and they cannot justify what they did tonight at the store. They have lost my business. Walmart, I am coming back !

Just got back from local Target store in Hagerstown Md. Was very very upset with my experience today. Was shopping for a cordless Norelco shaver and thought I had found the perfect one. This is EXACTLY the way I found the signage at this store. Was at the health and beauty department and right there on an endcap was Norelco shavers. The shelf had a reg price of 99.99 and on ad for 59.99. the only writing on it.. said it was for Norelco After purchasing items today, I realized the total was much more than expected. The clerk told me to go to service desk and they would correct any thing that rang up wrong. Well I waited 5 minutes for someone to come get a price check on my shaver and to my surprise they told me I had picked up the one that was on ad for 99.99. I explained to them that the shelf from which I picked it up had the 59.99 signage on and the shelp below had the 99.99 price . To make a long story short I asked to talk to the manager and he told me that yes the 59.99 price was on the shelf, but that it was for another shaver more expensive ( the one I picked up) I then told him that there were many shavers of the 99.99 sale price under the 59.99 sign and no discription on the sign but the power. I have worked retail for kmart for 17 years, lowes 6 years and am now employed at a top 100 fortune company. I realize from experience that shoppers can put other merchandise on shelves and walk away. this is not the case in this situation. The store manager told me it was store policy to put 2 or several items on the same shelf to display, this is fine, but you also need to display the advertised prices not price of the lowest item on shelf. Its a shame when a store manager refuses to acknowledge that he or one of his staff, mistakkenly forgot or purposely forget to put up all signage. Without a model no. on the sign, and no price sticker on the merchandise, are we suppose to just guess at which is which even if there are multiple signs, and then when there is only one sign per shelf and both or several items are mixed on both, I guess its just pick and hope you get the one that you are looking for in your price range. Come on Target, GET WITH THE PROGRAM. If you want to mix items on shelves, then make SURE that your signage has a model number on it to at least look like you know what you're doing. Will I still shop Target? yes. BUT I will go out of my way to make sure EVERYTHING in my basket is priced the way I see it in your store. Only asking for easier details on signs is no big deal in my book. Hand write them on if they come from corporate without it. We as consumers don't care about pretty signs, we are looking for mrchandise we can afford and want at decent prices.

Target has an exculisve Skylander Granite Crusher. I've been waiting and looking for this Skylander for 3 months in several locations in the DFW area and Midland/Odessa area. Everytime I go in or call they never have this in stock. I called today 7 different Target stores today and was infomred today that they no longer are producing this Skylander.
You still have signs up showing this as being available only through Target. If that is the case you need to make it available online! and have dates for the the length you plan on selling this item only through Target. I now have a 6 year old boy that is going to be crushed.
I'm also not impressed with the customer service in Electronics has gone down hill. You need to have better signs and take them down when the item is no longer availeable. I use to hold Target up to a better standard.
What can Target do to fix this issue...... A very angry customer that keeps seeing a sign saying only exculsively at Target when the item is no longer available.

I have bought thousands of dollars of merchandise from Target, not including gift cards, etc. I am the customer they try to acquire and keep.
I did my research and decided to buy the baby Einstein jumper for $89.99 in the store. I researched it online that it was indeed in the store, stocked and available. I also called and spoke directly to an employee at that store location stating very clearly that I see the product is available in their store, but I need them to check for certain, before I make the trek up to the store. I live in NYC and the only Target is at 116th in Harlem. I needed to:
1. Hire a babysitter (which I have never done, I have a 6 month old infant)
2. Leave work early
3. Purchase a taxi (we do own cars here in Manhattan typically)
4. Buy the item
5. Flag down another taxi, which is not easy up there.
I told the Target employee very specifically, I needed to know it was actually there before I made the investment of both money and time to come up there. I didn't buy online because I needed the product asap. The target representative put me on hold for a bit and checked and said yes, it is here.
So, I began my journey to the store. When I get there, there was no product available. I had two different target employees check and they said, the computer was wrong, there isn't inventory. I said, but I called and spoke to someone specifically who check and said it was here, and they said well, it's not.
Clearly, I am very upset. I paid the transportation cost, child care cost, my valuable time, and leaving my infant for nothing.
I quickly called Target customer service so they could remedy my obvious frustration as a customer and the first rep said she, "was sorry and there was nothing she could do." I asked for a manager and she said the same thing, but as I continued to explain how upset and what an impact this had on me, she put me on hold many times, asked who I spoke to at the store, etc.
After many, many minutes of this, she said she called the store and they indeed did not have the item (I think I knew that) and that target online said the item was there, but it wasn't.
She proceeded to throw in a disclaimer that the online tool was not always accurate (ok, then why provide it to your customers).
I said ok, that is not good customer service, but I called the store specifically to make sure nothing like this would happen and talked to a paid target employee at that store.
Round and round we go, I said ok will you reimburse me for my transportation expense, child care cost, etc. She said "we would never do that." I said what will you do to remedy this horrible experience for me? She said nothing until finally at the end of the call, she could give a $5 voucher.
A $5 voucher, are you kidding me! Target, you have very bad customer service and policies. How many of these posts, messages do you have to read before you do something to keep customers?

David GIBSON
from Fremont, CA
I went to 1 of 2 Targets in Fremont Ca and purchased an item from the freezer department. 2 Weeks later I went to the other Target and picked up other items than I went to the freezer department to get the item that I purchased from the first Target, and to my surprise they did not cary it so I put the items back on the shelf and went to the first Target. I-picked up my items than I went to get my last item on my list witch was baked lays potato chips to my surprise they did cary theme witch Target number 2 cared, so at this point I put everything back and went to a competitor and got all of my items at 1 store, it would be nice if i knew that i could depend on target to be consistent so that we don't have to wast gas running from Target to Target witch i wont do again.

Henry
from Schenectady, NY
I noticed again today (2/4/15-- 11:34 am) the same two employees laughing and making fun at customers in the Vestal, NY target store in Vestal Plaza. These are two Male employees: one tall and the other shorter. They were in or working around the customers in the return section in the front of store, on the left when you walk in, and this was not the first time they were doing this.

Ralph Long
from Phoenix, AZ
I am totally fed up with the 5715 North 15 Ave Target store in Phoenix AZ! I just purchased a LG 442 cell phone on 1/31/2015 that simply does not work properly and as usual at least two of my prescription monthly refills were never even filled again this month!!! I am a 77 year old disabled senior citizen living on social security and I cannot afford endless costly trips back and forth to this Target Store until Target Finally Gets It Right!...Nor can I afford to go without two vital prescription refills that without them this could in fact kill me! Every Month this Target Pharmacy screws up royally! And is clearly the poorest pharmacy in the world to deal with as well. Furthermore Target Electronics failed to make sure the LG 440 Cellphone worked properly before they sold it to me in the first place! This is clearly the worst and most incompetent store that I have ever tried to deal with in my 77 years of life! So,I will simply move my prescriptions to a totally different pharmacy and never even try to purchase any type of cellphones or other electronics from Target! Please help Boycott Target Out Of Business! Target Frankly You Suck Big Time!

You cannot beat the prices and deals at target. It is an amazing store that has just about everything that you need.  The lines are never long and the employees are always helpful.  It's a great store to go to especially on Black Friday with all their deals.

I signed up for a Baby Registry at Target. The majority of the time I try to go on (and I go on often), I have issues and get error messages. I wish I knew before hand prior to choosing Target for my Baby Registry. It is awful....Always get a message about the registry having issues and to try again later. I would not recommend Target as a baby Registry to anyone ever.

I am very upset at target, I bought a vacuum cleaner for my daughter a year ago. The box was never opened and I can not find the receipt. I tried returning it to the store they said they no longer carry that vacuum cleaner so it was worth nothing. I came home and got online the vacuum cleaner is available on line for $119.99 it is a Bissell rewind smart clean. I called customer service the woman would not help at all, she just kept saying this is our return policy like she was reading it from a paper not even trying to help me. My daughter and her husband moved to San Diego, Ca. it would cost me more money to have this shipped. I live in the Greensburg, Pa area, this where I bought the sweeper. I also was able to return numerous things for her that was at Walmart and Bed Bath Beyond which they can me a gift cards for the returns since nothing was opened. there was no problem with them. I am very upset I will no longer buy anything from Target. I could understand if the box was opened but it has not been touched. My daughter husband is in the Navy we did not know they would have to move across the country. I do have a redcard with target, which I am going to throw away because of the way this was handle.
No more Target for me.
Lori Miller

On Monday 3/31 at 10am I went to Target Store on North Bergen NJ to buy the special they had on pepsi cans (4 x 10) no limit.
I wanted to buy 20 packs (to pay $50) but when I was ready to pay the security came to the cashiers and told them "Do not sell more than 4 per person, there is a limit, I told him there was no limit on the flyer and He replied to me I do not care, they have to do as I say.
I believe this is not a proper way to treat a customer, this is ridiculous
Sincerely
Hugo Francisco Melendez

Target t-2240 Nashville , Tennessee. When I first started I cashiered for a week, then I was placed over at target cafe/food ave . The cafe was cool for a while. Learning new stuff, some I knew. The team members were/are really nice. We have here recently gotten a lot of new team leads. They used to move me around to different workcenters around the store such as cashier, guest service , hardlines, recently softlines. I feel like I work very well over there . I've gotten a few compliments that I do a great job folding tables. Now I'm stuck back at the target cafe. I used to not mind working over there but, not so much anymore. I only get scheduled 5.50 hours, which means that I get a 15 min break. If I do it's 30mins before the end of my shift . Most of the time I don't even get a break at all. I may get a 7 hour shift one a week. In which, I get a 30 min meal break but I normally have to wait 5 to. 5.50 hours before I get to go. I always have to go find a team member or team lead to cover my break. They never come over to check on us. If we need a change request or additional help. It takes them a while to come over, depending on who's working. Some of our GSA/GSTL's are great & come right over, some of them never want to come over for a break or anything. When I don't get my break, then I don't get to eat. I get a headache, feel nauseous, feel like I have to vomit . I have sometimes. I know your not supposed to be over there when your sick. They wonder why I and/or other team members go home early. The 1st year at the cafe my hands were fine. The 2nd year they started itching , I just thought it was dry skin. For about a month now, when I'm over at the cafe . My hands start itching & burning constantly, I have to run them under cold water for them to keep from burning . They do it every time I'm over there. I've talked to several of the team leads about this but, they just don't seem to understand. They just tell you what you wanna hear. Saying that they don't have enough coverage , when there is 4 other team members that work over there. I have talked to my doctor about this & he said I shouldn't be over there because , of my hands burning so severely. I have pictures that I have shown the team leads. They said oh wow, you shouldn't be over there then. They continue to schedule me over there, & continue scheduling me 5.50 hours. So I hardly ever get to eat, therefore I always end up getting sick, nauseous, vomiting. I've noticed on my day(s) off that I feel fine not sick, but when I'm working there I feel puny & weak . I'm sure that I'm allergic to the sanitizer water, popcorn oil & salt. Whether I'm scooping up a bag of popcorn or cleaning the machine & kettle at night, washing dishes. It always irritates my skin. I guess I'm just gonna have to get a handwritten doctors note with the pictures attached for them to believe me. I just felt the need to address this matter & let you all know. Thank you so much, Samantha Spence

I visited Target at Austin East on 3/16/14 and used my bank card and the next morning I was receiving phones call from my banks fraud department that my credit card number had been stolen. I had only used my card at Target. I would like this issue to be addressed. I have been a very happy customer up to this point and now I question doing bussiness with Target.
Regards,
Amber Couthran

Why do you have a ad in Spanish and English on English speaking TV? You can produce and run Spanish speaking ads on Spanish TV channels. If I wanted to hear Spanish spoken I would listen to a Spanish channel. My heartiage is German are you running your ads in German any time soon? Bet not! Last time I checked it is United States of America not Mexico!! Keep the ads in English on English channels.

Today, May 6 2013, my mother, daughter, and I visited Target in Corpus Christi, TX. We have come into this Target numerous times and buy several items throughout the year at this specific location. Today, after visiting the entire store, we decided to go through the Jewelry Department. We looked at the sunglasses first. My 3 year old daughter liked the one pair of rainbow sunglasses, so she put them on, under my supervision. Immediately a lady whom was working in the department came up to us and told us that the children sunglasses were located at the other end of the sunglass aisle, but I told her we were just
looking. The lady just rolled her eyes and walked pasted us.
My daughter then made her way over to the jewelry that was displayed along the wall. She was carefully looking at the jewelry and was not in anyway being disrespectful. As soon as she was done looking we walked by the lady who was working in this department, she looked at me and said, "Guess I will go and clean up what she messed up over here".
I looked behind me to see what she was talking about and noticed that ONE necklace was not hung up on its designated hook and she huffed and placed it correctly onto the hook. I told her that she barely messed up anything. I walked on with my daughter into the purses and hats. The lady then said to us, "If you would like to make a complaint about me go ahead…but, I do not work for Target.
I am just here cleaning up the merchandise." I guess she worked as a vendor, I am not sure. She was working "for Target" if not being directly paid "by Target". She was represented Target, and therefore should respect the customers. My mother then decided that she should be brought to the manager's attention. As my mother was speaking to the manager about what had just occurred, this "non Target employee lady" came up and said…"is she complaining about me"?
My mother said, "Yes, and you had no right to be rude to us". This lady turned and looked at my mother and said, "I was not rude"! My mother said, "Yes you were". And the lady said, "No, I wasn't. You should keep a closer eye on your children"! The manager at this location did apologize for this lady's actions and did state that she would have a conversation with her.
We do not feel that this lady had any right to treat us the way she did, and even though she specifically stated she was a Target employee, she was working in the store. She made our visit feel very unwelcomed and I do plan to do my shopping elsewhere in the future. This is unfortunate because I do like Target and its merchandise well. However, shopping experience out weighs the merchandise on many levels.
I hope that Target does ask this lady to not come and represent them in the future. She was a very rude and disrespectful woman whom I hope I never had the displeasure to meet again.
Sincerely,
Lisa

I purchased a Target gazebo on June 24, 2012. On October 5, 2012 it rained and the roof collapsed. I went to store and they had clearanced the gazebo. Manager said to come back in spring and exchange. I came back and Target said that the problem was so common the company would no longer carry gazebos. Told me to call customer service. They said to call the company that gazebo came with one year warranty. Company told me none of their gazebos have a warranty. So I am out of luck. Daughter having wedding in backyard in a month. You would think someone would be willing to help.

I want to complain about target cashiers at 4433 s Pulaski rd in Chicago Illinois . The cashiers are being rude and mean towards people buying stuff with coupons treating me and others as criminals and also getting nasty to the point where I felt attacked and sad. I have never been treated so bad at another store. Please fix the attitude and also teach the coupon policy to them, I will pass a bad review about the cashiers at this location.
Thank you.

i would love to shop at target but they have only 2 handicap carts. one the battery is dead and the other is with another disabled. i go once a week just to see if i can get a motorized cart and end up leaving. why don't they have more of these carts? i have heard other disabled people say they can't shop there because of lack of the motorize carts.

I tried on line to purchase from my niece's baby registry. After 6 hours you were having technical; difficulties. So then I tried to purchase on tele#800-591-3869. I called 4 times. Central America(shame on you) can't give USA the jobs. When I tried to place my order, I was hung up on 4 times. Communication was pathetic. No questions could be answered by them because they knew nothing about the product. I have a red card CREDIT CARD. We will close this card down and look for shopping elsewhere. I only wanted 2 items at $65.00. I purchase on line frequently and have never experienced such time comsuming ignorance.
)FYI
Michael A Season

after she ring my order up I used my target credit card to pay the bill, the cashier handed my copy of the order, I did not have to sign for the order, and she did not ask for my ID!!!, what stops anybody from useing my card and runnuing up a big bill?, I will use other ways to pay for my order, maybe your company will change there ways and make you sign for your order and ask for some ID.

Target store complaint department, I am extremely hurt and dissatisfied with an experience I had at the east side target store in Evansville, In. I had inquired with the manager there about some $1.00 metal pail buckets they had in the $1.00 section.
I needed at least 150 od them for my daughters up coming wedding I was so pleased to find them after a long search on line and many stores to my surprise I walked in target and saw exactly what I wanted . I asked to see a manager and see if I could get a discount for large quanity.
He said they did not allow that. but he said they could be considered Easter and to check back Monday morning. I planned for a babysitter so I would not be late and got to the store before doors opened. I found the buckets and they were not marked on sale but I took one to a clerk and asked her to check she said no they are not considered easter and are not 30% off.
They had many more thaan I needed so thought I would check the north side target the mext evening to get all the same color I purchased 40 at the east side and new I could get many more. So I did go the north side and they had none so I went back to the east side first thing on Thursday to my surprise all the pails were gone they had gone to 70% off and someone had purchased all of them we called many local targets all were out.
Im so upset that no one knew they were Easter and why they were not marked down on Monday and went to 70% off on wed. now I have no wedding favors the manager sais there was no way to know they would go on sale and I know I should have purchased them at 1.00 but when they said they were not considerd Easter I figured I had time to get them on thursay my nest day off they had several 100 I just wish I had known…. please try to find them for me. dee

Target has longed been my preference for general shopping over Walmart, etc. my local Target store (at Rockwell & NW Hwy in Oklahoma City) has changed that opinion. In the past year the store has gone down hill in customer service and management. The employees are not friendly and do not offer assistance at the level Target normally exemplifies. On a recent visit, when a cashier mistakenly rang up an item twice on my ticket, I was told I would need to go stand in line at customer service to have the amount taken off my ticket. And she didn't even say, "I'm sorry!" Today, I along with several other people, stood in Lin at the Starbucks in Targert for 10 minutes waiting for someone to show up to take our order. Another Target employee finally happened to walk by and said, "Oh, we're sorry but the only person in the store today who can run Starbucks is at lunch right now!" As ridiculous as this is, at least put up a sign saying "Closed"!?!? I am about done with this store for good.

Last night, when checking out at Target in Chico, Ca, I was astonished when I was asked for my ID when purchasing a bottling of wine. It was one item among numerous others in my cart. Being close to 60 years old, I was not as offended for having to show my ID as I was when the cashier made me take it our of my wallet and then swiped it. What is that about? I must say I was pretty taken back and will reconsider shopping with your company in the future, especially for alcohol. I have never experienced anything like that in any other retail establishment.
I would appreciate a response as to why this policy is in place.
Sincerely,
Pam Ayoob

My daughter-in-law purchased a Hello Kitty alarm clock radio for my granddaughter (5) for Christmas. There is a switch that does not work properly. The switch is almost impossible to move,so my granddaughter and mother have not been able to use the clock. We put the clock back in its original box to EXCHANGE it for the exact item. My daughter-in-law is legally blind and could not find the receipt. This problem occured when her wallet got wet and she laid her receipts out on the dinning table to dry. Her neice was visiting during Chrristmas break, to help with dinner she cleaned off the table and moved all paper work. Now that days have gone by, the neice can not remem ber where she put the papers. She is 12 years old.
I took the mom to Target 1/10/2013 and the customer service department would not exchange like item for like item. How stupid is that? Their reasoning was, she didn't have the receipt. AND, even if she did have it she would have to pay an extra FIVE DOLLARS if she bought it on sale! I have never heard anything so crazy. ITEM for ITEM exchanges should not be a problem AND paying an extra FIVE $$. Defective is defective.and your store will NEVER get ANY of our whole family's business again.Really, make her pay an extra $5 just because she MAY have bought a DEFECTIVE item on sale! I expect an answer from the corporate office, an apology, plus an exchange of her clock, item for item. We will spread the word about your unfair and down right stupid return policy.
Sincerely.
Belinda Collier
You have my email address

January 2013, I bought a pair of boots that were on shelves with a 30% off sign. This was not the only pair of this kind on this shelf, but when I looked at the receipt it was for the full price. I asked them why I didn't get the discount and they said they weren't on sale. I went back to the section with the manager and was trying to explain the situation. She was so condescending to me and telling me to not talk too loud to her, which I admit I am a loud talker, but I definately not yelling and everytime I would try to explain something she would interupt me by telling me in so many words to shut up. This woman was not very good at her work and I'm really upset with her. She had my sister out of the store, another worker came after my sister and it was a mess.
The store is in Palmdale, California and I will never ever go to a target again. I got my money back for everything I purchased and walked out without anyone listening to my side of the story.

I WAS AT YOUR STORE ON VETERAN'S PARKWAY ON JANUARY 3RD. FIRST I ASKED IF YOU ALL COM AND THE CLERK HAD TO GO AND ASK SOMEONE. I BOUGHT A LOT OF CAT FOOD. ABOUT 70 DOLLARS WORTH OF FOOD, TREATIES, AND LITTER. I GOT TO THE REGISTER AND THE CASHIER SAID I WOULD HAVE TO GO TO CUSTOMER SERVICE TO GET THE DIFFERENCE ON THE COMP ITEMS. TIDY CAT NO PROBLEM. TREATIES WERE 2 FOR 5 DOLLARS AND THEY SAID THEY DON'T DO THAT. IT HAS TO BE A SET PRICE. I JUST TOLD TO GIVE ME MY MONEY BACK AND I KNOW WAL-MART WILL. WHICH WAS CLOSE TO 8.00 BACK. I PROBABLY WON'T BE BACK AT YOUR STORE.

My husband and I purchased a TV for Christmas. We needed to return it to the store. Not knowing the difficulty we would have not having the receipt customer service said if we didn't have the bank card or receipt (which we paid with cash) we had to only exchange it the same department which would be 008 that means TV's or accessories. This was ridiculous I went to the department it was a waste of time especially when it was no need for those items. I asked for a store credit, customer service said that was not there store policy. I felt humiliated. There should be a different policy for the Christmas holiday. So I end up bringing the TV back home, a TV that doesn't work great and was purchased from Target.

Electronics sale via catalogue started 26thDec, was after Expendables 2 DVD, not on shelves, store a pigsty, shelves not stocked, staff not prepared to look through all the boxes out the back to find what should have been on sale yesterday. Was exchanging Christmas gift without docket was was told the correct price my sister in law would have paid but was given the boxing day sale price, considerably less , as this dvd was only recently released, i should have been able to exchange it for the correct price as it was not purchased on boxing day, poor form on Targets behalf ,when I queried this I was given a not very nice look from the young girl, if they can't handle complaints then they shouldn't be on the front counter. I believe if something is advertised as being available then it should be on the shelves not still in boxes out the back.
The browns plains store in qld is poorely stocked, if you really want anything you have to go to other stores

I Always go to the taco bell on Judge Perez in Chalmette, La. The past 3 times i have gone I have had food from my order missing or incorrect, but am still charged and pay for my full order (such as a side of nacho cheese missing fromy nachos or a plain taco in place of a volcano taco I ordered and paid for) Each time I was also missing straws for my drinks, napkins and was not offered nor did I recieve any sauces at all. The only reason i even went there most recently was because I was gven a gift card. I have wasted over $60 just in 3 serperate trips on food that was horribly prepared, missing or incorrectly made per my request (ex: no tomatoes or sour cream). After this last time I am completely fed up and refuse to give that franchise any more business. I only wish I could have saved my money.

I was at your Target store today, returning a duplicate Kindle my husband received for his birthday. I didn't have the receipt as it was from my son in Indianapolis and we are not sure where the receipt is. Although he did purchase the Kindle at Target, I thought it would be no problem returning the Kindle and getting like gift card money in the amount of the Kindle.
No way shape or form. The girl at your service desk was rude, unfriendly and not someone that needs to be dealing with customers at a service desk. I was told that if the Kindle was over 70 dollars that I would have to spend a penny over in order to get the credit in the Department 57 items ONLY.
Seriously … I walked back to see what was available for me to exchange for the Kindle — nothing that I would begin to purchase.
Another customer was standing back in the department when I went back to see what my options were – and she said she had the same problem with Target last week. She took her Kindle back and sold it on eBay for double the amount.
I said this make no sense to me – that Target would rather let you walk out the door if you don't want items in DEPARTMENT 57 — or have absolutely no use for them. And dear God if you come back a penny under the amount of what the Kindle lists for — the service gal said I couldn't get my money back then either.
So I walked back through your store and decided to do as the other lady – take the Kindle – of which I understand you already have your money from the first sale – but seriously – don't you understand that – if I was given a gift card — and kindness I would have spent more than the gift card and you would have the Kindle back to resale.
So be that as it may – i decided to take the Kindle sell it on eBay — took it from your customer service gal — to get home and notice she tore the seal off. There were 2 girls in the service desk area — there were cameras – and you will see that my Kindle had its seal intact – but getting back to looking at the Kindle when I got home — your gals at the service desk decided to pull a fast one and pull the seal off the Kindle box.
I know I am probably wasting my breath and typing with this email- but genuinely hope that you show better customer service through your corporate office than the local store here in Evansville, Indiana on First Avenue.
Please check your cameras, I was there around 9:30am – with 2 children ages 4 and 2. I am so angry that the girls behind your desk was able to pull off a scam to me the public — I could just spit! So, I will anxiously await hearing from you.
And now if I were you and when you run a drivers license as you did mine and you see that I don't have returns on my drivers license … as your customer service gals – made a HUGE deal about … well if you don't have x amount of dollars in returns you may be able to go back to the department this came from and get like merchandise …. SERIOUSLY !
That in itself – will keep me away from your stores – there is more fish in the sea than Target! The days of good customers are worth their weight in gold … sure doesn't hold true for Target anymore… I am sure that is why the general public pays very close attention to those stars and comments that are given companies and merchandise … because THAT IS WORTH IT'S WEIGHT IN GOLD.
Sorry … that I am so frustrated but this take the cake!

I went into a target store in fountains hills arizona to buy a tv for my condo. When I went to electronics department I had seen a tv stating clearance for 398.00. When I asked the associate he said he would scan it. It came up as to no tv's in stock, so I went and said do you have this one on clearance or that one. All of them showed no. The associate said I could get the display for 5 percent off.
said it was scratched so then I asked for a manager and she said take the display for 10 percent off. Again when I pointed out to her on every clearance tv showing you can get them new for a price "none of them were in stock". The manager said they are only display for sale. I said to her where on the sign does it say display only?? Every clearanced tv was being falsely advertised. S
o I took a couple pictures of the display to show corporate .what was up with this false advertising, and the manager called security to say I took pictures of them. They said they were calling the sheriff for violating there rights. I never took a picture of them. I took a picture of the display. This was total harassment and all I'm sure is on there camera system.
I was mad so I started to walk and the security had me go upfront. That's when he said I took pics of associates. I have never been treated like this. Consumer fraud, harassment. My rights have been mistreated and violated For years I have shopped in your stores and given my hard earned dollars.
I cannot believe in this day that a large chain store could be so fraudulent and not care about the consumer. And to call security and say I violated there rights!!! Where are my rights. I will be filing a complaint at attorney general. If you wish to talk.

I went to my neighborhood Target to EXCHANGE a comforter given to me for Christmas. I had no receipt. I was turned away because the item was valued at more than $75.00. I explained that I was NOT interested in getting cash or a gift card back. All I wanted was to simply exchange the king sized comforter for a queen. Same comforter…no upgrade…just a switch for the right size. I was blown away when I was told "sorry, there's NOTHING I can do for you without a receipt". The manager "Rob" was too busy to speak with me. Wow! Really? Nothing you can do? Unbelievable.
Soooooo…I just went online and paid off and cancelled my Target card then gave the 2 $20.00 gift cards I had to charity. Called all my family & friends and gave them a heads up on the Target exchange policy. They had the same reaction I did. It was decided that as much as we all hate Wal-Mart….we won't be going back to Target. Still shaking my head.

Hello, my name is Katherine and I am a loyal Target customer. I registered for my wedding with you and was very pleased….I created my baby registry also with your company too….I am writing because I never have recieved an option to purchase the remainder to my baby registry for a discounted price (10% off or somthing of that nature). I found this odd, as for my wedding I did have this option, my girlfriend (who also has a baby registry with you) told me this afternoon that she did get this offer and also that she periodically recieves coupons in the mail from your store. Is it possible that my registry slipped through the cracks?
I love your store and will continue to shop with you, hoping maybe I could get back on your mailing lists and or have the option to purchase the rest of my registry at the discounted rate? I hope that Target will fix these problems with their baby registry so other moms won't have to go through the same problems that I have with their lists online. It is a huge inconvenience.

Target's website is extremely slow which was not a huge issue but makes it very inconvenient to make changes / updates to your registry. Also, I've been to 3 baby showers in the past year where there are multiples of the same gift. The first two showers I thought to myself "these guests must not be having the cashier take items off the registry" however it happened to me the last shower I was at. I made the purchase 2.5 weeks before the shower (I made my purchase during the week and watched the cashier scan the registry right in front of me as I usually do). When I arrived at the shower there were 3 other people with the same exact gift!!
I have always loved shopping at Target and have had good experiences (good customer service, fair prices…) I registered at Target and Babies R Us for my baby and am now experiencing the same issue. Items are being purchased and scanned from the registry but are NOT coming off so I am getting multiples of the same item. What the heck is the point in registering somewhere if you have to take back a bunch of items b/c you have multiples??!! I called the customer service line at 8:30 this morning and waited on hold for 16 minutes to explain the issue.
The service rep acted like she could care less but said she "updated" the registry to show the items I have received already had been purchased. When we got off the phone I got online to see if the items appear as "purchased" and they are STILL showing as available to purchase. This makes me furious and I know I have wasted hours registering for items that I'm going to have several duplicates of. NO MORE REGISTRIES AT TARGET for me!!

$199.99 Westinghouse 32″ class 720p LCD HDTV$199.99 Sale All available items: Westinghouse 32″ class 720p LCD HDTV $199.99 2-year Replacement Plan $17 $189.99 with your REDcard. save $80. reg. 279.99. Went to buy adver. TV, the store I went to didnt recieve any? I asked the mgr. if he could call one of the stores that did recieve them, so as to hold one for me, he said no cause it was a 1st come 1st serve. What was I, its not my fault they didnt have them. I asked him if more people had come by asking for the TV, when he said no, I told him people are probably use to you not having the ad. items!
When I go to any target store there is always more employees in the store then customers, now I know why. I called TARGET to verify if t.v. set was available. Asked if I could pay $250 of the $400 price today, and pay the balance the next morning and pick up t.v. then, was told "NO, entire price must be paid at time of sale". I said "No problem, I'll go to bank, come down and pay for the t.v. IN FULL, TODAY, but could you please hold it for 24 hours so that I could make arrangements to get a bigger vehicle as the t.v. is a 46″ flat screen."
Was told "NO, against store policy" Now, I'm 46 years old and have been going to department stores all my life. Sears, Bradlees, Walmart, K-mart, Unclaimed freight, etc., I've NEVER seen or experienced a store try SO HARD to NOT make a sale as TARGET did this morning. I called their corporate office and talked to two levels of management and they did NOTHING to try and ammend things to allow me to purchase this set. What is wrong with you people??!!! You're in business to SELL things!! And here I come with $400 IN HAND to try and BUY something from you and you pretty much tell me to 'kiss off'?!!
I wasn't asking you to store this thing for a MONTH for Christ's sake, I said I'd be there THE NEXT MORNING TO PICK IT UP??!!!! TARGET lost a $400 sale today and a customer for life. You would think in THIS economy, with store chains folding left and right, that these people would do ANYTHING they could to keep sales up and accomodate their customers, but I guess TARGET could care less. I'm going to one of their competitors today to spend my money.

Last year I registered for my wedding with Target because I have always been happy with the service and products. Until now. In July my uncle sent my wedding gifts via mail as he lives out of state. However, I was unaware that these gifts were delivered because I never got them. We only became aware of their existence when my uncle called to see if we liked them. They were stolen from my front door.
The reason my husband and I know that these gifts were stolen is because upon calling Target customer service we were informed that one of the gifts had actually been returned to the store for store credit. Obviously, we were not the ones who returned the gift. WE have been given the run around and passed off to every department. Target must think that we are trying to pull a fast one on them when the truth is that we no longer want the camera or even store credit. Just the money refunded to my uncle for Target's lack of security when it comes to returns.
The package included the gift registry which would make it easy to claim the gift was the thief's with no request for ID. My husband and I are feel that this has been the worst case of customer service and plan on making this known via whatever media possible. Also, we are consulting the EEOC in regards to our treatment. Perhaps if my Uncle's last name was not of Hispanic origin he would have been taken more seriously. Neither myself nor my family will be shopping with Target.
Once my automatic prescription refill has lapsed I will be taking my business elsewhere. What is more, the 8 people (family and friends) that my husband and I know that are getting married within the next year will not be registering with Target.

Dear TARGET I just got from your store horizontal cube storage unit. I'm not naive to expect high quality on a $70 item. However, it was shocking to me to see the low quality on the item along with the very poor instructions on how to assemble it. After more than 4 frustrating hours we mounted as best as our guess would allow us. Well I was just puting my itens on it when I noticce that the material is already giving in with the weight of a few books. Unbeliabable.
So I have just threw $70 in the trash can, because it will be impossible to pull it apart boxe it and return it in mint condition, like it is required. No more furnitures from TARGET, not for me.

I went into the Target in Surprise AZ today. I picked up what I was looking for and proceeded to the check out. I only had 2 items but they totalled approx $130.00. As I'm standing there being checked out the cashier tells me the total and I said just a second I think I have a gift card I'd like to use. And instead of giving me a second or maybe 20 seconds to get it out of my purse she tells me in a snotty tone "well while your looking for that I'm gonna check these people out" The customer behind me who also only had a couple of items. Before I knew it I was being pushed aside so he could use the debit card machine.
I must say that is the rudest treatment I've ever received at a cash register in my entire 44 years of life. I was shocked! I am a business owner and I know that if any employee ever did that to one of my customers they wouldn't be working for me anymore. I expressed how I felt about what she did and she just continued to be rude and snotty. I will NOT be shopping at Target again. And I spend a significant amount of money with Target. I will take my business else where in the future.

I attempted to return a duplicate chrome Baker's rack I'd received from an online order to this store. An order that Target told me had been cancelled due to their computer error when I called them after I hadn't heard from them two weeks after placing the order. Customer Service couldn't find the rack in their database, and as a woman was standing in the middle of that department screaming at the top of her lungs that she wouldn't be ignored any longer by their reps, I decided to ship it back rather than spend my afternoon looking through their computer records.
My mistake. After several calls over two months, Target online tells me they have no record of my purchase even though they authorized the return shipping and had a record of its arrival and even though the charged showed up on my credit card statement. I sent them a copy of my credit card statement and never heard back, so I filed a dispute with my credit card company.
Six weeks later, Citibank approved my refund. That was on January 17th for an order placed September 23rd. Target's response was the most unprofessional, incompetent and unethical I have ever encountered. At no point did anyone ever take an interest in resolving the problem and even my repeated efforts met with complete indifference. If you must shop with the bottom-feeders, try Walmart or K-mart. At least then you won't be surprised when they don't respond to a problem. As for me, there are far too many online companies to work with for me to ever shop Target again. They won't miss me and I sure as h*ll won't miss them.

I was in trussville alabama target tonight . We were there to upgrade phones and ect. , After waiting about 20 minutes while associate who handled comntracts and ect that night , we allowed a lady in tears to go ahead of us. You see she had been earlier to get a cheap charger as she wasnt near home and bought a cheap one…..It was a slider phone and all her chargers had allowed to slide and use phone while charging….. this charger tore up her phone when she went to use it while charging…:(
AS she was in tears she was told it was her fault, shouldnt have bought cheap charger , tore phone up…your problem/// Now even the electronics manager didnt solve problem either… The bad thing was she was waiting on phone call from her son who had been in Afganistion for 2 years and was calling her to pick him up on this phone…. I was not satisfied at all with the treatment she got . The electronics should have sent her to store manager and arranged something for her to recieve the call….
I personally felt soo sorry for her and not a person in Target was concerned about the call from a person who had been off serving our country so they and the rest of our country has freedom/ DISGUSTED, BY THE WAY THE LADY WAS TREATED AND DONT PLAN ON SHOPPING THERE AGAIN…

I need to start by saying I am I frequent Target shopper. Either online or in store. After my experience that will change. I will never return to Target again. On 11/22/11 I had ordered 3 items from a baby registry for a SURPRISE baby shower. I entered my billing and shipping address as the same address. When I went to check on the status of my order (ORDER NUMBER 10233403487) I see they are being shipped to the registry owner- who the surprise baby shower is for. I do not know her address, therefore there was NO way I could have mistakenly put it in. Plus I VERIFIED I had entered my shipping address.
I had submitted a complaint and request on 11/25 to have the shipping address correct and got no response. I called the 1-800 number and was on the phone for 40 minutes with people who told me sorry, there was a system error that had sent the shipments to the wrong address, but there was nothing they could do. I talked to 3 people and finally spoke to an Angie who after MUCH resistance on her part, agreed to finally call UPS to change the shipping address. I have checked with UPS and the package is being delivered 12/1/11 but still to the registry owner- not me. So after all this, it is still going to the wrong place, and I have gotten no response from Target!
Well thanks to them, I will be responsible for ruining the surprise baby shower when my gifts show up at HER doorstep because target is too lazy to correct their mistake!

On 11/24/11 I received an email regarding the 2-day sale which stated free shipping for orders over 50$, use code:ship 50. When I went to check out, after two and a half hours of shopping, shipping charges of $26.79 were listed on the total and applied. I "saved the items for later" and wrote down the 800 number to inquire about the shipping charge. I called at 1:45pm and spoke with a representative, explaining about the code, the offer and the total at check out. I was told: "Go ahead and place the order, if the shipping charges are still there at check out, call us back and we will remove the charge for you at this end."
I did as I was instructed by your representative and placed the order. Unfortunately, my phone line was dead and I was unable to call back until 11/26/11 at 11:57am and I spoke with Johnjay, employee #A523789, Reference# 3-783750345. I explained about the order, the free shipping code and my previous call on 11/24/11 and the instructions I was given. He then asked for a reference number regarding that call. I told him I was not given a reference number and pulled my notes giving him all the information relayed to me. He asked me to hold while he attempted to pull the call by name. He then told me that he did not have record of the call that I made and stated therefore he was unable to prove that I had called. I have witnesses that I placed this call; I was at my sister's house and borrowed her phone to make the call since my phone was not functioning.
Johnjay insisted there was nothing he could do. At this point I told him I had wasted 2 1/2 hours placing this order and had plenty of other options from other business and that Target's email is misleading. At this point I instructed him to cancel the order that I was not going to pay $26.79 for shipping when I could go to the store (or another store) or place the order on-line with someone else. He informed me that the order could only be canceled within thirty minutes of being placed and that the only option would be for me to refuse the order when UPS made the delivery. I reminded him that had it not been for a "Target employee and representative" telling me to place the order and the shipping would be removed on 11/24/11 I would have never place the order to begin with. At this point I am frustrated and furious! I requested to speak with a supervisor.
After holding for some time a female came on the line, reference# 3-783750345. Instead of using common sense and customer satisfaction skills she also told me that she would not remove the shipping charge but she could offer a $10.00 discount on the first order #10245854019 and a $5.00 discount on the second order #10244567863. I told her that was not acceptable that according to the email advertisement the shipping over $50 was to be free and that I would not have placed either order had I not been reassured by the representative on 11/24/11 that this would be handled properly. I also stated that the email advertisement was "false advertisement" and misleading. She insisted that I would not receive free shipping but could have the discount.
I informed her that I was unemployed and could not afford to waste even $16.79 for the shipping she offered discounted. I told her that nothing I ordered was a necessity and that I wanted to cancel the order before it was processed and refused the offer on the first order. I told her the second order were items that my boys wanted and accepted the discount for that order. Her solution was for me to refuse the packages when the UPS person made the delivery.
I told her that the order stated shipping was estimated to be "sometime between 12/2-12/7/11″ and could be anytime of the day or evening and that if I were not home that the UPS would simply leave it at my door. I told her that at this time of the year that anyone could see a package and just walk off with it. Her solution was to post a note on my door for UPS stating that I wanted to refuse the delivery. I mentioned that this would result in both orders possibly being returned but she did not seem concerned about it.
This whole ordeal has wasted many hours of my time and has seriously ruined my experience with Target. That is quite sad considering Target has been my favorite store for some years now and I shop there at least once a week.
I am making one last appeal to someone at Target that still cares about customer satisfaction to take responsibility for the representative's mistake in directing me to "go ahead and place the order, call us back and we will remove the shipping charges for you". If this can be corrected by crediting order#10245824019 in the amount of $26.79, it would be greatly appreciated and I will accept the order. If not, I will refuse the order as instructed and contact my credit card company of the issue and file a complaint.
This order is expected to deliver on 12/1/11 therefore an expedient response would be appreciated.

I recently bought an external keyboard from Target-I needed the keyboard to complete a homework assignment for a volunteer braille transcription class. The keyboard did not work. I needed a keyboard that supported the braille dots program. This was the only problem with the keyboard. I bought another from someone else because I was running out of time and needed to pay them. I am low income on social security disability/retirement and don't have much disposable income. When I returned the unusable keyboard to the store in it's original box with the receipt, I was told that because I opened the box, I could only recieve a refund in the form of a store gift card/store credit.
There was no checking the condition or opening the box at that time. We are talking about a purchase that was two weeks ago, product in newish condition and resellable condition, original box and receipt==Was told even though the unusable condition was not my fault, it was company policy to deny me the refund of cash that i paid and instead given a gift card for the refund. I am outraged to be treated this way. I planned to use the refund to pay back for the replacement one I had to buy in order to turn in my homework on time. I am now having to ask my friend to wait for another two weeks to pay her. I suspect she won't be doing me anymore favors.

Target's Up and Up Brand of Nighttime Baby Wash has had the scent changed without any knowledge to customers. I have called and called for about a month now to see if it is a permanent change and can't get an answer. The people answering at Guest Relations tell me they will get back to me in 2-3 days, one gave me the vendor phone number (no one answers the number) and the subsequent calls have gone unanswered. The last inquiry was Nov. 2 and I was supposed to hear right back after the vendor rep was called. Sometimes I feel comments, etc., are just received and they go into a big black hole never to be answered.
I am disappointed in the change of this product. The Nighttime Baby Lotion has kept the same light scent but this product smells exactly like the Target baby wash. I have opened the containers and smelled them in the store. How can they get by just switching like that without telling the consumer? Also…just putting the same product in another bottle doesn't seem to be right. I believe Target should respond to suggestions and comments. I've had numerous e-mails and phone calls gone unanswered. What is happening to Target? Now their website is unworkable! It keeps freezing the browser, can't get orders through, etc. Not like our reliable Target.

I ordered the Black Avington 4 Drawer Chest – Black, Upon opening the box the contents inside were a mess. The screws and other small pieces were scattered through out the box. I took everything out hoping it was all there. When we got to the last piece which is the back of the chest it was broken in several pieces. The cardboard back is broke all the way across the back and the wood backing is broke in several spots. This is not the first time I ordered furniture that had to be put together. This is the first time that every single item had to be put together and it was in poor condition.
I don't know how you want this handled. It can't be put back together in the box as the packing foam was is completely in pieces. The clean up form the little foam pieces will probably take longer to get rid of then putting the item together. Do you want to pick it up? This item has been a complete waste of my time. I will never order another item that needs assembly again from Target in fear it will be like this one.

I just want to say I am a very loyal and valued customer. I spend alot of money in your stores. I live in NJ and have a second home in Naples,Florida. So I am not there all that often. On March 31, 2011 I purchased an outdoor rug. I literally had it outside for 1 month as I just got to Florida and it the raining season was starting. I had to fly back to NJ and COULD NOT bring the carpet in as it was very very wet. Needless to say I didn't make it back to Naples until 10/18/2011. The condition of the rug is absolutely molded and ruined. It is disgusting. So I went to the Target Store #2063 where it was purchased and the woman behind the counter explained your policy.
I asked to speak to the manager which was Brittany and she didn't want to hear anything. Very nasty and uncooperative. Now because of the second house situation I DO NOT AGREE with the 90 day policy. All I wanted was a store credit which I DO NOT feel is unreasonable considering the circumstances. If Target does not want my business anymore that is just fine with me. Otherwise you should at least try and be fair with this situation. An outdoor rug SHOULD not mold in one month.

I just tried to return a GPS that I had purchased a service plan for. When it was sold to me the sales person specifically said that it did not matter if I stepped on it or if it fell down the stairs it was covered. They said that all I had to do is bring it back and they would replace it with the same one or better. Now that I bring it back after 1 year of a 3 year service contract they will not replace it. What I now have to do is wait 2 days to mail it to a service center per the person I had to call because the store would not do anything. They said they would have it for a couple weeks to look at it. Then they will decide what they are going to do.
I use travel NA for work and need this every day. This was not what I was told and Target and Target Customer Service are not willing to stand behind what they represented. There were 2 of us there when it was sold to me and we both remember very clear what we were told.

I am very disappointed in your handling of the launch of your new Missoni line. Regular shoppers had no chance. Stores had people buying shopping cart loads of stuff, my local store was sold out in minutes. When I went online to possible order something for myself, out of stock on most items. Very discouraging. It makes me want to never give my business back to Target again! For fairness you need to limit people on how much of a new launch they can by, either at the physical stores or online. All your merchandise is on eBay for inflated prices, so that is what all the hoarding buyers did with it.
I just wanted to buy a sweater and see what else was there! Do you have an agreement with eBay for some kind of profit! Bad business, why would I want to continue to shop at your stores when you let greed and unfairness be your bottom line. Used to like your store, now I am boycotting because of this fiasco (not for your though, $$$).

On Saturday December 3, 2011 I was shopping at Target in Yukon, OK. I had a buggy full of items. I have until this experience loved shopping at Target. I decided to purchase some boots for my grand-daughters. The sign said Circo Toddler Boots $18.00. I selected a pink size 7 and a teal size 11. I try to watch my money and scan everything advertised on sale to make sure it scans appropriately prior to getting to check out. The pink boots scanned at $18.00 the teal $22.99. I ask for assistance of 2 sales clerks who both scanned and found what I had $18.00 for one pair $22.99 for the other. I asked for someone that I could show the sign too.
They sent a person to shoes and I showed her the sign which did not specify that only the pink ones were on sale. She basically told me that I was wrong. My point…Circo Toddler Boots apparently were NOT on Sale for $18.00. Circo Pink Toddler Boots were the only ones on sale. I wonder how many pairs of boots you sold for $22.99 to people who thought they were $18.00???? I was so upset by this point that I put everything back. Sorry Target you lost a good customer due to your misleading signs and your staff.
I like shopping at Target but getting a little frustrated that you are always out of the things I need. Not sure of the inventory system you use but it is awful. Today is was printer ink and sandwiches. So there is a loss of around $40.00. Not much but it happens regularly. Now Office Depot and KFC got my money instead of Target. My wife also has the same problems with items being out of stock in St. Cloud…in this economic environment, wouldnt you think you should have items in stock so you can actually sell products to customers???

I purchased a bike rack from one of your Target stores and the second time I used it the strap broke and mine and my husbands bike fell off. My bike was fine but my husbands back rim was bent. Since I purchased both from Target I took both into the store to exchange the rack and get my husbands rim repaired or replaced and they didn't want to help me in any way at all. They said that I needed to contact Schwinn because the rack was purchased in May 2011. They said it was passed 90 days and to contact Schwinn. I would like to resolve this matter promptly.
I am very dissatisfied in the customer service I received. First of all I asked to speak to the manager several times and in the end I still ended up with a supervisor who was not able to anything that would satisfy me. I have been a Target customer for several years and a Target card customer for a few years now and I am very unhappy with the service the whole company provides. I am going to pay off the few dollars I owe on my card, close the account and shop somewhere else.
I hope that someone in the corporate office does contact me asap to handle this matter or I will be forced to contact my Lawyer, The Better Business Bureau and the Local News station regarding the terrible service that Target provides it's consumers.

Comments: Dear Target: I am so upset at your company right now. I ordered a wedding gift in JULY for my cousin and his wife that was advertised as in stock and found out it was on back order and would be late. It is now almost September and I receive an email that it is canceled. It says I wont be charged, but I used a gift card and $2.00 on a debit that had been charged. I no longer have the gift card number, so how can I re order??????????? You also said you would credit me an extra 5.00 for future orders. I probably really dissappointed my family members with no weddding gift.
I want target to mail my cousin a gift card with the additional 5.00 you qoauted me with a letter of apology to my cousin for targets irresponsibility in customer service. If I do not here back from you I will report target to the better business bureau and never do business again. This is ridiculous. I expect that gift card to be sent to the address i originally had on the shipment asap.

I shopped at the Whittier store, on Whittier Blvd and Gertrudes. I found several items were not stocked. Corned beef hash, marinated artichokes and the skim cheese I use for my Mexican dishes(Cacique.) I spend more than 50% of my grocery, cleaning supplies, pet supply bill on items at target. And, it is a huge inconvenience when I cannot find most items I need at this store, that is suppose to sell grocery items. I have to commute to a different store for artichokes. Marshalls sells them, by the way; fyi. That's where I purchased them. The other items I had to purchase at a grocery store. Hopefully target will stock these items in the future, otherwise I will take my dollars to Wal-Mart.

Afer the experience I just had a local Target Dept Store (where I have frequently shopped for many years, spending alot of our hard earned dollars), I can only conclude that Target has a seriously distorted view of how to treat their customers! After an item I purchased was rung up for a higher price than what was listed on the shelf's large sale sign, I went straight to Guest Services to return that item because I had only bought it because I thought it was on sale. I stated that the sign on the shelf said $13.50, but rang up $17.99 and that I did not want it if that was the correct price.
Absolutely no effort was made to determine what the correct cost of the item was… no phone call, no walk-talkie page sent out, nobody sent over to check the shelf sign… no effort whatsoever! What she did instead, was apparently void the entire transaction by scanning the receipt and pressing some buttons on her cash register, then she promptly announced what my new total was without the $17.99 item… My response was huh? 'All I wanted to do was return this one item, not be charged again for everything else… Why do I have to pay again for items I am not returning… I don't understand, why did you not simply credit for the item I want to return'… After a brief exchange, she screams at me, yes screams at me 'Because that's not how we do it, this is how we do it… you're not being charged again!'
Oh really… sure why not, scream at a customer…real nice lady, yell at me because I have a problem with scanning my card twice to pay for the same items again… I don't think so… I have made many returns in my life and never had to repay for my order like this not ever! Another woman, who turned out to be Dept Manager was there and actually witnessed her employee going off on me, took over with me and sent the psycho over to the next register to harrass, I mean wait on, another guest, not once did she apologize for the pyscho lady's rudeness! In fact, she made no effort to find the correct price of the item either (shouldn't this be the first order of business here people?!) She also made no attempt to diffuse my upset over being yelled at!
I cannot believe what just happened her, I am standing there in awe, I cannot believe this lady doesn't have anything to say about her employee yelling at a customer!?! Really!!! I asked for Dept Manager's supervisor, who came over and also showed not one bit of interest in determining the correct price of the item… I said out loud 'why is nobody but me interested in what the correct cost is supposed to be?' and Ms. Dept Manager said she hadn't had time to check that out, she would have gotten to that when she had the chance… I respond 'when were you going to get to that?' we'd been doing this for several minutes now, and they were more concerned with re-ringing items repeatedly…
I took it upon myself and left to go check the price, ignoring her calling after me that they will just adjust the price for me, as a courtesy… blah, blah, blah… (Really, a courtesy, how about not screaming at customers, as a courtesy, how about showing some interest when a customer says they got charged the wrong price, as a courtesy, how about refunding an item's cost when the customer asks to return it, as a courtesy!!!
My response as I go to investigate 'no, I'd like to find out what the price is supposed to be now, and I don't want adjustment if it is not on sale, I'll go look' and I walked all the way back across the store to find out that sale sign on the shelf was only for 2 varieties of the item located in the center of the shelf and the 2 varieties of the same item to their left and to their right were actually regularly priced. So that part was my bad, damn advertising trick got me. I go back and announce that the price was my mistake, Ms dept Manager offered to adjust it anyway again 'as a courtesy' I decline again stating that 'I don't want anything other than what I pay for'.
Mr. Store Manager apologizes stating that items sometimes get misplaced on shelves and I correct him stating 'nothing was out of place on the shelf, I didn't read the sign closely enough and thought it was for all on the shelf, and that what he should be apologizing for is his rude employee yelling at me, to which he responds that he 'was not there to see that, so he doesn't know that it happened' (Ok, so I'm a liar now huh?), I proclaimed again that she had in fact screamed at me and that it was very inappropriate, and to my surprise, Ms Dept Manager actually chimed in her agreement that the woman had, in fact, screamed at me.
At that point, she kept apologizing and offering to adjust the cost of the item for me, I declined again and let Mr Store Manager know that 'this shopping experience had left a bitter taste in my mouth and that I shop here alot and spend alot of money here, but I am wondering myself how long it will be before I feel like coming in to shop here again' Both managers I dealt with in this situation were seriously lacking in Customer Service skills, and if I yelled at a customer at my job, they way I was yelled at, I would surely be reprimanded if not fired. I left the store thinking to myself, looks like Target's lose is Walmart's gain… not that either of them really cares one way or the other, but I do and I feel like they should too!

My friends ordered me a crib from Target, it was supposed to be delivered between May 19th and 23rd, 2011. A week after it didn't show up I contacted them and that's when the decided to tell me that it's "stuck in their system". They can't get into the order to cancel it or to see what's wrong with it. After weekly emails and phone calls trying to figure this out I was sent a confirmation email saying it would ship out and I would recieve it in 3-5 business days…needless to say it's been 10 days and still no crib.
I call customer service, every time talking to someone new, every time having to tell them my situation over and over and then wait 20 minutes to talk to a manager who "will figure out what's going on" and call me back but won't give out their contact information and then they don't call back so I go through the process over and over. Did I mention I will be having a baby soon and kind of need a crib. So the last time I called I asked them if they could just start me a new order and send me a new crib…still waiting to hear if that will work but I am not holding my breath.
They are also saying that I am not the only person with this problem so if there are more of you out there let me know!!

I did a survey on line for a free target $100.00 gift card,I gave all my information,and I received a phone call,answered questions,and ordered some magazines with a credit card,the person I talked to said that was the only way I would be eligable for the card, that was two weeks ago, and I was supposed to receive the information in five days along with the card. I have not received anything yet. In my opinion if you are going to have these promotinal people use your name to get business of their own,then I really think that you and them should follow threw with what you promise. I will not shop your store's because of this, and I have to travel at least fifty miles to get to a target store.

On Tuesday, June 28th I attended the Target Store at Walden Galleria in Buffalo as we normally do about once every 2-3 months. On this date I purchased $80.00 worth of merchandise, upon arriving home I noticed that (3) items were not placed in the bag (2 cans of Chocolate Ovaltime @ $9.58 plus I was charged for an extra $2.99 for a powder mix that I did not receive). I know this is a small amount, however living in Burlington Ontario it is not a matter of just getting in the car and going back to the store. All the time the cashier was serving me it was as if her mind was not on the job at hand & her customer relationship one would have to question. I was taken back a bit from her attitude.
The Ovaltime was the second item on my slip that she checked and maybe should have been placed in the bag right away.
Customer Service must be number 1 in the retail business and I feel that this person does not exemplify what Target should stand for. Thank you.

I recently came in to target to purchase my wic order on june 23,2011. My order consisted of getting a gallon and a quart of milk. You do not have a store brand of quart milk. Wic requires getting the cheapest brand. If you do not have a store brand the only other one is mcarthur milk so I went to purchase it. Your cashier and front end manager refused to give it to me. They said they do not get credit for substitutions. I have always been allowed to purchase mcarthur if there isn't a store brand. If it is not allowed then you need to get a store brand milk in a quart because I purchase other things aswell when I get wic but I will not be spending my money here if your people are going to be rude.

I purchased a pair of cherokee sandals for my eight year old son. He wore them to school and came home with a broken strap. I usually only visit Target once or twice a month due to the distance from my house, so I packed the shoes back in the box with the receipt. About a month later I attempted to return them and I was told that because they were not in a "new and unused condition" they would not return them. I asked to speak to a manager, who told me that I had had the shoes for a month and this is normal wear and tear on a product. I told her that it is not normal for a shoe to break after it's first use to which she replied, "so you say," indirectly calling me a liar.
Being that this is the second time this has happened to me in Target, (the first defective product was another pair of shoes) I knew to call the customer service line. So, I drove back home and called 1-800-440-0680 and explained the incident. First the customer service rep. told me that the item was defective, to take it to the store with the receipt and they would exchange it. I told him that 1) I had already tried that and was declined and insulted 2) I had already replaced the shoes and didn't want them and 3) this isn't the first defective shoes I have purchased from target, so I wanted a refund. He proceeded to tell me about their return policy.
I told him I was aware of the policy and that I expect that a pair of shoes would last more than one day when I buy them, that I had no way of knowing that the shoes were of poor quality and I wanted a refund NOT an exchange. He told me that I should be able to get a refund so I again explained what happened at the store and how poorly I was treated. He put me on hold and when he came back he gave me a reference number which I had to use on the same day! So, I had to drive to the store AGAIN. This time I was left waiting for several minutes.
The manager finally acknowledged me and said that "as a courtesy" to me they would do the refund this time, but that even with a reference number, the return is at the stores discretion. Needless to say, my time and money are valuable to me, so I WILL NOT be shopping at Target again. We have a Kohl's and a Wal Mart in the neighborhood, and they will be receiving the money that I used to spend at Target.

I am employed at target and currently 32 weeks pregnant. I have an unusual amount of amniotic fluid in my stomach which causes my stomach to appear as if I were past due. Since my stomach is so large it is very difficult for me to stand up for long periods of time. I am a cashier, they schedule me for about 5 hours a day. Which would be great but the law of my state says that I can only have one 15 minute break. I hate to sound like a whiner but two and a half hours on my feet absolutely kill me and put me in the worst pain ever.
I asked an LOD [Leader on Duty.] if I could sit down at an express check out [only helping guests with 10 items or less] so I would be at least able to sit down when not helping people. I was told that I was not able to sit down, it made the Target corporation look "lazy" and that I could just go home and come to work when I was able to work. After I was told to leave I was pretty upset and even cried. I was told by several other managers to stay and continue working like usual [without a chair]. I clocked out and left wishing I could give everyone the finger. They would rather lose a willing to work person than just try to accommodate their needs so they can do their job without being in pain.
A pregnant woman sitting in a chair while not helping guests does not appear lazy to me. If I were to see this, as a shopper anywhere, I would just assume she was resting. I hope that my opinion doesn't seem biased but I was truly offended at how I was treated by people who are supposed to insure that their employees are taken care of.

I have submitted this under a fake name because I am employed at target. part of our job is for our store to meet a quota on "red cards" which is target check cards & debit cards. i'm excellent on this & normally get several a day. however, i will no longer be pushing the target credit card or check card due to them charging my own twice for the same transaction. the way the card works is just like a check. you make a purchase, you basically have 5 or so days to get the money in your account. i always keep the money in my account just in case it is taken out unpredictably. after checking my online banking i noticed that i was charged twice for the same transaction.
I called the service number on the back of the card & was basically given the run around & the lady finally gave me a number to fax my online bank statement to. she told me to please remember to put my name, phone number, & description on it so they know who i am & what is going on. this doesn't sound very reassuring to me that they will be fixing the problem. since i work at target, i'm obviously not very wealthy, the pay sucks & they don't pay me enough to take my money twice. i will never be using the check card again & if a customer asks about it's benefits i will make sure to tell them there are none.

I went to your Victor NY store to purchase an offset umbrella which was on special offer. Only the floor model was available and nobody in the store knew how to take it apart despite 30 minutes of trying. They sent me to the Henrietta store. At that store I found the same product to be reduced but only to within $50 of the other store. I could get nobody to serve me so returned to the first store. They had not yet found anyone to take it apart. They also explained that it would be provided without the special tools, instructions or box, all of which had been lost.
They said the item would not be under warranty. I then went on the web and was unable to find the product and returned to the Henrietta store where I was unable to find floor staff or a manager to assist me. I went to customer service and stood at the front of the line for 5 minutes as the ladies (x3) folded items and chatted. I was not served and still do not have the item. Rather dissatisfied and will most likely not return to Target for a major item.

Purchased X-box 360 Elite with three year extended warranty for a Christmas present to my son on 12/23/09. After one year and two months the game would sometimes not read discs. After about two or three months it got progressively worse until it stopped reading them at all. I called the warranty number, the operator was very helpful and in fact she told me the "it won't read discs, right". I sent the console in to the repair facility per her instructions. In a week and a half it came back with a form letter listing five reasons for the warranty to be voided. The top item "liquid damage" was circled and the letter said that I should contact Target with any questions.
I have made repeated calls to Target and have gotten no satisfaction from them. I have tried to tell a number of Target reps this console has never been exposed to liquid other then normal levels of humidity. I was told there are pictures of the damage but they will not let me see them. I was told that this is against company policy. I feel that Target sells this extended coverage as an added profit and then denies coverage so they don't have to be responsible for the repairs. I am really disappointed in this transaction, I thought Target was a good company.

On June 5th, 2011 I visited a Chicago Target store located at 1154 S Clark Street Zip-60605. I picked up cans of Campbell's chunky soups which were on a price reduction of $1.00 per 18.5oz can tagged on the shelf. I had several scanning error at this store so I took the tag to the cash register as proof of price as the store customer price check scanner had it for a higher price. The cashier called her supervisor Michael, who said he was a GST. He refused to honor the store "price reduction" and so my visit was worthless as I did not get what I wanted. This behavior is intolerable and must be addressed by the regional management for Target Stores.

I bought 2 pair of dress pants at two different times from Target, one pair I wore, the other pair I didn't. I tried to take the pair I didn't wear back even though I kept the wrong recept by mistake. I wanted the money back, they wanted to give me an in store card or what ever you give for two dollars less then I paid, I wanted money. Wal-mart would have given me all my money back. I took the pants to Good Will. I couldn't get the other recept because it went out with the trash. I don't like your Target return policy for returns or gift cards, once you get the money, nobody is getting it back.
That is why I tell family I don't want any gift cards from Target. There is NO reason if I spend twenty dollars of a twenty five dollar gift card, there is NO reason I can't get the change back. Ex-shopper at Target.

Greg
from Philadelphia, PA
Purchased a TV at Target 7 months ago when the TV broke called Westinghouse the manufacturer to get repaired. After locating receipt it was not legible call Target to locate proof of purchase from the serial number of TV with no help spoke with Nate from customer relations Target complaint number 13212 587 Nate and for me that I was out of luck when I told Nate I would go back to the store and inform customers of their policy so they don't make the same mistake it's words were we'll call the police I will never ever spend one red Cent at Target.

Bill Konwal
from Mauston, WI
We are emailing the CEO of Target to ask him kindly change your bathroom policy. If in fact something happens at one of your stores you will lose more business. At this time my husband and I are suspending our shopping to Target. We were regular shoppers purchasing both of our dogs food at Target. Why would you want to take such a stand. Right is right and wrong is wrong. Does not matter if you are atheist or believe in the big guy who you and I are going to answer too. We are not going around signing petitions against you. We just ask you to reconsider.

Jacqueline Billey
from Sacramento, CA
Target Rancho Cordova is losing my business! There was only one checker open and the customer in front of me needed to see the manager and had lots of items to be checked. The cashier was very chatty and what should have been fairly fast took about 20 minutes. When it was finally my turn one of the items I had was a Target gift card. The checked put in the amount I wanted and it came back that it was a Starbucks card which it was not. I got a different gift card and the same thing happened. The checker told me I would have to go over to Starbucks to get their card. I replied that I didn't want a Starbucks card and that ones I had given the checker were Target gift cards. She told me she would have to call the manager but I had already waited too long and their were people behind me so I said no.
I am also unhappy that applying for a Target redcard is done at register. It holds up the line! I am also very unhappy with Target's new policy on transgender bathrooms. You are doing your best to lost my business.

I am totally shocked to see Target loose their minds to let men into the ladies restrooms. Target has lost my business! I guess they just want only the mentally ill as their customers, Better be putting back a lot of money for the coming lawsuits after you gave the ok for perverts to take aim on your customers in the restrooms! if I am on the jury you are screwed!!

Ruth M. Godfrey
from Saint Paul, MN
Every week I shop in one of your stores however I plan to NEVER shop in your store again because of your recent bathroom policy. I have two very young granddaughters and under no circumstances would I ever consider allowing them to be in bathroom with a man who is confused about his sexuality. Also, what is preventing a sexual predator to say he is transgender? How is it that you are catering to a very small percentage of the population? How are you meeting my rights or others that share my views? Quite frankly, I would feel very uncomfortable with a man in the next bathroom stall. What can you do to assure my privacy?

Jere Clancy
from Salem, OR
This letter is voice my dissatisfaction with your GLBT policy on use of alternating bathrooms based on whatever the gender someone decides to identify with. I view this as a personal choice issue that someone makes independently of the rest of us. Therefore, I think it is a specious argument that the rest of the world then has to adapt too and then be bound by whatever the choice these people make.
I do not want my young daughter in a bathroom with a man dressed like a woman. This is dangerous. This is also contrary to the values I have worker hard to teach her over the years. So, the question is--who's rights come first. Based on the above I will be boycotting Target until your policy is rescinded. You might think you are taking the high road with your policy but it is poorly thought out and discriminatory to 99.99% or the rest of your customers.

Vickie Farlow
from High Point, NC
I am disappointed as to target's stand on dressing room and bathroom policy. It's a shame you cannot go to a family store and shop and afraid to use a dressing room or bathroom. I sure would not bring one of my grandchildren!

Thomas Kofron
from Arnold, MO
This is yet another complaint regarding your corporate decision to allow "transgenders" the ability to use rest rooms and changing rooms of their choosing as opposed to their current sexual being. As long as this policy is continued, I and as many of my friends and family that I can convince, will no longer patronize your stores. I have too many other choices. You have chosen this policy under the guise of political correctness. What baloney. You made this choice because you thought it would increase your bottom line. When you offend the common sense of the vast majority of citizens, in favor of the very few, I begin to question your powers of rational thinking. Regardless, stick to your guns, I know I will.

Nathan Stough
from Seguin, TX
Target as a corporation is choosing to allow men to enter womens' bathrooms which is inappropriate. I am choosing to shop elsewhere. As a customer I have spent 800 dollars in total at target this last year, but now I going someplace else.

Marion Greaser
from Middleton, WI
I have been a regular Target customer before it instituted its no sex barred bathroom policy. This is the last business Target will receive from me until the policy is changed. It is ludicrous that Target would agree to this policy. Do you really want the cost and publicity when the first man assaults a woman or a young girl in a Target bathroom?

Tim Power
from Dallas, TX
Your store will be off limits to our family - you made the choice opening restrooms that are built for women to a man is wrong.

William Miller
from Fargo, ND
This weekend I bought a Blue-Ray DVD 5.99 special as a gift, for my wife, on her B-day, today. I, being the man that I am, waited until today to wrap it. Much to my surprise it still had the security box on it. We only have one car,I had my wife, who I am also hiding the present from, pick me up so I could then drop he off at work, to go take this security box off my wife's present. I understand that it is my own fault for not bringing the receipt or even doing this sooner but I was then asked for the receipt.
I wasn't returning it, did not want to bring it with my wife in the car. Was told they could not remove it without it. OK I get it you "can't just be taking these off for everyone" but really if I would have paid cash instead of using the card, would you have kept my movie? Worse called the police? I know she did not know about all of the other hassle this created, but a 5.99 DVD? and if I stole it, would I not have just broke the case, which I will next time instead of returning it to you.
Then I asked if they could be wrapped for wasting all of my time and gas and such, i was then met with a face of disdain, and "We don't do that here". OK I am not one to take the time to write e-mails, but this one I could not let go. I left still feeling like a thief. I manage in food service so have read a number of these. one reason I don't write them, so this may all fall on deaf ear, but this made my top ten felt like poo experiences at a help desk.

Margie
from Pinellas Park, FL
I purchased a Threshold Camden 5pc dining set on line using pay pal. When I received the dining set and opened it the Table was dented and the paint was coming off with scratches all over the set and the legs were not even covered just loose in the box. The chairs had scratches on the arms and the fabric was ripped. I call Target and they told me the could not credit pay pal but would give me a gift card or I could bring it back to the store for a cash refund, which I should not have to do because you ship me damage goods.
If you offered pay pal you should credit it back and have the items picked up. I never had a problem with other stores with returns to pay pal so I called pay pal and put a dispute in. Target agreed to credit my account but I had to ship it back at my expense. The items weights over 150 pounds and I should not have to pay to return damaged goods. I took this back to the store with the help of others,so I could at least pay my credit card off which I should not have had to do on such a large item but seeing that Target would not pick the damaged items I had no choice. I will never buy anything from Target on again.

I bought baby clothes to ship to my daughter in Fort Lee, VA, I live in Canada. Unfortunately I put down their previous address on base, and realized about 1/2 hr after placing the order. I called Target right away to update the address, they could not/or would not do this - apparently Targets policy is not to change addresses after the order has been entered, Target would rather ship it to the wrong address. I went from the 1st line of contacts, to the 2nd line of contacts, with no assistance. They transferred me to a UPS rep who could not help me, they said it was Target who had to change the address.
Nothing was done, it had to be shipped to the wrong address and I had to have my daughter go over to the people living there now and co-ordinate this ourselves. This doesn't make sense to me. Target would rather ship to a wrong address than change it in your system. I believe this policy should be looked at. I would imagine you have a lot of shipments returned due to this policy. It really discourages me from ordering on line when I cannot get any help from the Target Customer Service Dept. and spent over an hour on long distance calls, being transferred about, with no result at the end.

Kathy Ruuttila
from Saint Paul, MN
I bought 4 caramel cupcakes. When I got home and put them into the fridge. I have only the use of one arm. The box was not very sturdy the box fell onto the floor and opened the cupcakes fell out. I had to throw them into the trash. Is this what I can expect from Target now?

Wandra Cosby
from Norfolk, VA
received an eye exam on 02-10-16 at 457 Germantown Parkway Cordova TN 38018 at 4:30 p.m. When I entered the office I was greeted and given some forms to fill out. I filled the forms out including my insurance information. I waited to be seen by the doctor. Moments later I was called to the back for my eye exam. My experience with the optometrist was great. The eye exam was very professional. When the exam was complete, the optometrist informed the desk staff that I would only have to pay $10 co-pay. I was asked if I wanted to pick out glasses and advised yes. I picked out the frames and sat with another worker to get fitted for the glasses and go over insurance information.
During the fitting, I was advised that Target Optical did not take my insurance and I would have to pay $50 instead of the $10 co-pay. I am very disturbed by this because I was not advised prior to my eye exam that my insurance was not accepted by Target Optical. When I advised the workers that it would have been nice to know that my insurance was not accepted prior to the exam, I did not receive an explanation as to why I was not advised prior to the exam.
I don't believe that this is best practice as customers/clients should be informed prior to the exam that their insurance would not be accepted. Insurance information is requested on the paper work but no one checked my insurance. I am requesting to be refunded due to the negligence of the workers. They were ever so courteous to tell me that I could go to Wal-Mart because Wal-Mart would take my insurance. It was further suggested that I could go across the street to another optometrist who would accept my insurance.
I would have appreciated all of this information prior to the exam being administered. I also informed the workers that I would not have scheduled or sat for an eye exam or attempted to get glasses if had known that Target Optical would not accept my insurance.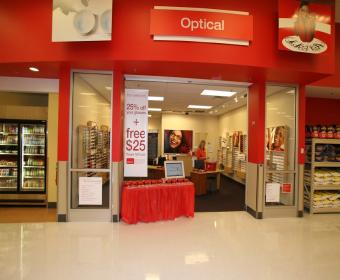 Trista Martinez
from Albuquerque, NM
A couple days ago I had bought a phone at Walgreens right next to one of the year to trade locations and I decided to go look just in case to see if target had the cheaper for one and in that case I would buy that one and return the other one but as soon as I entered the store I was treated badly. I have been being followed around the store was looking around because if I was stealing something I overheard the manager talking to one of the other workers a couple hours away saying how they saw me on camera the phone and they were they were going to get me for it and all kinds of stuff. I even come from him and told him I'm not doing anything he really told me I wasn't talking to you talking to her while this manager kept following me around even more and I have a couple of the loss prevention following me around and upholstery after it.
Starbucks asking me if it's sooner she had everybody and send me a friend waiting to arrest me all kind of yourself but I still have my receipt from Walgreens with the phone I just bought and a pack of cigarettes are there I think this is very rude judging people discriminating discriminating them because of how they look I would to do anything wrong and understand why I have to be followed just because the way that the way dress on my tattoos I don't know what it is but it was very rude and disrespectful and I'll never shop there.

Ordered a CD for Christmas gift giving. It was a very meaningful gift for someone very important in our lives. Though the item was not expensive it was a heartfelt gift and to be a way of thanking someone very special. Item has been delayed twice now. Christmas has come and gone and Target.com, could care less. I actually had a cs rep hang up on me when they did not know what to say. We would just appreciate Target.com, being upfront with us rather than leading us on to think that the item is coming, when in fact it is not even in stock. How and why would a company put an item on their website that they do not even have. Very disappointing. Will always use Amazon from now on.

Linda Vansant
from Rancho Cucamonga, CA
I was attempting to return the blu ray movie "A Walk in the Woods" I explained how on 3 different Blu Ray player's the movie came up with a black screen an how I had search on the internet and found that a lot of people that purchased the same movie had the same results (black screen) and that a lot of retail store were returning the movies. The Snarky customer service rep said that since we opened it that we could only be able to change it for the same movie being that this was the 2nd one we purchased we know a 3rd one would not work either.
Bought the 1st at Walmart had no problem returning it to them they were very understanding. I was told I would have to wait for her manager Which I did before I could explain it to her the 1st rep we spoke to was explaining the problem to her with an attitude wanting her not to return the money. After a brief explanation the manger agreed to return the money. The only thing the manager said to us very rudely was "the money as been applied back to your card".
FYI my husband prefers shopping at Target vs Walmart he has always said that atmosphere was so much nicer but after last nights experience he is not sure. (Oh, yes we look and there were no "A Walk in the Woods" on the shelves). The Target store was in Redlands on Lagonia we were in the store around 6:30 pm. I really expected the manger at the return counter to be a little nicer. In the past we had only one other problem at this store but it was resolved quickly with a very helpful employee at this Target.

Kiley kim
from Atlanta, GA
I came into a target store Tuesday morning and needed some assistance with finding an item. I asked an employee to help me but she was annoyed about some personal issue she was gossiping with her fellow coworker that she answered me in a rude manner. I ignored her attitude and asked her again. She gestured to the south end of the store and said we probably don't have the item and turned her fat ass back towards me and continued with her meaning less conversation. Meanwhile as I am standing there I smell marijuana on her breath. She was very unprofessional and rude. Please follow up on this issue. I believe her name was Melissa and she's overweight works at the Pinole CA store.

Donna Burghdoff
from Lansing, MI
The Target team at the stores I was visiting was holding some type of meeting in the boys clothing section. There were probably about eight or ten people present. As my husband and I walked past the manage, I assume since she was leading the meeting, called out loudly "is there something I can help you with"? While this seemed innocent enough the fact is it was rude and embarrassing. Everyone stopped talking and stared at us as though we were purposely intruding on their meeting. I'm not easily embarrassed but this was really bad. And what struck us the most was the fact that it came from management. We left right away and headed to Meijer to do our shopping. Ps as we were leaving I mentioned the experience to a male employee and he was great too bad he's not the manager instead.

monica heinrich
from Atascadero, CA
I have a friend that came home the other day with one of your "reusable plastic" bags for her merchandise. We live in California where plastic bags have been outlawed for 2 years now. I am appalled by the use of these bags. Please explain to me why you thought this was a good idea. Maybe I am missing something.

Char Beamer
from Lithia, FL
This is a medical issue. Order#! 922919762003. Placed on Target.com website on 12/13/15 Received 12/23/15 -- opened box I received order in. 2 boxes of AZO. UTI Test Strips were inside. One was already opened and 1 of the 3 strips were missing. Who ever packed the shipment must have took one out. I have pictures of the opened AZO BOX I called the phone # on the packaging list. Spoke to Delle in another country that COULD NOT help me resolve a replacement. Asked for her supervisor and she put me on hold for 47 mins. I hung up. Please this is horrible. Give me a real complaint phone number I can send these pics to.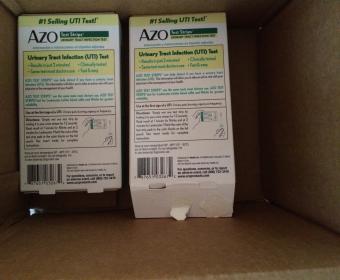 Kathryn Jacobsen
from Sacramento, CA
I ordered a Beats Pill 2.0 Black that came with a promotional Beats Pill Dude- Black. I, after checking the promotion still existed, canceled my original order #902882500065. I cancelled because I did not get my 15% off and I reordered order #902889642623. This order #902889642623 did not give shipping info for the Beats Pill Dude- Black. When the rest of my order came I called customer care at 1-800-440-0680. The person on the line told me it shipped separately and would arrive Friday, December 18th. When I did not receive it I called 1-800-440-0680 and spoke with Leslie- Target.com Manager, who told me this promotion never existed. I then asked to speak with a supervisor, and the Manager who also told me this was never a promotion. When I asked to speak with a different manager they told me I was not getting my item and when I asked to file a complaint they hung up on me! I have not received my Pill Dude to this day, 3 days before Christmas.

Linda Putnam
from Glendale, CA
I went to purchase gift cards for my employees and our boss's on Thursday Dec 17, 2015 at my local Target in Burbank Ca. I was going to purchase 11 Target cards and two Target Master cards. After a long busy week it was nice to know I only had to make one stop. I took them to the register only to be told that there was a 5 card limit and that was all I could purchase. I said I would do two transactions and was told I could only get 5. No signs were posted next to the cards informing me of this and I can't yet figure out why such a policy would be enforced especially right before Christmas, after all I am having 11 people come to Target and probably spend more than the value of the card. Needless to say I walked out with no gifts and real angry and took my business somewhere else, which is sad because I do like shopping at your store. I just think there should have been some type of notification of this strange policy. Thank you for your time and listening to me vent.

Victoria
from Williamsburg, VA
I place an order for an Electronic Software download. The website said that I would be emailed the product code in 1-3 hours from purchase (or up to 24 hours). I never received the email and when I called, I get people who can barely speak English and do not know what they are doing. It has been two weeks and I have yet to receive the code.

Andrea Johnson
from Memphis, TN
Two back to back bad experiences with Target online purchases. The first item ordered was never delivered to the store after confirmation with customer service twice. The second order cancelled but delivered, refused and return to the warehouse then two weeks later a refund finally issued in form of a gift card after stating that the refund should be credited in the form of payment issued. I am determined that the customer service department is undertrained and that Target pushes gift cards as a method of refund to retain profit forcing the customer to have to spend their money with Target anyway.
A gift card is understandable without a receipt present but with a receipt come on. A return to the warehouse truly has the original receipt with it. It is called the packing statement or list. Target's customer service, online ordering system and return system is a joke that was not funny and this is the last time I will pay to attend their comedy show. Walmart has a loyal customer.

Anthony Napolitano
from Garfield, NJ
I would like to relate an experience I had with Target that unfortunately was not pleasant. I was looking to purchase an Apple TV 64GB (MLNC2LL/A) this Black Friday. You had none in stock or on line nor did any store in my surrounding area have them in stock. Previously, when I called Target for a rain check I was given a ticket number and a case was created with a promise to honor the sale price once the item was in stock. And that promise was honored until today.
On 11/27/15 at around 9:30 PM, I called into Target customer care and spoke with customer service agent Rodrigo. I explained to Rodrigo what I was looking for and hoped to get a rain check. I gave Rodrigo previous ticket numbers for him to look up to see how the price match worked. He agreed with me that I was entitled to the rain check and issued me ticket number 08726348. He promised that all I would need is this ticket number when the item was back in stock for target to honor the 149.25 price.
On 12/02 I called back into Target as the item was now in stock and I wished to order it. Both Reps refused to honor the price match. In our discussions, I was told that no such policy existed even though Target had honored prices twice before. The ticket number 08726348 is linked to 3 other tickets in which you can see the history where by my wife and I were getting the price matches. It was insinuated that I was lying and that there was nothing Target was going to do.
I do not appreciate being made out to be a liar since anyone can look up the ticket numbers linked to account deanna.napolitano@yahoo,com and determine for themselves how the price match promise was upheld. I do not appreciate being made a promise only for some other service rep to disagree with it and refuse to honor it.
I am very disappointed in the customer service I received today (12/02). You should understand that I have a plethora of choices to choose from when looking to make my purchases. I shop Target because of your low prices and for the most part, great customer service. The ball was dropped here in those regards, and it looks like I will need to shop elsewhere for the Apple TV. Seems to me that such a small customer service issue could have been resolved easily with honoring the promise as opposed to upsetting the customer. In today's world, customer service is what differentiates one retail store from the next. This belief is lost today with so many retail giants.

betty-ann campbell
from Chambersburg, PA
I had several issues while shopping at the Chambersburg, Pennsylvania Target store. Through every problem, front end manager, Michael handled everything with ease and professionalism. Please extend this compliment to his supervisors as we never hear the good that's done, there's so much negativity. Thank you Michael for a, job well done ;)

Frank Leibl
from Liverpool, NY
I bought most expensive phone case, made of leather at Target. The leather peeled back and off rendering item non usable. Took it to target store on hwy 31 clay ny where i bought it and they exchanged it with another. several months later the same thing happened. I took it back to store for replacement or diff style but was told they wouldn't do anything for me since may have been past 90 days. I said this item is not a return, its defective. Girl blew me off said sorry nothing we can do for you. I spent 20 dollars est for this item thought was the best. It is defective in design as not only 1st one leather pushed back exposing metal inner but so did 2nd one. I am not happy. My previous phone case lasted 5 yrs and never did that and this one wont last 4 mos. Can someone help me contact Target corporate offices with my complaint?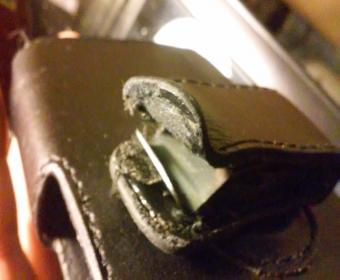 krystle halvosa
from Roselle, NJ
I am disappointed as a friend of mine had taken advantage of the 50% off Beats solo2 head phones and allowed her to price match to your online price. When I got to the store they refused to allow me to do the same, I then called customer service 800 number and was advised that I can in fact price match, but it must be with another company and not target online as your prices already reflect a discount since cartwheel doesn't work online and then I would be able to combine with cartwheel. Being that these are cheaper in many other stores.
I went back to the store and told them I was advised of this rule and that I should have no problem doing this, and was told that they don't care what your customer support had advised me that they would not be matching what your corporate has told me. This is very frustrating as I am pregnant had to make 2 trips to target to leave empty handed with my child. At the bare minimum, being that your company is huge, should warrant what your own staff advises their customers. It is not right to tell the customer that you do not care what you were advised by the company and that they will not do it. I hope this can be resolved.

Norma Andrus
from Buena Park, CA
I have heard from others that Target has employed Muslims cashiers that refuse to sell bacon or any pork product because of their religion. I am hoping that this is not true. You are wise enough to know the chaos and interruption that is already present in the US because of too much catering to the Muslims. This would be a catastrophic for your business. If you cannot hire someone to do their entire job, only a part of it, and put the part they can't do onto someone else, you do know that won't work. Just how many Christian or Catholic cashiers do you have that sells condoms, do you really want to open that can of worms? Do your job or take a hike, serve your customers or close your doors.

Mariana Cortez
from Pomona, CA
Earlier today, on 11/14/15 at 4:35 PM, I purchased a PS4 video game (Destiny The Taken One) from the Target located in Pomona CA on Rio Rancho Road. After coming home from a long day of running errands and eating dinner, I opened my game case only to find it empty. The only thing inside the case is the Play Station Plus trial code and small pieces of colored paper (one beige and one purple).
It's been about 3 hours since I bought this item so I decided to go back to Target for an exchange. I headed straight to their returns department and explained to the customer service rep. the issue. As soon as I finished explaining the problem to customer service I knew by the look on their faces they were not going to exchange my item. It's that same look you give your child or sibling when you know they are lying, a little roll of the eyes and 'that look'. The cust. serv. rep. gave the game and receipt to another employee. After a few minutes of waiting the rep. comes back and says they can't help me because when I bought the game it was sealed and I had to take up the issue with the manufacturer.
When I am upset I need couple of minutes to compose myself, otherwise I will lash out. So I took my game and receipt, walked out of the store into my car and ranted to my siblings who accompanied me through the whole ordeal. We contacted other Target locations nearby to question them on video game exchange policies. We explained the same problem to these stores as we did to our local Target. We spoke to two different managers, from two Target locations. They both said the video game could be exchanged with no problem but it had to be from the Target it was originally purchased. I gave this information to the Target manager from Pomona, Hilda, and her response was their policy was different and they didn't allow these types of exchanges.
Further inquiry of my item leads me to believe that the game disc was stole from a Target employee. My younger sibling purchased this same game, from the same Target, just a few days ago. He has confirmed that the plastic wrapping on my case is different from his. As well as the fact that the case is missing a code for DLC maps (DLC maps are extra content advertised on the special edition game I purchased). We also noticed the case has a small slash on one side of the case that can easily be missed. But this slash was not on the plastic wrapping.
One of the Target store managers we spoke with, from the La Verne location, explained that all video games are checked by the manufacturer before being sent to their Target stores for consumers. I strongly believe the disc was stolen by a Target employee and they are refusing to take care of the issue. Target would rather choose to imply I, the customer, is trying to gain a free copy of this game than exchange my item like all the other locations have told me they can. My family and I were planning on doing our Black Friday shopping at Target but after dealing with the abysmal customer service there we do not plan on doing any shopping with their corporation until this issue is handled.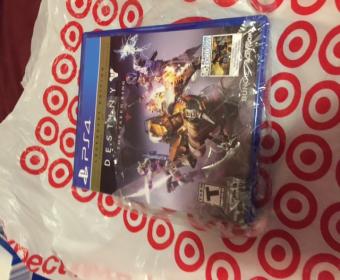 Randall Dietz
from Mount Pleasant, MI
I am very disappointed that the Target Corporation has chosen to trivialize the mental disorder that is Obsessive Compulsive Disorder with the sweater that You are selling. You should not joke about a disease that ruins people's lives. My complaint has nothing to do with the so called " war on Christmas " but rather just plain compassion for a very real illness. I will never spend any more of my money in one of your stores if you continue to sell this sweater. I thought you were better than this cruel joke.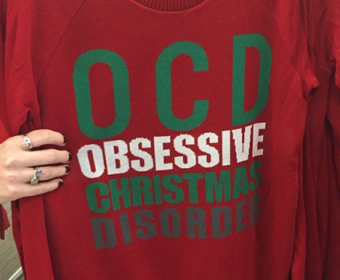 Judy Murphy
from Hendersonville, NC
This is a complaint regarding the decision to open on Thanksgiving Day. As a customer (not an employee) of Target, I feel that it is disrespectful to your employees to expect them to give up their holiday so that the stores can make a few extra dollars. This is an American holiday...it is not religious, it is not ethnic, it is not for a particular age group. I would never think to deprive someone of spending time with their family on such a holiday so that I can purchase a few trinkets which could be easily purchased at some other time. Shame on Target and the other corporations for this practice. This is Wal-Mart mentality (a store I refuse to shop in).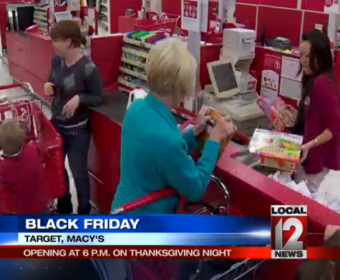 Patricia Bradford
from Cleveland, OH
I experienced the worst day of my life when I went to the Target in steelyard commons in Cleveland Ohio. I had a very bad experience from start to finish. To make a long story short I went in the cashier line first, she didn't speak, start scanning my items after that she just stood there looking all around so I ask her my total she said $113.39 I have the chip debit card so I inserted it into the credit card machine and she didn't know how to check me out with the chip debit card, I told her I'm always in target I can't swipe it I have to insert it, She then preceded to tell me that I was very unintelligent because I don't understand what she's saying, then the two customer at another register looked back in a state of disbelief of what they was hearing her say.
I then told her I think you need to work on your customer service skills and can I please see a manager, her reply was "if you don't understand me How the hell are you going to understand him" I said excuse me do you even know you're at work her reply was "I don't give a F*** about this job I'm from St. Clair I will go upside your head and let me leave this register before I do" she walked away I told the manager what happen he said he would take care of it, next thing I know is another manager is at the register saying the cashier just said I threaten her now I'm in disbelief first, I was embarrass about how I was talk from the cashier and now I'm humiliated, from the manager.
I am a district manager and I have been in management all of my life and I would never make someone feel the way that manager made me feel as if I was the aggressor and not the victim. I just left the store with the pending transaction that they said never happen on my account with no merchandise. I had to go in Walmart and shop, somewhere I never go because I always shop at Target but I refused to give them another $113.39. I tried to forget about this experience but I couldn't so now I'm going to a lawyer, the local news, BBB and all of my connections in the community are being notified because I refuse to let this happen to someone else. I also got the two customers in the store name, emails and numbers as witness. I will continue to use my resources until something is done.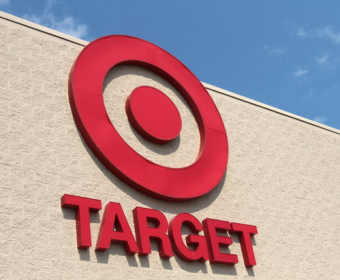 Stacy Hoover
from Buffalo, NY
I placed an order on Target.com and had issues with the site itself. Things in my cart would say something like, this quantity exceeds your limit. Well I finally got everything in my cart. I changed my billing and shipping address, placed the order and when the confirmation came through with the incorrect shipping address. I immediately called the customer service line. After being on hold for a bit, I spoke with an associate. She said there may be issues with the website. But, by that time, she said she couldn't help me because the order was processed. WHAT? She said that she would transfer me to a supervisor that possibly could help me. She transferred me to LaShawn? And it all went down hill from there. She was the rudest, kept interrupting me while I was trying to explain the situation.
Then she proceeded to say "Excuse you".? WHAT? This individual should not by any means be in customer service. I asked to speak with someone else and she refused, saying she it the top and that was it. I just wanted to see how to proceed. So now I have to run around to find not one shipment but 3 and after spending over $300. I will take my business elsewhere and I will make sure anyone who asks my opinion NOT to deal with Target.com. This supervisor should be ashamed of herself and Target.com should consider retraining her as to the skills of dealing with customers.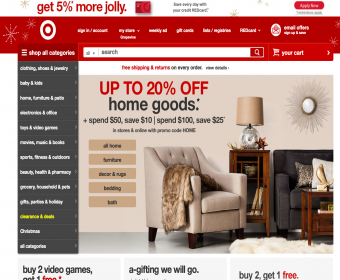 Kelley bourgeois
from Starr, SC
Went to buy an elf on the shelf, which was in the sales ad for the week. The store did not have any available, and I was told that they were still discounting Halloween products so they could put the merchandise out. Very poor customer service from Target and I'm not sure when Christmas does come around that I will want to shop with them.

Magda
from Mount Prospect, IL
Target, Where do I begin? I had a question regarding a coupon code for an online purchase so I called the 800-591-3869 Target phone number to be answered by a person in another country. I was on the phone for over 30 minutes back and forth because he kept asking his supervisor questions. He had no idea what I was talking about. I told him I received the coupon from the register and he came back and said registry. He told me Target does not give those coupons and abruptly said give me the coupon. I told him that is not how you should speak to someone on the phone. He then hung up on me. I called back and another woman from another country answered and I asked for a supervisor she repeatedly asked me how she can help and I politely asked over and over to speak with a supervisor.
She then put me on hold for 28 minutes and then it rang and she transferred me to an automated voice message asking me if I want to hear this message in Spanish press 1, credit 2, etc. Over one hour of waiting and this is the outcome. This was horrible customer service. I then had to contact Live Chat and they were of no help. This was the worst experience I have had with your company. Can you explain why this happened? Can you explain why no one was willing to help me?

Inka Yost
from Buena Park, CA
On my last shopping trip I got a $5.00 coupon for home goods. The coupon stated not valid for vitamins. I have been to the store twice to redeem the coupon and both times I was told that it is not valid for the items I purchased. The second time I told the associate to just throw it away. I must spend hundreds of dollars a month at the store with all the baby stuff we need. This coupon mess has me very frustrating. Why in the world can't you be more specific on your coupons and what they can be used for. In our household every penny counts. Thank you for listening.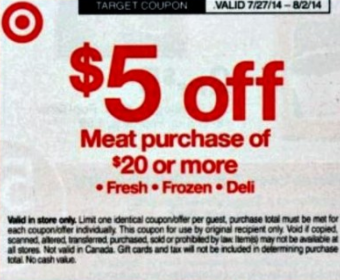 Samuel Wong
from Victoria, BC
Target order #102770270324 placed 10/15/2015 for store pickup thinking to minimize delay through delivery. After 10 days, pickup email notification on 10/26/2015 with a pickup deadline date of 10/27/2015 which is 1 day. I was on vacation after more 1 week since placing the order, I called customer service on 10/27/2015 to ask for an extension for pickup by 3 days. But was told that the "Target system" does not allow that and the order would be cancelled. It is sad that Target's marketing allows for a greater time for Target to fulfill orders but does not accommodate customers to pickup the orders. Is this the goal of selling? Not to actually CLOSE the deal. It seems Target just does not care about customer complaints or their reputation online. Thus I would recommend NEVER be a customer of Target if you value yourself.

Shakopee store, 7:30 PM, Saturday 10/24/15, cashier's name was Cheyenne. Rude, snippy, no "Thank you." She was talking about me to the next customer. I wanted some items marked off on baby registry. She was rude, rolled her eyes, made the comment, "Have you ever heard of the internet?" She was condescending and extremely unprofessional. It really put a sour fast in my mouth when it comes to target and I will no longer shop her because of this experience. The employee compliant is the easiest one to avoid Target!

jessica thrall
from Washington, DC
I bought the new Guitar Hero for the playstation 4 console for my boyfriend. Much to my surprise the guitar didn't work properly. Upon calling to see if I could return it I was placed on hold for ten minutes and then disconnected. I then recalled and was once again disconnected. I then called target corporate and was transfer to the target store and was once again disconnected threw research online I found out what I needed to know. I will be returning the $100 dollar game to get my money back and WILL not be returning to the store. If they can't even pick up a phone to answer my question they don't deserve my business.

Debra Nossaman
from Oklahoma City, OK
On your website you advertised that the standard flu shot was to be $24.99. Today I went to the Norman, Ok store at 1400 24tth Avenue Northwest. I was charged $31.99 for a standard flu shot. Your website says one thing but the stores are charging another price. Either you should take down the information on your website. To tell the store that this is want has been advertised on the website. To be this is faults advertising . I will never shop in a Target store again. I don't like being lied to. That what you have done.

Ebony Cook
from St Louis, MO
This target is ok, but customer service could improve. The staff is mostly full of young people but I don't see where the older staff is doing much to steer them in the right direction. A few months ago, I needed assistance in the linen department and used the phone in the aisle to call for help. the first time I called, no one answered. the 2nd time, someone promised to be around shortly. after 10 min, I called back and the person who answered that particular time, was clueless that had even called the first time. I spoke to a woman at the customer service desk, who acted as if she could care less about my situation.
She answered my question with an attitude and never apologized that no one showed up to assist me in the aisle. I dropped the potential purchases in the nearest basket and walked out of the store. The woman muddled something under her breath and proceeded to help the next customer. The Starbucks which is located inside of the Target, is almost always unmanned and never has pastries stocked.
They are always out of something that Starbucks should not run out of-coffee related products. As I said, the store is not terrible, but the young staff need to be re-trained on how to behave in a work environment. A lot of them are "nice enough" but work ethic needs improving. Please look into this.

Manuel Abeyta
from Lemon Grove, CA
I went to the electronics department to look for some Bluetooth headphones I asked for some assistance to see where there Bluetooth headphones were located. I seen some Bluetooth headphones for $19.99 I asked the sales man that was helping me if that brand of Bluetooth headphones were good quality since they were $19.99 I let the salesman know that I wanted to buy the $19.99 Bluetooth headphones but was still shopping.
I went back to purchase the headphones they scanned higher than what the sale price was when I told the sales man that they were on sale for $19.99 and when he went to go check the ticket that said the price was gone someone had removed it I asked him if they honored the price that was shown he said yes but that it was up to his manager but he said that target should honor that price since it was their mistake
The manager that was in charge was named Kim I explained to her what had happened and the sales man that was first helping me seen the sale price on the Bluetooth headphones told her that yes they did have a sign that said $19.99 and seeing that they had made a mistake on the pricing so he removed the sale price .Kim the manager said that there was nothing that she can do. So that's why I am submitting a complaint on target for not honoring the sale price left target very unhappy when I shop at target every week.

Debbie
from Curwensville, PA
I tried to place an order on baby registry & would not let me proceed to checkout. The item was on sale. After spending at least an hour on line trying to get order to go through, I called Target line. Took me forever to get anyone to answer. Finally, after spending another hour on phone, they proceed to tell me that they're system is not working on their end also & to call back next day to try again! Of course when I called back the item was not on sale. Took me 2 hours on the phone talking to two different people that were hard to understand. They would not give me the sale price even though it was not my fault the order didn't go through!
Finally, I got a supervisor on the phone that was nice. She gave me the sale price & straightened things out, but then the wrong total was taken out of my checking - the one before the discount. I don't know why they do that! They said the discount will be taken off when shipped. Why wouldn't the correct total be taken out to begin with! I was so frustrated after two days of spending hours on the phone and computer & being passed around to different people. Now I have to wait to have the discount taken off! It is ridiculous! What kind of customer service is that!

Terrell Bailey
from St Louis, MO
I went into the Target Store on Hampton Avenue in Saint Louis, MO. on Tuesday August 11, 2015 around 2:15, where I do my shopping, if any, on my lunch break. I only get 45 mins. for lunch. Well I got in lane 4 to check out and their was 2 people (white) ahead of me. Well when the (white) clerk got to me to check out., He lifted his hand to me as in "wait" and told the couple that was behind me, (being a white male and female), to come on since I had a basket and they didn't. So I said "ok", they can go ahead and go since it wasn't that much they had. Well when the clerk finally got to me, he was acting if I was diseased or something. I put my things on the conveyor belt and the clerk went to get a pair of gloves to touch my things. Nothing I had was frozen, wet or dairy.
All household things and dvd's. I then tried to put the money in the clerk hand and he told me to "sit it on the counter". When I put it on the counter the clerk, still wearing gloves, then took the money up with 2 fingers and held it away from him. I got my receipt with the clerk still wearing gloves and went outside to look from the window too see if the clerk was still wearing gloves to check the white lady out that was behind me, and he did not. He must have taken them off as soon as I left the store. I just don't understand it. I go to Target every Tuesday for my shopping and I never had such a horrible thing happen to me at this store. I don't want anyone fired or anything I would just like to know, Are your employees allowed to treat a customer this way?
Are their limits to what a customer should accept from an employee and not complain? What rules were made for the Customer/Clerk? I just know that I love shopping at Target and would not stop going for the life of me. I just hated to have felt like I was being "divided" with an employee at Target.

Donela Canaday
from Cincinnati, OH
I shopped at the Everett Store and left my BOUGHT items behind and when I realized and returned to get them that had been put back on the shelve. I could see if they were just items left behind but NOT items that I had already paid for. How come they weren't just held with employees knowing someone would be back for them? The one was a gift and was then not found but we finally found it in the dressing room that someone else might have re bought. Please let your employees know this that if there is a receipt that someone will be back for it. Luckily I found the outfit again as it was a Birthday gift for my sister. It was a crazy day as I was looking for my daughters keys and set the bag down. Thank you so much for your time.
Have feedback for Target?
Thanks for your feedback!
Sorry. Please try again later!