Staples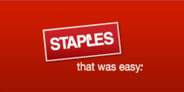 Staples
Most Popular Complaint about Staples
Posted by JOhn on Jan 20, 2015
Dear Staples, I sent a UPS package from your store and also got insurance for peace of mind. When going through the process at the Uniontown, Pa. Staples store I received the very best of customer service and rate that experience A+. The package was sent and in a few days a received notice that the package when received was damaged. Ups states that the box that it was shipped in was not up to UPS standards and will not honor the insurance that was purchased for that item. I then called the CEO of the manufacturer of the item, he stated and that the box that the item was initially shipped in and was designed for that item. The Manufacturer stated that they had no problems or issues with that shipping box. However that is the same box with a Styrofoam mold to hold the item in place while shipping it to the receiver and UPS stated that it was not up to their standards will not honor the insurance that was purchased for that item at the Staples Store in Uniontown, PA. I am calling the president of Staples this morning and I feel most certain that he will look into this matter and resolve it very quickly due to this has been going on for 60 days after I have sent this item and purchased insurance on this item. Staples in Uniontown Pennsylvania have always given my Company excellent customer service for the past 21 year. And I feel confident that I will be writing about my great customer service experience later today.
On 1/20/2015 at 9:05 am till 9:52 am I spoke with Staples Employee Lueas Brown the Exsecutive Customer Service Assistant to the President of Staples. Mr. Brown was very kind and listened to my issue. He then said that he was not able to contact UPS however he would reach out to the staples UPS team of specialists and said that I would receive an email within 48 hours concerning the conversation between UPS and the Staples UPS team. Also Mr. Brown gave me his word that he would call me to read what UPS wrote on the Claim web site in no more than two days. I also asked Mr. Brown if I may speak with the President of Staples, he told me that the Staples President does not speak to anyone with a problem at staples. I am reaching out to the president to call me about this matter. It would make me feel a whole lot better that Mr. Brown conveying to me that he would not be able to speak to anyone at UPS. And when I call UPS they tell me that I must call Staples because that is where I purchased the insurance to send my package. I will keep you posted on Mr. Brown's phone call, Staples UPS Team's Email and if the Staples President calls to ask about this matter.
Thanks and God bless, John Hranec – President / CEO - HRANEC INSULATION CORPORATION www.hranec.net / www.johnhranec.com
Did Staples provide poor service?
Yes
or
No
Do you have a complaint about Staples?
Contact Staples
Corporate Address
Phone Number
Website
www.staples.com
Email Address
Thanks for your feedback..!
Sorry. Please try again later..!