Taco Bell
Taco Bell Complaints Continued... (Page 7)
620+ reviews added so far. Upset? Call Taco Bell corporate: 1-800-TACO BELL

I was a bit furious when I found out that the place I eat at maybe three times a week ripped me off. I was working and sent my bf in to Taco Bell on Kingshighway in Cape Girardeau, MO 63703. He went inside and ordered a black bean burrito and a chicken burrito and he paid for them both. This was around midnight of 12-29-12 to 12-30-12. This past Saturday evening. After he paid for it, some guy in the back came up and said that they stopped making the black bean burrito at 11pm. They told that to my bf Scott. Then the cashier talked about it to her friend right in front of my bf, because he told me what was said. and I think its absolute crap. They gave him a bean burrito but did not refund his money. Im mad as shit, because this is my favorite place to eat and im poor so you all owe me 70 cents, thats how I see it, but I also think your cashier ripped you all off by pocketing the extra money. So Id look into it.

I was at store number 002964 and my order was #317672. My 7 layer burrito did not have cheese or sour cream. I paid for something I did not receive.

Hello,
I saw the taco bell ad for 12 tacos for $10. This sign was on the window of the store. 4200 Davie Road, Davie FL. 33314 My bill was $11.65. When I asked, the woman behind the counter said that this store charges $10.99 for the box. I had several children to feed and did not argue for fear of having someone spit in our food. Later that night I went to another store in the same area and was told that I should fill out a complaint. Thank you.
-Sybil
9542603485

We just left your store#017412 in Valdosta Ga. We waiting at least 10 mins to get to window while two people ahead of us just left. After paying we waited 5-7 mins more for food. Very long wait. The bean burrito was very dry with LOTS of sauce. Bad service. Bad food.

Arrived in the drive through at 12:57am on 1/1/13. 72nd ave in yakima washington! We watched them turn the drive through light off!!! They just stopped taking orders! We sat in line for 25 minutes!!!! It is called customer service! You take care of the customers in the line instead of just ignoring them! An employee should have stepped out of the Side door facing 72nd and explained that the drive through was closed! My order should have been taken and the car behind us, as they arrived at the exact same time. As the cars finally were able to clear out I stopped at the window and told them they should have taken care of the cars in line. The employee stated it is their policy not to leave the building! I am sorry but everyone would have been able to back up their cars and leave if someone could have just stepped out the side door and let everyone know they were closed! I do not think that was leaving the building! That is called customer service! I WANT A CALL BACK From someone that can explain to me why this happened! 509-823-9011 Terri Lamb. I will also be calling the store manager or owner Cindy when the store opens to give her and ear full and I will be asking for a refund of the $100 I spent on gift cards for Christmas! I WILL NOT BE GOING BACK,! You lost good customers over a stupid mistake!!! Very POOR customer service!

I went to Taco Bell tonight at the Norfolk, VA location on little creek road. I went through the drive thru and looked and thought all of my $25 order was correct. I got him to find I had only been given one correct item. So I drove back and waited in line to fix my order and was told my order was correct. I got home to realize everything was the same exact hong just a wrong order of nachos added. So even if this was correct the food was cold. So I had to drive all the way back and wait another 30 mins for more wrong food. I left the house at 1 am and at 2:30 I still had no food. They wouldn't give my money back or a gift card. I am disgusted and will never eat at this location again. Not a good way to bring in the new year.

We arrived at the Taco Bell # 005727 in Enterprise ALabama 36330 at 5:15 pm 12/30/2012 we were second person in line with only 3 others sitting down waiting on orders or eating after waiting almost 20 minutes I went up to the cashier and asked were was our order almost 6 other people ordered after us and all received their order he asked and someone shouted in the back we made that order already, I told him if they did the didn't give it to us . He then told them to make it again and they did in about two minutes and after sitting down with my wife to eat the order was just thrown all together we everything falling out and only one item out of 4 we ordered was right the rest was not what we ordered, we were so disgusted we just threw it all away and left. This is the second time at this facility on a Sunday evening we received the same type of problem. I will NOT go back to this Taco Bell again and we have a lot of family in this area and friends. You all should send a under cover boss to this facility on a Sunday night and see for him or her self how it is run. Sincerly, Mr. John Cammarota

Service is very slow ans not so good.I have waited as long as 1/2 hour for food more than once at the Colmar Manor ,Bladnedburg MD Taco Bell.I have been there many times over the years and the past two visits have been the worst.CUSTOMERS WERE GETTING IMPATIENT AND FRUSTRATED AT THE WAIT TIME AS WELL AS MESSED UP ORDERS.I HAVE SEEN WORKERS SLOW POKING IT ,HALF FILLING ORDERS AND WALKING AWAY LIKE THEY FORGOT WHAT THEY WERE DOING,ORDERS UP AND NOT GIVEN TO THE CUSTOMER WITHOUT THE CUSTOMER ASKING.MANY YEARSAGO I WORKED FAST FOOD AND WOULD HAVE BEEN FIRED FOR THIS KIND OF POOR PERFORMANCE.I don't think I will go back any time soon and business is really bad at this site.

December 27,2012 about 830 pm i was in the Susanville CA Taco Bell drive threw. I noticed that there were four cars infront of myself and i have been sitting for about 5 mins then it was my turn to order, at the moment i started to order i started my stop watch, because in the past i know this Taco Bell takes awhile in the drive threw but never started my watch. I was thinking they might be short handed today thats why it is taking a little bit longer to make the food, when i i finally came up to the window and paid for my food i watched the employes. That is when i noticed there were five people working but only one person making food and taking his sweet time doing it taking little breaks every few mins to take a drink of soda. while the other people working were just joking around standing there. when i finally got my food i stoped my watch it took 25 mins and 51 seconds from when i ordered my food to when i got it. I did not even get a sorry we are a lil slow. I would have gotten my food faster at a sit down mexican place. I have talked to other people around the susanville area and they say the same thing there always slow i dont know how this place is still in bussniess when you got a bunch of kids working here with not a care in the world just there for a paycheck.

Everytime I go to the taco bell location on 22nd and Wisconsin I'm disatisfied with my purchase, It's a big difference in the way other taco bell locations make tacos 22nd and Wisconsin location is the worst location in Milwaukee and suburbs,
Out of 12 pack of tacos you might be able to get 6 decent ones, on talking a knife plastic knife full of meat a pinch of lettuce couple shards of tomato And when I say pinch I mean a pinch. It's like eating a meat flavoured taco shell they need help its the same thing whenever I go there I'm fed up with that location I won't be going there anymore.
I'm going further out from now on. On south 27th out by Romines they're pitiful. To whom it may concern.

I ordered my food, and there was no line in the drive thru. It was only us and one car in front, that car was at the window for over 20 minutes, until they received their 12 pack of tacos. I was already very upset with that, and then I sat at the window for another 10 minutes before receiving my food, the wait was very unnecessary for my 2 burritos to be made.. So,finally I got my food and both the burritos are very poorely made, they were almost all tortilla shell with nothing on the inside. Plus, they put onions in my bean burrito when I asked them not to!! I am very disappointed in Taco Bell!
-Taylor Anne
Gridley, California

i live in brunwick.ga a mile from taco bell which i go to often i and my family were eating when i notice the wallpaper fallen from the wall because of the wall s being saturated with water on all three corners also with black mold yes black mold the worst kind the walls are also warped from water this is something that corperate office needs to action on soon i sorry to say but its the worst taco bell i have ever seen in this condition you can smell mildew and mold water thats behind walls apon inspection you will see this true i have never filed a complaint like this before but i truely enjoy the taco products thanks the oquinns

This is about store #W750274 1978E Osceola Parkway Kissimmee FL-32824. We picked our son from school. He was hungery and asked us to take him to Taco Bell. Unfortunately we picked up same Taco Bell location we had bad experience one week earlier. We went to drive thru and there were 3 cars ahead of us.
We had to wait 7.5 minutes at the order before the order taker responded and took our order 2 Bean Burritos and a Shake. after placing order we sat at same spot for another 4 minutes before car ahead move forward By the time we reachead at pick up window it already over 30 minutes. I called the manager.
She came out of her office with two other girls, it seemed there was little party in office totally unaware about service timings and kitchen issues. I asked are you the store manager she said no store manager if off today. I asked her who a District Manager she ignored me and went inside. It seemed the store was running by itself. Just imagine at 4:28 pm after lunch hours.
Transaction time is over 30 minutes What would be during rush hours and how many people would leave without ordering.
Some one has to look into it. I do not think the management team is capable to handle busy periods and manager incharge of the area
take some pain to shop to find out by themselves. But certainly me my family and friends will stay away from this store. Sad to see bad management but what can we do. take our business to some one who can take care.
I hope this message reach to Colonel, who sweat and spend his life to earn reputation. Bad apples tarnishing everything he earned.

The current promo is the xxl chalupa you know double meat all that great stuff. We went this evening and ordered 5 got home and opened them you couldn't even see the meat. They were pathetic. So I dug out the receipt and called the manager and he was willing to replace the order ok cool. But when I said he should do a quality check he informed me everyone that was there had been there for a while and it wasn't an issue. I just wanted to ask him are you trying to save you food cost because its the end of the month. Even worse you can't contact corporate or atleast I couldn't find a way. The whole point is ripping off your customers effects your profit line too.

The other day I was on my way in ur taco bell store in belleville Illinois off Carlyle and there were three of your employees sitting in there car smoking marijuana and I had my three little girls with me and it made me very upset and I don't appreciate you hiring people that use drugs especially on the job I think you should at least drug test people before you hire them and during employment this was me and my family favorite place to go but not anymore please do something about the problem by the way they were all females thank you.

My husband and I went to taco bell the other day because they have the fresco menu which is Vegas friendly if you substitute the meat for beans. Anyway I order the fresco burrito supreme with beans instead of meat, i even finished off my order with "no meat no dairy" it took them 4 times to get my order right. The last time we went up to tell the girl the order was still wrong, she grabbed the burritos out of my husbands hands and looked strait at him and said "really?" and thew them in the trash. What makes it worse is, we then went to tell the manager and he told us, that we changed our order and it wasn't a big deal.
With total disregard for the fact that his employee was out of line and blamed us. If you live in Utah never go to the 7200 south and highland location.

I was out late last night and was very hungry. I made a run for the border (Taco Bell). I ordered 4 crunch tacos (Fresco style – no cheese, and add pico). I wasn't drinking. I vomited 45 minutes after eating. I have been feeling lousy all day with an upset stomach and flu like symptoms. I know it was the food, I should be fine by tomorrow but paid the price for last nights snack!

we went to the kfc taco bell in forsyth mo. several times when it first opened.the staff were dirty sloppy and not once did they get my order rite, drive up or inside. we didnt go for a long time aftwr that. two weeks ago i decided to try again. i went inside figuring it would be faster sence the driveup line was so long.got insuide and was greated by a woman that looked like she had sleped in her clothes.i ordered 4 soft shell tacos and 2 hard shell tacos. it appered i was the only one at the counter, and then realized 3 others were wating. one made the good luck coment.the woman in front of me had already been there 30 minutes.i asked her what she ordered,she 6 tacos.
i then waited 45 minutes for my order. they did get it rite but it had been setting on the counter for at least 25 minutes. last friday i was in a hurry and decited to give it one more shot (herd someone else was managing. i went to the driveup and ordered a 3 peice chicken dinner with slaw and pototatoes, and a # 5 which is a natcho bellgrande with 2 hard shell tacos. the girl that took my order aperently got side tracked because a young man came on and sied my total was 6 dollors and some ghange. my quick mind relized he was a little short. i said does that include my natcho belgrande.
he said no it would be 12 dollars and some change.i drove up to the window and about gagged. there was so much crud on and arround the window, paid my bill and hurred home. opened the bag and to my supprise, no tacos. i will never go back to that store again, the store on shepard of the hills expressy is a model store. all stores should me modeled after.

The last 3 times I went to the KFC/Taco Bell in Forsyth, Mo. I got the wrong order. We went there when they first opened, and the chicken was the worst ever in a KFC. So we hadnt been back. I saw your ad about the chicken fresca tacos. I tried 2 and liked them. The next three times, I received, 1. 2 beef tacos and an awful burrito type thing, when I ordere 3 chicken fresca tacos. 2. I got 3 crispy beef tacos. 3. I got 4 soft beef tacos again, and I asked if I got my right order this time. The lady at the window said that the supervisor was working the kitchen and sure that the order was right. This KFC franchise should be removed from the present owner.

Why would anyone willingly eat taco bell which keeps Imodium in business? Their "taco" meat is like 80/20 ground beef and minced heart/tounge boiled in taco seasoning. Maybe its why gout is making a comeback (lol)? Maybe that's why she was cranky, she gets paid in all the tacos she could eat and no benefits, so no treatment for the gout and she can't afford the Imodium. I'd be cranky too if it hurt to walk and I had to clench my cheeks all the time. All the regulars prolly have gout too and they're cranky.
Maybe they should serve some free zanax and Imodium with every meal and everyone would be happy? Maybe next time you go into taco bell you should bring in a bottle with you and you'll get better service? Maybe I need to go take a bottle brush to my brain now to get all that visual out of my head. I think Taco Bell is just a grade about dog meat, or maybe it's a grade below dog meat, lol. Funny how people will eat anything as long as you pour on enough saucey sauce on top!
'Scuse me, gotta go (lol)

Michael R. Coffey
from Inverness, FL
The taco bell at 616 W Main St. Inverness ,Florida 34450 has not had a dew freeze since the first of the year . From January till now I have gone to taco bell at least two times a month and ask for a dew freeze with my food order . Always told the machine is down or we have no Dew freeze . If this is so then remove it from the menu at the drive thru . If not then fix the machine . A responsible manager should have some one come in and repair the machine or remove the item from the menu . Because of this I not longer go to taco bell . Also when I did go their and order had to get out a magnifying glass to find anything other than the taco shell and a few veg. I now enjoy Burger King . There I get what I pay for each and every time .Sometimes more than I can eat . Also your other site for filing a complaint sucks .Try for 10 min. to fill out the form only to be told my home street address does not exist . Also when entering the time also told to try again . If you go to the internet and look up a map of Inverness you can see Beck Street on the map . The post office even says I live here .

Frank Edwards
from Germantown, MD
This is the second time that we have had a problem with the Taco Bell Restaurant in Muncie, IN that is at 15th and south Madison Avenue We let the problem the first go by with out complaining. This time it was very up setting. I ordered a Mexican Pizza combo with no cheese bend after waiting for 15 minutes it came out and had cheese all over it I took it back to the counter for a replacement. The worker took it towards the back laughing and talking to another worker I set there and was waiting for my order another 10 minutes while they kept filling every body else order I had to ask the worker why they were not taking care of me and they just smirked. Finally 10 minutes more and I received my order I am not Happy.
Frank Edwards

Cheryl Gibson
from Rapid City, SD
I was in your store on east north store in rapid city, sd. order my food and the second soft shell I started to eat cut my lip. I wouldn't have know , but the next one I saw blood on it. We eat there some and had never had that kind of problem, but I don't know even if they tossed out the meat. They gave me a Chicken taco salad, but I was a little freaked out as my mouth was bleeding. This isn't the first time we have had problems. The last time we stop useing that store and went across town to the other one. All I know I won't be going there any more and have told all that will listen to stop as well. It scared me as I have no idea what I had eat to get my lip all cut up. Shame as we like the food, but I sure am not going to be eating food that cut my mouth all up. It took some time to even go back there and we do and this happens. Hope you don't get anymore as this could be very serious. Thanks Cheryl Gibson 718 Halley Ave, Rapid City SD 57701 (605)391-8554!

Theresa Lee Miller
from Dayton, OH
If I could rate you a zero or minus that would be the one I picked. We went to the Taco Bell on Harshman Rd in Dayton, Ohio and it was horrible. We arrived home to eat our 4 crunchy taco supremes, pinto's and cheese and 7 layer burrito, we unwrapped a taco supreme, all lettuce barely found any meat, sour cream or cheese and NO TOMATOES! We continued to open all our items and they were all the same! Did you guys start leaving out the meat on purpose because this has happened several times. We usually have great service at this location but this last 4 or 5 times was not great. We have tried several Taco Bells and they all the same, poor quality and left out ingredients. I see your stores fading out soon if this doesn't improve.
- ZERO RATING!!!

MARITZA ACOSTA
from Orlando, FL
HORRIBLE CUSTOMER SERVICE AT THE STORE ACROSS FRO SEA WORLD , ORLANDO FL TODAY. SELLING SODAS WITHOUT ICE AND NOT TELLING CUSTOMERS , AND WHEN I WENT I CALLED THE STORE THE SO CALLED MANAGER/ BLACK GIRL WITH LONG ACRYLIC NAILS HAD A NASTY ATTITUDE SPELLNG HER NAME SEVERAL TIMES REFUSING TO LET ME TALK.

Dustin Rice
from Maumelle, AR
You guys are terrible. Waited for over 20 minutes and only moved up 2 car lengths. You should be ashamed of how terrible your service is. Fire everyone you have st the union location near the hospital because it's the worst I've ever seen. You guys fucking suck

Natalia Goussarova
from Tampa, FL
Hello,
I would like to report a huge issue at one of the Taco Bell restaurants on Saturday, March 31, 2018.
I went with my son and we made 2 orders. One for me and another one for my son. We made orders at 5:51 PM. Then we started to wait for our food. 3 people who made the orders after us already got their food. But, we still didn't get anything. Finally, after 15 minutes of waiting, my son got his food. But, I still didn't get mine. I kept waiting and waiting, and I asked them what's going on, they just ignored me.
Then, I raised my voice and asked them where's my food. They started to ask each other, but nobody knew where my order was. They couldn't find it, so they lost it.
I had to give them my receipt so they could complete my order. After half an hour of waiting, I FINALLY got my food. They didn't even apologize! This is something I've never experienced before at ANY fast food restaurant.
I was so upset, that I couldn't even eat my food. This is completely unacceptable! Our Saturday evening was ruined. I will never go to Taco Bell again, I will rather take my business to the McDonalds across the street, where I know I'll get superior customer service.
My name is Natalia G.
Taco Bell 029577
7329 W Waters Ave
Tampa, FL 33634
Thank you.

Coral Anderson
from Sevierville, TN
The Taco Bell On Wears Valley in Pigeon Forge , Tn on good Friday is supposed to be open till 1 AM At 11:25 PM six cars sat in the drive-through the car by the speaker said he had sat for for 20 minutes we sat for an additional 15 never got any service lights were on so anyway that disappeared and hour and a half early you've lost a lot of money totally pissed that with the only place to get food after a nine hour day at work and no lunch

Ruth Turk
from Oakdale, CA
This afternoon at approximately 2:20pm I placed an order through the drive thru.at the location on Pelandale in Modesto. I ordered a tostada and the Grande meal consisting of 6 tacos and 4 burritos. (3 soft and 3 hard shell tacos). I was the only person in the drive through and the parking lot was almost empty. Upon getting home I opened the tostada and was very disappointed as it had very little anything on it. I've had them quite often and normally they are packed with beans, tomatoes and lettuce etc. but this time it was a disappointment. The tacos were also almost empty of beef, and other ingredients. They normally are packed and very good. I am a senior with limited income and this food was a waste of my money. I've experienced orders over the months that have an issue or two but this entire order felt like they had "run out of food" inside the kitchen and I received the scrapings and this is why I'm sending this complaint. You can reach me at 209 545-5301 (leave a message if I'm not there) or contact me using my email address which is above Thank you

Tom Muckel
from Kalamazoo, MI
I waited 25 minutes for my order eating in. I got 95 cents in change in nickles as no one would get change. The place was filthy. the kitchen area floor was covered with food, bags. etc. No one was cleaning tables, in fact two customers cleaned off tables so people could sit down. I ordered chips and cheese with my tacos and I had maybe 5 chips I could dip in the cheese. There was no napkins, even when told there was no napkins. It will be along time before I go into this taco bell again. People were leaving with out there food and some where asking for there money back.
Thank You.

If no stars were an option, I would pick it. The employees (all of them) were loud talking and using alot of profanity about a customer, while we were trying to eat. We waited for a very long time just to get waited on. The place was nasty, very unprofessional immature employees, hopefully we'll never be back!!! Stay away from Meridian, Ms store # 032304 unless this is what you want to pay for. We videotaped them to send to corporate.

GUADALUPE BELK
from San Diego, CA
I WENT THIS MORNING AROUND 7:05AM AND DROVE THRU DRIVE THRU, NO ANSWER FOR ABOUT 3 MINUTES. I FINALLY DROVE TO THE GLASS WINDOW AND A GENTLEMEN WAS APPARENTLY ON THE CASH REGISTER TAKING CARE OF A CUSTOMER. AFTER 10 MINUTES HE FINALLY CAME TO WINDOW AND TOLD ME THAT THEY DID NOT HAVE ANY EGGS ONLY POTATOES. WOW! YOU'D THINK THAT THEY WOULD KNOW THIS A DAY BEFORE KNOWING THAT THEY GET ALOT OF BUSINESS IN THE MORNING!!

Lynda Colson
from St Louis, MO
On 1-20-18 We ordered 2 bean burritos, chicken mini wrap and a doritos nacho supreme. The burritos were so small that the 2 of them might would make the size of what is usually served. The wrap was small and very thin but what was there was tasty. Doritos taco was good too. We ordered through the drive thru and my husband said is it all in there because the bag felt too light for what we ordered but I checked and all was in there just very small portions. We will not go to this location again for it's not worth the money spent for such little portions.
This is the 2nd time contacting you about this problem. I called also and I was told that I was going to receive some coupons in the mail but today is 2-15-18 and I didn't receive anything yet.
Lynda Colson 29 Pike trail Arnold,Mo. 63010
emerald_gryphon2@yahoo.com

lee wold
from Salt Lake City, UT
Taco Bell 2212 S 1300 E Salt Lake City - I had a very large order and was placing it at the drive-up window when the taco bell employee told me to hurray up because there was a time limit at the drive up window. There was no one in line behind me - I canceled my order and left. When I called to speak with a manager he could have cared less. I went to a 2nd Taco Bell 621 E 400 S Salt Lake City - told the drive up window employee that I had a large order and was told they could only take 2 orders at the drive-up. I let him know that my order was very large, but just one order. I was charged for guacamole and sour cream for the Mexican Pizza, but, they did not bother to give it to me (you just made money for nothing) I also had to remind them to give me the drinks I ordered and paid for. I have not patronized Taco Bell for a very long time, and it will be an extremely long time before I patronize them again. Evidently you do not need customers or business. I will be sharing my terrible experience and service with many, many, many people.

cecelia akers
from Aurora, CO
ssaturday 01/27/18 to store on hampden and tower red ,aur colo the mgr is mary travis i asked the super is the WORST ever of any around us and this is ALWAYS. I had sit in line for 1.2 hr to get my order becausem3 cars head had trouble with their order and they just sit instead of moving them to the front. These orders were big and took a long time after the 1st they too 10mins to fill the two infront of me why with all that hold time can't they have orders reDY WHEN I GOT TO THE WINDOW MY OrDER WAS NOT COMPLETE SO I HAD TO WAIT I looked in the window there were only 2 people in the whole restaurant then I loud hear nothing but laughing going on and the young man at the window was annoyed so he shut the window so i dn't keep hearing it when i asked for the mgr name he dn't know so had to go to the office where i am sure the mgr was sitting or laughing not watching that there were 8 cars behind me and i have already sat 1/2 hr i dn't want to do this but this is very common here and most time the orders are wrong please take care of this it is a busy store for many years and needs a real mgr to supervise these kids facebook would have a hay day over this by the way i usually spend 12 to 20 dollars each time

Hey Davis
from Maysville, KY
On the night of January 27th me and my wife went to the Taco Bell in Maysville,KY and spent about $20. The food was ok despite the fact I had to take my nacho fries ( the main reason I went there to begin with) back because they where cold! The person working the front register and cleaning the dining room was walking around in the dining room complaining about the store and how bad it sucks the whole time we were inside, not very quietly either. Also, before we left we ended up being insulted, yelled at, and told to pretty much leave by that same person! In short I have never had a more horrific experience at a restaurant in my entire life! If we ever decide to return and are greeted by that same employee we will most certainly be leaving!! If anyone would like to speak to me about this my name is Jerry Davis and my telephone number is (606) 584-0957.

Emiley
from Belleville, MI
THE CUSTOMER SERVCE AT THIS LOCATION IS HORRIBLE. Ordered the new fries which had about 5 fries and I asked for the manager and her response is well there are complaints across the US and that's what we have to do..so if you don't want them give me them back and I will give you a dollar. How is this girl a manager!?!? Also while sitting inside I see two different oeople leave and go back in because they messed up theirs order. Something has changed at this Taco Bell and it is ruining the place. I can't even tell you how many times I get take out and get home to have food I ordered and paid for missing!! SOMEONE REPLACE THIS MANAGEMENT AT THIS SPRINGBORO LOCATION ALREADY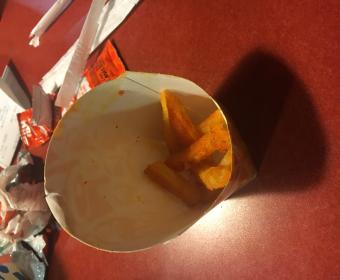 Caroline
from Lewisville, NC
My frito burrito has no Fritos. We are not driving all the way back up there.

R Sesters
from Woodway, TX
i just left your taco bell 030166 ordered a chicken quesadilla to go. it was burned so i gave it back to the counter person. was told they would make me another. what i got home with was two slices from the one i handed in & two slices of a new one. that is not right. you will lose me as a customer. the order number is 142954 also said my number is 154

Micheal House
from Newark, NJ
My order was wrong and the people in charge didn't care or fix it I was only white person there and had to wait till they served all black customers first and it is not the first time will not ever come back

Elaine Gallegos
from Houston, TX
Went in to get food for me amd my family and I order k10 7.99 with 3 piece chicken with 2 sides and a biscuit and a drink. When i order I always check my food because it is always wrong or missing something. I open the box of chicken and found 3- 2inch size of chicke legs 2 sides mash potatoes and mac and cheese no biscuit. Asked the girl that took my order it soupose to be a thigh and she said no look at the picture i said excuse me you look. She went to talk to the manager and Edwardo didnt say nothing to me so I said I want my Money and toss the money at me and grab the food and left not saying nothing. Very ruxr customer service.

Joelle M Spencer
from Albany, OR
I went through the Taco Bell drive-thru near my home tonight, and for the 5th time in the last 18 months, they got my order wrong. I gave everyone else their food, but I took mine and went back to the location to get the item they left out of my bag. When I arrived I explained the problem, and noted that now my food would be cold because of their error. The supervisor offered an order of cinnamon twists or a drink as an apology. I accepted. When the employee brought the food, they did not replace my cold food. I insisted it be replaced. When I finally got home with the food, I gave my daughter her food and the "twists", then went to eat my food. My daughter handed me back the bag of "twists", because it was not twists, it was tacitos and cheese sauce. My daughter is a vegetarian. There is no way I would have accepted an offer of tacitos. I understand that being the branch located next to the freeway makes it a busy location, but this is ridiculous! I've even been told by others who used to work there, that there is a "game" the staff is known to play where they intentionally screw-up the drive-thru orders, expecting that often the customers will be long gone before the "mistake" is discovered, therefore they won't bother to come back to get it fixed. I didn't use to believe this claim, but as this has happened so many times to me alone, I can't help but believe it! This is FAR from acceptable! Taco Bell used to be my favorite. Not anymore! Plus, now I can't even give you a transaction number, as the supervisor took my receipt and never returned it to me.

Lynn Miller
from Chicago, IL
While enjoying a meal before going to work, employees at the Plainfield Taco Bell were having a loud, heated argument in the back, behind the counter. Customers and other employees were watching the incident very uncomfortably. Some customers left without placing their order. It was very unprofessional.

fredrick russell
from Jackson, MS
a few weeks ago I visited the taco bell #032307 I orderd the $5 meal and specified no whip cream on the gordia crunch.i opened it and it had some white cream on it.the cashier adreaun k took it to the acting manager who responded in a very harsh and rude way that it wasn't sour cream.i politely stated that Id prefer no cream of any type no ranch etc.she rolled hers eyes and mumbled something under her breath.i didn't say anything I just got my food and ate.if these workers don't like what they do then waste management is hiring

becky scoggin
from Cave City, AR
I went thru drive thru taco bell in Newport,arkansas hwy 67 on 301 I place a order I wanted 4 burritos I drove up to window this chubby black lady was very rude towards me I gave her the money she handed or should I say shoved at me I look in bag only 2 burritos she slam the window shut and I trying get her to open window well she did and I said I order 4 burritos she said screen shows 2 and slam window again I still sit there she opens window and goes screem whats ur problem and I said can I please get 2 more burritos please she screem loud at me u order 2 u got 2 that's all u can get real loud and rude I had no choice to pull away cause cars was behind me I couldn't go in cause I have breast cancer stage 4 very sick it made me scared to go back to any taco bell if that's how I was gonna get treated I'm 57 year old woman dying with cancer that was just uncalled for made me start shaking to where I couldn't even drive . I call a lawyer he said if the complaint department couldn't do something he would . that was just down right wrong . I eat taco bell for years . I thought I was gonna have go to hospital over this matter. thank you for your time hope this wont happen to another person they have a heartattach thank you again.
10-25-2017 2;15 pm

James M Elmer
from Indianapolis, IN
Bad attitude from managers every time we go there they messed up our order rude and disrespectful when asked to fix the order and half the time the food is cold when we eat it there u can call me at 317 419 4634 this at the Taco Bell on West Washington Street & Lynhurst in Indianapolis Indiana 46241 i am to the point i am going to stop eating there all together and tell my friends and family not to eat there anymore.

Went in to the taco bell location at Perkins Rd and Essen Ln during shift change. I ordered the crispy chicken quesadilla 5 dollar box. I waited 17 minutes for my meal while they made meals for all of the people that were getting off of their shift and ordered at least 4 minutes after I had, they all (5) got their meals before I did. I asked the manager about my meal and he told me that they were making it now 17 minutes later? WTF? I ask for a corporate number and was told they don't have one. Will never go here again! People that I know that usdd to go here feel the same way. Quality and customer service is non existent here.

raymond sallee
from Wilmington, OH
this makes 3 times in the last month I have gone to taco bell in Wilmington, ohio, 45177 to get something to eat and the first time we got there at 10:30 a.m. and were met outside by an employee who said no manager had shown up and they were still closed and couldn't get in. the second time we went had to wait for over ten minutes just to get waited on as the first guy couldn't figure out how to work the register so he walked off and we stood there until a girl walked up and asked if we had been waited on and we said no and she said well someone would be there in a minute and walked off. third time placed my order and while waiting told guy at the register that pop was all over the floor and he said yeah he knew and did nothing. people behind me placed a big order and received their order and another person placed an order and they all received their orders and I asked if they had forgotten my order and the guy said no but I still had no order so then the manager came up and checked the screen and said here is his order you forgot his order but she had the order wrong too. so I told them to give me my money back and I would NOT be back. you need a new manager and some employees who actually care about their work.

chris huepenbecker
from Columbia, SC
My family and myself frequent this location maybe once a week (not any longer) so on our visit there on 10/06/2017 we went inside and order our food when it was ready we got it and went home which is in Gaston. Well once home we found out our order was completely wrong so my wife immediately calls the store and talks to a manager that manager apologizes and offers to remake our order however I'm all the way in Gaston and I'm not making another trip to red bank so the manager states that she will put my wife's name down so next time she came in that the store would make the order correct.
So my wife and kids went to the taco bell in red bank on 10/19/2017 as they were running some other errands in the area to get our corrected order that was promised to us. Unfortunately it could not have been the same manager as my wife spoke to on 10/06/2017 because the managers first reaction was like she is lying and then tells my wife that she does not see her name so my wife told her to call the other manager which this manager say she is going to and comes back to the front of the store and said yes I spoke to her do you want your order my wife replies yes. So my wife and kids now have been waiting almost 1hr my daughter goes up to the counter and ask how much longer they tell her 10 mins. Still waiting over that 10 mins so my wife ask how much longer for my order the manager then states oh I got him making them now. The lady already lied to my daughter talking about 10 mins so my wife says something about contacting the corporate office on the staff to the manager which her name is latoya I would like actions taken against her and the staff on the evening of 10/19/2017 approximately 6:00 - 730pm
then they called the local sheriff's department because they wanted my family to leave never had an experience like this before an we were regular costumers but not any longer.

The food was great but the cleanliness was bad. We sat in three different sticky covered chairs. The table you couldn't touch it was so dirty. I started looking around and the entire place needs cleaned. Top to bottom. They need to soap the rags and clean and rinse the furniture better. My code on the receipt is 8630-3127-1084-3012 It was in Hamilton, OH
When you eat out you shouldn't have to worry about going home and washing your clothes.

gina galvan
from Stockton, CA
On Thursday Oct 12.2017 i was heading out of town i was to far to go back. i ordered 3 mexican pizza combos they were soggy some didn't have very much in was not happy 2 burrito supremes 1 had no sour cream.i ordered the varietytaco pack half nacho cheese doritos locos tacos they was all origanal crunchy tacos. i had to except the order counldnt go back i love Taco Bell but was not happy sorry to complain but it needs to get things in order

Christina
from Norfolk, VA
I bought a chicken burrito and ate about half. As I was swallowing, I thought I was swallowing a hard piece of chicken. I then could not breath. I ran to my GM at work and she gave my the Heimlich. I spat out a piece of plastic bag that was beginning t opening up i my throat. I then vomited. I am now waiting for corporate to call me back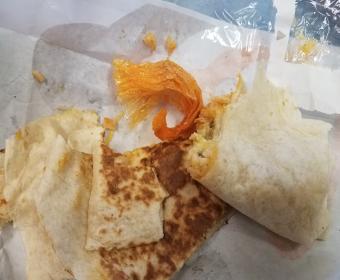 Naomi Valentin
from Boston, MA
Hello my family and I went to our local taco bell we love your food! Our order wasn't complete I ordered the Doito cheese tacos,two double decker supreme with two mtn baha freeze drinks and was missing a drink along with a meal. The worker had an attitude and want very helpful the wait was long so my husband decided we should leave because it didn't seem like our order was gonna be completed. Very disappointing especially since I've gone to taco bell a lot during my pregnancy.

Remonia Brashear
from Rapid City, SD
I'm from Louisiana staying in kingfisher Oklahoma and the people here doesn't know how to make the right right stuff to put into a toco supreme plus we got food poison off the stuff we ate
The people that work in there are rude and really don't care I will be calling the health department on the one here

Rae Richey
from Aurora, CO
WHY no sacks or bags to carry your purchase home in. I purchased a Taco Salad which was put in box, also some other Tacos and Burritos THESE WERE IN A SMALL PAPER BAG, I wanted a sack, bag, or something large enough to carry all of it home in - the manager told me they had NOTHING. You used to have at least a plastic bag for me. NOT THIS TIME. Even a larger paper bag would have accommodated my purchases. THIS IS A BIG DEAL.
WHAT IF I HAD PURCHASED TWO TACO SALADS, Tacos ad Burritos - NO WAY could I have handled it all, including sodas. You need to provide a sack of some kind so that people can easily have take out orders, without having to juggle two or three items. I GUESS I WILL have to cease ordering your taco salads, or even quit buying your gift cards. I NEED A LARGER BAG FOR ALL MY PURCHASES - OR ELSE I WILL BE FORCED TO NO LONGER BUY YOUR TACOS - WHICH I DEARLY LOVE - BUT THERE IF LIFE AFTER TACO BELL!
I would appreciate a quick reply oh, b- just purchased another one of your gift cards, but this will be the last $25.00 I spend. GUESS I WILL HAVE TO START TAKING IN MY OWN BAG - TO FINISH OUT THIS GIFT CARD.

Geni Friend
from Taft, CA
On September 17,2017, my husband and I ordered 1 Crunchwap Supreme and 1Beef XXL GSB, cashier Lourdes and order number 350928. When I opened my crunchwrap, there was very, very little meat. My husband took it back and there were four girls there and the manager. The one girl, with a star tattoo behind her ear kept arguing. A second crunchwrap was then given to my husband and he brought it home. Same thing. I decided to go down there to see what was going on. As I entered Taco Bell, three employees and the manager were there. I said what's going on here, I ordered a crunchwrap supreme and there is very little meat. The girl with the tattoo started arguing right away. I asked for the manager and she was one of the females standing there. I let the girls know I was going to video the conversation and the shortest one started walking an yelling, You can't record us, this is illegal and I'm going to call the cops. I said go ahead and call the cops. Needless to say, she did not call the cops. I then asked this person, if I could speak to the person in charge of this Taco Bell. With a smirk this short female said, it's his day off so you can't talk to him.
I proceeded to talk to the manager and let her know that she was the manager and could not let these girls tell her what to do. I told her, my husband is an Associate Warden at a prison and I am a teacher and there is no need for this. The manager kept apologizing for the girls and said she would make me another wrap. There was no need for this escalation with a customer. Very poor employees. 661-619-2171

Martha Halterman
from Biloxi, MS
Taco Bell 028578
I live very close to this Taco Bell and have numerous problems, this is just the latest. Ordered a 12 pack Cinnabon left and when we opened the bag we had 11 and they were hard and cold. They are suppose to open at 7:00 and on many occasions do not open until 7:15 or later. One week ago we ordered 12 pack Cinnabons and were told there wasn't any cooked and they were not cooking any just for us. Service there is pretty poor sometimes, they can be rude.
I love Taco Bell and I hate the fact that I can not eat there.
Please help to make this Taco Bell and better place that people want to go to.
Martha Halterman

joe blow
from Westminster, CO
one of the RGM's by the name of faith hunter is a very rude and disrespectful to a lot of the workers there at the taco bell on 104th in melody. we as workers don't know how to deal or approach her without having more problems from her. she had promoted an employee by the name of Stephanie to be an assistant manager to an RGM as well but has not even attempted to train her for the position and is very rude to her while at work. we as workers was told we could have a free drink cause were all working so one of the older lady's that we work with gave 3 girls one water cup each and faith hunter turned to that older lady and said that if she wanted to keep her job, that she had better not do it again. the older lady that we work with has a hard time walking fast so since how she wasn't walking fast enough for faith, faith grabs her by the apron and pulls her out of the way. we were told that we weren't allowed to work at the same store with our best friends, family members, or have any type of relation that we cant work with them well she has brought one female from florida and they work the same hours together and is bringing another friend or family member from there to , to work together as well. she has also been taking dry goods from the store when she leaves to go home, that's theft. so why do all the team members getting in trouble by her for little things when faith has been doing the most can somebody explain that one to me?

Diana Roca
from Odenton, MD
I recently was in a rush, went to establishment in Woodbridge, VA through drive through. No one in line in front or behind. Asked for assistance with menu needing on salads the one with least calories and carbs. I was told I would have to go in and look at the menu because she didn't know. Called manager and was told staff doesn't know menu and that information is for guest dinning in only. How sad. I left and went to Taco Bell and even though they had a line gave me information and suggested ways to lower carbs for healthy meal and offered me free water.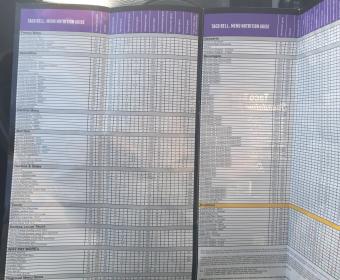 Jeffrey Stevens
from Charleston, WV

sharon james
from Fort Smith, AR
Went to taco bell springfield, TN at 10:43p on 7-23-2016 waited in line until 10:56 before even getting to the order area and then was told it would be 20 min. before I could order they were out of everything, I left and went back 1 hour later was in line again for 10min. before getting to the order area and was told they were closed. I commented that I thought you were open till 2am on weekends and the gentleman replied no we started closing at 12 midnight as of tonight. So when I got back to work I looked it up on the website and it says they are still open till 2am.
If your employees can't keep up with making and preparing your product or they run out something then maybe they need to be replaced with someone who can keep up or be given extra workers on the weekends when its busier and order extra stuff/and prepare extra so they don't run out. In the 2 times I was there on this night I watched them turn away 17 cars which is business you lose.

Susie Thompson
from Louisville, KY
I walked in before 6:30 pm on Tuesday night June 28,2916. I had my daughter in law and three cranky kids that were very hungry after spending the day at a daycare. When we started giving the order the clerk asked another lady how long it will be. The lady said about fifteen minutes! For a fast food restaurant? Get real! Well, they lost the five of us plus a single guy. We left and we t to the hikes point restaurant. In and out no problem. Also a lot cleaner than the Jefferson town store. Someone needs to get production up and running or get a new manager.

Susan Wofford
from Dallas, TX
The Lake Highlands area of NE Dallas is an upscale area. I would expect even fast food restaurants to have some of their best employees working there. The majority speak little to no English. Those who do speak English are insolent or disinterested at best. We check every order because there is a 90% chance something is wrong. When the food is returned, the employee stands and stares as if to say " what do you want me to do about it" Tonight we ordered a multitude of items. I'm going to try and attach a pic of my tostada.
It looks like someone vomited on it. I'm assuming hot liquid cheese, but who can say for sure...all of my friends refuse to eat at TB, citing the low grade ingredients. I've always liked Taco Bell, but I have to say, I think now I'm done. So tired of the crappy service, messed up orders. PLEASE send someone undercover to the store on Walnut Hill Lane DallasTX 75238.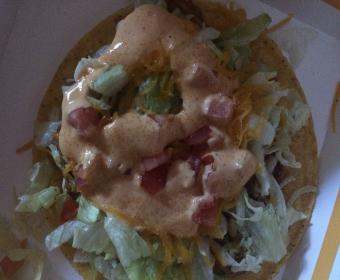 Lori Johnson
from Washington, MO
The quality of the food has gone down in the past few months at our location. The kids working inside are more Interested in playing with each other. The shredded chicken mini quesa no longer has sauce unless you ask and then are charged .40 each. The chicken is in there and a half teaspoon of sauce on one end. This has happened more than a few times. Look at the crusty bean burrito. Tired of it. Washington Missouri location.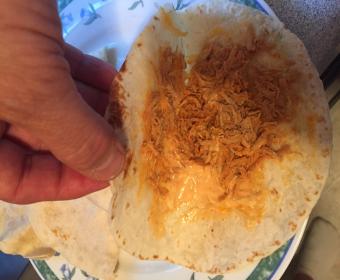 Diane York
from Orlando, FL
Went to Taco Bell # 023298 at 2403 Hiawassee Rd. in Orlando Fl. last night 5/8/16 at about 9:45 PM and waited over 30 minutes in the drive through lane. After 15 minutes I went to the front door to go inside and it was locked. Went back to my car and waited another 20 minutes to get my order. Finally was able to leave at 10:20 PM. Worst customer service EVER. My order number was 328321 and the cashier was Laetrice S. Will NOT be returning to Taco Bell anytime soon.

A. T. Braddy
from Jacksonville, FL
on 4/2/2016 I took my family to lunch at the Taco Bell at 54 Blanding Blvd. Jax. , Fl. and the Cashier Ms Davashia, B. took my order which came to $23.18 and I ask if I could have just a shot of sour cream and she said that nothing I ordered came with it so it would be an extra charge and I stated I only wanted a cap full and I was told it was not sold buy oz. I told her I would not do business with Taco Bell in the future if this was how they treat people and I was told WHATEVER. So I guess you can take your SPECIAL SOUR CREAM and keep it for the people that order that MEAL that it comes with.

Ron ostendirf
from Los Angeles, CA
Went in to the Taco Bell on Foothill Blvd in Rancho Cucamunga on Friday 2-12-16. I ordered my food then asked to use the bathroom. They unlocked it and it was disgusting splattered crap on the toilet in plan view. Got my food and started looking around filthy Windows, counters, floors everything. Parking lot trash all over. Take some pride and get a manager that cares. DISGUSTING.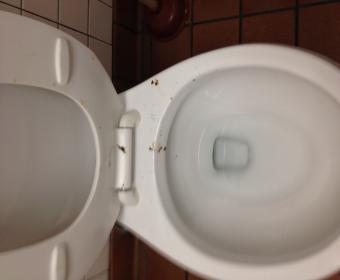 Have feedback for Taco Bell?
Thanks for your feedback!
Sorry. Please try again later!