Taco Bell
Taco Bell Complaints Continued... (Page 2)
620+ reviews added so far. Upset? Call Taco Bell corporate: 1-800-TACO BELL

allan stein
from Cedar City, UT
Long wait for food to be served. I ordered sour cream and tomatoes for a quesadilla but not added to order. My bean burritos were very dry and tasteless. They didn't add the sauce to the burritos. This is consistently the worst Taco Bell that I have been to.

Y'all stopped serving double deckers and enchiritos. My two favorite things and now you no longer have my service because of it.

Steve eason
from Alpharetta, GA
The women at the drive through in Leeds Alabama tonight she was rude didn't give me or my husband a chance to speak or finish our Order she was hateful any it's in Leeds Alabama it was tonight at about 9:45 pm she was real tall I think blond hair a white women with a bad attitude and smart mouth and a know it all my number is 205 -684-2336 thank you have a blessed day

Your frozen drink machine NEVER WORKS!!!!!!! UGHHHHH!!!!!!!!!!!!!!! Can't you get reliable machinery!!!!!!!!!!!!!!!

Alaina Guillory
from New Iberia, LA
At the Taco Bell on cities service hwy in sulphur la, they did not give me all my food. When I called I got hung up on 3x. There was not a manager on duty was lied to that they were a manager. I just got off work, just wanted to eat shower and go to sleep. It is approx almost 1am they were not busy. The gentelen at the window handed me a bag and asked if he had handed me my card I said yes. He said on the phone that he told me to "wait." Bc they were dropping the chalupa fresh. He did not. I work in the customer service industry this is not how a customer should be treated. No solution. No resolve. Highly upset.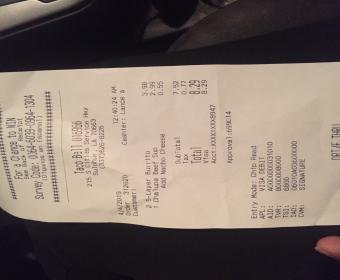 Melvin Baylor
from Newark, NJ
Store 5110 in Charlotte NC Drive thru is very impatient and disrespectful especially after the drive thru wait time just to order is about 15 mins just to order with only two cars in line at 11:00 pm. I pay more for customer service than the actual food. If I'm not comfortable I can't trust you therefore I can't eat here. I rather eat a gas station hot dog in peace than be disrespected.

Hello,
I went to a nearby Taco Bell because I was hungry. I'm a loyal customer and this week I lost all my cards at school (someone took my wallet). I tried to use Apple Pay and they told me they didn't accept it, after I had already ordered smh

I went to loaction030297 I have my receipt and I waited 29 minutes for my order of a soft taco one burrito and fries. the second person in line after me ordered his food and must have known the employees because he was given his order in front of myself and the 4 other people that were standing around waiting on their food. the people that were making our food were laughing and giggling and talki8ng rather than making food in a timely manner the amount of my order was 7.46 and I really feel like I should be refunded considering I waited 29 min on a 30 min lunch break which made me late and they give out food fast to the people that the obviously know. this is not the first time I went to this location and had a problem ive been given old food and had to go back and have remade before. I will never use this taco bell again! plz let me know the steps that will bge taken to make sure this does not keep going on.

Jessica Stottlemyer
from Winston-Salem, NC
My family and I eat at Taco Bell at least once a week on a busy evening. Often we'll get a meal in the neighboring town where I work, and more often we'll stop at the location by our house. I'm not one to write poor reviews or to complain, which is why, even on occasions when we've had to return to the restaurant three times to get the correct order, I've never written. (That has happened at least 5 times during the past year.) Tonight, upon leaving Kernersville, NC, I ordered food (burritos) for my young daughters and my husband. Both of my children's orders were wrong (too spicy when I'd requested no sauce), so I stopped by the Taco Bell near our home (30 minutes away). By that point I was hungry, so I ordered a power bowl for myself with no beans or rice. The girls were able to eat, anyway, but after putting them to bed, and opening my meal, I realized that it wasn't correct. It's exhausting trying to feed a family while working and activities, and that's why Taco Bell is a good option for us on super busy nights. But, I can't keep spending money on orders that are wrong. That takes the convenience that I'm seeking away.

Gary Underwood
from Parrish, FL
went to taco bell 640 10th street east palmetto fl 34221 .I went to taco bell/long John silver.I waited in line in the drive though for 30 min.they told me at the window they had no hush puppy and no cold slaw.and it would be another 5minutes for the fish.they rang me up allready before telling they were out of stuff.I was there a month ago and ordered fish and more and was told they had no fish or frys because they forgot to order them,I think instead of hiring more people you should fire everyone including the mgt or close it. Gary Underwood

It took 5 min just to order at the drive up.
It took 20 min to receive the order.
Will go to Mc Donald's next time

Joshua madrigal
from Denver, CO
I eat at this taco bell on Sheridan and Evans everyday never had no issues till tonight I'm sitting eating coloring in my sketch book this guy Lawrence has his buddy's in here giving them free food letting them hang out I'm a paying customer everyday and he has the nerve to tell me I have 15 mins to eat and go. I felt very disrespected , especially having a kid who showing off in front his friends tell me what to do I'm 35 years old I probably not going to eat here again

Michelle Cruz
from Toledo, OH
We continuously get the wrong items in our order. My girls only like plain bean burritos and once again they gave us bean and rice burritos that we did not order at the taco bell on airport hwy in Toledo ohio. My girls hate those. This is not an isolated incident. So sick of it. Happened today 3/29/19 @ 545 pm.Please get staff that cares and pays attention.

TERI BURRELL
from Royal Oak, MI
IF I COULD GIVE ZERO STARS I WOULD.....MY HUSBAND AND I WAITED IN THE DRIVE THRU ENTIRELY WAY TO LONG. WERE TALKING ABOUT A TOTAL OF 45/50 MINUTES. WHEN WE GOT TO THE ORDER INTERCOM WE SAT THERE FOR ABOUT 10 MINUTES. I TOLD MY HUSBAND TO SAY HELLO AND SHE FINALLY CAME ON ABOUT 15 SECONDS LATER WITH A TONE OF VOICE THAT SOUNDED AS IF WE WERE BOTHERING HER. WHEN WE DID GET TO THE WINDOW THERE WAS ABSOLUTELY NO CUSTOMER INTERACTION. SHE ACTED AS IF SHE HATED HER JOB AND WAS MISERABLE. I WOULD NEVER TREAT A PERSON LIKE THIS, ITS ABSOLUTELY UNCALLED FOR. WE AS CUSTOMERS IS THE REASON WHY SHE HAS A JOB. IF THERE WASN'T US, THERE WOULDN'T BE TACO BELL OR JOBS.

Christopher Gudelman
from Bedminster, NJ
Close lobby early because of not enough worker. Terrible management!

Service poor, not busy, boy at counter was wiping trays with dry towel, hardly sanitary, and he didn't take our order, we just stood there for 50 trays. Place filthy, all trash overflowing, all tables dirty, floor disgusting with food and mud everywhere. Don't know why I didn't leave, hope kitchen cleaner, hope I don't get sick.?This place needs help or shut it down. Address: 6560 N Linder Rd, Metiduan , Idaho 83646

I went into the taco bell in Hyannis mass. We walk up to the counter and had to wait two employees walked right by us and didn't take our order. Finally they came over. Then two employees wanted to have a fight right in front of the counter. The manager joined in trying to talk to them.not taking them away from the customers unprofessional. Was a very bad experience. Never go there again

Tyra Hayes
from Lorain, OH
Visited Taco Bell #029743 on March 25, 2019 at 9:02pm & was very highly dissatisfied with the treatment I received. When ordering my food, the Team Member (Luis M.) was very sarcastic with me, when asking a question, he replied "We have like 125 tacos & burritos here, I can make it how you want it". When arriving at the window, he never greeted me, never repeated my total, just took my money & slammed the window. After my food was bagged, he opened the window, rudely handed me the bag, never once asking if I needed sauce or anything, never even said "Bye" or "Have a Nice Day"....NOTHING, just slammed the window & walked away. I ordered 2 Soft Tacos with only meat & nacho cheese & when I opened the wrapping, all the meat & cheese was out of the soft taco shell all in the wrappers, I had to place the meat & cheese back into the shell, he never even gave any napkins for the mess either. His demeanor was very poor & if you ask me, he has no business working with the public with the manners he displayed. His talking to me when placing my order was uncalled for, the attention he gave at the window was very rude and inconsiderate & the food given to me was pathetic, I was better off to just save my money. I have never been disappointed in any of the Taco Bells I have visited, but this young man has ruined it for me to want to visit that location ever again. Thank you for your time in reading my complaint & have a wonderful day!

First of all - their parking lot LOOKS LIKE CRATERS ON THE MOON - ONLY THE MOON HAS LESS! Someone is seriously going to break an axle - or possibly numerous people - and you could be sued - YES, IT'S THAT BAD!! Secondly, got two taco salads - two burrito supremes & two crunchy tacos. THE TACO SALADS ARE SO SMALL (even heightwise - since they were crushed) NOW THEY FIT INTO THE $5 MEAL BOX??? - YET THE COST IS MORE?!?!? The crunchy tacos - the meat had NO TASTE WHATSOEVER - you could have been eating the wrapper - or the salad box - with the same result! I specifically asked to make sure there was sour cream on the burrito supremes - as the last time they left that part off entirely! The guy left the window to request this - again VERY LITTLE TO NOTHING! Also PLEASE TEACH YOUR EMPLOYEES HOW TO FOLD A BURRITO - it's NOT BRAIN SURGERY - the insides SHOULD NOT BE FALLING OUT WHEN YOU OPEN THE WRAPPER!!!

Ron Morgan
from Oldsmar, FL
I visited the Taco Bell at State Highway 580 in Dunedin, Florida today. It is by far and large the worst Taco Bell I have ever been in. Even thought the restaurant had an exterior renovation a few years ago, the inside was dirty and smelled like a restaurant which had been closed for years. The employees, even thought they had Taco Bell clothing on, appeared dirty. One employee was sweeping the floor in the food prep area while my food was being prepared. I ask the hostess if they had the $ 5.00 lunch special and see said they are a franchise and their prices are higher than a corporate owned store. I paid $ 6.00 for a meal advertised as $ 5.00 on television. I live in Dunedin and will never go back to this store and will definitely let my family and friends know not to patronize this store. In addition, the burrito I purchased was burnt and one side and I ended up throwing it out when I got to my office. This is the only time I have written to a chain restaurant to complain but just the smell of the inside of the restaurant was enough to turn my stomach. Thank you.

Jim Hall
from White Hall, AR
The last two times I have made take-out purchases for my wife and self, the drinks (Dr. Pepper) have tasted like carbonated water. The drink color is that of a weak tea. Both purchases were made at your store at 3501 Camden Road, Pine Bluff, Arkansas. Last Order # 347051. Otherwise, service and food are fine.

Jonathan
from Chicago, IL
I'm at the Taco Bell in Wichita Ks of Seneca and Pawnee and I have been sitting in line for 35 minutes. I've been 3rd in line since I got here and we haven't moved. I am late for an appointment because of this and I can't get out of the drive through line because of how it is designed!

Emily
from San Francisco, CA
I ordered 2 chicken chalupas at the drive through window taco bell 1345 N. Main Street, Salinas ca 93901
I checked them they were both beef entered the restaurant informed the worker of the mistake she made 2 more beef chalupas I informed the workers I ordered chicken they told me I was charged for beef so I would have to pay more I was at the location waiting 20 mintues by this time. I proceeded to lay for 2 chicken chalupas. A worker by the name of "Gabby" made my chalupas and threw the bag down on the counter and said here. EXTREMELY RUDE I will never return to this location I will be telling friends and family not to support this location. Poor communication, long wait time and extreme rudeness

Rosemary Hutcherson
from Baltimore, MD
I have been coming to Taco Bell for 45 years on Patapsco and Hollins Ferry Road in Baltimore, Maryland.
I visit a church in that location every Friday. I complaint about the up keeping of the bathroom. They approached me and seem to accuse me. They do not want me to come in there anymore. I am very disappointed. I will be seeking further actionsl. I have watch them allow people who was not patrons use those bathrooms. Thanks for taking the time to listen to me.

Victoria Buffin
from Salt Lake City, UT
Online said that my local Taco Bell was open until 12am tonight (Wednesday), but when I got to the drive thru at 11:30pm no one answered on the microphone so I pulled up to the window. There was a worker there cleaning a counter and another worker came to the window, but completely ignored me. Now the window sticker said that on Wednesdays they are closed at 11pm.
My complaint it about the differences posted about the times Taco Bell is open and about being ignored. I'm not a stupid human being, I realize mistakes such as the discrepancies in the time happen, but do not ignore me and act as if I'm not even there. It would have taken nothing for someone to have just opened the window and say, "Sorry, we closed at 11".

I just ordered from the new location on 23rd street and 7th avenue in New York City. With very few people in the store, my order was rushed and incorrectly done. I ordered a power menu 2x chicken, but was provided a single burrito that was COLD and only put in the heater for less than 3 seconds. I watched my meal being made and it was not heated properly. I was left with a cold burrito with less than I ordered. I would like my money back and am happy to attach picture of my receipt.

.0 stars !!! Taco Bell Location Hernando MS 38632. Saturday March 16, 2019 approximately 10:30PM my husband and daughter went thru the drive thru and purchased 2 tostadas, dozen tacos and 2 sides of refried beans. When I started eating my tostada as I was chewing, I felt something different in my mouth as started spitting the food out and a large piece of plastic came out that was in the food. As you could imagine I was very frustrated that I could had choked on it or worse one of my children could had choked. I called taco bell store in Hernando and asked to speak to manager the person on phone said she was the manager. I began to explain what I had found in my food NEVER offered an apology, or food replacement (which I would have not taken) or my refund. Instead she acted like she was not concerned of my issue. When I asked for her supervisor her reply was the other manager was on maternity leave. I asked for number to corporate and wanted her name she hung the phone up. I would like to hear something back from corporate or how this will not happen again. I have enclosed pictures of plastic.
My email jenniferm2290@yahoo.com phone# 901-239-6704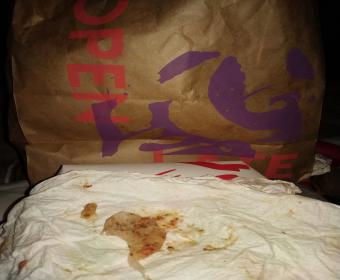 vicki wines
from Columbia City, IN
I have gone to the drive tru several times and the light is off and the drive thru is not opened. I have gotten out of my car and went inside and the manager said they were not opened as they had grease over flow and it was all over the floor. IF THEY ARE NOT OPENED- DO NOT LEAVE THE FRONT DOOR OPENED. Several other people were trying to get food at the drive thru to no avail. One time I was there and the manager and a co-worker drove up at 10 till 8 to open up as they had over-slept. When people are going to work and find the drive thru or even inside are not opened- they are usually on their way to work and do not have time to go to another restaurant. Several people are complaining about the Taco Bell in Columbia City and I do not want to see them go out of business. I realize they never have enough help but keep the drive thru open and close the dining room on those occasions .
Just thought you would want to know before they got out of business.
Thank you for your time and consideration in this matter.
Vicki Wines
This has been going on for months.

I live in Indianapolis, In and I love taco bell but they are slow all of them also I visited the one on 96thst and the dining room needed better cleaning the floors were dirty plus seats the area where you get napkins and sauce-mild, medium, the stand was so dusty that I didn't want to get anything from it, also they skippie on filing the tacos and the chalupos. Maybe it's time for someone to visit the stores.
I just want the taco bells to be great because I go like 2 or 3 times a week.
Thank you, Dee

Linda Howe
from Jacksonville, FL
Ordered a ground beef taco salad with no red strips and no rice. Got home and had a taco salad with only rice and beans. Called the store. Was asked if I wanted to come back right away or later. I drove 15 minutes back. Had to wait for a while at the drive thru. I was the only car but when they told me to pull around to get my new salad, no one came to the window for a while. I finally got new salad and this one had a lot of pico on it rather than tomatoes. The first one had just tomatoes, which is normally what I get. Asked if I could have one with tomatoes rather than pico. The manager told me salads always come with pico. I probably buy two a week so I guess I'm lucky because they always have just tomatoes. I asked if I could just have my money back. Mgr. said not without the receipt. When I left my house to drive back I had already tossed my receipt, as I normally don't keep fast food receipts. I ended up getting a correct salad but not a "sorry for your inconvenience"...or maybe I could have been offered a soda or something for having to drive all the way back? I was in food service for years. Even not in management I would have provided better customer service. Was actually shocked the person I was talking to was the manager. Last two times I visited this location, cars were wrapped around the building and it took forever to get food. Both times only two people were covering the entire restaurant.

Jeff Willebrand
from Denver, CO
Customer service is highly lacking. Employees act like they don't even want to be here. I ordered a stuffed chicken burrito. I could have paid a dollar for a bean burrito and it would have been bigger. The picture below is what theses employees consider a stuffed chicken burrito. No wonder this place is lacking business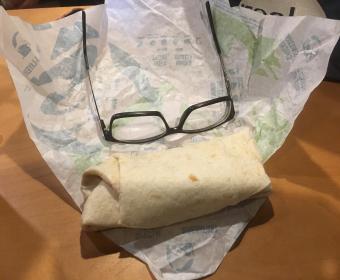 This morning when I stopped at Taco Bell on Maguire BLVD in Columbia MO about 7:10 am, no one was at work. The lights were out and no cars parked where employees park.
I always stop every single morning between 6:45 and 7:15 Monday through Friday to get a Pepsi and a egg burrito or quesadilla. This is the second time this has happened in less than 10 days. I pass up Sonic, Panera, and HyVee on my way to work. If this becomes a frequent thing I will have to change where I stop in the mornings. If Taco Bell is closed it is too late and far for me to turn around and go to somewhere else.
I hope to continue to be able to get my wake up soda and eggs at Taco Bell.
Cynthia Murray
murrayc@health.missouri.edu

Roberto Escobar
from Altus, OK
On March 5, 2019 at 7:00 p.m. we entered the store in Altus, Ok. There was a customer at the counter talking to three or four worker about another worker who like to lie so he can get off work. We waited five to ten minutes to have our order to be taken. The people were still talking about the individual. My facial expression was anger. Two customers came after us and their order us and their order came before ours. I had to leave my seat to make my frustration known. When I was seen by the crew that is when the started working on our order and part of my order was spilled on the floor. I was told sorry and offered some simple snack. I refused the offer. My wife was almost late to her job because of the discussion of that little group. At least one person in the group should have broken way and attended to us.

Tanya correa
from Yorba Linda, CA
I ordered 6 bean burritos and 3 soft tacos. None of the bean burritos had any cheese and very little sauce. My daughter went to eat her soft taco and when she opened it the tortilla was wet. I really like Taco Bell but this was the worst food I've ever gotten from there.

Michael Stanley
from Pompano Beach, FL
Location 357 W Atlantic blvd always the WORST. Unfortunately I live across the street. This place never gets my drive thru order right most time missing items. I hate this location. I almost rather go somewhere else

Madison Pullen
from Marshfield, WI
I would rate 0 stars if I could. It is 8 pm on a Saturday night, the inside of the restaurant was shut down, lights off. No one answered us at the drive thru. And the hours says the drive thru is open until midnight. This is the second time we've experienced this at the location on Airline in Baton Rouge. (Close to Prairieville) We've been traveling all day & just wanted a burrito and Crunchwrap supreme to get us home.
And we love Taco Bell! But we can't spend our money on a delicious burrito if they won't answer us.

Taco Bell in York Road Cockeysville just sucks. I placed my order for $5 +, I took a $50 bill and the cashier outright said she does not have change for it. Seriously, it's past 7pm , I guess they got enough for change. She was probably telling me she is so tired or don't want to count. So frustrating customer service!

Juanita keen
from Dayton, OH
Went in Taco Bell for lunch. Girl behind register seemed to be very sick. I asked if she was sick, she said yes. Told her she shouldn't be there. We sat down to eat and she was in bathroom vomiting really loud. Myself and another man asked to speak to manager to complain. Very disgusting while customers are eating.

I visited the KFC/TB restaurant at 26715 Western Ave., Lomita, CA last night. I was a drive-thru customer. I had to wait 10 minutes to order my food once I got to the speaker and then I waited another 30 minutes when at the window.
When I first got to the window, the employee took my credit card and gave me my drinks. They returned the card, but, then never came back for 25 minutes. There were approximately 7 cars in line waiting. When the employee got back, there was no acknowledgement or apology for the long wait.
I asked for condiments. The person said there are a handful at the bottom. I told him it would be easier to give me a couple more as I asked so I wouldn't have to waste more time counting what was in the bag. I told him this was "stupid" to make the customers wait so long and they should at least apologize. The employee said "you are stupid."
When I got home i found that my food was soggy and cold.
I know when going to a KFC/TB I should not expect a gorumet meal, nor employees that are making a career in food service. However, i do expect decency, respect and at least food that is edible.
I hope you can make this right and give your employees training. The folks working at this location are incometent. I will never go to this location ever again and will be sure to let everyone know of my experience.
I also hope that this is not an exercise in futility. I don't have much hope you will pay attention to this message.

Ericj Weiler
from Renton, WA
What the hell kind of Taco Bell runs out of BEEF? The one thing that more than half the menu is made out of. This is yet another testament to the poor standards of service this chain has been providing us for the many years they have been operating.
I, personally, have seen a decline in service, yet people continue to buy their product.
Anyone who becomes out of their main ingredient is one of the worst ever. Either your buyers are idiots or the local management are idiots.
I work in a field where I can publicize this OVERNIGHT and make an impact on the local stores.
The store I'm talking about is in Renton, WA-the Benson branch on 108th near Fred a Meyer. FO NOT GO TO THIS STORE.
I can all but guarantee Taco Bell or their parent, Yum! Foods will do absolutely nothing about this but send a heart-filled email with an apology. Not going to wish this time.

The wait time was ridiculous. I was asked to hold when i finally got to the speaker to place my order and then it took another 19 minutes waiting in line for my food. To make matters worse, there were only three cars in front of me when i got in line!

My daughter went to the Taco Bell 033103 at 9190 Wiles Rd. Coral Springs,Fl 33067 location last night (2/27/19). She ordered a Taco Party Pack and 4 other items. When the food came out it was thrown into a bag and when she inquired if everything was there was told yes. She decided to check and found things missing and when she told the cashier instead of the cashier taking the bags to look kept asking my daughter what was missing. This continued until finally the manager came out and had to correct the problem. We spent $33.00 and I feel she wasn't treated in a proper manner. First the Tacos usually are in a box and they weren't, the young lady behind the counter should have checked that all the food was in the bags and didn't. With all the choices of fast food places we chose yours but in the future will have second thoughts. The name of the cashier was Caitlyn the order number 374078 and the time of purchase 7:18.

Went to the Taco Bell in Winnsboro,LA for lunch today. After standing at counter for 10 minutes being ignored by staff I finally asked very loudly if someone was going to take orders. I was informed that I needed to use keosk to place my order because they were busy. I looked around and only 2 tables were occupied, 1 person was waiting on order, and2 people were standing behind me. That is NOT busy!!!! I told her I didn't want to use keosk and she said sorry and walked away. I walked out and so did people behind me cause that is unacceptable customer service. Maybe if the employees put their cell phones up while they're at work they wouldn't feel so pressured. Perhaps they should have management in the store to supervise the dead heads who don't give a crap. That's my opinion and prayers for Taco Bell if corporate doesn't care what is happening to their business. If I don't receive a response I'll know that corporate doesn't give a crap either!!!!!

Thomas Hamilton
from Bedminster, NJ
I live about twenty miles from a Taco Bell but my sick wife craved a simple burrito with rice, beans, shredded cheese, and lettuce. Well I've now been there six times in three days, 3 times yesterday and have spent 25 in gas, paid different prices for the same wrong order and as a chef I know what the problem and it's not the employees, who have been nice while charging me for the wrong stuff, it's the lack of training by intelligent and capable corporate staff that has failed this particular Taco Bell. Y'all have the most complaints I've seen and I can't believe that y'all let it happen time and time and time and time and time and time again. I could replace four to six staff members by myself and maybe make one mistake but I doubt it cause it's set up that any ol primate could do the job. This Taco Bell must have horrible food costs, labor costs, and a high turnover rate with your staff cause either they need hooked on phonics or they need the proper training which I doubt you care to invest in, I'll always get what my wife wants and I won't stop trying until she gets the correct order but I personally have eaten my last taco from y'all, and now I'll never go to kfc or drink a Pepsi product and I'll figure out your other companies and personally start a boycott on anyone associated with y'all. How do you really take something so simple and manage to mess it up ten times before making these right, although your rice was burnt and the staff laughed about it, said they wouldn't eat it, but gave it too my wife and after screwing up the first five times I should've jumped the counter and done it myself, but I don't care to be in trouble but I do care and Sam so pissed that I'm going inside to put some beans in the crock pot and tomorrow I'll make rice and shred some chrese then I'll add non bagged and precut nasty plastic tasting lettuce with real lettuce from now on. I will not ever allow anyone or everyone I know eat there cause it flat out sucks to drive &0 miles one night, 120 miles another night and forty the third night just to end up paying 23 dollars for two burritos with only beans, rice, and cheese cause the letttuce got 86d by the fourth time of trying. So 240 miles, ten gallons roughly, about 12-13 dollars in gas and 23 for the food means y'all cost me almost forty dollars and I still end up with finally the right ingredients but burnt rice. Cmon people and do your job or I'll happily quit mine and prove that I can outwork, outthink, and run the show more effectively then I've seen or have dealt with all week, goodnight and I hope u are happy cause going to bed hungry and thirsty with just a little gas left in my truck, but I'll make it—. Will you? Do you honestly think that ignorance will fix itself cause I don't and y'all will fail and this whole town and county will say good riddance and never come back. Just think of the wasted food when people are starving and I'm not eating that shit you rolled up and tried to serve my wife just so the food isn't wasted like my time, effort, gas, and money. Enjoy your plush corporate outings from your plush little offices and get up off your butts and correct this issue and all the problems or karma will most likely burn that bitch down again, and don't just listen too me, check out Moore county complaints about the local Taco Bell and you will be salivating to have an honest, smart, and hard worker walk in and in thirty minutes learn how to educate you ignorant lazy and flat out inconsiderate staff that goes all the way up to the head honcho, cause I'm actually being humble and generous with my complaints cause y'all don't deserve the courtesy you refuse to give to your patrons. I will thank you for your time, thomasduke74@icloud.com

jeffrey whitaker
from Fort Thomas, KY
I went to a Taco Bell in Highland Heights, Kentucky at 11 pm on February 25, 2019. I ordered a steak burrito supreme with light bean extra sour cream. They told me they were out of beans two hours before this store closed. When I got my order, it was folded very sloppily, all the lettuce and cheese had fallen out my Gordita Crunch. I work at another Taco Bell, have been there for almost twenty years. This GM needs to be made aware of what is going on at his store.

Kathleen Cooper
from Des Moines, IA
Dined in at store 030416. Order # 148849. Ordered a 6 combo. Chalupa. Sat down to eat and noticed there wasn't any sour cream. took back to counter and then was told they were out of sour cream. Then we went to fill fountain cups with Pepsi and had some issues. went back to counter and told them. They told us they were out of Pepsi. It would greatly appreciated to those of us ordering that these items are not available up front. Spending $17.26 on 2 combo meals and unable to get what you paid for is extremely frustrating.

Got the wrong order. Ordered gorditos, and got dorito locos tacos instead. They were horrible. They disintegrate when you bite into them. What's up with not asking customers if they want sauce, or not? Your a freaking taco stand, where's the freaking sauce? Your business is so slow, especially around meal times that the drive thru is usually void of cars, and you can't take 2 seconds to ask the customer if they ordered (read the receipt and check the bag) your meal?

Linda N.
from Portage, WI
I stopped in at the Portage Wis. location recently and was very disappointed. I gave my order, which was a to go order. I ordered a Chalupa and found it to be over cooked. Chalupa was too hard. Also I was going to use the ladies restroom and found it to be very unsanitary. I am not sure if the person before me threw up, had a bad stool or the staff dumped something down it. It was filthy dirty! I mentioned something to a girl staff person. Not sure if she did anything about it. This Taco Bell has poor staff management. I am way turned off on going back any time soon. Please address these issues. Thanks for listening.

The Taco Bell on Hesperian lets the people who are homeless, and the neighborhood trouble makers, hang out outside the restaurant. I live directly across the street and I have to endure the trash from Taco Bell that people discard, and it blows across the street into my yard. The homeless have vandalized my property and I don't appreciate Taco Bell catering to them. PLEASE MAKE SOMETHING HAPPEN AND STOP THIS. Feel free to email me.

i go to taco bell frequently and I had the worst experience in any fast food place the store is at 2628 enterprise rd orange city florida 32763 phone number 386-775-1363. I went on 02/19/2019 at 1:02 pm for lunch. Order number 201482. The cashier had nothing to do with it, it was never her fault. I ordered a chalupa and when I got my chalupa it was cold like they just took it out of the refrigerator. So I went back to the counter and the girl said no problem we will make you a new one and take it to your table.After 10 minutes of waiting and my companion finishing her lunch I went back to the counter and asked what was taking so long. That's when the rudest female manager you have said. We warmed up your food and I did not know where to take the food. How can you not see where im at right in front. then she proceded to say in English and Spanish that I don't need to have an attitude. At that point I asked for a refund and she did refund me my money, but if looks could kill she would of killed me. So how does she know I know any other language other than English. How dare she tell me I have an attitude when the only thing she was doing was giving me an attitude. A manager is supposed to give example to the rest of there employees and if that is the case she is the poores example of your organization. They wanted me to rate my experience with stars, I cant there is not a box that says 0. I never fill one of these out so this is the first for me. I can tell you I never will go back to the store and everyone that I encounter will no not to go there. Even when I looked up the reviews today for that store they are very poor. She needs to go back to training for customer service. i even called back the store to find out the name of the manager and they said they weren't sure , they did not want to give me a first name. The girl that I got on the phone said she thinks its Rosario. Horrible customer service

I am a retiree on limited budget. I've always been happy with Taco Bell in every way possible. I love your food. I had to write because I ordered nacho chips on Order #303814 from Taco Bell 024311 650 Nilles rd FF, Ohio. I know this will seem petty but I only had 4 quality chips to dip into my cheese sauce. The rest seemed to be crumbled chips from the bottom of a bag or tray. To me this is unacceptable. At $1.39 I expect much better. Thanks much, Jon Dale

Pamela Rogers
from Titusville, FL
This is the second time in the last month I have gotten a very long hair in my food from your restaurant on IS 1 in Titusville, Florida. This is disgusting and should be dealt with. Why are they not wearing hair nets to cook food ? Pamela Rogers

Kimberly Miehl
from Alexandria, VA
I ordered 3 Chalupa box dinners at $5 each and spent over $15 - the Food was BLAND - There was No seasoning what ever in the meat - I make Tacos at home sometimes, and I buy seasoning for the meat. Meal was VERY bland - I swear I will never Eat there again !!!! Hardly Any cheese on it either. Customer service was good - Only thing that was Good about going there that day. Yeech - BLAND BLAND BLAND !!!!!!!!!!
VERY Disappointed !!!!!!!! It looks good on TV commercials - VERY BLAND and TASTELESS !!!!!!!!!

Only 2 sauces per item? That's what I was told today. A main reason for coming to Taco Bell is your sauces. I eat at least 5 per item. The gentleman who served me compared this to McDonald's.

I am a former employee from Taco Bell. I was trained to have an excellent costumer service, to welcome the costumers at arrival to the register.
To avoid long waiting for Food and to make costumesrs feel great about visiting the restaurant.
Well I go to your restaurant almost every day, my Child loves Tabo Bell. The costumer service at my location has lot to desired, to start the restaurant is almost always durty, employees are hanging out chating with each other while you wait to place orders, long waits for food to be prepared 20-30 minutes after order has been placed. They make you feel like they don't care, they are there for a pay check.
Managers don't do much about delegating, making sure they are working, and following food guidence. Apprerance of emplyees are poor, you see some employees with pans at their knee, they are drinkings, touching there hair, face, and after they touch your food. overal this restaurant has a long way to go with proper training on food preparation, aperance of restaurant, and Managers to do management. As a costumer I see lots of DON'TS.
If you care you will do something about it. location is 7255 Mission St. Daly City CA 94014 Phone # (650) 755-5085
They forget that is you have costumers you have a job, no costumers no job. There are a few employees that they seem to care, and do their best, but for most part they all need trainig in all procedures of the restaurant.
I will stop going to Taco Bell, I think it is discusting all the things that you see while you wait for food.
Thank you.
Lillian

I ordered a spicy potato taco and a loaded potato grilled with 2 Cinnabon delights and a Baja blast drink. The taco and Cinnabon's were correct but at first they gave me a Baja blast freeze and charged me for the freeze instead of the drink, I said that I ordered the drink and she apologized and gave me a drink instead. Which was fine but I was still charged for it. I got home and saw that my griller was incorrect. I received a beef one instead of a potato one. I'm not mad or anything I would just like some sort of coupon or gift card or something to make up for the money that I spent on the incorrect items. Thank you

j palmer
from Latrobe, PA
Latrobe pa taco bell, has been a favorite place to eat. not this evening. they person that took our order. got almost everything wrong. we ordered 3 soft taco supreme, two hard taco supreme, 1 chalupa supreme and large drink. we received 1 large drink, 4 hard taco supreme. 1 double tostada. went back up to see where my 3 soft taco supreme were ? he said you only ordered two. which I didn't received any. so I ordered one more, not realizing I didn't get any. we told him we would eat what we got. then he told us he wanted it back. turned his back to me and said calm down old man. which my husband didn't hear. the chalupa shell also was very hard or stale. I have never had a person be so rude. not even apologized for the mix up. if the person stays at Latrobe pa. they will be losing a lot of good customers. we have lived in Latrobe pa for years. all other fast food business are super polite. I hope you will check out the worker. thank you

I went to Taco Bell #023125 on 2/6/19, my order was taken at 6:50pm (Order #258578). I ordered 8 items and waited until 7:20 before I received my order. I realize they were busy, but there is no reason to wait 20 minutes at Taco Bell for a Mexican pizza and 6 hard shell tacos. I will never go back to the store because every time I have been there the wait is ridiculous for what is supposed to be fast food!

Have been to this location many times. Sservice is terrible along with getting the correct order.received. This order was 2 quesadillas w/extra cheese & chicken. Charged the extra on bill .This is what I received when I got home. They are hardly a standard ones & the whole outer area of this wasn't even filled. (pictures wouldn't attach) Consider this olrder minus -5 stars.
Well I have played around for 30 minutes trying to get my pictures attached with no luck. So receipt is from taco Bell , 100 E Broadway, Monona WI 43716 (608) 2228007. Feb 5 2019 Order 32166 Cashier Madison M. Total of bill 15.69 on Visa Credit Card Drive Thru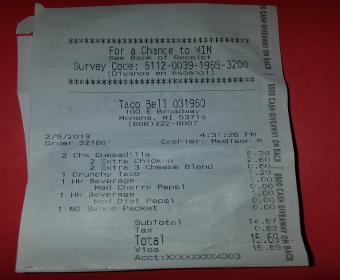 Stephinie J Bamberg
from Chicago, IL
I was in the drive though for 30 mins on 3365 s king Dr. And after waiting that long my food was cold. So I parked in went inside and was treated very rudely and assaulted by the security officers and l woud like this situation inverstaged.He had no right to put his hands on me.

annie johnson
from Junction City, KS
store #023229 order #357331. 9:19 am on 2-3-19
Couldn't bring my problem to a team member as the doors were LOCKED for a Damn managers meeting. 9:19 AM and you close down the lobby for a friggin managers meeting????? Hold them before/after lobby hours. I will add, this is not the first time they have closed the doors during business hours. Do not inconvenience the customers by making us go thru the drive in. I do not like to drive and try to eat. I wanted to sit down and enjoy my breakfast. I put in complaints (actually several times over the last few months) As per other times I have complained about this store, this complaint will not be addressed. This will be the last time I contact anyone about the rotten service. I will NOT GO BACK. No one ever seems to care about the customers.

Zachary Palmberg
from Saint Paul, MN
I just got a part of my food from the Taco Bell off Rockford rd in Plymouth MN. I didn't receive half of my order and was told they can't get me the remainder of my order cause there are no ads on a at the window. Once I opened what food I did get I found shells with barely anything in between. The sodas were out of syrup and the nacho fries were practically wet they were so soggy. Employees seemed lost and completely unprofessional.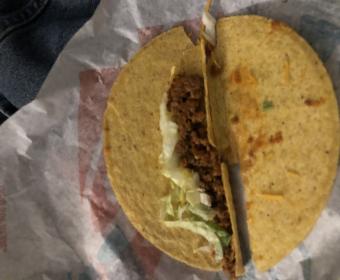 Chuck
from Charleston, SC
I went to Taco Bell 004814. Every Taco Bell I have gone to recognizes the Veteran and gives a discount except this one. It's odd to me that I have gone to a lot of Taco Bells and this is the first one that does not recognize the Veterans. It's also posted online that Taco Bell recognizes veterans as one of the top 19 businesses that gives discounts. This is why I gave them a bad rating and will not return to this Taco Bell.
Receipt 347088 2/1/2019 Order was taken by Willieshya-Ange H

I had very poor food quality at the unit 031445, 3951College Ave, Blfd Va.
Every time I purchased a taco meal at least one taco would be cracked on the bottom and the ingredients would fall out, But this last time on 1/27, all three shells was smashed, not saying just on bottom. They were cracked like someone one did not care. I had to eat as a salad, If I had wanted a salad I would have ordered one. I was on my lunch break and could not return food. Store Manager nor Manager on duty spoke with me, I spoke with Drive thru cashier whom answered phone. I had asked to speak with Manager on duty but busy working line, and store Manager was not there.
I have worked a combine total of 23 years in fastfood service and always a Store or Manager on duty serviced the complaints.

Rev queen
from Little Rock, AR
I went to the taco bell.in my town Camden Arkansas on Monday with my 87 year old mother I ask the worker could u make sure my French fries are hot she gave me a nasty answer I asked again she was a son answer then I RETURN to ask her I thought I ordered a medium-sized drink she got mad and started to yell at me and run from the counter to to tell the manager and the others one they Better get me then I went back.up.to the counter ask for hot French fries these are clod the other worker got smart towards me then they a.were disrespectful talking about me to them selves but out loud I could hear them discussing me disrespectful the manager did nothing to all to stop them in a regular customer l really enjoyed going to taco bell my favorite restaurant in town now I'm afraid to eat there they may.do warm to my food . Thank you

Tiffney Currie
from Ripley, TN
Customers are being greeted with disrespect, as well as workers having attitudes with customers that is willing to spend money at tacobell, instead we rather keep our money and spend our money at somebody else restaurant because of bad nasty service that we're having to go through at the tacobell located in Covington Tennessee,38019 the workers are very disrespectful and seems to not been trained on how to do they're job and respect the customers, tacobell will forever loose money due to the untrained workers that's having attitudes every time a customer decides they want to order from tacobell

Lauren Doyle
from Oakland, CA
I was at the Taco Bell in Oakland CA on 2255 Telegraph Ave at about 8:00 pm on 1/22/19. I ordered a Cheesy Gordita Crunch No Meat Sub Potato. Originally the gentleman taking my order put the mod.. "No meat sub beans." I told him I didn't want beans I wanted potato. He took that mod off and put Add Potato (adds a charge). After sitting in line I realized I had my dogs with me and they could eat the meat that it was supposed to come with since I paid for it. When I got to the window I asked him for the meat on the side for my dogs and the ladies in the kitchen started screaming they already made my order! I told him they don't have to remake my order, they can put the meat in the cup since I paid for it and paid extra for the potato in my gordita. They started yelling again. I told him I paid for it so I wanted the meat since they didn't substitute but charged me extra. They finally threw a cup of meat at him. When I got my order I decided to check it to see what all the fuss was about. I saw they put the meat on the gordita. I told him they made it wrong and they put meat on it and I don't eat meat. He asked if I wanted them to remake it and I said no because the ladies were already yelling and screaming about my order. I don't trust someone that angry to remake my food. Especially since the first thing she yelled was that she already made my order! I told him I wanted to be refunded for the gordita since they made it wrong and I don't eat meat. He said I had to give it back in order for them to do that. I didn't agree with that because if the reason I don't trust them to remake my order is because of the complete unprofessionalism and yelling about my order already then I shouldn't have to. After working for 12 hours and now needing to go to another Taco Bell for my dinner I felt that if I wanted to pick it apart and eat the outer gordita shell and dump out the middle for my dogs while I'm waiting another 30 minutes at another Taco Bell for my food then I should have a right to do that. They were just going to throw it in the garbage anyway and I hate wasting food like that. It was 8 o'clock at night and this was my first meal of the day because I just worked for 12 hours without lunch. I asked for the manager ("Any" pronounced Annie) and I told her they made my gordita crunch wrong and I wanted to be refunded for it. She said well give it back. I told her No, I don't want to give it back, they clearly made it wrong as I showed her. I have to go to another Taco Bell now and sit for another 30 minutes and I want to be refunded for the wrong order and she proceeded to yell at me as well and yell that I'm not getting my money back and that she doesn't care that they made it wrong. At this point I feel robbed. Robbed of my money and robbed of being treated with any kind of respect or customer service or appreciation as a customer. The way that situation was handled was so wrong. "Any" the manager is borderline incompetent. She at the minimum needs customer service training. I've worked in the restaurant industry for years. If we messed up and made the order wrong, the order was refunded. Especially if the customer has to sit and listen to the cook yell and scream about their order. Who would feel comfortable with someone like that remaking their food? Taco Bell should own up when they make food incorrectly and do what's right to fix the situation. If you have a cook that has a bad attitude that doesn't want to remake food then the order should be refunded if it's made improperly. Right now I'm owed at minimum $4.70 for the Cheesy Gordita Crunch with Potato (extra charged) that was made wrong and I was unable to eat and enjoy. That's nothing compared to the priceless waste of time of my evening and my sanity on this evening, being made to feel taken advantage of, unappreciated, and distraught feeling I can't do anything when Taco Bell steals my money with no regard for their customers or their customers money. I'm actually sad at this point Taco Bell feels it's ok to treat people in this way. Vegetarians really are punished at Taco Bell.

robert morea
from Wantagh, NY
Online order #906271, dated 01/04/19 @ 1654, for pickup at drive-up window at 2000 hours, Sunrise Highway, Seaford, NY. Online order placed, credit card debited ($28.71). Upon arrival at 2000 hours, was informed that personnel had no record of order. Requested refund, was informed that refund could only be issued by corporate offices. THIS IS THIRD REQUEST FOR RESPONSE... PLEASE RESPOND ASAP.

Stewart gray
from Marshfield, WI
Been sitting here around 20+ minutes inside the establishment waiting for 2x $5 boxes and 2 grande burritos. There is also another lady waiting for her order behind me. This is the slowest service i have EVER had, and i mean EVER!! I have never seen anything like it. Worst Taco Bell experience i have ever had

Lynette
from North Babylon, NY
Hello I went to taco bell, and the cash card wouldn't go through because of the chip, and the attendant said that the transaction didn't go through, I tried 3 times. Not realizing that in those three times, taco bell took $21.16 from me 3 times. I need my money to be refunded back.

Kaycie Baker
from Buffalo, NY
I ordered a bacon breakfast burrito at 10:41 am on Jan 22, 2019 at your Standish,MI location. As I was eating I bit down on something very hard and chipped a part of my tooth. When I spit out what I hat bit down on I discovered it was part of a bone. I am very upset because not only was there a bone in my food but now I have a chipped tooth to top it off. I love Taco Bell but after this it will be awhile before I go back. VERY DISAPPOINTED!!!!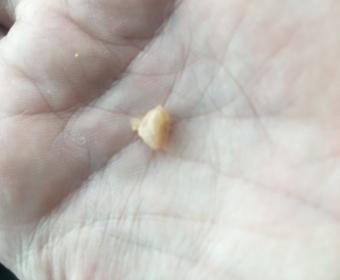 Victoria Riddle
from Ballwin, MO
If I would like to rate you 0. I sent a complaint 2 was ago about an experience on 1/2 then when I heard nothing back I called a week later and they said they had received it. Today is another week gone by with no response from you. Do you not care if you lose a customer?

Dureen Fuller
from Ashburn, VA
I visit store #004806 for lunch thru the drive thru . When I arrived at the window to pay for my food, I ask if I could add a order of rice to my meal. I was told by the employee that she couldn't add anything else to my meal after I had place my order. I ask her why she said that it was manager policy. That they have 7 minutes to wait on you. She told me that I would need to go around again to place my order for the rice. Bad customer service.

Wynetta Hanby
from Leesburg, AL
My Niece and I ordered 1 Grand Bur. 1 Combo 7 No Jalapeno S. Soft Toco No lettuce. All was so hot we couldn't eat them. Took them back tp counter and they was remade. Still very spicy. It made the cashier very mad. The manager came and said she would remake them. It was so spicy we could not eat them. Wynetta Hanby (Centre Al.)

Jeff zumbek
from Bedminster, NJ
Waited in the drive Thru ordered and got up to the window and was told my debit card does not work with the new system. It is a regular discover debit card. There should be no issue after waiting I drove off with no food. This is the second, different Taco Bell this has happened at. It is crappy that after waiting in the drive thru that I had wasted my time after being a very loyal customer for almost 20 years. Always said Taco Bell is my favorite fast food place, but I can't even eat there anymore unless I have cash on me.

Kaingzel White
from Hartford, CT
COMPLAINT REGARDING HARASSMENT
Hello, my name is Mr Kaingzel White, the purpose of this text is to inform you of an incident of harassment by a manager named "Shronda" @ 14005 Abercorn St , Savannah GA 31419, 912-925-0063. The incident occurred @ approximately 8pm January 4 2019: my 15 year old daughter, Nyomi White, a former employee, entered the location and purchased a drink and spoke to her sister a current employee. The above named manager, "Shronda" an adult in her 20's approaches my 15 year old under aged daughter Nyomi White in a threatening and hostile manner. Shronda proceeds to make accusations without grounds or proof to witness: " I heard you were talking about me" or something to that effect.
I have sent my complaint to your corporate office and will follow up in the morning, this incident was witnessed and confirmed by another store manager and several employees as well. If this incident is not followed up then I will be forced to pursue other legal avenues and press formal charges of harassment against Taco Bell and on-site management. Please contact me at (860) 221-4208 / 912-428-0787 or have corporate contact me, I WILL NOT LET THIS GO PERIOD.

Jack D Lovett
from Washington D.C., DC
I purchased Taco Bell gift cards online from a special was being advertised.
Waited until Christmas Eve to place my order ( Order #904804) online, sent my grandson to pick it up.
When he arrived the employees laughed and told him they were closed, if so why was I able to place a order?
My order was cancelled and email was sent that the card I used would be refunded.
Some of my cards expired after the 12/24/18. now it is not my fault they expired as I legitimately place my order
before the expiration date.
Plus as I used gift cards after attempting to use them again they were not accepted.
Evidently gift cards cannot be replenished via refund?
At any rate I am out $30.00, please find a way to make this right.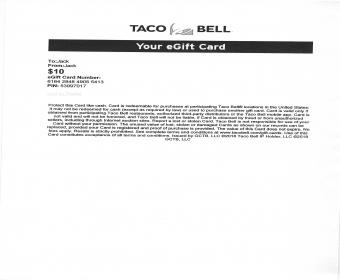 Mark Shugart
from Marietta, GA
Went to Taco Bell on cobb parkwar in Marietta Georgia at 1:26am but no service at drivethru. Drove to window but nobody at window. I saw a person in dining area mopping I blew my horn he looked up and keep mopping. Drove around build and tried to activate drivethru window but still nobody answered.

Phil Welch
from Rochester, NY
We went to the Taco Bell in Burlington Wisconsin,Several people where waiting for their orders.Hence some up too 40 minutes..The drive thru had tons of cars.Noticed they worried more about he drive thru then the inside customers.My wife asked wheres her order after waiting 30 minutes.This is a fastfood place,There is no way it should take that long for a simple 2 person order.They said you can have a refund didnt offer any other solution.The cashier said we are behind we only have 3 people.This was on Newyears day where you think they would plan for more employes cause of the holiday.I never ever would go back ,I also heard all the people even people that where there before us how they where treated kinda rudely.

Gail Reynolds
from Kings Mountain, NC
My husband went to Taco Bell in Kings Mtn., NC to get me a tostada, that's all I wanted. They gave him 2 tacos at the drive thru, so he went in and ordered. When he got home the tostada was full of red sauce and had salad dressing poured over it !!! WHY can't ANY fast food place get an order right??? They complain about their pay, but they're not worth the pay they get! Where do you find these people? I've NEVER (and this is no exaggeration) gotten an order right at taco bell. I have to check each order before I leave. I've decided it's not worth going to taco bell anymore, the pintos are always dry like they've been opened for days. I'll cook my own food from now on cause NOTHING will change at these places.

rosemarie wilson
from Dothan, AL
I live in Dothan alabama the store on ross clark circle by main street ive never had a problem until now to start with we sat in the drive threw line for fast food supposed to be for 30 minutes at least they were really slow when we approached the window we were never offered sauce at all I had to ask she gave me my food I thanked her she closed the window I drove around because she forgot my drinks very short with us so when I went in there it wasn't busy at all but people were standing in line anyway the lady who was ringing everyone up didn't have a clue what she was doing at all over charged the ladies in front of me they asked her what something was she was telling them about other choices I asked for the store number she said I have no clue went to ask and said its somewhere on the right just look there heres a receipt you should be able to find it ive been in the food industry for years safe serve certified you name it I also was a manager over a pizza hut at one point I will say im very disappointed and refuse to return to such a place again sadly ive been a fan for years my advice get people who don't mind working and need to the attitude in that store is enough to never return for ……………………….

joseph page
from Glen Ellyn, IL
on Christmas eve we stopped at tacso bell on north aurora rd in Naperville we ordered one box meal and 4 tacos the order took 20 mins to get and the prep cook brought it out from kitchen never said name I gave just tacos so I took order and jioined my friend as he got his box 5 mins earlier as we were eating the prep cook came over and requested my receipt I said what we ordered and not sure where receipt is he waited while other comustomers were waiting for food I showed the receipt to him whick I feel we didn't have too as we paid when we ordered manager was hiding in back why? dont know then he said he never got my order and i took the wrong items i noticed there was soour cream on my tacos but didnt want to complain i hold him he owes me one more taco and he said i got supremes ones so were lucky vert
y poor poor service maybe get rid of manage as she should be in charge not the prep cook plus never should a customer be questioned by help for a receit when u pay for in before u get in the other customers waiting for there orders just stead at us like we were wrong i go to taco bell 3 times a week but will never go there again plius manager put sigh on door but never told the customers that were in store why bad management i will miss eating at taco bell but i was so upset and it was xmas eve nice way to start new years hopefully u will correct this problem.

Samantha senn
from Bedminster, NJ
The toca bell in Orlando, Fl on orange ave 32806 had really rude costumer service. I'm not one to usually complain about little stuff but every time I go there the serve seems to get worse. A girl at the front continues to roll her eyes in from iof costumers. I go up to ask for sour cream and it take ten minutes because no one wanted to get it. My friend asked for some water and was treated very rude. The last time they forgot my order and that's no problem except for another eye roll I got when asking about it.
Thanks for your time.

E Holloway
from Tampa, FL
I went into a taco bell located at 2575 E Hillsborough Ave, Tampa and received very possibly THEE worse treatment from ANY restaurant in years, and the treatment from MANAGEMENT, which was crazy because I asked for the manager to complain about the service only to find out the one with the horrible attitude was in fact the manager, when I asked for corporate number she told me "WE DONT HAVE A CORPORATE'....I asked again and she walked away as if I was the one giving her inconveniencing her. I would like the opportunity to express my discontent to someone at the corporate level.

Amanda
from Bedminster, NJ
Waited almost an hour for our food. Asked what was going on and they told us they forgot about it saying "it's up on the screen, I'm not sure what happened" like are you kidding me. I know it's Taco Bell, a fast food company, but you need to work on your customer service.

Victoria Garcia
from Bellevue, WA
Every time i come thru the drive thru and even if theres only 3 cars in line they stil somehow take 20 min why i dont understand. I understand if theres a long line not2 or 3 cars thats not cool. Makes me not want to come back but this is the only taco bell close to me. This has happened at least 4 times out of 5 and not a good thing. Thank you for your time.. Maybe need different attentive employees.

Scott Dormann
from Atlanta, GA
I was at the Taco Bell Atlanta Midtown on Weds and there was no one at the cash register to take my order I waited 7 mins and no one appeared and another customer had to get up and tell the staff that was in the hall way that I was waiting to order. Even better one of the employees walked right behind me and still no one decided to wait on me. I should not have to wait 7 mins to get waited on when there is one customer with his food and no employees to take my order. I ended up leaving since the employee decided to give poor customer service.

Heather goodson
from Harriman, TN
While using your app to order my dinner I had theee gift cards on there along with my debit card. I used the 3 gift cards and then the remainder of the bill to be put on my debit. Your app put the whole amount on my debit card and deleted all three gift cards so for the time wasted waiting in line on an orde that should have been ready it cost me double. I need to know how you plan to Fix this. Immediate attention is required.

Steven Kownslar
from Irving, TX
I visited store #027812 on Thursday night at 8:50 pm, I was immediately told by the cashier - employee Cheyenne T. that I could order inside but, could not eat inside the store. Is this per company policy? I have worked in the restaurant industry for 20 years of my life and as long as the doors were open to the restaurant I was never nor ever told such a thing. I then asked for the corporate number from the manager LAVE and she said she didn't have it because they were not a corporate store. I asked her was it corporate guidelines to tell customers that if they ordered their food before 9:00pm that they could not eat their food on premise? She didn't respond. My order number is 222323. I am a Texas conservative and I have a YouTube channel with 649,000 followers. I could do a video tomorrow about this incident as my crowd links to other conservative YouTube Channels. I am very anxious about the corporate stance on this. Please respond as soon as possible.

Frank Cortez
from Atlanta, GA
On 12/20/18 I purchased 1 spicey tostada and some tacos to go, when I got home my wife opened the tostada box and it was just garbage, there was no way she was going to eat it, so at that point there was no way to trust the integrity of the tacos so we threw the entire food items away. I called Taco Bell at 1049 west I 35 frontage rd Edmond ok, 73034 and advised them that the food was just not for consumption and the person I spoke with told me that she would give me a full refund I told her that I would not be back there until the next day after work and she told me she would write my name down for a refund of 6.57. the next day I stopped by and told the cashier the reason, she then called Justin Or Jason he identified himself as the General Manager, when I told him why I was there he immediately became combative and started to interrogate me as to what time I had called and with whom I had spoken and so forth, I told him I just wanted to get my refund and that I was not going to get into a pissing match with him over 6.57, he then told ma again that he was the general manager and those decisions are made by him, I told him to forget the refund and that I would contact the corporate office, he then informed me to go right ahead as this store is independent and that the corporate office would just send the complaint to him and that we were done. So I asked him if he was going to give me my refund and with a bad attitude he said yes and that he reserves the right to refuse service to anyone and that I was no longer welcomed at taco Bell and he said do not come back.I really think he had an issue with me as I am Hispanic and his actions are based on being prejudiced. Am I to understand that if I have an issue with Taco Bell I better not complain or I am then told not to ever come back. I doubt I will ever visit any Taco bell again. What is very disturbing is that the General Manager says that because this store is independent that they do not have to follow any corporate guidelines. Next door there is Chic fill a and Whataburger they always have customers in line but their service is superior. That immature General Manager should be retrained or fired.

Mary McAllister
from Madison, WI
I have NEVER had a problem at any of the Taco Bell's in Madison, Wisconsin, until today. I stopped at: 100East Broadway, Monona, Wisconsin.
I ordered the Sausage Egg and Cheese Breakfast wrap, at the drive throw. I was 2 Miles away on my way to my Next pick up of a client on the other side of town when I got a chance to take a bite. All was good except for the Hash Brown. You can not deep fry that one any harder to make it feel like gravel. It was so over cooked it looked like orange stones. With that bite the whole hash brown fell apart like little pebbles. All over my lap and interior of the van. When I got to a parking lot I opened it up and pitched as much of the hash brown as I could. Biting into it hurt my mouth. It was well beyond crunchy. I will NEVER go to THAT Taco Bell again!

The Taco Bell located in Moultrie Georgia has the worst service I have ever experienced at any restaurant. The staff is rude and they seem to have no regard for customer satisfaction. I've called to ask a question about going back to get something that was not put in my drive through order and I was laughed at and talked about while on the phone with the manager.

Kourtney Bacon
from Milwaukee, WI
I placed an order online to pick up at the store on Highway 100 and National in West Allis, WI. We tracked our order and we didn't go to the store right away when we received confirmation that the order was ready. We got to the store and our order was NOT ready. The employees acted like everything was ok. If we wanted to wait for our order being made, we would've went through the drive though or ordered when we got there. We would NOT have ordered ahead. This has only happened when the certain employees that were working tonight were working, as this happened once before. Please find out who was working at this store and I need a call back. 414-702-8366. This is unacceptable

Jonathan hogue
from Boston, MA
On the night of December 17th, I placed an order at Taco Bell in Cabot Ar. Apon entering the lobby, the smell of marijuana was noticeable. I approached the register to place my order and seen that the shift leader Michelle, along with other workers were red eyed and giggling excessively. When taking my order, several mistakes were made and my order was incorrect. Shift leader Michelle, approached the counter smelling strongly of marijuana and apologized for the mistake and made corrections to my order. I am not satisfied with the service received and I strongly believe drug usage is taking place during store hours by several crew members and manager.. Please check into this situation to hopefully avoid more complaints about the store.

I went to Muskego Taco Bell on Janesville rd at 7pm on 12/16/18. The same female that took my order last time I was there, started taking my order tonight. I was careful with how I worded the order, she last time she mistakenly overcharged me for 5 extra tacos. I think her hearing is bad. I wanted 4 tacos and a 5th taco without lettuce. she said I said 6th taco, and I said I had not said 6th. she persisted that I told her 6th, and kept arguing this point. I asked her name, and she refused to give it to me, since I told her I would make a complaint. she then refused to let me order food. I did not raise my voice, but I guess I brought up the complaint card too soon, and she didn't like it. IT WAS THE WORST EXPERIENCE I'VE EVER HAD AT A RESTAURANT. please, teach this employee how to properly treat customers, as if it actually was her own restaurant!!!

joseph m smith
from Jacksonville (Maxville), FL
i called this taco bell location at 11:15 and asked about a 24 taco pack to go, i was told the 24 pack was available and the price was $17 and change. i drove over to taco bell at 12:30 and preceded to place my order but was told there was no 24 taco pack period! i let the staff and manager know i had called to inquire, i but was called a liar until the manager checked her phone log and confirmed my call, upon which the manager, simply said your right! she offered no kind of solution to her mistake so i left hungry and very disappointed with this taco bell location! not good customer service!
this taco bell is located at 3649 philips hwy jacksonville florida 32207

Sandy
from Poughkeepsie, NY
SO LAST NIGHT I WENT TO THE TACO BELL IN POUGHKEEPSIE NEW YORK ON MAIN STREET . WELL LET ME TELL YOU I WILL NEVER GO AGAIN . THE SERVICE SUCK THEN ALL WHERE HIGH AND SMOKING WEED IN THE STORE . THIS IS NOT THE FIRST TIME I SMELLED WEED AND I HAVE SEEN THEM DOING IT IN THE PARKING LOT . I ASK TO SPEAK TO THE MANAGER A LADY CAME TO THE WINDOW SAID SHE WAS THE GENERAL MANAGER . I TELL HER THAT THE PEOPLE ARE RUDE AND THAT WHEN THEY OPEN THE WINDOW TO ME ALL I SMELLED WAS WEED. AS TO MY SURPRISE AND WASHING AND SMELLED LIKE WEED AS WELL . NOT A GOOD PLACE TO EAT AT OR BRING YOU FAMILY . SOMEONE NEEDS TO DO SOMETHING ABOUT THIS . IT'S LIKE SHE DIDN'T CARE . HOPE THIS GETS FIXED SOON. THE PERSON THAT OWNS THIS PLACE NEEDS TO KNOW WHAT THEIR DOING .

The Taco Bell at Parker crossroads wait time for food in the lobby was terrible 25 minutes to get your food

Jim Slarzynski
from Milwaukee, WI
Mount Pleasant, So on Washington is a terrible location.
1. No Pepsi
2. No taco sauce
3. No receipt given with order
4. Asked for no tomatoes and got them anyways in my order.
5.Extremely long waiting in drive thru at 1.am

John Buening
from Circleville, OH
your taco bell in Circleville is letting the kids smoke vape in back room and behind stores. I seen 1 get off work and throw up right by the door from to much vaping plus the manager is forcing these kids to work up to 84 hrs in 2 weeks then refusing to pay them for the hours worked because she broke the law. this store has trouble getting help and it is mostly because the parent of the kids know whats going on. Id advise you check into it but you probably ignore this advice since I know for a fact you have had many complaints filed aready and done nothing. I think it may be time to but a bugs in channel 6 news. you could use the free advertising about how your company is abusing our kids.

Teresa kr
from Wamego, KS
Went through drive-thru in manhattan ks. I reviewed my receipt and I was given a senior discount. I do not need some 20 year old judging my age. I made a complaint and store manager called. She made nothing but excuses. Not I'm sorry it was a mistake, just excuses. Won't go back. I work and pay for what I get and do not need someone judging how old I am.

This is for Exeter Ca 93221 Taco Bell
Dee Paradis last week when I was in Taco Bell this particular burrito does not come with tomato Taco Bell in my town I ordered a burrito with extra tomato(tj
Edit or delete this
Like
· Reply · 1w · Edited
Dee Paradis This particular burrito does not come with tomato. Myreceipt showed I had ordered and payed for the tomato I brought my order to my table and would you know it NO TOMATO. So naturally I took it up to the counter to show them and to show them my recei…See More
Edit or delete this
Like
· Reply · 1w
Dee Paradis The woman making up the orders didn't want to do it. She piddled around in the kitchen moving boxes around putting containers on different shelves etc. Finally the manager asked her"well aren't you going to fix her order?' Not now she said. it wont hurt her to wait She made me stand there (my back was hurting awful) The manager stood there and did nothing. This manager is the one whose eyes are a bit strange Finally she filled my order
I went and sat down and one of the workers sat down near mw looked at me and laughed and laughed I did nothing to deserve this treatment This is on Facebook right here
https://www.facebook.com/dee.paradis.7
Like
· Reply · 1w
Dee Paradis This is not word for word but close.
Edit or delete this
Like
· Reply · 1w
Dee Paradis If gas wasn't so expensive I wouldnt go there anymore. Now what I do is wear a hood when I go in there and keep my sunglasses on I pick a table where they cant see me because they always liked looking ag me.THEY NEED A REAL MANAGER IN THERE They have several people who are "Managers' Some one day and some some other day
Edit or delete this
Like
· Reply · 1w
Dee Paradis This post is all messed up but I think you all understand it
Edit or delete this

Kristy Palomino
from Atlanta, GA
After sitting at the drive thru for 10 minutes no one answered me on the speaker, I ordered on the app. I drove up to the window and sat for a while trying to get my food. The young man at the register helping dine in guests looked at me a few times. No one has helped me. Now he's filling up cups. The line of cars behind me are trying to order with no luck. At least 5 have driven off tired of waiting. Finally the gentleman came over and asked what o wanted to order. I've been here for almost 20 minutes. Still no food. I ordered a bean burrito and 2 soft tacos. I paid on the app. I won't be back to this location. 2 weeks ago something similar happened.

Grover monroe
from Boca Raton, FL
Taco Bell is misleading their customers they said all last night that if the road team won in basketball everyone would get a free taco. Bullshit!!! I call and now I am told that it will be on June 18 from 2-6P.M. nothing was said in the advertisement all last night that it would be on the 18th. The game was played on 6/2/19 why should your customers wait over 2 weeks for what you promised? I will tell you why because you hope people will forget and not go to get their promised taco. FALSE ADVERTISING!!! I will never go to Taco Bell again. If a store uses your name they should be forced to honor your sale. I went to a Taco Bell when you were advertising the $1.00 taco they said this is a franchise store and we don't honor the sale. That should not be allowed. When I call to ask if you would give coupons for the inconvenience of course I got more lies. The only way to stop this is to boycott Taco Bell maybe then they will honor their word but I doubt it. Lets see if they prove me wrong.

James Allinson
from Portland, OR
There was an advertisement on tv saying taco bell has a grande nacho box for $5. We went to the taco bell on se 50th and SE Powell in Portland Oregon to get one. When we ordered it they said it had been discontinued although it was still on the menu. a couple of hours later while watching tv we saw the ad for it again. Is taco bell advertising something they will not give the customer. We walked out of taco bell and may go elsewhere from now on.

Cynthia Hardaway
from Memphis, TN
Visited your store twice for the new Nacho Box and they never had the item. With it on TV for several weeks and every time I visit that location it was never available. So I stopped again on Friday 05/31/2019 and I was told they didn't have that item. So if it's advertised and you don't have it I have a problem with you misleading the customer. As the corporate office I feel you should not advertise items if you don't have the items. The location address is 7964 Winchester Road, Memphis,Tennessee 38125.

Paul Rumage
from West Chicago, IL
I placed an mobile order that was accepted by your website. When I arrived to pick up the order, I was told that some of the items were no longer. When I asked what was available, I was immediately accused of having an attitude. I reminded your staff that my order was accepted by your website and that I was simply asking what was available.
I can't register a complaint about your Berkley Michigan store because you are apparently hiding them from the "normal" feedback interface. They regularly fail to deliver my mobile orders correctly.
Given your incessant poor service, I want my Taco Bell account terminated. I will never visit Taco Bell again...!

my husband picked up an order and he asked the girl at the window if it was nacho grande because it came with a soda. she wasn't giving him a soda with it so he ask if it was the nacho grande and she said yes. well it wasn't and when I called there the person that answered the follow should not answer your phones because she is very rude I will not return to that location again and will let everybody know what happened to me and tell them to go next store to mcdonalds instead. I can see you wont keep tp many customers at that location as long as she is there.. Kathy very unhappy

Last evening (05/31/19) on my way to work I went through the drive-thru at the Taco Bell located at 2902 6th Ave in Tacoma, WA. After the typical long wait I ordered the Steak Power Bowl as I have often done in the past. I was told over the intercom that they were out of black beans, would pinto beans be acceptable? Fine. Arriving at work I sat down to my meal only to find that instead of the cubes of beef, there was perhaps a heaping table spoon of ground beef taco filling. Instead of black beans there was perhaps a heaping table spoon of refried beans & about a half of a cup of Mexican rice & a large amount of diced lettuce covering it all. As I was now many miles away & beginning a 10 hour graveyard shift there was nothing I could do about it. I felt completely cheated. Not at all worth the price I paid. Taco Bell has lost my business FOREVER!

Taco Bell in Grandview MO has the nastiest workers I've ever dealt with they are rude and act like it's the customers fault they're at work they NEVER have two things that match!! They have chips but no meat or meat but only enough meat for 3 tacos I'm not sure how they're still in business!!! It's a horrible mess!!!

Sharon Fryberger
from Topeka, KS
I saw your ad on Tv for the $5.00 nacho box and was very excited. I buy alot of the $5 boxes ... they are usually very good. So I go over to Taco Bell to get one only they told me they are not selling any more because they were using too many chips????? WHAT DID YOU JUST SAY??? I had my mouth all set for the chicken nacho box only to be told they were not selling them any more. Was that just a come on to get people to come in and then have to choose something else. Well I wont be back if they cant honor their special especially since its on TV EVERY DAY!!! Lost me as a customer.

Leo Hernandez
from Pompano Beach, FL
Closed dine in room earlier (9pm) than operation hours (10pm) not following company policy by letting people (NOT CUSTOMER) inside while supposed closed. Manager in charge Chris treated me to meet him outside after his shift

On Monday May27, we went to the Taco Bell in Ocean City Maryland which is a 25 minute drive from are house in Delaware. We wanted to get the nacho granda box but when we ordered we were not told we could not get this until I ordered it the way I wanted it. The girl at the register who was a manager walked away and when she came told us it was not available. Then the picture of this product should have been taken off the board. There was someone there who said he was the district manager but he did not care that it was still on the menu. I suggested that he should have put a sign up not available and all he said was good idea. We like to eat there but this is rediculas, also they charge more for there food. Not a happy customer
Karen Thomas

My husband and I are visiting the
Deerfoot location and it was the worst visit! Apparently one of the employees has two male friends and they were yelling, using vulgar language, speaking out of the way to customers! It's terrible.

My wife and I went to the Michigan City Taco Bell. We placed our order and paid the $10.25 for the meal. While waiting on the very slow service we noticed how filthy the restaurant was, both the kitchen and dining area. We lost our appetite and told the manager the restaurant was filthy and we were leaving. We were there on 5/26/19 about 7pm.

I ordered 5 tostadas 3 Cinnabon (12) pack two cheese quesadillas 5 tacos supreme and 2 burrito supremes and and orange cream freeze and half of my order was filled and I was told by the employee they couldn't fulfill my orders became there was a line! This is unacceptable ! I want a full refund for the total amount or my full order completely filled. I will go online and fuel a google and yelp co
Lamont of not contact by your establishment by tomorrow

1818 E. Speedway BLVD. Terrible service. I ordered a chulupa box, paid extra for nachos. Didnt get the nachos in the drive through. GAVE MY BOX BACK and ask for it to be fixed... THEY GAVE IT BACK STILL WITHOUT NACHOS. Cashier was Zachary Z. I honestly dont know how you can make the same mistake TWICE in 25 seconds... I GAVE THE BOX BACK AND THEY STILL DIDNT PUT THE NACHOS IN. Its one thing if i drive off and dont check... but when you are told your mistake and still dont correct it?? TERRIBLE will NEVER BE GOING BACK.

We went inside and chose what we wanted from the menu. We paid for our food,$10.25 and while we were waiting for very slow service we looked around at the whole restaurant , the back kitchen and the whole dining room was filthy! We told the manager we couldn't eat there the place was filthy and left. It was the Taco Bell in Michigan City.

On top of waiting in the drive-thru for 15 minutes---i get home to eat my lunch...and the order is wrong...could not eat any of it...i ordered number 6 chk sup --no lettuce on anything--and what does my order have lettuce on all!!!!
If matters my order number was 360275 Taco Bell 004947..
Just do your job read the order--just amazing
very disappointed yet again by TB...
Lisa Berry

Alison Costa
from Campbell, CA
I used the Taco Bell app to place order #911070 on Wed, May 22. I drove 10 minutes to location on Winchester Blvd in Campbell, Ca to pickup the order and the restaurant was closed because the power was down according to the employees sitting down inside eating. I asked when they would be up again and they said 20-30 minutes. I didn't have the time to wait so ask the employee to cancel my order and she said she was unable since they didn't have control of app orders. I left because I didn't know how long I would had to wait; how would she know when the power would come up. She didn't bother to ask for my information or anything. This is an unacceptable customer experience for me.

Valeria Coffee
from Powder Springs, GA
U advertise nachos for 5.00+soda but it's only for non-franchises stores and their are only 5% of non franchised stores and 95% are franchises so the sale is for the 5% only,a very small amount they are trying to get you in the store then add money on to your order saying they are not franchised,FALSE ADVERTISEMENT and MISLEADING stop with this mess unnecessarily reeling people in!!!!!!!!!!!!!

Taco Bell in Belfair, WA today, Thursday about 7:15 a.m. Went thru drive thru and breakfast menu not up and had to go inside. Order burrito with no cheese and received one with no cheese and no sauce. It was a dry and awful meal. While I was waiting the dining room, there was still no business and staff busy chatting away in back talking about the other one (me) who had to go inside because of no menu on the drive thru. With their free time instead of tearing down customers, they could do their jobs and put the menu up......................Also numerous times they keep running out of eggs and refuse to serve breakfast during the breakfast hours.

I went to one of your stores today if reading receipt right 027800 Katy 25109 Market Place Katy TX 77494. I went in ordered the party pack of 12 crunchy tacos. It's part my fault I should have checked the order but figured how hard is it to make 12 crunchy tacos. Well when I got home there were only 9 tacos NOT 12 and 3 of those were not whole tacos the shells were all broken more like a taco salad. I did not go back to the store cause --it was now rush hour and traffic would have made the trip twice as long. But did try to call the number on the receipt 281-644-2599 but the phone just rang and rang no one picked it up nor was there any type of answer or recording device to take my information. Just thought you might work on having the people count and make sure they don't crush things while they wrap them up.

3334 S 27th St, Milwaukee, WI 53215 store.
Me and my dad went inside the building to get food to go. The drive thru was to long.
We go in and order 4 crunch wrap supremes, and a 12 pack of those cinnabon balls. We placed our order at 6:15 pm. As we are waiting the people in the drive thru are getting their food while the dining area is getting more people in crowding waiting on their orders or to order. Someone goes up and asks why are they getting served while we have to wait this long. They said well because we have two drive thurs.... I'm like that was not the guys question. Its like like they didn't care. My dad was going to get his money back because of this poor service. We did not get our food until 6:50pm. For just 5 items that was not even a complicated order. But our food came. We got home and my dads crunch wrap was burnt on one side. And not put together all the way.

Last night my order was so screwed up. 1/2 of it was completely wrong, and the other 2/2 was missing. I didn't get 60% of the food I paid for. The food I did receive was not at all what was ordered, and it looked like something someone had messed with, returned, and they resold it to me.
They also didn't even give me a receipt so they would help me fix my order.
I would appreciate if something could be done to rectify the situation.

Have been hearing about Taco Bell's new Nacho Box on nat'l tv. Went in to Duncan, OK Taco Bell. Saw it on the overhead and ordered. Rep said we don't have that. Takes too much chips he said. That is disgusting. He sold me on buying the small nachos. Totally worthless.

Have been hearing about Taco Bell's new Nacho Box on nat'l tv. Went in to Duncan, OK Taco Bell. Saw it on the overhead and ordered. Rep said we don't have that. Takes too much chips he said. That is disgusting. He sold me on buying the small nachos. Totally worthless.

Several occasions I have ordered at different locations the chulpa box for my wife who gets ill having cheese - ordering with no cheese or sourcream on anything. For some reason the order takers do not seem to think nacho cheese is cheese and they put it on. Each time I took the order home and was unable to return for the order to be fixed. I'm really tired of this happening and very frustrated with the restaurants.

The experience was bad. I love taco bell but the store I visited was not clean and the staff was more interested with their conversations than customer service. I believe the store number is 023269 in Germantown, Wi.53022

I ordered a XXL Grilled Stuft Burrito which is supposed to be grilled. What I got was a plain burrito with a soft tortilla. It's not that hard to follow online orders. Everything is written out. I guess that if I want to order from Taco Bell in Los Lunas, NM I will have to take everything out of the the bag to insure I received what I ordered. Not the first time my order has been wrong. Very incompetent.

Went to taco bell on wise Ave. Dundalk md. To order food inside. I see food and utensils in the middle of the floor where the food is prepared. Most disgusting thing I've ever seen in a fast food restaurant. I will never go to another taco bell. The employees were looking at the mess and laughing, especially the girl with reddish hair in the back left of picture. They were playing around and cursing. Disgusting!!!!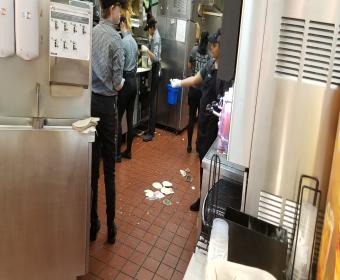 The cashier Dianna C Taco Bell 027792 she was so rude I called the the store I spoke whit the general manager but he don't even care I never will return to that store so rude and unprofessional

Your power bowle has gotten smaller. I will be moving on to your competitor.

on 5/6/2019 Myself and a coworker stopped off at 1615 suite b south main street Weaverville ca 96093 to get a Sub sandwich I asked for the new steak and bacon sub the girl stated sorry out of bacon, I asked her well you guys are advertising it she stated yes but we had a busy week end I said ok so we proceeded to the vegetables I told her what I wanted she again said sorry no lettuce this was a very poor sub with out the items that I requested and payed for didn't want to go across the parking lot to burger king I felt all customers ordering were in satisfied myself and my partner was.

Pherneco Myers
from Sumter, SC
I ordered three number 11 combos, that's the Dorito supreme with drinks totaling $25.38. Each combo should have came with three taco's each. When I got home 7.5 miles away, I opened the bag to find only eight Tacos. I called to report the issue, the phone rung forever ( in which I understand it's a place of business) someone finally answered and put me on hold for the manager on duty. Someone answered the phone and said "yes" I had to ask who it was that I was talking to. when I told her ( Hope) of the issue. She remembered my order and stated that she counted nine tacos. I informed her that I was looking at eight tacos. She stated that she would give me another taco. I felt unappreciated as a loyal customer and belittled as if I lied about a single taco. For me it was the principle of the matter, I wanted what I paid for and I didn't want to make another trip just to complete my order. I did go back to get the other taco. no one approached me to address the issue or concern. Although several others asked if someone took my order and I told them the reason I was there. Someone eventually brought a single taco out and said that she apologized. It didn't come from the manager. In my opinion, the whole experience was crappy and the level of professionalism is pathetic. Leaders should be trained to handle customers in a respectful and professional manner that reflects the company they work for. I hope some changes are made or your certain to loose more customers than my family.

michael cady
from Federal Way, WA
Hi
You ask for customers to download and use your app. I would be nice if it allowed you to input the information to create an account.i have tried several times. I was looking to save some money. No such luck.

H kienast
from Savannah, GA
Waited in the drive thru 40 minutes for two tacos. Two cars were ahead of me. There were four employees at the drive thru window and all of them were on their phones in stead of serving customers. I could have made a four course meal at home in less time then that.

Joseph Spang
from Dayton, OH
We just spent $14.00 on food at taco bell 2101 East Dorthy Lane in Kettering, Ohio 45420 and I tell you it was a total waste of money! We got 2 power steak burritos and 2 tacos and 2 tostadas and the only thing worth the money was the tostadas! I tell you I would think for $4.00 you would at least be able to taste so sort of steak, that did not happen! The tacos for not even make the shell 1/4 full! Pretty sad!!!!!!!!!

The bread was mushy they put sour cream on them ask them not .

My wife and I have eaten at Taco Bell almost every weekend for over 40 years. My wife suffers from 18 years of MS damage and then had a separate major health event a few months ago that caused much additional damage, part of which is the loss of use of her left hand. We at at a Taco Bell in the Hickory Hollow area of Antioch TN last Saturday night. My wife ordered her usual, the "Taco Supreme Meal". It comes with 3 taco supremes. Two of her three tacos had major cracks in the shell, to the point is was impossible to pick them up and eat, especially with only one working hand. I tried to wrap the paper around the taco and let her eat a bit at a time pealing the paper back after each bit. It turned the meal from an enjoyable experience to work and didn't go well at all. Not what we had in mind. But the worse part was, as we left I suggested to the manager that he might want to check his shells because two out of three my wife tried to eat were badly cracked. I at least expected to hear "I'm sorry" and possibly an offer to compensate us for the frustrating experience. Instead all I got was "ok" and then he turned around and walked away! Very disappointing!!!
Gary Hale

I hope you take me seriously Ellenton store needs help asap service very bad no supplies in dinning room place needs cleaning bad and employees selling drugs in restroom and also having on their person manager doing all the work and letting employees stand and watch her and telling her to do it her self

I went to taco bell in jefferson ga and waited 40 mins for my food before asking for a refund there were 4 employees standing around doing nothing they even took tacos out of my order to give to some else that was fussing i got my refund and left one guy has been there 50 mins and still didnt get his food by the time i left the manger was very rude and didnt want to give my money back but i got a little rude with him and he gave my money back and this is not the first time

I am a regular customer. Sometimes I come to the store twice in one day. Usually all the employees are very nice and friendly. Even the management. They always go out of their way to make me feel special, but here lately, everyone has been extremely rude. I noticed that certain workers were no longer working there. I was sitting in the lobby with my family one day, and the store manager was going on and on, bragging really, about firing workers and making them quit. Very unprofessional. I was so upset, my family and I decided to just leave. If these people knew they were being talked about like that, I would hope they feel utterly upset, knowing that managers were talking about them. I hope something is done about this. Very unprofessional. I won't be back for a while. I don't want to know the business of employees life when I come to eat. I want to enjoy my time while I am eating in a calm and relaxing environment. Vidor, TX has never acted like this before.

626 McArthur Dr. Alexandria La. 71303
I went to Taco Bell around 12am. I ordered a Mexican Pizza no beans extra meat. My total was 5.21. I went straight home & got ready to eat my pizza. I opened the box & automatically u could smell that the cooking oil that was used was old. I took a bite & couldn't eat it because it taste like poison. I called and asked for the store manager at this number 318-449-8800. I asked her what was her name & she refused to tell me. Then she said what is your problem ma'am. I said I ordered a pizza & I can't eat it because it taste nasty. Then I said you all need to change the cooking oil because it makes the food taste bad. She then said there is nothing I can do about it, the morning shift is responsible for changing the oil. I then said there is something u can do about it. You can take my complaint & then she hung up in my face. I called back several times after that. The other employees would answer the phone & call for Tiffany but she wouldn't pick up the phone & left me on hold each time I would call her. The last time I called one of the ladies answered the phone & said Tiffany couldn't come to the phone. I told the lady on the phone I will b at Taco Bell n the morning.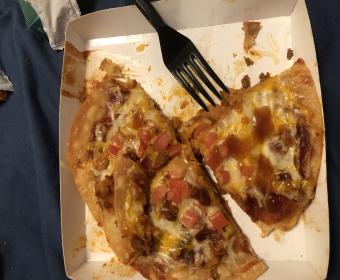 jeremy edmondson
from Dadeville, AL
me and my wife had a very awful experience tonight 04/27/2019 at the 029113 store addressed at 33458 US highway 280 childersburg,Alabama 35044 we was there at 8;07;07p.m we had worked all day in the hot sun and got sun burned so we wanted to order by drive thru but i had got my order out to the drive tru worker for her to then in turn tell me im sorry but i can not take your order by drive thru and told me i would have to come in and repeat my order all over again and when i asked why was the reason i had to come in she could not eplain it to me i finally was told by the very rude cashier inside named colby.s that the reason was my order was to big for the drive thru i told him ive order twice as much at the same location and big threw the drive thru plenty of times with no problems our food was awful the threw everything togeather in a nasty mess half the ingredients to the meals missing served me unsweet tea that tasted like water it didnt even look like tea half our burritos was missing two boxes where missing it was all out a very horrible trip please help me with this and yes please send me a response email i spent 60 dollars and didnt even get half of what i paid for thanks so much

John
from Oklahoma City, OK
Around 10:30pm 4-27-19 went to the drive thru and ordered 2 frito burritos, 1 cheese burrito and two chalupa craving boxes and asked for mild sauce I didn't get any sauce only got one chalupa and no straws for the 2 drinks. We live around the corner from the one on 19th and broadway but come to the one on 12th and i35 in moore because of issues with the one closer to me.

First off, the only reason why I gave it 1 star is because it won't let me give 0 stars. I visited the Taco Bell location in Garland Texas 3178 Lavon Dr. I waited 20 minutes for my order that I had ordered on the in store kiosk. When I finally get my food I do not have any or the 3 drinks that I had ordered. I stood at the counter and was looked at by a female employee multiple times without being asked if I was needing something. I was in such anger from having to wait so long for my food that I just grabbed my bag and left. This was a mistake, I should know better because every time I visit this particular location my food is wrong every single time. This time half of my food was missing and what I did at was wrong. Also the tacos and burritos where barely wrapped and everything was spilling out all inside the bag. I am absolutely furious, this is the worst experience I have ever had at any fast food restaurant in my life. I will not be returning to this store any time soon, I would rather pay more for not as good food from a competition taco chain, at least when incisor this store my food is right and I never wait more than 5 minutes for my order.

Deborah Stewart
from Meridian, ID
Could not get a Gordita Crunch or soft Taco at 7:30 PM on Friday 4/26/19 because of all things they didn't have any soft tortillas. How can this be wow. Also, nacho chips were stale, wrong hot sauce was in the bag and believe or not some people actually use napkins weird huh.
Three issues at one time is more than necessary.
1. NO soft tortillas to make a soft taco or Gordita Crunch
2. Wrong hot sauce in the bag
3. NO napkins
4. Stale nacho chips
I don't generally complain, stuff happens but this was more than I am willing to ignore for bad customer service.
Get it together 6560 N. Linder Rd., Eagle, ID
Deborah
Have feedback for Taco Bell?
Thanks for your feedback!
Sorry. Please try again later!