Taco Bell
Taco Bell Complaints Continued... (Page 6)
620+ reviews added so far. Upset? Call Taco Bell corporate: 1-800-TACO BELL

Hi. I love taco bell but I am extremely disappointed with the last service I received. My cantina bowl was a little runny but I thought it was melted sour cream. Next day i had diarrhea ALL DAY. Worst experience I've ever had with taco bell. I'll be sure to let people know about my experience

This is not the first time I have had problems with the Taco Bell in Newaygo, Michigan but I have had enough after yesterday. I purchased and paid for 6 hard taco supremes and 6 soft taco supremes and what I received was 6 regular hard tacos and 6 regular soft tacos. I live 25 miles away from Newaygo and by the time I got home and everyone started eating I realized they were not what I ordered. Like I said this is not the first time this has happened and I nor my family will no longer be using KFC/Taco Bell in Newaygo, Michigan any longer. This is store number E331002. My ticket number was 4347. Date was October 16, 2012. Casheir was Rebecka but she was not the one who gathered my order. Rebecka was kind and very good customer service.

Went to taco bell004583, montgomery ,Al.
5/3/2013. .. Order# 109169 & 109170...ordered 2 bean burritos with xtra cheese no onion..& mex pizza..got 2 bean burritos hardley any chees but got charged for 2 xtra cheese...also ordered burrito supreme w xtra onions , no cheese,no sour cream no tomato... Did not get onions... Had to ask for onions....would have gone back but was traveling and on I 85 before noticed...i do not live there... Live in beach city Tx
If they ask you what you want and do what they want it does not do any good asking what we want

Went to taco bells on 1/22/2013 at 8:30 pm. Came home and noticed a roach in my box. I call to tell the Manger want I discovered and she replied that they don't have roaches. I told her can I send her a picture from my phone. Said no. Then another lady came to the phone what did I order.
I replied that I would like your manger's number. The she hung the phone up. Roaches and bad customer services. I wasn't going to make a scene about. Until she hung up the phone.
Taco Bell
6215 Zebulon Rd
Macon GA 31210
478-405-8300

Every time my boyfriend and I go to the Taco Bell on W Kennedy Blvd in Tampa Fl - store #G135063, we ALWAYS have something wrong with our order. They do not care whatsoever about customer service. On this particular occassion, Not only was my crunchwrap supreme burnt and had lettuce in it after asking for it to be held, but they gave us a Pepsi instead of a Mountain Dew. When my boyfriend realized the drink was wrong after pulling away, he pulled up to the front door to get it switched out. The employee who was sitting on top of the counter would not let him in, claiming that "they were closed". He then banged on the door and shouted for someone to fix their mistake and someone else had to come out from the back to open the door and switch out the drink...all while the other guy sat on his butt. It floors me that this store and the employees are allowed to continue operating in this manner without corporate interference. Talk about giving Taco Bell a bad name, this store is so unprofessional and I will never be dining here again. The lack of care and courtesy gets me so angry and irritated, that it is not worth it anymore. Looks like I'll be going elsewhere, because I also refuse to drive further for another Taco Bell that MIGHT get my order right.

Ordered food through the drive thru in Abbeville, LA.. Ordered Black Bean Burrito for myself and Chicken Soft Taco 86 Lettuce for my daughter. Get the receipt with my change and notice they charged me for two chicken soft tacos.. That's ok.. Figured someone would eat it. Get my bag, see three items. Leave. I noticed none were wrapped like the last time I ordered my black bean burrito. Checked all three, all three were beef soft tacos, no lettuce. We were on our way home, we live thirty minutes from the closest taco bell. We weren't turning around. Being a vegetarian, I couldnt consume any of that mistake. I work at a restaurant as well and know the responsibility of getting out correct food! Do your job right, please. I don't like giving my money and getting something I Do not want in returns.

I used to love taco bell but the past 6 or 7 times ive went there ive had to double check my order with personnel 3times for one order. I am sadto say I was treated poorly and talked to like I was dumb. All my orders have been cold and they refuse to fix my order cause I submitted it over the intercom. This is the coeur dalene Idaho appleway taco bell I hope this gets taken care of soon and I can stop feeling like I'm stupid eating at my favorite place and feel like I'm not wasting my money.

I have been a eating at the Kipling and believe for 2 years now. I will not step foot in that business again! Two of your employees are disgusting they talk inappropriately in front of patrons have abnormal color hair and can't seem to do there job i asked and payed for a kids meal my son got a spicy burrito when i asked for them to make it right the employee "Kat" (has purple Mohawk) told me maybe i should know how to order food for my child a?nd to pull the d out of my mouth and her "boyfriend" Cody (green Mohawk) gives me dirty looks and make snide comment?s about me and my family if nothing is done about these two I will take this to the City I'm sick and ti I'm sick and tired of the way your employees treat their customers I've talked to the manager about this over the phone and in person but I guess that's what you ge when you don't care what your employees do or what they look lik to me that just shows you don't care about your busines employees should have norma employees should have normal haircuts norma normal colors and you have respec for thei for their patrons

I just got done working a 12 hours shift and wanted something quick and filling. I stopped in at the Taco Bell in Portage Indiana and it didn't appear to be busy. I ordered the $5 box special and my wife ordered a meximelt. The time on our receipt says 6:27 and we got our food at 6:43. The lady behind the counter (who appered to be stoned) must have put the order in wrong because we ended up with a pizza instead of the meximelt and the burrito I got was cold and looked like a pile of s&!$. What is it I paid $15 for again??? I have never waited that long for fast food and will never come back to the Portage Taco Bell

Bought combo number 8 with no lettuce or cheese on tacos. Since I did not get lettuce or cheese I asked for just a few extra tomatoes and onions. I was charged 40 cents per taco for extra tomatoes and onions. There was not any more on there than a regular taco. Taco was so small. I was very disappointed since I can't have lettuce or cheese due to a medical condition. When you leave off several items it doesn't seem right to have to pay extra. It's not my fault that I an sick. I love Taco Bell but I am sad that I have to pay so much. This is one of only a few items of food that I can have. Please look at your policy for those of us who are retired with not much money so we can continue enjoying your product. Thank you and blessings, Rev. Sharrion Payne

So my boys decided on Taco Bell. So I drug my old butt off the couch to take them. They went in to order while I stayed in the car. We get home and they didnt give us our whole order. I asked the boys is it worth it to go back? They said no don't go back when we placed our order they started yelling and cussing at us and the cashier was saying sorry,sorry you just have a big order. WHAT?? I grabbed up the receipt and marched my butt over to the Tecumseh, Michigan Taco Bell. The manager on shift said I just got here and have no idea what happened. I said this is ridiculous!! This is a place of business and your job is to sell food and when my 13 and 15 yr old order they get cussed at? She said there is nothing I can do but say I am sorry. I asked for a number to corporate and she could not give me one! WHAT?? She said to go on the web site to find a number but not to bother because nothing will happen. SERIOUSLY!!! I am still fuming inside! I will NEVER step foot in this Taco Bell EVER again!

I not only waited 15 minutes waiting to have my order taken the food was terrible! I threw it out! The tacos had nothing but a teaspoon full of ,eat and lettuce no chess what so ever the shell tasted like it was old! My order was incorrect! I'd worked 12 hours and busted stopped by to pick up a quick bite and then couldn't eat the crap!

i ordered empanada from your menu. the picture looks like a pie!!! i was so disappointed when i received it!!! where is the pie like desert????!!! unbelievable!!! the shape doesnt look like the picture the outside deep fried crust is not as the picture!! i did not want something deep fried in oil oil oil!!
thanks alot waste of my money !!! cause i threw it away!! another person was w me and they ordered a double decker taco supreme and it came wiithout sour cream and no tomatoes !! which is not a supreme!! all this after waiting a half hour in your line !!!! what the heck is going on with you guys ?? u need to re train your employees???
or just supervise a little closer? whatever your problem is i hope you fix it by the next time i'm brave enough to go to your establishment!! thank you so much for the poopy experience!!!
My son wife and I walked into taco bell, we were standing in front of the register and the cashier was at a table talking to her some customers(friends). Even after she saw us she made no attempt to speak. I asked her if she was the cashier and I got a mean look for interupting her conversation.
After we ordered we sat down, after waiting ten minutes my wife got up to go wait on the food, and when the cook realized that she was looking at him goofing around he looked at her then "started" our order.

The first time our order was completely wrong. Didnt even give us the right burrito. This last time i had ask for and paid for extra sauce and got home to find there wasnt even any sauce on either of my quesadilla. Im frustrated to ask for stuff and pay for it and have them not even care

Me and my boyfriend went to Taco Bell on six forks and Strickland in Raleigh and got there at 10:50 sat at the drive thru for 5 minutes then procceeded to the window because no one was talking back to us and tapped on the glass (it was now 10:58) and we asked if they were open (knowing they didn't close until 11:00) the delivery guy rudly said no while the employees were hiding behind the wall laughing. I replied seriously and he said seriously leave. It was very disrespectful and don't ever plan on going back and spreading the word about my experience.
Sincerely,
A disappointed customer

I went to Taco Bell store number 1506 in Huntsville, Tx. And Tamara, the girl that gave me my food bitched at me because I didn't pay at the first window. THERE WASN'T ANYONE AT THE FIRST WINDOW. She let out a deep sigh and said "well give me your card". So I did and when I asked for sauce she rolled her eyes and threw it in the bag. When I said thank you, she slammed the window. Seriously pissed me off. When I called to speak to a manager, I called 5 times and no one answered. I guess they knew a complaining customer was calling. Terrible. She should not have this job if she isn't going to be nice to people that come in.

I placed an order at Taco Bell in Olive Branch, MS about a month ago. My order was correct on the screen, I paid, and drove away. When I got home, my bag was missing an item. ( chicken quesadilla) I called the store and spoke with a manager who gave me her name and said next time I come in to mention her name and they would replace my missing item. Tonight, I went to get my order and the cashier says it has to be within seven days. I tell her the manager on the phone never mentioned that. She says she asked her manager and he's sticking to the seven day rule. So, not only did I not get my order, I also don't get a refund. What happen to good customer service? I will not be eating at Another Taco Bell again.

First, I want to start off by saying that the first impression of this Taco Bell was horrible. There were two people ahead of us in line. One person waiting at the window and the other placing their order. The person taking orders was talking so loud that we could hear them and repeatedly corrected the customer after taking their order. After that customer finally pulled ahead three minutes later, it took the Taco Bell associate over twos uses to even acknowledge that we were at the window to place our order. We ordered, going by the assumption that the grillers were still a dollar because it was before the cut off point that we arrived at the window, but the associate didn't take our order until after the cut off point. Needless to say, another disappointment when we got to the window almost ten minutes after placing our order to ask why our bill was so high. We decided not to get our order after the cashier basically told us, the customer, that we were wrong! After we cancelled our order, she tells back to the cook, "don't cook the grillers!" After waiting for that long in line, they hasn't even started preparing our food? Needless to say, the locals won't be congrats back and will continue to spread it around that customer service is horrible at this establishment. We won't be returning any time soon, and neither will our friends or neighbors. I would rather take my money elsewhere.

I went to Taco Bell tonight, tried to order a smothered Burrito. They said they were out of beans. I asked her what they were going to substitute, says
said nothing was going to be substituted, I asked her what about adding some more rice she said that would be extra. That is poor business. It is bad enough their service is slow. I wished you could check on this.

Called Taco bell to complain, because it made my son sick after biting into a taco with hair in it, she asked if we wanted some additional food, and of course we didnt, we wanted our money back, she said she could do it.

I went through the drive thru at the Taco Bell located on Palmdale Rd. in the city of Victorville, Ca. on the evening of March 4th 2013. I bought 2 Crunchwrap Supremes, 2 Locos Tacos, and a medium Sierra Mist. When I got home, I began to eat one of the Crunchwraps and on the second bite, I found a chewed up blue piece of gum inside that I had bitten a piece of. It was the most disgusting thing I have ever experienced in dealing with Taco Bell. The Crunchwrap was taken back to the Taco Bell along with the gum and they didn't seem to care very much. They asked if I was sure that it was gum and I proceeded to show them. The woman behind the counter just said ewww and said so what, you want another Crunchwrap? She was informed that I will never eat anything from them again. I truly hope that something is done to make sure no one else has to deal with disgust and the utter disregard I received at this "place of business". I've also experienced them keeping $8.00 worth of change and laughing in my face. I guess they felt ok doing that because they did not believe I could prove it. I will never do business with Taco Bell again in life.

It is crazy that every time I go to the Centralia il resteraunt that my drive thru time is never under 10 to 15 minutes regardless if there is even 1 car in front of me. Tonight I sat in the drive thru for 26 minutes for 3 items. Half the time your order is wrong an the employees are completely rude . I have decided not to return in the future. Hope that something can be done to improve your customers wait times and all around experience because it is just plain pathetic!

I live in central Pennsylvania and have several Taco Bells around me. I occasionally eat there, but I wanted to send my son some Taco Bell gift cards as there is a Taco Bell walking distance from his college. I stopped at a Taco Bell in a mall and they told me they do not have them there as they're not a corporate store. I would need to go to a different store. The mall store was combined with KFC. So I went to another Taco Bell and mistakingly asked for a gift certificate. they said they do not carry them. I then called an 800 number for Taco Bell and they informed me they do not offer gift certificates, but rather gift cards, which is what I meant in the first place. The 800 number told me Taco Bell will have gift cards. Then I went to a DIFFERENT Taco Bell, only to be informed they're a corporate store and do not sell gift cards. I would have to go to Walmart. I went to Walmart and they do not carry them. They said they might have around Christmas, but do not anymore. After being sent on a wild goose chase, (if it was just for me, I would've stopped at round 2), I've come to the conclusion Taco Bell doesn't really need the business. I buy my son gift cards for McDonalds and Subway and neither of those restaurants have any problems with issuing me gift cards. Thanks for listening.

On 1/5/13 my husband and daughter went to drive thru and placed an order of 2 Varity taco 12pk. of which they were suppose to be 12 soft tacoes no lettuce and 6 Doritoes tacoes no lettuce and 6 doritoes taco with lettuce and 1 burrito Supreme no lettuce and an apple empenanada Total of 29.46 and when my husband got home with the order and checked it the only thing really right was the burrito and the apple Empandada was right.
WE had 6 cold no lettuce tacoes and 18 cold tacos with lettuce I called the taco bell in troy,ohio wher we are about 5 mins . away from this Taco Bell when I called and talked to manage she said everthing was right by them and its on the screen this lady manager didn't even offer an exchange, I then ask her wher the mild sauce was and she said they were out and truck was coming tomorrow I am not sorry for me being very upset.
I have never been mistreated like this from any type of manager nor have I had to tell my very sick daughter with leukima canser I would take her lettuce off her tacos for it made her sick and our food was cold me or my husband and .daughter did not get to have a care free dinner from taco bell because we were spending our time cleaning up you mistake at Taco Bell and on top of that my daughter got sick so thank Taco Bell for a wonderful evening.

A few weeks ago I have them a $20 at the drive through window but they claimed I only gave a 10. Thinking ok, maybe I made a mistake, I accepted that but have been ultra careful since then with the bills I hand over.
Today the same thing happened. I am 100 percent certain I handed over a 20 but the attendent insisted it was only a 10. I drove off and will never go there again. I am ABSOLUTELY certain that it was a 20 that I handed over.

I went to taco bell on 11/10/12 @ 3:48 am address 32940 mi ave Wayne ,mi 48194. I spent $18.17 for my order not to be made correctly! I called and explained my problem and the sassy African American employee told me I was wrong and that some of it might be,made wrong but he knows he made it right and the hung up on me! AfterwArds I called back to try to get his name and he said your gonna have call back tomorrow were closed and hung up again! You don't treat customers like this when there is another restaurant across the street from you! I spent almost $20 and could have went to McDonalds and got slot more food for less just horrible. He should not be dealing with customers

I went to Tace Bell tonight on heckle Blvd. in rock hill sc. i was in line for 25 mins. i asked the person at the window did'nt they they have a time limit to serve the customer's and she replied no not when I'am the only one in the kitchen. I'm in management and she was wrong to tell a customer that, howevre they are the worst every time i go to this fast resturant. they act like time to a customer doesn't matter. thank you

I ordered and paid for a cool ranch taco and when I got home, the item ordered was a regular crunchy taco. They were having some issues with the drive thru machine and I was the last person they were able to get my order. I understand things can happen and I waited patiently for my food and the girl at the window was very nice. But having to come home and find a messed up order disappointed me. I paid for something I didn't even want&i would brought it back to get my right order but 20min drive back was not going to be worth it.

I ordered Taco Bell To-Go this afternoon, around 3pm. I was home by 3:10 and immediately sat down to eat. My food is still hot, but both of my tacos and my quesadilla are extremely soggy; even the paper is soggy, and has melted to the food, making opening the wrapper impossible without picking off each shred of the wrapper. I am absolutely disgusted with this; I adore Taco Bell, but this is gross. This food has quite obviously sat on a warmer all afternoon.
I also wasn't offered taco sauce, and didn't realize it until I got home! So heartbroken... it's like a naked taco.

I have a complaint regarding a specific Taco Bell location. (This is a KFC Taco Bell) My family loves Taco Bell but we recently had a very poor experience that I just simply cannot overlook. 12 years ago my husband & I lived in Portland, IN (47371) and visited the same Taco Bell location frequently.
The restaurant has made zero updates since then. This wouldn't be such a big deal if things weren't falling apart...but it just isnt good.
I have a LIST of complaints so I can keep this as short as possible:
Its winter here..TOO COLD inside.
Tables are always dirty.
Tables are starting to 'rust' along the edges in a 'mold like' fashion.
My 6 yr old refused to eat over it :(
Outdated & showing age & wear.
My husband & 1 of my sons used the mens restroom. Urinal was "falling? & had been repaired with 'clear wrap' & duct tape, that would no longer 'adhere' to the dirty walls." The door handle on the outside of the door had been 'torn' off ? And never replaced or repaired. My other son was the first to visit the restroom & he only opened the door before he changed his mind all together :(
According to our reciept it took 10 minutes for us to recieve our order, & they prepared our nachos first. :(soggy):
My husband observed 1 employee eating the food while we waited on ours.
Other employees acted in an obscene manner.
I could go on but I will just STRONGLY suggest that someone be sent to check in on this facility. I am not one that files complaints but the people of Portland & those passing through deserve a better experience without having to travel to another town.

I went to taco bell/kfc last week with my children. i worked a long day and didnt want to cook. I have always loved taco bell and the food. I usually go through drive thru but my oldest son wanted to go inside and eat. After i ordered i went and found a table to sit at. Whiich there wasnt a clean one in the whole place. So i chose a table and took out my sons baby wipes and wiped a table down and its chairs. Also had to scrub the booster seat i put my child in.
Im was grossed out completely when it took five baby wipes and they were black! Obviously the table has not been cleaned in forever or the chairs or booster. As i sat there and waited for myfood i was looking around. The floors looked like they werent swept once all day, the napkin holders whichare two large ones were empty. The garbage full. The co workers were even sloppy looking with ripped up, baggy black pants. Im happy i didnt order much cause i just wanted to leave. I ordered a gordita and ate almost all of it.
Well i woke up at 2 am sicker then ever and vomiting. Im thinkin the sauce on the gordita was sour. it had a funky taste when i was eating it but i just thought i was grossed out with just eating there. I just think that place needs some good management or a food inspection. I am sorry to say i will not eat there again! not even through drive thru. i had no idea the place was this dirty!! please please clean it up..

The chicken flatbread was my alltime favorite fast food choice and i understand its a seasonal item but its time for it now and its not back i would just like to no the reason for this and hope it comes out soon.......... when i was down on my luck and they were .99 they kept me fed because the flatbread is so filling... id pay more than that for them now since im back on my feet id just love to see them again

This evening my husband and I stopped in at the Franklin, Indiana Taco Bell for dinner. While we were waiting to order, someone came into the resteraunt with a dog. The Taco Bell employee named Christy, who took our order, came behind the counter and informed the customer who had the dog that if the dog is not a service dog they had remove the dog from the resteraunt. While she was speaking to the customer she petted the dog and asked another employee (who was eating) if they would watch the dog outside while the customer ordered their food. The employee was happy to do so. Then Christy returned to the counter to take our order without WASHING her hands. At that time, we placed our order. Then we waited 25 minutes and asked how much longer it would take. Christy apologized for the wait and encouraged the cook to speed up. We finally received our food after 30 minutes if waiting!!! My husband ordered a Big Box with both tacos being a supreme taco. Unfortunately, neither taco in his Big Box were supreme tacos. The ONLY type of offer received for our inconvenience was a Carmel Apple Empada. Needless to say, we were exteremly dissatisfied with the service received and may never return!!

We recently visited store 004012 in Paducah ky. They acted like they had no time to wait on us. They were loud and obnoxious. One girl was on the phone with apparently her boyfriend screaming and cursing. Then are order wasn't right and when I took it back they acted very rudely. I love Taco Bell but after this experience my faith in your hiring practices kinda make me not want to eat at another

I ordered a mexican pizza meal, which came with two taco supremes.. after eating the first supreme, I noticed that the second one had green mold on one of the tomatoes and a smaller spot on another tomatoe. This was by far the most disgusting experience I have ever encountered at any fast food chain. You have lost a loyal costumer and more than likely my friends and family after I spread the word. It was at the state st. Location in rockford, il. I would hope you take this seriously, as people could become sick and start a lawsuit against your company. Thank you for your time.

When I drove through the Algonquin, IL store on Randall Rd. This evening. Something. Was going on but it wasn't serving food. At the order speaker I ordered #8 3 crunchy tacos with. A sierra mist. The person came over the speaker & all you heard was people laughing & talking in the background. I was asked to repeat my order 3 times because the person couldn't hear me over their co workers. When I got my ordere I didn't receive a receipt to do the actual survey & didn't get a straw for my drink. Obviously the employees were not focused on the customers.

I went to taco bell in yuma AZ 026030 on 32nd street.we went around 7:30pm .the manager Brandon was really rude about me letting him that there was a hair on my burrito.he even blame me about putting the hair on the burrito.this is not how you run a store with rude managers like this one.very upset and will never recommend this or any taco bell to no one and I'll make sure everyone know how rude managers are

About 90 percent of the time I go to this Taco Bell they mess up my order I know how to order it and what comes on it but it seems like they intentionally put the fiesta sauce on it just to tick me off. I will even tell the cashier to verbally tell them to not put it on there it doesn't come with it on there so they are just doing it for free!! This has happened well over ten times I'm a very frequent taco beller every time I call them or have it replaced and yet they still make me something not even on the menu if it was still on the menu it would make me ordering easier and cheaper!!

I live about 15 minutes out of town. I just went to taco bell for my kids dinner. I had ordered 2 chicken burritos for my daughter and of course I recieved 2 chicken tacos. She does not like the tacos and would not eat. This has happened to me before more than once. It is very incovienent for me to run all the way back to town just to replace $2.00 worth of food when gas is so high. I called and they say when you are in the next time we will replace them. That does not help when that was my daughters super. There had also been times that I came home and did not recieve all my food. When I order out to eat food it is because I didn't have time to cook and when this happens I have to cook anyway so what is the purpose of stopping in the first place. Instead of saying they will replace it the next time they need to waste the time and gas to bring it to me. At times I look in the bag but other times I am in such a hurry I don't think to look. I have a tight scedule where my time is limited because I have a mom at home with dementia and I have to pay a sitter while I am gone along with several appointments for my disabled child

Hi,
I was recently at a corporate taco bell store 000015 on 1/23/13 at 3:01 and my order number was 582470. I have been to taco bell many times and was disappointed when I went in today and got home and I don't live far. However when I got him my food was already cold and I ordered a double decker and it tasted like dog food and was really soggy. It was so bad my three year old wouldn't even eat it. Hopefully my next experience is bad with the food quality, if I decide to ever try it again.

Monsieur/Madame
-i've noticed for some time now that the food that is being served at taco bell doesn't even come close to quality and quantity anymore (such as years ago)
-this evening i ordered 2 bean burritos and all i got were two deflated pitas with nothing but cheeze whiz in the middle, and hardly any meat at all, it was like eating pita and nothing else
-what i saw on the menu and what i received was not the same at all
-maybe being a loyal customer to taco bell i should have complained to someone at the restaurant, and it might have made a difference or not, but i don't believe it should come to that
-what i saw was embarassing and this is why i submit this complaint
-just consider me now a past taco bell customer

I was at the Taco bell at Williams, AZ on Tuesday 02/19/13 with my extended family of 11. We were wanting to get some bean chalupas however the lady at the front desk rudely said that even though they will remove the beef/ meat, they will charge 49 cents extra.
On trying to reason with her, she did not want to listen. On asking for the manager/ the customer service number she pointed to the wall to find the number myself. On myself finding the manager, I was informed that this is the decision of the franchise owner and not Taco Bell. is

Why did you change a great thing? Your new favored chicken does not taste good. While I realize it may enhance the flavor of new products why use it in all dishes? It completely changes the taste. I have been a Tack bell fan my whole life. Craving chicken Mexican pizzas. However due to the new favor I find them citrus tinged and frankly gross. Why ruin a good thing? You just lost a very loyal customer and I am sure I am not the only one. Please give your customers the ability to choose whether to use the new artificial lime flavored chicken.

I ordered a Doritos Los Tacos meal #11 from a Taco Bell store down the road from my house. I asked for regular and the lady told me that it was supreme when she read the meal back to me. I told her I wanted regular not supreme and she said "Okay, please pull up the window." I got to the window and she asked me for six dollars and change. I don't remember the exact amount she asked and I can't even tell you what store it was from because after everything that I'm about to tell you she never gave me my receipt back which is another thing that I'm VERY upset about... this wasn't my first time at Taco Bell and wasn't my first time getting that exact meal so I knew 6$ and change for the meal I wanted wasn't correct. I mentioned this complaint to her and she insisted that I was still wrong, so I thought maybe the price increased since I had last been there and I gave her my credit card. She handed me my receipt and I checked it and not to my surprise it said "#11 SUPR." Last time I checked supr stood for supreme not regular, and I noticed it said 5.79 and I almost was certain that regular said 5.49... so again I mentioned to her the mistake that was made and she still insisted for a good two minutes that I was wrong... Then after a while she got the manager and he also insisted for another two minutes that I was wrong... then after about another minute of thinking he finally realized that she charged me for a supreme meal... At that point I was EXTREMELY mad and upset and was never wanting to come back to Taco Bell again, and I thought common courtesy at fast food places was if they give you the wrong price that you get your meal free and all she did was give me a dollar and NOT APOLOGIZE. I was so extremely disappointed in this service... I may never come back to Taco Bell.

Ok so on my way to a 12 hour shift at work I decided to stop at Taco Bell in Temple Tx. When I arrived there were 3 cars ahead of me and a few already in the drive though. After 5 min of the car ahead of me not moving and he had plenty of room to pull up to the window to order. I moved my car ahead and was waiting in line. I pulled up to the window and was denied service because of a customer complaint. I was embarrassed and had to go to work on an empty stomach. I did not know the car that was ahead off was going to the drive though.

The last two occasions I have eaten at Taco Bell, I have gotten all the way home before realizing my whole order wasn't there! Both times it was my sons food who is only 23 months! When I did go back to the restaurant to get the remaining part of my order, they did not apologize or anything. They just gave me the food and sent me on my way. If that is not poor customer service I don't know what is. And one time they tried to give me the original food that they forgot to put in my bag the first time, which had been setting there since I originally ordered, left and went home and came back. I DON'T THINK SO!! I paid my hard earned money for fresh food!
Sincerely, Chasity

I decided to go through the drive-thru at the closest Taco Bell where I lived for our dinner tonight. When I first pulled up, the guy asked me to wait a minute and he'd be right with me; no problem! He then proceeded to take my order. There was only one car in front of me, so I pulled up behind this car. I waited behind this car for 5 minutes. A little timely, but ok I can deal with five minutes. I finally pull up to the window, the same boy took my money and gave me my change. I waited five more minutes before he gave me my drink. I waited and waited (he had left the window half open so I could hear pretty much everything going on inside). Two of the employees (including the one who was "helping" me) were standing there joking and laughing and throwing around the F-word very loudly! Finally, the boy asks if I needed any sauce, I told him no I didn't need anything else other than my food. He then closed the window behind him and again I waited and waited. The boy finally gave me my food, all the while, he never once apologized about the long wait, no thank you, no have a great night, nothing! So from pulling up to driving away, I spent 32 minutes in the DRIVE-THRU!! I could've eaten at a restaurant if I had known it was going to take that long! So I drive home, we open our food & guess what? My order is wrong!! (Of course it is!! After waiting over half an hour for it, they couldn't even get my order correct!) I pulled out my receipt with their phone number and called them several times, but no answer any if the times! I am very disgusted and just plain pissed off! They are lucky my food didn't get thrown at their window bc I was very close to driving back up there, but luckily for them, they aren't worth my damn gas. They DO need to get their shit together though and if they are going to hire these 16 year old assholes to work there, they need to educate them in time management AND better customer service!

I just left the sulphur springs tx taco bell where I was treated so rudely by not one but two people and I'm trying hard to be nice in how I phrase this due to being so angry. I ordered two of the new cool ranch boxes as well as three individual regular doritos tacos for my boyfriends daughter and when I pulled to the window I payed for our food and noticed we were shorted a drink.
I mentioned it and asked for our drink she asked what it was I said Mr pibb she said we only carry Pepsi products I said yes you have Mr pibb listed on the menu she rudely said again we only have Pepsi products so you get Pepsi. We received our food and I looked in the bag and noticed four tacos where two boxes and three individual tacos should have been.
I waived for the girl to come back to the window and when I expressed my problems with our order she said your tripping I know what you ordered. I asked for q manager who did nothing about her employee who u addressed being rude gave me my order rudely and slammed the window. As I was driving away the rude employee gave me the middle finger. Mind you I have a child in the car.

To whom it may concern,
Before I start to write about my complaints, I would like you to know that I am a former taco Bell employee. I use to work for Ottawa Kansas Taco Bell, therefore I'm speaking out of experience.
Several times now I have gone to Tillicum Washington's Taco Bell on Union Avenue. Several times they have not spread thier ingredients equally among most of their products, like their burritos. Ingredients like sour cream, guacamole, fiesta sauce, and etc. This prevents customers from getting the ingredients they not only pay for, but what they also expect to taste in every bite. Therfore,customers will be unpleased with your products. Also resulting in lack of business.
Another problem is that today (10-1-12) I had bought my 1 year old daughter some Cinnamon Twists. When I had tasted them, they tasted as if they were past their expiration time or had been fried in bad/dirty grease.
I hope you take into consideration what these problems could do to your business.
Thank you.

I went to Taco Bell 027886 and purchased 2 xxl nachos on chicken and one steak and I received as much meat that's on a nacho supreme if it was chicken or steak I called the store and asked to speak to the manager and told her the problem she stated that she made it herself her name was Amy I asked how much was it suppose to weigh I forget what the said but there's no way this met this criteria I asked if I brought it back and we weighed it it wodnt weigh that she said yeah it wouldn't after two minutes and this was after I informed her I live right down the street I think it's a total rip off to charge me just about seven dollars for a nacho and give me about three dollars and fifty cents in product. If u need pictures I have them

At 901 E Broadway North Little Rock Ar 72114. Everytime I order regular tacos I will recieve a half a teaspoon of meat and it will be empty one inch on each end, the shells are always cracked all the way down and stale and the lettuce is often wilted and clear. Their food even tastes like it was all the stuff the other stores would have thrown out days before. Everytime I have brought the taco back to them to complain they refuse to do anything about it.
At times it seems like he is useing what should be used to fill one desent taco elsewhere to fill 3 at his store, and I am not exagerating at all. One time I ordered a taco salad with extra meat, willing to pay to get some meat, and I was shocked when he charged me extra and literally put half of what he normally would, and that aint much, which is why I ordered extra in the first place. It was almost like a slap in the face and flat out robbery.
I will get a little bit better deal when Mr Allen isnt there, but when he is I've learned to go to the one on McCain instead and get my moneys worth. If you dont believe me? Go there and let him ruin your day. Just because the store is in and economically challenged area doesnt mean he should take advantage of the locals just because he is a different race. Be prepared to order twice as much food than you normally would elsewhere. Want 2 tacos? You better get 4.

Not once, not twice, but three times your Fort Mill, SC location has managed to screw up my order. The first time I was inside of the store and had decided to eat in due to the long drive-thru wait. I noticed that my order had been screwed up I took it back and they fixed it. The second time I was not so lucky however. I ordered a nachos supreme out of the drive-thru and specified what items were not to be anywhere near my nachos and soft taco. Arriving home I discovered every single item I specified to not be on my order staring me in the face. I threw it all away and made myself soup. Today however was the last straw. I had an order made in the drive-thru for my family. Arriving home I found that all of my items had been messed up in a similar fashion to Trip #2. It is my assumption that the workers must have ingested a large amount of methamphetamine an wildly threw in toppings and tacos regardless of what the order said. This location is just an embarrassment to your corporation at this point. The Fort Mill Taco Bell has never had any problems that I have heard of before these last few months. I have listened to numerous complaints recently from my friends and have clearly witnessed the incompetence firsthand. Fix this or prepare to lose a good number of customers and a corporation-wide loss of integrity.

hi i ordered a chicken burrito and beef chalupa today at your taco bell location in saint clair shores, michigan...martin and harper location..take two bites into my chicken burrito and bite into a penny spit it out immediately..i take it back and ask to speak to the manager all she basically said was sorry do you want your money back..thought she would of at least said i will check the rest of our chicken or whatever and make sure there is nothing in the food so this will not happen too anybody else..taco bell is one of my favorite restaurants but after today i don't think i will ever eat taco bell again

I went to the taco bell in MATTESON, Il. I purchase a National Advantgage Card, the green one in August.
When I went to use my card which says" taco bell buy 1 burrito supreme, taco, gordita a regular price, get one free" . I showed this card to an employee, and he stated" Our store does not accept this". But the card states " Good nationwide at all participating locations". If you would like me to fax a copy. I can be reached at708-898-2431. I don't understand why people are not trained correctly to know a funderasier card. This is to help the community not turn them away. This suppose to be helping Americans, but I think some of these restaurants don't want to help. I've had the same problem with this card with SUBWAY, KFC. But Burger King and McDonalds accepted my card with no problem.

My wife and i decided to take our son to get the cool ranch taco. We went to the one at 609 naamans creek rd claymont delaware. First they messed up when taking our order then we waited for 20 mimutes or so to get it. They gave our son the wrong tacos so he had to go back in to get the right stuff. My wife and i ordered a 12 pack of cool ranch tacos and 2 chicken quesadillas. We ended up with regular tacos and 1 quesadilla. By this time we were too pissed off to go back. I have never had so mutch trouble at any fast food joint like this. Because of this i will probably never try the doritos tacos since i doubt i will ever stop in one again.

On Oct. 8, 2012 I ordered a Chicken Cantina Bowl for lunch at the Taco Bell at 1310 Broadway St., Pearland, TX 77581.
I had nothing to eat prior to purchasing this order. Several hours later, I developed a fever and severe diarrhea and flatulence (salmonella poisoning?), which lasted about 36 hours. I am in the medical profession and I felt I needed to inform you of this incident.
Thank you,
Carol Knight

Everytime i go to taco bell they always ask me what kind of sauce i would like and by the time i get to the window and drive off i come home and there is no sauce it really upsets me because I love hotsauce i cant eat any of their food without hotsauce. They always give me the wrong thing i order something and when i get home its the wrong thing and i dont eat it i would rather not return to taco bell i love their food when they do it right of course im just really dissapointed

The spicy chicken burrito was the best food offered by any fast food restaurant! I got one almost every day and was heartbroken when it was discontinued. Now I prefer McDonalds or del taco when that was NEVER THE CASE! The fact that I could get spicy chicken in more than just a burrito was amazing! Your chicken was the best I've ever tasted and I have seen many questions online asking how to make it. Nothing compares please bring it back please! Del tacos spicy chicken is a major joke and I'd rather eat my toe nails!

Around 7 pm Saturday October 27, 2012 I entered the Taco Bell drive through in La Porte TX. I pulled up to the speaker and asked the operator to please hold as I was on the phone with my wife. After my wife finished telling me what she wanted I proceeded to relay the message to the intercom operator, after repeating my order twice and getting no response I said hello. The operator said are you talking to me, I said yes sir, he said how am I supposed to know, you been talking on your phone. He said this in a very rude tone. I asked him why are you being rude. He said I'm not, I'm just saying how am I supposed to know who the hell you are talking to when your on the phone. I then decided I no longer wanted to eat from a establishment that treats there customers in such manor and pulled around the get the name of the person I was talking to. When I pulled up to the window and asked his name he mumbled something and picked up his phone. I asked him again and mumbled something again. I told him it was ok, I would contact his manager, as I was driving off he called me a fucking pussy. I drove off and I looked up the phone number to this location and called, a young lady answered the phone and I asked to speak to the manager, she said I was speaking to the manager. I told her what had happened and she said not to worry she was already wrighting the person I was speaking to up. I than started asking her name and the name of the employee I was making the complaint about. She became very hesitant and did not give me any names. She then stated she was not the actual manager, but an assistant manager. I told he not to worry about it, I would come in and find out everyone's name. I went back to the Taco Bell and the first person I came to was the same person I spoke to on the phone. A girl who had just started that day according to her. Not a manager at all, so I asked her who the real manager was and she said she did not know, so I asked someone who was sitting down eating, she also said she did not know. So I asked the guy who I had the problem with from the first place what his name was since he was not wearing a name tag. He finally came over to me and said he was infact the manager. I coul not believe it, this is the kind of person treating people like this and he is the manager of the store. I said look I am not trying to argue with you any more, just give me your name and I will call it into corprate office. He told me its on the wall, he don't give a shit who I call, he said I have witnesses and I got you on camera. I just wrote his name down and left the store. I drove across the street to the KFC to order food from there and as I was sitting in the drive through line I seen someone comming across the street from the Taco Bell, the young girl who was posing as the manager walked up to the back of my truck and started reading off my license plate over the phone. I asked her why was she following me and calling out my license plate. She said noting and walked off. This was the worst, most disrespectful experience I have ever had with a fast food resturant. This guy having talked to me like he did, then have people lie for him is not the example a manger should be showing employees. Especially one that was luring for him who was on her first day. UNACCEPTABLE !!! The managers name after I took it from the wall is chrisoval alverado, he was a male. Please call me at 832-764-6659 if any additional info is needed

I received an incomplete order from Taco Bell. I specifically ask the staff if the entire order was in the bag as it seemed lite. I was assured it was complete. When I got home and checked the order it was missing items and items in the order were missing ingredients. Upon returning ti the taco bell store #019978 the "Manager" was completely unprofessional and had no concept of customer service. I was told if I wanted to give her my name and number the owner might want to send me something. When I asked why I was told my order was complete, the response was "Oh, we're training that guy at the window today."

I go to this Taco Bell quite frequently. Almost every time I go my order is messed up. Today my husband and our 2 children went to the drive thru and ordered 2 xxl nachos, one with steak and 1 with beef. We checked our food as we pulled away and there was no tomatoes and like a dime size amount of guacamole on both our nacho orders. We paid 5.99 a piece for these. When we turned around to get it fixed the drive thru was so slow we just gave up and came home. It's ridiculous with the gas prices being so high and the economy like it is that a restaurant can mess up orders like that. They should be wanting more business and more frequent customers.

Went to Taco Bell on Sat. Aug. 17th approx. time 1:00. Address 102 Franks Drive, Madison, Indiana. I ordered a taco salad w/ no rice. I was at work. Approx. 3:30 started pucking. Then came home and had the runs till my body was empty. For breakfast all I had was a protein drink. Had to be tace bell that made me sick. Missed Riverfest in downtown Madison Saturday night and paid 20.00 each for tickets for hubby and me. Ok call the store today Sunday at 2:00. phone #812-273-2355. I talked to Mary the manager on duty. She told me she has some medical something and no way could I get food poisoning that quick. BULL!!! Had this twice before and happens the same way everytime. This is why I am filling a complaint. She was terrible and very unconcerned. I know I had food poisoning/ had it before and for her to tell me she knows more than me and too bad. Not a very good response. Look forward to hearing from you soon.
Thank you,
Karen Brown
Work #812-273-5411 Cell #317-501-6037

When I arrived at 7:30 PM at this location there was a line of cars in the drive thru and several people inside. I went inside and got in line. 25 minutes no one took any order from anyone inside, yet the take out window was moving and we could see staff in the kitchen.6 people left and I moved to the second in line. Oh, did I mention those 6 who left never place an order because no one was taking orders. Then shortly before 8:00 PM a staff person came in from outside with a soft drink in hand did something on the register and left. Saying someone one should be there shortly. Less than a minute later he returned and started taking orders.
Apparently he had to take his jacket off and get rid of his drink! 4 more staff came in over the next 20 minutes and more customers came in, again during this time no one was taking orders again. The fellow who help me went to the kitchen. I have no idea where the four who just entered went? The take out window was still moving cars.
Then a lady came out and announce to all customers. "I will take your orders but I will also be honest and tell you all it will be 15-30 minutes for us to get to your orders!" What the hell? All the customers had left. No word was given on my order! The take out line was moving and still be processed. I heard the server tell a new counter customer we need to help the take out windows first! Again what the hell!Still more customers came in and then were told and left making no orders. I like the lady in from of me were stuck as we had paid and are still waiting.
Finally at 8:43 P.M. yes, 8:43 PM..... I got my order. I all but ran from the building not checking the order just ran. After I arrived home my partner opened on bag...pulled out 4 Tacos, I ordered 4 Dort Locos Supr. We opened the second bag, and It had 2 bean burritos.

Mindy Watts
from Merritt Island, FL
I went to the Taco Bell in Merritt Island #026970. My order was placed at 5:15:27 pm at the drive thru. There were only 2 people at the counter inside and a car ahead of me that received his food as I was pulling around to the window. I sat at the drive thru window until 5:28 I received my small order. It was raining out I pulled forward to find 2 of the 6 items were missing after all that wait in line. It was pouring rain I did not want to pull around park and walk inside so I drove home. Then gave what had to everyone and made myself a sandwich. This is not the first time this has happened at this location and I do not usually complain about things but this has happened several times and thought someone should know.

Robert Karczynski
from Wyandotte, MI
I'm tired of ordering sour cream on every item and not getting it but getting charged for it. Every single time I go to the Southgate, Mi taco bell on fort street, I order the same damn items, a mexican pizza plus sour cream and a mexi melt plus sour cream, and I 4-5 times per week. More than half the times I do not get sour cream on them. We got 16 inches of snow yesterday, should I have to drive back up there just to get my sour cream on them? It isnt right, its like giving taco bell a free dollar every time i go there, and I dont want to quit giving them my business but its getting old fast.

I ordered a Taco Bell 12 pack and paid for food at first window and went to second window to get food. The employee shoved the box out to me and didn't say a word to me. Could at least said here's your order or bye. But said nothing and I continued to sit there and she looked at me and rolled her eyes and said, "yes is there something wrong?" -- she was very rude! I just wanted to let someone know about this, I will think twice before going to this same Taco Bell again.

russ chlysta
from Charter Township of Clinton, MI
Hi I've been a fan of your food for some years probably since the 90s so I go tonite 1/25/15 into a taco bell on I75 near Findlay ohio to order a Mexican pizza and was told we don't sell them because we don't have a deep fryer? What's with that I go into any taco bell in this country nd order pizza I don't need to here this my question is why am I standing in one of your franchises and I can't order a Mexican pizza because your franchise doesn't have a deep fryer ? You want my business but I put up with this?

Nancy Gagliano
from Phoenix, AZ
My husband went yesterday to the taco bell on 40th street and chandler blvd in phoenix az. In our order my chees roll up was missing and we ordered soft taco supremes and the lady did it up with a drink to make it cheaper and our tacos were wrong. They messed up on something else my husband had too. he complained a bunch of kids were working in there and had no clue what they were doing. Where is the manager there on this? Not good customer service. This needs to be fixed. Also, that restaurant needs to be remolded. I never get a really good feeling when I go in there on the cleaning. It really needs to be cleaned up like the one they just remolded on warner and 48th st in phoenix az. Thank you

I went sat at 10:30pm and ordered a gordita box. And service was slow because they had a car broken down. I called a family member to help who had a tow truck. I ate the food and went to church and at church the next day. I was rushed to the ER for food poisoning and I waited till Tuesday to talk to them and the GM took care of me by giving me a full refund. But I will never eat their again I am too afraid.

Brandi
from Carlinville, IL
I am extremely upset over the fact that not only did I fine hair in my food, in my crunch wrap to be exact, which is completely disgusting and I understand that sometimes things happen. So I tried to do the best thing which is take it back to the store and let them know and ask for a new one. I'm not a rude or mean person and was being polite. I had just spent $55.00 on food for my family of 5 people. Now not only did I find the hair but we were also short several items. Now I didn't go home I left the drive thru was hanging out the food items to my family and that's when we noticed the items were missing. In that time of driving back around I went to take a bite of my crunch wrap and YEP you guessed it but into a long brown hair!!!! So needless to say I was hungry yes but that sort of thing will make you loose your appetite!!!! However my children were hungry and I needed to get the missing items. This is where I really complain. I told the drive thru person that the items were missing and that I found a hair in my crunch wrap. He proceeds to tell me come to the window in a very rude and harsh way. I drove around to the window and sat there for 10 minutes waiting. when he came to the window he said yes what can I help you with. I said you we didn't recieve these items and gave him the receipt and showed him the bags and he the tells me well how dominions you didn't already eat them. I said what?? You can clearly see on the receipt that I was literally just through the drive thru. I didn't have time to eat then and my chikdren are hungry. He looked at me and said your sure you didn't eat them. Now I'm a plus size girl but what he was insinuating was completely and utterly shameful. I have never been treated so badly in my life. Especially by going through a drive through. I said well I also bit into my crunch wrap and but right into a hair. I said but in sorry do you think I out that in there too since it's cooked into the meat. He then said well what do you want me to do. I said young man are you serious right now. I said how about replacing the missing items and the crunch wrap that had the hair in it so my family can eat. She didn't say a word and shut the drive thru window. I waited what seemed forever. I finally had to knock on the window. He came back to the window and said yes.. I asked again about getting the items reolaced. He said I don't know im seeing what can be done. I asked for my receipt back he said no he had to have it to show his boss. I said forget it I will spend my money somewhere else and I will call to speak to manager about this. I asked for my money back and was told no they couldn't do that. So I drove away. Now I drove away without any of the missing items or the crunch wrap and 3 hungry children. I called to speak to the manager the next day and was placed on hold then told that the manager was busy and would call me back. I left my number and haven't heard from them since and I have called several times and no one ever has time to talk or return my calls. All I wanted was my food items that I paid for and the one replaced. I was the one that was out almost $50.00 in food. I don't see the fairness in this. I even left a message for management and left my address and asked them to just send me gift card or gift certificate to have dinner with my family during the day time hours sometime and stil got no response!!! This happened in Litchfield, IL 62056. I only remember his name being Josh. I know people have bad days and stuff but that was so unprofessional and really just completely rude!!!

Lisa Walker
from Warren, MI
I am writing in reguarding this is the 3rd meal in which hair was in the food. Your staff at the Hoover location in Warren, Michigan. I NEVER see the staff wearing hair nets or plastic gloves in food prep. I know this is a major violation to the Board of Health. I had long hair in the cheese of nacho's, another time was hair FROZEN in the Starburst freeze!!!!! the 3rd and last time was hair across my Tostada. Your need to have your management team enforce the proper code which requires gloves and hair nets to be worn during food prep. My your children are no longer interested since these last 3 events. Maybe we should check into DEl Taco and see if that staff wears golves and hairnets during food prep. Please pass this on to the management team at this location.
Lisa Walker and disappointed family of (6)

K so i go to taco bell one morning to order some food first had to say hello into the drive thru speaker then this snotty man says its gonna be just a minute to fix something i don't remember what. but asked if i should come inside and very unprofessionaly was told it doesn't matter either way so just hold on well after fifteen minutes i said hello again. n once again ws told it's still gonna be a few minutes fifteen minutes after that i said hello again was told ok just one minute and u can order. well i gt to the window and the guy who turned out to b a manager wass still being rude my order. wasn't right i was over charged because there was sourcream added to extra burritos one of my children is allergic to dairy three tacos had no meat my tostada was thrown together sloppy if i had time i wd have went back but i did tell the guy i was contacting customer service

On Friday 3/21 I bought two beef chalupas from the east broad st location and they were very good. The next day
I decided to do lunch at the taco bell on south Hamilton rd. Big mistake. The shell were too hard to eat. I tried
breaking off the very hard edges but still could not eat them. The only reason I didn't take them back is because I
was too far away. I will never go there again. Whoever made those chalupas had to know that they were not fit
for human consumption.

On the night of March 28, 2014, I called the Taco Bell on Markham St in Little Rock, AR ph 501-664-5161, was told they would cook me 2 empenadas and so I drove over across the street and no lights were on, no cars in the parking lot and nobody in the building. I was very upset. I work at the hospital across the street so I had taken a non-paid break to go there and they were closed. That was extremely inconsiderate.

I visited a North Lauderdale Taco Bell on Rock Island Rd a few days ago and on the counter is a game that you drop in your quarters/dimes etc and you can win some food. I gave my grandson a $1.50 and his friend that was with us 50 cents. They were dropping in the money and the friend at the last quarter got it on the yellow ledge which meant he won something. He was so happy at that time the guy behind the counter wiggles the thing the coin fell off and he said that thing is broken. The kids just looked like WHAT I asked to speak to a manager and he was no help at all. He said I can give you a free taco. I was like it is not free i just paid $2 dollars for it. He said well i cant give you the money back. I asked him why when the kids had been playing the game for a while did you wait til they got one on the yellow ledge before you said it was broken? He didnt have anything to say. I feel this is a scam . There was a lot of money in the game and I wonder how many other people got scammed. Please respond and tell me why this is ok.

To day we where at the above mentioned store, an older lady urinated in the booth, when she left I told
Manager about it he said he would take care of it, he did not take any actions to clean up, then the
Cashier lady started to clean tables without gloves, she wiped the urine off seat, then wiped table with same rag, went to another table and wiped that, I went and told her about the urine, she was mad that Manager had not told her, she then put rag down and went back to taking care of new customers, did not wash hands, my friend went to Manager and told him that he should close the place and clean it up, he responded, that he was taking care of it, he still had not dome anything by the time we left. A lady and two children were about to sit at one of the tables that she wiped up with the urine rag, we told her what had happened.
This is a very serious sanitation problem.
I am expecting to receive a response from you regarding this bad Management problem, we will not be eating at this Taco Bell again, and after I tell everyone I know in Twin Falls, I know they will not be eating there either.
March 26th 2014

I took my grandson and his friend to Taco Bell in north laudrdale yesterday and on the counter near the cash register there is a game. Where you drop a coi. In and can win free food. I gave my grandson. 1 50 in coins and 50 cents to his friend. As they put the coins I to the game the last coin landed on the yellow bar. My grandsons friend said yeah I won. At that moment I looked to see it on the yellow shelf. Then the man behind the counter shook if off and said that is broken. The kids were like what happened. I asked to see the managed because they watched the kids put the money in and never said if was broken until they won. The manager was. I help at all. He had no answers but to give me a free. Taco. I said if is not free thy just laid for if in the Adam machine I try to tell my kid that fair is fair and they saw today that this is not always true. I would like a response as to why this would happen and if it is a practice to have a fame you would not honor. Thank tou

I'm a vegetarian and every time I go to Taco Bell there is always a wait. I don't know if beans and no meat is really a hold up but every time I wait. Tonight I received a chicken quesadilla instead of just cheese which I checked while still there. When I got home to eat it, it had like 3 strands of cheese in it cause they rushed to make it. I love Taco Bell but the service is ridiculous!! Thanks

Came in after work at the taco bell on hwy 78 in ga, and had to stand at the cashier for about 6-7 min. Before anyone came up to take my order. Everyone was in the kitchen playing around and being loud. Then when I got my order they messes it up. This is the second time it has happens at this location. It is a good location for me on my way home, but I will NOT be coming back here and just might not ever eat taco hell again.

On 4/5/13 I entered Taco Bell at the Bluffton Ohio location. Upon entering the store I was by an employee it would only be 1 minute. About 30 seconds go by and a car pulls up and they took their order. 2 other employees came to the counter and said just a moment and yet another car pulled in and their order was taken. There were no other customers in the store except my son and I. This is very poor customer service and was very angry and left. That's a loss of about $15 dollars I would say. Please correct this and make customer service a lot better at this location.

I am do sick of visiting the Taco Bell In Port St Lucie Fl. They never know what they have it takes them 2 minutes ro ring up a tostada and they don't know what rice they sell? Not going back time waster

On 5/4/2013, about 8:00pm my soin in law went to Taco Bell to get us dinner. My daughter and I had Taco Salads. Upon eating them, my daughter found a large bone in the salad. It is about one inch long and about 1/4 inch in diameter. She was very lucky not to crunch her teeth on it or swallow it. I don't know where you get your hamburger for these salads, but they need to be checked.
Thank You

On Saturday 5-4-13 at or around 1820 hrs I was refused service at Taco Bell for wearing a "hoodie" style sweat shirt, one I purchased at an upscale vendor, until I removed said article of clothing. There are no posted dress code signs and I was wearing a name tag from my employer with my face and full name is clear view at shoulder level.

I want to start out by saying I go to tacobell once a week. I'm not sure if I will ever go back. I ordered my food on Thursday 4/25/13. Got home, and half of it was wrong and to top it off I didn't even get my food. I tried calling. Finally the 3rd try someone answered. I told the lady about not getting my food. The proceeds to tell me she made it and it was in the bag. Calling me a liar. I don't need to call waisting her and my time for a lie.
Then told her about the other food that was wrong. She told me to bring it back. I told her I went ahead an feed my kids cuz I had been trying to call for the past 20 minutes. She had an attitude the whole time we were on the phone. There are plenty of other place to eat but I like tacobell. But I don't appreciate being treated like a liar. Please inform your employees and tell them if they keep doing that they will lose customers. Thanks

So dining at Taco Bell on Pecos, Store # 000165 in Westminster Co. we received all of our order fairly quickly about 10 min to make it out. I don't mind waiting as long as my food is made fresh. But the crunch wrap was completely soggy! It had to be sitting a very long time! So I asked nicely if I could get a new one , the cashier William B. looked at me like I was crazy, walked partially out of sight, laughed and said yeah just give her that. Then turned back to me and said just a minute. Not sure why I didn't take it as a bad sign, maybe having faith in Taco Bell was to much to ask.
Well 2 min later I revived what I can only describe as a reheated crunch wrap. I am guessing it was the same one I received before just stuck back into the grill press. If you have any common since you would know that once a taco shell is soggy no amount a reheating will un-sog it. It made me feel nauseous and with the comment that was made left me questioning if they may have done something to it. I only made it through maybe 1/3 before just throwing it away I would rather starve then eat crap, It was gross , nothing like normal. I will never eat at the Pecos Taco Bell again and will highly discourage it with everyone I know!
My Family loves Taco Bell, it the only fast food my sone will eat! Normally we do not eat here. But at the location on Washington and 84th ave. They are GREAT, if we ever have a problem which is very rare but happens, They are super nice and always go out of their way to fix it! Go to eat at the 84th one! I highly recommend them! and they are super clean, unlike this place!

I have told Taco Bell store number 2531 for several years to get the old screen menu ordering model out and replaced with the newer screen menu ordering models that reads your order. Why? I am hard of hearing, disabled and the new menu screen ordering models have proven to be effective with correct orderings and faster drive thru services.
The old screen menu ordering model messes up my orders and when arrive to drive thru window, its not what I ordered so therefore, the drive thru gets halted and its a waste of everybody's time. Simple solution: replace old talking screen menu ordering model and put in the new screen menu ordering model box! Please please someone help and make that store replace the old order box and especially since its the busiest store, downtown!

Where to begin.. We went to Taco Bell on March 31 2013, and we walked in the door at 9:30, and were immediately reminded that they were closing in 1/2 an hour and then at 5 minute intervals we were reminded they were closing and given the exact minutes. Meaning that a worker would come by our table and say " We don't want you to think we are kicking you out but we close in, ( insert the minutes).
Then on April 5, we thought we'd try again, now it was 9:40 and we were told they were closing in 20 minutes and they wouldn't let us in the door. Even though we told them we were going to get it to go, because there was like 10 of us and they definitely do not do split orders in the drive thru.
Why keep going back you ask well friday is our hockey night and by the time we get done everything else is usually closed. But I will not be back to this one ever as I now have a picture that one of the local seniors from our high school posted of him licking a whole stack of taco shells. If I could post it I would. When the students that received the photo showed it to the managers they were told there was nothing they could do. Really!? Well just know that this mom is going to spread this photo to everyone I know until something is done about it.

I received horrible service at the Taco Bell on 1416 N Harrisson street in Shawnee Oklahoma. I ordered a two dollar meal deal that came with no Doritos, my nachos bell grande was cold, and I only received a half of a serving of cheese with my nachos. Also I tried to call the store 3 times and no one answered on all three calls. I am extremely dissatisfied with my purchase.

I am very unhappy the worse food I have ever had. I am a regular the store located on Alma School and Warner in Candler Az. Tonight 2/25/13 I went to get food after work. First of all we got the wrong drinks which was no big deal the guy changed them out. I orderd two chicken bajas along with some other stuff for my roommate. I only live two streets away my food was ice cold, and was so hard I couldn't even bite into it. I tore apart the bajas to eat the insides of it and there was no baja sauce they were made with sour cream. Also, never got a reciept so couldnt even just call the store.

My wife and went to ur taco bell on tenth ave in Greeley Colorado and when we go home and opened a taco there was a baby roach on the shell of the taco this is one the most gross things I've have eve seen I really hope you and your company make thus right in one way or form thank u for ur time

During a visit to Taco Bell in Wagoner, Oklahoma my finger was cut badly on a broken chair between two pieces of metal. Not only were we not helped until we complained we had to leave quickly and didn't get the right food. We did visit with the manager who filled out some kind of paper work but was never followed up on. I have since lost my complete finger nail from the situation. Not only did we get the wrong food but not all of our food. That is beside the point, no one ever phoned or wrote to check on the situation or the cost of stitches or such. I am very disappointed, and have not visited a Taco Bell since nor has any of my family. To me this speaks volumes of costomer service and professionalism of TACO BELL.
Sincerely,
Sharon McClure

As I was eating my taco this evening, I was half way through and noticed an odd texture. I spit it out and it was a piece of sharp black plastic! If I would have swallowed that, no doubt I would have been sliced as it left my body! NOT SAFE!

Today (02/17/2013) around 4:45pm are 5pm I went to taco bell on 2972West Wheatland Rd. (972)572-7522.I catch the bus and have to catch it certain times and be in a certain rush.When I got to the cashier I pointed at the sign and answered politely I would like the six dorito taco and six crunch taco pack with a Mexican pizza and burrito supreme with no onions are tomatoes.She gave me my receipt the way I ordered it .I go to the restroom and see a guy waiting and when I come out a Hispanic family nears in but I thought of nothing.I then notice Bo exchange and when I get my meal;mysteriously my receipt is missing when I get home and my 12 pack was wrong with 6 crunchy with 6 soft tacos.
I called and asked a lady for the cross street and she didn't know but knew there and had changed up my order after I told her the wrong price to see if she cooperate and which she didn't.

The staff was ok but very slow. Two cars were in the drive thru two families of four ahead of me and my two children. It took about 10 minutes to get our food. But they only had two workers at the time. One cashier and one cook. I just think this location needs to be redone. The windows are all steamed up and are wet in the inside. The tables are all carved on and the silk plants are dirty. It diffently does not look like the other locations. All I ask is that someone takes the time to take a look at the inside if this location. also they did ran out if trays to serve the food and there were only 3 other families inside.

I swung through a Taco Bell on 1 90th St. in Gardena today. I made a mistake.
I ordered the Volcano nachos with no jalapenos the way I always do. At first the girl tried to charge me for a volcano burrito, But after several minutes of trying, she finally got my order right. Keep in mind, I only ordered one item. I got around in the drive-through window, handed her my card and paid, and she handed me the bag with the nachos. I just been straight to my office and took them out of the bag. They looked horrible. They look like somebody had thrown a bunch of stuff on the wall and scraped it off to put it in a bowl. I took a photo, and if you would like to receive a photo of my email, please let me know right away and I will gladly email it to you. Despite the appearance I decided I was hungry enough to try to eat it anyway. The chips were extremely stale and chewy. Everything in the dish was cold as ice cubes. There was water in the bottom of the container.
I am an avid blogger. If I do not hear back with some sort of apology from Taco Bell within the next several days, I do plan to tell the world and show the world what I received. Right now my reach is about 20,000 people a day.
Thank you. I await your response.

I visited Taco Bell DeRidder, LA 005254 on 1/10/2013 drive through. First, my doritos chips was missing…returned to drive through to retrieve them. Second, the chicken burrito was not prepared as ordered..returned a second time to get the right thing. I felt like I waited until all lobby orders were done until I received my Correct order. Now 30 minutes + the first order of taco's are soggy and I paid over $14.00 for my order. So much for crunchy taco's

I love Taco Bell. I actually go there quite a bit, even though the Taco Bell in Stillwater hasn't gotten my order right once in 4 years. Sometimes, I'll even drive to a different town to go to Taco Bell because the service at this location and the quality of their food is so awful. A couple of years ago I even went to the Stillwater location and ordered steak soft tacos with no lettuce. I ended up at home in Ripley, 20 miles away, with 4 steak soft tacos with only lettuce and a tortilla. No meat, no cheese, nothing but lettuce. But that's besides the point. I went last night and ordered my food. I came home with over half the order missing or wrong. Granted I should have checked it before I came home but I was being rushed so I didn't. The point is, I think I've finally given up on Stillwater Taco Bell. I've complained to the manager there before, I've tried contacting corporate headquarters and I've tried Facebook and no one ever gets back with me. I thought maybe I'd try this as a last ditch effort. If nothing else, maybe someone can give them a call.

I got home opened my burrito to add hot sauce and to my surprise the burrito only had the tortilla cheese n sour cream and less than a table spoon of beef. What happend to the beans. How can u not add what u are advertising. Now I know never to go to taco bell ever again. I have had verry bad expirinces whit this resturants. Im done paying for something that im not getting. This happened at the taco bell on 1190 n mclean elgin,il 60123. On 1-7-13. Your workers there suck. What to contact me 224-600-0166 il be waiting to hete from you.

From hearing from an old friend that worked at Taco Bell old have heard some pretty disgusting things that have happened at the Taco Bell on Gilbert and Basline. Hearing that most of the workers there are under the influence half of the time really upsets me. I've also heard that done employees will chew tabacco during work and sometimes spit in their customers food. I have also heard that some employees have had sex with a manager inside of the Taco Bell restaurant. These things my friend has participated in and have witnessed makes me never want to see a Taco Bell again.

I WENT TO TACO BELL AT 302 MALL BLV IN SAVANNAH, GA I ORDER COMBO 3 WITH A LARGE DEW WHEN I GOT HOME AND WENT TO ENJOY MY TACOS IT WAS AWFUL FIRST MY SHELLS WERE OLD THERE WAS NO SOUR CREAM LETTUCE BROWNING. NEEDLESS TO SAY I WAS VERY DISAPPOINTED I EAT TO THIS TACO BELL 3 TO 4 TIMES A WEEK AND THIS IS MY 3RD EXPRIENCE WERE MY FOOD WAS LESS THEN HIGH STANDARDS THAT I EXPECT REGARDLESS THAT ITS A FAST FOOD PLACE EVEN THOUGH MY MEAL WAS ONLY 5.98 IT WAS MY HARD EARNED MONEY AND I PAID FOR A SERVICE THAT EXPECTED TO RECIEVE UNFORTUNATLY I DIDNT AND I HATE TO KEEP EXPRIENCING THIS OVER AND 3TIMES IS ENOUGH TO STOP WASTING MY MONEY I HAVE OTHERS WHO SAY THEY ARE DISAPPOINTED IN TACO BELL I THINK YOU NEED TO GET UP ON YOUR STAFF BEFORE THEY CAUSE YOU GOOD AND LOYAL CUSTOMEERS. I FEEL THAT I SHOULD EITHER 1 BE REFUNDED OR 2 GIVING A DINE AT YOUR EXPIENCE CARD/ GIFT CERT. THANK YOU FOR YOUR PROMPTNESS IN THIS MATTER AND I EXPECT NOTHING BUT EXCELLENTS FROM YOUR BUSINESS

Angela Gibbons
from Alexandria, VA
Need part of my meal replaced, called for 3 days no answer. Drive thru gave my order to wrong vehicle. I ordered no lettuce/tomatoes mentioned it 3 times I had to pull up to wait on remake. Crunch wrap had lettuce and tomatoes. Popcorn chicken was hard. So I would like a partial remake order#308326 10/15/18 time 5:49 pm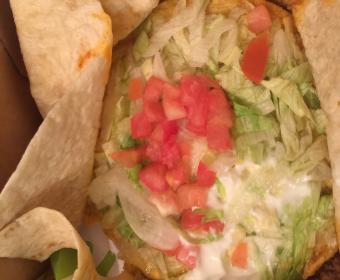 Georgia Rogers
from Houston, TX
My husband, daughter and I visited our local Taco Bell. We go there a lot. It is 5 minutes from our home. The management has never been good and the employees don't seem to care, but we go anyway because we like the food. We always carry out & we always go inside to place our order. The cashier took our order. One Grande meal with 5 soft & 5 crunchy tacos, 1 Nacho fries, 1 Regular Blast Freeze, 1 order of nachos and 1 Naked chicken chalupa. Our total was $21.55. We paid for our order and waited patiently. At this point there was 1 person ahead and 2 people behind us inside. We waited for about 15 minutes as we watched the employees basically throwing stuff together and putting it in bags for the drive thru & for us who were inside waiting. They gave me my order. I immediately pulled out the tacos because we always have an issue with very little cheese & my daughter wanted to check her chalupa. They asked if there was a problem. My daughter said she ordered a naked chalupa & this one was fully loaded. They said that's what you ordered so we showed them the receipt plaining showing a Naked chalupa. Then I said there is no cheese on these tacos. Can I please get some extra cheese & I will put it on myself. The manager came over & asks what the problem is. I told her the problem with the Chalupa & she said no that's what you ordered. Again I showed her the receipt & she got nasty & had them remake it. I also told her there is no cheese on the tacos, there was maybe 10 strands. She said we only put a pinch of cheese on them. If I want more I have to pay more. I said no. There is not even a pinch on here. Again she said you have to pay if you want more. I said that is absolutely ridiculous & that none of you know what you're doing. She said there is nothing wrong with us, that it was me with the problem. She told me to get out of the store. And I said gladly. I would never come back to this location because you are rude and do not know how to treat paying customers. She said get the HELL out of my store. I stood there in shock as did the other paying customers. I have never been treated so badly at a fast food restaurant. My husband called corporate as soon as we got home & they said they would look into it and call us back. Needless to say no one ever called. He checked back about a week later & they told him they were still checking into it. This originally happened on July 30 at store 022840. I'm very disappointed that I did not hear anything back. You have a complaint line for a reason but don't want to do anything for people when they complain? I spent $21.55 on that visit for bad food and extremely poor service. I expect $21 dollars in free coupons or a check for $21.55. I would appreciate someone getting in touch with me since it has been over 2 months ago. I wouldn't even rate the experience at 1 star. Please advise what you are going to do about this and contact me as soon as possible. Thank you, Mrs. Rogers

Chiragi Jhaveri
from Marshfield, WI
They mess up my food. I need to drive back from home to Taco Bell. When I went the place manager said I am not giving you a food. Come tomorrow & talk to my gm.

Rochelle Standberry
from Chicago, IL
I am truly hurt because of disrespectful customer service that myself and my daughter as well as her boyfriend received this past Wednesday through the drive thru from the Taco Bell on 71st and Michigan.
When my daughter's boyfriend tried to place an order the guy said you must be old since your ordering from the old menu. He started laughing.
I yelled out that I wanted the number1 and he snapped back NO order from the new one. He started laughing.
He finally stopped playing and took the order.
I was pissed because I needed to eat before I took my medication. I have Multiple Sclerosis. I had to ask my daughter who is 28 and her boyfriend whom is I I30 just to chill because I had to eat.
When we went to the window he told us the total and started laughing. My daughter's boyfriend said so I am old. He asked him how old he was and when he told him he said yeah you are old and he saw my cane and told me you are definitely old all of you are old.
I tried to let it pass but I could not. I have cried over this disrespect. I will not be returning and neither will my daughter or her boyfriend.
I am also going to talk to my friends about this issue.
I should not have to worry about discrimination over my disability or disrespect while ordering food.

Connie Robbins
from Cookeville, TN
I have visited the Taco Bell in Crossville Tn. three times in the last month and the service has been terrible. the first the drive-thru was down could only order if you went in, second time i ordered a taco salad they were out, tonight I went to get dinner after church drive-thru was down again so I go in there is one person taking orders with 6 people in line, telling them they are short staffed, mean while another employee walks and smokes on the sidewalk outside the front door. I am usually very understanding because I was a manager for one of the top restaurant in the business and I know we all have a bad night, but these is not good guest service or management. I left and went to another business after waiting five minutes or so. I hope these are issues the company would want to know and fix. thank you for listening.

Karen Wickiser
from Cuyahoga Falls, OH
Approximately 3.45 today I went through drive thru at 360 Howe Rd. in Akron, ohio and ordered a taco salad without meat. I got it home...horrible.
Lettuces was watery, soft, soggy, almost slimy. Maybe because I came between lunch and supper. I will never do that again.I had two bites, the tomatoes were awful as well. So this hungry customer threw the salad in the trash.
ICK what a waste of money

Lisa Cottrell
from Painesville, OH
Wael I am upset that Taco Bell get something that I like they discontinue it and when you ask for an Item and you dont carry anymore they say we can motified it but they dont tell you that there is an additional cost to you.I real think that is crap to add an additional charge for something you dont make anymore that is why I dont like going to get anymeals from there. I really think you as a company should get you business straighten up and notified the customer of any additional cost or that you discontinue an item

Sinque Sadler
from Charlotte, NC
I ordered a number 5 nacho bell grande. The guy at the window took my order wrong! He only gave me the chips with cheese on it, and I didn't find out until I arrived in my house. I drive all the way back (wasting gas)! The manager was letting a customer out and it was a couple of people eating in the diner. I spoke with her at the door about a refund, and instead of her taking my receipt and food at the door, she made me go to the drive thru window! I walk around and asked for my refund, and she denied it, saying I have to drive to the window (mind you its several customers in the line, and it's moving slowly! I finally make it to the window and the guy running the drive thru, had short term memory of my request. I told him I'm the guy who wants the refund, and I didn't appreciate the time it's taking me to get my refund! I asked for him name, and the manager ladies name, and he an attitude with me and threatened not to give me my refund or their names! (Very bad customer service)! I never had a problem at the taco bell on Sugarcreek, Charlotte NC. up until tonight! As long as they're working there, I will never go back!!! I feel like a victim of racial profiling, and I will give that taco bell bad reviews and will spread the word, until something is don't about this! They didn't try to compensate me for wasting my gas, my time or my food! And gave me attitude because of their wrong doing!

David Hildebrand
from Denver, CO
Your Taco bell location on 120th in Broomfield Colorado....(ive been going to for years)....has turned into the nastiest location you have in my opinion.
I find it hard to believe how nasty it has gotten in the past few months. You have employees there walkng through garbage all over the floor.....and not giving it any thought to even bother cleaning the place....or picking up what they are tripping over.
My niece went in the bathroom, to find it littered with paper towels scattered everywhere.
We use to go there at least a few times a week following school activities and games.
We wont be going there anymore until some new management cleans up the nasty place......the health dept really needs to look into the mess.....but Im contacting you first. Feel free to contact me for any further details.
Thank You
D.L. Hildebrand
Broomfield Colorado
303-995-9533

Dede Allen
from Oklahoma City, OK
In Oklahoma City, we have a taco bell on NW 23rd Ave. I was in the drive up line today (8/7/2018) from 12:48 to 1:26pm. I only have an hour for lunch. I drove straight back to my office which is only 5 minutes away. I ordered the $5 box that has the Nacho fries, two tacos and a burrito The food was cold, and they forgot to include the cheese for the fries!! There was only 1 positive thing about my visit to this Taco Bell today and that was the lady at the window. She was so sweet and for her to be that nice when every one at that drive up was totally raged by the time they got their food, tells me she is a saint on earth. The cars ahead of me were doing their best to "speed" out of there, obviously a display of their high level of dissatisfaction with the service. But she was still as sweet as she could be. In our office we normally send one person to get everyone's lunch. That was not the case today as I was the only one ordering for myself. I realize this location will probably not notice, but our office has decided that we can no longer get our lunches from this Taco Bell or the person picking it up will jeopardize being late back from lunch. Thank you.

Janet Owens
from Lansing, MI
I was at the Lansing West Saginaw Taco Bell on Sunday went through the drive-thru and spent $27.31 on food. My order was missing a steak nacho box and I was told after waiting in line for about 30 minutes to come inside. I came inside and explained this to the cashier...I then waited over 25 minutes for the steak nacho box. I had people waiting at home for the food and by the time I got everything the first order was no longer even warm. I spoke with others who had been waiting over 30 minutes for their food. I spoke with the manager and all she could say was she was short people. No i'm sorry or anything. Very disappointing! This happens a lot at all different times of the day. I am not sure that I can even go back there. It's one thing to have to wait, but then to have to come in and wait again with not even an apology. What can be done to rectify this?

Janet Ellis
from Alamo, CA
They don't have a Chicken soft taco supreme on the menu. When I order it some will give me a Chicken soft taco and charge me extra for the tomatoes and sour cream. That seems fine but not all places. I get something different many times. Either they charge me extra but I don't get the extras. Or I end up with the shredded chicken that comes with sauce, yuk. Recently I ended up with Steak or ground beef. I wish they put it on the menu so I know what I'm getting.
Also I love the Watermelon Freeze but lately most of Taco Bell's run out and I end up with a flavor I didn't want.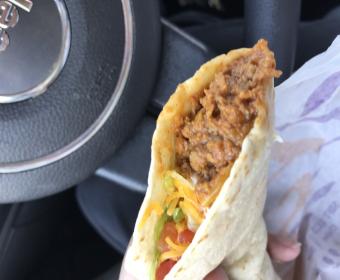 Cathy Westerfield
from Georgetown, TX
I went to Taco Bell in Burnet Texas today around 1 pm. There were a few customers waiting inside and a long line of cars in the drive through. It became apparent that folks inside had been waiting 20-30 minutes for their lunch. The cashier put on gloves and tried to help the very slow cooks. This left the register unmanned and at least 8 potential customers waiting. When he returned he warned them it would be a long wait. Many just walked out. Meanwhile , I also saw orders coming back for inaccuracies. People needed to return to work and had spent their whole lunch waiting for food. I hope there is a manager who cares. Otherwise this business will be unsuccessful.

Janet Ellis
from Alamo, CA
They don't have a Chicken soft taco supreme on the menu. When I order it some will give me a Chicken soft taco and charge me extra for the tomatoes and sour cream. That seems fine but not all places. I get something different many times. Either they charge me extra but I don't get the extras. Or I end up with the shredded chicken that comes with sauce, yuk. Recently I ended up with Steak or ground beef. I wish they put it on the menu so I know what I'm getting.
Also I love the Watermelon Freeze but lately most of Taco Bell's run out and I end up with a flavor I didn't want.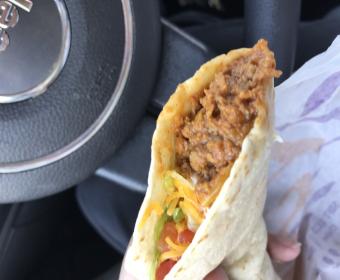 Spencer Wright
from Salt Lake City, UT
Pulled up to the drive through speaker, and waited for approx 5 mins and no response. Pulled up to the window and figured I would be able to order there. They told me that I couldn't order at the window. I had to order at the speaker. So either pull around and order at the speaker that now has 5 other cars in it, or come inside. I was frustrated and asked what kind of three ring circus they were running. They again told me they couldn't help me at the window. I drove to Wendy's.

RANDY BRYAN
from San Antonio, TX
On two separate occasions I went to the Taco Bell located in the 200 block of Loop 337 in New Braunfels Texas 78130. Each arrival found the lobby pretty full of guests with drinks and nobody eating yet. the first visit had (6) staff making orders. The second visit had (4) staff working orders. The first visit resulted in the staff telling me that it would be 25 minutes for me to receive my order. My second visit was yesterday (7/26/2018) and I experienced a 20 minute wait to get a $5.00 order. This never happens to me at any other Taco Bell that I visit and I cannot imagine that this is good for business. I understand new staff and training and such, but this was a ridiculous amount of time. I should also mention that the majority of the orders I saw served and some were wrong and none of the orders were large. Please address the matter and make the location a strong fast food experience that is enjoyable to visit.

arlan pavlenko
from Independence, MO
I never had a worse restaurant drive thru visit july twenty fourth two thousand eighteen at seven clock eight minutes and fifty four seconds pm it took me over a half hour with only three cars in front of me they were having cars in line most of the time taken more than ten minutes after paying for their food I also the manager on duty if they could bring their order out to the cars instead of deliberately holding of the the line when I asked for the phone number for your nationwide complaint department they told me it was on my reciect the only number I could find was the taco bell I placed my order you deserve rating of much lower of one that taco bell should be closed and managers and assistant managers should be fired and should not be given another job at at taco bell im also going to file a complaint with the better business beureau in Gladstone mo andbody I can find in Missouri or in the united states the taco bell I was at the address is 6321 n oak trafficway Gladstone Missouri 64118 the phone number is 8164138792 my order number is 034388

Natasha Williams
from Kalamazoo, MI
Very RUDE manager was very disrespectful to me I front of my children and being a manager myself that is no way to speak to a customer at all and I do not appreciate it one bit.

Blair E Sterling
from Paris, TN
Order# 218282 07/24/2018 Refund at 2:55:35 PM $8.74 1 Nacho BellGrande, 3 Crunchy Taco
I ordered on line because I did not want to sit in a hot car at a drive thru. Nor did I want to sit in the store waiting. I paid with my Visa on line. According to the message on my computer, the order was ready and waiting. I chose pick-up at drive thru. When I got to the store though, I went inside to pick up as there were autos ahead of me. The order was not only not ready, it had not even begun to be prepared. I explained that I ordered and paid on line and messaged that the order was ready. It took me a couple of minutes to get to the store that is about 2 miles from my house. The man running the register, Roman Cool was very polite. An unidentified woman came zipping up and went on and on and on about how the order would not be prepared until I got there. I asked then why did it message me on my computer that the order was ready? She continued to go on and on repeating all again (maybe the woman thought I was not able to hear). I was told by the woman wearing Taco Bell things, "this is not the store's fault. This is the fault of corporate". As a result after my Visa was refunded by Mr. Cool, I went across the street to Burger King. I find this a very wrong way to do business.

Steven Hardy
from Las Vegas, NV
The new policy of only 2 orders per car in the drive through is rediculous and a waste of customers time. We've been going to our local Taco Bell in Henderson, NV for nearly 6 years and always go through the drive through. Never have we heard of such an asinine rule.

Darlene Mackett
from Oak Creek, WI
I went through the drive thru at the Taco Bell in South Milwaukee, WI on Chicago Ave and placed my order. I had requested sause with my order. After I received my order, I checked the bag and saw that I did not receive any sause. I waited at the window until the girl came back to the window. I said I did not get any Fire sause and asked if I could get some. The girl started riffling thru the container with the sause packets throwing packets around the counter and then picked up the container with the sause packets and proceeded to dump the contents onto,the counter and floor. She then came to the window with a smile and handed me a large handful of sause packets. I thanked her, and said "have a nice day".
This type of behavior was not very professional and I found it very disturbing, as I was not rude or abusive to the clerk when requesting some sause.
I hope this employee does not drive business away from this location. I don't know if I want to return after seeing this behavior.
Best regards,
Darlene Mackett
3724 E. Carpenter Ave Cudahy, Wi 53110

Joel Kuperberg
from Yorktown Heights, NY
When you advertise on TV a Triple Melt with a drink for $2.00 that's what I expect to pay not $2.59 at the Fishkill NY location. Also at the Yorktown NY location where I live, they charged me $2.99 instead of $2.00. Told them about the TV ad, but that did not matter to them. And also charged me $4.00 for 2 regular taco's & I believe the price is about $1.29 each. Also I was told there is no Senior discount on one occasion, and I know you offer a senior discount. They are simply ripping off the public, and are not abiding with corporate policy. You should look into this matter, Thank You, Joel Kuperberg 1627 Amazon Road, Mohegan Lake, Ny 10547

Joshua Brewster
from Elk River, MN
I have been coming to the same Taco Bell in Dickinson North Dakota for almost a year now. Over that time I've noticed the orders have been messed up quite frequently and the wait time to get your order through the drive-through has been getting longer and longer. I have currently been waiting for a half hour in the drive-through and still do not have my food and there are two cars in front of me only two or three cars have been served food since I've been here for the past 30 minutes. I don't understand how this can be considered a fast food restaurant. I am deeply regretting coming here this evening. I don't even have an option of leaving the drive-through because the drive-through lane is so narrow I can't get around anybody to leave so I'm stuck here.

Natonya Jordan
from Chester, VA
I spent $25.00 at the taco bell in colonial heights and my order was incorrectly put together. We received all regular tacos when that was NOT our order. The taco's were stale and wet at the bottom very mushy at the bottom. The only thing done correctly as the sodas. I tried calling 2 times no answer at all

David Koppa
from Colorado Springs, CO
I went to the Taco Bell on Nevada Ave. in Colorado Springs on July 15. I ordered a meal. I went to the restroom. The restroom had a sign to ask for a key. The cashier was busy taking orders; so, I asked one of the workers for a restroom key. The worker told the cashier that I wanted a restroom key. The cashier said "In a minute.". There were multiple people in line.
I waited.
In the meantime, one of the employees got the restroom key and walked out of the work area,
Finally, the cashier had serviced all of the people, I asked again for the restroom key. The cashier said one of the employees was using the restroom.
I believe this is very poor service. I should not be refused a restroom key when I ask for a locked restroom.
I asked for my money back, and I complained to the manager. The manager did not seem to care.

Anna Higa
from Phoenix, AZ
1 piece of some sort Rubber- type Debri inside my Bean Burrito.. Omg luckily I was aware while I was me eating my order if not maybe I'm dead now..
The Management should take it so serious this incident because someone can kill in this rubber type inside my food.. The life of the people is not replaceable!!!
I will include the location and the address where I got my order.. I tried to contact the manager but it seems she don't care about my report.. That why I decided to contact the Management..
Taco Bell 2881 S Market St. Gilbert Az 85296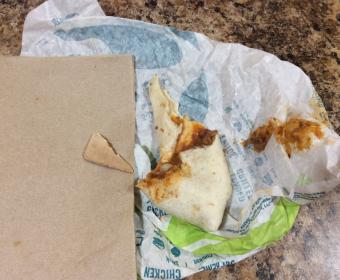 Mike Beauchamp
from Massena, NY
Got home and part of the order was missing.

Luci Hoover
from Woodstock, IL
Having been a customer at Taco Bell in Rockford, Illinois for many years. My husband and I are retired and really enjoy the $1 cravings menu and the senior drink being complimentary. Imagine my surprise when we stopped at the Taco Bell in Plover, WI on our way back from our cabin Tuesday to find that they don't have the $1 cravings menu and the items which are usually on that are at least 10 cents to39 cents more. For example, the spicy tostada is $1 on the cravings menu but it is $1.39 at that Taco Bell. I do understand that each franchise has the option of offering the free senior drink or a discount (they did do a discount on the drinks) but did not realized that they can arbitrarily inflate the $1 cravings menu. I would appreciate response regarding this issue. Thank you.

Jessica Morley
from Seattle, WA
I went through the drive through in Roseburg oregon, and the chalupas I received were in very stale shells. Inedible. I couldn't go back as I was returning from California.

Diane Lofton
from Shreveport, LA
I don't want to give it a one star but can't change that. This is the worse Taco Bell ever in Madison, Mississippi and has been since they opened. Never have change, will tell you credit card only, always out of most things. I haven't been there in over 8 months because of this. Today, I decided to give them a try. WRONG!! I walk inside at 1:30 p.m and was told they weren't taking orders inside that I would have to go through the drive thru. So I go back to my car and get in the drive thru line. After waiting 20 minutes I was told they didn't have large cups nor did they have ice. After being told I couldn't order inside, no large cups and no ice, I asked the girl why they were even open. Her response was to make money. That they were short people and the ice machine had been broke for 2 weeks because no one would come fix it. This has been going on since they opened. I have never gone and gotten what I wanted with out any problems. I have seen the district manager in there and them tell people they didn't have change so they could only take credit cards. And he allowed this. I am a manager of a store and if we couldn't run my business any better than they do, how can they stay open? They have got to be in trouble. This city is not cheap for rent especially on a brand new building. Some one needs to take it over and get it in shape or close the doors. And I hear this from so many other people here. Its not just me. And this is my 2nd or 3rd complaint I have filed myself. Just gave up complaining and quit going there. Guess my business doesn't matter.

mary ewing
from Jackson, MS
Went through drive through to get meal, sweet tea was old, think and syrupy. Tried to call them but fax machine sound came on, receipt said complete survey to possibly win $500, see back of receipt, there was nothing printed on back of receipt. Called customer service number, they were closed. Went online to fill out complaint and after writing a detailed account of my experience it said I had an invalid time entered, which was 8:00 pm. It never would take my complaint because site was flawed. Nothing was wrong with my time entry. I mean come on people . . . all I was going to do was to call and tell them they owed me a drink! DRINKS ARE ALWAYS TERRIBLE THERE AND ALWAYS HAVE BEEN.

Like some most food at TB. The service is atrocious.
St. George Utah and Mesquite nv.
We end up goeing there serveral times a month. At least once a week. They ask me to go through drive thru. It always ends badly.
I went to Mesquite TB drive thru, a few days ago. Wasn't my plan. But I decided to get some things, for myself.
The order was, Asked and I oked the screen. They generally screw up the taco order so I took a quick look and even felt bottom of bag to be assured the tacos where there. saw side etc. no time to inspect every item.
Upon arrival home I was asked why I didn't order anything but a side. Ordered a beans and rice and a ended up with a 1/3 cup of mushy slimy bean, I think they where bean? No rice.
I ordered 12 item Cinnabon and that disappeared completely. Items where's missing, altered or just charged on receipt.
I can't tell you how many times I have had to go back and go inside to get lost items.
I just lost my appetite that day. I Ames never to be on TB duties again. Mostly everyone's favorite. But losing money bad. The good thing is not adding calories.
Expensive way to diet.

charlotte baxter
from Connersville, IN
went into the taco bell in Hamilton Ohio the store number is 016995 and they got our order wrong when we went to tell them the manager nikki s was very rude and was yelling at us and at my daughter when we was trying to tell her what was wrong. I finally got tired of getting treated like crap and told her to just give me my money back, she took my receipt and went to the drive through window and to the back where we could not see her and when she came back i could tell she had changed the receipt, after she called me a lair for calling her out on it i told her just give me money. the hole time she was yelling and treating us like crap,everyone in the restaurant was telling us to call into to corporate and tell them what was happening.they were all saying that they are always rude here and they even had a meeting about it recently. When i finally got my money back and got home i checked the bank and i was right she cheated me almost 2 dollars so she stole two dollars of my money.to top it all off she refused to give me my origional reciept back with my partial credit card number on it.

Andy Ivory
from Flomaton, AL
I have been waiting twenty minutes for steak nachos which seems is unheard of. This place appears to be poorly managed.

Terri Gast
from Menomonee Falls, WI
The taco bell in Sussex, WI had the worst customer service or lack of. My husband and I came in inside. There was one family of 5 a head of us.
We all stood there for 15 mins waiting for someone to take are order or even acknowledge we were standing there waiting. My husband & I finally just left. When we left the people standing in front of us were trying to talk their kids into going somewhere else. All these people working in the back and getting drive thru orders and not one could even say we will be with you in a minute.

Alfonso potts
from Mt. Dora, FL
I went to the Taco Bell Located on 17060 US HWY 441 in Mt. Dora, FL at approximately 2:17pm my order was taken at the drive thru (3 cars in front of me), I did not receive my order until 2:45pm. I am a frequent Taco Bell customer but the wait time for a order of 2 hard tacos and a chulupa was extremely long. To the point were I was late back from lunch the drive thru line is setup as such ,once you enter you cant leave. I believe the employees of Taco Bell are hard workers and are dedicated to there jobs, but this is the 3rd time I have had to wait what I fell like is a awful long time for so call fast food. Totally unacceptable I would love to continue enjoying the delicious food that is offered at Taco bell however but after this 3rd time I will be choosing some other options available in my area.

Ann Marie King
from Columbia City, IN
I ordered your new 5.00 Steak meal. Sorry to say the meal was a real disappointment. The meat was so small my mother Ann Marie stated it was not worth the money There were a lot of chip and cheese. She felt she just have order chip and cheese......The Toco Bell in Knox Indiana really need to add the meat to the meal. Sorry I didn't think to take a photograph.

Phyllis Hansford
from Beckley, WV
Was at Taco Bell late Sunday eve in the drive-thru, several cars were in line. Took me a while to actually get to the intercom to order my food. Once my food was ordered, it still took me an additional 15 mins to get to the window to pay for it. Once I had paid, I sat there for another 10 mins watching thru the window, 2 girls were standing and talking to one another and txting on their phones, and a boy was casually going from the back with a tray to the front counter with food on it every once in a while. I finally got their attn and told the girl that I had been in line for over 40 mins that I wanted my order. She said, "I'm sorry it's been a while, you want me to get you a refund?" I said NO, I been in this line 40 freaking mins already, I want my food ! She said ok, he's getting ready to start on yours now...I said what ?? Getting ready to start on it ? She said yes ma'am, it will just be a few mins and shut the window. So in about 4 mins, my food came thru the window...I was beyond furious...and still am..This is a new store that just opened in March. In the beginning, they were so courteous and they whizzed you right thru. Now that they have taken Hardee's business and they will soon be closing, and McDonald's business seems to be slowing, they don't seem to care abt their customer base any longer. But that's ok, what goes around comes around. There is more restaurants coming to the neighborhood. They think bc this is a one horse town they got it going on right now.
Taco Bell
901 Robert C. Byrd Dr
Sophia, WV 25921

stephen
from Spring Hill, FL
On several occasions I have gone to your Port Richey Florida location to order at night and on several occasions I was told computers were down. So on Monday June 25th I went again and again was told computers were down. So I left and called the location and ask what time they closed and they said 1 and it was only drive thru so if your computers were down wouldn't you tell a customer that on phone. Customer service at this location is horrible employees smoking in parking lot with no one in store and just being out right lazy and rude to customers.

Courtney
from Jackson, MS
I was very disappointed in the service we received at our local Taco Bell in Magnolia, Ar this evening. The person taking our order I need the drive thru started having an attitude while taking our order when I questioned if they had taken part of it correctly because it was not correct on the screen. The attitude continued when we got to the window. When I was handed my order, he held on to the bag instead of just handing it to me, just being disrespectful. The manager on duty was standing there the entire time and also laughed. This is not the first time this employee has had a bad attitude with me when I have went there. If this is the type of people you are going to employ there, I will stop going!! Shouldn't you employ people that at least try to show good customer service?! I would appreciate a reply letting me know what you plan to do about this so that I know if I should return or not. My children like your restaurant, but if nothing is going to be done, then we will not be back!! Thank you!

Terrance Havens
from Muskegon, MI
I went to this store on 6/21 at 8:20pm and was told due to only having four employees it would be at least 15 minutes to get food. First off the restaurant was trashed like always. Both the kitchen and dining room were trashed. I said i would take my business elsewhere and the manager continued to scream at me til i was outside that she was just trying to let me know. The filth is one reason we have chosen to take our business elsewhere. I have 19 years of management experience in restaurants and have never ever let my restaurants look or run this way. I have been short staffed but never used it as an excuse. I have never been in this store and been out in under ten minutes regardless of how busy or what not. I have never yelled at a customer til they left the building like I was desperate to have them there. This manager has no clue what she is doing and since her family was there talking about how she was being promoted from crew to shift and now to assistant manager in under a year it seems like she is just being given a job she has no clue how to do. I Know nothing about Taco Bell and could do a better job than any manager that store has had in the last ten years. I do not want to speak to anyone in the store as it never fixed anything. I will gladly speak to a district manager even though i have tried to reach them before with no return call. I will also gladly speak to anyone from corporate level who would like to know what is actually going on in this store.

Ashley Touchet
from Jacksonville, FL
Very slow service! Employees outside standing around talking. The truck in front of us was at the order board for 10 minutes. We timed it. Then we get to order the employee asked us to wait. Took 6 minutes to order... When she finally took our order she was very rude about our specifications! This isnt the first time! Very unprofessional! This needs to be dealt with. Taco bell Abbeville, la.

I'm in Anderson, Indiana, from Texas visiting my mom. I used to work at the Taco Bell on Nichol Ave. Store and moved with it to what is now Rabel Ave.
I've eaten at all three Taco Bells here in town and they've all started getting really subpar as far as the Taco Bell standards I worked under goes. The taco salads have no bottoms. They are so small, McDonald's salad shakers are far bigger in comparison. Half the meat in the Chalupas and burrito Supremes...The Anderson stores had better standards! I'm half tempted to go get my money back but the employees are too stupid to know what a refund is.

Melody Paris
from Spokane, WA
Last Saturday June 2nd I purchased nachos bel grande for my granddaughter, the chips were so salty they were inedible. I called the restaurant where I purchased them & spoke with the manager about the situation, she thanked me for letting them know & then offered to replace the nachos she told me the next time we came in to let them know & they would give us a replacement order at no charge, so today Friday June 8th my husband went in to buy dinner & when he mentioned the free nachos the manager who was on duty both last Saturday & tonight said she didn't recall the conversation & refused to give him the free nachos her name is Sabrina. I will not return to that Taco Bell.

no name
from Sarasota, FL
hello i wanted to complaint about this girl name sydney that she looked so high while serving me i wonder if they do any drug background or do drug testing is not safe for her to be a cahsier or to serve food like being on weed she smell like strong oder it smelled like weed bit i am not sure what kind drug it was i know it was taco bell on clark rd sarsasota manager is darnell

Velvet Robinson
from Duncan, SC
5/12/2018 I went through the drive through at 655 Hwy 28 Bypass in Anderson SC. When I got home with my order I found that the 5 steak soft tacos I ordered for $12.45 were not in the bag. I tried calling the number on my receipt and no one answered the phone. I had to drive back 10 miles to get the rest of my order. I asked for fresh tacos and was told the cook was making them. However, when I got home I has cold tacos. I do not believe that fresh ones were made. My order totaled to $21.61.
I feel I should be compensated for my time, gas and the fact that I was given the tacos that were left off the order to begin with. I always go to Taco Bell but feel that if I am not compensated I will not return and I will inform all my friends of what happened to me today with poor customer service.
I look forward to hearing back from you.
The cashier that took my order was Caleb G and the order number on the receipt is 312694. The survey code: 3475-8033-1412-2216.

Paul Kiehn
from Ruckersville, VA
At a Taco Bell in Charlottesville, VA on 5/8/18 I had a poor food experience and want my money back. The food was ordered through the driveup window, which seems to be a frequent problem, as driveup customers leave the premises, or go home to eat their food, and are not likely to complain as would a dine-in customer. However, I ordered two stuffed XXL Burritos with extra sour cream. The tortilla was hard around the edges (stale?), had no rice inside, no meat, chicken was hard and barely noticeable, and the burrito was mostly refried beans. There was no extra sour cream. The other burrito was the same poor quality. It was like a very large BEAN BURRITO !!! I don't want to pay for this meal and the last time I had a poor quality meal at Taco Bell, they sent me a coupon for more Taco Bell food. I had to call the store and physically come down to receive a refund. I have the receipt for $12.27. Paul Kiehn paulease2001@yahoo.com

shannon robeson
from Blair, NE
last three or 4 times I have went to taco bell I have started ordering the bean,rice and cheese burritos. I ask for the red sauce to be put on the burritos. the burritos are a dollar a piece. I get charged 50 cent for every burrito they add sauce too that is nuts by the way that is half the amount of the burrito cost just to get sauce on it. wow! anyway everytime i have asked for this I barely get any sauce at all added to the burrito I'm lucky to even get a few drops on them. on top of that there is so much empty tortilla that is very dry and hard to choke down sometimes it would be nice if I have to pay for sauce I would at least get plenty of it on there instead of just having a lil bit at one end of the burrito I really enjoy these burritos when they are done right but it looks like I will be taking my business somewhere else if the problem can not be fixed.... thanks for your time. Shannon Robeson 100 hollostone dr blair 68008

Nancy
from Carrollton, TX
Went to the location on midway and 635 005640 on 5/4/2018 at 11:54pm and the cashier Jose M was really rude and unprofessional while taking my order I had to repeat my self many times, and he kept changing languages on me from Spanish to English and when I asked him for different kinds of sauce he only graved a handful of what ever sauce he had there and put it in the bag and close the drive thru window without me finish asking him for what I need it

Kelly Bleier
from Columbus, OH
On May 1st around the 6:30 PM hour I went thru the drive thru on Mall Road in Florence KY. My order came to $20.44.
When I had my order handed to me the taco salad lid was not closed and the Cinnabons had fallen out of their bag.When I got my order home the drink Baja Mountain Dew I ordered was all carbonation which the person fixing the drink should have known. Needless to say it was not able to be drank. The 2 chili cheees chilitos ordered was basically just the soft shell with practically no filling. When I tried calling the store several times after I got homer the phone at Taco Bell was never answered. The phone would just stop ringing like it was answered but no one on the other end.
Anytime I visit this particular there always seems to be an issue of some sort with my order. I feel most of my order from May 1st was very unsatisfactory and wasted. The workers there at that location always seem to have "don't care" attitude. I will not be going back and I will share with my family & friends the horrible experience. I would like to be compensated somehow for this last experience. I never have complained before but enough is enough of bad service.
Have feedback for Taco Bell?
Thanks for your feedback!
Sorry. Please try again later!