T-Mobile
T-Mobile Complaints Continued... (Page 9)
880+ reviews added so far. Upset? Call T-Mobile corporate: 425-378-4000

I wouild like to say that , when I purchase my phones with T-Mobile the manger gave me price that would be our monthly payment , I ask him several times would it be this every month , he said yes , but time when on it came up to be about 38.00 dollars more. also before I purchase the phones my wife stop in and look at phones, he took all her info . but when it got down to cost she told him that she had to talk to me , the next two days I went to store to look , I purchase the phones but also he went and did a contract on her with out her consense . cause she got bill month later , all this is being going on for year to get this straight out this man is not at store , anymore . the people in service just don't understand this , I finally got a person on 1-15-13 , to help me , and tell me to email service contract . the store were I purchase the phones all they doing is asking to send then boxes of contracts until they find my, this is not right . I want service and I want my contract to be voided . this is been to long and we paying to much , cause we just can't drop it , it go toward my credit .

I would like you to review my contract, because in december 2012 I had talked to a rep that helped me with my bill because it was too much. Since i had this problem she suggested a plan that made everything unlimited so that all 4 phones on my bill would not go over minutes. She also added that i would get january free, I asked the rep to speak to my wife before deciding on the dealand she told her the same thing. My wife asked since our contract was going to be over in march if it would effect it because we planned on changing our phones and she said it wouldnt so we agreed on the contract. When i had called back another time because I was still having issues with my bill being too big the rep told me that two more years had been added on because of the contract I recently did so it would be over til 2014. It is not right that the rep lied so that I can change my contract, I would like to get full credit to get new phones. she could have told me the truth so at that time I couldve changed the phones.

My name is Shannon Beard ACCOUNT NUMBER: 587738796 Phone number (803)221-6010. Email address: sgbeard@peoplepc.com
I finally decided to add the internet to several of my phones and per the employee there would not be any extra charges for going over the coverage. It would just slow down because it was the unlimited package. I then replied during our phone conversation to make sure that I underestood that when the max limit was reached it would just slow down but no extra charges for over usage.. He guaranteed me that was correct. When receiving my next bill it was over $1800.00 because he did not set the plan up correctly as discussed during our phone conversation. I called when I received the bill and spoke with Emma and was told I would have to change from the Suncom plan to T-mobile to keep from paying the amount due. I explained to her that I was already having trouble with two of my phone lines not being paid from other people and that their contract was ending 12/25/12 and was there anything I could do to keep them from changing to the new plan. She told me that she would only be able to do one line which was suppose to be (803)221-2649. All my lines where change now having a 2 yr contract on each. I feel that if the original person would have done their job correctly setting up the internet I would not be in this situation. I have been a customer for 8-9 years and I feel that I have been taken advantage of and should not have had to change my plan because of someone not doing their job correctly and as I was told how it worked. If there is anyway please review the information or phone call on the date I added internet and when I spoke to Emma and had to change plans.. I do not agree with the contract this should have all been handled differently. This should never be at the expense of a customer it should be followed through with the employee that made or makes the errors. This has gotten me to where I do not trust anything when it comes to my phone coverage plans . Please look into this and see what can be done. Thank You in advance for your help. Shannon Beard

I have an identification card and I began a service with T-Mobile in 2008. Up until this year, everything has exceeded my standards. I have three lines on my account and I would like to cancel one line. T-Mobile is asking me a payment in order to cancel my line. Number One: I am using a prepaid line and the company put me in a contract. I have an I.D. but I do not have a social security number. Why did they put me in a contract, especially when I never signed any paper work accepting or acknowledging that I was or would be in a contract with them? I still am currently using three lines on my account, but I do need to cancel one line. Can you please offer me help, if not, I would like to terminate my service completely with T-Mobile. If I have ever signed any paperwork accepting a contract between myself and T-Mobile, please send me copies of those. I need a reply as soon as possible, within seven days preferably.
Thank You,
Krunal Patel

The contract with t-mobile was extended to October and I did not hear the sales rep say that the contract would be extended. I have called and ask to hear the phone conversation because that was brought to my attention that the contract was extended. They say in the notes they told me and that is not true. I was the contract back to February and I will pay the outstanding bill. I informed the people in November that I was no longer going to be able to pay for the phone after February. Members of my family have had t-mobile in the past and they were always a good company. I want to hear the phone conversation stating that the extention would be to October. I would like the contract back to February please. But again, I want to hear the phone conversation to hear the sales rep tell me that the contract would be extended to October because I would not have extended the contract. I want to know if the sales rep just put in the notes that I was aware of the extention or not. I want to hear that phone call. I want my contract back to February because I have always paid my bill until all of this happened.

I am an adult and my boyfriend got us phones from Tmobile under the friends n family plan after i found out he had me marked as under the age of 17 i called tmobile and explained to them that i was in fact not a minor and was being tracked and located costomer service rep. said she would fix that and she wasnt aware i was an adult she said she was sorry again and again saying the problem would be fixed now i have found out not only has the problem not been fixed it has gotten extremely worse now my cell phone numbers, texts, voicemails, email, and all accounts trusted through my tmobile plan have been willingly given through tmobile to violate my civil and constitutional rights as an adult.

I have tmobile serviceand on Nov 14, 2012 my phone service was cancelled stating that my someone reported the phone stolen which i didnt do..and this was the day before my birthday— image no phone on your birthday and the only thing they could tell me that dont worry we already sent you another phone..but the point is i am without a phone for my birthday and they charge me for sending another phone when all in all i never reported my phone lost so i cancelled my service then get a bill for $642 charging me cancellation fee which they are the one too turn my phone off that was so called stolen and charge me for another phone

seven months ago i was approach by the salesperson to get a family contract , which it would benefit us because my husband travel to different countries. previously he is in monthly free paid from t mobile. which is a good idea $100. per month for three phone verses one for $50.00 per .my husband only comes home every 7months. of the year.according to t mobile my husband can use the phone where ever he goes but we find out the phone cannot be use for the of 7month because it was unlock. according to the salesperson the phone was unlocked. i have paid monthly $100.00 permonth without my husband using the phone. ill be great appreciate not to be in the contract with t mobile anymore. because the breach their contract with me. i have spoke to rebecca from t mobile about this situation.

On November 28 2012, I renewed my contract with T-mobile by phone. The person who I talked to is Noralee D. I told her that AT&T was trying to give me a good deal with free cell phones with a 2-year contract and I asked her that if T-mobile were to give me the same deal I would stay with them with a new 2-year contract. She said that she would give me the same deal and that it would be in the new contract, so I signed it, and now they are trying to charge me the phones. Everything is recorded in my contract that I did by phone that day, my number account is 674406369. Thank you for your time.

I called both myt.mobile account and went to a T-Mobile store to try to get satisfaction over a problem with the sound coming from the receiver as being totally unintelligible, hence unusable. They didn't even look at the phone and just said that maybe the speaker wasn't any good and they would sell me a new phone with an upgrade. I did not want this as I had planned to cancel my service with them as soon as the contract was up. My online screen showed that the end of my contract would be fullfilled on January 24th of this year. I had determined that when it was up, I would seek a different company. I found a good offer/plan elsewhere and told them that I wanted to begin service with them on the 25th of this month. I contacted myt.mobile.com to tell them to cancel my service and was told that my contract would not be up until Septemer–9 months away and that I would be expected to honor the 9 months of fees. The rep did not listen or care what I was trying to communicate to him and treated me in a condescending manner, whereupon I received this address to voice my complaint. I am a disabled senior and am dependent upon the cell phone, as I do not have a landline. I was left with the situation of paying $48.00 a month for a phone that was unusable.
Account #: 787488888 Phone #: 520 891-0187

when i did the contract on dec. 26 2012 . I call back on the 27 of dec. to cancel it . The person I talk to told me i call in time to cancel the contract that when the phone come in just return them back to them not open. I did that , Now they tell me i can't cancel my contract. I talk with four people before that time noone told me that . they told me that when i return the phone back , I would be able to cancel my contract. I wont my contract to end in jan. please let me out of thia contract. I can't used my phone when i go home to see my mother. I need my phone at all time. when i go into building my phone is dead . I need a phone that would work for me now. I used my phone now more than i did before so i don't need for it to go dead on me for just going out of town to see my mother.

On November 9, 2012, I came into T-Mobile store 8717 in Louisville, KY. I came in for an upgrade to a newer phone. I chose the Galaxy SII. Prior to me purchasing this phone I had a blackberry than was on a single plan. I wanted the same plan when I bought the new phone. The sales person that I was dealing with had no idea how to upgrade my phone and get my current plan to work with my new phone. She did not tell me that she was giving me a family plan. I did not receive a bill for the new changes until January which showed a $95.00 increase in my bill. I went online to check out my plan and noticed another line was added. I called T-Mobile to have this plan cancelled but was told that I had to go back into the store to get the account fixed. Today, January 7th, I went into the store where I purchased the phone and they were no help. All they did was pull the contract that I signed that was not explained to me. The print is so small on this contract I can barely read it. I do have a photo copy that I would be more than happy to provide anyone reviewing this complaint. I want my plan returned back to the original plan I had before all this was messed up. I will not be paying the difference up to the $209.00 bill and if this situation is not fixed, I will be leaving T-Mobile after many, many years of being a customer. There are other cell phone services out there that want to keep their customers and will go above and beyond to fix their mistakes. The sales person that I had in your store was incompetent and didn't ask for any help from any other sales person. She called into T-Mobile 4 different times because she didn't know how to set up my plan. T-Mobile also has on file an address that I had back in 2005. Doesn't seem like T-Mobile has their act together too much. I would like to have my account reviewed and given a call at 502-210-9744 or email micky8970@hotmail.com of your decision. Thank you.

I would like you to review my account as I am being charged a fee for ending my contract. I don't feel I should have to pay the fee or any charges after the date of Dec. 7th 2012. The reason I am disputing this fee is because I moved about 4 months ago and I had no reception in my new home. I had to walk down the street about 3 blocks before my phone would work. My phone also didn't seem to have reception inside buildings, such as walmart and grocery stores in the area. I called 2 months ago and explained this to one of your customer service agents. He told me that I would be able to get out of my contract with no fees as this was an inconvience to me and there was nothing that could be done to increase my reception in this area. I went to St. Cloud and spoke with a Verizon wireless person about reception in my area and was reassured that my reception would be much better if I switched over. So I switched to verizon and now I can sit in my living room and talk to my family and friends without having to walk three blocks down the road. I can also make and recieve calls in my work building at walmart and in my car with no hassel. I have always been a good customer to you and would have stayed with your services had they not inconvienced me. I am asking to cancel my contract with no fees, I don't feel this is too much to ask, especially since one of your representatives told me it wouldn't be.
Thank you for your consideration on this matter and will be looking forward to having this issue resolved promptly.
Tara Jo Nash

i am cancelling 2 of my 4 lines when called to cancel they told me of 200 cancellation fee never renewed contract had service for 8 years these two lines are my daughters which lives in hazlet phones do not work in location she curently lives she called numorous times was told she would get call backs to come up with a solution never was contacted never got new phone they told her if she wanted service were she lives she would have to buy a wirless router and get new phone and even then they could not guarentee service becouse of were she lives she was paying for a service she could not use pationtly very unhappy with customer sevice at this point im actually considering cancelling my other two lines if this matter doesnt get resolved i have no problems with my other two lines becouse i live in red bank but she lives in hazlet please take in to consideration how long i have had service with you guys and if her new provider doesnt work out she may even consider reconecting with you in later future thank you amilcar rivera acc#554705823 for numbers 7328958100 7327639101

bought a t.mobile samsung galex.2 phone from frenie a.at t-mobile store at mall in el centro and was suppose to get a 150.00$,rebate plus175.00 dollers that they owed me for and over charge i paid to them so he told me to call this number he gave me so i walk out the store and called for rebate and was told that the store i got phone had to call and give the info they needed to send me my rebate so i went inside well on the phone still and told frenie that they are saying he needs to call and give info. was giving him my phone he said no dont worry about it i will call in a few minutes and set it up for you i ask what about the 175.00 you owe me he said come back in2 days and i will give it to you ok.well then my wife ask me fined out how much it would cost to add her prepaid phone from costco on my account with no contract he said oh yeah no problem no contract and your own number would be10.00 a month so i said ok do it well he did but he put her on a contract even though we said no contract told us it was done we asked for my paper work for both phones and he said when you come back for money we owe you i will give you paper work for both because i will need it when i call for your rebate in awhile so i said ok that was on october 30 2011 went back two days later and was told that the main office would not let him give or put that much at one time on credit for my account so he would put 50.00 dollers a month till i got it all well he gave me 130 or 140 credit then he stop paying me the rest so i would call and ask about my rebate and rest of my credit owed to me he said he had called for rebate of 150.00 and the credit would be put on my account next month well he never did and then he would not answer my calls went down to store they told me he was not in yet so i asked for manager who i saw when i walked in store and told them what was going on he said hold on let me get him so he comes back and says oh he is not here i said i saw him when i walked in was told yeah but he left out the back door he will be back later so i left my number name and asked if he would call me they said ok well never got a call nor was able to talk to him when i would call to talk to frenie or him could not get ahold of both now its jan.7 2013 still cant get my rebate nor my credit owed and and found out he put my wifes phone on a contract he never gave me any paper work or receipt for my phone and i am paying almost 200.00 for both phone that was only supposed to be like 78.00 plus 20.00 for my phone till i paid it off and called main office lots of times and was told i had to get ahold of you and let you no about contract we never signed for or ok'd plus my rebate and unpaid credit being that i could not talk to manager or person that sold me phone and help me at store will you please help me i im very upset and i have put it in our news paper but if you do not reply back to me or help me with my problem i will have to take the next step and contact a tv show so i can go and tell my problem i am having with t-mobile and will have my lawyer with me on show and i have all times dates emails text and confersation i have had with all your staff show it all for public to see and put a discremination andworng full contract exsedra. law suite on t-mobile and store i bought phone.this is the second time writing your office and have got no respond nor have tried to speak to main office manager but will not take my calls so was advise by my lawyer to resend my complaint to you agian to see if i would get response back or problem would get taken care of before we went to the next step i told you we wuold do thank you and hope to hear from you soon .my name is raymond neri cell#760-960-2569or760-351-0020 leave message my address is 1134,welcome street in brawley,ca.92227 my email israyabarca50@yahoo.com or ivfisherman@yahoo.com

My name is Franklin Morton and I was deceive about phone rates to renew a two year contract.
Last month I had went into a T-Mobile store and Quoted a rate of $45 a month this was suppose to be for as follows.
500 minutes, text messaging , for $39.99 and keep my home line for an additional $5.00 a month.
So I renewed the contract for two years.
I later learn T-Mobile Customer Service that the offer was not true.
The charges was as follows $39.99 moble line service,$15.99 text messaging and $9.95 for home line service.
This come to a total of $65.93 Plus Tax this is not the contract that I agreed to renew. One of the things that get me the
most is the store manager misleading customers to renew contract.

My bill shows a $200 termination Fee on it for phone # 253.632.3729 and I was told when i called to get me a new phone on 11.24.12 that all 3 lines are done with contract (2 years over) so I ask them what would happen if I got rid of this line and upgraded mine 253.334.3367 . They said no fee will be added.
Well they added $200 fee to my surprise when I opened the bill yesterday.
Question: why would someone want to add a large fee if they knew about it. This should of been upgraded without doing anything to my other 2 lines….

I have been a T-Mobile user for years. I have put up with their service ( or lack of ) for a long time. Over the last two years it has gotten worse. I live in north central Indiana in a city named Kokomo population approx. 50,000. I do get service here. But, my dad lives in Tipton 18 miles southeast of here. NO SERVICE. My grand children live 7 miles west in the town of Russiaville. NO SERVICE. My wifes daughter lives 10 miles east in the town of Greentown. NO SERVICE. My brother lives in Elwood which is 35 miles east . NO SERVICE.
I have called several times. I get the run around. Always told we will send a tech out and check the towers. I call back and tell them its no better. Then they say according to our maps there is service in that area. LISTEN there is NO SERVICE in those areas.
If that isn't bad enough. Tonight , the wife and I look at our phones GUESS WHAT? NO SERVICE EMERG. NUMBERS ONLY.
I have done my part. Paid my bill. T- Mobile has not done theirs.
I would like out of my contracts.
I am so tired of getting jacked around. I am paying for a service. I am not getting the service I was told I would get.

I have been a loyal customer for over 7 years, but due to financial difficulties I had switched services that offerred me the same services at way better rates. I kept my current phone number and T Mobile services were discontinued on Oct. 31, 2012, but T Mobile kept billing me till November 23, 2012. The only explanation I had gotten was that I was still obligated to pay to the end of the billing period, which doesn't make sense if I had no service during this time. I understand and and willing to pay for the 6 days that I still had services from T Mobile till the ending of October, but having being billed for services not rendered is not fair. I cannot believe I am treated this way after all my years as a loyal customer. I'd like to know what are my rights and if I can hold T Mobile liable for their daily harassment of trying to collect on services not rendered?

I live in Bayville NY and i have always had spotty service in my local area. Since hurricane Sandy the service has been terrible. Since the storm we must use a detour to get in and out of town, it takes about 30 minutes extra and it will be like this for about one year. We come home late over dark country roads and we lose service!!!! My wife is disabled and i am afraid that she may have car trouble sonetime and not have phone service,I have been dealing with people for three days now and they say it could take a week or more to find out whats wrong, we are senior citizens so this more a safety issue than an inconvience. at first i just wanted it fixed but after all the run around now i just want out!!!!! we are on a fixed income so i can not afford to pay a penaltyfor something that is not my fault Please contact me with help My cell number is 516 528 7669

My contract was up July of 2012. I changed carrier in the beginning of December of 2012. I received a closing bill of $317.08, I was expecting the $117.08 but not the $200.00, I called in and was stated to me that when i came in to buy another phone for line 720-401-0898 due to the phone got lost on a trip, the contract for this line was changed to another date. I am disputing this for several reasons.
1. I was not informed.
2. Did not sign an updated contract., nor would I. I'm sure I signed for the new phone of course.
3. 720-401-0899 is the main line not 720-401-0898.
The reason we changed carrier was because of the flexuating bills and we do not want to be on contracts anymore.
I thankyou for checking into this matter.
Rosemarie L. Sanchez

On December 3rd, 2012 I spoke to Rep. Amber regarding the end of my old cell contract ending on December with a final payment of $49.84. After negotiations, it was agreed that my new cell plan would start on November 27th, 2012 with a monthly charge of $29.99 minus a $10.00 discount (per month) as recognition for being a loyal customer. It was understood, by both T-mobil Rep. Amber and myself, that my new cell contract would come down from the old grand total of $49.84 to the new grand total of approximately $23.71 (after discount) per month for a total contract time of 24 months. Today I received the first bill statement showing a grand total of $38.21 which doesn't reflect neither the grand total amount I had agreed to pay back on 12/03 nor does it show the monthly $10.00 loyal customer discount. In conclusion, I did not agree to enter in another T-mobil contract for any other grand total monthly amount that exeeded the agreed amount of approximately $23.71 per month for a total of 24 months term. Today, January 3rd, 2013, I spoke to Rep. Alisa who would tell me that T-mobile isn'r able to honor my contract agreement grand total amount because my current monthly charge is of $29.99 and thus making it not eligible for a monthly $10.00 loyal customer discount resulting in a new grand total of approximately $23.71 per month for a 24 month duration. The new contract grand total doesn't match the agreed monthly grand total discussed back on December 3rd, 2012 when I spoke to Rep.Amber and the new contract grand total was reached!! Today I got the first cell statement showing a total current charge of $38.21 instead of the agreed monthly total charge of approximately $2371.

Mine is not so much a complaint as it is a request. I have been with T-Mobile for 8 years…. I recently on Nov. 4, 2012 lost my wife of 20 years… I have 3 lines on my phone service that are not in use. When my wife past she left me with bills so high that I can not afford to pay for these other 3 lines.. I am requesting that tmobile please disconnect these 3 lines at no charge to help me get back on my feet. My account number is 403429136… My phone number is 1-856-236-0690 this is the line that i want to keep. The lines I would like cancelled at no charge are 1-856-294-7050….1-856-542-8774 and 1-856-803-4657… If you look at the usage on these 3 phones you will see that they are not being used. Please consider mt request.

A couple months ago, I went to T-Mobile and requested that one of the phones on my plan be reduced to minimal usage. The T-Mobile representative did so, but what they also did is NOT okay with me. They had apparently reupped my contract WITHOUT my knowledge. I only recently discovered this when I went to upgrade my phone. Because of the T-Mobile representative's mistake, when I went to upgrade my phone, they told me I had to pay FULL PRICE for my new phone!! When I asked if I could just cancel my service, I was told that I had to pay over $400 to cancel because they had already renewed my contract with them.
I do not understand how someone could renew my contract without my consent! I fully intend to dispute all charges! And I am going to cancel any further service through T-M0bile.

On Friday December the 7th 2012 I called to sign a 2 years contract for a hot spot and the lady I spoke with told me first I'gona have a free phone I don't receive it, second she said I gona have 20 days to try it and the 20 days started the day I received the device I don't receive I waited 1 week and I called back to ask them about the device they told the UPS guy left front the door I don't see it and they said the UPS guy don't suppose to leave it front the door I have to sign a paper to make sure I received it and they told me they investigated for that and they send me a new one and I received December the 21th 2012 I called them back and asked when the 20 days started because I just it received they told me the 21th the day I received before the contract I asked how mega bites I have They told me unlimited it's not true because I can't open any video I want to watch the news from my country I can't I want to cancel it and they ask me $200 for cancellation fee and it's not 20 days yet I'm not paying nothing & I'm ready to cancel all my services.

On December 1st my mother Esther Zedon notified T-Mobile that she had just moved from Florida to New Jersey. She called them to change the address. A representive asked her if she would like to renew the contract, she told them she would renew. When she got off the phone and told me r T- Mobile asked her to renew the contract, I REMINDER HER, she had just lost her home and job. This is why she moved to NJ, she had to move in with me because she lost her home and job. I had her call T-Mobile back immediately, to tell them she would still keep the service, but not RENEW THE CONTRACT, as she doesn't know if she would have the money to pay for future service because she does not have a job. She did reach a represntative immediately after the first call, and told them she would keep service but doesn't want to be locked into a contract. A week later she receives a bill charging her $2.69 to renew the contract. I called T- Mobile and explained all that is written above; The representative I spoke with said they did receive the call 10 minutes after the first call, letting them know she did not and could not be locked into a contract becuase she doesn't have a job. However, the representative told me it was too late because they already renewed 10 minutes earlier. New Jersey State Law give a person 3 full days to change their mind on a contract. My mother called on the same day 10 minutes later. She does not have a job and no home, she is living with me. Please send notification that you have received this email and you acknowledge she will have service but not locked into a contract.
Esther Zedon,
Lisa Petrie – daughter

I recently went on a trip to Ecuador, before my trip I called T mobile for instructions on how to turn off my phone , so as not to receive any calls. I was instructed by an employee (jose) to put in #763# and that would turn off my phone. After my trip I came home and was socked with a bill for 95.84. I called Tmobile and talked to a person by the name of Grahm and his Manager Steffi, after explaining that I was wrongly instructed prior to my trip on how to shut down my phone , all they did was reduce my charge by 66.66. Its not the money that bothers me here it's the fact that I was giving instructions that were wrong and I have to pay for Jose's mistake. I have been with t mobile for quite a while now, this is the first time that I have had a real negative issue with you. Your customer service is in question here, I am not lying on this. If you look at the bill it's obvious I never intended to use my phone (no outgoing calls). ,Iwas in ecuador for three weeks ,I am anticipating another bill because of the same error.These bills should be erased, it was Jose error not mine, if they are not I will terminate our relationship. Thank You, Steven Alonte

Your customer relations suck. After going online and seeing the number as to how to get a live person, I was elated to see I had only to go through 2 prompts. I finally thought to myself.."Yea…a real person!" However, after dialing the number, there was no prompt that allowed me to say "English." There was only 1 that asked me if I wanted Spanish, which I didn't, so I was silent. It was there that began the run-around….the prompt asking for my number, which was irrelevant since I had a ? that needed answering. After being frustrated a few more minutes and going through redundant propmpts, I finally got a real person! When she left the line for whatever reason I'm not sure, I was cut off and had to start all over again with your less-than-smooth procedure to get another live person. I finally reached someone with a heavy east Indian accent, I believe, and she spoke so swiftly that it was impossible for me to understand her (and I used to be a foreign language teacher and have travelled quite extensively). To her credit she slowed way down and after explaining the problem, she told me she was going to connect me to someone who could help. I had told her that I had a prepaid phone, but she connected me to the dept that was not connected (and probably not knowledgable) concerning prepaid phones. So the man in the wrong dept was very apologetic and said he would connect me with the prepaid dept. (By the way, the connection with this person was not good and I had to strain to hear what he was saying). I finally reached someone in the prepaid dept again with a foreign accent, and he directed me to go online and did direct me to the site where I could then SPEAK ONLINE WITH SOMEONE WHO WAS SUPPOSEDLY GOING TO HELP ME!!!!!
I quit….maybe this is what they wanted all along so they wouldn't have to deal with me at all….or perhaps they didn't have an answer to my question! Here was the situation and the question I originally was trying to get answered …
I attempted to sign up for My T-Mobile online. After asking for and entering the cell phone number, I hit the send password button, assuming I would receive an E mail telling me what that password would be, since it was an Email that they sent that I was responding to. After hitting that button, a note came up that they would be sending the password via text message. (We can't get service in our area from T mobile or just about any other service provider and knew that when we bought it, so that isn't the issue). All I wanted was for them to send the password by E mail, and eventually saw as I scrolled down on the page (after the button was hit) that there were blanks for entering an E mail address. However after I hit the button, the computer would not allow me to put in any info regarding that. That was when I tried to call Customer Service and what lead me to go through the circuitous unending maze that ended up with me writing this letter. What a mess! I can only hope we get decent service from our cell phone in places where it will work better than this experience that I had today. I actually feel sorry for those people who tried to help me today because you apparently have procedures/policies in place that are totally screwed up and NOT USER FRIENDLY and they must bear the brunt of the customers' frustrations!!! I don't believe much will be done to tell you the truth, and I truly have to laugh when I hear people say that we need to take away gov't restrictions and give the free market reign since private enterprise and not gov't are the problem solvers. If that's the case, God help us!
Constance Tealey
PS Don't bother sending me an apologetic E mail that is simply lip service and won't end up giving any satisfaction if it is not sincere (and I doubt in any case it will be)

I have a Tmobile phone. I am unable to use my phone when I am with in 10 miles of my home. That means more than half of the time my phone will not work. It reads only emergency calls. I have tried changing sims cards. I asked for a booster for home. I have tried everything possible to keep my service. If you will read on my account there is no service available where I live. I am asking to be let out of my contract so I may find a service provider in my area. Thank you I await your reply. mY ACCOUNT NUMBER IS 841372818

I started with T-Mobile over two years ago on the advise of a neighbor. We bought our phones at time of opening the service and within I believe one month, the first phone was bad. I bought a couple of more phones like the one I had ntil they "upgraded" along with a NEW two year agreement. I have gotten three more phone with one I had to pay $200.00 more for and then sent another one back with the customer service rep telling me to drop the old one in the UPS box. We did drop the phone in the box like we were told and a couple of weeks later was told that it never made it to T-Mobile so we had to pay for that one too. My son has been in the hospital three time in another state and when I tried to use my phone there it was out again. I received another new phone today with this being the second one within a month and was told that if this one doesn't work they will send me a new one. I tried to take pictures of my grand baby's Christmas but it broke again. I have no pics of her Christmas and to kick it even more, when I tried to take the pictures, it broke this phone too. I was told that it will cost me $200.00 more to cancel my plan. I hate T-Mobile.

Account Number: 446 933 717
Both Cell Phone Numbers are: (917)328-3396 and (718)581-4262
My contract was renewed without my knowledge when I went to purchase a new cell phone for my wife's birthday (May 2012). I was told that the 'My Touch' that I was purchasing for my wife had a great deal if I would buy two. Since I had a G1 and needed an upgrade myself, I took the the deal and filled out a rebate form to get money back. I guess it was after filling out the application and the rebate form was when my contract got renewed. I thought it was going to be a simple switch but after finding out about the $50 no contract deal, I found out that I had just been put under contract and the only way for me to get out of it is to pay $200 cancellation fee for each line. Can you help me with this issue so that I don't have to pay $200 cancellation fee for each line. I also never got my rebate money after sending the rebate application just a couple of hours after purchasing the 'MyTouch' phones. I am not angry, I am just confused as to why this happened. I had no prior problems with T-mobile until this and still I feel it just might be a misunderstanding. Please help.

I have been to the store where i bought the phone-they sales guy talked me into a AT & T phone-not knowing Tmobile doesn't support this phone I went in the store uesterday-they checked the phone and said they can't explain why it wont send test–sale man called his boss-and was told to tell me there is nothing they can do-since they only have a 30 day warranty-and i have had phone 2 1/2 months-said it does have factory warranty for 1 year-but they would have to send the phone back for repair-and i would loose all my contact in the phone and would not have phone until it was repaired. I have been a loyal customer of tmoible for over 6 years. this is terrible and i will blog and tell everyone i know to not use tmoible ever. If this is how customers are treated that have been loyal to this company then there is a problem. i REQUEST a call or some type of solution to this problem ASAP. In other words the people in the location just laughed and said sorry that is how it is. i WOULD LIKE THIS POSTED EVERYWHERE SO OTHERS CAN SEE HOW i HAVE BEEN TREATED. i WONT STOP HERE-i will go to the corp office ASAP

I am very tired & very, very pissed off with T-mobile , no contract, pre-paid service; which never provided me properly with activate service. No call severl wks ago to make sure phone was off; since I never received phone calls or was never able to send call out!!! The phone never worked; so I'm done with it; but I am not!!! I repeat I'm not or never will someone service for not delivering me service!!!!! I'm am tired of receiving these Bogus-ass statement ssaying I owe them!!! No T-mobile owes me an apology & fucking with me & my life….I have been thur alot in this past year(2012)!!! And right now; you really don't want fuck with me!!!

When I swithched over from my daughters plan to my own back in september 2012 I was never told I was going to be linked to a 2 year contract. I told the sales person I wanted a month to month plan. Come to find out ( december 2012) my bill is almost 100.00 a month for one line and I really dont think I should be paying that much for one line not to mention I have a 2 year contract I wasnt informed about. It also would help if the saleperson could speak good english , maybe I wouldnt be in this situation now. If I was informed of this 2 year contract back in September I would have cancelled my line all together. Know its either pay the cancelation fee of $200 make a complaint to t-mobil and see if they reverse the contract to a month to month because of there mistake or deal with what I have which is not fair. I dont know how you expcet to do business like this. My line was alot cheaper wit my daughter. On the other hand now t-mobil is still charging my daughter for the broad band that I had switch over to my line back in September 2012. We have tried calling several times about this and have complined but once again we have a sales person that doesnt speak english or doesnt understand and will not let us talk to a manager so my daughter stop paying her bill and now it will go into callection , once again t-mobil is responsible.

I had just written to you the contract review dept. 2 weeks ago in reference to the sales person who lied to me about being able to purchase phone without being committed to a contract, I,ve been with t- mobile for quite sometime and even without a contract i was consistent in paying my bill, now i like to continue doing business with you, providing you disregard this manipulative way of getting me into a contract, teo things can happen, i can hire an attorney to fight the battle, i can in form the fcc, are i have no problem not paying you and letting you cut me off and t- mobile not receive any monies from me I,m not worried about you reporting me to the credit bureau and i will get on line with all the other people who complaining and start a boycott just like the lady did with bank of america going up on fees, so please lets keep things in good standing. thanking you in advance mr calvin lamely 973 342 4269.

I am filing a complaint on my Son's behalf. He has received a bill for service that was not used. The phone had not been in use and he is receiving a bill for service. He has been incarcerated for over 2 months and can not call T-Mobile to get this resolved. I called and asked them to give me a reason why they keep sending a bill when he has no contract. The "Customer Care" associates say they can't help.
I understand the privacy of an account, but this bill is false. no service was provided during the time they are billing for.
I will never use T-Mobile and I will tell everyone I assocaite with that the "Customer Care" is awfull!

to start with i was sold used phones at a kiosk in the mall under the impression they were new. after 4 months the phones buttons wouldn't work and i tried to claim on the one year warranty that comes on new phones but couldn't because it was expired before i bought the phone. i then out of pocket bought three prepaid phones and put in sim cards from our old broken phones and made those work until. We could upgrade to 2 blackberries and one flip phone we claimed on the one year warranty for the blackberries and again we payed out of pocket to replace broken phones. we then did this at least three times before we are stuck in a two year contract after 5 years now we want out and need to get now working phones at a set price and sold contract that doesn't renew itself. Im sure that this must break some kind of law at least. we have been taking advantage of and cant afford 600 dollars to cancel and be done with this. we are paying monthly a different rate for three non working phones and cant get out of it.

We went to t.mobile last week to take off two phone that havent been used for two years of this day & that we didnt want on our lines the guy tricked us into getting a family plan which we didnt want we only wanted the two phones we use.The other ones he said we had to pay until january 2013 even though we werent using them.And i told him to show me the two phones and he lied to me on the computer.And the reason i didnt the other two phones is because my daughters moved away from California and its just me and my grandaughter and i only get a check from SSI and I still have other bils to pay and if they dont fix the problem i am going to change to another company. I am a honest person so why cant t.mobile be for there customers.

On December on or about the 17th of these year 2012, T-mobile had text me regarding my minutes that they were over the limit and they had suggested that I increase to a higher plan because of the overage cost on my account. I went to my account on my phone to agree for more minutes to be added to my account, I did not see where it said that my contract for T-mobile would be extended for two more years I didnt know until Friday December 21st when I call to see when my contract was up thats when they told me that it was extended. This was done without my knowledge and if you have to put the plan back where it was and I want my contract cancelled. There has been discrepancy on my account with employee's of T-mobile my daughter's phone does not work too accuracy my phone does not work to it's full capacity when I called last week they told me I needed an antenna but sadly they said that I had the wrong plan. I live in Sedona, Az. There has been so much running around with my account that it doesn't make sense to me anymore. I want this contract terminated.
Thank You

So I had a G2X and dropped and the screen cracked. I had insurance and all but told I could buy and repair my phone on my own or pay $130 for them to fix it. I was going to just end my contract then but a friend had an old T-mobile phone and said add me on and we will do 1/2 bill and you can have the new phone.
I agree and call to make sure there was no problems with that and the man said no problem just use the sim in the G2X in the new phone and the sim in the new phone in his old one. Fast forward 3 days later the phone comes. I get a HTC Amaze, open it to find the plug to the wall is bad. The phone is fine and the cable charged it through my PC but I need a wall plug so I call the next day 1st to be told they don't issue chargers.
I said I got the phone less than 24 hrs ago and you are saying a broken part is not replaced which they say no then inform me they have the wrong phone in their system… In the conversation we said the phone over 20x at least so they tell me they will transfer me to another department since it is a new phone. 15 mins later I get a new idiot… Your phone is not in our system yet so you have to wait.
I tell him the other person said it was so they tell me they can't give me a new charger because my warranty has expired. I tell him expired on a phone I've had for less than 24 hours. He then says I will have to transfer you to the online sales dept. 10 mins later (and a very pissed off me) here I am at this guy who says the same crap the other ones do…expired warranty and they don't issue replacements.
Finally I said screw it I want to just cancel my service. I would gladly pay early termination than to put up with the most unprofessional idiots I have EVER dealt with. Another transfer…I try to cancel service to be told they wont do it until the phone is returned to them and the guy basically said I was stupid (until I called T-mobile the shittiest bunch of idiots I have ever talked to) Kinda added surprised they know how to even turn on the PC they use to screw ppl over with but someone probably turns it on for them…
In closing DO NOT GET T-MOBILE AS A CARRIER!!!! You will regret it. My friend had trouble that is why he had a phone and he is laughing atm saying see told you they are idiots.

I am really upset behind the purchase(1/28/12) of this 4g hotspot !!! I went to a t-mobile booth at Cary Towncenter in Cary N.C. The salesperson was Dustin Adams and his supervisor was Brandon Mclamb. My 1st complaint is that I went to pay my t-mobile bill(125.40). I gave Dustin 140.00 to put on my bill and that amount wasn't applied. The 125.40 was !! So where is the rest of my money ??!!
My second complaint is that they asked me if I had internet service. I told them I did with an outside company and they told me about the 4g hotspot that I can pay for when I pay my cell phone bill. I got the hotspot home and it didn't work. Dustin called me and said the sims card he put in it was from his reserve and he'd send me another card in mail in 2 days. 2 days turned into 3weeks.
NEVER GOT CARD!! I eventually went fayetteville and they gave me a sims card. I got home tried it and IT WAS HORRIBLE !! It took the web page about 10-15mins to boot up, the entire page didn't show and I kept losing a signal! I called t-mobile customer service 3/22/12 and spoke to mike and mark and they told me where I live I don't have a good signal. I have 1 tower a mile from me and another 1 about 4 miles from me.
Neither 1 of them is close enough to give me a good signal.I asked could i send back the hotspot and they told me no I would get charged a $200 early termination fee !! IT DOESN"T WORK IN MY AREA!! so why should I be charged ? Mark said they should have checked my area 1st. Now I'm being charged $57.98/mnth for something that I cannot use !! I would really like to get out of this hotspot and get my $15 credited from the amount not being applied to my phone bill.
Oh by the way I went back to Cary to complain to Dustin/Brandon and was told that the booth is NO LONGER THERE. HHHMMM was told there were many complaints about them !! I am seriously thinking about leaving t-mobile all together because right now I am a VERY dissatisfied customer !!

Thanks for this opportunity to aire a complaint. I've written two letters two T-Mobile's main office, no results. The nasty service customers receive when dealing with csrs must be a reflection of the upper echelon. They simply don't give a damn about consumers, and probably resent the need to deal with us.
I've written two letters about my experience with no results. My first letter was mailed Jan 27, 2013. My complaint must be limited to an experience at a Scottsdale, AZ T Mobile shop which is located on McDowell St. near Hayden.
My complaint had to do with rotten service at the above mentioned TMobile outlet. One csr was teaching a customer a language, but at the same time she–the csr–claimed she did not know the language and needed to interrupt another busy csr who had a vague idea, but claimed that he, also, wasn't sure of how the language was to be used..
This farce went on for upwards of 45 minutes, and even the woman asking for help got irritated and–at the request of her companion–the customer begged to leave the store. As all of this was going on, other customers waited in line. Eventually, the csr who knew something about languages finished and began serving customers, and at this point the one allegedly teaching a language began wandering around the shop.

To Whom It May Concern at T-Mobile complaints and customer service: On November 27th, 2010 we made the grave error of entering into a contractual agreement with your company for the purchase of four phones and two broadband devices. One of the phones was to be used in Florida, one at a Christian mission in a rural area in Kansas and the other two in the Kansas City area. We went to great length to insure that each phone would work in the area where intended. We were advised by your sales associate that the phone to be used at the mission in rural Kansas would be roaming the majority of the time but that would not be a problem.
We were further advised that the broadband device to be used at the mission would work in that area as well. Subsequently one year later you in your convoluted sense of fairness and loose interpretation of what constitutes a contractual agreement notified us that the phone in the rural area was being canceled due to excessive roaming despite what we were initially told by your sales associate. The broadband device never did work at the mission.
We early on terminated the devise at the mission and paid your termination fee while then learning in the process that T-Mobile was a company completely devoid of any sense or idea of what constitutes business ethics. Thence we had no device at the mission and had to go looking for another phone to be used at the mission. We contacted your people and asked to modify our family plan to a plan with less minutes because we were then short one phone and had a decreased need for minutes. We were told by your representative that we would have to extend our plan two years to change the plan. In realty any extension of service with your company is not even a consideration.
The other broadband device never has worked. The intended use was in the Kansas City area. I paid the monthly fee for the device and made repeated attempts with your service representatives to make the device work. All of my attempts were to no avail. Your people tried on numerous occasions to make the device work going so far as to send out a new sim card. That did not work either. They finally gave up with no further answers. I then finally got with someone in your employee who after hearing the saga agreed to waive the early termination fee on a device that never did work. At my next billing and once again despite what I was told the charge for the early termination fee was included.
Once again I called in and after working my way through your maze of phone blocking tactics found another one of your representatives who told me she did find a record of the agreement to wave the fee and that the fee would be taken off the bill. Guess what? Next bill the fee is still there and you in the process shut off our phones. I called in again, worked my way through the maze, get another one of you representatives and was told that no record exists of any agreement to wave the fee.
This may come as a complete surprise to you but people base decisions upon what they are told when they enter into contractual agreements with companies be they written or verbal. A fiduciary relationship is assumed and decisions are based upon that relationship from a position of assumed trust and good faith. You have broken two contractual agreements both verbal but none the less binding.
At this point I will expect you to honor the verbal agreement made by one of your employees to wave the fee on the aforementioned device. I would then ask to be released from my association with your company on all devices in question with no recourse or further obligation of any kind. T-Mobile omits a stench that I can no longer tolerate.
DJ Longhofer

Went to local store in Glendale, Arizona and as I approached the counter the male csr kicked the female csr in the but as she was walking to the back room. This female csr fell to the ground and when she got up she was obviously embarrased and looked around the store to see if anyone saw what happened. I immediately left the store and called a manager who asked if I called the police. "Really"!!!! How about you the manager investigate the situation and put a stop to unprofessionalism, employee abuse, females being harassed by male employees. This is despicable behavior. The Tmobile manager could care less what happened. He wanted me the customer to fix this situation. Unbelievable.
Tmobile is too expensive and despite the above situation their customer service was already deplorable. Very unsatisfied customer. I tell everyone not to get Tmobile and I always mention this incident. I am shocked that this kind of shit still goes on in the workplace. A place like this should have things in place so as to not harm their employees or csr reps while customers are in plain view, it just reflects so poorly for the business and it's customers!

I went to a t-mobile store for help with my phone bill, hopefully a contract review i couldnt get on t-mobile.com. the sales rep said i can help. i do not use a lot of minutes so i decided to get shared minutes with my grandchild who would not be using a lot of minutes either.
I thought i was getting a great deal. until i saw my bill being almost fifty dollars over budget. the rep stated to me one thousand shared minutes. however it is not shared anything.it is five hundred minutes each. i do not mind paying my bill but be honest to your valued customers i made several phone calls regarding this matter none of which t-mobile can help. i was hung up on by a loyalty so-called rep, so i tried again a contract review on t-mobile.com.
i am a very disappointed customer.please be very careful with these reps they say one quote but when contract is done it means something different I purchased two phones from you and bought two twenty-five dollar cards, one for each phone. My phone was activated but my fathers was not.
They couldn't get my fathers number to work. He wanted to keep his old number as it was the only one he ever had. In the process of all this his number was lost and his phone was never activated. Now I've gotten a bill from you for my fathers phone and he has never used the phone at all and his old phone number has been lost. Please straighten this mess out.

I have joined t mobile 3 days ago and until today I can't use the phone but I am charged for the service. The problem that they are heaving is an error message in their system that they are getting in preventing them to port my Verizon phone number that I have used for business for years. Now I'm paying for two services and risking to loose my number. Is there a state regulated law that could help me? T mobile customer service people just want to get me off the phone saying it is done but I still don't have my number ported so I'm paying two bills for services that I don't need. Loosing my number would cost me a fortune.

my name is lam vu. i have been with tmobile a long time. they mess up my contract so i went without contract for over a year. on monday oct 17 2011, i call in wanted to let them know i want to end my service with them on oct 28 2011 because that is my last day of the monthly service. i talk to cherish ,id #54328 . she told me she going to give me the great deal with the monthly contract and the phone . we were chosing the phone and she advise me that if i want to we can go ahead sign the contract over the phone and i can decide on the phone if i wanted to. i went to the auto system to sign the contract and she said to call me back at 10 pm central time on tuesday oct 18 2011.
we agree on that but she didn't call me back. i waited untill friday oct 21 2011.and call customer service they talk to me but they don't give me the same deal that cherish gave me . i told them to let me talk to cherish but they say they can't but they will sent her email letting her know that she need to call me back within 72 hours from friday. today is 25 october i call them asking to speak to cherish but again i got someone else. they don't honor the deal that support to me at the time that i sign the contract. i told them that if the reason that make me sign the contract is because cherish gave me the great deal.
now the deal wasn't honor and i wanted to terminate my service because they been wasting my time and energy. they said i had to paid the early tremination fee because i want to cancel early. i keep tell them that if it wasn't the deal she gave to me that day i wouldn't sign the contract. why should i need the company that alway messing up like that. i don't know who going to read this but i will talk to my lawyer and deal with this.

T-Mobile has given a third party collection agency information regarding me having a $2,000.00 cell phone bill. I have never in my life had a T-Mobile account. I submitted a letter to the company (MCM) and contacted T-Mobile Fraud Department. I was then REDIRECTED back to MCM, which doesn't make any sense. MCM is representing T-Mobile with information given to them. It was last told to me that my last address they have on file is in Texas, which is a state I have never lived in my entire life. This company is pathetic and after reading all the consumer complaints I can't believe they are still getting customers and not investigated by a governing body.

I was looking forward to being a T-mobile customer until I realized how awful their company was. I ordered a cell phone and an $80 a month flex pay plan. After not being able to receive the phone I canceled the plan within the buyers remorse period. As their contract states a refund is issued for customer that fall under buyers remorse. I was hoping to receive my full $80 refund considering I never received the phone and was never able to even use the service…. Unfortunately I got a $4.00 check in the mail. I talked to probably 7 people who sounded like they were from India and was basically told by all of them I got screwed out of my money.
Their "system" only allows for a $4 refund. T-Mobile should check into how unfair their system is considering money is being stolen from their own customers.

I cancelled my T Mobile service two days into my billing cycle after being with them for nearly 10 years. I was informed by a CSR that my final bill would be prorated but once I received it in the mail, it was not. I contacted customer service to try and fix the bill and they refused. They were rude and told me that T Mobile does not prorate bills. I asked to speak to management and she gave me the same story even though the previous CSR told me that it would. I contacted several local TMobile stores, one of which I purchased my service from and they all told me that TMobile should have prorated my bill.
I called customer service back and I was informed that the stores don't know what they are talking about because they don't handle billing. Aren't the stores representative of TMobile? Aren't they owned or authorized by Tmobile? Why wouldn't know what's going on with TMobile? I am being charged for a service that was not even activated. I have been lied and cheated and I am upset about it.

I was on automatic payment plan w metro pcs. I tried to increase service by calling and they did not believe it was me so I had to physically go into a store. I was able to increase the plan and allegedly the extra $10 missed the billing date of automatic payment so they shut off my phone service due to their own billing error. I called and tried to remedy the situation but all they would do is waive a lousy $3.00 sevice fee for paying online even though they had cut off my phone service due to no fault of my own.
I asked to speak to a supervisor and was put on hold for 24 minutes. so apparently there was no supervisor available to address any customer problems in all that time. I wasted $125.00 on a phone because I will not use their service. I texted them and mailed in a letter. no response to either. No customer service. They screw up and then refuse to fix it. Unbelievable. Worst customer service experience of my life. Do NOT use metro pcs. all they want to do is sell the phones and service but will not help you if they screw up. You may as well not exist. I hope they go out of business.

I had called Tmobile approx 3 weeks before i canceled acct to see what the charges were to terminate my acct & was informed by rep $100 (it would be partial credited because i was a customer for …)..When I Received bill they charged $200… I also asked why i was charged a full month of service when the acct canceled. 1st rep informed me she was going to put thru a credit for the monthly charges to only the 3 days that were used. 2nd rep told me no credits would be going thru because they charge you for a full month if you take your phone # to another carrier.I requested to speak w/ a manager Not one of these incorrectly labeled "CUSTOMER SERVICE REPRESENTATIVES" could get that task done.
I was told would be transferred to Manager as they put me back on hold for 22 minutes now hearing the recording another CSR REP would answer NOT MANAGER> Called again and spoke w/another rep, I was told manager would call back, its been 4 days now. NO REPLY!!! But then Tmobile called my house this morning I thought I was speaking w/the manager getting exhausted from explaining the situation for the 6th time. She informed me she was calling from Tmobile FINANCIAL DEPT + could offer no help at all w/the bullshit I have been falsley given>

I just spent 67 minutes my entire lunch hour and then some speaking to three different CSA in a foreign country with limited english and the understanding of english. First agent the ususal take out the battery remove the sim card. Ok still nothing then had me clear cache cookies and history. Still nothing so I am transferred to so called higher technology. Now common sense would tell you if this call is escalated the previous agent went threw the basics for trouble shooting. No here we go again but this one hung up on me. I was calling from a friends phone because I know the drill all to well.
They ask you to call from a phone other than your so they can trouble shoot. I called back and all I wanted to do was file a formal complaint. Again a non speaking english agent and you can tell they must have a script in front of them as they can't deviate and they say the same thing over and over. I told the agent I didnt want her help I was on my own phone now I wanted to file a formal complaint and she continued to try and assist me with the problem I called for. Finally after the fourth time of telling her I didnt want to pursue the problem I will go to a store. All I wanted from her was to speak to someone of upper management to file a complaint.
She ask to put me on hold and said she be right back. This is another one of there tricks they do this so you will just hang up because they are like "moonies" they can't comprehend and they continue to ask the same thing or say the same thing over and over …..so sorry I left Sprint.

To whom it may concern: I have been a T-Mobile customer for quite sometime now, yet your organization is quickly loosing the luster and my tolerance for your lack of customer satisfaction is at it's end. My consideration for changing companies is become more than just a passing thought but a true concern. My current attitude towards T-Mobile is not based on just one incident but on a number of incidents that I personally feel should have never happened or been explained to my satisfaction beforehand.
Frankly, I am a business man of over 20 years, yet the treatment that I have received in the last 3 months has been more like doing business with the mob instead of with a business that cares for and appreciates their clients. I am not new to the mobile communication industry, my mobile device has been and will be a key part of my business for years to come. Now, the question is will it be with T-Mobile? That is the true question.
Issue #1
When I first migrated my telephone number from the account it was on, I was very upset with how it was handled. I called in to migrate the number and take responsibility for it. I provided all required information to the person that handled my call. Of course I was approved and the process continued, here is where the unprofessionalism took place. I asked the gentleman if I had a "period of time to change my mind"? At that time, he told me that I was locked into a 2 year agreement with T-Mobile. This was told to me after he had ported the number to the new account, not before the process was completed. I then asked him if I could cancel and consider my other options. He then informed me that I would be charged a cancellation fee for doing such. Seriously!!!????
My next question was, do I get anything out of this since I am locked in to a 2 year agreement that I did not agree too, like a new telephone or something? Again I was told "NO". His reasoning behind this was "the person whom owned the account prior to me porting my number had made changes to their account and decided to stay with T-Mobile, so since they stayed with T-Mobile and extended their contract that effected me." This is an unfair business act. Now that I have responsibility for my number, how can their actions effect me? If I don't pay my bill you don't cut off their service and vice versa. I did not have 2 years left on the contract I was on with you. I later learned that they did receive a new mobile device for continuing their contract. I was offered nothing. Not even a tissue.
So now, I have a 2 year agreement, without asking me if I wanted this, your customer service representative committed me to over $2400 over 2 years period without asking me if I wanted this or not. He committed me on an implication that I knew what the prior account owner had did on their contract and that I was okay with their actions and his. My feelings behind this action, T-Mobile is telling me to take what we allow or else. News Flash, there are toooooooo many other options out here to be treated like that by anyone that I am paying. I do not feel that you have the clients best interest in mind if this is your normal way of doing thing. I stay with T-Mobile, because your services does work in areas that some of your competition does not work in and my mobile communications are very necessary for me and what I do, I am an international entertainer.
How could this situation been better handled:
1. Ask me if I know the facts
2. Offer me something for my commitment
3. Suggest other options
4. Confirm the transaction and it's terms before it is concluded
Issue #2
I recently went to German to entertain the troops. This was a longtime dream for me that finally came true. Well, as part of my preparation for this journey, I called T-Mobile (well in advance of my departure) and asked if there was an International Plan that I could add to my telephone so that I could use my device while I was overseas.
The representative told me that there was and I authorized them to add this to my plan so that I could receive calls, make calls and send and receive text messages. Guess what? My mobile device did not work in Germany or Holland. I was unable to communicate with anyone while I was there. Your representative failed to tell me how to change my telephone configuration to enable me to use my device. I missed 3 paying gigs because the people that were trying to contact me could not communicate with me in a timely fashion. This was over $2000 in potential income, because your "professional customer service representative" did not inform me properly on the changes that I needed to make to my device to ensure that it will work.
Now here is the kicker. I called today to see if the International Feature was still on my mobile device and I was informed that it was never added. Now ain't that special?!? If I am dealing with a company that has my best interest in mind, why would I even think twice that this was not done as agreed? Why should I have to double check with you to ensure that your company is doing what I paid you for?
How could this situation been better handled?
1. Customer Service Representative made sure the order went through properly.
2. The Customer Service Representative could have informed me that I needed to make changes to my current device configuration to ensure that my unit would work properly.
3. A text message to very that the changes were made.
Issue #3
I called today to inquire about your current rate plan and I was informed in order to receive the reduced rate I would have to pay $200 to migrate to the lower plan. Are you serious? I think I have found Jimmy Hoffa….he is the president of T-Mobile. This is outrageous and unfair to a longtime client. Then your representative had the nerve to say to me "if you are not interested in talking about giving up your discount on telephones in the future, there is nothing to talk about". Really, this is how you talk to clients now? This is how your company really feels. I understand getting people on and off the telephone as fast as possible, but this is ridiculous. But wait, there is more. You know what, I am not even going to go into it.
Bottom line is this. I appreciate T-Mobile, but I do not feel or believe that you appreciate your clients or realize that you are not the only game in town. At this time, I am considering leaving your company and going to Sprint. Yes, I realize that there is a $200 per line cancellation fee to leave, but it is almost worth it. I also realize that I would have to buy new mobile devices (which was something T-Mobile never offered me), but again, that maybe worth it as well. I hated Sprint, that is one reason I left them and came to T-Mobile, but your customer service is almost if not as bad as theirs was before they cleaned up their act.
I understand that I am one voice, but from my years as a customer service professional in the business world, I have learned this. "If one person is willing to say it, just how many do you think are thinking it?" Yeah, it has taken me a while to write this letter, because I am a busy man, but there comes a time when you have to stop what you are doing and address a situation. This is that time.
I pray that these words do not fall on deaf ears. At this time, I have not incorporated these events into my act, yet, I have strongly considered them. Actually, it is not a laughing matter, but I can make it one to thousands really quick. No, this is not a threat, I don't do that, I am stating the obvious, we as comedians tend to take things that bother us to the stage and believe me this is getting under my skin.
What are my resolutions to these issues:
1. I believe T-Mobile should have taken my concerns more serious instead of fanning me off like a fly on buttermilk.
2. I believe that I should have been offered a discount off my services or free services for a period of time.
3. I believe that I should have been offered a new device or discounted device or my choice.
4. I believe that I should have received an apology from T-Mobile.
5. I believe that your policies and services should have been represented better and explained in detail before we completed any transactions.
I "Thank You" for taking the time to read my letter and considering my position.
A Very Unhappy Camper……

I am very angry and very upset at T mobile, I can't believe how incompetent its employees are and how bad the service is. I just joined T mobile and signed up for 2 years. I switched from Verizon. I added 2 lines for my kids. One of them had her own account with T mobile. She is a student and I wanted to help her so I decided to add her with me so I can pay the bill. We received the 3 phones, I had explained to the sales person what I was going to do, switch from Verison and add 2 lines. No problem, we can do that. Anyway, we call the customer service and ask to transfer the old numbers. My son and I (both were with Verizon), did get our old numbers.
To switch My daughter's number was a nightmare. After talking to so many people, including supervisors, and being switched over so many times, over a period of 4 days, that is calling every day, we were told that we need to cancel the old number so they transfer it, which we did, today we find out they gave the number to someone else. And, there is nothing they can do. It's too late. Sorry … Needless to say how upset my daughter is. I can't believe that in the 21st century, a big company like T mobile, can not switch a number. A company that wants to compete and claims they are the largest and the best network in the world.
In the world. Of course, they pinned the blame on me and my daughter. I don't know why, we just made the request. What pisses me most is that they don't recognize they made a mistake. When I told them they screwed up, they said 'no we didn't, you did !'. I wish them the worst.

Do not even think about buying a phone or service from them !!!!! – Unfriendly and incompetent. Back in the days when they tried to established themselves in the US they had good service. Now the company was sold and the service got ridiculous. My SIM Card is suddenly not working anymore and I am outside the US on a business trip. This is of course a big problem if you are depending on your phone. First they tried to charge me $ 22 for a new SIM card and on top they only ship to US destinations, all other shipping charges I shall pay. I ask why ? My argument is simply that I am using this phone internationally and they make money of me too.
Fact is, they make money of me paying for expensive overcharged international phone calls. So, why would they not ship a SIM card to an international location (Bahamas) if they make money of me using the phone internationally? Anyhow, the T-Mobile customer service and supervisor were ridiculous. My monthly bill is always over US $ 150+. I was a loyal customer for over 8 years, spent well over US $10.000 on their service and now this. I am not wasting my time if they don't understand how to take care of a customer. (Just because they tried to save $ 25 on UPS's additional shipping cost. That's it !. – Never ever again – TMOBILE.

The prepaid service sucks. It's not the same coverage , towers , app market. It does not work like regular t-mobile services. There's restrictions on the places u can and can not go as far as the internet. When u pay the same prices as monthly customers.With the worst service. The reason why i went with the service is because i use to have the service with my father. Now that I'm with age i decided to get service, but since i had no credit i got prepaid service.The guy gave me a paper with my number and said i was done. No refunds ! What? If i decided to turn my phone off . It takes five minutes to make any calls or text message . No service , not even 911! The worst Service u could have!
I should have went with cricket or metro pcs!Unlimited everything. who ever heard of a data plan that says unlimited but doesn't really mean it .

We have been Tmobile customers for over 12 years since it was omni point than voice stream and finally Tmobile. We have 7 lines total with them therefore we had to split to two accounts two years ago. We have missed the payment on the old account, which resulted in lines disconnection. We have noticed immediately and made the payment. The following bill cycle they charged the account $20 each line for service restoration. When called to complaint one customer service agent did not care and said noting can be done. Called second time to cancel three lines on one of the account that I know that are out of contract but the customer service agent offered me a credit for the $60 charge but to extend the account to two (2) years contract.
When I refused they said ok we noted the account that you will disconnect three line thank you and have a nice day.

I recently ordered 3 new lines of service with a sales rep. order was process and shipped on the day of delivery order was recalled, call tmobile so they said go to a local store to verify myself and they should honor the agreement for the mytouch 4g which was free. Got to the store did as they asked but could not get the phones that were ordered, called the headquarters and they sent me back to the store to get the phones and again no phone, so i have 3 lines of service with no phones. I have called and called but no one wants to honor the agreement. I been with tmobile for over 6 years now. think its time to say good bye you are the weakest link.

I ordered t-mobile's cell service with the understanding that in my state (GA) I have 21 days to decide before committing myself to a contract. It was almost immediately obvious upon receiving the phone that their service was not suitable for my needs (rural area). I called, got permission to return the phone, they acknowledged receipt of the phone a few days later, and then I got a bill for $77 (!), which I graciously and quite generously did pay. Now it's the following month and these morons have sent me *another* bill, for nearly $100! For a phone I do not have, and already paid $77 for the privilege of using for three days.
Just try to contact T-mobile customer "service" when you don't have a T-mobile phone — unless you have hours of free time to burn, you cannot. There is no email address. They do have a snail mail address. I am preparing a bill to present to them via
snail mail, the bill is for my services as a billing consultant. My rate is $15k per hour, and payment is due withing 5 days of services rendered. I can play this game too, bitches!

t-mobile rep told me i would get a tex if one of my phone would get near the 200 min. market well i did not get the tex i compliant about this for serveal months and was always told i would get it the nent time well i never did so they told me they would not adjust my bill no more . even though if i would have recive the tex i could have use another t mobile phone we have that had not been used we would have usr that one which hda 200 min. we could have used it looks like the want you to go over so they can charge you more money that cost me an extra $37.00

I got an Sony Eriksson Equinox after being with TMobile 7 years. They told me 3 x to buy the wrong memory card. It would not snap in so I took it to a cellurar company because the TMobile store is an hour drive on the freeway. They couldn't make it stay in either. So they sent me another phone and it did not work on it either. Then they figure out it is the wrong card. I had bought it on Amazon because theirs is $50.00. Now I can't get my money back and I have to buy theirs for $50.00. As soon as I began using the phone it had software problems.
I had it less than a month so they wanted me to take a reconditioned one and I refused. I get their bill and now I am signed up for GPS and something else that I nev er signed up for. I cut off their internet. 6 month went by and I called 611 their customer service number and would have to wait up to 2 hours on hold and talke to TMobile from some other country. I only use my cell phone. One day my battery went dead after 2 hours on hold and I used their internet phone to call 611 and got through in five minutes. It was the cell phone all along.
Now I get another equinox and it does the same thing only worse. Two phones can't do this so they check their end, nothing wrong, and twenty calls later it might be the newer sim cards. Meanwhile while I am calling them they try to sell me things includind extending my contract. The sim card is not here yet. I can't wait to see if this fixes it because we ran out of options and I refuse a different phone that would extend my contract and make me buy more music and another memory card. I hate them.

Yesterday i whent to a metro pcs store isaw a ad d which has apicture of three diferent android phones. It says . Get an android for $49 when you add aline to your family plan. I WHENT to the metro pcs store employee an i asked her if i could ad two lines that i liked the samsum galaxy indulge which is on the add. She scream are you crazy if we would have those phone at 49 dont you think we would have the store full of people buying them .she said you can buy only the one which is onthe middle not the other two. Iwas so emberase people that were in the metro pcs store just looked at me an ifeel.im so upset at her way of treating me an.
at the same time i feel this is a false ad because i even asked my whole family to read what is says an we al agree that for our understanding is very especific that if i add two more line i can get the phone i like which is in the add .or this ad is a false advertisement an imnot the one who is wrong can any body explain that add

Six months ago our cell accounts were debited by T Mobile without our knowledge, when we made an enquiry about several amounts going off MTN told us that T Mobile was the company but they could not do anything and that T Mobile would have to stop the debits. After several complaints to MTN they have done absolutely zilch and less about T Mobile randomly deciding to take money from us. Even after complaining to their Head Office they simply could not care, yes the amounts were small but continuous. MTN was assisting ***** and no one seemed to know what was going on let alone actually lift a finger to acknowledge or respond to many calls and messages.
We would like someone to actually give a **** about their customers.

For many years I was a customer of t-mobile until I relocated abroad in January of 2011. My t-mobile number was for many years. Several days before leaving, I called t-mobile to cancel my account and my bank draft order which I was told they did on January 21, 2011. On April 22, 2011, however t-mobile debited my bank account for $16.55 even though my account was cancelled and the phone never used since. I called t-mobile customer service the following week but the representative told me the charges were valid.
I spoke with her supervisor, a lady named Carla who investigated and found that indeed the charge should never have been made and that whe would have the charges reversed, take steps to assure my former account will not be again charged and make sure that the standing debit order is removed from their files. Further Carla assured me that she would contact me within 2 hours to confirm the above was done. I gave her both my phone numbers (home and cell) and my email address.
I have never been contacted by t-mobile, the charges have not been reversed and I fear that I will be charged again in the future.
Thank you,
David Halpern
Dha1996[at]aol.com

i have tried to order new phones from tmobile online well it has been one week and double the original cost and i still do not have new phones and i am $300.00 dollars poorer and over drawn in the bank. i spent 3 hours on the phone with thier customer service department and the only answer i got was well we r so sorry for the inconveince but there is nothing we can do. they said i could reorder and i could get them by tuesday well wth if they can get them here then why not now? also tmobile can sure get the money as soon as you give them your number but it takes 7 to 10 days to put it back what r they pulling not be very profetional if you ask me. I AM DONE

When getting my phone with tmobile i informed them that all i needed was phone and text. I made this very clear to them. how ever i have been receiving bills for 60 and 70 dollars more than wht the bill should be. Everytime i speak with a rep i'm told different information. I'm very dis pleased with the service, every month i have to contact them about my bill, and they just keep you on hold and when i ask to speak with a tmobile manager or supervisor. The phone gets disconnected or hinged up on. I'm contacting the better bussines bureau and i'm going to contact everyone i could to get these charges reversed.

t mobile rep lied to me after assuring me i was gonna pay a surtain price and he lied to me and not to mention the representive on the phone was very rude and hung up on me. and also i had prepaid for years with a number i used for about four years since i lost my phone they told me i maybe could get back my number i miss my number i had it for years and they took it i hate t mobile!

Be aware of metro pcs stores return policy! They will make it impossible for you to renturn anything! and then try to tie you up to their horrible service. On March 30, 2011 shortly before the store time to close, at 7.58 PM, I purchased a new phone, its accessories, pre-paid a month of usage and switched my phone line from ATT to MetroPCS. Soon after I arrived home and tested the phone I realized that I made a mistake. As the store was already closed I had to wait till it would open on the next day.
In the morning of March 31, 2011, I went back to the store where I purchased the phone and explained to the same customer service person that sold me the phone that I am a realtor and my phone is my main tool of work. The phone that I purchased did not fit my necessities and I was also having problems with the service, not receiving text messages from Clients and getting my phone calls dropped.
She said that the service would soon improve and that I should keep the phone for a while and that I would eventually get used to it. I asked her to then exchange the phone for a blackberry, which was what I originally had with ATT and was ideal for my business. She refused to exchange the phones and said that she could not take a refund either and showed me her return policy, which was not disclosed to me before or during the purchase. On it says that you may return the phone within 7 days of original activation date and must contain less than 60 minutes of airtime usage on call timer. She said my phone had 60 minutes and 15 seconds of airtime.
Unfortunately I didn't know about their return policy prior to the purchase. If I did, I would have never tried a new phone and service provider for my business knowing that I would be stuck to it. I asked to speak with a manager and she declined to give me his/her name or contact information. I called the 1888 8METRO8 number from the store hoping for a solution. They told me to go to their store Corporate. The closest one was 40 minutes away in Lake Worth.
Immediately after speaking with the customer service person I turned off my phone (afraid to add any more seconds of airtime and be denied a refund/return and with that lost several business calls). In fact, I was already missing business calls and texts even before knowing that I could not use the phone.
At the Lake Worth corporate store, after 1 hour in line waiting and without using the phone, the service person told me that they could not help me as I had purchased the phone from another store and that if I had purchased it from them, they would be glad to give me a refund.
I then drove home to look for the owners of record of the store to try to locate them and speak with them. All numbers that I tried were either disconnected or did not work. I found their Corporate history and another store they owned also in Delray. Called the store asking for the manager several times and he never returned my call. I drove to the store, and they said the manager was not there and that they could not help me and that I would not be able to return the phone.
After all the driving around, frustration and lost businesses and working hours, I decided that I could no longer keep the phone off, as I had to answer my business calls. I kept trying to reach the store manager for another day without success and finally gave up. I went back to an Att store and changed my phone line back to them. ATT Service is more than double the price, but works and I deeply regret having tried to switch.
I then put all the Metro PCS merchandise back in its original boxes and priority mailed it to the store, attention to the owner of record, with insurance and signature delivery, along with copies of the receipt and with a note asking them to immediately refund the full amount of the purchase on my debit card used with the original purchase. Days after I received the signature receipt in the mail dated as received on April 04, 2011.
As they accepted the phone back, I hoped to receive my refund. I waited for days for it to post, but realized that even though they accepted the phone in the mail, they never refunded my money nor contacted me to have the issue resolved. They simply took the phone back and kept my money.
On April 08, 2011 I went to my bank and filed a dispute. However, my bank said that the merchant declined to credit my money back and that I would have to resolve the issue directly with the merchant or file a law suit. To file a law suit it is going to cost me at least another $ 190.00 plus all the time and aggravation.

Daughter going to China for 2 weeks so we called to have her T-Mobile cell unlocked as she is young, blonde, etc and could be a target if anything, Gd forbid, were to happen. Anyway we get this reponse (please note it is 2 days past the due date and around 100 USD – and we have never NOT paid a bill) The problem is, it takes up to 72 hours to unlock the sim and she is leaving Tuesday. Payments wont post for 24 hours so who knows what will happen? Below is the correspondence I have gotten with T-Mobile regarding this customer service problem. This is dangerous service for T-Mobile.
T-Mobile Sim Unlock Request
Sim Unlock Reference: 451****
IMEI: 3583*************
Thank you for taking the time to contact T-Mobile. We have received your SIM Unlock Request. Unfortunately, we are unable to process your request at this time due to the past due status of your account. You can make a payment by logging into the T-Mobile Web Site www.t-mobile.com or through our automated system by dialing 611 from your handset or 1-800-937-8997 from a landline phone. Once the past due balance on your account has been paid, please contact us to have another SIM Unlock Request submitted.
Thank You,
Sim Unlock Department
T-Mobile USA, Inc.
I sent this:
Wow really Tmobile? So you will let a young girl out of highschool go on a trip to China without a phone to contact her parents or the USA if something goes wrong??? Are you kidding?? Just bc her parents have a small past due amount and we have been customers for what, 8-9 years or more?? This is why we are switching companies at the end of the summer, along with everyone else who hates your new merger. This is absolutely DANGEROUS to not allow an unlock on a phone for a young lady traveling alone to a communist country, AND TMOBILE if anything happens BLOOD will be on YOUR HANDS. I am forwarding this to all cell companies, pr companies, television, radio, mothers groups etc.
YOU SHOULD BE ASHAMED. You are disgusting TMOBILE – Ever heard of Natalie Holloway??? Have fun thinking of all the death you could be causing.

I spent several hours on the phone with Tech Support after receiving a replacement BB 9700. The issues were unable to access email set up and four T-Mobile web browsers. That was the second time after I was told to put a new sim card in. The issued seemed to be resolved. Once I had time to sit and set the phone up, the browser isn't responding as it normally does and the cursor freezes. I'm sorry to say that the last 3 days of having major software issues starting on Sunday with a white screen, and spending much needed time on my job as a Firefighter, I have spent it on the phone.
I was going to report the problems with this phone in the morning. I also inquired about getting away from BB and going to another T-Mobile phone. It was not until today that after 14 months with T-Mobile that I am not eligible for an upgrade. This being due to not being notified that I had to be on a $99.00 monthly plan. I had been on the $79.00 monthly plan and recently dropped it to 500 min and unlimited data etc, due to the phone having gen issues on a reg basis. I can not spend time constantly trouble shooting what was a new phone.
I'm disappointed after being with you since Sept of 2009, that I have basically been paying on BB's that have had many software issues and replaced that the time with a two year contract is useless! I was never told until today that I had to be on a 99.00 plan and have decided to look into another company. A two year contract with Sprint regardless of the plan gives me the ability to upgrade due to the amt of time if I had been with them.
I'm sure no one cares, but your sales people and customer service from T-Mobile should notify you if you call about your plan that your not eligible for anything because you were only paying 79.00 a month and I was not notified until today that my state employee discount is not effective unless I have a 99.00 monthly plan. I now regret going to t- mobile knowing now that the year and six months with you was useless!!

I ordered a NOKIA 2330 Mobile phone  and the order is not yet shipped till today. When I talk with the T-Mobile customer service on phone, they keep saying that they had to close their warehouse due to severe cold and snow. I couldn't find any news of such closure anywhere in US through Google. I am still not sure if I will get my phone – it is just a common model and should be readily available. I think T-mobile always has this issue for online orders. My advice to others is to always buy directly from a store if you are buying t-mobile.

ATT, Sprint, and Verizon are the big dogs in the cell phone world. You would be better off with one of them. T-Mobile is really second rate. I had T-Mobile for 2 years and they pretty much are a mom-and-pop cell phone provider. Their coverage, phones, and customer service are really second rate. However, that's just my opinion!

I ordered additional minutes on my T-Mobile pre-paid phone using my Visa card. T-Mobile illegally took the payment out of my bank account. That is fraud. If I hadn't had sufficient funds in the bank account, I could have been charged a fee for bank overdraft. After trying a couple of hours on the phone with T-Mobile and being transferred at least 6 times, I was basically told to stick it. In addition, T-Mobile offers an additional 10% of minutes for a $100 order. Additional minutes did not appear this time or the last time I ordered. Representative "explained" that the 10% was included in the 1000 minutes ordered. Again, fraud. Filing a legal complaint with the Colorado State Attorney General office and the Better Business Bureau.

I just called TMobile to change my EasyPay option to a different bank. I give them my cell # and last 4 of my SS# and David C says he can't help me because I'm giving the wrong information. He says my phone number is right, and my name is connected to that phone number in the billing, yet he accuses me of giving the wrong social security number. How can I give a wrong SS#? It's my SS# and I know what it is! If anyone is incorrect, TMobile is incorrect when they entered my number!
He refused to help me, instead he told me to go into a TMobile store. How inconvenient that is for me to travel 20 miles roundtrip to the nearest store just to do them a favor by giving them my new EasyPay information! Thing is, I've called Customer Service before and have had no issue being helped before when giving my phone number and last 4 digits of my SS# ??

I changed from Sprint to T Mobile simply because i needed to build my credit up in the US being from South Africa. I was on my son's Sprint acc. & was advised by an authorized dealer, VENACOM, that this would be a good way to start to build my credit!! HOWEVER, from the day i signed on in October, 2010, its been nothing but a giant headache. I was promised 5 lines, then told no only 3. I was given a plan of $150 unltd msg & 3,000 mins. My bill is over $220 every month because even though i blocked 411 calls, they keep charging me when i dont even make them. On the ODD occasion my son will make the FREE-411, but was advised by T Mobile customer care that they "still charge!!!"
Between Venacom, T Mobile's "authorized" dealer & TMobile i feel like this is a sham & a total rip off. I cant even get hold of "customer service". Ive tried 4 times the past 9 days for up to an hour & 10 mins & STILL dont get hold of anyone because i have to end the call!!!
They charge me overage when there shouldnt be. They are charging me $20pm for messaging that is supposed to be built INTO my $150 plan. 800 nos are not free. T Mobile still charge for them. They charged for shipping when they said i would not need to pay since the "free" ph was useless & returned it after 1 week & they had the nerve to try to just slip it in there.
I am sitting right now whilst typing this to be attended to & we're going onto 22 mins already, taking up my whole lunch hour & then have to end the call after waiting an HOUR!!!!

I have been with Tmobile for 4 years, and I had no problems because I never used customer service. Every time I called customer service, I had problems because Tmobile reps were really dumb and were not kind, but I just put it off because it was not too big of a deal. I'm right now being OVERCHARGED for a plan by 50 dollars for which I don't even have access to, and the customer reps LIED to us and this is NOT just displeasant transaction. I'm very unhappy at the moment, and EVERY Tmobile rep I talk to lies and tries to put this off. They think they can just keep lying and pushing until we get tired. Really? Is this the business model you want to run Tmobile?

I have had a poor signal for weeks so I approached T-mobile. In the first week, customer services told me a transmitter was down and would be back up in 24 hours. When I spoke to the T-mobile engineer, he told me there were no transmitter problems in the area. I complained again and was contacted by T-mobile customer services. The young lady was very good and did try to help. What a load of nonsense!!! So I asked if I could terminate my contract as the 'service is not fit for purpose'. Nope – because I do occasionally get a signal. IF T-Mobile can blame the weather, then they should offer a 'summer only' option. Excuses gone mad – crazy!!

I purchased t mobile's family plan with 3 lines, one for my husband, one for myself and one for our 2 children for emergency. I set up to cancel with at&t service on Tuesday, and since i made an order late on Friday night, t mobile said i would receive the package on Tuesday. But the package arrived on Monday when nobody was home, so i had to make an after hours pick at ups. I could have been home waiting for package if i was told the package could arrive on Monday. Then i spent one hour on the phone setting up my account and activating service on all 3 phones. I really enjoyed their service for a day and a half. Then midday on Wednesday, out of nowhere, t mobile canceled my service. Sweet!

Although they seem to be taking over the wireless world, they fire people with no explanation. I know someone who worked there for nearly 3 years, and was let go. he went to work and was told to take the weekend off, and was suspended and was not told so. then he found out he was fired by someone else, not even his manager…. hmm doesnt seem right, does it?

Tracy Perry
from Atlanta, GA
I purchased 3 phones on Sept 26, 2015. I received the phones about a week later and returned them the next day after receiving them. The phones were 16 gigs and we wanted 64 gigs. To say the least I've been waiting on my refund because I cancelled all services, since and I've have not received my refund. I've talked to several customer service reps and each one is worse than the one before. How long does it take to receive a refund of $138.36. This service has been terrible and one of the worst experiences I've ever had.

Carrie Jones
from Tampa, FL
We have had the worst experience ever with any phone company. First order your online got my social security wrong and would not let us know anything on that order we had to have that order canceled so they could create new account but still got charged for their screw up. Now new order ships and we get wrong phones on that order. We are now charged again for these phones. Now t-mobile is into my bank account for over 500.00 and we are told that we have to wait for our money. Never had t-mobile but you would think that when you have business you would want to give good service but we get no help from anyone.

Lenell Williamson
from Joliet, IL
I tried to buy a iPhone 6 for me and my daughter. I am a prepay customer but I couldn't qualify for a no money down on the phone because I was late one time on a payment. So I had to pay 60% to get the phone. Ridiculous. I have been a T-Mobile customer for years because of this I am switching.

Alicia Negrete
from Houston, TX
Dear t-mobile corporate office, someone is opening up T-Mobile accounts without my consent! My IP address on all my phones correlate and are connected to a mysterious identity theft farmhouse in Wichita Kansas which I have fallen victim to! I have been reporting this matter many times and yet still my iPad address on my phone and all my phones are connected to this mysterious place! My phone is controlled remotely and my gps is way off not working because my location is unknown equaling that of Wichita Kansas!
Also, my location should be very able to tell me that I am in Chicago it's not hard to find Chicago now is it? But you people do nothing about this until I report you to fcc for fraud!!! My identity has been stolen and it is all because my phones are stubbornly connected to this up address which is always located in latitude of 38 longitude of -97 !! If you look up this. Location you will clearly see that it is a location that is linked to fraud and identity that if you agree or are part of that ring I want nothing to do with you so it is to your advantage to do something about this matter because it could turn to a scandal be possible lawsuit you don't want to enable and conspire with these thieves do you?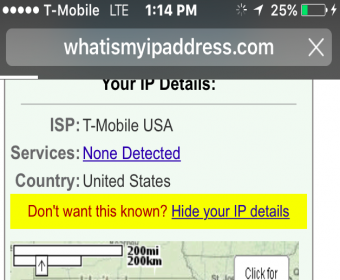 Bridgett
from Los Angeles, CA
I was abruptly disconnected from internet while I was working. I spent several hours and 18 persons of whom said "I care and will resolve this issue". After being transferred, disconnected, repeatedly asking for my personal information over and over and over...I gave up. It was crazy and one should not have to endure such an experience to get re-connection. I want a resolution/ compensation from T-Mobile corporate headquarters. Yes, I went back this morning after holding off a day and half of work. The cycle started again! However I was able to bare patience and get service.

Bridgett Stone
from Pomona, CA
My T-Mobile service expired unbeknownst to me last night. I tried for a couple of hours last night trying to get it to work. I called T-Mobile customer service this a.m. To get it fixed, took me going through 14 persons over 2 hours of being told "I care" give your cell # in case disconnect.

On Nov. 28, 2015 me and my family went into the T-mobile store at 9930 and purchase a phone. But there is a BIG problem my old number was ported to a customer that was already possibility has an account with T-mobile. We was customers of Sprint for a while and we had to come to this. And as of right now I am unhappy and I have to wait 24 hours to get this ported correctly. The customer service rep. by the name of Daniela was wonderful as a agent but the music was to loud and had to many people hang around for no reason. The neighborhood is high crime but safe. I am a hospice chaplain and it is very important that it is fix. I have important numbers in there and I need some kind of discount to this issues. Maybe I should escalate to the corporate office?

Greg Vicars
from Federal Way, WA
I went to use my phone insurance after I accidentally dropped my phone and broke the screen. I went to T- Mobile store . I was told that I need to call insurance company directly, which I did they gave me wrong number . got right number for Asurion . Try phoning in but could no get through long wait time. SO I tried to file on line only to get an error. So I call back Asurion finally get through to agent only to learn the G4 is out of inventory and unsure when I would get new phone so much for overnight replacement. I had to escalated issue talked to manager only option he had was to reimburse me for cost of phone less deductible then I could go to T-Mobile store a buy one. IF I can buy one why is not available to ship? This was a very poor customer service experience from the store to Asurion. I will be waiting for check to arrive from 3-5 working days. So when you say that you will have a replacement phone in 24 hours that is not true. I very unhappy long time user of T-Mobile not sure where your customer service went. Please review your insurance policy and make changes.

Calvin Ellis
from Boca Raton, FL
Fraud. Someone fraudulently obtained multiple phones from T-Mobile. Initially, it appeared that they obtained two phones but I recently received 3 notices from Assurant Solutions regarding 3 device protection plans. The 3 phone numbers they provided were (954)371-6856, (954) 371-7132, (954) 371-6965. I have never applied for or cellular obtained any phones or services from T-Mobile and this is a matter involving identity theft. Please have the numbers disabled or at least tracked, and have your Fraud Department fix this!

brandy smith
from Cleveland, OH
I was given the 3rd degree about a charge t-mobile alleged I did not pay, after having my bank confirm the charge, I then made a request to set up payment arrangements manually with a supervisor, and was told that it was put in place for 2 payments along with dates and that my service should not be interrupted. One payment was scheduled for the 19th and at 430am my phone was temporary suspended. I am overly pissed since this is the 3 time in less than 30days that i have had to call them to dispute discrepancies with my account

Tatiana Shulga
from Staten Island, NY
I bought a family plan (4 lines). I cancelled on October 25,2015, as was confirmed by Christopher. The other three were cancelled October 30th, 2015. Today (November 18th, 2015) I received a bill, and discovered that the line that I closed on October 25, 2015, was being charged, as it was active. T-Mobile is charging $111.15 for the service between November 11th, and December 12, 2015. Today I called Customer Service, and talked with Ariel (1271635); I explained that I stopped using T-Mobile, and started using a different provider; as well as that it is not my fault that Christopher made a mistake. When I made the family plan, I was scammed. They promised that because of a promotion, there would be free equipment, however there were charges for the equipment. Now, you are attempting to deceive me further; I have no other option, but to sue. If you have an ounce of righteousness, i plead for you to resolve this situation. The total is $115.15 service that I do not receive, and that you offered in a deceiving way.

DeAngela Seltenright
from Lansing, MI
It is going on the third week and dozens of staff to still not have resolve this problem with T- Mobile. On November 3, I purchased a sims card over the phone from T-Mobile for $1.05. Thats all, I have never made any other purchases from T-Mobile. But on that same day T-Mobile put through a unauthorized charge of $68.20. After 11 days on the phone with T-Mobile know one can help me. This has caused many problems and T-Mobile is not resolving this with me. And I'm still with out minutes on my phone as I don't want your service because of this problem

Michael Baumann
from New York, NY
I'm sorry to say that it's not worth saving a few dollars on a plan if part of the price is lousy customer service and being without a phone for two weeks. My wife took my phone for servicing to the local T-mobile store in South Orange, New Jersey, on Tuesday, November 3, explaining that it wouldn't hold a charge. The sales rep took the phone, asked my wife for $5, and said a replacement would come in the mail, Monday, November 10. Not same-day service like other vendors provide, a never-before-mentioned charge, but "acceptable" as trade-off for a cheaper contract that works well in large cities.
November 10 -- no phone. My wife called customer service and was told (for the first time), "Sorry, backordered. You won't have it until Monday, November 16." After an escalating conversation with periods on hold, my wife was successively offered $20, then $25, then $30 to hang up and go away. I have to tell you that when anyone mentions T-mobile, this exchange will be the first thing that comes to mind to mention.

Mardry Puente
from Beijing, 11
I have had the worst experience with T-mobile. I cancelled my account back in April because I moved to China. However while in China I realized that my credit score went down and this seems to be due to an account sent to collections which surprisingly seems to be my old t-mobile account. I decided to contact t-mobile, but they do not have access to the accounts, so I contacted the collections agency and they referred me back to t-mobile, after much back and forth the collection agency was able to tell me that this balance was owed due a device charge since my device was payed in installment plans.
However, when you request to cancel an account in order to do so you must pay your device in full. I requested a claim to be filed on this account, and again, for three weeks I had no sort of notification nor did I heard back from t-mobile. After calling many times and being transferred to many departments because apparently nobody has full access to my accounts, or they just don't want to bother, I was able to reach someone who seemed to have access and that wanted to help me, everybody else didn't seem too customer service oriented, and if anything they seemed annoyed at my request for more information for they claimed they did not have it.
Sadly, I did not get her name and for some reason we got disconnected. She told me that I was sent a refund back in may for $145.39 because I over payed my bill when I closed the account. in the form of a card, which is very interesting because I cancelled my account because I moved to China, and of course I never received that refund. Now what doesn't make sense is, how come t-mobile refunds me $145.39 and then charges me $189 for device charges in May. I payed off this phone, and I did not use the t-mobile account in may because I believed I had cancelled it. As far as it goes nobody has been able to help me in this situation, and the last I got was a number to a different collections agency, which I called, but they couldn't transfer to the right department, which I called and it just said that it had no reprensentatives available at this time.
For me it is 3:30 am here in China, and I've been on the phone since 2am. And I do have to work at 8, so you can only imagine how frustrating is to have to be up this late dealing with a situation that apparently could've been avoided. This experience has been the worst, and I have spent so much time and money trying to solve this issue and still nobody is able to explain things clearly to me. I never got access to the refund, so what happens to that money? How come I cancelled my account in April and I owe $189 for device charges in May? What kind of fees are these? I would really hope you fix your customer care system, because you may be a big company but it should still appreciate each and every single one of their customer, and value their time.

Gislene Hart
from Málaga, AN
I got 4 I-phone 6S in Danvers, MA Customer Service rep. told me about the 14 days policy. Unfortunately the area I work and around my town my phone has absolutely zero bar connection, went to the other store and got new phones and went back to the Danvers store to return still under the 14 days policy and they refuse to take the phone back even I am paying the 50 fee for stock. I don't understand, have being T-Mobile for over 10 years while lived in other town and now this is the treatment I get? I don't know why they are so difficult to deal with.

My husband and myself recently switched with the promise that it is hassle free. All we have to do is give them our phones and they will pay for what is left on them and the cancelation fees so there will be no cost to us just send in a form and our last bill. So we did. 5 weeks later we get a letter saying that they need a bill with a break down on it, which our previous carrier did not provide. We went to our previous provider and they were able to pull it up. My husband faxed it in to the representative and called her back to confirm she received the fax. Now almost four weeks later and late fees adding up from my previous provider they send me a card worth half of what is owed. I call the number for customer service that came with the card and the gentleman tried to help me but had to pass me off to another department.
This guy started off nice and admitted the reimbursement was wrong but the number he gave me still didn't cover the phones and cancelation fee. So then he proceeded to tell me that he was going off my final bill and they had no record of the breakdown that my husband faxed in. Not having much confidence in them at this point being we just got notice from Experian that our information was part of the recent data breach and now they have lost a fax with my personal information on it?! The guy gave me an attitude that he was doing me a favor then transferred me to another department that transferred me back, but this time his department was closed for the evening. This is the worst service I have ever received anywhere and I work in a retail environment that would have my job if I ever treated a customer like this. The only reason I gave two stars was or the two representatives that really couldn't help me but were very pleasant.

James halikas
from Tinley Park, IL
I have been a customer for over fifteen years and have three lines total and my bill has escalated to twenty dollars more than I usually pay due to and this is your reps explanation that there is no more 20 dollar loyalty discounts and no more contracts right later that evening I watched a T-Mobile commercial that advertised unlimited talk text and 10 gigs of data per line for 30 dollars per line up to four lines and a 18 month contract and I told that to you rep and she said your commercial was wrong and I clearly read and saved it watching and reading all the particulars on freeze frame and your rep told me a bold face lie that it is 100 dollars for the first two lines and 20 dollars every line after that would actually increase my costs.
I told her that she was totally incorrect because that is not what you commercial depicts no where in your ad she was rude and told me that the ad is not what it states if that is the case then that is fraudulent advertising and being a long time customer to be treated that way is unheard of I need a corporate rep to contact me in this matter at my t mobile number to resolve my complaint and get to the bottom of this or this . If not on I will go to the proper authorities on how blatant the discrepancies are from your ad to what your reps in your resolution dept tell your customers I still can't believe how you have your reps trained to be so rude and unhelpful and talk to your customers like they are stupid.

Laura Santiago
from The Bronx, NY
I purchased a Studio 5.0 Blu Android 1 week ago and two online SIM cards from T-Mobile. The phone was not reading the SIM cards and after speaking to a tech from T-Mobile, he was suggested I go to a T-Mobile outlet. I received the worst customer service from a woman by the name of Ashley. After I explained what had transpired with the phone and SIM card, she kept telling me "I did not make sense." To boot, she took out the SIM card and adopter out. She proceeded to insert the adopter, and inserted it upside down, without the SIM card. The adopter was stuck and the manger had to flat small silver instrument to retrieve the adopter out.
The fibers that make contact with the SIM Card have been damaged because of Ashley's carelessness and belligerent behavior. The outlet is located in the Bronx, New York 10451 on the corner of 149 Street and the Grand Concourse. Another issue, was that, the music in the store was so loud I had to speak above my regular volume. They need to be trained in Customer Service relations. It was an absolutely horrible experience. They are young and hopefully, more trainings will continue to enhance their professionalism and public service attitudes.

Sharon Bodiker
from Newport, RI
Ever since I updated to lollipop 511 on my phone, I am not getting phone calls, calls are not even registering on my phone, voice mails come in 1-3 days after the fact, and basically over all my service is awful. My husband has contacted customer service 4 times now with various T-Mobile complaints. Every time it is something different to resolve the issue and every time before disconnecting with customer service my husband is assured the situation is resolved. Last night we were told that we were talking to a supervisor, Lou was his name. After Lou did everything in his power to blame the issue on us and continually refused to even hear that the issue started after the 511 update, the issue remains. Lou went on to tell my husband the issue was a result of my phone not being on wifi calling.
Really so for my t mobile phone to work I have to be constantly connected to wifi calling and I have to stay home to receive phone calls? What I do not understand is how did my phone work so well before 511 and now my phone does not work? Lou was rude, accusatory, unhelpful and simply put an ass! Lou finally said well since you have insurance on the phone I will send you a new handset at a $5 cost to us, and proceeded to lecture my husband on how the phone that I would be returning better be in mint condition. Not worried about that because my phone is not even a few months old and basically is in mint condition, but then he tells us that I may not receive a new phone but a refurbished on. Come on! I send my new phone back to T mobile because of an issue that is obviously their fault only to get a used phone in return.
Then Lou repeats that the issue is all our fault because we don't use wifi calling and he would be happy to sell us a router for my house to make wifi calling even better. Give me a break! This is the worst customer service I have ever experienced. Being that I am someone who has worked in customer service for 20 plus years, I can tell you that someone like Lou would never be employed by me and T mobile would never be some place I would ever recommend to my family or friends. I am sharing my T-Mobile complaint with everyone I know.

Thomas Jenkins
from Detroit, MI
In the Beginning of October 2015 I purchase three devices and paid with them with my debit card, then on October 27, 2015 the same charges were applied to my debit card again, causing my account to be over drawn and have numerous of over drawn fees. After talking to over ten people, countless hours on the phone, being told they couldn't find the charges and being hang up on i was finally informed that there was an issue with the system causing charges to applied twice.
From there i was told that I have to wait twenty-four to forty-eight hours to wait until my money was return that I never authorized to be taking out of my account. I have only been a customer for twenty days and this is horrible service that i have never experience form any other phone carrier in my life. I would not refer anyone to this company, poor customer service skills, holding time for resolution horrible and horrible results.
So at the end of the day Im out of $305.21 that im waiting to receive back in my account with over $70..00 worth of overdraft fees, but hey at least the Customer Service Rep did notify me there nothing else that can be done.

Sam J. Smith
from Paris, KY
I have a Microsoft Lumia and it's not allowing me 4g service which is what I have been paying for since day one of purchasing this device at the local Walmart. I don't know if I'm doing something wrong or not but I know that I'm only getting 2g. Help me please the T-Mobile service department is not responding and I cannot find their contact information anywhere on the web.

Corina Aguilar
from Peoria, AZ
I cancelled my t mobile service due to repeated dropped calls and the high fees. I am now being charged a cancelation fee when I was not under a contract and have not been for about 3 years. I have been a long customer but lately your fees became unmanagible. Am also being charged for a table that at the time i went in that they were offering a free table. i flat out asked him "what is the catch' He said no catch it is free a we're having a promotion and just want you to connect service with Tmobile and that was it. Well I guess he lied to me. If this doesn't get taken off billl I will have to complaint with the attorney general's office. This is not right.

letitia reynaud
from Seattle, WA
I called tmobile yesterday concerning the security breach to make sure I was one of them that wasn't affected and when I gave the verbal password that has always been on my account since 2011 the young man I spoke to which happen to be very nice and professional told me that wasn't it and that wasn't it that my password was numbers which has never been so he changed it back however every other time it has been the right password and they say there was nothing showing it had been changed I want to know how a number password before the young man I spoke with changed it back got added and no one can answer that

John Amrich
from Youngstown, OH
First off their service coverage is not that good at all. I eventually got fed up with all the non covered area and dropped calls. Never under contract or had a phone purchased through their store or website. My phone was a T-mobile bought at Walmart! Now 2 years later found a friend of mine needs a phone for ATT network. I cannot get my phone unlocked from T-mobile now till they send me a code by email so I can give the phone away!! WOW. BTW Metro PCS is an affiliate of T-mobile companies for anyone interested. Also did you know T-mobile is owned by a foreign company that operates under that name in the USA!

Emily Smith
from Sofia, 22
I have been a customer of T-mobile for more than 10 years. Not a day late with a bill. Later they put some charge for a service that I have deactivated. Called 4 times to remove. Recently, I have tried to cancel my account due to travel, and the representative did not follow trough...Then call internationally, chat, call, chat just to cancel. Altogether, around 8 times at least. Meanwhile, they withdraw money from my debit/credit card and sent me a final bill + international call charge and with a collection notice. Until I am not even around. They refused to remove any charges. Unresponsive management/ customer service. I guess some commission is everything for them. Do not switch and be very careful. Just an advise from experience.

Maureen Lynch
from Brooklyn, NY
On June 26th, 2015 I called T-Mobile to switch my service from Verizon to T-Mobile. The customer service rep. I dealt with was very nice. I received the new phones but did not like them. I called T-Mobile to let them know I was returning the phones and would like to get different phones. I was asked to verify the last four digits of my social security number and was then informed my social security number does not match, therefore they are unable to give me any information. I returned the phones to T-Mobile by tracking number and the phones were received by your receiving doc in forth worth TX. on July 9th at 10.00am. My bank of America account was charged $285.63 on June 29th,2015 and I would like to have my refund back in my account. Furthermore I received a letter from T-Mobile denying me approval, so why was I sent phones and charged?

Colleen Reed
from Gulfport, MS
I was a T-Mobile customer for years and recently changed to Verizon. When we first joined T-Mobile, my husband was stationed (military) in Virginia Beach, VA. We had great service! However, in 2014, we moved to Gulfport MS where we've had nothing but problems with service, connection, dropped calls, etc. T-Mobile sent us 2 boosters, and still, our problems remained. On June 4, 2015, we decided to change carriers. My husband is active duty military. He travels and also has to conduct military business from his cell phone. On the day that we switched carriers, I called T-Mobile to let them know that we were changing carriers. The customer service representative Nicole said she was sorry to see us go, but completely understood why we were switching over to Verizon.
While on the phone, I told her that we wanted to keep our numbers (again – husband is military and he receives calls to that number from all over the world), and asked if there was anything that we needed to do or expect. She said no, that it they don't charge extra for stuff like that, and wished us the best.
Today, June 29, 2015 I received my final bill in the mail from T-Mobile, to which, has double charges (simple choice plan $40 for May 19 – Jun 3, and another simple choice plan $40 for June 4th). The double charges total $83.50. I called T-Mobile to inquire (I spoke to 4 different people) and was told the below answers. That's just how it is. I don't know why but it must be right (Debra). If you transfer a number from us, we charge for the whole month versus if you just go to another carrier.
Nothing I can do to help (Silvia). We charge for the whole month regardless of whether you transfer numbers or not. Nothing I can do (Mason). When someone leaves T-Mobile, we always charge for the whole month regardless of whether or not they port numbers. That's just how we do it. It's in our policy (Scott). Between the 5 people that I have spoken to since June 4th, there seems to be various information that I have received. Besides the various different things told, I do not see how it is possible to double dip on funds or charge someone for a service that they are not using. According to the bill sent, they charged one amount for May 19 – June 3rd, and then the same amount for one day (June 4th). This is unacceptable and needs to be fixed!

Valerie Merkes
from Bonney Lake, WA
My brother wanted my mom and I to join his T-Mobile plan. We went into their store in Auburn WA. They took two hours once it was out turn just to transfer data, charged us tax and phone charges, transferred phones, etc. We left the store. The phones do not service our area. They took our phones as trade ins. Within 2 hours I called the store, they said they would give us our Verizon phones back. In fact, they still had them because some more data was unable to transfer that day. When I went back to the store, they refused to give me my phones back, rendering me with no phone or phone service. I told them my mother was elderly and could not be without a phone. They said "she has a phone, it just doesn't work where she lives!!".
They were little rips off artists, obtained about $50 cash that day, $100 restock fees and took my Droid and my mother's flip phone. I never ever raised my voice or threatened them, but I did call the police. They told the patrolmen that they were wanting a trespass order, when the patrolman told them in that case they should give me my phone, they decided not to do that. My phone was sitting in the building. But when I first demanded it back they said it was already gone so they couldn't. Then another employee said it was still there since I had not loaded all my data, they told me no way, I signed a deal that they could keep my phone. Contacting Attorney General tomorrow. Very upsetting. I feel tricked. That is how they get some of the money they make.

Chia Ying Lin
from Bonney Lake, WA
I want to complain about an employee called Shayne at T-mobile on 39th & Meridian store in Puyallup. This is the second time, I really don't appreciate the female employee's attitude towards a customer. She just tried to argue with me about returning the device that didn't work for me and I was willing to pay the restocking fee. And the attitude was horrible since she had to do the return and do the paperwork.
In the end she didn't even give me a bag for the paperwork and the new phone I just purchased it while I was holding a child. And I said "thank you" she only replied "yep" back??!! This didn't happen before with the other male employee at all. I worked at retail store for so long and the customer is always right. You just have to satisfy their needs and make them happy when they walk out. Hopefully I will not come back this store anymore. Huge disappointment.

BRIAN HOANG
from Canoga Park, CA
In the morning of 05/02/2015, I could not find my phone anywhere and I believed that I have lost my phone (it is an SAMSUNG NOTE 2 with original carrier AT&T) I reported lost online right away with T-mobile. 5 minutes later I found my phone on my driveway so I chat with T-mobile online to report that I found my phone. They told me no problem and stated that nothing has been changed and they will put a note on my account that I found my phone and I should not worry at all. 3 hours later I could not make any phone call, suspiciously I check and clearly my phone is blocked due to lost/stolen. I called and chat with T-mobile they said they do not block my phone because it is an ATT phone and suggested me to call samsung or ATT. I called samsung they refer me back to T-mobile/AT&T. I called AT&T they said because I do not have ATT account, nobody called to report my phone lost/stolen and my phone does not attached to any ATT account so nothing to do with them, they did not block my phone, it must be from T-mobile when they reported to the US blacklist data base. Now I am stuck with the brick phone nobody is responsible. Anybody can help me

Diane M Dawe
from Parker, CO
It will not let me take the one star off. Your company has the absolute worst service I have ever seen. I have been with your company for 8 years, and about 3 weeks ago, I called up to INQUIRE about adding my daughter on my plan for text and voice since she cannot get the internet on her phone with your company. I was told it would be $10.00, then when I went on to pay my bill, the person in sales put me on a family plan. This is fraud!.
I plan on following this up with the FCC. I called in about 7 days ago and they apologized and said all the right things and your customer service department said it would be corrected, and I would see my corrected amount on line. I went on this evening and NOTHING had been done. I spoke to your rep, Grace, who was very nice, and assured me this would be fixed. I then spoke to her supervisor Becca and told her this nightmare story and also told her that I have never paid my bill so late in the month due to your company's error.
She then told me the bill was fixed, and I would see the credit in 24 hours. Let me tell you, this is what I was told 7-8 days ago, and nothing was done or corrected! I then asked her if I could pay this right now, she stated of course, but it would be a $5.00 charge. I'm suppose to pay for your company's error???? But I could be transferred to the auto pay, and it would not cost me anything. Have you people no sense!!! I will tell you, which I'm sure at this point no one will do a thing since I am referring to nothing was done until I had to call a second time, I am NOT going to pay the 5.00 and I am going to Verizon. I have had it with your company and the incompetence and fraud that you pull. Again, I am going to the FCC. Something needs to be done about your unlawful and deceitful practices.

gary yocom
from Phoenix, AZ
I am responsible for 10 lines that I have with T-Mobile. It is supposed to be a family plan. brothers sisters sons daughters. I have tried and tried to get an exact break down per phone as to how much each # cost so I can collect from my brothers and sisters what they owe. Every time I call I get a different amount. And it never adds up to what the bill I get. So I wind up getting screwed out of about 60.00 bucks out of my pocket. This is ridiculous. I got you ten extra customers. and I am doing the collection from all the family members, but I come out in the hole every time because your employees can not or will not give me a break down. Upset in phoenix.

Gevaugn
from Burlingame, CA
I have replaced several phones due to a variety of reasons, but I must say that service disruption is at the top of the list! The most recent replacement that I have gotten does not load my email, which plays a HUGE role in my life, seeing that I use it for work! (OVER 200 EMAILS A DAY) Just this past weekend, a client of mine was stuck overseas for 2 days!! in Frankfurt!!! all because he couldn't get a hold of the person that helped get him there!
Due to this faulty network, that seems to be on a VOLUNTARY basis! I am now in debt to the company that I work for, $2,452 and some CHANGE, because that is how much a one way BUSINESS CLASS seat costs from there back to Seattle! I tried to reasonably handle it with the agent, and his supervisor, but it seems that everyone is to busy maintaing a quote or trying to make a SALE. I don't expect T Mobile to pay my debt are anything; that's just not how this scheme gets down. But after being told that I could have a $102.00 credit, and then transferred all around their office just to be told by some other clown trying to play Supervisor, that that wasn't something that was said brought me to complete halt.
Because at that point I realized that T Mobile's call centers are actually fulfilled with a squad of monkeys! I have been going back and forth with the exact same nonesense, and life's just too short for that. My even BIGGER complaint is, who the heck hires these people? PLEASE LET ME KNOW, CAUSE I COULD FOR SURE RUN ONE OF THESE LOCATIONS, it wouldn't be hard at all; just pick up the phone, transfer it to you, you transfer it back to me, I'll put them on hold for 10 minutes, transfer it back to you..............and then we will flip this coin to figure out who has to say "Sorry, but no" to the person on hold. I just want to know if there is actually someone professional running the whole company itself, because there's no way it's just 611 that handles everything.

Linda Sanders
from Rio Rancho, NM
I went to a T-mobile store in Uptown Albuquerque, NM with a friend who was having problems with her phone. While there, I was persuaded to convert my service from Verizon, whom I had been with for many years to T-mobile with the offer of a free mini IPad and buying out my current Verizon contract. It just so happened that Jessica Keith, a Field Support Manager from AZ was on business in that particular store at the time, and she was actually the person that waited on me and completed the conversion process for me. I had an IPhone 5 that I had purchased at Verizon which I was allowed to keep and have my data converted from Verizon to T-mobile with no problem; However I was told that I would need to bring in a trade in phone for my husband's line.
The next day I took in another previously owned IPhone and my hunsband's Motorola Droid Razar which we had recently bought and were still paying for with Verizon. I told Jessica that my husband really liked his Droid and really wanted to keep it and that I preferred they take the IPhone. She informed me that they could provide me with basically the same phone and we could include paying for it on my monthly bill. I informed her that we were still paying for it (my husband's Droid) and she assured me that T-mobile would take care of it when they paid out my Verizon contract and "It would be a wash." So she took the Droid as the exchange.
I did finally receive the Visa payment card to pay off the Verizon contract; and assumed all was taken care of and well. Subsequently, I received a letter from Verizon Go Wireless charging us $300 for the unpaid Droid phone which I assumed had been included in the Visa paycard. I have tried numerous times contacting Ralph at the Uptown store and Jessica (I still have her business card). Ralph promised to call me back and never has. I left Jessica several voice messages, she finally returned my call ONCE, but didn't even bother to leave me a message. I have called and left her more messages and have still not received a return call.
In addition to the initial $300 charge, I have now received a letter from Aldous & Associates, Attorneys at Law threatening legal action and now wanted $300 Delinquent Balance, plus $90 pending collection fee for a total of $390 within 30 days. I would greatly appreciate it if T-mobile would stay true to their word and take care of this debt before it becomes a problem on my credit report.

Rhonda Leegaard
from Chicago, IL
I tried to pay my prepaid bill with a credit card and was denied. i finally talked to someone in the billing dept and they inform me that a payment in January was cancelled and reimbursed to the card holder. It is now almost May and have never been notified for it or had my service suspended. Last month i had to call and talk to tmobile reps because i paid the bill and it was posted on the persons account that owned to phone before. i have since January used credit cards to pay and never was told or notified of this matter. I would like to know what i could do to fix this and stop the invoices i am had to deal with Thank you for your time.

SALAHEDDINE GHAZI
from Houston, TX
I want overseas to Morocco, while there I was checking with customer service about an existing issue that"s when I found out that I am being charged over $400 for texting when I spoke to so called account specialist he assured me that texting was free and that I shouldn't worry, only to found out that it was a total lie once I got back to the state. I spoke customer care but nothing was accomplish totallly disappointed with a company that I have been with for over 12 years the perfect picture of corporate greed .

Ali Barakat
from London, ENG
My contract was ended on the 4th of January 2015 as I was informed by Alexa one of your members of Staff responding on my request yesterday the 15th of April 2015 at around 12:40 , along with my wife's contract too and it will be followed by my other three children's contracts which will be ended on the 1st of June 2015. I was not alerted by T-mobile company about the nearness of my our contracts end or receiving new offers! I was not given a Nano memory card along with my Experia -S Which was offered to me with my last contract! . I requested it yesterday through my call to Sanalia/ Member of Staff and I was charged £10:21 and to be delivered to me within three working days.
The surprise was today as I found my SIM inactive on my mobile phone and I can not make or receive calls on it and I believe that it has been disabled by your technical team before I receive my new SIM card! On my enquiry call today Thursday the 16th of April to a lady who is called Lee and who asked me about characters of my password and later about my Sim card number which I should have had it in the box of the phone as I am still using my old Sony Ericson Model C902. I explained to her that I do not know my password or the SIM card number as I am busy at present for preparing for the Tax Financial Year. she kept on repeating my first name without giving any alternative way that we could reach a solution for my problem and she hanged up her phone in a rude way!
I recalled again around 11:28 and a member of staff called Ian answered me and he repeated the same questions to me and I informed him that I had no time to go and search for my Sim card number and I do not know my password and if he can e-mail it to me . His answer was that he can not help me without obtaining them. You put me in a dilemma and I want you to get me out of it immediately please. I am considering to leave your company with my family members .

Randy and Nichelle Price
from Cedar Hill, TX
On April 14, 2015 At store #9795 my husband and I encountered the worst customer service in our history of affiliation with this company your representative Danny. I signed In on the customer wait list. We were later beckoned by Danny whom was on the phone as if we were animals, instead of him addressing us as loyal customers to T-Mobile. We did not move, finally Danny came over to the area we were sitting and once again Danny didn't address us respectable customers. We then began to explain our problem. We quickly discovered from Danny's lack of experience he was unable to assist us. We then asked for a manager. Instead of Danny respecting our request to obtain the manager he went and brought back Jazmin the representative that created the problem for us on April 13th.
We again explained to Jazmin that we needed a manager. Liz the manager came to our aide 15-20 minutes later. In the mist of waiting on Liz I asked Danny whom wasn't assisting customers to give us the number to customer service. He rudely told us he didn't know it and he was new. We responded by saying go and get it from someone that knows it. Danny then exhibited a major attitude and starts shaking his head as if we were bothering him. At this time Liz enters the sales floor and we explain to her that we have a major problem with Danny. She explains to us that she will speak with him and have a meeting on Saturday. The customer service in this store is horrific!!! Where is the diversity at this location? This store is employed with all Mexicans. Where are the African Americans and Caucasians? There are so many other mobile carriers on the market now. The behavior at this T-Mobile Store is unprofessional.

nasima dada
from Mary Esther, FL
I have several complaints:
1. I switched over from Verizon in December and was asked to send my IPhone 5s to T-Mobile and I would get a $352.00 reimbursement for each phone. I sent 3 phones in December and have yet to receive credit on my account. When I tried to follow up I got transferred over 5 times staying on the phone for over 30 minutes and no resolution
2. The T-Mobile service is not very good in our area. I have complained several times and hasn't got any better.
3. While I promised my bill would be lower than Verizon, my bill is the same with worse service.
Without getting any resolutions I am ready to go back to Verizon unless this is resolved immediately.

I had to get a new phone because water damage to last phone. Went to T mobile store and t mobile representative sells me a boost phone so I'm no longer on boost. I had just paid my bill a week prior. So I guess the t mobile representative knows what he's doing so I walk out with a bogus galaxy III had to go back 2 days later because was not getting any phone calls in and got switched back over to t mobile from the very upset representative who processed to switch my galaxy III to a broken Nokia Windows phone yet where's the 3 weeks prior money from when the t mobile representatives changed my company. Now all the sudden the whole account has disappeared but your getting paid twice. You should take the t mobile account from this crook

Gary Fletcher
from Medicine Lodge, KS
I recently tried to discover what sim card my pre-paid Alcatel One Touch Evolve 2 used. There was no indication whatsoever to the one that i needed. The sim slot looked small so i bought that one, it was wrong. Again, i bought the regular sim card and it was too large. I contacted customer service,and even they had a hell of a time trying to figure it out.Walmart was the same. WHAT IS WRONG WITH YOU PEOPLE!!! How hard can it be to put the type of sim card needed on each phone package? NOT HARD AT ALL!!!!!!! I lost $50 dollars because you can't apparently use any common sence!! P.S.- You probably love the confusion just so you can make a few free dollars.!!!

caroline licursi
from Riverside, CA
I am a current customer and have been since 2007. I received a collection for $138.00 from Convergent via TMobile. TMobile told me the bill is from 2011 but just sold the debt to Convergent on Jan 24, 2015. Yet they never informed me that I had an old bill and my current phone has been the same since 2010 and with TMobile. They told me they cannot discuss it as the supposed debt belongs to Convergent as they bought it? I filed a complaint with the FCC and am sending a copy and a letter for demand of explanation or removal within 7 business days of receipt by TMobile and Convergent and am paying a tracking number via the Post Office. It seems like a scam is starting with TMobile again and I wonder if anyone else is getting this problem? I am leaving TMobile this time for good and I have no debts ....but then again they might create one and sell it to someone as it seems this has happened above!

Jeannine Moore
from Dallas, TX
Purchased phone and plan for grand-daughter. Was told bill would be $60 a month. Was given a card that was free for IPad for wireless. Told them I have wireless at home but said free take. Took and went back in store because could not figure out what to do with card. They said Ipad was older would not work. Found out you was charging me. Found out I had many charges because bill was never at $60. Cancelled plan and you guys keep saying you are sending box for the connection but never have received box. I call - nothing, I go in the stores to say I have not received box - nothing. I feel as if I am being set up to pay a fee because I cancelled. Why can't I just bring your equipment in the store??!!

If I could give a negative rating to them I would, I WILL NEVER EVER GO BACK TO T-Mobile AGAIN. I'm beyond pissed with this horrible company. Back on February 23,2015, my husband and I switched providers over to AT&T ( BEST decision ever!!!) The representative's for T-Mobile I spoke with over the phone and in their store, had told us that our bill would be updated in 3-4 weeks. and that they would mail us the final statement. After that we could come in and pay our final bill. which was fine, whatever so we put money aside to make sure we wouldn't spend the money we had to pay off our bill and phones we had with them.
On March 1, our account was charged $166. to close out what we needed to pay on our account. no statement in the mail, no email about the charge and nothing about the phones so we waited another week and a half to see if anything would arrive late, or anything else would be charged on our account so on March 9 ( a total from when we canceled about 4 weeks ) when I decided to finally call customer support and ask about our bill we hadn't see anything about the phones still at this point and wanted to know what was going on with our account if it was closed completely or not. the customer service rep said there was nothing showing up on our account with them about phones and that it appeared to be closed out COMPLEATLY. which I thought that was a little fishy ( I've been screwed over many times by bills coming out late or charging one account and not the second, so I wasn't going to let this one get me), so I went down to the T-Mobile store and asked the same questions. they came back with the same answer everything was closed out and nothing more appeared on our account. so I asked for a print out of the statement. to see with my own eyes and have proof and sure enough reads 0 on everything.. okay cool, maybe I just got lucky and paid enough on the phones they wouldn't charge me anything else..
NOT!!! then today April 1 I get a charge on my account for 600$ ( NO money in my account what so ever, I used the 600$ to buy new baby items ) and a Month and a half after I close out my account with them .. What the HELL!! literally. so of course I call Customer service to ask what is going on I have my print out that say I didn't owe anything more. Then the rep proceeds to tell me that the $166 they charged me on March 1 was for the billing Cycle from January to February ( No shit SHERLOCK, I know this because I paid for it the beginning of March. meaning it was from the previous billing cycle) and that our bill was not updated yet, on March 9 and wouldn't have shown the phones. She then proceeds to say that bill for the phones wasn't updated till March 11 because it was on a different billing cycle from the February to March cycle, WHY DIDNT ANY FREAKING ONE TELL ME THIS out of the 4 people I contacted the first 2 being the day we switched providers who said 3 weeks our bill will be updated showing everything we own on our account INCLUDING the phones, and the other 2 who I contacted on April 9th after the $166 was with drawn..
Not one of them could tell me that there would be another "billing cycle" as the lady who I spoke with said.. No one could look at my account and say hey looks like you closed it out this day which would put your last billing day on this day so a final payment will be taken out in April.. IM SO FED UP WITH T-MOBILE they charged to much for their SHITTY service. and their customer service Reps need to be in training longer to learn what they are dealing with on customers. its ridiculous 4 people, 4 people who told me the same thing not one of them could catch this..

Needed to jump note 3 to note 4, it quit charging, after 1&1/2 months note 4 lost sound & would not ring for incoming calls..told I had to wait for shipping of refurbished phone. I purchased a new phone from store now it can't be replaced except with someone else's issues..30 yrs. Of being with Verizon I chose tmobile with expectations of an honest company. Buy new product, should be replaced with new product within store of original purchase. I have 5 phone lines, a hot spot, & ipad. I pay my bill diligently every month as is my obligation & promise to tmobile. My belief as a customer, tmobile should respond in the same manner of courtesy & respect to customer needs..now I'm without a functional phone & at 70 yrs. Old if a emergency arises I'm s.o.l. thank u for the inconvenience & hardship.

Your service is TERRIBLE. I regret the day we left Verizon. I wanted to go back but we've already bought phones through you guys so my husband wont allow us to leave. My son and husband bought brand new LG3 phone when we signed up with Verizon. We also purchased insurance for these phone so that we'd have the piece of mind that they can be replace if anything happens to them. NO ONE EVER TOLD US that we would have a $175 deductible, which was the first shocker. Secondly, no one ever today us that our phones would not be replace with new phones if ours were broken. I am even unhappier with T-Mobile then I already was. My son broke his pone and I'm stuck with a refurbished phone. Had I known this I would have saved myself the money and bought a refurbished one on my own. I called Assurance and they said that they do sent new phones if there is not a new phone available. I WANT A NEW PHONE!! I want to actually leave T-Mobile all together. But since I have to stay, I WANT A NEW PHONE! I will not stop complaining until I get it.

Dec. 16, 2014 I had been with ATT and was tired of not being able to get service on my cell phone so I called T-Mobile to see if the tower in my neighborhood was theirs. They said it was so I left ATT to go with T-Mobile. I was going to keep my phone and my same number and just buy one of their sim-cards. The sim-card came in and it was wrong. The very first thing was wrong dealing with T-Mobile. Anyway after a month dealing with them just trying to get the correct sim-card I stayed because they said the tower in my neighborhood was theirs...they lied!! It belongs to Verizon. So January 27th 2015, the correct sim-card arrived and I activated my service. I could not get service. My phone would either say "searching" or "no service detected". It used up my minutes so I had to purchase more useless minutes. I purchased $40 more and still could not get service and since the "number" was used...(searching or not detected) was considered use of minutes. The 2nd of February I cancelled with T-Mobile and called the home office. They said no problem they understood my frustration and I would get a refund. After they get you to someone who can do something...they hang up on you or being on the phone with them so long your battery dies...I've kept calling back getting the run-around. So in-short...T-Mobile will lie just to get your money! DONT USE T-MOBILE...THEY ARE CROOKS!!!

Tina Nguyen
from Temecula, CA
On January 14, 2015, a year and a half after I originally opened my account with T-Mobile, I was a victim of identity theft and T-Mobile allowed someone to add 2 new phone lines to my family account which I had been told already had a maximum of 5 lines. This individual then charged more than $1,600.00 in equipment and fees to my account, charges that I am still being held liable for. I discovered these 2 new lines 2 weeks later as I discovered a range of other purchases bought on my name and credit. I called and reported the fraudulence immediately.
The fraud department, instead of assisting me by closing the lines and removing the charges on my account, told me that I, the victim, had to name the suspect in order for them to release my responsibility. They alleged that my family members were in contact with the criminal citing call logs showing 1 minute calls coming to one of these new lines. Initially, I thought that this information must be the result of computer error for the call log to show that my family was calling this line because none of us knew the suspect and we had never made any calls to this line. In addition, these alleged call logs conflict with our own records, which have been printed from my accounts on T-mobile's own site.
Recently I contacted T-mobile with the name of a suspect in my identity theft case, after receiving an update from an officer at the San Diego Police Department. I faxed them copies of the police reports and of a signed affidavit of fraud. T-Mobile refused to accept this new information and demanded the police report with the name of the suspect, knowing very well that the police would not release the documents because T-Mobile had not been cooperative in helping them catch the criminal, and because the case is still under investigation.
After working with the police and with several stores in the San Diego area, my experience working with T-mobile has left me with the strong belief that T-Mobile employees were involved in the illegal fraudulent activity on my account. They allowed someone to remove my PIN and add new lines to my account when I had set up the PIN as a protection measure, and while the company has my ID and my signature on the file. They then altered the call logs to shift the responsibilities to me. The fraud department wouldn't take my report as a victim of Identity theft seriously and wouldn't cooperate with the police to help catch the criminal.
Please investigate these illegal activities at T-Mobile. A large national telecommunications company should be responsible to its customers and should be participating in ethical business practices. Their capital and influence should not be a tool to criminalize and victimize their customers, especially ones who have already been victims of crimes.

T Mobile initially lured me to them with their cheaper than Sprint plans and the "We'll pay your Early Termination Fee" routine. It should be called the "You pay your Early Termination Fee and we may or may not reimburse you depending on how many flaming hoops your willing to jump through or till we get sick of you bothering our customer service department". I've had so many promises to fix this refund problem by so many reps and each has failed, Purposely?. Hey T Mobile, I get it, you're a big huge mega business with an army of lawyers to keep the riff-raff customers from defending themselves from you. You win, keep my money. Good bye T Mobile and I'm taking all five of my accounts with me. BTW, I'll pay my final bill in six to eight weeks in a $10.00 prepaid VISA card. And when you call me for payment, I'll promise you the check is in the mail with a cheery attitude every single time.

Geeta Budhu
from Brooklyn, NY
My family has been with t mobile for over 12 years and the service we're receiving is beyond unsatisfactory. Recently my sister and I decided to come off of our parents plah and be on our own. Upon speaking with a few representatives, we decided to stay together and not be on our own because we would receive more data together. My sister however, did not sign the authorization.
Have feedback for T-Mobile?
Thanks for your feedback!
Sorry. Please try again later!