T-Mobile
T-Mobile Complaints Continued... (Page 5)
964+ reviews added so far. Upset? Call T-Mobile corporate: 425-378-4000

Cassandra Burton
from Houston, TX
my dad bought three phones a day after christmas. I came in march to pay the bill two weeks earky. my son phone was messing up he could receive calls but he couldnt dialed out. The lady told me they had a promotion for five lines for a cheaper price i was paying.i didnt need five lines i just needed my son to have a working number .so i agreed. we gotten a free phone with the promotion.so i gave him my phone ,i took the new one. i told the lady i want to keep the same numbers i have had this number for 11 years. Besides my son has mess his phone up ny changing my google account,he didnt know all the phones were on one google account. the lady said to keep from messimg my phone up just give him your phone you take the mew one,so i did.When it was time to port over numbers the lady on the phone didnt want to do it.she said it would take five days to port over so i waited,they never reached back at me i went back to the store,thats whem i found out they couldnt switch over to the 5 lines,so i told the agent in the store and over the that is okay cancelled the 5 lines i keep my 3 lines has original i dont have to have my numbers ported over since they say they couldnt. do it.so they had to put a ticket in to cancell the 5 lines ,put me back to the three i had.. that never happened they have lied to me over and over again, they have cut all three phones off i couldnt get on touch with my kids. i told them i needed the same numbers i had for 11 years, for my job and school. until this day employess have lied supervisors have lied also, they have wanted money for a service i never gotten to use. they give you false names.then one man turn around and cancelled my whole account,i didnt give him permission to do.i have gone into the store every other day trying to get them to give me the three lines i had with the phone numbers. i would have never took my business to T mobile,is that what T mobile have reduced the company too being crooks. im a single mother/grandmother raising two kids their mother died when they were 3 years old.Now my son phone is off he was the only one that had at least 2weeks of full service while they supposed to be working on fixing my peoblem that T mobile created it was Tmobile fought,theym cancell my service then they turn aroung canell my account me and my daughter phone we have been without service since March the 17th, i have spoke to 10 different people every time i go there they make up a ticket putting the peoblem further behind,so they last guy i spoke to on March 29 told me that he was going to give me a credit for March billed not to worry he was putting it in the notes has we speak./ he even told the manager that in the store. the manager told her that i needed them to make sure that she has a phone on so she can receive calls from my job because they call at 4am in the morning to give me my job assignment.so he gave me another number said this will be a temporaily number not assigned to know account until this, issue get resolved. at least i can get calls,and call out.but i cant still call mykids.My son was the only one with a phone because me amd my daughter phone was disconnected. My son phone was off for three days until i went in the store they fixed that emporaily it stayed om for an week, the agent assured me that the phone wouldnt get turned off i would get tect messages every week asking me for money to reload and we never gotten to take advantage of the 5 line promtion so has a payed the money two weeks before the 3 orginal lines were due. i went to work i tried to use my phone i was cut off they wanted me to pay the 100 sollars. the agent in the stores paid the 100 that i would have originally paid if i wouldnt have gotten the 5 line promoltion. we thought everything was okay then two days after that it gotten cut off i went back in the store on the 29th,the manager wasnt their i spoke to the customer service departnment a man name delalgo,supposed to be a supervisor,he put me on hold he said that they had tickets are ready out concerning my matter,he would try to help me he couldnt promise me,so the store was closing i gave him the number at that time they gave me another sims card so i could be able to call out until they fixed the problem with the two phones that they were trying to port back over right along with my son number now his phones is off,they were trying to include his number in the port,well i never gotten the phome called instead he cancelled my entire account no one gave him authorazaton to do tbat, so i had no phone over the weekend and while i was at work. i went back in because i had to work for two days before i was off again,that is when i found out what the agent has done.what started out me paying for three prepaid lines,for 110 a month.now i have three different accounts open up in my name that i didnt ask for.Now i have to pay for phones that have not been working it would showed up in their system as being active,but the phones were now having service i couldnt call out neither were my kids being able to used their phoned. T mobile is still asking for money.if it wasnt for this man i talk to name Blake dont know if it is his name he told the manager tp put a sim card in my phone she gave me this number to use to they resolved the issue, and some one went back inand assighned them other two lines back on the account that supposed to be cancelled because they were trying to port me back to my original three lines with the original munbers i statred out with. please help me i never got a chance to take advantgage of the proption that i had paid for because two days later my phones were cut off,as soon as they turn it back on after they had creditn 100 dollars to the three lines ,in the meantime we were told in 5 days it will do back to my three lines they cancelled the five line promotion they never gave me my money back, now they want me to pay 150 dollars for no service on two phones the t-mobile mansger have really tried to help me the customer service people have been rude to her,threatened her with her job we have held on the phone for a hour no one came back. Please will you have Mr John Legere contact me maybe he can help me.Now my job is at stake now because i have missed jobs assignments,almost gotten written up.because my phone was cut off and disconnected not because of non payment it is due to T mobile making the mistake and they have admitted to me but they refuse to correct

Ever time I pay my bill you screw up my phone I call over and over and nothing they say they will call me back and nothing I have missed important calls and text I pay for a service and nothing your stealing your not holding your end of the deal. T-Mobile is the worst

I was told i had to come into the store location in order for me to have the original delivery of my phone from UPS to be changed to a different address. I realized i wouldnt be home and wanted to redirect it to my work so i could recieve it. it was busy that evening when i walked in and just sat and waited for my turn. it was almost a good half hour and still was never acknowledged by any of the 3 employees..not even a hello. there was even a person who walked in after me who got taken care of. I just stood there in disbelief but didnt want to cause a scene but that really made me livid.Finally when the guy was able to help me...i then was told they HAD no access to changing the delivery. they let me use their computer to try logging on the UPS site to figure out a way..but he had the audacity to walk away to help another customer and so i was just standing there waiting again.( that would have been nice if he could have done that for me from my initial walk into the store).
Finally got fed up and walked out and said muttered" nevermind, its okay" and the guy didnt even lift his head up to look at me or care and continued to look at the computer screen info he was looking up for another customer. I had my 7 yr old with me and he was starving because we had driven straight after work and picking him up frm school to go there because i thought it would be a brief visit. the whole experience was awful. if the guy could have just asked what i needed ..i wouldnt have wasted all that time there. I will never go back to that location again. Seriously needing a refresher course on common courtesy.

I was a customer of T-Mobile for over 9 years. Auto Pay. Service is terrible, Customer Service is terrible. I had a credit card on file for auto pay and it quit letting the payment go through. I called and asked what the reason was for auto pay not taking the card and they said the card was bad. I then made a payment on line with the same card. I finally had had it and went to boost mobile. As soon as the phone was shut off I was not able to make the final payment without having to call. Guess what 30 to 40 minute wait time to get a person. Worst Cell phone company ever. Quit running commercials all night trying to get new customers and take care of the ones you have.

Karen Gibson-collado
from Las Vegas, NV
Yes me and my children have been with t- moble 5 years I called to change my payment arrangement date to a week later the Girl I spoke to at the so called team of experts told me yesterday wait till your phone gets disconnected then call us and we can make a payment arrangement for you she told me it's happened to me so I took it as it happened to her so she won't charge my payment arrangement after I told her I said the wrong date bye mistake not good at all since we have been with there company for sooo many years

T-Mobile is the worst customer service I have ever seen. Playing tricks on customers and making them to pay high. They mentioned me $25 for plan & after one month they gave me $75 as due. When I ask them they just simply say we are sorry. They just play tricks on customer and when we know that they just say sorry. Looking to complaint on T-Mobile service. Looking for some help.

ALTON R. PEGUES
from Baltimore, MD
I contacted T-Mobile in June 2018 when I was considering switching my service from Verizon. At the time I had three phones I was paying off and it was above the limit. The Customer Service Representative was helpful and offered me to purchase SIM cards for my phone if I decided to switch. Now that two of three phones I wanted to switch are paid off I called this week to switch only to find out that an account had been established and submitted to collections for non payment. The CSR provided me with the collection agency phone number whom I contacted to find that the account was settled. Furthermore when I attempted to use the SIM cards I purchased right out the package from T-mobile, I was told they were deactivated and I had to purchase new cards. I was told to go into the local T-Mobile location in Durham and see if they would take the old cards and give me new ones. They would not. Had to purchase new cards at $80.63. I am seeking reimbursement of this cost or credit to my new account 966-417-526. I did not activate or deactivate the cards that were sent to me. I did not open the package.

elaine simpson
from Worcester, ENG
....on 2/28/19 at T-Mobile 5200 RAMON RD PALM SPRINGS CA..I took out a sim only phone package for ONE MONTH @$42.50 I did not know NOR WAS I INFORMED that my I-phone would then be locked into T-Mobile for 365 days (as you're Customer Service has now informed me) I had a lengthy chat with the young man.. sales rep#****472 who set up the programme in Palm Springs about the U.K he was very clearly aware that I was on vacation for 1MONTH...I am now back in the U.K and cannot use my I-phone for 365 days!!!!! I need my phone unlocking....not through any lack of loyalty but because T-Mobile is not in the U.K where I live.... PLEASE I need my phone unlocking ...this is a unique situation that (apparently) needs a unique solution....I feel that T-Mobile took advantage of a small window of opportunity to behave in a dishonest way by not informing me "AT THE TIME" that my phone would be locked in!!!! I hope you agree and give me the unlock code OR unlock my phone.. (I have been with you're "sister" Co. EE for 15 years but alas they cannot help )....the phone number in question is # 760 -623-6745....other info(sim:8901260175779986948).
and (transaction (#CTMS612ZF00366) ...(act#******933.....)sincerely Elaine Simpson

Its really ridiculous of waiting more than 40 minutes to pay a bill. You're unable to pay online bcuz of technical problems...
Now...theres 5G!! WHERE!!! Im unable to get 4G coverage!!

Brian Young
from Port Townsend, WA
Worst customer service EVER. I bought a brand new Phone from T mobile. I tried to activate it by calling the number listed for activation. They had NO record of me ever having bought a phone. I had kept all the packaging, all the paperwork. Not one single number was registered in their system. I spent four hours with a variety of so callled service representatives. In each instance, I was put on hold, and the line eventually went dead. I finally gave up, and told them I just wanted to return the phone. That in itself took two hours. They were never able to recognize the phone I had purchased. They had already deducted $240 from my bank account, which I had proof of. They could not even find that. I had a sim card, my address, my home number, my SSN, and nothing helped.
Worst company on earth!!! Do NOT but a phone from T mobile!!!!

Veronica Duncan Williams
from Clayton, NC
I submitted a complaint to the Better Business Bureau today due to an Supervisor name Clark being uncaring to a complaint I had today because of Service Interruption due to hardships I am facing with no fault of my own as a Senior Citizen.
The BBB office will be contacting your office in a few days.
Also, I am submitting a complaint also to the Consumer Affairs Office too.
Veronica Williams

Carol D'Ann pierce
from Little Rock, AR
On 04/04/19 I purchased a phone and a 50.00 activation card at a Dollar General store. This phone was purchased for an elderly lady in a nursing home (this is the only place the phone was to be used). On 04/04/19 I called to activate the phone and TMobile was unable to activate the phone. I was asked to return that phone and purchase a new phone and was told the 50.00 plan would be transferred to the new phone. I returned the original phone; purchased a new phone and had the data plan transferred to the new phone only to find out that the phone will not work once you physically enter the nursing home. With the phone not working in the nursing home, the 50.00 data is no use to me. I have attempted multiple time to get a refund on the unusable 50.00 card without success. I do understand that the card is non refundable; however I purchased the card to activate the phone and the phone will not work in the location needed. I am wanting a refund for the 50.00 since it is not my fault I can not use the data card.

Faezeh Zia mousavi
from Van Nuys, CA
Today I was in store#2795.The manager Alexander was very very rude. He said you have to wait if can not wait go somewhere else.I asked him little bit bring the music down, it is too loud, he said no,that is how it is. I left store but did not expect from Tmobile. We are customer for 18 years and they treat us like this.

I am upset with the practice of T-Mobile cancellation service. After less than 2 days of getting my new T-mobile phone, I was not happy with the service or how I was treated at the store. I cancel and had to 50 restocking fee and I was told I had to pay for the days I used my phone. I question that because I have 14 days cancellation service. Within less than 29 days I got a bill for 89.00 when I called customer service I was told that I was responsible for the full amount even when I cancel my service within 2 days. The supervisor wanted me to reactive my service to "help me out" I didn't agree with that because why would I reactive a service I wasn't' happy with? This practice doesn't make any sense to me, I understand being liable for the 2 days of service but a whole month?? How is this right? I am a consumer and if I am not happy with a product I have the right to pay for that service. I agree to pay for the 2 days of service but the rest it does not call for and how does their billing cycle even work? I looked online and in the terms and condition, it does not have a specific distribution of what the consumer is liable for it basically say T-mobile has the right to charge me whatever they want? In what country is this allowed? I refuse to pay for a service that I am not happy with and I am not going to have this fraudulent charges on my credit report. I want T-mobile to fix this misleading practice, simply if it is not clarified in writing it cannot be held against a consumer.

Ron Borje
from Irvine, CA
In early February 2019 I had 5 lines but 2 of these lines I had suspended and was not using anymore. I had a grandfathered data plan and I was interested in getting Unlimited Data on all my lines. I contacted customer service and spoke to Maria, an after hours representative, and she told me about an unlimited data plan of 6 lines for $200 including free Netflix. I have my girlfriend who had 3 lines at Verizon that I was thinking of having her join me. I wanted to get rid of the 2 suspended lines first but she recommended that I keep them and just have 2 of the lines ported over and just add one additional line to equal a total of 6 lines. In addition, if they owe money on their phones, TMobile would pay up to $650 per phone. I waited until March 22 to add them because they needed to be at least 90 days into their old payment contract. Unfortunately, Maria was not the person I spoke to again and had someone else. Her name was Grace or May. Over the phone, she ported the 2 lines and said to wait 24 hours. The next day I was told to go to an actual store to get sim cards. While we were there, we purchased a new phone for the additional 6th line. When all was over, the representative told us that we no longer qualified for the $650 because of the way went about it. We were told that we should have added 3 new lines in order to qualify for the rebate of $650. I explained to the customer rep that it was THEIR idea to do it this way and now we are the ones paying for it. Now, we will need to pay the $650 (x2) of the old plan because of their customer service department. I have called the customer service department several times and each time we get a different answer. The last conversation was with Amanda, who promised to call me back yesterday (March 31, 2019) but no call.

There are three(3) different issues. In which, one of the three(3) it has been 3 MONTHS and still NOT resolved with one of my numbers and only on 3/31/19, after near 3 months an explanation after me pushing them can calling about this issue was given which is unreal and not even true or accurate in my view.
Here are the issues and facts.
In Janurary 2, 2019, all the sudden, we had issues with "REGULAR" voicemail, FORWARDING function on one of my numbers on my account and one number ONLY and FORWARDING and sending VM messages only with that number. I have 4 numbers within my one account suffice to say.
I reported that immediately been working with one particular person (MOSTLY) but others too as he was off and I needed to get this thing resolved on this issue since 3 months, troubleshoot like crazy researched like no one's business, "esclated" supposedly to the top engineers and for months we had the same issue. Even though I get a ticket created, and a week later, several times, it say, "the problem resolved".... No it has not, and the whole process starts again. See my point? That is ongoing for months. I was very patient and very professional until I got tired of lies, lip-service, re-explanation of these issues to many different people including the "tech support/ engineers" each and everytime for 3 darn months. Finally on March 31, after being on the phone as usual for a long time and waiting and getting call backs and calling them, the customer care person who was MOSTLY helped me and I appreciated his efforts told me that for that ONE particualr line, since the T-MOBILE had updated their VM systme, that particular number and 15% of others have not yet "migrated" to the NEW SYSTEM, thus we need to wait another 3 months (2nd QT) to hopefully the VM issue of FORWARDING is resolved?? WOW! Really? so all this time this is the BS I am suppose to accept and all these months I needed to send FORWARD and we couldn't and I asked and asked for an explanation and nothing was done. Only lipservice we will do this and that ,and nothing happend.
Issue #2, From my one of my main lines, to another line I have on my account, to only ONE number in which is NOT the same number I had stated above that has the VM FORAWARDING ISSUE, all the sudden 2 weeks ago, when I send a text message to that other number, and that number ONLY, no other numbers in my account or anyone else for that matter, I get kicked out of the text app, and the message will not go thru and I have to try many times until it does. THIS WAS NOT an issue before, only to one number, we are using the originial app that came with all of our phones, it is up to date and again, to only one phone number from my main number only. That is very strange, is it not? well, a ticket was created about 2 weeks ago. It took a week, but it was resolved, and 2 days ago, it came back. Been dealing with that too, no help, no feedback, no reason as to why, no solutions, just buy time, a lot of nosense I am sorry and we understand and BS talk. NO ACTION.
Issue 3, as fo 2 day ago too, the say that I spoke to the tech support and this and that, all the sudden, on my main line, I get phantom VOICEMAIL ICON message and alerts. As if I have a NEW VM . Well, I do not. There is nothing there and it is really getting old. Do not know why and they cannot so far explain it either. Their BS work-around solution, forget the regular VM which we been using as their long term and royal customers for years and just use their Visual VM to get around it. What a BS.
I told them I am very disappointed and upset and to be their customer and their service is subpar and I have been paying all this time for a service (s) that I cannot use properly since begining of 2019. And I am sick of their lip-service and I want the CEO of this company or high managment to be aware, listen to all of my phone taped conversations and see if this is normal service and if I or anyone has to deal with this nonsese. I want resolution and I want a proper remedy.

a store sales asked me to transfer all my number from a business account to personal account, after 4 months my old account is still being charge. went back to the store, they said the sales is no longer working and they are not responding for that, call the customer service , she said i have to pay because the account is still open untill i call, but the account should be closed 4 months ago, i didn't get 4 months payment back, and have to pay another 102 dollar to close the account, the representative don't even take my credit card when i just want to pay for it, she ask me have to call in again to pay for it, bad bad services

I have two lines and my account is since 2003. Within the last two years internet on one of the lines (22406590259) was not working every time the phone was in Canada. When contacting customer service last year the answer was given: "We are not guarantee internet in Canada". You actually should.
Finally, after a few attempt to talk to customer Service they were able to fix the problem, but it took two years.
Last year in August the line (8479620553) was blocked and did not accept text from Europe. Again it took a few calls to fix the problem.
My question to T-Mobile is whether some of your representatives are lazy or just lack of knowledge?.
This is not acceptable and some refund should be given.

Laura VItta
from Oceanside, NY
T mobile made mistake with not updating IME number in their system. Caused issue with the lost device while in California with denial of the claim on 3/10/19 , store confusing issue more by selling a new phone to us under different number on plan I think they said using Jump. Then I had to spend 4 hours on the phone 3/20/19 trying to straighten this out with the same questions being asked over and over and finally was told that T mobile had the wrong number in the system and it takes a while to update, which is a horrible excuse because the device is almost one year old. Botton line is hours and hours of my time dut to T mobile mistake, charge of brand new phone added to my bill, plus deposit out of pocket, charge of deductible insurance claim, charge of still paying on the lost device installments, waste of hours of my time, and new phone was added on as a different line so I am assuming I have a new line to pay for as well when the new bill finally arrives. Out of pocket already this has cost me $500 dollars and then add on the installment charges etc. Please do not respond telling me how I can correct this and what I need to do. I pay a large amount of money monthly for this business account. This is all on T mobile and I request you compensate me for the money this has cost and frustration and time loss. If you are not willing to provide that I will take my business elsewhere.

Domingo Miguel
from Chicago, IL
I was told that I would get a phone
all I had to pay was for the service and I would pay my phone in payments monthly they still took 25 for a phone they let me use in the meantime until I went back to tmobile they told me I couldn't get the phone I would have to pay 80 for the phone then I would finish paying it off monthly I'm filing a complaint because they are didn't not keep the word in what they told me the first time I couldn't even get my refund of the 25 dollars

VALENTINA ZUTMAN
from Chicago, IL
We have been with T-Mobile 15 years . I have 2 lines- 2246590259 and 8479620553.
My son, whose phone is 2249620553 often travels to Canada. Within the last two years that he had traveled, he was in Canada for at least 60 days, internet on the phone never worked.
He reported the problem from Canada. The answer was: " We do not guarantee internet". You do no guarantee, but we keep paying. Some days internet was not working even in Kent Washington. All this time we've been calling T - Mobile, but nobody could fix the problem. Finally, two weeks ago my son got to the right person who connected him with the technician, and the problem was fixed in 5 minutes.
My question to T -Mobile is: whether your representatives lazy or not experience?.
I think T- Mobile should issue a refund for all inconvenience.
In August of 2018 I had problem with international text. It was blocked and I was not able to receive text messages, but your representatives kept saying that everything is fine, when representatives in Europe were saying it blocked. Finaly I've got to the right person and it was fixed.

Lindsey Shaffer
from San Jose, CA
Yes my Complaint is against representative Brian Copulo badge I'd: 456882
So what's going on is I was on the phone with this representative for about an Hour trying to get transferred to a customer-service rep that helped me 2-3 days ago he was not willing to transfer me,.. He was not willing to let me be on hold to transfer me to the representative that I wanted to be transferred to her name was Sherri,.... But I'm not shure that this was the reprisintitive I talked to 2-3 days ago,...
2-3 days ago I called in wanting to get my T-moble hotspot working on my computer both a Male & Female reprasentitve helped to verry the account information by getting my Mom on the line She verrified the account information with both of these reprasintitives,.. and the representatives told me that I did not have to verrify that account information that they allready recived the passcode verification from the account holder Marian Knott wich is my mom,... then the reprantitive told me she was going to send me a free sims card in the mail Free of charge and that she was going to give me a call March 15 after 10:am,... to activate the sims card for my phone and that when she called in I would not have to verrify the account well, she never called that's when I eventually called into T-moble got ahold of Brian Copulo and he was doing everything in his power to not transfer me to the right people that I talked to 2-3 days ago that could help verrify the account for us he would not transfer me,.... he would not look into the history to see who it was that I talked to, he would not let me be placed on hold till either of the reprasentitives that I talked to 2-3 days ago I wanted to be placed on hold until either of the reps were able to talk to me, he would not let me do that,.... and both of the Reprasentitives that I talked to 2-3 days ago had the account verification codes he needed he wasn't willing to contact them to get the account verification codes,.......
If someone can please get ahold of the representatives that sent out this free sims card in the mail to help me activate it because that is what I called in for in the first place, I would greatly appreciate it,....
Lindsey Shaffer-
831-224-2202

Have you ever had terrible customer service? DO NOT LET THIS HAPPEN TO YOU!! I have had the ABSOLUTE WORST CUSTOMER SERVICE EXPERIENCE CARE OF TMOBILE!! Check this out. My family switched to T-Mobile 18 months. We were tired of the ATT increasing fees, and being treated like we were another number. Ronnie and I switched the WHOLE FAMILY OVER TO TMOBILE. Dropped our bill about 100.00 per month. Got everyone on Samsung phones, that for the most part have worked flawlessly. Well, Maddie stayed with Iphone...the first year had been like the first year of marriage, a few bumps along the way, but for the most part... it appeared to be a great switch. The staff were great and very friendly. Over the first year we lost one phone to a lake, another to a cement shop floor and a third to... well, I can't remember. We have protection plans, and Tmobile was great at quickly replacing them. 18 months later, it is my turn to switch. Mid-February I went in to a TMobile store to upgrade my phone. Wahoo, right?! II wasn't switching to the newest latest greatest model, I was humbly switching to the Samsung Galaxy S9 Note. The note feature would be a great bonus for work meetings and such. Anyway, after standing in the store for about 5 minutes, waiting patiently so the 3 staff members could finish their conversation about what phone they were going to get, we were attended to. Mind you... WE WERE THE ONLY CLIENTS IN THE STORE! (THIS IS WHERE IT ALL STARTS). May I help you?
3/1/19 I went into the TMobile store to upgrade to a Galaxy Note 9 – "Sorry, ma'am but we are out of most of the Samsung phones due to the release of the GS 10 series. TMobile decided not to purchase any further "OLDER" models until mid-March because they didn't want to over purchase the newly outdated phones…based on the premis that the GS10's would sell like hotcakes. "Ma'am, you will need to go on your app/online and perform your upgrade there. So, I came back to the store at their recommendation, only to now be sent away, because TMobile didn't want to waste money, and decided not to stock a product that they have advertised. Hmmmm.. Not good business practices to me.
3/3/19(Sunday) I call using my TMobile app to call the customer service line. It is in the evening, so I get the 24 hours service tech, Jenel. After being on the phone for over 45 minutes, I was quoted a cost of 259.79 as the down payment/shipment and connection fee. Mind you, on 3 different occasions I was quoted completely different costs, all of which include shipping costs. This is my first contention point. As a loyal and previously satisfied customer, why was I having to pay shipping fees just because TMobile decided not to provide the product in the store. During the conversation with Jenel, I was told that I should expect to have the phone on my door step by the end of the day on 3/6/19. She said the phone would be shipped essentially in 3 days. I was satisfied with this. She told me to watch my email, and to please complete the eSign within 48 hours, or the order would be null/void. I received the Email on 3/4/19. I completed the task as required. I also received a text message thanking me for my call. My down payment and agreement were for the Samsung Galaxy S9Note.
3/4/19 Being a conscientious patron, I went on Amazon and purchased a screen protector and 2 phone cases for the S9Note. I wanted to ensure that the phone was protected from the moment I got it. The shipment was due in on 3/12/19. On 3/4/19. I also received a YOUR ORDER HAS SHIPPED MESSAGE: ORDER# S061383615/ORDER DATE OF 3/3/19. This message was sent to my email account. My TMobile APP also reflected the same information.
3/6/19 I received a message that my phone was due to arrive by 8 or 9 pm that day. UPS also said the same thing, But nothing arrived. The TMobile APP said the package was out for delivery.
3/7/19 I called the TMobile customer service line. I spoke with Rich. After struggling just to get Rich to access my information, he finally accessed my information. I explained my concern because I was worried the phone had been stolen or lost. My experience with previous TMobile shipments is that they arrive as expected. Now a day's people are stealing things from porches and mail boxes, so I actually called to alert TMobile that something was wrong, and that they needed to check on their item. I had also noticed that the status of the phone on my TMobile APP had changed from "to be delivered by 8pm, to now reflecting N/A. I asked him to see what that meant. Rich didn't know what the N/A stood for, and Rich then told me that my phone wasn't due to arrive until 3/12/19. Jenel, the previous service representative said nothing about the phone arriving on the 12th. She assured me it would be sent 2nd day air, and arrive on the 6th. I explained to Rich, that I knew nothing about the 12 as a shipment date, and suggested he check the phone records because I know that TMobile records phone calls. After prompting by someone talking in the back ground, Rich offered to contact UPS to check on the phone, I requested he check. After being on hold for a handful of minutes, he came back to tell me that the phone was due to deliver by the end of the day that we are talking, after feeling somewhat satisfied, we end out call. I alert my kids to watch for the phone. I go straight home, and continue to wait…. NO PHONE IS DELIVERED.
3/8/19 I GO THROUGH THE SAME SCENARIO AS RICH'S EXCEPT THIS TIME IT IS WITH Jermaine. Same identical situation. I am told that the phone is set to deliver on the 12th. I explain to Jermaine, that I was told by Rich the day before, that it was supposed to deliver by the end of the day on 3/7/19… per Rich. I ask Jermaine to check on the phone with UPS. After remaining on hold, for another handful of minutes, Jermaine returns to tell me that per UPS, the phone was slated to arrive that same day, by the end of the day. Jermaine, goes one step further and tells me that he is going to follow up with me the very next day, Saturday 3/9/19, to see if the phone arrived. If it didn't, he would put in a request for an investigation. NO PHONE IS DELIVERED!
3/9/10 Jermaine called me to check and see if I had received my phone. I informed him that I had not. He said I would have to go to UPS and request an investigation. Mind you the whole time, the UPS site and TMobile App said the phone was at the Oklahoma City Main Depot. Tired of waiting and wanting to speak to someone face to face, my husband and I went to the UPS Depot. We spoke with a clerk there. The clerk then notified me that UPS couldn't find the phone. She said it was LOST. She nicely printed out a tracking sheet for my use, detailing the movement of the phone. The phones movement hadn't changed since 3/6/19. I explained I wanted to generated an investigation on the phone's whereabouts. The UPS clerk told me that I couldn't request it, TMobile had to… since technically TMobile is the UPS customer.
I then called TMobile and talked to Paige, at approximately noon. I had to explain the situation AGAIN. She looked into things, found the notes, and said that she would start the investigation. She told me she would call me back to let me know what her follow up was. I asked to speak to a Supervisor to explain my dissatisfaction with the run around that I was receiving. I explained that I felt I had been lied to, and that I didn't appreciate it. Chris apologized and took my information. He said that he would fix the situation. I explained that Paige was going to call me back with more information, so we decided I would wait for Paige's call.
Later that day, Paige called back. She apologized, and told met of her plan. She said the phone would be next day air shipped. But wouldn't go out until Monday, 3/10… but would arrive on 3/11. She said that I would be credited back the down payment for the original lost phone. She said I would have to pay a down payment for the 2nd phone, but that the charge would not be required up front. She said she had received permission to charge it to my account/bill and that I would have to pay the down payment on April's bill. I said that would be fine. She said this way, I wouldn't be out of pocket 2 DOWN PAYMENTS. Everything sounded like it was finally fixed.
Later that afternoon I noticed that shipment notification had been added to my TMobile APP home page stating that A DELIVERY ATTEMPT OF THE LOST PHONE HAD BEEN MADE, BUT NO ONE WAS THERE TO ACCEPT THE ITEM. This was unusual because, all along even UPS said that they don't know where the phone was, and the UPS app said the item was still in transit. I believe this is a false message, and never occurred.
3/12/19 NO PHONE ARRIVED, I had not received any shipment details, or shipment notification regarding this shipment. My TMobile APP has never reflected anything regarding the 2nd phone to be sent. I never received an eSign email request for the 2nd phone. I called and spent another 45 or more minutes on the TMobile Customer service line. Jared answered the call, I immediately asked for a Supervisor. Amber was put on the line. With all due respect, I was very angry at this time. I spoke to Supervisor Amber (40689). Amber went through THE SAME PROCESS AS ALL OF THE OTHERS, WE HAD THE SAME CONVERSATION, I RECOUNTED THE SAME STORY… FOR THE NOW 5TH TIME. Amber said the same things Paige said, and again… no one could figure out why the previous situation wasn't completed. Long story short, Amber told me the same thing as Paige except that this time, she quoted me a down payment of approximately 250.00. She assured me that I wouldn't have to pay for shipping, and that she was putting the phone in for NEXT DAY AIR. She said that the request wouldn't go in until the next business day, but the phone should arrive on 3/14/19!!!!!!!!!! She told me to call her if there are any further problems. She sent me a text with her number attached.
3/13/19 I receive a text stating: "Thank you for being a valued T-Mobile c.ustomer! Your order ID# ia S061808025. I also receive a text reminding me to remember to go to my email and sign the eSign electronic signature. I never receive the email. Amber confirmed my email address during our phone call.
3/14/19 AGAIN, NO PHONE ARRIVES. 8PM I CALL TMOBILE. This time I speak with Rachel, I immediately ask for Amber. I am told by Rachel, that Amber is gone for the day. She said, she can leave a message for her, and that Amber has up until 24 hours to respond. I decline the offer and ask for a manager. I am told that there isn't a manager available, only another Supervisor. She forwards me to Carlos. I RECITE THE SCENARIO YET AGAIN. AND ASK WHY THIS CONTINUES TO HAPPEN. Carlos repeats the same rhetoric as Amber, and Chris and Paige… they don't know what has happened, they can see that I have called, they see that requests for shipment have been placed… but no phone has ever been shipped except the initial LOST PHONE. I explain this is now going on 2 weeks, and that this is deplorable customer service. I request that my order for the Samsung Galaxy Note 9 be cancelled. I then explain my disgust with this service. I work in the healthcare field, for a Major medical facility. I am in charge of many people and one of the most important things preach and teach my staff is customer service. I explain that we can be as nice as pie, but if there is no follow through our effort is worthless. If my employer worked with the same level of Customer Service as TMobile has provide me, I don't think our level 1 Trauma center would be saving lives, and open. Although my experience with TMobile was great up until this situation, my intent is to pay off my phone, and move to another carrier as soon as possible. My family will be moving as soon as their phone contracts are up, which should be next fall. With good faith, I cannot recommend T-Mobile to family, friends, or coworkers. I may be just one small person in the TMobile scheme, but if this is the way customers are handled, I don't expect TMobile to continue to compete with ATT, Verison and alike.
I have never been so frustrated with someone, something to this degree. Shame on you. As valuable as phone service has become to the consumer, and integrated in family interworkings… this is absolutely unacceptable.
Regards,
Kari Croco-Combs

I've called several times and still isn't resolved.
I want to dispute the "Fees and Charges" associated with the following address:
1064 Eagles Brooke Dr Locust Grove, Ga 30248-2470.
Specifically, associated with Locust Grove, Ga address to dispute:
the Regulatory Programs & Telco Recovery Fee ($3.18 per phone per month = $6.36 Total per month)
One-Time Charges each month on my phone number for Federal Universal Service Fund – This month it was $2.77
Government Taxes and Fees for Locust Grove State and Local Sales Tax and County 911 charges ($1.73 on each phone = $3.46)
Once you help me get them removed, I need to see how to get refund from last 30 months (since living back in Tx).
My wife and I have been loyal T-Mobile customers and I need this resolved.
BRIAN T SLUGA
Independent Business Consultant
EDO Houston, Tx 77003
309-241-6677

Jarred Fusco
from Lindenhurst, NY
I would choose a -10 rating if I could. I purchased a Samsung S9 in October of 2018 at the T-Mobile Store at 200 E Montauk Hwy, Ste F, Lindenhurst. When I went in I asked to see a phone that was "waterproof" and the salesman showed me the S9, I liked it but noticed the price was a lot more (about 900) than I'm used to paying but he said its worth it so I said ok I'll take it. I purchased the phone that day with insurance and left happy. A few days later I returned because the phone did fall and There's a few scratches on the phone, but it was NOT because of the fall that the phone broke, and upon bringing in the phone to the store and him looking up my information, and him seeing I do have insurance and saw that the phone itself was damaged NOT due to the phone falling, but the actual phone itself was not working properly and he said that its o,k and that it was within the time allowed for me to return the phone ( I believe 2 week is allowed to make returns) and was "no problem" to get a replacement phone since I did have insurance. At that point I asked for a replacement and he said that he was "sold out" of the S9 and at that point I said "Ok do you have any phone similar to the S9?" He said yes the Galaxy J7 so he then informed me that the main difference is that the s9 was "water resistant" not "waterproof" like he originally said so I said what's the difference and that's when he proceeded to tell me that the "water resistant" S9 is only good for a few feet of water not totally "water proof". So I then said ok well why would I pay for the S9 when I'm paying to have it waterproof but your telling me it's not, so he agreed and said to get the J7. I purchased the J7 and asked can you take this s9 right now and take the return and he said "no you will be sent a box to your home address to put the phone in the box and follow instructions to send back to right place" since I purchased insurance and it is an outside company or something that deals with returns. I said no problem so I purchased the s7 now and still have the s9 waiting for the box to be sent to me house to return it properly like the man at T-Mobile said. I go home and wait and wait, no box shows up, I call and ask and no one is helpful and the people at the T-Mobile store at 200 E Montauk Hwy, Ste F, Lindenhurst, NY 11757, were so beyond rude to my wife and I they laughed in her face and made her cry they were so mean to her so now it has been months and this issue is STILL not resolved. We have made numerous attempts to get this resolved and no one even after calling many time for MONTHS and them saying they will "credit our account" for a month because they left me with no phone and service for days when I explained to them I NEED a phone for work since I work in the medical field and am "on call" most nights, but of course they never credited the account and there's no documentation anywhere. We are so dissatisfied with the T-Mobile store we purchased it at we called and complained to t mobile and refuse to go back there or to talk to them after they treated my wife and I the way they did. I have ALWAYS paid my bill on time and always a loyal customer who has been with t mobile for years. I have made every right move to try and resolve this issue which is ridiculous to begin with. We have the phone still and have attached it with this and the phone is just sitting here and we are waiting STILL to return it! We have tried and tried and we can get NOWHERE. My wife and I even called yesterday TWICE and spoke with a T-Mobile rep for about a half hour and they said they would call back in a half hour that they were putting this in as a "top priority" and even gave them 2 additional phone numbers to reach in case they couldn't get in touch with me right away and STILL no one ever returned our call to resolve this issue and we are literally lost as to where we should try now since every single time nothing ever gets fixed and is absolutely insane!This is by far THE WORST customer service experience I or my wife have ever had in our entire lives! Bottom line is I have an s9 that is basically brand new that I am not making any more payments on because I am literally getting robbed and is affecting my credit score significantly so am looking for anywhere for help to resolve this ridiculous circumstance that T Mobile has put myself and my family in. Please help!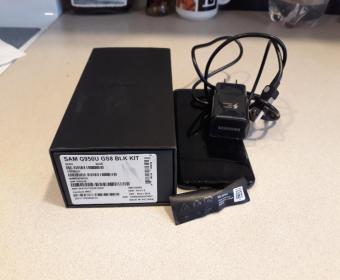 Jesus Castillo Martinez/ Kathleen Mackie
from Winston-Salem, NC
This morning at approximately 0920 we called the customer service number and because we were upset that a draft for T Mobile in the amount of -405.67 was placed on 03/08/2019. They discontinued our service today. We spoke with a woman named Bridget, who was extremely unhelpful, and blatantly rude. She laughed at me when I persisted that I wanted to speak to her manager. I realize this money may not mean a thing to her, but it is an incredible amount to us. I think I deserved better service than that. Her manager was eventually able to help m, although I can't believe I had to fight for almost forty minutes and have customer service agents laugh at me for a mistake that was obviously on their end. This is inexcusable. I may end up contacting the Better Business Bureau.
I am submitting a copy of my bank statement that this amount was drafted on the 9th. It makes no difference to me whether the processed was finalized, since T mobile obviously initiated it on the ninth, and I clearly no longer have access to those funds.
Jesus Martinez
336-602-9869
Kathleen Mackie
336-399-3295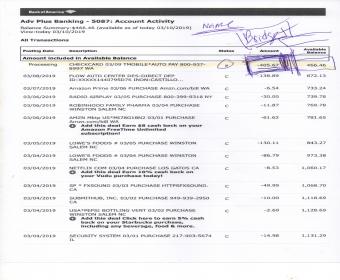 sameer kherani
from Garden Grove, CA
my card was charged for $50, using autopay, even then my account got suspended. its been a week and i still have no mobile data.. the t-mobile representatives have no clue as to what is going on and all they are do is file multiple job tickets. so i paid the $50 and still got my account suspended.

lilly ma
from Olympia, WA
paid cash on prepaid phone and it is been 24 hours and not working? WTF

Berdia M Bates
from Detroit, MI
My daughter upgraded her phone, the sales person gave her a tablet saying it was free, but didn't mention it comes with a monthly charge. So since she doesn't use the tablet, I wanted to cancel the service, then I was told I had to pay for the tablet. So how is that free!

Tmobile lied to me about switching to them from ATT. they told me they would pay off my contract, my current bill and my devices. they assured me this was taken care. i received a phone call on 2/27/19 from a debt collector who was hired by ATT to collect over 1,000.00 for my ATT devices, contract and past bill. AT NO TIME, WAS I TOLD I WAS TO FILL OUT INFORMATION ON A LINK. AT NO TIME, WAS I TOLD A PREPAID GIFT CARD WOULD BE SENT FOR ME TO PAY THEM OFF MYSELF. THIS IS ON MY CREDIT! TMOBILE NEEDS GET THIS OFF MY CREDIT AND MAKE THIS RIGHT AND DO WHAT THEY TOLD ME THEY DID! I have made a complaint with the T-Mobile store in Missoula, MT. i will be contacting better business bureau and an attorney. it is NOT okay to have me fill out the link now and wait up to 8 weeks for the pre-paid cards all while this stays on my credit building interest with potential garnishment. UNACCEPTABLE. i am demanding this be made right. I am LIVID. i have been on the phone with corporate office who states all they can do is credit my account ultimately leaving me to have a judgement against me on my credit. I will be pursuing a law suit.

Norman M. Fabian
from Warren, MI
BEWARE THIS COMPANY! They WILL CHEAT you! I am a Member of the U.S. Military, I had a Wireless Hot spot from T mobile. I have had this for several years. Leaving the Military I contacted T-Mobile to END MY SERVICE. Since June of 2018, they have continued to charge me, repeatedly telling me "oh you only SUSPENDED the service" Repeated calls to their "team of experts" results in them asking me what my Phone number is (I don't know I have not had the device for 6 months and it is a HOT SPOT not a PHONE) I have given them all my information, and the ACCOUNT number Only to be told "well sorry we have no way to help you (but they can find me when they send me a BILL!) These rotten thieves continue to try and charge me, I have contacted the FCC and the State Attorney General's office! Beware this fly by night mismanaged company!

I haven't been able to get internet on my phone for 1 week. I have called T mobile twice and they keep telling me that they will call me back and haven't received a call back yet. I have been a customer for 15 years, customer service is getting worst and worst as time goes by.
770-309-4611.

I have spent over 8 hours and talked to countless people to get something as simple as a new phone line added. Bring up my account, listen to the calls, and make this right IMMEDIATELY.
To now receive an email that you haven't received the phone I sent in for trade in (where this never should have been a problem) is absolutely unacceptable.

iam robert gunthrie i live in houston texas someone in hot springs ark went to the t mobile location in hot springs and charged 4600.00 worth of smart phones and sign my name to the charge know it is charged to my credit report i have never been to hot springs ark. in my live its does not make sense to me and i hope you also why would a 75 year old man like my self would drive all way to ark. and purchase 4600.00 dollars worth of phones i think i have a niece kim rolkle that live there she is a con artist the police there said they would contact her and she was the one that got the phones the police will not do nothing iam asking to please look in to this matter i am fighting cancer and heart and kidney prolem stage 3. my phone is 7139936753. i ask again please. my car insurane.has went. up

I need the CEO or supervisor of tmobile to contact me I had a lady name marissa tell me if i paid 30 dollars when my bill was 70 she cpulf switch to pre paid an in two days i cpuld re upgrade back to either 70 dollar plan or 40 so that way i could fet my data back an now im being told there nothing i can do about it i have to go to the end of the billing cycle i need my dara for my job or I will get fired she shoyld havent had lied to me if that isnt what i could have done im very very hot about this an need this fixed in next 2 hrs tops I have no internet

Switched to T-Mobile on Feb 6 2019. We had two of our own new phones and needed 2 more phones for kids. Saw a promo for iPhone 6s for $350 with $190 cash back. The store rep in Chantilly VA said oh I can get you the phones and ship it you free of charge. Give me the phone numbers that you wanted ported. Gave three phone numbers to him and got a 4th line. Guess what after porting the numbers he suddenly tells us they don't have the phones and they don't have them online either. Now our phone numbers were ported and we were stuck. we called customer service and spoke to customer service rep named YAYA. She stated the store can move you one up so you can get iPhone 7 for the same price, but I cannot do it since you are buying from store the store manager has the authority to do it. The store manager on duty stated that he is putting notes in the system and back office will give us credit and ran the phones at $449 each with $27.down. Stated if I don't get credit come back. 5 Days later T-Mobile generated the bill and guess what my 4 Lines for $140 that T-Mobile advertises online (taxes included) came to $145.75 and they charged us $37.50 monthly for 2 phones for 24 months. So today Feb 15 2019 went back to store and Store Manager called the back office and talked to Alex from customer service to get us credit. The customer service simply refused to honor what was promised to us. The store manger even tried to ask them if they can put a promotion that had just ended and get us $210 credit so we will pay $10.00 month but customer service refused.The store manager stated he cannot do anything except for us to return the phones and they will charge us a restocking fee of $50.00 for each phone. I came home and called customer service to find out their cancellation policy and they stated we are sorry everything happened to you but we cannot do anything but give their feedback to their managers. This is how a TYPICAL BAIT & SWITCH works and looks like T-Mobile is very good at it. I paid $106.00 for activation, $27.00 per phone as down payment on two phones( $54.00) that I will return and pay $50.00 restocking fee and pay them $145.75 for using T-Mobile service for 10 days. So we are out $305.75 for a POS service we received from T-Mobile. Any company can provide you services but you can tell how good a company is when a problem arises and how they handle a customer complaint and resolve it. T-Mobile definitely failed and if their was a less then 1 star I would give them that.

Brenda Shipman
from Roswell, GA
I want to give zero stars, My plan was changed without my knowledge from $55 to $310 it's only me, I didn't understand the large bill and made arrangements, then 2/2/19 I call asked my bill they said $458 + $310, I lost it, they found out a rep changed it in error, been talking to your experts for 11 days with no resolution, yes your crediting my account but when I asked for a Note 9 in purple they said it would cost me today $600 but you just took me through hell charging me over $800 with tax but you want me to remain a customer? lol and pay $600 with 24 mo installment of $9. Here is my sorry team of experts- Adel S 74313, John F 72649, Jullian P 291605, Roby B 71798 . Oh yeah than set an follow up call for the 16th for what? How is this loyalty? If shoes was reversed, how would you feel? $600 upfront and $299 later, but you charged me in error $800 and want to say $165 is what I deserve? Review my account 678.814.6060 pin code 137313 Brenda Shipman. Call me when you are shipping my phone if not leaving your company, No customer should have to go through this at all!!!!!!!!

Barbara Ollarvia
from Saint Augustine, FL
I purchased a LG Stylo 4 from the T-Mobile store 1835 US Hwy 1 STE 173, Saint Augustine, Florida 32084 on Sunday February 3, 2019. I went to return the phone on Saturday February 9th due to its size... it is entirely too big, and difficult to manage and store. I wanted to buy a LG Q7+ which was on display for $275 according to the sign posted along side the phone. When I went to the counter to purchase the LG Q7+ the T Mobile Representative said that it cost $375, although the sign for the phone stated $275 on February 9th. . I was told to come back the following day and talk with the store's manager Drew McClung. I went in the next day and Mr. McClung would not honor the prior day's posting of $275. I returned the Stylo 4 and paid the $50 restocking fee. Everything was restored on my old cell phone. So here I am out of $50 and stuck with my old cell, back to square one and minus $50. How disappointing that a price listed to the public was not honored. I am requesting that T-Mobile sell the LG Q7+ to me at the posted price, $275. Thank you for your attention to this matter.

To Whom It May Concern
I am writing about an issue that I have been having with Tmobile for about a yeat now. I have been with Tmobile for over 8 years. I lastly had the Tmobile to go plan due to issues with my account but I wanted to contine my services with Tmobile. I had the Tmobile to go plan for over a year and I was fine with it.
My problem started when I wanted to add my son to the acct and was told that I would need to have a regular account and my number would have to change to have the benefits of that plan. I was then told that my son would also needt o change his number ( he's had the same number for 7 years). I thought that was the only way to do it, so we did it.
We were then told that it would be better due to lower rates since I was adding a line to the account. I was told that we could pick a phone for his line for free and that I would be responsible for the taxes only and would have to pay that upfront. We were told that he could pick 3 accessories from the shelf for free. He then told the cashier how to ring the items up and she looked confused. I should have known something then but there was no additional fee until I received my bill.
I questioned him on how this would work with the warrenty that I have on my phone due to having a different number and totally new account and he stated that it would be the same. I left the store thinking everything would be ok. I warrenty that I mentioned was going to cost me 150/250 to have my phone replaced so I was waiting until I had the extra money. Once I was able to process the warernty claim I was told that the warrenty was no longer valid due to the change. I told them what happened and a case was opened but it would take awhile and I was without a phone. I went to the retail store and told the mgr (same guy) what happened and he said that he would be ableto help. He adv of the phones that I could get and they were not what I wanted but I was without a phone so I went with the REVVL. I had issues with it and returned it within 2 weeks time. I went back to him and he told me that I had to call Customer Service and that if I have any issues to come back and see him " the mgr Victor". I was back at the store a few days later because I didnt want the time to die for the return. I was then told he was out due to his baby's bith. I called the call center again and at that point I was very upset. I then went to the President of the company and I talked to Abigail and was told that she was the Presidents assistant. She gave me her number and extention and said she would take care of everything. It seemed like everything was fine, she replaced the phone and had it mailed to me and I was able to mail in the other phone that I received from the store.
The next month I received my bill and the phone and accessories were on their for both phones. I called and was told it would be taken care of. That really meant that the charges were broken down and I was not supposed to notice. I called the next time and was told that the accessories were not free and are not charged upfront and billed over instalments. I advised her that that was not what we were told. We were told that they were free with the purchase of the phone. I also told her that I remember vividly because I told him that we didnt need it and I can ofer phone cases online for aound 10-15 dollars. HE then respnded that these items were free and guided my sone to the shelf and told what rows he could chosse from. I was told that it would still be on my bill but would be credited to my account.
The next month I received a letter from the collections agency. At this point Im super upset because I was told not worry about the old account so I didnt . I called the call center again and told basically by a mgr that they cant do anything. I then verified that there was no final bill sent to me and since I had no access to that account I would not know. I was then told that I would receive a 100.00 credit to my account for the misunderstanding. There was no misunderstanding but a mess up. I then returned to the store and I was told that he no longer worked there!
I try to reach Abigail at the number given( 877-290-6323 ext 3418068) and leave voice mailS... no call back. I never heard back from her or anyone else. Im not stuck with a collections notice for a bill that I didnt know existed on an account that I was told not to worry about due to the new account.
I continue to pay the bill so nothing else happens but I call to see what can be done. O speak to several mgrs and told that nothing can be done. I also find out that there changes made to my account that I didnt make. I was also told that I had to pay a hign deposit on a new phone due to the amount of installments on the accessories that I was told were free in the first place! Im so aggrevated at this point and dont know what to do!
Someone has to be held accountable. The manager has to have some accountability also. I have been working on my credit and now this happens and it was unneccessary. Im ready to end my business with Tmobile. I know we are only a couple verses the many but I honestly feel that someone has to make this right.
Kanyanette Jones

Fernando Rodelas
from Bonner Springs, KS
In 2013 I transferred my cellular accounts from AT&T to T Mobile because of a special that T Mobile was offering, 4 lines for $100.00 and they would pay $250.00 per line to port in your old Number, with that being said we did this and never received the $250.00 for the five lines, we paid AT&T because it was hindering our credit- then we also brought in out I phones and turned them in to T-Mobile to get Samsung's back- on the first bill the bill should have been $100.00 plus an addition line connection fees were advertised free. the first bill was $581.00! could not get anyone at T-Mobile to help us with this- either out of the country rude customer service reps- etc.. so we went to the store and complained they sent us to t mobile cust serv, we ended up cancelling, no contract with T Mobile but with AT&T we did have a contract- we had to pay AT&T over $1700 dollars in cancellation fees- T Mobile sent our account to Convergent who is charging us $1900 dollars and are willing to settle for $600.00 absolutely not! you owe us. I need for the collection to be taken off of the credit bureau and cancelled with convergent- I called T mobile and spoke to a supervisor who disconnected my call! T mobile does not have record of the bills and neither does Convergent- It is illegal to charge a person and send them to collections without valid and accurate info. I am sending this complaint to BBB as well and some attorneys on the web that are suing TMobile- all I want is to receive an email or letter with confirmation that this has been take care of and deleted out of my credit file. Please call me at 913-337-5319 Thank You Fernando Rodelas CC: CEO of T Mobile John Legere, President of T Mobile Mike Sievert. BBB.
for info on the account the last 4 of the social are 6044- Fernando Rodelas opened in 2013

I am writing to dispute the recent charges to my business account MSEA, LLC 964398211. My bank account was drafted a $511.50 payment that I am disputing and now I am unable to get my medicine nor food for the month of February. I am at a disadvantage in negotiating reimbursement as a vulnerable adult as I tried to speak with the customer care person. Help, the authorization was for the active account that had be closed prior to January 30, 2019

I get no phone signal at work. I complained about this for the last 2 years my work address 1700 Clairmont Rd Decatur GA 30033 and the VA Hospital 1670 Clairmont Rd. My message and miss called don't show up for 24-48 hrs. I also signed up for the veteran discount at a kiosk and it was never applied my phone number 770-685-0960

Cort Corino
from Hinsdale, IL
I am trying to switch to Verizon Wireless to get as far away from T-Mobile as possible. However, when Verizon went to activate my phone with their SIM card, my phone locked and now T-Mobile is saying they cannot unlock it until the final bill is paid. Well, the final bill isn't even generated and won't be for another 3 weeks! Absolutely unacceptable. I paid both my iphone 8's off over 4 months ago, which means T-Mobile does not own them, which in turn means they should not be locked. I find it reprehensible that they continued to lock my phone after I had paid off the phones and I seriously think this should or may be illegal.
I find it unacceptable that there is no faster to solution to unlocking the phone than the 24 hour request period. Every time the request is sent, I wait another 24 hours just to be told that my phones cannot be unlocked. There should be a direct number to the unlocking department (whoever they are) for emergency unlocking situations. This is a business phone and this whole situation should never have happened.
T-Mobile is by far the worst cell phone provider in this country and should be ashamed for the way they treat customers.

After speaking to someone on the phone at T-Mobile in August 2017, they took my $10 and sent me a SIM starter kit so I could install it into my existing phone before signing up for a plan. Today is 2-1-2019. The SIM card has an expiration date of 6-28-2019... BUT.... what T-Mobile won't tell you is that you have 60 days to install it before it goes *poof*... never mind that the card hasn't expired yet. After being shuffled between 4 reps in India and then finally to a US rep and her floor manager, I ended up with absolutely no attempts on their part to make this right by me. They would speak over me, answering any question I had with the same reply that the card had expired and they were happy to send me a new card for $25. Over and over! I'm not sure where they were trained to think that rudeness would be a sure-fire way to turn me into a happy customer. I didn't even get an offer of a $10 refund or $10 credit toward their SIM card that now sells for $25. I can only see that this is a bait'n'hook scam or consumer fraud. Hey, I wouldn't be so upset if someone had told me I had 60 days or if there had been something in the envelope or within the starter kit packet explaining that, but their failure to inform me doesn't justify ripping me off. My final contact was in sales and then her floor manager, Zachs. Both were very condescending and didn't seem to care that I was out $10 and got nothing but aggravation for it. What has happened to customer service? I've got to say that Verizon still seems to know what it is, and I will bring my additional business to them now, and T-Mobile will never, ever be a consideration again. I've never been treated so poorly to inspire me to post a complaint to protect other consumers before, but they earned this one. Good luck if you choose to do business with them. I suggest going to a store where you can get the name of the person taking your money, and have them put everything in writing. Note: After reading others' complaints against T-Mobile, I feel very fortunate that they made me angry enough to choose to not do business with them... all for only $10!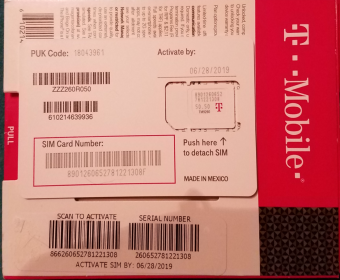 I am very unhappy. I have been dealing with this issue for over a year. I have called and spent countless hours on the phone and have gotten no results after countless times of being told I would.
I purchased a Galaxy Note 8 with the buy one get one free promotion and they did not have the second one in the store so they told me it would be mailed out to me.
I never received it so about 6-7 months later I began calling and trying to get this resolved.After specking with 10-15 different supervisors and being told that this would be shipped out on more then one occasion this has turned into a nightmare. Now I am being told that I am not eligible for the promised phone. I am paying about 450 a month and been with T mobile for about 8 years.on phone services and am to the point where I am thinking of leaving T-Mobile to go with Verizon.
This has been the worst I have dealt with.
I need this taken care of asap.

SMS Not Sending. After over 10 years with T-Mobile it may be time to switch carriers. After 10+ hours on the phone with tech support via phone calls and chatting nobody is still receiving my text messages even though they say sent. After hours, tech support said it was my phone after assuring them it was not (because I put family members SIM card in and texting worked fine) despite this logic they insisted I get a new phone to resolve the issue. Against all logic I bought a new $600 phone as predicted this did not solve the problem and they offered a whooping $50 credit for my new phone. The very nice rep at the store tried for over an hour to resolve issue with Tech Support with no success. The most frustrating part is that I am on my 3rd trouble ticket number. Once the trouble ticket gets escalated above regular tech support someone closes it out without confirming with me that it has been resolved. I am now on my 3rd trouble ticket #22254690. The very nice reps keep promising me that it will be resolved and not to worry. Very difficult running my business with people not receiving my text messages.

T-Mobile is stated to the best cellular service; however, my financial experiences have been the worst. First of all, when I switched from Sprint to T-Mobile, T-Mobile never paid my final bill. The final bill of $1693.00 is now on my credit report. I have gone to the store at Northgate Mall located in Durham, North Carolina and inquired about this. They have instructed to submit my final bill, which was done more than twice. I currently still have that line with T-Mobile, and just overall am so done with the customer service of T-Mobile.
Second complaint is, I had ordered another line and cell phone with T-Mobile. That cell phone was returned within the time frame, and the line was ever used. However, T-Mobile was drafting my account each month for the monthly payment. I had gone into a store, which called in to close the account and started the process of a refund. I was told on December 1, 2018 that I would receive a refund of $210.00. As of today, that refund has not been received. I called back in January 19, 2019, the operator processed another request for refund. On today, I am told that the refund has been denied. Please tell me why. I received confirmation that the cellphone was returned. There was absolutely no usage on the cell phone line.
T-Mobile has become a thorn and have very poor customer service satisfaction. Every time, I have a problem with T- Mobile y problems are never solved. T-Mobile has caused a problem on personal credit report as well as over the past few months of overcharging me.
Upon switching cellular services, T-Mobile was supposed to mail me a credit card to pay Sprint. That card was never received. I was told by a phone operator, that the card would be send electronically, and it was never received.
T-Mobile customer service continues to lie and break promises. I no longer go to the store at Northgate Mall in Durham, NC. They have clearly allowed my credit report to be ruined after promising better rates than Sprint. However, if I'd known my credit would become screwed up, I would have stayed with Sprint.
Then I come to T-Mobile, and discover that you are will taking money from me. I am so regretful for coming to T-Mobile. However, I have gotten better and pleasant service from the T-Mobile store on Glenn School Road in Durham, NC, I am just unhappy with the poor customer service satisfaction I have been receiving towards my problems.

Stacy Melby
from Lakewood, NJ
i bought a phone back in march in 2012 used in till feb25.2012 then my phone didnt work tried to fix the prombles but coundnt so tmoble told me to go to target to get the phone replaced so i did and they coundnt fix it so they gave my a newer phone and that broke. i was charfed with two phones that never work and i was carged with two broken phones and chargers 732688-4827 and 732766-7976.344.00 charde with two cancellations fees 200. 200. each .totle 798.00 totlled charges. thank u stacy melby

Brought 2 phones in October of 2018 from 218 commerce circle in Bristol pa with a free tablet I was asked did I want to insure phones and I said yes but didn't want to insure tablet. I was having issues with phone so I took it back to the store on 1/26/2019 that I brought it from 218 commerce circle in Bristol pa and I was treated in a unprofessional manner, I was told that I didn't have insurance and I told them that was in correct. Store manager Alexis put me thru to customer service and they in turn sent me back to Alexis who refuse to give me any other options or help me. Words were exchanged and Alexis walked off and told me to fuck off. I am furious because I spent over 1000 dollars in phones and the employee did not put insurance on my phones. I would like to be compensated in some way and an apology for the way I was treated. I work for Fedex express and I would fire any of my employees if they treated a customer the way I was treated. I will not stop until I am heard and something is done about that store. I just wanted my phone fix not trying to be fraudulent in anyway because of his mistake I am now without a phone and 800 dollars very angry customer....

Virgil Phillips
from Ormond Beach, FL
I want an e-mail address to send a transcript to, for you to see. I was told I could get a plan at a local T-Mobile store only to put forth, time, effort, gas, etc. and find out I couldn't. Also some other issues I would like to discuss. Also I went to a store about getting information on a plan and to buy an $80 phone, only to have the clerk insist I get the $300 phone, which I re-iterated numerous times I did not want or need that phone. Only to have him tell me they would finance it (seriously, if you need to finance $300, a phone SHOULD NOT be your next purchase). Then he asked (it was a Thurs) if I was to decide to buy it (the $300 phone) would I mind waiting until Monday, because then his training period would be over and he would get commission.
Thank you
Virgil
386-569-8912
Have feedback for T-Mobile?
Thanks for your feedback!
Sorry. Please try again later!