T-Mobile
T-Mobile Complaints Continued... (Page 2)
964+ reviews added so far. Upset? Call T-Mobile corporate: 425-378-4000

Janice Sims
from Chicago, IL
I went to the HIghland Indiana location on April 14th at or around 5:30PM. I was looking to upgrade my phone. The African American female employee was pressuring me to buy some coupons for her son for $20. She was more concerned about selling her son coupons than selling me my items. Please send in a secret shopper that can prove she is selling coupons for $20 out the store.
I don't like feeling pressured to buy something. I left the store unhappy and wanted to report. I saw her asking another couple to buy and they declined as well. Thanks.

Bruce Lewis
from Windsor, CO
I went to store #237 in Ft. Collins CO. I started on Friday 4/9/21 to see what kind of deal and phone I could receive and they offered a good plan , cost for people over 55. I worked with the store and ended up with a free phone from T-Mobile. The phone I received from T-Mobile was defected and I went back to them and the same phone(2nd. phone) they changed over was defected too. I spent more than 2 hours each day on Sat. 4/10 & Sun. 4/11. I finally ended up with a Samsung Galaxy A12 phone. The person I was working with, was suppose to meet with me at the store this morning at 11:00 am. He came at noon, one hour late. Aaron the manager is suppose to give me a credit on my account is suppose to give me a credit on my bill for $100.00. Who knows if that will really happen? There customer service has been terrible at least. Can you image spending so much time as I did in a phone store.
Please help in any way you can and Thanks so Much.

First tried to sidetrack answering my questions thinking I was not smart enough to stay on mark. Then finally lying directly to me about billing. Somewhere in their scriptures it must state to, Never Admit T-Mobile is in The Wrong! It took forever but finally she conceded.
Now they still owe me $52.57 for that "Fine Print" that no customer ever reads because of the amount of time wasted waiting at tmobile store. You just can't wait to get out. Used car salesman tactics comes to mind.
They will never give you corporate's number so, be a bulldog and find it yourself. Don't ever allow a large corporation steal one penny from you. NEVER! So far I've regained $101. back and working on the $52.57.

Michael J Evans
from Birmingham, AL
One customer in the building at a time and when customers standing outside complained and there were several, the man in the business said if you don't like it take your business elsewhere so I did. If T Mobile wants to sell phones and service this policy needs to stop. It was the T Mobile in Greenville Michigan.

for being in a phone for 40min with the agent he told me that I'm pranking him because he cant help me with my concern. and threatened to report me to tmobile for being a fraud he just wasted my 40-50min on phone with that agent

Jeff Stephens
from Denver, CO
Over charged by 200$ 5 different representatives said it's on its way in the Mail. 1 month has passed and still nothing. After a 45 min wait they just told me a lie and said they sent it to the wrong address!!!

Mary Tepper
from Glendale, AZ
When my husband & I switched to tmobile we only had 2 lines and they were having a promo of a free line. I didn't need or want it but I was talked into taking it. When we left tmobile to go to sprint our original 2 lines were switched but the extra line was never activated so it did not switch over. Tmobile kept billing us for a 2 line acct at $140 a month and we did not realize it for over a year. Now after getting the run around for months bcuz we can't remember our pin# we are being told that we can't get our refund of over $2500 that was stolen from our acct. CSR ID#75068/Roselle was uncooperative and rude after I sat on hold for over 2hrs and told her that I was at the tmobile store previous to the call which took an hour. I was told to go back to the store and call back and sit there on hold until they answered again so that they could verify who I am even tho I had my ss# & security question. When I asked for a manager she told me she was one even tho I could hear her kids screaming in the background. She was completely unprofessional and would not do anything but keep repeating herself which only infuriated me further. I shouldn't have to listen to a recording for 2 hours on hold about how exceptional their customer service is and how they'll make me happy only to have the complete opposite happen when someone FINALLY took my call. If this is who their managers are then they need to find ones who actually help a customer and not run them around in circles. Especially when they've stolen thousands during a pandemic. I'm thoroughly disgusted. I rate ZERO STARS.

Angela
from Nashville, TN
My family switched from AT&T to Sprint in 2013. We have three girls who, at the time, were in their teens. Sprint was the only company offering unlimited talk, text and data. With three teenagers, unlimited is a must. We have had excellent service, other than the occasional dropped call while traveling, until T-Mobile took over.
For the last few months we have had every one of our phones consistantly switching from 3G to LTE ( with one bar at most if we are lucky), to roam to no service at all. All of this switching goes on while sitting in the same spot in the same home and all in the same minute. It is constant. Calls are dropped just about every single time we make one. It isn't a particular phone as we are a mixed phone house (android and apple). It is most definitely T-mobile's problem. By their own admission they have issues with rural areas. We live, work, play and go to school in a rural area.
We have tried getting out of our service agreement with them because, again by their own admission, the service in our area is poor to non existant. They refuse. Seriously I can pay $25 a month for a land line to do what we are paying them hundreds of dollars for. Do not sign up with this company, especially if you live rural.

Brenda Tekin
from Waynesboro, VA
Where do we start? Ah, yes, day 1. Contact to obtain info before switching carrier service. T-Mobile support tram member confirmed, based on our location, we would have "good" service. After discussing plans and assured again we would have good coverage based on their maps, I switched to T-Mobile. The porting process for two lines took a long time but we were assured everything was done and new sim cards were being sent out. Received them two days later. Activation was not a smooth process and required lengthy phone calls. Upon completion I noticed both iPhones had only one bar! Things seemed to work until later in day with "No Service." By following day, second day of service, we learned from family and friends that Caller ID on hubby's phone was mine. There were also missed texts and calls. Some reported calls going straight to voice mail and yet no messages!! Had to use Facebook video chat using wifi to communicate with DIL due to poor reception.
By second week on phone again with TMobile and after troubleshooting and checking their coverage maps, I was informed they could not get a better signal. Mind you call we would get disconnected with them because of dropped call. I also had to tilt my head and hold phone a certain way so support tech could hear me. Only recommendation was a booster that they would submit paperwork. Nearly two weeks later, no further word. Less than two miles from home and actually closer to the cell towers I had to make an emergency call and "No Service." Couldn't even send text. As soon as I got home I contacted TMobile and read them the riot act. We were charged a $60 activation fee and billed for one month of service! I informed them I was changing carriers which I did immediately after hanging up. Once we were switched I got back to TMobile and informed them I expected full refund of the $60 activation fee. Rep only agreed to $40 plus he informed me that our second billing cycle just started and bill would be prorated for the few days up to canceling.
We didn't come close to having "good" reception. I did find TMobile is using the AT&T towers in our immediate area which are about 3 - 4 miles away. Even AT&T sales blatantly lied about coverage. It took their support tech to confirm they would not have adequate service. I will pursue getting TMobile to refund all of the activation fee. Oh, AT&T and Verizon were not charging a fee!

Kerry Mabry
from Dallas, TX
We went into your new store in Brownwood Texas. They acted like they didn't even want us in there and didn't really want to tell us about any kind of deals. We have been with AT&T for 15 year and Me and my wife was excited about you coming to town.We was wanting to switch with y'all but the way we was treated I don't think so. Because when I walk into AT&T store five people greet me at the door wanting to talk to me. I hope you address this problem and get it fixed because I would really like to try T-Mobile

Worse Company Ever
from Gainesville, FL
If I could give 0 starts, I would do it right away.
I signed up for the family plan and spent $105 up front.
Then the nightmare began. I received an email that the service was activated but it was not.
There were no service. I call the customer service online and they asked me to go to store
with ID and original SS card. I did three times, my ID and card were scanned and they promised
to call me the next day. Nothing ever happened.
Whenever I call they asked me to go to store.
Meanwhile those thieves have stolen another $180 from my account and the service was still not
activated.
T-Mobile customer service is the worst that I have ever experience. For such a large company,
They seem to have a group of idiots online pretending to be some kind of Gods who reviews problem
but are not able to address a single issue.
I've passed the case to a lawyer but wanted to make my voice heard.

jason byers
from The Dalles, OR
I have been trying to get my sons phone replaced for weeks. I have the insurance and paid deductdable

Sharon Higgins
from Chicago, IL
I've had service with T-Mobile for 6 months now. I live in the country along with 3 other people who get cell signal constantly with AT&T. I pay over $50 a month for cell signal I can only get away from home. If I did not have WiFi at home I would have no use for a phone.It's ridiculous to pay any money for service I cannot use in my home. I certainly cannot be on my phone at work. I will be changing carriers on my renewal date. Thank you

On 7/16/2019 T-Mobile took an unauthorized payment out of my checking account in the amount of $169.53. I called on that day and spoke with a representative Carlo and was told was a mistake and the money would be back in my account in 24 hours. It was not so I called again on 7/17 and spoke with Alex emp ID# 443625 and was told the refund was approved and money would be in my account. I call today 7/18/19 and was told that I needed to send a copy of my bank stmt for proof that the money had been taken by T-Mobile. I was told LIES by each representative. I am not sending in a bank stmt for something that T-Mobile did, I have been a valuable customer with T-Mobile for 15 years. This type of customer service is unacceptable. I am so upset right now.Please advise.
Thank You,
Bonita Porter
240-505-4676

I have been paying more that $70 a month for service and i had service in US, Canada and Mexico and in addition to that roaming data in many countries , today i spoke to one of your representatives and told me that my plan does not cover data in Alaska which is unacceptable , as i said i always had internet here in Alaska as i work on the cruise ships.
I'm extremely upset for this and if you're not going to provide the service offered return my money.
619-3948982
Thank you

William g Beard
from Columbia, TN
I bought a phone from T-Mobile pay over 300 dollars from it the phone will not recognize the sim card. Now thay won't me to send my phone off four two weeks I use this phone for work. I have had this about three weeks I think T-Mobile should replace my phone with out sending it out for two weeks if not I will never or recamind T-Mobile to anyone very desaponted.

I had a number from Tmobil and i changed for another company. I went a fisical store trying to unclock my cellphone, that i payed $300 and they they said that i had to call to 1800 to try to unlock, i tryed but they said they can not unlock my cellphone because i dont have more a accont from Tmobil. That's totally crazy because i payd for my cellphone and know i can not use it. Does't make any sense to me. i need a answer as soon as possible.

Leah
from Clarksville, TN
Went into the T-Mobile store to see if my phone would work with a SIM card because I was told by the previous owner that it was locked to T-Mobile. The man I saw sold me the SIM card and charged me the activation knowing it would not work in my phone. It was locked to some other company I guess. Then he told me that I could get a refund if I came back and asked for one or if I didn't come back in like 10 days he'd refund it for me. So then I try to get a refund and this other man tells me multiple times that they don't refund activation fees, and is being extremely rude and points out to another coworker told him about me. I've only been in once and never made any scene?? And I kept telling him that the guy who I bought the SIM card from told me I could get a refund. This went on until a manager or someone came and told me that they actually DO refund activation fees then continued to tell me that it's too late to get a refund. Nobody told me there was a time period to get a refund. I assumed a month so I came in before the month was up. So because I couldn't get my refund and I couldn't use the SIM card or service that I paid for I just left it and never got to use it. Then like or a week or two later I got a charge in the mail for the data that I never even got to use.. and then it was bumped up to 81$ because I didn't pay for it because I never used it and threatened to turn it over to the collection agency?? So thank you. I will not be buying or using from T-Mobile again.

Hello -
I sent a 7/15/2019 email and it came back as undeliverable.
Hello -
I am Jennifer L. Troup
219-916-9016 - TMobile customer around 15 hears.
339 S Mimosa LN #7
Bridgeport, WV 26330
I CAN'T use my phone to call (no internet on my phone under my plan - calling/texting only) TMobile for help due to NO COVERAGE, again. I NEED a person to look into my phone and help me, please.
.
I will NOT be in the office today/tomorrow (7/15, 7/16/19) - can you please help me. I have no home computer; hence, at library.
Please do NOT respond to this email, since I don't have a computer and let's rectify this immediately, please.
One will see in my previous calls, I relocated from Seattle, WA to WV early 2019 - and - at least 3 times I have lost my cell phone coverage and have no computer nor no other telephone (I have no TMobile account in order to "schedule a call back.")
It was going great, since March 2019, I think was the last time I had trouble. Operators have explained to me that due to no TMobile in WV I "share a tower" with Sprint I think?
I NEED to be able to use my phone if I have an emergency.
Last week, can't remember when, our electricity went out for a split second in the middle of the night, is that why?
It's weird that yesterday, I was able to receive a WV emergency message regarding "be aware of floods."
This past Saturday night, after work, I noticed "no cell coverage" but when I got home I powered down in the hopes it would reset it self and didn't. I had no usage of my phone yesterday, Sunday, 07/14/2019.
I can't have this keep happening, should I drop my account with TMobile and seek elsewhere?
Thank you for your help, I really appreciate it. have a great day.

JESSICA SANTIAGO
from Lancaster, PA
I very upset cuz I can't use for to pay T-Mobile they told me that I had to use a check which I don't have none and I always use my credit card to pay my phone bill this is ridiculous and I asked them why they cannot tell me why

While I was incarcerated my wife had power of attorney and asked for the lines on my account to be disconnected. Tmobile said they did not recognize the power of attorney and instead of disconnecting the lines that were not in use, T mobile continued to bill me for months to the tune of $900+ then disconnected the lines and sent the bill to collections putting bad marks on my credit. Please help.

Linda Thomas
from Valencia, CA
The Old Road, Stevenson Ranch TMobile store.
No one could even give me a free sim card after I added my husband to my plan, which I have had for 16 years.
No one could make any kid of executive decision. wanted me to wait an additional 40 minutes for the manager to come in. I had already been waiting 30 minutes for someone to finally help me.
Horrible customer service. Need to train your staff on servicing customers and not making them wait for over 30 minutes with 3 others before you finally get a clue and go and get another guy from behind the door to come off his break.
Slow Slow customer service. No clue on how to deal with customers. Train your employees properly.
Very disappointing!!!! and frustrating to say the lest.

LUIS DIAZ
from The Bronx, NY
yesterday afternoon call mobile to complaint about my statement cell not receiving per two month i bring my pin number and the person is a man talk me he need send me a code i don't now that i bring my correct pin and i now mobile is suppose sense my month statement before i talk with my lawyer or FCC complaint i need that problem resolve the person customer service afternoon to me have 0 ON SERVICES the phone number is 347 707 3911

Stacy Correia
from Murrieta, CA
For more than two weeks my service has been in and out, everything from my social media accounts to email and text. I've got full bars of service and I have made more than one call to complain. I am told it's the new BS merger or cell phone tower work (eye roll) So let me get this straight- TMobile over charges for their crap service and demands immediate payment or lose that crap service but the people who keep them in business YOU AND I get NOTHING when they crap all over us and our service. No partial refund, no compensation or credit for the weeks of terrible service!! they cannot even give an ETA of when this will stop and go back to normal. I have been with them over 10+ years and i am DONE.

Kendra Cardella-Soto
from Fort Hood, TX
I decided to switch from AT&T after over 20 years after a friend switched to T-Mobile and liked them. Why? I now have NO idea. I spent over 2 hours on the phone with a sales rep who told me I qualified for their "Switch" plan, and purchased a new iPhone XR. I would get $600 for my old 6S Plus, so would only pay $150 for the new phone over 24 months (6.25/mo). I also purchased a case and a tempered glass screen protector, which I would normally buy on my own, but the rep said if I purchased it through them, I would get lifetime replacement for the glass protector if I had it installed at a t-mobile store.
I was getting two lines, as my daughter is on my ATT&T plan, and they said she was eligible for the "Carrier Freedom" plan, which would pay off her remaining payment for her phone on AT&T. PLUS, she would get a $275 one-time credit for her newer trade-in. But, they said since this was one order, they had to ship both phones to my address, and I had to mail my daughter's phone to her since she lives in another state.
The rep said to not freak out with the invoice since it would not reflect the promotions since their system did not allow them to put those in until activation. ????? This should have been my first clue, and after thinking it over, I called back when I received the phones to double check the bill/promotions before I mailed my daughter's phone.
AGAIN, I was told that both promotions were valid, but they could not verify in writing until I actually switched; my daughter's ATT&T bill would be paid off via a prepaid Visa card to use to pay AT&T, and she would receive a $275 credit for her iPhone 8 Plus. Her payments on the bill would be $31.25/month. I would get a credit for my phone of $72, and I would pay $6.25/month for the $150 difference between my new phone and my trade-in. So my total bill would be $133.20 ($90 for 2 lines, $31.25 & $6.25 for two phones, and $5.70 for the accessories).
Well, there is a BIG reason they don't put anything in writing BEFORE you switch. It's because their offers are BOGUS, and they get you to switch, then hit you with a bigger bill. Luckily, I discovered this before I activated the phones.
When I got ready to mail my daughter's phone, I double checked the order, and discovered the screen protector was not the tempered glass one that I ordered, but the roll-on kind, so I called them again. While waiting the rep to check my order, I asked about the lifetime warranty, and she told me that they did not offer that; only the manufacturer warranty. WHAT? So, I asked about the rest of my order, since I was not told the truth about the screen protector, and guess what? I was not eligible for TWO promotions; apparently you cannot stack, even though TWO different reps on TWO different days told me otherwise, and that I had no reason to worry about having it in writing - it was all on my order - trust them HAHA!
I asked to speak to a supervisor, who was rude, and was told that I should be happy because I was saving money overall on my bill, which would now be over $150/month, not $133. I asked her if she would switch to a company who had lied to her not once, but twice, and could not provide ANY documentation until after the deal was done. She literally said, "you need to look at the big picture." WOW
I immediately asked for a return label to send everything back, and that I wanted my return order in writing. She told me that I would get that when they received the phones back. REALLY! They could send me an invoice for the original order, but not a confirmation of my return?? What a scam. So, I have to send the phones back, and HOPE I will get my $250 in sales tax back.
BUYER BEWARE. This company is shady, and does not honor anything they offer. DO not switch unless you get EVERYTHING in writing upfront. They should not be in business.

POOR and UNPROFESSIONAL: Customer service representative was terrible and not accommodating to me as a loyal customer for over 9 years. Then, when asked to speak with a supervisor initially stated "no" and then "why do you want to speak with a supervisor", as if he was interrogating me as the customer!
I'll be taking my business and my families business to another provider!

marco roberts
from Merritt Island, FL
I have had a family plan for several years. Recently my sister added a line and bought an S-10. Over the July 4 weekend my brother and his wife both bought S-10 and added lines. Here's my complaint. The S-10 was on sale and the 256 and 128 versions were on sale for the same price. My brother wanted his and his wifes phone to be the 256version but the mall kiosk I do business with was out of them. They ended up selling him the 128 version. The reason they bought them is that the store nearby, not the kiosk, told us the deal on the S-10 ended July 4. That means we had to buy them that day. Even though the desired model was not available we hesitantly made the purchase at that time because we were told it was the final day to make that purchase. We like the service, we like the phone but find a dissatisfaction and shortcoming due to its not being a 256.
I have had my family with T-Mobile for years and we have bought several phones over the time and I am very pleased with the service. I recommend it to friends and have switched my sister, brother and his wife to switch their phone companies to T-Mobile. I would like to get this situation corrected if possible. My brother and his wife have already started to use their phones but he keeps telling me he is a little uncomfortable knowing he should have the 256 version.
If we were not backed into a corner by being told that the sale ended July 4 we would have gone to an outlet that had the 256 version in house. I also notice that on the T-Mobile website the deal is still available so I feel that we were misled by the store. I want to be clear we were told at the store that the deal was ending July 4 so while we were at the mall the next day we bought the phones at the kiosk in the mall, not the store. The people in the kiosk were very helpful and friendly.
I would like to see if T-Mobile can do something about this.
Thank you
Marco Roberts.....321-313=8760

Rita June Bailey
from Durham, NC
The store at northgate mall plays loud music all day long , that can be heard all through the food court and down the mall
Mostly drums the associstes hover outside the store in groups, talking loudly and acting stupid . So i would never shop your store

The T-Mobile service is constantly going out at suburban station in Philadelphia. I am about to dump my service with this company.

06/24/2019 my checking account was debited by TMobile for the amount of 55.00 dollars. I had cancelled the service before I was able to use it because the phone I had would not work with TMOBILE'S system. I know that I cancelled the service weeks before my account was debited. I am having financial dificulties at this time and have been doing all I can to avoid extra expenses. This Debit caused an overdraft fee and remove from my account funds I sorely needed. Wells Fargo have been a big help, but dispite a lengthy conversation on the phone with TMOBILE representatives I was not able to get the funds returned in a timely manner. I hope that if nothing else, by reporting this another person will get better treatment. This incident has made my situation more difficult, and it is due to an error on Tmobiles end. Yet dispite my efforts to convey my circumstances, I was met with indifference. Thankyou for your attention to this matter.
Sincerely,
Jeffrey Bret Hall.
P.S. I have no phone but can be reached at caul0123@gmail.com

leroy myers
from Deltona, FL
you high jacked my phone # from metro u bought out! scam artist, just so u can raise the rates. I THINK YOUR A PIECE OF SHIT! CUT OUT THE MIDDLE MAN THERE WORTHLESS DEAD POOL. AND CAN`T JUSTIFY THERE JOBS. YOU LIED JUST TO GET MORE MONEY OUT OF ME U SAID SOME ONE CALLED TO TRANSFER MY NUM U LIED ONLY I OLD THE KEYS. BEWARE OF THE TAKE OVER!

Worst enternet network in the world . Never connect properly. Every time surfing if I open normal app. I don't like T mobile . Plz don't use this network if u want good enternet service .

Ricardo Tenorio
from Houston, TX
I was told by several reps either in store or the phone that I would be able to get the S10+ with 0 down and use my current S10 as a trade in to avoid the down payment. I am on the Jump! On Demand program as well. Now I am being told I need to pay 170 plus tax to get the plus model due to not having enough credit on my account, which I completely understand. However 3 in store reps and a handful of customer service reps told me as early as one week ago that I could get the phone for ZERO down with my trade in. I have spoke to several T-Mobile reps these past few days who have not been able to help me. I understand the issue but YOU GUYS told me several times that the plus model would be available to be with no down payment and a trade in. Please make this right. I refuse to believe that a company would rather save 170$ that keep a loyal 5+ year customer.

Steven winters
from Herriman, UT
I purchase an iPhone in December 2018, x-mas gift, I pained for the entire phone up front. Since this time, every month I have received my T-mobile bill and they have added an equipment charge of 24 dollars to each months bill. I have called every month to get this matter resolved. But each month it keeps appearing on my bill. I thinking T-mobile should have no problems resolving this issue but they don't. Or maybe this is a simple case of fraudulent billing! Never buy a phone from them again. Pay more else where it's not worth the pain.

Jonathan Ponce
from Pacoima, CA
My phone literally stopped receiving service to my house for about a week now and ive tried to get help with customer service but no one will help me or even answer my request. my bill wont be paid until my situation is resolved

Dawn Thompson
from Jamestown, NY
One star is too many....I purchased two phones, 55 plus program and at the time, told them another line would be added. Now, adding line, I am told that is no longer available. No transparency, no trust. This company continues to change offers and DOES NOT hold any accountability to promises made or contracts purchased.
Try another company......this one isnt trustworthy

No matter how many times I change my daughter's number, an unknown T-Mobile employee is accessing my acount and sharing contact numbers with a friend who is subsequently stalking my daughter (who is on my plan). T-Mobile needs to find out who has been accessing my account an insure that this unauthorized access is stopped. I will absolutely file an FCC complaint if this is not resolved immediately.

David Lowe
from Germantown, MD
today, on 6/8/19 at 10:am. visited your store at nortgate in durham, nc. had voice mail issue with phone. spoke with a young lady first, at appox 9:30. I thought store opened at 9. Anyway, she was very short with me, very insensitive to my cell phone issue. she very rudely said, i'm not suppose to talk with you before 10. ok, but why the rudeness? Later when store opened talk with a Caucasians male who i presume to be the manger. he was as rude, uncaring, unprofessional as the other employee.
i had been debating rather or not to continue as a customer of t-mobile, these two surely help me to make up my mind. Talking about customer no service!

Timothy Lavish
from Mt. Pleasant, SC
6/4/19 - I went to your store on Johnnie Dodd's Blvd, Mt Pleasant SC with my 6s iPhone and I purchased a new XR for replacement and the salesman was uploading the 6s information to iCloud. After waiting a while, I agreed to leave it as he told me their WiFi at the store was extremely slow, and I'd return then next day to complete the transaction.
6/5/19 - I returned and another salesperson assisted me. Nothing had uploaded and she suggested I purchase additional iCloud storage which I did. Once again I agreed to leave both phones so she could transfer all my information from the 6s to the XR and would advise me when it was completed. The 6s was in working order when I left. I called later in the afternoon and was told the uploading was not completed so I told them I'd be in the following day.
6/6/19 - I returned to the store to find out the upload had not been completed (once again "slow WiFi ") and was told to just take it home where I could complete the process with a stronger WiFi. When I got home the 6s was/is completely dead and will not power up at all so NONE of my data was uploaded and is completely gone.
6/7/19 - I had a appointment this afternoon at the local apple store and they confirmed the 6s is gone!
The bottom line is, I received EXTREMELY POOR service from several T Mobile employees who actually ruined my 6s causing the phone to become inoperable and me losing ALL my data!
I would respectfully request appropriate compensation from T Mobile.
Regards,
Tim

Kitty Pickett
from Rochester, NY
I was in your store #389D in Greece NY
with my friend who name is Joyce Delgatti. Joyce has an account with you and we went into the store to upgrade her flip phone to a smart phone. The associate that helped her his name was Rodney. Rodney suggested we get a phone cover for her newly leased smartphone. Rodney suggested to get a cover and I told my friend she could probably get it cheaper on line and to wait a while to look elsewhere.
The manager, Nicholas Blumm then interjects that she should get one to prevent dropping it. I said to Joyce just wait you are pretty careful as to not drop it and that I have had my phone for sometime and have not dropped it
Well Nicholas chimes in, " so you never dropped your phone? I said no, he says you had to have had at sometime dropped your phone. I said no, I have not. He says, you're lying! I said no I've not dropped my phone and insisted on saying I'm liar!
Then K said well, I'm going to argue with you about it because you don't know
Fortunately there were no other customers in the store at the time.
I was shocked at his rude behavior.
I am a retired Manager of 20 years from Staples and I would have fired him on the spot. As a matter of fact, Joyce was going to just walk out and go to another location to conduct her business.
I believe in commenting on good behavior as well as bad. This encounter was the worse I have ever experienced in any retail store.
Hope this will help prepare you with the action and training needed by Nicholas.
The associate Rodney who helped us was great by the way. Perhaps Nicholas can learn some courtesies and how to help customers from him.
Thank you
Catana Pickett.
You can reach me at kittypickett@gmail.com

Dany smith
from North Hollywood, CA
Hello I am having a issue with my account and T-Mobile has done nothing to step in the way of there insurance company that has the most poor customer service in the history of customer service I have never been so angry in my entire life of the way they degrade and make it seem like you have stole something that was out of your control

VICTOR ENCARNACION
from Copenhagen, 84
Good afternoon, at the beginning of April 2019 I transferred 2 lines from ATT to your company due to co workers in the military utilizing the overseas military plan for your services provided in Afghanistan. I was attended by a young man name Alejandro from the store located at 2708 E 1st. ST C, Los Angeles CA 90033. The store attendant notified me that all I needed was to transfer to T mobile and they would cover the cells if I changed to new cell plans, turned in our new iphones that I had purchase within that year from ATT. I'm currently deployed overseas being I'm retired after 20 years service and continue to work as Government contractor in Afghanistan in which all of our workers utilize your services and platform. The store manager and store attendant have had my fiancée back and forth for over a week giving the run around about obtaining full credit for the cells we gave in exchange for new iphones and S10 from the store without the need of maintaining the old number. On 6 June 19 I had to cover over 1k dollars in fee being they never notified us that I needed to maintain the old number from ATT and not obtain a new one as suggested by Alejandro and supervisor ( SAMANTHA MARMOL). For the past week we have emailed , attended the store who continue to not find a solution and they continue to do runarounds in regards to paying full price for iphones we turned in including giving us mis advertised programs in regards to your company offer for overseas under the military program. This past week we were told they don't keep records of how much they offer on cells being traded in which don't make sense since they are able to pull the information of when the accounts were active in t mobile etc. The fact that im overseas and continue to have my family being pushed back and forth with this situation as a new customer and service member is unsatisfactory when my current company who are all veterans owned etc are utilizing your services overseas due to your service provided to military being tarnished by such low employee standard and lack of training from the supervisors not fully training employees in knowing the promotions and programs details being offered in each. I would like to find a solution and courses of action from your company in order to solve this situation without having to find legal advise in order to recover expenses acquired for lack of store employee education and training including poor management/services provided by such of representative from your organization. I hope that I'm able to hear from you with a solution.
Thank you
v/r
victor encarnacion
v.encarnacion77@yahoo.com
victor.encarnacion@magaero.com

Pauline L JACKSON
from Canyon Country, CA
I went into your Santa Clarita store on Golden Valley and you have the nastiest rudest manager he was yelling and talking awful to the young lady that was helping me. The young lady walked outside with me to apologize for their behavior. Then he came outside of the store and called her a bitch and said she would be sorry. I wanted to call the police he is horrible and dangerous he doesn't need to be there ever again I will be paying my Mother's bills at a different store until he is gone.

Phyllis Carpenter
from Philadelphia, PA
Bad customer service at airport road center. I've been a customer for years. Went in to get a new phone to replace an ols phone. Sales rep# 811 as last numbers. When we decided on a phone he told us the price then walked away from us got the new phone then proceeded to bring over a stack of cases and phone protectors (which I dis not ask for). When I asked how much it would put up the total I have to pay he said an additional 70 dollars that would be 7 dollars a month for the case and the screen protector. When I declined he hands the stack of itema to another employee who drops them and makes the comment that I shut him down and I'm gonna crack my phone as his employee dropped the items. That was very rude. And the rep dis not even set up the new phone as since I've been a customer with T-Mobile. Not sure whats changed but I will never go back to that store again. Unacceptable

Farida Khan
from Lynbrook, NY
I am with this contract from T-mobile, that I paid for two line and get the third one free on a North American Plan. This deal is good for the rest of my life only if I keep 3 line alway. I was also inform that if I ever drop one line I must activate the 3rd line back again the same time, (I must do this simultaneously). I have this from February of 2017 and as of February of 2019 I decided to do as I was advised ( I drop a line and add one simultaneously) but when I did this, the rep online couldn't do it although she said she did take care of it. Ever since February of 2019 to now I'll call ever month and every time they will said it is taken care of and this will never occur; but every time I get my bill and they will say, I fix it only to find myself calling again and again to have this fix.

Jacob
from Long Beach, CA
I am a new T-Mobile customer and I am 1 issue away from leaving this company. I recently switched from Verizon to T-Mobile at store 516E in Long Beach. I was helped by Nataly Nuila who did a fine job, I picked up two new Iphone X's and two covers. It was near the end of the transaction I decided I did not want one of the covers and planned to look online for a case with a slimmer design. Nataly said that was no problem but she would need to cancel the order and start over. I did not want her to have to go through the troubles, she told me that I could always return the product at a later date. I returned 15 days later to return the unused Iphone X cover and was told by an acting manager that they were unable to do so due to a 14 day return policy (of course I didn't read the fine print). As a new customer this is very disappointing, the case was only $20, but I found this level of customer service completely unacceptable especially after I was trying to make it easier for the employee! I have the receipt and an unused case, if there is anyway this can be corrected, that would be appreciated.

t mobile should have a 0 option !
for 17 months I have had trouble with my account ! I also bought two I phone 7 plus phones from t mobile and was told since I bought them they could be taken to any phone company ( I asked repeatedly before ordering these phones if they could be used on both networks (unlocked )
I asked managers I asked customer service before going over to order the phones I asked when I picked up the phones just wanted to be sure they cost over 1900.00 and guess what I can't use them anywhere but Tmobile !!!!
T-Mobile rep didn't know or lied to get the sale ! I phone 7 plus from apple works fine anywhere but these models were made only for tmoble according to apple ! I was scammed ! also we paid for unlimited service for 17 months and couldn't get the services we paid for from them ! the last rep I spoke to last week admitted to me they were sorry but in my area they can't get service here ! I always had to use my xfinity when out in town and even when I needed to make a call or even use internet on my phone !

About a week ago my phone(Iphone 7Plus Gold) started having issues with holding a charge once it has been removed from the charger so I called assurant to submit a replacement and was told that I needed to contact Tmobile because that is an issue they can replace on their end. I called Tmobile on 6/3 and explained that I am leaving for Deployment on 6/6 so I need the phone by 6/5 which they assured me would be no problem. I was told the replacement phone had to be submitted to the closes TMobile store near me so that is what was done. On 6/5 the phone arrived and I went to pick it up but while in the store the rep. said they don't receive replacement phones anymore for IPhones so he wasn't sure why the replacement phone was shipped to their store and after further processing in his system he could not release the phone to me because the system would not allow him to and after he called the support line the only option was to send the phone back and then Tmobile can send me another phone once they receive the phone. Well that is not going to work because I am deploying and will not be here to receive the replacement phone. I am very disappointed and ended up disconnecting the call because there was really nothing they said they could do for me but have me pay almost 200 dollars up front and they wave the balance on the phone but that is not an option for me today because I can not pay the 200 dollars today. Now I am stuck with a phone that does not charge and I am heading overseas for almost a year. I am very upset with the lack of help and inconvenience I received today.

Christine Flaherty
from Minneapolis, MN
I bought a new phone at the t-mobile on May 7th and when the employee there was transferring my photos he lost them all. I received no assistance from these people. I don't think they were very qualified. My parents have been customer's for a long time and we are all very disappointed in the service we received.

Maria D Santos
from Chalmette, LA
I need to talk to corporate manager or a CEO; because I am going to send a letter to The BBB and to the credit reports based on a discrepancy on my account that was 1. A pre-paid phone " what that definition means " 2. The account was in auto paid. It's wasn't a reason for what they didn't charge right there and then. 3. On the 29 Jan 2019 was last time with t-mobile .. my account on live was closed never got a lady bill but the sent me to a collection agency.., I am a retired military with 23 years I don't need all these garbage personal threatens... went you T-Mobile did had access to my account deduction. I going to put a complain to the credit report basis on my complaint and others that being suffer the same. 912-2719636

I kept asking for a manager all he did was give me attitude. Didn't help me and then said he was disconnecting the line. Thanks for the help. You have the worst people working there that never solve anything

I canceled my T-Mobile account and took my business to Verizon. I then paid my last T-Mobile bill and went on vacation. When I got back and checked my mail T-Mobile had sent me a late notice and had sent my account to a collection agency. When I looked at the dates on the collection report I realized that in less than 17 DAYS after the bill was due it was sent to collections. They claim they never received the check and that they didn't send my bill to collections. That if they had it would show on my account. So I read the notice to the guy on the phone but he continued to repeatedly insist they did't send the bill to collections. However my credit went down from their nonexistent report and I'm trying to but a house. I have NEVER known a company this NASTY. I AM BEING FORCED TO LEAVE THEM ONE STAR THAT THEY DO NOT DESERVE.

Jessica Reyes
from Columbia, SC
Worst customer service ever! Over the past several days I have spoken to numerous customer representatives. I have even gone into one store. After being confirmed to qualify for buy 1 get 1 galaxy promo BOOM a local store told me that I do not. I called CSR to confirm and was informed that was correct. I do not have enough words to go into details but basically was told it was on promo sheet. I expressed my disgust with manager and informed her it isn't my job to have to tell CSR to look in my notes (per CSR) or do scrutinize the promotion. I trust my CSR to be well informed about the products they are selling. But it was a quick sorry and BYE. I will be closing my current phone line and not give TMobile anymore of my time. Horrible service! Train your CSR's! It is not the customers fault or job to know your policies!

Robert Kelley
from Denver, CO
For 2 full days near Aurora Colorado the T-Mobile Tower was inoperative. I had no service of any kind. In order to maintain my life line I was forced to purchase a 1 week pass to piggy back on Xfinity network because I do not have my own in home Wi-Fi. When I contacted customer service I was provided $25 account credit. I expect also a credit for the Wi-Fi pass I had to purchase. My roomate Stephanie Wagner experienced the same exact failure but she was given $25 account credit AND a credit of $20 for the Wi-Fi pass she purchased AND was given a complimentary signal booster. When I explained that to Richard -in Colorado Springs and the Manager - Christina - in Colorado Springs I was basically told that she got lucky !? Really, the service level and service recovery customer service should be fair and consistent when the complaints are identical. I have been a very loyal T-Mobile customer but this type of flip attitude and inconsistent service leaves a VERY poor taste in my mouth. I'm very unhappy and extremely disappointed in my magenta family.

I was a preferred customer with T-Mobile. Never had a problem until after I left a personal relationship with a woman. I changed my number to move on with my life. This person continuously kept getting my new number after I changed it. Through the course of 6 to 8 months I changed my number 3 times. Changed my password, ID, and security questions and I was assured through customer service reps she wouldn't get my new number. Within an hour of me changing my number, she obtained the number. Then I was told through customer service reps that maybe she hacked into my phone so I was told to contact Samsung to do a remote reset/clean on my phone. I did that. DIDN'T WORK. I was taunted constantly and was told she knew someone 'inside" T-Mobile and they would never figure it out. Finally, as a corporate worker, this was costing me money being I had to turn off my phone because of the constant harassment. I am forced to leave T-Mobile and I feel like I was failed miserably. T-Mobile failed to protect my privacy and on 5/29/2019 around 8:03pm I spoke with a customer service supervisor name "Jass" who accommodated me with a one time $30.00 differential off my final bill. Small price to pay after the turmoil that I had to endure. The very least T-Mobile should have done is satisfy the last balance of my bill, because I had to leave through no fault of my own. How could I ever recommend T-Mobile to family, friends, or colleagues after I was treated.

Christopher Ontiveros
from Stafford, VA
We were charged twice for a bill. I have provided proof of the charge at least 3 time to t Mobile, but they say they still can't find any record of it. We've been going in circles with this issue for about 5 months!

Edwin Flores
from Hartford, CT
Not it hard to understand when you are client that pays your Bill's on time that when you try to purchase a iPad pro tmobile makes you pay for additional line when all you need is the ipad pro to use while at your business there policies suck and make no sense period they dont lookout for the interests of their customers but only their own...just like every other company... I'm definitely looking for a new carrier...

i can't cancel service- I called earlier today and talked to jerry id #76662 he said i would have to go into the store to do it ,took the time to drive over to 1st and washington t mobile san diego ca 92103 where the people in there said they couldn't cancel in the store.and they would put me on the phone w customer care. Reyes on the chat line couldn't do it so he got supervisor Hannah online but they took extra long so the chat timed out..I have tried to cancel for months now - somebody told me i had over a month ago but now i have another bill- shall i file in small claims- I am pretty sure i will win

Not like ill receive a response but I had a plan April of 2018. It was a lease plan. I picked the 65$ monthly plan which was "unltd" data. The problem started when I lost my phone. Had insurance so I temporarily halted service so whoever finds phone wont be able to use it. Got replacement week or so later. I thought it would be a new phone but it was a crappy scratched refurbished phone. I really didnt notice how scratched up it was until a few weeks or so later when I couldnt make or receive calls. I found out I had 14 days to return it. Now its too late to return it. The sim card I received was not turned on properly by tech support. They had turned the lost sim card back on. I figured this out when i called customer service and tech support wanted me to read off sim card number.It was a stressful call because they kept saying they show it working. I finally got them to read back the sim card info and it did not match what I had. I was without a phone for 30 days. When I wanted them to take off the charge for the month of no service because they turned on the wrong sim card they refused and refused to let me talk to any supervisor. This went on and on until I was able to get a phone number to the stateside office. I wanted to just cancel the plan and return the phone. I was told it would cost $400 to cancel. This was very strongarmed tactic and I hung up and called back to speak with a supervisor. Again no one would let me talk to one. I called at an earlier time and managed to talk to a rep who said I would only have to pay $120 if I elect to keep phone or return it and owe nothing. When I asked the rep to send me what she just told me in writng she just said it's recorded and T-Mobile has this type of record but I wanted proof of my conversation and this result but said wasn't necessary to send me a letter. I had no choice but to agree since I'm thinking I finally was able to cancel and walk away since I didnt want to keep the phone because it was still defective. I returned it to a T-Mobile store where I live. Nothing was said about owing a balance since I cancelled plan and paid any balance from the actual plan. Within 2 weeks I recieved a bill from T-Mobile saying I owe $100 for cancelled lease and that was the buyout fee. Here we go again I called and mentioned I straightened all that out previously but they told me whoever told me I wouldn't owe anything was wrong. They refused to even give me the benifit of doubt. I wouldn't make this up because I don't want a bad mark on my credit. Then they sent it directly to collections. I paid $50 because I really cant afford rediculous charges at the drop of a hat and hoped to work it out but a billion dollar company feels the need to shake me down for another $100. Im very disappointed that a company like this resorts to holding a person to a what I think is one sided agreement and to constantly give me conflicted info. I paid everything I believe I owed but they want more and almost got me to suffer thru a 2 yr lease. It was a monthly plan that they say I could be free to cancel any time but that was far from the truth. Why does 1 rep say 1 thing another rep say another and in the end it's all in conflict. This is wrong and now it's on my credit as a bad debt for a lousy $50. Thans T-Mobile and I will never trust your company because of the many lies that was told to me. You can type reports to fit what you claim to tell me but in the end you shook me down to get a lousy $100 away from me who is on a fixed income.

Richard Harris
from Revere, MA
Im missing a payment 120.00 on May 17Th 2019 from the Jamaica plain store Boston ma I'm sure someone stole it my number is 774 291 2265 with no explain ation this is a serious matter I'm also rharris7286@gmail.com somebody has to know something please help thanks this a criminal matter

I am a long term customer of T-Mobile, over 15 years... I use a cellphone only occasionally, so I chose the prepaid plan, paying $100 for 1000 minutes... not a great rate by any means, but OK for me. I had a balance of $120 (1200 minutes) when I failed to purchase more minutes within 12 months... I planned to, but had a serious illness in the family, followed by a death... so it lapsed. T-Mobile erased all $120 of my balance. I called, hoping that my explanation, and offer to fax a death cert for verification, would lead to them giving me back my minutes... the first rep refused, was very snotty as well as hard to understand (Filipino, of course), but eventually agreed to give me 50% of my balance back. A day or two later, I found he had lied... no balance was returned. I called again... 2nd rep hardly knew English, so I asked for her supervisor. The Supervisor informed me that now my long-term T-mobile phone number had been cancelled and given to someone else... she was also very snotty... she agreed to give me a new phone number... I asked for one easy to remember, she ignored that request... gave me a random#... but promised to put back 50% of the original $120 balance. Next day I found that the supervisor was also a LIAR. No balance returned. Called and spoke to the 3rd rep... this one FINALLY actually restored 50% of my balance... but after questioning her (she did not volunteer this info)... my balance would be erased again in June, only a couple of weeks later! So I had to quickly buy more minutes to prevent again losing all of my balance... again.
What appalling treatment of a long time customer! As soon as I run out of minutes, you can bet I will never deal with the greedy, rude, incompetent, LYING dirtbags of T-Mobile ever again!!!

I called in on 5/20/2019, was promise by a supervisor my services wouldnt be disconnect until 05/27/2019 the supervisor I spoke with RRG and agent Art 457682. The supervisor I spoke to today which was Jose out the tampa office was rude and didnt believe nothing I mention to him, I asked can we review the CALL and he told me NO

Store 4476 (5055 W Ray Road, Chandler AZ)
The worst store ever. Not only is the sales person Kaleb a lier but so is the store manager Fernando. I wish I could say Kaleb is bad but after interacting with the store manager he came across as not being so bad. Guess what the manager Fernando is worse. Unscrupulous and Rudeness should be their store motto. WORST SALES TEAM EVER.

The staff in the t mobile store at the treasure coast mall were very rude and unprofessional. It was opposit of what I was expecting.
The two ladies spoke to me like I was a child.
This was unexceptable.

Nobody picks up the phone. Keene NH T-Mobile opens at 9 am. I call at 9:16 and again at 9:30. The phone rang for about 3 minutes and no answer. Even Walmart picks up when they open.

Tmobile overcharged my account by 40.00. When I asked for a credit they stated they can only credit me 30.00 at this time. I asked to speak to a manager they placed Jeff W. From the call center in Tennessee whom was extremely rude and over talked me. He stated he will not credit me the 10.00 since I asked to speak to his manager. He could not locate a manager and states they will reach me in 24 hours. Another problem I had. Promation for 2 free tablets 2 years ago in September paying 10.00 each line for internet. At the time I had 2 voice lines. One voice I disconnected and currently just have 1 voice line. Tmobile tells me since now I only have 1 voice line I'll be paying 20.00 each line for the tablets. Which I was never told that not once or twice. But now calling almost 2 years later. Makes no sense. Point is Jeff W. From Tennessee call center did not help me one bit. Extremely rude . Poor customer service skills. I've been a customer for 15 years.

Christian Clayton
from Willow Grove, PA
The worst service ever no one helps just pass the buck and take my money with no service

I have talked till I'm blue in the face signal issues with T Mobile. What I come to conclusion is, Nobody cares!! I switched from sprint to T Mobile about two weeks ago. Sprint did nothing but lie to me about charges so I switched to T Mobile. I was lied to again. "Oh, we are better than sprint, we have coverage everywhere in San Diego". I switched and now I have no signal in Coronado California at the Navy Base. Now I have found out that all your people knew about Coronado signal issues but your sales people were not up front with this info. Now I have to have a booster sent to me to try and see if I get signal. My cell phone is a brick. unless the signal booster works. Some folks tell me the booster did not work for them. There is a T Mobile tower 5 miles from me in National city. I was told that I am too west for that signal. Come on!! Please fix your signal issues. I was told that the engineers are looking at this problem. It looks like they have been looking at the same problem for years. Most people have left T Mobile here on the base. I don't understand your company being ok with loosing business. Please adjust the tower to service Coronado. I was also told another lie. "oh, the navy bases do not allow signal due to stuff that goes on at the base" This is completely false. Sprint, Verizon and AT&T have plenty of signal here. In fact enough to stream. Please quite lying and fix the issue. i bet if I held out on the payments for my substandard service you would pay attention.

sushimind
from Fort Worth, TX
I had to pay $250 safety deport at the time to purchase T-mobile phone.
The screen at the store displayed the address I never lived
"78 Washington PI Apt.44, New York NY 10019-704".
Called its Customer Service but was told "it is due to your Credit Score".
My credit score has been over 700...
I guess T-Mobile used that address to make me pay the $250 safety deposit.
I will return the phone and go to other carrier with better Customer Service.
Never purchase T-Mobile as they use a fake info. to get money from the customers!

Christine Gaston
from New York, NY
My phone is damaged and frozen from rebellion. I had got in contact with the phone manufacturer and it took them weeks to contact me. I'm supposed to mail the damaged phone but I cant cause I need a phone. Also I told TMobile all about and told I'm was getting an new phone. Now I'm not and told I'm not paying the phone bill since all these issue. I feel like no one is helping me. Please help cause I'm close to call my lawyers. You may contact m 6469193259. It's disgusting and false advertisement

I am disabled and on a limited income, I have had T mobile for years and no problems. But when I joined T mobile again a few months ago, I asked for a phone comprable to my Galaxy J7 and your salesman said the Rvl 2 was comparable and better! But the Rvl 2 phone is hands down the worst cell phone I've ever had. If you look through all my calls complaining you'll see from day one I absolutely HATED that phone. But no one ever tried to help, they kept quoting me hundreds of dollars due before I could get a better phone, then they said well after several months if I call back they could try and upgrade my phone. So basically I felt very discriminated against due to the fact I am old, disabled and poor! I had to switch services to Verizon and pay a higher monthly bill just to get a decent phone! The exact phone you wanted to charge me 400.00 for they gave me for much less.
Now you're sending me a past due pay immediately threatening letter wanting me to pay for a month of service that the phone didn't even function and you're charging me 147.00 for that Rvl 2 phone never worked, it wouldn't dial out unless I restarted it, awful sound, calls were full of static either they couldnt hear me or vice versa, streaming was awful.
I want to know how I can fight this charge, I'm not a sue happy person and generally very easy going and don't complain, but this was very upsetting and I refuse to believe after all the emotional stress you put me through that I should pay this 210.10, I think you should lay me!!
I would sincerely appreciate a personal call or letter with a resolution.
Julie Wilson
619-751-9097

I paid into T-Mobile insurance plan from the beginning. When my iPhone 6 broke and became unusable I called the t-Mobile and they connected me with the insurance co. ASSURANT. After a few discussions a replacement phone was sent in exchange for the broken iPhone 6. The replacement phone never worked. I travelled to Europe shortly after receiving the phone and was unable to make calls unless I was on line. Could not use GPS. Phone kept saying 'searching'. Got back to the states and the same. My car would not start at one point and I had to ask a stranger to call.AAA. When I was connected to wifi and received calls, the phone would register the incoming call from China even though it was a local call.
I reached out to T-mobile and they attempted to get the phone up and running properly. After a full day non the phone with an EXPERT I was told to call Apple support to get the phone working......they could not accomplish this. A couple of days later I reached another expert who said they would send me another placement phone......ASSURANT said no and actually hung up on me. That was a week ago. I still don't have a replacement
phone .Meanwhile I have talked a number of 'experts' all promising to fix the situation but never able to. They even said they would upgrade the phone but never sent it out....it gets worse but I am running out of space. This is essentially a BS company that I will dump.

Cassandra Burton
from Houston, TX
my dad bought three phones a day after christmas. I came in march to pay the bill two weeks earky. my son phone was messing up he could receive calls but he couldnt dialed out. The lady told me they had a promotion for five lines for a cheaper price i was paying.i didnt need five lines i just needed my son to have a working number .so i agreed. we gotten a free phone with the promotion.so i gave him my phone ,i took the new one. i told the lady i want to keep the same numbers i have had this number for 11 years. Besides my son has mess his phone up ny changing my google account,he didnt know all the phones were on one google account. the lady said to keep from messimg my phone up just give him your phone you take the mew one,so i did.When it was time to port over numbers the lady on the phone didnt want to do it.she said it would take five days to port over so i waited,they never reached back at me i went back to the store,thats whem i found out they couldnt switch over to the 5 lines,so i told the agent in the store and over the that is okay cancelled the 5 lines i keep my 3 lines has original i dont have to have my numbers ported over since they say they couldnt. do it.so they had to put a ticket in to cancell the 5 lines ,put me back to the three i had.. that never happened they have lied to me over and over again, they have cut all three phones off i couldnt get on touch with my kids. i told them i needed the same numbers i had for 11 years, for my job and school. until this day employess have lied supervisors have lied also, they have wanted money for a service i never gotten to use. they give you false names.then one man turn around and cancelled my whole account,i didnt give him permission to do.i have gone into the store every other day trying to get them to give me the three lines i had with the phone numbers. i would have never took my business to T mobile,is that what T mobile have reduced the company too being crooks. im a single mother/grandmother raising two kids their mother died when they were 3 years old.Now my son phone is off he was the only one that had at least 2weeks of full service while they supposed to be working on fixing my peoblem that T mobile created it was Tmobile fought,theym cancell my service then they turn aroung canell my account me and my daughter phone we have been without service since March the 17th, i have spoke to 10 different people every time i go there they make up a ticket putting the peoblem further behind,so they last guy i spoke to on March 29 told me that he was going to give me a credit for March billed not to worry he was putting it in the notes has we speak./ he even told the manager that in the store. the manager told her that i needed them to make sure that she has a phone on so she can receive calls from my job because they call at 4am in the morning to give me my job assignment.so he gave me another number said this will be a temporaily number not assigned to know account until this, issue get resolved. at least i can get calls,and call out.but i cant still call mykids.My son was the only one with a phone because me amd my daughter phone was disconnected. My son phone was off for three days until i went in the store they fixed that emporaily it stayed om for an week, the agent assured me that the phone wouldnt get turned off i would get tect messages every week asking me for money to reload and we never gotten to take advantage of the 5 line promtion so has a payed the money two weeks before the 3 orginal lines were due. i went to work i tried to use my phone i was cut off they wanted me to pay the 100 sollars. the agent in the stores paid the 100 that i would have originally paid if i wouldnt have gotten the 5 line promoltion. we thought everything was okay then two days after that it gotten cut off i went back in the store on the 29th,the manager wasnt their i spoke to the customer service departnment a man name delalgo,supposed to be a supervisor,he put me on hold he said that they had tickets are ready out concerning my matter,he would try to help me he couldnt promise me,so the store was closing i gave him the number at that time they gave me another sims card so i could be able to call out until they fixed the problem with the two phones that they were trying to port back over right along with my son number now his phones is off,they were trying to include his number in the port,well i never gotten the phome called instead he cancelled my entire account no one gave him authorazaton to do tbat, so i had no phone over the weekend and while i was at work. i went back in because i had to work for two days before i was off again,that is when i found out what the agent has done.what started out me paying for three prepaid lines,for 110 a month.now i have three different accounts open up in my name that i didnt ask for.Now i have to pay for phones that have not been working it would showed up in their system as being active,but the phones were now having service i couldnt call out neither were my kids being able to used their phoned. T mobile is still asking for money.if it wasnt for this man i talk to name Blake dont know if it is his name he told the manager tp put a sim card in my phone she gave me this number to use to they resolved the issue, and some one went back inand assighned them other two lines back on the account that supposed to be cancelled because they were trying to port me back to my original three lines with the original munbers i statred out with. please help me i never got a chance to take advantgage of the proption that i had paid for because two days later my phones were cut off,as soon as they turn it back on after they had creditn 100 dollars to the three lines ,in the meantime we were told in 5 days it will do back to my three lines they cancelled the five line promotion they never gave me my money back, now they want me to pay 150 dollars for no service on two phones the t-mobile mansger have really tried to help me the customer service people have been rude to her,threatened her with her job we have held on the phone for a hour no one came back. Please will you have Mr John Legere contact me maybe he can help me.Now my job is at stake now because i have missed jobs assignments,almost gotten written up.because my phone was cut off and disconnected not because of non payment it is due to T mobile making the mistake and they have admitted to me but they refuse to correct

Ever time I pay my bill you screw up my phone I call over and over and nothing they say they will call me back and nothing I have missed important calls and text I pay for a service and nothing your stealing your not holding your end of the deal. T-Mobile is the worst

I was told i had to come into the store location in order for me to have the original delivery of my phone from UPS to be changed to a different address. I realized i wouldnt be home and wanted to redirect it to my work so i could recieve it. it was busy that evening when i walked in and just sat and waited for my turn. it was almost a good half hour and still was never acknowledged by any of the 3 employees..not even a hello. there was even a person who walked in after me who got taken care of. I just stood there in disbelief but didnt want to cause a scene but that really made me livid.Finally when the guy was able to help me...i then was told they HAD no access to changing the delivery. they let me use their computer to try logging on the UPS site to figure out a way..but he had the audacity to walk away to help another customer and so i was just standing there waiting again.( that would have been nice if he could have done that for me from my initial walk into the store).
Finally got fed up and walked out and said muttered" nevermind, its okay" and the guy didnt even lift his head up to look at me or care and continued to look at the computer screen info he was looking up for another customer. I had my 7 yr old with me and he was starving because we had driven straight after work and picking him up frm school to go there because i thought it would be a brief visit. the whole experience was awful. if the guy could have just asked what i needed ..i wouldnt have wasted all that time there. I will never go back to that location again. Seriously needing a refresher course on common courtesy.

I was a customer of T-Mobile for over 9 years. Auto Pay. Service is terrible, Customer Service is terrible. I had a credit card on file for auto pay and it quit letting the payment go through. I called and asked what the reason was for auto pay not taking the card and they said the card was bad. I then made a payment on line with the same card. I finally had had it and went to boost mobile. As soon as the phone was shut off I was not able to make the final payment without having to call. Guess what 30 to 40 minute wait time to get a person. Worst Cell phone company ever. Quit running commercials all night trying to get new customers and take care of the ones you have.

Karen Gibson-collado
from Las Vegas, NV
Yes me and my children have been with t- moble 5 years I called to change my payment arrangement date to a week later the Girl I spoke to at the so called team of experts told me yesterday wait till your phone gets disconnected then call us and we can make a payment arrangement for you she told me it's happened to me so I took it as it happened to her so she won't charge my payment arrangement after I told her I said the wrong date bye mistake not good at all since we have been with there company for sooo many years

T-Mobile is the worst customer service I have ever seen. Playing tricks on customers and making them to pay high. They mentioned me $25 for plan & after one month they gave me $75 as due. When I ask them they just simply say we are sorry. They just play tricks on customer and when we know that they just say sorry. Looking to complaint on T-Mobile service. Looking for some help.

ALTON R. PEGUES
from Baltimore, MD
I contacted T-Mobile in June 2018 when I was considering switching my service from Verizon. At the time I had three phones I was paying off and it was above the limit. The Customer Service Representative was helpful and offered me to purchase SIM cards for my phone if I decided to switch. Now that two of three phones I wanted to switch are paid off I called this week to switch only to find out that an account had been established and submitted to collections for non payment. The CSR provided me with the collection agency phone number whom I contacted to find that the account was settled. Furthermore when I attempted to use the SIM cards I purchased right out the package from T-mobile, I was told they were deactivated and I had to purchase new cards. I was told to go into the local T-Mobile location in Durham and see if they would take the old cards and give me new ones. They would not. Had to purchase new cards at $80.63. I am seeking reimbursement of this cost or credit to my new account 966-417-526. I did not activate or deactivate the cards that were sent to me. I did not open the package.

elaine simpson
from Worcester, ENG
....on 2/28/19 at T-Mobile 5200 RAMON RD PALM SPRINGS CA..I took out a sim only phone package for ONE MONTH @$42.50 I did not know NOR WAS I INFORMED that my I-phone would then be locked into T-Mobile for 365 days (as you're Customer Service has now informed me) I had a lengthy chat with the young man.. sales rep#****472 who set up the programme in Palm Springs about the U.K he was very clearly aware that I was on vacation for 1MONTH...I am now back in the U.K and cannot use my I-phone for 365 days!!!!! I need my phone unlocking....not through any lack of loyalty but because T-Mobile is not in the U.K where I live.... PLEASE I need my phone unlocking ...this is a unique situation that (apparently) needs a unique solution....I feel that T-Mobile took advantage of a small window of opportunity to behave in a dishonest way by not informing me "AT THE TIME" that my phone would be locked in!!!! I hope you agree and give me the unlock code OR unlock my phone.. (I have been with you're "sister" Co. EE for 15 years but alas they cannot help )....the phone number in question is # 760 -623-6745....other info(sim:8901260175779986948).
and (transaction (#CTMS612ZF00366) ...(act#******933.....)sincerely Elaine Simpson

Its really ridiculous of waiting more than 40 minutes to pay a bill. You're unable to pay online bcuz of technical problems...
Now...theres 5G!! WHERE!!! Im unable to get 4G coverage!!

Brian Young
from Port Townsend, WA
Worst customer service EVER. I bought a brand new Phone from T mobile. I tried to activate it by calling the number listed for activation. They had NO record of me ever having bought a phone. I had kept all the packaging, all the paperwork. Not one single number was registered in their system. I spent four hours with a variety of so callled service representatives. In each instance, I was put on hold, and the line eventually went dead. I finally gave up, and told them I just wanted to return the phone. That in itself took two hours. They were never able to recognize the phone I had purchased. They had already deducted $240 from my bank account, which I had proof of. They could not even find that. I had a sim card, my address, my home number, my SSN, and nothing helped.
Worst company on earth!!! Do NOT but a phone from T mobile!!!!

Veronica Duncan Williams
from Clayton, NC
I submitted a complaint to the Better Business Bureau today due to an Supervisor name Clark being uncaring to a complaint I had today because of Service Interruption due to hardships I am facing with no fault of my own as a Senior Citizen.
The BBB office will be contacting your office in a few days.
Also, I am submitting a complaint also to the Consumer Affairs Office too.
Veronica Williams

Carol D'Ann pierce
from Little Rock, AR
On 04/04/19 I purchased a phone and a 50.00 activation card at a Dollar General store. This phone was purchased for an elderly lady in a nursing home (this is the only place the phone was to be used). On 04/04/19 I called to activate the phone and TMobile was unable to activate the phone. I was asked to return that phone and purchase a new phone and was told the 50.00 plan would be transferred to the new phone. I returned the original phone; purchased a new phone and had the data plan transferred to the new phone only to find out that the phone will not work once you physically enter the nursing home. With the phone not working in the nursing home, the 50.00 data is no use to me. I have attempted multiple time to get a refund on the unusable 50.00 card without success. I do understand that the card is non refundable; however I purchased the card to activate the phone and the phone will not work in the location needed. I am wanting a refund for the 50.00 since it is not my fault I can not use the data card.

Faezeh Zia mousavi
from Van Nuys, CA
Today I was in store#2795.The manager Alexander was very very rude. He said you have to wait if can not wait go somewhere else.I asked him little bit bring the music down, it is too loud, he said no,that is how it is. I left store but did not expect from Tmobile. We are customer for 18 years and they treat us like this.

I am upset with the practice of T-Mobile cancellation service. After less than 2 days of getting my new T-mobile phone, I was not happy with the service or how I was treated at the store. I cancel and had to 50 restocking fee and I was told I had to pay for the days I used my phone. I question that because I have 14 days cancellation service. Within less than 29 days I got a bill for 89.00 when I called customer service I was told that I was responsible for the full amount even when I cancel my service within 2 days. The supervisor wanted me to reactive my service to "help me out" I didn't agree with that because why would I reactive a service I wasn't' happy with? This practice doesn't make any sense to me, I understand being liable for the 2 days of service but a whole month?? How is this right? I am a consumer and if I am not happy with a product I have the right to pay for that service. I agree to pay for the 2 days of service but the rest it does not call for and how does their billing cycle even work? I looked online and in the terms and condition, it does not have a specific distribution of what the consumer is liable for it basically say T-mobile has the right to charge me whatever they want? In what country is this allowed? I refuse to pay for a service that I am not happy with and I am not going to have this fraudulent charges on my credit report. I want T-mobile to fix this misleading practice, simply if it is not clarified in writing it cannot be held against a consumer.

Ron Borje
from Irvine, CA
In early February 2019 I had 5 lines but 2 of these lines I had suspended and was not using anymore. I had a grandfathered data plan and I was interested in getting Unlimited Data on all my lines. I contacted customer service and spoke to Maria, an after hours representative, and she told me about an unlimited data plan of 6 lines for $200 including free Netflix. I have my girlfriend who had 3 lines at Verizon that I was thinking of having her join me. I wanted to get rid of the 2 suspended lines first but she recommended that I keep them and just have 2 of the lines ported over and just add one additional line to equal a total of 6 lines. In addition, if they owe money on their phones, TMobile would pay up to $650 per phone. I waited until March 22 to add them because they needed to be at least 90 days into their old payment contract. Unfortunately, Maria was not the person I spoke to again and had someone else. Her name was Grace or May. Over the phone, she ported the 2 lines and said to wait 24 hours. The next day I was told to go to an actual store to get sim cards. While we were there, we purchased a new phone for the additional 6th line. When all was over, the representative told us that we no longer qualified for the $650 because of the way went about it. We were told that we should have added 3 new lines in order to qualify for the rebate of $650. I explained to the customer rep that it was THEIR idea to do it this way and now we are the ones paying for it. Now, we will need to pay the $650 (x2) of the old plan because of their customer service department. I have called the customer service department several times and each time we get a different answer. The last conversation was with Amanda, who promised to call me back yesterday (March 31, 2019) but no call.

There are three(3) different issues. In which, one of the three(3) it has been 3 MONTHS and still NOT resolved with one of my numbers and only on 3/31/19, after near 3 months an explanation after me pushing them can calling about this issue was given which is unreal and not even true or accurate in my view.
Here are the issues and facts.
In Janurary 2, 2019, all the sudden, we had issues with "REGULAR" voicemail, FORWARDING function on one of my numbers on my account and one number ONLY and FORWARDING and sending VM messages only with that number. I have 4 numbers within my one account suffice to say.
I reported that immediately been working with one particular person (MOSTLY) but others too as he was off and I needed to get this thing resolved on this issue since 3 months, troubleshoot like crazy researched like no one's business, "esclated" supposedly to the top engineers and for months we had the same issue. Even though I get a ticket created, and a week later, several times, it say, "the problem resolved".... No it has not, and the whole process starts again. See my point? That is ongoing for months. I was very patient and very professional until I got tired of lies, lip-service, re-explanation of these issues to many different people including the "tech support/ engineers" each and everytime for 3 darn months. Finally on March 31, after being on the phone as usual for a long time and waiting and getting call backs and calling them, the customer care person who was MOSTLY helped me and I appreciated his efforts told me that for that ONE particualr line, since the T-MOBILE had updated their VM systme, that particular number and 15% of others have not yet "migrated" to the NEW SYSTEM, thus we need to wait another 3 months (2nd QT) to hopefully the VM issue of FORWARDING is resolved?? WOW! Really? so all this time this is the BS I am suppose to accept and all these months I needed to send FORWARD and we couldn't and I asked and asked for an explanation and nothing was done. Only lipservice we will do this and that ,and nothing happend.
Issue #2, From my one of my main lines, to another line I have on my account, to only ONE number in which is NOT the same number I had stated above that has the VM FORAWARDING ISSUE, all the sudden 2 weeks ago, when I send a text message to that other number, and that number ONLY, no other numbers in my account or anyone else for that matter, I get kicked out of the text app, and the message will not go thru and I have to try many times until it does. THIS WAS NOT an issue before, only to one number, we are using the originial app that came with all of our phones, it is up to date and again, to only one phone number from my main number only. That is very strange, is it not? well, a ticket was created about 2 weeks ago. It took a week, but it was resolved, and 2 days ago, it came back. Been dealing with that too, no help, no feedback, no reason as to why, no solutions, just buy time, a lot of nosense I am sorry and we understand and BS talk. NO ACTION.
Issue 3, as fo 2 day ago too, the say that I spoke to the tech support and this and that, all the sudden, on my main line, I get phantom VOICEMAIL ICON message and alerts. As if I have a NEW VM . Well, I do not. There is nothing there and it is really getting old. Do not know why and they cannot so far explain it either. Their BS work-around solution, forget the regular VM which we been using as their long term and royal customers for years and just use their Visual VM to get around it. What a BS.
I told them I am very disappointed and upset and to be their customer and their service is subpar and I have been paying all this time for a service (s) that I cannot use properly since begining of 2019. And I am sick of their lip-service and I want the CEO of this company or high managment to be aware, listen to all of my phone taped conversations and see if this is normal service and if I or anyone has to deal with this nonsese. I want resolution and I want a proper remedy.

a store sales asked me to transfer all my number from a business account to personal account, after 4 months my old account is still being charge. went back to the store, they said the sales is no longer working and they are not responding for that, call the customer service , she said i have to pay because the account is still open untill i call, but the account should be closed 4 months ago, i didn't get 4 months payment back, and have to pay another 102 dollar to close the account, the representative don't even take my credit card when i just want to pay for it, she ask me have to call in again to pay for it, bad bad services

I have two lines and my account is since 2003. Within the last two years internet on one of the lines (22406590259) was not working every time the phone was in Canada. When contacting customer service last year the answer was given: "We are not guarantee internet in Canada". You actually should.
Finally, after a few attempt to talk to customer Service they were able to fix the problem, but it took two years.
Last year in August the line (8479620553) was blocked and did not accept text from Europe. Again it took a few calls to fix the problem.
My question to T-Mobile is whether some of your representatives are lazy or just lack of knowledge?.
This is not acceptable and some refund should be given.

Laura VItta
from Oceanside, NY
T mobile made mistake with not updating IME number in their system. Caused issue with the lost device while in California with denial of the claim on 3/10/19 , store confusing issue more by selling a new phone to us under different number on plan I think they said using Jump. Then I had to spend 4 hours on the phone 3/20/19 trying to straighten this out with the same questions being asked over and over and finally was told that T mobile had the wrong number in the system and it takes a while to update, which is a horrible excuse because the device is almost one year old. Botton line is hours and hours of my time dut to T mobile mistake, charge of brand new phone added to my bill, plus deposit out of pocket, charge of deductible insurance claim, charge of still paying on the lost device installments, waste of hours of my time, and new phone was added on as a different line so I am assuming I have a new line to pay for as well when the new bill finally arrives. Out of pocket already this has cost me $500 dollars and then add on the installment charges etc. Please do not respond telling me how I can correct this and what I need to do. I pay a large amount of money monthly for this business account. This is all on T mobile and I request you compensate me for the money this has cost and frustration and time loss. If you are not willing to provide that I will take my business elsewhere.

Domingo Miguel
from Chicago, IL
I was told that I would get a phone
all I had to pay was for the service and I would pay my phone in payments monthly they still took 25 for a phone they let me use in the meantime until I went back to tmobile they told me I couldn't get the phone I would have to pay 80 for the phone then I would finish paying it off monthly I'm filing a complaint because they are didn't not keep the word in what they told me the first time I couldn't even get my refund of the 25 dollars

VALENTINA ZUTMAN
from Chicago, IL
We have been with T-Mobile 15 years . I have 2 lines- 2246590259 and 8479620553.
My son, whose phone is 2249620553 often travels to Canada. Within the last two years that he had traveled, he was in Canada for at least 60 days, internet on the phone never worked.
He reported the problem from Canada. The answer was: " We do not guarantee internet". You do no guarantee, but we keep paying. Some days internet was not working even in Kent Washington. All this time we've been calling T - Mobile, but nobody could fix the problem. Finally, two weeks ago my son got to the right person who connected him with the technician, and the problem was fixed in 5 minutes.
My question to T -Mobile is: whether your representatives lazy or not experience?.
I think T- Mobile should issue a refund for all inconvenience.
In August of 2018 I had problem with international text. It was blocked and I was not able to receive text messages, but your representatives kept saying that everything is fine, when representatives in Europe were saying it blocked. Finaly I've got to the right person and it was fixed.

Lindsey Shaffer
from San Jose, CA
Yes my Complaint is against representative Brian Copulo badge I'd: 456882
So what's going on is I was on the phone with this representative for about an Hour trying to get transferred to a customer-service rep that helped me 2-3 days ago he was not willing to transfer me,.. He was not willing to let me be on hold to transfer me to the representative that I wanted to be transferred to her name was Sherri,.... But I'm not shure that this was the reprisintitive I talked to 2-3 days ago,...
2-3 days ago I called in wanting to get my T-moble hotspot working on my computer both a Male & Female reprasentitve helped to verry the account information by getting my Mom on the line She verrified the account information with both of these reprasintitives,.. and the representatives told me that I did not have to verrify that account information that they allready recived the passcode verification from the account holder Marian Knott wich is my mom,... then the reprantitive told me she was going to send me a free sims card in the mail Free of charge and that she was going to give me a call March 15 after 10:am,... to activate the sims card for my phone and that when she called in I would not have to verrify the account well, she never called that's when I eventually called into T-moble got ahold of Brian Copulo and he was doing everything in his power to not transfer me to the right people that I talked to 2-3 days ago that could help verrify the account for us he would not transfer me,.... he would not look into the history to see who it was that I talked to, he would not let me be placed on hold till either of the reprasentitives that I talked to 2-3 days ago I wanted to be placed on hold until either of the reps were able to talk to me, he would not let me do that,.... and both of the Reprasentitives that I talked to 2-3 days ago had the account verification codes he needed he wasn't willing to contact them to get the account verification codes,.......
If someone can please get ahold of the representatives that sent out this free sims card in the mail to help me activate it because that is what I called in for in the first place, I would greatly appreciate it,....
Lindsey Shaffer-
831-224-2202

Have you ever had terrible customer service? DO NOT LET THIS HAPPEN TO YOU!! I have had the ABSOLUTE WORST CUSTOMER SERVICE EXPERIENCE CARE OF TMOBILE!! Check this out. My family switched to T-Mobile 18 months. We were tired of the ATT increasing fees, and being treated like we were another number. Ronnie and I switched the WHOLE FAMILY OVER TO TMOBILE. Dropped our bill about 100.00 per month. Got everyone on Samsung phones, that for the most part have worked flawlessly. Well, Maddie stayed with Iphone...the first year had been like the first year of marriage, a few bumps along the way, but for the most part... it appeared to be a great switch. The staff were great and very friendly. Over the first year we lost one phone to a lake, another to a cement shop floor and a third to... well, I can't remember. We have protection plans, and Tmobile was great at quickly replacing them. 18 months later, it is my turn to switch. Mid-February I went in to a TMobile store to upgrade my phone. Wahoo, right?! II wasn't switching to the newest latest greatest model, I was humbly switching to the Samsung Galaxy S9 Note. The note feature would be a great bonus for work meetings and such. Anyway, after standing in the store for about 5 minutes, waiting patiently so the 3 staff members could finish their conversation about what phone they were going to get, we were attended to. Mind you... WE WERE THE ONLY CLIENTS IN THE STORE! (THIS IS WHERE IT ALL STARTS). May I help you?
3/1/19 I went into the TMobile store to upgrade to a Galaxy Note 9 – "Sorry, ma'am but we are out of most of the Samsung phones due to the release of the GS 10 series. TMobile decided not to purchase any further "OLDER" models until mid-March because they didn't want to over purchase the newly outdated phones…based on the premis that the GS10's would sell like hotcakes. "Ma'am, you will need to go on your app/online and perform your upgrade there. So, I came back to the store at their recommendation, only to now be sent away, because TMobile didn't want to waste money, and decided not to stock a product that they have advertised. Hmmmm.. Not good business practices to me.
3/3/19(Sunday) I call using my TMobile app to call the customer service line. It is in the evening, so I get the 24 hours service tech, Jenel. After being on the phone for over 45 minutes, I was quoted a cost of 259.79 as the down payment/shipment and connection fee. Mind you, on 3 different occasions I was quoted completely different costs, all of which include shipping costs. This is my first contention point. As a loyal and previously satisfied customer, why was I having to pay shipping fees just because TMobile decided not to provide the product in the store. During the conversation with Jenel, I was told that I should expect to have the phone on my door step by the end of the day on 3/6/19. She said the phone would be shipped essentially in 3 days. I was satisfied with this. She told me to watch my email, and to please complete the eSign within 48 hours, or the order would be null/void. I received the Email on 3/4/19. I completed the task as required. I also received a text message thanking me for my call. My down payment and agreement were for the Samsung Galaxy S9Note.
3/4/19 Being a conscientious patron, I went on Amazon and purchased a screen protector and 2 phone cases for the S9Note. I wanted to ensure that the phone was protected from the moment I got it. The shipment was due in on 3/12/19. On 3/4/19. I also received a YOUR ORDER HAS SHIPPED MESSAGE: ORDER# S061383615/ORDER DATE OF 3/3/19. This message was sent to my email account. My TMobile APP also reflected the same information.
3/6/19 I received a message that my phone was due to arrive by 8 or 9 pm that day. UPS also said the same thing, But nothing arrived. The TMobile APP said the package was out for delivery.
3/7/19 I called the TMobile customer service line. I spoke with Rich. After struggling just to get Rich to access my information, he finally accessed my information. I explained my concern because I was worried the phone had been stolen or lost. My experience with previous TMobile shipments is that they arrive as expected. Now a day's people are stealing things from porches and mail boxes, so I actually called to alert TMobile that something was wrong, and that they needed to check on their item. I had also noticed that the status of the phone on my TMobile APP had changed from "to be delivered by 8pm, to now reflecting N/A. I asked him to see what that meant. Rich didn't know what the N/A stood for, and Rich then told me that my phone wasn't due to arrive until 3/12/19. Jenel, the previous service representative said nothing about the phone arriving on the 12th. She assured me it would be sent 2nd day air, and arrive on the 6th. I explained to Rich, that I knew nothing about the 12 as a shipment date, and suggested he check the phone records because I know that TMobile records phone calls. After prompting by someone talking in the back ground, Rich offered to contact UPS to check on the phone, I requested he check. After being on hold for a handful of minutes, he came back to tell me that the phone was due to deliver by the end of the day that we are talking, after feeling somewhat satisfied, we end out call. I alert my kids to watch for the phone. I go straight home, and continue to wait…. NO PHONE IS DELIVERED.
3/8/19 I GO THROUGH THE SAME SCENARIO AS RICH'S EXCEPT THIS TIME IT IS WITH Jermaine. Same identical situation. I am told that the phone is set to deliver on the 12th. I explain to Jermaine, that I was told by Rich the day before, that it was supposed to deliver by the end of the day on 3/7/19… per Rich. I ask Jermaine to check on the phone with UPS. After remaining on hold, for another handful of minutes, Jermaine returns to tell me that per UPS, the phone was slated to arrive that same day, by the end of the day. Jermaine, goes one step further and tells me that he is going to follow up with me the very next day, Saturday 3/9/19, to see if the phone arrived. If it didn't, he would put in a request for an investigation. NO PHONE IS DELIVERED!
3/9/10 Jermaine called me to check and see if I had received my phone. I informed him that I had not. He said I would have to go to UPS and request an investigation. Mind you the whole time, the UPS site and TMobile App said the phone was at the Oklahoma City Main Depot. Tired of waiting and wanting to speak to someone face to face, my husband and I went to the UPS Depot. We spoke with a clerk there. The clerk then notified me that UPS couldn't find the phone. She said it was LOST. She nicely printed out a tracking sheet for my use, detailing the movement of the phone. The phones movement hadn't changed since 3/6/19. I explained I wanted to generated an investigation on the phone's whereabouts. The UPS clerk told me that I couldn't request it, TMobile had to… since technically TMobile is the UPS customer.
I then called TMobile and talked to Paige, at approximately noon. I had to explain the situation AGAIN. She looked into things, found the notes, and said that she would start the investigation. She told me she would call me back to let me know what her follow up was. I asked to speak to a Supervisor to explain my dissatisfaction with the run around that I was receiving. I explained that I felt I had been lied to, and that I didn't appreciate it. Chris apologized and took my information. He said that he would fix the situation. I explained that Paige was going to call me back with more information, so we decided I would wait for Paige's call.
Later that day, Paige called back. She apologized, and told met of her plan. She said the phone would be next day air shipped. But wouldn't go out until Monday, 3/10… but would arrive on 3/11. She said that I would be credited back the down payment for the original lost phone. She said I would have to pay a down payment for the 2nd phone, but that the charge would not be required up front. She said she had received permission to charge it to my account/bill and that I would have to pay the down payment on April's bill. I said that would be fine. She said this way, I wouldn't be out of pocket 2 DOWN PAYMENTS. Everything sounded like it was finally fixed.
Later that afternoon I noticed that shipment notification had been added to my TMobile APP home page stating that A DELIVERY ATTEMPT OF THE LOST PHONE HAD BEEN MADE, BUT NO ONE WAS THERE TO ACCEPT THE ITEM. This was unusual because, all along even UPS said that they don't know where the phone was, and the UPS app said the item was still in transit. I believe this is a false message, and never occurred.
3/12/19 NO PHONE ARRIVED, I had not received any shipment details, or shipment notification regarding this shipment. My TMobile APP has never reflected anything regarding the 2nd phone to be sent. I never received an eSign email request for the 2nd phone. I called and spent another 45 or more minutes on the TMobile Customer service line. Jared answered the call, I immediately asked for a Supervisor. Amber was put on the line. With all due respect, I was very angry at this time. I spoke to Supervisor Amber (40689). Amber went through THE SAME PROCESS AS ALL OF THE OTHERS, WE HAD THE SAME CONVERSATION, I RECOUNTED THE SAME STORY… FOR THE NOW 5TH TIME. Amber said the same things Paige said, and again… no one could figure out why the previous situation wasn't completed. Long story short, Amber told me the same thing as Paige except that this time, she quoted me a down payment of approximately 250.00. She assured me that I wouldn't have to pay for shipping, and that she was putting the phone in for NEXT DAY AIR. She said that the request wouldn't go in until the next business day, but the phone should arrive on 3/14/19!!!!!!!!!! She told me to call her if there are any further problems. She sent me a text with her number attached.
3/13/19 I receive a text stating: "Thank you for being a valued T-Mobile c.ustomer! Your order ID# ia S061808025. I also receive a text reminding me to remember to go to my email and sign the eSign electronic signature. I never receive the email. Amber confirmed my email address during our phone call.
3/14/19 AGAIN, NO PHONE ARRIVES. 8PM I CALL TMOBILE. This time I speak with Rachel, I immediately ask for Amber. I am told by Rachel, that Amber is gone for the day. She said, she can leave a message for her, and that Amber has up until 24 hours to respond. I decline the offer and ask for a manager. I am told that there isn't a manager available, only another Supervisor. She forwards me to Carlos. I RECITE THE SCENARIO YET AGAIN. AND ASK WHY THIS CONTINUES TO HAPPEN. Carlos repeats the same rhetoric as Amber, and Chris and Paige… they don't know what has happened, they can see that I have called, they see that requests for shipment have been placed… but no phone has ever been shipped except the initial LOST PHONE. I explain this is now going on 2 weeks, and that this is deplorable customer service. I request that my order for the Samsung Galaxy Note 9 be cancelled. I then explain my disgust with this service. I work in the healthcare field, for a Major medical facility. I am in charge of many people and one of the most important things preach and teach my staff is customer service. I explain that we can be as nice as pie, but if there is no follow through our effort is worthless. If my employer worked with the same level of Customer Service as TMobile has provide me, I don't think our level 1 Trauma center would be saving lives, and open. Although my experience with TMobile was great up until this situation, my intent is to pay off my phone, and move to another carrier as soon as possible. My family will be moving as soon as their phone contracts are up, which should be next fall. With good faith, I cannot recommend T-Mobile to family, friends, or coworkers. I may be just one small person in the TMobile scheme, but if this is the way customers are handled, I don't expect TMobile to continue to compete with ATT, Verison and alike.
I have never been so frustrated with someone, something to this degree. Shame on you. As valuable as phone service has become to the consumer, and integrated in family interworkings… this is absolutely unacceptable.
Regards,
Kari Croco-Combs

I've called several times and still isn't resolved.
I want to dispute the "Fees and Charges" associated with the following address:
1064 Eagles Brooke Dr Locust Grove, Ga 30248-2470.
Specifically, associated with Locust Grove, Ga address to dispute:
the Regulatory Programs & Telco Recovery Fee ($3.18 per phone per month = $6.36 Total per month)
One-Time Charges each month on my phone number for Federal Universal Service Fund – This month it was $2.77
Government Taxes and Fees for Locust Grove State and Local Sales Tax and County 911 charges ($1.73 on each phone = $3.46)
Once you help me get them removed, I need to see how to get refund from last 30 months (since living back in Tx).
My wife and I have been loyal T-Mobile customers and I need this resolved.
BRIAN T SLUGA
Independent Business Consultant
EDO Houston, Tx 77003
309-241-6677

Jarred Fusco
from Lindenhurst, NY
I would choose a -10 rating if I could. I purchased a Samsung S9 in October of 2018 at the T-Mobile Store at 200 E Montauk Hwy, Ste F, Lindenhurst. When I went in I asked to see a phone that was "waterproof" and the salesman showed me the S9, I liked it but noticed the price was a lot more (about 900) than I'm used to paying but he said its worth it so I said ok I'll take it. I purchased the phone that day with insurance and left happy. A few days later I returned because the phone did fall and There's a few scratches on the phone, but it was NOT because of the fall that the phone broke, and upon bringing in the phone to the store and him looking up my information, and him seeing I do have insurance and saw that the phone itself was damaged NOT due to the phone falling, but the actual phone itself was not working properly and he said that its o,k and that it was within the time allowed for me to return the phone ( I believe 2 week is allowed to make returns) and was "no problem" to get a replacement phone since I did have insurance. At that point I asked for a replacement and he said that he was "sold out" of the S9 and at that point I said "Ok do you have any phone similar to the S9?" He said yes the Galaxy J7 so he then informed me that the main difference is that the s9 was "water resistant" not "waterproof" like he originally said so I said what's the difference and that's when he proceeded to tell me that the "water resistant" S9 is only good for a few feet of water not totally "water proof". So I then said ok well why would I pay for the S9 when I'm paying to have it waterproof but your telling me it's not, so he agreed and said to get the J7. I purchased the J7 and asked can you take this s9 right now and take the return and he said "no you will be sent a box to your home address to put the phone in the box and follow instructions to send back to right place" since I purchased insurance and it is an outside company or something that deals with returns. I said no problem so I purchased the s7 now and still have the s9 waiting for the box to be sent to me house to return it properly like the man at T-Mobile said. I go home and wait and wait, no box shows up, I call and ask and no one is helpful and the people at the T-Mobile store at 200 E Montauk Hwy, Ste F, Lindenhurst, NY 11757, were so beyond rude to my wife and I they laughed in her face and made her cry they were so mean to her so now it has been months and this issue is STILL not resolved. We have made numerous attempts to get this resolved and no one even after calling many time for MONTHS and them saying they will "credit our account" for a month because they left me with no phone and service for days when I explained to them I NEED a phone for work since I work in the medical field and am "on call" most nights, but of course they never credited the account and there's no documentation anywhere. We are so dissatisfied with the T-Mobile store we purchased it at we called and complained to t mobile and refuse to go back there or to talk to them after they treated my wife and I the way they did. I have ALWAYS paid my bill on time and always a loyal customer who has been with t mobile for years. I have made every right move to try and resolve this issue which is ridiculous to begin with. We have the phone still and have attached it with this and the phone is just sitting here and we are waiting STILL to return it! We have tried and tried and we can get NOWHERE. My wife and I even called yesterday TWICE and spoke with a T-Mobile rep for about a half hour and they said they would call back in a half hour that they were putting this in as a "top priority" and even gave them 2 additional phone numbers to reach in case they couldn't get in touch with me right away and STILL no one ever returned our call to resolve this issue and we are literally lost as to where we should try now since every single time nothing ever gets fixed and is absolutely insane!This is by far THE WORST customer service experience I or my wife have ever had in our entire lives! Bottom line is I have an s9 that is basically brand new that I am not making any more payments on because I am literally getting robbed and is affecting my credit score significantly so am looking for anywhere for help to resolve this ridiculous circumstance that T Mobile has put myself and my family in. Please help!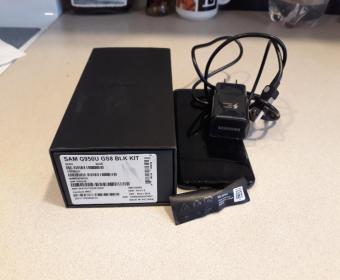 Jesus Castillo Martinez/ Kathleen Mackie
from Winston-Salem, NC
This morning at approximately 0920 we called the customer service number and because we were upset that a draft for T Mobile in the amount of -405.67 was placed on 03/08/2019. They discontinued our service today. We spoke with a woman named Bridget, who was extremely unhelpful, and blatantly rude. She laughed at me when I persisted that I wanted to speak to her manager. I realize this money may not mean a thing to her, but it is an incredible amount to us. I think I deserved better service than that. Her manager was eventually able to help m, although I can't believe I had to fight for almost forty minutes and have customer service agents laugh at me for a mistake that was obviously on their end. This is inexcusable. I may end up contacting the Better Business Bureau.
I am submitting a copy of my bank statement that this amount was drafted on the 9th. It makes no difference to me whether the processed was finalized, since T mobile obviously initiated it on the ninth, and I clearly no longer have access to those funds.
Jesus Martinez
336-602-9869
Kathleen Mackie
336-399-3295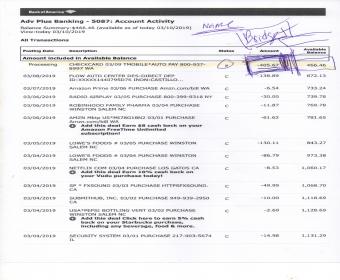 sameer kherani
from Garden Grove, CA
my card was charged for $50, using autopay, even then my account got suspended. its been a week and i still have no mobile data.. the t-mobile representatives have no clue as to what is going on and all they are do is file multiple job tickets. so i paid the $50 and still got my account suspended.

Altaf Jangda
from Indianapolis, IN
Ordered on 9/18/2022 online and saw the phone charges were more then what was shown on the initial screens immediately on 9/19/2022 but Tmobile would not cancel the order. In fact she just hang up on me when the 2nd time I called.

Cecilia Martinez
from Oak Park, IL
Where do I begin, my cellphone is currently disconnected because I can't pay make a minimum of $8,000.00 out of my $10,000.00 balance (don't have exact amount) I am outraged by the way this family account has been handled from the beginning when my ex-husband Juan A Villa called and informed your customer service department that our son was begin deployed to Africa for active Military services and needed help selecting the best plan or plan options for him. Please take a look at our account. Main phone # 's are 312-545-1324 (Juan villa) and 312-446-8348 (Cecilia Martinez) there are several notes of numerous conversations Juan Villa has had with reps and supervisor and dept managers.
I need someone to help us! I can not believe we are being treated this way, I am very close to contacting Telemundo and ABC News regarding this outrage. We were told the charges are so HIGH because he is roaming in Africa.
\

Michael T Stafford
from San Diego, CA
The service a t-mobile located at 8001 Villa La Jolla Dr. STE 8879 La Jolla, CA 92037 is my worst experience of my life! Both my wife and I switched our service over from Verizon 10 monthe ago and are just now getting our billing straightened out. The promotion that was given to us at the time of the purchase of our new I-phone 13 was a third phone for free and just taken away from us and canced with the store telling us that they made a mistake. That is the total issue that I have with this store, everything about it is a mistake! It isn't a corperate store and I only found that our by going to another store in Clailremont and getting much better service.
Michael Stafford

Robert Schaefer
from Seattle, WA
Very frustrated and unhappy with the crappy coverage from t-mobile. This is exactly what I expected when I heard they bought out sprint. My wife's family have had t-mobile for many years and they always had mobile connection issues. We, on the other hand always had service where they didn't. Now, we have the same crap coverage t-mobile is known for in the N.W. If any of those in charge at t-mobile were paying for cable and they only got some channels some of the time and constant streaming issues or if their car worked 2/3 of the time but not the rest would they be happy about paying every month?! I pay for a service and since the buyout this service has declined steadily with no end in sight. When is this going to change? When is it going to get better? I've even been told I need a new phone. Why should I pay a penny for that if it wasn't an issue before? Tired of placating answers! I think t-mobile should only charge or get 1/2 of the monthly bill till the service they offer is worth the price.

Zahoor Kiani
from Carson, CA
Past 6 months facing several problems like signal internet and voice. Many time brought this t mobile but no action. Problem is going on . In security duties the mobile has an important role. Please resolve the issue. We r paying bill on time last many years. I talk to 611 on phone many times
ZAHOOR kiani

Ismail S Ismail c/o Helena Coutinho
from Hackettstown, NJ
T- mobile account # 983047586 (7) lines
Miss leading by T-Mobile sales representatives in regards to;
a) Keep and Switch promotion resulting from switching form different carrier
(from Verizon)
b) Monthly service charges
c) charging for monthly service before transferring the ported numbers and activating of the service for all lines and adding a late fees
Over charged
a) monthly service overcharged more than what was offered at the time of signing
b) charging away more than the sales tax, claiming that the extra charges will be credit back to the account by the sales person (twice).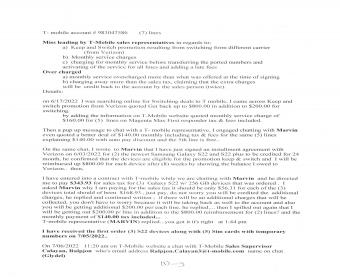 Portia Daniels
from Jacksonville, FL
They drafted funds out of my account before the due date. Spoke to different representatives and they all tell me different things the training it not correct they need to be retrained.

kathleen haddon
from Washington, MI
called and did live chat still on hold on your site you agent keeps hanging up me and your phone and online customer support does not address issues my phone keeps going out for no apparent reason but my husbands does not and does your company support workers whom do this to customers??? No excuse

Maurice Brunner
from Defiance, OH
We signed up for T-Mobile internet. After 2 days we could not get a signal so we cancelled our service within the 15 days and sent our modem/router back. 2 days after cancelling we had $50 billed to our credit card. We would like it returned to our card. We keep getting people we can't understand and not sure if our problem is being taken care of properly.

Colleen Anson
from Lakewood, CO
I was charged a $35 suppport fee for a pick up in store that said tmobile is having dissculties please head to and gave me store well surprise.Order didt go through and they charged me $35 support not my fault your systems dont work ill pay taxes nor support you owe me $35

I purchased T-Mobile prepaid on Aug 5, 2022. The price include the SIM card and one month service. I asked to transfer my existing phone number from Boost Mobile. The employee at the T Moile store (205 North Maple Rd, Ann Arbor, Michigan) activated the phone for me. I made a phone call and it worked, the internet did not work at the time and the employee told me just wait an hour or two and should work. This is my back up phone and only on Aug 10th I found the phone activation was not successful (due to not able to port over the existing number because I cancelled Boost service before I activate with T-Mobile).
I called customer service multiple times and was given different information, some suggest to wait while other told me need to get a new SIM card. I went to the store twice and was not very helpful. In the end, I purchased a whole new SIM and paid another monthly service fee. I don't think this is fair. If the number can not be port over, T mobile should just assign me a new number, not asking me to pay for a new number. Even if I must buy another SIM card, they should still try to port my paid service to this new SIM card instead of just waste the previous paid month (totally unused). Worst is I wasted many hours from the conflicting information I received from various T mobile service representatives.
I hope this can forward to T-Mobile management for action.
Thank you

Eli Hendelman
from Lancaster, PA
I am an old customer with t mobile
And lately I fill that my loyalty to t mobile
Is no appreciate at all
What tipped me off was your advertisement that you giving Samsung plip for free.
After I called I was notified that it is for new customers or for new line
Si practically I am being punished becouse I am an old loyal customer who pay in time all the time
Well sorry in my opinion old paying customer is better then new unnone customer
.so my options are clear be a new customer or go to Verizon after I get from you the phone let them pay for it and your contract as well
Let me know what do you think

Terry Shepherd
from Hamilton, OH
I had to call the customer service number for a billing issue. While I was on the phone, the representative said since I had been a loyal customer since 2013, they were offering me a free Samsung S22. All I had to do was pay the shipping and taxes right then and return my old phone which was in perfect working condition. I returned my phone in the package they provided. Three months later I am being billed for the phone. I got on the customer chat (which is horrible it kept disconnecting me and I would have to explain over and over again what my issue was). They then proceed to tell me that my phone was damage and I am now stuck in a 2 year contract with them paying $34 dollars a month. I then asked for a picture of the device being damaged and was told they couldn't send me a picture. I told the CSR I couldn't afford the $34 a month and that is the only reason I went with the free device because my old phone was working fine. CSR then says "Let me connect you to our Order support team who might be able to help you with the issue of the credit of the device. It may take sometime, Meanwhile, Please stay connected to the chat." I have now been trying to get this resolved for over 2 hours. I am sure I am not the only person that they trap in to a 2 year contract with this process. As soon as I get my income tax next year, I am paying off the phone and leaving this horrible company. Being loyal to a company for years, always paying on time and this is how I get treated. Sad that a multi billion dollar corporation treats the common person this way.

Colleen
from Danville, CA
Rude customer service at the Pleasant Hill, CA store on Contra Costa Blvd. Employee whose name is Anthony was very apathetic to my concerns and demonstrated a poor attitude. He did not seem interested in resolving my problem but instead got on the defensive when questioned.

Barbara L Summers
from Mountain View, CA
I'm a sprint customer forced now to be a T-Mobile, I currently work on a military base/Ft. Riley, KS where their very limited to no service with-in building. I literally have to go outside to make calls, text or facetime. I don't think its fair to have service I pay for monthly that can't be used. I'm not the only one experiencing these issues, all T-Mobile account. Solders & Civilians refer to T-Mobile as T-Maybe because of non-working service. If emergency was to happen I won't know of it until after work, total unacceptable. Rep at T-Mobile in Manhattan, KS & customer service solution was get a newer phone while addressing the issue of no Tower support for the area. Please assist with this issue.

Thomas Brooks
from San Antonio, TX
I have been a Tmobile customer for o er 17 years. This obviously means little to Tmobile. I broke the screen on my phone yesterday. So, I called Tmobile customer care in hopes of finding a solution. This was not the result.
I made contact with a representative and advised them of my situation. The representative stated if I added a new line they could get me a new Samsung 22. I explained that my wife just left Tmobile for Verizon and got a new phone. She was unhappy with the poor internet service from Tmobile in my area. Therefore, I would not have a use for another line.
The representative sent me to a manager who repeated the same talking points. He advised I had two choices. Get my screen fixed for a trade in or add a line. I explained my frustration that if I was a new customer with a new line I would get the 22. However, since I've been a loyal customer for almost 18 years I get nothing. He replied that he understood.
I explained that if the two choices were all he had to offer, I would take a third choice from Verizon. The manager stated he understood. I advised the manager that i may come back in two years so I can get what is offered to those who are not loyal. I am currently transferring my old phone to my new Verizon galaxy 22 given to me free.

Jacqueline velez
from Philadelphia, PA
This store upgraded an unauthorized user on my account. The dealer (1890976) got upset when we asked to have the phone returned. I called customer service and the rep said the phone shouldn't have been upgraded. They never even contacted me and tried to say the phone upgrade could not be cancelled. I want to make sure this does not happen to someone else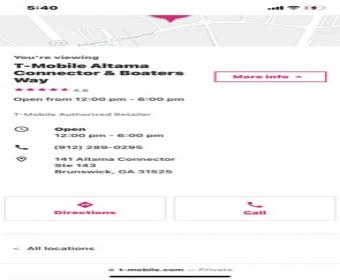 Thomas Sandy
from Cape Coral, FL
Switched back to T-Mobile from Verizon on Wednesday July 27, 2022. The cell service from my home is atrocious. Calls intermittently get through. Text messages don't always get delivered. I spent an hour and 20 minutes on the phone today with your customer service and then your technical support only to find out that there is a project to upgrade a tower near my home. Why wasn't this checked by your staff before they switched my service? And then when I asked to discuss this problem with a supervisor I was placed on hold for quite some time until the technical support person apologized and said the supervisor would be calling me shortly. it is now an hour and a half and I'm still waiting for the supervisor to call. If I don't hear from someone shortly I will return to the store and demand they switch my service back to Verizon. For what it's worth my account number is 983889638.
Disappointed,
Thomas Sandy

Celestine Hunter
from Houston, TX
Customer wait time was 20mi, caucasian lady comes in minutes after me and instead of the next in line tmobile rep helped her first after me standing and waiting 10min before she even arrived. My first time ever visiting Mueller location in Austin, can say they cater to that community. When I finally was helped it's like the agents patience was thin while waiting on me. Agent name was Jaime. To be honest I don't know what has happen to tmobile across the board, the customer service!

Carl Mckinzie
from Kingsport, TN
I've been filing for a refund and transfer of lines rebate. So far, I've just been passed around the store staff and the customer service representatives, got a lot of promises of it getting resolved, but so far I've gotten to nothing but stress and frustration. I also am just irritated that every time I try to call and follow up they keep asking me the same questions.
So where can I file official complaint that someone will positively respond to and get the PROMISED refunds?

Katia Valeria Diaz Mendoza
from Seattle, WA
I have reported T-Mobile to BBB, Consumer Financial Protection Bureau, as well as States Attorney General Office. I have also began a dispute with Credit Karma and Transunion for the Fraudulent charge that T-Mobile has apparently sent me to collections for. My account was closed in November 2021. I demand information on this matter. I am willing to take this case to a court room to fix my credit because I had no knowledge of this "charge" which I DO NOT owe. I need someone from T-Mobile to give me information on this fraudulent charge since you failed to send me a bill for this and no notices were ever mailed to me for this. I left nothing owing when my account was closed. An account that I only had for a couple days! I had Sprint before switching on November 3rd 2021 and the representative at your T-Mobile store told me I was to pay Sprint off before switching which I did! Sprint was completely payed off and so was T-Mobile through autopay. I have proof of all payments so this is FRAUD! Someone better fix this now.

I went in to my local store to resolve an issue with my online order, I've been dealing with online customer service for last 4 days about a refund that was not by choice also a miscommunication from T-Mobile online also but right now my formal complaint is about the store in Grants Pass Oregon . Customer service online was eventually trying to get the refund resolved as they recognized my frustration as to why this was happening in the first place and realized T-Mobile online was at fault. I proceeded to go to store as they said they can take your return and get with the telesales department to progress the refund process quicker. The employee at the store ( Bobby) , and manager was instantly rude and defensive about what I was informed by online customer service. I then asked him to please call as they put notifications on my account to process this request. He said fine I'll call but it's not going to happen. The online customer service answered his call , he then proceeded to only say hello is it correct that we are not able to take back online merchandise? She said yes usually it has to be returned the way it was bought he said ya that's what I told her and hung up . I told him please look my account for notification about this and please try to help either way explain or pursue . He absolutely refused said this is the way I can print a label and that's it . There was nooo trying to help or even attempt to understand the situation for me or the matter . I've never felt so belittle and disrespected by someone who is a employee let alone the manger the way he shut me down and didn't communicate or inquire with online to find out more information. At this point I will never go to T-Mobile store knowing that's how a manager treats the customer in any given situation reguardless of the issue . If he is in management then he should at least try and go the extra mile to strive for that customer walks out with knowing that they tried to help. Bobby Barnes should not be in that position if that's his motto for your business. His arrogance was vivid and customer satisfaction was not !

Elizabeth Yakan
from Simi Valley, CA
after 9 months of getting a variety of different answers of why you have chosen you send an account I never activated back and forth to collections I have begged somebody to fix this problem and every time Iam told the problem has either been resolved or a ticket has been placed to have someone call me back in 24 hours (this never happens) I give up! I am filling a complaint with the FCC and the BBB

Dave Dickson
from Houston, TX
Home internet service is spotty at best. NO SERVICE at all on weekends or holidays. Have been in contact with many reps numerous times with no solutions. Last conversation in June 2022, they were to send me upgraded gateway, never happened. Just going to cancel and return to AT&T.

Chris Godin
from Houston, TX
This cpany for a long time offered the 4 lines for a hundred dollars at month 1, was well above the 100 dollar promise and 2 ally phone's broke And I'm way more gental than others!

Cheryl Pizzuto
from Washington, DC
I have been a customer of T-Mobile Spence 2016. I've purchased about 11 phones. For the last year and a half my billing account has been wrong every month. I call over and over again and am told they will take over charges off. Then the next bill is over charging me again. I'm told then that my bill will be $185 from now on. Please get in touch with me immediately at 717-300-0759 Cheryl Pizzuto

Melissa wheaton
from Grand Blanc, MI
I've had T mobile for a whole year now and I'm telling you I had better luck with boost mobile in the 5 years I had them then a phone company that gets broadcasted on commercials and websites. You guys are literally the worst. The first 3 months I had you guys I had to fall every time I got a bill because it was ALWAYS something different and not what was discussed at signing. And then after that the pandemic was bad and I'm considered low income so i qualified for the broadband wireless that was only supposed to make my bill $50 a month. WELLLLL I called and called and CALLED you guys about it I was ACCEPTED through the company but because YOU GUYS couldn't figure out what was wrong on your end no one called me back or helped me get it figured it out so I never got that. Now the last 3 months I'm calling and calling having people tell me things, promising call backs. The last person i talked to promised a call back and didn't get one. SHOCKER. My phone I have through you guys has had THE WORST service. I call and call and have done the troubleshooting at least 5 times IT DOESNT HELP. My bars are either gone or wiggling 24/7. My calls are always dropped, I can't use apps on my phone that I literally pay for unless I'm at home on Wi-Fi. I'm pretty sure I pay for phone service not Wi-Fi so I'd like to use my phone. I have 4 numbers on my account and I'm the main holder so I'm curious as to why my phone and service are always bad. I talked to someone a week and a half ago that told me theyd take $60 off my bill for all the issues. LOL GUESS WHAT? When my bill was ready she didn't do it. SHOCKER. So I called once again and the guy kept apologizing over and over again and told me since I've called so much and that no one can get to the bottom of my phone he asked me what phone id like and that he'd send it out as a courtesy I didn't have to pay for the down payment or anything just had to make the payment every month which was fine but since clearly no one at T-Mobile can keep their shit together. So I told him the phone and stuff, he asked my shipping info and that was that. I checked my account 2 days later to see if the phone shipped and LOLOLOL he didn't even put it in. So guess what? Had to call and wait on T-MOBILE AGAIN for them to tell me that THE GUY I TALKED TO DIDNT EVEN TAKE NOTES!!! it states the days I called but none of your employees are taking notes on accounts AS THEY SHOULD BE. I've talked to 5 people since then and absolutely NO ONE has helped me. I get the "we'll call you back" and NEVER get a call back. Because the man I was on the phone with didn't take notes I've had 4 different people tell me they'd have someone listen to the recorded call BUT NO ONES DONE THAT EITHER. Never in my life did I think I would have this much issues with a global phone company. You guys are liars and kind of straight up trash to not contact your customers back and to make faster promises. Your guys service is awful and I will not recommend you guys to ANYONE EVER. Worst year of my life with this phone service. I can't wait until my contract is up. Until then I'll spread the word on how awful you guys are because NO ONE deserves to go through this.

Dylan Woodward
from Minneapolis, MN
Hello. I have 13 pro max that was purchased from
Sprint T-Mobile. I lost the phone on the 16tg of June and reported it as lost. I pay for insurance so they sent me replacement phone from their insurance company assurant. I have spent the last 4 days for many hours on chats shxcohone calls that were escalated and I could not get my phone to work . I have contributed to call and they send me through their procedures but the phone will not disk and just says call ended . I went to T-Mobile store at Rosedale mall in Roseville mn and they tried for hours with tech support for T-Mobile and they could not rectify this . I am still without a phone . I paid 249 for the replacement and I've had no phone service since June 16 and the iPhone 13 pro max I'm paying for and have made several payments on won't work . I asked assurant for replacement oft his phone. They said go to Apple. I went to Apple store in Roseville and they rested the phone and said the phone is fine. Not an Apple issue. They said it's a cellular issue . So this cannot be fixed . Apple cannot replace as not a hardware issue so assurant T-Mobile needs to provide replacement . I need help getting replacement phone that works. I need to be refunded the 249 dollars unpaid for a phone that doesn't work and for all the hassle for me and multiple Apple and T-Mobile store employees that tried to get it to work too with tech support . I have no phone so you'll have to read him me at work phone 612-432-8136. I am requesting my lease be cancelled without penalty , refund of 249 and for no service since June 16 until you cancel my lease without penalty . Free and clear dome with T-Mobile . No more payments, no balance dnd I will send you the defective phone . The T-Mobile employee believes this was a refurbished phone that perhaps was stolen and then issued to me so it cannot be properly activated . I will be filing a complaint with minnesota attorney general and better business bureau too .

miriam Sheril
from Passaic, NJ
I ordered a flip phone that I need to return. I have tried calling six times each time wasting multiple hours getting sent from person to person. Last night I received someone who now said it's too late to return which is ridiculous as I have tried for 2 weeks! I was also promised to call back that never happened.

Philip Threshie
from Colorado Springs, CO
My name is Philip Threshie and my T Mobile Customer # is: 44838
I have 2 phone lines on this account, #'s:
I have not had the use of the 719 407-1543 account other than a couple of days, as the Galaxy phone that I purchased has had nothing but problems. I worked with your outlet store in Fountain, CO where I opened my account. The phone was demonstrated to be faulty at that store, and the manager there at that time was named Paul, and he did his best for me, authorizing that the phone needed to be replaced on warranty. After 2 solid weeks of waiting with no phone, I had to physically go into the store to demand a phone, they never once returned my calls to see when I could pick it up or even inform me of the status. I have been jacked around since that moment.
This next manager at that store decided to deny the warranty claim and tried to pass this off by replacing the SIM chip instead of following through with the phone warranty replacement. That manager has been nothing but lieing through her teeth to me, total evasiveness by that store manager, That being said, the 'repaired' phone on the 719 407-1543 account had virtually all of the same performance problems, specifically a faulty touch screen, as it had before. I immediately went to your outlet at 1629 S Nevada Ave, Colorado Springs, CO 80905 to turn in the phone again. To my dismay, I found the same inept and deceitful 'manager' at that store, and when she saw me come in she hid in her office, closed the door, never making any attempt to deal with my customer service needs. She would not give me her name, she is a tall latino woman and that is all I know about her. I turned in the continually faulty phone to them on 6/04/2022 and was told by 'Esmeralda', who worked with me to initiate yet another attempt to warranty the faulty phone again. In my presence, Esmeralda worked with me and she represented to me that the warrantied replacement Galaxy phone should be in to the store on ~ 6/08/2022, last week. Having heard nothing from them via my 920-2009 cell, I called and spoke to Esmeralda this afternoon at ~1:30. She could not tell me the status of my warranty phone, and seemed to not be able to access any information about it. She told me that she would call me right back with that info, and it is now 3 hours later and I HAVE NOTHING. AGAIN
How do you validate your employees engaging in unethical and potentially criminal activities like this? Treating paying customers like myself like this. It is now very clear to me that they are not intending to return a new and warranted phone to me and my next step tomorrow morning is to file theft charges with the CSPD.
I am a senior citizen and will turn 70 in April of next year. I have very serious physical disabilities, and have been hospitalized 7 times since spinal surgery on 02/26/2022, having been evaluated as 'Gravely Disabled' by responding EMTs in April 2022. It is physically damaging for me to go out of my recovery environment.
I have never experienced such poor & inept customer service in my life, I opened this account because of your superior coverage nationwide. I am a consulting Industrial Engineer and the 407-1543 number is my business line, and I have been losing business with my accounts because of your inability to provide me with a functioning service with which to conduct my business.
I want this phone, and to have this service restored to me TODAY. if you feel me.
I await not only your response to this CS claim, but immediate action, and I do mean immediate. It's now well past closing and not one contact from your outlet at 1629 S Nevada Ave……
Philip Threshie
Customer # 44838

Sylvia Zamora
from Norwalk, CA
WAS LIED TO BY A EMPLOYEE!! AND NO GETTING RUN AROUND !!! AM OVER T-MOBILE AND THINK IT HAS TERRIBLE SERVICE!! BILLION DOLLAR COMPANY AND CAN'T MAKE CUSTOMER HAPPY WHAT A SHAME

GALEN BOLLINGER
from Austin, TX
ON APRIL 22, 2022, BETWEEN 9:50 AND 10:00 AM, I VISITED T-MOBILE STORE IN AUSTIN, TEXAS, 2525 W ANDERSON LANE.
I WANTED TO PREPAY MY TELEPHONE ACCOUNT. I ASKED TO ADD $80.00 TO MY ACCOUNT. THE TOTAL CHARGE WAS $88.20.
SALES REP #:****272 SWIPED MY VISA DEBIT CARD TWICE!! THUS, MY BANK ACCOUNT HAD TWO WITHDRAWALS OF $88.20.
I REQUEST A REFUND OF $88.20.
IF I DO NOT RECEIVE THIS REFUND, THEN I SHALL NO LONGER BE A T-MOBILE CUSTOMER.
I HAVE BEEN A PATRON OF T-MOBILE FOR MORE THAN TEN YEARS.

George Salemo
from Brooklyn, NY
On April 15th I obtained a Chromebook pursuant to a T-Mobile offer. This was no money down for something a month with the addition of a second line. I had one line $50 a month unlimited and there was another offer for senior citizens for two unlimited lines for $50 a month. At the T-Mobile store play indicated that my two lines would qualify for the $50 a month for 55 plus the $4 and some odd cents a month for the Chromebook receive a $5 deduction because they charge it to a credit card. My first bill in April was $200 plus after numerous phone calls and conversations everyone agreed that that was an error and it was reduced to basically $54 a month again in May my bill was $109 I called several times lengthy conversations and they reduce my bill to $54 ingredient was in error. On May 30th several supervisors called me and said this would never happen again. The following day I received a text message saying that my bill is $109. I talked to several people at T-Mobile who emphatically tell me is $50 a line. A supervisor then tries to tell me that the lines are different I've had the lines check my qualified people name just to plain ordinary telephone line. So he gives me a credit makes it $79 a month but I see that it's going to be $109 next month so I've got to go back to this entire thing the bill should be as it was

Suzette Ramirez
from North Miami, FL
I paid on 05/29/22 $10 for a Sim and a $40 day plan, my number 786 793 5944, pin 993323. I restarted the phone and left but when I got to my hotel realized the Sim was not actived. I called your customer service and was told not to use my phone and after two hours it will be actived. It is now 11:17pm 05/30/22 and my Sim is not actived. I would like my funds credited to my card since I leave tomorrow for my country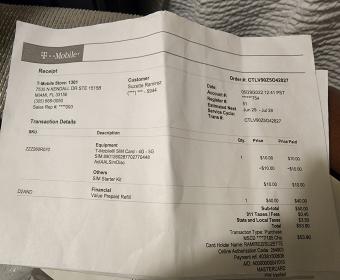 Sergiu
from Salt Lake City, UT

Dawn Cummings
from Charlotte, NC
5 hours on hold in 1 day . Over a dozen calls and multiple chats. I still cannot get help. Hung up on by representatives and supervisors. Supervisor who says I'll call back wait by your phone at 1am and but 3 am still no call.
I'm on day 2 call number 17 so far 2 chats 3 calls and over 2 hours on the phone

Gabriel Pinochet Soto
from Portland, OR
I went shopping for a new phone. I suggested looking at the iPhone 13 mini, I ask for an alternative due to its price. The seller didn't show me as many options as expected nor tried to compare the different models in more technical detail. I never get to compare the phone I bought with the iPhone I was about to buy. I do recognize that the seller did suggest different payment options. What bothers me is the lack of interest in comparing the different phones.
After that, he asks me if I want to transfer my data, but I decline. Nevertheless, a couple of minutes later, he initializes the process. That implied a wait of 45 minutes in the store and an unconcluded procedural. Then he proceeds to overexplain how to resume the data transfer.
The phone I get satisfies my needs, but it is not what I expected.

Gay Lynn Carmichael
from Buena Park, CA
I do not have phone service as my LG device has been disabled & I don't have an alternate phone. I engaged in an online Chat with Team Mobile, however, I was advised, after 20 years of service with a good payment history & no active device installment plans the best Team Mobile will do is confirm that I can buy a new phone on an installment plan. No trade in offer & no commitment to restoring my phone service since they are shifting the responsibility to their "Partner" LB. I am flabbergasted, since it was suggested I call LG knowing full well that I don't have phone service. Never mind the quote on quote Partnership is between Team Mobile & LB. My only agreement was, & remains, with Team Mobile. I purchased my phone through Team Mobile, as well as numerous phones throughout the years of service. That stated I insist that Team Mobile is wholly responsible for my lack of service since they sold me the phone, & in fact, when I purchased my phone I could not purchase directly from a manufacturer as the phone(s) need to be compatible with Team Mobile's network. I need a trade in credit please so I can have my phone service restored & I need not be concerned with service Interruptions going forward.

David
from Port Elizabeth, EC
Hi I was trying to make payment for my phone with no +14707469715 however I found out the service no longer on my sim n I can't long in with my email neither on my phone so I can be able to make payment
Kindly advise
Regards
David

Camille Thomas
from Flint, MI
I ordered an additional line over the phone and then changed my mind and called back within a week to return the phone , I provided the tracking number and was given case# 317721645 to document evidence of the call and told once the warehouse processes the return of the phone i would be refunded the deposit and sales tax of $171.00 paid for on my credit card. I called a week later and was told the disconnect was not processed correctly and the return label that i used to return the phone was for a delivery address for trade in credit instead of return new equipment and it would require more research and they would call back in 10 business days and no one called back , I called again and again explained the issue and the agent advised the line was still showing as active on the active asked for a supervisor to addidt

Rebekah Tinsman
from North Richland Hills, TX
I tried to contact Sprint Customer complaint via email and the link returned undeliverable. I have now been trying to register my complaint for two full weeks now. My email this last time read:
To whom this may concern:
I am very disappointed that I did not even receive an acknowledgement of my previous email and customer concern. If this is indeed the costumer concern department, then you've not done anything to help assure me as a previously loyal customer if over 20 years that you care about your customers.
I need an immediate response to my complaint or I'll have to take this to the next level of filing a complaint beyond sending an email reporting a customer service agent.
Expecting a response, and hopeful this was merely an accidental oversight,
Rebekah Tinsman
Sent from Yahoo Mail on Android
Hi there.
I have been a long term costumer of Sprint and have never before been treated so poorly by a customer service representative of any kind, ever!
I have had tremendous issues with connectivity since moving our to the country almost 5 years ago. Every time my supposed "unlimited service" speed is slowed down, my phone begins experiencing extreme issues with connectivity. While it is been a huge inconvenience I have contacted costumer service after these issues arise every 2-3 weeks. Usually dealing with this issue sometimes for up to 2 hours, I two to postpone making that contact. Not until my date is reset does my service stop experiencing these issues including repeated dropped calls. Until this last week, I have always dealt with pretty good customer service agents until this last one.
When this agent told me that it depends on which agent you receive will determine the effectiveness of my service, I became concerned. This agent was coming across very arrogant. My suspicion was confirmed when the agent became rude and argumentative with me. Please pull up our chat and bring this to a manager's attention. This should NEVER have happened.
Not only did this person upset me, argue with me, and practically brag that moving forward Sprint will no longer help me with my connectivity issues, my phone no longer had service whatsoever. Not until I went through multiple steps of trouble-shooting for over about 2 hours time, doing what I've had to do over these past 5 years was I able to restore service. Never before hand I had such a horrible experience!!! I know that agent knew this would happen.
I live way out in the country, run a rescue ranch taking care of livestock, and depend 100% on my phone service for my safety. This should never have happened.
I've had agents promise I'd see a discount, as my service is so shoddy once the company's policy of slowing down service after a certain amount of data has been reached. I've mentioned this multiple times but did not even complain to corporate. I pay a ridiculous amount of money on my daughter's and my phones and expect to be given the appropriate level of respect and level of service. All in all, I've been a Sprint costumer over 20 years with only a brief break when I lived overseas.
I want to know that this customer service agent had been appropriately dealt with and expect to receive a response to my complaint.
You know as well as I do that the level of the hot spot service is completely insufficient for any level of satisfaction in today's day and age, and the prices demanded for that minimal level of provision is ridiculous. Add to that the rude costumer service agent and additionally cutting off my ability to use my phone at all is absolutely unacceptable. That endangered my safety and life!!
I know that the limits can be removed and expect this to happen after what I went through with this horrible experience with one of your representatives. I expect a response in addition to an apology and assurance that this agent has been dealt with.
Customers still have the ability to help build or hurt company's reputations no matter how large they are, but I do not want to ever have to do something that tarnishing a company's reputation. I only ever want to help build them up using my sphere of influence.
I hope this customer's concerns and complaint are taken seriously and with the utmost fidelity as I've seen the company and its service diminish badly over these last years. Customer agents are constantly claiming they care, but this past agent proved this is truly just a line in their script.
Seriously disappointed, long time costumer,
Rebekah Tinsman

Marsha L Browne
from Winchester, MA
I went to the local T-mobile store to ask a question regarding 2FA messages. The two young men working the counter were a) arrogant, b) gave me wrong information, c) asked for my T-Mobile userid and password, and d) insisted that my only option for solving the problem was to buy a brand new phone.
My account is a pre-paid one, and I just put $100 into my balance. I hope I can run it down fast, and then find a better carrier. It's no wonder people are rating their service "poor" if this is typical of the people running the stores.

Hyemin Kim
from New Brunswick, NJ
Hi, tmobile, I hope you can reply to this. I got a text saying $248.40 was spent under my credit card on 4/22 while I was sleeping. Whenever I use my credit card, I automatically get a text message containing information like dates, time, and the amount of money. (That is how I set) But I am not currently using tmobile and have never used it before. It is not my friend nor my family who used my credit card or tmobile as their phone carriers. I haven't lost my card and it is still with me right now. I called both my card company and tmobile and tmobile told me they need at least account details which the card company told me they cannot provide because they do not know it. The attachment below is what they sent me to send it to tmobile for a refund process. Could I please get a refund?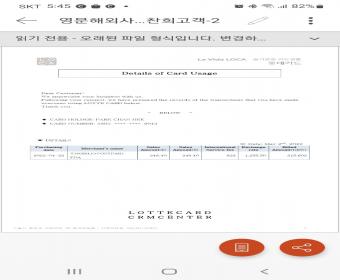 Elizabeth Clark
from Lowell, MA
I am reaching out to you in regards to a matter that I am dealing with in regards to setting up new service with T-Mobile. Let me start by saying, that my family was a T-Mobile customer for 15 years and then we were persuaded to move to At&t which was the worst decision ever. On Saturday, 4/25 we went to the store in Independence, MO located at 17820 E 39th St S Ste 102 and was working with a gentlemen named CJ. We told him we were looking to switch back to TMoblie and what did they have to offer. He explained the bogo deal which was perfect. We would be adding 4 lines. Myself and my one daughter would be getting the Iphone and my husband and my other daughter would be getting the android. He also explained that the 3rd line was free. After CJ ran the numbers I paid the $120.00 activation fee. We then told him that my daughter would come back up with us on Sat evening around 5:30 to get the android phone with my husband. My other daughter is in college at University of Kanas, she was going to come up on Sunday and her and I were going to get the I phones. CJ stated that is perfect we verified his schedule and we left. We then came back into the store Saturday evening with my one daughter. CJ ported over the number from AT&t and it went great! But then this is where everything went downhill. He said "oh no we have a problem" He then proceed to tell us about the DASH in the computer system. Apparently when we were in the first time and paid the activation fees it stated that the DASH was 4400 IE credit limit. Now, it is showing 2600. That would then be a problem because we could not bring over the 2 iphones for purchase. When he even tried to use the 2600 it locked him out. So he called customer care. He explained that when we were in there earlier the Dash said it was set at 4400 and is now stating 2600. He explained how he ported over the 2 numbers already but that we would not have enough credit to purchase the Iphones. They stated their was nothing they could do. CJ then called the District Manager, Mike. Mike then worked to see what he could find out. He was at home so his resources were limited. He said give me a few minutes. He then called CJ back and stated that it looked like there were 2 credits that were possibly ran and that is what made it go down to 2600. Not sure if that was something CJ did or not. He told CJ to call back to customer care and tell them that. CJ did just that and again nothing could be done. At this point it is 7:45 and AT&T will close in 15 minutes as well as TMobile. I said I want to port my other numbers back to At&t, I am not going to have 2 different carriers. So my husband and daughter drove to At&t and the were there until 8:30 when they closed at 8 to import our numbers back to us.
With all the issues above, we still would like to come back to TMobile as we have had issues with the At&t spam calls as well as dropped calls. I am hoping you can work something out to get our increase in the credit back to the 4400 which was on the original dash and we can get service through TMobile. I will be going up this evening to the store and requesting a refund of $120.00 activation fee refund if we are unable to get this resolved.
Thank you for your attention in this matter.

Karen Stefanik
from Cranberry Township, PA
I decided to switch my cell phone service to Tmobile because of a "deal" they were offering. I was told I would pay $55 per month for senior discount and family plan. Two months now I was charged over 126 first month and now second bill for 96$. I called about the first bill and she confirmed my 55$ agreement but now second bill comes in.at 96$. I am stuck for two years because of the phones that came with the deal. Should never have left Consumer Cellular. Now I will pay $30,more per month.

Eva E Rodriguez
from San Fernando, CA
I recently bought a phone and the phone that was given to me was not the phone I agreed to buy. I am having technical problems with the phone, it doesn't seem to be new. It's not right that I pay for a phone that might be used and returned by someone else. I need a phone that is new and that works asap, I used the phone for work and I cannot afford to have issues. I need help regarding this situation.

Mary Ceja very rude and disrespectful. She told me someone would help me and she never returned to help me out. She completely ignored me.This took place at T-mobile store 3SCD in Addison.

Tiara Darden
from Ashburn, VA
I visited you store in Sterling Heights, MI - located on Van Dyke and 14 mile road. I went in there to get my husband's new phone activated but ended up deciding to upgrade my iphone 11 to a 13 plus. I did asked to upgrade to the 13 pro with out knowing that you guys have a 13 pro max. Now had they been good representatives, the first question to me should have been for me to take a look at the display to make sure the 13 pro is the right one for me but that didn't happened; therefore, leaving me thinking the 13 pro was the best one for me. After looking over the phones, I realize the IPhone 13 pro max was the better one for me, so I asked if I could switch and was told no flat out no compromising nothing just no and if I did I would have to pay a 70 dollar restocking fee. Remind you I never left the store still there. I couldn't believe her response. So, once she tried to prove her point from another manager she called on the phone to verify what she was telling to be right to find out that she was able to switch me out to the one I wanted but they didn't have any. So, after all the attitude given, I decided to keep my old phone and go some other place that would service me better. So, I asked for a refund to find out that they wouldn't refund me my 30 activation fee which is crazy seeing how I have been a loyal customer for over 25 years with sprint and she wouldn't give me back my 40 dollars for the screen protector that I was buying for the new phone that i decided not to get. Now, I was told they weren't reimbursing me back the 40 because the package was open - well I NEVER told her to open the package and why would you until all transaction is completed. I left out that store feeling like I was rob out of my money. I called the reps on the phone and they reimburse me my 30 for the activation but what about my 40 for a screen protector that I never asked her to open that was placed on a new phone that I never got. I don't have money to waste and I feel like I should be reimburse for my screen protector that I am going to have to buy for the phone I order over the phone. Never again - I was never treated this way with Sprint never>

William O'Halloran
from Boston, MA
I've recently installed the T-Mobile 5G home internet device. When it is up and running it is a very good solution for cutting the cable from Xfinity.
However, the unit tends to drop the internet connection every so often for 10 to 15 minutes. This has happened almost every day since getting the device. I've been in contact with their customer support and after about an hour with them, all they had to say was that they were making improvements to their network and that caused the outages. I had done Google searches on the issue of internet dropping using the 5G home internet devices and there are over a thousand reports of the same issue with the device starting in 2020.
Some think it's an over heating issue. You would think they T-Mobile would jump on tracking the issue to come up with a solution for the problem.
When you look at the statistics and status, all seems OK. But if you look at the send and receive data counts and do a refresh, only the send counts are incremented. I performed a reboot of the device and it seems to have come back online (even though it stated it was connected).
I'm not sure if the reboot did the trick. I will perform a reboot the next time it disconnects, to see if that correct the issue.
Have feedback for T-Mobile?
Thanks for your feedback!
Sorry. Please try again later!