KFC
KFC Complaints Continued... (Page 3)
985+ reviews added so far. Upset? Call KFC corporate: 1-800-225-5532

Verla Zellars
from Moultrie, GA
I live in Thomasville Ga around 1pm me n my grandson went into the restaurant there was 1man he was eating we were at counter to order we stood there several minutes no one ask to help us employees walked all around us with there head down trying to let us know that they didn't want to help we stood there for at least 15mins with no can I help u I told my grandson that we would go elsewhere that's my complaint

Keisha wong
from Rochester, NY
I went to the drive thru and order two meals with a breast mashed potatoes a drink and a cookie ! They gave me original chicken and I asked for crispy the potatoes were watery the biscuit was hard and the chicken tasted like old nasty cooking grease you could of squeezed some grease out the chicken it made me and my daughter sick to our stomach it was horrible and money wasted.

Houston Petty
from Midland, TX
Went to pickup order and they said it would be ready soon. Stood in table area and could see in back. 15 min went by and they said it would be ready soon. Waited another 10 min and asked again. They pulled it from warmer and gave to me. They were very rude in actions and speech.

jason carey
from Ocean Springs, MS
the staff never get my order right.they are rude, incompetent and being a smartass.. I have to go back everytime to get the rest of my food.. they take forever getting your order because they are always playing around and are rude when you ask for condiments.. i will never go back again..this is the Gautier, MS location

april griffin
from Richland, WA
I went to the store located at 2750 Duportail st. Richland Washington 99354 at 4:30 pm. I went through the drive thru and ordered a Classic Chicken sandwich meal large sized with a root beer and a small side of mashed potatoes and gravy and a small mac and cheese. I got to the window and paid the young lady asked me to pull around to the front. I noticed that the truck that was in front of me they had already pulled to the front of the store. I know this happens to help with drive thru times and there was only 1 car behind me at that moment so I could have easily been left to wait at the window. They then proceeded to pull the car behind me to the front also. So at this time we had 3 cars waiting out front for our food. I had a clear sight to the drive thru lane and watched for 15 minutes while all the remainder of the cars went thru the drive thru and got their food. One worker came out and brought the last car that was pulled 2 bags of food and did not acknowledge me or the other people waiting even though we had been there first. About another 8 minutes go past and the same worker comes out with 2 more bags of food asks the gentleman in the truck if he had ordered 4 hamburgers and chicken strips to which he replied no, he then came and asked me the same thing to which I said no and told him I had been waiting almost 25 minutes for my food. He then gave the burgers and strips to the other car and they left. Another 5 minutes go by and the lobby is locked so I call the store and ask what is going on. I tell them it has been over 30 minutes I have been waiting out front for my food and I had to repeat my order to the woman and she asked if I still wanted my food. I told her I wanted to speak to a manager and that it was absurd that I was waiting this long for a sandwich and 2 sides while everyone else was being helped. She then told me that she would come get my card and refund me for my trouble and bring my food. Another few minutes go by and she comes outside and states well I can either give you a refund or your food so what do you want. I am not the type to complain but I do manage my own business and the way this interaction was handled was not ok. I would ensure that my customers leave my store happy and would do what I need to especially if the mistake had to do with me or my employees. It was not my fault your employees were trying to lower their drive thru times and pulled me to the front. It was not my fault they did not write what car went with what order. It was not my fault they made me wait over a ½ hour in 100 degree weather in my car to get my food that ended up being cold. Then to be rude to me over a $17 food order, to which I normally would shrug it off because I understand the stresses of the business but this interaction was absolutely horrible.
I would like for someone to contact me about this incident.
Sincerely,

Darrel Kern
from New York, NY
The food last night was far from normal that we get there. We had 2 Pot Pie Fill Ups and both of them the crust was so dark that it was just short of being burned. The insides of the pies were dry like they had been sitting around for a while.
I also got a Famous Bowl Fill up and that was also dry. I ordered 3 biscuits and when I got home discovered they were not in the bag.
Dinner last night was a let down.

Andrew August Kratz
from St Louis, MO
After placing an order at the drive-thru at 7500 Big Benc Blvd., the lady at the window asked if I could pull forward into the lot. I was confused as I hadn't even paid yet. She asked if I had ordered 'x' (don't remember what the order she thought I placed was) and I knew it wasn't my order. I had told her that was incorrect and then asked about the order with two number 17s which was my order. She then told me my total which matched the price she quoted me at the intercom. I handed her my credit card to pay for the meal. THIS IS WHERE IT GETS SERIOUS: She appears to put my card into the machine - nothing unusual here. Then she takes my card out of the machine, grabs a cell phone (I'm assuming the phone is most likely hers), she then walks away and disappears around the corner inside, seconds later comes back with the phone and my card in hand and places my credit card back into the machine (didn't she already do that?) before handing my card back to me. She hands me the drinks and then has us pull into a space in the parking lot and later brings us the food, but without the straws for the cups. My biggest concern here is that this girl undoubtedly took a picture of my credit card and is planning to use it. It gets better, too because I tried calling the corporate number and answered the menu options to be placed on hold for less than 2 minutes to find I got conveniently disconnected. the cashier's name was Ariana in hopes that corporate sees this.

Beverly Miller
from Springdale, AR
Bring back the rolls instead of those hard cold biscuits and bring back the potato wedges instead of those small fries, We are having problems eating at KFC in cabot,Ar because the food is cold and hard

Kim Sanders
from Ellsworth, ME
Placed an order for (2) 2 piece combos @ 8:17pm finally 901pm we get ours. Find out vehicles behind us getting their food & we know for sure it was chicken as well. Not organized @ all. Orders going out but not in order received.

Synteria Leechong
from Houston, TX
The manager is very unprofessional to customers and staff.

Trisha Mackin
from Buffalo, NY
We are sitting in the rain , while your store says they close at ten. The lobby was closed. All the enployees seemed to be hiding, the obviously dont want to sell your product. This locaton is 5682 transit road in Lockport ny, we saw several customers drive away. Are the hours changing? Signed loyal kfc fans.

The service was horrible- food cold and tell me how do you open the butter packets??? Unbelievable! Haven't been in ages and won't go back ! The girls up front not customer friendly! I know help is hard to find but that was horrible ! KFC Claremont , NH

07/18/21 @4pm—-Terrible drive thru service!!! It was blamed on being short staff, but service was bad pre-pandemic when they were fully staffed. Corporate should get involved to find a remedy to attract/hire better customer service oriented people. How long can we keep accepting the excuse of being short staffed. When customer service is this horrible, it makes me think if food preparation is sub par as well.

Mrs. Vogan
from American Fork, UT
We have lived in American Fork for 30 plus years..a number of years back we had all of our grandkids here and decided to enjoy not cooking. Went all out...and oh boy was it terrible.
So after 2 plus years we decided to give it another try. Oh my goodness it was worse...the bucket of chicken was ordered crispy, and it was awful..looked like it was regular and rebreaded and fried again..smell was awful..the biscuits were dark brown... coleslaw was so watery...and potatoes had definitely sat and formed a paste top gravy...
For our family that again was alit of money wasted...we will not ever be going back after our experiences...a real shame for sure.

Went to the KFC on 12th Ave, Nampa ID used the drive thru, I ordered out to the window was pain and the food was flying out the window almost dropped it ! got home and this is the sad part the chicken pieces were so small cooked too long and dried out tasted like liver was the worst taste ever the coleslaw thick chopped with no sauce we rate this KFC 0

Carol Owens
from Zion, IL
On Jun 28th at approximately 8;45pm I went to the KFC on Sheridan Rd in Zion, Il. I ordered a pot pie. When I got to the window, I paid for my dinner and 2 minutes later the manager came to the window to tell me that my order was given to someone before me. She apologized and said it was a mistake and if I wanted a pot pie I would have to wait 20 minutes. She said I could order something else and I told her that I don't have a menu and don't know what I could order. She said that she didn't have a paper menu so she couldn't help me with a different order. Since I don't know what else I could order and the manager doesn't know their menu I asked for my money back. I asked her for the phone number of the corporate office and she told me she couldn't give it to me. I asked for the managers name and number and said I couldn't have that either. Eventually she found the managers number and gave it to me. All the while there were two employees standing on either side of the window not doing anything but standing there (they were standing there the entire time I was there - one did handle the cash register) laughing about this. I finally got my money back with an apology from the woman I am supposing was the supervisor. I asked if they checked their orders before giving them to the customer and all I got from her was that it was a mistake. All the while the two employees continued to laugh about this.
I see that your customer service rating is a 1.5, this tells me that I will never return to KFC again. For this type of conduct to happen to a customer is unacceptable. When I left, I went to the Taco Bell down the street from your restaurant (If you can call it that) and was welcomed by a very nice young man who helped me with my order and was kind and personable. Maybe you need to do some training with your employees, at least at this location. Or maybe hire better people.

Tim Hope
from Lemon Grove, CA
Closed at 7pm due to staff shortage

Vickie Ali
from Phoenix, AZ
I purchased the chicken strips 3 piece meal thru the drive thru at your Dysart/Van Buren location today at approximately 1:15 pm
I noticed that the chicken tasted old and had a bad taste. Chicken had a distinct smell and flavor when it's bad. My mouth and tongue are still tingly and I still have that taste in my mouth hours later. I couldn't return as I was on lunch break. I thought you should know

Pamela Higue
from Bixby, OK
So I just went in a few minutes ago for a late lunch. I wanted the five dollar fill up and I was informed that you no longer have those. OK. So, I ordered a three piece chicken tender combo meal. I didn't want french fries, and I asked for honey for my biscuit. When I got home I opened my box, there were french fries and no honey. Didn't really matter because the biscuit was like a hockey puck. It was hard as a rock. Must've been from yesterday. The tenders were good but a little small. So basically I paid eight dollars for three pieces of chicken and a drink. This really is unacceptable. I can tell you with 100% accuracy that I will never go back. It was the KFC on South Memorial in Bixby Oklahoma.

Gloria McNeal
from New York, NY
Was not satisfied at all with the food I brought. Hard and expensive . Hot tenders were over fried could not eat. Chicken and mashed potato was nasty this was on 145 and Lenox. I live at 117 west 144th st. 2a ny ny 10030

Our chicken had feathers. Tried uploading a photo and site would not allow.

I ordered 2-3 pieces of chicken with 2 sides and only got 2 pieces with 1 side. I didn't get 2 breasts , potatoes with gravy and an order of fries. I got the drinks but not what I wanted. It's not the first time but it's my last time at that store. The manager is a lying fat bitch

Chris Powell
from New York, NY
The wait in the drive thru is over 20 minute and that's just to make an order

Tory Jackman
from San Diego, CA
They were extremely rude and unprofessional. It was obvious they didn't want to help me and just wanted me gone. I rarely have a good experience here.

David Honnoll
from Batesville, MS
Was told at drive through it wold be 45 minutes before chicken would be ready this was at 11:45 am also You can't add one chicken breast at window very rude personel

Michael jerrell
from Chicago, IL
I came to kfc they had no line I go to place a order thru the drive thru and the woman tells me she not taking any orders due to shift change I ask how long before the shift changes the response "I don't know " but then I drive and park in the parking lot now they start taking orders after I leave my place in the line. But ordered me to not block the speaker I responded by saying I'm waiting on the shift to change the lady Tells me I can't sit there and wait on the shit to change just flat out rude and unprofessional in national food chain I'll never come back I wish you all the luck with your current staff the time was 4:05 pm I'm submitting this review at 4:34 pm

Jeffery Lee Jones
from Roseville, MI
Went to the KFC on groesbeck highway in Clinton township in line 20 minutes and got up there and told me they were out of chicken 25 minute wait almost 15 of your customers in line drove away left that one went to the one on gratiot avenue in Mount Clemens Michigan in line 20 minutes to be told at this one too there would be 25 minute wait on chicken.drove the two locations on 5 /2/ 21 never did receive chicken from KFC watched at least 25 year customers drive away that day at the two locations went to Church's Chicken received my dinner 1 hour later

Went there at dinner time today. They were out of white meat & pot pies!! Said I could wait 20 minutes for them. Last time they were out of pot pies too. I don't understand what manager allows this to happen at 6pm.

I have been waiting in the drive thru for over 45 minutes at the West main st Waterbury, CT location. Workers do not care to move fast enough. To be honest they are understaffed. If the inside area is not open the least that can be done is staff accordingly.

I would give it zero stars if I could. I ordered 3 orders of the Nashville tenders by the side of town where I work so I could bring home to my kids and spouse, I order the food online and I go pick it up at the kolb and golf links location in Tucson Arizona. I get there and I pick up my food and I get home to the other side of town! I open up the boxes and first they are soaked with the oil where it literally seeped through the bag and leaked on my car seat! I find that they forgot the biscuits and the side of fries. I paid a little over $32 and that's what I get for wanting to get food for my family.... since I am all the way on the other side of town I do not want to drive back so I call the store, and no answer and again I try calling and no answer! I tried 3 more times and no answer! I then go to the live chat on the website so I can speak with someone and it connects me through to only tell me I've been disconnected because no one is available to chat live! I tried calling another branch and no answer! At that point I'm pissed and I give up... if you don't believe me look at the reviews on Yelp and Google for that location. I want my refund back. Without people buying your food you guys don't have a job so I would look into that store and clean house!

Tami houk
from Cleburne, TX
Lubbock TX. University and 80th. Still waiting for food, almost an hour. This is unreal!

Everette Rice
from Atlanta, GA
Drive through extremely slow, got home and half the order was wrong food. Wife ate wrong food anyway and became very sick during the night.

Timothy Sherbino
from Chenango Bridge, NY
Went to surprise a couple who have had a rough couple of months due to an on-the-job injury that required surgery and is now out for at least 3 months and are apparently just over the limit for assistance with food and utilities. I went to KFC ordered a $20 fill-up along with extra Mac and cheese, biscuits and chicken tenders. There were 3 on-line orders ahead of me the employee pushed a bag of food towards me and gesture my order was ready. After traveling 16 miles I pulled everything out to discover the 8 pieces of chicken was missing. When I called I was told to bring EVERYTHING back. So I traveled 16 more miles to get what I paid for and was questioned about the bucket of chicken that I never received. I inquired if they had cameras to prove I didn't receive the bucket. So I also asked if they were going to replace the cold food that they never looked at. NO COMPENSATION FOR THEIR MISTAKE. Facebook makes a wonderful place to post how companies treat customers now days.

Rondal Wallace
from Dallas, TX
10:24pm. Store closed they said for cleaning. Posted store hours say open until 11pm. This store is always closing early. Yes, I eat late. But, I check the hours before going to a restaurant. If you're going to advertise that you open until 11pm, I should be able to trust your posted hours.

john dixon
from Middlefield, OH
Last nite my wife and i went thru your drive thru and order a$ 20.dollar fill up meal, and 2 pepsi, When we got up to the window the girl said 20 dollars we gave her the money and she shut the window, she was black we are white ,she made us fill out of place,We were polite, she open the window and handed our food to us, Then slammed the window, When we got to our room we were short 2 pieces of chicken, no forks ,napkins, plates, or 2 pepsis, Just thought you should know,She let us know we were in the wrong neighborhood, to bad.

Charles deem
from Shingle Springs, CA
On 8/2, my wife & I went to iron point kfc in Folsom, ca at about 3pm. Ordered $20 fill up. Told to pull around front. Waited half hour, approached once for receipt #, at about 49 min, told they were out of xtra Chrispy. Got refund. Drove to Cameron park, received $20 fill up immed. On 8/14 at 9:20pm, placed order for 9 tenders & 6 pc wings. Told to pull around front again. Over 15 cars waiting. Approached one time for #. At 10:30,mgr came to car, said gave meal to diff customer, now out of Wings. Blew up at mgr. accepted tenders for wings. Mgr on shift a moron, incapable of running store. Tried to blame on brown out, what excuse last Sunday, she was on then. Brown out ran from 6:40-8:41pm. Never to return there again & will tell all friends.

Angelica Aguirre
from Margate, FL
I drove to my local KFC in Winter Haven, Florida and was greeted by a female voice and she asked how she could help me. Before I could say anything a male voice took over and said the wait was going to be 40-50 minutes on everything. He said I could go to auburndale KFC and that KFC didn't even have the option of grilled chicken after I asked him if that was available. He was so rude and I'm sure he was lying. They were servicing people and they were servicing the car in front of me.

Kathy smith
from Carthage, NY
Made an order had to wait in my car wilhich was no problem. I live 40 minutes from Watertown New York store. My problem is I was missing 4 items that I ordered. Good thing I checked before I left. I went back through drivethru only to have the manager tell me this is the order. I told him what was the true order. He said he can refuse me service. Fine and dandy if I hadn't already ordered. I just wanted what I paid for. Needless to say if I ever go to k f c it won't be the Watertown store. I have several people tell me they also have review sub standard service. Very disappointed in your service at hhis site. Feel like I should be compensated for the inconvenience and the manager's response. I enjoy your chicken but do not know if I would go back their again. I don't frequent your store it might be a couple a times a year but do expect excellence in the service. I may have been angry but at no point did I curse at your manager. I just wanted him to know I was telling him he got the order wrong. I just don't get upset because I expected more food I just wanted what I paid fir. Which was almost 53 dollars worth. I work in the publi eye and know how important it is for customer relations. Without this you have no business! Would appreciate som Ed acknowledgement that this was handled! Thank you.

Patsy Baily
from Helena, MT
I was at the KFC in Butte MT on 08/18/20 @ 4:25 pm. It was hot outside, this was a drive thru experience. It was 90 degrees out. We placed our order, (the KFC was out of original chicken and only offered crispy. So, that was strike one... The lady who was taking the drive thru orders giggled when she told us there was no original, only extra crispy. Then I wanted extra biscuits, the employee said they were out...No wait, they just came out of the oven... she is still giggling. It was annoying. 30-45 minutes later, we are still waiting in our car for our food. I could not get out of line because there was no way to go but forward. I would have left if I could, but I could not get out of the line and my husband likes KFC, so I waited.....and waited....and waited......Strike two.... I phoned inside and they employee who answered said the soda pop machine had gone down and they were fixing it. Almost done....yeah right...So we wait some more and finally they get it going. The car in front of us got their drinks finally and then it was our turn. The employee who liked to giggle a lot was irritating me. I told her it was not funny that we had to wait for so long in the heat. She stopped being so cheery after that. Good. I don't like people like that when I am so angry. I cannot even express how pissed off I am at KFC. I don't like KFC, I went there because my husband asked me too. No more....The biscuits were raw on the inside. I did not discover this until I was home in Helena and the pop was not mixed right either. No one even tested the stupid pop machine to see if it tasted okay now and was mixing correctly. I spent $2.79 for a large pop that was undrinkable. I spent $2.89 for extra biscuits, which were undercooked and $20 for the Fill up meal which I could not even get in Original chicken. I phoned this KFC four times while I was driving home to Helena. It just rang and rang and rang. The fifth and sixth times I phoned, they had taken the phone off the hook and all we got was a busy signal. I am going to phone today when they open up also. I am done with KFC, that is all I have to say. No good reviews here...

I ordered at 6:50pm $20 fill up original with large Mac and cheese. The girl tries to give me crispy and I tell her no. I go home I only have 4 little piece of chicken a Mac and cheese that was dried up and tasted old. Looked like they scrapped it from the bottom and gave it to me. Not happy I payed $26 for a family meal not some old dried up food with 4 small piece of chicken.

Xolani Moyakhe
from Cape Town, WC
Good day,
Hope this mail finds you well. Earlier this afternoon I went and get myself a KFC double Crunch Burger (only the burger) at KFC Cape Town Station. I didn't check my order as I would normally do.
When I reached my place of work (V&A Waterfront) and opened the burger, it was of a sub-standard there was no tomato, there was a very small piece of lettuce, and the cheese looked like it was just literally thrown in. I know the standard of the double Crunch looks like when it is done by a person who first values what he or she is doing, values the paying customer the product is been served to.
Had I been near the KFC branch that sold me that burger I would've returned it. I ate it because I was hungry.
My order was order number 466 on the slip a name Musa appears. I do not in any way blame her. The person to blame is the one that prepared the burger.
Attached are pictures of what I was expecting to get versus what I actually got.
Hoping you will look into this and also do stress the importance of customer service to your staff.

Margret Tremblay
from Victoria, BC
V9B 2X4 the staff wasn't knowable, we asked for original chicken and got popcorn and strips.
The gravy had no taste, like brown thin water.
I am not happy with my experience there.

David P Jourdain
from Hagersville, ON
Had a complaint, but situation resolved. Thanks for your attention to this matter.

It is the third time I leave with an incomplete order. You pay for things, arrive at home, and its incomplete. Unexeptable, especially now with covid when you don't have money and want to treat your kids. Explain to my child why she could not have a burger!

Beverley Franzen
from Cape Town, WC
KFC CALYPSO SQUARE MITCHELL'S PLAIN. First of all, I think that KFC should learn their people how to communicate with customers. Secondly if you have a Tuesday special why does the chef only fry 36 pieces of chicken at a time. Frontline cashiers should inform customers that there is a waiting period, don't say 10 minutes than customers wait 30 minutes. If your store don't have stock of any kind what so ever, it is the duty of the manager to put up a notice informing customers so that they don't have to drive to two different KFC's. This is so important that you communicate and treat people with respect. Look at my waiting time, and now they tell me they out of salads.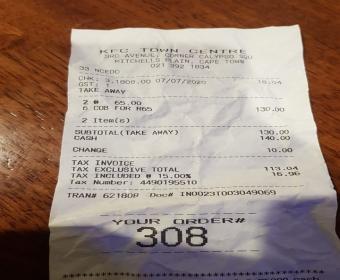 Danielle Friedt
from Newark, NJ
First off, my man use to be KFCs biggest fan until tonight! My man also use to be a cook for Hardees, so when he taste his food tonight, our family was left w/ not eating our $50 sum meal from KFC! You did away w/ your famous potatoe wedges, & replaced them w/ undesirable fries! The fries along w/ the chicken was cooked in dirty nasty oil! The chicken barely had any meat on them to eat which included the breast! The biscuits, cole slaw, & mash potatoes & gravy taste as if they were made w/ spoiled milk! We will no longer be eating KFC after what we were served tonight!

DAWN TOOMES
from Lake Ariel, PA
would like a response from legal department
Thanks for your feedback!
Sorry. Please try again later!