KFC
KFC Complaints Continued... (Page 6)
916+ reviews added so far. Upset? Call KFC corporate: 1-800-225-5532

I think the commercial where he stubble and says what he does is not a good way of advertising the food any child can put 2 and 2 together that he is saying a bad word I think you need to change the commercial or take it off

Kevin McAbee
from Bedminster, NJ
I was in line in the drive thru of the Boiling springs NC location for 26 minutes before I got my order! Then it was wrong when I got it home !

kitty miller
from Augusta, GA
I WAS TRYING TO DECIDE WHAT TO ORDER THERE WAS NO BODY BEHIND ME I WAS TALKING TO A LADY ON THE SPEAKER AND HER WAS SO RUED WHEN I GOT UP TO THE WINDOW I SAID YOU DON'T HAVE SO RUED AND THE YOUNG GIRL AND THAT WAS NOT ME IT WAS THE MANGER THE I SAID I COME UP HERE 4 TIMES OR MORE A WEEK THE THE GIRL SAID SHE SEE ME A LOT THE MANGER DID NOT COME OVER TO WINDOW OR SAY SORRY. I ALSO TAKE CARE TO OLD PEOPLE HIS IS 90 AND SHE IS 85 THEY LIKE KFC . I FEEL LIKE RIGHT NOW THE MANGER NOT CARE ABOUT HER REGULARS.

Milton Hanson
from Columbus, MS
went in to kfc at 5:59 p.m. ordered $5 fill-up box with thigh and drumstick did not get a drink or side when asking the cashier she said it did not come with anything but chicken and biscut. Finally complained enough to get mash potatoes without paying xtra but still no drink other customers ahead and behind me were getting the same treatment almost like they were saving back these sides to sell later and pocket the extra money. the food was not hot at all chicken was almost raw just got mad and threw away what I got and left the store I don't plan on going back to get robbed of what was advertised on t.v. and internet

Kathryn Eikenberry
from Cincinnati, OH
The person who took my order was rude, and unpleasant. I do not hear well and had to ask her repeatedly what she said. She spoke quickly and softly and the more I had to ask what she said the ruder and more irritated she became. II also became more irritated and less pleasant. I did finally get my order placed and it was filled correctly. A napkin included in the bag would have been nice. I will not be going back to #H127027, 3945 Redbank Rd..
Ticket#3674
Date of visit 2/3/19 at 12:15pm

Kristy kemp
from Baltimore, MD
I came on a Friday night around dinner 6:00. As I pulled up after I paid for my order I was told it would be a 10 minute wait on 8 pieces of chicken. I ask for my drink while I waited it was completely flat. I walked in and the restaurant was so dirty I couldn't even eat the food from seeing how unsanitary the place was. I wasted 21.20. 8 piece meal and a Diet Coke. Will not be back. Unacceptable!

I ordered 2 $5.00 Fill boxes with boneless chicken breast and got one breast in one and a back in the other. When i took it back the KFC on Bee Ridge Road in Sarasota, Fl. I was told that they do not sell the boneless chicken breast and everything they do sell has a bone in it.
I am 72 and fried and cut up lots of chicken in my life and the manager tried to tell me the "BACK" was a thigh! Give me a break. She gave me 6 chicken strips for my trouble and they were so tough I could not chew them.
This means to me that the National ads are not honored by the local franchise store owners so I can not get the $20.00 Fill up for my family with the boneless Chicken breast.
I will just to to Cik-Fil-A in the future and drive right past all KFC in the future to get the best. This is why you are #2 in the US
Uncle George

This is the 3rd time in 6 weeks that KFC Tambotie mall gives me the wrong order. When i phone them they said i must come back and they will correct my order. I'm staying 16km away from Kfc. I cant drive up and down because of their mistakes. If this is the way kfc operate i will NEVER buy from you again. And i will shame kfc tambotie mall. You are stealing my money. I have kept my slips as proof
Gerda


Regarding Davis CA 95620. Over the last two years I have been stopping at the noted restaurant approximately once every two months. I have yet to have a good experience. I have arrived home (10 miles away) without my complete order, been told that they are out of something I want and the best asking to wait until they finish the next batch of tenders and while I was waiting they gave the last of the coleslaw to an order that came in after me. I noticed that every time I go to the Davis place the staff is completely different. So I again tried to take home and order. Asking , before I ordered, what they were out of. Being told they had everything I order the 12 piece tender bucket. After the employee went around looking in the kitchen and checking with someone, I was told they only had 7 tenders left for the day. This was at 6:00 PM on a Sunday. I left immediately and went to a Pop-eyes, out of my way, and got my complete order, without any excuses and no wait. I have sent this complaint in a couple of times before but nothing has changed.

Samiya
from Northampton, ENG
I really did not enjoy my dinner, KFC is my favourite but This time it was bad. I did not say "mmmmmmmm"
The chicken was cold and dry, the wings were so small and looked like they were fried twice because of how hard and chewy they were. The peice I requested wasn't even the one I had in my box.
I am very disappointed with KFC tonight as I travel far for the halal resturant. It was not finger licking good:(
Hope I enjoy it next time...if I do go again.

No chicken, 25 minute wait if you want any kind of chicken. Staff does not know what they are doing! They would rather play on phones and make disgusting jokes then do their jobs. Could care less that they are unprepared for any kind of dinner rush. This is not the first time this has happened. KFC needs to be shut down on Bristol rd in flint mi! Waste of a building.

Paul Holland
from Winston-Salem, NC
You probably don't really care because this is petty, but we eat at KFC Long John Silver right often and little things like this matter to your customers!!
I ordered one piece of fish for my wife who is sick and ask for the vinegar packs in bag. They gave me the bag and when I got home no vinegar. I called and they said they were out and had been ordering for awhile !!!!!!!!!!!!!!!!!!!!!!!! This SUCKS in the customer service world !!!!!!
Rest. # G 135201 / 7:11 PM
5715 University Parkway
Winston-Salem NC

David willett
from Cleveland, OH
Henderson Ky has the worst service in the world.

florim mahmudi
from Kenosha, WI
i placed a order of 20 piece meal.
i had all crispy chicken was suppose to be original
the side of mashpotatos were cold and i brought receipt same day in kenosha wi on 94 and hwy 50 they did nothing very upset and caused me family probalem

Eric Johnson
from Broomfield, CO
We went to KFC January 26, 2019 at 10:55 am Store # E720302. Address is 6400 West 120th Broomfield, Colorado
There was open boxes of forks stacked by the soda fountain, also noticed that the soda fountain was not clean in the tray
dried up soda in the pan.
If you need to contact us my email is johnsoneric56@gmail.com. Eric Johnson

Neelofar taj
from Nottingham, ENG
I had few online offers on my kfc app flaming wrap £1 and bargain bucket £3. I went to keighley West Yorkshire KFC, when I placed my order and showed offers on my phone to the girl who was taking my order, she said her scanner is not working and took the code directly on her system, than she said code is invalid, she didn't take both my offers, I had the same offer on my husband's phone and when I showed those offers, she said the same thing, she was smiling because they don't accept any offers and make their customers fool by saying that codes are invalid. I was very disappointed, why would you send offers when you don't take them. My order cost me £26, it should have cost me only £10 due to these offers.

Hyacinth waite
from Southwark, ENG
I went to your store R kfc T 2340 to purchase a meal on my night break and the shop was closed I knocked the door an the person walked into the back
If the were closing they could have at least beckoned to me so I took a photo of the times it clearly stated store closed at 12 midnight
I enjoy my breaks at your kfc and was really disappointed I had no meal Lewisham high street

Hyacinth waite
from Barking, ENG
I went to your store R kfc T 2340 to purchase a meal on my night break and the shop was closed I knocked the door an the person walked into the back
If the were closing they could have at least beckoned to me so I took a photo of the times it clearly stated store closed at 12 midnight
I enjoy my breaks at your kfc and was really disappointed I had no meal Lewisham high street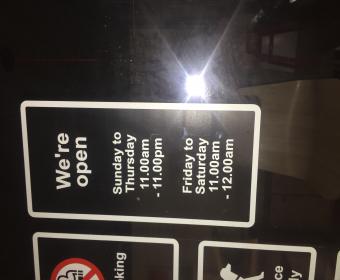 Sean hagerupsen
from Southampton, ENG
Good evening I attended your KFC unit h antelope park Bursledon road Southampton so198 he on the 24/01/19 at 1902 . I waited patiently for 9 mins to order my food via drive through, after another 7 mins I got to payment window confirmed order , moved to pick up window after a short while .stayed at window for a further 5 mins until a staff member decided to appeare and state possible 5 more minutes m8,OK I said then staff member returned to ask my order.I told the member of staff what I have ordered ask how long,not much longer m8. At 1931 he confirmed my order and said enjoy. I drove home,about 10 min drive to find no graveyard.wife asked me to return with food as our meals would be cold by time I returned. Returned to KFC store to find large queue, so decided to jump the queue went straight to counter.another lady was getting felt with at that time as her order was wrong.she stated she has already been waiting 20 mins to be seen.luckily I managed to grab the attention of the manager who had no name badge on and refused to give me his name.I explained that my food order was short so said he would only replace the gravey which I was short of,I stated my food would be cold by the time I would arrive back home.he said not his problem.cutting a long story short after briefly stating I was going to go on line and complain he said he would rectify everything.when he returned I explained that I have had three incidents from this store in the last 3 visits . his reply was what do you want me to do about it.I walked out very upset of how rude your manager and staff were and how unprofessional they all were.my average order always is around £30 and feel when paying for food I do deserve to be treated with some respect.I'm a 50 plus gentleman who works in front of the public for a living, and would dare treat members of the public like this.I do hope I get a reply to this e-mail as I really feel up set with my visit to your store.
Yours sincerely Mr Sean hagerupsen 71 Devonshire gardens Southampton hangs so318 he mobile 07828940189

Dana Hamilton
from Newark, NJ
Just ate buffet at KFC. It was awful, no white meat available. The cobbler was just peach pie filling poured out of can with a couple of pieces of dough on top, not even enough to cover peaches. The cost was too high. Could go down street and eat at Western Sizzlin for same price and many more selections. Very disappointed and will not return for buffet.

Richard Bombard
from Minneapolis, MN
On 01-11-2019 at 7:07pm I stopped by store number C750034 and picked up a 16 piece meal I asked for all of the breast to be extra crispy and the rest original I had to wait for the order so they asked me to pull out of line. It was a very short wait time and the crew was pleasant. after reaching my destination we opened the bag we only had 11 pieces of chicken, all original no extra crispy and 5 pieces of chicken short.
It was nice to have a pleasant crew but I wish they could count and fill my order correctly.Poor management!!!!
Richard Bombard .

Eric Johnson
from Broomfield, CO
We to the KFC in Broomfield Colorado on January 20th about 10:30am ( They open at 10:00 am). and found the door was locked I looked thru the
window no lights on, We were concerned what was going on. If there was a problem there should been a sign on the doors but there wasn't.
The restaurants number E720302.

Ellen waight
from Shirley, NY
My order was wrong got all the home and it was wrong tried calling half a dozen times goes to fax. Very unhappy that I wasn't listen to on my order and I was the only customer in store . They weren't busy . Not the first time either but first time I will make complaint how hard is it when your there ordering to get it right thank you

Marcy anderson
from Long Beach, CA
Took a long time to get to order, took a long time to get food, when I did get the food it was to go, and I never said to go. Took forever for someone to give me sauces. Then I tried to make another order to take home and again a long time to get someone to the register.

Nicole Bygrave
from Akron, OH
Just left the KFC on E Main St, Columbus Ohio and the 3 workers were near the back door with the door open. There were 2 cars parked by the back door and 2 guys that were in gray sweatpants going in and out of the back door. As my husband and I got out of the car, the one worker with a headset on told us that they were closed. The sign on the door says 1030am. 6 other cars were told the same thing. You could smell the marijuana as we got out of the car. Well no money for KFC today!! Very disappointed because we have family here for a funeral and a lot of mouths to feed. We had to go to Popeyes..

Christine Raikos
from Clayton, VIC
KFC in Oakleigh, Dandenong Road at about 6.15pm.. On the 12th January went through drive through and the girl who took my order wasn't listening and when I went to the window to collect my food it was wrong. The girl at the window who gave me my food was rude. She slammed the window slide very hard. Those girls in there are miserable and do not want to be working there. They don't smile and are abrupt.
Regards
Christine

Jeff Griffin
from Sierra Vista, AZ
TO WHOM IT MAY CONCERN,
My complaint is with the KFC manager & assistant manager located at 6611 Sawmill Rd, Dublin, OH 43017. On 14 Jan 2019 at or around 12:45 pm I purchased a meal in the drive-thru and paid with my credit card. The assistant manger took my credit card and swiped my card and after multiple attempts, came back to the window and said, "there was a problem with the card reader and could I pay with cash"? I gave the assistant manager cash, I got my meal and drove off. When I got back to work I received a phone notification that my credit card had a recent KFC transaction in the amount of $6.09. Instantly I drive back to KFC to inform the assistant manager that my credit card was charged and I paid in cash also. When I walked into the establishment the assistant manager saw me and immediately walked over to me and "said she was sorry and the money taken from my credit card would be reimbursed to me in a week". I told the assistant manager that I "wanted to be reimbursed immediately" so I gave her my card and she swiped it but the reimbursement didn't show as a credit to my account. The manager kept asking questions from the food prep area but finally came around to the counter and said that I would have to wait 1 week for my $6.09 credit to show up into my account. I told the manager "that I wasn't waiting 1 week when I paid cash why don't you just give me my cash back. The manager kept arguing with me about refunding me with cash. I told the manager, "your arguing about $6.09 and what I expected was my money back with a fresh sandwich"! After 5 minutes of debating with the assistant manager and manager I received my $6.09 in cash but the manager was very rude and treated me as though I did something wrong! The manager needs customer service training and the assistant manager needs a class on how to operate a card reader because she seemed to be completely lost with how to use it! Lastly, I would appreciate a call back.
Thanks for your time,
Jeff Griffin
740 400-8911

Georgie Crittenden
from Bristol, ENG
The Yeovil branch is an absolute disgrace. I have been in three times since it opened and each time the dining area is disgusting, tables not clean, food all over the floor, bins over flowing not emptied! I dread to think what your cooking areas are like if your public area are like this!

Tracey
from Brighton, ENG
I feel compelled to email and let you know I was appalled at the bad language used by staff. Swearing, taking the mickey out of staff & customers and horrific customer service. I have names if you need them but I'm sure that this is not what KFC want to portray as a business.
What I witnessed was bullying and intimidation. Im preety sure you are aware of this as all the staff concerned have been there for a long time and other people must have complained about this?
There were 2 young lads serving that were holding it together while the rest of the team were being hideous.
I could hear the kitchen staff swearing and poking fun at people and the supervisor was just rude and unprofessional.
Please have a word with your staff or train them in customer service skills.. no one wants to see this car crash and it's not a good example to anyone of how we treat each other.
Regards
Tracey

Kevin willox
from Hatfield, ENG
Once again terrible service in the Elgin branch. There are never enough staff and it can take up to 10 mins just to order. Once we got the food the fries were cold .... again!!!!! This has got to be the slowest fast food outlet in Scotland.

Joyce Kaczinski
from Lancaster, PA
After waiting way too long , about 20 minutes, & there being no breast available, again, I ordered 2 bowls. Got home & there was only 1bowl in the bag!!! This place is awful!!!!

Arrived to staff laughing and joking with a customer who had already ordered food. We were left to wait and then staff didn't acknowledge us at all.
Fortunately a lady from the back came out (Lee) and served us- regardless of the other staff laughing and giggling as they stood there watching us.
Not good customer service.
On top of this, there restaurant was a mess!

Diana Faulkner
from Campbellsville, KY
Went to your Elizabethtown Kfc and it was the worst meal I ever had. ordered a 3 piece chicken potatoes mac and cheese and side of green beans. no potatoes no green beans no roll and im not sure what the hell that dark burnt stuff was, but not what I ordered. ordered a 5 piece chicken strip got two strips and little bitty nuggets, and no potatoes. I could not take it back for I don't drive. my friend to me and dropped me back off at my place. worst dinner I have ever had anywhere.

Kathleen Huey
from Clarksburg, WV
Re: East Fairmont WV location. Take out. Chicken tasted terrible. Usually good. Something wrong.

MR abbott
from Newport, ENG
I live on the south coast always eaten kfc every week until I noticed that fo some reason you have changed your fries
Why have you done this?all of my friends and myself find the new fries absolutely discusting and now we have not been to a kfc outlet for more than a month now,are you going back to the old style fries soon? If not not I'm afraid you've just lost around fifteen customers on the Isle of Wight and I'm sure we are not the only ones! Look forward to your reply kind regards mr s Abbott.

Gary Johnson
from Las Vegas, NV
First of all my wife and I brought our grand children in to eat after the movies. The restaurant seemed like they had the aid conditioner on as bad to keep our jackets on to eat dinner.The dining area was filthy the carpet under the soda machine was sticky due to old soda spills. We where the only ones in the dining area. Empty trays that where stacked up and not been attended too. My ten and twelve year old grandsons said their was urine on the toilet seat and floor. I went i and saw the same.No employee ever came out to clean the dining area. This is unacceptable that the dining room and restrooms where filthy, I told my wife that this would be our last visit to KFC. The store is located in las Vegas the address is 2355 E. Windmill lane. I expect as a customer to come in to a clean and maintained restaurant. Unless they are super busy during peak hours and even then someone should be checking dining areas, bathrooms ect. My wife and I are disappointed in the condition of your store and like I mentioned earlier will not dine in any of the KFC's. Thanks for your time.signed disappointed Customer.

Robert L Luna
from Phoenix, AZ
I went to your drive through yesterday to get ac pot pie meal for $5 . She told me it would take 21 minutes to make one . I left. The store is on baseline and central, Phoenix Az , 85041

Leonard Barron
from Omaha, NE
I ordered 1 leg and 2 thighs meal with mac and cheese and mashed potatoes. What I got was three chicken strips and a small chicken nugget. This isn't the first time this KFC (132nd center) has messed up my order. Lastly, for whatever reason it took a very long time to get my order in the drive thru.

Karen moore
from London, ENG
Kfc Paignton in Devon staff are very rude they always run out of chicken it's dirty and they now have rat traps all round the place

Seantell Owten
from Saint Paul, MN
Emmit [the manager} very disrespectful refused to change drinks for customers

Richard. Dalton
from Detroit, MI
I was in Detroit Schaefer and 6 Mile the tenant act like he didn't want to be there and was very rude this that made my experience that very unsatisfactory

Angel Gaines
from Newark, NJ
Yesterday I went to the KFC on 127 South in Frankfort ky. I ordered a bucket of chicken and 3 sides. When I got home the mashed potatoes were busted through the container and my green beans were not there and the chicken was rubbery. I called the manager, Jessica Hill, and told her my complaints and will she replace my food. She said no. They gave out coupons through the mail now instead of exchanging your food. Well I laughed i thought that was the most stupidest thing that anyone would do. When I go to a restaurant, a fast food restaurant, I do not expect to hand over my money for food that is coming out the bottom of containers, not getting what you pay for, and that has been sitting to long. And then for the manager to tell me that I probably drop the food is why I want to exchange it and that I did not order greenbeans when the receipt was in my hand.. Then when I got upset she hung up on me. Without getting my name by the way to refund my meal for the coupon to replace the meal!. So I call back. We went around and around. She said I called her stupid when I said the comment she made was stupid and hung up on me again. So I have no food that eatable, and no money, and I'm disgusted with her and her management skills. I was not wrong to want resent food when I have her money. So I called the east side KFC. They told me they had not heard of this coupon for returning food and I could come to their store and they would honor my food. They did and were very nice and gave me fresh food. KFC your east side Frankfort ky is the way you want you're business to be ran. But because of the west side I will not go back to your restaurant again. As far as I'm concerned the west side took my money and did not care what they shoved out the window. Bad business KFC. Bojangles for me from now on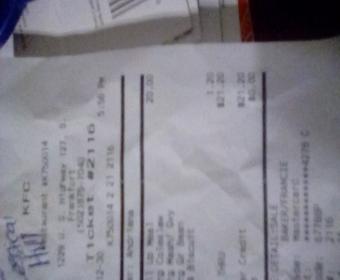 I was sitting in the drive thru at the KFC in Craigleith Retail Park for 30mins as the speaker doesn't work and neither does window 1. Meaning each car needs to go to window 2 to order their food and wait for it to be ready. This causes massive delays and is very inconvenient for myself and my partner especially since you are called 'fast food'. With the shape of the drive thru it is impossible to leave once you are in the queue so you have no choice to wait this ridiculous amount of time for your food. Will not be returning to this restaurant in future.

camron
from Johannesburg, GT
I have a platform where I will lay my compain fully without my words being limited to 100,please reply on that email or thamsanqakhumalo21@gmail,i hope you the image but I want to make you understand how does d@ happen so d@ when go to d@ shop you know what you gonna deal with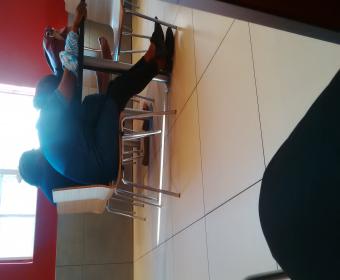 Nancy Bonzar
from Newark, NJ
On Dec. 5th after a full day of shopping I convinced my husband to stop at Amherst, Ohio KFC on Leavitt Rd. Although I have had many bad experiences with them, the latest being given other peoples order instead of mine, he decided to give it one more try. I ordered the 20 fill up meal extra crispy. Upon arriving home and opening the container it was immediately noticed it was all original recipe. Not what we like as it seems slimy and uncooked often. This time it was NOT uncooked but looked as if it sat for some time. I figured that is why we got it to get rid of it and we would not notice till we got home. Also I was amazed to find that KFC was now buying chickens with NO legs as our bucket had none in it, this is the only piece of chicken my husband will eat. I miss the days when you could buy just legs and thighs at a discounted price. Well after having horrible service many times I decided to call and ask for the manager. Upon speaking she was very apologetic but in a big hurry and made me feel as though she was in a hurry to dismiss me. She did state the next time I come in just tell them my name is in the books and the manager said she would replace it at no cost. To my fault I never did get her name again I think because it was obvious she was in a hurry. I spelled my last name and figured that would be it. Well of course NOT with Amherst KFC. Tonight after a long day I mentioned to my husband that we should pick up the chicken before too much time elapses. Well when I went through the drive though I explained to the girl what had happened. She asked if I had my receipt and I said no no one said to keep it and bring it back. She asked for the managers name I spoke to and I said I had no idea she was in a hurry and I did not get it. Long story short after making me feel as if I was trying to hustle them out of a $20.00 bucket of chicken she said she had checked the books and I was not in them and there was no record of me being there, thus, she could not replace the order. I do not know what the true policy is but they need to tell the customer when they call in to bring the receipt in or it will not be honored and also not make the customer feel like a thief! I do realize it is only chicken but it is now the principle and this is the only location that seems to be so incompetent that you can order a pop corn chicken and a diet soda and go home with 2 chicken (whatever) bowls and an ice tea! Yes this has truly happened to me and perhaps my fault for being in a rush going through the drive thru and no checking but I trust people are trained well enough to do their job. I do not care how busy you are do your job and do it right! Well I told them in Amherst I was contacting corporate and got a glib response like whatever! So this is my reason for writing this in hopes that whoever has this franchise knows how this store is operated and if they are losing business, why!

Lewis Kuempel
from Grand Rapids, MI
paid for 16 pieces of chicken got 11 instead guess they can't count

tammy monreal
from Roscoe, IL
we had ordered chicken and sides. The chicken was very greasy and did not taste good. The potato wedges were cold and tasted like they had been sitting out and stale The biscuits were very undercooked and very doughy. I was not at happy with the food and want something done about it. We had paid way too much money for the disgusting food.
Thanks for your feedback!
Sorry. Please try again later!