FedEx
FedEx Complaints Continued... (Page 7)
506+ reviews added so far. Upset? Call FedEx corporate: 1-800-463-3339

Brenda Mathes Story
from Johnson City, TN
FedEx Shipment 432746598846: Your package has been delivered
It is hard to miss seeing the front covered Porch. It faces the road/street!!
The above Shipment was put in my driveway out at the Garage!!! What happened to delivering to my front door on the covered porch???
I am not pleased with this delivery. I seen where my packages had been delivered. I opened the door and they were not on the porch. I went out looking and they were in my driveway out in front of the garage.
If it had rained my shipment would of been damaged.
About 5 years ago a delivery was made and they put the boxes on my car!!! I called FED-X and this problem has been corrected until now.
What gives with putting packages/shipments out in the driveway instead of on my large covered Porch??
Thank you.
...
On April 4, 2018 at 3:41 PM FedEx Delivery Manager <TrackingUpdates@fedex.com> wrote: Your package has been delivered Tracking # 432746598846 Ship date: Mon, 4/2/2018 Sams Dot.com Member Center Samsclub.com Atlanta, GA US Delivered Delivery date: Wed, 4/4/2018 3:38 pm BRENDA MATHES-STORY BREND

sherry m
from Morristown, TN
The driver was very rude and belligerent to me. I requested that my packages be delivered to my door and she refused. She then stated that she could put them elsewhere if i did not like where she put them in the beginning. I have had issues with fed ex in the past and i will never do business with them in any capacity in the future.

Two weeks ago I bought 65 lb. tire and wheel from amazon, checked tracking , departed facility Nashville Tn. next day new post date, departed facility Nashville Tn. Two days later same post, contacted Amazon Prime checked and found out package was lost. Checked FedEx tracking still no change. departed facility Nashville Tn. Amazon Prime reordered my tire , my two day shipping now took over a week. Would not have complained but yesterday my Farm had ordered two tractor tires, was on another tractor in field and noticed a white van from Madison al. at a neighbors house, watch as they opened the back and headed to this house with two tractor tires. Left the field and went and recovered my FedEx Package. If I hadn't seen this it would have been Package Delivered. lost again, might have found these at the local Flea Market.
My conclusion, I asked Amazon to not use FedEx as my shipper, I know the big CEO that changed all of the delivery and drivers to part time cheap help, does not have to wait on a delivery to make a living, but FedEx now has the worst Managed business of any carrier.

Lisa Shrum
from Greenwood, IN
i would like for Mr. smith to call my friend me lisa shrum 765-350-0654 Then Brenda & Thad Adkins and personally apolize for the horrible service they received and hopefully my sister finally received her seizure meds which r vital and priority overnighted on 03/20/2018 to be delivered .on wed 03/22/2018 at 1030 am i pd $ 23.26 for the service pkg got returned ?? teresa crofton,md terminal called to fix try to argue w mwe and got rude ( i hung up on her rather to argue i was too stressed out) had already talked to 5 supervisors and finally 5 days later delivered ( had to b rerouted )(portland,tx no.11) mon.wrong number 1 instead of 11 on in tx this has bn a 5 day night mare and almost had nervous breakdown trying to track and get seizure meds this 2nd time this happened we r never using fedex again this could have cost someone there life purple promised failed : ( was so stressed trying to get seizure meds ppl need reprimanded for this i have all the noted voicemails emails please take care of this ill b expecting ur call im home till tues 04/03 /2018 lisa shrum 765-350-0654

Howard Poxon
from Hubbardston, MI
737641657123: Delivery could not be completed
I am pissed!! The drive made NO ATTEMPT to contact me!! I spent the day sitting home waiting for the delivery. It was a 'Dump and run" maneuver by the driver. He/She may no attempt to go to the door and knock. I have filed a formal complain of failure to deliver with FedEx by phone, as this is not the first episode of the organization's failure to perform.
I plan to follow up with the merchant and inform them I will no longer use them as their decision to employ FedEx was a huge step backward.

William Brett
from Newtown, CT
We use Chewey as our Pet Food Supplier. On Tuesday 3/13 we put in an order of dog food which was shipped by Chewey to the FedEx location at 11:20 PM in Kearney, NJ. The order contained essential Vet prescribed dog food not available at pet stores. FedEx shipped out the order at 4:07AM to Stratford, CT where it arrived at 4:52AM on Thursday 3/15 at 4:52 AM. It has sat at that facility for 3 days! Stratford is a 45 min. drive from our residence.
Repeated phone calls lasting hours to Fed EX supervisors have come to naught. Promises of delivery have been lies. Promises to call me back with answers have not been kept. Intervention by Chewey has not helped. No explanation other than weather delay on the web site transit shipment form has been offered. This is a lie as the weather has been sunny and cold with no precipitation since Tuesday. Besides FedEx has delivered Chewey packages in sub zero and late night conditions.
Today, with help and a prescription from our vet, I travelled 2 1/2 hours to pick up the prescription diet at a special vet clinic
FedEx case number is 0316855692.
Management at the Stratford facility should be fired for incompetence. FedEx representative Erica did not do her job and failed to call me back as promised.
This is not the first time we have had complaints with FedEx. In January they dumped an order in a snow bank on the side of our road in the dead of night.
Last Dcember an order from NASCAR ended up in a 3 week journey the length and breadth of the US.
I expect a refund for the order from FedEx along with a detailed explanation of the incompetence and what measures will be taken against those involved.

Raymond Nee
from New Bedford, MA
the driver that comes to my house has been a horrible and unreliable. I have been having horrible service from this person. I have made numerous complaints about how he does his job. The biggest problem is when it rains or snows this driver does not cover the packages properly. Either he does not cover them with plastic and when he does he does not secure the bag over the packages securely which then causes the box to get wet. I have made numerous complaints. Because of my complaints I am getting punished because of the drivers negligence and I emphasize this word. When I say I am getting punished what I mean is now the driver decides whether or not a signature is required. because of my complaints. Why am I getting punished for this when he does not know how to do his job. I have asked him why he is doing this. He responds back by saying that I got him written up. If he did his job correctly then I would not have called and made these complaints. I have had important medical medication coming to my house and not able to get it because a signature is required when I waived for the signature. I have called where they get dropped off and the manager there did not want to help me. Again I was told because I made numerous complaints the driver wants a signature. I can't give a signature because when he comes I am working and because of this I will not be able to get things that I have ordered, medications that come or any other items that are important that I need. When it comes to getting medications this is in humane. I am also not comfortable having this driver coming to my house. I actually do not want him on my property. He is rude and he acts with a big chip on his shoulder. Especially when he needed to state to me that I got him written up. Well let me tell you something if he did his job correctly then he would not have gotten written up.

Ken Pollock
from West Jordan, UT
I have a small business and use a shipping address at the local neighborhood UPS station to reliably receive expensive equipment. After a shipment from a supplier was 2 weeks late I called the vendor and was notified that it was marked undeliverable and en-route to be returned to the supplier. With no notification to me!
I asked the supplier to reship the package UPS and called FEDEX somewhat irate over non-delivery. It seems this is standard practice at FEDEX. They will drive a package half-way across the country and then refuse to deliver to the final address if it is a UPS address.
FEDEX customer service told me I should have had it delivered to my house. I daily see people cruising the neighborhood looking for the package grab. Not an option for a business. This is why I use a staffed shipping address.
They may think this Fc&ks their competitor, but it is the customer who is Fc&ked. Worst customer service candidate. I will never voluntarily ship FEDEX again.
Reason of review: Problem with delivery.

Gene Smith
from Beijing, BJ
I have had a shipment leaving Manila n March 1st it came to Beijing China on or around March 4th it was then held by customs in China for around 7 days or so for quarantine I have gotten the following messages for four straight days that the item will be delivered on or about 6 PM since Monday and as of today item still not delivered they have my complete address and phone number
This now has caused stress and health problems because of this situation therefore i like to have the corporate office and one of the Vice Presidents in USA to talk to me on this my china number is 18513520122

jeffrey meyer
from Highland, NY
AGAIN FEDEX driver leaves packages out in my drive in the rain and snow! Have asked drivers that I have seen to please leave all packages on my front porch which is covered so packages do not get wet or stolen! I can not see my driveway from inside my house and have had packages stolen! Now what makes matters worse is that my COVERED front porch is approximately 40ft farther than where some of the drivers leave them! FEDEX must make sure that they hire some incompetent lazy drivers along with the good ones! UPS AND USPS NEVER leave packages out in the driveway!! SO again FEDUP with FEDEX

JOHN FUHRMANN
from Newport News, VA
As a American citizen and a proud NRA member today i learned that Fedex no longer supports The NRA or Constitutional rites. As of now i will make it a point to only have UPS or the Postal service deliver all my packages, and all my Business packages. I will also make it my top priority to tell every one i know and everyone i do business with to avoid using Fedex at ALL Costs as you no longer have any faith or Belief in the Constitution of The UNITED STATES OF AMERICA.

Jim Carden
from Bowdon, GA
Your package came to my closed office. I told more than one of your employees to please have the driver call me and I would be glad to meet the driver there. This large whiteboard was important for me to have as I needed it to teach this weekend. I have talked with many of your people but none of them can help with many of them telling me that they can not be responsible. Your people are telling that your truck tried to deliver at 1 0 clock but no one was there. I stayed around the house all day but received no call. My friends I realize Federal Express is a billion dollar company but with service like this

Rita Kress
from Sebring, FL
DELIVERIES ARE ALWAYS MESSED UP ON THIS STREET. I RECEIVE OTHER PEOPLES PACKAGES, MINE IS NOW NOT DELIVERED LIKE IT WAS SUPPOSED TO BE ON 2/10/2018. I HAVE HAD RETURNS THAT WERE NOT PICKED UP FOR DAYS AND HAD TO COMPLAIN CONTINUOUSLY. WORST DELIVERY EVER. EVERY TIME FED EX IS USED BY VENDOR IT GETS MISPLACED YOU HAVE A REAL DELIVERY PROBLEM HERE. YOUR OUT OF COUNTRY CUSTOMER SERVICE AGENTS HAVE NOT A CLUE OF WHAT THEY ARE DOING, WHEN YOU ASK TO BE TRANSFERRED TO USA THEY EITHER DROP THE CALL OR IT IS ON HOLD FOR 20 MIN. OR MORE. SHAME, SHAME ON YOU YOU USE TO BE A GREAT COMPANY NOW YOU ARE ONE OF THE WORST.

S.Mueller
from Marietta, GA
I ordered a birthday gift for my grandson online and paid extra to have delivery by 2/2/2018. It was ordered on 1/27/2018 and shipped on 1/28/2018.
The first notice on line said scheduled delivery is 2/2/2018. Good ! But no the next notice Said scheduled delivery 2/7/2018. Bad ! The birthday party is 2/3/2018. Today 2/2/2018 a notice says scheduled delivery is 2/9/2018 ! Unacceptable service. Customer Support call is unable to do anything
to speed up the delivery. And only offers that it is in a container and cannot be opened by anyone other than USPS in Orlando, Fla. ,where is now.
It's a shirt weighing .30 lbs. for his favorite Soccer team to wear to his first professional game. It could have been put in an envelope and dropped in any mail box and gotten to Atlanta in a couple of days . To top it off the service survey after the phone conversation was to grade the poor agent not
FedEx delivery of my package. I gave the survey question a one, the lowest rating before I even realized that the agent was the topic of the survey not the the company. So now a young man with a heavy accent will get a low rating by no fault of his own. Customer Service ? No not at FedEx. So , if the package comes on the 9th of February it will have taken 16 DAYS to go from Indiana to Georgia. I'm an EX of FedEx now.

Sheila Johnson
from Dacula, GA
Tracking number 789373546573/789355582697.. I have been waiting on a package since delivery date wed.Jan17th. Due to weather delivery date was moved to Friday Jan 19th. Still did not receive package. checked tracking number states FedEx package was on truck for delivery today Jan 20th.. My husband and I was home all day waiting on packages. I called the FedEx office approx at 3:00 pm asking customer service how long before driver arrives. He was unable to say. sent a message to Athens Ga. office. He advised me that my delivery time was between 10:00am and 500pm. We waited at 6:15 no delivery. I checked status on computer. I was shocked to see the status driver attempted at 2:22 pm (business is closed). which is VERY INCORRECT!! we awaited he never came! There was no delivery, no attempted tag placed on my door. He never came! I called customer service spoke with 3 people one in particular his name was Xavier in the El Paso office.. He was the most rude disrespectful person that I had ever spoken with in a customer service. He need to be removed! he has no business in customer service. since you all record your conversation for QA please listen to our conversation. I spoke with Cecial she said she would attempt to call a manager to try to get package delivered. why would you not try to deliver a package to a customer who have been waiting two extra days than you tell them it will be the following week on a Tuesday. That's very poor customer service. Customer service was very rude,. I was upset explained that to each person, I just wanted my packages. I have never seen such poor customer serviced in all my days. This was just unexceptable. This was the worst experience ever.

Janet Knight
from Lakewood, CA
My package was not left at my front door.It was left at another address.I received a email stating it was delivered.I had to go looking for it.Luckily I found it at the house in the the front of the property.This is pure laziness on the part of the delivery driver.This has happened before.

Carl Eklund
from Salt Lake City, UT
3 years ago Fedex water damaged a package and blamed it on me. I gave them the package to review the damage and they stole it and would not return even the damaged package. I can't say a bad enough word that describes these bullies. My daughter is poor and has saved 200 to by a lego building for her husband for Christmas. and now Fedex has stolen her package she actually saw the driver stop at her house, smoke a cigarett and leave with her package. I have a sugestion that we all call them Fedup. I avoid buying any thing from companies that use Fedex. I never have a problem with UPS and USPS . Fedex is the worst company I know of. I am sure they will dodge this issue with my daughter I hope the company fails soon to protect the inocent public. I petition the Government to put an end to Fedex. I have heard of several other problems with Fedex honestly I don't understand why any one would use them.

Gerald Abell
from Oak Park, IL
Called yesterday 11/24 for a pickup.....Ground return with return label. The FedEx agent could hardly speak English. I had a very hard time giving him the info. He finally gave me a confirmation number and said it would be picked up today, 11/25 after 8 am. It did not get picked up. I called and found that he had put the wrong address for pickup and the confirmation number was invalid. So I started over and arranged pickup for Mon. 11/27.
This whole fiasco consumed about an hour of my time just because FedEx has incompetent employees and an automated phone system that keeps going in circles.

those people are very lazy and they are lying about come to your house and delivers packages. they need to close that company they are disrespect they don't even care about customer.

Shannon Wall
from North Miami Beach, FL
Is there a lower score than 1 star? I received a notification that driver had left package at my front door, but when I got home, nothing at front door. 20 some years all packages - never a problem with getting packages at front door - no theft or anything. I'm in a condo with a front gate. So I called FedEx at 7PM to see where the package was. They take their time and I said, get the local office on the phone since the delivery window is until 8, the driver must still be out. But no, the local office is closed. No one at customer service, or basically no one at FedEx, a company that prides itself in knowing where packages are all the time, can manage to get a hold of the driver to see where he left the package....it was a large package.
The made an incident report and said someone would call me in the morning after investigating it. No call the next morning, so I called them. I was routed to multiple people, each time having to verify who I was and give my tracking number and NO ONE could help. One nice lady tried calling the department that was supposed to be investigation and she said the phone wasn't working to call that department!
Contact fedex via twitter, they did what had already been done, they said, "we contacted investigation unit and they will be calling you".
I finally get a call and guess what, these jackasses are still claiming it was left at the front door. No ifs, ands, buts about it!
HORRIBLE system, HORRIBLE customer service and still no idea what front door the damn driver left the package at!

renee gonzales
from San Diego, CA
Everytime I call customer service for an earlier pickup nothing happens except I have to get on the phone over and over and over talking to people who don't speak English and don't listen. In the end I don't get my pick up. SO here it is a holiday weekend of which I was suppose to leave early with the rest of the company but no, I'm stuck here writing this complaint and once again on hold with 1800 not helpful. I've lost count on the phone calls I've made. I would not give customer service even one star.

Myriam Harrell
from Newark, NJ
FedEx did not deliver a package timely after paying $366. This amount was $100 over USPS price. Because they promised the package to be delivered timely, I went ahead and used them. I called their ph no at least three times within the 15 days from deliver. Every time I called I was told I had to wait for the invoice number even though I provided the tracking number. Yersterday, I was told I can't receive a refund because the time limitation expired. When I asked to speak to the manager, she gave me a different story. She said that the delivery was not guaranteed because of the weather. When U asked to speak to her boss, she hung up. The package was delivered to Puerto Rico a week late. I will never use them ever again.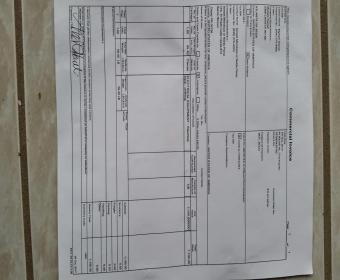 Jerry Dziesupek
from Jackson, MI
Bought a guitar on ebay. Seller delivered it to a Fedex office in Mobile AL on Saturday Nov 18. Tracking #788515387703. Seller was told it would ship on Monday November 20. and would be delivered Nov 21. The package requires a signature so I took Tuesday Nov 21 and Wednesday Nov 22 off from work. Seller talked to Fedex Tuesday (Nov 21) as the package showed no movement and showed "Shipping date pending".
This morning (Nov 22) I received a notification from Fedex that the package will ship today. and the NEW delivery date is November 28. Now I have to take an additional day off of work!
I have lost 2 days wages and now will have to take a third day off.
Can someone please explain WHY a package in YOUR possession takes four days to ship. Your online regional map shows Alabama to Michigan to be a two day ship. So now it will take 10 days ( Nov 18 -Nov 28).
Tracking number is 788515387703

darrell owens
from Helotes, TX
Fed Ex lost my package a $100 rug ,which was left at an empty house,I did not sign for the rug, yet it was left there. Fed Ex is now passing the buck kicking the can down the road by saying I didn't say that Fed Ex needed someone to sign for a package. What I find strange but not surprising is where I now live in a more up scale area, Fed EX KNOCKS REAL HARD ON MY DOOR AND REQUIRES ME TO SIGN FOR THE PACKAGE,BY THE WAY FED EX ALWAYS MADE ME SIGN FOR MY PACKAGES AT MY OLD HOUSE. THANKS FED EX FOR NOTHING MAKE THIS RIGHT AND REFUND MY $100 OR FIND MY RUG!!!!!!!!!!!!!!!!!!!!!!!!!!!!!!!!!!!

Rowan Butts
from Sterling, IL
The FedEx driver had 2 packages for us, both from the same company...our home has our house number (10082 Brian St) on a 6" cedar porch post, and 2" high numbers on our mail box....the carrier dropped both boxes at the house across the street (where the house number is also prominently displayed), on a porch the tenant there doesn't use. The boxes sat there for 2 days (according to another neighbor), with it drizzling and raining the entire 2nd day! Fortunately, it was clothing and each piece was sealed well--I'm still trying to get the dampness out of 15 pieces of clothing which are intended as Christmas gifts.
I'm sure you can find out which driver was at 10082 Brian St, Rock Falls, IL 61071 late in the day of the 15th or early on the 16th. They need to be aware of errors like this--some deliveries would have been ruined by his/her error!! I'm sure you wouldn't be happy with replacing such items at your expense. Thanks for your time, Mrs Rowan Butts 1-815-626-2570.

Charles Knight
from Nashua, NH
61299996068820005832
I ordered a small package from Jos a Banks, It was sent from their store in Londonderry NH and have been taken to the FedEx depot, huge building on the hill, in Londonderry. I live in Nashua, about 14 miles from there. I called customer service just now, after waiting to see what they were going to do with the package and not seeing any progress, and the guy said they were going to let it sit on the shelf for the next 6 days and on the 15th they were going to take it down and give it to the post office for delivery, and no, I could not drive over and pick it up.
I understand what service JAB used,
What I don't understand is 1. Why can't I pick it up from Londonderry? and 2. Why do you insist on keeping it on the shelf for the next 6 days?
Could someone just say, place it on the post office truck and let it move along?
Thanks

Charles Knight
from Nashua, NH
61299996068820005832
I ordered a small package from Jos A Banks, It was sent from their store in Londonderry NH and have been taken to the FedEx depot, huge building on the hill, in Londonderry. I live in Nashua, about 14 miles from there. I called customer service just now, after waiting to see what they were going to do with the package and not seeing any progress, and the guy said they were going to let it sit on the shelf for the next 6 days and on the 15th they were going to take it down and give it to the post office for delivery, and no, I could not drive over and pick it up.
I understand what service JAB used,
What I don't understand is 1. Why can't I pick it up from Londonderry? and 2. Why do you insist on keeping it on the shelf for the next 6 days?
Could someone just say, place it on the post office truck and let it move along?
Thanks

Theresa Sanders
from Shepherdsville, KY
Today, November 2nd 2017, at 3:30 p.m. my 79 year old mother was run off of the road by a FedEx driver. This happened on Glen Rose, off of Preston Highway in Louisville Ky. She had just dropped off her grandson at work. She had her other special needs grandson in the car as well as her daughter who just had surgery. My mother was run completely off of the road into the grass. Had there not been a place for her to pull off, things could have ended much differently. The FedEx driver did not slow down at all. Something needs to be said to this driver and disciplinary action needs to be taken so that this doesn't happen again. Please respond to this email.

Rita Lumadue
from Vernon Hills, IL
I am disabled and place orders online frequently to be delivered at an apartment. My doorbell is broken and does not ring to my apartment. It does work to ring through to let people in. I was contacted by a FedEx representative saying they tried to deliver a package three times and could not leave it by the door. I expected they would call me if there was a problem from the door or truck, but I was informed they could not. Now I have to find someone to pick up the packages at a location that is a long distance from my home. My complaint is not receiving a call since I am always at home. UPS does not have a problem delivering to me. I am very disappointed with FedEx and will ask that items I order never use your company again.

No attempt was made to deliver my package even though they kept saying there was an attempt. There wasn't any paper slip that showed they attempted to deliver the package plus I was home the entire day to get the package and I didn't hear anything. Customer service also was disinterested to help and gave me no additional information.

Wayne Favreau
from Española, NM
On 10/18/17 at 4:17 PM a message was left on my home answering machine by an employee at the Santa Fe, N.M. FedEx Ship Center, 2542 Camino Entrada Street that there was a package for me to pick up before 6:00 PM, or it would be sent back to the supplier. This was my first notification and I received the message after 6:00 PM due to work. I was also informed in this message that the package had been there for 5 days. No known attempt was made to deliver the package to my home address (no tag on my door of an attempt to deliver). In order to ship the package that has been returned to the supplier, I will have to pay another $175.00. I don't think I should have to pay this additional shipping cost due to the failure of FedEx to deliver my package or to notify me in a timely manner to pick up the package in Santa Fe ( 1 1/2 hours from my home). I hope to hear back from you to resolved this issue. I did not have a tracking number.

I would give a 0 if I could. I have had 3 bad experiences with FedEx since 2012. In 2012 they stated they attempted delivery within 2 min of receiving the text notification, I ran downstairs and the truck was no where to be seen on my block ( I live in Manhattan). In August my auto shipment from Chewy.com was sent and on 8/25/17 it stated it was delivered and left in the mail room I live in a walk-up, no mail room or doorman. I contacted FedEx filed a report and nothing. No call back, I called a few times for followup. As soon as I contacted Chewy.com not only did my replacement come a week later my original package showed up damaged. Last night I checked my tracking for my dog food and once again FedEx tracking stated my package was delivered (at 1:52pm on 10/14/17). There was no package left in my building, I even checked with the doorman up the block who stated he worked yesterday and FedEx did not come yesterday. I called FedEx filed another report pointed out how this continues to happen with their weekend drives. The customer service worker told me that the package was signed for by a Mike. I have no Mike in my household I was home all day and there is no doorman named Mike on my block. I have contacted Chewy again so hopefully I will get my package.

Chuck Kelecic
from Wildomar, CA
To: Rock Auto
My two different orders that were due to arrive today was not delivered by FedEx with the lame excuse that my address was wrong.
This is the fourth time in a row that they have failed to deliver with some lame excuse.
I have mechanics on site waiting for these parts, now they want to wait until Monday to deliver?
I guess my address really is not that wrong. The driver probably probably wants to go home early to miss the traffic.
Since UPS delivers several times per week here, please use them in the future.
DUMP FEDEX - Why should I continue to shop at Rock Auto? Delivery is part of transaction and FedEx is making you look terrible.

Phillip Arnett
from Bellingham, WA
I was just wondering how a shipped package can make it from the East coast in three days then languish in a shipping center for three days (Puyallup,WA) then finally get shipped 15 miles away to Tacoma, no telling how longer it will be until my much anticipated package will arrive in Blaine,WA. a hundred and 50 miles away at this rate it will be another 30 days. Does a package have to stop in every little Berg along the way? I think using the Pony Express would have been quicker. I have been tracking this package from the beginning and maybe I just don't understand the methods of mail transfer but come on 3 days in a shipping center, really?

Ken Brown
from Glenmoore, PA
I don't think it is appropriate for you to deliver packages to my house in an unmarked vehicle. Your name and proper DOT numbers should be on the vehicle.

Not Important
from Milford, MA
8:00 PM is not a delivery time for an overnight package
It is impossible to receive an important package and then do something with it at such a late time of day.
This is ridiculous.
This company has NO clue about keeping customers satisfied.
It needs to clean house in management from the top downward.
Also, I witnessed a delivery guy last week drop off a package across the street, and he threw (not tossed) the package 20 feet to the door.
He didn't know if something was breakable.
Very poor business acumen!

P .noel
from Mount Laurel, NJ
I had a package deliver,he came though the gate yelling hello,I went to the door and he would not bring the package on the porch he said well I met you half way i think this is not acceptable,I am having problems with my legs,but this is also his job

s villone
from DeLand, FL
Item from my company (computer equipment) was supposed to be delivered by 9/8, 12 pm, to my home near Daytona Beach - this was BEFORE Hurricane Irma even touched down in the Keys. It was not - and I did not even get a notification as to the delay. The following day (9/9) was a weekend and the item instructions unfortunately said the item was to be delivered on a weekday - when there was someone home (sign for it).
I'm very frustrated. I cannot speak on behalf of my company, which shall be unnamed. However, I can tell you I will go out of my way to NOT use FedEx EVER AGAIN. I will also point out what happened as a testament.

Kinnery T Dardenne
from Port Allen, LA
4 out of 5 packages are dropped off at the post office though my home address is on the package

Tonya Boyd
from New York, NY
Today I had the most horrific experience with a ground delivery guy and I immediately contacted Customer Service to file a complaint and am following up with doing it this way. This guy was totallly unprofessional and very rude and nasty. My case # is 0906727535 and i will continue to file complaints until I hear back from someone on the Corporate level! Very dissatisfied with the fiasco I had to endure today!!!

Terry Thompson
from Bridgetown, 08
Good Afternoon,
I would have to say my experience with Fed Ex would be rated at "0" . I have never experienced such poor service and witnessed such poor representation by employees during any transaction in life! I am appalled at the level of service I have received from the customer agents which I have spoken to particularly today September 4th at 10:30 a.m. I have spoken today to a Chris who declined to give his sir name and refused to let us speak to a Manager or a Supervisor and insisted we speak to him. When the conversation was not seeming to go his way he hung the phone up on me while I was still speaking. I have been trying to receive one package from August 19th while I was in Florida. The package was scheduled to be delivered on August 21st by 4:30pm to the hotel. It was not, when I contacted Fed Ex on Aug 22nd the package could not be found. When I departed the hotel on Aug 24th the pkg still could not be found. I advised the Fed Ex agent who gave her name as Virginia from ext 151661 that we were returning to Barbados. The package when found was still delivered on Aug 28th to the hotel though we advised we were checking out. From the 28th of August until now I have been tossed back and forth speaking to all kinds of persons who have made no effort to bring closure to this situation which is no fault of myself as the customer. On August 31st Derrick who said he was a Manager told us the package would be picked up from Hyatt House Hotel and sent to Barbados and asked for the address which we gave to him and he gave us the case # is 0823753623 this did not happen! The agents you all call customer agents are just persons answering the phone. They lack training and empathy and should learn to personalize each situation as each caller is different. They are robotic, cold and very rude! I have spoken to a Virginia, Chyna, Derrick, Hazel, Tattiana and the most rude one mentioned at the beginning Chris. The last solution proposed by the Manager on Duty today whose name is Juan has indicated the package will be collected back from the hotel and sent back to the shipper. That makes absolutely no sense at all! I am so disappointed by this entire experience. I have used Fed Ex personally on multiple occasions both for work and to send personal items and this entire experience has been a nightmare! Your big International Company who's business relies solely on customers in the USA and abroad cannot rectify a transaction gone wrong. That package should be delivered to my address in Barbados for all the pain and suffering experienced due to your incompetency, inconvenience and inability to deliver satisfactory service.
Regards
Terry Thompson.

Debra Beattie
from Clarkson, KY
6 complaints on one tracking number so far: 770050803354. 1st, this package was supposed to be delivered on Sat 8/19, taken to the Shipping facility in Brandenburg, KY on 8/17. 2nd: I talked to Michael on 8/22 once I found out pkg was out for delivery on Tues 8/22 to tell him that the recipient was in the hospital and to please hold and redeliver on Fri 8/25 since she would be out of the hosp on 8/24. 3rd. After the pkg was not rec'd, the 1st person I talked to was Shawna who said sorry for the misunderstanding, there is nothing FED EX can do for you 4th: 8/25 I asked Shawna if I could talk to a Supervisor; she assured me that one would call within 2 hours - no one called 5th: I spoke with Mario to tell him that a Supervisor never called, he patched me into the Deliver Station; I spoke with Joey who said he would talk to his P & D Mngr Sat morning the 26th, when asked how I could follow up, he suggested I call CS number and they would patch me in; 6th When I called 8/26 - I was told that no one is at the deliver station on Saturday; I called back later on the 26th and spoke with Johnathan; he assured me that the pkg was to be picked up on the 26th from the Charlottesville, VA location and redelivered on or about Tuesday the 29th. 7th (didn't count as a complaint) - I have been periodically checking to see if the status has changed and it still says it's being held in Charlottesville. I am 59 years old and this is the WORST customer service experience I have ever encountered in my entire life. I just want some reassurance that this package is going to be delivered to the recipient. She just had a baby Tuesday 8/22 - the pkg contains everything for the baby. This women a friend of a family member is destitude; she has no car and no way of picking up the package. I feel like some of your reps are helping but nothing is in the notes to ensure this is even true.

Edward Ecker
from Grafton, OH
A little over a year ago, a FedEx truck backed into by house, while making a delivery, that resulted in a crushed rain gutter. I was told to get an estimate and mail it to attn: "Roger". There has been no contact from FedEx concerning the repair. Today I asked a FedEx driver for help in getting this resolved. Rather than make an effort to assist me, he humiliated me in front of fellow employees. He made an issue of why I waited so long to talk to someone. I tried to explain that I was told that some one would contact me and I took their word for it. The driver was making a delivery to our NAPA store in Ohio at around 11:00. I would really appreciate anyone that can help me get this resolved.

J. Bomba
from Victoria, TX
Yesterday we got a box you delivered to us. It looked like someone sat on it! One side was badly crushed. The merchandise was not damaged however but surely could have been. I would not have said anything but awhile back we ordered a television set. The box had two big wholes in it on both sides. Both on the bottom. The television screen was badly damaged had to send it back. When one of your drivers came to get it. He just picked it up and ran. No I'm sorry or hello nothing. Truly angered me.

Chris Boozer
from Tupelo, MS
I walked in to deliver a package and nobody was at the front desk. I waited, waited, waited, and waited. I finally stepped on the automatic door again so the buzzer would go off and waited, waited, waited, and waited. Finally I said Hello, and someone answered in the back that it would be a minute. I waited, waited, waited, and waited. The entire time I was there I could hear laughing and giggling in the back. Someone finally came out and wasn't enthused that I was even there.
All they said to me was; dropping off a package? I said yes. Need receipt? I said yes. They never even apologized for making me wait. This was very rude. I called home and told my wife and she said the last time she was in there, She had to hold a very heavy package for nearly 10 minutes while your FedEx agent was casually talking to somebody. They finally said, oh you can set that package down on the counter. I have had several experiences where your employees rarely even spoke while I was mailing a package. I am not a complainer by no means, but is this truly the service I should get? Everybody has bad days, but am I not truly the customer here?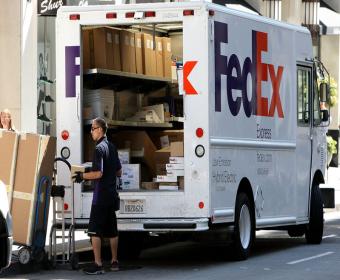 Jerri Stovall
from Everett, WA
We had one of the FedEx men come in to deliver our packages today. Being in a secured building he has to ring a bell for service so he rang the bell and waited, then rang it again and again for a third time (all within 2 minutes). A representative came in and asked him if he was being helped and he laughed and said, in a rude tone "No, they are probably screwing around back there so if they want their money they need to sign for it...". I looked at him shocked and asked if he only needed a signature and he said "yes" so I signed even though I was on my lunch and shouldn't have been working.
His comments were absolutely uncalled for and I don't understand how he thinks that is an appropriate work ethic considering he had no idea why we were not answering the door bell in the first place (all the representatives were busy on calls or on lunch). I understand everyone is on a timeline but that does not give him the right to make offensive comments like that. I hope FedEx trains drivers better then the way we were treated today. I will also be making a complaint to the BBB in regards to this.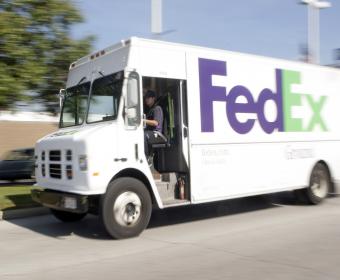 John Allen
from Knoxville, TN
The FedEx delivery man came to my house went to the back porch door knocked and left. There is no knocker or door bell on the back door and there is a lighted door bell on the front door. I was sitting in the living room Friday when he came and saw him roll out of the drive way. Why would you go to a door with no answering device and not go to the front door. Also I left the signed notice for him to leave it Saturday he did not pick it up. I think next time I will use ups. They seem to know how to use the door.

Mike Kahrs
from Ridgeville Corners, OH
The website has changed but has bugs! I am no longer allowed to schedule a pickup. I now have to call, waste 15 minuets of my time and my packages. I have lost 20 hours of machine time and my package that I set out on the 5th of August still sits in the designated pickup area. I have called, begged and pleaded with your people to no avail.
The driver comes every day. Sometimes twice! Yet ignores the FedEx pickup area and the packages with the FedEx label and packing slip. Management at the head office is killing my productivity and making me look bad. I have no choice but to switch to UPS. I have heard good things about them.

Ronald Gayles
from New York, NY
I was waiting for a package, a new bike. A gift Which I was going to spend Saturday putting together, to be given Sunday as a Gift.) to be delivered this Saturday, 8/13/16. I signed up for FedEx tracking service, to track any event involving the package. The last email I received, was at 0858; Saturday. That it would be delivery by the end of the day, no problem. I stayed home, waiting. It was raining, off and on, all day) to receive the package. No new emails. So by 1800, I went on FedEx website, and to my surprise, my package was delivered at 0958 this morning!
No email, no knock, no buzzer! I stay in an apartment building, which USPS, and UPS; have no problem knocking on my door, or ringing my buzzer. I received packages from USPS this day, at 1400; and she buzzed my intercom. FedEx, delivered my package to leasing office; which is the first building you pass, coming into my complex. The Leasing office is closed on Saturdays, most of the time., I'm surprise they were open.
They never tried to deliver to my address; which should be on the package Shipping Label. Not the Leasing office. If I wanted it delivered there, I would've put down, that address, as the delivery address. I called the Leasing Office, which was closed by now, then FedEx; which explain, "When we have a delivery in an apartment complex, we deliver packages at their leasing office. Sorry, Go pick it up there. This is not a exact quote.
Anyway, if I've known they were going to drop my package, at the sometimes open Leasing Office; I would have called them, earlier. But no email, of the package's location, or the delivery from FedEx; to the Leasing Office. Needless to say, I'm pissed. Shame on you FedEx.

Robert Romeo
from Lawrenceville, GA
I saw the Fed ex driver walk to the front porch didn't walk up the stairs toss the package on the stairs it made a loud thud. He did not ring the doorbell he did not come up the steps he tossed the package onto the front porch and went back to his truck and left. I carried mail for 30 years and when I had a package that said fragile do not drop I would never toss it up onto the porch I always leave it gently. I actually never toss packages up onto the porch I always lay them down gently.
I do not know if anything in this package is broken or not because it's not addressed to me it's addressed to my daughter and she's not home right now. As you can see from the photos this package is very clearly marked fragile glass inside or contains glass do not drop this is not the type of service I would expect from FedEx or any other delivery company for that matter.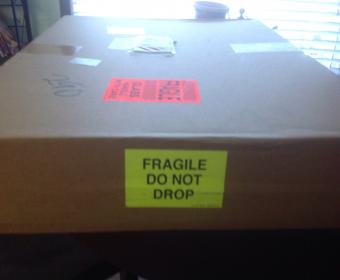 Thanks for your feedback!
Sorry. Please try again later!