FedEx
FedEx Complaints Continued... (Page 2)
506+ reviews added so far. Upset? Call FedEx corporate: 1-800-463-3339

Edward Cleck
from Upper Marlboro, MD
The Sparrow Points Maryland Fed Ex facility is the absolute worst shipping facility in the country. Look at google reviews. They are not lies as I am experiencing what most people have. My package was to be delivered Saturday 3/2/19 and never was. The majority of the reviews indicate packages not being delivered on time and FedEx lying to them about the packages. This is exactly what is happening to me. I made multiple attempts to find out what was going on and was blatantly lied to. They said the driver and the drivers boss both said the package was on the truck for delivery but they forgot to update the tracking and just as I expected, the package did not arrive. One representative said they were filing a complaint and I found out they never put anything in the notes of my call and never filed the complaint. Another rep said it was on the truck for delivery and they would have someone from the facility give me a call but never asked for my phone number and hung up. I did have one rep ( I called 4 times because I kept getting disconnected) finally file a complaint and said they would follow up today but we shall see. Since my package should have been delivered on Saturday, you would think it would at least be delivered today (3/4/19). I just tracked my package and they said it is scheduled to be delivered 3/5/19. My package has been at the Sparrow Points FedEx facility since 8:30am Saturday morning 3/2/19. This facility needs to have everyone there FIRED and this place needs to be shut down. FedEx corporate is just as much to blame for this as the facility. These complaints have been ongoing from many consumers and they do NOTHING about it. All merchants should boycott FedEx and use UPS or USPS for deliveries.

Scott
from New Iberia, LA
I live in Tallulah Louisiana and FedEx will not deliver packages on time. They want to bring them to my work or somewhere else because of where I live which is fine if they would actually bring it. I have been waiting on a package that shows it is just riding on the truck for 5 days now and another package was suppose to deliver on a Saturday. It was postponed because "severe weather or natural disaster" and the sun was shining. Do not recommend FedEx at all

I recently received some packages delivered by FedEx ground. While the drivers were courteous and delivered when predicted, the smell of cigarette smoke was nearly overwhelming. It was so strong and OFFENSIVE that I had to quickly empty the boxes and dump them into the recycling bin. Honestly, I don't mean to criticize but i can only imagine the excessive amount of exposure to cigarette smoke it would take to permeate these boxes. Hopefully this will make it to a level that might help alleviate this problem, with any luck others have experienced a similar situation and have complained.

Had tracking number 785552046652 delivered on 2/25/19. Home is 200' off the road with 4' high chain link fence and double drive gate. Gate was locked and driver never blew his horn (I happened to be looking out the window when he arrived). They put the package (unprotected from the elements) up against the gate on the outside of the gate facing the road (10' from the road). Most every delivery service puts package inside a plastic bag and sits it over the gate into my yard if the gate is not unlocked.
As I said, I was home and immediately walked out unlocked the gate and retrieved my package before someone driving by stopped and stole it.
I think this driver needs some more training on what to do with a package if a gate is locked and no one appears to be home. Put it in a protective plastic bag and sit it (not throw it) over the gate and into the yard.
Thank you for listening...…….Ron

I live in a security bldg. so for FedEx the driver has to buzz my apt. if I am not home the driver just drops it off on the front porch and leaves.
Does not buzz any body else to gain entrance. The one time I was home, I buzzed him in and he just dropped it off in front of the mail
boxes and left. Did not bring to my door. UPS gains entry by buzzing other tenants and explains why and delivers to the tenants door.
It used to be that if I was not home, FedEx would drop off the package at the local FedEx store for pickup. What happened?

I was expecting a package containing girl scout cookies (tracking number 61290980636126033802)I paid almost $19 in shipping and was always under the impression that FedEx was the carrier based on the tracking info. After many days without knowing what happened to my package, I tracked the shipment and first read a message stating that it was delayed and days later the comments stated "delivery exception". I never received a slip informing me that they attempted a delivery or what I could do reschedule a delivery nor was I informed that the post office was the carrier that was going to deliver my package. My neighborhood post office has horrible customer service with long lines and understaffed. My husband went yesterday evening 02/25/19 to claim my package and had to leave after an hour due to the long line. I went to the post office this morning, made it to work 15 minutes late and was informed that my package is being sent back to the merchant. I am making a complaint against FedEx because my tracking number is from FedEx and regardless of the collaboration that they have with the post office, they are also responsible. I am going to proceed by making a complaint against the post office as well. Thank you

Karen Tharpe tracking number-484429882223
I placed my order with Amazon on the 02/20/19 I got a email from fedex stating that they felt the address was wrong despite the many packages they have delivered from my address to the address in commerce Ga. It amazes me that they showed such lack of concern for the Gift ipurchasd for my Granddaughter. They tried to say amazon had the address incorrect but after further investigation the address was indeed correct. As a company I Exspected Better from fedex its not even Xmas.Although I like shopping at amazon this has change my mind. Im Sorry just dosentcut it.

I received an email for tracking number 785573453458 stating that delivery was scheduled for Monday, February 25th. On Saturday (Feb. 23rd), I received a phone call that delivery was being attempted. As I was not home, I asked for delivery on Monday, February 25th as originally scheduled. On Feb. 25th, I received an email stating that the package was undeliverable because "recipient location security delay". My condo complex does not have a day-time security guard, and there is an intercom that the driver could have used to call me. No such attempt was made. Additionally, my cell phone number is attached to the order, and no call was made. I was home all morning prior to receiving this email, so there was no excuse for a failed delivery.
This is now the second time I have had this issue for packages requiring an adult signature. This level of customer service is unacceptable, and I still have not received a FedEx response for my previous complaint. If I could rate service as a 0 star, I would have.

Last Wednesday (2/20/19), my husband mailed a package at a packaging store in West Lafayette, IN. The person at that store quoted a rate for USPS that said it would take 3 days to deliver and a higher rate for FedEx that said it would take 2 days (meaning that the package would arrive on Friday, 2/22). My husband paid the higher rate for FedEx because we wanted the package to be delivered a day sooner than USPS said they would deliver it. However, today (2/25), we learned that the package arrived in Washington, D.C. TODAY! That means the package was in transit for 5 days! No, we did not pay for Express, but we thought highly of FedEx and assumed a better quality of delivery, which was worth the extra expense.
Now that I know that FedEx delivery is so poor and statements of expected delivery are so empty and wrong, I am done sending packages via FedEx and will warn others about such statements by FedEx. I also talked with the packaging store person and said that he should mention my experience to anyone else lulled by the "expected delivery" dates issued by FedEx. Such poor service. 5 days in transit from Indiana to Washington, D.C. And FedEx had acknowledged receipt of the package on Wed., so the delay was not due to any negligence at the packaging store. Clearly a waste of the extra $5 or so squandered on FedEx.(We don't remember the USPS charge, but it was less by dollars.)

Patricia Maldonado
from New York, NY
Fedex is disorganized and makes customers go through unnecessary hoops to get deliveries. I was sent a delivery without an apartment number. I called the sender and he called customer service to provide the apartment number. The apartment number was never added to the address. I received text messages telling me the delivery would take place last Friday (2/22). As I have had issues before with fedex, I called customer service to confirm. The person I spoke to said the package would not arrive on Friday, that it was till in the midwest. He said it would arrive Monday (2/25). He confirmed that customer service had received a request from the sender to add the apartment number to the address. But they had not followed through. At 5 am on Saturday (2/26), I received a text that the item would be delivered that day. Then I got a text that there were problems with the address so they did not deliver. I called customer service, and they confirmed that the sender had requested to change the address to include my apartment number, but that information was never given to the delivery people. I made arrangements to be home on Monday, but now the delivery will not come until Tuesday. I received conflicting information about when the delivery would be made, and the people I spoke to were not helpful. In fact, they provided incorrect information. The worst part of this is that no one takes responsibility for the mistakes, and they act as if it is the customer's fault. They also keep passing the buck. I was told it was not the responsibility of the people in the office where they receive and send out packages, it was the customer service people's fault. I was also told that fedex came to my building to deliver on Saturday (2/26), but that because the address did not have an apartment number, they could not deliver. However, my name is on the delivery notice, and the people who delivered should have tried the intercom so that they could identify where the package should have gone. They did not do that. Terrible customer service.

Dear Sir or Madam,
On Feb 14, 2019 my package was due at my home at 105 Lakeside Court, Pomona Park, Florida 32181. Feb 15 a woman,I didn't know, came with my package, she lived 1/4 mile away on Lakeside Boulevard, Pomona Park, FL 32181.
My issue with this package is that in a matter of a few weeks I will be delivered a time sensitive medication ($5,000 per 1 injectable) and it cannot wait 24 hours to get to me.
To say the least, I was irritate knowing that this is an issue.
Do I need UPS to deliver it to me? Please let me know now prior to any more neglectful deliveries.
Respectfully,
Kellie J. Randolph.

I have always used used us mail, ups for work and personal . On Feb 6, I used fed ex and sent a small package 20 miles away. The gal at the store convinced me to use their packaging and it would be safe, readable, and it would arrived in 2 days. My total bill was $24.63. On Feb. 11th, the package was not received. I called and they said it got sent to Oregon, but was now in Redmond, again 20 miles away. On Feb 13, and Feb 14, I spent hours on the phone with Fed Ex and everyone was rude, really could of cared less. They said I couldn't have a another phone number to call. On Feb. 16th, it was delivered and again I called back requesting my money back. They were going to keep transferring me to other places. I will never use Fed Ex again. The package was a cell phone and was extremely important it got to my daughter within a few days, which it didn't. I spent so much time on the phone with Fed Ex, and nothing ever got resolved. It was terrible customer service by everyone I spoke to. Clearly the customer is not important.
It was sent from 1842 S. Commons, Federal Way 98003
Recipent: Deana Martinson
14823 Wallingford Ave N. ,Shoreline Was 97133
Tracker number 785359779550

don lobel
from Freeland, MI
drop box in snow did not ring bell box all wet cancelled second delivery comming they would not hold item at there shop for me to pick up said they had to try to deliver than take it back to shop and after two days i can pick it up.i told them to send it back

i had a package delivered this morning ,at about 930 am i heard a loud thud, your driver left a package on the porch railing, instead of porch floor . it fell onto floor, if it had fallen in the opposite direction it would have fell into the hedges, and i would not know it was there.. please instruct your employees to at least ring the doorbell..this package was not fragile but what if it as?

Shipment did not arrive on time. Was told complete lies by Fed Ex customer service and supervisors. Once I spoke with a manager at the terminal, he verified that what all I had been told was lies about re-delivery and hours of operation and when my package would re-deliver

The drivers or drivers in this particular incident were lazy, incompetent and have no worth ethic. This was a simple delivery of a 9 lb package was placed in your system. Since 2/8/12 and here we are 4 days later and the driver has not delivered the package to the intended recipient. The FED EX tracking system stated that the packaged was delivered 2/12/19 at 9:06 AM to W Perez at 482 Front St Hempstead. That was not the intended recipient. The driver failed to simply go to the apartment in the building and properly deliver the package. My Mother inquired about this person and there is no such person in the apartment building. The package is now stolen and I am demanding a refund of $ 12.12. The driver needs to be fired. Imagine what other packages from other customers have not been delivered. You're losing business with this particular employee!
On Feb 12, 2019, I filed a complaint.Case # 0212922347, tracking number for package DT728842359662. I also have another complaint 1549740693 with FED Ex regarding this incident

John Bass
from Brooksville, FL
On two different occasions my parcels were left leaning on my fence about 250 feet from the front of my house. The place both parcels were left was 3 feet from an open gate on a dirt road frequented by foot traffic. A lot of children pass by on their way to and from the school bus stop. The first parcel had a rifle scope in it. The second had a gun inside. It was a black powder revolver with a "start up" kit from Cabelas. when I looked up the tracking numbers, both said " left by front door" I am glad I picked up both packages instead of some child. Tracking number from Cabelas: 4732 4986 3308. Date 06/02/2019 I will send pictures if you like.
John Bass

Eugene Robinson
from Frederick, MD
My package was left at the wrong address. This is not the first time, we never know where we are going too find packages

Andrea Murrell
from San Angelo, TX
Trackng DT 728842359662 to be delivered to 482 Front St Apt 2G Hempstead, NY 11550 . The person was at home waiting. The driver did not go to the apartment and ring the door bell and deliver the package as expected
They just left an attempted delivery notice. This is lousy service !!

I had a package to be delivered today and the driver refused to deliver the package. I took off work three hours, opened my garage door in the freezing weather so he would know I was home. The next thing I know I get a reschedule delivery on my email. When I called to see why I was told there was a security issue. After many words with the operator I was told the package would be delivered today. Then I get a call 20 minutes later telling me it can't be delivered because the driver is scared of dogs. Again after many words with the local service provider I was told there is nothing they can do if a driver does not want to deliver a package. Really!!! Who pays these drivers. I was told I could arrange a timed delivery but I would have to pay for it. Then I'm told well we can deliver it tomorrow but someone has to be home. I said Oh like someone was home today when he refused to deliver it!!! Again I took off work three hours, that is three hours of my pay and I do not have my package that I DESPARETLY NEEDED TODAY!!! Funny thing is UPS and the post office drives in my driveway gets out of the vehicle and actually put packages in my garage when I am not home but Fed Ex is too scared of dogs to deliver a package when I am home! I will let everyone I know know about this. The driver is scared of dogs!!!!!!!!! Get another driver it sounds like to me, dogs are everywhere and the owner was home not being paid!

I ordered a cell phone last week and received a text on 2/5/19 that someone needed to be home to sign for it. The scheduled delivery date was 2/6/19. I stayed at home all day long waiting and the delivery never arrived. When I tracked the package this morning 2/7 it showed it as having been delivered and signed for on 2/6. It was signed for by a J Gibson. I asked around and found out he lived up the road from me at 920 Crooked Creek Rd. My address is 924 Crooked Creek Rd. and is very clearly marked on my mailbox, the wooden mail box Post, and again on the green sign for emergency services. My neighbor at 920 has no markings on his mailbox and a locked gate in front of his driveway.
It was to be signed for by me personally per the instructions yet the driver let Mr. Gibson, who is blind sign for it (with a dot) and had him spell out his name so the driver could key it in. The Gibson's told me when I picked up my package that it was the second time in under a month that the same driver delivered someone else's package to their house by mistake and that the first package had been a mattress which was very heavy and they had to haul it to the man it was for several houses down.
My tracking # is 652024375666545

MARC ZIMBERG
from Cleveland, OH
package was misrouted and got to my customer too late
should have been delivered next day and went to phoenix chicago etc
fed ex refuses to credit for shipping charges

The snow blower that was delivered to my home was thrown over the fence.
I had received one notice on my door stating that another attempt to deliver
would be made. This was on February 4, 2019. When I returned home that
afternoon, there was the box thrown over my fence. My fence is 6 feet, there-
fore the blower had to made a hard fall.
I had planned to pick up the blower if another attempt was made. I had also
arranged to have someone home on the 4th in case, I wasn't home.
I feel that the driver was irresponsible, inconsiderate of my package, and un-
professional, by throwing a large box clearly identified as a snowblower.

Washington Avellaneda
from Killingly Center, CT
Driver on vehicle 8617 at about 9:20 am on 2/4/19 on Neelytown road , went throught the red light almost causing an accident. Several cars and trucks had to stop quiclkly. When the horn was honked the driver gave everyone the finger. Driver was african america with dread locks.

FedEx delivered a package to my home on September 17th, 2018. It was a very large, heavy package and they leaned it up against our garage door. Our garage door is not visible from the street, so when my wife came home she did not see the package leaned up against it. She opened the door, and the package fell against the trunk of my car that was parked inside the garage. My car's trunk now has a 3 inch gash in it. I filed a claim with FedEx that day and it took about 3 months for them to reply. They then sent the claim to a 3rd party to handle it. The 3rd party company answers the phone, but I am never able to speak with the person responsible for the claim. He also never responds to emails. FedEx washes their hands of the matter since their 3rd party company is handling it. It's now February, 2019. I find this unacceptable, especially since a simple policy of not leaving packages in front of garage doors would prevent any such incident.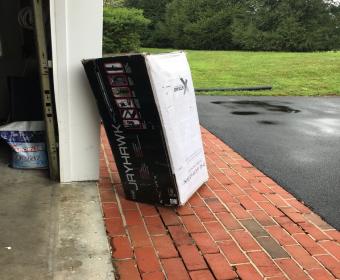 Item was crushed and severely damaged. Box was burst open on one end and then patched with pieces of cardboard from a different box. Then the entire carton was shrink wrapped with shipping labels placed outside of plastic. This was on obvious attempt to conceal shipping damage. I have detailed photos documenting everything. This was a very specific type of bicycle ordered from Amazon that was on sale. They no longer stock the exact item and I ordered a replacement at $34 greater in price. I have all receipts and tracking info. I would like to see the employees responsible reprimanded and punished iin an appropriate fashion for this very unprofessional behavior. I would also appreciate being reimbursed for the price difference on the replacement item. Please contact me by email or telephone 520-843-0047 to resolve this matter. Typed from my tablet, but can send photos by email if you supply the address.

Michelle Beale
from Issaquah, WA
4 packages were delivered to my house yesterday. The smallest package was brought up 7 steps to the door. They never ring the doorbell or knock. The other 3 larger packages were placed in front of the garage door which can be easily stolen and which is not protected from the rain.
One of the tracking numbers of the 3 large packages is included here for reference.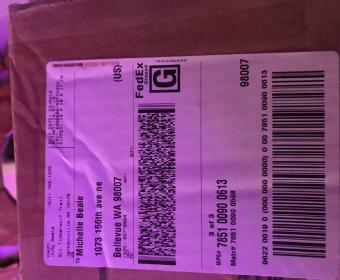 I ordered an item from California. Fedex tracking sent me emails indicating it would be delivered on a specific day. It wasn't delivered. I received 8 emails stating delivery would occur on each of the next 3 days. It wasn't delivered. The email yesterday stated it was on the truck out for delivery. It wasn't delivered. I called the 800 number and opened a tracking case. The customer service person told me the local Fedex people did not know what was the deal with the driver and she stated she would call me the next morning to find out what happened. I did not get a call. I called 800 number again and got passed around. Customer service person stated they would call the local fedex office for delivery time but then claimed he had a phone issue and cut me off. I called back and customer service would not call the local fedex. She stated that the other customer service people put notes in the case file but do not identify themselves. Finally was put through to the local Fedex office and the person stated she did not know the route of the driver, did not have a route sheet but would try to contact the driver to find out delivery time and would call me back. Still waiting. Called a different number listed on a complaint forum. "Bud" stated the case had been elevated for special scrutiny. I explained that the local fedex person could not contact the driver and did not have route sheet so how could anyone be doing special scrutiny. These people don't give a rip about actually performing the service after they take your payment. Plus they have no problem with lying or being deceitful just to put you off. I will do everything in my power to avoid ever using this service again. At least UPS is honest about their delivery times. I would rate a 0 if it was allowed. Absolutely a horrible bunch of oxygen thieves.

Steve Haupert
from Huntington Beach, CA
My package was picked up on Jan 8,2019 from Country Store Chelmsford ,MA., but to this date Jan 27,2019 you ,FedEX have failed to deliver
my package to the Huntington Beach Postal Office Your Tracking No. is:61297937858179798478.
How much time do you need to deliver a package from MA to Ca. Do you send your trucks over the north pole? I am glad this package
did not include a prescription, I would be dead by now.
Hilda Haupert

Geneva Lineberry
from Durham, NC
I have received two very important envelopes this week . One had a check in it for $3000.00 dollars that I was not expecting to come by Fed ex . The other one came another day with very important medical information .It said , urgent open immediately . The Fed ex driver left them on my deck . He did not knock . I emailed Fed ex about the first one . They called and said , it would be addressed , if it was it didn't help any . He did it again . What if I was not home ? It was windy . It would have blown away . This happened on Jan 22 and Jan 25 . Are they supposed to leave a card in my mail box if I am not home and tell me where to pick it up ? This can not keep happening . Please inform me on this . Thank You , Geneva Lineberry 84 Ensley St Sylva , NC 28779 828 586 6165

Kenneth Otto
from Lorain, OH
the driver left my package (a living room chair) on my wet driveway in front of my garage. He could have at least knocked on my front door or left a notice of delivery. It should have been put on my front porch out of the weather. Luckily there was no damage.

Vickie Benson
from Newark, NJ
delivery driver was rude and unprofessional my dog scared her. Actually I think they scared each other.. she was rude to me and wouldn't leave my driveway after the 3rd time I asked her to leave in a not so nice way she shut her door got in driver seat and just waved at me. We had a delivery that was suppost to come on Saturday and was told she tried to deliver it but Dog was in yard. Dog was not in yard. My husband and our Dog were not even home. so she lied my husband call this time and complained and is suppost to be delivered Monday now. but tracking is now saying Tuesday. It is stuff that I need.. I filed a complaint and sent several Emails for the first incident and have heard nothing. She the delivery person told me she didn't care if I called. now I no why she didn't care because she knew nothing would be done. case # 1231811163 most recent tracking # 480184550583
Vickie Benson
9348 Carey Road
Berlin, MD 21811
vickie9348@yahoo.com

Brittany Riddle
from Ada, OK
The driver lost my package last week. Called to file a claim and was treated poorly. Also did not receive a return call so I had to call another several times in 2 days to finally speak to someone on the phone. It's been over a week and has still not been resolved. Will never send or receive packages from FedEx ever again. Even half of a star would be generous for this company.

Thomas Grochowski
from Doylestown, PA
Your driver was making a delivery at 1509 Easton Road, Warrington, PA today Saturday at approx. 12:50pm. The driveway he was trying to enter was shared by 3 neighbors (myself included). There was a hole in front of my mailbox and I was trying to fill it in with 4 bags of stone. I told him he had to wait a minute. I was almost done and he spend off and yelled Go fuck yourself and gave me the middle finger. He later returned about 30 mins later and mad e the delivery to my neighbor. If he would have just gave me another 30 seconds I would have been done. However...its NOT acceptable of what he said and did to me. I expect you to handle this professionally.
His FED EX truck license plate was PA ZLT8728

Kelley
from Sandpoint, ID
Driver whined about our driveway prior to snowfall. He doesn't like to put on chains, he doesn't think he can make it up our driveway and so on. Every other service UPS and USPS has no problem getting up to our house....without chains. So now here comes our package being held up because this moron won't do his job. We have to drive down to the end of the driveway to get our package when he calls us. We will NEVER use their useless service again.

derek kolins
from Langley, BC
I paid for one day shipping, received confirmation that delvery would be the next day. I took of work early which cost me money. Only to receive another shipping update that i would not received till the next day. I would like reimbursement of the extra shipping for one day delivery as per your website. tracking number i s 784828162383 . thank you Derek Kolins

RONALD RETZ
from McCordsville, IN
FedEx Did not deliver lied about delivery, said customer not home or business closed. I was informed that the package was not even on the truck. This has happened more than (5) times. Can not trust FedEx, did not make an attempt to deliver, nobody had to be home either. I am retired and home 100% of the time when I have deliveries. I can prove FedEx did not show because I have security cameras. This is Indianapolis Indiana hub.I dread deliveries by FedEx because I don't know if FedEx will show up.

Debbie Van Winkle
from Lexington, KY
I have waited for 4 days for a package to be delivered was at home because I was told the package would be delivered on that day. I gave instructions for the driver to come to the back gate because I live in an apartment. The first 2 times they disregarded my instructions and came to the front gate and left a note. I was here all day waiting and found the note when I checked the mail. The next time I talked to customer service I told them I would not be home on Thrusday and asked them to bring it Friday and I would make sure I was here to receive it. Customer Service said the delivery would be made at 12:30pm. It's 3pm and they never showed so I called again and the woman told me after all this the package would not be delivered today and they would bring it tomorrow, the same thing I've heard for 4 days now. Customer Service Is of no use what so ever they have no ideal what their contractors are doing and no control to give out information on anything. Either the customer service isn't able to write down simple instructions or the drivers can't read. I give them the lowest rate possible and would never recommend anyone to use them for anything! I will spread the word about that if anyone but me doesn't already no it!

Elizabeth Whelchel
from Boise, ID
I am complaining about a FEDEX driver pushing into my lane and nearly running me over. I am a Costco customer. I got the car wash today at COSTCO in Boise, Idaho and., at 1030 a.m., I was driving on the road behind the store to go to the highway signal. The road is open, not closed to customers, the speed is 10 m.p.h. I turned right after the car wash to keep from going in the front of the store where all of the pedestrians are crossing. The FEDEX large truck was in the left lane, I was in the right. There was a hyster crossing the left lane going into the store and the FEDEX truck pushed into my lane and did not stop and nearly pushed me into the concrete divider to my right. Of course, I stopped in my lane because she wouldn't stop in hers which is the law and which she should have done to let the hyster go by. The FEDEX driver was a middle aged woman with reddish blond hair and I don't appreciate her pushy driving.

Ursula Jackson
from Paducah, KY
Hi. I would like to know why FedEx thinks its ok to trespass on my property and leave deliveries at the back of my house? We use the front door.

karen berggren
from Miami, FL
A package was shipped to me for something I did not order. I returned the package to the local FedEx office on N. University Highway in Coral Springs, Fl. The package has now been returned to me three times. I am totally disgusted with my interactions with FedEx. This is unacceptable that I have to continue to deal with this problem.

Brian McCafferty
from Oldsmar, FL
Fed Ex ground shipping ,,,,, a package was picked up by Fed ex ,,, on 20 Dec ,,in Oak Park , Wi ,,, it made it to Berlin, Wi, and there it sat for 6 days ,,, when it FINALLY did start moving again ,,, it made to Phoenix , Az on 31 Dec ,,, it is now the evening of 2 January ,, and tracking shows it still sitting in Phoenix ,,,, the estimated delivery date was Monday the 31st ,,,,,, Packages normally arrive prior the Estimated dates ,,, but it sure seems like your people are dropping the ball on this one ,,,,,, there is no excuse for this package to sit in 2 different locations for the times given ,,,, Maybe Fed Ex needs to clean house at middle level management if these people are not doing their jobs to ensure those below them ,, do theirs ,,,,, this little experience has bought Fed Ex a lot of bad PR

Pamela Deeds Updike
from Sulphur, OK
I ordered gifts (pair of ugg boots) for Christmas from Kohls Department Store, when it was not received I attempted to track it online with FED EX to no avail. I then did the optional cyber chat with a customer service rep who hung up on me after telling me to call a customer advocate, when I had already asked to speak to his supervisor. I called the number given and asked to speak to an advocate and was transferred 5 times (each time having to repeat my story and request). Each person spoke very broken english and had a great deal of difficulty understanding me. Initally, I was informed that tracking was not possible after 10 days which is rediculouse for a corportation as large as FED EX. After further transfers the eventual outcome was the same. I was advised that my tracking number was usless because fedex had pawned off the delivery to the USPS and there was not tracking available. I spend a great deal of money to have a box at the local UPS office so that I may ensure delivery or tracking of items that I order or for mail that I receive as I live rurally, and I expect better communication and service from a corporation such as FED EX. Meanwhile, a young girl still does not have her Christmas present. I look forward to a response from your company.
I have documentation of all converstions if you would like to review them.
Sincerely,
Pamela Deeds-Updike

Edith Mills
from Irvine, CA
Today a Fed Ex driver left a package sitting OUTSIDE my garage. The garage doors were closed. By the time I found the package it was pouring down rain and package was soaked. It would have taken approximately 20 steps (and a little common sense) to put the package safely on the front porch. That way if it rained there wouldn't have a problem. And how did they even know how long before the package would be found??? Guess it's asking too much to expect decent service from them.

Heather Raymer
from Dayton, OH
I had a package scheduled for delivery sat which they said a holiday event stopped it which was a lie. They Monday they said incorrect address which was a lie. I watched fed ex drive down the road right past my house. Speeding at that. I've called 4 times and got 4 different answeres. Worst service I've ever had. Not to mention fed ex lost a package just a week before of mine

Arnfinn Solli
from Västerås, U
Ref Autopartwarehouse order 1000541683 of june 12th 2018 tracking no S29-V94C77G52J38N235. To be delivered in Choma, Zambia. The parcel did not arrive. There is no interest what so ever at your Choma office to trace what happened. I have sent e-mail to customer service and received reply that complaint was received ticket id: 4820DC1A6-48A75327.
Fedex tracking no did not respond and did not give any information. Numerous e-mails to fedex was not answered.
complaint has been taken to fedex HQ in Lusaka, Zambia and since no response.
I need your advice on how to take this issue to seek refund of SEK 1,146.03.
The answer to rate experience with fedex is no star at all.
It is utterly disinterest in customer and like meeting a dead end in this case.
I sincerely hope you will take interest in this case....
Yours Sincerely
Arnfinn Solli

Brian McCafferty
from Oldsmar, FL
in that listing tracking numbers and all that would be useless ,,, I will say that there is no excuse ( even with Holidays ) for a package to sit in one location for 6 days ,,, It will be a cold day in Hell before I use or recommend to anyone ,,, to ship by Fed Ex ,,,, ,, a point in fact ,,,anyone shipping to me … I will request that they make a point of not shipping by Fed Ex .. If the Head Honchos ,,,can not do their job and ensure the people working for them .. do theirs ,,, then maybe it is time for a major shake up at Management Level .

David Hosier
from Denver, CO
I handed 5 packages to a Fed Ex driver on Dec 20, the Thursday before Christmas. Three of them were to be delivered Monday, the 24th, in time for Christmas. The other two packages were to arrive later, which was OK under the circumstances. The driver assured me he could take all the packages and they would be delivered in time.
It's now Wednesday night, the 26th, and supposedly the Monday packages will be delivered tomorrow. One of the packages was sent to a vacation address, but the recipient is now home, so I don't know what will happen to it. I asked FedEx to change the delivery address, but they said that was only possible if I created a full account with them SO THEY COULD CHARGE ME MORE FOR THEIR FAILING TO DELIVER ON TIME!
FedEx claims that their two different companies, and my 2 day delivery was not received by the Express division until Monday, the 24. Why should it take 4 days for an inter-company transfer to occur? If it takes that long, then the FedEx driver should have refused to accept the packages, knowing they would not be delivered on time. Pretending to be different companies but accepting the packages of the other means their not. FedEx continues to pretend to Wall Street to be one company, yet cheats its customers by acting as two when convenient.
The two day delivery now takes a week, yet Fed Ex says it can't issue a refund until after the delivery has occurred. Plus, even though the truck said FedEx, and the employee's jacket said FedEx, they claim it's not FedEx Express.
Thanks FedEx for taking a week for a 2 day delivery making numerous Christmas presents late, but still charging a fortune for their failure

Fenley Castleberry
from Raleigh, NC
FedEx hub in Valdosta, ga is an incompetent delivery service . They lie about delivery attempts and the drivers work only when they want to. All of the FedEx employees at the Valdosta, ga hub should be terminated and replaced with competent and honest employees who are willing to do their job efficiently. FedEx and DHL are the worst delivery companies on earth!!!!!!! DO NOT use FedEx for shipping SERVICE!!!!!!

Pat Truhn
from Oregon City (McLoughlin), OR
Package was to be delivered on 12/18/2018. We live near Portland Oregon, and it is coming from California.... Today is 12/21. Info below. Still says the label was created. I want to know when it will be here. It is a gift for Christmas. I would like an email explaining when my package will be delivered. Also, your drivers are leaving packages alongside the mail box on the road. This is not safe! We live out in the country, and packages should be left up the driveway by the gate. All other companies that make deliveries can figure this out. Just a little common sense would go a long way to making package deliveries safer. Too many porch pirates all over.
Shipment Facts
Tracking number 473540397770
Shipment ID 473540397770
Reference 4783456367372
Anticipated ship date 12/10/2018
Scheduled delivery Pending
Service type FedEx Ground

gregg cole
from Daytona Beach, FL
package was supposed to be delivered between 8 am and 10:30 am this morning the 21st. package contains medicine that is temperature sensitive and costs $1900 per dose. package has to be signed for and I have been waiting here since before 8 am this morning and it is now 5 pm. this is unacceptable...especially if the medicine goes bad. does Fedex want to pay the $1900. this is the worst service ever!

Nova Johnson
from Atlanta, GA
I keep getting my boxes left in my driveway instead of on my porch as the label states.
This is about the 10th time this year. The last delivery was on 12-20-18. Tracking numbers 441984966349 & 441984966290
I call the local office in Sikeston Mo. every time. On 12-20-18 I asked them to come back the next day and put it on
my porch as I cannot lift them any more. (cat litter) I don't know if that will happen. I have been having to pay someone just to take 2 boxes
up the few steps to my porch. What else can be done as this keeps happening?

Franklin Thomas
from Raleigh, NC
One of your driver hit my truck knot my review mirror off and take off I was in the window looking at him need to hear something.

Heather Raymer
from Cleveland, OH
784329601296 I've been waiting on this package for a week. It was said to arrive fri thw 14 then the 15 now there is no known date. I do understand these things happen. Although this was a Xmas gift that cannot be re bought and made In time. My biggest problem is I've called 3 times. And each time receive a different answer and place it was at and then told it was lost. Such poor service 2703145105 Heather Raymer. Thank you

Josh Rogers
from Chandler, AZ
I have been waiting for a week for my package waited and waited. I would go on to the website during school because I was so excited about it and I got home thinking it was going to be here today and being so happy about it. I spent 1/4 of my night waiting and watching for it. it didn't come when I was told it would be here! I am VERY angry now because of it. it has already been a week and I am very upset its not here.

John CAMPBELL JR
from Cleveland, OH
If you can avoid it DO NOT SHIP fed x. They are not customer orientated. After communicating with customer svc at the local terminal to leave my package at a fed x location an assurance from customer svc. I received another door tag the next day. I call in again the same situation happens again. fed x is going the way of the u s post office. They are not customer orientated. There are too many obstacles to receiving a package if you work from 8 to 5.

Steve Bloomfield
from Federal Way, WA
Package was delivered to wrong address. tracking number - 814219910204728. Received notice it had been delivered and left by my front door. I was home when FedEx said it had been delivered so suspected it was sitting on a neighbors front door porch. A neighbor brought over the package the next day and said it had been left on his porch in the rain. At least I am lucky to live in a good neighborhood. I know mistakes are made but I would of been out about fifty dollars since I think FedEx would say it was delivered to the right address.

Angie Blount
from Houston, TX
I have been promised a date for package delivery via text message and by customer service representatives for December 8th 12th 13th 14th and today December 15, 2018. I am highly disappointed and very dissatisfied with FedEx. I feel as though the customer service representatives I've spoken with are very disingenuous.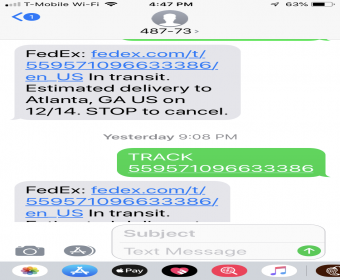 Norva Pickett
from Charlotte, NC
Watched out my window as Fedex truck pulled up, stopped at the end of my driveway and threw my package off the truck. Attached is photo. I'm aware this is a busy time but I'm also aware that I've NEVER had an experience like this with UPS....and now with Amazon in the game. Just looking for decent service.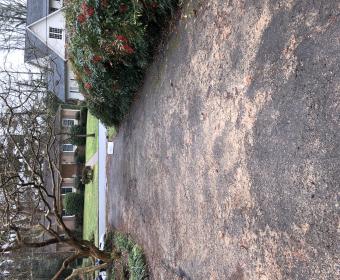 On two different occasions this week, your FedEx driver left large packages at our home address in error. The correct address of the delivery should be 21 Ponca Trail, 63122. We are senior citizens and do not need to be lugging large parcels a half block up the street to the address that your driver should see. Both our house and the neighbors house have address numbers clearly displayed for your driver to see if they take the time to look.
That is really all that I have to say to describe this situation but would like it resolved as soon as possible to everyone's satisfaction. Thank you for your attention to this matter.

ISIAH WILLIAMS
from Oak Park, IL
HI IAM HAVING PROBLEMS WITH FEX DRIVERS I HAVE A COMPLAINT FOR ALL FED X DRIVERS COULD YOU PLEASE TELL ALL YOUR FEDX DELIVERY DRIVERS NOT TO KNOCK ON WINDOWS WE HAVE DOOR BELL . IF THE WINDOW GETS BROKEN BY YOUR DRIVER FEDX WILL BE RESPONSEABLE FOR THE DAMAGES THE DRIVER CAUSE THANK YOU FOR ALL FEDX DRIVERS PLEASE RING THE DOOR BELLS ONLY OR LEAVE A REDELIVERY NOTE PLEASE THANKS AND HAVE A BLESS DAY .

R. B. Stephen
from Newark, NJ
There is a driver that delivers in my area and he drives very dangerously. He drives way above the
speed limit within the city limits. He does not stop for stop signs. He runs red lights. He speeds in
parking lots. He also pulls out in front of other vehicles when exiting parking lots. On December 10,
2018, when I spoke to him about his driving, he threatened to do me bodily harm. He also used some
highly profane speech. I felt highly threatened and felt I had to hurry away for my safety. I was not
able to get any information off the vehicle he was driving and the law enforcement in this town does
nothing to help. I would pray you higher people that don't threaten the life of 73 year old disabled
seniors.

John Gault
from Plainfield, NJ
I ordered a gift online and received a Fedex Tracking Number 7840 1203 0157. Tracking the package online revealed delivery exceptions along the delivery route and in other states. When I ordered the gift, I was told delivery in 5 to 8 days. In order NOT to miss the delivery, I downloaded the Fedex form for delivery instructions, signed and dated it, and completed the form and taped it to my front door. Finally, I received an email stating Fedex tried 3X to delivery my package. That is FALSE! NO ONE FROM FEDEX TRIED TO DELIVER MY PACKAGE TO MY HOME - NO NOTE LEFT, NO CARD LEFT, NOTHING! I or my wife were home a great deal of the time and THE FEDEX FORM WAS TAPED IN PLAIN VIEW ON MY FRONT DOOR! Calling Fedex Customer Service was useless, and the customer service representative had a deep accent and was barely understandable. Ultimately, I was able to convince the customer representative that I would NOT DRIVE AN HOUR AWAY to pick up my package in Trenton, NJ. So, he had it delivered to a store near my home. I picked up my package 3 days later and found Numerous Fedex Stickers on the package where it had been on various dates earlier and NONE were my house. Three days after I picked up my package I received a postcard from Fedex asking what to do with my package. NO JOIKE - DAYS LATER! Your service is terrible, unreliable, and misrepresentations by your company and its representatives are totally unacceptable. Fedex will be my very last choice for shipping or receiving packages.

Larry Engel
from Norwich, NY
Lawrence Engel (lreny@aol.com)
To:executiveservoces Details
Recently I had to return a broken heater back to the manufacturer. They sent me a prepaid label. I boxed the item, wrapped the box and taped all the corners and top and bottom. I took the package to the nearest fedex place and that was The Shipping Place, 3979 Albany Post Road, Hyde Park, NY. Once there the owner instructed his employee to remove all the wrapping paper on my package. I asked why and he said the wrapping paper would be destroyed in shipping and my heater damaged. I left his business and went to Camelot Print and Copy Center in Poughkeepsie. They accepted the wrapped package with a thank you and would you like a printed receipt. The tracking number is 773719212490. I can only think the Shipping Place wasn't happy I had a prepaid label and they were not going to make any money off the exchange. They surely don't represent your company in a positive way. Sincerely, Larry Engel Lreny@aol.com

Yvonne Edun
from Santa Clara, CA
I filed a claim with FedEx Freight in October 2018. I Priority received a check for the damaged property but the check was made out to my email account as opposed to me personally. I contacted FedEx on October 23 and was told to void the check and a new one would be reissued within 21 days. After MULTIPLE calls and redirecting, I spoke with an individual in freight claims on December 4th. He was able to see how many called were placed and he assured me that he would follow up with accounting to reissue the check. He gave me his FedEx email address and asked me to follow up with an email on Friday December 7th and he should have an answer. I waited until Monday, December 10, sent the email and nothing. I have never been so frustrated and feel trapped in a Kafkaesque nightmare. Completely disgusted.

W. Scott
from New York, NY
I ordered a swing set online to be shipped to a local Walmart store. In tracking the package I saw where it was shipped to Birmingham from Texas. It has left the Birmingham FedEx terminal at least 4 times only to show back up in Birmingham four hours later. Twice I have called FedEx to try and track it down with a real person and could not be given any answers, they hung the phone up on me.Today I finally got through to a tracking agent, Sheila, who tracked the package to a truck scheduled to be at the Dothan terminal tonight. I asked Sheila to please call the Dothan terminal and ask them to be sure the package got off the truck and delivered to WalMart North. Will this happen? We shall see.

Roger White
from Madison, WI
While you driver was delivering a package at my home this morning his vehicle left a huge oil spot on my concrete driveway..
Not happy about this.

alberta pummill
from Sullivan, MO
I rate you a big O. I have not got a package delivered to my house and your office will not help get my packages to the right house. the fedex express drive has NO problem finding my house. The first package he helped find. POOR SERVICE. YOU NEED TO MAKE PEOPLE SIGN BECAUSE YOUR INCAPABLE DELIVERY PERSONNEL LEAVE PACKAGES WHERE EVER.

eleanore ohara
from Pittsburgh, PA
a package was to be delivered to daughters address on december4 by end of day not delivered and rescheduled for next day ….again same thing, So sceheduled foe Tuesday and Wednesday and Thursday and Friday and today Saturday. Called three times to seek answers same result will put in a complaint if not delivered someone will call well just like the package no one bothered. It seems it is the holiday season WHO KNEW. Just a run around they listen but nothing accomplished, makes sense that if not delivered one day would put priorities on package left from day before but no guess you throw on the "I don't want to deliver pile" and keep adding for next day. I see they don't care if anything delivered or not. Also daughters husband also has a package to be delivered and paid for 2 day delivery but he is also on day five and their solution was to hang up on him, be rude an tell him he can run down and pick up himself. No customer service guess you can do what you want. No customer service whatsoever and maybe they really don't care. I will be sure to do my best to not have anything delivered by fed Ex and may not purchase if they use them. Sad

Virginia Simmonds
from Fort Wayne, IN
I have had my dog's food shipped to our house for over 3 years, using 2 different sources. During this time, the shipments have been TWICE left on top of a row of mailboxes for our small community, even though clearly marked 'MUST DELIVER TO DOOR'. Last month, my delivery was mis-delivered next door; our houses are ALL 911 compliant and the LARGE numbers are found on the sides of our houses.
I have been waiting for this delivery since yesterday, when the delivery information said that it would be delivered yesterday by close of business. It did not arrive. Today, the same link to the delivery information said that it would be delivered by close of business today, and still said the same thing when I looked again after receiving the text from a neighbor.
If a neighbor had not texted me to tell me that I had a package down at the mailboxes (located 1/4 mi from my house) I would not have known that my package had even arrived! Before driving down to the mailboxes, I checked, and the delivery status was the same as it has been all day - awaiting delivery.
There are 3 houses down here, and ALL of us receive packages from both Fed Ex and UPS. One of those trucks is down here at least once a week. There is NO excuse for not making the drive down here to deliver, when this is the case. We show up on ALL the electronic systems, as does the lane that goes back here. Today our temperature outside is about 20 degrees, and I had to ask the neighbor who lives by the mailboxes to help take it down OFF the mailboxes and put it in my car for me. I am 68 years old and do not have these deliveries on a whim, but for MY convenience!
As it is right now, I will be receiving packages every 3 months from Express Scripts (a requirement for my TriCare prescriptions) and am concerned that I won't receive them in a timely manner IF Fed Ex is the delivery service.
I am going to call Fromm Family Dog Foods and request that the delivery service be switched to UPS, even if I must pay extra, because I will NOT tolerate this kind of service from Fed Ex in the future. This is absolutely ridiculous. Either your drivers don't have sense enough to read house numbers to get delivery correct, or their time is so short they cannot drive an additional 1/4 of a mile to delivery properly.
UNACCEPTABLE!

Lynnette Batisch
from Minot, ND
my fed ex tracking number is ….78415 663 792
The driver dropped off the package next door …. no one lives there …. I would never have gotten my package if I had not been aware that other people in this town were also having trouble with you folks. FIRE that driver !!!

Birdie Ivy
from Oak Park, IL
On Dec. 1st the driver delivered my parcel to the wrong location, and documented he delivered it to my address. The location he delivered my parcel to called me and informed of its location including address and phone number. I called Fedex and informed them of this delivery error, filed a claim and requested that they pick up my parcel from the wrong location and deliver it to me. The apologized for the error and promised to retrieve and deliver my parcel. I have been calling daily and told each time they would have the driver retrieve and deliver my parcel to my address. It is 8 days later and I have not gotten my parcel yet with them promising each day they are going to get it. My parcel is being held at the wrong locations parcel holding error awaiting their pickup.Fedex has the the address and phone number of my parcel location. Why won t they bring me my parcel when they don't have track it down to find.it ? This has been a very bad experience with Fedex., 8 days and counting is a bit much.. I m at the end of my rope with frustration and the run around nonsense.

Lou Walton
from Dahlonega, GA
Fedex left my package at the end of a dirt road on top of a bucket. I guess the driver didn't feel like he/she could drive up the land to my house. Anybody could have stolen my package. Luckily my husband saw it on his way home. That's horrible service.

Adda Jane Anderson
from Pittsburgh, PA
Reference is made to two packages delivered by Fed X one today and one the end of last week.
iZ16714F0396291048 This package was found by a man walking his dog near the end of my long driveway. The package was thrown on the ground not even close to my home. It was in a plastic bag.
1904872066 This package was thrown on the ground by my mailbox which is at the end of my long driveway. The box was wet.
Please have your driver stop at my home and explain to me why it was not delivered to my home. Is this proper procedure for FedX. This has never happened before.

Abner Ruiz
from San Antonio (Far North Central), TX
A package was delivered to me today 12/03/2018 and unfortunately it was delivered at my doorstep when the label specifically stated deliver to Management/Leasing Office. I am at work at this time and there is a great possibility that my package will be missing since it's a big apartment complex. Before the delivery occurred, I called customer service whom transferred me to technical support. They assured me that it would be delivered to the management office/leasing office as it was extremely clear on the label. Of course these atrocious drivers did not follow instructions on the label when it was clearly printed according the customer service and the escalation team. When I asked what will happen if the package is not there, the escalation team said to file an investigation and if the package did not show up the company that I bought the item from will have to file a claim with fedex. This is UNACCEPTABLE!! Drivers should be held accountable and customers should be compensated for the aggravation and stress this causes, not to mention money.

DOROTHY DEAN CONCEPCION
from Atlanta (North Brookhaven), GA
As I am handicapped and at home all day/every day, I ensure to include the message "PLEASE LEAVE ALL PACKAGES AT FRONT DOOR" in my address on shipping labels. However, FEDEX drivers are not following this request. Just recently, an Amazon package which was slated to be received on 12/6/2018 actually arrived on 11/30/2018. This would not have been a problem if, in fact, I had discovered the package on that day. Instead, package was not discovered until 12/2/2018, sitting on my "patio" which is located on the back of my condo. Another mystery is how did Delivery Rep get package onto patio as there is a high fence around the patio and door of fence is kept lock? Was package dropped or thrown over the fence onto the patio located in the back whereas it is clearly stated within the shipping address to "PLEASE LEAVE ALL PACKAGES AT FRONT DOOR" Package not was discovered until 2 days after it's actual delivery (12/2/2018). Another annoyance is that it rained during those days, so package sat in rainy weather during that timeframe. This is the second time I have experienced this issue with packages being left on the patio in the rain before being discovered even though it is clearly stated within shipping address to "PLEASE LEAVE ALL PACKAGES AT FRONT DOOR". My mailbox is located at my front door which is why request is made to leave packages at front door so they can be seen and retrieved when I go to the front door each day to get my mail. I have also experienced other occasions when packages were thrown or dropped over the fence onto the patio and not discovered for several days, As previously stated, I am handicapped and do not spend a lot of time on the patio, thus why the request is included within the shipping address. Is it more practical to throw, pitch or drop merchandise over a fence rather than honor a customer's request to leave merchandise at front door? Received package is being returned to seller unopened as I am not confident item was not damaged if it had been dropped, pitched, or thrown over the fence or suffered water damage from sitting in the rain for two days. If you would like to see label, Tracking #278616925737700. My next move is to post a sign onto the fence's gate stating "DO NOT DROP, PITCH OR THROW PACKAGES OVER FENCE. IT IS MOST APPRECIATED BY RESIDENT IF ALL PACKAGES ARE LEFT AT FRONT DOOR" Do you think this might work?
D. Concepcion

Gerald Dockter
from Germantown, MD
I placed an on line order via ebay with Nashville shoe warehouse and was given a tracking number for FEDEX of 465484930227. On 11/30/2018 I was contacted by a stranger who had found my package in front of a vacant lot with a Williston, FL. address. My address is in Morriston, FL. It had started to rain and thanks to the honesty of a kind stranger I received my package. This is not the first time this has happened with FEDEX. The last time my package was lying at the beginning of a long driveway about a half mile from my house. I have no problems with USPS or UPS and can only assume that FEDEX employees do not give a damn about their job I will never use them to ship and normally encourage parties shipping to me not to use FEDEX. Seems they do not heed. This employee should be fired!

Jessica S
from Philadelphia, PA
Paid for 2 day shipping. Five days later I had to drive an hour away to get my package because they were "too busy" to deliver it!!! Why charge when you can't deliver, Fedex?! Oh and it took 2 days for of me constantly calling before they would even verify where my package was!!! Stay away from Fedex!!! This isn't the first time I've had problems with them. A couple of years ago I watched a fedex guy put my package in a bag, twirl it around and toss it into my yard!!! Guess he was too lazy to walk to the door! Worst delivery service ever!!!!!

Carol Tucker
from Atlanta, GA
I order some stuff from Walmart. It was suppose to be delivered on Friday November 23 and everyday it has been post poned by one day. The first time the driver said we were closed. I live in a house.I complain to FedEx and they have pass me from on person to another

Mark Weir
from Newark, NJ
So for the third week In a row my package didn't deliver on time so I called today to figure out when it was going to arrive and had the pleased of waiting on hold for a representative for 68 minutes. You would think after all these years, Fed Ex would figure out how to do a good job. Fed Ex SUCKS!

Private
from Township of Piscataway, NJ
I ordered something from company "x" and paid extra to have it delivered priority FedEx with a promised delivery time of 10:30 am.
The package came late and FedEx is blaming it on the weather when it was placed on the vehicle of my local FedEx office an 8:51am and they claimed weather issue.
So I told them that I don't except that. So FedEx said company "x" has to call (red tape). So I told FedEx no problem I will conference them in. And I did a conference call with company "x" and they told them the same story. After I tried to bring my point across for about an hour with no success I told them that I wanted them to put it in writing so they told me that they can't as I can't request this information as I didn't pay for them (more red tape). So I told company "x" to request an email. Which they did. But the email that was sent read
"Thank you for your inquiry of 11/29/2018.
After careful research your request for a Money-Back-Guarantee adjustment has been denied. For more information on the terms and conditions of the FedEx Money-Back-Guarantee, please refer to the FedEx Service Guide. You can view the FedEx Service Guide at our website www.FedEx.com"
Basically more red tape.
Bottom line be forwarned if you pay for priority FedEx you will not have a promise of on time delivery as they can make up any excuse they want.

Peaska MacCay
from Venice, FL
First my package was to be delivered on 11/28/2018 23 miles away the it was to be today YOU CHANGES DATE and you idiots shipped it across the entire state of Florida to come back to where it was shipped from in Fort Myers and said it would be delivered today now you making it for tomorrow making it to late ~!! I paid 29.67? again I lied to to have it delivered nest day and you shipper across the Florida Pompono Beach FLORIDA 100= miles away ?? I SO DISQUESTED I PAID YOU TO ABUSE ME THE DELIVERY WAS 23 MILES AWAY.. I SURELY NOW WILL POST WHAT YOU DID TO THE SHIPPER AND THE CUSTOMER 81 YEARS OLD.~~~~THE OLD WIDOW OF MILITARY USA ARMY YOU HAVE REALLY DISQUESTED ME WITH YOUR LIES AND BEING REFUSED TO. my package did not need A VACATION BUT YOU FAUCILTY IN FORT MYERS FLORIDA NEEDS TO BE TRAINED IN HOW TO HANDLE PACKAGES CAUSE THEY ARE THE STUPIST PEOPLE IN FEDEX I HAVE EVER SEEN I GUARNETEE YOU UBER WILL BE PAID TO DELIVER FROM NOW ON. I CANNOT BELIEVE I AM NOT ALLOWED TO TALK TO COPRATE WHEN I WAS TOLD TO CALL BACK AND THEY WOULD TRANFER ME.
TRACKING NUMBER 7840 2493 0327 PLEASE DO NOT SEND ACROSS STATE OF FLORIDA AGAIN LIKE IDIOTS

Maura Glazewski
from Oak Lawn, IL
My husband must check his INR (reading to see how thick or thin his blood is) as he is on a blood thinner daily. Alere Monitoring had some defective strips and my husband Raymond had been waiting for the replacement strips to come. Alere sent them to him FedEx Standard Overnight on November 8, 2018. This particular medical supply is very important, so of course we contacted the company. Long story short, my mailman came to the door on November 21st and said he saw a flag up on a rural box on a block over and he stopped to pick up outgoing mail. It was the box we had been waiting for. How and why it was delivered to 7726 Lockwood, Burbank, IL when we are at 7725 State Road, Burbank, IL is beyond me. My mailman was less than happy and we still haven't figured out why the owner of 7726 Lockwood would put RTS (I presume means return to sender) and it was 13 days later. Now I wonder how many other houses it may have been to. The tracking number is 456190015497. My mailman is still complaining and said the only reason he delivered it is because he knows us for years. We get regular deliveries from another medical supply company and they sometimes come FedEx and we've never had a problem. I would appreciate if you'd check into this incident and see if there's an explanation. Thank you for handling. Maura Glazewski - 708-423-0169

jeff blevins
from Elkview, WV
fedex driver dosent deliver packages to my address drops them off 3 miles away for me to pick up ,when i told him i wanted my packages delivered to my address ,that the shipping was paid for ,he said it was free shipping, if i wanted it delivered to my address it would take 3 or 4 more days,lousy service ups delivers no problems if they dont want to do their JOB get someone who will.

Janis H Thornton
from Lexington, KY
Regarding tracking number ​409602321302​ and 528221750277141​. I received these packages today 11/28/18 but instead of putting these packages on my front porch they were left outside for any and every one to see. In the past the FedEx driver always set them on my screened in front porch which provide some safety from a package being stolen.
This also happened a week ago on the weekend. I assumed then that it wasn't the regular driver and dismissed my concerns.
I'm not happy about this at all especially since this is near the holidays and some people will happily take delivered packages that don't belong to them. I know the drivers are working hard to get everything delivered in a timely manner but some common sense is needed. It would not have taken an extra minute to set those packages on my porch and either knock or ring my door bell.
Please take a moment to advise your drivers to be more conscientious.
Thank you,
Janis Thornton

Paul N. Richter
from Crawfordville, FL
Driver claims to have tried to deliver a package on 11/ 27/2018 at 2:30 pm, package number 7737 5464 1754, to our location and either lied or was lost. We are a business that is open 8:30 am to 5:30 pm.

Minda Krawitz
from Stroudsburg, PA
FedEx is holding onto my packages and WON'T DELIVER. They held onto it for 3 days in Breinigsville, PA for 3 days. Now it has finally arrived in Pittston, PA but has not moved since. It WAS supposed to be delivered TOMORROW (WEDNESDAY 11/28/18). But they changed the status to THURSDAY 11/29/18. HAS NOT MOVED. My tracking number is 9261299998825452550639. They are taking way too long to ship and deliver a package. They are lazy and don't want to ship. They only want to ship when it suits them. This should be against the law.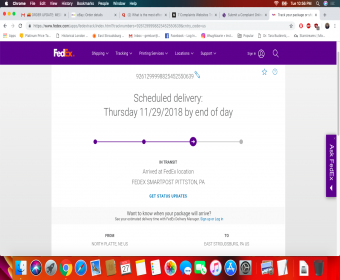 pamela a coleman
from Memphis, TN
package was delivered at 7:49 pm ( night time dark)112718. delivery person did not knock or ring doorbell I have 2 doorbells a ring and regular. package states this end up of course it was down have not open the box yet. upright freezer ($200.00+) this is the second time I've had a item delivered at dead night of value kitchen isle $500.00 where it was dumped by my gate in driveway no doorbell or knock on door that's why the PORCH PIRATES are so successful, all images were captured on ring doorbell.

Nancy Ouren
from Harrisonburg, VA
RUDEST CUSTOMER SERVICE I HAVE EVER RECEIVED. NOT PERSONALITY THERE WHATSOEVER!! I just spent 76.00 to mail 3 packages and the girl couldn't even bother to say thank you. Someone needs to go in and give them training on saying good morning and how can I help you. Maybe even smile for god sakes. 1010 S Main Street in Harrisonburg VA

Fayton Gardner
from Baltimore, MD
I live at 10205 Frank Tippett Rd and within the last few visits the driver has either placed the item some where as if it is Easter Sunday. I have to walk around the entire house. They just don't care where it is placed customer service is lacking. The driveway takes them right to the garage door but its only left there 5% of the time and then their is a front door it may make it there 5% of the time also.
It seems to make it more often at the beginning of my 800 ft driveway by the mail box where anyone walking by can simply take it. (NOTE)* PACKAGE TRK# 4727 2238 5012 was delivered at the mail box today. This is not where it should be delivered.
NOW the usual I have two back doors to the home and instead of it making it to the First location which is inside a gated area with two dogs on occasion, still not noticing the property is posted at the entry watch dogs. It makes it to the SECOND BACK DOOR where two riding lawn mowers obstruct the path. The driver still manages to climb over them both and place a package there 95% of the time. Why you may ask you may have to ask the driver why place a package where two lawn mowers obstructed the view of the package to the customer. While the
back yard house dogs on occasion.
I have caught almost ever driver when I am home ripping up the grass with all the gravel watching the big wheels roll by them as support. Please have Fedex drivers apply themselves when returning to work with customer service, just because you don't see anyone doesn't mean big brother is not watching. There is plenty of room to turn a FedEx box truck around.
Thank you

Jason Smith
from Portland, OR
The driver dropped my new big screen off, didn't knock or ring the doorbell and left it sitting in the rain, totally not cool, the guy should be fired. Because of your guy I will do my online shopping with a company that does not use FEDX.

John R Nolan
from Chambersburg, PA
FEDEX Tracking Number 460299076377
On Saturday November 24, 2018 at about 10:30AM we received a text message that our package identified by this tracking number had been delivered. As my wife and I had been home all morning, we knew it was not delivered. I checked around our home to make sure and found no package. Around 11:00AM I contacted Jim at the FEDEX 800 number to report the delivery error. He took our information and said we would be contacted be the local hub. A little after noon I received a call from Mary Ellis at the Hagerstown, MD FEDEX Hub. She took our information and explanation of consistent delivery problems involving FEDEX. She said she would instruct the driver to retrieve the package and deliver it to the proper address. At about 7:00PM we received a call from our next door neighbor saying that he found a package on his porch address to us. Upon checking our security cameras, the driver, at about 10:15AM, stopped up the street from our house and delivered our package to the neighbor's house.
The reason for this written complaint submitted on Monday November 26, 2018 is as follows:
The delivery error was reported shortly after text notification.
Management at FEDEX said they would correct the error.
The driver made no effort to retrieve the package as instructed.
Management never followed up with the driver or customer to check status.
As far as FEDEX management knows to date, we have never received the delivery and no effort has been made to find out. It is apparent that management at the facility has no authority and the drivers are oblivious the management direction.
Our only recourse is to continue to request any shipping carrier EXCEPT FEDEX on all of our shipping needs. This is the third complaint submitted with NO IMPROVEMENT IN ACCOUNTABILITY!

TERESA JOHNSON
from Indianapolis, IN
FedEx makes me so mad. They leave packages at the wrong address (address sign is in plan view for deliveries) or just take it to the post office and leaves it. One time they just sent it back without even trying to deliver...I was home all day and they NEVER came. Now again I have ordered a important product and it is yet said to be at the post office. Call post office and nothing. I am so mad. I will be contacting the place I ordered from to tell them how FedEx had done. People need to stop using them!!!

Dr Angela Payne
from Valparaiso, IN
I have filed multiple complaints with FedEx about their driver (Johnny) continuously to ring my doorbell to gain access to the building even when there are no deliveries for me.
I talked with his manager moments ago and she said that FedEx driver (Johnny) was told by the "building management:" "if he could gain access into the building simply leave packages." All though reasonable---Well, FedEx driver (Johnny) rings my doorbell constantly even when there are no deliveries for me to gain access into the building as a means to drop off packages for other residents.
For two years, I have told the driver (Johnny) to stop! Yet my requests have been disregarded.
On November 15, 2018, at 4:17 pm, following yet another ring of my doorbell, I made my last attempt to talk to driver Johnny about ringing my doorbell; surprisingly, he was argumentative saying that I get a lot of packages. Well, that might be true, nevertheless, what I receive, when, or from whom is none of his business nor do I appreciate driver Johnny disregarding my request "to not to ring my doorbell when there are no packages, in particular for me." The delivery on November 15, 2018, was for another unit.
On November 21, 3:23 pm, driver Johnny refused to deliver my package saying on a door tag; in short, not home for delivery etc. Of course, I was here all day anticipating my delivery. Seemingly, he did not ring my bell door. Following the text notification, I checked to ensure that both (front and back) doorbells were working correctly and they were. So accordingly, I filed yet another complaint with FedEx. FedEx management ensured me that driver Johnny would stop ringing my doorbell when there are no packages for me. I got my package on November 23.
Today, anticipating another delivery from FedEx driver Johnny used me as a conduit to gain access into the building. This time he had a parcel for me and another resident who "wasn't home."
Please know that I don't wish to be used as a conduit for building access from FedEx delivery carriers when there are no parcels for me.
In addition, please know that I don't believe that driver Johnny was told to ring all residents' doorbells to gain access to the building to leave parcels when a delivery is slated for someone other than the resident of the doorbell rung.
Finally, I believe that my "request statement(s)" are reasonable.

Regina M Chastain
from Greenville, SC
Your company listed my order number 5921878-177892. Tracking number 470921663777 as delivered today at 2:25. This merchandise was not delivered. I tried your online chat and was connected to someone so incompetent that after I informed them of the issue they kept asking if a coworker signed for the package. The package did not require a signature and coworkers do not reside in my home. I have recording security caneras. This package was not received. I did not realize Walmart used FedEx or I would never order from Walnart. There have been so many issues with FedEx being dishonest.

Jennifer DeMeo
from Glenshaw, PA
Missed the FedEx package that was sent to me. Slip on my door said to pick it up at my local Walgreens. I am sick with a respiratory infection, but dragged myself there at the specified time. No package. Called FedEx who told me that it was at a FedEx facility somewhere else in town and it won't be delivered again until Monday. Why did I drive to get it when I'm sick when it wasn't even where the tag said it would be? Customer rep said I'll have to drive to locale #2 to get it otherwise wait until next week for it to be redelivered (when i'm at work). There is a reason they are #2 to UPS.

Carol Dutro
from Saucier, MS
The last three deliveries to 19745 County Road 39, Karval, CO 80823 have been left at 19891 County Road 39, Karval,) 808233. I have complained before but results are the same. Your fedx driver needs to understand there are two families on this road. I pay for delivery but yet I have to drive to my neighbors. This time the tracking numbers were 528221747578350 and 461197238681 coming from Walmart. I am extremely upset with this errors as I feel it will not be corrected.I have complained with the last order but to no avail. Please look into this and make sure that my packages come to the right address. Thank you.

Martin Smith
from Lawrenceville, GA
For the past three deliveries of packages via FedEx the driver has dropped the packages on the front porch instead of in front of my garage as specified on my FedEx web page. I ask this to prevent packages being in plain sight for thieves. It's apparent that the driver(s) are not checking my FedEx requirement online. WHAT DO I HAVE TO DO TO GET FEDEX TO COMPLY WITH THIS SIMPLE REQUEST?

Mary Shumay
from Brunswick, OH
Tammy Sapio accepted my package was handing me receipt making a face I said dont worry there is another box inside this box that's wrapped in bubble wrap and the items are in bubble wrap inside that she said I already marked it as damaged. When I said "that's not ok I pay for insurance I will open it up right now so you can see how it is packed." She said "NO". I told her just take it off as received and Ill come back She said nastily, "I'm going to tell all of my employees too" I said, "fine I'll send it usps then". There was more but she was VERY rude and the nerve to do that and not tell me She has given me a hard time many times Also, she did NOT take it back off the system. I ship 22 yrs with Fed-Ex for eBay w/100% feedback at that location 7yrs almost no problems ever = to volume. I redelivered it with no problem and made other employees aware of the issue, offered to open or rebox, but they took it from me anyway. It is some sort of personal problem she has and it very much not appreciated! I believe she is also abusive to employees there. Thank you PS. I have a witness and someone behind counter was a witness as well.

A FED EX driver took it upon himself to park in 2 handicap parking spots truck #86878 licence plate PDC305, on 31-May-2019 at approx. 11:30, came into my office looking for privileged information and trying to get us to take the parcel which we are not legally allowed to sign for. I work in a Military Post office which has loading doors so he could have parked there. I am shocked at the lack of professionalism shown by this employee. I understand he was just trying to do his job however, he should be more than aware of the legal responsibilities on dealing with the mail, and the rules of the road. It is not our responsibility to do his or your job for you.

Ray Glenn
from Bullhead City, AZ
I received my packages today, weighing almost 100 lbs in 2 boxes. Although delivering it to MY ACTUAL ADDRESS, that was on the label, appears to have been expecting too much considering I'm old and have terrible heart issues. They left it just sitting outside the office that is on the next street over.

Angela Duncan
from Stillwater, OK
I placed an order with Replacements.com and they chose fedex ground to deliver the box. On May 9 it was delivered to an address nothing like mine about 7 miles from my house. The gentleman at that residence called to let me know the box was delivered to his house. I contacted Replacements.com and they tried to no avail to get fedex to go retrieve it. The local fedex did nothing to retrieve this package stating they could not find it even though I provided the name, address and phone number to where it had been delivered. On May 19 my husband contacted the gentleman that was in procession of our package and drove to his house to retrieve it. I was very disappointed in the service that was provided. I would never choose fedex ground to deliver anything for me or my business. For your information the tracking number is 488172733723 and it does not say it is a lost package but that is was delivered on May 9. No matter what the local fedex says I know that Replacements.com worked diligently to get my package for me and stayed in constant contact with me during this 10 days. Thank you for your time, Angela Duncan

They claim They deluveredu 4500 dollar retirement check on May 16th 2019. Which was not delivered as I was outside waiting. Since that time they have been fill of excuses and readons why they cannot contact the driver . He qent home for the day, we don't have hos phone number , the department isn't answering the phone. They are hortible and have the worst customer. service I have ever dealt with.

Charlotte Linda Hudson
from Cary, NC
On Friday, May 17, our street was marked with a huge orange flag telling of men working in the area and lots of orange cones, and 7 to 8 double cab trucks cutting limbs and branches off the electrical lines. A Fed Ex Truck sped down the street, hit our mailbox and broke the box off its platform. The men from Burford Tree Service told me who hit the mailbox and I have a signed statement from one of the workers John Quick. I made pictures also. I contacted Fed Ex Customer Advocacy Team on Friday and was told someone would call me Monday. I called again this morning and was told this has been assigned to an agent who will contact me. It is now 4 pm and I have heard nothing. How long do I have to wait for someone to call? We are senior citizens 83 and 78 years old. We need a mail box at the street so our mail can be delivered!! I have called back today Tuesday Morning and finally spoken with a woman in Raleigh.

MAE THOMLINSON
from Houston, TX
I WAS TO RECEIVE A PACKAGE FROM AT&T ON WEDNESDAY MAY 15, I RECEIVED AN EMAIL STATING THAT IT HAD BEEN DELIVERED AT 11:30AM, IHECK MY PORCH NO PACKAGE WAS THERE, THIS WAS AT ABOUT 1150AM. I WAS HOME ALLMOF THAT DAY. I CALLED FEDEX AND WAS TOLD IT WAS DELIVERED. ON TODAY , NO ONE COULD REACH THE DRIVER. EVERYONE IN YOUR CUSTOMER SERVICE HAS TREATED ME LIKE I AM SO STUPID THAT I DON'T KNOW HOW TO CHECK FOR A BOX. ON TODAY , MAY 20, IWAS TOLD THAT THE DRIVER LEFT IT ON MY PORCH AND MY HOUSE IS BETWEEN 2 HOUSES WHO HAVE BURGULAR BARS. ITRIED TO EXPLAIN TO EMILY THAT I LIVE IN A TOWNHOME AND MY NEXT DOOR NEIGHBORS DO NOT HAVE BURGULAR BARS. THEN I WAS TOLD THAT I NEED TO GET BACK WITH THE SHIPPER. THAT BOX HAS A 1100.00 PHONE IN IT. YOUR SERVICE AND CUSTOMER SERVICE SUCK. I WILL BE REPORTING THIS TO THE BBB IN HOUSTON.
MY NAME IS MAE THOMLINSON
6116 W AIRPORT BLVD
HOUSTON, TEXAS 77035
TRACKING NUMBER - 647851654081
CASE #0516942863
PHONE# 832-628-2678
SO, I HAVE PURCHASE A PHONE AND SOMEONE ELSE HAS IT. THAT EMILY IS VERY RUDE.

I was assaulted by a FedEx Ground employee in truck license # 92874mh. Young African American. He hid in the truck when I tried to photo. I have contusions and scrapes.

Shari Wollam
from Powell, WY
The driver leaves packages along the road instead of bringing them to the house, If he is that lazy, perhaps he should find a different job!

One of your delivery drivers came to my door with no package or paper in his hand just his little computer device. I watched as He proceeded to ring my bell and when it wasn't answered he peered thru my windows. Then he proceeded to walk to the side of my house and was out of my view for a good 5 minutes, then left. He did not leave a notice or a package like fed ex usually does when they make an attempt and no one answers.
It is unacceptable for your drivers to peer thru peoples windows as it's a violation of privacy. Trespassing is also a violation. I would like to know why he didn't have a package ir letter in his hand and why he is peering thru peoples windows!! Unacceptable!!

Margaret Espinosa
from Rowlett, TX
Tracking number 786912699174
I had left my purse in Houston at a restaurant and did not realize that until I was home in Dallas. My niece lives in Houston and was nice enough to pick up my purse and fedex it to me. I received notice that it was delivered and signed for by a K Jones. I do not know a K Jones and live on a half acre and knew I had not had any company. He stated to one of your reps Ms Jones had been in my yard and signed for it. Instead..he had delivered it to a Church down the street from me. So he either did not pay attention to where he was leaving it or did not leave a door tag letting me know he was leaving it at the church. Either way he let us both down! The church address is 5700 Mark and mine 5400 Mark. Very scared due to the fact my purse had ids... credit cards..debit cards..social security card..cash ..checkbook .etc and I didn't know who had it. It did work out..but caused much stress!!!!

I order frequently on line so I'm having something shipped often. We ordered a part for our boat, paid 7.00 extra to receive it in two to three days. It initially showed delivered to my front door Thursday April 24. I was on my way out of town but came back home to make sure the item was delivered to my front door. It was not. I called and gave info for them to locate it for me and again headed out of town. When I heard back I was in Winona Ms. come to find out the female driver didn't want to come back to my house in her big truck, (UPS had come two days before in his big truck) because it was gravel not concrete. So I was told my item was tied to the base of my mailbox in a bag. Being out of town I didn't want it left outside from Thursday to Sunday so it was picked up and taken to the facility. I was told they would redeliver it on Monday. They didn't. I was told they forgot to put it on the truck for Re delivery and that it would be here Tuesday morning. It is now 11:30 AM and it still isn't here. This is not the first time I've had a problem with delivery. Every time my shipper is Fedex, I have to call and chase the pkg down because 9 times out of 10, it is left somewhere else. This is not acceptable. I hope you can improve my situation

John Bass
from Brooksville, FL
This is the second complaint about the same subject. Now three times FedEx has left a package out by my gate instead of leaving it by the house. First time it was on the ground by the gate with a scope in it. Second time, same place with a black powder handgun, now tied to the gate. The gate is always open and school aged children are going by it daily. The first two packages were listed as " left by front door" The third just said " delivered "
"Left by front door" is, for lack of a better word, a lie.
I don't feel like taking more pictures ( but I did)

I have taken an entire day off from work so I can sign and receive this important package. I have stayed at home all day but I haven't heard anyone approaching the house and knocking on the front door. I don't think the driver ever attempted at delivery.
I contacted the customer service as soon as the failed delivery attempt showed up on tracking info, and I was told that a re-delivery attempt will happen the same day. Nothing happens and I contacted the customer service and and this time I was told the re-delivery attempt will only happen the next day.
The customer service is extremely unhelpful in this case. It's not possible to arrange for the delivery attempt again or remove the signature requirement, or change the delivery address to my workplace. Put package on hold is not an option because I have limited mobility to reach a Fedex location. In addition there is no guarantee that the package will get delivered the next day because there is no way to get hold of the driver.
In the end, I have to take another day off to stay at home to receive my package at the cost of missing two days of work and maybe more time and money since who knows what will happen tomorrow.

I have a package sent from India to US ( Tracking number : 476370039695 ) . This was sent last week and the scheduled delivery was expected to be on thursday (04/18) . I didn't get my package on 04/18 and the package was really important to me and I was really fedup with the service and called the customer care and they raised a case number ( Case No :0419960142 ) . I was calling everyday for my package and finally I got an update on saturday( 04/20) that I will get the package on Monday (04/22) and today when I called one of the associate was saying that the package was lost. This is very pathetic situation where I have many valuables and important things in that. I am fedup with the service that fed-ex is providing. I am looking for an extensive support from FED-EX department to solve this issue.

Charles Shea
from Virginia Beach, VA
I ordered an item from Pressure Washers Direct on 4/7/19.
The item was shipped on 4/8/19
My item arrived at the Port Wentworth GA hub on 4/11/19
Over the past 7 days, I have gotten numerous emails from the tracking system telling me my package was out for delivery and was going to arrive "today".
One email said the driver attempted to deliver my item on 4/13/19, but we weren't home. There was no notice left on our door saying that Fedex tried to deliver a package. The item doesn't require a signature, so it could have been left in our garage. I don't believe the driver ever tried to deliver our package.
I've gotten a couple more emails telling me the item was going to be delivered "today", but wasn't.
The last tracking email said the package was going to be delivered yesterday, it wasn't.
This is the second time this year that we have been lied to about package deliveries coming from the Port Wentworth GA, hub.
I paid $17.00 to have my item shipped to me and here I am 10 days later and still don't have my item!
You have a serious problem with the driver from Port Wentworth who delivers to my area, and he is making FedEx look very bad.
Please deal with this individual and ship me my package ASAP!
Charles

harold fischer
from New York, NY
fed exp driver caused damage on my property. a claim was filed with Rich at Danbury distro center giving his phone #( 203-212-5118) and
ref #
0330921052
I was told claim people would contact me regarding damage but never heard from anyone.

I received someone elses boxes from fed ex and drove 2 miles to deliver them to the rightful owner. Meanwhile, my package was tracking delivered the same day but was never delivered. I filed a case and was told it would come the next day, which it did not. Now I just called the fed ex number (for the third time to track the package) and was told by a very rude customer service rep that the package was refused by me. Then I was told clearly it was taken to the wrong address entirely. Then I was told that it was being returned to the shipper. Then I was told that it was on it's way back to me but the delivery date would be, and I quote, WHO KNOWS!!! Are you kidding me? That is how fed ex operates now?

Jamie
from Essex Junction, VT
I would just like my packages to arrive at my address, I tried calling and was told as soon as I get a tracking number I should call and make sure it will arrive at my address. That seems absurd that in order to get my packages delivered To the correct address I have to call in my tracking number. I would also like them delivered inside the garage door especially when it's bad weather, there is a note on the door. Please and thank you.

I mailed a title of on 4/03/2019 I called about package for 4 days in a row with no answer spoke with a Valerie at 632 pm on 4/12/2019 for a hour with no results ask for a superviser which I have tried to to to for the past three days
tracking # 786424490171 CASE # 0411931778 THANK YOU DANIEL p dAVIS

Steve
from Mt. Pleasant, SC
This is the second report -- previously spoke with someone. The driver of your truck driving on Waterfront Drive, Mount Pleasant SC. 29464 in afternoon drives at speeds in excess of 50 MPH in a 20 MPH zone endangering himself, your asset, packages, and many lives in this neighborhood. He is a repeat everyday offender. Today, he drove up Waterfront past #s 1206, 1210, 1214 at a frightening speed... I overheard pedestrian scream in fear to dive away while retrieving mail.
This occurred at exactly 2:17 PM Easter Time.
By way of this alert, you are put on notice to address this driver that is driving to endanger (or is under such time pressure from you that he feels he must).

Drivers fail to leave message that delivery has arrived.....especially when delivery is marked 'Perishable" or "Refrigerate on arrival'. for my medicines which must be kept cold. The last delivery cost me over $800 and was tracking #0201 4755 8986 1321. It has been consistent with other deliveries by your company. The phone pad to deliver the MESSAGE is right over the location the box is dropped. LEAVE A MESSAGE AT LEAST.

Delivery scheduled for today, signature required. Worked from home to get package. Sat about 10 feet from my front door. Get a text at about 11am am that delivery was attempted but no one was home. Checked the door for a tag. No one wrang the bell or knocked. No tag. Driver never came. Called fedex and told them I was home. Said the driver won't come back until tomorrow. Explained I would not be home the next day and that I stayed home to get the package and that no one came/no delivery attempt tag at the door. Lots of apologizing but "there's nothing I can do." After trying for about 40 mins to get them to try to contact the driver, they confirmed there's absolutely no way the delivery would be made today. They then told me they could hold the package for pickup at a facility about 15 mins from my house. Not acceptable, but there's nothing fed ex can do about delivery my package (like call the driver and tell him he has to deliver my package). Employee just blamed it on the "contractor" delivery person.
At about 5pm online tracking update tells me the package is ready for pickup at the facility. Get there about 7:30pm. Follow google maps into a secure area where no cars are allowed because it's industrial with all giant trucks and no road marking/signs. I drove around the entire shipping facility looking for a sign or some indication, giant trucks coming from every angle. Legitimately terrifying. I finally see a person to ask where to get my package and he asked how I got in there. Great question! How do I get out of here alive? (It was legitimately very dangerous for any sedan to be driving in an industrial zone like that. Pretty scary that security didn't stop me. I'm not exaggerating when I say it was actually one of the most dangerous experiences I've ever had. They don't even allow employees to drive their cars in that area because it's so dangerous. Nice security, folks.
Eventually found the pickup place (which was just outside the secure area I had just been driving around in for 20 mins). Enter a tiny, creepy room with a prison phone and call someone. Give the tracking number. It'll be right out, apparently. But no. 20 mins of waiting. Pick up the prison phone and call again. Unintelligible person this time with difficult accent to understand puts me "on hold" until the phone hangs up. Call back. I've now been there for over 35 mins. They apologize and tell me It's in another part of the facility and will take maybe another 20 mins. I wait while I make a work call. Call back on the prison phone. I've now been there an hour and they first tell me they haven't yet located the package. They still haven't located it in the facility but it's there and they'll find it they just don't know how long it'll take. Like an idiot, I wait another 20. I call on the prison phone. Eventually, someone tells me that they may not even find it tonight. They took my number and said they'd call me if they found it before midnight (!!!). I left there at about 9:15PM. I first got to the facility at about 7:30 pm. It took them about an hour and a half from when I first asked for my package to tell me that it's not ready for pickup. It's now about 10:30pm and I haven't gotten a call that the package is ready. I guess I'd still be waiting there if I hadn't left. There no number for the facility for me to call them. Don't know how j know when to get my package because I was told over five hours ago that it was ready for pickup. Not ready for pickup, though.
Worst company I have ever dealt with. Will never use regardless of price. Of note, several employees apologized and said that this is totally unacceptable. Of course, none of them did anything to actually make my experience less miserable. Even the security guard telling me that fed ex is a terrible company didn't help ease the inconvenience of this all. Every employee just apologized and said there's nothing they can do. Over and over. "I'm sorry, that's very frustrating; unfortunately, there's nothing I can do." Fed ex's slogan should just be "I'm sorry but there's nothing I can do".

FedEx delivers our packages up the hill from us and puts it on the neighbors front porch and lets them deal with it. Our driveway is long but well maintained so there is no excuse for their laziness. My live plants never made it to my house, tho they stated it was delivered to my door. This has gone on for months and I need it to stop. Our neighbors are sick of having to deal with them and have called to complain as well. Nothing ever changes. Please help! I'm at a loss as to how to get this resolved.

Elizabeth Laird
from Springfield, TN
I'm not sure why I need to use at least 100 words, but I can try. The item was dropped off on my sidewalk. Not by the garage door which they do sometimes, not by my front door which you would think would make the most sense, but the middle of my sidewalk about 6 feet from my house. quite a way from any door or garage opening. If it had rained, it would have been soaked. So I request you take action to to remind (hopefully there is some kind of policy in place and sidewalks are not common drop off lacations) your drivers to deliver items by doorways. If the item is bulky, he could have at least knocked on the door or rang the bell. I had the door open with a glass door in place and two dogs inside so I know this did not happen.
We have a lot of packages delivered, and this is not a usual problem.
Regards, Elizabeth Laird

ted vittorio
from Cartersville, GA
More than once one of your delivery trucks drops off a package at the end of my property near a locked cattle gate that leads to my barn instead of driving down the driveway where it could be properly delivered to my house. Today I discovered a package that looks like it got rained on. We had rain 26 hrs prior. I don't know what time or what day it was put there. Worst part is the fresh cold packed contents was over 75 degrees and most likely diminished the quality. It sit in the sun several hrs. One time is a mistake, Three times means an idiot is delivering time sensitive packages with no regard to the customer. UPS and DHS and even USPS deliver with no problems. In the meantime i'll consider shipping with other carriers.

If I can remove the star, I'll make take out all the stars. This experience is so frustrating that I'll never trust any express agent companies with FEDEX & TNT!! FEDEX & TNT are so incompetent dealing with internal financial & parcels.
Here's the story: we appointed an agent company called "金客来Jinkelai" to collect 3 cartons for us from the US in late Oct of 2018. At the same time, we paid the delivery charge in advance. (This is their rule, we respected that, so payment first, and then pick-up.)
In Nov of 2018, they arranged the pick-up via HK TNT, but the actual pick-up was US FEDEX, not US TNT. They explained to us because TNT was bought by FEDEX. They are the same group now. That's fine for us, as long as the parcels got handled properly.
In Feb of 2019, our US vendor emailed us saying that FEDEX is pushing them for pending payment on this delivery. We contacted 金客来 immediately for this. They confirmed all charge had been cleared in Nov of 2018, but without any documentary proof, so we could only deliver the wording confirmation to our US vendor, saying the payment was handled and there's no pending payment whatsoever to clear, pls ignore.
But in Mar, again, we got the email from our US vendor, saying the payment was still open in FEDEX system and they pushed our vendor to clear it. Our vendor provided the bill on email too, which was on Mar 7th. I forwarded the same to our agent and required them to contact TNT to clear this mess up. (I tried to call HK TNT & HK FEDEX on this, but since we're not the account owner, we're not able to have any details. What we can do was pushing our agent to push TNT to clear it)
The reply was: Now TNT's aware of this issue, and they're contacting FEDEX to settle this. The entire process will be long, about 1 month maybe. And we'll keep on following it up to clear it. But the truth was, FEDEX never stopped pushing our vendor to clear the payment and they could not bear the buzz any further, they sent out the check in late Mar.
And our vendor's right, till today Apr 10th, this is still pending. HK TNT never got official confirmation from FEDEX saying that we confirm this payment is clear and no need double paid again.
Right now the outcome is that:
1. We paid this delivery in Oct of 2018 in RMB to our agent. And our agent paid HK TNT in Nov of 2018.
2. Our vendor paid US FEDEX for the same delivery. And we paid again 520.11USD to our vendor. Because this is not our vendor's responsibility to shoulder the cost. And they deserve to stay out of the mess.
Leaving us here, paying double sides. And NO TNT or FEDEX refunding us! Our agent called us fool to pay again to the US. But we need to protect our relationship with our vendor, which is beyond couple hundred of dollars.
The point that frustrates us is that WHY it took so long for TNT & FEDEX internal financial system to clear 1 delivery cost???? Don't they work with each other at all?? HK TNT collected the payment long time ago. They got full record of the bill. But they don't clear it with FEDEX. So FEDEX re-charge again in the US end.
If you're telling me because both companies so big, and the process is complicated, blah blah, I'll say bullshit. It's just they don't care about small customer experience at all!! They are big enough and they don't worry about business status. And upmost, our experience might never got a chanel to reveal to the public at all!!
So here I strongly suggest any person or party, that has ever encountered things like this, DON'T keep silent! Speak it out loud! Or else it'll never change.
Attachement is the email and payment record. TNT & FEDEX owe us and our vendor an APOLOGY!!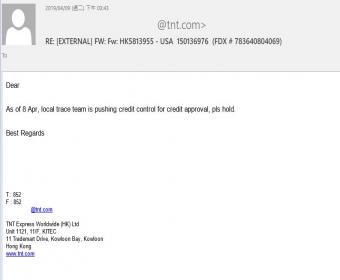 I have tried time and time again to have my deliveries left on our back porch. I work long hours and I don't want packages sitting on the front just waiting for someone to steal them. I set the back porch as the default on my FedEx profile, I log in and select the back porch for each delivery individually, I have even called FedEx many times to try and get them to stop leaving packages on the front porch, but to no avail. They just plop them down on the front porch in the most conspicuous spot they can.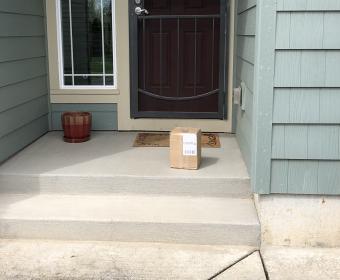 Jeffrey Edwin Baker
from Jackson, MS
First, your FedEx ground driver doesn't understand FedEx smart post. Twice in the last week, my smart post package was left behind. Today as of 515 CT, the pickup person was there but didn't pickup the 7 packages that were ready to go. One was a smart post package that was left behind wednesday. I called your customer service desk three times in 7 days. Told me somebody from the Pearl, MS FedEx center would call me. No call. I want my money back for the smart post package sitting in my parts department 2 days for starters. I paid for it through my PayPal account since my corporate FedEx account doesn't offer smart post. I am trying to get rid of some obsolete parts on Ebay. I cannot trust FedEx will even pick up my packages. Train your employees to know the product. Train your managers to call people with complaints. All us managers have to do it. The longer it takes to call, the more mad I become. I have to be brutally honest, I will no longer use FedEx to ship our Ebay items. You broke that trust.

Packages are not being delivered to my address.
Last month, package was delivered to the house across the street.
This week - Fed Ex truck in the drive Tuesday evening - driver unable to locate package.
Fed Ex truck in the drive Wednesday evening approx 6pm - driver unable to locate package.
Check Fed Ex tracking Wednesday - package delivered approx 4pm -- to what address? It is not here.
This has been an ongoing issue for at least 10 years.
I cringe everytime something is being delivered via Fed Ex.
Elizabeth Lauer

Fed ex never comes up to the 3rd floor to deliver packages they keep delivering our packages to the 1st floor and the wrong suite

I was expecting a package on March 27, 2019, as I track everything I order. It arrived at PortWentworth GA and was loaded on the truck for delivery that day. Driver input "Delivery exception - Future delivery requested"; by whom I have no idea. back on the truck the 28th for delivery, driver input "Delivery exception - Customer no available or business closed" (A lie). Nothing showing for the 29th, but the 30th "left at Front door. But prior to this I called FedEx on the 28th around 9 p.m. and told them to send it back to the seller, I was assured that would be done, but as I stated earlier it was delivered to my house. I called and was verified that they had been told to send it back to the seller, so since it was delivered they would pick it up Monday. When no one showed up Monday I called again and was told it was scheduled for tuesday (another lie). I have recorded conversation that assured me it would be picked up Monday. I am hard of hearing and have a Captel phone to read what someone says to me. Well when I got that lie I told him to cancel the pick up, I would drive the 25 miles one way and take it there myself; which I did. Yes, I was very frustrated seeing how I had this happen to me in Topeka KS once. If it was possible to rate less than one star, I might give a quarter of a star.

The FedEx at 595 Northport Pkwy, Port Wentworth, GA has drivers that are worthless. They will not deliver a package on time and their reason is a lie. They had a package of mine on the truck for delivery 4 days before they delivered it. Even the online person for FedEx would lie and did more than once. I tried to tell them to return the package to the seller, but no. So I had to drive 25 miles one way to give it to them and tell them to return it. this caused frustration between me and the seller.

Paul Gieschen
from Atlanta, GA
FedEx delivery people consistently ignore a very prominent sign that says not to leave packages on the front porch (weather susceptible) and to leave them on the carport landing. USPS and UPS have had no trouble doing that, but very few FedEx deliveries have complied. That includes the one this morning shipped by Vitacost with refrigerated materials in it (FedEx Home 489542612782) which was left on the front landing with the prominent sign at 9:14 a.m. , but not found until 6:30 in the afternoon by accident. It also took an inordinately long time from pickup at Vitacost to delivery. Needless to say I don't think much of your drivers who can't seem to be in such a hurry they can't look. Maybe they are too busy to do a good job.

hi sir
my packages not received my customer very bad service last month to i followup my packages but no any responsibility fedex very very bad service please not here to any one send the parcel fedex service very bad responsibility, my parcel NO : 774573451414 .

ken seaton
from Saint Clair Shores, MI
you failed to deliver package first two times ,I requested package be held a facility for my pickup and instead you put it back on another truck to be delivered again.

Chantia Aubert
from Chicago, IL
The driver lied about coming to my building and never showe up i waited all day for him the driver not knowing that i have cameras outside of the building the cameras was ran back and no fed ex driver never arrived at my address all day i dont do lies that was a unessacarry lie if you dont want to do your job than let someone else do it but why are you lying? about a delivery when you didnt even come i paid for this product your driver didnt so why is he lying and holding on to my package i dont understand the lying part

Teresa Martin
from Chillicothe, TX
On March the 14, 2019 I sent a vapor shipper with equine semen in it. it got to great falls mt on 3/20/19 it did not clear customs due to fed ex letting it sit to long and the health permit ran out. I was told numerous times on the many phone calls made that it was an oversite on fed ex that it should have been assigned to another person. Due to the neglect of fed ex $3000 worth or equine semen has now ruined. On 3/27/19 when I finally made them give me an answer as to the status of my shipper, I requested it to be sent back to me the shipper. I stayed on the line for over an hour they said it would be sent back that day. 3/31/19 I was told it is still sitting in great falls montana, the contents are for sure runined now and a $1500 vapor shipper that I need to run my business is not returned yet. I could not even get an answer from a supervisor as to where my vaport shipper is at this time. I got a letter on 3/28 with case # 0327931254. I am demanding to know where my shipping container is and to be returned immediately where I can fill for the insured value I have on it.

Carolyn Zaret
from Scottsdale, AZ
Purchased several items from Chewy..com - informing me delivery would be yesterday, Sat. March 30. I ALWAYS ASK VENDORS TO INSTRUCT FED EX TO DELIVER PACKAGE AT BACK OF HOME which Fed Ex DID NOT DO. THERE WERE AT LEAST TWO FED EX DELIVERY VEHICLES IN THE BACK DRIVEWAY OF MY TOWNHOME COMPLEX THROUGHOUT THE DAY. When I did not receive the package after 8:00 p.m. I called Chewy and they informed me the package had BEEN DELIVERED AND LEFT AT MY FRONT DOOR, CONTRARY TO WHAT I HAD REQUESTED.....THE PACKAGE WAS CLEARLY MARKED DELIVER AT BACK...YET IT WAS IGNORED.BVY ONE OF YOUR EMPLOYEES.
I will not be shopping with Chewy in the future because I cannot trust their delivery service choices..
I am partially disabled and had one hell of a time struggling with that package to even get it in the front door.
If I could rate your service with less than one star, I certainly would.Fed Ex delivers packages throughout the day here in the complex where I live..and when one package is clearly marked put in back of home, no one paid attention - shame on you Fed Ex.

wish to remain unknown, fear of retaliation
from South Jordan, UT
I would like to know why my management at my station BTFA put on my time card that they went on a checkride with me? Seems like falsification? I have knowledge that this has been in practice for years!

Catherine Stemple
from Philippi, WV

Anita Vaughn
from Philadelphia, PA
On Friday, March 22, 2019 at approximately 1:50pm, I wittnessed a delivery person place a package on the porch at 415 South 50th Street, Phila, PA 19143
Afterwards, the driver went into a driveway next to 413 South 50th Street to urinate.
I took a copy of the vehicle and license number is ZGD-4765 He was a young, black and slender.
If an officer had driven pass, I would have reported this young man. This is unacceptable behavior on all levels. We are a community with a lot of young children.
Quite douftful this is going anywhere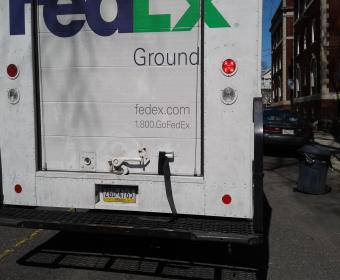 verne
from Bossier City, LA
I have had problems in the past with fedex delivery drivers so today I stood outside by my mailbox from 5pm until I called the fedex no. I gave him my tracking no. and he informed me the driver had tried to deliver it at 6:25. I explained to him that I had been outside and my wife was working in the yard, I live on a dead end rd. and no fedex truck or van came down my rd. Today is Friday and was told it would be Monday before it would be delivered now. Great customer service Fedex. If I had any control over it I would never have anything delivered by Fedex again......

Sherrie Bell
from Hampton, VA
Hello, I just recently moved to Hampton Va. And the first time I got a delivery from your driver, it was very late. He did not show up until 9:00pm. And did not even knock to let me know that he left it. And just now my dog starts barking. And after I opened the door your driver was driving off. And my package was in horrible shape. Thank goodness that is was not breakable. The package was torn, and it was dirty all over it had foot prints all over it. This is not right. I did not catch his license number or who he was. But I could not miss the big FedEx on the truck. The reason I am telling you this is I do not want this to happened to another customer. Sincerely , Sherrie Bell

Valerie Phillips
from Prince Frederick, MD
My husband and I have a concern with delivery of our packages. We live on a hill with a very long driveway. FedEx delivery persons refuse to come up the drive with packages for our household. They routinely leave the packages at the end of the driveway. The problem is we can not tell when a package has been delivered since we can not see the end of the driveway from the house. We feel its unreasonable to expect us to constantly walk the driveway several times on a given delivery date to determine if a package has arrived. Then too, what if we are away from home for the day? Today, March 22, 2019 was a delivery day for us. It is extremely windy and raining. The delivery person once again left our packages at the end of the driveway and uncovered (no plastic bag, etc.). Needless to say, the package got wet. We are not sure what the aversion is to coming up the drive, but this matter needs to be addressed with your drivers. A copy of this email will be forwarded to the BBB. We look forward to hearing from your office about this matter. Thank you. Valerie Phillips 9622 Ridge View Drive, Owings, MD 20736

Cathy Saccente
from Wethersfield, CT
I have several deliveries per month, most often delivered by UPS or USPS. There's never a problem with these services. However, with FedEx there's almost always some problem. Today a delivery was made to my home. The driver pulled his huge truck into my driveway even though I live on a cul-de-sac and driving around would've been an option. I was standing in my doorway expecting the driver to put the package on the porch. Instead, he walked around the truck and place the package at the far end of my garage and left it in the driveway. He waved to me and smirked before backing his truck into the street nearly driving onto my neighbor's lawn. Usually FedEx delivers my packages to the wrong address even though my house is clearly marked. This time, at least, he got the address correct (surprise). However, the customer service leaves a lot to be desired. I am disabled so my neighbor saw what had happened and brought the package to me. I always dread when I see that my packages are being delivered by FedEx.

John Shipley
from Demopolis, AL
I ORDERED ITEM # 401719159705. IT WAS TO BE MAILED TO 1306 N. POWERS ST. GREENSBORO, ALABAMA 36744. IT WAS DELIVERED TO JEFFERSON, S.C. THE ORDER WAS TAKEN ON 3/05/19-DELIVERED 3/09/19. I WOULD REALLY LIKE TO GET MY BIBLE DELIVERED TO MY ADDRESS ASAP!

tricia
from Jacksonville, AR
waiting on a package stayed home all day waiting for fedex and I went to the bathroom and had my front door and screen door opened heard them knock and said hold on no way they couldn't hear me since my bathroom is close to my front door and about 5 seconds later they put the notice on my door and was leaving my yard. called several times and they kept saying you weren't home when I was since I had all windows and doors were open. they couldn't wait 5 seconds.
Thanks for your feedback!
Sorry. Please try again later!