Family Dollar
Family Dollar Complaints Continued... (Page 8)
619+ reviews added so far. Upset? Call Family Dollar corporate: 704-847-6961

Kevin McCarthy
from Jacksonville, FL
I just left the McDuff Ave. Family Dollar. I usually shop there weekly and spend on average 100. The last 4 times i have been there, no shopping carts were available. I am 65 years old and unable to carry that much merchandise. There were several carts in store but filled with stuff and not usuable. Two isles are totally blocked and not usuable.
I sought out the Manager to insure that she was aware. Manager Cici was very short and unprofessional. She replied "that people walk off with them and what did I expect her to do". I replied contact corporate and make sure they were aware. She replied " i don't care what you do" turned her back and started sticking shelves. This was a horrible experience in a dirty unkept store.
Please do something about this ongoing horror show.
Thank you,
Kevin McCarthy

tanya wade
from New Orleans, LA
the location in New Orleans, La on 7300 Read blvd about 3:20 pm . we were in line along with 3 other ppl and one cashier was counting her drawer the other one walk to a room and never acknowledge not one customer. I put everything to the side and walk out. VERY POOR CUSTOMER SERVICE. NEVER WILL I AGAIN GO TO THIS LOCATIONS.
I just called for a Manager and I got interrogated by 2 employees on Jan 28,2018 @1:40pm

I understand there are rules and has to be guidelines to follow, but I have had my share of bad experiences at family dollar..and started shopping dollar general and other like stores. Heard of a good deal at family dollar, after losing most of my stuff and thought I would try it again coz I needed this deal. The comforter set deal. I go into family dollar..the $10 instant coupon signs still up, the $15 digital coupon...and they would not honor the $10 off coupon on the comforters ..2 different stores. And I'm sorry to say, that's just not fair!! Very poor business!!! The signs were still up, they should have HONORED it!!! That is something, I guess, f as miley dollar doesn't know...honor!
A very pissed customer in ohio!!!
Tammy
740.463.9518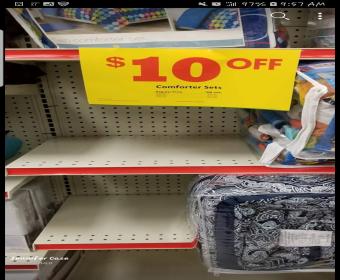 Laura Liles
from Fort Worth, TX
Money back guarantee was not honored at two stores on bagged cat food claiming there had been a "scam" going on.

Audrey Washington
from Detroit, MI
I feel it a disgrace to have a cashier wait on you wearing a hair rag scarf. I have been to all 3 stores located in pontiac michigan and everytime i go in there the cashier which are women look sad like they have just out of bed. Their demeanor is not upbeat. A very dry conversation hair scarf and hair rags should be eliminated. First appearance is everything. Please review your policy.

Tracy D Ward
from Ormond Beach, FL
My Complaint is , have been shopping Store at 780 Nova for months now and Parking lot trashy , bottles , paper goods left all over , lunch bag's etc. all over parking lot for long periods. There's no cleaning of lot what so ever ,only time it's picked up is when grass is mowed that's because it's a must for the mowers . This is bad sign for the business .We shouldn't have to be subjected to this mess, this is a business . My Wife and my self ,have been shopping Family Dollar Stores many years, recently moved to area .PLEASE ADDRESS THIS ,if not you will lost our business and group of HOA of our neighborhood

Sandra Lamont
from West Bloomfield, MI
I'm visiting a very sick family member In Ypsilanti Michigan I was in your family dollar store about three weeks ago and had a bad experience with the cashier at your store on Emerson the service Rd I purchased some items and the cashier who name is Alex he put the items I purchased in a bag that was to small and I asked for a larger one he said he could not do that the manager was right there and he said that they was not allowed to give their bag away I said to him that he was not giving me anything I paid for what I got all I want is a larger bag they did not give me one and asked for the number to the corporate office they said the number was on the receipt but it was not I call another store and they gave me the number to complaints I call and the prompt told me to press 4 to leave a message I left a message and it said someone will respond to me in 7-10 business days and no one have responded yet and as I was leaving the store Alex shouted to me don't come back I would like to hear from someone soon I can be reached @ 704/333/0777 my name isSandra Lamont Thanks and look forward to speaking to someone to get this matter resolved

Bill Peake
from Jonesborough, TN
Items on sale that said for digital coupons . Could not find items on phone that honored the digital coupon sales . For instance save 2 dollars on Tide using digital coupon , Friskies cat food save 2 dollars using digital coupon. When starting to check out ,I ask the clerk if the sale was correct since items did not show up in phone coupons . With an attitude , she stated she couldn't do anything about it . She did not offer to assist in any way . So with a buggy full of products about 70 dollars worth I walked out leaving clerk to return all products back to the shelves. Feeling good leaving that I had not been ripped off by a so called sale . Wondering however how many people had thought they were getting a sale. People that don't even has digital coupon service may have read the sign thinking they were getting a sale, not paying attention to how much they were actually being charged.
A Sale is a Sale , Digital coupon is a Digital coupon and False advertising is False Advertising. Thank you Bill and Debbie Peake

Patricia Torres Jahn
from Provo, UT
I went to the Provo Store Geneva and Center St. 84601. The Saturday before I purchased 135.00 worth of stuff. A shirt that I had purchased did not fit. I also purchased a phone head set that did not work. I believe it may have been defective I tried giving them the receipt. It had only been one day since the purchase.
They 2 ladies that were in the store were talking amounst them selfs did not address me so I politely interrupted them and let know that needed to return some items. They acted bothered by my presents. I showed them the receipt and they asked for the box that the headset came in. I walked behind them and graved a the same kind of head set in a new box. The lady claimed it was the wrong box but, there was only one head set available and it was the same one, the manager was just trying to start an argument with me. I then told her I had the box at home and she still continued to be very rude to me.
I then showed her the shirt that I had purchase with tag and the receipt. She then told me to go to the Orem store to return my items and to get out of her store. She stated that it was not her job to help me if she did not want to. Mind you the whole time it was here starting the argument. She was so hostel and rude. I asked her for he name and the number to cooperate. She refused to give me her name or your phone number. I called the Orem store and they instructed me to go online. I even told her that I t was going to report her and she stated very proudly that I was not the only one who has told her that before. I ask that she be let for causing me to have to deal with very unprofessional attitude.
Thank you
385 204 2821
PJahn

Angela Carr
from Indianapolis, IN
I used my debit card to pay my merchandise and it declined 3 times and the fourth time it was approved because I received a notification instantly to my phone and the employee said was declined but the money was taking off my card and I showed the employee proof my transactions she refused to help me and said she cant doing anything about it.morelss she told me "oh well take it as a loss" I need to know where my money is I want my money back. Thank for taking the time out and reading this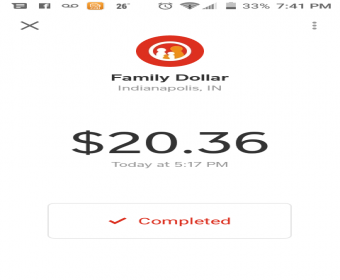 Cheryl Moore
from Houston, TX
I purchased a product from Carnegie Pa.Family dollar last week.It didn't work so I returned it today 1-17-19.I had the original store reciept which I paid with my debit card.Now they took my cash off my card at the moment I slide my card thur.So I brought it back today the manager refused to give me my cash back and made the female cashier who had no clue what she was doing put the return through as a credit back on my debit.They totally went against their own return policy with the male manager fighting with me about it while 6 people were in line behind me in agreement with me.So I called my bank and my cash for my return is still not on my debit card.U people stole money right in front of my face.I paid u cash from my debit card then refused to give the cash back to me even though I had the original reciept showing they took my cash.Thats theift on ur management and ur management teaching ur cashier how to rip the cash paying customers off.All I know is ur company has ripped me off $11.00.I have no respect for ur management at all anymore and will not return to Family Dollar again and neither will my family or friends.I want my cash back like ur policy says I deserve.Ur management and store employees need better education and better training.This is not the 1st time this has happened to me just the 1st time I've realized this store is stealing from me.As of 2:43pm my cash is still not on my bank card.

Dana Karl
from Washington D.C., DC
FRUSTRATED!! On December 28, 2018, I was hired for an Assistant Manager position in Frazeysburg Ohio. Rita, the new store manager hired me. She said she was going to try to "expedite" to get me in the store ASAP, because she needed the help. I have been going into the store now 5 times, and I am told the same thing. "I haven't heard anything". According to Rita, the DM , who I also have to be interviewed by, just gives her the run around saying he will get in touch with her the following day, and evidentally doesn't. It is Jan 14th, I went into the store to find out again what is going on, and she told me she has stopped calling him. So not only am I STILL not working there. I have decided NOT to work there. The sad thing is I really want to work for your company. And I LOVE the store in Frazeysburg, and have been so excited to start work there. But if the DM in the region can't return phone calls and be the professional he is suppose to be, then you had better take another look at him as a District Manager because he certainly doesn't act like one. So thanks for the let down.

Luriena Palmares
from Bristol, CT
On January 12, 2019 I asked to go through my purse after I had made a purchase and the metal detector sound upon attempting to leave the store. I was asked to come back to the register and waited for the clerk to get the manager, Morice Jermaine. This occurred in the Family Dollar located at 560 West Main Street, Meriden, CT. I shop at Family Dollar every week multiple times. The metal detector in this particular store always goes off and staff tell customers that the alarm is faulty and they may proceed with exiting the store. I do not feel the manner in which I was treated was fair and I am extremely upset. I was asked to go through my purse and "find" what may have caused the alarm to sound. As I shop there often I had several Body Fantasies sprays. One of my larger sprays still had the "this item is electronically protected" sticker on it. Upon seeing the sticker I informed the manager that I would be leaving the store. The manager did not apologize for the false accusations made or the manner in which I was treated. I feel as though this situation could have been avoided if staff was better trained and was not so quick to accuse a frequent customer of shoplifting. I am a mother of 6, a paralegal and the situation was extremely embarrassing. I would like to be contacted (860) 893-3826. Sincerely Luriena K. Palmares

John Harris
from Marksville, LA
I was told,I was band,from the Albert Pike Store,in HotSprings!I did not steal anything,I was not rude,or nothing!Always speak and pay for my items!No one ever came and told me,that I was band!I asked why,got no explanation,whatso ever!I have a job,I pay for everything,that I want,do not have to steal nothing!If for any other reason,this can not be resolve,I will seek legal action,for being wrongly accused,with no explanation,to why!

randy mcgee
from New York, NY

Davonna Dillon
from Dayton, OH
I was injured in your store and Dayton Ohio on on North Dixie Drive roughly late November early December and I've yet to hear from somebody and I would like to know why if this is the way y'all going to run a company then I suggest you close it I talk to one person and I were a month and it's bull I need to know why you can call me at 9:37 875 3482 thank you very much

Hi . I do a lot of my shopping at your diamond street location in Mansfield Ohio. I have noticed that other than a kind of Dem light in the middle of the parking lot. And the family dollar sign. There isn't any light in the parking lot. It's actually pretty dark . Workers could be at risk when locking the store when they leave . If its icy out. A customer could slip and fall . Someone going thru the parking lot might not see someone walking and hit them . May be a pot hole someone could trip and fall. Just thinking about your staff and customers saftey . And I'm sure you are too. Thank you for your time. And hope you can brighten the matter up thank you.

They want let kids in the store in Shreveport so we go to dollar tree now but that just not Right

Lois Beasley
from Byrdstown, TN
I bought a diffuser, it worked three times and quit. I had my receipt, but no box. Took it back and asked for a replacement, told the manager he could keep the box for the defective one. I had to hear about how it was a hazardous material and he didnt know if he could accept it?! This is a very small town with a choice of family dollar, or dollar general, I hate going in dollar general- not very clean and crowded isiles, but im not allowing family dollar to rip me off again.

sherry sibert
from Houston, TX
I returned a Magnavox universal remote, the lady that was there said she couldn*t help me because she did not know how. She look for the manager but could not find her, I could not return the product and could not exchange it because no one was there to help me. the store is ran very poorly. the store in Sparta, ga , hancock county.

PREPAID CUSTOMER
from Newark, NJ
I went to the Pocahontas AR store on Christmas day and the manager, Jamie, had her 3 young kids in the store behind the counter. One of them was sweeping the floors, another was taking the trash bag out of the trash can. Having her kids come in and do her work for her because she is lazy is illegal!! The store is a mess and she is always on her cell phone instead of doing her work. Your company has terrible management!

Michael Pace
from Philadelphia, PA
.3141 Frankford Ave #59, Philadelphia, PA 19134-3826 Today was Christmas. I am beyond broke.. So when I saw the $5.00 off of $25.00 store purchase I jumped at it. To me that is literally 3 meals. I have a government phone so your app does not work on it. Today for the first time I saw I could just type my phone number in. So I walk the mile and a half to get there about 4:00 pm. The website said it was open till 10:00 pm. As a matter of fact the website says it's still open. Suddenly there was an announcement for everyone to get in line immediately. They are closing a 5:00. Neither the door nor the website said that.. The new guard would not let me put my bags in my backpack in the store. He "help me out the door"But that was not the worst part.When I typed my phone number it It read my discount would be on the receipt and it was "waiting for cashier". That means the manager has to clear the coupon or something.Well the manager was the cashier and rather than do whatever she had to do she told the machine said I had no ID.The phone number was wrong. I tried it again . Same message about the discount same .message the same remarkable lie from the manager. I am beyond angry. This ruined my Christmas. I was really counting on that money.Here are pages from The Family Dollar website. And the recipient need that five dollars I needed it today.I expect it tomorrow.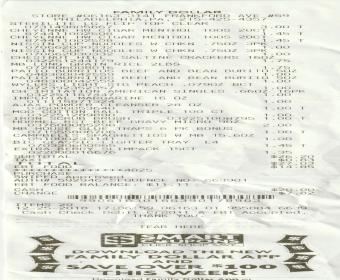 Marcel jung
from Farrington, NC
Myself An My Wife Was Talking About A subject of A Doll House An A Store clerk Named( Bryan Stackhouse )Just Cut me off While I an My Wife Was talking an Denied us Cash Back An Was Very Very Mean About ' Informing us Its no cash in The Register for a transaction of Cash Back ' Then He Began to Argue with me An I Had Up Until that Last Issue shopped in the Family Dollar Store On Ramsey St. in Fayetteville ,Nc For One full Year I Never Felt more disrespected By Some one who benefits from My Wife an I Shopping in that Family Dollar But I Will Never go In That family dollar store Again ' I Love Your prices an Over All products the Company Service the public ' But that Person ' If That's His Real name (Bryan Stackhouse) One young Lady Named 'Pam is Also Very Rude one Day She Had Said To One Other Employees( quote) He Was Here Early! I'm guessing she made this statement because earlier my two year old Loves chocolate milk an we Ran out of milk an I had to Go back to that Family Dollar On Ramsey St. in Fayetteville,Nc Its Just totally not nice How Those People are in that Store I Hope Changes are made for future customers ' Thank you

Pamela Parker
from Houston, TX
The store hours on Lockwood are posted on website and the business door 8am- 10pm. This store never opens promptly and regularly close early. There always seem to be some type of problems. As myself I'm sure I speak for many, we all have schedules to maintain. For some reason if the hours are incorrect please change them; if not could you hire responsible staff.Reacurring behavior I will shop elsewhere.

Ken Wolfinger
from Altoona, PA
For years I have purchased the 4 gal. roll of plastic bags. I have found them to be strong and a great buy. This last roll I purchased were anything but that. They ripped at the first sign of resistance. Very disappointed!

Toyia Mathis
from Chicago, IL
The store was closed, doors locked 7 minutes till closing, not very professional!

Family Dollar salesperson at store 640 N Howard St Akron OH 44310-2936 profiles certain people.

NELSON PETTIGREW
from Owosso, MI
You being my district manager at store#1370 i thought you would at least be concern about why i stop working after 10 dedicated years without a vacation and not calling in to work and keeping that store clean and neat and in a instant i was gone and you dont know what was said to me and how it was said to me and not only that its the fact that i was told if i was to get transfer to cheasaning then your store mgr would quit so thats being on my mind also but maybe its my skin color and that some of your other workers are intimidated by me thats makes it not a concern to you of why i all of a sudden quit when i just had a conversation with you of staying on board .. Greg alot of people know me in Owosso there is no doubt and how good of person and worker i am but for you to not call or text me its kinda sad...and now you have to answer their question of why i all of a sudden quit after 10 years and Merry Christmas to you also and i wish you the best..Nelson

Donna ANKER
from Akron, OH
I am handicap live in a high-rise andy family Dollar has been closed with no explanation for 2 days now I rely on this store for supplies

Patsy Garner
from Philadelphia, PA
I came in your store and the front of your store you had a box of wrapping paper the box as a dollar I grabbed a trolls proceeded to your store to get a couple of items that I wanted got up to the desk and they were marked $2 you don't have a box nowhere on the floor we're wrapping paper Mart $2 you have a box that's Mark $5 $3 but no box that's marked $2 he would not give me that wrapping paper for a dollar and proceeded to be very nasty and aggressive with me I left all my items at your store

Linda Webb
from Chicago, IL
I WENT TO SPRING ARBOR ROAD FAMILY DOLLAR I ATHEN TRIED HELPING ME I SAID SKED A EMPLOY WHERE ARE CHRISTMAS GIFT BAGS HER RESPONSE WAS THERE ALL OVER THE PLACE MAM I SAID EXCUSE ME FOR ASKING SHE THEN TRIED HELPING ME I SAID DONT NEED YOUR HELP I WILL FIND THEM ALL OVER THE PLACE I HAVE WORKED AT TARGET 18 YEARS THAT WAS THE WORST SERVICE EVER I WILL NOT RETURN! OLDER LADY AT 430 PM

Janet Isham
from Thomasville, NC
I went to your store on Winston road Lexington nc the ice was thick almost fell 2 days after the snow....You could have been sewed and I could have broke my neck..Your employees at that store are either outside smoking or at the back of the store....They never open on time.....I guess I will go back to dollar general.....I hate I cant talk to someone by phone guess that shows lack of interest in your storew

Nancy Lawson
from Akron, OH
I have a complaint about. The Family Dollar on Cuyahoga. Falls Avenue in Akron Ohio. The trash can is so overflowing that trash is all around the can and in front of the store. It's disgusting.

Jamaar Jones
from Marrero, LA
Hi my name is Jamaar Jones and I went to the family dollar located at 3407 lapalco blvd, Harvey la. 70058 on Thursday December the 6th between 6 and 7pm with my wife to purchase some tissue and some other items for my pregnant wife. so one of the ladies who was visiting the store kept following me for some odd reason, about 10 minutes pass and my wife calls and tells me don't worry about the other stuff just get the tissue. so I put the items back and proceded to the checkout counter, out of nowhere the lady who was visiting the store asks me what did I do with the other items, at this point i'm like excuse me, she then says yea where are the other items, I said I put them back my wife didn't need them. as I handed the cashier the money to pay for the tissue, she took it and refused to give me my money back, she told me that she was not giving anything back until I put the items back. so i'm telling her ma'am I put it back because I didn't need it and if you don't believe me check your camera. she had already asked for a security scan check on the aisle that I was on when I 1st came in there. at this point i'm super pissed because im being accused of stealing and I was not. my wife and I live in that store and never had to experience something so embarrassing before in our life. So I told her call the cops then if u think I was stealing, she did and I stayed right there because I knew I didn't have anything. once the cops got there I told them what happened, we stepped outside for him to search me and he found absolutely NOTHING!, HE APOLOGIZED AND TOLD ME TO GO HOME....I have never been so embarrassed in my life in front of a store full of people for something I was not or did not do. I spoke to my lawyer you will be getting a subpoena in the mail because im definitely going through with a lawsuit. I did not catch the young ladies name but I will be going by there today to get that information, she does not need to be employed if shes falsely accusing people. If i have to I will go to news stations. I need to hear from someone as soon as possible
you can reach me by email or phone 504-289-2557

Michael Jones
from Louisville, KY
Cashier trying to check me out with one hand cause she had a bag of chips in the other hand . And talking with the person behind me . This is not the first time I have been done this way .

With receipt denied a return on unopened item purchased the same day of return.
Store looks like a Horder lives inside and horrible customer service.

shane richmond
from Swansea, IL
I'm writing to inform you that store #7744 in Belleville Il locked their doors at least 15 minutes before the 10pm closing time that I know of anyway.
As I sat in my car looking up the corporate info a girl came to the door to let a customer out of the already locked door.
When I asked the young lady why they had closes early she said they closed at 10pm which at that moment STILL wasn't 10pm yet.
She then locked the door again and as I was talking walked away and would not come back despite my knocking.
I don't know if corporate offices were aware of such people doing these sorts of things in your store or not,this is why I'm writing this email.
I do not like going to a store before it's closes to locked doors and rude employees slamming doors in my face.
Thank you for your attention to this matter

Melissa Red
from Reidsville, NC
Attempted to return molded chocolate covered cashews and was told by the cashier that I could not return them since they were opened. Returned home and called the manager and was told to bring them back.Went back to the store only to be told the same thing by the manager and cashier.The manager told me that he didn't care if I complained to corporate and that it would not do any good to complain.The managers name is A.Jordan.

Andrea Bryant
from Chicago, IL
I was attacked by an employee at the store on Chicago Ave and Homan st. Nov 8,2018 I called police and I have a police report and I reported it to corporate I filed a com plaint online and I have gotten no response and the employee is still working at that establishment I think my rights are being violated and I need help now

shelby bran
from Oklahoma City, OK
I have had some issues on family dollars return policy on some of there merchintize such as tv annetas and now heaters. i feel that they pick and choice which items that the public can return. i bought a 20 dollars tv anneta and they would not let me return it for refund, when it woulldnt work for me. like 90% of your customer we shop at your stores because we cant afford to shop anywhere else. but to not beable to return a purchase that doesnt work for that customer , and not told we cant return it, but exchange it for the same thing. is total bull. is family dollar not about customer service , but dont care if they are happy with their purchase. my heater went out on my house and i needed a heater. bought one at your store in okc on s w 59th street. i was not told it could be returned. they wouldnt let me exchange it for the cheapier one that had a fan.so now im out 60 dollars of purchases that i cant use and cant get my money back. i live on a fix income. now i have to do without others things because i cant get a refund. you very seriously need tobe more open om your t
returns. wal mart care about their customers, how about u,

rachel hardeman
from Gonzales, LA
Dollar Tree Store #3010 Cashier Edward. Only one register was open. There were about 10 people in line. I was standing in line for about 12 minutes. The male cashier came out of the office to an unopened register with a teal to open up. He didn't call out to any of the customers that he was open. Some of the customers flocked to his register. As he was checking people out i noticed he never spoke to anyone he checked out. No hello no thank you , nothing. All the customers before me were upset because he did not speak. I am very upset because i was having a very nice day with my Brother and my Mother shopping. This guy Edward put a damper on our whole day. Everyone before me was outside complaining how rude this guy was. He was not a nice person. You have lost my business as long as he works there. I'm very upset.

Lynn Pennycoff
from New York, NY
I was at the Sunbury,PA location on 11/30/18 about 11am and there was 2 cashiers working but there was only one running the register she was very nice and quick but she needed help getting customers threw the check out lines faster but her assistant manager working with her did not really come up to help out. She was on the floor stocking but it looked more like she was talking with friends and going out front for smoke breaks!! And the cashier at the register was stocking shelves plus helping customers find items and checking customers out at the register quick and very friendly so I think your company needs to find assistant managers that do their job that they are being paid to do. Not to hide out on the floor and not help out with people like me your customer. Please do some thing about this issue at store #3684 Sunbury PA I have called the store location and nothing is done because your employee has been at that location for years. Thank You

Mssn johnson
from Philadelphia, PA
I baught trea oil and the box was empty when I went to use it. I tried to get my money back and the manager, a younger black guy with dreads and glasses was so rude. I was basically being called a liar. He said he wasn't going for that. Told me I should have known the box was empty! Well the cashier should have known too. Me and manager got into a verbal argument. I slapped my hand on counter and said I'm not a theif. He startsaid yelling at me. Next thing I knew he was following me out the door saying he should slap me!! This man was ghetto, and so rude. I should have called the cops. The managers at the sore on West 110 th off lorain ave in cleveland ohio don't need to be managera. They are ignorant, and treat people like shit. They are an embarrassment to family Dollar. I will never go there again. And that guy better be lucky he wasn't arrested.

Abraham Wilson
from Opa-locka, FL
TO WHOM IT MAY CONCERN",
i mr. Abraham wilson was an employee at family dollar located at 9390, NW 27th AVE MIAMI FL, 33147.
MY MANAGER( MR ARCHIE ) the name i was told by him was his NAME ( MR. ARCHIE ) ON 11/18/18
at 9:30pm i had to walk away from a job i loved doing with my heart because i was told by my manager
MR.( ARCHIE ) that if i didn"t step up my work efforts my hours will be garnish because my work efforts
were not to his MR. ( ARCHIE ) liking. i would like to go back 30 days befor this happen. i,m a regular
shopper at family dollar located at 14400 NW 27TH AVE IN OPA LOCKA FL thats 3 blocks from my home
i,m also well known there by all of the workers and the manager who"s name is (MR. COREY )who i asked
about a job at family dollar MR. COREY sat me down at the store computer were i submitted my application
a bout 3 days later i received a call from ( MR. ARCHIE ) who is the manager at the family dollar located at
9390 nw 27th ave thats also here in fl where i had to ride 3.6 mi on my bike 4 days out the week to work so i was hired
there a week into me working there he( MR. ARCHIE ) started complaining about my efforts saying its not to his ( MR. ARCHIE )
liking and if i didn"t straighten up fast he ( MR. ARCHIE ) will ( GARNISH ) my hours i said to him ( MR. ARCHIE ) i,m doing my job
and all of what you asked of me to do and he said to me ( MR. ARCHIE ) its just how it works around here. from that point on
( MR. ARCHIE ) had it in for me no matter how hard i tryed to do my job it was never good enough for him ( MR. ARCHIE )
so on 11/18/18 ( MR. ARCHIE ) sent me the schedule for the week there were 4 days ( MR. ARCHIE ) took from me so when i
asked him ( MR. ARCHIE ) why his response to me was its how it is around here. at this point i explain to him ( MR. ARCHIE )
that i have a family with 2 handicapped kids at home and he chose to do this at holiday time i couldnt understand why he would do that to anyone after i did everything i was asked to do the reason why im writing this to you(corp) is because i would like to continue to work for family dollar but at the location thats only 3 blocks from where i live.the manager (corey) would like me there also. is it possible that i can return to work at the family dollar which is 14400 nw 27th ave? corey and i got along fine but Mr archie blocked me from that store which is why i had to go to the other one which is much farther from my home.
thankyou so much for taking the time to rad my letter and im hoping i can return back to work so i can continue to provide for my family
sincerely Abraham Wilson

Mary Jo Goodman
from Chicago, IL
Rude assistant manager Angela at store # 10661 in Largo, FL. Unacceptable behavior, yelling at a customer and threatening to block her from the store instead of deescalating and being polite. Angela should be fired. Everyone who witnessed the incident was shocked. I personally will never shop at a store that employs this kind of personnel.

Dropped 90 Yoa mother at store in duncanville tx. While waiting on her, the delivery bread man from Nature's Own proceeded to cuss me out like a stepchild because someone else parked in the middle of the parking lot and he couldn't get out easily. I just happened to be there and the other guy wasn't. I was minding my own business and did not deserve being talked to in that manner. If he would have politely asked me to move so he could get out easily, I would have happy to help. They need another driver who respects the customers. Family dollar customers do not deserve being abused by hot-headed delivery personnel.

Andrea Bryant
from Chicago, IL
I was accused of stealing and I was attacked by an employee as I was leaving the store I called police and they viewed the security tapes and seen nothing of that nature so I filed a police report and I called corporate and got no response and the employee is still working at this location Wich I think is unfair to me I've been given legal advice and I'm about to go further with this so can someone please contact me asap because my rights we're violated by your employee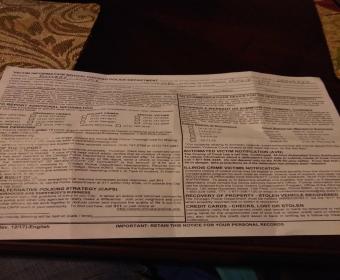 Bethel store and amelia stores are down right disgusting, something needs to be done, you should be ashamed.

You have a employee Samantha Spears working at your Manchester Georgia store who is the rudest employee I have ever come across. I witnessed her refusing service to a young couple telling them she didn't want them at her register and to go to the other register and stand in a long line. The woman was visibly pregnant. As the couple were leaving your employee Samantha Spears was waiting outside the store and told the young woman she was going to physically hurt her and flung a lit cigarette at her, hitting her with it. Your Manager Misty (last name unknown) hired her just a few days ago as they are the very best of friends and will defend and lie for Samantha.
Apparently you transferred a man by the name of Rob who is the brother of your Manager Misty. I frequent your store 4To 5 days a week and have always found Rob to be helpful and polite to everyone, as well as a hard worker. He had been at the Manchester Georgia location for awhile. I believe before any of the crew there now. Rob should have been the Manager if you wanted a good running store. I admit I knew Rob prior to him working for family dollar and I am 3 times his elder and have always found Rob to be honest, hard working and a great customer service employee. On the other hand Misty is sloppy in her dress and never smiles at customers. She is abrupt and does not respect her customers. Its my understanding that Samantha was hired without a drug test. But if you random test her with no advance notice to her or Misty, she will test positive for pills she has no prescription for and so will Misty. They both are pill poppers.
My family has lived in Manchester for 22years and we all shop in your store, that is how I know what your store is capable of and how I know your store will begin to see more losses as items start walking out of your doors.
The 2nd street Baptist Church members will all be going elsewhere to shop if Misty and Samantha (Mandy) remain at the Manchester Georgia store.
Have feedback for Family Dollar?
Thanks for your feedback!
Sorry. Please try again later!