Facebook
Facebook Complaints Continued... (Page 7)
561+ reviews added so far. Upset? Call Facebook corporate: 1-650-543-4800

Rashmi Kumari
from Navi Mumbai, MH

said doing maintance been over an hour still cant log on wow some company how about fixing the problem ?????

CW Garrow
from Redcliffe, QLD
I cannot place a comment without a red window appearing and I have to delete my comment, even though there is nothing wrong with my wording. Secondly , I cannot delete certain unwanted posts on my home page.

Greendot has put a block on my card. It's been nearly three weeks now. You can't get anyone on the phone. The voice machine tells you the card will remain blocked until I send in the infomation that was requested. I was never notified to send in any iinformation. I went online to see how to unblock my card. I sent that to them. Some one called me and said headquarters would be calling me and to keep my phone line open. She couldn't tell me why my card was blocked.This is a con man business. People of the United States, don't deal with greendot.They will block your card. A means to get your money. I left voicemail telling them I don't care how long it takes,am going to get my money from them.

Blaine prest
from Halifax, NS
Friend requests,,how come some like Matthew Bonnerhave 5000 and some. Are cut off at 2000,This is very incovient.especialy if you need one and they. Have 5000or 2000'1d apppreciate a reply

ahshi kuki haokip
from Gurgaon, HR
my account was inactive for the past 3-4 years..now that i have recover my email whenever i log in to my facebook account.security check. i could no longer identify those photo...and the alternative security check where i am being asked to text the security code through phone no. i have lost my cell phone along with the no. kindly help me fixed my problem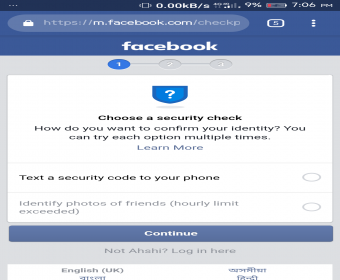 About Facebook it won't let log out and you change me money to think a take this to court of do things it

Facebook is keeping a close eye on my Facebook account. I received two 30-day blocks and other blocks for posting things that they say go against their Community standards ?? This started about a year ago when I tried to start a business and pay Facebook for advertising. They said my business goes against Community standards and then they blocked me. Ever since then I've been constantly blocked. I've seen people posting nudity, obscenities and violence on Facebook and they don't get blocked. Facebook is becoming a joke.

After a few years of membership I have decided to withdraw from Facebook. Facebook has restricted me from posing any and all pictures. I tried to post Valentine Snoopy pictures and could not. I do not like being restricted from exercising my First Amendment Rights. .

ads that you put on here for sales of merchandise need to be screened by someone as some of these retailers have a horrible reputation with customer service and very poor merchandise as well as no way to contact the retailer as they refuse to answer all calls made as well as emails one retailer in particular is Edgewater Direct as they have thousands of complaints filed against them as poor quality merchandise poor customer service months to receive items and no way to return them and some who never have received there items . These people need to be forbidden to advertise on here and should be shut down and taken out of business !

The app and online version is continuously creating problems for posting and editing. Would like to create a business page or group but crashing prevents this. Unable to keep up communication with sellers I've shopped with, creating a huge financial issue.

Facebook keeps banning me for 30 days, now they say I am banned again for 30 days for something I posted almost a year ago. I think Facebook is targeting some people to be banned for no reason except for our views on things. Why else would they dig back a year to find something, anything to ban someone.

I am being locked down on Facebook for alleged bullying of a false account. I shouldn't be punished for calling out a troll.

Lena lednick
from Washington D.C., DC
I have tried to fix my password and entering the code many different times and days and get the samessahe that I have entered to many times come back later by now I am really tired of this now all I want to do is close my account and come off this crazy site. Please fix this o I will contact the bbb and see if they can't help

Jeanne hollar
from Washington D.C., DC
For the last 2 week's I have seen the same things everyday. Also when looking at Facebook there have been many stories that contain pictures and sayings and they are all blank. This has been going on for at least 2 weeks. You can also be on there reading all the things then the pages won't go any further you just see a circle going around and around. After waiting a while I got out and then went right back only to see the same stuff I just saw. When will this be corrected. Very frustrating

Beth Strack
from San Francisco, CA
Years ago, my daughter's father-in-law ("Bud") signed up for Facebook using MY EMAIL ADDRESS. I don't know how he was able to do that, and I didn't know about it until too late, and he was dead. His wife wants to get rid of his account, but she doesn't know his password. I have been trying since October of 2017 to delete all of his information from the account, so that I can have my own Facebook with my address It is impossible.
When I open my Facebook with each of my three accounts (plus even my husband's email account, which is associated with my account), it welcomes me with "Hi, Bud." I was able to change the photo, and that was all. I can't change the name, and I can't delete any of the photos or messages from it. Facebook asks for the password. That is good security by Facebook, but they refuse to help me with my problem.
Since any other new email account that I create will be associated with my computer, the only solution is for Facebook to DELETE THE WHOLE ACCOUNT, and then allow me to create a Facebook account of my own with my own email address.

I tried asking facebook to take down (report) plus I asked them some questions which in the end, got no response. This posts was bothering a buddy of mine. It feels like facebook doesnt care about people posting things. That's why people tend to complain allot about it.

James Muma (McKenzie)
from Grosse Pointe, MI
You don't have a ZERO in your rate your experience. I've sent a number of messages about my issue, and have received no reply. My problem is: Whenever I delete a person's post, it returns as soon as I refresh the page. I've tried this on a number of different posts, and it's the same with all of them. What is wrong? How do I fix it? I would appreciate a response with a remedy to this issue.

John Phoenix
from Bidwell, OH
on jan 2,2019 $80.00 was taken out of my bank account by blackstone for a 36" griddle that was advertised on facebook. to this day we have not received our grill or our money back. the ad said that there was a 7 day delivery. guess what we have no griddle, no money and the telephone # given is no longer in service. imagine that!!!!! what are the steps for me to take to get my money back

Natosha Monego
from Everett, WA
A friend had reached out to me via the Facebook Messenger app out of concern for my safety and wellbeing due to a domestic-abuse situation. Shortly thereafter, I found myself blocked from Facebook Messenger for a post I shared earlier regarding racial discrimination on myself as a child. The post was not threatening, abusive, or offensive, and simply detailed information about my experiences. Their algorithm blocked posts, replies, instant messaging, and the ability to report a complaint or post on the public boards because I had allegedly violated community standards. This is not the first time they have blocked my account for flagrant reasons. There have been other sensitive or controversial topics I've posted about, non-abusive, in which there has been no good reason for them being blocked other than they might have been unappealing to some people. As a result of their extraneous blocking, I've lost contact for several days with friends whom I've been in contact with, providing support and help regarding my domestic situation.

janeen charles
from Shingletown, CA
Please help I have bee blocked twice this week because "I am misusing by going too fast." Could you please remove my block, it is not fair that I type fast.

Rebecca Arvin
from Irvine, KY
FB should screen people who sell things on the site... i ordered from Amelia quilts and have never received. as have many others. The company was a christmas scam and is not even open anymore..they do not respond. They now go by Ecrafta. Do these people have to show any kind of documentation before opening a business on FB? really bad business.. FB is making it EASY to take advantage of people.

angel garibay
from Mexicali, BCN
just about once a week facebook changes my password and deny me access and I get a new password they tell me its no good and this being going on for 8 months now im sick and tired of this game I paid my bills don't owe them a penny i want my apps back now got a headache now its so tiring been trying for 3 hours enough please get me my app back

john knox
from Knowsley, ENG
this is the 4th time I have complained. when I share any posts I can see them on my timeline. but nobody else can. this as been happening for months. shis is shocking. I cant even sent a Christmas message to my friends

ROBERT RUMBOLD
from Detroit, MI
As I said very offended I am a veteran how dare you treat a veteran like this if I did something wrong tell me. If its acvounts fine one is enough I use my real name . Never lied to you guys. I am offended criminals get treated better. I am really thinking about a lawsuit against the person who disabled my account and the company. You never had issues with me. 7 years same account. I did try another account when I got hacked you took it off. Either tell me what i did and how long it's off. I want to open a new account if old one is not put back on. I have been discriminated against. You sent me to scammers who said yes open another account. I love Facebook. U disabled my phone total bs. I have sent a letter to mark zuckerberg. One of my friends is a personal friend of his. . I want him.to fire the people responsible for this

Rebecca
from Washington D.C., DC
My Facebook account was broken into and all of my login info was changed. I have went in circles for hours on their "Help Center" and have received no help at all. There is no live support. No phone number to talk to anyone, and no email support either. Hundreds of memories and pictures, gone.
You'd think with billions of dollars of annual revenue, they could afford to provide competent support. I was close to sending my state ID in as identification, but the Profile picture, Name, Email, and all other info has been changed, so none of the info would even match. The only proof I have that this happened, is the Facebook emails alerting me that that someone was changing my Profile. I was sleeping when this happened, so of course, I didn't see the alerts until this morning.
Also, on Facebook's form to submit an ID, the word "License" is misspelled. Not once, but TWICE. Is it even a legit form or page?
Nobody from Facebook cares. They don't even help in the Help Community. They post the same Help Center link over and over, which just takes you in circles. I NEED TO TALK TO A HUMAN.

Ira Entsminger
from Little Rock, AR
Why am I block from using Facebook? I'm playing games, and tonight I'm blocked out, so why? I would like a reason? I watch and hear that Facebook is an equal site for all, but i see and hear you kick out people who disagree with Facebook!! If this is true tell me and I can always go to another site!! THe truth is what sets you free! I'm waiting your answer!!

Kathleen Turner
from Edgware (Colindale), ENG
I purchased a coat from Hovlly adverting on facebook on 23/10/18 i have not recieved coat but they took the £69 from my credit card i.d like my money back please

andrew katchusky
from Orlando, FL
im sick and tired of guys at facebook BANNING me .i just had a 30 day ban and then you guys gave a 7 day ban i just got off of as of last night .Now this morning i log into facebook and you ban me again for another 30 days ?.stop banning my account. your banning system is UNFAIR ! i have the right to express my freedom of speech !first amendment rights within the chat groups.you people keep bashing donald trump all the time on facebook .unban my account and stop blocking me .its my soul right to have my freedom of speech FIRST AMENDMENT RIGHTS !.

Gail goodwan tullhomma tn john daniel upchurch senior shelbyville tn impostering and attacking others with facebook projecting leaking airygas leaking at others cruel voice cruel behavior posing objective threats @ others lowyers lowyers thank you

Kenneth Stenzel
from Sodus, NY
We try to sell items on marketplace. The major problem is when tryingto sell anything in the shape of an animal. Stuffed, ceramic etc. When you put an item like this under review by the time it gets cleared it is pushed so far down the list that it is then impossible to sell. Even to push an item you must wait days. This makes it impossible to sell many items we have. That is why we absolutely hate marketplace but are forced into using it.

for the past three years I have been insulted and degraded by an unknown facebook user, this person sends insulting messages about me and my children. I have not been able to respond to this user and I don't know how to bring this person to face the law for bullying me all these years.
unfortunately I am unable to attach the messages as they appear in messenger. you are free to check them out and advise me how you can help me identify this culprit so the law can visit them.
any help will be highly appreciated to put an end to this attack I am facing. My facebook account name is Raya Mulevu.
thank you.

Mark kent
from Brisbane, QLD
I just Facebook today and I uploaded a photo and now I can't use use Facebook for security reason not good at all facebook to me this is bullshit all together I want the owner of Facebook to get in touch with me all together this is what you call service well Think this stinks all together I want the owner to contact me all together really this is all bullshit all together I think this is very bad service on face book all together

Ron Henson
from Bedminster, NJ
I have been with facebook for many years, and I abide by all policies and procedures on facebook. Yesterday when I attempted to click like to a family member photo, I was block, now I was having trouble with my system, so it took me a couple of tries for the like to take; however, when I click again, I received a message that I had been blocked. I do not understand why why I was blocked, in no shape, form or fashion, have I ever abused, mislead or sent out any erroneous information via facebook, and do not understand why I was blocked for clicking "likes" for no apparent reason or explanation. I have sent several messages at the help desk and other areas of facebook, but have yet to receive a clear response. I need to know what is going on, why I have been blocked.

Mir Zakir Hussain
from Islamabad, IS
My personal account was disable
it is my real and personal account it was disable by mistake and its my real id card. kindly check it and unlolck my account as soon as possible thank you.

Chris Puppel
from Wheaton, IL
You assholes are messing with my account and not letting me post or answer posts ..... my next call is to my congressman ...... we are gonna stop you my cousin is States Attny. and I have spoken to him before too and he has had the same issues .....

anamaria hara
from Daventry, ENG
Hello,I am having real difficulty in accessing Facebook and would kindly like to know the particular reason,so that I could avoid the infringement of Facebook policy in the future,with all regards to censorship of free expression of self beliefs and observations.I am deeply apologetic for any offence brought against any person/social entity,if any occurred.My best regards. Anamaria Hara.

Rakesh sarkar
from Durgapur, WB
Likes and comments does not appear on the page

christine booth
from Oldham, ENG
For a long time I have played Scrabble on FB but now it wont load.

I am trying to log into my Facebook account where as I don't receive the code to my mobile. I have tried various modes to log in whereas all have failed.

Thomas David Michaels
from La Mesa, CA
I set up a new account a few days ago and every time I go back to it, Facebook blocks me out until I offer them more personal data.
Now they won't accept any photo of my face that they keep requesting. I have uploaded several straight passport style photos repeatedly. I can't even get to a help board or compliant board at Facebook because they won't let me enter Facebook.
Facebook is completely unusable. and I don't trust them at all with my data. I will pursue a different platform.

Dave Martin
from Peterborough, ENG
Why do I keep getting multiple lists of people you think I might want to be friends with? Tonight I have a list of the same 6 people repeated 22 times! Extremely frustrating, please stop!!

Beverly Potaro Iafrate
from Gloucester, MA
I 've been trying to login to my facebook account for 2 days. they send a code and have sent it back 16 times or more and they do not log me in. What is going on? I changed my password and it still doesn't work. so fed up may cancel my account unless it gets corrected right away. too many hours spent on this and I believe it's someone in your company doing this .
My experience with facebook has been horrible!!

Peppie
from Orangeburg, SC
The problem is Norma Jean Hooks from Lancaster, SC. She is on Facebook making up lies about my granddaughter having AIDS and she put a picture on there to. She is using Facebook to cause problems between the public and my family. I ask that you look into it and have the page taken down. Thank you
I have her block off my page, I'm afraid that if I unblock her she will post some crazy things. Also, there is a restraining order on her as well.

Tony Crawford
from Louisville, KY
Facebook has been harassing me and blocking me for 30 days for no reason i have not posted any nudity and i want to file a discrimination complaint against facebook

I have had the same cellphone number forever 38 years. Even after adding the country code, I am still denied access and I am not given a chance to write them.

Prathyusha
from Malakpet, TG
My fb is is not opening after uninstall..
Please recover my account...
I want my account back

Nathan Pretlow
from Brooklyn, NY
How can you ban me from posting for 30 days? When I was only replying to a post about a 26-year man meeting a 13-year girl.I was only telling people in my group page in street slang to watch there daughter who they are talking to on Social media .how do that go against your community standards. If it's the language I use people in my group understand what I'm saying the N ...word is not the same as a racist word white people would use. This is street language that's all. So banning me tells me Facebook is agreeing that it's ok for a 13-year minor to meet a 26-year-old man. What kind of community standards is that?I may use harsh words because it was a sensitive subject. Check out the video then you will see why.

Carmen Stidham
from Knoxville, TN
I have tried to change my name on facebook several times. I am in the process of getting a divorce and it won't let me do it!
Have feedback for Facebook?
Thanks for your feedback!
Sorry. Please try again later!