Facebook
Facebook Complaints Continued... (Page 4)
519+ reviews added so far. Upset? Call Facebook corporate: 650-543-4800

Berda Mae Holley holleyberda9@gmail.com
from Houston, TX
Trying to get on Facebook andit says account is disabled. Please belp me get my Facebook account back to running. Miss the interaction from friends

Denny Efaw
from Pittsburgh, PA
I posted a video and it was deleted. I didn't delete it. The message says I only shared it with a small group. I'm guessing Facebook deleted it? Can you explain why?

Sheila Stokes
from Kinross, SCT
I have been given a ban from posting, because I responded to a user who falsely accused me of being a vile racist.
Why am I banned and not him
I Am an 82 year old, disabled, and Facebook is my contact with the outside world
Please respond and reinstate my account....this is so unfair .

Apparently one is not allowed to call a rapist of a certain mid-eastern ideology what they are. When asked for a review my request was denied.

Stacy Karp Dean
from Bend, OR
Suddenly locked out of my FB account 4 weeks ago for no reason— had account 10 years with no issues. Followed all directions offered by FB to correct the issue to no avail. No phone or email work to get assistance! Still am unable to access and I have tried everything Daily for Hours at a time, still cannot enter my account. No way to rectify although I have sent dozens of messages to Facebook it still is disabled! What do I do to get my personal information and 10 year account back for my use! Very upset, frustrated and have tried everything!!! HELP!

Derek Fritz
from Greenfield, MA
I am unable to log into my FB account and can't get help to fix the problem. Many phone numbers with nobody answering them.

Diana lincoln
from Bedminster, NJ
I have not been able to log in to my account sence i moved tried every security code you sent me not going to send my id in case i have been hacked not going to bother my friends i have done everything else prove it is me

Carolyn Roth
from Queen Creek, AZ
Jul 16, 2019
Paid to
Take5 Free Slots
Completed
$99.00
Jul 16, 2019
Paid to
Take5 Free Slots
Completed
$99.00
Jul 16, 2019
Paid to
Take5 Free Slots
Completed
$99.00
yesterday I tried to buy coins on facebook game Take 5. Everytime i hit the amount to buy another box would come up with someones name to send them a request for coins...It happened 3 separate times and i kept hitting cancel. Well, they ended up charging my card 3 times for $99.00 and didn't even give me my coins...I complained to facebook and told them i wanted a refund and got a notice back saying the matter was closed and i couldn't get my money back...I cannot afford a $300 charge. I can't seem to get anyone to answer me now....what can i do...I need my money back...please help me

Ancel Salamon
from Santo Domingo, 01
I was hacked 2 times in the last 10 days and you can see that I did change my security code. Some of the comments on my page are not mine and I and now I am blocked for 30 days, I tried to contact with Facebook but it keeps on saying try later sending it a whole day. WHY?

TOM HUDSON
from Gonzales, LA
ON TODAY'S DATE 15 JULY 2019, WAS NOTIFIED THAT ACCOUNT WAS FROZEN DUE TO A COMMENT I MADE BUT DIDN'T MEET YOUR COMMUNITY STANDARDS, THIS IS VERY DISSATISFYING IN THAT I SEE DOZENS AND MORE OF DISPARAGING COMMENTS MADE BY OUR POLITICIANS OF OUR NATION, VARYING FROM DEMOCRATIC AND REPUBLICAN, YET , YOU ALLOW ALL THIS TO CONTINUE FROM DISTRICT REPRESENTATIVE WATERS, THREATENING AND COMMENTING ON SITES YOU ALLOW OF OUR PRESIDENT NEEDS TO BE EXECUTED.. THE LIES AND OTHER THAT CONTINUE ON YOUR SITE. THAT ARE DISERSED ALL OVER, YET WHO EVER FROZE MY ACCOUNT APPARENTLY IS VERY BIAS AND CONTROLLABLE TO FREEZE A PERSON'S ACCOUNT OVER A COMMENT OF LESSER STATED POST THAN I HAVE SEEN , YET ALLOWED, THE DISMAL ATTITUDE FROM THIS ACTION IS VERY CONFIRMING THAT I INTEND TO MAKE A FEW OTHER CALLS TO HIGHER UP, INCLUDING THE POST RECENTLY MADE BY OUR POLITICIANS THAT YOUR ACTIONS AREN'T THAT HONEST EITHER, THANK YOU FOR YOUR TIME, SEE YOU IN 30 DAYS, AND OTHER... HAVE A NICE DAY....

Erica Higgins
from Cookeville, TN
I had asked to see if I could get my deceased mother's account off instead I was told that I had to keep on buying Google play cards some for 100 dollars all the way up to 500 dollars and that it would be refunded back to me and I have still get to see the money and I was told that I had been penalized today and would have to buy another 500 dollars in Google play cards. I would just really like for something to be done.I am sure that I will never see my money and to be honest I really don't care I don't want someone else to go through this.

Sue Binkley Tatem, Ph.D.
from Fort Hood, TX
Portals violate HIPPA. They are used for data mining. I see that portals can be bought for a few hundred dollars on Facebook.
Good idea would be no allowing Portal sales on Facebook.
Portals, like anything else with computers, cannot be made secure.
You know that.

Steve Sandoval
from Costa Mesa, CA
Can't log in for 3 weeks now. Had to replace my phone as my iPhone took a dump. Long story short I can't receive my verification messages from facebook to log in. Can't log in via laptop, cell phone, nothing. Sent multiple complaints, and still nothing. No customer service.

Herve Keptner
from Warsaw, MO
i am sick of being ban hammered for telling the truth

Facebook apparently blocked me from making comments or posting anything. As far as I'm concerned I haven't offended,harassed, and definitely not threatened anyone. As far as im concerned they are violating my freedom of speech.

Tanmoy roy choudhury
from Kolkata, WB
Why is my account disable

Kathy Collier
from Houston, TX
Your 3cday block has lasted 8 days WHY

Dicky Bigbubble
from Bristol, ENG
Your Security code confirmation is being sent to my old phone number on my account i cant get access to it to unblock my account and there is no option to send the code to my Email which is still valid so ive been blocked from my own account for no reason and no i cant get the code i need to enter coz my old phone number is not in use anymore , Can you please help me gain access to my own account ghere must be another way of sending security codes like to my Email . Having an outdate phone number on my account is no reason to cause problems if you had other contact options but unfortunately there isnt none and i cant change my number or even delete my account without excess this has been happening alot and nothing gets done about it which damages your reputation, You can have people locked out of there own accounts coz they forgot to add a new number to their account. Ive proved i wasn't a robot i answered the question but now my code is being sent to an out of date phone !!! Please help me gain access to my own account

Douglas Kerns
from Las Vegas, NV
OK, that's it. this is the last time I'm checking back to see if you restored my marketplace & i can see that you haven't. every time i check i have to clear all the cookies & browsing history, a real hassle since most of the time I'm trying to save it, so i am going to look into closing my account with Facebook & hope to be able to purge Facebook from my computer & from my life. so if you ever have any intention to restore my marketplace, let me know right away, otherwise i will proceed with doing my best to get you (Facebook) out of my computer & out of my life.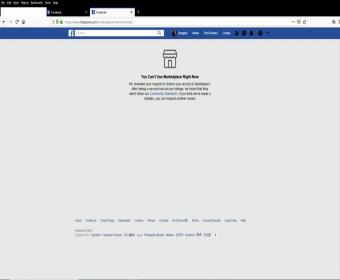 Kapil sharma
from Delhi, DL
I can't open my Facebook account

PURAV Garg
from Navi Mumbai, MH
Sir/madam my request is related to online advertising at Facebook. The product advertised have not been delivered yet as the payment is made previously so i request you to take up the matter

I have been blocked several times, I feel that it is because of my conservative values thoughts and expressions. It is election year. And I am being targeted and censored. THIS HAS GOT TO STOP I have been called by others and their comments the most vile names possible. And I doubt that they have been blocked. But I show support for my country and my president and the values. And I get blocked every time. Therefore, I have reported this to end bags, and Ted Cruz. I know that they are looking into censorship in the media oh, and I hope that you will be on their list.

My facebook account has been hacked...someone is contacting my friends using me to get to them...Ive put a warning on my timeline...but what do I do now?

My ability to post and repost was suspended for 24 hours. Everything I repost is already on Facebook . I did not take the picture myself I got it off of Facebook. So I would like to know why my ability to post was suspended for a photo that I got off of Facebook.

Abi Schofield
from Rotherham, ENG
I want to complain about having my Facebook closed down twice this week.
I have a business and you are stopping me from making a income for my two children
Has far has I am aware I haven't done anything wrong
Could you please tell me why my Facebook has men deleted and what I have done wrong
Because now I can't provide for my kids

Kenneth parsell
from Hereford, ENG
I have having trouble with Facebook I get keep trying but nothing happens what is going it's not good enough is it sometimes forget my password please help me with it.

Sandra Manning
from Oscoda, MI
T Mobile is harrassing me. I cannot stop them from sending me pop ups even though I have blocked them to the best of my ability and asked that I not see their advertisements. Is there something more I can do?

Patricia Lake
from Phoenix, AZ
I ordered from hyper owl 3 glass mugs. Total 74.76. They came were supposed to be in gift boxes. All 3 were crushed and one mug scratched. After several attempts to reach co. And sent pics. They blew me off and claimed they are not responsible for their shipping. These are supposed to be gifts. I cant use the gift boxes. Now I need to spend more money on the boxes and cant gift the scratched one. For the amount of money I spent they should have been carefully packed, not sent in a bag.

My friend usually send me money via Facebook messenger last Friday he tried to send me $250. To help me with my children. But was told that he couldn't send me money due to him needing to confirm his info Facebook asked me the same thing so I send them my ID and other info only for it say payment had been cancelled when I called customer service they told me they couldn't send me the money because something went wrong with my identification process but they told me in order to receive my payment I would have to buy a Google play card so they can send me my payment plus the refund and I was like seriously a Google play card? I needed cash not funds for a app and I told them that I have a PayPal account where I usually got my payments and asked them to send it to my paypal instead and they refused.I need my money back! I even asked them to refund the money to my friend so he can send it to me via Western Union the point of Facebook payments and Western Union payments is because I don't own a car and can't go nowhere I'm 20 minutes to the nearest city with no car and my friend lives in the next state. I am also a single mom and my friend(ex-boyfriend) was trying to help me out!! Please help!!

Michelle Homewood
from Vicksburg, MI
I understand FB is very busy by, They Do Not Care.
ALL OF MY GRANDCHILDREN AND MY KIDS, MINE AND MY HUSBAND'S PIC WITH ME SITRING IN FRONT OF HIM IS THE MOST OF WHAT EVERYONE GOES BY FOR ME AMD MY NAME. I WISH AND HOPE THAT FACEBOOK COMPANY GETS FACEBOOK WHERE SOMETHING HAPPENS THAT THEY GO BELKY UP ALL OVER THE COUNRTY AND OVER SEAS. I WANT FACEBOOK TO HELP GET MY ACCOUNT BACK

Leon Strigotte
from Coeur d'Alene, ID
I was banned by your employees for content posting. I asked for a review and never heard back from you. I have tried sending a further comment over the past week but each time getting a message that it cannot be completed. Tried many times and at different times with no luck.
I believe this 30 day ban is unwarranted.

Noe código norteño
from Santa Ana, CA
Some people have my facebook account and I don't have access to my account and email address, how can I get back my account?

Mike Gibson
from Des Moines, IA
I made an account some time ago, hen was blocked out. I thought I could just make another account. I did that but it was deactivated. I tried again and it was deactivated. I only want one account. I wasn't trying to make several. I was asked for my phone # to get back in, but it won't accept Is there anything I can do to resolve this problem?

Nadine Ellson
from Portland, OR
This is the third time I have to start another account because out of the blue you decide I'm not me or someone is trying to get in my account and I'm the one that has to get another account don't you think that's backwards stop the other person from my account? I've had it I don't need Facebook so shove it I'm uninstalling it.

jayesh patel
from Navsari, GJ
face book has locked my id before many time. i have completed all the proses to unlock it but facebook continuously asking for same proses. s i dont think what i have to do now please help me.

Intensive Paul
from Lagos, LA
JUne 12-2019.
as of date of writing , almost a month now my Facebook account has been block , saying intensive is not my real or day to day name and have sent document bearing the same name and up till date no response . please what do they want or ?

Denver Fox
from Denver, CO
Please stop telling me to update my profile. I'm sick of this

michelle homewood
from Vicksburg, MI
Facebook will not help me get my true and real Facebook account back. I was asked by a supposedly Facebook tech asking me to get a Google play card and I would be reimbursed for it after i gave them the 16 number on the card and then the techs would clear the Trojan from my account.

Gourav Mukherjee
from Kolkata, WB
Every 2-3 days Facebook sent me notification that someone trying to open your ac and request for entered new password and whenever I am trying to enter new password everytime Facebook denied is it possible for a person to create a new password every alternative day.

Can you tell me why you desable my account.. I am new in facebook and you desable my account with in 2 hour what is happened to you... Can you reset my account

William Pugh
from Avon, IN
I deleted my account yet it is still showing up and people can post on it. I can no longer sign in, as it does not recognize my email address. I want this removed, that is why I deleted it. You all make enough money that it should be a simple task. I was told it would take 30 or 90 days for it to be deleted yet it has been months. PLEASE delete it!!!!! I want a reply from you, after all this is your problem not mine. Thank you.

brianda cuevas
from Phoenix, AZ
i have tried to contact facebook multiple times about an issue and have had no luck. unfortunately none of the options from the help center are of use to the issue I am having. my fathers account has been hacked along with his email so he cant recover his facebook with a recovery code option. he has also tried to contact his email provider but sadly they have not been of any usefull help they claim that my father needs to purchase a google card, in order for them to resolve his issue! so we were wondering if their is any link you can send him so that he may recover his facebook? He is willing to provide any proof you may need to verify his identity. he has had his facebook for many years and has videos/ pictures that he would like to recover I hope that I hear back from you soon thank you

Manish khorwal
from Pune, MH

Abbas Adl-Tabatabai
from New York, NY
I cannot login due to your racial selection on people. This is the second time that you have blocked my login to Facebook. I think I have to switch the contact of all my friend and recommend them to switch to a more friendly site.
Have feedback for Facebook?
Thanks for your feedback!
Sorry. Please try again later!