Facebook
Facebook Complaints Continued... (Page 4)
487+ reviews added so far. Upset? Call Facebook corporate: 650-543-4800

My friend usually send me money via Facebook messenger last Friday he tried to send me $250. To help me with my children. But was told that he couldn't send me money due to him needing to confirm his info Facebook asked me the same thing so I send them my ID and other info only for it say payment had been cancelled when I called customer service they told me they couldn't send me the money because something went wrong with my identification process but they told me in order to receive my payment I would have to buy a Google play card so they can send me my payment plus the refund and I was like seriously a Google play card? I needed cash not funds for a app and I told them that I have a PayPal account where I usually got my payments and asked them to send it to my paypal instead and they refused.I need my money back! I even asked them to refund the money to my friend so he can send it to me via Western Union the point of Facebook payments and Western Union payments is because I don't own a car and can't go nowhere I'm 20 minutes to the nearest city with no car and my friend lives in the next state. I am also a single mom and my friend(ex-boyfriend) was trying to help me out!! Please help!!

Michelle Homewood
from Vicksburg, MI
I understand FB is very busy by, They Do Not Care.
ALL OF MY GRANDCHILDREN AND MY KIDS, MINE AND MY HUSBAND'S PIC WITH ME SITRING IN FRONT OF HIM IS THE MOST OF WHAT EVERYONE GOES BY FOR ME AMD MY NAME. I WISH AND HOPE THAT FACEBOOK COMPANY GETS FACEBOOK WHERE SOMETHING HAPPENS THAT THEY GO BELKY UP ALL OVER THE COUNRTY AND OVER SEAS. I WANT FACEBOOK TO HELP GET MY ACCOUNT BACK

Leon Strigotte
from Coeur d'Alene, ID
I was banned by your employees for content posting. I asked for a review and never heard back from you. I have tried sending a further comment over the past week but each time getting a message that it cannot be completed. Tried many times and at different times with no luck.
I believe this 30 day ban is unwarranted.

Noe código norteño
from Santa Ana, CA
Some people have my facebook account and I don't have access to my account and email address, how can I get back my account?

Mike Gibson
from Des Moines, IA
I made an account some time ago, hen was blocked out. I thought I could just make another account. I did that but it was deactivated. I tried again and it was deactivated. I only want one account. I wasn't trying to make several. I was asked for my phone # to get back in, but it won't accept Is there anything I can do to resolve this problem?

Nadine Ellson
from Portland, OR
This is the third time I have to start another account because out of the blue you decide I'm not me or someone is trying to get in my account and I'm the one that has to get another account don't you think that's backwards stop the other person from my account? I've had it I don't need Facebook so shove it I'm uninstalling it.

jayesh patel
from Navsari, GJ
face book has locked my id before many time. i have completed all the proses to unlock it but facebook continuously asking for same proses. s i dont think what i have to do now please help me.

Intensive Paul
from Lagos, LA
JUne 12-2019.
as of date of writing , almost a month now my Facebook account has been block , saying intensive is not my real or day to day name and have sent document bearing the same name and up till date no response . please what do they want or ?

Denver Fox
from Denver, CO
Please stop telling me to update my profile. I'm sick of this

michelle homewood
from Vicksburg, MI
Facebook will not help me get my true and real Facebook account back. I was asked by a supposedly Facebook tech asking me to get a Google play card and I would be reimbursed for it after i gave them the 16 number on the card and then the techs would clear the Trojan from my account.

Gourav Mukherjee
from Kolkata, WB
Every 2-3 days Facebook sent me notification that someone trying to open your ac and request for entered new password and whenever I am trying to enter new password everytime Facebook denied is it possible for a person to create a new password every alternative day.

Can you tell me why you desable my account.. I am new in facebook and you desable my account with in 2 hour what is happened to you... Can you reset my account

William Pugh
from Avon, IN
I deleted my account yet it is still showing up and people can post on it. I can no longer sign in, as it does not recognize my email address. I want this removed, that is why I deleted it. You all make enough money that it should be a simple task. I was told it would take 30 or 90 days for it to be deleted yet it has been months. PLEASE delete it!!!!! I want a reply from you, after all this is your problem not mine. Thank you.

brianda cuevas
from Phoenix, AZ
i have tried to contact facebook multiple times about an issue and have had no luck. unfortunately none of the options from the help center are of use to the issue I am having. my fathers account has been hacked along with his email so he cant recover his facebook with a recovery code option. he has also tried to contact his email provider but sadly they have not been of any usefull help they claim that my father needs to purchase a google card, in order for them to resolve his issue! so we were wondering if their is any link you can send him so that he may recover his facebook? He is willing to provide any proof you may need to verify his identity. he has had his facebook for many years and has videos/ pictures that he would like to recover I hope that I hear back from you soon thank you

Manish khorwal
from Pune, MH

Abbas Adl-Tabatabai
from New York, NY
I cannot login due to your racial selection on people. This is the second time that you have blocked my login to Facebook. I think I have to switch the contact of all my friend and recommend them to switch to a more friendly site.

mike distrola
from Kane, PA
face book has disabled my account with no reason givin it has been a week and I cannot log into my account I find this very unfair and I want to know what gives them the right to do this with out warning and without even letting me know my page was just that my page I want my info back my pictures etc face book is a joke and veryunfair

Holly Horne
from New York, NY
Messenger account hacked. Facebook disabled my account. The hacker changed the email and mobile number. I filed appeal and received no acknowledgement.or response.

Fb is without any reason blocking all my account .Don't done any thing.Pls unblock all fb account asap.

Praween Lakra
from Mumbai, MH
My account must have been hacked and then disabled from you. You can check the ip address of the violation of your policies done. Help me restore my account and change the password.
Because I did not violate any of your policies. It must yave been hacked. Kindly look into this matter as soon as possible. I've got lots of pictures stored in your site. I would like to have them back.
I've got many other accounts associated with this account. It is costing me other accounts as well.
Kindly be understanding and look into the problem.

Stephen Page
from Edgware, ENG
Just tried to create a profile using the pseudonym, Terry Towelling. I have deliberately misquoted my date of birth because I don't want that to be known. I found it impossible to log in. I repeatedly got the 'capcha' screen asking me to confirm I am not a robot - which I did countless times. I tried all sorts of ways to get in and then I started to get the 'capcha' screens again but could only just see the bottom of a couple of the pictures I had to click on. I tried going in through a different browser and actually got the capcha pictures properly but it still wouldn't log me in. I then get asked to upload a photo of myself - which I did. I also got a message saying my account had been used suspiciously - hardly likely when I'd only just set it up and couldn't even log in!
What exactly is going on?

Dianez Penson
from Cleveland, OH
I have been using the same email since I started Facebook. Someone hacked my page and changed emails and passwords. I no longer have access to the account. I have already sent a complaint one too many times and no one has done anything to help. PLEASE help I no longer have access to my kids pictures. Either delete the page or help me gain access to my account

My account was original why my account blocked open my facebook immediately.

Melissa Cook
from Richmond, TX
I posted pics of my daughter's high school
Graduation on Wednesday night and on Thurs morning I get a notification that I posted against Facebook policy. Since when is graduation pictures against policy???????
I can't post ot like or send any messages.

Chuck Walden
from San Diego, CA
I ordered a Drone QX from a Facebook add on April 19 and to date have not received it nor have I heard from the company. I have been unable to contact them because the phone number provided to my credit card company does not work. When you call the number you get a message to contact a website and then they hang up!
I trusted them because they were advertised on Facebook. Can you help, PLEASE!

Thomas Dickensheets
from Seattle, WA
They took away my freedom of speech

Facebook approved of all my business ads I were advertising, then out of nowhere, I was banned from using their ads service to advertise my business without a warning as to why. This happened directly after I made my initial payment in the same emails. Now my business is hurt and I would like a full refund for them approving my ads only later to say I violated the policy for them. The total I've spent is $2,066.91 and I would like a full refund! My company is Battle Comics LLC and it is also the name of my business page.

The ad went so fast you couldn't read it !!!!!!! It was terrible

Prudence Lucas
from Morrisville, PA
Would you stop sharing my age on face book. I am a very private person . Just stop sharing my age with every one.people are calling me to find out if my age is correct. Not only do they know my birthdate but they know my age. Stop stop stop. That is too much personal info.

I tried to log onto my account, your system would not let me. So I tried a password reset. This did not work. Tried the recovery link, did not work either. Then I was told that my account was unlocked by email. I tried to log on again, it did not let me log on again. It came back with a picture of three people telling me I should contact them and ask for a code. These people are not trusted people. I then went to the lower left corner for an alternative way. I hit that and the three people came up again. Logged out. Why, could not use my security question answer that I have with you?
Just trying to get logged back on.

Chuck Walden
from San Diego, CA
I ordered a Drone QX from a Facebook add on April 19 and to date have not received it nor have I heard from the company. I have been unable to contact them because the phone number provided to my credit card company does not work. When you call the number you get a message to contact a website and then they hang up!
I trusted them because they were advertised on Facebook. Can you help, PLEASE!

robert armitage
from Glasgow, SCT
on my laptop windows 7 since Saturday 25th may 2019 I can longer access facebook messenger via my facebook account...just getting a blank white page ??? is there a problem....??? Robert.

Karen A Sagarino-Harris
from Grand Junction, CO
I cannot see notifications and or messages, or view comments or make comments this is has been going on for about a week. I have tried clearing cache to no avail what is the since of having account that is worthless. I am using one of the browsers you said to use. Microsoft Edge.

Joseph Horn
from Roswell, NM
My account seems to be blocked. I do not have any idea why. If there is a reason, I would very much like to know why. Could you
please fix the problem?. Thank You,

You keep banning me for the same post over and over. Why?

I re-posted a picture quote and was suspended from facebook. There was no share link so I saved the pic to my desktop and re-posted it and was suspended for the picture that I got from facebook. I feel I am being singled out -targeted etc....

Dr. Jagannath Kannojiya
from Mumbai, MH
we have our company facebook account named recourse.physiotherapy but we are not able to operate / open that account we have submitted my adhaar card than also no use. pls tell me what to do in this situation

Angie May
from Boston, MA
My account was disabled by Facebook without any notice. I got a message about suspicious activity on my Facebook. All I do is post funny memes. It's crazy to think that would be suspicious at all then I was asked to submit a photo of my face that's not on Facebook and I definitely did that and my account is still disabled. It was an active account it was obvious by the way my friends commented and interacted to me that they knew me.This is a social media site. I'm not running a business or doing anything that would require for me to prove identity to you. I keep reading all over the internet this happening with most new accounts,and eventually you require picture ID scan before allowing login. This sounds like a shady scam on behalf of Facebook to see how many brainwashed zombies will willingly hand over way more info than you should ever need for a social media site. Sounds fishy to me. Activate my account that you disabled or I'll sue you for trying to bribe personal information that is unnecessary from me and unfairly locking me out of my account after you received what you asked for

My giving name is Charles F. Bailey, I placed an order with " DEALS YOU MAY LIKE" order #3738 on May 5 2019 the price was $99.99 with a discount code of $10.00 leaving a balance of $ 89.99 which they drew from my account on May 6 2019 I have never received the Drone nor they have not refunded me as they have promised . My Facebook profile is Fred Bailey and I am requesting they be removed from Facebook because they are a scam. Thanking you in advance for your cooperation.

Jacquelinw K Johnson
from Hayward, WI
I made a purchase of clothing from Chiczora, four items. I received them all and tried the four pieces of clothing on. Three did not fit, in spite of being same size as one that did fit, for two of them, and the other was actually a size larger and still did not fit. I began contact with the company's email service@chiczora.com I have a string of emails with two different representatives beginning May 5th. I still have no resolution. The last email offered a partial refund of $18 for the 83 dollars worth of items I wanted to return, and I keep the "item". It was not clear if it was 18 dollars for all three or 18 per item. Also, I asked them to pay return shipping, as their poor sizing caused the problem in the first place. They stated it would cost 30 to 35 dollars to return them to China and I would have to pay. I was not given an address to return them so I have no way to do so and no way to confirm return postage. I will not trust these ads again, and never purchase anything from over seas again through Facebook.

I am complaining about one of your advertisers, Sami & Sean. I ordered a t-shirt from them and like the design. But, it came as a v-neck when i thought I had ordered a regular round neck. They refuse to help me replace the V-neck. I have attached a copy of their advertising and sales material, which shows a regular neck, not a V-neck (see attachments). In little tiny print, the order does say V-neck, but I content their pictures misrepresent the product. They refuse any sort of help and even hung up on me in an online chat. They offer no phone number or address to formally complain. Please advise what you can and will do to bring this new Facebook advertiser into line with your (and my) expectations.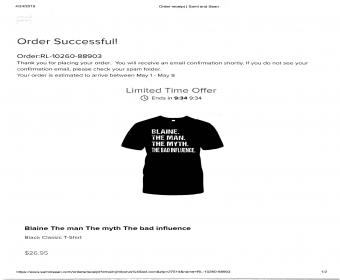 George Ghanayem
from Garden City, MI
My profile has been banned or limited for thirty days for something I have posted which did not comply with community standards but you did not tell me what it is I have posted how can I try to avoid that next time if I don't know what the offending post was?

Christine Lewandowski
from Wilmington, DE
WHO changed the format of the facebook.com/groups? It is horrible. It is NOT user friendly. You have to keep going in and out to get to one thing at a time. WHY did you change it? WHO asked you to change it? I don't remember being asked if I did not like the previous format. Does the person who changed the format even USE facebook groups? Did you try and access ANYTHING after you changed the format? You CANNOT access ANYTHING. It's horrible. PLEASE CHANGE IT BACK TO THE WAY IT WAS BEFORE IT GOT SCREWED UP. IT'S HORRIBLE. It cannot be accessed the way it is. PLEASE CHANGE IT BACK TO THE WAY IT WAS BEFORE IT GOT SCREWED UP.

I tried to friend my wife and sent her a photo. it was a simple photo of my face smiling. Nothing inappropriate. When I hit send I was then locked out of my account with an error message that says, I cannot use my account as Facebook is reviewing the photo I sent them....??? I did to send facebook a photo. If this is the problem how long does it take you to view the photo and reinstate my account? I am new to facebook and was hoping to use the messaging feature for work. seems temperamental and maybe a bad idea.
Please let me know how to get back in my account. this really stinks, Pete West

Facebook rip me off and not sorting things out have sent court papers to Facebook and the people that run it and had no answer back

Linda Leffler
from Hibbing, MN
Facebook has locked me out due to someone trying to hack my account. I even sent them a new password. Birchtree1939 uu you cannot resolve this then cancel facebook .

roger parkes
from Hinckley, ENG
You disabled my account some weeks ago for no apparent reason. I do not use obscene language or post any controversial comments.
I use facebook to keep in contact with many authors to discuss marketing. I also use it to contact a small number of friends. But my main concern is being unable to contact authors and author groups in the US and Europe to discus my publications and marketing techniques. Social media is a powerful marketing tool for me, now i am being virtually wiped out since my colleagues are unable to make any contact with me.
Why? what have I done to prevent me having any accounts on facebook? I respectfully ask that you address my complaint and tell me what it is you think I have done to deserve your treatment.
Thank you,
Roger Parkes.

Linda Skovira
from Harwich, MA
I can'recover a facebook page that I have deactivate
Have feedback for Facebook?
Thanks for your feedback!
Sorry. Please try again later!