Facebook
Facebook Complaints Continued... (Page 6)
561+ reviews added so far. Upset? Call Facebook corporate: 1-650-543-4800

Lester Dorsey
from Duluth, GA
I have been locked out of my account and someone has been using it for a couple of weeks now and i cant get any support on how to get back in it because it because they changed my password and email address.

John Chaplis
from Shrewsbury, MA
if John Chaplis can't log in to Face Book, I want my name & everything else deactivated now.

Kirsty H
from Portsmouth, ENG
A "person" from Lancashire (who I do not know) accessed my photos and sent me a pm of my 2 year old daughter calling her a mongrel (which she isn't & who cares if she was anyway). Said vile person then blocked me so I can't report her. This is after a disagreement on another site. How sick to involve a 2 year old child. She needs banning from facebook. Also she has a photography page. Google her reviews, they just about sum her up!! She is sick in the head.

Jackie Mcclellon
from Middletown, IA
Authorized withdraws from checking account would like to talk to some one from facebook customer service please call after 5:30 to see either if it is possible to have that stopped and to have my money returned. Thanks!

Have been trying to get in touch, but, that's right no one can get in touch with Facebook, only cause you don't want to listen to what peoples complaints are about, you make it so hard for people just to ask a simple question, don't worry I found the answer myself.

Richard Safford
from Edgewood, NM
I do not like having the posts skip back to an earlier spot when I am reading, then having to scroll through many already read posts to get back to where I waa. How Do I Stop this?

Brian Tuman
from Campbellsville, KY
I have filed page complaints against 8 pages which are all manned by unknown individuals using fake names and profiles. These profiles keep changing their names and all have me blocked from the sites and all of these profiles are posting slanderous, malicious and untrue posts directly naming me. Many of my friends who can see the content are screen shooting the posts and sending them to me ( I have over 250 pages of these pictures and comments) and they are also reporting the content as well, a few have been removed, but recently it seems all we get is a computerized reply that it does not violate Face Book policy - correct me if I am wrong, but fake profiles is a violation of face book policy.....
Just 2 weeks ago they opened a closed group called "Tumanoligy 101" and it too is all devoted to me and I am blocked from seeing or joining. They have stolen pictures from my personal Facebook page and from my business Facebook page "Fast Lane Farms" and posted them on these fake profiles and the fake profiles have also posted poor reviews to my business page. How can I find out who is behind these pages so I can have EPO's issued, I have filed police reports for harassment, but no one seems to be able to help me stop this. I have been told to take my personal pages down, but that will not stop them from continuing the behavior on the fake pages. Please contact me at the email above I can electronically submit to you the screen shots and the page names and would welcome the opportunity to discuss this and how it has affected my business. Nothing like being accused of being a drug addict, alcoholic, thief, transvestite, liar, homosexual, and low life to have a detrimental affect on my livelihood.

Mohammed Hasan
from Mumbai, MH
Sir, my account was not opening it show make your identity but i cannot recognize all photos this id is mine please resolve my problem.

Too whom it May concern. I'm emailing to express my concern about the Facebook company. Sometime ago I receive an noticed from Face book that my account had been hacked and facebook had asked me that if they want to recover my account I would need to down load a photo Id to sent to them to verify that that is me. But I had already explain to them that I don't feel comfortable to email or down my Photo ID because I've been warn that I may not give out any personal information about myself. I had told them that many times and I'm getting little frustrated with this whole thing from Facebook. I would like it very much if Facebook people would please stop emailing me asking for my Photo ID. if this continues then I will report to my local police department along with the note thank you sincerely.

Mudji Versteeg
from Hilo, HI
Too whom it May concern. I would like to complaint about Facebook people. what my concern is is that facebook team had kept on emailing me to submit my picture ID and I don't feel comfortable to do that. I've been hearing a lot on the news about people posting photo and personal information on facebook which people should learn to be careful because you just never know what facebook can do. they can sometimes do funny thing like look up where you live and find out all about you. I've been explaining to facebook that I'm not allowed to post any photo or personal information and yet they keep on emailing me about it. I would like it very much if they would not ask me to download photo ID. I was trying to recover my facebook account when I noticed that someone hacked my facebook account please be sure that facebook don't email me anymore Thank you and Aloha.

Dayanand Pandey
from Lucknow, UP
Some one is tagging virus at my timeline even though I have restricted my tagging option and even it is sharing the same virus post to other friends of my list.

Ajay Upadhyay
from Mumbai, MH
May account deactivated for some mistakes between sending a message for friends. I want to get enabled and login back to my account so please let me back in Facebook. I am sorry for mistakes!

Habib Kareh
from Tripoli, TB
Some one changed my Facebook account name. They added his name to my account the name added is Ahmed Bayet so when I tried to enter my account a message occurred says this account removed from Facebook how this happened. I really want my Facebook account back soon

abdul mateen
from Lahore, PB
I have to tell you that somebody trying to put my pics in bad news which is completely fake. Like religious disobedience with my pictures on Facebook. She has a good following so people get started to share it. I want her account blocked and take a serious action.

lauren mcdonald
from Sydney, NSW
Why is it so god impossible to get back on my facebook when I have forgot all of passwords to every thing you are asking me for. Why cant you keep the test where I have to name the people in my photos on my account?

Facebook has stop my account for security check but for confirming they asked me for unknown pic as my friend I could nt recognise them so facebook doesn't log in my account plz help me to log in again.

My 13 yr old son has recently contacted you to ask you to remove a facebook account that a bunch of school bullies have set up in his name to make fun of and write nasty thing about him. fb support have came back saying they will not remove profile as these people are following fb community standard!!! Can you explain to me how online bullying is ok? you write about how serious you take online bullying but when you are asked to help you do nothing. who do i need to go to to get help with this??

Facebook would not accept my normal password so I changed it and answered the secret question. They said in 24 hours I could log back in. When I try they tell me my email is already in use. No kidding, it's mine. I tried again, another 24 hours and same story!!! My facebook is blocked after changing my password. Who do I call???

I'm upset because someone has shared my photo and I do not know them. A random person who was suppose to be my friend has shared a photo of mine with an inappropriate tagline. i want to report about that person. he has also sent me harassing messages from couple of his fake ID's. I would like Facebook to kindly take some steps against this and also know what you are doing to prevent this kind of problem in the future?

I have been receiving emails from Facebook every 10 minutes for the past 3 days after inadvertently clicking on an ad to join. This is harrassment. I have tried using the Facebook website to fix this situation but the seemingly correct option to submit a request to stop receiving correspondence from them does not produce any results - it just sends me back to the previous page without allowing me to actually log a complaint and have my email removed from their database...although my email should not even be there! Please help!!

I am a player who has loss chips being hacked on Facebook . I don't know why you guys can't catch these people when all you have to do is let us talk to a live agent when it happen and you should be able to catch them. On my buddies list is a person name Monique who is asking for friend request on Facebook and then players chips or taken. She is leading in chips on my buddies list and claim she is from London but she has hacked players Facebook accounts from New York. It seem that you could put a stop to this which make me think you do not care that your site using Facebook is not secure. I would hope you would shut down your site until this problem is taken care of. We are paying players using your site. I do think the right thing to do is give us back our money and shut down your site until you make this site secure.

Every time when i log into my facebook account & share some pictures suddenly that capatcha popup box appears. Its a warning to message that am using some others account. How do these facebook people know that am using others account??? Why are these people giving trouble using the facebook. Where should I complain to get my problem solved? Will anybody help me in this regard

My facebook account is temproraly blocked. When i m trying to Sign In is always shows an error message shows-your account temproray blocked. It is always asking to recognise picture who were tagged in but i cant memorise the same.
Please provide me some other procedure so I can get back my facebook account. From 8 Dec'12 I am facing this problem. I will be very thankful to you when I get my facebook account unblocked.
A week ago I received a message from Facebook that someone had tried to get into my account on Facebook. First I thought it was a scam. Then my site was hidden and I could not log on. The instructions said my account had been hidden due to a security threat to my account and I had to complete steps to identify myself, have my identity reviewed and verified.
I did this 2 times scanning my government ID, drivers license as required with my number blocked and sent messages asking for explanations and to unblock my account. I checked any financial account I had and saw no problems, my Pay Pal account has not been used in years and is deactivated, also I changed passcodes on everything.
Next I get a email supposedly from Gus at Facebook telling me a payments functionality key has been disabled. I do not know what that is. I was also told I HAD RECEIVED PAYMENTS WHICH I HAVE NOT AND PURCHASED SOMETHING, WHICH I HAVE NOT AND HAVE NO IDEA WHAT THIS PERSON IS REFERRING TO. I HAVE ASK FOR AN EXPLANATION.
Facebook is a social media outlet not a shopping mall to my understanding. So the bottom line is first my account was threatened, then disabled, then I am told I have purchased and received payment for something from somewhere, have no idea what but this is suppose to constitute my not using Facebook because myself and others are being protected.
I would really like some answers here and to talk to a human being. Getting back with me with some explanations and the truth would be great.

I,m very tired of getting blocked for 30 from adding friend when i try to add friends to have new friends to talk to i wish u would change this im very tired of getting unblock them add a few then right back blocked from adding for another 30 days.
This is to inform you that i have no commercial transactions with my facebook friends in and out of the country,and also that if i do send a friend request, i am aware of my responsibilities as a good citizen of this country to fully abide by the rules,laid down by you.
The friend request i send,are to those whom i have met i in some of our church functions or are friends of my F/BK friends,nothing more and nothing less. Therefore i request, that my particulars be verified, and immediate action be taken to rectify the error. Thanking you, and awaiting your kind response.

hi, I got some problem in my game Facebook, it's Farmville2, I complete all the task which is come from barbara... I got that last thing she is givig when the task is complete and barbara gone...then I go back to my home page and when I come back to play I saw barbara is there and my last task is not complete,, but I throw ll the feast so I cant get it now... what can I do??/ please help me..I am so dasparate to complete that task but I can't....Please help me please with Farmville2 for Facebook.

Dear sir,
My account has blocked by some users which is very unfair. It is my real account and i am using it with very genuine information. but now a days it has blocked by some other users only to give mental harassment. please recover my account because i loss some photo and messages.
I need some help from you. Look forward to your positive response.

Why do you allow people to post hate speeches, photo's of dead babies, nudity, pornogrophy, threats, allow peoples photo's to be posted on another page edited with slurred speech and ridiculed and when asked to remove them you won't? I have seen all these and reported them along with 1000's of other facebook users but you do nothing. Your terms and conditions are being ignored and complaints and reports of these issues are also ignored by you. How do you allow obscene images of children and babies on a page called Controversial Dead Baby Jokes ? I have taken screenshots as proof and wrote to MP's the police have been informed too. Facebook this is your problem and instead of ignoring this you should be doing something about it. We wrote to your advertisers and you have now taken the adverts of the worse sites and we thank you for that. You will be losing business and a good amount of Facebook users are closing their accounts on the 1st Jan 2013. I'm afraid your social Facebook is becoming very anti social. I await your response. Regards Pauline

for about two tears now i have been playing a game on face book called battle pirates yes the game has had a few problems and everyone has made kykly aware of them but all they do is fob you off saying its your pc, not the case it costs money to play the game or should i say to buy things to make the game play better but its not better i have spent about $250 dollers but there not giving you what you pay for it ether locks you out crashes or does not load all the time your said fleet is being damaged and it costs to repair it at this present time there doing a game on there where you win things but as soon as i started it then problems started i got on to them but all they done was sent long emails about problems on my P.c funny that the said same emails were sent to other players i have lists . i asked for my money back but they refuse to address the problem or even give me a dirrect answer can someone help me please

My facebook account was suspended without worning are reason.i have been treated very unfair and i am a decent person i have followed all tule never a complain against me the i get on and said locked down due to spam and fake account i followed all procedures to prove who i was a gov id was sent a bill with my name and add.i find this very unprofessinal especial when i see porn all time on there.i have been on facebook for years and have pics and friends i cant replace and games i even paid tp play.everything was taken everytime i try to file a complaint it says accont not disabled .but it is loced i have had no respnse form not even a single person and that is very wrong plz check this out i did make another account but i have lost it all and dont see it right.

I've been blocked because of friend requests, recently I went to a Vinalhaven site and saw some folks I used to hang w/my ex-husband. I've worked at a factory for 13 years, or it's an old friend that accepts my friend request and I go through their friends to see if I know anyone. What is w/this. It's totally wrong! FB already kicked me out of my first profile and I can't access it and I had to make a new one. I also requested to be in a couple of groups and a lady in Australia a couple years back asked if I was related to so and so Isbister. She also happens to be a rescuer of animals. What if she couldn't have FR me? I'd have never known such a wonderful lady that deserves the hand of God on her. I repost stuff from her too. So why can they do that yet you cannot get to a real person to talk to. FB sucks.

When you go to purchases list the last one is 4/3/2013 which is correct. On 4/10/13 my bank took $476.31 for facebook. I filed report with them and no response. Can't talk to a live person. They know I didn't make these charges cause I wasn't online. I want my money back and I can't wait days for it

I was blocked from sending friends request and some of the people on the list were family, including my daughters and grandson. A couple of them even carried my last name. One of my daughters never responded because she has no means for getting on Facebook. So there reason for blocking me is all wrong because my family do "Know Me!" - I work in music so the other people I sent request to were musicians to connect with to sponsor them.

zynga robbed me of all of my chips almost 22 million worth.. i have read that they're taking chips from good players. i started with 20k in chips. i put a lot of time in doing so..
it's part of my past time i believe it's terrible they can just take your chips away as they please cause you're a solid player.. they want you to buy chips.. that's what it's all about..
Zynga owes me almost 22 million in chips.. can i please get them back??

Today is my birthday and because of some arbitrary decision of Facebook, I am blocked and cannot ready any birthday wishes I might receive.
Without a doubt, there has to be a change to the way Facebook decides who can friend who. I'm blocked for responding to friend requests not because I sent out thousands of requests. It makes me really, really mad. I want to know who has complained about me and I want an answer to my email messages.

I just noticed on my facebook account of scratchz padz a whole section of my photos containing my graphic art work has disappeared it had est around 600 posts, I did nothing, didnot remove or delete so where are my pics they belong to me put them back now, you need to fix your facebook programing allso it hasnt let me do a down load in a few months first and now my art work that I made is gone, oh come on guys fix it, bring my photos back and let me do down loads agsin..

Hello, I apologize for complaining, but the game Country Life on Facebook...has been "apparently" removed. It is not the fact that it has been removed, (2 days now)... there just was no "warning", or any kind of explanation! Which keeps some of us wondering exactly, who we are even dealing with!
People have asked, no replies...is there really anyone there working on this? Or will it be removed permanently?? Some of us, has worked so hard with these little guys, and have actually felt like we were farmers! Could you maybe post an explanation on Facebook itself? It would sure help!
You guys have great games! It helps when there are those of us who can't find a job because of out age, mostly! Keep up the good work, but please work on your communication!! Thank you...Merry Christmas and Happy New Year! :)

I'm not on Facebook and consider myself anti Facebook . You keep emailing me every week to tell me about activity on my page. When you try to click on the Link to 'my so called ' page it says it doesn't exist. However you still bombard me with info about the activity on this ghost page. I've reported you as spam but it still keeps getting through . I've also clicked through all your Facebook relevant links or unsubscribe (I've never subscribed!) links and this is as infective .

I need someone accountable from FB to contact me, as i have been discriminated and have been misstreated. i want someone from this organization to contact me so i don't have to file a law suit against Facebook, i would rather get it resolve. They keep blocking me for making friend requests to people i know. What i find funny is that they keep putting people's pictures in front of me that i know and i friend them and there i go again, i'm accused of friending someone i don't know.
Where do they get there information? if someone is complaining i can't help that if they went nuts in this world and don't want friends. i want to talk to someone at fb to find out what there story is to block people. I'm even block currently to send messages. I didn't do anything by sending a message. If someone can give me a answer about this, i could figure out why i keep getting blocked. I don't know whether if it is becasue a action from me or someone else. All i know is if i make friends requests i get blocked.
This has to stop. If i have to hire a lawyer to sue Facebook i need someone who has done this before, to get a message to them that they need to stop harrasing people for using this social media for what it was meant to be used for. if they don't want me to make friends they need to stop running people in front of my screen. i know there are hundreds of other people being block for non offensive reasons. i don't know if it is a mistake or malfunction from FB or what. I am very upset about this..

This is the worst online poker that I've ever played! It's not close to realistic. It seems as if one or two people are the only ones at a table that always have good enough hands to play. I played at a table and never got a hand that I could play or let alone win. That is terrible!
You have no choice but to try to play when you're in the blinds and half the time you don't get a hand that you can play or even think about winning on. It's horrible. I think that Facebook needs to take the poker off and just be a network that people can only talk on. I've come to the conclusion that if I'm going to play, I'd much rather get full tilt poker.
It is much more realistic than this bullshit you have on Facebook. Plus you get to play with players who know what their doing and actually know how to play. You also don't have to worry about hardly ever getting descent hands to play. You have a better chance of winning on full tilt and it's closer to playing real tables.

Facebook is down for required maintenance right now, but you should be able to get back on within a few minutes. In the meantime, read more about why you're seeing this message. Thanks for your patience as we improve the site.
After nearly 3 weeks Facebook facebook have still not rectified the issue. All I get is an automated email, no contact phone even at a premium rate.
Company is utterly incompetent when it comes to dealing with customer reviews and complaints about their website being down. I use Facebook all the time and this needs to change immediately or they risk losing more membership.

I understand that you (Facebook people) are always doing something new to upgrade the business but i am so tired of you changing things in such a way that's suppose to help make facebook better yet it is driving us looney trying to keep up with all of the different changes. You give a lot of information that is so confusing till it's defeating the whole purpose! I am so confused as to what's going on with this privacy setting till i just want to get off of facebook altogether. It's like a love/hate relationship.
You explain the changes but yet you don't explain it thoroughly enough for everybody. I need for you to explain to ME SPECIFICALLY how to fix MY SITUATION! 2 days ago something happened to my account & i don't know how to fix it. None of my friends/neighbors for CW ONLY can see any of my posts. I don't think that any of my other friends that play on any of my other games are experiencing this problem. It just seems to be only CW. Can you please help me figure out how to fix this issue.
Playing the games on facebook are really the main reason why i get on facebook in the first place. So if i can't play the games there's really no other reason for me to stay on facebook. Please advise me as to what to do now! Hopefully i will hear from you real soon. Thank You!

I bought a facebook game card and loaded it to use as cash on farmville 2. I had 211 dollars on my game. I logged out and came back an hour later and it was down to 72? WTH It cost me $25.00 to buy that card and now its all gone. I will not buy another one and may stop playing the game, this is the 2 time it has happen.

There is an entry on facebook under my facebook photo that I did not put there. The entry asks for donations for Hurricane Sandy Relief. The entry names Ronni Watkins, Angelo Santiago and Cindy Bell as supporting my request for donations. I'm sure these people do not know that they are on this facebook entry. I did notify them, though. We all "liked" a cite called Characters Unite recently. The Character Unite name was on the entry also. Please eliminate this posting and investigate this Hacking. Please take the steps necessary to clear up this violation. Thank you, 

i have reported this facebook insident a few times but just found this sight my daughter as had to move away from her x as hes arrassing her slandering her and her new partner, he as made a false profile under the name of zoe will he as sent messages to everyone on facebook accusing him of being a prdofile i think its discusting we have involved police they told me to complain to you as they no its this michael nicolas and his mum mandy bower i have already blocked that family and deleted them of my face book but earlier this year i had to add another letter to my email as someone tried to hack it now hes slandring my daughter of and will not give up i no its this person and police agree but we need real evidence so they adviced me to contack you to sort it out as they dont have control of facebook and you do its getting very scary for my daughter which i think is well rong she shouldnt have to come of facebook because he can harrasse her please help us to avoid this zoe will to be able to contact people for this is so bad to accuse people of things that is not true the the reson we no its him and his mum is because messages were sent to zoe will privately and suddenly the family are asking questines about what we put theres other evidence as well but as your good in facebook i no you will be able to read what she said and our reply please help us thank you so much for your time

I have begged and begged for customer support to help. They give absolutely no help. They will not even put my quest items in so I can move forward. It was working fine then one day it stopped. They now will no longer respond to my emails. They make me feel like this is something I did or my fault. I've been playing since 2009 and this is the worst i've seen. The customer support team used to be so much better. I am assuming they've gotten new support or outsourced it because the team they have now does nothing.

Facebook is now a magnet for child abusers, sadists, bullies and other predators, and their code of practice does nothing to prevent this from happening. It is frightening to know that a web site that is supposed to be a social tool to connect family and friends have owners who do not do enough to protect the innocent. It seems the rights of the immoral are higher than the rights of the innocent and moral people who use it. it either needs closing down or have very strict rules in place to rid FB of this content.

I am Facebook user. But my Facebook account is block. I am try every think but I can't unblock it. Please help me. Also, someone is using my Facebook account by changing password and contact no. I want to deactivate this account please help me before it gets blocked again.
Last week someone has made a profile using my name my date of birth and even my photo and has sent a friend request to me I wondered this a terrible thing and of course it would be simply because:
(1) someone else is making or using my name
(2) If it is a Facebook account there could be some serious information that is being exposed about me that is not true
(3) Whatever is being written in this account could cause me to lose my job or not be able to obtain a new job.
So I ask and am very concerned how does one stop the false accounts being made and destroying privacy and embarrassment. I need to unblock this profile and stop people from creating these fake accounts.

Hi, my language is missing in the website facebook, and I would like to report a complaint about it. All other languages are there to use in facebook, but my language, the Kannada language, is not present from India. Please add this Kannada language so that users from Bengaluru can use the website worldwide. It is a language in karnataka, which is one of the old languages of India. Bengaluru is a number 1 place for software known as silicon city of India, but still facebook is not having Kannada language.

Hey facebook here is my review of you, my page with the new timeline has been having trouble being viewed by other people. These are her words after she was banned from one of my Facebook pages when the new timeline rolled out last week. At this point I think I'm going to have to hire hackers to even get my own Facebook page to work correctly! Your new timeline sucks, and I don't get why you have to change a good thing to make it bad. Well the part about getting in trouble with Facebook was why I was going to bring in actual bad hackers that wouldn't care regardless. Then I'm free and clear. Its just a matter of placing a link to the page on a hit list by more people who hate the Facebook timeline review.
Those types of hackers don't care why, they're just looking for a place to hit. As for karma and all that i prefer to settle debts myself, and Facebook doesn't seem to care about me or anybody else anymore. Especially in these kinds of cases where I'll probably never hear of the people again to get the satisfaction of them having been dealt with. When it's somebody closer then I just let it go and let life deal them sour cards then laugh when they're crying about misfortune. But these cases it's a large company like Facebook, who gets a new timeline, and doesn't care to settle customer complaints about their product. Well to explain what happened would take a long time as it's been going on for days.
What I posted above is as short as it gets. I've been back and forth on moving on and forgetting them or giving Facebook what they deserve. What I think only a few of you know is I'm a hacker. The benevolent type though, not malevolent. Though I could hire on a malevolent type to do the dirty work so as not to dirty my own hands. Once I get her next response though depending on what is said I think I'm gonna remove the Facebook page. They deserve it, Facebook is so arrogant and cocky with their new timeline. They're elitist yet call me out for being "an arrogant, self absorbed, bitch. She was involved in a scavenger hunt on my page and was very rude to the other contestants and the administrator running it. I gave her a warning and told her to please be polite. She kept the matter going, so I talked with two other admin and I decided as head admin to delete her from the page.
Then I found out she had posted this stuff about killing my page on another Facebook page with the new timeline. I also own another page where a scavenger hunt is being run, and she again broke the rules. She seems to think she can do whatever she likes. I would like to delete her from this Facebook page also, but I am dealing with a hacker. She alleges we continued to make nasty remarks about her, which is just not true, (you can check my page). The warning and the post saying she was being deleted were the only two posts regarding her. Any advice you can give me would be greatly appreciated. I run three Facebook pages in all with no problems.

Hello I want to complain that my Facebook account is now blocked. I just want to hear what kind of misbehaving I did to deserve this, but I cannot get anyone at Facebook to respond to me. I'm a genuine player and I love zynga. And you blocked my 2,800,000 in chips. Please see all my games and the you can make the right decision. If it's my fault then please continue blocking me, if not then give my chips back. I hope you make the right decision.

I have proof that Facebook attempted and failed to access my email account. I believe that this is the reason why my email account was later hacked, due to all the Facebook connect applications currently running on it. If you have had Facebook and email hacked before what did you do about it? Should I hire a lawyer to help me resolve and sue Facebook for attempted hacking of my account? Anyone? Thanks for reading and the help.

I have the honour to once agian request you that below complaint so far not resolved by the facebook please take action agianst facebook for giving tention in the matter. Please read the below complaint. Thanks. Dear Sir, I am using facebook for some years now facebook I want to complaint that this error came to me every time which is incorrect. "Subscription Limit Reached You can only have a maximum of 50 status update subscriptions. You currently have 50 subscriptions". I have only 30 and every time this above error came and I am disturbed with this all please rectify my error I will be thankful to you as facebook support team dont reply any email or complaint.

I've seen my email but there is no notice why my facebook account is blocked. Facebook is where I communicate with friends and family, also with my colleagues. I hope my facebook account reactivated. So far, I always write lots of good reviews about facebook in my own webs many is often accessed by the Indonesia. I can only guess maybe my mistake why my facebook account is blocked because I always confirm every friend recommended to me. If it was my fault then I will not repeat it again and more selective in adding friends. Forgive my limitations in speaking English.
Hopefully you will receive an explanation and my apology and willing to open my facebook account again because facebook very important for the continuity of my communication with friends and family. Greetings from Indonesia.

I still cant upload videos,videos that are of my own creation not someone elses. I have a You Tube account that has over 35 of my own videos. I cant even get on my facebook account and have done nothing wrong that facebook should not allow me to upload my own videos.i think Im going to delete my account forever if this issue is not resolved. i have already went to You Tube as the results of facebooks actions against me.I DID NOTHING WRONG! So why has facebook screwed up my facebook account. Guess you just want to mess with someone.
Im trying to create a musicians page but there is no point because facebook will not let me upload my original song videos…i guess I will Delete my account altogether since facebook is ignoring my complaint…Explain what i did to deserve this treatment?

I cant get on my facebook,everytime it says aborted. i have deactivated my account this morning…I would like to know why facebook has my page messed up where i cant even get on.I would like everything on my account deleted or this problem fixed. i was accused wrongfully of a copyright infringement over a month ago and my facebook has not worked right since…I did nothing wrong, everyone shares videos from You Tube ect….I would like to be able to put up a new facebook account, something is wrong with the one I just deactivated. Ive since went to You Tube and created an account for my music.
I am a songwriter musician and i made videos for my facebook friends to watch all the videos were my material. I could not even get on my facebook it kept aborting it!

In the last couple of days, my Facebook account has been acting funny. Certain statuses are acting strange…. My Facebook "profile" is completely missing– my Facebook "Friends" are present on moment and then I have none the next, though I continue to read their posts — And my notifications are there and then they are not. On occasion I note that a post I submitted is not posted. Also…. After having moved out of my Facebook profile I sometimes find myself back there again. I need to know if I'm being hacked — or is there another cause for these uncomfortable interruptions.

I can not able to access my facebook account because I have been blocked for 30 days for sending friend requests. By logging this problems shows on the login screen. Final Warning – Friend Requests Blocked for 30 Days. Your friend requests and facebook messages have been blocked for 30 days because you've been contacting people against their wishes. If you continue to ignore these warnings, you will permanently lose the ability to send facebook friend requests. Please help in this regards, I would like the ability back to send facebook friend requests on the website soon.

There are a shocking amount of blasphemous groups on facebook that are really disrespectful and say horrible things about Christianity. I find it very upsetting that facebook would allow these groups and I am asking them to remove any blasphemous groups from facebook that say bad things about religious groups. It really is shocking what these blasphemous groups on facebook say about Christianity and other religions.

Dear sir. I can not able to access my facebook account. By logging this problems shows. Final Warning – Friend Requests Blocked for 30 Days. Your friend requests and facebook messages have been blocked for 30 days because you've been contacting people against their wishes. If you continue to ignore these warnings, you will permanently lose the ability to send facebook friend requests. Pls hepl in this regards

I am hissed off. People support you until you get laid off. Than they ignore you totally on Facebook. They are just a bunch of Hissys.

On facebook the games from game duell are a pain to load. They don't come in and you have to hit refresh, sometimes when you do it will refresh OK and other times you just loose a "life" then have to wait 30 minutes to play. I go on facebook to read what everyone is up to and play a game to relax but this nonsense with the refresh thing is not relaxing at all

Chuck Walden
from San Diego, CA
I ordered a Drone QX from a Facebook add on April 19 and to date have not received it nor have I heard from the company. I have been unable to contact them because the phone number provided to my credit card company does not work. When you call the number you get a message to contact a website and then they hang up!
I trusted them because they were advertised on Facebook. Can you help, PLEASE!

Thomas Dickensheets
from Seattle, WA
They took away my freedom of speech

Facebook approved of all my business ads I were advertising, then out of nowhere, I was banned from using their ads service to advertise my business without a warning as to why. This happened directly after I made my initial payment in the same emails. Now my business is hurt and I would like a full refund for them approving my ads only later to say I violated the policy for them. The total I've spent is $2,066.91 and I would like a full refund! My company is Battle Comics LLC and it is also the name of my business page.

The ad went so fast you couldn't read it !!!!!!! It was terrible

Prudence Lucas
from Morrisville, PA
Would you stop sharing my age on face book. I am a very private person . Just stop sharing my age with every one.people are calling me to find out if my age is correct. Not only do they know my birthdate but they know my age. Stop stop stop. That is too much personal info.

I tried to log onto my account, your system would not let me. So I tried a password reset. This did not work. Tried the recovery link, did not work either. Then I was told that my account was unlocked by email. I tried to log on again, it did not let me log on again. It came back with a picture of three people telling me I should contact them and ask for a code. These people are not trusted people. I then went to the lower left corner for an alternative way. I hit that and the three people came up again. Logged out. Why, could not use my security question answer that I have with you?
Just trying to get logged back on.

Chuck Walden
from San Diego, CA
I ordered a Drone QX from a Facebook add on April 19 and to date have not received it nor have I heard from the company. I have been unable to contact them because the phone number provided to my credit card company does not work. When you call the number you get a message to contact a website and then they hang up!
I trusted them because they were advertised on Facebook. Can you help, PLEASE!

robert armitage
from Glasgow, SCT
on my laptop windows 7 since Saturday 25th may 2019 I can longer access facebook messenger via my facebook account...just getting a blank white page ??? is there a problem....??? Robert.

Karen A Sagarino-Harris
from Grand Junction, CO
I cannot see notifications and or messages, or view comments or make comments this is has been going on for about a week. I have tried clearing cache to no avail what is the since of having account that is worthless. I am using one of the browsers you said to use. Microsoft Edge.

Joseph Horn
from Roswell, NM
My account seems to be blocked. I do not have any idea why. If there is a reason, I would very much like to know why. Could you
please fix the problem?. Thank You,

You keep banning me for the same post over and over. Why?

I re-posted a picture quote and was suspended from facebook. There was no share link so I saved the pic to my desktop and re-posted it and was suspended for the picture that I got from facebook. I feel I am being singled out -targeted etc....

Dr. Jagannath Kannojiya
from Mumbai, MH
we have our company facebook account named recourse.physiotherapy but we are not able to operate / open that account we have submitted my adhaar card than also no use. pls tell me what to do in this situation

Angie May
from Boston, MA
My account was disabled by Facebook without any notice. I got a message about suspicious activity on my Facebook. All I do is post funny memes. It's crazy to think that would be suspicious at all then I was asked to submit a photo of my face that's not on Facebook and I definitely did that and my account is still disabled. It was an active account it was obvious by the way my friends commented and interacted to me that they knew me.This is a social media site. I'm not running a business or doing anything that would require for me to prove identity to you. I keep reading all over the internet this happening with most new accounts,and eventually you require picture ID scan before allowing login. This sounds like a shady scam on behalf of Facebook to see how many brainwashed zombies will willingly hand over way more info than you should ever need for a social media site. Sounds fishy to me. Activate my account that you disabled or I'll sue you for trying to bribe personal information that is unnecessary from me and unfairly locking me out of my account after you received what you asked for

My giving name is Charles F. Bailey, I placed an order with " DEALS YOU MAY LIKE" order #3738 on May 5 2019 the price was $99.99 with a discount code of $10.00 leaving a balance of $ 89.99 which they drew from my account on May 6 2019 I have never received the Drone nor they have not refunded me as they have promised . My Facebook profile is Fred Bailey and I am requesting they be removed from Facebook because they are a scam. Thanking you in advance for your cooperation.

Jacquelinw K Johnson
from Hayward, WI
I made a purchase of clothing from Chiczora, four items. I received them all and tried the four pieces of clothing on. Three did not fit, in spite of being same size as one that did fit, for two of them, and the other was actually a size larger and still did not fit. I began contact with the company's email service@chiczora.com I have a string of emails with two different representatives beginning May 5th. I still have no resolution. The last email offered a partial refund of $18 for the 83 dollars worth of items I wanted to return, and I keep the "item". It was not clear if it was 18 dollars for all three or 18 per item. Also, I asked them to pay return shipping, as their poor sizing caused the problem in the first place. They stated it would cost 30 to 35 dollars to return them to China and I would have to pay. I was not given an address to return them so I have no way to do so and no way to confirm return postage. I will not trust these ads again, and never purchase anything from over seas again through Facebook.

I am complaining about one of your advertisers, Sami & Sean. I ordered a t-shirt from them and like the design. But, it came as a v-neck when i thought I had ordered a regular round neck. They refuse to help me replace the V-neck. I have attached a copy of their advertising and sales material, which shows a regular neck, not a V-neck (see attachments). In little tiny print, the order does say V-neck, but I content their pictures misrepresent the product. They refuse any sort of help and even hung up on me in an online chat. They offer no phone number or address to formally complain. Please advise what you can and will do to bring this new Facebook advertiser into line with your (and my) expectations.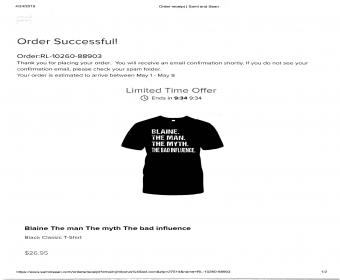 George Ghanayem
from Garden City, MI
My profile has been banned or limited for thirty days for something I have posted which did not comply with community standards but you did not tell me what it is I have posted how can I try to avoid that next time if I don't know what the offending post was?

Christine Lewandowski
from Wilmington, DE
WHO changed the format of the facebook.com/groups? It is horrible. It is NOT user friendly. You have to keep going in and out to get to one thing at a time. WHY did you change it? WHO asked you to change it? I don't remember being asked if I did not like the previous format. Does the person who changed the format even USE facebook groups? Did you try and access ANYTHING after you changed the format? You CANNOT access ANYTHING. It's horrible. PLEASE CHANGE IT BACK TO THE WAY IT WAS BEFORE IT GOT SCREWED UP. IT'S HORRIBLE. It cannot be accessed the way it is. PLEASE CHANGE IT BACK TO THE WAY IT WAS BEFORE IT GOT SCREWED UP.

I tried to friend my wife and sent her a photo. it was a simple photo of my face smiling. Nothing inappropriate. When I hit send I was then locked out of my account with an error message that says, I cannot use my account as Facebook is reviewing the photo I sent them....??? I did to send facebook a photo. If this is the problem how long does it take you to view the photo and reinstate my account? I am new to facebook and was hoping to use the messaging feature for work. seems temperamental and maybe a bad idea.
Please let me know how to get back in my account. this really stinks, Pete West

Facebook rip me off and not sorting things out have sent court papers to Facebook and the people that run it and had no answer back

Linda Leffler
from Hibbing, MN
Facebook has locked me out due to someone trying to hack my account. I even sent them a new password. Birchtree1939 uu you cannot resolve this then cancel facebook .

roger parkes
from Hinckley, ENG
You disabled my account some weeks ago for no apparent reason. I do not use obscene language or post any controversial comments.
I use facebook to keep in contact with many authors to discuss marketing. I also use it to contact a small number of friends. But my main concern is being unable to contact authors and author groups in the US and Europe to discus my publications and marketing techniques. Social media is a powerful marketing tool for me, now i am being virtually wiped out since my colleagues are unable to make any contact with me.
Why? what have I done to prevent me having any accounts on facebook? I respectfully ask that you address my complaint and tell me what it is you think I have done to deserve your treatment.
Thank you,
Roger Parkes.

Linda Skovira
from Harwich, MA
I can'recover a facebook page that I have deactivate

I want to get off Facebook. I have been hacked 2 times already and when I try to go to Facebook it tells me I have the wrong password. GET ME OFF.
Theadora Huttmeyer

Jesse Delcourt
from Minneapolis, MN
Dear Facebook team I have been trying to have a Facebook account to contact family one of my family members are dieing but you keep asking for me to upload photo of my self that clearly shows my face book ever time I try to keep a account it's refreshes the page and comes to check point within every hour to half an hour then when I submit photo you disable the account with no giving reason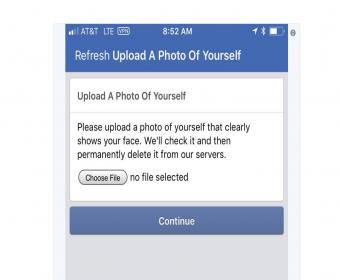 I've been complaining and sending numerous messages to Facebook on the behalf of thw everyday blocking me from liking my family members post. Now its to me as an harassment; and im almost to the point of going full throttle hiring a lawyer like Morgan & Morgan if this keeps up. I can't send my mom a heart on her page. I feel they need to be more strict on people killing people post; and posting stuff not cool. Rather then bothering us people who does nothing to people.

When I click on "see 13 more comments" nothing happens.
When I click on "see more replies" nothing happens.
Is this problem fixable?
Thanks in anticipation.
John Patterson

Sidney Anthony
from Johannesburg, GT
Facebook does not come back to me about the fact that they system deactivated my account.i have gone to all they sides to complain and they are not coming back to me. My business account is connected to this account and I have tried very much to fix this as it relates to my business account and could ruin everything for me.

Rickey Barker
from Shaw, ENG
Facebook have taken funds out of my account without authority on eleven separate occasions, my bank has recouped some of the funds, however, there is still a significant amount to be addressed, therefore I would like the funds to be reinstated into my bank account. Thank you.

id like to report facebook please. for interfering with democracy. and deleting a valid mep's election campaign video. with no explanation as to why! facebook is actually interfering with the will of the people. id like to see facebook prosecuted. i look forward to your reply. thanks

i cannot open my facebook........i was hacked......this has happen before.......done nothing wrong.....not my fault........i have tried to open my facebook..but cannot do it.........please help and open my facebook..........facebook is the best site on here,,,,,,i enjoy it alot..........please help me with this matter........thank you so much............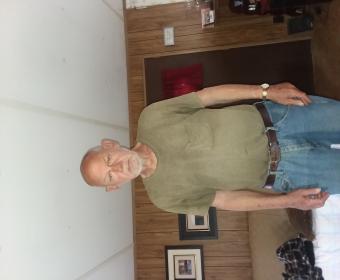 i was hacked,,,,,,,,please open my facebook,,,,,,,,have been hacked before,,,,,,,,i have done nothing wrong.....not my fault...please open my facebook........i enjoy it alot......it is the best sight on here...........thanks so much,,,,,,,,,,,,

You locked me out because you don't think it is me. I tried to change password, you refused so now I have uninstalled both facebook & messenger
I am a Christain, a Republican, wife,mother & grandparent so I will be vocal about your services.

Andy Wallace
from Lanark, SCT
Why am I getting the attached message? I have enough friends on facebook, I like to see their posts, I don't want to be prevented from doing that for Facebook's own devious reasons. I want to use Facebook as I want to use it, not the way that Facebook wants me to use it, and if I can't there is no point being on Facebook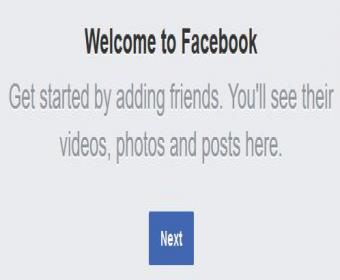 Wanda Jackson
from Dallas, TX
Can't get an account, someone hacked my account, also disabled my phone number. Y'all need to help.

STUPID PASSWORD JUNGLE MAKES SERVICE OBSOLETE BY JUNE 2019--JUST IN TIME FOR PRIDE!

Arunyadav
from New Delhi, DL
Dear team my fb acount in the name of arunyadav.wich has been hack by someon using his name on my fb id change tha paswrd also.so kindly help me to retari my fb acunt and insure that hi will not miss use tha contain in my fb id.kiny du the action as soon as posible.

Donald Haynes
from Portland, OR
They put me in Facebook jail for 7 days over a post i made a couple months ago, ok i understand. And then just yesterday. The same exact post i made at the same time as the first one surfaced and they put me in Facebook jail again for 30 days this time! I already got in trouble for it once and i have been complying with the Facebook standards. Im really getting tired and irritated with how they are running it. Ready to delete my account! Along with several other people I know.

Griffith Gina
from Saint Albans, WV
can I please have zero stars? A friend has had her account hacked and some unknown person is using her account to solicit donations and money. I have tried to file a complaint online but the process is tedious and whenever I finish explaining the complaint instead of excepting my input all the information is deleted. And of course you have a phone number but you're not talking to anybody at the moment. So first of all the friend of mine whose account has been hacked is named joyce Tonkins from .st. Albans WV. Some unknown persona is soliciting money at least it's far as I'm concerned on Facebook messenger. Second it has become so difficult for me to file this complaint – which I am doing because my friend Joyce cannot figure out how to file a complaint – that my next call is to my two senators telling them a story as a reason why Facebook must be government regulated. This is ridiculous. I am trying to report a crime and you do not make this report feasible

andrew katchusky
from Grand Island, FL
im tired of having my account blocked for 30 days for expressing my freedom of speech.i want my account unblocked.30 days is unfair and i want my account to be unblocked immediately .i have the soul right to express my freedom of speech and not have my comments i make on friends post be removed nor blocked .its highly annoying and i want my account on facebook to be unblocked NOW.facebook has NO standards .please unblocked my account on facebook.

when I try to sign up you request a mobile phone number I do not have a mobile phone

john knox
from Prescot, ENG
you are shadowing me. I can see my posts and shares. but none of my friends can see them. this is my 4th complaint in 4 months

Ryan Albanese
from Pasadena, TX
Facebook is actively suppressing my 1st amendment rights. The statement "I commemorated the event by buying an ar 15 and a couple pounds of bacon" is in no way racist, illegal, bigotry or discrimination. Continuing to do so needs to lead to charges be filed against facebook.

Naawwii Rashaad
from Addis Ababa, AA

Facebook, bring back the "new posts" topic in friendlist now!! We can't do without since we hardly see any friends-feeds nowadays. Facebook becomes totally worthless this way!

mY COMPLAINT IS WITH FACEBOOK
I boosted a post and tried to get it boosted to Maribyrnong Australia to Liberal Party of Australia people aged over 35 in a radius of about 12 km but it was boosted to Malang, Indonesia. Will you help make sure the $30 credit now owed to me goes where i intended the first boost to go?
I CANT FIND OUT HOW TO GET THIS COMPLAINT THRU TO FACEBOOK

Piera Maria Alexandra Verri
from Slough, ENG
Kindly reactivate my other account I have been trying to manage my own friends so I have 3 accounts. One old I cannot even access because of the same problem for the last 3 years. Consequently , I had to make another account years ago with other 1500 friends and you have blocked me from my second account again. Please understand I do not need your security if every time you are closing my own account. Unfortunately,I have webinars to attend which I have already paid for and this is now too much inconvenience. I am writing from my new account which you also bloked one month ago because someone thought it was not me. Kindly please unblock my account now blocked and make sure you leave this one the way it is. I would be very grateful thanks piera

One of my friend nisar kuchay is not able to send me friend request coz i have blocked him once..now he z nt able to send d request so u r requested not to block this option for him n enable him this option so that he can send the request n make sure in future u should not block this option for people..resolve this as early as possible
Have feedback for Facebook?
Thanks for your feedback!
Sorry. Please try again later!