Facebook
Facebook Complaints Continued... (Page 3)
561+ reviews added so far. Upset? Call Facebook corporate: 1-650-543-4800

Abbas Adl-Tabatabai
from New York, NY
I cannot login due to your racial selection on people. This is the second time that you have blocked my login to Facebook. I think I have to switch the contact of all my friend and recommend them to switch to a more friendly site.

mike distrola
from Kane, PA
face book has disabled my account with no reason givin it has been a week and I cannot log into my account I find this very unfair and I want to know what gives them the right to do this with out warning and without even letting me know my page was just that my page I want my info back my pictures etc face book is a joke and veryunfair

Holly Horne
from New York, NY
Messenger account hacked. Facebook disabled my account. The hacker changed the email and mobile number. I filed appeal and received no acknowledgement.or response.

Fb is without any reason blocking all my account .Don't done any thing.Pls unblock all fb account asap.

Praween Lakra
from Mumbai, MH
My account must have been hacked and then disabled from you. You can check the ip address of the violation of your policies done. Help me restore my account and change the password.
Because I did not violate any of your policies. It must yave been hacked. Kindly look into this matter as soon as possible. I've got lots of pictures stored in your site. I would like to have them back.
I've got many other accounts associated with this account. It is costing me other accounts as well.
Kindly be understanding and look into the problem.

Stephen Page
from Edgware, ENG
Just tried to create a profile using the pseudonym, Terry Towelling. I have deliberately misquoted my date of birth because I don't want that to be known. I found it impossible to log in. I repeatedly got the 'capcha' screen asking me to confirm I am not a robot - which I did countless times. I tried all sorts of ways to get in and then I started to get the 'capcha' screens again but could only just see the bottom of a couple of the pictures I had to click on. I tried going in through a different browser and actually got the capcha pictures properly but it still wouldn't log me in. I then get asked to upload a photo of myself - which I did. I also got a message saying my account had been used suspiciously - hardly likely when I'd only just set it up and couldn't even log in!
What exactly is going on?

Dianez Penson
from Cleveland, OH
I have been using the same email since I started Facebook. Someone hacked my page and changed emails and passwords. I no longer have access to the account. I have already sent a complaint one too many times and no one has done anything to help. PLEASE help I no longer have access to my kids pictures. Either delete the page or help me gain access to my account

My account was original why my account blocked open my facebook immediately.

Melissa Cook
from Richmond, TX
I posted pics of my daughter's high school
Graduation on Wednesday night and on Thurs morning I get a notification that I posted against Facebook policy. Since when is graduation pictures against policy???????
I can't post ot like or send any messages.

Chuck Walden
from San Diego, CA
I ordered a Drone QX from a Facebook add on April 19 and to date have not received it nor have I heard from the company. I have been unable to contact them because the phone number provided to my credit card company does not work. When you call the number you get a message to contact a website and then they hang up!
I trusted them because they were advertised on Facebook. Can you help, PLEASE!

Thomas Dickensheets
from Seattle, WA
They took away my freedom of speech

Facebook approved of all my business ads I were advertising, then out of nowhere, I was banned from using their ads service to advertise my business without a warning as to why. This happened directly after I made my initial payment in the same emails. Now my business is hurt and I would like a full refund for them approving my ads only later to say I violated the policy for them. The total I've spent is $2,066.91 and I would like a full refund! My company is Battle Comics LLC and it is also the name of my business page.

The ad went so fast you couldn't read it !!!!!!! It was terrible

Prudence Lucas
from Morrisville, PA
Would you stop sharing my age on face book. I am a very private person . Just stop sharing my age with every one.people are calling me to find out if my age is correct. Not only do they know my birthdate but they know my age. Stop stop stop. That is too much personal info.

I tried to log onto my account, your system would not let me. So I tried a password reset. This did not work. Tried the recovery link, did not work either. Then I was told that my account was unlocked by email. I tried to log on again, it did not let me log on again. It came back with a picture of three people telling me I should contact them and ask for a code. These people are not trusted people. I then went to the lower left corner for an alternative way. I hit that and the three people came up again. Logged out. Why, could not use my security question answer that I have with you?
Just trying to get logged back on.

Chuck Walden
from San Diego, CA
I ordered a Drone QX from a Facebook add on April 19 and to date have not received it nor have I heard from the company. I have been unable to contact them because the phone number provided to my credit card company does not work. When you call the number you get a message to contact a website and then they hang up!
I trusted them because they were advertised on Facebook. Can you help, PLEASE!

robert armitage
from Glasgow, SCT
on my laptop windows 7 since Saturday 25th may 2019 I can longer access facebook messenger via my facebook account...just getting a blank white page ??? is there a problem....??? Robert.

Karen A Sagarino-Harris
from Grand Junction, CO
I cannot see notifications and or messages, or view comments or make comments this is has been going on for about a week. I have tried clearing cache to no avail what is the since of having account that is worthless. I am using one of the browsers you said to use. Microsoft Edge.

Joseph Horn
from Roswell, NM
My account seems to be blocked. I do not have any idea why. If there is a reason, I would very much like to know why. Could you
please fix the problem?. Thank You,

You keep banning me for the same post over and over. Why?

I re-posted a picture quote and was suspended from facebook. There was no share link so I saved the pic to my desktop and re-posted it and was suspended for the picture that I got from facebook. I feel I am being singled out -targeted etc....

Dr. Jagannath Kannojiya
from Mumbai, MH
we have our company facebook account named recourse.physiotherapy but we are not able to operate / open that account we have submitted my adhaar card than also no use. pls tell me what to do in this situation

Angie May
from Boston, MA
My account was disabled by Facebook without any notice. I got a message about suspicious activity on my Facebook. All I do is post funny memes. It's crazy to think that would be suspicious at all then I was asked to submit a photo of my face that's not on Facebook and I definitely did that and my account is still disabled. It was an active account it was obvious by the way my friends commented and interacted to me that they knew me.This is a social media site. I'm not running a business or doing anything that would require for me to prove identity to you. I keep reading all over the internet this happening with most new accounts,and eventually you require picture ID scan before allowing login. This sounds like a shady scam on behalf of Facebook to see how many brainwashed zombies will willingly hand over way more info than you should ever need for a social media site. Sounds fishy to me. Activate my account that you disabled or I'll sue you for trying to bribe personal information that is unnecessary from me and unfairly locking me out of my account after you received what you asked for

My giving name is Charles F. Bailey, I placed an order with " DEALS YOU MAY LIKE" order #3738 on May 5 2019 the price was $99.99 with a discount code of $10.00 leaving a balance of $ 89.99 which they drew from my account on May 6 2019 I have never received the Drone nor they have not refunded me as they have promised . My Facebook profile is Fred Bailey and I am requesting they be removed from Facebook because they are a scam. Thanking you in advance for your cooperation.

Jacquelinw K Johnson
from Hayward, WI
I made a purchase of clothing from Chiczora, four items. I received them all and tried the four pieces of clothing on. Three did not fit, in spite of being same size as one that did fit, for two of them, and the other was actually a size larger and still did not fit. I began contact with the company's email service@chiczora.com I have a string of emails with two different representatives beginning May 5th. I still have no resolution. The last email offered a partial refund of $18 for the 83 dollars worth of items I wanted to return, and I keep the "item". It was not clear if it was 18 dollars for all three or 18 per item. Also, I asked them to pay return shipping, as their poor sizing caused the problem in the first place. They stated it would cost 30 to 35 dollars to return them to China and I would have to pay. I was not given an address to return them so I have no way to do so and no way to confirm return postage. I will not trust these ads again, and never purchase anything from over seas again through Facebook.

I am complaining about one of your advertisers, Sami & Sean. I ordered a t-shirt from them and like the design. But, it came as a v-neck when i thought I had ordered a regular round neck. They refuse to help me replace the V-neck. I have attached a copy of their advertising and sales material, which shows a regular neck, not a V-neck (see attachments). In little tiny print, the order does say V-neck, but I content their pictures misrepresent the product. They refuse any sort of help and even hung up on me in an online chat. They offer no phone number or address to formally complain. Please advise what you can and will do to bring this new Facebook advertiser into line with your (and my) expectations.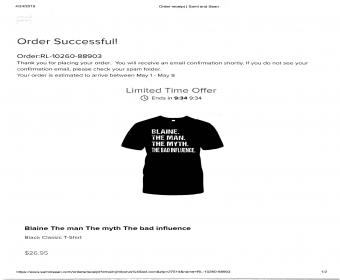 George Ghanayem
from Garden City, MI
My profile has been banned or limited for thirty days for something I have posted which did not comply with community standards but you did not tell me what it is I have posted how can I try to avoid that next time if I don't know what the offending post was?

Christine Lewandowski
from Wilmington, DE
WHO changed the format of the facebook.com/groups? It is horrible. It is NOT user friendly. You have to keep going in and out to get to one thing at a time. WHY did you change it? WHO asked you to change it? I don't remember being asked if I did not like the previous format. Does the person who changed the format even USE facebook groups? Did you try and access ANYTHING after you changed the format? You CANNOT access ANYTHING. It's horrible. PLEASE CHANGE IT BACK TO THE WAY IT WAS BEFORE IT GOT SCREWED UP. IT'S HORRIBLE. It cannot be accessed the way it is. PLEASE CHANGE IT BACK TO THE WAY IT WAS BEFORE IT GOT SCREWED UP.

I tried to friend my wife and sent her a photo. it was a simple photo of my face smiling. Nothing inappropriate. When I hit send I was then locked out of my account with an error message that says, I cannot use my account as Facebook is reviewing the photo I sent them....??? I did to send facebook a photo. If this is the problem how long does it take you to view the photo and reinstate my account? I am new to facebook and was hoping to use the messaging feature for work. seems temperamental and maybe a bad idea.
Please let me know how to get back in my account. this really stinks, Pete West

Facebook rip me off and not sorting things out have sent court papers to Facebook and the people that run it and had no answer back

Linda Leffler
from Hibbing, MN
Facebook has locked me out due to someone trying to hack my account. I even sent them a new password. Birchtree1939 uu you cannot resolve this then cancel facebook .

roger parkes
from Hinckley, ENG
You disabled my account some weeks ago for no apparent reason. I do not use obscene language or post any controversial comments.
I use facebook to keep in contact with many authors to discuss marketing. I also use it to contact a small number of friends. But my main concern is being unable to contact authors and author groups in the US and Europe to discus my publications and marketing techniques. Social media is a powerful marketing tool for me, now i am being virtually wiped out since my colleagues are unable to make any contact with me.
Why? what have I done to prevent me having any accounts on facebook? I respectfully ask that you address my complaint and tell me what it is you think I have done to deserve your treatment.
Thank you,
Roger Parkes.

Linda Skovira
from Harwich, MA
I can'recover a facebook page that I have deactivate

I want to get off Facebook. I have been hacked 2 times already and when I try to go to Facebook it tells me I have the wrong password. GET ME OFF.
Theadora Huttmeyer

Jesse Delcourt
from Minneapolis, MN
Dear Facebook team I have been trying to have a Facebook account to contact family one of my family members are dieing but you keep asking for me to upload photo of my self that clearly shows my face book ever time I try to keep a account it's refreshes the page and comes to check point within every hour to half an hour then when I submit photo you disable the account with no giving reason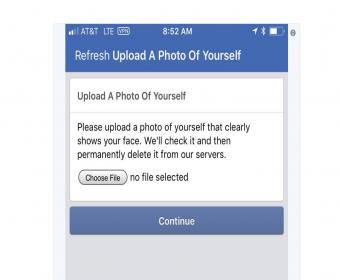 I've been complaining and sending numerous messages to Facebook on the behalf of thw everyday blocking me from liking my family members post. Now its to me as an harassment; and im almost to the point of going full throttle hiring a lawyer like Morgan & Morgan if this keeps up. I can't send my mom a heart on her page. I feel they need to be more strict on people killing people post; and posting stuff not cool. Rather then bothering us people who does nothing to people.

When I click on "see 13 more comments" nothing happens.
When I click on "see more replies" nothing happens.
Is this problem fixable?
Thanks in anticipation.
John Patterson

Sidney Anthony
from Johannesburg, GT
Facebook does not come back to me about the fact that they system deactivated my account.i have gone to all they sides to complain and they are not coming back to me. My business account is connected to this account and I have tried very much to fix this as it relates to my business account and could ruin everything for me.

Rickey Barker
from Shaw, ENG
Facebook have taken funds out of my account without authority on eleven separate occasions, my bank has recouped some of the funds, however, there is still a significant amount to be addressed, therefore I would like the funds to be reinstated into my bank account. Thank you.

id like to report facebook please. for interfering with democracy. and deleting a valid mep's election campaign video. with no explanation as to why! facebook is actually interfering with the will of the people. id like to see facebook prosecuted. i look forward to your reply. thanks

i cannot open my facebook........i was hacked......this has happen before.......done nothing wrong.....not my fault........i have tried to open my facebook..but cannot do it.........please help and open my facebook..........facebook is the best site on here,,,,,,i enjoy it alot..........please help me with this matter........thank you so much............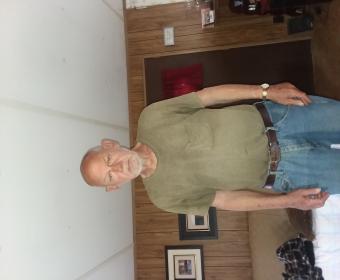 i was hacked,,,,,,,,please open my facebook,,,,,,,,have been hacked before,,,,,,,,i have done nothing wrong.....not my fault...please open my facebook........i enjoy it alot......it is the best sight on here...........thanks so much,,,,,,,,,,,,

You locked me out because you don't think it is me. I tried to change password, you refused so now I have uninstalled both facebook & messenger
I am a Christain, a Republican, wife,mother & grandparent so I will be vocal about your services.

Andy Wallace
from Lanark, SCT
Why am I getting the attached message? I have enough friends on facebook, I like to see their posts, I don't want to be prevented from doing that for Facebook's own devious reasons. I want to use Facebook as I want to use it, not the way that Facebook wants me to use it, and if I can't there is no point being on Facebook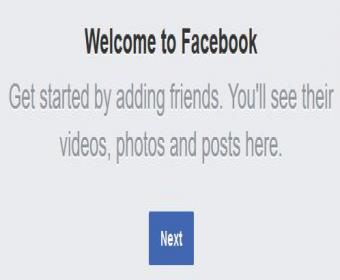 Wanda Jackson
from Dallas, TX
Can't get an account, someone hacked my account, also disabled my phone number. Y'all need to help.

STUPID PASSWORD JUNGLE MAKES SERVICE OBSOLETE BY JUNE 2019--JUST IN TIME FOR PRIDE!

Arunyadav
from New Delhi, DL
Dear team my fb acount in the name of arunyadav.wich has been hack by someon using his name on my fb id change tha paswrd also.so kindly help me to retari my fb acunt and insure that hi will not miss use tha contain in my fb id.kiny du the action as soon as posible.

Donald Haynes
from Portland, OR
They put me in Facebook jail for 7 days over a post i made a couple months ago, ok i understand. And then just yesterday. The same exact post i made at the same time as the first one surfaced and they put me in Facebook jail again for 30 days this time! I already got in trouble for it once and i have been complying with the Facebook standards. Im really getting tired and irritated with how they are running it. Ready to delete my account! Along with several other people I know.

Griffith Gina
from Saint Albans, WV
can I please have zero stars? A friend has had her account hacked and some unknown person is using her account to solicit donations and money. I have tried to file a complaint online but the process is tedious and whenever I finish explaining the complaint instead of excepting my input all the information is deleted. And of course you have a phone number but you're not talking to anybody at the moment. So first of all the friend of mine whose account has been hacked is named joyce Tonkins from .st. Albans WV. Some unknown persona is soliciting money at least it's far as I'm concerned on Facebook messenger. Second it has become so difficult for me to file this complaint – which I am doing because my friend Joyce cannot figure out how to file a complaint – that my next call is to my two senators telling them a story as a reason why Facebook must be government regulated. This is ridiculous. I am trying to report a crime and you do not make this report feasible

andrew katchusky
from Grand Island, FL
im tired of having my account blocked for 30 days for expressing my freedom of speech.i want my account unblocked.30 days is unfair and i want my account to be unblocked immediately .i have the soul right to express my freedom of speech and not have my comments i make on friends post be removed nor blocked .its highly annoying and i want my account on facebook to be unblocked NOW.facebook has NO standards .please unblocked my account on facebook.

when I try to sign up you request a mobile phone number I do not have a mobile phone

john knox
from Prescot, ENG
you are shadowing me. I can see my posts and shares. but none of my friends can see them. this is my 4th complaint in 4 months

Ryan Albanese
from Pasadena, TX
Facebook is actively suppressing my 1st amendment rights. The statement "I commemorated the event by buying an ar 15 and a couple pounds of bacon" is in no way racist, illegal, bigotry or discrimination. Continuing to do so needs to lead to charges be filed against facebook.

Naawwii Rashaad
from Addis Ababa, AA

Facebook, bring back the "new posts" topic in friendlist now!! We can't do without since we hardly see any friends-feeds nowadays. Facebook becomes totally worthless this way!

mY COMPLAINT IS WITH FACEBOOK
I boosted a post and tried to get it boosted to Maribyrnong Australia to Liberal Party of Australia people aged over 35 in a radius of about 12 km but it was boosted to Malang, Indonesia. Will you help make sure the $30 credit now owed to me goes where i intended the first boost to go?
I CANT FIND OUT HOW TO GET THIS COMPLAINT THRU TO FACEBOOK

Piera Maria Alexandra Verri
from Slough, ENG
Kindly reactivate my other account I have been trying to manage my own friends so I have 3 accounts. One old I cannot even access because of the same problem for the last 3 years. Consequently , I had to make another account years ago with other 1500 friends and you have blocked me from my second account again. Please understand I do not need your security if every time you are closing my own account. Unfortunately,I have webinars to attend which I have already paid for and this is now too much inconvenience. I am writing from my new account which you also bloked one month ago because someone thought it was not me. Kindly please unblock my account now blocked and make sure you leave this one the way it is. I would be very grateful thanks piera

One of my friend nisar kuchay is not able to send me friend request coz i have blocked him once..now he z nt able to send d request so u r requested not to block this option for him n enable him this option so that he can send the request n make sure in future u should not block this option for people..resolve this as early as possible

Rashmi Kumari
from Navi Mumbai, MH

said doing maintance been over an hour still cant log on wow some company how about fixing the problem ?????

CW Garrow
from Redcliffe, QLD
I cannot place a comment without a red window appearing and I have to delete my comment, even though there is nothing wrong with my wording. Secondly , I cannot delete certain unwanted posts on my home page.

Greendot has put a block on my card. It's been nearly three weeks now. You can't get anyone on the phone. The voice machine tells you the card will remain blocked until I send in the infomation that was requested. I was never notified to send in any iinformation. I went online to see how to unblock my card. I sent that to them. Some one called me and said headquarters would be calling me and to keep my phone line open. She couldn't tell me why my card was blocked.This is a con man business. People of the United States, don't deal with greendot.They will block your card. A means to get your money. I left voicemail telling them I don't care how long it takes,am going to get my money from them.

Blaine prest
from Halifax, NS
Friend requests,,how come some like Matthew Bonnerhave 5000 and some. Are cut off at 2000,This is very incovient.especialy if you need one and they. Have 5000or 2000'1d apppreciate a reply

ahshi kuki haokip
from Gurgaon, HR
my account was inactive for the past 3-4 years..now that i have recover my email whenever i log in to my facebook account.security check. i could no longer identify those photo...and the alternative security check where i am being asked to text the security code through phone no. i have lost my cell phone along with the no. kindly help me fixed my problem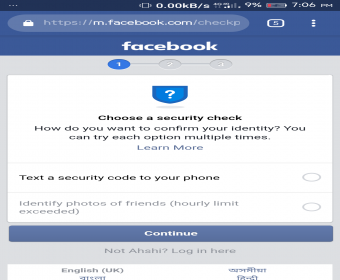 About Facebook it won't let log out and you change me money to think a take this to court of do things it

Facebook is keeping a close eye on my Facebook account. I received two 30-day blocks and other blocks for posting things that they say go against their Community standards ?? This started about a year ago when I tried to start a business and pay Facebook for advertising. They said my business goes against Community standards and then they blocked me. Ever since then I've been constantly blocked. I've seen people posting nudity, obscenities and violence on Facebook and they don't get blocked. Facebook is becoming a joke.

After a few years of membership I have decided to withdraw from Facebook. Facebook has restricted me from posing any and all pictures. I tried to post Valentine Snoopy pictures and could not. I do not like being restricted from exercising my First Amendment Rights. .

ads that you put on here for sales of merchandise need to be screened by someone as some of these retailers have a horrible reputation with customer service and very poor merchandise as well as no way to contact the retailer as they refuse to answer all calls made as well as emails one retailer in particular is Edgewater Direct as they have thousands of complaints filed against them as poor quality merchandise poor customer service months to receive items and no way to return them and some who never have received there items . These people need to be forbidden to advertise on here and should be shut down and taken out of business !

The app and online version is continuously creating problems for posting and editing. Would like to create a business page or group but crashing prevents this. Unable to keep up communication with sellers I've shopped with, creating a huge financial issue.

Facebook keeps banning me for 30 days, now they say I am banned again for 30 days for something I posted almost a year ago. I think Facebook is targeting some people to be banned for no reason except for our views on things. Why else would they dig back a year to find something, anything to ban someone.

I am being locked down on Facebook for alleged bullying of a false account. I shouldn't be punished for calling out a troll.

Lena lednick
from Washington D.C., DC
I have tried to fix my password and entering the code many different times and days and get the samessahe that I have entered to many times come back later by now I am really tired of this now all I want to do is close my account and come off this crazy site. Please fix this o I will contact the bbb and see if they can't help

Jeanne hollar
from Washington D.C., DC
For the last 2 week's I have seen the same things everyday. Also when looking at Facebook there have been many stories that contain pictures and sayings and they are all blank. This has been going on for at least 2 weeks. You can also be on there reading all the things then the pages won't go any further you just see a circle going around and around. After waiting a while I got out and then went right back only to see the same stuff I just saw. When will this be corrected. Very frustrating

Beth Strack
from San Francisco, CA
Years ago, my daughter's father-in-law ("Bud") signed up for Facebook using MY EMAIL ADDRESS. I don't know how he was able to do that, and I didn't know about it until too late, and he was dead. His wife wants to get rid of his account, but she doesn't know his password. I have been trying since October of 2017 to delete all of his information from the account, so that I can have my own Facebook with my address It is impossible.
When I open my Facebook with each of my three accounts (plus even my husband's email account, which is associated with my account), it welcomes me with "Hi, Bud." I was able to change the photo, and that was all. I can't change the name, and I can't delete any of the photos or messages from it. Facebook asks for the password. That is good security by Facebook, but they refuse to help me with my problem.
Since any other new email account that I create will be associated with my computer, the only solution is for Facebook to DELETE THE WHOLE ACCOUNT, and then allow me to create a Facebook account of my own with my own email address.

I tried asking facebook to take down (report) plus I asked them some questions which in the end, got no response. This posts was bothering a buddy of mine. It feels like facebook doesnt care about people posting things. That's why people tend to complain allot about it.

James Muma (McKenzie)
from Grosse Pointe, MI
You don't have a ZERO in your rate your experience. I've sent a number of messages about my issue, and have received no reply. My problem is: Whenever I delete a person's post, it returns as soon as I refresh the page. I've tried this on a number of different posts, and it's the same with all of them. What is wrong? How do I fix it? I would appreciate a response with a remedy to this issue.

John Phoenix
from Bidwell, OH
on jan 2,2019 $80.00 was taken out of my bank account by blackstone for a 36" griddle that was advertised on facebook. to this day we have not received our grill or our money back. the ad said that there was a 7 day delivery. guess what we have no griddle, no money and the telephone # given is no longer in service. imagine that!!!!! what are the steps for me to take to get my money back

Natosha Monego
from Everett, WA
A friend had reached out to me via the Facebook Messenger app out of concern for my safety and wellbeing due to a domestic-abuse situation. Shortly thereafter, I found myself blocked from Facebook Messenger for a post I shared earlier regarding racial discrimination on myself as a child. The post was not threatening, abusive, or offensive, and simply detailed information about my experiences. Their algorithm blocked posts, replies, instant messaging, and the ability to report a complaint or post on the public boards because I had allegedly violated community standards. This is not the first time they have blocked my account for flagrant reasons. There have been other sensitive or controversial topics I've posted about, non-abusive, in which there has been no good reason for them being blocked other than they might have been unappealing to some people. As a result of their extraneous blocking, I've lost contact for several days with friends whom I've been in contact with, providing support and help regarding my domestic situation.

janeen charles
from Shingletown, CA
Please help I have bee blocked twice this week because "I am misusing by going too fast." Could you please remove my block, it is not fair that I type fast.

Rebecca Arvin
from Irvine, KY
FB should screen people who sell things on the site... i ordered from Amelia quilts and have never received. as have many others. The company was a christmas scam and is not even open anymore..they do not respond. They now go by Ecrafta. Do these people have to show any kind of documentation before opening a business on FB? really bad business.. FB is making it EASY to take advantage of people.

angel garibay
from Mexicali, BCN
just about once a week facebook changes my password and deny me access and I get a new password they tell me its no good and this being going on for 8 months now im sick and tired of this game I paid my bills don't owe them a penny i want my apps back now got a headache now its so tiring been trying for 3 hours enough please get me my app back

john knox
from Knowsley, ENG
this is the 4th time I have complained. when I share any posts I can see them on my timeline. but nobody else can. this as been happening for months. shis is shocking. I cant even sent a Christmas message to my friends

ROBERT RUMBOLD
from Detroit, MI
As I said very offended I am a veteran how dare you treat a veteran like this if I did something wrong tell me. If its acvounts fine one is enough I use my real name . Never lied to you guys. I am offended criminals get treated better. I am really thinking about a lawsuit against the person who disabled my account and the company. You never had issues with me. 7 years same account. I did try another account when I got hacked you took it off. Either tell me what i did and how long it's off. I want to open a new account if old one is not put back on. I have been discriminated against. You sent me to scammers who said yes open another account. I love Facebook. U disabled my phone total bs. I have sent a letter to mark zuckerberg. One of my friends is a personal friend of his. . I want him.to fire the people responsible for this

Rebecca
from Washington D.C., DC
My Facebook account was broken into and all of my login info was changed. I have went in circles for hours on their "Help Center" and have received no help at all. There is no live support. No phone number to talk to anyone, and no email support either. Hundreds of memories and pictures, gone.
You'd think with billions of dollars of annual revenue, they could afford to provide competent support. I was close to sending my state ID in as identification, but the Profile picture, Name, Email, and all other info has been changed, so none of the info would even match. The only proof I have that this happened, is the Facebook emails alerting me that that someone was changing my Profile. I was sleeping when this happened, so of course, I didn't see the alerts until this morning.
Also, on Facebook's form to submit an ID, the word "License" is misspelled. Not once, but TWICE. Is it even a legit form or page?
Nobody from Facebook cares. They don't even help in the Help Community. They post the same Help Center link over and over, which just takes you in circles. I NEED TO TALK TO A HUMAN.

Ira Entsminger
from Little Rock, AR
Why am I block from using Facebook? I'm playing games, and tonight I'm blocked out, so why? I would like a reason? I watch and hear that Facebook is an equal site for all, but i see and hear you kick out people who disagree with Facebook!! If this is true tell me and I can always go to another site!! THe truth is what sets you free! I'm waiting your answer!!

Kathleen Turner
from Edgware (Colindale), ENG
I purchased a coat from Hovlly adverting on facebook on 23/10/18 i have not recieved coat but they took the £69 from my credit card i.d like my money back please

andrew katchusky
from Orlando, FL
im sick and tired of guys at facebook BANNING me .i just had a 30 day ban and then you guys gave a 7 day ban i just got off of as of last night .Now this morning i log into facebook and you ban me again for another 30 days ?.stop banning my account. your banning system is UNFAIR ! i have the right to express my freedom of speech !first amendment rights within the chat groups.you people keep bashing donald trump all the time on facebook .unban my account and stop blocking me .its my soul right to have my freedom of speech FIRST AMENDMENT RIGHTS !.

Gail goodwan tullhomma tn john daniel upchurch senior shelbyville tn impostering and attacking others with facebook projecting leaking airygas leaking at others cruel voice cruel behavior posing objective threats @ others lowyers lowyers thank you

Kenneth Stenzel
from Sodus, NY
We try to sell items on marketplace. The major problem is when tryingto sell anything in the shape of an animal. Stuffed, ceramic etc. When you put an item like this under review by the time it gets cleared it is pushed so far down the list that it is then impossible to sell. Even to push an item you must wait days. This makes it impossible to sell many items we have. That is why we absolutely hate marketplace but are forced into using it.

for the past three years I have been insulted and degraded by an unknown facebook user, this person sends insulting messages about me and my children. I have not been able to respond to this user and I don't know how to bring this person to face the law for bullying me all these years.
unfortunately I am unable to attach the messages as they appear in messenger. you are free to check them out and advise me how you can help me identify this culprit so the law can visit them.
any help will be highly appreciated to put an end to this attack I am facing. My facebook account name is Raya Mulevu.
thank you.

Mark kent
from Brisbane, QLD
I just Facebook today and I uploaded a photo and now I can't use use Facebook for security reason not good at all facebook to me this is bullshit all together I want the owner of Facebook to get in touch with me all together this is what you call service well Think this stinks all together I want the owner to contact me all together really this is all bullshit all together I think this is very bad service on face book all together

Ron Henson
from Bedminster, NJ
I have been with facebook for many years, and I abide by all policies and procedures on facebook. Yesterday when I attempted to click like to a family member photo, I was block, now I was having trouble with my system, so it took me a couple of tries for the like to take; however, when I click again, I received a message that I had been blocked. I do not understand why why I was blocked, in no shape, form or fashion, have I ever abused, mislead or sent out any erroneous information via facebook, and do not understand why I was blocked for clicking "likes" for no apparent reason or explanation. I have sent several messages at the help desk and other areas of facebook, but have yet to receive a clear response. I need to know what is going on, why I have been blocked.

Mir Zakir Hussain
from Islamabad, IS
My personal account was disable
it is my real and personal account it was disable by mistake and its my real id card. kindly check it and unlolck my account as soon as possible thank you.

Chris Puppel
from Wheaton, IL
You assholes are messing with my account and not letting me post or answer posts ..... my next call is to my congressman ...... we are gonna stop you my cousin is States Attny. and I have spoken to him before too and he has had the same issues .....

anamaria hara
from Daventry, ENG
Hello,I am having real difficulty in accessing Facebook and would kindly like to know the particular reason,so that I could avoid the infringement of Facebook policy in the future,with all regards to censorship of free expression of self beliefs and observations.I am deeply apologetic for any offence brought against any person/social entity,if any occurred.My best regards. Anamaria Hara.

Rakesh sarkar
from Durgapur, WB
Likes and comments does not appear on the page

christine booth
from Oldham, ENG
For a long time I have played Scrabble on FB but now it wont load.

I am trying to log into my Facebook account where as I don't receive the code to my mobile. I have tried various modes to log in whereas all have failed.

Thomas David Michaels
from La Mesa, CA
I set up a new account a few days ago and every time I go back to it, Facebook blocks me out until I offer them more personal data.
Now they won't accept any photo of my face that they keep requesting. I have uploaded several straight passport style photos repeatedly. I can't even get to a help board or compliant board at Facebook because they won't let me enter Facebook.
Facebook is completely unusable. and I don't trust them at all with my data. I will pursue a different platform.

Teresa harris
from Olney, ENG
I keep getting restricted for commenting on the news please lift the restrictions on this account and unlock my other account

Terrible service.
They closed my 2 business accounts and one personal by mistake. Then I sent them requested things and they opened. But I still can't access already a month my 3 accounts because it requests code generator. And code generator you can see only when you entered Facebook!!! Very clever system architecture:) . I am opening tickets, writing to different support emails but they don't answer or answer that it is not their business! I have 700 friends and lots of materials there !

Mellisa Finley
from National City, CA
I tried to verify this in my email I provided, it told me to click on the link to verify and I clicked on all the links, I don't know how to verify if it won't let me. I'm getting tired of getting banned for 3 days for literally innocent comments, the comments were relevant to the post I was commenting on. This isn't fair.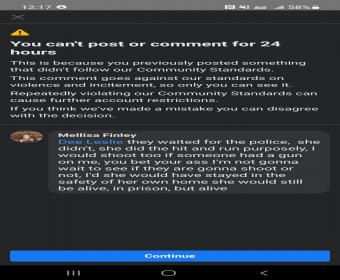 Rui Bragança
from Loures, 11
I have been being blocked for ridiculous reasons or by business rival companies ... and the worst is that Facebook doesn't even have a Suport team for this in Portuguese language. Marketplace doesn't allow ads insertion.Payed ads are blocked over descrimination reasons , I sell real estate what's the odds on me making a descrimination add over a Flat ou House ? Its hilarious ridiculous ...

Account disabled without any problem with my account

Samuel Bayless
from Indianapolis, IN
Wife lost messenger and Facebook
I tried to restore on her IPhone.
No luck. I got on line to talk to a tech
And paid $39.00 and $4600 to talk to a tech and was told none available so no answers or help. So I feel my money needs to be refunded.
I need to change user name from 17653371581 to 17654013257 or lavendarteapots.com

Terry Smith
from Columbus, NE
Facebook restricted my account months ago and I want to delete the account but they won't give me access to do so this is a form of harassment and my right to privacy not letting me delete the account johndoesmith549@gmail.com! So please delete that account now or I will file a complaint with the FCC and BBB against Facebook for harassment.............

Randy W Watkins
from Maryville, TN
I just got a suspension for posting that IslamaObama brought a whole bunch of terrorists to America. I didn't specify a group of people. When Trump starts his social media platform you will never see me again.

Bob Bois le Duc
from New London, CT
Facebook is asking me to verify it's me trying to log onto my Facebook Page. I've identified my comments 4 times already & have asked them to send me the 8 digit code so I can log on, but 3 days & multiple attempts & they have NOT sent the 8 digit number. Their own bot recognizes that this is my regular laptop which I've used for 9 years.

I sold an item on marketplace and it was delivered to the buyer on December 18th. Today is January 10th and I still have not been paid by Facebook. I flied an issue with there support team and have had nothing but scripted emails or the run around. I have yet to even get an answer as to why I have not been paid or even a reasonable explanation. All I want is what there policy says will happen, I followed there format, I posted an item someone bought I shipped it in the allotted time they allow and the buyer received it and then payment goes into your specified account up to 5 days after delivery. I want the money I deserve or a logical explanation why I should not receive it.
I'm tired of getting the run around from them

Clare Crane
from East Kilbride, SCT
Yet again have been banned. No explanation. Every time I log in to appeal it will not log me in and just takes me to the same page. If I try lo in via insta, however, it logs me in straight away. Seems they actively block my attempt at making them explain to me what I said that was against community standards! I am incensed. It generally seems that misogyny is fine but calling it out isn't.

Serina guyton
from Guntown, MS
I am a concerned citizen and In my opinion Facebook should require id before allowing someone to make an account . Simply because underage children are making accounts and they are being bullied , threatened and getting into trouble with the law enforcement. Just like this is what happened with my underage child . A underage child has my child name posted on Facebook and a family member sent me a screenshot with my underage child name on it and people were making threats , harrassing us, people have been coming to the house and we are in fear of out life because they won't take it down . In my opinion the children should not be held accountable cause they should not be allowed on social media without showing id or proof of age . If they can't do this it should be shut down because we have to put the children first this is not what we're about we're about putting the children first . So please make it mantory where people to show Proper id or else please shut it down thank you .I attached a photo as to where my child name is on the child account as well.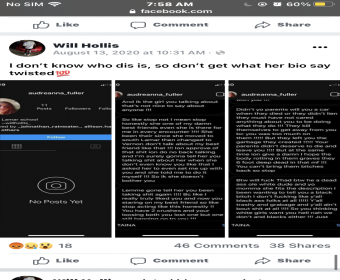 Shantia J
from Baltimore, MD
I want my past Facebook pages removed ASAP I actually have one from 2019 unfortunately I forgotten my password and the cellphone company gave my number to someone else because I didn't pay on time I gave Facebook my identification card (photo) as Facebook requested but they still banned me from my page then the one in 2019 it still on Facebook which I want removed if it's not I'll contact a lawyer because it needs to be removed ASAP I've filed complaints against Facebook on BBB and I'll continue until every page of mine is removed I hate Facebook.

Lola Green
from Ypsilanti, MI
Vervena Johnson is my daughter. She has live feed with followers. She's giving information about myself and things about the family. Which is destroyed and causing problems within the family . She's has hurt me too the point the I'm taking her to court. One of the comments I saw was someone saying I'm evil and this person doesn't know who I am. I would like to know if her page could be looked at and canceled . I have been dealing with this for years also I would like to know what action could Facebook can do? I used to have Facebook to promote my Photography work and I stopped my account because of her Please let me know what action I could take. Thank you Lola Green.

Merrill Gregorian
from Belgrade, 00
Distinguished Sirs/ Ladies;
I am forced to ask You for help to permanently delete my 2 facebook profiles, which have been of no use for a long time.
Why is that so?
1.- My first profile Merrill Gregorian) became unavailable from September 17, 2019 to log in with a valid password and then a known phone number for a Facebook account.
That was absurd because I posted pictures from the exhibition from the Jewish synagogue in Belgrade, Serbia, in memory of the victims of fascism in the last post. That was my humane message to the modern world that neo-fascism must not be repeated today as it was 100 years ago.
Instead of rewarding me for promoting humanity and human rights reform - You blocked me from accessing my own Facebook account - which is extremely absurd. I am not a criminal, a terrorist, but I am- a scientist and an honest fighter for a better world.
I sent You all the image archives, confirmation of the image of my identity - but You did not allow me access to my account - which is not legal!
2.- After that, I registered another account as an abbreviation of my name and surname (Meri Greg).
Since my phones were hacked several times, by the secret service here, I had to change the phone numbers, but I did not change the email addresses.
However, You do not allow me to access another account again.
Several times I looked at my facebook profiles as if it were some other person. Isn't it absurd that You are violating my basic human rights to freedom of communication? I have not humiliated or insulted anyone because I am a very cultured and moral person.
I demand that You delete my two facebook accounts, deactivate my accounts, delete all images and post them permanently forever, according to the Law, because I am very, very damaged!
---- That means when someone types on Google or another search Meryl Gregorian search engine- I don't want to see my Facebook profile, pictures, anything anymore and more NEVER!
And how well your Facebook company controlled the mistakes, the proof is that You see a lot of domestic and international police on my profiles, because my research topics are very dangerous ... So, there are many witnesses to your mistakes ...

Silvana De Oliveira
from Campinas, SP
Hello,
I need your help!
Hello,
I am Brazilian and I am facing a serious and criminal problem in the Facebook menssemger, a Spam account is sharing my intimate photos and Facebook does not help me to answer the question, which is taking my sleep away. I am a mother, I have a job and my integrity to watch over, even in all the facebook says you can not help me. Please help!
wait,
Silvana De Oliveira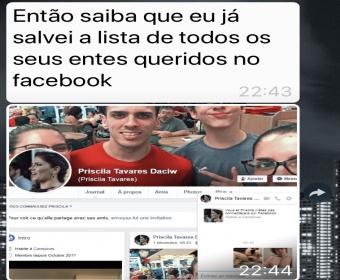 Demetri Syriopoulos
from Athens, I
my daughter's account has been hacked / hijacked and for 5-6 months now facebook does not bother to respond.
the best suggestion they have is for them to send you an email to the hacker's address (that you do not have access to), or even better, they suggested (always the helps screens, not any other contact) that we log in to the hacker's email account and reset the password.
WTF (not welcome To Facebook)

For over 6 years I reported people on Facebook infringement of my book and never get no help.
Korey bradley has over 8,000 paid members who he continued to abuse my work. costing me hundreds of thousands of dollars. No Help ever!!
I'm using my phone but everything is on my computer.

gregory liddard
from Dover, ENG
to whom it may concern i would like to know why i have been shut out of facebook. being an old age pensioner i liked talking to family and friends. but twice this year you have shut me out and i can not get back in ,you will not recognise my passwords if you cant help please give me a reason why, thank you mr.g liddard.

Jennifer McRae
from Perth, WA
Complaint made to Facebook in regards in a FB page which is trafficing children in the US. The site 'Second chance adoptions', shows the faces of children; without their permission or that of their guardians, the child's 'statistics' and indicates the financial 'bonuses' for adopting the child, and or the costs. Imagine a page for adopting animals, like a rescue pup or kitten, only this site is for humans.
FB members on theis page can advertise for children, ages, gender, state of location. The advertising of children as a comodity is deeply disturbing and convenes the UN's rights of the child.
With 91,000 followers it is a sizeable page and as such, you can see why FB will not remove the page and the many others like it.
Numerous complaints have been made to FB about this page and no action has occured, except for the comaplinant to block the content!
A woeful response to the exploitation of minors and young children.

Loretta Zarrouki
from Tampa, FL
They took $713 from my account for some kind of advertising now where did this money go because I don't see where I can access it apparently I can't get it back so can you at least tell me where this money went how can I use it since you know I have to pay for this now I can't get it back. I don't have a business so why would I ask for advertisement.

mr nicola angarola
from Avigliano, 77
Way you keepp restricting my account just by sharing something which someone else already shared, why you did not pelize the other guy by share the image?

Luis Torres
from Bothell, WA
Why Facebook is censoring my share post of a undercover videos in which these Pfizer and Johnson & Johnson scientists themselves are talking about the unknown dangers the covid vaccine could pose to some people. Why do you call that misinformation? You can actually see these scientists' mouths talking about what it should be important for the public to know but obviously you seen to be against the TRUTH!

Lil Derouin
from York Village, ME
Locked account for 6 days now due to being hacked and sent messages after messages and no reply or help fixing the problem to get back online. I didn't want to have to create a new account because I lose my friends list and many pictures. I hope someone can get someone to finally fix this. This is very frustrating and disappointing. Thank you fir your time

Susan Hoodlet
from Gilmanton, NH
Hi when I went on my Facebook page I noticed I can't see who my friends are why? This was on October 4,2021. What is the problem? Thank you Susan Hoodlet

Jennifer Acton
from Scranton, PA
This is ridiculous Facebook is down I can't access my account I'm just going to go back to Myspace because at least I never had a problem with them."

Helen Santillan
from Tehachapi, CA
I understand Facebook is down Can you explain Why. I can't like or it doesn't confirm if I sent a comment. Thank You

Loren Corona
from Denver, CO
FACEBOOK is a scamming company. We invested tens of thousands of dollars promoting our page and likes suddenly one day they "decided" to shut down our page for no reason other than saying that we promoted organic posts too much.. whattt??? then they want us to re start a new page and restart paying for likes from scratch. They are abusive prepotent and unfair with the people its an unfair company bad managed and biased against anyone that they smell" bad.. pretty bad.

Shamous j. Watson
from Atlanta, GA
I'm not a Facebook user but Facebook has been letting people bully me. One person is James Watson from Bayminette Al.. These people have been telling lies about me for years on this site. Now keep in mind I never had a Facebook account, and I will never have one, simple because of the misuse of the site. I'm asking for you guys to shut down the ones who have been bullying my name. Do your research" you guys know exactly what I am talking about! Do the right thing,
Thank you, Mr. Shamous J. Watson

Ebrahim Salaman
from Durban, KZN
I think you made a mistake by blocking me from posting and commenting on groups, please review sir. Also we are not rich people to spend money on advertising so this is the only way we can advertise for free. I posted once on every group I didn't break the rules by spamming so that is why I think Facebook made a mistake by blocking me. Till date they haven't reviewed my query which I did report to the help center, normally if something like this happens they will get back to you when you report this time they didn't. I feel Facebook has a way on forcing people to pay for advertising rather than using the free advertising means on the groups that's available. I did get banned before from posting on the groups but I have learnt now how to post and not to over poet on any group hence the reason why I am reporting to you regarding the matter. I just want the matter fixed so that I can post on groups and the market place.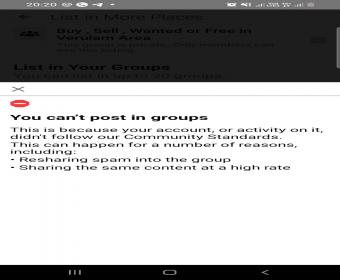 Roseline Adelakun
from Ikoyi, LA
My name is Roseline Adelakun with a username of Roseline Adelakun. I tried logging in yesterday night(30/09/2021) around the hour of 11pm but to no avail. The message I received was wrong password so I decided to click on forgot password. Then I typed my number and the reply I got was that my account does not exist. Later on I used my email then I got the same message as the number.
Please I really want to you to look into this cause this account is highly important to me as it is a way of connecting with my friends and I can't afford to start again.
I await your response. Thanks

Muhammad Owais Raza
from Karachi, SD
Sir mera facebook page
Muhammad Owais Raza Attari
Unpublish kr diya gya hai so kindly sir mera page publish krden plz

Rick Davis
from Dublin, OH
More than a month ago, a hacker took my Facebook account and also changed the administrators to my pages including two non profit pages.
Facebook has no way to call or email customer service to get a human being to resolve my issues. While I was able to get a password changed, I cannot get the two part authentication code to access my account since I cannot log into the account to get the code generator needed to access the account! Catch 22!
Their Iphone app has an option to notify them that I cannot access the code generator, but it does not work! (Android phones do not even have the option. Online, there is an option to send ID to verify who I am, but it just changes the password and does not provide the two part authentication code.
The email received said to reply for more help, but it is a no reply email address! Email sent to security@facebook.com goes unanswered. I've sent letters to various Facebook managers with no response. I've even sent messages via LinkedIn to Facebook employees (including the COO) with no replies.
The Better Business Bureau also has received no response from Facebook.
I need a human being with the ability to fix my problems to contact me.

Dana Jarboe
from Avon, IN
I have been warned and again have a warning for bullying. I just got my recent warning tonight. I did not bully anyone unless saying I stand for freedom is now bullying! Can you explain this warning and take down the 1 from over a year ago that you won't even show me what I did! If anything you people are trying to bully me! You are trying to take away my Constitutional right of free speech on my private Facebook that is not open to the public. It's only you people that are butt hurt over something. My 10 friends could care less.

Amy Brewer
from Champaign, IL
My daughter has had a fake Facebook page made about her and in her name. The name of the page is lizmethmarie Brewer they are saying horrible things about her and my family. They have said they wished she was dead and the latest is they took my grandkids pictures and posted nasty things about them with the picture. We have requested multiple times the page be removed and yet Facebook does nothing. We want the page removed immediately.

I had the phone # to one of your agents but accidentally deleted it. I was supposed to receive a pair of leather saddle bags at my house a week ago last Thursday and as of yet have not received them. The customer service rep said his name was " George " Where are these bags ?

Muhammad Owais Raza
from Karachi, SD
Sir Mera Facebook page Muhammad Owais Raza Attari unpublished hogaya sir plz mera yai page publish krden apki meherbani hogi

paul a denbroeder
from Palmetto, FL
again being blocked for 30 days because me calling a guy a young dog,
as a compliment because of his youth and strength......but no..fb says i
bullied him.....lol....crazy........last time i got blocked on fb for 30 days....
few months ago...for posting a photo of biden and someone was offended,
and yunno what....that photo came from facebook lol........and i also used
a guillotine gif and got punished.....and yes,that gif came from facebook also.

Pondicherry Manikandan
from Puducherry, PY
Pondicherry manikandan Account does not opened please recover soon facebook

Gayle Calabrese
from Braselton, GA
my account was deactivated without giving any example or explanation. I was told I had 30 days to request a review. Immediately I clicked on the link that was to have done so. Each time I checked on the status it appeared that "Account in Review." Today I'm told that my "Account Has Been Disabled
You can't use Facebook because your account, or activity on it, didn't follow our Community Standards. We can't review this decision because too much time has passed since your account was disabled.This makes no sense at all. Besides not explaining what "activity," I'm now being told "too much time has passed since it was disabled!" That's hardly my fault, is it? This has not only been a cause of distress for me, but my friends. Many of whom are also geriatrics whose social outlets are limited not just because of age, but Covid.

Lester Hayes
from Milwaukee, WI
Their broke rule of freedom of speech. They have community that will suspend u on common fact. Should have never been suspended 3 days without a warning.

Deborah Mccusker
from Harringay, ENG
I have been blocked from facebook but am still able to get back on temporarily after a friend told me my old accounts are still open.
This goes against MY PRIVACY and wishes
I have reported these accounts as fake in the hopes of having them taken down.
Please rectify this and delete all my old accounts.
This is my first step. If it is not complied with i will take this to the press to complain about the abuse of privacy and private information
Deborah Mccusker

Liza stimpson
from Northolt, ENG
I brought a belt on VintageApp and paid £25.00 inc postage on the 8 July 2021 the name of the seller was Sol Dadzie I paid with bank transfer and it never arrived , he has took his name off of the VintageApp so what can you do to help with this situation

Cody Wooten
from Sacramento, CA
I've tried your help department numerous times and it's a waste of time. I tried logging into my Facebook numerous times and I am not able to because I changed my phone number and now I can't receive a text message with a six digit code but yet I can log into my email account did I use on my Facebook. I still get notifications sent from Facebook. I've given you my first and last name my email address even a picture ID of my driver's license but still no help from Facebook. This has pissed me off because I have pictures on there that I need and do not have access to my own Facebook account which I think is bullshit. If this is not fixed there will be a report to the better Business bureau because I'm sick and tired of dealing with the terrible help that Facebook provides you can't even talk to somebody which I think honestly is a joke. I will not make another Facebook and I will not recommend Facebook to anyone unless this problem is fixed. I am not sending an image because like I said I've sent numerous ones already

Roisin Mclaughlin
from Dundalk, L
I am very unhappy with the facebook staff who mistakenly blocked my sisters facebook page for 24 hours the staff should be let go for 24 hours and no payment or holodays. I would like to hear from the manager of facebook as i am not letting this problem go if you could contact me that would be great or i will he going further a firld

Paul Wilson
from Edinburgh, SCT
After a day or more of being bombarded with awful comments of foul language, I let it get the better of me and used bad word and FB rightly so blocked the bad word and band me from making any comments for 24hrs and rightly so.
Thing is the many bad comments me and some of my friends recieved.
Not one of them were blocked and not one was taken down even after complaining to FB.
I have screenshots for evidence of these comment's and screenshots of me making complaints about comments.
I was on a post that is very close to my heart and I notice often that you get the same people targeting these Christian posts repeatedly with foul comments.
And FB are allowing it to go on and I have seen many similar complaints to FB by other people.
I think FB should be punished or something for there awful discrimination towards people types and its not just Christians there doing it to.
I'm sure FB will say we can't catch every bad comment.
May I suggest that FB target the trollers that go on to post's that there only interest is to attack people rather than the ones that are there for good reasons.

Christopher Randell
from Cleveland, TX
My account was disabled and the only way to restore it is to log in to Facebook. I can't log in because it is disabled. I have requested a review but can't talk to anyone. I don't even know why it was disabled.
Have feedback for Facebook?
Thanks for your feedback!
Sorry. Please try again later!