Domino's Pizza
Domino's Pizza Complaints Continued... (Page 9)
527+ reviews added so far. Upset? Call Domino's Pizza corporate: 734-930-3030

diana
from Winchester, TN
I called the Winchester Domino"s on 02/08/18 to place an order of several pizzas. The girl who answered did not act like she had time to take the orders. She kept rushing me. I asked what specials for delivery, "we dont have any what you want? How much are 1 toppings ? "What Kind"?, pepperoni," 13.88 be there 30 or 40 minutes," I would like another," what kind," let me think..."hello you there?" what kind. "Forget it. I called papa johns because they had patience and asked if I would like anything else. Papa Johns didnt act like they were in hurry to get off phone.
I always order Domino's and usually they are helpful and nice. If i am paying for something i would like to get my whole order placed and not feel like i am an inconvenience to them.
The time was around 4:45pm

emerson shaw
from Richmond, VA
Worst service at any pizza place was Domino's last night! Took over 1 1/2 hrs, pizza was over cooked (2) brownies were literally BURNT(see attached pix) and cold as was the pizza. With tip cost me just under $60! I could have gone many places and got a good steak for 2 for the same or less! I want my $60 reimbursed! I deserve it LOUSEY service and PRODUCT!!@!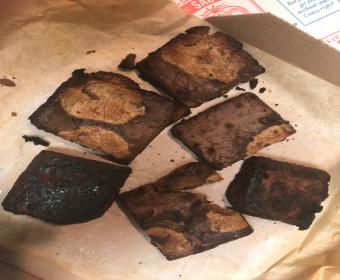 fay goodman
from Nelson, NSN
last friday did not receive delivery of my pizza order $48.97 taken from my bank waswrung and told order went to wrong store and you would refund my payment this has not been done please rectify and return my payment as goods not received thankyou fay goodman phone 035456430 nelson

Brandon C
from Durango, CO
One star is too many tonight. We ordered online, and it came 45 minutes late. 20 minutes after the online tool said it had been dispatched, we called the manager Gabby. She was very rude and acted like she didnt care. Then 25 minutes later here comes a sloppy tall high school kid to my doorstep. I asked him what took so long and he became immediately became defensive and copped an atttitude with me. Because I have had issues with the drivers lying from this Dominos before, I recorded the exchange I had with the kid on my porch. He went as far as to tell me and I quote... "shit happens" when i asked him further about what kept him so long, since my house is not even 2 minutes from Dominos. (I have the conversation if you would like to hear it.) He because very flippant and when he left, he left driving fast and carelessly up the street to Dominos. By the time it took me to put the pizza on the table, dail the number to Dominos, "Jacob" answered the phone. I asked for the manager on duty and I was promptly hung up on. I called back, and Gabby, Who was also not nice, as her tone was a i dont care tone once again, said sarcastically that she would speak to him after she got off the phone... Neither one wanted to give me the number to the boss, nor the name of anyone above them from the store. The first call, we were given a number to a Greg and the number went to a voicemail. These two people were not professional at all... It will be a really long time before we eat at Dominos, and when i cut and paste this on my fb, and ask everyone to share it, I hope they realize that no one appreciates service like this.

Patrick Low
from Greenfield, IN
I ordered 2 medium pizzas with extra sauce online. After ordering, I seen the order details and realized that I had forgotten to put the toppings on the pizzas, and also forgot to put cheese on them as well. After seeing that I had already paid, I felt I needed to contact them by phone. A man answered the phone, and I began informing him of the mix-up. He seemed confused with what I was trying to tell him, He asked me to just order it again online. I assumed that he was going to cancel the previous order, but I didn't want to order it again until I knew that that transaction had been canceled. While sitting at my computer, I heard him asking another person whether they had already placed the order in the oven, which was followed by a yes. He then proceeded to ask me, "So, what did you want instead of the pizzas?" I told him (after already informing him multiple times) I still wanted the pizzas, I just wanted to call and make sure that the toppings were on the pizzas and that it did have cheese. After a few moments, he then repeated the pizzas back to me followed by saying, "we will have it out to you shortly." When he repeated the order I noticed that he did not say extra sauce, so after he was finished naming the toppings I said "and extra sauce." After getting off of the phone I received a phone call from a girl, who claimed that she was the GM of the store, and she said "I do not like the way that you spoke to my employee, you sounded like you were blaming him for the online difficulty. I just wanted to say that was very rude and disrespectful." I first informed her that I did not recall being disrespectful in any way, and I asked her what I had said that was disrespectful. She sounded as if she misread the situation, but continued to throw accusations. After she tried to complete the phone call, by saying that I should come in and order. I told her that I no longer wanted my order, and I wanted it cancelled. My fiance then, went to the donimo's location and asked for a paper receipt and spoke with the manager, who was laughing at my fiance's expense.
We will no longer be doing business with Domino's Pizza due to this incident. We feel it is absolutely unprofessional to call back a customer to insult them with beyond wild accusations, thus ending in a cancelled delivery order.

ms.farnan
from The Bronx, NY
My children called store #3486 to order pizza because I was working late. After 1/2 hr, the children called back to find out how much longer it will be for delivery. The worker left them on hold for 7 mins then hung up. The workers were heard in the back ground saying "f**k her, let that B***h wait. This language & behavior is unacceptable, especially if we, as patrons are willing to utilize your store. They then got in a cab to go pick up the food. When they got to the store the worker refused to service them & even turned his back to the counter. My daughters did not deserve this service, nor does anyone else. It wasn't until they said they would call their brother to address this disrespectful worker, that they were given their order: 10 mins later. When the girls got out of the cab & went into the house (which is only 11 blocks away) the 2 pies were cold & not what they ordered. They were instructed by me to not return to your store EVER!!!!

jennifer ameen
from North Andover, MA
On December 18, 2017 I placed an order through my Domino's app for $33.13 My kids LOVE Domino's and we patiently waited for our order however 2 hours later if finally came and we were not a happy bunch. I watched the app because it told me our pizza was on it's way and we live right down the street. After waiting about 30 minutes I called and the girl told me he was on his way which wasn't the case because we waited about another hour. The delivery boy got to the house and told us that he had to wait for a jump because his car wouldn't start and he never left the Domino's parking lot. Why didn't the girl who answered the phone let us know that because we would have just went down to pick it up because the kids were starving at this point. The food we ordered was cold and my kids were not happy because it didn't taste good. I called back and spoke to someone who I thought was the manager, explained what had happened and they advised I would get a full refund. Well I never got my refund so I made a complaint again and never heard back from anyone. Like I said we order from here a lot but with this kind of service I have been taking my business else where. I will consider giving this Domino's another chance if I get what I was promised which was a full refund of $33.13
Thank you

to whom this may concern,
I'm a long time customer of dominos and currently reside in Stoughton ma 02072 which we would order from your canton Massachusetts store near cobbs corner. literally 85% of the time I order from there somethings wrong. just as recent as last night. placed an order for delivery which I usually pick up because its always wrong. placed order at 730 pm was told a half hour for delivery. I used the tracker on my app to make sure everything went ok.at 7:49 it said it was out for delivery. I live 6 min away. 830 I called and asked where the driver was because food was still not delivered after 40 min on the road. employee stated we are waiting for your wings because it keeps on going out with the wrong orders (which this has been an excuse many times before). so I said I want a new order since my wings and pizza have been sitting for over 45 min now which would be cold , employee Alex said no its still a little warm and ok for delivery. so of the last 7out of 9 times ordered this has gone wrong with food having to be comped for the huge inconvenience. I'm not the only one because when I'm there waiting for my order there is also other people there with the same issue. There is no way this store is going to last with such and under performing staff or something within the company needs to change. good luck with this store because you need it as I don't see it lasting another year. after many attempts of being a valued customer i believe you have lost me and probably many more from the people I have spoke with in the store with the same issues.

Dannie Carter
from Ballwin, MO
while waiting to pick up my order, I watched as a worker prepared a pasta dish.
She was not wearing gloves , This made me ill. The food I was buying only the chicken
was for me, to share with someone else. So I asked ,"Do you not wear gloves?" The casher
without a care said, "no". My concern is ,its flu season: even not its a fast food restaurant, please.
I couldn't eat, the thought of it. I feel even worse not telling the others. They were starving, when I walked in they started
eating. GLOVES are a necessity. Something should be done. This took place at 12317 Old Halls Ferry rd.@9:30pm, my total was 23.75
under the name of Carter. I really believe if people knew their food was being handled like this , they would not buy it.

Your app is awful. Why can't I just go on there and see what is on a specialty pizza? Or price your items? Why do I have to ORDER and say Delivery or Carryout if I do t even know what I want. Major turn off I'll order elsewhere.

todd daugherty
from Kokomo, IN
i order a pizza they made it wrong i call them about it they told me i would mail me a gift card 5 day later about it the manager would not talk to me was told to call the office call the office 10 times left messages never got a return call got a email from a nick lane said he was a gen. manager for Kokomo area said he send too sent one said 3 to 5 day its been 12 day now nick wont email or talk to me i feel its a joke to them and they don't respect their customer only their money

if i cold give this zero stars I would. I had my friend over and she took my phone to call dominos to ask the # for our local pizza pizza because there is no dominos around us, when they answered the phone it sounded like a male teenager. my friend then prosodies to ask what the # for the pizza pizza is and the worker says with a lot of attitude "are you serious" my friend then says "yes we don't have a dominos around us" she then hangs up. about 1 minute later we get a back from your company asking if had found the number and i had answered and said "sorry my friend took my phone" the same teenage male then said "oh yeah sure they did" at this point the male was very rude and then hung up. this is horrible serves.

Janise gallagher
from Fort Lauderdale, FL
The last pie i ordered was the only bad pie ive gotten in a ling time. The crust was super dry hardly any cheese and i asked for extra cheese and mushrooms didnt get any extra the sauce tasted like it wasnt cooked.

michelle
from Goodna, QLD
I phoned 131888 voice put me through to wrong store, i asked for miami & got mermaid which i had know idea at the time of ordering. young male who took my order said 30 min for delivery, after 50 min i then called to find out where pizza was. my pizza was stone cold, didnt taste nice, crust was rubbery, very dry & my desert was hard as a rock i couldn't eat.

michele hearon
from Chicago, IL
I placed an order on 12/13/17 for total of 4 pizzas brownies and beverage online. after I placed order I called the store and requested my second order be delivered to the same main address the female I spoke with said sure no problem. after almost 2 hours I called the store to see what happened to my order, I was told by a manager that they were backed up and my order should be up soon I verified delivery address again. After another 45minutes the driver showed up with 3 ice cold pizzas and 1 pop. I asked where the other order was and he said 'I only have what's written on box and left it at that. he had no customer service skills what so ever. I called the store and again spoke with a manager , told him about the cold pizzas and the missing order, he said he would personally remake the pizzas and find the missing order. (these were already paid for online). After another hour and 15 minutes I called the store and spoke with a different manager who knew nothing about the situation and said the manager I spoke with was gone! She offered no resolution so I told them to refund my money! by this time it was 9p that's 4 + hours, I had to get something else to feed my kids . Nobody at the store has any skills for keeping customers. This is by far the worse experience I have ever had .

Linda owen
from Northampton, ENG
Just had mixed pizza it's the worst I have ever had from dominos I have had better from Aldi or lidl

Chad coyne
from Dearborn, MI
Hi I work at the Monroeville store up on William Penn highway Im only filing this complicate because I had one day left on my 2 week notice and he told me He don't need me anymore because I got a new job and I wanted to finish my 2 weeks and he told me no and for the time I worked there he called me fat to my face and I'm German and he made racist comments on me saying that I should do the Hitler salute to the inspector and say welcome to domino's I felt so disrespected when he did that and at the time I didn't want to have problems at the work place plus he picks on everyone up there if they don't do what he wants he cuts there hours he'll send them home early take away days and make sure they get the worst deliveries thank you for your time and I no nothing is probably going to be done with the GM mozi but he doesn't deserve to have his job all I can say is when Kevin was in charge the store ran perfect.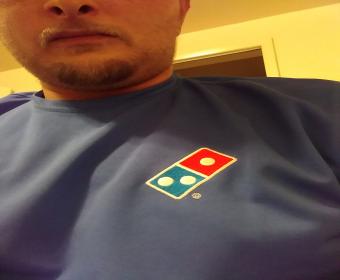 I ordered a pizza and boneless chicken nuggets about 830 pm. Pretty sure it was 8:33. At 9:54 no delivery yet. Called several times. Was told the last time there was only 1 delivery person and she left the store with 10 orders. Crazy thing is I was only about 2 miles from the store. The man I spoke to the last time informed me that his delivery time was around 3 hrs. That would have been nice to know upfront. The overall score for dominos is a 1. Something. It would be lower if people could give a 0. Its not the food. Its the service. If you don't correct this problem. Your business will eventually close. Do you care? People are taking the time to tell you. What are you going to do about it? I won't order from you ever again. Sorry if I have typos my vision is bad, and I still sent this to you. PLEASE do something to correct this! Is customer service a thing of the past? Surely not.

Mario campos
from Mission, TX
I placed an order at 12:20 and was waiting for the food: pizza and pasta. It was already 1:30 and called the store and food was still at the store. The reason they gave was that they didn't have enough drivers and that it will take them 30 minutes to deliver the food. I cancelled the food, very poor service. Store number is 6585 in Mission, Texas. My order: 1088421 under Mario Campos.

While back it took over 3 hours for a very rude delivery driver to bring our pizzas so I asked that he not deliver to me again. This evening I tried to order from the wellston store again. The manager tells me that the rude guy is the only driver. So I said he could deliver my 3 pizzas if he could be on time and not rude. I was then basically told NO. She told me I would have to come pick them up. Since that's not possible I asked 4 him 2 deliver 2 b told NO. Lost the business of a family of 14.

Sameitha
from Las Vegas, NV
I irder a large cheese extra cheese they charge me eighteen dollara an brought me a mediyn cheese pizza qith no extra cheese . i ask the delivery guy qhata this. He replied i dnt kno i aint a cook. Rude. I gave him 20 bucks for a med cheese pizza qhen i turn around he was runnun to hus car. No change. He kniws a med pizza is 6$. No change an he didnt ask me did i need change. I am so disgusted.

rosie enriquez
from Los Angeles, CA
I got a text on my phone 3days ago.telling me I had enough points for free twist bread.Today I ordered 2 med pizzas on line,i called and explained about my free twist breads the worker said ok we will have them ready when I pick up my pizzas.i went to pick them up and the worker said he didn't know what I was talking about. another female worker ask me questions I explain AGAIN she looks on her register and she says well I guess if you say so you can have them but it will 20min.i told her what the other worker said about them being ready and she said well like I said it will be 20min I was very upset if your not going to honor the free bread then stop sending me text.i am very disappointed..been a regular customer but not happy with service lately.

Candace williams
from Schenectady, NY
Girl at the counter was sarcastic and rude when I asked if the crust style was correct. I was missing toppings and the pizza was soggy. I haven't ordered from Dominos in years and I should've kept it that way. Tried to call the store and kept getting put on hold. Horrible food and service.

navneet gupta
from Jaipur, RJ
today at 20-10-17 at kalwar road jhotwar jaipur
my order no is 287 time evening 9:11 but till 9:45 we not delivered pizza
4-5 time i request for pizza but he si not responsible for pizza in your store
i literally very upset for this kind of your store
gentalman name is mr ganshayam
he did not give us that bill
so please resolve this case
navneet
9314647722
j

Liandro martinez
from Overland Park, KS
I went in to order my pizza at 10 pm to be delivered at midnight., at 12:30 am the pizza was still not here. I tried calkungband no answer. Finally at 12:45 am they answered and told me my pizza was on the way. . Yes I was upset because the manager said sorry there's other customers not just you but I specially went in to store to have my pizza delivered at midnight. Then she said I was being rude and she was the one being rude. So I told her well just refund my money and she said ok and hung up. This is bullshit how they treat customers because they don't have enough staff on hand . And I never got my money back.

Pamelalynn75@verizon.net
from Parkville, MD
When Domino's came out 30 or 40 years ago Or whenever,That was the best pizza that I think I've ever ate .I stopped at 1 of your locations on 10/ 12 17 I Got one of your specials for $7 99 1 large pizza With 3 toppings .I was able to eat 1 slice, could Not eat anymore due to the fact it was nasty .I tried giving it to my daughter and she couldn't eat it either remind up on a pizza away. When you guys 1st staredt out the sauce Is what made your pizza .Somewhere Throw the years you changed your Sauce Which in my opinion is just nasty I will never buy another pizza from Domino's. PS trust me I know my pizza .

base was not baked properly
seasonings and chilli flakes were not provided
very very poor service.

larry lane
from Alexandria, NSW
The thin and crispy base was tough and rubbery. As it went cold the tougher it got also lacked flavour. You had the best base WHY CHANGE a GOOD thing . Sorry but we were very disappointed.

Sean O'Brien
from San Bernardino, CA
We ordered our pizzas and were told it was going to be 45minutes for the order to be delivered. After an hour and half we still had no delivery we called and were told it would be arriving any minute after another 45 minutes we called again and were told it had not left the store when the pizza finally arrived it was the wrong style. Please make this right. Thank you for your time

Ordered by phone .GOT to Domino's in Webster Massachusetts pizza was not how I ordered over the phone mistakes happen happens all the time I get it!!! NOW I'm tired after working all day have to wait for another Pizza Tony didn't say sorry didn't care !!!! that speaks volumes to me !!!!ASK the employer Tony if he would add Winsconsin cheese on my pizza without charge because now I have to wait for another Pizza. Tony told me I'm only paying 7.99 for this pizza it's going to cost me MORE. I said are you serious I have to wait for you to make another pizza that you guys messed up and now you want to charge me more !!!!Tony told me to Exit the Pizza shop ! !!!AFTER I already had paid for the pizza before I even got it. they messed up on !!!! I'm WAITING for !!!!VERY rude and very disappointed!!! and which I don't order from this Pizzeria !!!I've been in Webster 17 years. I probably ordered Domino's three times in my life.I thought I would try it and this was my experience never again he does not need to tell me to Exit the store !!!! When I left Tony told me not to come back. No worries Because I will not be back .
.ME as a customer representative for 30 years,I would have gladly gave Wisconsin cheese and my apologies!!! someone that waiting because I messed up .Tony I don't know the last name very rude and not should be representing this establishment. Too bad that's how you lose customers that's how you go out of business. I did Express to him I will make a review and complain to corporate because ,this man was very nasty and all he cared about was the pizza was 7.99 !!!!!!that's not the POINT. I will not even ggive one star.:-(:'(

Bo Gibson
from Fort Myers, FL
Every time I order extra toppings most the time double toppings I never get it but yet I get charge for it ! I just started ordering from Domino's again this year and the reason I stopped in to begin with is because you could never get extra items but we're always being charged for it. I was giving it a second chance and now I'm fed up again every time I order extra toppings it's the same ol story . I Think maybe this is how they make a profit by ripping their customers off . There is plenty of pizza places around I just use dominoes to try to save money since I have kids but I give up I will not order from Domino's anymore. A bit of of advice to whoever reads this if you order from Domino's don't order extra toppings or double toppings because you'll get the same amount as the normal portion so save your money!

Debbie Geremia
from Fairfield, CA
First of all DO NOT TELL ME TO COMPLAIN TO THE STORE THAT SERVED ME,cause it doesn't do NO GOOD!! 2) I'VE been a valued customer for over 3 years.But...the past 3 orders,my company n I thought the pizza tasted old,n cold!! 3 frickin times! You don't value your good customers,then fine,I will order else where.If you do value good cust.service,than show me!! Completely fed up!!

william poe
from Cleveland, OH
was put on hold many times, went to the the Berea ohio store to voice complaint , was told that's just the way there system runs. found this to be unsatisfactory ,do not know if we will ever use this service again

Steve Toomey
from Jacksonville, FL
I ordered my 2 pizzas 6:30 Pm on line September 9, 2017, and wanted to pick it up at 7:15. When I got to the store, the customer service rep, said it was not put in yet. I said I ordered it 45 minutes ago and asked for a 7:15 pick up. I ordered on line. She told me they would not put the order in till 7PM, it was already 715, I told her that is why I ordered it online. She said they were "busy" and it would be another 20-25 minutes. I went back in 25 minutes and the pizza was ready, but I only received 2 toppings, instead of 3, and hardly any sauce and cheese, or peperoni. It was put together too fast and mostly bread. we did not eat but about half the pizza and threw the other one away. I want a refund of $17.10 as the pizza or service was NOT up to standard. The rep said we have a hurricane coming, I said then you should close rather than treat your customers poorly. She just said, there is nothing I can do about it, then asked me if I had any quarters as they were low. Please fix this or I will be forced to go to Pizza Hut or Little Caesars. . Thank you

Joseph donald
from Manassas, VA
I ordered pizza online for pick up and after 10 minutes got to the store and they hadn't started it yet and told me it would be 8 minutes. Ok, they were busy so I sat and waited. The board said after 8 minutes that my order was ready so I stepped up to the counter and no one acknowledged me, so I asked to all there could I get my pizza order. The employee closest to me looked at me and then walked over and started making pizzas. I asked again and a fellow told the guy that ignored me to get my order that was just sitting ready to go. I asked him why he ignored me the first time and he ignored my question again and walked over to make pizzas again. I asked him his name and told him I was lodging a complaint. He said his name was Nick,I asked for his last name and he said Nick again. I Said your name is Nick Nick and he ignored me and went back to work. I told him in a calm voice he needed to work on customer relations but he sneered and ignored me.
We eat here a lot but there are plenty other pizza stores here.

Brian Trott
from Portsmouth, NH
I was hold for 20 min to find out the we to2 had to wait hrs out.my entire bible class went hungry.that makes me believe that cant believe in dominos .Im not sure what else to say but disappointed Brian Trott

Ahmed abdelkerrim
from London, ENG
After 2 hours waiting the delivery the pizza just arrived cold and no response from the branch when i called them !

Friday, Sept. 1st I placed order over the phone to be delivered, 2 pizza and wings at 4:39pm. Was told 45mins by female voice. Dominoes Pizza, Clarkson branch, Brooklyn, NY. At 5:45pm I called back it was over 1hr. Female voice was very rude and hang the phone up while I was talking. I called back for manager, the same female voice answered. The pizza came @ 6:15pm. Service is poor.

Vera Barnes
from Washington, DC
Loyal Domino's customer.. On 8/29/17 I placed an order totaling $25.58, unfortunately I was charged twice on a debit card. Returned to the store of purchase and show them my online bank statement with two purchases in the same amount from the store. On their end NOBODY knows what's going on but my bank statement says it all. This will be my final time coming to this store. I've had to even call the bank to let them talk to them.. I'm a very unsatisfied customer right now

Seemore Johnson
from Angier, NC
I purchased a large 2 toppings pizza from Domino's Pizza 705 Grove St Ste 100, Fayetteville NC 28301. I've always had excellent service and pizza from Dominos until today. My family dinner was ruined they deserve negative stars and should be ashamed of themselves for serving a pizza like this to the public. This is the worst pizza I've ever tasted. My family wouldn't eat a single bite as the appearance was sauceless, and dry. I ate one slice and could not eat another.
I called the manager Mandy is her name and explained my situation. She said I should have checked it before leaving the store and with and negative attitude. She was very short with me as I expressed to her my disappointment of this substandard pizza. I informed her I will be bringing this pizza back tomorrow on my way to work.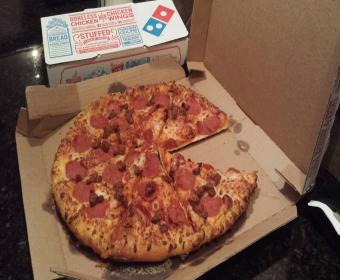 Benjar m
from Hayward, CA
The location on sanjose ca on tully rd a guy on Sunday night wasn't using a proper uniform not hat he's long hair touching it frequently and the worst of all he's spitting many times on sink... And wasn't identified bacause not wearing a name tag.

Nabil
from Yorba Linda, CA
On April, 05 2016 at 12:00pm I called Domino's Pizza at 714-6376111 located at 5595 E Santa Ana canyon rd Anaheim, CA. I spoke with the manager and i ask for large pizza W/ Pepperoni black olive & Jalapeno Peppers he said it will cost $15.31 for pick up. I ask him about large 3 topping for $7.99 he said it's $8.63 and will be ready between 25-30 mints for carry out after I picked up my pizza it looked very bad all my toppings were at the center, not to mention how rude was the manager.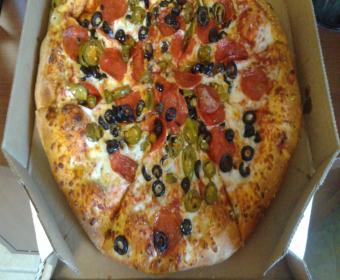 Guadalupe Campos
from Fullerton, CA
On March 29, 2016 at 5:40 pm I called Dominos Pizza at 714-525-5811 located at 122 W. Commonwealth Ave. Fullerton, CA and actually I asked my son to place the order. He is 16 years old. He spoke with Joanna and she hung up on him. He called again and when he asked her to repeat the specials, she hung up again on him. This was absolutely rude. I called for the third time and asked her why she hung up twice, she replied that she couldn't hear anything, which it is a lie.
Then I said I want to order for delivery and she put me on hold for about 5 minutes then hung up on me. I called again and I asked her not to put me on hold but she not only put me on hold but transferred me to another incompetent employee named Jose. He placed the order and kept repeating the order wrongly, at the end he said I would get the pizza in 30 minutes and he was going to hang up when I asked him, "are you going to ask me how am I going to pay for the pizza and wings?"
I gave him my credit card number and he couldn't write the right numbers. I was very frustrated so finally he charged my credit card. my sons and I waited for 45 minutes and called again, Joanna put me on hold again, made me wait like 5 minutes and I have to call again, I asked her again not to put me on hold I just wanted to know when I was going to get the food and she said 'I DON'T KNOW" can you call the driver?
I asked, she responded HE DOESN'T HAVE A CELL PHONE, I couldn't believe what she was saying and I told her that I was having a really bad service and she was being so rude I was going to complain with the manager, she says go ahead his name is Jose. I hung up and then I called again to cancel my order but another lady named Leslie answered. When I asked her for Joanna she said Joanna was in the back. She asked me why I was canceling and I explained, she apologized and she told me she would call the driver. I thought he doesn't have a cell phone, I told her, then she put me on hold, again, and later she said "oh yes, he doesn't have a cell phone." Who in the world doesn't have a cell phone working as deliverer? that is NOT credible. Then Leslie apologized and said I could keep the food since the driver was lost somewhere and that they were going to give me a credit for $5.00 dollars.
Today in the morning, I called to speak to the manager Juan and the lady on the phone said he wasn't there and he will come in the afternoon, then she asked my name, when I told her my name she asked me in a way rude, "what do you want?' why do you want to talk to him?" I asked her "are you the manager?" no right? she said no, but I need to know why are you looking for him, she replied. That was very rude? What kind of employees does this store have? I told her I did not need to tell her anything that I was going to call back in the afternoon. I did, and the incompetent same employee Jose said that Juan the manager is not there and when I asked for the manager last name he said why? we are busy and he hung up.
By the way, the pizza and wings that I was supposed to get, NEVER ARRIVED. This means that indeed they contacted the driver to cancel the delivery. Please I am very upset and frustrated for the horrible service, rude employees and an imaginary "manager" this STORE #7846 has and for the BAD experience my kids and I had when we were expecting to have a nice family time waiting for the food that NEVER ARRIVED.

Charnita Fance
from San Jose, CA
On March 11, 2016, at 7:57 AM CST, I was sent an email telling me that my Domino's Pizza Profile had been successfully updated (even though I did not update it). Someone hacked into my account and changed my email address. Here is issue number one: If someone knows or guesses your password, they can log into your account and change your email without any type of verification. This is a HUGE security issue! It should not be that easy to change your account email.
I tried to log into my account with my current password and using this new email and, of course, they changed my password as well; I wasn't able to log in. I called Domino's customer service number (provided in the email) and reported the issue. I had to give all types of personal information (oh, NOW they try to care about security). They said that I would receive a notification once the issue was resolved, letting me know that my account had been fixed.
I can't remember if they said my account would be reset or closed but either way, here I am 12 days later, and I still have not been notified; the issue still remains. Here is issue number two: I have personal information on my account (address, phone number) as well as three credit cards attached to the account. That is enough for someone to do some real damage! Yet they could care less about that and are taking their sweet time to resolve this issue.
In the meantime, I've been contacting them and sending out warning messages to other customers on Twitter. Twice, I've received the same, generic copy and pasted response from them in a tweet. They can't even give me a personal response to such a serious issue?
Three times, they've told me to contact them via a form on their website and they attach this link: http://bit.ly/dpz_cares. How ironic that it ends with "dpz_cares" because obviously, corporate does NOT care. Here is issue number three: The first time, I did fill out the "Contact Us" form (via that bit.ly link) (that was on March 11, as well). However, I have NOT received a response to THAT inquiry either. All I received was a generic "Thank you for contacting the Domino's Pizza Customer Care Team. We have received your additional comments and have reported them to the appropriate person." This was at 8:47 AM CST on March 11.
I replied to the auto-response email received on the 11th and received another auto-response on March 12, 2016, 5:29 PM CST, "Thank you for contacting us at our World Resource Center. As one of our valued customers, your concern is extremely important to us. I have reported your comments to the appropriate department for review and I am requesting that you are followed up with as quickly as possible."
Apparently, they're very confused regarding the meaning of "as quickly as possible." What does it take to get a response or to get help from this company? Their customer service is a joke. Their website security is a joke. Their social media managers are a joke. To top it ALL off, I had a free pizza on my account (probably why it was hacked in the first place) and I'm sure that is gone and will not be given back to me.
I've also searched for others on Twitter who may have had a similar issue with a hacked account and indeed, I found MANY others with the same issue. Some people said it took weeks to get help with their hacked account and others never got help at all. You, Domino's, should no longer be in business!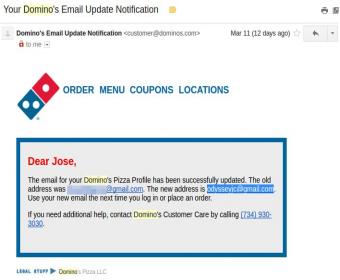 My nieces (15yrs old) ordered pizza on Monday, 2/8/15 from the Wheatland store - Dallas, TX via phone. They asked about the specials and were told there was a special for 2 or 3 toppings 2 pizzas for $12.92. Honestly, the toppings are not the concern. The order was placed but when the driver arrived the order was wrong. The driver called back and informed the clerk on the phone that the order was wrong and he offered to bring back 2 replacement pizzas. He accepted the money (cash) and left. (During this conversation I was in the home but he did not see me. Yes, I am an adult over the age of 21 year old.)
Thinking we had enough time before the delivery of the pizza we attempted to leave and go to the store however we met the driver a female a few houses down. The delivery was for 7510 Ashcrest Ln. Dallas, TX 75249. I turned around and two of the girls got out of the car. The driver had the pizza and requested additional money. The girls informed her that the pizza was paid for. She stated " I was told you were going to say the pizza was paid for" at that time I informed her that yes the pizza was paid for and she gave one of the girls the pizza. We discovered that the second order was also wrong. She wanted to know if they wanted to place another order at that time I informed her to just let it go. She then stated she is just the driver.
The next day one of the girls received a text stating the money was owed and if it was not paid Dominoes would be calling the Police. Several calls were made to the location by their grandmother Rose Henderson. She spoke with the manager on duty and was told to call back and speak with the GM after 4 PM the next day. She called back and after a lengthy conversation and disagreement of the details and happens the manager said he would just credit the amount. He did admit to sending the text and that if the driver does not collect the money, all monies are taken out of the drivers pay. Question why would a driver deliver pizza without the customer paying?
In my opinion was very un-professional due to no name or number was left. However nothing was received in writing that this issue has been resolved. I believe the drivers are attempting to scam teenagers but this time they made a mistake a legal adult heard the call. heard the conversation when the order was place, over heard the driver when he call back to the store and talked to the second driver. If the pizza was not paid for why would the first driver leave it. Better yet why did the second driver leave the second pizza without taking any money. I wanted to bring this to your attention. Hopefully this will not happen to another family.

Janet Hames
from Hillsboro, OR
I'm writing this complaint in reference to a unpleasant experience I received from one of your franchise location 10081 SW Nimbus Ave Beaverton Oregon 503 626-3030. I call placed a direct order with one of the associates who said it would take 30 to 40mins for delivery. After over a hour I call back only to speak with someone who was very disrespectful and after a few words she hung up on me stating I was being rude, not true! At that point I was up set and decided to stop by the store a visit to discuss with the manager my concern of that conversation with the young lady who hung up on me the manager. I spoke was Hannah whom unfortunately appeared to be irritated of my complaint. I deal with unhappy customers all the time and there's way to handle escalated unhappy people I do hope that in the future.

Tremain Addison
from Chicago, IL
My sister called an order in at 6:16. They said they deliver to our address. They took the money off of her debit card, then told her that they don't deliver to our address. I caled back to speak with manager at the teutonia location in Milwaukee, WI. I asked his name, which he didn't give me an had a unprofessional attitude.

Garry Frater
from Doonside, NSW
I have been waiting for two phone calls from Domino's Pizza Morisset store one was a year ago the last time was two weeks ago. My complaint is about your thin and crispy. When I contacted your Morisset store I was told that's the way they come and that's that. So could you tell me why do you call it crispy when they are floppy and tasteless. Could you not the Morisset store please contact me I have had no customer service from that branch.

Jeremiah enochs
from Fort Worth, TX
I called dominos on 1/19/2016 at 11:10 p.m. They told me their ovens are down the exact same thing happen last week. Last week they told me they were closed at 11:20 p.m. on a Friday. I believe your employees are getting paid for sitting on their ass and I would like for it to stop. I also had your manager phone number I called him he told me he would do something about it when I called him last week. Obviously he didn't.

jack mcqueen
from Brunswick, GA
This is my fifth instance from the hyde park location in Brunswick Ga. The owner doesn't see fit to hire or have available help. The managers and remaining staff here have repeatedly been apologetic for their carryout's or deliveries (both over 2 hrs) shortcoming's. One situation with the manager only working was with 36 orders outstanding on a Wednesday. I realize good help is hard to find but this owner (also owns other dominoes franchises) obviously doesn't care about your image and this has been continuing for several weeks now. Please straighten out his franchises or withdraw them from his oversight. Its killing the customers and your name.
Have feedback for Domino's Pizza?
Thanks for your feedback!
Sorry. Please try again later!