Domino's Pizza
Domino's Pizza Complaints Continued... (Page 5)
431+ reviews added so far. Upset? Call Domino's Pizza corporate: 734-930-3030

My neighbor and I ordered a bunch of pizzas and sides tonight and there were many mistakes. She ordered 2 mediums and got 2 large instead. We have kids and can not wait for new pizzas to be made. My pizzas, I ordered 2 pizzas one thin one hand tossed. My hand tossed came home and was thin and I ordered green olives on it and got green peppers. The pizzas were all doughy and you could tell because they were stuck to the box. We are not happy with the order and we live about 25 minutes from the store so didn't think of checking them and couldnt go back to get different ones. 

Hi, I had visited one Domino's center yesterday night and ordered a pizza and coke. When I checked with the sales person regarding corporate discount as I'm working with Sapient they told me they don't have any corporate discounts. When I asked him to check the same with his supervisor, he gave me 15% discount on the Pizza. Today I visited the same Domino's center and ordered one pizza and coke, again faced the same trouble with corporate discount. First sales person told me that they don't have any corporate discount and when I told him yesterday only I got the corporate discount from the same center he offer me a 10% discount where as I'm entitled for 15%.
With this compalint I want you to make aware that your centers are cheating the customers who are not aware of the % of discounts you offer for your corporate customers. I really felt very bad with this incidence. Its really a very serios question on the credibility of domino's and its centers. Being a regular customer to Domino's I'm aware of the discounts and all and prefer Domino's over Pizza Hut but seeing such cheating happening with people on the discount part I prefer to keep distance from Domino's now onward and prefer Pizza Hut. They are not that good in services but they take the responsibility what they do and provide.
Also want to share the address deatil of the outlet I visited:
Domino's Pizza I. Ltd, First Floor
No 17 Brookefield Oad Whitefield Bangalore.
Even I was surprised with the conversation with the incharge of the center. When I told him I would register a complaint against such act you people do. He said no one takes such thing seriously and all complaints would routed to him only and no action would be taken on that complaints.

To whomever this may concern, I would like to make a complaint about your Shirley store in Southampton. I have had numerous problems with the store. I made an order tonight which after not turning up after an hour, I phoned the store to complain. They told me that they attempted to deliver the order to my house, that apparently they called my contact number (which they did not!) and that they knocked on my front door (again they did not). I spoke to the manager who issued me with a refund, but still I do not feel this is acceptable.
They did not apologise to me, which considering I work in a retail occupation is a standard aspect of the job. I have previous problems before. In my case I ordered many orders with mustard before, and each time my pizza came without mustard. Surely it is not that difficult to remember to put one topping on a pizza! I have even had an an occasion where a delivery driver has been an hour late because he could not find my address. I live in the town centre, and I have had many deliverys to this address.
On this instance my food turned up cold, which for a food establishment I feel is not acceptable! I am not the kind of person that ever makes complaints, but I feel in the instance it is more than called for. At the end of the day I pay money for a product, I can understand if mistakes are made once or twice, but the amount of negative experiences I have had with your store has gone beyond a joke. I hope you consider my complaints with the branch and take the appropriate action, because this behaviour is not acceptable.

Hello, my boyfriend and his whole family recently had domino's and his whole family got sick. The day after, he ate some pizza and like the rest, ended up with food poisoning. It has been a few days and they are still sick. Not too long ago I found flies under some toppings and when my dad went to complain they just said they could give us a new pizza and soda.
Obviously you guys need to enforce hygiene rules and make sure your cooks know what they are doing.

I made in order at 6:03 pm on March fifth I received it at 7 o'clock with the wrong soda I asked for Coca Cola I got orange I made to order on my phone Ruby Domino's app which means they were able to go back look at what type in and correct the order I also ordered 3 extra icings which I did not get my total came to be almost 36 dollars even with the Domino's app my order was still screwed up the app stated that my order was being delivered and clearly it took way longer than 40 minutes I feel if you order something online it should be done per your specifications I enjoy the pizza will order again well I have to call back to make sure my order is correct.

I ordered my pizza at 9:00 spoke to plenty employees and the manager he didn't even want to spell his name! The driver was very rude he called and wasn't even outside, he came minutes after 10:30 I find it ridiculous that this is my fourth time that they could not get it things right the manager hung up the phone on me claimed his name was M.D the store number is 3668! All I asked for was the store number and the manager replied go ahead and make the complaint the driver cell phone number is (347) 652-5504 NY, USA and their address is 241 Rockaway, Brooklyn New York. They honestly didn't handle this manner properly at all! My number is 678 770 3997 I am very upset and so are my children because manners did not get resolved! The number to this store is (718) 756-5666 NY, USA. You can call them and see how they speak to your customers who constantly order pizza in such a rude manner is very distrspectful on their part. I love Domino's and so do my kids but, if the manager is accepting these poor acts it's really not fair to me as a customer the driver replied this lady was crazy and never seen me a day in his life please have these employees trained the right way very inappropriate and not responsible on the managers part!

I order a pizza at 5.15pm and waited in the shop and at 5.55pm I go to the front counter and ask where my pizza is. The girl looks in the hotbox part and grabs the pizza there Which was mine and it has been sitting there for about For 10-15 mins so I wasn't impressed at all. Also the pizza was just warm. Mean while I was waiting the staff was just standing and chatting away which I was not impressed As one of the was the one who cut it and put it in the box So my question is why didn't she call my name and Take the money. I do hope this does make sense. Also I hope the shop gets told to watch what is going on and be a good team if someone is busy on the phone taking orders there should Be someone to help out.

I want personally to orderfor regular country special +garlic bread+mouse cake frompowai dominos as I am regular customer for dominos they told it will take 15. Minutes itold ok after 15 minutesthe told only pizza is ready for garlicbread it will take more 15 monutes do after my order the despatch garlicbread to takeaway so why the did like these I refuse to take order mr rakesh in powai was handling so request you nt to kept search staff as it felt a bad impression on ur dominos due to staff prblm and also I told I want complain form they told they don't have atleast u should have a complaint form

Went to the winston churchill and argentia location. I placed an order for 2 med pan pizzas, went after 15 mins to see it it was ready, had to wait 45 min until they told me they made a mistake and gave me my money back. They didn't issue me a receipt, i had my daughter with me who got really cranky. This is really bad customer service, i wanted to talk to the manager but he wasn't there. We had to come home hungry. This location had all teens working there.

it's football Wild Card Weekend January 6 2013. I went to the local Domino's at 17 74 East Little Creek Rd. in Norfolk Virginia and ordered a large pizza with anchovies I asked them to make it a little chrisp for me. without looking in the box I took the pizza and drove to some friends house to share with others. when I got there and opened the box I found out that not only was it burnt but it was dripping with oil probably from the oil from the anchovies. I was very disappointed that whoever put it in the box didn't see that was burnt and gave it to me anyway. I really expect more of a better service than that. I wound up throwing to pizza in the garbage because it was just to burnt to enjoy.

I phoned an order to the Southport branch of Dominoes Pizza and, with a friend, went to pick up the pizza. When we got home, we noted that it was burned - or perhaps reheated. In any case, it was hard and toasty. I called to complain and got the manager on line, who was not very helpful.
She kept saying, over and over, that my name was not on their order sheet, despite the fact that when picking it up, I had provided my name, as I had done over the phone. Instead of checking with the workers there, she insisted that the order was not on her computer.
It looks like the computer age has overtaken common sense or actual real work checking.

I called Domino's pizza in Paris, Texas about 15 minutes before I got someone to answer. Then I tried to called back several times to add some cinnamon sticks to my order had to call several times again. At one point I got a recording that said they had more calls coming in than they could answer. When I went to pick my order up they didn't have all my order. They made me another pizza while I wait and my other pizza's got cold. The girl that waited on my was not very friendly keep telling me they didn't get my order wrong that I only ordered two pizzas but I ordered three pizzas. Then they tried to give the pizza they made me to another customer. The whole time I was in the store not a single employee was answering the phones. At one point one of the workers step around the wall to see who was calling, said she didn't want to miss he babies calling but she didn't answer the phone because it wasn't her babies calling. This has happened before when I have tried to call. They need to hire someone to answer phones.

I recently ordered dominos online and messed up the address so i had to call and change it.and there was a situation in the shop when I called so I respectfully understood and waited on the phone for 10 minutes, Then when the man picked up the phone I told him it was next door and the porch light was on. He answered by snapping back saying "well that's not important to me and won't be any help" note this was before they even left to bring the food, the man was very rude by snapping that at me.

As much as I love dominoes, I am getting appalled by the services on a regular basis. Around August last year, I was delivered a non vegetarian pizza even though i am a vegetarian. i had raised it to the customer service team on mail and spoke to various departmental heads, but all i was told is that you have been served a complimentary pizza! following that i was denied any home delivery and the store manager AVINASH the Goregaon, Gokuldham outlet spoke to me as if i was an outlander ever since.
as if it was not enough, in a religious country like India, where vegetarianism is seriously followed, there was no gratitude given to the fact that i was served a non vegetarian pizza that too in the month of shraavan. now anytime that me or any of my relatives call dominoes, they call me back after 30 mins and tell that we cannot process your order.
Post this, i went to the dominoes outlet in Lokhandwala andheri and to the worst of my horrors, was served a chicken pizza instead of a veg gourmet pizza. The store manager Prach Gawade kept saying that i am sorry and you will get your pizza for free. which does not really solve the purpose. the vegetarians that we are, we were appalled by the derogating services.
after a lot of pleading by them, when we gave them another chance, and she replaced the vegan gourmet pizza; we were astonished to found pieces of wood where there should have been olive toppings. when i showed the same to one of the staff, she said it was olive. one of my friends who accompanied me, had swallowed the same and was brutally sick that and Prachi and the assistant store manager still said its wood. it wasn't until i challenged them to bite and digest it that she said it was wood!!
I ask, is this how customers should be treated? in a brand name like dominos, can there be no trust? moving on, when I contacted mr Chandrakant who is the district supervisor or something; he said 'aapko free pizza mil gaya na.. aur kuch nahi milega.. aapko jo karna hai kar lo.' i am in anguish and I feel betrayed and disappointed. can you please look into this for me. I wish to take this further.

I ordered a pizza at Dwarka Delhi 110075 on 01/12/2011 vide order No. 336. Though the delivery of the pizza was on time but the contents were disgusting and meant to be thrown into the garbage or else could have been health hazardous. Certainly there was a huge time lag between the preparation and the delivery of the pizza. I am astonished, how this so called a leading food products company could deliver smeared eatables. Perhaps this might be the policy of the company to amalgamate abject items with the freshly prepared to fetch money.
I called dominos and ordered my pizza i got ione of my pizzas made correctly but the other pizza was missing a topping so i called back and they were rude answering the phones both times i told them it was wrong and they need to be more enthusiastic answering the phone and they were npt polite i told them i didnt want a credit i wanted a new pizza sent and made right . They sent the new pizza and i be darned it was made wrong again i gave up i didnt call back to have it remade a second time i just am making a complaint.
last night i ordered 3 medium pizzas. one bacon and 2 pepperoni.when i opened the 3 boxes the pizzas looked beat up. the cheese didnt look fresh, the pizzas looked like off brand frozen pizzas. the box under the pizzas were soaked in grease. then i tasted them. both types. they tasted like the old kind of cheap frozen pizzas u get in the stores. all of our stomaches felt bad.my breath tasted like well, bad. u figure that one out. i called them and they said that all theeir pizzas were like that.
the manager said that she didnt know what to say. ive been eating dominos for many years. it was good, then very bad. i went to another pizza place. then the owner got on t.v. and said that their pizza was improved and the boxes had their phone number and to let them know. the pizza became their best. it was great !!!! now the number is gone from the boxes. no more comericals about it and their pizza is the worst ive ever eaten from anywhere. the employees at that store seems to have changed and doesnt care. very rude employees and the manager has no clue what to do.
i hope they get back to great.they need someone who goes to these stores without any warning and taste the pizza as a regular customer. wait in line and all. thats the only way to know. good luck. i guess im going back to pizza hut.

I ordered you're Dominator combo on 4-12-13 and when we received it at first everything seemed fine til we started to break into the cinna stix the "icing" was upside down and we thought nothing of it until we saw that it was ranch that actually poured out. So I called the store to see if we could get this resolved by getting a new one with actual icing this time and instead I got handed to the store manager. So I explained again and she was just very rude about it saying that she would just credit me for the ranch. I had to reexplain to her and she just said the driver must of got them confused but she'll credit me an icing.
So I asked if she could just send a new one like I originally wanted and she angrily grunted and said fine it's going to be 45 min to an hour and asked for my address then hung up. No apologies or anything. I've already had several issues with this store from wrong toppings or a clump of hair on my pizza and each time nothings resolved. I can not order from this store for months but when I do it never fails that something happens which I can understand and hope to get it resolved but no, the associates and now seems the manager just have no respect for the customer.
I understand that in the 10 min of receiving my food they got busy but to honestly make me wait an hour for cinna stix with icing not ranch is to me even more horrible customer service. It shouldn't take that long to fix something that they messed up in the first place since I've already paid an have now waited more than an hour for these cinna stix. Please do something because this feels worse than when I got a clump of hair on my pizza and nobody wanted to discuss it with me, they kept hanging up on me.

I called the dominos pizza on pimlico in lexington ky to order pizza and the rep that answers the phone tony wants to lecture me telling me i have to give them a tip. I don't care if i work for the company or not. I'm not made of money to hand out tips. That was rude. And I'm never ordering from dominos again.

Barbara Berry
from South Sanford, ME
Prepaid for this order. On arrival at the store, my husband was told it was NOT paid for. I accessed my bank account and found that the money had been deducted. I called the store and requested to speak with the manager, but was told he was busy. The employee then told me that the order was paid for and I could return to get it. This meant a return trip (6 miles each way - total 24 miles). Hopefully on the return trip the staff will be gracious enough to be pleasant. I work in an area where customer service decides reimbursement, so let me say if this Domino's store was an example of services provided by my establishment. there would be NO reimbursement.

i have ordeted and had pizza delivered to my residence, for 8 yeard. They only come out about 100 yards short of my home. There is another way to my home that is within their delivery ratious. Tonight I ordered over $ 26 worth of good as i did last week!!!! I was called back and was informed they could not deliver my order we tried to explain to the employee that if you come in other way it is within their delivery radious, he then put on the night manager who was rude and wouldnt even listen to the fact that we order at least weekley! So no more Domino's at this Home!!!!

Ronald Pitchford
from Gallipolis, OH
After being a customer of Dominos for 8 years and having delivery made to our home. We were informed that delivers could no longer be made to our residence due to it being out of the area. Our home is approximately 1/4 mile from the cutoff . After trying to explain that the other route to our home would put us in the delivery area the manager informed me that the district manager would not allow it . Being in the restaurant business myself I hope that any employee I have would be a little easier to deal with or more understanding to the needs of our customers .

Tony rosato
from Vista, CA
I ordered two large pizzas neither one had no sauce over cooked taste horrible my roommate was sick to stomach for four hours I liked to send the rest of this crap to the CEO on that stupid commercial make him eat the rest of this crap this pizza their selling us is dog crap.

Ron Sharp
from Sarasota, FL
I ordered a cheeseburger pizza and a chicken caberna for pick up.I was told it would be 25 min as i got there 30 min later it still wasn"t ready i waited for 20 more min they were out of the chicken cabanera the pizza was burnt bad.i have been a domino"s custamer for many years now after last night i don"t want to go back. As i was waiting for my pizzza i saw 3 people say there pizza was wrong 2 walked out from waiting to put in a order and as i got there i had to wait almost 10 min to have to be helped. the store is on tuttle ave and 12th st in sarasota fl i go there a lot and i never have any problem but this was not acceptable my pizza was free but as i got home to eat it was not worth the wait morel ess to be burnt badly.

arisha ohagan
from Glasgow, SCT
I and a friend ordered dominos last monday we done so at 3:15 am we were waiting for age and o at 5 am i called up this is the time dominos is due to close when we called up it said that the store was closed and so we assumed we wouldnt get our pizza and so went to sleep the next morning i woke up to texts from the dominos driver at 5:30 o i didnt get my pizza and was charged.

milton kelly
from Durham, NC
I just ordered a pizza from the university store in Durham,nc.When my pizza gets here it is the wrong pizza, so I called the store to let the manager know that I had paid for the pizza already with my credit card.They act as if no mistake on their behalf had happen and they guess someone would be back out, I will no longer be doing business with Dominos. Thank you. Mr. Kelly

I placed my order over the phone, the lady said it will be ready in 15 to 20 minutes. I get to pick up my order the store the first thing I see is a employee standing in front of the store smoking a cigarette. talking on his phone in some foreign language, then he comes in the store and starts bossing people around and yelling in a foreign language to some and the girl behind the counter says it will be 10 more minutes we have to make one of my pizza's because they only made 3 of the pizza's or my 4 pie order. so I was not very happy with the waiting and in the 10 minutes I waited the man did nothing but talk on his phone.

Pizza was in prices stacked on top of one another. I put the pieces back together to form a pie and was actually missing a piece. Call and talked to manager who flat out said she didn't believe me and that her driver would not have eaten a piece of the pizza? I would certainly hope not. She offered to remake and deliver another pizza but I do would prefer not to eat anything they made me after our conversation. Manager was very rude! I took pictured of the pizza but I am not able to attach

harshal joshi
from Mumbai, MH
Hi , myself Harshal Joshi from India, I have ordered 1 cheese burst pizza for our guest from thier chinar park out let through online order, later on my wife noticed it that pizza was not a cheese burst but a simple one, we could not make it out since kids at home had it.. We had immediately called their outlet to lodge a complaint but no one had picked up a call. We are really upset that after paying a full price for Cheese burst , we got a normal pizza. We did not expect this type of service from them.

Davenport Iowa dominos general manager was just arrested Thursday charged with 2 felonies one of which was identity theft. So how long has people in davenport been giving this guy their credit card and other info so he can steal their identity? He is also being deported so dominos supports employing illegal aliens? In the past 5 years he has employed at least 2 convicted child molesters. So customers should have been made awhere that the person delivering their food to maybe their children or around their children is a convicted child molester. That's just a community danger right there but dominos seems not to care. Is this really the image dominos wants to put off. Great owner u got in Scott ocel

We ordered 2 large pizza's from your store #4931 on 2/23/2014. They arrived burnt. I called to complain and request a credit back to my credit card. The manager on duty said that they could not credit my card back, that they could only give me a credit for another pizza,and that I should call the next day. When I called the next day the manager ( Allen) was not in. The manager on duty said he would give Allen the mesage and that he would get back to me. I have not heard from anyone. I have just gotten my credit card statement and I did not get any credit I would appreciate your looking into this situation and credit my account back for the 2 pizza's. I don't think that Ishould have to pay for such awlfull pizza. I also think that you should look into the fact that these pizza's should have gone out the way they did. What happened to quality control?

We have ordered several times from Dominoes at 1230 Rose St, #a, Elgin, SC. All orders were delivery and all were terribly slow, but the last one took over 1 and1/2 hours to get to us. Guess what? By then it was so cold it was ridiculous. If that's the way you operate your business we can just switch pizza stores. Maybe you should look into the management?

When I first moved to Leeds, Al, I wasn't disappointed that there were very limited pizza delivery options because I have always been a Dominos customer. After a trip to San Francisco I learned that I could re-create the best pizza I had ever had through Your build-a-pizza option. Time before last that I ordered, my pizza arrived completely smashed up and when calling the location, they informed me that it wasn't their fault. If it's the driver's fault, then it's their fault because he represents your company.
Almost 2 hours later, I received a replacement pizza from a driver with a bad attitude. The last time I called to order, I was at work one block away from my house and I was placing two separate orders. One to be delivered to my home for my daughter and her sitter and one to be delivered to my place of employment. I was going to be paying for both purchases. After confirming my order and hanging up, I immediately received a call back to tell me that the they told them not to complete the order because "they were too busy to do two deliveries."
Needless to say, I didn't have good come from Dominos that night. Then, today, I ordered online. 45 minutes later, my order arrived and it was wrong. So I called. The guy informed me that I hadn't placed my order right and they fixed it exactly as they had received it. I had the confirmation though stating what I had ordered and his response was "well, what do you want me to do about it?" ….. "Um, I want you to fix it." Very disappointed and at the point of writing off your company altogether if this is the service I will continue to receiver. Your local offices are the representatives of your company and if they won't take pride in their job, then who will?

Robbin Biggerstaff
from Houston, TX
Yesterday 4/17/2019 I ordered 2 sandwiches for delivery. It had to be a $12 minimum. Plus delivery fee, plus a tip. I spent $19. I ordered the Philly steak sandwich which was all bread (although good bread), hardly any cheese and the cheese was burnt onto the bread, hardly any meat or vegetables. What meat that was on the sandwich was only in the center. It was pathetic. I was hungry so I ate the meat off the bread and threw the bread away. Thought about the $19 I spent on a crappy lunch and started to get irritated enough to send this email this morning. I wasn't given a receipt but I do have the emails. The total was $16.45 Order# 288262 11:49 am. I paid cash and a tip to the driver. The Dominoes stores phone number is 972-608-2929. My order was delivered to 5800 Granite Parkway Suite 100 Plano Texas 75024. To: Platinum Title Partners.
For: Robbin Biggerstaff cell# 469-323-2797
I would like to give this store another chance but I do not want to spend another $20 for less than acceptable food. Especially at lunch. Is there anything that corporate can do for me? I didn't complain to the store yet. I thought about that as well.
Thank you,
Robbin Biggerstaff

Laronda Lowery
from St Louis, MO
0n 12-25-2018 I spent about $40.00 dollars on a pizza deliver to my office. A few times for different orders it was more. I am not sure if the pizza normally cost that much or if it's a special promotion that's offer every blue moon or something but I believe I am being over charged. A few time the drivers had forgotten the kind of 2-litter soda I wanted; but if I have enough I would make sure I left the driver a good tip. Sometimes 7-10 dollar tip because I know gas isn't cheap…
Outside of that I never had any real problems from this deliver location. Until December 25, 2018.
On this date I order 2 medium 2 topping pizza's; initially I ordered 2medium 1 topping pizzas then I called the store to add to the order. The exact order was for the 2medium 2toppings 1thin crust with chicken & bell peppers; and the other pizza was a pan pizza with beef & black olives and 2choclate lava cakes and a two liter soda.
I ate a lot of the pizza and my mother ate some of the pizza as well. The pizza made me very sick and my mother she is deceased now. I was going to send the pizza to a toxicologist so I put it in a zip lock bag in the freezer. I am not sure but I think she must have eaten more of the pizza again in the month of January when I came back from running a few errands 01-25-2019 she was in the hospital and some of the pizza was missing. I am not sure if it was the pizza dough or if was something related to when the government was shut down for a little while; but the pizza dough was under cooked. I had not order any more pizza from that location since then.
I also thought it was a little strange that the young lady that delivered the pizza said she wasn't the regular driver and when I offered her a cash tip she said that wouldn't be necessary.
The store number where the problem was is #1594

Amy Rogers
from Newark, NJ
call in order: they couldn't find it and then sent us out with the wrong order, there was approximately 5 Tiny broken pieces of chicken in the chicken finger order . while waiting for the New Order I watched everybody including the manager do money transactions credit card transactions and not one of them had on gloves or wash their hands while grabbing cheese pizza dough toppings with bare hands again including the manager the gentleman next to me asked for his money back. I hate to complain about any business. but this is about food safety
I didn't ask for my money back although I should have but there was many unhappy customers around me I didn't want to add fuel to the fire

Isabelle Exume
from Miami, FL
I placed an order online.
Order Details 
Order #: 870573 
Date: 04/14/2019 8:15PM
It is now 10: 30 and I have not received my order. The tracker shows it was delivered but that is not the case. I called the store and I sat on hold the 1st time for approximately 40 mins. I then hung up and called back, and am currently sitting on hold again for another 45 mins. I will continue to hold just out of curiosity to see how long the store will leave a customer on hold, as I do not expect any satisfaction from your company at this point. I have sent three instant messages but have received no response despite the statement that says they have my undivided attention.
This is horrible customer service. It is bad enough my food was not delivered, but now I have to endure over an hour long hold just to let them know that! Truly disgusting!!!

Aakash Trilok Jain
from New Delhi, DL
Hi,
Case-1, I have made an order on 3rd of March for my wife and I, it was 1 farm house ordered. I was asked to wait for 1 hour and I waited for more than 2 hours but, I could not get the delivery at all. Next day, again I called Domino's and ordered same again, I was asked to wait for 1 hour and I waited for 2-3 hours but I did not get the pizza. I told them that I am very much frustrated and my wife also did not like it they said that we are sorry for the inconvenience. They also told that, on the next order I am eligible to get a discount of 300.00rs, and I will get a call back, I said okay but nothing happened.
Case-2, I went to Domino's yesterday on 13rd of April with my wife and I told them about my complaint and asked them to provide the discount but they have no any information about and they said sorry we can not. Now this time this was not tolerable at all for me. I called again to Domino;s right there and spoke with a person named "DIPANSHU", I told him all this and he put me on hold so that he can get my call transferred to his supervisor, however after a long hold he cam back and said I will get a call back like earlier. I have warned him, if this time I don't get the appropriate assistance, I will write about it on Facebook, he assured me that I will get a call with in 10 minutes but I waited with my wife at Domino's for 1 and half hour. Now this time I am gonna share a link with your guys please suggest what should I do..This is the worst experience that I have every got.
Thank you.

jonathan martin
from Klamath Falls, OR
today I went to the dominos on washburn way in Klamath falls. When I walked in, music was blaring so loud , it was hard to concentrate on the menu. I ordered a pasta breadbowl and an Italian sandwhich. I asked for double the meat and paid for it . The young lady asked me four times what I ordered. each time I told her the same thing. Even after taking my credit card she asked again what I ordered. There were four guys in the back cussing very loudly at each other about a delivery. It was very uncomfortable listening to them talk that way in front of customers. After getting home I discovered that they did not double the meat and I fully expected that and had asked the guy who made the sandwhich when he gave it to me if he doubled the meat, he said he did. My fault, I should have looked before I left. Kids these days have no pride in there work and just throw things together . I feel these kids were not properly trained to do what I know is an easy job. I worked at Abbys pizza before I joined the Army in 1981 and we never behaved in that maner. We would have been fired on the spot. Anyways just airing out my frustration. Thankyou. Jon Martin

suzanne schmidt
from Bedminster, NJ
the manager was very rude to a disable person and that person is my mom name is Suzanne Schmidt and my name is Joshua Schmidt u can contact me at joshuaschmidt385@gmail.com and my phone number is 5636769766
the place said that it would take up to 45 minutes and the manager said when we try to do a complaint he said never call back and the pizza was cold and a little under cook but very rude sever please take care of this or please get a hold of me and the manager never said his name and the address is 1926 Brady street 52803
please fix this because this was the worst service we ever had!

Sheila Fritsvold
from Phoenix, AZ
I ordered a side order of Banana peppers, And they brought the wrong kind .I know I have ordered Banana peppers before from them now there telling me they don't do side banana peppers! And instead of offering my money back they want to Credit me .No either bring me the banana peppers or my money. I'll never order from them again.

Jay Jay
from Drexel Hill, PA
get better people I never dealt with so much disrespect from these people I highly not recommend this place this place should be reported to cooperate after 5 times hung up the phone and lied that we never tip them smh I was so pissed off at these people and even come from a general manger so unprofessional plus they messed up our order and ontop of that they offer a discount to replaced something they made do not give them there service they do not deserve it screw dominos pizza we even called other dominos they suggested we should called cooperate on these people at first we have been ordering them since they moved there at the beginning they were great we have no problem all the sudden now we been having problem yess I could understand if it was 1 or 2 or even 3 times messed up things happen but not something like this tonight it was hell they need to treat there customer with more respect I hope they see this as well and learn how to trained there staff and even manger as well but never ever again Iill be ording from them if I were you do the same as well don't order from dominos

Victoria Juarez
from San Antonio, TX
Ordered pizza n had it delivered when it was delivered they said by the way we dont deliver in ur area but we did it cuz were slow . I left it at that started to eat my pizza n it was the total wrong order so I called n complained n they said they were sending a new order out so I waited an hour n still no pizza so I then called n they never had a pizza being sent out n was told to write a complaint online

I order lunch from Domino's Pizza shop on 146 Smith Street Brooklyn New York 11201. I order Bread Stick and Chicken. The chicken was not cook well. Called them the lady said no one else complaint and I didn't say well done. Who says well done for Hot wings. She was very nasty. Thought chicken is suppose to be cook before it given to the customer. I wanted my money back she said no. I didn't have no lunch. I was not eating raw chicken. Please handle this matter.

Tonight, April 1st at 6:15 pm my daughter ordered a Domino's pizza online. The wait time was 57 to 67 minutes. At 7:29 (on hold for 12 minutes) she called to find out what was going on. The guy at Domino's answered with "We've had three people quit. It's a 3 hour wait for pickups and a 4 hour wait for delivery" This is the THIRD time this year people have quit. What is the issue with Domino's? Why do people constantly quit? They need to evaluate this location and find out what the heck is going on. One more issue like this and we will o longer order from Domino's no matter where we happen to be. We really enjoy their pizza but this is enough!!!

Alley Hunsinger
from Riverside, CA
When i called and ordered the wait was an Hour once we got the pizza half of the pizza was correct I ordered I got the 2 cheese pizzas but my other 2 pizza were not correct I ordered 2 cheese and Pineapple but i only got one and the other one was cheese and Pineapple with ham but i didn't want nor asked for it and then when my mom call a girl answered the phone put her on hold then hung up so my mom tried again the girl said after she answered the phone said to another co worker "i don't know what to tell her" and then hung up but before that my mom asked to talk to a manager and then they hang up on her. So again my mom proceeded to call them again so this time a guy answered the phone this time so my mom re ask to talk to the manager and he tells her "oh well there is no manager" then he proceeded to ask her "did you eat it" but my mom had said before he asked that that she was allergic to ham. Then my mom said how mad and livid she was about the pizza and he go on disrespecting her and saying "How livid" like that was rude then he accused me of asking for coupons that i had never asked for and when i did order the person on the phone never told me how much is was and just hung up. And again the guy on the phone with my mom said that some employee don't care and don't have to offer the coupons if they don't want to. and that whenever someone is going out to delivered or whenever someone wants to and you could hear the girl from before laughing. They also said that they wouldn't recredit the card that they over charged and on TV its shown for 5.99. I don't plan on ordering from there again or doing business at dominos on felspar in Jurupa valley ever again and i request that they are either fired or punished for their actions.

Harold McIntyre
from Tavares, FL
I called corporate and made a complaint about a franchisee and was told someone would get back to me from that location well that never happened so why bother taking complaints at all I'm TOTALY DISGUSTED with the hole company No resolve or returned contact. A simple apology from the manager would go a long way I guess they don't care about costumer service or satisfied patrons

jeff fowler
from Spanaway, WA
Ordered 2 large specialty pizzas on 3-24-19 from the Graham, Wa. 98387 store and was very unhappy with the finished product. One was the Memphis bbq pizza that had very little bbq sauce, minimum toppings, and very little cheese. The second was the Meatza pizza that again had minimal topping and very little cheese. The only positive was that they were on the 50% sale because in my opinion I only received half of the toppings. I have order from this store several times and the last 2 times have been horrible. It is doubtful that I will be returning . I could have bought a store pizza and been happier. Jeff Fowler

The help us rude.can't get my order right. Terrible food in Kingston wa.

Alan Casey
from Brisbane, QLD
I purchased a pizza from the Mt Ommaney store in Queensland tonight and to get straight to the point it was disgusting.
The only good thing about the order was the Pepsi,the pizza looked like the toppings were dropped from a ladder onto the base,
and the amount of grease that come out of it made it in my opinion un eatable,a $35 pizza went in the bin.
I think you should maybe send someone with some authority to check out whats happening in the store ,before someone gets sick
from eating this sub standard product.
Thankyou Alan Casey.

On 3/17/19at approximately 5:00PM, I ordered a pizza on line for $7.99 from Dominoes in Agawam, Mass. on Springfield St. as I have done many times in the last 6 months or so. When I went to go pick up the pizza , the car did not start. I immediately called Dominos and I spoke to a female then a male. I explained the situation and he said they would deliver, (I lived 5 minutes away) for $3.00. I said ok but we now had someone to jump the car and I will call him right back. The car would not start so I called back and explained situation to another person and he said it would cost $18.78. I asked about the $3.00 and he said the coupon was ordered on line and could not change it. I pleaded for understanding as I was in a situation and was a customer and could they please help me. I said I would try to find someone to help me. I called a 3rd time and spoke to another person (male) and he said the cost was now $21.??. Can't remember the amount. I said "so you cant help me" and he rudely said NO. I asked for his name and it took him about 5 seconds to answer. He kept saying " my name is..my name is..my name is Heath (I think). I said " you had to think about that?" I finally got my grandson to pick up the pizza which was a little well done. Not a big deal. I guess my complaint is the rude manner in which the whole situation was handled. And the price kept going up! There is no personal touch anymore. Just being neighborly in our small community would go a long way. I hate to think that Dominoes is just another big corporation with no heart or have compassion to help out one of their customers occasionally. Thank you for reading my email
Ronald Piteo
478 Cold Spring Ave.
W. Springfield, Mass 01089
413-739-3105

Jack Leibl
from Brookfield, WI
I ordered a pizza delivery to my residence on 3/12/2019. I have ordered from that location on many other occasions and the service was generally good. The delivery was usually on time and satisfactory. However, on my latest delivery order, I waited for approximately two hours before I telephoned the store to inquire about the status of my pizza delivery. I was connected to the manager who was VERY rude, wouldn't let me explain the problem, and blamed ME for the fact that the delivery person wasn't able to locate my place of residence. His argument was that I failed to provide a phone number at this particular place. The reason for that is that I live in an assisted living facility and there are no personnel to answer the phones after hours. I'd like to note that my location is approximately TEN blocks away from the Domino's location. Straight down the street!! I would recommend that you find more intelligent drivers, provide them with maps, take away their dope, or get them GPS. The name of the obnoxious, combative, and uncooperative manager at that store is Dontrell Richardson. I hope you deal with him appropriately. The address of the store is unknown to me. It is located at 76th Street and Mill Rd. in Milwaukee, Wisconsin. Thank you.

Tyree Bonner
from St. Petersburg, FL
when I called dominos pizza in st.pete fl...9th st southside about 945 pm a young man answered the phone and took my order as I told him that it was for my kids he told me hold up a couple of seconds and after 10 min I realize he wasn't coming back and afterwords I tried calling back but no answer!this is the 2cd time...I try n not complain because I know people need there jobs but yall be hiring some nasty gedo as people down there and need to fix it please and thank you.

Hattie Williams
from Moss Point, MS
On 3/7/19 around 8:30 p.m. I had my grandson order a pizza and it was not delivered until around 11:00 p.m. This is not acceptable. You advertise fast service but this was not fast. The address was to 1106 1106 Tree Lodge in Lithia Springs, GA and it was charged to my credit card. I don't know what happened that night but this was a bit too long especially since my grandson had to go to school the next day.You need to credit my debit card or deliver my grandson a free pizza. Thanks for your time and consideration. Hattie Williams

Natasha Wilson
from Taylor, MI
Ordered from the Taylor location all the food was horrible and burnt very unsatisfied

Susan
from Manchester, KY
We absolute love dominoes girls. We eat there once a week sometimes more. We spend almost 40.00 each time. Our last order on Saturday or Sunday. The pizza was like cardboard, burnt not much sauce. Our HOGIES were burnt sauce, cheese not melted, meat was so burnt the ends curved up, we couldn't even eat most of it. I don't understand why they sent food out like that, I'm a regular as well. I don't like to complain, but it's nit right. I work hard for my money. I've been a server fir 30 years, customers are important. Thank you.

Katelyn Bacon
from Holyoke, MA
3/4/19- I ordered from dominos in Holyoke, MA on Appleton Street at 7pm. We got our order delivered and we were missing the marinara sauce for our cheesy bread. Mind you it took over an hour for us to get our food to begin with when online is stated that it would be ready in 30-45 mins. We called and explained that we don't want to wait another hour for the sauce if we can get a new order of cheesy bread with sauce and we would return the old one if need be. She said it's fine, but it would take 30 mins. Okay no problem, so we waited 35 mins and called back. The manger Melanie told us the driver just walked out the door and has to drop off a couple orders before ours and it'll be there soon. WHY HAVE I ALREADY WAITED 40 MINS WHEN I WAS TOLD 30, AND THEN HAD TO WAIT ANOTHER 20 FOR IT TO GET TO ME. We called and asked for a refund instead of keep waiting it's already been 2 hours. She told us she would have void it and recharge me for everything and I wouldn't get my money back for a week. When confronting her on this, because last time I had a problem to took care of it and I wasn't charged double for a week, she hung up on me. I called back and she had one of the employees answer and put me on hold for 10 mins, so I hung up and called back. He answered again and said he was the manager so my boyfriend took the phone and tried explaining the situation to him and she ends up taking the phone and yelling at him. She is VERY unprofessional and this isn't the first time we've had a problem with her. We got our cheesy bread and just threw it out because they're known for fucking with the food when things like this occur. If nothing happens to her Dominos will lose us as customers and we will let everyone know how shitty our expierience was. We shouldn't have to go through this, and we tried being nice about it and she was just rude as hell.

Susan Galloway
from Brunswick, OH
I ordered two pizzas total was $14.73. on 3-2-19. From store # 2453. I spoke with manager Jonathan. I told Jonathan that both pizzas were not hot and they were not what we ordered.
I asked him for a credit for two pizzas.
He answered"You just want free food"! I am a great customer here in Berea Ohio and in California. This manager needs ALOT of training. !
I not only want two pizzas credit but I want an additional two pizzas for the way I was treated by your employee.
My phone number is 310-502-9738
and my address is :P.O. Box 66
Berea, Ohio 44017
Thank you
Susan Galloway

3/1/2019
Ordered pizza online and it said the delivery wait would be 21-31 minutes, At the hour mark, we began calling the store to see where the pizza was and the phone just rings and rings. We spend around 10 minutes trying to call and no one answers. We call another location nearby who says they are probably just busy??? We then spend another 10 minutes trying to call looking for our pizza. Needless to say 1.5 hours and we still have NO food. Absolutely ridiculous! If and when someone shows up with this food, we will be sending it back to Dominos and expecting a refund of money!!!!!!!!!!!!!!! I understand busy but no one answers the phone??????? I have heard about their specials 15 times now trying to call them! Will NOT order again!
********Update......driver shows up after 1.5 hours with the pizza and says they are busy. We sent the food back and asked for a refund. We are still trying to call the actual store to speak with someone and are still unable to get anyone to answer the phone!!!!!!!!!! WTF?*******************
*****Still unable to speak with anyone on the phone, nearly 2 hours after we initially ordered our food!!!!!!!!!!!!!*******

Sandra Davis
from Kennesaw, GA
On Thursday afternoon. I ordered a large thin crust pizza with peperoni and a double order of bacon to be delivered to my address. This is my standard order of choice for more over five years. When the pizza arrived. I tipped the driver, and joined by family in the kitchen. I was disappointed to find that my order was burned and uneatable. I contacted the 3545 Canton Road store in Marietta, Georgia, and was greeted on the phone by a representative that argued with me that my pizza wasn't burnt, and that type of pizza was crispy around the edges. When I challenged her about the condition of the pizza I received. She became even more annoyed and advised me to calm down. This added insult to injury.
I requested a manager, who came to the phone, and she advised me that if I wanted my pizza replaced. I had to bring it back to the store. I replied. Why on earth would I bring a pizza to your store when I paid for a delivery and tipped the driver. I have fulfilled my obligations and was disappointed that Domino Pizza had fallen short on their end. I advised her that I wouldn't bring the pizza to the store and I would contact Corporate, because after being a domino pizza customer since 1986 I felt the service was not what I felt corporate would be satisfied with.. As she was hanging the phone up on me she express her dissatisfaction of communicating with me via the phone. I'm attaching photographs of my pizza which I threw in the garbage. I took my loss and ordered another pizza from your competitor, which wasn't as good as my domino's but surpassed you in customer service. If this if the attached picture were what I have been receiving in the pass. I assure you I wouldn't have never ordered a second one. I was truly disappointed in the quality service I received. I was robbed and berated.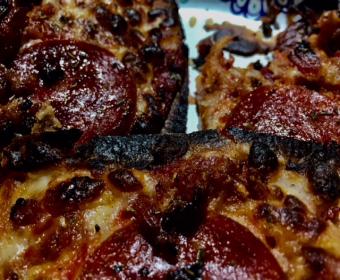 Erica Perez
from Sacramento, CA
I'm a regular at Dominoes pizza on 7250 fairoaks blvd. Carmicheal Feb 21st I had a pizza delivered to me the delivery guy named David gave me some herb I gave him My number he was txt me sexual stuff I have all the messages..

Kenneth Kartheiser
from Port Clinton, OH
On Friday February 22 2019 We ordered two Pizzas and chessy bread from store # 2412 in Port Clinton Ohio. When I took my first bite of the cheesy bread a foreign object, (later identified as a small piece of plastic) snapped off my new front tooth implant and it was swallowed by accident.
I found the piece of plastic right away before I swallowed. (I did not realize at the time my tooth was missing. My wife ran in and asked what happened to my tooth and I freaked out. So far I have not ,or probably will not recover the tooth.
Here is all the info I have
Dominos store #2421
Phone # (419) 960-7992
Order # 14796
Time : 7:17 PM
Card # ending 1652 Ref #160097585981
Phone # on slip (419) 341-5367
contact # (419) 734-4808
Please Email me with a solution to this problem as soon as possible.
I did talk with the Manager and she told me she would send out a new cheesy bread at no charge, I refused and asked If she could send me a new tooth, she replied no, contact corporate office
I await your reply.
Sincerely
Ken K.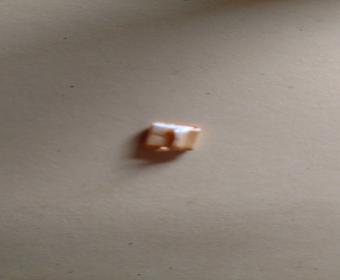 my girlfriend ordered food and it was delivered, but it was wrong and she notified thestore and they said it would be sent out right away, it's been 2 hours since then and when she called back the girl got ignorant and cursed at her and said she will f@$king get it when it gets there and she should be f@&king happy if it gets there at all and hung up on her, this is from the store in Millville, n.j. 08332

Sent a salesman from my office to pick up pizza. The store was full of customers with one person working. Waited 30 minutes to place order and the person working kept calling other workers on what to do. Oizza come under cooked. We had to cook it in our toaster oven 2 pieces at a time. This was not a Dominos pizza. Actually it tasted awful. Something has got to be done in your Naoa , Ca. store. Ve3ry bad.

Amy Granger
from Longmont, CO
Good Afternoon.
I live in Longmont, Colorado and always use the Domino's located at 1106 Main St. Longmont, CO 80501. They deliver an incorrect order 8 out of 10 times. On average we order 3-4 times a month and have started to tire of always feeling like we have to call and feel bad for complaining or just accept an order we are less than satisfied with. Today was no exception and I chose to call.
I called and a woman named Traci answered. I explained that we did not receive our frosting with our cinnamon twists, that normally that would be trivial and I would hate to run someone out for it but that it's happened so much I could no longer just let it go. She said someone would be right out with it. A few minutes later I noticed that Domino's had called and I had missed the call. There was no voicemail so I called back and once again got Traci. She said the call was simply to tell me it was on it's way.
When the delivery driver arrived she stood at my door without handing me the icing, which was in her hand, and told me that her manager wanted her to tell me that I did not order the icing but that he was going to send it anyway. Still holding the icing and reprimanding me, she told me that I had clicked that I did not click on it and should have and that's why I originally did not get it, but that her manager said this time it was okay to bring it back out to me. When she was done telling me how this was all my fault but that "they would make an exception," she handed me the icing. Then I let her know that it was not her fault, but that her manager shouldn't be sending an employee out with messages and leaving it to them to face customers and tell them that they are to blame for issues regarding orders. I apologized to her for being upset and her having to relay the message, but that I would be calling her manager.
I did. I reached the manager and explained the above situation to him. He claimed that he was the one who called me back and was trying to explain that it was my order which said I didn't want the icing but that he received my voicemail. I had enough. It was clear he didn't care and simply wanted me to understand it wasn't his problem, so I let him have it. I told him it was unprofessional to send an employee out with his message, that if he received a voicemail then he should have left one, that I NEVER receive the correct order and that's why his store has a two star review, and that I had no intention of using his services again. Additionally, I explained that I always use the coupon that provides two med, one topping pizzas, pop, garlic bites and cinnamon twists for my kids. It's their favorite. And that I always add a few toppings and dipping sauces. Typically that system pops up the bread items individually and I can see that icing is on the order. Today it was not so. Today was the first day that the system simply added those items when I was done building the pizza. It was different than I was used to but I assumed it was just the new way it worked. And because the cinnamon twist come with icing I didn't investigate, but I certainly didn't go in and take it off. I place the exact same order every week and never make that selection. So I told him that instead of explaining to a customer why it's their fault, simply send your driver out with the icing. Don't send her to face customers with your messages, don't stand and reprimand them while you withhold icing until they listen, don't call and fail to leave messages, and don't be angry with me when you get my order wrong again and I call angry. The manager offered no apology and continued to explain that it wasn't his fault.
I will never use his store again and may not order from Domino's again. We are surrounded by great places to order that are not full of frustration. The customer service is unbelievably appalling and it's represented in the ratings. It's unfortunate that another customer is gone in an already competitive market.
Amy Granger

On Super Bowl Sunday it took over three hours to deliver our food it arrived after the game was over everybody left without eating and when the food finally got here I had a backup plan already so I didn't buy it my complaint was I am sure Dominos knew it would be very busy that day and our service was very poor. My first job out of high school was at Dominos Pizza and the manager always overstaffed we never had this problem with service also I ordered online don't know if that was the reason for the delay but over three hours not excusable I would have tolerated two hours but not over three. Hope Dominos can improve customer service

I order a Specialty Pizza the Memphis BBQ Chicken and there was little to no BBQ sauce on the pizza. I also order a handmade pan extra cheese pizza and there was little to no sauce on the pizza. I have order many pizzas from Domino's in the past and I have never experienced a problem like this before. This was our first time trying your Memphis BBQ Chicken pizza and I am very disappointed. The pizzas were ordered from your Domino's store #4885 4229 Tilghman Street Allentown, PA 18104. I would like to see some compensation for my disappointment.

on friday night 02/08/19 at approximately about 9.30 pm .I walked into the Domino's establistment at Montgomery and Nostrand avenue i bought a pizza for 10.88$, and they changed me 1,088.00$. I went to my bank the next morning and they asked for me to go back to the store to rectify the mistake. the manger of the store was nasty and obnoxcious and was no helpful. And for that reason i will never buy from Domino's again. I was told by his subordinates that his name was Espinaze. Somebody of this nature should not be working at any of your establishments.
nygell charles
concern customer.

Mark Boudreaux
from New Iberia, LA
My wife went into a local Domino's and ordered a 3 topping hand tossed pizza and was charged full price of $17.00 plus taxes. She was not informed that the every day walk-in special was $7.99 plus tax. I called the store and asked what was the price for a pick up pizza with the same toppings and was told it was $7.99. I then asked why was my wife charged so much and they indicated it was because she didn't ask for the price. I was told by their general manager that unless a customer asks the price or if they have coupons, they charge the full price without offering a lesser price. One, the manager was very rude on the call, and two, this seems to be a terrible policy and is not consistent of my experiences with Dominos at most other locations I have used. If this is supposed to be your company policy to not inform customers of prices, then I think I will choose another vendor. I hope you can alleviate my concerns and I hope you can better train managers of dealing with customers. If she were my employee I would have fired her.

Paula
from Port Chester, NY
I used a coupon to order dinner from the Port Chester, New York store. $19.99 -- 2 med. pizzas, bread sticks, cinn. twists, and a soda -- and three marinara sauces (for the bread sticks). I order placed at 6:15 p.m. and was told 45 minute delivery. 1 hour 5 minutes later order came. First thing I noticed was no soda. I ran after the driver to get the soda .... he did not have it. Next thing was no sauce for the bread sticks. I called and the manager was very decent over the phone. He offered to send the soda and sauces over but it would be at least 25 minutes. LOL. Back and forth and he promised me a $5 credit back to my card. So, now we sit down to eat. Tell me -- would you put garlic sauce on cinn. twists???? Yep -- that's what was sent ....garlic sauce. So I now have 1/2 of a plain med. pie and 1/2 of a pepp. pie (because there was no soda), almost all of the bread sticks (because there was no sauce), and half of the cinn. twists (because no icing) as leftovers. And -- you charge $4 for delivery!!!! So the $19.99 deal ended up being $27.95. Hmmmmm.....$4 delivery fee, $4 taxes??? and then the $3 tip. Turned out to be a much more expensive dinner than I calculated on. If my family ate everything -- I wouldn't be so upset. The manager did try to do right -- he offered me $1.53 back because of the soda -- and ended up promising me $5 back -- he even offered me $3 off my next order .... but yeah, there won't be a next order. Suggestion -- hire people who speak English clearly and can take an order properly, hire people who know the area for deliveries instead of taking the scenic route, and yep .... the all important one -- hire people who can read so they can see the difference between garlic sauce and icing. Now I feel better .... disappointed, but at least I got that off of my chest. By the way -- you should give people the option of rating no stars.

Steven England
from Oxford, PA
i order dominos all the time every couple months the mess my order up ,ive got the free pizza and extra free stuff. i just get tired of going to get the order and they say we do not see your order. Why cant people do there job properly Please call me 484 643 6118

Nilda Dumas
from New Iberia, LA
My complaint is that I order online and at pickup time there were 2 girls standing at 1 of the drive thru windows. So I proceed to the next window. I waited for a long period of time. One of the workers was moving things around and saw me but never intended to knowledge me. We notice they were helping the other window and we drove to it. We sat there for another 5-7 minutes. They saw me we such a hatred. I'm Hispanic and I'm now thinking that's the reason nobody came to help. I love your company. But, if I'm going to be treated and discriminated I won't ever come back. I'm going to make sure this is going to be exposed. Nobody deserves to be treated as bad as the 5 employees did to us.

Terry Barnett
from Odessa, TX
My complaint is about the location in West Odessa, TX at 9001 W. University Blvd, 79764. Today, I ordered a pizza that I earned with points. I also ordered some chicken bites, and added a cup of blue cheese for dipping. This location is app 1/2 mile from my residence. I waited until the tracker showed 10 minutes or so left after the progress showed it was in the oven.... Drove to the location, there was one vehicle in front, and no cars at the drive up window... I opted for the drive up... to pick up my carryout order. I waited 10 minutes minimum for someone to even come to the window. I told them my name, took another couple of minutes to find my order, then they said they did not have change so the girl had to get another employee to bring my change... That clerk tried to tell me he didn't have change, so I told him I would wait. (At this point it seemed they were counting on me saying to keep the change, but after the poor service,... there was no chance I would tip someone for slow service)... Then when I got home, I did not get my dipping sauce... so I got screwed out of the cost of that...
So, the reason for this is to ask, have you ever done an "undercover boss" type situation when there are problems at a location? This one needs serious help, I only go to this pizza location about once every month or two because of bad experiences every time I order from there. I usually don't complain, but I am at the end of my frustration after today's visit. Most times when I want pizza, I drive 4 miles into town to get it from one of your competitors more often, because of the poor service at Domino's.... please, please follow up and put better service personnel in this location.

Eric Bowman
from Minneapolis, MN
I ordered a pizza and wings for carryout from the Blaine, MN location. I asked if after taking the wings out and putting sauce on to put them through the oven another half revolution. They said they will not do that, store policy, but they were also extremely rude. I said I wanted to cancel and the guy hung up on me. Called back to speak to the manager and told him the guy hung up on me to which he replied "well you called to cancel, didn't you". This is by far the worst customer service I have received in a long time and I hope you will consider a restructure at the store. I used to manage a Dominos and would do things like this for the customer because it is how they like it and will keep them coming back. The service was terrible and I hope you guys take action on this. Seems to be a common problem looking at reviews of this location.

Birk tab
from Minneapolis, MN
Went in to night and orderd 3 sandwhices and a 2 lieter if coke . bill was $ 20 somthing.
(Cary out not delivery) mind you tried to pay with good old american curency. 100.00 bill .the worker told me they cant break the bill.
I said why they said it was DOMINOS policy not to except 100 dollar bills. Mind you they had change it was 630 at night dinner rush was was going on. I asked for the manager. Because you must have change for a hundred.after collecting money all day and hslf way thru dinner rush. She insited she did not .i was asked to leave as i was leaving several employees started to snicker and heckel me. I turned around and asked what was said and people tried pushing me out the door .at that point several words were exchanged. I left .end of. Story....now how could this possably have been your policy. Mind you im in a town that has one of the lowest crime rates in the state. And what makes matters worse i was there on buisness so the people with me were embarrassed to no end.. Is this your pollicy to not except 100 bills at carry out . you should put up signs at the store informing customers so they dont have togo thru this type of. Embarrassment. I came to you to enjoy dinner not tho be shunned and escorted out . thanks for reading

Gemma Brighton
from Sheffield, ENG
Customer service was absolutely awful. Not organised no acknowledgement of customers by minimum 4 staff in store. Looking and aware of customers far too busy chatting.

April McLamb
from Raleigh, NC
I would give zero stars if possible. This is the second time I have ordered a pizza from store # 8855, in downtown Raleigh, just to have it canceled both times, due to no delivery drivers. How can they not have delivery drivers at a Pizza place? This is ridiculous!!!! You have forever lost my business downtown! Surly you guys hope to stay in business?
Thank you!

stephon sellers
from Dallas, TX
I ordered a pan pizza and 2liter got a hand toss. Told the driver the order was wrong after signing my receipt asked him to take it back. He tells me to cancel the order and try's to force his way inside my home to get the 2liter. I tried closing my door twice yet he still pushing on my door. This is not professional nor good customer service skills

annette
from Covington, TN
Made an order at 10:59pm and at 11:45pm I called asking about my order and realize that I was not going to get it...some violin excuse about the delivery driver had to leave early...really...this location has only one driver? Pathetic excuse and the manager named Jodi didn't even offer me any consolation for the mishap on their part. Yes. I have not updated my profile with my number but still she could have made some kind of attempt to rectify things. I should have went with my first mind and gone to Little Caesar's! Your Covington Tn location...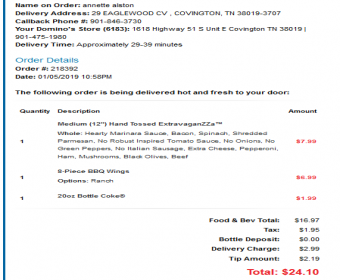 Charles Hallmark
from Bedminster, NJ
You advertise that a three topping carry out is $7.99 but when I go to the store to order a three topping they tell me bacon is a premium topping and it is extra. Nothing in your advertisements exclude certain toppings.

James campbell
from Indianapolis, IN
last night i ordered a large pizza with three toppings i was charged 26 dollars and there was very little topping on my pizza its the worst i have ever had i will never eat your pizza again in life and i will post on facebook warning others not to patron you establishment happy new year
Have feedback for Domino's Pizza?
Thanks for your feedback!
Sorry. Please try again later!