Domino's Pizza
Domino's Pizza Complaints Continued... (Page 5)
390+ reviews added so far. Upset? Call Domino's Pizza corporate: 734-930-3030

Terry Barnett
from Odessa, TX
My complaint is about the location in West Odessa, TX at 9001 W. University Blvd, 79764. Today, I ordered a pizza that I earned with points. I also ordered some chicken bites, and added a cup of blue cheese for dipping. This location is app 1/2 mile from my residence. I waited until the tracker showed 10 minutes or so left after the progress showed it was in the oven.... Drove to the location, there was one vehicle in front, and no cars at the drive up window... I opted for the drive up... to pick up my carryout order. I waited 10 minutes minimum for someone to even come to the window. I told them my name, took another couple of minutes to find my order, then they said they did not have change so the girl had to get another employee to bring my change... That clerk tried to tell me he didn't have change, so I told him I would wait. (At this point it seemed they were counting on me saying to keep the change, but after the poor service,... there was no chance I would tip someone for slow service)... Then when I got home, I did not get my dipping sauce... so I got screwed out of the cost of that...
So, the reason for this is to ask, have you ever done an "undercover boss" type situation when there are problems at a location? This one needs serious help, I only go to this pizza location about once every month or two because of bad experiences every time I order from there. I usually don't complain, but I am at the end of my frustration after today's visit. Most times when I want pizza, I drive 4 miles into town to get it from one of your competitors more often, because of the poor service at Domino's.... please, please follow up and put better service personnel in this location.

Eric Bowman
from Minneapolis, MN
I ordered a pizza and wings for carryout from the Blaine, MN location. I asked if after taking the wings out and putting sauce on to put them through the oven another half revolution. They said they will not do that, store policy, but they were also extremely rude. I said I wanted to cancel and the guy hung up on me. Called back to speak to the manager and told him the guy hung up on me to which he replied "well you called to cancel, didn't you". This is by far the worst customer service I have received in a long time and I hope you will consider a restructure at the store. I used to manage a Dominos and would do things like this for the customer because it is how they like it and will keep them coming back. The service was terrible and I hope you guys take action on this. Seems to be a common problem looking at reviews of this location.

Birk tab
from Minneapolis, MN
Went in to night and orderd 3 sandwhices and a 2 lieter if coke . bill was $ 20 somthing.
(Cary out not delivery) mind you tried to pay with good old american curency. 100.00 bill .the worker told me they cant break the bill.
I said why they said it was DOMINOS policy not to except 100 dollar bills. Mind you they had change it was 630 at night dinner rush was was going on. I asked for the manager. Because you must have change for a hundred.after collecting money all day and hslf way thru dinner rush. She insited she did not .i was asked to leave as i was leaving several employees started to snicker and heckel me. I turned around and asked what was said and people tried pushing me out the door .at that point several words were exchanged. I left .end of. Story....now how could this possably have been your policy. Mind you im in a town that has one of the lowest crime rates in the state. And what makes matters worse i was there on buisness so the people with me were embarrassed to no end.. Is this your pollicy to not except 100 bills at carry out . you should put up signs at the store informing customers so they dont have togo thru this type of. Embarrassment. I came to you to enjoy dinner not tho be shunned and escorted out . thanks for reading

Gemma Brighton
from Sheffield, ENG
Customer service was absolutely awful. Not organised no acknowledgement of customers by minimum 4 staff in store. Looking and aware of customers far too busy chatting.

April McLamb
from Raleigh, NC
I would give zero stars if possible. This is the second time I have ordered a pizza from store # 8855, in downtown Raleigh, just to have it canceled both times, due to no delivery drivers. How can they not have delivery drivers at a Pizza place? This is ridiculous!!!! You have forever lost my business downtown! Surly you guys hope to stay in business?
Thank you!

stephon sellers
from Dallas, TX
I ordered a pan pizza and 2liter got a hand toss. Told the driver the order was wrong after signing my receipt asked him to take it back. He tells me to cancel the order and try's to force his way inside my home to get the 2liter. I tried closing my door twice yet he still pushing on my door. This is not professional nor good customer service skills

annette
from Covington, TN
Made an order at 10:59pm and at 11:45pm I called asking about my order and realize that I was not going to get it...some violin excuse about the delivery driver had to leave early...really...this location has only one driver? Pathetic excuse and the manager named Jodi didn't even offer me any consolation for the mishap on their part. Yes. I have not updated my profile with my number but still she could have made some kind of attempt to rectify things. I should have went with my first mind and gone to Little Caesar's! Your Covington Tn location...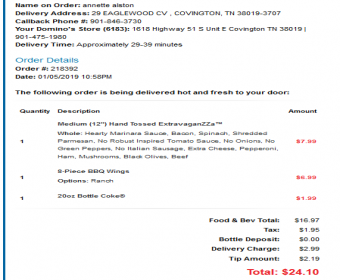 Charles Hallmark
from Bedminster, NJ
You advertise that a three topping carry out is $7.99 but when I go to the store to order a three topping they tell me bacon is a premium topping and it is extra. Nothing in your advertisements exclude certain toppings.

James campbell
from Indianapolis, IN
last night i ordered a large pizza with three toppings i was charged 26 dollars and there was very little topping on my pizza its the worst i have ever had i will never eat your pizza again in life and i will post on facebook warning others not to patron you establishment happy new year

gordon w yocum
from Calumet City, IL
on this date I ordered 3 pizzas from the store in Lansing, Il.
1 hand tossed med sausage & Pepperoni
1 hand tossed med Sausage & Pineapple
1 pan pizza med with Sausage & mushrooms
all were to be cut in squares. I order this way because there are small children here and it is easier for them to handle the pizzas.
this is what I received
2 hand tossed with sausage & Pepperoni
1 hand tossed with Sausage & Black Olives there was NO pan pizzas and NONE were cut into squares.
Papa johns, Pizza Hut, Little Ceasers and several non chain pizza stores in the area.
The pies I got were very good but not what I ordered. I did not call the store because i have called in the past and all I got was lip service
Please either hire some one who can read English or a manager who does a better job of overseeing his operation
Gordon Yocum 708 868 0873

adam grayson
from Jacksonville, FL
Was fired for not showing up on a day that i never worked . Plus the GM is dating one of the insiders and she gets the special treatment over the other works. I don't think that is allowed or permitted in the domino handbook

Marlys Galler
from Port Saint Lucie, FL
Went to pick up a pizza today and the guy making the pizza was putting all
the items on all the pizzas with bare hands. This is unsanitary. I question this
and they told me the government gave them these instructions. Then he went
from making pizza to bringing supplies out from the cooler and then back
to making pizzas. Being a former owner of a fast food usually the Health
Department is involved in this. thank you!

Chip P
from Greenville, SC
Complaint for Dominos Pizza 356 W Main st Hendersonville Tn
This location in the last month has just got worse. The wait times have got longer, the attitudes of the employees are bad and it is easy to see why. The new manager is talking down to white employees and running them off and appears to be replacing them with black employees. I hate Racism of any kind and I will not support it. Sorry this location has lost a customer until this changes.

Incomaptant staff members and arrogant managers

Teddy mason
from San Antonio (North Central), TX
Dominos 15502 huebner rd. Two times it his I order on line pay never get pizza.Have to drive to store to get refund waited 2 1/2 hours on Monday had to go get refund and tonight same thing Going to get refund went order on line 35 mins going on 2 hours I am sick of it.

Kim A. Driscoll
from Needham, MA
On 12/4/18 I ordered a pizza with my phone to pick up at 271 County Street Attleboro, MA 02703. i picked up my pizza and drove home. When my son opened the pizza it was not the cheese pizza I had ordered it was a pizza made with a white sauce which we didn't like. So I called the store and ask if they could bring me the right one. First they said yes and then they realize I lived in South Attleboro and couldn't deliver there. I said okay what can you do for me then. The gentleman on the phone told me that he would put a note in the computer to give me a free pizza next time I came. To just let them know when I came in so they could look it up. I said fine and called the Domino's at 250 Mendon Road in Cumblerland, RI 02864 and had them deliver me another pizza. I usually order there on the weekend all the time it's a good store. Today 12/18/18 I placed an order at the County Street store on my way home. I had my points for a free medium pizza so i used that and order another pizza that should have been in the computer as a free pizza. The manager said it wasn't in there computer and I would have to pay for it. I said no I will just take my free pizza and I walked out. This store on County Street is always making mistakes on peoples orders. Last week I was in there forgot about free pizza but i ordered cinnamon twist and they made me cheese twist instead they did catch this mistake but I had to wait for them to remake it. While I was waiting 2 other ordered where also wrong that they had to fix. I order from Domino's once or twice a week sometimes 3 times a week because my son only eat pizza but if they can't keep there promises I'll go to Papa John's, Papa Gino's or Pizza Hut there all very close and it make no difference to me. I would like a response back from you.
Yours truly,
Kim A. Driscoll

HRUDYA DATTATREYA
from Hyderabad (Charminar), TG
This is the worst response from your end that i have ever seen before, earlier you only called me for the delays that happened before that complaint.and now you are not answering my call & rejecting my call.
coming to delivery i have ordered a pizza before 45 mins . the delivery have been done now.
Coming to taste of pizza, it's worse even .you have sprinkled the salt too much.

Nazmun nahar
from New York, NY
I work in dominos pizza store is03656.its a worst experience.they behave so worst.they don't accept new anyone.they treat so bad.a guy assult with me.i did complain to general manager he didn't took any action now he didn't put any schedule on mine.

Zavia Otey
from Roanoke, VA
I ordered a pizza and never received it , when I called dominos back the worker gave me a nasty attitude

ROBERT HOBOCAN
from Palmertown, CT
my son ordered some items at moes in dayville,ct He was told price and then asked if it would be more to add mushrooms to pan pizza. He was told it would be $20.47, he told them to skip. When I went there I was told it was $24.97- I said how could it be that if he was told $20.47 with mushrooms and he didn't get them. THE MANAGER THERE CURTIS GAVE THE WORST CUSTOMER SERVICE AND INSISTED THAT WAS IMPOSSIBLE.
I go there 2-3 times a week and have never had a bad experience like this at Dominoes. Curtis doesn;t believe that the customer is right and even though they made a mistake- insisted it was impossible.

Peggy Walton
from Rocky Mount, NC
I had a 50% off offer. It took almost an hour for the pizza to be delivered. Needless to say, the pizza was cold. Also, the pizza had so much garlic, it was barely edible.
At this time I am not sure if I will order again.
I am requesting a full refund of my money.
The Domino's store number is 8956 and the Order number is 286743.
Sincerely,
Peggy Walton

Shannon Recker
from Baltimore, MD
I ordered from Store #4603 (Pasadena, MD) today, December 1, 2018. The tracker showed our food was quality checked at 4:37 p.m. However, our food didn't leave the store until 5:04 p.m. (approx. 25 minutes later). Our food arrived approx. 25 minutes after that. The food was cold and dry. I spent approximately $40.00 on cold, dry food. I called the store to speak to the manager and he refused to speak to me. He told the young lady that answered the phone to tell me that he was too busy to speak to me. The GM's name is Jack Peddrois. The young lady apologized and told me that she asked him to please speak to me and he again refused. I don't know what kind of managers Domino's wants in their stores but this is absolutely unacceptable. Part of a manager's job is to deal with customers, good or bad, hear feedback and make changes if things aren't working. I have never called a store for a manager and have them refuse to speak to me. Mr. Peddrois has terrible manager skills. My children and I love Domino's, however, this store will never get my business again. I am just blown away that this manager would have total disregard for a customer.

Michael Miller
from Pittsburgh, PA
If using the Domino's app or website, if the company is going to advertise 50% off of online orders, it should be automatically taken off of the bill. You shouldn't have to search for a code when the order was obviously made online. I was charged full price for my order on 11/28/18 by the new Tyrone, Pa Domino's.

Vivian
from Fort Bragg, NC
The Dominos on Pope (Fort Bragg, NC) restaurant, Upon opening my Chicken alfredo pasta their wasn't adequate amount of food in there. It looked as if I had a half cup of noodles, only a few pieces of bite size chicken and burnt cheese. The dish didn't even make it halfway up the tin. I paid full menu price for half of a dish. I now see the below for the attachment, I didn't think to take a picture, hopefully this doesn't happen again but if so I will know to take a picture and make a complaint. I would like for you all to make the employees aware that they need to put together the full amount of food when they prepare food.
V/r
Vivian Pullen

beatrice sharp
from Mountain Home, AR
ordered online out of state when the delivery did not happen called to see why pizza was not delivered to my 10-year grandson's house sent pizza as a gift for him. the person answered the phone at the Santa Cruz domino pizza on mission street 831-429-9955 ask about the pizza he stated no one answered the door when it was delivered I asked him if they would go back he said he was charging me anyway and would throw the pizza away. everyone was home the pizza must have been delivered to the wrong house or it was never delivered at all he charged my card 3 times said he cancelled the charge but it still on my account. he was rude to me and my family when they called about the fact they were home at the time of delivery. rude, disrespectful did not offer to correct the situation.NOT that it matters to you but we have order pizza in the past but NEVER again!

Robert Spinner
from Jonesboro, AR
I live in Ridgecrest nursing home in Jonesboro Arkansas. We normally order 4-5 pizza's each week. I ordered 2 medium pizzas last night that were never delivered. I personally waited 45 minutes in the driveway reception area and nobody came down the drive; not one car. It took me 10 minutes to walk back to the nursing station and call the Domino's on 3000 blk of Johnson ave, zip 74201 spoke to Josh who said we weren't there so the driver came back. He said they called the Nurses desk at 2 different phone numbers and nobody answered, even though 4 people were at the desk. The people who were monitoring the phones said nobody called. Their jobs are also riding on their word. Th asst. mgr was going to charge me an additional $7 delivery fee and send me my cold pizza's They never delivered in the first place. It is impossible for a car to enter our 1/2 mile drive at night without being seen. 4 people swear the phone never rang. The driver lied. odometers should be checked on each delivery. In the old days pizza was free when later than 30minutes, The Domino's store didn't even try to deliver my pizza's; they should be free. By the way, $7 for a delivery charge is pretty high when the driver only needs go a few blocks. This was never solved. Josh and the assistant manager tried hard not to let me get a word in. Domino's is out as of now until this dispute has ended. Papa Johns deliver to us for less money; we will use them for now. Thank you for you're attention

Cindy Fournier
from Barre, VT
My husband and I was at the Domino's Pizza in ST J VT #3231 while waiting for our pizza and cinn twist. we was very unhappy about the workers. There was a lot of fooling around and complaining going on one male was complaining about how many hours he had to work to get a good pay check and the other two was throwing pizza crust to each other and when making someone's pizza with it then we was watching the board when our pizza would be ready and it had finished and went off the board for about 5 min's we had to go up a find out about our pizza and the person behind us had to go ask about his pizza after waiting about 5 to 7 min's for his after it went off the board

Darko
from Greenacre, NSW
I had ordered a pizza , garlic bread and churros by phone went to pick up items at fairfield heights dominoes , pizzas were ready 4 minutes after arriving which was good concidering i had only ordered only 10 minutes earlier . I noticed staff wearing gloves while handling food except for 1 person which ended up being a delivery driver helping the person cutting pizzas pack items while waiting for my churros i noticed as they came out of the oven he grabed them with his bare unwashed dirty hands and put them in the box and just clapped them clean and went to do a delivery , i made them make new ones i was absolutely discusted on seeing that let alone he is driving , handling moneys and then handling food without washing hands or wearing gloves

Ana
from Philadelphia, PA
i placed an order to the westmont site at 1030 am on 11/8/2018 to be delivered by at least 12noon, it is 1249pm the driver never called the suite so I can come up and get the pizza, when I called the westmont at 856-854-5600 i was placed on hold four times and never your employee picked up. i spoke with megan several times before because the pizza was not delivered, she 1st said the oven is not working and the pizza will be delivered by 12 noon. no one called , when i called again your ruddest man ever with a heavy middle eastern accent picked up. i asked what happen with the pizza he said i was there i came back. i told him no one called, and i kept calling the office and no one after being placed on hold 4 times picked up the phone. i asked for refund he said i am doing that now! i asked for the store manager he refused and said we are too busy.
i asked for the manager he refused all three times.,
i work in huge medical facility, customers are treated with respect and not rudeness and with ignorance. this site of yours needs customer skill training. i am also placing this on facebook everyone needs to know the type of manners and unprofessional service it is received from your westmont site.,

James Lewis
from Lake Saint Louis, MO
We order 2 pizzas ...1 hand tossed and one thin crust....the thin crust was supposed to have x sauce x cheese onion green pepper bacon and pineapple. Well the thin one arrived with sausage green pepper ham onion pepperoni mushrooms. Not exactly what I ordered. No one seems to care at the store, oh sorry.....great customer service. 6366974745. Gave one star none lower. And to think we order from this location all the time. I am thinking of checking out Papa Johns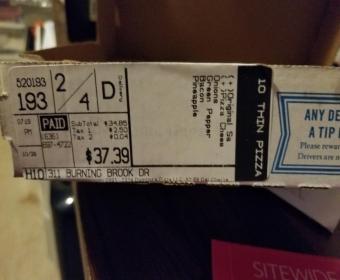 michele Bloise
from Albuquerque, NM
I received my med. pizzas and they were burnt so I called and had them bring me new ones - they were awful - crust was burnt and ham and pepperoni were over cooked and tasted old :-( --- they moved from Indian School to 12th st. and now it's not any good - wish I didn't have kids to feed when I was sick - wouldn't have had such awful food to feed them :-(. they are over cooking the pizzas - please let them know how disappointed me and the kids were - thanks .

Roxann Cheeney
from Minneapolis, MN
Your service is HORRIBLE! I ordered a pizza and it took 3 hours to get to my house and was stone cold. I live 1 mile from the location, it is a 4 minute drive and the pizza was out for delivery for over 2 hours. I received a credit, but haven't been able to use it , because you get put on hold for over 30 minutes to just try to order. How can I get my $25.00 credit returned to me in cash. I am through with this company.

Mark Harris
from Oaklands, SA
I went into Blackwood store in South Australia to order pizza and garlic bread for my sons 6th birthday party.I ordered 25 $5 pizzas and 10 garlic bread which came to $170.Then asked how much to deliver and was told $320.i think $150 delivery fee is a bit exhorbitant as it is only 3 minutes down the road.So now I will collect them myself and will no longer use Dominos for my corporate or private events.I hope this is an error on your part as am most disappointed with this service
Mark Harris

Maureen McDade
from Lancaster, CA
Ordered online 2 large pizzas with light sauce..
When pizzas arrived, there was no sauce or so little sauce it was not noticeable visually not taste wise. Called the Dominos at 4606 E Ave S. Palmdale, Ca 661 265-7400. To complain.
I asked the employee if I needed to return the pizzas and was told no. MARCOS the Manager confirmed they would replace the pizzas and to give my phone number when ready to pick up. Tried to pick up pizzas and was told they could only replace 1. Gave me corporates 800 number which says to call where we ordered and ask for Manager to complain. I guess Dominos has all ends covered.. How soon they forget that not to long ago they were a dying breed. With this kind of service, can be back in that position again..

wafi akbary
from Arlington, VA
this complain is for the location of 4811 Lee Hwy , arlington va 22201 .
i order by phone 2 pizza one plain and 2nd one veggie but i received that in 45 min with peperoni instate and i am alergic with peperoni and
i called ask for the manager and no one comes to the phone to assist me , then i drive over and they are not busy at all was 3:30 pm and
i am very hungry due to type 2 , and manger very rude and telling me ya i remember you that you repeat 3 times and ask for the receipt .
then he given me running a round and i ask my money back and i will never order pizza from domino at all ...
i will never recomend any one to go or order pizza from 4811 lee hwy , arlington va .. thank you wafi

Bernadette Cawthorne
from Hesperia, CA
I live in Adelanto, Dominos is in Adelanto yet they live not deliver where i live, when i asked why not was told they only deliver up to Air express way, this is so friggen unreal yet your ad on tv shows where you deliver anywhere, some thing needs to change Thanks

Charles Clolinger
from Greenville, MS
My problem is I placed a delivery order at 11:23 pm on 08 30 2018 they get to me at 12:39 am pizza cold without my extras i paid for they wouldn't answer when i tried calling after the delivery left or before he got here i buy alot of pizza from them and if you pay for something that what you want right so if they don't like their job then they should close the business and stop taking people's money for something they don't stand by it really upset me to know that they think they can get away with this it is unethical and not honest see the delivery guy said he would bring back the thinks i didn't get but hasn't shown and gave him tip anyway something should be done
THANK
Reconsidering Customer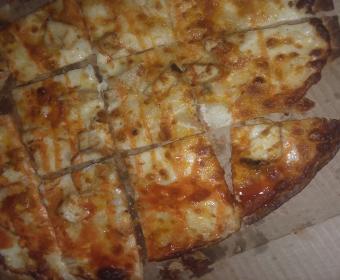 I called to place an order - they answered and then put me on hold for 10 minutes. I hung up and called back, they answered and then put me on hold again. After another couple of minutes - they finally took my order. I spoke to the manager about the hold time. The manager was not too concerned about it, she gave no apology and then tells me the hold time was justified because they were really busy and the fact they only had 3 phones and all were busy taking orders. The manager also said that the corporate office would agree with that 10 minute hold times on the phone is acceptable if really busy is the reason. The manager is basically saying it is ok to give bad customer service and not make it a priority if too busy is the reason or perhaps it never existed in the first place regardless of the time of day or how busy. I am very disappointed in this message, in the experience, in the leadersip or lack there of and in Domino's overall. In closing, I am a weekly customer and spend approximately $70 dollars and deserve better - all customers do. Hopefully, this complaint will create positive change for the better and prevent it from occurring again.

mark ashdown
from Carole Park, QLD
The service at your tannum sands store is terrible, on a number times when going to store for a pick-up either the order is wrong or has not been cooked. Tonight was it for me , after ordering on-line and tracking it on my phone I go to the store to pick up and pay and am confronted with the young girl behind the counter on the phone trying to explain an order for what seemed like minutes,then when she serves me she cant find my order and tells me that there must have been a mistake and I would have to wait for another one.Noone in the store would be over the age of 21, you have kids under pressure trying to run a store.Disgraceful. And by the way I did leave the money on the counter.Not happy.........

Garry Thurman
from Coshocton, OH
brought enough Domino's to get a free 12" pizza called ordered 3 extra toppings and a root beer plus delivery they said it was $7.02 more when it got here the price was $20.48 I told the delivery driver they said $7.02 he said that was okay I said wait a minute while I called them they said they didn't put it was a free pizza and if I only had the $7.02 for the order this young man would of took it on his self to cover the $20.48 price I paid the full price but I live on a limited income I don't want your coupons or anything else but if you let them keep doing this you won't be doing much bussiness cause you lost min

dan45@yahoo.com
from Peoria, IL
you have a rather nasty person working in your Pekin Illinos store Lori not very clean has rotton teeth and a foul moth will not buy anything from that place Hi pizza hut

Bruno Bruner
from Monahans, TX
so I ordered a pizza tonight from monahans texas location online, I put in what I wanted and even went thru your online menu to delete peppers and asked for my pizza to be square cut and my pizza showed up with peppers and was not square cut, why do you give us options if your not going to follow them?The only reason I complain today is that I eat quite often at dominos and lately have been having multiple small issues, I am a paying customer and deserve to receive exactly what im ordering. its to late to fix as im on a busy schedule and don't have time to wait for another pizza tonight. today is 7-26-18, 9287 is store I guess, order number 211518

Maribel M Menjivar
from Peachtree City, GA
at 6:49pm I called the Atlanta Hwy store (706 354-1179) and asked them if they will delivered to 345 Hollow Ridge Dr. Athens 30607 & they said yes so I placed the order for 10 large pizzas to be delivered at 8:55 as my party was going to be over at 9 O'clok, at 8:36 I got a call from the Baxter store telling me that they got my order transferred to their store and will take 30 to 35 minutes to be delivered I told them it was still OK as I couldn't do anything else because i had my party going on already. I called @ 9:04 & the guy told me my order left the store 10 minutes ago, called @ 9:15 and the guy told me my order was on its way and told me they got my order @ 8:40 & basically was not their fault because I ordered to the wrong store. they delivered my order @ 9:40pm, they gave me some cinnamon bread twist for free for the inconvenience but some guests had left already.

Darlene Daniels
from The Bronx, NY
I started this complaint by telephone but my phone is dying so I will submit my complaint here. On Saturday night 7/14/2018 around 9pm, I went to the Dominos at 3484 Boston Rd. in the Bronx. I ordered the 2 large pizza for $10.99, I ordered 4 pizzas, thats $22.00. The cashier told me the total was $40.00, I said that's impossible the tax is almost the same amount as the bill. He was nasty did not know what he was doing, could not tell me why the tax was so much, kept sucking his teeth and saying well that's what the computer says, I don't know, your bill is $40.00, over and over. I told him there is only a 8.25% sales tax in nyc and there's no way a $22.00 bill is going to be almost the same amount in taxes. Eventually someone else came over and rang it up and said it was $32.00. I complained to the manager about the first cashier arguing back and forth with me, that cashier even gave me the finger, and when the manager told him to stop arguing with me and go in the back he had a back and forth with the manager before he would go in the back. He acted like he was outside and able to argue with someone if he chose to.
After I left and got home I realized they did not give me a receipt. I was so angered over something so basic for a business which is to be able tell you what you are being charged for including the tax, and for any employee to know something is not right when they see taxes that almost totally a person bill, that's just common sense. They should know to ask for assistance rather than stand there and argue with someone over what obviously is a problem. When I realized they did not give me a receipt I was even more annoyed. If you have some kind of dispute with a customer about what you are charging them for that would seem to be the one thing you would want them to get a RECEIPT. I feel that the $10.00 in taxes I paid was to much, and I don't trust them because they had to deliberately not give me a receipt, doesn't the computer automatically print a receipt. What kind of deal is it to buy something for $22.00 and have to pay $10.00 in taxes. I want to make sure I was not over charged.

On July 11th at approximately 7:23 pm I went to pick up my order from Dominos Pizza located at 2002 Nickerson Blvd., Hampton, VA 23663. While paying for my order, I observed 3 employees preparing pizza without any gloves on which alarmed me due to sanitary concerns. Further, one of these same employees tapped the other on his back bare handed, then returned to preparing the pizza.
Please take the appropriate measures to ensure staff are wearing the proper protective gear while preparing food.
Thank you.

Lynda Chavez
from Bartlesville, OK
Last night(july 6th,2018) I ordered a pizza and sandwich. The problem was the pizza dough and sandwich dough was gooey. After cutting away some of the crust, I was able to get 1/2 of the sandwich down. Same for the pizza. This use to be my favorite place to buy pizza. I need to go back to pizza hut.

Cynthia DAvis
from Atlanta, GA
5819 Campbellton Rd SW Atlanta GA The service is terrible the customer service is terrible the pizza is terrible

Tangeria Spencer
from Oak Park, IL
Why is it so hard to order on line this has been happen alot. That's why I stop order on line period. I also try to order on line on cell phone still I was not able to order. So forget you also Domino's pizza forever good bye

Zaniyah
from Philadelphia, PA
I ordered a small pepperoni pizza to 5675 Lebanon ave. But I seem to not get the order and I ordered 3 times
Have feedback for Domino's Pizza?
Thanks for your feedback!
Sorry. Please try again later!