Domino's Pizza
Domino's Pizza Complaints Continued... (Page 2)
431+ reviews added so far. Upset? Call Domino's Pizza corporate: 734-930-3030

Cheyenne Hibbs
from Greeley, CO
I order the same thing hot wings with extra sauce and when I called to ask them for extra hot wing sauce she said she couldn't so she didn't upstanding me and then she said she had to charge for extra sauce and come to find out she chagered me for a dipping sauce and then when I called to complain the guy wanted to disagree with me and tried to blame me and all I wanted was for them to fix's the mistake and he would rather say well that how it's going to be!

Tammy Brook
from Atlanta, GA
I ordered a free 2 topping pizza at 5:55 p.m. The tracker said in oven at 6:01. It has been 1 hr 15 min. I called the store, NAOMI said "we've been running behind 1hr to 1 1/2 hrs all day. I said well what stage is my pizza?? She said I dont know..and it went downhill from there. This location has never gotten an order on time. I am going on every social media site and warn people about the lack of customer service, unprofessional behavior and advise to order anywhere BUT Dominos. I live on disability and now my money is tied up for 3-5 business days waiting on a refund. So i cant order anything else. Further the REASON i ordered was because i had SURGERY on Fri and do not feel like cooking. This is outrageous!!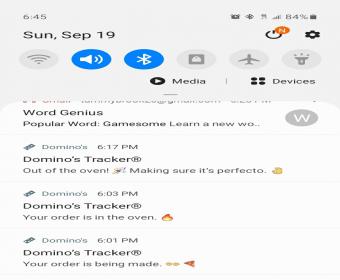 Dominos pizza on mes on road in Cumberland is awful. Charged me twice. Woman gave me such attitude about it. Kept talking me to call the bank. Extremely rude was along her questions. Then told me she was putting a note so I couldn't order again and hung up on me

I ordered a large thin crust meat lovers,pizza,the crust was burnt and a order of chicken wings,was supposed to be honey barbecue and the sauce was hot.

This describes my last two visits to the dominoes pizza located on corner 3rd and gst chula vista CA 91910. Order pizza and salad for pick up. Placed order, when I was informed order was ready for pickup drove to dominoes they handed me my pizzas and a bag with my salad. I get home and theres no salad dressing. So I call dominoes and tell them about missing dressing the employee says whats the whats the big deal most people have salad dressing in their fridge and if I didnt it would be ok if I wanted to drive back and get the dressing I paid for. I could understand that response if the dressing was free. But dressing atleast at that dominoes is an additional charge. When ask ti speak with manager they responded with im not the only customer they have and that he was to busy to come to the phone. I dont know what other people expect when they order food from a restataunt. But if I order food and each item has a price that I have to pay then when Im handed my order I expect it to be complete. Just as the payment is worth the dollar amount is represents. Thus my salad dressing should be included since I have paid for it. As I continued to call back not satisfied by the service being given someone finally decided to deliver my dressing I guess they got tired of me calling. That was the last time I told my self I would frequent that dominoes since I have had previos incidents like pizzas not being made as ordered things missing like salads or dressing when using delivery. I guess its really is my fault because I cntinue to go back thinking it might be different. The definition of insanity right doung the same thing and expecting a different outcome. Well this really is the last I go there but before I wanted to share my final experiece at dominoes. I order ppizza and salad online and following dominoes puzza tracker it informes me my pizzas are ready ive expressed I want curbside so itthen me that it shall be brought out in no more than two mins or pizza is free. So pull up hit the button saying im here and the timer is on. There is also saying if anythong wrong call manager phone # right there ready for anyone to call. Like that is supposed to fix anything. Its now been 20min ive been waiting, does that mean I get 10 free pizzas it was 1 for 2mins so 20mins hmm. I now decide to call someone answers says hes put me on brief hold . He never came back , called again put on hold this time didnt even tell me just stated putting me on hold. Been over 40min multiple calls still no food has appeared as I continue to wait outside. Then finally try to get my order by walking up, they tell me they dont have an order for me . I said the pizza tracker said my order was ready. Then they said oh its not done yet. This is like 45mins after pizza tracker ssid it was ready for pick up. So they funally hand my order no appolligies for the extended waiting no thanks for waiting no nothing. I even thanked them after they handede the food. That was something they didnt earn. Any way that will be my last time at that dominoes maybe at any dominoes,cant imagine anywhere being worse. They dont even care how they treat there customers well im not one of there customers anymore.

Tammy J Lowell
from Denver, CO
Ordered a large pizza and hot wings last night. Food was horrible. Tasted liked it was not cooked all the way. Had to throw it in the garage

Jeanne Rosen
from South Lake Tahoe, CA
I am concerned about health issues. When I arrive at 987 Edgewood Circle store in South Lake Tahoe, CA, the garbage can was upside down and garbage was strewn all over the place. Had to ask Domino employee to pick up garbage. She was the only person on duty that day. Later I came back to get a pizza. The same employee prepared my pizza without gloves, no mask, and did not wash hands from previous pizza order. When I addressed that with her, she stated "we don't need to do any of those things". I wasn't surprised because she was young, not informed, and whoever trained her did a poor job. Her attitude explained how oblivious she was regarding my concerns. When I went home I trashed my pizza!
Then I called the store, spoke to the Assistant Manager, Emily, who was very helpful and professional. Most of the people who work there are young folks who really are not well informed about speaking with customers and answering customer questions. The staff would not give out the General Manager's phone number and finally after my second attempt and explaining the situation I finally called Anthony(General Manger) who left me a message but without a phone number. Again I called and spoke to the Assistant Manager, who really should get a General Manager position, because she was the only PROFESSIONAL person in that facility. I made many calls to Anthony who never returned calls which is why I am filling out this form. I also understand that Anthony also has two other stores.
I am a nurse and I focus on COVID, cleanliness especially when preparing food. Had Anthony returned my calls, I would not be calling the Health Dept to make them aware of this situation. This is a major health issue, and most of this staff are totally unaware. I hope you can resolve this issue with the Franchisee, otherwise that store should be shutdown and closed!
I would like a response to this complaint and your plan moving forward!

Jessica Bias
from North Myrtle Beach, SC
Friday night I made an online order. After 2.5 hrs my sister went to the store just to be told that they do not take orders before 5pm and weren't delivering but, didn't call to inform us of this. Then Saturday night my father ordered online for pickup at 6pm. When we arrived to pick up the order not only was my dad charged. But, we were told that they never got the order and when we asked to place the order in person the manager replied, " you guys can get the F out" I've ordered from this store for 3yrs without ever having a problem. Until now. The charge on my dad's credit card was never put back so he paid for something we never got.

Cheri Ann Cristinziano
from Camp Pendleton North, CA
I ordered 2 pizzas one for me the other for company that was visiting, it was awful very bad,, I thought maybe it was just me,, but they also thought so but didn't want to tell me ( wanting to be polite) but to this day they still joke about it,, and talk about that horrible pizza I got them,, it's embarrassing, but I liked to get them often, since then I havnt been able to bring myself to ordering again and I dont think I ever will,, it's been over a week, I'm mentioning it now because, I'm thinking about what to get for dinner and Domino's would of been my choice but because if that horrible pizza I can't bring myself to order again cause I don't want a pizza like that ever, I told them I even paid extra to get them extra cheese they laughed and didn't believe me they said it tasted like there was no cheese on it,, I said I know,, don't k ow why there's no way I was the only one to complaifor that time if they made other pizzas like mine then there has got to be other complaints this site is horrible I can't read what I'm. Typing it's super light, the words are too light to read, so you may have alot of typing errors since I can't see any of it, Cheri cristinziano

Eric fisher
from El Mirage, AZ
I tried to call Domino's Pizza and was on hold for 15 minutes then I ordered online and when I saw the water print it out it was wrong so I went to the location and told the unkempt Pizza Guy if you would fix the mistake and he said it's already in the oven I said I know but can you fix it he said it's already in the oven" yelling"! And I said well can you fix it oh, and she said I guess I'll eat the $4, in the rudest way possible! Proceeded to sloppily throw my pizza together and when I got home it was still wrong! So disgusted with this experience!

Mark jackson
from Owensboro, KY
As I placed an order at he Morehead store the claimed t was fifteen dollars then a five dollar delivery charge I'm right cross st and charged 22.60 for on large pizza once the delivery guy came the box was wet pizza taste like soap as well. Store number is 1416 if anyway possible please step up and figure the problem I like dominoes but feel if this is professional way I will never eat there again or anyone this did it for me. I ask that if ya need any further question contact me by phone ty.

Teri Lucas
from Knoxville, TN
We ordered by phone at 5:10 pm today, was told it would be about 35 minutes, the Dominos app showed order delivered, it was now 6:15 pm so we called the store again and they asked what our address was AGAIN, this was after we had given it to the guy that placed our order 3 times, while on the phone they said the driver just walked back in with our order, so at 7:25 pm we finally received our order, we have Pizza Hut, Marcos Pizza and others close to us, if no satisfactory response this will be the last order ever from dominos

Jo Glover
from Anderson, SC
On June 18 @ 10:28pm I placed an order by phone for a medium pepperoni pizza I was told that it would be 40-50 minutes(this was acceptable) after 65 minutes had passed I called to see if the order had gone out.I was told that I would have to come in and pick up my order because the number the driver had was wrong and when he called he didn't get an answer so my question was "Who gave him the number" you had to have given him the number from the Caller ID, the same number that I'm calling you from now, because you didn't ask me for my number… so why should I have to come in and pick up my order when the "mistake" is clearly not mine. She responded I don't know but my manager said you would have to come in and pick it up, I replied I ordered it delivery for a reason so you can cancel that order…she said yeah right I don't know what that meant but it was very bad customer service the whole experience especially for a loyal customer

Rebecca Graham
from Schenectady, NY
Grace dominos 11:04 Friday night 24-72 hours refund I spoke with who said they were the manager and complained after an hour of waiting for my delivery I received a text it was on the way a little over and hour later it came the driver told me he had 5 delivery's before mine and he was sure my food was still hot at this point didn't even want the food! My kids were fed something else and in bed I spoke to that person was told she was sorry and had my receipt in her back pocket and she would give me a full refund it was never refunded to me but I got an email about a free pizza went to use it tonight and didn't get it free I'm very upset and this is the reason I stopped ordering from here when it's my kids favorite place to get pizza and if something is not done I promised my kids I'll never order again from domino's and will let everyone I know how bad of service I received that night after it was a reward for my kids and I had to let them down!!!

Richard D Duncan
from Salem, OR
Domino's has a buy 2 (or more) items for $5.99 deal. If you want a specialty pizza, it's $3.00 more. When I add $8.99 and $8.99, I get $17.98. Tried it on three different calculators just to make sure. Came out $17.98 every time. But when I ordered on their website, using that coupon/deal, the charge for the two pizzas was $19.98. I had committed (to family) to buy the pizzas, so I went ahead with the order, but I'm definitely going to let everyone I know hear about it.
I have included a screenshot which shows both the price advertised and the price charged on the same page. So who is getting the extra dollar per pizza? Their web designer? The CEO? This is the kind of thing that companies end up paying out big for in class action suits. I don't have the time or energy to file one, but some lawyer with nothing better to do could probably make a bundle. If you know one let him/her know about this.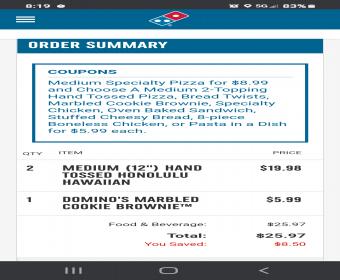 Phyllis banks
from Ruther Glen, VA
Ladysmith Virginia the minor that took my order was really rude I was talking to my grandson who was really loud I told her stop hush up the girl told me to hold on came back took my order was laughing and joking then hung up; I went outside left phone in the house came in noticed dominoes had called me back so I called the manager David told me the girl said I told her to shut up I asked to speak to his manager he told me well I don't know what for her name is Jennifer and that's her daughter you was talking to so nothing will be done. So I want the highest available person to address this issue because I spend to much money at Dominoes to have someone being rude to me. Thanks

Kenneth Ramirez
from West Jordan, UT
Dana Null denied me and my children food and hung up on me

Ivonne Esparza
from El Paso, TX
Tonight was the worst experience I've ever had ordering from a Domino's. I placed my online order and was called a minute later by an employee who asked, " Do you still want to order because the estimated delivery time is going to be over two hours and not 25 minutes as the app had estimated." I spoke to the manager Marlen who reiterated the same information as the employee. I told her this was completely unacceptable, but I was willing to pick up my order since I'm 5 minutes away. I told her I wanted my delivery tip refunded, which she could've adjusted, but no, she decided to void the entire transaction, and she also tried to charge me again when I showed up to pick up my order. I told her to show me proof that she voided the entire transaction, and that was absurd; she was trying to charge me twice; she pointed at a screen that was too far for me to see from my vehicle. She should have had a receipt ready that said Transaction Voided; I told her I obviously could not see the screen she was pointing to from where I was since I was sitting in my vehicle at the pick-up window. However, I also told her I would take her word for it– but I was still submitting a complaint to Domino's. Upon hearing that, Marlen then unprofessionally handed my husband our debit card back, then said, and I quote, "I'm NOT DEALING WITH THIS!" She then RUDELY handed the pizza boxes to my husband and slammed the pick-up window shut; like a child! So rude and unprofessional for a MANAGER.
I expect not to pay for this awful experience, and I hope the manager, Marlen, gets reprimanded for her disdainful and unprofessional behavior towards a paying and highly unsatisfied customer. She could have offered me a gift card because I asked for the delivery tip I added to my online order to be refunded. She could've shown me on PAPER that she voided the transaction. There are a million ways she could've handled this better, but at the end of the day, she decided to be rude, unprofessional, and I don't think Dominos should have someone like her representing their franchise. If you're going to keep her, I suggest you invest in training her on handling customer complaints efficiently and effectively. I expect to hear from the franchise owner. This was bullshit.

Karl Lavandeyra
from Miami, FL
At 3: 05 PM I order a pizza for delivery, order #969289, as always I tracked the process thru the app tracker. At 3: 40 PM the tracker showed that the order was complete and delivered and that wasn't the case. I called the store 4 times and 4 times I was put on hold with no "please hold" or with any customer service respect. Finally at 4:00PM I was able to speak to woman and I explained that I didn't received my order and that the track system was showing as delivered. This RUDE woman told me that they had only one driver and hang up on me. Driver deliver my order at 4:06 PM... it took 21 min for the como mete delivery message to the actual deliver.

For the second time cold pizza ... I live in Canton Rd ... 5 minutes from the place and this cannot happen .... Horrible .. I will never buy a pizza in Domino again

Anna Lavespere
from Wilmington, NC
This dominos on hwy 9 longs , s c we ordered a pizza about 5 days ago and when we opened the. Ox the pizza was half raw so we called them and let them know about it it was so late they said that they would replace it they put it in the computer and whenever we're ready for it we could come get it or call and get it well they say get up here the little manager on Wednesday night on April 21 he's working and we're here at 9:30 and we been hauling for two days tonight can't get through can't get through on the computer and we get here and he says phones are down and we came about the pizza he's so very rude he tells us that we do not have a pizza free and then he walks away I asked him for his name he said he did not have to give me his name and he said I won't sure asking what you gonna do about the repeat that and he said he would have a general manager called me back and said we weren't in my name and my number but he would not give me his name or his managers are than his general manager's name so this plan he looks like he's about 12 years old they look very nasty walk around with his hands in his pocket and then making pizzas very unsanitary and very rude not a place to go and The whole time he stayed his cell phone and then he leaves and both of them walk out the back door to smoke a cigarette lazy whole place unattended this was the worst experience I've ever had edit restaurant do not go there and I thought managers with love by law have to tell you their name and then he thought we were we ordered the pizza but it on the rules and they're about pizza that was no good if they would replace it

Summer massenburg
from Phoenixville, PA
Delivery driver left pizza on the step Didn't ring the doorbell or call us. Left pizza on step for 15 minutes which resulted in ants in our pizza. We also have video evidence that this happened because we have a camera that points at our front door

Diana bradish
from Decatur, TX
I ordered pizza from our one and only dominoes and the order obviously did not transmit correctly through their system and I called immediately to tell them. The manager was rude and yelled and hung up on me her name was destiny. Told me I would have to call corporate that it was not her problem. I paid them over $40 for pizza I could not eat !!!!!! I tried calling corporate and they were closed and said if I had a problem then I needed to call my local dominoes pizza. I called again and the same manager hung up on me again !!!!! This lady Destiny who says she is the manager has no business whatsoever dealing with the public and lacks any kind of customer service skills. I want to be refunded the money I paid for pizza I did not order. This is not the pizza I ordered !!! Their is a problem with the app that is placing the order. All I can say is this is not my problem and I tried my best to report the problem as your system advises to do. To make matters worse the manager disregarded everything I said and hung up on me !!!!!!

Sandra Jeanette Bradley
from Norfolk, VA
I ordered a pizza and the order was set... then I get a call saying they can't take anymore orders and I say what happens to my money and the response is it should go back on my card!?!! IT SHOULD????????
I ordered at 8:32 why did it not say that then????
I asked is the order could be transferred to another store abs the tools need no

Belinda
from St Louis, MO
Have ordered from the one in Salem we for years I live only 5 mins from them all his last night ear they have went to crap customer service hangs up on you when you call to inquire about your order they leave ur food along the main road not your home and then not even call to say it's been delivered their drivers refuse to get out of their cars because they don't wanna get their white shoes dirty that was the last excuse we got of why our food was left along the road absolutely horrible we will drive to the next town to prefer pizza for now on we will get it faster with better service going 20 mins into town to get it from another server

Troy wilson
from Mattapan, MA
I placed my order at 1240am n got to the store at 1am n was told carry out was closed I told the employee that i ordered online already an he didn't listen an was rude so me an my daughter had to travel elsewhere for horrible food

Stacey Sue Czirr
from Kansas City, KS
order pizza from the state Avenue dominoes from Kansas City Kansas quite often at my place of employment Bills 32. I have never had any issues I've always had really good customer service with everybody until last night. Last night an hour and a half went by my pizza had not got a ride I called them they said it be another 45 minutes and then it still never arrived and it was past midnight by the time that I had a chance to call back and obviously the store was closed I am highly disappointed in this customer service I had a bar full of people that were wanting pizza

Kathy Jorgenson
from Columbia, IL
Wow! I can't believe the service tonight. We ordered a pizza for delivery and watched the delivery person leave our neighborhood without delivering it. Someone had called but we didn't recognize the number so we didn't answer. I called the store and when I asked where the pizza was she insisted that it wasn't out for delivery and it was there with her. I said it was noted as delivered on the app but she just kept insisting that it was there. I asked if it was out for delivery and returned to the store she only would say that it was still there. I asked if it had been out for delivery and returned to the store was it going to deliver cold? She only said that it was under the warmer and it would be fine. She said it was going out with the driver on her next trip.
When the driver showed up she went to the wrong address. This is normal so no issues there; however, she confirmed that she'd been out earlier and went to the wrong address. So the person who answered the phone danced around my questions and lied. After I paid for the pizza - yes, paid for it - I took it inside and it didn't travel well. It was all over the box (lots of miles on it!) I called back dominos and got the same person. I told her it was unacceptable and she proceeded to ask me what was on the pizza because she couldn't pull it up!?!? I told her that the driver confirmed she had tried to deliver it earlier. She didn't acknowledge any of my feedback and I expressed my frustration with that. She insisted she was addressing my frustrations but she was only listening at best. There was no concern that she lied to me. She did make a large instead of a medium but not until after she asked what size we ordered...because she couldn't pull up the order. As I listed off the ingredients she got frustrated with herself and started to cuss on the phone. After all that the second pizza arrived an hour and a half after the original order was placed and it came without the chicken.
No call, no apology, no refund.

Regina
from Marshfield, WI
Dominos pizza in Greenwood Miss. has the rudest employees you has ever seen.They speak to the customers so rudely. They don't give you chance to tell exactly what you want, will put you on hold and never return to the phone.

Elliott Stone
from Martinsville, VA
I hav ordered online from Dominos/Ridgeway Va, and 5+ times they have fouled the order up, and the same way. I order a meatza pizza and add a few more add ones. When the order is brought, it is delivered with only the add ones. I have talked to mgmt about this, and they always promise to do better next time, and make the same mistake again, as I wait on the replacement pizza as I write this. 4 times I had company, very embarrassing. Now that DoorDash is here, I will think twice before ordering through this location. Perhaps retraining is in order, from mgmt down.

Vanessa Sears
from Gainesville, FL
I have noticed that the Dominos in Gainesville Florida is starting to slack in the services. I have been ordering all the time and they are now messing my order up. They miss stuff I have ordered and not receiving my order correct.

Tyler shultz
from Canonsburg, PA
Order pizza a bread stick they wrote wrong address down so they called 1 hour later told me they can't find my house so I ask if they was gone make another order they said yes butt never did brought the cold pizza this is Waynesburg pa 15370

When I order a large pizza for carry out. I specifically need to ask for the manager's special to get the price onthe Marquee. Ridiculous that I need to ask for the "special". Its right outside blaring! No, I want to pay for the more expensive one. If I order delivery for the same pizza is over twice as much. PLUS a delivery fee. Drives me bananas.

Robin Thomas
from Oak Hill, WV
I order from the Oakhill west Virginia Domino's and everything was horrible! The food was cold when delivered the lettuce for my salad was slimy. I wanted a refund but they wouldn't issue one
My contact information
robinkayhickman@gmail.com

katara smith
from Chattanooga, TN
called to place a order for myself and co workers when I placed the order the person over the phone asked if I was in a room 229 I stated no and gave him the address again and also stated that I was in a certain building he stated ok and that my order would be delivered in 45 mins I thought nothing of it and continued to work when I noticed a hour and a half later that we hadn't received our order my co worker called back to the store now I supposedly got a different person who claimed that we hadn't placed the order then stated it was for room 229 when I started to tell him he was mistaken he was very rude and even called me rude bottom line we didn't receive our order he then hung up on me when I called back he claimed to be the manager and began to shout on the phone I will never spend anymore money with such a rude company especially when I haven't done anything other than place a order with dominoes pizza east brainerd rd Chattanooga tn very rude customer service

PETE VIESCA
from Antioch, CA
YOU ADVERTISE PIZZAS FOR $7.99 WHEN I BOUGHT MINE AT BRENTWOOD THEY CHAARGED ME $17.00 FOR A THIN CRUST THAT WAS PAPER THIN HARDLY ANY CHEESE OR PEPPORONI ON IT. I WILL NEVER BUY FROM DOMINOS AGAIN AND WILL TELL ALL MY FRIENDS.

Tracey
from East Orange, NJ
On Wed July 10, on or around 6:30pm I made an order for 8 chicken wings a chicken ceaser salad and a liter of orange soda. I was told it would be 45 minutes. I was waiting for the order for a long time and finally called to find out what happened to the order. I was told he came by and left with order because no one was there. I was in my back yard studying. They said it was canceled. I asked could you please redeliver Im starving and I was crying and he said no we will not redeliver very rudely and hung up. Initally, When I called -- the order taker from Dominos said or you calling from 732 618 3009 at 93 William street -- I said yes. If they had the phone number in the beginning why didnt' they just call back number to at least let me know they were here. - so I was left starving and crying in front of my family because I was starving to death. I am diabetic and needed to eat. I had to call Fredericos Pizza and cry on the phone with them telling them how hungry I was and that Domions refused to redeliver my order. Frederico said no worries. I gave them my number and they called me as they were entering my street address and I order the chicken wings and salad from Fredericos. I thought that was very cruel for Dominos employees to do that to me. I would have tipped them for their services--- but I was left dying of hunger due to this incident. So cruel that it had me crying on the phone to Federicos. Sad. I was paying by cash -- what would have happened if I paid by credit card. This is poor service. When somebody is waiting that long in the first place -- they could have easily made a phone call. My address orders from Domions all the time because I have kids that lover Dominos we ever go to pick up the Managers 5 topping pizza for 9.99. Your employees need to address what excellent service is all about. This was truly sad/

Pauline Posch
from Perth, WA
I have previously complained about Pizzas from Dominnos and you reinstated my curiosity to try again. But I am back to the same page again. With all your advertising and promise to get the pizza looking like it should is one thing, but the taste is another.
Unfortunately, I had ordered a pizza from the Meadow springs the Pizza Supreme, looked lovely, very salty. But my main gripe is they have used tomato paste, not tomato sauce. There is a huge difference, but do the staff know that there is a massive difference with the paste verses the sauce. I think they need to be educated.
It was overpowering and completely spoiled the pizza flavour. I ended up throwing it out. Disappointed.
However, on a positive note the staff are very friendly and eager to please. Please can you train your pizza makers and make it clear about the difference.
Regards
Pauline Posch
040 142 897
I

April Lane
from Washington D.C., DC
i waited over an hour for my order... i called to ask the status of my order and why it kept saying it's being made the lady said "because it's still being made" and that was the only answer it got!! then i FINALLY got my order and my salad had no dressing and cinnamon sticks had no icing. called to speak to the manager and was on hold for 10+ mins. I ATTEMPTED 2 PHONE CALLS WITH 10+ minute WAIT TO SPEAK TO A MANAGER. never spoke to a manager or got my dressing/icing or a reason for over an hour wait for my order when the store is literally less than 5 minutes away!!

kenneth bernard
from Sacramento, CA
I have been trying to resolve a double charge for products I ordered at your location 5051 Auburn Blvd, Sacramento, Ca on June 5 2019 without success. I have tried at least 20 times to contact the supervisor (Jared) by either phone or store visits. The total overcharge is $16.29 because I was charged twice for the same order. Can somebody PLEASE help me???

I ordered a pizza and no meat was on it I called to tell people said couldn't get another sent out

As I walk into dominos in Geneva, ny I notice a girl making pizza. They have a pizza observe glass to watch them make the food. As I am standing there the lady making the pizza starts itching her arm and goes on to make the pizza. As I am leaving I ask one of the delivery drivers who is the manager at this location and he explains to me that it is the lady making the pizzas!!! As an ASSISTANT manager I thought she might know better! Very disappointed and will be spreading the word!!!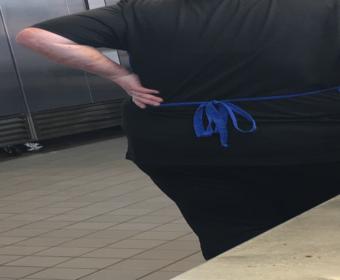 Dawn Rodriguez
from Miami, FL
ORDER DETAILS #973332
Description
1 X-Large (16") Brooklyn Pizza
1 20oz Bottle Coke®
1 Chocolate Lava Crunch Cakes
This is the location i ordered from:
2001 Biscayne Blvd #103
Miami, FL 33132
305-573-0300
This is the my order and I waited over 2 hours for. it showed it was delivered and the manager said the orders got messed up. And resent the food, when it finally arrived I was walking out and the driver car was crashed into. I call the store and the manager was rude saying that we cursed at him which is not true, so he cancelled my order. I am beside myself with how terrible the service is at this location. I have never encountered this.

MARGUERITE J CURRY
from Supply, NC
Domino's - 5051 Main Street, Shallotte, NC
Rating them one star is one to many. Around 7:30 pm, on Thursday evening, June 27, ordered a medium with extra cheese, mushrooms, green peppers, pepperoni. Pizza arrived approximately 2 hours (9:30) after initial order placed via website. When I called to inquire as to status of pizza, was put on hold over 7 minutes, someone picked up phone and asked me to hold, who knew I would be on hold for so long!! When pizza arrived it was so cold I really didn't want it. The store could have, at the least, put it in fresh box.I don't believe that I will ever order another one.
I did not even think to take picture of cold pizza. Who would want to see a cold pizza with shriveled up toppings.

Dale
from Abbotsford, VIC
I called and ordered some pizzas for a delivery and the young kid on the phone took my order and address and told me it would be half an hour. After an hour I called and they said they don't deliver to my area and they had no record of my order. Fucking pissed off considering we have had deliveries from Dominoes before.

I ordered a 12" pizza with extra cheese and extra sausage and normal mushrooms.....was good pizza EXCEPT: there was hardly any sausage on it and the cheese looked no different than other regular orders I have made before....not a good thing when there are only 2-3 pieces of sausage on one slice of pizza...sucks!!!

Angela Brandon
from Cleveland, OH
When I got my pizzas they were over cooked could not eat them! They were super hard. Also they forgot my cookie

Tenayah
from Buderim, QLD
So you get an add on TV saying you now have this amazing scanner that makes sure each pizza is made 'perfectly'. Please explain this sad excuse of a 'Godfather' that we got the other night. Also your garlic bread is getting way too small. I used to be a baker and my long rolls (aka hotdog bun) are bigger then your garlic bread. Please up your game.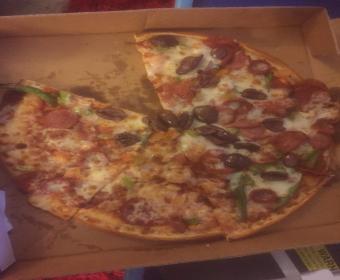 Elizabeth Brown
from Fairmont, WV
First my cheesey bread didn't have hardy any cheese in it .then my cinnamon . twistt barely had cinnamon on it.en my cinnamon this isn't the first time i have had it happen. why is this happening? please tell me why this happening?

Trisha Ortiz
from Orlando, FL
Be careful when ordering here. Last night I ordered a lg 2 topping and a lg 3 topping for pick up - $17.94 tonight ordered the same 2 pizza's and added an order of boneless wings for pick up...she says $34.64. WAIT WHAT? How much are the wings? She says $6.99... so ok please tell me how you came to that total? She says you don't get the deal unless you ask for it. $12 less bc I questioned her. SHADY DOMINOS That's it I'm done with them, AND the pizza barely had ANY toppings on it.
I would have never questioned the price had I not just ordered the same pizza the night before. I wonder if it's common practice for this store to steal from customers.

Poor quality pizzas and service and misleading advertising. My family and I will never buy your food again

We always get the 2 for 5.99 medium two topping. Husband goes into store to buy the same deal and gets hit with a $74.00 bill. Stores says they are discouraged from telling customers that in order to get the 2 topping 2 medium for 5.99 they need to go on line to order. Extremely disappointed. I guess this is how much they care about their customers.

joseph n brisini
from Myrtle Beach, SC
HI, I ORDERED A PAN PIZZA FROM A MYRTLE BEACH LOCATION TODAY WITH PEP,ONIONS AND BAN.PEPPERS ON LINE. I HAVE ORDERED FROM THIS LOCATION SO MANY TIMES FOR THE PAST 10 YEARS OR SO AND HAVE ALWAYS BEEN PLEASED. TODAY WHEN I GOT HOME WITH MY PIZZA,I WAS NOT PLEASED. IT SEEMS THAT WHILE THEY WERE MAKING IT, THEY COMPLETELY FORGOT TO PUT MARINARA SAUCE ON IT. ALTHOUGH I WAS ABLE TO EAT 2 SLICES, MY WIFE ON THE OTHER HAND THOUGHT IT WAS NOT UP TO HER SATISFACTION. I DID NOT CONTACT THE STORE BECAUSE I DO NOT LIKE CREATING WAVES. I DO BELIEVE THAT THERE SHOULD BE SOME KIND OF DOUBLE CHECKING GOING ON IN THIS STORE TO MAKE SURE THAT THIS MISTAKE DOES NOT HAPPEN AGAIN. THANK YOU SO MUCH AND REST ASSURED I WILL REMAIN A LOYAL CUSTOMER. SINCERELY JOSEPH N. BRISINI

Melissa Meredith
from Atlanta, GA
I ordered a pizza last night 06-07-19 at 10:48 and was told that I would be about a 2 hours before it would be delivered. My account was charged and I NEVER RECEIVED My PIZZA. I would like a refund. This is bad business. Please just refund my money!!!!

Mary Cook
from Port Orchard, WA
We order Dominos every Friday night. It has always been hot and the order was right on. Tonight the pizza and bits were barely warm. The pizza was dry and did not have the double pepperoni or double cheese that I ordered. I was really disappointed. If you look at my orders you can see we have a pretty consistent history of ordering from you. Hope this doesn't continue or I will go back to Papa John's and Pizza Hut.

Scott nelams
from Richardson, TX
I ordered pizza and sandwiches at location 7500 Stacy RD in McKinney TX. I placed the order about 3 hours in advance for a 3:15 pickup. When I arrived the SO CALLED tracker showed my complete order is ready NOW. That was not the case the lady making the pizza said give me 5 minutes Im fixing to put in oven now. I will never use Dominoe's ever again....What's the point of making an order for a future pickup time just to go in and be told it is not ready....NEVER AGAIN.
You lost a very regular customer.

Angela Brandon
from Cleveland, OH
I had two medium pizza also a cookie. Pizza was nasty, cold, burnt. Also my cookie was nasty hard as a rock

Duane R Allbaugh
from Denver, CO
Went in to the Rifle CO. new location after golf on a Thursday night.Without thinking I ordered a medium two topping pizza. Was charged sixteen dollars, I never paid that much ever. Was it worth sixteen dollars? Because they moved and had no price board up I was thinking that was the new price but knew I would not be back and told my friends to look out for the new pricing even if the TV says low prices. Do I need to go back to my car and call in. Is that what I should of did. It was my fault for not asking the price first, but who knew it would be sixteen dollars.
Thank you, I needed to complain .

Leah McHugh
from Perth, WA
I have been extremely disappointed and turned off by the staff and management at the New Lambton store.
I needed to order pizza for approximately 60 people for sat 1/6. I went in earlier in the week to give them notice and get some information on the pizzas, prices and nutritional information. There was only 1 staff in store and she had no idea how to help me. Another another staff member came flying through the front door, and proceeded to pickup pizza dough and mould and kneed it without following any hygiene procedures at all. This staff member that did this turned out the be the store manager, who finally came to the counter and knew a little more about ordering for a large group than the initial staff member.
I had several vegans and vegetarians to cater for and FINALLY when the delivery driver came in, he suggested they give me the nutritional brochure from under the counter.
I went back again a few days later and received pricing. I ended up sending my husband to pick the order up on the night, as there was a delivery fee for each and every pizza even though they were all being delivered at once.
On Wednesday evening I was driving past dominoes (as we live nearby) and witnessed a dominoes delivery driver on a motor bike give a Ute behind him the rude finger very aggressively.
I should have gone to a different store for my order at that point, but as it is the closest store and my husband had to do the pickup on sat night, I went ahead with my order anyway.
I dropped in and did the order the day before face to face, and asked if the pizzas could be marked with meat, vego and vegan options on them. When the 24 pizzas arrived absolutely nothing was marked (not even ticked) and my husband had been told we should know the difference and that they didn't have time to mark them!!! Upon opening every single one, we THOUGHT we knew which ones had the vegan cheese option.
Today I called in to the store to speak to the manager about all these issues but was met with lots of excuses and told they didn't need to wash hands necessarily when dealing with the pizza dough.
If it was my business I would want to know what is going on there, and maybe provide more training and rules.
Regards
Leah McHugh

W. Shane Austin
from Upper Marlboro, MD
On June 2, 2019, while visiting relatives I placed an order (Order #623571) at your Domino's store (4657) located at 796 Harry S. Truman Dr in Upper Marlboro, Md. The order was placed at 7:08 pm with a Carryout time of 10 - 20 minutes. I arrived at the store to pick up my pizza order of two large 3 topping pizzas at 7:20 pm. When I arrived at the store after waiting 10 minutes before anyone asked me if I was picking up or ordering, I paid for my pizza and I was told that one of my pizzas was still in the oven. I waited and waited and no pizza. At 8:00 pm I asked for a manager. One worker said he did not know who the manager was while the other workers completely ignored me. The girl who waited and took my payment disappeared into the back while the other workers appeared to be standing around looking over the shelves where completed pizzas were placed. As several more customers came in all had to wait for orders that were either placed online or phoned in. It appeared that the workers did not know what they were doing. There was no organized effort to service customers. It was a completely disorganized setting. At 8:10 pm I began to protest that I still did not have my order which had now been placed over an hour earlier. I called one female worker over to the counter and gave her my order number again and my name. She looked on the shelf removed two boxes of pizzas and handed them to me at 8:20 pm, exactly one hour and 12 minutes after my carryout order had been placed. The woman then told me to "GET OUT AND HAVE A NICE DAY." Her behavior and nasty attitude is completely unacceptable. My pizza was barely warm as it had been sitting on the shelf apparently for some time. I hope this is not an acceptable way of doing business for Dominoe's Pizza. Future purchases from Dominoe's is seriously in jeopardy from my perspective.I waited an hour for two luke warm pizzas and then treated rudely by your employee. This is unacceptable..! I would rate my experience with a '0' if that was possible.

nabih chiha
from Montreal, QC
i ordre a medium pan pizza , to be delivered , the driver came , i was paying , i noticed that the delivery charge was added to the bill , driver tells me what about tip , i told it is already included from what i noticed on the receipt , he walk away saying to me fuck you , i called the dominos branch to complain , they did not respond and looks like they did not care , covering up for there driver .

Wyvette Tabb
from Randolph, MA
Ordered pizza over phone was quoted $ 8 and change. I went to pick it up and then quoted $18.07. ??? Another customer comes in her price was $15 and change. She said I was told $8 and change.
Either it's false advertising or we're getting buked.

I ordered a delivery from Washington Court House Ohio the manager Michael said you no longer deliver to vfw or legions per his district manager amber why I asked he said it was a corporate policy why have you changed I got a pizza Friday check out my points I had to order from donators I am a member of the state vfw and I am putting this on nationals web site that you will no longer deliver to us that's 1.7 million vfw members to see it we never asked anyone to come into Iestablishment we just wanted food at door they called me back when I was on phone with you he was rude and the corporate guy disconnected with me I asked to have amber call me and he said he would try I think this is b.s. and I will be contacting vfw and legion nationals if you do not want to serve us

A large pizza with 2 toppings was advertised last night on Tv costing 5.99. I went out to buy the pizza a few minutes age and was told that the promotional pizza was this week. Would not give me the advertised pizza. My pizza would cost $13.00.
While I was in the pizza store, a man asked for some of the sauces. The employee said, "How many do you want man." No payment was made for the sauces. I told the employee that I would also like some of the sauces. He said that will be 50 cents for the sauces. I had already paid for the pizza and when he told me that I asked for my money back and left without the pizza.
If the pizza was advertised last night, then it should have been a promotional pizza and should have been sold for what was advertised on tv last night. Also, you can't give one person free sauces and not give another person who is standing there and seeing the employee give sauces to one person and then when the customer asks for sauces....charge him/her for the sauces. My suggestion is you need to hire employees who are not
sun-down and pay day employees!

Melinda Abdellatif
from Mechanicsburg, PA
We live in a place that has several units.On Memorial Day all together we ordered $95 worth of pizza.Not only did they get our order wrong they went to the wrong address.So instead of 30 minutes we waited almost an hour for our food.When I called the manager he was extremely rude and wouldn't give us a discount but told me we could just forget the order and give it back.We had hungry children and adults waiting to eat.I will never ever again order from them again.And we tipped the driver because it was not his fault.

Ericka Rochon
from Gonzales, LA
1:08pm
I called dominoes that was near my home. I live in a neighborhood that is three years old. I asked the worker to deliver she said, 45 minutes. I said ok. And then she asked for address. I spelled it. She said, i"it's not popping up in our system. I 'll give you the number To another location. " i Saïd , "but that's too far". She said, " some locations have other areas they cover." I said, " ok. But that's stilll too far. You are closer!"
1:12 pm
I called the recommended location and I got a wonderful manager, jimmy who said, " yes they do! I used to be the manager there. I know exactly where you live". I said ,"well, she's not having it. She was firm in her stance that she was not doing it." So, he called her and told her better.
1:19pm When I called her back she said, "ok , 45 minutes. I said , "fine and placed a $35 order" @ 1:19 pm
2:38 pm
I called Ann Arbor Michigan and made a complaint
2.49pm
I called the location and asked, y'all ok? Y'all lost? No, she already left, she should be there any minute.
3:02pm
I called the other location thanking Jimmy for intervening on my behalf, but that it had been close to two hours. For a 45 minute pizza. He said,, " If you ever need anything, please stop by location". Which was admirable .
3:30pm
The driver arrived with my order which was over two hours including me trying to tell her it was the correct location to
Order.
I tipped the driver $5 because I believe in doing what's right. That it was t the drivers fault. Somehow the system failed along with a lack of training in good customer service.
You all Should recognize Jimmy for his excellent customer service going beyond his role as a manger for his location. I assume he worked in Gonzales, LA 226-644-8484
The manager (female at the location) was not rude, but I was told she couldn't help me, and I was given the wrong delivery quote.
1829 N Airline Hwy
Gonzales, LA 70737
United States
+1 (225) 647-9442
I believe in honesty and constructive criticism and I believe this issue needs to be addressed as we have other choices.
I paid close to $40 for a cold pizza after it was all done with. I told jimmy I was afraid to eat the pizza because of fear. He assured me there were cameras in the pizza store.
Nevertheless, if I ever decide to order dominoes. I'll be reaching out to the other location to visit Jimmy even if I have to drive.
A complaint was made at ‭(734) 930-3030‬ while I waited close to two hours for a cold pizza.
Best,
Disappointed customer

PATricia
from Indianapolis, IN
Today my sister called your store to place an order as she was telling the guy what she wanted he hung up the phone in her face so she calls back and a young lady answer the phone again while she's was telling the lady her order she told her that they can't take orders from a child my sister immediately got pissed she looked at me and told me that they said she was a child so I took the phone from her and I told the lady (Katie) that is a grown ass woman you talking to after I said that she started laughing then I told her that she don't have no respect for customers then she asked me did I want the order and I told her I placed the order didn't I and she hung up the phone in my face. So now I'm pissed because this disrespectful employee (Katie) did not have the customer skills to try to make things right nor did she apologize for being so rude. After she hung up in my face I go to the store #5968 and I asked to speak the manager (mike) and I told him what happened he acted as if he didn't care I told him she needs to be retrained on customer service policy and he said with a nonchalant attitude I'll talk to her at that time she was taking another order on the phone and when she got off the phone she had an attitude with me and I told her that was a grown woman she is old enough to be your mother that you hung up on and Katie said I didn't hang up the phone on you Jacob took the phone from me and hung up the phone Jacob did admit that be hung up the phone in my face and to further the disrespect no one not even the manager (mike) apologize for the behavior of his employees now from this day forward I will and my sister will no longer purchase anything that has to do with Dominios as I was walking out the door I can hear them back their laughing if your people don't have any respect for company policy that store future does not look very bright at all

beverly anderson
from Hammond, LA
Why don't you have specials on small pizzas? My child is the only one in the family who eats only pepperoni pizza and he cannot eat a hold large one. He does't like it warmed over so half is wasted. I pay much more for a small one than a large because you have specials on the large. Please consider specials on small!!!!

I called Domino Pizza (360-636-6000) I asked for the $5.99 special 2 or more. Was told it was no longer available. Their pizza was $7.99. I called the other Dominos on Ocean Beach Hwy (360-442-4882), I ordered two pizzas at $5.99 each. My sister picked them up & they didn't understand why they didn't honor the pizza on Washington way for $5.99? Their website even show it for that price at their location! Still told no! I'm wondering how many people are they cheating? Perhaps, they ring the pizza as $5.99 and sell for $7.99? Someone is pocketing extra money! Please investigate this situation!

John Smith
from West Monroe, LA
I placed an order online on May 26, 2019 at 4:39pm for delivery services. I paid with my debit card. At 5:35 I contacted the Domino's store located at 4920 Cypress Street in West Monroe, La; I was told it would take another 2 hours to get my order out to me. The guy then stated my order hadn't even been made after I'd already waited almost and hour before reaching out to them. Then I can't get my money refunded back to my card for 3-5 business days. I'm pissed because I don't have funds to even cover another order to even get something to eat. This is not the first time I've had issues with this store regarding delivery services. This is unacceptable because the online site gave me a timeframe of 25-35 mins from the time I placed my order to receive it. If that's the case they should have informed me that it would be an unrealistic wait time and I darn sure wouldn't have placed this order. This is unbelievable!!!

Former Customer
from Lincoln, NE
I called to order a pizza, I said I didn't want to give out my phone number. It is their right not to take an order if they insist on having a phone number, but I drove over there to tell them it was not a joke, and the employee dismissed me as if I were a nothing, his demeanor, his attitude his body language all told the story (as well as the tone of his voice). That Dominos pizza didn't need or want my business...if this is the way the company REALLY FEELS about people, only customer's money....not their loyalty....then the business deserves what it gets....
I went to Casey's pizza to get the pizza I wanted instead....they were more than willing to take an order over the phone without giving them my phone number, and it was ready when I got there to purchase it. I'm going to Casey's pizza from now on !!! The extra cost was worth the excellent customer service !!!

2 incidence. First incident order two pizzas one came cooked the other was brought their solution was to give me a coupon for free pizza whatever. Second issue the very next time I order from there once again they handmade pizza comes to me raw

Ordered a pizza for pick up was told 25 minutes , waited 25 minutes went to Dominoes store , paid for my pizza then was told it hasn't even been put in the oven yet !! So now I'm waiting in your parking lot even longer. Will never ever order another one !!

Janet Schultz and Rick Selph
from Tampa, FL
Rate as 1. Date: 5/4/2019
To: Domino's Manager/ Corporate.
From: Janet Schultz and Rick Selph - Customer's
Subject: Over the telephone order & delivery
I had used Domino's for years, they make some of the best pizza. After this experience I will never go back. Worst experience with food I have ever had. How disappointed I am.
The call was Thursday May 3rd around typical dinner time 5:00 pm. To the gandy and Dale Mabry location.
I asked for 2 (two) medium pizza's, Cheese pizza with a thick crust. The other pizza was to be sausage, pepperoni and mushroom on a thin crust.
The delivery was good and swift. I tipped the guy well, like several dollars. The order was paid cash like $19.00.
Right away started to eat and after a couple or so bites noticed how BURNED the pizza's were. I mean Burnet, the cook was big time in a hurry and it was not good.
To much going on for us to deal with this at that time, so the next day took the over cooked pizza's in directly, in person. How disappointed.
We asked for our cash money back with a reciept. The girl indicated, they don't do that. And "that's the way it's supposed to look". We said, are you kidding me. The girl behind the counter stated, you can take a credit, take two new pizza's. And she stated we have to take the order back, Domino's/we can't take it back.
We/customer, were so disgusted and left. So we got screwd, no money back, no receipt and just a simple credit noted on our telephone number account.
Hence this letter. It will be reported.
Sincerely,
Janet Schultz and Rick Selph
3706 Yardarm drive, Tampa, FL 33611,
Home phone: 813-515-7644.

George Crouchet
from Fullerton, CA
During my 15 min+ wait in store, of the two employees preparing orders, only one washed their hands. Both employees were handling pizza makings and non-pizza items. I do not know what your SOP require but I would think after handling money, door handles and other assorted items, the employee would be required to wash their hands BEFORE making a pizza. I am not a "germaphobe" in any way. Just wanted to point out what I think all restaurants should be required to do when handling food items. Thanks, George

I just got off the phone with one of your customer service person at the domino's on 38th College, in Indianapolis, Indiana trying to place an order for the 2 med pizzas 2 toppings for 5.99. I asked for the first pizza to have the garlic sauce, chicken and half spinach/half pineapple. On the second 2 topping pizza I asked for reg sauce, half pepperoni, and half Italian sausage, half spinach and half banana peppers. So your guy said so you want 4 pizzas. I said no, 2 pizzas half and half. Then he kept asking me to repeat the orders over at least 4 times, while never getting the order the way I asked for it. He became argumentative saying I ordered 4 pizzas and putting the order in the way he wanted to do it. When I said I only have 2 pizzas, then he put the phone down without finishing the conversation. I am very upset that you would have someone this rude working that doesn't understand how to take an order and keeps repeating over and over and not ever understanding what is being said to him.
On top of all of this disrespectful to the customer. I never completed this order with him after trying to order for over and hour. I finally went to Papa Johns. I have worked in customer service and I know that is no way to treat customer if you want to stay in business. I hope you look into this matter seriously.

Joseph king
from Kissimmee, FL
On 5/1/2019, I placed a order for a pizza ( #394827), using the Domino official on line ordering system, placing my order with the dominos store in Kissimmee, Florida, behind the Fast gas station. they started the order around 2:30 pm, I watch the Tracking screen so I can notify our Solivita security guard, when the driver leaves the dominos store, the driver left around 3:00 pm, according to the tracker display screen, no sooner did I get off the phone with security guard, notifying him to expect the dominos pizza delivery driver to send him thru to my house. As I returned to my computer and the dominos tracking screen displayed that my order had been delivered. I know this not to be true since it takes 20 minutes to reach Solivita and the security guard had not called me to notify the pizza driver is coming to my house. So I called the pizza store to make a inquire as to incorrect tracking display information, the clerk cashier did not know why the display showed delivery was made to my residence, so she passed on to the store manager, The claims she pushed the button by mistake, I find that unacceptable excuse for management, this tells me poor training or a very unqualified person is working for you. I definitely will not be ordering from Dominos Pizza again, when their are other pizza places I can order from. Joseph king, 348 rock springs drive, Kissimmee, Florida, 34759

Adrienne Rubel
from Georgetown, TX
I love the friendly personalities of dominos employees. I may not know there names but they know what I want each time I visit the store. Pleasant with a smile and greeting every time.
My issue is every time I go there and watch them make my pizza, I've never ever have seen any workers such as handlers, pizza maker, cashiers ever wash their hands.
I've seen the hand sink in view. No one washes their hands. Some have handles money, cash registers, wiped their brows, arms are hairy, workers multitasking and never ever wash theirs hands. I've seen employees enter the bathroom and come right out so fast that I know no one could use the toilet so fast and they almost for sure didn't have the time for hand washing. I also know that restaurants has a policy for how to hand wash for so minutes.
I think as a good handler there should be a health inspection by someone. Maybe the Health Department or a meeting with the entire staff on what a hand washing station is used for.
Don't get me wrong but I do have a weak immune system and can't afford to get sick.
The Dominos is located in Pflugerville, Texas 78660, off of FM686, Dessau Road, 78660.
I also bought a pizza on Wells Branch Parkway in the HEB location which is just right off of Interstate highway I-35. Same issues.
I just might stop by the pizza if things don't change.
Oh, speaking of coughing and sneezing....no hand washing either.
Getting fed up with filthy food handlers even if they are nice. It doesn't make any sense to put someone's health at risk due to laziness. Or even if you are so busy that you can't be clean. This goes for all these employees.
I also noted that the dough sits out and starts to look like it's been sitting out waaay too long and not covered. The sauce in the bucket looks as if it's been out way to long also. I've seen flies.

I ordered two gluten free pizzas from Domino's Pizza# 6183 in Covington Tn 38019 on 4/25/2019 as I normally do order from them . I have ordered at least twice a week from them ranging from $30 and above on every order. But this order was late, cold and burnt so hard that I could not eat it. I called the store with my complaint and the so called manager told me that this type of crust is always like this. I explained to her that I always order this type of pizza from them and have never had this to happen before and the manager hung up the phone on me while I was still talking.

chris saroli
from Palm Desert, CA
I ordered online, #304366 server 0882 store 8148 My bill was $63.53 + $ 5.95 for delivery This is the worst pizza I have ever had. It totally stressed me out that I got sick to my stomach. That's all I have to say.

Pizza delivery to my hours for 10 years and suddenly told by the people there that I am out of their area 3 miles away.

Your commercial says you can get a large pizza at $7.99 every day takeout . I was shopping at ingles super market , on the back of the receipt was a coupon for domino's pizza stating buy 1 large pizza get another one free . when called to order my pizza the manager said he will not honor the coupon . how do you people stay open with this false advertising !!

I just had the worst Pizza in my life at the Kutztown Domino's in Kutztown, PA near the university on 4/19/19.
It was like eating a dry cracker with dry pepperoni on it.
I paid $8.47 for this disaster.
You need some corporate oversight on this poor excuse for Domino's.
A refund would be totally appropriate.
Stan Galorenzo
201-953-4105
yelnats@mail.com

Robbin Biggerstaff
from Houston, TX
Yesterday 4/17/2019 I ordered 2 sandwiches for delivery. It had to be a $12 minimum. Plus delivery fee, plus a tip. I spent $19. I ordered the Philly steak sandwich which was all bread (although good bread), hardly any cheese and the cheese was burnt onto the bread, hardly any meat or vegetables. What meat that was on the sandwich was only in the center. It was pathetic. I was hungry so I ate the meat off the bread and threw the bread away. Thought about the $19 I spent on a crappy lunch and started to get irritated enough to send this email this morning. I wasn't given a receipt but I do have the emails. The total was $16.45 Order# 288262 11:49 am. I paid cash and a tip to the driver. The Dominoes stores phone number is 972-608-2929. My order was delivered to 5800 Granite Parkway Suite 100 Plano Texas 75024. To: Platinum Title Partners.
For: Robbin Biggerstaff cell# 469-323-2797
I would like to give this store another chance but I do not want to spend another $20 for less than acceptable food. Especially at lunch. Is there anything that corporate can do for me? I didn't complain to the store yet. I thought about that as well.
Thank you,
Robbin Biggerstaff

Laronda Lowery
from St Louis, MO
0n 12-25-2018 I spent about $40.00 dollars on a pizza deliver to my office. A few times for different orders it was more. I am not sure if the pizza normally cost that much or if it's a special promotion that's offer every blue moon or something but I believe I am being over charged. A few time the drivers had forgotten the kind of 2-litter soda I wanted; but if I have enough I would make sure I left the driver a good tip. Sometimes 7-10 dollar tip because I know gas isn't cheap…
Outside of that I never had any real problems from this deliver location. Until December 25, 2018.
On this date I order 2 medium 2 topping pizza's; initially I ordered 2medium 1 topping pizzas then I called the store to add to the order. The exact order was for the 2medium 2toppings 1thin crust with chicken & bell peppers; and the other pizza was a pan pizza with beef & black olives and 2choclate lava cakes and a two liter soda.
I ate a lot of the pizza and my mother ate some of the pizza as well. The pizza made me very sick and my mother she is deceased now. I was going to send the pizza to a toxicologist so I put it in a zip lock bag in the freezer. I am not sure but I think she must have eaten more of the pizza again in the month of January when I came back from running a few errands 01-25-2019 she was in the hospital and some of the pizza was missing. I am not sure if it was the pizza dough or if was something related to when the government was shut down for a little while; but the pizza dough was under cooked. I had not order any more pizza from that location since then.
I also thought it was a little strange that the young lady that delivered the pizza said she wasn't the regular driver and when I offered her a cash tip she said that wouldn't be necessary.
The store number where the problem was is #1594

Amy Rogers
from Newark, NJ
call in order: they couldn't find it and then sent us out with the wrong order, there was approximately 5 Tiny broken pieces of chicken in the chicken finger order . while waiting for the New Order I watched everybody including the manager do money transactions credit card transactions and not one of them had on gloves or wash their hands while grabbing cheese pizza dough toppings with bare hands again including the manager the gentleman next to me asked for his money back. I hate to complain about any business. but this is about food safety
I didn't ask for my money back although I should have but there was many unhappy customers around me I didn't want to add fuel to the fire

Isabelle Exume
from Miami, FL
I placed an order online.
Order Details 
Order #: 870573 
Date: 04/14/2019 8:15PM
It is now 10: 30 and I have not received my order. The tracker shows it was delivered but that is not the case. I called the store and I sat on hold the 1st time for approximately 40 mins. I then hung up and called back, and am currently sitting on hold again for another 45 mins. I will continue to hold just out of curiosity to see how long the store will leave a customer on hold, as I do not expect any satisfaction from your company at this point. I have sent three instant messages but have received no response despite the statement that says they have my undivided attention.
This is horrible customer service. It is bad enough my food was not delivered, but now I have to endure over an hour long hold just to let them know that! Truly disgusting!!!

Aakash Trilok Jain
from New Delhi, DL
Hi,
Case-1, I have made an order on 3rd of March for my wife and I, it was 1 farm house ordered. I was asked to wait for 1 hour and I waited for more than 2 hours but, I could not get the delivery at all. Next day, again I called Domino's and ordered same again, I was asked to wait for 1 hour and I waited for 2-3 hours but I did not get the pizza. I told them that I am very much frustrated and my wife also did not like it they said that we are sorry for the inconvenience. They also told that, on the next order I am eligible to get a discount of 300.00rs, and I will get a call back, I said okay but nothing happened.
Case-2, I went to Domino's yesterday on 13rd of April with my wife and I told them about my complaint and asked them to provide the discount but they have no any information about and they said sorry we can not. Now this time this was not tolerable at all for me. I called again to Domino;s right there and spoke with a person named "DIPANSHU", I told him all this and he put me on hold so that he can get my call transferred to his supervisor, however after a long hold he cam back and said I will get a call back like earlier. I have warned him, if this time I don't get the appropriate assistance, I will write about it on Facebook, he assured me that I will get a call with in 10 minutes but I waited with my wife at Domino's for 1 and half hour. Now this time I am gonna share a link with your guys please suggest what should I do..This is the worst experience that I have every got.
Thank you.

jonathan martin
from Klamath Falls, OR
today I went to the dominos on washburn way in Klamath falls. When I walked in, music was blaring so loud , it was hard to concentrate on the menu. I ordered a pasta breadbowl and an Italian sandwhich. I asked for double the meat and paid for it . The young lady asked me four times what I ordered. each time I told her the same thing. Even after taking my credit card she asked again what I ordered. There were four guys in the back cussing very loudly at each other about a delivery. It was very uncomfortable listening to them talk that way in front of customers. After getting home I discovered that they did not double the meat and I fully expected that and had asked the guy who made the sandwhich when he gave it to me if he doubled the meat, he said he did. My fault, I should have looked before I left. Kids these days have no pride in there work and just throw things together . I feel these kids were not properly trained to do what I know is an easy job. I worked at Abbys pizza before I joined the Army in 1981 and we never behaved in that maner. We would have been fired on the spot. Anyways just airing out my frustration. Thankyou. Jon Martin

suzanne schmidt
from Bedminster, NJ
the manager was very rude to a disable person and that person is my mom name is Suzanne Schmidt and my name is Joshua Schmidt u can contact me at joshuaschmidt385@gmail.com and my phone number is 5636769766
the place said that it would take up to 45 minutes and the manager said when we try to do a complaint he said never call back and the pizza was cold and a little under cook but very rude sever please take care of this or please get a hold of me and the manager never said his name and the address is 1926 Brady street 52803
please fix this because this was the worst service we ever had!

Sheila Fritsvold
from Phoenix, AZ
I ordered a side order of Banana peppers, And they brought the wrong kind .I know I have ordered Banana peppers before from them now there telling me they don't do side banana peppers! And instead of offering my money back they want to Credit me .No either bring me the banana peppers or my money. I'll never order from them again.

Jay Jay
from Drexel Hill, PA
get better people I never dealt with so much disrespect from these people I highly not recommend this place this place should be reported to cooperate after 5 times hung up the phone and lied that we never tip them smh I was so pissed off at these people and even come from a general manger so unprofessional plus they messed up our order and ontop of that they offer a discount to replaced something they made do not give them there service they do not deserve it screw dominos pizza we even called other dominos they suggested we should called cooperate on these people at first we have been ordering them since they moved there at the beginning they were great we have no problem all the sudden now we been having problem yess I could understand if it was 1 or 2 or even 3 times messed up things happen but not something like this tonight it was hell they need to treat there customer with more respect I hope they see this as well and learn how to trained there staff and even manger as well but never ever again Iill be ording from them if I were you do the same as well don't order from dominos

Victoria Juarez
from San Antonio, TX
Ordered pizza n had it delivered when it was delivered they said by the way we dont deliver in ur area but we did it cuz were slow . I left it at that started to eat my pizza n it was the total wrong order so I called n complained n they said they were sending a new order out so I waited an hour n still no pizza so I then called n they never had a pizza being sent out n was told to write a complaint online

I order lunch from Domino's Pizza shop on 146 Smith Street Brooklyn New York 11201. I order Bread Stick and Chicken. The chicken was not cook well. Called them the lady said no one else complaint and I didn't say well done. Who says well done for Hot wings. She was very nasty. Thought chicken is suppose to be cook before it given to the customer. I wanted my money back she said no. I didn't have no lunch. I was not eating raw chicken. Please handle this matter.

Tonight, April 1st at 6:15 pm my daughter ordered a Domino's pizza online. The wait time was 57 to 67 minutes. At 7:29 (on hold for 12 minutes) she called to find out what was going on. The guy at Domino's answered with "We've had three people quit. It's a 3 hour wait for pickups and a 4 hour wait for delivery" This is the THIRD time this year people have quit. What is the issue with Domino's? Why do people constantly quit? They need to evaluate this location and find out what the heck is going on. One more issue like this and we will o longer order from Domino's no matter where we happen to be. We really enjoy their pizza but this is enough!!!

Alley Hunsinger
from Riverside, CA
When i called and ordered the wait was an Hour once we got the pizza half of the pizza was correct I ordered I got the 2 cheese pizzas but my other 2 pizza were not correct I ordered 2 cheese and Pineapple but i only got one and the other one was cheese and Pineapple with ham but i didn't want nor asked for it and then when my mom call a girl answered the phone put her on hold then hung up so my mom tried again the girl said after she answered the phone said to another co worker "i don't know what to tell her" and then hung up but before that my mom asked to talk to a manager and then they hang up on her. So again my mom proceeded to call them again so this time a guy answered the phone this time so my mom re ask to talk to the manager and he tells her "oh well there is no manager" then he proceeded to ask her "did you eat it" but my mom had said before he asked that that she was allergic to ham. Then my mom said how mad and livid she was about the pizza and he go on disrespecting her and saying "How livid" like that was rude then he accused me of asking for coupons that i had never asked for and when i did order the person on the phone never told me how much is was and just hung up. And again the guy on the phone with my mom said that some employee don't care and don't have to offer the coupons if they don't want to. and that whenever someone is going out to delivered or whenever someone wants to and you could hear the girl from before laughing. They also said that they wouldn't recredit the card that they over charged and on TV its shown for 5.99. I don't plan on ordering from there again or doing business at dominos on felspar in Jurupa valley ever again and i request that they are either fired or punished for their actions.

Harold McIntyre
from Tavares, FL
I called corporate and made a complaint about a franchisee and was told someone would get back to me from that location well that never happened so why bother taking complaints at all I'm TOTALY DISGUSTED with the hole company No resolve or returned contact. A simple apology from the manager would go a long way I guess they don't care about costumer service or satisfied patrons

Gina Ortiz
from Avondale, AZ
Ordered a medium pizza and wings, took over 2 hours to deliver and when I called the store over 10 times, they would just pick up the phone and hang up. I have videos where they do this and can hear the staff in the background. This si absolutely ridiculous and unprofessional!!!!

Olympia
from New York, NY
The most unprofessional employees I've ever seen in my life!! Online it's saying delivery and take out until 2 am and I'm calling the store in Norwalk CT on Main Ave the first time a man answered the phone and he was like "Dominos closed tonight" and hung up the phone, I called 2nd time and he answered again the same person and he was sooooo rude "you do not speak English" he said to me he didn't even let me talk and hung up the phone again…!!!! I just wanted to let him know that online says delivery and take out until 2 am!!!! Very rude and very unprofessional!!! I don't usually make it a big deal but this was the most disgusting customer service I've had in my life..!!!!

Mitchell Canter
from La Grange, GA
I ordered a pizza today. I waited over one and a half hours. When I called the driver she said she had been here but never honked called or anything. She told me another driver had recently been almost updated somewhere so she was on high alert of anything suspicious. She was back at dominoes when I called her and said she would be right out with Mt order. Which she was. By this time the order was cold a mushy. It all made no sense to me that she drove all the way here and not give me the order the 1st time. There is nothing suspicious here. We are a 61 year old disabled couple and often order delivery from the same place. We ended up just giving the pizza to the neighbors dogs. This happened at the Lagrange GA Sore on Lafayette parkway. The driver was Jennifer

Brenda Foster
from Dallas, TX
My son is in Soledad Prison. Soledad CA, 97605. He and, his fellow inmate's ordered Domino's pizza. Not only were they overcharged, they're used to that, but they received inferior quality! The pizzas sauces stopped approximately 3 inches from the crust. The Meat Lovers pizzas had almost NO meat! Why they ordered those in the 1st place! These are called meat lovers for a reason! I feel this was done knowing that they could not complain. At the very least Domino's corporate should contact the franchise that received this enormous order, with an equally enormous price tag, so they can honor the Domino's name. What they sent was disgraceful! Not only are they denied family visitation, due to COVID-19, but now they are not allowed to get what they pay for. How can anyone inside of prison be rehabilitated if they are treated so badly by the "outsiders?" Answer: They can not. That is why I'm writing to you in the hope you can do something about it! They should ALL have their money, or orders replaced in Soledad Prison, regardless of what they are there for because they ordered thinking they would receive the same quality that the Domino's name is famous for, and under the Domino's pizza service agreement, they are entitled to.
Sincerely,
Mrs. Brenda Foster
.

Ronnie B. CHATTERJEE
from Queens, NY
I order online at dominos queens blvd briarwood, suman, saleem and others make horrible pizza pies. Hardly any chicken and pineapple on the pies and the pie crust is burnt and horrible.

Travis
from Bowling Green, KY
Hours of operation said they closed at 1am at 12:49 the guy inside told me they were closed and that they closed at 12am

David Norman
from Houston, TX
Store # 6659 / Order # 2572 @ 08-06 @ 7:29 PM CT
1) ordered 2 pizzas online; payed by credit card
2) after 30-minutes I checked the status via the 'tracker' tool; response = ORDER COMPLETED
3) after 45- and 60-minutes still no pizza
4) called Store (17 times) and only rec'd recording; no human came online
5) confirmed credit card was charged
6) need FULL credit to credit card
+++++++++++++++++++++++++++++++++++++
Customer Information
Name on Order: David Norman
Delivery Address: 11805 MEADOWGLEN LN Apt 1108, HOUSTON, TX 77042
Callback Phone #: 281-536-5830
Your Domino's Store: Domino's #6659 1498 Wilcrest Dr Houston TX 77042-2229 713-782-4311 Delivery Time: Approximately 30-40 minutes
DON'T FORGET TO CLAIM YOUR REWARDS POINTS TOWARD FREE PIZZA!
Order Details
Order #: 2572
Date: 08/06/2022 7:29PM
The following order is being delivered hot and fresh to your door:
Quantity Description Amount
1 Medium (12") Hand Tossed Pizza
Whole: Italian Sausage, Mushrooms, Robust Inspired Tomato Sauce, Cheese
$13.99
1 Medium (12") Thin Pizza
Whole: Italian Sausage, Mushrooms, Robust Inspired Tomato Sauce, Cheese
$13.99
Food & Bev Total: $27.98
Tax: $2.67
Delivery Charge: $4.40
Tip Amount: $7.01
Total: $42.06

Don't ever go to this location for your food #1901. Horrible management they messed up my food the cheesy bread was dry and it seems like it was sitting for longer the wings was cold skin was slimy and nasty I took it back and told the guy in charge about it he said he would make me some more wings but refuse to make me more cheesy bread. When I got the second batch of wings they was worse than the first. I told him I wanted my wings to cooked longer he did not listen and made them more uncooked than I was before

Douglas Walker
from Centralia, IL
I order a pizza on line and went down to get at the curbside service and set their over10 minutes and they never bought it out I had to go in and get it so I think you owe me a free pizza.

Catherine
from East Orange, NJ
Store location: 335 Valley Rd. West Orange, NJ 07205, Date of incident: 7/28/2022
I ordered 2 pies online back in June 2022 with curbside delivery. Once the order read complete on the tracker, the worker did not come out for another 16 minutes. I went into the store to pick up the pies and asked about the 2 free pies if your curbside comes out late. The worker, Stacy, mentioned that it would not apply to that order but to a future order. She put my phone number in the system and said I would have to call in or come to the store to order the future free pies. I went into the store July 28, 2022 and they refused to honor the 2 free pies. When I tried to explain to the man what happened. He started yelling and walking away. He was absolutely rude and disgusting. When I asked for the manager , he walked away. I did not get his name has he did not have on a name badge or management information and no accommodations. He walked away and ignored me. I will NEVER purchase from Dominos again.

Elissa LaFonte
from Prescott, AZ
I tried to order online and I guess it didnt go through so I'm still waiting on my money to come back to my account...still says pending...please look into this for me

Mark hays
from Spelter, WV
I just order pizza on line from Clarksburg West Virginia
And the person at the store was really rude and the last 3 pizzas I had were cold and burnt and then when I called to complain the person hung up on me and I paid over 22.00. Call mark hays

Safia Fares
from Dallas, TX
I ordered pizza today order #1679
It was with 3 ingredients and when I picked it up and checked at the store it had only 2 ingredients
I asked the guy and his reply was we are out of black olives
Shouldn't they call the customer and let them know or ask if we want to cancel the order or proceed with another ingredient
Also it was burnt on the edges
So disappointed
No wonder Dominos going down the drain
I will never order again

Barbara J Laurenson
from Brooklyn, NY
My experience really was crappy and unacceptable. The delivery guy on bicycle, would not bring the pizza to my door. I had to go outside and get it from him. So why if the delivery guy isn't going to bring it up to my door as per the instructions put in with the order, do you ask for delivery instructions? I have problems walking and I was not feeling well, so that's why I thought I'd get some pizza delivered to my. door, so I wouldn't have to cook.
Also, the sauces that I paid for-see attached- were not. included. ($5.25+tax) the pizza was burned on top, soggy bottom and tasted like cardboard. The Apple dip was in a box without a cover. The "Specialty" chicken was not special...tastes nasty.
I called the store and all I wanted was a refund of my $$, and. the 10.00 I put. for a tip. -he didn't deliver it...he rode on. his bicycle 3 blocks and I had to get dressed and go downstairs to pick it up. The Assistant manager told me it was because the delivery driver was new...but she lied about that because he came on a bike. She then backtracked and said well the GM isn't here now and she just came in...bla-bla..I basically am fed up and will NEVER order from Dominos again! Lousy BAD food, horrible service...and BTW keep your coupons, and your money, it was well spent because it was a learning experience, but know. this DOMINOS will be bad mouthed by ME personally to ALL my FAMILY and FRIENDS!
Oh and the pics I took to send you wouldn't upload so ...

Liz neeley
from Granite City, IL
Ordered pizza at 1005 pm and received at 1255am. Complained to driver because could not get through to store. See Tic tok complaints about d from employees etc and not surprised. How about getting rid of you national ordering line which is useless and use that money to pay higher wages. Most fast foods are paying 15 to 20. COME ON. my suggestion eat more at home easier and cheaper. Boycott these situations.

David
from Lincolnton, NC
I'm regular customer. Come to the store and get the medium for 599 today I come and they told me no more pizza for 599. I think they should told me that need to be ordered online. They need to be trained better.

Africa Briggs
from Akron, OH
Order# 887 Garfield Hts location
AFRICA BRIGGS
I place my order on line and paid. The delivery person 2hrs late with 6 wings. I order wings Pizza and Drink. I Called the store and spoke with Josh, who stated my order would be resubmitted and delivered. At a quarter to 100 am I called the store just to be hung up on several times. It is illegal to take payments and not provide a service or product. THIS WAS ONE OF WORST DELIVERY EXPERIENCE . PLEASE REFUND MY FUNDS INCLUDING THE TIP . I WILL CONTACT MY CREDIT CARD FRAUD DEPARTMENT TOMORROW MORING TERRIBLE EXPERIENCE

Steve graves
from Houma, LA
Last couple months trying place a order been difficult. How do you place a order ? You can't do it online you cannot call . Yesterday was the last draw . I place order 4 different times online and would not take my order. I call to place order and the person said they cannot take my order on the the phone . How do dominoes do business. Domino's lost my business and my family business.

East Windsor domino they don't want to take order on phone i call 9 times they open and the person told me close

Amy wright
from Bowie, TX
So I was trying to do a online order and when finished it would not let me put will pay when arrive. I called the store and the gentleman was very rude and disrespectful. He said it's not my problem we have nothing to do with online. So I said ok we'll I would like to get my food for the online prices he then said no very rudely and said you will have to pay full price so then anyways I drive up there to get order that I gave them over the phone and the guy at the window says we don't have a order for you So I literally sit there and wait for order and he hands it to me and I said I would like the cheese and ranch he has a bad attitude He goes for them opens window and says here take it I just wanted to inform y'all of very rude customer service and they need to treat the customers a little better

Rebecca chavera
from Dallas, TX
Well first of all I want to start by telling you it's been two months my order still hasn't got fix i the manger name was Eric I called and called called and he was very rude right along with the workers and I have sent email after email and I really do hope this will be the last one I have to send and I get my order fix cause it wasn't like it was only 20 dollars and I get my grandkids tomorrow night and their cousins so hopefully y'all can send me a email so I can get their dinner what I had order them the last time was was one thin crust large pineapple with ham real light light light light on the sauce extra extra extra extra cheese one large ultimate pepperoni extra light on sauce as well and all these pizza had extra sauce on them and one medium Cali chicken bacon ranch light on sauce as well and honey bbq wings the 20 and two orders of the stuff cheesy bread

Chris
from Salt Lake City, UT
Absolutely the worst service we have ever had! After an hour of waiting for our order. We tried calling the Kearns Utah store. To cancel our order. Nobody knows how to answer a phone there. So we couldn't cancel the order. Dominos showed up 3 hours later to deliver it. We just told them take it back and we have already stopped payment. Absolutely ridiculous. Also this is not the first time it has happened. But it is the last. Never go through dominos again!

ERIC KEHLER
from Green Bay, WI
missing1 topping on pizza need more products on pizzas from delivery

Tony Allard
from Easley, SC
Ordered pizza and hot wings at 515pm for 615pm pick up. Arrived at the Store at 555pm received text at 615 that the order would be out in another 7-10 that Oder was in oven it finally came out at 635pm. I called the store and asked why our orders no matter when we order are never out on time. They said they have no control over how busy they get and there was boring they could do that corporate likes them being busy so I just said okay thank you. This Store in Easley South Carolina is not quality or customer service oriented.

I placed an order and when I went in to pick it up there were 3 teens in the back and I had to sit and wait at the pick up window for 10 mins before anyone even came to assist me to pick up my order. As I was standing there one boy was throwing the pans after taking the cooked pizzas off and the pans were landing on the floor. So my pizza is not hot, but almost room temp and the customer service was absolutely horrible as they were also rude as if I was interrupting their time. Store number is #1140 located in scs Michigan at 11 mile and harper.

Christine Randazzo
from O'Fallon, MO
On Sunday June 12th 2022 we ordered pizza in our area at 11:19 p.m. the store closes at 12:00 but on the website it states we close at 12:00 but don't worry if your order is placed by 12:00 you will still have your food delivered. About 30 minutes later they canceled the order we called the store they hung up on us said they're not doing deliveries and hung up so I then went online and replaced the order and soon after it was canceled we called again we asked for the names of the people that were working the girl said oh his name is and then she hung up on us then it being past midnight at this point we have nowhere in our area that is open to get anything to eat I'm very very very very angry about this I want something done with the people that were working there including the manager that evening and I want some kind of compensation for all the crap that I've been through with this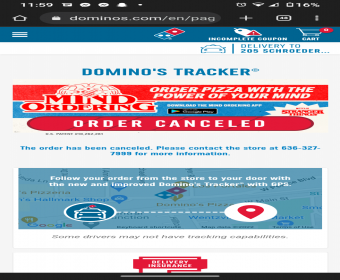 Linda Patterson
from New York, NY
Order paid online. Waited 30 min. Told would be another 1 1/2 hours. Had window slammed in my face when asking about refund. Was told no one could refund except manager and they weren't coming in until this evening. Was in Tuscumbia Al on 6/12/22 at 12:45

Debbie carter
from Monroe, GA
I have been waiting for my order since 7.15 pm it is now 9pm. No one should have to wait this long for an order. When I called 3 times I was told it was already on its way. Still no good, I live at Ross from them. In Monroe ga 30656
Debbie carter

Blanca Bibi
from Baton Rouge, LA
about 2 weeks ago. we got to the store, the guy at the register gave us the sales on pizza buy 2 two topping get for $5.99 each and sides too. We asked for 2 vegetable pizzas , garlic knots, and a couple of 20 oz sodas. we waited outside the 20 minutes. my husband went in to pick up and they gave him only one pizza and told him that we only ordered one. of course we needed 2 that why we ordered 2. so my husband asked for another one to be made and being that the order guy didn't listen to what i said. they charged us full price for both pizzas. in the last 2 years every time we order they get something wrong, we kept giving chances but enough is enough. we will no longer order from domino's and will post it on my blog and ask my 700 thousand followers to post it on their blogs. this should raise awareness.

Avneet V.
from Los Angeles, CA
Waited for over 2 hours for pizza delivery. Ended up canceling the order. Called the restaurant multiple times and the reps continued to put me on hold. Very poor service!!

Kathy luehring
from Albuquerque, NM
Place an order for a small thin crust pizza my system said it was $799+ tax I get there they tell me that it's $12 they said the coupon was only for the large which I didn't see that in the system stead of accommodating me they canceled the order I did tell them I was not paying $12 for a small Domino's Pizza I think somebody to talk to that store about customer service it was a store that was on stage and 98th in Albuquerque New Mexico I was there at 6 o'clock on May 14

Julie sharrar
from Newark, DE
My husband ordered pizza at 6:19 and he called at 7:40…still no food. They said they only had one driver and my husband asked if the food was warm.. we were next delivery. Got it ice cold! Never going back…

RON AGURKIS
from Naperville, IL
DOMINOS ADVERTISES DELIVERY BUT WHE CALLED TO PLACE ORDERS - THEY DONT DELIVER

Kelly Lott
from Indianapolis, IN
I made an online order on April 22nd , they showed the status bar and it said someone started to prep the order . Then an hour later still saying prep . I called the store and got a brain dead employee, he placed me on hold with his attitude. Got back on saying we're really busy . It will be another hour . I ask him what he thinks about that and he could care less . No customer service, no respect, no business ethics. Sad , sad , sad !! My order was one pizza , one order of bread bites , one order of chicken and a salad . Three items in reality because the salad is already made . Bad Business !!

Stephanie Pacienza
from Pleasanton, CA
I have had REPEATED AWFUL service with Dominos. Why cant they operate as a normal business? For example, I placed an order today at 4:49 pm. It is now 5:49pm and it hasn't even left the store yet!!! Unbelievable. This is a constant occurrence and they just keep offering me free pizza as a condolence. Why do I want more free pizza that is going to take 2 hours to get here? They have also sent me wrong items in the past without even calling me to tell me my original items were out of stock and see if I wanted a substitute. When I called to complain and ask for a refund, they tell me cant refund an online order???? This seems like theft. The manager is not even apologetic or friendly. This is in Elsmere, DE. Carlos is the manager. Please do something or close the store.

Emily Flores
from Miami, FL
I order pizza today April 9th at the location in BVL AMD THEY DELIVER THE PIZZA TO OUR NEIGHBOR . The neighbor came to us and gave us the pizza stating that the girl left it there. We contacted dominos since is gross that our pizzas were left next door and the Representative said that Dominoes policy is if you left a pizza at another location and they said they order they leave the pizza. Which is completely
Wrong bc who orders a pizza so it can be wrongful
Deliver. The young lady refused to give us her name and was very rude and disrespectful! I was very upset at her rudeness and I told her I
Was going to report her and she said she didn't care and that she will block us from ordering pizza again when she was the one that deliver the pizza to the wrong address. Horrible service!!! The manager never came on the line according to the lady nikea was her manager that refused to come to the line. We want our order refunded! We didn't eat the gross pizza that eat was open.

Cynthia Douglas
from Sugar Land, TX
On today 4/8/22, i tried to order online a large pizza and order of chicken which showed $28 and some change. Couldn't pay online, went inside to order it and it was $32. Ended up ordering a medium and told the clerk it was not my fault that I couldn't pay online. Another customer stated he had the same problem. I wasn't happy that I couldn't get the large at the price I got the medium pizza. I felt I should have gotten for the online price.

Thomas Beverly
from Carteret, NJ
I ordered some pizza from dominos on Rahway ave in Woodbridge Njt at 429 on 2/27/22 I waited for my wife to get home before we ate as we opened the voices there were roaches in the box I threw the pizza out and called the store back and the guy who answered got very nasty and told me it's nothing he can do if I have any problems to call corporate I tried to explain to him I didn't eat the pizza rite away because I waited for my wife to get home will never buy from that store again

Kevin Motz
from Saxon, SC
I received the wrong order because the representative incorrectly took my order and incorrectly charged my credit card and when I called the store back I was cussed at and yelled at by 2 associates and then hung up on by a manager after being threatened by yet another associate

Devon Hill
from Aiken, SC
My pizza was 3hrs late!! For 2 pizzas!!!! and they wouldn't or they hung up the phone and the manager was rude her name is Brittany and she works at the Aiken South Carolina location on York Street she was very rude to my husband and she said that they will not be delivering to us anymore because they messed up , and she kept hanging up the phone when people wanted to talk to her .I am beyond outraged of the disrespect and unprofessionalism of this manager in the store.. something needs to be done!!!

Alicia Ortego
from Houston, TX
Ordered online & it took
40 minutes to ready the order , my husband picked up the order . When we checked the order it was incorrect, called & was told they would correct the order & I could pick up in a few minutes & they would bring it out to the car . However upon arrival I called to let them know I was there but was left on hold ten minutes, hung up & called back only to be left on hold once again . I went inside the store to get my order & was greeted by 2 rude workers who argued with me , in front of other customers who were equally upset by their demeanor . I feel I should have been offer an apology not an argument from the two rude employees. Needless to say this will most likely be the last time I order from this store . Someone needs to teach them how to handle the public and speak to them and a respectful manner . Thank you for your time

Pam Stone
from Baton Rouge, LA
Made a order on line and was called by staff to say that the were not taking online orders. Called about 3 hours later to place a order and asked were they still not delivering. The young lady on the phone was real rude and started humming on the phone. I asked several times about delivery and she said nothing. Then she finally screamed in the phone no delivery cause we aint got no driver and hung up the phone. very poor service.

Michelle Thomas
from Clarkesville, GA
The owner Steve, doesn;t send out w-2 as required by law, he gives them to other people to take to the former employees, He also offers an $1000.00 incentive when hired but has not ever paid it out. Checks are always late, they won't set up direct deposit. When asking for copies of documents they won't provide them.
You can contact me for more details/documentation at Michelle Thomas

Nancy Toombs
from North Little Rock, AR
Ordered on line. Did not get what I ordered. Guy at the store said "well I guess you hit the wrong button, because this is what the order said". Told him I didn't want that pizza. He kept saying "that's what you ordered". I asked him if he was willing to lose a good customer over $7.99 and he just shrugged his shoulders. Took the pizza out of the store and put in trash bin and left. If I don't here something from this complaint, I will assume Dominos is always right and customer always wrong. Won't bother you again.

Kristy gross
from Celina, OH
Ordered 2 salads and 2 subs also ordered a pizza never got the pizza and the subs were not done and said was brown and no chicken was on it

Christina Taylor
from Petersburg, VA
I ordered roughly about 4-5 orders on 12/07/2021 at the Vinton 8093 location for a work function. When I spoke to the employee on the phone who I placed my order with, I mentioned that I would like one order around 5:30PM and the other sometime after 10PM that night - they said no problem. When the order arrived at 5:30PM, I signed for the order and tipped the driver $25 for BOTH deliveries, including the 10PM one. Since this is a work function, the company would not approve me giving a $50 tip. Therefore, I signed the 5:30PM ticket and put $25 as the tip and I received the ticket for the 10PM order, but I did NOT write or approve anything for that order (the tip).
I'm not sure if the young man was confused, but I was over charged for the order of $120.86 - there should not have been any tip added to that order that day. Below is a breakdown of what was ordered:
Order #1 - $56.37 + $10 tip = $66.37 (No problem here)
Order #2 - $61.16 + no tip = $61.16 (this was a pickup - again, no problem here)
Order #3 - $168.91 + $25 tip (for orders 3 & 4) = $193.91(No problem here)
Order #4 - $120.86 + no tip as it was included in order #3 = $120.86 HOWEVER I was charged $145.03
Therefore, I am asking my credit card be refunded in the amount of $24.17 as I did not authorize Dominos to charge the difference. I called the store about a week or so later when I received my statement and spoke the the GM, Joe. He said he would get me in contact with the district manager and took my information to pass it along. He told me that this person would reach out to me via email, but I have not received it. If I missed it, I apologize, but I have not seen a credit on my card either. Then, I forgot about the issue as life continues to happen, but when I realized today that I had still to hear from anyone, I called the store again. This time I spoke with someone named Arland. He told me they could not help me because it was too old and that I needed to contact corporate to help me with that. I did mention that I was told that already, meaning someone would contact me because that is what Joe said, and I hadn't heard from anyone, therefore, I called back.
Would someone kindly reach out to me to resolve this issue? and my name is Christina Taylor. I look forward to hearing from someone in a timely manner.
Christina Taylor

Joey Schmidt
from Dallas, TX
Tried to order at 9:45 but they refused to take any more orders even though they close at midnight. Total lazy bullshit.

Betsy Keener
from Middle River, MD
Why are the dominoes in Baltimore county have such horrible service?Every time I try to call the Essex store on Eastern avenue they never pick up! I tried the Domino's on Harford road, ordered a pizza online. It was a timed orders. Came an hour and a half late. it was for a party, hence the timed orders. I canceled the order upon delivery a $35 + order. Talked to the manager, they said it was going to be refunded. THAT never happened. Domino's has totally lost my business! for all of Baltimore county Domino's can't believe how far their service have lowered!! I doubt that this will even GET A Reply.
Betsy Keener
443-600-7869

Jennifer Ann Sargent
from Baltimore, MD
2 bacon ranch sandwich was made poorly there was no bacon just the fatty part of the bacon I was very disappointed they were the worst we have ever eaten from there
Have feedback for Domino's Pizza?
Thanks for your feedback!
Sorry. Please try again later!