Domino's Pizza
Domino's Pizza Complaints Continued... (Page 2)
513+ reviews added so far. Upset? Call Domino's Pizza corporate: 734-930-3030

Sharlene m caldwell
from Ashburn, VA
I want my money back for my free pizza I was suppose to get because my delivery took 2 hoursi also ordered wings that I don't mind paying for I have submitted 3 different cases called store and have not received any response I even called the number
with no text message sent.
I

Sincere Reyes
from Pawtucket, RI
I try to resolve this issue by calling on 10/23 10/24 was unsuccessful they kept hanging up the fone in my face I have proof on my celfone outgoing calls are recorded. My order number was #277 my delivery driver name was Thomas my pizza was burnt crust very thick rubbery like I got sick from it the chocolate lava cake was to hard I requested my full refund of $23.00 back C. J. refuse
I was charged for free pizza unbelievable I'm a loyal customer of Domino's Pizza for 50 years my kids and grandkids love it depends on who cooks Felix was the person who cook it Sunday at 8:37pm 10/23
I appreciate your response soon please. Thank you have a blessed safe evening.

Aurielle Pearson
from Minneapolis, MN
Ordered pizza for car delivery, I just suffered a recent back injury and had to walk into the store in a lot of pain to get my pizzas. Your locations do not deliver to my address

James Gray
from Elgin, IL
Why do I have to get my call routed to North Korea when I'm trying to order from a store 2 blocks away????? Your costumer service and I refuse to order any pizza from u now or ever.

Bert Hall
from Knoxville, TN
I ordered the kids 2pizzas at 5:45 abd did not get them till 10:54 at night the kids were in bed they were not worth the money i will contact all the parents at both schools n get parent to boycott they were rude the nice one was the delivery guy

Michele
from Toms River, NJ
First order, pizza was going to be delivered 1 1/2 hours after it was out of the oven. We canceled. 2nd order from a different store, the person delivered to an address that doesn't exist. All in the same night. The incompetence is unbelievable. I'm not even giving a one star since we didn't 2 either of our 2 orders.

Sherry Shoup
from Bozeman, MT
My son ordered pizza at the store in Belgrade Montana, he asked for as few PACKETS of cheese and red pepper. The associate neglected to inform him you don't have PACKETS and charged him for 11 bottles of parmesan and red pepper, at 3.00 a piece. I asked if they told him what it cost and he said no, at Pizza Hut it's free for the packets. I called and was hung up on. I am going to evey site that gives bad reviews, if this is not refunded to him. He ordered 6 pizzas all medium, except for one, he was charged $164.00. This store is ridiculous and the baloney they pull is going to be reported to every facebook, yelp, instagram, tick tok platform if it keeps this price gouging, overpaying crap keeps happening. $66.00 for cheese and pepper is bull.
Belgrade mt

Rick Kiser
from Jackson, MS
Ordered a pizza with both chicken and bacon and it had no meat at all, not a single piece of meat. The order took 2 1/2 hours to arrive.This is the second this has happened. Also on my last order we did not get the salad we ordered and I called the store and the manager said he would send it right out and never sent it. I would include a photo but your cheap software won't take it, using the free version I see.

Good Customer
from Providence, RI
i made an order and waited outside for 20 mins to have my order canceled because they closed my order was already made and said it was on the way i won't be ordering from dominos anymore becoming to much or a hassle

Wes Stumbo
from Orrville, OH
Ordered a pizza two hours ago. No pizza has been delivered

C Diane Cope
from Krum, TX
I was employed by PAGA from the end of April 2022. I had multiple problems with my Netspend account.
The last issue was my last paycheck. I was working on Sunday, July 31. On that day my account was hacked. $80.00 was removed from the account. PAGA Steve Palme, franchise manager, Austin Jones Andrew Ball can all testify that I was working at the Krum location and could not possibly been 1 hour away in Red oak Texas to have committed this fraudulent hack of my account. I reported the incident immediately on the 1st of August. I was told by Netspend they would conduct a research of the issue and let me know of the outcome by August 15, 2022. I requested Andrew,Austin and the corporate office of Steve Palmer to verify to Netspend that I was working on that Sunday and it was not possible for me to have made this withdrawal!!! All of the afore mentioned individuals refused to provide any assistance to me with regards to my Netspend issue!!!
Netspend told me they had completed their investigation and found no evidence of fraud.
This is inexcusable. All of the aforementioned Domino's franchise, district representative and store manager are responsible for the non payment of funds.
It is my hope that Domino's corporate will put enough pressure on the negligent individuals to pay me the monies owed to me by Domino's PAGA and Domino's corporate.
I expect a response to this inquiry ASAP.
C. Diane Cope

Josh Miller
from Oklahoma City, OK
Bot saidPlease tell me more about your experience or inquiry regarding gift cards so I can send your comments to the Customer Support Team for assistance.
Bot saidHello! This is Dot, Domino's Customer Support Bot.at 9/16/2022 7:21:41 AM
Bot said
Let me know how I can help you today. Please select from the following options:
at 9/16/2022 7:21:41 AM
Pick one of the following
You saidMy name is Josh Miller I live at 1800 Ina Mae, Del City, OK 73115 I ordered a pizza on 9/14/22 at 11:30pm at 11:35 I received a call from the Del City branch stating that they had no delivery drivers available to deliver my pizza so my order was canceled. Apparently at 12:30 my pizza was diverted to my house no phone call, no knock on the door, it was dropped off on tbe front porch and set out there all day I work from home so I did not find it till 9pm on 9/15/22 and I was charged for it. I would not have complained but this is a serious matter because there is an issue with every order since they opened that store. For instance no delivery drivers, taking orders to the wrong location, cold food, not the right pizza, 30 min to an hour late with the delivery, bad customer service, it really is a mess over there. Might need to be looked into before so nothing happens that's not just a remade pizza, or wong house ect.... I really like domino's and I order 2 to 3 times a week I sure would enjoy a little professionalism once in awhile. I very rarely complain about anything but it has gone on long enough. Can I please get a "full refund" I kept both pizzas and receipt that was left on the porch if you need pics or anything for documentation. Thank you.

Kennie stern
from Dallas, TX
I ordered a special pizza tonight, extra cheese, Alfredo sauce, beef, olives, green peppers, large size. What was delivered was a Medium cheese with robust sauce, which is too spicy for kids to eat. I got online and all I was offered was 20% off next order. I really don't think that is enough of a refund. My total was over $25. Don't think what I got was near a $25 order. Thank you for your attention tho this matter.

Akeya
from Colorado Springs, CO
Made an online order at 6:33 PM said it would be ready in about 30 minutes so there was a quality check on the pizza at 6:52 PM at 7:33 PM there still was no pizza so I then call down to the location and all they could do was say that they were slammed but my pizza had been sitting in the warmer for over 30 minutes the manager was very rude very combative wasn't really willing to help other than suggest to cancel my order and then she rudely hung up on me .. Severely behind but yet still taking orders

Rachel klat
from San Francisco, CA
Every time we have a delivery for Domino's and my boyfriend's house the same driver comes to deliver in every single time this man never has a change this is poor business practice and basically in a sense stealing money by forcing me to give him a tip which usually is given when you have a good service and every single time this man comes he never has change he just tried to deliver our pizza and once again he didn't have the change and he proceeded to have an argument with my boyfriend for about 8 minutes about the food and so he canceled our order while our food is here and I waited an hour for it and I'm hungry and he said he canceled it and my boyfriend said no you want the food and his change and he's staying in front of the car and the guy driving him and tried to drive over his foot I called the store spoke with the manager and his resolution is we gave you a refund and pretty much nothing else no I'm sorry no what can I do to make it right he just first of all cannot even form a complete English sentence I cannot understand what he was saying at all literally I'm not trying to be rude but I could not understand what he was asking me online it said the manager was Chandra this man is seeing so obviously not Chandra so I don't know what kind of manager he is the fact that the manager offers no apologies no resolution no customer service except for we give your money back and I guess apparently we're supposed to be happy with that is absolutely ridiculous and the fact that you drove towards my boyfriend trying to run over his foot is unacceptable I have never had an issue with Domino's especially like this this is unacceptable I would really like somebody to contact me and not just send the email with some little promo code or something I would like somebody to contact me file an official complaints because that is dangerous and don't drive towards somebody and there's no reason to cancel my order because he is not practicing what he should be as an employee if you're delivering food and getting cash you have change it's about 2 or 3 times I really didn't want to give him a tip but again he never has change. And as his man drove off with my dinner for again no reason but he was trying to force us to give him a tip basically stealing our money he drove off yelling out his window telling me my phone number is and I would like to hear from somebody before the end of the week I'm just absolutely appalled that the manager offered zero apology any understanding he just said yeah we already refunded your money that's it I sent this is supposed to make everyone happy we're supposed to be just satisfied with that that's okay I honestly just can't believe the Domino's was having a driver like this to tell you the truth I've never had an issue I would go Domino's all over the place and I prefer you over any other Pizza establishments.

Patricia Edington
from Indianapolis, IN
My order was not good it was burnt

Antonio Payne
from Edinburgh, IN
Called and ordered a pizza for and waited almost 3 hours and the lady expected us to pay for it called the store and spoke with the manager and she said they were short staffed she didn't offer an apology or to make it right just was very rude will never order from there again!

Gina Ortiz
from Avondale, AZ
Ordered a medium pizza and wings, took over 2 hours to deliver and when I called the store over 10 times, they would just pick up the phone and hang up. I have videos where they do this and can hear the staff in the background. This si absolutely ridiculous and unprofessional!!!!

Olympia
from New York, NY
The most unprofessional employees I've ever seen in my life!! Online it's saying delivery and take out until 2 am and I'm calling the store in Norwalk CT on Main Ave the first time a man answered the phone and he was like "Dominos closed tonight" and hung up the phone, I called 2nd time and he answered again the same person and he was sooooo rude "you do not speak English" he said to me he didn't even let me talk and hung up the phone again…!!!! I just wanted to let him know that online says delivery and take out until 2 am!!!! Very rude and very unprofessional!!! I don't usually make it a big deal but this was the most disgusting customer service I've had in my life..!!!!

Mitchell Canter
from La Grange, GA
I ordered a pizza today. I waited over one and a half hours. When I called the driver she said she had been here but never honked called or anything. She told me another driver had recently been almost updated somewhere so she was on high alert of anything suspicious. She was back at dominoes when I called her and said she would be right out with Mt order. Which she was. By this time the order was cold a mushy. It all made no sense to me that she drove all the way here and not give me the order the 1st time. There is nothing suspicious here. We are a 61 year old disabled couple and often order delivery from the same place. We ended up just giving the pizza to the neighbors dogs. This happened at the Lagrange GA Sore on Lafayette parkway. The driver was Jennifer

Brenda Foster
from Dallas, TX
My son is in Soledad Prison. Soledad CA, 97605. He and, his fellow inmate's ordered Domino's pizza. Not only were they overcharged, they're used to that, but they received inferior quality! The pizzas sauces stopped approximately 3 inches from the crust. The Meat Lovers pizzas had almost NO meat! Why they ordered those in the 1st place! These are called meat lovers for a reason! I feel this was done knowing that they could not complain. At the very least Domino's corporate should contact the franchise that received this enormous order, with an equally enormous price tag, so they can honor the Domino's name. What they sent was disgraceful! Not only are they denied family visitation, due to COVID-19, but now they are not allowed to get what they pay for. How can anyone inside of prison be rehabilitated if they are treated so badly by the "outsiders?" Answer: They can not. That is why I'm writing to you in the hope you can do something about it! They should ALL have their money, or orders replaced in Soledad Prison, regardless of what they are there for because they ordered thinking they would receive the same quality that the Domino's name is famous for, and under the Domino's pizza service agreement, they are entitled to.
Sincerely,
Mrs. Brenda Foster
.

Ronnie B. CHATTERJEE
from Queens, NY
I order online at dominos queens blvd briarwood, suman, saleem and others make horrible pizza pies. Hardly any chicken and pineapple on the pies and the pie crust is burnt and horrible.

Travis
from Bowling Green, KY
Hours of operation said they closed at 1am at 12:49 the guy inside told me they were closed and that they closed at 12am

David Norman
from Houston, TX
Store # 6659 / Order # 2572 @ 08-06 @ 7:29 PM CT
1) ordered 2 pizzas online; payed by credit card
2) after 30-minutes I checked the status via the 'tracker' tool; response = ORDER COMPLETED
3) after 45- and 60-minutes still no pizza
4) called Store (17 times) and only rec'd recording; no human came online
5) confirmed credit card was charged
6) need FULL credit to credit card
+++++++++++++++++++++++++++++++++++++
Customer Information
Name on Order: David Norman
Delivery Address: 11805 MEADOWGLEN LN Apt 1108, HOUSTON, TX 77042
Callback Phone #: 281-536-5830
Your Domino's Store: Domino's #6659 1498 Wilcrest Dr Houston TX 77042-2229 713-782-4311 Delivery Time: Approximately 30-40 minutes
DON'T FORGET TO CLAIM YOUR REWARDS POINTS TOWARD FREE PIZZA!
Order Details
Order #: 2572
Date: 08/06/2022 7:29PM
The following order is being delivered hot and fresh to your door:
Quantity Description Amount
1 Medium (12") Hand Tossed Pizza
Whole: Italian Sausage, Mushrooms, Robust Inspired Tomato Sauce, Cheese
$13.99
1 Medium (12") Thin Pizza
Whole: Italian Sausage, Mushrooms, Robust Inspired Tomato Sauce, Cheese
$13.99
Food & Bev Total: $27.98
Tax: $2.67
Delivery Charge: $4.40
Tip Amount: $7.01
Total: $42.06

Don't ever go to this location for your food #1901. Horrible management they messed up my food the cheesy bread was dry and it seems like it was sitting for longer the wings was cold skin was slimy and nasty I took it back and told the guy in charge about it he said he would make me some more wings but refuse to make me more cheesy bread. When I got the second batch of wings they was worse than the first. I told him I wanted my wings to cooked longer he did not listen and made them more uncooked than I was before

Douglas Walker
from Centralia, IL
I order a pizza on line and went down to get at the curbside service and set their over10 minutes and they never bought it out I had to go in and get it so I think you owe me a free pizza.

Catherine
from East Orange, NJ
Store location: 335 Valley Rd. West Orange, NJ 07205, Date of incident: 7/28/2022
I ordered 2 pies online back in June 2022 with curbside delivery. Once the order read complete on the tracker, the worker did not come out for another 16 minutes. I went into the store to pick up the pies and asked about the 2 free pies if your curbside comes out late. The worker, Stacy, mentioned that it would not apply to that order but to a future order. She put my phone number in the system and said I would have to call in or come to the store to order the future free pies. I went into the store July 28, 2022 and they refused to honor the 2 free pies. When I tried to explain to the man what happened. He started yelling and walking away. He was absolutely rude and disgusting. When I asked for the manager , he walked away. I did not get his name has he did not have on a name badge or management information and no accommodations. He walked away and ignored me. I will NEVER purchase from Dominos again.

Elissa LaFonte
from Prescott, AZ
I tried to order online and I guess it didnt go through so I'm still waiting on my money to come back to my account...still says pending...please look into this for me

Mark hays
from Spelter, WV
I just order pizza on line from Clarksburg West Virginia
And the person at the store was really rude and the last 3 pizzas I had were cold and burnt and then when I called to complain the person hung up on me and I paid over 22.00. Call mark hays

Safia Fares
from Dallas, TX
I ordered pizza today order #1679
It was with 3 ingredients and when I picked it up and checked at the store it had only 2 ingredients
I asked the guy and his reply was we are out of black olives
Shouldn't they call the customer and let them know or ask if we want to cancel the order or proceed with another ingredient
Also it was burnt on the edges
So disappointed
No wonder Dominos going down the drain
I will never order again

Barbara J Laurenson
from Brooklyn, NY
My experience really was crappy and unacceptable. The delivery guy on bicycle, would not bring the pizza to my door. I had to go outside and get it from him. So why if the delivery guy isn't going to bring it up to my door as per the instructions put in with the order, do you ask for delivery instructions? I have problems walking and I was not feeling well, so that's why I thought I'd get some pizza delivered to my. door, so I wouldn't have to cook.
Also, the sauces that I paid for-see attached- were not. included. ($5.25+tax) the pizza was burned on top, soggy bottom and tasted like cardboard. The Apple dip was in a box without a cover. The "Specialty" chicken was not special...tastes nasty.
I called the store and all I wanted was a refund of my $$, and. the 10.00 I put. for a tip. -he didn't deliver it...he rode on. his bicycle 3 blocks and I had to get dressed and go downstairs to pick it up. The Assistant manager told me it was because the delivery driver was new...but she lied about that because he came on a bike. She then backtracked and said well the GM isn't here now and she just came in...bla-bla..I basically am fed up and will NEVER order from Dominos again! Lousy BAD food, horrible service...and BTW keep your coupons, and your money, it was well spent because it was a learning experience, but know. this DOMINOS will be bad mouthed by ME personally to ALL my FAMILY and FRIENDS!
Oh and the pics I took to send you wouldn't upload so ...

Liz neeley
from Granite City, IL
Ordered pizza at 1005 pm and received at 1255am. Complained to driver because could not get through to store. See Tic tok complaints about d from employees etc and not surprised. How about getting rid of you national ordering line which is useless and use that money to pay higher wages. Most fast foods are paying 15 to 20. COME ON. my suggestion eat more at home easier and cheaper. Boycott these situations.

David
from Lincolnton, NC
I'm regular customer. Come to the store and get the medium for 599 today I come and they told me no more pizza for 599. I think they should told me that need to be ordered online. They need to be trained better.

Africa Briggs
from Akron, OH
Order# 887 Garfield Hts location
AFRICA BRIGGS
I place my order on line and paid. The delivery person 2hrs late with 6 wings. I order wings Pizza and Drink. I Called the store and spoke with Josh, who stated my order would be resubmitted and delivered. At a quarter to 100 am I called the store just to be hung up on several times. It is illegal to take payments and not provide a service or product. THIS WAS ONE OF WORST DELIVERY EXPERIENCE . PLEASE REFUND MY FUNDS INCLUDING THE TIP . I WILL CONTACT MY CREDIT CARD FRAUD DEPARTMENT TOMORROW MORING TERRIBLE EXPERIENCE

Steve graves
from Houma, LA
Last couple months trying place a order been difficult. How do you place a order ? You can't do it online you cannot call . Yesterday was the last draw . I place order 4 different times online and would not take my order. I call to place order and the person said they cannot take my order on the the phone . How do dominoes do business. Domino's lost my business and my family business.

East Windsor domino they don't want to take order on phone i call 9 times they open and the person told me close

Amy wright
from Bowie, TX
So I was trying to do a online order and when finished it would not let me put will pay when arrive. I called the store and the gentleman was very rude and disrespectful. He said it's not my problem we have nothing to do with online. So I said ok we'll I would like to get my food for the online prices he then said no very rudely and said you will have to pay full price so then anyways I drive up there to get order that I gave them over the phone and the guy at the window says we don't have a order for you So I literally sit there and wait for order and he hands it to me and I said I would like the cheese and ranch he has a bad attitude He goes for them opens window and says here take it I just wanted to inform y'all of very rude customer service and they need to treat the customers a little better

Rebecca chavera
from Dallas, TX
Well first of all I want to start by telling you it's been two months my order still hasn't got fix i the manger name was Eric I called and called called and he was very rude right along with the workers and I have sent email after email and I really do hope this will be the last one I have to send and I get my order fix cause it wasn't like it was only 20 dollars and I get my grandkids tomorrow night and their cousins so hopefully y'all can send me a email so I can get their dinner what I had order them the last time was was one thin crust large pineapple with ham real light light light light on the sauce extra extra extra extra cheese one large ultimate pepperoni extra light on sauce as well and all these pizza had extra sauce on them and one medium Cali chicken bacon ranch light on sauce as well and honey bbq wings the 20 and two orders of the stuff cheesy bread

Chris
from Salt Lake City, UT
Absolutely the worst service we have ever had! After an hour of waiting for our order. We tried calling the Kearns Utah store. To cancel our order. Nobody knows how to answer a phone there. So we couldn't cancel the order. Dominos showed up 3 hours later to deliver it. We just told them take it back and we have already stopped payment. Absolutely ridiculous. Also this is not the first time it has happened. But it is the last. Never go through dominos again!

ERIC KEHLER
from Green Bay, WI
missing1 topping on pizza need more products on pizzas from delivery

Tony Allard
from Easley, SC
Ordered pizza and hot wings at 515pm for 615pm pick up. Arrived at the Store at 555pm received text at 615 that the order would be out in another 7-10 that Oder was in oven it finally came out at 635pm. I called the store and asked why our orders no matter when we order are never out on time. They said they have no control over how busy they get and there was boring they could do that corporate likes them being busy so I just said okay thank you. This Store in Easley South Carolina is not quality or customer service oriented.

I placed an order and when I went in to pick it up there were 3 teens in the back and I had to sit and wait at the pick up window for 10 mins before anyone even came to assist me to pick up my order. As I was standing there one boy was throwing the pans after taking the cooked pizzas off and the pans were landing on the floor. So my pizza is not hot, but almost room temp and the customer service was absolutely horrible as they were also rude as if I was interrupting their time. Store number is #1140 located in scs Michigan at 11 mile and harper.

Christine Randazzo
from O'Fallon, MO
On Sunday June 12th 2022 we ordered pizza in our area at 11:19 p.m. the store closes at 12:00 but on the website it states we close at 12:00 but don't worry if your order is placed by 12:00 you will still have your food delivered. About 30 minutes later they canceled the order we called the store they hung up on us said they're not doing deliveries and hung up so I then went online and replaced the order and soon after it was canceled we called again we asked for the names of the people that were working the girl said oh his name is and then she hung up on us then it being past midnight at this point we have nowhere in our area that is open to get anything to eat I'm very very very very angry about this I want something done with the people that were working there including the manager that evening and I want some kind of compensation for all the crap that I've been through with this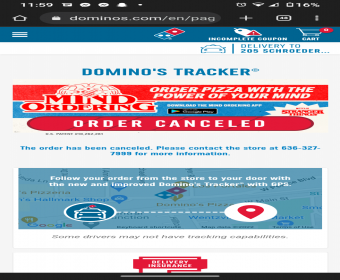 Linda Patterson
from New York, NY
Order paid online. Waited 30 min. Told would be another 1 1/2 hours. Had window slammed in my face when asking about refund. Was told no one could refund except manager and they weren't coming in until this evening. Was in Tuscumbia Al on 6/12/22 at 12:45

Debbie carter
from Monroe, GA
I have been waiting for my order since 7.15 pm it is now 9pm. No one should have to wait this long for an order. When I called 3 times I was told it was already on its way. Still no good, I live at Ross from them. In Monroe ga 30656
Debbie carter

Blanca Bibi
from Baton Rouge, LA
about 2 weeks ago. we got to the store, the guy at the register gave us the sales on pizza buy 2 two topping get for $5.99 each and sides too. We asked for 2 vegetable pizzas , garlic knots, and a couple of 20 oz sodas. we waited outside the 20 minutes. my husband went in to pick up and they gave him only one pizza and told him that we only ordered one. of course we needed 2 that why we ordered 2. so my husband asked for another one to be made and being that the order guy didn't listen to what i said. they charged us full price for both pizzas. in the last 2 years every time we order they get something wrong, we kept giving chances but enough is enough. we will no longer order from domino's and will post it on my blog and ask my 700 thousand followers to post it on their blogs. this should raise awareness.

Avneet V.
from Los Angeles, CA
Waited for over 2 hours for pizza delivery. Ended up canceling the order. Called the restaurant multiple times and the reps continued to put me on hold. Very poor service!!

Kathy luehring
from Albuquerque, NM
Place an order for a small thin crust pizza my system said it was $799+ tax I get there they tell me that it's $12 they said the coupon was only for the large which I didn't see that in the system stead of accommodating me they canceled the order I did tell them I was not paying $12 for a small Domino's Pizza I think somebody to talk to that store about customer service it was a store that was on stage and 98th in Albuquerque New Mexico I was there at 6 o'clock on May 14

Julie sharrar
from Newark, DE
My husband ordered pizza at 6:19 and he called at 7:40…still no food. They said they only had one driver and my husband asked if the food was warm.. we were next delivery. Got it ice cold! Never going back…

RON AGURKIS
from Naperville, IL
DOMINOS ADVERTISES DELIVERY BUT WHE CALLED TO PLACE ORDERS - THEY DONT DELIVER

Kelly Lott
from Indianapolis, IN
I made an online order on April 22nd , they showed the status bar and it said someone started to prep the order . Then an hour later still saying prep . I called the store and got a brain dead employee, he placed me on hold with his attitude. Got back on saying we're really busy . It will be another hour . I ask him what he thinks about that and he could care less . No customer service, no respect, no business ethics. Sad , sad , sad !! My order was one pizza , one order of bread bites , one order of chicken and a salad . Three items in reality because the salad is already made . Bad Business !!

Stephanie Pacienza
from Pleasanton, CA
I have had REPEATED AWFUL service with Dominos. Why cant they operate as a normal business? For example, I placed an order today at 4:49 pm. It is now 5:49pm and it hasn't even left the store yet!!! Unbelievable. This is a constant occurrence and they just keep offering me free pizza as a condolence. Why do I want more free pizza that is going to take 2 hours to get here? They have also sent me wrong items in the past without even calling me to tell me my original items were out of stock and see if I wanted a substitute. When I called to complain and ask for a refund, they tell me cant refund an online order???? This seems like theft. The manager is not even apologetic or friendly. This is in Elsmere, DE. Carlos is the manager. Please do something or close the store.

Emily Flores
from Miami, FL
I order pizza today April 9th at the location in BVL AMD THEY DELIVER THE PIZZA TO OUR NEIGHBOR . The neighbor came to us and gave us the pizza stating that the girl left it there. We contacted dominos since is gross that our pizzas were left next door and the Representative said that Dominoes policy is if you left a pizza at another location and they said they order they leave the pizza. Which is completely
Wrong bc who orders a pizza so it can be wrongful
Deliver. The young lady refused to give us her name and was very rude and disrespectful! I was very upset at her rudeness and I told her I
Was going to report her and she said she didn't care and that she will block us from ordering pizza again when she was the one that deliver the pizza to the wrong address. Horrible service!!! The manager never came on the line according to the lady nikea was her manager that refused to come to the line. We want our order refunded! We didn't eat the gross pizza that eat was open.

Cynthia Douglas
from Sugar Land, TX
On today 4/8/22, i tried to order online a large pizza and order of chicken which showed $28 and some change. Couldn't pay online, went inside to order it and it was $32. Ended up ordering a medium and told the clerk it was not my fault that I couldn't pay online. Another customer stated he had the same problem. I wasn't happy that I couldn't get the large at the price I got the medium pizza. I felt I should have gotten for the online price.

Thomas Beverly
from Carteret, NJ
I ordered some pizza from dominos on Rahway ave in Woodbridge Njt at 429 on 2/27/22 I waited for my wife to get home before we ate as we opened the voices there were roaches in the box I threw the pizza out and called the store back and the guy who answered got very nasty and told me it's nothing he can do if I have any problems to call corporate I tried to explain to him I didn't eat the pizza rite away because I waited for my wife to get home will never buy from that store again

Kevin Motz
from Saxon, SC
I received the wrong order because the representative incorrectly took my order and incorrectly charged my credit card and when I called the store back I was cussed at and yelled at by 2 associates and then hung up on by a manager after being threatened by yet another associate

Devon Hill
from Aiken, SC
My pizza was 3hrs late!! For 2 pizzas!!!! and they wouldn't or they hung up the phone and the manager was rude her name is Brittany and she works at the Aiken South Carolina location on York Street she was very rude to my husband and she said that they will not be delivering to us anymore because they messed up , and she kept hanging up the phone when people wanted to talk to her .I am beyond outraged of the disrespect and unprofessionalism of this manager in the store.. something needs to be done!!!

Alicia Ortego
from Houston, TX
Ordered online & it took
40 minutes to ready the order , my husband picked up the order . When we checked the order it was incorrect, called & was told they would correct the order & I could pick up in a few minutes & they would bring it out to the car . However upon arrival I called to let them know I was there but was left on hold ten minutes, hung up & called back only to be left on hold once again . I went inside the store to get my order & was greeted by 2 rude workers who argued with me , in front of other customers who were equally upset by their demeanor . I feel I should have been offer an apology not an argument from the two rude employees. Needless to say this will most likely be the last time I order from this store . Someone needs to teach them how to handle the public and speak to them and a respectful manner . Thank you for your time

Pam Stone
from Baton Rouge, LA
Made a order on line and was called by staff to say that the were not taking online orders. Called about 3 hours later to place a order and asked were they still not delivering. The young lady on the phone was real rude and started humming on the phone. I asked several times about delivery and she said nothing. Then she finally screamed in the phone no delivery cause we aint got no driver and hung up the phone. very poor service.

Michelle Thomas
from Clarkesville, GA
The owner Steve, doesn;t send out w-2 as required by law, he gives them to other people to take to the former employees, He also offers an $1000.00 incentive when hired but has not ever paid it out. Checks are always late, they won't set up direct deposit. When asking for copies of documents they won't provide them.
You can contact me for more details/documentation at Michelle Thomas

Nancy Toombs
from North Little Rock, AR
Ordered on line. Did not get what I ordered. Guy at the store said "well I guess you hit the wrong button, because this is what the order said". Told him I didn't want that pizza. He kept saying "that's what you ordered". I asked him if he was willing to lose a good customer over $7.99 and he just shrugged his shoulders. Took the pizza out of the store and put in trash bin and left. If I don't here something from this complaint, I will assume Dominos is always right and customer always wrong. Won't bother you again.

Kristy gross
from Celina, OH
Ordered 2 salads and 2 subs also ordered a pizza never got the pizza and the subs were not done and said was brown and no chicken was on it

Christina Taylor
from Petersburg, VA
I ordered roughly about 4-5 orders on 12/07/2021 at the Vinton 8093 location for a work function. When I spoke to the employee on the phone who I placed my order with, I mentioned that I would like one order around 5:30PM and the other sometime after 10PM that night - they said no problem. When the order arrived at 5:30PM, I signed for the order and tipped the driver $25 for BOTH deliveries, including the 10PM one. Since this is a work function, the company would not approve me giving a $50 tip. Therefore, I signed the 5:30PM ticket and put $25 as the tip and I received the ticket for the 10PM order, but I did NOT write or approve anything for that order (the tip).
I'm not sure if the young man was confused, but I was over charged for the order of $120.86 - there should not have been any tip added to that order that day. Below is a breakdown of what was ordered:
Order #1 - $56.37 + $10 tip = $66.37 (No problem here)
Order #2 - $61.16 + no tip = $61.16 (this was a pickup - again, no problem here)
Order #3 - $168.91 + $25 tip (for orders 3 & 4) = $193.91(No problem here)
Order #4 - $120.86 + no tip as it was included in order #3 = $120.86 HOWEVER I was charged $145.03
Therefore, I am asking my credit card be refunded in the amount of $24.17 as I did not authorize Dominos to charge the difference. I called the store about a week or so later when I received my statement and spoke the the GM, Joe. He said he would get me in contact with the district manager and took my information to pass it along. He told me that this person would reach out to me via email, but I have not received it. If I missed it, I apologize, but I have not seen a credit on my card either. Then, I forgot about the issue as life continues to happen, but when I realized today that I had still to hear from anyone, I called the store again. This time I spoke with someone named Arland. He told me they could not help me because it was too old and that I needed to contact corporate to help me with that. I did mention that I was told that already, meaning someone would contact me because that is what Joe said, and I hadn't heard from anyone, therefore, I called back.
Would someone kindly reach out to me to resolve this issue? and my name is Christina Taylor. I look forward to hearing from someone in a timely manner.
Christina Taylor

Joey Schmidt
from Dallas, TX
Tried to order at 9:45 but they refused to take any more orders even though they close at midnight. Total lazy bullshit.

Betsy Keener
from Middle River, MD
Why are the dominoes in Baltimore county have such horrible service?Every time I try to call the Essex store on Eastern avenue they never pick up! I tried the Domino's on Harford road, ordered a pizza online. It was a timed orders. Came an hour and a half late. it was for a party, hence the timed orders. I canceled the order upon delivery a $35 + order. Talked to the manager, they said it was going to be refunded. THAT never happened. Domino's has totally lost my business! for all of Baltimore county Domino's can't believe how far their service have lowered!! I doubt that this will even GET A Reply.
Betsy Keener
443-600-7869

Jennifer Ann Sargent
from Baltimore, MD
2 bacon ranch sandwich was made poorly there was no bacon just the fatty part of the bacon I was very disappointed they were the worst we have ever eaten from there

Sue Irwin
from Minneapolis, MN
I ordered the 5.99 for two on January 2, 2022. The service was ridiculous. I asked for delivery. 2 hours later I still didn't have my food!!! I tried calling and couldn't get through on the phone. Finally after 2 hours the delivery person called and said they were 2 minutes away and meet them outside. Okay Eieieieiei. The pizza was hot, but the cheese was thick and not melted. For my trouble Dominos said my next pizza would be 50% off. Big deal they do that anyway. Completely unacceptable!!!! They emailed me. Not a happy customer. Thank you.

Laura Steger
from Rialto, CA
I put gate code in my online order now the driver could not get in because my Spanish isn't good enough to say # in Spanish. I want my money refunded and the manger in of the store my order was routed to to be retrained to give the drivers all the information on the order. I ordered because it raining nonstop. There is no reason why that driver should not been able to get in the fault is been not the drivers

Noble davis
from St Louis, MO
I ordered from my local domino's and never received my pizza
I called all night long and never received an answer
I waited All morning long the next day just to see if I would get a courtesy call Or anything and that never happened
I finally called back at 3:48 pm and was placed on hold for 30 mins b4 I hung up the phone
When I called back the manager did apologize but she told me she couldn't provide me with a refund because of an Apple Pay account number she is asking for that Apple says is encrypted
But I paid with my debit card just using Apple to check out but it's to my chime account and not my Apple account
Long story short I have been a customer to this store for years and I and appalled at this situation never ordering from domino's as a whole ever again !!! I just want my money back.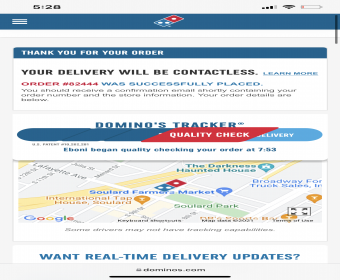 Michael Heindl
from New York, NY
I ordered the large 2 topping pizzas with the two liter drink and a bread side. The two pizzas I got are not what I ordered. Instead I ended up with two nearly supreme pizzas with everything except what I ordered. I called to see what the establishment could do and they were very irrational. Denying any resolution to the issue.

Dee Trychel
from Madison, AL
We order from Domino's pizza on Martin rd in Huntsville Alabama and have never been so disappointed in a pizza. It was just bread. Literally no sauce or cheese. I mean none. Now my husband won't order from any Domino's locations.

Stacey Matushin
from Norristown, PA
I placed an order at 6:04pm on Sunday November 28th. After an hour waiting, I called to find out about my order. I sat on hold for about 10 minutes. A nice young man got on the phone and I asked what the heck is going on? Where is my order, he explained he is alone and is trying to get the orders out...then he tells me it will be another hour can you come pick up, I told him I couldn't, no car right now...over the past several months this is not the first time. I believe this will be my last order through dominos, I think I am finally done.

John Morelli
from Floral Park, NY
domino's never has either any drivers working or none at all. Placed order at 245 pm came out of oven 309 pm Then food never left store until 326 pm, didn't arrive until 340 pm The store lies on times, I watch the clock. Not good for almost hour on delivery and food is cold.

Sayyeda Razi
from San Antonio, TX
I've been ordering Pizza for our school at one particular location since more than 10 years but recently since 6 months this location is giving us very hard time and they are very rude, not delivering on time and stop giving us school discount which we used to get since 10 years. Several time I requested and told manager but he is very rude and talk very rude and said we stopped giving discount which I know he gives to other school but to us he is not giving and said this how we are. We order at this location because they are very close from our school and other locations I had call they said it's not in our range. We used to order almost 100 pizza per month because of our children's birthday but I am not ordering here just because of this manager's attitude. This location is at Plano street is Communication.
I would really appreciate if you take this request seriously and take some action.
Please call me back.

dean knipe
from Atlanta, GA
I called yesterday at 230 pm and they said they have no delivery
This evening I call about 7 pm and the phone has a busy signal
The dominos pn highway 280 phenix city al

Kristina Hilton
from Atlanta, GA
The delivery driver was extremely rude to me. This is the same guy who a week ago put my food a good 10 feet from my door and never knocked. There is no telling how long it had been out there and it was cold by the time I realized it was out there. His name is Benjamin and he should not be doing this if this is how he treats the customers.

Kisha Davis
from Frederick, MD
I order on a regular basis and I'm having trouble redeeming my rewards and unfortunately I tried calling the dominos that's closest to me and they couldn't help. I tried to order online for 30 minutes.

Daniel J Windham
from Fort Worth, TX
The food took 2 and a half hours to get here and was freaking cold when I got it. Worst pizza place I have ever had!

Michele Di Masi Jr.
from Houston, TX
On September 18th I ordered a pizza. My pizza was delivered COLD! When I called the store to complain I asked to speak with Ryan who had prepared my order. I was told he was making a delivery. That did not make any sense to me. I asked to speak with the manager. She identified herself as Mavloyn. I told her that my order was completed at 4:23 and did not leave the store until 4:45 and driver made 2 additional stops before delivering my pizza. When I complained to him he just laughed and told me to call the store. She just replied the driver had to make multiple deliveries. I told her my pizza was cold and she did not care. When I told her I was going to call corporate she replied OK. I have been ordering from Dominos for a very long time and I have never been treated like this. REF CASE ID: 5261997.
The restaurant was located at 5647 Treaschwig Rd, Spring, TX 77373. 281.645.4443. I was given a case number an that was all. Nobody has contacted me. I replied to the email with the case number 2 times and nobody has bothered to respond. I have been ordering from Dominos for over 40 years and I have NEVER been treated like this. I also feel with nobody responding that your company is blowing me off.
Michele Di Masi Jr,
6435 Fallengate Dr.
Spring, TX 77373
832.928.5608

Linda dodsworth
from Valrico, FL
Put a order in on line for two steak subs and cinnamon rolls.ended up getting one sub with steak and cheese on it the other just bread and nothing else.called the store witch is 5 minutes away and was told from the manager he knre busy before eating and didn't have the phones on us.he never left a message so we didn't know who called.we got charged the same price for a sub as we did with the toasted sub roll.was never told at delivery that we had a problem and the manager was very rude poor businessw the order was wrong tried calling once and got voicemail.we we

alexander doychinov
from Venice, FL
Are Domino's pizza sizes getting smaller?
Because every time I buy one of your pizzas its size is less than advertised. Today, Wednesday September 29, 2021 I bought a 14" large pizza that seemingly looked smaller, so I measured it -- and, as seen from the enclosed photo, the pizza was indeed smaller. 14 inches are equal to 35.56 centimeters, but as seen from the photo the pizza is approximately 33 cm, or about an inch shorter. I bet you will try to explain the fact that the pizza was smaller due to the heat shrinkage, but when using proper heating temperature a 14" pizza should not shrink more than one quarter of an inch.
Alexander Doychinov

Cheyenne Hibbs
from Greeley, CO
I order the same thing hot wings with extra sauce and when I called to ask them for extra hot wing sauce she said she couldn't so she didn't upstanding me and then she said she had to charge for extra sauce and come to find out she chagered me for a dipping sauce and then when I called to complain the guy wanted to disagree with me and tried to blame me and all I wanted was for them to fix's the mistake and he would rather say well that how it's going to be!

Tammy Brook
from Atlanta, GA
I ordered a free 2 topping pizza at 5:55 p.m. The tracker said in oven at 6:01. It has been 1 hr 15 min. I called the store, NAOMI said "we've been running behind 1hr to 1 1/2 hrs all day. I said well what stage is my pizza?? She said I dont know..and it went downhill from there. This location has never gotten an order on time. I am going on every social media site and warn people about the lack of customer service, unprofessional behavior and advise to order anywhere BUT Dominos. I live on disability and now my money is tied up for 3-5 business days waiting on a refund. So i cant order anything else. Further the REASON i ordered was because i had SURGERY on Fri and do not feel like cooking. This is outrageous!!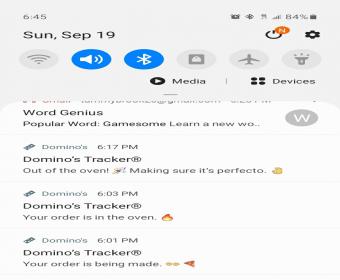 Dominos pizza on mes on road in Cumberland is awful. Charged me twice. Woman gave me such attitude about it. Kept talking me to call the bank. Extremely rude was along her questions. Then told me she was putting a note so I couldn't order again and hung up on me

I ordered a large thin crust meat lovers,pizza,the crust was burnt and a order of chicken wings,was supposed to be honey barbecue and the sauce was hot.

This describes my last two visits to the dominoes pizza located on corner 3rd and gst chula vista CA 91910. Order pizza and salad for pick up. Placed order, when I was informed order was ready for pickup drove to dominoes they handed me my pizzas and a bag with my salad. I get home and theres no salad dressing. So I call dominoes and tell them about missing dressing the employee says whats the whats the big deal most people have salad dressing in their fridge and if I didnt it would be ok if I wanted to drive back and get the dressing I paid for. I could understand that response if the dressing was free. But dressing atleast at that dominoes is an additional charge. When ask ti speak with manager they responded with im not the only customer they have and that he was to busy to come to the phone. I dont know what other people expect when they order food from a restataunt. But if I order food and each item has a price that I have to pay then when Im handed my order I expect it to be complete. Just as the payment is worth the dollar amount is represents. Thus my salad dressing should be included since I have paid for it. As I continued to call back not satisfied by the service being given someone finally decided to deliver my dressing I guess they got tired of me calling. That was the last time I told my self I would frequent that dominoes since I have had previos incidents like pizzas not being made as ordered things missing like salads or dressing when using delivery. I guess its really is my fault because I cntinue to go back thinking it might be different. The definition of insanity right doung the same thing and expecting a different outcome. Well this really is the last I go there but before I wanted to share my final experiece at dominoes. I order ppizza and salad online and following dominoes puzza tracker it informes me my pizzas are ready ive expressed I want curbside so itthen me that it shall be brought out in no more than two mins or pizza is free. So pull up hit the button saying im here and the timer is on. There is also saying if anythong wrong call manager phone # right there ready for anyone to call. Like that is supposed to fix anything. Its now been 20min ive been waiting, does that mean I get 10 free pizzas it was 1 for 2mins so 20mins hmm. I now decide to call someone answers says hes put me on brief hold . He never came back , called again put on hold this time didnt even tell me just stated putting me on hold. Been over 40min multiple calls still no food has appeared as I continue to wait outside. Then finally try to get my order by walking up, they tell me they dont have an order for me . I said the pizza tracker said my order was ready. Then they said oh its not done yet. This is like 45mins after pizza tracker ssid it was ready for pick up. So they funally hand my order no appolligies for the extended waiting no thanks for waiting no nothing. I even thanked them after they handede the food. That was something they didnt earn. Any way that will be my last time at that dominoes maybe at any dominoes,cant imagine anywhere being worse. They dont even care how they treat there customers well im not one of there customers anymore.

Tammy J Lowell
from Denver, CO
Ordered a large pizza and hot wings last night. Food was horrible. Tasted liked it was not cooked all the way. Had to throw it in the garage

Jeanne Rosen
from South Lake Tahoe, CA
I am concerned about health issues. When I arrive at 987 Edgewood Circle store in South Lake Tahoe, CA, the garbage can was upside down and garbage was strewn all over the place. Had to ask Domino employee to pick up garbage. She was the only person on duty that day. Later I came back to get a pizza. The same employee prepared my pizza without gloves, no mask, and did not wash hands from previous pizza order. When I addressed that with her, she stated "we don't need to do any of those things". I wasn't surprised because she was young, not informed, and whoever trained her did a poor job. Her attitude explained how oblivious she was regarding my concerns. When I went home I trashed my pizza!
Then I called the store, spoke to the Assistant Manager, Emily, who was very helpful and professional. Most of the people who work there are young folks who really are not well informed about speaking with customers and answering customer questions. The staff would not give out the General Manager's phone number and finally after my second attempt and explaining the situation I finally called Anthony(General Manger) who left me a message but without a phone number. Again I called and spoke to the Assistant Manager, who really should get a General Manager position, because she was the only PROFESSIONAL person in that facility. I made many calls to Anthony who never returned calls which is why I am filling out this form. I also understand that Anthony also has two other stores.
I am a nurse and I focus on COVID, cleanliness especially when preparing food. Had Anthony returned my calls, I would not be calling the Health Dept to make them aware of this situation. This is a major health issue, and most of this staff are totally unaware. I hope you can resolve this issue with the Franchisee, otherwise that store should be shutdown and closed!
I would like a response to this complaint and your plan moving forward!

Jessica Bias
from North Myrtle Beach, SC
Friday night I made an online order. After 2.5 hrs my sister went to the store just to be told that they do not take orders before 5pm and weren't delivering but, didn't call to inform us of this. Then Saturday night my father ordered online for pickup at 6pm. When we arrived to pick up the order not only was my dad charged. But, we were told that they never got the order and when we asked to place the order in person the manager replied, " you guys can get the F out" I've ordered from this store for 3yrs without ever having a problem. Until now. The charge on my dad's credit card was never put back so he paid for something we never got.

Cheri Ann Cristinziano
from Camp Pendleton North, CA
I ordered 2 pizzas one for me the other for company that was visiting, it was awful very bad,, I thought maybe it was just me,, but they also thought so but didn't want to tell me ( wanting to be polite) but to this day they still joke about it,, and talk about that horrible pizza I got them,, it's embarrassing, but I liked to get them often, since then I havnt been able to bring myself to ordering again and I dont think I ever will,, it's been over a week, I'm mentioning it now because, I'm thinking about what to get for dinner and Domino's would of been my choice but because if that horrible pizza I can't bring myself to order again cause I don't want a pizza like that ever, I told them I even paid extra to get them extra cheese they laughed and didn't believe me they said it tasted like there was no cheese on it,, I said I know,, don't k ow why there's no way I was the only one to complaifor that time if they made other pizzas like mine then there has got to be other complaints this site is horrible I can't read what I'm. Typing it's super light, the words are too light to read, so you may have alot of typing errors since I can't see any of it, Cheri cristinziano

Eric fisher
from El Mirage, AZ
I tried to call Domino's Pizza and was on hold for 15 minutes then I ordered online and when I saw the water print it out it was wrong so I went to the location and told the unkempt Pizza Guy if you would fix the mistake and he said it's already in the oven I said I know but can you fix it he said it's already in the oven" yelling"! And I said well can you fix it oh, and she said I guess I'll eat the $4, in the rudest way possible! Proceeded to sloppily throw my pizza together and when I got home it was still wrong! So disgusted with this experience!

Mark jackson
from Owensboro, KY
As I placed an order at he Morehead store the claimed t was fifteen dollars then a five dollar delivery charge I'm right cross st and charged 22.60 for on large pizza once the delivery guy came the box was wet pizza taste like soap as well. Store number is 1416 if anyway possible please step up and figure the problem I like dominoes but feel if this is professional way I will never eat there again or anyone this did it for me. I ask that if ya need any further question contact me by phone ty.

Teri Lucas
from Knoxville, TN
We ordered by phone at 5:10 pm today, was told it would be about 35 minutes, the Dominos app showed order delivered, it was now 6:15 pm so we called the store again and they asked what our address was AGAIN, this was after we had given it to the guy that placed our order 3 times, while on the phone they said the driver just walked back in with our order, so at 7:25 pm we finally received our order, we have Pizza Hut, Marcos Pizza and others close to us, if no satisfactory response this will be the last order ever from dominos

Jo Glover
from Anderson, SC
On June 18 @ 10:28pm I placed an order by phone for a medium pepperoni pizza I was told that it would be 40-50 minutes(this was acceptable) after 65 minutes had passed I called to see if the order had gone out.I was told that I would have to come in and pick up my order because the number the driver had was wrong and when he called he didn't get an answer so my question was "Who gave him the number" you had to have given him the number from the Caller ID, the same number that I'm calling you from now, because you didn't ask me for my number… so why should I have to come in and pick up my order when the "mistake" is clearly not mine. She responded I don't know but my manager said you would have to come in and pick it up, I replied I ordered it delivery for a reason so you can cancel that order…she said yeah right I don't know what that meant but it was very bad customer service the whole experience especially for a loyal customer

Rebecca Graham
from Schenectady, NY
Grace dominos 11:04 Friday night 24-72 hours refund I spoke with who said they were the manager and complained after an hour of waiting for my delivery I received a text it was on the way a little over and hour later it came the driver told me he had 5 delivery's before mine and he was sure my food was still hot at this point didn't even want the food! My kids were fed something else and in bed I spoke to that person was told she was sorry and had my receipt in her back pocket and she would give me a full refund it was never refunded to me but I got an email about a free pizza went to use it tonight and didn't get it free I'm very upset and this is the reason I stopped ordering from here when it's my kids favorite place to get pizza and if something is not done I promised my kids I'll never order again from domino's and will let everyone I know how bad of service I received that night after it was a reward for my kids and I had to let them down!!!

Richard D Duncan
from Salem, OR
Domino's has a buy 2 (or more) items for $5.99 deal. If you want a specialty pizza, it's $3.00 more. When I add $8.99 and $8.99, I get $17.98. Tried it on three different calculators just to make sure. Came out $17.98 every time. But when I ordered on their website, using that coupon/deal, the charge for the two pizzas was $19.98. I had committed (to family) to buy the pizzas, so I went ahead with the order, but I'm definitely going to let everyone I know hear about it.
I have included a screenshot which shows both the price advertised and the price charged on the same page. So who is getting the extra dollar per pizza? Their web designer? The CEO? This is the kind of thing that companies end up paying out big for in class action suits. I don't have the time or energy to file one, but some lawyer with nothing better to do could probably make a bundle. If you know one let him/her know about this.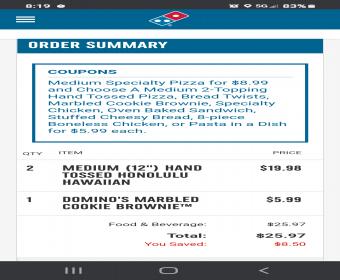 Phyllis banks
from Ruther Glen, VA
Ladysmith Virginia the minor that took my order was really rude I was talking to my grandson who was really loud I told her stop hush up the girl told me to hold on came back took my order was laughing and joking then hung up; I went outside left phone in the house came in noticed dominoes had called me back so I called the manager David told me the girl said I told her to shut up I asked to speak to his manager he told me well I don't know what for her name is Jennifer and that's her daughter you was talking to so nothing will be done. So I want the highest available person to address this issue because I spend to much money at Dominoes to have someone being rude to me. Thanks

Kenneth Ramirez
from West Jordan, UT
Dana Null denied me and my children food and hung up on me

Ivonne Esparza
from El Paso, TX
Tonight was the worst experience I've ever had ordering from a Domino's. I placed my online order and was called a minute later by an employee who asked, " Do you still want to order because the estimated delivery time is going to be over two hours and not 25 minutes as the app had estimated." I spoke to the manager Marlen who reiterated the same information as the employee. I told her this was completely unacceptable, but I was willing to pick up my order since I'm 5 minutes away. I told her I wanted my delivery tip refunded, which she could've adjusted, but no, she decided to void the entire transaction, and she also tried to charge me again when I showed up to pick up my order. I told her to show me proof that she voided the entire transaction, and that was absurd; she was trying to charge me twice; she pointed at a screen that was too far for me to see from my vehicle. She should have had a receipt ready that said Transaction Voided; I told her I obviously could not see the screen she was pointing to from where I was since I was sitting in my vehicle at the pick-up window. However, I also told her I would take her word for it– but I was still submitting a complaint to Domino's. Upon hearing that, Marlen then unprofessionally handed my husband our debit card back, then said, and I quote, "I'm NOT DEALING WITH THIS!" She then RUDELY handed the pizza boxes to my husband and slammed the pick-up window shut; like a child! So rude and unprofessional for a MANAGER.
I expect not to pay for this awful experience, and I hope the manager, Marlen, gets reprimanded for her disdainful and unprofessional behavior towards a paying and highly unsatisfied customer. She could have offered me a gift card because I asked for the delivery tip I added to my online order to be refunded. She could've shown me on PAPER that she voided the transaction. There are a million ways she could've handled this better, but at the end of the day, she decided to be rude, unprofessional, and I don't think Dominos should have someone like her representing their franchise. If you're going to keep her, I suggest you invest in training her on handling customer complaints efficiently and effectively. I expect to hear from the franchise owner. This was bullshit.

Alan Dickey
from Baton Rouge, LA
Both my pizzas were burnt little too much can I send photo's please

Shawn Englin
from Fergus Falls, MN
Always order extra toppings and extra other things have clearly been charged for the extra and receive no extra what so ever. When I contact the store I get no help or reason why I got charged for nothing. No refund, no discount, and no apology. Very Very disappointed in the customer service and quality of the food.

Stephenie McCoffin
from Los Angeles, CA
I ordered a 1 pizza from Domino's Pizza 2306 Brundage Ln, Bakersfield, CA 93304 at 8:11pm. 5/6/2023 I arrived there at 8:55 my order wasn't ready. when I arrived it took 20 minutes for someone to help me. My order wasn't ready., after 1 hour and 15 minutes I complained and finally it was ready, he handed me the pizza to go, and I had to tell him I have to pay for it still. when I got home, the pizza was so crispy and crunchy. It was left in oven a little too long. The absolute worst experience from Dominos I ever had. Domino's is my favorite pizza, always been and always will be. It's a mess there, or I came on the wrong night. It was in my son's dads name Eugene Russell

Michael Moninger
from Omaha, NE
I ordered buffalo wings with extra sauce, there was hardly any hot sauce, much less extra. One wing only had a couple drops of sauce.

Maritza Boone
from Beverly Hills, CA
Hello, I wanted to share the worst experience I had today at Domino's pizza off of limonite . I ordered a pizza from the app thursday to be delivered to my daughter's daycare today for their party . Delivery driver went to the destination but said payment wasn't received even though I have an email receipt of payment processed. I called store to process payment ,if there were any issues, and not only was I put on hold for 20 minutes but the manager had an attitude and yelled at me that she's busy . I told her my order should be prioritized since I ordered day earlier and the matter was time sensitive since it was for the daycare's party. She raised her voice again and told me that she was too busy and when I asked for her name , she hanged up . I understand that she may have been busy but to raise her voice and hang up on me was unprofessional. I am bringing this up here to warn people of the horrible management at this location . Dominos in Eastvale ca off of limonite

Amanda Norwood
from Charlotte, NC
I ordered a pizza and chicken alfredo for pickup. I picked it up and brought it home and realized I had gotten something other than my chicken alfredo. I called the store and asked if they could deliver the correct one and they said no that I had to bring the product back and go back to the store to fix their problem. I went back to the store which I didn't have gas to do being angry I asked the manager if I could at least have a free pizza for my travels and my time and he told me no. He said that he had already given me a free alfredo and I replied that I had paid for that alfredo. I explained to the manager that I also worked customer service and that he should make it right that he did not. I am very dissatisfied with the service given and on top of that they were going to charge me for crushed red pepper and parmesan cheese packs. If the manager had at least tried to make it right or even give me a credit I would have been happy but the whole situation was not very good. I don't think I will be going to Domino's anytime soon.

Ordered online, 8 items. Chicken wings were thrown in the box, and cheese stuck all over the cardboard. Asiago pizza didn't have any chicken on it.
Thin crust pizza was over cooked.
Store#8511 Riverside Ca. Receipt#172
Almost an $80 order and I gave a $5 tip.
I'll will never tip at Domino's again and I will never go to this store again. Extremely Unhappy Customer

Derek Denmark
from High Springs, FL
5:30 PM pizza was ordered delivery estimation was in within 35 minutes after an hour we called to see what was going on got hung up on three times waited 10 minutes to get somebody on the phone and was told oh yeah whatever we're running behind but the whole point was the family is waiting on food so we could depart from here and now everybody had to eat crackers and leave still no pizza the problem was the asshole who answered the phone he called himself the manager of the Keystone Heights Florida store off of 100 had no concern how late his pizza was it is currently 6:45 and I'm making this complete with no pizza in a $50 charge to my account ridiculous

The GM and most of the other employees at the Columbia Heights MN location smoke weed and come in smelling like weed. The GM is very disrespectful to ex employees.

Annie HENDRICKS
from Nashville, TN
placed an order on line. tracked it. got message that read "delivered." It was not delivered. Got an email that read "canceled". Call store. Manager very rude. Hung up on me. Now I see what customers that I know are going with Papa Johns, Pizza Hut, etc.

Demetric
from Washington, DC
The pizza was nasty falling apart..The customer service was high none of the cooks was wearing gloves..The pizza was dame near burnt ...I was very sad because I was so hungry..

Never received a $32 order, no contact for a refund after calling the store, still haven't been contacted by customer support. 0/10. I would have preferred the order to just have been denied. Absolute failure.

Jerry Blackmon
from Charlotte, NC
On Friday 3/31/2023 I tried to place a online order with Domino's located in Mount Olive NC.28365 #8973 order # 187 they were having trouble with my card she explained she was having technical problems and sent my call directly to the Mount Olive location this is when the real problems started when she answered the phone she told me to hold on and I did it was more than 40 minutes I took my phone into the store to prove I was left on hold she told me they had three phones I told her they all have the same number she refused to check her reply well I'm sorry my problem was her attitude I've seen the times I would've given her the attitude adjustment I felt she needed she asked me do you want to place a order or what I'm human and I don't have to tolerate her attitude I asked if someone could bring my order to the car she replied we don't have curbside service with a attitude I explained that it's difficult for me to get my order to my vehicle with a walker and one leg the young man said to me he would bring it out I thanked him and gave him a tip I put it in a large plastic bag and took it in the house after opening the cinnamon bread twist I had no sweet icing dip I felt this was done deliberately I have no intention on ever going back I've a craving for Domino's Pizza since my amputation my doctor told me on 3/30/2023 I could have a slice or two it's ashamed that I had to endure so much by your Mount Olive NC.28365 Location I've been debating with myself about going to Social Media with my complaints about the Location

Alecia parks
from Prescott Valley, AZ

Arthur Harris
from Goleta, CA
Former Dominos Pizza customer here: A year ago I walked into my local Dominos store and got the worst pizza ever. Less than ten dollars with three toppings. Six months later, hungry, I tried again. Counter man said it was longer ten dollars, but fourteen. Hungry. When I got home I looked at the reciept. Seventeen dollars for pizza so bad I spat out my only bite and tossed the rest. Ordered pineapple and two orders mushroom. Pineapple was present. But there was not even two slices mushroom.
Tried again. Last time. Your web page said cannot connect. Tried that three times. Gave up. Walked into the shop on Monday. Was told orders can only be taken by phone or computer. Tried to buy a pizza as a walk in customer. Counter man refused...only by phone or computer...but not in store??? As far as I am concerned upon guys have gone out of business. Bought a sandwich down the street. Bye / art

Kelsey Power
from Lakewood, CO
Wings werent cooked all the way through. I called store and spoke with someone who took a message. Was never contacted again.
Store we visited was Belleview and Kipling in Littelton CO

Debbie Geremia
from Sacramento, CA
Last night (04/02/23)I ordered a pizza from dominoes,for delivery.the driver said he called me,but my phone didn't show any calls from dominoes.long story short,never got pizza but they kept my $36.00 bucks.
I want it returned!!
Thanks Debbie geremia

Steve
from Virginia Beach, VA
Dominoes prices have become insanely high. Even though it is my favorite pizza I refuse to pay the prices that they are currently charging. Evidently they do not care about losing market share, because this family will not return again.

John Whitaker
from Cullman, AL
On March 25, 2023, I ordered a pizza from the Hanceville Al location. I was told I could pick it up in 25 minutes. My wife left almost immediately to pick it up and bring it home to eat. When we opened the box the pizza was extremely cold and looked as if it had been cooked two days ahead. I called, after deliberating, to register my dissatisfaction with the pizza. The staff person was EXTREMELY rude and preceded to tell me it was my fault. How this could be true is beyond me.
I assured this rude male person that I did not want a refund or a replacement just to alert them to the quality of their food. He still insisted that it was not Domino"s fault.
This will be the last time we order from your company and be assured I will let others know before they go and waste their money on food that isn't fit to eat.
John Whitaker

Bryce Carey
from Phoenix, AZ
I ordered a pizza from domino's last night and shows contact list delivery I wrote in the instructions to the driver loud put the cash underneath the door met so when the driver came he looked under the mat and she took money and never lift my food. Then when I called to speak to domino's that this happened from the manager was very rooting very defensive It was an absolutely terrible experience

Ruth
from Fort Lauderdale, FL
I order a pizza yesterday for my kids. I waited about an hour I my kids were hungry and they have to go to sleep they had school the next day so I decide to call. They told me the order was canceled never knew why I waited gir the manager on the phone never answered. What kind of business is this? Very poor customer service. My kids went to bed hungry waiting for the pizza. I would appreciate if someone would contact me and explain to me what happened my phone nuis 754 244 1528

Anthony Quintana
from Los Angeles, CA
I ordered the (New) loaded tots are they were horrible not sure if this location made them wrong and didn't take pride in the overall presentation and flavor. They were under cooked and stale! I got the bacon ranch and the ranch was applied before going into the oven which caused them to burn from the bottom but were raw on inside and the was extremely hard from the ranch! I ask for some kind of future discount or refund I will not be purchasing the tots ever again! Please reach out and let me know what can be done! I was extremely unsatisfied and I have been a huge fan of dominos for years this definitely change my mind about your establishment! I have no pic of the item I threw them away they weren't eatable!

Thomas Janky
from New Orleans, LA
I just paid 24.60 for a 14" specialty pizza. I only had 4 ingredients. I feel this price is way out of line. I guess I won't be ordering too many pizzas in the future with these kind of prices!

Jay Hadley
from Hapeville, GA
What happened to the Great pizza price.
At one time not to long ago you could get a large 3 typing for 7.95 now you get one toping on medium! And the rest of the prices are you trying to lose business?
Hope you can fix this before you start losing business.
Jay Hadley
7788 spring creek DR Donalsonville Ga 39845
Ps I Dive 23 miles one way to get the Best
Pizza around.

Sidney C. Winchell
from Athens, GA
My wife ordered online on 03/01/23 and waited an hour after delivery was promised. She called and was told computers went down and short delivery drivers. They had cancelled her order and never bothered calling to notify her. I reordered online for pickup. I went to pick up and they claimed my order was not in system, so I placed order in store. The ticket price was $34 for my online order and they told me it would be $41 . I said it was $34 online and was told they could not give the coupon deal in store unless I showed them a copy of my online order. So I had my son send me the copy to my cellphone. I showed the manager the order and he said I would have to place order online. I told him we already placed order online twice, but you keep losing it. He said he would not honor my online order unless I reordered. Prior to this conversation a lady had not gotten her order and left and another person had not gotten his order and left angry. This in Domino's store #5753, 2824 Lexington Rd. in Athens, Ga. 30605. I left without my order and after 6 years a loyal customer, am going to check into Pizza Hut or Little Caesars.

Larry Jackson
from Fayetteville, GA
Charge me twice for a large pizza located on Roosevelt Highway Atlanta Georgia 303 49 and I never did receive no pizza

Ansh sharma
from Kolkata, WB
I have ordered 2 paneer,onion and capsicum with Desi makhani sauce pizza .oder #103 date -4/3/23 at 7:12 PM in cash and delivery boy reached by 7:46. He took about 34 minutes to deliver a pizza according the policy of Domino's the pizza is to be delivered within 30 minutes in case if the delivery boy exceeds time limit so the pizza should be absolutely free .The one should not pay for that and when I talk to the customer care they were almost talking rudely and arguing with us .so iam very upset for such disgusting behaviour and i am requesting to take appropriate action regarding this matter.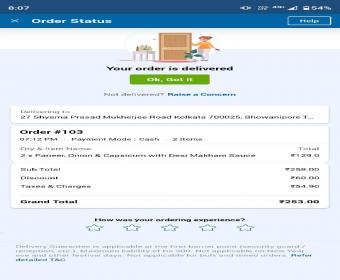 Mark Finkelstein
from Southport, NC
My delivery person Jonathan was perfectly nice, and I tipped 50%. But it arrived late and arrived cold. I had to reheat in microwave.
DOMINO'S
1671 B N. Howe St
Southport, NC 28461

Samantha Bettencourt
from Sacramento, CA
Los Banos dominos pizza refused to remake my order because their site was messed up. I tried called 7 times waited I. Hold fork over 10 minutes with no answer just to make sure they had my order right but I couldn't get anyone on the phone. When it was delivered it was wrong they refused to remake my pizzas. The attached file is just 3 of the 7 calls I made to try to get through to them because I couldn't get a confirmation of my order online so I didn't know if they had the correct toppings or anything. They are rude and refuse to remake the pizzas for me! I think I deserve two free pizzas replacement because of this error! I'd they would have answered the phone this would have never happened. In my experience they NEVER answer their phones here!!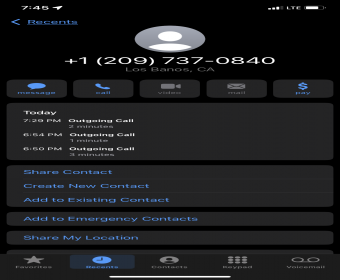 Cloudskeey33@gmail.com
from Arlington, TX
The whole concept of eating out is h
Having the luxury of not having to do your own dishes make every single add on is and up charge with a 30 pizza couldn't even get a single marina sauce. Had to ask for napkins all I'm saying is McDonald's maybe mooving up a bracket least they offer dipping sauce. Only 2 but hey 2s better that none. I will not visiting this establishment again

Katie Jackson
from Selma, AL
February 27, 2023
I did a order for pizza's today on line at your
Mobile Highway store locations Montgomery
Alabama. After placing the order about 15 minutes later I get a email saying my pizza was canceled. So I called the store and a man
answered the phone I ask why did he cancel
my order. He replied because I don't have a
driver. He could have said the he was sorry for the inconvenience. Last week I got a pizza and it wasn't hot. I had to reheat it and it took a while to get here.

Jon Strugar
from Cumberland, RI
The owner of the Plainfield CT location is refusing to provide me with my W-2's. He is forcing me to file a complaint against Domino's with the IRS. I need to file my taxes!!

Gina Anderson
from Brownsville, TN
I order Domino's Pizza daily. These aren't a small order either. The Domino's in Brownsville TN has got to where they say aren't delivering when they are. I've found this to be on more than one occasion as well as 7:00 pm at times when Domino's employees answer the phone they say they're not taking any more orders. I worked for dominos as a teenager and I assure you the Domino's I worked for did not operate.

G perkins
from Tauranga, BOP
Rang Dominos in Wellington, ph number 04,8033647 to try and get a meal to a driver on lnterislander wharf that hasn't eaten since early this morning. Ferry stopped and he cant leave truck. Explained all this to bloke at the above phone number and he was the most ignorant unhelpfull person he could possibly be, never, never will l, or my drivers buy your product ever again. Now my driver doesn't eat for 24 hours.

M. A. Gill
from Wake Forest, NC
Spinach on pizza was old wet and wilted, smell was awful.
Time of pick up, about 4:15 pm, 13Feb2023, the manager, who refused to provide his name was discourteous, rude and insubordinate with his lack luster disposition, so much so that I discontinued the call, without resolution.
Location is Wake Forest NC

Pam Hunter
from Rutland, VT
My daughter and I regularly order from Dominoes in Rutland, Vt.Two weeks ago I complained because for the umpteenth time they didn't cut it in pie cut as I had requested again! We order thin crust and when it's cut the other way is is not good! We ordered again last Monday day evening, February 6.Again remember I filed the complaint not my daughter Kathy, when she went in the girl working said to her your pizza has been cut in the pie cut. Kathy said ok, confused as to why they said that to her. Unfortunately the pizza was not fit to eat. It was like sucking on a salt cube and it went in the garbage. I get it they don't like complaints. Not to worry will never order from there again because they can't be trusted. I did let them know, but on further thought I am just so disgusted with this I felt the need to let you know!

Kim Parker
from Rockdale, TX
I am Kim Parker. Two times in a row, our small town dominos has gotten our order wrong. First was 2 weeks ago, sauces on pizza were not correct as well as they did not make the five cheese dip and bread sticks. The woman who took our order over the phone, we picked up, apologized but advised in order to correct it we had to pay for two more pizzas. That's insane! We left.
Tonight, ordered carry out. As per menu, we ordered cinnamon sticks and the five cheese dip with bread sticks-per menu. Same female took our order, it arrived 45 minutes later with no bread sticks for cheese dip. When I called her back, she advised I specifically had to order bread to come with the dips. I tried to explain the menu says CHEESY FIVE DIP AND BREAD STICKS, as always it comes together, but she kept talking over me and was disrespectful. She advised again it would be another 45 mins or so because she was short handed and I needed basically to order correctly.
I love dominos but the staff at this store need training in customer service, listening, being respectful and kind. The words I'm sorry are not hard to say.
Kim Parker
531 Sierra Dr
Rockdale, Tex 76567
5129631128

Steve Thompson
from Clarksville, TN
On 12/30/2022, I placed an online order for my 8 year old autistic daughter. I instructions were, please do not knock or ring doorbell, due it being loud for my daughter, and it also upsets our dogs which will make them bark. About 6 minutes of placing order, Tim my delivery driver called asking about no knocking or doorbell ringing, I explained the reason not to do it. THEN, he questioned me about his tip, why was there not a tip? I had planned on leaving cash on porch, but this set me off. After Tim hung up on me, I called branch, told mgr, about it, she didn't seem concerned about it, so I immediately just cancelled my order. My last 5 orders from this store have all been horrible, and rude. The order before this, my order never got delivered, called back and asked where my order was, mgr said we are really busy so it will be 3 or mores. I worked for Dominos before, it was NEVER like this. I'm out $32.00 on Fridays order, but I hope you start doing better. A delivery driver calling a customer questioning them about their tip. I believe this is the same driver who did not give me my change a couple of months ago. $10 plus….. it's the store on Trenton road in Clarksville TN

Lora mccoy
from Beckley, WV
Ordered delivery. The tracker stated delivered. I did not receive. Called store and was informed driver closed out by accident and will deliver. 15 minutes later called back and was told driver delivered .I still not received. Basically saying I was lying while laughing. Pathetic employee offered to redo order in which I declined. Would like refund but I see how pathetic the complaint process is. Will never order or eat again. Enjoy free money pathetic

Tyler Quass
from Mount Juliet, TN
I never got my pizza, but the tracker suggested it was done. I ordered at 11:45 and received a text at 12:08 saying it was on the way. It's been 1 hour and when I called the restaurant, I couldn't get in touch with anyone. If they couldn't take my order, they should have called me. I was charged 31 and change

Dan M Looper
from Henrico, VA
I was on hold for an 24 min and 54 min no one answered the phone I had my girlfriend go to the store she was told our pizza was next to be made at this point it been over an hour my order number is 68 you can contact me

Linda Collins
from Daphne, AL
Ordered a 12" pepperoni, 24" deluxe and add black olives 16pc park bites garlic and marinara sauces. When I got home the 16" deluxe only had cheese and black olives. I called the store, didn't want to drive back for a remake (I used the app), they said I would have a credit when my phone #showed up. I am just visiting in Alabama, is there another way for a reimbursement? It was store 5895 in Spanish Fort, AL on 12/17/22 3:41 PM

Jerrod Malburne
from New York, NY
I had ordered a Philly cheese steak pizza and when I got it it was cold, I had to microwave it to warm it up. Was not impressed and when I tried to call all I got was a busy signal.

thomas guzzi
from Naples, FL
Ordered pizza online at store number 5043 the rattlesnake hammock waited a few minutes before I left and drove 15 minutes to the store stood there waiting for someone to wait on me and when I was waiting on you so I haven't even made those yet and I just told him to forget it and I left the worst Domino's I've ever been in in the worst service I have ever had and the worst employee I've been exposed to

Billie Higdon
from Shelbyville, IN
I had filled out an application for a job that was open in Shelby County and I did a background check and filled out paperwork and they scheduled me an interview for today 12/13/22 and when I went to the interview this afternoon at 2pm they told me that they were no longer hiring for that position and I asked what happened and they said that they had already hired two people last week for that position so I didn't understand why I had an interview today when they were not even hiring for that position.? I feel like I was discriminated against like I feel like that somebody in there saw me and didn't like me and then they decided not to do my interview.?

Kristina M
from Denver, CO
Managers are rude and don't know how to use their on line services. Had codes for free pizza I got for the same problem as b4. I don't want anything for free, no coupons, nothing! This is the 3 rd time I've had to deal with POOR customer service!! I'm done. Pizza hit will get my business from now on. So sad!

Debbie mosiniak
from Philadelphia, PA
I had the worse experience in honedale general manager was rude and not only us but another guest and was talking about a guest in front of us. Please call me no apologies or ownership

Bich
from Minneapolis, MN
To whom it may concern,
I am very disappointed. I made an order 11-29-22 at 10:45 pm. I was expecting the food. Waiting for it and never receive it. By 12:23 am I got a text telling me my order was cancel. How do you take my order, charge me and then did not deliver my food. Cancel me for no reasons . I hope to have someone resolving this problem for me.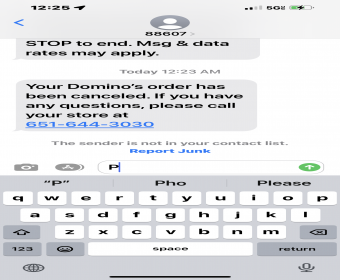 Have feedback for Domino's Pizza?
Thanks for your feedback!
Sorry. Please try again later!