Domino's Pizza
Domino's Pizza Complaints Continued... (Page 7)
513+ reviews added so far. Upset? Call Domino's Pizza corporate: 734-930-3030

On 3/17/19at approximately 5:00PM, I ordered a pizza on line for $7.99 from Dominoes in Agawam, Mass. on Springfield St. as I have done many times in the last 6 months or so. When I went to go pick up the pizza , the car did not start. I immediately called Dominos and I spoke to a female then a male. I explained the situation and he said they would deliver, (I lived 5 minutes away) for $3.00. I said ok but we now had someone to jump the car and I will call him right back. The car would not start so I called back and explained situation to another person and he said it would cost $18.78. I asked about the $3.00 and he said the coupon was ordered on line and could not change it. I pleaded for understanding as I was in a situation and was a customer and could they please help me. I said I would try to find someone to help me. I called a 3rd time and spoke to another person (male) and he said the cost was now $21.??. Can't remember the amount. I said "so you cant help me" and he rudely said NO. I asked for his name and it took him about 5 seconds to answer. He kept saying " my name is..my name is..my name is Heath (I think). I said " you had to think about that?" I finally got my grandson to pick up the pizza which was a little well done. Not a big deal. I guess my complaint is the rude manner in which the whole situation was handled. And the price kept going up! There is no personal touch anymore. Just being neighborly in our small community would go a long way. I hate to think that Dominoes is just another big corporation with no heart or have compassion to help out one of their customers occasionally. Thank you for reading my email
Ronald Piteo
478 Cold Spring Ave.
W. Springfield, Mass 01089
413-739-3105

Jack Leibl
from Brookfield, WI
I ordered a pizza delivery to my residence on 3/12/2019. I have ordered from that location on many other occasions and the service was generally good. The delivery was usually on time and satisfactory. However, on my latest delivery order, I waited for approximately two hours before I telephoned the store to inquire about the status of my pizza delivery. I was connected to the manager who was VERY rude, wouldn't let me explain the problem, and blamed ME for the fact that the delivery person wasn't able to locate my place of residence. His argument was that I failed to provide a phone number at this particular place. The reason for that is that I live in an assisted living facility and there are no personnel to answer the phones after hours. I'd like to note that my location is approximately TEN blocks away from the Domino's location. Straight down the street!! I would recommend that you find more intelligent drivers, provide them with maps, take away their dope, or get them GPS. The name of the obnoxious, combative, and uncooperative manager at that store is Dontrell Richardson. I hope you deal with him appropriately. The address of the store is unknown to me. It is located at 76th Street and Mill Rd. in Milwaukee, Wisconsin. Thank you.

Tyree Bonner
from St. Petersburg, FL
when I called dominos pizza in st.pete fl...9th st southside about 945 pm a young man answered the phone and took my order as I told him that it was for my kids he told me hold up a couple of seconds and after 10 min I realize he wasn't coming back and afterwords I tried calling back but no answer!this is the 2cd time...I try n not complain because I know people need there jobs but yall be hiring some nasty gedo as people down there and need to fix it please and thank you.

Hattie Williams
from Moss Point, MS
On 3/7/19 around 8:30 p.m. I had my grandson order a pizza and it was not delivered until around 11:00 p.m. This is not acceptable. You advertise fast service but this was not fast. The address was to 1106 1106 Tree Lodge in Lithia Springs, GA and it was charged to my credit card. I don't know what happened that night but this was a bit too long especially since my grandson had to go to school the next day.You need to credit my debit card or deliver my grandson a free pizza. Thanks for your time and consideration. Hattie Williams

Natasha Wilson
from Taylor, MI
Ordered from the Taylor location all the food was horrible and burnt very unsatisfied

Susan
from Manchester, KY
We absolute love dominoes girls. We eat there once a week sometimes more. We spend almost 40.00 each time. Our last order on Saturday or Sunday. The pizza was like cardboard, burnt not much sauce. Our HOGIES were burnt sauce, cheese not melted, meat was so burnt the ends curved up, we couldn't even eat most of it. I don't understand why they sent food out like that, I'm a regular as well. I don't like to complain, but it's nit right. I work hard for my money. I've been a server fir 30 years, customers are important. Thank you.

Katelyn Bacon
from Holyoke, MA
3/4/19- I ordered from dominos in Holyoke, MA on Appleton Street at 7pm. We got our order delivered and we were missing the marinara sauce for our cheesy bread. Mind you it took over an hour for us to get our food to begin with when online is stated that it would be ready in 30-45 mins. We called and explained that we don't want to wait another hour for the sauce if we can get a new order of cheesy bread with sauce and we would return the old one if need be. She said it's fine, but it would take 30 mins. Okay no problem, so we waited 35 mins and called back. The manger Melanie told us the driver just walked out the door and has to drop off a couple orders before ours and it'll be there soon. WHY HAVE I ALREADY WAITED 40 MINS WHEN I WAS TOLD 30, AND THEN HAD TO WAIT ANOTHER 20 FOR IT TO GET TO ME. We called and asked for a refund instead of keep waiting it's already been 2 hours. She told us she would have void it and recharge me for everything and I wouldn't get my money back for a week. When confronting her on this, because last time I had a problem to took care of it and I wasn't charged double for a week, she hung up on me. I called back and she had one of the employees answer and put me on hold for 10 mins, so I hung up and called back. He answered again and said he was the manager so my boyfriend took the phone and tried explaining the situation to him and she ends up taking the phone and yelling at him. She is VERY unprofessional and this isn't the first time we've had a problem with her. We got our cheesy bread and just threw it out because they're known for fucking with the food when things like this occur. If nothing happens to her Dominos will lose us as customers and we will let everyone know how shitty our expierience was. We shouldn't have to go through this, and we tried being nice about it and she was just rude as hell.

Susan Galloway
from Brunswick, OH
I ordered two pizzas total was $14.73. on 3-2-19. From store # 2453. I spoke with manager Jonathan. I told Jonathan that both pizzas were not hot and they were not what we ordered.
I asked him for a credit for two pizzas.
He answered"You just want free food"! I am a great customer here in Berea Ohio and in California. This manager needs ALOT of training. !
I not only want two pizzas credit but I want an additional two pizzas for the way I was treated by your employee.
My phone number is 310-502-9738
and my address is :P.O. Box 66
Berea, Ohio 44017
Thank you
Susan Galloway

3/1/2019
Ordered pizza online and it said the delivery wait would be 21-31 minutes, At the hour mark, we began calling the store to see where the pizza was and the phone just rings and rings. We spend around 10 minutes trying to call and no one answers. We call another location nearby who says they are probably just busy??? We then spend another 10 minutes trying to call looking for our pizza. Needless to say 1.5 hours and we still have NO food. Absolutely ridiculous! If and when someone shows up with this food, we will be sending it back to Dominos and expecting a refund of money!!!!!!!!!!!!!!! I understand busy but no one answers the phone??????? I have heard about their specials 15 times now trying to call them! Will NOT order again!
********Update......driver shows up after 1.5 hours with the pizza and says they are busy. We sent the food back and asked for a refund. We are still trying to call the actual store to speak with someone and are still unable to get anyone to answer the phone!!!!!!!!!! WTF?*******************
*****Still unable to speak with anyone on the phone, nearly 2 hours after we initially ordered our food!!!!!!!!!!!!!*******

Sandra Davis
from Kennesaw, GA
On Thursday afternoon. I ordered a large thin crust pizza with peperoni and a double order of bacon to be delivered to my address. This is my standard order of choice for more over five years. When the pizza arrived. I tipped the driver, and joined by family in the kitchen. I was disappointed to find that my order was burned and uneatable. I contacted the 3545 Canton Road store in Marietta, Georgia, and was greeted on the phone by a representative that argued with me that my pizza wasn't burnt, and that type of pizza was crispy around the edges. When I challenged her about the condition of the pizza I received. She became even more annoyed and advised me to calm down. This added insult to injury.
I requested a manager, who came to the phone, and she advised me that if I wanted my pizza replaced. I had to bring it back to the store. I replied. Why on earth would I bring a pizza to your store when I paid for a delivery and tipped the driver. I have fulfilled my obligations and was disappointed that Domino Pizza had fallen short on their end. I advised her that I wouldn't bring the pizza to the store and I would contact Corporate, because after being a domino pizza customer since 1986 I felt the service was not what I felt corporate would be satisfied with.. As she was hanging the phone up on me she express her dissatisfaction of communicating with me via the phone. I'm attaching photographs of my pizza which I threw in the garbage. I took my loss and ordered another pizza from your competitor, which wasn't as good as my domino's but surpassed you in customer service. If this if the attached picture were what I have been receiving in the pass. I assure you I wouldn't have never ordered a second one. I was truly disappointed in the quality service I received. I was robbed and berated.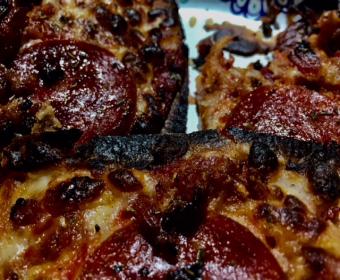 Erica Perez
from Sacramento, CA
I'm a regular at Dominoes pizza on 7250 fairoaks blvd. Carmicheal Feb 21st I had a pizza delivered to me the delivery guy named David gave me some herb I gave him My number he was txt me sexual stuff I have all the messages..

Kenneth Kartheiser
from Port Clinton, OH
On Friday February 22 2019 We ordered two Pizzas and chessy bread from store # 2412 in Port Clinton Ohio. When I took my first bite of the cheesy bread a foreign object, (later identified as a small piece of plastic) snapped off my new front tooth implant and it was swallowed by accident.
I found the piece of plastic right away before I swallowed. (I did not realize at the time my tooth was missing. My wife ran in and asked what happened to my tooth and I freaked out. So far I have not ,or probably will not recover the tooth.
Here is all the info I have
Dominos store #2421
Phone # (419) 960-7992
Order # 14796
Time : 7:17 PM
Card # ending 1652 Ref #160097585981
Phone # on slip (419) 341-5367
contact # (419) 734-4808
Please Email me with a solution to this problem as soon as possible.
I did talk with the Manager and she told me she would send out a new cheesy bread at no charge, I refused and asked If she could send me a new tooth, she replied no, contact corporate office
I await your reply.
Sincerely
Ken K.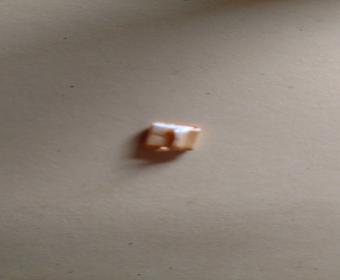 my girlfriend ordered food and it was delivered, but it was wrong and she notified thestore and they said it would be sent out right away, it's been 2 hours since then and when she called back the girl got ignorant and cursed at her and said she will f@$king get it when it gets there and she should be f@&king happy if it gets there at all and hung up on her, this is from the store in Millville, n.j. 08332

Sent a salesman from my office to pick up pizza. The store was full of customers with one person working. Waited 30 minutes to place order and the person working kept calling other workers on what to do. Oizza come under cooked. We had to cook it in our toaster oven 2 pieces at a time. This was not a Dominos pizza. Actually it tasted awful. Something has got to be done in your Naoa , Ca. store. Ve3ry bad.

Amy Granger
from Longmont, CO
Good Afternoon.
I live in Longmont, Colorado and always use the Domino's located at 1106 Main St. Longmont, CO 80501. They deliver an incorrect order 8 out of 10 times. On average we order 3-4 times a month and have started to tire of always feeling like we have to call and feel bad for complaining or just accept an order we are less than satisfied with. Today was no exception and I chose to call.
I called and a woman named Traci answered. I explained that we did not receive our frosting with our cinnamon twists, that normally that would be trivial and I would hate to run someone out for it but that it's happened so much I could no longer just let it go. She said someone would be right out with it. A few minutes later I noticed that Domino's had called and I had missed the call. There was no voicemail so I called back and once again got Traci. She said the call was simply to tell me it was on it's way.
When the delivery driver arrived she stood at my door without handing me the icing, which was in her hand, and told me that her manager wanted her to tell me that I did not order the icing but that he was going to send it anyway. Still holding the icing and reprimanding me, she told me that I had clicked that I did not click on it and should have and that's why I originally did not get it, but that her manager said this time it was okay to bring it back out to me. When she was done telling me how this was all my fault but that "they would make an exception," she handed me the icing. Then I let her know that it was not her fault, but that her manager shouldn't be sending an employee out with messages and leaving it to them to face customers and tell them that they are to blame for issues regarding orders. I apologized to her for being upset and her having to relay the message, but that I would be calling her manager.
I did. I reached the manager and explained the above situation to him. He claimed that he was the one who called me back and was trying to explain that it was my order which said I didn't want the icing but that he received my voicemail. I had enough. It was clear he didn't care and simply wanted me to understand it wasn't his problem, so I let him have it. I told him it was unprofessional to send an employee out with his message, that if he received a voicemail then he should have left one, that I NEVER receive the correct order and that's why his store has a two star review, and that I had no intention of using his services again. Additionally, I explained that I always use the coupon that provides two med, one topping pizzas, pop, garlic bites and cinnamon twists for my kids. It's their favorite. And that I always add a few toppings and dipping sauces. Typically that system pops up the bread items individually and I can see that icing is on the order. Today it was not so. Today was the first day that the system simply added those items when I was done building the pizza. It was different than I was used to but I assumed it was just the new way it worked. And because the cinnamon twist come with icing I didn't investigate, but I certainly didn't go in and take it off. I place the exact same order every week and never make that selection. So I told him that instead of explaining to a customer why it's their fault, simply send your driver out with the icing. Don't send her to face customers with your messages, don't stand and reprimand them while you withhold icing until they listen, don't call and fail to leave messages, and don't be angry with me when you get my order wrong again and I call angry. The manager offered no apology and continued to explain that it wasn't his fault.
I will never use his store again and may not order from Domino's again. We are surrounded by great places to order that are not full of frustration. The customer service is unbelievably appalling and it's represented in the ratings. It's unfortunate that another customer is gone in an already competitive market.
Amy Granger

On Super Bowl Sunday it took over three hours to deliver our food it arrived after the game was over everybody left without eating and when the food finally got here I had a backup plan already so I didn't buy it my complaint was I am sure Dominos knew it would be very busy that day and our service was very poor. My first job out of high school was at Dominos Pizza and the manager always overstaffed we never had this problem with service also I ordered online don't know if that was the reason for the delay but over three hours not excusable I would have tolerated two hours but not over three. Hope Dominos can improve customer service

I order a Specialty Pizza the Memphis BBQ Chicken and there was little to no BBQ sauce on the pizza. I also order a handmade pan extra cheese pizza and there was little to no sauce on the pizza. I have order many pizzas from Domino's in the past and I have never experienced a problem like this before. This was our first time trying your Memphis BBQ Chicken pizza and I am very disappointed. The pizzas were ordered from your Domino's store #4885 4229 Tilghman Street Allentown, PA 18104. I would like to see some compensation for my disappointment.

on friday night 02/08/19 at approximately about 9.30 pm .I walked into the Domino's establistment at Montgomery and Nostrand avenue i bought a pizza for 10.88$, and they changed me 1,088.00$. I went to my bank the next morning and they asked for me to go back to the store to rectify the mistake. the manger of the store was nasty and obnoxcious and was no helpful. And for that reason i will never buy from Domino's again. I was told by his subordinates that his name was Espinaze. Somebody of this nature should not be working at any of your establishments.
nygell charles
concern customer.

Mark Boudreaux
from New Iberia, LA
My wife went into a local Domino's and ordered a 3 topping hand tossed pizza and was charged full price of $17.00 plus taxes. She was not informed that the every day walk-in special was $7.99 plus tax. I called the store and asked what was the price for a pick up pizza with the same toppings and was told it was $7.99. I then asked why was my wife charged so much and they indicated it was because she didn't ask for the price. I was told by their general manager that unless a customer asks the price or if they have coupons, they charge the full price without offering a lesser price. One, the manager was very rude on the call, and two, this seems to be a terrible policy and is not consistent of my experiences with Dominos at most other locations I have used. If this is supposed to be your company policy to not inform customers of prices, then I think I will choose another vendor. I hope you can alleviate my concerns and I hope you can better train managers of dealing with customers. If she were my employee I would have fired her.

Paula
from Port Chester, NY
I used a coupon to order dinner from the Port Chester, New York store. $19.99 -- 2 med. pizzas, bread sticks, cinn. twists, and a soda -- and three marinara sauces (for the bread sticks). I order placed at 6:15 p.m. and was told 45 minute delivery. 1 hour 5 minutes later order came. First thing I noticed was no soda. I ran after the driver to get the soda .... he did not have it. Next thing was no sauce for the bread sticks. I called and the manager was very decent over the phone. He offered to send the soda and sauces over but it would be at least 25 minutes. LOL. Back and forth and he promised me a $5 credit back to my card. So, now we sit down to eat. Tell me -- would you put garlic sauce on cinn. twists???? Yep -- that's what was sent ....garlic sauce. So I now have 1/2 of a plain med. pie and 1/2 of a pepp. pie (because there was no soda), almost all of the bread sticks (because there was no sauce), and half of the cinn. twists (because no icing) as leftovers. And -- you charge $4 for delivery!!!! So the $19.99 deal ended up being $27.95. Hmmmmm.....$4 delivery fee, $4 taxes??? and then the $3 tip. Turned out to be a much more expensive dinner than I calculated on. If my family ate everything -- I wouldn't be so upset. The manager did try to do right -- he offered me $1.53 back because of the soda -- and ended up promising me $5 back -- he even offered me $3 off my next order .... but yeah, there won't be a next order. Suggestion -- hire people who speak English clearly and can take an order properly, hire people who know the area for deliveries instead of taking the scenic route, and yep .... the all important one -- hire people who can read so they can see the difference between garlic sauce and icing. Now I feel better .... disappointed, but at least I got that off of my chest. By the way -- you should give people the option of rating no stars.

Steven England
from Oxford, PA
i order dominos all the time every couple months the mess my order up ,ive got the free pizza and extra free stuff. i just get tired of going to get the order and they say we do not see your order. Why cant people do there job properly Please call me 484 643 6118

Nilda Dumas
from New Iberia, LA
My complaint is that I order online and at pickup time there were 2 girls standing at 1 of the drive thru windows. So I proceed to the next window. I waited for a long period of time. One of the workers was moving things around and saw me but never intended to knowledge me. We notice they were helping the other window and we drove to it. We sat there for another 5-7 minutes. They saw me we such a hatred. I'm Hispanic and I'm now thinking that's the reason nobody came to help. I love your company. But, if I'm going to be treated and discriminated I won't ever come back. I'm going to make sure this is going to be exposed. Nobody deserves to be treated as bad as the 5 employees did to us.

Terry Barnett
from Odessa, TX
My complaint is about the location in West Odessa, TX at 9001 W. University Blvd, 79764. Today, I ordered a pizza that I earned with points. I also ordered some chicken bites, and added a cup of blue cheese for dipping. This location is app 1/2 mile from my residence. I waited until the tracker showed 10 minutes or so left after the progress showed it was in the oven.... Drove to the location, there was one vehicle in front, and no cars at the drive up window... I opted for the drive up... to pick up my carryout order. I waited 10 minutes minimum for someone to even come to the window. I told them my name, took another couple of minutes to find my order, then they said they did not have change so the girl had to get another employee to bring my change... That clerk tried to tell me he didn't have change, so I told him I would wait. (At this point it seemed they were counting on me saying to keep the change, but after the poor service,... there was no chance I would tip someone for slow service)... Then when I got home, I did not get my dipping sauce... so I got screwed out of the cost of that...
So, the reason for this is to ask, have you ever done an "undercover boss" type situation when there are problems at a location? This one needs serious help, I only go to this pizza location about once every month or two because of bad experiences every time I order from there. I usually don't complain, but I am at the end of my frustration after today's visit. Most times when I want pizza, I drive 4 miles into town to get it from one of your competitors more often, because of the poor service at Domino's.... please, please follow up and put better service personnel in this location.

Eric Bowman
from Minneapolis, MN
I ordered a pizza and wings for carryout from the Blaine, MN location. I asked if after taking the wings out and putting sauce on to put them through the oven another half revolution. They said they will not do that, store policy, but they were also extremely rude. I said I wanted to cancel and the guy hung up on me. Called back to speak to the manager and told him the guy hung up on me to which he replied "well you called to cancel, didn't you". This is by far the worst customer service I have received in a long time and I hope you will consider a restructure at the store. I used to manage a Dominos and would do things like this for the customer because it is how they like it and will keep them coming back. The service was terrible and I hope you guys take action on this. Seems to be a common problem looking at reviews of this location.

Birk tab
from Minneapolis, MN
Went in to night and orderd 3 sandwhices and a 2 lieter if coke . bill was $ 20 somthing.
(Cary out not delivery) mind you tried to pay with good old american curency. 100.00 bill .the worker told me they cant break the bill.
I said why they said it was DOMINOS policy not to except 100 dollar bills. Mind you they had change it was 630 at night dinner rush was was going on. I asked for the manager. Because you must have change for a hundred.after collecting money all day and hslf way thru dinner rush. She insited she did not .i was asked to leave as i was leaving several employees started to snicker and heckel me. I turned around and asked what was said and people tried pushing me out the door .at that point several words were exchanged. I left .end of. Story....now how could this possably have been your policy. Mind you im in a town that has one of the lowest crime rates in the state. And what makes matters worse i was there on buisness so the people with me were embarrassed to no end.. Is this your pollicy to not except 100 bills at carry out . you should put up signs at the store informing customers so they dont have togo thru this type of. Embarrassment. I came to you to enjoy dinner not tho be shunned and escorted out . thanks for reading

Gemma Brighton
from Sheffield, ENG
Customer service was absolutely awful. Not organised no acknowledgement of customers by minimum 4 staff in store. Looking and aware of customers far too busy chatting.

April McLamb
from Raleigh, NC
I would give zero stars if possible. This is the second time I have ordered a pizza from store # 8855, in downtown Raleigh, just to have it canceled both times, due to no delivery drivers. How can they not have delivery drivers at a Pizza place? This is ridiculous!!!! You have forever lost my business downtown! Surly you guys hope to stay in business?
Thank you!

stephon sellers
from Dallas, TX
I ordered a pan pizza and 2liter got a hand toss. Told the driver the order was wrong after signing my receipt asked him to take it back. He tells me to cancel the order and try's to force his way inside my home to get the 2liter. I tried closing my door twice yet he still pushing on my door. This is not professional nor good customer service skills

annette
from Covington, TN
Made an order at 10:59pm and at 11:45pm I called asking about my order and realize that I was not going to get it...some violin excuse about the delivery driver had to leave early...really...this location has only one driver? Pathetic excuse and the manager named Jodi didn't even offer me any consolation for the mishap on their part. Yes. I have not updated my profile with my number but still she could have made some kind of attempt to rectify things. I should have went with my first mind and gone to Little Caesar's! Your Covington Tn location...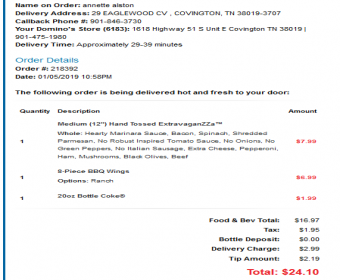 Charles Hallmark
from Bedminster, NJ
You advertise that a three topping carry out is $7.99 but when I go to the store to order a three topping they tell me bacon is a premium topping and it is extra. Nothing in your advertisements exclude certain toppings.

James campbell
from Indianapolis, IN
last night i ordered a large pizza with three toppings i was charged 26 dollars and there was very little topping on my pizza its the worst i have ever had i will never eat your pizza again in life and i will post on facebook warning others not to patron you establishment happy new year

gordon w yocum
from Calumet City, IL
on this date I ordered 3 pizzas from the store in Lansing, Il.
1 hand tossed med sausage & Pepperoni
1 hand tossed med Sausage & Pineapple
1 pan pizza med with Sausage & mushrooms
all were to be cut in squares. I order this way because there are small children here and it is easier for them to handle the pizzas.
this is what I received
2 hand tossed with sausage & Pepperoni
1 hand tossed with Sausage & Black Olives there was NO pan pizzas and NONE were cut into squares.
Papa johns, Pizza Hut, Little Ceasers and several non chain pizza stores in the area.
The pies I got were very good but not what I ordered. I did not call the store because i have called in the past and all I got was lip service
Please either hire some one who can read English or a manager who does a better job of overseeing his operation
Gordon Yocum 708 868 0873

adam grayson
from Jacksonville, FL
Was fired for not showing up on a day that i never worked . Plus the GM is dating one of the insiders and she gets the special treatment over the other works. I don't think that is allowed or permitted in the domino handbook

Marlys Galler
from Port Saint Lucie, FL
Went to pick up a pizza today and the guy making the pizza was putting all
the items on all the pizzas with bare hands. This is unsanitary. I question this
and they told me the government gave them these instructions. Then he went
from making pizza to bringing supplies out from the cooler and then back
to making pizzas. Being a former owner of a fast food usually the Health
Department is involved in this. thank you!

Chip P
from Greenville, SC
Complaint for Dominos Pizza 356 W Main st Hendersonville Tn
This location in the last month has just got worse. The wait times have got longer, the attitudes of the employees are bad and it is easy to see why. The new manager is talking down to white employees and running them off and appears to be replacing them with black employees. I hate Racism of any kind and I will not support it. Sorry this location has lost a customer until this changes.

Incomaptant staff members and arrogant managers

Teddy mason
from San Antonio (North Central), TX
Dominos 15502 huebner rd. Two times it his I order on line pay never get pizza.Have to drive to store to get refund waited 2 1/2 hours on Monday had to go get refund and tonight same thing Going to get refund went order on line 35 mins going on 2 hours I am sick of it.

Kim A. Driscoll
from Needham, MA
On 12/4/18 I ordered a pizza with my phone to pick up at 271 County Street Attleboro, MA 02703. i picked up my pizza and drove home. When my son opened the pizza it was not the cheese pizza I had ordered it was a pizza made with a white sauce which we didn't like. So I called the store and ask if they could bring me the right one. First they said yes and then they realize I lived in South Attleboro and couldn't deliver there. I said okay what can you do for me then. The gentleman on the phone told me that he would put a note in the computer to give me a free pizza next time I came. To just let them know when I came in so they could look it up. I said fine and called the Domino's at 250 Mendon Road in Cumblerland, RI 02864 and had them deliver me another pizza. I usually order there on the weekend all the time it's a good store. Today 12/18/18 I placed an order at the County Street store on my way home. I had my points for a free medium pizza so i used that and order another pizza that should have been in the computer as a free pizza. The manager said it wasn't in there computer and I would have to pay for it. I said no I will just take my free pizza and I walked out. This store on County Street is always making mistakes on peoples orders. Last week I was in there forgot about free pizza but i ordered cinnamon twist and they made me cheese twist instead they did catch this mistake but I had to wait for them to remake it. While I was waiting 2 other ordered where also wrong that they had to fix. I order from Domino's once or twice a week sometimes 3 times a week because my son only eat pizza but if they can't keep there promises I'll go to Papa John's, Papa Gino's or Pizza Hut there all very close and it make no difference to me. I would like a response back from you.
Yours truly,
Kim A. Driscoll

HRUDYA DATTATREYA
from Hyderabad (Charminar), TG
This is the worst response from your end that i have ever seen before, earlier you only called me for the delays that happened before that complaint.and now you are not answering my call & rejecting my call.
coming to delivery i have ordered a pizza before 45 mins . the delivery have been done now.
Coming to taste of pizza, it's worse even .you have sprinkled the salt too much.

Nazmun nahar
from New York, NY
I work in dominos pizza store is03656.its a worst experience.they behave so worst.they don't accept new anyone.they treat so bad.a guy assult with me.i did complain to general manager he didn't took any action now he didn't put any schedule on mine.

Zavia Otey
from Roanoke, VA
I ordered a pizza and never received it , when I called dominos back the worker gave me a nasty attitude

ROBERT HOBOCAN
from Palmertown, CT
my son ordered some items at moes in dayville,ct He was told price and then asked if it would be more to add mushrooms to pan pizza. He was told it would be $20.47, he told them to skip. When I went there I was told it was $24.97- I said how could it be that if he was told $20.47 with mushrooms and he didn't get them. THE MANAGER THERE CURTIS GAVE THE WORST CUSTOMER SERVICE AND INSISTED THAT WAS IMPOSSIBLE.
I go there 2-3 times a week and have never had a bad experience like this at Dominoes. Curtis doesn;t believe that the customer is right and even though they made a mistake- insisted it was impossible.

Peggy Walton
from Rocky Mount, NC
I had a 50% off offer. It took almost an hour for the pizza to be delivered. Needless to say, the pizza was cold. Also, the pizza had so much garlic, it was barely edible.
At this time I am not sure if I will order again.
I am requesting a full refund of my money.
The Domino's store number is 8956 and the Order number is 286743.
Sincerely,
Peggy Walton

Shannon Recker
from Baltimore, MD
I ordered from Store #4603 (Pasadena, MD) today, December 1, 2018. The tracker showed our food was quality checked at 4:37 p.m. However, our food didn't leave the store until 5:04 p.m. (approx. 25 minutes later). Our food arrived approx. 25 minutes after that. The food was cold and dry. I spent approximately $40.00 on cold, dry food. I called the store to speak to the manager and he refused to speak to me. He told the young lady that answered the phone to tell me that he was too busy to speak to me. The GM's name is Jack Peddrois. The young lady apologized and told me that she asked him to please speak to me and he again refused. I don't know what kind of managers Domino's wants in their stores but this is absolutely unacceptable. Part of a manager's job is to deal with customers, good or bad, hear feedback and make changes if things aren't working. I have never called a store for a manager and have them refuse to speak to me. Mr. Peddrois has terrible manager skills. My children and I love Domino's, however, this store will never get my business again. I am just blown away that this manager would have total disregard for a customer.

Michael Miller
from Pittsburgh, PA
If using the Domino's app or website, if the company is going to advertise 50% off of online orders, it should be automatically taken off of the bill. You shouldn't have to search for a code when the order was obviously made online. I was charged full price for my order on 11/28/18 by the new Tyrone, Pa Domino's.

Vivian
from Fort Bragg, NC
The Dominos on Pope (Fort Bragg, NC) restaurant, Upon opening my Chicken alfredo pasta their wasn't adequate amount of food in there. It looked as if I had a half cup of noodles, only a few pieces of bite size chicken and burnt cheese. The dish didn't even make it halfway up the tin. I paid full menu price for half of a dish. I now see the below for the attachment, I didn't think to take a picture, hopefully this doesn't happen again but if so I will know to take a picture and make a complaint. I would like for you all to make the employees aware that they need to put together the full amount of food when they prepare food.
V/r
Vivian Pullen

beatrice sharp
from Mountain Home, AR
ordered online out of state when the delivery did not happen called to see why pizza was not delivered to my 10-year grandson's house sent pizza as a gift for him. the person answered the phone at the Santa Cruz domino pizza on mission street 831-429-9955 ask about the pizza he stated no one answered the door when it was delivered I asked him if they would go back he said he was charging me anyway and would throw the pizza away. everyone was home the pizza must have been delivered to the wrong house or it was never delivered at all he charged my card 3 times said he cancelled the charge but it still on my account. he was rude to me and my family when they called about the fact they were home at the time of delivery. rude, disrespectful did not offer to correct the situation.NOT that it matters to you but we have order pizza in the past but NEVER again!

Robert Spinner
from Jonesboro, AR
I live in Ridgecrest nursing home in Jonesboro Arkansas. We normally order 4-5 pizza's each week. I ordered 2 medium pizzas last night that were never delivered. I personally waited 45 minutes in the driveway reception area and nobody came down the drive; not one car. It took me 10 minutes to walk back to the nursing station and call the Domino's on 3000 blk of Johnson ave, zip 74201 spoke to Josh who said we weren't there so the driver came back. He said they called the Nurses desk at 2 different phone numbers and nobody answered, even though 4 people were at the desk. The people who were monitoring the phones said nobody called. Their jobs are also riding on their word. Th asst. mgr was going to charge me an additional $7 delivery fee and send me my cold pizza's They never delivered in the first place. It is impossible for a car to enter our 1/2 mile drive at night without being seen. 4 people swear the phone never rang. The driver lied. odometers should be checked on each delivery. In the old days pizza was free when later than 30minutes, The Domino's store didn't even try to deliver my pizza's; they should be free. By the way, $7 for a delivery charge is pretty high when the driver only needs go a few blocks. This was never solved. Josh and the assistant manager tried hard not to let me get a word in. Domino's is out as of now until this dispute has ended. Papa Johns deliver to us for less money; we will use them for now. Thank you for you're attention
Have feedback for Domino's Pizza?
Thanks for your feedback!
Sorry. Please try again later!