Domino's Pizza
Domino's Pizza Complaints Continued... (Page 3)
431+ reviews added so far. Upset? Call Domino's Pizza corporate: 734-930-3030

jeff fowler
from Spanaway, WA
Ordered 2 large specialty pizzas on 3-24-19 from the Graham, Wa. 98387 store and was very unhappy with the finished product. One was the Memphis bbq pizza that had very little bbq sauce, minimum toppings, and very little cheese. The second was the Meatza pizza that again had minimal topping and very little cheese. The only positive was that they were on the 50% sale because in my opinion I only received half of the toppings. I have order from this store several times and the last 2 times have been horrible. It is doubtful that I will be returning . I could have bought a store pizza and been happier. Jeff Fowler

The help us rude.can't get my order right. Terrible food in Kingston wa.

Alan Casey
from Brisbane, QLD
I purchased a pizza from the Mt Ommaney store in Queensland tonight and to get straight to the point it was disgusting.
The only good thing about the order was the Pepsi,the pizza looked like the toppings were dropped from a ladder onto the base,
and the amount of grease that come out of it made it in my opinion un eatable,a $35 pizza went in the bin.
I think you should maybe send someone with some authority to check out whats happening in the store ,before someone gets sick
from eating this sub standard product.
Thankyou Alan Casey.

On 3/17/19at approximately 5:00PM, I ordered a pizza on line for $7.99 from Dominoes in Agawam, Mass. on Springfield St. as I have done many times in the last 6 months or so. When I went to go pick up the pizza , the car did not start. I immediately called Dominos and I spoke to a female then a male. I explained the situation and he said they would deliver, (I lived 5 minutes away) for $3.00. I said ok but we now had someone to jump the car and I will call him right back. The car would not start so I called back and explained situation to another person and he said it would cost $18.78. I asked about the $3.00 and he said the coupon was ordered on line and could not change it. I pleaded for understanding as I was in a situation and was a customer and could they please help me. I said I would try to find someone to help me. I called a 3rd time and spoke to another person (male) and he said the cost was now $21.??. Can't remember the amount. I said "so you cant help me" and he rudely said NO. I asked for his name and it took him about 5 seconds to answer. He kept saying " my name is..my name is..my name is Heath (I think). I said " you had to think about that?" I finally got my grandson to pick up the pizza which was a little well done. Not a big deal. I guess my complaint is the rude manner in which the whole situation was handled. And the price kept going up! There is no personal touch anymore. Just being neighborly in our small community would go a long way. I hate to think that Dominoes is just another big corporation with no heart or have compassion to help out one of their customers occasionally. Thank you for reading my email
Ronald Piteo
478 Cold Spring Ave.
W. Springfield, Mass 01089
413-739-3105

Jack Leibl
from Brookfield, WI
I ordered a pizza delivery to my residence on 3/12/2019. I have ordered from that location on many other occasions and the service was generally good. The delivery was usually on time and satisfactory. However, on my latest delivery order, I waited for approximately two hours before I telephoned the store to inquire about the status of my pizza delivery. I was connected to the manager who was VERY rude, wouldn't let me explain the problem, and blamed ME for the fact that the delivery person wasn't able to locate my place of residence. His argument was that I failed to provide a phone number at this particular place. The reason for that is that I live in an assisted living facility and there are no personnel to answer the phones after hours. I'd like to note that my location is approximately TEN blocks away from the Domino's location. Straight down the street!! I would recommend that you find more intelligent drivers, provide them with maps, take away their dope, or get them GPS. The name of the obnoxious, combative, and uncooperative manager at that store is Dontrell Richardson. I hope you deal with him appropriately. The address of the store is unknown to me. It is located at 76th Street and Mill Rd. in Milwaukee, Wisconsin. Thank you.

Tyree Bonner
from St. Petersburg, FL
when I called dominos pizza in st.pete fl...9th st southside about 945 pm a young man answered the phone and took my order as I told him that it was for my kids he told me hold up a couple of seconds and after 10 min I realize he wasn't coming back and afterwords I tried calling back but no answer!this is the 2cd time...I try n not complain because I know people need there jobs but yall be hiring some nasty gedo as people down there and need to fix it please and thank you.

Hattie Williams
from Moss Point, MS
On 3/7/19 around 8:30 p.m. I had my grandson order a pizza and it was not delivered until around 11:00 p.m. This is not acceptable. You advertise fast service but this was not fast. The address was to 1106 1106 Tree Lodge in Lithia Springs, GA and it was charged to my credit card. I don't know what happened that night but this was a bit too long especially since my grandson had to go to school the next day.You need to credit my debit card or deliver my grandson a free pizza. Thanks for your time and consideration. Hattie Williams

Natasha Wilson
from Taylor, MI
Ordered from the Taylor location all the food was horrible and burnt very unsatisfied

Susan
from Manchester, KY
We absolute love dominoes girls. We eat there once a week sometimes more. We spend almost 40.00 each time. Our last order on Saturday or Sunday. The pizza was like cardboard, burnt not much sauce. Our HOGIES were burnt sauce, cheese not melted, meat was so burnt the ends curved up, we couldn't even eat most of it. I don't understand why they sent food out like that, I'm a regular as well. I don't like to complain, but it's nit right. I work hard for my money. I've been a server fir 30 years, customers are important. Thank you.

Katelyn Bacon
from Holyoke, MA
3/4/19- I ordered from dominos in Holyoke, MA on Appleton Street at 7pm. We got our order delivered and we were missing the marinara sauce for our cheesy bread. Mind you it took over an hour for us to get our food to begin with when online is stated that it would be ready in 30-45 mins. We called and explained that we don't want to wait another hour for the sauce if we can get a new order of cheesy bread with sauce and we would return the old one if need be. She said it's fine, but it would take 30 mins. Okay no problem, so we waited 35 mins and called back. The manger Melanie told us the driver just walked out the door and has to drop off a couple orders before ours and it'll be there soon. WHY HAVE I ALREADY WAITED 40 MINS WHEN I WAS TOLD 30, AND THEN HAD TO WAIT ANOTHER 20 FOR IT TO GET TO ME. We called and asked for a refund instead of keep waiting it's already been 2 hours. She told us she would have void it and recharge me for everything and I wouldn't get my money back for a week. When confronting her on this, because last time I had a problem to took care of it and I wasn't charged double for a week, she hung up on me. I called back and she had one of the employees answer and put me on hold for 10 mins, so I hung up and called back. He answered again and said he was the manager so my boyfriend took the phone and tried explaining the situation to him and she ends up taking the phone and yelling at him. She is VERY unprofessional and this isn't the first time we've had a problem with her. We got our cheesy bread and just threw it out because they're known for fucking with the food when things like this occur. If nothing happens to her Dominos will lose us as customers and we will let everyone know how shitty our expierience was. We shouldn't have to go through this, and we tried being nice about it and she was just rude as hell.

Susan Galloway
from Brunswick, OH
I ordered two pizzas total was $14.73. on 3-2-19. From store # 2453. I spoke with manager Jonathan. I told Jonathan that both pizzas were not hot and they were not what we ordered.
I asked him for a credit for two pizzas.
He answered"You just want free food"! I am a great customer here in Berea Ohio and in California. This manager needs ALOT of training. !
I not only want two pizzas credit but I want an additional two pizzas for the way I was treated by your employee.
My phone number is 310-502-9738
and my address is :P.O. Box 66
Berea, Ohio 44017
Thank you
Susan Galloway

3/1/2019
Ordered pizza online and it said the delivery wait would be 21-31 minutes, At the hour mark, we began calling the store to see where the pizza was and the phone just rings and rings. We spend around 10 minutes trying to call and no one answers. We call another location nearby who says they are probably just busy??? We then spend another 10 minutes trying to call looking for our pizza. Needless to say 1.5 hours and we still have NO food. Absolutely ridiculous! If and when someone shows up with this food, we will be sending it back to Dominos and expecting a refund of money!!!!!!!!!!!!!!! I understand busy but no one answers the phone??????? I have heard about their specials 15 times now trying to call them! Will NOT order again!
********Update......driver shows up after 1.5 hours with the pizza and says they are busy. We sent the food back and asked for a refund. We are still trying to call the actual store to speak with someone and are still unable to get anyone to answer the phone!!!!!!!!!! WTF?*******************
*****Still unable to speak with anyone on the phone, nearly 2 hours after we initially ordered our food!!!!!!!!!!!!!*******

Sandra Davis
from Kennesaw, GA
On Thursday afternoon. I ordered a large thin crust pizza with peperoni and a double order of bacon to be delivered to my address. This is my standard order of choice for more over five years. When the pizza arrived. I tipped the driver, and joined by family in the kitchen. I was disappointed to find that my order was burned and uneatable. I contacted the 3545 Canton Road store in Marietta, Georgia, and was greeted on the phone by a representative that argued with me that my pizza wasn't burnt, and that type of pizza was crispy around the edges. When I challenged her about the condition of the pizza I received. She became even more annoyed and advised me to calm down. This added insult to injury.
I requested a manager, who came to the phone, and she advised me that if I wanted my pizza replaced. I had to bring it back to the store. I replied. Why on earth would I bring a pizza to your store when I paid for a delivery and tipped the driver. I have fulfilled my obligations and was disappointed that Domino Pizza had fallen short on their end. I advised her that I wouldn't bring the pizza to the store and I would contact Corporate, because after being a domino pizza customer since 1986 I felt the service was not what I felt corporate would be satisfied with.. As she was hanging the phone up on me she express her dissatisfaction of communicating with me via the phone. I'm attaching photographs of my pizza which I threw in the garbage. I took my loss and ordered another pizza from your competitor, which wasn't as good as my domino's but surpassed you in customer service. If this if the attached picture were what I have been receiving in the pass. I assure you I wouldn't have never ordered a second one. I was truly disappointed in the quality service I received. I was robbed and berated.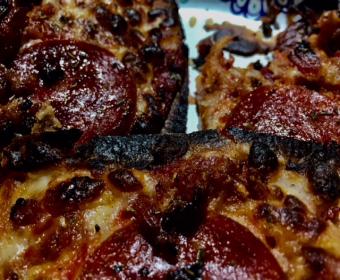 Erica Perez
from Sacramento, CA
I'm a regular at Dominoes pizza on 7250 fairoaks blvd. Carmicheal Feb 21st I had a pizza delivered to me the delivery guy named David gave me some herb I gave him My number he was txt me sexual stuff I have all the messages..

Kenneth Kartheiser
from Port Clinton, OH
On Friday February 22 2019 We ordered two Pizzas and chessy bread from store # 2412 in Port Clinton Ohio. When I took my first bite of the cheesy bread a foreign object, (later identified as a small piece of plastic) snapped off my new front tooth implant and it was swallowed by accident.
I found the piece of plastic right away before I swallowed. (I did not realize at the time my tooth was missing. My wife ran in and asked what happened to my tooth and I freaked out. So far I have not ,or probably will not recover the tooth.
Here is all the info I have
Dominos store #2421
Phone # (419) 960-7992
Order # 14796
Time : 7:17 PM
Card # ending 1652 Ref #160097585981
Phone # on slip (419) 341-5367
contact # (419) 734-4808
Please Email me with a solution to this problem as soon as possible.
I did talk with the Manager and she told me she would send out a new cheesy bread at no charge, I refused and asked If she could send me a new tooth, she replied no, contact corporate office
I await your reply.
Sincerely
Ken K.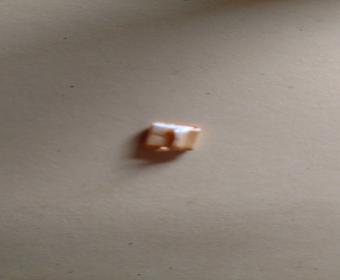 my girlfriend ordered food and it was delivered, but it was wrong and she notified thestore and they said it would be sent out right away, it's been 2 hours since then and when she called back the girl got ignorant and cursed at her and said she will f@$king get it when it gets there and she should be f@&king happy if it gets there at all and hung up on her, this is from the store in Millville, n.j. 08332

Sent a salesman from my office to pick up pizza. The store was full of customers with one person working. Waited 30 minutes to place order and the person working kept calling other workers on what to do. Oizza come under cooked. We had to cook it in our toaster oven 2 pieces at a time. This was not a Dominos pizza. Actually it tasted awful. Something has got to be done in your Naoa , Ca. store. Ve3ry bad.

Amy Granger
from Longmont, CO
Good Afternoon.
I live in Longmont, Colorado and always use the Domino's located at 1106 Main St. Longmont, CO 80501. They deliver an incorrect order 8 out of 10 times. On average we order 3-4 times a month and have started to tire of always feeling like we have to call and feel bad for complaining or just accept an order we are less than satisfied with. Today was no exception and I chose to call.
I called and a woman named Traci answered. I explained that we did not receive our frosting with our cinnamon twists, that normally that would be trivial and I would hate to run someone out for it but that it's happened so much I could no longer just let it go. She said someone would be right out with it. A few minutes later I noticed that Domino's had called and I had missed the call. There was no voicemail so I called back and once again got Traci. She said the call was simply to tell me it was on it's way.
When the delivery driver arrived she stood at my door without handing me the icing, which was in her hand, and told me that her manager wanted her to tell me that I did not order the icing but that he was going to send it anyway. Still holding the icing and reprimanding me, she told me that I had clicked that I did not click on it and should have and that's why I originally did not get it, but that her manager said this time it was okay to bring it back out to me. When she was done telling me how this was all my fault but that "they would make an exception," she handed me the icing. Then I let her know that it was not her fault, but that her manager shouldn't be sending an employee out with messages and leaving it to them to face customers and tell them that they are to blame for issues regarding orders. I apologized to her for being upset and her having to relay the message, but that I would be calling her manager.
I did. I reached the manager and explained the above situation to him. He claimed that he was the one who called me back and was trying to explain that it was my order which said I didn't want the icing but that he received my voicemail. I had enough. It was clear he didn't care and simply wanted me to understand it wasn't his problem, so I let him have it. I told him it was unprofessional to send an employee out with his message, that if he received a voicemail then he should have left one, that I NEVER receive the correct order and that's why his store has a two star review, and that I had no intention of using his services again. Additionally, I explained that I always use the coupon that provides two med, one topping pizzas, pop, garlic bites and cinnamon twists for my kids. It's their favorite. And that I always add a few toppings and dipping sauces. Typically that system pops up the bread items individually and I can see that icing is on the order. Today it was not so. Today was the first day that the system simply added those items when I was done building the pizza. It was different than I was used to but I assumed it was just the new way it worked. And because the cinnamon twist come with icing I didn't investigate, but I certainly didn't go in and take it off. I place the exact same order every week and never make that selection. So I told him that instead of explaining to a customer why it's their fault, simply send your driver out with the icing. Don't send her to face customers with your messages, don't stand and reprimand them while you withhold icing until they listen, don't call and fail to leave messages, and don't be angry with me when you get my order wrong again and I call angry. The manager offered no apology and continued to explain that it wasn't his fault.
I will never use his store again and may not order from Domino's again. We are surrounded by great places to order that are not full of frustration. The customer service is unbelievably appalling and it's represented in the ratings. It's unfortunate that another customer is gone in an already competitive market.
Amy Granger

On Super Bowl Sunday it took over three hours to deliver our food it arrived after the game was over everybody left without eating and when the food finally got here I had a backup plan already so I didn't buy it my complaint was I am sure Dominos knew it would be very busy that day and our service was very poor. My first job out of high school was at Dominos Pizza and the manager always overstaffed we never had this problem with service also I ordered online don't know if that was the reason for the delay but over three hours not excusable I would have tolerated two hours but not over three. Hope Dominos can improve customer service

I order a Specialty Pizza the Memphis BBQ Chicken and there was little to no BBQ sauce on the pizza. I also order a handmade pan extra cheese pizza and there was little to no sauce on the pizza. I have order many pizzas from Domino's in the past and I have never experienced a problem like this before. This was our first time trying your Memphis BBQ Chicken pizza and I am very disappointed. The pizzas were ordered from your Domino's store #4885 4229 Tilghman Street Allentown, PA 18104. I would like to see some compensation for my disappointment.

on friday night 02/08/19 at approximately about 9.30 pm .I walked into the Domino's establistment at Montgomery and Nostrand avenue i bought a pizza for 10.88$, and they changed me 1,088.00$. I went to my bank the next morning and they asked for me to go back to the store to rectify the mistake. the manger of the store was nasty and obnoxcious and was no helpful. And for that reason i will never buy from Domino's again. I was told by his subordinates that his name was Espinaze. Somebody of this nature should not be working at any of your establishments.
nygell charles
concern customer.

Mark Boudreaux
from New Iberia, LA
My wife went into a local Domino's and ordered a 3 topping hand tossed pizza and was charged full price of $17.00 plus taxes. She was not informed that the every day walk-in special was $7.99 plus tax. I called the store and asked what was the price for a pick up pizza with the same toppings and was told it was $7.99. I then asked why was my wife charged so much and they indicated it was because she didn't ask for the price. I was told by their general manager that unless a customer asks the price or if they have coupons, they charge the full price without offering a lesser price. One, the manager was very rude on the call, and two, this seems to be a terrible policy and is not consistent of my experiences with Dominos at most other locations I have used. If this is supposed to be your company policy to not inform customers of prices, then I think I will choose another vendor. I hope you can alleviate my concerns and I hope you can better train managers of dealing with customers. If she were my employee I would have fired her.

Paula
from Port Chester, NY
I used a coupon to order dinner from the Port Chester, New York store. $19.99 -- 2 med. pizzas, bread sticks, cinn. twists, and a soda -- and three marinara sauces (for the bread sticks). I order placed at 6:15 p.m. and was told 45 minute delivery. 1 hour 5 minutes later order came. First thing I noticed was no soda. I ran after the driver to get the soda .... he did not have it. Next thing was no sauce for the bread sticks. I called and the manager was very decent over the phone. He offered to send the soda and sauces over but it would be at least 25 minutes. LOL. Back and forth and he promised me a $5 credit back to my card. So, now we sit down to eat. Tell me -- would you put garlic sauce on cinn. twists???? Yep -- that's what was sent ....garlic sauce. So I now have 1/2 of a plain med. pie and 1/2 of a pepp. pie (because there was no soda), almost all of the bread sticks (because there was no sauce), and half of the cinn. twists (because no icing) as leftovers. And -- you charge $4 for delivery!!!! So the $19.99 deal ended up being $27.95. Hmmmmm.....$4 delivery fee, $4 taxes??? and then the $3 tip. Turned out to be a much more expensive dinner than I calculated on. If my family ate everything -- I wouldn't be so upset. The manager did try to do right -- he offered me $1.53 back because of the soda -- and ended up promising me $5 back -- he even offered me $3 off my next order .... but yeah, there won't be a next order. Suggestion -- hire people who speak English clearly and can take an order properly, hire people who know the area for deliveries instead of taking the scenic route, and yep .... the all important one -- hire people who can read so they can see the difference between garlic sauce and icing. Now I feel better .... disappointed, but at least I got that off of my chest. By the way -- you should give people the option of rating no stars.

Steven England
from Oxford, PA
i order dominos all the time every couple months the mess my order up ,ive got the free pizza and extra free stuff. i just get tired of going to get the order and they say we do not see your order. Why cant people do there job properly Please call me 484 643 6118

Nilda Dumas
from New Iberia, LA
My complaint is that I order online and at pickup time there were 2 girls standing at 1 of the drive thru windows. So I proceed to the next window. I waited for a long period of time. One of the workers was moving things around and saw me but never intended to knowledge me. We notice they were helping the other window and we drove to it. We sat there for another 5-7 minutes. They saw me we such a hatred. I'm Hispanic and I'm now thinking that's the reason nobody came to help. I love your company. But, if I'm going to be treated and discriminated I won't ever come back. I'm going to make sure this is going to be exposed. Nobody deserves to be treated as bad as the 5 employees did to us.

Terry Barnett
from Odessa, TX
My complaint is about the location in West Odessa, TX at 9001 W. University Blvd, 79764. Today, I ordered a pizza that I earned with points. I also ordered some chicken bites, and added a cup of blue cheese for dipping. This location is app 1/2 mile from my residence. I waited until the tracker showed 10 minutes or so left after the progress showed it was in the oven.... Drove to the location, there was one vehicle in front, and no cars at the drive up window... I opted for the drive up... to pick up my carryout order. I waited 10 minutes minimum for someone to even come to the window. I told them my name, took another couple of minutes to find my order, then they said they did not have change so the girl had to get another employee to bring my change... That clerk tried to tell me he didn't have change, so I told him I would wait. (At this point it seemed they were counting on me saying to keep the change, but after the poor service,... there was no chance I would tip someone for slow service)... Then when I got home, I did not get my dipping sauce... so I got screwed out of the cost of that...
So, the reason for this is to ask, have you ever done an "undercover boss" type situation when there are problems at a location? This one needs serious help, I only go to this pizza location about once every month or two because of bad experiences every time I order from there. I usually don't complain, but I am at the end of my frustration after today's visit. Most times when I want pizza, I drive 4 miles into town to get it from one of your competitors more often, because of the poor service at Domino's.... please, please follow up and put better service personnel in this location.

Eric Bowman
from Minneapolis, MN
I ordered a pizza and wings for carryout from the Blaine, MN location. I asked if after taking the wings out and putting sauce on to put them through the oven another half revolution. They said they will not do that, store policy, but they were also extremely rude. I said I wanted to cancel and the guy hung up on me. Called back to speak to the manager and told him the guy hung up on me to which he replied "well you called to cancel, didn't you". This is by far the worst customer service I have received in a long time and I hope you will consider a restructure at the store. I used to manage a Dominos and would do things like this for the customer because it is how they like it and will keep them coming back. The service was terrible and I hope you guys take action on this. Seems to be a common problem looking at reviews of this location.

Birk tab
from Minneapolis, MN
Went in to night and orderd 3 sandwhices and a 2 lieter if coke . bill was $ 20 somthing.
(Cary out not delivery) mind you tried to pay with good old american curency. 100.00 bill .the worker told me they cant break the bill.
I said why they said it was DOMINOS policy not to except 100 dollar bills. Mind you they had change it was 630 at night dinner rush was was going on. I asked for the manager. Because you must have change for a hundred.after collecting money all day and hslf way thru dinner rush. She insited she did not .i was asked to leave as i was leaving several employees started to snicker and heckel me. I turned around and asked what was said and people tried pushing me out the door .at that point several words were exchanged. I left .end of. Story....now how could this possably have been your policy. Mind you im in a town that has one of the lowest crime rates in the state. And what makes matters worse i was there on buisness so the people with me were embarrassed to no end.. Is this your pollicy to not except 100 bills at carry out . you should put up signs at the store informing customers so they dont have togo thru this type of. Embarrassment. I came to you to enjoy dinner not tho be shunned and escorted out . thanks for reading

Gemma Brighton
from Sheffield, ENG
Customer service was absolutely awful. Not organised no acknowledgement of customers by minimum 4 staff in store. Looking and aware of customers far too busy chatting.

April McLamb
from Raleigh, NC
I would give zero stars if possible. This is the second time I have ordered a pizza from store # 8855, in downtown Raleigh, just to have it canceled both times, due to no delivery drivers. How can they not have delivery drivers at a Pizza place? This is ridiculous!!!! You have forever lost my business downtown! Surly you guys hope to stay in business?
Thank you!

stephon sellers
from Dallas, TX
I ordered a pan pizza and 2liter got a hand toss. Told the driver the order was wrong after signing my receipt asked him to take it back. He tells me to cancel the order and try's to force his way inside my home to get the 2liter. I tried closing my door twice yet he still pushing on my door. This is not professional nor good customer service skills

annette
from Covington, TN
Made an order at 10:59pm and at 11:45pm I called asking about my order and realize that I was not going to get it...some violin excuse about the delivery driver had to leave early...really...this location has only one driver? Pathetic excuse and the manager named Jodi didn't even offer me any consolation for the mishap on their part. Yes. I have not updated my profile with my number but still she could have made some kind of attempt to rectify things. I should have went with my first mind and gone to Little Caesar's! Your Covington Tn location...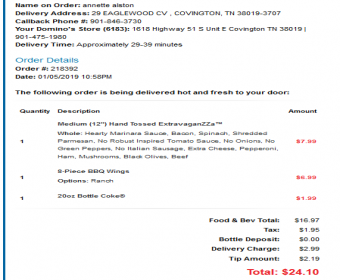 Charles Hallmark
from Bedminster, NJ
You advertise that a three topping carry out is $7.99 but when I go to the store to order a three topping they tell me bacon is a premium topping and it is extra. Nothing in your advertisements exclude certain toppings.

James campbell
from Indianapolis, IN
last night i ordered a large pizza with three toppings i was charged 26 dollars and there was very little topping on my pizza its the worst i have ever had i will never eat your pizza again in life and i will post on facebook warning others not to patron you establishment happy new year

gordon w yocum
from Calumet City, IL
on this date I ordered 3 pizzas from the store in Lansing, Il.
1 hand tossed med sausage & Pepperoni
1 hand tossed med Sausage & Pineapple
1 pan pizza med with Sausage & mushrooms
all were to be cut in squares. I order this way because there are small children here and it is easier for them to handle the pizzas.
this is what I received
2 hand tossed with sausage & Pepperoni
1 hand tossed with Sausage & Black Olives there was NO pan pizzas and NONE were cut into squares.
Papa johns, Pizza Hut, Little Ceasers and several non chain pizza stores in the area.
The pies I got were very good but not what I ordered. I did not call the store because i have called in the past and all I got was lip service
Please either hire some one who can read English or a manager who does a better job of overseeing his operation
Gordon Yocum 708 868 0873

adam grayson
from Jacksonville, FL
Was fired for not showing up on a day that i never worked . Plus the GM is dating one of the insiders and she gets the special treatment over the other works. I don't think that is allowed or permitted in the domino handbook

Marlys Galler
from Port Saint Lucie, FL
Went to pick up a pizza today and the guy making the pizza was putting all
the items on all the pizzas with bare hands. This is unsanitary. I question this
and they told me the government gave them these instructions. Then he went
from making pizza to bringing supplies out from the cooler and then back
to making pizzas. Being a former owner of a fast food usually the Health
Department is involved in this. thank you!

Chip P
from Greenville, SC
Complaint for Dominos Pizza 356 W Main st Hendersonville Tn
This location in the last month has just got worse. The wait times have got longer, the attitudes of the employees are bad and it is easy to see why. The new manager is talking down to white employees and running them off and appears to be replacing them with black employees. I hate Racism of any kind and I will not support it. Sorry this location has lost a customer until this changes.

Incomaptant staff members and arrogant managers

Teddy mason
from San Antonio (North Central), TX
Dominos 15502 huebner rd. Two times it his I order on line pay never get pizza.Have to drive to store to get refund waited 2 1/2 hours on Monday had to go get refund and tonight same thing Going to get refund went order on line 35 mins going on 2 hours I am sick of it.

Kim A. Driscoll
from Needham, MA
On 12/4/18 I ordered a pizza with my phone to pick up at 271 County Street Attleboro, MA 02703. i picked up my pizza and drove home. When my son opened the pizza it was not the cheese pizza I had ordered it was a pizza made with a white sauce which we didn't like. So I called the store and ask if they could bring me the right one. First they said yes and then they realize I lived in South Attleboro and couldn't deliver there. I said okay what can you do for me then. The gentleman on the phone told me that he would put a note in the computer to give me a free pizza next time I came. To just let them know when I came in so they could look it up. I said fine and called the Domino's at 250 Mendon Road in Cumblerland, RI 02864 and had them deliver me another pizza. I usually order there on the weekend all the time it's a good store. Today 12/18/18 I placed an order at the County Street store on my way home. I had my points for a free medium pizza so i used that and order another pizza that should have been in the computer as a free pizza. The manager said it wasn't in there computer and I would have to pay for it. I said no I will just take my free pizza and I walked out. This store on County Street is always making mistakes on peoples orders. Last week I was in there forgot about free pizza but i ordered cinnamon twist and they made me cheese twist instead they did catch this mistake but I had to wait for them to remake it. While I was waiting 2 other ordered where also wrong that they had to fix. I order from Domino's once or twice a week sometimes 3 times a week because my son only eat pizza but if they can't keep there promises I'll go to Papa John's, Papa Gino's or Pizza Hut there all very close and it make no difference to me. I would like a response back from you.
Yours truly,
Kim A. Driscoll

HRUDYA DATTATREYA
from Hyderabad (Charminar), TG
This is the worst response from your end that i have ever seen before, earlier you only called me for the delays that happened before that complaint.and now you are not answering my call & rejecting my call.
coming to delivery i have ordered a pizza before 45 mins . the delivery have been done now.
Coming to taste of pizza, it's worse even .you have sprinkled the salt too much.

Nazmun nahar
from New York, NY
I work in dominos pizza store is03656.its a worst experience.they behave so worst.they don't accept new anyone.they treat so bad.a guy assult with me.i did complain to general manager he didn't took any action now he didn't put any schedule on mine.

Zavia Otey
from Roanoke, VA
I ordered a pizza and never received it , when I called dominos back the worker gave me a nasty attitude

ROBERT HOBOCAN
from Palmertown, CT
my son ordered some items at moes in dayville,ct He was told price and then asked if it would be more to add mushrooms to pan pizza. He was told it would be $20.47, he told them to skip. When I went there I was told it was $24.97- I said how could it be that if he was told $20.47 with mushrooms and he didn't get them. THE MANAGER THERE CURTIS GAVE THE WORST CUSTOMER SERVICE AND INSISTED THAT WAS IMPOSSIBLE.
I go there 2-3 times a week and have never had a bad experience like this at Dominoes. Curtis doesn;t believe that the customer is right and even though they made a mistake- insisted it was impossible.

Peggy Walton
from Rocky Mount, NC
I had a 50% off offer. It took almost an hour for the pizza to be delivered. Needless to say, the pizza was cold. Also, the pizza had so much garlic, it was barely edible.
At this time I am not sure if I will order again.
I am requesting a full refund of my money.
The Domino's store number is 8956 and the Order number is 286743.
Sincerely,
Peggy Walton

Shannon Recker
from Baltimore, MD
I ordered from Store #4603 (Pasadena, MD) today, December 1, 2018. The tracker showed our food was quality checked at 4:37 p.m. However, our food didn't leave the store until 5:04 p.m. (approx. 25 minutes later). Our food arrived approx. 25 minutes after that. The food was cold and dry. I spent approximately $40.00 on cold, dry food. I called the store to speak to the manager and he refused to speak to me. He told the young lady that answered the phone to tell me that he was too busy to speak to me. The GM's name is Jack Peddrois. The young lady apologized and told me that she asked him to please speak to me and he again refused. I don't know what kind of managers Domino's wants in their stores but this is absolutely unacceptable. Part of a manager's job is to deal with customers, good or bad, hear feedback and make changes if things aren't working. I have never called a store for a manager and have them refuse to speak to me. Mr. Peddrois has terrible manager skills. My children and I love Domino's, however, this store will never get my business again. I am just blown away that this manager would have total disregard for a customer.

Michael Miller
from Pittsburgh, PA
If using the Domino's app or website, if the company is going to advertise 50% off of online orders, it should be automatically taken off of the bill. You shouldn't have to search for a code when the order was obviously made online. I was charged full price for my order on 11/28/18 by the new Tyrone, Pa Domino's.

Vivian
from Fort Bragg, NC
The Dominos on Pope (Fort Bragg, NC) restaurant, Upon opening my Chicken alfredo pasta their wasn't adequate amount of food in there. It looked as if I had a half cup of noodles, only a few pieces of bite size chicken and burnt cheese. The dish didn't even make it halfway up the tin. I paid full menu price for half of a dish. I now see the below for the attachment, I didn't think to take a picture, hopefully this doesn't happen again but if so I will know to take a picture and make a complaint. I would like for you all to make the employees aware that they need to put together the full amount of food when they prepare food.
V/r
Vivian Pullen

beatrice sharp
from Mountain Home, AR
ordered online out of state when the delivery did not happen called to see why pizza was not delivered to my 10-year grandson's house sent pizza as a gift for him. the person answered the phone at the Santa Cruz domino pizza on mission street 831-429-9955 ask about the pizza he stated no one answered the door when it was delivered I asked him if they would go back he said he was charging me anyway and would throw the pizza away. everyone was home the pizza must have been delivered to the wrong house or it was never delivered at all he charged my card 3 times said he cancelled the charge but it still on my account. he was rude to me and my family when they called about the fact they were home at the time of delivery. rude, disrespectful did not offer to correct the situation.NOT that it matters to you but we have order pizza in the past but NEVER again!

Robert Spinner
from Jonesboro, AR
I live in Ridgecrest nursing home in Jonesboro Arkansas. We normally order 4-5 pizza's each week. I ordered 2 medium pizzas last night that were never delivered. I personally waited 45 minutes in the driveway reception area and nobody came down the drive; not one car. It took me 10 minutes to walk back to the nursing station and call the Domino's on 3000 blk of Johnson ave, zip 74201 spoke to Josh who said we weren't there so the driver came back. He said they called the Nurses desk at 2 different phone numbers and nobody answered, even though 4 people were at the desk. The people who were monitoring the phones said nobody called. Their jobs are also riding on their word. Th asst. mgr was going to charge me an additional $7 delivery fee and send me my cold pizza's They never delivered in the first place. It is impossible for a car to enter our 1/2 mile drive at night without being seen. 4 people swear the phone never rang. The driver lied. odometers should be checked on each delivery. In the old days pizza was free when later than 30minutes, The Domino's store didn't even try to deliver my pizza's; they should be free. By the way, $7 for a delivery charge is pretty high when the driver only needs go a few blocks. This was never solved. Josh and the assistant manager tried hard not to let me get a word in. Domino's is out as of now until this dispute has ended. Papa Johns deliver to us for less money; we will use them for now. Thank you for you're attention

Cindy Fournier
from Barre, VT
My husband and I was at the Domino's Pizza in ST J VT #3231 while waiting for our pizza and cinn twist. we was very unhappy about the workers. There was a lot of fooling around and complaining going on one male was complaining about how many hours he had to work to get a good pay check and the other two was throwing pizza crust to each other and when making someone's pizza with it then we was watching the board when our pizza would be ready and it had finished and went off the board for about 5 min's we had to go up a find out about our pizza and the person behind us had to go ask about his pizza after waiting about 5 to 7 min's for his after it went off the board

Darko
from Greenacre, NSW
I had ordered a pizza , garlic bread and churros by phone went to pick up items at fairfield heights dominoes , pizzas were ready 4 minutes after arriving which was good concidering i had only ordered only 10 minutes earlier . I noticed staff wearing gloves while handling food except for 1 person which ended up being a delivery driver helping the person cutting pizzas pack items while waiting for my churros i noticed as they came out of the oven he grabed them with his bare unwashed dirty hands and put them in the box and just clapped them clean and went to do a delivery , i made them make new ones i was absolutely discusted on seeing that let alone he is driving , handling moneys and then handling food without washing hands or wearing gloves

Ana
from Philadelphia, PA
i placed an order to the westmont site at 1030 am on 11/8/2018 to be delivered by at least 12noon, it is 1249pm the driver never called the suite so I can come up and get the pizza, when I called the westmont at 856-854-5600 i was placed on hold four times and never your employee picked up. i spoke with megan several times before because the pizza was not delivered, she 1st said the oven is not working and the pizza will be delivered by 12 noon. no one called , when i called again your ruddest man ever with a heavy middle eastern accent picked up. i asked what happen with the pizza he said i was there i came back. i told him no one called, and i kept calling the office and no one after being placed on hold 4 times picked up the phone. i asked for refund he said i am doing that now! i asked for the store manager he refused and said we are too busy.
i asked for the manager he refused all three times.,
i work in huge medical facility, customers are treated with respect and not rudeness and with ignorance. this site of yours needs customer skill training. i am also placing this on facebook everyone needs to know the type of manners and unprofessional service it is received from your westmont site.,

James Lewis
from Lake Saint Louis, MO
We order 2 pizzas ...1 hand tossed and one thin crust....the thin crust was supposed to have x sauce x cheese onion green pepper bacon and pineapple. Well the thin one arrived with sausage green pepper ham onion pepperoni mushrooms. Not exactly what I ordered. No one seems to care at the store, oh sorry.....great customer service. 6366974745. Gave one star none lower. And to think we order from this location all the time. I am thinking of checking out Papa Johns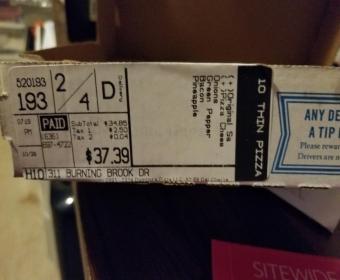 michele Bloise
from Albuquerque, NM
I received my med. pizzas and they were burnt so I called and had them bring me new ones - they were awful - crust was burnt and ham and pepperoni were over cooked and tasted old :-( --- they moved from Indian School to 12th st. and now it's not any good - wish I didn't have kids to feed when I was sick - wouldn't have had such awful food to feed them :-(. they are over cooking the pizzas - please let them know how disappointed me and the kids were - thanks .

Roxann Cheeney
from Minneapolis, MN
Your service is HORRIBLE! I ordered a pizza and it took 3 hours to get to my house and was stone cold. I live 1 mile from the location, it is a 4 minute drive and the pizza was out for delivery for over 2 hours. I received a credit, but haven't been able to use it , because you get put on hold for over 30 minutes to just try to order. How can I get my $25.00 credit returned to me in cash. I am through with this company.

Mark Harris
from Oaklands, SA
I went into Blackwood store in South Australia to order pizza and garlic bread for my sons 6th birthday party.I ordered 25 $5 pizzas and 10 garlic bread which came to $170.Then asked how much to deliver and was told $320.i think $150 delivery fee is a bit exhorbitant as it is only 3 minutes down the road.So now I will collect them myself and will no longer use Dominos for my corporate or private events.I hope this is an error on your part as am most disappointed with this service
Mark Harris

Maureen McDade
from Lancaster, CA
Ordered online 2 large pizzas with light sauce..
When pizzas arrived, there was no sauce or so little sauce it was not noticeable visually not taste wise. Called the Dominos at 4606 E Ave S. Palmdale, Ca 661 265-7400. To complain.
I asked the employee if I needed to return the pizzas and was told no. MARCOS the Manager confirmed they would replace the pizzas and to give my phone number when ready to pick up. Tried to pick up pizzas and was told they could only replace 1. Gave me corporates 800 number which says to call where we ordered and ask for Manager to complain. I guess Dominos has all ends covered.. How soon they forget that not to long ago they were a dying breed. With this kind of service, can be back in that position again..

wafi akbary
from Arlington, VA
this complain is for the location of 4811 Lee Hwy , arlington va 22201 .
i order by phone 2 pizza one plain and 2nd one veggie but i received that in 45 min with peperoni instate and i am alergic with peperoni and
i called ask for the manager and no one comes to the phone to assist me , then i drive over and they are not busy at all was 3:30 pm and
i am very hungry due to type 2 , and manger very rude and telling me ya i remember you that you repeat 3 times and ask for the receipt .
then he given me running a round and i ask my money back and i will never order pizza from domino at all ...
i will never recomend any one to go or order pizza from 4811 lee hwy , arlington va .. thank you wafi

Bernadette Cawthorne
from Hesperia, CA
I live in Adelanto, Dominos is in Adelanto yet they live not deliver where i live, when i asked why not was told they only deliver up to Air express way, this is so friggen unreal yet your ad on tv shows where you deliver anywhere, some thing needs to change Thanks

Charles Clolinger
from Greenville, MS
My problem is I placed a delivery order at 11:23 pm on 08 30 2018 they get to me at 12:39 am pizza cold without my extras i paid for they wouldn't answer when i tried calling after the delivery left or before he got here i buy alot of pizza from them and if you pay for something that what you want right so if they don't like their job then they should close the business and stop taking people's money for something they don't stand by it really upset me to know that they think they can get away with this it is unethical and not honest see the delivery guy said he would bring back the thinks i didn't get but hasn't shown and gave him tip anyway something should be done
THANK
Reconsidering Customer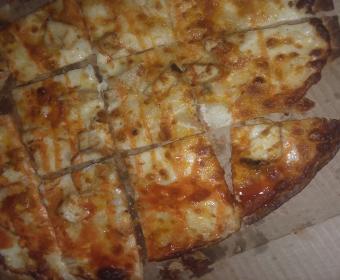 I called to place an order - they answered and then put me on hold for 10 minutes. I hung up and called back, they answered and then put me on hold again. After another couple of minutes - they finally took my order. I spoke to the manager about the hold time. The manager was not too concerned about it, she gave no apology and then tells me the hold time was justified because they were really busy and the fact they only had 3 phones and all were busy taking orders. The manager also said that the corporate office would agree with that 10 minute hold times on the phone is acceptable if really busy is the reason. The manager is basically saying it is ok to give bad customer service and not make it a priority if too busy is the reason or perhaps it never existed in the first place regardless of the time of day or how busy. I am very disappointed in this message, in the experience, in the leadersip or lack there of and in Domino's overall. In closing, I am a weekly customer and spend approximately $70 dollars and deserve better - all customers do. Hopefully, this complaint will create positive change for the better and prevent it from occurring again.

mark ashdown
from Carole Park, QLD
The service at your tannum sands store is terrible, on a number times when going to store for a pick-up either the order is wrong or has not been cooked. Tonight was it for me , after ordering on-line and tracking it on my phone I go to the store to pick up and pay and am confronted with the young girl behind the counter on the phone trying to explain an order for what seemed like minutes,then when she serves me she cant find my order and tells me that there must have been a mistake and I would have to wait for another one.Noone in the store would be over the age of 21, you have kids under pressure trying to run a store.Disgraceful. And by the way I did leave the money on the counter.Not happy.........

Garry Thurman
from Coshocton, OH
brought enough Domino's to get a free 12" pizza called ordered 3 extra toppings and a root beer plus delivery they said it was $7.02 more when it got here the price was $20.48 I told the delivery driver they said $7.02 he said that was okay I said wait a minute while I called them they said they didn't put it was a free pizza and if I only had the $7.02 for the order this young man would of took it on his self to cover the $20.48 price I paid the full price but I live on a limited income I don't want your coupons or anything else but if you let them keep doing this you won't be doing much bussiness cause you lost min

dan45@yahoo.com
from Peoria, IL
you have a rather nasty person working in your Pekin Illinos store Lori not very clean has rotton teeth and a foul moth will not buy anything from that place Hi pizza hut

Bruno Bruner
from Monahans, TX
so I ordered a pizza tonight from monahans texas location online, I put in what I wanted and even went thru your online menu to delete peppers and asked for my pizza to be square cut and my pizza showed up with peppers and was not square cut, why do you give us options if your not going to follow them?The only reason I complain today is that I eat quite often at dominos and lately have been having multiple small issues, I am a paying customer and deserve to receive exactly what im ordering. its to late to fix as im on a busy schedule and don't have time to wait for another pizza tonight. today is 7-26-18, 9287 is store I guess, order number 211518

Maribel M Menjivar
from Peachtree City, GA
at 6:49pm I called the Atlanta Hwy store (706 354-1179) and asked them if they will delivered to 345 Hollow Ridge Dr. Athens 30607 & they said yes so I placed the order for 10 large pizzas to be delivered at 8:55 as my party was going to be over at 9 O'clok, at 8:36 I got a call from the Baxter store telling me that they got my order transferred to their store and will take 30 to 35 minutes to be delivered I told them it was still OK as I couldn't do anything else because i had my party going on already. I called @ 9:04 & the guy told me my order left the store 10 minutes ago, called @ 9:15 and the guy told me my order was on its way and told me they got my order @ 8:40 & basically was not their fault because I ordered to the wrong store. they delivered my order @ 9:40pm, they gave me some cinnamon bread twist for free for the inconvenience but some guests had left already.

Darlene Daniels
from The Bronx, NY
I started this complaint by telephone but my phone is dying so I will submit my complaint here. On Saturday night 7/14/2018 around 9pm, I went to the Dominos at 3484 Boston Rd. in the Bronx. I ordered the 2 large pizza for $10.99, I ordered 4 pizzas, thats $22.00. The cashier told me the total was $40.00, I said that's impossible the tax is almost the same amount as the bill. He was nasty did not know what he was doing, could not tell me why the tax was so much, kept sucking his teeth and saying well that's what the computer says, I don't know, your bill is $40.00, over and over. I told him there is only a 8.25% sales tax in nyc and there's no way a $22.00 bill is going to be almost the same amount in taxes. Eventually someone else came over and rang it up and said it was $32.00. I complained to the manager about the first cashier arguing back and forth with me, that cashier even gave me the finger, and when the manager told him to stop arguing with me and go in the back he had a back and forth with the manager before he would go in the back. He acted like he was outside and able to argue with someone if he chose to.
After I left and got home I realized they did not give me a receipt. I was so angered over something so basic for a business which is to be able tell you what you are being charged for including the tax, and for any employee to know something is not right when they see taxes that almost totally a person bill, that's just common sense. They should know to ask for assistance rather than stand there and argue with someone over what obviously is a problem. When I realized they did not give me a receipt I was even more annoyed. If you have some kind of dispute with a customer about what you are charging them for that would seem to be the one thing you would want them to get a RECEIPT. I feel that the $10.00 in taxes I paid was to much, and I don't trust them because they had to deliberately not give me a receipt, doesn't the computer automatically print a receipt. What kind of deal is it to buy something for $22.00 and have to pay $10.00 in taxes. I want to make sure I was not over charged.

On July 11th at approximately 7:23 pm I went to pick up my order from Dominos Pizza located at 2002 Nickerson Blvd., Hampton, VA 23663. While paying for my order, I observed 3 employees preparing pizza without any gloves on which alarmed me due to sanitary concerns. Further, one of these same employees tapped the other on his back bare handed, then returned to preparing the pizza.
Please take the appropriate measures to ensure staff are wearing the proper protective gear while preparing food.
Thank you.

Lynda Chavez
from Bartlesville, OK
Last night(july 6th,2018) I ordered a pizza and sandwich. The problem was the pizza dough and sandwich dough was gooey. After cutting away some of the crust, I was able to get 1/2 of the sandwich down. Same for the pizza. This use to be my favorite place to buy pizza. I need to go back to pizza hut.

Cynthia DAvis
from Atlanta, GA
5819 Campbellton Rd SW Atlanta GA The service is terrible the customer service is terrible the pizza is terrible

Tangeria Spencer
from Oak Park, IL
Why is it so hard to order on line this has been happen alot. That's why I stop order on line period. I also try to order on line on cell phone still I was not able to order. So forget you also Domino's pizza forever good bye

Zaniyah
from Philadelphia, PA
I ordered a small pepperoni pizza to 5675 Lebanon ave. But I seem to not get the order and I ordered 3 times

Yani
from Philadelphia, PA
Dominos never want to take orders after 12 am and if they do the waiting time is OVER AN HOUR even if you going to pickup! Ridiculous.

Chris Westerfield
from Atlanta, GA
A driver comes past my house at least 2 times a wk delivering to a house past me but store says they have to meet me 2 miles away further in town because I'm out of area.

Jo-Ann Caron
from Dunnellon, FL
First time ordering from our new Dominos in Dunnellon, FL What a mess,, no system, lost orders, my pizzas over an hour later were found & COLD. . They had to remake my Dads sandwich again as they could not find it. Where were the apologies? Gift Card? Even a Manager? They made sure they got the delivery orders out. What was the Problem? They need training....Customers First!!! What was their issue??

Mae
from Santa Monica, CA
To Whom it may concern:
We ordered from the Dominos on 500 North Henry St. in Alexandria, Va. last night.
It arrived burnt and cold and slicers were piled on top of each other. It was inedible! Order # 294828
In California when I order it's usually delicious!
I would like to be compensated someway!
Dissatisfied customer
Mae

I just ordered a pizza and wings from Dominos today. When the order got here I found the pizza was lukewarm well I am used to that about now as every pizza place usually delivers it this way so you have to re heat it.
What bothered me was the chicken wings. I ordered via phone and told them mild sauce this was that Buffalo hot sauce put on the chicken wings instead! I had to rinse off the chicken and recook it with my own BBQ mild sauce which he should have come with in the first place or no sauce whatsoever just not that buffalo hot sauce hate that and it is bad on my stomach as well.
Other then that was ok just not the lukewarm pizza and the hot sauce on the wings!
Thanks.

danscotty@hotmail.co.uk
from Northampton, ENG
Order number 225106821 was placed with Domino's and PAID for by my direct debit card. Food NEVER DELIVERED, despite phone calls to my local outlet. I visited my local Penrith outlet the following day and was met by rude member of staff who would not issue refund. Referred my complaint to the website. I have done this and so far have only received one voucher for a free pizza, considering my order was for £23+ this hardly amounts to half the value of my order. Plus the experience of your most unhelpful member at your local staff and various emails via resolver website, I am disgusted with your service and customer care.

MY WIFE AND I ORDERED 2 SANDWICHES AND A L PIZZA. WE ATE HALF OF THE SANDWICHES AND MY WIFE WHICH SHE HAS THE CHICKEN SANDWICH FOUND A PLASTIC GLASS ON THE EDGE . I CAN'T BELIEVE THE PERSON WHO PREPARE IT DIDN'T SEE . VERY SCARE IT . WE THROW THE REST OF THE SANDWICHES AND THE PIZZA ON THE TRASH. WHO KNOWS HOW MANY PIECES OF PLASTIC GLASSES SOLD TO YOUR CUSTOMERS :(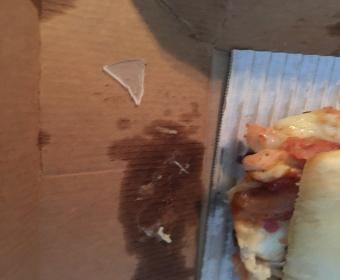 david corns
from Auburn, NSW
DOMINOS DECIDED I WAS A CHILD MOLESTOR AND PUT SHIT LOADS OF SALT IN MY PIZZA AS WELL AS DELIVERING ONE THAT WOULD FEED A DWAFTH STYLE STEREO TYPE ASS . FALSE ADVERTISING AFTER REFUSING TO DELIVER, YEP........................................................................................SHLO

Cory Walton
from Norcross, GA
I order 2 pizza on lunch break and never received my pizza so I call the store back they say my phone number wasn't a working number ,I waited my whole break and didn't have any food

Barbara Newton
from Concord, NC
The last two pizzas I ordered came dry hard and Luke warm. I called and spoke with the manager about my concern and she wasn't sure how to handle my concern. At the end of our conversation she ask if I would like a credit for a future pizza and I state that would be very nice of her. She said she would put a credit under my phone number so when I called to order my pizza just tell them the credit would be under my phone number. I called today 3/16/18 to order my pizza and the manager said she didn't remember my conversation and she is good about putting in credits that she could give me a 5.00 credit that's all she could do because the credit wasn't put in the computer. The Dominos in question is located in Mt Pleasant, NC 704-436-1117. The manager I spoke with was working on 3/16/18 at 6:30p as I didn't get her name. Customer Service is less than satisfactory. Thank you for your help.
Barbara Newton, Concord, NC 28025

Rafael Hernandez
from Lake Worth, FL
My name is Rafael Hernandez. I chose Dominos tonight over pizza hut because is closer to my home. I feel I made the worst decision today just for driving closer. I ordered a pizza with extra bacon and pineapple. When I went in to pick it up the bacon was almost unseen. I paid extra, and this happened 2 weeks ago when I ordered. I thought maybe it was just a mistake. The young man who helped me at the time was friendly and apologized. Today was a difference experience. The young lady who stepped to talk to me, was very bold. I asked her, " If this is considered extra bacon which I am paying for, what would it look like without bacon? HER REPLY WAS , WELL LESS BACON. SHUT MY BOX OF PIZZA CLOSE AND SAID, HAVE A GOOD DAY, AND WALKED AWAY. I am very disappointed how I was treated. I am a Retail Store Manager and this is not the type of customer service you give. This was at store in Lantana and congress. In florida. Just east of I-95. I believe is Store# 5169. Phone number is 561-533-0905. Order number # 331966. I ordered the pizza under my nickname Tony Hernandez.
I would like some to reach out to me ASAP. My number is 561-907-0151.

STEPHANIE SHACKELFORD
from Mountain Pine, AR
On the night of 2/15/2018 I used the dominos in Hope Arkansas and used a fund raiser card that was a buy one get one free , I understand that the way the card works is that I pay for the higher of the 2 pizzas I order . I ordered a large meat lovers add mushrooms and onions and a plain pepperoni , I was told the price was 23.88 and when I showed my card I was told the same order was 28.00 something . So I was lead to belief that it was cheaper to not use my card . I have never paid this much for this order in all the years I have been using these cards. but we were hungry and we live a hour drive away so we placed the order and waited our time when we picked up our order we were in a hurry and did not think to check so I made my hour drive home to find my pizza was raw and I had to recook it. this morning I called the store and reported this and was told yes I was charged to much and that this was not the first time it has happed with this employee. But was not offered any help on the fact that it was raw and over charged . I just felt this was something that you might want check in to , because this is the only pizza we eat .
thank you for taking the time to read this
Stephanie Shackelford

Phone ordered Pizza and Wings at Dominos in Shawano, Wi. 2/9/18 picked up after work and was charged $21 + for two items that should have been $5.99 ea. Person who took order was very rude and seemed irritated with order. Usually very happy with service but not this time

diana
from Winchester, TN
I called the Winchester Domino"s on 02/08/18 to place an order of several pizzas. The girl who answered did not act like she had time to take the orders. She kept rushing me. I asked what specials for delivery, "we dont have any what you want? How much are 1 toppings ? "What Kind"?, pepperoni," 13.88 be there 30 or 40 minutes," I would like another," what kind," let me think..."hello you there?" what kind. "Forget it. I called papa johns because they had patience and asked if I would like anything else. Papa Johns didnt act like they were in hurry to get off phone.
I always order Domino's and usually they are helpful and nice. If i am paying for something i would like to get my whole order placed and not feel like i am an inconvenience to them.
The time was around 4:45pm

emerson shaw
from Richmond, VA
Worst service at any pizza place was Domino's last night! Took over 1 1/2 hrs, pizza was over cooked (2) brownies were literally BURNT(see attached pix) and cold as was the pizza. With tip cost me just under $60! I could have gone many places and got a good steak for 2 for the same or less! I want my $60 reimbursed! I deserve it LOUSEY service and PRODUCT!!@!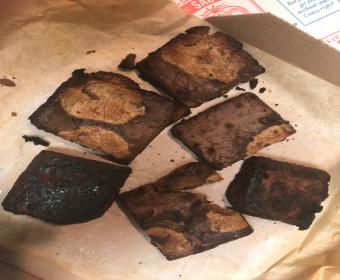 fay goodman
from Nelson, NSN
last friday did not receive delivery of my pizza order $48.97 taken from my bank waswrung and told order went to wrong store and you would refund my payment this has not been done please rectify and return my payment as goods not received thankyou fay goodman phone 035456430 nelson

Brandon C
from Durango, CO
One star is too many tonight. We ordered online, and it came 45 minutes late. 20 minutes after the online tool said it had been dispatched, we called the manager Gabby. She was very rude and acted like she didnt care. Then 25 minutes later here comes a sloppy tall high school kid to my doorstep. I asked him what took so long and he became immediately became defensive and copped an atttitude with me. Because I have had issues with the drivers lying from this Dominos before, I recorded the exchange I had with the kid on my porch. He went as far as to tell me and I quote... "shit happens" when i asked him further about what kept him so long, since my house is not even 2 minutes from Dominos. (I have the conversation if you would like to hear it.) He because very flippant and when he left, he left driving fast and carelessly up the street to Dominos. By the time it took me to put the pizza on the table, dail the number to Dominos, "Jacob" answered the phone. I asked for the manager on duty and I was promptly hung up on. I called back, and Gabby, Who was also not nice, as her tone was a i dont care tone once again, said sarcastically that she would speak to him after she got off the phone... Neither one wanted to give me the number to the boss, nor the name of anyone above them from the store. The first call, we were given a number to a Greg and the number went to a voicemail. These two people were not professional at all... It will be a really long time before we eat at Dominos, and when i cut and paste this on my fb, and ask everyone to share it, I hope they realize that no one appreciates service like this.

Patrick Low
from Greenfield, IN
I ordered 2 medium pizzas with extra sauce online. After ordering, I seen the order details and realized that I had forgotten to put the toppings on the pizzas, and also forgot to put cheese on them as well. After seeing that I had already paid, I felt I needed to contact them by phone. A man answered the phone, and I began informing him of the mix-up. He seemed confused with what I was trying to tell him, He asked me to just order it again online. I assumed that he was going to cancel the previous order, but I didn't want to order it again until I knew that that transaction had been canceled. While sitting at my computer, I heard him asking another person whether they had already placed the order in the oven, which was followed by a yes. He then proceeded to ask me, "So, what did you want instead of the pizzas?" I told him (after already informing him multiple times) I still wanted the pizzas, I just wanted to call and make sure that the toppings were on the pizzas and that it did have cheese. After a few moments, he then repeated the pizzas back to me followed by saying, "we will have it out to you shortly." When he repeated the order I noticed that he did not say extra sauce, so after he was finished naming the toppings I said "and extra sauce." After getting off of the phone I received a phone call from a girl, who claimed that she was the GM of the store, and she said "I do not like the way that you spoke to my employee, you sounded like you were blaming him for the online difficulty. I just wanted to say that was very rude and disrespectful." I first informed her that I did not recall being disrespectful in any way, and I asked her what I had said that was disrespectful. She sounded as if she misread the situation, but continued to throw accusations. After she tried to complete the phone call, by saying that I should come in and order. I told her that I no longer wanted my order, and I wanted it cancelled. My fiance then, went to the donimo's location and asked for a paper receipt and spoke with the manager, who was laughing at my fiance's expense.
We will no longer be doing business with Domino's Pizza due to this incident. We feel it is absolutely unprofessional to call back a customer to insult them with beyond wild accusations, thus ending in a cancelled delivery order.

ms.farnan
from The Bronx, NY
My children called store #3486 to order pizza because I was working late. After 1/2 hr, the children called back to find out how much longer it will be for delivery. The worker left them on hold for 7 mins then hung up. The workers were heard in the back ground saying "f**k her, let that B***h wait. This language & behavior is unacceptable, especially if we, as patrons are willing to utilize your store. They then got in a cab to go pick up the food. When they got to the store the worker refused to service them & even turned his back to the counter. My daughters did not deserve this service, nor does anyone else. It wasn't until they said they would call their brother to address this disrespectful worker, that they were given their order: 10 mins later. When the girls got out of the cab & went into the house (which is only 11 blocks away) the 2 pies were cold & not what they ordered. They were instructed by me to not return to your store EVER!!!!

jennifer ameen
from North Andover, MA
On December 18, 2017 I placed an order through my Domino's app for $33.13 My kids LOVE Domino's and we patiently waited for our order however 2 hours later if finally came and we were not a happy bunch. I watched the app because it told me our pizza was on it's way and we live right down the street. After waiting about 30 minutes I called and the girl told me he was on his way which wasn't the case because we waited about another hour. The delivery boy got to the house and told us that he had to wait for a jump because his car wouldn't start and he never left the Domino's parking lot. Why didn't the girl who answered the phone let us know that because we would have just went down to pick it up because the kids were starving at this point. The food we ordered was cold and my kids were not happy because it didn't taste good. I called back and spoke to someone who I thought was the manager, explained what had happened and they advised I would get a full refund. Well I never got my refund so I made a complaint again and never heard back from anyone. Like I said we order from here a lot but with this kind of service I have been taking my business else where. I will consider giving this Domino's another chance if I get what I was promised which was a full refund of $33.13
Thank you

to whom this may concern,
I'm a long time customer of dominos and currently reside in Stoughton ma 02072 which we would order from your canton Massachusetts store near cobbs corner. literally 85% of the time I order from there somethings wrong. just as recent as last night. placed an order for delivery which I usually pick up because its always wrong. placed order at 730 pm was told a half hour for delivery. I used the tracker on my app to make sure everything went ok.at 7:49 it said it was out for delivery. I live 6 min away. 830 I called and asked where the driver was because food was still not delivered after 40 min on the road. employee stated we are waiting for your wings because it keeps on going out with the wrong orders (which this has been an excuse many times before). so I said I want a new order since my wings and pizza have been sitting for over 45 min now which would be cold , employee Alex said no its still a little warm and ok for delivery. so of the last 7out of 9 times ordered this has gone wrong with food having to be comped for the huge inconvenience. I'm not the only one because when I'm there waiting for my order there is also other people there with the same issue. There is no way this store is going to last with such and under performing staff or something within the company needs to change. good luck with this store because you need it as I don't see it lasting another year. after many attempts of being a valued customer i believe you have lost me and probably many more from the people I have spoke with in the store with the same issues.

Dannie Carter
from Ballwin, MO
while waiting to pick up my order, I watched as a worker prepared a pasta dish.
She was not wearing gloves , This made me ill. The food I was buying only the chicken
was for me, to share with someone else. So I asked ,"Do you not wear gloves?" The casher
without a care said, "no". My concern is ,its flu season: even not its a fast food restaurant, please.
I couldn't eat, the thought of it. I feel even worse not telling the others. They were starving, when I walked in they started
eating. GLOVES are a necessity. Something should be done. This took place at 12317 Old Halls Ferry rd.@9:30pm, my total was 23.75
under the name of Carter. I really believe if people knew their food was being handled like this , they would not buy it.

Your app is awful. Why can't I just go on there and see what is on a specialty pizza? Or price your items? Why do I have to ORDER and say Delivery or Carryout if I do t even know what I want. Major turn off I'll order elsewhere.

todd daugherty
from Kokomo, IN
i order a pizza they made it wrong i call them about it they told me i would mail me a gift card 5 day later about it the manager would not talk to me was told to call the office call the office 10 times left messages never got a return call got a email from a nick lane said he was a gen. manager for Kokomo area said he send too sent one said 3 to 5 day its been 12 day now nick wont email or talk to me i feel its a joke to them and they don't respect their customer only their money

Sue Irwin
from Minneapolis, MN
I ordered the 5.99 for two on January 2, 2022. The service was ridiculous. I asked for delivery. 2 hours later I still didn't have my food!!! I tried calling and couldn't get through on the phone. Finally after 2 hours the delivery person called and said they were 2 minutes away and meet them outside. Okay Eieieieiei. The pizza was hot, but the cheese was thick and not melted. For my trouble Dominos said my next pizza would be 50% off. Big deal they do that anyway. Completely unacceptable!!!! They emailed me. Not a happy customer. Thank you.

Laura Steger
from Rialto, CA
I put gate code in my online order now the driver could not get in because my Spanish isn't good enough to say # in Spanish. I want my money refunded and the manger in of the store my order was routed to to be retrained to give the drivers all the information on the order. I ordered because it raining nonstop. There is no reason why that driver should not been able to get in the fault is been not the drivers

Noble davis
from St Louis, MO
I ordered from my local domino's and never received my pizza
I called all night long and never received an answer
I waited All morning long the next day just to see if I would get a courtesy call Or anything and that never happened
I finally called back at 3:48 pm and was placed on hold for 30 mins b4 I hung up the phone
When I called back the manager did apologize but she told me she couldn't provide me with a refund because of an Apple Pay account number she is asking for that Apple says is encrypted
But I paid with my debit card just using Apple to check out but it's to my chime account and not my Apple account
Long story short I have been a customer to this store for years and I and appalled at this situation never ordering from domino's as a whole ever again !!! I just want my money back.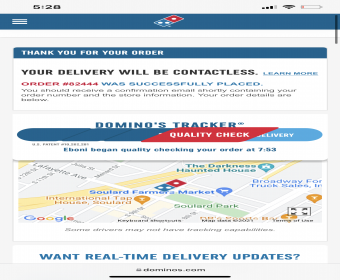 Michael Heindl
from New York, NY
I ordered the large 2 topping pizzas with the two liter drink and a bread side. The two pizzas I got are not what I ordered. Instead I ended up with two nearly supreme pizzas with everything except what I ordered. I called to see what the establishment could do and they were very irrational. Denying any resolution to the issue.

Dee Trychel
from Madison, AL
We order from Domino's pizza on Martin rd in Huntsville Alabama and have never been so disappointed in a pizza. It was just bread. Literally no sauce or cheese. I mean none. Now my husband won't order from any Domino's locations.

Stacey Matushin
from Norristown, PA
I placed an order at 6:04pm on Sunday November 28th. After an hour waiting, I called to find out about my order. I sat on hold for about 10 minutes. A nice young man got on the phone and I asked what the heck is going on? Where is my order, he explained he is alone and is trying to get the orders out...then he tells me it will be another hour can you come pick up, I told him I couldn't, no car right now...over the past several months this is not the first time. I believe this will be my last order through dominos, I think I am finally done.

John Morelli
from Floral Park, NY
domino's never has either any drivers working or none at all. Placed order at 245 pm came out of oven 309 pm Then food never left store until 326 pm, didn't arrive until 340 pm The store lies on times, I watch the clock. Not good for almost hour on delivery and food is cold.

Sayyeda Razi
from San Antonio, TX
I've been ordering Pizza for our school at one particular location since more than 10 years but recently since 6 months this location is giving us very hard time and they are very rude, not delivering on time and stop giving us school discount which we used to get since 10 years. Several time I requested and told manager but he is very rude and talk very rude and said we stopped giving discount which I know he gives to other school but to us he is not giving and said this how we are. We order at this location because they are very close from our school and other locations I had call they said it's not in our range. We used to order almost 100 pizza per month because of our children's birthday but I am not ordering here just because of this manager's attitude. This location is at Plano street is Communication.
I would really appreciate if you take this request seriously and take some action.
Please call me back.

dean knipe
from Atlanta, GA
I called yesterday at 230 pm and they said they have no delivery
This evening I call about 7 pm and the phone has a busy signal
The dominos pn highway 280 phenix city al

Kristina Hilton
from Atlanta, GA
The delivery driver was extremely rude to me. This is the same guy who a week ago put my food a good 10 feet from my door and never knocked. There is no telling how long it had been out there and it was cold by the time I realized it was out there. His name is Benjamin and he should not be doing this if this is how he treats the customers.

Kisha Davis
from Frederick, MD
I order on a regular basis and I'm having trouble redeeming my rewards and unfortunately I tried calling the dominos that's closest to me and they couldn't help. I tried to order online for 30 minutes.

Daniel J Windham
from Fort Worth, TX
The food took 2 and a half hours to get here and was freaking cold when I got it. Worst pizza place I have ever had!

Michele Di Masi Jr.
from Houston, TX
On September 18th I ordered a pizza. My pizza was delivered COLD! When I called the store to complain I asked to speak with Ryan who had prepared my order. I was told he was making a delivery. That did not make any sense to me. I asked to speak with the manager. She identified herself as Mavloyn. I told her that my order was completed at 4:23 and did not leave the store until 4:45 and driver made 2 additional stops before delivering my pizza. When I complained to him he just laughed and told me to call the store. She just replied the driver had to make multiple deliveries. I told her my pizza was cold and she did not care. When I told her I was going to call corporate she replied OK. I have been ordering from Dominos for a very long time and I have never been treated like this. REF CASE ID: 5261997.
The restaurant was located at 5647 Treaschwig Rd, Spring, TX 77373. 281.645.4443. I was given a case number an that was all. Nobody has contacted me. I replied to the email with the case number 2 times and nobody has bothered to respond. I have been ordering from Dominos for over 40 years and I have NEVER been treated like this. I also feel with nobody responding that your company is blowing me off.
Michele Di Masi Jr,
6435 Fallengate Dr.
Spring, TX 77373
832.928.5608

Linda dodsworth
from Valrico, FL
Put a order in on line for two steak subs and cinnamon rolls.ended up getting one sub with steak and cheese on it the other just bread and nothing else.called the store witch is 5 minutes away and was told from the manager he knre busy before eating and didn't have the phones on us.he never left a message so we didn't know who called.we got charged the same price for a sub as we did with the toasted sub roll.was never told at delivery that we had a problem and the manager was very rude poor businessw the order was wrong tried calling once and got voicemail.we we

alexander doychinov
from Venice, FL
Are Domino's pizza sizes getting smaller?
Because every time I buy one of your pizzas its size is less than advertised. Today, Wednesday September 29, 2021 I bought a 14" large pizza that seemingly looked smaller, so I measured it -- and, as seen from the enclosed photo, the pizza was indeed smaller. 14 inches are equal to 35.56 centimeters, but as seen from the photo the pizza is approximately 33 cm, or about an inch shorter. I bet you will try to explain the fact that the pizza was smaller due to the heat shrinkage, but when using proper heating temperature a 14" pizza should not shrink more than one quarter of an inch.
Alexander Doychinov

Cheyenne Hibbs
from Greeley, CO
I order the same thing hot wings with extra sauce and when I called to ask them for extra hot wing sauce she said she couldn't so she didn't upstanding me and then she said she had to charge for extra sauce and come to find out she chagered me for a dipping sauce and then when I called to complain the guy wanted to disagree with me and tried to blame me and all I wanted was for them to fix's the mistake and he would rather say well that how it's going to be!

Tammy Brook
from Atlanta, GA
I ordered a free 2 topping pizza at 5:55 p.m. The tracker said in oven at 6:01. It has been 1 hr 15 min. I called the store, NAOMI said "we've been running behind 1hr to 1 1/2 hrs all day. I said well what stage is my pizza?? She said I dont know..and it went downhill from there. This location has never gotten an order on time. I am going on every social media site and warn people about the lack of customer service, unprofessional behavior and advise to order anywhere BUT Dominos. I live on disability and now my money is tied up for 3-5 business days waiting on a refund. So i cant order anything else. Further the REASON i ordered was because i had SURGERY on Fri and do not feel like cooking. This is outrageous!!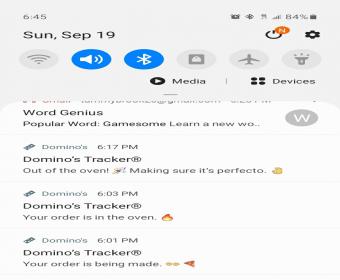 Dominos pizza on mes on road in Cumberland is awful. Charged me twice. Woman gave me such attitude about it. Kept talking me to call the bank. Extremely rude was along her questions. Then told me she was putting a note so I couldn't order again and hung up on me

I ordered a large thin crust meat lovers,pizza,the crust was burnt and a order of chicken wings,was supposed to be honey barbecue and the sauce was hot.

This describes my last two visits to the dominoes pizza located on corner 3rd and gst chula vista CA 91910. Order pizza and salad for pick up. Placed order, when I was informed order was ready for pickup drove to dominoes they handed me my pizzas and a bag with my salad. I get home and theres no salad dressing. So I call dominoes and tell them about missing dressing the employee says whats the whats the big deal most people have salad dressing in their fridge and if I didnt it would be ok if I wanted to drive back and get the dressing I paid for. I could understand that response if the dressing was free. But dressing atleast at that dominoes is an additional charge. When ask ti speak with manager they responded with im not the only customer they have and that he was to busy to come to the phone. I dont know what other people expect when they order food from a restataunt. But if I order food and each item has a price that I have to pay then when Im handed my order I expect it to be complete. Just as the payment is worth the dollar amount is represents. Thus my salad dressing should be included since I have paid for it. As I continued to call back not satisfied by the service being given someone finally decided to deliver my dressing I guess they got tired of me calling. That was the last time I told my self I would frequent that dominoes since I have had previos incidents like pizzas not being made as ordered things missing like salads or dressing when using delivery. I guess its really is my fault because I cntinue to go back thinking it might be different. The definition of insanity right doung the same thing and expecting a different outcome. Well this really is the last I go there but before I wanted to share my final experiece at dominoes. I order ppizza and salad online and following dominoes puzza tracker it informes me my pizzas are ready ive expressed I want curbside so itthen me that it shall be brought out in no more than two mins or pizza is free. So pull up hit the button saying im here and the timer is on. There is also saying if anythong wrong call manager phone # right there ready for anyone to call. Like that is supposed to fix anything. Its now been 20min ive been waiting, does that mean I get 10 free pizzas it was 1 for 2mins so 20mins hmm. I now decide to call someone answers says hes put me on brief hold . He never came back , called again put on hold this time didnt even tell me just stated putting me on hold. Been over 40min multiple calls still no food has appeared as I continue to wait outside. Then finally try to get my order by walking up, they tell me they dont have an order for me . I said the pizza tracker said my order was ready. Then they said oh its not done yet. This is like 45mins after pizza tracker ssid it was ready for pick up. So they funally hand my order no appolligies for the extended waiting no thanks for waiting no nothing. I even thanked them after they handede the food. That was something they didnt earn. Any way that will be my last time at that dominoes maybe at any dominoes,cant imagine anywhere being worse. They dont even care how they treat there customers well im not one of there customers anymore.

Tammy J Lowell
from Denver, CO
Ordered a large pizza and hot wings last night. Food was horrible. Tasted liked it was not cooked all the way. Had to throw it in the garage

Jeanne Rosen
from South Lake Tahoe, CA
I am concerned about health issues. When I arrive at 987 Edgewood Circle store in South Lake Tahoe, CA, the garbage can was upside down and garbage was strewn all over the place. Had to ask Domino employee to pick up garbage. She was the only person on duty that day. Later I came back to get a pizza. The same employee prepared my pizza without gloves, no mask, and did not wash hands from previous pizza order. When I addressed that with her, she stated "we don't need to do any of those things". I wasn't surprised because she was young, not informed, and whoever trained her did a poor job. Her attitude explained how oblivious she was regarding my concerns. When I went home I trashed my pizza!
Then I called the store, spoke to the Assistant Manager, Emily, who was very helpful and professional. Most of the people who work there are young folks who really are not well informed about speaking with customers and answering customer questions. The staff would not give out the General Manager's phone number and finally after my second attempt and explaining the situation I finally called Anthony(General Manger) who left me a message but without a phone number. Again I called and spoke to the Assistant Manager, who really should get a General Manager position, because she was the only PROFESSIONAL person in that facility. I made many calls to Anthony who never returned calls which is why I am filling out this form. I also understand that Anthony also has two other stores.
I am a nurse and I focus on COVID, cleanliness especially when preparing food. Had Anthony returned my calls, I would not be calling the Health Dept to make them aware of this situation. This is a major health issue, and most of this staff are totally unaware. I hope you can resolve this issue with the Franchisee, otherwise that store should be shutdown and closed!
I would like a response to this complaint and your plan moving forward!

Jessica Bias
from North Myrtle Beach, SC
Friday night I made an online order. After 2.5 hrs my sister went to the store just to be told that they do not take orders before 5pm and weren't delivering but, didn't call to inform us of this. Then Saturday night my father ordered online for pickup at 6pm. When we arrived to pick up the order not only was my dad charged. But, we were told that they never got the order and when we asked to place the order in person the manager replied, " you guys can get the F out" I've ordered from this store for 3yrs without ever having a problem. Until now. The charge on my dad's credit card was never put back so he paid for something we never got.

Cheri Ann Cristinziano
from Camp Pendleton North, CA
I ordered 2 pizzas one for me the other for company that was visiting, it was awful very bad,, I thought maybe it was just me,, but they also thought so but didn't want to tell me ( wanting to be polite) but to this day they still joke about it,, and talk about that horrible pizza I got them,, it's embarrassing, but I liked to get them often, since then I havnt been able to bring myself to ordering again and I dont think I ever will,, it's been over a week, I'm mentioning it now because, I'm thinking about what to get for dinner and Domino's would of been my choice but because if that horrible pizza I can't bring myself to order again cause I don't want a pizza like that ever, I told them I even paid extra to get them extra cheese they laughed and didn't believe me they said it tasted like there was no cheese on it,, I said I know,, don't k ow why there's no way I was the only one to complaifor that time if they made other pizzas like mine then there has got to be other complaints this site is horrible I can't read what I'm. Typing it's super light, the words are too light to read, so you may have alot of typing errors since I can't see any of it, Cheri cristinziano

Eric fisher
from El Mirage, AZ
I tried to call Domino's Pizza and was on hold for 15 minutes then I ordered online and when I saw the water print it out it was wrong so I went to the location and told the unkempt Pizza Guy if you would fix the mistake and he said it's already in the oven I said I know but can you fix it he said it's already in the oven" yelling"! And I said well can you fix it oh, and she said I guess I'll eat the $4, in the rudest way possible! Proceeded to sloppily throw my pizza together and when I got home it was still wrong! So disgusted with this experience!

Mark jackson
from Owensboro, KY
As I placed an order at he Morehead store the claimed t was fifteen dollars then a five dollar delivery charge I'm right cross st and charged 22.60 for on large pizza once the delivery guy came the box was wet pizza taste like soap as well. Store number is 1416 if anyway possible please step up and figure the problem I like dominoes but feel if this is professional way I will never eat there again or anyone this did it for me. I ask that if ya need any further question contact me by phone ty.

Teri Lucas
from Knoxville, TN
We ordered by phone at 5:10 pm today, was told it would be about 35 minutes, the Dominos app showed order delivered, it was now 6:15 pm so we called the store again and they asked what our address was AGAIN, this was after we had given it to the guy that placed our order 3 times, while on the phone they said the driver just walked back in with our order, so at 7:25 pm we finally received our order, we have Pizza Hut, Marcos Pizza and others close to us, if no satisfactory response this will be the last order ever from dominos

Jo Glover
from Anderson, SC
On June 18 @ 10:28pm I placed an order by phone for a medium pepperoni pizza I was told that it would be 40-50 minutes(this was acceptable) after 65 minutes had passed I called to see if the order had gone out.I was told that I would have to come in and pick up my order because the number the driver had was wrong and when he called he didn't get an answer so my question was "Who gave him the number" you had to have given him the number from the Caller ID, the same number that I'm calling you from now, because you didn't ask me for my number… so why should I have to come in and pick up my order when the "mistake" is clearly not mine. She responded I don't know but my manager said you would have to come in and pick it up, I replied I ordered it delivery for a reason so you can cancel that order…she said yeah right I don't know what that meant but it was very bad customer service the whole experience especially for a loyal customer

Rebecca Graham
from Schenectady, NY
Grace dominos 11:04 Friday night 24-72 hours refund I spoke with who said they were the manager and complained after an hour of waiting for my delivery I received a text it was on the way a little over and hour later it came the driver told me he had 5 delivery's before mine and he was sure my food was still hot at this point didn't even want the food! My kids were fed something else and in bed I spoke to that person was told she was sorry and had my receipt in her back pocket and she would give me a full refund it was never refunded to me but I got an email about a free pizza went to use it tonight and didn't get it free I'm very upset and this is the reason I stopped ordering from here when it's my kids favorite place to get pizza and if something is not done I promised my kids I'll never order again from domino's and will let everyone I know how bad of service I received that night after it was a reward for my kids and I had to let them down!!!

Richard D Duncan
from Salem, OR
Domino's has a buy 2 (or more) items for $5.99 deal. If you want a specialty pizza, it's $3.00 more. When I add $8.99 and $8.99, I get $17.98. Tried it on three different calculators just to make sure. Came out $17.98 every time. But when I ordered on their website, using that coupon/deal, the charge for the two pizzas was $19.98. I had committed (to family) to buy the pizzas, so I went ahead with the order, but I'm definitely going to let everyone I know hear about it.
I have included a screenshot which shows both the price advertised and the price charged on the same page. So who is getting the extra dollar per pizza? Their web designer? The CEO? This is the kind of thing that companies end up paying out big for in class action suits. I don't have the time or energy to file one, but some lawyer with nothing better to do could probably make a bundle. If you know one let him/her know about this.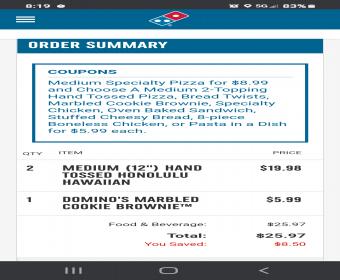 Phyllis banks
from Ruther Glen, VA
Ladysmith Virginia the minor that took my order was really rude I was talking to my grandson who was really loud I told her stop hush up the girl told me to hold on came back took my order was laughing and joking then hung up; I went outside left phone in the house came in noticed dominoes had called me back so I called the manager David told me the girl said I told her to shut up I asked to speak to his manager he told me well I don't know what for her name is Jennifer and that's her daughter you was talking to so nothing will be done. So I want the highest available person to address this issue because I spend to much money at Dominoes to have someone being rude to me. Thanks

Kenneth Ramirez
from West Jordan, UT
Dana Null denied me and my children food and hung up on me

Ivonne Esparza
from El Paso, TX
Tonight was the worst experience I've ever had ordering from a Domino's. I placed my online order and was called a minute later by an employee who asked, " Do you still want to order because the estimated delivery time is going to be over two hours and not 25 minutes as the app had estimated." I spoke to the manager Marlen who reiterated the same information as the employee. I told her this was completely unacceptable, but I was willing to pick up my order since I'm 5 minutes away. I told her I wanted my delivery tip refunded, which she could've adjusted, but no, she decided to void the entire transaction, and she also tried to charge me again when I showed up to pick up my order. I told her to show me proof that she voided the entire transaction, and that was absurd; she was trying to charge me twice; she pointed at a screen that was too far for me to see from my vehicle. She should have had a receipt ready that said Transaction Voided; I told her I obviously could not see the screen she was pointing to from where I was since I was sitting in my vehicle at the pick-up window. However, I also told her I would take her word for it– but I was still submitting a complaint to Domino's. Upon hearing that, Marlen then unprofessionally handed my husband our debit card back, then said, and I quote, "I'm NOT DEALING WITH THIS!" She then RUDELY handed the pizza boxes to my husband and slammed the pick-up window shut; like a child! So rude and unprofessional for a MANAGER.
I expect not to pay for this awful experience, and I hope the manager, Marlen, gets reprimanded for her disdainful and unprofessional behavior towards a paying and highly unsatisfied customer. She could have offered me a gift card because I asked for the delivery tip I added to my online order to be refunded. She could've shown me on PAPER that she voided the transaction. There are a million ways she could've handled this better, but at the end of the day, she decided to be rude, unprofessional, and I don't think Dominos should have someone like her representing their franchise. If you're going to keep her, I suggest you invest in training her on handling customer complaints efficiently and effectively. I expect to hear from the franchise owner. This was bullshit.

Karl Lavandeyra
from Miami, FL
At 3: 05 PM I order a pizza for delivery, order #969289, as always I tracked the process thru the app tracker. At 3: 40 PM the tracker showed that the order was complete and delivered and that wasn't the case. I called the store 4 times and 4 times I was put on hold with no "please hold" or with any customer service respect. Finally at 4:00PM I was able to speak to woman and I explained that I didn't received my order and that the track system was showing as delivered. This RUDE woman told me that they had only one driver and hang up on me. Driver deliver my order at 4:06 PM... it took 21 min for the como mete delivery message to the actual deliver.

For the second time cold pizza ... I live in Canton Rd ... 5 minutes from the place and this cannot happen .... Horrible .. I will never buy a pizza in Domino again

Anna Lavespere
from Wilmington, NC
This dominos on hwy 9 longs , s c we ordered a pizza about 5 days ago and when we opened the. Ox the pizza was half raw so we called them and let them know about it it was so late they said that they would replace it they put it in the computer and whenever we're ready for it we could come get it or call and get it well they say get up here the little manager on Wednesday night on April 21 he's working and we're here at 9:30 and we been hauling for two days tonight can't get through can't get through on the computer and we get here and he says phones are down and we came about the pizza he's so very rude he tells us that we do not have a pizza free and then he walks away I asked him for his name he said he did not have to give me his name and he said I won't sure asking what you gonna do about the repeat that and he said he would have a general manager called me back and said we weren't in my name and my number but he would not give me his name or his managers are than his general manager's name so this plan he looks like he's about 12 years old they look very nasty walk around with his hands in his pocket and then making pizzas very unsanitary and very rude not a place to go and The whole time he stayed his cell phone and then he leaves and both of them walk out the back door to smoke a cigarette lazy whole place unattended this was the worst experience I've ever had edit restaurant do not go there and I thought managers with love by law have to tell you their name and then he thought we were we ordered the pizza but it on the rules and they're about pizza that was no good if they would replace it

Summer massenburg
from Phoenixville, PA
Delivery driver left pizza on the step Didn't ring the doorbell or call us. Left pizza on step for 15 minutes which resulted in ants in our pizza. We also have video evidence that this happened because we have a camera that points at our front door

Diana bradish
from Decatur, TX
I ordered pizza from our one and only dominoes and the order obviously did not transmit correctly through their system and I called immediately to tell them. The manager was rude and yelled and hung up on me her name was destiny. Told me I would have to call corporate that it was not her problem. I paid them over $40 for pizza I could not eat !!!!!! I tried calling corporate and they were closed and said if I had a problem then I needed to call my local dominoes pizza. I called again and the same manager hung up on me again !!!!! This lady Destiny who says she is the manager has no business whatsoever dealing with the public and lacks any kind of customer service skills. I want to be refunded the money I paid for pizza I did not order. This is not the pizza I ordered !!! Their is a problem with the app that is placing the order. All I can say is this is not my problem and I tried my best to report the problem as your system advises to do. To make matters worse the manager disregarded everything I said and hung up on me !!!!!!

Sandra Jeanette Bradley
from Norfolk, VA
I ordered a pizza and the order was set... then I get a call saying they can't take anymore orders and I say what happens to my money and the response is it should go back on my card!?!! IT SHOULD????????
I ordered at 8:32 why did it not say that then????
I asked is the order could be transferred to another store abs the tools need no

Belinda
from St Louis, MO
Have ordered from the one in Salem we for years I live only 5 mins from them all his last night ear they have went to crap customer service hangs up on you when you call to inquire about your order they leave ur food along the main road not your home and then not even call to say it's been delivered their drivers refuse to get out of their cars because they don't wanna get their white shoes dirty that was the last excuse we got of why our food was left along the road absolutely horrible we will drive to the next town to prefer pizza for now on we will get it faster with better service going 20 mins into town to get it from another server

Troy wilson
from Mattapan, MA
I placed my order at 1240am n got to the store at 1am n was told carry out was closed I told the employee that i ordered online already an he didn't listen an was rude so me an my daughter had to travel elsewhere for horrible food

Stacey Sue Czirr
from Kansas City, KS
order pizza from the state Avenue dominoes from Kansas City Kansas quite often at my place of employment Bills 32. I have never had any issues I've always had really good customer service with everybody until last night. Last night an hour and a half went by my pizza had not got a ride I called them they said it be another 45 minutes and then it still never arrived and it was past midnight by the time that I had a chance to call back and obviously the store was closed I am highly disappointed in this customer service I had a bar full of people that were wanting pizza

Kathy Jorgenson
from Columbia, IL
Wow! I can't believe the service tonight. We ordered a pizza for delivery and watched the delivery person leave our neighborhood without delivering it. Someone had called but we didn't recognize the number so we didn't answer. I called the store and when I asked where the pizza was she insisted that it wasn't out for delivery and it was there with her. I said it was noted as delivered on the app but she just kept insisting that it was there. I asked if it was out for delivery and returned to the store she only would say that it was still there. I asked if it had been out for delivery and returned to the store was it going to deliver cold? She only said that it was under the warmer and it would be fine. She said it was going out with the driver on her next trip.
When the driver showed up she went to the wrong address. This is normal so no issues there; however, she confirmed that she'd been out earlier and went to the wrong address. So the person who answered the phone danced around my questions and lied. After I paid for the pizza - yes, paid for it - I took it inside and it didn't travel well. It was all over the box (lots of miles on it!) I called back dominos and got the same person. I told her it was unacceptable and she proceeded to ask me what was on the pizza because she couldn't pull it up!?!? I told her that the driver confirmed she had tried to deliver it earlier. She didn't acknowledge any of my feedback and I expressed my frustration with that. She insisted she was addressing my frustrations but she was only listening at best. There was no concern that she lied to me. She did make a large instead of a medium but not until after she asked what size we ordered...because she couldn't pull up the order. As I listed off the ingredients she got frustrated with herself and started to cuss on the phone. After all that the second pizza arrived an hour and a half after the original order was placed and it came without the chicken.
No call, no apology, no refund.

Regina
from Marshfield, WI
Dominos pizza in Greenwood Miss. has the rudest employees you has ever seen.They speak to the customers so rudely. They don't give you chance to tell exactly what you want, will put you on hold and never return to the phone.

Elliott Stone
from Martinsville, VA
I hav ordered online from Dominos/Ridgeway Va, and 5+ times they have fouled the order up, and the same way. I order a meatza pizza and add a few more add ones. When the order is brought, it is delivered with only the add ones. I have talked to mgmt about this, and they always promise to do better next time, and make the same mistake again, as I wait on the replacement pizza as I write this. 4 times I had company, very embarrassing. Now that DoorDash is here, I will think twice before ordering through this location. Perhaps retraining is in order, from mgmt down.

Vanessa Sears
from Gainesville, FL
I have noticed that the Dominos in Gainesville Florida is starting to slack in the services. I have been ordering all the time and they are now messing my order up. They miss stuff I have ordered and not receiving my order correct.

Tyler shultz
from Canonsburg, PA
Order pizza a bread stick they wrote wrong address down so they called 1 hour later told me they can't find my house so I ask if they was gone make another order they said yes butt never did brought the cold pizza this is Waynesburg pa 15370

When I order a large pizza for carry out. I specifically need to ask for the manager's special to get the price onthe Marquee. Ridiculous that I need to ask for the "special". Its right outside blaring! No, I want to pay for the more expensive one. If I order delivery for the same pizza is over twice as much. PLUS a delivery fee. Drives me bananas.

Robin Thomas
from Oak Hill, WV
I order from the Oakhill west Virginia Domino's and everything was horrible! The food was cold when delivered the lettuce for my salad was slimy. I wanted a refund but they wouldn't issue one
My contact information
robinkayhickman@gmail.com

katara smith
from Chattanooga, TN
called to place a order for myself and co workers when I placed the order the person over the phone asked if I was in a room 229 I stated no and gave him the address again and also stated that I was in a certain building he stated ok and that my order would be delivered in 45 mins I thought nothing of it and continued to work when I noticed a hour and a half later that we hadn't received our order my co worker called back to the store now I supposedly got a different person who claimed that we hadn't placed the order then stated it was for room 229 when I started to tell him he was mistaken he was very rude and even called me rude bottom line we didn't receive our order he then hung up on me when I called back he claimed to be the manager and began to shout on the phone I will never spend anymore money with such a rude company especially when I haven't done anything other than place a order with dominoes pizza east brainerd rd Chattanooga tn very rude customer service
Have feedback for Domino's Pizza?
Thanks for your feedback!
Sorry. Please try again later!