Walmart
Walmart Complaints Continued... (Page 4)
955+ reviews added so far. Upset? Call Walmart corporate: 1-800-WALMART

David hook
from Cleveland, OH
Store in Biddeford always it of product and getting worse. Thank you for converting me to another store. And carts are terrible. You have a manager to comfortable in that store

This is for store #1659
I tried to return a tablet for another better one with no receipt. Since it was a gift, I did not have a receipt readily available.
I get it, it's a little bit sketch (The seal was still intact and the tablet is clearly unopened). The first CS rep told me she had to get a manager and I told her immediately I could come back later with an actual receipt from my gift giver since I lived so close. She insisted on getting a manager anyways for approval.
Ok... I thought, if it would save me a trip back, I will wait for the manager. The manager comes and tells me right away that I would be getting less than what the online store price says. I was taken back and argued that the online Walmart sold it for 10 bucks higher. However, at no point did I curse, name call, or even yell. I may have matched my tone with his but nothing more.
He then proceeded to tell me that if the item is more than 50 bucks, they cannot even do store credit without receipt. Then he flashed his "I'm a manager card" and said "Its up to my DISCRETION to help you".
I was already ready to go home, but the way this guy was talking to me it was incredibly patronizing. So I decided to stand my ground in principle.
I told him that NO WHERE on Walmart's page does it say that about the 50 dollar max amount. Check it out here:
http://help.walmart.com/app/answers/detail/a_id/121/related/1
I must have accidentally insulted this guy's mom because he right away decided to shut down on me and told me verbatim "I'm done with you!"
So I told him I needed this escalated. I wasn't going to let this guy working in customer service of all places to treat me this way. And trust me I worked in retail and never in my dreams would I ever speak to a customer like this. It doesn't matter if they guy had a bad day or maybe another customer was a pain in the butt. You don't do that to customers.
Second manager was much nicer and much willing to explain things to me but still was unrelenting to give store credit. I was much more satisfied with her answer partly because she treated me like a human being. The other guy, Ron, treated me like complete garbage.
However, my biggest problem is that if you read that link, no where did that say anything about 50 dollar limit. Why would Walmart not follow their own policy and what's worse is that these managers are so arrogant to assume they know all the policies when a simple google search proves otherwise.
All it says is that if the product price is more than 25 dollars, they can only give store credit or gift card. Needless to say there is a reason why I do not frequent at Walmart. However, from now on, I will only go to Target and if managers at the store is reading this, yes I will also make a complaint at Corporate. This kind of customer service is simply unacceptable.

I was at Walmart in Richmond Indiana and got two 2 liters of Mello Yellow. I lost $14 in the store a ten and four ones. When I asked for help in finding it.I was pffered no help at all. I never felt less mportant as a customer . I was only in the store for a couple minutes so they could of viewed cameras to see where it dropped and who fpund it. The only thing I got was a sorry. Ifl it would of neen their money or item they would of done something. It was money I needed. I shop their couple times a week, but I will not now after the lack of help and compasion.

Susaln Belzi
from Nashua, NH
A little after 6pm today 7/19 I was ending my shopping at your store in Amherst NH. I went to cash out, there were 2 people ahead of me. There was an elderly woman on the register ( I have seen her there many times). When it was my turn a new cashier was going to take over. For the first 5 minutes I had to listen to the cashier coming on complain to the other cashier about her having to do this and that and something about being pregnant...all I wanted to do was pay and be on my way. Well first I had to hand her a personal size watermelon because when I put it on the belt I notice a soft runny spot :( I really craved water melon to). Anyway she starts ringing me up and she had a horrible attitude. She was slamming my items into the bags. My son (not a child he is 38 years old) was walking up to put the bags in my cart she would not spin the bag carousel she just kept slamming the bags on top of it he was pacing because the way she was banging my items was getting him angry and he did not want to make a scene. She continued to slam them. I paid, started to leave saw that a woman manager had come into the little area where they have the cigarettes and said to her and I quote " Your cashier behind you on register 15 has a Piss Poor attitude." I work in nursing in a nursing home and am always shopping there for soaps, goodies to munch on and clothes for my patients because they struggle. I am always at the pharmacy I at least 2 times a week getting groceries and have NEVER ever been treated so poorly. It makes me want to change pharmacies and go back to Market Basket for groceries. Oh yes and when I got home and took out the jar of pasta sauce I bought and paid for and wanted to cook, the jar had a crack all the way up the side of the jar and that is when I really got pissed off and decide to send this complaint. We couldn't eat it because I did not know if any glass was in it. I went on to my banks web page to see how much money I have spend at your store in just the past couple of months and let me tell you I shop there often. I wish I could say I would never set foot in that store ever again but that is unrealistic but I will tell you this I will make certain that my visits will be a heck of a lot less.I do not want an e-mail from you with a sob story as to why this happened I just want you to know that this happened and I am sure it has happened many times over because it is allowed to happen. I should have just thrown my arms up and walked away but after working so many hours one just wants to shop, pay and carry on.

Neil Grimm
from Americus, GA
I have been shopping at the West Macon Walmart for about a year. I usually go two or three times a week. I have always used the self service check out because they never open more than three full service registers. Yesterday I went to check out at the self service check out and was told I could no longer use it because I had to many items. There is no sign stating there is a item limit. I talked to a manager and was told that to many people were not scanning all there items, so you can only use the self service for a few items. There were four registers open and no one waiting to use them, but they still would not let me use it. I had to go to a full service line and waited almost twenty minutes, just to get up to the register. When I left I had to walk by the self service check out and out of the eight registers available, only three were being used and no one was waiting to use them, so the girl who was working that area went to the restaurant to take a break. This is totally stupid to have forty eight registers and only three open, eight self service and no one there. Taking my business to Kroger.

Andrese Al Wakeel
from San Diego, CA
I was called to the management room by the manager( Alberto Adams), in the presence of another manager( Faiz Esho ) fluent in Arabic because he is an ArabIc. Alberto claimed that I stayed in the break room more than 15 minutes and when I asked him to prove that .He said that there were spies told him that I stayed more than 15 minutes . I asked him to confront these spies face to face and I told him maybe those hate me or lie, he refused. But he said there were cameras in line with the spies' words. I work in the maintenance department and it is my duty to clean the break room and wipe the tables throw out old food, open cans and prepare cups for coffee, which may take the rest of my work.Alberto practices a racist policy with migrant workers from Iraq and openly contravenes ( California Discrimination and Harassment Prevention Policy.Alberto is not a direct manager. .My departmental manager respects me and gives me a report that I am a good worker.

Robert owens
from Macungie, PA
Wal-Mart store in Williamsburg, va #03219 op# 006353 te# 01 Ye# 06801 is the receipt on 07/15/18. We bought several items and was over charge on 3 remotes of cloth over $30 dollars.so I call the store when we got home for the mod, manager on duty . They never pick up. Then I call the complaint line which all they said the store will call you back in 1 to 3 days. I am not happy having to drive all the way out to the Williamsburg store. Today we had to go to Newport news, va to see our lawyer and saw a Wal-Mart there. We stop there to get the corrections fix. The assaint manager we had to go to the Williamsburg, va store to get it correct since that store mess it up. That is not fair. I have to waist my time and gas to fix your store screw up which over charge me $30 dollars.so I will loss more gas money and time cause of your incompetence employee.
What can you do about this?
Robert C Owens Sr.
201 tam O Shatner Blvd apt 25A Williamsburg va 23185
484 354 5781

laurie baker
from Blenheim, ON
your corporate office has reduced the hours of our store, it now doesn't open till 8am. I work 12 hr night shifts and would stop daily on my way home from work to pick up items for supper, school lunches, or work lunches. my shift ends at 7:30 and Walmart was the only store in my town open at that hour. There are aprox 200 people getting off work each morning and nearly every face I saw in the store was from the factory where I work. I guess saving a few dollars by opening later is better in your eyes than the huge inconvenience it has created for my small town. I live in napanee Ontario, many of the people from my plant that were shopping there at 7:30 am were from much larger towns on either side of it that simply wanted to pick up things their family needed and go home to bed,

Wilfred Hinchliffe
from Ocean Isle Beach, NC
The check-out policy in this store.(and I'm sure like many of your other stores)…….they have in this store at least fifteen (maybe more) I'll call them stop and go check-outs...you check out your items yourself...…..no one is going to tell me that they were put in your stores mainly for the convenience of the customer. Some people like them, most don't. You want to go to a register where a Walmart casher is and find that out of twelve registers,only three are manned.(Waiting again in long lines (happens a lot) I guess Walmart is saving a lot of money on wages they don't have to pay out.....right??!! just a guess. anyway myself and others would like to thank Walmart for the inconvenience...…………………………..We'll find another store to shop at...…..I'm sure this will bother the CEO's a lot.

Cherie Wirth
from Grants Pass, OR
I am very unhappy & disgusted with Walmart on line ordering. I placed a very simple order (I thought) but it took a total of almost 2 weeks in several separate packages before they were all received. I hate the fact they do not all come at one time. I think it is a way of Walmart to scam the customers. You get so many "little" boxes at all different times you forget what you originally ordered a couple of weeks prior! The 2 day shipping is a joke! There is really only 1 thing that Walmart carries that I can't find anywhere else but I will NOT order on line. I will go into the store & get that item & ONLY that item!!!! My other on line shopping I do through another retailer who not only sends it all at once but I get it within 2 days!! With free shipping also. The last order I placed was order #4511891-522393 on June 29, 2018 & I finally got the last item (I think) on 7/13/18....2 1/2 weeks later!!!! That is so insane------I now see why Walmart is getting such a bad name. I still don't know if I received everything because they were all spaced out so much.
Cherie Wirth

Michael hreene
from Chicago, IL
Need to tell your checkers to stop talking with other employees about their personal lives to each other and check people out, in line so long, frozen pops were melting, no excuse for such lousy service. Had to get them replaced

L Eudy
from Albuquerque, NM
Last month 6/08/2018 I shopped at Walmart on Academy NE in Albuquerque, NM and spent $178.58. The cashier was very rude, I asked if he could please bag my 2 bottles of apple juice which he had laid on the upper part of the bagging area. He said if I wanted it bagged I could do it my self. Also he laid on the upper area a pizza and a couple larger other items which I DID end up bagging myself. I was shocked and very upset and now wished I had left everything behind. I have shopped there again but will stop going so I don't have to be humiliated a second time. I'm sending a few numbers from my receipt so maybe you can locate this rude person. I 14 appr#008893, ref# 1042000314, trans ID 308159685382474, Validation zlfb, Aid a0000000031010, TC d054ef34aba121f6, Terminal # sc010928. Hope this helps find this person. Also while he was checking me out he was goofing around with other female employees. Thanks for your time. I'm NOT a person who complains but this experience was not acceptable.

Ryan Westenberger
from Anaheim, CA
i was stopped by asset protection about 3 weeks ago #1 i was stopped while exiting the first set of double doors AND garret (lp) had stopped me i was basically not even out the door yety he told me to follow him we went into office and he said he would explaian everything i y thought i had haD got home iNOTICED I HE DIDNIM IT WAS THEIR RESPONSIBT GIVE ME BACK MY LIC 2 1/2 WEEKS LATER THE MGR BASICALLY TOLD ME OH WELL I TOLD MGRTTING IT IN THR PROPER STORAGE OR LOST AND FOUND THAT IF THEY LOST MY ID OR DIDNT PUIT IT ANYWHERE SAFE THE MGR HAS SAID HE WILL CALL ME AND NEVER HAS L/P WAS IRRPONSIBLE UPON THEIR BEHALF FORPUTTING MY DOCUMENT IN A SAFE PLACE LIKE THEY DO EVERYTHING ELSE I HAD JUST GOT MY LIC 2 DAYS PRIOR TO STORE 2546 BACK TO ME ON THIS MA6TTER IRRARATABLY MIS PLACED MY CARD ALL I WANT TO DO IS BE COMPENSATED FOR MY LIC COST 88 DOLLARS SOMEONE NEEDS TO REIMBURST ME OR ILL GET A Lawyer cause he didnt give it back to me that very poor customer service and not fully doing his job polkease contactb me @ ryanw714@gmail,com or 7146766140
thank you mr. ryan westenberger

Bonnie Rains
from Ruidoso, NM
The Ruidoso, NM store is in desperate NEED of HELP! Store shelves are not being stocked! Cashiers are in very short supply (and I am one of those objectors who refuses to self-check) - People do need work, and if I succumb to the wiles of corporate greed it only helps YOUR cause. Check-out lanes (the few that were open) were backed up which caused traffic jams. Of course, the garden center check-out was closed, adding to my frustration. I think I can get away from Walmart shopping altogether by using the dollar stores for cleaning supplies and buying groceries at the supermarket. If I see an improvement on my next trip - I will reconsider. Bonnie Rains.

Donna Clark
from Halethorpe, MD
Most recently I have been unable to get my regular products at Walmart since their reorg I guess you would call it. I use Suave hair products in the pump containers, none of which are now available and there are no comparable unhealthy aerosol options there either. I always shopped your Faded Glory and other regular Walmart clothing brands and now I find that everything available is either horrible lookin or nylon, haven't bought any of the new lines - poor designs and horrible patterns. I still see some t shirts from before and do purchase them. There are a few Walmart brands of pharmacy items that have been absent from the shelves since April. I witnesses a manager scream at a salesgirl for opening a register to assist senior customers trying to checkout because their were people backed into the ladies department - there was only one register open. The manager was telling people to check themselves out there was someone in that area to do it for them. Customer friendly at Walmart is no more. I personally have been cussed out by an African American manager AND 3 or 4 of her sales force - wrote to you and NEVER got a response. Is Walmart trying to go out of business. Most of the time associates are in isles sitting on their phones or doing anything but work - don't they have an employee room for that when they are on break Or they are screaming and playing grab a__ in the isle - Time to wake up and take note - My apologies to those at Walmart who are helpful and do their jobs because they are the only ones keeping you going. One more question Does Walmart have a dress code for employees???

kris
from Fredericktown, OH
I have shopped at Walmart in Mt Vernon Ohio since it opened. But after this past week, I will never shop there again. The things I have witnessed and heard from employees ( who are afraid to come forward) are very unacceptable for an establishment in this community! I have been a store manager for another company for over 26 years and I NEVER treated my employees in such a horrible manner! I watched the "store manager" yell, disgrace, demote, and talk in a manner that would be classified as "abuse" to their employees. And ON the sales floor .... in front of customers and other co-workers! These are things that need to be held in private. Although I am sure this is not what your company teaches, it should be held responsible. Due to this action from the "managers", the employees aren't giving the customer service as they did years ago. I believe you should investigate this further. I felt sorry for these individuals being humiliated in public. This is very wrong to treat people like this..... thought Walt-mart was a family ran business?
I will be waiting for your reply.

Rafael Galarza
from Layton, UT
On 7/6/20018 I was in Bridgeport, Ct. I bought at Bridgeport Wal-Mart to set of cell phone. Straight talk LG one for me because the one I had the battery was not good. and one for the ministry. I came back home to Fort Valley Ga. on7/12/20018 and turn in the new Cell phone to the office but unfortunately it was not the one they needed. I went to the Perry Ga. Wal-Mart store to exchange it. I try to explain to the agent what happened and as soon I told her that I have misplace my receipt With out hesitation she said that with out a receipt there was nothing she can do. I ask for her manager. Mrs. Lashandra came and said the same thing, I ask for the complaint number and she just verbally gave me the number and she reply that she will not loos her job over exchanging an electronic product and that she will supply me with the Return/exchange policy. Miss Kayla came back she did not introduce her self to me. But she handle the police to me and show me where it said that with out a recipe they cannot do the exchange, She also said that they tell every customer about the policy. But that is not true. Miss. Lashandra had an attitude, the first agent I talk to said that she did not know that if the product been stolen.
But your Policy state that a customer can exchange the electronic device. That was not explain to me or even try to help me on what they can do to solve my problem. It is very un professional service that your department has. the will not care a bout the customers and the manager nor her employees are aware about you return policy completely only on portion of it.
After I got home red the full policy I whet back to the store the manager on duty had no idea about exchanging merchandise with out the receipt. and to bring him your copy of your Return policy. I told him that the manager had provide me a copy of the policy but he said he had no access and that he can not do anything for me. If Lashandre already decide that she will jot accept my return.
So I have a device that is not good to us thanks to walmart policy according to Mrs. Lashandra and Kayla. Also the evening manager said that there is no way for walmart electronic department find out where the product was purchase.
Your store history said that you are only one organization own by the same family. I feel that the electronic department in Perry Ga. do not meet the customer service expectations and do not provide the customer full professional and positive attitude to customer problem solving.
The staff roll the ayes up , they will walk away and manager will do the same and will not come back to assist me.

glen burt
from Jefferson, GA
had brain surgey paid off my Walmart card what they told me but I owed 11.00$ I got cancled on the card I will not to Walmart any more

william meneese
from Louisville, KY
I went shopping at Walmart at 3:00 am July 12th. I usually dont complain but every aisle I went down there was a walmart worker. Nobody said Hi may I help you and some just glared. You might want to talk to the manager, to train his workers better or have them work where they dont come in contact with people. I was at 175 Outer Loop, Louisville,Ky 40214.

Patricia Schilz
from Spokane, WA
I have applied for a Walmart Credit Card twice in the last two months and I have not received any confirmation on either one. I have attached a screen print of the application receipt thanking me for applying for a credit card with a reference number. I have called customer service twice and they said I would receive a confirmation in an email and physical mail, but have not received either. The last call I made today they said they were unable to send me an email but would send me physical mail which could take up to 20 days to receive. Could someone please help get this problem resolved? Thank you for looking into this, it is much appreciated.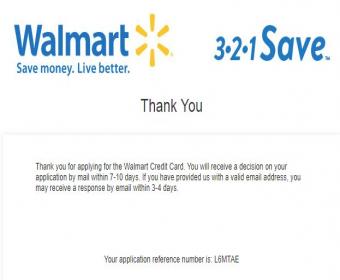 Donna Bazzell
from Santa Clara, CA
About a week and 1/2 ago, I purchased and loaded a Walmart Visa Debit card, initially for the purpose to use for Xbox online game play for my grandson. I registered the card and was told that I could use the card in store in person only until I received the personalized card in the mail. Over this past weekend, I attempted to make a purchase and the PIN which I know was correct was declined. Several attempts were made and finally the store employee assisted me as I used a bank card to complete my purchase.
I did find out that although I loaded the card for $20, that a $5 monthly maintenance fee automatically was subtracted and so the balance is now only $15.
After calling the number on the back of the card and receiving absolutely no assistance or resolution due to it being fully automated as I made multiple attempts to speak to a live customer service person. I called another number found online and spoke with a "Lee" who was helpful and explained to me and apologized that I was mislead about the card. She said that I would not be receiving a personalized card in the mail as when the registration is completed, the system decides either you are allowed a card to use and a personalized one will be sent or you are categorized as only being able to use the card with the balance on it and no more. This is so ridiculous and I was definitely mislead. How can a debit card that is reloadable be denied? That does not make any sense whatsoever. She has inormed that a refund for the card balance is being sent to me.
My fiance' who had absolutely no credit at the time, purchased and registered the card several years ago and had no problems at all, still utilizing it at his leisure.
I have good credit with multiple bank and charge cards in great standing.
Advertising these cards as reloadable Visa debit cards is false advertisement because if the only way money can be put on the card is by the customer doing so, how can they be denied that use when before purchase does not at any time inform it can be denied.
I am a frequent Walmart customer, have been for many years, and I am now totally and thoroughly frustrated, disgusted, unhappy, and prepared to report this situation to BBB as well as to several local newspapers. As a state government Business Services Manager, I find something very wrong about this.
What kind of scam is this?
I would like answers please.
Thank you,
Donna Bazzell
502 807-7575

Missouri Glover
from Charlotte, NC
July 10, 2018
To Whom It May Concern:
My husband and I shopped at your Walmart located at 3240 Wilkinson Blvd, Charlotte NC on 07/06/18. We bought two large packages of skinless chicken breast, 022763040810 cost $8.10 and 022763070935 cost $9.35. I put two of the breast in my crock pot on Friday and they are still cooking today is Tuesday. Those breast are as tough as an OX's rear end, what are we suppose to do with them, the more they cook the tougher the meat become and we can't take them back. It is a shame that kind of meat is put on the market for customers to purchase especially when we are on a fixed income. We spent $169.02 cash money thinking that we at least we has enough meat to last through this month and now we don't, stop putting BAD MEAT OUT THAT PEOPLE CAN'T EAT!! Thank you
Missouri Glover

Yesterday, Thursday, July 5, 2018, sometime during the evening, my wife and I purchased some items at the Walmart store located in Brawley, California 92227. As we paid for our purchased items and headed to the exit door, we were stopped by a female employee, who asked us for the store receipt. My wife asked as to why she was doing this, since the store is not a membership business, such as SAMS or COSTCO, where you are required to show proof of membership when you enter and exit facilities. The employee stated that she was doing her job and for us to take our complaint to their main office. I do not think that this is proper customer service and or a proper way to explain as to why this store is conducting business contrary as to what other stores do. If I want to be examined as to when I enter and exit this store, then; I rather pay for a membership and conduct business at COSTCO instead. Note: I noticed several customers displeased by this action conducted at your establishment. Thank you.

Bryan Keith Freeman
from Bangkok, 10
I am in Thailand, my brother is in Arizona, he went online to send me some money through MoneyGram. I went today to get the money at the bank here. When the teller entered the Ref # she got "Please call the Moneygram Help Center to complete this transaction." She called them and after a few minutes she handed me a phone number in America to call. She said that they would not tell her what the problem was. So I called and got a lady, she said the system was "Down". But the way she said, the tone and the nervousness in her voice told me that she was not telling the truth. So I hung up and called again. I got Jeff Spikoly from Fast Times at Ridgemont High. Not only did he sound like I either woke him up or he was higher than a kite. After I explained the situation a few times, he finally got it and asked for the reference number which was already given twice. He then told me that my brother did not complete the form so my brother needs to contact him. I told him that my brother did it online and that he has a receipt for it. Showing the transaction was completed and got a reference number. He said that my brother needs to contact the help center. I asked if the number I was given would work as I am in Thailand and he is in the states. He asked me "which number did you dial?" OMG, I gave him the number and he said, "Uh, yeah, sure that will work." So I contact my brother and he calls 4 times and got no answer. I still do not have the money and he can not contact anyone. This is what he received:
Your transfer is being sent! Have receiver bring Ref no.31345976 & PhotoID to pick up when ready. http://bit.ly/2FkQcgC for status.

Sam, Soheir
from Hollywood, FL
To Whom It May Concern,
I'm filling a complaint against customer service supervisor her name "Samira" at Walmart store # 02591 in 151 sw 184th Ave., Pembroke Pines, FL. 33029
She was overbearing, Rude and despicable
On Tusday 07/03/2018 at 1:20 PM I try to use moneygram to transfer money to my native country the casheir asked for my social security number which I refused to provide her I told her I did transfer many times I never asked to provide my SS# she said because the transfer money so much I told her what the maximum transfer money I can do without providing my SS# she answered rudely I'm not telling you, I did asked for the superviser, she came with bad attitude without saying hi or either what can I help you, I told her I going to reduce the transfer money to $3,000. Without looking to the computer screen she said I need your SS#, I said to her ok I'll reducet the money to the same amount I did transfered a couple of month ago without SS#, she said very rudly "no" you told me already two different amount of money, I said because you don't want tell me the maximum amount I can transfer money without SS#, you didn't type nothing at the computer or either took the money, she said "no" and turned her back with very low class attitude, I was embarrassed.
She never said "Hi" or "sorry" or "I can't help you or call the moneygram to check how much".
She is unprofessional woman, overbearing, Rude and despicable.
This type of behavior is not at all acceptable.
I request you to look into the matter as soon as possible before the other employees will do the same to get a higher position like their supervisor.
I really greatful that walmart exist in my life I feel safe, comfortable and satisfied when I buy their products on line in terms of price, quality and delivery speed.
My favorite store is the "Walmart" close to my house, so I would like the staff to be an honorable face to Walmart.
Regards,
Sam, Soheir
suesue1010@hotmail.com

Ruth durham
from Arlington, TX
I shopped for my last time at Crowley Walmart . I spend at least $100 a week on pet food and supplies there , I volunteer with animal rescue and appreciate any savings I can get as it helps feed another animal .todays visit I thought yay , got lucky ,30 cents a can for ,13 ounce poultry platter , of course I took all 33 cans but cashier would not honor price,5 employees later ,including 2 that where visiting and supposedly high corporate guys (that where calling to me to have a great day as they refused to honor the price) said I could buy only one can , I should have taken their pictures to post my experience on face book.. I wished I had put back the other $78 .worth of cat food I had in my cart , but had already paid for it while waiting for management to honor the price they had on the shelf .SHAME ON WALMART in Crowley .!!!! What's worse is the disposition of those managers who stood smiling like they ruined my day .by no means , I was prepared to buy it no matter what , just thought I had a lucky day . , but instead they managed to force me not to shop there . I have high ethics and principals that I stand by and Walmart has proven again that they lack morals . It was not me misreading anything , upon me questioning that I could only buy one ,that was not on any item on the shelf stating that .anyway bye bye Crowley .ill spend my money elsewhere

Your PEDO symbolism on the shirts in the boys department in Lewisville, Texas "you want to pizza me" is sic and disturbing it goes to show where Walmart's Moral Value is. You and your company can go to hell in a hand bag. We Americans will expose you and your company for what you really are A BUNCH OF SIC PEDO'S so get ready your times up. #BOYCOTTYWALMART hit em where it counts in their pocket book!!!!! Bunch of SIC DEMONS.

Shirin Purnell
from Sperryville, VA
Location: Walmart store, Culpeper, VA 22701
Date: June 27, 2018
Time: 12:25 and 12:45 p.m.
Where: Bench by a restroom in the front area of the store. After that Customer Service area next to the restrooms.
Today was my last day as a Walmart customer. Our local Walmart's customer service has been going downhill recently. Not sure why but some employees are placed at the exits and randomly stop customers to see their receipts. I understand that some items may beep that would render the checking of a receipt, but being stopped while you already have Walmart shopping bags in hands smells of some racial or some other bizarre profiling to me. I have been stopped rudely last weekend while wheeling out a kids bicycle (their birthday gift) with my little kids and having other Walmart bags in hands. The lady at the door rudely gestured to see the receipt and then didn't even look at it and handed it back to me without any "thanks" or apologizing. What was the point? Can't remember being singled out like that at Target or other local grocery stores we frequent. I had to shudder every time while leaving this store expecting to be pointed at and asked to step aside. Not a pleasant experience at all.
Today was the worst with my mother who is visiting from overseas and doesn't speak good English. She buys all her gifts, necessities and souvenirs at Walmart, and this week alone spent over $500 there. Today I was supposed to pick her up from yet another Walmart shopping spree on my way to pick up my kids from their day camp. Instead I ended up searching for her for 20 minutes since she wasn't where we agreed to meet, and she wouldn't pick up the phone. I was imagining the worst thinking she had some health issues due to her age. Then I finally received a call from her saying that some employee lady approached her when she sat down next to the restrooms while putting the money back in her purse after just having paid for her items, and started asking her questions. My mom told her in her bad English that she was waiting for her daughter and she didn't speak good English. Then the lady proceeded to empty all her Walmart bags (WHAT?) and checking every single item against the receipt my terrified mother produced for her. What the hell? Then she took my mom to customer service and made her wait in a long line while I was losing my mind searching for her. When I finally found them, I got the end of the conversation between the first employee and the cashier accepting refund items at customer service. Turns out that some cheap lip balm has been rung up twice, while the same lip balm in a different shade hasn't been rung up at all by the cashier. Which puzzled even the lady who had to assure the first employee that it was totally fine. I WAS SPEECHLESS!!!! I was so upset, late and mad that I just grabbed my mom and we left. I had to pick my kids and I was late because of THIS?! The lady never apologized, by the way. It didn't occur to me to ask for her name (which I should have), or to see the manager, because I didn't realize the whole ridiculousness of the situation then. Now I am wondering who gives these employees instructions to search bags of elderly ladies who are peacefully sitting on benches inside the store bothering no one. She didn't try to leave the store, nothing beeped, she had a lot of bags with her and her receipt had over $150 worth of goods just purchased. Did she really think someone who paid that much would steal a cheap make up item costing $2? If so, why didn't she take her back to the cashier that made a mistake? What is wrong with you, Walmart? This is how you treat your customers, and in this case foreign tourists???
Like I said. Never setting my foot in your stores starting today, and never letting my foreign guests enter your stores either. Not worth the humiliation and lack of human decency.
P.S. If you are serious about finding out who the employee was, though I suspect the problem is not limited to that one employee only, I could describe her. Or you can always check with the lady who worked the Customer Service desk at 12:40 today. I am sure she remembers.

James Raposa
from Houston, TX
while purchasing tires employee who was doing install got very upset and was throwing tools across the floor and screaming at employees, after getting home I noticed he did not install valve stem caps, and did not replace hub center in rim. Need employee # to watch cameras and check this out. Not the kind of employee I would have working for me. store was in Lumberton, Texas 11 am Josh A 6700 6/20/2018

Judy Ling
from Tehama, CA
Prescription was sent in by doctor 10a.m. I went to pick it up at 12 I was told it would be an hour. I left came back. Asked for the medicine and was told again I would have to wait an hour. I said I have already waited my hour ask the other clerk who took my order, She came over looked at the computer and said you still have 5 min. I have always gotten my prescriptions at Walmart in GA and they didn't have the policy you had to wait one hour no matter if it was ready. I will NO LONGER GET MY MEDICINE AT WALMART CVS HERE I COME.

My girlfriend and i tried to return three items this morning at the lonoke location. There were two employees involved. One was a regular cashier who looked to be stocking in her isle. We greeted her and said good morning we would like to return these the receipt is on her phone. She sighed turned her back and mumbled what sounded like "morning". She began to ring the items up. Then she told me a total. I said no mam we are trying to return these she sighed again and yelled "ms Rita" which was the second employee that came walking up wearing a yellow vest and she said "we don't do returns till 7am" my girlfriend said ok no problem. The cashier snatched the bagged items and laid them on the counter and said we don't do returns till 7am. She was extremely rude and I have never felt like such an annoyance to someone we spend a lot of money with! I do not believe Walmart operates or wants to be known to operate like this. I am
Not sure what we did to upset the cashier but i was also amazed the superior employee in the yellow vest "ms Rita/Nita?" Allowed this to happen and didn't even act like the employee had done anything wrong. We do not APPRECIATE being treated like this. My girlfriend is actually from bentonville ar and a former employee and was shocked at the treatment.

Michael Randall
from Candler, NC
I was in your store on Airport Road in Arden, NC tonight shopping in the electronics department. There you have many TV's playing stuff which is expected but there was one TV on the top shelf that was on some channel that had some black guys doing rap. The language was so bad that I was in shock that the store would be allowed to play something like this. There were children nearby shopping with there parents and it was terrible. I went and complained to the customer service desk and they call some employee by the name of Marc and told him about it. I proceeded to go back to the area and wait to see what would happen. I was shocked that nothing was ever done while I was there which I waited about an hour. Marc and the other employee that finally showed up just stood around and talked. I did not purchase anything from the store tonight and will not shop at that store again. I will be going to another store down the road from Walmart tomorrow and buy what I need. I'm not sure this will even be address but I just felt that a faithful long time customer was completely ignored.

charles cobb
from Mebane, NC
I was shopping in your store and was about to leave when I was stopped by a manager david was his name and he asked out of the blue if he could see my receipt I asked him why without answering my question he goes on a tirate about having the right to ask me for a receipt that might be true while I am shopping but after I pay its mine don't stop me on a hunch I am sorely pissed he followed me around the store he didn't ask for a receipt frankly it was a matter of race profiling plain and simple I want the managers head on a stick I was not raised to be silent to speak out when wronged by anyone

Paula ciletti
from Irwin, PA
You sent me two five dollar gift cards for a bad product i bought .They don't work. And I been trying to contact the mainstay about the gazebo i bought it only lasted four months and it fell apart .I been trying to contact them for months .I paid 200.00 dollars for it it should of lasted longer then that. Thanks paula ciletti .

Patricia Simpson
from Dallas, TX
My sister and I with are grandchildren were in the self check out. We were talking and I paid but truly forgot about my husbands beer at the bottom. My sister was just checking out and I turn to take the cart to her and the woman was standing there and I replied oh I forgot the beer and she just stood there with her arms across her chest smirking. Even when I couldn't find the bar code she offered no help what so ever. I felt bad and said to her I would have caught it and I wasn't trying to steal and as she walked off she popped off and said ya right. My sister was done and we started to leave and she came back stepped in front of my 5 year old grandson pushing his new bike and said loudly I need to see the receipt for the bike which was the first thing that was rung up. I go to Walmart at least once a week and spend anywhere from 150 to 300 dollars. I don't care how far I have to go I will never go there again. Never have I been so embarrassed or so upset. I understand you have to keep your eyes out but it was her very rude attitude that hurts the most. And I'm also aware that she is watching the screens to see what is rung up. I truly felt she was trying to embarrass me my sister felt like she did it because one of granddaughters is mixed race. She was a manager and had the worst people skills I have ever seen. This was at the Harrison Arkansas store and here my sisters and my receipt information 6/15/18 tc#07630779063167289268 time 12:43 tc#11398516894658762727 12:41 tc#72979224918712504515 12:44 if needed this is my phone number and I will save the receipts Thank you Patricia Simpson

Robert Henriksen
from Lebanon, PA
Customer service so bad it drives customers somewhere else to shop.

DARREL W SENTER
from Wrightsville, GA
Hello, I was in your Eufaula, Alabama store yesterday buying groceries and there was a woman with a dog in the store.
One of your employees told her no pets were allowed ln the store and the woman started screaming at the man telling him to leave her alone and to get away from her.
The store manager was called and he listened to her complaint about how a store employee was harassing her about her dog and all he was doing was informing her of store policy. I told the manager I saw what had happened and the incident was all her doing from the get go by bringing the dog in the store and evidently this isn't the first time she has done this and screaming at an employee to leave her alone that she needed her dog with her for her nerves or something.
My point is I don't want damn dogs, cats, pigs, snakes, lizards, horses, cows or anything else in a store where I buy my foods and clothing.
Tell your store managers to get a back bone and escort trouble making stupid people outside. There is nothing wrong with having a pet for companionship, I have 2 cats and 2 German Shepards my self and love them immensely but I don't take them to the damn store with me! Remind customers that they are not in a pet store to shop elsewhere or leave their damn pets at home if they want to shop Wallmart!!!! Thanks for listening and stop this crap now before it gets out of hand. DW Senter Cell phone: 706-957-0086 if you want to call
This complaint is strictly between me and Wallmart customer service and not to be shared with 3rd parties for any reason and is to be kept confidential.

Cathleen naumann
from Chesterton, IN
I'm was the last person in my family to shop at walmart and after my last experience will never again. I went to return an item and waited 25 minutes in line with one register opened and six other employees stand around talking and doing nothing. My time is important to me. Then I waited at the deli forever while employees act like they don't see you, this happens ever time I uses your deli . Then I went to the lawn and garden and bought two bags of mulch, when I asked for a carry out I was told they were too busy, again with multiple walmart employee doing not a lot standing in the garden section. So I guess my family is correct walmart is not worth the trip. Very disappointed shopper

Kay Young
from Woodbridge, VA
Just learning to order online, saw the picture of the phones that looked just like mine---wanted 2 additional ones, so ordered them online with Walmart. They arrived and did not work with my Vtech model... Took them back to my Walmart and was told to contact Marketplace and they would send me a return shipping label......well my total purchase was $38.21 which was paid on my Visa-----Today I had to take pkg to UPS and ship it back to Teledynamics , which cost ME, yes ME a whooping $11.89 WHAT GIVES!! WHY CAN'T THE STORE HANDLE THIS RETURN??
I shop at Walmart 2 to 3 times a month and never felt so ANGRY and USED.. I think I deserve a refund of this shipping charge, how about you???

Patricia Savage
from San Antonio, TX
I'm sitting in the service center waiting for my tires to be put on. While waiting they call me to notify me they have broken my shifter. First he tryed to say it was that way, after I said no it was not he admitted it wasn't broken until he tryed to move it then the spring just pooped out..needless to say after speaking with the other auto dept employees and being told there is nothing that they will do about it. If my car wasn't on that lift having the tires put on at this moment I'd take my car elsewhere.. I will not be shopping here anymore.

Charles A Harrison
from Logan, WV
I BOUGHT A FACEBOOK GAME CARD ON 4/28/18. iT DID NOT WORK, SO MY WIFE TOOK IT BACK, tHE LADY SCVANNED IT AND SAID READY TO GO NOW, IF TROUBLE BRING BACK.... WELL IT DIDNT WORK AGAIN SO WE TOOK IT BACK WHEN WE WEENT FOR GROCERIES..... WOMAN SAID NO REFUND NO OTHER CARD.... SAID THEY JUST SELL CARDS FOR OTHER COMPANIES, I WAS THINKING TO MY SELF, WHAT ABOUT TIRES, WINDSHIELD WIPPERS, HATS, KNIVES, TOOLS? if I BUY ONE WOULD THEY TAKE BACK?
SO I WAIT THERE TO SEE AND SURE ENOUGH PEOPLE COME IN LINE TO EXCHANGE, BRING BROKE STUFF BACK, AND THINGS DIDNT WORK RIGHT,.... THEY GOT THEIR MONEY OR EXCHANGE, SO THEY SAY, WE GET Kathy now ... WELL OF COURSE KATHY NEVEDR COMES... SO I LOOK FOR NAMETAG SAYING KATHY.... AND I FIND HER STROLLING AROUND..... I SDAY NOTHING BECAUSE I DINT WANT TO SEEM SILLY.... SO WE PAY FOR GROCERIES AND LEAVE.....so now i have no card... wallmart has my 25 dollors... and seems really happy about that. B ut i cant seem to find the joy in getting ripped off of 25 bucks. maybe i am missing something. so i tell the girl while i was there i will advertise this for them about no refunds at wall marts stores for cards bought.. she said ok that works..... now be advised no one yelled or was out of line during all this... was a calm happening... just happened i didn't get my card........ so i wait and see what u guys say. if that's how u run it then nothing i can do to recover 25 bucks. so its up to Walmart keep my money or give it back... let me know anyways several cant wait to hear the decision.... Charles a Harrison logan wva .... 304-752-1048..........

Cathy Evans
from Arlington, VA
I am a dedicated shopper at Wal-Mart and have been coming here for years. I often have my car worked on here and know the process--first come first served. Hence my getting up at the crack of dawn to be first in line. Imagine my surprise when people who had gotten there long after me were put in front of me because they were standing at the door. This is unnerving and very upsetting for me. As an asthmatic and highly sensitive to the extreme pollen, I could not stand at the door for 40 or so minutes without fear on having a life threatening asthma attack. The policy has always been first come first served and my car was the first in line. When a process changes, it would be very helpful to post notices. Although one of the mechanics told me I would be served first since I was there first, this was not the case. I am a very loyal customer and would just like you to consider keeping the first come, first served policy in place. Especially, for customs like me who cannot stand outside for extended periods of time for health reasons.

Tristian Straub
from Plainview, NY
My order was supposed to be delivered today. But was not. East Meadow store had them on hand, but no, It had to be sent to my house for delivery for today.
Where is my shipment? If not delivered in the next 20 mins. I want a full credit and my closet. And for those that shop at Walmart, stop.

David Selneck
from Matamoras, PA
I don't get my oil changed at Walmart anymore because your employees would rather "play" than do their job. I don't buy my tires from Walmart anymore because I had General Tire Grabbers on my vehicle, I went in for a rotation and was told tires not worth rotating. Which I knew. The Automotive manager, Buck, told me in front of an employee that once tires have been adjusted they cannot be adjusted again. That was a bold faced lie, I have an email from Continental stating that.
To day is my last dealing with your pharmacy. I am diabetic and take Metformin to control it. I called in a prescription to be refilled on May 1. I went to my Drs. office they there was no request submitted. I went to Walmart Pharmacy and was told they submitted it May 1 at 8:30 p.m. someone is lying again. My script was done at 5 p.m. When I went to pick it up, I waited in line paid for my script, then it was placed by consultation. I tell them every time, I don't need a consult. Now I don't have a choice!!! Bulls--t. I have been taking my medication for 15 years, I think I know how to take it. If I have questions I'll ask. Don't have someone call me to make nice. When my refills are done or I find out I can pull them from your Pharmacy I'll be doing business with Price Chopper Pharmacy. A few dollars more but well worth not having to deal with the petty, aggravating, crap of dealing with your pharmacy.

I went to the store 12555 w sunrise and have a terrible custumer service from the manager plce contac me 9544877565 thankyou very

CSS wanda is one of the rudest people
I have ever met.. she wouldn't do a price check or check on something in the store
And just walked right by me when I tried to ask her a question..

SHARON L METZ
from Kansas City, KS
We went to return a product bought in Kansas. It was a PHILIPS NORELCO Cordless Rechargeable Men's Electric Shaver. We paid 69.99 for it. I was able to show that to them from the website. I was also able to prove to them that it had never, not once been used. Because it wouldn't take a charge at all, none what so ever! We sure didnt expect it not to work at all! We bought it opened it and put it on to charge, and threw away bag, box, ect. We are full time summer RV campers, traveling everywhere. We had to make a stop in Joplin Mo. (Exit 8) while here we went to the Walmart, and tried to exchange the razor. They didn't carry the exact one, they had two that cost a little less than the one we had, but I didn't care, we just wanted one that worked.we were there over a hour and a half, while they were trying to get a UPC code. I was getting sick and dizzy, and almost vomitted. Waiting, and being pretty paitent. But then they told us they couldn't do anything to help us. I was feeling really weak by now, i lost it and tears rolled. I told my husband lets get out of here, and i pushed the razer toward them, after all it didnt work, and they werent going to do anything for us! There was a brunett manager that was really rude. There was a guy manager that was pretty nice, but he had to leave. When the brunette came, she didn't do a damn thing to try and help. All I wanted was to get one that worked, I didn't care if it was more or less... I would have paid the difference if it was more, but they only had two and they were less than the one we had. Right now I am spitting mad! Not only didn't they help us, but I left the broken one that never worked there! I bet that "bi@!$h" exchanges it now! Cuz she has the new one that had never been used! My cell number is 316-755-6661, my husband's cell number is 316-516-8903. We are both on disability, and can't afford to just throw money away, I feel like we just got screwed, by Walmart, since they wouldn't stand by their product. I don't know if writing this will don any good or not, since we no longer have it, instead Walmart in Joplin No has it
Thank you if you can do anything to make it right,
Otherwise, I think we are thru with Walmart
Mr and Mrs John J Metz
10606 West Atlanta Circle
Wichita Is. 67215
Ladyhawk1957@gmail.com

Lois Johnson
from Clinton, IN
Have been trying to call in perscriptions to Walmart in Martinsville, IN. The phone rings numerious times and then hangs up on me. This is not the first time that this has happened. Your customer service sucks. Maybe I should find a different pharmacy!!!!!!!

I love the deli foods at your store1437, but the racial comments are awful. lilly they called this assoicate speaking about another co worker of a different race. that assoicate of a different race just made a weird look at them as she helped me. i have heard other racial slurs from lilly towards this same assoicate. I just feel that this could be bad for walmart.

Danny carter
from Pensacola, FL
Magnolia ark store very rude and smart mouth employees black lady in the garden dept.. Lazy and very racis. Here name is Kama I think very disatfied with this store.
Have feedback for Walmart?
Thanks for your feedback!
Sorry. Please try again later!