Walmart
Walmart Complaints Continued... (Page 4)
1278+ reviews added so far. Upset? Call Walmart corporate: 1-800-WALMART

Joanne Wiley
from Urbana, OH
I purchased a Walmart gift card on Dec. 7, 2018 for my grandson for Christmas. When I got home I checked it's balance and it had $35 on it. I gave to my grandson on Dec. 15, 2018. He took it to our local Walmart in Bellefontaine, Ohio and tried to use it and was told their was no money on but had a balance of 0! I believe an employee in the Bellefontaine Walmart acquired the numbers (before it was sold) and then used the money. I was told by their customer service that they must have the physical card to swipe but a clever employee could do it with just the numbers. The printout (attached) is confusing showing redemptions and reloads. But, bottom line is the money was gone by 3 a.m. Sunday morning when my grandson was fast asleep in his own bed. I received no satisfaction from my local Walmart. My money was stolen and I'd like it back! Joanne Wiley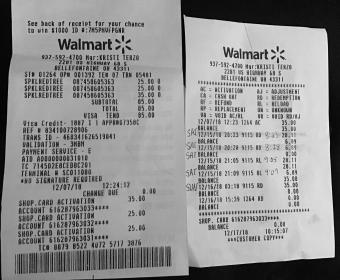 sonya mayes
from Charlotte (A), NC
I ordered a cake on sunday 12/16/2018
I asked for red roses to be on the cake w/red writing Happy Birthday. When I arrived for the cake the attendant was there, I stood there about 5 minutes and I said excuse me ma'am. she finally noticed me. she presented me w/a cake. I looked at the cake and it had only 1 (one) Rose with green scibbles on it. I told the attendant I asked for roses on the cake. she corrected it. I did explain that I would be contacting you back once I picked up the cake. I found it very discouraging to get a cake at Walmart. I have literally stood on the other side of the bakery cabinet calling from my phone. no one would answer and even called the service desk to page for assistance. I be on a schedule an to place an order to be ready at 11:00am and to get it almost 25 minutes later is not acceptable. we order for lunches and this has been not acceptable. I am considering not using Walmart in the future for our company needs. we have monthly parties and have been dealing with this for several months that it is a big problem. you order and hope that you can get it correct and in a timely manner.

Audrey williams
from Mount Sterling, KY
Order # 6181867887550.. online order pickup at store Walmart 1859 bypass rd Winchester ky. Said 2 items ready for pickup. Then associate gave me necklace item but said jeans were there but I couldn't have them or Walmart would think I stole them ??? I ask how you figure I have my records and pictures of order and shows paid . He then says I have to come back another day it's a bug in system. I then contact customer service and they said it clearly shows both items ready to pick up . This is rediculous andvim very offended at being told Walmart would think I stole my own order ! I don't appreciate this at all . Inconvenient, offending, no help from anyone so far .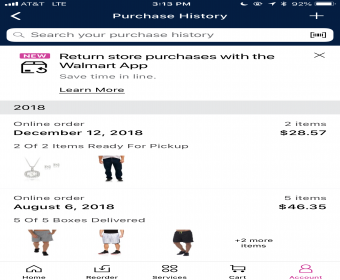 Barb Johnson
from Greenville, MI
Came shopping this weekend with my family , we came in at 10 pm on Saturday and Sunday both nights as we took the weekend to get shopping done. Why is there only one lane open? and the wait time was 15 minutes,there were employees that were just standing around and shrugging their shoulders and talking bout the very slow long line. there was a few customers that walked out. if the self scan lanes were open people should not have to wait like this , very ridiculous, will be going to another location.

Richard Preston
from El Dorado, AR
I live in Corsicana, Texas, and this store is always running out of grocery products. Some times they are out for weeks at a time and no one can tell me why or when they will restock. A lot of my friends have started to shop at other stores because of this problem.

Richard N. Smith
from Sugar Grove, NC
Too many times I have entered the restrooms at your Wilkesboro Store only to find a toilet out of service...on a busy night such as Saturday with the line long, that means rushing to the back of the store to use the one next to customer service. How long has that toilet been out of service? Why is there not a plumber in there right now working on it...seems with the cash registers full of people/customers, the store could afford to have a plumber fix the toilet...I recently had colon surgery and when I need to go, I need to GO. With the move toward self checkout perhaps we need to start towing a port-a-potty behind the truck. Fix the TOILET. Please

I shopped at Capilano Walmart. used my Mastercard. i was happy to get it and spent 1800$ in a week. buying electronics, food and what i needed or wanted. i had tried to return 4 flatscreens and an entertainment unit. after i went back 3,4 times they refused to take the stuff back. the only proof is i bought it on their card. these items were resold and parts were missing! they refused because of this. i told them that is how it was when i bought it. i called to complain and they said talk to the manager. he said the same, no receipt parts are missing! got upset explained how much i spent, i was kicked out and told they dont want my money, and to fuck off! don't come back for a year? and now i am here trying to get my money back for items i don't have $1000 or more. sad!! pissed they are wrecking my Christmas!

Donald Lang
from Oakland, NJ
I purchased a Sodastream, 3 months ago, had no problem returning the carbonator until yesterday, your employee refused to take back the empty would sell me a new carbonator charging $29.00.

Christine vansnick
from Moncton, NB
Hello, Im so sick of being treated as a burden when it comes to shopping at your walmarts i bought a jacket for my husband as an Xmas gift when getting to cash the cashier was completely ignore me and refused to provide a bag for my items because APPARENTLY the item i bought was too BIG! after much fight and assistants from might self she help me put the item in the bag with attitude while leaving she stated that it doesn't even fit when it did, now idont care and i dont mind paying for bags but i should have to fight to get one when i have no vehicle and was walking home with the things i purchased , in told another employee about my experience before leaving and she told me they just dont have the bag to provide for large item which is a lie i will no longer be shopping at any walmart after this experience and i will make sure my story is heard.!!

out of 21 or 22 registers only 4 were open and all were ran by the slowest people that work for Walmart
I had close to 1000.00 in my cart but left after waiting for 20 min in line and not even one customer was
finished being checked out I will no longer shop at Walmart I will go to other store as Fred mires were
there customers are treated with respect and they do there jobs

Corey Osburn
from Ashburn, VA
I shopped a the Walmart on Academy Drive in Bessemer, Alabama on 13DEC18 between 5:30PM and 6:30PM . I informed the associate that the items I had purchased that the amount was not adding up and I was being charged to much after I used my $5 and $10 Walmart gift card and she showed no concern about the over charge and no one in customer service new what to do about this incident for them to refund my money. After over 30 minutes of standing in customer service they refunded me $30 because that's what I was told the over charge was. I am sending this compliant because I shop at this Walmart all the time and I have never had to deal with anything of this nature and I did not appreciate the lack of concern or lack of interest of what happen this evening. I hope something can be done after I report this incident so it does not happen to anyone in the future. The store number is (00764), Stores address is 750 Academy Drive Bessemer, AL 35022.

Corey Osburn
from Ashburn, VA
I shopped a the Walmart on Academy Drive in Bessemer, Alabama on 13DEC18 between 5:30PM and 6:30PM . I informed the associate that the items I had purchased that the amount was not adding up and I was being charged to much after I used my $5 and $10 Walmart gift card and she showed no concern about the over charge and no one in customer service new what to do about this incident for them to refund my money. After over 30 minutes of standing in customer service they refunded me $30 because that's what I was told the over charge was. I am sending this compliant because I shop at this Walmart all the time and I have never had to deal with anything of this nature and I did not appreciate the lack of concern or lack of interest of what happen this evening. I hope something can be done after I report this incident so it does not happen to anyone in the future. The store number is (00764), Stores address is 750 Academy Drive Bessemer, AL 35022.

Nakeemah McCray
from Washington D.C., DC
I received my direct deposit onto my walmart money card. I keep my funds in my vault until I need it. They are now having "technical issues" and refuse to issue my funds to me. Ive been on hold for over 2 hours and all the agents can tell me is wait. I have responsibilities to take care of and I can not do so until they release my money. I feel violated and helpless and I can not get any help. What am I supposed to do next? Its too cold to be homeless.

Sharon Keasling
from Chester, NY
Appalling. There was a long line and only one checker and that was #14 lane that has a short belt. Let me first emphasize this is not about the checker. She did an amazing job considering what she was up against. Those of us standing in line could see 7 Walmart employees in the customer service area just visiting among themselves. The gentleman behind me ( and yes he was a gentleman ) went over to ask about opening another lane. What they said to him was beyond rude. When he came back he said they told him if he didn't like the wait to unload his cart & leave. He asked to speak to a supervisor. So, supervisor Cody, showed up. Cody said that he would help the man unload his cart. WHAT?? Then Cody said that there was 2 checkers but the other one was on break. I kept silent up to this point. Then Cody said that scheduling was done at corporate and for the man to contact corporate if he wasn't happy. I told Cody that it wasn't the scheduling as much as the attitude. My career ( a passenger service agent for a major airline at an international airport ) was based on customer service and I know how important customer service is to a company. His entire demeanor was too bad so sad leave. Now, Wal-Mart isn't known for customer service but this was OUTRAGEOUS.

Krystal Harkless
from Austin, TX
My husband and I ordered the KidKraft Ainsley Wooden Swing set on Black Friday for our children for Christmas. At the time I placed the order it said estimated deliver was on 12/4/18. The order was placed under my husbands email since he has an account (bjrharkless@yahoo.com). We got no further information. On 12/4/18 my husband received an email stating that the item had not been delivered yet as their was a delay and they would send an email when there was an update. However, upon clicking on the tracking it appeared that the item was showing it had been delivered to the Wal Mart in Pearland on 288 and 518. We had chosen to have it shipped there and pick it up. My husband then finds a shipping label under the tracking that shows the item was delivered and signed for by Rose Bukowsk on 12/4/18 at the Pearland Wal-Mart. So my husband tries to call the Wal Mart. He calls on Monday and spends 30 minutes on hold and never gets an answer. Today, Tuesday 12/11 he calls 3 different times. Each time he asks for a manager and is told one is not available and keeps getting put on hold for 20 minutes or longer. He was told by an associate that the item had shipped but had not been delivered. When my husband told her about the tracking information that shows it was signed for by a Wal Mart employee on 12/4, the employee just responded "ok'. She then stated that she conferred with a manager (still not allowing him to speak to one) and that shipping is not guaranteed. He again explained that it was showing delivered and that our checking account had just been charged for the amount indicating the order was complete. There was still no resolution. The last time he called and waited 30 minutes to speak to a manager he was given the District office phone number of 281-313-1746. We have both called this number twice and no answer. We have both left a message. First of all this gift is for my kids from Santa. Secondly the customer service is horrible and outrageous. How can there not be one single manager available to answer a question during the busiest time of year. I need someone to call me and have this resolved TODAY. My husband is going up to the Pearland Wal Mart when he gets off of work so maybe then someone can find a manager. If not, we will be taking our business elsewhere, which I'm sure would not matter anyway.

ann murray
from Sheboygan, WI
talked to someone last week about my complaint with Walmart 1276 deli. Its was about a chicken order that they couldn't do and they called me 45 minutes before to tell me! They suggested I call the other Walmart in our town and I said they should and there manager said they couldn't do that I would have to. In any case time was ticking and my company was coming and I was going crazy! The other Walmart did fulfill my order, thank goodness. Such poor ordering at 1276....and I order a week ahead and still they let me down>

Richard
from Montreal (Rosemont—La Petite-Patrie), QC
In store looking to buy Nintendo switch none in the Nintendo display they were all at the phone counter the guy that worked at the counter didn't want to let me look at the Nintendo switch box which was locked in a glass sliding window so he called security on me and he told management that I swore at him which he lied about there was no customers at the counter I was the only one he could of let me look through the glass and call someone to help me customers should get good service this guy was a big zero

Mae Singletary
from Wilmington, NC
On Sunday night, December 9, 2018, I called customer service for help on an order just submitted. That person explained to me the problem was being fixed and that someone should give me a call in 24 hours. He stated if I do not receive a call to contact Walmart.com and Customer Service would handle. I called back on December 10, 2018, the representative, who said her name was Martha, states she didn't know anything I was talking. She was very unprofessional and act like she didn't want to help me. In the meantime I'm out of $95.00, because I was told I would have to wait until this order gets to me,(which is not scheduled to get to me until December 20th) then I would have to fill out a return form and wait for my money. I can not get my grandson the hoverboard he wants for Christmas because I have to wait for my money. (order #6141863-045426).

Gina Trude
from Show Low, AZ
My daughter mistakenly purchased a soy sauce alternative instead of regular soy sauce.....My daughter had thrown away the receipt when she put away the groceries..I said No problem and drove to walmart for an exhange or store credit so I could get regular soy sauce..a $4.67 item...the person wearing an asst mgr badge (Corena) said where's thge receipt ..I told her it was thrown away mistakenly...Corena said "You need to download the walmart app" I told her I only had a flip phone....She said then "I suggest you save you receipts as we are doing away with paper receipts...I said what about the return policy posted on the wall for returns with or without a receipt...Corena said well we don't have to refund if we don't want to... This is all said within hearing distance of my friends..who encouraged me to file a complaint....I was made to feel like a thief or something with her berating me....ALL FOR A $4.67 item....Corena then said I'll give you a store credit card this one time.....Well from now on I plan to shop at Safeway for my groceries....and plan on bringing up my experience at our club meeting this next week......

Dakota Kell
from New York, NY
Ordered a bedding set online on 11/19 with a guaranteed delivery date (per website) of 11/28. On 11/28 called customer service because the item had not shipped- was told it was stuck in shipping and I needed to cancel the order and resubmit it; which I did, this time with an expected delivery of 12/5. It is now 12/7, still not received. Called customer service multiple times, they claimed to escalate it, but have no idea if the order will ever ship. Was told again, I needed to cancel it and submit it again- I refuse. This is false advertising on Walmart's part- this is exactly why Amazon is the leader in the online market- Walmart only cares about taking your money, you will never get your product!!

Franklin Claude Keeter
from Bedminster, NJ
wal'mart store 2705 franklin va 757-641-8881 my number this has been a on going problem here for a while now but today I reached my boiling point. First off they have no cashiers (2) everyone is pissed off not a very good shopping experience (3) I personally grand open that store and worked for the company for 10 years that's when sam was still living ( we met) his son too they were great! (3) my wife and young daughter shop there on a constaince basis and bad elements are surrounding the whole store (4) im not the only one here others are very concerned (5) soon there will be a uprising on this store and tremendous lost (6) MY NAME IS FRANK KEETER (757-641-8881) (7) certainly there are other stores (Wal-Mart) to shop we just enjoy this one but looks like its wearing thin im afraid - sincerely frank department of criminal justice (dcjs va)

Pamela West
from Cleveland, OH
I purchased No Boundaries Jegging faded jeans and loved them...great fit, and got 3 compliments. So, I went back and purchased 4 more pairs. I washed them, and they stunk horribly...strong chemical toxic smell. I researched how to get rid of chemical smell in jeans,& followed the recommendations.I washed them 5 times using detergent, borax, vinegar, oxi clean, perfumed crystals, and also tried laundry baking soda at times, all to no avail! They still stink strong chemical smell. Will this smell ever go away, and is it toxic to wear???!!! I really want to keep and wear them, if it's ever possible!

JOHN MAXHAM
from Pompano Beach, FL
walmart davie florida went to return 29 series marine battery no stock to exchange with bad busines went to hollywood florida to exchange again no stock walmart doesnt stand behind their sales i have 15 walmart batteries for my boats either exchange this battery wich is under warranty or refund me for all batteries and ill go elsewhere, you dont have any batteries to sale in either store a hint each time you sale one order one i drove 63 miles to get battery should i be happy .

CHRISTY WARD
from Rocky Mount, NC
EVERY TIME I GO TO MY LOCAL WALMART THE PRODUCTS I BUY ARE NEVER IN STOCK!!! I THEN HAVE TO DRIVE ACROSS TOWN TO THE OLDER STORE TO PURCHASE MY GROCERIES. THIS IS REALLY INCONVENIENT BECAUSE I WORK FULL TIME AND THIS TAKES AWAY FROM MY FAMILY TIME! WHAT CAN I DO AS A REGULAR CUSTOMER TO MAKE SURE THAT MY LOCAL STORE HAS THE PRODUCTS THAT I NEED? ANY HELP WITH THIS IS GREATLY APPRECIATED

Chris Hallos
from Walla Walla, WA
My pick-up with my dog in it was stolen from Pendleton Oregon Wal-wart parking lot on Nov 27 2018 . After paying a bill and shopping for a total of 15 min I walked out to my truck horrified to find it and part of my family( my dog) gone. I ran back to a bell ringer who had observed me walk in and he automatically said " hey man what's wrong". I said I think my truck was just stolen. I asked him if he had seen exactly where I had parked. He answered with a yes verifying that my truck and pup were definitely gone. I ran back into Wal-mart to call the police at the courtesy counter. I went in and told them my truck and dog had been stolen and not one person did anything they just stared at me like I was crazy. I asked one of them to call the police and one of them finally took the public phone and turned it towards me.I said will you please dial the police for me so they dialed. When I got someone on the phone it was my cities chambers of commerce . I said would you PLEASE call 911 they finally called the police for me . when the police showed up they refused to let police look at the video. They said only two women in town are allowed to review video and they are not here. They gave the police the number for the women but police could not reach them. Three hours later I went back to Wal-mart and had to demand to talk to a manager 20 minutes later a manager came to the courtesy counter. I said My dog and truck were stolen from your parking lot why can't you review the video. The man said I can you can't. I said the police need it and he said well where's the police. I said trying to contact the only two women that can review it. He chuckled and said I can review it if there was a cop. I'm asking what's so freaking funny he said my names James have the police contact me if there's a problem. I said what do you mean IF there is a problem my freaking truck and dog were stolen and you guys have already wasted 3 hours of get away time. I proceeded to call the officer on the case and told him there was a man who said he would review the tapes with an officer only. The officer did not believe that because he had already been told only the two women could review the video. The officer then said I will call this James guy. I then walked back into the store and found James at the money center I was trying to get his attention but he was ignoring me while talking with 2 other associates. They all just stared at me like what do you want from us. Finally he was paged to the phone and it was the officer. His attitude started to change after that . The officer soon showed up and they reviewed the video and got the vital information we needed almost 4 hours after the fact. Not one associate asked me if I was alright or if I needed anything. If someone stealing your truck and part of your family was not bad enough try having Wal mart treat you like some sort of deviate while felling like someone just put a knife through your heart !!!!!

shawn whittington
from Omaha, NE
this complaint is about your pharmacy staff and the people that fill the scrip.the women there is very rude,she doesn't want to help you in anyway.the gentalman is not much better.i am moving my scrips to another location,in hopes they may be better,the staff there is a joke,know nothing about what they are doing. they will not get a scrip ok'd before it runs out,making me drive an extra trip to get the scrip.HY-VEE always have mine ready, have never had any problem w/ them,in fact,they will call me telling me I have one ready...….

Lynn Glodich
from Latham, NY
I recently purchased 2 tires on your Walmart Site ( Market Place ) and am very unhappy with my purchase and experience. Advertisement reads as follows 225/55R18 102T XL Nokian Nordman 7 SUV " STUDDED " Winter tire sold by Tires Easy. The tires were delivered on Friday but when I looked at them they weren't studded. I contacted Tires Easy this morning regarding the issue and was told by them it was a mistake on Walmarts
site they way it was printed and they did not come studded. Not being happy for paying for a product under false pretense I contacted Walmarts and was told by the associate that they only print what was given to them by Tire Easy. I am very annoyed with the run around I'm getting with no satisfaction. I shop at Walmarts 3 to 4 times a week and find this unacceptable. I realize we all make mistakes but I own up to mine. It's very unfair to mislead customers regardless if it's your store or theirs.

Hello there. I tried to order a Smart TV three times on Walmart's website. Every time I ordered, my account got debited and I also received an email from Walmart letting me know my ordered had been received. However, for each order attempt, a couple of hours later I received another email from Walmart telling me my order had been canceled. And guess what happened to the price? It increased a lot. I only could order the Smart TVs if I paid the full price.

delbert solomon
from San Francisco, CA
purchased a ring was very satisfied except the jewelry dept has noone on duty at the fresno store on kings canyon rd.to get it sized its christmas everybody should be on duty poor management just thought you would like to know. Shopping at target

Joanne S. Neale
from Boston, MA
I have just experienced the worst customer service I have ever had with any store. I shopped today at Walmart in Salem, NH which is about 20 miles from my home in Massachusetts. I purchased a number of items there because my local Walmart in No. Reading, MA did not have some of the items I needed. Upon my arrival home, in unpacking my bags from the store I noticed that a package of Duracell batteries never made it into any of my bags, but were listed on my receipt. I went to my local Walmart in No. Reading, MA with my receipt and explained that I did not get one of the items on my receipt. I was informed that they could not and would not replace the item at their store and that I had to drive back to the store in Salem, NH to retrieve the item that was missing. I was told that this policy is because of inventory for each individual store and therefore if I bought them in another store they could not replace them from their store. I also work in retail for a store that has 80 stores throughout both Massachusetts and New Hampshire. If a customer came in to our store with their receipt and was missing an item from one of our other stores, we would automatically replace the item for the customer, no question. That is true customer service. We too have individual inventory for each one of our 80 stores so I find your policy about not replacing something that was bought in one of our other stores, but did not make it into the customers bag. Shame on Walmart for their ridiculous policy. The item was worth $6.94 (a package of Duracell batteries) and it ended up costing me twice that amount in gas to go back to the store 20 miles from my home to retrieve the item that the store neglected to put in my bag. I am sure that one item as small as the package of batteries was not going to make a huge difference in your store inventory. If anything, the store managers could have recorded the one item in both stores so that inventory for that store would not be off by one item. I know how retail inventory works as we do it every year in all of our stores and believe me I would venture a guess that most likely there is more than one item that isn't accounted for when you do store inventory. How sad and ridiculous that a corporation as large as yours could be that petty over a $6.94 item. Again, shame on Walmart for not even attempting to rectify there mistake. Customer service should not be a word used by Walmart. It was, in fact, very poor customer service on your part. I am so disappointed with Walmart and will use social media to let people know how ridiculous this policy is and how infuriating my experience was with Walmart.

tim w. tolbert
from Cabot, AR
30 Nov 2018 @ 1700 murphy's oil-pump #3 $27.71/14g did not print receipt for customer's record? ON WALMART CREDIT CARD #-6032 2036 5375 7913(7913-254). ASSOCIATE DID NOT ISSUE UPON DEMAND? 1 CAUCASIAN/NAI DECENDANT ALSO REFUSED? 1 ASSOCIATE REMARKED-"ARE YOU SURE YOU BOUGHT GAS HERE-NEGLECTED MAXIMAS? THIS IS THE TRUE AND THE BEST OF MY KNOWLEDGE? I WILL ADMIT AFTER TEN MINUTES AND @ 1.97/G I LEFT FAIRLY MAD?THE MURPHY'S WALMART WAS BACKED UP WITH FELLOW TENNESSEEE CITIZEN'S-A MAD HOUSE? THANX TIM TOLBERT SHERIDAN AR

Debra J Cobb
from Garner, NC
My name is Debra J Cobb and I just want to let you know what poor services we as customers receive from your store located at 4500 Fayetteville Road Raleigh North Carolina. I live right around the corner from this location and I don't care what time a day I come, the lines are so long and it takes forever to get waited on. I have spoken with managers and it is still no better. Tonight the line was all the way back to register 12 as there was no lines open except for the self check out. The managers back in the office and I would think that you would be out there ringing up the customers is your staff called off as that was the excuse tonight. This is not the service I would want to present to my customers, I work in retail and to have a line all they way back to register 12 and no one serving the customer is very poor management and should not be tolerated. I work as a manager for 30 years and to keep coming up in this location and seeing this type of service displayed to your customers is a very poor explain of customer service. Hopefully with me sending in this complaint someone will look into this. Thanking you in advance.

Rhonda Farmer
from Tucker, GA
This is concerning the Wal-Mart in Cedartown Ga 30125.
On 11/29/2018 around 5 pm I was checking out my mothers groceries. i was forced to use the self checkout due to there was only 2 registers open. After completing my checkout of $ 145.00 worth of groceries i put $ 100.00 in the machine and chose required buttons to indicate that i was going to pay the balance by check. Sales Associate came over tapped a few buttons and said she would be over at her register to take the check in a few minutes. Finally after 10 minutes or so she comes over and says that there is a problem and a CSM is on her way. So I go back to the self checkout and wait. The CSM comes over talks with the Sales Associate - mashes a few buttons and says you can't pay with 2 transactions. So i said fine i would finish paying it with my debit card . By then she handed me my $ 100.00 back and said i would have to pay the Sales Associate and walks off. So i am left just standing there, the screen says that Sales Associate must enter their ID. Finally after 10 more minutes and everyone in line behind me leaving she walked by and i asked her what i was supposed to do. She said I could just pay it and i told her to look at the screen she had to enter her ID #. Which she does and it deletes the whole order. She leaves again and finally comes back and I ask her what am i supposed to do now. She said that I should not have Cancelled the order. That i would have to check it all out again. Mind you there are no registers open i have just spent an hour trying to pay for $ 145.00 worth of groceries. I told her no I was not going to check them out again. She referred me to the Customer Service Desk. While Pushing my groceries there i ran into the Assistant Mgr. Anna Williams. She said she was sorry but she could not help me. Referred me to Customer Service. I wait in line for 10 minutes or so to be told that Customer Service does not ring up groceries. They don't have a scale. So again I ask What Am I Supposed to Do? She says I will have to get in line and ring it all up again. I told her no that was ridiculous and I was not going to do this. So I left the groceries there. I just want someone to know how they are running this store. This was ridiculous and if you could have seen all of them it was like " They had no interest whatsoever helping me".
I cannot believe that Corporate would allow this store to operate like this. Thank you. Rhonda Farmer

Delores Cain
from Fayetteville, NC
I am senior who has patronized Walmart for almost 20 years. I recently bought another set of tires at Walmart at 4601 Ramsey St, Fayetteville, NC 28311. I went to this store after work around 6pm for a possible leak in one of my tires. The Auto Center is in the back of the building and is not well lit at night so I parked close to the door. I entered the automatic door and noticed no one was at the counter. When I tried to leave, the door would not open so asked an associate to open it for me. He could not. I asked him if I could speak with the manager who he named as Lynnis , because my vehicle was in sight and I have health issues that make it difficult for me to walk. Lynn sent a message that he was sorry but he could not open the door for security reasons. What security? The door opened for anyone to walk in. I ended up walking around the building in the dark, in harms way. It would have only taken a minute of his time to show some kind of concern for a customer. Your "manager" needs to realize it's the customers who keep the store open.

George Siegel
from Owings Mills, MD
My wife and I when shopping at store #03804 this evening at 7:00 PM EST. We found what we were looking for and went to get in line to check out. Its a big store with lots of check out lanes. The problem was there ONLY two cashiers and LOTS of customers. We stood in line for 25 minutes. The cashier told us there was one other cashier besides himself. Not a great to run a store that size. Where was the manager and what was doing about the situation? There no reason to go back to that store ever again.

Jeff Rupert
from Morristown, TN
i tried to load my walmart money card with my paycheck . it is supposed to cost 3 dollars to load my check on to my card. they charged me for cashing my check which is 4 dollars. when i explained tht they made a mistake this dawn lady was extremely rude and pushy and over talked me the whole time. the whole reason i got the walmart card was to save the dollar extra on the check cashing fee, for months i have been loading my card for only three dollars. the dawn person the continued to talk down to me and berate me. telling me check cashing fees have went up. i know they went up thats why i am loading my card. when the manager came he didnt know a thing about the situation and said the computer charges you what it charges you. that is a lie. the whole p;rocess has now taken over 20 mins. i will not pay to cash my check when i specifically asked for it to go on my card which costs 3 dollars not 4.. these three people sat and argued with me that thats the way its always been and they can do nothing to help. i will be there to see the manager tommorow i hope ther is some one there that is adult then. i did not cash my check and it costs three to load my paycheck it says so on the advertisement for the card. when i asked for my money back then they said they couldnt do that . the manager finally gave me the dollar . the total lack of customer service is unaccecptable.
jeff rupert 865 202 3422 sotwtn79@gmail.com

Purchased a Samsung Black Friday deal online at Walmart ca, I got the confirmation and pick up date and was happy! Same day I get "important update to your order" email which tells me the item is out of stock, but here's the kicker - if it doesn't come back in stock within 3 days they will cancel my order????
I ring customer services who chirpilly tell me "Oh no cancelled it already!" So in other words WALMART are false advertising deals for stock they knowingly don't have and cancelling them straight away. Tell all your friends about our great TV deals then in 3 days when the fake sale is over we will cancel your item!

Get bowman halacheff
from Mebane, NC
My husband left his phone at the checkout. On his way back to see if it was still there, I tried calling in the hope that it was turned in. The service desk never picked up and it finally stopped ringing. I then called the pharmacy who connected me to customer service maybe because I was never greeted with a department and didn't know if he was talking to me or that I was listening to another conversation. I continued to say hello and eventually responded with a what. He then put me on hold for 25 minutes before I finally hung up. I understand that it's a busy time of year but I've worked with the public my whole life and I know that the phone is a great customer service tool. The quality of associates is worst than ever. Mr. Walton is probably rolling over in his grave.What goes on in Wal-Mart today is nothing he would have envisioned for his customers or employees!

Bruce McCutchan
from North Fort Myers, FL
The local walmart here in Cape Coral, Fl. (Del Prado Blvd.) has continually gone downhill for the past few years.I have been shopping there for over 22 yrs.and have now come to the point where I don't even want to go into the store. It is dirty, the shelves are not being stocked and maintained, the produce section is always with bare bins, but even worse, the produce is rotten and you don't realize it until you get home and go to use it. Wanted to buy eggs, had to go through the remaining 5 boxes to remove the broken eggs (6) to get one good dozen. This is not an isolated case, but is a continual problem You have let this store continue to decline to the point that I will take my business elsewhere. I complained to an employee and she agreed with me but said there was nothing she could do. She suggested I contact corporate and express my concerns because store management is not listening. I feel like when I go into the store, I am going into some used item, scratch-and-dent filthy store.

Jacqueline Judy
from Garden Grove, CA
Date: 11/22/2018 – Time 11:35:31 #Items Sold 14
Store N0. 05644 – OP# 009054 – TR# 09255 – Ref# 832600679726 – Terminal #SC010113
TC# 8019 2806 6490 262 8209 1
On 11/22, Thanksgiving day I went shopping at Walmart while I was on self-check-out register, I was approached by a Walmart employee by the name of Cathy and she said, "I feel you had 15 items but only scanned 14." I responded to her by saying what makes you think that way? Check my receipt and match all items in the cart maybe I missed one, Cathy walked away. Couple of minutes later, she returned and said, "You did not pay for the 15 item." I told Cathy that I have scanned and paid for all items in the cart check my receipt. She walked away and then returned again the third time and said, "You did not scan 15 items." At this time my patience ran out and I was filled with disappointment and embarrassment, I walked to the main entrance for exit, Cathy yelled out calling Angela (receipt checker) who was all the way at the door exit saying, "Double check that woman's items, she had 15 items and only paid for 14." I spent $149.12 at Walmart that day, what drove this Walmart employee to think that I'm capable of stealing! Maybe because I'm black and I was wearing a hood, could be! This is racial profiling at its best. I'm sure this not Cathy's first time targeting people of color accusing them of stealing. This is simply wrong and unacceptable to me
Profiling me for not paying for all my items in the cart by this one Walmart worker (Cathy) made me feel angry, sad, frustrated and humiliated at all the same time. In reference to California's Unruh Civil Rights Act, a law that prohibits businesses from discriminating against customers on account of their race. "I just feel that we need to be treated equal." This is not only the law but it's doing good business.
I spoke to the Store Manager Branden Yonkosky about this incident and said he will investigate; I hope he did. "Our lives begin to end the day we become silent about things that matter." Martin Luther King Jr.

James Richards
from Windsor, ON
I live in Windsor, Ontario, Canada. I use the East End Walmart for my 85 year Father-in-Law. He has coverage for his incontinent "Tena's"
On the Sunday November 25th, my wife and I were out of town (40mins away) when we received a call from the caregiver that we were coming close to the end of my Father-in-Law's supply. My wife called the Walmart Pharmacy to check on the order and if the order wasn't ready, she wanted to know if there was a supply on the shelf that we could pick up until the order was filled. My wife spoke to the female worker who eventually passed the phone onto the Pharmacist (Nilesh Bhavsar) . My wife explained the situation and Nilesh became aggressive and louder as he said he could not help her. She explained a second time and Nilesh raised his voice to almost yelling and said, "I am not going to check, I am not a diaper expert, that is the girl's job! You come and check!". Since we were on Bluetooth and Nilesh was verbally abusing my wife with his aggression, raised voice and sexist comments, I interrupted the conversation and started to ask Nilesh if he understood what he was saying. Nilesh continued with a raised voice and said, "yes, I am not a diaper expert, that is the girl's job and I am busy!". I explained to Nilesh that we are out of town, he works in a public service industry and it is impossible for us to be there right now. I asked Nilesh to check the stock levels so we don't make the drive for nothing. Nilesh yelled and said, "NO! I am not going to check. I am a pharmacist and I have to fill orders, I am busy!!" I asked Nilesh if he felt that he was above doing something like this and he answered with, "yes, that is the girl's job! and hung up".
My wife and I decided we would go to the store (40minute drive) to see if there was product available on the shelf that would carry us over until the order arrived. When we arrived, my wife did not feel comfortable going to the Pharmacy if Nilesh was going to be there. My wife felt threatened, descriminated as he felt he was above everyone becasue he was a pharmacist and belittled for being a woman.My wife remained in the car. I went into Walmart and I found 2 packages of Tena's that were on the shelf 10 feet away from the center of the pharmacy drop off. I went to the counter and asked to speak to Nilesh. The man who I asked said he was the Pharmacist. I asked his name and he responded with Nilesh and pointed at his name on his white coat. I politely said, "Nilesh, we were out of town and you couldn't check to see if these were on the shelf for us?" He LOUDLY said, "NO!!! I AM HERE ALONE! I AM A PHARMACIST AND I AM NOT A DIAPER EXPERT, THAT IS A GIRL'S JOB!". I said, "So, I am going to ask you a question so I understand completely ... are you telling me you are above this?" Nilesh quickly responded with agression, "YES!! I AM A PHARMACIST AND I DON'T HAVE TO HELP YOU, I AM HERE BY MYSELF!". I said, do you know who you are talking to? I am a customer and you should try to help me. Nilesh continued with his raised voice with aggression, conitnued with his derogatory comments, insulting sexist address and superior conversation around his distinction. I asked if he was the owner or manager and he agressively grabbed a business card and slammed it on the counter, yelled at me and said,"THIS IS MY MANAGER!" Nilesh grabbed another card and slammed it on the counter, yelled at me and said, "THIS IS MY CARD!" and walked away. At this time I started to make calls regarding his behaviour. Those are the details. Unprofessional. Sexist. Agression. Superior.Discriminating. Abusive. Insulting.

Kristin Anthony
from St Louis, MO
On Wednesday 11/21, I placed a Wal Mart.com online order during the Black Friday event. Within my order was 2 I Phone SE's and 1 LG mobile phone with quantity limits of 2 on each type of phone. While finalizing my purchase and checking out online the Wal Mart.com site went down stating it was experiencing difficulties. About 10 minutes later after refreshing the site came back up and I successfully completed my purchase and was given a confirmation number (5971886-005447). 2 days later ( on Black Friday) I was sent an email that my items had been canceled because of the quantity. After calling customer service that same day I was enraged to find out that my order was canceled because it was considered a "bulk order" after the site attempted to process my order multiple times. It was then rudely and nonempathetically told to me that the system processed my order multiple times after it came back up resulting in an automatic cancellation on Wal Mart's end as it looked like I was making multiple purchases in bulk. Not only will my kids (one being ill) not receive there asked for gifts but because "my institution" hasn't released the reversed hold on my funds I'm without $260 until further notice to even attempt a repurchase the 1 phone that is in stock ( as advised by the 3rd customer service representative that I spoke with on 11/26/18). It's mind boggling that not 1 but 3 Wal Mart CS reps couldn't resolve this issue and I was left to deal with this issue as it was my fault. I've shopped for the holidays on Wal Mart.com in the past without any problems and would hate for this experience to be my last. I was told that the phones were in stock in certain stores however, couldn't guaranteed the prices would be the same as they were on 11/21/18. My business as well as my children's school use Wal Mart for charity and donating events every year, I believe that there's a better resolution than the 3 I've been given (which are to repurchase the items at whatever price they are) SO NOT FAIR!
Sincerely,
Kristin Anthony (valued customer)

Pat webb
from Rockingham, NC
I shop Wal-Mart every week and I am constantly frustrated because products that I buy weekly are chronically out. This is especially true in the pet section, the shelves are frequently not stocked and are bare. This has been going on for a long time and can not be blamed on recent bad weather. The pet section manager and the store manager are not doing their job. I often have to leave Wal-Mart and go to Foodlion to buy what I need. While the pet section is the worse this problem exists in the grocery section, also. I buy the 64 oz Pure Leaf extra sweet tea every week and the last 2 weeks it is not available. I shop at the Rockingham NC Walmart.

michael sadberry
from Albuquerque, NM
almost years ago i purchased a battery for my vehicle and paid extra to have it installed with some other anti corrosive today --11-23-2018 i had to jump start my car and went to the walmart in deming nm and they checked the battery and it is stiill good and said that the battery cables and post needed cleaning and when i asked the employee if they could do that for me he replied no wedo not do that here that is your problem you the customer has to deal with it your self and bascily treated me like a piece of shit so i went to tinley tee tire and service in dening new mexico and told them about my bad service at walmart and they cleanedit up rel good and did not chage me for doing this service that walmart will not doand i have ben doing business with them for 4 years i am customer and they value my business they know me and take care of me when ineed any kind of service done to my vehicle as well as my moms and aunts vehicle my ame is michael r sadberry 4985 keeler rd nw deming nm 88030 my cell number 5753430964

Elizabeth Dominguez
from Barstow, CA
Shopped on 11/22/18, purchased two 50.00 play station store cards, advertising buy 25-50_100 cards at half price was charged full amount, when I went back today, one manger sent me to c.service, he agreed with, when I went to service dept. they called the store manger Reginald Snipe who stated that they can't honor the tv or other ads pertaining to this item, I just don't get how one team member of management can say yes and the other no.
Store location 301 Montara Road, Barstow, C 92311

donna sprinkle
from Martinsville, IN
why is store 1356 not taking calls in personal.there app site is not working.

Steve Karlowski
from Scottsdale, AZ
Walmart at 15355 N Northsight Blvd, Scottsdale, AZ is an out of stock disaster. We have been shopping at the WalMart since it opened. Thru thick and thin we have put up with poor service, uninformed associates, out of stocks etc. Through numerous changes in managers these issue have been corrected and we have continued to shop. NOW corporate is to blame for a out-of-stock nightmare. We have been told they are a test for a new stocking program. I could send you pictures, but there is not enough room. This is primarily a problem in the ENTIRE grocery store portion of your store. O-O-S after out of stock prevails. You can't launch a new program and not give the store the people resources to execute it. This is bigger than Nick or the DM. This is you Bentonville. You have your head in the sand. Get out of Arkansas, without the locals knowing it. Walk the store, it is a disaster. The poor associates are pedaling as fast as they can. This is not a holiday seasonal rush. This is in every aisle in the store. The associates and Nick can't give you honest feedback, you don't want to hear it. The software may have cost you millions of dollars but it is worthless unless you give them soldiers on the ground to take advantage of it.

Nancy Roth
from Vestal, NY
I have been a customer of Wal-Mart for many years. Within the past few months I have noticed that the shelves are empty and I am not able to get all the groceries on my list. I also have noticed that some of the shelves are being stocked on a Saturday morning when the store is so busy. The aisles get so clogged up that you cannot maneuver your cart. I'm not sure what is going on but it is very frustrating. I am not one to go to several different stores to get all that I need. I hope things change but if not I will have to go elsewhere.

Bill Burke
from La Grange, GA
I have noticed an alarming "trend" in customer service at the LaGrange Super Center. I went there Sat morning 11/17/2018 to do my weeks grocery shopping. The store was rather crowded, after all it was a Saturday morning. There were a LOT of people restocking the shelves which is becoming an alarming situation. I am handicapped and usually use a riding cart and the isles being crowded with the large carts the suppliers use to move their stuff around the store. This morning I DID use a regular cart as I was buying a lot of things which the riding cart would not hold. When I got ready to check out about 9:30 I found that there was not a single checkout isle open. The only things open were the self checkouts. There was also quite a "crowd" looking for an open checkout lane. How does Walmart NOT have cashiers available on one of the busiest shopping days of the week? I went to the service desk to see if there was any way they could get someone to open checkout lanes and was rather rudely told that there was nothing they could do. I asked if they could page the manager and again was rudely told that they don't page the manager that if I wanted to check out I could use the self checkout lanes. When I left the service desk there was quite a few customers with FULL carts of groceries wanting to know the same thing I had just asked. When they heard what the person told me they just pushed their buggies aside and just left. I was sorely tempted to do the same thing but I actually NEEDED what I had in my cart.
If Walmart does not do SOMETHING it is going to go the same was a KMart, Sears, JC Penny, and other stores that are closing mostly due to poor sales and substandard service. How can a Walmart this size NOT have a manager on duty to handle something like this and how can there not be enough cashiers on duty to handle a busy shopping day? There are 5 other MAJOR grocery stores in LaGrange and Walmart just gave me a very good reason to use one of them and STOP using Walmart.
Wake up Walmart before you go the way of KMart. THEY thought they were invincible and could do anything they wished and people would keep coming anyway. Guess what?? It ain't gonna happen and if Walmart doesn't do SOMETHING it's going to happen to YOU.

James Goff
from El Centro, CA
I complained about the same thing about 1 month ago, I enjoy shopping at Wal Mart good deals, my complaint is with the store in El Centro, Ci went in the store around 5 o'clock to buy a mop for the floors a customer was telling me about this app you download and it reads the scan to show you the price besides other coll thigs and she told me that they gave her 5$ coupon when signing up so I went to the nearest cashier to ask about it and guess what she did not speak a word of English pissed me off so she asked an employee walking by and she too could not speak English so I just dropped the mop and walked out of the store. I know I'm close to Mexico and they get most employees from across the border but if you are going to have cashier or work with the public make them speak ENGLISH. one more strike and ill take my business to target ill pay the higher price

Roger Blevins
from Shepherdsville, KY
Wal-Mart Monticello Kentucky , 5.45 am 11-17-18 I stopped to get supplies for my store .on the out side was 2 male employees standing in front of the door smoking , very rude carts in lot needed picked up . then I get a cart of supplies and proceed to check out , Nothing was open except , self check out , I asked a employee if they had a lane open , NO its here if you want it . so I just walked out with nothing , here in this small town there is a lot of people that will not use self check and I for one will not use it . I have been in business here in Monticello over thirty years in a Feed seed and fertilizer . But the rudeness and check out here in Monticello will suffer your business , i meet over 65 people a day at my store and have heard talk but ,, never experienced till today I was very disappointed .. I want to see your store here improve and stay , but lots of people drive from here to Somerset to shop , I understand why now ... Please just check into it , and correct , your check out policies , Thanks Roger

Martha Telford
from Kittanning, PA
I stopped at Walmart yesterday about purchasing tires and having them installed and was told that there were too many appointments and the wait would be at least 2 hours. Saw no cars waiting in the parking lot and there were no cars in the garage. I made an appointment for 1 p.m. today. I arrived at 12:45 p.m. and was told that my car would be finished in 30 min. to 1 hr. I returned in 45 minutes and was told that the men did not realize that I had an appointment and that my car had not been brought in to the garage yet. It was brought in , but was never finished until after 2:45 p.m., which was 2 hours after I had arrived. It seemed that when the mechanic knew that I was watching him work, he would work steadily, otherwise, there seemed to be a lot of conversation going on.
There was also another couple there who was told 1/2 hour for an oil change and they were there longer than I with two young children and a very pregnant mother.
Very poor service!

Sharon Morrison
from Burkesville, KY
I would like to express my outrage with the changes made to savings catcher. For those of us who pay with cash we no longer have a way to submit our receipts. I guess now we'll have to try to find the best prices on our own and that's ashamed when we had a very simple way to save money without having to shop around and spend our valuable time.Thanks so much for making shopping a lot harder for your loyal customers.

Sandra Keller
from Chicago, IL
I waited for tires for about 3 hours and then they tell me that they don't have the tires but they can order them for about 25 dollars more than the regular price I think that is very bad service there was other people waiting and was told to same thing they had an appointment for that day so they had time to get there tires but didn't. This is very bad service to have me wait that long for nothing and then try to change me more money to order them I am very upset one family of 5 had all the seats so there was no place to sat down either.

janet woitkowski
from Harrisville, NH
I went to the Hooksett Wal-Mart to have the oil changed on my car. I arrived at 9 am & was told I had a 3 hour wait. I had to have it done so I said I would wait.
After 4 hours of wait Dan approached me (Very nice young man) & stated "I am sorry it may be another 2 HOURS. I was just floored. I stated I had already been waiting 4 HOURS. WELL the two technician's needed to go to LUNCH. I was not HAPPY. I DO NOT KNOW WHO'S STUPID IDEA IT WAS TO STOP HAVING APPOINTMENTS. I ended up waiting 5 hours. THIS IS NOT ONLY A BURDEN ON YOUR TECHNICIANS, IT IS A SERIOUS INCONVIENCE FOR YOUR CUSTOMER.ESPICALLY, (LIKE MYSELF) WAS NOT ABLE TO GO HOME AND WAIT.
Dan offered to turn on the TV, however, I told him not to. One of your tech's only took a half hour lunch to do my car. There were two other gentlemen sitting & they had also been waiting 4 HOURS.
If this PRACTICE is going to continue, then at least put some comfortable chairs & some magazines. Maybe even coffee or hot chocolate. Wifi would be nice also.
YOU ALSO SHOULD HAVE MORE THEN 2 TECH'S ON DUTY.I DID NOT WANT TO EVEN WANT TO GIVE ONE STAR.Some changes need to be made & soon.
Sincerely,
Janet M. Woitkowski

I ordered a cell phone to be here by Friday. It was ordered on a Monday. I got an email the day it was due in that it wasn't going to be here till Monday! I contacted online customer service and then called and they said they were going above and beyond offering me a $10 credit on my next online purchase. I should never stray from Amazon. Walmart is useless. here is the online conversation. the call center was shocking. It was shocking at their lack of intelligence.
Mark M: I do really apologize for this Ryan .I totally understand your situation.
Ryan D: no that is just what you are trained to type. send me to a manager like you said you were
Ryan D: im going to post this so many will ask why i didn't run to the end of its course
Mark M: Thanks for chatting with Walmart.com! I'm Mark M and I'll be assisting you today.
Mark M: Hi,Ryan.
Ryan D: #5801857-010426
Ryan D: im here
Mark M: I do really appreciate for contacting us. I understand how frustrating this for you.
Mark M: But don't worry I'll see what happen.
Ryan D: I need a resolution on this. the closest store ot me is Albany store off of Washington ave extension. I need a phone provided by the store to port my number on to
Mark M: Thank you so much for providing your order number.
Ryan D that is the only option I can think of. I leave town tomorrow
Mark M:
For security purposes, can you please provide your full billing address?
Mark M: Let me see what I can do.
Ryan D: thank you
Mark M: Perfect! thank you so much for verifying your billing address.
Ryan D:even if it is the cheapest model which i would have to return or something...im not worries about a model i just have to have a phone for my meetings with my old number
Mark M: I do really apologize to hear this.I understand how upsetting this for you. but upon checking here in my resource your order was already in the possession of the carrier. I understand how this delay causing you.
Ryan D: that s transparent to me
Ryan D: i ordered from Walmart.com
Thank you for your patience as we connect you with a Walmart Team Member.
Thank you for your continued patience as we connect you with a Walmart Team Member.
Connection resumed.
Ryan D: i dont get that answer from any other website i order from
Ryan D: they make it right if it goes wrong
Ryan D: ???
Mark M: Hold a minute.
Mark M: Thank you so much for waiting.
Mark M: For this matter the best option is to contact the carrier directly at 1-800-742-5877.
Ryan D: one other comment for record...wqalmart shipped it..chose ups..chose method of shipping and therefore i have no part in this other than ordering a product that was supposed to be here today and it not by END of day Monday. there is nothing that is acceptable abou tthis
Ryan D: are you joking?
Ryan D: you callt he carrreir
Mark M: Please accept this discount for your next purchase .
Ryan D: NO
Ryan D: ill accept on this order
Ryan D: depending on the discount
Mark M: You will be discount a $10 for you next purchase.
Ryan D: LMAO
Ryan D: are you seriousl im sorry but that is a joke. i will call and elevate this and im posting this conversation online to several sites to warn others about shopping here online
Ryan : Mark id like to say thank you for helping me but you didn't. Id like to say thank you for your time but this is your job. you guys need to shop at other online vendors and see the disparity that i and thousands of others will see by end of the weekend.
Mark M: I do really apologize for this Ryan .I totally understand your situation.
Ryan D: no that is just what you are trained to type. send me to a manager like you said you were
Ryan D im going to post this so many will ask why i didn't run to the end of its course
Mark M: Sure. hold minute.
Ryan D: and for those viewing this post, i will post an amazon issue i had and how they were amazing and i got a refund within minutes along with other things. I have been offered a whopping $10 discount on my next purchase thus far as my cell phone guaranteed today, a Friday, is not coming in end of day Monday (ill be out of town), and they are telling me to figure it out with the carrier. What can i possibly do? that makes no sense...RED
Mark M: i'll transfer you now.
Francisco C: Thanks for chatting with Walmart.com! I'm Francisco C and I'll be assisting you today.
Mark M has left the chat.
Ryan D: k
Francisco C: Hi!
Ryan D: Im sure you have been briefed on the situation
Francisco C: Yes Ryan. I have been informed about the issue with the order.
Francisco C: Let me take a quick look.
Ryan D: so question is -Will Walmart be doing anything about this blunder (please dont mention the discount of $10 again) and helping me actually resolve this situation
Francisco C: Alright Ryan. When was the expected delivery date again as far as you know sir?
Ryan D: today
Ryan D i have screen shots from orignal order
Ryan D: although technically end of day today, which was fine if passed COB as long as it was today
Ryan D: i need to get a phone or some sort for smart talk to port my number as my old iPhone is gone. I stated i am not going to be a jerk and demand something like a new iPhone from the store but a cell phone of any sort is fine until i get back from my trip on truesday
Francisco C: So item was ordered on November 5. Method of delivery is ground shipping which is 5 business days. Which will fall on Monday November 12.
Francisco C: Is that the right method of shipment Ryan?
Ryan D no no no no..i have the screen shot that says Friday and now my account says DELAYED shnipping.
Ryan D: please don't do this..t
Ryan D: don't got this route Francisco
Ryan D: you have all that information at your finger tips
Francisco C: Yes I see it here. The email that was setn to you said Friday November 9.
Francisco C: *sent
Francisco C: I was just verifying the email information sent to you and the one you received is correct.
Ryan D: yes..the day my phone is due in. so anyways...here is what i can do...get me a sim card from smart talk today
Ryan D: that's it..arrange for a pick up of a sim card package of BYOP
Ryan D: i have a plan so that should cost you about a few dolllars
Ryan D: have it for pick up at the Albany store off of Washington ave
Francisco C: We can go ahead and make an adjustment by creating that order Ryan. Unfortunately for chat we are unable to make orders.
Ryan D: I am really trying to resolve the matter, not put the screws to you.
Ryan D: i see
Francisco C: What I could suggest is have you talk with our voice agents so that we can create that order for you.

Dawn Gates
from Ellenwood, GA
Why is it everytime I'm in my Ellenwood, GA Walmart there are long lines for all the self check outs and scan and go? The idea to cut back on cashier's was a very bad idea. When large stores such as Walmart make decisions like that, you never take into account how it truly affects the consumer and you don't visit the local stores to see how that change affects everything either. I don't understand why our Walmart isn't open 24 hours either because we have enough warehouses and traffic coming off the highway to stay open 24 hours. A lot of things happen in the middle of the night that requires you to go to Walmart in the wee hours of the morning. Why can't the Christmas layaway begin in July, that gives most struggling families more time to pay it off especially if you have more than 2 kids. Lastly, there is poor lighting in the parking lot of my Walmart and that is a huge safety concern to me. This is a serious concern for all your consumers because of the climate of the world today with constant robberies and carjackings. Don't wait until something happens, be proactive and do something about it now

Newburgh NY stores is dirty, dirty, dirty. Had to use the ladies room and there was feces on the seat and some on the floor. Shelves are not stocked, Every week there are at least 3 or 4 items I can't find. Understaffed. Manager seemed shocked when I pointed out how awful the store was. Photo department AWAYS broken equipment. I continue to shop there because what I can find, is always a better buy than other stores, but soon going to have to change. I can't be running to 3 different stores to do my shopping. It might just be worth it to shop elsewhere and spend the extra money. I hope to see some changes soon, but I am NOT optimistic.

hey guys what is going on with your stores down here in ok. Stores #269 and your lee blvd stores. The last couple of times I go into your lee blvd store you've move your entire frozen foods isles around. I couldn't find a thing. I went to that store because of your store #269 went to crap. The congestion and out of stock or items move around like soda's and more. Now just as your lee store, your 269 store has also move its frozen foods around. It was a little easier finding the stuff and have got my routine down or rehearsed. Now here today 11/7/18, I go into your #269 store and you had a different type of bread in place of what I normally get. The $1.50 great value. I looked around I couldn't find it any where on your shelves there in the bread isle. I thought it was either out or discontinued. I go to your lee blvd store it was the same thing, a $2.50 loaf of bread in place of the great value bread. Not happy. I looked around and happened to see that the great value bread was moved to the top shelves of the bread isle normally where the $2.50 bread would've been. Are you guys going out of business or something. Because you only move stuff around like that is to try to sell the items that aren't selling well. Well I will not be manipulated like that. I will still look for what I am there for like the great value bread. I found it. But it is very irritating to go to find something and it is shuffled somewhere. If you want to run your self out of business then keep going this way. There is no reason to move bread around like that unless your honeybread that is $2.50 a loaf is not selling. Pull the bread that's not selling instead of moving it around. It is not just this isle, it is the whole store and your chain of stores down here. I will not let you guys shape my shopping for what I'm looking for. If there was another store that was fairly priced in town I would go there.

Lela Powell
from Cantonment, FL
You are losing a bunch of older people shopping with Walmart never shop again. So many do not have a smart phone and saving catcher has
gone to smart phones only. We are no longer shopping with Walmart unless you change a better way.

Olivia Smith
from Gastonia, NC
Walmart at 2324 S New Hope Road Gastonia, NC 28054 has only two electric carts and two wheelchairs with baskets. They do not keep the electric carts charged and are often sitting, not plugged in, with a dead battery. The also do not check the wheelchairs with baskets to ensure they are operable and have all the parts. The two wheelchairs have one foot rest on each of them which makes it not only uncomfortable but dangerous and leaves room for injury. I have complained to their corporate office but it has fallen on deaf ears. I have talked to the managers on duty on both occasions that I had an issue but they were not willing to help or get the equipment fixed. My family member needs this equipment to shop due to a stroke and a hip and knee replacement. Whether intentional or not, If this is a form of discrimination due to the fact that a permanant or temporary handicapped individual or an elderly person does not have the same opportunity to independently shop as others do. If Walmart is going to provide this equipment, the company and employees should be responsible enough to inspect the equipment for safety and operability.

Mary I Velez
from Avondale, AZ
I had to postpone my wedding because they can't find my wedding rings. I purchase the rings on 10/18/2018, they sent them out to be sized on 10/19/2018. My wedding was scheduled for 10/31/2018. No to rings. Still today is 11/06/2018 no ring no answers. My happiest day ruined. I will have my attorney contact your company and I will. Make sure to share this experience without family and friends on social media, this should not have happened. Look at your customer service statement. You did not meet the standard. I should be sleeping at this time enjoying my marriage and here I am 4 am no sleep wondering where is my ring.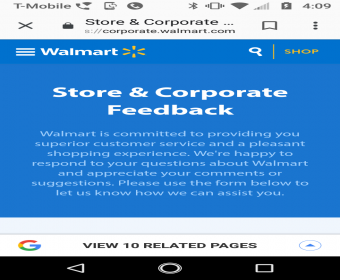 Automotive dept. didnt have a battery water filler. The person working in the Auto dept. said she had never seen one. We ask her to see if she could order one, ahe said it wasnt her job. Walmart in Pahrump Nevada.

frances
from Muskegon, MI
I called my local Wal-Mart on Sherman Blvd. in Muskegon mi 49442. I was transferred and put on hold for 45 min. finally I had to call the pharmacy to see if they could get someone to answer the phone . they found someone . I still don't know if I actually talked to a manager or if they were just messing with me.. this store has gone down hill in the last year service sucks and there is never enough registers open . and the shelves are always running empty help is snooty . think I will drive out of my way to Meijer's.

Pat Graham
from Salisbury, MD
Does the North Salisbury, MD store #01890 (so called manager Anthony Durando) even have a manager anymore? I know Kevin left. He wasn't much better but that store, if it has a manager, needs to fire him!!!!I have never seen a worse run WalMart store anywhere and I have been in a lot of them. The shelves are bare...even hear rumors that they are closing. (They might as well) Frozen food shelves bare. What little stock of merchandise is on the shelves is so far back on the shelves , you can;t reach it. Whatever happened to moving the stock forward? Today, a weekend, the store was very busy and there were only a couple of registers open with very long lines. They only seem to want the self service registers open. The few cashiers they have now are very unhappy with their jobs and it shows!! They are very unfriendly and on the verge of being rude. There is going to be a new Aldi store opening this week just in sight of this WalMart and people can't wait. I am sure you will see a big difference in this store. People are so anxious for somewhere else to go shopping. This store really is horrible. I do't know what the "workers", if thats what you want to call them, are doing blocking the aisles with big carts. You can hardly get around in the store. They are not stocking shelves, so I have no clue what they are doing. It seems nothing at all. I have been in a lot of your stores both here and in other states, but never have I seen one managed so shabbily as this one. I ask the cashier if the store even has a manager anymore and she said "I think so,k but I don't know him. I have seen him twice and he never speaks to any of us". Not good!!! There needs to be a complete revamping of management at that store. There were two ladies standing around doing absolutely nothing and I asked the cashier what their function was and she said "They are some kind of managers too and are supposed to open up more registers when the lines are this long, but they don't". It's just a total disaster in this store and you need to do something and soon or there will be no business there. Thank you.

Mitchell D Turner
from Cincinnati, OH
I send money to and from my sister at Walmart. My driver's license name is Mitchell D Turner. My sister sent money by the name of Mitchell Turner. I had the confirmation number for the money and valid identification and was told that it is your policy that since she did not give the middle initial of D that could get the money. She had to go back to the store and add the middle initial. This policy makes no sense in that I had proper identification and confirmation number. My middle initial stopped me from getting the money. Explain your policy

Marge Jones
from Perrysburg, OH
Yesterday I ordered 2 - 1000 text message cards. I still have not received the code I need to get my text minutes. Totally disgusted. I want my money back.

Akash Deo
from Milford, OH
I ordered a spring matress, instead of that, I got a hammock, which I returned, walmart reordered the matress, then after 5 days they say that there is some problem with the system and they will need to cancel the order and will give back the refund, it has been 2 weeks
No refund yet, and the customer representative say now that there is some problem with the refund system as well, well I want to ask, does anything work correctly in your system!!! Ridiculous to be honest, what level of stupidity these guys can go upto.

Ralph Anderson
from Leesville, SC
Asked Donavan for assistance with fire ant killer which seems to have disappeared - very rudely said, it's on the garden shop. I told him I had searched inside/outside of patio, he said, then we don't have it and turned to his cart in hardware and said "what the fuck" , someone evidently set an item on his cart so he proceeded toward the service desk with the item but didn't have time to assist the customer (I went down the street to Lowe's) - on a good note, store was clean and stocked and the self checkout was staffed with a friendly lady. We spent $37 there today. Guess it's hard to teach good manners.

Ron Gillespie
from Mount Airy, NC
I've been shopping at the Mount Airy, NC Wal-Mart since it's inception and have been a regular customer. Over the last year or so, the store grocery section is consistently out of products (empty selves). Products such as crackers and chips are often badly crushed on the bottom and boxes that contain product are damaged. Areas such as clothing is always out of popular sizes. Your prices are the best but it comes a time when the aggravation isn't worth the hassle. Many of my friends have the same complaint and are no longer shopping at Wal-Mart.
I hope these problems will be addressed so I can enjoy your low prices and selection.

Michael Cox
from Fort Worth, TX
Yesterday was my 3rd trip to this Walmart in 7 days looking for 24pk Mountain Dew sodas. And this was the 3rd time they were out of this product. They had 12pks but no 24pks.. The first time I just skipped it and left the store. the second time I asked an employee to look in the stock room, there were none in the back store room. I asked a cashier to call a manager to find out if I could get 2- 12pks for the 24pk price. A manager came to the front and when asked he said no the company did not allow that to be done. So again I left after spending $60. Then this past Sunday 10/21/2018 , we needed a few more Items from the store so I went to Walmart so I could get my 24pk of Mtn Dew.and…….. you guessed it they were still out and I asked for a manager again and the same guy (sorry I did not get his name and I asked if he could do this once due to the fact that this was my third trip there and still no 24's.... he said no and I told him that I wanted My MTN. DEW , he was polite but firmly refused to help me out. I told him that I was sorry but if he could not do this for me then he and Walmart did NOT Care about my business and I would discontinue using Walmart as my primary grocery store.. There is an HEB store less than 1 mile from there and they would be happy to have my grocery monies from a family of Five..He said Im sorry you feel that way but I cant substitute the item.. So I am just looking to find out how the "Management" really feels about a situation like this . Oh and the mgr.started to explain to me that the Pepsi Vendor was at fault and I stopped him and enlightened him to the fact that Management of Walmart Stores are ultimately responsible for the inventory and condition of the store, not a third party vendor.. Vendors will do as much or as little as you let them do and if its allowed, it is the customer who suffers.. Thank You for your time,
Michael Cox
229 NE Amy Street
Burleson, Texas 76028
817-343-1115

marlene crites
from Cape Girardeau, MO
I been going to walmart for a while now.ever since i went to a local grocery store and a snake was in my face at meat department.but every time i go into jackson mo walmart a employee with long reddish hair always gives me dirty looks and watches everything i do.i feel like im being harrassed.ive always use self checkout and she looks over at me and makes me very uncomfortable.well this time she came over and said my chicken didnt ring up.i had several items.she didnt even look at screen.it embarressed me so i scanned it again.2 bags.by then everyone was looking at me.i felt red in the face..well i went on and got home to find out i paid for 4 bags because i did have it scanned .she was very rude and i spend alot of money in there.but i think id rather go back to the other grocery store and take my chances with a snake then go and feel embarressed and she made me feel like everyone thought i was trying not to pay for my purchases.] got alot of christmas shopping to do.cause i have 4 children and 5 grandbabies.i might just have to go to kols.i cant stand being treated this way.when i walked out she headed back to service desk where she was when i came in and was talking to 4 or 5 people.im tired of feeling harrassed by this girl every time i go in there.i work hard for my money and i dont need to pay for things twice. I am a very well known .person around town and noone has ever treated me this way. Thanks..Marlene Crites. Jackson mo.

chelsea riggins
from Oklahoma City, OK
I visit Walmart at 1801 belle isle in Oklahoma city every single day first of all, but on this particular day (10/20/2018 around 330 pm) I visited here and purchased a pack of cigarettes, I waited on the inside bench for my uber but realized I didnt have them so I went back to the cashier to make sure she gave them to me, she said she did so I asked her to get a manager to look at the camera because I did not have them, one particular black manager told me that the camera showed me getting my cigarettes but I don't even believe they looked at no video first of all he said something about me leaving the store when I never left the store. But that's not the part that angered me it is when the assistant manager shood me off and told me that I could now leave the store, that is what sent me over the edge, first of all I spent my money and did not receive my product so now I feel as if Walmart has robbed me and did not care by his attitude, I was never to walk out of that store as angry as I was and I am still angry because I should not have been treated that way. Poor customer service from management!

James Reinsbach
from Fond du Lac, WI
Store 01727 in Berlin Wisconsin. I attempted to return three battery in which the store wouldn't return my core fee of 10.00 because they said I didn't return them in a certain time and they have no way of knowing if they paid the fee back. I know the receipts were from 2017 but there is nothing stating how long I have to return a battery to get my core fee back I looked on my receipt and in the store and seen nothing. A simple hole punch on the receipt like they used to do would know if it was paid it back or not. I know $30.00 doesn't seem like a lot but somewhere it should say or be told to the customer that they need to return it in a certain amount of time. The store took my money for the core fee they should honor it.

Edward Catanzaro
from Tampa, FL
The Walmart on Hallandale Beach Boulevard in Hallandale Florida never has paper towels or soap to wash hands. Never !

Blair Bradley
from Boise, ID
Poor customer service, property damage to my custom rims, loss of income from Idaho Falls Auto Center negligence, managers are not being truthful, claims adjuster Luther Williams isn't investigating the matter timely, corporate and everyone associated is putting responsibility on others when this could have been resolved immediately. I am going to complain everyday until this matter is resolved correctly. They damaged my vehicle and the store has video. I don't understand why it is that hard to replace the rim that negligence caused by auto center isn't immediately replaced. Every effort attempted has been met with resistance and conflict. I was demeaned by the manager and believe it was because of making and incident report and being African-American. The male manager was rude and I have several witnesses to attest to that. My old tire is still missing and I wanted them. It is on the receipt and order.

P Houser
from Bakersfield, CA
I purchased a bath and shower seat with back and lost my receipt. It is a Carex brand, and paid $46.50 for it. In the meantime your stores relayed that department and only carry equate products. I was told that no Walmart would accept it back due to that fact that you no longer carried Carex brand. I told the girl at the counter that I charged it on one of my debit cards and she first told me that the card reader was down, then she scanned my cards and told me that I had not used my cards in 90 days. I then showed her a Walmart receipt that was dated 10/16/18 to show that I had used it within the 90 days. She then told me that the card reader did not keep all transactions. I have shopped your stores for several years and am very disappointed in your customer service. I would like my money back.

David yang
from New York, NY
I don't like being followed by one of you associates Anastasia around the store like I'm stealing some. I've never been treated like this in my life. If this doesn't get fixed I will not shop here again.

Bob k
from Shippenville, PA
Often not stocked of many items. Carts allover lot floors still blocked off for cleaning at 6 am many walkways piled with stock all hours I have been to a lot of Wal-Mart's this one at my home town is the worst in clarion pa

Russ Latimer
from Tampa, FL
Customer Service. In general, my several experiences with On-Line Customer Service have all been poor and resulted in either NO RESPONSES or NO RESOLUTIONS of my issues. The most recent involved three separate inquiries to Customer Service on why a produce (Gatorade G Series "RAIN BERRY" in 32 Oz (UPC 052000324310) in ALL SIZES from has been eliminated from all local stores and customer are unable to order the 32 oz size From Walmart on-line (although other 32 Oz flavors ARE available through on-line ordering), I then posed complaints about NOT receiving any responses - although for each and every query I posted, I received from Walmart an automated response acknowledging their receipt. WHAT DOES IT TAKE TO GET SOME RESPONSE FROM A WALMART REPRESENTATIVE WHOM IS NOT SEVERAL EGGS SHORT OF A DOZEN?

GLENN FINCH
from Birmingham, AL
EVERY TIME I GO IN WALL MART IN ALABAMA THEY USALLY IS NOT BUT TWO REGISTERS OPEN AND BOTH WITH A LOMG LINE I REFUSE TO USE SELF CHECK OUT BECAUSE THAT IS TAKING SOMEONES JOB IF SOMETHING DONT CHANGE THEY ARE GONNA START LOSEING A LOT OF BUISNESS SAM WALTON WOULD ROLL OVER IN HIS GRAVE IF HE KNEW HOW THINGS WERE BEING RUN I HOPE YOU WILL TAKE THIS MATTER INTO CONSIDERATION FOR I PROMICE YOU I AM NOT THE ONLY ONE COMPLAINING LAST WEEKEND PEOPLE STARTED HOLLERING AND SCREAMING FOR A MANAGER IT WAS SO BACKED UP BECAUSE THERE WAS ONLY A COUPLE OF LINES OPEN THANK YOU IN ADVANCE GLENN W FINCH

Beverly Mizell
from La Marque, TX
Why has Walmart cut hours for their employees?? It is ridiculous that this is happening to their employees. Walmart cooperation and stock holders are worth millions. Sam Walden was a good Christian and would have not wanted his family to be so greedy.
Many of Walmart employees are having difficulty paying daily expenses.
I do shop at Walmart regularly but have decided to shop at Kroger or HEB. I also have discussed this with family and friends.
Hopefully, Walmart Cooperation will rethink this bad decision and restore the lost hours to there faithful employees,
Beverly Mizell, RN
bevmizell@msn.com
409-739-4904

Bob DeHamer
from DeKalb, IL
I ordered 66 pieces of chicken on Monday at the Silvis Il. Walmart for Sunday pick up at 12.00. The Silvis Walmart call me on Saturday the 13th and said there fryer was down for me to call the Moline Il. Walmart witch I did. The moline store was very rude and wouldn't help me. They said I needed 48 hours notice ordering I told them I gave Silvis Walmart a weeks notice but there fryer is down they said get ahold of you at Moline Walmart. The Moline representative on the phone said I cant help you we need 48hours notice. I hung up the phone and drove to the Silvis Walmart and talked with 2 assistant managers excuse my language but neither new what time of day it was at least they could have done is call the Moline store and try to help me out but offered me a 25 dollar gift card you no where I told them to put there card. I have 30 people coming for dinner at my house I said the Hell with Walmart went across the street and ordered chicken from jewel with a 12 hour notice. As you can see I will no longer go into Walmart for anything. This is where the Wife and I always shop but no more. Thanks for listing to my complaint but If Managed the Moline store someone would be looking for another job.
Thanks Bob Dehamer

Joseph Shidiskis SWr.
from Alexandria, LA
Four months ago I brought 2 8super MM reels to the photo dept. at store #4295, they said it would take about a month too convert them to DVD's. I have been checking up for three months, they said it has not been returned yet. I went back again and got the same story, an dept. clerk Mrs. Sandra Williams helped me out and found out they were sent to the wrong processing center and sent back to the store. She along with dept. manager Robert Courvelle found them in a cabinet, how long they were there I don't know. Mrs Williams called and was to get the correct shipping label and get back with me. As of yet , still no word!!!!! PLEASE get with them and find out what the HELL is going on. I guess this is what you call customer service and satisfaction!!!!
THANKS'
Mr Joseph Shidiskis
Store is located at colusium blvd Alexandria la.

Ty Baker
from Chapel Hill, NC

Cornelia Warren
from Conway, SC
This store looks like a tornado went through it. Many shelves have not been stocked much less having the merchandise fronted since Hurricane Florence hit SC devastating the town of Conway SC almost a month ago. I will focus on the pet section where I spend a good amount of money taking care of my cats buying large bags of cat food as well as canned, litter, and grooming products. Since the store has reopened the pet section remains in a state of disarray. I had to straightened out the section with flea collars, worm medicines, etc in order to find the product I was looking for which after all the work I did Walmart was out of stock and has remained out of stock since that time three weeks ago. By the way, the was an employee, white male, about 5 feet with glasses that watched me straighten out the section while he shoved merchandise on the shelf near me.
I also purchase the Special Kitty Variety 12 oz case of 12 which has been out of stock for three weeks. I asked the same employee today 10/11/2018, if he knew when they would be receiving flea collars in as I've been checking for three weeks to buy them. He just stated the product is ordered and put out when received and had no idea when they would receive any. I thanked him and walked to the other side of the gondola where I was looking for the canned food and I could hear he and another male employee discussing the inquiry I had just made so maybe they need retraining on customer service. This store overall is out of stock on a lot of items and I do not for one minute believe that Walmart cannot receive an orders of flea collars in three weeks and I'm referring to any kind of flea collar as they have none of the brands on the shelf. The employees are not friendly, lack customer service skills in assisting customers with shopping needs and check out. I try to shop out the other Walmart in the Conway area when I am in that part of town as that store is clean, well stocked, with associates that smile and don't mind helping someone. I am not looking for anything from Walmart but being a previous manager for the Circle K convenience stores for 15 years, the art of customer service and having product in stock is the back bone for operating a successful business and increasing the sale and profit margins. And empty shelves are not a good thing to have. I did not take pictures as I didn't realize they were to be submitted. I hope someone can help this store manager get a handle of the stocking and filling the shelves with merchandise.

leslie gates
from Medina, NY
I went to Walmart and used my own bags (Walmart in Brockport, NY).
When I got home, I was missing 5 items. The cashier must have placed the items in a plastic bag and did not place them in my cart.
I called the store 3 times today. Each time someone answered the phone and I asked for the Customer Service Department. All three times, the phone kept ringing. No one from the service department picked up.
I would go back to the store, but I live 15 miles away.
The total amount of the items I am missing is $8.85.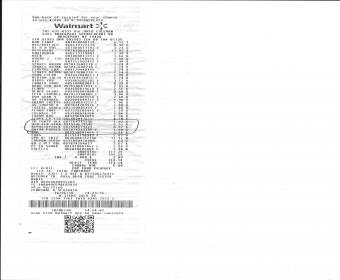 Russell Tillery
from Kilgore, TX
Never even made it inside the store, the "GREETER" told me I had to move to the "outer" parking lot to park my motorcycle or was going to have me TICKETED & TOWED. In the same breath he said that I wasn't allowed to park in the striped areas as well or he would have me towed. When I asked when these parking rules changed, (I always park out of harms way in these areas) he asked me how long I planned to be in the store,....Oh no, too late for that, doesn't matter, I'm NOT risking getting a tow fee OR a ticket for something like this. So I suited back up, left the area & did my shopping @ Brookshires & the Dollar General Store. My plan is to NEVER darken the doors of Gilmer, Tx. Walmart again on account of an ignorant greeter that wants to "BE someone". Even the Longview, Tx. Walmarts (all of them) encourage motorcycle parking in the "out of harms way" spots. The whole situation was ridiculous & uncalled for.

Lila M. Newman
from Ingram, TX
I had a serious experience with your Pharmacy here in Kerrville, TX. It is a long story and I need to discuss it with someone that is head of the Pharmacy Division. I am going to report the incident to the State Licensing Board here in Texas. I feel you need to know of this incident so others can be protected from this type of serious mistake by one of your pharmacist.
You can reach me by phone:
830-367-2025

Lila M. Newman
from Ingram, TX
I had a serious experience with your Pharmacy here in Kerrville, TX. It is a long story and I need to discuss it with someone that is head of the Pharmacy Division. I am going to report the incident to the State Licensing Board here in Texas. I feel you need to know of this incident so others can be protected from this type of serious mistake by one of your pharmacist.
You can reach me by phone:
830-367-2025

John Flud
from Buffalo, NY
I went to get gas in Darlington sc Walmart. The employee had a friend talking in the store she was not buying. O gave her 40 dollars for gas and went out no other customers were at pumps but me. She was talking and never cut pump on . I finally went back in and asked for my cash back. As I was leaving she called me stupid both of them said it . She should be fired immediately.

Pamela Baker
from Boise, ID
I shopped at store #01088 at 2681 CT Switzer SR Dr. in Gulfport, MS. at 22:30:58 this evening and I have to tell you I am so damn tired of giving you my money and the cashier (Kira) could not even speak a word to me. I AM THE REASON SHE HAS A DAMN JOB! I said thank you to her when she gave me my receipt and she still didn't say a freakin thing to me. She just looked past me like I wasn't even there. What the hell people???!!!! Do you not train these people to appreciate the customers? I know, you are a big company and one person not shopping there isn't going to hurt your business. Well, I may not be able to get everything I need a Froogle's but by God I will shop there because at least they ask how you are and they thank you for shopping with them. And besides, most of the time I go into the neighborhood walmart on Anniston, they are out of half of the items I normally buy. I just stopped going there because they no longer sell my coffee, my vitamins, ect. Just tired of wasting my time with bad service and constant inventory changes.

Ralph Anderson
from Charlotte, NC
I'm back in Batesburg-Leesville Walmart. Self check unattended and off line. No upfront supervision. Amazing

allen struck
from Saint Anthony, ID
on sept. 21 I went to purchase gas at the Rexburg Idaho Walmart. was not finished filling up and the pump shut off.
price $75.00 gals. 23.518. went to talk attendant. what happened she said was that my bank card would allow me to
purchase only that amount. I called my bank they told me that Walmart was wrong. I feel that Walmart has no right to
tell me how much I can or can not spend if I have the funds. If they don't want my business I can go to places that do
Rexburg, Idaho Walmart for a new store is the worst one I ever been in.

Rita Adams
from Pasadena, MD
Received Walmart Visa Gift Card (thru Green Dot Bank). Did not register it right away. Now cannot register it on old Walmart GiftCard site nor on the Vanilla website. Card was for $50. Cannot talk to anyone on any of these sites either. Tried going to Walmart store and customer service tried also. They could not resolve issue either. How do we solve this issue? HELP.

Kenneth Davis
from Panama City, FL
I bought a jar of mayo from the grocery section this morning. Got home , wife making dinner waiting on the mayo to finish . Went to eat and the food tasted spoiled. While i was throwing up in the bathroom my wife realized i had gotten a jar of mayo that was out of date since May of this year!!! Its currently Sept so how in the world would this happen. Besides the aggravation of having to run all the way back to Walmart, the service mgr seemed like she was to busy with other customers to take me serious and then ask for my receipt !! I have lived in PCB for over 25 years and use this Walmart for everything, if this is how you people react to bad products and bad customer service then I need to take my business to the large number of your competitors because through the years the customer service at this store seems to lack the passion to make customers happy!! Thanks for your help. Ken Davis 850/866-3350

Tony Lux
from Houston, TX
To whom it may concern,
My name is Anthony Lux and I am a retired Combat Veteran of the United States Marine Corps. I have something to say about a certain WalMart store.
My wife called me about being labeled as a theft at Walmart store #3213. She called me on my cell phone a few times explaining to me that a WalMart manager and a loss prevention officer has her in custody and keeping her in a small room for theft.
I did not know what was going on, I was at work at the time. I called four times to the Wal mart Woodlands store to speak with someone that have any knowledge on what was going with my wife. I was put on hold for a long while or was disconnected a total of four times. Either way I thought this unkind act was very inappropriate and unprofessional on the person part on the telephone (PBX).
I called my wife on her cell phone now very concern on what was going on at that store and why the third degree. My wife is from the Philippines and when she gets upset it is hard to understand her. When she talked to me she was saying that she was being watched by and associate and reported her to the door greeter and accusing her of theft. I said, "What?!" She then explained the whole story, I told her to show that manager that we have over $5000.00 in our checking account, and that you just bought over $200.00 worth of groceries. My wife tried to explain but the manager said to her that she didn't want to hear her side of the story and kept reminding my wife why she is being held.
By this time I was getting very annoyed because no one from the store would answer their phone let alone speak with me. So I called the Montgomery County non-emergency number and had them send a unit out to that Walmart store and if they did have, have that officer call me on my cell phone. A deputy sheriff did call me and explained that they did have my wife in holding and that she is being accused of theft of "Frozen chicken wings of $10.04". I said, "What?! Are you kidding me!?! Then I explained to the deputy that we have much money and my wife has no reason to steal. This is an honest mistake that was made. In fact, I've seen and heard of customers doing the exact same thing and the Customer Service Manager would tell the customer to go back to the register and pay the difference. He concurred but has a job to perform. I understand so that deputy gave my wife a Citation for theft of $10.04!!!
Again, my wife was profiled and looked down on continuously. From time to time she would tell me that some managers told her to speak proper english. Haydee would come home upset and tell me what was said to her. I told her to report this but she would tell me if she did then the retaliation would start.
No one talked with me, No one answered there phones or messages that I have left on their recorders, No one responded to any of my emails.
Where I come from that is consider rude and unexceptable.
Sincerely,
Anthony Lux

Laura Delao
from Nampa, ID
i visited store # 2781 on 08/28/2018 as i was making my way to check out i noticed that they had the candy bar "TWIN BING", i was excited to see that because that is my favorite candy bar and living in Montana i was able to purchase them there. When i moved to Idaho i could not find them at any retail store. i purchased 3 of them and on my way home i decided to eat one. i took a bite of it and bit into the chocolate, on my second bite i bit into the cherry filling and it was so hard i chipped my tooth, when i got home my boyfriend tried it and commented on it being hard. i checked the date on the package and was shocked to see a date of 07/11/2004!!!?????? Being a past employee/assistant manager i was very upset. To me that is very unacceptable, poor merchandising and carless stocking, now i have a tooth that is broken, i do not have insurance. i would like to take care of this without any lawyers involved, but if we have to we can. i would like a response to this asap. you can contact me via E-mail or phone 406-694-5044. Thank you and i will be waiting for your response.

I went to Walmart to purchase Bod body spray, it is now kept in a locked display case and I understand that and appreciate that they had to do that b/c people end up using it and then the next person doesn't get a full bottle. There was a button to push for customer service and I ended up pushing it 3 times, so when no one came I went to the front of the store to customer service and asked if they could get someone to come open the case. The girl paged someone over the loud speaker to help so I went back and waited for someone to come and when no one did I pushed the button again and in a bit a gentleman worker came over and told me they had been looking for the key and no one has it so basically I couldn't buy the product. I told him that isn't right and went back up front and asked for a manager and this gentleman was one. He called to another lady worker who was probably a supervisor and she then found the lady clocking in and asked her for the key. She didn't seem too concerned and left toward the back of the store and the supervisor lady told me come on, we'll go back and wait. When we got back to the case she was talking on the radio with the 1st gentleman and he told her there was no key and that he had already told me that. In my mind that's not an acceptable answer!!!! She apologized and said hopefully they could get more keys and that she and some others would get one. For an organization as large as yours that's poor customer service.....no one has a key???? That took probably a half hour of my time.....not acceptable.....

I complained about the Harlequin Series Books being taken from Walmart Humboldt Tn and found out it was not true . I sincerely apologize. Thank you.

Charles Amaral
from Fall River, MA
O i will use a Hundred words. I was in your Fall River store around 4.30 today doing some shopping, as i was walking down one of the main isle's i slipped on a Broken Egg sitting in the middle of the floor twisting my lower back then catching my balance with no one in site but i'm sure it's on one of your countless cameras in the Grocery Section. After it happened i left my shopping cart over it so no one else would do the same wile i looked for help. So here is the help i received, told one worker who told me o i'm not on the clock anymore and quickly walked away. Then i told a second worker who was a so called greeter and told him about the Broken egg i slipped on and he told me he could not walk to were the broken egg was located but when he seen that it was in eye site of him he grabbed a cone and marked it after i removed my shopping cart. All the wile i can already feel the twink in my right lower back as i was checking out so i told my story to the cashier who asked me if i would like to make a report and i said yes. So then one of your so called Managers came out to meet me and i told him what had happened. Well he told me he seen the broken egg and it was being cleaned up. (Never even asked if i was OK or what my name was.) Right now i can feel the pain in my back and i'm just dealing with it until the morning. If it is still hurting i'm going to the Hospital and strait to a Lawyer. Who leaves a broken Egg unattended as this was? I want you to take a look at the Video i know you have to see just how long this Broken Egg was left unattended in the middle of the floor. I was told by one of your own workers if something like this is spotted they are suppose to stay with the object to warn the public until it's cleaned up. If i'm still in pain in the morning i promise you won't be hearing from me again it will be my Lawyer you're talking to. Made sure it was cleaned up on the spot before i could even have a chance to take a Picture. Unbelievable Neglect.

I went to Walmart in pace florida today to get oil changed. after reading my receipt about service, it said tires checked 35 lbs in each tire, my car has the tire pressure for each tire on speed dial. 3 tires had 35 lbs, but 1 tire had 38 lbs. so I checked when I got home and I know they did not check it. also got to checking other things and know they did not change my oil filter. so I will not be going back. bad service.

On April 1st I paid for 2 Better Homes And Gardens 3 person Glider to be delivered by April9th, it wasnt and Walmart kept telling me to wait it's coming. Later they reordered and dropped shipping charges and only 1 glider was delivered 2 weeks later in a damaged taped up box with pieces missing and frame twisted and bent, driver said they didnt recieve 2. I called Walmart they insisted both were delivered and I needed to file a police report. I made several calls, online chats to Walmart and asked that they call delivery and confirm 1 was delivered, they would not do it. I had to call Pilot delivery service and they went above and beyond to contact Walmart. I still have not been refunded and have a pile of junk sitting in my yard . Walmart has had my money for weeks and caused severe stress over this situation.
Customer service is horrid. And I dont appreciate speaking to someone in the Phillipines that I can't understand.
I asked 2 be refunded for both pieces .
This was a large purchase of ove $700 dollars .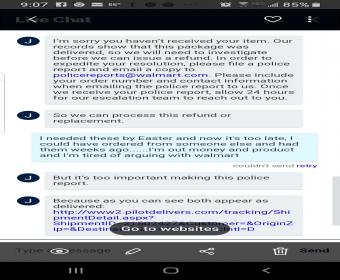 I spend a lot in Walmart I used to work for wal mart we never told a customer there wrong and the customer has to prove that the sign is there and boxes of this is there 50% off the price with the easter waited up at self service for about ten minutes then went for this person and was told the same thing and then had to show her I did ask for a manager but they gave me this person I am really thinking hard on this one I do not like to be told I am wrong this is the store in huntersvlle I can barely read the reciept transaction number is 5504 1712 1492 2367 5724 the manager at this store is james dick I also shop at the one in Denver,nc they are always helpful and nice guess the way I look at it is if travel longer distance just get treatment I expect as a customer even though this one is close to me I spend a lot in Walmart I also do stuff on line

There is an express checkout lane clearly marked 20 items or less. On numerous occasions at the Walmart in Eastland TX I have gotten stuck behind customers with full carts. Today at 9:45 I had 11 items. The customer in front of me besides 5 garden purchases had at least 45 additional items. Her total was 67.xx. When I asked the cashier she told me they are not allowed to turn them away from their line. The lady behind me in line also had an overflowing basket. If it isn't an express lane then take the stupid sign down!!
Very annoying especially when there were 2 other checkouts open. Just one more reason I hate shopping at this Walmart. Maybe management needs to retrained in what express lane 20 items or less, means.
Seriously considering driving an additional 20 miles to shop in Breckenridge from now on. On the many occasions I have shopped in Breckenridge they always have registers open. What a shame this store in Eastland is so bad. Even some of the cashiers have complained.

Rick Garrett
from Louisville, KY
Visited sporting goods department in Lawrenceburg Ky store On Easter Sunday. Was looking for food plot seed for wildlife planting on my farm. This is the time of year (spring) for planting. Not during the hunting season which is the time of year you guys tend to carry seed. (not real smart) I normally have all my planting done by this time but wanted a little extra seed for some bare spots. Tractor Supply was closed for the holiday or I would never have paid your store the visit. Our visit was at approx.1:00pm I told the lady in sporting goods what I needed and she acted like I was insane! THIS TIME OF YEAR WE SELL FISHING EQUIPMENT AND FISHING LICENSES NOT STUFF FOR HUNTING. IF THAT WAS A PROBLEM CALL HEADQUARTERS. My wife and I looked for our self and actually found two bags of seed. this employee was very rude in my opinion. I have been hunting and fishing all over north and south America and run my own hunting camp here in Kentucky. I buy seed from you guys some times in the fall and normally store it for spring planting because you tend to be a little less costly than outdoor stores. I do not need lectures from associates on the proper time of year it is. And as a side note it is spring Turkey hunting season here in Ky.

On 1-24-I9, I got a Walmart Gift Card off the display rack in Corinth MS. I paid $0.75 for the card and put $500 on it. The following day I couldnt use the card. It% was invalid with a zero balance. The card security was breached PRIOR to my purchase. The balance was withdrawn MINUTES AFTER purchase. I need my money . I have talked with local Walmart management many times without reeolving this issue. The card was basically hacked prior to purchase. I need my money refunded, PLEASE HELP.!!

On 1-24-I9, I got a Walmart Gift Card off the display rack in Corinth MS. I paid $0.75 for the card and put $500 on it. The following day I couldnt use the card. It% was invalid with a zero balance. The card security was breached PRIOR to my purchase. The balance was withdrawn MINUTES AFTER purchase. I need my money . I have talked with local Walmart management many times without reeolving this issue. The card was basically hacked prior to purchase. I need my money refunded, PLEASE HELP.!!

Hello from El Paso, TX., the most Western city in the great state of Texas.
I live in N.E. El Paso, where your nearest Supercenter for most of my consumer needs is located on Dyer Street; store # 05947.
It is very frustrating not to be able to communicate with deli, bakery or floor personnel when your associates are only required to speak Spanish.
I am an American English-speaking senior.
Having to wait until someone can be found who can understand my questions/orders, (deli/bakery) is oblivious. I feel very inconsequential as your customer.
El Paso is a border community. Most employees in our City and County government are bi-lingual. This is important so they can serve our English and Spanish speaking population.
Our business community as a whole employ English speaking staff.
I do not know how your employment interviews are conducted, or what your expectations are of future employees, but, as long as I pay the IRS, local sales taxes and property taxes in U.S dollars, I should be able to use English to conduct business in America.
I will recognize Spanish as the national language as soon as Mexico reclaims Texas.

James M Montagne
from Biddeford, ME
Left Iphone in parking lot in Walmart cubicle for those waiting for bus or taxi.[ Walmart 04005 ] Realized when almost home that phone was forgotten on bus, called walmart on out of country phone through Skype and am still on hold for customer service. Initiated call at 4:38 PM EST and am still listening to elevator music, time now 5:44 PM 4/22/2019. People have cut in 4 times to inquire what I am on hold for and to no avail customer service " is very busy". When left store customers were quite sparse. Spend thousands a year on Amazon prime and figured to share a little business with Walmart to see how it goes and am disappointed with the dawdling service. Before getting incapacitated had small business that did well by satisfying my customers. Sincerely, James M Montagne @ mikemontagne2@yahoo.com

Ann lustan
from Sun City Center, FL
Bad service and ride people. All self check registers and one with a cashier. I went to the one with the cashier and she puts out her closed sign. I do not use self checkers because I do not work for you. Then I went to the service counter she ringing up a customer with about 20 items. She yelled to me that she won't ring up more than 5 items, I had 12 . I let her know that I was not going to self check and that she was ringing up more than 10 items for the person ahead of me. She agreed to ring me up and told me not to bring more than 5 items in the future. Do you call this customer service? Your company is losing thousands a day with your self checkouts. People are bragging what they got for nothing in the parking lot. Bad way to do business.

I purchased a large bag of Great Value frozen Whiting fish Thursday, April 18. I cooked some of it yesterday but it is no good. I contacted your University Heights store this morning and was told that I could not get a refund or store credit for the bad fish because I opened the bag. This is an unfair policy and I would like an $11.28 refund on fish that is not consumable. How is any customer suppose to determine good frozen fish from bad frozen fish just by looking at it. It is impossible!!!

Ruth Olson
from New London, WI
Bought new tires less than a month ago, one keeps loosing air, went back to get it checked, the man was very rude. No, I did not have road hazard, was never offered it. Said it would cost ten dollars for you to fix it. Now if he would have said, if it is more than the seal it would cost me, but he just said, I didn't get road hazard so it would cost me to get it fixed. It wasn't the money so much as the way it was presented to me. I left, will go else where to get it fixed, and if it is just a bad seal (your fault), I will be sending another complaint. Thank you

My husband returned a product. Cashier did a convoluted transaction so he did not realize that not only was the money not refunded, he was overcharged for the product that he purchased in return. I called the Epping NH store to complain and spoke with the assistant manager John. He felt it was reasonable to ask me to drive back the 90 miles roundtrip to get my refund. I offered to scan and email him the receipts but I was told I could only get refunded if I went back to that store. I called headquarters and spoke with Brenen employee#1252106 who insisted he was a manager, but when I questioned if managers worked weekends he eventually admitted he was a supervisor and not a manager. He also stated that headquarters could not issue me a refund, send me a gift card or do anything to help. He said I had to drive the 90 miles. I asked if he would be willing to do that to correct a Walmart associate error and he said that his opinion did not matter. He refused to answer the question. Please be very wary when shopping Walmart as their customer service is pitiful. Too bad you don't have negative starts because 1 star is being way too generous.

I waited 25 minutes for a consult on a prescription. The pharmacist's only excuse was "I forgot you were here".

Jane Pappas
from Atlanta, GA
I have sent three e-mails to your fraud department because two 50.00 gift cards purchased with cash for my husband's and daughter's birthdays were maxed out a week before they received them. I went to the store where they were purchased and was told nothing could be done for me at the store level. The phone number I was given had no options for human contact. I finally managed to reach a Customer Service representative who gave me information for contacting the fraud unit. As of today, I haven't heard from them, even though the e-mail said it would take three days. It has been over a month since my first local contact and I am extremely disappointed that WalMart doesn't seem to care about me or my situation.

linton poullard
from Lake Charles, LA
About my complaint of things being moved at Walmart so much you cannot find things , because they are being move so much , if you did not move things so much , people could get in and out and shop , more efficient , people with health problems that can not get around to good would not have to look for things and be in other customer way , and you would sell more , people shop for less when they have to look for the same thing in a different place all the time , they get a bad attitude and shop for less , due to the fact they are tired , from work or going to work and they have to look for things , moving things that often , hurts your sales , people buy less , because they get tired hunting for things in the Grocery section , the man that came up with this suggestion , does not shop , and is causing Walmart to lose a lot of money , look at the money you could make if people could find things and not get fustrate while shopping .

Greetings,
I recently (4-16-2019) went to the Walmart Super Center in Defiance, Ohio to purchase a battery
for a 2015 Ford Escape. All advertisements regarding battery sales state that it includes
free installation of the purchased battery.
A Walmart representative at the desk of the Automotive Department stated that it
would be about a 40 minute wait before my vehicle could be serviced. He then took my phone
number so he could call me when the service was completed.
I browsed the store for about 30 minutes while waiting for my vehicle and then received a
call from the same representative and he informed me that the Automotive Department
COULD NOT install my battery due to the location of the battery in my vehicle.
I saw no such disclaimers anywhere in Walmart advertisement and wasted at least 30 minutes
waiting for my vehicle only to not get the service done.
Are your mechanics not properly trained and do you not believe in TRUTH IN ADVERTISING?
I should have asked for a refund on the battery and went else-where.
I could have installed the battery myself if I had the tools that these mechanics have available
to them.
What a waste of time and what a frustrating experience!
A response would be appreciated.
Bob

linton poullard
from Lake Charles, LA
In Lake Charles La. on highway 14 Walmart , for the last 14 years this Walmart , moves items so much in the grocery area , that every week you have to look for the same item , in and on a different isle , nothing stays in the same place over three weeks , so every time you go into the store , you have to hunt for the same items , you bought 2 weeks ago , that not good business , people spend most of there time looking for items , not buying , store is pack with people trying to find thing in the grocery section ..after looking and looking you get tired looking and leave and go to another store , and finish your shopping .

Patricia Wright
from Greenwood, DE
I ordered (order number 3571986*584246) $109.96 of clothing and 3 tops ($37.77) do not fit. I tried to return them to the store in Georgetown, Delaware and they said it was from a third party and I had t send them to them. I thought the person was typing out an address to send them but they were not it was just a slip telling me the same thing they said. I called customer service and they said they handled it and I would get an e-mail from the seller giving me the address to send them with in 24 hours. I waited 48 hours and still have not received anything. I called customer service again. After I explained the problem she said they were having problems and could I call back (why didn't she tell me that instead of after I explained? I am very good costumer of Walmart but if something isn't done that may change I want my money back. And people should be told about the third party deal before they order... Right now I am very upset with Walmart. I want something done.
Sincerely
Patricia Wright
(302)381*4430
P.S. I hope it does not take as long for this as the calls that were made.

I have contacted Walmart more than seven times to facilitate my "unsubscribe" ( any and all Walmart advertizing messages sent to me ) request and I have received no response. I and my family and friends will never shop Walmart until this problem is resolved.
Sincerely,
William Thibodeau
3245 Weigl rd.
Saginaw, Mich.
989-781-0204

Steven mccool
from Belleville, PA
Every time I go into this store there are no sani-wipes for cleaning cart handle. Often items needed are not available due to failure to restock. Then after all this frustration there are only 2-3 checkouts open with 4-6 people in each line and everyone is angry and complaining. You want my money but fail to provide reasonable service. Thank god for Target! Very disappointed long time customer.

Fred Mallaire
from Phoenix, AZ
Dear Sir,
My name is Fred Mallaire. On Saturday April 13th, 2019, I purchased what I thought was a Mariokart7 2DS game system with a box having serial number AW11472120 from the Walmart store # 2113 at 1607 W. Bethany Home Rd., Phoenix, Az. 85015.
On Sunday 04/14/19 my granddaughter opened the package for her birthday to find in lieu of the 2DS system a wire cutters wrapped in a Los Angeles times newspaper.
That same evening we immediately went to Walmart with the defective purchase. We spoke to an assistant manager with the name Margan or Margarita. She went back and reviewed the film and said that from when the box was received by Walmart to my purchase they could see that no one had tempered with it. So my wife and I knew we had been a victim of fraud and we decided not to purchase another 2DS for our Granddaughter at Walmart.
My wife and I went over to the Target store in the same mall complex. And we notice that the 2DS system boxes, there, are not sealed in a plastic wrap. The sales employee at the target said these units never come with their boxes wrapped in plastic. We explained what happened at WalMART. The Target employee said I would go back and see if the other boxes were wrapped in plastic at that Walmart for the boxes do not come like that, for I used to be a manager at game stop and I know how they are sent from the distribution Center and as you can see here at Target they are not wrapped in plastic. I said did it come from the factory this way? He said no, and added that the stealing of the 2DS had TO HAPPEN at the distribution center and perhaps Los Angeles, since the La paper was in the box with the wire cutters.
My wife and I went back to Walmart and noticed that none of the other boxes were wrapped in plastic. My wife asked the assistant manager, If she would please look on the video again to see if the box that she watched on film earlier from delivery acceptance at that Walmart to my purchase of it on 04/13/19 was wrapped in plastic and then seeing it wrapped in plastic as it should not be would confirm that it was received in a tampered condition. The Assistant manager said sorry I can't help you.
We walked away with the understanding that Target in lieu of Walmart cares about customers.
We know that we received a sealed box from the Walmart locked cabinet that did not have the actual game system inside. We purchased in good faith and if the manager would have just checked the film then they would have seen that it was wrapped in plastic unlike all the other system boxes in the locked cabinet.
We would appreciate if you would please make this right.
I have attached pictures of box, plastic wrap that box was wrapped in, wire cutters in lieu of game system that box contained and receipt.
Respectfully, Fred Mallaire at 602-361-6574, email: fred.mallaire@gmail.com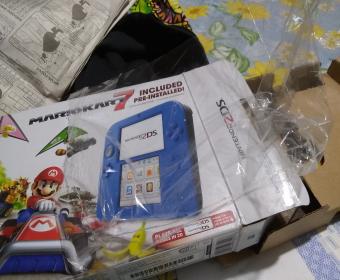 Jonathan Bradley
from Greenwood, MS
On April 13,2019. I, Jonathan Bradley was visiting the Greenwood Walmart Tire Department located in Greenwood,Ms. I informed employee Rosie Jackson that I needed to replace a tire that under warranty because I mistaken ran over bark wire causing the wire to rap around my entire putting a large hole and causing wire to come through the tire. Ms. Jackson began doing the paper work later. Another employee first name Rosie stated she (Jackson) were on her break. I asked Rosie could someone check me out because I had been waiting for approximately one hour. Rosie began to check me out informed me (Bradley) that I owe sixty plus dollars. I informed Rosie that the tire was under warranty. Ms.Jackson return from her break assume. She (Jackson) informed Rosie that wasn't correct paper work. Ms. Jackson look for the correct paper and couldn't relocate the paper work that when she departed to the back (Tire Shop). She return with two employee from the back. One tire worker gave (Jackson) a number from the tire rack. At this time (Jackson_ stated to me that I needed to get a tire alignment. I informed(Jackson) that I didn't need a alignment. I ran over some wires again showing her the hole in the tire. Ms. Jackson informed one of the employee to check the thread on both tires. The young informed her that my old tire thread about 6/32 and the new tire was 8/32. She informed him he didn't read my tire correctly. That when she stated 4/32. At this time she stated she could give me a credit of $14.00. and I would have to pay a credit of $47.00 . I informed her that the young man read the thread right the first but you change it. Again I showed her the big hole in the tire. She started hitting on the wall calling for Associate Manager Kimberly Mays. I seen Mrs. Mays looking through the Tire Shop door. Ms. Jackson departed the front area to the shop area and began talking to Mrs. Mays. Mrs. Mays and Ms. Jackson both re-enter the front desk area. Mrs. Mays began playing with a small child hugging on some customer and later on start typing something on the computer. At no time Mrs. Mays said anything to me. Ms. Jackson again stated I needed to get my rear end aliment. At this time my wife Linda Bradley informed (Jackson) to take the new tire off and put my old tire back on. At this time departed Greenwood,Ms. Walmart. This is the not the first time I have had problem with Greenwood Walmart. First time I lost my three of my hub cap because the weight were put on the outside causing the hug cap to not stay on. The manager stated I didn't informed the tire man to put the weight on the inside. I informed him the tire man seen the weight was on the inside before he put new tires on my vehicle and hug caps wasn't fitting correctly. The second time the tire man mess up 14 lugs on my car.The manager informed me to buy some more lugs and he would get his best work to replace them which he did.

anthony allen
from New Albany, IN
myself and my family go to Walmart everyday we probably spend $2000 a month in the clarkesville Indiana store but as of today that all stop I wouldn't shop at Walmart again if it was the only store on earth.I tried to return a plum tree I bought there it was supposed to have a 1 year warranty if it died I was supposed to be able to get another tree but because of some hag on a power trip they got me for $22 she would not swap out the trees because I had lost the receipt even though the tags were still hanging on the tree all she had to to was scan the bar code but no she insisted on a receipt I have return and swapped out stuff at lowes home depo and Walmart in the past without a receipt and did not have any problems what so ever.Will never shop Walmart again!!!!!!!!!!!!!

charles hine
from Mount Pleasant, MI
I can't find the products I'm used to buying. It seems like I get accustom to a product the stop stocking it.
I get to the checkout line and I have to wait for the cashier to stop chatting with the customer in front of
me. The lines are long enough to wait in, let alone waiting for cashiers to talk about their personal problems.
I can't even get a 1 serving can of peas. 1 liter bottle of diet coke. Vegetables are not very fresh....etc.

Jane Marbet
from Plymouth, MA
I spoke with Harvey from Chicago Illinois (call center) took my online order today. As it was a large order, I had called and spoken with someone both yesterday and the day before and had my shipping fees waived. Victoria gave A+ customer service as did Maley. Harvey from Chicago -took my order-hit my debit card for the full amount and then said no I am not going to waive your shipping fees and then HUNG UP ON ME despite it being documented as approved by a supervisor 2 days prior. During the course of my transaction he said he would finish my order as he would be going on break in 4 minutes. He is rude and was not authorized to take the full amount. This needs to be resolved. I am IRATE!

R Turner
from Fishers, IN
My Walmart online grocery account with Fishers, IN was flagged because of reporting too many honest facts about their flawed grocery delivery service and because I used too many promo codes. Apparently, they don't want you to be honest about their continual issues of out of stock items. They send you a survey and if you give them a low rating too often they don't want your business anymore. The flagging is determined by the grocery manager's discretion in an effort to prohibit you from ordering in the risk that the department will receive another bad review or customer service call. Instead of raising their standards to improve service they simple ban you as a customer. I placed15 or more phone calls including speaking with corporate and the only resolve was to open up a new account with a different email address. I received no apologies and most of the people I spoke via customer service, call centers, consumer dept. and even corporate acted as if their hand were tied. Many were downright rude!

Thomas Jacobsen
from New Port Richey, FL
I tried fo many times to call a store and your customer service line. Over an hour of my wasted time. I never gotto speak to a live person. The stores' lines just rang and rang on. HORRIBLE CUSTOMER SERVICE!!!

Robert Chisnall
from Little Rock, AR
I took two rims to the auto dept and bought 2 tires and have them mounted.
They put my tires on the machine and stopped and started on other customers that came in after me, to service their vehicles. One of them I knew and he wanted oil change and didn't have it scheduled. Finally after over 2 hours of waiting they had my tires ready. I paid and drove 25 miles to mount them. When I got them out of the truck one was flat. I aired it up to find the valve was leaking. I looked at my ticket and they charged me $3.00 for new valves for each tire. They did not put new valve but charged me $6.00 for them. I had to drive to wal mart in Forrest City Ar and pay $3.18 for a new valve. The wal mart in west Helena at is the one that I paid for something, not to mention the extra time and expense to go have one fixed again. The time on the ticket does show the accurate time I waited. My ticket service order 26588. I think the extra charges for the valves were done on purpose thinking I wouldn't know the difference. Wonder how many more times that has happened On 4-9-19. This is not the first bad experience I've had at this store. Most of your employees are rude and act as if it's a pain to wait on customers and I have never got a thank you for doing business. If they don't like their job they should find another.

I went to the Walmart in 1919 Davis St San Leandro, CA. This happened Monday 4/08/19. This Walmart in particular is always gives me extremely delayed service when the formula drawer to be opened. I went in and there was no bottom to called for assistance to open the formula cabinet. Both me and my husband are walking around asking ALL employees for the key. No one had it. After about 15 minutes we ask someone to make an announcement over they speaker, they did. 5 more minutes and no one came. I decided to go to the front and I encountered the CUSTOMER SERVICE MANAGER DANIELLE. I asked if she could send someone to formula bc no else could seem to help us and she just "ok." I replied frustrated, "It's been over 20 minutes," And she rudely answered "well the only thing I can do is call and you can wait." I walked about 10 feet away and watched her NOT MAKE THE CALL. I went over to her again and said "can you please call because I clearly saw that you didn't." She replied, "Well that's your fault because you walked the other way and now you're going to have to wait longer" I cannot believe this is the type of service I received from the Customer Service Manager. I am extremely applaud and hurt by the attitude of this employee. I shouldn't have to drive to the Walmart father from my house, I expect every Walmart to live up to the great customer service you claim to give your customers. I would like the district manger or store manager to contact me via email or phone. Yessika0@gmail.com or 510-696-0142.

I am writing this letter to clear my Wife Juliette,s good name also mine
Let me give you a picture of how it began .We were checking out at Walmart in Ajax Ontario and the Cashier asked my wife if she would
like to apply for a Wall Mart credit card and with my nod she agreed ...now the line behind us was long and people were not pleased about
this so she felt stressed as the people were grumbling...however she gave the information asked of her ..I was bagging our purchases while she
gave the information as understood .We got the card bearing my name by mail and called activating it being told that we must make the first purchase at Walmart which we did and another at a Pharmacy ...no problem at this time...the third purchase was declined ..I called the security
number that was given and was asked my name where I live date of birth credit cards and their numbers that I have and drivers licence number
and they said this is not correct and asked for me to fax a copy to them ….this is when I took objection...I would not send such a document by mail
ever ..considering the electronic fraud taking place, and beside this it may be against the Law.
We have never been made to feel as though we were scammers as at this time ! and we have never been refused a Credit card before! and we have a number of them in good standing some saying that we qualify for a Credit Increase if desired!...so we don't see why Walmart cannot validate our identity other ways and restore our good standing in the credit department.
We spend about 3-5K at Walmart every year using other Credit Cards ;we would like to continue business with Walmart and it is up to you if this
relationship continues
Sincerely
Neville & Juliette De Abreu

susan mack
from Killingworth, CT
Shopped at Walmart Cromwell CT. Store #02299. Spent over $500.00 with 2 carts of merchandise. Ref#90900040835 on 3/31/19 at 11:12am. Gave clerk $1.00 coupon. She entered $1000.00 in error. Had to empty entire 2 carts, unbag and rescan order. This took another 1/2 hour after waiting in line. No process to void coupon apparently after a manager tried. What a huge inconvenience with children. Almost aborted trip...Walmart needs more up to date computer system to keep loyal customers. I spend an awful lot at Walmart and was very unhappy with this experience.
Sincerely,
Susan Mack
3 Mario Drive
Higganum,Ct 06441

Our local Walmart in port Allen Louisiana is open 24 hours. Should I be able to call and talk to someone at 630 in the morning. Tried this morning from 6am to 630. No answer.

I don't mind self check out usually but.......today I had the worst experience ever! I arrived at the front of store to massive lines in all lines with a cart full of groceries only to find out that yes I had to check myself out and that the store has NO BAGS!!!! Their was a young girl very rudely handing out cheap plastic garbage bags that would barely hold anything heavier than a load of bread without breaking!!!! And since the bags were just laying there the scanner kicked off and had to wait for an employee to come type in code after every few items scanned because the scanner perceived us to be stealing because you couldn't balance the garbage bag in the correct place! Total lack of managerial presence during this catastrophe and total overall poor management! Thank goodness we have another option nearby in Murray, KY !!!! Will not return to the Paris,Tn. STOre! Hire a manager! This woman is never there! We are a rural area we need our store!

Susan Hiner
from Minerva, OH
Purchased 4 tires and had them put on my jeep almost 4 years ago. I bought road wear and have been satisfied with everything until this weekend. I hit something with my front drivers tire and my tire went almost totally flat. I have only put 29,000 miles on it since I bought the vehicle. I know tires wear and I didn't have a problem with paying for another one at all. My issue was the run a round with my nearest Walmart. I looked them up on line yesterday Sat, 4/6/19 saw their hours were until 7 pm. I called, couldn't get an appointment, must come in person. Was told they could cut off taking customers early so they wouldn't run out of time. I understand this. My husband took the tire off and we drove 35 mins and got there at 6pm. I was told they didn't have time because they were short on help. I wasn't real happy but understood, we shouldn't have gotten there so late. I looked up their hours for today, Sun, 4/7/19, open until 6 pm. We got there at 3pm and was told it would be a 3 hour wait by the same man as the day before. That would have made it closing time for them so why was he still taking customers if I was going to have a 3 hr wait which put it till 6 pm, closing time? Once again he said they were short on help. Not my problem, hire some help, bad manager or something. I was pretty hot this time and should be ashamed of myself for what I said. There were still 2 people in line behind me to talk to him so I'm guessing they didn't have a problem waiting 3 hrs. We drove another 35 miles to Canton, got waited on, the tire replaced, and had dinner out, then drove 45 mins to get home at 6:15. I'm guessing we'd still be down there waiting or would have been told at 6 pm, Oh sorry, it is now too late to do this tonight. You got some serious problem down there. Just needed to vent and apologize as I did use some nasty language at your business. I've had all 4 new tires put on both the last 2 vehicles I've purchased at Walmart and I just purchased another vehicle which I'll put new tires on soon I'm sure but I think I'd rather stay in town and give local merchants my business even it does cost me more after this frustration.

Nat Agensky
from Hallandale, FL
MY TV SAGA: I purchased a 50" Samsung LED TV from Walmart.com on Nov 2016, together with a 4-yr extended warranty. The TV lost its picture and sound in Feb 2019. Asurion, Walmart's Customer Care Team agreed to have the TV repaired at its depot. It was returned via UPS. Although it was now working, it was physically damaged, probably having been dropped in transit.
Asurion now decided to replace the damaged unit but instead of a Samsung, the choice was a Polaroid or a Sceptre---each retailing for much less than a Samsung. I complained to various supervisors at Walmart and Asurion that if I wanted a Polaroid or Sceptre, I would have bought one. "Too bad" was the reply and I was given 48 hrs to decide.
All this with an extended warranty! I chose a Polaroid with a picture that is not the greatest and a reputation that is even worse.

Kevin Jeppsen
from West Valley City, UT
I bought several things at the Brigham City, Utah store including a razor for 11.88. When I got home it wasn't in the bag. I took the recite back to the store and the cashier who helped me said to just go get another one and take it to the customer service desk. They wouldn't let me have it and said they can't do anything about it unless someone turns it in. So I am out a razor and travel to and from the store...I live 5 miles away. Very disappointed and hope this can be resolved.

annie stu
from St. Petersburg, FL
i had sent a complain on 4/5 when we got home,about 2 employees engaged in a very loud tone,seems the man was trying to calm a cashier down,you wouls thing,that they would go into a offics,the lady was talking so loud,waving arms just unreal,mean while people are looking because it was loud, she is off reg. and there are lines,come on ,then she is going to reg. and a employee walks buy she yells its ok i have been talking to micky,the employee said nothing to her unreal

Joe York
from Cementon, PA
The store in Whitehall, Pa. is by far the dirtiest store I have ever been in, it is a total disgrace. There is garbage, spills and partly eaten food containers everywhere. I just spent over 30 minutes trying to get assistance in the jewelry department along with six other customers. One was waiting so long he sat on the floor waiting for assistance.. I know a long haul truck driver who goes to Walmart before every trip and he once stated to me this was the dirtiest Walmart he had ever seen.

Rick Weitz
from Rochester, NY
Pertaining to Elm Ridge store, their is no...........................NO need to call me.
My business will all be done with Target. Thank you if you are able to help me.

daphne ayers
from Odenton, MD
Walmart customer service, I am a regular shopper at Walmart I tried to send e-mail to Customer Service so many times
clicking on different customer service links never got to send a message Want to return 2 items asap
Senior citizen What is the matter with Walmart. I want them to send me an e-mail explaining this and how to contact
Walmart via message I am hard of hearing

Howard Culver
from West Columbia, SC
I was in Vietnam 1969-1970 I took a lot of 35mm pictures. I had some of them developed (slides) by Walmart and they were very good. I decided to get some more done. I went back to Walmart and left them, I was told by the clerk that they would be ready after 5:30 3/29/19. I went back 3/31/19 to get them and was informed that they were not in yet. I was told to check back latter. I went back this AM 1000 and they still do not have them.?? My ticket no. was not checked? I told the girl working that counter my name three times. she went through a pile of envelopes and told me my order was not there. I was not told when to expect them to be in. These photos are not replaceable. My ticket No. is 487487. The store is at 1780 South Lake Drive Lexington SC 29073. I NEED YOUR HELP. THANKS.

Lionel Tatro
from Gainesville, FL
Four people waited over 20 minutes for someone to assist us in the jewelry area. I was the last in the group to arrive the over head page was sent out twice still no one came! I needed a watch battery the other wanted to purchase from in the counters. What a shame!!! Store number is #01081 manager Donald Chavis 2900 SW 42nd. Street my receipt ID# 7N5KLWCQ3VM

Erma Diallo
from DeSoto, TX
In December, 2018, I bought a Walmart gift care for $100 at the Walmart #3432 in Texas. I mailed it to my niece in Glendale, Arizona. When she went to use it at her local Walmart store, the cashier and manager confiscated it. They stated the computer directed them to do so, but gave no reason. Prior to going to the store, my niece had checked the balance and it showed $100. When I spoke with the store manager by phone, he confirmed they had taken card, but he did not know why. He gave me a phone number and email address, which I used to contact Walmart. It is now March, and I have received no response. The manager of my local Walmart stated this may be related to a gift card scam. All I want is to have my money refunded, since we were unable to use card. This is very frustrating!

Laura Norris
from Kingsport, TN
I live in Elizabethton, TN, but purchased several items at the Walmart in Boone, NC, last Sunday, March 24, 2019. Upon leaving, I asked the cashier if I had all my bags, and she said that I did. When I returned home to TN, I realized that one bag was missing, and looked on my receipt to see if I had been charged for that. When I saw that I had been charged, I called the store that same evening and asked if the bag had been retained. The lady I spoke with was very nice and told me that the bag had been located. She told me that I could bring my receipt and pick it up. I told her that I lived in TN, and that it would probably be a week before I could pick it up. She said that it was no problem, and that she would leave it up at the customer service desk for me with a note. Today, exactly a week later, I went to pick up my items, and a different lady at the customer service desk said that it wouldn't be there and that they restock merchandise like that. She said that shouldn't have told me that. I told her about the phone call, and she wasn't at all sympathetic or apologetic and said that I could have checked the bags myself before I left! She did give me a refund for what I said I was missing. Luckily for Walmart, I am a very honest person and told the truth! Since she was not very nice, I asked to speak with a manager. I told him that I had driven back from TN (1.5 hours each way) to retrieve the items. Here's when it got worse! The manager said that he couldn't do anything about it because "we ain't got no room to keep anything up here." It was only two items in one, small bag! I was blown away by his lack of professionalism and just walked away. Besides his unacceptable grammar, could he not have offered to go back and find those items for me that had been restocked? At no time did he offer to do that. While I could have done that myself, I just left the store. This store just lost the items I would have bought, in addition to the $100+ groceries I would have purchased while I was there. What a customer service nightmare! Walmart has layaway, but can't hold one paid bag for a customer until she can pick it up? I don't fault the original cashier, as I'm sure she thought she gave me all my bags. What I cannot understand is the lack of professionalism on the part of the customer service department and the manager on that shift. I have never had a bad experience at that store, and I am very frustrated by the experience.
Have feedback for Walmart?
Thanks for your feedback!
Sorry. Please try again later!