Walmart
Walmart Complaints Continued... (Page 2)
869+ reviews added so far. Upset? Call Walmart corporate: 1-800-WALMART

Vanessa Stoudt
from Keswick, VA
Hello. I wanted to purchase 2 bags of cat litter. There was only one on the skid and 4 bags on the top shelf. Now if you need anything off the top shelf you are to ask for assistance. My son walked over to electronics and a team member ask for assistance in the pet area and they said that someone would be right there. I waited over 15 minutes and no one came to help us, so I walked away to finish my shopping.
After I purchased my items I found a lady in a yellow vest for customer service and told her to cancel the help for the cat litter because I got tired of waiting and that I waited over 15 minutes and that is way to long for help and that I was mad. She agreed but all she could say was I'm sorry. Really that is all you can say???? My time is just as valuable as any one else. When you go to a store do you like to wait over 15 minutes for help and no one comes to help? This isn't the first time I have had bad customer service at this Walmart, but it is the first time I am sending in a complaint. Unfortunately there is only a few stores in Rocky Mount that I can purchase cat litter and I don't want to drive over to Roanoke county to another Walmart for cat litter or anything else, but I might soon since the customer service is horrible at this store.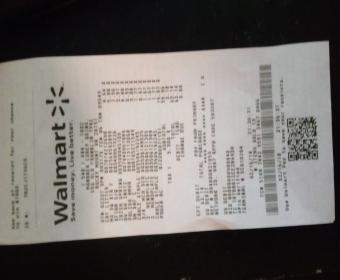 john whistler
from Del Rio, TX
i have recently started selling chickens. most easy way for me to receive funds is thruu wallmart to wallmart money gram. the last 2 transactions have been rejected by wallmart. when i go to receive my funds wallmart has put a stop payment on all my transactions. finally got a superviser to call for me and they would not tell him why this has been done to me. i have missed out on 2 sales for a total of about 650 dollars. if wallmart wants to stop me from useing this service should let me know that i have been barred from receiving money thru money gram. . customer service all but told me i was a fraud. at least i finally found this out so will never use money gram again. and i will tell everybody i know about this obsurd action. i 71 years old and i ant no hooblum and never have been. please reply john whistler po box 422004 del rio texas 78842 cell 830 719 3045

Janet Link
from Indianapolis, IN
I have been going to the Walmart at 7245 S US 31, Indianapolis, IN 46227 and several times on my way back out to the car I have come across very angry employees who are collecting the carts, but tonight this employee actually made me nervous. He was cussing and slamming the carts around and quite frankly violent. I was almost afraid to put my cart up for fear it would upset him. This happened between 5:15 and 5:30 today 02/16/18.

Jimmy Holman
from Keystone Heights, FL
This happened at the Starke, Florida store between February 14-15, 2018. Purchased what I thought was a television after speaking with 2 associates in the television/electronics department. and when I got it home, found out it was not a television. Neither employee made mention of it being only a monitor or that additional equipment would be required to receive over the air broadcast television signals. I returned to the store the next morning and explained to two assistant managers individually (the actual store manager is somehow never available) that what they were doing was false advertising and false marketing by having monitors/tunerless displays mixed in with televisions and that they needed to be segregated after which the first assistant manager started to point to the price labels which were arguably misleading in their content and product placement. The first assistant manager argued with me even after me explaining the legal definition of a television requiring a tuner vs that of a monitor or display which do not. After requesting the assistance of another manager she claimed to be the only manager available. As I was walking out the store I found 4 that's right 4 more assistant managers not 6 aisles away. I requested the one who was the most senior to come with me. I again explain the same thing I had with the first assistant manager. I even purposely and blatently led the second assistant manager past the first one to show her the same problem. The second assistant manager said she would send it up through corporate thought I doubt this will happen as she did nothing else but shrug her shoulders at it. No notepad, no phone, nothing. She said I could get a tuner (additional money out of pocket) or to bring back the other one and that they would exchange it. I went back home, disassembled the tv and because of the aggravation up to this point, lost my focus and nearly got a speeding ticket on my way to return the tv to the store. There is no good reason that a company of that size and technological prowess, with all of the strategic and purposefully designed facets of its operations, should have an array of problems like this, especially on the customer interaction level. 1/2 a tank of gas and 3 hours of life wasted going back and forth not to mention the sheer irritation, anxiety, and stress of the whole experience. I absolutely hate being lied to and I'm not going back for anything else either, I'll be a lifetime customer elsewhere. I am an Honorably Discharged Disabled Navy Veteran. I also hold a Bachelor's of Science Degree in Business Administration with Dean's marks and majors in Marketing and International Business and am eligible to continue Master's and Doctoral studies.

P. Blay
from Kansas City, MO
I was making a clothing and stuffed toy purchase so I put my items on the higher stand as the place where you put your groceries was dirty. Brenda was working the registered and she was upset and very rude because I did so, and she instructed me that I needed to inform her before I put my purchase up there. After she cashed me out she wouldn't hand me my receipt, She put it on the top of the bag turn style, protesting my putting my items on the higher point on the counter. I went to report the incident, and she had thrown my receipt in the trash. The manager had to take it out of the trash, as she refused to do so. The manager said she would talk to her but I wanted to make sure something was done. It happened at the Raytown Walmart on 350Hwy in Raytown, Missouri.

George Pope aka Sam Pope
from Pontotoc, MS
I see there is NO need to had a complaint because I had one Sunday and I have not heard a single word from anyone from Wal Mart. This shows me that you DO NOT CARE about the people who spend their hard earned money with Wal Mart

Rae Jones
from Jamestown, NY
Was at ST #1973 / TC# 7322 2138 4021 8176 8216 / Received poor customer service. The lines were long, the cashiers slow. When I finally checked out, there was no receipt. She said she would call someone over, I went to the Customer Service desk, as I didn't want to hold up the long line behind me. Big mistake, as I had to stand in another line just to get copy of my receipt. Then for a CSR to come over and get it out of the office. We went back to the register, and they finally opened another line, but the lines were still long. Usually my experience with WalMart is ok - not the best but never this BAD. And I have had time to cool down

Constance Sanders
from Plano, TX
I would like to inquire as to why money center policies are not the same at all locations? I live in St. Louis and pay my bills at Walmart, my Ameren account is online so I do not receive paper bills, if I take an old bill with the account number on it to the location nearest me, West Florissant in Dellwood, they will not process the payment stating company policy, however if I go to the Walmart on Lindbergh in Florissant, I have no problem, so I believe the location in Dellwood just doesn't want to do it, I am a disabled senior who does not drive so the extra distance is a disconvenience.

Kevena davis
from Beaver Falls, PA
Store asst call cops on me said i was stealing i never stole anything and it was proven that i didnt and they only did that because i was black i made a complaint on the phone but i never got a response back and i am ready for my lawyer to take over if i dont get a call back for this and i will go to the new for this walmart in chippewa pa 15010

Mary Rivera
from Hondo, TX
I have tried to have an online error caused by Walmart resolved since 1/29/2018 and as of today 02/13 it has not been resolved. I am at my wits end. I have been to the Walmart store in Castroville Tx 78009 customer service twice (1/29 & 2/9) to see if they could help and they have done their part at being helpful but its the customer service billing dept that apparently doesn't know what they are doing. I am owed a credit of $156.20 and the customer service billing dept has said that I would be receiving a credit on my credit card and like I said before it has not happened. What do y'all propose to do?

Ellen Lewis
from Salt Lake City, UT
Order# 870753872--Belmont 9-Piece Modular Wall Storage Unit: Ordered from Sam's Club.com on 25 Jan 18, Received 2 Feb 18.
Item received was incorrect. Can't get the error corrected.
Order sent in 9 separate boxes. Should have consisted of 3 Belmont Bookcase Drawer Bases (all received), 3 Belmont 4X4 Bookcases (received 2), 3 Belmont Bookcase Cabinet Tops (received 4, one of which was damaged). I called Customer Service @ 3:00 pm to get missing 4X4 in exchange for the damaged cabinet top. Asked for and received assurance that only the missing 4X4 would be sent. On 8 Feb FedEx showed up with 9 more boxes -- 5 drawer bases and 4 cabinet tops. I refused delivery as "Not Ordered." I called Customer Service @ 12:20pm that day (8 Feb) and asked for a manager. The rep I was speaking to insisted on details, which I provided. She then told me no managers were available and placed me on hold. She came back on line 2 or 3 more times with the same statement. At 1:20pm, it was suggested that I leave my phone number and I would be called back when a manager was available. At 3:00pm I called back and finally spoke with a manager. I again had to provide details of the problem, as the reference number I was given at 1:20 was incomplete. I was also told that FedEx would come out to pick up the damaged cabinet. She suggested I pack the 8 pieces and ship them back, get a refund, and reorder the wall unit. This is not a good option for me. Each piece weighs a58 lbs. Plus there is no guarantee any subsequent order would be correct. I was then given a new reference number -- 180208-010323. I was told I would be called back in 24-48 hours with info on how to proceed.
It is now 2:45 on 11 Feb and I still have neither received a phone call nor has FedEx come to pick up the cabinet.
Meanwhile, my house is in disarray. Items removed from the places this unit replaced cannot be put away because I cannot complete assembly of the unit without the missing piece.
What must I do to get this resolved? I have ordered furniture items on line from Amazon, Joss & Main, and Wayfair. I have encountered only one problem, which was resolved within 2-3 days with only one phone call. I have been a Sam's Club customer for many years. After this experience I am considering dropping membership and going to Costco.
Ellen Lewis
shotigor@msn.com

Lori kirby
from Barry, TX
I tried to return some deco mesh that was purchased the end of December. I was told it was a Christmas item and couldn't be returned in February even though I had my receipt and it was well within the 90 day return policy. Nowhere have I seen this policy posted regarding deco mesh. I have been fighting both flu and strep and I don't think it was safe to expose store employees sooner. I spend an average of 600$ per month wal mart, however, I will not be doing business there again.

Carrie Donaldson
from Laurel, MD
I went to your Severn Maryland store this morning and they had no 2 liter diet Pepsi not even caffeine free, the Lipton tea I normally buy, Equate liquid gel ibuprofen (any size) the brand of Mac and cheese I buy or three other items on my list. I should be saying thank you for saving me money but I really wanted the items. And while I am at it the electric motor carts there are in terrible shape and rarely charged.

Terry Kenney
from Topeka, KS
Having to stand in line half an hour waiting for a cashier with only 2 lanes open. Then you get stopped at the door for your receipt like you have
stolen your merchandise. I will be doing my grocery shopping at a different store. I might pay more but get treated with respect.

bill whitehouse
from Casselberry, FL
I just left Walmart in summerfield fl 34491without a purchase. I went to the bakery dept. to purchase some individual pies (which are very good) and no one was behind the counter. I needed to ask if they had any in the freezer because there was no lemon ones on the table. After waiting awhile and no one to help I asked the women in the ham dept. and she looked for someone to help me and said the person was on break, I don't understand why she could not have checked because she was not waiting in anyone so I left. As I was walking out without a purchase I stopped at customer service and asked for a manager, when he came over I explained my situation expecting him to say let me check for you, instead he said he would look into it and said he was sorry. At that point I just turned around and walked out. We spend about $130.00 a week every week in that store and I am going to do everything I can to cut that down to $110.00 over a .50 cent pie.
Thank You
Bill Whitehouse

Vince Stoyanoski
from Locust Grove, OK
I stopped by the deli department at the Pryor OK Walmart as usual to get my sandwich meats I like. There was a new girl working, short, young, dark hair and glasses. I didn't catch her name, couldn't stand to be around her any longer. She was extremely rude, sarcastic tone, raising her voice at me because she couldn't hear me very well because of the noise in the background, and just so crappy to me, I told her to cancel my order, I'll just have to get my order at another store, even though I like the deli meats at the Pryor Walmart better than the other stores in the area were they're available. I've never been treated like this little punk brat treated me in ANY Walmart! She acted like she was PMSing, and I was her two year old brat kid! I have teenagers in my home that don't treat me or their mother like this! This little brat employee has obviously been raised without any discipline and has no idea how to treat people! I ended up not spending 40 to 50 bucks on my regular deli items, and now have none for my work week because I just don't like the meats I get from the other places I can get them. I live 15 miles away and go out of my way to go to the Pryor, OK store to get my deli items, but don't believe I'll ever get them there again as long as I see this little punk working there!

Keith Seegars
from Lithonia, GA
i bought a 55 inch tv and was told the delivery would arrive by 2/1/18. but when I checked tracking it said it would be here 2/5. I would no have bought this item. Now I have no tv for superbowl sunday for my guests. the delivery company "Pilot" stated Walmart should not have promised that date. I should at least be compensated. Since I cannot even go out and buy a different one since Walmart has my money for a tv I don't have. I have documentation that could not be uploaded because of the type

Frances Masters
from Dickson, TN
We live in a small town, Waverly, TN. We use Walmart at least 2 times a week for Walmart's' products. My husband went to return Walmart's brand,
' Mainstays Vacuum Sealer Rolls.' A 2 pack 8"x20" and a 2 pack 11"x16". I have used them before and buy extras. The ones my husband TRIED to return were both of these boxes. ALL FOUR rolls had CRINKLES in them across, about every 6" to where I could not vacuum seal them because the wrinkles in them would not seal right no matter how I tried. So he goes to Walmart and speaks to the manager but she says she cannot take them back because they were OPEN! and cannot be re-shelved! My husband asked her that if we could not use them, why are you going to put them back on the shelf for re sale?! She gave no answer. So, he brought them back (to take up space on our shelf) and he bought the Ziplock brands. We have a small grocery store near by and we tend to start using their services more frequently instead of Walmart and let our neighbors be informed how disappointed we are with Walmart.
FL Masters

Don Jinrighjt
from Montgomery, AL
Out of stock items,items stocked in wrong locations,out of date items on shelf, workers standing in isles complaining about work and break time.
Employees gathered in groups talking loud and laughing,very disruptive. Employees talking about Jeremy More being the worst since Dooley left.
I was here when first store was built and this is the worst I have witnessed. This is Store # 00483

Connie Harless
from Branchland, WV
Went to deli and waited while girl finished a cake ,waited while a discuss a job of being cake decor then while they waited on other people like I wasn't there and then a third girl cames back there after about twenty min. And ask if she could help me .I told her what I needed .she said I'll have to wait and let someone else.told manager they talked to them and I still had to leave without what I wanted

bought a brand new battery at Walmart in Morgan Hill calif, and battery went bad within
3 months, battery has Walmart refused and exchange because I didn't have my receipt,
even though I paid for it by credit card and they should be able to track it with the battery SKU number
total bullshit !!!

susan nugent
from Port Saint Lucie, FL
The associates at the store were great. I purchased a 65 inch LG TV on January 15,2018. While in BJs I say the exact TV for $250. less. I had already taken it out of the box and set it up and used it for 2 days. The associate too it out and never gave me the receipt. The girls at the store told us they do not match other stores and we would have to bring it back. I was very up set because of the fact we had to take it off the wall disconnect the cable package it up bring it back and of course we had no receipt. The girls looked it up and credited my Walmart card. This whole ordeal was a large inconvenience for me and my husband. We will think twice to make a large purchase again. I just needed to get this off my chest.

Rose Cronk Ashley Falls, MA 01222
from Great Barrington, MA
Friday, January 18, I was shopping at the Walmart in Torrington, CT. I purchased a toolbox that was quite large considering it was in a box. A very nice young man loaded it on a dolly, and went to the checkout with me. After paying, I followed him out to the entrance where he left me and my purchase. When my friend came with the car keys, I went to find someone to help load it. I asked three employees for help. Two couldn't find anyone to help, and one said he had no walkie-talkie to get any help. I am a 63 year old woman who obviously needed help loading this in the car. There was such a ruckus and not one employee made a move to help. Thank goodness a male customer said he would be happy to help. Which he did. I was tempted at one point to have it returned and get it elsewhere.
I would hesitate getting any large item from this Walmart again. They made a sale and that was all that was important.

Joe Michael
from Skiatook, OK
My name is Joe Michael in Joplin,Mo. I recently emailed an inquiry to doug.mcmillion@wal-mart.com but no response. My inquiry/complaint is I recently purchased a product online thru Walmart.com approximately 11/28/2018 and it has a defective part. It was delivered Dec. 18th and reported about part then, I am getting run around and stalled and without answers to when the issue of replacement part and repair is to be done. We talked to the manager at West 7th Walmart here in Joplin and she advised to notify you to see if we could receive any support on getting the issue resolve!We are needing support for a warranty issue concerning Leggett & Platte. We think almost two months should be ample time to replace and repair the part as is not usable as it now stands. We think we have been very patience in this matter and want the problem resolved asap. We have contacted Leggett & Platte number provided in owners manual several times with no success. Please advise where to report problem in more detail. thank you in advance

Judy L Moore
from Dexter, MO
I am a user of Blu E Cig and my store from Sikeston MO 63801 store number 09
has not refilled the stock with my brand for well over a month now
I have had to go Cape Girardeau and Jackson stores to even get some
I thought inventory was loaded as the product sells and especially when empty on a daily basis that has sold
I don't live in Sikeston - I live 16 miles away and when I'm in town I always check to see if the product is in

Chandra
from Millfield, OH
I went to have my hair trimmed and OMG my hair is butchered.. I will never ever again go to that hair place again in Walmart. This is horrible

Sheila Beach
from Panama City, FL
I'm with Callaway Rebels a football and cheer organization for Bay county ,Florida. We tried to schedule a fundraiser with your Panama City Beach location at 10270 Front Beach Rd and we were RUDELY told we would not be allowed to fund raise at that location we needed to stay at the Callaway and Lynn haven Walmart's we have never had this issue before in the past we were welcomed at this location. we our a county organization and feel we are being discriminated against by this Walmart. We play more than 50% of our games on Panama City Beach and we know other teams associated with this league are being able to participate at this location So if you could please check in to this issue it would be greatly appreciated. Thank You Callaway Rebels! Contact number is 850-866-9867 Jeff Beach- President OF Callaway Rebels

donald
from Nacogdoches, TX
First: your customer service is pathetic. I was put on hold for ten minutes and then disconnected.
I called back and was hung up on by your automated answering system.
I called back and got the idiots in the Phillipines; they cant do anything because they cannot understand English.
Second: trying to get status of my order which has not delivered; Delivery date has changed three times.
I cannot get a firm date from anyone.
I have been told to contact some third party agent.
I made purchase from Walmart. I paid Walmart.
I want a refund and I will go somewhere else to buy. Someone that is willing to help and give assistance.

Brenda Beaufort
from Charlotte, NC
On 1/18/2018 @ appx. 07:00 I went to walmart garden center to purchase a snow shovel the sale associate stated to me that they did not have any other than the ones with the pointed ends. so I asked him can I go out side in the garden area where tools are and he stated he could open the door to the area because he did not have a key and then he point out the only shovel he had was this # 004920613192 sitting by the inside door I told him I needed two and could he get the manger to open the door he the called the manger over who came right away and said I can't open the door to let you go out their due to safety issues now it was some snow out their that looked frozen over but I could also see plenty of concrete ground so I ask him maybe he could grab me a shovel "the manger said again I can't open the so I ask him his name and he stated Gary, I said you don't have a last name and he said he don't' give out his last name. I thank him and went directly to customer service. where I found another Manger Gogar v. walmart csm and I ask to speak with the manger of the store. She ask me what I needed so I said to myself I'll give her a try and I told her my problem. She then radio back to the garden center and ask for ( I don't remember the ladies name but she pretty much stated what the associate and Gary had told me,so Manger Gohar and I went to the Garden center where she talk with the unknown lady who went on to tell me the type of shovel I needed a round or square one not the pointed one that she only had left in the garden center. So Gohar said well can't we go out and look and Gohar unlock the door and the two ladies went out where the tools are kept. now i;m looking out watching them the other lady pick up a larger pointed shovel and started to come back in when Gohar picked up the same shovel 004920613192 that the associate and manger gary tried to sale me one of when I needed two all because this customer wasn't going to make them unlock the door and go into the cold. I want to thank Manger Gohar for going above and beyond her duties to do some one else job. My husband will be able to get in the house safely with the drive and walk way shoveled, from his dialysis treatment five stars to Manger Gohar.

Theron jenner
from Marion, IL
Your prices are not the same at the check out as priced on the shelf . for example 2 liter bottles of diet cola priced at $1 dollar - checked ticket when I got home was charged $1.60 at Princeton Indiana store.

Donnie Bailey
from Malden, MO
Every time I go in for my 90 day refill request one or more of my refills is out of stock. I am told I have to go to this pharmacy. WHY CAN THEY NOT KEEP MEDICINE IN STOCK. THEY SHOULD BE ABLE TO SEE THAT THEY ARE GETING LOW AND KEEP THESE STOCKED

Jennifer Flood
from Jenks, OK
I took my 2002 Kia Sedona van into the Bristow Okla. Walmart on the first part of December 2017, well on December 23rd I had just left my home and my van started to make a knocking noise, after the holidays I had a mechanic look at it and it has a rod knocking, the mechanic said that they put in the wrong type of oil and that is what cause the rod to blow, so now I am without a vehicle. I am a woman that has several doctors that I have to see like my cardiologist doctor, a orthopedic and a neurologist doctor, I have a daughter that has needs as well and I husband that has to see special doctors as well, so all this puts me in a bind. I am now going to have to scrap my van or find me a motor to put in it.. all this cost money that I do not have and all this could've been solved if the Walmart tech would have just did his job the correct way.

Went shopping on 1/6/18. Spent about an hour in toy section looking at radio control drones. I'm 61 and my granddaughter and I love these. Nothing had a price on it and no one to ask. Had to go and find scanner to see price. Left my buggy and walked to scanned at least a dozen times. 3 times I returned to find an employee walking away with my buggy. I had 6 items and my winter gloves and hat in there. When I left store noticed my gloves were gone. Can't get anyone to answer customer service phone.

Frank Emrath
from Hartland, WI
i bought a lifetime tire rotation from you when I bought my tires an had them installed ,I tried to stop in an make an appointment in sept but was told they were busy an booked, so I put it off until about a week before thanksgiving an was denied again then last week, now today I was advised only booking for today an tomarrow an there are no apointments avaible in fact the person answering the phone said she was told, not to encourage people to make apointments .well you got my money I would like to have my tires rotated now or a refund for services not provided ! I also was encouraged to complain because this issue is not getting addressed at the store management level................Frank Emrath

Angie Partin
from Miami, FL
I had placed something on layaway and was unable to go pick up Dec 11th and went to Dec 15 but the $10 I paid on it they took. NON REFUNDABLE ! And then the CSM called to the counter seems not to be concerned or anything and says no cant be refunded. To me that's not right and then the Hazlehurst Walmart wonders why many don't shop local .They all seem to be unfriendly and no concern. People is having a hard time trying to buy a child's Christmas and then they don't want to refund what you applied, I could understand if it was over a week or you didn't purpose the items. But this was 3 days and I did buy the items. They actually were still in layaway the CS went and brought to counter but it had took the $10 applied to hold.

Joannie P. Elerick
from Anaheim, CA
On November 26, 2017 at approx. 4:15 hrs. My daughter (Ashley} asked Door Monitor (Isaiah) to assist her with a bike I wanted to purchase for my grandsons Christmas present. Isaiah refused to help Ashley, telling her with sarcasm to ask the Self Check Employee. When Ashley asked Isaiah to please utilize his radio to eliminate me from further inconvenience (I underwent surgery to have my neck replaced) he still refused displaying an unprofessional demeanor.
At this time, Ashley asked another Employee to please call for the Store Manager. As we waited Isaiah approached Ashley yelling at her as he raised his arm holding his work radio near her head in a threatening manner. This is when I stepped up towards Ashley and Isaiah, telling him to put his hand down and stop raising his radio at and near her head. Ashley moved away from Isaiah to ask for additional help. I informed Isaiah his actions are threatening and he needed to stop. Isaiah immediately approached and leaned into my shopping cart continuing to make sarcastic remarks. I asked Isaiah 3 times to move away from me. He refused to do so, also raising his handheld radio in very close proximity to me. I told him the radio is used to communicate, not use it as a potential weapon in a threatening manner.
Isaiah refused to step away from me putting his hands in the air making a verbal gesture to me (Attempting to provoke me) as he remained leaning into my shopping cart. There's no doubt I felt I was in danger as I tried to remain calm. I am physically unable to defend myself and extremely vulnerable. Not a moment sooner Assistant Store Manager Ymauda came to my rescue and intervened. She immediately ordered Isaiah to step away and return to his work assignment. Ymauda was very friendly and concerned with the above mentioned when I informed her. I observed Isaiah moving closer to us as I told Ymauda of his actions. Ymauda told Isaiah to have a seat in the office. To my dismay, Isaiah made yet another inappropriate comment to Ymauda refusing to obey her direct order. It was evident this embarrassed and surprised Ymauda. She gave another order to Isaiah to go to the office as I heard him tell her, "No". Ymauda immediately approached Isaiah and had a short conversation with him. He finally left and entered her office. Ymauda was so apologetic and professional in handling this situation that I don't want her actions to go unnoticed. I was pleased with the control and demeanor Ymauda possessed in dealing with the above and the respect and courtesy she delivered.
I can only hope this Employee Isaiah is no longer employed with Walmart. I have never had a bad experience shopping at Walmart, until November 26, 2017. No one has communicated with me as to this traumatic event I endured. I was victimized by Isaiah (Assaulted) to say the least. I only wish someone from Corporate reached out to me to check on my mental frame of mind. I have not returned to this Walmart since the above mentioned. I do not feel safe shopping here and will miss everything Walmart has to offer.
In closing I would like to recognize Ymauda. She was superb in her Leadership, Professionalism, Sympathy, and taking control of a potentially volatile incident that if not for her quick assessment could have had a much worse ending. For that I thank her and wish her SUCCESS with her Employment at Walmart.
Sincerely,
Joannie P. Elerick
760-992-1581

Ray Workman
from Forest City, NC
This complaint is on the forest city nc store i get all my meds from there but every time and i mean every time i go to pick it up it is not ready or they say it was not called in from the doctor. the last time my wife called it in they said it had not been called in she called it in 5 days before it is time you do somthing about this. please let me here back about this i am 71 years old live 5 miles from the store can not keep makeing trips back to get my meds.
thanks Ray Workman

Kelly
from Louisville, KY
4 lanes open on Saturday night n December. Just plain ridiculous

Jake carrera
from Avon, CO
The manager in walmart are very rude especally clarissa and sam. Disgusting!!!

Andrea Kollars
from South Bend, IN
I was to receive a pkg through Fedex today ordered from Walmart! I left specific instructions for Fedex to knock & then slide it inside for me since I am elderly & it weighed 63#...no one here to help me. I got an email this morning saying it would be delivered Tues., 12/5 instead. I was in my living-room ALL day & no one knocked, but I wasn't expecting the pkg 'til Tues. Tonight, something told me to look outside. THERE IT WAS! It was delivered around 2:30pm according to an email I got....no one knocked! It is, now, 8:38 pm. It could have been stolen left out for all to see for hours! In the future, I will NOT order from Walmart if Fedex will be the method of delivery! There's no excuse for this. I sent instructions to Fedex plus I called them & gave them instructions telling them I am elderly & probably couldn't get the pkg inside! It had straps on it & after much effort, I was able to pull it inside! The tracking # is: 788652578220! Please....no more Fedex deliveries. There are many, many complaints on their service online. Add mine! I have NEVER had a problem with UPS! Thank you, Andrea Kollars

david ferron
from Arlington, MA
To whom it may concern
Once again your store merchandise buyers have deemed it ok to sell extremely questionable merchandise; in this case the tee shirt reading "rope, tree, journalist". And once again, Walmart is passing the buck because it has blamed an outside vendor. Imagine how the corporate office would reacte to a tee shirt that said something that directly targeted and denigrated its stores and brand? Freedom of speech? Sure. Why not. Walmart would have its laywers going crazy. No one with a mind and a heart can stomach this uncaring attitude. No more shopping at a store that can't get its act together.

Walmart sells Antifa shirts!!! There are already You Tube Videos and upon searching your site myself I cant believe you support this trash, this group is known for violence against women, children and the elderly or anyone else who exercize their 1st amendment rights. This group are undercover communists and wish to cause the collapse of our country. SHAME ON WALMART!!!! I wont be back till this garbage is gone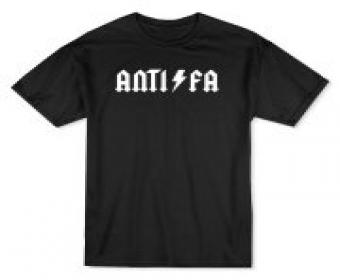 I have any ongoing issue with Walmart in general. Years have passed, and the same issue continues. That issue being the long lines at check out. This past year has been the worst. This particular Walmart Supercenter I thought would have cured the issue when they moved a few years ago, but it has only gotten worse. Even before this years busy holiday season, this problem occurs, Recently I purchased a few small items. The total time shopping was about 10 minutes. When I reached the (4) checkout garden department, there was only (1) cashier, and I counted (27) customers waiting to get checked out. I waited 40 minutes to get my items payed for, and left the store fuming. Needless to say, the talk among these waiting customers was unfriendly. This issue has gone on for years at this location. Obviously this is a management issue. Untill this problem is solved I will do my business elsewere.

Anonymous
from Pawtucket, RI
I worked at the North Smithfield,RI STORE and was worked and treated like a dog. I was injured and still 6 months later still have problems but was bullied into not seeing a doctor and along w another coworker who was hurt the sa e way and treated horribly. The CSM ARE ignorant, bullies, and they yell and humiliate employees I front of customers, they make you work days you can't or lose yourjob even though it was days you told you couldn't work when applied. They have you close the store then go back in 5 hours later.The Supervisors and Dept Heads are the guilty ones. If you happen to work a shift w all Spanish workers you get talked about, get denied your breaks, which happened to me numerous times, and make you do all the crap jobs while they just stand around.

Denise Howard
from Princeton, WV
This is the 3rd time this has happened to me and I am livid. Never in my entire life of being in extensive training on the proper procedures of responsible alcohol sales and the state laws have I ever been treated so bad. I am in my local Walmart (Lewisburg, WV) with my 15 and 14 teenage daughters finishing my Thanksgiving shopping for our annual family feast and I pick up a 750ml bottle of Chardonnay to go with our meal. As I get to the to self check out, I scan the bottle of wine and bag it, knowing that under law the underage girls can not touch the bottle. The cashier rudely approached me and asked my daughters for their id's. I politely tell her they are my daughters and they are underage and do not posses an id. She takes the bottle from me and tells me that she can not sell the bottle of wine to me. Ok, am I buying multiple 30 packs of Bud Light???? This to me would be a red flag not a mother food shopping with her underage children. Then the cashier goes to management and comes back to ring the bottle up for me. I feel like I was targeted for no reason. As I stood and looked around me, there were other families there with their minor children that were purchasing alcohol. I had just spoke to my friend whom I bumped into while shopping that had her children with her and purchased a 12 pack of Miller Lite along with other items. I later called her to tell her about my experience and she stated she had no problem at all purchasing alcohol in self check out with her minor children only moments before I came thru the check out. I am a very good person and I would like to think most others are too. But, I have to say that this question popped into my thoughts, Is it because my children are a different race? I hate that my mind in this day in time would even go there. At this point and time it isn't sounding to far fetched. I will be waiting to hear from you. I will make sure that I tell everyone who poorly me and my family were treated during the holidays.

Betty Saizan
from Opelousas, LA
Went to the 20 items or less isle with no one behind me, and this so called cashier named KEENAN proceeds to throw my items as he was ringing up. And also said this looks like more than 20 damn items to me. I told him a few choice words and left my basket behind. Told manager and a few more cashiers then left. You don't treat customers this way especially around the holidays. By the way I am from New Roads, Louisiana if that helps

Terrence KS Hee
from Honolulu, HI
I have put in an order in early Oct. 2017 for two photo tote bags, I was called in by wal-mart for pick-up the week of 10-25-17 and only have received just one 18X18 tote bag, the 16X16 tote bag the staff could not find and informed me that they will call when ready, just FYI, I have not receive any phone calls and it has been over a month, I have been comming in to this wal-mart store every week for house hold items & holiday shopping and checking in to the photo dept. and the sale staff keeps telling me that it is not in yet, and they will call when ready, I would like to know how long would I have to wait for this item to come in, this 16X16 photo tote bag was for a Birthday gift for a special person in Nov. which I was told by your staff I would have it by then, but they were wrong.
Wal-mart #3478 700 Keeaumoko St. Honolulu, Hawaii 96814
Please see attachment : Order # 2678095506439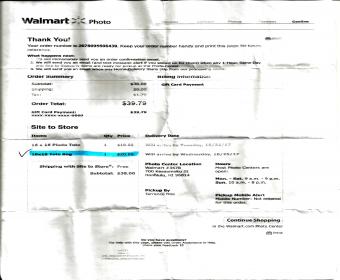 Carolyn B. Telfare
from Jacksonville, FL
My complaint is regarding the survey site. I would never have gone on the site except that I received extraordinary service from a cashier. Instead of having a forum to say nice things about her, I was led through a maze of questions not related. I will never take that survey again.

Cheryl and Benny Janek
from Weatherford, TX
Bought a Honeysuckle whole turkey for $.99 a llb on Friday, November 17...On Saturday the 18th, I found out they had been reduced to $.68 a lb.
I called the store about the policy regarding price changes and was told if it changed within 7 days I could get a reimbursement on the price. I asked if I needed to bring the turkey back and was told to just bring the receipt...after at least 15 minutes of frustration of the customer service clerk and myself, I got my $4.70 refunded and was told I should have brought the tag off the turkey ?!/..I then thawed the turkey out and noticed an old grease type smell from the turkey, but I tried to scrub it with salt and clean it well- I preceded to cut it up as I do not bake turkeys whole- I noticed a brown glob on the inside of the breast cavity and when I cleaned it out good there was a small hole all the way trough the bone...I just did not feel comfortable with all this to serve my guests...I took back the breast to show them the issue and was told I needed to return the entire turkey for an exchange or reimbursement...here I am a day from Thanksgiving without a decent turkey....we live out of town 30 miles but my husband insisted on taking it back - I just went and purchased another fresh turkey from another store- When my husband took the entire cut up turkey back later that day, the clerk said we told yall to bring back the entire turkey... he preceded to tell her that it was the entire turkey- just cut up...had I not cut it up, I would not have found the deformation in the breast...another clerk came along and refunded the amount of $10.57 after just asking a few simple questions....
I am a 68 year old that has cooked many a turkey and this turkey was not right....I should not have to go thru all this...I was not trying to get away with something, just wanted to get a decent turkey to serve my family- if they were frustrated with me, I definitely was frustrated with them...I should have been told to bring the tag when I called about the price thing and didn't call the second time because its hard to get an answer during peak time...I hated to walk in with a cut up turkey in a cooler ....

Bobbie
from Daytona Beach, FL
Bought cream cheese at the large Walmart and it was bad. Tried to return it at the neighborhood store where I shop several times a week and was told I would have to take it back where I got it. My time is more valued than the three dollars they could have refunded me. I had to rebuy it and throw the other one away. Great customer service guys. They were also very rude. Port orange neighborhood market. Thanks for letting me vent.

Rheta Gardner
from Colquitt, GA
I ordered an item on line and it stated it would be available for pickup on Tuesday, Nov. 21 which was great because that is why I ordered because I needed it for Thursday. Later I received an email stating it would available for pickup on Wednesday, Nov. 22, so I made a phone call to verify I that date of arrival. Today I received an email stating the arrival date would not be until November 29. I called to cancel my order and even though it states on my account the order is being prepared and may not be able to cancel but they have my money on hold at my bank. This is ridiculous. I will never order anything else from Walmart.com. and I am going to tell about my experience on Facebook so other people will not get taken advantage of like I have been. Holding my money for 8 days is ridiculous. Got me one time, will not get me again. This is a selfish world we live in!!!!!! I would not even give Walmart 1 Star but I do not have that option!!!!!!!!! Order # 5951753-875935

Loretha Young
from Peoria, AZ
I ordered a Fisher-Price Lakeland 5-Drawer Chest order #5611770-542016 on 10/16/2017 for my daughter-in-law and after assembling it she discovered that none of the drawers had bottoms so she could not complete it. I checked with Bivona & Company the distributer and they stated that this product had been discontinued over two years ago and that no replacement parts are available. I have been trying to get this product picked up for over a month to no avail. I asked on 11/16/2017 to have my situation escalated but I couldn't get any CSR to do that. I do not know what to do to resolve this and have consulted with an outside agency for legal assistance as I am being threatened by Walmart that if I do not return this item by November 29, 2017 that Walmart is going to charge me for it -- and at this point I feel that this is exactly what Walmart is trying to do. Any assistance regarding this matter would be greatly appreciated as I cannot get the help I need via CSR's. I am scheduled to fly to Ohio on November 18, 2017 from Arizona. Email will be the best method to reach me.

Ashley Bennett
from Jacksonville, FL
Bought babys 1st bithday cake. Besides being decorated sloppy they left parchment paper on cake under icing. Took back to store, refunded money and offered $20 gift card. Asst. Mtg Phil was rude when I said that was nothing for what disappointed children with no cake. Also when I said thank God no child ate it and choked he said that would then be law suit against Wal-Mart like it was nothing. I stated now I have to figure out way to get parents to drive back to have a little party over for the children to have cake. Phil said what do you expect me to do pay for a party. He acted like oh well they didnt get cake.....These were friends n relatives from different locations in Florida. I shop at walmart, as well as my relatives and have never been so disappointed. How would you like to give your child their 1st birthday and this happen. So so sad.....Ashley Bennett 3525536468....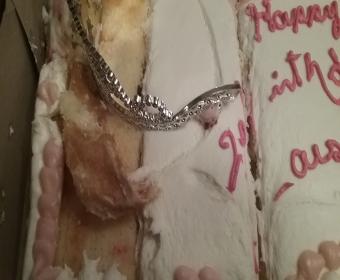 Alex Earls
from Toney, AL
I ordered # 5871793865201 online. I requested a return label and was emailed that I should keep it and they would discount me on something else are I should sell it. Very upset with this email. misinformed information put on walmart website. walmart should tell you this is 3rd party. I bought it on walmart online, I charged with walmart credit card, and the run around begins, very ashamed of walmart putting a customer through this. thank you

Called these fucks twice both times was transferred to the department I wanted. Phone rang and rang until someone picked up hit some buttons and hung up on me. Guess I won't be buying shit there no more

Annice Gomez
from Lucedale, MS
Reference #171106-009109 on 10/28/2017 I went to purchase my Bi-weekly order of groceries, supplies etc. There was an issue with the Coupons # 1The response from John Turner was that the coupons was copies and would not work(He taked to me with rudeness instead of a smile in his voice and the sound of I can help)# 2 He stated his cash registers does not make mistakes(There is no person, Machinery etc that is infallible). This was referencing a price after the coupon was presented) when your registers and or computors go down how are the rebooted? Rudness is not accetpable. This was an excuse I went to another Wal-Mart and other stores and use some coupons from this same sheet. H was rude, short and abruptness from start to end no professionalism shown. No Management skills shown. More training is needed. MY phone number is 251-581-1314 What is your turn around time for a customer complaint?

Pat
from Bowling Green, KY
Employees are stocking constantly and often hard to get to items we need. Also very hard to find the Great Value and Star Kist
water packed tuna. Lots of oil packed out there but I feel most use water packed any more , so need to keep it stocked. The cat
foods too are constantly mixed up. Flaked with pate etc...Also the cashiers need to be clued in on when a person has canvas
bags available by the customer...yes put my groceries back in the canvas bags. The purpose of them is so we don't have so
many plastic bags. Have complained about the plastic bags many times and no response. It's also the Holiday season and
yet out of a large store there will only be 3 (possibly 4) lanes open to check out in. Am sure I am not the only one that has
complained about that issue. I think Wal Marts prices are fair but could stand improvements in many areas.

marvin corbin
from Olympia, WA
I was visiting Walmart at 03705 in Yelm, WA. on November 7, 2017 to return a product and they gave me store credit gift card. I purchased other items and when it was time to check out the gift card wouldn't work. So the employee work said she didn't know what to tell me. So just take the items and leave I can't believe she told me that . So I told a manager what she said she wanted me to commit stilling that's a crime and he said nothing to the employee. I wish had got her name but I was frustrated so they got the gift card to work and I paid for the items and left. I was just wondering why an employee would tell a costumer that I'm very upset that this situation goes on this is a serious problem and need to be addressed. I never stole anything in my life that was insulting to me I had my kids with me at the time and I explained to them no matter what an employee tell you to just take something out the store and leave don't do it that's considered stilling pay for it. I'm a veteran and I can't believe I was treated like that. Thank you, Marvin Corbin

arbutler33@earthlink.net
from Mesquite, TX
I do not like that close one side of walmart at 7:52 pm before 8pm after 8pm there only 3 or 4 register open I have to wait in line long time mesquite tx 75149 200 us highway 80 e

David A. Runco Sr.
from Orlando, FL
I ordered a Drill on-Line for a cost of $53.00 and had it charged to my Wall Mart Credit card. I was told that is is free shipping and would arrive Oct 31st (I ordered it on October 29th) The Drill never arrived and wallmart cannot find the order, however my Credit card has been charged the $53.00. I since have filed a dispute to have the charges removed, however I was told that it would be two billing cycles before it is removed. I cannot use the card because it will take me over the 30% limit of credit usage and will drop my Credit Score between 15 and 20 points. When this dispute is over I will cancel the credit card. It is not worth having. I know that loosing one costumed is no big deal to you, but I am letting you know just the same.

Joan Prosser
from Bixby, OK
Regarding Walmart @ Sapulpa Oklahoma.
This is in regards of trying to get checked out when through shopping. I cannot use a self checkout register because I have a tax exempt card. It's almost impossible to find a cash register that has a checker that is opened because there are never any lights on. And it is difficult to even find out who is suppose to be checking people out. (At 6:00 AM) This morning an employee by the name of Charlene was asked about getting checked out & she said she'd be there in a few minutes. When my mom asked her which register she got hateful with my mom (who is 87 & has dementia) & said "Which one do you think it is, it's the one you always get checked out at". Her remark was uncalled for.....she only had to tell my mom which register number. This is not the only time this has happened with Charlene. It's ridiculous trying to find a checker & which register they are suppose to be checking people out at. NOT EVERYONE CAN USE A SELF CHECKOUT REGISTER, for certain reasons. And Charlene needs to stop being so hateful to my mom.
Thanks.

Amir Masud
from Mississauga, ON
GOOD AFTERNOON MR.DOUG MCMILLON,
I AM CONTACTING YOU TO BRING INTO YOUR ATTENTION A VERY SERIOUS ISSUE??
I HAVE BEEN SHOPPING ON WALMART CANADA SINCE 21 YEARS AS MY STORE OF CHOICE BECAUSE OF YOUR GREAT CUSTOMER SERVICE AND PRICES!
HOWEVER LAST WEEK I HAVE A VERY BAD EXPERIENCE DOING SOME ONLINE PRINTING KNOWING THE REPUTATION OF WALMART I SPEND ALMOST $200.00 TO PRINT PICTURES OF MY DAUGHTER AND SPECIALLY MY WEDDING PICTURES 20X30 ON CANVAS PAYING ALMOST $80.00 DOLLARS AND GOT A MESSAGE YOUR PICTURES ARE READY FOR PICK THE NEXT DAY.
WHEN I BROUGHT IN THE PICTURES AT HOME SPECIALLY THE WEDDING PICTURES IT WAS TOTALLY A GARBAGE MY WIFE HALF FACE WAS CUT OFF AND SOME OF MY DAUGHTERS PICTURES WAS NOT PROPER PRINT AND NOT EVEN CUT CORRECTLY????????????????????
KNOWING THE REPUTATION OF WALMART A GREAT CUSTOMER SERVICE ORGANIZATION I GOT A VERY RUDE AND NON-PROFESSIONAL SUPERVISOR ON THE LINE WHO REFUSE TO REFUND OR REPLACE THE BAD PICTURES???????????????????????????????
IT IS THEREFORE REQUESTED TO YOU PLEASE LOOK INTO THE MATTER PERSONALLY, SERIOUSLY AND IMMEDIATELY TO TRAIN THAT SUPERVISOR HOW TO HANDLE CALLS LIKE THAT AND REFUND MY MONEY IN THE SHAPE OF CORRECT PRINTING, STORE CREDIT OR REFUND TO MY CREDIT CARD AS SOON AS POSSIBLE. THANK YOU!!
IF I DON'T GET A RESPONSE FROM YOU WITHING 24 HOURS I HAVE TO TALK TO MY LAWYER TO CONTACT YOU WITH ALL THE GARBAGE PICTURES?? I AM SURE I AM NOT THE ONLY VICTIM OF YOUR ONLINE PRINTING THERE SHOULD BE MANY MORE AS THE MISTAKES THEY HAVE MAKE SEEMS THAT NOBODY CARES FROM WALMART AND THEY ARE STILL KEEP DOING THAT TO VALUABLE CUSTOMERS???????????
TAKE CARE AND HAVE A GREAT DAY AND PLEASE I NEED A MY MONEY BACK AS SOON AS POSSIBLE AS WALMART IS NOT A PROFESSIONAL PLACE TO DO NICE PRINTING MAY 6X4 IS THE ONLY GOOD THING YOU HAVE?????????????????
WITH BEST REGARDS,
AMIR MASUD
285 - ENFIELD PL SUITE # 2204
MISSISSAUGA, ON, L5B 3Y6
CANADA
1-647-784-3783

Sareita Anderson
from Fort Worth, TX
I ordered some gluten free items online and one item was opened and the other was crushed not de to shipping obvious the crackers were crushed repeatedly they were all crumbs and the pie crust mix was open and who ever packaged items I was ivious these items were damaged but they sent them anyway I'm very disappointed in this service! I've been ordering items from Walmart for months now but I'm not sure if I will continue this service I will be searching for SN alternative in getting certain gluten free items that's not available in stores

buttf*ckk jones
from Fremont, CA
walmart sent my purchase to the WRONG CITY.
there exists 15 complaint sites online. I will use them
to drive $1,000,000 worth of business away from
Walmart over a year

Brandon Pasnick
from Sacramento, CA
I went in for an exchange. The girl at the counter was really rude, so kindly let her know. She dropped my stuff, walked away and said, I'm on break. I was dumbfounded. Her name was Mai. I complained to a manager who called me down and helped me with my exchanges when I notice a police officer walk in the store.
Well as I'm leaving the store he says to me I need to talk to you. I was on the phone so I turned and I looked at him and I said what? He said I need to talk to you. I said what for? He's just we just need to go outside and talk. I said what for and he would not answer my question so anyway I go outside and he says that the Walmart employee accused me of drinking and that it was my fault that I was being belligerent and all this stuff and anyway long story short I was not arrested I was not giving any tickets I was giving a handshake and I left anyway I was very very disappointed with my visit there it took me an hour to leave because the police officer just kept asking me question after question after question. I explained to him I was there to exchange close the woman was rude explain to the manager she got upset because I told her that I would be writing a letter to corporate and she's been called the police on me and made up some story that I was drunk. I had just come from the Fresno fair with my family and had gone to Walmart to get some food and exchange some clothes items. After a long extensive pointless talk with this officer, he determined I had not been drinking and allowed me to leave.
They [Walmart] would not tell me the name of the employee whose last name anyway but I know her first name was my probably spelled MAI. And I included pictures and the date. 10/12/17. This all happened at around 8pm in the returns department. Since this incident I have had panic attacks and anxiety and even have sought help from the therapist to help with me work through this problem. I really hope you decide to do something with the employee that works at the Walmart at Blackstone and Ashlan Avenue on the Southeast corner. Again her name is Mai.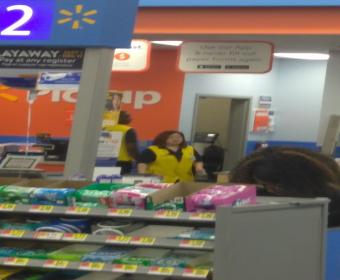 Lois Spalding
from Vista, CA
I always loved going to our Small Walmart in Encinitas - I went early on Saturday morning - usually around 6:30 am. I always buy 2 large bags of bird seen and push my cart around so the checker can check the bags of seed plus other heavy items left in the cart. I apparently pushed the cart around the stand too far and she rudely told me I can't push my cart that far and I mentioned it was to check the stuff in my cart but she just scolded me again. I don't mind being told about something but I am an older lady - at least be nice about it. It kinda ruined my enjoyment of going to Walmart.

Pamela Knisell
from St Louis, MO
Warrenton Missouri Walmart pharmacy is the worst!!! I called in refill on my prescription eyedrops on a Friday morning they called me and left voice mail that day saying they were ready. So husband goes the next day on Saturday to pick them up and they say that they don't have a prescription for me. He comes home we live about 20 minutes from there tells me what happened so I call and then all of a sudden they have them now!!!! What school did these people go to?? I would really love to know!!!

Tom Mastin
from Niceville, FL
Went to Niceville, store three times this week for Family size cheesits. An employee checked the shelf with their reader and said there was 50 Box's on the shelf. This spot has been empty for three days. But he could not check in the back. Said the people who stocked this area was all at lunch at the same time. This is poor service and the stocking of shelves is always way behind is this store.

Brenda Mitton
from Earl Park, IN
On October 1, 2017 we ordered a 3 piece white dining table and chairs. Order #5451759-710033. It was shipped to the Lafayette Indiana Walmart on Commerce drive. We picked it up there. When we opened the box we discovered that the hardware package fo chair assembly was missing. Emailed customer service and they sent the parts bag. We started to assemble the chairs and realized the stretcher parts for both chairs was also missing. So once again contacted customer service waiting on reply if they can send the 2 stretchers so we can finally assemble the chairs!!!! I am extremely upset over this matter. We paid for this product and cant use it because of missing parts! This is ridiculous! We paid full price for this all parts should have been included. We cant use it like this. It wasnt worth the price we paid! I will think twice before ever ordering from Walmart again!

Michael arthur
from Little Rock, AR
I have worked all over the United States and the Odessa Tx Walmart has the absolute worst check out I have ever experienced in any store I have ever been in.its a least 45 min on self checkout. I was a Home Depot manager for ten years. This is the one thing you would lose your job over. Y'all should be ashamed of your selves. For this epic and utter failure on your part. I guess I'm going to the dollar store

ruben holliman
from Valdosta, GA
my complaint is for the auto center perimeter rd Valdosta ga.suggestion try hiring employees who don't think their shit smells better than the people who are spending their money in your store.as a negro who worked customer service I left my personal feelings at the door and operated under the mindset that the customer is always right.but im beginning to realize that that mindset only applies too black employees dealing with white customers,it damn show don't apply the other way round.now I know walmart wont miss my little bit of money,but I wont be doing business there ever again.and I will feel a helluva lot better. RUBEN HOLLIMAN/ DATE OF NO SERVICE 10/14/2017

Joan Mair
from Chatham, NY
I shop every week and your Hudson store is getting real bad, when you buy something you better get a few of them because the next week you come there out, you ask and they say I don't know and walk away. Also I am 72 years old and I go in elec chair so because they don't stock offen you cant reach things because there way back in the shelf now its been like this from week to week, so I have had it that's why I am writing you this hoping thing can get better thank you for reading this, just wanted to let you know.I just cant shop there anymore and I love Walmart just not that one. Joan Mair 96 Island Drive Copake ny 12516

Kaye Eddington, wife of Charles R Eddington, 100% disabled veteran.
from Ada, OK
My husband & I recently received tax exempt cards from the tax commission. the first time I tried to use it I showed the card to the desk clerk and asked if Walmart honored them. They said yes. I purchased groceries and showed the card to the checker, she handed it back to me and never bothered to say why she did not remove the taxes. The next time I went in I told the checker I had a tax card and she replied "I have already rang up everything and you have to show me the card before I do that or I will have to redo everything. I said don't bother, I'll remember next time. Today went in the store, purchased groceries and before the clerk registered them showed her the card, she said you will have to go over to the help desk and get a Walmart card. I did. They told me my husband would have to come into the store before they could do that. I had my driver's license ready. Now what I am saying is there is a great lack of communication here. I should have been told up front from the beginning what the procedures were. My husband cannot hear, he wears a heart monitor, and he can only walk a short distance for he had Parkinson's disease. Where is the patriotsm?

Daphne D Pattison
from Palm Coast, FL
Reference #171012-005306
I have been charged for an item that was never received. I went thru the Walmart online "chat for help system". I spent over 90 minutes and no results. I keep getting referred to "higher parties" + put on wait times greater than 20 minutes. Nothing is resolved.

Gloria Hutchinson
from Palm Bay, FL
My complaint is about shopping carts being used to transport older children and dogs. I love shopping at Walmart, 95% of my shopping is done there but I am upset when I go to the store and see parents transporting children, who are able to walk, sitting in the cart with their dirty shoes and some with their dogs. It is so unhygienic. I know the policy for Service dogs only, that does not stop other dog owners from bringing their dogs. There are the small carts that children cannot sit in but they put the in them. The small carts are not always available. There is sometime hand sanitizer at the door that I use to wipe done the cart, but it is not always there. I have seen associates ask customers to remove their dogs from the carts, and they were not very happy about it. It would be nice to have sanitizer at the entrance available at all times for people to sanitize the carts before shopping.
Thanks
Gloria Hutchinson

Walter Ince
from Pineville, LA
I purchased a camera from Walmart at 6225 Coliseum Blvd Alexandria LA Phone 1(318)448-8881. After examining the camera I saw that it would not satisfy my needs, and tried to return it. The purchase was made at 10:30pm and was returned at 11:00pm. When I got to the store I was told that the service department was closed and I should return the following day. I then explained to the clerk that I was leaving on a flight for Australia early that morning and was not able to return the item that morning, and I was leaving for two weeks. The clerk then explained to me that any purchase had a fifteen day return policy. I then asked the clerk to speak with the manager on duty, Mr. Rocky who said he was not able to speak with me as if my problem was not important and I was bothering him, so he through the clerk on the phone asked what was my problem. she tried to explain to him and bluntly replied that there was nothing he could do for me. All I wanted is that he waived the 15 day policy until I returned from my vacation to process the return. But he never came to see me, or speak with me concerning my problem. I felt that he acted as if I was just another customer who was bothering his night (whatever he was doing at that time of the night). So my only alternative is to ask you to waive the return policy until I get back to Alexandria within the next 17 days. My name is Walter Ince, and I live at 5046 Plantation Rd.. Alexandria LA. 71303. Phone number 318 792-4942. I wrote this complain tonite because I leave at 6am Friday morning for Australia. Thank you in advance for acknowledging this complain/request. And please afford Rocky some customer training to deal with customers anytime he is acting as store manager.

I purchased a total of 4 digital converter boxes from Walmart online in 2 different orders. The first order had 2 Ematic AT102 Digital converter boxes of which one of them did not work. The one that did not work had been obviously opened before. I returned this one to a local Walmart and they refunded my pay pal account. I then ordered 2 more digital converter boxes from Walmart online using my Pay Pal account again. The 2 converters came and this time neither one of them worked. One of the units had again obviously been opened before as the bubble wrap was missing. Again I returned the 2 non operational units to a different local Walmart but this time they would not refund my Pay Pal account! Instead, they gave me a gift card for the purchase amount. All I want is 2 WORKING digital converter boxes. It seems to me that Walmart is sending out bad units for online orders, hoping that they get rid of them. This is bad business and I sure hope it can be resolved.

MYRA A. ROE
from Apalachin, NY
This evening (Wednesday, September 27, 2017), I stood in line for approximately 30 to 45 minutes waiting for Customer Service to accept my monthly payment to Walmart in Johnson City, NY. I know there were other people waiting in these long lines as well. My complaint is not with the clerks in Customer Service but with the fact that there are 3 available stations that could be used at the same time, whereas I have never seen more than 2 Customer Service stations used at the same time. Also, while the 2 clerks were processing payments, returns or money orders, another clerk stood by just watching & doing absolutely nothing.
I have been a customer of Walmart for many years with an open account. I feel that this situation could be remedied with additional help when lines are long & people are getting frustrated. I decided to enter this complaint & hope this situation can be improved. Sincerely, Myra A. Roe

Donna Healy
from Cleveland, OH
4 times this year I have gone to the north Olmsted store and where not given all my groceries . Yesterday was the 4 th time it happened I went back 1hour later and my groceries where returned to the shelves I understand perishables being returned . I had to retrieve the groceries from the shelves myself I and still forgot 1 item . Is this a scam ! I find it hard to believe this happens so frequently! This is an inconvenience to the customer

Donna Healy
from Cleveland, OH
4 times this year I have gone to the north Olmsted store and where not given all my groceries . Yesterday was the 4 th time it happened I went back 1hour later and my groceries where returned to the shelves I understand perishables being returned . I had to retrieve the groceries from the shelves myself I and still forgot 1 item . Is this a scam ! I find it hard to believe this happens so frequently! This is an inconvenience to the customer

Jeannie Swart
from Nashville, TN
Went to Walmart in Madisonville Tennessee on 9/13/17 in the morning. I went to check out around 7:05 and there was no register open. The only register that was open was the self check-out. I do not have a credit and debit card and I write checks. So I went toward the service desk and ask if I needed to come over there to check out , there were 5 employees standing there and one of the workers "rolled her eyes". I realize that it was shift change but nobody wanted to check me out. They finally said just to back up to that register and someone would check me out. I was back in the store this morning and the one that rolled her eyes was back at the service desk and she had on a yellow vest. Not sure what that means, but if she if customer service person that is not the way to act. If you would like to call me my number is 423-29-5106.

Henry Chau
from San Jose, CA
Order # 5011765-526292 on Aug 17 /2017 thru Walmart.com
The tracking number 1579835569835
Do not receive the package up to date (9/20/17)
Called Aennon, inc (910-430-9022), no answer.
Chat to Walmart though help, no solve the problem, no follow up, no respond

William Birge
from Canyon, TX
This is not so much a complaint as a dissatisfaction and disappointment. Walmart is my favorite source of food, clothing, and special purchases. There are several Walmart Superstores in the Amarillo, Texas area plus a Sam's Club/ Because it is the closest location to me I mostly shop at the Walmart at 45th & Coulter, (Store Number 55?). Over the last fifteen years, I've spent from ten to fifteen thousand dollars a year. I shop Walmart two to three days a week. In spite of price increases, (which I understand), I am very loyal to the Walmart stores. However, over the last ten to twelve months that loyalty has been sorely tested. There are certain items that I purchase that I consider basic. I am unsure if it is a stocking problem, an order problem, or a transportation problem, but there is a problem. The problem is that items I want are out of stock or not on the shelves. When I ask, the item is on order or some other excuse. I personally think it is a management problem. I think your stock manager is not up to the job. This has been going on too long to be a stocking problem, an order problem, or a transportation problem. Whatever the problem, I am becoming more and more dissatisfied with bouncing from store to store just to get what I wand or need.

Annie Joiner
from Clarksdale, MS
My husband recently return a car battery and was told that he was allowed $25 on the returned battery or an exchange. I have been returning the batteries I purchase from this store 3 years now. And decided that I was not going to get another one from this store. I went to the store in Oxford Ms. and had no problem of getting a refund. Your manager and worker treated my husband very rudely and threaten to call the police. For this reason I will not shop at this store anymore. Please get people in your stores that know what they'er doing.
Sincerely
Annie Joiner

Brenda Timms
from East Orange, NJ
September 17, 2017
I was in the Secaucus NJ Walmart store on 9/16/17 around 3 in the afternoon when I spotted a grey futon that was reasonably price and very stylish. I noticed the lay-a-way sign and decided to put the futon on lay-a-way.
When I returned home I went on line to Walmart's website and took another look at the futon, I really wanted it and the shipping was free, so I ordered it. On 9/17/17 2:40 pm I returned to the Secaucus NJ Walmart to cancel the lay-a-way on the futon. I was surprised to see a $10 cancellation fee because, I brought the same futon from Walmart, its own store.
I know in the lay-a-way terms it says clearly that if you cancel your lay-a-way there is a fee of $10 but I bought the same couch from the same store, Walmart on line. I could see if I just cancelled it and did not purchased the futon at all, but I bought it from Walmart.
Brenda Timms

Erica S. Bush
from Chattanooga, TN
On Monday, August 28, 2017 I woke up around 8 am and got dressed. I had breakfast and went to the Hardee's restaurant on Ringgold Rd. Next, I ventured to the Walmart located on 409 Greenway View Dr. here in Chattanooga, TN 37411. I had my list in hand and was prepared to knock out the visit in a short amount of time. However, after partaking in a conversation with another customer, Ms. Debbie, by the candle section of the store, I noticed how hot it was in the store. I began to feel overheated and made attempts to fan myself with the index card that contained my list on it. I began to feel dizzy, light-headed, and my vision began to darken. I attempted to lay on the shopping cart, but I did not make it. I opened my eyes and I was laying on the floor across my purse. I landed hard on my right leg and I was surrounded by the feet of concerned customers who were all asking me questions. Someone tried to give me gluten tablets, but I had to decline. At this point, I was still dizzy and nauseous. An associate brought over a trashcan per my request. I vomited two separate times after that. I could hear the customer whom I was talking to frantically telling the couple of staff members to get a manager over to our location immediately. They were just standing around looking at me on the floor until Ms. Debbie started yelling that I fell out on their property and they are responsible for my wellbeing at this point. Eventually, more people came over, whom I assume were some form of management, as no one introduced themselves to me. A lady named Brenda tried speaking with me and had someone place me in a wheel chair while someone else brought me a bottle of water. As I was trying to collect myself, a man who I think was called "Odello" insisted on asking me questions to fill out an incident report and asked me to sign it once it was done. Ms. Debbie mentioned calling an ambulance. I asked if Walmart was going to pay for the ambulance and ER visit, but was only met with silence. That was a clear indication that the expenses would all fall on me instead of the culprit who was responsible for me fainting. That store is always hot and everyone complains about it. They feel like it is done to keep the minorities in that area from frequenting it.
By now, most of the customers and staff had cleared out. I was soon bombarded with more questions about my health. I had to constantly defend myself and them that I was not diabetic, pregnant, or suffering from anything else. I was diagnosed with hyperglycemia at the age of 12, but it has been under control for years now. Besides, I had just eaten breakfast a little over an hour and I had raisin biscuits waiting for me in the car after my Walmart shopping was complete. "Odello" kept insisting that it had to be a heath issue. Ms. Debbie stated that it was rather hot in the building. "Odello" and the other male associate who stayed the rest of the time with him both agreed. Then he said that the home office in Arkansas controls the air and they have no say over the building temperature. I was left in the same location where I fainted from heat exhaustion in the wheel chair that they brought. I was only given one bottle of water and was not moved to a cooler section of the store. No one made any attempts to cool me off or bring a cooling pack. "Odello" and the other associate basically hung around, leaning on store displays having conversations among themselves without paying me any attention. I was left to my own devices, desperately trying to reach my mother via cell phone. I was weak, tired, neglected, and anxious to leave the store. The staff did not properly care for me during this time. They allowed other customers to shop the candle section in front of and behind me, reaching over me in the wheelchair. I felt very vulnerable and unsafe. Ms. Debbie is the only one that tried keeping me conscious and find my mother. When I was finally able to reach my mother, she was actually in the parking lot as luck would have it. I announced this new information to Ms. Debbie and the two Walmart associates overheard. The "Odello" guy then stated that he would flag her down to our location, because he knows how she looks due to us being in the store all of the time! Well, if you are familiar with my family and I as well as how much money we spend in this location, then a little bit more respect and compassion for one of those people fainting in your hot store would be expected. Considering that at least two-thirds of my family are in this store on a weekly basis. After my mother met us at the candle section that I was never removed from, I briefed her on the situation. "Odello" walked us over to check out and my mother rolled me out to the parking lot. Once I was finally home, I noticed several bruises on my right leg as well as a large lump underneath my knee cap where I landed down on the floor. That lump and the largest bruise are still on my leg now.
I received one voicemail message from the store's assistant manager the following day and I have not heard back from anyone since. I have absolutely no plans to ever shop at that location again. I have spent entirely too much money at that place since it opened in 2004 to be disrespected and disregarded in the manner in which I faced. No one introduced themselves during the process, explained what the Walmart procedures were for this situation, or displayed proper due diligence after I fainted at the candle display shelves. Also, I have noticed over the last couple of years how much warmer this particular location is in comparison to the Walmart on Gunbarrel Rd. branch. There is an obvious temperature difference from the Greenway View Drive store. So, if corporate is responsible for the temperature control for all locations, should they all be regulated the same way? I do hope that the Greenway View Drive store is not be abandoned or treated in a more negligent way than other stores due to it being in a more urban location. After all, my black dollars are just as valuable as everyone else's. That location will never see me or my money again.

david williams
from Bethlehem, PA
order 5201788645371 on sep 9 I received my tv cracked in halve I called for replacement and told them I had returned my barowed tv the night before my regular tv was power surged so I did not halve access to a computer as my tv was my monitor so they said they would mail me return label by Friday (lie) later told me 3 weeks also said they would ship me a tv 2 day mail and I would receive on the12 (lie) I called on the 11 for tracking they told me they were back order and could take up to 30 days I asked wy are they still for sail on website I could by one today and receive it in 3 days told me because it was a different warehouse I said just send me one from that warehouse they said they could not do that then I was told I will receive tv by sep 13 (lie) then I was told it would be here by Friday (lie) then on Thursday they told me they may ship in on Monday I argued with supervisor for halve hour with no satisfaction finely thursday I get tracking for delivery I was also told on sep 9 I would receive a refund in five business days which would be by Friday of $29.00 (lie) I called on Friday for transaction id number because I halve not received they told me they will not send until damaged set is returned all week 2 times a day I called and was lied to every day so this is how I will handle return you send Walmart rep to my house to pick up broken tv witch I halve to move wen ever I need something behind also stubbing toe with $29.00 refund and one dollar a day starting sep 16 for storage a official complaint form and receipt for return and you can halve your broken tv in the last 15 years of buying online this has bean the worst experience I halve ever had online every day I called I was lied to I also halve pictures of broken tv and box if you do not pick this tv up within 30 days I will dispose of it I am disable and is not easy to move tv out of my way all the time replacement order#5231796227079 ref#170911-003463 I will never ever buy from Walmart.com I do not whant your broken tv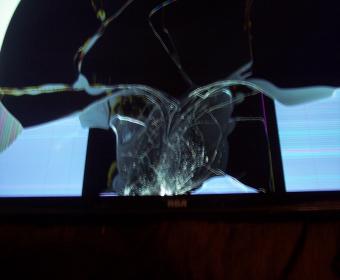 Michael W Mullins
from Fishers, IN
I purchased 2 gallons of milk I was stopped at the door by a black employee to see my receipt for the milk. REALLY I do know that they stop customers who have electronics and other valuable items BUT MILK. I felt very disrespected, embarrassed and discriminated. There is no excuse.

frances reed
from Johnston, RI
i wanted to but some fish but told they could not sell them because they could not get water out the sink. Tap water kills tropical fish. You have to take water out of tank not the tap

lovetta
from Pine Bluff, AR
To Whom It May Concern:
My 18-year-old daughter was hired at Walmart on 08-15-2017 in the bakery and terminated from Walmart 0n 08-24-2017. The reason I assume was that she couldn't do the job because she was not properly trained on the job. Considering she just graduated from high school, this was her first job, she had to be at work at 3am in the morning. Durning the few days of training she worked different hours form 8-5 or from 1-9 but was not trained for the specific job. Keara worked on 08-21-17 from 8-5 her scheduled was changed so she could come in and learn to work the glaze machine at 3am on 08/22/17. Keara arrived at work on 08/22/17 at 3am she was trained on the glaze machine. The next day 08-23-17 she was scheduled off. Keara returned 3am 08-24-17 and had to do the job alone and pressured to have At Approximately 7:30 I received a call from Keara to pick her up. when I Arrived at the store I spoke with one of the employees the stated that Keara had hurt herself and was crying and Keara was with the manager (Brandy). I met with Brandy she stated that Keara cut her finger, and was upset, and that they were letting her go home for the day. She also said that if she could not do that job they would try and find something that was available, but if not they would have to let her go. At approximately 1;30pm Keara picked her paycheck up from Walmart Brandy (manager) stated she was no longer employed at Walmart.
On 09-10-17 approximately 7:33am Keara received a call from Walmart (Brandy) asking her if could she come in to work because they were shorthanded and needed help in the bakery. She then told Keara to text at this number (870)377-5711 if she was coming, Keara wanted my permission(mother) if it was ok I stated yes, I am happy they called you back. Keara texted Brandy (manager) that she was coming. Keara arrived at Walmart at Approximately 8:30. Keara met Brandy (manager) at the bakery. Brandy (manger) had Keara to go with her. approximately 10 minutes later I received a call from Keara, she wanted to know where was I. I told her I was still in the store. When Keara arrived, she stated brandy said she was terminated. This was unfair treatment! I don't know why this happen but this was very devastating for her. She was under the impression she was coming back to work. I know Walmart has the right to terminate but this was uncalled for. She was already terminated why did she feel the need to humiliate and embarrass her. How would you feel if this happened to your child? This child has been battling depression all her life this was the first time she was happy about something. She looked forward to going to work every day even though this was not the Job she applied for but she was willing to make this work until a stocker job was available.
I know this is not important to you but I feel it's only right you know how I feel and others who patronize your business. Bad management is not good for business!
I have always believed Walmart's motto is to give workers a fair shot.
Thank you
Lovetta Morehead
(870)550-4421
Walmart
5501 S Olive ST
Pine Bluff AR 71603

Angel Luis Rivera
from Hampstead, NC
Letter to Mr. Doug Mcmillon:
I am writing to express my worst nightmare with Wallace Walmart Supercenter, 5625 S Nc 41 Hwy, Wallace, NC 28466. Today at 12:30 pm I went to customer service to collect the rent payment from my house in P.R. using W2W as I have done for more than 4 years, when I give the code number, the employee informs me that she has to speak with a supervisor since the receipt says Angel Luis Rivera Fernandez and my Driver's License (from NC) says Angel Luis Rivera, I indicated that in PR usually the two surnames of the Father and the mother are used, but that here is the United States only the paternal surname is used. My driver's license which has my physical address is the one I have used for that service, that is when she calls the assistant manager by the name of Leron. When I spoke to him with my Latin accent his face changes, I explain that I have always used the W2W service for years and that I receive that money every month, he tells me that they can not give me the money because of my surnames, I am a retired Police, I show my identification of retired Police indicating that it is a federal identification by which I port my weapon and the identification shows my full name Angel Luis Rivera Fernandez, I also showed him my SS card. Here is where my nightmare got worse, he tells me that he can not do anything, I tell him that I've been receiving that money for years. I show him the receipts for the last 5 months using W2W. I then told him that is a lack of respect and a lack of customer service on his part, because his attitude was not logical since I had received the W2W in that store in the past also at the Clinton, Mount Olive and others, without any problem, since I reside in Warsaw and I'm in the middle of those three Walmarts which takes me almost 30 minutes driving, he ignored me. So I ask his name and position and that I would like to speak his boss. He told me that he has no boss that he was hired directly, I then asked for pen from the cashier to be able to jot down his information. This has been a great nightmare and discrimination, I had to drive almost one hour and a half from the Wallace to the Walmart of Mount Olive where very professionally I was attended given my money, apparently he has had problems with Police or with some Hispanic people, since in the illogical manner and unprofessional way that I was treated there is no other explanation, I am expecting communication to know what administrative action you are going to take against this employee, to to be able to meet with my lawyer and discuss this nightmare, which my family and myself have been put through so I can see what legal actions may be take

James Napoli
from Auburn, NY
Walmart Auburn N.Y. You have about twenty registers in the store and I have never seen more than four in operation. Lines are ridiculous there and you would think they would open up some registers to serve your customers. I was in there last week and of course only three registers working. I had 13 items so I attempted to go the ten item or less register where there was absolutely no one. Of course your brilliant register people refused to let me check out. I told them maybe you should start checking out people so were not there all day. Here is a clue. HIRE MORE PEOPLE SO YOU CAN CHECK YOUR CUSTOMERS OUT IN A REASONABLE AMOUNT OF TIME. I am sure you take in plenty of money from your Auburn customers so maybe it would be nice to open more registers, and in the long run probably make more money. Also maybe you could have your store manager attend some Wal-Mart seminars so he can learn how to run and efficient store.

Everett Baker
from Bardstown, KY
Bardstown Ky. store I was grocery shopping on Sunday morning, as I have done for several years. This morning there no tomatoe juice in the store. No medium rotel and no white hot rise corn meal and the fruit looked it had been there for a long time. If I have to double shop between Kroger and Walmart I will start making only one stop. It will be Kroger THANKS FOR YOUR TIME I really would like to stay at WAlmart This is not the first time items in the grocery cannot be found,it happens on a quite often. Thurdsay I could not find any potatoes.

Joe Lutwinski
from Stone Mountain, GA
So I order tires from wal mart Monday, they come in Wednesday, I'm up there at 8 o'clock, my old tires has like 50ty percent tread still left. 3 good tires and one with a cut in the side wall. So I bring my trailer, to carry the old ones home, to later put on my jeep. Now the tires I run cost around 700 bucks.
The guy walks out, and asked am I gonna take the new tires with me, and I'm like no, I want them put on. He says, we cant put them on with a trailer behind you. And I'm like, watch me unhook it. He was the only one there, and acted like he didn't want to do 4 tires.
Well out walks a lady, and says to me, I'm next in line, can I come back at 10, we will have another man here then, and I'm like, if I come back at 10, I may be 6th in line, and have to wait 6 hours. Well after about a 3 hour wait, I get my tires.
The guy then says to me, do I want to keep my old tires....im like, that's why I have the trailer, you seen that trailer, cause you thought u was gonna put my new tires on it, so you would not have to mount them, lazy man. In walks the man at 10, and says, them are some good tires, I have them on my truck.......that's why they wanted my old tires, duh
So I go home, hook the mower up, run to my moms, to cut her grass, get back, and a tire looks slack. I get up next morning, and its almost flat, I air it up, cause I got the warranty, and head back to wal mart.
There at 8;30ty, and the guys says, there is a locked car blocking are drive, I'm gonna change the oil in the car that came in behind you, as we wait...im like ill help push it out the way, car locked and a flat, after I look, we could move the display tires and get my hummer in there, but I wait.
So he takes the leaking tire off, cant seem to find it leaking air, fills it up, comes back in 15 mints and says, it hasn't lost any air, some one must have let the air out your tire. so he does it again, wait 30ty minutes and finds it leaking at the Tire Sensor, now none of my tires was leaking before,, so I want them to look into this, cause I already know, before hand, all there good men left to work with Everett. What I didn't know was they was gonna go watch a 3 hour video as they line up other cars in front of me.
Now its 12:30ty and I know that lazy boy some how damaged my tire sensor. But that's ok, its Labor week end, I just spent 800 bucks, I just want to get on my way. So I say, can you pls, take one of them 800 dollar tires I got 3 days ago, and pls put it on my spare rim, seeing how my spare is a smaller size, again, the run around. Then they say to me, Yes we might can do that, seeing how the other Main tire place is now closed on a Saturday, and you have no choice, but to wait another 4 hours, cause we done checked in 5 cars in front of you, even though they came in hours after you.
To think ,i drive a hummer, pay 800 for tires, and in gonna try to beat them out of a 60ty dollar tire sensor , that worked fine before all this,, stand in line for now adds up to about 8 hours of my life...but what really got me, they was gonna put me at the back of the line , and been there all morning. Pls look into the tire center at wal mart in Eastman Ga, I know they short staffed, but there is no excuse for this, wife had her tires changed there, another broke sensor also. I mentioned to both the service manager and his top boss, if they could swap tire and rim out, before the 3 hour video , yet I stand and wait, in the end, I'm home with a new flat tire, on Labor day week end, TY Wal Mart.
The worst part of all this, I paid for the tire rotation for the lifetime of my tires, and now I am stuck with this kinds BS service. My buddies told me, wal mart is only good for fishing lures and

Kenneth Baggett Jr
from Tallahassee, FL
I was arrested 9-1-2017 for shoplifting a wallet. I was purchasing a wallet because mine was stolen earlier . I removed the small case from wallet and placed it in the top seat on my buggy so I could pay for it when I checked out with my other items, I needed to put my money up in it while I was shopping , don't want it stolen. My mom came and placed her purchases on the case , she was to buy it for me. We walked to garden center to check out and watched a man with a buggy full of items walk out the door without paying! the cashier called out to him, chased him down but never got him. she came back and checked me out. My mom was checking out when I was walking to the truck. I didn't think anything of it because she was buying it for me. These two people that couldn't catch the first man grabbed me by the gate and accused me of stealing this wallet! The case had fell out of my moms stuff on the floor and we never noticed it!! It was a mistake! mom treied to pay for it but they refused and took us to the breakroom in front of all the employees and proceeded to yell and threaten my mom with the police, she was very upset and wanted to explain it was a mistake but they told her to sit down and shut up. I went on in the back with this woman where she had me arrested. the man, 100 as they called him, continued to threaten my mom. The assistant manager was mean to her as well. Our friend witnessed this as well as all employees did, this was a mistake, an accident that this fell out and my mom tryied to do the right thing but they were were rude and abusive to her and her feelings. I aslo know this conduct is against the law to conduct this situation in front of emloyees and I have contacted attorneys and await their decision. This is unnecessary. we deserve better. I got arrested for this dumb action. you need to call my mom at 601-754-3988 or email Rosalie_1955@yahoo.com

Tabitha Eldridge
from Lakewood, WA
Is Wal-Mart not a supporter of the no shirt/no shoes, no service? I am appalled, disgusted truly offended. Grown men walking around in Wal-Mart with no shirt on! Wal-Mart, not the beach, not on a boat,not in their own home, in Wal-Mart! No one employee said a thing. Well I did, as well as asking your security( haha) what the issue was with them not telling the guys to get dressed or get out. Really? I am not happy and spend my money in your Damn store. Fix this issue,fix it now.

Sherry Andrews
from Arvada, CO
I, shop here a lot and today 9-1-2017 at the Walmart at 7700 W. Quincy ave. Littleton, Co. 80123 , I, asked for help to get some baby food off the very top shelve and it was also pushed to the back of the shelve. I ,spoke to a very nice lady that was working by the dressing rooms,and asked if someone could help me. She called for a manager, and the name on my receipt is Jessica Tinoco. When she came, I, told her what I ,needed and right away she said that all the food was in reach, and I , said no, not the ones I wanted, and the nice lady asked her if she needed a step stool and she said no,then when we got to the food I, needed she seen that she did need the step stool. She, was so mad that she was wrong about the food being on the top shelve out of reach, and had to help me. I, felt like I, was such a bother and cried coming home. I, have never been treated that way at any Walmart's before. Just needed to let you know. Thank You Sherry Andrews

Esther Blount
from Brooklyn, NY
Order number 4761855-873004
I ordered of three bikes on 7/24. Two of the bikes arrived immediately the third bike came to the store on Tuesday 7/31. Since that time I have been calling the store everyday, as I requested that the bike be put together. Everyday I am told that bike will be put together before the end of the day. Today 8/2 when I called I was told by Fred Becchetti that the person who puts bikes together is not there and will be there tomorrow. He also informed me that it is Walmart policy, that they have seven days to put bike together. I was never told this in all the time I was calling. I am very upset and I my grandson didn't not have his bike for his birthday. Also I have been left on hold up to 45 minutes waiting to resolve this matter. Today I have cancelled my credit card with Walmart.

SHERRY A. WILEY
from Honolulu, HI
8/1/2018 I went to the Walmart Store on Ke'Eamokuo, Honolulu, HI. Evrerytime I go into this racist store, your employees follow me around the store. Today at the self check out your employees had the nerve to get with other stalkerish customers and debate if I was going to steal the items I bought. Every time I go, your racist employees slander me by making comments about me not being able to pay. Every time. Slandering me and causing other customers to look my way as if I am anticipating stealing. I'm looking for an attorney to sue this store! Sherry A. Wiley

Paul Croteau, 4725 E, Brown Rd #73, Mesa, Az 85205 MY ORDER #471185331284
from Mesa, AZ
I am a Disabled Senior and have shopped at Walmart for many years and I cannot believe how poorly I have been treated after ordering a Samsung phone and combined with Walmart Family minutes plan.The total order came to $118.95 and I only got the phone which was not the phone I ordered as it did not arrive with the blue tooth or hearing earphones on the website. I contact customer service multiple time without any help I went to the local store twice and no assistance. They are telling me the minutes came by electronic mail sparate from the phone. The only refunded the cost of the phone $86.43 and claim they send me the minutes and the can not send me any copy of the electronic e-mail these so called minutes proving they sent them but the also say even if I have received them it would have be too late to get a refund for them 4 days after thew order was placed. I feel I have been treated very poorly and I am asking for the additional sum of $32.52 not returned to me. This transaction was placed on my BBVA Compass credit Card #4638 2900 0073 1934 exp 02/21 I would appriciate if you would look into this......tHANK YOU pAUL cROTEAU 480-696-4138

Jeanette LeVesque
from Minneapolis, MN
I am very angry and frustrated. You have the very worst customer service I've ever come across. The same guy in India made me keep telling him things I'd already told him, then he hung up. He had already hung up on me once. His name was given as Allen Jordan ( not exactly an Indian name.) I also spoke to a woman at the roseville store and told her my problem and she put me thorough to a number that did not answer, just rang and rang. Yesterday I got on with a foreign woman that didn't give me her name. She talked so fast I couldn't understand her and asked her many times to slow down so I could understand her and she did not comply. I asked to talk to another agent and she transferred me to some vendor of Walmart. I was just going to place an order of about $200. I didn't shop at Walmart for years because of their horrible treatment of employees but decided to try. I think you have just lost me again.
Jeanette LeVesque

JOYCE MCNEIL 13707 GILBERT ROAD WOODBRIDGE VA 22193 703-593-9902
from Lanham, MD
On July 28,2018 at 1044p, I visited this walmart and had the worst experience ever. while shopping I came across some bathing suits that were on a rack not 1 or 2 about 20 priced at 5.00 with a sign posted. To be sure of what I was seeing I took to the self service counter and asked one of the employees to check for me it rang up 13.00. I informed her of what the sign read and showed her. there was another employee named Edwin who informed her to give to me for 5.00 because of the sign..I had more shopping to do so they told me to inform the cashier. when checking out the cashier rang up 13.00 I let him know what was said he call the Manager ElSA who would not give her last name. I told her the whole story again and went to get the original cashier who was told to price at 5.00..Elsa stated Edwin was not a manager and had no authorization to tell me or the cashier the price and she would not change and proceeded argue with me in front or other customers and employees not a good example..(unprofessional). I have work in customer service for 40 years and shop at walmart 2 to 3 times a week.....NOT A GOOD LOOK!!!!! FOR $5.00

Milton Allen
from Northport, AL
On July 28,2018 I discovered that there was a leak in tire for which I had a warrant. I took care to the Jasper, Alabama Wal Mart Auto Center. I spent one hour there and was told that there was no leak found in tire. I continued to a funeral in Heuytown, Al. Coming out of Church I discovered that my tire was completely flat. One of the members had a pump and blew the tire up. I proceed to your store in Heuytown,Al. I explained the problem to one of your employees in the automotive department. There was also a lady that had warrant . I watch people come and go. After sitting there for five hours I demanded to know about the tire. I was told that there was no leak. They called their self showing me. I had to pay full price for a brand new tire. I asked that my old tire be put back in my trunk. The tire that I received does not look like mine. I am very upset by this ordeal. I did not get good customer service. The email address above belong to my sister. You may contact me on it.

Kelly Miranda
from Prince Frederick, MD
The Walmart Pharmacy in Dunkirk Maryland is the worse. The only reason my family have kept going there as long as we have is because of the tech PJ. After Fridays on July 27th and today my family will no longer get prescriptions at any Walmart. I tried to pick up my prescription Friday July 27th that was supposed to be ready several days earlier. The lady named Diana was extremely rude. She did not even attempt to force a smile on her face when she told me it was out of stock. Mind you this is after I was waiting for my husbands prescriptions for several hours that were suppose to be ready by 1:30. This was after 4pm. (They tried to tell me I would have to wait until after six pm for my husbands prescription due to be short of staff). I told them I could no longer wait for my husbands and needed them now. When I got my husbands prescriptions that is when when Diana told me mine was out of stock and will be in Monday. I just called the Pharmacy at Walmart in Dunkirk Maryland to make sure my prescription was ready. When the lady answered the phone she did not give her name so I asked. She said her name was Kathy. When I told her I wanted to make sure my prescription was ready she rudely told me no its not because are very short of staff. I told her that was no excuse because it was suppose to be ready last Wednesday and then I was told it would be ready today. She said " well I don't know what to tell you because we are short". So I told her so you are telling me I was lied to Friday and it was in stock. Kathy said again I don't know what to tell.
There is no excuse for this behavior what so ever. I have never been talked to like that from any company. This was horrible service and I will make sure I spread the word in this small community. Shame on Walmart for letting their employees treat paying customers like this.

Teresa Harris
from Miami, FL
On July 29, 2010 I was to meet my son in the furniture area to get a futon, when I arrive he was standing with an VERY RUDE employee name Duane. I have NEVER been so poorly treated and spoken to in that manner at Walmart by any employee. I am in that store on a daily basis sometimes twice per day, I have come to know some of the employees. This guy seems to be new as I have never seen him at this location before which is 5555 W. Atlantic Blvd, Margate , Fl. I am applaud. We were purchasing a futon which was in a very large package, he got the dolly for transport but he refused to assist in taking it to the car. It was raining slightly and the thunder was loud. However it wasn't raining hard. He said to me "I'm not going outside and getting wet" I said, that's no way to talk to a customer, you are suppose to provide 1005 customer service. He said again" with an expression on his face and his mouth twisted "I'm not going outside Period!" My son took the cart and roll the merchandise out thru the garden area where I was parked and I went to report him to the Manager which I did speak to Vade and she seemed not to care either, so that's why I'm turning to you for your assistance. If these young kids don't want to be bothered by customers then they have the wrong job. Thank you for attention to this matter.
Teresa Harris 954-294-9902

Lloyd Pritchett
from Ellijay, GA
I took a prescription to the Ellijay, GA. (store # 1070) for a 30 day supply of Tramadol. The pharmacist called me to the consultation window and the conversation was this way: Pharmacist- Why did the dr. write this script for you? Me- I hurt my knee. Pharmacist- did you hurt it yesterday? Me- no I hurt it 2 weeks ago but I waited until today to come to the dr. Pharmacist- I can only fill this script for 7 days worth of Tramadol or any other pain medication. She had no right to ask all these questions. It's none of her business! All she had to say was I can only fill this for 7 days worth of medication. I will never use a Walmart Pharmacy again!

Carolyn H Landreneau
from Jena, LA
We purchased a pound of Jimmy Dean breakfast sausage at 10 am this morning from the Ville Platte Wal Mart. When I opened it, it was rancid. There was no visible "sell By" date on the package. We live 15 miles from the Wal Mart, so I called to speak to a manager about the problem, hoping we wouldn't have to drive to town again today. The first time I called, I was put on hold for 6 minutes, at which time I hung up and called again. The second time I called, I was on hold for 15 minutes. I gave up again. In my experience,the Ville Platte store has a few good employees, but many are indifferent and appear to be "put out" if you ask them for service. Whoever answers the phones there had to be aware that my call was not answered. I called a third time and was transferred directly to a manager's office this time. No one answered after 35 rings. Wal Mart can be convenient, but next time I'll use one of our small local groceries. There's no excuse for selling rotten meat.

Bill Erickson
from Minneapolis, MN
I shop Walmart a lot BUT that will be changing very soon! You have changed the deli department for the WORSE!!!!!! you had great products Like Hoffmans Super sharp cheddar cheese and many other very popular items and now you discontinued them! STUPID!!! guess we will have to go elsewhere to get the products we want!!! By the way, your staff is VERY unhappy with you also!!!! It is showing in many departments!!

Ailsa Winje
from Brantford, ON
I applied online & received a Walmart Mastercard in the mail. I activated it & used it to rent more points for our Bluegreen timeshare. Our air conditioner quit working on us so I tried to buy a new one with the card shortly after that without even coming close to the limit on the card & it was declined. Extremely embarrassing but I thought it might be because I tried buying it in Oakville & I live in Brantford, ON. So I thought I'd get a much smaller unit in Brantford at Walmart but the same thing happened it was declined. I phoned Customer Service at 1-888-331--6138 & they put me through to Security, I was informed that they didn't have all the information they needed. "Strange to send a card to someone if they didn't have the information they needed wouldn't you think". Anyway I faxed down a copy of my driver's licence & Notice Of Assessment from Revenue Canada as requested on July 17th & was told it would be reactivated 5 days later. I phoned again on July 25th to check if it was activated so I wouldn't have to suffer embarrassment again & found out that apparently the fax was too dark so the card still wasn't activated. I just faxed another copy down from a different fax machine & again I was told it would take 5 days to activate it. What I don't understand is why would a card even be sent to me & activated if they didn't have the information they needed? I figure they won't activate it because the fax will be too dark again so I will just pay off what I have used when I get the bill, I'm planning on sending in some hopefully on Friday but I haven't received a bill yet. If the online application is going to cause all this much trouble I suggest you take it offline. I was going to use the Mastercard to pay on my maintenance fees on my Bluegreen timeshare but doesn't look like that will be happening. I'm extremely displeased with this whole mess!

charley ropp
from Melbourne, FL
Bought my tires though Walmart sat a appointment up 5/18/18 they charged me for new stems not all are new. tire is leaking rear pass. side. weights fell off 2 of the wheels called to make appointment was told to just show up early and take my chances. this Walmart was #03538 service order#485700-41377

Tyrone Howard
from New Windsor, NY
I purchased a potiable jump box from Walmart it ran around 100 dollars plus tax. I had it about 4 months an it just stop charging an jumping vehicles. S o I decided to return it to the store today 7/22/18 just to exchange of course I don't have my receipt. Ok so the store is all out of the same jump box that I have . No big deal, but now they (employees at Walmart i.e. supervisor during the day shifts) acts like the jump box didn't come from wal,art telling me she cant give me store credit without the recipt an the product number to the jump box . S o I go an get the same brand of jump box that's smaller then the original 1 I purchased , she continues to tell me that she can not help me even though I proved clearly that the jump box came from Walmart. I FELT TOTLLAY DISRESPECTED BY THE LACK OF CUSTOMER SERVICE I RECIEVED AT THE NEWBURGH NY LOCATION BY ALL PERSONS OF AUTHORITY. Im a quality customers who shops there frequently an feel as though , as a faithfull customer to Walmart the situation could have been handled better. The supervisor then tells me she cant give me back the 100 dollars an change I spent on the jump box cause its a lot of money . it is a lot of money when I spent it an the product is malfunctioning already. Plus walmarts a billion dollar corporation im sure a store credit of 100 will not effect day to day operations . Sincerly ANNOYED BEYOND BELIEF CUSTOMER!!! A TIMELY RESPONSE WILL BE GREATLY APPRECIATED.

james
from Louisville, KY
Went to store on Greenbelt Road Louisville Ky. Was going to buy Bluetooth wireless headphones. The store had a display set up. Seen what I wanted so I found the person who was suppose to be working that section. First off she says we don't have wireless headphones, I pointed to the display and also box in glass cabinet. She points at earplug type. That is not what I wanted and pointed at box I wanted to see. She finally takes her key and attempts to open. Then tells me they need to get a locksmith. Not a happy young lady. Not helpful at all. Went over to market side for groceries. Seen a employee leaning against a stack of something on phone. Ask where a manager was so I could complain. He said he was. Told him about problem and he tells me that they have called ab out 15 times to have it fixed. Bad service for a multi billion dollar company. I was at that store around 1130 Saturday the 21st

David hook
from Cleveland, OH
Store in Biddeford always it of product and getting worse. Thank you for converting me to another store. And carts are terrible. You have a manager to comfortable in that store

This is for store #1659
I tried to return a tablet for another better one with no receipt. Since it was a gift, I did not have a receipt readily available.
I get it, it's a little bit sketch (The seal was still intact and the tablet is clearly unopened). The first CS rep told me she had to get a manager and I told her immediately I could come back later with an actual receipt from my gift giver since I lived so close. She insisted on getting a manager anyways for approval.
Ok... I thought, if it would save me a trip back, I will wait for the manager. The manager comes and tells me right away that I would be getting less than what the online store price says. I was taken back and argued that the online Walmart sold it for 10 bucks higher. However, at no point did I curse, name call, or even yell. I may have matched my tone with his but nothing more.
He then proceeded to tell me that if the item is more than 50 bucks, they cannot even do store credit without receipt. Then he flashed his "I'm a manager card" and said "Its up to my DISCRETION to help you".
I was already ready to go home, but the way this guy was talking to me it was incredibly patronizing. So I decided to stand my ground in principle.
I told him that NO WHERE on Walmart's page does it say that about the 50 dollar max amount. Check it out here:
http://help.walmart.com/app/answers/detail/a_id/121/related/1
I must have accidentally insulted this guy's mom because he right away decided to shut down on me and told me verbatim "I'm done with you!"
So I told him I needed this escalated. I wasn't going to let this guy working in customer service of all places to treat me this way. And trust me I worked in retail and never in my dreams would I ever speak to a customer like this. It doesn't matter if they guy had a bad day or maybe another customer was a pain in the butt. You don't do that to customers.
Second manager was much nicer and much willing to explain things to me but still was unrelenting to give store credit. I was much more satisfied with her answer partly because she treated me like a human being. The other guy, Ron, treated me like complete garbage.
However, my biggest problem is that if you read that link, no where did that say anything about 50 dollar limit. Why would Walmart not follow their own policy and what's worse is that these managers are so arrogant to assume they know all the policies when a simple google search proves otherwise.
All it says is that if the product price is more than 25 dollars, they can only give store credit or gift card. Needless to say there is a reason why I do not frequent at Walmart. However, from now on, I will only go to Target and if managers at the store is reading this, yes I will also make a complaint at Corporate. This kind of customer service is simply unacceptable.

I was at Walmart in Richmond Indiana and got two 2 liters of Mello Yellow. I lost $14 in the store a ten and four ones. When I asked for help in finding it.I was pffered no help at all. I never felt less mportant as a customer . I was only in the store for a couple minutes so they could of viewed cameras to see where it dropped and who fpund it. The only thing I got was a sorry. Ifl it would of neen their money or item they would of done something. It was money I needed. I shop their couple times a week, but I will not now after the lack of help and compasion.

Susaln Belzi
from Nashua, NH
A little after 6pm today 7/19 I was ending my shopping at your store in Amherst NH. I went to cash out, there were 2 people ahead of me. There was an elderly woman on the register ( I have seen her there many times). When it was my turn a new cashier was going to take over. For the first 5 minutes I had to listen to the cashier coming on complain to the other cashier about her having to do this and that and something about being pregnant...all I wanted to do was pay and be on my way. Well first I had to hand her a personal size watermelon because when I put it on the belt I notice a soft runny spot :( I really craved water melon to). Anyway she starts ringing me up and she had a horrible attitude. She was slamming my items into the bags. My son (not a child he is 38 years old) was walking up to put the bags in my cart she would not spin the bag carousel she just kept slamming the bags on top of it he was pacing because the way she was banging my items was getting him angry and he did not want to make a scene. She continued to slam them. I paid, started to leave saw that a woman manager had come into the little area where they have the cigarettes and said to her and I quote " Your cashier behind you on register 15 has a Piss Poor attitude." I work in nursing in a nursing home and am always shopping there for soaps, goodies to munch on and clothes for my patients because they struggle. I am always at the pharmacy I at least 2 times a week getting groceries and have NEVER ever been treated so poorly. It makes me want to change pharmacies and go back to Market Basket for groceries. Oh yes and when I got home and took out the jar of pasta sauce I bought and paid for and wanted to cook, the jar had a crack all the way up the side of the jar and that is when I really got pissed off and decide to send this complaint. We couldn't eat it because I did not know if any glass was in it. I went on to my banks web page to see how much money I have spend at your store in just the past couple of months and let me tell you I shop there often. I wish I could say I would never set foot in that store ever again but that is unrealistic but I will tell you this I will make certain that my visits will be a heck of a lot less.I do not want an e-mail from you with a sob story as to why this happened I just want you to know that this happened and I am sure it has happened many times over because it is allowed to happen. I should have just thrown my arms up and walked away but after working so many hours one just wants to shop, pay and carry on.

Neil Grimm
from Americus, GA
I have been shopping at the West Macon Walmart for about a year. I usually go two or three times a week. I have always used the self service check out because they never open more than three full service registers. Yesterday I went to check out at the self service check out and was told I could no longer use it because I had to many items. There is no sign stating there is a item limit. I talked to a manager and was told that to many people were not scanning all there items, so you can only use the self service for a few items. There were four registers open and no one waiting to use them, but they still would not let me use it. I had to go to a full service line and waited almost twenty minutes, just to get up to the register. When I left I had to walk by the self service check out and out of the eight registers available, only three were being used and no one was waiting to use them, so the girl who was working that area went to the restaurant to take a break. This is totally stupid to have forty eight registers and only three open, eight self service and no one there. Taking my business to Kroger.

Andrese Al Wakeel
from San Diego, CA
I was called to the management room by the manager( Alberto Adams), in the presence of another manager( Faiz Esho ) fluent in Arabic because he is an ArabIc. Alberto claimed that I stayed in the break room more than 15 minutes and when I asked him to prove that .He said that there were spies told him that I stayed more than 15 minutes . I asked him to confront these spies face to face and I told him maybe those hate me or lie, he refused. But he said there were cameras in line with the spies' words. I work in the maintenance department and it is my duty to clean the break room and wipe the tables throw out old food, open cans and prepare cups for coffee, which may take the rest of my work.Alberto practices a racist policy with migrant workers from Iraq and openly contravenes ( California Discrimination and Harassment Prevention Policy.Alberto is not a direct manager. .My departmental manager respects me and gives me a report that I am a good worker.

Robert owens
from Macungie, PA
Wal-Mart store in Williamsburg, va #03219 op# 006353 te# 01 Ye# 06801 is the receipt on 07/15/18. We bought several items and was over charge on 3 remotes of cloth over $30 dollars.so I call the store when we got home for the mod, manager on duty . They never pick up. Then I call the complaint line which all they said the store will call you back in 1 to 3 days. I am not happy having to drive all the way out to the Williamsburg store. Today we had to go to Newport news, va to see our lawyer and saw a Wal-Mart there. We stop there to get the corrections fix. The assaint manager we had to go to the Williamsburg, va store to get it correct since that store mess it up. That is not fair. I have to waist my time and gas to fix your store screw up which over charge me $30 dollars.so I will loss more gas money and time cause of your incompetence employee.
What can you do about this?
Robert C Owens Sr.
201 tam O Shatner Blvd apt 25A Williamsburg va 23185
484 354 5781

laurie baker
from Blenheim, ON
your corporate office has reduced the hours of our store, it now doesn't open till 8am. I work 12 hr night shifts and would stop daily on my way home from work to pick up items for supper, school lunches, or work lunches. my shift ends at 7:30 and Walmart was the only store in my town open at that hour. There are aprox 200 people getting off work each morning and nearly every face I saw in the store was from the factory where I work. I guess saving a few dollars by opening later is better in your eyes than the huge inconvenience it has created for my small town. I live in napanee Ontario, many of the people from my plant that were shopping there at 7:30 am were from much larger towns on either side of it that simply wanted to pick up things their family needed and go home to bed,

Wilfred Hinchliffe
from Ocean Isle Beach, NC
The check-out policy in this store.(and I'm sure like many of your other stores)…….they have in this store at least fifteen (maybe more) I'll call them stop and go check-outs...you check out your items yourself...…..no one is going to tell me that they were put in your stores mainly for the convenience of the customer. Some people like them, most don't. You want to go to a register where a Walmart casher is and find that out of twelve registers,only three are manned.(Waiting again in long lines (happens a lot) I guess Walmart is saving a lot of money on wages they don't have to pay out.....right??!! just a guess. anyway myself and others would like to thank Walmart for the inconvenience...…………………………..We'll find another store to shop at...…..I'm sure this will bother the CEO's a lot.

Cherie Wirth
from Grants Pass, OR
I am very unhappy & disgusted with Walmart on line ordering. I placed a very simple order (I thought) but it took a total of almost 2 weeks in several separate packages before they were all received. I hate the fact they do not all come at one time. I think it is a way of Walmart to scam the customers. You get so many "little" boxes at all different times you forget what you originally ordered a couple of weeks prior! The 2 day shipping is a joke! There is really only 1 thing that Walmart carries that I can't find anywhere else but I will NOT order on line. I will go into the store & get that item & ONLY that item!!!! My other on line shopping I do through another retailer who not only sends it all at once but I get it within 2 days!! With free shipping also. The last order I placed was order #4511891-522393 on June 29, 2018 & I finally got the last item (I think) on 7/13/18....2 1/2 weeks later!!!! That is so insane------I now see why Walmart is getting such a bad name. I still don't know if I received everything because they were all spaced out so much.
Cherie Wirth

Michael hreene
from Chicago, IL
Need to tell your checkers to stop talking with other employees about their personal lives to each other and check people out, in line so long, frozen pops were melting, no excuse for such lousy service. Had to get them replaced

L Eudy
from Albuquerque, NM
Last month 6/08/2018 I shopped at Walmart on Academy NE in Albuquerque, NM and spent $178.58. The cashier was very rude, I asked if he could please bag my 2 bottles of apple juice which he had laid on the upper part of the bagging area. He said if I wanted it bagged I could do it my self. Also he laid on the upper area a pizza and a couple larger other items which I DID end up bagging myself. I was shocked and very upset and now wished I had left everything behind. I have shopped there again but will stop going so I don't have to be humiliated a second time. I'm sending a few numbers from my receipt so maybe you can locate this rude person. I 14 appr#008893, ref# 1042000314, trans ID 308159685382474, Validation zlfb, Aid a0000000031010, TC d054ef34aba121f6, Terminal # sc010928. Hope this helps find this person. Also while he was checking me out he was goofing around with other female employees. Thanks for your time. I'm NOT a person who complains but this experience was not acceptable.

Ryan Westenberger
from Anaheim, CA
i was stopped by asset protection about 3 weeks ago #1 i was stopped while exiting the first set of double doors AND garret (lp) had stopped me i was basically not even out the door yety he told me to follow him we went into office and he said he would explaian everything i y thought i had haD got home iNOTICED I HE DIDNIM IT WAS THEIR RESPONSIBT GIVE ME BACK MY LIC 2 1/2 WEEKS LATER THE MGR BASICALLY TOLD ME OH WELL I TOLD MGRTTING IT IN THR PROPER STORAGE OR LOST AND FOUND THAT IF THEY LOST MY ID OR DIDNT PUIT IT ANYWHERE SAFE THE MGR HAS SAID HE WILL CALL ME AND NEVER HAS L/P WAS IRRPONSIBLE UPON THEIR BEHALF FORPUTTING MY DOCUMENT IN A SAFE PLACE LIKE THEY DO EVERYTHING ELSE I HAD JUST GOT MY LIC 2 DAYS PRIOR TO STORE 2546 BACK TO ME ON THIS MA6TTER IRRARATABLY MIS PLACED MY CARD ALL I WANT TO DO IS BE COMPENSATED FOR MY LIC COST 88 DOLLARS SOMEONE NEEDS TO REIMBURST ME OR ILL GET A Lawyer cause he didnt give it back to me that very poor customer service and not fully doing his job polkease contactb me @ ryanw714@gmail,com or 7146766140
thank you mr. ryan westenberger

Bonnie Rains
from Ruidoso, NM
The Ruidoso, NM store is in desperate NEED of HELP! Store shelves are not being stocked! Cashiers are in very short supply (and I am one of those objectors who refuses to self-check) - People do need work, and if I succumb to the wiles of corporate greed it only helps YOUR cause. Check-out lanes (the few that were open) were backed up which caused traffic jams. Of course, the garden center check-out was closed, adding to my frustration. I think I can get away from Walmart shopping altogether by using the dollar stores for cleaning supplies and buying groceries at the supermarket. If I see an improvement on my next trip - I will reconsider. Bonnie Rains.

Donna Clark
from Halethorpe, MD
Most recently I have been unable to get my regular products at Walmart since their reorg I guess you would call it. I use Suave hair products in the pump containers, none of which are now available and there are no comparable unhealthy aerosol options there either. I always shopped your Faded Glory and other regular Walmart clothing brands and now I find that everything available is either horrible lookin or nylon, haven't bought any of the new lines - poor designs and horrible patterns. I still see some t shirts from before and do purchase them. There are a few Walmart brands of pharmacy items that have been absent from the shelves since April. I witnesses a manager scream at a salesgirl for opening a register to assist senior customers trying to checkout because their were people backed into the ladies department - there was only one register open. The manager was telling people to check themselves out there was someone in that area to do it for them. Customer friendly at Walmart is no more. I personally have been cussed out by an African American manager AND 3 or 4 of her sales force - wrote to you and NEVER got a response. Is Walmart trying to go out of business. Most of the time associates are in isles sitting on their phones or doing anything but work - don't they have an employee room for that when they are on break Or they are screaming and playing grab a__ in the isle - Time to wake up and take note - My apologies to those at Walmart who are helpful and do their jobs because they are the only ones keeping you going. One more question Does Walmart have a dress code for employees???

kris
from Fredericktown, OH
I have shopped at Walmart in Mt Vernon Ohio since it opened. But after this past week, I will never shop there again. The things I have witnessed and heard from employees ( who are afraid to come forward) are very unacceptable for an establishment in this community! I have been a store manager for another company for over 26 years and I NEVER treated my employees in such a horrible manner! I watched the "store manager" yell, disgrace, demote, and talk in a manner that would be classified as "abuse" to their employees. And ON the sales floor .... in front of customers and other co-workers! These are things that need to be held in private. Although I am sure this is not what your company teaches, it should be held responsible. Due to this action from the "managers", the employees aren't giving the customer service as they did years ago. I believe you should investigate this further. I felt sorry for these individuals being humiliated in public. This is very wrong to treat people like this..... thought Walt-mart was a family ran business?
I will be waiting for your reply.

Rafael Galarza
from Layton, UT
On 7/6/20018 I was in Bridgeport, Ct. I bought at Bridgeport Wal-Mart to set of cell phone. Straight talk LG one for me because the one I had the battery was not good. and one for the ministry. I came back home to Fort Valley Ga. on7/12/20018 and turn in the new Cell phone to the office but unfortunately it was not the one they needed. I went to the Perry Ga. Wal-Mart store to exchange it. I try to explain to the agent what happened and as soon I told her that I have misplace my receipt With out hesitation she said that with out a receipt there was nothing she can do. I ask for her manager. Mrs. Lashandra came and said the same thing, I ask for the complaint number and she just verbally gave me the number and she reply that she will not loos her job over exchanging an electronic product and that she will supply me with the Return/exchange policy. Miss Kayla came back she did not introduce her self to me. But she handle the police to me and show me where it said that with out a recipe they cannot do the exchange, She also said that they tell every customer about the policy. But that is not true. Miss. Lashandra had an attitude, the first agent I talk to said that she did not know that if the product been stolen.
But your Policy state that a customer can exchange the electronic device. That was not explain to me or even try to help me on what they can do to solve my problem. It is very un professional service that your department has. the will not care a bout the customers and the manager nor her employees are aware about you return policy completely only on portion of it.
After I got home red the full policy I whet back to the store the manager on duty had no idea about exchanging merchandise with out the receipt. and to bring him your copy of your Return policy. I told him that the manager had provide me a copy of the policy but he said he had no access and that he can not do anything for me. If Lashandre already decide that she will jot accept my return.
So I have a device that is not good to us thanks to walmart policy according to Mrs. Lashandra and Kayla. Also the evening manager said that there is no way for walmart electronic department find out where the product was purchase.
Your store history said that you are only one organization own by the same family. I feel that the electronic department in Perry Ga. do not meet the customer service expectations and do not provide the customer full professional and positive attitude to customer problem solving.
The staff roll the ayes up , they will walk away and manager will do the same and will not come back to assist me.

glen burt
from Jefferson, GA
had brain surgey paid off my Walmart card what they told me but I owed 11.00$ I got cancled on the card I will not to Walmart any more

william meneese
from Louisville, KY
I went shopping at Walmart at 3:00 am July 12th. I usually dont complain but every aisle I went down there was a walmart worker. Nobody said Hi may I help you and some just glared. You might want to talk to the manager, to train his workers better or have them work where they dont come in contact with people. I was at 175 Outer Loop, Louisville,Ky 40214.

Patricia Schilz
from Spokane, WA
I have applied for a Walmart Credit Card twice in the last two months and I have not received any confirmation on either one. I have attached a screen print of the application receipt thanking me for applying for a credit card with a reference number. I have called customer service twice and they said I would receive a confirmation in an email and physical mail, but have not received either. The last call I made today they said they were unable to send me an email but would send me physical mail which could take up to 20 days to receive. Could someone please help get this problem resolved? Thank you for looking into this, it is much appreciated.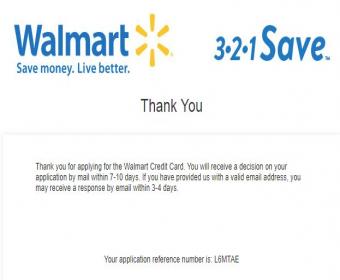 Donna Bazzell
from Santa Clara, CA
About a week and 1/2 ago, I purchased and loaded a Walmart Visa Debit card, initially for the purpose to use for Xbox online game play for my grandson. I registered the card and was told that I could use the card in store in person only until I received the personalized card in the mail. Over this past weekend, I attempted to make a purchase and the PIN which I know was correct was declined. Several attempts were made and finally the store employee assisted me as I used a bank card to complete my purchase.
I did find out that although I loaded the card for $20, that a $5 monthly maintenance fee automatically was subtracted and so the balance is now only $15.
After calling the number on the back of the card and receiving absolutely no assistance or resolution due to it being fully automated as I made multiple attempts to speak to a live customer service person. I called another number found online and spoke with a "Lee" who was helpful and explained to me and apologized that I was mislead about the card. She said that I would not be receiving a personalized card in the mail as when the registration is completed, the system decides either you are allowed a card to use and a personalized one will be sent or you are categorized as only being able to use the card with the balance on it and no more. This is so ridiculous and I was definitely mislead. How can a debit card that is reloadable be denied? That does not make any sense whatsoever. She has inormed that a refund for the card balance is being sent to me.
My fiance' who had absolutely no credit at the time, purchased and registered the card several years ago and had no problems at all, still utilizing it at his leisure.
I have good credit with multiple bank and charge cards in great standing.
Advertising these cards as reloadable Visa debit cards is false advertisement because if the only way money can be put on the card is by the customer doing so, how can they be denied that use when before purchase does not at any time inform it can be denied.
I am a frequent Walmart customer, have been for many years, and I am now totally and thoroughly frustrated, disgusted, unhappy, and prepared to report this situation to BBB as well as to several local newspapers. As a state government Business Services Manager, I find something very wrong about this.
What kind of scam is this?
I would like answers please.
Thank you,
Donna Bazzell
502 807-7575

Missouri Glover
from Charlotte, NC
July 10, 2018
To Whom It May Concern:
My husband and I shopped at your Walmart located at 3240 Wilkinson Blvd, Charlotte NC on 07/06/18. We bought two large packages of skinless chicken breast, 022763040810 cost $8.10 and 022763070935 cost $9.35. I put two of the breast in my crock pot on Friday and they are still cooking today is Tuesday. Those breast are as tough as an OX's rear end, what are we suppose to do with them, the more they cook the tougher the meat become and we can't take them back. It is a shame that kind of meat is put on the market for customers to purchase especially when we are on a fixed income. We spent $169.02 cash money thinking that we at least we has enough meat to last through this month and now we don't, stop putting BAD MEAT OUT THAT PEOPLE CAN'T EAT!! Thank you
Missouri Glover

Yesterday, Thursday, July 5, 2018, sometime during the evening, my wife and I purchased some items at the Walmart store located in Brawley, California 92227. As we paid for our purchased items and headed to the exit door, we were stopped by a female employee, who asked us for the store receipt. My wife asked as to why she was doing this, since the store is not a membership business, such as SAMS or COSTCO, where you are required to show proof of membership when you enter and exit facilities. The employee stated that she was doing her job and for us to take our complaint to their main office. I do not think that this is proper customer service and or a proper way to explain as to why this store is conducting business contrary as to what other stores do. If I want to be examined as to when I enter and exit this store, then; I rather pay for a membership and conduct business at COSTCO instead. Note: I noticed several customers displeased by this action conducted at your establishment. Thank you.

Bryan Keith Freeman
from Bangkok, 10
I am in Thailand, my brother is in Arizona, he went online to send me some money through MoneyGram. I went today to get the money at the bank here. When the teller entered the Ref # she got "Please call the Moneygram Help Center to complete this transaction." She called them and after a few minutes she handed me a phone number in America to call. She said that they would not tell her what the problem was. So I called and got a lady, she said the system was "Down". But the way she said, the tone and the nervousness in her voice told me that she was not telling the truth. So I hung up and called again. I got Jeff Spikoly from Fast Times at Ridgemont High. Not only did he sound like I either woke him up or he was higher than a kite. After I explained the situation a few times, he finally got it and asked for the reference number which was already given twice. He then told me that my brother did not complete the form so my brother needs to contact him. I told him that my brother did it online and that he has a receipt for it. Showing the transaction was completed and got a reference number. He said that my brother needs to contact the help center. I asked if the number I was given would work as I am in Thailand and he is in the states. He asked me "which number did you dial?" OMG, I gave him the number and he said, "Uh, yeah, sure that will work." So I contact my brother and he calls 4 times and got no answer. I still do not have the money and he can not contact anyone. This is what he received:
Your transfer is being sent! Have receiver bring Ref no.31345976 & PhotoID to pick up when ready. http://bit.ly/2FkQcgC for status.

Sam, Soheir
from Hollywood, FL
To Whom It May Concern,
I'm filling a complaint against customer service supervisor her name "Samira" at Walmart store # 02591 in 151 sw 184th Ave., Pembroke Pines, FL. 33029
She was overbearing, Rude and despicable
On Tusday 07/03/2018 at 1:20 PM I try to use moneygram to transfer money to my native country the casheir asked for my social security number which I refused to provide her I told her I did transfer many times I never asked to provide my SS# she said because the transfer money so much I told her what the maximum transfer money I can do without providing my SS# she answered rudely I'm not telling you, I did asked for the superviser, she came with bad attitude without saying hi or either what can I help you, I told her I going to reduce the transfer money to $3,000. Without looking to the computer screen she said I need your SS#, I said to her ok I'll reducet the money to the same amount I did transfered a couple of month ago without SS#, she said very rudly "no" you told me already two different amount of money, I said because you don't want tell me the maximum amount I can transfer money without SS#, you didn't type nothing at the computer or either took the money, she said "no" and turned her back with very low class attitude, I was embarrassed.
She never said "Hi" or "sorry" or "I can't help you or call the moneygram to check how much".
She is unprofessional woman, overbearing, Rude and despicable.
This type of behavior is not at all acceptable.
I request you to look into the matter as soon as possible before the other employees will do the same to get a higher position like their supervisor.
I really greatful that walmart exist in my life I feel safe, comfortable and satisfied when I buy their products on line in terms of price, quality and delivery speed.
My favorite store is the "Walmart" close to my house, so I would like the staff to be an honorable face to Walmart.
Regards,
Sam, Soheir
suesue1010@hotmail.com

Ruth durham
from Arlington, TX
I shopped for my last time at Crowley Walmart . I spend at least $100 a week on pet food and supplies there , I volunteer with animal rescue and appreciate any savings I can get as it helps feed another animal .todays visit I thought yay , got lucky ,30 cents a can for ,13 ounce poultry platter , of course I took all 33 cans but cashier would not honor price,5 employees later ,including 2 that where visiting and supposedly high corporate guys (that where calling to me to have a great day as they refused to honor the price) said I could buy only one can , I should have taken their pictures to post my experience on face book.. I wished I had put back the other $78 .worth of cat food I had in my cart , but had already paid for it while waiting for management to honor the price they had on the shelf .SHAME ON WALMART in Crowley .!!!! What's worse is the disposition of those managers who stood smiling like they ruined my day .by no means , I was prepared to buy it no matter what , just thought I had a lucky day . , but instead they managed to force me not to shop there . I have high ethics and principals that I stand by and Walmart has proven again that they lack morals . It was not me misreading anything , upon me questioning that I could only buy one ,that was not on any item on the shelf stating that .anyway bye bye Crowley .ill spend my money elsewhere

Your PEDO symbolism on the shirts in the boys department in Lewisville, Texas "you want to pizza me" is sic and disturbing it goes to show where Walmart's Moral Value is. You and your company can go to hell in a hand bag. We Americans will expose you and your company for what you really are A BUNCH OF SIC PEDO'S so get ready your times up. #BOYCOTTYWALMART hit em where it counts in their pocket book!!!!! Bunch of SIC DEMONS.

Shirin Purnell
from Sperryville, VA
Location: Walmart store, Culpeper, VA 22701
Date: June 27, 2018
Time: 12:25 and 12:45 p.m.
Where: Bench by a restroom in the front area of the store. After that Customer Service area next to the restrooms.
Today was my last day as a Walmart customer. Our local Walmart's customer service has been going downhill recently. Not sure why but some employees are placed at the exits and randomly stop customers to see their receipts. I understand that some items may beep that would render the checking of a receipt, but being stopped while you already have Walmart shopping bags in hands smells of some racial or some other bizarre profiling to me. I have been stopped rudely last weekend while wheeling out a kids bicycle (their birthday gift) with my little kids and having other Walmart bags in hands. The lady at the door rudely gestured to see the receipt and then didn't even look at it and handed it back to me without any "thanks" or apologizing. What was the point? Can't remember being singled out like that at Target or other local grocery stores we frequent. I had to shudder every time while leaving this store expecting to be pointed at and asked to step aside. Not a pleasant experience at all.
Today was the worst with my mother who is visiting from overseas and doesn't speak good English. She buys all her gifts, necessities and souvenirs at Walmart, and this week alone spent over $500 there. Today I was supposed to pick her up from yet another Walmart shopping spree on my way to pick up my kids from their day camp. Instead I ended up searching for her for 20 minutes since she wasn't where we agreed to meet, and she wouldn't pick up the phone. I was imagining the worst thinking she had some health issues due to her age. Then I finally received a call from her saying that some employee lady approached her when she sat down next to the restrooms while putting the money back in her purse after just having paid for her items, and started asking her questions. My mom told her in her bad English that she was waiting for her daughter and she didn't speak good English. Then the lady proceeded to empty all her Walmart bags (WHAT?) and checking every single item against the receipt my terrified mother produced for her. What the hell? Then she took my mom to customer service and made her wait in a long line while I was losing my mind searching for her. When I finally found them, I got the end of the conversation between the first employee and the cashier accepting refund items at customer service. Turns out that some cheap lip balm has been rung up twice, while the same lip balm in a different shade hasn't been rung up at all by the cashier. Which puzzled even the lady who had to assure the first employee that it was totally fine. I WAS SPEECHLESS!!!! I was so upset, late and mad that I just grabbed my mom and we left. I had to pick my kids and I was late because of THIS?! The lady never apologized, by the way. It didn't occur to me to ask for her name (which I should have), or to see the manager, because I didn't realize the whole ridiculousness of the situation then. Now I am wondering who gives these employees instructions to search bags of elderly ladies who are peacefully sitting on benches inside the store bothering no one. She didn't try to leave the store, nothing beeped, she had a lot of bags with her and her receipt had over $150 worth of goods just purchased. Did she really think someone who paid that much would steal a cheap make up item costing $2? If so, why didn't she take her back to the cashier that made a mistake? What is wrong with you, Walmart? This is how you treat your customers, and in this case foreign tourists???
Like I said. Never setting my foot in your stores starting today, and never letting my foreign guests enter your stores either. Not worth the humiliation and lack of human decency.
P.S. If you are serious about finding out who the employee was, though I suspect the problem is not limited to that one employee only, I could describe her. Or you can always check with the lady who worked the Customer Service desk at 12:40 today. I am sure she remembers.

James Raposa
from Houston, TX
while purchasing tires employee who was doing install got very upset and was throwing tools across the floor and screaming at employees, after getting home I noticed he did not install valve stem caps, and did not replace hub center in rim. Need employee # to watch cameras and check this out. Not the kind of employee I would have working for me. store was in Lumberton, Texas 11 am Josh A 6700 6/20/2018

Judy Ling
from Tehama, CA
Prescription was sent in by doctor 10a.m. I went to pick it up at 12 I was told it would be an hour. I left came back. Asked for the medicine and was told again I would have to wait an hour. I said I have already waited my hour ask the other clerk who took my order, She came over looked at the computer and said you still have 5 min. I have always gotten my prescriptions at Walmart in GA and they didn't have the policy you had to wait one hour no matter if it was ready. I will NO LONGER GET MY MEDICINE AT WALMART CVS HERE I COME.

My girlfriend and i tried to return three items this morning at the lonoke location. There were two employees involved. One was a regular cashier who looked to be stocking in her isle. We greeted her and said good morning we would like to return these the receipt is on her phone. She sighed turned her back and mumbled what sounded like "morning". She began to ring the items up. Then she told me a total. I said no mam we are trying to return these she sighed again and yelled "ms Rita" which was the second employee that came walking up wearing a yellow vest and she said "we don't do returns till 7am" my girlfriend said ok no problem. The cashier snatched the bagged items and laid them on the counter and said we don't do returns till 7am. She was extremely rude and I have never felt like such an annoyance to someone we spend a lot of money with! I do not believe Walmart operates or wants to be known to operate like this. I am
Not sure what we did to upset the cashier but i was also amazed the superior employee in the yellow vest "ms Rita/Nita?" Allowed this to happen and didn't even act like the employee had done anything wrong. We do not APPRECIATE being treated like this. My girlfriend is actually from bentonville ar and a former employee and was shocked at the treatment.

Michael Randall
from Candler, NC
I was in your store on Airport Road in Arden, NC tonight shopping in the electronics department. There you have many TV's playing stuff which is expected but there was one TV on the top shelf that was on some channel that had some black guys doing rap. The language was so bad that I was in shock that the store would be allowed to play something like this. There were children nearby shopping with there parents and it was terrible. I went and complained to the customer service desk and they call some employee by the name of Marc and told him about it. I proceeded to go back to the area and wait to see what would happen. I was shocked that nothing was ever done while I was there which I waited about an hour. Marc and the other employee that finally showed up just stood around and talked. I did not purchase anything from the store tonight and will not shop at that store again. I will be going to another store down the road from Walmart tomorrow and buy what I need. I'm not sure this will even be address but I just felt that a faithful long time customer was completely ignored.

charles cobb
from Mebane, NC
I was shopping in your store and was about to leave when I was stopped by a manager david was his name and he asked out of the blue if he could see my receipt I asked him why without answering my question he goes on a tirate about having the right to ask me for a receipt that might be true while I am shopping but after I pay its mine don't stop me on a hunch I am sorely pissed he followed me around the store he didn't ask for a receipt frankly it was a matter of race profiling plain and simple I want the managers head on a stick I was not raised to be silent to speak out when wronged by anyone

Paula ciletti
from Irwin, PA
You sent me two five dollar gift cards for a bad product i bought .They don't work. And I been trying to contact the mainstay about the gazebo i bought it only lasted four months and it fell apart .I been trying to contact them for months .I paid 200.00 dollars for it it should of lasted longer then that. Thanks paula ciletti .

Patricia Simpson
from Dallas, TX
My sister and I with are grandchildren were in the self check out. We were talking and I paid but truly forgot about my husbands beer at the bottom. My sister was just checking out and I turn to take the cart to her and the woman was standing there and I replied oh I forgot the beer and she just stood there with her arms across her chest smirking. Even when I couldn't find the bar code she offered no help what so ever. I felt bad and said to her I would have caught it and I wasn't trying to steal and as she walked off she popped off and said ya right. My sister was done and we started to leave and she came back stepped in front of my 5 year old grandson pushing his new bike and said loudly I need to see the receipt for the bike which was the first thing that was rung up. I go to Walmart at least once a week and spend anywhere from 150 to 300 dollars. I don't care how far I have to go I will never go there again. Never have I been so embarrassed or so upset. I understand you have to keep your eyes out but it was her very rude attitude that hurts the most. And I'm also aware that she is watching the screens to see what is rung up. I truly felt she was trying to embarrass me my sister felt like she did it because one of granddaughters is mixed race. She was a manager and had the worst people skills I have ever seen. This was at the Harrison Arkansas store and here my sisters and my receipt information 6/15/18 tc#07630779063167289268 time 12:43 tc#11398516894658762727 12:41 tc#72979224918712504515 12:44 if needed this is my phone number and I will save the receipts Thank you Patricia Simpson
Have feedback for Walmart?
Thanks for your feedback!
Sorry. Please try again later!