Walmart
Walmart Complaints Continued... (Page 9)
1197+ reviews added so far. Upset? Call Walmart corporate: 1-800-WALMART

Earl lankford
from Middlesboro, KY
Went this Walmart the park lot was so bad with snow that had remove it was a joke could not find a parking space. Also trouble getting check this girl had to spend , a long time talk to a pal and then had to put bags up had bags in the rake made people in line wait long time for her bad action. Her name was Hattie, this was in the Walmart in Middlesboro ky

I was at the walmart on old national and i really just wanted to walk back out or personally speak to a manager about my service. First walking into the walmart bathroom I was utterly displeased tissue was everywhere no toilet paper water was all over the place and the stalls was disgusting. I went ti the electronic section with my sister to get a tablet and had to wait hours just to even get someone for service then had to wait another half hour just for them to come over. On top. Of that there were no grocery carts I had to go outside in the rain in the Parking lot. lot to get one i need yall to get it together all these new hired employees it should not look like this.

ruqayyah
from Kansas City, MO
Walmart has the worst customer service. They take forever to answer the phones. when they do, they transferr you to the right department while your in mid sentience and all you here is "one moment" They soound as if you have just ruined their entire day with your phone call. Its not professional . Walmart seems to hire anybody these days. S....A....D

David Groenke
from Atchison, KS
Trying to call to see about an ordered item and get stuck on hold for long periods of time and calling back over and over and over and over again with nothing accomplished. Then speaking with the manager about issue to be insulted by them and rudely hung up on. This is unacceptable behavior. This manager's name is Jennifer. This happened around 3;30 p.m. on February 21 2015.

Mel Seymour, Jacksonville, Florida
from Gainesville, FL
I had Walmart / Family Mobile for over a year on two seperate telephones and the service was never 100%, dropped calls and messages missed. My real problem is when you try to contact the company for any reason a non-english speaking or understanding person most likely in another country would answer the call and have difficulty understanding me or I would not understand the person. Recently I decided to replace with another carrier and I ported my telephones and called to say I was leaving Family Mobile. My problem was the person on the other end of the line and trying to get the idea I was leaving the plan.
He in this case was only interested in telling me I was overdue for my monthly payment and I tried to explain I knew that and was really a week overdue and would wait to get the final bill in order to reach the correct amount. I am too old to fool around with my credit and take my score very seriously. I had the new carrier port my number. I paid the Family Mobile bill the next day and and felt all was well! Big mistake now Family Mobile wants another $88.00 for not reporting my cancellation. I have filed a protest with the FCC and will file one with BBB today, this kind of treatment should be reported every time a customer is billed for the companies incompent employees.

Dorell and Keith Pedescleaux
from Plano, TX
We purchased a Visio "60" TV April 25th 2014 and brought a three year service plan in addition to a one year manufactures warranty. Unfortunately, after ten months the TV broke down. We called it to be serviced through Visio, who put us through to HDTV tech working with a contract company named Diversified TV. After, constant back and forth, repeatedly given rhetoric about the inability to service, this TV due to a height requirement (cannot service if, TV is higher than 5 ft. from floor) that was never disclosed when TV was purchased. Nor at time of sale when we also paid for TV to be mounted.
My husband and I both have disabilities and repeatedly informed these people (Diversified TV), that we were unable to unmount the TV. Had we known of this stipulation, we would have not opted to pay for it to be mounted in the first place. And to raise a question, if Walmart and all parties connected with service of such items, sell these items which the majority of the time are brought to be mounted, how do those who have disabilities, get properly serviced with these items. If the stipulation is in placed? Being, again unaware of this Height requirement, that was not disclosed at Point of Sale. I feel this is a breach of contract, or a misrepresentation of services, if you purchase an extended warranty on an item, in addition to the manufactures warranty, only to find when said services are requested, there are stipulation that weren't mention at time of sale.
It has been very disheartening process in addition to dealing with unprofessional people who seemingly, will hide behind a policy that needs to be revamped and revised. Shame on Walmart, Visio, Diversified TV and everyone connected with this idiotic policy, that doesn't provide allowances for those who have disabilities. Or unable to physically, remove a TV purchased. I have shopped at Walmart for years and never dealt with a travesty of this multitude.

I need someone to contact me in reference to my visa prepaid debit card I can not get a resolution or any kind of help from any representatives at 8779374098. I have no been able to use my card or get my money off of it there has also been transactions made that was not made by me and I do not understand how because they put a block on my card on feb. 2 due to suspicious activity and was suppose to mail me a new card which I still have not received. I called on feb 16 to see what the status was on my new card and checked the balance of the card and it had a zero balance and it should of had 178.00 dollars on it. The hold was put on the card feb 2 I have not been able or made any transactions since then I asked that the hold be removed back on the second and they informed me they could not do that I would have to wait for my new card. I have spoke with three or four different reps and I have asked all of them to let me speak to someone that is higher than them so I could get this resolved and I am always told there is no one else I can speak with. I need to be contacted by someone who can help me get my money back and problem resolved I do not want to have to take further actions. Your help is greatly appreciated thank you.

I was given an increase on my account and encouraged to use my Walmart Master Card. I started to use my Walmart Mastercard more frequently along with making bigger payments. Not too long after I was given an increase, I was given a decrease of 200.00. This was unexpected without any notice. I later received a letter in the mail after the fact. I called in to find out what happened and was told because of the more recent activity on my card they reduced my limit. I told the lady on the phone that I was using my card more but my payments were larger and more frequent.
She didn't really know what to say to that. This is very odd as I was encouraged to use my Walmart Mastercard and then when I started to use it more frequently and made more and larger payments, I was penalized. What if I was on a trip and I thought I had that extra 200 dollars? I find this poor business and now I don't really want to use my Walmart Mastercard as often as I use my other credit cards. Can this be corrected? 

I have cashed my pay check at walmart in different statesfor the last fifteen or so years never had a problem walmart is everywhere i go being a contracter its easier than a bank until i got to Snellville Ga store#3435 has its own policy only one of all the Walmart stores to not cash a check because the address on the license is different than the check even thou i am in the system at the address on the license when asked to see the policy in writting they could not find it. I am in GA often and would like to see this policy in writting or get my check cashed the next time i am there or i will see if some paper work will put a little act right and thank you for addressing this problem or if there is such a policy then sent it to me via email Thank YOU william jones

I'm very upset. I purchased a loaf of bread in Walmart location 1850 SW Gatlin Blvd Port Saint Lucie FL, 34963. The wrapper of the bread had a ripp in it. It also had been eaten thru the middle, as if a mouse or rat has done it. Now I purchased this item Friday afternoon. I didnt notice this until Saturday morning when I made myself a sandwich for my work lunch,and I've already used this bread for the first time that morning too,to make my two year old a sandwich with out even noticing it because I was in a rush.. I called your store to report that morning. They acted as if it was nothing, and told me to go return it or exchange it. I' mean this is serious Thank God my two year old didn't get sick. I went back later that evening after work. I spoke to your manager named HARRY. And he said he would report this. I hope he did, becuase it seemed like he really didn't care. I've taken pictures of this bread and have a copy of the reciept. I always shop at your store and this absolutely unexceptable.

Today I visited your store in Muskogee, Ok. I will have to admit I had a basket full of groceries, I was standing in line 3 deep, when the manager brought the cashier her bag to open in the next line and removed her closed sign I moved over to her line. Her first response to me was it was going to take her awhile to get her money in her drawer, I said okay and started putting my groceries on the counter. It took her at least five minutes to count her money. She never once spoke to me while she was checking me out.
Then she put ten cans of food into one bag and when I picked the bag up it split. I started trying to double bag the cans of food and was unsuccessful and she offered me no help so I started re-bagging the cans myself, still no comment from her.
On the bottom of the basket I had a large toilet paper, water, large package of paper plates and paper towel I asked her if she could scan these items without me having to take them out, she responded that her hand scanner wasn't working, but she would if I would hand them to her. Let me remind you I was her first customer so really couldn't understand how she knew the scanner wasn't working.
While she was checking me out she was scratching her head and then while she was waiting for me to get my card out to pay she was leaned upon the register. I was so upset after this that I went to customer service and talked to him, he couldn't believe I had been there as long as I had after he gave her the money to open her register. He said they would talk to her.

My complaint is about the rule of the dressing room at the walmart store in Glen Burnie Md. I was shopping with my daughter she had a bra she had to try on the lady in the dressing room told me I can't go in the dressing room with my daughter. My daughter is disabled. She is a 14 year with a brain tumor that affects her motor skills. When I told the lady my daughter is disabled clearly you can see my daughter one eye is closed she can't walk straight. The lady sat there thinking about it. Made me sick. I understand where you don't want many people in the dressing room I had one item for her to try one BUT THAT RULE SHOULD NOT APPLY TO ALL.

I've been buying great value fruit smiles every week for a couple yrs, the big size box both flavors reg and tropical. got some last week and they sucked! the consistancy was hard, and flavor just wasnt there! i looked at the old box i had and saw that the recipe had changed...i wont buy these anymore...they arent good anymore :-( i loved them...the whole family did...so for the couple juices..cherry and raspberry that were removed n the tropical..and for 10 less calories and 1 more g of sugar the small changes for whatevr reason dont seem to be worth the final product now. very disappointed.

I'm sure this will never be seen. I was in your store at 59th ave and Northern in Glendale today. I ordered a blue ray player online and didn't realize the HDMI cord was extra so I went to the store to buy one. There where 7 employees standing around talking and joking so I stood there for about 5 minutes before I asked for some help. The employee had no idea what I needed and had to get someone to assist.......really that makes no sense to me. If you have a job you should be trained to assist a customer. I have stopped shopping at this location for this reason.

I called walmart in buda, tx. to ask about 60 inch vizio t.v. on sale. Sales lady told me to get there soon that they would go on sale at 10 p.m. I drive over 20 miles to get there and find that they were in the garden center which wasted over 30 minutes of my time. they had handed out tickets. I did not get a ticket because I was waiting in the electronic department. The salesman then tells me I can get a rain check in customer service. I get to customer service and the saleslady rudely tells me there is no rain check. I then scramble to call walmart in Lockhart. After numerous attempts i finally get someone. I ask if it is worth my time to go down there for the t.v. She tells me it is buisy and she does not have time for anyone to go check for me. I remember working for walmart as a kid. I was always taught then that the customer comes first. It is ashame how terrible your service has gotten. No longer a shopper.

I purchased a coleman electric cooler from Walmart in Brampton. The cooler caught fire and almost burnt down my truck. I returned it and they told me it was a straight return, did not give me a reciept and insisted on keeping the box to send back to coleman. Now the cooler they gave me is also defective and will not work. When I tried to return it they informed me that since they have none in stock and they kept the box they have no way to return it since they don't have another one to scan and since they won't be getting anymore in until spring and they have a 90 day return policy I basically am stuck with a defective item and I'm out over 130 dollars. As a customer I would like to know what kind of customer service is this. Proper customer service would be to do what you can for the customer considering it was Walmart that sold me the item and it is Walmart that kept the box without giving me something so I could return it if there was a problem!!! I am not happy. ... I do all my shopping at Walmart and will have to rethink where I will shop if that is the customer service Walmart offers!

I sort a minimum of $100 per week at Walmart... Recently I had a baby and bought almost everything from there; crib, play pen, swaddled, clothing, glider, all my kitchen, living room and bedroom furniture and even down to stroller and breast pump.... I spoke I a member of staff about the breast pumps and they had two of the same brand there and that was it. Both were damaged boxes but she said it did not effect the product. I purchased it for $70 got home and of course there was parts missing as even the instructions! I called and they offered me a $60 in store credit as I did not want the same brand ( obviously) I explained I had a preemie baby and could not drive over there again ( it was 9pm on a Friday night) so she said the next day was okay. I went up next day and they said I wasnt allowed I return the product regardless of what someone else advised me. Se offered me the same Item again which I declined and then offered me a credit for somethin else but had to be ye same brand I bought(evenflo) I said I wanted to I store credit as I was just about to spend another $250 in the store. Se of course was rude and refised! I dot think Walmart value there customers ecspecially ones like me!! They should har went above and beyond to make me the customer happy. Needless to say I'm starting to go to Target instead.

I live in Mercer WI. I have Walmart in Minoqua and Ironwood MI. First of all Ironwood is not 24 hours. When I go to either Walmart there is no help and very poorly stocked. You go and shop and there isn't enough product or no product. I have spent a lot of money over the years and am very disapointed that I can't fill my whole list. I wish that Walmart would really stand up and do what you say you do. Right now I am willing to shop at other stores even if I have to pay more. Because other stores are well stocked. I have to travel so far and I want to fill my list and not have to go store to store. I am very disappointed in Walmart right now. Today I spent $353.00 and didn't get everything. So sad!

In October 2012 one evening,i made an unexpected routine visit to the Walmart in Clewiston,FL.unlike other visits i have made many times before.this one has been very troubling. I was in the store nomore than 30-40 minut . Sometime during my shopping visit,my money was lost in the store. It was in my pocket,i did not visit any bathrooms or fitting rooms. I do not carry a wallet or purse. I had in my possession when i entered the store. The currency was as follows,2twenty,1ten&5ones total amount$55. I made a report (local police),the Walmart night manager, and was told someone would contact me about this matter. I contacted the store&p.d a few more times myself before i contacted a Walmart rep.on the 1-800 Walmart numbet,there should be some kind of proof that i did. Till this day nothing has been done to resolve this matter. Till this day i haven't heard anything else back from Walmart or the local p.d regarding this matter. Is there anything that can be done? Is this matter able to be corrected?

On Jan.8th there was suppose to be the movie *House at the end of the street* dvd & blue-ray put out for sale in their new release section,but to my dismay they didn't put it out even though I really wanted to get this movie. Some how the release of this movie was changed by someone high up & isn't gonna be released until Jan.15th,which to me is Illegal because they have it advertised for release on Jan.8th.
So,since Tuesday I have been hounding my store to get that movie put out on shelves because I believe that they are obligated to honour the first release date for any new releases and if they don't,then they are truelly falsely advertising products in their store and they should be held accountable.

I moved into this area a few weeks ago and started using this Walmart store. I have been in the store about 7 times and spent serveral hundred dollars. At least 4 of the times the checkout times was extreamly long with something going wrong at the register and I spent as much as 35 minutes in the check out line. I went there tonight and ended up changing lanes 3 times because of delays in lines. I was in this one lane about 5 minutes and it got to the point that there was only 1 person in line ahead of me when the girl at the register turned off the light and motioned me to another line.
This was the final draw, I parked the cart over to the side and walked out leaving the food and other products in the cart. Â I have managed a retail store for the last 28 years and I would have fired any employee that did that to a customer. My experience with this store is that it has very poor management. I have been in the sporting goods department and the carera department and waited for 15 minutes before someone came to help me. Many customers left with disgust and I should have too. There are many items not priced at all thruout the store, especially the power tools and that entire section.
You can never get anyone to help you and the staff are very rude. They never apoligize for delays in the line at all. I have said all that I am going to but I will never go in another Walmart store because of the last 2 weeks. I feel that giving them 2 weeks is more than enough.
Walmart 5400 Phillips Hwy, Jacksonville FL 32207

I asked a Walmart clerk to help me find a prepaid Mastercard for $100.00. He said, " this one here, you call an 800 number to activate." It looked like a credit card under wrap, so I bought it. I didn't open the packaging, just called the 800 # to activate. They wanted my name, address, phone number, social security #, and would mail me the CC to receive in 4 or 5 days.!!!
The went back to return it, and the ASMgr Ernie said they are not refundable, even after I explained the circumstances.
"Satisfaction Guarantee" ??? I did not open or use this item. It should be refundable.

I purchased a Shark steam cleaner from a Walmart in KY on 12/23/2012. It was at 14800 Fort Campbell Blvd, Oak Grove, KY 42262. I paid $98.84 plus tax. It was a gift for my aunt who was there on vacation as well. She and I came home to Virginia Beach, VA. after New Years and last weekend, Sunday the 5th of January, 2013 she went to open the box and set things up. However, to her surprise, all the pads were inside with the instructions, but there was no actual unit inside the box. She gave me the box to return as I had the receipt. I went to do this today, Jan. 12, however, i was informed by customer service that I could not get an actual unit as it had been too long since the purchase date. I do not understand as to how 21 days is too long for a return. The only thing I can assume happened is that we accidentally picked up the floor display box. I don't know if you need to call the Walmart in KY to see if they have a floor model without the box. The number is 270-640-4744. My reference number is 235800787968. Please tell me how to resolve this as I would like an actual unit for my aunt. Thank you for your time in this matter.

Sat, Dec 8, I bought ground beef from the Walmart Neighborhood Store (3059 Lawrenceville Hwy, Lawrenceville GA) to prepare spahetti for myself and two guests. I made the dinner Sunday and within a few hours, everyone got sick. Had I been the only one, I would think it was something isolated to myself. I was sick the rest of Sunday and half of Monday.
I took my receipt and the meat package to the store and asked for a manager. A lady came and asked me to file a complaint. I just wanted to get my money back since the damage was done. She assured me that someone from the claims department would contact me that day, which was Tuesday. I gave her two phone numbers to be sure I could be reached.
I then asked for a refund, but she informed me that the refund she was authorized give was for the meat. I immediately rejected that because I'm not going to pay for ingrediants that caused me and both my guest to get sick from. As the days go by with NO ONE calling, I'm now pissed at the situation. I don't usually buy meat from Walmart and I told her that.
She proceeded to tell me that she buys meat there all the time and has not been affected. I could care less about what happens to her because I have three people that know the meat was bad. After telling a few people about the situation, they immediately asked if I bought the beef from Walmart. Not to worry because that won't happen again.
At this point, I need for someone to contact me immediately regarding this situation.

Hi, I am a loyal Walmart customer, but each time I go to the Walmart in St.Helens, Oregon I have issues. On more than two occasions when I checkout, the items I'm purchasing ring up at a price different than what was labeled on the aisle. The cashiers act like I am being dishonest. One time I just left the items because they didn't offer to adjust the price or even do a price check. Tonight I had a couple clearance items and the price was only 47 cents different. This time they did a price check, which took at least five minutes, and when the staff returned he said they must have been in the wrong place because he found them on an endcap with the correct price. I let them know that I didn't find them there, that I had found them on the aisle along with two stacks of them. I know it was a small price difference but its very frustrating and embarrassing to be treated like I am being dishonest. I have only had issues at this location, I just wanted to bring it to your attention. Thanks.

Well today hasn't been the best. Got into a big argument with Wal mart. My 10 yr old grandson bought a game for his computer that was $60. When he got home and we opened it there was no disc in the case. I called and was told that "we will mark this in our book. It happens often" We live 75 miles from the Wal Mart and don't go there every week. Today we jumped in the car and went there. All I got was a rash of shit from them and no replacement for the game. I asked the manager after he told me sorry how it felt to steel from a 10 yr old. He then proceeds to tell me that because it's a war game a 10 yr old shouldn't have it. Big mistake on his part. They also said " We will check with the clerk on duty that night and ask why it was never entered into the log book and call you. They still haven't called and don't expect them to.

I would not normally, never complain about services recieved. But.after a week of living with a haircut that im very unhappy with, I most. Took my daughter to get a haircut atWalmart in Colorado Spring Co. 85 /87. I paid $40.00 for both, after tips. I got home and my wife.pointed out the patches at the back of my head. Ive been a military member for many years. Just had to say something after my wife had to run our clippers though my hair today to try to fix it.

Ever since our smaller Walmart closed on Everhart in Corpus Christi, TX and moved to the "SUPER" Ctr on Staples I haven't been able to find the individually wrapped pop-corn balls for Halloween. For the past two years they haven't had them. I am VERY disappointed and I read that at least one other person is also. I don't know where this lady lives, but apparently she wanted to give out a MORE NUTRITIOUS treat than the confectioner's delights you CAN buy at Walmart that give a terrible unhealthy message to the children here in So. Texas who are mostly overweight. An individually wrapped treat is one that parents would not mind their children having. I could make them at home, but parents wouldn't want their kids to eat them and I wouldn't want mine to come home w/a homemade treat either. And as the other lady says, this complaint probably won't do any good, but I had to do it!

Bellevue Neighborhood Market Store #3098 15063 Main St Bellevue, WA 98007. I went into the store listed above to pick up DenTak to replace a filling until I could get into see a dentist. The most important thing is that everytime I go into a Wal Mart to purchase this product, I am immediately told that if it is not with the tooth paste that Wal Mart does not carry it. This is is incorrect. I have told Wal Mart stores in Washington State and Arizona State that the store does carry it but it is not in the place you would think it would be, but it is there or needs to be reordered. When I tell the various clerks it is there, we just have to find it. Wal Mart will move this product all the time. Why is isn't with the tooth paste I do not know.
Of course that would be logical and Wal Mart employees are not logical. This last time I tried numberous times to explain to "Sue", one of your employees that I have searched for it millions (OK an overstatement) and it is there and we just have to find it. She looked at me as we stood by the toothbushes and said, "If it is not here, we do not carry it" and walked away. End of story for her. I even had the box but she had no interest in looking at the packaging. I found a young man and told him you do have this. I am the customer, I go through this all the time, not every store puts the product in the same place. He took the used package from me and went to a man who appeared to be a supervisor.
This gentlemen and the young man looked up the information by scanning the bar code on the package. He found the product, gave the number to the young man and he and I went looking for it. We found it, it was out of stock so back to customer service and the supervisor ordered it and it would be in on the following Monday. This was Tuesday night. I could wait. Please ntoe when "Sue" heard the young man saying what the stock number was, she immediately appeared with a scanner in her hand. I told her to forget it, I found someone willing to listen to the customer. My question is why didn't she do that in the first place. Wal Mart is famous for having this type of customer service, "if it is not on the shelf then we don't have it" and walk away.
End of story. Stinks doesn't it. You have two males who do exhibit customer service, but not "Sue", she would do better in the stock room and never on the floor. Understand that I as the customer run into this problem with this product many times and not one of your employees working the floor will scan or even try to find it when I tell them my past experiences with finding the product. I told Sue that I have the packaging out in the car, shall I get it....she do not want it. Why or why do you train employees this way. If a customer tells you that it is available at Wal Mart but each Wal Mart puts it in different places. Why do they treat me, the customer, the one who uses the product, like I have not idea what I am talkign about. It has been a long time since Wal Mart has had true customer service, they have no-customer service.

Store # 2091 the manager by the name of Jaime was rude and disgusting. I asked for a movie and he told me that there was only one and when I asked him to double check in the back he told me he was too busy to help me. and also told me to bad for you since you could not buy one. I need for this manager to get fired as I always shopped at this Walmart, it looks like to have to give my business to another store other than Walmart. I will NOT be shopping at Walmart anymore I will tell all my friends and family to discontinue shopping at Walmart.
You need to have a better customer service managers that actually know how to handle people. Also this Walmart is all hispanics and when you ask a question in English they look at you as if you are an Alien from another planet. You should have people who Speak English and understand how to treat a customer. Please send me a response to this email. I appreciate a response. Thanking you in advance for your prompt attention to this matter.

This complaint is on reference to Walmart 92 Plaza Lane in Oxford, Alabama.
Someone from region needs to pay an unexpected visit to this store and see for themselves how terrible the management coordinates. They are ALWAYS out of everything and never have a variety or selection. My husband and I have continuously tried to give them the benefit of the doubt, but after tonight - we will be shopping at Target and Publix. People in the area have told us repeatedly that the Walmart in Anniston or Pell City is much better... well, I'm not driving 15 miles out of my way when the gas money I can save will just go to convenience and support stores that do have a variety and know how to properly order so that items are in stock!!!

I went to Northgate Mall Walmart in Edmonton Alberta and I wanted to make a payment or as I put it "put money on my credit card" and the cashiers or the customer service at Northgate mall in Edmonton did not know how to do this transaction. One associate who works in the Customer Service told me she never heard of this kind of transaction and she has been an associate for 7 months. A store manager came a lady and she didnt know how to do either. I was not a happy customer so I left. I called another walmart in St. Albert and I asked them the same question through telephone to see if they knew what I meant by saying "I would like to put money on my credit card" and they knew what I meant. I am so upset about my experience at Northgate Mall Walmart. I thought all Walmarts would know how to do this kind of transaction. Iam still pissed off and it ruined my day. I am not going to wait around so they can ask other people when Customer Service or the cashiers should know of this kind of transaction.

I had an acc. With you of which I did not receive service and had was to cancel within days. However i'm receiving billing from you stating I owe you $21.81. Why am I to pay for service that I did not receive.further more you are threatening me to mess my credit up by turning this bill to a collection agency.

I went into the Amsterdam, N.Y. Walmart to purchase printer paper, but I could not find any. I found the Office Supply section, BUT to my amazement there was none to be found. Clearly this was because of all of the Valentines stock that was put out. So I proceeded to try to locate an associate, but guess what? I could not find one of those either.
Then I remembered that I needed to pick up a cable for a DVD player. I wasn't sure of the correct one , so again I tried to locate an associate in the Electronics Department, but, you guessed it, there was none to be found. If I tried to rob the store I bet I would have found a bunch. So now I'm really irritated, so I went to the Customer Service Department; but no one was there.
Big surprise! With this I walked out of the store and went to Target's. I purchased my paper and cable there. If I was a store manager I would be very upset at hearing this. I feel the store manager should be fired and get someone in there that cares. And just so you know, I am spreading the word to family and friends. I will also NOT step foot in that store again.

I'm 62-Watch income so when Walmart has the bins full of $5 DVD's I buy. Have tons of DVD's this way. Purchased one started to watch, but into program stopped and would not play. My dvd is fine, as put several others in to make sure. Have never had any problems before. Took my DVD with receipt to Store - Walmart on Hudson - Woodbury, MN to get refund and was told that once opened cannot get my $5 back. Sears, Target and anyone else does same. I asked - Then how does a person know if DVD works if they don't play it? Told same thing. Had to Exchange for same. Went to look for same but not available now. This is wrong. You just stole my small $5 from me. If you are doing this to me, how many others lose their $5 across this country. I want my $5 plus tax tack. I shop at Walmart all the time for your good prices and sure didn't expect to be treated this way.

We shop at W.M and spend 2-3 hundred a week. My husband says no more! The store is so dirty that most of the time we won't use the bath rooms there at all. There is never enough check outs opened. Today when I was there they had only 1 opened and it was backed up for ever. Employee's walking around with casher badges on but not working at their job. The price they have in front of a product is so often a much higher price when you go to check out. We travel around the country and this is by far the worst store you have. Please do something about it as my husband will not let me go back there. We are not the only ones with these same concerns. People are talking about it all over town and say they are done shopping there. Just today they over charged me over $11 for things I didn't buy. Something has got to change for the better here. Please contact me by email and give me some sort of answer about this. Thank you, Phyllis Lavender

Swing set for my grandson for christmas morning was not at Walmart Chalmette store or should I say one box was damaged and they could not find the other box. I ordered the set November 26th so I would havej it for christmas. I got a gmail that it arrived at the Chalmette store on December 3rd and I had until December 18th to pick it up.
I was refunded my money after I was told the boxes were there but severely damaged but later found out that they really could not find one box I don't think they even had one box. Something happened to my set and I don't feel I am getting the right answers and that Walmart should find a way to get me the set before Christmas because I reordered the swing set like I was advised by Walmart in Chalmette and then called the customer service line and it was possible I could get it before charistmas by was of Walmart truck.
ANOTHER LIE. I am very upset that I will not have my grandson's christmas gift when I ordered it in plenty of time. Someone at the Chalmette store messed up......I would like to talk to someone higher up than a supervisor in customer service but I need a phone number.

I was at your somerset pa store today at 1:30pm going thru lane # 6 and spending in this instance $208.00, and was never so rudely treated. First as i am trying to take the bags off the spinning thing she is continuing to spin it catching my hands, i even asked the girl what her problem was and to slow down, and she gave me a dumb look. Then I had a $6.00 container of cupcakes taking them off the top table area having them in my hands and she throws a big thing of toilet paper on top of my hands knocking the cupcakes over. Rude rude rude, I went and talked to customer service, and they said they will talk to her i am sending this to you to be sure they carried this out. I am really displeased with this service. Bonnie Thomas

The customer service at the Spearfish S.D. walmart store just gets worse and worse. The managers are just totally stupid and have no respect for customers or the department managers.They really need to do a new assesment of this store.The manager named brian is the worst and has no respect for customers and is not willing to help customers not to mention the Tire and lube is the worst department of all in his store with absolutely no respect for customers or helping customers and going as far as turning customers away up to an hour and a half before the department closes. The way the managers treet the employees and the department managers they either need to be sent to a class and retrained or fired and people with commonsence given the positions.Another really stupid thing about walmart is the fact that stupid people in Arkansas order for a store several hundred miles away resulting in the store NOT haveing what they need for the area (note the sporting goods department.) They NEVER have the right camo clothing or the right shotgun shells for the area!!! To a consumer this is just plain STUPID!!!!

Well today hasn't been the best. Got into a big argument with Wal mart. My 10 yr old grandson bought a game for his computer that was $60. When he got home and we opened it there was no disc in the case. I called and was told that "we will mark this in our book. It happens often" We live 75 miles from the Wal Mart and don't go there every week. Today we jumped in the car and went there. All I got was a rash of shit from them and no replacement for the game. I asked the manager after he told me sorry how it felt to steel from a 10 yr old. He then proceeds to tell me that because it's a war game a 10 yr old shouldn't have it. Big mistake on his part. They also said " We will check with the clerk on duty that night and ask why it was never entered into the log book and call you. They still haven't called and don't expect them to.

I was taking some headlight bulbs back to the Walmart in Cullman, Alabama today and as I was going in the alarm sounded and I told the greeter I was bringing the stuff I had back for a return. The greeter said"no problem" so I took the bulbs back to the customer service desk and was informed that they couldn't take them back because I didn't have a receipt. So as I was leaving, I got close to the exit way, I remembered that I needed to get some work pants. I was in a weird situation because I didn't wasn't to take the merchandise with me and come back and there be a different greeter and have to explain why I had merchandise with no receipt and the alarm going off. So I asked the greeter if she would hold on to the merchandise while I get the pants.
So I got the pants, bought them and as I was leaving I asked the greeter if she needed to see my stuff because now I was carrying more stuff. She said no and leaned close to me and said"I know what you're doing, you're trying to annoy me ." Then she said"I don't know if you serve him up there or if you serve him down there but you're going to hell if you don't change your ways." I said"excuse me?" She said "you're going to hell!" I felt very violated in public, I didn't go to Walmart to be treated like this. I've been a loyal customer for years and I spend the money I work hard for every week at Walmart but will not be doing so anymore! I went to the manager "Amanda" and made a verbal complaint of what happened. I will be contacting my lawyer on Monday to see what more I can do legally.
I hope what happened to me today never happens to anybody else.

When Walmart first opened here in Pahrump Nevada it was a great store to shop at but over the years the service and selection, especially the service have gone straight to the septic tank. We used to buy everything there instead of traveling to Las Vegas. Our purchases averaged about $800 per month. As our family grew up and moved on we spent less but still about $400 per month. Now we spend nothing, zero zip, as the people who work there are very unhappy and grumpy, you cannot beg borrow or steel someone to help you.
The last time we shopped there we had about $30 worth of goods in our basket and wanted help in the fish department, we waited and waited, no help, we just walked out and never went back. We now go to Las Vegas once a month and use our Costco card, if we cannot find what we want there we go elsewhere in Las Vegas. We also shop at the Smith's store here in Pahrump and we have spent almost $600 there since the first of the year, we used to spend that money at Walmart, I would rather spend a little more and shop in a store that wants my business with friendly sales people than shop in a dumpy frumpy place with no service. Fortunately for Walmart they have a captive audience here in Paahrump, I just don't happen to be one of them. Good luck.

Today 10/6/12 I shopped at your Morgan Hill Store only to leave without the groceries purchased because your registers could not handle debit charges. At 11 am I called the store and they were once again working. Over a week ago at the same store whic attelmpting to check out where the lines were enormous an employee told me to go to pharmacy which I did only to be told they could not handle the produce I purchased since thsy did not have a scale. I left the groceries on the counter and on my way out I told an employee about my situation and she told me to wait while she went to pharmacy to gather the goods and checked me out at a regular counter. By then many registeres were open. For a large grocery chain like Walmart these things just should not happen! These type of events have never happend to me in all the years I have been shopping at large grocery chains. Why did I go through this?

I went to Walmart last week to buy an Ipod for my grandson as a Christmas gift. When I went to the department a young girl employee said she had to go get the key and walked away. I am not sure if she forgot what she was going for but after waiting approx. 20 minutes. I left without making my purchase and no other customers were seen in the dept being assisted either. Yesterday I went back to Walmart to buy the Ipod and the same girl came buy and said she had to go and get the key to open the case.
I can't understand why the key was so far away because she was gone for 30 minutes and I never saw her again. A male manager strolled buy and I explained I wanted to buy an Ipod and he said he had to find someone to go and get the key. I told him someone went about 30 minutes ago to get the key and has not returned. The manager could not help and but this time I was gettin very frustraed and asked to speak to another manager and was told the onlt other was in the garden deptartment and I would have to wait. About 10 minutes an older female came and I tried to explain that I wanted to but an ipod and this is my second trip to the store to make my purchase and no one will wait on me.
She was very rude and said they were busy, although there was not anyone in line or in the department to buy an Ipod. In frustration, I went to Target. I was immediately assisted with friendliness and kindness and the store had many customers in the department I was in. The employees did not seem irrated that they were busy and I made my purchase. I was also surprised that I got a free $50.00 gift card for making the purchase at Target. The employees were so nice and friendly and made my shopping an enjoyable experience. I definetely will take my money to Target. Apparently Walmart does not value customer service nor orient the employees how to wait on the customers. I am very disappointed in Walmart.

The Pharmacy in Amherst Virginia has very poor customer service. I went to have a prescription filled yesterday and they said it would be 15 minutes. I needed to get back home to take care of a couple of things but chose to stay and wait since it wouldn't take very long. I went back up after the alotted time and they said, well we had to order it, we can give you a partial tonight or you can pick it up tomorrow after noon. I said I will just pick it up tomorrow since I needed to leave. I went back today and they said they had to order it from warehouse so it would be a two day delivery but they could give me a partial or I could come back tomorrow. I said, give me the partial. I had to stand in line for 20 min to get my partial after waiting the alotted time rather than them calling me up and giving me the partial. I have also recently had a prescription filled that had the option of one month or three and I got one month since they did not have enough in stock an when I went back they said they could not fill it since I got a 3 month supply already but I had not so they had to drop the prescription as if it were a new one into the system so that insurance would ok it for me to have the prescription again. That is insurance fraud no matter how you put it!!!! I started going to Walmart for my prescriptions due to the increased cost at CVS but the lack of hassle and the professionalism they have is worth the added expense and I am now considering going back to CVS. I have worked as a pharmacy tech and have been in medicine for 11 years. I am now a nurse, so I am not new to how things should be professionally handled. This is definitely not professional. Even when discussing the issues with the pharmacist, rather than come around from the counter and speak to me he spoke to me from behind the counter that was 2 counters back. I could barely hear him and it was actually a violation of my HIPAA rights, so there needs to be some serious changes in the pharmacy in Amherst Virginia's Walmart. They also need to utilize some type of paging system or some way to notify people while they are shopping of issues that have arised because this is not the first time I have spent a great amount of time in the store just waiting on a prescription just to find out they didn't do anything with it.

The Walmart center in Murray KY is a disappointing location. My family shops there at least once a week and it is never properly stocked with products. What is the purpose of putting 2 canisters of one brand of formula on the shelf? They never seem to have what I need for my daughter. The associates seem bothered when asking them for help. With the condition of the store I'm not sure why you have them working there at all. We purchased a sandwich from the deli yesterday and it was definitely not worth the money. Overall this store is an embarrassment and something needs to be done.

Walmart"s Family plan is worst wireless plan they have out there, poor, poor customer service. They lure you in saying two line will be $70.00 and approx. $5.00 in taxes and fees. I specifically asked before I sign up about all the additional taxes and fees that will be added, the girl told me will only be around $5.00 for both phones. Financially I am not ready to sign another contract with any phone company so I was deciding between Walmart Family or Metro PCS their wireless services in my opinion is about the same. When I got my first bill it was $86.46! The fees and taxes was $16.46 not $5.00.
I was upset, so I switch to Metro PCS which theirs was $70.00 for two phones everything included!!! Unlimited phone time texting & internet service!Metro PCS ended up the better deal. They are far better in customer service. They are physically there if you need to talk to a person. No one at Walmart can help you when it comes to your phone bill questions. Instead of you having to call Walmart Family Plan, make sure if you do you have that 4 digit pin code they "supposedly" gave you when you signed up with them.
If you didn't write it down or can't find the number you will need to go to the store and have some from Walmart call for you (people in Walmart doesn't even know this, they look at you and think you're completely stupid when you go there and ask them to call for you) Then you can changed your pin#. This was so stupidly ridiculous! I answer the password question and offered my ss#, home address, DOB, acct# and this was still not enough for the girl on the phone to assist me with my billing question. I had to physically go to Walmart and straighten this out.
When it comes to wireless phones Metro PCS is by far better and you get more for your money and better customer service! I am seriously thinking of starting to do take my business somewhere else, I am finding out with smaller businesses you get better customer service!

i got ammo the day before had receipt ammo unopened they said no returns if they took back they have to donate to police dept. OK so i am a customer that spend 10k to15k a year at walmart so your going to piss off customer over 25$ return.
so take it back make donation of 25$ walmart makes millions at this one location and keeping customer happy. i am not sure why they are not allowing returns on ammo maybe it have something to do with the shooting  i am not sure but this is not right?!

Shopping at Uptown Walmart in Victoria this afternoon I encountered a very powerful smell while I was in the produce section and then it quickly spread to the cash register area, I could not get out of there fast enough. It smelled like someone was cooking popcorn with a very strong cooking oil. My eyes immediately started to water and I could feel my chest getting tighter, I could not breath properly. The gentleman at the register said that it bothered him as well. I have now been home for over an hour and my eyes are still very watery and itchy and I still have a tightness in my chest and find it difficult to breath. I will not be going back to Walmart any time soon and with a Target store opening in my area that is where I will be shopping. 

So on 8/27/2013 at 6.38 I found a screw in my tire I went to the service area where a young man husky built. blonde hair was walking out texting on his phone I asked are you closed he said we close at 7pm. I told him I found a nail which at the time that is what I thought it was in my tire. He walked over and looked at it and said we cant fix that it is on the side wall of the tire and walmart has standards we can only fix the tire if it is in the middle of the tread. I asked ok can you put the spare on for me. He then asked if I bought the tires there I said no this is a new car and they came with the car. He looked down at his watch and said we close at 7pm and I have to fix this other car first and that will take me 45 minutes. This job would of only taken him 5 minutes.
So I went home changed the tire which took 15 minutes to do. On 8/28/2013 I went to another company and they came in and said it is only a tiny screw it did not even puncture the tire at all and that if the young man would of taken the time to look at it he would of seen that. He was more worried about getting out of there at 7pm then he was about taking care of a customer. Just in the last month I have bought 3 Bikes for my Grandkids there I spend 50 to 60 dollars a week on food I spend a lot of my money in this store but will now shop some where eles. I was excited when they decided to put this walmart store in Heber now I wounder. I also called that night to the manger that was there she did apologize for there action and said she would talk to them. 

I was in the Pharmacy on the 23rd of December. Trying to purchase the cleaner solution for my Braun Razor. For some reason which makes no sense it is locked up with the Razors. They called three times and I waited 25 minutes before someone came and this lady came who I think is the head cashier or whatever but she finally comes and tells me they cant find who has the key. They think they might have gone home with it. For crying out loud if you lock things up you should have several folks responsible enough to unlock it. You held up the Pharmacist and me for about 25 useless minutes. My time has some value also. This store continues to be the worst store I have ever been in. Store number 0811 Arcadia Florida. JOE LEveille

Went today 11/07/2012 to walmart in San Benito Tx. to buy ammunition and groceries. Went to sporting goods dept. 1st. to get ammo. no employee there. Found an employee at automotive dept. and asked her for help, she was not busy and told me she could help me. I told her I would wait by the ammo. and she never showed. Went to look for her and saw her walking in another direction with someone else. I left without buying anything. Thinking I would get better service in Harlingen Tx. I went to that store and was told that the sporting goods guy had just left to lunch and taken the key to ammo. display and no one else had a key that he would be back in an hour. I decided to wait and went and got my groceries about 40 minutes later went back to sporting goods and saw an employee trying to open display for another customer but her keys did not work finally she told him that he would have to come back another time because the person who worked the night shift had taken the key and they could not get in touch with him. I left without buying anything.

I was just in the store buying a file cabinet the girl was not able to ring it up with the barcode on the item I could not remember the price of the item so she looked it up for me. I then tried to used a $50 American express girt card but I assume the girl was unfamiliar with how to use the card so we put it all on my debit card. I went to the customer service desk to do a refund and see if she could put it on the gift card instead of my debit card. The "customer service" lady was rude from the start, then she stated that the price was not matching the barcode and I was going to have to pay more. I told her that I felt like I should not have to pay the difference due to the fact that it was not my fault that she rang up the wrong code, she rolled her eyes at me and then threw the receipt at me. Not a very good customer service act to me. Then I get stopped at the door and the door lady said that I could not leave with the item because the item on my receipt had a line through it. I explained the situation about what happened, and she proceeded to tell me that customer service deals with attitudes from people all day and that is probably why she had an attitude, there again not my problem. I feel like as a paying customer that I was treated very poorly by everybody that I dealt with over something that was not my fault. I have been a very good customer to the Walmart store on Cutten rd. in Houston Texas and I did not deserve to be treated that way.

I was in the check out lane searching in my purse for my ebt food card. I didnt want to hold up the line so I decided to pay with my debit card. Soon as I got to my vehicle and put all my grocerys in the car I found my ebt food card in the car on the floor. It must of fell out of my purse. So I went back in the store and went to the lady I checked out with and ask If I could get a return so I could use my ebt food card. She told me to go to customer service and they would take care of that for me. So when I went to customer service they said no. I went back to the lady at the check out and she got the manager for me and the manger said he had to ask someone above him. The manger said I would have to bring all my grocerys in and have them return each individual purchase and then rering each purchase.
So thats what I did. As I appoarched customer service no one wanted to do the return, so they yelled for an associate in the back who rolled her eyes because she didnt want to do it either but had to. So I took each purchase out as she scanned everyone then I put it back in the cart. After that I took every grocery out again so she could rering it, The whole time I felt so uncomfortable and degraded and embarassed all at the same time. Especially when the first associate said real loud in front of all the customers.
I just wanted to run out of the store right then. Walmart employees I would imagine are there to help their cutomers out but that day I felt like I was being discrinated because I held the low income food card. I never want to go back because I never want to feel that way again. On top of everything that happen they would not give me a credit for my $10.00 coupons I used. They said we gave you enough back, but really I got back what I bought.

I am currently on hold with Walmart in Miami ,FL and their service is horrible. I've been transfered three times and no one has even asked me what I needed. And when I do speak to someone they dont speak ENGLIGH!!! All I want to know if they have a item at their store. Why is that so hard !!!!!!! Ehh

I went to the Black Friday sale on thanksgiving and was extremely disappointed..I already sent in one complaint for being physically approached by a manager..accused of something I could have had no part in. I got stomped on, pushed to the ground, yelled at by your employee told to get out of store..it was terrible. On top of that, the laptop with the $70 bonus was to not go through register until after 10 .oo. As was the games I was , along with many others, going to purchase, were sold over the counter BEFORE the advertised time. Signs posted said the merchandise would not be in register until then. So many people were disappointed that night. The store clearly had no idea what they were doing...

I had my baby's pictures taken and the studio called me yesterday and told me they were in and to pick them up. I asked how long they were open, she said 6pm. When I drove all the way there they were closed and it was 4pm. I asked to speak to a manager and her name was Ann at the south zanesville walmart in ohio. She was extremely rude and said I would have to come back. I told her this was my only day off and I drove a long way and could she please call someone to figure out y they would call me and tell me to come if they were not even going to b there ! She said the portrait dpt. was not part of walmart. I asked then y when I pick my pictures up they say walmart om them and asked again for her to call someone to help. She called a number and handed me a phone and told me to leave my name and number. When i got the phone it was saying to press the star and was no way to leave a message! Ann snatched the phone away from my face while I was holding my 4 month baby and said i will call someone to help u and called the sheriff! Another women with her baby came up and said she had been walking around for 2 hours waiting for the studio to open, thinking they were on break or lunch. She also was very upset they called her too and told her to come get her photos. The sheriff came and I explained what happenened and he told me to file a complaint! I have called the 800 number several times to speak to someone about the photos with no return call. I have used this walmart for optical, groceries, and everything else, and to be treated likr that is outrapeous and I will never go back to any walmart again! I need someone to call me asap about this matter at 740 343 4130! Thank u for ur time

Went shopping at a wallmar located in cayey Puerto Rico. When I pass by an isle I saw some packs of Pepsi cola on sale 2packs for $5.00. When Igot to the cashier did not get the sale discount ,the clerk argued the cola was not on sale when I clearly saw the sale posted.To make thigs a litter shorter,the clerk did not want to give me the cola at the sale price.
I had a very hard time looking for the manager and try summit to try to summit a complain. Itry to get the manager complete name from the assistat manager and she did not know her manager last name.I needed her manager last name to summit a full complain because,when i went back to look for the sale sing of the pepsicola,the sale sign was already remove fron the stock pack.
I had a very umpleasant experience at these store,and is a lot more about it.To things even shortter these employees at these store have no experience in dealing with the customers, and probably the worse trainning. Now thats sad .......

Today which was the Oct, 20/2012 at 4:30pm I brought my vehicle in to get an oil change at the Wal - Mart TLE service department in Miramichi, NB knowing very well what I had for belongings in my car. When the oil change was complete I paid for the oil change and items purchased at the cash and proceeded to my vechical. Realize the whole time I was waiting I was there watching and for certain reasons the young male who brought the car in initally went about things kinda odd from what I was seeing. Anyhow the items that were stole are really of no value but its the fact that an employee on company time stole from my vehical, I know his name from his plack and name tage and the description of this thief and want somthing done about this, as to who knows what else he steals from other costomers vehicals of worth but my real problem is that I brought it to the store managers attention and you know what they told me, Its out of there hands cause its an external affair sittuation!!! Can you tell me how an employee steals from a customers vehicle while hes working there and on duty doing the job and its an external affair. Please someone tell me whats wrong with that picture, cause Im through the roof on this one and if nothing is done about this employer as I was told theres been other complaints as that manager said as well, so honestly how many complaints is needed, Im not waiting Im taking matters into my own hands as Wal - Mart seems to have changed there policy towards employess as "Saying its ok to steal and we'll cover your ass no matter what" This my friends is hitting the news as many others here want this to shed some light and to let the public know what wal mart has to offer for there customers!!!

I do not want a refund or coupons. I want service, stocked shelves, helpful employees, continuity of product. You are not the only rodeo in town.
This is embarrassing for you and overall attitude in this community is poor! check it out!! Just because you profess to be the best doesn't get you
there. With an example...., you're trying to push outdated product without stocking shelves. 100% welch grape juice not available over two weeks!
Only one example. You have some good and some bad reps. The bad is really bad. Pharmacy.....,poor. Do you really care? Ask for a manager and
you get a new employee as manager can't face the music. You have problems!!! cb

I appreciate the door buster sales at different times of the day because I had to work all night. I was however able to get to my nearest Walmart for the 5am doorbuster sale. I arrived at the store at 4am and was told that the 50" TV I was shopping for was already sold out. I was quite surprised, as the sale did not start until 5am. I have been Black Friday shopping for many years and understand the waiting lines and the first come first serve format, BUT, I was told that these TVs were already sold the day before! The store handed out tickets for this item the day prior, which I find very unfair. If a sale starts at 5am tickets should not be given out until 5am, PERIOD! I was very disappointed with this set up and will not be shopping WalMart next year on Black Friday, in fact I will not be shopping at any store that opens on Thursday before midnight! My nearest Walmart is in New London, WI 54961.

My girlfriend had used our bank card to order a phone card at walmart .com an the money was taken out a min later and they sent the details of the phone carg EG the reup # to my email. Then on the 15th I orderd a printer an usb cord. A baby carrier a wipe warmer a diaper geni refill and a safty 1st cool mist vaporizer. They took the money out of the account and told me that the vaporizer and the geni refill was already at the store in plastow ready 2 b picked up. But then the next day i got en e.mail that said they didnt have the vaporizer there and insted of shipping it 2 the store with my order like i wanted in the 1st place they canceled the order 4 it and since my 1 month old was sick and i needed it bad I asked if they would give me the credit and just send it 2 the store.
but they told me that it would take 10 days 4 the money 2 make its way back 2 my account and in the meantime id have 2 order another and pay 4 it again. and thge money never made it back and then 2 days b4 christmas and it overdrafted it 3 times. And still havnt put the money back and in the meantime im afraid 2 put any more money back in my account incase they screw up again and charge me a 3rd time 4 the same thing. Walmart.com bad dont give them your info ever online and after a purchase is made if they screw up make sure the bank or credit card co. know not to let any other withdraws until talking 2 u. Or u can just go 2 target I havent had a prob with them yet. But we will see. My and my girl r both disabled so its hard 2 get out of the house and shop like normel people. So we order alot online. and the has just ben the worst experiance ever
this is the absolute filthiest Wal-Mart that I have ever seen. I cannot believe that they are even allowed to sell food items. you see employees, including the management, just walking around like they don't have a care in the world. someone needs to pick up a broom and mop and break a little sweat. don't even get me started on the rest room facilities or the bare shelves and poor selection of products offered. I try really hard not to even visit this store but the only Wal-Mart alternative is in Savannah more than 60 miles away. hey Corporate… where are you?

A year ago, I was remodeling my girl's rooms. I purchased two of your white chest dressers. They look like your South Shore SoHo Models. May be the same model. After one year, I threw one away because three of the four drawers had fallen apart. I kept one drawer as a spare for the other dresser. I have one dressers remaining in their room and the condition of this dresser is horrible. Getting ready to buy two new dressers all over again. You might want to put your name behind better products. I can send you pictures of your wonderful dressers.
Unhappy Customer, Napoleon Cotton Sr. 334-718-2519

I called a walmart store (#2215 - Darien IL. ) and asked to be transfer to the furniture department and the person that answered the phone left me on hold for more than 5 min. After that I hung up and called a second time. Again I was left on hold for another five min. I called one third time and the phone rang several times and someone picked up the phone and hung it up again.
This kind of customer service is unacceptable. I was calling to check if they had some bookcases I saw online in stock. The website said they had a limited stock of this bookcase in the store and I just wanted to make sure they had the bookcases I need before going to the store. This is the walmart locator number for the bookcases0004266610620. These bookcases are $79.00 each and I wanted to buy 3 of them. I guess thanks to your horrible customer service I will have to buy them else where.
All I'm asking for is for your management to take a second look at the kind of people they hire and the way they treat customer so that later you don't wonder why customers prefer to pay a little more as long as they feel they are getting good customer service elsewhere.

I ordered a kidkraft kitchen from Walmart as a Christmas gift for my Daughter. walmart said it would be in the store on Christmas eve for pick up and that I would receive notification when it arrived. The notification never came and on Christmas day I received a email saying it was delay and most likely arrive in a couple days following Christmas.
Two days later I received another email to tell me the package was lost or damaged and I would be refunded my money but if I still wanted the item I would have to reorder it. I looked online and the price had been increased. My Daughters Christmas was ruined and all her other gifts of play food had no kitchen to go in.
The only gift she asked for and she didn't get it. Walmart has lost my family as customers.

Walmart advertised a Straight talk (android) phone to go on sale at 10pm on Thursday Nov. 23...arrived around 8:15 and got in line... At 10:15 they still had not given the phones out and when they did it is a totally different phone w a sucky camera and a slide out key pad... Was told it was advertised wrg and they didn't get the advertised phones in... Found out my sis in law bought the right phone at the Valley Walmart and they had the ones advertised! We weren't even given a discount for it being wrg or falsely advertised! Really pissed!!

Walmart store number 5189 It has taken me a few months to put this together I have been so upset with the whole thing. For years I have relied on Walmart to service my auto, oil changes, batteries, headlights, windshield wipers, etc. Last year I took my truck in for its annual oil change with the priority being that my rear differential be topped off which is my usual priority annually. Since I bought the truck it has had a leak and after a year it has lost a substantial amount of fluid.
Up til the last 2 changes topping off the diff was included in the oil change but last year they said I would have to pay for the more expensive oil change to get this included so I did. When returning to pick up the truck they told me they were unable to top it off as the plug had been stripped on the outside and a wrench would not grasp the plug as it was now rounded. Rather than being held liable for any damage they declined to attempt it. I was very upset as that was my main reason for being there so I asked why did they charge me the higher price if they were unable to do what the higher price included. I was told that that included other services that the cheaper oil change did not.
I was pretty irrate as they knew what my priority was and yet they proceeded with the oil change anyway. After what they told me I knew that it was even more of a priority to get the diff topped off as it was close to empty so I took it to my mechanic and they replaced the seal so that there was no more leak and also the plug which they said they would not have replaced if I had not requested it as there was only one corner flattened on the plug and that did not prevent them from turning the plug open. They told me that the diff. was full. So I knew that Walmart had topped it off and had probably damaged the plug in the process and did not want to be liable for the damage so they denied doing anything with the diff.
Fast forward to September of this year, my Walmart battery was dead and I could not find my copy of the guarantee. Surprisingly the guarantee that was in a pocket at the side of the battery was gone. I have always purchased the Walmart battery that is guaranteed full replacement free if it goes out under 3 years. So I called Walmart and asked if they could look up my battery purchase since I could not find my copy of the guarantee and it had been taken off my battery and it had been less than 3 years. The battery was replaced in June of 2010. BTW, I believe that when the oil change was done and they stripped my plug that they took the guarantee off the battery.
They were the only ones to service the battery as attested to by the receipt I got from them and also because they were the only ones to gain anything by removing it. The person I talked to on the phone said her name was Rhonda. She told me they had no way of looking up the battery and she would have to talk to the auto supervisor before she could tell me anything. She also told me they had no policy that the battery would be replaced within 3 years if it went out. I knew that the supervisor of the auto department would not honor anything as he was a part of the fiasco that had went on the prior year. I did argue with her about the policy on batteries as I knew it was a lie as I had had a replacement twice and the only thing I had had to pay for was the core of 8 dollars and something. She called me back left a message and told me that the supervisor said there was nothing they could do about my situation.
I called her back and asked her if she had found anything on my battery purchases and she said no but that she did find the oil changes. She continued to deny that they had the battery policy I had mentioned. I told her that I was going to contact Walmart corporate about this as there were many lies being told and she backed down and said I should bring it in so they could see about checking out the number on the battery for a prorate. This was not satisfactory to me as I know what I know.
A month or so later I did find my copy of the guarantee but of course I had already purchased a battery from another source. I have always considered Walmart an honorable and honest company and am very concerned for this particular Walmart. There was so much underhandedness done and lies told that I would hope that you would be concerned with the reputation of Walmart. I am including a picture of the battery I got from walmart and its number and date that is on it.
I do hope you look into this as the service there and in other departments are sorely lacking in the last few years. Reputations are important for the health of a company. I am sure you realize that even if I am only one person we do add up over time. My complaints are with this one Walmart. Additional complaints are: The people there are not helpful and even rude at times. A guard made me wait a half hour for a electric cart but never returned with it. I had to find him to find out he was not successful in finding a cart for me. The register refused my coupons with no reason given by the cashiers. Some will refuse to use their scanners on heavy items. If you direct this to the offending Walmart they will squash it.

A employee at the dubois location name that i notice micheal jardine was very rude an assulting towards me and my daughter when she ask him where could she find a item that she was looking for through out the store, and he stated are you blind its right down there and called her stupid. that was a horrifying expeirance for a child have to go through for all she wanted to get somthing in the store, So in my eye,s that was very wrong manner he used, it,s very disturbing when we have been shopping at walmart for a long time to expeirance this matter before now she won,t ask anyone anymore upon that situation.

I just watched the Walmart-High Cost for low prices show on TV and am thoroughly sick of Walmart. The way you treat people in the US and worse in China is totally awful. The way you weasel into a town and put everybody else out of business is disgusting. It's called greed. The way you tell employees to lie, work overtime and don't get paid for it. You're worse than communists. I will never buy another thing at a Walmart store. And the big CEO gets on TVand talks about how wonderful everything is.Makes me sick

I have a friend who can't walk real well and relies on a riding shopping cart in the store in St. Augustine, FL She goes there every Sunday to do her shopping and spends hundreds of dollars there every week. She has had to quit going to the Walmart because they don't have more than a couple of WORKING carts and she can't walk on her own in the store. She has been told, that the carts are broken, and I guess, never to be used again!!!!! She now goes to Target to do her shopping. So, you've lost her business and probably more people. This store in St. Augustine is pathetic. I've Black Friday. You absolutely don't care!!!! Target is a much nicer store since they remodeled and go there myself as I have never shopped at Walmart and walked away frustrated with something. I can't blame the employees since the "top brass" doesn't care- why would the employees

I purchased my prescription eye glasses at Walmart in Morehead City, NC in March 2011. By the end of the year, I had to get my lenses replaced due to cracks appearing on top of the lenses. Walmart replaced them at no charge. Well, again I have the same problem with the same kind of cracks in the lenses. I took my glasses back to Walmart in November 2012 and the person at Walmart told me my warranty is out and they would not replace them again. My question is: What does the warranty have to do with an obvious defect in the lenses? The lenses should be replaced for FREE AT NO CHARGE, if there is a manufacture defect. Cracking lenses could result in eye damage.

I find it amazing nobody at Walmart located at 24th street and ave.B,in Yuma listens to their customers. Either to busy,with their telzon,or checking their watches,to find out how much time they need to get out,from work. Jin Porter,who is the G.M.needs to set things right! I spend a considerable amount of money,with you people,and need a little tea and sympathy!

I went to Walmart Lovejoy Ga to return a item I had purchased for my son. I am (was) an avid walmart shopper, I was told by the clerk I was unable to return this item because I had returned items on Christmas Eve and the day after Christmas. One item I returned was actually an item I purchased off Walmarts layaway. I spent $500plus on the layaway and upwards of over $1000 with walmart for Toys only. The initial customer service clerk was rather rude, I asked for the manager, assistant manager Kim was more unprofessional and extremely rude. The no return without receipt is not posted in the store nor on the store receipt. Instead of her attempting to help me, a paying customer was brushed off and told that the policy does not have to be in writing, it's their policy. I was very perturbed by the disrespect I was subjected to. I decided to call 800 walmart and make a complaint. I made a complaint and was told Brad would call me back. I was also informed the policy the store informed me of was actually incorrect. I have yet to receive a phone call from Brad. I know Walmart is a large corporation and they bank on customers returning regardless of the poor customer service. I will pay more money for better customer service that I receive at Publix and Target. I am done with walmart.

To whom this may concern I'm tired of walmart stealing out of my pockets. I've been screwed over money time after time and on dec. 28th 2012 was the last straw when i went to purchase a 228.00 tv went to use my gift cards i had received at christmas. to help knock. off the price then i had preceeded to use my bank card next which the bank failed to transfer my money in my account so i was denied.
had to cancel purchase. and canceled out on gift cards the male cashier said money would be back on cards needless to say its been over 24 hours now i'd like to know where is my money is this how your employees . get their bonuses. by ripping. people off i think we are through. here you will no longer be getting my business. nor will you get my family and friends. business. i live on facebook my voice will be heard i will express myself like i have done here

Couple days ago I made the mistake of going to Walmart in Georgetown and had the worst experience of my life which I detailed in a very long complaint letter. When my husband got home I told him what had happened and he called the store manager, Shawanda, and explained the many many problems with my visit.
The manager at that time apologized, claimed she knew exactly who the woman at the deli counter was( must have been other complaints) and that she would immediately take care of these issues and for our Inconvienence would leave a $50 gift card at the customer service center for us to pick up. I still felt horrible about my dreadful experience with all the employees encountered at this visit but felt that at least the manger was proactively trying to correct the problems.
Today my husband goes to the same Walmart to get the card ( as I still will not step foot in that store and am not sure if I will ever again) and nobody at the customer service center has any idea what he is talking about!! Meanwhile I receive a voicemail on my phone from this so called manager wanted me to call her back, which I did, received no assistance and was told she is not in.
So not only did I have the worst experience of my life, now my husband goes to get the "gift card" that we were told would be at customer service and Nobody has any idea of what we are talking about!!!!! This is absolutely unacceptable!! Customer service and doing what's right is obviously not slightly important to this Walmart!
I will be following up with any and all social networks to warn potential shoppers of this Walmart to be ware and think twice before using your hard earned money at a "chip shop" like this one!!

I took my daughter to get her prescriptions she is visually impaired and can not drive. I saw several displays that were marked 50% off and I saw a couple different perfume bottles there next to the other perfume bottles so i decided to purchases them. When we arrive at the counter of course they didn't ring up 50% off that is the stores biggest problem things never ring up the price it is marked.
The cashier called someone we waited awhile then she just said did you check with jewelry. The cashier then said with a line full of people I might add It doesn't look like valentines stuff to me. So embarrassed mad and humiliated I told her to keep them. Try calling a manager was on hold for 30 minutes just to say she was sorry and she should have over rid the price.
I then filed a complaint on line and a what i assume is a manager he said his name was Russ. Have made several attempts at reaching him but He is either gone or can,t be reached. He left a message I assumed he was concerned about the treatment his customers receive but it appears not to be the case. Walmart wasn't like that when Sam was around.

I was in the Walmart location in Beamount Texas toady shopping for two book shelves, the store only had one on the shelf. So ask walk around the store until I could find someone to help me with this. One employee scan the product and said that were no book shelves in backroom but he had four on hand.
However he never ask me do I want him to look for them so he walked off, after him I saw another employee that I ask for help she said it depended on what I needed very rude. She didn't even try to help so I bought the one book shelf and some other items, and did the cashier didn't even acknowledged me before or after my transaction at her cash register.
This is not the first time I have bad service in this walmart, but today the employee that I came across was not helpful at all. I am never going back into walmart again. I know I am just one customer that can't make no difference in the service but I will tell all my friend to no shop in no Walmart because they want your money so they can treat like crap.

14 months ago I bought a 37 inch Vizio tv . Now it won't turn on . After I tried to return it to the Wal-Mart I bought it from ( with the extended warrenty ) . I was given new paper work instructing me to mail it back to them . The run around that I have been given is more than 8 years in the army and an ex-wife ever trained me for . I will never buy another high dollar item from Wal-Mart SATISFACTION NOT GAURNTEED . I guarintee if you have a problem with a tv you bought from Wal-Mart you will become even more pissed off than you possably ever have been . WTF Wal-Mart

I recently purchased a email gift card for my father, the purchase request was easy, but not very informative of how it wold work. The request said a gift card would be mailed to my fathers email within 48 hours (usually immediately). The gift card did get there close to the the 48 hour mark. My father was having difficulities with his printer so he copied the card number down and brought it to his local wal-mart (40 miles from his home). Customer service was very busy because of the holiday season so he ended up waiting in line for 45 minutes, (not easy for a senior gentleman) when he made it to the front he was told by Walmart associate that he would need the email not just the number, he explained he why he was unable to print it and they offered no help. I can not understand why they could not allow him to verify his email address and use the number or let him check email there and print for him, or call me to verify I sent it or help him call someone that could access his email and email to store for printing. The associate did not make any attempt to help him or advise him why it was needed, just shooed him along like it was not her problem. My father left quite upset and when he told me how it went I felt the terrible for the trouble he had to go through to recieve a gift card from me. When I ordered the gift card they did not say the reciepent would have to print out entire email and bring to store, he told me his printer was down after I sent gift and I told him I thought it should be fine as long as he had the number, I even provided him with order number in case he needed it. I have been a loyal Walmart customer for many years, but I will now try to avoid using Walmart services or make purchases from them in the furture. Walmart needs to change it's logo to a large frown for unhappy customers.

I am a member of the Wal-mart family mobile plan with my brother Mike Seals. I had an agreement with Walmart to return a damaged phone, which I did on October 24,2012. The agreement was that I was to receive a return phone within seven working days upon the receipt. I confirmed with them that they received my phone via UPS, which I also paid for. I originally paid $150.00 for my phone, and they stated that since they no longer stocked that particular phone, they would replace it with a phone that would cost $99.00.
That would have been fine, if I ever got a phone back. Today is November19,2012, and they just keep telling me that it is also out of stock, and due to the storm, they cannot give me any information except that whenever they get one, they'll send me one. At first, they used the hurricane as an excuse, and now they just say that they can't give me a date. There is a Wal-mart ten minutes from my house, and it hurts me that they have to take money from lesser-fortunate people, who are already down on their luck.
I can't afford to buy another one because I am pending disability for two years. I also was getting side jobs to help to keep from losing my home, and all of my contacts were in that phone, and used that number. This doesn't seem to phase them, and because of them, I haven't been able to receive any side jobs in three weeks. I'm not even sure how I'm going to supplement my financial needs. Please help me with this situation if you can, because I don't see how they're able to get away with this. I have called and expressed my need of my phone to them over and over. They just don't seem to care.

Helped my son pick up a bureau and poster frames he had ordered at your Glenolden location. When the stock person rolled out the boxes, it was easy to notice that the top box had been badly damaged. When I looked inside, the frame was broken, and we were told that we had to go to the customer service dept. so my son could be credited on his account. It took my son another forty minutes to complete this transaction. During this entire process, no one even had the decency to apologize for our inconvenience. I will never set foot in another Walmart as long as I live, the experience was worse than having a root canal.

Today, November 4, 2010, at approximately 11:30 am I was shopping at the Wal-Mart in West Sacramento, Sacramento, California. My husband and I wanted to return a "wand" or remote for the Wii system and replace it with a black one. We were in the Electronics department and noticed that there was none available. So we started looking around the area to find someone to help. After looking for a while we finally saw an associate near the back of the store talking with another associate in the photo department. We walked up to them both and asked could we get some help in Electronics. The person standing on the outside of the counter in the photo area said he would help us.
So, we explained that we saw no "wands" for the Wii. We asked him could he look the "wand" up to see if we could purchase it online. He said we could do that at home. I said to him, just last week were in the store purchasing the Wii console just last week and when what we wanted was not there, the associates at that time were so helpful, one actually went online and helped us get everything we needed. I asked him why he could not do the same? Finally, he went online and then said to us that the "wind" was not available. The associate was extremely rude from the beginning, he acted as if we interrupted his conversation with the other associate in the photo area to begin with. Then, his tone when we tried to asked questions were just outride rude.
We asked for a manager to come and a supervisor (Jazmine) came over. She listen to my explanation about what happened and as I spoke to her the associated interrupted and said he asked my husband to come look at the computer to show him that the "wand" was not available. The associate (Matt) lied to her. He even went so far as to say check the cameras in the store and they would show him motioning to ask my husband to come around the counter to see that the "wand" was not available. At that time we both said to the supervisor and Matt, he was lying. My husband then told him he had no customer service skills. I looked at the supervisor and noticed there was little she could do about the matter so I asked to speak with a manager. Lisa, an assistant manager came over. I explained the problem once more and she apologized for his rude behavior. I told her that I also wanted to purchase a IPod but did not want to ask Matt to help because of his unwillingness to help us.
The assistant manager (Lisa) apologized and then turned to Matt to ask that he assist us. He did and while he helped, the assistant manager, Lisa told the supervisor, Jazmine not to leave until the transaction was complete. I am appalled at the way we were treated today at the store. I can't begin to tell you how much money I spend at Wal Mart and to be treated like a second class citizen is unspeakable. Not only would I like to be contacted about this matter, I expect and want to know if Matt received some type of reprimand for his actions. There is no need for anybody to come in a business and be mistreated the we were today with numerous customers on looking.

On the morning of 02/20/2013 my wife, Lois Einolf, had dental surgery in Cumberland, Maryland. The surgery was completed by about 9 AM and I was told that prescriptions for pain medicine and antibiotics were telephoned into the pharmacy at Oakland, Maryland's Walmart Store. I was also told that it was very important to get my wife on this pain medicine as soon as possible before the numbness to her jaw wore off. I took my wife back home immediately located in the McHenry area of Garrett County, Maryland, a 45 minute trip from Cumberland. After making sure that my wife was as comfortable as possible, I proceeded immediately to Walmart in Oakland to return a bad product and obtain the prescription. Upon going to the pharmacy counter and inquiring about my wife's prescription, I was told that it would be another 30 minute wait. The pharmacy was not busy with visible customers at that time. I told the gentleman behind the counter that it had been over an hour since this prescription was called in and that my wife needed the drugs to relieve the pain of dental surgery.
He apologized and said he would 'Bump it up." In reality, it had been over 2 hours since this prescription had been called in and I told him that their response time was unacceptable. I do believe that more than 2 hours to fill pain medication for patients who have just had surgery is not in the best interest of the patients care and comfort. Needless to say I am very upset with Walmart and what seems to be a lack of timely prescription filling. This will probably be the last prescription I have filled at Walmart and would not recommend Walmart's services to any of my friends and relatives.
Donald E Einolf Jr.

Food Lion sale item - ( 2 liter coke - buy one, get one free). Walmart would not honor this weeks Food Lyon sale advertisement (11/7/12 -
11-/13/12) since it did not list the price of their 2-liter coke that was on sale. My argument was that the second coke is free, it should not matter what the Food Lyon's price is. The amount taken off for the (2-liter coke) can be based upon the Walmart price, since it's free. They said no and I paid full price. Should have gone to Food Lyon.
Bottom line - Walmart advertises on TV how they match competitors sales - I guess you better read the fine print.

I had a dispute over the price display on the pallet vs. actual price of item. The display sign said $9.97 for the desk easel, when reviewing my bill the price was $19.97. I called Wal-Mart and explain the issue of the $10 price difference and I was placed on hold for 15 minutes, the associate came back to the phone and advise me and I explain where i seen the display and got the toy from and she place me on hold again for 15 minutes, she came back and advise the display reads $19.97 and would i like to speak to a manager and i said yes.
I was placed on hold again for 25 minutes before a lady picked up the phone and I again explain the issue and she placed me on hold for over 30 minutes and never came back to the phone, another associate picked up the line and ask me who was i holding for, and advise her that a manager had placed me on hold and at this point I am going to return the full $419.49 purchase and she began to laugh at me thinking I was joking, but I was very serious. She called for a manager and after another 8 minutes Reneel picked up and I told him I would be returning all of my purchase order due to the unacceptable customer service that I have been provided by being on hold for over 1hr and 20 minutes as we speak, he advised me that I could not do a return until the morning because customer service was closed, I advised him that I was on my way driving as we spoke (ear piece while driving) and I expected a full refund, he said that he would let me speak to the assistant manager who never came to the phone and after 1hr and 28 minutes and 50 seconds I was disconnected.
At 10:50PM I enter the store and request to see a manager for a refund, Reneel greeted my and advised me that he would get a manager, a older African American lady approached me to find out what was the problem and why I wanted a refund, at this point I just state that your customer service is horrible and I want all my money back and will take my business to a story who will respect my dollar because the Florin Wal-Mart does not care how they treat there customer. 

My family and I used to shop at Walmart quite a bit and were quite satisfied with our purchases. However, over the past year, I have noticed a lack of merchandise available to the "over 50's" group. Nothing major but regular fit denim shorts would be nice............not the loose fitting jeans the teen crowd are wearing. Sleep wear selection for females has become dismal at best. Until I see a change, my purchases will be limited to smaller items. Kohls has by far surpassed Walmart in selection, variety and customer service. I feel its time for someone to take over this store on Rome-Hilliard road in Hilliard Ohio, West Pointe Shopping Center and return it to a place that one is fairly certain they will find what they are looking for. I also suggest that someone check the customer age groups that frequent this store and give them a little bit more of a choice. No need for Walmart to offer us clothes that make us look like we are ready for the retirement home.

Hi there,Myself and my younger brother Marshall had an unpleasant experience at the North Sydney, NS Walmart location yesterday Nov 20th,12. I had purchased my items while my brother was in electronics speaking with an employee about ordering a game, i was waiting in the porch for my brother, when he came into the porch he had 2 posters in his hand (which i assumed were purchased at the electronics depart) however we were chatting in the porch then he opened the outside door(which was not closed and we did not completely exit the building) as he was going out to the car to retrieve his debit card and then turned around (which is on camera) as he realized he still had the posters in his hand, at the same moment the mystery shopper had stopped him and said he was under arrest for theft.
We were directed to the security office. I do understand the protocol however the following actions were extemely unprofessional, the mystery shopper was Rob Matheson. Rob told my brother that he was under arrest for theft, my brother said he wasnt police and asked how he can arrest him and Rob stated "maybe I am a police officer" and led us to believe he was a police officer until we had to ask him to show us his badge, which of course he could not produce. We tried to explain to Rob that it was an honest mistake and he realized just as we were leaving that the items were still in his hand. Rob would not listen to our explanation and said he called the police. He then proceeded to tell my brother that he is banned from every Walmart across Canada (with no length of time so we assume its indefinite) My brother refused to sign the document as he does not feel making a mistake should lead to him not being aloud to re enter Walmart.
I asked Rob if Walmart would appreciate loosing hundreds of dollars in business which my family spend on a monthly basis and he replied with a smirk and told us all to go shop at zellers (which was recently closed down in our area) at this point we assumed the interigation was over, my brother including myself got up to leave and Rob grabbed him by the back of the shirt to pull him back. Marshall was not trying to "resist arrest" we simply felt that after he showed us the ban the whole ordeal was over. Eventually the police did show up, the police officer listened to both sides of our story, he did not lay any charges as my brother does not have a criminal record. My brother than apologized for the misunderstanding of the whole situation and has agreed to write an apology letter for making the mistake.
I could see if he was hiding the posters or running out to the car but he wasn't, it was an honest mistake and I do not feel he should be banned from Walmart. I also feel that Rob Matheson should have remained professional which he did not. I request Rob be spoken to regarding his inappropriate behaviour and the ban be lifted.

On Thursday, March 28, 2013 at approximately 6:00 in the evening, I purchased a Kodak 30, combo ink pack from your store in Union, NJ. I didn't open it until today, 4/2/31. The outer package was sealed, but inside, both cartridge packages were cut open. I removed the cartridges and placed them in my printer to read them. The color was empty, and the black was only half full.
I called Walmart customer service and expressed this. I also told the woman on the phone that I didn't have my receipt. She told me to bring in the merchandise and ask for a manager. At approximately 3:00 today, my brother brought the item to Walmart and did as we were advised.
One manager agreed to the return and offered a store credit. Another manager overrode the first manager and said he couldn't be sure that the item was purchased the way we said. My concern is not only that I didn't receive a credit, but that some one is putting used merchandise on Walmart's shelves.

The Wal Mart store in Greenwood, S.C. 29649 has the worse buggies in any store large or small I've ever been in. I live less than a mile from this store and it's very convient to use. The buggies are dirty, hard to separate, pull to one side, won't roll and wobble. I don't shop there, just get what I need and get out. When you shop you look around at a lot of items, even those not on your list. You can't do that as dragging the buggies around is too tiring. McDonald's most important item is clean bath rooms.
I can understand this as I wash my hands before eating and have left some without ordering because of the filthy restrooms I get upset before i get to the isles and already looking forward to getting out. You have already put people in a negative frame of mind before they start. The best maintained buggies I've found are in the Bi Lo store in the north section of town. When I in that area, I'll go there because of the buggies even if it cost more. I know this message is an exercise in futility but I'm really trying to help you please your customers. If you don't believe what I'm saying, have someone from outside this area come and and look.

We have been having our prescriptions filled at CVS but we thought it would be easier to just get them filled at WalMart. Walmarts ad says that they will fill prescriptions for 30 days for $4.00 and 90 days for $1o.oo and they also have an ad that says they will match anyones ads. CVS had charged us $10.00 each for 3 generic prescriptions. We got the doctor to fax the prescriptions in to Walmart. When we went to pick them up, one of them cost $25.96, one cost $19.45, and the other one cost
We had read the ads that Walmart Pharmacy would fill generic prescriptions $4.00 for 30 days and $10.00 for 90 days. We have also seen the ads that say Walmart will match anyone's price. We had been having them filled at CVS but thought that Walmart would be more convenient. We had our last prescriptions faxed into Walmart. When we went to pick them up, one of them cost $25.96, one $19.45 and one $57.12. That was a total of $72.53 more that we had been having to pay for them. I carried the receipt for the last same prescriptions which were $10.00 each to the druggest and he said that was not their problem. My husband and I are in our late 70's and live on a fixed income. Had we known this we would not have had them filled there but in the past, we have asked the price in advance and they say they can't give it to us. We feel that we are due some kind of compensation for this and Walmart needs to take their signs down because there is no telling how many others have had this same problem.
5

You advertise a black friday guarantee in stock at walmart that was supposed to START at 10 PM. We got to the store at 10PM and all the guarantee cards are gone? What kind of guarantee is that? They wern't even supposed to start handing them out until 10. Horrible customer service. Then I heard that t he Somerset PA walmart sold 60inch vizio tv before 10pm nov.22 2012. Your sale paper does not say you could get a ticket slip before 10pm. I am never shopping at walmart for the after thanksgiving day sales again.

In canton Tx our Walmart allows ad comp but in this last week 4/2/2013 they have refused to match meat ad prices says its losing them money . They have not advertized this change they have not put up notices any where that can be seen by the public .CLERKS have to tell the customer as they come up to pay .It has made hardships on some families losing that since they don't know before buying they are going to pay another price. Walmart should advertise it on TV like they do the low prices they say we get

A couple of weeks ago Toys R us offered a xbox 360 bundle with kentic for $99. The same bundle was offered by walmart for $249. I had my daughter take the toys r us ad to price match this at the Harrisburg, IL walmart. They took 10 different employees to decied the free item in the box was not the same as in the toys r us one. Instead of the 2 yr free xbox live as in the toys r us, walmart bundle only had a 1 yr card. My daughter explained this was not an issue for us, as we do not have the internet anyway. The rest of the package was exactly the SAME! The employee who removed the bundle from the case even stated it should have been price matched and that walmart just did not want to lose $150. I am very upset about this. I am a divorced mom that works two jobs to support 6 people. I try to make my checks last while still trying to get my kids something nice for presents. Thank you for your time in looking at this matter. I have shopped at walmart for years and never had an issue with their price match policy before.

I order a 50 Pc box Of Walmar cooked chicken on Wednesday for Saturday. I called before picking it up and was told it was ready. I didn't check it. Set it on the table ihe box for the party as the people went to the bottom for the large pieces of breasts they noticed they wer all dark or burnt. I were totally embarrassed. I couldnhave serverd my guess anything without checking and relying on Walmart to do the right thing, I gavc them time I called ahead before picking it up they could have correceted this problem if they wanted. However this store is so Ghetto they just don't get it and complainting to managers do not do ant good. I think it's all about the money not the customers. The store is making they don't care about customer satisfaction. I feel I should be compensated for many of reason it sad when a disable person have to travel so many miles to another Walmart ooutside of their area for good customer service and just better services. Walmart on Rockside need to Clean up their Act. Stop Acting Like GhettoMart

I went to Walmart in harahan louisiana on November 2nd 2012 to purchase a battery for my Mazda mx-6 they sold me the wrong battery I needed the 58r-3 n they sold me a 58-3. when I got home to place the battery in my car I noticed it was the wrong one bc my post were on the opposite sides of the purchased battery. So I drove back that same day n told them they me that a store on Loyola in Kenner Louisiana had it they called and they employee said they had the correct battery.
So I drove over to Kenner Louisiana to swap out the batteries. When I got there they had the same battery that they sold me the first time which was the wrong one. I told the manager that was working that day about having to drive that far when they told the employee from harahan that they had the correct battery and really they didn't. So they sold me an alternative battery that would work. But it turned out being to big for my car.
So again I drove back to harahan Louisiana Walmart which is closer to my home to return that battery. They sold me a battery that was the same size just a few amps smaller. I needed my car to run bc I had to work. So I put that battery in my car after a week the battery started smoking n spewing acid. I went back to Walmart in harahan and notified the manager there about the problem I was having he told me it could be a defective battery or my car had wiring problems which I didn't have any problems with my previous battery.
So on Monday November 19th after I got off work I went back to harahan Walmart to see if my correct battery came in. Which it hadn't so he checked another store and again refered me to the Kenner Louisiana location. I asked him would my car make it to Kenner from harahan he said it should well while driving to Kenner. I made it about 2.5 miles from the store and the battery started smoking a whole lot and smoke started entering into the car through Thermidor and through the dashboard and my wind shield wipers started going off and if I let go of the gas they would stop if I pushed the gas they continued slinging across my windshield. And then my car completely shut off.
Leaving me stranded with my kids on the side of the road. I called my brother in law to see if he could take me to the Walmart to swap out the batteries. When I put the correct battery in my car it would not start I had my friend who works on cars look at the car he said from when the battery malfunctioned it short circuited my work g system in my car n would cost me a good penny to fix it all. I spent at least 5 hours one day driving back and forth for a battery and then because I was sold a battery that was defective I now have no means of transportation. I am one dissatisfied customer and am upset that me and my kids had to ingest the fumes from a battery that was defective which was purchased from Walmart.

I am from Ark and I knew Sam personally, in fact my father had a chance to go in with him when he started the Wal-mart stores, but unfortunately he did not have the money to help Sam start it. I have been in Wal-Mart stores in Hawaii and Alaska and all over the country, but the one in Durango, Co., meets the cake. The manager is a snob and will not speak if you speak to him and the shelves are empty. At the first of the year, I thought well, it is just after Christmas and the shelves will fill up, but they have been empty this whole year. It makes no difference what the department is, there is going to empty shelves. My grandson and I go quite often and we always visit the toy section and it has been so empty this whole year that he cannot find any toys anymore.
What is the problem? Get rid of the manager and hire some good help. Most are very unfriendly. You had an assistant manager last year from La., or miss or down in that area and he was great but of course he is gone now. The Wal-Mart store in Farmington, NM, which is close to us, has alot friendlier employees and a nice manager, and the shelves are full. Seems like since Sam died, the stores have just gone to pot and this one is the worst. Worst manager I have encountered, worst and most unfriendly employees I have encountered and worst customer service. All they do behind the counter is talk about their lives, instead of waiting on customers. Sam would be disgraced by this one and probably disgraced with what his kids have done with the stores. And your captcha is ridicilous.

The last five times I have went to Desloge Walmart in mo. there is only four people working the check out lines in the whole store. This is a super walmart with over twenty are more check out lanes available. The lines are backed up so far it takes me up to 15 min. to finally get waited on. It looks like the mangement would see this and call more help to open up more lines . There are up to 10 people waiting in a single line. This is even on a Friday. This is a very sad way to run a store and makes loyal customers like myself go to other stores and shop. It might be saving money on help but they are losing in the long run.

It took 40 minutes to change one tire. And it took 3 hours to change 3 tires. Then on top of it all their workers were dancing around and talking instead of doing their job. There needs to be a new manager bc they whole auto department is a joke. They manager waun even said he coulft get a lugnut of my impala. I left and got it off with no issues. .. but that place is a joke and needs some new employees and managers.

store:940 operator#00008387 register #8 date Oct. 20, 2012 id# 7DNNP8B5PJT
When I got in line to check out, I was third in line. Which is pretty good, I was happy. Started getting checked out, the cashier wanted to place my bag of potatoes and oranges on the floor. I told her that I didn't want my food placed on the floor.She replied that she has no where to put them but on the floor. I told her i didn't want my food on the floor, just give me a minute and I'll have the rest of my stuff on the belt. She replied that she was going to put my food on the floor because she has rate of speed and she doesn't have time to wait. I just let her know I don't my food on the floor. She placed the two items by her register and continue checking me out. I also had cokes,water, shower chair that i left in the basket with bar codes up . I asked her if she could scan these items. She ignored me. I asked her again, she ignored me again. So I asked her if she would scan these items i can put some bags back in the basket. She became more huffy and scanned the items. She began scanning items she had already scanned. I told her she had already rang those items up. She said how am I suppose to know. I didn't reply. when I finished checking out total $267.38 and a cashier with a severe attitude. I went to customer service, put complaint in to customer service manager. The manager said she would talk to her. I just believe that a customer no matter how much or how little they spend they should not have to be treated like they are a inconvenience by the last person you come in contact with.

I have been shopping at Walmart now as long as I can remember. I have lived in Maryland, Virginia and now North Carolina. The Hope Mills Walmart store is without a doubt the worst I have ever shopped at. First it was never having any 10 pack value size Pop Secret. Now I have started going to the Food Lion to get that. I have been looking for Quaker Oats instant Oatmeal large size and they have been out for a week now. Popcorn seasoning, same problem. I really enjoy Walmart service and prices, but if I have to keep going to Food Lion because my store is lacking in the ordering and stacking department, I might as we4ll get all my thing at the Food Lion and save some gas.

L Eudy
from Albuquerque, NM
Last month 6/08/2018 I shopped at Walmart on Academy NE in Albuquerque, NM and spent $178.58. The cashier was very rude, I asked if he could please bag my 2 bottles of apple juice which he had laid on the upper part of the bagging area. He said if I wanted it bagged I could do it my self. Also he laid on the upper area a pizza and a couple larger other items which I DID end up bagging myself. I was shocked and very upset and now wished I had left everything behind. I have shopped there again but will stop going so I don't have to be humiliated a second time. I'm sending a few numbers from my receipt so maybe you can locate this rude person. I 14 appr#008893, ref# 1042000314, trans ID 308159685382474, Validation zlfb, Aid a0000000031010, TC d054ef34aba121f6, Terminal # sc010928. Hope this helps find this person. Also while he was checking me out he was goofing around with other female employees. Thanks for your time. I'm NOT a person who complains but this experience was not acceptable.

Ryan Westenberger
from Anaheim, CA
i was stopped by asset protection about 3 weeks ago #1 i was stopped while exiting the first set of double doors AND garret (lp) had stopped me i was basically not even out the door yety he told me to follow him we went into office and he said he would explaian everything i y thought i had haD got home iNOTICED I HE DIDNIM IT WAS THEIR RESPONSIBT GIVE ME BACK MY LIC 2 1/2 WEEKS LATER THE MGR BASICALLY TOLD ME OH WELL I TOLD MGRTTING IT IN THR PROPER STORAGE OR LOST AND FOUND THAT IF THEY LOST MY ID OR DIDNT PUIT IT ANYWHERE SAFE THE MGR HAS SAID HE WILL CALL ME AND NEVER HAS L/P WAS IRRPONSIBLE UPON THEIR BEHALF FORPUTTING MY DOCUMENT IN A SAFE PLACE LIKE THEY DO EVERYTHING ELSE I HAD JUST GOT MY LIC 2 DAYS PRIOR TO STORE 2546 BACK TO ME ON THIS MA6TTER IRRARATABLY MIS PLACED MY CARD ALL I WANT TO DO IS BE COMPENSATED FOR MY LIC COST 88 DOLLARS SOMEONE NEEDS TO REIMBURST ME OR ILL GET A Lawyer cause he didnt give it back to me that very poor customer service and not fully doing his job polkease contactb me @ ryanw714@gmail,com or 7146766140
thank you mr. ryan westenberger

Bonnie Rains
from Ruidoso, NM
The Ruidoso, NM store is in desperate NEED of HELP! Store shelves are not being stocked! Cashiers are in very short supply (and I am one of those objectors who refuses to self-check) - People do need work, and if I succumb to the wiles of corporate greed it only helps YOUR cause. Check-out lanes (the few that were open) were backed up which caused traffic jams. Of course, the garden center check-out was closed, adding to my frustration. I think I can get away from Walmart shopping altogether by using the dollar stores for cleaning supplies and buying groceries at the supermarket. If I see an improvement on my next trip - I will reconsider. Bonnie Rains.

Donna Clark
from Halethorpe, MD
Most recently I have been unable to get my regular products at Walmart since their reorg I guess you would call it. I use Suave hair products in the pump containers, none of which are now available and there are no comparable unhealthy aerosol options there either. I always shopped your Faded Glory and other regular Walmart clothing brands and now I find that everything available is either horrible lookin or nylon, haven't bought any of the new lines - poor designs and horrible patterns. I still see some t shirts from before and do purchase them. There are a few Walmart brands of pharmacy items that have been absent from the shelves since April. I witnesses a manager scream at a salesgirl for opening a register to assist senior customers trying to checkout because their were people backed into the ladies department - there was only one register open. The manager was telling people to check themselves out there was someone in that area to do it for them. Customer friendly at Walmart is no more. I personally have been cussed out by an African American manager AND 3 or 4 of her sales force - wrote to you and NEVER got a response. Is Walmart trying to go out of business. Most of the time associates are in isles sitting on their phones or doing anything but work - don't they have an employee room for that when they are on break Or they are screaming and playing grab a__ in the isle - Time to wake up and take note - My apologies to those at Walmart who are helpful and do their jobs because they are the only ones keeping you going. One more question Does Walmart have a dress code for employees???

kris
from Fredericktown, OH
I have shopped at Walmart in Mt Vernon Ohio since it opened. But after this past week, I will never shop there again. The things I have witnessed and heard from employees ( who are afraid to come forward) are very unacceptable for an establishment in this community! I have been a store manager for another company for over 26 years and I NEVER treated my employees in such a horrible manner! I watched the "store manager" yell, disgrace, demote, and talk in a manner that would be classified as "abuse" to their employees. And ON the sales floor .... in front of customers and other co-workers! These are things that need to be held in private. Although I am sure this is not what your company teaches, it should be held responsible. Due to this action from the "managers", the employees aren't giving the customer service as they did years ago. I believe you should investigate this further. I felt sorry for these individuals being humiliated in public. This is very wrong to treat people like this..... thought Walt-mart was a family ran business?
I will be waiting for your reply.

Rafael Galarza
from Layton, UT
On 7/6/20018 I was in Bridgeport, Ct. I bought at Bridgeport Wal-Mart to set of cell phone. Straight talk LG one for me because the one I had the battery was not good. and one for the ministry. I came back home to Fort Valley Ga. on7/12/20018 and turn in the new Cell phone to the office but unfortunately it was not the one they needed. I went to the Perry Ga. Wal-Mart store to exchange it. I try to explain to the agent what happened and as soon I told her that I have misplace my receipt With out hesitation she said that with out a receipt there was nothing she can do. I ask for her manager. Mrs. Lashandra came and said the same thing, I ask for the complaint number and she just verbally gave me the number and she reply that she will not loos her job over exchanging an electronic product and that she will supply me with the Return/exchange policy. Miss Kayla came back she did not introduce her self to me. But she handle the police to me and show me where it said that with out a recipe they cannot do the exchange, She also said that they tell every customer about the policy. But that is not true. Miss. Lashandra had an attitude, the first agent I talk to said that she did not know that if the product been stolen.
But your Policy state that a customer can exchange the electronic device. That was not explain to me or even try to help me on what they can do to solve my problem. It is very un professional service that your department has. the will not care a bout the customers and the manager nor her employees are aware about you return policy completely only on portion of it.
After I got home red the full policy I whet back to the store the manager on duty had no idea about exchanging merchandise with out the receipt. and to bring him your copy of your Return policy. I told him that the manager had provide me a copy of the policy but he said he had no access and that he can not do anything for me. If Lashandre already decide that she will jot accept my return.
So I have a device that is not good to us thanks to walmart policy according to Mrs. Lashandra and Kayla. Also the evening manager said that there is no way for walmart electronic department find out where the product was purchase.
Your store history said that you are only one organization own by the same family. I feel that the electronic department in Perry Ga. do not meet the customer service expectations and do not provide the customer full professional and positive attitude to customer problem solving.
The staff roll the ayes up , they will walk away and manager will do the same and will not come back to assist me.

glen burt
from Jefferson, GA
had brain surgey paid off my Walmart card what they told me but I owed 11.00$ I got cancled on the card I will not to Walmart any more

william meneese
from Louisville, KY
I went shopping at Walmart at 3:00 am July 12th. I usually dont complain but every aisle I went down there was a walmart worker. Nobody said Hi may I help you and some just glared. You might want to talk to the manager, to train his workers better or have them work where they dont come in contact with people. I was at 175 Outer Loop, Louisville,Ky 40214.

Patricia Schilz
from Spokane, WA
I have applied for a Walmart Credit Card twice in the last two months and I have not received any confirmation on either one. I have attached a screen print of the application receipt thanking me for applying for a credit card with a reference number. I have called customer service twice and they said I would receive a confirmation in an email and physical mail, but have not received either. The last call I made today they said they were unable to send me an email but would send me physical mail which could take up to 20 days to receive. Could someone please help get this problem resolved? Thank you for looking into this, it is much appreciated.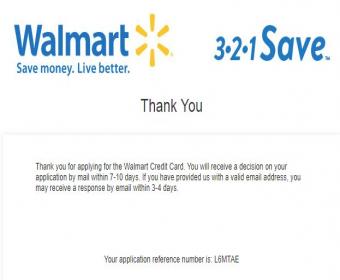 Donna Bazzell
from Santa Clara, CA
About a week and 1/2 ago, I purchased and loaded a Walmart Visa Debit card, initially for the purpose to use for Xbox online game play for my grandson. I registered the card and was told that I could use the card in store in person only until I received the personalized card in the mail. Over this past weekend, I attempted to make a purchase and the PIN which I know was correct was declined. Several attempts were made and finally the store employee assisted me as I used a bank card to complete my purchase.
I did find out that although I loaded the card for $20, that a $5 monthly maintenance fee automatically was subtracted and so the balance is now only $15.
After calling the number on the back of the card and receiving absolutely no assistance or resolution due to it being fully automated as I made multiple attempts to speak to a live customer service person. I called another number found online and spoke with a "Lee" who was helpful and explained to me and apologized that I was mislead about the card. She said that I would not be receiving a personalized card in the mail as when the registration is completed, the system decides either you are allowed a card to use and a personalized one will be sent or you are categorized as only being able to use the card with the balance on it and no more. This is so ridiculous and I was definitely mislead. How can a debit card that is reloadable be denied? That does not make any sense whatsoever. She has inormed that a refund for the card balance is being sent to me.
My fiance' who had absolutely no credit at the time, purchased and registered the card several years ago and had no problems at all, still utilizing it at his leisure.
I have good credit with multiple bank and charge cards in great standing.
Advertising these cards as reloadable Visa debit cards is false advertisement because if the only way money can be put on the card is by the customer doing so, how can they be denied that use when before purchase does not at any time inform it can be denied.
I am a frequent Walmart customer, have been for many years, and I am now totally and thoroughly frustrated, disgusted, unhappy, and prepared to report this situation to BBB as well as to several local newspapers. As a state government Business Services Manager, I find something very wrong about this.
What kind of scam is this?
I would like answers please.
Thank you,
Donna Bazzell
502 807-7575

Missouri Glover
from Charlotte, NC
July 10, 2018
To Whom It May Concern:
My husband and I shopped at your Walmart located at 3240 Wilkinson Blvd, Charlotte NC on 07/06/18. We bought two large packages of skinless chicken breast, 022763040810 cost $8.10 and 022763070935 cost $9.35. I put two of the breast in my crock pot on Friday and they are still cooking today is Tuesday. Those breast are as tough as an OX's rear end, what are we suppose to do with them, the more they cook the tougher the meat become and we can't take them back. It is a shame that kind of meat is put on the market for customers to purchase especially when we are on a fixed income. We spent $169.02 cash money thinking that we at least we has enough meat to last through this month and now we don't, stop putting BAD MEAT OUT THAT PEOPLE CAN'T EAT!! Thank you
Missouri Glover

Yesterday, Thursday, July 5, 2018, sometime during the evening, my wife and I purchased some items at the Walmart store located in Brawley, California 92227. As we paid for our purchased items and headed to the exit door, we were stopped by a female employee, who asked us for the store receipt. My wife asked as to why she was doing this, since the store is not a membership business, such as SAMS or COSTCO, where you are required to show proof of membership when you enter and exit facilities. The employee stated that she was doing her job and for us to take our complaint to their main office. I do not think that this is proper customer service and or a proper way to explain as to why this store is conducting business contrary as to what other stores do. If I want to be examined as to when I enter and exit this store, then; I rather pay for a membership and conduct business at COSTCO instead. Note: I noticed several customers displeased by this action conducted at your establishment. Thank you.

Bryan Keith Freeman
from Bangkok, 10
I am in Thailand, my brother is in Arizona, he went online to send me some money through MoneyGram. I went today to get the money at the bank here. When the teller entered the Ref # she got "Please call the Moneygram Help Center to complete this transaction." She called them and after a few minutes she handed me a phone number in America to call. She said that they would not tell her what the problem was. So I called and got a lady, she said the system was "Down". But the way she said, the tone and the nervousness in her voice told me that she was not telling the truth. So I hung up and called again. I got Jeff Spikoly from Fast Times at Ridgemont High. Not only did he sound like I either woke him up or he was higher than a kite. After I explained the situation a few times, he finally got it and asked for the reference number which was already given twice. He then told me that my brother did not complete the form so my brother needs to contact him. I told him that my brother did it online and that he has a receipt for it. Showing the transaction was completed and got a reference number. He said that my brother needs to contact the help center. I asked if the number I was given would work as I am in Thailand and he is in the states. He asked me "which number did you dial?" OMG, I gave him the number and he said, "Uh, yeah, sure that will work." So I contact my brother and he calls 4 times and got no answer. I still do not have the money and he can not contact anyone. This is what he received:
Your transfer is being sent! Have receiver bring Ref no.31345976 & PhotoID to pick up when ready. http://bit.ly/2FkQcgC for status.

Sam, Soheir
from Hollywood, FL
To Whom It May Concern,
I'm filling a complaint against customer service supervisor her name "Samira" at Walmart store # 02591 in 151 sw 184th Ave., Pembroke Pines, FL. 33029
She was overbearing, Rude and despicable
On Tusday 07/03/2018 at 1:20 PM I try to use moneygram to transfer money to my native country the casheir asked for my social security number which I refused to provide her I told her I did transfer many times I never asked to provide my SS# she said because the transfer money so much I told her what the maximum transfer money I can do without providing my SS# she answered rudely I'm not telling you, I did asked for the superviser, she came with bad attitude without saying hi or either what can I help you, I told her I going to reduce the transfer money to $3,000. Without looking to the computer screen she said I need your SS#, I said to her ok I'll reducet the money to the same amount I did transfered a couple of month ago without SS#, she said very rudly "no" you told me already two different amount of money, I said because you don't want tell me the maximum amount I can transfer money without SS#, you didn't type nothing at the computer or either took the money, she said "no" and turned her back with very low class attitude, I was embarrassed.
She never said "Hi" or "sorry" or "I can't help you or call the moneygram to check how much".
She is unprofessional woman, overbearing, Rude and despicable.
This type of behavior is not at all acceptable.
I request you to look into the matter as soon as possible before the other employees will do the same to get a higher position like their supervisor.
I really greatful that walmart exist in my life I feel safe, comfortable and satisfied when I buy their products on line in terms of price, quality and delivery speed.
My favorite store is the "Walmart" close to my house, so I would like the staff to be an honorable face to Walmart.
Regards,
Sam, Soheir
suesue1010@hotmail.com

Ruth durham
from Arlington, TX
I shopped for my last time at Crowley Walmart . I spend at least $100 a week on pet food and supplies there , I volunteer with animal rescue and appreciate any savings I can get as it helps feed another animal .todays visit I thought yay , got lucky ,30 cents a can for ,13 ounce poultry platter , of course I took all 33 cans but cashier would not honor price,5 employees later ,including 2 that where visiting and supposedly high corporate guys (that where calling to me to have a great day as they refused to honor the price) said I could buy only one can , I should have taken their pictures to post my experience on face book.. I wished I had put back the other $78 .worth of cat food I had in my cart , but had already paid for it while waiting for management to honor the price they had on the shelf .SHAME ON WALMART in Crowley .!!!! What's worse is the disposition of those managers who stood smiling like they ruined my day .by no means , I was prepared to buy it no matter what , just thought I had a lucky day . , but instead they managed to force me not to shop there . I have high ethics and principals that I stand by and Walmart has proven again that they lack morals . It was not me misreading anything , upon me questioning that I could only buy one ,that was not on any item on the shelf stating that .anyway bye bye Crowley .ill spend my money elsewhere

Your PEDO symbolism on the shirts in the boys department in Lewisville, Texas "you want to pizza me" is sic and disturbing it goes to show where Walmart's Moral Value is. You and your company can go to hell in a hand bag. We Americans will expose you and your company for what you really are A BUNCH OF SIC PEDO'S so get ready your times up. #BOYCOTTYWALMART hit em where it counts in their pocket book!!!!! Bunch of SIC DEMONS.

Shirin Purnell
from Sperryville, VA
Location: Walmart store, Culpeper, VA 22701
Date: June 27, 2018
Time: 12:25 and 12:45 p.m.
Where: Bench by a restroom in the front area of the store. After that Customer Service area next to the restrooms.
Today was my last day as a Walmart customer. Our local Walmart's customer service has been going downhill recently. Not sure why but some employees are placed at the exits and randomly stop customers to see their receipts. I understand that some items may beep that would render the checking of a receipt, but being stopped while you already have Walmart shopping bags in hands smells of some racial or some other bizarre profiling to me. I have been stopped rudely last weekend while wheeling out a kids bicycle (their birthday gift) with my little kids and having other Walmart bags in hands. The lady at the door rudely gestured to see the receipt and then didn't even look at it and handed it back to me without any "thanks" or apologizing. What was the point? Can't remember being singled out like that at Target or other local grocery stores we frequent. I had to shudder every time while leaving this store expecting to be pointed at and asked to step aside. Not a pleasant experience at all.
Today was the worst with my mother who is visiting from overseas and doesn't speak good English. She buys all her gifts, necessities and souvenirs at Walmart, and this week alone spent over $500 there. Today I was supposed to pick her up from yet another Walmart shopping spree on my way to pick up my kids from their day camp. Instead I ended up searching for her for 20 minutes since she wasn't where we agreed to meet, and she wouldn't pick up the phone. I was imagining the worst thinking she had some health issues due to her age. Then I finally received a call from her saying that some employee lady approached her when she sat down next to the restrooms while putting the money back in her purse after just having paid for her items, and started asking her questions. My mom told her in her bad English that she was waiting for her daughter and she didn't speak good English. Then the lady proceeded to empty all her Walmart bags (WHAT?) and checking every single item against the receipt my terrified mother produced for her. What the hell? Then she took my mom to customer service and made her wait in a long line while I was losing my mind searching for her. When I finally found them, I got the end of the conversation between the first employee and the cashier accepting refund items at customer service. Turns out that some cheap lip balm has been rung up twice, while the same lip balm in a different shade hasn't been rung up at all by the cashier. Which puzzled even the lady who had to assure the first employee that it was totally fine. I WAS SPEECHLESS!!!! I was so upset, late and mad that I just grabbed my mom and we left. I had to pick my kids and I was late because of THIS?! The lady never apologized, by the way. It didn't occur to me to ask for her name (which I should have), or to see the manager, because I didn't realize the whole ridiculousness of the situation then. Now I am wondering who gives these employees instructions to search bags of elderly ladies who are peacefully sitting on benches inside the store bothering no one. She didn't try to leave the store, nothing beeped, she had a lot of bags with her and her receipt had over $150 worth of goods just purchased. Did she really think someone who paid that much would steal a cheap make up item costing $2? If so, why didn't she take her back to the cashier that made a mistake? What is wrong with you, Walmart? This is how you treat your customers, and in this case foreign tourists???
Like I said. Never setting my foot in your stores starting today, and never letting my foreign guests enter your stores either. Not worth the humiliation and lack of human decency.
P.S. If you are serious about finding out who the employee was, though I suspect the problem is not limited to that one employee only, I could describe her. Or you can always check with the lady who worked the Customer Service desk at 12:40 today. I am sure she remembers.

James Raposa
from Houston, TX
while purchasing tires employee who was doing install got very upset and was throwing tools across the floor and screaming at employees, after getting home I noticed he did not install valve stem caps, and did not replace hub center in rim. Need employee # to watch cameras and check this out. Not the kind of employee I would have working for me. store was in Lumberton, Texas 11 am Josh A 6700 6/20/2018

Judy Ling
from Tehama, CA
Prescription was sent in by doctor 10a.m. I went to pick it up at 12 I was told it would be an hour. I left came back. Asked for the medicine and was told again I would have to wait an hour. I said I have already waited my hour ask the other clerk who took my order, She came over looked at the computer and said you still have 5 min. I have always gotten my prescriptions at Walmart in GA and they didn't have the policy you had to wait one hour no matter if it was ready. I will NO LONGER GET MY MEDICINE AT WALMART CVS HERE I COME.

My girlfriend and i tried to return three items this morning at the lonoke location. There were two employees involved. One was a regular cashier who looked to be stocking in her isle. We greeted her and said good morning we would like to return these the receipt is on her phone. She sighed turned her back and mumbled what sounded like "morning". She began to ring the items up. Then she told me a total. I said no mam we are trying to return these she sighed again and yelled "ms Rita" which was the second employee that came walking up wearing a yellow vest and she said "we don't do returns till 7am" my girlfriend said ok no problem. The cashier snatched the bagged items and laid them on the counter and said we don't do returns till 7am. She was extremely rude and I have never felt like such an annoyance to someone we spend a lot of money with! I do not believe Walmart operates or wants to be known to operate like this. I am
Not sure what we did to upset the cashier but i was also amazed the superior employee in the yellow vest "ms Rita/Nita?" Allowed this to happen and didn't even act like the employee had done anything wrong. We do not APPRECIATE being treated like this. My girlfriend is actually from bentonville ar and a former employee and was shocked at the treatment.

Michael Randall
from Candler, NC
I was in your store on Airport Road in Arden, NC tonight shopping in the electronics department. There you have many TV's playing stuff which is expected but there was one TV on the top shelf that was on some channel that had some black guys doing rap. The language was so bad that I was in shock that the store would be allowed to play something like this. There were children nearby shopping with there parents and it was terrible. I went and complained to the customer service desk and they call some employee by the name of Marc and told him about it. I proceeded to go back to the area and wait to see what would happen. I was shocked that nothing was ever done while I was there which I waited about an hour. Marc and the other employee that finally showed up just stood around and talked. I did not purchase anything from the store tonight and will not shop at that store again. I will be going to another store down the road from Walmart tomorrow and buy what I need. I'm not sure this will even be address but I just felt that a faithful long time customer was completely ignored.

charles cobb
from Mebane, NC
I was shopping in your store and was about to leave when I was stopped by a manager david was his name and he asked out of the blue if he could see my receipt I asked him why without answering my question he goes on a tirate about having the right to ask me for a receipt that might be true while I am shopping but after I pay its mine don't stop me on a hunch I am sorely pissed he followed me around the store he didn't ask for a receipt frankly it was a matter of race profiling plain and simple I want the managers head on a stick I was not raised to be silent to speak out when wronged by anyone

Paula ciletti
from Irwin, PA
You sent me two five dollar gift cards for a bad product i bought .They don't work. And I been trying to contact the mainstay about the gazebo i bought it only lasted four months and it fell apart .I been trying to contact them for months .I paid 200.00 dollars for it it should of lasted longer then that. Thanks paula ciletti .

Patricia Simpson
from Dallas, TX
My sister and I with are grandchildren were in the self check out. We were talking and I paid but truly forgot about my husbands beer at the bottom. My sister was just checking out and I turn to take the cart to her and the woman was standing there and I replied oh I forgot the beer and she just stood there with her arms across her chest smirking. Even when I couldn't find the bar code she offered no help what so ever. I felt bad and said to her I would have caught it and I wasn't trying to steal and as she walked off she popped off and said ya right. My sister was done and we started to leave and she came back stepped in front of my 5 year old grandson pushing his new bike and said loudly I need to see the receipt for the bike which was the first thing that was rung up. I go to Walmart at least once a week and spend anywhere from 150 to 300 dollars. I don't care how far I have to go I will never go there again. Never have I been so embarrassed or so upset. I understand you have to keep your eyes out but it was her very rude attitude that hurts the most. And I'm also aware that she is watching the screens to see what is rung up. I truly felt she was trying to embarrass me my sister felt like she did it because one of granddaughters is mixed race. She was a manager and had the worst people skills I have ever seen. This was at the Harrison Arkansas store and here my sisters and my receipt information 6/15/18 tc#07630779063167289268 time 12:43 tc#11398516894658762727 12:41 tc#72979224918712504515 12:44 if needed this is my phone number and I will save the receipts Thank you Patricia Simpson

Robert Henriksen
from Lebanon, PA
Customer service so bad it drives customers somewhere else to shop.

DARREL W SENTER
from Wrightsville, GA
Hello, I was in your Eufaula, Alabama store yesterday buying groceries and there was a woman with a dog in the store.
One of your employees told her no pets were allowed ln the store and the woman started screaming at the man telling him to leave her alone and to get away from her.
The store manager was called and he listened to her complaint about how a store employee was harassing her about her dog and all he was doing was informing her of store policy. I told the manager I saw what had happened and the incident was all her doing from the get go by bringing the dog in the store and evidently this isn't the first time she has done this and screaming at an employee to leave her alone that she needed her dog with her for her nerves or something.
My point is I don't want damn dogs, cats, pigs, snakes, lizards, horses, cows or anything else in a store where I buy my foods and clothing.
Tell your store managers to get a back bone and escort trouble making stupid people outside. There is nothing wrong with having a pet for companionship, I have 2 cats and 2 German Shepards my self and love them immensely but I don't take them to the damn store with me! Remind customers that they are not in a pet store to shop elsewhere or leave their damn pets at home if they want to shop Wallmart!!!! Thanks for listening and stop this crap now before it gets out of hand. DW Senter Cell phone: 706-957-0086 if you want to call
This complaint is strictly between me and Wallmart customer service and not to be shared with 3rd parties for any reason and is to be kept confidential.

Cathleen naumann
from Chesterton, IN
I'm was the last person in my family to shop at walmart and after my last experience will never again. I went to return an item and waited 25 minutes in line with one register opened and six other employees stand around talking and doing nothing. My time is important to me. Then I waited at the deli forever while employees act like they don't see you, this happens ever time I uses your deli . Then I went to the lawn and garden and bought two bags of mulch, when I asked for a carry out I was told they were too busy, again with multiple walmart employee doing not a lot standing in the garden section. So I guess my family is correct walmart is not worth the trip. Very disappointed shopper

Kay Young
from Woodbridge, VA
Just learning to order online, saw the picture of the phones that looked just like mine---wanted 2 additional ones, so ordered them online with Walmart. They arrived and did not work with my Vtech model... Took them back to my Walmart and was told to contact Marketplace and they would send me a return shipping label......well my total purchase was $38.21 which was paid on my Visa-----Today I had to take pkg to UPS and ship it back to Teledynamics , which cost ME, yes ME a whooping $11.89 WHAT GIVES!! WHY CAN'T THE STORE HANDLE THIS RETURN??
I shop at Walmart 2 to 3 times a month and never felt so ANGRY and USED.. I think I deserve a refund of this shipping charge, how about you???

Patricia Savage
from San Antonio, TX
I'm sitting in the service center waiting for my tires to be put on. While waiting they call me to notify me they have broken my shifter. First he tryed to say it was that way, after I said no it was not he admitted it wasn't broken until he tryed to move it then the spring just pooped out..needless to say after speaking with the other auto dept employees and being told there is nothing that they will do about it. If my car wasn't on that lift having the tires put on at this moment I'd take my car elsewhere.. I will not be shopping here anymore.

Charles A Harrison
from Logan, WV
I BOUGHT A FACEBOOK GAME CARD ON 4/28/18. iT DID NOT WORK, SO MY WIFE TOOK IT BACK, tHE LADY SCVANNED IT AND SAID READY TO GO NOW, IF TROUBLE BRING BACK.... WELL IT DIDNT WORK AGAIN SO WE TOOK IT BACK WHEN WE WEENT FOR GROCERIES..... WOMAN SAID NO REFUND NO OTHER CARD.... SAID THEY JUST SELL CARDS FOR OTHER COMPANIES, I WAS THINKING TO MY SELF, WHAT ABOUT TIRES, WINDSHIELD WIPPERS, HATS, KNIVES, TOOLS? if I BUY ONE WOULD THEY TAKE BACK?
SO I WAIT THERE TO SEE AND SURE ENOUGH PEOPLE COME IN LINE TO EXCHANGE, BRING BROKE STUFF BACK, AND THINGS DIDNT WORK RIGHT,.... THEY GOT THEIR MONEY OR EXCHANGE, SO THEY SAY, WE GET Kathy now ... WELL OF COURSE KATHY NEVEDR COMES... SO I LOOK FOR NAMETAG SAYING KATHY.... AND I FIND HER STROLLING AROUND..... I SDAY NOTHING BECAUSE I DINT WANT TO SEEM SILLY.... SO WE PAY FOR GROCERIES AND LEAVE.....so now i have no card... wallmart has my 25 dollors... and seems really happy about that. B ut i cant seem to find the joy in getting ripped off of 25 bucks. maybe i am missing something. so i tell the girl while i was there i will advertise this for them about no refunds at wall marts stores for cards bought.. she said ok that works..... now be advised no one yelled or was out of line during all this... was a calm happening... just happened i didn't get my card........ so i wait and see what u guys say. if that's how u run it then nothing i can do to recover 25 bucks. so its up to Walmart keep my money or give it back... let me know anyways several cant wait to hear the decision.... Charles a Harrison logan wva .... 304-752-1048..........

Cathy Evans
from Arlington, VA
I am a dedicated shopper at Wal-Mart and have been coming here for years. I often have my car worked on here and know the process--first come first served. Hence my getting up at the crack of dawn to be first in line. Imagine my surprise when people who had gotten there long after me were put in front of me because they were standing at the door. This is unnerving and very upsetting for me. As an asthmatic and highly sensitive to the extreme pollen, I could not stand at the door for 40 or so minutes without fear on having a life threatening asthma attack. The policy has always been first come first served and my car was the first in line. When a process changes, it would be very helpful to post notices. Although one of the mechanics told me I would be served first since I was there first, this was not the case. I am a very loyal customer and would just like you to consider keeping the first come, first served policy in place. Especially, for customs like me who cannot stand outside for extended periods of time for health reasons.

Tristian Straub
from Plainview, NY
My order was supposed to be delivered today. But was not. East Meadow store had them on hand, but no, It had to be sent to my house for delivery for today.
Where is my shipment? If not delivered in the next 20 mins. I want a full credit and my closet. And for those that shop at Walmart, stop.

David Selneck
from Matamoras, PA
I don't get my oil changed at Walmart anymore because your employees would rather "play" than do their job. I don't buy my tires from Walmart anymore because I had General Tire Grabbers on my vehicle, I went in for a rotation and was told tires not worth rotating. Which I knew. The Automotive manager, Buck, told me in front of an employee that once tires have been adjusted they cannot be adjusted again. That was a bold faced lie, I have an email from Continental stating that.
To day is my last dealing with your pharmacy. I am diabetic and take Metformin to control it. I called in a prescription to be refilled on May 1. I went to my Drs. office they there was no request submitted. I went to Walmart Pharmacy and was told they submitted it May 1 at 8:30 p.m. someone is lying again. My script was done at 5 p.m. When I went to pick it up, I waited in line paid for my script, then it was placed by consultation. I tell them every time, I don't need a consult. Now I don't have a choice!!! Bulls--t. I have been taking my medication for 15 years, I think I know how to take it. If I have questions I'll ask. Don't have someone call me to make nice. When my refills are done or I find out I can pull them from your Pharmacy I'll be doing business with Price Chopper Pharmacy. A few dollars more but well worth not having to deal with the petty, aggravating, crap of dealing with your pharmacy.

I went to the store 12555 w sunrise and have a terrible custumer service from the manager plce contac me 9544877565 thankyou very

CSS wanda is one of the rudest people
I have ever met.. she wouldn't do a price check or check on something in the store
And just walked right by me when I tried to ask her a question..

SHARON L METZ
from Kansas City, KS
We went to return a product bought in Kansas. It was a PHILIPS NORELCO Cordless Rechargeable Men's Electric Shaver. We paid 69.99 for it. I was able to show that to them from the website. I was also able to prove to them that it had never, not once been used. Because it wouldn't take a charge at all, none what so ever! We sure didnt expect it not to work at all! We bought it opened it and put it on to charge, and threw away bag, box, ect. We are full time summer RV campers, traveling everywhere. We had to make a stop in Joplin Mo. (Exit 8) while here we went to the Walmart, and tried to exchange the razor. They didn't carry the exact one, they had two that cost a little less than the one we had, but I didn't care, we just wanted one that worked.we were there over a hour and a half, while they were trying to get a UPC code. I was getting sick and dizzy, and almost vomitted. Waiting, and being pretty paitent. But then they told us they couldn't do anything to help us. I was feeling really weak by now, i lost it and tears rolled. I told my husband lets get out of here, and i pushed the razer toward them, after all it didnt work, and they werent going to do anything for us! There was a brunett manager that was really rude. There was a guy manager that was pretty nice, but he had to leave. When the brunette came, she didn't do a damn thing to try and help. All I wanted was to get one that worked, I didn't care if it was more or less... I would have paid the difference if it was more, but they only had two and they were less than the one we had. Right now I am spitting mad! Not only didn't they help us, but I left the broken one that never worked there! I bet that "bi@!$h" exchanges it now! Cuz she has the new one that had never been used! My cell number is 316-755-6661, my husband's cell number is 316-516-8903. We are both on disability, and can't afford to just throw money away, I feel like we just got screwed, by Walmart, since they wouldn't stand by their product. I don't know if writing this will don any good or not, since we no longer have it, instead Walmart in Joplin No has it
Thank you if you can do anything to make it right,
Otherwise, I think we are thru with Walmart
Mr and Mrs John J Metz
10606 West Atlanta Circle
Wichita Is. 67215
Ladyhawk1957@gmail.com

Lois Johnson
from Clinton, IN
Have been trying to call in perscriptions to Walmart in Martinsville, IN. The phone rings numerious times and then hangs up on me. This is not the first time that this has happened. Your customer service sucks. Maybe I should find a different pharmacy!!!!!!!

I love the deli foods at your store1437, but the racial comments are awful. lilly they called this assoicate speaking about another co worker of a different race. that assoicate of a different race just made a weird look at them as she helped me. i have heard other racial slurs from lilly towards this same assoicate. I just feel that this could be bad for walmart.

Danny carter
from Pensacola, FL
Magnolia ark store very rude and smart mouth employees black lady in the garden dept.. Lazy and very racis. Here name is Kama I think very disatfied with this store.

Juanita Davis
from Birmingham, AL
I purchased my second baby gate from your store. The second one was also too short for the stairs. I purchased the last gate in November 2017. My daughter-n-law told me that one was also to short, but better than the first. I had intentions of giving her the receipt to return it, but that did not happen. I finally remembered to put the gate in my car. I tried to return the gate on yesterday @ the same store of purchased. I was told that I had exceeded the return policy of 90 days. I was speechless, but I did not argue the point. I did mentioned that I was unaware of this policy. (I am only assuming this is a policy). I thanked the attendant & left. I had numerous Wal-Mart receipts in my car. I could not find written information on ANY RECEIPTS NOR ANY POSTINGS in the Customer Service area which displayed a return time limit. I knew about the "no receipt, no cash refund", there is a credit given. But to have the receipt & unable to get my total refund is OUTRAGEOUS!!!!!
The front of the receipts ink is almost gone, but the back of the receipt with nonsense about survey is very legible. What is the most important entity of your receipt? The purchases, not a survey on the BACK of a receipt. This seems to be a ploy to prevent the public from receiving there money back. If I had found this "policy" on any other receipts, I would have to accept this. But this seems to be an undisclosed policy which is deceitful, & dishonest.

marvin davenport
from Humble, TX
eggs were purchased at your Walmart store #2688 on HIGHWAY 64 this morning the IPC numbers are listed in the nationwide recall for salimeno. I called you store manager and asked him why the eggs are still on the shelf. He stated they were not . The IPC numbers on the package shows clearly the number in the recall , no excuses are good enough , and I will not accept any manager telling me that they are not on the recall list
. Its BAD BUSINESS PRACTICE, and I am sure the FOOD and Drug Administration will not appprove of any one keeping them on the shelves.
IPC number78742 12714

Diana Smith
from Denver, CO
I waited 20 minutes and 3 requests to have someone open a locked case. In the case I wanted makeup removal pads. The cost of the pads $3.48. The clerk told me I could ask my product from customer service. When checking out customer service as busy and could not being my items to check out. When I complained to the manager Keaton (Castle Rock Co)he told me to blame NY. He could do nothing. If I didn't like it I could leave, so I did! Also changing deli hours to open at 10:00 Is just stupid. According to your customer service rating 2 out 5 this complaint will not mean a thing to Walmart! I won't go back. There are many other stores that can serve the customer needs!!!!!

Store Address
1801 W Lincoln St
Harlingen, TX 78552
(956) 428-0734
I have been going to this store for the past year. I always shop from 8-9 am Mondays through Fridays at least twice a week. I won't be going there anymore for things I need, but just to record my shopping experiences in hopes that social media or management can rectify an extremely rude environment made by its employees. This is a case of, "The monkeys running the zoo."
On more occasions than I can count, always on the grocery side of the store, when rolling my cart down the aisle, I have to stop my shopping cart and give employees "the right of way". They were not stocking shelves, they were either walking by or talking together side by side. The isles are only so wide, I would have to stop shopping and halt my 200 lbs cart so they can pass.
At first, I believed that they simply were not paying attention and it was an accident. Now, I am certain it is intentional. I began talking to the employees asking them if me and my 200 lbs cart were in their way of walking past me. Most would not respond, some would half heartily say, "Sorry."
This behavior is akin to the jock in high school bullying the kids to get of their way in the hallway. It only happens at this store, other stores in near by towns such as Weslaco and Donna have helpful and courteous employees.
So, from now on, I will be videoing my shopping experiences at the Walmart store on 1801 W Lincoln St in Harlingen Texas. My intentions are to bring awareness to my community, through social media, about this behavior and prevent people who are probably having a bad day, from being belittled while shopping .

Dennis Williams
from Salt Lake City, UT
We purchased a NEXTBOOK notebook at wall mart. It worked OK for a while and now will not charge or indicate that it is plugged in.
we looked it up on line under repair or service for NEXTBOOK and it states that it is under warranty for one year. If service is required return it to the place of purchase, not to them. We returned it to our local wall mart ware we purchased it. we were told by the electronics department manager that they will not help us. We must return it to the manufacturer. We purchased it from Walmart, not on line as they would warranty it for one year.
Purchase date Dec 14 2017
store Washington Utah, #01439
Price $211.64
SN YFGV0316079960
Transaction ID 587348780907222

I have been shopping at Walmart on Highway 72 since it opened. At first it was great. Now it is the worst Walmart in Huntsville, and Madison. The shelves are never stocked. For two weeks the vitamin shelves have been empty. Every time you go in there shelves are empty. Today I went in there around 4 pm and there was only one cashier. The line was backed up. I asked if no one was working and they said they called off. There were at least 5 CSM's in there and none of them were doing anything but standing around talking. There are always at least 5 of them in there little yellow vest doing nothing and no employees working. At 4 in the afternoon the manager should be staffed and if not his little CSM's need to work. I do not go to the self check out because I don't get paid to check myself out. I spent $230.00 in there last week and 270 this week I expect better service. We spend a lot of money in there. I had rather spend more and be treated better. Your employees do not care. This store needs better management at the top.

bill middlesworth
from Santa Monica, CA
I have been going to the town center Walmart in long beach ca. for several weeks and before there have not been hand wipes for the baskets, I have contacted the managers about the wipes and all have told me we don't have on hand but will get them in a couple of days it didn't happen. so I started bring my own wipes. there are other problems, dirty wash rooms, and the demeanor of some the with workers , one heavy set black male with a beard in the sporting dept. ( I was trying out of a chair, he started ordering out of the way your blocking the me from going by, I was off to the side of isle). I don't think I am not going to shop at that store. I feel a investigation from the cooperation should be made. thank you.

j. bailey
from Mandan, ND
Terrible customer service in the store in Mandan, nd and terrible customer service on you 1-800 customer service line. I would give 0 stars!

Tonya Brennan
from Midlothian, VA
This store would not except my personal check as payment at check out on 4/14/2018, so I had to leave my bagged grocery's at the counter and return home empty handed as I do not have a debit card. I pay by check all the other time, this is the second time this issue has happened.

Melinda Riley
from Chatsworth, GA
I want to file another complaint about the Walmart in Summerville/Trion Ga. They have the Primo Water Refill System. About two months ago it went out of order. It was out of order for two weeks. They finally got a new machine installed about a month ago. It went out of order after two weeks. They got it fixed. I was in the store today and it was out of order again. It has been out of order twice in the last three weeks.
I would dearly like to know why they cannot keep this machine working. Do I have to go in the store to check if the machine in working and then go back to my car to retrieve my refill water jugs? Can you tell me what is going on and why they cannot seem to keep this machine in working order?

Rhonda goode
from Oklahoma City, OK
I was in the store at 23 and Penn in okc ok to day at about 4.50 ,I picked up 4 items ...there were 2 cashier's and all the other employees were helping the new self - check area the line was ridiculous .....at 5:40 I left the store without the items I went in for.....I don't work there but I know they are busy at this time of day,you would think the manager would know it! I know my purchases will not affect your business but I think you have lost it.......I refuse to try to self-esteem check a basket full of items.YOU ARE NOT THE ONLY PLACE TO SHOP IN OKLAHOMA CITY! Close yes but not worth my time
Rhonda Goode
Have feedback for Walmart?
Thanks for your feedback!
Sorry. Please try again later!