American Airlines
Contact American Airlines Corporate
Toll free phone number: 817-863-1234
---
American Airlines is a Fort Worth, Texas based airline and is one of the top two airlines in the world. After its merger with US Airways in 2013 it now trades on NASDAQ:AAL. The AA fleet is over 939 with over 6700 flights daily to 350 destinations in 50 countries. Third quarter earnings in 2015 were reported as over US 1.7 billion. Employees numbered over 113,000 in 2015.
If you have a problem with your American Airlines flight you are not alone. The best customer service phone number to call for help is 1-800-433-7300. If you are an AAdvantage member call 1-800-882-8880. Find helpful numbers here. If you would like to contact CEO, Doug Parker, you may address a postal correspondence to him with American Airlines, 4333 Amon Carter Blvd., MD 5675, Fort Worth, Texas 76155. The corporate phone number is 817-963-1234.
From its beginnings in 1930 as American Airways it was a consolidation of over 80 small airlines. It officially became American Airlines in 1934 and moved headquarters to Texas in 1979. The C.R. Smith Aviation Museum is operated by American Airlines as well as a Texas based flight academy. Social presence may be found on Facebook and Twitter.
American Airlines Contact Information
Report complaints to corporate and get satisfaction
American Airlines headquarters address

AMR Corporation
Fort Worth
TX 76155
United States

Company website

1-800 phone number

817-863-1234

Support email address

support@aa.com

Better Business Bureau rating
Browse reviews of other Airlines
Top American Airlines Complaints
Browse more than 324 reviews submitted so far

Mrs. T J Cottrell
from Bellevue, WA
On August 2, my family flew on AA Flight 530 from Seattle and experienced a layover in Philadelphia. We arrived at 6:06 AM on the morning of August 3 and made our way to our connecting flight 4855. A delay was explained as bad weather in Albany, NY. We checked and the ceiling in Albany was 12,000 feet. Then we were told of another delay. After waiting more time, we were told unceremoniously that the flight to Albany was cancelled. We could be wait-listed for the 9 PM flight that night.
My daughter and son-in-law decided it was best to take their toddlers and rent a car to make the trip north. Imagine being in the car all day with 2 toddlers from Philadelphia to Albany. Unable to rent a car one way to Albany and unsure how many days we would be stranded in the Philadelphia airport my husband and I decided to take the train. We were told to go downstairs and wait for our luggage, for which we had paid $25.00 for each suitcase. After 1 1/2 hours we were told that one bag was already on its way to Albany, the other was still being retrieved from the plane. At 2 hours I checked again and was told that both pieces of luggage were already in Albany.
Again, we could be waitlisted for the 9 PM flight for which there was already a long waiting list because the flight from the day before had stranded a number of passengers overnight at the airport. We thus chose to take the train into Philadelphia, proceeding to Penn Station and thence to Albany. It was an all day trip but we made it to Albany by 6 PM. Then we had travel from the train station to the airport to retrieve our luggage. (My daughter's family's reservations for the return trip from JFK on Monday, Aug 8 was cancelled without any notice from American.. They arrived at the airport to learn that just before boarding. Imagine their frustration with 2 toddlers to take care of).
My husband and I are petitioning for a refund on our luggage checked baggage fee ($50.00) plus the cost of our train fare, ($164.90). And we feel that we should be refunded for the Philadelphia - Albany leg of our trip. If there is no response to my letter I intend to contact my Washington State Senator who is on the Transportation Committee in the US Congress.

Valerie Henriquez
from Dallas, TX
I was scheduled to depart from LGA to DFW on a 6pm flight. Due to weather conditions the flight was delayed to 6:50pm, than 7:15pm, 9:30pm, 10:50pm, than 10:20pm. This kept going on al day, which resulted to me staying at the airport all day. After 12:00am the flight came in, and the passengers were informed the flight was cancelled due to illegality (In other words, the flight attendants are exhausted and opt not to fly to Dallas). Understandable.
However there was no courtesy provided to the customers who camped out at the airport all day. At one point we were told American Airlines are attempting to call other flight attendants (which never happened). We were then told the flight has been rescheduled for 7:30am on 02/16. No only were there no accommodations (hotel vouchers). we were told due to security reasons, we have to exit the gate and sleep outside of TSA.
It was absolutely humiliating to treat a customer this way. There was a lack of service and in most cases the customers were made to feel it was our fault. There was a lack of information, provided to the customers, and the manager "Sue" was less than helpful. There were customers on wheelchairs sleeping on the floor. I have always been prideful to fly American, and it is absolutely disappointed to have experienced this kind of treatment.

Sandra McDougall
from Calgary, AB
My husband Richard and I were booked onto flight 2806 out of Yuma flying into Pheonix. We had a e-ticket with assigned seating, which we had paid extra for by the way. We were at the Yuma airport by the designated time that your website had stipulated. We stood in line at the airport for 45 minutes and were second in line when half an hour before the flight was scheduled to leave your front counter staff shut everything down so that they could now become the ground crew. In the time that we stood in line a woman wearing a supervisors badge came out and talked to her staff for a moment then left and went in to the back leaving all of us standing in line, which there where approximately 16 of us. One of your front counter staff spent 20 minutes with a passenger will the passenger talked to someone on the phone instead of letting other people get booked in. We were than left to stand in line for another hour before anyone one would even talk to us again.
We were put on a standby list for the next flight which had already been over sold. The passengers who were over sold on that flight were given $600.00 and booked on another flight and were still standing in line without even being offered so much as a cup of coffee! Naturally we were not able to get onto that flight after we had stood in line for an hour to be put on standby and another 20 minutes to get through security and now had to stand in line for another half an hour to be put on standby for the next flight and another 20 minutes for the security line to again not be able to get on the flight. And once again could not get on a flight and had to stand in line for half an hour to get another standby ticket and another 20 minutes in the security line.
When I received my standby thicket this time I asked if we could have a lunch voucher as it was now 2:00 p.m. and was told you do not give out vouchers. We were finally able to get out of Yuma on this flight but of course our connecting flight to Calgary, Alberta had left the Pheonix airport at 10:00 a.m. and we were now on the 8:05 p.m. flight. We arrived at the Calgary airport, which is home at midnight when we should have been home at 2:42 p.m. I found your staff to be rude and uncaring. I am a manager in the food industry and I am appalled at the treatment and service that we received, if any of my staff would have treated one our customer in this manner they would be fired on the spot and that customer at the very least would have had their meal for free and offered a complimentary bottle of wine. I would appreciate a reply to this complaint.

Kim Lynam
from Des Moines, IA
Cancelled flight after sitting at airport for 5 hours! I was told at one point "we all have problems!" Also one lady told me after I said I had been up since 3:30 she had been up since 1:30! I told her she was getting paid and I was suppose to be on vacation! We missed our appointments in Phoenix and were not compensated at all. They could at least buy our lunch! I called customer service 3 times. One lady named Ashley from Charlotte was the only nice one.

I am writing this letter to express how disgusted I was with the Customer Service on my recent trip on American Airlines. Departing JFK was a complete nightmare. The flight was originally suppose to depart at 5:05 pm, Thursday, September 22, 2011. Upon arriving to the airport I checked the flight board and saw that my flight was scheduled to depart on time without any delays. Boarding the flight went smoothly until it was time to depart. We were sitting on the plane for an hour without any explanation from the pilots or flight attendants.
It's not until several passengers began to notice that we had not moved from our original spot that they began to stand up and ask questions. The pilot finally announced that due to weather that one runway was being used and we would depart.
The flight attendants service below average. I could not believe that on a flight from JFK to LAS would run out of beverages and snacks. Not to mention I was more appalled that American Airlines did not offer complimentary snacks but were selling snacks (that were sold out as well)! Worst flight I've been on in a long time!
When people fly they would like comfort when doing so. Good customer service should be mandatory! On a flight for 5 hours in misery is horrible. I will be sure to bypass American Airlines and take my business elsewhere until your company decides to step it up.

To whom it may concern, I am a teacher in the state of California. I was on my way home from a trip to Costa Rica. I had with me 5 students, a VP and a parent. We had spent a week traveling and learning about Costa Rica's Rain Forest/ ecosystem.
On our way home (3-29-13), we were on American Airlines flight number 177 out of JFK flying into SFO. What I experienced on that flight was very surprising to me. We were seated on the left side of the plane right next to the serving area for first class. Very early on in the flight we witnessed a tall black man that was working in the serves area (but not serving) have what I would categorize as a childish fit.
He was loud and putting down another airline employee for organizing the service area in a way he did not like. He was waving his hands above his head and talking loud in an angry manner. The two older employes that were waiting on first class had to go in and calm him down. They were explaining to him that people just do things differently and that it was ok. The black man spent the next twenty minutes banging and shoving thing around as he rearranging the service area.
Not only did my student get to hear him putting down another employee they got to witness this episode as well. The employee he was putting down was another black woman waiting on the section behind us. She was also rude to American Airlines passengers when talking to them.
About a half hour after this happened, a passenger behind me set a wrapper and a empty cup on the tray beside this service area. The black man let into him like he was a little kid. The man said he understood not to put his stuff on that tray anymore , but the tall black man kept yelling at him.
He kept saying "you do not ever do that again" "do you understand" in a angry loud voice over and over again. The man behind me told him he understood and could do without the lecture. I have never witnessed that kind of rudeness from an American Airlines service worker in all my fly experience.
I later got up to go to the bathroom. When I walked back to my seat, a bleach blond woman (American Airlines airline employee) with a double chin was standing behind the service cart at the service center for first class. The cart was right beside my seat so I could not get to it. So I was waiting for it to move. She turned around and in a rude and loud voice said " What are you doing". At this point, I could see why some people got irate on airplanes.
I was talking to my parent after the flight and he expressed a similar concern about these employees. He got up to throw away his trash. He walked to the back of the plane and held out his cup for the service worker to take. She was just standing in the back. She pointed to a plastic bag about three feet away on the floor.
The two older gray haired service workers in first class (man and woman)and the gentleman who worked the back section who wore am knit cap were always professional, kind, and worked hard. The black man and women and the bleach blonde should be transferred somewhere that does not have contact with the public. Their interpersonal communication skill match that of a seventh grader. The drama they brought to the flight left a bad impression of American Airlines.
I would expect to be treated and watch other people be treated much better than this on American Airlines flight.

To whom it may concern receiving complaints about the service Eulen America:
I hereby make a formal complaint about the mistreatment and disrespect observed an employee of Eulen America named Olga, Mrs. old lady, gray hair with glasses, skinny and short, who did not want to provide us with her name or show his identification, covering it with his hands so we could not see it when we express our feelings towrad the way she was treating passegners, specially Cubans. This happened this afternoon, February 24th, at 2:00 pm in the Concourse D / E (for connection flights). This lady by the name Olga. treated contemptuously Cubans who tried unguided to walk out that door, and even some discrimination actitude was noted in her actions when he shouted: "Cubans are not allowed to use this exit, they must go down". However, many other passengers used that exit, without having any connections, but she apparently only referred to Cubans, by identifying them by their appearence and look like. More than once we saw her mistreat and humiliate comrades of the same staff, in front of everyone. When we told, (three people who were observing their behavior), we intend to file a complaint against her and asked for her name, she brought her 'Supervisor' Mr Miche Sixtol, who told us that she was not there to serve the customer, and that he could not give us her name, nor his name, since they worked for a private company. Similarly we saw he tried to prevent us to see his name, but we could see it. Olga's name we knew because we asked one of his coworkers, since all the time she hide her identification with her hand, so we could not see it.
They laughed at us when they saw we could not find someone to take seriously our claim, at least make known the discriminatory treatment of this person towards Cubans, whoonly showed a face of bitter and frustration towards passengers. We approached her just to ask a question, without even letting us finish it. I had to explain to some Cubans thatalso approached her to ask about Cuban flights, but as soon as she heard the word "Cuba" she not even allowed them to finish formulating tjir questions, and simply pointing his finger she sai in a loud voiced: "Cubans must go down ".
For your information, there were people who had the decency to guide us and tell us that this was the best way to make the complaint, and told us that it was not the first time similar incidents had been reported about Mrs. Olga, but no actions had been taken.
This same complaint I have posted on the website of Eulen America, hoping it gets to the appropriate persons/executives, so that this time action be taken to avoid this kind of situations. It is important to note that attitudes like this make a very bad image of the companies involved in any work done at the Miami International Airport, which counts on such a great international prestige.
I would appreciate a response to my emial.
Sincerely,
Maria M. Brito
Email: margaret.brito@gmail.com

Alicia Kane McCracken
from Carmel, IN
We purchased a round trip ticket from Indy to NYC( LGA) on Thursday 2/4/16 and arrived just fine with no problems. However on Monday 2/8/16 we have a flight to leave at 2:00 p.m. and got checked in just fine however , it was delayed then cancelled with no explanation and just said you know be leaving at 7:35 and nobody told us or offered any vouchers just and the gate got changed several again with no explanations.
Then finally when we did boarded it was around 8:45 or so and they got us all on board deiced the plane went out to taxi and after sitting on the runaway for about 2 hours if not longer then told us we had to go back to the gate and at that time again we had to continue to wait until another gate was available for us and once back in the airport around 11:30 ish we had to stand in line and they said ( flight attendants & pilot ) that we would get a hotel on American Airlines because they had timed out on their work time.
We were not offered anything such as food/drink vouchers, hotels, taxi's fees, parking etc and then when we went to get our luggage my husband's luggage was soaking wet and we went to the baggage compliment area and put in a compliment his clothes were soaking wet and then to find out again that you guys over no Mercy.
We had to leave the airport get another taxi, hotel, taxi back the next day and miss work, pay for another day of parking in Indy and once again the flight was delayed on Tuesday and we had to change gates again and take a shuttle to a different terminal again with no one caring or offering us anything. We are very disappointed in how the whole event unfolded. You guys knew that they were not ever gone to be able to take off. We have flown with American Airlines many times over the years. Would appreciate some type of compensation or voucher.

Jane Wiggins
from Brandon, MS
I submitted a written complaint online the last week of January, 2015, regarding a request for airline credit for my experience flying from Jackson Mississippi to Lynchburg Virginia. My flight on the 23rd of December from Charlotte to Lynchburg was cancelled and I had to rent a car. The only one available was at the cost of $200. In addition to this, my bag was lost for two days. I have yet to hear back from someone regarding my submission of complaint. I would appreciate someone calling me.

Gail Golla
from Kingsville, TX
I have in hand my receipts from recent flights back home from Anchorage, AK to Dallas Ft Worth and then to Corpus Christi. My husband lost a new cap during flight in either the Anchorage, Dallas/Ft. Worth or Corpus Christi airport. I could not get the report claim to go through. It asked for destination and even though I completed it, it was all locked up. I needed to talk to a live person or have a help, technical button to push and there was nothing.
There no longer exists a live phone number or person to help. I could have used my home phone to call and paid for the charges but that was not an option. I do not have a SKYPE account as I do not use that. I could have used my cell phone but that was not an option. It looks as if the common courtesy that used to exists is not longer true for American Airlines. Surely their lines are no longer customer friendly. I am a professional person. I tried for over an hour to submit this request. The number for American Airlines is no longer functional at Corpus Christi, TX.
It would be very lovely to have a toll free number to call. Thank you!

Angel Rodriquez
from Sanger, CA
On March 9th, 2015, a group of friends and I tried to book a flight to and from Austin, TX. We all decided to book our flights separately. The total for the flight to and from Austin, TX, from Fresno, CA was set at $363.20. This was the total for the flights to Austin [American Eagle #5782 & US Airways $5570] on September 28th, 2015. The return flights were [American Eagle #5825 & American Eagle #2891] on September 28th, 2015. The members of my party include Joe Aguirre, Carlos Rodriguez, Matt Rodriguez and myself, Angel Rodriquez. We all booked separately and all saw the same price online of $363.20. Joe Aguirre was the first member to book and did so without any issues. I did mine online, was quoted the $363.20 and paid through PayPal. I was given a receipt from PayPal stating that the charges were made, totaling the amount of $$363.20. But there were errors on the website. The flights were not being confirmed.
I called 800-222-2377 to confirm my flight only to be connected to an individual that was no longer quoting me the price I was given on the website and on the receipt. I was being quoted a much larger price. These were not the terms established in our transaction. I sent over an hour being put on hold with this agent who did absolutely NOTHING to resolve my issue. The price I was being quoted now was $388.70, despite the fact that the agreed terms were already established by the very receipt and PayPal transaction record I have. After over an hour of dealing with someone who had no clue of how to respond to my complaint, I began to reach out on Twitter, but they were useless. I finally demanded to be transferred to a supervisor. He refused to give me his last name.
He simply identified himself as Javier and said his employee # was 1A. He seemed to not even care for my issue, refused to aid me in any way, and said it was impossible to stick to the price given on my receipt. I would have to pay the price of $388.70. After wasting away my cell phone minutes and time spent online with inept workers, I paid the $388.70 despite the fact that I knew US Airways was in the wrong! They didn't do a single thing for me other than waste my phone minutes and over-charge me after putting me on hold for close to 1 hour and 20 minutes!

Christine Kaye Campbell
from Rancho Cucamonga, CA
I needed to make a change in my reservation. I was on hold for four hours before I finally gave up. I will just have to try when I get to the airport to leave and take my chances. Very upset by the inconsiderate nature of this. If it is that busy, HIRE MORE PEOPLE!!!

On march,10 2013 i made my stop in New York and i found my self with the situation of having one of my bags missing, i filed my report at that same day. Sinse then i've been calling day after day and having nothing in results, no one of your employees seems interested on helping by discovering when i Am having my personal belongings back. It have been a week on my waiting im afraid that Ill have to find another way to have results...

This is a follow-up to a previous e-mail complaint that I made earlier this morning, 3/19/2013. Because of our counselled flight, I requested had 2 (two) round-trip airfares. Reason for was because we lost one full day of our Cancun vacation. To add insult to injury ,we were booked on the next flight at 1;40 pm and that flight was also delayed.
On arrival to Cancun we waited patiently for our baggage, too no avail. Our luggage did not arrive. We are now without clothing and bathroom neccessities . Not only did we miss a full -day because of American Airlines ""mechicanical malfuncutions"" but we did not receive our luggage with clothing and were not able to eat out with friends this evening.
We are very dissappointed with this airlines. Doubt we will schedule another flight with your airline in the future. This is our first experience with American Airlines and it has not been good.
Sincerlyl,
David M. Minniear

on a recent flight to orlando from ireland i paid for 5 tickets with a travel agent in killarney southern ireland 3 adults 2 kids aged 8 and 9 years old flying from shannon to newark to orlando and orlando to newark and newark to shannon on both times we left newark 25 october and return on 2 of nov our kids were put sitting on their own as far as im concerned your company will have no luck in the future when your treating children like this i presume you alredy realise this is my last booking with american airlines

I am 87 years old who enjoy reading the Washington Post Sunday newspaper. I used my AAdvantage miles to pay for an additional subscription. I am very disappointed that you put a restriction hidden in the small print. I am even more upset that after you took my miles, you are not going to refund me them even you are not providing the promised service, it is not only bad customer service but I believe deceiving business practices. I am demanding you that at the minimum you refund my miles so I can get another newspaper.
Ana Calderon
From: Subscriptions <subscriptions@discountednewspapers.com>
Sent: Monday, March 18, 2019 2:28 PM
To: lopezcesarg@hotmail.com
Subject: ORDER 9991217702
Dear Ms. Calderon,
You recently used your airline miles to place an order for the Washington Post newspaper. Unfortunately, per the Terms & Conditions of the airline website, the newspaper has rejected your subscription request. There are no renewals allowed, nor will the newspaper deliver multiple copies to the same address or deliver to customers who have previously used miles to start a new subscription.
If you wish, you can revisit the airline website where you placed your order to review the disclaimer at the top of the page. It states:
Only 1 order per address will be processed. Not valid with other discounts.
*Note: Airline mile awards are for new subscribers at a new address only.
Existing customers of this newspaper are not eligible. Miles cannot be refunded.
You may also re-visit the Terms & Conditions at the bottom of the page, which you accepted before placing your order. Per the airline policy, miles or points you redeem to obtain a subscription are non-refundable, and all redeem transactions are considered final.
If you have any further questions please contact the airline directly.
Sincerely,
Newspaper Subscription Services
Customer service Manager
Newspaper Subscription Services

Selma Edwards
from Litchfield, CT
First the rep at bdl refuse to check me in so I could board my 632am flight that was there for cancel y connect flight in Charolette nc that i arrived in time put me on stand by for 159pm fligt that did not exist an rep in Charolette booke me for 440 flight upon trying to return on 03/11/19 myflight for myself and husband total cancel we went to bury my husband brother total delayed on making funeral arrangementd to the 8 of march. Cancel re turn caused my self and husband to sit up all night due to fact no tranportation check out of hotel and turn in rental and sched 530 am flight that left at 523am and the last icing on the cake a dirty derrogztive remark regarding the weight oa bag she assume was mines

Paid for seat upgrade to include free beverages and meal, and somehow ended up in the back of the plane and separated from my husband. When asked what happened and if the agent could help, her response was quick, and quite rude, and said sorry, the plane is overbooked. She (Patricia, gate agent) did nothing to try and help nor did she look up the history to see if there was anything she could do to make it better. It was merely a 'matter of fact' to her. In my opinion, the gate agents need more customer service training, this isn't the first time that AA agents have been rude and show a lack of concern. However, I will praise the flight attendant (flight no. 2469) named Tammy (confirmation no. ITOPXL), she did 'everything' she could to have someone switch seats with us, unfortunately we still ended up in row 28, but we were seated together, thanks to her.
I would not only like my money back (we were charged $100.66/pp for seats that we did not occupy), but an apology. What a horrible long ride in the back of the plane. If this doesn't get resolved, we refuse to fly AA again.
Please also add my recent trip to my member no. 5RU72P0

Robert Gunter
from Melbourne, FL
My wife and I flew from PHX to MCO on flight 1984 on 3/13/19.. We requested a wheelchair for our arrival at MCO. When we deplaned the chair was waiting at the door of the aircraft but the attendant was not. My wife walked up the gateway where he was standing talking. He immediately ran down the gateway where I was setting in the wheelchair. He pushed me to the lobby area where he told us (and another woman in wheelchair) to wait which we did for about 15 minutes. When he returned he scanned our tickets. He ask if we had checked luggage and we told him no...only carry on.. We told him we needed to go to terminal B-1 between gates 35-38. He then pushed both wheelchairs to the baggage claim area which was in terminal B-2 where we again told him we needed to go to B-1 gates 35-38. He then pushed us outside of terminal B-2 at gate 22-23.which was totally deserted. We again told him where we needed to go,, gave him the off-site parking firms ticket with name address etc and yhen called the off-site parking shuttle and gave him our phone so they could tell him where to take us. .As he was talking on our phone to the parking shuttle agent we moved to a nearby bench. He finished the phone call, handed us the phone and said he was done. We sat there totally bewildered. We then started walked to where we could find an elevator to level 1 which was quite a distance. Te elevator let us out at about gate 24 of level 1. We then walked to gates 35-38 which took us about 30 minutes because we had to stop and rest frequently. When we arrived at the gates 35-38 the shuttle had all ready departed. We called them and they returned about 20 minutes later. I was totally exhausted and my replaced ankle, knee and both hips were killing me. Needless to say we were totally dismayed with your lack of service and probably will not utilize your poor service in the future. Carol & Robert Gunter

On March 12, 2019 my wife Kamilah Townsend (AA Frequent Flyer Number 9V04LJ6) was scheduled on AA flt 0012 from Jacksonville, Florida. For what ever reason, after a 6 hour delay the flight was ultimately cancelled. American Airlines provided her a hotel voucher to Tri Cove Inn as well as a round trip cab voucher. When Kamilah arrived at the Inn it was a very undesirable Motel which the desk clerk informed my wife that he had not seen the voucher before and they could not honor it. The single room he had available was for emergencies only and she could not have the room. Mind you it is after midnight. Because of extended call delays at American Airlines Customer Service, my wife and I decided to divide and conquer. She called the cab company back and I called to get in queue with the airline. The cab company said only the driver who dropped her off could honor the cab voucher and he was no longer available. Ultimately, we found what seemed to be the only room left in the city at a Hyatt 20 minutes away from her original drop off. She called Uber and made it safely to her hotel shortly after 1am. Mind you, her flight was scheduled to leave at 7pm EST. Making for a very long, stressful, scary and chaotic day.
I received a call back from AA at 11:58 CST. Apparently the Reservation Center called me back. I began explaining the turn of events to the Rep and immediately she had no empathy. The Rep told me she was with Reservations and I would need to call another number for complaints. I explained that it took 2 hours to get through to her and all I wanted was to get the matter noted on my wife's acct if possible for tracking. The young lady continued on with a very rude rant so I then said, I can imagine you all are swamped due to cancellations and other things and I don't want to make this your fault so please forward me to a supervisor. Se laughed and said she needed my record number which I offered. She said she could not hear me and I would need to repeat it again so I did. Again, she said I cant hear you and if you don't speak up I will have to disconnect the call. Now I am agitated. I repeated the record locator again using alphaphonetics. This time she heard me. I said young lady I know what you tried to do just now which was find a reason to avoid the call transfer. She asked for the travels name then mine. Then she said had I shut up and quit talking this could have been handled differently. At that time she placed me on hold until a manager got on the line. The time stamp of this call was 12:02am CST. The manager was a great ambassador for American Airlines, she was empathetic, sincere and very apologetic. She confirmed my wife was scheduled for the 9am flight on March, 13 and she instructed me to follow these escalation procedures to ensure this matter is addressed appropriately and the Rep who was extremely rude be addressed accordingly.
My wife and I travel on AA at least every other week for leisure or business and never have we experienced this kind of mistreatment. From being sent to a nasty Inn in a horrible part of town with no rooms available, to the cab voucher that was worthless and had we not had resources, my wife would have been stranded and possibly victimized. Followed by a degrading and disrespectful customer service experience. I (we) need something to be done because we trust that American Airlines is better than this. At minimum we should receive reimbursement of the hotel and Uber fee too include Points of something added to my wife's frequent flyer acct (9V04LJ6) to compensate for this horrible experience. I know what ever ultimately happens to the young call rep who spoke with me will not be disclosed to me. However I expect that the call be reviewed and something be done to curb this behavior going forward.
Please contact me direct for any further questions.
LaPrie Townsend
(214)205-0966 direct
laprie.townsend@gmail.com

Jerold fallon
from Bethlehem, PA
Boarding our plain when they stopped it because the pilot had too many hours on ! Delayed on our vacation do to poor management!

Brenda Fox
from Milton, WI
We were told our son would be able to check his luggage straight thru from Green Bay to Fiji as long as he booked all through American Airlines. Well they lied and he had to get his luggage at LAX and try to recheck. He missed the time to check it by 2 minutes and they wouldn't take it. With only 1 flight a day, he had to stay over in LA. They made us buy him a new ticket, which cost as much as the original round trip ticket, even though they ASSURED us this would work fine when we booked it. I have send numerous complaints only to be told that Fiji Airlines is only a codeshare so it wasn't able to check through.
If they would have told me that when I booked it, I would of left enough time in between flights. I only booked the flights I did because AA confirmed they would send luggage straight through.
AA refuses to do anything except tell me too bad. I am out $1400 because of there customer service.

Barbara Claypool
from Noblesville, IN
I was online yesterday to get tickets for a trip I wanted to make in May. I then purchased what I thought was round trip tickets to Colorado Springs and back to Indianapolis for $364.00 along with an insurance policy. I was then told that my itinerary would be emailed to me within 3 hours. It was not when I called today I was told I did not get my flight. I then said I wanted my money back and that I would not purchase tickets for the same flight for over $400.00 without getting my 364.00 back. See the attached jpg showing the still pending charge. Until you release my money I cannot afford to buy tickets please either give me my reservation or my money.
Barbara C Claypool
317.432.1276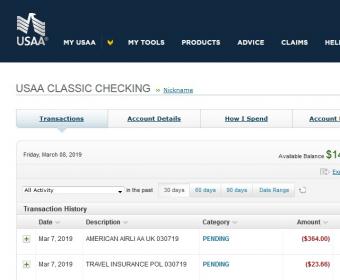 Herminio Cardenales
from Perry, FL
Discriminators ;
Hispano , mayor de dead , valva y canello largo ,pier negra ;
ERAN 4 Hempleados para tomar deciciones , solo 1 decidio,
EL TAMANO DE LA MALETA MUY GANDE , SINO HACE YO DIGO NO TE VAS EN ESTE VUELO " 02 mar , pnr JAITH — VETERANO % DESAVILITADO , RETIRADO FUERSA AEREA US , QUE NO ALLA MAS DISCRIMEN CONTRA PERSONAS EN DESVENTAJAS O VETERANOS
POR FAVOR PODO ACCION .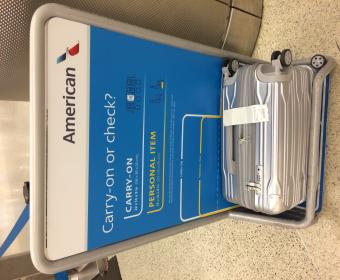 Barbara-Ann Garaventa
from Fayetteville, NC
I sent a refund complaint 2 weeks ago and a formal complaint 1 week ago and no one has had the courtesy to call me back regarding this. I am extremely upset regarding the experience I had to endure being a handicapped person flying alone.
My name is Barbara-Ann Garaventa (910) 491-8782. The following is a response to the complaint letter 1 week ago.
Your Reference number to this request: 1-28162085175.
I would appreciate someone getting back to me regarding this matter.

I called AA customer service department about an issue. After finally getting to customer service through a dozen menu items, I hear a recording: "our office is closed, call back during business hours" and then hangs up on you. It was 8:30 CST and there is no mention of their business hours. Just think, this is the customer service department!.

kenneth j zemencsik sr
from Northampton, PA
i was left unatended by a counter person in the middel of the walk way.my wife had to push me halfway accross the airport her self. our gate was changed 5 times while we waited for a flight. we got home a day late because of it,,'and at our flight from mobile;al. we had to wait at the airport 17 hrs before we could get signed in ...if you want the whole story ;please call me at 610-554-6253 ken zemencsik.theres just to much to type for me.thank you.

I booked a flight with a connecting flight to my final destination. The first flight was fine but my connecting flight was delayed 7 times in 5.25 hrs and it left me in the airport overnight and no compensation was offered. My flight was supposed to leave at 8:24 pm and after 7 DELAYS I found myself at the airport at 1AM with a trip to Universal for that day ruined! So not only was I stressed out but my daughter had to pick me up at 3:45am and I lost more that $100.00 worth of my Universal Studios ticket because we did not get to go until late in the afternoon since we were so tired and were supposed to be driving to Orlando on Friday, but instead we had to get some sleep! This was only a short 3 day trip that I only got to enjoy two days with my daughter and only two days at Universal! They NEVER explained why … they just kept saying they were waiting for maintenance and then at 11pm they said they were calling in another crew? They once we boarded we had another 40 min worth of navigation technical delay??? REALLY ? I think you owe me a vacation or at least another flight? Debra Pimental / identityoperations@yahoo.com / AA# 1XC82W2 / 843-251-7864. I left a call back on a 800# and they just called but the press #1 when I was on the line didn't work so they disconnected. Great customer service?!

MY FLIGHT WAS DELAYED 11 HOURS, I MISSED TWO DAYS OF WORK. MY FLIGHT WAS SUPPOSED TO LEAVE LAX AT 2:05PM AND DID NOT LEAVE UNTIL 1:10 AM. WE DIDN'T GET HOME UNTIL 6AM THE NEXT DAY. NONE OF THE AA EMPLOYEES HAD NO REASONABLE EXPLANATION ON WHY THE TIME KEPT GETTING PUSHED BACK TIME AND TIME AGAIN THROUGH THE ENTIRE DAY AND NIGHT. THEY WOULD NOT GIVE ME A FOOD VOUCHER FOR THE EXTREMELY LONG WAIT. I SPENT $65 IN FOOD. I AM LOOKING FOR FINANCIAL COMPENSATION AND A FIRST CLASS TICKET TO A DESTINATION OF OUR CHOICE. MY NAME IS CHRISTOPHER PERRY AND MY FIANCE NINA HART. DAY OF TRAVEL WAS 2/18/2019 THRU 2/19/2019 FROM LOS ANGELES TO PHILADELPHIA, PA. MY FLIGHT NO# IS 744. MY PHONE NUMBER IS 3473958659 AND EMAIL IS CHRISTOPHERCEP@MSN.COM

dale hendricks
from Lakewood, OH
My wife was scheduled out of MLI to ORD and then to ORF this morning on the 0608 flight. No crew arrived as they needed crew rest and did not call to tell the AA ticket counter until 6:00am. My wife then missed her connecting flight from ORD to ORF and was rebooked on a flight after noon that resulted in a 5 hr layover in ORD. Now her flight 3297 to ORF is delayed over an hour. This is utterly ridiculous. Instead of being in ORD for her work by early afternoon she now is scheduled to arrive after 10:00pm. You guys need to exercise much more - MUCH MORE - control over your feeder airlines. This is totally unacceptable and the worst part is it is more and more standard. The only airline I trust in the US is Delta. Good equipment, great people and they fly on time - anywhere. Get hot and get back to flying that can be counted on and trusted. I will never book with AA unless I have no other choice. What a compliment to and for you. Two huge thumbs down. I gave you the worst ranking available when I signed in.

Dr. and Mrs Paul Jelus (Carol)
Tuesday, February 5, 2019..American # 3103 Operated by Sky West Airlines..as American Eagle..PSP to Phoenix to Philadelphia
When we arrived at the airport, we were told by a tall white haired lady "supervisor", who said, we were two minutes late..and we would not be able to fly that day..We had bought 1st class tickets, for a "treat" and because of recent health issues I had....I believe it was the first time, we had bought 1st class seats..We were stunned..and said, we never had this issue before..as we fly at least 3 or more times from PSP to Philadelphia..each year..She told us, that the TSA did not have time to check our bag..and more over did not have any tickets available until Thursday..then she said.."People like you, really ruin my day.. I get people that do not know the new time frame for being at the airport..With no other options..my husband, stayed with the bags, as I ran for the plane..I fell in running and was helped by the TSA..who said, "Miss, you have plenty of time..you will make the plane..we have at least another 15 minutes before take-off..I asked if they could help get my husband on the plane but they were more interested in helping me, off the ground....Then I went to the gate, and a VERY nice 21 year old man, who had told everyone he was 21 that day..said, Oh, there must be mistake..I can help you..Well, he called..and got the same woman, who again identified herself as the "supervisor" and she was NOT changing her ruling..He apologized..again..and said, we have many people that come a few minutes late everyday..and we never stop them from getting on the plane..especially since they bought 1st class from Phoenix to Philadelphia..Then I walk to see, at least 40-50 bags not yet loaded on the plane..so when I get inside, I ask the stewardess, can she help me..since there seems to be plenty time for my husband to board..She said, absolutely..this is really bizarre..So she tries..and again. the supervisor tells her NO..Off we go to Phoenix..I am upset..but when I get to Phoenix, because of my inability to walk long distances, I reach out for a red jitney who takes me to where I should board the plane to Philadelphia..I asked this man, where would I go, if I had to complain..He said,well it is right across from your gate..it is our custom service..
I am greeted by a man who identifies himself as legally blind. He was kind..but could NOT read the information in front of him..Another custom service lady, who was seated next to him, came over to help him..when he asked her to read the small print..on a chart or something..He said, they gave me a big screen to help me do my job..but the printed material is too small for me to read..The woman, was less then enthusiastic to help him,,and I said to her.."You know, he is blind..could you not give him a little help so he can do his job ?? Since, I lost my sight briefly, due to a unexpected illness, I was annoyed at her lack of hello him.. She clearly was embarrassed...and returned to help him..With that, The blind man said, I am going to contact a supervisor..this is so wrong..and I want to make sure, you get some help..I was so concerned that with my walking issues and my husband who will be 80, and had a knee replacement, would not be able to catch the next flight that is always so tight, typically only 45 minutes between our landing and catching the next flight, I booked a later flight..to give us time to get to the next flight..with no issues..The supervisor came out in about 10-15 minutes and was MORE then KIND..She was stunned also by the actions of "the supervisor at the ticket counter, and said, PSP is such a small airport..what was she thinking..I do not know her name..but she was reassuring..had my husband cleared for another flight that day..and took special interest in getting him on board..as well..Although we have both had unexpected health issues, since Thanksgiving, I wanted to assure a nice flight for 1st class..and it turned into a nightmare..We are gold members of AA..We ONLY fly American..either PSP through Dallas to Philadelphia..OR..PSP through Phoenix to Philadelphia..We are totally disappointed in the ticket "supervisor" in Palm Springs..and the co worker of the blind man in Phoenix..I look forward to some adjustment on our tickets..since they were not able to give my husband a 1st class seat..as they did not have any more and we paid for 1st class.... The "supervisor at the PS ticket counter, should NOT be a ticket agent..and the blind man needs equipment he can use, to work and represent AA as it should be..I do believe AA should offer some sort of free 1st class tickets...and certainly give us the difference of cash for the 1st class ticket we paid for, but only used a coach ticket.. Sincerely, Carol Jelus.. 267-307-7410...pcjelus@aol.com

On January 31, 2019, we left Cleveland Ohio at 6:17 a.m. headed to Las Vegas. We had a short layover in Washington DC. Arrived 10 minutes early in Washington sat on the tarmac for 20 minutes because of a disabled plane got on the shuttle to one terminal had to take a second shuttle to a second terminal only to find our plane had already departed. Spoke with an American representative to find out that they wanted to send us back to Philadelphia PA to go to Vegas putting us on a flight to arrive in Vegas at 11:59 p.m. we ended up speaking with the second representative who did everything she could to get us to Vegas as soon as possible even speaking with the back office. She was able to get us on the flight to land in Vegas at 8:30 p.m. connecting through Dallas-Fort Worth. We ended up in the last row 36 of the plane after paying for seats in the front of the plane in our original flight. We used our advantage card to pay for the flight which was higher than any flight that we have ever purchased. One of the perks of our advantage card is to have priority boarding however we did not receive priority boarding we were in group 5. We ended up missing a rehearsal dinner and almost missed the wedding. We are extremely dissatisfied with American Airlines service and are contemplating closing our card and never flying American Airlines again. We ended up paying over $1000 even after using my husbands mileage for our two tickets.

I have no complaint regarding service during a flight. However, I attempted to book a flight from Columbia SC to Frankfurt Germany and use my accumulated air miles for an upgrade. I have roughly 187,000 miles which I have accumulated over a number of years. I communicated with a "gentleman" who indicated that he was the person with whom to speak regarding the booking of the flight. However, once I mentioned that I wanted to use air miles for an upgrade to business class (I have every intention of purchasing the ticket) and how many miles I have accumulated, matters became very strange and I have been getting a run-around without accomplishing anything at all. If you could be of assistance, I would very much appreciate it. Thank you.

On January 26th at 6:30 am, we were scheduled to fly from Milwaukee, Wi. to Chicago to Aruba.
On January 26th at 12:00 midnight, we received a automated phone call informing us we would be flying from Milwaukee, Wi to Charlotte NC to Aruba.
On January 26th after boarding our flight to Charlotte the plane experienced mechanical problems. we were returned to the terminal and taken off the plane.
on January 26th we were rerouted from Milwaukee to Dallas to Aruba. We asked about our luggage and were told no problem, our luggage would be with us to Aruba.
On arriving in Aruba 4 hours later than planned our luggage was still in Milwaukee. We were told it would arrive January 27 at 4:00 pm. It arrived at 5:30pm.
The results of this confusion is that we lost 2 days of our vacation.
January 26th we found our car rental was closed. We spent $31.00 on a cab to the resort.
January 27 we called the car rental and were told they gave away our car but would have one for us on January 28 at 2:00 pm
January 27 was spent in winter clothes in Aruba looking to purchase swimming suits and shorts and shirts(no swimming, no walking just stayed in our air conditioned room when not shopping for clothes within walking distance of our resort.We spent $248.00 on clothes we didn't need or want.
January 28 we missed our scheduled excursion because we were busy picking up the car we were too late to pick up on January 26. We spent $ 45.00 for a cab to get to the car rental place.
January 28 2:30 pm our expensive vacation begins 2 days late.
Now I understand scheduling and mechanical difficulties. I certainly would not want to fly in a plane with issues. My issue is with the logistics of losing luggage for 24 hours and the inconvenience and expense of losing luggage and missing prearranged plans. At the very least I expect to be reimbursed for my added expenses, just as other airlines policies. Southwest airlines lost the luggage of a woman at the resort, they reimbursed her 100%for clothes and necessities. Are you willing to step up and make things right?
Nancy Arnold
3048 Nagawicka Ave.
Delafield, Wi 53018
262-719-5382

Leander C. Berry Sr.
from Philadelphia, PA
On January 15, 2019, I flew American Airlines Flight #660 to Phoenix Az. from Philadelphia International Airport the flight was wonderful I was excited about reaching my Mothers home in Tucson Az. for Her 70th Birthday our connecting flight was to depart at 7:53 pm which would have gotten us there at 8:39 pm but instead the connecting flight was delayed then the flight was changed as well as the gate number this flight didn't
board until 8:30 pm which landed in Tucson around 9:15 pm this caused us to miss our dinner reservations, secondly my luggage was put on a separate flight from the one that I was on this flight was not due in until Wednesday, January 16, 2019, at 11:00 am this created a major problem for my fiance` and myself. My asthma medication was in my luggage I am on maintenance medication I need to use my inhaler twice a day
so that I can manage my asthma symptom this was very unnerving also my fiance` and I had to purchase toiletries and sleep ware for the night.
I really enjoy flying American Airlines but with this being the second incident in a years time the inconvenience is very disturbing, please rectify the situation and keep me as a loyal American Airline Advantage Member.
Sincerely
Leander C. Berry Sr.
(267)235-2407
damourberry05@yahoo.com.

felix alicea
from Fredericksburg, VA
My name is Felix Alicea. I am an active duty and I am submitting a complaint on one of the your employees at the San Antonio Airport agent counter this morning at 0315 am, 2 February 2019. I was trying to bring my hockey stick on board with me when the agent told me that I could not bring that on the aircraft (Flight AA1052). I informed the agent that TSA regulations told me that I could bring this on the plane. The agent told me that I could not bring that on the plane. I went to one of the TSA agents that told me that I can check the item and that they could check it on the plane. The TSA agent showed me the regulation and stated that the agent should have provided courteous service and should have never acted in a way especially if you showed him that you're active duty.
Also, when checking the item, I did not receive any polite service from the 5'6 Hispanic agent, black hair, glasses that when I asked her how to check the item, she was very rude in her attitude with me and did not want to assist me with the checking until I informed her that I need assistance.
After getting my baggage checked, my stick of item was lost at the time when I connected with another flight from Charlotte to Richmond, VA (AA 248). The baggage clerk informed me that it was on another flight that would come later in the airport. She listed to me and said it was wrong how the agents in San Antonio acted. I can believe that these people don't provide customer service and their attitude seemed to be inappropriate toward active duty service members. I frequently fly American Airlines and I felt very bothered by the conduct of these agents. I will inform the military about the attitude of your employees at this station and that they take their personal actions towards people. I am very disatisfied by their attitude and conduct. I believe that my baggage did get screwed up (RICAA0002736084) and that I believe that these agents did this action against me. I am very disatified by this service especially as an active duty service member and a constant user of your airlines. Either the personnel have attitude problems with certain people of race, or just don't like active duty service members.

Tried to check in 48 hours to try and book seats. Could not. Got through this morning and checked in and were given assigned seats. Was disappointed about the seating arrangements. My husband and I always sit together do not like the fact I am travelling 4 hrs and hes on one end of the plane and I on the other. Other airlines at least designate seats for you (and they are economy) together. You think, which I am sure the other airlines do, that if you are under the recorder location YUAGCF that they know you are travelling together that they would seat you together? Disappointed and also other airlines do have check bag that you can do online. You do not. And was using economy for the other airlines too. If you are going to use that excuse. Seating should be looked at if you are assigning. Should not be a penalty if you do not have the AAdvantage card? tks Faye Zayonc

My name is Alexis Alvarez I am very upset and annoyed with American Airlines , on January 27 on flight 310 from Miami to Cuba, my wife grandmother traveled, she is 92 years old so we always ask for a wheelchair , the chair service in Miami was delayed an hour and when she arrived in Cuba they made her walk from the plane until she left by the exit door, she never received the chair service in Cuba, that lady needed medical attention when she left from the airport because to have high blood pressure ,joint pains and severe headache , that is irresponsibility of the airline since she is a very old person and that service is requested for her medical problems , the airline has to take responsible for the health of that old woman

My wife and I booked a flight with united to Kalamazoo and got there ok , then we was to fly out Monday Jan.28 and it was canceled then canceled again so they booked us with American airlines for Jan.29 and we got to the airport and checked our bags in then and hr and 1/2 we were told our flight was canceled again then they put us again on a flight for Jan. 30 and it was canceled when we got to the airport so I asked them do they have anything out of Detroit so they got us on a flight that day how ever it took 6 trips to the airport and a long trip to Detroit and two more days to pay for my car at the airport in ONT. CA. and all these cancellations I never got a notice on my phone and I did checked on the computer for up dates before I left so I feel you all dropped the ball on this trip for we do travel a lot and hope communications get better with the customers . code=WLWSQL

Larry E. Linville and Sharon Kay Linville
from New York, NY
I (Sharon Linville) booked a flight through Expedia from Springfield,MO to Medellin, Colombia on November 19, 2018 ticket #0457223862503, to be with our daughter, who had been diagnosed with Stage 3 breast cancer, and was in Medellin alone. Due to a delay in my husband's passport I called the airline reservations direct and he was booked on same flight Eticket LA045-72696142 32-33. This flight was perfect!!! After arriving in Medellin, during routine heart tests for giving chemotherapy our daughter was diagnosed in heart failure and needed open heart surgery. All medical procedures required payment up front and she had no insurance. We had money for chemo treatment, but then had to spend it for her open heart surgery. After heart surgery was completed and our granddaughter came from U.S. to be with her, we started trying on Dec. 12 to book flight back to Springfield, MO to sell our truck and camper to provide funds for her to start chemo a month or six weeks after heart surgery. We had so much difficulty trying to change our return flight, we had another daughter in the U.S. call american airlines for assistance. They told her that change would need to be made with Latam Airlines in Medellin as that is where return flight would originate from. She tried talking with Latam several times and I emailed with them several times, but by Dec. 15, we could not received anything from anyone. Finally, my daughter in states contacted my husband's booking agent, Ivy Thomas, and she booked us on flight on Dec. 18,th, flight AA924 to Miami AA2700 to Charlotte, AA3868 to Springfield,mO and told it had to be confirmed immediately to get the flight, which my daughter did because she could not reach us in Medellin.
Our ticket prices were Sharon 1037.83 (including a 8.40 booking fee and 63.00 flight protection plan.) Larry 1089.53 plus 209.35 agent fee.
RETURN FLIGHT was 945.76 plus 526.50 plus 325.50. We felt we were taken advantage of on our return flight as we could have booked a one-way flight from Medellin to Springield, MO for $510.00 for each of us on that same date. If you need further information, please advise. If you can assist us in reimbursing us in some manner, we would appreciate it. We felt American Airlines did very little to help us economically change the return flight
Sharon Linville 417 848-4091.

Maryann McNeish
from Myrtle Beach, SC
I was on a return flight on Thursday 24,2019 out of Cleveland, Ohio flight AA5358. While in the boarding area before the flight, two service men with their dogs entered the area and sat. I thanked them both for their service to our country. They were members of SOWW from Myrtle Beach, South Carolina. The military dogs were well behaved.
When boarding started you could tell there was an issue, two others passengers and I were very aware of some confrontation going on. One soldier was refused boarding. So as follows:
1. military with dogs who fought for our country.
2. empty seats on the plane
3. one passenger gave up her first class seat for one of these men.
4. female attended made it clear she was afraid of the dogs
5. one soldier was left behind
6. pilot tried to get the other soldier on the flight and gatekeeper said no.
7. read about gatekeepers and not sure how it applied.
8. I want to know how an airline can refuse a military personal a seat that they had tickets for.
9. I am looking for an answer .
Sincerely
Maryann McNeish

Chinnu Vazha Joseph
from Sacramento, CA
Dear/sir/Madam,
My name is Chinnu vazha Joseph. I am writing this e-mail because I had a bad experience from American air line on 1/23/19. I am supposed to travel from JFK to BFL via Phoenix and Upon arrival in JFK I came to know that the flight AA 1587 will be departing late and I may not be able to get my connection flight from phoenix to Bakersfield (AA3010).Then I approached the enquiry and they said I can only travel from Phoenix to Bakersfield on 1/24/19 @1056 and I have to wait at Phoenix airport from 2115 till 1056(1/24/19). Then I asked whether I will be able to get a hotel room the clerk said ,no you have to get your on. I am a 62 years old lady with h/o diabetes on insulin, how can I sit at the airport Almost 14hrs?. The clerk issued a boarding pass for Bakersfield from Phoenix (AA5846) for 1/24/19 @1056 without answering anything. Then I approached another clerk and asked Is there any alternative way I can go home. Then she said one available for LAX and my two already checked baggage will go to Bakersfield and will reach on 1/24/19. Also she issued boarding pass from JFK to LAX (AA 302). I traveled from JFK to LAX and from LAX to Bakersfield I took a taxi and spend almost $75 and a 2hrs and 30minutes.Now again I went to Bakersfield airport on 1/24/19 two times to get my baggage and they said it is in LAX . I requested the staff to get my baggage from LAX to Bakersfield and she said she will try and it may get by tonight or may be Tomorrow. I am still waiting to get my baggage.
Now my concern is why I have to go through all these hassle?. What compensation are you going to give me for these suffering?. I truly think I have to get a complementary ticket From BFL to JFK to use anytime this year by AA . I am patiently waiting for your reply and my 2 piece baggage which i paid and checked in from JFK.
Sincerely,
Chinnu Joseph

Dr. John Lindsay
from Boca Raton, FL
My recent flight on Wed. Jan9th Nonstop from Mia to EGE my luggage was misplaced and didn't make the flight.Myself and 4 other friends were on a 3 day ski trip. We filled out all the necessary forms and explained to the agent that it was imperative that we get the luggage the same day because all of our ski needs were in that specific luggage. When we called to see why our luggage didn't make it the used the excuse that it was related to weight, fuel and head winds. The truth is that it was a half full nonstop flight that we checked in over 11/2 hrs in advance. We found at least 4 flights that could have easily gotten our luggage to us the same day but instead was delivered on the next day nonstop out of Miami. we didn't get our luggage until 12:30 and by the time we drove back to Vail and got our skiis we missed out on the entire day of skiing. I feel this whole situation was handled with neglect when it could have been handled much more efficiently. Your agents we spoke to were even embarassed by some of their answers that were read off a standard reply. I have been a advantage member for many years and this is the first example of total incompetence that I have experienced. This is the first such complaint that I have ever reported but the handling of the whole situation was extremely frustrating. I am anxiously waiting for a response!!!

Juanita Cheek
from Riverside, CA
I was on Flight 5880, flying First Class from Houston, Texas to Ontario, California, via Dallas/Fort Worth. My request for a wheelchair was on my flight reservations. When we got to Dallas/Fort Worth, I was detained on the airplane for about 1/2 hour waiting for a wheelchair. The crew made numerous callas as they had to remain on the aircraft until I was off, as you know.
When the wheelchair finally arrived, he took me into the terminal and that is where we stopped while he was trying to get someone to take me to Gate 26C. Finally they put me on a cart and the guy took me to the down to an elevator away from where we should have been going. Anyway, he stopped at the elevator and said follow me. I said I need a wheelchair. He said oh sit there and left. A woman came who obviously knew what was happening as she said I will see what I can do. I must have sat there for about 15 minutes and finally someone took me to the train and knew where we were to go. I was the last person to board my flight and almost missed it.
I must say this was the first flight I had made first class and the first trip down from Ontario was great, but the return flight was terrible. I was treated better on an economy class flight. I am 83 years old and this was my first, first class flight. I am really disappointed with American Airlines.My number is 951-410-5248, in case you would like to respond.

Raghavendra S. Prasad
from DeSoto, TX
I am medical doctor and an American Air lines frequent flyer on international routes particularly to India. i buy frequent flyer miles often.More recently I am having difficulty booking international Bussiness class or first class. When I want to book First class, the only choice I have is British Airways who charges >$560 above the 115,000 miles given each way for first class, this also I rarely get direct flights from DFW, they route it through different airports that too only one segment in First class ans the segment from london to Hyderabad only Bussiness class ,but takes full first class miles.
WhenI book on Qatar First class I never got first class availability, only bussiness class, rarely do I get a direct flight to doha from DFW. It is usually routed through other airports.
You encourage flyers in buying frequent flyer miles, but provide no availability of direct flights on international routes and poor availability of first class for the full journey. Are you going to provide some answers to this problem? Without answers to the problem I am afraid that you will loose some of the loyal frequent flyers like myself. Thank you for listening and hope you will rectify the problem soon.
Dr. Raghavendra S. Prasad,
E14K934 (Aadvantage Number)

John Olesky Jr.
from Cuyahoga Falls, OH
On December 3 I used 25,000 of my AAdvantage air miles to book a December flight from Akron-Canton to Orlando four our 3-month winter stay in The Villages, Florida. Record locator: ZWADDI.
On December 28 I was informed by my surgeon that I would require abdominal surgery to repair an aneurism that had a 50% chance of bursting within the year.
Being considerate I immediately canceled the flight so that American could sell the seats to someone else.
When I asked the American Airlines representative by phone to have my 25,000 air miles restored to me, he demanded that I pay $180 to buy back MY air miles that I did not use. I refused.
I sent a letter to Doug Parker, American Airlines CEO, in Fort Worth, Texas. I did not get even the courtesy of a reply.
Department of Transportation requires that American Airlines responses to my complaint. I'm waiting.
And then I have to decide whether I want to switch my Master Card from AAdvantage to another, friendlier airline.
American Airlines did not lose money if it filled my seat. Yet it wants me to pay $180 to buy back my own miles. My thousands of dollars of AAdvantage credit card purchased have benefitted American Airlines. Why punish me for being put under a surgeon's knife tomorrow?

arlys mcdonald
from Phoenix, AZ
I was caught in the mess on Dec 26 to and from Yuma Arizona. I realize the weather played a big part but I paid for assistance which I never received. I paid for seat assignment
which I only received twice and had to pay an additional $30 for seat assignment on my return trip. I also had to pay for a trip to New Orlenes where I could finally get a return trip to Yuma. I paid for assistance on the flight which I never received any more assistance than any other senior, which was an occasional wheel chair. I paid for baggage protection which upon arriving finally I found my bag contents were sopping wet. when I could not get out of Dallas FW I was 4 days where I had to purchase clothes for 4 days and make calls to obtain my extra medicine for the additional days. I have to admit that I thought I had purchased all the protection that a 83 year old would need to protect me on this trip. My PNR is OUIUW. Thank you for looking into this matter. Arlys McDonald.

tom owens
from Roanoke, VA
I requested a wheel chair on round trip from virginia to lax, there was no wheel chair when I checked in at roanoke virginia airport an when I arrived at lax there was none there to go to baggage claims which was a long walk. the returned flight was good until landing at roanoke airport around 11:30 pm then no one was there again. I'm a partial disable veteran an have a hard time walking long distances an stairs. just to let you know what happened an the last time I flew with american air the same thing happened again.

Joan Kutz
from Harrisburg, PA
My family was traveling to Madrid, Spain from Philadelphia, Pa on 12/21/18 Fight 740.We got to the airport at least 3 hours ahead of schedule.The TSA agent told us to put our 8oz Philosophy skin cleaner in our checked baggage.My husband went back to the check in area which was not busy.He walked right up to the counter.The airline personal refused to put the item in 1 of our 3 checked baggage.My daughter has very sensitive skin and needed this item and it was a Christmas present. We spent over $3000 for these tickets.The item was $35.00.American Airlines should reimburse this cost.
I hope to hear a response from American Airlines.The video on our flight stressed how American airlines wants to be "great".This small request would remind us to use American Airlines on our next trip to Spain.

Craig Gober
from Milwaukee, WI
Flight from CLT io SB In Dec 28 2018. AA 2923/28. My wife and me were completely overlooked by 2 attendees for drink and snack for 2 seats on row 10 when they were served. I raised my hand and yelled but to no avail. Everyone else was served beverage and snack. Very poor service by the woman and man. Especially by the woman who from the back with a cart. We were completely ignored. BAD!!! Also Aviator customer. Should get a Gift Card. Reply please. Craig and Mary Gober
Have feedback for American Airlines?
Thanks for your feedback!
Sorry. Please try again later!