American Airlines
Contact American Airlines Corporate
Toll free phone number: 817-863-1234
---
American Airlines is a Fort Worth, Texas based airline and is one of the top two airlines in the world. After its merger with US Airways in 2013 it now trades on NASDAQ:AAL. The AA fleet is over 939 with over 6700 flights daily to 350 destinations in 50 countries. Third quarter earnings in 2015 were reported as over US 1.7 billion. Employees numbered over 113,000 in 2015.
If you have a problem with your American Airlines flight you are not alone. The best customer service phone number to call for help is 1-800-433-7300. If you are an AAdvantage member call 1-800-882-8880. Find helpful numbers here. If you would like to contact CEO, Doug Parker, you may address a postal correspondence to him with American Airlines, 4333 Amon Carter Blvd., MD 5675, Fort Worth, Texas 76155. The corporate phone number is 817-963-1234.
From its beginnings in 1930 as American Airways it was a consolidation of over 80 small airlines. It officially became American Airlines in 1934 and moved headquarters to Texas in 1979. The C.R. Smith Aviation Museum is operated by American Airlines as well as a Texas based flight academy. Social presence may be found on Facebook and Twitter.
American Airlines Contact Information
Report complaints to corporate and get satisfaction
American Airlines headquarters address

AMR Corporation
Fort Worth
TX 76155
United States

Company website

1-800 phone number

817-863-1234

Support email address

support@aa.com

Better Business Bureau rating
Browse reviews of other Airlines
Top American Airlines Complaints
Browse more than 372 reviews submitted so far

Mrs. T J Cottrell
from Bellevue, WA
On August 2, my family flew on AA Flight 530 from Seattle and experienced a layover in Philadelphia. We arrived at 6:06 AM on the morning of August 3 and made our way to our connecting flight 4855. A delay was explained as bad weather in Albany, NY. We checked and the ceiling in Albany was 12,000 feet. Then we were told of another delay. After waiting more time, we were told unceremoniously that the flight to Albany was cancelled. We could be wait-listed for the 9 PM flight that night.
My daughter and son-in-law decided it was best to take their toddlers and rent a car to make the trip north. Imagine being in the car all day with 2 toddlers from Philadelphia to Albany. Unable to rent a car one way to Albany and unsure how many days we would be stranded in the Philadelphia airport my husband and I decided to take the train. We were told to go downstairs and wait for our luggage, for which we had paid $25.00 for each suitcase. After 1 1/2 hours we were told that one bag was already on its way to Albany, the other was still being retrieved from the plane. At 2 hours I checked again and was told that both pieces of luggage were already in Albany.
Again, we could be waitlisted for the 9 PM flight for which there was already a long waiting list because the flight from the day before had stranded a number of passengers overnight at the airport. We thus chose to take the train into Philadelphia, proceeding to Penn Station and thence to Albany. It was an all day trip but we made it to Albany by 6 PM. Then we had travel from the train station to the airport to retrieve our luggage. (My daughter's family's reservations for the return trip from JFK on Monday, Aug 8 was cancelled without any notice from American.. They arrived at the airport to learn that just before boarding. Imagine their frustration with 2 toddlers to take care of).
My husband and I are petitioning for a refund on our luggage checked baggage fee ($50.00) plus the cost of our train fare, ($164.90). And we feel that we should be refunded for the Philadelphia - Albany leg of our trip. If there is no response to my letter I intend to contact my Washington State Senator who is on the Transportation Committee in the US Congress.

Valerie Henriquez
from Dallas, TX
I was scheduled to depart from LGA to DFW on a 6pm flight. Due to weather conditions the flight was delayed to 6:50pm, than 7:15pm, 9:30pm, 10:50pm, than 10:20pm. This kept going on al day, which resulted to me staying at the airport all day. After 12:00am the flight came in, and the passengers were informed the flight was cancelled due to illegality (In other words, the flight attendants are exhausted and opt not to fly to Dallas). Understandable.
However there was no courtesy provided to the customers who camped out at the airport all day. At one point we were told American Airlines are attempting to call other flight attendants (which never happened). We were then told the flight has been rescheduled for 7:30am on 02/16. No only were there no accommodations (hotel vouchers). we were told due to security reasons, we have to exit the gate and sleep outside of TSA.
It was absolutely humiliating to treat a customer this way. There was a lack of service and in most cases the customers were made to feel it was our fault. There was a lack of information, provided to the customers, and the manager "Sue" was less than helpful. There were customers on wheelchairs sleeping on the floor. I have always been prideful to fly American, and it is absolutely disappointed to have experienced this kind of treatment.

Sandra McDougall
from Calgary, AB
My husband Richard and I were booked onto flight 2806 out of Yuma flying into Pheonix. We had a e-ticket with assigned seating, which we had paid extra for by the way. We were at the Yuma airport by the designated time that your website had stipulated. We stood in line at the airport for 45 minutes and were second in line when half an hour before the flight was scheduled to leave your front counter staff shut everything down so that they could now become the ground crew. In the time that we stood in line a woman wearing a supervisors badge came out and talked to her staff for a moment then left and went in to the back leaving all of us standing in line, which there where approximately 16 of us. One of your front counter staff spent 20 minutes with a passenger will the passenger talked to someone on the phone instead of letting other people get booked in. We were than left to stand in line for another hour before anyone one would even talk to us again.
We were put on a standby list for the next flight which had already been over sold. The passengers who were over sold on that flight were given $600.00 and booked on another flight and were still standing in line without even being offered so much as a cup of coffee! Naturally we were not able to get onto that flight after we had stood in line for an hour to be put on standby and another 20 minutes to get through security and now had to stand in line for another half an hour to be put on standby for the next flight and another 20 minutes for the security line to again not be able to get on the flight. And once again could not get on a flight and had to stand in line for half an hour to get another standby ticket and another 20 minutes in the security line.
When I received my standby thicket this time I asked if we could have a lunch voucher as it was now 2:00 p.m. and was told you do not give out vouchers. We were finally able to get out of Yuma on this flight but of course our connecting flight to Calgary, Alberta had left the Pheonix airport at 10:00 a.m. and we were now on the 8:05 p.m. flight. We arrived at the Calgary airport, which is home at midnight when we should have been home at 2:42 p.m. I found your staff to be rude and uncaring. I am a manager in the food industry and I am appalled at the treatment and service that we received, if any of my staff would have treated one our customer in this manner they would be fired on the spot and that customer at the very least would have had their meal for free and offered a complimentary bottle of wine. I would appreciate a reply to this complaint.

Kim Lynam
from Des Moines, IA
Cancelled flight after sitting at airport for 5 hours! I was told at one point "we all have problems!" Also one lady told me after I said I had been up since 3:30 she had been up since 1:30! I told her she was getting paid and I was suppose to be on vacation! We missed our appointments in Phoenix and were not compensated at all. They could at least buy our lunch! I called customer service 3 times. One lady named Ashley from Charlotte was the only nice one.

I am writing this letter to express how disgusted I was with the Customer Service on my recent trip on American Airlines. Departing JFK was a complete nightmare. The flight was originally suppose to depart at 5:05 pm, Thursday, September 22, 2011. Upon arriving to the airport I checked the flight board and saw that my flight was scheduled to depart on time without any delays. Boarding the flight went smoothly until it was time to depart. We were sitting on the plane for an hour without any explanation from the pilots or flight attendants.
It's not until several passengers began to notice that we had not moved from our original spot that they began to stand up and ask questions. The pilot finally announced that due to weather that one runway was being used and we would depart.
The flight attendants service below average. I could not believe that on a flight from JFK to LAS would run out of beverages and snacks. Not to mention I was more appalled that American Airlines did not offer complimentary snacks but were selling snacks (that were sold out as well)! Worst flight I've been on in a long time!
When people fly they would like comfort when doing so. Good customer service should be mandatory! On a flight for 5 hours in misery is horrible. I will be sure to bypass American Airlines and take my business elsewhere until your company decides to step it up.

To whom it may concern, I am a teacher in the state of California. I was on my way home from a trip to Costa Rica. I had with me 5 students, a VP and a parent. We had spent a week traveling and learning about Costa Rica's Rain Forest/ ecosystem.
On our way home (3-29-13), we were on American Airlines flight number 177 out of JFK flying into SFO. What I experienced on that flight was very surprising to me. We were seated on the left side of the plane right next to the serving area for first class. Very early on in the flight we witnessed a tall black man that was working in the serves area (but not serving) have what I would categorize as a childish fit.
He was loud and putting down another airline employee for organizing the service area in a way he did not like. He was waving his hands above his head and talking loud in an angry manner. The two older employes that were waiting on first class had to go in and calm him down. They were explaining to him that people just do things differently and that it was ok. The black man spent the next twenty minutes banging and shoving thing around as he rearranging the service area.
Not only did my student get to hear him putting down another employee they got to witness this episode as well. The employee he was putting down was another black woman waiting on the section behind us. She was also rude to American Airlines passengers when talking to them.
About a half hour after this happened, a passenger behind me set a wrapper and a empty cup on the tray beside this service area. The black man let into him like he was a little kid. The man said he understood not to put his stuff on that tray anymore , but the tall black man kept yelling at him.
He kept saying "you do not ever do that again" "do you understand" in a angry loud voice over and over again. The man behind me told him he understood and could do without the lecture. I have never witnessed that kind of rudeness from an American Airlines service worker in all my fly experience.
I later got up to go to the bathroom. When I walked back to my seat, a bleach blond woman (American Airlines airline employee) with a double chin was standing behind the service cart at the service center for first class. The cart was right beside my seat so I could not get to it. So I was waiting for it to move. She turned around and in a rude and loud voice said " What are you doing". At this point, I could see why some people got irate on airplanes.
I was talking to my parent after the flight and he expressed a similar concern about these employees. He got up to throw away his trash. He walked to the back of the plane and held out his cup for the service worker to take. She was just standing in the back. She pointed to a plastic bag about three feet away on the floor.
The two older gray haired service workers in first class (man and woman)and the gentleman who worked the back section who wore am knit cap were always professional, kind, and worked hard. The black man and women and the bleach blonde should be transferred somewhere that does not have contact with the public. Their interpersonal communication skill match that of a seventh grader. The drama they brought to the flight left a bad impression of American Airlines.
I would expect to be treated and watch other people be treated much better than this on American Airlines flight.

To whom it may concern receiving complaints about the service Eulen America:
I hereby make a formal complaint about the mistreatment and disrespect observed an employee of Eulen America named Olga, Mrs. old lady, gray hair with glasses, skinny and short, who did not want to provide us with her name or show his identification, covering it with his hands so we could not see it when we express our feelings towrad the way she was treating passegners, specially Cubans. This happened this afternoon, February 24th, at 2:00 pm in the Concourse D / E (for connection flights). This lady by the name Olga. treated contemptuously Cubans who tried unguided to walk out that door, and even some discrimination actitude was noted in her actions when he shouted: "Cubans are not allowed to use this exit, they must go down". However, many other passengers used that exit, without having any connections, but she apparently only referred to Cubans, by identifying them by their appearence and look like. More than once we saw her mistreat and humiliate comrades of the same staff, in front of everyone. When we told, (three people who were observing their behavior), we intend to file a complaint against her and asked for her name, she brought her 'Supervisor' Mr Miche Sixtol, who told us that she was not there to serve the customer, and that he could not give us her name, nor his name, since they worked for a private company. Similarly we saw he tried to prevent us to see his name, but we could see it. Olga's name we knew because we asked one of his coworkers, since all the time she hide her identification with her hand, so we could not see it.
They laughed at us when they saw we could not find someone to take seriously our claim, at least make known the discriminatory treatment of this person towards Cubans, whoonly showed a face of bitter and frustration towards passengers. We approached her just to ask a question, without even letting us finish it. I had to explain to some Cubans thatalso approached her to ask about Cuban flights, but as soon as she heard the word "Cuba" she not even allowed them to finish formulating tjir questions, and simply pointing his finger she sai in a loud voiced: "Cubans must go down ".
For your information, there were people who had the decency to guide us and tell us that this was the best way to make the complaint, and told us that it was not the first time similar incidents had been reported about Mrs. Olga, but no actions had been taken.
This same complaint I have posted on the website of Eulen America, hoping it gets to the appropriate persons/executives, so that this time action be taken to avoid this kind of situations. It is important to note that attitudes like this make a very bad image of the companies involved in any work done at the Miami International Airport, which counts on such a great international prestige.
I would appreciate a response to my emial.
Sincerely,
Maria M. Brito
Email: margaret.brito@gmail.com

Alicia Kane McCracken
from Carmel, IN
We purchased a round trip ticket from Indy to NYC( LGA) on Thursday 2/4/16 and arrived just fine with no problems. However on Monday 2/8/16 we have a flight to leave at 2:00 p.m. and got checked in just fine however , it was delayed then cancelled with no explanation and just said you know be leaving at 7:35 and nobody told us or offered any vouchers just and the gate got changed several again with no explanations.
Then finally when we did boarded it was around 8:45 or so and they got us all on board deiced the plane went out to taxi and after sitting on the runaway for about 2 hours if not longer then told us we had to go back to the gate and at that time again we had to continue to wait until another gate was available for us and once back in the airport around 11:30 ish we had to stand in line and they said ( flight attendants & pilot ) that we would get a hotel on American Airlines because they had timed out on their work time.
We were not offered anything such as food/drink vouchers, hotels, taxi's fees, parking etc and then when we went to get our luggage my husband's luggage was soaking wet and we went to the baggage compliment area and put in a compliment his clothes were soaking wet and then to find out again that you guys over no Mercy.
We had to leave the airport get another taxi, hotel, taxi back the next day and miss work, pay for another day of parking in Indy and once again the flight was delayed on Tuesday and we had to change gates again and take a shuttle to a different terminal again with no one caring or offering us anything. We are very disappointed in how the whole event unfolded. You guys knew that they were not ever gone to be able to take off. We have flown with American Airlines many times over the years. Would appreciate some type of compensation or voucher.

Jane Wiggins
from Brandon, MS
I submitted a written complaint online the last week of January, 2015, regarding a request for airline credit for my experience flying from Jackson Mississippi to Lynchburg Virginia. My flight on the 23rd of December from Charlotte to Lynchburg was cancelled and I had to rent a car. The only one available was at the cost of $200. In addition to this, my bag was lost for two days. I have yet to hear back from someone regarding my submission of complaint. I would appreciate someone calling me.

Gail Golla
from Kingsville, TX
I have in hand my receipts from recent flights back home from Anchorage, AK to Dallas Ft Worth and then to Corpus Christi. My husband lost a new cap during flight in either the Anchorage, Dallas/Ft. Worth or Corpus Christi airport. I could not get the report claim to go through. It asked for destination and even though I completed it, it was all locked up. I needed to talk to a live person or have a help, technical button to push and there was nothing.
There no longer exists a live phone number or person to help. I could have used my home phone to call and paid for the charges but that was not an option. I do not have a SKYPE account as I do not use that. I could have used my cell phone but that was not an option. It looks as if the common courtesy that used to exists is not longer true for American Airlines. Surely their lines are no longer customer friendly. I am a professional person. I tried for over an hour to submit this request. The number for American Airlines is no longer functional at Corpus Christi, TX.
It would be very lovely to have a toll free number to call. Thank you!

Angel Rodriquez
from Sanger, CA
On March 9th, 2015, a group of friends and I tried to book a flight to and from Austin, TX. We all decided to book our flights separately. The total for the flight to and from Austin, TX, from Fresno, CA was set at $363.20. This was the total for the flights to Austin [American Eagle #5782 & US Airways $5570] on September 28th, 2015. The return flights were [American Eagle #5825 & American Eagle #2891] on September 28th, 2015. The members of my party include Joe Aguirre, Carlos Rodriguez, Matt Rodriguez and myself, Angel Rodriquez. We all booked separately and all saw the same price online of $363.20. Joe Aguirre was the first member to book and did so without any issues. I did mine online, was quoted the $363.20 and paid through PayPal. I was given a receipt from PayPal stating that the charges were made, totaling the amount of $$363.20. But there were errors on the website. The flights were not being confirmed.
I called 800-222-2377 to confirm my flight only to be connected to an individual that was no longer quoting me the price I was given on the website and on the receipt. I was being quoted a much larger price. These were not the terms established in our transaction. I sent over an hour being put on hold with this agent who did absolutely NOTHING to resolve my issue. The price I was being quoted now was $388.70, despite the fact that the agreed terms were already established by the very receipt and PayPal transaction record I have. After over an hour of dealing with someone who had no clue of how to respond to my complaint, I began to reach out on Twitter, but they were useless. I finally demanded to be transferred to a supervisor. He refused to give me his last name.
He simply identified himself as Javier and said his employee # was 1A. He seemed to not even care for my issue, refused to aid me in any way, and said it was impossible to stick to the price given on my receipt. I would have to pay the price of $388.70. After wasting away my cell phone minutes and time spent online with inept workers, I paid the $388.70 despite the fact that I knew US Airways was in the wrong! They didn't do a single thing for me other than waste my phone minutes and over-charge me after putting me on hold for close to 1 hour and 20 minutes!

Christine Kaye Campbell
from Rancho Cucamonga, CA
I needed to make a change in my reservation. I was on hold for four hours before I finally gave up. I will just have to try when I get to the airport to leave and take my chances. Very upset by the inconsiderate nature of this. If it is that busy, HIRE MORE PEOPLE!!!

on a recent flight to orlando from ireland i paid for 5 tickets with a travel agent in killarney southern ireland 3 adults 2 kids aged 8 and 9 years old flying from shannon to newark to orlando and orlando to newark and newark to shannon on both times we left newark 25 october and return on 2 of nov our kids were put sitting on their own as far as im concerned your company will have no luck in the future when your treating children like this i presume you alredy realise this is my last booking with american airlines

On march,10 2013 i made my stop in New York and i found my self with the situation of having one of my bags missing, i filed my report at that same day. Sinse then i've been calling day after day and having nothing in results, no one of your employees seems interested on helping by discovering when i Am having my personal belongings back. It have been a week on my waiting im afraid that Ill have to find another way to have results...

This is a follow-up to a previous e-mail complaint that I made earlier this morning, 3/19/2013. Because of our counselled flight, I requested had 2 (two) round-trip airfares. Reason for was because we lost one full day of our Cancun vacation. To add insult to injury ,we were booked on the next flight at 1;40 pm and that flight was also delayed.
On arrival to Cancun we waited patiently for our baggage, too no avail. Our luggage did not arrive. We are now without clothing and bathroom neccessities . Not only did we miss a full -day because of American Airlines ""mechicanical malfuncutions"" but we did not receive our luggage with clothing and were not able to eat out with friends this evening.
We are very dissappointed with this airlines. Doubt we will schedule another flight with your airline in the future. This is our first experience with American Airlines and it has not been good.
Sincerlyl,
David M. Minniear

I am an 85 year old diabetic handicapped passemger/ First leaving Dayton for Chattanooga I was charged $30 for my luggage and wheelchair was free.. Leaving Chattanooga for Dayton I was charged $30 for luggage and $40 for my wheelchair. Tried to complain to clerk who ignore me. I understood wheelchairs were free.
Secondly from Washington to Dayton on my return flight I was delayed and sat in a lower level for five to six hours (in a wheel chair. I asked a AA employee if I could have a glass of water and she said no - I sked why and she said I could choke on it ad they would be responsible. I later asked a supervisor for water and she didn't know , but eventually brought me a paper cup half full of water. It was a very uncomfortable layover.

Brad Talcott
from Great Falls, MT
My daughter and I were flying business class SLC To Guayaquil on April 19, 2019. We got to Dallas and our flight was cancelled due to weather into Miami. We were rebooked on Take Airlines into Guayaquil and arrived later that night. This flight was far from business class and no luggage when we arrived. Other rebooked folks on the same flight the next day arrived with their baggage. Our luggage did not make it. It arrived four days later. We bought what replacement clothing we thought necessary before we left port but honestly did not buy enough because we thought our luggage would be on the flight with the other arriving passengers. Not much and very expensive options were available on board ship. We suffered and made do. I did not save receipts. We would request $100/ day compensation for each of us and the difference between business and coach Dallas to Guayaquil. I could not figure out your on line reimbursement format.
Brad Talcott

Ako MCCall
from East Point, GA
I was treated badly when asked over and over about how long before are flight would take off and was told to look at my phone if I wanted information about my flight which was delayed for 8 hr I fight you all a lot and I would like to hear form someone soon my phone number is 1404-304-7942 eastern stand time and you can reach me 24 hr 7 days a week or email me at amccall2call@gmail.com it cost me extra meals and made me miss other arrangement's I had
Thank you.

Flight 5753 canceled on Apr 13 from GPT to DFW, DFW to SAN; your system rescheduled next day, I had a 5 pm cruise leaving san diego. Your attended got my bag on flight and I drove to New Orleans took southwest flight to san diego. I was told my return ticket still open on AA return from San to Gpt. when I got to airport at san diego on apr 29, my locator @ZFSKDO dit not work. aa ticket agent told me it was automatly cancelled when I did not make cancel flight. I ended up paying $519.00, new ticket same flight. I have paid twice for same seat on plane. please call me 228-223-6412. I have call 800-433-7300, 800-843-3447 and they tell me I have to go on line to customer relation to get anything done, when I tried your system will not let me put in Apr date. I am very displeased with AA airline and automatic system.

My flight AA1886 left Charlotte late which caused a delay in my arrival to Philadelphia. I landed at 3:30 and my connecting flight AA 4872 to Erie was scheduled to leave at 3:44. I asked flight attendant on plane for helping catching that flight and was told nothing they could do. I arrived at the gate at 3:40, plane still at terminal but attendant would not let me board. The flight actually did not take off until ~30 min later. I was trying to get to my 83 yr old father who had a major cardiac event and his prognosis poor. Attendant (M. Dunsmore) told me too bad they already rescheduled me for a flight that left 6 hrs later!! I had to pay extra for my seats but when reschedule was told they could not honor what I paid previously and would assign me whatever seat they had. I am requesting a refund for my ticket. I have never had attendants care less and be less helpful than on this trip. The flight I needed didn't depart until 4:15 and there was plenty of time to allow me aboard.

This is my first time flying AA and it will be my last. Made reservations in January for a flight in May was able to select the seats that worked best for both me and my wife as we both have disabilities. Today I checked on the reservations and all but one of the RESERVED SEATING assignments were changed. I was told that when you buy your tickets the ONLY thing they guarantee is to get you to your destination. The first person I talked to was very rude so I asked for a Supervisor. She also was not concerned about the changes and could not give me a reason why. She basically said that's tuff that is what we do. She said it with a SMILE ?? so that makes it OK. Now I know why they have a 1.5 star rating. If there was a lower than one I surely would have used that. NEVER AGAIN!!!!!!!!!!

Record Locator: GOFVYQ
Passengers: Jim Bauman, Martha Bauman, Mackenzie Bauman
I am writing on behalf of myself and my family to explain our upsetting experience with American Airlines on Saturday April 27, 2019. We arrived at Phoenix Sky Harbor at 6:45 AM for our 8:40 AM flight (#590). We were flying home to New York with a connecting flight in St. Louis. We were directed to get on-line to check our bags. The chaos at Sky Harbor was extreme! The line just to check bags was lengthy and snaking around. After about half an hour on-line we began to seek assistance. We stopped 3 different employees to explain the dilemma we were having; despite assurances they would send a Supervisor over, the DID NOT. Although there were employees directing people, NO ONE would help us as we waited in the baggage check line for an hour and a half! By the time we reached the kiosk where we were told to input our names (even though we already had our printed boarding passes in our hands) the computer screen told us we would not be allowed to check our bags on the plane because they were already boarding. The responses we got from the employees we begged for help were:
"you just have to wait in-line to check your bag"
"I don't even know what's going on"
"It all went to Crap here at Sky Harbor at 3AM"
There was an agent at the desk we finally reached who was keeping a list of all the people who missed flights because of the situation. At least 5 families around us were having the same problem. There were 2 men nearby who were actually concerned they would not make their 10 am flight because of the massive delay. I'd like to emphasize these delays were NOT caused by TSA. This delay took place in the American Airlines baggage check area before we even got to the TSA check. (That check, by the way, only took 15 minutes to get through). The lack of help/assistance was shocking and very upsetting. We were told there was no chance we could board our ticketed flight.
We were directed to go to the Customer Assistance Counter where we stood on-line for another 30 minutes. We spoke to Diane (employee # on badge: 393248). She efforted getting us back to New York (La Guardia) for some time. Her ultimate resolution for us was flight #974 in to Chicago to make a connection there to La Guardia. To make matters worse, this flight was delayed close to 2 hours, and when it did start to board, we found out we were considered stand-by, creating more uncertainty as to whether we would make this flight. When we finally arrived in Chicago O'Hare it was approximately 4:00 and we ran to the gate because we were told by Diane that there was a 4:30 plane (flight #30) to La Guardia. We were among 43 other people on Stand-by for this flight. As you might imagine, we were told there was no chance we would get this flight out, but believe it or not, our luggage was on that plane to New York! Coincidentally Chicago was being impacted by a freak, late April snow storm which was forcing, what we found out later to be over 700 flights in and out of O'Hare to be cancelled. Going back to our initial dilemma in Phoenix; By no fault of our own we missed our first flight to St. Louis, ,and American now had sent us to Chicago to be on stand-by in an airport that was virtually shut down. We were obviously sent to Chicago just to get us "closer to New York" without regard to the weather conditions or what would happen after we arrived.
We waited for hours at the gate, all while speaking to multiple people at Customer Assistance and by phone to the American Airlines Help Line, but the end result was the same...we could not be changed from Stand-by to guaranteed seats back to New York. Our wonderful trip was tarnished at the end by the stressful, upsetting situation created by the lack of concern and sense of urgency by the American Airlines staff at the terminal in Phoenix. We finally made it on the last flight bound for New York that miraculously took off in the storm. We were elated to be on board but questioned even being able to take off when we couldn't get on the runway before they had to de-ice the plane!
(As a side note: we received 3 e-mails on Sunday 4/28 telling us to check-in for our flight on Monday 4/29 from Chicago O'Hare to Dayton, Ohio!! We had no prior knowledge that we were booked on this flight. And comically our final destination according to the message was Ohio, NOT NEW YORK. That's just absurd! Did American Airlines even know we flew to New York late Saturday??)
Please explain what went wrong in Phoenix on Saturday morning 4/27/19 and why we were changed from ticketed passengers to stand-by. We feel these are the main reasons why we had to spend a total of over 17 stressful hours in travel, which is unacceptable as it was no fault of our own. Our traumatic experience should have been handled better and with more concern for customer satisfaction.
How can American Airlines explain and compensate us for our very unacceptable experience?
Thank you for your prompt response.
We can be contacted by phone at: 516-334-3748
or by email at: marthabauman@hotmail.com
Martha and Jim Bauman

Cancelled AA Flight 1178 April 20, 2019 and Exceptionally Poor American Airline Resolution
American Airline Representative,
I am contacting you hoping for better resolution to the subject problem before I go to social media. After making reservations on October 8, 2018 at the All-Inclusive Saint James Club Antigua for April 20-27, 2019, I made airline reservation with American Airlines (AA) on October 15, 2018 at a cost of $1,310.06. The reservation were as follows:
April 20, 2019
• AA Flight 1178 DCA (6:15 AM) to MIA (9:02 AM)
• AA Flight 2405 MIA (10:45 AM) to ANU (1:53 PM)
April 27
• AA Flight 2405 ANU (2:53 PM) to MIA (6:40 PM)
• AA Flight 2648 MIA (8:37 PM) to DCA (11:12 PM)
On March 26, 2019 when I checked there was a slight change in Flight 1178 boarding by 15 minutes.
TEXT MESSAGE: On April 19, 2019 via a test message at 5:51 PM I was informed my flight to Miami has been cancelled, and "Passengers will be rebooked and notified soon." I waited over an hour and half with no communication from AA so I called. I receive a can answer that due to the high volume of caller, I was instructed to leave my name and number I would be in the que and called back in 1 hour and 17 minutes. At 8:05 PM while waiting I received another text from AA saying choose your new flight with a link to select. I selected the link and it did nothing
AA CALL BACK: I can't remember exact time it was over an hour and 17 minutes when I first call but I did get a call back. The female AA representative was very polite and apologized ahead of time for the cancellation but said it was for weather. (Note: Planes took off from DCA in the morning with no weather delays. The weather cancellation was due the plane never leaving MIA to come to DCA.) The AA representative started looking and after a good five minutes of searching she could not even get me to Antigua on Wednesday. Her solution was for me and my wife to hop in a car at close to 9 PM at night and drive to MIA to catch the AA flight 2405 at 10:45 AM. Even if I wanted to do that, it is over a 15-hour drive from my Woodbridge VA home to the Miami Airport so that was not an executable option. She told me it was best if I tried to book on my own with another Airline and that was all she could do but to call back to cancel my reservations to get a refund.
MAKING NEW AIRLINE RESERVATION: I was freaking out because at his point I believe my vacation booked way in advanced was going to be cancelled and I'd lose the money I had already paid to and all-inclusive resort. After a lot of searching I did find a JetBlue Airline flight to San Juan and then a Liat Flight from San Juan to Antigua getting us there a 4:00 PM on April 20, 2019. My search was for round trip and only 2 were left so when I went to pick the return flight, I picked the same AA returns flights we already had and booked it because I was afraid if I went back and did a one way trip from DCA to ANU it would be gone. Flight cost me $3,052.26
CALL BACK TO AA TO CANCEL RESEVATION TPHXOD: Again, I had to leave my name and number and waited to be call back. After 37 minute I got a call back from an AA representative and cancelled our original reservation and she said I would get a full refund ($1,310.06) in 7 to 10 business days. I inquired about any other compensation and she no nothing, end of conversation.
BOTTOM LINE: Because of the cancelled flight it cost me $1,742.20 more to fly to ANU. I understand no one can control the weather but AA had no other viable solution and offered no compensation what so ever. My friends and co-workers could not believe AA's response to the situation. Your Flight Attendant Video on the plane thanks passengers for selection American Airline when they have other choices. After reading many other AA complaint many may decide not select American Airlines.
VR,
Timothy E Bowen
703-878-4257
703-515-2384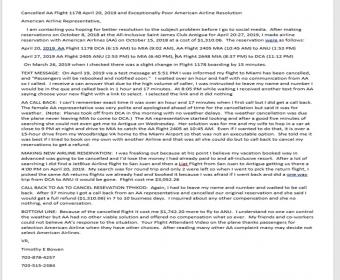 On Tue. April 9, my wife and I boarded an American Airtline flight iat the CAnton /Akron Airport bound for CHarlotte,NC. AS we neared our destination , we informed by the pilot that NO planes were being allowed to land because of a severe lightning storm, After circling for a period of time we landed,Immediately baggage handling crews began off-loading ALL passengers" luggage in a downpour. Needless tio say, that when we finally arrived at our daughters' home , we found that all our luggage was soaked, both inside and out.
Such careless handling of our possessions is inexcusable and reflect badly on the thoughtfulness of a major corporation.
No apology or explanation was forthcoming. THis failure speaks volumes about the professiional of you organization.
Something action needs to be taken,
Our daughters recently relocated to the CHarlotte area from Denver, so we will be visiting them often. Depending upon the action of American Airlines , it remains to be seen whether we will avail ourselves of yiour services again!!!

ON Tue April 9, my wife and I departed Canton/Akron Airport bound for CHarlotte,NC. Approaching Charlotte, we were informed that we would be in a holding pattern for no flights were being landed because of the severe lightning storm at the field. When we were finally allowed to land it was pouring rain. Baggage handler immediately ser about off-loading luggage, even though there was no let up in the rain.
When we arrived at our daughters, we found that everything inside and out was soaked.
Not having flown with American before, to say that we were disgusted is putting it mildly!
Such inconsideration should never be the hall mark of a top flight operation.
Our daughters recently relocated from Denver, CO and we will be travelling often to visit, but not with American Airlines. NO explanation was offered for such shoddy handling of all passengers luggage.

On Easter Sunday I was in the Orlando Airport checking in to my flight back to Dallas-Ft Worth Airport Flight #2489.
I had just got back from a 7 day Cruise and we were returning home. When we arrived to check-in at B3 at about 9:20 am on 04/21/2019 at the Orland Airport we went to check in and was at a Kiosk to check in. An American Airlines employee walked up to us and started barking orders to us VERY RUDELY that we had luggage and was at the wrong Kiosk, when needed to go to the other one because we had luggage. She was very RUDE. We moved to the correct one and that just bothered me because Customer Service is no longer around, even at the Number One Airlines. I went over to ask her name and she covered her badge so I could not see her name and asked why. I explained how RUDE she was. She was a middle aged black lady with a bun on her head and glitter eye shadow. Then an employee by the name of Shennel came over and was not aware on what was going on, So I got her name and walked away. As I was walking away I heard one of them under their breath call me a BITCH. REALLY this is what Customer Service has come to. Then I spotted a woman that looked like a Supervisor named Andrea Csibi (not sure the spelling I was upset).
Shennel came over to see what was going on and I explained the situation on how RUDE the other employee with the bun in her hair, the Supervisor did not know the black lady name. Shennel tried taking up for her but she did not see any of what was going on.
If it was not for us as passengers they would not have a job.
This was very upsetting to me and I think you should know what kind of people you are hiring and this was totally unexceptable as a large company.
Shelah Metzger
750 E Mid Cities Blvd, #2102
Euless, Texas 76039
469-964-7748
m_shelah@yahoo.com

i need wheelchair asst.i booked a round trip record spbgwp 3 1 19 to tulsa .I sat at gate 2 hrs before fleight,when they boarded no one came for me. after they called group 7 and it appesared they were done i got attention of pilot who got help, i paid for upgrade to 5a ,when they boarded me , i was put in front by door across from galley. i was so cold i couldn't stop shivering. i asked to go to seat i paid was not acknowledged. attendant saw me coughing and told her i was so cold i couldnt feel my feet or hands. she got me her own coat and covered me. when i arrived i felt worse. 3 days later i was admitted to baily hospital with pneumonia,had to stay over ,could not fly, son had to come from chicago to drive me home. saw dr,contiued treatment,too sick to contact you immeadtly, was admitted to hospital in elmhurst il with pneumonia ,never recooperated from my experience,have congestive heart failure from prolonged illness. why wasnt i boarded until i found sonmeone to help me? why was i left to become so cold i becamne ill?I have proof of all of this.why when i was crying from cold wasI not put in seat I paid for?I thought your policy was to help handicapped.This experience was inexscusable,and shocking that ot was allowed to occur. I took out insurance but was told when i called to explain i had to cancel because of illness ins doeasnt apply when using miles. I wuld have to pay fee to rebook, which i was to ill to do. I will ursue this incident to media if neccessary ,would like a love contact with explaination of how something like this could occur,my comtact phone is 708 562 8917, I was just released from hospital after 9 days,have many dr appts because of the manner i was treated by american airlines. please leave name and number if i do not answer,i will return call asap. I will be receiving treatment for an unseen amount of time, Rose Hinde 828 alcoa ave melrose pk il 60164 708 562 8917,home phone, lh1215@sbcglobal.net, this is to serious to ignore,I would like this handled in the serious manner for what it is,thank you for a prompt reply and quick resolution to an incident of pure negligence on the bpart of american airlines.

marcus wilson
from Mount Holly, NC
Had an emergency at home came back to the airport the next day to come home then had too buy another ticket to charlotte cash $457.00 ticket number 0012350242058 pnr code EWRORU bad customer service in providence at the airport very upset with this airlines i will like a check for the over pay of this ticket on 4/22/19 never thought that this could happen and that a company doing so much for the public will laugh at me while i was in line for 45mins i would like a check sent to my home i did not pay for it with a credit card they made me use their credit card that was located on the side of the wall address 128 aiden farm ct mt holly my name is Marcus T Wilson

on 4-13-19 my son and i were traveling from Buffalo, NY flight 4009 with a lay over in Chicago our flight from there Dallas 2300 was cancelled due to weather as well as our flight to Killeen Texas 439. I received a notice via e-mail advising me of the cancelation for the Killeen flight. The problem started with us boarding the flight to Dallas and then having to get off the plane after waiting for and hour on it to leave. once off the plane we were told to wait in a line and try to get another flight which i did for 4hrs. Then all of a sudden the staff slowly starts leaving 1 by 1 the last lady was very rude to myself and several people who were in front of me and behind me she stated " I'm closing after this so your gonna have to wait till tomorrow or get in line at the ticket counter in the morning I need to get some sleep myself." I was total lost for words that no one from your company offered any kind of help for the ones left waiting. They said there were cots being set up but everyone i asked had no ideal where they were, my son slept on a baggage cart in the main lobby. We ended up taking a flight to St. Paul Minnesota DL 4182 to Wichita Kansas on completely different airline and then renting a car and drive 8hrs to Killeen Texas at a cost of $269.09 on top of what i paid for my tickets. Then on way home our info was in system but had to be retrieved before we could get boarding pass by the attendant almost didn't make the flight I feel your company could of handled this situation in a better matter and some kind of compensation should be offered for all this inconvenience.

AMERICAN AIRLINES
RE:
Verna L. Kokmeyer Frequent Flier # 8453576
Frank A. Kokmeyer Frequent Flier # 8454616
My husband and I have long travelled with American Airlines, and we have also had American Airlines CitiCard Credit Cards for many years. More recently, my husband opened a new business credit card with American Airlines. We were attracted to the offer of miles to use for travel.
Over the past few years, we have used our miles to travel to central America, including travel to Roatan, Honduras. This is definitely the benefit promised when we obtained AA credit cards, but we found out on our last trip, there is a severe downside of using miles for travel. This is never told people who sign up for the card.
Verna Kokmeyer Record Locator: KMQHQK
Frank Kokmeyer Record Locator: XIGWYI
Flying to Roatan on April 2, 2019, we were to return home from Roatan on April 13. We were to arrive home on April 14 on a flight that connected in DFW. We understand that was especially problematic due to sever weather in the Texas area. After several delays, our flight (2308) was cancelled. I waited almost 2 hours in a line which I incorrectly assumed would precipitate rescheduling of our itinerary. Instead, the only purpose was to give us lodging and a meal voucher. We have a place in Roatan, which we could have left for if we had known no flights were being rescheduled for anyone in the very long line. How nice it would have been to have an agent just inform us of what what happening. When I got to the front of the line and they found out I did not want to take advantage of lodging, the agents just walked around looking everywhere but at me. I would advise you in your training programs—assuming you have some—to encourage agents to act like they care, even if they couldn't care less. I was told the only solution—although I was at the AA counter—was to call AA. We might also be contacted, except although we were staying at a well-known resort, since it was not one they offered, we might not be reached. We left contact info, but to the best of our knowledge, Infinity Bay on Roatan was never called. When we got back to our lodging, I spent another 2 ½ hours on hold with American Airlines. Our resort also called their contacts. By morning, we had still not heard anything about when we would leave, and we finally just headed for the airport. Although we had always received text or email notifications, none were received. The agents suggested maybe AA would be sending another plane for all the people whose flights were cancelled and that was the reason given for not scheduling us. The only emails I received, referred to incorrect flights—like the booking of a Dallas flight, when we had no flight to Dallas.
At the airport, we were quickly shuffled on a flight departing for San Pedro Sula. Not the place we looked forward to being, especially with the reputation for the airport and area lacking safety. However, in this case, we were assured that when we arrived, American had already scheduled our travel to Miami and beyond. We were told we'd receive boarding passes at the airport. We waited in line with all the others on that flight, fully expecting American Airlines to horror the promise to us. This couldn't be further from the truth. All others were given boarding passes or put on stand-by resulting in a Miami flight, but we were told no seats were reserved for us. Why? We were told it was because we were traveling on award tickets. In other words, those who paid whatever were taken care of, while the two of us, who had been a part of your mileage program for years, and had probably flown more with AA than anyone else (each of us has had gold status for years) were left to stand around for another couple of hours. In fact, my husband waited in a wheelchair which he needed to use on this trip. No solution seemed possible. I believe the agents at SPS were trying to help, but it seemed the buck stopped with the AA Agents on Roatan, and communication was lacking. In the end we were offered lodging in San Pedro Sula, airport / hotel transportation and a $12 voucher for dinner. The voucher didn't begin to cover the cost of dinner at the hotel, much less breakfast, but that's beside the point. Our poor treatment was undoubtedly the result of our "free" tickets. When you promote your credit cards on flights, magazines, and mailings, you should add that the result of using the miles might leave one stranded somewhere when you choose to fly with the reward. It was obvious that everyone else will be better served.
Our flight home the next day was from San Pedro Sula / Miami / Philadelphia / Grand Rapids, MI. We are glad to be home, but every step seemed to include a fight and extremely long waits while agents stood around without a solution.
I've long been puzzled by American's policy regarding reward tickets. If I buy a ticket, I can upgrade. When I have an award ticket, no amount of miles or money enables an upgrade. That problem now seems insignificant compared to the greater problem of having less reliable tickets.
Do I want miles in compensation for the nightmare we experienced? Maybe. We should not have "paid" for the last flights. However, we have all but lost faith in the your "reward" system and will be careful in their use. I wouldn't even waste my time writing American, if it had not been for so many years through which we have felt more than loyal to your airline.
Verna Kokmeyer
Frank Kokmeyer
10641 Gun Lake Road
Middleville, MI 49333
269-998-0292

Have not been contacted since the 18th when we paid hotel overnight and then had to book on Alaska to get back to Seattle from Spokane....flight attendants on the Delta flight we were put on were not informed we had a plane to catch in Spokane and as a result, we were there two minutes after the Alaska flight gate closed in Spokane after running about 1/4 mile to get from one terminal to the next. American booked us, American is responsible. This is unsatisfactory...there is no pigeonhole to request compensation only a refund. Not interested in a refund, furest half of the trip went smoothly....interested in being COMPENSATED for hotel stay of four hours, getting up at 03:00 to catch a flight to Seattle on the 18th.

Randall Carter
from New Bern, NC
It has been almost a year since I made a complaint about my flight from New Bern N.C. to Miami. I have sent all information requested and have not heard a thing from your airlines.

Held on the ground in Chicago for crew, when crew arrived (Captain) took off 1/2 hour late, passed Minneapolis to divert for fuel to Sioux Falls, back to Minneapolis, rebooked again for Spokane on Delta, late taking off once again, missed connecting flight by two minutes, (door closed we were told) and plane took off while we were standing at the gate (Alaska for Seattle).
Itinerary: START: Portland Maine, Philadelphia, Chicago, Sioux City Iowa, Minneapolis, Spokane (Spent the night, paid out-of pocket for Hilton Hotel , paid out of pocket for Alaska Airlines 05:50 Flight to Seattle. That would be the short story.
I need to speak to someone. This cost me business time, a hotel stay and a personal booking and arrival one day after schedule.
What I would find reasonable is a substantial travel voucher. If this cannot be resolved today...we shall pile it on.
What say you? 360.731.7614

Daniel Staker
from Salt Lake City, UT
I flew into DFW from Ft. Meyer's on Sat.April 13th @4.00 pm. Gate agent told me he couldn't get me a seat until April 16th my original ticket was for 4 pm on April 13th. A spent 2 nights in the air port before I had enough. I purchased a ticket from delta for $688.00 just so I could get home. American air lines didn't have enough staff to get me out of Texas. I think AA. Is the worst air line. I.Will never use AA. Again

I have been on the phone on and off all day waiting to book a reservation, i have had to wait hours for calls back! I just got a call and the girl hung up on me.I am not a happy camper at this point, i need to book a reservation asap before the prices go up. Your customer service is not very friendly.I would like a manager to call me back asap.I rate this customer service at the moment a big fat 0

Platinum Pro P7A3636 -I am writing to complain about Delayed Flight 853 from BNA to PHL on April 15, 2019. After getting up at 3.45am this morning and checking the flight status to ensure the 6.26am departure was ON TIME, we were notified at the gate that the flight would be delayed three (3) hours because there was no available pilot. As a result , I will miss a scheduled 11.00am meeting and my day is pretty well shot. I understand weather delays and mechanical delays but it is inexcusable to have a delay because the flight didn't have a pilot. Your website specifically states that American Airlines ensures that it will have adequate resources available to meet passenger needs. Moreover, to not notify the passengers of the delay until Boarding Time is deplorable. I respectfully request some compensation for this unnecessary inconvenience in the form a miles credit to my Frequent Flyer account (P7A3636) or, better yet, a elevation in status from Platinum Pro to Executive Platinum through 1/31/2020. Thank you for your cooperation.

American,
Have to vent on this one...Yesterday My wife Joanne and I had return plans on American at 11:45 at Tampa International Airport we were on vacation at Siesta Key Beach. We got up at 5am with our relatives and headed out to the airport to head home. First of all I was sick for the last 3 days with a stomach virus and was looking forward to going home. I had a Doctor's appointment later in the afternoon back in our town of Clifton Heights PA. in the morning and felt ok and was just forward to going home but American had other ideas. First as we leave for the Airport my wife gets notification you canceled the flight. So you don't replace that flight. Your next flight was now 2:26 pm..and we now on stand by as we should have been added to the next flight...we didn't cancel the flight you did ...Well you quessed it...we weren't able to get on the stand by flight ...The only chance to make the Doctor's Appointment was gone. So now we are on the 5;02 Plane back to Philadelphia ...by that time the stomach virus kicked in full tilt...I could have been home and looked out and was feeling like hell...That 5:02 plane now becomes a 6:30 take off ...and I was in full pain ..no doctor just suffering ...we landed in Philadelphia at 8:50 pm ..and by the time we got home it was 10pm ...we spent the whole day in Tampa Bay as I felt worse..Oh remember the standby flight at 2:36..well one of our bags went home ..we didn't...then we met your customer service reps for the finding of that bag...while I was in pain..I don't need that.hell...everyone wants respect but the customer is always told to quiet up while they explain their side of where the bag is..and how a report has to be filed and then they will find the bag..or go to Section A while we were in Section F and told it was a short walk outside in the rain to Section A Yes we did get the bag in section A ..One rep was nice while the other Rep said my wife couldn't look through the bags..so you can see the kinda day your airline provided. ...but I feel after the first flight was cancelled your company could have done more...everyone ask for our business every day but no one cares after they get it..and if we didn't fly your airline you don't have a a job..I normally don't complain but this was a back breaker … You can look up our records yesterday ...Ray and Joanne Thomas 43 Walnut Street, Clifton Hgts, Pa. 19018...610-329-8368 ...Thank you...

I purchased a First Class ticket for my trip. Toledo to Chicago, Chicago to Puerto Vallarta on March 17, 2019. Flight #AA-2338. Before boarding, I was called up to the counter to tell me that their was a problem with my seat, and I would have to wait before boarding. Everyone was on the plane ready to go but me. Now I have some back problems, and that is one of the reasons that I purchased that first class ticket. Now I do know that I flew from Toledo to Chicago in a very small plane, but it was only a 45 min trip. That's doable. The Chicago to Puerto Vallarta was 41/2 hours long. Well after about 15 min of either not knowing if I will be able to go on this trip, I was told that I could board. Well the problem with the seat was it couldn't recline. I did get a picture of the tape with writing on it saying INOP RECLINE. So the story is that I had to sit up completely straight up in a First Class seat that I paid over $1,100 for the whole trip. I did ask if there was a coach seat available for me to sit in instead at least I would of been able to sit back. They said it was a full flight. I was very uncomfortable. I would of rather just stayed back and took the next flight out if I knew I was going to have to sit there like that.
I don't fly first class. But for the comfort of my situation, I purchased that first class seat.
I usually always fly American Airlines. In fact I have your credit card so I could fly your airlines more. But this was terrible.
I would like somebody to email me back with some kind of something. The 1,400 flying points that the Attendant promise me was ridiculous.
I would like your feedback on this.
Thank you
Valerie Hobbs
Vhobbs14@yahoo.com

Jonathan Garrett
from Albuquerque, NM
I was told I had to check my carry-on case on flight AA2629 from MSP to DFW, scheduled departure 18.29 on April 10th, 2019 as it was so busy. From DFW I was then scheduled to transfer to my connecting flight to El Paso (AA5874), scheduled departure 22.15. I was furious on arrival at ELP to find my bag did not arrive. Registered my bag loss with the agent in the Baggage Reclaim (ref delayed baggage receipt ELPAA04003956) and have asked for my bag to be sent to my hotel on the 08.00 flight arriving from DFW today (Hampton Inn, 12088 Gateway West Boulevard, El Paso, TX 79936).
Why didn't American check-in attendants at MSP prioritise people with connecting flights to have carry-on bags and those terminating at DFW check in their bags. This is so frustrating and has ruined my trip. Very unhappy with the service of AA. This could have been avoided with a little thought.
I am due to leave DFW on AA5963 on Friday April 12th at 18.17 to get my flight home on BA/AA6153 to LHR, so have very little time in the US to be reunited with my bag and its contents. I need American to deliver and get my bag to me today (Ref: Bag tag: 4001487157).
Jonathan Garrett
Mobile: +44 (0)7803 234314

On my fight from charlotte NC to Jacksonville NC, fright AA5161, 4/8/19, PNR: ERAVPT.
MY FLIGHT WAS CANCELED AND DELAYED OVER 10 TIMES WITHIN A 5 HOUR WINDOW SPAN WHICH CAUSE ME TO RUN FROM ONE GATE TO ANOTHER TO THE CUSTOMER SERVICE DESK BACK AND FORTH WITH HOPES TO GET ON A FLIGHT TO RETURN HOME. MY BAGS WAS LOST IN THIS PROCESS AND I HAVE NOT RECIEVED MY LUGGAGE AS OF TODAY 4/10/19. MY KNEE WAS INJURED AND I WAS IN PAIN DURING IS AWEFUL PROCESS. I WOULD LIKE A REFUND OF MY PLANE TICKET TO ACCOUMADATE MY PAIN AND SUFFERING DURING THIS TIME.

Susan L Johnson
from Cleveland, OH
On April 7, 2019 I had a layover in Chicago OHAR Airport flight was suppose to leave a 5:45pm, we boarded the airplane we started to move then the pilot said due to thunderstorm and lightening there was going to be a delay as we sat on the plane(understandable), then the rain stopped, the airplane started to move, then we stopped again with the announcement from the pilot saying we should be ready for take off in 15 minutes, well 15 minutes turned into 10 minutes of taking off then 10 minutes of taking off turned into 2 minutes of taking off, 2 minutes of taking off turned into we have to go back to the gate for more fuel, getting more fuel turned into the flight was cancelled and we had to get off the plane to see when we can get the next flight out the attitudes at that counter was despicable after having to sit on that plane for so long and being very exhausted. I was do to be in Cleveland Ohio at 8:02pm Sunday April 7, 2019, when we got to the counter to see when will our next flight leave, we were told going to Cleveland, Ohio next flight out would not be until the next day which would be Monday April 8, 2019 at 12:30pm, which was very inconvenient for me because not only did I have a very important mandatory meeting at my job, I had lost a whole day of pay, yes I was offered to stay at a nearby hotel and was told that I would have to pay half of my hotel stay which I thought was a incredibly horrible offer, this was nothing I had planned in my budget nor did I plan to loose a day of work of which made me to be forced to use another PTO day of which was suppose to go on my next trip, I do understand that things happen, but there were many many planes pulling off before us WHILE WE SAT ON THAT PLAN FOR THREE(3) HOURS UNTIL Our BEHINDS WAS GETTING NUMB. I would like to be compensated for my hotel stay that was charged to me twice($98.79) of which one is in the process of getting credited to my bank account. There were people that could not afford to get a hotel for that night and had to stay at that airport from about 9:30pm until their flight was ready to leave the next day, I'm sure that had to be uncomfortable for them. This was my first time using American Airlines and was hoping it would not be my last. At the beginning everything was great going to Las Vegas, but coming back was a really bad frustrating experience for me and others. If this is how we as paying customers are being treated, then I will continue flying with Delta and others. I really hope to hear from you soon.
Thank you,
Susan L. Johnson/Mauldin

My colleague had a delayed flight in Charlotte on 8 April. I called the customer service rep to get a status on the lost/delayed bag. I was told it was in Charlotte and it should be on the next of two flights, the second being a bit after 12. At 1412, they are STILL waiting on someone at the lost baggage department in Charlotte to send a message back about when it will be put on a plane to Augusta. Is there nobody working in that department? Do they care about a paying customer not having a change of clothing? It would seem that once they have your money, the hell with you and customer service from then on.

christine woods
from Teachey, NC
ALWAYS LATE IN CONNECTING FLIGHTS . WE PAIDED FIRST CLASS TO JAMAICA HAD NO SEATS BY MY HUSBAND ON WAY BACK SAT NEXT TO A ( emotional support dog) which owner claimed was kool cus her dog can fly with her free. Flights attendents more interested in dog than us first class paying customers . We started flying economy why spend extra money on late flights. we fly often another flight no water we had to use hand wipes . just plain disrespectful was told to complain on wedsite. todays flights for my brother was agained delayed by 2 hrs touch down in ILM. waited 45 for customer phone service.

JAMES DICKERSHAID
from Vero Beach, FL
AMERICAN AIRLINES FLT # 5388, 3/24/19 - WHITE PLAINS TO CHARLOTTE
THE PLANE WAS TO DEPART AT 7:00 PM. WE WERE NOT ALLOWED TO BOARD UNTIL 7:20 EVEN THO THE PLANE WAS AT THE GATE AND READY TO GO.
MY SEAT WAS 2A. THE MAIN REASON FOR THIS COMPLAINT WAS THE VERY LARGE FEMALE IN THE SEAT NEXT TO ME. SHE WAS UNABLE TO PUT HER SEATBELT AROUND HER - HER SIZE CAUSED HER BODY PARTS TO 'OVERFLOW' INTO MY SPACE. MY CONCERN IS THAT THIS WOMAN SHOULD HAVE HAD A SEAT FOR TWO - FOR HER SAFETY AND THE SAFETY OF THE OTHERS ON THE PLANE. WHEN THE FLIGHT ATTENDANT WAS CHECKING UPRIGHT SEATS AND SEAT BELTS- I ASSUMED HE WOULD HAVE NOTICED THAT SHE DID NOT HAVE HERS ATTACHED.
IT WAS THE MOST UNCOMFORTABLE FLIGHT I HAVE EVER BEEN ON - HAVING HER BODY PARTS INCLUDING LEGS, ARMS AND SHOULDERS IN MY SEATING AREA. TO GIVE YOU AN IDEA- I WEIGH 270 LBS AND THE FEMALE IN THE NEXT SEAT WAS WELL OVER 100 LBS MORE. I WAS UNCOMFORTABLE TRYING TO ADJUST AND MOVE MYSELF IN MY SEAT. I WANTED TO SAY SOMETHING TO THE FLIGHT ATTENDANT THAT HE SHOULD HAVE NOTICED, BUT I WOULD HAVE HAD TO REGISTER MY COMPLAINT WITHIN EARSHOT OF THE LADY IN THE NEXT SEAT.
WE HAD BEEN TOLD BY THE FLIGHT ATTENDANT THAT OUR CONNECTING FLTS WERE WAITING - I WAS HEADED TO MELBOURNE, FL (FLT AA 5387 - DEPARTURE 9:27). UPON ARRIVING IN CHARLOTTE, NC, I DISCOVERED THAT MY FLIGHT HAD ALREADY LEFT. THE AA STAFF AT THE DESKS TRIED TO FIND OTHER FLTS TO GET TO OUR DESTINATION, BUT NONE WERE AVAILABLE THAT NITE.
AFTER TWO HOURS, WE WERE GIVEN A $12.OO FOOD VOUCHER AND WERE UP IN A RAMDA INN RADISON NEAR THE AIRPORT. THE NEXT MORNING, I WENT TO THE AIRPORT AT 8:30 FOR AN 11:30 FLT TO MELBOURNE FL. THIS PLANE WAS ON TIME, WE BOARDED AT11:30. AFTER ALL PASSENGERS WERE ON THE PLANE - WE WERE NOTIFIED THAT THE PLANE HAD A MECHANICAL ISSUE - TOO MUCH HYDRAULIC FLUID, SOME NEEDED TO BE REMOVED. AFTER THAT, PILOT NOTIFIED US THAT A SWITCH WAS BROKEN AND WE WOULD BE ON THE PLANE UNTIL ANOTHER SWITCH COULD BE BROUGHT AND THE BROKEN ONE REPLACED.
WE WERE ON AN AA SPIRIT. AFTER 1/2 HOUR, WITH NO AIR CONDITIONING, THE FLIGHT ATTENDANTS SERVED BEVERAGES TO THE FIRST THREE ROWS IN FIRST CLASS AND TWO AA PILOTS THAT WERE CATCHING A FLT SITTING IN COACH.
FIFTEEN MINITES LATER, I ASKED IF THE REST OF THE PLANE WOULD BE SERVED - I WAS TOLD NO - THAT WAS ONLY FOR FIRST CLASS.
TOTAL TIME SITTING IN THE PLANE WITH NO AIR CONDITIONING AND NO BEVERAGES AT THE GATE AND ON THE TARMAC WAS WELL OVER AN HOUR.
IN CONCLUSION, A FRIEND DRIVING FROM VERO BEACH HAD TO TURN BACK SUNDAY NITE AND RETURN THE NEXT DAY TO PICK ME UP, SHE HAD TO LEAVE WORK DAY TO GET ME FROM MELBOURNE. IN ADDITION TO ME MISSING A DAY OF WORK BECAUSE OF THE MISSED CONNECTING FLIGHT ON 3/24/19, THESE TWO FLIGHTS ARE THE WORSE, UNCOMFORTABLE FLIGHTS I HAVE EVER BEEN ON.
AGAIN, I WANT TO EMPHASIZE THAT IN TODAY'S WORLD, SITTING NEXT TO A VERY LARGE PERSON - NO ONE SHOULD HAVE TO EXPERIENCE THIS. THE FLIGHT ATTENDANTS FAILED MISERABLY. IT HAS TAKEN ME HOURS TO FILL THIS OUT - NOT BEING A COMPUTER SAVVY PERSON - WHERE A SIMPLE PHONE CALL WOULD HAVE SAVED ME A GREAT DEAL OF TIME AND AGGRAVATION .
JAMES DICKERSHAID

John Maratea
from Bedminster, NJ
Besides having 2 delays on initial flight and connecting flights.i am 71 years old and a disabled Vietnam nam vet.
I was confused on what gate I was to be at in Chicago ohare. I respectfully ask a AA employee if I was in the right area. He just go straight down the escalator but he said in front of our customers "it's wriiten right here on your boarding pass don't you know how to read". People looked at me and I was embarrassed and humiliated by his actions.
You should think strongly on giving classes on how to be a respectful and courteous employee.
They should know it's part of their job to help customers and also protect the credibility and integrity of the company.
John Maratea
609-410-0190

Vanessa Fox
from Temple Hills, MD
This letter details the events that lead up to our missing out on what was supposed to be a wonderful 7-day Western Caribbean Cruise vacation. A day that began with excitement and anticipation quickly turned into a nightmare that left us furious, frustrated, and disenfranchised due to various delays with flight # AA 1340. This cruise was planned on the Holland America-Nieuw Statendam ship several months in advance. On the day of our departure from Reagan National Airport (DCA), me and my travel companion, Ms. Deborah Burroughs never reached the pier because of the continuing "delays". The ship was leaving from Fort Lauderdale, so we flew into Miami and arranged for a transfer to the pier in Ft. Lauderdale. The ship was scheduled to sail at 5 PM on Sunday, March 24, 2019.
Originally, we were booked on flight # 1178 departing DCA at 6:10 AM, arriving in Miami, 8:47 AM, which was ample time to reach Miami and get to Ft. Lauderdale. A week prior to the cruise, I was notified that the time of departure had changed from 6:10 AM to 8:00 AM and the flight # changed to AA 1340. This did not cause us concern because it was still an early flight. The morning of our departure, I received notification that flight # AA 1340 was delayed until 11:00 AM. Within moments, I received another notice that the flight was delayed until 12 noon. We were clinging to hope that this would be the final delay. However, we soon realized that the departure time had changed once again to 12:30 PM. We boarded shortly before 12:30 PM, feeling hopeful yet anxious that we could still get to the ship on time barring any further delays. Once on board; and before leaving the gate we were notified by the flight crew that there was a mechanical issue. The mechanic came and resolved the issue in approximately 20 minutes. We proceeded to leave the gate for take-off and the flight crew announced that a light came on and we would be returning to the gate. The mechanic came aboard to repair while we sat on the plane. By the time we finally took-off, it's close to 2 PM. We arrived in Miami a little after 4 PM, retrieved our luggage which was given priority tags, but came out no quicker than any of the other bags. We realized that it was absolutely hopeless; and we were not going to make it.
At a point during all of these delays, I contacted the cruise line's 1-800 number several times to notify them that we were experiencing flight delays, but we were on our way. As the probability of making it became bleak, I made calls directly to the ship at a cost of $8 per minute and spoke to someone expecting to hear they would wait for us to arrive, as they sometimes do at ports when guests are late returning to the ship. We needed a miracle!
Upon arriving in Miami, I retrieved a message that had been left on my cell phone from Holland America confirming that it was no way we were going to make the ship in time and that we should consider flying to the first port on the cruise which was Ochs Rios, Jamaica. However, meeting the ship at the next port would not be possible until Wednesday, March 27th if we decided to do this. It would mean losing 3-days of our 7-day cruise. Needless to say, the thought of having missed the cruise and now accepting the reality that we have to return home left us filled with anxiety and disappointment. We went to the AA ticket counter. We were told that AA would indeed send us to Jamaica to catch up with the ship. But we decided at that time to cancel the trip and get return tickets home for the next day (Monday 25th). We were given a voucher for one night at the Holiday Inn International airport hotel which was sub-par at the best, and two $12 food vouchers each which we felt were insufficient. We had to add money to it to cover the cost of our meals. Lastly, we were also told by an agent that the breakfast in the hotel was complimentary, which was incorrect.
Before actually making the decision to go home, we returned to the AA ticket counter the next morning and spoke with a ticketing supervisor whose name was Carmen. We were reconsidering our options. Carmen did not seem eager to assist us. Carmen initially told us we could not get tickets to Jamaica which we had been told by agents the night before that we could. Carmen told us that she needed to confer with her manager, and left us standing there for nearly ½ hour. Another agent walked up and questioned why we were still there. We proceeded to explain that we'd missed our cruise because of flight delays and that Carmen told us that we should never have received tickets to return home. After speaking to her manger, Carmen said that the tickets could be changed so that we could go to Jamaica if we still wanted to. She told us there were no other concessions available to us. At the very least, we needed a voucher for another hotel night in Miami, more food vouchers and accommodations for one night in Jamaica. We were told we could only receive one hotel night in Miami, no more food vouchers and use our own expenses for hotel and food in Jamaica. If that is your policy, we know that you are at liberty to make exceptions. The reason we were unable to meet the ship until Wednesday was because on Monday the ship was going to a private island and Tuesday was a full day at sea. There was absolutely no empathy for what we were experiencing. It was time to return home.
Our Monday flight home was originally scheduled to leave Miami at 4:20 PM, arriving in Birmingham, AL at 6:22 PM. We were told that all other flights were completely booked and that was the only flight we could take to get home. That flight was also delayed until 5:30 PM due to mechanical problems, (deja vu)! Because of that delay we ultimately missed our connection in Birmingham which would have gotten us home at 9:30 PM, Monday night. AA booked us on a 6:05 AM flight for the following Tuesday morning. We were hoping to return home Monday night. We definitely did not want another overnight stay and tried desperately to get put on another flight even if it meant booking us with another airline. We had to get another hotel voucher for Holiday Inn in Birmingham and food vouchers for dinner. When the agent in Birmingham printed the vouchers, I noticed that the hotel voucher we had been given had the same address as the hotel in Miami. Upon comparing the food vouchers given to us with the ones I'd received electronically, they too were the same as what we received in Miami. The airport was closing; the agent had to place a call to someone else that then had to instruct her on how to correct the vouchers. This entire experience was a case of all that could go wrong did go wrong, it was surreal. Other than the fact that we arrived home safely, the only thing we can say good is that our flight home on Tuesday morning was pleasant. There were no delays, it left on time and we were back at DCA by
9 AM.
Missing what should have been an incredible cruise has caused us loss both mentally and monetarily. We cannot get back the time and energy that went into planning and preparing nor the enjoyment that we would have had on this cruise. Only memories of what could have been. No photos and stories to share with our families and friends.
The amount we paid for the cruise alone was $2,274 which was a special promotion and was deeply discounted for a luxury suite on the brand new Holland America ship. We feel we've been robbed of great fun, food, excellent music and entertainment, shore excursions, spa treatments, gala nights, and all of the amenities, etc. that come with a luxury vacation aboard a luxurious ship. Our airfare was $753.
We would like to be compensated for the lack of empathy shown to us for this devastating experience. Again, we can never recoup what was lost when our only crime, if you will, was booking a flight with AA. We've suffered a great lost, not to mention the stress levels that were reached as a result of this debacle.
Thank you for your attention to this matter, and we look forward to hearing from you soon.
Vanessa Fox
2802 Keith Street
Temple Hills, MD 20748
vfox57@yahoo.com
240-472-4306
Advantage # 5E64C52

On Sunday March 24 both planes had issues, one from MLB the maintence did not remove something, plane came back to boarding and then was cancelled, being a diabetic an s on insulimpump, maintain is important. Was re scheduled on later flight to charl. Got there that plane was waiting on maintence, door was not working !, Really, what started out at a 1:41p.m. ended .@ 10:45 p.m. On dayton, ohio.
no stars !

Laura Speranza
from Washington D.C., DC
If I could give 0 stars I would. Going to see our Sailor graduate. Our direct flight was cancelled and we had to get a connecting flight. Payless car rental through the AA website wanted to charge us $118.00 more from r arriving 4 hours early. Then on our 2nd flight my husband and myself were placed in 2 different rows. No problem as per customer service. Just tell them at the airport and they'll change it. Get to Charlotte and they told us no! We have to fly out of one airport and return to a different one. Now we had to pay for car service instead of being able to take our car. So horrible!! I WILL NEVER FLY AMERICAN AGAIN

Got to my flight at 5 a.m. Told I could be bummed. Stayed they always over book. Did get on but satin seat 1 and literally froze. Got to Chicago got a w/c.the attendant grabbed the wrong suitcase which I didn't realize until I got to my gate.waited forever to get any assist. My bag was found and deliver with $300 missing. Who would go through personal items to find hidden valuables.? On the way back I had 3 hate changes. With just having foot surgery it made it very difficult. Besides that if it wasn't for me going up and questioning it many of us would of missed out flight. Not a frequent flyer so didn't even know they did this. I am finally thawed out from the trip back home. American airlines never again!!!!

Vonda Lashley
from Los Angeles, CA
I had a plastic jar of whipped hand exfoliate soap,That was very thick you turn it upside down and would not have poured out.Clearly not like a gel or liquid..They took it
Have feedback for American Airlines?
Thanks for your feedback!
Sorry. Please try again later!