American Airlines
American Airlines Complaints Continued... (Page 4)
338+ reviews added so far. Upset? Call American Airlines corporate: 817-863-1234

Evan Hansen
from Glendale, AZ
I live in the Phx area. My father was ill so I booked a flt from Phx to Seattle on Feb 28th, coming back the next day, using my US Air dividends miles. I did this as it was a last minute decision to go see him. Since then, he passed away on March 18. I had 29,000 plus miles in my acct. I was charged the following for using MY miles: $12 taxes and fee, $75 quick ticketing fee and $25 award processing fee for total of $111.20!!! Just received the billing. I also have reward miles on Alaska Airlines. They charge me $12 TOTAL to use my miles. I see no reason to charge the amount that I have been charged. I see no reason to add additional miles to my account, then use them and be charge these high fees. Can you please reduce these charges? If not, you will force me to discontinue using my card and miles for future flts. Thanks very much for addressing this matter.

Flight 1429 to Orlando off this date 27 March was delayed four times and then all the passengers for this flight to Orlando were placed in an airplane that was still being repaired while the temperature was hovering over 100 inside. I suppose your American airline employees thought it was cute that Dadion want to hear anymore complaints from people so they stuck him and lock them inside the airplane to roast. The situation is still ongoing.

Nubar Hanessian
from Tucson, AZ
Flight from Cancun, Mexico to Dallas, Tx was cancelled on March 4, 2015 due to bad weather - I understand no problem. I (87NHJ94) and my Wife (Martha 18PHY68) were rescheduled on US Air for March 5, 2015 at 5PM from Cancun, Mexico to Phoenix, Arizona then to Tucson, Az. I paid extra for the seats I wanted on the original flight. On the change I also asked for the seats, but was given the seat across from the bathroom. 4 1/2 hours of having to smell the very strong disinfectant coming from the bathroom. I was complete abuse - completely unexceptable. For days I felt sick and continued to smell the disinfectant. Brain dead CEO's, decorators, designers, employees that only seat in 1st class have no idea what it is to smell the bathroom odors for 4 hours. Please have them seat there and give their opinion. I was abused by being put there. I was a loyal AA traveler-was. Hoplefully someone will understand.

Eileen Ferrarell
from Norwalk, CA
Last night on my flight 1583 from Phx to Ord,I was excited to be on new clean plane! Passenger across from me -large teenage boy began throwing up long before take off !Noattention given from flight attendants . I was shocked as he was allowed to travel ,exposing us all to who know what,as he continued to throw up the entire 3 1/2 hour trip. The only attention by flight attendants was he was given larger vomit bag after a fewhours! Also overheadcompartment above me kept flipping open - very dsngerous,too!this was ignored Horrible experience!

Lee
from Mercer Island, WA
I flew 4 first class American Airline flights to and from Ecuador in the last week. These were bought by long time Priority Access members who have been traveling in their first class cabins on and off since the 1980s. I have NEVER seen a more deplorable first class than my last two flights- a 4hr from Ecuador and a 7 hr from Miami. The seats were old with springs pushing through the cushions. absolutely NO ammenities were given. No TV, no fancy blankets, NO dvd's or personal viewing options and the planes were FILTHY. While I paid MORE for the return flights than the first class flights leaving the US-- they had less quality, cleanliness, and ammenities than that of the 1990s coach chairs. Priority Access members pay more for more quality, comfier chairs, and more leg room. NO upgrades at all had been made to the plane in over a decade except an extra blue light put in and internet access allowed.
Furthermore, urine was caked around the entire bathroom--- large yellow streaks covered the entire back and glowed under the light. Even the flight attendents complained they had never seen a more filthy airplane and did NOTHING. WHY SHOULD I HAVE TO PAY MORE FOR FIRST CLASS IF IT IS GOING TO BE A LESSER QUALITY THAN COACH??? American needs to upgrade all their planes and be consistent with the product they are offering. absolutely offensive.

Angel Rodriquez
from Sanger, CA
On March 9th, 2015, a group of friends and I tried to book a flight to and from Austin, TX. We all decided to book our flights separately. The total for the flight to and from Austin, TX, from Fresno, CA was set at $363.20. This was the total for the flights to Austin [American Eagle #5782 & US Airways $5570] on September 28th, 2015. The return flights were [American Eagle #5825 & American Eagle #2891] on September 28th, 2015. The members of my party include Joe Aguirre, Carlos Rodriguez, Matt Rodriguez and myself, Angel Rodriquez. We all booked separately and all saw the same price online of $363.20. Joe Aguirre was the first member to book and did so without any issues. I did mine online, was quoted the $363.20 and paid through PayPal. I was given a receipt from PayPal stating that the charges were made, totaling the amount of $$363.20. But there were errors on the website. The flights were not being confirmed.
I called 800-222-2377 to confirm my flight only to be connected to an individual that was no longer quoting me the price I was given on the website and on the receipt. I was being quoted a much larger price. These were not the terms established in our transaction. I sent over an hour being put on hold with this agent who did absolutely NOTHING to resolve my issue. The price I was being quoted now was $388.70, despite the fact that the agreed terms were already established by the very receipt and PayPal transaction record I have. After over an hour of dealing with someone who had no clue of how to respond to my complaint, I began to reach out on Twitter, but they were useless. I finally demanded to be transferred to a supervisor. He refused to give me his last name.
He simply identified himself as Javier and said his employee # was 1A. He seemed to not even care for my issue, refused to aid me in any way, and said it was impossible to stick to the price given on my receipt. I would have to pay the price of $388.70. After wasting away my cell phone minutes and time spent online with inept workers, I paid the $388.70 despite the fact that I knew US Airways was in the wrong! They didn't do a single thing for me other than waste my phone minutes and over-charge me after putting me on hold for close to 1 hour and 20 minutes!

absul khansahibzada
from Plano, TX
We were booked on AA 2413 from DFW to LAX connecting flight LAX-OGG flight AA 271, we had already gotten our boarding passes, when we got a call from american airlines that the flight had been cancelled, my wife and me were on the phone with AA rep. but no other flight options were given to us, earliest flight according to the AA rep. was monday 3/9. were on the phone for about 45 min. later when we searched we found seats available to the flight DFW-LAX-OGG for 3/8, when we called back and talked to them including the supervisor Theresea, we were not accomodated on this flight as we had coach tickets and availability was on first class, american airlines were not willing to accomodate us, AA should have the recording on file and the supervisor was quite rude. Cancellation of this flight has cost me 7 days of vacation time, at $300 /hour =$16,800 at $340 in non-refundable tickets on hawain airlines from 0GG to HNL for 3/8 and hotel reservations in OGG.

Christine Kaye Campbell
from Rancho Cucamonga, CA
I needed to make a change in my reservation. I was on hold for four hours before I finally gave up. I will just have to try when I get to the airport to leave and take my chances. Very upset by the inconsiderate nature of this. If it is that busy, HIRE MORE PEOPLE!!!

Monika Chapman
from Chagrin Falls, OH
I have a flight booked for my daughter that I need to change. Online it says, "this reservation cannot be changed on line please call American Airlines. I have tried for THREE days! Right now I am on hold for two hours and still waiting. This is outrageous...

Kim Lynam
from Des Moines, IA
Cancelled flight after sitting at airport for 5 hours! I was told at one point "we all have problems!" Also one lady told me after I said I had been up since 3:30 she had been up since 1:30! I told her she was getting paid and I was suppose to be on vacation! We missed our appointments in Phoenix and were not compensated at all. They could at least buy our lunch! I called customer service 3 times. One lady named Ashley from Charlotte was the only nice one.

on a recent flight to orlando from ireland i paid for 5 tickets with a travel agent in killarney southern ireland 3 adults 2 kids aged 8 and 9 years old flying from shannon to newark to orlando and orlando to newark and newark to shannon on both times we left newark 25 october and return on 2 of nov our kids were put sitting on their own as far as im concerned your company will have no luck in the future when your treating children like this i presume you alredy realise this is my last booking with american airlines

To whom it may concern receiving complaints about the service Eulen America:
I hereby make a formal complaint about the mistreatment and disrespect observed an employee of Eulen America named Olga, Mrs. old lady, gray hair with glasses, skinny and short, who did not want to provide us with her name or show his identification, covering it with his hands so we could not see it when we express our feelings towrad the way she was treating passegners, specially Cubans. This happened this afternoon, February 24th, at 2:00 pm in the Concourse D / E (for connection flights). This lady by the name Olga. treated contemptuously Cubans who tried unguided to walk out that door, and even some discrimination actitude was noted in her actions when he shouted: "Cubans are not allowed to use this exit, they must go down". However, many other passengers used that exit, without having any connections, but she apparently only referred to Cubans, by identifying them by their appearence and look like. More than once we saw her mistreat and humiliate comrades of the same staff, in front of everyone. When we told, (three people who were observing their behavior), we intend to file a complaint against her and asked for her name, she brought her 'Supervisor' Mr Miche Sixtol, who told us that she was not there to serve the customer, and that he could not give us her name, nor his name, since they worked for a private company. Similarly we saw he tried to prevent us to see his name, but we could see it. Olga's name we knew because we asked one of his coworkers, since all the time she hide her identification with her hand, so we could not see it.
They laughed at us when they saw we could not find someone to take seriously our claim, at least make known the discriminatory treatment of this person towards Cubans, whoonly showed a face of bitter and frustration towards passengers. We approached her just to ask a question, without even letting us finish it. I had to explain to some Cubans thatalso approached her to ask about Cuban flights, but as soon as she heard the word "Cuba" she not even allowed them to finish formulating tjir questions, and simply pointing his finger she sai in a loud voiced: "Cubans must go down ".
For your information, there were people who had the decency to guide us and tell us that this was the best way to make the complaint, and told us that it was not the first time similar incidents had been reported about Mrs. Olga, but no actions had been taken.
This same complaint I have posted on the website of Eulen America, hoping it gets to the appropriate persons/executives, so that this time action be taken to avoid this kind of situations. It is important to note that attitudes like this make a very bad image of the companies involved in any work done at the Miami International Airport, which counts on such a great international prestige.
I would appreciate a response to my emial.
Sincerely,
Maria M. Brito
Email: margaret.brito@gmail.com

This is a follow-up to a previous e-mail complaint that I made earlier this morning, 3/19/2013. Because of our counselled flight, I requested had 2 (two) round-trip airfares. Reason for was because we lost one full day of our Cancun vacation. To add insult to injury ,we were booked on the next flight at 1;40 pm and that flight was also delayed.
On arrival to Cancun we waited patiently for our baggage, too no avail. Our luggage did not arrive. We are now without clothing and bathroom neccessities . Not only did we miss a full -day because of American Airlines ""mechicanical malfuncutions"" but we did not receive our luggage with clothing and were not able to eat out with friends this evening.
We are very dissappointed with this airlines. Doubt we will schedule another flight with your airline in the future. This is our first experience with American Airlines and it has not been good.
Sincerlyl,
David M. Minniear

On November 2 my party of 5 was suppose to have nonstop American Airlines flight out of San Antonio airport leaving at 7:05 am arriving in chicago around 10:30 am. Our flight was delayed by american eagle because pilot refused to fly. We did not leave until 11:00 to Dfw airport and arrived in Chicago around 5;00pm we only had 2 days and our first day was ruined because we got caught in Chicago rush hour traffic. On our way bac on Sunday we sat on the Tarmac of dfw for 1 1/2 hours repairs. Needless to say because of the airliners I pretty much waisted my money on this trip because I did not Have enough time to do all I set out to do. Also the American Airlines customer service reps in San antonio were very rude to be specific T.k. Jones. I do believe I need to be compensated for my time loss,my party of 5 just threw our money and time down the drain.

On march,10 2013 i made my stop in New York and i found my self with the situation of having one of my bags missing, i filed my report at that same day. Sinse then i've been calling day after day and having nothing in results, no one of your employees seems interested on helping by discovering when i Am having my personal belongings back. It have been a week on my waiting im afraid that Ill have to find another way to have results...

I am writing this letter to express how disgusted I was with the Customer Service on my recent trip on American Airlines. Departing JFK was a complete nightmare. The flight was originally suppose to depart at 5:05 pm, Thursday, September 22, 2011. Upon arriving to the airport I checked the flight board and saw that my flight was scheduled to depart on time without any delays. Boarding the flight went smoothly until it was time to depart. We were sitting on the plane for an hour without any explanation from the pilots or flight attendants.
It's not until several passengers began to notice that we had not moved from our original spot that they began to stand up and ask questions. The pilot finally announced that due to weather that one runway was being used and we would depart.
The flight attendants service below average. I could not believe that on a flight from JFK to LAS would run out of beverages and snacks. Not to mention I was more appalled that American Airlines did not offer complimentary snacks but were selling snacks (that were sold out as well)! Worst flight I've been on in a long time!
When people fly they would like comfort when doing so. Good customer service should be mandatory! On a flight for 5 hours in misery is horrible. I will be sure to bypass American Airlines and take my business elsewhere until your company decides to step it up.

Christine Hall
from Chickasha, OK
I'm a white 62 disable female and I was asking one of your employee were do I catch a shuttle bus to go to a hotel and she told me that I would have to get in a line going outside so I did but when I did go outside she came up to me and ask me what the heck iI was doing I told her again I was waiting for a shuttle to the hotel she told me I was in line for the shuttle to the airplane I told her she told me to she got mad at me and told I could go to jail and she said you people think you can do whatever you want to and the person was black woman and I felt she was against white and I was very upset and wanted to cry. Also my flight canceled do to too many airplane needed to be de-iced there was 18 plane ahead of us do to all the flight crew wasn't there so by the they got one there they had to canceled the flight. They had me to the American airline desk they set me up with another flight and I ask her about staying in a hotel she gave me a voucher for a cheaper hotel and I asked her why would I have to pay for a room she told me they couldn't do nothing about so being disable is just to bad for me all this happened in Philadelphia, my flight number was 3780 the date was 1/06/15, trip number was 218-512-630-03 airline confirmation was BVBQJQ. I like to use American airline but I didn't like your employees in Philadelphia and I didn't like to be treated the way I was treated.

Becky Raes
from Rochester, NY
I have received a call from a representative concerning my necklace that they found it and they where suppose to call me back and I have not gotten a call back. I am not pleased with your service I have not only not gotten a call back but I have not received my necklace back either. I have been trying to call as well as sent several e-mail concerning this matter with no response if this matter is not resolved I will have no choice but to submit a complaint with the police department that It was taken out of my suitcase and I will never use your airline again. I have described the necklace to a tee and It also had my name and address with the neckless which is how mary got in touch with me. I have heard absolutely nothing and when I call all I do is get put on hold.Now If I am not gotten intouch with in 5 days I will go onto -facebook-twitter and pinterest and any other web site I can to let people know what kind of service you get and how things are taken out of your bags.not only was my necklace taken but my pajamas...really..baggage people are that desperate....My new address is <hidden>..My name is <hidden>..that necklace was a birthday gift..if I lost it ..it would be one thing, but my suit case was locked.

I left for the trip of a lifetime that I have planned for a long time to Australia/NZ. My 1st flight was to LA from Sacramento on American Eagle Plane. The lady at counter said she could only send luggage to LA, not to AUS. Went to pick up luggage to recheck in LA and wifes was there but not mine. We saw both luggage pieces go onto plane. The flight was delayed because it needed more fuel and they were shuffling luggage around for 45 minutes. LA did not know where my bag was. I caught my next flight to AUS and had tour company help me follow up. I did not have my dive equipment and missed out on the barrier reef dive. I did not have my belongings and had to spend tour time shopping, missing important events. AA ruined my trip and caused me a lot of stress for 8 days. My bags didnt even leave LA for 5 days. What is wrong with the people working there. If the lady in Sacto had put something traveling to AUS maybe my luggage would have made it. This is not the first time this has happened with this airlines. I think AA needs to pay me for 8 days of my tour that caused me such stress I was not able to enjoy it like I should have. I do not want a voucher for American AIrlines as I plan to never travel with them again. I think a cash settlement for $1,000 is more reasonable and I don't think that even covers the missed days and things I had to purchase. It does not cover the stress it caused, thats for sure. I do expect a response. If there is not a reasonable resolve to this problem I plan to write to the higher beings and the newspapers. I also no coming home this happened on another flight coming from Phoenix prior to picking us up in LA. The pilot explained exactly why they were late. Sounds like a pattern. Please respond. Thomas Morris.

I think someone been watching the clock or the 3 hr delay on the tarmac would have cost AA lots of $
AA6159 (british airlines code/share) time of flight was 18:00 At the gate we could see the plane so what was the reason for
showing it was to leave at 20;00 So then we started to board after 20;00 Then the hell began waiting another 2 1/2 hrs leaving
at 22;30 So the Captin finally told us why they had to change some electical problem and still were writing up the paper work
the rule as I know it is only after 3hrs or would there be compensation to the passengers. Good work AA you saved yourselves
lots of $, By the time we did reach LONDON there were at last 100 or more passengers that had misses their connecting flights
A real night mare for all of the parents of small children ,and disabled passengers like myself, From the time I left a bed till I arrived home to my bed was 33 hrs of hell. Why couldn't AA have taken care of altertive flights at the very least for the passerges that put a very heavy burden on them SHAME ON AA.

Due to late AA take off of two consecutive attempts to fly to SJC from DFW (direct flight) yesterday, my business colleague and I missed a very important meeting with Intuitive Surgical in San Jose, CA. Both delays were due to AA maintenance issues that should not have happened and posed great safety risk to all passengers.
1. Tires needed changed – we only learned once onboard so had to remain on plane. No choice.
2. Then we had to return to DFW post take off emergency landing due to hydraulics failure.
3. Second plane (no sense of urgency and had to wait in long line to get assistance) had 'Computer Malfunction' onboard – we sat on runway for another hour.
No offer of assistance to board another flight airline was provided by any AA gate agent or representative via phone as well. We had no choice once on Plane #2 to stay on as it was out on runway with computer problems.
As this AA negligence has caused us to lose business, waste an entire business day and create an embarrassing business situation for us, I would like to request a Full REFUND or voucher to compensate this embarrassing situation.
My colleague that I was traveling with spoke to Karen Manning in Customer Relations with American Airlines and she issued an e-voucher to her (Michelle Fleming). She was told that I needed to fill out my own form to obtain the same.
My record locator number is YNRVCV and my ticket number was 0012387866966. My AAdvantage number is 2U9M168. Please contact me by phone at (903) 530-6990 or by email billrwoods@msn.com if you need any further information.
Thank you in advance for your help and consideration.
William (Bill) R. Woods
Disclaimer: This complaint was submitted by William R Woods on 03/20/2014 at IP address 99.34.245.48 using our American Airlines complaint form. This opinions contained in this American Airlines customer review titled, "Poor Service = Multiple Delays" do not reflect the opinions of this website.

from Ontario Calif. to San Francisco was suppose to go to Washington DC but their was a ground stop in San Francisco so I ask them about my flight so They send me to Chicago when I arrive they said they don't make stops at GSP SC so they said they would send me to Charlotte NC before we left Captain was late and at Chicago they change gate from H3 to H2 so when I went they said I had missed the flight and I was there so they send me to Philadelphia and then after their was a 1 hour delay and then to GSP SC and all this was at American Airlines because of Untied Airlines could not get me home from 8:00 pm Sunday night to Monday night almost lost my job and no sleep for 2 days

De4ar Sir: I received an email today at 2:18 Pm EDT here in Bradenton , Florida. It told me that a ticket had been puchaed using my credit card. This ticket is absolutely fraudulent and must be cancelled immediately and you must tell me which credit card was used , what number, so I can cancel it immediately , as it is compromised now by thios mysterious traveler named: JACK SMITH. That is an obvious fake name, and ceratinly not my name: George P. Kickliter. I di dnot place this order myself and did not authrtoize such a trip. I live near Tampa, Florida, a long ways from Termpe, Arizona. Details below:
Thre email was from "Airlines" (manager.346@californiatickets.com)
Your order#:4182522…………………THIS IS A FALSE/FAKE ORDER NOT MADE BY ME!!!!!!
ELECTRONIC TICKET NUMBER: EH8356675802***THIS IS FALSE FAKE ORDER AND MUST BE CANCELLED IMMEDIATELY DATE TIME: 29 APRIL 2012, 10:52 AM ARRIVING TEMPE ref: LE8218 ST
WHEN I DONLOADED THE INFORMATION ON THIS TICKET , IT HAD DIFFERENT INFO:
ELECTRONIC TICKET NUMBER 27 APRIL 2013 ETICKET#: EH4267181601, ARRIVING TUCSON 09:35
PLEASE CANCEK BOTH TICKETS FOR FRAUD IMMEDIATELY AND NOTIFY ME OF ANY ANALL CREDIT CARDS USED ON THESE TRANSACTIONS. GEORG EP. KICKLITER TEL:941-75-0290//CELL: 941-773-5117 GPK

I received an email today saying I have a reservation on AA from Mpls. to Lexingt0n on April 24th with a $279.79 charge. I have NOT made this reservation!! it's a phony. I want to make sure this charge does not show up on my credit account. I also called American Airlines of this fraud and notified my credit card company today please verify there'll be NO charge made. The agent told me at AA that this is a fraud…thank you for taking care of this. Would appreciate your email verifying that this has been taken care of by Amer

To whom it may concern, I am a teacher in the state of California. I was on my way home from a trip to Costa Rica. I had with me 5 students, a VP and a parent. We had spent a week traveling and learning about Costa Rica's Rain Forest/ ecosystem.
On our way home (3-29-13), we were on American Airlines flight number 177 out of JFK flying into SFO. What I experienced on that flight was very surprising to me. We were seated on the left side of the plane right next to the serving area for first class. Very early on in the flight we witnessed a tall black man that was working in the serves area (but not serving) have what I would categorize as a childish fit.
He was loud and putting down another airline employee for organizing the service area in a way he did not like. He was waving his hands above his head and talking loud in an angry manner. The two older employes that were waiting on first class had to go in and calm him down. They were explaining to him that people just do things differently and that it was ok. The black man spent the next twenty minutes banging and shoving thing around as he rearranging the service area.
Not only did my student get to hear him putting down another employee they got to witness this episode as well. The employee he was putting down was another black woman waiting on the section behind us. She was also rude to American Airlines passengers when talking to them.
About a half hour after this happened, a passenger behind me set a wrapper and a empty cup on the tray beside this service area. The black man let into him like he was a little kid. The man said he understood not to put his stuff on that tray anymore , but the tall black man kept yelling at him.
He kept saying "you do not ever do that again" "do you understand" in a angry loud voice over and over again. The man behind me told him he understood and could do without the lecture. I have never witnessed that kind of rudeness from an American Airlines service worker in all my fly experience.
I later got up to go to the bathroom. When I walked back to my seat, a bleach blond woman (American Airlines airline employee) with a double chin was standing behind the service cart at the service center for first class. The cart was right beside my seat so I could not get to it. So I was waiting for it to move. She turned around and in a rude and loud voice said " What are you doing". At this point, I could see why some people got irate on airplanes.
I was talking to my parent after the flight and he expressed a similar concern about these employees. He got up to throw away his trash. He walked to the back of the plane and held out his cup for the service worker to take. She was just standing in the back. She pointed to a plastic bag about three feet away on the floor.
The two older gray haired service workers in first class (man and woman)and the gentleman who worked the back section who wore am knit cap were always professional, kind, and worked hard. The black man and women and the bleach blonde should be transferred somewhere that does not have contact with the public. Their interpersonal communication skill match that of a seventh grader. The drama they brought to the flight left a bad impression of American Airlines.
I would expect to be treated and watch other people be treated much better than this on American Airlines flight.

Dear Sir/Madam: I have being an American Air Lines traveler for almost 20 years, and never had any problems before the 29th,Feb 2012. I made a reservation to travel to Trinidad on the 7th Feb,2012 returing date Mar 14th,2012. I received an emergency call from Atlanta informing me that my mother had a hearth attack and had passed away. I made reservation to travel back to Atlanta on the 1st, of March 2012.
I was charged $257.00 US which was $1.659 TT dollars which I paid cash. I was informed by one of your AA supervisor in Trinidad that when I get back to the USA I should request a foam for an emergency waver and I must provide AA with a copy of the death certificate for my mother. I call your company on March 5th,2012 and spoke to an Agent name Mr.Bob, he won't give me a last name. After explaining to him my concerns he sounded a bit rude and did not seem to be interested in hearing my complaint; he just said to me go on line and file my complaint.
I am 72 yrs and has never felt so insulted by one of your employees before. May I thank you for your concern in this matter.

My wife needs a wheel chair when we travel.On American Airlines flight number 1772 on 1-24- 12 from grand cayman to miami my wife was sick and was cold . We were told that blankets were no longer available butwe saw them being used in first class. this was not as bad as the situation we ran into in miami . The young man who was waiting for us with the wheelchair was very nice and took us thru to the gate for our connecting flight to detroit.Now the bad part. Wehad a four hour lay over till our next flight.My wife has very limited mobility so she needed the wheelchair to get to restrooms or restaurants.We were told by American Air we could not keep the wheelchair while we were waiting.
One young man found us a chair but a young woman told us that the chair did not belong to AA and took the chair away from us. There was no one at the desk for the first three hours so we could not ask for help. So my wife suffered for the three hours.Finally some one came to the desk and got her a chair. I am 84 and my wife is 82 this was not a pleasant time for us.I hope changes can be made so this would not happen again on American Airlines.

Dear American Airlnes… you suck big time. I believe it would be my mission to bad rep this unprofessional and disorganized airline company. American Airlines passengers be aware, two times they cancelled a flight on my. asking to leave the next day, both flights were from New York to Rio (flight # 255) and even last night (oct 07 2011) they cancelled, it was very important to me to be in Rio today saturday october 08 as there is a launching of a new condominium and I was going down there to buy an appartment, and the buyers of today would receive a brand new car.
So thank you American Airlines you cost me aggravations, time, stress, gasoline, time off from work, etc etc. I don`t thing anyone ever made me this angry, furious and frustrated in my all life, but you American Airlines succeded, be ashemed of carrying a name that represents a country like America.

Me and my husband was supposed to go to San Jose on 9 August. AA called us and said our flight is cancelled and we have to go next day. We had to go same day as it was urgent so we called them. AA put us not to direct flight to San Jose but we had to change two times our plane from Washington to Texas first then to Denver and then to Oakland. We reached midnight to Oakland. The airlines did not apologize to us and gave us any discount. We are not going to go by that airline anymore we decided.Even in plane our seats were not next to each other.

RE: Flight Number AA017, July 8th 2011. My wife & I just returned from a trip where we flew AA from St. Petersburg to San Francisco with layovers on New York & Helsinki. Upon landing in New York we went to our gate #46 to catch flight #17 to San Francisco. We arrive over twos hours early, checked in and waited like normal. Prior to the boarding, there was an announcement that flight #177 to San Francisco had been cancelled due to weather (??) and those passengers would be moved to our flight #17. When boarding began, the desk agent made a PA announcement offering the following to each passenger that was willing to give up their seats: $500 travel Credit, Hotel, Meals & Transportation, 25,000 air-miles.
The agent made another request and sounded desperate. My wife & I volunteered. The agent was very pleased as were the people that were given our seats. The agent told us to go sit down and he would get back to us at the end of boarding as he was busy. We did. Just as the doors were about to close, the agent came running up and said: "It seems we do have two seats on the plane and have rescinded the offer" I asked him to repeat that as I was not sure that this was correct. He concurred and said we had to board the plane immediately. He took our boarding cards and rushed us down the gate where we were called to hurry. He then came running up and said: We have moved your seats.
I have one seat in Business class and another in economy. Hurry and go to your seats and he went back to the desk. Upon entry into the plane we looked for our seats and found people sitting in them. They moved and is was chaotic. As a matter of record, we booked this flight well in advance to sit together for a reason. My wife just had an accident and required assistance from me and she recently lost her mother for which I was there to comfort her. We had also purchased a ticket for our son (my stepson). He did not fly back with us as his grandfather died and we changed his flight for 10 days later. So, our vacation turned into a funeral trip.
The last thing we wanted was to be forced to NOT sit together. While trying to assist my wife, I was ushered out of business class to my new seat assignment next to the kitchen seat #22H. A seat I would NEVER book for any flight. I could see my wife from where I was standing and she asked the flight attendant to assist her with putting her bag in the overhead compartment. The flight attendant looked at my wife in disgust and said: "What, You can't even lift your own bag" My wife replied: "I have a shoulder injury and need help putting it up there".
The flight attendant replied in a very snide retort: "I have a shoulder problem too, so put your bag up and go back to your seat" and then walked away without looking back. This was very unsettling. My wife waited moment and no help came. She then came back to me at my seat area and asked me for help to put her bag up. The flight attendant was there and looked at me and said: "Are you going to help her?". I said absolutely and went to her seat and put the bag away. The attendant was nowhere in sight, she had dispensed with us. I returned to my seat and we departed.
About 2 and half hours into the flight, my fight attendant came with a tray of water cups. He asked the lady next to me if she wanted water. When she said yes, he replied" "I will return with some other water for you as you don't want this tap water" He then smirked at me and asked me if I wanted water. I said no as I brought my own. He returned with bottled water for the woman next to me. Oh, she was a flight attendant from another flight. This in itself was not so bad as was the obvious contempt for the water being served to me. I didn't worry about my wife, thinking in business class is no problem with water.
But, my wife did not get any offers for any drink until food- service time. Though all the men in the cabin did. The Flight attendant was rude and non-responsive. After this I decided to watch, so I stood up in my area where I could see where my wife was seated. I witnessed the flight attendant flitting around all the men in the seats and totally ignoring my wife.
At one point my wife was fiddling with her tray and the attendant came walking by and gave it a shove as she passed.
This startled my wife and upset her. The rest of the flight was the same. I am not sure why the flight attendant was so rude and disregarded my wife in the way she did.
I do not know if in fact she also had a shoulder injury or some other calamity going on her her life. But to treat my wife with such contempt the entire flight is absolutely uncalled for. Additionally, when the gate agent gave us the offer to fly the following day, I called our transportation that was meeting us in San Francisco and concealed it. By the time we were forced to get on the plane in seats we did not reserve it was too late to call for transportation. So, after being treated like trash for hours, my wife was in tears, I was terribly tired as I had to keep moving for the constant kitchen cart preparations for a flight I had been told we would not be on.
Upon arriving in San Francisco, we had no transportation and we were going home in Santa Rosa. The taxi was $257.00 before tip and we had to wake up friends at 2;30am to bring us our keys as they had them with our car. Very embarrassing. In essence, our seats were given to someone else under the "Promises" that we would be compensated.
We were not and were forced to take alternate seats apart and we were treated very poorly the entire flight that we should not have even been on and left at the arriving airport without our preplanned transportation.
At the baggage claim help desk, I filed an incidence report which I was told would be entered into my file for your retrieval.
Do you think this was a reasonable set of circumstances? Was the flight attendant acting as American Airlines policies regulate? Was it fair to sell our seats then force us to board under these circumstances? I would very much like to talk to you about this and look forward to hearing back from you soon.

On July 8, 2011 I had reservations to travel from Maracaibo, Venezuela to Miami, Fl. on flight AA724 leaving Maracaibo at 7:AM. I made arrangements to arrive at the airport no later than 5:00AM. On the way to the airport we came upon a traffic accident which slowed us down. I arrived at the ticket counter at 5:42AM and was told that the counter had close at 1Hour and twenty minutes before the flight. I arrived just two minutes after and could not get on. I pleaded with them to let me on but they would not. I asked if there were any empty seats they said yes but I could still not get on the airplane.
I then had to reschedule through Caracas to Miami for my final destination to Lafayette, La. I was flying First Class from Caracas to Miami and Miami to Houston. After rescheduling only the Caracas to Miami flight was first class and I had to pay almost $500.00 for Coach. I also had to pay for a domestic flight from Maracaibo to Caracas. This was very stressful and inconvenient to say the least. If your policy is to shut down the ticket counter at 1Hr. and twenty minutes before flight time I am not aware of it. I have seen standby passengers board 5 minutes before flight time.
I decided to fly on American instead of Continental because Continental flies through Panama, but I may have to take that route next time. Your take it or leave it policy is not working well for me.

From India was in USA for observership in cleveland clinic- ohio in june- july and have very bad experience with american airlines by misbehaviour and felt that I was a victim of racism. I was charged 60$ for my second baggage inspite of having eligibility and permission in my ticket which already tie up with british airway. I have 1hr stressful time and mental harrassment even the matter was unsolved by higher officers. I ask for returning of undue charge with compensation of 5000$ to the airlines and british airway suggest me to ask to american airlines as they are not responsible for that. So please do needful at the earliest as part of neutral justice.

I had the misfortune to be booked on AA flight AA 1932 from Miami to Montreal on Sunday, 19 June with ETD of 20.25. I should add that I had travelled to Miami on AA flight AA248 from Brasilia on the same day. I can say with all honesty that in over 40 years of flying in Europe, the USA, Canada, Australia, South America and Africa that I have never experienced such inexcusable treatment by any airline as was meted out by AA in Miami on the night of 19 June and early morning of 20 June. I shall never travel AA again and will warn friends, colleagues and anyone prepared to listen not to do so. I am preparing a newspaper article to be published here in Brasilia to the same effect.
The original gate for departure from Miami was given as D46. The ETD had been revised to 20.55 by the time I arrived at the gate around 20.00 due to an hour's delay in the arrival of AA248 due to late departure from Brasilia and bad weather in Miami which had closed the airport for a short time. There was a flight to San Juan at gate D46 and all passengers had embarked on that flight by around 20.30. At around 21.00 AA staff at the gate announced that the San Juan aircraft had been embarked before arrival of all the crew who had still not arrived.
So, Montreal AA1932 passengers were informed, we would have to wait at D46 until the gate was freed or maybe there would be a gate change. At around 21.15 a gate change to D39 was announced. On arriving there we were told that the aircraft to Montreal was still not ready and there would be a further delay of 20 minutes. This turned out to be 30 minutes at least but around 22.00 embarcation commenced. By 22.30 embarcation had been completed and dinner orders for business class passengers taken by stewardess Eva Von Bromssen although by the time she got to me on the last row of business there was no longer any alternatives.
Shortly afterwards, business class passengers witnessed the male flight attendant on the flight shouting angrily at someone trying to embark along the lines of "get off". A few minutes later the pilot emerged from the cockpit and reprimanded the flight attendant and I caught phrases such as "I should have been consulted". The flight attendant attempted to respond but finally turned on his heels and marched into the coach sector. A few minutes later the pilot announced that a passenger had been removed from the aircraft and his checked luggage would have to be removed. This would cause a further delay while his luggage was located and there was a critical time issue in reaching Montreal before the airport curfew there.
A little before 23.00 the pilot informed the passengers that the flight could not make Montreal before the curfew and was therefore cancelled and that we should all disembark and rebook our flights. Being in business I was one of the first to leave the aircraft and upon reaching the rebooking area I was confronted with a long queue from another cancelled flight. I waited in line until after midnight. Fellow passengers in the line told me that a young man was ejected from the flight by the flight attendant because he was either drunk or drugged and was causing a disturbance. I was also told that the flight attendant involved had also left the flight, whether ordered to by the pilot or on his own volition.
On reaching the desk I was informed that I had been rebooked on flight AA 1984 at 08.25 the next morning on coach class and that I would have to wait until 20.25 if I insisted on a business class seat. I have been delayed by volcanic ash, strikes, bad weather etc and have always been accommodated at the airline's expense but the AA supervisor at the desk was adamant that AA was not prepared to do this. She even tried to justify the cancelation of the flight as due to bad weather which was an outright lie as the problem was caused by the removal of a passenger who should never have been allowed to embark in the first instance.
I was given a discount voucher to the Nht Courtyard Marriot and told to make my way to the exit opposite gate D25. It was around 00.30 and the Skytrain airport was no longer operating so a steady stream of exhausted passengers had to make their way to gate D25 on foot. I waited until 01.30 for a shuttle which never came and I was subsequently informed by the driver of the shuttle to another Marriot that the shuttle to the Nth Courtyard Marriot did not run after midnight. All the hotels in the region were full as I was told by the drivers of the few shuttles remaining. The airport was closed so at nearly 02.00 I had to take a taxi to a very dilapidated motel called the Miami Springs Inn with dirty bed linen and a lock on the door which did not function. I could easily have been assalted or worse.
I have given this as a personal safety share example to employees of the company I represent with advise to avoid at all cost flying with American Airlines who simply abandoned passengers to their own devices at after midnight. The discount voucher to the hotel states that a courtesy AA has negotiated a special distressed rate with the hotel. I would comment that AA has no idea of the meaning of the word courtesy. The whole episode is now in the hands of the company I was representing who I am hoping will take a very strong stance on the issue.

RE: Itinerary No. NKIJNG. I booked flights on American Airlines for myself and my three children, departing from LGA to MIA on 2/19/2011 and returning from MIA to BOS changing planes in LGA on 2/25/2011. I also had seats selected both ways. (Please see Itinerary attach). I checked into MIA airport for my return trip on 2/252011 around 12:30 p.m. and was told by the ticket agent that all flights to LGA was delayed, there was some kind of weather problem in that area. (I believe they said high winds). Because we checked in so early and they were having problems with all or most of the American Airlines flights going in that area they decided to put us on standby on an earlier flight direct to Boston.
I was also told by American Airlines if we did not get on the standby flight we will be able to take our regular schedule flight. We did not get on the standby flight, when we try to get on our regular schedule flight, we was told that that flight was booked up and we would have to go on standby on that flight. Our seats was given away. We waited and was then able to get on that flight as a "standby passenger" even though we already had selected our seats months ago. (Please see Itinerary), now my children and I had to sit apart. Then I was told that they cannot get us to BOS until Monday morning. In order for me to do this I would have to stay in LGA for 2 nights.
I was not offered a hotel or anything by American Airlines to help me with this situation. I was only told they are not responsible for the weather. The ticket agent did not seem to care about my situation. I was forced to take a taxi from LGA airport to the bus terminal. My children and I found our way, not knowing New York City, we actually got more help from the people on the street who we asked directions, and got a bus to Boston, we arrived in Boston at around 3:45 a.m. on Saturday morning. When I picked up my luggage at BOS Logan Airport, two of my suitcases were damaged. One the handle broke and on the other it was torn.
I am a frequent flyer of American Airlines and I am now considering no longer flying with American Airlines  in the future. The customer service, the attitude and not caring attitude of your employees is not acceptable.

Dear American Airlines: I recently flew from Toronto to Cancun on your airline. I had been impressed by your services on traveling down to Mexico and on Leaving Cancun to fly home I was extremely impressed with the staff at the check in counter their speed and efficiency was excellent . The gentleman there wished me a safe and enjoyable flight home and advised me that my luggage was booked all the way to Toronto. On the flight the attendants advised passengers that anyone connecting to another flight must first pick up their luggage and have it re-checked to continue their journey.I told the American Airlines flight attendant what the check in attendant had said about my luggage being booked all the way through to Toronto.
However I was told "NO" that's incorrect I must claim and recheck it after going through customs. I waited at the carousel until all the luggage form American Airlines Flight 2212 had arrived and been claimed, but to my dismay mine was not there… no one I spoke with could help me, the check in lady for my connecting flight AA488 also advised me my luggage should have been there however there was nothing she could do, and hopefully it will get to Toronto when I arrive. So for two hours at Dallas airport and the three hours flying I was worried and concerned about my luggage, I had only taken my heart medication for one day and package the rest in my luggage, those five hours was worrisome and a real downer for me and my wife for what until that moment been a fantastic vacation. My luggage was at Toronto and was the first to be unloaded down the carousel to my great relieve.
My point is PLEASE PLEASE advise all American Airlines staff as to the luggage procedure for connecting flights to Canada and save other passengers the worry. Then instead of a negative ending experience we may all praise your airline for what was until the very end an excellent and enjoyable experience.v

I received two American Airlines Awards as a retirement gift last July. Knowing they expired in 12 months, I put together a vacation itinerary for my wife and me by mid-June; called Business ExtraAA to ticket the trip and I was pleased. Later I received an e-mail that the award had expired 7 days earlier and should call AA. I did -they said "Sorry"! I had been a Platinum Gold Elite customer for a number of years. (They used to have GOOD customer service- some years ago) – This inflexibility is a huge disappointment! I do not recommend American Airlines as a preferred airline –maybe last in line!

i made reservations on american airlines. when i received confirmation, i noticed that my wife's name was wrong. i called american airlines and was told that i would have to pay $150 to change her name! it is more than a month until this flight. i think that it is unbelievable that you are charged to repair a mistake on a future ticket. i would think that it would be an advantage to the airline to have the correct information for their flight passengers, since national security is so tight. i would certainly consider it an advantage to know who was on one of my flights if i owned an airline. i consider this robbery and will find an alternate airline next time.

I had to change my itinerary on a return international ticket and was told I would receive the updated itinerary through email, which I didn't get. I called back to American Airlines to ask for it to be sent again. The lady on the other end asked me to be absolutely sure because to have the itinerary resent American Airlines would charge me $5.00. When I expressed my displeasure she didn't even bother trying to explain further, instead she transferred me to her supervisor (knowing very well I was calling long distance). I waited longer than 10 minutes, and hung up eventually. American Airlines, you should treat your customers with respect and dignity. It was a complete pain dealing with their customer service.

Deloyes Bathe
from Flower Mound, TX
on June 14, 2018 I flew from Sacramento, Ca to DWF on flight 2338. Before boarding in Sacramento passengers were told if they had roll on, carry on luggage that it would not fit overhead and courtesy check bag at door. I have a new Delsey Luggage bag from Paris and complied. When I arrived at DWF I went to baggage claim and retrieved my suitcase. The brown trim was ripped away from the bag and black scuff marks were on the light tan side of the case. I have attached a picture of the damage. Otherwise I have been very pleased with the polite and professional attention from your airlines. I have never filed a complaint before but hope that some compensation will be forthcoming.
Thank you.
Deloyes Bathe
2311 W. Grapevine Mills Ci. Apt. #1309
Grapevine, Texas 76051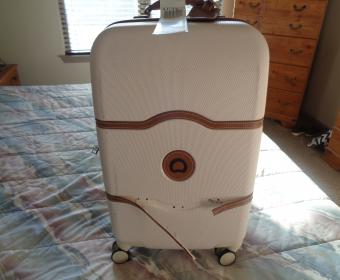 Tom Manix
from Aliso Viejo, CA
I cannot get any help with my lost bag. None..No one at American Airlines knows anything. Thanks

Travis Berg
from Vernal, UT
My flight was canceled last minute June 12th. I missed my meetings, my company dinner, It was a great inconvenience!!! Plus I got to spend another 7 hours in your airport. I was never told why the flight was cancelled.. Just is. You made my trip hateful from the very start. I will never use you again.. I should get a refund of my ticket!!!

Thomas Lillie
from Las Vegas, NV
On 6/6/2018 I took nonstop flight 403 from Las Vegas to Philadelphia to attend my brothers wedding and a family reunion with siblings I rarely get to see. I wanted to take my small suitcase with me on the plane, but was not allowed to do that. Your agent insisted I check my bag. I did, and your airline promptly lost it! I am now across the country with the clothes on my back, no prescription glasses, no medication, and an automated voice telling me you still can't find my bag. Thank you for ruining my trip, and offering impersonal and inept service. How exactly do you lose luggage on a nonstop flight? If a passenger has a small suitcase and wants to bring it on the plane, LET THEM. Especially if you can't be relied on to keep track of it when it's checked! I don't fly often, but this experience ensures that I will avoid using American Airlines ever again. Horrible experience.

Arthur Irving
from Highland, CA
I filed a Complaint Reference a Flt I took on 05/10/2018 from Ontario Ca to Newark NJ.I received a e-mail dated 05/28/2018, Ref#1-26984296299 stating that arrangements have been made for a $100.00 eVoucher (via a separate email) for each of you toward the purchase of a ticket to travel with you. I hope that I am giving you enough time, however I am ready to use those Vouchers. As of now I have not received them, our record locator were SQSZHV. Any more information you need from me, please let me know. Thanks for your Support.
Arthur Irving
909-907-5578

wasiu kadiri
from Vaihingen an der Enz, BW
I am so disappointed at your service. I called and requested a wheel chair from gate to gate for my old age and injury passenger. I found out that wheel chair came pick her up after a very long flight from London but was taken to wrong gate. after few hours because she was suspicious at where she was, she then asked a stranger who took her to the correct gate for the flight by walking far distance. she is now in pain on knees and back. I suggest AA better start ready for hospital bill and extra. Very disappointed to here this while am still on deployment.
KADIRI, WASIU
US Army

jerome robinson
from Fort Lee, NJ
i booked a flight to montgomery alabama,flight changes were made,i was not notified.
when i arrived at the airport i was told that i could go to charlotte but i could not get
to montgomery.the reason for my flight was to attend the college graduation of my
granddaughter in auburn, alabama and my daughter was going to pick me up in montgomery.
the graduation was monday,may 7 at 10;a.m.
to be able to attend the graduation i took an uber car from birmingham to auburn at a
cost of 212.37 dollars.
i would appreciate reimbursement.
sincerely yours, jerome robinson

Zegrid Brandes
from Las Vegas, NV
My booking reference number is JMCMVC, first off, I had to change my flight date from Las Vegas to Washington and correct my surname to Brandes because my son who booked this trip used my married surname San Buenaventura and not my maiden last name Brandes reflected on all of my legal IDs/documents. The representative on the phone whom I spoke to was very efficient and helped me to rebook my flight and correct the surname but she failed to mention that all my existing seats reserved for the multiple flights that was booked under that reservation would be totally erased or deleted. We reserved seats during the booking online because I was travelling with my family from BMI to SJ PR thus my stress began. I found out later on when I arrived at the airport for my first trip that my original seat reservation was non-existent when I tried to check-in and that seats will be assigned to me when I check-in at the other airports, to my dismay couldn't even find any available seats on the mobile app which caused me to panic since I seemed to not have any seat at all. My daughter tried to reserve seats for me thru phone representatives but to her dismay was only informed that I will only be assigned seats at each airport that I check in at. Very frightening to think that you don't even know where you are seated and can't even choose where to sit or be seated next to your daughter who wants to spend time with you because she is about to enter the military and won't be able to see her mom for a long time. I rate this experience from 1-10 10 being excellent a 1.
Next incident, the day before I leave SJ PR to go home to Las Vegas, I receive an email telling me that there is a delay in my flight to ORD (Chicago) but I had already checked in online. Next email says I may miss my connecting flight to LV because of the delay of the connecting flight. I had to call 3 times and speak to a representative but no other flight going to LV that same night! Panic attack again! I had work the next day 7am PST. I tried to get another booking and the representative I spoke to on the phone found me a plane leaving in an hour so we all rushed to the airport not even folding the clothes just stuffed it in the bag. At the airport, I couldn't check my bags in, the machine kept saying see an agent and I did but he couldn't print a baggage tag too saying that the plane may be closed for luggages now. Such wrong choice of words to tell a passenger who has been through a lot just to get home that same day! He made me fidgety and panic attacks surged up again. Finally I was referred to the main customer service lane and I had my luggage checked in. Next rush was to get to the gate before it closed. 12:15PM and TSA line was ridiculously long. 12:44 is my boarding time, I am still nowhere near the end of the line. I got out of the TSA area 12:59 and ran for dear life got there just in time for my group number to be called to board. Arriving at FW Dallas, I had to run to the airlink to get to my connecting flight gate 7. Then run again to the gate because there was just 20minutes in between landing and next boarding for connecting flight to Vegas. I got there just in time again for boarding for my group number. After being settled and waiting for the plane to close its doors, 20 minutes or so later, they announced that there was a delay and we shall be leaving in a few minutes. That never happened because we were all asked to deplane and get all our belongings and wait for further announcement. So we waited until the caterer truck that was stuck under the plane was finally able to get out from under the plane and AA ground crew had to investigate if the plane was still safe to fly. Finally after more than 30 minutes we were asked to board again and this time with no order at all. Everybody wanted to get to their seats right away and fly asap! After all this trouble, I thought I would get to Las Vegas earlier than expected but we landed in McCarran airport more than an hour late. As you can see all of this has caused me a lot of running, panicking that I may miss flights, scared that I may get lost in new airport destinations, stress because of all the trouble that one delayed ORD Chicago flight caused me! I shall await your prompt action and response on this matter.
Zegrid Brandes

Mavis Irene Robinson
from Cadiz, KY
My Mother that is 84 years old in a wheelchair was stranded on American Airlines Sunday April 29th 2018. She missed her flight from Dallas, TX due to flight cancellation to Nashville TN. She was scared and crying!! I drove over an hour to Nashville TN airport to get her and she wasn't there!! Then had to come home and go again the next morning to the airport. We use American Airlines a lot. But now....it is in question.....We hope American Airlines will give my Mother a free ticket since she travels 2 or 3 times a year.

achamberlain@primexplastics.com.
from Dallas, TX
Your company doesn't even rate a single star! I fly Southwest weekly but had to fly American this week to get to Little Rock AR. Wow what a difference. Your people treat passengers like livestock. Entitlement attitude! Like I was doing them a favor. American has a great deal to learn about how to treat passengers. Two of my four flights were late. They took my bag in Little Rock on the return but when Ingot on the plane here were 4 or five places to put it in the overhead!
You and your team are really organized! Had to wait an additional 3 minutes for my small bag in Las Vegas! That was after the flight was one hour and 45 minutes late taking off!! God I miss Southwest. Needless to say the only time I will consider American in the future will be in pure desperation! Thank you for a truly miserable two days of travel!

Deborah Songer
from Pittsburgh, PA
On May 4th my flight AA1753 was delayed several times, then cancelled at end of night, when I went to gates to see what to do there were two lines to get changes, I let people go before be as some were more frustrated than I, the other line was down to 1 person so as there were only myself and one other left, I walked to other gate and as I got there he said "I just clocked out". I went back now I was last one, and the only one who had to be rebooked through a connecting flight in morning. I was not happy, I paid for a non-stop, I won't do connecting flights. He said only other option was 5:45 pm. The employee said there was nothing else he could do, did not inform me I could use another airline, I ended up just coming back home, telling him that wont work for me. Called AA when I got home they told me nothing they could do. This was not weather related, and there was no, not even minor compensation offered regarding this extreme inconvenience. Thank you for your time and response.

Joseph E. Abbott
from Lansdale, PA
I have traveled approximately 200 times in first class in my many years traveling and never experienced such poor service as on a recent American Airlines flight. I want to mention too that this is the first time I have ever filed a complaint after about 45 years of traveling. On April 24 on AA412 from Philadelphia to San Francisco, I boarded wearing a blue blazer. I held the blazer awaiting the Stewardess's (Sandy) assistance in hanging my coat. I ordered water and my wife, Diane ordered a ginger ale prior to our take-off. As Sandy was delivering the ginger ale, a hole in the plastic cup caused the beverage to leak all over my coat. Sandy briefly apologized, speaking to the hole in the cup as the cause. Surprisingly, she never again addressed the incident or took my coat for hanging for the rest of the 6 hour 18 minute flight! The only mention of the incident was to indicate in mid-flight that "you shouldn't feel like you're alone in your misery, one of the pilots also got a cup with a hole in it." I couldn't believe it!
I'm really not trying to seek any reimbursement for this (although it cost me $8.00 to have the coat cleaned). I really just wanted to bring your attention to the lack of service. I've never had to hold my sport coat in my lap in first class for a 6+ hour flight! Your Sandy really doesn't belong in first class servicing your customers!
I thought this was deficient enough service that American Aurlines really needed to know!
Joe Abbott

I am not one to ever complain, in fact I try to calm others down when they get upset over silly matters. With that being said, I did feel compelled to let you know I just had the worst travel experience of my life, and I mean both the going and return flights equally bad. I left Midland Airport on Monday 4/918 flight #5993 and that leg of the travel went well nice crew and clean plane and left on time, and now the fun begins when I arrived in Dallas I boarded flight 2387 to Charlotte NC, The flight was severally overbooked and my seat (that I reserved) was moved to a center seat 29E (I am 6'2" and approx. 245lbs so I try to get aisle seating. Then the 737 had mechanical issues so we all just sat there waiting, the captain did keep us informed which made it a more bearable and still landed a little late, then on the return flight back to Dallas #224 once again overcrowded conditions and again mechanical issues, however this time no information coming from the captain we just sat there, emotions started building as people started realizing our connecting flights were going to be missed. Finally the Captain came across approx. an hour after we were supposed to leave saying it was a minor issue and non critical to the flight and it would be resolved shortly. All the while there was an intoxicated woman causing a scene and largely being ignored by crewmember and the captain (she should have been escorted off the plane, but that is just my opinion). so after another thirty minutes or so we were cleared to leave. we arrived in Dallas very late and were met by One "ONE" ticket agent to assist everyone that missed their connecting flights, so after standing in that line we were taken off site to a hotel that was largely under construction and was old and outdated and given a 7.00 meal voucher that was really more of an insult than a help. I finally arrived home 13 hours late and missed my much needed cardiology appointment which now I have to wait another three weeks for my medication update. So I guess long story short how are you going to make this up to me, because as it stands now I don't see myself using your services after your 7.00 apology. please feel free to call or email.
P.S. Then crew was extremely professional especially when they did have to talk with the intoxicated loud and obnoxious lady.
Richard Kinney
Operations Manager
Republic Services
254-205-8006

Ohare airport 6:00 am on Thursday April 12, 2018. Security checkpoint 7. A woman named Evelyn (red blazer) was shockingly rude to me as I asked her if there were other security checkpoints open at the other end of the terminal; the line was moving unusually slowly. I mentioned I've never seen it this long so early (at least not in the past couple years) as I travel often for work, typically in terminal 1 or 2. It was a simple question and she told me I can just go fly United then. I understand maybe there is nothing she can do, but saying that along with a simple comment of apology for the wait would have been a less aggressive, more acceptable and more normal response. A little politeness can go a long way, and so can a lack of it.

Betty Warner
from Philadelphia, PA
Our flight was cancelled in Philadelphia going to Syracuse. We could not get on the next flight. But would need to wait until morning. We said we would try standby as well. They did not allow us to bring our carryon luggage from west palm beach. They told us the overhead compartment was full. My husband has life supporting medical equipment including a cpap machine and a heart monitor. Plus our overnight clothes and toiletries for a delay like this. We were not able to retrieve our carryon bag. We had to pay for a hotel and food and go there without any of our personal items including necessary medical equipment. We were given the runaround at the airport sent from counter to counter. We spent our entire day there. We have been an Advantage member for many years flying USAIR and now American. I don't know if I will continue business with this airline.

Sandra M Silva
from Tiverton, RI
We were on a flight to Maui and it was cancelled due to maintenance problems. We ended up stuck in Phoenix. It was 1200 in the afternoon, I find it difficult to believe they couldn't get an airplane to fly us to Maui. No one notified us until after the fact, I found out from the people in front of us.
We went to the counter to procure our new flight information. There were 3 representatives there assisting. We were in the middle line and were being helped by Ida. She was not helpful at all. We had to settle for 2 rooms when we had 3 families travelling with us. The gal at the next station gave perks to her customers, like $airline credits. When we asked, Ida was rude. My son went over to the person handing out the credit and she told us she only gave credits to "her people" Great.
We planned this vacation for 2 years with our family and had to pay for the night's hotel in Maui despite the fact that we weren't there. I don't understand why a major airline couldn't get us on another flight. They gave us airline miles, big deal. My children don't fly and that is useless.
I would appreciate a telephone call from American Airlines about this!

Christopher Kuchinski
from West Bend, WI
My advantage #1MV50B6 for flight details. I was treated unprofessionally and denied a hotel voucher after being delayed at the customer service counter for over two hours. Your staff members were not helping, are on their personal phones, and laughing at customers. It is all recorded. I have video and witness evidence. I was denied access to a supervisor when I asked. I would like reimbursement for hotel and my complaint will end. I have the receipt and used my AAdvantage Credit card for proof. We were humiliated and felt threatened at your service counter. Please reply by return email.

Michael Cohen
from Brooklyn, NY
Agents at the boarding counter extorted money from me for a double baggage fee. I was forced to pay a fee despite a bag that fit the requirements for boarding and flight that was not full, and was verbally threatened by the agents.

Rosemarie Powell
from Randolph, MA
Booked my flight,( booking # 32135373.2)(locater TLIFEA) submitted an email address for update. was not informed of the many cancellation/ updates or changes on flights via email. Stranded at airport on my arrival and departure trips for hours due to the many changes. After long delay on my return flight, was give a complimentary sandwich by AA staff that was expired, spent over 6hrs at airport waiting for the flight out of Jamaica due to mechanical problems that then forced me into an overnight stay in PHL without any extra funds for food.
This trip left me so exhausted, frustrated and totally took away the joy of my vacation. I had never had such bad experience in travelling and feels it necessary to share.

Martha Richard
from Toledo, OH
When I retrieved my luggage at Detroit airport after flight from Phoenix the front of it was covered with a black substance which I cannot get off. It looks like it's oil based but I'm not really sure. This is a brand new piece of luggage & first time used. While some wear & tear is to be expected, this is unacceptable!

Craig Stuart
from Wichita, KS
To whom it concerns: On Monday May 19 I had a connecting flight from Savannah to Wichita flight 1251 the Monday flight was canceled and I was rebooked on flight 1251 Feb. 20, that flight was canceled, not sure why it was raining but have never before had a flight canceled because of rain. I then booked a flight on Southwest Wednesday at 8:00 a.m. and arrived safely home. My expenses incurred are as follows: Uber rides to hotels and airports $157.50 meals $85.00 hotels $92.70 and Southwest ticket $$232.00 My expense total of $567.20 i feel should be reimbursed as the Monday flight if had flown I would not have these additional expenses for travel. A voucher or credit would be sufficient, I'm not sure how you handle this but your help would be appreciated.
Thank you
Craig Stuart

Daryl Hemingway
from Atlanta, GA
I paid $40 for exit seat. Knowing that if the flight was full, this would provide me ample room for my carryon bag. An expensive samsonite designed for overheads on CRJ 900 and other aircraft. Flight 5533 on Feb 16 Stewardess Ashley (refused to give last name) made me take my carryon out of the empty overhead where it fit easily and check it. I had to unpack all my electronics. She stated that all rolling bags are not allowed on This flight. Yet others were in the overhead. I was annoyed and inconvenienced by her arrogant and power trip attitude. I would like her to be reprimanded so passengers with carry Ina that fit and are safe can use the overheads.

William Farrell
from North Easton, MA
My wife and I were scheduled to fly from Boston to Miami on 2/9/18 on flight AA2538 with departure at 6:40 AM. We arrived 5:30 AM and checked in. At the gate, we discovered that there was no plane for our flight. When we inquired as to why there was no plane at the gate, the gate agent told us that they were bringing a plane from the hanger. Slightly after the 6:40 departure time, a plane was brought to the gate and boarding began. Sightly after 7 AM the plane was boarded and we were told that it needed to be de-iced. Our departure from Logan finally took place at about 7:30AM. Because of the late departure, we arrived in Miami at about 11 AM. Our connecting flight AA2405 departed at 11:10 AM and we missed the connection. There is only one daily flight to Antigua from Miami and so we were told that we were being re-booked for the next day's flight at the same time. When I inquired about accomodations for for that evening we were told that we were on our own because our Boston to Miami pilot said we had a weather delay of 20 minutes. That simply was not true as there was first a failure to bring a plane to our gate for the scheduled 6:10 AM .boarding which resulted in a late boarding which I contend result in a push back beyond 7 AM. This all culminated in my wife(Advantage Gold WAA8238) and I losing a day at our Antigua resort which we were charged for plus having to also pay for a hotel in Miami as well as meals for one day. We feel we should be reimbursed by American Airlines as the whole problem stems from the fact that a plane had not been brought to the gate on time. The Miami gate re-booking supervisor told us that what the pilot reported and policy regarding a delay of 20 minutes or less resulted in her decision not to provide a hotel for us. As I stated above, I believe that she had inaccurate information and I am asking to have this rectified. I would like to hear from you about this.I have receipts for the hotel and food.

Charles Rawleigh
from Rancho Mirage, CA
I was boarding a flight from Chicago Ohare to Palm Springs California And the ground crew bumped my wife and I from our seats to give them to a lady in a wheel chair who refused to wait until everyone had boarded so the could get her to her seat at the year of the plane. We called and complained and were told we would need to write in to get any action. They could not authorize any adjustment on the phone. I emailed customer service and after three emails was told they could not authorize giving us those seats, on our return flight in May, without an additional charge
It seems the way to discourage you is " NOT MY JOB" response. My last email I suggested they give me the name of someone in autority and got no response

Mariah Longenecker
from Hays, KS
We flew from Philadelphia to Garden City on January 25th. The staff there at the PHL airport were not accommodating at all! They stopped us in the security line and told us the bag, that we carried on on the way to PA and fit under the seat perfectly, was too big. They made us go clear back down to the ticket counter and check the bag for $25!! That put us out of line, so when we went back up, we had to go clear back to the back. Thankfully we had allowed PLENTY of time at the airport or we would have missed our flight..... All because of the grouchy security person who thought they knew more than we do. Next time we fly we will definitely consider another airline!!

dorlin e. wheeler
from Hyattsville, MD
Re:Flt #1904 from Tampa, FL to Charlotte NC...date 10 Feb 2018
Flight was delayed arriving at TPA due to "weight and balance issues" at its departure location. Delay was approximately 45 minutes. (the layover to make the connecting flight from CLT to LGA was 45 minutes) Therefore if things went on schedule,, it would be virtually impossible to make the connection without intervention by AA. During the delayed flight to Charlotte, I asked the flight attendant if she would ask the pilot to request through the company, to hold Flt #682 at the gate for apprx 15 minutes to allow for the connection that myself and 7 others on the plane were going to try to make in Charlotte. She said she would in fact ask the pilot. She then proceeded to go back and chat with the other Flt attendants for 5-10 minutes. When she again walked by, I inquired as to whether she passed along my request to the pilot. She responded that the lead Flt attendant told her not to do so, and that AA would already be doing that without such a request. (I knew that would not happen). When we arrived at Charlotte, I RAN to the OTHER TERMINAL (64 years old)...As I got to the departure gate of the connecting flight before the Take off time...the plane was just clearing the loading ramp and backing out. AMERICAN AIRLINES had obviously done nothing as I anticipated to alert Flt 682 of the late arrival of 8 passengers going onto New York. There were no other flights out of Charlotte to New York, resulting in an overnight stay in Charlotte. There was a complaint worthy delay at the customer service station as well, as both parties manning the booth appeared to not have the proper knowledge or authority to make the overnight arrangements. I was delayed an hour at the customer service station awaiting approval for the hotel. The hotel was about 15 minutes from the airport and was a dilapidated quality inn (photos attached of interior of room). I travel a great deal for work and am an AA member...but will definitely shy away from the airlines if this is the customer service that American airlines advertises as quality and caring. There were many ways to solve this along the way, NONE of which your employees did.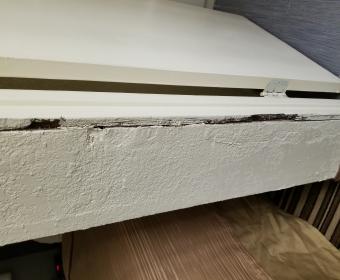 lisa vaughn
from Greenbrier, AR
my daughter had a ticket for a 720 am flight we got tothe airport at 30 min before the flight, she stopped to try and sign in at the kyosk but it wouldnot let her so she went to the ticket counter, at that time they told her she was tolate to get on the flight. however they still insisited that she check her bag , if they had not taken time to focus on the bag which was small enough for a carry on in the past, they would have probably had time to check her in before the flight closed. !st complaint!!! they told her there was another flight at 1105 am so we came back to airport intime for that flghjt but shortly realized that the flight was not leaving at 1105 but 155pm. so she waited at the airport for this flight, when it ame time to board she was told that she was on standby and that the flight was full, however they loaded her suitcase on the plane so it went to the destination without her 2ND COMPLAINT!! WHY PUT HER SUITCASE ON THE PLANE IF SHE IS ON STANDBY AND YOU DONT KNOW IF SHE IS GETTING ON THE PLANE. when they moved her to this flight they said " we have you checked in and you a re good go, no mention of being on stand by!! so then we were told there was another flight at 630 pm so we came back to the airport at 530 and waited for this flght, while speakingwith the manager of american airlines at XNA after she was not let on the 155 flight we were told she was on standby for the 630 flight and that she was the only one on the list so she waited after the flight boarded even though she was right there waiting they called another person over the intercom to come board the flight, my daughter asked at this time why this other person was getting the flght infront of her and was told she was on another list something like a OB or OS list or something like that,. we were not toldduring our conversation with them at 155 that there was another list . if we had we may have opted not to make the 3rd trip to the airport for the day. They were rude and condicending and very unhelpful throught this whole process. I will be putting in for a refund for the airfair that was lost and for the 25 dollars she wasmade topay for the luggage. this ,in my oponion is totally unacceptable!!!! where is your customer service, i will tell you it is nonexistent!! not one employee including the manager tried to help us in anyway and it actually felt like they did everything in there power to make things more difficult for us. she didnot get to fly out at all, i had to spend my whole day driving back and forth and her sister and brother inlaw who had taken off work and spent money preparring for her visit were left in the cold as well sonot only did this hurt her and myself it hurt them as well. understand that you have rules and of course if we could have we would have been at the airport earlier however when we left home at 6am to head to the airport, and it usually only takes us 30 min to get there from home. we had every intention of arriving in plenty of time but sometime there are unforeseen things that happen in this world. she was there in plenty of time to have gotten on the plane. i understand that the computers lock the fights at 30 min till departure, however, shoudl we really depend soley on computers , where is the human in your company????? 2 minutes late, someone should be able to push an override buttom and put her on the flight or at least make sure she gets on the next lfight, i remember a day when airlines would try everything possible to make sure there passenger/customers got where they needed to go and got the seats they paid for now apparently you dont care about your passenger/customers all you care about is the money. By the way the manager I spoke too told me that they always overbook flights, this should be against the law! you should not sell more tickets for a flight than number seats on the flight. that is not good for your customers you will always be leaving some one out in the cold. You should be ashamed of your self as a company and go back to giving your customers some service. I will never fly american again if i can possibly help it and will makesure everyone i know hears how we were treated and how unfriendly and unhelpful all of your employees were!!!!!!!!! I gave one star but that is an exageration it just wont let me give any less 0 stars is what you get 0000000000000000000000000000000000000000000000000000000000000000000000000000000000000000

Victoria Orlowski
from Cranbury, NJ
2/8 flight 1201 out of O'Hare I was told I had to check my carry on, that there was no more room. I told them I could not, they told me I had to. They did not check with the crew on board, just assumed there was no room. There was plenty of room, (the stewardess said the crew did not call them and tell them there was no more room, even when they closed the overheads there was still room. I have emphysema and nerve damage in my hands, I could not carry my personal item, laptop, dinner and water, and I could not carry them to the baggage claim after landing I had to get a wheelchair. I also needed to get some stuff out of the bag, and they told me I could open it about 2 feet from the boarding line, which would have been embarrassing, since I had dirty underwear and poise pads (which I needed). They were also rude about it, and so was I, since I was very upset over the situation.

Jannis Calderon
from Newport News, VA
To whom it may concern,
once again I had a delay issue in the same city as last summer. I was coming from Miami on 2/3/18 and had a connection CLT/Newport News VA flight# 5574, Once again I experience a delay at the same airport for the same destination as my bad experience in the summer. Both cases was maintenance problems.Then they put us in a super tiny plane from American Eagle. At this point I forgot I had great time on my vacation because I was so upset for the delay and tiny aircraft. I don't know if I will book with American Airlines any longer two strikes in less than a year.

Suzanne Elliott
from Ogdensburg, NY
Hi there! On a recent trip from Charlotte to Minneapolis the only seat choice I had was an upgraded one for $37 which I didn't need or want. Because there was only a single seat left I clicked on it. The gate agents said they could not help. You shouldn't force people to pay for an upgraded seat...not to mention that it was a middle seat which I never get. The flight was AA 2086 CLT to MSP on 2/3/18. Record locator XGBNZB. Trip Name BTV/MSP. Can you refund this to me?
Other than a mechanical issue with one of the planes, the trip otherwise went smoothly.
Thx,
Suzanne Elliott
985 Butternut Rd.
Williston, VT 05495
802-238-8811

Colleen Kelly
from Incline Village, NV
I have a reservation on AA, NTYQJV made today, 2-7-18. I wish to use my AA miles to pay and complete the reservation. I was 3 times put on hold for a total of 1 hour and 56 minutes, even depleted batteries on two phones waiting. Cannot complete the reservation without help. I asked for AA to call me when an agent who can complete the transaction is available. Again was put on hold after having to switch to a call phone while my other 2 were charging. Still no help. What is going on???

I have been an American Airlines/Citi customer for over 20 years and at Gold status. My AAdvantage # is 17UJ732. Last July I booked two airline tickets for myself and at that time my fiancé Brian Quinney. This was the very first time I was utilizing my miles. This was to be a honeymoon trip to Puerto Vallarta in November of 2017. At the end of October 2017 I was devastate with a break-up and the realization that I was no longer getting married along with a sudden death of my father. I called American Airlines during that time to see what my options were. I was told I could utilize the two established tickets as long as I used them within a year to the same destination. My sister and brother-in-law have a timeshare in Puert0 Vallarta and as a recent gift gave me a week's stay at their timeshare as they knew I had been through a lot and they were generous to do this for me and they knew that I needed to utilize my airline tickets that were purchased with my earned miles in 2017. Needless to say, I was shocked when I called American Airlines on Monday, February 5, 2018 anticipating an easy request of the same flights I had previously booked which were available when I searched online and to request and possibly pay a fee to have the 2nd reservation in my girlfriend's name to go with me in place of the original ticket for Brian Quinney. I was very quickly and rudely told that was not even an option to have the name changed on a ticket AND in order for me to receive the AAdvantage miles back from that ticket and into my account I would have to pay $150! I was beyond shocked and that was after I explained to the woman what had been my situation in 2017 and it was entirely out of my control and not a choice I had made but rather tragic events that I was given. I then asked her what my options were in utilizing my current ticket in my name for the same trip. At that point she said she would have to transfer me to an international agent. I then had to start from the beginning with the international agent as the previous woman did not share any of my information or AA# with her even though she told me the next gal would have all my information. The international agent then informed me that there were no seats available on my new departure date of 6/16 and returning on 6/23 and, in fact, the same trip and connections were now requiring 3 times more miles than my original reservations for last November. I was shocked as I know that my original trip in November 2017 was peak season for Puerto Vallarta and my trip in June of 2018 was definitely not. The gift I was given for a week's stay is specifically for 6/16-6/23 and cannot be changed. Again, I was treated rudely and told that if I was not able to utilize my ticket (which I did not have enough miles left to do so) then I could pay $175 to get MY miles back that I've earned over 20+ years for both of the tickets.
I was so shocked and appalled at the treatment I received and I truly feel that because I already had two existing tickets that utilized a total of 70,000 of my miles it was obvious that I no longer counted as a customer because either way I get screwed. Lose the tickets/miles completely along with the week stay I was given as a gift or pay $175 to get the miles back that are already mine.I received nothing but rude feedback and never once did I feel like someone was trying to help in my situation. I feel this is such a scam and fraudulent on American Airlines part and I'm asking for your help in not only returning MY miles back to me at no expense of my own AND helping to make this trip happen for me. Again, this is the very first time in over 20 years I even attempted to use MY earned miles for a special trip that didn't happen for me. I honestly had expected to be treated wonderfully as I was when I originally made my reservations in 2017 and utilized my points. American Airlines provided great customer service at that time and was more than happy to book my trip and take my points to do so. Now, I'm asking for that same customer service.
I look forward to hearing from someone at your earliest convenience.
Sue Fox
Advantage # 17UJ732
1650 E. Shepherd Ave., #122
Fresno, CA. 93720
559-287-9047

Syed Niaz
from Oshawa, ON
ISSUING AIRLINE: QATAR AIRWAYS
TICKET NUMBER: ETKT 157 2363716046-47
BOOKING REF: AMADEUS: SPPUCZ, AIRLINE: AA/SRWJKQ
BOOKING REF: AMADEUS: SPPUCZ, AIRLINE: QR/SPPUCZ
Flight Information:
Toronto - Chicago: AA 2947 @ 1506 23DEC2017
Boston – Doha: QR 726 @ 1825 23DEC2017
Doha – Karachi: QR 604 @ 2100 24DEC2017
The flight from Boston to Toronto did not arrive as the weather was as informed not good. My son was flying to Chicago with WestJet @ 15:00 hrs the same day and his flight left on time. I arrived Chicago at 18:02 but due to non availability of the gate the plane was held at the tarmac and flight to Doha left. We were 14 passengers for Qatar airways on this flight. The American Airline flight attendant provide wrong information about transfer desk. Finally after asking few places managed to find the right desk. The behavior of the staff and the Manager at the desk with another passenger was an indication that we were in trouble. American Airline moved me to American Airline flight to London at 20:00hrs and from London to Karachi by PIA with a layover of 8 hrs at the London Airport with no meal coupons or a hotel at London airport.
I reached Karachi but my luggage did not arrive although luggage tag information was provided to the Transfer desk at Chicago airport. PIA staff at Karachi airport were informed but despite of various call they kept on provide wrong information when asked about the luggage. It was the Qatar airways staff who went out of the way to find the luggage and informed me on 29DEC2018 that my luggage has arrived and handed over to PIA for me to collect.
I had to attend marriage of my niece on 24Dec2017 and reception on 26Dec2017. As the luggage did not arrive I had to buy cloth and shoes to wear on the two occasions.

Anthony Combs
from Marshfield, MO
Your crew treated Jen Selter and her sister very rudely and unfairly! How dare you throw a person off your plane after having a 2 hour delay and demanding them to stay seated. When all she was doing was using the overhead bin for a few seconds! I use to love using American Airlines.. but the last few times I have used them, your crews are mostly rude and treat YOUR GUEST as if we are just cattle!
Rememeber! WE CHOOSE YOU to service US. Jen was not rude or beligerante towards your fight crew! So many videos were taken by her and other passengers. Other passengers ALL sided with her and how she was so badly treated!! Shame on your company for not trying to make a 2 hour delay a bit more relaxed. You kick her off of a flight for a 15 to 20 second adjustment of her coat to a overhead bin?!?! Then cause her and her sister embarrassment of a cabin crew yelling at her... then having the pilot come back and continue to ignore the other passengers plea of the Crew being in the wrong! Then having 4 or 5 police officers come onto the plane and FURTHER EMBARRASS Jen and her sister!! SHAME ON YOU ALL!!
Pretty shotty customer treatment on a 2 hour delayed flight!! I will be thinking twice when booking my next flight!
Please fix this unjust action on this mistreated passenger!!
Crews need more training on thinking more clearly on the mindset of long delayed passengers!! You put them in this toxic environment to begin with and then overact over such a small thing. There were other passengers up and going to the restroom... getting comfortable while STILL SITTING on the tarmac not going anywhere should handled differently! I can understand if the flight was starting to move or in taxi to the runway, but to hold up the plane for an additional 20 or 30 minutes dealing with a minor infraction... or for Crew amusement ...for the Airlines fault of holding passengers for 2 hour!??!?

Sandra Chapman, Pamela Thomas, Mary Williams, Betty Malone, Doris Sawyer
from Gallatin, TN
I wanted to write you concerning our recent trip to Mexico. Our first issue was with American Airlines. We were three (3) hours leaving Nashville. First, the workers were late opening the ticket kiosks and counters for us to check our bags. No one used the weather as the reason. Second, we set on the plane two hours. We were told that they had to fix "a loose light on the plane". The pilot said it should take 20 minutes. It took 2 hours. We were hot and thirsty. We missed the connecting flight. We were put on the next flight to Phoenix. This flight took another 4 hours. From there, we landed in Cabo 3 hours later.
Nashville (BNA) - Charlotte (CLT) 13 Jan 05:40AM - 08:23AM American Airlines #887
Charlotte (CLT) - Cabo San Lucas (SJD) 13 Jan 09:55AM - 01:15PM American Airlines #836
Cabo San Lucas (SJD) - Dallas/Ft.Worth (DFW) 18 Jan 03:15PM - 06:54PM American Airlines #1385
Dallas/Ft.Worth (DFW) - Nashville (BNA) 18 Jan 08:55PM - 10:41PM American Airlines #2501
I feel like American owes each of us a refund for the inconsiderate way that treated us on the outgoing flight.

Kenneth Brown
from Ft. Washington, MD
On January 16, 2018 as I boarded my Flight 4529 from DC to Pittsburgh in Group 1 heading towards my seat 2A, I attempted to unload my briefcase into the overhead storage. All were full in First Class where I was seated so I went back into Coach to unload. Once seated I asked flight attendent Ariana (white female with red short hair) for assistance in moving my briefcase closer so that I would not be delayed upon arrival into Pittsburgh. As she continued to close the overheads she simply stated that "they were all full" without making any attempt whatsover to reset and make room for a briefcase she did not even bother to determine the size of. 5 minutes later a passenger seated in 6A, 4 rows behind me, says that he has a bag to be stored. Ariana without hesitation opens up the overhead that she told me minutes ago was full and then opens up others to accommodate his request. I wait until she is about to make room for his bag and then loudly state "I need to understand how is it that for me you would not look to make room for my briefcase but for him you happily and quickly are looking to satisfy his request." At that time the flight attendent from the back of teh plain walked up and smartly tells Ariana to accomodate me since I was there first and had requested prior. I went to the coach section, retrieved my bag and placed it where I had initially asked for Ariana to place my briefcase. I need to know from American Airlines how is it that a Sapphire Level member seated in 2A could be treated so nonchalantly and so receklessly. Ariana actions were total bullshit, lazy unprofessional and racist and yes I am an African American. It won't be tolerated and do not intend to let this blatant act of racial insensitivity performed by your employee go without documentation as I await your response here!!!!

Orlando cortez I arrived
from Brooklyn, NY
re. Spaceflight AA4527 delayed about 2 hr.s. to take of from N.Y, JFK to Washington Reagan on Jan. ,05,2018and caused me to miss my connection to Cincinnati on AA5133 on same date. I advise the flight crew of the need to attend my brothers funeral service. I was advised to fly to Columbus Ohio on AA4698 and take a taxi to Mason Ohio where my hotel is locate and that Mason was only one hour by taxi. I took their advise and flew to Columbus and had to pay the taxi $212.00 for the trip to mason which lasted more than 3hrs. to complete. I can submit the taxi receipt on your request for cab # 937 on United Taxi. I arrived att United Inn Express & Suites about 3a.m.on 1/6/18. For the incorrect instructions of the attendant on the AA4527 flight I need the refund of the taxi fee for $212.00.ref. EWGCPR. Orlando Cortez.

Celestine Shelton
from Akron, OH
On Saturday, December 23, 2017, I took an early 3:25 A.M. LIFT ride in order to take an early flight from CAK to DCA. Flight AA5260 was delayed over two hours due to a reported mechanical issue. After several gate changes and an airplane change we departed CAK @ 8:12 A.M. rather than the scheduled 5:42 A.M. departure time. We arrived at DCA @ 9:12 A.M. rather than the scheduled arrival time of 7:04 A.M. I am a 62 year old disabled veteran with a monthly pension. The additional expense of the early transportation, along with my checked bag could have been preventable if not for such an early flight. I certainly hope it's possible to be compensated by AA for an unfortunate inconvenience the mechanical issue subjected me & others to 12/23/2017. I also hope to have a more favourable experience on my return flight AA5188 scheduled for departure later today @ 5:10 P.M. I have not received a response to my online form suggestion/complaint submitted on or around Saturday, December 23, 2017. I look forward to a response to my email to address my genuine concern expressed. Respectfully, Celestine Shelton. 330-622-1699 #7031671278 2 Baggage claim # AA 79 54 83

Cathleen Creedon
from Phoenix, AZ
I was told after paying $50 for my carry on, that I could not take it on the plane. Everyone I dealt with was rude. I will NEVER fly American Airlines again

Janet Ohnemus
from Trenton, MI
To American Airlines Customer Service,
On September 30, 2017, I was transferred from a United Airlines flight to an American Airlines flight because of a flight cancellation.
I boarded the American Airlines flight and then it was cancelled due to mechanical difficulties.
I spent the entire day and night in the Sacramento California airport and was not able to get home to Detroit Michigan until the next morning!
As a result, I was late getting to work and missed an important meeting. And, I arrived stressed and exhausted after my upsetting travels.
The reason for my trip was to be with my Mother who is battling Cancer and was receiving a chemotherapy infusion treatment..
I would appreciate receiving a refund for my return ticket from Sacramento to Detroit. Thank You!
Janet Warda (734)-255-6578 // 22008 Provincial Street Woodhaven, Michigan 48183

Al Santini
from Geneva, IL
The flight and service were excellent! Beautiful new plane. My complaint stems from being forced to sit next to a huge person in the aisle seat. I consider myself and my wife to be of average size. We fit well in the seats. I put the arm rest down between myself and Mr. Huge. He objected a bit since his extremely large butt was now forced to conform. I had to keep the arm rest between my wife and I up and lean into her seat for the entire trip from RSW to ORD. By the time I got to ORD, my back was killing me.
This is not fair! I know he paid for a seat but so did I. There has to be something as an airline that you can do to accommodate everyone. Someone who tips the scales easily at 350 lbs should not be allowed to buy a standard seat. He needs to be in First Class, or buy 2 seats.
I am an Advantage member, flying a few times a year for business (V1232V4) and a few times for pleasure. We have a reservation for Dec. 29th to fly back to RSW (Flight 1267 at 12:05 PM). I assure you if I have another behemoth next to me it will be my last American flight!

Dianne Sager
from Kapolei, HI
I paid additional for exit row seating for my husband and myself to have more leg room and co,fort. However the seats we received were 13 D and 13 E on our flight home from Charlotte NC to Honolulu on October 28th and also,ashamed problem with seat for my husband from Honolulu to Charlotte on October 20th. These seats were smaller than any sea I've ever been in. No leg room or extra space whatsoever.m I do not believe we should be charged the additional a,punt that we were charged. D would respectfully request a refund for those fees. The flight home was Aa 694 on the 28th and the flight on the 20th was 433 the seat 24C. Thank you for your help

Charlie Flagg
from Chagrin Falls, OH
October 31, 2017
Charles W. Flagg
64 Owen Brown St.
Hudson, Ohio 44236
American Airlines:
My recent trip to Dallas from CAK through Charlotte was fraught with difficulties and inconvenience that you should be aware of:
AA 5245 took me to Tulsa on Tuesday 24Oct leaving the gate "late" and putting me in Tulsa with too little time to make my connection to Tulsa. Knowing this, AA held my bags for the 6:45 flight to Tulsa without knowing the 2:25 Charlotte-Tulsa flight, also late was able to get me to my destination…without bags. I was forced to return to the Tulsa airport late at night to retrieve it.
AA496 Dallas to CAK through Charlotte did not leave on time due to a "maintenance problem" we were preparing to leave the gate. Arriving in Charlotte "late" the gate was blocked by a another plane with "maintenance problems".
AA5134 Charlotte to CAK actually arrived "early" prior to 7:00 p.m. While waiting for luggage at the CAK carrousel for forty minutes another arrival came for their bags before ours…when an attendant at approximately 7:45 p.m. informed our group that: "the baggage bay doors were stuck, luggage could not be retrieved…."
Really?
My bag was delivered Sunday October 29th at approximately 3:00 p.m.
You will please note that each leg of my journey was affected by timing and service issues that should not be tolerated; leaving me completely dissatisfied with your airline…given a choice, I'll choose another.
Thank you,
Charlie Flagg

Martha Townsend
from Dover, NH
I had a horrible experience at Dulles/Reagan Airport in DC. Flew from Boston, MA where I had a connecting flight to Knoxville, TN, on Oct. 11, 2017. Asked a TSA agent if we were in the right terminal to catch our next plane which was gate 35X and she said, yes. No one told us we had to change terminals by riding a bus. There were no signs anywhere and no indication on our tickets! So, 3 of us missed the connection and had to spend 7 hours in the airport waiting for the next plane to Knoxville! It was horrible!!! Why is there not signs or information to guide you to Gate 35X? We lost a whole day, sitting in the airport! Went online to social media and everyone joined the party to slam American Airlines for not dealing with this problem. Tons of people contacted us to say they had also missed their plane in Dulles. Do you guys think we should KNOW we need to switch terminals? I think you should do something to make this up to us. You are responsible for 3 people missing an entire day by sitting in an airport! It was the worst experience I have ever had flying. I think you should give me a discounted ticked to make up for ruining my day. Please make a change at the airport and direct people to their "hidden" gate.

Anne G Grindle
from Dayton, TN
On October 7, 2017 my traveling companion (Sue Lytle) and I arrived in Lima Peru, after flying there on Latam Airlines flight 2068 from Cusco Peru. Our original booked flight was American Airlines flight 7694 operated by Latam, but due to problems caused by Latam we did not arrive on that flight. We arrived at 11:10 pm, with our connecting flight (AA 988) scheduled to leave at 11:54 pm. There was no one at the AA ticket counter or baggage check. Our cell phones did not work in Peru, so we could not generate electronic boarding passes. We did not know that the American Airlines ticket counter and baggage check closed one hour before the last flight leaves for the night, although we were later informed of this. We grabbed our luggage and went upstairs to speak with someone in the American Airlines office, but no one was there to help us. We were quite frustrated that we were going to miss our connecting flight!
A Latam attendant told us that the American Airlines ticket counter would reopen at 3:45 am. We opened up our sleeping bags and laid down in front of the AA ticket counter. After little sleep, AA opened up and we said we needed help getting back to the USA and told what happened. They sent us to the Latam counter for help. We hauled our luggage back and forth speaking with people at both airlines with no resolution to our dilemma. Finally, American Airlines said we would have to rebook, at a fee of $300 each, in order to get home. There was some hope that we might get a morning flight to Miami and then on to Atlanta, instead of our destination of Nashville, but by then, the Miami flight was full . Desperate to get home, we charged the American Airlines booking fee to Sue's credit card. Now, we were booked for an Oct. 8, 11:54 pm flight (988) to Dallas Fort Worth. We spent a grueling 24 hours in the Lima airport waiting. During this time, we spoke with Latam agent Ursula Olorregui who told us we should not have been charged for rebooking since missing the flight was not our fault. She advised us to file a complaint/claim.
We are requesting a refund of the $300 rebooking fee for each passenger, Sue Lytle and Anne Grindle. The record locator number for our trip was CKCREB. We have also filed a complaint/claim with Latam and disputed the charge on Sue Lytle's credit card. Your speedy attention to this disappointing situation would be greatly appreciated.

Charles brown
from Dallas, TX
I flew with u a month ago set in airport for 14 hours lost 500 pay from work now I am setting on a plane in Texas with no pilots wtf I will lose 500 again I can't say I will never fly with aa again because all airlines are the same where did custermer service go

Robert C. McEntee
from Jewett, TX
I was flying out of Shreveport, LA.(shv) on Monday, labor day, Sept. 4, 2017. My flight was suppose to be a direct flight to Charlotte, NC at 7:30 am. The plane was there from the night before. We boarded the plane, about 45 people. No sooner did we get our seat belts on and they told us we needed to deplane due to a mechanical issue, which they knew about all night long. I personally feel that was bull, they only had 45 people on the flight so it wasn't profitable for them to fly out. I was then rebooked onto a flight to Dallas at 10:30. My original destination was Raleigh, NC. We boarded that plane, a full flight, only to be deplaned again for hydraulic leak. This flight was suppose to leave at 12:30. They did arrange another plane for us but that plane wasn't leaving till 3:30. We boarded the plane only to sit on a hot plane for 1 and half hours. They had said we were free to get up and walk around and even leave the plane, but no guarantee of reboarding the plane. They said if you leave take all your belongings. Needless to say that flight did take off at 5:10 not 3:30. They were so generous as to serve us water and a cookie. My original itinery had me getting to Raleigh at 12:15 PM, I did not get there till 9:00 pm. This was my 2nd time flying American. My first time was not as bad but did have a problem. Back in May I was flying from Shreveport to Syracuse, NY. As had a carry on with me. When I went to board the plane they told me I had to check the bag. The incompetent clerk sent my bag to the connecting flight in Dallas not straight through to Syracuse. Needless to say I got to Dallas and had to leave the terminal and go to baggage claim and then proceed back through TSA check point. My overall experience with American Airlines is you are the worst airline around. I will never fly American again. In Shreveport we don't have many choices but the big 3, but I will definitely switch back to Delta anytime. Due to this problem on the Sept. 4th flight, I missed a welcome party at the function I was going to Raleigh for. I can understand having to deplane maybe once but certainly not twice and the have a long delay on the third plane. Thank you, Robert C McEntee, phone # 716-984-3636

Kegeia Reed
from Atlanta, GA
On 9/16/2017 around 5:50pm my family was traveling from Chicago to Atlanta in security checkout location 7a when we encountered a TSA officer which was very rude and unprofessional representing TSA also American Airlines in a very distasteful way. We had a baby bag with milk inside, I do understand the necessary process to undergo in order to secure everyone including my family. As we patiently waited 20 min for the bag to be picked up and checked thoroughly after we cleared a young lady ( TSO Taylor) made the statement " when will y'all realize we don't care about your flight" my daughter and I were offended we placed no rush on anyone we were actually there 2 hours early as instructed, we asked the young lady for her name she refused becoming defensive and a bit belligerent with disregard for other AA customers. we then found an onsite supervisor who was very helpful and apologized for her conduct then gave us her name which is TSO Taylor. Ms. Taylors conduct was very unprofessional and she not only represents ,American Airline and the Airline industry in a whole.

Rita Morrow
from Chatsworth, CA
I purchased an American Airlines ticket using rewards miles for my 17 year old grandson, Preston Corneau-Morrow. Preston traveled from Fayetteville , North Carolina to Los Angeles International Airport (LAX) on August 19, 2017. Preston was supposed to return to Fayetteville on September 9 but, due to a family situation, he needed to go to Knoxville. This necessity became apparent approximately 3 days prior to his scheduled departure.
I telephoned American Airlines and the representative told me that she could make the change and that the "number of points were the same" so it would be an even exchange. I would not have to pay any additional points. Several days after he flew, I looked back at Preston's original reservation because I was trying to understand why he was charged $25 to check a bag. When I looked at the original reservation, I saw that I was charged 20,000 miles for that flight. The flight to Knoxville was listed at 12,500 miles at the time of booking. This was clearly not an even exchange to me so I called American Airlines in an attempt to get a refund on my miles. The representative did not give me a reasonable explanation for not being able to refund my 7,500 miles nor did the supervisor I asked to speak with.
I am confident that if the situation were reversed and the original flight cost 12,500 miles and the second flight cost 20,000, I certainly would have been assessed the extra 7,500 miles. I would have understood and willingly paid the additional miles.
I also asked the representative about the $25 fee for Preston's checked bag. She said that he was assessed that charge because the charge was made on my husband's account. The baggage fee is waived only when he accompanies other customers on the same flight. We have been American Airlines Advantage members for over 25 years. I was never aware of this rule. I have flown both with and without my husband and have never been charged a baggage fee. Admittedly, in the past 3-4 years it has been more difficult for me to transact the business of booking flights and negotiating your website because the account is in his name. My husband and I tried to have the account changed to both our names but we denied that luxury. This is in spite of the fact that we both use an American Airlines Visa with the same account number and an American Airlines MasterCard with the same account number.
I am asking that the excess and unfair charge of 7,500 miles be reinstated in my account.
I am asking that you direct where I can see, in writing, that there is a baggage fee for customers who travel independent of the account holder.
I am asking that American Airlines add my name to the account so I am able to avoid past pitfalls and can continue to enjoy our long-standing relationship with American Airlines.

Anita Wheat
from Douglasville, GA
My flight on Saturday was cancelled without notice. I missed my son's first college game and feel like I was robbed of something I will never get back. Customer service was the rudest I have ever experienced in my life. No help no compensation, Nothing. I'm speaking to an attorney. They should not be able to do this to people. My tickets were over $1,000. I and my family are devastated!! 5 standby flights and Nothing still.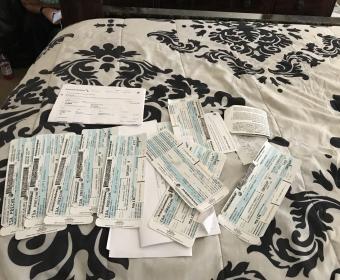 Have feedback for American Airlines?
Thanks for your feedback!
Sorry. Please try again later!