UPS
Contact UPS Corporate
Toll free phone number: 404-828-6000
---
United Parcel Service (UPS) www.ups.com is a global delivery resource that provides service from beginning to end of shipment. Freight is delivered to 200 countries and  territories, employs 354,000 in the United States and 81,000 in foreign countries. Revenues were reported in 2014 as US 58.2 billion.
If you need help with packaging, delivery or tracking of a shipment your first call should be 1-800-PICK-UPS (1-800-742-5877). Outside the US use this number 1-800-782-7892.  To contact UPS CEO, David Abney by postal mail, address your correspondence to the corporate office at UPS Corporation Headquarters, 55 Glenlake Parkway NE, Atlanta, GA 30328, USA.  The corporate headquarters phone number is 404-828-7123. You may find this page helpful with contact information for packages, employment and media.
UPS was founded in 1907 in Seattle, WA as a messenger service. The company has grown to include 'UPS Solutions' with 58 million customer tracking requests daily. There are 1,000 US Customer Centers, 1,000 authorized UPS outlets and 10,000 UPS drop boxes. The ground fleet numbers 99,000 and the air fleet, including jets and chartered planes number 500.  Social media presence for UPS is found on Facebook, Twitter, Linkedin and Google+.
UPS Contact Information
Report complaints to corporate and get satisfaction
UPS headquarters address

55 Glenlake Pkwy. Ne
Atlanta
GA 30328
United States

Company website

1-800 phone number

404-828-6000

Support email address

support@ups.com

Better Business Bureau rating
Browse reviews of other Delivery Services
Top UPS Complaints
Browse more than 225 reviews submitted so far

I live at 1060 Claud Rd. Eclectic Alabama, and one of your drivers came into the Mobile Home Park Speeding excessively, on his way in and out. We have many children that live and play here, as well as pets. The posted speed limit is 10 mph and he was doing at least 45 mph. That is completely unacceptable. If one of my children gets hit by him we will be filing law suits.

I shipped two packages and the UPS department mixed up the paperwork. 13 items got shipped to a US location with the ticket that was #235 lbs and the 2 items got shipped to Hawaii with a #13,00lb ticket. We caught the package in California to reroute it to the other location and then the other package was picked up and sent to the Hawaii location. Well now they are trying to charge $2500 shipping charge on the 2 items that was rerouted from California because of the weight. When in reality that package was only 235lbs and they are like prove it. But they have the proof from the 13 item package as they picked it up reweighed it and charge us the difference from 235 to 13,000lbs and charged us the overage. Now they are still trying to charge us the excess amount of $2500 especially when the 2 item box was worth only $200 total. No one at the UPS will help they said they would give a 60% discount and charge us $1000 but that is still 5X the amount of the actual package.

I was expecting a package from my supplier and waited all day for the delivery ,usually there will be a 10am delivery or around 3pm delivery.Around 3:30 pm my delivery did not arrived and I contacted my supplier for the tracking # he gave it to me and I entered it into my system and they said and attempt was made at 1:08 pm .Thats was Incorrect I tried reaching out to the supervisors and I heard different excuses .Still waiting on package

I recently received a stereo preamp that I bought on Ebay. The unit had been previously bought and returned due to a measurement listed wrong. The item went half way across the country and back in tact. When it got shipped to me, on Friday, the box was crushed, the .062" stamped steel covers were badly dented. I immediately filed a claim with UPS. A claims agent called me a few hours later. He tried to claim it was not packed properly etc.
but I reminded him it made a farther journey and was fine. It was obviously mistreated. I decided to try to repair the unit, so I disassembled it, put the metal cover and rear panel in a press to straighten it out. It is really heavy steel for a stereo. The UPS agent told me that would be fine if I could fix it, and he would contact me on the following Monday or Tuesday, but I should stay in contact with the shipper. I was successful fixing the preamp, but the glass insulator that came with it is toast.
I told the shipper I was pursuing a claim for my time and damaged items. Well, no call from UPS. So I contacted them via live chat, and was informed my case was closed. All transactions have to go through the shipper, and the shipper did not enter a value on the unit. I thought the minimum was $100 anyway. As the conversation went on, making sure I understood, I was informed UPS does NOT INSURE any package. You are not buying insurance when you enter the item value!! SO I am letting everyone know, UPS does not insure packages, and if you get damage, YOU ARE SCREWED!!
So don't bother paying higher shipping rates, the claims are worthless. I have talked to many people that had legitimate claims only to get nothing. Buyer beware!

I recently sent for a phone to come from my phone at your company called Schurian and somebody said they dropped off the package yesterday or today came by to drop it off and nobody was home I was home nobody knocked on my door nobody knocked on the main door outside the building I live in. So I setup a time today to go to pick up the package at the UPS after working out something on the phone with someone there I was told they close at 7:30 this large black man at 17 Gold Ave. newark nj UPS SITE. They close at 6:00 pm. Mind you I checked the website I checked the iPhone app and I also checked the phone number to see they close at 7:30 on the main pick up side this gentleman was clearly obstructing my way and not allowing me to get my package I want to complain about it and I would like it handled immediately.

I went to a UPS store to ship a parcel. I asked about duty and fees because I was shipping a parcel from the US to Canada. I asked the associate multiple times if there would be any fees once it got to Canada. The young lady assured ed me multiple times that the fees I was paying included all that. When the parcel got to Canada they attempted ed to deliver it but my son was unable to be home to pick it up. A request was made to be able to pick it u at the store. When my son went to pick it up he was told it was out for delivery. The associate then told my son that the driver would make another run and bring it to his house because of the inconvenience. My son waited at home and they did not show up again.
He called again and was assured that it would now be waiting for him at the the store to pick up. The evening prior to this I received a call fro the owner of the UPS store that I had shipped the parcel from. He told me that I needed to give him my credit card no before the parcel would be released from customs. I told him that it had been out for delivery so how could it still be in customs. He kept saying I needed to pay him first and that he had no idea after I paid him when it would be released from customs. After giving him the credit card info I called UPS customer service and informed them of the situation. I was informed by customer service that he was not supposed to ask for money and that my son just needed to pick up the parcel.
When my husband called the man back to explain this to him he said UPS was wrong and when my husband asked him for payment back he said he would try but was not sure if he would be able to. This has been an extremely frustration time from both the shipping and receiving end. I hope that UPS comes to some sort of practical solution to this and the ups store receives training on international shipping. he next step I will be taking is to contact the bbb to file a formal complaint.AT this time the fee has not been returned to my credit card. That is fraud

I am writing to whom this may concern. My girlfriend shipped a package from Calgary Alberta to Playa del Carmen Mexico. She was told by the UPS agent that she didn't need anything else and the box would be delivered in a week. Then UPS tracking tells me it's being held in Customs because we need a import license, after we asked if we needed anything in Canada. So needless to say after hours of phone calls and several Supervisors getting involved nothing happened. No promised returned calls and no emails. UPS made us feel this was our fault. So they told we can ship the package back to Canada. Now they are saying we owe them $129.00 for the return cost, unbelievable. We have never been so mistreated or lied to ever in dealing with a company.
They never once stood by their word, never once returned calls, no emails and the worst customer service ever! We are outraged that they are trying to collect this money after everything they put us though never mention the stress. I can't understand how a acting UPS agent would not know we needed a simple import license. This never should of happened. Now we want all our money back as this is down right unacceptable. We are seeking legal council in this matter, as we feel we are being bullied and mistreated.

When my package was delivered there was no one home so i assume they just left it on the porch. Well a dog got ahold of it and ripped it up. Aren't they suppose to wait until someone is home if it doesn't fit in your mailbox? I caught the dog before he tore up what was inside but that was only because there was 3 boxes to get to. He was working on the last box though. I really don't appreciate whoever it was being that careless.

Trish Willette
from Johnson City, TN
Rude customer service support from the store on Browns Mill Rd in Johnson City TN.

Kitten
from Alexandria, VA
This review is in direct response to the UPS service hub, dispatch center, and repulsive Driver Amid who urinated on my box because he is an evil and nasty driver AMID who has a little man complex! This center is located northern VA (phone# 703.342.1518). After my many documented complaints against the driver, UPS could care less. They sent me a lacking 12 word response asking me to call the HUB manager, THAT NEVER called me back after four request! Shame on UPS. This is my complaint below that I sent to them:
"Your straight to the point message could have at least included a simple hello, given the poor way my many complaints have been handled from your local ups HUB. After many complaints and encountering unpleasantness and zero urgency. I should not have to keep calling and dealing with lies, incompetency to handle the matter, and crappy attitudes. I guess UPS IS OKAY WITH THEIR DRIVERS TAKING PERSONAL VENDETTAS out on customers by urinating on packages and stealing letters and other damages. Which all started after my initial complaint. I was told that driver AMID WOULD BE TAKEN OFF of my route deliveries which was a lie. If this is the way you respond to customers who have valid concerns, then shame on you and UPS. It's clear that you condone drivers who urinate on packages which is a health concern but also degrading and despicable. Considering the AMID was aware of previous complaints, there is no way he should have delivered a soaking wet package that smelled like urine. He should have made his HUB AWARE of the package being damaged and had some reach me about the status. You people clearly don't care. I will be filing another complaint because this customer center, and managers, lack serious people skills and exemplifies zero standards. Again, please remove this person from my route because he has shown he has zero control mentally and professionally and this is a storm in the making which you will be responsible."
UPS has zero ethics and is completely disgusting!

Teresa J Willette
from West Memphis, AR
I have used UPS for forty years now and I get this guy who is very rude to me. I have no idea what a QR code is. I have been trying to find it to return my Amazon packages. I found one package and at the service desk found the other one. This was the second time in one minute he shoved the box back to me. And basically by body language telling me how dumb I am. When asked what was I going to do with the rest of the items in the box, I replied to him it's a three pairs pack. The look he gave me. I will try to avoid UPS this Christmas season.

Savithramma P Dinesh-Kumar
from Davis, CA
Our package with tracking number 1Z18F6W30163048773 has been held in West Sacramento UPS and has not been delivered to the address on the package. We were told that UPS employees are supporting UWA and don't want to deliver to our address. This is unprofessional behavior from UPS employees and they are affecting our work in a major way. I do think UPS administration has an obligation to interfere and tell the UPS drivers to deliver our package.

Maria Rejon
from The Bronx, NY
i order something from wish and my address from wish is correct and wish gaved me a tracking number and when i called ups to see where is my package they told me that they sent my package to a different address that is not the correct and they told me that another person is the receiver which i dont know why usually my package usually get delivered to my address its really upsetting because i dont know whats going on they didnt delivered my package to me like seriously im furious because i paid for my package its not really about the price of the package its about the fact that they didnt deliver to my addressi explained myself to them and its like they didnt even care. my name is not that one that appeared on their end and they didnt try hard enough to help me to get my package to the right address.

Wanda brewer
from San Antonio, TX
Driver going too fast entering our yard, endangering our animals. Ask him to slow down. Ignored us.

Edward Cannon jr
from Philadelphia, PA
This complaint is about the driver and his driving habits. The driver delivers to Maple shade Alden park section yesterday which was the 2nd day of the week Tuesday November 2nd 2022. The driver roughly accosted me While he was driving in my neighborhood neighborhood about the way I was driving and I was sitting in a stop light Very vulgar and disappointed At his actions I would like to see this guy fired I'm going to continue to complain about him

Mike Wightman
from Trion, GA
I mailed a package on 3 October 2022 from Chatsworth, (GA) to a customer in Virginia. It was a firearm and was suppose to go Overnight Air, but it stayed in the Sporting Goods store until it was picked up and shipped on the 6th of October. Tracking shows the package left the store and went to Dalton, GA UPS center on the 6th and then sent on to Knoxville, TN center where it disappeared. I contacted Linda Jones who works at the Dalton UPS customer service center when I received a call from the buyer wondering where the overnight Air package was. It is now the 21st of October and the package still has not shown up. I have made numerous calls to UPS and used your computer reporting system but no effort has been made to inform me concerning the missing or stolen package. Linda Jones (one of your better employees) has attempted from the Dalton, GA customer service center to contact representatives from your Knoxville location asking them to follow-up on this package. The firearm is valued at 1,200.00. They claim they are looking at the tapes, etc. but nothing to report at this time. Again, not a courtesy call or any contact to give me a brief report and tell me what is happening. No contact with the sporting goods store either. I checked with the owner and person who shipped my package and no one from UPS has made any attempt to contact them relevant to an investigation. I contacted them via email, thanks to help from Linda, but they haven't called or returned a text. I have gone to your website more than half a dozen times to file a lost package claim, but I keep getting "kicked" off the site and the claim form still isn't completed. Can someone please give me a call and help with the claims form, give me some information regarding the search and investigation for the package, and finally, show some interest in this loss. If it isn't found and returned, how can I file a claim as I can't complete the claims form! My telephone # 252-559-0305 and my email address is mikewightman46@gmail.com. Thank you, Mike Wightman

Paul Slack
from Topeka, KS
I had a package that was attempted to be delivered to me on 10/18/22 it was left because I need to sign for it. The problem is I was here and I have not one but two different door bells right next to each other and I never heard a thing. I went to go to a Dr appt and noticed the UPS sticker on the window. I figured no harm it happens, so I waited all day on the 19th just like the notice said while tracking there package on the app at the same time. The whole time the app said the package would be delivered by 7pm. Well at about 6:40pm or so I tracked the truck going down topeka blvd right past 57th st. At that time I made a phone call to customer service to see if I was going to get my package and I was told it would be delivered by 7pm. I kept tracking the truck watching it get further away until it arrived at the customer service center around 8:35pm. At that time I made another phone call to customer service at which they told me they would have someone contact me from the Topeka Kansas delivery center I said ok and then I was told if they don't contact me right away they will contact me first thing in the morning and that my package should be delivered in the morning. It's 10/20/22 I still have not received a phone call I even called again with do diligence I might add because I literally went through the process of calling tracking my package then asking to speak to a representative and having the phone disconnected 5 times before I called the 6 times and went thru a live person from the prompt shipping. That person transferred me to the customer service agent again that said they will have someone from the Topeka office call me and I'm writing this now because I still haven't received a call. You just can't make this . Where has our customer service gone to.
My tracking # 1ZYE79424295286455
My phone# 785-408-4888
One more thing the UPS app says I'm supposed to get my delivery by 7pm tonight,but it's not allowing me to track the truck this time. It says it's turned off I mean no longer available.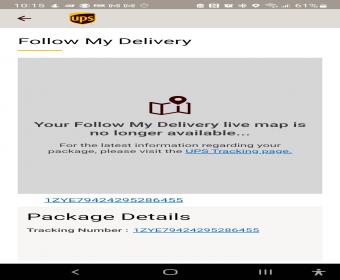 Sonya Adcock
from Cincinnati, OH
I had a package that was supposed to be delivered today by ups and the driver came and I didn't hear the truck or him knocking at the door! This is the only day I could be home to sign for the package and I needed the package for this weekend. I called and customer service told me that I would receive a call in a hour from a supervisor! I waited for the call and sat out side for a hour just in case the driver returned. I called back and was told that they would contact a supervisor and they would call me back. I called back after a hour or so and was told the same thing and never received a call! I can't get my package until Monday and I wasted a day off from work to make sure I received my package! I am very disappointed in the poor customer service that I received! I don't understand why they kept telling me the same thing and keep saying yes I see where you have called before! I would of drove to meet the driver to get my package. Very disappointed in the service! The tracking number is 1Z7R162Y3571198849! One very upset customer

Jude Renois
from Orlando, FL
10/3/2022 I contacted UPS today in regards of my package because I haven't had any updates on it KARLA MURPHY picked up the phone and I explained to her that my package has a delay and that I needed more information on why there's a delay and when should I expect the delay to be lifted very calm and respectful to her I wasn't being rude or anything I was just concerned and I just wanted some information Mrs.KARLA was very aggressive and rude and disrespectful she questioned my intelligence I felt belittled and disrespected simply because I wanted some information on my package I work in customer service and I understand that people have bad days but it's unacceptable to take your bad day out on anyone specially your customers or a complete stranger it is unfair to them and that type of behavior should not be tolerated in a place of business she's a supervisor how can you be in a position of leadership and you don't know how to communicate to people what kind of example are you setting for others that work under you People don't realize that type of negative attitude and behavior is contagious it's unhealthy to run a business like that
I contacted the East HUB center on
8901 Atlantic Ave Orlando FL 32824

Tony Cho
from Chattanooga, TN
UPS is the worst! At least 20 to 30 percent of my packages gets lost of delayed. The website really sucks. Barely any details. I just called customer service and she was reading from script. I know it's not her specifically, but the process they . I don't understand how UPS gets an A+ on the BBB website. When I see UPS as the delivery company, I cringe and pray.

Changed my plans to stay home since a package needed to be signed. Package was supposed to be delivered by 7 pm. at 7:10 I received a We missed you message. No driver approaches my home on any camera. Yet they missed me. and now my whole day was wasted on nothing. I have to once again alter my plans for the next day. I get that they cannot provide you with a time, but at least don't pretend you tried to deliver it when you didn't.

Karla Gallagher
from East Northport, NY
My mother passed away in June 2022 in Florida. I live in New York. I went to Florida to clean out her apartment. I hired a professional mover to package and ship my mother's possessions to New York. In the first shipment a box with lladro statues had many broken statues. The box was packaged properly and double boxed. However, the box arrived wet and broken. Certainly a transit issue.
Second shipment, I paid additional money to have the UPS store pack additional items. Some of the shipment also arrived broken. Again, the items were well packaged according to UPS guidelines.
I filed 4 claims with proper insurance on my mother's life possessions. All denied. I was told by customer service that they would not give me any information and to contact the store. I have contacted the store numerous times. The people at the store have worked very hard on my claim which continues to be denied despite the fact that everything was done correctly.
Upon reading online, it seems that UPS denies all claims. This is terrible and very upsetting.
I will pursue this further, legally if I have to. I am continuously given the customer service number or telephone numbers that cannot help me.
Please help and advise me.

Mike Nunez
from Louisville, KY
Seller address is Walton Kentucky 80 Miles from me, said arrive on Wend then Thursday, then Friday, then Sunday now just checked expected delivery date Monday, this is very disappointing. Expected better service from UPS sins every the hub is in Louisville where I live . Pony express could of gotten here quicker…. Sad. Sad ….Sad. Can't call and complain via automated phone number that made to discourage complaining from unsatisfied customer's,

donald smith
from Philadelphia, PA
i was having issuse,s with package delivery so i called ups out on Rt. 51 uniontown pa. 154501.i ask the man about my package being left at wrong address. he told me no more trucks going out that i would have to call fairmont wv,a. so i figured he was lying to me,so i called fairmont she told me that fairmont dont deliver to uniontown...so its a dam shame this man at uniontown would find the need to lie to me WHY?????? was it the sound of my voice? or he did,t like it cause i said that UPS drivers are suppose to be able to read.!

Where do I start? Well, UPS LOST my passport for next day delivery and it never even left the hub. I called customer service and they hung up on me multiple times and redirected me to different departments constantly when I just needed a case opened. Finally, I get one opened. Less than an hour later they leave a voicemail saying that they didn't find it and then another call asking what a passport looked like. I had to explain to these poorly educated people what my situation was over, and over, and over again. After less than 48 hours the "package" was considered lost. They keep telling me to contact the sender and when I explain to them that it doesn't work like that, they basically told me to kick rocks. I then talk to a lady named Kim who told me that she reopened it and promised it was being looked for and had 2 other people claim what she was saying was true. Well, next day I notice it has NOT been reopened and I call yet again. They then tell me that she and everyone else was lying to me My friend who is a manager for UPS talks to the Hub to ask about it and they said they never even looked for it...another lie from the company.
. So, I reached out to as many platforms I was connected on and tried to get ahold of ANYONE who could help and also read countless reviews and found video evidence of them admitting to lying to others too.
Now, after hours, days, weeks, of dealing with this HELL of a company I find the email for the CEO and email her directly explaining in much more detail the absolute insanity I've had to go through and they apparently in written email are now claiming that every ''supervisor'' is looking for my package.
After all the lies, I don't actually believe them...at all.
So now, I'm asking for help from the local state Senator (who is actually been more help) to make sure I don't get completely screwed over.
Most every one in the "customer service" department needs mental help.

Kelly Anderson
from Kiln, MS
Can I take the one star away and give a negative 5? I called UPS as told to do so in the email. As I am the shipper. Talking to customer support after doing all the work to send the documents that they wanted after loosing a desktop computer that was being returned. So it was never refunded. Now while the email says to reach out to customer support to provide payment details so I can get my money back on the claim. Which has been a few months now, an agent has me on hold for over 30 mins to come back on and tell me that the store needs to submit the claim that is approved and I need to now be in touch with them in order to get the refund! They have nothing more to do with it. I bought it from them. Paid in full. I was sending it back because it didn't do what I bought it to do. They didn't receive it back so that is on my end. The agent tells me "it's because we do business with them ma'am." Excuse me, and you don't do business with me? I have an account with UPS. I understand that I may not spend as much money as a big box store but I still spend money. This is the second claim. The first one was A COMPUTER bought for my son this past Christmas. The shipper packaged it ok, but either the driver or who loaded it busted it to pieces. I filed a claim. I was told again that the shipper had to file the claim. Well, the shipper is paid. Why do they care now? Not their problem anymore. So after I did all the hard work on that claim they sent my money to the shipper who never gave it to me! They got paid twice off of a shady packaging job and shady computer. The reason why I was buying another one. But from a big box store this time. How odd is it that they manage to always loose or break computers? I have been waiting over 2 months now for this second claim and their office set the email and told me what to do all for the agent to tell me "they don't do business with me" and hang up after being on hold for a second time making wait time almost an hour. To be hung up on in my face! Why can companies do stuff like this and get away with it. Why don't they understand that one it is paid for it is no longer the sellers issue. It is now a buyers issue. Just like the first thief did by stealing my money how do I know that this store wouldn't either? For all I know they got the computer and never refunded me. Why would they give me the refund for it when it is easy money? This world is not the way it use to be. Honest, hard working, and caring people are hard to come by anymore. People want everything handed to them on a platter. Well looks like UPS doesn't care who they serve it up to. Because they don't do business with you.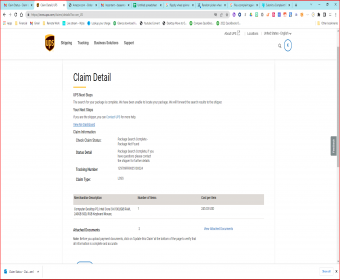 Hola:A quien pueda interesar, He recibido mi paquete por ups y estaba roto, llenos de parches con tape transparente. Le habían extraído varios artículos del interior.El paquete de pañales estaba roto como que trataron de ver lo que contenía.Faltaban dos paquetes de medias para diabéticos, un cepillo de dientes eléctrico, wipes de alcoholEn realidad no es ni muy valioso lo que falta pero el problema está en la forma tan ordinaria en que ocurrió el saqueo.Sin másMirlin Monzon

Daniel Peretto
from San Jose, CA
Packages are always late and there is always an excuse as to why I called and was transferred to an employee at the north bay distribution center by the name of Andrew when he was asked his last name or employee # he stated that if I didn't like it to bad and hung up

Nicco DiAndrea
from Bayville, NY
I had a problem with my package, being it is supposed to deliver today, yet has not left California while i live in new jersey, and when i kept calling, they refused to connect me to an agent, and left me with their useless customer service robot.

DePrise Garcia
from Dallas, TX
A Employee Driver who worked 7/30/22 at 2:00-300pm. Was parked right in front of my house peeling a orange, and left her trash on my property. She was a blonde white woman. I asked her to pick up her trash, and she ignored me. I picked it up, and put it back in her vehicle. When she left she had tossed it out well driving, onto my neighbors property. This is very unprofessional and unacceptable well she is working!!! She should be fired and charged for the littering.

Key Vanover
from Chicago, IL
UPS supposed to have delivered my packages on Saturday and they did not deliver my packages. The driver stated we were not home. The driver never came to my apartment. I was at home the whole day waiting on my packages. Now I have to inconvenient myself and go pick it up at another location when it is delivered. I tried to call UPS but UPS have the dumbest automatic system. I need someone to reach out to me because I am very pissed.

Mike james
from Seattle, WA
Hi to whom it concern, The regular female drive has some what of an. In the past she would not stop walking on my grass. Then she would deliver my package to neighbors at times. Yesterday she delivered someone else package and left it in my walkway not at my door like she do for the neighbors. Please once and for all resolve this issue. Thanks

Harvey L Redwine
from Sterrett, AL
July 21, 2022,
I would like to file a formal complaint against one of your route drivers. I called the UPS phone number provided on your website to file a complaint and was told that I would need to file the complaint online as well. The following occurred today, Thursday, 7/21/2022.
We have seven packages for return in our garage. Approximately 6 pm (est) the UPS driver arrived with the return labels. I went outside to greet the driver and help with the returns. He exited the truck with a very bad attitude and said "This is the last thing I need, I'm already way behind. I don't have time for this, I have several other deliveries on the truck." He was just going to put any return label on any box. I said that if he did that, I wouldn't receive the credit for the returns if the labels were not on the correct box. I would think your drivers would know better than this! He then handed me the return labels and stated that "he had to go... didn't have time for this and maybe we could call UPS and get someone to pickup these packages tomorrow". I explained that we have a certain time limit for these returns and would like to get them on his truck since he was already here with the labels. Again, he angerly stated that he didn't have time for this and got in his truck and left. I stated that I didn't appreciate his attitude and when I asked for his name and his supervisor's name. He said with an angered attitude from his driver's seat that "he didn't know his supervisor's name and that he didn't have a name". I asked again and he repeated the same then left my driveway without my return packages.
I have been a business owner for over 40 years and in all those years of doing business with UPS, I have never had a UPS driver treat me with such blatant rudeness. It was uncalled for, and I don't appreciate it. This driver's attitude and rudeness was totally unacceptable. Again, I do not have his name, when asked he stated three different times that he didn't have a name. This no named driver runs the South Murray County, Georgia route. My address is 276 Henry Gallman Rd, Resaca, GA 30735.
I would appreciate if a supervisor would speak with this driver about rudeness and explain about customer service and even if you've had a bad day, don't take it out on the customer. I think I am owed an apology and I certainly hope someone picks up my return packages. After the driver left suddenly, my wife was able to apply the correct return labels with the corresponding packages in less than 3 mins.
Please respond!
Regards,
Harvey Redwine
Cell: (706) 270-2936

Lisa Larche
from Georgetown, KY
I live outside Jackson Mississippi. I haven't got a package delivered that has not been damaged. A week ago a whole order of 8 items from Amazon was deemed undeliverable because of damage at the Jackson ms ups facility. This has gotten to a point that it is ridiculous that every package I get is damaged.

The scumbags where supposed deliver my package on Friday at 7pm it was sent overnight by my bank .and ups had no answer why it wasn't delivered on friday.

Careless, incompetent company. Delivers perishable goods to the wrong address, goods perished because neighbor at address they delivered to was on vacation. Read the address on the package, you, incompetent, overpaid by 100% excuses of humans! Not that difficult, read the correct address and deliver at the correct address.! That difficult? Apparently so. Careless, incompetent, bloated. Please, please go out of business, already!

Peter Parker
from Brewster, MA
WE HAVE BEEN HAVING TROUBLE WITH THE UPS OFFICE IN YARMOUTH MA FOR WELL OVER A YEAR. WE HAVE 2 DOGS . ONE IS NEVER OFF LEASH. THE OTHER GETS SOME FREEDOM BUT SINCE WE GOT COMPLAINTS FROM UPS BOTH DOGS ARE KEPT INSIDE WHEN WE KNOW WE HAVE UPS COMING. WE WERE TOLD BY UPS THAT THEY WILL NO LONGER DELIVER TO THE DOOR, BUT LEAVE ON THE STREET AT MAIL BOX. THIS IS AFTER 20 + YEARS OF DELIVERY TO DOOR. WE RECENTLY PLACED AN ORDER ORDER FROM ANGELIMOS COFFEE IN CALIFORNIA. WEEKS WENT BY. FINALLY CHECKED UPS WEB SITE AND SAW THAT, UNKNOWN TO US, THE PACKAGE SAT AT THE UPS OFFICE FOR AT LEAST 10 DAYS AND THEN RETURNED TO SENDER WITHOUT US KNOWING THEY EVEN HAD THE PACKAGE. WE'VE DEALT WITH A NUMBEROF SUPERVISORS ABOUT THESE ISSUES. THE UPS DRIVER HAS AN INORDINATE FEAR OF DOGS. HE SAYS OUR DOG DOSEN'T LIKE HIM! WE GET DELIVERIES FROM FED EX AND USPS AND OIL CO. WITHOUT INCIDENT. WE'VE BEEN TOLD THAT OUR DOG WAS OUT WHEN HE ABSOLUTELY WAS IN THE HOUSE WITH US. WE'VE ALL BUT STOPED DEALING WITH AMAZON AS THEY PRIMARILY USE UPS. AS IT STANDS WE DON'T KNOW IF ANYTHING SHIPPED BY UPS WILL GET TO US OR BE RETURNED. WE'VE EVEN REACHED OUTR TO UPS CORPORATE TO NO AVAIL.

Nargis parveen
from The Bronx, NY
Poor delivery service,last week ibgot 3 missed label on my buliding front door not at my apparmnet door,infact i was at home that times where they mention the time,they disnt press the door bell,to open the doors for them,just label at frint and runout,am redelivering all my packages but same thing happen,they continously telling lie caz that time we are at home,fedup with this please find out the provider in my area,am attaching my today building front door notice. 2215 cruger ave,Apt 3F 10467 bronx ,newyork.USA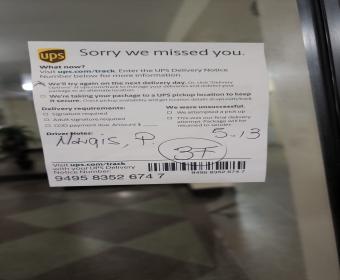 Lisa A White
from San Antonio, TX
Package car driver blocking road, (McDonald Oak, San Antonio TX, 78233) on Saturday 5/14/22. Driver was sorting packages in his rear compartment with earphones in. When asked to clear the road for traffic, he was very rude and refused to move. Driver would not give his name, but finally moved up the road to curb to allow others to pass. The package car plate # is NJZ-0849. This is unacceptable behavior.

Ups driver said they left a package at my door on 4/19/22, no package was delivered. I was home all day. On 4/22/22 I called ups they said the box was delivered by the driver. I ask them how is that possible when the package never left the Hub in Davinport fl. They took my info. Sent me paper to full out and never heard from them I call over 7 times. Now they said they found the package and sending back to New York addresd when it should be going to fl. This company is unbelievable, they won't let you speak to a manager or supervisor. I hear bad things about UPS all the time and I will NEVER use them again. I will go with FedEx moving forward. So people be aware of UPS. They blow you off like nothing. I will find a resolution and a person to talk to, although I'm sure they no the problems people are having with UPS..

prasad avala
from Bloomington, IL
They damaged my receiver during shipping which we insured for $1500. Contacted UPS and they directed me to open a damage claim. next day they picked my Item for review and its been 45 days. I called them each and everyday for the status on my claim. they don't know what they are doing. I'm not sure who to contact now. They have my item for more than 45 days and no progress. I spent nearly 15 hours on calls with them with zero progress. Can anyone help me who i could approach to resolve my isuse?

Yesterday I was supposed to get a package and I was supposed to sign for it. Now it has the address and apt number while enroute the divers supervisor contacted him and told him that can't reach my apartment without going through alley located on 18 Ave and Peoria and instead of delivering the Package to my apartment # B he just let some one that is in number D sign for a package that belong to me he knew that to deliver my package he had to go through alley but that not what happened this is not the first time this has happened. And when I talked to customer service the lady on phone was rude and didn't comprehend that the driver needed to come through alley to get to my apartment I still have no package the driver never came back to retrieve package and deliver to the right apartment. The Driver needs to go work picking up dog poop I have to put in a complaint with Better business bureau and filing a police report on the driver for theft since he gave my Package to whoever to it was that signed for it. I do not have the portable washer And I'm going to have to pay on something I never received the driver or UPS needs to give me 300 dollars for there driver giving my package to someone else I also have contacted the channel 3 three on your side and will continue posting on social media about what the ups driver did and that ups he as done nothing to represent there driver.

David
from Johannesburg, GP
I don't know what kind of busy you guys are running but it's really pathetic. How can a delivery took 8 weeks to be delivered after landing in the country after 3days order from Poland now its one excuse to the other, if you can't located my parcel why don't you credit the sender so they can refund me. 1Z3X63930433643211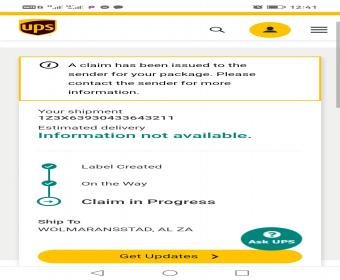 edward johnson
from Dallas, TX
Won't deliver always say cust. Request to pick up. Why would I pay for delivery then request I will p.u. when I have to drive 30 miles they should pay me , all other company's deliver to me. Have requested to talk to district manager but alwayssent to local manager , this has went on for min.5 years, try not to order from people that use ups.

Johnny Bryan
from Jackson, MS
To Whom It May Concern:
I had a package that was supposed to be sent to my home (1ZR0X3612961427778) on March 16, 2022 that should have been signed for. This package was much needed being that it was my medicine. I waited on the driver to deliver my package and saw the driver place my package at a neighbors house down the street, he knocked on their door and left the package there without the package being signed for. This is very unacceptable and inconvenient, luckily my neighbors were home and were able to bring me the package. This is something that was very important and much needed and for the driver to not do his job has really rubbed me the wrong way. I would Love to find out who the driver was and file a complaint to make sure this doesn't happen to me and anyone else with important items such as mine. I would appreciate if I could get a phone call from someone in HQ office even the supervisor of the driver.
Sincerely,
Johnny Bryan
P.S.
I do not have an email where you can write me back, so if you would just call me. Came to a UPS Store to send this complaint.

Asia Muhammad
from Marietta, GA
0 stars...
On 3-4-22, I ordered four pairs of jeans from old navy online. I received notification on March 8th that it had been shipped via UPS. However, on March 11th I received a notification that it could not be delivered, because it was missing my apartment number, so I took the necessary steps to correct it, and UPS updated my package as "address change updated; new label created". On March 12th they marked my package as out for delivery but I never received it. After tracking it for a few days, I went through the proper channels to find out what happened only to have to file a claim that it was lost in transit. After a few more days I called UPS customer service and was told my package had a hold on it because apparently the driver marked my package as "needing security access code" which is false because I don't live in a gated community. As a matter of fact, there is no gate because it's been broken for years. Anyway, I was told I could pick it up from the UPS distribution center which I attempted to do earlier today only to be told they could not find it. Needless to say I called UPS customer service right then and there only to be told they can't see anything regarding my package or where it may be, just that there was a claim filed and that I must now wait 10 more days to find out if they know where my package is or not or as a last resort be refunded. Needless to say I am very unhappy... This isn't the first time I've encountered a problem like this with UPS, it's almost as if they have a dishonesty problem amongst their customer service department specifically the drivers.... Are their drivers dumping packages in ditches like Fed ex drivers were doing back in Dec and lying about it? I'm sure lots of customers are curious and now wondering the same...

Alycon Pierce
from Alexandria, VA
My December order for 8 Bounty Paper Towels went missing and I was given an address in Pennsylvania to which I sent the pertinent data: tracking number 1Z1E127Y03093598, shipper 1E1274, claim number 3886479301A as well as the link to the site with the pertinent data: 1E127Y 270 2459553.pdf (as I do not have a printer to send a paper copy), and included my telephone number. To date I have not received a phone call nor a replacement item nor a refund of $16.74. I have tried repeatedly to work my way through the maze of questions and answers a non-human UPS system poses, just making the process even more frustrating. One robo response said the package HAD been delivered--it has never been delivered. Please deliver the Bounty Paper Towels to me as originally ordered and I will refrain from using UPS in the future: address is 7000 Falls Reach Drive, Apt 403, Falls Church VA 22043, .

J. Taylor
from Newcastle, OK
My pet's specially ordered food shows to have arrived OKC 02/22/22 and each day status updates reflect it being out for delivery only to change a few hours later to using the weather as an excuse for not delivering. I've missed no other deliveries since the winter storm even orders placed after the 22nd and that were delayed by 1 day in another state! This has been an ongoing issue with UPS for several months; packages being in the hands of UPS for 7-23 days, just floating around out there in some warehouse 20 miles from my home. I would gladly drive myself and get it from their facility if I could get a human being on the phone that can tell me where to find it! Since UPS sees it fit to hold my packages hostage, I am now forced to make a drive to purchase food that will cause my pets to have upset tummies or let them starve. Of course, the latter is not an option. PLEASE!!! I JUST WANT MY DOGS TO HAVE THEIR FOOD. I should mention that I have their food on auto ship and the order is processed a good week before they run out of food so this should never be a problem.
I am so sick and tired of UPS and their bull$#!+! As mentioned earlier, this has become a common occurrence and more than once they have been important items. I would pay handsomely for any individual or retailer to use any other shopping service than UPS. Unfortunately, most of the time it is not revealed WHO the shipper will be or at this point I would go as far as to not do online orders from anyone that uses ANY form of UPS for their shipping needs.
The screenshot attached reflects the same nonsense excuse for the 23rd, 24th, 25th and 26th. Tomorrow, of course, is Sunday so... Yeah. What now? Guess I better make that drive to PetSmart before they close!
Thanks for your feedback!
Sorry. Please try again later!