UPS
Contact UPS Corporate
Toll free phone number: 404-828-6000
---
United Parcel Service (UPS) www.ups.com is a global delivery resource that provides service from beginning to end of shipment. Freight is delivered to 200 countries and  territories, employs 354,000 in the United States and 81,000 in foreign countries. Revenues were reported in 2014 as US 58.2 billion.
If you need help with packaging, delivery or tracking of a shipment your first call should be 1-800-PICK-UPS (1-800-742-5877). Outside the US use this number 1-800-782-7892.  To contact UPS CEO, David Abney by postal mail, address your correspondence to the corporate office at UPS Corporation Headquarters, 55 Glenlake Parkway NE, Atlanta, GA 30328, USA.  The corporate headquarters phone number is 404-828-7123. You may find this page helpful with contact information for packages, employment and media.
UPS was founded in 1907 in Seattle, WA as a messenger service. The company has grown to include 'UPS Solutions' with 58 million customer tracking requests daily. There are 1,000 US Customer Centers, 1,000 authorized UPS outlets and 10,000 UPS drop boxes. The ground fleet numbers 99,000 and the air fleet, including jets and chartered planes number 500.  Social media presence for UPS is found on Facebook, Twitter, Linkedin and Google+.
UPS Contact Information
Report complaints to corporate and get satisfaction
UPS headquarters address

55 Glenlake Pkwy. Ne
Atlanta
GA 30328
United States

Company website

1-800 phone number

404-828-6000

Support email address

support@ups.com

Better Business Bureau rating
Browse reviews of other Delivery Services
Top UPS Complaints
Browse more than 287 reviews submitted so far

I live at 1060 Claud Rd. Eclectic Alabama, and one of your drivers came into the Mobile Home Park Speeding excessively, on his way in and out. We have many children that live and play here, as well as pets. The posted speed limit is 10 mph and he was doing at least 45 mph. That is completely unacceptable. If one of my children gets hit by him we will be filing law suits.

I went to a UPS store to ship a parcel. I asked about duty and fees because I was shipping a parcel from the US to Canada. I asked the associate multiple times if there would be any fees once it got to Canada. The young lady assured ed me multiple times that the fees I was paying included all that. When the parcel got to Canada they attempted ed to deliver it but my son was unable to be home to pick it up. A request was made to be able to pick it u at the store. When my son went to pick it up he was told it was out for delivery. The associate then told my son that the driver would make another run and bring it to his house because of the inconvenience. My son waited at home and they did not show up again.
He called again and was assured that it would now be waiting for him at the the store to pick up. The evening prior to this I received a call fro the owner of the UPS store that I had shipped the parcel from. He told me that I needed to give him my credit card no before the parcel would be released from customs. I told him that it had been out for delivery so how could it still be in customs. He kept saying I needed to pay him first and that he had no idea after I paid him when it would be released from customs. After giving him the credit card info I called UPS customer service and informed them of the situation. I was informed by customer service that he was not supposed to ask for money and that my son just needed to pick up the parcel.
When my husband called the man back to explain this to him he said UPS was wrong and when my husband asked him for payment back he said he would try but was not sure if he would be able to. This has been an extremely frustration time from both the shipping and receiving end. I hope that UPS comes to some sort of practical solution to this and the ups store receives training on international shipping. he next step I will be taking is to contact the bbb to file a formal complaint.AT this time the fee has not been returned to my credit card. That is fraud

I am writing to whom this may concern. My girlfriend shipped a package from Calgary Alberta to Playa del Carmen Mexico. She was told by the UPS agent that she didn't need anything else and the box would be delivered in a week. Then UPS tracking tells me it's being held in Customs because we need a import license, after we asked if we needed anything in Canada. So needless to say after hours of phone calls and several Supervisors getting involved nothing happened. No promised returned calls and no emails. UPS made us feel this was our fault. So they told we can ship the package back to Canada. Now they are saying we owe them $129.00 for the return cost, unbelievable. We have never been so mistreated or lied to ever in dealing with a company.
They never once stood by their word, never once returned calls, no emails and the worst customer service ever! We are outraged that they are trying to collect this money after everything they put us though never mention the stress. I can't understand how a acting UPS agent would not know we needed a simple import license. This never should of happened. Now we want all our money back as this is down right unacceptable. We are seeking legal council in this matter, as we feel we are being bullied and mistreated.

When my package was delivered there was no one home so i assume they just left it on the porch. Well a dog got ahold of it and ripped it up. Aren't they suppose to wait until someone is home if it doesn't fit in your mailbox? I caught the dog before he tore up what was inside but that was only because there was 3 boxes to get to. He was working on the last box though. I really don't appreciate whoever it was being that careless.

I shipped two packages and the UPS department mixed up the paperwork. 13 items got shipped to a US location with the ticket that was #235 lbs and the 2 items got shipped to Hawaii with a #13,00lb ticket. We caught the package in California to reroute it to the other location and then the other package was picked up and sent to the Hawaii location. Well now they are trying to charge $2500 shipping charge on the 2 items that was rerouted from California because of the weight. When in reality that package was only 235lbs and they are like prove it. But they have the proof from the 13 item package as they picked it up reweighed it and charge us the difference from 235 to 13,000lbs and charged us the overage. Now they are still trying to charge us the excess amount of $2500 especially when the 2 item box was worth only $200 total. No one at the UPS will help they said they would give a 60% discount and charge us $1000 but that is still 5X the amount of the actual package.

I was expecting a package from my supplier and waited all day for the delivery ,usually there will be a 10am delivery or around 3pm delivery.Around 3:30 pm my delivery did not arrived and I contacted my supplier for the tracking # he gave it to me and I entered it into my system and they said and attempt was made at 1:08 pm .Thats was Incorrect I tried reaching out to the supervisors and I heard different excuses .Still waiting on package

I recently received a stereo preamp that I bought on Ebay. The unit had been previously bought and returned due to a measurement listed wrong. The item went half way across the country and back in tact. When it got shipped to me, on Friday, the box was crushed, the .062" stamped steel covers were badly dented. I immediately filed a claim with UPS. A claims agent called me a few hours later. He tried to claim it was not packed properly etc.
but I reminded him it made a farther journey and was fine. It was obviously mistreated. I decided to try to repair the unit, so I disassembled it, put the metal cover and rear panel in a press to straighten it out. It is really heavy steel for a stereo. The UPS agent told me that would be fine if I could fix it, and he would contact me on the following Monday or Tuesday, but I should stay in contact with the shipper. I was successful fixing the preamp, but the glass insulator that came with it is toast.
I told the shipper I was pursuing a claim for my time and damaged items. Well, no call from UPS. So I contacted them via live chat, and was informed my case was closed. All transactions have to go through the shipper, and the shipper did not enter a value on the unit. I thought the minimum was $100 anyway. As the conversation went on, making sure I understood, I was informed UPS does NOT INSURE any package. You are not buying insurance when you enter the item value!! SO I am letting everyone know, UPS does not insure packages, and if you get damage, YOU ARE SCREWED!!
So don't bother paying higher shipping rates, the claims are worthless. I have talked to many people that had legitimate claims only to get nothing. Buyer beware!

I recently sent for a phone to come from my phone at your company called Schurian and somebody said they dropped off the package yesterday or today came by to drop it off and nobody was home I was home nobody knocked on my door nobody knocked on the main door outside the building I live in. So I setup a time today to go to pick up the package at the UPS after working out something on the phone with someone there I was told they close at 7:30 this large black man at 17 Gold Ave. newark nj UPS SITE. They close at 6:00 pm. Mind you I checked the website I checked the iPhone app and I also checked the phone number to see they close at 7:30 on the main pick up side this gentleman was clearly obstructing my way and not allowing me to get my package I want to complain about it and I would like it handled immediately.

Nicole Eddy
from Rochester, NY
I sent a package out on April 8th with an ups label in a usps box and handed the package to the driver. The package is lost and it was my iPad. I have a claim but I am being told the iPad is lost. I have given serial number and model number. If the iPad is lost I want a refund for the full amount of the iPad. It should not take over a month for a resolution. Every-time I call or speak to someone they just say a claim was opened. But still I have no iPad. I am very disappointed with ups that there seems to be no sense of urgency. I have sent 4 emails with the info request and I can send copy of receipt if needed. But I want the matter resolved. Also I had another package picked up with this package and that packages was delivered.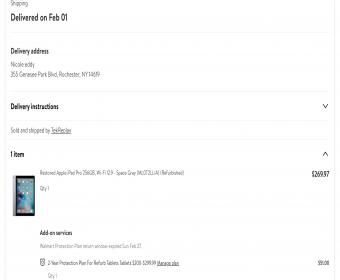 Angela Anderson
from Fort Worth, TX
Amazon a global company has UPS as their preferred Return Merchandise Service provider on all products on Amazon. Unfortunately, this is the 3rd incident where UPS has done a NO SHOW at my address to conduct a scheduled pickup. Mind you this pickup is charged (subtracted) from the refund. I called numerous times to resolve this issue. To no avail! The UPS service in this 76116 area code is absolutely 1,000% horrible, unacceptable and unprofessional! These people are getting paid to do a job, and they ARE NOT DOING THERE JOBS! I WILL NEVER USE UPS AGAIN! Period! Bad company, even worse customer service! BEWARE!!!!!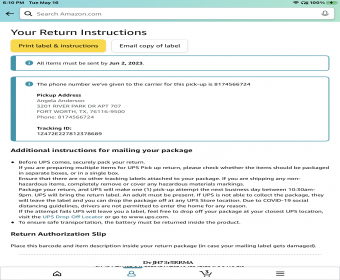 Danny Teng
from Plano, TX
What a shame? Now this is bad. I bought it online and they will ship with your company. I saw the moment on Friday, May 12, 23, and nothing has happened since. So they assume it was on Wednesday I tracked on Monday and Tuesday no one worked or ? Forgot to scan? So I tried contacting live chat or phone and they said they were not sure they would leave a different location. They said it will ship on Wednesday and there is no update on the tracking list. This is horrible. If the customer wants to know the whereabouts, they will keep saying that. This is dissatisfaction with the customer. They think ups workers don't work for customers and I know they are off on weekends. They need to be updated, otherwise it's vague to the customer, it's weird to the customer, it doesn't make any sense. Please provide people with the right work in the right way. It is time to improve

Mary Murillo
from Bell Gardens, CA
UPS has lost 2 critical shipments in recent weeks. Where delivery should have been a one-day transit has turned into lost packages. I am referencing 2 separate shipments from 2 separate locations. Both of these were expedited shipments.
I have lost all faith in UPS. You clearly have problems at your HUBs here in Southern California.

Ray crank,sr
from Hagerstown, MD
My package is 7 days late, nobody knows where or what is going on, I've called,,, e-mailed done everything I could to try and get my order,,, this is bull crap,, I guess someone messed up the address is what I get,, I want it straightened out or my $173. oo back. I don't think that's to much to ask, thks

Shelle Yellowhorse
from Scottsdale, AZ
I had a very bad experience with a customer service representative. I sure hope the phone call conversation was recorded. I called to see where I package was at. I gave all the information. I had changed the delivery location, so I was aware of where it was going. However the representative spoke to me and treated me very rudely and was very condescending. He cut me off before I could explain my question or what I needed help with. He just repeated that "my package was on the way" multiple times but never answered my question or gave options of what I could do. Every time I asked something his response was "the package is on the way." It was very unhelpful. I got snappy myself and asked to speak to someone else or a manager because I didn't like the interaction. He never said I could or allowed me that option. He said he was trying to help me but I said this conversation wasn't helpful. I got a pop up notification about my package being held at an access point. I went to the access point which is also the place I had my package being delivered to and they didn't have my package yet. I was wondering why I got that notification if my package wasn't there. He didn't answer he said "it's on the way." Again not helpful. I also said the email I got stated May 10th at 7pm for delivery. I said I'm assuming I wont receive my package til tomorrow because the store of access point closes at 6pm. I also wanted to know if my package was on a truck or where it's at exactly so I could intercept if possible. He said NO the email doesn't say that. I said it does, I took a screenshot. He again said no it doesn't that.
I didn't like how he said no to me when I could see the screenshot in front of me. The representatives name that was given to me was Younes and the badge number is 4926842. Not sure that is real information or not. He got snappy and said I'm only giving you my information because I did nothing wrong. I did tell him that he did cause he shouldn't be cutting people off and shouldn't repeat the same unhelpful thing over for questions. It's not helpful and he was being rude. So he was wrong on his customer service. I attached the screenshot with the pop up notifications which I wanted to know why I got those and the date and time of delivery since he pretty much called me a liar.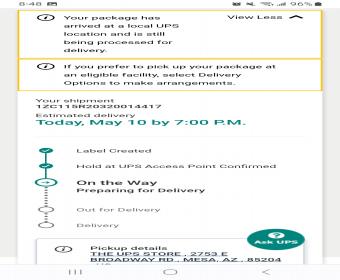 Nina Handler
from Oakland, CA
A friend shipped me 3 boxes from Longmont, Colorado on Wednesday, May 3. The tracking number was 1Z800X210322477396.
The delivery address was 3726 Maybelle Ave., Apt. 3, Oakland, CA 94619. The delivery date was supposed to be 5/8.
The deadline came and went; I had not been given tracking information, but the woman who sent me the boxes checked and sent the following attached information:
It is an out-and-out lie: first, both I and my roommate were home all day until 8:00 pm: no one buzzed the door. This is a small apartment building, and typically, if the intended recipient doesn't respond, a delivery person buzzes other units and someone lets them in. But plenty of times, UPS, USPS, and Amazon packages are simply left on the front porch. No packages were left anywhere. But I know delivery was not attempted because no message was left on the door, which is what happens if a delivery attempt was made. HAD I NOT CHECKED WITH THE PERSON WHO SENT ME THE PACKAGES, I WOULDN'T HAVE KNOWN THAT AN "ATTEMPT" WAS MADE. This suggests very strongly to me that no one bothered to even try to deliver the packages, nor to contact me AT ALL.
When today I picked up the 2 (out of 3) packages shipped, and mentioned to the woman at the UPS Access Point, she said she's been hearing the same complaint over and over. No one even tries to deliver the packages, and doesn't leave the message saying what's happened, where the packages are, and how the recipient can claim them. Then I returned home to find the 3rd package delivered (it was inside the building, meaning that the driver had buzzed one of the apartments and someone let them in so they could leave the package--which is what should have happened before. No mention of the other two packages.
To make matters worse, there is no way whatsoever to talk to a customer service representative. No matter what phone number I dialed, I was shunted over to the 800 number and its stupid, useless voicemail system. I dutifully followed all the prompts, only to be denied the opportunity to speak to a a live human being. For the record, I tried multiple numbers, including what was given as the UPS corporate office.
This is all so absolutely unacceptable.
I expect to hear from someone to figure out how this can be made right.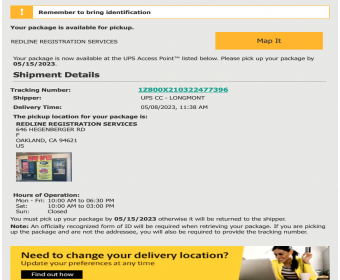 Megan C Williams
from Cleveland, OH
They lost both of my cat's cancer medications but marked them as delivered instead. Or just didn't bother to deliver which is common in my area. I called to get someone to help me find them because my cat needs his cancer medicines and they kept saying a dispatcher would call me back within 1 hour guaranteed 100%. They never did. This was promised to me 3 times, one hour after another. Then I went in the chat and was promised a manager would call me back ASAP. That never happened either and I have the transcript. Totally unprofessional liars.

Karl Mueller
from Charlotte, NC
I paid $19.95 for "overnight" shipping on medication for my dog, who is in pain. Last night and this morning, the UPS website said that it would arrive today between 11:45 and 2:45. At 2:30 that changed to "delivery tomorrow", meanwhile my dog remains in pain, and I just got RIPPED OFF for $19.95. At the LEAST, they owe my an apology and a refund, but at this point I'll be happy just to get my package. No wonder people keep beating their drivers up. This is INSANE.
Maybe I should just let my dog out when the driver is on my porch. That would be fun to watch. Ain't payback a For the record, he's a German Shepherd...

Joseph Dukes
from Atlanta, GA
A driver delivered a package to my house today and as he was pulling out of my driveway he ran over my son's puppy. That is not what the complaint is, the driver just kept pulling out and left without even stopping and apologizing for what happened. I am very disappointed in some of the workers ups has employed.

Jon Wise
from Pittsburgh, PA
I customize my delivery to all deliveries be dropped at CVS I wanted to return the item that was going to be shipped to me I was told to write a letter saying why with the company's name my name and give it to CVS to get to the driver my package was delivered on my porch I screamed and yelled at the driver he just kept going I called customer service the guy told me that he was going to regenerate a new tracking number and have the driver come back knock on the door and pick the package up that didn't happen so now I'm stuck with this package that I don't need and I'm out 53 that I think UPS should refund me

PAMELA Poland
from Dearborn, MI
I took my package to UPS STORE IN NEWARK OHIO. 21ST STREET
One customer was there besides me she left.
2 people were working Not really
The young man was very very much ignored me and was Rude kept talking back the other girl who was working
She was putting boxes ip.
I ask him 4 times to help me on my phone to return the package to Amazon. He kept saying scroll down I said again3 times
I need help.
He and the other customer service girl they were just kept talking to one another. I waited 10 minutes and still no help. Finally I figured it out myself and he said to me tap the phone and he 'would print it. He doesn't belong in the public.
Just wanted you tell know
I always go there never had any problem Until now.
The usual woman wasn't there.
This man needs manners.
Thank you

Weixin Wang
from San Mateo, CA
Dear UPS Customer Service,
I am writing to express my disappointment with the delivery of my recent package. The tracking information shows that the package was supposed to be delivered on March 29, but as of today, March 30, it has yet to arrive. And your costumer service told me it will not arrive anytime soon.
This delay has caused me significant inconvenience as I was expecting this package to arrive on time. I have tried to contact UPS to inquire about the status of my package, but I have not received any satisfactory response.
Due to the prolonged delay and lack of communication, I would like to request a refund of $250, which is the value of the goods that were inside the package. I believe that this is a reasonable request given the inconvenience and frustration that I have experienced as a result of this delay.
I hope that UPS will take the necessary steps to address this issue and ensure that such delays do not happen in the future. I would appreciate a prompt response from UPS regarding my request for a refund.
Thank you for your attention to this matter.
Sincerely,
Weixin

I recently post two packages from UPS,it was arrived at Konle Airport on 16th March. But there is no any process after that. I actually have 3 packages to be delivered at the same time but there is only 1 parcel successfully delivered. I want to complained about UPS. I believe it got lost or got stolen during the transit. The package valued over 5000 euroes. I want someone who can take charge of this and give a good investigation on the lost parcel.

Candice Lewis
from East Brunswick, NJ
This Candice Lewis I'm in New Jersey, I had the single WORST experience of my life with UPS despite using them over 25 years. They lost my $330 Ebay package for the customer At the Monroe Twp ups center! Despite 8 documents proving the worth of the electronic device, screen protectors and case and $55.68 check for next day air, UPS is gonna only give me $100!!!!
I was selling two items, one a device that is only $100. I accidentally put $100 on the Razer Edge gaming handheld manual label for the UPS man to pick up. So, UPS customer service and claims doesn't care that I lost a source of income and HAD TO sell this electronic item to get food for me and my cat! UPS not only LOST my package for my eBay customer, but they want to send me a paper check that will take 10 days to get to me!!!!!! I had to give my eBay customer a refund of $330 that I was supposed to get had the NEXT DAY AIR package arrived on time! So UPS has COST ME MONEY, TIME AND STRESS!!!!!
I will NEVER use UPS again and I advise others never to either!! Customer service didn't help me at all. Other places will at least meet you in the middle but NOT UPS!!! I'm writing an email to CORPORATE because they won't return my money that is rightfully mine and my $$55.58 check they don't even include in my refund!!! I have every single proof I gave them and a picture of the items, and check!!!! I'm so angry!! !! They stole my $330 and $55.68!!
Claim Number 4734302101A, and Shipper Number 66T8J6.
J4578934273 Tracking
I also tried to corporate but only got customer service not the CEO. I'm thinking of filing a police report!!

Destiny Renee Lorenz
from St Louis, MO
I had ordered a part for my vehicle that was 3 day shipping. It is now day 5 ups is saying that it was a sorting issue and there nothing I can do. They just keep telling me it will be delivered by end of day for 2 days now. This is ridiculous and I will be requesting to never use ups again

Shari Torregrosa
from Clermont, FL
I am sending packages from the UPS store in Clermont Fl, Kings Ridge, the last 4 packages I sent to my son in NY were destroyed by the time they reached him, 4 IN A ROW!!! the last package I sent I told them there was glass in the package which the way I bubble wrapped it the items should have never been broke, I told the guy 3 times about the glass and asked for a fragile sticker which he did not put on, You want all this information to file a claim, instead of that, for the money people pay to ship packages just do your job and get the package to the customer in one piece, I do not even know how your drivers can put a destroyed package on someone's porch, your job is to deliver packages, just do it right and tell who ever is throwing these packages around and destroying them to do there job right, would you want to receive a destroyed package? it is ridiculous, I will find another shipping company that care about how they do there job, because UPS does not care how they deliver a package

Craig Hardy
from Prospect Park, PA
As a member of UPS Choice, my attempts to change the delivery date of packages sent to me are routinely being ignored. The last package sent to me 1Z52E3Y40333563073 was delivered on 3/15 even though I changed the delivery date to 3/18. I called UPS and complained and got a call from your Phila. office (Nicole) saying that it would be taken care of. During the weekend I discovered that the package is being sent back to the sender. On the website, a reason given was that I told the driver that I never ordered the item. How could I do that since I was not at home and was 100 miles away?? What am I paying for??? UPS cannot be trusted to respect my delivery requests. Please investigate this so that this doesn't happen once again. Someone is clearly not doing their job!!!
Craig Hardy
2707 Springhill Rd.
Secane, PA 19018
610-544-1893 (home)
610-299-1551 (cell)

Craig Hardy
from Prospect Park, PA
As a subscriber to UPS choice, my requests to change a delivery date have been routinely ignored, as with 1Z52E3Y40333563073. I never told the driver that I didn't order the item as claimed on your website. Someone is clearly not doing their job and lying to cover it up !!! Instead of honoring my request they sent the package back to the shipper!!! 610 (544)1893 (home) 610 (299)1551 (cell).

Frustrated Customer
from Hayden, ID
If you want to lose money and wait for weeks for a package that is in your town but you can't pick it up, UPS is the company for you. Oh and if you want to speak to an actual human and not get hung up on by a robot, say "returning call" You'll finally speak to a very nice man in India who might be able to help. I will never use this company again :(

Kanchan Huang
from Flushing, NY
Who can I talk to about the stress for these two days I had suffered? Still I don't know about my package. My mistake was to trust you guys for what you guys told me, and that's what I did? You guys told me it's going to be delivered yesterday. I believed that. However, I called to find out what happened. I was told that my package would be in the truck today. However, it was more of the worst experience ever I had in my life. All of the agents, managers, and supervisors were giving false information, which led to me that UPS store at Maspeth. I didn't go to that store expecting that kind of behavior. When no one knows the correct information, they should not mislead customer and waste their time for nothing. I told them I would be at home on Thursday and friday clearly that's when they should deliver my package. I was told they held my package at that store. Stores manager said they don't have my package and don't want to talk to their own company's staff to help the customer. I have to go and call here and there just to get my one package.
I need an explanation for this kind of service. Every time, I have to call UPS since I don't see any updates online. I believed in what they gave me the information that was my mistake. The attached picture is the manager of that store at counter.
I have to take cab to that store and waste my money to come without my package.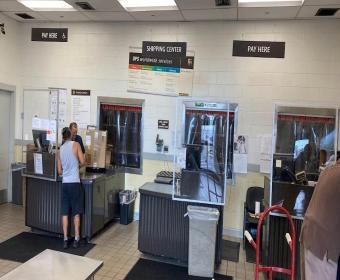 Martina Shaw
from Phoenix, AZ
I filed for lost or not received package 12/14/2022 on the 15th two male drivers came to my door asking if I received the package I said no I didn't one of the drivers proceeded yelling and cursing me I repeated I didn't get it and attempted to close my door the other driver had is boot there stopping the door I yelled my dog began barking I yelled again to get off my porch for I call the police and my dog bust out. Seconds after them leaving I called ups to put in a complaint I received an email that evening with them saying they will speak to the driver. I'm not sure if they happened or not but here it is months later I place an order that says it's arriving 3/10/23 it never comes I get an email saying I requested to pick it up I didn't so I called ups to see what's going on I told they can't fix it nothing they can do but no one is telling me why. I call Wayfair they have it set up to be redelivered I get another message saying I'll get my packages on 3/13 ok wait still no packages says I have to get it from the location I call again to ups told it was an issue with driver it will be redelivered email said the same. Still didn't get my package I got a email in the evening about my package 3/14 saying I need to pick it because the driver won't deliver to me due to the incident i was completely shocked because one I didn't go to their job they came to my home harassing me about my packages I reported not getting I call you complain because I felt unsafe at my own home not even being able to close my door and im being punished for mistreatment to me. I then go to the ups 3/15 in Mesa on iverness store to pick up my package and the driver has put it back on his truck even after he said he won't deliver to me so not only did he not deliver to me but he put my package back in his truck causing me to not even be able to come pick it up im being harassed bullied black balled and jus plain treated unfairly and all I did was place an order not receive it report it appropriately and the get frightened by two men coming to confront me now he's retaliating for me reporting it and cause me further distress with future packages I had to cancel my order thru the shipper because ups wouldn't even allow me to do that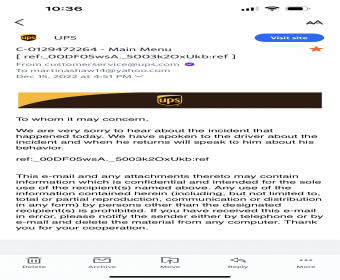 Theresa Frink
from Brooklyn, NY
Not receiving packsges when says delivered. Not able to get refund from seller or UPS. Has happened twice within a 7 month period.

I am the receiver waiting to receive my drone back. It's 1500.00 it was supposed to take 3 days it's now lost in what they call a sortation delay. They will give no answers no delivery dates only I can file a claim after 8 days it's been that they still won't file a claim because it's not officially lost it's a sortation delay . They tell you nothing , worst customer service I have ever delt with

Debbie Lieb
from Bay City, TX
I placed an order on February 26, 2023 the package has been stuck in Mesquite, Texas since March 7, 2023. It is a very small package. I can't get to a person to find out the problem. I need this part yesterday. How do you get to a person to help you? The automated system does not help you at all. I will ship fed ex from now. I need someone to call me at 979-292-4596 and let me know why this package is stuck in Mesquite Texas.

Matt Mcalister
from Folsom, CA
They have driven by my place twice now and are miles away

Dann Clark
from Twin Falls, ID
False tracking . States packages delivered that aren't
Pay for upgrades from SurePost to ground and get double billed and it still goes to the USPS instead of ground (and you get double billed for the upgrade, to boot)
Useless customer service reps on messenger (they follow their scripts well, but the system itself is broken)
The automated systems simply don't work

Kathy manning@bellsouth.net
from Pearl, MS
Tracking number 1Z805RR21322843451 my package should've been here Tuesday 630 I called UPS supervisor calls me back and says we are so sorry but your packet was put on a truck going to Morton you'll get your package tomorrow Wednesday no package so personally but she will get it tomorrow I guarantee you were here it is Thursday 12 PM still no package I have contacted Amazon they're being great about it shipping me another one but these was parts for my nieces wheelchair she's having hell with it UPS don't care they have lost my package I believe in line out there but I am trying to contact the CEO I've got her name and I won't stop till I reach or UPS in Jackson Mississippi

Dinnah Tay
from Cincinnati, OH
Package lost. Customer service is lousy! Called several times, sent emails, file the claim, Facebook messenger, live chat, tried everything and nobody actually is taking ownership to help investigate the case.

George Mitchell
from Brockton, MA
I am missing a package (large envelope) with documents 1ZWV20710768964222. It was supposed to get to the destination in 2 days. It was sent Feb13/23- Feb15/23. I found out Feb 20th that it was missing. I called customer service about it then a few days later they simply filed a claim. Initially I was told they would investigate for 15 days.It's as if they didn't look for it at all and just filed the claim. I care more about finding the package because it was destined for Immigration and now puts that in jeopardy because it was time sensitive and had personal documents and could cause my case with immigration Canada not to be processed. This is very serious for me. I kept getting the same scripted response from customer service and some of the investigation team were obnoxious on the phone, kept me on hold was told a supervisor would call back never got a call back.
This is very serious for me to find this package. Was the receiver contacted to see if they might have received it maybe it wasn't scanned when it was dropped of?I was told that it was scanned at this Los Angeles facility and then after that went missing. At one point I thought I saw on tracking that it was out for delivery , then when I looked again it said arrived at facility.Did they talk to the driver? I should have been informed instead they just filed a lost claim, that is unacceptable.
I'm more concerned about finding that package then I am at filing a claim. I called them and they told me they would cancel the claim and continue to look for my package. I just to make sure everything that needs to be done is being done to find it.Please give me any updates

Lorna blake
from Brewster, MA
For several weeks my almost daily deliveries have been left at my mailbox on the public road,about 50 ft down a private road from my home . This includes deliveries requiring a signature . We have filed complaints ,to no avail. There are days when i must drive down to my mailbox because the number of size of the delivery is to large for me to Cary it home Today a delivery ,requiring a signature ,was left at the mailbox again . We have no way to deal with this .our neighbors on the same private road seem to get their deliveries to their front steps . I dont know what to do to correct this

Elizabeth Fraher
from Petersburg, VA
I went to our local UPS store to ship a package to my friend in Singapore.There were 4 people working and not one knew how to ship a package internationally! I was told I would have to come back the next day. I did, the only person capable of completing this task was at lunch. 1. these people have wasted too much of my time and 2. why do you have poorly trained employees?! Seriously, companies need to be held accountable for the incompetence of their employees!

Scott Thielke
from Eugene, OR
Why don't your drivers look at the special instructions when items are shipped?
I've had so many problems trying to get packages to my Son from Eugene to Colorado Springs.
I have called customer service so many times it's ridiculous. I could have delivered the package by driving it myself by now. And this isn't the only shipment I've had problems with.
I'm ready to have the package sent back to me and use FedEx.......
You guys have to do better.

Tatiana Svirid
from Nashville, TN
My package 1Z5AY1108750490129 with sensitive content (test kit) is missing. I have paid $250 for the test kit. I had a horrible customer experience trying to find out what is going on with my package. There was no way to get to a human over the phone. I tried all options. Since I have am accent, their automated system was not able to understand me when I was trying to speak the tracking id number. I was getting disconnected time after time. This is unacceptable. It is pure discrimination against people with ESL. There should be option to get to a customer service human agent, not just drop the call.

Kelvin Jones
from Thomson, GA
I got my package from macys, but when I got it, it was open halfway at the top and at the bottom it was completely open. I opened up the shoe box, it was open the paper out the shoe, like somebody was trying to try the shoes on. They wasn't damaged, they didn't still them. Cause they didn't fit. All I'm asking is to check them loaders on this route. Because somebody stealing merchandise!!!! That's all!!!!

Jazmyne Bisquera
from Portland, OR
Today (2/13) at 3:00pm one of your UPS delivery drivers was extremely rude to me at the UPS store at 10117 SE Sunnyside Rd Ste F, Clackamas, OR 97015. His truck number is 134786. His license plate is 29161 in Oregon. I pulled into a spot that he was waiting for, was unaware he was waiting for it because he had his hazards on and not his turning signal to come into the spot. I pulled into the spot and then he came to my window to yell at me that I was in his spot. I apologized and then told him I'm pulling out of the spot for him. I came into the store and suggested that he have his turning signal on next time so I can tell he's coming in that spot. He rudely told me that I should learn how to drive and have driving training, I told him I can't tell what having hazards on at the side of the road means. He said I won't go far in life and I must be really offended at a lot of things if I get upset at things like this. I told him I wasn't offended and I was just telling him how to signal it next time.
This was extremely unprofessional behavior.

Robert miller
from Lexington Park, MD
UPS again failed to deliver as promised. They send a email and give the promised date and time of delivery. When that time and date are passed they do not contact us to explain the missed delivery. This has happened 2 times before. The first time the delivery was 5 days past the expected date and time. If you don't want to deliver on time then why waste my time by making me wait all day for a delivery. I no longer will support UPS as there are delivery companies that deliver better service.

Doreen J Shields
from Reno, NV
I have lived at my current address since April 19, 2014. UPS has been bring me packages all this time as Dorren Ashton and Doreen Shields since 2017. I had to get real. Anyway, they keep asking me for my address as if CVS doesn't have it! I NEED MY DUPIXIENT!!!!!

Our company has an issue with a woman named Lisa at ups on bowen street in cumberland md. Everytime we go to get our packages she is rude, ignorant and has a scow on her face. Never good morning, how are you, nothing. This person is the only one we have an issue with. We are not her employees, we are customers. Given the multiple reviews on google about this exact person and the exact same issue nothing has been done at all. Nothing. Why would any business have someone like this who obviously is a sad lonely hateful person with issues working after numerous complaints proves you do not take customers seriously. If someone hates their life I highly doubt they are a good fit dealing with people. We spend alot of money at ups. Thinking of switching to fedex just to avoid her negativity

Rebaz Mohammed
from Clifton Park, NY
They always deliver to wrong address

Richard Suttles
from Atlanta, GA
We are having problems with out packages being put out in wet driveways, grass or on top of our vehicles. There is no reason they can not be put on out porch out of the weather. We receive a package at least 2 to 3 times a week and they have always been out on our porch till the last 3 or 4. Not sure what the problem is but they need to be put on the porch. Thank you.

Peter Khatri
from San Mateo, CA
I purchased a piece of jewelry and did never recive it at all, i filed a complaint with UPS they really did nothing and said a person with name of "khatri" signed for the package and the fact is i was not even at home and i never sign with only last name the driver or whoever signed for me and said i signed for the package, i also asked UPS who they delivered the package to and to give physical description of mine and they never could provide becuase i was not at home at the time of delivery I was elsewhere and the only person at home was no body, I filed this back in june 2022 and UPS has done nothing leaving me no choice but to file court claims.
Thanks for your feedback!
Sorry. Please try again later!