UPS
Contact UPS Corporate
Toll free phone number: 404-828-6000
---
United Parcel Service (UPS) www.ups.com is a global delivery resource that provides service from beginning to end of shipment. Freight is delivered to 200 countries and  territories, employs 354,000 in the United States and 81,000 in foreign countries. Revenues were reported in 2014 as US 58.2 billion.
If you need help with packaging, delivery or tracking of a shipment your first call should be 1-800-PICK-UPS (1-800-742-5877). Outside the US use this number 1-800-782-7892.  To contact UPS CEO, David Abney by postal mail, address your correspondence to the corporate office at UPS Corporation Headquarters, 55 Glenlake Parkway NE, Atlanta, GA 30328, USA.  The corporate headquarters phone number is 404-828-7123. You may find this page helpful with contact information for packages, employment and media.
UPS was founded in 1907 in Seattle, WA as a messenger service. The company has grown to include 'UPS Solutions' with 58 million customer tracking requests daily. There are 1,000 US Customer Centers, 1,000 authorized UPS outlets and 10,000 UPS drop boxes. The ground fleet numbers 99,000 and the air fleet, including jets and chartered planes number 500.  Social media presence for UPS is found on Facebook, Twitter, Linkedin and Google+.
UPS Contact Information
Report complaints to corporate and get satisfaction
UPS headquarters address

55 Glenlake Pkwy. Ne
Atlanta
GA 30328
United States

Company website

1-800 phone number

404-828-6000

Support email address

support@ups.com

Better Business Bureau rating
Browse reviews of other Delivery Services
Top UPS Complaints
Browse more than 195 reviews submitted so far

I live at 1060 Claud Rd. Eclectic Alabama, and one of your drivers came into the Mobile Home Park Speeding excessively, on his way in and out. We have many children that live and play here, as well as pets. The posted speed limit is 10 mph and he was doing at least 45 mph. That is completely unacceptable. If one of my children gets hit by him we will be filing law suits.

I shipped two packages and the UPS department mixed up the paperwork. 13 items got shipped to a US location with the ticket that was #235 lbs and the 2 items got shipped to Hawaii with a #13,00lb ticket. We caught the package in California to reroute it to the other location and then the other package was picked up and sent to the Hawaii location. Well now they are trying to charge $2500 shipping charge on the 2 items that was rerouted from California because of the weight. When in reality that package was only 235lbs and they are like prove it. But they have the proof from the 13 item package as they picked it up reweighed it and charge us the difference from 235 to 13,000lbs and charged us the overage. Now they are still trying to charge us the excess amount of $2500 especially when the 2 item box was worth only $200 total. No one at the UPS will help they said they would give a 60% discount and charge us $1000 but that is still 5X the amount of the actual package.

I was expecting a package from my supplier and waited all day for the delivery ,usually there will be a 10am delivery or around 3pm delivery.Around 3:30 pm my delivery did not arrived and I contacted my supplier for the tracking # he gave it to me and I entered it into my system and they said and attempt was made at 1:08 pm .Thats was Incorrect I tried reaching out to the supervisors and I heard different excuses .Still waiting on package

I recently received a stereo preamp that I bought on Ebay. The unit had been previously bought and returned due to a measurement listed wrong. The item went half way across the country and back in tact. When it got shipped to me, on Friday, the box was crushed, the .062" stamped steel covers were badly dented. I immediately filed a claim with UPS. A claims agent called me a few hours later. He tried to claim it was not packed properly etc.
but I reminded him it made a farther journey and was fine. It was obviously mistreated. I decided to try to repair the unit, so I disassembled it, put the metal cover and rear panel in a press to straighten it out. It is really heavy steel for a stereo. The UPS agent told me that would be fine if I could fix it, and he would contact me on the following Monday or Tuesday, but I should stay in contact with the shipper. I was successful fixing the preamp, but the glass insulator that came with it is toast.
I told the shipper I was pursuing a claim for my time and damaged items. Well, no call from UPS. So I contacted them via live chat, and was informed my case was closed. All transactions have to go through the shipper, and the shipper did not enter a value on the unit. I thought the minimum was $100 anyway. As the conversation went on, making sure I understood, I was informed UPS does NOT INSURE any package. You are not buying insurance when you enter the item value!! SO I am letting everyone know, UPS does not insure packages, and if you get damage, YOU ARE SCREWED!!
So don't bother paying higher shipping rates, the claims are worthless. I have talked to many people that had legitimate claims only to get nothing. Buyer beware!

I recently sent for a phone to come from my phone at your company called Schurian and somebody said they dropped off the package yesterday or today came by to drop it off and nobody was home I was home nobody knocked on my door nobody knocked on the main door outside the building I live in. So I setup a time today to go to pick up the package at the UPS after working out something on the phone with someone there I was told they close at 7:30 this large black man at 17 Gold Ave. newark nj UPS SITE. They close at 6:00 pm. Mind you I checked the website I checked the iPhone app and I also checked the phone number to see they close at 7:30 on the main pick up side this gentleman was clearly obstructing my way and not allowing me to get my package I want to complain about it and I would like it handled immediately.

I went to a UPS store to ship a parcel. I asked about duty and fees because I was shipping a parcel from the US to Canada. I asked the associate multiple times if there would be any fees once it got to Canada. The young lady assured ed me multiple times that the fees I was paying included all that. When the parcel got to Canada they attempted ed to deliver it but my son was unable to be home to pick it up. A request was made to be able to pick it u at the store. When my son went to pick it up he was told it was out for delivery. The associate then told my son that the driver would make another run and bring it to his house because of the inconvenience. My son waited at home and they did not show up again.
He called again and was assured that it would now be waiting for him at the the store to pick up. The evening prior to this I received a call fro the owner of the UPS store that I had shipped the parcel from. He told me that I needed to give him my credit card no before the parcel would be released from customs. I told him that it had been out for delivery so how could it still be in customs. He kept saying I needed to pay him first and that he had no idea after I paid him when it would be released from customs. After giving him the credit card info I called UPS customer service and informed them of the situation. I was informed by customer service that he was not supposed to ask for money and that my son just needed to pick up the parcel.
When my husband called the man back to explain this to him he said UPS was wrong and when my husband asked him for payment back he said he would try but was not sure if he would be able to. This has been an extremely frustration time from both the shipping and receiving end. I hope that UPS comes to some sort of practical solution to this and the ups store receives training on international shipping. he next step I will be taking is to contact the bbb to file a formal complaint.AT this time the fee has not been returned to my credit card. That is fraud

I am writing to whom this may concern. My girlfriend shipped a package from Calgary Alberta to Playa del Carmen Mexico. She was told by the UPS agent that she didn't need anything else and the box would be delivered in a week. Then UPS tracking tells me it's being held in Customs because we need a import license, after we asked if we needed anything in Canada. So needless to say after hours of phone calls and several Supervisors getting involved nothing happened. No promised returned calls and no emails. UPS made us feel this was our fault. So they told we can ship the package back to Canada. Now they are saying we owe them $129.00 for the return cost, unbelievable. We have never been so mistreated or lied to ever in dealing with a company.
They never once stood by their word, never once returned calls, no emails and the worst customer service ever! We are outraged that they are trying to collect this money after everything they put us though never mention the stress. I can't understand how a acting UPS agent would not know we needed a simple import license. This never should of happened. Now we want all our money back as this is down right unacceptable. We are seeking legal council in this matter, as we feel we are being bullied and mistreated.

When my package was delivered there was no one home so i assume they just left it on the porch. Well a dog got ahold of it and ripped it up. Aren't they suppose to wait until someone is home if it doesn't fit in your mailbox? I caught the dog before he tore up what was inside but that was only because there was 3 boxes to get to. He was working on the last box though. I really don't appreciate whoever it was being that careless.

The scumbags where supposed deliver my package on Friday at 7pm it was sent overnight by my bank .and ups had no answer why it wasn't delivered on friday.

Careless, incompetent company. Delivers perishable goods to the wrong address, goods perished because neighbor at address they delivered to was on vacation. Read the address on the package, you, incompetent, overpaid by 100% excuses of humans! Not that difficult, read the correct address and deliver at the correct address.! That difficult? Apparently so. Careless, incompetent, bloated. Please, please go out of business, already!

Peter Parker
from Brewster, MA
WE HAVE BEEN HAVING TROUBLE WITH THE UPS OFFICE IN YARMOUTH MA FOR WELL OVER A YEAR. WE HAVE 2 DOGS . ONE IS NEVER OFF LEASH. THE OTHER GETS SOME FREEDOM BUT SINCE WE GOT COMPLAINTS FROM UPS BOTH DOGS ARE KEPT INSIDE WHEN WE KNOW WE HAVE UPS COMING. WE WERE TOLD BY UPS THAT THEY WILL NO LONGER DELIVER TO THE DOOR, BUT LEAVE ON THE STREET AT MAIL BOX. THIS IS AFTER 20 + YEARS OF DELIVERY TO DOOR. WE RECENTLY PLACED AN ORDER ORDER FROM ANGELIMOS COFFEE IN CALIFORNIA. WEEKS WENT BY. FINALLY CHECKED UPS WEB SITE AND SAW THAT, UNKNOWN TO US, THE PACKAGE SAT AT THE UPS OFFICE FOR AT LEAST 10 DAYS AND THEN RETURNED TO SENDER WITHOUT US KNOWING THEY EVEN HAD THE PACKAGE. WE'VE DEALT WITH A NUMBEROF SUPERVISORS ABOUT THESE ISSUES. THE UPS DRIVER HAS AN INORDINATE FEAR OF DOGS. HE SAYS OUR DOG DOSEN'T LIKE HIM! WE GET DELIVERIES FROM FED EX AND USPS AND OIL CO. WITHOUT INCIDENT. WE'VE BEEN TOLD THAT OUR DOG WAS OUT WHEN HE ABSOLUTELY WAS IN THE HOUSE WITH US. WE'VE ALL BUT STOPED DEALING WITH AMAZON AS THEY PRIMARILY USE UPS. AS IT STANDS WE DON'T KNOW IF ANYTHING SHIPPED BY UPS WILL GET TO US OR BE RETURNED. WE'VE EVEN REACHED OUTR TO UPS CORPORATE TO NO AVAIL.

Nargis parveen
from The Bronx, NY
Poor delivery service,last week ibgot 3 missed label on my buliding front door not at my apparmnet door,infact i was at home that times where they mention the time,they disnt press the door bell,to open the doors for them,just label at frint and runout,am redelivering all my packages but same thing happen,they continously telling lie caz that time we are at home,fedup with this please find out the provider in my area,am attaching my today building front door notice. 2215 cruger ave,Apt 3F 10467 bronx ,newyork.USA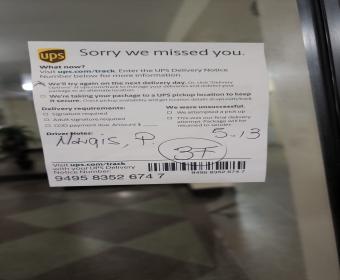 Lisa A White
from San Antonio, TX
Package car driver blocking road, (McDonald Oak, San Antonio TX, 78233) on Saturday 5/14/22. Driver was sorting packages in his rear compartment with earphones in. When asked to clear the road for traffic, he was very rude and refused to move. Driver would not give his name, but finally moved up the road to curb to allow others to pass. The package car plate # is NJZ-0849. This is unacceptable behavior.

Ups driver said they left a package at my door on 4/19/22, no package was delivered. I was home all day. On 4/22/22 I called ups they said the box was delivered by the driver. I ask them how is that possible when the package never left the Hub in Davinport fl. They took my info. Sent me paper to full out and never heard from them I call over 7 times. Now they said they found the package and sending back to New York addresd when it should be going to fl. This company is unbelievable, they won't let you speak to a manager or supervisor. I hear bad things about UPS all the time and I will NEVER use them again. I will go with FedEx moving forward. So people be aware of UPS. They blow you off like nothing. I will find a resolution and a person to talk to, although I'm sure they no the problems people are having with UPS..

prasad avala
from Bloomington, IL
They damaged my receiver during shipping which we insured for $1500. Contacted UPS and they directed me to open a damage claim. next day they picked my Item for review and its been 45 days. I called them each and everyday for the status on my claim. they don't know what they are doing. I'm not sure who to contact now. They have my item for more than 45 days and no progress. I spent nearly 15 hours on calls with them with zero progress. Can anyone help me who i could approach to resolve my isuse?

Yesterday I was supposed to get a package and I was supposed to sign for it. Now it has the address and apt number while enroute the divers supervisor contacted him and told him that can't reach my apartment without going through alley located on 18 Ave and Peoria and instead of delivering the Package to my apartment # B he just let some one that is in number D sign for a package that belong to me he knew that to deliver my package he had to go through alley but that not what happened this is not the first time this has happened. And when I talked to customer service the lady on phone was rude and didn't comprehend that the driver needed to come through alley to get to my apartment I still have no package the driver never came back to retrieve package and deliver to the right apartment. The Driver needs to go work picking up dog poop I have to put in a complaint with Better business bureau and filing a police report on the driver for theft since he gave my Package to whoever to it was that signed for it. I do not have the portable washer And I'm going to have to pay on something I never received the driver or UPS needs to give me 300 dollars for there driver giving my package to someone else I also have contacted the channel 3 three on your side and will continue posting on social media about what the ups driver did and that ups he as done nothing to represent there driver.

David
from Johannesburg, GP
I don't know what kind of busy you guys are running but it's really pathetic. How can a delivery took 8 weeks to be delivered after landing in the country after 3days order from Poland now its one excuse to the other, if you can't located my parcel why don't you credit the sender so they can refund me. 1Z3X63930433643211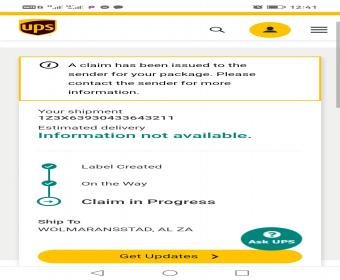 edward johnson
from Dallas, TX
Won't deliver always say cust. Request to pick up. Why would I pay for delivery then request I will p.u. when I have to drive 30 miles they should pay me , all other company's deliver to me. Have requested to talk to district manager but alwayssent to local manager , this has went on for min.5 years, try not to order from people that use ups.

Johnny Bryan
from Jackson, MS
To Whom It May Concern:
I had a package that was supposed to be sent to my home (1ZR0X3612961427778) on March 16, 2022 that should have been signed for. This package was much needed being that it was my medicine. I waited on the driver to deliver my package and saw the driver place my package at a neighbors house down the street, he knocked on their door and left the package there without the package being signed for. This is very unacceptable and inconvenient, luckily my neighbors were home and were able to bring me the package. This is something that was very important and much needed and for the driver to not do his job has really rubbed me the wrong way. I would Love to find out who the driver was and file a complaint to make sure this doesn't happen to me and anyone else with important items such as mine. I would appreciate if I could get a phone call from someone in HQ office even the supervisor of the driver.
Sincerely,
Johnny Bryan
P.S.
I do not have an email where you can write me back, so if you would just call me. Came to a UPS Store to send this complaint.

Asia Muhammad
from Marietta, GA
0 stars...
On 3-4-22, I ordered four pairs of jeans from old navy online. I received notification on March 8th that it had been shipped via UPS. However, on March 11th I received a notification that it could not be delivered, because it was missing my apartment number, so I took the necessary steps to correct it, and UPS updated my package as "address change updated; new label created". On March 12th they marked my package as out for delivery but I never received it. After tracking it for a few days, I went through the proper channels to find out what happened only to have to file a claim that it was lost in transit. After a few more days I called UPS customer service and was told my package had a hold on it because apparently the driver marked my package as "needing security access code" which is false because I don't live in a gated community. As a matter of fact, there is no gate because it's been broken for years. Anyway, I was told I could pick it up from the UPS distribution center which I attempted to do earlier today only to be told they could not find it. Needless to say I called UPS customer service right then and there only to be told they can't see anything regarding my package or where it may be, just that there was a claim filed and that I must now wait 10 more days to find out if they know where my package is or not or as a last resort be refunded. Needless to say I am very unhappy... This isn't the first time I've encountered a problem like this with UPS, it's almost as if they have a dishonesty problem amongst their customer service department specifically the drivers.... Are their drivers dumping packages in ditches like Fed ex drivers were doing back in Dec and lying about it? I'm sure lots of customers are curious and now wondering the same...

Alycon Pierce
from Alexandria, VA
My December order for 8 Bounty Paper Towels went missing and I was given an address in Pennsylvania to which I sent the pertinent data: tracking number 1Z1E127Y03093598, shipper 1E1274, claim number 3886479301A as well as the link to the site with the pertinent data: 1E127Y 270 2459553.pdf (as I do not have a printer to send a paper copy), and included my telephone number. To date I have not received a phone call nor a replacement item nor a refund of $16.74. I have tried repeatedly to work my way through the maze of questions and answers a non-human UPS system poses, just making the process even more frustrating. One robo response said the package HAD been delivered--it has never been delivered. Please deliver the Bounty Paper Towels to me as originally ordered and I will refrain from using UPS in the future: address is 7000 Falls Reach Drive, Apt 403, Falls Church VA 22043, .

J. Taylor
from Newcastle, OK
My pet's specially ordered food shows to have arrived OKC 02/22/22 and each day status updates reflect it being out for delivery only to change a few hours later to using the weather as an excuse for not delivering. I've missed no other deliveries since the winter storm even orders placed after the 22nd and that were delayed by 1 day in another state! This has been an ongoing issue with UPS for several months; packages being in the hands of UPS for 7-23 days, just floating around out there in some warehouse 20 miles from my home. I would gladly drive myself and get it from their facility if I could get a human being on the phone that can tell me where to find it! Since UPS sees it fit to hold my packages hostage, I am now forced to make a drive to purchase food that will cause my pets to have upset tummies or let them starve. Of course, the latter is not an option. PLEASE!!! I JUST WANT MY DOGS TO HAVE THEIR FOOD. I should mention that I have their food on auto ship and the order is processed a good week before they run out of food so this should never be a problem.
I am so sick and tired of UPS and their bull$#!+! As mentioned earlier, this has become a common occurrence and more than once they have been important items. I would pay handsomely for any individual or retailer to use any other shopping service than UPS. Unfortunately, most of the time it is not revealed WHO the shipper will be or at this point I would go as far as to not do online orders from anyone that uses ANY form of UPS for their shipping needs.
The screenshot attached reflects the same nonsense excuse for the 23rd, 24th, 25th and 26th. Tomorrow, of course, is Sunday so... Yeah. What now? Guess I better make that drive to PetSmart before they close!

I'm having nonstop issues with my local UPS store. I tried the customer service email and it bounced back. Called UPS directly. Gave the info. I was assured I would get a call back but never did. Obviously they are not interested about how thier stores represent them. I wouldn't give any stars to corporate or the store. Horrible experience all the way around

Dayna Hall
from Park Rapids, MN
I use to love UPS but I don't any longer. If they had a negative star I would have used that one. We have one decent driver sadly we very rarely get him anymore. Now when snow starts to fly they are scared to drive into our place. It's true we live 1/2 mile down a township road but it is maintained wonderfully. Our driveway they can drive way and drive thru our yard and out the second driveway. Again both well maintained. And if they would rather turn around they have about 2 acres our plowman cleans out. We normally have it plowed the day after it snows. FedEx can drive in but not UPS.
I pay for Prime from Amazon and their 2-3 day service has pretty much unofficially extended to whenever the driver feels like delivering it to us. We have even made sure they have our phone number to call us to meet them somewhere. We don't know anybody else or I would just put them down for delivery.
And the 800 number for them is useless. I don't normally do review on businesses but I am so over SSD (sloppy slow delivery.

Chris Ksionek
from Montverde, FL
Your shipment
1Z81X9X60377593141 from SmartPak
States was delivered to "gate" but I have NO gate near the road where 3 (one was large) pkgs were left. The pkg stated on label to be delivered to barn (and even the house would have been fine). I was home all day so driver never came down the road. He did not leave the pkg at my address but at a common road that serves two homes and the pkg was visible to passing traffic and easily could have been stolen.
This is a first time incident as I get similar orders regularly. I am just fortunate that I went up the road and noticed the pkgs.

Khadijah Baylor
from Philadelphia, PA
Packages are never delivered in time ever 9/10 times there is no attempt by the driver to even get out of the truck to delivery your package because if they did they would leave a notice it could be 3:37pm as the and i quotas "sorry we missed you" when you've been sitting there at the door all day because you know you go through this often with it seems to me ONLY UPS you call and get i'll have my dispatcher reach out to you and she does but for what they never attempted to come back and redeliver my package that they claim no one was there for UPS is ancient Fed ex is better and Amazon is even better until they sent my package via UPS

Jacqueline Parker
from Desert Hot Springs, CA
They lost my package and lead me to believe that it wasn't and they were going to deliver it for over a week they lied and wasted my time!

Michael Au
from Seahurst, WA
Paid for next day air service and UPS did not deliver until two days later

Joseph zaydon
from Miami, FL
UPS lied and said we refused a delivery and the package was sent back to shipper. We have a doorbell camera and no UPS attempted delivery on the day they said we refused the package. The package never made it back to the sender and the package is currently lost by UPS. Why would UPS outright lie to us?

James
from North Saint Paul, MN
If if you live in a gated community or apartment building door is locked how is anyone supposed to know that UPS at the gate or at your front door if they do not contact if they're at the gate or a lock door

Patricia Forward
from San Jose, CA
UPS service is more than a nightmare. I have opened 2-3 cases with Customer Care and yet my local hub of drivers says there is no such thing as Guaranteed Delivery, even thought customer care says my package will be delivered guaranteed!
UPS refuses to deliver any packages to my address. We have not seen one of their trucks come in the driveway in about 2-3 months.
About 2 months ago locks on gates were installed.
I do not live within the gates. My patio and door are accessible outside the gate.
UPS refuses to come here because all the gossiping truck drivers have decided to deliver our packages directly to their storage locker stores.
My most recent orders for $100 worth of steaks and chicken were not delivered TO ME, but instead sent to their locker store where
THEY PROCEEDED TO DEFROST AND ROT.
QVC and HSN use UPS exclusively so I will have to be finding other food and meat vendors who do NOT USE THIS SERVICE.
SO FAR AFTER ALL MY COMPLAINTS, NOTHING CAN BE DONE NOR WILL BE DONE.
I AM WRITING A LETTER TO THE CEO TODAY.
Thanks.

Rick Gresham
from Cold Spring Harbor, NY
I had TWO vintage receivers to ship. Used Huntington UPS store based on their website stating that they "will package electronics perfectly" for shipping. I also bought their "insurance" on each package. THE COST: $45 EACH to provide the packaging and pack "EXPERTLY", They cost $218 EACH each to ship to California, They cost $32 EACH to insure for $2400 VALUE EACH. Total Cost: $526... delivered August 17, BOTH DAMAGED... UPS driver in California noted that BOTH boxes were damaged. opened both boxes and the stereo receiver wood cabinets were broken, electronics wouldn't function.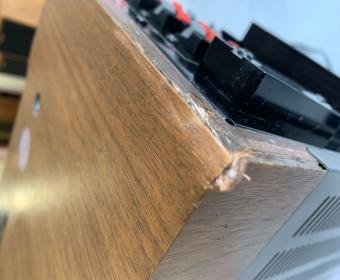 Roni
from Burkburnett, TX
The driver in our route constantly delivers packages to the wrong address. Just this week we had to deliver our neighbors' packages twice because he couldn't differentiate 125 from 127. Then today, he delivered a very expensive package to the wrong address and luckily the person gave it back to him!

Jeremiah King
from Jacksonville, FL
Driver lied about delivery. Company blames me. UPS IS OPERATING FRAUDULENTLY.

Sandra Perkins
from Louisville, KY
2 "Sorry I missed you" messages were left on my door within a span of 1 1/2 hrs while I was out. 3rd and final message was left on my door without knocking while I was home. I had to pay $7.99 at store to receive my package. 2-same day #945454855166 & #947137227880. Last #945363581982 Tracking #1Z425229031558. 6590. Dates of 2 was 6/25, last was 6/26. Package picked up on 6/28.

Dwayne E. Brown
from Houston, TX
I get a text this past Fri that my package (prescription) will be delivered Sat. It NEVER came. I get a text on Tues that it will come Wed. Now I'm told it won't come Wed (today) but maybe it'll come Thu or I might be able to pick it up Thu. I arranged to pickup my prescription and save you guys a little gas and me a lot more aggravation. I'm not sure if I'll be successful.
If I ran the VA, I'd take my business back to USPS. It took 9/11 to slow them down from delivering my medication.
Apparently Brown can do nothing for me.
1za3650ta861840333

Dolores Rothwell
from Oneonta, NY
TWO COMPLAINTS A box of living organisms (ladybugs, larva, and praying mantis) had a huge yellow warning sticker saying "do not freeze.". The box was dropped off on our porch sometime late at night when the temperature was 13 degrees and the ladybugs and larva froze. I cannot find a way to submit a complaint to UPS. M
My financial advisor mailed an overnight envelope containing important tax documents to me three days before my appointment with a tax preparer. The envelope didn't arrive until the night of my appointment. The documents were sent by email the morning of my appointment so I could print them and take them with me.

PETE HANCOCK
from Brantley, AL
CANNOT GET THE LOCAL ENTERPRISE OFFICE TO UNDERSAND I NEED MY PARTS IN THE MORNING NOT IN THE AFTERNOON MY CUSTOMERS ARE GETTING VERY UPSET WITH ME IVE TRIED CALLING TALKING TO THE LOCAL DISTRIBUTION POINT BUT THE GIRLS THAT ANSWER THE PHONES ARE VERY RUDE OFFER NO HELP AT ALL PRIMARILY LAURA WHEN THE 2 PREVIOUS DRIVERS RAN THE ROUTE NO PROBLEMS THAT WAS JOE AND BRIAN LEFT MESSAGES FOR THE DISPATCHER TO CALL ME BACK THAT IS HOPELESS NO RETURN CALLS HE HAS THE DRIVERS DOING RESIDENTIAL FIRST AND BACK TRACKING THRU TOWN THEN DOING THE BUSINESSIS LAST IVE MADE SEVERAL OTHER COMPLAINTS ON THE 800# THATS A WASTE OF BREATH PROMISED CALL BACKS STILL WAITING YOUR RATES KEEP GOING UP SERVICE GOES DOWN I CAN BE REACHED @334 432 4268 HOPEFULLY SOME RESOLUTION CAN BE REACHED

Michael Bereza
from Macomb, MI
UPS store 4658 Gratiot Ave. Chesterfield Twsp. Michigan.... went to mail a package....told imployee there was a firearm in said package...he refused to mail it... sighting they had no license to do so...I said I was mailing it to a repair shop and didn't need a license to do so...still refused to send...stood there for 5 minutes ... other guy was to make a call for the problem...no call happened...I left....went to FED-EX ...problem solved...I will never use you people to mail something.. Date of incounter: Sat. 4/17/2021 @ 4:40 P.M.

Tony McCullough
from Chicago, IL
The driver, delivery man that services our area (Franklin, Indiana 46131) is rude and has no regard for the condition of the packages he delivers. You may want to put a supervisor as a ride along for further instruction on how he should be doing his job.

Jennie Perez
from Brooklyn, NY
I witnessed you UPS driver drop my box an a/c onto the trolley. He then I heard him drop the box onto the floor in the hallway.

Melissa J Minor
from Jamaica Plain, MA
I have a package that has needed to be picked up for a week now. I've called the 800 number several times and have been told its the weather then oh its traffic now I do live in the same city as the package. and I see trucks coming and going all day. But none have picked up my package but they have dropped off. So Friday the 12th I call and I'm told it will be picked up today. Well it wasn't. So the 13th I call and I'm told they don't have labels to put on the package so they can't pick it up.. Please tell me what kind of foolishness is this.. UPS has no labels?? So I ask to speak to a supervisor he puts me on hold for a half hour. So Monday I'll be calling Dell and tell them to STOP using UPS I've had an account w them for a few decades. And get them to send me a FedEx label this is ridiculous.. No professionalizem at all just lies and more lies. and you want me to pay to use the app and if I have to deal with ppl like that in customer service no thank you. And please don't blame bad manners on the virus.. My tracking number is 1Z3V713R2694497216

danielle moore
from Houston, TX
Paid for shipping and insurance, 180.00. All 3 packages crushed. Willnot pay out..fighting since01/27/2021

Todd Ryan
from Dallas, TX
Sent a package to Hawthorne at Leland apartment complex in North Carolina to a specific apartment 105 at Hawthorne Loop Road.
The parcel was incorrectly addressed where the building number was left off.
Hawthorne at Leland apartment complex has multiple 105 apartments in various buildings.
UPS keeps repeating that the package was delivered as addressed and will not investigate.
My argument is that there is no specific 105 Hawthorne Loop Road address.....so it could not have been delivered correctly.
The package was insured for the standard $!00. I want to make a claim for the cost of the package which is $35 and UPS keeps repeating that they delivered it to the address.......but the address does not exist. UPS is in the business of delivery and should have realized that the parcel was addressed incorrectly. I will not upload the emails unless it is necessary.

Rod
from Thousand Oaks, CA
This has happened twice in the last couple months. My driveway is probably twice the length of a normal driveway. About 50 feet to front door. My wife will order products online and usually no problem. The last 2 ups deliveries the ups guy 1, left the package on top of my trash cans and, 2 left the package 1/2 way up my driveway. Both times I complained to ups who referred it to local ups station. I got a call back the first time from a woman supervisor who said the driver was wrong and they would reinstruct on delivery procedure. A few months later driver left package 20 feet up driveway from curb, which blew down the driveway where I didn't see it till I backed up over it. Again complained to ups who said they'll look into it. When I asked to be called back the supervisor said not gonna happen. I have video of the driver and am thinking of posting.

Judith L Daugherty
from Newberg, OR
New UPS driver n Salem OR twice in past week has not been able to find my address. The first time, he reported it was not a good address. A different UPS driver delivered the package with no problem the next day. The second time, he made no effort to find the address. Instead, he said it was undeliverable and sent it to a UPS store for me to pick up which I cannot do due to Covid19. I would like to have the driver educated as to how to find addresses. I called UPS this morning and was told that another more local call center would call me by 8 pm tonight. They did not call. What can I do to insure that my UPS packages will be delivered? Most drivers are good. This one is not. The first incident occurred June 11 with tracking number1Z7R87W90300121205. The second incident occurred June 16 with tracking number 1Z7964EV11301575471

Sent my package to the wrong apartment, despite my apartment number clearly labeled on the package and my door. Luckily my neighbor was nice enough not to steal my 50+ dollar order, but I am now worried about the other 250+ dollars of merchandise from other orders going missing.

On April 24 2020 I dropped off a package at penguin pick up for the UPS truck to pick up. With the tracking number I looked it up on the website since as of May 2nd Apple had not received the return and I was out $620 till it was returned. On the site it shows it got to the concord warehouse on April 24th and had been sitting there ever since. In the notations it said it was getting close to the limit of time it could sit there. I called Apple and they had not received any information on it. I called UPS on May 2nd and finally got through. The woman I spoke to said she could see in the file that they did not know where to send the package. That is puzzling as Apple had supplied me with the return label. I have a picture of the label and it clearly sais ship to: and even has a address. She said she would get it sent off back to Apple. I kept checking the website and every day it said a different delivery date. Then it said it would be delivered Thursday May 7th by end of day. May 7th in the late afternoon it still said it would be delivered by the evening. At 9pm when I checked now there was no date at all for delivery. When I checked on Friday May 8th in the morning it still said no delivery date. Eventually it showed that it would be delivered by Friday May 8th by end of the day. Today is May 8th and the time right now is 3:14pm. When I left work at 2pm today the website said it would be delivered by Monday May 11th. So where is my package. Obviously lost. Now I need to figure out how to deal with this.

tracking info says attempted delivery on 7/19/20019 at 7:09. I was home at this time and no ups. they have a habit of going to the wrong house. the go to my brothers but not mine. no one home at brothers which is wrong house. now I have to wait several more days for my package. my brothers house is on the same property as mine.

I bought a welder/generator from Home Depot and it was shipped from Millington Tennessee. I was given the option of having it delivered to my home at no cost - home depot probably paid this fee. The delivery was Tuesday, July 16 between 1 pm and 5pm. It never arrived until 9 pm, then the driver told me he couldn't back up the 60 foot driveway (up hill) so he would have to unload it from the truck at the bottom of the driveway. It was dark, so I had to dig up a dolly and get 2 people to help me get it up the hill. I weighed 240 pounds so it was not easy.
Thanks for your feedback!
Sorry. Please try again later!