UPS
Contact UPS Corporate
Toll free phone number: 404-828-6000
---
United Parcel Service (UPS) www.ups.com is a global delivery resource that provides service from beginning to end of shipment. Freight is delivered to 200 countries and  territories, employs 354,000 in the United States and 81,000 in foreign countries. Revenues were reported in 2014 as US 58.2 billion.
If you need help with packaging, delivery or tracking of a shipment your first call should be 1-800-PICK-UPS (1-800-742-5877). Outside the US use this number 1-800-782-7892.  To contact UPS CEO, David Abney by postal mail, address your correspondence to the corporate office at UPS Corporation Headquarters, 55 Glenlake Parkway NE, Atlanta, GA 30328, USA.  The corporate headquarters phone number is 404-828-7123. You may find this page helpful with contact information for packages, employment and media.
UPS was founded in 1907 in Seattle, WA as a messenger service. The company has grown to include 'UPS Solutions' with 58 million customer tracking requests daily. There are 1,000 US Customer Centers, 1,000 authorized UPS outlets and 10,000 UPS drop boxes. The ground fleet numbers 99,000 and the air fleet, including jets and chartered planes number 500.  Social media presence for UPS is found on Facebook, Twitter, Linkedin and Google+.
UPS Contact Information
Report complaints to corporate and get satisfaction
UPS headquarters address

55 Glenlake Pkwy. Ne
Atlanta
GA 30328
United States

Company website

1-800 phone number

404-828-6000

Support email address

support@ups.com

Better Business Bureau rating
Browse reviews of other Delivery Services
Top UPS Complaints
Browse more than 323 reviews submitted so far

I live at 1060 Claud Rd. Eclectic Alabama, and one of your drivers came into the Mobile Home Park Speeding excessively, on his way in and out. We have many children that live and play here, as well as pets. The posted speed limit is 10 mph and he was doing at least 45 mph. That is completely unacceptable. If one of my children gets hit by him we will be filing law suits.

I am writing to whom this may concern. My girlfriend shipped a package from Calgary Alberta to Playa del Carmen Mexico. She was told by the UPS agent that she didn't need anything else and the box would be delivered in a week. Then UPS tracking tells me it's being held in Customs because we need a import license, after we asked if we needed anything in Canada. So needless to say after hours of phone calls and several Supervisors getting involved nothing happened. No promised returned calls and no emails. UPS made us feel this was our fault. So they told we can ship the package back to Canada. Now they are saying we owe them $129.00 for the return cost, unbelievable. We have never been so mistreated or lied to ever in dealing with a company.
They never once stood by their word, never once returned calls, no emails and the worst customer service ever! We are outraged that they are trying to collect this money after everything they put us though never mention the stress. I can't understand how a acting UPS agent would not know we needed a simple import license. This never should of happened. Now we want all our money back as this is down right unacceptable. We are seeking legal council in this matter, as we feel we are being bullied and mistreated.

When my package was delivered there was no one home so i assume they just left it on the porch. Well a dog got ahold of it and ripped it up. Aren't they suppose to wait until someone is home if it doesn't fit in your mailbox? I caught the dog before he tore up what was inside but that was only because there was 3 boxes to get to. He was working on the last box though. I really don't appreciate whoever it was being that careless.

I shipped two packages and the UPS department mixed up the paperwork. 13 items got shipped to a US location with the ticket that was #235 lbs and the 2 items got shipped to Hawaii with a #13,00lb ticket. We caught the package in California to reroute it to the other location and then the other package was picked up and sent to the Hawaii location. Well now they are trying to charge $2500 shipping charge on the 2 items that was rerouted from California because of the weight. When in reality that package was only 235lbs and they are like prove it. But they have the proof from the 13 item package as they picked it up reweighed it and charge us the difference from 235 to 13,000lbs and charged us the overage. Now they are still trying to charge us the excess amount of $2500 especially when the 2 item box was worth only $200 total. No one at the UPS will help they said they would give a 60% discount and charge us $1000 but that is still 5X the amount of the actual package.

I was expecting a package from my supplier and waited all day for the delivery ,usually there will be a 10am delivery or around 3pm delivery.Around 3:30 pm my delivery did not arrived and I contacted my supplier for the tracking # he gave it to me and I entered it into my system and they said and attempt was made at 1:08 pm .Thats was Incorrect I tried reaching out to the supervisors and I heard different excuses .Still waiting on package

I recently received a stereo preamp that I bought on Ebay. The unit had been previously bought and returned due to a measurement listed wrong. The item went half way across the country and back in tact. When it got shipped to me, on Friday, the box was crushed, the .062" stamped steel covers were badly dented. I immediately filed a claim with UPS. A claims agent called me a few hours later. He tried to claim it was not packed properly etc.
but I reminded him it made a farther journey and was fine. It was obviously mistreated. I decided to try to repair the unit, so I disassembled it, put the metal cover and rear panel in a press to straighten it out. It is really heavy steel for a stereo. The UPS agent told me that would be fine if I could fix it, and he would contact me on the following Monday or Tuesday, but I should stay in contact with the shipper. I was successful fixing the preamp, but the glass insulator that came with it is toast.
I told the shipper I was pursuing a claim for my time and damaged items. Well, no call from UPS. So I contacted them via live chat, and was informed my case was closed. All transactions have to go through the shipper, and the shipper did not enter a value on the unit. I thought the minimum was $100 anyway. As the conversation went on, making sure I understood, I was informed UPS does NOT INSURE any package. You are not buying insurance when you enter the item value!! SO I am letting everyone know, UPS does not insure packages, and if you get damage, YOU ARE SCREWED!!
So don't bother paying higher shipping rates, the claims are worthless. I have talked to many people that had legitimate claims only to get nothing. Buyer beware!

I recently sent for a phone to come from my phone at your company called Schurian and somebody said they dropped off the package yesterday or today came by to drop it off and nobody was home I was home nobody knocked on my door nobody knocked on the main door outside the building I live in. So I setup a time today to go to pick up the package at the UPS after working out something on the phone with someone there I was told they close at 7:30 this large black man at 17 Gold Ave. newark nj UPS SITE. They close at 6:00 pm. Mind you I checked the website I checked the iPhone app and I also checked the phone number to see they close at 7:30 on the main pick up side this gentleman was clearly obstructing my way and not allowing me to get my package I want to complain about it and I would like it handled immediately.

I went to a UPS store to ship a parcel. I asked about duty and fees because I was shipping a parcel from the US to Canada. I asked the associate multiple times if there would be any fees once it got to Canada. The young lady assured ed me multiple times that the fees I was paying included all that. When the parcel got to Canada they attempted ed to deliver it but my son was unable to be home to pick it up. A request was made to be able to pick it u at the store. When my son went to pick it up he was told it was out for delivery. The associate then told my son that the driver would make another run and bring it to his house because of the inconvenience. My son waited at home and they did not show up again.
He called again and was assured that it would now be waiting for him at the the store to pick up. The evening prior to this I received a call fro the owner of the UPS store that I had shipped the parcel from. He told me that I needed to give him my credit card no before the parcel would be released from customs. I told him that it had been out for delivery so how could it still be in customs. He kept saying I needed to pay him first and that he had no idea after I paid him when it would be released from customs. After giving him the credit card info I called UPS customer service and informed them of the situation. I was informed by customer service that he was not supposed to ask for money and that my son just needed to pick up the parcel.
When my husband called the man back to explain this to him he said UPS was wrong and when my husband asked him for payment back he said he would try but was not sure if he would be able to. This has been an extremely frustration time from both the shipping and receiving end. I hope that UPS comes to some sort of practical solution to this and the ups store receives training on international shipping. he next step I will be taking is to contact the bbb to file a formal complaint.AT this time the fee has not been returned to my credit card. That is fraud

Walter L Carter
from Whitney, TX
I ordered an item and UPS delivered my package.to the wrong house. They took a picture of delivered package and sent it to me saying it was delivered. I have no idea where this house is! Because they delivered it they say they are done. I have talked and emailed for 6 days and get nothing.

Glinda Singleton
from San Antonio, TX
I would like to submit a formal complaint regarding issues and delivery service. I reside in Jefferson Parish in the State of Louisiana. On several occasions UPS delivered packages to my address: 627 Pailet Ave, Harvey, Louisiana and 70058. I contact the customers and informed the delivery. I arranged and scheduled a time to pick up their package. Also, I returned packages with the incorrect address. I am trying to provide pertinent information to resolve this issue. Maybe the staff is not sufficient. More employees are needed for the holidays.

Brooke Denham
from Upland, CA
I had to pay almost 80 dollars to deliver some baby shower stuff from California to Tennessee and I received a picture from my cousin when she got it that the box was destroyed. I get that they ask if it's fragile or if there is a value of 100 dollars in the box but regardless, I don't think it's very professional to absolutely destroy something we pay so much for. I had the same issue with a shipped box 2 mays ago where everything in the box had to he rewrapped because the box was so messed up it had torn the wrapping paper. These drivers have no regard for anything.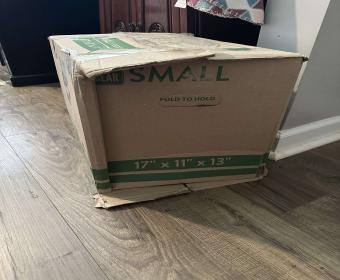 Christopher Minard
from Seattle, WA
I ordered a couple parts from a company 1 was sent fed ex no problem to my work address. The other was sent ups same address. The delivery driver then attempted delivery at an old residence address and stated we moved. That address was never even used or on the shipping lable to begin with. Ups needs to fire their drivers in kamiah idaho. This is not the first time either.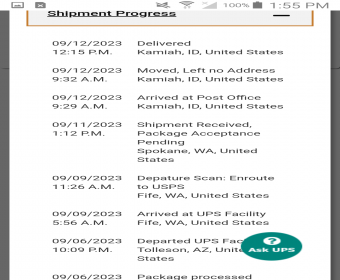 Carlos Almeida Roque
from Lisbon, 11
I've ordered and paid a delivery to Austria on September 7 to be collected in the very day and p+aid for a three useful days delivery.
The parcel was colected on September 8 in the morning by UPS and for the moment UPS has no idea where the parcel is.
The tracking number is 1ZY535306893452649 and it has the message "Label Created".
It should be in Vienna Austria today and, despite my insistance with portuguese UPS, I really don't know what happened with the parcl, which has Portuguese food for my son in Austria.
This is not acceptable.
I've tried for several days to know what is going on. Today I spoke to Maria Silva from UPS Portugal and asked to speak with her boss for this matter. He opr she didn't contact me.
I've paid 155 € for a 3 day delivery and i've got no ansqers from UPS Portugal.
This is incredible for a company like UPS.

Edward Fundakowski
from Dracut, MA
5 times we called, 4 of the times we were told that the address was incorrect. Now when it was first set up the driver reported that the Co., was closed by the time he had arrived. How can it be right on first attempt but wrong the other 4 times, to top it off to have a CSR hang up on me. I can call it as I see it disgusting and incompetent. I am going to pursue this higher up the chain too. I have lost all respect for UPS.

A. Bradshaw
from New York, NY
Package confirmation email for delivery Saturday July 29 to residence on city street, 2-4 people were at the home all day. Door bell was not rung, 'attempted delivery' notice left, with no name, no numbers, that our package would be taken to ups depot for pickup. NO offer of redelivery. After much searching for a number to call, and the automated service could not grasp the redelivery address, a person came on the phone who repeated that the item would be taken to depot for pick up in two days, 7/31. Email notice came the next day that this package was out for redelivery; people there all day waiting for delivery by 7PM, but no door bell rang; was it available for pickup? no, ups did not know where it was. No delivery on 7/30 or on 7/31. On 8/1, it could be picked up at depot ½ mile away. This is the second time this delivery person failed to ring the doorbell for a delivery to this apartment, and apparently simply saved time by dropping off a half written notice to go elsewhere to pick it up; Really annoying, from the lack of bell ringing twice, no delivery, the lack of notice, the three day delay..

perez-fantauzzo
from Collingswood, NJ
7-29 ups didnt not delivery my package, never tried lied and said my street was blocked and it wasnt cause i and my husband were outside installing camera, i called 4 times to have my package delivered, and each time i was lied to first was told it will come back today second it will be here by 5pm then i was told it will be here by end of day and guest what no package, the woman at center who calls the driver said it would be here she lied, i looked at the delivery man in his face as he was eating a sandwich driving down sayers str as he turn and kept going not even stoping in front of my apartment,, usp is the greatest for lying and not delivering packages i have had nothig but problems with them and now my sister has to put off her wedding because here wedding band and his were the packagae that never got delivered, ups needs to be accontible cant even trust none of them

Robin Hornstra
from Delaplane, VA
7-24-2023
Tracking number: 9205 8366 935 5
Missed delivery on 7-22-2023. Today, 7-27-2023 UPS truck backed into my drive around 3:00 p.m. I went to the stoop to meet driver as signature was required. I waited. Engine turned off, I heard doors banging and driver singing. Engine started up and truck drove away.
Called 800 833 9943 spoke with Bjorn. He said I would get a call or email in one hour. I have received neither. UPS app says package still out for delivery. Where is my package and when will I get it please?
Robin Hornstra 9099 MossyBrook Road Mechanicsville VA 23116 804-305-4621 robin.hornstra@gmail.com
Sent above explanation to UPS Facebook page: response:
7:27 PM 7-24-2023
Hi Robin, our record indicates your package is currently out for delivery, and we have to wait for further updates on the system. We do not have any information that an attempt has been performed.
Our local team is currently working on your case and you will be contacted with further details as soon as possible.-Serch
You sent
Thank you. How late might a package arrive?
8:25 PM
Residential deliveries are generally made between the hours of 9:00 a.m. and 8:00 p.m., Monday through Friday (excluding holidays) & sometimes later depending on the driver workload. - Serch
9:02 completed BBB complaint
Contact info:
Robin Hornstra, 9099 MossyBrook Road Mechanicsville VA 23116 804-305-4621 (voice or text) robin.hornstra@gmail.com

Lana C. Gratzer, CPS
from Nicholasville, KY
RE: DELIVERY TRUCK DRIVER COMPLAINT - LICENSE PLATE #850112
To Whom It May Concern:
I have had multiple, chronic health conditions/diseases throughout my life (type 1 diabetes, heart failure, fatty liver disease, bipolar disorder, etc). For the most part, I work hard to maintain a positive outlook on life anyway. Sometimes, however, someone will come along who treats me in a less than desirable fashion or is lacking professionalism and I lose my veneer of calm positivity. Unfortunately, this was the case this morning with one of your delivery drivers.
At 11:47 a.m. today, I went to The Summit at Fritz Farm in Lexington, Kentucky to have a nice lunch with my Mom at Grimaldi's Pizza. I dropped her off at the door while I went to park in the nearby handicap spot, as I am permanently disabled. When I approached the spot, I discovered there was a UPS delivery truck blocking, not only the sole handicap spot that was near Grimaldi's, but three or four ordinary spots. I was shocked and amazed at the discourtesy of the driver, to block a handicap spot and prevent paying customers from spending money in the nearby stores/restaurants.
As I was still shocked, I noticed the driver at the back of the truck about to move a very heavily loaded dolly/cart. When I mentioned to him that he had blocked the only available handicap spot nearby, his lack of professionalism was appalling to say the least! He raised his voice, said something I could not hear (fortunately), then asked me (with noticeable aggression) if I could see that he was working.
We traded angry words (I had planned to ask him next how long he thought he would be, as I would wait for him to finish; but I never made it that far) for about ten minutes in the middle of the street (he even stopped his delivery long enough to make fun of me for hitting the curb when I parked very far from my destination as he indicated I should).
Please feel free to reach me via the below email address, should you require further information.
Sincerely,
Lana C. Gratzer, CPS
Lana1975KY@gmail.com

Chima Achinivu
from Abuja, FC
My inlaw bought S23 ultra for
me. It was sent to California through UPS. Up till now, the receiver has not gotten it. It is mu first experience and it is not a good one. Tracking number is 9510814555373177771503

Shannon
from Danville, IL
The delivery driver had "attempted " to deliver my package which has no instructions for them & if its a item issue i was not informed that i had to b home inorder to accept the package, 2 other packages were delivered earlier this same morning and i wasnt at home to accept thoes this keeps happening its as if im playing russian rouleete with ups & unless special instructiony there should b no reason they can pick and choose wat packages im supposed to kno i am to b home to accept or i dont.

Silas robbins
from Oneida, TN
Three times now expensive packages have been thrown out in the yard today in the rain a 400+ dollar package they say they are scared of the dogs but if the car is in the carport they have no problem putting the package on the porch.

It's very unfortunate how many incompetent workers I had to deal with today. It took 5 different phone calls because your employees thought it's ok to transfer a customer while they're speaking. Very disgusting and unprofessional customer service. So an issue that should have only taken a few minutes to handle took over and hour and multiple phone calls. I created a shipment online at 9:57 am today. Scheduled pickup for the package, when the ups driver arrived to my home he asked where's the label? At this point I'm confused, I double check my email and browser tab. No label was sent to me. Then I'm explaining this to the first representative named Adam and explained that I was not logged into an account when this occurred. He proceeds to ask for my account number then tells me that you need a label for the package after I thoroughly explained what happened. How am I supposed to have a label that was never generated at all? Technology does have errors and malfunction take place. I proceed to ask for a manager he asks why? I state because I clearly am explaining to you the issue and I am constantly repeating myself because you aren't listening to me as though I'm not speaking English or something. Instead of saying hold on he transfers me to a line that's repeating the locations you have while I am speaking. To make matters worse I call back and the next representative I get I explained exactly what he did transferring me while I'm speaking and she does the same exact thing. The fact that your company had no problem taking my funds easily but didn't want to assist with rectifying the situation that was an error on your end is a big problem. All morning time out of my life calling over and over because no one wants to do their job is a joke. Hire better people and retrain them. You know what time my issue was resolved at almost 2pm and I created the shipment in your website at 9:57 am that is extremely alarming and shows a lack of competency in your end. I'm truly drained and disgusted with the mistreatment I received today. I'm pretty sure you can look through your records and see how many times I called because none of your employees can resolve a simple task. I know very well that call centers record calls and you have to advise a customer you're transferring them. Very disgusted. A waste if my day that I can't get back because your employees think transferring customers for shits and giggles because they're too lazy to do their job. What a joke.

Rosalind Moore
from City of Saint Peters, MO
I visited store 0241 and was put out because I would step to the side and let everyone go before me before the clerk would notarize my papers. I waited my turn inline and the clerk was upset when I said no and that I am a customer no and he supposed to help me because I'm needy in line. I called the police and they told him it was unjust and goes against the code of conduct. The cops made him notarize my document. That experience was humiliated and will forever hurt my feelings. This is a franchise location with an owner I could not reach.

Rhonda Dobbins
from Waverly, TN
I'm tired of my packages being dropped off on the ground beside driveway where it cab be ran over or even stolen .. why is it not being brought to my porch ? This has happened more than once

Janet Deaver-Pack
from Burlington, WI
Greetings
I received a notification from UPS that a package was delivered to my residence. It was instead delivered to the local post office. Though I'm not questioning the delivery process, I do object to the incorrect/misleading notification. I've never had this issue in the past with UPS, which leads me to think the delivery person entered the notification in error. This is a system or training issue that should be corrected.
There is a liability involved in the case of a client going around the neighborhood to check to see if a package was delivered to the wrong door. This has happened before. Neighborhoods are not always safe and going door to door can be a liability.
The customer service on the phone in India was thoroughly useless, not only in understanding/addressing the actual issue but in the manner in which the conversation was handled (7/15/2023, 12:45 pm CST), suggesting I use a different shipper. Really? Is it expected of customer service employees to direct clients to competing carriers? Respectfully,
JDP

Jeannette Kortz
from San Francisco, CA
Sent a package from a local UPS store. The package never arrived because they said the address didn't have an apartment number. It's a law firm!!!! There is no apartment number. On top of that it took almost two weeks to send the documents back to the UPS store from where it was sent. I didn't get a refund, but was told if I wanted my package to arrive the next day, I would have to pay $44.55, which I did because I really needed to get the package to my attorney. The person who took the information and my $$, did not scan it correctly, so it is once again being returned to the UPS store, and it's taking another three days to get it back! I was told I would get my $44.55 back, but I would have to pay another $12.00 to ship it out once again. Say what????!!!!
Moral of the story. Do not use UPS. They are imbeciles!!!

Michael K. Jones
from Charlotte, NC
My complaint is specifically against the driver who delivered my package. Tracking # 1Z 047 6YW 03 8074 8557. He displayed a very unprofessional attitude and does not represent your company well. Perhaps the local area is desperate for drivers. This guy didn't seem to come from any sort of professional experience in dealing with people. Everyone's not a people person I understand however there's no excuse to be rude and disrespectful to people either.

joseph garzillo
from Atlanta, GA
This is the 2nd time I was to receive a package that shows delivered on my porch, but no package is left. Recently I was expecting 3packages from QVC according to your tracking all 3 packages show delivered on 07/08/23 @5:26. I only received 2 packages on that day I looked on my ring camera and you can clearly see the driver walk up with 2 packages. So, my question is the 3rd package that ups is claiming was delivered. Clearly WAS NOT !!! one of 2 things happened your driver prerecorded the stop and only took 2 out of his truck or he intentionally left the 3rd package in is truck for whatever reason...
I have had problems with this driver delivering my packages where he states he left them on my porch and packages are not there. Yes, I get reimbursed for the package but most of the time item is no longer in stock. I would appreciate an explanation as to why this keeps happening???

Arthur Gloss
from Holts Summit, MO
Cannot change delivery date for ups pachage, even though I have a MY Choice account

Diane Martin
from Bangor, ME
UPS is an incompetent nightmare. Repeated delivery problems. Wasted all day waiting for them and all evening trying to get past their robot to a human being. Calls dropped, human being unhelpful. I WAS HERE all day. If they can't wait for me to answer the door or use the call box, they could have called me. Repeated problem. Next delivery: three days hence.

Ms Kit Thompson
from Denver, CO
I have been a UPS MY CHOICE member for many years. My online ups my choice instructions clearly state that my packages are to be left at my APT front door. I live in a small 7 story modern brick building in Denver Colorado with 2 huge elevators. The Main Door to the Building is open 24/7. Between the Main Front Door and the Security Door is the 6-foot Foyer area. On the wall right inside the Main Front Door, there is an easy-to-use Tenant Call Box with Instructions that a 6-year-old can read that requires just typing in the 3-digit tenant apartment number. Well, lately there is a LAZY UPS Driver with no work ethic that refuses to follow my UPS MY CHOICE instructions that clearly state that my packages are to be left at my APT FRONT DOOR AND NO WHERE ELSE. Today I had a ground delivery. This UPS Driver had the nerve to state that he delivered my package to the Foyer, so he PURPOSELY AND KNOWINGLY ignored my UPS MY CHOICE instructions. This makes me furious as it is usually the young drivers that are so very LAZY with no quality customer service manners. I am a 69-year-old senior citizen Lady who is sick today, so I have no way to retrieve that package from the Foyer. I think this lazy UPS driver keeps ignoring the UPS My Choice delivery instructions because his UPS Supervisor and Instructors tell him to ignore the UPS MY Choice customer instructions. UPS Customer Service phone # is a complete joke as I report this problem over and over to no avail as this happens over and over again. The UPS Denver Office Managers/Supervisors are rude and arrogant and continually make "excuses" for the UPS Drivers who ignore customer delivery instructions. The female Denver UPS "so called" Manager/Supervisor who did call me 3 times a few years ago is just a horrible human being with no customer service skills that had me in tears and just encourages the bad behavior of UPS Delivery Drivers who ignore customer delivery instructions. What a joke that UPS even has that UPS MY CHOICE option for customers if they tell Drivers to ignore the MY CHOICE options. In conclusion, UPS just needs to be completely Dissolved forever with horrible management. The UPS Corporate Managers are even worse than the UPS Denver Managers/Supervisors. I pray every day that UPS goes completely out of business and that God convicts these Managers/ Supervisors and Delivery Drivers for their bad horrible customer service skills. SHAME ON UPS FOR HORRIBLE LOW-CLASS SERVICE. I also pray that the UPS Drivers that do their job properly quit UPS and go to work for a Delivery Service that honors excellent customer service.

ERNEST ROSENTHAL
from East Setauket, NY
Useless to file a dispute!

Joseph Turgeon
from Union Springs, NY
I waited here all day for my package and the driver showed up here and left without knocking on a door to ask for a signature that I didn't know was needed either..He showed up walked down the driveway then just left git it on security camera no attempt to knock was made, now I have to wait around all day again tomorrow, this is unacceptable.

Mike
from Fayetteville, AR
UPS delivered 1,000 feet from the highway to my house for 22 years. All of a sudden the driver refused and threw packages in the woods and on other property's not mine for me. The terminal manager told me too bad so sad and would not help at all. We are in out 70s and I can't lift some of the heavier packages. I wish corporate would straighten out the Midway Ar management and actually serve their customers and not harass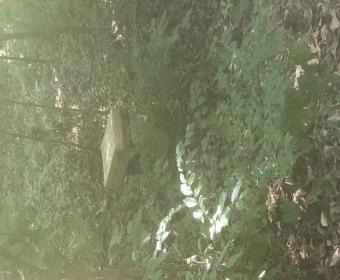 Either our delivery person can't read or they're lazy good for nothing idiots who simply don't care about the customer or how they represent their employer. I hope they simply can't read.
Both my wife and I work and are not able to take off so we can sit and wait for a package. Someone has to sign for it so I put a very clear note (see attached) on the front door asking that they deliver it to the back apartment where my 90 yr old retired parents live, who I arranged to be ready to sign.
Instead, they leave a sticker saying we'll come back tomorrow and someone needs to sign.
This is pure laziness and the person should be reprimanded, sent home without pay for 3 - 5 days and put on probation. Does UPS not care about how their drivers reflect on them?
Please make sure this person doesn't deliver to my address again. Find a 60+ driver who was raised with integrity and a work ethic to be admired.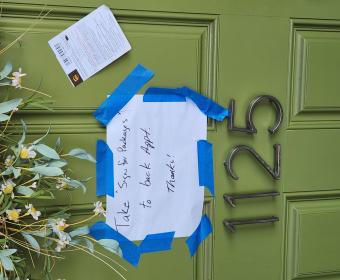 Mark Skaggs
from Louisville, KY
Because they lied I've been waiting for a delivery said it's going to be delivered today at 7:00 p.m. and I go back to look and it says tomorrow and it's already here in Louisville I don't get it UPS ain't nothing but a liar I will never use them again!! Quit lying to your customer UPS and leave for real!!!!

Frances Agrusso
from Kansas City, MO
I live at 501 north 12th ozark arkansas... I had package delivery and ups sent to walmart they delivered the package. I didnt receive anything at all. I live in apartment with ouside and indoor cameras which show no delivery. I am putting more cameras to help more of us prove what pranks arent funny. I am hiring an attorney to take ups to court and ask what happened?.

Jeannette LaCroix
from Oshawa, ON
Dear Sir/Madam
OUTSTANDING / PAST DUE $180 REBATE DUE TO ME FOR MY UNDELIVERED PARCEL
___________________________________________________________________
I have persistently followed up for the $180.00 refund due me for an unshipped parcel. I am extremely annoyed with UPS':
1. Poor Customer Service,
2. Lack of listening skills,
3. Lack of follow through
4. Contradictory commitments
I have wasted a huge amount of time on this matter and expect compensation for my efforts. Today I was left on hold for over 40 mins waiting for a supervisor to speak with me and when no one came back on the line I hung up
My parcel left Oshawa, was sent to the Mississauga/Concord location however; Canada Compliance UPS contacted your UPS Oshawa Store requesting they call me to pick up my cash prepaid parcel: Tracking # 1Z84WW896765512323 Shipment ID MA4KPNBKH5C14 as it could not be shipped to Germany or returned to the originating UPS Store#219.
The store provided me with the updated information, stated they could not refund my cash payment for the shipping costs and requested I make an appointment with the Head Office location at 1930 Derry Road East, Mississauga, ON L5S 1E2. Canada. Phone 1 - (905) 362-2044. 1-800-661-6232 or 1-800-742-5877. Having followed through with the instructions, I made an appointment with Head Office to pick up my unshipped parcel the following day and confirmed they would provide me with my cash refund. After my 3 hour drive from Oshawa to Mississauga I provided my ID, signed for the release of my parcel and requested my refund. They then informed me they had failed to process the refund paperwork but assured me it would be done in 3 days and I could pick it up at Store#219. Again Head Office failed to process my refund. I have repeatedly followed up with the store and Head Office for my refund.
UPS Store#219 advised me cash payment refunds for undelivered parcels cannot be provided at the Store level. This must go through Head Office as cash payments are e-transferred nightly to them. UPS Store#219 sent an inquiry and assured me Head Office would immediately process my refund at the time I picked up my parcel. I returned to the store after picking up my unshipped parcel and informed them Head Office failed to provide me with my refund but they had assured me it would be processed in 3 days. I returned to the Store#219 three (3) days later to find my refund had not been processed again. The Store sent an email requesting my refund.
I have followed up with both Head Office and the Store on several occasions since that time for my refund, have requested my dispute be escalated to a manager however; no one has gotten back to me and I was also left on hold for 44 minutes waiting to speak to a supervisor/manager. No one picked up the call transfer. I have been given various excuses during my numerous store visits and phone calls with the latest being UPS has refused to refund my payment.
1. Stores do not have funds on hand to deal with refunds.
(Yet they have a daily cash float for day to day business requirements.)
2. Stores are not authorized to refund cash shipping expenses. They are e-transferred daily to Head Office and must be refunded back to the Store who in turn contact and refund the customer.
3. Head office handle refunds and rebate cheques are sent to the customers' address.
4. Head Office makes false commitments to both customers and stores which create numerous complaints. These are never resolved
5. Head office fails to follow through written policy and procedures.
Today I called head office to once again request my refund. I have spoken to various Customer Service Reps and one who said she could not see a file for me on the system and knew nothing about what was being done. I challenged her stating; while my file may not appear on her current screen; it is on another which she could locate using the tracking#. Upon delivering this information she was able to locate it, read aloud the full content of the dispute verbatim and then inform me nothing had been processed. Being annoyed I informed her I had listened to her previous false information and was upset with what appeared to be lies and/or unwillingness to provide customer service. I requested my call to be transferred to a Manager or VP. I was transferred to Desiree, a supervisor. I reinterated my request was to speak to either a Manager or a VP. She informed me while she could not directly transfer me to a specific District Manager she could forward me to the queue whereby I could escalate my issue. She also stated while this dispute was not normally handled by her department; she did have the authority to issue my full $180.00 credit. In closing I confirmed $180 would be refunded to me and she confirmed; but then stated a refund less shipping costs from Oshawa to Mississauga would be forwarded to Store 219 and would be ready for my pick up June 1, 2023. I corrected her stating the agreement she had made was to provide me with a $180.00 refund. I had spent several hours attempting to resolve this matter and required compensation for my time and efforts. Desiree agreed and confirmed $180.00 would be sent.
I was contacted by Store #219 about an hour after my conversation and agreement with Desiree. They informed me Desiree had forwarded an email stating she would forward a rebate less Oshawa to Mississauga shipping costs. Once again, this is contradictory to our agreement and I informed the Store of this. They have sent an email to Head Office in attempts to resolve this matter. I have received no email or call from your Head Office and since that time Store#219 has informed me UPS is refusing to refund me my money.
You did not provide the service I paid for therefor you are legally required to refund my $180.00. I am prepared to litigate and contact the press regarding this decision.
Jeannette LaCroix

Ricky w white
from Hattiesburg, MS
Got an email about having some frozen food to be delivered to my house. When it arrived it was melted. (WellCare) food. They come by our house all day long and is right on 7 routes that pass our house. I don't understand why we are always the last stop every time. But this takes the cake when they wait till 6pm to deliver frozen product. So angry. This new manager at the Kosciusko Mississippi office is not capable of running a business and doesn't know how to manage very well. Got to pay attention to what is being delivered. Before he took over we never had an issue.

Greg Jeffries
from St. Petersburg, FL
I'd rate them a negative number if I could. UPS damaged a piece of artwork I was shipping to an auction house. Delivered 5/16/23 I tried to file a claim and everything said to do it online, but the website wouldn't accept the claim and said to call. So I call and the phone system says you have to enter claim online and won't for any reason connect to a live agent. I tried again the next day with the same result. Eventually I spoofed the chat feature on the website to get a live agent but they said I had to speak to the "Damage Department" and call back the next day. No actual customer service like an apology or let me make a note in your account and have them call you, no to next day I'm back to spoofing my way through the chatbot and an agent takes down my info and files a claim on 5/19/23, but when I get the email confirmation UPS is looking into the problem a few hours later they've filed it as a lost package not damaged. I email UPS to correct this and on 5/22/23 UPS just cancels the claim saying the package was delivered! I told the agent several times and tried to get UPS to acknowledge it was damaged! and instead of forwarding my information the appropriate department they just cancel! Great service, NOT!
I go through the hoops of reaching a live agent again and finally get connected to the correct "damage department" and finally get a claim going on 5/22/23 but now UPS sends a list of photos to take that runs about a mile long and wants to inspect the original shipment packaging.
I've shipped a few hundred ebay packages since the start of the pandemic and unfortunately the 2 or 3 had issues like being lost or damaged. Neither FEDEX nor USPS even wanted photos let alone to inspect the packaging and guess what they had decent customer service. USPS for as much as people complain are actually quite responsive. Anyways back to UPS and my claim. It's been a week of runaround and the auction house has disposed of the original packaging and now UPS is denying my claim because of that. No apology. No understanding that their crappy system designed to deny customer claims took a week to navigate and that's why the packaging is gone. No listening at all. UPS destroyed my minimum $700 (insured value) artwork and charged me $100 to do so and they won't tkae any responsibility.
Beware of shipping with UPS! I'll never use them again.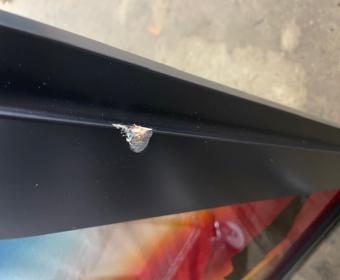 Jim Jackson
from Coppell, TX
This is my current UPS 5-week headache that "No One" can provide an answer to. A package was mistakenly mailed to my P.O. Box. UPS does not deliver to P.O. Boxes, which I now understand. However, this is where the story becomes unexplainable and unacceptable. Instead of my package being returned to the UPS facility to hold for a new shipping address, it was instead delivered to an unknown third party. Why? I never submitted the address, it is not listed on my UPS Choice page, and no one can explain why you would take my package and give it to someone else! I followed the established procedure by filing a claim. I was informed by a UPS representative that the package would be tracked and I would be notified of the results. 5 weeks later no response and no answer to the question "Why Did UPS Give My Package to Some unknown Person" and now will not give it back!

Amy tran
from Ormond Beach, FL
Horrible customer service from investigations department repeatedly. Always getting cut off & talked to in a condescending tone & have no understanding or empathy for customers regarding issues they're calling about.

charles lounsbury
from Naples, FL
Edit
Description of complaint:
On April 4th my wife contacted the UPS store #1856 in Lexington MA to inquire about the cost of shipping a Villeroy and Boch Basket weave dinner service for 8 and was told approximately $400.00. Her sister took the dinner ware to the store on 4/9 to pack and ship. They charged her over $1100.00 including $70,00 for insurance. Shipment arrived in Naples Florida on 4/10 consisting of three boxes with a total weight of 29 pounds. Tracking # 1ZXA44390372032414. One 7" saucer was broken so we contacted the store to file a claim per UPS instructions. They required numerous pictures of the item as well as pictures of the shipping label. We were told we would receive a check in 7 to 10 days. Two weeks latter we called again and were told the claim had to be refiled. We have called twice more and do not even get a call back. Contacted UPS customer service to talk to a representative but the robot could not understand the tracking number so disconnected me. UPS customer service is so difficult to navigate that one just gives up. Next time I will use Fed EX.
Desired settlement:
Refund

Nicole Eddy
from Rochester, NY
I sent a package out on April 8th with an ups label in a usps box and handed the package to the driver. The package is lost and it was my iPad. I have a claim but I am being told the iPad is lost. I have given serial number and model number. If the iPad is lost I want a refund for the full amount of the iPad. It should not take over a month for a resolution. Every-time I call or speak to someone they just say a claim was opened. But still I have no iPad. I am very disappointed with ups that there seems to be no sense of urgency. I have sent 4 emails with the info request and I can send copy of receipt if needed. But I want the matter resolved. Also I had another package picked up with this package and that packages was delivered.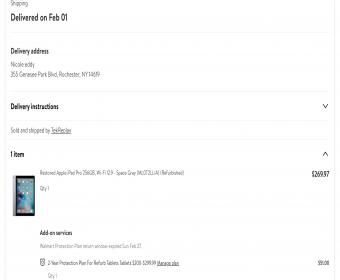 Angela Anderson
from Fort Worth, TX
Amazon a global company has UPS as their preferred Return Merchandise Service provider on all products on Amazon. Unfortunately, this is the 3rd incident where UPS has done a NO SHOW at my address to conduct a scheduled pickup. Mind you this pickup is charged (subtracted) from the refund. I called numerous times to resolve this issue. To no avail! The UPS service in this 76116 area code is absolutely 1,000% horrible, unacceptable and unprofessional! These people are getting paid to do a job, and they ARE NOT DOING THERE JOBS! I WILL NEVER USE UPS AGAIN! Period! Bad company, even worse customer service! BEWARE!!!!!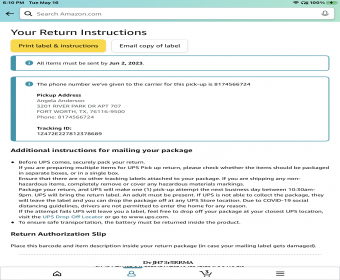 Danny Teng
from Plano, TX
What a shame? Now this is bad. I bought it online and they will ship with your company. I saw the moment on Friday, May 12, 23, and nothing has happened since. So they assume it was on Wednesday I tracked on Monday and Tuesday no one worked or ? Forgot to scan? So I tried contacting live chat or phone and they said they were not sure they would leave a different location. They said it will ship on Wednesday and there is no update on the tracking list. This is horrible. If the customer wants to know the whereabouts, they will keep saying that. This is dissatisfaction with the customer. They think ups workers don't work for customers and I know they are off on weekends. They need to be updated, otherwise it's vague to the customer, it's weird to the customer, it doesn't make any sense. Please provide people with the right work in the right way. It is time to improve

Mary Murillo
from Bell Gardens, CA
UPS has lost 2 critical shipments in recent weeks. Where delivery should have been a one-day transit has turned into lost packages. I am referencing 2 separate shipments from 2 separate locations. Both of these were expedited shipments.
I have lost all faith in UPS. You clearly have problems at your HUBs here in Southern California.

Ray crank,sr
from Hagerstown, MD
My package is 7 days late, nobody knows where or what is going on, I've called,,, e-mailed done everything I could to try and get my order,,, this is bull crap,, I guess someone messed up the address is what I get,, I want it straightened out or my $173. oo back. I don't think that's to much to ask, thks

Shelle Yellowhorse
from Scottsdale, AZ
I had a very bad experience with a customer service representative. I sure hope the phone call conversation was recorded. I called to see where I package was at. I gave all the information. I had changed the delivery location, so I was aware of where it was going. However the representative spoke to me and treated me very rudely and was very condescending. He cut me off before I could explain my question or what I needed help with. He just repeated that "my package was on the way" multiple times but never answered my question or gave options of what I could do. Every time I asked something his response was "the package is on the way." It was very unhelpful. I got snappy myself and asked to speak to someone else or a manager because I didn't like the interaction. He never said I could or allowed me that option. He said he was trying to help me but I said this conversation wasn't helpful. I got a pop up notification about my package being held at an access point. I went to the access point which is also the place I had my package being delivered to and they didn't have my package yet. I was wondering why I got that notification if my package wasn't there. He didn't answer he said "it's on the way." Again not helpful. I also said the email I got stated May 10th at 7pm for delivery. I said I'm assuming I wont receive my package til tomorrow because the store of access point closes at 6pm. I also wanted to know if my package was on a truck or where it's at exactly so I could intercept if possible. He said NO the email doesn't say that. I said it does, I took a screenshot. He again said no it doesn't that.
I didn't like how he said no to me when I could see the screenshot in front of me. The representatives name that was given to me was Younes and the badge number is 4926842. Not sure that is real information or not. He got snappy and said I'm only giving you my information because I did nothing wrong. I did tell him that he did cause he shouldn't be cutting people off and shouldn't repeat the same unhelpful thing over for questions. It's not helpful and he was being rude. So he was wrong on his customer service. I attached the screenshot with the pop up notifications which I wanted to know why I got those and the date and time of delivery since he pretty much called me a liar.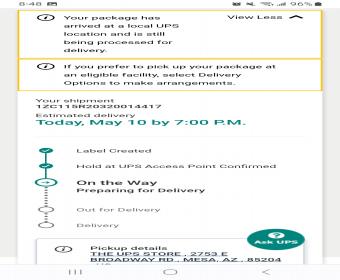 Nina Handler
from Oakland, CA
A friend shipped me 3 boxes from Longmont, Colorado on Wednesday, May 3. The tracking number was 1Z800X210322477396.
The delivery address was 3726 Maybelle Ave., Apt. 3, Oakland, CA 94619. The delivery date was supposed to be 5/8.
The deadline came and went; I had not been given tracking information, but the woman who sent me the boxes checked and sent the following attached information:
It is an out-and-out lie: first, both I and my roommate were home all day until 8:00 pm: no one buzzed the door. This is a small apartment building, and typically, if the intended recipient doesn't respond, a delivery person buzzes other units and someone lets them in. But plenty of times, UPS, USPS, and Amazon packages are simply left on the front porch. No packages were left anywhere. But I know delivery was not attempted because no message was left on the door, which is what happens if a delivery attempt was made. HAD I NOT CHECKED WITH THE PERSON WHO SENT ME THE PACKAGES, I WOULDN'T HAVE KNOWN THAT AN "ATTEMPT" WAS MADE. This suggests very strongly to me that no one bothered to even try to deliver the packages, nor to contact me AT ALL.
When today I picked up the 2 (out of 3) packages shipped, and mentioned to the woman at the UPS Access Point, she said she's been hearing the same complaint over and over. No one even tries to deliver the packages, and doesn't leave the message saying what's happened, where the packages are, and how the recipient can claim them. Then I returned home to find the 3rd package delivered (it was inside the building, meaning that the driver had buzzed one of the apartments and someone let them in so they could leave the package--which is what should have happened before. No mention of the other two packages.
To make matters worse, there is no way whatsoever to talk to a customer service representative. No matter what phone number I dialed, I was shunted over to the 800 number and its stupid, useless voicemail system. I dutifully followed all the prompts, only to be denied the opportunity to speak to a a live human being. For the record, I tried multiple numbers, including what was given as the UPS corporate office.
This is all so absolutely unacceptable.
I expect to hear from someone to figure out how this can be made right.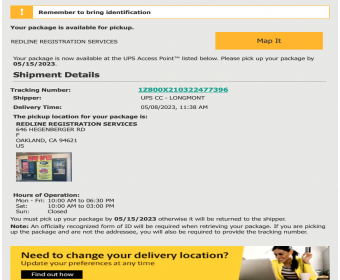 Thanks for your feedback!
Sorry. Please try again later!