Subway
Subway Complaints Continued... (Page 7)
317+ reviews added so far. Upset? Call Subway corporate: 1-800-888-4848

Larry
from Port Richey, FL
I went to subway on my way home at my wife's request. I did not have here subway card and was told I would have to add points by going to a web site on the receipt. The associate did not ask for my phone number. I was told that they could not add the points. Are they lazy, untrained, or told to not help so Subway does not have to honor points? We have decided that SUBWAY is basically dishonest and we will start going to other sub shops so we will not have to be left frustrated.
Why would you offer points that cannot be claimed? I checked on face book and there are a tremendous number of similar complaints. I did find that I could go to a web site and provide a copy of the receipt to get points added. I do not know how to do what the requested. Store #2417-0, transaction# 63479, 5/6/2016, 7:05 PM.

Capt. DJ Durrance
from Floral City, FL
I'll make it short.... Long time Subway customer complaint. I get 4-6 sandwiches every week. Now, it seems the management in this area has a problem with the already minuscule amount of tuna that goes on a sandwich. They actually level the dipper with the knife so it doesn't go over! I don't get anything on my sandwich, thus, it really surprised me. Is the company in this much trouble that it actually has to proportion out the tuna? I'm not overly excited about bread sandwiches either...

Julio Alicea
from Miami, FL
I went to one of your Subway location. With my family my daughter at the time proceeded to walk to an empty Subway take your order here spot where one of the staff was serving to my daughter and without finishing with my daughters order she pushes her sandwich to the side unfinished skipped me & my Brother by not taking our order and proceeded to attend other customers that were on the left side of the ordering section ignoring us I couldn't believe how she left my daughter food undone and not finishing with our order never again I will do anymore business at this unprofessional server location. People are constantly complaining about the customer service at this Subway location.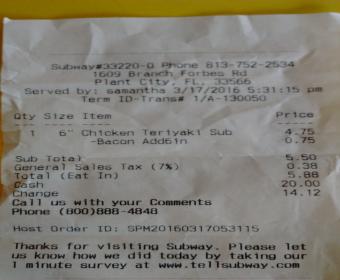 Passion Skelton
from Bluffton, SC
Visited the subway in Savannha GA on waters ave, across from the hospital one afternoon. They were having the 6.00 foot long special at the time.The cashier yelled out that there was only wheat bread available due to the lunch rush. I'm thinking to myself, you have a special going on, you should have had, twice the bread. Well I didn't want the wheat, but I was on foot from out of town, staying with my son in the hospital, that was rub and shot over 5 times. Stranded. I wanted a sub, a subway sub, I only eat subway. Thinking Oh well let me get wheat.I eat wheat,but the wheat bread was not fresh. I'm sick of going to eat out and people just serve you anything.Bread was toasted and still was thick and not fresh. I did not enjoy! I was not pleased.
On the back of the receipt was a free cookie give away.Went the next day for the cookie and they had no chocolate chip cookies.I almost lost it.You guys still don't have what I want.I wanted the chocolate chips. The whole month of Feb. I'm in the hospital wanting a sub and never knew they were right there,across from the hospital. Was so happy I found it and was not happy about it.Now I don't even have the receipt,cause I gave it to the cashier to redeem the free cookie. I use to work at subway and I own a sub shop of my own in the past. If you don't pull that bread apart after its cut open,it is not fresh. If you saw the bread....it isn't any good.

Roberto Gomez
from Los Angeles, CA
I to a Subway in Santa Monica which is located at 26 and Santa Monica Blvd. Address is 2461 Santa Monica Blvd., 90404 which is right next door to a Starbucks. I went there to buy a Sub and use the internet that is present because of Starbucks. I arrived there a little past midnight on February 14, 2016 that turned into morning, February 15, 2016. I must admit I was there for a long time, but at non-peak hours. The place never got full, I was not just sitting there only, I was a paying customer. I purchased a Sub, drink and cookies throughout my stay. I was not depriving anyone of a place to sit. In short the place was mostly empty. The following morning an employee came up to me and told me that a customer could only be there for 30 minutes.
I politely told her that there should be signs posted to let people know of this policy. I also added that there have been many other people going there to use the internet that comes from Starbucks next door. She just walked away angry. I stayed for about 20 minutes and left. I did not return until the following Friday, February 19, 2016. Put my things down on a table. She said she would be back and I told her to take her time. She cam back about 5 minutes later and informed me that I was not going to be served and that I was not wanted at the store.
At this point I asked to talk to the owner and wanted to leave my telephone number so he could call me. She not only refused to take my number down. She refused to give me his name. I feel that I have been discriminated and am contemplating filing suit. Everyone should be treated equally, If not, this is discrimination. It is ridiculous not to be given the name of the owner so that perhaps he and I would be able to resolve the matter, But no, the employee chose to have her way, and in the process, and put the owner smack dab in a lawsuit. Not very smart at all!

Mike Bott
from Berwick, PA
You (Subway) switched to only Muslim approved meat. What a travesty! This meat is produced within a Islamic religious ceremony during Muslim prayers and including Muslim Allah blessings being invoked during this process. Secretly forcing others to consume Halal meat is the implementation and enforcement of Sharia Law upon those who may not wish to be subjected. I will no longer eat at Subway, spread the word and warn others at every opportunity to stay away. Hopefully protests will go nationwide and Subway will stop submitting to this subtle brand of Islamic bullying and proliferation. What happened to religious freedom in America? Will Subway workers next be required to wear the Hajib?

brenda matheso
from Caithness, NB
I live in St George, N,B. and was wondering why you only offer Feb. five dollar footlong only in Saint John N.B. I love the subway and go at least twice a week,more sometime. Feeling disappointed. It seems strange to me because they are all Subway.

Ramona Shiver
from Lawrenceville, GA
I arrived at this Subway a little after noon. I parked on the side of the building. I walked inside and the guy making the sandwiches said He could not serve me because I was not in a parking space. I will file a discrimination case because I've been here a few times and parked in the same spot with my clients. I feel this Caucasian guy is racist because of his actions each time Ive visited this store. I was the only African American person inside the store at this time. I did not park across the street because I had my client that has a diagnoses of MR and Bipolar and my coworker in the car. I needed to be as close as possible to my vehicle due to her behavior issues. I hope that in light of what has happened lately that Subway corporate office responds directly to my complaint.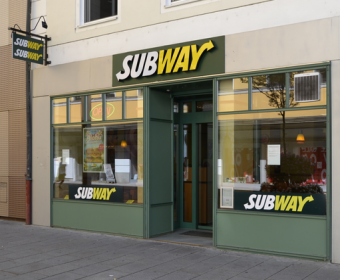 Mo Barlow
from Montgomery, AL
I went to subway this morning for National Sandwich Day. First of all, the worker informed me that I could not purchase a pizza sub or meatball sub because "It's 7 o'clock in the morning" and the marina sauce ain't ready this early". So of course, I had to purchase another kind of sub sandwich that I did not really want (Italian BMT). I brought 2 plastic containers to put lettuce, tomato and jalapenos in because I will not eat sandwich until lunch time around 1:30pm. I told the worker that I would like vinegar and oil packages to put on the sandwich later because I did not want the sandwich to be soggy around 1:30 pm. I was then told that they were out of vinegar and oil packages. Next, upon ringing up after my sandwich was fixed, I was told that I had to order a drink to get the bogo free sandwich promotion. When another customer stated, "Well that's false advertising, the promotion said bogo free sandwich". "It's didn't say you have to buy a drink".
The worker then stated "Well it said that on the commercial". There were no visible signs posted in the window or at the counter stating this. When I went to get a vitamin water and minute maid juice out of the cooling machine, the worker stated "No, it has to be a fountain drink only, it doesn't apply to bottled juices or sodas". When I went to the fountain machine to get a cup of sweet tea, the container was empty. I told the worker that I would like sweet tea, she stated, "It's 7 o'clock, the tea isn't ready this early, you will have to get something else". I was VERY displeased with the service and what was available for purchase this morning. I told several family and friends about the National Sandwich day yesterday to bring subway business today and that was clearly a mistake. From the service I received, I will from now on take my sandwich business to Tropical smoothie because they are open and ready for business at 7 in the morning.
I am a civil service federal employee and I have informed all of my coworkers this morning about the type of service I had this morning at this location and they too will not be visiting this location ever again. Two week ago, I had this same problem with the marina sauce not being available around 720 am in the morning and I had to go to the Atlanta Hwy location near Publix in Montgomery, AL. The Atlanta Hwy location did have the marina sauce available around 730 am and just like the Perry Hill Road location, there was only one worker available. So clearly, that is a lack of productivity on this particular employee's behalf.

Austin williams
from Dublin, GA
We had called in an ordered 6 sub's but.when we got to the store the girl said they had not received any phone order so I ask if she could call the other stores to check for us but she got rude an said we should have made sure we're we was going before we came an next time maybe should just go somewhere else instead. If you see Jared or the Subway CEO, let him know they have problems to solve and are upsetting loyal customers!

This happened today, Thursday, March 26 at 11:15am at Subway in Westridge Mall in Topeka, Kansas. I had just finished ordering a footlong sandwich (cut into two halves) when I was at the cashier and was about to pay, but had asked the person who made my sandwich to please put the halves in separate paper wraps. The employee looked at me and rolled his eyes and said "well you should've told me this before". I then asked him what is the problem with me asking (nicely if I may add), to separate the sandwiches? He rudely told me "I already changed my gloves". At this point I was upset because I didn't think it was a BIG DEAL to have my sandwich cut in half and put into different wrappers BEFORE I even paid. I don't think that just because the employee had already "changed his gloves", he had the right to roll his eyes at me and give me attitude.
I didn't see the big deal about the gloves, really. If he's so worried about it, I will eagerly pay for those 2 plastic gloves that he was wearing. I really think it was a sign of laziness on his part. Oh and I'd also like to add, that this lady whom he was working with came out from the back and had the nerve to yell at me and say that "no other customers have asked them to do this before." Ok first of all, they shouldn't even have compared me to other customers. Every customer orders different things. Second of all, she shouldn't have yelled at me while all of this was happening in front of my 3 year old son. I wasn't a very happy customer to say the least and I hope this kind of service doesn't happen to anyone else. Very unprofessional in my opinion, mixed with laziness and rudeness. Never ordering at that branch again.

I am in Amsterdam and went to a Subway here. The sandwich tasted very different than in the US. I got the honey oat bread and it tasted very bland. It kind of overpowered the sub and I couldn't really taste anything. Do you do something different abroad with the way that you make bread? It was very unsatisfying.

Derek parton
from Widnes, ENG
I ordered the foot long meal deal that is advertised as £5 and they over charged me!!! They charged me £5.60 for my steak foot long and £1.00 for a drink! Please explain how this Is a £5 meal deal ?? Also it was freeing cold when I asked for it to be toasted!! I'm upset about the fooed! I will not be resisting any of your stores again as I have been faulted advertised and will be visiting my local paper. Your staff was very unpleasant towards me and the lady on the till was ignorant. I visited the subway in widnes today at 14:49:13 on the 14/02/15.
Store #29384
VAT Regd No#
190 Widnes road
Widnes, Cheshire

Willard Cox
from Houston, TX
While I was there eating, two Hispanic females talked incessantly in Spanish and laughed out loud often. Bothe seemed to be employees, one seemed to be "working" and one seemed to be leaving! I was there about 20 mins and did not see either one perform any function. A young male was busy the whole time serving customers and cleaning etc. by the way your store is out of salt. This is the store nearest Walmart in Cleveland Tx. This occurred from 350pm to approx 415pm.

michael
from San Lorenzo, CA
I hate costco, i dont like to shop at costco, i dont want to go near costco.. I haven't shop at costco for 15 years and even before that I only went there twice and the loser employees were so rude. So I cancelled my membership after one year. However, my doctor sent me there to pick up a prescription. When I went there in Octover, 2014 everything went smoothly. I was so relieved that no crazy employees harassed me. However, when I went back in Jan. 2015 it was a different story.
I told the lady who checks the costco card in front that I am going to pharmacy but she would not let me in. I told the lady I do not need a card to go to pharmacy. So we went back and forth and she finally called the supervisor.
Half of the time I wasnt sure whether she was talking hispanic or english. She really had a thick hispanic accent and looks like a drug addict. The supr. name Will came to front and he escorted me in. While we were walking to pharmacy I told him I didnt need to show any card when I was there in last October. I thought he was going to say sorry or explain to me why but he simply said if you dont like it dont shop here. Walk away pointing the exit door.
I finally purchased the medicine without the card (you don't need to be a member to buy something from pharmacy) and walking towards the exit and ran into to that same supr. name Will. I leaned forward to see his name on the name tag but he said "keep walking, punk", yes, this was exactly what he said. i was so shocked and I stood there and he stood there too. I was running late to pick up my kids so I just left. When I came back home I called and complained to a manager name Bobby and he said he will take care of it. Bunch a thugs working there if you ask me. I will never ever shop there.

What happened to the $5 footlong sub? They had this and I used to order it all the time then the started jacking up the prices. It sounds like your typical bait and switch if you ask me. Subway reels you in with the ANY promise and then tells you it doesn't apply to any of the subs you want to order. For one, I am taking my business somewhere else.
Have feedback for Subway?
Thanks for your feedback!
Sorry. Please try again later!