Subway
Subway Complaints Continued... (Page 6)
317+ reviews added so far. Upset? Call Subway corporate: 1-800-888-4848

Thalia Ballardo
from Los Angeles, CA
I hesitate to step into this subway at 6020 Paseo Del Norte #D, Carlsbad, CA 92009 because there is always an unpleasant encounter and the staff are always rude and unhelpful. I came into this shop to order a tuna melt and before I even said anything the employee asked me what my nationality was, I believe his name was Alex, I cannot recall. I awkwardly answered and began to state that I wanted a tuna melt on honey oat bread. The employee got the bread and came back and asked me what kind of meat I wanted. Very confused and I repeated, a tuna melt? He made my sandwich and in between the counter was another customers sandwich and he scooted it away very aggressively. The other employee looked at him very upset and realized that I saw, so he quickly turned away. He has completed my sandwich and the other employee who was upset with him shoulder shoved the employee who was working on my sandwich and states, "oh sorry" as if he did it on accident when it was so obviously intentional. When I go to pay for my meal, the employee who made my sandwich then leans over and tries to ask for my name and number. I have never felt so violated. This Subway needs a huge reevaluation of their employees.

Jeri Yamanaka
from Los Angeles, CA
I frequent this particular Subway location at least twice a week. Last week I was the only customer in the Carlsbad (Paseo Del Norte store) at 7:15 am. There was only one employee in the store, the other was outside smoking. I requested a breakfast steak egg and cheese sandwich. The employee asked what kind of bread, and cut a 12 inch Italian bread. He asked again what kind of meat. then proceeded to finish the sandwich with cheese. I had to ask for the egg. I was confused at first because the menu listed the breakfast sandwich at $4.79. Ended up with a 12 inch steak egg and cheese sandwich which cost me $11.84. Service was incredibly slow for having only one customer in the store and the employees are either not listening to their customers or are distracted. It is frustrating to go to this store at lunch because the service is terrible and incredibly slow. The employees are also very unprofessional

Brian Van Horne
from Seattle, WA
The quantity of vegetables provided was comically low, when asked the employee added a single additional jalapeno pepper. In comparison to other employees at this store the sandwich made was the about 1/2 the size for the price. The employee was also extremely slow taking over five minutes to make a sandwich. The store on Aurora and 125th street in Seattle will be losing my business from now on.

Dana Sellers
from Blairsville, GA
Ok thank you for your time in this matter. I've been working at the Blairsville Georgia subway for almost 5 years now and i love an enjoy it, my complaint is very important to me and my customers "WE HAVE NO FOOD". we haven't had a food delivery in almost 3 weeks. And my sales are down 40% and my customers are not happy, and I don't understand why subway corporate want come in and force the owner to take care of his store and employees. "THIS IS MAKING SUBWAY GOOD NAME "BAD"
You don't know how hard an embarrassing this is to me and my coworkers. Me and my coworkers represent subway and not Ed singleton who is the franchise owner out of ellijay Georgia. And I'm sorry to say that if this problem is not address "ASAP" then we will be forced
To find other jobs. We are barely surviving on a pay check that only pays 7.25 an hour. So please help us improve our situation. Thank you for your time in this matter. Sincerely Danasellers50@gmail.com

samantha gold
from Glenroy, VIC
The subway in Victoria in the area of Fawkner had a very rude tone to her voice, she gave me attitude, she was not putting enough salad into my meal, she was very hostile and passive aggressive when i asked her to make my toasty wholemeal when i SPECIFICALLY told her TWO time for wholemeal, she was very slow at her job talking her sweet time. this happened at 5:30 she was working by herself she had black hair and she was Indian i think. this has made very upset and I will never step foot again into that store until she fired or something has changed thank you for you time
p.s this is not the first time this has happened with her.

Tony Wooten
from Douglasville, GA
I went to get a sub and the open sign was on and there was a employee inside. There was a Paper sign on The Door saying closed Because of no Employees

Lisa
from Goodlettsville, TN
Subway subs have declined over the past few years. The price keeps going up and up while the ingredients in the subs goes down and down. Put some meat and cheese on the subs along with more than 3 pieces of onion or a couple of spinach leaves. At least when we go to Jersey Mike's we get our moneys worth in substantial ingredients like meat cheese, and fixings. The only thing I get when I go to subway is bread. When I asked the gentleman making my sub to put more vegetables on my sub, he laughed at me. I thought this was extremely rude and inappropriate. It's really disgusting how this company is ripping off everyone while they rake in billions of dollars yearly. I will not be going back to Subway again. They have lost me as a customer.

Arnaldo Cru-Ayala
from Manchester, NH
I have decided I will not rant about my abysmal service at the above mentioned Subway. I will just state the facts and hope that someone in the corporate office will deal with this manager. I am a VIP customer at Subway--I'm an RN at the local hospital and I work weekend nights. Most weekends I try to order from Subway online so I can just swing by and pick up my sandwich on my way to work.
--Numerous times I have come in to pick up my sandwich that I had ordered remotely with the Subway App to find that it was not ready. There is a line at the store and the employee doesn't know enough to put my remote order in line as if I was in the store ordering. Consequently, my order has to wait until they get done with everyone in the store before they will make my order. This is unacceptable--especially since I ordered my sandwich 30 minutes ago. Since I can't wait I have had to leave without my sandwich--after having paid for it.
--Yesterday, the Subway app doubled my order for some reason and charged me twice. I went to the store to pick up my sandwich and told the employee not to make the second sandwich because it was a duplicate order. I then informed him that he could just save that duplicate order for tomorrow and I could come in the same time and pick it up then. Well tomorrow comes and the manager is working when I arrive. I inform her of the situation and she states, "I don't have a remote order". I inform her again of the situation and she continues bewildered stating, "I don't know what you're talking about". She then states, "If you wait, I will make your sandwich when I'm done taking care of this customer". I informed her that I could not wait and that I needed the corporate number so I can discuss the matter with them. She informed me that she did not have the corporate number and that she is the manager. I told her she has an issue with accountability in her store and someone needs to fix it.
I will give Subway 48hrs to get to the bottom of this and take care of my issues. If nothing is done, I will mount a campaign against Subway and it's poor handling of customer service complaints. I pay good money for a certain level of service and respect when I frequent an establishment and I have not received it. That manager is unprofessional and has no sense of accountability. I'm surprised that corporate, or the owner of this franchise has not realized this yet. I will work my shift without the benefit of eating tonight due to the lack of service at Subway. I wish I could say this was an isolated incident but it's not. If anyone with any intestinal fortitude to do the "right thing" wants to contact me I am available--571-521-9340.

We were in subway last Thrusday Sept 13 ordered2 foot longs x meat 2 30 is drinks got to register to pay and wouldn't accept to forms of payment so why it take 1 week to call back to say they can't accept different forms of payment now I couldn't eat lunch that day because of this this is unacceptable I don't feel it was resolved in a timely manner and then to be told oh no we can't accept different forms of payment but if store manager had been in store that day she would have done whatever she could to resolve this so why not resolve it now

Michelle Foster
from Atlanta, GA
On 7/7/18 @ 11:23 am, I witnessed the manager George hollering over the counter @ a employee coming into work while he was supposed to be making my sandwich. I found that to be extremely unprofessional. Anyone in management should pull an employee aside not scream in front of customers over the counter. This the 3rd time I've seen the manager do this & the 2nd time to this same employee. I informed her mother because she park beside me. The manager refused to give the mom the owners number & told her to find corporate herself.
This manager is a poor representation of subway & management. If that's how subway treats & talks to their employees like garbage then I will not use my hard earned at a business who treats employees in that manner & people need to know how employees are treated at 6116 Covington hwy Lithonia ga

Jody Stribrny
from Woodville, OH
I've always had acceptable experiences at the Genoa Ohio Subway, but maybe you should take a look at the Facebook string of posts on a thread called "The Talk of Genoa" Sounds like someone may be dropping the ball there.

Carolyn Byers
from Ardmore, OK
When I walked in 1 young girl was waiting on a Customer. The other employer was talking to a lady working in the store. She came back into Subway rinsed hands & ask what I wanted. I said. Black Forrest Ham & Turkey first I said, 6 inch, then I sais, No give me a footlong. Italian bread she cut and started to fix it, I told her what I wanted in it, you can't see threw some of the lids. So I asked did you toast the bread, she said, did you asked. She said, no. I said, I'm always asked at the other Subway. She said, I can take the stuff off & toast it is that what you want. Bad attitude. Got home Meat Cold, No Cheese just not good. My first time at that one I go 2 to 3 times a wk. Then I look at complaint line y'all never do anything. Paid $7.19 for cold had service. Need a answer.

Melissa K
from Rochester, MN
We went into a Subway two days ago, ordered a foot long meatball on Italian Herb bread....no Italian herb bread. We were looking to order two meatball sandwiches, however there was only 4 meatballs and that is all we got on that foot long! The guy ahead of us ordered a pizza, the kid working couldn't find the boxes, the customer spotted them and folded it into a box himself. He asked for it to be cut and the kid acted like that was unusual. The one running the register didn't wash his hands before gloving up and helping put fixings on the sandwiches. Once we paid, the kid couldn't figure out how to print a receipt.
I called to talked to the manager yesterday to be told there was no manager at that store. I then called again today and was able to talk to the manager, he was at another store. He was very rude. He kept saying "You just don't get it." However I do "get it", I used to work at a Subway years ago. He told me he didn't have coverage cuz 3 people called in sick and 1 quit that day so he had to pull 2 brand new kids (less than 2 weeks) to run a store for the night. He acted very over worked and unhappy with his job. He kept saying my name is Mike, make sure you report me too since you are taking the time to complain to me about it and "you just don't get it". This was in Rochester, MN.

Mandrill Toles
from Birmingham, AL
This Subway is located inside of the hospital where I work. I come here often for lunch with no problems. But today the manager in that place today was a awful mess.....I ordered a BMT like I often get. She tried to give me am BLT. So when I realized what she was doing, I told the guy next to her who always prepare my orders it was supposed to be a BMT, he said ok and tried to correct my order. I didn't have time to wait on them to start over so I said just put pepperoni on it so I could go being that I'm on a lunch scheduled break. She asked me with the nastiest attitude "Why didn't I say something?" to be honest I would think she would have known what BMT was since she was a manager. Her reaction to her mistake was just unbelievable. I asked where was the manager the guy looked at and said she is the manager. The guy always carry himself in the most respectable way. I would have believed he would be the manager over her. I love Subway but I refuse to spend my hard earned money in that place where when I leave I feel upset or uneasy.

June kaye Smith
from Elm City, NC
I went to Subway at 313 Bickett Blvd. Suite 313 Louisburg,N.C. 27549 and when I asked for my senior citizens discount they told me they had not offered one in 2 years. Subway is one of the restaurants listed that offers the senior citizens discount.

Tara
from Blairsville, GA
Went to get lunch At Subway in Blairsville, GA. The lady that waited on me was just nasty. I believe her name was Kerri. She was sweating and rubbing her forehead with her arm, wrist & hand. So I requested someone else to help me because of the uncleanliness. The other lady working with her was rude and would drop food and still pick it up on start to put it on my sandwich. I told her I wanted a new sandwich please and that really ticked her off. We love eating at Subway in Blairsville, GA located on the Murphy Hwy but there was no call what so ever for there behavior and the nastiness.

Dena Jourdan
from Lake Charles, LA
At approximately 12:50 p.m. on yesterday, I went to the Subway located at 1608 Sampson Street in Westlake, Louisiana. There were two female employees in the restaurant. One employee was at the register with a customer paying for his meal and the other employee was assisting a truck at the drive thru. In the meantime, I was the only other customer in the restaurant. Once the first employee completed the transaction at the register, she went into the back of the restaurant, came back, washed her hands, held a conversation with the second employee, put on her gloves and just stood in one spot. The second employee went to the drive thru to assist a customer who drove up after I entered the restaurant. During all of this, I was never greeted by either employee. Meanwhile, another customer entered the restaurant who was never acknowledged either. The second employee began to make the sandwiches for the customer at the drive thru and she looked at me and said I will be with you in a minute. In the meantime, the first employee was just standing there doing nothing. It was approximately 1:10 p.m. and I still had not been assisted. I left the restaurant without placing an order because I was upset. I honestly feel that the two employees at Subway did not want to assist me because of the color of my skin. I am 50 years old and I have never encountered RACISM before yesterday afternoon! I will NEVER return to this place of business and I am appalled that in 2018 people act this way! Since this happened to me, I assume others have encountered this same behavior when they enter the Westlake, Louisiana restaurant when these two female employees are working a shift because they were very comfortable with their actions. I do hope that you take this complaint seriously and you take some type of action.

Gary
from Grande Prairie, AB
We've been there 3 times and each time order 2 - 6 inch veggies on flat bread. We always pay $6.30 for the 2 - 6 inch at the Subways in Grande Prairie Alberta. In High Prairie the same person tries to charge us over $`10.00 for the usual $6.30 cost everywhere else. He should know by now that he should only ask for the $6.30. His body language suggests to me that he is trying to make a few extra dollars -he corrects the over-charging when I mention it to him - but there is no obvious embarrassed fluster that he truly made an honest mistake. He should know his menu cost by now - he has served us at least 3 times and has tried to overcharge each time. I believe he tries to rip us off. I'm not usually a complainer but 3 times in a row suggests he's trying for an extra few bucks. I don't expect anything much will change but we'll find out next time we order there. Thanks for listening. Love Subway food - eat there (mostly in Grande Prairie) quite often!

Cynthia Pratt
from Strongsville, OH
Subway located in Strongsville ohio on Prospect Rd and Albion RD. I just paid for the most pathetic tuna 6 inch sandwich It had maybe a table spoon of tuna salad,5 slices of black olives which is probably 1 black olive sliced, 6 small pieces of diced green pepper, and pieces of red onion that did not equal a slice. the bun was smashed down and the top was off to the side of the bottom. I haven't gone to this subway even though it's within walking distance of my home because they really skimp on the sandwiches the first time I went there. They really don't know how to serve the public. and my neighbors feel the same way my sandwich was worth $1.50. I would be ashamed to serve this to anyone I had to open a can of tuna to add to the sandwich, None of their sandwiches look like the pictures they have on their front windows. They are a poor advertisement of your product and not worth giving them another try The elderly man waiting on customers is not friendly and doesn't speak much english , his daughter is the owner I was told. she needs to have a refresher course on running this type of business Im not looking for free food, no coupons no refund, just getting what you advertise on TV . I will not be returning to this subway again.

I was going to have my meal at 845pm may 10th 2018. I saw being served by employee and I notice that hair net or cap was not worn, and I reminded him to wear the hair net and he refused to do so, than stated my employer does not provided hair netting or cap for him. My understanding in the food industry it is mandatory to wear hair netting or cap ,so the hair does not fall in the food. Therefore it is giving bad reputation to the subway franchise where employee or employer does not abide by the industry standard or the high standard set by subway office. .This employer or the owner have 5 subway in the area ,and such monopoly should never be allowed .the Nordel and 120th female washroom has been out of order for 5months and female customers have to use male washroom which they find it very absurd. The line up are so long and only one employee serving have to wait for 20 to 25mintues for a turn .The monopoly is giving bad reputation to subway chain. Please reply and do something this time or next option is media regarding this email this time. Thanks Randy

jimmy booth
from Clarksville, TN
ordered a blt sandwich. it was a 12 inch, guy just put 4 pcs of bacon on same. basically all I had to eat was bread. tomato, lettus and lite mayo. i.e. how many strips of bacon should go on a 12 inch sub ????? by the way he put bacon ass backward on bun i.e. put bacon on top of bun then lettus on bottom thence mayo thence tomato.

Cathy Taylor
from Cleveland, OH
I was in line waiting to be serviced the Puerto Rican (Latino) employee was very inconsiderate and rude. I was in line before the Caucasian female and she waited on her when I was in line first. She stated that the female was in line but sat down, nothings wrong she just went to use her cellphone and was sitting down for a long while. The employee did not wait on me she told the other employee to wait on me and she took the Caucasian female order which put her in front of me. The service that was rendered to me was very poor rate it as a "0". I always go to that Subway at that location (Broadway Plaza, Cleveland, Ohio) this is the first this has happen. Thank you for your assistance to this matter.

brenda chatman
from Walnut Cove, NC
To night around 8:30 I took my daughter to the Walnut Cove Subway and when she went in to order she come back t the car and said take me somewhere else because they only had two bread and that was wheat and white. So I went in to see what the problem was and she said we only have two breads. If there is not enough employees there to fix the bread then way are they still there. This is not the first time this has happened and another thing is when you go in there you are normally in there 20 to 25 minutes waiting to get what you want and out the door. No I'm not a complainer but something needs to be done. Sincerely Brenda Chatman

Alan Ritchie
from South Bend, IN
On Wed, March 14th at 12:15 p.m. I went to a Subway inside a Wal-Mart at 3701 Portage Avenue, South Bend, IN. I have been going there periodically for a couple of years. The quality of food and especially the service have been steadily going down hill since. Yesterday was the final straw for me. I came in to find only one person working at the peak of lunch time. You could tell right away that she was pissed off about being there alone. There were two parties ahead of me and two behind me soon after. She was complaining to her current customer about her situation and her disdain for her manager loud enough for the whole line to hear. She did not demonstrate any sense of urgency at all about the growing line of customers. The entire time I was there she was complaining to herself and anyone who would listen. She was putting sandwiches together sloppily and venting her anger on the equipment and utensils. She was rude and short tempered with me during my order and never made eye contact. I could not believe her conduct in front of customers. She had no name tag on so I can't give you a name but I'm sure the franchise manager can determine that easily enough. Your chain has a very good reputation and generally very good quality food and service. I will continue to go to other Subways but never again to that one.

Marcella Swallows
from Hermitage, TN
My daughter went to this subway to get two footlongs but because they were out of bread and was only one foot long and a six inch. Called them and verified my daughter's statements. There were only two women and neither said it wasn't their fault it was first shift fault. I'm very upset and my daughter is so upset she didn't even eat hers. One woman was on a cell phone leaving other unattended and said she had only worked there three days. They didn't wash there hands or wear gloves to fix sandwiches. They both were very rude unfriendly disrespectful to us. They even charged my daughter for a footlong when all she got was a six inch. I'm also contacting the health department.
5760 old hickory Blvd
Hermitage tn 37076
2/8/17. 8pm

Carol Colclasure
from Jonesboro, AR
I am a good customer of Subway, but may not be after the experience that I had today. This was at 2302 East Johnson Jonesboro Arkansas. I went into the subway to get a salad. There was a very nice young man waiting on a customer who was getting 2 foot long subs. I noticed the other employee was outside talking to her friend!! He saw me keep looking at the girl outside, knowing that I knew she was suppose to be in the subway helping him. He said to me, "they are out there "chit chatting" I said to the young man, "well, I'm kind of in a hurry" he knew that I was upset having to wait for the girl who was suppose to be taking care of customers, "chit chat" with her friend!! He asked the other customer if he cared if he fixed my salad first?, (the other customer was a friend of the young man working, I know this because they were visiting when I went in the store) ..... and I said, " absolutely NOT, you shouldn't have to be waiting on customers by yourself while shes out there visiting with her friend. I told the nice young employee that I was leaving, so I just left, I was so angry!!! This happened on 2/2/18 at approximately 2:15 p.m. The slothful female employee had shoulder length red, hair, small build and glasses...I did say as I walked by her when I was leaving that I couldn't get waited on, and she said, "No one is in there?" I said yes, but he can't take care of all the customers by himself!!" she just blew me off and kept talking to her friend!!!!!

sandy jones
from Cortland, OH
I wanted a cold cut sub with only with bologna that I have gotten this way for years for . They just throw the rest out . But today the Manager at the Cortland Ohio subway would not do it and said no one here has ever done that here and its against company policy. She made such a scene and other customers were laughing at me when I told her I always get it like that. With all due respect she should not be a manager or even a worker at your facility. What would it hurt to remove the other meats for me ?? I was so embarrassed and clueless to why she would take this trivial issue so far !!! Sandy jones

Val
from Jensen Beach, FL
No rolls except wheat to make subs it is Saturday at 3:00 pm really out of rolls so I ordered nothing employee was very nice but your manager needs food for us to have to order I don't believe a sub company is out of regular rolls and why do I have to write 100 words

Deb Haney
from Huntington, IN
Very poor quality! I have always loved Subway salads! I would choose Subway over any other restaurant when ordering a salad. Last evening, I got a salad to go after shopping at Wal-Mart. Got home (15 miles out of town) and the lettuce in the salad was NASTY! Brown and slimy! Threw it in the trash! I know things happen, lettuce turns bad quickly. But come on... this was so obvious! I just don't see how the server could've possibly thought it was edible! I would have taken I back, but it was getting late, I was hungry and the price of the gas to drive back into town wasn't worth it. I've never had such a disappointed experience at Subway before!

L.meriwwther
from Indian Trail, NC
Subway number# 37910-0
transaction 1/A-105689
The sandwich was empty with a small amount of meat.
t appeared that they were running out of steak meat or cutting back on meat. The bread had a small amount of veg. in between the two loaf of bread.
The associate spent his time talking to other customers and ignored his job of making a quality product.
This is my last visit to the location..

Jerry Holland
from Richardson, TX
I went in tonight at my favorite Subway restaurant in Shelby, NC #23439-0 and ordered a Ruben. I will make it short but I did leave a lengthy comment on the tellsubway.com. The manager Courtney said that on a foot long sub they only put 2 scoops of sour kraut! The ratio to corned beef & sour kraut proportion isn't right. I almost got in an argument with the Manger Courtney and she said that was Corporate's rules. I called back for the Corporate phone number and no one would give it to me! Keep your Rubens we have plenty of other places to get Subs here in Shelby with Jimmy Johns being only one of them. This is my first bad experience at any Subway.
Jerry Holland
704-482-8928

David Johnston
from Lexington Park, MD
Order three sandwiches online when went to pickup the store said that online order was down he suggested I need to contact bank and would not help no sandwiches took my money can talk to any one till Monday. Very bad service all he had to do was look at order was on my phone refused.

Vivian Burch
from St Louis, MO
I live in West Plains, Mo & I visit the Subway @ Southern Hill shopping center on Preacher Roe Blvd. I visit @ least 3 times a week & every time I go there one of the employee's is very rude to me. Every time I go in she is helping other customer's but when it is my turn she turns around & tell the other worker that she is not going to help me then laughs about it. I was just in there on 12/12/16 & she was not only rude to me but my sister also. I don't know why she is that way with me but if that is the way I am going to be treated I will not be going back. I like going there & all the other employee's are very friendly & helpful but not her. I don't know her name but she is a little heavy set, her hair is always up & she wears glasses.

Gloria J Labbe
from Greater Sudbury, ON
Served by Tylar at the 207-1720 Paris st. Sudbury, Ont.Canada P3E3C2 Subway restaurant. Had a run in with him before , hurt my right arm going out the door, which left a big bruise and when I let out a scream he showed himself from the kitchen I guess you would call it and never came to help me. I complained the next day to a boss and I guess they had a talk with him and now he treats me like dirt.
Never pleasant and comes up short on the vegetables and meat that I chose for my sandwich. I guess that is his way of getting back at me. Example: I usually order a 6" ham, tonight I ordered a 6" turkey and He told me, when I questioned it, that turkey comes with only 3 slices and ham comes with 4 slices. He's maybe right I don't no. But when I ask for bacon on a 6" sub he gives me 1/2 slice of bacon, if I order double bacon I get a full slice, that is not what I get with other people at many Subway restaurants I attend.
If I don't watch him he will only give me 2 slices of tomato which s/b 3 slices. then the rest lettuce, cucumber, green pepper, green olives and pickles are very sparse. I continually have to ask for extra which might be like 1 or 2 more olives and pickles and 1 or 2 slices of green pepper. To night he didn't ask what cheese, so I have no cheese on my sandwich. I am never treated like that by anyone else and I am totally fed up with him. I buy lots of sandwiches from Subway, like 3-6 a week so If you don't want my business I will give some one else my money.
Funny last year when I hurt my arm, I told another person at a different Subway restaurant and they knew who I was talking about right away without me telling them his name. but he is still working for you. Must be the owners son that is the only way he could keep that job. Please help me forward an answer via my e-mail.

Randy Davis
from Pleasanton, CA
Was told this week that the Subway located at 249 and Cypresswood drive quit selling coffee but it is still on menu board there. Well, that is the best item on the menu so why should I go back? If you are going to sell breakfast you need to sell coffee plain and simple. Someone at Subway corporate should be fired for this.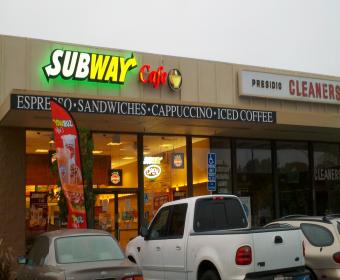 I visited a Subway branch on Squiresgate Lane in Blackpool on Thursday eve to take 2 x 12 subs with us to eat. Approximately an hour later to find that all the bread had gone wet, too wet to eat. It was as though there was to much water in the salad that was placed on the sandwiches, we had to throw them away. I have had many from this branch before and eaten them later, it makes me feel that I have been let down.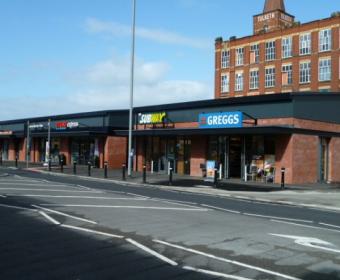 We order from Subway at 8:17pm and it was suppose to get here at 9:17pm and it never came. We went from contacting Subway customer service calling the store and everything and the manager at the store told customer service he was backed up but the order is on the way. This was after an hour and a half almost two hours. Still nothing so my friend and my sister went to the store to find out apparently he had cancelled the order without letting us know and then lied to customer service. I've order from here all the time and have never ever had such a horrible experience in which I wouldn't order from here again. It was food worth $50. That was a lot of food a family was looking forward to and never got and got lied to about.

Went to get a sandwich on 8/6/16 around 5ish in the afternoon. The young female who was asked o fix my sandwich by another employee came from the back rubbing on her face. I asked her if she was going to wash her hands and she said I did. But I said you are rubbing your face near your eye. She says I am putting on gloves to which I said you were rubbing your face which is not clean. After rolling her eyes ,she disappeared to supposedly wash her hands. She came out and just looked at me and never asked me what I wanted on my sandwich.
She just looked at me as I asked for the fixings for the sandwich. I had to ask to get the sandwich heated. She was very nonchalant and disrespectful . Subway should remind employees that if they soil their hands after washing them and then touch the gloves on the outside (which they must do to get them out of the box) then the gloves are contaminated. I have not eaten the sandwich yet but if I get sick I will call the health department and that employee should be disciplined for her attitude.

Beverly Carignan
from Fort Worth, TX
Ordered a BMT salad today....brought it home to eat (about 5 min. drive) It is big as you know....took some out to put in a bowl, felt very wet....there was no dressing on it. I tried to eat it but was all wilt...spinach and lettuce. Went back to look at all that was left and poured out between a 1/4 and half cup of water! I used 8 full Bounty Paper towels and squeezed out more water....ended up throwing the $6 plus salad away and I mustn't forget to say the top of a tomato complete with stem was a part of my salad.
I have had stale bread before and wrong bread and have seen flies flying merrily around the food before but have never felt the need to complain to anyone except the store employees. I have had bad customer service on occasion and the managers conveniently are never in. I have lived all over the US and traveled even more. Subway has always been a constant for me...after today it will be no more. I wish I had known there would be a place to upload an image before I threw it away!

Jasmine Hernandez
from Husum, WA
At the Sunnyside washington store I seen an employee named Lauren smoking marijuana in her vehicle a Nissan Xterra and think it very inappropriate.

nelly
from Liverpool, ENG
I work in royal Liverpool hospital Prescott street Liverpool. I think you need to look at the dirty place flies every were never cleaned early morning bins smelly food crumbs down chairs for several days this is not the way we want to eat and pay for food needs a major clean up daily. I myself work in the hospital as a infection control nurse and you let patients into your food hall with cannulas ie needles to use toilets needs too be addressed asap. Sorry for this message but I hope it reaches the Subway CEO at the corporate headquarters.

Mary Edmiston
from San Francisco, CA
Slowest I have ever seen line way long & couldn't get waitress to give me what I wanted! Toasted? No & in the toaster it went toppings all wrong. Really bad experience! Even cashier..new? Confused slow couldn't keep up Hoping GP has another one & it's better service.

Kelly Drake
from Allen, TX
Went into Subway. A party of three, we all ordered separate. First lady gets her meat sub in 20 minutes. Next lady gets hers 45 minutes later then mine 20 minutes after the second lady, never once did they apologize. Never brought us refills we had to take our glass to the front to get drinks. This was the worse service I've encountered in a restaurant. If they had been busy I wouldn't even complain, but it was one other couple in there..These workers undoubtedly don't like there jobs. They should not be working for the public, and they give Subway a bad name for sure.

Sandra Castro
from Elizabeth, NJ
I received my subway coupons in the mail and the subway located at 238 Route 9W in Haverstraw, NY 10927 does not want to accept the coupons because they are loosing out on them. Are they allowed to deny the coupons? I thought discounts and billing complaints were resolved at the corporate level.

Barbara Rector
from Grants Pass, OR
My experience is the disrespectful disgusting TV commercial concerning used car salesmen. We are retired and have never been car sales people, there have been new dealers along with used car sales in family. Honest hard working people. We or large extended family will not go to a subway again since. we now know how stupid and elitist your company is. The proof of that was just shown 5 times in an hour program. I bet there are thousands who feel the same as we do, l'll do my best to ask as many as I can.

Gayathri Bahumanyam
from Toronto, ON
I am a regular customer to the subway in 4101 york mills center, ON, Canada. I am terrible disappointed with the customer service in the branch. Especially the server named Amitha. Every time I ask for a chopped salad, she is the one to make the salad. She makes faces whenever I ask for a few more veggies in my salad or ask anything in general. I see no reason why this should happen. Also she refused to serve me soup when asked for. I love the chopped salads in Subway and enjoy them very much but with such a service by Amitha, I am forced to go elsewhere for my food.
And It is not just a one time experience. I have been to the 4101 subway for quite a few times now and I have experienced dissatisfaction every single time I have interacted with Amitha. Other employees seem to be very friendly and interactive. I am very sorry to make this statement but "I will not be visiting The subway located in 4101 Branch " Please take necessary actions. Much appreciated. Thanks!

David Crandlemire
from Edmonton, AB
I went to the subway in Athabasca Alberta Canada, I waited in line 30 min when I got to the counter they had one sub bun left I got my sandwich made when I got home the bun was stale very hard and crubble, this was at the dinner rush there were people lined up out the door. What kind of sub shop runs out of buns at 5:30 pm and serves stale buns. I will not rate my experience because it would be negative and it will be a long time before I ever go back if ever I was very disgusted and threw my sub away.

Roland Deschamps
from Ottawa, ON
May 25th purchased a 6 inch turkey/ham sub at McGill st in Hawkesbury On. Got 2 slices ham, 2 slices turkey, 2 slices cheese. Certainly far from what is advertised on your website. I got a bread and vegetable sandwich. Is this the "Subway" standard?

Karen Wood
from Humble, TX
An order was placed on line. We had a coupon and forgot to enter that. We called the subway and asked if it could be adjusted when we picked up our order. They said yes we could. No where on the coupon does it say it cannot be used with on-line ordering. When I went to pick up our order, they refused to let me use the coupon which they said we could use. The coupon was a current and active coupon to be used on this day. It was a young manager there and he couldn't help me but a female there kept butting in and telling him what to do. I am very disappointed that a "good" coupon could not be used at your subway on West Lake Houston Parkway in Humble. We would not have ordered our meal on line if we knew we could not use the coupon.
Have feedback for Subway?
Thanks for your feedback!
Sorry. Please try again later!