Subway
Subway Complaints Continued... (Page 2)
317+ reviews added so far. Upset? Call Subway corporate: 1-800-888-4848

Brenda Payne
from Dallastown, PA
Subway not honoring their own coupons. I entered a subway store #26851-0 at 576 Shrewsbury Comm. Ave. Shrewsbury, PA. 17361 and placed my order and the order was being made and they told me they don't take the subway coupon or no double meat on ham and turkey subs. I was very disappointed. If the order had not been already being made I would have walked out. I am very dissatisfied. with that Subway for not honoring the coupon or not being able to double the meat. At these time of gas inflation and driving to the subway to use the coupon is was very disappointing that they did not honor their own coupon.

Mykhaylo Kotok
from Toronto, ON
Staff not listening and adding toppings, including cheese, when instructed not to. Associated use his hand to text while making my sandwhich, and the same hand and same gloves to handle the cash register, his phone and my food. My food was promptly thrown away. This is not the first issue I've had with the same employee

Lawrence Larson
from Homestead, FL
I had two subway Club sandwich prepared the girl put much too heavy on the mayonnaise and the oil and vinegar. She did not give me a receipt I tried to return the sandwiches they tell me the managers is not here.The girl preparing the sandwiches did nspeak English I cannot communicate with her .

Mary gober
from Cincinnati, OH
I called the harrison subway on ring road in harrison ohio 45030 a young man got on the phone I explained the web site was down couldn't use my coupon or place my order it was buy 2 get one free asked could he asst me he said no I advised they have in the past he told me it's not his problem the sites down I replied with excuse me he said I was being rude I asked his name he said frankly it was none of my business and the call ended I had worked at subway for 8 years never would I speak to anyone I frequented this location quite often not anymore after that

Doris McCullum
from Saint Paul, MN
I was treated poorly today by your representative. She left her store for around 30 minutes with no sign posted that she would be back. She was in the bathroom etc…. NO SIGN. Then she comes back and starts yelling at me. I was in the wrong and I tried to apologize for it but she was not having it. She went to the store police and called the city police on me when I was already out in my car in a handicapped spot. Ohhhh did I mention that I'm a 64 year old black disabled unemployed woman who just wanted a sandwich. Now after living 2 blocks away for 30 years this Pam says she won't serve me so I have to go to McDonald's arbys etc…. And I had to send a friend in to by a sandwich for me to get the information I needed to file this complaint.

Made everything wrong! Missing one sub. When called was rude and said sorry you took it out the store. We ordered online u had it bagged. Worse service ever never go back and will tell everyone not to go there either. $50 for nothing out a piece of meat.

Helen Johnson
from Tampa, FL
I ORDERED FOOD AT THE SUBWAY ON 107 BISCAYNE BLVD MIAMI .
ON WAITING FOR THE ORDER MY FRIEND AND I WITNESSED 2 LARGE BLACK RATS RUNNING FROM THE STORAGE ROOM.I COMPLAINED BUT IT WASNT TAKEN SERIOUSLY. SOMETHING NEEDS TO BE DONE.THE HEALTH INSPECTOR NEEDS TO SEE THIS

David Phillips
from Anchorage, AK
I was treated very rudely at eight thirty in the morning because I wanted coffee.
It took three separate times going into the store before anyone came to the front.
I am not alone in my problem with this person.
You have lost a customer if it means anything to the company, it means nothing to that particular assistant manager.

I politely and discreetly told the manager at Subway in Angola on Wayne Street about my experience. I received a foot-long that I ordered through the online app and it was not made as per my instructions. It was difficult to eat because it was so sloppy. I had missing ingredients. I had one piece of cheese per each 6 inch. (Should have been 4 slices) I told the manager that the meat was put on the top of the bread instead of the bottom and she told me that is how it's supposed to be. I've never had a Subway sandwich made that way before and it made it very difficult to eat. Overall, I have had an unsatisfactory experience when placing my sandwich orders online through the app. Most of the time the sandwiches are not as indicated by the app. Mostly, my experience has been about missing ingredients or ingredients put on that were not requested. My overall experience with this manager on Wayne Street and Angola was that I left the restaurant feeling like she really didn't care and she never even offered to make it right. I told her I have the rest of the sandwich in my vehicle if she would like to see it, she said nothing.

David Massey
from Houston, TX
Placed Phone order. My card was charged. Restaurant told me when I arrived they did no have the ingredients for my order. They said to use website for refund. Website has absolutely no option to complain or request anything without a receipt number, and I do not have a receipt because I received no order and not receipt.
It seems to be impossible to contact Subway in any manner to receive a refund or any other matter.

Bobby R Richards
from Indianapolis, IN
This is not my 1st time this has happened but upon placing an order the in order the representative working for Subway laid the food aside went to another customer while my food laid there unattended the 1st time it happened a fly landed on the food because it was being unattended this time there was not a 3rd person in line to be waited on my food laid there getting cold while I waited possibly another fly landing on the food this is something that can be reported to the health department and I believe that this should be addressed the employees that were working were rude. The store location is in bowling green ky at a local IGA market located on cemetary road.

carla baker
from Quincy, FL
i went to lunch at the subway in quincy, florida and the doors was lock and they wasnt letting any one else in the store i find that unacceptable and i really want to eat subway.

I went to get subway on March 19 2022 in SE Calgary AB (the Township subway location). I got a foot long sub. When I got home I started eating it, a few bites in, I chomped down on something hard and upon pulling that item out of my mouth, it was a glass shard. We took the sub and piece of glass back to the subway we purchased from. they refunded us our money, but my husband noticed that one of the bread ovens had a visibly broken pane of glass on the inside of the oven.. he told the employee and she said it had broke the day before but no one has done anything with it yet. They continued to serve customers. This is unacceptable. They should have thrown all that bread out when the glass pane broke and replaced it immediately. I could have seriously done damage on my insides and or gums and teeth. Not to mention I am currently pregnant. NOT OK.

stephanie watkins
from Frankfort, KY
I had coupons to eat with. I am a single mother with limited income. We cannot afford Subway alot, so I had coupons. Subway is a franchise, I had coupons that had not expired. The worker told me they do not take paper coupons...
I already had my sandwiches, I spent 24.00 where it would have been about $15.00 with my coupons. I have my receipt. I was at the Subway in Lawrenceburg, Kentucky Walmart .
Could I get a partial refund? or gift card?
Thank you for your any help.
Stephanie

Stephen Bolmon
from Toccoa, GA
I ordered a chicken bacon ranch melt it didn't have no bacon or ranch dressing I also got three other sub's they they was not right the didn't put no oil or vinegar or salt pepper they didn't have tomatoes or mayonnaise they just made a big mess out of two of these sub's they have 4 people working and was not busy I don't see myself going back there anymore that was a bad experience thanks

Dr MICHELLE O'Brien
from Port Orchard, WA
I picked up my pickup order at 2:16 at your bucklin hill subway in Silverdale WA. The cover was sealed. The re riot said all the items and the price I paid. I got the order home and it did not have my lays chips. I called the office and was told they can't just refund the price of the chips. That was that. I just paid for chips I f didn't get and now you've lost me as a customer forever! The young man answering the phone had all kinds of excuses and no solutions.

Regina Johnson
from Monroe, LA
My call in order was not fixed to my special instructions.
I can't eat onions or green peppers!
They evidently did not read !
Shelbyville Kentucky 93,Howard Drive
Not the first time I've gotten the wrong stuff!

When I got to the subway there was no clerk I had to yell in the back room to get her attention, she did not seem happy. I wanted the flat bread but she said you were out of it, that was OK so I got the Italian bread had my sandwich made when I got home I had no napkin no receipt and the bread was so hard that I could not possibly have eaten the sandwich. And I'm just so upset over it.

Jerod was something that no one could predict.
Cheating your customers and franchise owners on fake tuna fish is a corporate decision made knowingly.
After all of this, you guys then chose a purple hair to be your spokesperson??
Have you lost your minds??
I believe that you need to refresh upper management in order to be fresh as a company.....
Maybe follow Dominos Pizza's lead and simply stand up and take full responsibility for the insanity after firing the CEO and many upper managers..

Vansel Hollingsworth
from Columbus, OH
My reasons for giving the food back and going to another location is due to the poor energy and lack of care my sandwich was made in front of me with the worst care cameras will show and the attitude and energy is what really done it for me I wouldn't recommend any one to order at this location with these 2 employees that are on now.

Judy Kaiser
from Chicago, IL
I went thru drive thru at 720 west Jackson Sullivan Illinois, ordered a chicken bacon ranch Salad with lettuce tomatoes cucumbers and shredded cheese, 9.49 and I got chicken bacon ranch with spinach tomatoes and shredded cheese, so I took it back and asked them to fix it and second time I got chicken bacon no ranch with lettuce tomatoes and shredded cheese at 9.49 for a salad I would like it to be made my way thank you,, do not use my email because I never check it

Connie Zahm
from York, NE
1-21-22 Today we tried ordering subway online for 1st time , We do all our ordering online @ other restaurants, We wanted to order online because of buy one footlong get one free , I spent 20 minutes everything went okay but wouldn't let us check out. I drove down to the Wymore Nebraska store asked why I couldn't place order. The employee's said because they have no internet and everyone's been in complaining about it, Employee's told me to make a complaint because nothing has been done , this Apparently has been a problem for sometime . We did Not order food because employee's said Management would Not honor our free footlong

mike ellenburg
from Dalton, GA
went to your store at 1281 north Glenwood ave Dalton ga on 01/18/2022.Upon entering the store the male employee was sitting around playing on his phone. after walking up to the counter he was bothered that we wanted to order. He started fixing my sons order and my son asked for something extra and the employee says well you know that's gonna be extra..my son says that's ok.then the guy asked something else and neither my son nor myself heard exactly what was said. Since my son didn't answer him he laid the sandwich down and started fixing the Spanish guy who was behind us.Finally the female worker came over and finishwed the sandwich while the employee and the other customer were cutting up and being funny. If this is your customer service I feel sorry for your company. Both employees didn't look happy to be there but if not let them go to mcdonalds where this is tolerated. THANKS MIKE ELLENBURG

KATHERINE OWENS
from Oscoda, MI
TOWARD THE END OF DECEMBER I WENT TO THE SUBWAY IN OSCODA MICHIGAN. I ORDERED THE ROTISSERIE
CHICKEN FOOT LONG. THE BREAD WAS HARD, STALE. THE CHICKEN WAS TINY, DRY OUT, AND HARD AND ONLY 3 LITTLE PIECES ON A FOOT LONG. NO RANCH, THE LETTUCE WAS BROWN. I WILL NEVER GO HERE AGAIN AND I WILL TELL EVERYONE NOT TO EAT THERE.

janet veregge
from Merced, CA
Was in Subway located at 720 carol ave Merced ca today and gave them my coupon that was sent sent to me in the mail expiring 2/13/2022. I went to use it there and it wouldn't scan so they refused to take it. It was for buy 1 get 1 free. I don't have the coupon as they took it and waded it up and threw it in the trash. I asked for it back and the girl said no it wasn't any good. I did use a coupon from the same sheet 2 days ago and it worked fine. It is very upsetting to be treated this way. I'm in there all the time. Had to pay regular price of $15.38 for 2 sandwiches. Don't know if I will return to that location again. Thank you for your time.

Yesterday Jan. 11th, 2022 A friend and I went to the drive through @ subway about 9:45a We both got a 6 inch Chicken Teri Sub...it was disgusting...the bread was hard around the top and bottom...It was made so sloppy that it was falling apart and soggy..When I got ready to pay...I gave her my phone to scan it. My sister sent me a $25 giftya subway card for Christmas...it would not go through for some reason...I was charged $12.49 for the 2 6" subs..which I felt we were over charged. We didn't get any extras...just the 2 subs. I ended up having to pay cash for them...I ended up b n lucky because I had only $12.50 n my wallet.Im going to contact giftya and see if I can put that $25 gift card on some place else as Subway has really gotton bad.

R. Williams
from Chester, VA
This is subway on ironbridge road near Walmart.
Worker came from back and did not wash hands. I had to ask for that to be done. Afterwards she kept pulling on her mask with gloved hand then handled food. Mask is germy and hers was too big. Felt as though food was being contaminated and overall good hygiene did not seem to be a priority

Marcella Sanchez
from Roanoke, TX
Rude person behind the counter. I was ordering a sandwich and he didn't seam to know what to put on the sandwich ,which I ordered by name. I was telling him what veggies to put on it . He didn't even smile or say thank you. Just plain rude. Need new people who know how to service the public, with a smile. Subway in Brownwood Texas on Commerce square.

Ruth Burianek
from Seattle, WA
On December 3,2021 @ around 8:30 pm I had ordered some sandwiches and wanted to use a coupon that was buy a 6"sub with chips and drink for $6.99.. as I got to the store to pick up my food the employees said I couldn't use this coupon and had to do a complaint about it.. so for 2 orders I paid $24.22 when it shouldn't have been that much.. I pick up my sandwiches and when I got home which is only 5 minutes away my sandwich was so soggy I did not finish it.. I would've taking them back but the store was closed..I'm disappointed in all of this and I'm not sure I can go back to you guys again… This was the first time in months that I have ordered subway sandwiches and never was it ever like this.. Thank you

Jalil Burris
from Mifflinburg, PA
Order a foot long Turkey bacon ranch from Subway & I got 1 slice of turkey on it & no bacon. I took it as a loss
2 weeks later I ordered a Itialian foot long & I got a 6 inch sand which & there was no ham on it. I called the restuarant to tell them but they gave me the run around.

Ruth Ann Burianek
from Seattle, WA
On December 3 2021 @ 8:40 pm I had placed an order for pickup and could not get the coupon to work . I ordered 2 6" subs with 2 bags of chips. And paid full price and my coupon was for 6" sub chips and drink for $6.99.. I got to the store and they said they could not refund my money back and had to do it this way.. I'll say I was not to happy with the service or my sandwich. Sandwich was soggy and I couldn't finish it and was unable to go back only cause they had closed @9pm..I will not be going back any time soon

Michelle Mcelhannon
from Dallas, TX
I ordered our food online for a delivery subway took my money and never delivered my food so i came to the store on short blvd in walmart they claim to not have ever received a online order the lady was very rude i ordered my food at 421 today its now 6 and no food i live a block away ...this is stealing and now im going to make a police report....

Anonymous
from Indianola, IA
The people that work there are slow. They should probably get more training and should also be nicer to their customers

Jerome Fritel
from Bagley, MN
I ordered a sandwich at the Fosston Minnesota Subway and received a terrible sandwich that made me sick. It appeared the meat was spoiled and the employee Tami LePier was extremely rude and was cussing at the other employees. She may have been the owner. I was told later by friends the ingredients are usually spoiled and Tami is always rude and is frequently intoxicated and seen drinking wine while working. Will never eat here again and also reported this to the health department.

Jamie Hines
from Jacksonville, AL
I placed an order via the Subway app for delivery from the Pelham Road location in Jacksonville, AL. I didn't get the majority of my order. I ordered a foot long meatball marinara meal with chips and a bottled Sprite and a foot long ham melt meal with cookies and a bottled Coke. I only received the foot long meatball marinara sandwich and the chips. The Door Dash driver left the order on the steps and I could not catch her to ask her about it. I called your store and some boy, he sounded like he was late teens, was INCREDIBLY RUDE to me and told me that I could either come pick up the rest of the order or I could call Door Dash. I have worked with the public for years and that boy gave me the worst customer service that I have ever received. I asked for his manager and he was extremely pleased to provide it and that's why I am not calling her. I know how these things work and I could tell from his tone of voice that this is not the first time he has had a problem like this and the manager has undoubtedly backed him up even though he is dead wrong and a liability to the store. The reviews for this Subway all say how rude the staff AND manager are and now I see exactly what they are talking about.
I then contacted Door Dash and they said that because I remitted the payment to Subway via the Subway app, they could not do anything about it.
The bottom line is, Subway has my money and I never got the food and that is called theft.

Michael wilcoxson
from West Palm Beach, FL
They racially profiled me I want a lawyer they embarrassed me they made me pay for my food before I could even tell them what I want the guy who took the order knew his supervisor was wrong he whispered to me ( man she say you have to pay for your food first ) . Five people walk in after me I counted and they paid after they got there food. I did not get everything I wanted then to top it off I called back up to the store which is located on 1693 forum plaza west palm peach and they told me they don't know there's owner name and hung up the phone

Debbie Randall
from Portland, OR
River Road Subway for months have said no longer serving soup ?? I thought all Subways sell soup - weird but thought maybe due to covid. Went two weeks ago & asked they said now have soup but didn't have time to make this day ? 12:15 PM ? Went back again today they told me soup sold out ? 12:30PM ? I asked the girl about this she said was her 1st day & didn't know ?? I ordered a couple of 12 inch Cali Fresh turkey sandwiches got home & BOTH breads hard as rock ! would have broken a tooth eating those :( NOT happy at all have given this business lots of business thru the years and will go else where from now on as ALL other locations & other Sandwich restaurants serve soup AND not rock hard bread....Now I'm back at home w/ no lunch !
Signed previous customer
Deb Randall

Richard Stewart
from Stockton, CA
I placed an online order yesterday at 6:15 pm with a pickup time of 6:30 pm. When I arrived the store was closed and is closed today. I want a call back.

Antonio Pelmore
from Phoenix, AZ
Sunday October 23rd 2021 I went to Subway located at 610 E Baseline Rd Phoenix Arizona at 8:25pm and I ordered 2 pizzas with tomatoes, pickles and black olives. I noticed after I left the store that the pizzas were not done. I called the store and received an automated message. I hung up and called back at least 10 times but was never able to reach anyone. The next day I went and Anthony (the Subway worker was extremely high) informed me that the phone did not work and that a Manager would not be in until 2pm and I needed to come back then. He called someone on his cell phone and was speaking Spanish getting instructions on how to handle it. I could've became very sick due to the fact that Subway decided to serve pizzas that were not done but to further complicate matters I couldn't call when it immediately happened so I had to come back only to be told that the Manager would not be in until 2pm.

MARK RANDALL TUCKER
from Overland Park, KS
Visited the Subway near my residence on 10/13/21 at 4:22:17. The store was #22568 at 10081 West 87th Street, Overland Park, Kansas. I have frequented this location for years and no problem. On this occasion I attempted to utilize a Subway coupon which I received in the mail which provided a buy one get one free sandwhich. I submitted my coupon to the clerk and was advised that they refused to accept my coupon. First, they said they could not scan my coupon and then they said my purchase did not qualify for the free sandwhich because I did noy buy the same item at the same price.. The coupon was in pristine condition. I endeavored tp tell them that I did not need to buy two of the same sandwhich only thast my free item had to be at or below the cost of my initial sandwhich. After about 15 minutes of candid discussion I simply paid for both sandwhiches and left the store. I simplky made a point that I would discuss the matter with the store manager the next day. I attempted to do just that on 10/14/21 but was advised that the manager was not in. I subsequently left my name and phone number and asked the clerk to provide my data to said manager. I have waited two days to receive a call but never r3eceived one. I dont know what concerns me the most i.e. refusing to accept a valid company coupon for absolutely no good reason or essentially being ignored by this store. I worked in retail for over 40 years and have never seen such abysmal customer service. Mark Tucker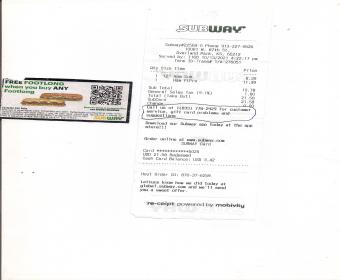 karen
from Stevensville, MD
Stevensville, MD worst service ever will not refund your money when they are the ones that screwed up and didn't fix the problem
Subway Corporate - just uses the de facto that the franchise store has to handle it , so when you send in the complaint to corporate nothing gets done
do not consume here, go to a respectable business, they are fraudulent business with deceptive advertising and should be checked in on by the FCC and BBB

Sarah
from Charleston, WV
Why is this restaurant never open on time and it's always closed by 8:30pm. The employees are always outside smoking when they are open. It's very sad that people can't get food because they are always closed. It's the subway in Canaan Valley ( Davis). Inside of Bfs

Becky Ellis
from Santa Monica, CA
I am very disappointed that my meals the handful of times I have gone to Subway I have been getting cold nasty tasting bacon and nasty tasting avocados along with stale bread and sloppy food prep, meaning mayo and mustard everywhere but where it should be. A big corporation like yourself should offer me at least three to four free meals. I have been going to Subway since the 90's Please replace my meals by sending out free coupon meals to cover all the money I have spent, as couldn't go back to complain because just got off work picked up food now home to relax or a friend picked up the food for me and brought it home.
Thank You In Advance, Becky Ellis

I went to the store and shickshinny Pennsylvania and I ordered an asiago roll they told me it was too hot to cut so gave me a wheat one and as he was making my salad he made a guy that was there before me that hang out there every day and asiago roll and I said something and he said yea he was waiting for it I said a whole min n u couldnt give me a Asiago roll I walked out

BettyAnne
from New York, NY
On 8/28/21 I went to Subway at #24978 -0 and I had coupon and the lady charge me for a free cookies wit sub when I arrive home to have my lunch she didn't give me a cookie at all and the sub was disgusted made me sick to my stomach the bread was hard in oven to long I call right away she hung up the phone in my face twice very unprofessional she shouldn't be working if she guna treat a deaf elderly woman like dat I was der at 1:14pm on sat. Thank you I look forward to hearing back from you soon. Have a blessed safe day.

Marjee Minor
from West Valley City, UT
yesterday at about 5:15 pm we went to Subway and ordered 3 sandwiches 2 of them were right but mine was totally wrong he ordered me a steak melt on your Italian bread but what I got was some kind of pepperoni sandwich we took it right back and told them what the problem was the guy remembered my husband and made it over but they charged me for a whole new sandwich I would have liked to cause a seen but by then there were people behind us, she never said anything about the wrong sandwich just was rude and wouldn't listen to us. This is the Subway located at Love's truck stop in Cedar city Utah I sure hope this isn't what you want to be your customer service to be. I've worked in restaurants all my life and if something is wrong you fix it you don't charge the customer twice. Please let me know if this is the only way you want your customers to served because if it is you just lost a good one, please feel free to call me really like to know if you approve of this service because it's so wrong. Thank you Marjee Minor by the way we were not given a recipient that is why I don't know the store number I tried to call and get it but they gave me the wrong number said it was 335 but that doesn't work on your website

Teresa Nichols
from Cartersville, GA
Two locations in Cartersville Georgia one is on Westside Cartersville and the other is on Nelson Street in Cartersville. The owner is the same of both of these two locations and possibly more not sure. My problem is with the Westside location Cartersville. I went into the store to use my coupon to get 1 Subway and get one for free. I ordered a Italian BMT and a Subway Club the man barely put any lettuce on the sandwich, I asked him to put a little more lettuce on it. At this point the man started attacking me stating that I was using a coupon he wasn't giving me anything else. He then instructed me to leave the store get off his property. I was very nice to this man he was the rudist person he was very upset about the coupons, and him having to honor them. Subway needs to investigate these two stores I say this because I am a female American. This man is from a different country with different rules on how women should be treated. Both of the stores are owned by the same man I cannot imagine any other woman going through what I went through this morning. We share this world together and in my own country I have to be spoken to with such hate over a coupon. I would have gladly paid for the extra $0.05 of lettuce I asked the man for. I will not be back to any subways and the near future and we'll definitely never go back into either of theselocation again.
I contacted the other store where the older gentleman was who owns the two locations here in Cartersville. I explain to him what happened and ask him did he understand that his associate was treating people and women the way I was treated when I was there. I asked him to review the video camera so he could see as to how I was treated. The man asked me very hateful what do you want me to do about it. I believe this man was the father/ relative of the man who spoke to me with such hate at the West Side Cartersville location.
I am an American, I do not deserve this here in our Country. I respect everyone no matter where there from. Goodbye to one of my favorite restaurants
Thank you, and God bless everyone.

Hobbit Smith
from Mountain Home, ID
I did an online order for curbside to be picked up on 8/19/21 at 6:15 and continued to watch other customers being helped and being told they were behind yet there were times they helped 1 customer.Worst experience at Subway ever.This was your Grantsville utah store didn't get my order until after 7 Pm!!!not going back again, the girl wasn't genuine or sincere.

Angelica Alvarado
from Compton, CA
I was in this subway I spent 34 dollars on one of my sandwich was a very long hair when I told to one the employees he told ok since you ate half of it , I'm going to give you a kids sandwich he was very rude he didn't apologize of anything I wait to tell him of this disgusting situation when he was with no customers because I didn't want to affect the business but what I get to polite was he's insulting me saying the maybe the hair was mine I told hem get hair pull the hair from the middle of the tuna how can I put the hair in there , after a while I told him that I want my money and he call to his manger she was in the phone telling him to give me only 6 dollars back after this I was very upset and I ask him his name and the managers name she told him not give me their names or my ticket but I to a picture of my ticket when he asked me for it And I took a picture of my sandwich too ,I'm don't understand why them were so rude with me I just doing my thing to go back on business ,but with these employees is impossible. I really want and answer for this problem before I do something else.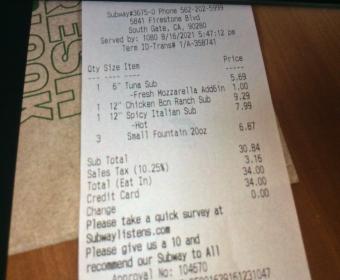 Jane McCormick
from Springfield, MO
My experience at Subway at 1923 Kearney, Springfield, MO, 65803.
I ordered off the Subway app, and DoorDash is the delivery that Subway uses in my area. DoorDash was given the wrong order by Subway, and when delivered I gave the sandwiches back to DoorDash. I then contacted Subway and asked for a redelivery but was only offered a refund. At that time I declined it as I wanted my sandwiches and had no idea that it was going to be such an arduous process. Surprisingly, shockingly, I was told by the person on the phone at Subway that they have no contact and will not contact DoorDash. I had to do the work and job of Subway to contact them to request a redelivery, DoorDash then had to get Subway on the phone to have them agree to it. It took over an hour and two follow up calls to DoorDash AND Subway to have my correct order delivered.
Once delivered, I realize that my correct order was made incorrectly. I contact Subway again and blatantly ask for a refund. At this point I am emailed by a General Manager (actually, I'm unsure this person called themselves both a General Manager at first then changed her story to a District Manager) Shannon J. Shannon tells me that I need to return the order to be refunded, when the incorrect order was not given to me by DoorDash.
I asked Shannon J to just call me. It takes her an hour and a half to do so, in which she tells me the story. She then proceeds to call herself the district manager, right under the owner, and refuses to admit to any wrong doing on Subways part. She also interrupts me consistently, begins to raise her voice at me, and tells me, in a very sarcastic voice that she will NEVER refund me until I return the food (which was returned, to DoorDash) and "good luck with what you're trying to do". She states to me that it is a policy of Subway to never refund unless the food was returned, but, yet again, the food was returned to DoorDash, whom Subway chose to be their delivery system. In another email, she called me a liar and will ignore me.
Shannon also told me that DoorDash is responsible for refunding me. I told her that I placed the order through the Subway app so that would not be DoorDash's responsibility and they wouldn't have my card information. Shannon then proceeds to tell me that is not true, that DoorDash DOES have my card information. I asked her how is that possible when I used their app and put my card information into Subway's app. It seems that Shannon is telling me that Subway shares my personal, private card information with third parties. I also attempted to call the store back after she hung up on me but was hung up again and then the call never answered.
I need someone other than Shannon J to contact me in regards to the terrible service from her, and the fact that I spent over 2 hours trying to have my sandwiches delivered with no satisfaction or attempt to be made right from Subway

Carol kosier
from New York, NY
Filthy restaurant. No other customers except my sister and myself. We were very hungry and ordered a 12" cold cut combo. The meat they put on here was brown on one side and she told the girl but was completely ignored. The bread was so dry like it sat out for a day.
We went to sit down and there were no clean tables. All tables empty and all dirty. Not one was cleaned off but we were hungry so we sat at the cleanest one we could find. For your business you need to know this

Nicole
from Englewood, OH
I work right by subway and our office use to go there a lot until today! I placed an order from the app like always and how they gng to forget cheese on 2 subs and among other things that was added to the other subs. We called to tell them once I got back to work with the order after waiting 25mins to get my order bc the workers where in the back talking to one another instead going their job of course both subs where cold no cheese or bacon on THE ALL AMERICAN CLUB!! She told us to bring it back up there and she would check the cameras and decide what to do from there I am at work lady I'm working unlike her. She needs to find another job bc dealing with ppl with that attitude will get her dealth with fr

David Lorenz
from Jacksonville, FL
I'm a long time satisfied customer, but as long as your company endorses Rapinoe, who publicly and disgracefully disrespects my country's flag and National Anthem, I cannot in good conscience continue to support your business. As a patriot and one who loves his country, I respectfully ask that you reconsider this ill-advised endorsement. Thank you.

Charles James Garcia
from Gilroy, CA
I went into the Subway sandwich shop on First Street in Gilroy, CA at approximately 1:30 PM on Saturday, July 3, 2021. One employee was sweeping the floor behind the counter near the warming oven where the breads are kept. I could already smell the dust in the air. She saw me, but kept sweeping. One minute later, she put the broom aside and put on the serving gloves to make my sandwich. She began preparing a meatball sandwich. Right then, another employee walked over to the broom and continued sweeping the floor. I could smell overwhelming bits of dust in the air. I asked her to not sweep while sandwiches were being made, but she continued sweeping. I could see papers, dirt, and other debris being swept to the end by the register and then toward the back of the establishment. I told them both that I could smell the strong smell of dust in the air. The first girl assured me that it would not affect my sandwich. How could she say this when there was lots of dust in the air? Not wanting to make a scene, I paid for the sandwich and exited the shop. I went to the nearest garbage can and threw the sandwich away. I was not going to eat a sandwich under those circumstances. I am disappointed in the employees' lack of decency and cleanliness. They should not be sweeping garbage on the floor while making sandwiches. The second girl was sweeping right where the first girl was making my sandwich. I will not go into that Subway ever again. I am a dedicated customer of your business, but now I will look for another Subway to get my sandwich. Common sense should have told them to respect the presence of the customer and not stir up tons of dust and dirt while making sandwiches. I went to the Subway on Welburn Avenue near Monterey Road in Gilroy to buy the meatball sandwich (again). The service there was excellent. What a story to tell others that frequent the Subway on First Street in Gilroy. Someone should speak to the employees there about common courtesy and decency in serving the public. I shouldn't have had to pay "twice" for a sandwich, but what else could I do?

Michael Evans
from Aurora, IL
On 06/27 we entered your subway restaurant at 3244 Glenview Road in Glenview and were instantly confused as there 2 signs on the door stating that a mask was requested and 1 saying a mast is requires. as we enter the man behind the counter ask us to leave because we were not masked. i told him that i was confused by the signs and that request doesnt mean the same as required. He proceeded to tell i needed to learn the meaning of the words on the door. I asked to speak to his manager and he told me it was my responsibility to figure who that was. I habe never been so angry/cpnfused in my life. we decided to leave and on a whim go to another subway a mile away in Glenview. We found no signs as well as patrons with no masks in line as well as eating inside. what exactly is your policy in comparison to CDC guidelines? you have lost a life long customer as well as a Business owner who used you catering more than 2 times a month for the last 10 years . I thought you might want to know !

Gabriela Viramontes
from Huntington Park, CA
I placed an order online, went to pick it up and was ignored for over 15 minutes. I told them i was picking up an order and they said they were still working on it..... 15 minutes later, three customers later, my sandwiches were still sitting on the counter, out in the open, without being worked on. Ten minutes later, i still don't have them. It's not the first time i have problems in this location.

Ellen S Abendschoen
from Dundalk, MD
I ordered the foot long spicy subway at the subway in Walmart on North Point. The woman wasn't listening to what I was saying. Blaming it on the mask. She put mayonnaise on the sub when I didn't ask for. I told her I didn't ask for mayonnaise. She I didn't hear you because of the mask. I was talking loud enough.

Larry Kemmer
from Mount Vernon, OH
will not be purchasing any more of your subs........if that woman can not stand for the flag......i cant buy any more from you.....

Erika Gutierrez
from Oxnard, CA
Hi I am Erika I want to as politely as possible share something that happened today at this subway. Which was very humiliating. My mom walked in trying to exchange her order from another near my subway because they have her the wrong order there. She wasn't aware they are different owners and that's not possible. However one of the employees agreed to exchange her subway so my mom was glad as she was starving my mom doesn't eat much and this was her first meal of the day she loves you guys she loves subway. So as the lady is preparing her new order another woman comes out the back named "Stephanie " and starts yelling at the other employee "Maria " saying NO YOU WILL NOT CHANGE IT after she already tossed my moms old sandwich in the trash ! And started making the new one . So my mom is confused and begs her to please just do it out of courtesy at this point since the other lady "Maria" had already tossed her old sandwich in to the trash and now they'd be throwing away two sandwiches . So apparently "Stephanie " didn't care to toss yet a second sandwich in the trash. She was just not going to to the favor out of courtesy proclaims to my mom she will take her old sandwich out of the TRASH. Yes the trash and she did so. And hands it over to my mom my mom is in disbelief and broken that these employees would treat her with such animosity. As my mom asks for there names they laugh at her and say we don't have to give you our names. My mom is a simple Hispanic mom who had no clue she couldn't bring her wrong order there to be exchanged that wasn't the issue at all we understood that. The issue is this woman took it out of the trash and handed it to my poor mother with no remorse. That is so unacceptable subway has always been one of our favorite restaurants to eat at we are so disappointed that employees like this represent the name. They made it clear to my mom that no one would do anything about it so just leave. My mom came home crying feeling horrible . I really hope someone can really speak to this employee and with all respect make her understand how important customers are. And how vital treating people with integrity and respect is. Specially in these times or COVID we shouldn't be taking food out the trash to hand it to a customer. Thank you for your time. Best regards Erika.

Clay Nash
from Glasgow, KY
Their app is insufficient and won't let you order properly to get the deals they advertise. Their corporate customer service number is fully automated which shows me they don't care to actually hear from their customers. I'll NEVER shop with subway again.

Beth kellen
from Katy, TX
I will no longer eat at Subway due to the fact that subway is having Megan the soccer player representing y'all. Anybody that steps on our American flag I will not support

Lisa Mitchell
from Slatington, PA
I ordered a 6 inch vegie delight with provalone cheese, all vegies except black olives, with the vinegar and oil, and mayo, i ordered online from walnutport pa, when i got there a sign on the door said closed for mothers day, i had to call other stores to find my subway sandwhich, i finally located it at store # 139 in laurys station whitehall pa, now if a store is close it should say closed on the website, or when we order the sandwhich we should be told where it will be made, that was rediculous trying to find my sandwhich which was out of the way for me, why would subway just send the order to ve made somewhere other than the store i choose, and when i did get my sandwhich, there was no lettuce, one leaf of spinich, no green peppers, 3 little pieces of sweet peppers, no yellow banana peppers, 2 slice of tomatoes, 1 slice of cucumber, no dressings at all, it was the worst sandwhich i have ever purchased. The only thing the store got right was the 9 grain wheat i ordered.
Thanks for reading
Dedicated subway customer, very disapointed this time

Whoever was working at the Walmart in Hermantown MN. Horrible she was the rudiest I've ever experienced I will never be back there ever. Throwing my food around acting like I'm causing her more work. Then she throws my last sandwich in the bag all mad. And she practically through my bag at me. I say if she isn't happy with her job she should find another one. Never been so disappointed in this subway. I go there 3 times a week.

Annabeth
from Virginia Beach, VA
My husband went to the subway location
In Walmart Supercenter at 2021 Lynnhaven Pkwy, Virginia Beach, VA 23456. He went there around 11AM and came back and told me that 3 female workers were flirting with him asking for pictures with him! I am completely applaud by this lack of respect for him and for me as his wife! I hope the ladies that realize what they did showed they have no class and how would they feel if they were in that situation! My husband went there to get lunch for our family not to experience disgusting display of customer service!!

Laurie Briggs
from Rochester, MN
Why would you choose an unamerican controversial kneeler as your spokesperson? Not a wise decision...good way to loose business!!!

Ordered a b.m.t sub and salad. Salad missing topping. And sub had no ham so I got a asked for extra topping had hardly any toppings bread got untoasted but bread crust on both ends every time order online ask for 2x topping never get mad payed for b.m.t but no ham makes me not want to buy from you any more very unsatisfied with food

Gene Barrett
from Cleveland, TN
I am trying to figure out why you would do away with one of your best items for a breakfast sandwich. Breakfast sausage was the best selling sandwiches I have had at several of your restaurants. I am a truck driver and I looked forward to my sausage, egg and cheese sandwich every morning when I stopped to fuel my truck at one of the truck stops with a subway in it. Now we only have a slim choice to choose from. Please bring it back.
Thanks in advance,
GB.

Marian Burton
from Beaumont, TX
I purchased a two Subway Turkey Breast Sandwiches on wheat bread 3/ 29/21 about 11am. The bread was tough and the turkey had a greenish tinge to it, tasted old.
I have purchased sandwiches from same location many times. This is the first time, I"ve experienced this situation. I was very disappointed..
Sandwich was not edible.

Bruce Holliday
from Charlotte, NC
Rude and discourteous sandwich maker and cashier!

Geraldine
from Greenfield, OH
Went there today 3/21/21 at 12 noonish told no bread only flat bread I was going to purchase 3 footlongs! Who has no bread at lunch time! This is very poor management .. there were 2 workers so no excuse

Randolph Sims
from Chicago, IL
Me and my daughter looking forward to having lunch today we arrived at Subway Presented the associate With a coupon for buy 1 get 1 free footlong as I placed my order For chickenbacon ranch and cheese Foot long I was told for my 2nd sandwich I could not have the sandwich of my choice I had to have a ham and cheese or Turkey cheese i was very disappointed To hear that No manager on duty So we left unhappy customers very disappointed in Subway the people with me also with had their coupons Left disappointed as well don't know when will be BACK. ...RANDOLPH SIMS AND FAMILY THOUGH BY ONE GET ONE FREE MEANS THAT THERE WERE NO RESTRICTIONS.

Solomon Garrett
from Memphis, TN
Took advantage of your $5 special if you buy two. Of course you had to make order through the app. When I finished and paid for the order I directed to your nearest store. Upon arrival I was advised that that store did not honor the special. Since I had already paid for it I had to take. Clear bait and switch.

I just wanted to complain about this restaurant's manager. Today 3/12/2021, i was walking to the store when a van driven by the manager cut in front of me while i was in the cross walk while i had the green light right of way. I confronted the store manager but he told me that because i was on the other side of the street, i did not have the right of way. "- Drivers shall stop at intersections to allow pedestrians and bicycles to cross the road within a marked or unmarked crosswalk (RCW 46.61.235)" The store manager then proceeded to tell me how i was wrong and that i was being crazy. this made me mad and i started yelling at him. He proceeded to get in my face and make threats to me as well as continue to tell me that i was wrong and that i don't know washington legal code, i work at a law firm that handles situations like these sooooo, yeah i do know...... Once he got in my face, i started to feel threatened by him and told him to get away from me. He did back up, but kept yelling at me and telling me that i was wrong. He finally weakly said that if was going to be like that i didn't have to eat at "HIS" restaurant. I admit i was a little out of line, and i do apologize, but your manager was completely out of line, threatening me, getting in my face, and completely having zero remorse for that fact that he could have hit me in the middle of the street where i was at a crosswalk with a green light. Suffice it to say, I'll never be going back to that restaurant again and i'm going to tell my firm to stay clear as well. Thank you

Disgruntled subway employee made me upset. I am dieting, so I regularly visit this particular subway 601 A state highway 75 north huntsville texas. On this particular day. I didn't know what I wanted so the not yet disgruntled employee suggested a food item,I agreed,she proceeded to make the sandwich, everything was good until we got to the vegetables,mind you I'm on a diet so I'm super cautious of my calories, light lettuce, 2 tomatos, 3 large spinach leaves no stem I asked nicely she gave me some old dried up spinach leaves and couldn't believe I requested to have the stem chopped off, her body language told the story with her sharp jerking motions,she looked at me like "really". At that point I could feel her disgust,but still I was kool, so I asked for a light line of ranch very thin I mean, she put it on thick and asked me if that was ok. I said no I wanted a thin line at that moment her temperature was steaming she proceeded to swipe the dressing off like a lion swiping at a zebra to devour, then slung her glove to the back on the floor. I told her I don't want it and explained to her I'm the customer and you should make the sandwich the way I want, she flung her arms up oblivious of any problem saying what did I do. I proceeded to walk out, then went to jack in the box for a chicken fajita pita. If anyone knows her they need to teach her about customer service and how to keep her personal feeling under control

Rhonda G.
from Detroit, MI
I got 4 footlong subs 2 being steak and cheese and the other two being cold cuts.i had them melted. We looked down for toppings and there was gnats everywhere. I already had the meat melted so i had to buy it.and when I said something the female got all snotty.I had a coupon for the 2 steak subs she said we dont take those.she was really rude.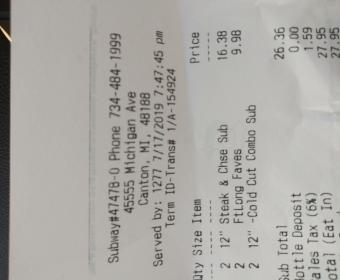 Sandra Duerinck
from Waltham, MA
First, I'd like to say I really like the Caprese sandwich. But, that is what has been causing me issues. I just don't understand - it's a sandwich that lists specific ingredients: Ciabatta Bread, fresh mozzarella with spinach, tomatoes, and onions. The sandwich is showing on the Subway Overhead board with a price. But when I ordered it on 11 Jul 19 - I selected a bread and was told that I could only have the Ciabatta bread so I said fine. Next, I was being charged $4.00 extra for the bread. I fought the charge because it's a sandwich and I didn't even ask for the Ciabatta bread. Eventually, they refunded me the $4.00 because I had originally requested another bread and was told that next time I will be charged the extra $4.00.
I liked the sandwich so I thought I'd try it again. On 7/16/19 at lunch, they told me that I couldn't have the sandwich because they were out of the Ciabatta bread. I convinced them, which took a lot, to allow me to have the sandwich on another type of bread. At that point, they informed me that I would not be charged extra for the bread because they are out but now will be charged extra for the cheese because it's a specialty cheese (yet I wasn't asking for any extra cheese or item not listed on the sandwich). I just don't understand if a sandwich has a specific price then why am I paying an extra $4.00 bread and now extra for the cheese. i continued to ask why I'm not getting charged the sandwich price listed on the board and they kept responding that I was requesting a specialty sandwich that they don't make so they have to charge me more. I kept pointing to the board where it's listed and the response it was not them and to Subway.
It's not making sense that every time that I try to order the sandwich that I'm getting charged for an additional part of what comes on the sandwich. I'd understand if I was ordering a salad and trying to make it a sandwich. But this is a sandwich and these are the ingredients that makes this sandwich.
I tried ordering this sandwich online and noticed that there was no extra cost for this sandwich. I feel like there's a bit of a price scam going on. I was a regular customer but no longer.
This is happening on Subway, Fort Hamilton, Brooklyn, NY
It is truly a shame but they were very short with me and gave me dirty looks when I inquired why I was getting charged extra and wasn't paying the price of the listed sandwich. I've been going there for years since I work across the street but I'm done. I'm not going back today after the way they treated me today.

Tammy Heitz
from Bastrop, TX
The Subway in Walmart is the worst ever. Two times they have been out of onions, vinegar and oil. Rude people and lousy service. I hope they go out of business soon.

I came into subway at 300 center Ave. Butner, NC 27509 at 6:56:11 pm. term ID-trans# 1/A-417634. I ordered a 6" Meatball sub with double meat. I did not received double meat I had 6 meatballs with 2 meatballs broke in half. There were two other people that work there sitting at the high table on the left side of the restaurant in the corner kept telling him to hurry up. He said, "okay. I'm coming." I responded don't rush my order. You is here to work. If you want to play you should have stayed at home. He replied, "It's been a long day." I replied, "I'm doing 16 hours but I still do my job." My total came up to $6.76. I gave him 2 five dollar bills. 24 cents came back from the return change. He handed my only a dollar. I told him that me owed me more money back. He replied, "No I don't! You got your right change. During this time the two workers sitting in the corner still yelling for him to hurry up. Finally another lady beside of the two in the corner came and help the worker. He gave me back my 2 dollars that he did not give early. He did not apologize. As I were leaving the store that two workers that were sitting at the table yelling for him just stared at me. I fill like subway is a place of business not a playground. I was very disappointed with my order and the service that I received from this subway.

April Arndt
from Ashburn, VA
I went to subway in Shell Knob a couple of weeks ago and my husband got a sandwich toasted and it was black when she took it out and still served it to him then I got a salad and she drowned it in dressing so I got home and threw them away and she smelled of alcohol bad and was really rude we will never go there again she wouldn't redo his sandwich even though it was burned.
She is giving sandwich to people that she likes and not charging them for it so I guess subway pays for them.

pearl blackburn
from Little Rock, AR
I really don't think this will go very far because i already read all the complaints people have made and it don't look like they are solved or answered but here goes the Brownwood TX subway does not hardly give you any meat and it only proves you are doing false advertisement as in your commercial the subs are very full and looks like subway used to !! so what is up ?? why cheat on the sandwich ?

They have a terrible corporate policy. Fuck them.

You have hires a desipcable ex-convict named BETTY ANN FOPMA TO manage your Shickshinny Subway. She spent 17 years ina Kentucky prison for kicking a woman to death .She is an unremorseful sociopath and a chronic alcoholic who totaled my friend.s car.. She abuses old people by striking them with a switch and pushes sick people to the floor. I'm telling everyone NOT to eat there. If you want a public relations nightmare, keep her on. I told you once about this sinister convict and you expressed doubts about her criminality.
IF you know how to use a computer, click on the links below:
https://law.justia.com/cases/kentucky/supreme-court/2004/2002-sc-000802-...
https://mugshots.com/US-Counties/Kentucky/Perry-County-KY/Betty-Fopma.45...
If you refuse to fire her, I will blanket the internet with this information and persuade everyone in the area NEVER to eat there.
Do not underestermate the drop in sales.
DO NOT tell me she is not the same woman. She is EVIL!
Bad things will happen to your franchise if you keep her on.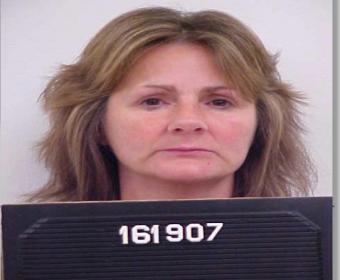 Good afternoon I usually don't like to make complaints due to the fact that I don't like to get no body in trouble. But this time I experienced a very unpleasant treatment from one of subways employees located on 5 st Washington ave Miami Beach Florida 33125 at 3:10 on Friday 6/14/19 can't provide her name because she wasn't wearing a name tag , Two costumers where trying their best to order their food with the help from another costumer because they didn't know how to speak fluent English, they were very embarrassed and look very uncomfortable I try my best to make them feel better by telling them not to feel bad that indeed she was very unprofessional and has a very nasty rude way of treating them I try to translate my self to the clerk but she gave me the same nasty rude attitude. I was in chick she was making the sandwiches by slamming the ingredients on the sandwiches she ask them if that was all they wanted the costumers not understanding what she asked looked at me to translate and she continued by saying in a loud rude voice , "I asked a question !!! They looked very upset and proceed to pay for their food and thank me in a very humble way. I tried to place my order but due to the fact that she continued with her nasty rude attitude towards me I just left without buying anything I was not going to let her treat me the way she treated those two nice costumers, this subway is located on a touristic area where the majority of tourists speak Spanish, A supervisor should have a talk with this employee to let her know the proper way of treating her costumers . It's a shame I know the store manager from this subway I've been going there for years she's very nice I never had problems with her or any of her staff until today with this lady. I don't know her name but she was the only one at the store at 330 pm on Friday 06/14/2019 dark skin lady on her lates 50 or early 60s. Thanks for your time have a good afternoon

I ordered through Uber Eats and my sandwich came to me made wrong. I ordered it again and now Uber is refusing to refund my money. Had you guys made it correctly I wouldnt be going through this.

drea Davis
from Cloquet, MN
last night my husband and i went through the drive through subway in moose lake Mn after a long day of work, not only did we wait almost 20 mins for our subs to be ready but once we got them home they had completly forgot to put any meat on my steak wrap. i'm usually not one to complain about service but this was a little ridiculous.

Estella Grimaldo
from Nampa, ID
Subway at 509 2nd St., Nampa, ID. I have gone to your store two times since your new manager has started there. Both times she was throwing pots just 3 pounds she was upset we're not greet anyone was cussing at her self. Stating that why do so many people keep coming into the store she can't get anything done. If this is a customer service said you guys provide I don't think will be coming to the store again.

Melodi Jonas
from Fishers, IN
The Subway on the base at Camp Atterbury in Edinburgh, IN is run very poorly.. most times they barely have any cookies to purchase, they are constantly running out of items, and lately they just lock the doors if they're low in items or whatever!! Today I went over there to eat lunch & the door was locked! At noon on a busy day here!! I rely on getting my lunch there every Wed but it's going downhill very fast!!

My complaint is in regards to your 509 2nd st Nampa Idaho store. I normally go to Subway 2 times a week. I've went to Subway last Friday and today and I was not welcomed both times with the new employee who I noticed must have just started working there. I asked one of your employees whose name is Esmeralda who always smiled and welcomes Me when I walk through the door. I asked her who the new gal was. She informed me that she was the new Manager. To my surprise I was shocked. Your new Manager does not greet or smile when people walk through the door and it is very unwelcoming to have her take an order. As she is standing there She asks in a rude and unwelcoming way what she can get for you In my opinion it looks like she is not happy with her job. I recommend giving your new Manager some training in customer service or you might be losing faithful customers that have been going to your establishment since it has opened. I only state this as I have never since I have been going to your Subway have been so unwelcomed by any of your employees.
I enjoy going to your Subway but if this is the service I am going to get you will lose me, my family and friends as we do not appreciate this kind of service.
Thank you for your understanding.

I ordered a footlong steak club.she cuts it in half and puts on the toppings. I get to the end to pay.this other lady charges me for 2 6inch $13.89 I tryed to explain
I got a foorlong.she didnt want to hear it.i live behind this subway atlease 3times aweek we eat dinner there.and this is how you treat a customer?

kativia ferrer
from Troy, NY
on 6/3/2019 i went to the the subway on wolf rd Albany NY 12205
I ordered a meatball sub with provolone cheese and pepperoni on a 6" subb , Italian herb cheese bread
the associate ask to toast the bread in which i agreed and as i checked out and got in my car on my way to work because i was already late.
i took a bite out of my sandwich the the meat was not even cooked.ewww so gross .. i hope i don't get sick.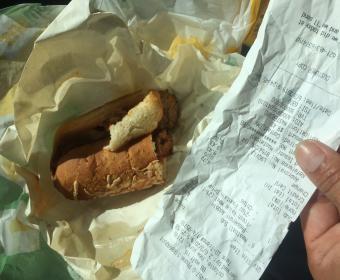 joseph curtis
from Fredericksburg, VA
I want to file a complant,i went to subway today in Boling Green,Va. around noon today (6/2/ 19)I got bad service,i ored my sub,i wanted it heated after this Lady made my Sub,she let it sit on the counter for aleast 10 minutes while she made Bread,time I got it it was cold,i said something to her,she got an attitude,i started to tell her to ram it but I paid for it.i don't think she should be waiting on customers acting like that.the subway store is 33930-0,its on Broddas Avenue BOWLING GREEN,VA.22427.I just thought I would mention it because this will cost you customers.
thanks
Joseph Curtis

i have gone to this Subway because it is on the way home. But the last three visit have been very bad. First of the three visit it was the service, in the middle of me ordering I was cut off rudely. So i just didnt finish odering. I got the sandwich i already order and left. I didnt come back to that Subway for awhile. Last night i went back. The service was bad and so was the food. We order a foot long sub and two salads. I have a food allergy to green peppers and i always tell them first but the young lady last night seem to have a problem with it. plus when i asked question like wicth one would have it in it. finally they fix the salad right but they drowned it in dressing. . Today i went back to get a salad for my husband and the service was just rude. IT will be a long time before i go back to this one. did i mention today when i was in there the store manger was and hear and did nothing1!!!!!!!!!!!!!!!!!!!!!!!!

I am writing to say your new commercials have gone past annoying and are now offensive. The noise level is extreme. I will not be frequenting a Subway in the near future. Subway is not the only company that has passed the threshold for noise, I am now muting all commercials. Do you have 14 year old boys making the choices?

One of your Subway restaurants in Bowie, MD (15480 Annapolis Rd, Bowie, MD 20715) does not honor your survey policy. I visited this location a couple of weeks ago and handed them my receipt with the survey code on it. They were adamant only one cookie applied. I explained the end of the Subway survey clearly states the customer's choice for completing the survey is either 2 free cookies or a fountain drink. The person called her supervisor and was advised this is the case so she added another free cookie. Today, I happened to go back to this store and the person said it was one cookie and tried to charge me for another cookie without telling me. I noticed the price was higher than normal and explained the second cookie is free too. I think this was the same person who I dealt with the last time. She called a supervisor (Diana, 240-264-9834) and was told only one cookie applies. I explained I don't have this issue at other Subways. I usually go to the Bowie Subway on Laurel Bowie Rd and have no problems. I took a screenshot of the end of the survey in case this would come up again. It's just wild that I would have to do that. I don't usually. I showed her the photo of the Subway screen at the end of the survey that clearly shows the options but she didn't care. She said her supervisor said one cookie. I decided not to purchase the sandwich and go elsewhere for lunch. I forgot my receipt and didn't have time to go back for it so they still have my redeemable survey receipt. This is very poor service. Why do they choose not to honor/follow Subway's survey choices for customers? I understand they want to cut costs but to do so at the expense of a company policy is not the way to do it. They also wasted a sandwich because it was made but I didn't purchase it since they did not honor the survey. Well, maybe one of them will eat it. I just want the Subway survey rules to be followed by the store and receive my 2 free cookies. I don't plan to go back to that store since they are not compliant with Subway's national campaign. Thank you.

First everywhere you look online the customer care number is listed as 1.800-888-4848, but when you dial it it says it has changed to 833...
I had a very dissapointing experience at store #27352 being out of food. They told me they had a busier than usual Saturday $1k vs $600 and were out of a number of items including bacon, american cheese, spinich, pickles, ice tea and gluten free bread. This was 2 days later. Why didn't they restock either from another store or grocery store? A number of people left after hearing the laundry list of non-available items, but since I was traveling with my 91 year old mother we settled for a tuna sub vs the Subway Melt we had hoped for. Every experience counts against the entire network and one bad experience can spoil them all. I called and spoke with a representative who couldn't have been more condesending. I've heard through the news a number of stores have closed lately. Maybe this is the beginning of the end!

wendell rhodes
from Casper, WY
I went and got 2 sandwiches from your subway on CY ave in casper Wyoming and the lettuce tomatoes and bread tasted like it was old and stale tasting...didn't go back don't like confrontation.

Pamela Delgado
from Donna, TX
Sunday May 5th ordered 3 pretzel 's with cheese they were burnt and she didn't have cheese and no butter either
poor thing was swamped with customers unable to complain in store still no excuse for poor service I and my
guests will not use this subway again throwing food way in this age is sinful

sally eastham
from Thornton, ENG
I must say at the outset that, in general, I am a great fan of Subway. I visit regularly when I am out and about and these include Fishergate, Preston, Burscough, Southport plus several others. Whilst I have had the most courteous and welcoming at these places the one I wish to complain about is the Subway on Liverpool Road, Penwortham, Preston. I have been in and bought sandwiches on several occasions during the last say 12 months. On each occasion I find the staff completely disinterested to the point of being rude. They appear to be simply going through the motions of the job, they show no pleasantries, no manners, completely discourteous and generally can't even be bothered serving you. It really is an appalling experience to go into this Subway. At one point I thought, "everyone has their off days" but I have spoken to family members and friends and business surrounding this shop and many people are of the same opinion.
I am not one to complain about service but this shop does not do justice to the good name that Subway has. I thought I would draw it to your attention but this does bring down the very good name which Subway has. I will not be visiting again to be treated in this way.

Flavia Montano
from San Jose, CA
Had paper coupon buy 6in sub and drink get one sub free
Was charged 6.30 sub drink 2.19
2 chips 3.18 total11.96
Suppose to be 3.99 sub drink 2.19
Chips 3.18 tx.20. 9.58 total
Owe me 2.38
Trans1/A-40189 serveby0810 date 5/2/19 400:32 time
1041E Capitol expwy San Jose,Ca
Greatly appreciate a responds thanks
Flavia Montano

Claudio Vazquez
from Boca Raton, FL
Horrible guest service. Site states closes at 10 pm. Closed at 830. No one in store . Lights on.

Norma Allain
from Seattle, WA
Went in and ordered a foot long spicy Italian, bread was hard, I noticed the clerk was skimpy on the meat only 5 slices of pepperoni n salami skimpy in lettuce etc. All I was able to taste was hard bread! Happened before thought over maybe a new person, but happened again today! Next time ib will go to jersey mikes where they stuff it and its fresh! Is worth paying a bit more!

Dawn Greene
from Morristown, TN
Rude server and terrible attitude towards customers. Sign said closing at 8 but got there at 7:15 and door locked. Open sign was lit up. Claimed that they closed at 8 but she needed to do her inventory early so she could leave at 8. Very, very rude person. Will not be back. Will let others where I teach know how poorly run this store is so they can go to the other store down the road.

Katie Smith
from Huntsville, AL
I made a complaint before and didn't hear back from noone, but why do you all send out coupon and your restaurants won't take them

Sandi baham
from Opelousas, LA
Please bring back the original sweet onion sauce.. I eat Subway in Eunice louisiana 70535, at least 3 times a week, sometimes more.. myself, my daughter, and 11 grandchildren . We all miss it.

Charles Braeutigan
from Chicago, IL
The subway at located in a truck stop at the us20 &in15 split is the chinsiest subway I've ever walked into they short u on everything from cheese to vegetables I'm not impressed and won't recommend that anyone ever stops at this location ever u will not got what ur being charged for

Richard Henry
from Gig Harbor, WA
I enjoy lots of veggies on my subs. I always click the more button and also put a note in special instructions. I order subs at least once a week and this store will not put extra veggies on the subs. I have asked and was told that they don't read the more or less nor do they read special instructions. After tonight I have decided to go back to Jersey Mikes. Truly disappointed with this location and it is closest to my home

I placed an order at the Santee CA. subway on Magnolia, and when I went to pick up my order, one of the sandwiches was incorrect. I wanted it exchanged for the correct sandwich and was treated very rudely by the employee named Lucia. She said the sandwich was correct Even though I showed her what I ordered on my app. She then dug through the sandwich to see what was on it, then wrapped it up and handed it back and refused to replace it with the correct one. This employee is extremely rude and the customer service is terrible! I want a refund for that foot-long.

Troy Choate
from New York, NY
Poor management horrible customer service

Hello, i usually don't do this cus im not a karen but my best friend went to subway at place vertu. Imagine being on break, eating ur sandwhich when ur bacon is RAW. Yes, RAW! She goes back and the lady starts arguing with her telling her no it's fine. The bacon was literally white, gooey and light pink. My best friend asked for the people behind her their opinion, they agree with my best friend. The lady then told her go somewhere else for ur sandwhich. I just find it disgusting and absolutely degrading. Where did the good service go? If you don't wanna work, we're in Canada, stay home and you'll get payed from the government. My best friend was shocked and when she told me, I freaked out.

Don Gauger
from Zionsville, IN
I be eaten at subway in most of 48 states, I bought a foot long cold cut with cheese and when I asked about the cheese she said you only get 4 pieces, I've been going to subway for well over 20 years and never have I gotten so little cheese. By the way it was 4 half pieces of cheese and that didn't even cover half of my sandwich.this was at road ranger in Marion Illinois

Angela Wagman
from Camp Hill, PA
I frequent subway. Very disappointed you no longer have sweet peppers to me this is what makes a sandwich. Huge mistake on your part for no longer having this option. Thank you

Jackie D Griffin
from Natchez, MS
Why is there only a sell paper on sandwiches? Your business is booming from not eating all of that bread and the wrap is more healthier, convenient and tastes great.... So, if you want stand behind your wraps why should we buy your wraps? Glorify all of your products so no one is left out of a deal.

Rebecca Gaither
from Columbus, IN
The subway in mayfield ky never accepts coupons, discounts or promotions in the store or on the app. The owner of the store says that his scanners don't work as to why he can't use in store coupons. He says the app is messed up as to why you can't do discounts and promos like the bogo50. But, I can order in another town and it works just fine. This has been going on for months! Is there anything that you can do since he owns this subway store? I mean it's ridiculous everyone in our small town is talking about it and believes he is just not honoring coupons because he loses money??

Marty Zarember
from Bellmore, NY
Failure to honor coupons and nastiness--this occurred at 2 different locations---why have coupons if stores don't honor them---It Jersey Mikes for me---I will NEVER EVER give Subway one penny of my business

Michael Williams
from Gastonia, NC
My Subway on Bessemer city Road in Gastonia North Carolina has change management within the last five months the new management is having a problem with the coupon to come in the mail now he saying it set Waze I'm not honoring any update coupons I think he wants to make the money all of it instead of taking the coupons

Beth martin
from Kokomo, IN
You get coupons in the mail. You go to use them you're told we don't use them here at all or you're made to feel like you're committing a crime because you want to use a coupon. I work two doors down from a Subway that we choose not to use because of the way we're treated. So I go to another Subway and made you feel the same way don't send the coupons if we can't use them

Chelsea Jones
from Houston, TX
This complaint is about store# 1418-0.
Just to let you know, we had just finished visiting my dying father at the hospital. We just wanted a simple sandwich.
I went in to get a quick footlong tuna.
A homeless woman came in after me.
She approached me for money at the counter. Really? She was knocking against me. She wanted a sandwich from the workers but only had 4 dollars. This woman hung around begging. After I got my sandwich, the worker made a sandwich for the pushy customer. I have compassion for the down and out people but by the worker giving her charity, more and more will show up.
I don't want to eat in a soup kitchen with a woman begging for money.
This was a horrible experience.
I won't go to that Subway ever again.

Scott Kirchhefer
from Meridian, MS
We made a online order, and ordered 3 sandwich meals that includes 3 chips and 3 drinks, My daughter went in the store to pick up the order and was told there where only 2 drinks ordered, my daughter said the cashier was very rude, I went in and received the same ATTITUDE from the cashier and showed her the order that showed 3 drinks and the reciept she gave us showed 3 drinks, the cashier not so happily gave me the 3rd drink.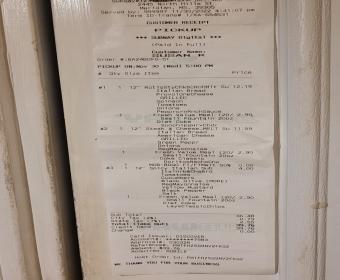 Gary Grizzard
from Norman, OK
My wife and I are in our 60s and on a very tight and fixed income so we dont get to eat out much especially in this Biden economy, plus coalgate oklahoma only has Subway sonic and a mexican restuarant, so we must settle for subway quite often when we CAN afford it.
Yesterday(Nov29,2022) I stopped in our coalgate subway to order mine and the wifes usual 2 footlongs(while we had a coupon that saves a little)and I began my order by asking the employee(most all these employees know me when they see me and this evening manager she knew what my first request would be) like I always do i simply ask that they turn the footlong bun on its side and cut it open EVENLY down the seam and not from the side cut which they do too fast and end up sweeping the end up high leaving about 2 inch of taller hard bun to eat(you need understand I have no teeth and i pointed this out as well) so the young lady remembered me and sad IIve been doing this that way since you asked last time and she began to cut as iI requested, and as she was doing so the other female(mid 40's brunette who always works with the female manager(owners wife i believe) and told her dont let corporate see you do that.
so I asked WHY and was told corporate dont teach it that way, so I then replied well corporate isnt paying for my sandwich nor are they eating it and I pointed out how they cut sweep up high and leave a higher piece of bun than i can eat with no teeth, she just rolled her eyes at me and then the female manager walked up having heard it all and i said SINCE WHEN IS THE CUSTOMER NOT RIGHT, the request was a simple one and the girl didnt mind it and she was helping me and I asked again ISNT THE CUSTOMER RIGHT ANYMORE,WHEN DID THAT CHANGE??BOTH THE MID 40S BRUNETTE(A REAL UPPITY BROAD TO BEGIN WITH) AND THE MANAGER JUST ROLLED THEIR EYES AND LOOKED AWAY. so i paid and left but overheard them berating the employee as i was leaving and this made me more angry.i would have preferred to talk to a human over this as im nearly blind in one eye and typing on a computer is no small task. but bottom line to me is ARE the two mid 40swomen right(the manager and the uppity broad??) are they right corporate has more say than a customer over such a simple request.????I tried calling the owner of record(a lawyer here in coalgate) but he wont return my call.I really want and deserve an answer from someone in corporate and i want the name of whoever answers me,has customer service turned so crappy that the customer is no longer right to make such as simple request.my name is Gary please call me and i feel im owed an honest answer from a human by phone on this,sooner than later...

Humberto Lara Lopez
from Los Angeles, CA
I ordered an steak and cheese foot long one jalapeño cheddar bread. Server gave me two small scoops of steak on the footlong. I was ready to change my order or walk out for such little meat on a foot long. Server asked the manager if it was ok to serve more as if it was normal everyday service there. I complained and the gave me half a scoops more. I told them it should be 4 scoops on a foot long but I took the sandwich paid and I was very polite. Something is wrong with the service because of the manager there. I feel it's unfair. Please look into it.

Mary lynn Householder
from North Little Rock, AR

Jeff Guglielmo
from Sun City, CA
On Fri. Nov. 11th ending date for PROMO ~ Buy 1 foot long SANDWICH get 1 free~ I Jeff Guglielmo presented app. W/ code FLBOGO to server @ location (287 Diamond Dr. Lake Elsinore. SERVER personally entered code with negative results as well!?!? Server immediately then made contact VIA LANDLINE to an outside manager, stating issue as such. MANAGER in turn stated, I CUSTOMER was out of LUCK!? I Jeff Guglielmo am requesting at this time what I had coming on last day if promo Friday Nov.11th 2022 (BUY 1 foot long get 1 free promo) Thank you for your service & time.

Maureen A Soroka
from Worcester, MA
My husband and I ordered 2 subs today and the bacon was not cooked. You need to tell them it is supposed to be cooked.

JOHN THOMAS
from Reston, VA
Store # 2871 and Served by #821 according to receipt. The server was great. Good customer service. Being a fellow business owner is the reason for my correspondence. The worker[s] were playing music so loud that I couldn't hear often what he was asking me and I had to yell back what I wanted on my subs. To make it worse, the music was very inappropriate. Using all kind of profanity plus the "N" word several times. Just not a good look, ambience, for any business. He was good at his job, but these young people may just need a training or professionalism.

Martin Thomas
from Biloxi, MS
I really don't have a complaint I don't understand why y'all pay these sports people so much money when y'alls food sells itself.

Amanda Pressiegill
from Charlotte, NC
Went to pick up someone food as a good samaritan that was in the ER. The employee by the the name of Michael was disrespectful with no customer service training. Yes I came at someone food. But yes I also wanted to place and order for myself. He over looked me and went to the next person.. Sir Michael you had the order and didn't fix it. I got out of line because subway employee couldn't find the order. Then instead of the employee addressing him as a employee and his horrible attitude. They are asking me to calm down. How can I? He's talking side ways out of his month & then refused to fix the order.. this was at subway on Harper st Augusta ga.

Melissa Harp
from Nashville, TN
(Attached is my order) Called into subway on 10/26/22. Informed the young man and woman of my issue, I placed an order on the app and chose the incorrect locations. I chose algood tn and needed it to go to Sparta tn. Asked if this could be refunded or sent to the location I originally meant to choose. The young man said he'd call his manager and call me back. He called me back and stated he was not able to refund me, was not able to send it to the other subway location, and could not tell me when the manager would be in. Said to call back when he was there, which unsure how I'm suppose to do that when I don't know when he is working. I call back maybe 3 mins later because it dawned on me that when I have had to have a refund before because I ordered on the app and when I got to the store they didn't have what I ordered and the employee at the time was able to do the refund without the manager there to do it. Well this time I spoke with a very rude woman who refused to give me her name which made the situation worse and I could hear when she hung up on me because she slammed the phone down. Couldn't believe I was just hung up on, a coworker of mine called in simply to get this woman's name so when I do speak with the manager it can be addressed accordingly. My coworker called and spoke with the young man, she simply called to get the ladies name. The young immediately went in defense mode and said "we're you cussing at her" (no cussing was involved at anytime during any interaction) my coworker stated "There was no cussing" the young man proceeded to then hung up on my coworker as well. I don't know what makes this store think they can speak or hang up on customers. I just want my refund and this store to be addressed.

Kim Bulko
from Louisville, KY
I work inside the Englewood Ohio, Walmart I am a paying customer, and the worker whose name is Kim refused to get off her stool to make me a pizza, I'm on my lunch hour and she told me I had to wait until the owner came in at 12 so he can make my pizza because she would not get off the chair! I asked her if she was serious or she was joking and she said yes I'm serious I'm not making your pizza, and she knew I was mad so she proceeds to bake my pizza by throwing it into the oven and all the cheese fell off. Needless to say I told her to forget it I don't want one. I will never ever buy pizza from this place again, or anything from here again.

Robin Viavant
from Naples, UT
Manager of Lehi Subway on State St. Not only would not let me spinach yo my sandwich. But Manager scanned my 3 footlong doe 17.99 coupon. Said it was already scanned. Hander her a fresh one she cut out and said it wasn't valid. Cost us $30 plus for bad service.

Denisha Hill
from Miami, FL
I came in for lunch to not being greeted by the guy who was working (only guy one there) he was VERY RUDE. And when I called him on it her walked off and went outside I ended up leaving and will not be back. Instead of fixing food for the workers he should have gave that same energy to the paying customers

Kimberly Galvin
from Hillsboro, OR
I would like to make a complaint about calling in a sandwich at 11:15 at Walmart in St Helens there is a Subway inside and I went to pick up the sandwich that had been called in at 11:30 and it wasn't ready I told the lady I would go check out and come back I wanted to know why it wasn't ready and she said because she had been waiting on customers I thought the whole reason for calling in an order was so it would be ready for pickup when you got there I had to wait until 12:00 for the sandwich to be ready and the lady that I picked it up for said the meat was rotten and she threw up all night from eating that sandwich

Betty Piscitelli
from Chardon, OH
My husband went to Subway the beginning of this month and he had a cute pair for buy one get one free. The girl would not take the coupon she said it's for a subway restaurant. I'm not sure what she's talking about this is a subway restaurant in Chesterland Ohio I have used these coupons many times before Mostly in Chardon Ohio. Please advise me as to why this was done.

Linda Morley
from Mentor, OH
Why do you send Coupons out to EASTLAKE Willowick, Willoughby,Mentor and none of our Subway will take them . I will not go to any of your Subway any more . It not right to send them out and tease us like that. You have done this two months in a roll to us.
Linda Morley and Kenneth Green

Nancy
from Indianapolis, IN
False advertising for subway coupons when subway don't expect their own coupons why mail coupon out that you can not use worthless. Subway needs to fix this or start losing a lot of customers I won't go to subway now

Bonnie Lee Stone
from Wixom, MI
With a 20k sold out Luke Bryan Farm Tour in Fowlerville and a large festival in Fowlerville at the Fairgrounds Sept 17th i walk into Subway at 1:30pm to find only one person working getting slammed people upset and walking out i finally got my food and exited at 2:10pm this is unexceptable!! But we needed subs so i waited the poor guy working did a great job but this was very unfair to him as well!! Where were the owners, op managers and store managers???? Someone shiuld have been there for the customers with such huge events going in!! Apparently none of them care about their customers its very sad honestly but im not shocked!! My husband was livid as was i and we WONT be returning!! They need to learn to take care of their customers and employees!!

Ms Phyllis Roberts
from Indianapolis, IN
BOTH the Subway stores that ALI ______(I do not know his last name.) franchises REFUSE to honor Valid Subway coupons...Is he allowed to do this? He is taking advantage of the people that live in these areas because they are predominately African American and Hispanic areas. I should not have to go to a specific area of Indianapolis to be treated fairly. I AM TRYING TO GET MY FELLOW NEIGHBORS TO BOYCOTT THESE SUBWAY STORES...Can you do something about this, please?
Ali (the owner), franchises both the 16th and Meridian store and the 38th and Kenwood St .

Teresa Huskey
from Rome, GA
My 82 year old father went in one of the subways in Rome, Ga. My mother ordered 1 st. He ordered a chicken subway and was told they no longer have chicken. He was going to go to one across town, they told him to pay for the other one or they'd call the police on him for stealing even tho he was leaving the subway. You lost a customer for life from me. Fine with subway. Pitiful

Stephanie Liston
from Cleveland, OH
So just out of curiosity how does Subway feel about a 17-year-old girl getting out between 11:30 and midnight and getting up and going to school at 5:30 in the morning the next day because none of the managers or other employees want to do anything else during the day so it's all left up to the people at night time so you're closing at 9:00 and these teenagers are not getting out until 11:00 11:30 12:00 because your managers aren't doing their job.

Herb Dawes
from Baltimore, MD
Why is Sub Way going down so fast? Food is not as good.Employees are very unfriendly.The coupons from the mail are not accepted. You can't get a real person on the phone at any corporate telephone number.The employees I've talked to said " It's a desater working here"

Wendy dobbe
from Adelaide, SA
In coolalings store nt I just bought a 6 inch BLT which to me is bacon lettuce and tomato. I got home and opened my sub and it was just a roll with a piece of bacon! When I called the store they told me a BLT is only bacon and I had to ask for the lettuce and tomato or you don't get it? If this is the case why is it called a BLT? Staff were disinterested names are Tahlia and Lilly I am over 60 and cannot believe this please respond

Shun Suzuki
from Berkeley, CA
Dear Subway,
I have a complaint.
I purchased a Foot Long Chicken Sandwich with a validated date coupon (Attached). However, the Subway refused to take the coupon and did not give me the discount. I had a "Get a Foot-long for $6.99" Coupon. Its expired date is 9/24/2022. I would like to have money back of $4.03 including 9% sales tax.
The Subway refused to give me the validated Subway Coupon Price. The employee told me that the owner changed the all the systems. I think that is not legitimate because the coupon I have is the official Subway coupon.
I would like to have the over charge of $4.03 to refunded to me.
Please mail me a refund check to me addressed below.
I am attaching the receipt and coupon.
Thank you very much.
Shun Suzuki
2637 Sacramento St
Berkeley, CA 94702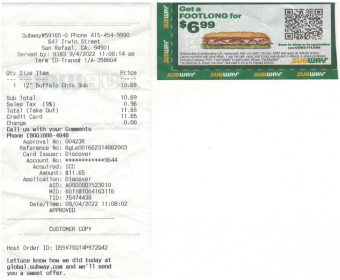 Tabitha adkins
from Portsmouth, OH
The subway in wheelersburg Ohio does not care about their customers or our sandwiches they are making. I got a footlong pizza Sub and it was nasty there was barely any pizza sauce on it and the bread was hard and tuff to bit off. My boyfriend got a cold cut footlong Sub and it was nasty and the bread was tuff and hard. The workers are rude and don't care about their customers. I don't think I will be going back to subway.

Samantha
from Pembrokeshire, WLS
Ordered off just eat from my local subway to get 2 foot long sandwiches which came with hardly no filling for the money to be told by the shop manager there was nothing that could be done and to complain to subway. How very rude

Ann Peters
from Freeport, IL
Went to Subway in Freeport Illinois. I ordered a sandwich, was asked what I wanted on my sandwich, when I told the girl what I wanted she reached across the counter to put the tomatoes on it and upon doing so her chest touched my sandwich. She was very upset when I told her I would not eat that sandwich. She threw the sandwich away and told another employee that I would not eat the sandwich because her boobs touched the sandwich. I had other people with me. The lettuce was brown. They were so rude that we just left and did not order anything. I understand that employees are hard to find but they should treat people with respect, your body should not touch food, if she is to short to reach as she stated then maybe she should stand on a stool. Thank you for your time and consideration in this matter.

Dion Arnold
from Nashville, TN
Store: 11715 Address: 1931 E. Ben White Austin, TX 78741
My friend I went to Subway to meet a friend and get a sandwich Sunday night around 7:45p to the address 1931 E. Ben White Austin, TX 78741.
My friend placed an online order and by the time I arrived to place my order she was being put out the store along with 4 others. My friend Tamara Wilson (who is also making a complaint) did Not get her order. I went back 5 minutes later and the door was still locked. There are suppose to be cameras at the store location, so I'm hoping someone is able to see the time when the subway worker put everyone out the store. We went down the street to Wendy's and I decided to circle back to the store to get my friends order. To my surprise the door was open and the subway worker was serving someone else. So, I went inside and got in line. This was the 3rd time I attempted to get in the store to get my friends order. By this last attempt, I no longer wanted Subway but didn't want my friend to lose her money. The subway worker was so rude and slow. He decided to count money while I was there waiting - so I asked if he could get the online order that was place almost an hour ago. He told me I could leave. I told him - I would if he gave me the $12 back that was spent on the online order. He said he couldn't do it and proceeded to finally make the sandwich. This has never been such a horrible experience. The subway worker has never been so rude and non-caring about customers. After he finally took 10 minutes or so to make 1 tuna sandwich, he again - closed the store and put out the other 2 people in line. This guy was so disrespectful telling me I could leave. I've never been so insulted as I was tonight at Subway. If this is how Subway operate, I won't eat anymore subway from this day on. That worker did Not have a name badge on nor did he give his name. I called up to the store several times and twice he answered and hung up in my face. This subway worker doesn't deserve a job!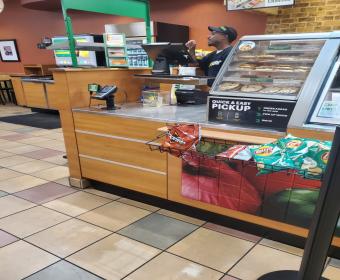 Sandie Madrid
from Yankton, SD
I ordered one 6" Ham and Bacon and one Kids Meal. I was charged for 2 kids Meals. When I went back to Subway for my change they refused until I showed them on receipt I was charged TWICE, they only gave me $1 back. Employee by the name Robert was extremely rude and felt discriminated by him, they (female employee) also refused to give me back my receipt. My problem was not resolved and I was not given my change back. Subway robs people. I wish I could give 0 stars.

Tammie Oroszi
from Celina, OH
Went to Subway drive threw Friday night at 10:40. We called to make sure they were still open she said yes I close at 11 and I'm very busy with customers. She was not busy we were right across the street watching. So we pull into drive threw she ask how many subs will we need we said 6. She said I can only do 4 and then you will have to drive around again for other two. Then she tells us my husband has been at the fair all day and I need to pick him up. So it was obvious to us she did not want to serve us at all. She said she was the manager. If this is what is running your business I am sorry. I have spent most of my life in food service and this is not what I was taught. Never been so disappointed. This store is in Greenville Ohio on Wagner Rd. Looking forward to hearing from you soon.

Me cobraron una orden q cancele y le ablo al manager del restaurante y me ignora

Corie Frysztak
from Hoffman Estates, IL
Today around 11:00 am, I went to the Subway in Hoffman Estates on Palatine Road. Ordered meatball pizza footling. Employee gave me 7 meatballs (I know the average is 8.35) and REALLY skimped on veggies(asked for xtra tomatoes/cukes…got 4 of each. Terrible service. Will never give them my $$ again. Thought I'd give Subway a second chance. I did and you failed.
Have feedback for Subway?
Thanks for your feedback!
Sorry. Please try again later!