Subway
Subway Complaints Continued... (Page 4)
185+ reviews added so far. Upset? Call Subway corporate: 1-800-888-4848

Vivian Burch
from St Louis, MO
I live in West Plains, Mo & I visit the Subway @ Southern Hill shopping center on Preacher Roe Blvd. I visit @ least 3 times a week & every time I go there one of the employee's is very rude to me. Every time I go in she is helping other customer's but when it is my turn she turns around & tell the other worker that she is not going to help me then laughs about it. I was just in there on 12/12/16 & she was not only rude to me but my sister also. I don't know why she is that way with me but if that is the way I am going to be treated I will not be going back. I like going there & all the other employee's are very friendly & helpful but not her. I don't know her name but she is a little heavy set, her hair is always up & she wears glasses.

Gloria J Labbe
from Greater Sudbury, ON
Served by Tylar at the 207-1720 Paris st. Sudbury, Ont.Canada P3E3C2 Subway restaurant. Had a run in with him before , hurt my right arm going out the door, which left a big bruise and when I let out a scream he showed himself from the kitchen I guess you would call it and never came to help me. I complained the next day to a boss and I guess they had a talk with him and now he treats me like dirt.
Never pleasant and comes up short on the vegetables and meat that I chose for my sandwich. I guess that is his way of getting back at me. Example: I usually order a 6" ham, tonight I ordered a 6" turkey and He told me, when I questioned it, that turkey comes with only 3 slices and ham comes with 4 slices. He's maybe right I don't no. But when I ask for bacon on a 6" sub he gives me 1/2 slice of bacon, if I order double bacon I get a full slice, that is not what I get with other people at many Subway restaurants I attend.
If I don't watch him he will only give me 2 slices of tomato which s/b 3 slices. then the rest lettuce, cucumber, green pepper, green olives and pickles are very sparse. I continually have to ask for extra which might be like 1 or 2 more olives and pickles and 1 or 2 slices of green pepper. To night he didn't ask what cheese, so I have no cheese on my sandwich. I am never treated like that by anyone else and I am totally fed up with him. I buy lots of sandwiches from Subway, like 3-6 a week so If you don't want my business I will give some one else my money.
Funny last year when I hurt my arm, I told another person at a different Subway restaurant and they knew who I was talking about right away without me telling them his name. but he is still working for you. Must be the owners son that is the only way he could keep that job. Please help me forward an answer via my e-mail.

Randy Davis
from Pleasanton, CA
Was told this week that the Subway located at 249 and Cypresswood drive quit selling coffee but it is still on menu board there. Well, that is the best item on the menu so why should I go back? If you are going to sell breakfast you need to sell coffee plain and simple. Someone at Subway corporate should be fired for this.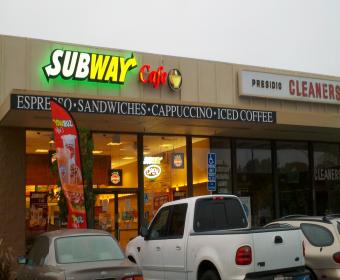 I visited a Subway branch on Squiresgate Lane in Blackpool on Thursday eve to take 2 x 12 subs with us to eat. Approximately an hour later to find that all the bread had gone wet, too wet to eat. It was as though there was to much water in the salad that was placed on the sandwiches, we had to throw them away. I have had many from this branch before and eaten them later, it makes me feel that I have been let down.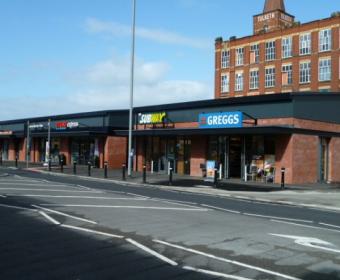 We order from Subway at 8:17pm and it was suppose to get here at 9:17pm and it never came. We went from contacting Subway customer service calling the store and everything and the manager at the store told customer service he was backed up but the order is on the way. This was after an hour and a half almost two hours. Still nothing so my friend and my sister went to the store to find out apparently he had cancelled the order without letting us know and then lied to customer service. I've order from here all the time and have never ever had such a horrible experience in which I wouldn't order from here again. It was food worth $50. That was a lot of food a family was looking forward to and never got and got lied to about.

Went to get a sandwich on 8/6/16 around 5ish in the afternoon. The young female who was asked o fix my sandwich by another employee came from the back rubbing on her face. I asked her if she was going to wash her hands and she said I did. But I said you are rubbing your face near your eye. She says I am putting on gloves to which I said you were rubbing your face which is not clean. After rolling her eyes ,she disappeared to supposedly wash her hands. She came out and just looked at me and never asked me what I wanted on my sandwich.
She just looked at me as I asked for the fixings for the sandwich. I had to ask to get the sandwich heated. She was very nonchalant and disrespectful . Subway should remind employees that if they soil their hands after washing them and then touch the gloves on the outside (which they must do to get them out of the box) then the gloves are contaminated. I have not eaten the sandwich yet but if I get sick I will call the health department and that employee should be disciplined for her attitude.

Beverly Carignan
from Fort Worth, TX
Ordered a BMT salad today....brought it home to eat (about 5 min. drive) It is big as you know....took some out to put in a bowl, felt very wet....there was no dressing on it. I tried to eat it but was all wilt...spinach and lettuce. Went back to look at all that was left and poured out between a 1/4 and half cup of water! I used 8 full Bounty Paper towels and squeezed out more water....ended up throwing the $6 plus salad away and I mustn't forget to say the top of a tomato complete with stem was a part of my salad.
I have had stale bread before and wrong bread and have seen flies flying merrily around the food before but have never felt the need to complain to anyone except the store employees. I have had bad customer service on occasion and the managers conveniently are never in. I have lived all over the US and traveled even more. Subway has always been a constant for me...after today it will be no more. I wish I had known there would be a place to upload an image before I threw it away!

Jasmine Hernandez
from Husum, WA
At the Sunnyside washington store I seen an employee named Lauren smoking marijuana in her vehicle a Nissan Xterra and think it very inappropriate.

nelly
from Liverpool, ENG
I work in royal Liverpool hospital Prescott street Liverpool. I think you need to look at the dirty place flies every were never cleaned early morning bins smelly food crumbs down chairs for several days this is not the way we want to eat and pay for food needs a major clean up daily. I myself work in the hospital as a infection control nurse and you let patients into your food hall with cannulas ie needles to use toilets needs too be addressed asap. Sorry for this message but I hope it reaches the Subway CEO at the corporate headquarters.

Mary Edmiston
from San Francisco, CA
Slowest I have ever seen line way long & couldn't get waitress to give me what I wanted! Toasted? No & in the toaster it went toppings all wrong. Really bad experience! Even cashier..new? Confused slow couldn't keep up Hoping GP has another one & it's better service.

Kelly Drake
from Allen, TX
Went into Subway. A party of three, we all ordered separate. First lady gets her meat sub in 20 minutes. Next lady gets hers 45 minutes later then mine 20 minutes after the second lady, never once did they apologize. Never brought us refills we had to take our glass to the front to get drinks. This was the worse service I've encountered in a restaurant. If they had been busy I wouldn't even complain, but it was one other couple in there..These workers undoubtedly don't like there jobs. They should not be working for the public, and they give Subway a bad name for sure.

Sandra Castro
from Elizabeth, NJ
I received my subway coupons in the mail and the subway located at 238 Route 9W in Haverstraw, NY 10927 does not want to accept the coupons because they are loosing out on them. Are they allowed to deny the coupons? I thought discounts and billing complaints were resolved at the corporate level.

Barbara Rector
from Grants Pass, OR
My experience is the disrespectful disgusting TV commercial concerning used car salesmen. We are retired and have never been car sales people, there have been new dealers along with used car sales in family. Honest hard working people. We or large extended family will not go to a subway again since. we now know how stupid and elitist your company is. The proof of that was just shown 5 times in an hour program. I bet there are thousands who feel the same as we do, l'll do my best to ask as many as I can.

Gayathri Bahumanyam
from Toronto, ON
I am a regular customer to the subway in 4101 york mills center, ON, Canada. I am terrible disappointed with the customer service in the branch. Especially the server named Amitha. Every time I ask for a chopped salad, she is the one to make the salad. She makes faces whenever I ask for a few more veggies in my salad or ask anything in general. I see no reason why this should happen. Also she refused to serve me soup when asked for. I love the chopped salads in Subway and enjoy them very much but with such a service by Amitha, I am forced to go elsewhere for my food.
And It is not just a one time experience. I have been to the 4101 subway for quite a few times now and I have experienced dissatisfaction every single time I have interacted with Amitha. Other employees seem to be very friendly and interactive. I am very sorry to make this statement but "I will not be visiting The subway located in 4101 Branch " Please take necessary actions. Much appreciated. Thanks!

David Crandlemire
from Edmonton, AB
I went to the subway in Athabasca Alberta Canada, I waited in line 30 min when I got to the counter they had one sub bun left I got my sandwich made when I got home the bun was stale very hard and crubble, this was at the dinner rush there were people lined up out the door. What kind of sub shop runs out of buns at 5:30 pm and serves stale buns. I will not rate my experience because it would be negative and it will be a long time before I ever go back if ever I was very disgusted and threw my sub away.

Roland Deschamps
from Ottawa, ON
May 25th purchased a 6 inch turkey/ham sub at McGill st in Hawkesbury On. Got 2 slices ham, 2 slices turkey, 2 slices cheese. Certainly far from what is advertised on your website. I got a bread and vegetable sandwich. Is this the "Subway" standard?

Karen Wood
from Humble, TX
An order was placed on line. We had a coupon and forgot to enter that. We called the subway and asked if it could be adjusted when we picked up our order. They said yes we could. No where on the coupon does it say it cannot be used with on-line ordering. When I went to pick up our order, they refused to let me use the coupon which they said we could use. The coupon was a current and active coupon to be used on this day. It was a young manager there and he couldn't help me but a female there kept butting in and telling him what to do. I am very disappointed that a "good" coupon could not be used at your subway on West Lake Houston Parkway in Humble. We would not have ordered our meal on line if we knew we could not use the coupon.

Larry
from Port Richey, FL
I went to subway on my way home at my wife's request. I did not have here subway card and was told I would have to add points by going to a web site on the receipt. The associate did not ask for my phone number. I was told that they could not add the points. Are they lazy, untrained, or told to not help so Subway does not have to honor points? We have decided that SUBWAY is basically dishonest and we will start going to other sub shops so we will not have to be left frustrated.
Why would you offer points that cannot be claimed? I checked on face book and there are a tremendous number of similar complaints. I did find that I could go to a web site and provide a copy of the receipt to get points added. I do not know how to do what the requested. Store #2417-0, transaction# 63479, 5/6/2016, 7:05 PM.

Capt. DJ Durrance
from Floral City, FL
I'll make it short.... Long time Subway customer complaint. I get 4-6 sandwiches every week. Now, it seems the management in this area has a problem with the already minuscule amount of tuna that goes on a sandwich. They actually level the dipper with the knife so it doesn't go over! I don't get anything on my sandwich, thus, it really surprised me. Is the company in this much trouble that it actually has to proportion out the tuna? I'm not overly excited about bread sandwiches either...

Julio Alicea
from Miami, FL
I went to one of your Subway location. With my family my daughter at the time proceeded to walk to an empty Subway take your order here spot where one of the staff was serving to my daughter and without finishing with my daughters order she pushes her sandwich to the side unfinished skipped me & my Brother by not taking our order and proceeded to attend other customers that were on the left side of the ordering section ignoring us I couldn't believe how she left my daughter food undone and not finishing with our order never again I will do anymore business at this unprofessional server location. People are constantly complaining about the customer service at this Subway location.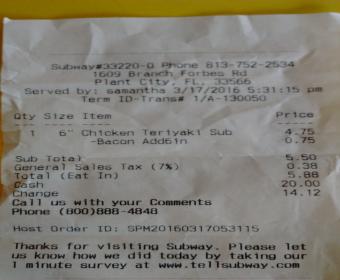 Passion Skelton
from Bluffton, SC
Visited the subway in Savannha GA on waters ave, across from the hospital one afternoon. They were having the 6.00 foot long special at the time.The cashier yelled out that there was only wheat bread available due to the lunch rush. I'm thinking to myself, you have a special going on, you should have had, twice the bread. Well I didn't want the wheat, but I was on foot from out of town, staying with my son in the hospital, that was rub and shot over 5 times. Stranded. I wanted a sub, a subway sub, I only eat subway. Thinking Oh well let me get wheat.I eat wheat,but the wheat bread was not fresh. I'm sick of going to eat out and people just serve you anything.Bread was toasted and still was thick and not fresh. I did not enjoy! I was not pleased.
On the back of the receipt was a free cookie give away.Went the next day for the cookie and they had no chocolate chip cookies.I almost lost it.You guys still don't have what I want.I wanted the chocolate chips. The whole month of Feb. I'm in the hospital wanting a sub and never knew they were right there,across from the hospital. Was so happy I found it and was not happy about it.Now I don't even have the receipt,cause I gave it to the cashier to redeem the free cookie. I use to work at subway and I own a sub shop of my own in the past. If you don't pull that bread apart after its cut open,it is not fresh. If you saw the bread....it isn't any good.

Roberto Gomez
from Los Angeles, CA
I to a Subway in Santa Monica which is located at 26 and Santa Monica Blvd. Address is 2461 Santa Monica Blvd., 90404 which is right next door to a Starbucks. I went there to buy a Sub and use the internet that is present because of Starbucks. I arrived there a little past midnight on February 14, 2016 that turned into morning, February 15, 2016. I must admit I was there for a long time, but at non-peak hours. The place never got full, I was not just sitting there only, I was a paying customer. I purchased a Sub, drink and cookies throughout my stay. I was not depriving anyone of a place to sit. In short the place was mostly empty. The following morning an employee came up to me and told me that a customer could only be there for 30 minutes.
I politely told her that there should be signs posted to let people know of this policy. I also added that there have been many other people going there to use the internet that comes from Starbucks next door. She just walked away angry. I stayed for about 20 minutes and left. I did not return until the following Friday, February 19, 2016. Put my things down on a table. She said she would be back and I told her to take her time. She cam back about 5 minutes later and informed me that I was not going to be served and that I was not wanted at the store.
At this point I asked to talk to the owner and wanted to leave my telephone number so he could call me. She not only refused to take my number down. She refused to give me his name. I feel that I have been discriminated and am contemplating filing suit. Everyone should be treated equally, If not, this is discrimination. It is ridiculous not to be given the name of the owner so that perhaps he and I would be able to resolve the matter, But no, the employee chose to have her way, and in the process, and put the owner smack dab in a lawsuit. Not very smart at all!

Mike Bott
from Berwick, PA
You (Subway) switched to only Muslim approved meat. What a travesty! This meat is produced within a Islamic religious ceremony during Muslim prayers and including Muslim Allah blessings being invoked during this process. Secretly forcing others to consume Halal meat is the implementation and enforcement of Sharia Law upon those who may not wish to be subjected. I will no longer eat at Subway, spread the word and warn others at every opportunity to stay away. Hopefully protests will go nationwide and Subway will stop submitting to this subtle brand of Islamic bullying and proliferation. What happened to religious freedom in America? Will Subway workers next be required to wear the Hajib?

brenda matheso
from Caithness, NB
I live in St George, N,B. and was wondering why you only offer Feb. five dollar footlong only in Saint John N.B. I love the subway and go at least twice a week,more sometime. Feeling disappointed. It seems strange to me because they are all Subway.

Ramona Shiver
from Lawrenceville, GA
I arrived at this Subway a little after noon. I parked on the side of the building. I walked inside and the guy making the sandwiches said He could not serve me because I was not in a parking space. I will file a discrimination case because I've been here a few times and parked in the same spot with my clients. I feel this Caucasian guy is racist because of his actions each time Ive visited this store. I was the only African American person inside the store at this time. I did not park across the street because I had my client that has a diagnoses of MR and Bipolar and my coworker in the car. I needed to be as close as possible to my vehicle due to her behavior issues. I hope that in light of what has happened lately that Subway corporate office responds directly to my complaint.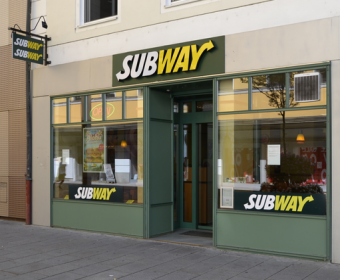 Mo Barlow
from Montgomery, AL
I went to subway this morning for National Sandwich Day. First of all, the worker informed me that I could not purchase a pizza sub or meatball sub because "It's 7 o'clock in the morning" and the marina sauce ain't ready this early". So of course, I had to purchase another kind of sub sandwich that I did not really want (Italian BMT). I brought 2 plastic containers to put lettuce, tomato and jalapenos in because I will not eat sandwich until lunch time around 1:30pm. I told the worker that I would like vinegar and oil packages to put on the sandwich later because I did not want the sandwich to be soggy around 1:30 pm. I was then told that they were out of vinegar and oil packages. Next, upon ringing up after my sandwich was fixed, I was told that I had to order a drink to get the bogo free sandwich promotion. When another customer stated, "Well that's false advertising, the promotion said bogo free sandwich". "It's didn't say you have to buy a drink".
The worker then stated "Well it said that on the commercial". There were no visible signs posted in the window or at the counter stating this. When I went to get a vitamin water and minute maid juice out of the cooling machine, the worker stated "No, it has to be a fountain drink only, it doesn't apply to bottled juices or sodas". When I went to the fountain machine to get a cup of sweet tea, the container was empty. I told the worker that I would like sweet tea, she stated, "It's 7 o'clock, the tea isn't ready this early, you will have to get something else". I was VERY displeased with the service and what was available for purchase this morning. I told several family and friends about the National Sandwich day yesterday to bring subway business today and that was clearly a mistake. From the service I received, I will from now on take my sandwich business to Tropical smoothie because they are open and ready for business at 7 in the morning.
I am a civil service federal employee and I have informed all of my coworkers this morning about the type of service I had this morning at this location and they too will not be visiting this location ever again. Two week ago, I had this same problem with the marina sauce not being available around 720 am in the morning and I had to go to the Atlanta Hwy location near Publix in Montgomery, AL. The Atlanta Hwy location did have the marina sauce available around 730 am and just like the Perry Hill Road location, there was only one worker available. So clearly, that is a lack of productivity on this particular employee's behalf.

Austin williams
from Dublin, GA
We had called in an ordered 6 sub's but.when we got to the store the girl said they had not received any phone order so I ask if she could call the other stores to check for us but she got rude an said we should have made sure we're we was going before we came an next time maybe should just go somewhere else instead. If you see Jared or the Subway CEO, let him know they have problems to solve and are upsetting loyal customers!

This happened today, Thursday, March 26 at 11:15am at Subway in Westridge Mall in Topeka, Kansas. I had just finished ordering a footlong sandwich (cut into two halves) when I was at the cashier and was about to pay, but had asked the person who made my sandwich to please put the halves in separate paper wraps. The employee looked at me and rolled his eyes and said "well you should've told me this before". I then asked him what is the problem with me asking (nicely if I may add), to separate the sandwiches? He rudely told me "I already changed my gloves". At this point I was upset because I didn't think it was a BIG DEAL to have my sandwich cut in half and put into different wrappers BEFORE I even paid. I don't think that just because the employee had already "changed his gloves", he had the right to roll his eyes at me and give me attitude.
I didn't see the big deal about the gloves, really. If he's so worried about it, I will eagerly pay for those 2 plastic gloves that he was wearing. I really think it was a sign of laziness on his part. Oh and I'd also like to add, that this lady whom he was working with came out from the back and had the nerve to yell at me and say that "no other customers have asked them to do this before." Ok first of all, they shouldn't even have compared me to other customers. Every customer orders different things. Second of all, she shouldn't have yelled at me while all of this was happening in front of my 3 year old son. I wasn't a very happy customer to say the least and I hope this kind of service doesn't happen to anyone else. Very unprofessional in my opinion, mixed with laziness and rudeness. Never ordering at that branch again.

I am in Amsterdam and went to a Subway here. The sandwich tasted very different than in the US. I got the honey oat bread and it tasted very bland. It kind of overpowered the sub and I couldn't really taste anything. Do you do something different abroad with the way that you make bread? It was very unsatisfying.

Derek parton
from Widnes, ENG
I ordered the foot long meal deal that is advertised as £5 and they over charged me!!! They charged me £5.60 for my steak foot long and £1.00 for a drink! Please explain how this Is a £5 meal deal ?? Also it was freeing cold when I asked for it to be toasted!! I'm upset about the fooed! I will not be resisting any of your stores again as I have been faulted advertised and will be visiting my local paper. Your staff was very unpleasant towards me and the lady on the till was ignorant. I visited the subway in widnes today at 14:49:13 on the 14/02/15.
Store #29384
VAT Regd No#
190 Widnes road
Widnes, Cheshire

Willard Cox
from Houston, TX
While I was there eating, two Hispanic females talked incessantly in Spanish and laughed out loud often. Bothe seemed to be employees, one seemed to be "working" and one seemed to be leaving! I was there about 20 mins and did not see either one perform any function. A young male was busy the whole time serving customers and cleaning etc. by the way your store is out of salt. This is the store nearest Walmart in Cleveland Tx. This occurred from 350pm to approx 415pm.

michael
from San Lorenzo, CA
I hate costco, i dont like to shop at costco, i dont want to go near costco.. I haven't shop at costco for 15 years and even before that I only went there twice and the loser employees were so rude. So I cancelled my membership after one year. However, my doctor sent me there to pick up a prescription. When I went there in Octover, 2014 everything went smoothly. I was so relieved that no crazy employees harassed me. However, when I went back in Jan. 2015 it was a different story.
I told the lady who checks the costco card in front that I am going to pharmacy but she would not let me in. I told the lady I do not need a card to go to pharmacy. So we went back and forth and she finally called the supervisor.
Half of the time I wasnt sure whether she was talking hispanic or english. She really had a thick hispanic accent and looks like a drug addict. The supr. name Will came to front and he escorted me in. While we were walking to pharmacy I told him I didnt need to show any card when I was there in last October. I thought he was going to say sorry or explain to me why but he simply said if you dont like it dont shop here. Walk away pointing the exit door.
I finally purchased the medicine without the card (you don't need to be a member to buy something from pharmacy) and walking towards the exit and ran into to that same supr. name Will. I leaned forward to see his name on the name tag but he said "keep walking, punk", yes, this was exactly what he said. i was so shocked and I stood there and he stood there too. I was running late to pick up my kids so I just left. When I came back home I called and complained to a manager name Bobby and he said he will take care of it. Bunch a thugs working there if you ask me. I will never ever shop there.

What happened to the $5 footlong sub? They had this and I used to order it all the time then the started jacking up the prices. It sounds like your typical bait and switch if you ask me. Subway reels you in with the ANY promise and then tells you it doesn't apply to any of the subs you want to order. For one, I am taking my business somewhere else.
Have feedback for Subway?
Thanks for your feedback!
Sorry. Please try again later!