Subway
Subway Complaints Continued... (Page 4)
317+ reviews added so far. Upset? Call Subway corporate: 1-800-888-4848

Capt. DJ Durrance
from Floral City, FL
I'll make it short.... Long time Subway customer complaint. I get 4-6 sandwiches every week. Now, it seems the management in this area has a problem with the already minuscule amount of tuna that goes on a sandwich. They actually level the dipper with the knife so it doesn't go over! I don't get anything on my sandwich, thus, it really surprised me. Is the company in this much trouble that it actually has to proportion out the tuna? I'm not overly excited about bread sandwiches either...

Julio Alicea
from Miami, FL
I went to one of your Subway location. With my family my daughter at the time proceeded to walk to an empty Subway take your order here spot where one of the staff was serving to my daughter and without finishing with my daughters order she pushes her sandwich to the side unfinished skipped me & my Brother by not taking our order and proceeded to attend other customers that were on the left side of the ordering section ignoring us I couldn't believe how she left my daughter food undone and not finishing with our order never again I will do anymore business at this unprofessional server location. People are constantly complaining about the customer service at this Subway location.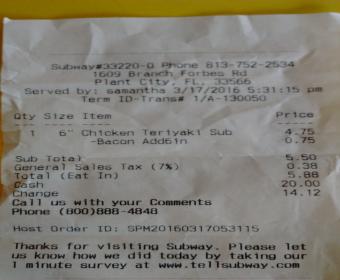 Passion Skelton
from Bluffton, SC
Visited the subway in Savannha GA on waters ave, across from the hospital one afternoon. They were having the 6.00 foot long special at the time.The cashier yelled out that there was only wheat bread available due to the lunch rush. I'm thinking to myself, you have a special going on, you should have had, twice the bread. Well I didn't want the wheat, but I was on foot from out of town, staying with my son in the hospital, that was rub and shot over 5 times. Stranded. I wanted a sub, a subway sub, I only eat subway. Thinking Oh well let me get wheat.I eat wheat,but the wheat bread was not fresh. I'm sick of going to eat out and people just serve you anything.Bread was toasted and still was thick and not fresh. I did not enjoy! I was not pleased.
On the back of the receipt was a free cookie give away.Went the next day for the cookie and they had no chocolate chip cookies.I almost lost it.You guys still don't have what I want.I wanted the chocolate chips. The whole month of Feb. I'm in the hospital wanting a sub and never knew they were right there,across from the hospital. Was so happy I found it and was not happy about it.Now I don't even have the receipt,cause I gave it to the cashier to redeem the free cookie. I use to work at subway and I own a sub shop of my own in the past. If you don't pull that bread apart after its cut open,it is not fresh. If you saw the bread....it isn't any good.

After a year and a half of building up my subway card of 1200+ points to have a sub party, the company took away more than half my points away saying I didn't use them soon enough. Their thieves and they stole from me. Not going to subway ever again!

Roberto Gomez
from Los Angeles, CA
I to a Subway in Santa Monica which is located at 26 and Santa Monica Blvd. Address is 2461 Santa Monica Blvd., 90404 which is right next door to a Starbucks. I went there to buy a Sub and use the internet that is present because of Starbucks. I arrived there a little past midnight on February 14, 2016 that turned into morning, February 15, 2016. I must admit I was there for a long time, but at non-peak hours. The place never got full, I was not just sitting there only, I was a paying customer. I purchased a Sub, drink and cookies throughout my stay. I was not depriving anyone of a place to sit. In short the place was mostly empty. The following morning an employee came up to me and told me that a customer could only be there for 30 minutes.
I politely told her that there should be signs posted to let people know of this policy. I also added that there have been many other people going there to use the internet that comes from Starbucks next door. She just walked away angry. I stayed for about 20 minutes and left. I did not return until the following Friday, February 19, 2016. Put my things down on a table. She said she would be back and I told her to take her time. She cam back about 5 minutes later and informed me that I was not going to be served and that I was not wanted at the store.
At this point I asked to talk to the owner and wanted to leave my telephone number so he could call me. She not only refused to take my number down. She refused to give me his name. I feel that I have been discriminated and am contemplating filing suit. Everyone should be treated equally, If not, this is discrimination. It is ridiculous not to be given the name of the owner so that perhaps he and I would be able to resolve the matter, But no, the employee chose to have her way, and in the process, and put the owner smack dab in a lawsuit. Not very smart at all!

Mike Bott
from Berwick, PA
You (Subway) switched to only Muslim approved meat. What a travesty! This meat is produced within a Islamic religious ceremony during Muslim prayers and including Muslim Allah blessings being invoked during this process. Secretly forcing others to consume Halal meat is the implementation and enforcement of Sharia Law upon those who may not wish to be subjected. I will no longer eat at Subway, spread the word and warn others at every opportunity to stay away. Hopefully protests will go nationwide and Subway will stop submitting to this subtle brand of Islamic bullying and proliferation. What happened to religious freedom in America? Will Subway workers next be required to wear the Hajib?

brenda matheso
from Caithness, NB
I live in St George, N,B. and was wondering why you only offer Feb. five dollar footlong only in Saint John N.B. I love the subway and go at least twice a week,more sometime. Feeling disappointed. It seems strange to me because they are all Subway.

Jennifer Teall
from Albertville, AL
I went to the Subway in Guntersville, Alabama, to purchase a sandwich. I ordered a 12 inch sub on white bread. The person working said she could not sell me a sandwich on white bread because she only had one tray left and she had to have it in the morning.
It was 7:00 p.m. and the store does not close until 10:00 p.m. She was very rude and did not seem to care that she would be losing a customer. She could have baked more bread in the 3 hours that she had left in her shift. This also tells me that the bread is not fresh if it is left over from the night before at 7:00 p.m. This is very bad business and I will certainly tell everyone I know about this treatment by Subway and will be posting it on social media. I will not be visiting any of your restaurants ever again.

Ramona Shiver
from Lawrenceville, GA
I arrived at this Subway a little after noon. I parked on the side of the building. I walked inside and the guy making the sandwiches said He could not serve me because I was not in a parking space. I will file a discrimination case because I've been here a few times and parked in the same spot with my clients. I feel this Caucasian guy is racist because of his actions each time Ive visited this store. I was the only African American person inside the store at this time. I did not park across the street because I had my client that has a diagnoses of MR and Bipolar and my coworker in the car. I needed to be as close as possible to my vehicle due to her behavior issues. I hope that in light of what has happened lately that Subway corporate office responds directly to my complaint.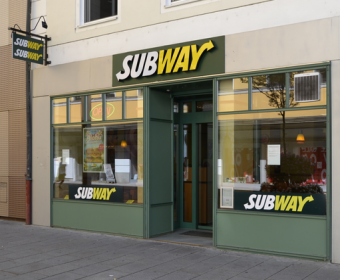 Mo Barlow
from Montgomery, AL
I went to subway this morning for National Sandwich Day. First of all, the worker informed me that I could not purchase a pizza sub or meatball sub because "It's 7 o'clock in the morning" and the marina sauce ain't ready this early". So of course, I had to purchase another kind of sub sandwich that I did not really want (Italian BMT). I brought 2 plastic containers to put lettuce, tomato and jalapenos in because I will not eat sandwich until lunch time around 1:30pm. I told the worker that I would like vinegar and oil packages to put on the sandwich later because I did not want the sandwich to be soggy around 1:30 pm. I was then told that they were out of vinegar and oil packages. Next, upon ringing up after my sandwich was fixed, I was told that I had to order a drink to get the bogo free sandwich promotion. When another customer stated, "Well that's false advertising, the promotion said bogo free sandwich". "It's didn't say you have to buy a drink".
The worker then stated "Well it said that on the commercial". There were no visible signs posted in the window or at the counter stating this. When I went to get a vitamin water and minute maid juice out of the cooling machine, the worker stated "No, it has to be a fountain drink only, it doesn't apply to bottled juices or sodas". When I went to the fountain machine to get a cup of sweet tea, the container was empty. I told the worker that I would like sweet tea, she stated, "It's 7 o'clock, the tea isn't ready this early, you will have to get something else". I was VERY displeased with the service and what was available for purchase this morning. I told several family and friends about the National Sandwich day yesterday to bring subway business today and that was clearly a mistake. From the service I received, I will from now on take my sandwich business to Tropical smoothie because they are open and ready for business at 7 in the morning.
I am a civil service federal employee and I have informed all of my coworkers this morning about the type of service I had this morning at this location and they too will not be visiting this location ever again. Two week ago, I had this same problem with the marina sauce not being available around 720 am in the morning and I had to go to the Atlanta Hwy location near Publix in Montgomery, AL. The Atlanta Hwy location did have the marina sauce available around 730 am and just like the Perry Hill Road location, there was only one worker available. So clearly, that is a lack of productivity on this particular employee's behalf.

Austin williams
from Dublin, GA
We had called in an ordered 6 sub's but.when we got to the store the girl said they had not received any phone order so I ask if she could call the other stores to check for us but she got rude an said we should have made sure we're we was going before we came an next time maybe should just go somewhere else instead. If you see Jared or the Subway CEO, let him know they have problems to solve and are upsetting loyal customers!

This happened today, Thursday, March 26 at 11:15am at Subway in Westridge Mall in Topeka, Kansas. I had just finished ordering a footlong sandwich (cut into two halves) when I was at the cashier and was about to pay, but had asked the person who made my sandwich to please put the halves in separate paper wraps. The employee looked at me and rolled his eyes and said "well you should've told me this before". I then asked him what is the problem with me asking (nicely if I may add), to separate the sandwiches? He rudely told me "I already changed my gloves". At this point I was upset because I didn't think it was a BIG DEAL to have my sandwich cut in half and put into different wrappers BEFORE I even paid. I don't think that just because the employee had already "changed his gloves", he had the right to roll his eyes at me and give me attitude.
I didn't see the big deal about the gloves, really. If he's so worried about it, I will eagerly pay for those 2 plastic gloves that he was wearing. I really think it was a sign of laziness on his part. Oh and I'd also like to add, that this lady whom he was working with came out from the back and had the nerve to yell at me and say that "no other customers have asked them to do this before." Ok first of all, they shouldn't even have compared me to other customers. Every customer orders different things. Second of all, she shouldn't have yelled at me while all of this was happening in front of my 3 year old son. I wasn't a very happy customer to say the least and I hope this kind of service doesn't happen to anyone else. Very unprofessional in my opinion, mixed with laziness and rudeness. Never ordering at that branch again.

I am in Amsterdam and went to a Subway here. The sandwich tasted very different than in the US. I got the honey oat bread and it tasted very bland. It kind of overpowered the sub and I couldn't really taste anything. Do you do something different abroad with the way that you make bread? It was very unsatisfying.

Derek parton
from Widnes, ENG
I ordered the foot long meal deal that is advertised as £5 and they over charged me!!! They charged me £5.60 for my steak foot long and £1.00 for a drink! Please explain how this Is a £5 meal deal ?? Also it was freeing cold when I asked for it to be toasted!! I'm upset about the fooed! I will not be resisting any of your stores again as I have been faulted advertised and will be visiting my local paper. Your staff was very unpleasant towards me and the lady on the till was ignorant. I visited the subway in widnes today at 14:49:13 on the 14/02/15.
Store #29384
VAT Regd No#
190 Widnes road
Widnes, Cheshire

Willard Cox
from Houston, TX
While I was there eating, two Hispanic females talked incessantly in Spanish and laughed out loud often. Bothe seemed to be employees, one seemed to be "working" and one seemed to be leaving! I was there about 20 mins and did not see either one perform any function. A young male was busy the whole time serving customers and cleaning etc. by the way your store is out of salt. This is the store nearest Walmart in Cleveland Tx. This occurred from 350pm to approx 415pm.

michael
from San Lorenzo, CA
I hate costco, i dont like to shop at costco, i dont want to go near costco.. I haven't shop at costco for 15 years and even before that I only went there twice and the loser employees were so rude. So I cancelled my membership after one year. However, my doctor sent me there to pick up a prescription. When I went there in Octover, 2014 everything went smoothly. I was so relieved that no crazy employees harassed me. However, when I went back in Jan. 2015 it was a different story.
I told the lady who checks the costco card in front that I am going to pharmacy but she would not let me in. I told the lady I do not need a card to go to pharmacy. So we went back and forth and she finally called the supervisor.
Half of the time I wasnt sure whether she was talking hispanic or english. She really had a thick hispanic accent and looks like a drug addict. The supr. name Will came to front and he escorted me in. While we were walking to pharmacy I told him I didnt need to show any card when I was there in last October. I thought he was going to say sorry or explain to me why but he simply said if you dont like it dont shop here. Walk away pointing the exit door.
I finally purchased the medicine without the card (you don't need to be a member to buy something from pharmacy) and walking towards the exit and ran into to that same supr. name Will. I leaned forward to see his name on the name tag but he said "keep walking, punk", yes, this was exactly what he said. i was so shocked and I stood there and he stood there too. I was running late to pick up my kids so I just left. When I came back home I called and complained to a manager name Bobby and he said he will take care of it. Bunch a thugs working there if you ask me. I will never ever shop there.

What happened to the $5 footlong sub? They had this and I used to order it all the time then the started jacking up the prices. It sounds like your typical bait and switch if you ask me. Subway reels you in with the ANY promise and then tells you it doesn't apply to any of the subs you want to order. For one, I am taking my business somewhere else.

Hobbit Smith
from Mountain Home, ID
I did an online order for curbside to be picked up on 8/19/21 at 6:15 and continued to watch other customers being helped and being told they were behind yet there were times they helped 1 customer.Worst experience at Subway ever.This was your Grantsville utah store didn't get my order until after 7 Pm!!!not going back again, the girl wasn't genuine or sincere.

Angelica Alvarado
from Compton, CA
I was in this subway I spent 34 dollars on one of my sandwich was a very long hair when I told to one the employees he told ok since you ate half of it , I'm going to give you a kids sandwich he was very rude he didn't apologize of anything I wait to tell him of this disgusting situation when he was with no customers because I didn't want to affect the business but what I get to polite was he's insulting me saying the maybe the hair was mine I told hem get hair pull the hair from the middle of the tuna how can I put the hair in there , after a while I told him that I want my money and he call to his manger she was in the phone telling him to give me only 6 dollars back after this I was very upset and I ask him his name and the managers name she told him not give me their names or my ticket but I to a picture of my ticket when he asked me for it And I took a picture of my sandwich too ,I'm don't understand why them were so rude with me I just doing my thing to go back on business ,but with these employees is impossible. I really want and answer for this problem before I do something else.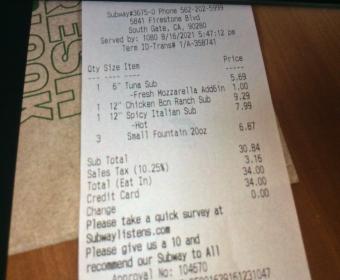 Jane McCormick
from Springfield, MO
My experience at Subway at 1923 Kearney, Springfield, MO, 65803.
I ordered off the Subway app, and DoorDash is the delivery that Subway uses in my area. DoorDash was given the wrong order by Subway, and when delivered I gave the sandwiches back to DoorDash. I then contacted Subway and asked for a redelivery but was only offered a refund. At that time I declined it as I wanted my sandwiches and had no idea that it was going to be such an arduous process. Surprisingly, shockingly, I was told by the person on the phone at Subway that they have no contact and will not contact DoorDash. I had to do the work and job of Subway to contact them to request a redelivery, DoorDash then had to get Subway on the phone to have them agree to it. It took over an hour and two follow up calls to DoorDash AND Subway to have my correct order delivered.
Once delivered, I realize that my correct order was made incorrectly. I contact Subway again and blatantly ask for a refund. At this point I am emailed by a General Manager (actually, I'm unsure this person called themselves both a General Manager at first then changed her story to a District Manager) Shannon J. Shannon tells me that I need to return the order to be refunded, when the incorrect order was not given to me by DoorDash.
I asked Shannon J to just call me. It takes her an hour and a half to do so, in which she tells me the story. She then proceeds to call herself the district manager, right under the owner, and refuses to admit to any wrong doing on Subways part. She also interrupts me consistently, begins to raise her voice at me, and tells me, in a very sarcastic voice that she will NEVER refund me until I return the food (which was returned, to DoorDash) and "good luck with what you're trying to do". She states to me that it is a policy of Subway to never refund unless the food was returned, but, yet again, the food was returned to DoorDash, whom Subway chose to be their delivery system. In another email, she called me a liar and will ignore me.
Shannon also told me that DoorDash is responsible for refunding me. I told her that I placed the order through the Subway app so that would not be DoorDash's responsibility and they wouldn't have my card information. Shannon then proceeds to tell me that is not true, that DoorDash DOES have my card information. I asked her how is that possible when I used their app and put my card information into Subway's app. It seems that Shannon is telling me that Subway shares my personal, private card information with third parties. I also attempted to call the store back after she hung up on me but was hung up again and then the call never answered.
I need someone other than Shannon J to contact me in regards to the terrible service from her, and the fact that I spent over 2 hours trying to have my sandwiches delivered with no satisfaction or attempt to be made right from Subway

Carol kosier
from New York, NY
Filthy restaurant. No other customers except my sister and myself. We were very hungry and ordered a 12" cold cut combo. The meat they put on here was brown on one side and she told the girl but was completely ignored. The bread was so dry like it sat out for a day.
We went to sit down and there were no clean tables. All tables empty and all dirty. Not one was cleaned off but we were hungry so we sat at the cleanest one we could find. For your business you need to know this

Nicole
from Englewood, OH
I work right by subway and our office use to go there a lot until today! I placed an order from the app like always and how they gng to forget cheese on 2 subs and among other things that was added to the other subs. We called to tell them once I got back to work with the order after waiting 25mins to get my order bc the workers where in the back talking to one another instead going their job of course both subs where cold no cheese or bacon on THE ALL AMERICAN CLUB!! She told us to bring it back up there and she would check the cameras and decide what to do from there I am at work lady I'm working unlike her. She needs to find another job bc dealing with ppl with that attitude will get her dealth with fr

David Lorenz
from Jacksonville, FL
I'm a long time satisfied customer, but as long as your company endorses Rapinoe, who publicly and disgracefully disrespects my country's flag and National Anthem, I cannot in good conscience continue to support your business. As a patriot and one who loves his country, I respectfully ask that you reconsider this ill-advised endorsement. Thank you.

Charles James Garcia
from Gilroy, CA
I went into the Subway sandwich shop on First Street in Gilroy, CA at approximately 1:30 PM on Saturday, July 3, 2021. One employee was sweeping the floor behind the counter near the warming oven where the breads are kept. I could already smell the dust in the air. She saw me, but kept sweeping. One minute later, she put the broom aside and put on the serving gloves to make my sandwich. She began preparing a meatball sandwich. Right then, another employee walked over to the broom and continued sweeping the floor. I could smell overwhelming bits of dust in the air. I asked her to not sweep while sandwiches were being made, but she continued sweeping. I could see papers, dirt, and other debris being swept to the end by the register and then toward the back of the establishment. I told them both that I could smell the strong smell of dust in the air. The first girl assured me that it would not affect my sandwich. How could she say this when there was lots of dust in the air? Not wanting to make a scene, I paid for the sandwich and exited the shop. I went to the nearest garbage can and threw the sandwich away. I was not going to eat a sandwich under those circumstances. I am disappointed in the employees' lack of decency and cleanliness. They should not be sweeping garbage on the floor while making sandwiches. The second girl was sweeping right where the first girl was making my sandwich. I will not go into that Subway ever again. I am a dedicated customer of your business, but now I will look for another Subway to get my sandwich. Common sense should have told them to respect the presence of the customer and not stir up tons of dust and dirt while making sandwiches. I went to the Subway on Welburn Avenue near Monterey Road in Gilroy to buy the meatball sandwich (again). The service there was excellent. What a story to tell others that frequent the Subway on First Street in Gilroy. Someone should speak to the employees there about common courtesy and decency in serving the public. I shouldn't have had to pay "twice" for a sandwich, but what else could I do?

Michael Evans
from Aurora, IL
On 06/27 we entered your subway restaurant at 3244 Glenview Road in Glenview and were instantly confused as there 2 signs on the door stating that a mask was requested and 1 saying a mast is requires. as we enter the man behind the counter ask us to leave because we were not masked. i told him that i was confused by the signs and that request doesnt mean the same as required. He proceeded to tell i needed to learn the meaning of the words on the door. I asked to speak to his manager and he told me it was my responsibility to figure who that was. I habe never been so angry/cpnfused in my life. we decided to leave and on a whim go to another subway a mile away in Glenview. We found no signs as well as patrons with no masks in line as well as eating inside. what exactly is your policy in comparison to CDC guidelines? you have lost a life long customer as well as a Business owner who used you catering more than 2 times a month for the last 10 years . I thought you might want to know !

Gabriela Viramontes
from Huntington Park, CA
I placed an order online, went to pick it up and was ignored for over 15 minutes. I told them i was picking up an order and they said they were still working on it..... 15 minutes later, three customers later, my sandwiches were still sitting on the counter, out in the open, without being worked on. Ten minutes later, i still don't have them. It's not the first time i have problems in this location.

Ellen S Abendschoen
from Dundalk, MD
I ordered the foot long spicy subway at the subway in Walmart on North Point. The woman wasn't listening to what I was saying. Blaming it on the mask. She put mayonnaise on the sub when I didn't ask for. I told her I didn't ask for mayonnaise. She I didn't hear you because of the mask. I was talking loud enough.

Larry Kemmer
from Mount Vernon, OH
will not be purchasing any more of your subs........if that woman can not stand for the flag......i cant buy any more from you.....

Erika Gutierrez
from Oxnard, CA
Hi I am Erika I want to as politely as possible share something that happened today at this subway. Which was very humiliating. My mom walked in trying to exchange her order from another near my subway because they have her the wrong order there. She wasn't aware they are different owners and that's not possible. However one of the employees agreed to exchange her subway so my mom was glad as she was starving my mom doesn't eat much and this was her first meal of the day she loves you guys she loves subway. So as the lady is preparing her new order another woman comes out the back named "Stephanie " and starts yelling at the other employee "Maria " saying NO YOU WILL NOT CHANGE IT after she already tossed my moms old sandwich in the trash ! And started making the new one . So my mom is confused and begs her to please just do it out of courtesy at this point since the other lady "Maria" had already tossed her old sandwich in to the trash and now they'd be throwing away two sandwiches . So apparently "Stephanie " didn't care to toss yet a second sandwich in the trash. She was just not going to to the favor out of courtesy proclaims to my mom she will take her old sandwich out of the TRASH. Yes the trash and she did so. And hands it over to my mom my mom is in disbelief and broken that these employees would treat her with such animosity. As my mom asks for there names they laugh at her and say we don't have to give you our names. My mom is a simple Hispanic mom who had no clue she couldn't bring her wrong order there to be exchanged that wasn't the issue at all we understood that. The issue is this woman took it out of the trash and handed it to my poor mother with no remorse. That is so unacceptable subway has always been one of our favorite restaurants to eat at we are so disappointed that employees like this represent the name. They made it clear to my mom that no one would do anything about it so just leave. My mom came home crying feeling horrible . I really hope someone can really speak to this employee and with all respect make her understand how important customers are. And how vital treating people with integrity and respect is. Specially in these times or COVID we shouldn't be taking food out the trash to hand it to a customer. Thank you for your time. Best regards Erika.

Clay Nash
from Glasgow, KY
Their app is insufficient and won't let you order properly to get the deals they advertise. Their corporate customer service number is fully automated which shows me they don't care to actually hear from their customers. I'll NEVER shop with subway again.

Beth kellen
from Katy, TX
I will no longer eat at Subway due to the fact that subway is having Megan the soccer player representing y'all. Anybody that steps on our American flag I will not support

Lisa Mitchell
from Slatington, PA
I ordered a 6 inch vegie delight with provalone cheese, all vegies except black olives, with the vinegar and oil, and mayo, i ordered online from walnutport pa, when i got there a sign on the door said closed for mothers day, i had to call other stores to find my subway sandwhich, i finally located it at store # 139 in laurys station whitehall pa, now if a store is close it should say closed on the website, or when we order the sandwhich we should be told where it will be made, that was rediculous trying to find my sandwhich which was out of the way for me, why would subway just send the order to ve made somewhere other than the store i choose, and when i did get my sandwhich, there was no lettuce, one leaf of spinich, no green peppers, 3 little pieces of sweet peppers, no yellow banana peppers, 2 slice of tomatoes, 1 slice of cucumber, no dressings at all, it was the worst sandwhich i have ever purchased. The only thing the store got right was the 9 grain wheat i ordered.
Thanks for reading
Dedicated subway customer, very disapointed this time

Whoever was working at the Walmart in Hermantown MN. Horrible she was the rudiest I've ever experienced I will never be back there ever. Throwing my food around acting like I'm causing her more work. Then she throws my last sandwich in the bag all mad. And she practically through my bag at me. I say if she isn't happy with her job she should find another one. Never been so disappointed in this subway. I go there 3 times a week.

Annabeth
from Virginia Beach, VA
My husband went to the subway location
In Walmart Supercenter at 2021 Lynnhaven Pkwy, Virginia Beach, VA 23456. He went there around 11AM and came back and told me that 3 female workers were flirting with him asking for pictures with him! I am completely applaud by this lack of respect for him and for me as his wife! I hope the ladies that realize what they did showed they have no class and how would they feel if they were in that situation! My husband went there to get lunch for our family not to experience disgusting display of customer service!!

Laurie Briggs
from Rochester, MN
Why would you choose an unamerican controversial kneeler as your spokesperson? Not a wise decision...good way to loose business!!!

Ordered a b.m.t sub and salad. Salad missing topping. And sub had no ham so I got a asked for extra topping had hardly any toppings bread got untoasted but bread crust on both ends every time order online ask for 2x topping never get mad payed for b.m.t but no ham makes me not want to buy from you any more very unsatisfied with food

Gene Barrett
from Cleveland, TN
I am trying to figure out why you would do away with one of your best items for a breakfast sandwich. Breakfast sausage was the best selling sandwiches I have had at several of your restaurants. I am a truck driver and I looked forward to my sausage, egg and cheese sandwich every morning when I stopped to fuel my truck at one of the truck stops with a subway in it. Now we only have a slim choice to choose from. Please bring it back.
Thanks in advance,
GB.

Marian Burton
from Beaumont, TX
I purchased a two Subway Turkey Breast Sandwiches on wheat bread 3/ 29/21 about 11am. The bread was tough and the turkey had a greenish tinge to it, tasted old.
I have purchased sandwiches from same location many times. This is the first time, I"ve experienced this situation. I was very disappointed..
Sandwich was not edible.

Bruce Holliday
from Charlotte, NC
Rude and discourteous sandwich maker and cashier!

Geraldine
from Greenfield, OH
Went there today 3/21/21 at 12 noonish told no bread only flat bread I was going to purchase 3 footlongs! Who has no bread at lunch time! This is very poor management .. there were 2 workers so no excuse

Randolph Sims
from Chicago, IL
Me and my daughter looking forward to having lunch today we arrived at Subway Presented the associate With a coupon for buy 1 get 1 free footlong as I placed my order For chickenbacon ranch and cheese Foot long I was told for my 2nd sandwich I could not have the sandwich of my choice I had to have a ham and cheese or Turkey cheese i was very disappointed To hear that No manager on duty So we left unhappy customers very disappointed in Subway the people with me also with had their coupons Left disappointed as well don't know when will be BACK. ...RANDOLPH SIMS AND FAMILY THOUGH BY ONE GET ONE FREE MEANS THAT THERE WERE NO RESTRICTIONS.

Solomon Garrett
from Memphis, TN
Took advantage of your $5 special if you buy two. Of course you had to make order through the app. When I finished and paid for the order I directed to your nearest store. Upon arrival I was advised that that store did not honor the special. Since I had already paid for it I had to take. Clear bait and switch.

I just wanted to complain about this restaurant's manager. Today 3/12/2021, i was walking to the store when a van driven by the manager cut in front of me while i was in the cross walk while i had the green light right of way. I confronted the store manager but he told me that because i was on the other side of the street, i did not have the right of way. "- Drivers shall stop at intersections to allow pedestrians and bicycles to cross the road within a marked or unmarked crosswalk (RCW 46.61.235)" The store manager then proceeded to tell me how i was wrong and that i was being crazy. this made me mad and i started yelling at him. He proceeded to get in my face and make threats to me as well as continue to tell me that i was wrong and that i don't know washington legal code, i work at a law firm that handles situations like these sooooo, yeah i do know...... Once he got in my face, i started to feel threatened by him and told him to get away from me. He did back up, but kept yelling at me and telling me that i was wrong. He finally weakly said that if was going to be like that i didn't have to eat at "HIS" restaurant. I admit i was a little out of line, and i do apologize, but your manager was completely out of line, threatening me, getting in my face, and completely having zero remorse for that fact that he could have hit me in the middle of the street where i was at a crosswalk with a green light. Suffice it to say, I'll never be going back to that restaurant again and i'm going to tell my firm to stay clear as well. Thank you

Disgruntled subway employee made me upset. I am dieting, so I regularly visit this particular subway 601 A state highway 75 north huntsville texas. On this particular day. I didn't know what I wanted so the not yet disgruntled employee suggested a food item,I agreed,she proceeded to make the sandwich, everything was good until we got to the vegetables,mind you I'm on a diet so I'm super cautious of my calories, light lettuce, 2 tomatos, 3 large spinach leaves no stem I asked nicely she gave me some old dried up spinach leaves and couldn't believe I requested to have the stem chopped off, her body language told the story with her sharp jerking motions,she looked at me like "really". At that point I could feel her disgust,but still I was kool, so I asked for a light line of ranch very thin I mean, she put it on thick and asked me if that was ok. I said no I wanted a thin line at that moment her temperature was steaming she proceeded to swipe the dressing off like a lion swiping at a zebra to devour, then slung her glove to the back on the floor. I told her I don't want it and explained to her I'm the customer and you should make the sandwich the way I want, she flung her arms up oblivious of any problem saying what did I do. I proceeded to walk out, then went to jack in the box for a chicken fajita pita. If anyone knows her they need to teach her about customer service and how to keep her personal feeling under control

Rhonda G.
from Detroit, MI
I got 4 footlong subs 2 being steak and cheese and the other two being cold cuts.i had them melted. We looked down for toppings and there was gnats everywhere. I already had the meat melted so i had to buy it.and when I said something the female got all snotty.I had a coupon for the 2 steak subs she said we dont take those.she was really rude.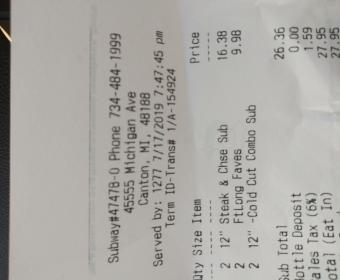 Sandra Duerinck
from Waltham, MA
First, I'd like to say I really like the Caprese sandwich. But, that is what has been causing me issues. I just don't understand - it's a sandwich that lists specific ingredients: Ciabatta Bread, fresh mozzarella with spinach, tomatoes, and onions. The sandwich is showing on the Subway Overhead board with a price. But when I ordered it on 11 Jul 19 - I selected a bread and was told that I could only have the Ciabatta bread so I said fine. Next, I was being charged $4.00 extra for the bread. I fought the charge because it's a sandwich and I didn't even ask for the Ciabatta bread. Eventually, they refunded me the $4.00 because I had originally requested another bread and was told that next time I will be charged the extra $4.00.
I liked the sandwich so I thought I'd try it again. On 7/16/19 at lunch, they told me that I couldn't have the sandwich because they were out of the Ciabatta bread. I convinced them, which took a lot, to allow me to have the sandwich on another type of bread. At that point, they informed me that I would not be charged extra for the bread because they are out but now will be charged extra for the cheese because it's a specialty cheese (yet I wasn't asking for any extra cheese or item not listed on the sandwich). I just don't understand if a sandwich has a specific price then why am I paying an extra $4.00 bread and now extra for the cheese. i continued to ask why I'm not getting charged the sandwich price listed on the board and they kept responding that I was requesting a specialty sandwich that they don't make so they have to charge me more. I kept pointing to the board where it's listed and the response it was not them and to Subway.
It's not making sense that every time that I try to order the sandwich that I'm getting charged for an additional part of what comes on the sandwich. I'd understand if I was ordering a salad and trying to make it a sandwich. But this is a sandwich and these are the ingredients that makes this sandwich.
I tried ordering this sandwich online and noticed that there was no extra cost for this sandwich. I feel like there's a bit of a price scam going on. I was a regular customer but no longer.
This is happening on Subway, Fort Hamilton, Brooklyn, NY
It is truly a shame but they were very short with me and gave me dirty looks when I inquired why I was getting charged extra and wasn't paying the price of the listed sandwich. I've been going there for years since I work across the street but I'm done. I'm not going back today after the way they treated me today.

Tammy Heitz
from Bastrop, TX
The Subway in Walmart is the worst ever. Two times they have been out of onions, vinegar and oil. Rude people and lousy service. I hope they go out of business soon.

I came into subway at 300 center Ave. Butner, NC 27509 at 6:56:11 pm. term ID-trans# 1/A-417634. I ordered a 6" Meatball sub with double meat. I did not received double meat I had 6 meatballs with 2 meatballs broke in half. There were two other people that work there sitting at the high table on the left side of the restaurant in the corner kept telling him to hurry up. He said, "okay. I'm coming." I responded don't rush my order. You is here to work. If you want to play you should have stayed at home. He replied, "It's been a long day." I replied, "I'm doing 16 hours but I still do my job." My total came up to $6.76. I gave him 2 five dollar bills. 24 cents came back from the return change. He handed my only a dollar. I told him that me owed me more money back. He replied, "No I don't! You got your right change. During this time the two workers sitting in the corner still yelling for him to hurry up. Finally another lady beside of the two in the corner came and help the worker. He gave me back my 2 dollars that he did not give early. He did not apologize. As I were leaving the store that two workers that were sitting at the table yelling for him just stared at me. I fill like subway is a place of business not a playground. I was very disappointed with my order and the service that I received from this subway.

April Arndt
from Ashburn, VA
I went to subway in Shell Knob a couple of weeks ago and my husband got a sandwich toasted and it was black when she took it out and still served it to him then I got a salad and she drowned it in dressing so I got home and threw them away and she smelled of alcohol bad and was really rude we will never go there again she wouldn't redo his sandwich even though it was burned.
She is giving sandwich to people that she likes and not charging them for it so I guess subway pays for them.

pearl blackburn
from Little Rock, AR
I really don't think this will go very far because i already read all the complaints people have made and it don't look like they are solved or answered but here goes the Brownwood TX subway does not hardly give you any meat and it only proves you are doing false advertisement as in your commercial the subs are very full and looks like subway used to !! so what is up ?? why cheat on the sandwich ?

They have a terrible corporate policy. Fuck them.

You have hires a desipcable ex-convict named BETTY ANN FOPMA TO manage your Shickshinny Subway. She spent 17 years ina Kentucky prison for kicking a woman to death .She is an unremorseful sociopath and a chronic alcoholic who totaled my friend.s car.. She abuses old people by striking them with a switch and pushes sick people to the floor. I'm telling everyone NOT to eat there. If you want a public relations nightmare, keep her on. I told you once about this sinister convict and you expressed doubts about her criminality.
IF you know how to use a computer, click on the links below:
https://law.justia.com/cases/kentucky/supreme-court/2004/2002-sc-000802-...
https://mugshots.com/US-Counties/Kentucky/Perry-County-KY/Betty-Fopma.45...
If you refuse to fire her, I will blanket the internet with this information and persuade everyone in the area NEVER to eat there.
Do not underestermate the drop in sales.
DO NOT tell me she is not the same woman. She is EVIL!
Bad things will happen to your franchise if you keep her on.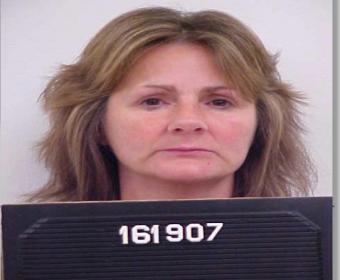 Good afternoon I usually don't like to make complaints due to the fact that I don't like to get no body in trouble. But this time I experienced a very unpleasant treatment from one of subways employees located on 5 st Washington ave Miami Beach Florida 33125 at 3:10 on Friday 6/14/19 can't provide her name because she wasn't wearing a name tag , Two costumers where trying their best to order their food with the help from another costumer because they didn't know how to speak fluent English, they were very embarrassed and look very uncomfortable I try my best to make them feel better by telling them not to feel bad that indeed she was very unprofessional and has a very nasty rude way of treating them I try to translate my self to the clerk but she gave me the same nasty rude attitude. I was in chick she was making the sandwiches by slamming the ingredients on the sandwiches she ask them if that was all they wanted the costumers not understanding what she asked looked at me to translate and she continued by saying in a loud rude voice , "I asked a question !!! They looked very upset and proceed to pay for their food and thank me in a very humble way. I tried to place my order but due to the fact that she continued with her nasty rude attitude towards me I just left without buying anything I was not going to let her treat me the way she treated those two nice costumers, this subway is located on a touristic area where the majority of tourists speak Spanish, A supervisor should have a talk with this employee to let her know the proper way of treating her costumers . It's a shame I know the store manager from this subway I've been going there for years she's very nice I never had problems with her or any of her staff until today with this lady. I don't know her name but she was the only one at the store at 330 pm on Friday 06/14/2019 dark skin lady on her lates 50 or early 60s. Thanks for your time have a good afternoon

I ordered through Uber Eats and my sandwich came to me made wrong. I ordered it again and now Uber is refusing to refund my money. Had you guys made it correctly I wouldnt be going through this.

drea Davis
from Cloquet, MN
last night my husband and i went through the drive through subway in moose lake Mn after a long day of work, not only did we wait almost 20 mins for our subs to be ready but once we got them home they had completly forgot to put any meat on my steak wrap. i'm usually not one to complain about service but this was a little ridiculous.

Estella Grimaldo
from Nampa, ID
Subway at 509 2nd St., Nampa, ID. I have gone to your store two times since your new manager has started there. Both times she was throwing pots just 3 pounds she was upset we're not greet anyone was cussing at her self. Stating that why do so many people keep coming into the store she can't get anything done. If this is a customer service said you guys provide I don't think will be coming to the store again.

Melodi Jonas
from Fishers, IN
The Subway on the base at Camp Atterbury in Edinburgh, IN is run very poorly.. most times they barely have any cookies to purchase, they are constantly running out of items, and lately they just lock the doors if they're low in items or whatever!! Today I went over there to eat lunch & the door was locked! At noon on a busy day here!! I rely on getting my lunch there every Wed but it's going downhill very fast!!

My complaint is in regards to your 509 2nd st Nampa Idaho store. I normally go to Subway 2 times a week. I've went to Subway last Friday and today and I was not welcomed both times with the new employee who I noticed must have just started working there. I asked one of your employees whose name is Esmeralda who always smiled and welcomes Me when I walk through the door. I asked her who the new gal was. She informed me that she was the new Manager. To my surprise I was shocked. Your new Manager does not greet or smile when people walk through the door and it is very unwelcoming to have her take an order. As she is standing there She asks in a rude and unwelcoming way what she can get for you In my opinion it looks like she is not happy with her job. I recommend giving your new Manager some training in customer service or you might be losing faithful customers that have been going to your establishment since it has opened. I only state this as I have never since I have been going to your Subway have been so unwelcomed by any of your employees.
I enjoy going to your Subway but if this is the service I am going to get you will lose me, my family and friends as we do not appreciate this kind of service.
Thank you for your understanding.

I ordered a footlong steak club.she cuts it in half and puts on the toppings. I get to the end to pay.this other lady charges me for 2 6inch $13.89 I tryed to explain
I got a foorlong.she didnt want to hear it.i live behind this subway atlease 3times aweek we eat dinner there.and this is how you treat a customer?

kativia ferrer
from Troy, NY
on 6/3/2019 i went to the the subway on wolf rd Albany NY 12205
I ordered a meatball sub with provolone cheese and pepperoni on a 6" subb , Italian herb cheese bread
the associate ask to toast the bread in which i agreed and as i checked out and got in my car on my way to work because i was already late.
i took a bite out of my sandwich the the meat was not even cooked.ewww so gross .. i hope i don't get sick.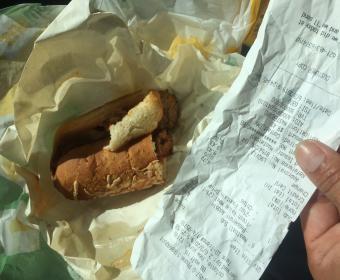 joseph curtis
from Fredericksburg, VA
I want to file a complant,i went to subway today in Boling Green,Va. around noon today (6/2/ 19)I got bad service,i ored my sub,i wanted it heated after this Lady made my Sub,she let it sit on the counter for aleast 10 minutes while she made Bread,time I got it it was cold,i said something to her,she got an attitude,i started to tell her to ram it but I paid for it.i don't think she should be waiting on customers acting like that.the subway store is 33930-0,its on Broddas Avenue BOWLING GREEN,VA.22427.I just thought I would mention it because this will cost you customers.
thanks
Joseph Curtis

i have gone to this Subway because it is on the way home. But the last three visit have been very bad. First of the three visit it was the service, in the middle of me ordering I was cut off rudely. So i just didnt finish odering. I got the sandwich i already order and left. I didnt come back to that Subway for awhile. Last night i went back. The service was bad and so was the food. We order a foot long sub and two salads. I have a food allergy to green peppers and i always tell them first but the young lady last night seem to have a problem with it. plus when i asked question like wicth one would have it in it. finally they fix the salad right but they drowned it in dressing. . Today i went back to get a salad for my husband and the service was just rude. IT will be a long time before i go back to this one. did i mention today when i was in there the store manger was and hear and did nothing1!!!!!!!!!!!!!!!!!!!!!!!!

I am writing to say your new commercials have gone past annoying and are now offensive. The noise level is extreme. I will not be frequenting a Subway in the near future. Subway is not the only company that has passed the threshold for noise, I am now muting all commercials. Do you have 14 year old boys making the choices?

One of your Subway restaurants in Bowie, MD (15480 Annapolis Rd, Bowie, MD 20715) does not honor your survey policy. I visited this location a couple of weeks ago and handed them my receipt with the survey code on it. They were adamant only one cookie applied. I explained the end of the Subway survey clearly states the customer's choice for completing the survey is either 2 free cookies or a fountain drink. The person called her supervisor and was advised this is the case so she added another free cookie. Today, I happened to go back to this store and the person said it was one cookie and tried to charge me for another cookie without telling me. I noticed the price was higher than normal and explained the second cookie is free too. I think this was the same person who I dealt with the last time. She called a supervisor (Diana, 240-264-9834) and was told only one cookie applies. I explained I don't have this issue at other Subways. I usually go to the Bowie Subway on Laurel Bowie Rd and have no problems. I took a screenshot of the end of the survey in case this would come up again. It's just wild that I would have to do that. I don't usually. I showed her the photo of the Subway screen at the end of the survey that clearly shows the options but she didn't care. She said her supervisor said one cookie. I decided not to purchase the sandwich and go elsewhere for lunch. I forgot my receipt and didn't have time to go back for it so they still have my redeemable survey receipt. This is very poor service. Why do they choose not to honor/follow Subway's survey choices for customers? I understand they want to cut costs but to do so at the expense of a company policy is not the way to do it. They also wasted a sandwich because it was made but I didn't purchase it since they did not honor the survey. Well, maybe one of them will eat it. I just want the Subway survey rules to be followed by the store and receive my 2 free cookies. I don't plan to go back to that store since they are not compliant with Subway's national campaign. Thank you.

First everywhere you look online the customer care number is listed as 1.800-888-4848, but when you dial it it says it has changed to 833...
I had a very dissapointing experience at store #27352 being out of food. They told me they had a busier than usual Saturday $1k vs $600 and were out of a number of items including bacon, american cheese, spinich, pickles, ice tea and gluten free bread. This was 2 days later. Why didn't they restock either from another store or grocery store? A number of people left after hearing the laundry list of non-available items, but since I was traveling with my 91 year old mother we settled for a tuna sub vs the Subway Melt we had hoped for. Every experience counts against the entire network and one bad experience can spoil them all. I called and spoke with a representative who couldn't have been more condesending. I've heard through the news a number of stores have closed lately. Maybe this is the beginning of the end!

wendell rhodes
from Casper, WY
I went and got 2 sandwiches from your subway on CY ave in casper Wyoming and the lettuce tomatoes and bread tasted like it was old and stale tasting...didn't go back don't like confrontation.
Have feedback for Subway?
Thanks for your feedback!
Sorry. Please try again later!