Sam's Club
Sam's Club Complaints Continued... (Page 7)
320+ reviews added so far. Upset? Call Sam's Club corporate: 479-277-7000

This needs to go to corporate. Sam's Club hire's managers who don't know anything about the store or the area in which it is in. They put managers in who don't know how to listen to their employees. Instead of listening and trying to figure out how to make things work out, employees are written up and then fired. The manager doesn't want to admit that the employee may be right and have a good reason for the things that they do. The manager doesn't want to admit that he/she is inferior by being new to the area The manager who thinks they know better than anyone who has worked and lived in the area for years and won't listen to their employees is not a good one. People who have worked for the company for years, are dedicated and do everything in their heart for the customers who shop at Sam's get the shaft.
Employees are told what a great job they are doing, how wonderful they are, They are trained to do manager and assistant manager jobs, know the store inside out even tho they don't get the same pay level but do it any way because they are dedicated. They go out of their way to keep customers coming in, rain, snow, storms and all. Drive all over the area keeping customers happy and wanting to do their business with Sam's Club. They cover for their manager and train them because they are new. Then all of a sudden they are a threat and the next thing you know everything they do is on the line and then they are fired. I have known several people who this has happened to. I have walked in the Sam's Club in my area and felt at home, loved to shop there. I have seen employees in there that do a great job, you know they care about the customers.
Every time you get to know them you find out they have been fired for some reason or other. Cashiers come and go, understandable. The main employees who work 40 hrs a week who I see work very hard at least when I am there come and go also. Why is this? Familiar faces is good, people you know you can count on if you have a problem, will answer your questions and you know they are truly trying to help you with anything no matter how outrageous it might be is very welcoming when you come into the store. I don't want to go back to Sam's to do my shopping anymore.
Not a great loos to the company I am only one person. It is a great loss to the company when the customers who find out the employee was no longer working for Sam's Club I wonder how many will continue business with Sam's. I am done going on and on. Firing employees because a manager feels threatened with her job I don't feel is the right solution.

Pauline LeGrand
from Ft. Washington, MD
was in the Tire And Battery Center on 4/4/2016 and purchased two P195/65R1591HP4FS and two wiper blades. I requested two front tires, change wiper blades and battery if needed. The receipt states battery declined. When I reminded the clerk at the register, she stated that I needed to take the car to the dealer for a battery replacement because the work could not be done at Sam's! Also it was suggested that the new tires should go to the rear. Anyway, when I went to retrieve my car, I was told that I had two bad nuts and stud on the drivers rear. The technician broke my nut from the stud. The Tire And Battery Center claimed no responsibility for the damage of my vehicle.
I was told by my mechanic that my nut was stripped, most likely due to the technician using high power tool that stripped the nut, which no longer fits on the stud. In order to fix the problem, the drum has to be taken off and the stud replaced and the damaged nuts! Darcars Chrysler in Marlow Heights charge $150 an hour for labor plus parts and additional fees.
I have been a plus member for a very long time. It frustrates me that I left the store as a unsatisfied customer. I want Sam's Club to pay for the repair of the damage to my vehicle. In addition, last month I purchased 4 tires for my Volvo C90. I took my car in for service to the Annapolis Volvo Dealership and was told that one of the four tires was put on backwards. I think you might need to check the competency of your technicians in the Tire And Battery Center. I thought Customer Satisfaction is guaranteed at Sam's.
I phone the Sam's Club and spoke with a woman name Julie in management. She said she spoke with someone in the Tore And Battery Center. Basically, she is siding with Brian, the tire technician in the Tire And Battery Center!

Gary Buffington
from Largo, FL
I received an email for free Garcinia Cambogia, from Sam's Club. My wife takes this product for weight control, so I opened the email. I was informed that I would only have to pay shipping cost of about $5.00. After accepting this offer, I was asked if I wanted any other products from this company. I thought I clicked, no thank you, but the way the email was written, I was tricked into ordering another product. When I discovered this, I tried to cancel the order and could not find anyway to accomplish it.
I received my Sam's Club bill today with two charges of $84.71 and $79.31. I called and found out that these bills were for the continuation to ship me these two products for ever if I did not cancel. I was told that I was sent an email telling me that since I had not canceled this order within 15 days, I was stuck with this deal. I firmly believe that I was tricked and I'm disgusted with Sam's Club for allowing a unscrupulous company like Nature Review to use your name.

Ronald Miser
from Oklahoma City, OK
As I was exiting the self service check-out register in Midwest City, Oklahoma, one of the associates very unprofessionally asked me for my register receipt. Her tone of voice was loud and "demanding" so much so that other customers stopped and looked. She was within 5 feet of me so there was no need for the loud, harsh tone. I gave her the receipt, she stamped it and I left. I completed a survey on-line to your company but the survey was very limited. I strongly feel I was being profiled for whatever reason. I spoke to an acting supervisor today, who although he apologized, I still feel the urge to follow through with the corporate office. As I said earlier, I seriously doubt I will patronize that store or perhaps other Sams store. How one says things is more important than what one says. Overall, yesterday experience, March 10th, 2016 is disgusting.

Gwen Benton
from Chicago, IL
Our church has business account with Sam's Club. I am having difficulty understanding the store policy that will not accept a check if it is not presented the same day it is presented. We have times when we are planning to purchase an item(s) from the club. Usually, a volunteer stops in to pick up the check, which is for the exact amount of the item being purchased. We usually run checks on a specific day and the volunteer(s) will stop in usually within 2 - three days to get the check and complete the purchase. However, we find that your stores will not accept the check because it is not dated the same date as the purchase. Now keep in mind, I am not speaking of a post-dated check, a check dated AFTER the date of purchase. This is the only store I have encountered this problem. I do not have this problem with Wal-Mart, Costco, Big Lots, etc.
The Sam's Club is conveniently located for us, but the policy makes it difficult for us to shop for large ticket items when we have to write checks one-off, and only have a limited staff. This forces us to shop outside of your community for large ticket items, and only shop at the club for small items that staff/volunteers can pay out of pocket, and than be reimbursed.

I have had it with Sams club. The poor quality of their products, the constant wrong prices, the indifference and rudeness of the staff. The person that pretends to count my items and check my receipt that digs thru my cart and comments on what I buy. She even ran my foot over as she pushed my cart back and around because she couldn't get out of her chair. The cart guy ran into my shins with a whole row of carts. If I could rate them a minus 10, I would.

doug
from Shepherdsville, KY
My wife and I looked at a mattress four employees walked past us did not notice we were there so we spent 1800.00 with another company. Don't think we will be in that sams again

Ann Cummings
from Seattle, WA
I cannot understand anybody from Manila when I call about a problem with my credit charges. I have a bill pay notification on my bank statement that says I have paid a charge but your poor-English speaking credit card assistant could not find it although it was made on March 3.
I have looked through my receipts from Sams and cannot find what the statement is showing. I have tried about 7 phone numbers to try to find a way to speak to someone who speaks English about this problem and all are impossible and connect me with Manila. The Corporate HQ phone number is also impossible as after explaining the problem, they connected me with Manila.
I have done business with Sams for years and prefer them to Costco here in the Seattle area. Never again. This is such poor customer service that I can't believe this company would be stupid enough to do it. I must get this straightened out in the next few days as they say it is due 5/19 and I have already been charged late fees but this is my first statement that just arrived. I want to talk to corporate...possibly Rosalind Brewer's office.

E LaMont Gregory
from South Bend, IN
Today, 18 April 2015, at approximately 8:10 pm (edt), I went to checkout, and while I was in the line, the only one left in the line, a young female employee closed her register. One of her friends, another employee, came, knowing she was wrong to do so, and told me I just had to go to another counter. That same second person, when I asked to see the manager went to talk to her first. The Manager with a name tag COACH ALEX, was in a word unprofessional, and most unhelpful. What should have happened was for the second employee to stand behind me, so no further customers would have been able to enter the line, if they wanted to close it. I am not pleased!

Dell L Nelson
from Fort Smith, AR
Fort Smith, Arkansas club, but would undoubtedly apply company-wide: I called for assistance in buying 4 replacement tires for my automobile. The telephone rang at least 25 times and never answered, before I disconnected in disgust. I am a long-time Wal-Mart stockholder and a Sam's Club member for at least 15 years, so I definitely would favor doing business with them if possible, if only as a common customer. World-wide, I think it would be a staggering figure to know the dollar value of sales that are lost due to "saving money" by not having someone to always answer the telephone. Yes, today I did purchase a full set of Goodyear tires at another business: they answered their phone two times for this sale!

Patricia Amshoff
from Okeana, OH
This is the second time in two months that I went to Sam's Club on North Bend Rd, Cincinnati, Ohio and the restrooms were disgusting. The first visit, I informed the manager that the toilets were backed up. Some were not flushing, over load on the toilet paper..Floor was dirty. The manager seemed happy that I brought this too his attention. The visit today was not any better if not worse..Handicap toilet stuffed with toilet paper, another toilet, someone had explosive diarrhea and the automated flush of course was not working..Just thinking that woman were in that restroom then walking out in the store area and sampling food was enough too make me sick...The sad part about the restrooms it was about noon when I arrived. I can only imagine what it looks like now four hours later. No signs on bathroom door that says when cleaning was done. I hope this matter is taken care of.

Robert Pattillo
from Columbus, GA
Arrive at tire and battery dept. at 8;30 Am. 3-24-15 to have my battery checked or replaced. Only one at this time in the shop to have service. New guy on as the customer service rep. and cashier has no business attending to customers. Did not know how to look up vehicle to see when battery was purchased nor could he do the free replacement due to age of the battery. Well after a assit manger came over and trash the cashier for what he had done or how he had done I, they got that part took care of. With this being said no one had yet started to replace the battery. I know you have to train new people but if you do have someone capable to train them.
I have shopped and bought tires and batteries at other sams clubs thoughout Ga. and Al. and by far this has to be the worst run Sams club I have ever shopped. And by far the worst tire shop in all of sams clubs. The average time to have a set of tires put on is over 2hrs.at this club. I renewed my membership the day before this. If I had not I don't think I would have. This store needs some help or some uncover bosses to take a serious look at how this store is run. I drive a Honda civic 97 modele and I can change the battery in less than 10 minutes. When you work third shift and go early to have to have items took care of you expect a little better customer service and I hope who reads this expects the same. Over a 2hr battery change is not a norm in any auto shop. Bobby disgruntle sam club member maybe we will get a Costco near by.

Darrell Birdwell
from Georgetown, TX
My wife purchased glassed from oprical dept at Sams club Round Rock submitted receipt and info to Humana Insurance in 4-2013 claim declined because incorrect info from sams optical new info sent. no reimbursement from Humana the refund sent to sams optical in sept 2014, Sams did not cash check until Dec 2014, and so far they have not refunded our original 231.00 to us or to Humana we have tried to get refund to no avail todays date is March 25 and the optical manager has had time solve this matter but he has not. He continues to state he has to contact corperate. He called and told LaVerne he could not get to Humana and he had been on hold for over 1 hour. I do not know why he was trying to call Humana when he said he needed to call corperate. this has drug on since 4-2013 with no help from sams employees. Ifeel that sams should have refunded our money over a year ago. their service is very poor and I would not recommend sams optical because of the poor customer service.

Vicky Aleman
from Wichita Falls, TX
Wichita Falls Sam's Club #8224 3801 Kell Blvd. in Wichita Falls, TX 76308. This is the third time that I have purchased one of the hamburger rolls, supposed to be 90% lean and yet when I go to cook it is more like 30% fat. I want what I pay for. I know it's hard these days so I make my budget stretch, I will no longer buy my hamburger meat at Sam's, to me this is stealing. I did not get what I was paying for. On another note the store is clean, and service is friendly. I will not use self check out , so more cashiers without the fake weave's or yarn in their hair would be wonderful. Jjust not a good thing to see them playing with it and touching food). Thank you!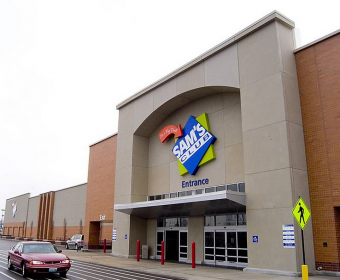 Shopping at the Wilkes-Barre, Pa store 8/14/2013 around 7 PM has been a very frustrating experience !! To start with I only had 3 items so went to the self checkout only to find that Visa Credit Cards are not accepted so I decided I'll just pay cash; then find out cash cannot be used at the self checkout registers. The store was busy and only had 3 full service registers opened all of which had an extremely long line of customers with very large orders. Lucky for me the 4 customers ahead of me were nice enough to let me cut ahead or I would have been in line for at least 30 to 45 minutes.
My shopping experience would have been much more pleasant if the store would have been staffed properly and had additional full service registers open or had a full service express register lane for customers with smaller orders. This is not the first time I had this experienced at this store. In addition the clerk at the register where I checked out was frustrated because she had to put up with customers complaining due to the lack of open registers

We shop in Albany, Georgia at Sam's Club and Wal-mart. My husband is disabled and one of his pleasures in life is to go to these stores and shop in an electric cart. At Sam's Club and Wal-mart it is almost impossible to find a cart that is charged or not being used by someone else. The carts are few for the number of customers in the store. The regular wheelchairs are broken so I can't even push my husband around. The last time we were in Sam's, I pushed him in a wheelchair that only had one foot rest and no basket. He held our purchases in his lap which meant we could not buy very much.
It is ridiculous for a giant company such as yours to have such shoddy electric carts in the first place and to have so few. It seems there are more and more disabled customers who try to shop at Sam's and Wal-mart. You should be caring enough to provide for these people. Even our small town Piggly Wiggly has nice big electric carts and they are always charged up. So it seems that we will be shopping there instead of your stores. The employees in Albany are not even sympathetic to our plight.

To whom it may concern Today April11, 2013 I being in the Sam's Club # 06212 automobile department. One of your employee name has show in the tag FRED took the paper that on Sunday 04/07/13 another employee name Jeremy print out for me so I can came back and do my service this Thrusday. So this employee FRED say in my face that I was a lier excuse me I said to him I was here on Sunday Jeremy print this paper and I never do the service on Sunday 04/07/13 because my car was at my house I being in SAMs with my boyfriend car so I said again The service never was done.
Then FRED answer me back well this paper dont lye either. Again excuse me So another employee came his tag name is Joel and he try hard that I cool down. In my 60 years old Is the first time that somebody call me a lier. I'm a very proud person to said that Iam a Christian and I serve to my LORD But I dont accept that somebody Fred call me a lier in my face. Note: paper 04/07/13 code 485700 15456 and 04/11/13. 485700 53434 Hoping hearing from your company God bless.

On 1 May, 2013 about 4:05 p.m. In the Sam's Club at Rosedale Maryland I and two other customers, one in which was disable with their care provider. Was waiting about twenty five minutes for service no one show up , the care provider ask the optical doctor where was the employee for the optical service the eye doctor stated they were out to lunch and will not be back until 5:00p.m. So I decided to go find a manager, none was around, so I ask an employee name Allen he said he was the supervisor and he think everyone was in a meeting, but will send someone over to the optical department, I waited about 15 minutes, no one came to the optical department at all. I am very disappointed in Sam's Club especially when I just purchase twenty five dollars on Sam's Club discount card.

The Bullhead City store offered a 40 dollar discount of a purchase when filling out a credit card application now that its complete the store manage is refusing while a assistance manager had agreed I did not get the assistant managers name but the store manager still should fulfill their obligation this is a waste of my time and I find it unprofessional and poor customer service thanks Rusty
Have feedback for Sam's Club?
Thanks for your feedback!
Sorry. Please try again later!