Sam's Club
Sam's Club Complaints Continued... (Page 6)
320+ reviews added so far. Upset? Call Sam's Club corporate: 479-277-7000

Winston Sherman
from Ocala, FL
I spent over two hours in Walmart in Ocala Florida to make a simple purchase. The employees did not know what to do. Today, at approximately 5:45 pm I entered Walmart with the intent to purchase a new television and a sound bar. I had spoken to several employees there earlier in the day and was told that if I purchased the product protection plan for $99 they would deliver the TV, set it up and add an additional four years to the manufacturer's warrant of one year. I returned and picked out my TV and sound bar. The guy in the store selling Directv was most helpful and assisted me in the selection of the TV and sound bar that I eventually purchased.
After waiting in line at the service desk for over 20 minutes the service desk employee said that she would call someone from electronics. Well, I looked for someone in electronics for several minutes and could not find a single employee on that side of the store. She called someone to come to electronics and after 15 minutes an employee materialized. I told "Mr. Feroze" my intention of purchasing a television and a sound bar with delivery and ad-on warranty. He said they don't deliver sound bars but I would have to purchase it now and take it home. But first I would have to pay for the TV and then establish delivery and set up. I said fine. He found a cart and placed the sound bar box on it and promptly disappeared. After waiting in line about half an hour I was able to tell the service person my intention to purchase the sound bar and I gave her the TV model number, price and product number. She was perplexed as to why I didn't have it with me at the time. She had to call electronics again and get it delivered to the service desk. I purchased the sound bar and took it to my car. Upon re-entering the store I saw that a damaged box containing the TV I wanted to purchase had been pulled from the display section and set up front. I then took a cart and retrieved a TV in an undamaged box. I told the customer service employee that I did not want the damaged box TV and would take the one that I had retrieved. At that point in time it was simply a matter of me paying for the TV and scheduling delivery and set up. The electronics guy came back and asked why he was required to retrieve a TV since I had one. I told him I didn't want the TV he retrieved because it had a damaged box. I was taking the one I had with the undamaged box. He began to complain about having to get the TV again. I told him not to argue with me. He should just take the damaged box TV back to the display area.
The day before I was told that delivery, set up and extended warranty is $99. I learned that this is not true. Because of the cost of the TV the actual price is $129. The customer service representative was on the phone another 20 minutes or so in an effort to schedule delivery and set up. I was initially scheduled for Tuesday morning, however, I have a meeting on Tuesday so that day was out. It was scheduled for Thursday. Today is Wednesday. That means that delivery would have to wait for at least a week. I told the assistant manager this and requested that the customer service person try to obtain a Tuesday afternoon delivery. She called back and was successful. I was then able to sign the paperwork and leave. The paperwork does not denote the time and date for delivery. I left the store at approximately 7:10 pm.
I am appalled by the lack of training and poor attitude of the staff in this store. The individuals on the floor, specifically electronics, don't seem to care and are argumentative, lazy and uninformed. I suggested to the assistant manager that this individual should be fired. Secondly, additional customer service personal should be hired. There is no reason that anyone should wait in line up to half an hour to be served when there are employees standing around the store doing nothing. This is outrageous.

Linda Bell
from Dallas, TX
I was in Sams on Wheatland Road,Dallas Texas 08/07/18. I picked up a box carnation creamer and the bottom of the box opened and the bottle hit my foot mainly the big toe. It hurt and continued to. I am diabetic so I felt needed to advise mgmt in case I had problems . The manager on duty Roland don't know if first or last name he never said. I told I thought be okay but just in case I wanted to complete incident report He gave me paperwork and said he be back My husband and I waited 30 minutes with various Sam employees calling him to come back. we saw him walking around picking up paper and doing every thing to make us wait. one employee said it looked like he was avoiding us . I was angry and I am honest person I told him to watch tapes if you have them but it was accident and if my toe got inflamed I be in trouble. I have called the phone number on my receipt 972-283-1704 to speak with store manager at least 7 times today and no one answers. The was the worst service I have ever experienced and Roland is horrible manager. He treated me like I was dishonest and I hope you have footage and you can see this bottle just fall out of the bottom of the box and hit my foot. He told me he had store duties and told me he would be back . I told him all you had to do was come get the form or send another employee for it but to make us stand around that long was wrong.

donald g martin
from Tucker, GA
Purchased auto tires (4) around 7:20 am Sat. Aug. 4, 2018 at Tucker Ga. 30084 store. Made appointment to have tires installed at 10:00 am on Tues. Aug. 7th, 2018. Arrived at service desk at 10:00 am and was told by employee that our appointment would be honored and that we would next. I waited 45 minutes in the store and went back to check on tire installation. My car was not even on the rack. When I ask the employee at the desk why my car was not being serviced and my 10;00 o'clock appointment not being honored he said that one of the other employees had put another car in front of my car. No apology from anyone for the delay. My 10:00 am appointment to get tires installed took 2 hours of my time that I did not have to spare on Tues. I was not pleased with my experience at Sam's and most likely will not visit Sam's again for auto tires or recommend Sam's in the future. Your appointment on tire installation is of little value to your customers. What a shame. Don Martin 770-939-9298

Marie Voyles
from Lexington, NC
I went to Sams today to shop and planned to update my 25+year membership. After shopping I went to get in line. I noticed that there were only three checkout lines open with many customers waiting at each line. I saw several employees walking around and I asked one employee "are there really only three checkout lines open"? She nodded yes. I then saw another employee and asked her "does your manager know there are only three checkout lines open and it is Friday afternoon. While she kept walking she told me yes and that the manager is upstairs and I could tell him if I wanted.
I did not tell the manager. Instead I used a self checkout and left. I did not renew my membership, I have not made up my mind if I will. I shop Sams almost weekly and usually enjoy shopping and looking around. Today I was quite annoyed. I cannot see if they can have two checkout people at each register, I assume to keep people honest, they could have more registers open on a Friday afternoon where customers are shopping for the weekend. I thought you would want to know.

Delores Adams
from Fort Mill, SC
I visit the Sam's Club store locater in Rock Hill S.C.
Store #6236
Manger Marcus Potter
Store Phone Number 1 803 372 6500
I usually shop the store whenever our church has several large yearly functions. This day there was only 1 cashier with the manger helping the customer to remove items from cart. He could plainly see others were in the checkout line .One family of several people were shopping for a family reunion and had 5 carts. Never once which in tee did the manger offer an apology for our wait he instead left the area and went over to another register that was not open. They offered others to be check out at the customer service desk which only made that area crowed. I shop Walmart often and just expected more from the Sam's Club. I hope this type of service will be handle.
Thanks

Patricia Nice
from Santa Maria, CA
The return center is the worst I have ever dealt with. I returned a couple orders, & received a confirmation email that I would be credited on my original payment card within 48 hours. That was on 7/4/18. Today is 7/21/18 and still no credit to my account. When I called I asked to speak to the manager and was put on hold for almost 20 minutes. She introduced herself as Latera, and then told me at the end of our conversation her name is Tyrea. She gave me a ref # of 180717-014419. She assured me my money would be returned the next day. Nothing happened. I also contacted the help center and was assured it would be taken care of. Nothing. Here is my order information. Please credit my account.
Order # 1337734303 received back to your return center
Order # 1551564529 received back to your return center. I was charged for a pair of boc sandals women's size 11. Never received them, but was charged for them.
Please correct this situation.
Patricia Nice
805-478-9117
donor-mom@hotmail.com
2221 Garden Drive
Santa Maria
Ca. 93458

Carmita Arencibia
from Fort Lauderdale, FL
To Whom It May Concern:
I am writing to express my dissatisfaction with store number 6341, located in Sunrise, FL, Club Manager John Padgett.
The reason why I am extremely upset is because while making my purchase, I asked the cashier if I could exchange one of my sequence tote bag for another. She said "yes", but to hand her my membership card so she can start ringing up my order, at which point I did.
When I came back with my exchange, I noticed my order was run up and set to the side for payment process. The original cashier left her post for her break, while the other cashier whom was helping put my items on the counter took over the register. The second cashier retrieved my order at which time I proceeded to pay for my items. I asked for my membership card, but she had no idea what I was talking. She stood in place and didn't bother asking someone to get the original cashier from her break to ask what she did with my membership card.
Finally, another member came back and when in the break room to ask her what she did with my membership card, and her reply was that she left it near the register. We look for it, but it was no where to be found. I was FURIOUS to see that no one took action to try to find where my card was located. Both members stood still. All I got was to proceed to the customer service line to get a replacement card.
When I got to the customer service line, I explained my dilemma to the customer service person, of course, I was FURIOUS with the situation and was hoping to get some understanding from her but all I got was disrespect. She dismissed my concern and was not a bit empathy to my situation. In my opinion, this person shouldn't be working at the customer service desk, if she isn't going to be helpful and courteous.
As for the original cashier, she lack professionalism and cautiousness with customer personal belongings. I have had bad experience with Sam's before relating to my credit card, and now this. Makes me think twice next time I need to renew my membership.
Please ensure that the manager at this store address those concerns with the staff, so no other person experience what I did. Not only did it get me upset, but also inconvenience me in such way that I had missed my son's baseball game.
If you need to discuss this further, please do not hesitate to call me directly at (954)554)4026.
Sincerely,
Carmita Arencibia
Dissatisfy Customer

PHYLLIS ADAMS
from Shepherdsville, KY
In case you are keeping surveys:
REGARDING July 10th order with the confirmation number 1665363850
Shipping info - ON BOX 1 OF 2
Ship to:
PHYLLIS ADAMS
321 WHIPPOORWILL DRIVE
BURNSIDE
KY, 42519
606-561-7702
FEDERAL EXPRESS tracking number
448707156954
Shipping details(9 items)
Item Qty Orig. price Total
1. SensodyneExtraWhiteningToothpaste65oz3pk
Item # 123652 1 $17.86
Free Shipping
2. MembersMarkUltraPlate101/16204ct
Item # 980076970 1 $14.68
Free Shipping
3. CloroxwithCloroMaxTechnologyRegular
Item # 980042447 1 $9.47
Free Shipping
4. Clorox2MaxPerformanceLaundryStainRemoverColorBooster11275Ounces
Item # 980007836 2 $13.98 $22.96
$2.50 off Instant Savings $5.00 savings included
Free Shipping
5. MMSublingualVitaminB125000mcgmethylcobalamin300ct
Item # 156350 1 $18.98
Free Shipping
6. MembersMarkBiotin10000mcgwithKeratin100mg250ct
Item # 438723 1 $14.83
Free Shipping
7. MembersMark220mgNaproxenSodium400ct
Item # 391250 1 $12.98
Free Shipping
8. MembersMarkHandSanitizer676floz
Item # 980060231 1 $5.48
Free Shipping
ITEM NUMBERS 3 AND 4 ALL LEAKED IN TRANSIT. NOT FEDEX FAULT. The wrong sized box was used versus all the weight involved. Packing was inadequate. All contents wet. The packers were either ill trained or didn't care! Fedex did major re-taping so box could continue.
Shipping info ON BOX 2 OF 2
Ship to:
PHYLLIS ADAMS
321 WHIPPOORWILL DRIVE
BURNSIDE
KY, 42519
606-561-7702
FEDERAL EXPRESS tracking number
445658046158
Shipping details(11 items)
Item Qty Orig. price Total
1. KeurigK50ClassicSingleServeKCupPodCoffeeMakerRhubarb
Item # 980116379 1 $89.98 $69.98
$20.00 off Instant Savings $20.00 savings included
Free Shipping
2. CarnationBreakfastEssentialsNutritionalDrinkMixVanilla30ct
Item # 91487 2 $9.44
Free Shipping
3. DuracellCoppertopAlkaline9VBatteries8Pk
Item # 279654 1 $18.48 $15.98
$2.50 off Instant Savings $2.50 savings included
Free Shipping
4. MembersMark650mgArthritisPain200ct2pk
Item # 390716 1 $13.98
Free Shipping
5. LiquidPlumrProStrengthFullClogDestroyerPlusPipeGuard128ozbottles2pk
Item # 389458 1 $13.68
Free Shipping
6. MembersMarkOmega369DietarySupplement325ct
Item # 610421 3 $14.98 $35.94
$3.00 off Instant Savings $9.00 savings included
Free Shipping
7. EcosPlusLaundryDetergentWithEnzymes225HEloads225floz
Item # 539297 1 $15.94
Free Shipping
8. OralBGlideProHealthComfortPlusFloss6pk
Item # 399324 1 $13.98
Free Shipping
ITEM 7 LEAKED IN TRANSIT. AGAIN, NOT FEDEX FAULT. The wrong sized box was used versus all the weight involved. Packing was woefully inadequate. All contents wet. The packers were either ill trained or didn't care! Fedex did major re-taping so shipment could continue.
Unfortunately, most likely will not use this service again. Great idea on Sam's part, but poor execution.
Acknowledgment appreciated.
Regards,
P. Adams

Dave Jones
from Mt. Pleasant, SC
Recently I purchased a Members Mark , Hard Arm Chair , from your Charleston ,SC , Sams Club . After approximately six (6) times of use , the front right hard plastic slider snapped in half , thus making the chair un-useable . I am 6'1" , 220 lbs , so my weight shouldn't have been a problem . I'm curious if there have been other complaints ?
Dave Jones

Lekreeta Jackson
from Fayetteville, NC
Hello I'm a member at your Sam's club in Macon GA I shop there all the time love the place but on July 12,2018 between one and two as I was unloading my shopping cart someone took my purse out my shopping cart while I wasn't looking I spoke with the manager that was there his name was Mike I had to call the cops because he refused to tell me what happened to the purse once the cops got there he refused to show the cops the security cameras he treated and talk to me very rudely because he said he couldn't access the cameras and that the manager that could wasn't there I asked him what was the other managers name and what time will they be in so I can call and have a talk with them he refused to give me their name and the time that they will return he act as if he didn't care about someone walking past and taking my purse with all my personal information in it that I own I've been shopping there for a long time and I'm a member Plus the way I was handled was very upsetting Mike wouldn't even give me his last name I feel so violated his customer service was very poor

Dale Gillespie
from Appleton, WI
I purchased three sets of titanium copper colored flatware 11/22/2017 and the copper color is coming off and turning back to silver. This is a major health concern for an item that's being placed in a persons mouth and I want a full refund on my three sets. The cost of each set was $29.98 item # 908051 20Pc flatware set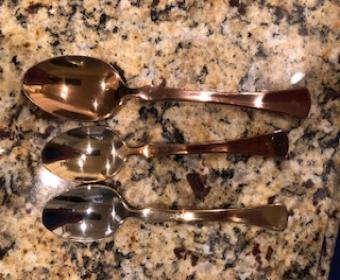 Judy Slavin
from Tarboro, NC
We were in Sam's Club in Rocky Mount on Sunday July 7, @ 4:30 PM. Waited in line to order a hot dog, drink, and ice cream for two people for 15 minutes. Told that they were out of hot dogs right then and it would take 30-45 minutes before they had more. Sounds like a management problem that could use a fix.

byron levinson
from Cairo, NE
I purchased two bottles of honey july 5 th at a sams club in ne. Labeled pure clover honey . As a former bee keeper I know what clover honey tastes and smells like . Your honey was mixed with inferior and much darker honey . I would like some compensation , as I am a regular customer , and spend a ton of money at sams every month . Mr Levinson

Chris Phan
from Saint-Quentin, NB
I entered the Sam' club in Southgate California within 72 hours approximately to return my HP Envy Desktop + 27-inch Curved Monitor Display purchased on 6-20-2018. After presenting my club membership ID, driver's license, and physical receipt, an inspector was called to open to contents of the closed item. Before opening the item, I showed the inspector photos of the item opening the box after buying it. The photos depicted the monitor before use powered off and then powered on. The inspector deemed that the screen was defected as no physical damage was done to the screen after physically opening all items and checking by hand + eye. Due to the 'price' of the item a manager by the name of Eric G. was called in to take a second look at the item. Contrary to the technician, he accused me of piercing the screen. I said, "are you stupid". Then he called me chink, and I said, "fuck you". He spat in my face and called security. Upon his calling security I said to him, "you little bitch", and I took my leave peacefully along with my item and vacated the Sam's Club premises. In addition, he marked a special note in the system. His action(or his notation) was further cause for the disallowance of the return of the item to other Sam's club locations. At the other Sam's club locations, the process was the same. Check and verify ID, membership, identification, and receipt + item. The employees deemed the item returnable due to defect as item was still excellent condition at time of attempted return and all accessories including manuals and items wraps were still there. At the final call, again the manager stepped in to give his approval(or disapproval in this case). When the manager came he refused my return, overturning once again all the other employees' judgment and said leave and take the item with you threatening once again the same actions as the first and initial employee, Eric G. of Sam's Club in Southgate CA.

Jinu jacob
from The Bronx, NY
Abraham very bad customer service.crazy and old.should be fired .

Mary Jane Betts
from Birmingham, AL
I wish to complain about the closing of your Irondale, Alabama store. I have been a member for over 20 years. Your store closest to me does not carry what I need. and I now must drive over 90 miles round trip to get what I need. Your Trussville Alabama store does not carry the Friskies Buffet classic Cat food, only the shredded kind which my cats will not eat. Nor do they keep in stock the small cans of the solid wet food. I spend approximately $400 to $500.00 twice each month. PLEASE NOTE THAT I DO NOT AND WILL NEVER ORDER ANYTHING ONLINE. I DO NOT USE CRESDIT CARDS AND NEVER EVER USE MY BACK ACCOUNT NOR ALLOW ANYONE TO DRIECT DEBIT MYBANK ACCOUN T. IF THAT IS THE ONLY WAY THAT I CAN DO BUSINESS WITH YOU, YOU CAN TAKE THAT IDEA AND STUFF IT WHERE THE SUN DOES NOT SHINE. ADDITIONALLY I DO NOT ALLOW UPS ON PROPERTY AT ANY TIME FOR ANY REASON WHAT SOEVER, THAT IS ALSO AN IDEA YOU CAN TAKE AND STUFF WHERE THE SUN DOES NOT SHINE. YOU NEED TO OPEN ANOTHER STORE IN THE EASTERN AREA OF THE BIRMINGHAM, ASLABAMA AREA. or your Trussville Alabama store needs to have the foods that my cats will eat.

John
from Albuquerque, NM
In the food court at this Sam's Club, I always buy a frozen yogurt cup after shopping. About two months, I went to buy the frozen yogurt as usual, and was told the machine was broken and was awaiting repairs. The following week, I was told the same thing. Eventually, (weeks later) I was told there was a new replacement frozen yogurt machine on order. Weeks later, I was told the new machine was in the back of the store awaiting installation and would be up and running in a few days. Two weeks later, (still no frozen yogurt available), I see the new machine is installed but is still not operational. How can such a simple process be delayed over, and over, and over again? If I were the store manager, this problem would have been fixed long, long ago. What needs to happen to make someone get off their butt and get this resolved? The very least they could do is to cover up the sign showing that they're selling frozen yogurt, but no -- they make me waste my time again and again standing in their darned line just to tell me the machine still isn't up and running. What a poor way to run a business and a good way to frustrate customers. Please get this fixed!

tommy gullett
from Macomb, MI
Roseville Michigan. Ian a small bussiness owner in Michigan for 63 years .I shop for my company at least 4 days a week.I spend between 1600.2000 a week at our local sams club. Friday I was shopping here and there were so many non sams sales agents INSIDE selling home repair. Photos. Cable TV catering parties landscaping what the heck I was stopped from my shopping 5 times. I AM HERE TO FILL MY COMPANY NEEDS not for some who rents floor space from a retailer. If this is a thing to come I will just go back to having product delevered from local merchants. Thomas Gullett Jims Industrial Catering Co. 241 Cass Ave Mt.Clemens Michigan 48043

Rebecca Fields
from Newnan, GA
I received an email to renew my membership. I did not respond to that. Monday I received an email that said my membership had been renewed and my card was charged. I called and was told they didn't see that on the record it was most likely a computer glitch. I said I don't like a glitch that says anything about my card being used. I ask how did you get my card number to pay for this and she said like I said it was just a glitch. Today I look online at my bank account and someone charged my debit card $45.00 without my permission. I called today and was told this had to be done at the store and I would need to go by there. Why should I go by the store and be inconvenient for your problem. I called the store tonight and was told that I would need to come by. I am not going by the store to receive credit for you charging my card without my permission. I ask the lady how this could happen and she said corporate. I love shopping at Sam's but this isn't making me like it. I don't know what needs to be done but my card needs to be credited back.
Thanks

Bruce Bero
from Shelbyville, KY
Yesterday we visited Sam's in Louisville, Ky. ( Middletown ) location and was surprised when we went to check out and saw two open lanes with cashiers and several with self service. We lined up in one that had a cashier. Another employee approached us and asked how we were going to pay. I said, with a check. (just like i have for the past 28yrs) He escorted us to the Electronics dept. to be checked out. The employee there said we have self check out now. He was told to check us out. I asked him if this is Sam's new policy. He said yes because 35% of customers said they wanted it. I didn't tell him that that means 65% had no opinion on it or didn't want it. He then told us that they couldn't hire new employees now.
Listen......We have been loyal customers for 28years. I told my wife that i guess it's time to visit Cosco's She agreed.
Thank you for your time, it's time to move on Bruce Bero

Douglas J Kreiling
from Littleton, CO
Yesterday Monday April 30th 2018 I purchased medication at the Sam's Club Pharmacy on South Wadsworth Boulevard in Littleton Colorado as I've done multiple multiple times, I've been a Sam's Club member for 10-plus years with a business account membership never really had too many problems until Monday .
I do not know the pharmacists name he was a male approximately in his 30s not sure if he was having a bad day but decided to act as my doctor instead of my pharmacists (if i wanted his input and help i would have asked for it)he reminded me that I'm on high doses ofa controlled medication and should talk with my doctor about getting it lowered, i told him which i think is none of his business to begin with that I've had it lowered 3 times in the last 2 years due to Colorado's restrictive system on controlled medications...
He has no idea of my medical conditions that I have and I've had four numerous years ,and for him to prejuge me is totally unacceptable .
I also added that its this or using marijuana for pain control, as seems to be his m.o. told me there's no proof / studies that marijuana helps. I think that's kind of funny how that's totally opposite of what I've heard with cancer patients and other issues that it helps not that I'm using or plan on but again he had to make sure that he was the boss and I was the idiot.
Upon us having a somewhat heated conversation I asked him after he handed me my medications if he needed my Sam's Club card, he then stated no it's been paid for ,which my medication is paid by a third party which I pay online ,and that was it he turned around and walked away no thank, you no thank you for your service (which he did not need to do anyway I was wearing my army hat)...
I just hope someone has a talk with him I'm a very mellow person but when somebody in his position acts like a pompous ass needs to be reminded ...
I've talked to numerous friends and family who also think he overstepped his boundaries and I hope you Sam's Club management will have a discussion with him on his actions I can't imagine I'm the first to complain...
Sincerely,
Douglas J Kreiling
dougkreiling94@gmail.com

Steven Watson
from Los Angeles, CA
Good evening Sam's Club Corporate Headquarters:
I am writing to you today regarding a horrific experience that I went through at your Long Beach Towne Center location. On Saturday, April 7, 2018 I was racially profiled by one of your employees named Jaime who was checking the receipts at the exit.
After I purchased all of my merchandise, I proceeded to the exit as usual. When I got to the exit, a Sam's Club employee by the name of Jaime took my receipt, and then started checking my cart for a very long time. I thought that this was very unusual since I didn't have very many items in my cart to begin with. But I gave him the benefit of the doubt, waited for my receipt back, and then left the store.
Something still just wasn't sitting right with me at that point. So I decided to stop outside the door to monitor how this employee treated the next customer. The next customer happened to be an Eastern Indian family. When they gave their receipt to the same Sam's Club employee, he checked it off right away without even checking their basket. And they had much more merchandise than I had.
The third customer was an African American family who were the same nationality as I am. When they gave the employee their receipt, my suspicions were indeed true and confirmed, The Sam's Club employee was treating this family just like he had treated me by taking a very long and checking their basket as to if the black families might have stolen something.
I then went back into the store and asked to speak to the manager. I spoke to the manager by the name of Jeremy. After I had explained to him what I had experienced with the racial profiling, he just responded by telling me that they do random checks on customers who have items at the bottom of their carts. All three customers that I mentioned above, including myself, had merchandise at the bottom of our carts. So this explanation didn't add up. I wasn't even given an apology by this same manager who didn't even seem to care at all.
I have been a member of Sam's Club for a very long time, and I have never experienced any type of treatment like this from this company. Everyone there has always treated me with the utmost respect. That is why the last time that I renewed my Sam's Cub membership, I actually had to convince my wife that we should remain with Sam's Club, because she wanted to try out Costco instead. Is this the type of treatment that Sam's Club is now administering to its customers? Are only certain types of people welcome at Sam's Club now depending on what nationality you are? Is this the type of treatment that I should be expecting from now on if my wife and I decide to remain customers of Sam's Club?
I was very much insulted during my visit on Saturday, April 7, 2018. I really feel betrayed by my favorite store that I always like to shop at.
Sincerely,
Steven Watson
Member# 101 42120 841212327

Lorri Howes
from Forrest, IL
We have been members since 11/1997. The past few years have been difficult due to loss jobs and illness and we let our membership expire. However, imagine my surprise to receive in the mail a free 60 day membership or renew and get a $10 gift card. I went to Sams today at 9:50am 2/10/18. I went to the service desk and asked if I could use this. I spoke to Mervis she said I had to renew. I stated and pointed out on the flyer that I could have 60 days free membership. After "receiving attitude" i was told renew or I could not shop there. She also said I should of never received that in the mail, but I did. I was HUMILATED!!!!!! and walked out of the store. I do not understand.... This flyer came to me in the mail. Why did I receive this if I could not use this? Why would I want to pay to shop at the store after being treated with no respect? I need explanation, please.
Sincerely,
Lorri Howes

Andre Taylor
from Hephzibah, GA
I ordered a childrens bedroom set from Sam's Club on 26 November 2017. The bedroom set was supposed to arrive between 12/12/2017 and 12/21/2017 and as of today Sam's has not called or written me to apologize. I've called Sam's at least 5 times, was cut-off by them twice, and the representatives have no clue when the bedroom set will arrive. I called the carrier MDS in December and they stated the shipment was left on the dock because the truck was full and offered me a $100 gift card to compensate me. They could not tell me when the furniture would be delivered, and that they would have to get with Sam's Club. Every time I call Sams to inquire about the order they have to call the shipping company and they can never get through. Sams has taken no responsibility or offered no apology for the merchandise which I ordered through their web site. I would not recommend ordering any furniture from Sams Club to anyone. Not surprised they are closing stores.

Rosemary
from Philadelphia, PA
I was talked to very poorly when refused to get rung up by a palm pilot by a cos manager lamar. This happened at the Cinnaminson N.J. Sams club. He replied to himself as gay and he don't take boujie customers that he doesn't have time he has things to do talked about my hair to his co worker and laughed and made fun of me I was humiliated and it was unprofessional of him to do so I have the right to refuse any services I choose.

Henry Johnson Jr
from Colonial Heights, VA
About a Month ago I went to our Sam Club in Colonial Heights, VA, to Purchase some King Crab Legs and saw that there was a few bags there. I attempted to purchase one bag but noticed that there wasn't a Price tag on it. I went thru several bags before I could find one with a Price tag on it. When I went to pay for the produce I mention to the Cashier that there was a problem with the King Crab not being properly tagged as far as the price of each and that there was tags laying in the cooler because there was just stuck on there and that the cold made them fall off. I told here that anyone could take a 20 dollar label and place it on one of the more expensive bags and she said she thank that this has been happening because some have been paying a little for a large bags of the legs. I asked who I could complain to and she said I could try to talk to some back in the meat department. There seem to be only one guy in the department working and he seem to be busy and a few people was waiting on him for meat to be cut. When I got home I called the store and spoke with the manager of the Meat department said he I could come and talk to him and I told him that I made an attempt to do so but the person that I saw in the department seem to be very busy with other customers. He said he would look at my complaint to see what he could do because he wasn't allowed o staple the Price receipts on the bags, I said ok and I would check on my next trip. About two weeks later I went to make a purchase of the King Crab Legs an this time there were bout eight bags in the cooler but none had price tags on them and all the tags were laying in the bottom of the Freezer, I asked for a Store Manager and spoke with a Lady who said she was the store assistance manager and when I explained the complaint to her she said she would have it corrected. Today I went to the store which has been three weeks later from my last visit saw many bags in the cooler but none had any price tags on them, I spoke with several people standing by the cooler and some was saying just place one of the tags laying in the bottom of the cooler and just go pay for it. I do try to be as honest as possible and would not listen to them and for the third of forth time am making a complaint that I'm not satisfied with this department, the store is being cheated by consumers that just place any price on any bag that they want and just go and pay for it. I haven't purchased anything from the store lately because I don't want to cheat the store the same as I wouldn't want to be cheated. Hopefully with this information given directly to you this problem can be taken care of. At the local Food Lion Store they were having this same problem and People were stealing the produce like crazy, they started stapling the Price tags on the bags which has stop the problem per the Meat department that I spoke with at Food Lion. Please Help!

Teresa Kelly
from Roanoke Rapids, NC
I bought a set of Purelli Tires from Sam's a couple of months ago and they have been nothing but a headache. They keep loosing air. I went to Sam's today because one of the tires look as if it was going flat. The girl in the automotive dept. informed me that my card had just expired and they could not look at my tires without renewing my card. When I purchase the tires, they did not tell me this. I spent almost 800 dollars and they told me I would be able to come and get my tires changes, aligned and rotated as long as I owned them, not as long as I had a Sam's card. I am on a fixed income and I don't have the money to renew my card. This is so wrong, I had to leave with a half flat tire. I wish I would have known I would have to have a Sam's card to get my tires checked. I would have never bought them, I don't always have money to renew a card. This is so wrong of Sam's, I was never informed about always having a card to get tired checked!!!

mike sheehan
from Tahlequah, OK
Unbeknownst to us Sams raised our contract to Premium adding $55 dollars to our yearly charge. After hours of phone time we were able to revert contract back to the original agreement however we had to call back second day in order to receive a refund and we have to wait 8 to 10 weeks?
Poor customer relations service. Bye bye sams hello Costco! :)

William Kuehnhold
from Lady Lake, FL
Just to let you know that I have shredded my card due to absolutely the worse customer service department I have ever tried to work with. Top management should be made aware of this since even the service desk at Sam,s "The Villages, Florida couldn't help and stated several others had complained of the same problems.

Imad Youssef
from Baldwin Park, CA
I received an email that said my tires were ready as club #6611. I went over there and i spoke with Daniel who went to the back 3 times and came back to tell me i cant find your tires, then i spoke to Rosanna, the manager, who told me we cant locate your tires, call us back in 2-3 days. I said no just go find them now. She said it would take 1 hour to locate them. After 5 minutes she came back to me and told me we found your tires. Now the biggest problem is that after 1 week, i discovered they replaced only 3 steam valves, which means now i am driving with brand new tires and 6 year old steam valve, and the person who did the job was named Eric.

Deborah Schoepfer
from Dacula, GA
I bought Samsung headphone from Sam's club back in Feb, with extended warranty. today 10/3117 I went back to have it replace due to issue with the right ear phone was not working. I spoke to Steve ( team lead) he refuse to give me and my husband his last name. He said that he will not replace it and for me to call Samsung and deal with it. My husband was on the phone and ask to speak to him, he took the phone and I can hear that he will not give his last name and he said " if you are shouting at me I will not talk to you, do you understand." he said that about four times to my husband. I asked him to return my husband back to me. He handed me back the phone and took off. And left me standing there. I asked my husband what happened, he said that he ask Steve for his last name and he refused and Steve said not to shout at him. I went around and asked a few associate to help me locate manager on duty. few said they don't know if there is a manager on duty. After 15min Antonio came to speak to me and I explained the situation to him and he spoke to my husband. Antonio said that he will read the policy and will take care of it. I finally got my exchange. I will not buy another extended warranty again. And please talked to Steve about customer service skill. Leaving me standing there without and help is not customer service. Antonio gave me Steve last name Edelman thanks to Antonio helped I am still a member today.

Etta Swann
from Long Bottom, OH
I placed an online order been a month still dont have it not shipped says exception have called customer servivpce numerous times they just hang up on me worst service ever. Please hire new people to do your customer service because horrific. I just want my merchandise I ordered as soon as pissible order number is 186290133 Please make this right just send me my item geeez. I am going to call corporate asap.

Melissa Starkey
from Memphis, TN
I placed an order on 9/8/17 for a case of whole chickens, to be picked up on 9/13/17 at the Joplin, MO store, as I was getting married and this was for the wedding reception. I got there and my order was not available. I got an email 10 minutes after I got there stating my order was cancelled. I had to speak with 3 people to find what happened. I was told that the orders are filled the day the order is made and I was not there to pick it up. This makes no sense as I requested the pickup for 9/13/17. I was also told that they go by not what is ordered, but by what was bought the previous year. Why place an order if no one is going to pay any attention to it? Luckily there were enough in the case on the floor for me to purchase, but they refused give me the price by the case, which is what I ordered. Instead, I had to pay for each double pack of whole chickens separately. This is extremely terrible customer service, I had even shown them the confirmation of my order. I will never place another order from Sam's and I have nothing good to say about my experience and do not recommend anyone else to order for any occasion. I'm attaching my confirmation order along with the cancellation notice, which shows 9/13, which was the date I was to pick it up.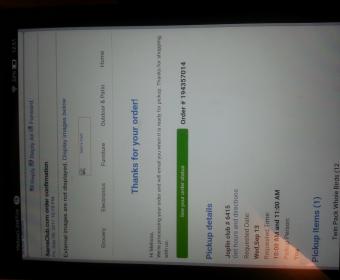 Karen Patete
from Willoughby, OH
Wrong delivery for mattress received a Beauty-rest paid for Serta Perfect Luxury Hybrid Glenmoor Super Pillow top and box spring.
Its been 4 days and still no one has a complete answer SOME ONE NEEDS TO CALL ME BACK AND NOT CUSTOMER.

Michelle High
from Kennesaw, GA
I ordered pizza cutters over a month ago and they were shipped to a Pregnancy Crisis Center in Arkansas, the young lady is about 2 hours away from the nearest Sam's and they expect her to take the pizza cutters to them, this is unacceptable. This is the last time I will order online from Sam's. My telephone number is 770-293-1822. See order below that I did not received.
Item / Item # Qty Status Gift Shipping Method Price Total
Wheel Pizza Cutter
- 4" diameter - 6
pk.
Tracking Number#: 742242376103
Item # : 161587 1 Delivered
08/30/17 16:30
No
Standard
Shipping
Delivery Date:
Wednesday, 08/30/2017
$10.88 $10.88

Jacob Monroe
from Albuquerque, NM
EEL Marketing
P.O. Box 5235, Vail, CO. 81658
(970) 690-7600
To Whom It May Concern
From: Mr. Monroe
On Wednesday, August 30th, 2017, I was on my way to a meeting and stopped into the Sams located at 4827 S. Wadsworth, Littleton, CO. They had some shirts I had spotted on a previous visit when I had waited for a prescription to be filled. I picked up the shirt and used self-checkout.
Right before I walked into the meeting I threw on the shirt and noticed it had a broken button. As I was quite early, I decided to run back to Sams and switch out the shirt for a second one I had seen of the same style, size, price, and color. Pulling into Sams parking lot, I grabbed the shirt and receipt believing that the exchange could be accomplished quickly. Leave one and pick up the other.
I parked, rushed into the store with my shirt and receipt and proceeded to customer service. After arriving in line, with one person in front of me, I was accosted by a Sams employee, who began an attempt to belittle and demean me in front of other customers and employees.
She stated that I should have heard her yelling and screaming at me. (The yelling and screaming were her own words. She stated, 'Why didn't you hear me yelling and screaming at you?) Then she began a lecture on the proper doors to enter and how that next time I was to enter the proper door when I returned an item. Her entire demeanor was rude and unflatteringly ugly. Her actions were similar to a pit bull, taking snaps and bites at people to show who's boss. I was appalled at the attempt of this female employee to scold me as if I were a criminal or an unwanted visitor, who had no right to be where I was. She did this in front of the other customers and employees as if to show the world that she was in charge or, whatever else her ego required. However, I do not do rude well and responded back.
As she would not stop her snipping and biting and rude remarks, I told her to go back to her dog house and turned away. Her comment was, 'Okay fine, I'm going to call the manager. I don't have to take that.'
Really? And yet I, as the customer, am supposed to accept and take the vicious nasty attitude of Sam's little attack dog because I failed to hear her yelling and screaming at me as I entered! What a great procedure Sams has taught its employees, that of yelling and screaming.
Next, I stood in line for approximately 10 minutes waiting for customer service to figure out how to help the one person in front of me. That always seems to be a problem at Sams. Customer service often appears confused and unable to figure out how to help their customers. It always amazes me. More often than not, they consistently have to call a manager over to deal with what they are not or have not been taught to deal with.
Finally, when it was my turn, I still ended up waiting another 10 minutes for the customer service clerk to do whatever it was that he needed to do to verify my purchase before he would simply allow me to grab another replacement shirt, same size, color, price. I had the receipt in my hand that verified the shirt was only bought within the last 30 minutes. However, the receipt alone was not acceptable. Meanwhile, the pit bull waited impatiently for her manager to come over and pat her ruffled fur.
Finally, I was allowed to go back and grab my shirt. Upon returning to the front, I now had to wait behind another customer. It was then Mr. Manager appeared on the scene wanting to know what happened. This also was in front of other employees and customers, as if that is Sams big procedure, 'Show everyone who is boss.' I explained that I did not appreciate first being yelled and screamed at, and then being lectured in front of the customers and employees as if I was some type of criminal. He stated he understood but that 2 wrongs do not make a right. Excuse me? I was flabbergasted. The wrong was the attitude and mouth of their employee and now, a lame manager who could not address his own employees rude and noxious behavior but instead, wished to defray blame on me. In a way then, he was correct. Two wrongs did not make a right. The employee was wrong in her general obnoxious and disrespectful manner yelling and screaming, along with her intended rudeness that was directed against me personally. The manager's inability to honestly assess the situation and deal with it accordingly was the second wrong. The Manager must have also feared Sams Pit Bull, as he vainly attempted to make me share the blame for his employee's bad behavior. Unbelievable!
The only thing the manager probably got right was that two wrongs do NOT make a right. Neither did the employees intentional rudeness nor the managers inability to manage, make anything right.
I had to state to the manager that this situation was unacceptable, and that if Sams allows its employees to act like pit bulls, to yell and scream at their customers, and then attempt to lecture and rebuke them in front of others, snipping and biting, then customers certainly had the right to tell them to Heel, and request that they return to the dog house from which they emerged.
If Sams management lacks the courage or integrity to do this then it is up to the customers. During the entire encounter, I did not scream or yell or use profanity. I simply responded to a rude and ugly employee, who would not stop harassing me or demeaning me until I firmly told her to return to her dog house. It is clearly where she belonged and it was only then that she at least shut up after stating that she was going to call the manager. A veiled threat? Was her thought, 'Now I'll show you!' Again unbelievable!
And a manager who seems to hold no control over his employees and so must find fault with the customer seems to sum up the problem with this Sams Club. If it were not for a quality Pharmacist, I would never walk in these doors again. I can just hear the morning manager talk.
'Okay employees, today I want to affirm that when any issue arises, please feel free to yell and scream at these customers who must be forced to obey our rules!!! And when a customer does not respond to your yelling and screaming, then rebuke them soundly! And please do this in front of other customers and employees so that all may fear you. Furthermore, if any customer dare responds back while you are lecturing them, and say anything that hurts your feelings or makes you feel that you are not worthy to be worshiped, then please call a manager so that we can point out that customers bad behavior!
And finally, on a more pleasant note, please be assured that our employee shipment of rattles and pacifiers has been delivered and will be passed out during our afternoon nap time! Enjoy your day and do not let these horrible customers that parade into our store, do anything amiss!'
It absolutely amazes me that retailers still do not have a clue regarding customer service and success. They hire expensive consultants and advertisers with 6 figure salaries, spend millions on advertisements, and yet they fall short. However, the difference between success and failure is so evident, that Sams would be well to fire a few of their college educated consultants and advertisers and take up what I call the Costco Challenge.
What is the Costco Challenge? Well, first let me ask why it is that both Costco and Sams basically carry the same products at the same price and yet the Costco located just a few blocks up the street flourishes while this Sams struggles? If you think this statement is off, then let us prove it with the Costco Challenge.
Disclosure: I do not work for Costco. I am not hired by Costco or paid by Costco for any purpose. I am simply a card-carrying member of both Costco and Sams, and so, am able to share a completely honest assessment.
And thus, the Costco Challenge.
For one week, require each manager at Sams to pick a day, any day, and pick a time, anytime. On the day and time selected, have the manager do a walkthrough of their store, observing customers and employees. Take notes on the approximate customer count. Then immediately drive to Costco a few blocks up. Walk through the Costco store. What will they notice?
Sams: Entering Sams always feels like you're entering a graveyard. It is dark and somewhat gloomy. Its employees, for the most part, are unaware of the customers and care little about their needs. (Please note: This should not be taken as negative on your employees. Employees are only a reflection of management.) Although there are exceptions, Sams employees always seem low energy and often confused by what they are doing.
When it is time to check out at Sams, a customer can expect a long wait time. With few exceptions. it doesn't matter how many customers are present. It is almost as if Sams believes a waiting customer is a happy customer. Or, it is part of some genius plan to force customers to use self-service and thus cut down on paid help at the cashier's stations. If customers won't use self-service, they can wait 30 minutes to get checked out.
A GRAVEYARD ATMOSPHERE WITH GLOOMY CONFUSED EMPLOYEES, WHO DON'T WANT TO BE THERE. A WAIT TIME AND CUSTOMER RELATION PROGRAM THAT INCLUDES YELLING AND SCREAMING WHILE DEMEANING AND BELITTLING CUSTOMERS PUBLICLY.
Then we have Costco.
AN OPERATION OF LIFE, WITH BRIGHT CRISP EMPLOYEES, WHO ARE EAGER TO REACH OUT AND HELP THEIR CUSTOMERS, BECAUSE THEY ACTUALLY CARE. A QUICK CHECK OUT TIME AND A CUSTOMER SERVICE THAT OFFERS SMILES, UNDERSTANDING, AND HELP, BOTH PROFESSIONAL AND FRIENDLY.
Walking into Costco one has a feeling of brightness and life. Things are happening here. The customer count, at a minimum, is always double Sams and often 5 to 10 times above the Sams Club down the street. It does not matter what day or what time of day it is. The Costco on the corner of Bellevue and S. Wadsworth is always full of life and action. The employees are professional, quick, and friendly. They look like they want to be there. Even if they do not, they look like they do. They also look like they know what they are doing.
Costco Customer service is quick to help, resolve, and take care of any issue, and always with a smile.
Costco employees do not need to yell and scream at their customers to force them to follow the rules! They do not corner customers and attempt to lecture and belittle them in front of other customers and employees. They are helpful and energetic. How would the same situation as I experienced at Sams probably be handled at Costco?
An employee would have walked up to the customer with a smile and said, 'Hi! I noticed you have a return. Here, let me put on this sticker to make the process easier for you. And you have a nice day.'
Less than 10 seconds and a quick win win for everyone. (Even though I must state that Costco does not feel the need to use little green stickers to confirm an item is being returned. A receipt always seems to satisfy them. And so Costco does not require attack dogs or pit bulls.)
The Costco Challenge, if honestly completed, would teach your managers more than all of your high paid consultants and experts. If you fail the customer on the retail level, all the other money you spend is wasted. Fire your failed upper echelon consultants, re-train or change your management staff and inspire your employees to go beyond themselves, with both incentives and honest recognition. It is, after all, the customer that you desire to shop within your store. Your store should be designed for that customer. It should be a store of life, with kind and helpful employees, not distant yellers and screamers, many of whom do not have a clue.
Am I simply rambling on because of an incident? What I state, I have observed for quite some time. Over time, my visits to Sams have become less and less. In fact, if not for your pharmacy, I would have stopped visiting Sams a couple years ago.
Now you can take the Costco Challenge and find out. It will not matter which day or what time of day each Sams Manager chooses. Simply entering each store paints an immediate picture of what is right about Costco and wrong about Sams, and it has nothing to do with advertising or high-priced consultants. It has to do with the lighting in the store, and the light within those who work the store. Costco will always have at least twice the shoppers, normally 5 to 10 times the shoppers of Sams, and yet half the wait time for check out and/or customer service. Costco customer service also actually does know what they are doing.
Hanging a picture of the store manager on the wall that then states, 'My goal is that you are completely satisfied," is not an honest sign when the completeness lacks fulfillment. Sams has no viable concern for its customers. They mistakenly believe it's all about the discounts. Wrong. It's more than the discounts. It's about customer service and actually caring about your customers, employing and training employees to know what they are doing and to be a helpful solution to any problem, not a mad-hatter who believes yelling and screaming and scolding customers is an efficient way to govern any situation that arises. To have a store that operates as a customer friendly store means a management that actually cares, employees that actually care. Care is not found in a plaque hanging on a wall but in the actions of the managers who are on call to sort out problems before they happen. At Costco, you will not miss these managers, always on the lookout for any problem or issue before it arises. They and their employees are crisp and alive. Sams? Not so much. At Sams, they all simply drag along, digging graves and waiting for their time-clock to tell them it's time to return home.
Now, in ending please note that I do not wish a response. I know how to respond for myself. I do not require an insincere statement of understanding. I also do not need another rebuke by those who have not a clue. Take the Costco Challenge and you will quickly see that every statement I have made is correct.
Do not take the challenge and your store will forever be nothing more than a graveyard located at 4827 South Wadsworth, always wanting and never fulfilled.
P.S. By the way, this consultation is a free gift from EEL Marketing, in order to help you set aside the tombstone, return your pit bulls to their dog houses, and walk once more with the living.
Will you respond? Unlikely. And so, Costco will always run circles around you.
Respectfully, Mr. Monroe

gary stafford
from Melbourne, AR
my wife had a car battery replaced at sams club in fort smith ar yesterday they started the car twice but didn/t let it run long enough to reset computer it cost her atoll bill and garage bill she goes back to sams club and they will not take blame for their mistake and will not let her talk to manager I thank they owe the cost of fixing car

Khalid Munir
from Multan, PB
Thanks for your attention. I'm facing the crisis on call with customer service center. It was a universal standard service 5-6 months ago. But after that the changes made and its blasts. Its good to make changes but it also should be good for the customer. My most important issue is that the FedEx clearly states that the item was never received. But instead to process refund or replacement the representative said that he is going to forward the issue to back department. I don't know what is this back department which never responds. My issue is that If you are seeing that there is issue then why don't you solve at that time. Please do some thing.
Thank you.

Margo Santiago
from Schertz, TX
On Nov. 16th I order a recliner Number Item #: 299758 because it matched the sofa I purchased in Sam's months ago. I ordered it because it was out of stock in the store. I requested delivery on Wednesday. Everything was confirmed on your ordering system, the order number was; 5596574467 I asked for a text for pick up between the hours of 1:00-2:pm. When I never received the text I called the store I was dumbfounded to talk to three managers that had absolutely no ideal how to help me. I felt as if I was disturbing them from something important.
I called the website .com people talked to a Sam's Club manager and was equally as disturbed to get such treatment and answers that I all ready knew. Now The local Club manager promised he would call when the recliner came in and set one aside for me. well on the 24th he did he left me a message that it was in and ready for pick up. He called again this time I answered and he said they got some in and he would have one for me. Well on my way home to get my track he called again and said he had mistakenly read the invoice the recliner is not in it will be in on the 25th. Well I called today and I was on hold 1 hour I held on to see how long they would take and was told they have 8 on order and none in.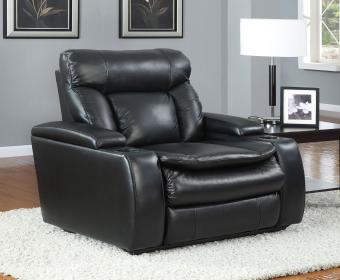 Shane McCardle
from Sterling, VA
Worst return policy despite fake "customer satisfaction guarantee". It's really much sad when you invest in an expensive electronic and want to return after some time. Apparently, they kept my return without issuing any refund because over the period of a month, I have called their customer support at least once a week and each time I am given a different timeline to expect the refund. Next time, only buying from Costco. If it doesn't have it, I will wait but never again from Sam's Club.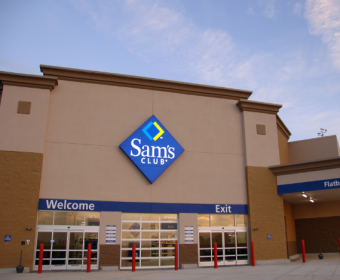 Mark Brown
from Houston, TX
I purchased a new set of tires for my daughters car in July. As required , I purchased the warranty / the road hazard protection. I purchased these at Sam's Club because they assured me that should she have a problem while at school that they would take care of it. I have had my card for many years but have not been in Sam's in the past couple of months so have not had an opportunity to renew it in September. My daughter had a warranty problem with one of the tires and took to Sam's to have it addressed. They would not honor the warranty unless I renew my Sam's membership. In my opinion, one has nothing to do with the other and that Sam's Club is using warranties that they make you purchase to ensure that you continue to renew memberships. I want my tire fixed under the warranty that I purchased. They are crooks and people need to be warned about their slimy business tactics.

James O Smith
from West Lafayette, IN
I went to Sam's Club today to purchase a whole pork butt and have it sliced as I have done several times in the past. When I asked the man who was working the front of the meat department, he said they don't cut raw meat, only deli meat. We could see another man in the back cutting meat. The man in the back agreed to slice it for us. We told the man in the front we wanted it cut 1/2 inch thick. When we arrived home and were re-packaging the meat into smaller packages, we found the meat had been cut much thinner than 1/2 inch.
It would be nice to get a consistent answer among your employees, and/or post the policy on slicing meat. I could understand if it was near closing time and they had already cleaned everything, etc., but this was at 2:30 in the afternoon. This is not the only time we have had to go through several employees to get the service we needed at this Sam's Club. We've found which customer service desk employees can get things done and which seem to make an issue out of everything. Maybe some re-training or shadowing is needed so all employees are on the same page.
This was at the South Street store in Lafayette, Indiana. We did not notice the employees names we dealt with today.

Rochelle McCrackin
from Memphis, TN
My family and I have been Sam's Club card holders for I believe 20 years. And unfortunately witnessed a sharp decline in service, cleanliness and overall standards of our location. I visited the store today and was completely shocked by the customer service I received. It seemed that the bad attitudes started at the door and followed us out. When we arrived, we were not greeted. There were 2 representatives standing at the door. Neither looked or said a word at us and even appeared disgusted as we voluntarily showed membership cards. Upon entering the store there was trash covering the floor. While shopping I tried to flag down an employee to ask a question. She quickly waived me off and gave me the wrong information without stopping.
She also did not greet me or even smile, in fact it was as if I had bothered her for asking a question. I found the organic juices on my own after being pointed to the wrong place. Once I found them, I was shocked to see all the bottles of the particular use (green machine Naked Juice) were all mangled with the necks completely bent inwards. The bottles were also dented and damaged. I regret not taking pictures of this in the store. I tried to flag down another employee to ask if there were any others but of course no one could be bothered.
I finally choose the best bottle I could find and proceeded to the customer service counter to request if perhaps the item was marked down. The customer service rep also did not greet me. I asked to speak with a manger and she simply told the manager. Of course the manager could not be bothered to come out of the office to personally attend to my complaint. I explained that all the bottles out for display looked horrible and completely under standard. The rep hung up the phone and told me "he said only 10 percent off. I was so disgusted with the level of customer service I elected not to purchase. I did not demand and remained pleasant but was very disappointed.
I tried to redeem my experience and visited the food court. I was shocked to see food handlers operating the register taking money with gloves on and then preparing food with the same gloves on there hands. The area was filthy: trash on the floor and the counters were sticky and disgusting. I decided not to get any food and only chose a beverage item. And of course not one person at the food court smiled or greeted any customers. It was as if this bad attitude and nonchalant behavior is now the new norm for this location.
Upon existing the store, again the rep there did not say a word to any customers just stood at the door. Customers were not thanked or treated with any level of professionalism. At lease I can say I experienced consistency: a consistent level of dissatisfaction, disgust, and terrible customer service. I left that store feeling as though my business is neither appreciated or wanted.

judy crull
from Strawberry Plains, TN
Sam's Club customer service was very bad at 2920 Knoxville Center, Knoxville, 37924. My husband placed a order on line. We ordered sodas,chicken breasts and some other things. On August 16 was pick-up day. So in the afternoon, we got a call from Sam's support department. The women said she was getting my order together.Then she started yelling at me over the phone. Then she started yelling at me again. Saying to me, do you agree to this, do you agree to this, do you agree to this. The women is totally nuts. My phone was not on speaker and my husband heard every word she said.

roberta schertzer
from Marietta, GA
I have been a Sam's Club customer for many years & this is the first time that I have a complaint. Unfortunately due to Age & to problems walking, I am now forced to use an electric cart (which I am grateful to have available to me). My problem is that they are not plugged in to be charged when they are returned & I have been stranded in the store or, worse yet, I have driven to the Club, managed to find a parking spot & there were no electric carts available.
After waiting to get one, I found that while shopping there were two in the aisles that were out of juice! I believe that your handicapped customers would benefit from your looking into this problem or possibly obtaining additional carts. I shop in your Marietta club on Cobb Parkway near Roswell road. I don't see a store # on my receipt, but the name of the manager is Marc White, who I did leave a message about this. I am very satisfied with the courtesy of the staff at the club & hopefully, I will be shopping there until I can no longer drive.

Robin Senn
from Columbia, SC
I ordered 2 Shark Vacuum HV325 on Saturday August 6th on the one day only sale. Online was out of stock so they sent to the Spartanburg SC store for pick up and they let me choose the day to pick up. I noticed as of the August 11th the day I was suppose to pick up the order was still pending so at that time I called the Sam's Club 1-800 number on my confirmation and they told me to hold on so they could call the store and find out what the problem was. The store said they had the order and I could pick up within 2 days so I went on Friday August 12th for pickup.
When the 2 vacuums were brought to me and scanned for me to pay it rang up regular price and not sale price. I then told the cashier the price was wrong and she called the manager (Vickie) and she would not honor the price and said I was suppose to have paid on Sat the 6th of August. I told the cashier that online I was told to pay at the store. Vickie never came out to talk to me she only spoke to the cashier on her speaker phone but I could hear very loudly and she wouldn't even come out or listen to the cashier all she would say is I should have paid on the 6th.
I left the store and didn't purchase the items because of the price. I have a confirmation email from sams.com with the sale price not the regular price on it. I went home and called the 1-800 once again and they tried to help but then they told me I ordered them on the 7th not 6th. I told them I ordered before 12midnight but the confirmation came on the 7th. If I was suppose to pay the regular price and not the sales price why did I get an email with the sale price on it and it said to pay in the store at pickup. Please help me with this matter, this is the first time I have ever ordered online to pick up at the store and its been a nightmare. My 2 order numbers are 7863479988 and 1722817843, I have all my emails saved if I need to send to you.

Purchased items on July 16, 2016. Had to return 3 items, 130103 Salsa $9.57; #760373, Scallops $30.98; SMDGOUDAPIM $7.98, all of which expired on July 1, 2016, 16 days' pass had expiration date. Returned items back to store on July 17, 2016 at membership desk. While speaking to manager regarding expired items being sold and how disappointing to buy items for a party to learn that food you are going to serve is out of date. This is a very serious health matter. The manager seems not very concern and stated that she would talk to the department. This is a membership club and this should not be happening.

Sherry Wilmoth
from Cookeville, TN
I received a recall on Nature Valley nut bars on June 2, 2016 that I purchased as a club member in December 2015 that states to return the bars for a full refund because they are potentially contaminated with Listeria. I had eaten 10 of the 16 bars and did get sick with vomiting, diarrhea, fever, and chills and missed a day of work and stomach issues for a week. Expected to receive a refund and apology, but was refused a refund because my membership expired in Dec. 2015 which is totally irrelevant.
Your letter is totally valid for a food contamination recall. The customer service gentleman proceeded to ask me why I had let my membership expire and that I would have to buy another one in order to receive my ten dollar refund! I will not be renewing a membership which is a shame since I have lived here longer than the Sam's Club has been in business in Cookeville, TN. Seems like greed is more important than consumer safety.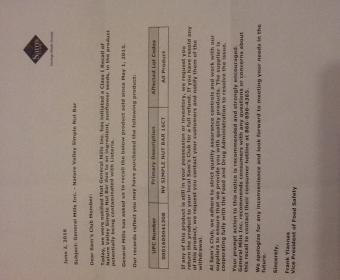 Gwendolyn Griffin
from Newport News, VA
My daughter, along with my grandson went to Sam's Club in Newport News, Virginia this afternoon to do monthly grocery shopping. First, I was looking for a specific lotion to help my grandson's skin, couldn't find it , so I asked a group of three employees if it was in stock. They were so nonchalant. Well, we completed our purchases totaling almost 500. We proceeded to the door where they check your receipts and look over the items in your basket. I disagree and believe that if enough customers begin to change their minds about accepted this. I would like to be contacted by a customer service representative.

Harmony Landry
from New Britain, CT
The Newington Store on the Berlin Turnpike is the worst store that I have ever been to. No one knows their job and everyone has an attitude. An time i have an issue they tell me to call a number. I want to get rid of my sam's club altogether because of this store. I just want to pay of my bill and be done with sams club. I been a member for seven years too long enough is enough. I done with same clubs.
Have feedback for Sam's Club?
Thanks for your feedback!
Sorry. Please try again later!