Sam's Club
Sam's Club Complaints Continued... (Page 4)
320+ reviews added so far. Upset? Call Sam's Club corporate: 479-277-7000

doug
from Shepherdsville, KY
My wife and I looked at a mattress four employees walked past us did not notice we were there so we spent 1800.00 with another company. Don't think we will be in that sams again

Danielle Stokes
from Evansville, IN
I made about $500 dollars in purchases in the last 5 days and I made another last night. I got the email confirmation, the processing email, the money has already been taken out of my account, but I get an email saying there is a problem with my order and it can't be processed even though the money has been taken out. I called the support phone number for billing problems on the email it said to and the lady tells she'll put in a request for someone to call me with in the next 3 days and I can't cancel my order. So I'm out almost $200 dollars. What is going on Sam's club? I try to contact you and you screw me over.

Terri Herrington
from Louisville, KY
Me & my husband went to Sams on Preston Hwy Louisville, KY 40229. We picked up a package of purple grapes, & I go honey let me try one because they are sometimes sour; at that time one the your sales clerk walked by looked at me started shaking his head & kept looking at me and mumblings under his breath. I go sir I'm trying these because I don't like sour grapes. He started running his mouth stating they are weighed package and I go I'm sorry I'm buying them I just put in my cart. He preceded to still shake his head and mumbling(running his mouth about me eating one grape out of package). I assure you not every package sitting there on the table weighs exactly to each $4.98 for the package & I assure you I'm not the only one that tried the grape it just so happened he walk by like it's costing him money. I walked up to him & go sir what is your name he goes Larry & his tag had Larry on it.
I go thank you he then started running his mouth about the weigh package, I go sir I'm not dealing with you anymore Im going up to customer service he goes well they are going to tell you the same thing. I go sir I don't know why you keep running your mouth I'm buying the package of grapes & he kept running his mouth about the weigh grapes you don't do that & shaking his head like a crazy person. I did go up to the customer service & spoke to a gal there I forgot her name but she wrote down what happened & goes well he shouldn't have done that & maybe he's having a bad day. I go well I'm sorry but you don't act like that to a paying customer.
I have worked in retail before & we never acted like that. She said she would talk to manager ask me if I wanted to talk to Manager. I go no I'm upset & want to get out of here. If it wasn't for having to put over $200.00 worth of stuff back where I had got it & eating ONE GRAPE I would have said forget & walk out. At this point I don't even think I will shop at Sams anymore; I just have not ever EXPERIENCED something like this from a Clerk. This was very upsetting & my husband was in shock. I can just take my business to COSTCO. I just cant believe that someone would act like that(like a crazy person) I was actually scared of him & my husband was like I can't believe it; he like what is this world coming to. Thank you for reading this from a dissatisfied customer.

Vivian Martinez
from Belize City, BZ
I just went shopping at Chetumal Q Roo mexico at Sam's Club since I am member. This is the first time this happens to me. I was paying my bill and upon reaching home was going over my shopping list and noticed that i was over charge $300.00 Mexican pesos for 3 packs of cooking oil. I bought the 3/945ml of Capullo cooking oil, I was to be charged $70.59 pesos for 1 pk and was instead charged $172.42 pesos per pack. This happened just this past Sunday the 18th and i want a refund or a credit to my bill as i go shopping every 2 months. I live in Belize City.

Mike Kirkland
from Warner Robins, GA
As I was shopping, I decided to order the family pizza that is advertised. My ticket shows I ordered at 18.19 and was told by clerk it would take 20 minutes. I looked around club, and then came back about 20 minutes later. it was not ready, so I sat down and waited. They only had one person that works in café working. A guy from meat dept was helping out. I saw other people ordering and getting their pizza before I had mine. Now it is 45 minutes later and still no pizza. I went to counter and confronted clerk, she never spoke just took a pizza, and boxed, along with bread sticks etc.. They have no way to tell whose order is next, etc. Since it was a Friday night and local high school, (about 2 blocks away) was having a football game. So where was management? Could not be found. Why did not the manager of café have the for thought to have made up pizza's ahead, and be ready for this rush. This happens almost every time I am in the club. No manager, no clerks, no customer service. Having been in a food service, restaurants for many years I have never seen such a terrible way of treating members. Why cannot the club come up with a way to have customers served in a more efficient manner.

Ann Cummings
from Seattle, WA
I cannot understand anybody from Manila when I call about a problem with my credit charges. I have a bill pay notification on my bank statement that says I have paid a charge but your poor-English speaking credit card assistant could not find it although it was made on March 3.
I have looked through my receipts from Sams and cannot find what the statement is showing. I have tried about 7 phone numbers to try to find a way to speak to someone who speaks English about this problem and all are impossible and connect me with Manila. The Corporate HQ phone number is also impossible as after explaining the problem, they connected me with Manila.
I have done business with Sams for years and prefer them to Costco here in the Seattle area. Never again. This is such poor customer service that I can't believe this company would be stupid enough to do it. I must get this straightened out in the next few days as they say it is due 5/19 and I have already been charged late fees but this is my first statement that just arrived. I want to talk to corporate...possibly Rosalind Brewer's office.

E LaMont Gregory
from South Bend, IN
Today, 18 April 2015, at approximately 8:10 pm (edt), I went to checkout, and while I was in the line, the only one left in the line, a young female employee closed her register. One of her friends, another employee, came, knowing she was wrong to do so, and told me I just had to go to another counter. That same second person, when I asked to see the manager went to talk to her first. The Manager with a name tag COACH ALEX, was in a word unprofessional, and most unhelpful. What should have happened was for the second employee to stand behind me, so no further customers would have been able to enter the line, if they wanted to close it. I am not pleased!

Dell L Nelson
from Fort Smith, AR
Fort Smith, Arkansas club, but would undoubtedly apply company-wide: I called for assistance in buying 4 replacement tires for my automobile. The telephone rang at least 25 times and never answered, before I disconnected in disgust. I am a long-time Wal-Mart stockholder and a Sam's Club member for at least 15 years, so I definitely would favor doing business with them if possible, if only as a common customer. World-wide, I think it would be a staggering figure to know the dollar value of sales that are lost due to "saving money" by not having someone to always answer the telephone. Yes, today I did purchase a full set of Goodyear tires at another business: they answered their phone two times for this sale!

Cheryl Miramonti
from Port Huron, MI
Sams club is not living up to the expectations of having the lowest prices. I follow the gas prices to get the best deal in town. Sams always was within 2 or 3 cents per gallon of the nearest competitor. Lately Sams has been the quickest with price hikes and this morning the difference was 20 cents per gallon higher. I understand that you supposedly check to see what the competition is doing. If you wish to keep my business than please be more diligent in offering the lowest prices. My store is in Port Huron Michigan.

Patricia Amshoff
from Okeana, OH
This is the second time in two months that I went to Sam's Club on North Bend Rd, Cincinnati, Ohio and the restrooms were disgusting. The first visit, I informed the manager that the toilets were backed up. Some were not flushing, over load on the toilet paper..Floor was dirty. The manager seemed happy that I brought this too his attention. The visit today was not any better if not worse..Handicap toilet stuffed with toilet paper, another toilet, someone had explosive diarrhea and the automated flush of course was not working..Just thinking that woman were in that restroom then walking out in the store area and sampling food was enough too make me sick...The sad part about the restrooms it was about noon when I arrived. I can only imagine what it looks like now four hours later. No signs on bathroom door that says when cleaning was done. I hope this matter is taken care of.

Robert Pattillo
from Columbus, GA
Arrive at tire and battery dept. at 8;30 Am. 3-24-15 to have my battery checked or replaced. Only one at this time in the shop to have service. New guy on as the customer service rep. and cashier has no business attending to customers. Did not know how to look up vehicle to see when battery was purchased nor could he do the free replacement due to age of the battery. Well after a assit manger came over and trash the cashier for what he had done or how he had done I, they got that part took care of. With this being said no one had yet started to replace the battery. I know you have to train new people but if you do have someone capable to train them.
I have shopped and bought tires and batteries at other sams clubs thoughout Ga. and Al. and by far this has to be the worst run Sams club I have ever shopped. And by far the worst tire shop in all of sams clubs. The average time to have a set of tires put on is over 2hrs.at this club. I renewed my membership the day before this. If I had not I don't think I would have. This store needs some help or some uncover bosses to take a serious look at how this store is run. I drive a Honda civic 97 modele and I can change the battery in less than 10 minutes. When you work third shift and go early to have to have items took care of you expect a little better customer service and I hope who reads this expects the same. Over a 2hr battery change is not a norm in any auto shop. Bobby disgruntle sam club member maybe we will get a Costco near by.

Darrell Birdwell
from Georgetown, TX
My wife purchased glassed from oprical dept at Sams club Round Rock submitted receipt and info to Humana Insurance in 4-2013 claim declined because incorrect info from sams optical new info sent. no reimbursement from Humana the refund sent to sams optical in sept 2014, Sams did not cash check until Dec 2014, and so far they have not refunded our original 231.00 to us or to Humana we have tried to get refund to no avail todays date is March 25 and the optical manager has had time solve this matter but he has not. He continues to state he has to contact corperate. He called and told LaVerne he could not get to Humana and he had been on hold for over 1 hour. I do not know why he was trying to call Humana when he said he needed to call corperate. this has drug on since 4-2013 with no help from sams employees. Ifeel that sams should have refunded our money over a year ago. their service is very poor and I would not recommend sams optical because of the poor customer service.

Vicky Aleman
from Wichita Falls, TX
Wichita Falls Sam's Club #8224 3801 Kell Blvd. in Wichita Falls, TX 76308. This is the third time that I have purchased one of the hamburger rolls, supposed to be 90% lean and yet when I go to cook it is more like 30% fat. I want what I pay for. I know it's hard these days so I make my budget stretch, I will no longer buy my hamburger meat at Sam's, to me this is stealing. I did not get what I was paying for. On another note the store is clean, and service is friendly. I will not use self check out , so more cashiers without the fake weave's or yarn in their hair would be wonderful. Jjust not a good thing to see them playing with it and touching food). Thank you!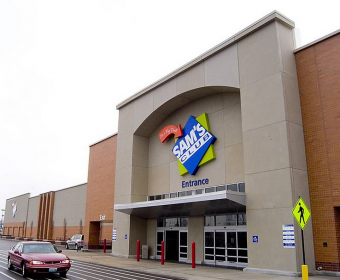 We shop in Albany, Georgia at Sam's Club and Wal-mart. My husband is disabled and one of his pleasures in life is to go to these stores and shop in an electric cart. At Sam's Club and Wal-mart it is almost impossible to find a cart that is charged or not being used by someone else. The carts are few for the number of customers in the store. The regular wheelchairs are broken so I can't even push my husband around. The last time we were in Sam's, I pushed him in a wheelchair that only had one foot rest and no basket. He held our purchases in his lap which meant we could not buy very much.
It is ridiculous for a giant company such as yours to have such shoddy electric carts in the first place and to have so few. It seems there are more and more disabled customers who try to shop at Sam's and Wal-mart. You should be caring enough to provide for these people. Even our small town Piggly Wiggly has nice big electric carts and they are always charged up. So it seems that we will be shopping there instead of your stores. The employees in Albany are not even sympathetic to our plight.

To whom it may concern, On January 5, 2013, I was with a friend, Debra Jubert, at our local Sams Club Store # 6671 in Freehold, NJ. I accompanied her while she shopped with her membership to decide whether I would later purchase a membership for my family. While in the store, I found a dining room table and chair set that I liked and she made the purchase, using her Sams Club Card. Realizing that the package was too large for our vehicle, I contacted my brother to assist with his pickup truck At check out I advised the Sam's club cashier that I would not be able to take the large boxes with us at this time, however I would return with my brother later that evening to make the pick up. This was approved by one of the supervisors at the time and she wrote on the receipt that the items would be picked up at a later time and she initialed my receipt. It was decided that the boxes would be held at the courtesy counter on a cart until I arrived later that evening.
At approximately five PM, I returned with my brother to pick up the items. Upon reporting to the Sam's club courtesy counter, I was advised that there was a problem with the number of table and chair sets, and that they believed that one set had been taken without authorization or "Stolen". It just so happened that a man had just purchased the same set and was in the process of loading his into his vehicle. That gentleman was confronted outside of the store and asked to produce his receipt to show that it was purchased, which he complied and it was confirmed that he had just made the purchase. The Sam's club store Manager would not release the merchandise, as she believed that there was Store Shrinkage and she would have to investigate further.
After some time had passed, the Sam's club manager after viewing surveillance video then proceeded to ask me if I sent my daughter back with my receipt to pick up the set earlier and now I returned to try to claim another set with my receipt. I explained that I did not have a daughter. Now I am being accused of stealing this dining set which came in 4 very large boxes. All of this is taking place in front of all of the Sam's customers and I was very embarrassed, being accused of stealing only because they were worried about their "store shrinkage". I went outside to inform my brother of the problem and he being a retired police captain came inside to try and rectify the problem. He explained that we were waiting over an hour and he had a dinner engagement to attend and we wanted the merchandise so we could leave. They would not release it until they could view the video. We were told it would be ten minutes, well after an hour had passed, and being accused of stealing, he now he decided to call the Freehold Twp. police. I was made a spectacle in the Sam's club store. Now standing with a police officer in front of all of the customers, I felt so embarrassed and humiliated.
All I wanted to do was pick up my merchandise as I was instructed to do at the time of my purchase. It was supposed to be held on a cart in front by the service desk until I returned to pick it up. I should've been in and out in 10 minutes. It is not my fault if the table and chairs disappeared. Sam's has someone checking receipts at the door as members leave, I shouldn't have been held there on display for 2 hrs. while the manager checked surveillance video. The merchandise was finally released to me, as we were leaving the police officer mentioned to me that they found the missing table and chairs on a cart in the back of the store somewhere. Because of the store's mismanagement of their merchandise I had to be detained, humiliated, and accused of stealing.
Sams Club obviously does not treat their member's with any respect. Here, you pay to shop at their warehouse and this is how they treat their members! My intention was to purchase a Sam's Club embership, however, after the way I was humiliated in front of the store for all of the members to witness I will continue my membership with Costco. I am also contemplating seeking legal counsel as to the way the situation was handled. The manager should have released my merchandise to me. I had my receipt. Instead I was detained for hours, while they called the woman who signed my receipt at the time of purchase, asking for a description of myself, viewed video, all the time speaking to several employees, trying to figure out who walked out with this merchandise, making me feel and look like a criminal. I cannot tell you the stress I suffered at the hands of your employees. I had been in the hospital days before the incident and I was still recovering from my illness and did not need this added stress and aggravation.

To whom it may concern Today April11, 2013 I being in the Sam's Club # 06212 automobile department. One of your employee name has show in the tag FRED took the paper that on Sunday 04/07/13 another employee name Jeremy print out for me so I can came back and do my service this Thrusday. So this employee FRED say in my face that I was a lier excuse me I said to him I was here on Sunday Jeremy print this paper and I never do the service on Sunday 04/07/13 because my car was at my house I being in SAMs with my boyfriend car so I said again The service never was done.
Then FRED answer me back well this paper dont lye either. Again excuse me So another employee came his tag name is Joel and he try hard that I cool down. In my 60 years old Is the first time that somebody call me a lier. I'm a very proud person to said that Iam a Christian and I serve to my LORD But I dont accept that somebody Fred call me a lier in my face. Note: paper 04/07/13 code 485700 15456 and 04/11/13. 485700 53434 Hoping hearing from your company God bless.

On 1 May, 2013 about 4:05 p.m. In the Sam's Club at Rosedale Maryland I and two other customers, one in which was disable with their care provider. Was waiting about twenty five minutes for service no one show up , the care provider ask the optical doctor where was the employee for the optical service the eye doctor stated they were out to lunch and will not be back until 5:00p.m. So I decided to go find a manager, none was around, so I ask an employee name Allen he said he was the supervisor and he think everyone was in a meeting, but will send someone over to the optical department, I waited about 15 minutes, no one came to the optical department at all. I am very disappointed in Sam's Club especially when I just purchase twenty five dollars on Sam's Club discount card.

The Bullhead City store offered a 40 dollar discount of a purchase when filling out a credit card application now that its complete the store manage is refusing while a assistance manager had agreed I did not get the assistant managers name but the store manager still should fulfill their obligation this is a waste of my time and I find it unprofessional and poor customer service thanks Rusty

Shopping at the Wilkes-Barre, Pa store 8/14/2013 around 7 PM has been a very frustrating experience !! To start with I only had 3 items so went to the self checkout only to find that Visa Credit Cards are not accepted so I decided I'll just pay cash; then find out cash cannot be used at the self checkout registers. The store was busy and only had 3 full service registers opened all of which had an extremely long line of customers with very large orders. Lucky for me the 4 customers ahead of me were nice enough to let me cut ahead or I would have been in line for at least 30 to 45 minutes.
My shopping experience would have been much more pleasant if the store would have been staffed properly and had additional full service registers open or had a full service express register lane for customers with smaller orders. This is not the first time I had this experienced at this store. In addition the clerk at the register where I checked out was frustrated because she had to put up with customers complaining due to the lack of open registers

Larry Nuyen
from Vicksburg, MI
It's getting worse. I know Sam Walton must be rolling over in his grave. They opened a Costco here 2 months ago and I like the fact that the Portage, Michigan store is now a lot less crowded. But, they are only running 2 check out lanes with inexperienced cashiers, that are slowing things down by trying to upsell something with 6 or 8 carts in line.

Mark Stott
from Gaines, MI
Very upset and disappointed in the Sara Lee Bread we bought on Feb 3, 2019 that when I opened the first one was very dry...okay for toast, but not a sandwich. Then again today very dry so using with soup to dip. I have 2 more in freezer and never had it ever be dry and wondering what you can do about this since we have eaten 1 loaf and started on the other and we live 20 miles one way so not like we frequent Jackson Mi everyday, we do not. We try to make it 1 or 2 times per month due to no steady income. This is why we will most likely not renew our membership as this is not right. Feb 3, 2019 we were there and noticed bread says Feb 3 too. Maybe it was too old or too ready and was dry as I opened the first one same day as we got it, and it was terribly dry for sandwiches.

I'm an employee wanting to about a situation that makes me feel uncomfortable where I work. I want to remain anonymous because the girls that this has to do will lash out. Is there a number I can call

Please replace the members mark fried pork rinds. The taste is greasy and awful. The UTZ brand are much better in taste and quality. Thanks for providing this forum for your customers.

Ana Maria Cleary
from Austin, TX
Terrible services, they do not care about the business, are terrible.
Terrible customer services, terrible manager, they did not resolve problems.

Hello!
This afternoon I drove to La Habra Sam's location to inquiry new membership. I then was approached by women standing at doorway entrance; I spoke to her mentioned I was interested in new membership, and explained to her that I wanted to take a look around store to see if this store would fit my families needs. I was then told by the women at entrance that I would have to purchase membership for 45 dollars the year, and if at that time I wasn't satisfied I can get cancel membership and have my money returned. I mentioned to her that it will be a quick walk around being that I was on my lunch break. Again the women insisted that it was best to purchase membership first. "that I wouldn't be disappointed". I never did get a chance to look in the store. :(.

Larry D Bervik
from Lake Elsinore, CA
It's not a Complaint, it's a suggestion. I was at the Sams Club in Murrietta CA, Did a little shopping, I go there every Sunday. We went to the food court as we always do. The soda machine was out of almost everything, the food court was swamped with other customers everyone there was working extremely well to take care of the customers. So asked a Green vest person if she could help out, all she did was go into the food court and pulled someone whom was already swamp with others, I would trust the food court is part of Sam Club but you really couldn't believe it for in the past they don't get much help from the rest of the store. I would give the food court a 5 but the store is only a 1. Well anyway there were alot of customers that were upset that the soda machine was not being maintained. Where I work we had the similar problem and it was address by our Corporate by requiring every one to be crossed trained. I believe it would be in your best interest to have all your green vest people crossed trained in changing out the soda when needed, especially when the food court was swamped like they were today. And it wouldn't hurt if a majority of your people to know how to change out the soda machine. The other problem was the middle machine was out of order. I would hope you would take this serious for this is a major customer service issue, and it can't be pushed onto the food court personnel. They always seem overwork with not enouph personnel

Hello. I am a loyal $100/ year member of Sam's club in winterville nc. I recently purchased a swing set with installation. I would have also purchased the pergola and patio set if the customer service employee (Amber) wasn't so rude and disrespectful. I called and apole with Terry the manager, who offered me a $50 dollar gift card . However, she was not at all very nice about it. This was a huge purchase ( over $1,700).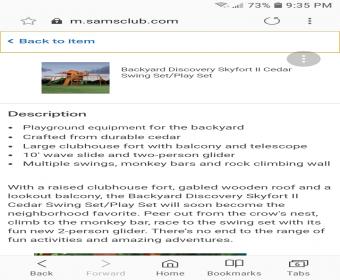 While shopping at Sam's 325 E Richey Rd.Houston Tx 77073 I was approached by a young sales person asking about my television service and promoting Direct TV.I said I was happy with U verse system but I was interested on a new cell phone.He mentioned the buy one get one with Direct TV.Again I said we were happy with what we had so he said he would call his manager to ask if he would approve selling the I phones without the Direct TV service.The manager approved the sale as long as the payments would be withdrawn from our bank account by A T&T for three months before receiving the second phone.In January we returned to SAM's same location to claim the second phone and was told we had to add a second line to our account.This was never mentioned during the sale and we asked for the young salesman who was not there anymore.I then requested to speak to a Sam's Manager Efrain C. De Lara who provided me with that department manager Rick Malone Ph 806 677 4321,after a call he returned my call and I explained the problem.I have called Mr Malone numerous times without a response.I am a Disable Veteran and a member of Sam's for years and I can't believe this type of practice is allowed.I will consult with members of the VFW and The American Legion and Disabled American Veteran.I am hoping to hear from your department soon.
Robert Resendez ph 281 734 3187

I was to have a mattress and box spring deliver to day 8am tell noon no show no call. Called Sams Club at 1pm they said to call delivery people so i did they said they would check on it. A man called and said he check on his men but could not find them. I said i don't think i should have to pay $106.00 for delivery. Talk to a manager she said bed might not be deliver tell next day. i was so up set and told her i don't think i should pay, she said they would refund $25.00. I am a senior and saved for a new mattress. I'am not sure i got the mattress i payed for. A man did get to my house very nice man, by him self no helper at 3:30pm. Rainy day mud on my carpet. I was so happy to get a new mattress, It was such a bad day took all the fun out of having a new mattress. Very very bad experiment. Gladys Cooper

Aida Maarouf
from Houston, TX
To whom it may concern:
I am a regular customer of Sam's Club, and I have been shopping at Sam's for quite a few years now. For many years, I have been buying groceries (worth tens of thousands of dollars) from your store for my brother's supermarket in West Africa. I am writing this letter to you to file a complaint regarding missing items from an order I placed in July of 2018. I am hoping to get this resolved as soon as possible before moving this to a state regulatory agency and Better Business Bureau.
I shipped groceries to west Africa from Sam's Club on 20424 Katy Fwy Tx 77449, and when the container arrived (container takes 45 days to arrive) we found out it was missing almost $5000 worth of items. At the time, I was dealing with an employee by the name of Keith Robinson, and he immediately looked into it and found the pallets in the customer pick-up room. This error was corrected, but I bring it up to show that this has been a pattern and is not the first time I have had to deal with this issue.
Later on, I met an employee by the name of Faizan at Club #8245. He worked at the 20424 Katy Fwy location and when he was promoted to manager at the 325 E. Richey Rd Houston Tx 77073, he asked me to purchase from his new location and assured me, I would not have to deal with a similar instance again. He called me on many occasions asking me to start buying my groceries for my brother's supermarket from his store. We decided to start buying from his location.
We went into the store and showed him the products and quantity we wanted. He wrote everything down on a piece of a paper, and we paid for it. The plan was for us to send a container to the store for him to load it the following week with everything we purchases. We placed an order with him last summer between the 14th and the 18th of July 2018. The container arrived in late September missing $9000 worth of items (missing items are attached with the receipt of all items ordered). We called Mr. Faizan to report the issue. He said they were going through inventory and if we could give him some time to look into it. Three weeks passed by and we did not hear from him. We called Mr. Faizan again, and he said to give him time because his boss was on vacation. Two weeks passed by and still no word from him in reference to the missing times. We called again, and this time, he said he was in a wreck and to give him time to recover. Finally, it dragged on for too long, so we called his boss Steve. Steve asked for us to give him a week to see what procedures were taken to find the missing items with Faizan and he would call back. It has been two weeks, and I have yet to receive a response. I have tried calling him back, but every time I call, they ask for my name and end up putting me on hold for hours.
I ask that you respond in a timely manner and investigate this issue promptly. If there is any other information required, then you may call me at any time. I have been patiently corresponding with team members at Sam's and will give one more opportunity to have this issue resolved before filing a complaint at my local consumer protections office, state regulatory agency, and Better Business Bureau.
Sincerely,
Aida Maarouf
713.966.0303

On trying to gas up at this station and club the problem for some time is trying to get the pump to accept our cards , membership and credit. Yesterday I was in line waiting and the man ahead was trying to get his card (s) to work to get he spent quite some time and finally gave up his wife came and she spent a long time but finally got the card to work I then moved up to the pump I inserted my membership card every position I could but it kept saying "cancel reinsert card" on the last time it came up "is this a debit card??" I selected NO, it came up "card rejected" I pulled out went to another pump and again the same thing. One time before it would not accept the credit card which was good!! Others were having the same problem an there was no attendant there to help?? l left and will have to got to another station and using you card like at Fry's there is not problem what so ever you are in and out in a few minutes. There is something needs to be done with those pumps.

hesham etiba
from Atlanta, GA
still have not received my glasses that I ordered on January 13.They told me that I would receive them in 7-10 days. When I called them and they said that they were not sure if they were shipped or not. It's been three weeks and I have not received them, some stores finish making the glasses on the same day. When I called them again they told me that they were shipped on the 28th but they are still not ready in store.
Thank You
hesham

I bought a pair of glasses on December 5 2018 and about a week later she called said they came in but were wrong prescription had to send them back, 3 days later she called said they were back. When I put them on I could not see good blury but I said maybe I would get used to them. Had to wear my old ones so I went back she said they were off--not right so she said she would sent them back-- No call so I went back today January 30 2019. she had not sent them off so I am wearing my old glasses again--I have been buying glasses at Sams but this is just too bad I am 78 years Old-------I don't think she sent them back the first time because it would have took over 3 days to get back

Frances Kawelo
from Waianae, HI
Went in to return a product and was told refund could not be done because I did not pay for 2018 membership. I went ahead and paid the 2018 membership and was able to get the refund done on the product returned even though I knew I had paid the membership for 2018. Sam's club Pearl City, HI system showed they received payment for three other member's but not for me. It's odd through the whole year I have been purchasing and charging at Sam's and no one said I did not pay my membership, but I go to return an item and I'm told I did not pay for the 2018 membership. I called the 1-800-203-5764 number and was switched to 3 different numbers last one was 888-746-7726 and spoke to Jamal. He researched the membership account and he had no problem found that payment was charged to our account on May 17, 2018 and payment was received in June 2018 before due date. I had hope that I could get the matter straighten out and be credited for that extra charge of Membership fee for 2018 and not have to drive another 30 miles and for another refund. What upset me is when Else at Sam's Pearl City said it's not like you (meaning me) have to come in right away. That was not the point. This would not have happen if your system was in order showing the same thing what Jamal had. Somebody needs to do something about this and I hope this situation doesn't happen to Else for her to understand what I meant.

Woody Bell
from Bradenton, FL
My wife and I both are from Northwest Arkansas (living in Florida now), and have always been huge fans of Sam's and Wal Mart; however, the Great Northern bathroom tissue we buy at Sam's here in Bradenton has been so cheapened that instead of soft and fluffy, it is slick and thin. You can barely clean yourself without becoming raw from wiping. I'm not kidding. Over the years I've seen products cheapened in order to make better profits, but at a certain point you cross the line. That has happened with the Great Northern Soft and Fluffy (sic).
Woody Bell
479.251.7787

Online order was to be ready for pick up by 1pm but when we got to the store half of the items had not been pulled. Then a young lady came up after about 30 minutes and had the wrong eggs and one 1 of the 3 bacon's I ordered. When I tried to tell her the order wasn't right she started yelling at me said I didn't need to talk to her like that and then said she didn't have to pull my order. We waited another 20 minutes and someone else helped us. We saw the girl Alisha just walking around. Guess she didn't have do anything she didn't want. Sam's pick up for online is awful and sales staff like Alisha make me never want to shop here again.

Elaine wascher
from Grand Blanc, MI
A member since 2000
Sam's lunchmeat change to their brand name is tasteless and we no longer purchase.
Bought the Albacore tuna recently Members Mark premium in water. It was mushy and was so fishy tasting we tossed it!
Your ground beef 80 20 we've been buying for years ... now tastes gamey and smells bad while cooking.
We plan to start shopping at Costco for these products. Wish they would build a Costco closer to where we live and we'd drop our Sam's membership.

Kimberly Hamilton
from Slidell, LA
I visited the Sam's club in Slidell, la 1-21-19, to purchase a battery for my vehicle. The battery was bad, and the tire dept. Person just jumped the brand new battery off, and sent me on my way. He didn't attempt to test the battery or replace it. I had to have my car towed to a mechanics shop to find out what happened, because it was running fine when I when I arrived at Sam's. This costed me $75, and alot of inconvenience. I came back on 1-22-19, to get another battery, and the same incompetent mechanic, had the nerve to tell me, he had another car to get finished with, and couldn't check the battery. You all need to check out the people you hire thoroughly, because this makes Sam's look bad. Talked to one of the managers name Micheal, but he just apologized, but no one has offered to compensate me for my inconvenience. I will think long and hard before considering buying another battery or tires from Sam's.

Kody willson
from Westminster, CA
I eat at Sam's 4 to 5 times a week I don't have money to buy membership but that's never been a problem tell yesterday i was refused service for the first time in years of eating at your stores food court please tell me is this a new standard for your stores

Dr. Singleton
from Charlotte, NC
On Thursday, January 18, 2019 at the Hanes Mall Blvd in Winston Salem, NC, the cashier (Kimberly) was not very customer savvy. I presented my Business Club card and she proceeded to tell me in a non-courteous way that the Business Club privileges were no longer valid. Kimberly said "You are not allowed in here until 10:00am. I am here to tell you the rules". I explained to Kimberly that upon renewal, I was not aware nor had I received any email alert that the Business Class option had been discontinue. On the outside of the building, the information still stated Business Class/Plus Member shop at 7:00am. Kimberly's tone was as if I was illiterate and she was more superior than I. Unbeknownst to Kimberly I have been a practicing medical physician for ten (10) years. I proceeded to the customer service desk after my purchase in line and upgraded to the Plus Membership and purchased another item. I went back to Kimberly's line to see if her tone and demeanor were the same...no changes. She seemed as if she was prepared to "tell me the rules again", until she noticed I had upgraded. In the future, it is very important that Kimberly's tone does not reflect the lack of culture competence, as her tone was very disturbing. Normally, I experience the same courteous and welcoming presence as Wal-Mart but was very perturbed by Kimberly's tone and unprofessional explanation of the "Rules" for Sam's Club. Thank you in advance.

Dr. Singleton
from Bedminster, NJ
I went to the Sam's Club on Hanes Mall Blvd. In Winston Salem NC. The cashier Kimberly was not very courteous in her tone and customer service. I had a business class card and did not know this service had been discontinued. Kimberly said "You are not allowed to be in here until 10am. I'm here to tell YOU the rules". Her tone was as if I was illiterate and I was inferior of her. I explain to her that I never received notice even after renewing my card. Little did she know, i have been a physician for over 10 yrs. I hope someone makes her aware of her behavior and tone because her tone did not reflect any cultural competence. Because I was not dressed in a suit or white coat, everyone deserves respect as a customer. I hope and pray that she is made aware of her behavior. I also returned to the store and upgraded my card. I purchase another item so that she would remember me. However, I was cordial. Thank you in advance.

Larry Ingersoll
from Godfrey, IL
I have a 96 year old mother that wears Members Mark depends , I have been purchasing 3 cases every month for over a year from your Edwardsville store , also many other items at the same time ,You have been out of stock now for over a month of the womens large size , you have plenty of s/m an xlrg. The problem is the s/m will not fit her they tear because they are to small , only go to waist size of 40 In. the Xtra lrg, starts at 48 in. My Moms waist is 43. ,the Xrta lrg leaks. Have contacted the store talked to a manager an she tells me they are not going to buy these anymore ,however you will still carry them in the online store ,this is a ripoff to your customers ,I have been a card holder for a lot of years. an used sams club every where .this however is not going to work for me . I will not renew my club card because of your decisions.an will be sure an pass along to our many friend that do business there .I will be glad to tell them of my experience , I will never set foot in a Sams club again! I guess it is time to use your competitors .

Tom Shaddock
from Raceland, LA
Only three (3) cashiers working & my wife & I counted 23 people awaiting checkout. This is an ongoing problem, no matter the time of day ! This
is at the Sam's on Martin Luther Blvd. in Houma',.LA.. The New Orleans store on Airline or the store on West Esplanade seem to always HAVE
all registers open & the same for Orlando, Fl & Evansville, IN. The Houma Sam's tells me they cannot hire people that no one wants to work. One
lady at your Sam's Houma said they would only let her work so many hours a week & she had to work a second job. Next time I will do like I saw
two individuals do-leave my basket & walk out. There were MANY complaints this afternoon at 1:52 PM by my check out slip. I suggest that this
serious problem be corrected or possibly a change in store management.

erica gindle
from Jacksonville, FL
I placed an online club pick up order on Wednesday to be ready following day. Order # 2221912346. I arrive, there is no record of it however my account has been charged. I had to go pick out everything myself and pay again for my items. I have attempted to contact the store 4 times this morning. I believe I spoke to a girl by the name of Century? Not sure if thats accurate she really was mumbling and wouldn't tell me her name. She just continued to place me on hold for over 4 minutes as I waited. I called back and requested to speak with the store manager on the 3rd call and she did the same thing, Sent it to an extension that just rang and rang. She asked me to come up there. I live over 20 miles away from the store. Why can't I just get my money refunded? This is terrible customer service.

Peter La Boda
from Dearborn, MI
This is the second time I have written to you Monday my #190114001572 I couldn't even finish what I wanted to say! I went to a different Sam's Club to the whole store was changed I couldn't find anything I wanted. I've been very upset about how cheap you have gotten taken away the coffee and old danish and banana's and letting any member in at 7:00am why am I paying extra money for a business card when anyone can come in at 7:00am? I'm still waiting for a reply from my monday letter 24 hours is now 72 hours I guess Walmart doesn't care with all the complaints I see on this page! 313-617-0810

joseph carda
from Niobrara, NE
Been a business member for about 15 years. My wife went to sams in Sioux Falls SD on 1/16/2019. As a business member we were always allowed to shop early. When my wife went to pay for her stuff they would not allow her to pay for her stuff because with out knowing they changed the policy and their is no longer a business card? The service attendant stated she could not pay for the stuff unless she paid the upgrade fee of 14.99. The attendant than called over the manger. The manger stated if I let you buy your stuff then I will need to let everyone in the store to do the same. Very RUDE! My wife asked when she could buy her stuff..... in 26 minutes....Really? So my wife waited the 26 minutes. Is this how sams treat their business people? Spent a lot of money in your stores. No common sense! Very disappointed in how you treated my wife.

michael j galiouby
from Bakersfield, CA
Dear Sir/MS
Looking for Light Feta Cheese blocks for so many months, but not found even it is important food for so many people. I have to go to Trader Joe's or Sprout or Von's or Albertson's or the surrounded local stores for one item that was short in Sam's Club
Please could you bring it back
Thanks
Michael

thomas Babbitt
from Columbus, OH
you definitely need better communication I waited all day for order Wednesday, Thursday, Friday the order was suppose to be here NO Delivery ! come on give me a break ! January 9th to the 11th for delivery !! not

Jonathan Willard
from Colonial Heights, VA
This is what happened to me at Sam's Club,and I'm the guy who was a 4 year old kid at one time and got Osama Bin Laden killed. Just a little background on me, yes, a Holy Spirit kept appearing to me when I was a kid and that Spirit gave me an opportunity to to give it my life to "hand in" people. I took the opportunity and I was HANGED AND STRANGULATED, and I SUFFERED BIG TIME. How that works is as follows; The Spirit whad the child stand up on the corner of his bed and something inhuman picks up on a black bootstring that is tied around the child's neck. Call 804 536 3564 and ask for Martha Willard. She's my mother, and couldn't watch her son suffering. The CIA agent, Ryan Zinke (current Montana Congressman), and the Commander of the Special Forces were all at my home at one time or another. They all spoke to the Holy Spirit about Osama Bin Laden or Saddam Hussein. This Spirit (God) told the SF Commander he MUST arrest Saddam for genocide. I remember (this is around 1982) the Commander telling my mother "we're going to war with Iraq". Now, imagine if you're a war engineer and you have over 10 years to research Iraq's military system, and you have over 10 years to locate all Saddam's military bases and plan what you're going to do. Man, that child's Holy Spirit incidents and that child's suffering helped the military BIG TIME. This Spirit told Ryan Zinke that SEAL Team Six is to kill Osama. I was flown to Pakistan and possessed there by this Holy Spirit so She could notify the correct Pakistanis regarding Team Six coming to kill Osama. That was so Pakistan didn't put up any resistance when the SEALs landed. I risked my little 4 year old life to help people. Not many people know this, the fact that a little boy and a Spirit could have been the cause of a fucking war. Many other folks lives were saved, including a woman who was going to be shot and killed in Colonial Heights VA Wawa. I layed in my bed bleeding to death out of my jugular vein, I layed there suffocating, I layed there breathing but since I had no bloodflow it was suffocation. The suffering wasn't as bad as the hanging. Anyhow, THAT is who Sam's Club screwed over and THAT is the guy who actually had to be around the sorry assholes at Sams. Reese Hunsucker is the manager, Keith Casey is a worthless tire tech from Petersburg VA, and Al Jackson is a worthless individual from Petersburg VA, Good job Reese. I told Keith Casey to shut the heck up, and the shop is a very noisy place. Impacts are going off, the air compressor is running, air tools are running, etc. Keith Casey, the nigger I said this to, went immediately to a manager, Reese Hunsucker, and told him I said shut the fuck up. Even if I did say that, we're men God dammit, go on about your work. Now, I was harassed and cussed by Keith Casey ever since he came to work there. That started because Keith was working on a 4 tire install when he first came to work there and I was helping him. A ticket came up for a flat repair. I stopped helping him after changing 1 tire and started the flat repair. Keith and another nigger Al Jackson both started hollaring at me that I needed to stop the flat repair and help Keith. In any other situation, the nigger Al Jackson would have said "don't help him, he's got it, go get that ticket hanging on the wall. That's how Al Jackson and the rest of them were, if there was a ticket, don't help a man on his job, go get the other car and work on it. This was a situation where 2 niggers were teaming up against a white guy. Ever since that day, Keith Casey started lying on me, trying to get me in trouble, and started talking shit. He called me a lazy bitch one day. He called me a motherfucker many times. Now, If I grabbed another white guy who would stick with me and we went to the manager and told him "he called me a motherfucker", whether he did or not, the guy would get a coaching or termination. So were we lying? Were we conniving? Did we do it because he's a black guy and we're siding together cause it's white against black? THAT is what happened to ME. 2 niggers said "he said shut the fuck up". Were they siding against me? Were they doing it because it's white against black? Are they truely racist in their heart and wait to dish it out to the white guy? Was it noisy and heck sounded like fuck? Who knows, but Reese asshole Hunsucker had developed something against me and took none of the above into account. When I told Reese Keith called me a bitch one day, he just rolled his eyes and acted like "why are you telling me this". I can't believe society would actually let me sink into being around lying pathetic niggers in Sams. I can't believe society would actually let me work for bastard assholes like Reese Hunsucker, who apparently will defend niggers just because they're black. I do understand Reese had to punish me to the max because if he didn't do anything, that lying scheming nigger Casey could try and sue Sams because the white manager didn't do anything when the white guy cussed. In a court of law, with a jury, there would be reasonable doubt and the case would be thrown out because there's no evidence, it's just 2 guys saying a guy "said" something. If the jury was told "they can lie, they can mishear, they can side against him for any reason, the jury would understand and dismiss the case. Reese is too much of a total asshole fuck to take anything into account. Sam's fucked me because of some he said she said bull shit. Sams has asshole managers. I wish I had money because the jury would go along with wrongful termination because of "he said she said" bull shit. Good job Reese, you fucked the guy who suffered to have someone arrested for genocide. You're an asshole Reese.
+

constance williams
from St Louis, MO
I tried to use the scanning check out yesterday. I experiences a problem and requested assistance. No one came to my register even though I waited over five minutes. I then asked a cashier to call someone. I think he did but no one still came to help me. Also, when I first began shopping I asked a person at Customer Service about an offer I received electronically about a $10 offer if II scanned $30.She asked shocked and said she never heard anything about that!
If the service doesn't improve at the Maplewood store, I am taking my business elsewhere!!

KAren Henry
from Cincinnati, OH
my order never shipped to my home even after I was charged for the item. UPS logged that the item was damaged in transit and that they had contacted SAMS Club to let them know it was undeliverable. After waiting for a week … no word about returning my order, I phoned SAMS Club to see why there was no follow up to deliver my paid items. The local SAMS"S said they were not able to help because it was an online order, and the ONLINE order department's customer service was abysmal, rude, curt and unhelpful. Finally after 4 calls placed on my behalf to get help from someone courteous, I received another order which was damaged when it arrived. Unbelievable!
I"M GOING TO COSCO"S!!

Tim Massey
from Tulsa, OK
Sams club, Lawton,OK
I walked in, grabbed a shopping cart, shopped, paid, and when leaving, the ticket checker scolded me for having a Wal-mart shopping cart. I had no idea, it was there, I just used it. I now know the Sams carts are larger. I am a 60 year old man, I don't need a scolding for Heavens Sake. She wanted to know where the cart came from. I apologized, but wasn't enough, she had to get the last nag! Had she caught me at a bad moment I would have commented on how discussing her missing teeth are, but I rose above her level. So one person at Sams, dictated somewhat how the rest of my day went.
Teach your associates some manners, geezzzz.

Marianne Griffith
from Fort Worth, TX
On December 21, 2018, I went to Sam's to pick up Sister Shubert's Rolls for Christmas dinner. We were ready to check out and there was no one in the line we were headed for; however, the cashier took a lady's cart that was stacked to the top and motioned her over to her checkout ahead of people that were right in front of her. This happened at 11:13 A.M. at the Bryant-Irvin Sam's Club and I and my friend were not happy about this as we had to wait in line for two other people to finish buying. The name of this cashier is Colette, and I think she should be made mindful of what she did and talked to regarding her behavior. I have been a member of Sam's Club since it came to Fort Worth in the White Settlement area many years ago and I have never experienced this kind of behavior in your club before; however, this time I was very unhappy with this situation.

Andrew
from Bedminster, NJ
Extremely dissatisfied with Coach Jessie, at store# 6660 as they call him. He accused me of stealing, but once he checked me and my receipt he was proven wrong. No apology was given, however he told me he knows I'm a thief anyhow which is complete slander, and I am going to see what my lawyer has to say about the situation. The door girl Sandra witnessed this situation, as well as a few other people that gave me their number once I left so they can be called later as Witnesses. I EXPECT an apology at the very least, and I hope to hear back ASAP. Hey most definitely needs retraining and I know the situation could have been handled much better if he had any inclination that I was stealing something. If you confront someone and accused of theft with out any evidence of such it is completely uncalled for to cause a scene, and embarrass a paying member of your Club. Additionally I was the membership coordinator for the same Club approximately 10 years ago, however at that point there was a different set of staff that knew how to handle situations such as this much better.

Janine Ramos
from Boynton Beach, FL
I bought a family size bag of ruffles potatoes chips. I went to pay for it it would not scan so an employee went to get a code to type in so they would ring up. Then when I get home the bag had a whole in it. So The next day I go to return it customer service lady said I did not buy these here then don't scan. And told me I bought them from Walmart or Publix go return them there. I told her I bought them here if someone returned them and I was a fool and bought this bag. I went to your shelf and they are pick two on your bags I was very upset being excused of buying them some where else. It takes me about 45 mins away. But I do all my shopping there. Unless the person who delivers your chips put the wrong ones on the shelf. And she would not refund me my money. The bag said 5.29 on it. If I would have brought my receipt in the bare cod on chips and receipt would not have matched.

Nicole Collins
from Columbus, OH
Store in Columbus, Ohio Sucks and the Complaint Dept is worst

Timothy and Renee Marsh
from Germantown, MD
on 12/28/2018 we took our truck in to the samsclub in Pt St Lucie FL - #4972 - to have new tires installed. Your employee crashed the truck into a cement light pole - an accident - but the truck was determined by your employee to be inoperable. Your employee called a tow truck and had our truck sent to an auto repair shop that they chose to use. We live in a remote part of the county on a farm and were left with only our car as transportation. I was supposed to use the truck the next day to haul a horse and hay to a location 90 miles away. I asked the employee who was dealing with me to get us a rental vehicle so I could do my business. No one was able to help with getting a rental. As of this date - 1/3/2019 - I am still without a vehicle to use and am unable to attend a horse show in Orlando tomorrow at which I was supposed to be assisting my daughter in her business. Further, the auto shop owner and myself have been repeatedly trying to get insurance approval so that he can repair the vehicle and get it back to us asap. Still, no response as of this writing. To make it all laughable, we asked the tire center about getting a rain check for the tires at the sale price and were told we needed to buy them that day... which we did. We are long term customers of Sams CLub and have purchased our tires from you plus thousands of dollars of household goods and food. I realize that crashing vehicles and the follow up of repairs is not the normal course of business for the floor employees but a better process needs to be in place. Someone should have offered to drive me home. Someone should have offered to get me a replacement vehicle. Someone surely should expedite the insurance claim so that my vehicle can be repaired asap. Should you choose to follow up: our claim is with CMI claim #L8221601. Thanks for your help.

Fred L Williams
from Philadelphia, PA
I've done your surveys many times and you never give me want you say I'am going to get for doing the survey. Code 919612407 but I get nothing from Sam's club.Is this a Scam.

Don Falcoski
from Chagrin Falls, OH
While shopping at Sams Club, and waiting in a long line, we observed a new register about to open. My wife, who is white, asked the cashier, who is black, if she is about to open. The cashier looked at my wife, and said "no". The cashier immediately turned to her register and seeing a black customer, notified him that she is open, and started ringing him up. Upon asking her why she didn't wait on my wife just a second earlier, she, and the black customer just laughed at me.
I then contacted the white young female manager and reported this incident to her. She walked up to the cashier, and said a few words to her. They both turned towards me and laughed. The manager never got back to me.
I have been shopping at Sams Club a long time, and never had experienced such discrimination. This has been a very sad situation for my wife and I. We will be canceling ur membership
This occurred on 12-29-18 at 1545hrs at Oakwood Village, Ohio store.

Dorothy R Morse
from Bedminster, NJ
Shopped at my local Sam's yesterday afternoon. Had 2 grandchildren with me while I was shopping. I usually will do a self checkout but with grandchildren with me, I chose to wait for next cashier. Cashier was friendly, after paying for my items, headed to leave the store. The young lady at the exit took my receipt, she stated I had 13 items and only paid for 12. She could not figure out what was not on receipt..The line to exit had started to grow. I asked if a manager could be called over to help. Her reply was no, she was doing her job. She walked around me and started checking others buggies and started allowing them to leave. I asked her again to request a manager. She ignored me and continued to assist other customers. I asked her what I was supposed to do? Her response was that I could go to customer service. All the while, people looking at me and my 2 grandchildren as if we had done something wrong. I was terribly embarrassed. I raised my voice, and told her I am requesting a manager now! Finally a male manager arrived. He did not want to listen to me being upset about rudely this young lady at the door had treated me. He kept telling me their policy was to have a customer step aside and they get someone to handle the problem. I tried to explain how this young lady would not and did not make that effort. All he could do was try to figure out what had not been rang up and say things like, wait till I get a hold of this Cashier! I have a very sour taste about this management and employee now. Not once had they apologized for a mistake that was not my fault. My 9 year old granddaughter said to me as we were finally leaving, Nona, everyone acted like we stole something. This was at Longview, Tx Sam's Club on 4th street. I recently renewed my membership and opened a credit line with Sam's. Now wish I hadnt.

Sheryl Yoder
from La Junta, CO
I having issues with receiving refund in regards to two orders. My case number is 181101-010027. The first order number is 1898038307 I ordered 8 apple juice and 6 orange juice. When they arrived they were all out dated. I paid $12.98 each which comes to a total spent of $168.74. I placed another order number 2047358576 which was for 5 apple juice, they too were all outdated. I paid $64.90 for that one. The credit cards that I used are now closed and I need a refund of $233.64 sent to me in either a check or gift card. I have called several times to get this taken care of and have been unsuccessful. I would like for someone to email me or call me ASAP on how this issue is going to be resolved. Email address is sherylyoder@live.com and phone number 719-688-0116. Thank You

Andrew HOLLAN
from Chicago, IL
I requested 2 return items. Bid on 2 same computers, different times, won both. Items delivered 12/13 18. 12/24 requested the items to be returned. They told me I had to keep them because they were not damaged or defective...………..whoa. I had 15 days to return these items and they are not taking them back. What then they said that is the new return policy look it up at Sam's .com. It says 90 days, including these 2 computers that are (over a year old according to HP, built in Sept. 2017).
Round and round we go. I called Discover to dispute these charges and in the meantime I get emails from Another higher up that I cannot returns these items PERIOD!!!! 2 computers I had bid on for the Grandchildren for Christmas and now you say My TOUGH LUCK!!!!!
Someone needs to talk to an Ina and a Kaila in Customer service.
Tel. 260-484-9006

Martha lewis
from Greenville, SC
My husband tried to go purchase a blue topaz ring. He asked for help twice and waited for 45 mins. and no one ever came. He came him and called the store and all they could say was "We are sorry about that." He has a lot of health issues so he just came home.

Lisa Markussen
from Omaha, NE
I will never order off Sam's club online again. I ordered a couch on Black Friday with the expectation that I would receive it well before Christmas. Sam's confirmation and Abbeyson's confirmation was off on when it should arrive, at any rate, it was expected to arrive at least by Dec 17th. I tried to call Abbeyson 3 times to inquire about the delivery and never received a return phone call. I understand it is Christmas time and things may be delayed. However, that delay should be communicated! Either via email or phone call. So today, I decided to call Sam's to see if I can obtain some information. After waiting on hold for 20 minutes, Anthony finally relays to me that there is a hold up on a part. I expressed my frustration to Anthony, also noting that I know it is not his fault nor Sam's club per say. But some communication would have been nice from the vendor. So as it may conclude, I will not receive my Christmas present for my mother until after Christmas.... I am one unhappy customer and do not wish to order off line ever again through Sam's Club. I do understand that things happen, things come up, it is a busy season. However, I know that this situation could have been handled better. I would suggest to you, re-thinking if Abbeyson is a good person to vender with. Now I am left to scramble and think, do I want to return this couch and be refunded and go out and purchase a couch from my local Nebraska Furniture Store or say sorry mom but you have to wait on your Christmas present because it wont be here and who knows when it will be. Overall, I am one very unsatisfied customer and felt that it should be noted. I do a lot of business with Sam's and I'm sure I am just a drop in the bucket compared to the business you do receive but I hope that you would value my opinion and possibly make some changes. Sincerely, one unhappy customer!

Elena Wilson
from Carson, CA
very long lines, several self serve were open, but only 2 were open with cashiers, I complained to register 6 on 12/19 at 3:22 pm. two girls were working and I asked if they could ask the manger to open more register, she said ok, I got back in line, neither made the attempt talking, laughing, Very unprofessional, I called customer service while in line, still no help. Finally I reached the front of the line and complained to a supervisor. she apologized but I felt nothing was going to be done. I was told this was a new system at the Gardena, CA branch. Well it's not working, several customer were very upset, I was voice for them.

Kathryn S Hill
from Raleigh, NC
My allergist called in a prescription for a nebulizer and meds to go with it last Friday, Dec 14th, and I still don't have it. First problem was Dr office did not specify the amount of meds and the pharmacy personnel didn't notice until after the office was closed. On Monday when they got the amounts from Dr, they didn't have a nebulizer in stock. When I was there the next time, they didn't have enough of the meds. They keep telling me they will send a text when ready, but still haven't contacted me. Tomorrow will be a week. I could be in the hospital by now if my condition was worse. If they couldn't fill the prescription in a day, they should have told me or the Dr so it could be filled somewhere else. I have not been able to do something sooner because I have been taking care of my daughter who is undergoing chemotherapy for breast cancer. I have continued my membership with Sams even though I am also a member of COSTCO at University because I liked the Sams pharmacy. I have no reason to continue at Sams now after all these years. Sad.

chris pino
from Knoxville, TN
Background: I have been a Sams Club member for over 30 years although my current card # 10193100523722445 indicates 9 years !!! I currently live in Pensacola, Fl and shop 2-3 times a week at the Airport Road store location. I have 2 complaints: 1) no "out-of-order signs" on non-working cafe soda spigots (the issue being "WHY" are there no signs) and 2) electric carts are not in working order, both are a considerable inconvenience to customers.
NON-WORKING CAFE SODA SPIGOTS WITHOUT "OUT OF ORDER" SIGNS - WHY ???
Specifically, at approx 2:45p on 12/4/18, I paid for a soda and a slice of pizza in the cafe. Upon going to the soda spigots, I determined that the Coke Zero and Diet Coke spigots were not working - water only no syrup. (Note: This has happened on numerous occasions) I mentioned it to the Cafe Cashier, who was very polite and indicated that they were "out of stock". I asked if an "out of order" sign could be put on the spigots so that customers don't have to test numerous soda types to determine if their soda choice is available. The Cashier said that "management would not let them put signs up". Note: To get a refund for my unavailable soda choices, I would have to stand in the LONG Customer Service line.
Next I went to speak to the Store Manager - Renee, who indicated that he was the "Morning Store Manager". He advised me that "management" / corporate policy would not permit "out of order" signs in the store. He seemed concerned that the soda syrup was out of stock but not that I and many other customers were being inconvenienced. He advised me to call Corporate for more specific information as to the rationale for not having the signs. When I asked for a telephone number, he gave me "1-800-WALMART". (Note: I called 1-800-WALMART and was told that I needed to call Sams Club at 1-888-746-7726.) - NOT ACCEPTABLE information from a store manager !!!
I then called William, a supervisor at Sams Corp Customer Service 1-888-746-7726 and explained the situation. He advised me that signs were not permitted because it would reflect NEGATIVELY on the "store's statistics" if an audit of the store was in process and they saw the signs. I was shocked. Clearly the customers are not high on the Store Management's priorities - NOT ACCEPTABLE !!! The supervisor was going to escalate my issues and email me re the status. There has been no followup to date.
ELECTRIC CARTS
I have recently had to start using an electric cart provided by Sams in the store. Although many carts exist, most are not in working order. For instance, today 12/18/19 there were SIX carts at the exit doors. NONE were working !!! They were plugged in but there was no sign of any "READY" indications, control boards were broken, etc. No "out of order " signs were on these carts. I had to try each one to determine if it was working. NOT ACCEPTABLE !! The availability and maintenance of electric carts for disabled customers does not appear to be a high priority of store management.
I bring the above to your attention so that you may be advised that these situations exist. The potentially fraudulent manipulation of "store statistics" involving "out of order" signs and possibly other performance criteria greatly concern me. In each case, the time and inconvenience to customers, who, I believe, are the reason that Sams Club exists, clearly do not always appear to be a high priority.
Your response to the above issues would be greatly appreciated.
Chris Pino
2A Palao Road
Pensacola, Florida 32507
850 607 7467

JOHN D GRIMSLEY
from Siloam Springs, AR
ON DECEMBER 17, 2018 MY WIFE TERRY GRIMSLEY VISITED SAMS CLUB IN LAFAYETTE LA. WE NEEDED A NEW TIRE AND THE ASSOCIATE WAS VERY RUDE AND UGLY. WE GO TO SAMS MANY TIMES IN A YEAR AND THISN IS NOT THE FIRST TIME THIS BLACK ASSOCIATE WAS RUDE. WE WENT TO ANOTHER TIRE STORE. WE WANT THIS BLACK ASSOCIATE FIRED!!!! THE RUDNESS AND DISRESPECT SEEN BY OTHER EMPLOYEES AT THIS CLUB IS TERRIBLE. WE WANT SOMETHING DONE!!!! RATE MY EXPERIENCE IS NEGATIVE AT THIS STORE

Katrina Floerke
from Detroit (Downtown), MI
October 5, 2018, went to Sam's club in Bloomington Indiana at 5pm to get a cell phone for my son. By 8pm we are still trying to get the phone. We told them to forget it, we will get it later. No phone was taken out of store, and to our knowledge no plan. November 8, 2018 received a bill from AT&t for 171.78. Called Sam's Cellular department to see if we can get this straightened out. Was told I had to come in to the store. I live 50 miles away. Ok, so I came in this time went to service department to speak to Carson the manager. He walked with me over to the Cellular department. after an hour and half was told this was fixed. I was told sorry for my trouble, blah, blah, blah. I left thinking this is all taken care of. December 6, 2018, I receive a letter in the mail from a collection agency Credence saying they are hired from AT&T to get their money. Called into Sam's and was told I had to come in they could not find my account. So, once again, 12/15/2018, I drove 50 miles to Sam's in Bloomington. Talked with Joey, a manager, who was not friendly, and told me that it was AT&T issue not theirs. I explained to him again, that I never took the phone, and do not have any service. He then said well, I will take you over to the cellular desk, but can't guarantee anything. He left as soon as we got over there. So, Thurston Cellular employee said we will get this. 2 hours later, was told it was fixed. I called the collection agency today to find out if that was the case. They told me zero balance. This has been such a frustrating experience. 8 hours later and 200 miles out of my pocket to get this straightened out. It would have been nice to been offered a fountain drink while I wait or something. This was ridicules.
They used my name and Son's SS number. Unsure how that all came about. also, while there they messed up my Direct TV and we were without service for 3 weeks. I have never seen such a disorganized mess in my life. Lesson learned..... Never again.
Katie Floerke 812-675-6566
floerkekatrina@yahoo.com

Johnny Watson
from Washington D.C., DC
Re: Denham Springs Sam's Club No. 4837
I went Sam's Club Denham Spring, La to purchase two iPhone on, a one day only iPhone Deal that was on sale Dec 15th,
We stood in line for more than an hour to get waited on, only to be told that we had to have an appointment
to purchase phone. Nowhere in the store or in ad was it stated that an appointment would be needed to purchase
phone. we had driven 80 miles to shop at sams and get this deal... Sales person said we could get an appointment for
next day, which we decided to do but only to find out the iPhone we want would not be in stock and no rain check. so, no need for
an appointment.
We then decided since we were close to Sam's in Baton Rouge, we would call them and see if we could make an appointment to get phone there.
Were told they could not make an appointment over phone we would have to come by store, so we drove over there only to find they were out of the iPhone we needed also, but salesperson did say truck would be in Sunday the 16 and we could call her and she would hold phone for us since we were out of town they would honor deal. but phones did not come in and we were told to check back again Monday. as of this point, we still don't phones.
The BR store has tried to help but the Denham Springs, was a sort of they could care less. We have been a sams club member for years and i would say this the worse experience we have ever had.
I really think a rain check should have been offered since stock was limited, any way thank you for hearing my compliant.
Johnny Watson
Have feedback for Sam's Club?
Thanks for your feedback!
Sorry. Please try again later!