Best Buy
Best Buy Complaints Continued... (Page 7)
516+ reviews added so far. Upset? Call Best Buy corporate: 1-888-237-8289

Mike Ddd
from Chalfont, PA
Piece of garbage Apple is the biggest LOSER company because apple stoled the name iphone and ios from cisco, ipad from LG. Two companies made things before apple. Apple doesn't make camera, processor, and batter, display. 3d touch wasn't apple, so apple stoled from immersion. Iphone design copy from sony, htc phone. Ipad pro copy from surface pro, keyboard, and features. Tim cock helped two terroists what to do inside the building in san berdino, CA and asshole(tim cock) hacked informations from two terrorists' iphone because he is biggest isis leader. Tim cook and susan bennett, Lisa P. Jackson and TBWA\Media Arts Lab sell marijuanas, opioids, weeds, pot, and cocaines, opium, and heroin to people. They kidnap underage girls to have a hot sex on the bed, they want to lick girls' PUSSY so they got hiv, std and he loves lick anus. He always says nigars or kkk to every black people and he says taco to mexicans. Apple are copying animoji trademark and features from Tokyo-based Emonster kk. This is 100000% true informations. Apple always LIE to u, so do not listen to apple workers, best buy, and target, and walmart, apple people in apple store. I have all apple products hacked and fire came out, exploded in my hand and face, so I lost everything and hack my info from russians. Cambridge Analytica are stealing ur personal email, facebook, and instagram, twitter, snapchat, myspace on all apple devices.THIS IS TOO SHAME TO APPLE AND TIM COCK. Bye bye apple. Rid of all apple products in every stores.

Annette Madrid
from Santa Fe, NM
I went to the Best Buy on Saturday (4/14/2018) in Santa Fe NM, I had a really, really bad experience with the sale person. I was going to buy a IPhone 8 plus when they were on sale. the sale ended on Sunday the 15th. I didn't get the name of the sale person it was in the evening around 8 o' clock. I had to ask for a supervisor, she didn't want to listen to my complaint. I walked out with no cell phone that was on sale. Every time I go to the store all you see is the employee's in a group talking and when you try to ask a question it seems like you're bothering them. that's what happen on Saturday. So frustrating!!!!!!
Sent on 4/17/18

Gerald Robinson
from Worcester, MA
Poor service when you call in you get someone , That dose not know how to fix anything
after you spend a long time with them to help you .. ,,An they delete your Info .An don't know how to fix it .
.
They sent to someone else an that took 45 minutes to et that help

Terry Humes
from Erie, PA
I purchase hundreds of dollars from best buy yearly, which you could see based on my email address, and my last purchase was a gas grill. the web site where I do all my shopping shows clearly the grill comes with no assembly so that is why I choose this item and it came unassembled. after over 45 minutes of my time and 6 transfers to people who had no answer except to transfer me over and over I still was not able to get someone to rectify my problem. I am very disappointed and will look elsewhere for future purchases Thank you Terry Humes

walter buechi
from Cicero, NY
Why is it that you have to wait an hour and a half to get an appointment to have your computer sent in for service? Especially when there are several people standing around with apparently nothing to do. This was my second trip to the Best Buy in Dewitt, NY. Yesterday I was there to have my lap top serviced, they were not able to find my purchase in the computer, I left, went home and called your toll free number, they were able to locate my information and nicely emailed me the information I needed. I am not sure why my local store was not able to do this, I returned today with the information in hand and was told I would have to wait an hour and a half for an appointment to do what they could not do yesterday, I am a small business owner and spent over $3.500,00 last August on just this one purchase. Should I assume my time and money would be better spent elsewhere?

Jeanne L. Griffin
from Marshfield, MA
I purchased and Best Buy installed an over the range microwave on Dec. 5, 2017. It stopped working in about a month. Ordered a return and new purchase. Order #1118012795239. First delivery and installation scheduled for 1/20/18 was not routed correctly. Next scheduled date was 1/29/18.
I was told the item was back ordered. Next scheduled date 2/3/18 product was delivered and left in the middle of my kitchen. I was told installers would be here between 12:00 p.m. and 4:p.m. They never showed up. On 2/4/2018 I was told on the phone I would be scheduled for 2/12/2018. I received a recorded call on 2/10/2018 that my installation was scheduled for 2/12/2018. Didn't happen. I was just told (2/13/2018) by the 2nd person I talked to today after being on the phone for about 45 minutes I was being transferred to online services and to tell them I needed 3rd party installation and then I was disconnected! I'm extremely exasperated with calling the same phone number and talking and mostly holding and waiting to countless people with no results.. It would be nice to have a case manager at this point. I'm very tired and fed up!

I bought a refrigerator from best buy in December 2017 and it already quit
barely past warranty
Now I am just trying to save food until tomorrow when a reputable appliance co will deliver a new one
I will not even buy a paper clip from best buy again

James Warfel
from Palm Harbor, FL
I purchased a Galaxy S3 tablet for my wife for Christmas. It was wonderful for two and a half days until it locked up. Rather than address the issue the store (Clearwater) exchanged the tablet. Tablet two did exactly the same thing after two days. Another exchange for a tablet that never came on convinced my wife to exchange it for an I Pad Pro. It came on but locked up also. The store recommended contacting Apple.
Apple set a contact date for two weeks later, 31 Jan, but fail to call or email the promised correction information. Due to our teaching and preaching duties it was 5 Feb. before she was able to get into the store again. Your store refused to accept return of exchange for the tablet and keyboard and set her to the Apple store in Tampa (10 Feb.). They felt no obligation to service a product sold by you. An agent from Apple called today and said he was unable to help and the stores should resolve the problem.
My wife refuses to return to your store after the rudeness of the female tech working there last Monday. Can you resolve our problem with a on-site.working tablet and useless keyboard?
J. R. Warfel

olga L Kennedy
from Jackson Heights, NY
February10/2018
order # 1117328405153
on 11/24/2017 I bought a refrigerator GTE model 16GSUSS and A dishwasher model #SHEM63W55N. They supposed to be delivery to my apartment on 12/27/2017. I was waiting all afternoon for the delivery , then two men that came to installed the items, said that the measurement were wrong, which I found later that was no true because I went back to the store, and every thing was okay. Then the store gave another appointment for the delivery 02/03/2018 from 12pm to 4pm. They called the day before to confirmed the appointment, later on they called again ,and said that they could not delivery the dishwasher, because they do not have in stock. I told them that I prefer that both of my items be delivery at the same time. we made another appointment for 12/10/2018. I received a message about the delivery. I called back to confirmed, then they told me the "same thing" that is was going to be delivery between 12pm and 4pm. later on I found a message that said, that they could not deliver the refrigerator, because they do not have in stock. I want to know was is going on with my purchase. I really need my appliances. I am having problemas with the refrigerator. It is freezing the food, also it is getting hot on the outside., I am concerned that something drastic could happen. I made the purchase in December and now It is February, and my appliances have not been deliver !! I want a solution to this matter.

Margaret Hallam
from Baltimore, OH
I purchased a Netgear 1900 Router in your Heath, Ohio store on January 18, 2018. After two + weeks of trying to get my internet to work properly, we came to the decision to change Internet Providers to Hues Net, who advised that the Netgear router was not compatible with their equipment and to take the Netgear router back to Best Buy.
On February 7, the router was returned to the Heath store and I was advised that I could not receive a refund or credit on my debit card as I had waited too long to return the merchandise. I was given a "store credit," instead.
While the young man who waited on me when I bought the router was very polite and helpful, eventually, I could not use the router and now I am out $166+. The only time I have shopped at Best Buy was to purchase the router and you can rest assured, I will NEVER shop there again due to your return policies. I will also be sure to let anyone I know who is considering purchasing anything from your store, that they will not get their money returned if for some reason, they wait more than 15 days!

David Shuman
from Des Moines, IA
I purchased a cellphone at Best buy online on 01/01/2018 (BBY01-805525044050) and paid for the item through PAYPal. The item was defective and returned and received by bestbuy on 01/18/2018. In subsequent phone calls to jBB customer service, I was told that the funds had been released that same day to paypal. However, Paypal claims they never received the funds and therefore, I have never been credited for the funds. The amount is dispute is $52.99.
Thank you for your courtesy,
David Shuman

Neeraj Kumar Roy
from Patna, BR
This is my tracking number:1874500857
Tracking website:www.fedexcour.com
But my product is not coming towards to india.it is still in Iceland from 2 February.
Please help me.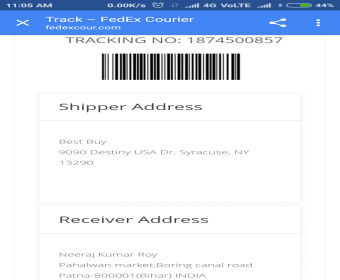 amanda jackson and kirk jamvold
from Saint Joseph, MO
on dec 6th 2017th my boyfriend and I wen tin the the st joseph mo best buy to add me to his phone line. we were helped by chris brown we were there for over an hour trying to get things figured out. we had chose the deal where if you bought the s8 plus you got the s8 for free. when we left that night we assumed everything was great. Until we get a bill from att with just the new line on it and a bill for $190 and hen a second bill with the existing line for over $300. So we call att and they said somehow the gentlemen created a whole new account in my boyfriends name instead of adding to the existing so we were being chared for fees for the phones with out promotion plus to plan fees and said we would have to go through best buy to fix it. so I called mind you its dec 23rd when we got bills I called and spoke to a gentlemen named tanner I tried to help but then explained that to honor the buy one get one promo that expired the 26th of December so informed me that I would have to come in to the store to try to fix it so we had to shuffle holiday plans because we do not live near the best buy we have to drive. so I went in on December 26th sat there for over an hour why tanner and a manager named chris sat there and called att to try to fix everything they got my phone switched over and got the existing bill knocked down and was supposed to get the bill for $190 altered to what we actually owe. on dec 26th the new account was canceled and they issued a collection notice for $190 dollars no we get told we owe 150 on top of that on the new account which should never have been created. when I call att to get the bill voided they told me unfortunately that best buy needs to fix it. so I call I get a gentlemen that is a new supervisor in mobile that says I need to speak to chris the manager he is the one that can help me but he wont be in for 2 days. so I wait I called back and got the run around and had to explain the situation multiple times to 3 different people . I am beyond frusterated and pissed. so I finally speak to chris and he is confused and don't know how to help me and tells me I need to come in so he can understand better. NO NO NO IM SORRY BUT I DONT LIVE IN ST JOE NOT ONCE HAVE I GOT A SINCERE APPOLOGY OR ANYTHING OFFERED TO GAS MONEY FROM DRIVING BACK IN ATT TOLD ME THAT ALL BEST BUY NEEDS TO DO IS CALL AND GET BILL VOIDED CAN SOMEONE PLEASE HELP ME GET THIS FIXED BECUASE ITS FEBUARY AND IF THIS HITS OUR CREDIT THEN IM REALLY NOT GOING TO BE HAPPY. THE ACCOUNT NUMBERS 27603068229 NEW ACCOUNT CRATED PASSSCODE 0312 EXISTING ACCOUNT 454426152 PASCODE 1942 MY BFS NAME KIRK JAMVOLD MINE AMANDA JACKSON MY PHONE NUMBER IS 816 390 4818
EMAIL IS JAMVOLD35@GMAIL.COM

Barbara A. Baxter
from Albany, NY
I tried to reach customer service at the Best Buy #428 1 Crossgate mail from 8:30Pm to 8:57pm with no luck. I call the # 518-452-6881 there was never any message where you could talk to customer service person same message kept repeating! Today I purchased Pinnacle Studio 21 Ultimate from the store I informed the cashier the account was mine not my granddaughter who's name appears. I purchased her a notebook a few years ago I need my name on this account not Kendra.
I will be returning the purchase as soon as the store opens tomorrow for them to get it right!!!

Joy Monar
from Midvale, UT
had an issue with over payment on my old account. was referred to the "DISPUTE DEPARTMENT" which can only be contacted via FAX! what? its 2018 and the only means of communication with this dept is FAX? sent a fax 2 weeks ago. NO response! what a surprise. what kind of company deals with FAX communication these days? horrible service! I will never step into a best buy again.

John Reid
from Waterbury, CT
In August I purchased 2 iPhone 7 pluses.I was told by your sales person that if I upgraded my phones I could buy one and get the second free as long as I purchased or had directv which I do.After waiting 4 billing periods I called AT&T and they told me I also had to purchase another line which I wasn`t informed of. I went back to the West Simsbury CT store in which they said they were sorry which doesn`t help me out.The only thing I ask for is some kind of compensation for this issue maybe a gift card or account credit. Thanks John Reid

John Reid
from Waterbury, CT
Back in August I purchased 2 new iPhone 7 pluses at the time of purchase I was told by one of your employees and manager about a AT&T promotion that if you upgraded your iPhone and either purchased and or already had Directv you could buy one phone and get the other free.You just had to wait 3-4 billing cycles before it would take affect. Well little did I know I was misinformed by your employee. Talking to AT&T they told me you also had to add another line in order to get this deal.I went to the Best Buy store yesterday and they told me the employee no longer worked there.All they could do is say sorry! I`am just looking for some type of compensation gift card,or credit..I have purchase many different items from Best Buy Tv`s,computers,cell phones,etc and have never had any issues. I think its good customer relations. Thanks

KEVIN MARSHALL
from Philadelphia, PA
Went to the Best Buy, Route 202, Concorde Mall, Wilmington, Delaware
1) to purchase a purchase a S8 Samsung and S8+ Samsung phone
2) Arrived 7:30, departed 10pm, an hour after closing
3) neither phone sync, with less than 20 per cent of the data moved from the old phones to the new phones
4) miss lead by blue hair sales lady, quoted $40 dollar for screen protector, with out failed it rung up $50.00. Then apologized and promised to match Walmart pricing for the same product. Walmart cost $30.00 - Then at 9:35 rung it up at $50.
5) flip Otter case for S8+ doesn't work. It is a FLIP case that doesn't close or lock shut.
6) broke my old phone, just killed it the battery and charging system. Old phone is now dead.
A. I am taking the phone to Sprint and hopefully they can revive the phone
B. hopefully Sprint can sync the phone and save my old data
C. OLD phone was in Defender case, which is now completely destroyed. How does a sales person go about destroying a customers old phone and case.
At this point I am willing to pay Sprint to fix the phones. But I am so angry with the service and out come But I am seriously leaning on returning the phones, chargers and otter box cases. Based off the poor service I can really spend $1000 somewhere else.

Steve Le
from Pearland, TX
Dec,22,2017.I purchased Apple Watch @ Best Buy store@ 19425 Gulf Fwy.Webster,TX,77598. They don't have any in stock..so they order 4me.total was $215 included tax.they're gave me the receipt &the date to pick up Dec,30,2017,after 12:00pm...this is the first time I bought something from Best Buy by order.& I was felt sorry for my daughter she couldn't get the present right on the Christmas Day.on Dec,31.after 3:00pm I call to make sure my order is ready for pick up .they're was told me try to call back on the New Year day...& so on. Until Jan,3,2018.I called &ask What going on??1st; they said my order arrived at the other store???I told them;in the order paper said pick up @ the same store where I purchase..then they said: call to that store to check it out!!! I told them ;this is the phone number of the store that I purchase & (U been working on that store & talk to me right now)...then she said ok!! Let me check 1more Time.. I asked her where was my order now???she said: (we don't know where ur order now???)she asked me:( so U want to cancel the order???) I can see that they don't have any (Responsibility ) to the customers..when I stop by the store and talk to the manager.;some like Discrimination..she didn't even talk to me.;even the girl @front desk told her that customer wanted to talk to her..she came and only talked to the front desk girl... and lay her arms and head on the desk act like sleepy...I try to describe all the details of my conversation with Best Buy customers service..finally they told me: They don't carry any Apple Watch if Series 1;2 ...they only have Apple Watch of series 3.and they going to charge regular prices of series 3;they cannot match with price what I paid for..I understand they cannot matches with 1&3 but at least they should give some discount...because I believe in this situation they totally wrong on the order process to the customers.they didn't take any responsibility ..if the order process in the normal times;I don't blame it.but unfortunately this was in big Holiday season;(Christmas and New Year) times.every kids expecting Gifts on times...well ! This is one of my experience to Best Buy..????!!!!!Thx! Alot

Steve Le
from Pearland, TX
Dec,22,2017.I purchased Apple Watch @ Best Buy store@ 19425 Gulf Fwy.Webster,TX,77598. They don't have any in stock..so they order 4me.total was $215 included tax.they're gave me the receipt &the date to pick up Dec,30,2017,after 12:00pm...this is the first time I bought something from Best Buy by order.& I was felt sorry for my daughter she couldn't get the present right on the Christmas Day.on Dec,31.after 3:00pm I call to make sure my order is ready for pick up .they're was told me try to call back on the New Year day...& so on. Until Jan,3,2018.I called &ask What going on??1st; they said my order arrived at the other store???I told them;in the order paper said pick up @ the same store where I purchase..then they said: call to that store to check it out!!! I told them ;this is the phone number of the store that I purchase & (U been working on that store & talk to me right now)...then she said ok!! Let me check 1more Time.. I asked her where was my order now???she said: (we don't know where ur order now???)she asked me:( so U want to cancel the order???) I can see that they don't have any (Responsibility ) to the customers..when I stop by the store and talk to the manager.;some like Discrimination..she didn't even talk to me.;even the girl @front desk told her that customer wanted to talk to her..she came and only talked to the front desk girl... and lay her arms and head on the desk act like sleepy...I try to describe all the details of my conversation with Best Buy customers service..finally they told me: They don't carry any Apple Watch if Series 1;2 ...they only have Apple Watch of series 3.and they going to charge regular prices of series 3;they cannot match with price what I paid for..I understand they cannot matches with 1&3 but at least they should give some discount...because I believe in this situation they totally wrong on the order process to the customers.they didn't take any responsibility ..if the order process in the normal times;I don't blame it.but unfortunately this was in big Holiday season;(Christmas and New Year) times.every kids expecting Gifts on times...well ! This is one of my experience to Best Buy..????!!!!!Thx! Alot

william mielke
from Mount Vernon, OH
Looked online at d dishwashers that have been onside. Wife and i decided on 2 models to look at. (lg LDP6797 and LG LDF5545). 12/16/2017 we went to the Ontario Ohio store about 25 mile from our home but closest store. We got there around 10:30am found one of the dishwashers on display. Looked all around for an appliance sales person with none to be found. Did see a sales person on the phone when he finished i asked him for help and he said he would get me someone. The sales person he got knew nothing about dishwashers. When i asked questions all he did was look at product specs on his phone. I guess Best Buy sales people are really just order takes.
Later same day i went to Lowes they carried same models. Sales person there knew his products.Showed me the differences walked threw everything on both model dishwashers. Came back home and had calmed down and decided to order thru Best buy since installation was free. Went online placed my order (wanted it in white) said delivery not available in my area. Says special order so i called you 800 number and was told nobody in my area carry's white and she could not stay when it may be in. Answer i got was when LG feels like sending this area white they will send.I understand products can be out of stock but to get a reply like i did is pretty bad.
Well needles to say i placed my order wit Lowes and have a delivery date of 1/6/2017
I lost all trust in Best Buy in store, online,and help center.

Christopher Anderson
from Fort Huachuca, AZ
I purchased 2 iPhone's July of this year at the Homewood store in Illinois So before I purchased I told the best buy rep that sprint had the rental phone monthly agreement fee for $8.53. When we began the purchase I notice that best rental agreement contract fee was $16.67 told the ID:__NR-AM-66593734_____ Date:___3 -July -2017 and ID:__NR-AM-66593914_________ Date:_____3-July-2017. The best buy rep told me that sprint would change it and all I had to do was to call them. Yeah right…. I've been trying since August to this change the rental fee, this is the very reason why I warn people from purchasing phones from BESTBUY.

Nerissa
from Bloomfield, NJ
I purchased a Samsung Note 5 approximately two years ago and it got wet in August and stopped working. I paid $150 to get a replacement and it did not last 4 months. The phone fell once and the whole screen got some blotchy ink looking spots which spread over the whole screen by the next day. My gut feeling with this replacement was that it was no good, but I kept it. What a mistake! They sent me a defective replacement, now they are telling me that I have to pay another $150 to get another replacement. All this when I haven't even finished paying for the first phone. What a crooked deal. I am so upset about this situation.

Milton Callahan
from Oak Lawn, IL
Hello, My name is Milton Callahan I had a terrible experience visiting one of your locations on 11/24/17 at 2:30pm. Me and my mother entered the store located at 4925 Cal Sag Rd in Crestwood, IL, to purchase a new TV and Computer based on sale prices we seen online. The first thing we noticed upon entering the store was a 65" inch Samsung TV for 399.00 near the entrance. The price was on top of a group of the TV's and a big crowd was standing near waiting on a price check. Me and my mother waited patiently with the other customers but no one came to assist any of us. At this time I asked a few of the customers how long they had been waiting. Many of them stated over 30 mins. My mother has a fracture toe and a visible orthopedic shoe and I was very shocked not one person came to ask the group if we needed help. After 12 minutes of waiting and my mother needing to move or sit down. I decide to request the price check myself and one of the younger store attendants came over. I explained the price of the item and told him many people wanted to know if that was the actual sales price of the product. He scanned the item and said the item was $849.99. At this time many customers became upset. Many of the customers including myself should not have had to wait so long to get a price check on an item that was priced so much higher than the listed sales price on top of the TV's. Many of us thought it would be a few hundred off the incorrect pricing seeing it was a sale but not 400.00 additional dollars on a black Friday sale and the entire staff allow us to linger around this product knowing it was incorrect. It was unacceptable and I requested to see a manger. I wanted him to verify the store clerks scan and see if the price was indeed correct that he had told me. The clerk took the 399.99 sales tag off the product and put it behind his back as the other store clerk notified the manager. It took about another 15 minutes to see him. Once the manger (Doug) arrived I explained the issues and requested he check the product himself to ensure the price was correct. He stated " The clerk already told you the price" I said Sir can you verify it because it's 400.00 more than the listed price he has behind his back on the tag. He stated " hey people move signs around all the time " I stated sir as a manger it's your responsibility to make sure pricing is correct and if it is not to verify it for the customer so can you please check the pricing for all of us because we have been waiting a very long time. His reply was " you better tone your voice down a notch" I said sir I am loud so you can hear me over these customer's and I am a customer you should not be talking to me about my tone. I need a price on this item and I am very upset at the treatment I am receiving today". He grab a phone with a picture on it with the price of the item from the store clerk and said this the price wanna by one" (laughing) I said sir this is not funny and I am really upset is this the sales price for black Friday or the regular price. He said " this is what it is wanna buy one" looking at the other clerk. smirking. I told him I would be contacting the complaint department about his behavior and also let him know that it was not proper management. Not one time did the crowd or myself receive an apology for the wait and confusion. These people was angry and this behavior could of cause a store riot as many people got very upset. Base on the crowd and there looks I walked away and told a few people to contact customer service. I believe had I continued to push the issue the store manger would of cause a big problem within this crowd. I did purchase another TV after walking through the store only to witness the store manger discussing the matter and laughing about it with other employee's . The manager Doug was very inappropriate and should not be engaging with customers on any level. I do not know if he is the store manager but I intend on calling the store but wanted to have this address on a higher level seeing I work in management an felt it was inappropriate for him to tell me to " I better tone it down" I felt like that was a threat and so did the other customers. Doug has a problem and is not the type of employee you want helping customers and definitely should not be in management. I think a hard look at your surveillance camera's will show this could of went really bad and with my mother having a bad foot I did not want the crowd to get out of control based on his behavior so I left the crowd without the answers I needed about the product. After going through the store I found many items without a black Friday sales prices including one of the Items I purchase. I also seen and heard the Manager (Doug) talking and laughing about the issue with other employees in the TV department. This employee needs some type of corrective action so he can take his job duties seriously. I would like to hear a response in this matter as I feel the BBB should be aware of this but I like Bestbuy an based on this I wanted to notify the company about this first. Please feel free to contact me via phone or email regarding this matter my direct contact is 708-477-7437 my email is marksmenp@hotmail.com thank you for your time on this matter. I hope the company can resolve this behavior and also give me answers to the 65" UHD TV 6 series Mu6290 listed at your store for 399.99. I believe the price on black Friday was 749.00 but the store should honor listed pricing on black Friday but I was just trying to get the TV at the actual sales price. We purchased a 55" me and my mom that is on delivery but we would have love to have received what we wanted. Thank you for your time in this matter.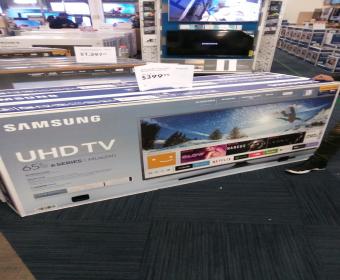 Dawn Mihaliak
from Lancaster, PA
I went to the best buy in Lancaster Pa. on Thanksgiving day for the 55 inch tv for $179.00 I stood in line for 3 hours which I expected to do so when the worker inside came out to hand out tickets for the tvs he told everyone in front of us they could have up to 3 tickets per person was this an inside job that these people got these tickets or was this legit because if it was 1 per customer I would have got 1, these people that got the tickets were trying to sell them for $400.00 this was insane then they said we could buy the tvs for $400.00 when they buy them what a scam. I feel I should be compensated for what I experienced. Disappointed customer Dawn Mihaliak

Sheryl Smith
from Crofton, MD
My son purchased a Black Friday deal "online" that was guaranteed to be "in stock" at his local Best Buy store in Bowie, MD. He arrived at the store on Black Friday morning and was told that "they couldn't find the phone that had been guaranteed to be in stock that morning". He told them that he needed the phone "unlocked" so he could take it to his "own" carrier. He paid an extra $200 for an upgraded phone that they DID have in stock, and after they processed his money, he found that the phone was NOT unlocked, and was dedicated to a carrier that he did not want. They said, "oh, we're sorry". He asked for his money back, and they said it would take 48 hours for him to get his money back. I am DONE with Best Buy for good, and I intend to tell all of my family and friends of his experience and of my own lousy experiences with their stores in the past year. Their customer service has gone into the toilet. I personally have walked out of Best Buy twice in the past year when one of their employees attempted to "switch" me from a product I had gone in to purchase to one that was "better and more expensive". Both times I went in for an advertised product that "wasn't in stock" even though the application online said it WAS in stock in that particular store. I believe that is called BAIT and SWITCH. I thought that was illegal.

Jeanne Leonard
from Springfield, MO
Your Customer service is the worst that I have ever seen. I have spent couple of evenings trying to ask for help from Best Buy technical support. I have spent several hours at a time to only be switched from person to person then to finally be disconnected. This has happened at least 6 times! I have even tried at the store level, store manager and best buy direct and still can't get any assistance. I was told on one call they were aware of the problem due to others having the same issue. I can not log in on bestbuy,com. I am not able to login to my account. It will not allow me to reset anything due to the fact I can't get an e-mail or text with verification code but yet I receive your daily specials, promos ect. I went around the system to place an on-line order last night but I can't even get a confirmation of my order by e-mail. This is unacceptable!! I'm supposedly an Elite member but to get this level of service is not acceptable. Your people call themselves "Specialist" but yet they are unwilling to help. I'm on the phone now, I explained my situation "AGAIN", only to be transferred to someone else. Been on hold going on 40 minutes so I'm sure it's just a matter of time, I will once again get disconnected. I get your "Specialist" is someone sitting in a cubical somewhere but surely they are trained on how to satisfy a Customer. I'm sure I won't get any response with the complaint so the bottom line is I'm done with Best Buy and as much as I hate Wal-Mart, I will take my business there. Next time, I hear Best Buy sales aren't where they should be, I will know why. I wish you the best because with the Customer Service you provide, I don't see Best Buy remaining in business. The last time I check if you don't have Customer Service, you don't have business! IF a Manager (that can help) would like to call me to discuss then you have my contact information on file.

Tom Markle
from Oroville, CA
I purchased an Arris router, SURFboard SBG6900-AC from Best Buy. I think it might have been around April 2016. We have had on going issues since then. I didn't suspect the router because it was brand new and came highly recommended by the Best Buy sales person. I have had Comcast/Xfintiy out here twice and Dish out here twice to review my system problems which consisted of frequent short outages interfering with our TV and our Pandora music station and internet connections. This week, I called Comcast back and a knowledgeable technician went through our entire system, upgraded it and rebuilt our Dish outside LMB. We still had issues and the technician suggested that our router may be the culprit but he couldn't touch it himself. I went to Comcast and rented their router, installed it and - guess what - our problems were solved. Everything works now. I realize it has been a while since I purchased your router but I'm unhappy that it was actually the cause of my year long problems. I don't know Best Buy's limits but I certainly believe Best Buy should give me a full or partial rebate on this dysfunctional router. We are excellent Best Buy customers as you can verify and have supported you over many years. This is the first product we've purchased that turned out to be bad. I would like a response ASAP. Thank you.

Bob Steven
from Fort Wayne, IN
Hello,
I went into Best Buy on 11/10/2017 @ 3:45 pm. NORTHCEST SHOPPING CTR. FT. WAYNE,INDIANA to buy a Sony 75 inch television and couldn't get any service. Then I went to buy some ink for my printer
and printing paper. Once, at the counter I needed to pay my monthly payment, alone with some ink and printing paper for my computer. There was a new guy there that didn't have a clue on how to ring me up. A employee name Kathy ask for my ID and I said not to make my monthly payment you don't. If I was buying something on my card then you would need my ID. She got real nasty with me and said that's the store policy and I can't change that. I can close MY ACCOUNT that's for sure. I suggest that you give her more training or fire her, she is bad news for this company.

Carol Magliochetti
from Bridgewater, NJ
On August 5, 2017, my husband and I purchased an LG refrigerator from the Bridgewater, NJ store. We also purchased the insurance policy on the product at a cost of $299.99.
On November 8, 2017, the fridge stopped working. My husband called the Geek Squad to make a time and date for repairs. He was informed that the first available time and date was November 16, 2017. EIGHT DAYS!! without a refrigerator--UNACCEPTABLE!
We could get a local repairman in one day. However, we already paid $299.99 to Best Buys because they bragged about how excellent their insurance was when needed to make repairs quickly.
We will NOT be fooled again by promises and insurance policies made by Best Buys! We will inform all our friends and relatives about the time response for repairs needed on Best Buy merchandise. Your insurance is as rotten as a hot fridge"s food!

I went into a Best Buy store in and told the Agent that I wanted to renew my Tech Support membership. The agent pulled up my account and stated that they tried to automatically renew it on the due date but my credit card was declined. I was going to pay cash to have it renewed and he told me that I were not permitted to renew the membership with cash. It had to be by credit card or debit card only.
I asked the agent why did they attempt to automatically renew my Tech Support membership without my knowledge, permission or consent. He said he didn't know. That was the way Best Buy was doing it.
My complaint is why did Best Buy attempt to automatically renew my membership without my knowledge or consent? Performing a financial transaction without a person's knowledge or written consent if illegal. I'M BEING FORCED into a renewal whether I want it or not. Best Buy does not have the legal right to make financial decisions for me!
I remember several years ago Best Buy was losing customers because they were being pressured by the employees to purchase an extended warranty. That practice forced consumers to go elsewhere.
If Tech Support is to be an automatic renewal, the customers need to be made aware of this at the time of purchase or notified through the postal system (not email) or phone call and given the opportunity to decide whether they want to renew or not. This practice of automatically renewing Tech Support membership without the consumer's consent needs to be stopped immediately. YOU SHOULD NOT ASSUME that the consumer wants to renew their membership and make this financial decision for them in order to increase your profit.
A very annoyed customer
Frank

Gerald Nelson
from New Haven, CT
On Saturday 28 Oct 2017 I purchased a new TV at the North Have, CT store. There was no problem with the sales person assisting me in getting the product which I wanted. Then today 30 Oct 2017 my wife happened to check our bank account a discovered that an additional $53.00 (fifty-three) dollars had been debited to our account by Best Buy. After some length of time and multiple phone calls and transfers she was finally connected with a representative who told her that a virus protection plan from three years ago was reactivated for the new TV. As I was never informed that this might occur and I never gave any consent for this transaction to occur I consider it a case of theft and bank fraud. My wife was informed that a refund would be made in 7 to 10 days. I have contacted the state attorney's office for North Haven, CT and if the money is not refunded as promised I will be filing a criminal police report with the North Haven Police Dept and push for criminal prosecution. Any company that feels they can take a customers money without prior approval or contract cannot be trusted and I intend to no longer do business with this company and will by all means warn my friends and family of these underhanded and possibly criminal activities of Best Buy.

tim berry
from North Richland Hills, TX
I cannot click off the one star. I wouldn't even rate you at all. I am absolutely po'd about my Roku purchase I made. I brought the Roku device back after having trouble with with them. I had to cancel my debit card because of it. Security reasons. I wanted to get my money back for the device with receipt in hand and was refused cash back! I have my receipt, my card is cancelled, so I can't have the money returned that way. The only way is get cash back. The manager refused to do that, stating the system will not allow him to give me cash. How can you be a retailer and have a system in place where money cannot be refunded? That makes no sense. The manager was glad to give me a gift card. Are you serious? You won't refund my money for an item and you think I'm going to spend more money there. Not only did I refuse that option, I was offended. This is not the way you do business, since this isn't a two way business arrangement you have setup.

Jim Macholl
from Lorain, OH
Great products and staff. Tried to renew Webroot and customer service 27 days prior to their ending. Went to store in Elyria, Ohio. Best Buy policy, will not accept check or cash.. I hear that Best Buy is in financial trouble. Could this be part of the reason --- DUH !!! You've lost this customer. I wonder how many more?

larry baufield
from Des Moines, IA
your credit card department is not very good first opened an account did not recieve card or statement to pay my bill tried to get help talked to three different people at city bank all did not speak very good english if your service is over seas I will not use your service anymore I hope they got this straight but?

Tawanna Collins
from Brooklyn, NY
Hello I purchased a refurbished Samsung 55" tv with cuts and bruises in it model # un55ku6500fxza on oct 18 2016 I was told to get insurance of the tv if it was to give me problems . The tv doesn't cut on and I bought it refurbished and it was working fine had I know the disadvantages of buying a refurbished tv I wouldn't . I had the geek squared which covers my protection come out to tell me there is nothing they can do about this . Iam very disappointed and was mislead about this tv warranty . I am writing before I make this a small claims situation .

Allan Rose
from Fort Lauderdale, FL
I went into the Planation store to buy a cell phone. I asked the clerk if he could set the phone up. He said the company cell phone company would ask him questions, then he would have to ask me the same questions. He would not set the phone up. I did not buy the phone. However I would like to recommend 2 clerks at the Coral Springs store, who went out of their way to help me with a cell phone I had previously bought there. They tried everything to help to get my phone to work, especially the young lady. She gave me a refund without any trouble. This was on 8/30/17. If it was not for these two clerks. I do not know if I would purchase additional items at BestBuy, as I have numerous items there.

Rick Freeman
from Galt, CA
Starting in July 2017 I ordered a Whirlpool microwave oven from Best Buy online. When the oven arrived at my home, it was defective. I drove 30 minutes to the nearest Best Buy store. I returned the microwave and ordered another. To make a long story short, I received a total of five microwave ovens before I finally got one that worked. I returned four microwaves to the same store and obtained receipts. The purchase were put on my Best Buy credit card which is handled by Citi Bank. I looked at my Citi Bank statement and have been charged for two of the returned microwaves. I have contacted both Best Buy and Citi Bank and explained the problem. Best Buy insists that this is a Citi Bank problem and of course Citi Bank states otherwise. Here it is the 1sr of September and the 2 microwaves are still on my bill. I will never buy another thing from Best Buy. I will pay off my Citi Bank Best Buy card and will never deal with either company again.

annonymous
from Mays Landing, NJ
I went into Best Buy in Mays Landing NJ last night to purchase a cell phone. the female sales associate who helped me with the phone was fine...although there were two other female sales associates who, when I asked if they could activate my new phone and transfer my information, told me that they didn't do that and acted as if I were crazy. I proceeded to tell them that just the night before, I had a friend who had also come into the store to purchase a phone and they were treated completely different....their phone was activated for them and all their info had been transferred over as well. I won't even get into the amount of trouble I had trying to get this activated.
If there is some new rule at Best Buy, and employees are not allowed to do this anymore. please inform me...very odd...especially since I know someone who just had it done the night prior. Also, I had a very strange experience when I asked someone how the virtual reality headset for Samsung works...the female associate was on her cell phone the entire time and acted as if it were such a bother to explain things, then walked away while I was in mid-sentence asking a question.
Needless to say, Best Buy lost a sale, and I wouldn't be surprised if many sales were lost. Everyone who I dealt with looked as if they were about 10 years old. It's a real shame....I know darn good employees who do work at this location and it's just a shame for the good ones. Best Buy needs to really look at their floor help in mobile. They need some sort of training in basic common courtesy, although, that really can't be taught.

Joseph Bond
from Columbia, IL
You may also contact the CEO, Hubert Joly at the corporate office address, 7601 Penn Ave. S, Minneapolis, Minnesota 55423. Corporate office phone number is 877-415-3487. Was assaulted tonight by store manager. Would like to speak to Hubert Joly. Will also be consulting legal advise for liability. Does anyone care about their customers?

Stacy Karron
from Pompano Beach, FL
I am a new Geek Squad customer, having purchased a year's subscription of tech support on 10/29/16. I had an appointment for service, and despite that, waited 20 minutes before someone acknowledged that I was waiting. One technician was helping another customer and it was only after 20 minutes that he asked me if I was being helped, as he assumed someone was already helping me.
The reason I went in for technical assistance/support is because I purchased a Lenovo laptop just 13 months ago at the same location, and was having issues with signing in with my admin password. I contacted Microsoft as well as Lenovo regarding this, however they were not able to assist/remedy. I searched online for information on how I might handle this myself but was also unable to remedy the problem. As it turned out, the reason I was unable to sign in is because the number keys were non-functional, and my password contained numeric as well as alpha digits. When I searched for information on how I might remedy this myself, one of the first things all the online tips suggested was to make sure that the numbers pad is not locked.
On newer laptops such as mine there is no numbers keypad but rather the numbers run across the top above the letters. I purchased the Geek Squad support and it was only after two days that one of the technicians called me to tell me that the reason I was having a problem signing it is because the number keys were nonfunctional. My question is, why wasn't a diagnostic test run to determine the functionality of the keys before my entire system was wiped out in an effort to bypass the password?
When I had received a voicemail from the servicing technician asking me for some more information before she was able to go further, I returned her call. After pressing the prompts to direct me to Geek Squad, I waited on hold for almost minutes, but no one answered, though I called during business hours. The phone just kept ringing and ringing and ringing. Attached herewith is a snapshot of my phone screen showing the amount of time I waited before hanging up. I called back again and it was the same, but then an outside rep answered the called and asked me which store I was calling.
He then connected me and I waited again for several minutes but no one answered. I called one more time and if I had not been connected with someone, I would have gone back to the store in person to cancel the service altogether as I was entirely frustrated. On the third call attempt, someone finally answered and placed me on hold for another few minutes before obtaining the information the servicing tech needed. Needless to say, I'm unimpressed with the whole thing, as I would have used the $200 I paid for service and put it toward the purchase of a new laptop rather than be stuck with a still non-functioning unit, and a service plan with lousy customer support and that only covers software issues.
I want to cancel the service plan altogether. Between the issues I experienced (as a new customer) coupled with having a laptop that is no better than when I brought it in, I am very dissatisfied. Diagnostics should have been run to determine if a hardware issue (non-functioning number keys) before the system was wiped out, because now I'm left with a shell of a laptop and it's useless to me without the number keys, the letter P, and backspace keys - all non-functional. If it is standard to check to be sure that numeric keys are not locked regarding password sign-in issues, why wasn't this checked first?
The only compliment I can give is to an in-store tech agent named Jaylen who was courteous and apologetic.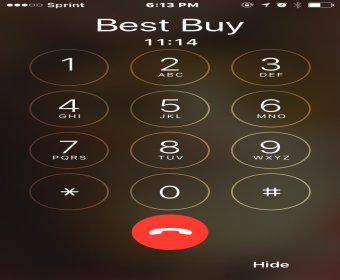 Kathleen Dunne
from Wilton, CT
There should be an option to give 0 stars based on my experience with Best Buy. We placed on online order with them but cancelled it and received acknowledgement of the cancellation. Best Buy ships the order anyway so now we need return labels to send the product back. We've been trying, through their customer service number, to get return labels emailed to us for the past two weeks. Every rep we speak to gives us a new excuse as to why we have not received the labels despite giving them 3 different email addresses.
The latest from this morning is calling Best Buy and spoke to a rep who could barely speak English and she informs me that perhaps the reason we didn't get the labels is that the product we received isn't eligible to be returned via return label. Go figure. Got cut off from her and when I called back, the next rep I spoke to decided that she could not speak to me, she had to speak with my boss since his name is on the account. Didn't have a problem speaking on his behalf to the other rep I spoke to not 5 minutes prior. Extremely frustrating and time consuming and would not do business with them again.

Daryl Rotman
from Littleton, CO
Best Buy didn't put the Apartment number on the package so I spent a day waiting for the damn thing and it didn't come because some one didn't do there job. This will be may last order with this company. I even had to fix the problem after UPS sent me a text saying they couldn't deliver the package. So don't do anything now because I did customer service and the job of Best Buy and took care of getting the apartment number on the package. If I could have given you 0 stars I would have.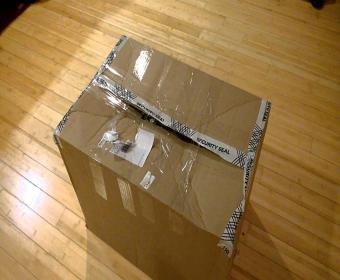 Maryann Grookett
from Alexandria, VA
My brother an I co-own an house in South Philadelphia. We are getting ready to sell and are replacing the kitchen appliances. My brother lives in Florida and went to Best Buy there to buy the appliances. Last week we were supposed to have a Refrigerator delivered to the house in South Philly on Friday, October 21 between 12PM and 4PM. My brother received a phone call saying they couldn't deliver it and would have to deliver it on Saturday October 22nd. They said it would be delivered by Noon. Friday evening he received a phone call saying they were delivering it at 8PM on Friday, this is after he and Best Buy agreed on Saturday. He told them no, they would have to deliver it on Saturday. They called Saturday and said it would be there between 12 and 4PM (don't know what happened to the "By Noon" agreement).
They finally called, after 4PM and said they were on their way. When making the arrangements my brother told Best Buy that the Refrigerator would not fit though the front door and they would have to take it up the alley and deliver it in the Back. A lot people in South Philadelphia have to get deliveries that way since the doors on the front of the houses tend to be so narrow. When I told the delivery guys they were not happy, even though the alley was very clean, more than wide enough and free of debris. In order to get it into the Kitchen it would have to be lifted over a counter. The counter is a little less than waist high.
They said they wouldn't do that and we would have to . The one delivery man was very arrogant about it. He kept giving us an argument about the delivery. My contractor and my two sons were present and said they would lift the refrigerator over the counter. We just needed the doors of the appliance removed. The deliverymen left the refrigerator in the alley and went back to their truck. Since it appeared that was as far as they were going to take the Refrigerator, my contractor started to remove the doors himself.
When they came back, the "arrogant" deliveryman demanded to know who the owner was. I told him I was co-owner of the house but he kept saying I wasn't the one listed on the work order. I told him that was my brother and he lived in Florida. He then insisted that someone sign the work order saying that because we (the contractor) took the doors off, the work order had to be signed immediately. I told him I wasn't signing it until they removed the "Old" refrigerator, as stated on the work order. He kept arguing with me about it and even threatened to take the new refrigerator back.
Then he started arguing with the contractor saying that he was going to take the doors off, that they just had to go to the truck to get the paperwork. My question is, why did both of them have to go to the truck to get the paperwork? Why couldn't one stay behind and start removing the doors instead of just dropping it in the alley? They couldn't at least take it to the back door? Did it take two people to "Lift" the clipboard containing the paperwork? He kept arguing with me about signing the work order and I kept telling him I'd sign it when he removed the old refrigerator.
I need a washer/dryer and Refrigerator and was thinking about going to Best Buy, but not now. I'll go to Lowes or Home Depot. Not because of your products but because of your deliverymen, one in particular, and the total mix-up of when the appliance was going to be delivered. Also, when my brother called Best Buy on Saturday to make sure the refrigerator was being delivered, the Best Buy person he was talking to called the Dispatch and the person said "It's not on the truck" and hung up on her.
They were even rude to your own people. Normally I let things like this go but the attitude and arrogance of the one delivery man was unprofessional. All he had to do was take the Refrigerator to the back door, take off the doors and my sons and the contractor would get it into the kitchen, then put the doors back on. They would of been done instead of standing there arguing with us. I believe they didn't want to take the old refrigerator because they would have had to take the doors off in order to get it through the "Front" door. (Yes, that one fit through the front door, it did not have to be lifted over the counter.) My experience doesn't even rate one whole star!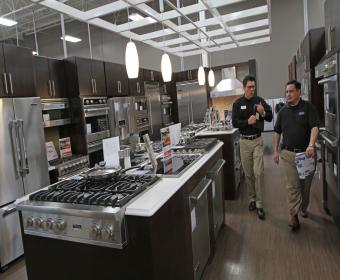 Ronald W. Benson
from Pittsburgh, PA
When delivering a Samsung refrigerator in June of 2016, one or two of the delivery personal stole money out of our house. We filed a police report and contacted a detective to investigate. A Steven Waligoski with the Executive Resolution Specialist department, was not very helpful in the investigation. In fact, if you interfere in an investigation, that is a crime. He gave the detective leads that led to a dead ends. I guess to get his position, you need low qualifications. The detective was extremely frustrated with Steven and said to me, you should sue Best Buy.
This employee is a subcontractor with Best Buy but it seems that they are content to continue to employ a criminal. I asked the detective if a lie detector test could be administered. She said yes if I can get them to my precinct. Best Buy had no interest in doing that. In the last two years, my wife and I have spent approximately $5000 with your company. In the years that we have been repeat customers, we have spent approximately $7000. Steven told the detective that I was lying about this. That made me angry. If spending that kind of money with your company, why would I try to beat Best Buy out of $170. Go figure. To any customers that are getting anything delivered to your home, beware.

Bought an Epson printer for my son for college. He left for school two weeks later . Set up new printer at school and it didn't work (defective). Best buy said after 14 days they were no longer responsible for product even though it had never been used. This is the fourth consecutive time I have had a bad experience at the store. They are very uninformed about their products, very inexperienced and clueless about their jobs and don't support their products worth a crap. I am a best buy cardholder, but it will never be used again! Totally worthless entity.

Ed McGarvey
from Norristown, PA
I have experienced the worst customer service I have encountered with any company in my dealings with your Plymouth Meeting, PA. store. I have been a loyal customer of Best Buy for a number of years. In the past 12 or so months I have spent approximately $5,000 at this store.
I ordered a Dishwasher over the Labor Day Holiday taking advantage of what appeared to be a nice sales promotion. I ordered a Kitchen Aid appliance and was promised delivery and free installation in one week. I received a phone call about a week later saying that my appliance would be delivered the next day between 8am and noon. The next day came and went-- no delivery—no phone call. I went to the store to see what had happened and was told they were unable to give me an answer. They said they could reschedule and the next available date was one week away. I asked why it seemed like I was being put to the end of the line when I already had one promised date and was told that is the way it works.
The next date came—Sept 19. The installer showed up and looked at the old dishwasher and told my wife he could remove it but could not install the new one –something about it being ½ inch too high?? There was a bit of a language issue and my wife did not clearly understand what he was trying to convey. Unfortunately I was out of town and did not hear this conversation. I did measure the space and can see no reason why the new dishwasher would not fit.
I am certain a professional installer could have solved whatever issue existed. The store Manager spoke with my wife and assured her that he would work to either resolve the problem with the dishwasher or find a comparable model for her. He promised a return call no later than the next day. I think you know what is coming—no call. My wife tried to call the Manger several times but heard nothing.
Long story short we have canceled the order. What was a good deal turned out to be not so. I will shop for a dishwasher from a competitor. I am aware that losing one customer is of little concern to you but rest assured that I will warn friends and neighbors of the horrible customer service that can be expected from Best Buy.
If you should happen to care at all the order was placed on my wife's Best Buy Credit card on Sept. 4, 2016.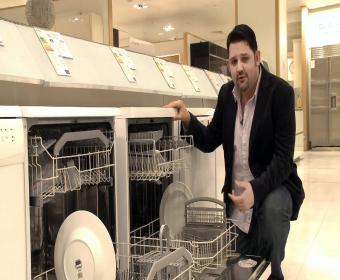 I bought a washing machine on August 20th at the Westbury NY location Order number 1116233273254. The delivery was made on Tuesday Aug 23 however they didn't complete the install and I was provided a hose which was kinked. I called the store spoke with 2 people one of them the Manager named Paul, they claimed to put the issue on an email to customer service. I got a call and schedule an appointment for Monday 29th at 4pm to finish the install. On Monday August 29th I got a call at 9am stating they will be there in an hour. I was at work and clearly I asked for after 4pm install, the person said they will reschedule.
I never got a reschedule back. I visited 5 times the store called numerous time and no resolution has been given to me. I tried the machine this weekend and there is a delay on the on button. I am completely frustrated, way past disappointed on terrible their customer service is. At this time I am requesting a new machine to be delivered. Attached please see the deplorable way my install was left by technical service. I got hung ups after calling Best Buy customer service.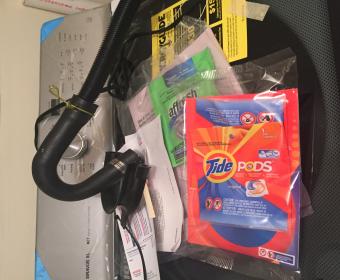 Brian McDonald
from Towanda, PA
I called with two issues. Not realizing that I would encounter another phone robot. Nothing like having your "problem" reduced to someone else's criteria. So finally figured out how to summon a human and was able to make a payment. But no one to deal with the fact that the website is not user friendly or guide me through how it should be used to make a payment.
The second issue I called about was the fact there were 4 items in my checkout box that I did not put there and did not want. All I wanted to do was to have someone kindly remove them from my account. After being transferred twice..and having to deal again with a robot, I finally hung up in total aggregation and exasperation. Best Buys Customer Service needs an overhaul from top to bottom.

vern defehr
from Clovis, CA
Just a note to let you know why I am no longer a best buy customer. About 4 years ago I opened an account and bought a couple of thousand dollars' worth of merchandise. A week later there was a charge of about $750.00 that was not mine on my statement. I called and that was taken care of quickly. On 8/8/16 I went into best buy, my account was at (0 balance) and bought a 28 dollar battery, the next day I bought a printer for 98.86. I checked my email and found an order received, order #BBY01-788164062371 for an apple watch being shipped ($411.03).
I called and Best Buy customer service said everything was ok. Next day got an email, order received for an apple 9.7 inch iPad ($987.65). Not mine and shipped to the same address. I live in Clovis Ca. After more than a few phone calls I was told everything would be good. They canceled my card and sent me a new one and assured me that the new card would have the correct amount billed. Good luck with that. Got my new card and a few days later my new statement saying I owed $509.89.
More phone calls with very little understanding on your peoples end. I told them to cancel my card they told me I had to sit and listen to them read some kind of policy. I told them to let me talk to a supervisor. The supervisor came on and said the policy was that if I canceled my card I would have to re-apply and get a credit check for a new one.
My credit is over 800. After wasting many hours of my time and effort to help best buy deal with this fraud and then needing to cancel my card because your people could not deal with it, I get punished because of your people's incompetence. So I solved the problem myself, don't shop at Best buy any more. I can get the same merchandize for less money and a lot less head aches.
Have feedback for Best Buy?
Thanks for your feedback!
Sorry. Please try again later!