Ashley Furniture
Contact Ashley Furniture Corporate
Toll free phone number: 1-866-436-3393
---
Ashley Furniture is the #1 furniture manufacturing company in the world with 500 storefronts in over 123 countries. There are production plants in China and Viet Nam. Revenues in 2015 were reported as over US 4.15 billion and employees worldwide number over 22,000.  At one plant over 65 acres is under one roof.
To reach customer service, call 1-866-436-3393 or find Support here. If you would like to contact CEO, Todd R. Wanek, you may address correspondence to him at: 1 Ashley Way, Arcadia, WI 54612, USA. The corporate office phone number is 608-323-3377.
Ashley Furniture site is separate from the Ashley Furniture Homestores site. Ashley Furniture deals primarily with the construction of home and business pieces. By the year 2000 the Arcadia, WI plant employed more people than the city had population. Social presence for Ashley Home Stores is on Facebook, Twitter and Instagram.
Ashley Furniture Contact Information
Report complaints to corporate and get satisfaction
Ashley Furniture headquarters address

1 Ashley Way
Arcadia
WI 54612
United States

Company website

1-800 phone number

1-866-436-3393

Support email address

contact@ashleyfurniture.com

Better Business Bureau rating

A-

Customer service hours

Monday-Friday, 7am-6pm CST
Browse reviews of other Furniture Stores
Top Ashley Furniture Complaints
Browse more than 102 reviews submitted so far
Rodney Kirkpatrick
from Broussard, LA
I purchased furniture at Ashley Store in Houston, Tx, since January 2020 and as of March 4, 2020, still haven't received all of my furniture. I had a bed frame in my bedroom they delivered two months ago and still no mattress or box spring to lay on. These people really have poor customer service. They really don't go out of there way to help the customers. They lie time and time again about delivering all of the furniture I purchased at Ashley Furniture. My own daughter left her job on March 3, 2020, to stay at my home waiting on a delivery they claim they had and they never showed up to make the delivery. I then called customer Service and the employee advised my furniture was not on the truck to be delivered. But the first employee I spoke with advised me my furniture was on the truck and was going to be delivered on March 3, 2020. VERY VERY VERY POOR CUSTOMER SREVICE!! NOW AFTER GIVING THEM SO MANY CHANCES TO DELIVER THE FURNITURE AND THEY FAILED TO DO SO... NOW THEY CAN PICK UP ALL THE PIECECS THEY ALREADY DELIVERED AT MY HOME. I NO LONGER WANT THIS FURNITURE INSIDE OF MY HOME. THEY ONLY GET ONE STAR....
Meg Kerper
from Laurel, MD
I purchased multiple items from the Columbia store, unfortunately. The salesman lied about the items I was paying for. I pointed out the items I wanted, wrote them down, reviewed the order with the salesman. He lied about the names of the items because he realized I was not going to purchase anything if the items were above a certain price. So, he convinced me that all of the items were in the order for the price that was within my budget. When I received the items and was missing a crucial item, I immediately brought the issue to management. The store manager (TJ) said he agreed with me and I was entitled to "compensation" or money toward adding the item I actually wanted. Now that I'm in the position that it would cost me money to return the other items, I thought "compensation" would at least help me get the item I initially wanted. After I had to follow up multiple times, finally I'm told the warehouse manager (Mohamad) has decided I will not receive compensation and I should have checked the item numbers myself and it isn't his fault the salesman lied. I called the head office in Brandywine (since this Ashley is a franchise and not a part of the corporate chain) and was told by a representative that they understand, agree and I would hear back within 48 hours to receive compensation. It's been 2 weeks and they don't return calls.
Amanda Ericson
from DeKalb, IL
Delivered to us Feb.15,2018. ONLY 2 years old, 2 adults,no children. Fabric is pulling,ripping&falling apart. Cushions are flat&lopsided. Frame for recliner is broken&leans back too far. Loveseat fabric is piling, rug is warping(did that almost right away). Have read reviews& am hoping that Todd Wanek CEO will PLEASE read this one and have someone come and view these problems. PLEASE Mr. Wanek, we are a young couple and plan to buy more furniture in our future. We are so disappointed with our purchase, PLEASE see if something can be done for us! Thanking you in advance and PRAYING you will read this and help us, PLEASE!
About a year ago I received gift certificates given to me from an employee to make up for a customer service issue. The issue was small and I wasn't expecting anything at all so I thought it was very nice of him.
Fast forward to the time I was ready to use them and the Eau Claire Ashley employees gave ME so much grief about using certificates THEIR employee gave to me. From the sounds of it, this employee most likely left on bad terms so no one was happy that I had these certificates in my possession. I called ahead and asked if I was allowed to use all 4 at the same time. The woman I spoke with said yes. I asked if I could still use them even if the employee didn't work there anymore, the woman said yes. When the time came to use them I called ahead to see if I could order the item because I would be passing through Eau Claire, as I no longer live there. I was told I could not use it on sale or clearance items. **Let me note that it doesn't say that anywhere on my gift certificates. So I really should have got whatever I wanted. Next the general manager said he needed to speak with the woman I spoke with about using them and he would get back to me before I passed through. Apparently I spoke with Eva and she was on vacation and he wanted to make sure that everyone was on the same page. Well Rob never got back to me and I had to call the store twice asking to speak with him. Luckily Victor met me in the middle and let me use them on the lamp I wanted but I had to pay the full price versus the online price which was about 60 dollars more...
The lamp came in the mail and there were glue marks and paint chips. I called and spoke with Eva again and she asks me to send her pictures and she will get back to me the next day. Of course she doesn't and I have to call her to follow up. She said she would send me a shipping label to ship it back and then they would send out a new one. Well a week went by and no label. I called to check in with Eva and she said the label just went out that day. Well it's been another week and still no label. I'm so frustrated that no one sticks to their word, no one touches base when they say they will, and now I have a lamp that I paid $60 too much for, sitting in the box in my living room for the last 2 weeks until I get this shipping label.
Shahin Roohinejad
from Tillamook, OR
I purchased some furniture from Ashley store in Portland on May 8, 2019, and I am still waiting to completely receive them after "2.5 months"!!! It's really shameful and I am very dissatisfied with your very poor customer service.
Jake Edwards
from New York, NY
On July 9th 2019, I purchased a Porter Sleigh Queen bed and nightstand for $1404.00 cash and scheduled a delivery date for Saturday July 13th 2019. The salesperson was Junior Pitaso. As Saturday approached and I moved into my new house I didn't receive a call regarding my delivery. I called customer service where they contacted Junior and he said he had a family emergency and forgot to schedule my delivery. He then asked if I wanted the delivery on Tuesday which I would have to miss a day of work. Then he said he could send it next Saturday. I declined and asked junior to cancel my order and give me a refund. I called customer service again to request a refund and cancellation. I was told it would be done and I will get a confirmation email. Well I did not receive that email so on Sunday morning I called customer service again and asked was my order cancelled and the woman replied no it's on layaway. How can it have that status when it's supposed to be cancelled. Now when I asked for the email to make a complaint they finally cancelled my order. I don't know what kind of business or games Ashley furniture is playing with my funds but this action is very unprofessional. For my first time purchasing from Ashley it was a horrible experience and I will never purchase at your establishment again. I will also give a negative rating on every social media network any chance I get. No person should be treated like this especially working individuals. Now I have to wait 10 days to receive my refund which put me in a bind for purchasing from another store. I should get a rapid response to this situation. I will forward this email to my attorney.
I would like to contact Ashley Corporate Office regarding my recent disappointing purchase with Ashley Home Stolre at 11645 E Kellogg Wichita KS 67207. I purchased a Stearns & Foster Pollack queen mattress and Tempurpedic Ergo Extend queen base. I was assured by Amy, store rep, that the mattress would not retain heat due to the newly updated air vents that were added to this model. I trusted her advise and both items were delivered on June 5, 2019. Amy advised that she was going on vacation the next day. I have not heard from her since.
After a few nights I realized this purchase was a mistake. I talked to Ryan, store manager, and asked to speak to the district manager. He told me he was the only manager for the store. At his advice, I returned to the store and was advised by another associate (can't remember the name) that I should try the Tempur Pedic line. Having the cooling top, I was told this might be a good option for sleeping cooler. So I exchanged the Stearns and Foster for the TempurPedic Pro-Adapt Medium. I was also advised my payments to Wells Fargo would be $74 a month for 6 years. But when I got my statement my minimum payment was $89 a month. The mattress was delivered on June 10, 2019 and the Stearns Foster mattress was taken.
Having been advised that a memory foam mattress needs 30 days to adjust. I have been patiently waiting to sleep cooler. However, I am continually moving around on the mattress to find a cool spot. I am using 100% bamboo sheets as advised. Nonetheless,
I always have to leave the bed for an hour or so to let it cool off. If feels like it has been in a microwave.
The base has not proved to be beneficial either. It hurts my neck in the raised position, so I don't use it. I don't feel this was a good decision but the mattress is a more dire issue.
I would like to see if there is some recourse for this pricey purchase. I feel I was mislead (short of saying lied to) on these choices and would like to cut my ties with Ashley Home Store. I am in debt $5,000 for both pieces and can hardly afford to make another purchase right now. I also purchased furniture at the same time, but so far I am happy about that. I am a senior citizen with limited Social Security income.
Karen Milliken
from Nashville, TN
First, let's start with all the TERRIBLE reviews without any response from this company! WOW!! Ordered a recliner on 6/29/19, told the sales person at the time, late afternoon deliver would not work. Received an an email on 7/16/19 wanting to delivery on 7/18/19 between 3:15 pm and 7:00 pm, When I called to tell them this would not work, the person on the phone pretty much told me I was "screwed", if I wanted the chair I'd have to make this time frame work. When asked to speak with a supervisor, was told it would do no good and she would not transfer me. I then called the store of purchase (BRENTWOOD TENNESSEE) to cancel this order, was initially told by the first person, she was the only one working in the store and she would have to take my name and number and get back with me.Huge store, no way one employee. When I refused this option, I found myself on hold, for 15 minutes. I hung up and called again, after the phone rang 32 times, someone eventually answered and promptly put me on hold again. Finally, after another 15 minutes, someone else came on the phone with attitude, said that she had the order cancelled. Was not feeling confident at this point, called the bank to cancel. The next day, I called the store again, just to confirm the order indeed had been canceled. No one answered the phone from 10:05 am thru noon, at which time I called the corporate office. NOT ANY BETTER! I was on hold for over twenty minutes before I spoke with two different people. Really??? How hard is this! After a lengthy conversation, she put me on hold to call the Brentwood store, in the mean time, she disconnected our call!!! Do you you think she had enough sense to call back, that would be a NO! This is the absolute worst place and customer service I have ever dealt with. I will never step foot in another Ashley store and I will be spreading the word! Go down the road to Lazy Boy or Signature or just about anywhere, JUST NOT AN ASHLEY STORE
Kristyn Parchman
from Houston, TX
My husband and I recently built a new house and went to Ashley Furniture in Katy TX to buy everything we needed for furniture. Our sales rep, Tim, was very nice while we were there, we picked out a whole bedroom set- dresser, side tables, bed, new mattress, mattress cover, an office desk, and a new living room set, 2 large sofas, 2 end tables, 1 coffee table, 1 8x10 rug. We spent over $8,000 in the store that day on the promise that everything we ordered could be delivered at one time for our move in date. The day comes for our deliveries to be made and we're told that on that day that only the couches are available for delivery. This is NOT what we were told when we were sold the products and we took off the days of delivery from work to make sure we could be home. Since this first incident we have had to wait over 2 months (and counting) for all of our pieces to be delivered, including our rug, which we are STILL WAITING ON, and were never told that the rug was shipped seperately via fedex or UPS (we were told it would ship with the furniture, that we'd be able to see it all together to make sure we like everything in the house, and if not return it for a different product). Your sales rep over promised and under delivered on that promise causing my husband and I to take off countless days from work for various deliveries, and still questioning where our rug is. We still haven't received a tracking number or details on when we should be receiving it.
This is the worst experience I've ever had with a furniture company, and after spending over $8,000 at your store, I would expect better customer service and faster resolutions, or at least some type of compensation/reinbursement for the trouble we've had to go through with all of this.
If someone could reach out to me and explain what's going on, what can be done, and make this right, that would be greatly appreciated.
the manager at 2535 Piedmont Rd NE, Atlanta, GA 30324 Ashley store is really bad. his name is Carlton. VERY UNPROFFESSIONAL. never calls customers back and when I went in the store to tell them about the sofa tear I purchased 10 days ago, he told me he was busy and never helped me. I call other stores in Atlanta ad speak to that stores managers and its a total different experience. . For all you Atlanta residents, test me. call the piedmont store and ask for the manager. Then, call the other stores in Atlanta and ask for a manger. You'll see the difference.
As I sit typing this comment, Ian on hold for the second time, the first time after 4 min. I was disconnected.
I purchased a chair for my 90 year old dad who has a bad back, the salesperson said it would be delivered Friday
July 12, 2019. It was deliver but had no legs, the deliveryman said it would be to weeks before they could get the legs
and ask " Do you want it" ? My dad said no not without legs.
I called the store where we bought it to ask them to give me a credit so I could go buy another chair, the salesperson Alexas
to me no, I would have to come into the store, I explained I lived 2 hours from the store, she said it was store policy.
I ask to speak to the manager, Alexas said "no" he was busy.
I called the Corp. office or Ashely and spoke with Jackie, she that they should have given me a credit over the phone
she gave me a case number and said she would call me back after getting in contact with the store. Jackie did not call me.
I called my bank Wells Fargo and put a stop payment to the chair, they gave me a case number. I thought all was
done. on Saturday July 13, 2019 I went to Bassett furniture store and bought a chair.
On Monday July 15th, I get a text that Ashely was delivering a chair between 1- 4:00. OMG ?
I replied STOP to their text.
I have been on hold now for more than 10 mins. with Ashely.
WHATEVER YOU DO, DON'T BUY FROM THIS HORRIBLE STORE!!!!
When I purchased my entertainment center from the Ashley Home Store in Springfield, Mo. I was told that if I purchased Montage (insurance) and did not use it in 5 yrs that I could redeem the value for additional merchandise. I also made additional purchases from time to time. After five years I used the Montage credit and purchased a rug. On November 28, 2013 I purchased more furniture and the corresponding Montage. On March 13, 2019 I ordered a home office desk chair (2/cn) for $149 item H633-02A) asking to use the Montage credit from the November purchase. On March 15,2019 I was ask to pay $12.15 tax on my order. On March 17, 2019 I was advised that my chair was ready to be picked up. The problem is that since the company has changed computer software and did not keep all of my records they claim that I used my Montage credit 2 years after I purchased it. I was told that this would be impossible because I had to wait the 5 years before it would be available. Someone was supposed to look into this for me but I have heard nothing. I know that the local store staff have been told that since both times my Montage was $169.99 that it must be the same since they don't have all of my purchase records. I am waiting.
Karen Daniel
from Woodbridge, VA
This past week I order a 5 piece bedroom suit which did not include 2 night stands. I order the night stands separately. I paid the charge for set up and delivery which I thought the set up and delivery would be for the 5 pieces since it was sold as a set.I truly understand the night stands being deliver by UPS separately, but to pay $198 for the delivery and set up to attached a mirror that took less than 15 minutes from the time taken off truck until the guys left is totally not acceptable as after placing order seeing that the queen headboard/footboard, rails will be deliver by UPS and the responsibility is on me to pay someone else to put together. I am very disappointed in Ashley Furniture and do not think I will continue to do business with your company if changes are not made to your policies.
Karen Daniel
Order No: 72500218012202
Remford Metoyer
from Los Angeles, CA
I purchased a desk and it took 3 days to get delivered. After delivery and set up I went into my office to set up computers, monitors and printers and the desk fell apart an scarring the wall. This was approximately 30 minutes after the delivery guys had left. I work at home and getting my office set up is a high priority. I called costumer service which I was on hold for 30 minutes before I talked to a live person. I explained to them the problem that I had with the desk and I was told that the delivery guys were to far away to come back and it would be Monday before they could get someone out to take a look. I have furnished 3 homes with your products and never had a problem. Costumer service said they would call me this morning and I haven't received a call yet. I have found this particular product is not up to the standards I have been accustom to and would like to be refunded in full for the purchase of the desk. I can be contacted at 951-232-5840
Disgruntle Costumer
Remford Metoyer
Remford Metoyer
from Los Angeles, CA
I purchased a desk and it took 3 days to get delivered. After delivery and set up I went into my office to set up computers, monitors and printers and the desk fell apart an scarring the wall. This was approximately 30 minutes after the delivery guys had left. I work at home and getting my office set up is a high priority. I called costumer service which I was on hold for 30 minutes before I talked to a live person. I explained to them the problem that I had with the desk and I was told that the delivery guys were to far away to come back and it would be Monday before they could get someone out to take a look. I have furnished 3 homes with your products and never had a problem. Costumer service said they would call me this morning and I haven't received a call yet. I have found this particular product is not up to the standards I have been accustom to and would like to be refunded in full for the purchase of the desk. I can be contacted at 951-232-5840
Disgruntle Costumer
Remford Metoyer
Susan Kellogg
from Converse, TX
This is the second time I have shopped at the location in Live Oak TX. The first time was for a bed that could not be delivered until after the 14 day return policy. The bed was delivered and was damaged during installation. Since it was passed 14 days the store refused to do anything. This time we purchased another bed that was supposed to come with storage draws but instead was delivered with a trundle. We called the store store and they told us they would have the correct item delivered on July 10. We had someone wait at the all day and when no one called or came by, my husband had to go to the store. He spoke to the new manager Jessica and she told him that we could get the piece we wanted after the 14 days. Again if the piece comes in damaged or not at all am I again suck with something I didn't want. Is this a standard sales tactic of your company to make sure your customers don't get their purchases until after the 14 days, this way we have no course of action if there is a problem. I really do not expect a response or resolution for this issue as I feel your company does not care about your customers, but I will be following up this issue with my local better business bureau as well as informing my friends and anyone else who will listen of the poor customer service your company always provides. Remember word of mouth is the best advertising a company can have.
Greetings, on 2/19/19 I purchased Tv stand coralayne/silver and a left/right pier. The left/fight pier the edges rough had a tech to come out name Brandon. He said it was rough as well and could not repair it word of mouth. He wrote the report and I signed it on his phone come to find out he stated no defective. Also when it was delivered may 26 pegs was missing. Now here I am been stuck with entertainment center and my house looks a mess cause they stated they are not replacing it. This is very very very poor customer service and unacceptable since May I am asked for a quick resolution or you can have your company Ashley to come and pick up all their furniture from my house. I went back to the store I know 5 times the display piece doesn't feels like my piece. I have been lied too every since I came in contact with Ashley. Thank Ms Alice M. Allen. 404 825 6432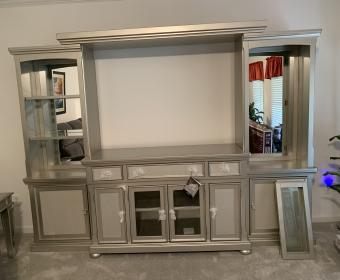 Julienne Chambers
from Chicago, IL
Worst experience ever!!!! Purchased a couch, loveseat, 2 chair 1/2's and a ottoman on 6/7. On 6/26 we get a call from automated system that service will be delivered 6/29 between 2-5. On 6/28 receive a call from a woman that informs me that one of the chair 1/2's and ottoman is on back order. Unable to talk further my husband calls back just to find out that the information provided earlier on the call was incorrect and that neither chair 1/2 or ottoman is in stock so it would be back ordered and won't be available until 7/6. I call the company after he informs me of such and advise them to cancel the 2 chair 1/2's and the ottoman but to deliver what they have. Friday 6/28, I get confirmation from the o'fallon, IL store confirming the cancellation of the 2 chair 1/2's and the ottoman. Saturday 6/29 comes we miss a going away graduation party waiting on furniture. I call at 4:37 just to be told someone rescheduled our delivery until other furniture comes in. Well we canceled that furniture that wasn't in stock. So, who decided to reschedule without letting the buyers know?
Shane Broyles
from Meridian, ID
This company sucks. I ordered a couch that was to be delivered the following week on 6/24/19. On the 6/21/19 I received a text saying that the item was back ordered and would not be ready in time for our delivery date, so that they rescheduled us. Keep in mind my girlfriend already took time off from work to be home when the items were delivered. Now here we are again, on 6/29/19 and the item just got rescheduled AGAIN from 7/2/19 to 7/18/19, and once again, my girlfriend has taken time off from work to be home when these items were supposed to be delivered. We could've payed for half of what we ordered with the wages my girlfriend lost because of these idiots. Fuck Ashley Furniture.
James Dent/Robin Pitts
from Washington D.C., DC
We purchased a recliner and sofa from your Fredericksburg VA location in April or May. We had issues with the recliner, we voiced those complaints two and a weeks after purchase because we were away immediately after delivery. The chair sits cockeyed. A technician came out to inspect the chair. We were not notified our three hour time frame so our entire Saturday was spent waiting. I had to call for our three hour window. The technician came and said it was a manufacturing issue. We told him we wanted a new chair. He gave us the impression that is in fact what was going to happen. We went to the store and choose a different more expensive chair as the replacement, only to find out that they were sending a part to our house, for a technician to come and install. So we set up the appointment and once again did not receive notice of our three hour time frame so the technician was not able to get into our gated community, therefore our chair was not fixed. I called the store on the following Monday was transferred five times to different people when finally the fifth person said they would find out what was going on and return my call. Here it is the following Friday and I just called them. We are very dissatisfied with the service we are receiving. This issue is months old and for a month I have had a three by three foot box setting in my entryway. They are now coming on July sixth, which again throws us into another month. Evidently your company has a lot of complaints if i have to sit for three months to have my chair fixed. I'm not sure what the issue is, but i do know the customer service at your Fredericksburg VA store sucks. I have shopped at Ashley for years and had no issues at all so i know that good customer service does in fact exist at some of your stores, but certainly not your Fredericksburg VA store. I now have an appointment next month. I certainly hope that this issue is resolved. If not I expect nothing less than a new chair. I appreciate your time and look forward to having this issue addressed and resolved.
Sincerely,
Robin Pitts
James Dent
Yesterday part of my furniture arrived, and I have no clue when the other parts of my furniture will arrive. I called customer service and left messages with Emily Simmons with no response. My kids are having to sleep on floor because we removed all old beds from their room. I need answers and I need them ASAP. I have boxes every where due to the fact that they were unable to set up bed set because of missing pieces.
Sonja Coleman
from Milwaukee, WI
HELLO I PURCHASED A SECTIONAL OCTOBER THEY SAID THEY HAD ALL THE PIECES TO THE SECTIONAL I DIDN'T GET MY FURNITURE UNTIL DEC3RD OK AS SOON I GOT THE CUSHIONING STARTED GETTING FLAT THE ARM REST IS CARDBOARD FILLED THE CHASE ARM IS CARDBOARD I SIT DOWN ON MY BACK U HERE LIKE SOMETHING BROKEN OK I CALLED 4 TIMES A REPAIR CAME RIGHT HE SEEN ALL THE PROBLEMS WITH THE FURNITURE 5 DAYS LATER I GET A SHIPMENT OF PILLOWS FOR FURNITURE NONE BODY CAME OR CALLED ME BACK I'M SO FRUSTRATED ABOUT THIS I DIDN'T MAKE PAYMENTS I GAVE THEM CASH MONEY I DONT KNOW WHAT TO SAY OR THING NOW RETURN MY MONEY OR SOMETHING THIS IS WAY OUT OF ORDER MY NUMBER IS 4148402689 SONJA COLEMAN THEY HAVE PICTURES OF THE FURNITURE SIR OM LOST FOR WORDS
Ms Marilyn Blaylock
from Florissant, MO
I had a bad experience with all number most one was 1314-942-1101 will an supervisor call me back for i can go to details about Ashley Furniture because Im going to report to the BBB.
Arin Parthum
from Houston, TX
Tried to return my couches because the color wasn't what they showed when I bought them and they didn't fit in my living room. Went back to the store the next day and pretty much told me I was stuck with them and there was nothing they could do for me.
Anne McGuinness
from Indianapolis, IN
We bought $1500 worth of furniture that was delivered on June 19, 2019. While I was not home during the time it was delivered my father was. One of the pieces delivered was a queen-sized bed and mattress for my daughter. After the delivery people left my daughter noticed a hole in the bottom of her door where the door stop had come completely through to the front side. In addition, the trim was damaged behind the door. We know the delivery people knew it happened as someone had pulled on the door and it ripped the trim from the wall (and the paint that was just professionally done two weeks prior). The door was stuck on the door stop and could not be closed. She sent me pictures and I immediately filed a claim through the guest services email address. I received an email on 6/20/19 that they would reach out to me in 48 business hours to give me the next steps of the claims process. However, after 72 business hours I still had not received any communication. So, I sent an email letting them know I wanted to hear from someone the next day which was 6/25/19. On 6/25/19 I received an email from Ashley saying that the agent was out and I would be contacted by him/her on 6/26/19. June 26 came and went with no communication. I sent yet another email. Just today I received an email from Ashley saying I would hear something within 48 business hours. So, it was just the automated email I first received. Needless to say I wasn't happy, so I called 1-866-787-7930 to inquire why it has been over a week and I haven't heard what I need to do next regarding my claim. I was told the agent is out again today and they will give her my message. This is not acceptable. I have a damaged door that will need to be replaced, repainted, door knob put in, trim re-attached and paint touched up. I understand you a large corporation with thousands of claims, but do not send an email saying I will be contacted within 48 business hours with next steps if it's not going to happen. I have spent too much time dealing with this when it shouldn't have happened at all. I'm a reasonable person, but this is some of the poorest customer service I've ever encountered. Shame on you. You just lost a loyal customer.
Sincerely,
Anne McGuinness
1885 HIllside Drive
Franklin, IN 46131
(317)509-0925
Ordered a rocker recliner; first scheduling was done for a when I would not be home; made numerous phone calls to correct and explain my work schedule so that it was understood..
and I was told noted in my file..
that I would only be home on their delivery days of the week by 1pm. The following week I received a texts, phone calls indicating that they had rescheduled my appointment for the following Tuesday from 8 to 11 am; at this point I've given up & I'm not going to go through more phone calls. If someone was paying attention they would have made sure that the delivery schedulers understood my schedule and planned it accordingly. To add insult to injury when canceling the order I was told that I would have to pay a 10% fee. I disagree since my difficulties in receiving the furniture were related not to my errors but to those of Ashley Furniture. Very doubtful I will ever step foot inside an Ashley store again, much less make a purchase from them...one
very dissatisfied customer!
Christy Chavez
from Long Beach, CA
I have ordered furniture from Ashley Homestore in the past and have been completely satisfied with the furniture and quality I received. I ordered 3 bar stools in store and had them delivered the next day.. Awesome up front service, however I am not pleased with the quality of the barstools I ordered and tried to return them only to find out they don't take returns of any kind. In a world where customer service is put first I feel totally scammed and cheated with the whole experience. I understand the refusal of items that have been in the customers hand for an extended amount of time, but I ordered the stools one day, received the stools the next and wasn't happy and tried to return them but had no luck. It is really disappointing to learn you have no option other than to keep the items even if its not up to quality that you thought you would be getting. I am leaving this review in hopes that if enough people experience the same thing, their policies will change. It's a total disappointment and I feel cheated out of money. I will advise others to not even look at this store as an option to purchase anything.
We ordered a dining set, mattresses, and living room set. On delivery, one end table was broken and our coffee table was not available, so we had to decline delivery of the end table and now wait a month for a new delivery of the new end table and coffee table. Ondelivery day for the tables, the delivery person told me the cocktail table was broken and we now had to wait for a replacement. How is it possible for a huge, experienced furniture company to have such poor results with furniture? They deliver constantly yet they do not ensure the pieces aren't garbage before delivery day? This is unacceptable and very frustrating.
latreva allen
from Washington D.C., DC
Hi,
I recently went to your store in Humble Texas and I was working with an employee that had been there for over 8 years. She showed me several sofa sets and sectionals. Well the sofa set that I wanted wasn't in stock until July 23 she had to find me something else. I could tell she was getting very impatient with me and so she told the Manager Calvin to assist me when i come back because she was frustrated at the fact the sofa sets that I was inquiring about wasn't in and so i was going back in forth trying to find out which item would work for me because everyone that i wanted wasn't available. i feel as though i was given bad service and i feel as though if you don't give good customer service then you may need to find somewhere to work. i have purchase several items from Ashley and i am very frustrated with you all and i am also thinking about canceling my order because of the service i have received when the items i purchase isn't cheap as it is. i want to spend my money at a place i know is going to look out the customer. please have another manager to contact me . Thanks
I wish I could give them 0 stars!!!!!! THEIR Customer service was HORRIBLE and Extremely unprofessional.. THEY need NEW STAFF at the Concord Pike DE location. My husband and I were finishing our purchase order on Saturday and the woman in the finance department gave us an attitude immediately. She got smart with a few of her coworkers as well, one coworker even told her (and I quote) "you are in front of customers shut the F up" that's how bad it was. She told me what my balance was and I handed her my card and I told her this is for my balance, then she entered my card information in the computer printed me copies of the receipts and told me everything was taken care of. Then I received a call the next day, informing me that they never submitted my payment and we have to go back to the store if we want our couches to be ordered. WHAT?????? So, my husband and I had to return back to the store to pay for our furniture that we thought was taken care of the day before. Of course we are disappointed how this transaction was handled. My husband walks in and we met Hector the only professional person in this store, then the manager gets an attitude immediately and tells my husband to keep his voice down when he wasn't speaking loud at all. My husband apologies because we have manners. The NO name manager, he never introduced himself, goes over and pulls up our information as we explained to him how we were treated the day before and Hector agreed with us. While he is reviewing our information, he gives us an attitude and then says very arrogantly "What were you doing today since your time is SOOO Valuable" WOW my chin dropped. I know that's when my husband had enough!! My husband got offended because of the attitude and unnecessary comment from the manager, and my husband tells him "you just gave me an attitude" then the manager FREAKS OUT, gets loud and shouts to my husband "I was going to give you a couple of hundred off but since you don't want to tell me what you were doing I'm not helping you." My husband apologies again and tells the manager "I work 60 hours in 4 days, I have little time to get ready for a family event, so my time is very valuable to me" Then the manager insist that this was my husband fault and runs from behind the counter and gets in my husband face to the point that my husband has to stepped back. He was trying to intimidate my husband. He tells the manager sir you need to get out of my face. The manager did not step back and continued to point in my husbands face. The manager yells at us your order is now cancelled and tries to kicks out of the store, but I stayed and asked him to please provide me with a canceled order receipt. The manager yells at us again GET OUT of the store I explained to him that I was not leaving until he provides me with a receipt that shows that my order was cancelled. I do not trust him at this point. The manager then RUNS out of the store to go smoke a cigarette and then gets in his vehicle and leaves, meanwhile I'm waiting for my cancellation receipt. We finally received it and I asked the woman what the managers name was and she said NO that she was not giving us his name, then co-worker said you are not getting any names. That's insane NO ONE was wearing name tags... PLEASE DON'T GO TO THIS STORE, I WILL GO TO headquarters with this no one should go through this experience while shopping in their store for furniture and spending thousands of dollars. I really thought that my husbands was going to get hit by this manager. The only positive thing that came from this was that we saved thousands going to Raymour and Flanigan after this experience and bought a better sectional.
Gloria Manazer
from Somerset, NJ
I was told that I could have a partial shipment, and I could have the partial delivered on Saturday, June 8th. I called on Friday, June 7th and left a message for Kim in DC no call back. Spoke with her on Saturday, she was going to have DC manager call me, no call. Called the store and spoke with the person who did my sale, 3 hours later, she called back and said it wouldn't be here until the 18th. Called and asked for Store Manager in Myrtle Beach, and he was busy. My son and I are sleeping on the floor. I had even offered to pick it up with no one answering back. We just moved into a new home, I bought a kitchen set a year or two ago and had problems as well. This will be the final time I order from Ashley; even though I have two more rooms I was going to purchase product from your store. No, I will go elsewhere!
dawn M roland
from Cookeville, TN
My tables delivered with Mark's. Filled in with black marker, TABLE IS GREY.delivery driver did it and called service. 1 chair with crack, 1 missing button on other. Garage sale appearance . Customer service just goes around n round service dates? They dont show up
Jane Thompson
from Azusa, CA
I bought a sofa table and they didn't call me to check out what day I wanted it delivered. They took it upon their own date, when they told me of the date. I called them right away to say I had a Dr appt that morning and could they come in the afternoon they said NO their can't be any change. This Dr appt was set 5 months. So I called the Dr to change my time and now I have an appt in Oct. this delivery was a nightmare the piece of furniture was damaged and now I have a date in a week to get it redelivered. I guarantee you I will not purchase anything else from your company unless you make this right
My wife and I purchased a sofa set on 5/7/19 it was delivered on 5/17/19. My wife called the store on 5/19/19 and spoke with someone from the store and told them that we weren't happy with the sofa set and they said they would call us right back but no one ever called.So the following day my wife called back and spoke with the manager Maria and she said that there wasn't anything that she could do, I have two Herniated disk in my back and this sofa set is really causing me a lot of pain. My wife explain to them that we wanted to upgrade the sulfur to a more soft the one But they insist that there was nothing they can do very disappointed with Ashley furniture.
I went into Bloomington, IL store and bought sofa item #1200038 $299.00, and mattress item #M72731$269,00. It specifically states online there is free shipping. The store manager stated that the sofa ships for free but the mattress shipping was $60.00 that it didn't say it was free shipping online. The whole problem with this is I am buying this not for myself but a member of my church who going through a rough time and is in need of these items. I just feel awful and have lost all respect for honesty in people. This will not stop here, this will be passed on if this problem is not resolved. I don't even want the money I want the person who straight up lied held accountable. I hope this issue will not be ignored because I guarantee it wont be on my end.
Monique
from Mount Vernon, NY
Ashley furniture is a fraud!!! I purchased furniture the sales person said, l had six months no interest to pay it off. I get my first bill, l see interest on the bill. I contacted customer services, l went back to the store and spoke with a manager, repeat. To be told the sales person made a mistake and for that he was fired, yet, l am still paying interest. It's been one month, l am still dealing with the same issue. Oh, to top it off the furniture is still wrapped in its original plastic. The moving people never put it together. It was my worst experience purchasing anything from this store. I will go back to bobs furniture!! A very angry customer.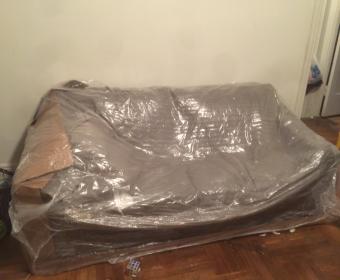 I recently purchased my queen size bed at Ashley furniture store in Montclair. The sales person name was Lorraine. Very bad service from the very first start. No customer service experience. Was not a sale experience, but I decided to proceed and buy my bed here anyway.
I received the wrong foundation it was the wrong size. They refuse to exchange it even though it was the sales person mistake.
I honestly will never buy anything from there again. I spend over 1,000 in credit and this is how they take care of there new customers. Wow.
No wim stuck with a bed I didnt want and they told me I had to purchase a new foundation board if that's not the one I like. Seriously.
Momi Knight
from Bedminster, NJ
I wish I could give this place 0 star... when We stopped by around 2 pm. There are 5,6 sales peoples there not doing anything and only few customer was there. 2 sales associate was helping customer at that time.while We looking around, one associate walk by and she told us items are 50% off and left. She didn't give us other info but she was with other customer so we kept looking around. She walk by again while later and she asked me if we have any question, I told her I'm fine right now because we were still looking. Other associates were not even greeting us. Felt like they were ignoring us or no interest to sale anything at this whole time. Me and my husband were joking about they must not commission base. (There are no engagement with customer at all) Anyway. So when we found one, I want to talk to the lady who told us about 50%off sale because she was only associate said something about it. But I couldn't find her at that moment so when other associate come close I was going to ask question but he came to ask about our business and want to get our business card! (We were wearing jacket that has our business logo on it) and after he get it he left... there are no "Do you have any question?" Or "Did you find anything?" ... nothing.... before I want to say something he was gone... then finally When I found her, I asked question and she told me again that items are 50% off not much other info And she said I'll be back after help someone else. We said ok and waited about 20min. She never came back so I looked over where I thought she was and I found that she was just chatting with one of associate. Few other associates come by while we were waiting but didn't even looked at us. We started frustrated so we left! We were little upset about how they were but we really liked that items so decide to get it in next day. Went back at 10am. Different associate was there and greeted us. And we asked about 50%off. Then he told me that was just yesterday 12 hours deal. And he said they should mention that yesterday to everybody. Well.. they didn't say anything about yesterday 12 hours only !!!!! I told him how it went yesterday. He kept saying " if there were busy" ... no. It wasn't busy at all. But also he didn't even try to do anything about it. Im not saying give us same deal but was not our fault we missed sale. I work retail I know customer service. Even you might know nothing you can do.. try to do something. Show customer you care. This make me mad not only one day but two days! Worst customer service ever!!!!!
Lisa Dumont
from Oakland, NJ
The furnature I received looks like aweful plastic. I am a long time customer and they will not exchange even if I buy something else. Shameful. Its stealing money from customers. And I was not told about the no return policy.
So, the Ashley furniture store in Mount Juliet, Tennessee disgraces Ashley furniture all together! I have shopped at Ashley's furniture for years. The Ashley furniture store in Mount Juliet, Tennessee is the most disgraceful store I have ever shopped at! Their belief is they would rather steal money from their customers than to be honest. They ignore you when you call, even when you ask for a miniature. You wait for an hour and call back and get another response that the manager is meeting with personal friends and family and I would just have to wait! Then when I finally call another time 20 minutes before they close I get the recording that they are closed for the evening even though they close at 9 p.m.! Why is this happening within the Ashley stores? I may never shop Ashley furnitures store ever again, even after I've spent over $100,000 at your stores. I will not be robbed intentionally, from your stores. You may call me at (629) 867-8909 or email me at 987 at dale.porter987@gmail.com
We ordered a dining room set back on 2-23-2019. 8 wks later we got part of it. We called 8 times with a promise for the sales representative to call us back. Or Representative name was Spicer.Sales ASSOCIATE 206.We have never Experience people like this before. Never call you back promise you a delivery of six weeks get just part of it eight weeks later. We are going on the 14th week still no chairs etc. This place needs to be managed differently for it is building a terrible name here in Savannah Georgia! experience people like this before. Never call you back promise you a delivery of six weeks get just part of it eight weeks later. We are going on the 14th week still no chairs etc. This place needs to be managed differently for it is building a terrible name here in Savannah Georgia !! It's under the name of Tammy Nobles. We will never buy from Ashley's again!! They missed out on a lot of other furniture that we were looking for. Took our business elsewhere!!
ralph diaz
from The Bronx, NY
bad experience with the baychester store was told that the delivery will be btw 3-7pm they never called to say if they will make it or run late. I called them they put me on hold for 30 mins.i got a call at 8pm from driver that he will be here in 30 mins. he never show up.very discusted I will never ever shop at ashely and I will tell all my friends to stay away
I bought at dining set for 1400.00
It was delivered damaged
I tried to call customer service after waiting for 45 min I was told they cant help me
I went back into the store where the store manager told me that my problem was 1st world and that I needed to go put some makeup on. She refused to give me her card or her managers info.
I bought a silver chill firm mattress on 4/20/19. It was delivered on 5/2/19. Around 2:00 o'clock am 5/3/19, I was awaken to a very strong odor and realized it was coming from the mattress and the odor was in my apt. , every room. I called Ashley around 10 am and couldn't get anyone, when they finally answered the phone and I explained the situation, I was told to call 866-787-7930. I explained the odor was so strong it gave me a headache and if someone could come and examine the mattress. I was given the run around and told they could not do anything probably until Monday or possibly Tuesday. I am a senior citizen with a disease called fibromyalgia as well as arthritis. I have no place else to go and can't sleep in my bed because of the strong odor from the mattress. It amazes me how they can charm you when they want your business and get it, but when something is wrong with your product you're put on the back burner. Shame on you Ashley, God don't like ugly. I like to thank Shadine for trying to help, the supervisor wouldn't even take the time to talk with me or even call me back. I won't be recommending Ashley or dealing with them again.
We purchased 8 dining chairs from the Ashley Homestore in Snelville, GA. They were from a catalog the salesperson showed us and we could not feel the quality of the chairs before purchasing.
On delivery of the chairs we found they all had not been sanded down properly and had splinters and chipping in many places. We called the store right away and they said they would send a technician to asses it. The date they gave us was about ten days later.
The tech arrived and took many pictures and said there were too many areas that needed sanding but apparently he had to write in his report that he offered and we declined to sand it right there in my dining room. I said I am not declining to have it corrected but it must be done somewhere in their premises. He did his report and left and when it was emailed to me I saw that he actually wrote that he offered to sand it "but customer declined" and now the store is refusing to act further on it.
This is terrible customer service by Ashley Home Furniture in Snelville. I seem to be stuck with furniture that is splintering and is likely to hurt us but they do not want to do anything to remedy it.
I purchase a living room suit and a comfortable suit on the 4th the 8th delivery date 4th to 14th paid cash for my purchase was told my delivery will be delivered on the 4th the 27th that's my coffee table no one called me and told me that it would not be delivered on the 27th that's what I was promised when I contact them they told me that they were behind on delivery not my fault contact me that's a logical thing to do so I paid 119 for tables that not being delivered on time with someone please call me I was told I had to wait to Wednesday for my delivery it's not fair I don't appreciate it please give me a call 904-662-7055 thank you
My wife and I just purchased a recliner sofa set from Ashley Furniture in Gonzales Louisiana. On the sofa recliner we noticed it was uneven; we took pictures and took it to our salesperson (Sandy) she was very professional and pleasant and told us it would be replaced; however we needed to call back the next day to speak to (Erica) in customer service at the store. We did exactly as instructed; we spoke to Erica and she was to return our call to get things set up for the exchange. However a person name Reggie called back; he stated he looked at the sofa pictures and implied that due to us sitting on the sofa was the reason for the unevenness; we explained to him no one had been sitting on the sofa because we had just gotten it. He became very unprofessional and rude to my wife and stated "he don't recommend another sofa because it would be the same problem and we would be stuck with it and they could not change it out again even if the replacement was received in the same condition. He then stated let's cut the bull of the he say she say" this was after my wife said to him if we sit on this sofa it is likely to become uneven; but this did not happen to the one on display in the store. She told Reggie we came back into the store to buy a power pack and we examined the display model and it was not uneven. Reggie was very rude and disrespectful to my wife. I don't appreciate her being treated in this manner. We have purchased and been customers of Ashley Furniture for years; and this is the first time we were treated in such a disrespectful manner. I would like to have Reggie reprimanded and we would like some type of compensation to accommodate the disrespect and poor customer service he displayed to us If you want further contact we can be reached at 225 673 3018 or 225 978 4706
Jodie Pass & Deopra Clayton
Good Afternoon,
A bedroom set purchase was made back in September 2018. In December 2018 a call was made to the protective plan purchased through Ashley's Furniture about a leg that supported the rail breaking. The representative advised that the leg and the wood planks on the rail was not supported under the plan. On April 21,2019 the left side of the bed collapsed, leaving one side standing the another side on the floor. On 4/22/2019 the customer service for the protective plan was called, as well as the customer service from Ashley's Furniture. We were told to take pictures of the bed along with the serial number, and once reviewed it would take up to 5-7 days for the parts to be ordered, then they (Ashley's) would set up a day the bed can be swapped out. I advised the representative of the predicament we were placed in relating to not having a bed to sleep, and was told that we had to come up with other alternatives. On Wednesday we called back, to see if the pictures were submitted, just to be told, that they had a 72hrs window to review and respond and submit a claim. Today we were called back and asked the type of frame the bed had (although a serial number was supplied), which delayed the processing of the paperwork. In addition we were advised that this process can take up to 3 to 5 business days, and we would have to wait for a call to see when the swap can take place. The bedroom set with the mattress ordered, cost over $7000.00. We were treated as royalty when we were in Ashley's looking for bedroom furniture, and after the purchase we are being treated like feces. I would never ever purchase anything from this store again, and advise everyone reviewing this message to stay away from any purchases from this company. All they want is your name on the dotted line, along with the monies associated. Once that take place, you are treated unfairly! Shame on you Ashley Furniture!!!!!
Have feedback for Ashley Furniture?
Thanks for your feedback!
Sorry. Please try again later!