Hampton Inn
Hampton Inn Complaints Continued... (Page 4)
333+ reviews added so far. Upset? Call Hampton Inn corporate: 1-800-HAMPTON

I stayed at the Hampton Inn in Chesterfield, Michigan on New Year's Eve and had a little bit of an unpleasant stay. The guests on our floor were rude and being loud all night – I realized that it was New Years Eve but at 3:30 in the morning, it was time for bed. The hotel staff did nothing to rectify this issue. Finally and more unbelievable to me was the fact that the next day, I found two different credit card charges totaling $50 on my credit card.
When I called the hotel, they basically informed me that this was for "incidentals" and were rather rude about it and said the charges would drop off in 2 days. When I checked in, the staff told me they needed a credit card for "incidentals" and did not inform me that my card would be charged $50. I would assume that meant in case I destroyed something, then I would have been charged.
This is something that really should be disclosed at the time you check in and obviously people are going to call about it after the fact. I don't think the staff should be rude either when you do call. Its your or their policy not mine. Needless to say, I got probably 3 hours of sleep because of all the commotion.

I was planning a surprise night for my fiance's 24th birthday & i thought the Hampton would be a wonderful spot because it was so beautiful , i was wrong !
Before i booked my room , i asked them directly " do i need a credit card to book a room " they replied " no " so i booked " 1 king suit whirlpool " a week later i get a call from The Hampton Inn saying " you can not book this room because you need a credit card for this type of room " so i had to change my plans because i didnt want to use my fiance card because its a surprise . so i got a " king studio suit "
When i booked in on 12/31/12 , they asked me when i wanted my romance package set up , i said 6:30 because i have dinner plans for 6:00 & i would like it to be there for when my fiance & I come back .
when we got back at 8:00 , i had him blind folded to see the surprise , when i got to the room , NOTHING was set up ! it was very upsetting , because i wanted it done for him at 6:30 . i then called down to the front desk & she seemed very ungrateful , " yeah it will be right up " she said to me ! 30 MINUTES later a woman comes to my room and hands me champagne & it was SO WARM when i opened it , i had to put the champagne in EVERY glass i could fine & put it into my mini fridge .
Had to wait at least and hour before i could start my night . Then children were running all around the halls screaming which i did no mind because it was only 10:00 , but as the night went on i could not sleep & called down & they said they'd get right on that but did not !
I then rented a movie on the television , & the end got cut off because the fire alarms went off because people were smoking in the hall way on floor 4 ! ( i thought they had secretory for that reason ? ) , so we had to wait outside for about 30 minutes to 1 hour & now my fiance is sick !
Also before i booked the romance package a woman told me included was champagne , chocolates & flowers . i NEVER did receive flowers . Before i checked out there is a plaque saying if im not 100 % satisfied with my stay i dont pay , well i told her and she held out her hand as if to say pay and leave .
Every thing that went wrong caused my surprise to my fiance to FAIL & make my night miserable & everything went wrong on the Hampton Inn's part .
1) they did not set my room up for 6:30n like i ASKED it was done at 8;30 with WARM champagne
2) they were rude and unwelcoming
3) i got false information on the package i purchased
4) i did not finish my movie i BOUGHT because alarms went off for smoking in the building
5) i did not sleep at all because of loud children in the halls ( which i complained about )
6 ) when i checked out they did not care about my satisfaction , they wanted my money and wanted us gone.
I paid a total of : 220.33$ & i do have my receipt & i do want my money back because it said on the plaque on the door , " if your not 100% satisfied you dont pay " well i was not & when i was there they did not follow that rule & did not care . I would not come back again , & i do NOT recommend ANYONE to go .
The Hampton Inn i went to was in Moncton , NB the address is
700 Mapleton Road , Moncton , NB , E1G 0L7
Phone # : 506-855-4819 Fax # : 506-855-8702

I work for FEMA and when I checked in to Hampton Inn 10-20-11 located Hershey, PA. I gave the desk clerk a tax exempt form for the state of Pennsylvania, The next morning when I checked out I notce that the taxes had not been removed from my check out receipt. I asked the desk clerk, could she look for the form that were submitted for tax exemption, which she did, but stated that she could not remove the tax, because her Manager was not there. She than made a call to her manager; and were told that she could only remove the County room tax but not the state tax.
I informed the clerk that I need 0 balance with the correct pricing on the receipt, which she said that she could not provide.The clerk wanted me to leave with a inconplete receipt and stated that her manager would e mail me if correction needed to be made. I finally decided that i would pay for the taxes and went to turn my key in. That manager just walked in and did give me my 0 balance. This was very stressful in a stressful situation because no one was availble that was knowlegable of dealing with matters like this. I have always enjoyed staying at Hampton Inn, but this is far the worse encounter that I have experience at any Hotel.

I by mistake booked a advance reservation online. The day before we were traveling I realized after a call to the hotel I had made the reservation on the wrong date. Don't know how this happened but it did. The hotel had a room on the night we needed it but would not let me change the reservation to that date. I have talked to numerous people and it is the same run around, they frankly could care less about my problem, offer no solution, no help and I am out of $108.00 that I did not have to lose. I have never been treated so badly by any company, the unconcern is unbelievable. I will never ever stay at a Hampton Inn and will advise anyone I can to never stay with this chain of hotels.
They don't care about their customers!

I made an advanced reservation at Hampton Inn. On the day of arrival a snow storm had closed the major interstate highway (I-80) forcing me to cancel my reservation. I asked for a refund and was told "no refunds". I tried to explain that due to conditions beyond my control (snow storm), I had to cancel my reservation and requested a refund. The "advanced reservation" department was extremely rude, unhelpful and could care less about my situation. I asked if the $158 dollars could be used towards a future reservation at Hampton Inn. I was told "no, that's not possible". I am out $158 dollars. I will never stay at Hampton Inn. I am going to recommend that that no one from my place of employment (1,500 employees) ever stay at Hampton Inn as well.

I stayed at the Alexandria VA Hampton Inn (1616 King St) from 3/27/13 to 3/30/13. Upon checking in a person who appeared to be homeless was sleeping in the lobby. Each morning people came off the street, put breakfast items in their pockets and left. One morning I went into the unlocked lobby restroom and a man was in there washing. Another time a barefooted man came in to raid the breakfast bar. When I complained to the desk clerk she wouldn't do anything about these people and seemed not to be concerned. At $250 per night I expect more security and don't want non guests hanging around the breakfast bar and lobby. I have never experienced this in over 40 years of staying in hotels.

We checked into the Hampton inn in Newberry, SC. We were so disappointed! First no MSNBC on the tv. Then we could not access the Internet on our own iPad or the hotels computer. That happens sometimes we were told. Going into the bathroom we noticed mold around the bathtub and the last straw was when my husband killed a big roach in the bathroom ! The desk clerk made no apologies and we left! We have always been happy with Hampton Inn and look for them as we travel. We were very unhappy with this one and will look elsewhere in the future.
Linda Roberts

Checked in and out within hours due to bedbugs in room. I was told by the clerk that there were no other rooms available so if I choose not to stay they couldn't help me. I was truly out done, who wants to choose to stay in a room with bedbugs. It was explained to me that i would not be charged money woukd gi back on my card in about five days. i stated i understand what you are saying but coukd you pkease give me something in writing staring i wont be charged. she said she couldnt provide me we such. i told her tgat im traveling from out of town and do t want ti fet hone and never see my money and have no proof but a picture of the bugs.
Another toung lady started her shift and helped with tge matter...but still didt want to document no charge. i had to literally act loke a fool and threaten to knock on every doir and inform tgem of bedbugs in the facility. Then she made the notation, after to long if going backwards and forward. So, being without hotel money to stay anywhere else if i wanted to...i had to travel back home to baltimore from nc. I was out raged. I was told the manager couldn't be reached over tge weekend. Not only do I want my money back, but want a complimentary stay at a location where I feel comfortable.

We were extremely disappointed with our stay at the Hampton Inn at Tarpons Inn, Florida. We had to ask to change our first room because of the smell of cigarette smoke in the room. The staff was very accommodating and changed our room. We were not happy with our second room because it was 1) dirty; 2) wall paper was peeling off the wall; 3) coffee machine dirty; 4) upholstery on the chair was stained and dirty; 5) mold on the ice machine; 6) broken tile; 7) no hot water at lavatory sink; 8) disable bar was broken; and 9) bad lighting in bathroom. I took pictures evidencing the aforementioned conditions. I am a Hilton Honors Award member and never stayed at a Hampton Inn where I encountered these conditions. Please do not hesitate to contact me.

I made a previous complaint, had no idea it would be posted actually thought it was going to the complaint department. Also, thought I deleted it due to numerous typos. But, the fact still remains that it was the worst experience ever.
 

I made reservation to stay at the hampton Inn in Manhattan, kansas two weeks ago for my businees trip for the federal government. Upon arriving to my businees that I was investigating I found a Marriot right across the street from the company. Having to work their two days and long hours I went to the Marriot and asked them of room availability, and they had one available. I asked the clerk to give me the phone njumber of the Hampton Inn in Manhattan, Kansas so I could try to cancel.
I received the phone number from the clerk and called the HJampton Inn in Manhattan. I was advised by the desk clerk that the hotel was not sold out and that I would be charged since I did not give a 24 hour notification. The clerk also told me to call back because if the hampton could sell my ropom I would not be charged. JUpon completing my appointment for the day I returned to the Marriot and inquired again about a room for the evening . The clerk (a new person) said one was available, and I again asked for the Hampton Inn's phone number in Manhattan, Kansas. the clerk from the Marriot gave me a phone number and I called waht I thought was the hampton Inn in Manhattan, kansas. a clerk answered the phone and I advised her that I had made reservations and wanted to cancel if my room could be sold.
The clerk stated that she could not find my name in the log book, and she further stated that because she couldn't find my name that the reservation must have been cancelled. So at that time I accepted a room at the Marriot Hotel. After dinner that evening I called agaion to the Hampton Inn and found out that my reservations had not been cancelled and that the clerk at the Marriot had given me the wrong number, and that the number she gave me was for the local Hamption in Junction City, Kansas. the clerk that told me my reservations were cancelled was Ashley. Now I am stuck with two hotel bills for the same nite, and it looks like I tried to commit fraud to the federal government, as my government credit card shows two hotel bills for the same nite. I asked the manager for the Hampton Inn in Manhattan that since I was being charged could I stay at the hotel.

After traveling over 7 hours with three small children on our first vacation in 10 years, (the best I could manage was 2 days off) we arrived at the Hampton Inn in Arcata CA with which we had made reservations 4 months ahead of time, only to be told that our room had been given away 45 minutes prior because there was something wrong with the card number in their file. They called our home, obviously to no answer due to fact that it was 400 miles away and we were driving.
By now I have a wife and three kids crying in the car with nowhere to go and the only thing offered is the number to some no name roach motel. The only reason we were going to stay there was because they have been decent in the past. It is a full hour away from anything we had planned on doing on our short visit. They haven't offered to do anything to make it right. The 10 year old looking desk jockey had the power and authority to ruin our weekend but none whatsoever when it came to saving it. I'll definitely not use a Hampton owned business again if this is their policy towards customers and families.

We are an honor member and we have stayed at several of your other chains of hotels including the Hampton Inn. Are experience has always been pleasant and rooms in the past have always been neat and clean. In our most recent stay at the Camarillo, California Hampton Inn our visit was not pleasurable. The Hotel is under construction the whole first floor was stripped of all furniture and construction workers were in most of the rooms hanging wall paper. This is the way we had to enter the building to get to our room on the 3rd floor. The hotel is in dire need of a renovation and should not be open to the public during the renovation.
The comforter in the room looked like it had been washed repeatly and the was extremely lumpy the bed was hard and uncomfortable. Had we known the condition of this hotel we would havc selected another hotel in the area but we have always had such a nice experience in the past. The cost of the room was $143.60 plus another $25.00 our confirmation number is 85089388 we would really appreciate being reimbursed for the the expenses incurred.

When I checked in on the 23 of jan. the lady at the front desk was very nice. When I got to the room on the 5 th floor thought that was nice. In the room there was no safe. I have iPad cash other valuables I wanted To put in the safe while at the mecum action.the wi fi only works in half of the room not at the desk. First night was fine but second day when back to the room from dinner the key did not work. Went down and The girl ran it through the machine and I went back up.
Still not working. Noticed the phone by the elevator So tried to call down to the front desk but no answer so back down again. Girl said I will call matinance I went Back up but no one. Getting frustrated so called again and this time she answered and said the same thing. He will be up. Finally he got the door opened.

We booked 2 rooms for arrival 02/28/13-departing 03/02/13, one for my wife and I another a friend (who paid for there 1 room ) while were to pay for the other (1) room. when we received our cred card statement we found that we were charged for 2 extra days that we were not there for, to the amount of 268.94. We have left a number of messages to a Kimberly Newsome who we were told by calling the number 912-721-3700 that she was part of the H.R. and accounting department.
The phone number that we were given is 912-721-51711, our calls were NEVER returned, and requesting to talk with the hotel manager it seems they were always in a meeting and also to busy to return our calls. We find this type of service to paying customers very unsatisfactory, discourteous , and unprofessional and will never recommend or use Hampton Inn and Suites again. The Inn that we used is, Hampton Inn and Suites 20 Johnston St. Savanna Ga. 31405.

I had trouble with internet and your workers made me feel I was putting them out by asking for assistance. I ended up using my phone hot spot to transfer info to my main office. Then I noticed these employees used all the disability parking spaces for their personal veichles. My stay was last tu through fri at Pueblo, Colorado North Hampton Inn. My comments is not intended to receive anything from the Inn. dMy intent is to make a better stay for others.

I made an online reservation at the Beaufort, SC Hampton Inn for September 26th which was not honored upon my arrival. This reservation was one of twenty online reservations I made for a bicycle trip I did with a friend which took us from NJ to Florida. Along the way, where it was possible I stayed at Hampton Inns (totalling seven). I mention this for two reasons...first, to make it known that Hampton Inns are my hotel of choice and second, to make it known that I know exactly how to make a reservation.
It should be noted at this time that I had special circumstances which caused me to not only use the online tools but also caused me to contact the hotel's desk at the same time I made the reservation. The reason for this occurred because of the bicycle trip. My friend and I did this trip largely unsupported but there was a time frame between 9/21 and 9/28 where we were accompanied by a third person. The very first reservation I made went like this...I found a suitable hotel in route. Before completing the process online I contacted the hotel's desk and asked the following questions. I asked if it was possible to put a rollaway bed in the room and what the cost would be? When I was satisfied with the answer I asked the desk person how do I make this special request online? She said you can't, but go ahead and complete the process and then call me back with your confirmation number.
It was a simple and practical approach to ensure that both the hotel and myself were on the same page. Therefore, I used the same process for the entire duration that a third person was in play. I also put the request in the comment section as an added reminder. Each desk person told me they would make the entry in their comment file as well and added that the rollaway bed would placed in the room prior to our arrival. That is exactly what occurred in each instance until we arrived at the Beaufort, SC Hampton Inn.
After pedaling from Charleston, SC we arrived and were told they could not accomodate this request. I said, "how can you not accomodate us when it was agreed upon weeks earlier"? A Ms. Brittingham informed me that it was impossible that any such agreement could have been made as no one there would have allowed that arrangement to be made. She added that Fire codes do not permit a rollaway bed to be placed in their rooms. I asked why I would be told to go ahead and make the resevation and why would they make the notes in their system and tell me that it was something they could accomodate? Her response was that I never made any such phone call stopping just short of telling me I was lying. When I pushed the issue about making contact with the desk she then informed me that her records indicated no call was ever received from my telephone number and that I must be mistaken.Ironically enough I have an email confirmation from them acknowledging the request was made clearly evidencing they documented receiving it. I think it is Ms. Brittingham, nasty attitude and all that is mistaken. What she didn't know is that I am a Comcast Triple Play subscriber. Among the services they provide is telephone. The really great and unique thing about their phone service is their online record keeping regarding the phone calls I make and receive. It's funny that Ms. Brittingham emphatically denies that I ever made the call in question and that her records belie my assertions that I did when I have phone records proving that I did. I would be very happy to provide this documentation along with the email from them acknowledging receipt of my request.
At any rate, as this conversation was taking place it apparenlty was at the end of Ms. Brittingham's shift and she departed leaving me and my group and the young lady at the desk in an unresolved situation. I then pressed the new desk person for answers and help. I informed her that only a couple days earlier we had the very same resevation at the Myrtle Beach Hampton Inn and the said nothing about Fire Codes. She said look I cannot do it Ms. Brittingham told me very clearly that I was not permitted to help you. Now this left us and the this young lady in a very vulnerable position. I believe she wanted to help us but her job would be in jeopardy if she did. We, on the other hand were told we had no room after pedaling more than 70 miles from Charleston.
Fortunately, although this young lady was not permitted to help us at the Hampton Inn she nevertheless went above and beyond by calling around to the Fairfield Inn and eventually got us a room at the Holiday Inn. I was very upset to say the least and until I calmed down I have to tell you it brought into question any future loyalty I may show toward Hampton Inn. I just couldn't believe I could have a confirmation number and documentation supporting my assertions that I agreed upon accomodations and yet an employee could disregard all that and essentially call me a liar. Furthermore,I just couldn't believe the Corporation offers no avenue for recourse. It was like sorry buddy it's your problem not ours. If that is your policy please let me know, but if it's not I would like to know how you can fix this.
Thank you for listening

We had 2 rooms booked with Hampton Inn Jan.11th, 2012 at Hampton Inn in Savannah, Ga.confirmation no. 111125481380. Our guests cancelled on us Jan. 4th..We called the hotel to try to cancel that one room and was told we could not because we had booked online..so my husband understood that situation and asked to change that room for Sat. night so we could show our two granddaughters around Savannah the next day, as we were their on business for the Fruit and Vegetable Conference at the convention center...we were told that they could not do that, the company we booked with was unwilling to do this for us and Hampton Inn in Savannah was unwilling..my question is....
Why could we not have stayed another night...Hampton Inn was paid for the Friday night regardless of who we booked with & the room was NOT used..I don't understand why the room was not interchangeable for the next night, if they had a vacant room...please explain..We stayed at this hotel last year during the conference and were pleased but this experience has been difficult to understand...

Check in hampton alexandria old town south virginia the room had stink begs in room call ed front desk they send up a guy to spraay during the night I had to get up and kill some of the bugs too late to move to another room plus driving all day I exped the general manager to call. Its 4 days pass no reply

The gentlemen who was working the front desk, David, was the most unfriendly worker I have ever met at a Hampton Inn. He did not seem to be very good at his costumer service, and seemed to 'huff and puff' at any question I had for him. I felt like I was putting him out just with simple questions. It looked as though he was making 'key cards' when we arrived, and he didn't acknowledge us for a few moments, and when we did it seemed like we were a bother.
Then later I asked if we could get a childs crib/playpen brought to our room, and he just said very abruptly, "well I'll have to go see if we have one available" and just walked away, then a minute later he came back through the lobby, and I asked if I should wait, or go to the room, to which he said, 'no just go back to your room, if I find one, I'll bring it" again very abruptly..., it just didn't seem appropriate. Then the last thing was in the evening I brought my son downstairs to get a little cup of hot chocolate before bed, and as I was looking to see if they had hot water I only saw coffee, so I turned around and asked David if there was any hot water.
He did not even look up at me.., a few seconds went past and then he just walked away..., this was bothersome to me, and I thought maybe for a minute that he possibly didn't hear me, but then he re-appeared with a container of hot water, walked up by us and set it down next to the coffee rather abruptly, again without saying anything, then went back to his desk. I don't feel like I was being overly needy, and I don't feel like the things I was asking him should have bothered him that much. I stay at Hampton Inn's almost anytime I travel and I must say that I love all of my experiences, but this one really set me back.
Not to mention that it was on Valentines Day, and I was hoping to have a romantic evening with my wife, and then to be met with this gentleman and his attitude kind of ruined the night. We used our Hilton Honors points to set up this free stay, but I must say that everything was pretty well ruined by this experience, and I would like to have some free vouchers or something to stay another night at another Hampton Inn. I know Hampton Inn has their 100% Guarentee, and I would normally never ask for this (and I never have had to ask for this,) but I feel like this time warrents asking for some type of refund. And I think someone should definitely talk with David at the Richmond Southwest Virginia Hull Street Hampton Inn about his Customer Service Skills.

Helen Posey
from Columbia, SC
I recently stayed at the Hampton Inn buckhead in Atlanta GA. I have never had any issues with any Hampton Inn in the past. I was there training for a new job. The first room I had the bed was horrible and was lumpy and just unfit to sleep on. After I had been in that room for several days I noticed there was black mold coming through the Sheetrock in the bathroom ceiling. This explains why when I walked into the room I immediately started sneezing since I am allergic. On the Friday I was there the fire alarms went off every 5 - 10 minutes for over 2 hours. Another person attending the training found a roach in her bed. When they moved me to a new room the toilet was so close to the wall you could not flush the toilet. I had to take one finger go underneath the handle and flip it up to flush.
I called to the front desk to ask for the address of the hotel and very rudely I was asked do you not see it on the phone? I explained to them that other than the buttons on the phone there was nothing. Instead of the normal cover telling you how to call room to ro or the front desk I could see the circuit board in the phone. I used the shuttle service once to go to lunch on the weekend. When I called for a pickup from the restaurant I was put on terminal hold and I ended up hanging up and calling back and they answered immediately that time. I was very disappointed with this Hampton Inn since I have always experienced awesome stays at any other Hampton Inn

Harold OCana
from Austin, TX
When I booked the Hampton Inn at 46280 north I-94 service drive Belleville, MI. They posted that water would be turned for service and that it would short and a speedy return of service. Water was turned off at 10 am. It is now 6:30pm and still no insight when water will be turned on. My Hilton # is 962575335. This is disgusting and a complete lack of confidence in management. I spoke to the manager at 1 and 3 and was told it would be shortly. Apparently she has no clue!!!! Typical blond with dark roots.....

Originally sent my complaint letter on paper, to this address. I have not received any form of reply. Hampton Inn Corporate Office Headquarters, Hilton Worldwide, Inc. 7930 Jones Branch Drive, McLean, Virginia 22102 USA March 13, 2014.
Dear Customer Support & Public Relations, I am bringing to your attention a situation that happened to me when I was a recent guest at the Hampton Inn Hotel in Carson City Nevada. My wife and I had just checked out, beginning our day, as we were leaving the parking area we noticed an item in a large mud puddle that appeared to be a flag of some kind, red, white, and blue. We stopped, went to retrieve it, it was a United States flag, we were thinking it was the flag that Hampton Inn displays in front of their entrance way. It had been quite windy, stormy, and rainy the night of March 5-6, 2014 it was still attached to a pole of some kind, not from the front of your hotel. Without any other options, having no idea of who actually owned the flag, we returned to the front of the hotel.
I carried it in, in hopes that the desk clerk would be able to care for it. (There were two people behind the desk) The young lady clerk took it from my hand. I cannot remember what she said; it is what she did that really raised my ire. All be it the flag was dripping wet and dirty, she took it back outside and dropped it on the ground and said she would get their maintenance person to care for it. At the risk of using words that should not be used near a US flag or a lady, I asked that she at least lean it against the building, off the sidewalk.
She said she would get the maintenance man. I hope he took better care of it than she did. Being close to tears and very mad, my wife and I then drove away. It has taken several days for me to calm down enough to write this letter. Hopefully I will receive some correspondence from you in the near future, acknowledging this. My wife and I visit Carson City fairly often; we have found this Inn to serve our needs very well. However: it will be some time before we return.

Sept 1, 2013, I moved to WA to provide in home care for my father, and my mother, who is in a nursing home with Alzheimer's. March 16, I flew my husband & 2 boys from KS to visit (after not seeing them for 7 months). I chose HI because I've always been impressed with my stay, & wanted my family to have a clean, comfortable room for a 5 night stay. The 1st morning, 3-17, our room was not cleaned. I notified Jordan at desk, who took notes on my complaint and said he would tell maids.
Maids 1st insisted there was a DND sign in lock. sign was under vanity by ice box (after looking 20 min on Tuesday). Then, maid changed story that my husband said we didn't need service (no towels, garbages full, he would never say that). He actually told her to come at 11:00. Again she stated a DND sign in door. We dumped garbage and got towels ourselves. Tuesday, room was cleaned, but not well (dirty tissues under vanity, hair on toilet & floor). Mgnt was told. Wednesday, son had a bloody nose on bed, desk told, room was somewhat cleaned. Thursday, room again was not well cleaned, (bath), bloody tissues under vanity. In looking for remote, I found a tampon (in wrapper) between bed and wall. Mgnt told again.
Also that Thursday, breakfast staff told me I wasn't allowed to eat because I was not a guest (I paid for room, under my name), I was having coffee with husband. This I didn't mention to desk. GM Mindy Delozier & I talked on phone for 30 minutes. 1st, she offered guarantee of not paying for one night. Later in talk, it was implied by her that since the entire stay had problems, she would stand by her guarantee of not paying for stay. After being charged full amount minus 1 day, she insisted she didn't offer the guarantee. I told her I was NOT satisfied with only 1 night, and reminded her of guarantee and my disgust with room, especially seeing the tampon. I strongly believe HI should stand by it's guarantee and refund the full amount of my stay. I am NOT satisfied at all.

We attended a state tennis tournament on April 30-May 3. Although I have no complaints about my room in general, but on arrival I was faced wih a horrible problem. my husband and I had to be at a coaches meeting for4:00 on the 29th and arrived at the hotel at 3:00 or so and had been traveling for 7 hrs. The ride to the meeting was a 15 minute drive. We both had to shower and there was barely a trickle coming out. I called the office and they told us they were working on the plumbing and it would be another 30-45 minutes before they would be done. We didn't have the time to wait… So we opted to have me bathe in 1 inch of water in the tub after running it dr over 20 minutes … And it was cold water. Unreal. I asked for comprndation and was refused. This this complaint…

Due to a death in the family, and Memorial Service was Friday 4/5, using our Hilton Honors, we booked a one night stay at the Hampton Inn & Suites Atlanta/Duluth/Gwinnett County. We checked out on Saturday morning 4/6 and returned to Apex, North Carolina. Upon arrival at home I noticed we had left our bathroom bag hanging on the back of the door in the bathroom of Room 707. I immediately called the hotel which was roughly 7:15 PM. The clerk at the desk stated he could not help me with that as he knew nothing of lost and found and I could talk with the Director as her door was locked and she wasn't in at that time. I called back later asking if anyone there could find out if the bag had been tuirned in as I could have a family member come by and pick it up, but didn't want them to drive there if the bag was not there. The clerk was courteous enough to call me back and let me know he had tried to reach the Director and called her Barbara, but she did not pick up so he left a message. I have as of yet to hear from Barbara. I called back the next morning and tried to talk with Barbara, but could only leave a voice message. I tried again today to talk with Barbara but had to leave a voice message.
I advised Barbara on two of my messages that upon leaving, the cleaning lady was in the hall with her cart at our door and was either getting ready to clean our room or the room next door. I spoke to her and proceeded on my way to the elevator so she had to have gotten the bag. There is a possibility the bag is still on the cart and had not turned it in yet. My issue is due to the fact the bag is a matching part of our luggage and would like to get it back because of that. Also, the contents were make up, soap, shampoo, razor, shaving cream, etc. and will take a lot to replace.
We have planned vacation for next week and the longer it goes, the less likely we will get the bag for this trip. Hopefully someone will be able to help us.

For 3 years we have been coming to the Hampton Inn Gloucester for my granchildrens b'day. This year I did things different and made my reservations on the computer. I googled Hampton Inn hit on the site to make reservations for 2 adults/3 children. The next day I get the confirmation and the it's thru hotel reservations. We get to the hotel after driving 5 1/2 hours.
The kids go change into their swim suits,we go down to the pool and i's green and nasty. Saturday we have the kids b'day then go back to the hotel so they can swim. They go change and go to the pool only to find out it's closed. Don't they have people that check these pools thru out the day? My husband went to ask about the pool,and if we could get a refund so we could leave,there's nothing to do at the hotel,we go there so the kids can swim.
But because I did my reservations on the computer not knowing they make it look like your going thru the Hampton Inn we couldn't get a refund. I would like this resolved,either my money back for Saturday night,or a free night. We feel like the Hampton or the hotel reservations owe us! We had 4 very unhappy campers ages 4-7.
This is my 3 attempt to get this resolved,I called a number for complaints,it was foriegn people they say they can't hear you and hang up..this is poor customer service.Hampton Inn Gloucester sent me a survey to do but haven't heard aanything. I really wish I could get this resolved!

I have made a reservation for Hampton Inn, Atlanta Airport, on Bobby Brown Parkway, confirmation #88017478. The reservation is for two rooms. The confirmation I receive is for 1 room. I have called four times and the clerks tell me the computer shows two rooms so I shouldn't worry about it. I tried to call the manager, left a message, but no response. One clerk said she would fax me a confirmation and I got two sheets of paper, exactly the same, with the same confirmation number on both, saying this will be sufficient at check-in because I have two pieces of paper for each room. All I want is written confirmation for two rooms like I have gotten with every other Hampton Inn I have made reservations with.

My friend had bookd a 2 night stay at the Hampton Inn in Ormand Beach, FL. As soon as I got the number I called it because I had a few things in mind, without knowing I was speaking to the "Manager" itself, I asked about the ammenities of the room, she state"d, "this is not a Suites hotel" all because I asked if there was a mini refrigirator in the room.
Then asked if there was anything else in the room besides the two beds she stated "just the handicapped bathroom and the two beds" by the way, I didn't ask for a handicapped room. I asked, is there any chairs or sofa's she stated no. Based on that infomation, I asked how soon can I cancel she said 6pm.
I stated to please cancel one of the two nights instead she proceeded on stating "why don't you just cancel the whole reservation, and you are getting a privilidge rate." I was very upset by her comment, I asked her that she did tell me cancellation time however never stating for what day if day before or same day she said "what do I think".
The discount she was talking about it was a $5.00 different from the advertised rate, is not like she was giving a free room a 50% discount on it. Not only that, when I cancelled the one night, she up the rate on the one night because I was getting a better deal with two nights.
When I asked to speak with a manager, she said I am the Manager, I was so upset, I told her immediatelly to cancel the whole reservation. If you don't have the training in knowing how to treat your customers regardless if I am

Was forced out of my house due to plumbing issues and stayed at the Hampton Inn in Hanover, Pa with my wife and 2 children. Apparently they dont care about thier guests in the least. We had roof construction directly over our bed at 8am everymorning for 2 weeks. When I complained at the front desk the lady offered me a bowl of earplugs. Absolutly ridiculoous to even make money off a room where people can't sleep. I'd estimate the noise was around 95db.

Hampton Inn, Bethlehem PA. We book three rooms for the night of my nephews wedding. We were promised that we could also have a rollaway bed at an extra fee which I agreed to. When we got to the hotel the room with double beds were not much bigger than single beds and they had no roll away beds. Also other people booked rooms and when they got there they were told that the hotel was overbooked and they had no rooms. I was always under the impression that when a bride and groom reserve a block of rooms for their guests that they would be together.
Well we were all over the hotel and it made it impossible to meet up with anyone afterwards. This is the last time I will stay at a Hampton Inn.

Don't be fooled when the Hampton Inn advertises something like "We welcome wedding parties" or something similar. I booked my brother's wedding guests at the Hampton Inn, Islandia, NY, Long Island. Our guests took up most of the 3rd floor. Coming back from a wedding, you can expect people to be noisy – and we totally were. They told us to stay in our rooms. Then they told us we were too loud and we had to move to the lobby. Then they told us we had to go outside in the parking lot because we were still too loud. Finally, they called the police.
The police told the Hampton Inn management that they were basically idiots and to stop wasting the police force's time. In my opinion, don't "welcome" 50+ wedding guests to your hotel if you're a hotel that has a "no party policy". The management single-handedly ruined my brother's after party. The assistant manager that was working that night seemed to just be a cruel woman who hates her own life. We didn't break anything, ruin any property or be disrespectful towards other guests or employees. We were just 50 people enjoying ourselves after a wedding at the Hampton Inn.

My wife and I booked a room at the Hampton Inn. Full disclosure – the information we received when we booked the hotel stated they have a 24 hour cancellation policy. Something came up so we needed to move the booking to another date. We explained to the hotel that we still wanted to stay at the hotel at a later date however they will still not approve the refund. In fact, in my opinion, the Hampton Inn hotel staff seemed uncaring and unhelpful and couldn't care less about our circumstance. The Guest Services toll free number was of no help and their staff seemed just as uncaring. Regardless, a hotel manager telling me to "F-off" and "Go F yourself". Are you kidding me? I will never STAY at this Hampton Inn…

Amanda Foxx
from Orlando, FL
I was recently, wrongfully terminated at the Hampton Inn in Jackson, Alabama. On Friday July 27, 2018. I worked the 3pm-11pm evening shift at the Hampton Inn located at 4150 N. College Ave. Jackson, Alabama 36545. I had a family emergency that began approximately around 7:32pm I was called and told that my son was missing by my Aunt Dora Jackson. She stated that my son hadn't shown up at her house at 7:30, after her searching for him she told me he was missing and no one had seen him. I called the front desk supervisor Jordan Wallace at 8:00pm and asked her if she could come in and relieve me because I had a family emergency! She stated that she wasn't in town, and that she couldn't come! It was later discovered that Jordan Wallace was actually a few miles away from the business. And there was no interest on Jordan's behalf of trying to find someone to cover for me. Shortly after speaking with Jordan Wallace, I called the General Manager Marion Keith, and I didn't receive an answer! So I stayed on and continued working, but my worry was growing for my missing son in hopes that my Aunt Dora would find him soon. I called my Aunt back in the 9:00 hour still my son was nowhere to be found! So approximately at 10:20pm, I received a phone call from my cousin and was told that some random guys was shooting at my son! At this time, I'm in total panic mode, as any mother would be, so I called the maintenance supervisor Bruce Mack at 10:20 and told him that there was an emergency power outage in room 225, and that I had a family emergency and I needed to leave. Bruce Mack covered the front desk for me after fixing the power outage. I left at 10:28pm to find my son, and once I found him safe, I returned to work the same night. I could not believe the treatment that I received from the General Manager Marion Keith, and Jordan Wallace the front desk manager. I was so disappointed at the fact Jordan Wallace found my situation with my son to be hilarious. So Marion Keith the General Manager decided on Monday morning July 30, 2018, to terminate me for leaving the property to find my son. She stated that it was job abandonment, even though I returned to work the same night! I explained to her that it was not abandonment, because I returned to work! I also stated that Bruce Mack covered for me, she stated that he didn't count, because he is the maintenance supervisor! I suggested to her about cross training her employees in such a case, since this particular Hampton Inn is severely understaffed, because they are selfish with stealing hours for themselves! So, on this evening, August 1, 2018, I was sitting in the parking lot speaking with Ray Worthy, a really good friend of mine that is still employed there, and Marion Keith forcefully threatened Ray and I to get out of the parking lot and off the property. She then stated she can't have a homeless person sleeping in their car here on the property, and that it was bad for the image for her and the hotel! Now at this point, I was totally ashamed, embarrassed and humiliated. Because no one knew that I was homless, but Marion Keith (General Manager) and Paige Parnell (Assistant General Manager) I explained to them both about us living in my car me and my two children, because my children, sits in the parking lot in the car until my shift is over. I explained to Paige and Marion both about my home being destroyed in hurricane Harvey in Texas in 2017. I moved to Alabama in March of this year, and I rented a small cabin for my children and I to live in! Once my resources ran out, my cabin was repossessed and we have been living in my car every since. My treatment, by Marion Keith has been horrible and I worked in a hostile environment while I was there. Saftey was an issue, an employee was attacked by her boyfriend while I was there, that was a saftey concern. Marion's comments to me about being homeless, were horrible, and she was blurting this out in front of guest on the parking lot as well as Ray Worthy an employee. That was very unprofessional, tacky, and out of control on her behalf. And with her trying to judge me for not having a place for my cildren to stay is appalling to me considering, she was homeless, and living in the hotel at one point, until the owner allowed her to move into one of his homes. I'm so disgusted with this property now, because of her treatment. In Texas the name Hilton has a strong barring on properties there. I guess it's not the same here in Alabama. The General Manager (Marion Keith) of this property is completely out of control! She's a tyrant and bully to her employees! I feel like Hamptonality starts with how you treat your employees, and if you can treat them well, then you can provide that same quality customer service to your guest, because I was both a guest and employee!
Sincerely,
Amanda Foxx

Debra cleversy
from Painesville, OH
7/24/18-7/27/18 stayed at Hampton inn Chicago on e Huron st. Started with a problem checking in we were there at 2:30.pm and they said they did not have a room ready yet people were coming in off the street and checking in when asked they said you have to check in online then as soon as a room is cleaned that person gets it,I had reservations 2 months in advance and have checked in at other Hampton inn at 9 am with no problem. Very rude staff. Elevators slow,bathroom did not have an exhaust fan, and no towel Matt for floor, dirty tables and lamps,pool area had and excellent view being roof top but area around pool very hazardous as it was wet and slippery I nearly fell and being over 60 it would not have been good and my grandaughter and other kids and adults were slipping as they went to the seating area. Breakfast was nice but the evening reception each night for the home wood suites would not allow us to attend yet they were in our breakfast area and coffee area. More expensive room yet less amenities .the snack bags to go weren't available until after breakfast but we went out at 8am they should have been out for those going out early.I usually stay at a Hampton inn but will not in the future as any complaint seems to be ignored.

George D. Fletcher
from Hedgesville, WV
First I have stayed at the Hampton Inn for the past 20 years business and pleasure. I made reservation to stay at the Hampton Inn in Rocky Mount, North Carolina on July 14th 2018. The check in time I was told would be around 2pm so I scheduled my travel time to arrive at 2pm. I was unable to check in my room till after 4pm. The weather was extremely hot that afternoon and we had to stay in our vehicle over 2hrs waiting (with a young grandson) for the room to become available due to the amount of individuals also waiting for rooms in the Lobby area . I have already paid for the room by credit card but I was very unsatisfied with the service. My reservation number was 96909241
If you check the amount of times I have stayed at you facility you can tell I not complaining just to have something to do.

Maribel Ramos
from Orlando, FL
Good evening,
I stayed at the Hampton Inn Northgate, Seattle on July 5, 2018 and checked out on July 6, 2018. I went on a 7-day cruise and then realized that I had left my wool JCrew checkered brown colors blazer in my room 441. Upon my return from the cruise on July 13, 2018 and after making multiple phone calls I finally spoke to a lady by the name Carrie or Kerry and she checked with housekeeping and confirmed that my blazer was at the Hotel.
She directed me to contact chargeback.com in order to try to get the Blazer mailed to me. I contacted chargerback.com last week ago and I understand that a message with the description of my blazer was sent to Hampton Inn in order to get the process going but I still have not heard back from your Hotel.
Can someone contact this Hotel and get me some help in recovering my blazer? Maybe they will listen to Corporate Office. I am paying for the shipping of the blazer so I do not understand them giving me the run around. I would very much appreciate a prompt response to my request.
Thank you,
Maribel Ramos (Room 441)
407-491-9630

Cynthia Salzarulo
from Keenesburg, CO
Hi, so this past weekend myself and my husband were called to attend a family emergency as my aunt and her son was in a fatal accident. My nephew lived but is in icu and needless to say was horrible that his mother had passed. Normaly hotel stays are made in advance and this time it was last minute. Due to something going on in town all the hotels in Denver were fully booked we took the only availible but it was over 50 miles away. After a long heartbroken day we headed to greeley at which we stoped at walmart to get some essentials that due to emergent reasons we had no time to grab. Finally getting to the hotel to check in and lost our card at walmart somehow and werent able to check in without a credit card. So we go to walmart purchase a prepaid and head back to hotel at which the Phonix Clark was up front first she tells us that she gave our room away, then proceeds to sarcastically state she did all she can do and appologizes with a smerk on her face then also tells us that she tells us that even if she didnt give away our room that they dont except pre paid cards so need less to say after a already stress ful, heartbroken day, it ended with both myself and husband not finding any hotel with availability and had to sleep in our car went the hospital unrested and un showered and feeling like the hampdon inn didnt care or have a heart is this truely the reflection of your core values. We are truely still upset about the way that we were treated both girls that were up front were aware they knew we were going to walmart and returning apon giving our room away we also never received even a courteous call to make sure we were infact not returning but we did return to the hotel and we were left upset and speech less. Very appalled at tbe customer service we were giving. Due to the In decency and unprofessionalism of your employees we didn't request that this matter be taken care of and attended to immediately I have called I've called the hotel 2 days now and there is no manager on call or in the facility and no one has attended this matter. I truly hope that you guys can redeem your core values and can reimburse me for the trip there and back drove over a hundred miles slept in my car and completely feel like the Hampton Inn does not care about what me and my husband had gone through if they could make it right and show me my husband that this is not how things are taking care of at the Hampton Inn sincerely Cynthia Salzarulo

Venitra Stay
from Knoxville, TN
Michelle A.
Good afternoon on 7/19/18 I traveled from PA to AL for a family reunion at Hampton Inn 4910 Civic Blvd Bessemer AL. First my card was charged $24 in $1.00 for the all the rooms because my card was the only one on file. Unacceptable!! Second someone tried to charge $358.25. As a matter of fact I was still on the road traveling when my bank called, twice, about fraudulent activity. No one could seem to tell me what happened other than since my card was the only one on file that's why it was used. NO Unacceptable!! I had to shut my card down & can't use it while out of town. I'm extreme upset!! My Aunt told them I was not the contact person & still the hotel continued to call me as if I were. I had no dealings with them prior to my visit, an unpleasant one & some kind of compensation & training needs to take place
ref:_00D41XOXt._50041c2dJf:ref

Royce Williams
2020 Enclave Drive
Rocky Face GA 30740
(706) 218-3485
marion63roy@gmail.com
23rd July 2018
Christopher Nasetta
CEO, Hilton Worldwide
7930 Jones Branch Drive
McLean Virginia 22102
Dear Mr. Nasetta,
I recently made a reservation at Hampton Inn and Suites in Panama City Beach Florida. (15050 Front Beach, Fl 32413) I am writing to you to express my displeasure with Hilton/Hampton Inn and Suites. I made a reservation with your reservation office about 1 week prior to arriving on July 19th. While making my reservation, I requested a beachfront room and early arrival at noon. The reservationist insisted that all rooms were beachfront and I had to inform him that I had stayed there a year earlier during your opening week and I knew for certain that all rooms were NOT beach front. I ask him to put this in the notes on my reservation and he assured me that he would and it was confirmed.
I need to say before I go on with my current situation that I had a bad experience during my stay on opening week about a year ago. We arrived to find out that we were not reserved at this hotel, instead, we has been booked at the Hampton Inn and Suite on Back Beach Road! (1 mile from the beach!) We spent 3 hours trying to get the reservation straightened out but we were only able to get a side room and were not given beachfront. Not to mention we were awakened several times during out stay with false fire alarms having to evacuate the building. Ugh!!! Ok, fast forward about 1 year later to this past week. When we arrived on July 19th, 2018 and we were greeted by the same Assistant GM, Lynn Burgess Smith, who immediately recognized me and my wife. She was pleasant and greeted us with a smile. This is where it was DeJa Vu all over again.
I gave her our reservation number and we told her we requested an early arrival and a beach front room. Since she was very aware of our past experience, she was very apologetic and told us that we were not booked ocean front, instead we had a "Direct Street View!!" This was totally unacceptable, not once but twice had we been mislead by your Reservationist! Since they were fully booked, there was nothing that Lynn could do but give us a break on our stay; however, that did not compensate us for the inconvenience or the misrepresentation that had occured.
This is where it gets really concerning….Lynn informed me that this happens all the time and it is not unusual for this to happen several times a day where the Reservationist makes a commitment that they cannot honor and they do this because they are on a commision based compensation plan and they will tell the person making the reservation anything just to get them to confirm. This is highly unethical and fraud.
I expect to have some sort of retribution based on my past two experiences and I am highly disappointed in this type of unprofessionalism and business practice. I would not expect this type of customer service from any organization and especially a Hilton company. I would like a phone call or letter back acknowledging my complaint.
Sincerely,
Royce Williams
706-218-3484
marion63roy@gmail.com

Deb Abel
from New York, NY
We specifically stated a 2nd night to swim at the pool and the pool was closed. There was a small sign on the door that said the pool will be closed for maintenance that we didn't see until after we had already gone in the pool. For starters the sign should be huge and it should say the pool IS closed not WILL BE CLOSED. WILL BE MEANS IN THE FUTURE. so now do I have to be concerned that my 4 yr old grandson went in a pool that was contaminated? If it is closed why was it not locked? Also 3 out of 4 of us got sick after eating the breakfast. We choose the hotel based on it amenities and 2 out of the 5 amenities you have listed might as well not have been on the website

Christopher Emerson
from Columbus, OH
I booked a room for my step-daughter to stay there the night before her orientation at George Mason University. I booked the room in my name, stated she would be the person staying, armed her with my Hilton Honors card & credit card and they would NOT let her check in because she was only 18. When I made the reservation it clearly stated on the website that adults were 18+, but not so, to actually check in, an adult is 21+, but for billing purposes they are 18+. Of course she's almost four hours away from home, and now has nowhere to stay. The heartless manager (Ms. Davidson) could have made an acceptation, but that was not to be. She left in tears and had to make other arrangements late at night. After trying to call Hilton about it, their response was Hampton Inn makes their own rules, yet every number I call, leads me back to Hilton. I'll use any other hotel from now on rather than one with the Hilton name attached to it.

Rose dugger
from Raleigh, NC
Rooms not ready from 1:30 to 4:45 before we got a rooms late for our engage me & for the price you paid for these rooms is sad & poorly served this is highly unacceptable for a 4 or 5 hotel especially for Hampton Inn I want some of my funds return for the condition & bathroom stool was not clean . Sign Rose Dugger

Tanisha Powell
from Dallas, TX
Gave it 1 star just because that's the only option but also the bed and pillows are comfortable to my 5 month old, but overall.....Absolute WORST experience EVER! I will NOT return nor will I allow my friends, family nor my worst enemy to think to stay here. I will pay more to stay somewhere where its QUIET and you can actually get some sleep around here. I have a 5 month old and a 2 year that's woken up from loud freaking people above me from these thin walls and floors....YES, for the price I paid, you would think you will get some sleep...NOPE! I've called to complain about the ppl above me and all I was advised was to move to the 4th floor... Ummm, why would I move to the fourth floor with 2 young children to not only move them but to pack all our things as well....NO, not that easy! It's called... CALL the ppl above me and tell them to get their young freaking kid in check and keep him or her from jumping off the beds to the floor and running like he or she is in a marathon from 9pm-1am...... My kids are in bed by 8:30pm. I allowed the kid to be loud up until it woke my 2 year old then my 5 month old..... MAKES ABSOLUTE NO SENSE! I paid for 3 night and 4 days... Night #1, okay. Night #2, HORRIBLE and Night #3, I packed my family up and left in the night with explaining to "RICK" the AWFUL EXPERIENCE I WAS EXPERIENCING for the 2nd night. I will NOT RETURN EVER as much as my family travels. If you want no sleep...COME HERE! If you want to hear your neighbors come in and out their rooms across the hall or next door allowing their doors to slam, talking loudly in the halls and their kids..... COME HERE! If you want not a very good customer service.... This is DEFINITELY the place for you..... FOR ME, I didn't pay to have a lousy experience. I will take my business elsewhere next time. Was a lesson learned! Thanks Hampton, you lost a customer and many more after I share this experience with my family and friends.

Anthony Diggs
from Jacksonville, FL
Dear sir, first I would like to thank you for your assistance with this matter! I also request that you review the contradicting statements provided by your staff. First, I have consistently ask your company to interview the young lady who check us in. There is no doubt that she would recall me asking about placing the room charge and valet charges on two different credit cards. Additionally, she will confirm that I was informed that the charge for that night as well as, the remaining stay would be billed to the room.
It appears that, the valet statements are different. One stated that, my brother and I went to the room and didn't come down until the morning. The second statement was that, the Valet assisted my brother to the hotel and we left the premises. Please note that prior to leaving, I asked the valet why was my vehicle still on the ramp. He informed me that, the policy was that they would leave the vehicles for about an hour In case, the guest change their mind or forget something.
Additionally, the next day the Valet supervisor took the ticket and informed my wife and I that the ticket would be taken care of. This was the outcome from her speaking with the young lady who checked us in to the hotel . Be advised that, We don't even have possession of the ticket now!
Also, be advised that, my room was cleaned after our first night. It appears that, your staff in an attempt to respond in a defensive position have misinformed your office with the wrong day! I will provide your office with two notarized statements from the two elderly family members which were witnesses to the fact that the situation occurred after the funeral on our 2 night. As well as, the condition of the room and the location of the hang signs in the bathroom.
Once again thank you in advance!
Anthony Diggs Sr.
Sent from my iPhone
On Jul 11, 2018, at 6:55 PM, HRCC Inbound Email Prod Address-gstcorrespond <guest.correspondence@hilton.com> wrote:
Dear Mr. Diggs,
Thank you for contacting Hilton Guest Assistance. My name is Courtney. It will be my pleasure to assist with your ADA claim, housekeeping and service issues at the Hampton Inn & Suites Baltimore-Inner Harbor, MD.
In review of your file, as of July 10, 2018, the hotel has stated that you refused the valet service upon arrival at 12:00 am. When the valet attendant asked about the vehicle, they said you stated that you were being picked up by your brother. They said you took the key with him to the room and didn't come back till morning. Baltimore city has issued a $32.00 parking ticket for the car being left on the ramp over 15 minutes. Since the car was never registered at the Valet service, the hotel has not charged a parking fee for the first (day). The hotel said you did chose to valet park the car next day. There were no corrections or refunds issued.The hotel said you refused the housekeeping service the first night by placing "do not disturb" sign on the door. They have the housekeeper's board and the housekeeping supervisor's report collaborating this. The hotel will not issuing any compensation.
For immediate hotel assistance, feel free to contact the hotel at 410-539-7888.
In an effort to make amends for your overall experience, a total of 10,000 points will be posted to your Hilton Honors account within 24 hours. The Voice of our Customers is critical to ensuring our guests receive a rewarding experience when staying at the Hilton Portfolio of Brands. Thank you for bringing this concern to our attention.
Should you have any additional questions relative to this matter, please contact our Guest Assistance office at guest.correspondence@hilton.com.
Best regards,
Courtney V.
Corporate Guest Relations Specialist
Hilton Reservations and Customer Care
ref:_00D41XOXt._50041bpAFm:ref

Nathaniel Houston
from Columbus, MS
My name is Nathaniel D. Houston, Sr. I am a pastor and President of the Northeast Mississippi Baptist State Convention, Inc. I stayed at your property located at 320 Coulter Cove, New Albany, Mississippi from July 2-6, 2018. I was there, along with 20-30 members of our State Convention, for our Annual Conference Meeting. As a guest, I dropped off 3 white shirts to be cleaned. I received 2 of the shirts back properly cleaned, but one shirt was returned badly stained. I asked the manager to send the shirt back to the cleaners to clean and remove the stains. When the shirt came back the second time, the cleaners claimed that the shirt was stained when they received it. I explained to the hotel management that this was not true and that they saw the shirt before they sent it to the cleaners and could verify that the shirt was not stained. Nevertheless, the hotel management stated that I would have to take this up with the cleaners. I told them that as a guest of the hotel, I should not have to resolve this matter with their local cleaner contractor, but they should resolve it on my behalf as their guest. They responded that there was nothing else they could do.
I was very disappointed with this response and felt that this response did not reflect well upon the kind of customer service that your company represents. The shirt is valued at approximately $80.00 and now its ruined. I would appreciate your assistance in resolving this matter. I await your response.
Thank you!
Nathaniel Houston

Edith Lynne smith
from Walpole, MA
When I called for a wedding block on June 18 the . Smith -hulbecki the person who did the reservations didn't do it properly. My quests are being told no such block at the Sturbridge location. Called corporate manager would not speak to me and was told that the quest need a confirmation number .83533209 Was not given any of this info disappointed wedding quests are not able to book rooms. Corporate very poor service .

Amanda Miller
from Butler, IN
I did not stay got billed for two nights . The manager gave me a 0 balance receipt and assured on camera we would not get billed. We never stayed and the manager will not respond to us or our emails . VERY REDICULOUS . I am close friend with people who book for business for steal companies and I will be sure that they loose all of their business.

Donna Corbin
from Salem, AL
Arrived at Hampton Inn in Scottsboro AL at 3:00 pm for check in. At 7:30 pm, we were still unable to check in due to room not being cleaned! Really? This is so unacceptable! I am a Hilton Honors member and will NEVER stay here again.
Try having an 8 yr old baseball player in a tournament that needs to rest for the rest of the tournament the next day.

Sandra patrician
from Plymouth, MA
Hi my name is Sandra patrician
We have just come back from your hotel after a 3 night stay from 7/2 to 7/5 we always stay at this hotel when we go to Portsmouth New Hampshire for many years but this time around it was a very bad experience right from the beginning of our stay this is the first time that I have had to complain about anything at any time but this was very bad time at the hotel .when we got into our room 325 the bath was dirty and hair around the drain ,and around by one of the beds next to the window the carpet was wet so I had to put a towel on top of it ,but the worse thing is that my husband found a condom beside of the nightstand and bed.when we went for breakfast on our second morning the juice machine was broken and on our last morning the juice machine was still broken and to top this off the food warmer was also broken and all the food in it was cold ,the front desk said that they are waiting for them to be fixed so we ended up going out for breakfast,I look forward to hear from you about this bad experience again we love the location of the hotel when visit Portsmouth I also think it was bad that the staff did not think about all the other guests at breakfast time about the poor food and juice machine being broken .
Yours sincerely
Sandra &frank patrician

Brian Simon
from Dallas, TX
Like its really going to help. Going back to holiday inn for sure if I don't get reimbursed. The carpet stunk. The tv didn't work. Requested on line first floor by pool got sixth floor. Flys all over in dining room. AwFul service.Also my mother in law fell sick a d had to leave 1 day early. You would not compensate my one day but that's okay yeah. I know where not to go from now on. Thanks. Never even received a receipt on line. What kind of bull? Hah

NORMA GARZA
from Lewisville, TX
WORST PLACE EVER! FIRST WE ARRIVE POOL DOES NOT WORK. ITS OK WE CAN MOVE PAST THAT. SECOND THEY AGREED TO TAKE CASH PAYMENTS BUT NEEDED MY CREDIT CARD ON FILE, BIG MISTAKE. I STARTED GETTING CHARGES LEFT AND RIGHT FROM HOTEL WHEN I ASKED FRONT DESK THEY SAID IT WAS JUST A 'HOLD' AND CHARGES WOULD FALL OFF NEXT BUSSINESS DAY. DAY OF CHECKOUT MY CARD WAS CHARGED 4 TIMES FOR SEVERAL DIFFERENT AMOUNTS.
WE NOTICE ELECTRONICS MISSING, WENT DOWN STAIRS ASKED FOR A MANAGER. SHE COMES OUT NOT LISTENING STARTS PAGING HOUSEKEEPING LADY, WHO COMES DOWNSTAIRS AND STARTS TELLING US WHY ARE WE ACCUSING ME OF ROBBING YOU. VERY UNPROFESSIONAL. MANAGER PROMISED TO CALL US NEXT DAY NOTHING. THEY PROMISED US A REFUND AND TIL TODAY WE HAVE SEEN A REFUND OR HEARD FROM ANYONE.

Kevin wilson
from Washington, DC
I stayed at Jacksonville Fla and Myrtle Beach Hampton Inn and I tell you I couldn't been more satisfied...extremely friendly and very accommodating...highly impressed and I thank you Great job!!

Reda Coston
from Smyrna, GA
Hello, I want to add that I love staying at the Hampton inn. However, I came in with locks on my bags. People know what they have in their luggage. As toward my stay, I was in bereavement and suffering with the loss of my son whom committed suicide. The very room I booked was the I had him not to long ago when he was a baby. I can not believe this. I entered the room on June 3, was not told the check in time or check out time. Not appreciated or acknowledged as a member. However, two of the ladies there were nice to me at the service desk. As State Detective. I was not prepared to work but, had to. Now, put somethings in the room. I had witnesses as to what was in one of the bags. I left the room first @3:00. The other bag I looked. The other one was not locked. Test No.1. Upon leaving, I told the other two to let me know when they were leaving. They left the around 4:30 pm. The small luggage was on the left in a standup position unlocked. The Items in the were itemized incase of theft occurring. So, I decided to head back to the room. That was around & 7:30pm. I never looked in the bag, until later that night. I did not notice anything at first missing. Exhausted from traveling and work. Got into bed. Slept good. Thank you, Enjoyed the room, The breakfast and everything. Upon packing my bags. I did notice some items missing as i went through the checklist. I locked the bags and it stayed it locked...until arriving home. I was very disappointed in the Theft that occurred no one else had stolen anything from me at all. I want to say this, Someone with a key came into the room and when through that bag stealing what they wanted. It's not worth it to go through a loss in tears and discover missing items in your luggage. People remember how they treated by whom the way they were treated. It's an awful feeling once disappointed. I will next be ready for the next hotel thief and I will arrest them on the spot. DO YOU HEAR ME.

catherine leas
from Springfield, MA
I was charged twice for my stay.Come to find out i was lied to because the girl processed the check in wrong and canceled my check in and made me come back to re pay and I told her my bank already processed the card and she told me it didnt on her end or it couldve been booking.com so i did it again and now i have 2 payments pending so i again at ck out asked her why it shows as 2 and she said she didnt know and they only have one so i asked for my receipt and was refused!!! i spoke to booking.com and they said they called and the woman told her of her error. so she tried to be sneaky and cancel my inital payment and reprocess it with the card on booking.com since it was an out of date card she had to notify me she needed to do the charge again but tried to blame the machine. I am so livid because of her error i have bills that were jeopardized because my bank was pending almost 600 for 3 days. I always stay at hampton inn but i will never stay at the one on w main st middletown ri , they all need to be retrained since nobody could give me a truthful answer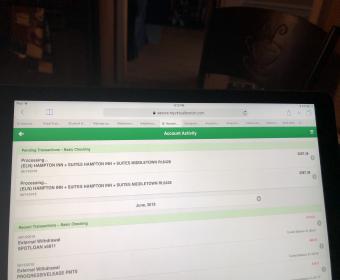 John Barbe
from Duluth, GA
When I arrived at the Hampton in Dublin, Ga. on June 2 and checked in for my reserved room the price was $139. I told the clerk I wanted the same room for one night in the following week. When I checked in on June 7 for that room the rate was $154. The clerk didn't know the reason for the higher rate and I had not been told about the increase. That's a poor way to treat customers. I will not stay at a Hampton again.

Troy hix
from West Plains, MO
On arriving we was told the pool wasn't in service 1 of the reasons we picked the Hampton. Went to take a shower there was no hot water. When calling front desk I was told there is nothing we can do for you it been like that all day. Let it run it will get hot. Let it run for 30 min stayed to cold to shower. Both of these issues should have been brought to my attention at check in. I would of went down the road to any other hotel chain that gives you the amenities that you should get when paying for a room to stay in. DISAPPOINTED WITH THE WHOLE MANGEMENT APPROACH AND STAY. I SHOULDN'T BE CHARGED THE PRICE OF FULL SERVICE WITHOUT RECEIVING WHAT WE EXPECTED TO GET WHEN STAYING AT A HILTON BACKED FACILITY. TRULY NEVER STAYING AT HILTON/ Hampton hotel again.

Jack owen
from Lee's Summit, MO
Received a call from Hampton Inn Lee Summit MO this AM. Was told that "2 queens not available, we are over sold, one king bed (for 2 adult males), we will call you back. at 1315 we decided that our business was finished, weather was good, and let go home now. Called Tiffany at Hampton Inn to cancel our reservation. We both laughed as the 1 king for 2 adult males wasn't a problem anymore. At 1330 Tiffany called me back to tell me that she was going to charge me for the room. I said OK, we will just stay in KC tonight and eat BBQ. She said that there was a 48 hr??? cancellation policy. Give me my room or give me my money back. When I called back she said that her manager told her to charge me but changed his mind... Whatever, I had better not be charged for this room.
Jack Owen
217 671 4919
jackowen17@outlook.com

Maureen Hagan
from Union, NJ
I called Hampton Inn at Louisville KY airport on the evening of May 1 when I realized my flight was delayed 4 hours ( out of Newark) and I would need to stay near the airport for the night. I booked the room, with the understanding that I would not be arriving to the hotel until approximately 1:00 AM. The woman with whom I spoke said she would mark it as a late arrival. Upon arriving at the hotel, I was told that i couldn't check in until 3 PM because my reservation was for May 2. When I explained my conversation with the person with whom I booked, he said she had put it in wrong, but I would have to pay for 2 nights if I stayed. Again, I explained that I just needed the room for Tues night ( although it was now 1 in the morning, Wed). I asked him to cancel the Wed night reservation and just give me a room for this few hours. He repeated that he would have to charge me for both nights. He couldn't let go of this charging for both nights thing, so I made sure he cancelled the May 2 night and then I left and got a room across the street ( cheaper I might add).
I am disappointed. My family has a reunion near Hagerstown, MD every summer when we book between 6-8 rooms for the weekend at the Hampton Inn there. After my very exasperating experience with this clerk, I'm going to check out other options for this summer. I arrived in Louisville after a stressful travel day,anxious to get settled. I had an important meeting in Jackson, KY the next day with more travel involved. So my experience that night with Hampton Inn was far from helpful.

Mike Mares
from Albuquerque, NM
Stayed at a Hampton in Las Cruces, NM and got what I believe to be bed bugs. For a week I tried to contact management asking that they check the room to get ignored. It's been more than a month and no one has returned my calls. Don't stay at the Hampton Inn in Las Cruces if I-25. The manager doesn't seem to care about guest concerns.

Leetoya muldrew
from South Easton, MA
well during my stay on 4/13 was told I would be able to swim but there was a delay in what was told to me by an employee. Needless to say I drove 40 min away and back with my children and they lied about telling me this .Front desk Mrs.E was very disrespectful and rude and the GM didn't return any call I placed but soon as I emailed her she emailed back immediately to avoid talking with me directly.I just want my money back for the 1 night that I drove from out of town to get my children and spend the weekend with them. Both the GM and her front desk person MRS.E were just ridiculious and rude. Please help me resolve this issue I have I know that is not Hilton and I am a Hilton honors member.

Amy Brady
from Philadelphia, PA
Our luggage was lost and they acted as though they did not care. We have been dealing with this for over 8 hours and still no resolution.

Lorine Kent
from Providence, RI
Let start feeling sad to have come to Buffalo and stay at downtown Buffalo Hampton inn made reservations for 3pm had us wait for hour today that hotel is not ready and then was treated very rudly by reception to find out that they still have gave us the room came over with two more sodas to go with the ones they already gave us by the we were upset so since reception seen that we were upset took them back n said nevermind SMH I been in a lot of hotel never got treated like this

Frank S.Pirog
from Cocoa Beach, FL
11 Mar 2018 - In an attempt to make a reservation for 17 Mar 18, I inquired with the reservation person (813-818-7202) about retired military discount and her reply was that because the rooms were filling fast, they could not offer a discount. At that point I asked to speak with her manager because I was having a hard time understanding her broken English, although I did not say that to her. At that point SHE HUNG UP ON ME. Not very professional. Frank S. Pirog, Member # 588897012

Terry hicks
from San Francisco, CA
I emailed the complaint office about one manager that works at the Hampton location. Jessie aly,in the back entrance, and mission st.in the front. Last Wednesday night.did you receive my email if you did not,let me know. the surety guard saw and heard every thing.I believe the guard said the guys name was right. Please let me know if you received my email

Anthoula Washburn
from Boca Raton, FL
Good day,
Last year September, I made a reservation with your Hampton Inn Suites in Knoxville TN 601 N. Weisgarber Road 37919 865.693.5400
I had just got out of the hospital as I had stomach surgery and my family and I were trying to leave South Florida due to Hurricane Irma. We could not make it out the state and had to cancel my reservation the same day. I was charged $151.25 on my debit card for a one night stay cancellation fee which was charged to me on 9/8/17 during this state of emergency. I am respectfully asking for a refund of this monies. I know that it has been a long time since this has occurred but in speaking with some fellow coworkers, all who were planning to leave for the Hurricane but could not leave the state received their full payment back. Marriott, Fairfield ect. This is what has prompted me to write this email. I am wondering why this company would charge during a state of emergency and I am asking for a refund.
Sincerely,
Anthoula Washburn
3464 NW 25th Terrace
Boca Raton, Florida 33434
561.843.0421

Nicholas Whitehouse
from Bournemouth, ENG
Reserved and stayed 1 night (14-15 November 2017), 2 rooms, 4 adults. My credit card statement shows I have been charged as if we had 4 rooms or stayed 2 nights ( ie double the agreed reservation cost) . So far Hotel manager has not refunded my card. Phoned hotel, manager not contacting me back.
Feel very let down. is there dishonesty taking place at this hotel? Can you assist please? Thank you.
UK Visitor, Mr N P Whitehouse

Wendy kapuscinski
from Allen Park, MI
Me and my family have stayed st the Hampton inn st birch run for 25 years every nov. the last two years were absolutely horrible last year was during the worst snow storm and we had no heat we were credited for. This year 2 out of 3 rooms had issues mine room was so hot in the winter we had to sleep in shorts and a tank top due to having no air and we had to sleep with the window open. The hot tub was broken again. The second day same issues but when I got up to shower (I was the first one up there was no hot water. When we called to let the desk know he laughed and said oh we forgot to turn on the reserve hot water tank??? I have been trying to contact James the Gm it took 10 emails and about 6 calls to find out how rude he was. He was so cocky I felt uncomfortable talking to him .i was promised my 2 night refund and it would of been credited that day if I payed on my card but I paid in cash so I was told I have to wait. I finally got a hold of James and was told we'll all we are gonna do for you is Send 1night because we had issues late stay . I said we have been coming for 25 years and have only had 2 bad stays. He said it would be better if we found some were else to stay??? I was so shocked to here this from a Gm. You would think being a customer fk that long you would got more respect then that. All we expect is to have the basics a clean room, heat , air and hot water. I don't think this is too much to ask for. I would like a phone call back in regards to this horrible experience.
Thank you
Wendy Kapuscinski
7343633900
Wkap111@yahoo.com

Wendy kapuscinski
from Allen Park, MI
Me and my family have stayed st the Hampton inn st birch run for 25 years every nov. the last two years were absolutely horrible last year was during the worst snow storm and we had no heat we were credited for. This year 2 out of 3 rooms had issues mine room was so hot in the winter we had to sleep in shorts and a tank top due to having no air and we had to sleep with the window open. The hot tub was broken again. The second day same issues but when I got up to shower (I was the first one up there was no hot water. When we called to let the desk know he laughed and said oh we forgot to turn on the reserve hot water tank??? I have been trying to contact James the Gm it took 10 emails and about 6 calls to find out how rude he was. He was so cocky I felt uncomfortable talking to him .i was promised my 2 night refund and it would of been credited that day if I payed on my card but I paid in cash so I was told I have to wait. I finally got a hold of James and was told we'll all we are gonna do for you is Send 1night because we had issues late stay . I said we have been coming for 25 years and have only had 2 bad stays. He said it would be better if we found some were else to stay??? I was so shocked to here this from a Gm. You would think being a customer fk that long you would got more respect then that. All we expect is to have the basics a clean room, heat , air and hot water. I don't think this is too much to ask for. I would like a phone call back in regards to this horrible experience.
Thank you
Wendy Kapuscinski
7343633900
Wkap111@yahoo.com

Jane Davis
from Odessa, FL
I have a lot to complain about so it's going to take me more than a hundred words so I'll just try to be pacific my home got ruined from Hurricane Irma being a FEMA client I stayed at the Hampton Inn on 11740 Tampa Gateway Boulevard in Seffner Florida 33584 somebody might want to get back in touch with me because I have a list of things they were very rude to me and the staff members names that were rude to me I have a list of and all the stuff that they told me and even the manager how they treated me there and I stay 37 days there until they said it didn't have any room for me anymore and it kicked me out their service is lousy lousy and because I'm a recipient I did not complain until I left the place because I didn't want any repercussions coming back on me so if somebody could please give me a call back at 813-359-7209 so I can speak to a person I would be really really happy thank you

Torrence Beasley
from Alpharetta, GA
Dear Mr. Nassetta,
I regret having to write to you about an unpleasant experience I've had with your company. I prefer to contact a company only to praise an employee or the company's actions.
Unfortunately, my situation is such that it is necessary for me to forward a complaint to you.
I made reservation for November 22 and 23 at your location in Clarksdale, MS for the Thanksgiving holidays. My room number was 216. I had to endure constant noise coming from the room above me doing quiet hours. I called and reported it to the front desk (Tia) between 11:30 pm and midnight. The noise continue until the morning hours. I didn't get any sleep doing my stay.
I look forward to hearing from you. I hope you can respond within 30 days so that we are able to resolve this problem in a speedy fashion.
Sincerely,
Torrence

Michele Painter
from Scottsdale, AZ
On 11-17-17 a reservation was made upon checking the girl at the front desk told us that we would be charged a "security" deposit and billed credit card for $108.91 when I see this charge the next day went and spoke to the girl at the front desk who advised that this would be credit back to the account on this day. When ask why I was charged this amount the girl said she was not sure why she did that and she was new. This cause for me to be charged several charges from my bank now since I should have not been charged until check out, and it was made clear the card was to secure the room wanted to pay cash when we checked out. On Sunday when checking out the girl at the front desk did not have a resolution for this matter and I was never charged the full amount. Called today 11-20 and was told a manger would contact me a second time and STILL no call.

Sharon Michel
from Sylacauga, AL
Thé Hamption Inn in Dalton, Ga, is certainly not the quality we expect when staying at a Hampton Inn, The rooms probably haven't been updated in 10 years. There was a huge cobweb hanging from the lamp over the desk. There was a huge stain on the carpet and the upholstered chairs were worn and didn't look clean. We will never stay here again.

David Hamaker
from Lady Lake, FL
Traveled for many years as Diamond member and stuck with Hilton chain of Properties. After staying one night at this hotel above, I will no long stay at a Hampton Inn. This is the most dysfunctional Hampton Inn that I have ever stayed. Your corporate customer service is very unhelpful and unprofessional. If you want the details, please email me as it will take 2-3 pages to tell you everything in writing. General manager and employees of the Hampton Inn Doral/Miami airport west are among the worst in the business. Thank you for listening.

Darrell
from Lafayette, LA
Stayed in Cadillac Michigan 10-16-17 to 10-20-17. They were to charge the room to my Corporate lodging card. they Charged the room to the Credit card i gave for incidentals instead. i have been waiting on a credit for 3 weeks. it's rediculous

Janie Brandstetter
from Dacula, GA
I have been trying to get 5-7 rooms for Dec 8th and 9th. I started in person at the hotel and was informed they could do 5 rooms but would need to go to someone else for confirmation. I made 5 calls and did talk to an individual who said she would take care of it and call me back. I have never received a call back and now find that I do not even have the 5 rooms.
I find this unacceptable. I am getting married and needed the rooms for out of town people. This has caused me a lot of distress. This is very poor business. I have always loved Hampton Inn but will not use them again. This is a small area for bad publicity.
FYI Hampton Inn Braselton Ga. Janie Brandstetter 770-967-8159

I was charged for a room when I did not stay there. My credit card was used to hold the room for a Veterans Affairs event. My orders were canceled and I notified the hotel (listed below). They still charged my credit card for someone else's stay, and as of today 10/12/2017 the hotel will not return my calls or they hang up as soon as I enquire about the un-lawful charge. 765-6626656, IN VNT 8091
Hampton Inn
1502 North Baldwin Avenue
Marion, IN, 46952
Phone: 765-662-6656
Fax: 765-662-6653
Email: hampton.6656@gmail.com

Kelly McGinnis
from Branson, MO
I've stayed at Hampton Green Hills Nashville and loved it, until last time. When I wrote a mixed review on Trip Advisor, hoping for some sort of "I truly hate that, how can I make it better", I instead got an arrogant ass belittling me. I looked at other reviews that had rated them poorly, and he pretty much told them to go elsewhere. I'm not a good communicator, but had a legitimate complaint about an employee yelling at my grandson, as well as scolding us for talking too loudly. I try to be considerate of others, but it is the way they went about it. I don't know what happened to the customer is always right, but this regional manager does not believe in that theory. I called the Motel and asked who his boss was and they indicated it was Mr. Hilton and good luck finding his number. Outrageous.

Karen Weimer
from Coopersburg, PA
I stayed at the Hampton Inn in Hershey, PA on 09/29/2017 due to my sister being a patient at the Medical Center. I've stayed at a number of Hampton Inns when traveling for business and pleasure but never ran into this problem before. I checked in late that evening and specifically asked the desk person if they gave AAA or senior discounts. I was told yes they did and gave him my AAA card. I checked out early the next morning to return to the Medical Center. When I looked at my bill I saw no discount had been taken off. When I questioned the desk person regarding this, I was told that there were no AAA rooms left when I checked in and therefore I didn't get a discount. What?!? No AAA rooms left? Never has any hotel chain given me an excuse like that. I'm also going to check with my local AAA regarding this. I would not have stayed had I known this was your policy. This is like the "bait and switch" tactic used by unscrupulous retailers. After all the taxes were added, my bill ended up being $183.84. I didn't stay there the next night nor will I be back at any other time. My company has always put me and any other traveling employees up at Hampton's, but I will be asking them to check the charges for past visits. Hopefully there will be no inaccuracies. Also, my niece and her dad also stayed at a Hampton while being with my sister. I'm not sure if she stayed at the same Hampton as I did, but her bill was considerably less than mine. Her name is Wendy Baker. She belongs to a club or something offered by Hampton, so I understand a discount there, but this was a major difference in price. Maybe you could explain this to me. What a huge disappointment!

Elyse P. Kukonu Houk
from Rancho Palos Verdes, CA
I reported a theft (jewelry bag & jewelry) to the Ithaca, NY Police Department- Case Number I17-15935 during my stay at the Hampton Inn-Ithaca on Sept. 1-3, 2017. Officer Chance Van Cleef met me at the hotel Sunday morning, took my information, questioned your front desk personnel, and gave me the case number with follow up information. I will call them Sept. 8th.
Hampton management lacks, completely, customer service and professionalism. At minimum, I expected a courtesy call from Manager Amy Magdon; she never called. Sam Ferro completely avoided me that evening after I spoke to him at the front desk. I had to call him to get an idea of the type of help I could receive. He avoided any responsibility and referred me to Beth Jolles, the Housekeeping Supervisor. His corporate reply was " 90% of our staff has been with us a long time and we have a lot of trust in them". He said guests often misplace things....I positively know I did not misplace my jewelry bag.
I discovered my jewelry bag missing late Saturday (Sept. 2) night when I returned to my room. After searching, multiple times, all my bags, beds, room, bathroom, drawers, under furniture, etc., I immediately went to the front desk and spoke to Sam Ferro. He was of no help and said guests often misplace property and I should search my suitcases and the room. He said Beth Jolles, Housekeeping Supervisor, would call me the next morning. I called Beth around 8:30 am on Sept. 3rd . She offered to help me look through my suitcases and room which she did. She also suggested I report it to the Ithaca Police Dept. Together, Beth and I did not find my jewelry bag.
.
I expect a reply. Elyse P. Kukonu Houk

Gail Teague
from Holly Springs, NC
My mom and I stayed at Hampton Inn August 14,15 in Martinsville Va. The room appeared to be clean. I sent in a complaint and was contacted by Michelle a few days later. My complaint was bed bugs in room 412. She stated that the pest control company checked our room and the rooms on both sides and reported seeing no problem. Do you think these people would report a problem and risk the chance of losing their contract? We have stayed at this hotel on many occasions and always been very pleased with our stay. Almost a month after our stay there I still have places on my neck and ankles from bed bugs. What ever happened to being 100% satisfied?

Dan & Rose McDonald
from Okatie, SC
We booked a room at the Hampton Inn, 95 Vilano Road, St Augustine, Fl 32084 from 10/17/16 to 10/31/16 for which I was charged 2486.25. During that time we were moved on 4 different occasions due to problems with the rooms (example - AC/heat for 2 rooms) and the last room we were moved from was because supposedly this particular room was promised to other guests. No compensation on our bill was made at that time or even on discharge.
The perhaps larger issue was the fact that we had a 3rd floor room, my husband is handicapped with limited walking ability and from October 29 to 10/31/16 the elevator was not working and was only slated for repair on Tuesday, Nov 1. Needless to say, my husband was pretty trapped in the room due to inability to climb 3 flights of stairs. No compensation was offered for that inconvenience either.
While we have always enjoyed the Hampton Inn Hospitality in the past, we were very disappointed and unhappy about this particular stay. I feel some adjustment should have been offered even though it doesn't change the fact of the inconvenience and overall disappointment with our accommodations.
Have feedback for Hampton Inn?
Thanks for your feedback!
Sorry. Please try again later!