Hampton Inn
Hampton Inn Complaints Continued... (Page 6)
333+ reviews added so far. Upset? Call Hampton Inn corporate: 1-800-HAMPTON

Su Colvin
from Highland, CA
Staff (housekeeping?) Stole my AM/FM transistor radio, my Samsung charger with adapter and pillow speaker....I left the items on the bed. I left the hotel at 8 am on 3/1/2016 to return to my home intending to return to the hotel that evening since we were staying for 3 days, at 5 PM, I returned to the hotel to find the above items gone. I went back to my residence and looked through both cars. I checked with lost and found, housekeeping and made several calls to the hotel gen manager-Tony Toby? Simmons, we are playing "phone tag"..his effort to reach me is poor....this is the Hampton on Boulder Ave in Highland, CA.

John Alcorn
from Atlanta, GA
I usually call my reservations in but I did a survey to let you know how awful the experience was trying to get someone that could understand English so this last trip I booked online and made a dat mistake booking 2/29 checking out on Thursday 3/3 it was supposed to be 1/1 checking out on 3/3. When I showed up on 3/1 there was no reservation it was cancelled and I was told that I was charged for that night.
Okay I understand but I still need the nightstand it was booked at the desk but the price went from 117 to 152 which I didn't understand since I was charged for the first night. I have been a very good customer never complain and thought okay I'll speak with the manager who then came out and immediately was on the offensive and very rude. I told him that was fine if that was the way he felt and walked away to the elevator. He then started talking about the situation with another person like I wasn't even there.
I feel as a loyal customer this should be fixed and if not I will try to never pay to stay with your chain again and differently not at this location just because of the managers attitude.

Amanda Shockley
from Toledo, OH
When we first walked in and talked to the lady and she was very rude would not give us a room because we forgot it at home then when she gave us our room it was extremely dirty I was over charged about 100 dollars and anytime we asked for help everyone was rude. There is even more pictures to send but would not let me put them on.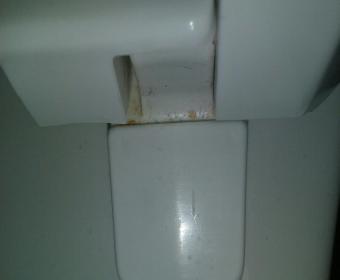 Larry Boromei
from Tampa, FL
We have been a member of Hampton club since 2009 . When we travel Hampton Inn is the only Hotel / Motel we stay in. In all the years making reservations I never had to request a Refrigerator or Micro oven. I surrender 30 thousands points for a room that I could have pay $49.00 at Motel 6. Is that the standard room that Hampton Inn offers when a loyal customer surrender their points with no Refrigerator or Oven. Very disappointed about this stay. We had one window that was stained and you could barley see out. I am going to consider using other chain in the future. If you would please call me to disgust this matter.

LaQuitta Mallory
from Miami, FL
On my recent stay at the Hampton Inn Selma, Alabama i booked a room with a whirlpool tub. Once we tried to use the tub the jets didnt work and the cold water knob was broke. Thankfully my fiance is a maintenance man and knew how to work the water without a knob. It was such a disappointment to not be able to use the whirlpool to full capacity. On our way to check we told a worker about the issue and they told us only one whirlpool in the whole hotel even works all of the whirlpools are broken or raggedy. I need and explanation as to why they are still being advertised and people are being charged full price for a broken or half working tub.

Vivian
from Pensacola, FL
I was an employee at Hampton Inn. I was touching on my body and nothing was not done about it the sex offender still works there. It is not fair and the hole department of house keeping smoke drugs from the boss on down and they don't change they sheets or blanket that's just nasty. I'm in pensacola I'm talking about the Hampton Inn on the beach in Gulf breeze.

Alice Anderson
from Oklahoma City, OK
The manager of the Hampton Inn at Miami OK secured a reservation for us at the Hampton Inn in the Tulsa/Catoosa area (across from Hard Rock Casino); I am claustrophobic and my husband is acrophobic. We arrived at the Hampton and there was not a room available on the first floor that had two queen beds; however, she "secured permission from her manager" for us to have the King Suite. She (Aida Rodriguez) was very gracious and helpful. She also suggested we join the Hilton Honors program.
At breakfast the next morning, several of the choices were not available. One of the women (someone else, not me) went to the door where the hostess was and told her. The hostess did not understand English so the woman led her to the pans that were empty. The hostess just shrugged--and a long time later she brought out eggs. Neither of the hostesses spoke and/or understood English. After breakfast, my husband took our "Hilton Honors" application to the woman at the check in desk. She refused to help him and said she couldn't do anything. It upset him; however he cannot breathe if he gets upset so he came back to the table. I then waited in line to talk to her--while I was in line she was verbally abusive to the people in front of me. Refusing to help them with whatever it was they needed.
Both couples went away very angry. When it was my turn I asked her why she could not help my husband. She told me it was not her job (why was she the only one behind the check in desk). I asked to speak to the manager and was informed he was very rarely on site. I asked for her name and she refused to give it to me. I asked about the woman who was so kind to my husband and she said she would not be in that day. There was nothing she could do and she walked away.
If Hampton is going to employ people from other cultures I totally understand--I believe everyone who seeks work should be given jobs if they are available. I DO NOT believe if you work with the public and you are in my country and you do not understand and/or speak English you should be employed--not only by Hampton, but by anyone else.
I do not want anything from Hampton, simply to be more understanding of the people who rely on your Inns to provide us with rest and no hassle. None of us should be insulted, humiliated, or made to feel like a problem. The Hampton Inn in Miami OK, Conway AR, and Branson MO are spectacular. The staff at these Inns, from the housekeeping department, right on up the chain, are marvelous.

Shamika Cooper
from Audubon, NJ
I came in the hampton inn on 73 in Voorhees NJ about a week ago to put in an application for employment. The building is very nice but its so unorganized. I feel as though i wasn't given a interview because of my race. I applied for house keeping. Margie, which is the hiring manager in housekeeping. Has her mom, sister, cousin, n her husband in those departments. I know someone who is Hispanic that just got hired and she received a interview on the spot but when i came the following day she just took my application and laughed.
I felt so embarrassed. This place needs to be cleaned up and with professionals. They bring there children on the weekends and they run all over the hotel because the head bosses aren't there. You have no one to talk to about your problems because everyone is related. Including the office staff and the head manager of the hotel. Something needs to change.

Kimmie Ratcliffe
from Tampa, FL
We are a Architectual Firm located in Tampa Florida and do work all over Florida and several other states and I book rooms at Hampton Inn all the time. I made a reservation for two of our employees traveling to Boynton Beach for work on the 26 of January 2016. After working all day our employees Alex Bothos (male) and Nichole Goulet (female) went to their hotel , it was around 8pm. She was told they did not have any reservation for them,. Nichole produce the confirmation# and she was told the rooms were canceled because they were booked through Expedia. Even though There is a confirmation # 126952657099. I went to google maps and looked up the address and found the hotel close to job site since they had to be back in the morning.
The girl at he desk ,Mellisa who told them that the reservation was canceled, also told them there was only one room available and that they would have to go Hampton Inn West Palm if they wanted hotel rooms. I called yesterday and spoke with a young man by the name of Michael. Whom by the way is very polite and helpful and let me know the manager Mellisa would be in in the next hour and call me back. Which she never did!
Michael however did call me back today and let me know that he was told I have reserved 2 rooms, 1 smoking and 1 non-smoking and that they did not have another non smoking room availible. Which was not the case, I reserved two of the same rooms. My concern is whether I booked it through Expedia, orbitz, hotels.com, google maps, it should not matter. They had a confirmation # and should have had their rooms that night instead of having to get back on the interstate drive 20-30 miles more and have to back to the job site in the morning after another 20-30 miles. I have another 2 hotel rooms booked with Hampton Inn for mid Feb in Georgia and I'm concern is what if this happens again?

kajuana
from Lithonia, GA
I stayed at the Hampton Inn Adel GA in December 2015 and they had bed bugs. We had to throw away all of our belongings and when I contacted the General Manager of the Hotel; Susan Griffin, she initially agreed to reimburse us for the one nights stay. Three weeks later, when I contacted her to follow up on the reimbursement, she reneged on the reimbursement and hung up on me as I was trying to remind her of our previous agreement. I have yet to obtain a resolution.
I have never had this type of experience with a hotel and I have traveled all across the world. I ave never experienced bed bugs or such a rude and unprofessional encounter with a general manager of a hotel. I will never stay at the Hampton Inn Adel GA or any other Hampton Inn again due to this horrible experience. I advise you to not stay at Hampton Inn Adel GA.

Mauricio Luna
from Haltom City, TX
Charges on credit card were charged while room was paid in cash. 7 days talked to afternoon manager and morning manager not communicating with each other. Told us it could take 7 days to get charges off of credit card. We will not be using Hampton Inn again. We will call be calling BB with complaint after filing on here.

Arline Nivens
from Smyrna, GA
I was waiting in the lobby for a friend on Tuesday January 20th a the Hampton Inn Cobb parkway smyrna Georgia and I was approached by staff of why and whom I was waiting for and the name which i felt was an invasion of privacy. I am a Hilton honors guest and my company uses Hilton hotels when i travel. I feel my privacy was violated especially I should not have to reveal my friends room number and what we would be doing there.

Donna Williamson
from Gadsden, AL
The room 313 we were given at 1545 Jameson Drive, Grenada, MS had dirty linens on one bed. When we got off elevator there were several trash bags full of garbage sitting to left, which smelled. The room we stayed in the carpet was dirty & did not look like it had been vacuumed in a while. We have never stayed at a Hampton Inn before that was like this. The night manager was very nice & when she moved us informed me that I would not be charged for our nights stay, which I did appreciate very much. Just thought corporate might like to know this, if it were my business I would want someone to let me know so I could check on the management in charge. The breakfast was very good & lady very friendly.

Phyllis Higgenbotham
from Camden, SC
Tonight, I called the Hampton Inn in Morgantown, WV to make a reservation for May 12,13, and 14, 2016. I was horrified when the young woman to whom I was talking informed me that the nightly rate for that weekend would be $389.00 per night, plus tax. The normal rate for the same accommodations at any other time would be approximately $140.00 per night. The West Virginia University graduation ceremonies are being held in Morgantown on the weekend of May 12-14, 2016, and the city will be crowded with families attending that graduation. My family was looking forward to being present to see our daughter hooded and awarded her Ph.D. However, at a cost of over $1300.00 just for a place to sleep for 3 nights, we must reconsider.
I find it appalling that your hotel chain would take advantage of the public this way. If a room normally rents for $140.00 per night, it should always rent for that price. The room and hotel services haven't changed for that weekend. This is pure and simple extortion of the public. Morgantown isn't a city that gets few visitors throughout the year. On the contrary, between athletic events and other university business, the hospital and medical businesses located there as well as other businesses, the city brings in quite a large number of people who need hotel reservations.
I am sure the Hampton Inn gets its fair share of these reservations because of its convenient location. I find this gouging of the public on graduation weekend unethical and unprofessional behavior that demonstrates nothing but greed on the part of the hotel and its management. I have to question the management of the entire Hilton Hotel chain if this is permitted. In the future, my family and I will carefully and thoroughly research all hotel options before we even consider, as a last resort, making reservations at any Hilton affiliated hotel again.

Anytime I have stayed at the Hampton Inn I have had a great experience. I have especially loved Hampton Inn sheets and pillows and purchased some on line. My complaint is not about Hampton Inn. My complaint is about my daughter Julie. Julie is a General Manager at a Hampton Inn. I believe she is an exceptional manager and is appreciated and liked by her employees and Hampton Inn executives. My problem is...she wants absolutely nothing to do with me..and I am her mother! I don't know why she has no desire to see me or contact me and she will not say why to anyone else in our small family. It has been about 2 years since I have talked to her.
She does not want me to contact her through email, texting, letters through the US mail or leaving her phone messages. I was sending her beautiful cards through the mail, to let her know I'm thinking of her and how much I love her and miss her. I would text her and she would not text back. I would leave her phone messages on her cell phone and ask her to please call me sometime - she never has. I would call her husband's cell phone and leave messages asking him to tell Julie to call me or if he would take a moment to call me. I never heard from him either. I need to say I live in the north and Julie lives in the south. We are over 800 miles away! I am very torn and broken.
It wasn't always this way. This behavior gradually happened over the course of 4 years or so ago. She would call me less and less and it just gradually got to no contact at all. I found out several months ago from my sister, Julie's aunt that Julie was going to start a log of how many times I "harass her" and then have me arrested for harassing her. I am the founding director of a non profit organization and could never take the chance that this would happen to me - by my own daughter? My heartaches, she never sees my tears.. I pray everyday she will change her mind and to talk to me and see me again like years before. She has not called me for holidays that other daughters celebrate with their families. I thought maybe Christmas she would at least send me a greeting card or a picture of her and her husband or maybe of her cats and dog - nothing...like I don't even exist.
It's very painful for me to even write this and so unusual of a way to try and reach my daughter. Julie tells her aunt and sister to let me know she's fine, but is not interested in hearing from me anymore. Julie and her husband visit his few family members in Florida. The only things I have to remind me that she once loved me, are pictures, a refrigerator magnet, cards and a book she gave me several years ago. I also treasure the crystal bowl and candle holders her and her husband gave me several Christmases ago. I have told Julie over the years that I'm sorry I wasn't a better mother. I made plenty of mistakes and her childhood/teen years were not wonderful.
Julie's father passed away tragically when she was a teenager. I tried the best I knew how to teach her Christian values. When she was younger I would take her and her sister to church. She has always been a very sweet loving girl and loves animals like I do. What has happened to my Julie? I want to say also your stepdad is truly sorry and feels horrible that he broke your finger all those years ago... I apologize for resorting to writing the Hampton Inn and I'm so sorry to do so. Julie Honey Girl, please...reach out to me sometime...somehow.

I will not be back here ever again after the way the GM was talking to the housekeepers he had told one to get a toothbruch and get down on her hands and knees to clean the bathroom floor and the whole time he was talking to her like she was 3 me and my family will never stay in a place were the boss doesn't know how to talk to people and I was standing at the front desk for like 20 mins before he even helped me I do believe his name was Amitt and it was the sunberry, ohio one on 36 37.

I stay in the Brampton ( Toronto) Hampton Inn 4 nights ( sometimes 2 rooms) a year for the past 5 years. A couple years ago recycling bins disappeared from the room. So I end up bringing home my recycling. This particular trip we placed our towels (4) of them on racks as I believe it is a complete waste of energy to wash them. All towels were collected and new ones were left where it is clearly stated if you don't want them washed please rack them.
Small issues for some...... but means a lot to me because I can only imagine this is hotel wide ( maybe chain wide). The new item on my bill is the biggest irritant. "Hotel Service/Eco fee"........I was told this is for the reduced water usage of the shower, the generous hotel offer of donating the left over soap and I don't remember if there was a third lame reason . You can't charge your customers for a chain wide offering to do something good for the planet. Do it because you must ......not because your competition does and you can take financial benefit from it.

Ray Caesar
from Newalla, OK
On Sunday, January 11, I spent the night at Hampton Inn in Ada, OK. The room reservation was made through the State of OK and was charged to them. I was told that they could not charge it to the State because it "wouldn't go through". I charged it to my credit card. When I returned to work Tuesday morning, I was told it did get charged to the State's credit card. I called Hampton Inn corporate phone number and was told they would credit my card. Now there are 3 pending charges for the one night I stayed there. All are for $101.80. I called Hampton Inn again and was told by the manager that they couldn't do anything. "It's a Hilton problem". I want all 3 charges off of my credit card!

Monique
from Panama City, FL
I was and employee at the hampton inn. I have two big issue and if you guys can't do nothing I getting a lawyer cause this matter is nothing play. On Nov 18 I was hired at Hampton inn anyways 12-6-15 I was getting my stuff together getting ready to get on the elevator when the manger touched me with his right shoulder then turn around and smile I went into the elevator and called my mom. I'm a single mom so I just did my job so I could go home. That's sexually harassment.
On 12-22-15 it was pouring down raining bad enough I live in a flood zone my wind shield wipers wouldn't work so I called and she said she would try see if she could get someone to come in. But the manager said I still need come in. I told them I had no was and I'm not going kill my self they didn't care. Mary call me back and said she saw me coming in. I said ok do I still need to she said yes. I wouldn't of made no different if Jenna was by her self I was going be by myself So I prayed and got to work.
The manager had seen me trying get my stuff together so I could start she said are u ok I said no she said what wrong I said it would of hurt to let me get my car fix and u had someone else work. Then said whatever you can go home the next time it rains you don't have worry about getting stuck, so she didn't have to make that smart remark. Nobody no if there going have car issue till it's time to go. three others have had issue. Corporate thinks she the big bad wolf walks around talking about everyone and I mean everyone.
On 12-24-15 I got a message from a co worker that I been taken off the schedule I said really, why so I called and talked Neil he said cause it slow I don't have come in and they only have two room for that day I said ok then I asked why am I crossed. Off the schedule for the following week he said it's really slow we will figure it out I said ok and hung up.On 12-30-15 I called to see when I work he said because I didn't come Saturday I told him he said I didn't have to cause it was slow and only had to room he said he didn't I have 4 witnesses who listen to the convention and then he said you no what I'm sorry you no longer work here and hung up in my face.
I got fired for what? So when I called back for corporate number everyone played dumb about the number. If nothing done I'll be filling charges for discrimination and sexually harassment

Ellen Ellenburg
from Grand Blanc, MI
I won a certificate for a one night stay at the Hampton inn and Suites in grand Blanc michigan. It was out dated because I had misplaced it. They were very short with me and would not even consider to honor it . They gave the reason that corporate wouldn't allow it. I bought it a a charity auction,so it was a taxable write off. I have used this type of certificates before for my grand-daughter birthday get away. That is what we planned to do with this. Very disappointed in your manager don't care attitude her name is Tina Bausick Flint- Hampton Inn &suites. I would like your company to honor my certificate please. Hiring a more pleasant manager would help your business. They had room available also.

Wes Breaux
from New York, NY
Staying at the Hampton Inn in West Mifflin, Pa. Checked in for 2 nights. Learned I had a late afternoon business meeting on my second day stay. Asked if there was a chance for a late checkout. I was told "NO" Not unless I want to pay for an extra day. This hotel person never checked her records, availability, times etc. Really. This is not the kind of treatment I expected. This hotel was not by no means "busy". I totally understand why Marriott gets a lot of repeat business. I can honestly say I have never had any problems with late check outs with Marriott.

Georgia Bobbitt
from Cleveland, OH
In the evening I walk from work, I walk downtown from my job, so from 30th Euclid to One public square, just to give u a visual of the distance I walk daily, I always use the bathroom before I leave work around 4:25ish so if I need to stop before I get my bus at 5:07pm, I know for a fact I can stop at Hampton East 9th Superior or The Westin @ 6th St. Clair or Marriott Key Center public square these hotels are very clean and smell wonderful (I take medication that require frequent breaks) so with all this being said, today I stop at Hampton around 5:00pm and as I started to the bathroom a woman approach me and said you can't use our bathroom (I was shocked because they always smile and very polite when I come through the automatic door)
I said excuse me so she repeated it, buy this time I had to use it really bad, so I said ok I will use it and won't come back, after I came out I started to address it then but they had a few customers and I'm not the one to create a scene and didn't want to miss my bus as I did, as I think about it more and more she was out of line , 1. There is no sign to read " no public bathroom" 2. It's a public place 3. I haven't committed any criminal activities 4. haven't harassed anyone. My complaint is really that management and customer service at Hampton Inn was out of line at every level. My family were looking into spending New Years weekend at your hotel, but thanks to your unprofessional corporate policy and front desk we will look else where.

I was an employee for Hampton Inn. On Nov. 28th 2015 I showed up to work at 7 a.m. the hotel had been a full house due to the weather. Customers were not checking out early because of the weather, the lady preparing the breakfast had called out the maintenance guys name which he is hard of hearing (no offense) he didn't hear her so he kept walking she then comes to front desk and tells me "you see he said he wouldn't throw the trash for her, I responded that he didn't hear her and she says "yes he did" I replied "no he didn't" she went on to say that he did and that that was his job and she was no longer going to let herself from no one. A little after that the acting GM (Amy) appeared at front desk so here comes the breakfast lady (Maria) to tell her that the maintenance guy did not want to throw her trash, which is a lie, and I let her know that that wasn't true, cause she was trying to make him look bad.
Well, minutes passed and her so called boyfriend/husband comes in and goes directly into the kitchen which at that point I didn't think anything of it. All of sudden he approaches me pointing his finger at me telling me " DO NOT TELL MARIA NOTHING" Maria's beside him telling him Juan,Juan, I told him "don't start and that he was not in his place to tell me anything and Maria's pushing him towards front entrance, and he starts calling out my husband which he was not there then I told him "get out of here". I then went back to the office where Amy (acting GM) and Raul a (co-worker) were sitting, I told her what happened she(Amy) went to kitchen and talked to Maria. I was really upset and humiliated.
My point is Amy gave my a verbal write up and told me she couldn't tell Maria's boyfriend not to come back, that because my husband would go too! I told her my husband does not act like that and the day he does I would be on her side Amy wanted me to admit that I had said "get the F out of here" which I didn't say that to him, which she insisted. I told her I would quit because I didn't feel safe working there and that I would finish the rest of the week Amy told me that if I didn't want to go on Sunday I didn't have to, she kept trying to get rid of me.
I feel that if she was able to hear anything into the office why didn't she come out to see what was going on? I felt unprotected that I decide to quit my job and call corporate. I ended up calling Jessica B. and apologizing for not going to work the next day(Sunday). Jessica tells me Maria's man was not allowed back on property but I never heard that from Amy acting GM in our location. I ended up talking to Amy to be put back on schedule but this time she puts me in housekeeping which I was Okay with at at first although, there was my days still available cause this was only 3 days after the incident. All I know is that I got the bad end of the stick for a drunken man that came into the property to assault me and I wasn't even defended. I feel Amy just didn't like me! Hampton is a very well known franchise and likes to look good and defend their customers. I believe we have rights too.

John Gilbert
from Bridgewater, NJ
On November 16 & 17,2015 I made a reservation for the Hartford, Ct. Hampton Inn. I had to cancel it. Due to a problem with my gps and heavy traffic. I spoke to the Manager, Mr. Acosta who was very nice. However, he said," there was nothing he could do for us because the reservation was non refundable." We are senior citizens who had been driving for more seven hours! It got dark and we were unable to get to the hotel. We have always used Hampton Inn in the past and it seem that your company should be able to make some type of accommodation. We notified the hotel with plenty of time for you to rent the room if necessary. Please give our situation consideration.

Vicki leary
from Atlanta, GA
Checked in hampton inn walnut grove memphis tn. My husband was admitted to baptist hospital right there with cancer and has 3-6months of life left, as that's not stressful enough, went to our car( parked up front, by the office window in handicap spot.) and 6 cars were stripped of the wheels and tires. One car was stolen all in the same night. Nothing was done about it. We were told we could stay courtesy of them as we had no way to get anywhere without wheels right? Well my son in law had flyer points as he reserved it for us, well hampton used all his points to pay for the remainder of our stay. They did nothing. They have no security. I would not recommend this place, ever. Dangerous.

Sauriellia
from Trenton, MI
I was an employee at the Hampton Inn in Southgate, MI. I was a housekeeper and yesterday afternoon me and the supervisor (Dora) we got into an altercation. I am only 17 years old and I feel like I was pin pointed out by Dora because i was young and not the color of her skin. She is not a good supervisor, she runs back to all the other housekeepers telling them about other housekeepers. They have been through so many housekeepers because of her. She was stealing our tips and nothing was done about it, it still continued after the fact and I have proof and so did the other that went to the General Manager and she got away with it. She threatened me and act like she was going to hit me as I was calling for my ride she was saying "I got people too". Mind you I am only 17 and she is a 40 year old woman. I want something done about her or I will take everything to court because what she is doing is fraud and unprofessional. She should be a supervisor but she is a liar and a thief. She should not be working at the Hampton Inn. The Hampton Inn is an overall wonderful hotel to work at it is just the supervisor Dora.

Kathleen Beverly
from Valparaiso, IN
Stay on 10/18/15 We called the desk to inform them that the TV did not work, they said check to see if it was plugged in, it was so they said the would be up in about five minutes. We started un packing and hanging up our clothes and I turned on the heater, and very foul smell came from the heater, it smelled like someone had urinated in it, then it started smoking and set off the smoke detector. We packed our clothes and moved into the hallway. It had been fifteen minutes and no one had showed up, so I called the desk and informed them of the heater problem and that it had set off the smoke detector (which was still buzzing). They were quite rude and said the heaters always smell when they are first started, I said do they always set off the smoke detector? They said they would be right up.
Fifteen minutes later he shows up and takes us to another room and again was rude, acting like it was our fault we had to move. The new room had hair on the toilet and the bowl had been used and not cleaned, the heater would not work on AUTO, so we had to run it constantly. At breakfast the food was so bad people were saying they were not eating and were leaving, we joined them. On complaining to the manager at check out, she said she would have the General Manager (Jai Amrit) call us, naturally we have never heard from him. We have been long tine Hilton Honors Members and faithfully stay at Hampton Inn's, this was an experience we would hopefully never repeat, bad accommodations and rude service.

Diana Jarava
from Bowling Green, KY
I am staying in the Bowling Green, KY location and I only have about 10 cable channels because the cable has been out for 2 weeks. I've been here since November 2nd and everytime I call to complain they are so complacent about it. I called the 800 number to complain and they said it wasn't their job to fix it. I am staying here for a week and I can't watch 1 movie. What is going on with this hotel?

Candace Pardue
from Gainesville, FL
I secured two rooms one for my husband and myself and one for my brother and his wife. They arrived at Hampton Inn Coconut Grove Coral Gables Fl. On10/24/15. My Sister in Law refused to occupy her room because of smell of vomit in the room. Room was changed. I arrived Sunday10/25/15. Room was adequate but when my Husband checked in he was treated rudely by staff an African American woman said we would have to move room because we had two queen beds and we have them rented out. My Husband asked " what are you going to do put us out on the street". Husband also said we have a 90 year old mother in the Baptist Hospital who is terminally ill. Then she asked what e were using for our rate AARP.
She would change it to Hospital rate which was lower. We checked out on Tues 10/27/15. Bill placed under door was still on AARP rate. Today someone called from Hampton Coral Gables thinking we still a reservation at Hampton we were home in Gainesville. She was snippy thinking we were either still at Hampton or on the way. We had confirmation number80047863 l have stayed at this Hampton many times and have never had such confusion and consternation over our stay. My mother was admitted to Hospice so the family was very focused on her and not on unpleasant Hampton employee. We never did get the hospital rate and neither did my brother. Please audit this customer complaint and the correct behavior to be sensitive to family emergencies.

Frederick Taylor
from Memphis, TN
I was very upset due to the reconstruction that was going on and I didn't receive a notice or anything about the reconstruction at all. We were stuck in a room where all of the construction was going on, why couldn't we be moved to the second floor as the others were on the second floor. Noise, early in the morning, dust flying all over the place and it was just not the type of weekend that we were expecting. We always use this hotel whenever we travel, but this past weekend was not a relaxing one. We paid our money to be able to relax and to have a good time, but I have to say that it wasn't. My confirmation number from this past weekend is 84738449. We would love to continue to use Hampton in, but this past weekend was not a good look. Hope to hear from the corporate offices at Hampton Inn soon about my complaint.

Eugene and Marcia Belford
from Rockville, MD
We checked in on 9/25 for one night . We were given room 308, when we entered the room and left our suit cases and immediately went out to dinner. After dinner we returned to the room to get ready for bed. Once we entered the room I stated to my husband it smells terrible in here, not noticing when we left our suitcases as we were only in the room a few minutes during that time. My husband agreed, I went down to ask for another room but the hotel was booked. During the evening especially on my side of the bed I smelled a strong odor of urine. I at one point said to my husband that I was feeling ill.
The next morning we got up at 5am to get out of the room and approach the front desk to complain about the odor. The girl at the front desk was polite and said immediately "I know what it is , it is the shower curtain next to the toilet it happens all the time as people miss the toilet and it hits the curtain". I stated to her that you should not rent that room again without cleaning it thoroughly , as the urine smell also was coming from the rug. She stated, "oh sorry about that". We paid for the room 159.00 which we are requesting refund for or a free night at another Hilton/Hampton Inn. We have had great experiences at Hampton Inn's staying earlier in the week at another location which was wonderful experience.
This experience was a bad experience and the front desk made resolution nor gave us no customer service satisfaction. We do not want to detour us from staying at a Hampton Inn again but again feel that some kind of customer resolution needs to be made.

Joan Khaled
from Traverse City, MI
On Sept. 16 & 17 I stayed in your Santa Fe Inn (with Shoreline Travel). The beds were comfortable & the bathroom was very nice. However, when we walked into the room that night I smelled a distinct skunk odor and immediately went to change rooms. The desk clerk informed us that all the rooms were occupied but she could come with air spray. She informed us that there were skunks in the neighborhood & perhaps the odor penetrated the air system. We turned the A/C on high, & my roommate went outside but did not smell any skunk odor. She had a most unpleasant exchange with the manager. With the A/C the smell was lessened but several other people noticed a bad smell in their rooms. It is essential that you show you care about your clients and that you take steps to correct persistent problems. Customers want a fresh room with no odors. A/C can be turned on in advance of arrivals. You do not want to lose customers, so managers must be professional and show concern. You have a great location. Hopefully your manager will improve her attitude.

Mike Stephens
from Joplin, MO
I booked a room for 2 night at the Hampton Inn in Danville. I was assured that we would have a walk in shower to accommodate my wife's broken leg. I even asked the desk clerk to check with the manager, which he did, and I was again told we would have walk in shower. This was the reason we chose this hotel. A few days later when we arrived at the hotel our room had a tub with wall handrails. I asked front desk to move us to a room with a walk in shower and was told that there were no walk in shower rooms. I was told by the desk clerk that he would note the problem and I would be hearing back about some sort of compensation. Before checking out I spoke with another front desk clerk and she promised that I would be contacted. Five days later I have not received a call from the corporate offices.

Melissa
from Hyattsville, MD
My daughter, joined the US ARMY and is traveling alone 1,200 miles to her base. She made a mistake and prepaid for a room that will not allow her to reach her base by the required date. Because she prepaid they will not allow her to switch to a location further away. Hilton customer service reps are rude, unprofessional and uncaring. She is out 150 dollars that she does not have. TERRIBLE customer service. She called to explain, I called, we twittered etc. and nothing. No call back!

Christina Terry
from Willingboro, NJ
I booked two room for Me and My Children, I end up extending my stay, due to car problems, nevertheless there was a fire drill, that was not announced, my kid was scare!! running in the hallways and thinking about a fire, there was no announcement of false alarm or not! As we finally got back asleep, the alarm went off again, still no indication of what was occurring, I called down stairs only to be told, there was no fire!
Then when I had to book another day, which I explained that I need both room for another night and was there any discounts that I could use, I was told the discount was already included in the rate of the family event, I end up paying close to $800 for both rooms. I did not think the staff was very helpful or had any sympathy in the matter of my axel breaking on my car, this made me feel like your hotel was family in dealing with families issues these children are foster children who got an opportunity to come and be in A hotel, only to leave out afraid with no explanation of why a fire drill went off!

Donna Falk
from Basking Ridge, NJ
I checked in to the Hampton Inn on 8/5 and was given a room for I had called ahead. I had a problem with the 12 noon checkout so the reservation person told me to tell them at registration. My daughter was working and couldn't pick me up that early. T he person told me that it would be a $50 charge. As we walked away the agent said, both of you have a good stay. It was only I that was staying so I went down around 11 am to ask if the late charge was for one or two. Before I closed the door I put the do not disturb sign (Dreaming) on the door handle. Asked the agent if the charge was correct and she said that there wasn't usually a charge but I had to come back for the manager had gone to the bank. I got up to the room and found a maid in my room. She said that there was no sign but she had knocked it down. Not happy at all.
I told him that the last thing that I did was put the sign on the door. I went later to speak to the Hampton Inn manager and he said that there was a charge but what I had been charged was too much. I told him that the hotel directory didn't mention a charge and that the agent told me that there wasn't a charge usually. He didn't care and I explained the problem with the maid and he stated that she told him that there was no sign. Untrue. Also at 1pm a note was delivered to the room stating that there would be no water for they were having a leak fixed. Shortly after that the tvs went out (storm related ) I had asked him if he could remove the late charge because of this and he said no but he'd lower it to the correct amount.
I don't know what was final charge was. I was waiting for my daughter and one of the maids came down and asked me if everything was ok? Apparently they were annoyed because I removed the tip $ after I came back and found the maid in my room. That and the fact that she lied I didn't feel she deserved it. This was the first time that I didn't leave a tip and I am 64. Very unprofessional how this was handled.

Kristin Bill
from Nevada, OH
My family had reservations for the weekend of August 7 and 8, 2015 at the Hampton Inn in Middleton, OH. We were part of a group from Notre Dame Academy soccer team that was scheduled to be in the area for a mandatory team bonding event. There were approximately 30 rooms on hold for the event. It was necessary to book the room prior to soccer tryouts, which took place August 3 and 4. Unfortunately, my daughter was not chosen for the soccer team. We, as a family, had spent our entire summer at events and practices. Not being chosen was heartbreaking for my daughter!
In the furor that followed tryouts I forgot to cancel out reservation at Hampton Inn. I am now being charged over $100.00. I spent three days trying to contact the general manager, Natalia. In the process I received multiple excuses regarding her lack of availability. I also left her multiple voicemail's and also contacted the Hampton Inn corporate offices...to no avail. When I was finally permitted to speak with her, she was exceedingly rude and without compassion! She refused to even consider waiving the charges.
I am fully cognizant of my responsibility in the situation. Never-the-less, I find Natalia's behavior unprofessional and inappropriate. At no point did she express regret for my child's distress, much less apologize for her failure to return my call.
Under no circumstances will I reserve a room with Hampton Inn or their affiliates in the future. I will also be recommending that Notre Dame Academy chooses alternative lodging for all future events for it's many sports activities. If Hampton Inn is that desperate to make $100.00, then they may consider their goal met. However, it will be the last time they receive anything from me and I will do everything in my power to make certain they are not a part of Notre Dame Academy's future.

Linda logan
from Panama City, 8
I asked about laundry being done and was told to leave it in my room and housekeeping would pick it up. I offered to bring it down and was told no. Asking when it would be done I was told it would be back by 5 the same day. Got back at 530 and called the desk 3 times. Finally told it would not be back til next day. Then a rude man brought it to my room and said. "Hey lady we can't do it tonight maybe tomorrow. I just took it and shut the door. No question why I expected it no apologize. Just a hey lady. I am 66 and expect to be addressed correctly. Not by hey lady.

Rick Weinel
from Fort Thomas, KY
My family and I were on the final days of a ten day road trip. I had planned the trip weeks in advance and had reservations for the entire trip in place. I am handicap and need accessible rooms. Hampton has a system where I can check into the room from my phone. I called Tuesday to make sure the rooms were available, I was assured they were available and was given the room numbers I had selected. Upon arrival, after a long day of travel I was informed that there were no rooms available. How could that be I had checked in the day before? Sorry no rooms. They sent us to a local hotel, which upon seeing the place, drunks outside, no air conditioning, not suitable for a good nights rest.
I returned to the Buchanan Hampton Inn told them I would not stay in the place they sent my family. I contacted Hilton Guest Assistance who instituted a conference call, myself the Hilton rep, the desk clerk, and the general manager. There were no rooms available for miles around, we were stuck in the mountains of West Virginia with no place to spend the night. During the conversation I was told that I had too high standards because I would not stay in the run down hotel. The desk clerk also expressed that I had booked the rooms with points, I did not realize redeeming Hilton Honors points made you second class. The representative from Hilton customer service heard the entire conversation.
She seemed sympathetic to my plight and stayed on the phone until an agreement was reached. The hotel had found accommodations around fifty miles away at a Comfort Suit. Wow another fifty miles of driving! At least we would have a room. The General Manager said that the Comfort Suits would not accept their payment so late in the day. I was asked to pay for the room and Hampton would send me a check. She would e-mail me the following day. I faxed the folio for the stay the next morning to the Hampton manager. No response, no e-mail, no check! After a week I began calling the Hampton Inn asking for the manager who was never in. No returned calls , no check, nothing!
I contacted the Hilton Guest Relations office, no response, no help, no anything! I am still waiting for the first contact from Hampton Inn and the Hilton people about the $150.00 dollars I am out. I am so disappointed how this event unfolded, Hampton and Hilton have always been my go to for consistent quality stays when I travel. Still I am floored that they gave away two rooms that I had actually checked into the day before! The Hilton people, to date, provide little more than lip service! I always hate to see something I counted on go to pieces, guess I'll be looking around for others in the "hospitality industry" to fill the void.

margie styles
from Birmingham, AL
When making my reservation I forgot to ask for the military discount. On Arrival asked the hotel if I could get the discount and I told no. I would like to know the reason for that discussion. when other hotel has given me the rate after arriving. Really upset with the corporate office on this one!

After 12 hours of driving we arrived at the Hampton.. pulled back the beds and one bed was fine but the other bed had the dirty linen from the previous customer, sheets were a wrinkled mess with numerous body hairs all over the sheets, the bathtub had a thick film on the tub which showed signs of not being cleaned for a while. After having the girl from the front desk come up that night to change OUR sheets, she told us she would notify her manager, but we never heard anything again. We were not compensated for the frustration of having this happen, to be honest it nauseated us to even think about getting into that bed. I would not recommend Hampton.

Virginia Poole
from Orlando, FL
Hotel website misrepresented a twin size "sofa" (really a love seat) sleeper as a full bed. My two children didn't fit. We asked for a rollaway and were told it was a fire hazard. Service desk rep was unapologetic as was the manager the next day. She said it was a full by hotel standards. I have a twin mattress in my home, I know what it looks like. Your standards must be pretty low.
Would not offer alternate accommodations since we booked through Seaworld. It doesn't matter where we booked, do you stand by your reputation or not? Seems to me that you don't like families with children. Or people who are not petite.

I mistakenly booked a reservation at the Idaho Falls Hampton on 5/6/15 on the opposite side of town. I requested that my reservation be switched to the Hampton at which I'd intended. The manager at the Lindsay Blvd location refused my request, despite neither hotel being near capacity, citing the 24-hour cancellation policy. Refusing a transfer between Hampton properties seems a very petty stance to take against a long-time, consistent customer. You secured my stay this evening. I'll think twice before booking with you in the future and will certainly avoid the Lindsay location.

Toni Allen
from Columbus, OH
I booked a room online in Carmel, IN for 4/1715. The reason for my stay was a Scholarship Award dinner for my daughter at Butler University. Upon arrival, I learned that I could ask the the "Butler Rate." The "Butler Rate" was $60 less than the rate I was charged but was told she "could not change my rate because of the way I booked." How would anyone know that in order to get the "Butler Rate" that they were to book any other way than online. There were other people standing in line who were able to change their rate once they asked them for the "Butler Rate." The young lady who assisted me said she could not change my rate. I was completely surprised because I usually stay at Hampton Inns and have always had wonderful customer service and the accomodations have been great. If this isn't corrected, I doubt that I will go out of my way to stay at Hampton Inns in the future. I am a Hilton Honors member and always choose to stay at your places. I was very disappointed with that should couldn't be more helpful. If one group gets the "Butler Rate," why shouldn't everyone? I hope to receive a reply.

Gail Reiben
from Spanish Fort, AL
We stayed there on Saturday night, April 11, 2015. We were woken up by a fire alarm going off at 3:40am. When came to our senses and realize that it was actual an fire alarm. Our room was on the top floor (4th) and we were confused and not sure whether it was a real thing or prank or exercise being done. Finally after about 5-6 minutes or so someone came by and told us that the front desk said for us to actual an alarm and to evacuate the building. My concern was why there was not a better way to let folks know for sure what's going on. (maybe a recording on the phone to tell that is real fire and to get out or over the intercom system or something to help. I would think your hotel would have a better way to confirm that we needed to get out of there. Believe the alarm was sounding but we did not smell anything so it was hard to believe that a fire was going on. We were told by others in the parking lot that there was a small fire or something going on the first floor. The hotel did not even say they were sorry for the interruption when we checked out the next day. I know the folks that morning was not the ones there when this happen but they should of at least acknowledge that we had been erupted during the night by the fire alarm. Given us a slight discount for our stay or say they sorry that it happen. We heard it was a kitchen fire. A note under the door would of been nice the next morning when we got up explaining what happen. Oh, I just had another thoughy, they want to know how many are staying when you check in but no came around from the hotel to verify that everyone had gotten out safely. I hope this never happens again. We have always prefer to stay at Hampton but maybe you need to implement a better way to let you customers know when a fire is in the building along with the fire alarm.

Jane Cochran
from Eatonton, GA
My husband and I stayed at the Hampton Inn Atlanta - Canton on 4/7/2015 and 4/8/2017 in room 310. We missed an appointment on Wednesday morning because we left a wake up call for 7:00am and did not receive one!!!!!!! Thought that this should be noted as a complaint so this can be corrected by the staff and it will not happen to someone else in the future. This missed wake up call, not only had my husband and I miss a critical appointment, but it also cost us money. If you are going to offer a service like wake up calls, then do the service! I've learned my mistake and will set many alarms in the future, not depending on the thoughtless people of Hampton Inn

On 2-13-15 my wife and i checked in at the Haampton inn in Blytheville Ar.We paid 110.36 in CASH and took recpt.Had to leave our credit card for possible damage deposit,we told the girl do not swipe the card.We picked up our card am 2-15 and left no damage etc. im 80 yrs old wife about the same.We retruned home 2 wks. later to find a 119.36 bill on our credit card.After 6 calls e mail etc nothing.Our credit card was used with out out permission and someone kept our 110.36.Stay far away from there there a bunch of low down dirty cons,P.S. MOLLY the manager is a real peach lol to do business with.Molly i hope you read this you s--- b---

Debra Ruggio
from Utica, NY
Upon arrival to this hotel, the front dear staff were sitting down on the chairs in the lobby. No proper greeting or friendly smiles. First impression was a disappointment. If that wasn't bad enough, the front desk person was confused and couldn't decide which room to assign to us. No usual offering of snacks such as cookies and/or popped corn. Upon entry into our room I was immediately disappointed in the appearance all old furniture. Given the coat of this room, I would expect these rooms be updated. The maintenance people Trevor, imparticular, was very helpful as there were a couple of issues the toilet wouldn't flush and the thermometer was located on the wall and wasn't controlled on the heating unit itself (no one instructed). Also, the employees who helped with the breakfast were cheerful and had the breakfast items well stocked and looking fresh.
Overall, I was very disappointed with my hotel experience. Chances are I will not return to this hotel after such a disappointing stay.

Lejean Lancaster
from Laurel, MD
I was staying in room 307 at the Hampton Inn. Throughout the night I heard loud noises I called the front desk they said they resolve the problem but I continue to hear nosiness and when I left out to go down stairs I smell this very bad odor that smell like drugs I also told the desk clerk if was not nothing the clerk can do for me . This my business trip and I decided to stay here i couldn't get what I wanted down because of to many interruptions. I'm very unsatisfactory. I Was Not Happy With My Stay!

Jorge Paez
from Middle Island, NY
ON 12/18/14 I made a reservation for my wife and my two children because I went to a surgery at the Hospital for Special Surgery unfortunately I need to stay in it for a couple of more days, my wife spoke to the person on the front desk an told her she need a extra night stay in it, the person on the front desk said it is ok by you need to change the room for tomorrow night (12/19/14) my wife said will be ok to change the room, next evening 12/19/14 she came around 8 pm with my two children and the person in the front desk and the manager (Nelson) told her we don't have any rooms for you and here is your luggage that my wife left because they told her after they clean the room they will bring it up. How is possible to do this things to a lady with two small children at that time and with out any help from the persons of your hotel.
I need and explanation why you people do that after they told her yes we do have a room and we will hold your luggage. I just write this now because my wife never told me about this problem until now because I was trying to recuperate from the two surgeries I had. I though Hampton Inn treated everyone well especially clients like me and my company who is you very frequently. My Hilton HHonnors #913546575 please let me know if I need to cancel it and change my staff and my self for a different hotel who treat us better.
Have feedback for Hampton Inn?
Thanks for your feedback!
Sorry. Please try again later!