Hampton Inn
Hampton Inn Complaints Continued... (Page 6)
407+ reviews added so far. Upset? Call Hampton Inn corporate: 1-800-HAMPTON

Mike Mares
from Albuquerque, NM
Stayed at a Hampton in Las Cruces, NM and got what I believe to be bed bugs. For a week I tried to contact management asking that they check the room to get ignored. It's been more than a month and no one has returned my calls. Don't stay at the Hampton Inn in Las Cruces if I-25. The manager doesn't seem to care about guest concerns.

Leetoya muldrew
from South Easton, MA
well during my stay on 4/13 was told I would be able to swim but there was a delay in what was told to me by an employee. Needless to say I drove 40 min away and back with my children and they lied about telling me this .Front desk Mrs.E was very disrespectful and rude and the GM didn't return any call I placed but soon as I emailed her she emailed back immediately to avoid talking with me directly.I just want my money back for the 1 night that I drove from out of town to get my children and spend the weekend with them. Both the GM and her front desk person MRS.E were just ridiculious and rude. Please help me resolve this issue I have I know that is not Hilton and I am a Hilton honors member.

Amy Brady
from Philadelphia, PA
Our luggage was lost and they acted as though they did not care. We have been dealing with this for over 8 hours and still no resolution.

Lorine Kent
from Providence, RI
Let start feeling sad to have come to Buffalo and stay at downtown Buffalo Hampton inn made reservations for 3pm had us wait for hour today that hotel is not ready and then was treated very rudly by reception to find out that they still have gave us the room came over with two more sodas to go with the ones they already gave us by the we were upset so since reception seen that we were upset took them back n said nevermind SMH I been in a lot of hotel never got treated like this

Frank S.Pirog
from Cocoa Beach, FL
11 Mar 2018 - In an attempt to make a reservation for 17 Mar 18, I inquired with the reservation person (813-818-7202) about retired military discount and her reply was that because the rooms were filling fast, they could not offer a discount. At that point I asked to speak with her manager because I was having a hard time understanding her broken English, although I did not say that to her. At that point SHE HUNG UP ON ME. Not very professional. Frank S. Pirog, Member # 588897012

Terry hicks
from San Francisco, CA
I emailed the complaint office about one manager that works at the Hampton location. Jessie aly,in the back entrance, and mission st.in the front. Last Wednesday night.did you receive my email if you did not,let me know. the surety guard saw and heard every thing.I believe the guard said the guys name was right. Please let me know if you received my email

Anthoula Washburn
from Boca Raton, FL
Good day,
Last year September, I made a reservation with your Hampton Inn Suites in Knoxville TN 601 N. Weisgarber Road 37919 865.693.5400
I had just got out of the hospital as I had stomach surgery and my family and I were trying to leave South Florida due to Hurricane Irma. We could not make it out the state and had to cancel my reservation the same day. I was charged $151.25 on my debit card for a one night stay cancellation fee which was charged to me on 9/8/17 during this state of emergency. I am respectfully asking for a refund of this monies. I know that it has been a long time since this has occurred but in speaking with some fellow coworkers, all who were planning to leave for the Hurricane but could not leave the state received their full payment back. Marriott, Fairfield ect. This is what has prompted me to write this email. I am wondering why this company would charge during a state of emergency and I am asking for a refund.
Sincerely,
Anthoula Washburn
3464 NW 25th Terrace
Boca Raton, Florida 33434
561.843.0421

Nicholas Whitehouse
from Bournemouth, ENG
Reserved and stayed 1 night (14-15 November 2017), 2 rooms, 4 adults. My credit card statement shows I have been charged as if we had 4 rooms or stayed 2 nights ( ie double the agreed reservation cost) . So far Hotel manager has not refunded my card. Phoned hotel, manager not contacting me back.
Feel very let down. is there dishonesty taking place at this hotel? Can you assist please? Thank you.
UK Visitor, Mr N P Whitehouse

Wendy kapuscinski
from Allen Park, MI
Me and my family have stayed st the Hampton inn st birch run for 25 years every nov. the last two years were absolutely horrible last year was during the worst snow storm and we had no heat we were credited for. This year 2 out of 3 rooms had issues mine room was so hot in the winter we had to sleep in shorts and a tank top due to having no air and we had to sleep with the window open. The hot tub was broken again. The second day same issues but when I got up to shower (I was the first one up there was no hot water. When we called to let the desk know he laughed and said oh we forgot to turn on the reserve hot water tank??? I have been trying to contact James the Gm it took 10 emails and about 6 calls to find out how rude he was. He was so cocky I felt uncomfortable talking to him .i was promised my 2 night refund and it would of been credited that day if I payed on my card but I paid in cash so I was told I have to wait. I finally got a hold of James and was told we'll all we are gonna do for you is Send 1night because we had issues late stay . I said we have been coming for 25 years and have only had 2 bad stays. He said it would be better if we found some were else to stay??? I was so shocked to here this from a Gm. You would think being a customer fk that long you would got more respect then that. All we expect is to have the basics a clean room, heat , air and hot water. I don't think this is too much to ask for. I would like a phone call back in regards to this horrible experience.
Thank you
Wendy Kapuscinski
7343633900
Wkap111@yahoo.com

Wendy kapuscinski
from Allen Park, MI
Me and my family have stayed st the Hampton inn st birch run for 25 years every nov. the last two years were absolutely horrible last year was during the worst snow storm and we had no heat we were credited for. This year 2 out of 3 rooms had issues mine room was so hot in the winter we had to sleep in shorts and a tank top due to having no air and we had to sleep with the window open. The hot tub was broken again. The second day same issues but when I got up to shower (I was the first one up there was no hot water. When we called to let the desk know he laughed and said oh we forgot to turn on the reserve hot water tank??? I have been trying to contact James the Gm it took 10 emails and about 6 calls to find out how rude he was. He was so cocky I felt uncomfortable talking to him .i was promised my 2 night refund and it would of been credited that day if I payed on my card but I paid in cash so I was told I have to wait. I finally got a hold of James and was told we'll all we are gonna do for you is Send 1night because we had issues late stay . I said we have been coming for 25 years and have only had 2 bad stays. He said it would be better if we found some were else to stay??? I was so shocked to here this from a Gm. You would think being a customer fk that long you would got more respect then that. All we expect is to have the basics a clean room, heat , air and hot water. I don't think this is too much to ask for. I would like a phone call back in regards to this horrible experience.
Thank you
Wendy Kapuscinski
7343633900
Wkap111@yahoo.com

Jane Davis
from Odessa, FL
I have a lot to complain about so it's going to take me more than a hundred words so I'll just try to be pacific my home got ruined from Hurricane Irma being a FEMA client I stayed at the Hampton Inn on 11740 Tampa Gateway Boulevard in Seffner Florida 33584 somebody might want to get back in touch with me because I have a list of things they were very rude to me and the staff members names that were rude to me I have a list of and all the stuff that they told me and even the manager how they treated me there and I stay 37 days there until they said it didn't have any room for me anymore and it kicked me out their service is lousy lousy and because I'm a recipient I did not complain until I left the place because I didn't want any repercussions coming back on me so if somebody could please give me a call back at 813-359-7209 so I can speak to a person I would be really really happy thank you

Torrence Beasley
from Alpharetta, GA
Dear Mr. Nassetta,
I regret having to write to you about an unpleasant experience I've had with your company. I prefer to contact a company only to praise an employee or the company's actions.
Unfortunately, my situation is such that it is necessary for me to forward a complaint to you.
I made reservation for November 22 and 23 at your location in Clarksdale, MS for the Thanksgiving holidays. My room number was 216. I had to endure constant noise coming from the room above me doing quiet hours. I called and reported it to the front desk (Tia) between 11:30 pm and midnight. The noise continue until the morning hours. I didn't get any sleep doing my stay.
I look forward to hearing from you. I hope you can respond within 30 days so that we are able to resolve this problem in a speedy fashion.
Sincerely,
Torrence

Michele Painter
from Scottsdale, AZ
On 11-17-17 a reservation was made upon checking the girl at the front desk told us that we would be charged a "security" deposit and billed credit card for $108.91 when I see this charge the next day went and spoke to the girl at the front desk who advised that this would be credit back to the account on this day. When ask why I was charged this amount the girl said she was not sure why she did that and she was new. This cause for me to be charged several charges from my bank now since I should have not been charged until check out, and it was made clear the card was to secure the room wanted to pay cash when we checked out. On Sunday when checking out the girl at the front desk did not have a resolution for this matter and I was never charged the full amount. Called today 11-20 and was told a manger would contact me a second time and STILL no call.

Sharon Michel
from Sylacauga, AL
Thé Hamption Inn in Dalton, Ga, is certainly not the quality we expect when staying at a Hampton Inn, The rooms probably haven't been updated in 10 years. There was a huge cobweb hanging from the lamp over the desk. There was a huge stain on the carpet and the upholstered chairs were worn and didn't look clean. We will never stay here again.

David Hamaker
from Lady Lake, FL
Traveled for many years as Diamond member and stuck with Hilton chain of Properties. After staying one night at this hotel above, I will no long stay at a Hampton Inn. This is the most dysfunctional Hampton Inn that I have ever stayed. Your corporate customer service is very unhelpful and unprofessional. If you want the details, please email me as it will take 2-3 pages to tell you everything in writing. General manager and employees of the Hampton Inn Doral/Miami airport west are among the worst in the business. Thank you for listening.

Darrell
from Lafayette, LA
Stayed in Cadillac Michigan 10-16-17 to 10-20-17. They were to charge the room to my Corporate lodging card. they Charged the room to the Credit card i gave for incidentals instead. i have been waiting on a credit for 3 weeks. it's rediculous

Janie Brandstetter
from Dacula, GA
I have been trying to get 5-7 rooms for Dec 8th and 9th. I started in person at the hotel and was informed they could do 5 rooms but would need to go to someone else for confirmation. I made 5 calls and did talk to an individual who said she would take care of it and call me back. I have never received a call back and now find that I do not even have the 5 rooms.
I find this unacceptable. I am getting married and needed the rooms for out of town people. This has caused me a lot of distress. This is very poor business. I have always loved Hampton Inn but will not use them again. This is a small area for bad publicity.
FYI Hampton Inn Braselton Ga. Janie Brandstetter 770-967-8159

I was charged for a room when I did not stay there. My credit card was used to hold the room for a Veterans Affairs event. My orders were canceled and I notified the hotel (listed below). They still charged my credit card for someone else's stay, and as of today 10/12/2017 the hotel will not return my calls or they hang up as soon as I enquire about the un-lawful charge. 765-6626656, IN VNT 8091
Hampton Inn
1502 North Baldwin Avenue
Marion, IN, 46952
Phone: 765-662-6656
Fax: 765-662-6653
Email: hampton.6656@gmail.com

Kelly McGinnis
from Branson, MO
I've stayed at Hampton Green Hills Nashville and loved it, until last time. When I wrote a mixed review on Trip Advisor, hoping for some sort of "I truly hate that, how can I make it better", I instead got an arrogant ass belittling me. I looked at other reviews that had rated them poorly, and he pretty much told them to go elsewhere. I'm not a good communicator, but had a legitimate complaint about an employee yelling at my grandson, as well as scolding us for talking too loudly. I try to be considerate of others, but it is the way they went about it. I don't know what happened to the customer is always right, but this regional manager does not believe in that theory. I called the Motel and asked who his boss was and they indicated it was Mr. Hilton and good luck finding his number. Outrageous.

Karen Weimer
from Coopersburg, PA
I stayed at the Hampton Inn in Hershey, PA on 09/29/2017 due to my sister being a patient at the Medical Center. I've stayed at a number of Hampton Inns when traveling for business and pleasure but never ran into this problem before. I checked in late that evening and specifically asked the desk person if they gave AAA or senior discounts. I was told yes they did and gave him my AAA card. I checked out early the next morning to return to the Medical Center. When I looked at my bill I saw no discount had been taken off. When I questioned the desk person regarding this, I was told that there were no AAA rooms left when I checked in and therefore I didn't get a discount. What?!? No AAA rooms left? Never has any hotel chain given me an excuse like that. I'm also going to check with my local AAA regarding this. I would not have stayed had I known this was your policy. This is like the "bait and switch" tactic used by unscrupulous retailers. After all the taxes were added, my bill ended up being $183.84. I didn't stay there the next night nor will I be back at any other time. My company has always put me and any other traveling employees up at Hampton's, but I will be asking them to check the charges for past visits. Hopefully there will be no inaccuracies. Also, my niece and her dad also stayed at a Hampton while being with my sister. I'm not sure if she stayed at the same Hampton as I did, but her bill was considerably less than mine. Her name is Wendy Baker. She belongs to a club or something offered by Hampton, so I understand a discount there, but this was a major difference in price. Maybe you could explain this to me. What a huge disappointment!

Elyse P. Kukonu Houk
from Rancho Palos Verdes, CA
I reported a theft (jewelry bag & jewelry) to the Ithaca, NY Police Department- Case Number I17-15935 during my stay at the Hampton Inn-Ithaca on Sept. 1-3, 2017. Officer Chance Van Cleef met me at the hotel Sunday morning, took my information, questioned your front desk personnel, and gave me the case number with follow up information. I will call them Sept. 8th.
Hampton management lacks, completely, customer service and professionalism. At minimum, I expected a courtesy call from Manager Amy Magdon; she never called. Sam Ferro completely avoided me that evening after I spoke to him at the front desk. I had to call him to get an idea of the type of help I could receive. He avoided any responsibility and referred me to Beth Jolles, the Housekeeping Supervisor. His corporate reply was " 90% of our staff has been with us a long time and we have a lot of trust in them". He said guests often misplace things....I positively know I did not misplace my jewelry bag.
I discovered my jewelry bag missing late Saturday (Sept. 2) night when I returned to my room. After searching, multiple times, all my bags, beds, room, bathroom, drawers, under furniture, etc., I immediately went to the front desk and spoke to Sam Ferro. He was of no help and said guests often misplace property and I should search my suitcases and the room. He said Beth Jolles, Housekeeping Supervisor, would call me the next morning. I called Beth around 8:30 am on Sept. 3rd . She offered to help me look through my suitcases and room which she did. She also suggested I report it to the Ithaca Police Dept. Together, Beth and I did not find my jewelry bag.
.
I expect a reply. Elyse P. Kukonu Houk

Gail Teague
from Holly Springs, NC
My mom and I stayed at Hampton Inn August 14,15 in Martinsville Va. The room appeared to be clean. I sent in a complaint and was contacted by Michelle a few days later. My complaint was bed bugs in room 412. She stated that the pest control company checked our room and the rooms on both sides and reported seeing no problem. Do you think these people would report a problem and risk the chance of losing their contract? We have stayed at this hotel on many occasions and always been very pleased with our stay. Almost a month after our stay there I still have places on my neck and ankles from bed bugs. What ever happened to being 100% satisfied?

Dan & Rose McDonald
from Okatie, SC
We booked a room at the Hampton Inn, 95 Vilano Road, St Augustine, Fl 32084 from 10/17/16 to 10/31/16 for which I was charged 2486.25. During that time we were moved on 4 different occasions due to problems with the rooms (example - AC/heat for 2 rooms) and the last room we were moved from was because supposedly this particular room was promised to other guests. No compensation on our bill was made at that time or even on discharge.
The perhaps larger issue was the fact that we had a 3rd floor room, my husband is handicapped with limited walking ability and from October 29 to 10/31/16 the elevator was not working and was only slated for repair on Tuesday, Nov 1. Needless to say, my husband was pretty trapped in the room due to inability to climb 3 flights of stairs. No compensation was offered for that inconvenience either.
While we have always enjoyed the Hampton Inn Hospitality in the past, we were very disappointed and unhappy about this particular stay. I feel some adjustment should have been offered even though it doesn't change the fact of the inconvenience and overall disappointment with our accommodations.

Victoria Richins
from Boise, ID
I went to check out the morning of November 8, 2016 at the Hampton Inn West in Reno, Nevada. The television was broadcasting on election day, and I made a light passing comment to the female clerk (Hispanic) that I bet we would all be glad when this day was over! She proceeded to tell me at length how she would have to learn to forgive all the bigoted people who have insulted her race. What? I was just trying to check out after a lovely stay. I did not expect to be politicized with such an inappropriate comment or made to feel so uncomfortable. I would have liked to have been respected also.

Nicole Sitler
from Pittsburgh, PA
My hockey organization, the SHAHA Panthers, from Pittsburgh, PA recently stayed two nights (10-7 and 10-8) at the Hampton Inn in Solon, Ohio. This email is to file a formal complaint about the manager, Terry Herman, for treating our families and players disrespectfully. On Friday evening, Mr. Herman hovered over our two teams of 8-12 year-old boys and girls, ordered a security guard to specifically watch our kids on the third floor and made our stay miserable.
Mr. Herman would not let a single child walk through the hall of the hotel without a parent. When confronted as to why an 11 year old player couldn't walk from Room 320 to his room down the hall without a parent, he told the team manager and another parent that it was a concern for that child's safety. Is the third floor of a Hampton Inn where almost all of the rooms are occupied by people that you know that dangerous? His focus on our children was uncalled for and rude, since they weren't misbehaving. In addition, Mr. Herman was directly asked by a team manager as to how old a child could be to walk in the hotel without a parent, he said 18. So you can drive a car, but not walk down the hall of a Hampton Inn in Solon? If that hotel is really that unsafe, why are families permitted to stay?
Mr. Herman also posted the security guard on the third floor all night Friday in front of the team's suite to monitor our every move. His actions were truly oppressive and talking to him did not help. Herman also told the team manager that children were running outside in the parking lot unsupervised which was not true. Children were in the back lot with parents and helping the manager carry in supplies for this weekend, but were not unattended.
A team member's grandma was talking to one of the other customers at breakfast on Saturday morning when he complimented the grandma on how well behaved the team was. He told the grandma that the manager spoke negatively about the hockey team when he checked in on Friday night. He said that he didn't even hear the team make any noise on Friday and expected them to be a lot larger and louder from his conversation the night before.
Bottom-line, Mr. Herman gave us the impression that he didn't want our 29 rooms of families in his hotel, made us out to be terrible parents and spent the night hovering over our group in a very impressive manner. He alone is the reason why we will not stay at this hotel again or recommend it to our friends if Herman is in charge. On the other hand, the rest of the staff especially Paul, the maintenance worker, were extremely friendly and helpful. Michael Levick was a pleasure to work with and couldn't have acted more professionally. I am also sending a copy of this complaint to our tournament directors - Hockeytime. Please don't hesitate to contact us if you have any questions or would like to discuss matters further.

Stephanie coleman
from Fort White, FL
Hampton Inn in Waycross Georgia is where I stayed. It was being remodeled the place was a mess that was broken tiles in the parking lot. There was sheets hanging in the hallway at the hotel. There was dust everywhere I feel like they charged us $129 a night because all the hotels in Waycross for filled up from the hurricane the lights and charger in the room did not work. The air conditioner was not up to par. I will never stay another night in Hampton Inn and when I made the reservations they should told me that the place was under construction what a mess.

Verno Worsham
from Sylva, NC
I originally called the motel in Corbin, KY. and made reservations for Sep 19, 24, and 25, then later called to change them to Sep 26, Oct 1 and 2. When I arrived on Sep 26, I did not have a reservation and found out that I had been charged for a no show on Sep 19. Apparently that reservation for Sep 19 did not get changed to the 26th. Needless to say, I am not happy about this and am considering ending any future patronage of Hampton Inns. Your prompt consideration of this matter will be appreciated and determine my decision. I have tried the last several days to contact the Corbin manager but he/she has never been there during normal business hours.

Dillon moore
from Riverview, FL
If you're doing any traveling and planning on staying do not stay at any Hampton inns they told me my charge would be $90 for the day I check my account and they've charged me twice both $122 and also did the same thing to my dad at a completely different city last week and he has yet to get his money back. I need that money to stay out here working on the road. This is ridiculous.

Karen Symon
from Germantown, MD
I am writing to issue a complaint against the manager of the Senceca, SC, Hampton Inn. The night before our arrival, we changed our reservation from 3 nights to 2. Upon check-in, we were still registered for 3 nights---the front desk person was very kind and assured us it was not a problem. When we received our credit card statement--we were charged the 3 nights. When we called the hotel, the manager told us it was our problem and up to us to prove we did not stay the 3rd night. He was very rude to us and said he would make no changes.
Our family has been a Hilton Honors Member for 15+ years. We have never had a problem, or caused one during any of our stays. This is the first time we have ever reached out with a dispute. I cannot believe the attitude and disrespect employees displayed. We throughly enjoyed our stay at this location--the hotel is beautiful. It is a shame that Mr. Welch is such a poor representative of the Hilton brand. Thank you to Erica in Hilton Guest Assistance who handled our issue with concern and kindness.

I have contacted the Hampton Inn in Montrose CO at 970-252-3300 for the second time over this year and the front desk lady is very rude and unprofessional toward me. I was trying to get a couple of rooms at the Federal Government rate. She told me the wrong rate for this month ($89) she argued that the rate is $94 and stated they never give a government rate a king size bed.
My boss only stays at Hampton Inns whenever possible and every other Hampton Inn gives king size beds at the government rate when available! I called back to talk to the manager and she told me she was the manager and then gave me to the GM, Maria Trujillo. She told me that the lady was the front desk person. She didn't give me a professional feeling at all and I don't believe they will change the way they are doing business. They are losing business for your hotel.
I would rate this hotel 0! Not even 1 star. I believe someone should look into their practices and perhaps change the staff.

Dustin Clouse
from Valparaiso, IN
Stayed at the Hampton Inn in Indianapolis-southport. Paid $139 for a wash cloth full of pubic hair and ants all over our food in the morning. Told the front desk but they didn't seem to care. Will never stay there again. Called custom service and all they offered was 5,000 points which is only three dollars of a stay tomorrow in Bloomington Indiana. Insulted? Yes!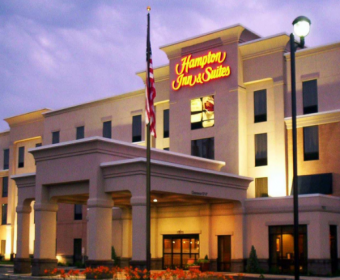 I checked in on July 10, 2016, and staying July 11th also. I was given a very nice room/suite. All was well until we were in Chicago, sightseeing and I received a message on my cell phone stating that they had picked up our belongings and moved us to a "standard room" because someone els wanted the suite. I cannot believe for a minute that this is legal. It is certainly unacceptable. The manager was very rude, and couldn't understand why we were so upset.
Strangers picking through all my personal belongings, jewelry, personal hygiene items and threw them in a different room and bathroom. My stuff was everywhere and we did not appreciate that seriously, is that legal? Because from I've been informed that this is not legal. This whole ordeal ruined our day in the city. I have complained on their Facebook page, and not only have I not heard a word from them, they did not offer us a thing! I don't feel like we should've paid a dime for our stay.

Mike lee
from St Louis, MO
In room 357 in Hilton garden inn in St. Louis airport, complained to front desk about fitted sheet not fitting the bed. Call at 10pm and no response. Called again 20 minutes and still told us to hold on. So after another 20 minutes my son goes down with photo to prove this was not a joke. Guy in charge said he couldn't find anyone, yeah really for 40 minutes.

Jan Strait
from Gardners, PA
On Friday, August 19, 2016, my husband, some friends and I were visiting a Hampton Inn in Frederick, MD. We were going to eat there and listen to some live music. I was walking on the deck outside, when my right leg fell through some rotted boards on the deck. The deck itself appeared in good working order, but that was not the case as the boards underneath were rotted. A patron who was also eating there told me that he told management that the boards were defective and warned them that something should be done.
My leg immediately swelled and was very painful. The manager asked me if I wanted ice and I told him I would use some. Ten minutes later, still no ice. The manager did appear a bit later and placed some papers on the table where we were sitting, and told me I could fill out the forms "if I wanted to". He then remembered the ice and brought me some. Later on he asked if I needed more ice for my ankle. I accepted, but he never did get back to me with the second bag of ice.
I did fill out the accident report, however, neglected to get a copy of the report. Forty-five minutes after I fell through the deck, some men appeared with new boards and were fixing the faulty walkway. I needed to go to the doctor for my severely bruised right leg. I do have pictures of the bruised leg if anyone should need to see it. I lost two days of work and the leg is still swollen today, Thursday, August 25. I am hoping that Hampton Inn would at least reimburse me my copay at the doctor's office of $15.
I was very disappointed at the lack of attention I received that night at the Hampton Inn. No recompense was offered at the time of the injury and the ice that was needed for my swollen leg was very slow (or not at all) in coming.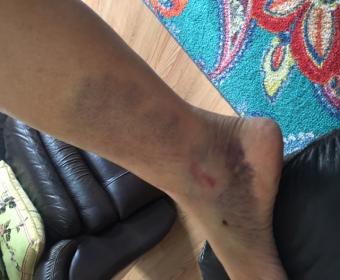 Christine Gallardo
from Burbank, CA
I recently (8/13/16) stayed with the Hampton Inn in Colorado Springs, Airport location. While there I spent the afternoon at the pool/jacuzzi with my family. The Swin family was also at the pool with their four children and we started talking. They said their children were ages, 7, 9, 12, and 15 and that they were from Kansas, and this was the first family vacation they had taken. Mr. Swin said he wanted his children to see the mountains and that they had visited the Garden of the Gods, etc., and that they were on their way to a doctor's appointment for their 12 year old to have botox treatments for his Cerebral Palsy, as his body becomes stiff and tight and it is painful for him.
I had noticed that their children were all splashing and playing and having a great time, however, the 12 year old was sitting in his wheelchair watching. I asked if he wanted to come into the jacuzzi with us, as I noticed the pool and the jacuzzi had the disabled lift available. The father said that he wasn't strong enough to lift him in and out of the pool, as he now weighed more then he did. The mother said the disabled chair lift was not working. I assured her that my husband was an engineer and could get it working. So after he inspected it, he said the battery and controls were missing from the lift and went to the front desk to get them.
The front desk person said the battery was dead and they would go next door (to the Hilton, I assumed) to get a working one. However, we waited and waited and never heard from anyone ....so eventually we worked together to get him into the jacuzzi, where he had a wonderful smile on his face, splashed his arms and gave his mother the sweetest kiss. My husband helped to get him back out of the jacuzzi and the Swin family was grateful that their disabled child was able to enjoy his vacation, rather then have to sit in his chair watching his siblings.
I contacted the front desk and said that it was unacceptable to have a disabled guest unable to use the pool and jacuzzi facilities, and that the Swin family should be compensated for their stay due to the hotels lack of having working facilities. I would have had a better reaction if I had told her the coffee was out, as she made no attempt to remedy the situation. I have since then talked with the general manager of the hotel and he said he would "reach out to the Swin family and ask how they liked their room, if the front desk was courteous..etc", I find this offensive since I was an eye witness to the events that took place and it was not the BED that was the problem!! His unwillingness to be gracious and to honor the 100% satisfaction guarantee is unacceptable.
I am asking that this family be provided a remedy that would be to the same extent as their injury. What would you expect if it was your first family vacation and your disabled child was unable to swim and enjoy the hotel pool and jacuzzi with his siblings? If you view it from this perspective, then I am sure you will find it within yourself to find the correct response, for their sake.

Judith Bane
from Indianapolis, IN
On Friday morning, August 5, 2016 I called the Hampton Inn customer service phone number to the Bowling Green, Ky Hampton Inn to make a one-night room reservation arriving on Sunday, August 7, 2016 and checking out on Monday, August 8, 2016. One of the phone menu items was "reservations" which is what I chose. A girl answered the phone and welcomed me to the Bowling Green Ky Hampton Inn. I gave her the required information needed for the reservation along with my credit card number to hold the room. She asked what was bringing me to Bowling Green, Ky and we had a conversation about "my husband wanted to bring his boy toy to tour the corvette factory and visit the museum." She stated she would send our confirmation number to our email address listed on our Hilton Honors account.
I informed her that our email address had changed and she offered to update the information. I gave her the new email address, thanked her for her assistance and ended what I would call a "personable" conversation. No confirmation appeared in my email account but did not notice until we reached our destination. We were informed by the front desk clerk that we did not have a reservation and our Hilton Honors account still showed our old email address. She immediately called the Fairfield Inn in Bowling Green ky and the Hampton Inn in Bowling Green Ohio, stating "this happens a lot." No reservation in our name was found. There was no manager on duty that I could speak with at the hotel regarding this.
Luckily, there were rooms available so we did have a place to stay. We were treated very poorly by the front desk clerk on three separate occasions when this situation was discussed with her. An obvious age discrimination attitude reared its ugly head. Showing the clerk my telephone call log upon check-out which clearly identified the direct phone number that I had called on Friday to make the reservation, I was told "well, maybe you called the number but did not complete the call." Excuse me. Who was the individual that supposedly made my reservation, took my credit card information, and never followed through with their job? Furthermore, what happened to my personal information?
When finally being able to speak with the General Manager upon my return home, I was told by him that someone in Dallas probably took the reservation. He further stated that even though I called the hotel directly, if I chose "reservations" I would not be speaking with the hotel. The reservation clerks in Dallas or wherever they are located have a written scrip in their computer about the hotel and attractions, therefore, whoever I was speaking with made me think I was actually talking to someone at the Bowling Green Hampton Inn.
The General Manager informed me that in order to make my reservation directly with the hotel I would need to choose 0 on the phone menu. It is unfortunate that guests are unaware of your reservation protocols. I do not use third party reservation groups for this very reason but after knowing how you do business, I guess it just does not matter. I certainly would expect better from a Hilton entity!!! Incidentally while at dinner on Sunday evening, we spoke with another couple who had complaints about the rudeness of the front desk clerk also. I mentioned that to the General Manager when I was able to speak with him. Not a good experience.

Bartley Whittington
from Richland, MS
My husband just called Hampton Inn head offices about our complaints. We use to stay here almost twice a week and love it. We've had 1 problem in the many times we have been here. We found a needle under our mattress a while back which completely freaked me out, they give me enough points to earn a free room then, and this situations worse than that one. A lot worse. I am so frustrated over this I cannot calm myself down. We come down to visit family intending to stay here for 2 nights because this is the only place here that's worth staying at. We needed a king studio. We were told almost Everything was booked up but she would hold the King studio for us and possibly get us in the smoking king studio.
We get here and we were put in a single king. We were told she couldn't change it because the rooms were all booked, but she'd give us a roll out bed a little later. We never received that, and when we asked the other lady that come in for it she told us we could not have one because it was a fire hazard. I also seen 2 spider scrawling down the bed and when I tried to kill them I seen toenails and there was glass on the floor beside the bed. Then we got a paper saying we were charged for 3 long distant calls that we did not make.
The paper even says we were checked in at 915 when all the calls were made between 7 and 9:03. I also did not like that when I asked questions about our rewards points that the only responses I got was I don't know, twice. This has been a horrible experience, and I can't believe all this is happening and no one will do anything about it. We have to stay in McComb one more night, this is where we were planning on staying but as much money as we have spent here I just think we should at least get enough extra points to add to the ones we already have to be able to get a free king studio for the night.
This hotel is the best around here because it actually has standards. We are very disappointed and I wish someone would help us.

debra geurin
from Olive Branch, MS
I stayed at Hampton inn at 33 Humphreys blvd circle memphis TN, 38120 for almost 2 weeks while my terminally ill dad was in the baptist east hospital. Everything was fine, until 8/7, i notice that my carry on bag was missing. I went to the front desk and asked JASMINE if they have seen my bag then i asked for cameras. Employees said I am sorry, we do not have cameras. jasmine looked for the bag at the front desk, she said it maybe in house keeping, it was not there so she called the maid that was off that day on her personal phone, said she did not see the bag, the girl that stripped the bed said she saw the bag. But the girl who cleaned the room did not see the bag. so 2 different girls are telling 2 different stories.
I want a video of the person who left my room with my bag. You said money back guarantee. you need to live up to your word. I had to deal with my terminally ill father, that passed away, plus your maid that stole over eight hundred worth of stuff in my bag, while having to pay you for over one thousand dollar stay. Where do you hire your maids, and to see the least these are items i had in my bag. My message below to the BBB, you will be receiving a call soon. it is a felony that your housekeeper would take my prescribed medicine that has MY NAME ON IT!!
The housekeeper is a thief and stole my carry on bag that I had in my room. I was visiting my terminally ill sick dad and stayed in this hotel and the housekeeper stole my things, I had over $800 worth of items in my bag, the front desk denied it and said they did NOT have any cameras. I stayed in this hotel for almost 12 days while my dad was at Baptist East. Things I had in my bag, valued around $800 chi iron, Asic walking shoes brand new, silver jeans, 1 blouse, 1 cami, 3 pairs of socks, 4 pairs of victoria secret panties, 1 package of hanes panties,1 pair of pajamas, clinique make up, other make up, bath and body face wash, shampoo and conditioner, hair products big sexy, 2 make up bags, carry on bag, yoga pants, t shirt, comb, brush, pick, mirror.

Jessica Arcone
from Rockville Centre, NY
I made a reservation for a two-night stay I cancelled the reservation for both two nights and I'm being charged a fee of one night for a no-show because it was booked as two separate cancellations for some reason I'm hoping you can help me by reversing the charge being that I cancelled the reservation within a two-week period. I also called up two days before the reservation to make sure it was cancelled which I hope was documented and they said there was no reservation for those days under my name just making sure that the reservation was canceled. I also pulled up this morning 8-7 making sure the reservation was canceled because there was a pending charge on my credit card and she also said there was no reservation.

Anthony Davis
from St Louis, MO
By far the worst experience I've had at at a hotel or motel, check in day I was given room 105 this was in Mesquite, Texas for a 6 day stay. The room smelled of mold and mildew after complaining I was moved to room 517 the next day which by the way was a handicap room that had the same smell but not as overwhelming as the first next their was the constant breakdown of the elevators, we went from two elevators to none, fire department called several times due to people getting stuck.
Had to carry friend in wheel chair up steps no accommodations, no ventilation in bathrooms which in my years as a code enforcement officer in Missouri is mandatory unless by some chance Texas has a different ordinance not requiring them which would be the first one I've heard of not requiring and being comped for two of the six days with the amount of people we had there for the event that we attended I would not stay again and definitely wouldn't recommend.
Place needs a total overhaul. I guess the two days where suppose to make the experience better , definitely not I guess getting the free exercise up and down the steps from the 5th floor was thrown in for the four days I had to pay for. Never again, suppose to attend another event in January at Denton Location guess I'll be checking around for a place close to it! !!!

Barbara Davidow
from Havertown, PA
We had reservations for Hampton Inn Dallas/Addison, 1st night July 28, 2016. American Airlines cancelled our flight to Dallas in mid afternoon, July 28. Impossible to make call for 24-hour cancellation. We stayed 2 nights, 7/29 and 7/30. Checked out Sun. 7/31. Local manager Monica Silver is refusing to make a refund. Bounced around many layers of Hampton company today. Have lost a lot of time. Very frustrating.

Stephanie
from Kansas City, MO
The Hampton Inn Chicago Downtown/Magnificent Mile is a horrible place to stay. The customer service leaves much to be desired. We were told after multiple phone calls that we would be able to have rooms next to each other. However, when we arrived at the hotel, they said that they were sold out and we would be close. Apparently, in their eyes, close means on the same floor, but opposites sides of the building.
The worst part of this hotel are the elevators. There are 3 elevators that service the lower level, mezzanine, and floors 13-40. We had to wait 5-15 minutes every time we rode the elevator. Don't ever stay here!

Mark Randazzo
from New Iberia, LA
I stayed at the Hampton Inn and Suites in Mansura, La on Friday, July 15th and checked out on Saturday July 16th. I arrived at 7:00 PM that night and checked out Saturday at 8:00 AM. Upon my arrival I told the lady at the desk I was paying with cash that I had in my hand. She told me she had to run my card for incidentals I gave her my debt card and she ran it twice. My bill was $124.53 that I paid cash at checking in and I have my receipt. When I arrived home I checked my account I have two charges on it for $136.98 and $25.00 pending in my account.
When I called back to the hotel I was told there would be an hold on my account for 10-15 days. I don't understand the hold on my room since I paid you cash at the time of check in, I can understand the charge for the insidentals for security. I wasn't even charged the right amount it was more. I pay all my bills with my debit card. This is causing me a lot of inconvenience. I did like the nice and clean motel and the free breakfast but I don't think I will be staying at your hotel again. You didn't have to wait for your money and I shouldn't have to wait for mine.

I was a house keeper at Hampton inn in Delaware oh. I just want to let you know how it is ran! Some people do not change there bed sheets like they r supposed to, also they hardly ever change anything and the bed pads under the sheets that have pee all over them never get changed.
Bed bugs are getting bad there and I lost my job because people don't want to do there job they want to stay on there phone all day long! Also they don't want to pay me for my last week there yes I'm pissed. There is a lot more I can tell you but I don't have the time I have to go to work but I am trying to get ahold of some one who can help me I just don't know who to get ahold of the big boss because no one will give me his number.

Donna Eldridge
from Farmington, NM
You could tell upon entering our room that it had not been cleaned properly. The carpet was old and was in need of a very deep cleaning. Around the edges of the carpet there was ground in dirt. The couch was also in need of cleaning. You could see the dirt on the material where people put their arms and hands. The room definitely needed dusting. One closet was so small you had to push the hangers back at an angle so the clothes didn't stick out and there was on door on it.
The other closet was a little bigger but the bi-fold door had to be "jiggled" to get it closed. The shelf above the rod was so dusty you didn't dare try to put anything on it. So I called the front desk and told them the room needed to be cleaned that it was very dirty. We left for a while to give them a change to clean but they didn't clean the closets. I had to call them a second time and have it done again. The air conditioner was barely working so we had to call again that evening and they had to replace it so we left again so they could work.
The most mind blowing thing to me was the shower. It was a handicap shower. The lip on the bottom was maybe 1/4 to 1/2 inch deep but the shower curtain was 8" off the floor! Again I called and they didn't have a shower curtain long enough so I spent 8 days putting towels on the floor so my husband and I would not slip and fall. I did tell them this was a safety issue and no response except to put towels down. I had asked them to please change my sheets every day and they said we only do it once during your stay. I told them I was having surgery and would have incisions and I wanted them changed every day. The best I could tell they did do this but the beds were not comfortable and I had to push the mattress back into place.
Since my hotel had already been paid by my insurance company I could not change the hotel or I would have gone to the Hilton Garden Inn in Henderson. Now there is an awesome hotel. My stress level was very high because of my upcoming surgery and this made it even worse. I am very disappointed to say the least. I have stayed at several Hiltons and they are great and I thought with Hilton being attached to Hampton it would be the same great hotel. I was very wrong and will never choose Hampton again.
My husband did ask after we left if I had taken pictures but it never crossed my mind to take any. One of my co-workers had surgery in Vegas and she to was booked at the Hampton in Henderson and had a bad experience with them as well.

Glenn Miller
from Shreveport, LA
I checked into the Hampton Inn in Conroe TX on Friday the 8th of July. I used my American express card to charge my room against. This is the only place I used my card. Within fourteen minutes after checking in American express was contacting me about charges at Ross for less store in Texas. The clerk or the manager stole my number that quick. I was in shock that it happened that quick after using the card to check in with. I am going to let everyone know what happened at one of your hotels so the same thing want happen to them. My confirmation was 3 82395383 and I also checked out the following Saturday after paying for Sunday. I was too worried my belongings would get stolen while I was away.

Ronald Intermill
from Columbia, SC
This complaint concerns primarily room service. The only room service provided was clean towels and bed made(partially)...no new sheets etc. but that's ok. What was not OK was the following: the used coffee cups were not removed,used paper cups used for drinking soft drinks were not removed, water in ice bucket not emptied, small amount of food(1/4 piece of a waffle was left on end table, used coffee bags not removed from coffee pot, no new coffee bags left,(notified front desk and never did get coffee), When confronted with this lack of room service I was told it was done on purpose.
Their policy of not removing dirty items from the room is because they are concerned that they will be accused of throwing something away that might be important to the occupants of the room. HOWEVER, if the room occupant would pick up all these dirty items and put them in a waste basket then they would remove them. I have stayed in many Hampton Inns in the past as an Honors Member and never been treated like this. One last thing, the breakfast area on the morning of July 7 was a mess with plastic utensils and food all over the floor and counter. Ran out of food before 9 AM.

Michael Stewart
from San Antonio, TX
I work for the US Army and do a lot of traveling, but on this trip I was going to Mobile Al to spend the 4 July with family and friends, We stayed at the Hampton Inn & Suites Mobile-Providence Park/Airport Area, we checked in on the 1st July and stayed till the 5th July. The big problem I had was with the bathroom sink, the water had very low pressure and I asked them if they could fix it and they told me that the pressure was set that way because they were conserving water and that all the rooms are that way. I shave with a razor and when the water pressure is that low it does not even wash the shaving cream off of the razor, it was very frustrating to say the least, like I said I work for the US Army and when we travel we try to stay in a Hampton Inn. I guess my big question is this stander for all your Hampton Inn and if it is my office will not be staying at any Hampton Inn, so please let me know.

karen mann
from Muscle Shoals, AL
We selected Hampton Inn for the location and breakfast but sadly the breakfast experience was a big disappointment. There was only one lady trying to keep up with a large amount of people and she was very frustrated as some customers were upset that she kept running out of food on the hot bar such as eggs and sausage along with the waffle batter. When I got my plate, she said sorry we are out of all the hot items which meant I had cold cereal and was lucky to get that. My suggestion would be to plan for the number of guests you have especially on the weekend and have back up help and food available. Also, it may be advisable to limit some food items such as the meat as some people were piling up their plates making it run out before others could receive theirs.
Have feedback for Hampton Inn?
Thanks for your feedback!
Sorry. Please try again later!