Hampton Inn
Hampton Inn Complaints Continued... (Page 7)
411+ reviews added so far. Upset? Call Hampton Inn corporate: 1-800-HAMPTON

Glenn Miller
from Shreveport, LA
I checked into the Hampton Inn in Conroe TX on Friday the 8th of July. I used my American express card to charge my room against. This is the only place I used my card. Within fourteen minutes after checking in American express was contacting me about charges at Ross for less store in Texas. The clerk or the manager stole my number that quick. I was in shock that it happened that quick after using the card to check in with. I am going to let everyone know what happened at one of your hotels so the same thing want happen to them. My confirmation was 3 82395383 and I also checked out the following Saturday after paying for Sunday. I was too worried my belongings would get stolen while I was away.

Ronald Intermill
from Columbia, SC
This complaint concerns primarily room service. The only room service provided was clean towels and bed made(partially)...no new sheets etc. but that's ok. What was not OK was the following: the used coffee cups were not removed,used paper cups used for drinking soft drinks were not removed, water in ice bucket not emptied, small amount of food(1/4 piece of a waffle was left on end table, used coffee bags not removed from coffee pot, no new coffee bags left,(notified front desk and never did get coffee), When confronted with this lack of room service I was told it was done on purpose.
Their policy of not removing dirty items from the room is because they are concerned that they will be accused of throwing something away that might be important to the occupants of the room. HOWEVER, if the room occupant would pick up all these dirty items and put them in a waste basket then they would remove them. I have stayed in many Hampton Inns in the past as an Honors Member and never been treated like this. One last thing, the breakfast area on the morning of July 7 was a mess with plastic utensils and food all over the floor and counter. Ran out of food before 9 AM.

Michael Stewart
from San Antonio, TX
I work for the US Army and do a lot of traveling, but on this trip I was going to Mobile Al to spend the 4 July with family and friends, We stayed at the Hampton Inn & Suites Mobile-Providence Park/Airport Area, we checked in on the 1st July and stayed till the 5th July. The big problem I had was with the bathroom sink, the water had very low pressure and I asked them if they could fix it and they told me that the pressure was set that way because they were conserving water and that all the rooms are that way. I shave with a razor and when the water pressure is that low it does not even wash the shaving cream off of the razor, it was very frustrating to say the least, like I said I work for the US Army and when we travel we try to stay in a Hampton Inn. I guess my big question is this stander for all your Hampton Inn and if it is my office will not be staying at any Hampton Inn, so please let me know.

karen mann
from Muscle Shoals, AL
We selected Hampton Inn for the location and breakfast but sadly the breakfast experience was a big disappointment. There was only one lady trying to keep up with a large amount of people and she was very frustrated as some customers were upset that she kept running out of food on the hot bar such as eggs and sausage along with the waffle batter. When I got my plate, she said sorry we are out of all the hot items which meant I had cold cereal and was lucky to get that. My suggestion would be to plan for the number of guests you have especially on the weekend and have back up help and food available. Also, it may be advisable to limit some food items such as the meat as some people were piling up their plates making it run out before others could receive theirs.

Gail Haack
from Two Rivers, WI
I was traveling with 4 other retirees headed to Shipshewana Indiana when we ran into construction on I80. We were in traffic for over one hour and had to find an exit as one of the ladies had an urinary problem. We saw a Hampton and thought since we stay in Hamptons when we travel in our group we would stop and use bathroom before we found place for lunch! We were denied use of the bathroom and it was actually locked! They did not want to hear of our trouble.
We will never stay in a Hampton since your policy is unreasonable and not customer friendly. Thankfully 1 mile down the road we found Portofino Gill at Briarleaf Golf Couuse and they were exceptionally wonderful to our needs! They won as we spent $150 on our lunch and they know how to treat customers! We have informed many of our friends and you have lost our business plus more. 1 in 20 rule applies to your poor service.

Amber Mason
from Hattiesburg, MS
My 5yr old son and I we're staying at the Hampton Inn Hattiesburg Mississippi and the card the room has been booked on was cancelled and two nights we're not paid for it was not my name and the manager was very rude to me he kicked my son and I out and then threatened to call the police only because two nights were not paid for which were not my fault because the room was not in my name and the card was not in my name I was strictly down as a guest of the person that got the room.
He proceeded to tell me if I did not leave the property he would have me arrested I have a lawyer advising me to sue Hampton Inn of Hattiesburg,Ms for pain and suffering in the event of throwing my son and I on the street for another person mistakes and public humiliation in the event of screaming cursing and putting my personal business into the public as well as my SS # birthday and name in the presence of other customers.
He was very unprofessional, rude, violent and out of control. I already have statements from onlookers and a very once valuable customer or your hotel as well as he and I are in the process of finishing construction on the Hampton and home two in Hattiesburg,Ms. I would like to discuss this matter farther if someone can please get back with me would be greatly appreciated. 6012979399 thank you have a blessed day hope to hear from the Hampton Inn very soon.

Pearlyna Tyous
from Lafayette, LA
It is now 4 a.m. On June 25, 2016. My family chose to host our family reunion at this location. Several members of our family woke up from bites of bed bugs. We went to the front counter to report bugs around 2 a.m. The receptionist smiled as if she knew what this was about. We then searched the Internet & found reviews of bed bugs just 2 days ago. This is very unacceptable. We were moved to another room down the hall, and it was still dirty. I spoke with the receptionist to see how we could be accommodated. I was told there were no more empty rooms on other floors, and a manager would not arrive until 7 a.m. I then called corporate, where they also told me there is nothing they cold do. So instead of sleeping at 4:15 a.m., I am writing this complaint. It's hard to sleep when you know they only way to get rid of bed bugs is to throw everything away.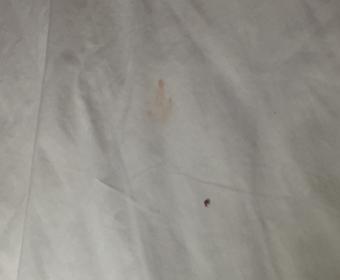 James Belch
from Pinehurst, NC
My wife and I stayed at the Hampton Inn on Eastwood in Wrightsville beach on June 10, 2016. Graduation that weekend so all hotels were full. The room's carpet was worn out, the a/c unit looked very old (but worked), the room was very musky. I have stayed in a lot of Hamp. Inns before but this one was very bad, especially for the price of $214.00. Oh, the mattress was very lumpy too. I did not complain to the front desk because I knew the hotel was full. I will stay at another hotel next time. Horrible room. Shame on Hampton Inn. Staff was very nice though.

David Vining
from New Iberia, LA
My Daughter blocked some rooms for her Wedding 6-10-16. The idiots you have running the facility swiped the quest's credit card and then debited the money out of my daughters account. Reached out to the people you have running the motel and they must have not made it to 6th Grade. They cant figure out how to put money back in here account. Will never recommend to stay at any affiliated motel going forward.

I had a walkin coupon for $89. I called the Haverhill location and was told there was availability at 5:15PM. When I got to hotel within 45 minutes they said they would not accept coupon for room because they were anticipating selling out. I was told by a representative they had rooms. When I explained what happened she put me through to guest service. He called the Haverhill location and was told one of the persons in my group was banned for smoking in his room. Absolutely not true or they would fined him. They just looking for a way out because they couldn't accept coupon. Very disappointing. Because they did not accept the coupon even though room was available a young child has to sleep in a car.

Sharon elliott
from Parkersburg, WV
Love Hampton, always look for them to stay in when traveling. Last night as entering, only girl working was on phone, never even acknowledged we came in, 8 min later waited on me. Never explained breakfast or anything. Room smelled very musty, bathroom way outdated, dirty walls, got up this morning to find roach on my toothbrush. Beds seemed fine, but not a pleasant stay. I saying all of this, I choose Hampton because they are always clean. Then you happen upon one like this, makes me not want to stay again. This place is going to give Hampton a bad reputation, please check into this hotel. I will continue to stay with Hampton but I will check out hotel before I will stay.

Debra Pidcock
from Encinitas, CA
We checked in on Saturday the 4th of June, that night I paid with my credit card, Sunday the 5th I paid cash and was told my check out date would be Thursday the 9th of June, Monday I paid cash again and was told the same date, Thursday the 9th was our check out date, I went down this morning Tuesday the 7th and was told the same thing as I have been told previously but when I went back to pay cash I was told that I had to be out tomorrow the 8th they had rented our room, they offered us another room but it was a king bed with a fold out couch for more money.
We have two small children to also move around which has now caused more stress on them and us. The people who worked the Saturday-Monday shift were very accomedating and polite but this morning I found the new shift to be rude and not helpful what so ever. I would very much like to be compensated for the night we were suppose to be in this room and I will report to BBB and inform the Chamber of Commerce not to recommend the Hampton on Glasshill Ford Road in Prescott Valley, Az.

JoAnne Pumariega
from Bethlehem, PA
We checked in Friday evening and by very early Saturday morning the 2 elevators were broken. We were put in a handicapped room on the 9th floor and accepted it since that was given in the booking.com reservation. My husband has a bad back and we walked down slowly. On Sat., we could not take advantage of fitness center, etc. We stayed out of the hotel from 9:45 am until 11:15 pm due to the broken elevators. On Sunday for check out fortunately a young man was able to help us down and carry out suitcases. It was a crazy stay in Pittsburgh. The staff tried to be pleasant, but it was difficult.

Margaret Ferlise
from Forest, VA
My son was bitten by bed bugs, had welts all over his arm, head and chest. Our room was changed two times. Welts were shown to staff. It took week for welts to heal. He still has spots. He went to much discomfort. We handled the situation very quietly and we were told we would get a full refund. We stayed 5/5/16 - 5/6/16. We were only refunded for one day. I called Hampton Inn in Commack, New York and spoke to Amy and was told one day was all we would be refunded. Put a claim in with my credit company. Hopefully my full refund will be credited to my credit card company, or I will be forced to file a complaint with the Attorney Generals Office.

herbert levengard
from Silver Spring, MD
What happened was not a matter of service. My daughter-in-law made reservation for three rooms at the Hampton Inn in Harrisonburg, Va. for 5/6/16. The normal price for that room is $139.00 a night according to your websight. However there was a special occasion on that date, graduation at James Madison U. I realize that there is an nrease in price when you anticipate a full hotel. But I was amazed to find when I got home online and found that we were charged 479.63, more than triple the normal price. This is price gouging. Like charging $50. for flashlight when a hurricane is anticipated. I didn`t anticipate this from Hampton Inns and I hope you can make an adjustment and give me a credit on my credit card. Thank you for your cooperation in this matter.

John & Kathleen Mills
from Schuylerville, NY
On Saturday evening, 4/30/2016, my wife and I had the pleasure of spending the evening at your establishment in Webster, NY, along with our daughter and grand-daughter. We occupied room 208 which appeared clean and comfortable. On Sunday morning, 5/1/2016, our bedding was as usual, disheveled. Upon rising out of our bed, my wife noticed blood stains on the sheets at the foot of the bed and checked herself to see if she might have cut her foot in any way and not finding any injuries on herself, I rolled the bedding back upon itself, and to our horror as you will see in the pictures we attached, there were blotches of blood not only on the fitted sheet, but also on the top sheet and blanket, at the foot of the bed. My wife immediately felt ill and went into the bathroom to vomit.
I called the front desk and asked for someone to come to our room to show them our bedding and was told there was only 1 person on duty and the General manager would arrive at 8 AM. At 8 AM, I asked the General manager to inspect the room and she asked what the problem was and then after I told her she took care of the charges for the room, in my opinion, the only thing she did right!!!!! However after discussing this for several minutes with her, she insisted that "she personally inspected the room yesterday (4-30) and there was nothing wrong". I then asked if she inspected the room before or after the beds were made, she replied "both", again insisting that it simply could not have happened, implying that I was lying. She even asked why I had not seen this when we went to bed. Like most people, I get into bed from the head of the bed, not the foot of the bed. The night shift manager at this time was looking at my wife and I with pure disdain as if we were lying about the whole situation, rolling her eyes shaking her head in utter disbelief etc.. At this point approximately 8:15 AM there were several people in the breakfast area, many of them family and friends who traveled to attend our grand-sons First Holy Communion party that day.
At this point I thought it would be better to quietly handle the situation, which I believed I did. In hindsight maybe I should have been a little louder and more forceful due to the response of your managers handling of the situation. Both their verbal and facial expressions toward us, and the implication of our lying, we take as a personal affront and have expressed that to our 8 family members and friends who were also staying there. We are both retired now and are beginning to travel, we have stayed at your facility in numerous places, and if this is typical of the way the Hampton treats its guests especially those with a rewards card , we will be looking for other accommodations when we travel.
P.S. It was recommended to us by another couple staying there, that we should post the pictures on Facebook. I'll wait on that decision until I see how you respond to this letter. Unfortunately, I didn't get any of the names of your managers.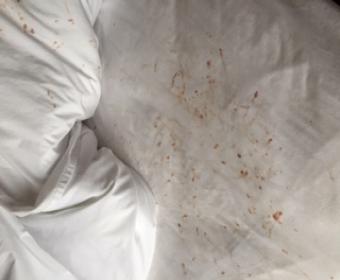 Tiara Griffin
from Pikesville, MD
Well to start off I picked this location for my boyfriend and I because it had great reviews and I loved the ocean front view, considering a lot of other hotels were booked this seem like the best place to be. We were visiting from out of town Checked in, went to our room on the 3rd floor settled in, everything was going good so far. Went to get food, came back in and eventually got settled for bed, pulled back the sheets and it was bugs in the bed, so at this point we just packed everything up and went downstairs to tell the front desk, we were told we were being moved to the 2nd floor, now there's no beautiful ocean view from the second floor because the roof is the way I specifically requested "higher floor if available" when I booked.
We were told there were no rooms available higher up, so this was very disappointing. Mind you I'm pregnant, so my boyfriend moved everything to our new room. And had to go up and down several times.Got to the new room, and the things that were provided in the bathroom by the hotel weren't there, there was hair everywhere, in the ice bucket, in the shower,in the beds. I guess management wasn't on duty so we were told to check back the next day to speak about further accommodations. When I did so, we were offered either a certificate to stay at any other Hampton hotel or the refund for that night.
Like I said we were doing a vacation and we just asked for the money back(paid in cash) and was told it'll take 2-3 weeks to get the money back because it was coming from corporate...but it took less than 5 minutes to take the money ok, really unsatisfied now. Asked again about being on a higher floor, was told that nothing was available. Very very unsatified won't be staying here in the future.
It's now been a month yet I've still haven't received a refund I'm highly frustrated with this business.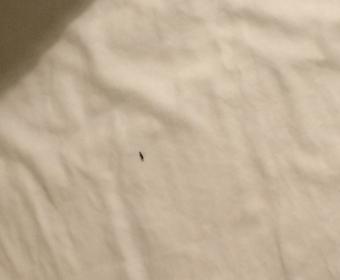 emile caron
from Peterborough, NH
Saturday, April 9th, Hampton Inn & Suites, Portsmouth, NH, Room 335. Though the facility was great and the staff friendly, the reservation process was not. An email acknowledgement of the reservation was never received, nor was a reservation confirmation number given over the phone at the time it was made. Additionally, when the reservation was made there was no mention that a valet parking charge would be added to the $189.00 room charge...nor was it mentioned at the time of check in. Found out about the $25.00 charge when checking out Sunday morning when questioning the amount of the bill.
Obviously the statement that you want customers to be satisfied...is just that...a decorative statement that means nothing. This is not what I expected from Hilton/Hampton Inn. Fortunately, there are other places to stay and from reading other reviews, apparently Hampton Inn doesn't care. What a way to run a business!

cheri plymate
from Omaha, NE
We were up all night with people and animals running down the hall. The night staff didn't care and no did the clerk on days. I went to use the laundry and almost got ran over by dogs and people running with their dogs.

I would like to thank Hampton inn for making my vacation suck. I got a room at the Albuquerque on the 21st on my way to Vegas! I paid cash then after they told me my card would not be charged it was for 188.93 more then what the room was. Spent everyday on vacation on the phone still nothing even after my American Express gave me trans code and id code still nothing. Coming home my family almost had to sleep in the car because nobody wanted to take cash for a room. Finally Best Western let us. I will never use Hampton Inn again. Left voicemail after voicemail for district manager and not a phone call back! Can't even get them to give me corporate number for Hampton.

Jamie gathright
from Los Angeles, CA
Your girl at the desk and the girl who runs the kitchen are great they get 5 stars. However our vacation was ruined because I have been on the phone getting past around and nobody would return my calls! We paid 142 in cash for our room then my card was also charged 188. After I was told it wouldn't be now we have no money to get a room back home from vacation for tonight! It really makes me sick because it was my daughters first spring break vacation. Our stay was this past Monday. Maybe I will get a return phone call from this letter. I am a card member. I pray this is fixed before tonight or we will be sleeping in the car!! The district manager will not return my calls I have left several messages

Ralph Cochran
from Dalton, GA
I stayed at Hampton Inns 23 nights in the first 2 months of this year, (13 times at the Lenoir City Inn particularly) and just recently started having a problem there getting my room booked at the same rate that I had always got. My Company Master card has a max charge limit of $125.00 any other desk clerk had NO problem getting me the discount needed to acquire the room. But the evening shift guy started giving me a problem recently with a smart elect attitude, rude and completely unprofessional attitude, and was willing to let me walk for $6.00.
I told him that if it is going to be a problem from here and after I would stay at other Motels and he said OK, this kind of attitude is completely unacceptable and trust me with the amount of times I use a Motel through the year many Motels will be glad to take my money. And just so you know Good news travels fast, but BAD news travels faster. This is how you lose loyal customers.

John Sesser
from Surprise, AZ
We were suppose to stay at Hampton inn 7501 North Glenoaks Blvd Burbank, CA.. Our vehicle broke down and we were unable to make it. I called as soon as I arrived home and they told me to call the manager the next day, her name is Helen. I called and explained my situation and she was not friendly or understanding whatsoever. I had to cancel last minute at a different Hampton inn and I was refunded my money. We have been Hilton members for many years! My husband is a US veteran. I tried calling the GM and he is on sick leave.. Not even sure if that's true. Helen refused to give our money back, even though the circumstances were out of our hands. We were loyal to this particular location but we won't be back. I would like a number to the main corporate so we can fight this matter.

I want to express my feelings regarding misleading advertisements. I am very disappointed because when calling regarding promotion of $149.00 for published weekends understood than 2 days and three nights to make a reservation as a gift for my kid 12 birthday, and for my surprise the agent told me that the promo is wrong because it is per night, which is not specified in the promotion. I send photo as evidence. When you open the application send you to other offers and not published.
In addition to this when I contact the hotel the staff had no information of the promotion. I asked to speak to a manager as with the sales department by calling twice and the call was never answered. My suggestion to avoid disappointment with your hotel guest and future inconvenience is to instruct the staff and hotel Revenue Manager that offers must have specific rules. I apologized for the inconvenience this situation may cause. If you need additional information do not hesitate in contact us.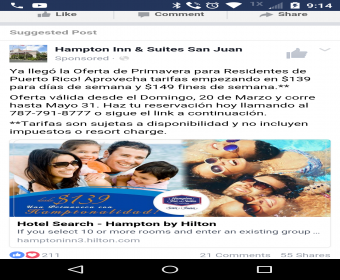 Ken LaRoe
from Birmingham, AL
We checked into the Hampton Inn in Clarksdale Mississippi October 26th. To make a very long and painful story short, while my wife and I were gone from the motel in a meeting, the cleaning staff entered our room and stole my wife's wallet and sunglasses. We immediately notified the management and they did nothing. After I called the police they finally decided to look on the hotel security camera and they identified exactly the employee. They did nothing. The police then interrogated me and accused me of stealing my wife's wallet!
I tried about 8 times to reach Hampton corporate and all I got was a guy at a phone bank in India. I then obtained the hotel owner's name and number from a business associate. I called the owner, Suresh Shawla, and he has done nothing after repeated conversations over the last months. To add insult to injury, the front desk staff stole my credit card indicia and numerous charges were fraudulently made to my card. Fortunately, the credit card company caught it after a loss of about $1,100. Avoid this Hampton in and this very corrupt southern town.

Stephen O'Hara
from Zionsville, IN
On Tuesday morning I made a reservation for Hampton Inn in Detroit/Southgate. I received confirmation. On arrival, after an extremely long drive, and with not a great deal of time before my business appt, I was told they did not have a room for me. I had to leave and find another hotel. Very unhappy and will choose another chain before Hampton next time.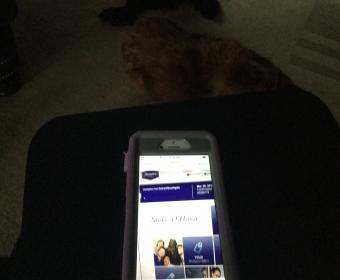 Greg Tilley
from Conover, NC
I have been trying to arrange a block of 14 rooms for our Corvette club for May 20-21, 2016, for the past 4 weeks with the Sumter, SC hotel. I have spoken with Deborah Bell twice at the Hampton Inn headquarters without any action on her part (no group reservation created). Ms Bell was out sick for 2 of those weeks, and I was told that no one could help me while she was unavailable. Since her return to work, Ms Bell has failed to return any of my recent phone calls. I'm preparing to switch to the Holiday Inn Express in Sumter, SC. Our Corvette club has used the Hampton Inn in Goldsboro, NC, without any problems for four similar occasions in the past 8 years. It appears your hotel in Sumter does not need our business.

Sarah Sheppard
from Dearborn, MI
I stayed at the Hampton Inn in Charlottesville VA on 3/2/16. I had a problem with the hot water and there were ladybugs in the room. I was never told about the 100 guarantee. I have called the Inn many times only to put thru to voicemail. I've called them everyday since 3/3/16 and have had no luck. This is why im coming to you. I am very fed up.

Su Colvin
from Highland, CA
Staff (housekeeping?) Stole my AM/FM transistor radio, my Samsung charger with adapter and pillow speaker....I left the items on the bed. I left the hotel at 8 am on 3/1/2016 to return to my home intending to return to the hotel that evening since we were staying for 3 days, at 5 PM, I returned to the hotel to find the above items gone. I went back to my residence and looked through both cars. I checked with lost and found, housekeeping and made several calls to the hotel gen manager-Tony Toby? Simmons, we are playing "phone tag"..his effort to reach me is poor....this is the Hampton on Boulder Ave in Highland, CA.

John Alcorn
from Atlanta, GA
I usually call my reservations in but I did a survey to let you know how awful the experience was trying to get someone that could understand English so this last trip I booked online and made a dat mistake booking 2/29 checking out on Thursday 3/3 it was supposed to be 1/1 checking out on 3/3. When I showed up on 3/1 there was no reservation it was cancelled and I was told that I was charged for that night.
Okay I understand but I still need the nightstand it was booked at the desk but the price went from 117 to 152 which I didn't understand since I was charged for the first night. I have been a very good customer never complain and thought okay I'll speak with the manager who then came out and immediately was on the offensive and very rude. I told him that was fine if that was the way he felt and walked away to the elevator. He then started talking about the situation with another person like I wasn't even there.
I feel as a loyal customer this should be fixed and if not I will try to never pay to stay with your chain again and differently not at this location just because of the managers attitude.

Amanda Shockley
from Toledo, OH
When we first walked in and talked to the lady and she was very rude would not give us a room because we forgot it at home then when she gave us our room it was extremely dirty I was over charged about 100 dollars and anytime we asked for help everyone was rude. There is even more pictures to send but would not let me put them on.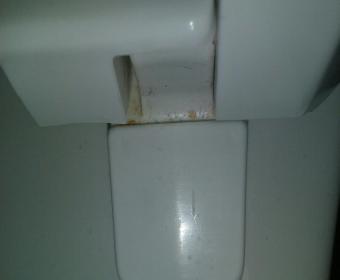 Larry Boromei
from Tampa, FL
We have been a member of Hampton club since 2009 . When we travel Hampton Inn is the only Hotel / Motel we stay in. In all the years making reservations I never had to request a Refrigerator or Micro oven. I surrender 30 thousands points for a room that I could have pay $49.00 at Motel 6. Is that the standard room that Hampton Inn offers when a loyal customer surrender their points with no Refrigerator or Oven. Very disappointed about this stay. We had one window that was stained and you could barley see out. I am going to consider using other chain in the future. If you would please call me to disgust this matter.

LaQuitta Mallory
from Miami, FL
On my recent stay at the Hampton Inn Selma, Alabama i booked a room with a whirlpool tub. Once we tried to use the tub the jets didnt work and the cold water knob was broke. Thankfully my fiance is a maintenance man and knew how to work the water without a knob. It was such a disappointment to not be able to use the whirlpool to full capacity. On our way to check we told a worker about the issue and they told us only one whirlpool in the whole hotel even works all of the whirlpools are broken or raggedy. I need and explanation as to why they are still being advertised and people are being charged full price for a broken or half working tub.

Vivian
from Pensacola, FL
I was an employee at Hampton Inn. I was touching on my body and nothing was not done about it the sex offender still works there. It is not fair and the hole department of house keeping smoke drugs from the boss on down and they don't change they sheets or blanket that's just nasty. I'm in pensacola I'm talking about the Hampton Inn on the beach in Gulf breeze.

Alice Anderson
from Oklahoma City, OK
The manager of the Hampton Inn at Miami OK secured a reservation for us at the Hampton Inn in the Tulsa/Catoosa area (across from Hard Rock Casino); I am claustrophobic and my husband is acrophobic. We arrived at the Hampton and there was not a room available on the first floor that had two queen beds; however, she "secured permission from her manager" for us to have the King Suite. She (Aida Rodriguez) was very gracious and helpful. She also suggested we join the Hilton Honors program.
At breakfast the next morning, several of the choices were not available. One of the women (someone else, not me) went to the door where the hostess was and told her. The hostess did not understand English so the woman led her to the pans that were empty. The hostess just shrugged--and a long time later she brought out eggs. Neither of the hostesses spoke and/or understood English. After breakfast, my husband took our "Hilton Honors" application to the woman at the check in desk. She refused to help him and said she couldn't do anything. It upset him; however he cannot breathe if he gets upset so he came back to the table. I then waited in line to talk to her--while I was in line she was verbally abusive to the people in front of me. Refusing to help them with whatever it was they needed.
Both couples went away very angry. When it was my turn I asked her why she could not help my husband. She told me it was not her job (why was she the only one behind the check in desk). I asked to speak to the manager and was informed he was very rarely on site. I asked for her name and she refused to give it to me. I asked about the woman who was so kind to my husband and she said she would not be in that day. There was nothing she could do and she walked away.
If Hampton is going to employ people from other cultures I totally understand--I believe everyone who seeks work should be given jobs if they are available. I DO NOT believe if you work with the public and you are in my country and you do not understand and/or speak English you should be employed--not only by Hampton, but by anyone else.
I do not want anything from Hampton, simply to be more understanding of the people who rely on your Inns to provide us with rest and no hassle. None of us should be insulted, humiliated, or made to feel like a problem. The Hampton Inn in Miami OK, Conway AR, and Branson MO are spectacular. The staff at these Inns, from the housekeeping department, right on up the chain, are marvelous.

Shamika Cooper
from Audubon, NJ
I came in the hampton inn on 73 in Voorhees NJ about a week ago to put in an application for employment. The building is very nice but its so unorganized. I feel as though i wasn't given a interview because of my race. I applied for house keeping. Margie, which is the hiring manager in housekeeping. Has her mom, sister, cousin, n her husband in those departments. I know someone who is Hispanic that just got hired and she received a interview on the spot but when i came the following day she just took my application and laughed.
I felt so embarrassed. This place needs to be cleaned up and with professionals. They bring there children on the weekends and they run all over the hotel because the head bosses aren't there. You have no one to talk to about your problems because everyone is related. Including the office staff and the head manager of the hotel. Something needs to change.

Kimmie Ratcliffe
from Tampa, FL
We are a Architectual Firm located in Tampa Florida and do work all over Florida and several other states and I book rooms at Hampton Inn all the time. I made a reservation for two of our employees traveling to Boynton Beach for work on the 26 of January 2016. After working all day our employees Alex Bothos (male) and Nichole Goulet (female) went to their hotel , it was around 8pm. She was told they did not have any reservation for them,. Nichole produce the confirmation# and she was told the rooms were canceled because they were booked through Expedia. Even though There is a confirmation # 126952657099. I went to google maps and looked up the address and found the hotel close to job site since they had to be back in the morning.
The girl at he desk ,Mellisa who told them that the reservation was canceled, also told them there was only one room available and that they would have to go Hampton Inn West Palm if they wanted hotel rooms. I called yesterday and spoke with a young man by the name of Michael. Whom by the way is very polite and helpful and let me know the manager Mellisa would be in in the next hour and call me back. Which she never did!
Michael however did call me back today and let me know that he was told I have reserved 2 rooms, 1 smoking and 1 non-smoking and that they did not have another non smoking room availible. Which was not the case, I reserved two of the same rooms. My concern is whether I booked it through Expedia, orbitz, hotels.com, google maps, it should not matter. They had a confirmation # and should have had their rooms that night instead of having to get back on the interstate drive 20-30 miles more and have to back to the job site in the morning after another 20-30 miles. I have another 2 hotel rooms booked with Hampton Inn for mid Feb in Georgia and I'm concern is what if this happens again?

kajuana
from Lithonia, GA
I stayed at the Hampton Inn Adel GA in December 2015 and they had bed bugs. We had to throw away all of our belongings and when I contacted the General Manager of the Hotel; Susan Griffin, she initially agreed to reimburse us for the one nights stay. Three weeks later, when I contacted her to follow up on the reimbursement, she reneged on the reimbursement and hung up on me as I was trying to remind her of our previous agreement. I have yet to obtain a resolution.
I have never had this type of experience with a hotel and I have traveled all across the world. I ave never experienced bed bugs or such a rude and unprofessional encounter with a general manager of a hotel. I will never stay at the Hampton Inn Adel GA or any other Hampton Inn again due to this horrible experience. I advise you to not stay at Hampton Inn Adel GA.

Mauricio Luna
from Haltom City, TX
Charges on credit card were charged while room was paid in cash. 7 days talked to afternoon manager and morning manager not communicating with each other. Told us it could take 7 days to get charges off of credit card. We will not be using Hampton Inn again. We will call be calling BB with complaint after filing on here.

Arline Nivens
from Smyrna, GA
I was waiting in the lobby for a friend on Tuesday January 20th a the Hampton Inn Cobb parkway smyrna Georgia and I was approached by staff of why and whom I was waiting for and the name which i felt was an invasion of privacy. I am a Hilton honors guest and my company uses Hilton hotels when i travel. I feel my privacy was violated especially I should not have to reveal my friends room number and what we would be doing there.

Donna Williamson
from Gadsden, AL
The room 313 we were given at 1545 Jameson Drive, Grenada, MS had dirty linens on one bed. When we got off elevator there were several trash bags full of garbage sitting to left, which smelled. The room we stayed in the carpet was dirty & did not look like it had been vacuumed in a while. We have never stayed at a Hampton Inn before that was like this. The night manager was very nice & when she moved us informed me that I would not be charged for our nights stay, which I did appreciate very much. Just thought corporate might like to know this, if it were my business I would want someone to let me know so I could check on the management in charge. The breakfast was very good & lady very friendly.

Phyllis Higgenbotham
from Camden, SC
Tonight, I called the Hampton Inn in Morgantown, WV to make a reservation for May 12,13, and 14, 2016. I was horrified when the young woman to whom I was talking informed me that the nightly rate for that weekend would be $389.00 per night, plus tax. The normal rate for the same accommodations at any other time would be approximately $140.00 per night. The West Virginia University graduation ceremonies are being held in Morgantown on the weekend of May 12-14, 2016, and the city will be crowded with families attending that graduation. My family was looking forward to being present to see our daughter hooded and awarded her Ph.D. However, at a cost of over $1300.00 just for a place to sleep for 3 nights, we must reconsider.
I find it appalling that your hotel chain would take advantage of the public this way. If a room normally rents for $140.00 per night, it should always rent for that price. The room and hotel services haven't changed for that weekend. This is pure and simple extortion of the public. Morgantown isn't a city that gets few visitors throughout the year. On the contrary, between athletic events and other university business, the hospital and medical businesses located there as well as other businesses, the city brings in quite a large number of people who need hotel reservations.
I am sure the Hampton Inn gets its fair share of these reservations because of its convenient location. I find this gouging of the public on graduation weekend unethical and unprofessional behavior that demonstrates nothing but greed on the part of the hotel and its management. I have to question the management of the entire Hilton Hotel chain if this is permitted. In the future, my family and I will carefully and thoroughly research all hotel options before we even consider, as a last resort, making reservations at any Hilton affiliated hotel again.

Anytime I have stayed at the Hampton Inn I have had a great experience. I have especially loved Hampton Inn sheets and pillows and purchased some on line. My complaint is not about Hampton Inn. My complaint is about my daughter Julie. Julie is a General Manager at a Hampton Inn. I believe she is an exceptional manager and is appreciated and liked by her employees and Hampton Inn executives. My problem is...she wants absolutely nothing to do with me..and I am her mother! I don't know why she has no desire to see me or contact me and she will not say why to anyone else in our small family. It has been about 2 years since I have talked to her.
She does not want me to contact her through email, texting, letters through the US mail or leaving her phone messages. I was sending her beautiful cards through the mail, to let her know I'm thinking of her and how much I love her and miss her. I would text her and she would not text back. I would leave her phone messages on her cell phone and ask her to please call me sometime - she never has. I would call her husband's cell phone and leave messages asking him to tell Julie to call me or if he would take a moment to call me. I never heard from him either. I need to say I live in the north and Julie lives in the south. We are over 800 miles away! I am very torn and broken.
It wasn't always this way. This behavior gradually happened over the course of 4 years or so ago. She would call me less and less and it just gradually got to no contact at all. I found out several months ago from my sister, Julie's aunt that Julie was going to start a log of how many times I "harass her" and then have me arrested for harassing her. I am the founding director of a non profit organization and could never take the chance that this would happen to me - by my own daughter? My heartaches, she never sees my tears.. I pray everyday she will change her mind and to talk to me and see me again like years before. She has not called me for holidays that other daughters celebrate with their families. I thought maybe Christmas she would at least send me a greeting card or a picture of her and her husband or maybe of her cats and dog - nothing...like I don't even exist.
It's very painful for me to even write this and so unusual of a way to try and reach my daughter. Julie tells her aunt and sister to let me know she's fine, but is not interested in hearing from me anymore. Julie and her husband visit his few family members in Florida. The only things I have to remind me that she once loved me, are pictures, a refrigerator magnet, cards and a book she gave me several years ago. I also treasure the crystal bowl and candle holders her and her husband gave me several Christmases ago. I have told Julie over the years that I'm sorry I wasn't a better mother. I made plenty of mistakes and her childhood/teen years were not wonderful.
Julie's father passed away tragically when she was a teenager. I tried the best I knew how to teach her Christian values. When she was younger I would take her and her sister to church. She has always been a very sweet loving girl and loves animals like I do. What has happened to my Julie? I want to say also your stepdad is truly sorry and feels horrible that he broke your finger all those years ago... I apologize for resorting to writing the Hampton Inn and I'm so sorry to do so. Julie Honey Girl, please...reach out to me sometime...somehow.

I will not be back here ever again after the way the GM was talking to the housekeepers he had told one to get a toothbruch and get down on her hands and knees to clean the bathroom floor and the whole time he was talking to her like she was 3 me and my family will never stay in a place were the boss doesn't know how to talk to people and I was standing at the front desk for like 20 mins before he even helped me I do believe his name was Amitt and it was the sunberry, ohio one on 36 37.

I stay in the Brampton ( Toronto) Hampton Inn 4 nights ( sometimes 2 rooms) a year for the past 5 years. A couple years ago recycling bins disappeared from the room. So I end up bringing home my recycling. This particular trip we placed our towels (4) of them on racks as I believe it is a complete waste of energy to wash them. All towels were collected and new ones were left where it is clearly stated if you don't want them washed please rack them.
Small issues for some...... but means a lot to me because I can only imagine this is hotel wide ( maybe chain wide). The new item on my bill is the biggest irritant. "Hotel Service/Eco fee"........I was told this is for the reduced water usage of the shower, the generous hotel offer of donating the left over soap and I don't remember if there was a third lame reason . You can't charge your customers for a chain wide offering to do something good for the planet. Do it because you must ......not because your competition does and you can take financial benefit from it.

Ray Caesar
from Newalla, OK
On Sunday, January 11, I spent the night at Hampton Inn in Ada, OK. The room reservation was made through the State of OK and was charged to them. I was told that they could not charge it to the State because it "wouldn't go through". I charged it to my credit card. When I returned to work Tuesday morning, I was told it did get charged to the State's credit card. I called Hampton Inn corporate phone number and was told they would credit my card. Now there are 3 pending charges for the one night I stayed there. All are for $101.80. I called Hampton Inn again and was told by the manager that they couldn't do anything. "It's a Hilton problem". I want all 3 charges off of my credit card!

Monique
from Panama City, FL
I was and employee at the hampton inn. I have two big issue and if you guys can't do nothing I getting a lawyer cause this matter is nothing play. On Nov 18 I was hired at Hampton inn anyways 12-6-15 I was getting my stuff together getting ready to get on the elevator when the manger touched me with his right shoulder then turn around and smile I went into the elevator and called my mom. I'm a single mom so I just did my job so I could go home. That's sexually harassment.
On 12-22-15 it was pouring down raining bad enough I live in a flood zone my wind shield wipers wouldn't work so I called and she said she would try see if she could get someone to come in. But the manager said I still need come in. I told them I had no was and I'm not going kill my self they didn't care. Mary call me back and said she saw me coming in. I said ok do I still need to she said yes. I wouldn't of made no different if Jenna was by her self I was going be by myself So I prayed and got to work.
The manager had seen me trying get my stuff together so I could start she said are u ok I said no she said what wrong I said it would of hurt to let me get my car fix and u had someone else work. Then said whatever you can go home the next time it rains you don't have worry about getting stuck, so she didn't have to make that smart remark. Nobody no if there going have car issue till it's time to go. three others have had issue. Corporate thinks she the big bad wolf walks around talking about everyone and I mean everyone.
On 12-24-15 I got a message from a co worker that I been taken off the schedule I said really, why so I called and talked Neil he said cause it slow I don't have come in and they only have two room for that day I said ok then I asked why am I crossed. Off the schedule for the following week he said it's really slow we will figure it out I said ok and hung up.On 12-30-15 I called to see when I work he said because I didn't come Saturday I told him he said I didn't have to cause it was slow and only had to room he said he didn't I have 4 witnesses who listen to the convention and then he said you no what I'm sorry you no longer work here and hung up in my face.
I got fired for what? So when I called back for corporate number everyone played dumb about the number. If nothing done I'll be filling charges for discrimination and sexually harassment

Ellen Ellenburg
from Grand Blanc, MI
I won a certificate for a one night stay at the Hampton inn and Suites in grand Blanc michigan. It was out dated because I had misplaced it. They were very short with me and would not even consider to honor it . They gave the reason that corporate wouldn't allow it. I bought it a a charity auction,so it was a taxable write off. I have used this type of certificates before for my grand-daughter birthday get away. That is what we planned to do with this. Very disappointed in your manager don't care attitude her name is Tina Bausick Flint- Hampton Inn &suites. I would like your company to honor my certificate please. Hiring a more pleasant manager would help your business. They had room available also.

Wes Breaux
from New York, NY
Staying at the Hampton Inn in West Mifflin, Pa. Checked in for 2 nights. Learned I had a late afternoon business meeting on my second day stay. Asked if there was a chance for a late checkout. I was told "NO" Not unless I want to pay for an extra day. This hotel person never checked her records, availability, times etc. Really. This is not the kind of treatment I expected. This hotel was not by no means "busy". I totally understand why Marriott gets a lot of repeat business. I can honestly say I have never had any problems with late check outs with Marriott.

Georgia Bobbitt
from Cleveland, OH
In the evening I walk from work, I walk downtown from my job, so from 30th Euclid to One public square, just to give u a visual of the distance I walk daily, I always use the bathroom before I leave work around 4:25ish so if I need to stop before I get my bus at 5:07pm, I know for a fact I can stop at Hampton East 9th Superior or The Westin @ 6th St. Clair or Marriott Key Center public square these hotels are very clean and smell wonderful (I take medication that require frequent breaks) so with all this being said, today I stop at Hampton around 5:00pm and as I started to the bathroom a woman approach me and said you can't use our bathroom (I was shocked because they always smile and very polite when I come through the automatic door)
I said excuse me so she repeated it, buy this time I had to use it really bad, so I said ok I will use it and won't come back, after I came out I started to address it then but they had a few customers and I'm not the one to create a scene and didn't want to miss my bus as I did, as I think about it more and more she was out of line , 1. There is no sign to read " no public bathroom" 2. It's a public place 3. I haven't committed any criminal activities 4. haven't harassed anyone. My complaint is really that management and customer service at Hampton Inn was out of line at every level. My family were looking into spending New Years weekend at your hotel, but thanks to your unprofessional corporate policy and front desk we will look else where.
Have feedback for Hampton Inn?
Thanks for your feedback!
Sorry. Please try again later!