Hampton Inn
Hampton Inn Complaints Continued... (Page 3)
407+ reviews added so far. Upset? Call Hampton Inn corporate: 1-800-HAMPTON

Tondretta Jackson
from Montgomery, AL
I booked a room for my daughter and a few friends for her 16th birthday.. I left them there to go prepare food.. it's was two complaints at 9 pm stating they was loud.. why I was still at the room why the room was quiet they was eating it was two more complaints. The people in the next room had dogs and kids and of course white.. the kids was kick out the room at 1:40 for laughing and talking.. I guess the people next door never been teenagers before.. they was not disrespectful just trying to have a good time.. then had the police called on them..

Benny Watkins
from Aurora, CO
First of all I need to mention that we chose the Hampton based on great reviews from AAA. Also booked through them. Our stay was for 8 nights September 18th through the 26th 2018. First three days bed was not made, trash not collected, floors not sweeped carpet not vacuumed. Day three I went down to the front desk to request clean sheets. And I proceeded to change the sheets, make the bed and empty out the trash, I also had to request clean towels periodily more than three times. And on day two the toilet seat broke snapped right off while being sat on. The front desk staff apologized and did not even offer some kind of compensation.( Did not even offer to change the sheets) Floors never did get cleaned.

Jeffrey Batterton
from Watertown, CT
After dining, we went to the bar inside the lobby. The waiter October 3rd was kind of rude and blunt. I asked what kind of wines....oh we don't have wine, I don't even care for wine. I said how about wine coolers....oh no nothing in wines. He was munching on a bowl of cereal all by himself standing so unprofessionally at the bar eating and talking at the same time. (we interrupted I'm sure)! Why wouldn't a bar carry wine? or wine coolers? For a busy hotel chain, we were quite disappointed. I settled for a mudslide, but it didn't have any chocolate sauce or anything.
The room was nice. The parking lot is super small and tight. He should have left the trunk accessible to the lot - not up tight against the concrete wall !!!

Lisa Purton
from St. Petersburg, FL
I tried to book a room for the Hilton Inn downtown Wilmington, NC for the Battleship Half Marathon. (The place I was supposed to stay just notified me that their property was destroyed during hurricane and cannot accommodate me.) I tried to book Hilton Inn through Booking.com and I didn't realize that the site booked me at Hampton Inn downtown until I received an email confirmation. I cannot stay at Hampton because I must catch a water taxi from Hilton to get to the start line. Hampton too far away. I tried to call the property immediately to cancel they said I had to talk to booking.com. I called booking.com and they said I had to talk to Hampton inn. My confirmation 1266054417 pin#3578 showed I canceled but now they are charging me for the room anyway. This is the worst situation ever. I'm already slammed last minute to scramble and now I'm being further inconvenienced by this situation between Booking.com and Hampton Inn downtown. I intend to file a BBB complaint and a complaint with my attorney general as well. I will not pay this fee for an error created by booking.com. I took action only 10 minutes from making the reservation and I don't feel I should be penalized. Please help me get this resolved.

Candace Minor
from Supply, NC
Not a complaint--a compliment, but I did not see that link. We were evacuated from Hurricane Florence and stayed in Hampton Inns as we always do. Monica at the HI in Charlotte, NC location was so friendly and understanding of our situation. Many guests were evacuees with dogs, and she never wavered from her friendly and professional service---even though Charlotte was facing a lot of rain, possible flooding, and maybe loss of power.
A year ago, we moved to our new home in Calabash, NC. We stayed 9 days at the Hampton Inn in Southport, NC when we came down here to look around. When we moved here, we stayed at that same Hampton Inn in Southport, NC for another 11 days waiting for the movers to arrive. The employees at that location became our first friends here in NC. When we were recently evacuated, Debra Smith --and employees at the Southport, NC Hampton Inn--even called us to make sure we were OK and to see if we needed anything. She does the morning breakfasts at the Southport Hampton Inn and is a wonderfully welcoming and kind person. She made us feel like family when we have no family here.
Thank you Hampton Inn for always being a clean and comfortable place to stay--even when you have to flee your home.

Greg Barker
from California, PA
On August 24 I stayed at your Hampton Inn in Mannheim Pennsylvania and checked out the following morning. I left behind an iPhone cord and plug. The man I talk to said he had not found it that would talk to housekeeping this was on Saturday night the 25th . I called back on Monday and was told it had been turned in and he would mail it to me via US mail. Today I called because I still have not received and I talk to a woman to a dinner fied herself as Michelle a manager. She told me it was no longer there and wanted to know if I had contacted UPS do you have it returned to me. She also told me they put everything in a box loose and took it to UPS and it was my responsibility to call UPS. That story is ridiculous UPS will not except loose items each item has to be in individual box or package labeled with the address I return address and a wait and paid for in advance . First of all they excepted responsibility but knowledge Ing it was there and they would ship it to me and now they are saying tough luck it's my problem . I want to know what if anything you intend to do about this

James B. O'Connor
from Dover, DE
My wife, Shirley A. O'Connor, made a reservation with the Hampton Inn Denver-International Airport on 8/20/18 at 1:21 PM for the night of 9/6/18, reservation #90902603. On the morning of our flight, Thursday August 30, 2018, my wife became very ill with the flu and we had to cancel our flight as well as our vacation plans. The following day, August 31, 2018, I called the above Hampton inn ( 1-303-371-0200) and talked to Gwinn to cancel our reservations. I was told they would cancel the reservations however we would still be charged for the room. When I questioned this decision I was told to call 1-800-236-7113. I called, talked to Tina and was told the Hampton in CO would have to make the refund/cancellation. I called Tina at the Denver Inn a second time and she was firm that we would be charged for the room. My question: Is this Hampton policy to not approve a cancellation Request that is made a week in advance? I can understand being charged for a short notice cancellation-but-not for a cancellation made a week in advance. We are frequent Hampton customers and have been Hilton Honors members (852892436) for many years. i would certainly like to know if this is official Hampton policy so that I may plan future trips and places I stay accordingly. Sincerely, James B. O'Connor, Col. USAF (Ret) 61Elizabeth Ave.,Dover, DE 19901 (302) 697-7131 or (302) 922-4338

Deborah Arias
from Brooklyn, NY
Senior rate was not applied on my bill. I made my reservation on line, my sister made her reservation at the hotel direct. I am a Hilton honor member. The hotel said they could not help me. The 1-800-Hampton # spoke to Alexander said sorry could not help me. I am 67 years old and when I made the reservation I asked for senior rate and did not check that it was applied. I assumed Hilton knew how to apply that discount that they offer. I am very disappointed at the lack of customer service. My husband and I are retired and would like to continue to use our Hilton honors. I would appreciate resolution of this problem as soon as possible Reservation #97618752

Prejudice, rudeness, unprofessional

T. Ashley
from Hampton, SC
Horrible customer service at the Walterboro, SC location!! As a frequent traveler, I stay at (Hilton) Hampton Inn on a regular basis, This property is one to away stay away from!!! TV issues, poor customer service ... I ended up checking out ( at 10:00 PM) and moved to a Microtel across the street ... had a much better experience, for half the price!!!
Ridiculous!!!!

Anonymous
from Walnut Creek, CA
Your employee by the name of Shannon Blair. That works at the Hampton inn and suites downtown Jackson Ms. Has not only been falsifying doctor paperwork but also stealing from the snack shop. She is rude. And very unprofessional

Ramont and Pamela Coleman
Hello,
This message is being sent to let you the service we received at your hotel located:317 West Main Road, Middletown, RI 02842.
My husband (Ramont D Coleman) made reservations for Aug 2 - 5 2018. We were very excited to visit this area, and looking forward to enjoying the Newport Jazz Festival 2018. We made our reservations through the Travelocity website and received a confirmation number#. The Day of our arrival Aug 2, 2018,we called the hotel to confirm that our reservation and told the Front office manager Kaynisha Johnson we would be arriving later (after 3:00 check-in). She immediately stated that she showed nothing in her system and that she could not help us. We had been on the road driving for 9 hours and this was not good news. We contacted Travelocity and they gave us an additional confirmation number. I called back to the hotel and gave it to Kaynisha Johnson afterwards she stated she had us in the system for one day!. We contacted Travelocity again and they fax her our paperwork for the reservation. Fast forward we arrived to the hotel and Kaynisha was not welcoming at ALL, she was very rude and told us not to make reservations though a 3rd party. Then afterwards gave as a room with double beds vs what we paid for a King size. To say the least we were very disappointed with the non sensitive manager. We loved the Jazz Festival but would not stay at this location again. One more thing the next day my husband spoke to the new Sales Agents on duty Cory Adolfo and Olivia Seymour. Cory was very thoughtful and offered us a suite and sent a bottle of wine and chocolates to our room. We really appreciated there hospitality and wanted you to know what they did.

Romaine Harris
from Owings Mills, MD
As a Hilton Honors Gold member and a former GSA, me and my family we humiliated, disgusted and disappointed with the staff response as well as the condition of room 714 when we stayed at the Hampton Inn. I reported to the front desk, on three (3) different occasions that there was moisture in the carpet, chair and bed in our room. I was told that the carpet had been shampooed. The staff member was not telling the truth. I was promised a room in two hours, however when I returned later in the evening, there was no mention of changing rooms. Instead I was told I needed to wait until next day, although I was only staying one night. We were forced to stay in that room. The next day it got worst. Not only did we have the most uncomfortable sleep due to sleeping in our clothes because of the moisture in the bed, we found mold on the pillows. DISGUSTING. This was the worst hotel stay of our lives. Chose not to eat the free breakfast. To make matters worse, this has become a health issue. One of my daughters lips became swollen, chaff and painful. She has gone to the doctor and received medication. We all will receive medical attention due to this stay. We need to come to some true terms regarding this matter. As I should not have been the one to suggest comping this room, I believe the hotel can come up with some reasonable solution better than what was given me. I was told that I would receive a call from the hotel GA within 24 hours which would end today 8/10/18. I expect that call.

Taylor Boeding
from Chicago, IL
I am an employee with the east Peoria business by the river boat and I feel like I'm getting treated poorly and not showing me any sympathy from letting me go to a family funeral or getting into a car accident. I work hard every day and dont receive any credit my general manager cindy Harris doesn't talk to us employees with respect we've lost a lot of employees due to her and shes about to lose me. Please help by making Hampton inn a better environment to work in again

Sandra Pate
from Collegeville, PA
Once again we made reservations at the Hampton Inn Hazelton Top of the 80s and our reservations were messed up. our reservation was for July 21 through July 23. Our confirmation number was 97995576. We made a reservation for a handicap, non smoking room with a King size bed. First of all we arrived after 3 and was informed our room was not ready. We were then informed our room was not a handicapped room nor a non smoking room. The desk clerk said non of the rooms are non smoking and our reservations were for a room with a double beds. My husband is handicapped and would not be able to get into the shower unless it was handicapped accessible. They tried to accomadate us but were unable too. They checked hotels in the area to see if there were any open to fit our accomadations but everything was booked. This is the second time our reservations were messed up at this hotel. The clerk was to cancel our reservations so our account would not be charged. We enjoy staying at Hampton Inn Hotels but want to be assured that we get the kind of room our confirmation states. If non of the rooms are not non smoking or set up for handicapped people that is false advertisement. We called the number of the hotel directly and they say it goes to a third party booking agency and can't be changed. I can be contacted at the above email. Looking forward to hearing from you, Thank You Mrs. Pate

Anita dicristino
from Miami, FL
We booked this room through booking .com and they said the room was for four adults and it was to small we had to pay 20 dollars extra each night the manager Jessica Ortiz was very rude and said they won't help us because we booked through a third party. Very unprofessional ANF we come to Tampa every two weeks for fun we will no longer stay at the Hampton inn suites for our vacations terrible customer service by manager.

Amanda Foxx
from Orlando, FL
I was recently, wrongfully terminated at the Hampton Inn in Jackson, Alabama. On Friday July 27, 2018. I worked the 3pm-11pm evening shift at the Hampton Inn located at 4150 N. College Ave. Jackson, Alabama 36545. I had a family emergency that began approximately around 7:32pm I was called and told that my son was missing by my Aunt Dora Jackson. She stated that my son hadn't shown up at her house at 7:30, after her searching for him she told me he was missing and no one had seen him. I called the front desk supervisor Jordan Wallace at 8:00pm and asked her if she could come in and relieve me because I had a family emergency! She stated that she wasn't in town, and that she couldn't come! It was later discovered that Jordan Wallace was actually a few miles away from the business. And there was no interest on Jordan's behalf of trying to find someone to cover for me. Shortly after speaking with Jordan Wallace, I called the General Manager Marion Keith, and I didn't receive an answer! So I stayed on and continued working, but my worry was growing for my missing son in hopes that my Aunt Dora would find him soon. I called my Aunt back in the 9:00 hour still my son was nowhere to be found! So approximately at 10:20pm, I received a phone call from my cousin and was told that some random guys was shooting at my son! At this time, I'm in total panic mode, as any mother would be, so I called the maintenance supervisor Bruce Mack at 10:20 and told him that there was an emergency power outage in room 225, and that I had a family emergency and I needed to leave. Bruce Mack covered the front desk for me after fixing the power outage. I left at 10:28pm to find my son, and once I found him safe, I returned to work the same night. I could not believe the treatment that I received from the General Manager Marion Keith, and Jordan Wallace the front desk manager. I was so disappointed at the fact Jordan Wallace found my situation with my son to be hilarious. So Marion Keith the General Manager decided on Monday morning July 30, 2018, to terminate me for leaving the property to find my son. She stated that it was job abandonment, even though I returned to work the same night! I explained to her that it was not abandonment, because I returned to work! I also stated that Bruce Mack covered for me, she stated that he didn't count, because he is the maintenance supervisor! I suggested to her about cross training her employees in such a case, since this particular Hampton Inn is severely understaffed, because they are selfish with stealing hours for themselves! So, on this evening, August 1, 2018, I was sitting in the parking lot speaking with Ray Worthy, a really good friend of mine that is still employed there, and Marion Keith forcefully threatened Ray and I to get out of the parking lot and off the property. She then stated she can't have a homeless person sleeping in their car here on the property, and that it was bad for the image for her and the hotel! Now at this point, I was totally ashamed, embarrassed and humiliated. Because no one knew that I was homless, but Marion Keith (General Manager) and Paige Parnell (Assistant General Manager) I explained to them both about us living in my car me and my two children, because my children, sits in the parking lot in the car until my shift is over. I explained to Paige and Marion both about my home being destroyed in hurricane Harvey in Texas in 2017. I moved to Alabama in March of this year, and I rented a small cabin for my children and I to live in! Once my resources ran out, my cabin was repossessed and we have been living in my car every since. My treatment, by Marion Keith has been horrible and I worked in a hostile environment while I was there. Saftey was an issue, an employee was attacked by her boyfriend while I was there, that was a saftey concern. Marion's comments to me about being homeless, were horrible, and she was blurting this out in front of guest on the parking lot as well as Ray Worthy an employee. That was very unprofessional, tacky, and out of control on her behalf. And with her trying to judge me for not having a place for my cildren to stay is appalling to me considering, she was homeless, and living in the hotel at one point, until the owner allowed her to move into one of his homes. I'm so disgusted with this property now, because of her treatment. In Texas the name Hilton has a strong barring on properties there. I guess it's not the same here in Alabama. The General Manager (Marion Keith) of this property is completely out of control! She's a tyrant and bully to her employees! I feel like Hamptonality starts with how you treat your employees, and if you can treat them well, then you can provide that same quality customer service to your guest, because I was both a guest and employee!
Sincerely,
Amanda Foxx

Debra cleversy
from Painesville, OH
7/24/18-7/27/18 stayed at Hampton inn Chicago on e Huron st. Started with a problem checking in we were there at 2:30.pm and they said they did not have a room ready yet people were coming in off the street and checking in when asked they said you have to check in online then as soon as a room is cleaned that person gets it,I had reservations 2 months in advance and have checked in at other Hampton inn at 9 am with no problem. Very rude staff. Elevators slow,bathroom did not have an exhaust fan, and no towel Matt for floor, dirty tables and lamps,pool area had and excellent view being roof top but area around pool very hazardous as it was wet and slippery I nearly fell and being over 60 it would not have been good and my grandaughter and other kids and adults were slipping as they went to the seating area. Breakfast was nice but the evening reception each night for the home wood suites would not allow us to attend yet they were in our breakfast area and coffee area. More expensive room yet less amenities .the snack bags to go weren't available until after breakfast but we went out at 8am they should have been out for those going out early.I usually stay at a Hampton inn but will not in the future as any complaint seems to be ignored.

George D. Fletcher
from Hedgesville, WV
First I have stayed at the Hampton Inn for the past 20 years business and pleasure. I made reservation to stay at the Hampton Inn in Rocky Mount, North Carolina on July 14th 2018. The check in time I was told would be around 2pm so I scheduled my travel time to arrive at 2pm. I was unable to check in my room till after 4pm. The weather was extremely hot that afternoon and we had to stay in our vehicle over 2hrs waiting (with a young grandson) for the room to become available due to the amount of individuals also waiting for rooms in the Lobby area . I have already paid for the room by credit card but I was very unsatisfied with the service. My reservation number was 96909241
If you check the amount of times I have stayed at you facility you can tell I not complaining just to have something to do.

Maribel Ramos
from Orlando, FL
Good evening,
I stayed at the Hampton Inn Northgate, Seattle on July 5, 2018 and checked out on July 6, 2018. I went on a 7-day cruise and then realized that I had left my wool JCrew checkered brown colors blazer in my room 441. Upon my return from the cruise on July 13, 2018 and after making multiple phone calls I finally spoke to a lady by the name Carrie or Kerry and she checked with housekeeping and confirmed that my blazer was at the Hotel.
She directed me to contact chargeback.com in order to try to get the Blazer mailed to me. I contacted chargerback.com last week ago and I understand that a message with the description of my blazer was sent to Hampton Inn in order to get the process going but I still have not heard back from your Hotel.
Can someone contact this Hotel and get me some help in recovering my blazer? Maybe they will listen to Corporate Office. I am paying for the shipping of the blazer so I do not understand them giving me the run around. I would very much appreciate a prompt response to my request.
Thank you,
Maribel Ramos (Room 441)
407-491-9630

Cynthia Salzarulo
from Keenesburg, CO
Hi, so this past weekend myself and my husband were called to attend a family emergency as my aunt and her son was in a fatal accident. My nephew lived but is in icu and needless to say was horrible that his mother had passed. Normaly hotel stays are made in advance and this time it was last minute. Due to something going on in town all the hotels in Denver were fully booked we took the only availible but it was over 50 miles away. After a long heartbroken day we headed to greeley at which we stoped at walmart to get some essentials that due to emergent reasons we had no time to grab. Finally getting to the hotel to check in and lost our card at walmart somehow and werent able to check in without a credit card. So we go to walmart purchase a prepaid and head back to hotel at which the Phonix Clark was up front first she tells us that she gave our room away, then proceeds to sarcastically state she did all she can do and appologizes with a smerk on her face then also tells us that she tells us that even if she didnt give away our room that they dont except pre paid cards so need less to say after a already stress ful, heartbroken day, it ended with both myself and husband not finding any hotel with availability and had to sleep in our car went the hospital unrested and un showered and feeling like the hampdon inn didnt care or have a heart is this truely the reflection of your core values. We are truely still upset about the way that we were treated both girls that were up front were aware they knew we were going to walmart and returning apon giving our room away we also never received even a courteous call to make sure we were infact not returning but we did return to the hotel and we were left upset and speech less. Very appalled at tbe customer service we were giving. Due to the In decency and unprofessionalism of your employees we didn't request that this matter be taken care of and attended to immediately I have called I've called the hotel 2 days now and there is no manager on call or in the facility and no one has attended this matter. I truly hope that you guys can redeem your core values and can reimburse me for the trip there and back drove over a hundred miles slept in my car and completely feel like the Hampton Inn does not care about what me and my husband had gone through if they could make it right and show me my husband that this is not how things are taking care of at the Hampton Inn sincerely Cynthia Salzarulo

Venitra Stay
from Knoxville, TN
Michelle A.
Good afternoon on 7/19/18 I traveled from PA to AL for a family reunion at Hampton Inn 4910 Civic Blvd Bessemer AL. First my card was charged $24 in $1.00 for the all the rooms because my card was the only one on file. Unacceptable!! Second someone tried to charge $358.25. As a matter of fact I was still on the road traveling when my bank called, twice, about fraudulent activity. No one could seem to tell me what happened other than since my card was the only one on file that's why it was used. NO Unacceptable!! I had to shut my card down & can't use it while out of town. I'm extreme upset!! My Aunt told them I was not the contact person & still the hotel continued to call me as if I were. I had no dealings with them prior to my visit, an unpleasant one & some kind of compensation & training needs to take place
ref:_00D41XOXt._50041c2dJf:ref

Royce Williams
2020 Enclave Drive
Rocky Face GA 30740
(706) 218-3485
marion63roy@gmail.com
23rd July 2018
Christopher Nasetta
CEO, Hilton Worldwide
7930 Jones Branch Drive
McLean Virginia 22102
Dear Mr. Nasetta,
I recently made a reservation at Hampton Inn and Suites in Panama City Beach Florida. (15050 Front Beach, Fl 32413) I am writing to you to express my displeasure with Hilton/Hampton Inn and Suites. I made a reservation with your reservation office about 1 week prior to arriving on July 19th. While making my reservation, I requested a beachfront room and early arrival at noon. The reservationist insisted that all rooms were beachfront and I had to inform him that I had stayed there a year earlier during your opening week and I knew for certain that all rooms were NOT beach front. I ask him to put this in the notes on my reservation and he assured me that he would and it was confirmed.
I need to say before I go on with my current situation that I had a bad experience during my stay on opening week about a year ago. We arrived to find out that we were not reserved at this hotel, instead, we has been booked at the Hampton Inn and Suite on Back Beach Road! (1 mile from the beach!) We spent 3 hours trying to get the reservation straightened out but we were only able to get a side room and were not given beachfront. Not to mention we were awakened several times during out stay with false fire alarms having to evacuate the building. Ugh!!! Ok, fast forward about 1 year later to this past week. When we arrived on July 19th, 2018 and we were greeted by the same Assistant GM, Lynn Burgess Smith, who immediately recognized me and my wife. She was pleasant and greeted us with a smile. This is where it was DeJa Vu all over again.
I gave her our reservation number and we told her we requested an early arrival and a beach front room. Since she was very aware of our past experience, she was very apologetic and told us that we were not booked ocean front, instead we had a "Direct Street View!!" This was totally unacceptable, not once but twice had we been mislead by your Reservationist! Since they were fully booked, there was nothing that Lynn could do but give us a break on our stay; however, that did not compensate us for the inconvenience or the misrepresentation that had occured.
This is where it gets really concerning….Lynn informed me that this happens all the time and it is not unusual for this to happen several times a day where the Reservationist makes a commitment that they cannot honor and they do this because they are on a commision based compensation plan and they will tell the person making the reservation anything just to get them to confirm. This is highly unethical and fraud.
I expect to have some sort of retribution based on my past two experiences and I am highly disappointed in this type of unprofessionalism and business practice. I would not expect this type of customer service from any organization and especially a Hilton company. I would like a phone call or letter back acknowledging my complaint.
Sincerely,
Royce Williams
706-218-3484
marion63roy@gmail.com

Deb Abel
from New York, NY
We specifically stated a 2nd night to swim at the pool and the pool was closed. There was a small sign on the door that said the pool will be closed for maintenance that we didn't see until after we had already gone in the pool. For starters the sign should be huge and it should say the pool IS closed not WILL BE CLOSED. WILL BE MEANS IN THE FUTURE. so now do I have to be concerned that my 4 yr old grandson went in a pool that was contaminated? If it is closed why was it not locked? Also 3 out of 4 of us got sick after eating the breakfast. We choose the hotel based on it amenities and 2 out of the 5 amenities you have listed might as well not have been on the website

Christopher Emerson
from Columbus, OH
I booked a room for my step-daughter to stay there the night before her orientation at George Mason University. I booked the room in my name, stated she would be the person staying, armed her with my Hilton Honors card & credit card and they would NOT let her check in because she was only 18. When I made the reservation it clearly stated on the website that adults were 18+, but not so, to actually check in, an adult is 21+, but for billing purposes they are 18+. Of course she's almost four hours away from home, and now has nowhere to stay. The heartless manager (Ms. Davidson) could have made an acceptation, but that was not to be. She left in tears and had to make other arrangements late at night. After trying to call Hilton about it, their response was Hampton Inn makes their own rules, yet every number I call, leads me back to Hilton. I'll use any other hotel from now on rather than one with the Hilton name attached to it.

Rose dugger
from Raleigh, NC
Rooms not ready from 1:30 to 4:45 before we got a rooms late for our engage me & for the price you paid for these rooms is sad & poorly served this is highly unacceptable for a 4 or 5 hotel especially for Hampton Inn I want some of my funds return for the condition & bathroom stool was not clean . Sign Rose Dugger

Tanisha Powell
from Dallas, TX
Gave it 1 star just because that's the only option but also the bed and pillows are comfortable to my 5 month old, but overall.....Absolute WORST experience EVER! I will NOT return nor will I allow my friends, family nor my worst enemy to think to stay here. I will pay more to stay somewhere where its QUIET and you can actually get some sleep around here. I have a 5 month old and a 2 year that's woken up from loud freaking people above me from these thin walls and floors....YES, for the price I paid, you would think you will get some sleep...NOPE! I've called to complain about the ppl above me and all I was advised was to move to the 4th floor... Ummm, why would I move to the fourth floor with 2 young children to not only move them but to pack all our things as well....NO, not that easy! It's called... CALL the ppl above me and tell them to get their young freaking kid in check and keep him or her from jumping off the beds to the floor and running like he or she is in a marathon from 9pm-1am...... My kids are in bed by 8:30pm. I allowed the kid to be loud up until it woke my 2 year old then my 5 month old..... MAKES ABSOLUTE NO SENSE! I paid for 3 night and 4 days... Night #1, okay. Night #2, HORRIBLE and Night #3, I packed my family up and left in the night with explaining to "RICK" the AWFUL EXPERIENCE I WAS EXPERIENCING for the 2nd night. I will NOT RETURN EVER as much as my family travels. If you want no sleep...COME HERE! If you want to hear your neighbors come in and out their rooms across the hall or next door allowing their doors to slam, talking loudly in the halls and their kids..... COME HERE! If you want not a very good customer service.... This is DEFINITELY the place for you..... FOR ME, I didn't pay to have a lousy experience. I will take my business elsewhere next time. Was a lesson learned! Thanks Hampton, you lost a customer and many more after I share this experience with my family and friends.

Anthony Diggs
from Jacksonville, FL
Dear sir, first I would like to thank you for your assistance with this matter! I also request that you review the contradicting statements provided by your staff. First, I have consistently ask your company to interview the young lady who check us in. There is no doubt that she would recall me asking about placing the room charge and valet charges on two different credit cards. Additionally, she will confirm that I was informed that the charge for that night as well as, the remaining stay would be billed to the room.
It appears that, the valet statements are different. One stated that, my brother and I went to the room and didn't come down until the morning. The second statement was that, the Valet assisted my brother to the hotel and we left the premises. Please note that prior to leaving, I asked the valet why was my vehicle still on the ramp. He informed me that, the policy was that they would leave the vehicles for about an hour In case, the guest change their mind or forget something.
Additionally, the next day the Valet supervisor took the ticket and informed my wife and I that the ticket would be taken care of. This was the outcome from her speaking with the young lady who checked us in to the hotel . Be advised that, We don't even have possession of the ticket now!
Also, be advised that, my room was cleaned after our first night. It appears that, your staff in an attempt to respond in a defensive position have misinformed your office with the wrong day! I will provide your office with two notarized statements from the two elderly family members which were witnesses to the fact that the situation occurred after the funeral on our 2 night. As well as, the condition of the room and the location of the hang signs in the bathroom.
Once again thank you in advance!
Anthony Diggs Sr.
Sent from my iPhone
On Jul 11, 2018, at 6:55 PM, HRCC Inbound Email Prod Address-gstcorrespond <guest.correspondence@hilton.com> wrote:
Dear Mr. Diggs,
Thank you for contacting Hilton Guest Assistance. My name is Courtney. It will be my pleasure to assist with your ADA claim, housekeeping and service issues at the Hampton Inn & Suites Baltimore-Inner Harbor, MD.
In review of your file, as of July 10, 2018, the hotel has stated that you refused the valet service upon arrival at 12:00 am. When the valet attendant asked about the vehicle, they said you stated that you were being picked up by your brother. They said you took the key with him to the room and didn't come back till morning. Baltimore city has issued a $32.00 parking ticket for the car being left on the ramp over 15 minutes. Since the car was never registered at the Valet service, the hotel has not charged a parking fee for the first (day). The hotel said you did chose to valet park the car next day. There were no corrections or refunds issued.The hotel said you refused the housekeeping service the first night by placing "do not disturb" sign on the door. They have the housekeeper's board and the housekeeping supervisor's report collaborating this. The hotel will not issuing any compensation.
For immediate hotel assistance, feel free to contact the hotel at 410-539-7888.
In an effort to make amends for your overall experience, a total of 10,000 points will be posted to your Hilton Honors account within 24 hours. The Voice of our Customers is critical to ensuring our guests receive a rewarding experience when staying at the Hilton Portfolio of Brands. Thank you for bringing this concern to our attention.
Should you have any additional questions relative to this matter, please contact our Guest Assistance office at guest.correspondence@hilton.com.
Best regards,
Courtney V.
Corporate Guest Relations Specialist
Hilton Reservations and Customer Care
ref:_00D41XOXt._50041bpAFm:ref

Nathaniel Houston
from Columbus, MS
My name is Nathaniel D. Houston, Sr. I am a pastor and President of the Northeast Mississippi Baptist State Convention, Inc. I stayed at your property located at 320 Coulter Cove, New Albany, Mississippi from July 2-6, 2018. I was there, along with 20-30 members of our State Convention, for our Annual Conference Meeting. As a guest, I dropped off 3 white shirts to be cleaned. I received 2 of the shirts back properly cleaned, but one shirt was returned badly stained. I asked the manager to send the shirt back to the cleaners to clean and remove the stains. When the shirt came back the second time, the cleaners claimed that the shirt was stained when they received it. I explained to the hotel management that this was not true and that they saw the shirt before they sent it to the cleaners and could verify that the shirt was not stained. Nevertheless, the hotel management stated that I would have to take this up with the cleaners. I told them that as a guest of the hotel, I should not have to resolve this matter with their local cleaner contractor, but they should resolve it on my behalf as their guest. They responded that there was nothing else they could do.
I was very disappointed with this response and felt that this response did not reflect well upon the kind of customer service that your company represents. The shirt is valued at approximately $80.00 and now its ruined. I would appreciate your assistance in resolving this matter. I await your response.
Thank you!
Nathaniel Houston

Edith Lynne smith
from Walpole, MA
When I called for a wedding block on June 18 the . Smith -hulbecki the person who did the reservations didn't do it properly. My quests are being told no such block at the Sturbridge location. Called corporate manager would not speak to me and was told that the quest need a confirmation number .83533209 Was not given any of this info disappointed wedding quests are not able to book rooms. Corporate very poor service .

Amanda Miller
from Butler, IN
I did not stay got billed for two nights . The manager gave me a 0 balance receipt and assured on camera we would not get billed. We never stayed and the manager will not respond to us or our emails . VERY REDICULOUS . I am close friend with people who book for business for steal companies and I will be sure that they loose all of their business.

Donna Corbin
from Salem, AL
Arrived at Hampton Inn in Scottsboro AL at 3:00 pm for check in. At 7:30 pm, we were still unable to check in due to room not being cleaned! Really? This is so unacceptable! I am a Hilton Honors member and will NEVER stay here again.
Try having an 8 yr old baseball player in a tournament that needs to rest for the rest of the tournament the next day.

Sandra patrician
from Plymouth, MA
Hi my name is Sandra patrician
We have just come back from your hotel after a 3 night stay from 7/2 to 7/5 we always stay at this hotel when we go to Portsmouth New Hampshire for many years but this time around it was a very bad experience right from the beginning of our stay this is the first time that I have had to complain about anything at any time but this was very bad time at the hotel .when we got into our room 325 the bath was dirty and hair around the drain ,and around by one of the beds next to the window the carpet was wet so I had to put a towel on top of it ,but the worse thing is that my husband found a condom beside of the nightstand and bed.when we went for breakfast on our second morning the juice machine was broken and on our last morning the juice machine was still broken and to top this off the food warmer was also broken and all the food in it was cold ,the front desk said that they are waiting for them to be fixed so we ended up going out for breakfast,I look forward to hear from you about this bad experience again we love the location of the hotel when visit Portsmouth I also think it was bad that the staff did not think about all the other guests at breakfast time about the poor food and juice machine being broken .
Yours sincerely
Sandra &frank patrician

Brian Simon
from Dallas, TX
Like its really going to help. Going back to holiday inn for sure if I don't get reimbursed. The carpet stunk. The tv didn't work. Requested on line first floor by pool got sixth floor. Flys all over in dining room. AwFul service.Also my mother in law fell sick a d had to leave 1 day early. You would not compensate my one day but that's okay yeah. I know where not to go from now on. Thanks. Never even received a receipt on line. What kind of bull? Hah

NORMA GARZA
from Lewisville, TX
WORST PLACE EVER! FIRST WE ARRIVE POOL DOES NOT WORK. ITS OK WE CAN MOVE PAST THAT. SECOND THEY AGREED TO TAKE CASH PAYMENTS BUT NEEDED MY CREDIT CARD ON FILE, BIG MISTAKE. I STARTED GETTING CHARGES LEFT AND RIGHT FROM HOTEL WHEN I ASKED FRONT DESK THEY SAID IT WAS JUST A 'HOLD' AND CHARGES WOULD FALL OFF NEXT BUSSINESS DAY. DAY OF CHECKOUT MY CARD WAS CHARGED 4 TIMES FOR SEVERAL DIFFERENT AMOUNTS.
WE NOTICE ELECTRONICS MISSING, WENT DOWN STAIRS ASKED FOR A MANAGER. SHE COMES OUT NOT LISTENING STARTS PAGING HOUSEKEEPING LADY, WHO COMES DOWNSTAIRS AND STARTS TELLING US WHY ARE WE ACCUSING ME OF ROBBING YOU. VERY UNPROFESSIONAL. MANAGER PROMISED TO CALL US NEXT DAY NOTHING. THEY PROMISED US A REFUND AND TIL TODAY WE HAVE SEEN A REFUND OR HEARD FROM ANYONE.

Kevin wilson
from Washington, DC
I stayed at Jacksonville Fla and Myrtle Beach Hampton Inn and I tell you I couldn't been more satisfied...extremely friendly and very accommodating...highly impressed and I thank you Great job!!

Reda Coston
from Smyrna, GA
Hello, I want to add that I love staying at the Hampton inn. However, I came in with locks on my bags. People know what they have in their luggage. As toward my stay, I was in bereavement and suffering with the loss of my son whom committed suicide. The very room I booked was the I had him not to long ago when he was a baby. I can not believe this. I entered the room on June 3, was not told the check in time or check out time. Not appreciated or acknowledged as a member. However, two of the ladies there were nice to me at the service desk. As State Detective. I was not prepared to work but, had to. Now, put somethings in the room. I had witnesses as to what was in one of the bags. I left the room first @3:00. The other bag I looked. The other one was not locked. Test No.1. Upon leaving, I told the other two to let me know when they were leaving. They left the around 4:30 pm. The small luggage was on the left in a standup position unlocked. The Items in the were itemized incase of theft occurring. So, I decided to head back to the room. That was around & 7:30pm. I never looked in the bag, until later that night. I did not notice anything at first missing. Exhausted from traveling and work. Got into bed. Slept good. Thank you, Enjoyed the room, The breakfast and everything. Upon packing my bags. I did notice some items missing as i went through the checklist. I locked the bags and it stayed it locked...until arriving home. I was very disappointed in the Theft that occurred no one else had stolen anything from me at all. I want to say this, Someone with a key came into the room and when through that bag stealing what they wanted. It's not worth it to go through a loss in tears and discover missing items in your luggage. People remember how they treated by whom the way they were treated. It's an awful feeling once disappointed. I will next be ready for the next hotel thief and I will arrest them on the spot. DO YOU HEAR ME.

catherine leas
from Springfield, MA
I was charged twice for my stay.Come to find out i was lied to because the girl processed the check in wrong and canceled my check in and made me come back to re pay and I told her my bank already processed the card and she told me it didnt on her end or it couldve been booking.com so i did it again and now i have 2 payments pending so i again at ck out asked her why it shows as 2 and she said she didnt know and they only have one so i asked for my receipt and was refused!!! i spoke to booking.com and they said they called and the woman told her of her error. so she tried to be sneaky and cancel my inital payment and reprocess it with the card on booking.com since it was an out of date card she had to notify me she needed to do the charge again but tried to blame the machine. I am so livid because of her error i have bills that were jeopardized because my bank was pending almost 600 for 3 days. I always stay at hampton inn but i will never stay at the one on w main st middletown ri , they all need to be retrained since nobody could give me a truthful answer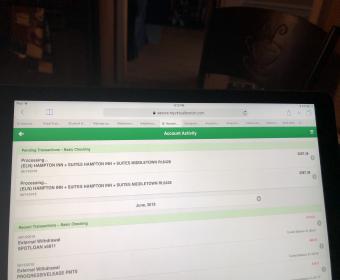 John Barbe
from Duluth, GA
When I arrived at the Hampton in Dublin, Ga. on June 2 and checked in for my reserved room the price was $139. I told the clerk I wanted the same room for one night in the following week. When I checked in on June 7 for that room the rate was $154. The clerk didn't know the reason for the higher rate and I had not been told about the increase. That's a poor way to treat customers. I will not stay at a Hampton again.

Troy hix
from West Plains, MO
On arriving we was told the pool wasn't in service 1 of the reasons we picked the Hampton. Went to take a shower there was no hot water. When calling front desk I was told there is nothing we can do for you it been like that all day. Let it run it will get hot. Let it run for 30 min stayed to cold to shower. Both of these issues should have been brought to my attention at check in. I would of went down the road to any other hotel chain that gives you the amenities that you should get when paying for a room to stay in. DISAPPOINTED WITH THE WHOLE MANGEMENT APPROACH AND STAY. I SHOULDN'T BE CHARGED THE PRICE OF FULL SERVICE WITHOUT RECEIVING WHAT WE EXPECTED TO GET WHEN STAYING AT A HILTON BACKED FACILITY. TRULY NEVER STAYING AT HILTON/ Hampton hotel again.

Jack owen
from Lee's Summit, MO
Received a call from Hampton Inn Lee Summit MO this AM. Was told that "2 queens not available, we are over sold, one king bed (for 2 adult males), we will call you back. at 1315 we decided that our business was finished, weather was good, and let go home now. Called Tiffany at Hampton Inn to cancel our reservation. We both laughed as the 1 king for 2 adult males wasn't a problem anymore. At 1330 Tiffany called me back to tell me that she was going to charge me for the room. I said OK, we will just stay in KC tonight and eat BBQ. She said that there was a 48 hr??? cancellation policy. Give me my room or give me my money back. When I called back she said that her manager told her to charge me but changed his mind... Whatever, I had better not be charged for this room.
Jack Owen
217 671 4919
jackowen17@outlook.com

Maureen Hagan
from Union, NJ
I called Hampton Inn at Louisville KY airport on the evening of May 1 when I realized my flight was delayed 4 hours ( out of Newark) and I would need to stay near the airport for the night. I booked the room, with the understanding that I would not be arriving to the hotel until approximately 1:00 AM. The woman with whom I spoke said she would mark it as a late arrival. Upon arriving at the hotel, I was told that i couldn't check in until 3 PM because my reservation was for May 2. When I explained my conversation with the person with whom I booked, he said she had put it in wrong, but I would have to pay for 2 nights if I stayed. Again, I explained that I just needed the room for Tues night ( although it was now 1 in the morning, Wed). I asked him to cancel the Wed night reservation and just give me a room for this few hours. He repeated that he would have to charge me for both nights. He couldn't let go of this charging for both nights thing, so I made sure he cancelled the May 2 night and then I left and got a room across the street ( cheaper I might add).
I am disappointed. My family has a reunion near Hagerstown, MD every summer when we book between 6-8 rooms for the weekend at the Hampton Inn there. After my very exasperating experience with this clerk, I'm going to check out other options for this summer. I arrived in Louisville after a stressful travel day,anxious to get settled. I had an important meeting in Jackson, KY the next day with more travel involved. So my experience that night with Hampton Inn was far from helpful.

Mike Mares
from Albuquerque, NM
Stayed at a Hampton in Las Cruces, NM and got what I believe to be bed bugs. For a week I tried to contact management asking that they check the room to get ignored. It's been more than a month and no one has returned my calls. Don't stay at the Hampton Inn in Las Cruces if I-25. The manager doesn't seem to care about guest concerns.

Leetoya muldrew
from South Easton, MA
well during my stay on 4/13 was told I would be able to swim but there was a delay in what was told to me by an employee. Needless to say I drove 40 min away and back with my children and they lied about telling me this .Front desk Mrs.E was very disrespectful and rude and the GM didn't return any call I placed but soon as I emailed her she emailed back immediately to avoid talking with me directly.I just want my money back for the 1 night that I drove from out of town to get my children and spend the weekend with them. Both the GM and her front desk person MRS.E were just ridiculious and rude. Please help me resolve this issue I have I know that is not Hilton and I am a Hilton honors member.

Amy Brady
from Philadelphia, PA
Our luggage was lost and they acted as though they did not care. We have been dealing with this for over 8 hours and still no resolution.

Lorine Kent
from Providence, RI
Let start feeling sad to have come to Buffalo and stay at downtown Buffalo Hampton inn made reservations for 3pm had us wait for hour today that hotel is not ready and then was treated very rudly by reception to find out that they still have gave us the room came over with two more sodas to go with the ones they already gave us by the we were upset so since reception seen that we were upset took them back n said nevermind SMH I been in a lot of hotel never got treated like this

Frank S.Pirog
from Cocoa Beach, FL
11 Mar 2018 - In an attempt to make a reservation for 17 Mar 18, I inquired with the reservation person (813-818-7202) about retired military discount and her reply was that because the rooms were filling fast, they could not offer a discount. At that point I asked to speak with her manager because I was having a hard time understanding her broken English, although I did not say that to her. At that point SHE HUNG UP ON ME. Not very professional. Frank S. Pirog, Member # 588897012

Terry hicks
from San Francisco, CA
I emailed the complaint office about one manager that works at the Hampton location. Jessie aly,in the back entrance, and mission st.in the front. Last Wednesday night.did you receive my email if you did not,let me know. the surety guard saw and heard every thing.I believe the guard said the guys name was right. Please let me know if you received my email

Anthoula Washburn
from Boca Raton, FL
Good day,
Last year September, I made a reservation with your Hampton Inn Suites in Knoxville TN 601 N. Weisgarber Road 37919 865.693.5400
I had just got out of the hospital as I had stomach surgery and my family and I were trying to leave South Florida due to Hurricane Irma. We could not make it out the state and had to cancel my reservation the same day. I was charged $151.25 on my debit card for a one night stay cancellation fee which was charged to me on 9/8/17 during this state of emergency. I am respectfully asking for a refund of this monies. I know that it has been a long time since this has occurred but in speaking with some fellow coworkers, all who were planning to leave for the Hurricane but could not leave the state received their full payment back. Marriott, Fairfield ect. This is what has prompted me to write this email. I am wondering why this company would charge during a state of emergency and I am asking for a refund.
Sincerely,
Anthoula Washburn
3464 NW 25th Terrace
Boca Raton, Florida 33434
561.843.0421

Nicholas Whitehouse
from Bournemouth, ENG
Reserved and stayed 1 night (14-15 November 2017), 2 rooms, 4 adults. My credit card statement shows I have been charged as if we had 4 rooms or stayed 2 nights ( ie double the agreed reservation cost) . So far Hotel manager has not refunded my card. Phoned hotel, manager not contacting me back.
Feel very let down. is there dishonesty taking place at this hotel? Can you assist please? Thank you.
UK Visitor, Mr N P Whitehouse

Wendy kapuscinski
from Allen Park, MI
Me and my family have stayed st the Hampton inn st birch run for 25 years every nov. the last two years were absolutely horrible last year was during the worst snow storm and we had no heat we were credited for. This year 2 out of 3 rooms had issues mine room was so hot in the winter we had to sleep in shorts and a tank top due to having no air and we had to sleep with the window open. The hot tub was broken again. The second day same issues but when I got up to shower (I was the first one up there was no hot water. When we called to let the desk know he laughed and said oh we forgot to turn on the reserve hot water tank??? I have been trying to contact James the Gm it took 10 emails and about 6 calls to find out how rude he was. He was so cocky I felt uncomfortable talking to him .i was promised my 2 night refund and it would of been credited that day if I payed on my card but I paid in cash so I was told I have to wait. I finally got a hold of James and was told we'll all we are gonna do for you is Send 1night because we had issues late stay . I said we have been coming for 25 years and have only had 2 bad stays. He said it would be better if we found some were else to stay??? I was so shocked to here this from a Gm. You would think being a customer fk that long you would got more respect then that. All we expect is to have the basics a clean room, heat , air and hot water. I don't think this is too much to ask for. I would like a phone call back in regards to this horrible experience.
Thank you
Wendy Kapuscinski
7343633900
Wkap111@yahoo.com

Wendy kapuscinski
from Allen Park, MI
Me and my family have stayed st the Hampton inn st birch run for 25 years every nov. the last two years were absolutely horrible last year was during the worst snow storm and we had no heat we were credited for. This year 2 out of 3 rooms had issues mine room was so hot in the winter we had to sleep in shorts and a tank top due to having no air and we had to sleep with the window open. The hot tub was broken again. The second day same issues but when I got up to shower (I was the first one up there was no hot water. When we called to let the desk know he laughed and said oh we forgot to turn on the reserve hot water tank??? I have been trying to contact James the Gm it took 10 emails and about 6 calls to find out how rude he was. He was so cocky I felt uncomfortable talking to him .i was promised my 2 night refund and it would of been credited that day if I payed on my card but I paid in cash so I was told I have to wait. I finally got a hold of James and was told we'll all we are gonna do for you is Send 1night because we had issues late stay . I said we have been coming for 25 years and have only had 2 bad stays. He said it would be better if we found some were else to stay??? I was so shocked to here this from a Gm. You would think being a customer fk that long you would got more respect then that. All we expect is to have the basics a clean room, heat , air and hot water. I don't think this is too much to ask for. I would like a phone call back in regards to this horrible experience.
Thank you
Wendy Kapuscinski
7343633900
Wkap111@yahoo.com

Jane Davis
from Odessa, FL
I have a lot to complain about so it's going to take me more than a hundred words so I'll just try to be pacific my home got ruined from Hurricane Irma being a FEMA client I stayed at the Hampton Inn on 11740 Tampa Gateway Boulevard in Seffner Florida 33584 somebody might want to get back in touch with me because I have a list of things they were very rude to me and the staff members names that were rude to me I have a list of and all the stuff that they told me and even the manager how they treated me there and I stay 37 days there until they said it didn't have any room for me anymore and it kicked me out their service is lousy lousy and because I'm a recipient I did not complain until I left the place because I didn't want any repercussions coming back on me so if somebody could please give me a call back at 813-359-7209 so I can speak to a person I would be really really happy thank you

Torrence Beasley
from Alpharetta, GA
Dear Mr. Nassetta,
I regret having to write to you about an unpleasant experience I've had with your company. I prefer to contact a company only to praise an employee or the company's actions.
Unfortunately, my situation is such that it is necessary for me to forward a complaint to you.
I made reservation for November 22 and 23 at your location in Clarksdale, MS for the Thanksgiving holidays. My room number was 216. I had to endure constant noise coming from the room above me doing quiet hours. I called and reported it to the front desk (Tia) between 11:30 pm and midnight. The noise continue until the morning hours. I didn't get any sleep doing my stay.
I look forward to hearing from you. I hope you can respond within 30 days so that we are able to resolve this problem in a speedy fashion.
Sincerely,
Torrence

Michele Painter
from Scottsdale, AZ
On 11-17-17 a reservation was made upon checking the girl at the front desk told us that we would be charged a "security" deposit and billed credit card for $108.91 when I see this charge the next day went and spoke to the girl at the front desk who advised that this would be credit back to the account on this day. When ask why I was charged this amount the girl said she was not sure why she did that and she was new. This cause for me to be charged several charges from my bank now since I should have not been charged until check out, and it was made clear the card was to secure the room wanted to pay cash when we checked out. On Sunday when checking out the girl at the front desk did not have a resolution for this matter and I was never charged the full amount. Called today 11-20 and was told a manger would contact me a second time and STILL no call.

Sharon Michel
from Sylacauga, AL
Thé Hamption Inn in Dalton, Ga, is certainly not the quality we expect when staying at a Hampton Inn, The rooms probably haven't been updated in 10 years. There was a huge cobweb hanging from the lamp over the desk. There was a huge stain on the carpet and the upholstered chairs were worn and didn't look clean. We will never stay here again.

David Hamaker
from Lady Lake, FL
Traveled for many years as Diamond member and stuck with Hilton chain of Properties. After staying one night at this hotel above, I will no long stay at a Hampton Inn. This is the most dysfunctional Hampton Inn that I have ever stayed. Your corporate customer service is very unhelpful and unprofessional. If you want the details, please email me as it will take 2-3 pages to tell you everything in writing. General manager and employees of the Hampton Inn Doral/Miami airport west are among the worst in the business. Thank you for listening.

Darrell
from Lafayette, LA
Stayed in Cadillac Michigan 10-16-17 to 10-20-17. They were to charge the room to my Corporate lodging card. they Charged the room to the Credit card i gave for incidentals instead. i have been waiting on a credit for 3 weeks. it's rediculous

Janie Brandstetter
from Dacula, GA
I have been trying to get 5-7 rooms for Dec 8th and 9th. I started in person at the hotel and was informed they could do 5 rooms but would need to go to someone else for confirmation. I made 5 calls and did talk to an individual who said she would take care of it and call me back. I have never received a call back and now find that I do not even have the 5 rooms.
I find this unacceptable. I am getting married and needed the rooms for out of town people. This has caused me a lot of distress. This is very poor business. I have always loved Hampton Inn but will not use them again. This is a small area for bad publicity.
FYI Hampton Inn Braselton Ga. Janie Brandstetter 770-967-8159

I was charged for a room when I did not stay there. My credit card was used to hold the room for a Veterans Affairs event. My orders were canceled and I notified the hotel (listed below). They still charged my credit card for someone else's stay, and as of today 10/12/2017 the hotel will not return my calls or they hang up as soon as I enquire about the un-lawful charge. 765-6626656, IN VNT 8091
Hampton Inn
1502 North Baldwin Avenue
Marion, IN, 46952
Phone: 765-662-6656
Fax: 765-662-6653
Email: hampton.6656@gmail.com

Kelly McGinnis
from Branson, MO
I've stayed at Hampton Green Hills Nashville and loved it, until last time. When I wrote a mixed review on Trip Advisor, hoping for some sort of "I truly hate that, how can I make it better", I instead got an arrogant ass belittling me. I looked at other reviews that had rated them poorly, and he pretty much told them to go elsewhere. I'm not a good communicator, but had a legitimate complaint about an employee yelling at my grandson, as well as scolding us for talking too loudly. I try to be considerate of others, but it is the way they went about it. I don't know what happened to the customer is always right, but this regional manager does not believe in that theory. I called the Motel and asked who his boss was and they indicated it was Mr. Hilton and good luck finding his number. Outrageous.

Karen Weimer
from Coopersburg, PA
I stayed at the Hampton Inn in Hershey, PA on 09/29/2017 due to my sister being a patient at the Medical Center. I've stayed at a number of Hampton Inns when traveling for business and pleasure but never ran into this problem before. I checked in late that evening and specifically asked the desk person if they gave AAA or senior discounts. I was told yes they did and gave him my AAA card. I checked out early the next morning to return to the Medical Center. When I looked at my bill I saw no discount had been taken off. When I questioned the desk person regarding this, I was told that there were no AAA rooms left when I checked in and therefore I didn't get a discount. What?!? No AAA rooms left? Never has any hotel chain given me an excuse like that. I'm also going to check with my local AAA regarding this. I would not have stayed had I known this was your policy. This is like the "bait and switch" tactic used by unscrupulous retailers. After all the taxes were added, my bill ended up being $183.84. I didn't stay there the next night nor will I be back at any other time. My company has always put me and any other traveling employees up at Hampton's, but I will be asking them to check the charges for past visits. Hopefully there will be no inaccuracies. Also, my niece and her dad also stayed at a Hampton while being with my sister. I'm not sure if she stayed at the same Hampton as I did, but her bill was considerably less than mine. Her name is Wendy Baker. She belongs to a club or something offered by Hampton, so I understand a discount there, but this was a major difference in price. Maybe you could explain this to me. What a huge disappointment!

Elyse P. Kukonu Houk
from Rancho Palos Verdes, CA
I reported a theft (jewelry bag & jewelry) to the Ithaca, NY Police Department- Case Number I17-15935 during my stay at the Hampton Inn-Ithaca on Sept. 1-3, 2017. Officer Chance Van Cleef met me at the hotel Sunday morning, took my information, questioned your front desk personnel, and gave me the case number with follow up information. I will call them Sept. 8th.
Hampton management lacks, completely, customer service and professionalism. At minimum, I expected a courtesy call from Manager Amy Magdon; she never called. Sam Ferro completely avoided me that evening after I spoke to him at the front desk. I had to call him to get an idea of the type of help I could receive. He avoided any responsibility and referred me to Beth Jolles, the Housekeeping Supervisor. His corporate reply was " 90% of our staff has been with us a long time and we have a lot of trust in them". He said guests often misplace things....I positively know I did not misplace my jewelry bag.
I discovered my jewelry bag missing late Saturday (Sept. 2) night when I returned to my room. After searching, multiple times, all my bags, beds, room, bathroom, drawers, under furniture, etc., I immediately went to the front desk and spoke to Sam Ferro. He was of no help and said guests often misplace property and I should search my suitcases and the room. He said Beth Jolles, Housekeeping Supervisor, would call me the next morning. I called Beth around 8:30 am on Sept. 3rd . She offered to help me look through my suitcases and room which she did. She also suggested I report it to the Ithaca Police Dept. Together, Beth and I did not find my jewelry bag.
.
I expect a reply. Elyse P. Kukonu Houk

Gail Teague
from Holly Springs, NC
My mom and I stayed at Hampton Inn August 14,15 in Martinsville Va. The room appeared to be clean. I sent in a complaint and was contacted by Michelle a few days later. My complaint was bed bugs in room 412. She stated that the pest control company checked our room and the rooms on both sides and reported seeing no problem. Do you think these people would report a problem and risk the chance of losing their contract? We have stayed at this hotel on many occasions and always been very pleased with our stay. Almost a month after our stay there I still have places on my neck and ankles from bed bugs. What ever happened to being 100% satisfied?

Dan & Rose McDonald
from Okatie, SC
We booked a room at the Hampton Inn, 95 Vilano Road, St Augustine, Fl 32084 from 10/17/16 to 10/31/16 for which I was charged 2486.25. During that time we were moved on 4 different occasions due to problems with the rooms (example - AC/heat for 2 rooms) and the last room we were moved from was because supposedly this particular room was promised to other guests. No compensation on our bill was made at that time or even on discharge.
The perhaps larger issue was the fact that we had a 3rd floor room, my husband is handicapped with limited walking ability and from October 29 to 10/31/16 the elevator was not working and was only slated for repair on Tuesday, Nov 1. Needless to say, my husband was pretty trapped in the room due to inability to climb 3 flights of stairs. No compensation was offered for that inconvenience either.
While we have always enjoyed the Hampton Inn Hospitality in the past, we were very disappointed and unhappy about this particular stay. I feel some adjustment should have been offered even though it doesn't change the fact of the inconvenience and overall disappointment with our accommodations.

Victoria Richins
from Boise, ID
I went to check out the morning of November 8, 2016 at the Hampton Inn West in Reno, Nevada. The television was broadcasting on election day, and I made a light passing comment to the female clerk (Hispanic) that I bet we would all be glad when this day was over! She proceeded to tell me at length how she would have to learn to forgive all the bigoted people who have insulted her race. What? I was just trying to check out after a lovely stay. I did not expect to be politicized with such an inappropriate comment or made to feel so uncomfortable. I would have liked to have been respected also.

Nicole Sitler
from Pittsburgh, PA
My hockey organization, the SHAHA Panthers, from Pittsburgh, PA recently stayed two nights (10-7 and 10-8) at the Hampton Inn in Solon, Ohio. This email is to file a formal complaint about the manager, Terry Herman, for treating our families and players disrespectfully. On Friday evening, Mr. Herman hovered over our two teams of 8-12 year-old boys and girls, ordered a security guard to specifically watch our kids on the third floor and made our stay miserable.
Mr. Herman would not let a single child walk through the hall of the hotel without a parent. When confronted as to why an 11 year old player couldn't walk from Room 320 to his room down the hall without a parent, he told the team manager and another parent that it was a concern for that child's safety. Is the third floor of a Hampton Inn where almost all of the rooms are occupied by people that you know that dangerous? His focus on our children was uncalled for and rude, since they weren't misbehaving. In addition, Mr. Herman was directly asked by a team manager as to how old a child could be to walk in the hotel without a parent, he said 18. So you can drive a car, but not walk down the hall of a Hampton Inn in Solon? If that hotel is really that unsafe, why are families permitted to stay?
Mr. Herman also posted the security guard on the third floor all night Friday in front of the team's suite to monitor our every move. His actions were truly oppressive and talking to him did not help. Herman also told the team manager that children were running outside in the parking lot unsupervised which was not true. Children were in the back lot with parents and helping the manager carry in supplies for this weekend, but were not unattended.
A team member's grandma was talking to one of the other customers at breakfast on Saturday morning when he complimented the grandma on how well behaved the team was. He told the grandma that the manager spoke negatively about the hockey team when he checked in on Friday night. He said that he didn't even hear the team make any noise on Friday and expected them to be a lot larger and louder from his conversation the night before.
Bottom-line, Mr. Herman gave us the impression that he didn't want our 29 rooms of families in his hotel, made us out to be terrible parents and spent the night hovering over our group in a very impressive manner. He alone is the reason why we will not stay at this hotel again or recommend it to our friends if Herman is in charge. On the other hand, the rest of the staff especially Paul, the maintenance worker, were extremely friendly and helpful. Michael Levick was a pleasure to work with and couldn't have acted more professionally. I am also sending a copy of this complaint to our tournament directors - Hockeytime. Please don't hesitate to contact us if you have any questions or would like to discuss matters further.

Stephanie coleman
from Fort White, FL
Hampton Inn in Waycross Georgia is where I stayed. It was being remodeled the place was a mess that was broken tiles in the parking lot. There was sheets hanging in the hallway at the hotel. There was dust everywhere I feel like they charged us $129 a night because all the hotels in Waycross for filled up from the hurricane the lights and charger in the room did not work. The air conditioner was not up to par. I will never stay another night in Hampton Inn and when I made the reservations they should told me that the place was under construction what a mess.

Verno Worsham
from Sylva, NC
I originally called the motel in Corbin, KY. and made reservations for Sep 19, 24, and 25, then later called to change them to Sep 26, Oct 1 and 2. When I arrived on Sep 26, I did not have a reservation and found out that I had been charged for a no show on Sep 19. Apparently that reservation for Sep 19 did not get changed to the 26th. Needless to say, I am not happy about this and am considering ending any future patronage of Hampton Inns. Your prompt consideration of this matter will be appreciated and determine my decision. I have tried the last several days to contact the Corbin manager but he/she has never been there during normal business hours.

Dillon moore
from Riverview, FL
If you're doing any traveling and planning on staying do not stay at any Hampton inns they told me my charge would be $90 for the day I check my account and they've charged me twice both $122 and also did the same thing to my dad at a completely different city last week and he has yet to get his money back. I need that money to stay out here working on the road. This is ridiculous.

Karen Symon
from Germantown, MD
I am writing to issue a complaint against the manager of the Senceca, SC, Hampton Inn. The night before our arrival, we changed our reservation from 3 nights to 2. Upon check-in, we were still registered for 3 nights---the front desk person was very kind and assured us it was not a problem. When we received our credit card statement--we were charged the 3 nights. When we called the hotel, the manager told us it was our problem and up to us to prove we did not stay the 3rd night. He was very rude to us and said he would make no changes.
Our family has been a Hilton Honors Member for 15+ years. We have never had a problem, or caused one during any of our stays. This is the first time we have ever reached out with a dispute. I cannot believe the attitude and disrespect employees displayed. We throughly enjoyed our stay at this location--the hotel is beautiful. It is a shame that Mr. Welch is such a poor representative of the Hilton brand. Thank you to Erica in Hilton Guest Assistance who handled our issue with concern and kindness.

I have contacted the Hampton Inn in Montrose CO at 970-252-3300 for the second time over this year and the front desk lady is very rude and unprofessional toward me. I was trying to get a couple of rooms at the Federal Government rate. She told me the wrong rate for this month ($89) she argued that the rate is $94 and stated they never give a government rate a king size bed.
My boss only stays at Hampton Inns whenever possible and every other Hampton Inn gives king size beds at the government rate when available! I called back to talk to the manager and she told me she was the manager and then gave me to the GM, Maria Trujillo. She told me that the lady was the front desk person. She didn't give me a professional feeling at all and I don't believe they will change the way they are doing business. They are losing business for your hotel.
I would rate this hotel 0! Not even 1 star. I believe someone should look into their practices and perhaps change the staff.

Dustin Clouse
from Valparaiso, IN
Stayed at the Hampton Inn in Indianapolis-southport. Paid $139 for a wash cloth full of pubic hair and ants all over our food in the morning. Told the front desk but they didn't seem to care. Will never stay there again. Called custom service and all they offered was 5,000 points which is only three dollars of a stay tomorrow in Bloomington Indiana. Insulted? Yes!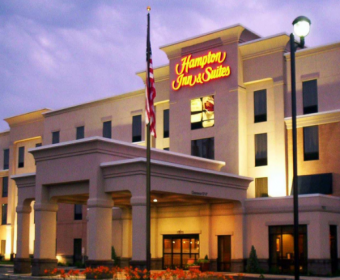 I checked in on July 10, 2016, and staying July 11th also. I was given a very nice room/suite. All was well until we were in Chicago, sightseeing and I received a message on my cell phone stating that they had picked up our belongings and moved us to a "standard room" because someone els wanted the suite. I cannot believe for a minute that this is legal. It is certainly unacceptable. The manager was very rude, and couldn't understand why we were so upset.
Strangers picking through all my personal belongings, jewelry, personal hygiene items and threw them in a different room and bathroom. My stuff was everywhere and we did not appreciate that seriously, is that legal? Because from I've been informed that this is not legal. This whole ordeal ruined our day in the city. I have complained on their Facebook page, and not only have I not heard a word from them, they did not offer us a thing! I don't feel like we should've paid a dime for our stay.

Mike lee
from St Louis, MO
In room 357 in Hilton garden inn in St. Louis airport, complained to front desk about fitted sheet not fitting the bed. Call at 10pm and no response. Called again 20 minutes and still told us to hold on. So after another 20 minutes my son goes down with photo to prove this was not a joke. Guy in charge said he couldn't find anyone, yeah really for 40 minutes.

Jan Strait
from Gardners, PA
On Friday, August 19, 2016, my husband, some friends and I were visiting a Hampton Inn in Frederick, MD. We were going to eat there and listen to some live music. I was walking on the deck outside, when my right leg fell through some rotted boards on the deck. The deck itself appeared in good working order, but that was not the case as the boards underneath were rotted. A patron who was also eating there told me that he told management that the boards were defective and warned them that something should be done.
My leg immediately swelled and was very painful. The manager asked me if I wanted ice and I told him I would use some. Ten minutes later, still no ice. The manager did appear a bit later and placed some papers on the table where we were sitting, and told me I could fill out the forms "if I wanted to". He then remembered the ice and brought me some. Later on he asked if I needed more ice for my ankle. I accepted, but he never did get back to me with the second bag of ice.
I did fill out the accident report, however, neglected to get a copy of the report. Forty-five minutes after I fell through the deck, some men appeared with new boards and were fixing the faulty walkway. I needed to go to the doctor for my severely bruised right leg. I do have pictures of the bruised leg if anyone should need to see it. I lost two days of work and the leg is still swollen today, Thursday, August 25. I am hoping that Hampton Inn would at least reimburse me my copay at the doctor's office of $15.
I was very disappointed at the lack of attention I received that night at the Hampton Inn. No recompense was offered at the time of the injury and the ice that was needed for my swollen leg was very slow (or not at all) in coming.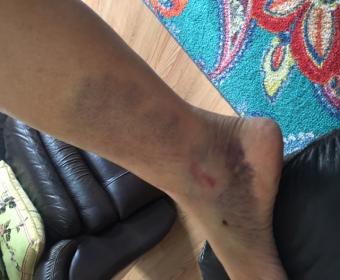 Christine Gallardo
from Burbank, CA
I recently (8/13/16) stayed with the Hampton Inn in Colorado Springs, Airport location. While there I spent the afternoon at the pool/jacuzzi with my family. The Swin family was also at the pool with their four children and we started talking. They said their children were ages, 7, 9, 12, and 15 and that they were from Kansas, and this was the first family vacation they had taken. Mr. Swin said he wanted his children to see the mountains and that they had visited the Garden of the Gods, etc., and that they were on their way to a doctor's appointment for their 12 year old to have botox treatments for his Cerebral Palsy, as his body becomes stiff and tight and it is painful for him.
I had noticed that their children were all splashing and playing and having a great time, however, the 12 year old was sitting in his wheelchair watching. I asked if he wanted to come into the jacuzzi with us, as I noticed the pool and the jacuzzi had the disabled lift available. The father said that he wasn't strong enough to lift him in and out of the pool, as he now weighed more then he did. The mother said the disabled chair lift was not working. I assured her that my husband was an engineer and could get it working. So after he inspected it, he said the battery and controls were missing from the lift and went to the front desk to get them.
The front desk person said the battery was dead and they would go next door (to the Hilton, I assumed) to get a working one. However, we waited and waited and never heard from anyone ....so eventually we worked together to get him into the jacuzzi, where he had a wonderful smile on his face, splashed his arms and gave his mother the sweetest kiss. My husband helped to get him back out of the jacuzzi and the Swin family was grateful that their disabled child was able to enjoy his vacation, rather then have to sit in his chair watching his siblings.
I contacted the front desk and said that it was unacceptable to have a disabled guest unable to use the pool and jacuzzi facilities, and that the Swin family should be compensated for their stay due to the hotels lack of having working facilities. I would have had a better reaction if I had told her the coffee was out, as she made no attempt to remedy the situation. I have since then talked with the general manager of the hotel and he said he would "reach out to the Swin family and ask how they liked their room, if the front desk was courteous..etc", I find this offensive since I was an eye witness to the events that took place and it was not the BED that was the problem!! His unwillingness to be gracious and to honor the 100% satisfaction guarantee is unacceptable.
I am asking that this family be provided a remedy that would be to the same extent as their injury. What would you expect if it was your first family vacation and your disabled child was unable to swim and enjoy the hotel pool and jacuzzi with his siblings? If you view it from this perspective, then I am sure you will find it within yourself to find the correct response, for their sake.

Judith Bane
from Indianapolis, IN
On Friday morning, August 5, 2016 I called the Hampton Inn customer service phone number to the Bowling Green, Ky Hampton Inn to make a one-night room reservation arriving on Sunday, August 7, 2016 and checking out on Monday, August 8, 2016. One of the phone menu items was "reservations" which is what I chose. A girl answered the phone and welcomed me to the Bowling Green Ky Hampton Inn. I gave her the required information needed for the reservation along with my credit card number to hold the room. She asked what was bringing me to Bowling Green, Ky and we had a conversation about "my husband wanted to bring his boy toy to tour the corvette factory and visit the museum." She stated she would send our confirmation number to our email address listed on our Hilton Honors account.
I informed her that our email address had changed and she offered to update the information. I gave her the new email address, thanked her for her assistance and ended what I would call a "personable" conversation. No confirmation appeared in my email account but did not notice until we reached our destination. We were informed by the front desk clerk that we did not have a reservation and our Hilton Honors account still showed our old email address. She immediately called the Fairfield Inn in Bowling Green ky and the Hampton Inn in Bowling Green Ohio, stating "this happens a lot." No reservation in our name was found. There was no manager on duty that I could speak with at the hotel regarding this.
Luckily, there were rooms available so we did have a place to stay. We were treated very poorly by the front desk clerk on three separate occasions when this situation was discussed with her. An obvious age discrimination attitude reared its ugly head. Showing the clerk my telephone call log upon check-out which clearly identified the direct phone number that I had called on Friday to make the reservation, I was told "well, maybe you called the number but did not complete the call." Excuse me. Who was the individual that supposedly made my reservation, took my credit card information, and never followed through with their job? Furthermore, what happened to my personal information?
When finally being able to speak with the General Manager upon my return home, I was told by him that someone in Dallas probably took the reservation. He further stated that even though I called the hotel directly, if I chose "reservations" I would not be speaking with the hotel. The reservation clerks in Dallas or wherever they are located have a written scrip in their computer about the hotel and attractions, therefore, whoever I was speaking with made me think I was actually talking to someone at the Bowling Green Hampton Inn.
The General Manager informed me that in order to make my reservation directly with the hotel I would need to choose 0 on the phone menu. It is unfortunate that guests are unaware of your reservation protocols. I do not use third party reservation groups for this very reason but after knowing how you do business, I guess it just does not matter. I certainly would expect better from a Hilton entity!!! Incidentally while at dinner on Sunday evening, we spoke with another couple who had complaints about the rudeness of the front desk clerk also. I mentioned that to the General Manager when I was able to speak with him. Not a good experience.

Bartley Whittington
from Richland, MS
My husband just called Hampton Inn head offices about our complaints. We use to stay here almost twice a week and love it. We've had 1 problem in the many times we have been here. We found a needle under our mattress a while back which completely freaked me out, they give me enough points to earn a free room then, and this situations worse than that one. A lot worse. I am so frustrated over this I cannot calm myself down. We come down to visit family intending to stay here for 2 nights because this is the only place here that's worth staying at. We needed a king studio. We were told almost Everything was booked up but she would hold the King studio for us and possibly get us in the smoking king studio.
We get here and we were put in a single king. We were told she couldn't change it because the rooms were all booked, but she'd give us a roll out bed a little later. We never received that, and when we asked the other lady that come in for it she told us we could not have one because it was a fire hazard. I also seen 2 spider scrawling down the bed and when I tried to kill them I seen toenails and there was glass on the floor beside the bed. Then we got a paper saying we were charged for 3 long distant calls that we did not make.
The paper even says we were checked in at 915 when all the calls were made between 7 and 9:03. I also did not like that when I asked questions about our rewards points that the only responses I got was I don't know, twice. This has been a horrible experience, and I can't believe all this is happening and no one will do anything about it. We have to stay in McComb one more night, this is where we were planning on staying but as much money as we have spent here I just think we should at least get enough extra points to add to the ones we already have to be able to get a free king studio for the night.
This hotel is the best around here because it actually has standards. We are very disappointed and I wish someone would help us.

debra geurin
from Olive Branch, MS
I stayed at Hampton inn at 33 Humphreys blvd circle memphis TN, 38120 for almost 2 weeks while my terminally ill dad was in the baptist east hospital. Everything was fine, until 8/7, i notice that my carry on bag was missing. I went to the front desk and asked JASMINE if they have seen my bag then i asked for cameras. Employees said I am sorry, we do not have cameras. jasmine looked for the bag at the front desk, she said it maybe in house keeping, it was not there so she called the maid that was off that day on her personal phone, said she did not see the bag, the girl that stripped the bed said she saw the bag. But the girl who cleaned the room did not see the bag. so 2 different girls are telling 2 different stories.
I want a video of the person who left my room with my bag. You said money back guarantee. you need to live up to your word. I had to deal with my terminally ill father, that passed away, plus your maid that stole over eight hundred worth of stuff in my bag, while having to pay you for over one thousand dollar stay. Where do you hire your maids, and to see the least these are items i had in my bag. My message below to the BBB, you will be receiving a call soon. it is a felony that your housekeeper would take my prescribed medicine that has MY NAME ON IT!!
The housekeeper is a thief and stole my carry on bag that I had in my room. I was visiting my terminally ill sick dad and stayed in this hotel and the housekeeper stole my things, I had over $800 worth of items in my bag, the front desk denied it and said they did NOT have any cameras. I stayed in this hotel for almost 12 days while my dad was at Baptist East. Things I had in my bag, valued around $800 chi iron, Asic walking shoes brand new, silver jeans, 1 blouse, 1 cami, 3 pairs of socks, 4 pairs of victoria secret panties, 1 package of hanes panties,1 pair of pajamas, clinique make up, other make up, bath and body face wash, shampoo and conditioner, hair products big sexy, 2 make up bags, carry on bag, yoga pants, t shirt, comb, brush, pick, mirror.

Jessica Arcone
from Rockville Centre, NY
I made a reservation for a two-night stay I cancelled the reservation for both two nights and I'm being charged a fee of one night for a no-show because it was booked as two separate cancellations for some reason I'm hoping you can help me by reversing the charge being that I cancelled the reservation within a two-week period. I also called up two days before the reservation to make sure it was cancelled which I hope was documented and they said there was no reservation for those days under my name just making sure that the reservation was canceled. I also pulled up this morning 8-7 making sure the reservation was canceled because there was a pending charge on my credit card and she also said there was no reservation.

Anthony Davis
from St Louis, MO
By far the worst experience I've had at at a hotel or motel, check in day I was given room 105 this was in Mesquite, Texas for a 6 day stay. The room smelled of mold and mildew after complaining I was moved to room 517 the next day which by the way was a handicap room that had the same smell but not as overwhelming as the first next their was the constant breakdown of the elevators, we went from two elevators to none, fire department called several times due to people getting stuck.
Had to carry friend in wheel chair up steps no accommodations, no ventilation in bathrooms which in my years as a code enforcement officer in Missouri is mandatory unless by some chance Texas has a different ordinance not requiring them which would be the first one I've heard of not requiring and being comped for two of the six days with the amount of people we had there for the event that we attended I would not stay again and definitely wouldn't recommend.
Place needs a total overhaul. I guess the two days where suppose to make the experience better , definitely not I guess getting the free exercise up and down the steps from the 5th floor was thrown in for the four days I had to pay for. Never again, suppose to attend another event in January at Denton Location guess I'll be checking around for a place close to it! !!!

Barbara Davidow
from Havertown, PA
We had reservations for Hampton Inn Dallas/Addison, 1st night July 28, 2016. American Airlines cancelled our flight to Dallas in mid afternoon, July 28. Impossible to make call for 24-hour cancellation. We stayed 2 nights, 7/29 and 7/30. Checked out Sun. 7/31. Local manager Monica Silver is refusing to make a refund. Bounced around many layers of Hampton company today. Have lost a lot of time. Very frustrating.

Stephanie
from Kansas City, MO
The Hampton Inn Chicago Downtown/Magnificent Mile is a horrible place to stay. The customer service leaves much to be desired. We were told after multiple phone calls that we would be able to have rooms next to each other. However, when we arrived at the hotel, they said that they were sold out and we would be close. Apparently, in their eyes, close means on the same floor, but opposites sides of the building.
The worst part of this hotel are the elevators. There are 3 elevators that service the lower level, mezzanine, and floors 13-40. We had to wait 5-15 minutes every time we rode the elevator. Don't ever stay here!

Mark Randazzo
from New Iberia, LA
I stayed at the Hampton Inn and Suites in Mansura, La on Friday, July 15th and checked out on Saturday July 16th. I arrived at 7:00 PM that night and checked out Saturday at 8:00 AM. Upon my arrival I told the lady at the desk I was paying with cash that I had in my hand. She told me she had to run my card for incidentals I gave her my debt card and she ran it twice. My bill was $124.53 that I paid cash at checking in and I have my receipt. When I arrived home I checked my account I have two charges on it for $136.98 and $25.00 pending in my account.
When I called back to the hotel I was told there would be an hold on my account for 10-15 days. I don't understand the hold on my room since I paid you cash at the time of check in, I can understand the charge for the insidentals for security. I wasn't even charged the right amount it was more. I pay all my bills with my debit card. This is causing me a lot of inconvenience. I did like the nice and clean motel and the free breakfast but I don't think I will be staying at your hotel again. You didn't have to wait for your money and I shouldn't have to wait for mine.

I was a house keeper at Hampton inn in Delaware oh. I just want to let you know how it is ran! Some people do not change there bed sheets like they r supposed to, also they hardly ever change anything and the bed pads under the sheets that have pee all over them never get changed.
Bed bugs are getting bad there and I lost my job because people don't want to do there job they want to stay on there phone all day long! Also they don't want to pay me for my last week there yes I'm pissed. There is a lot more I can tell you but I don't have the time I have to go to work but I am trying to get ahold of some one who can help me I just don't know who to get ahold of the big boss because no one will give me his number.

Donna Eldridge
from Farmington, NM
You could tell upon entering our room that it had not been cleaned properly. The carpet was old and was in need of a very deep cleaning. Around the edges of the carpet there was ground in dirt. The couch was also in need of cleaning. You could see the dirt on the material where people put their arms and hands. The room definitely needed dusting. One closet was so small you had to push the hangers back at an angle so the clothes didn't stick out and there was on door on it.
The other closet was a little bigger but the bi-fold door had to be "jiggled" to get it closed. The shelf above the rod was so dusty you didn't dare try to put anything on it. So I called the front desk and told them the room needed to be cleaned that it was very dirty. We left for a while to give them a change to clean but they didn't clean the closets. I had to call them a second time and have it done again. The air conditioner was barely working so we had to call again that evening and they had to replace it so we left again so they could work.
The most mind blowing thing to me was the shower. It was a handicap shower. The lip on the bottom was maybe 1/4 to 1/2 inch deep but the shower curtain was 8" off the floor! Again I called and they didn't have a shower curtain long enough so I spent 8 days putting towels on the floor so my husband and I would not slip and fall. I did tell them this was a safety issue and no response except to put towels down. I had asked them to please change my sheets every day and they said we only do it once during your stay. I told them I was having surgery and would have incisions and I wanted them changed every day. The best I could tell they did do this but the beds were not comfortable and I had to push the mattress back into place.
Since my hotel had already been paid by my insurance company I could not change the hotel or I would have gone to the Hilton Garden Inn in Henderson. Now there is an awesome hotel. My stress level was very high because of my upcoming surgery and this made it even worse. I am very disappointed to say the least. I have stayed at several Hiltons and they are great and I thought with Hilton being attached to Hampton it would be the same great hotel. I was very wrong and will never choose Hampton again.
My husband did ask after we left if I had taken pictures but it never crossed my mind to take any. One of my co-workers had surgery in Vegas and she to was booked at the Hampton in Henderson and had a bad experience with them as well.

Glenn Miller
from Shreveport, LA
I checked into the Hampton Inn in Conroe TX on Friday the 8th of July. I used my American express card to charge my room against. This is the only place I used my card. Within fourteen minutes after checking in American express was contacting me about charges at Ross for less store in Texas. The clerk or the manager stole my number that quick. I was in shock that it happened that quick after using the card to check in with. I am going to let everyone know what happened at one of your hotels so the same thing want happen to them. My confirmation was 3 82395383 and I also checked out the following Saturday after paying for Sunday. I was too worried my belongings would get stolen while I was away.

Ronald Intermill
from Columbia, SC
This complaint concerns primarily room service. The only room service provided was clean towels and bed made(partially)...no new sheets etc. but that's ok. What was not OK was the following: the used coffee cups were not removed,used paper cups used for drinking soft drinks were not removed, water in ice bucket not emptied, small amount of food(1/4 piece of a waffle was left on end table, used coffee bags not removed from coffee pot, no new coffee bags left,(notified front desk and never did get coffee), When confronted with this lack of room service I was told it was done on purpose.
Their policy of not removing dirty items from the room is because they are concerned that they will be accused of throwing something away that might be important to the occupants of the room. HOWEVER, if the room occupant would pick up all these dirty items and put them in a waste basket then they would remove them. I have stayed in many Hampton Inns in the past as an Honors Member and never been treated like this. One last thing, the breakfast area on the morning of July 7 was a mess with plastic utensils and food all over the floor and counter. Ran out of food before 9 AM.

Michael Stewart
from San Antonio, TX
I work for the US Army and do a lot of traveling, but on this trip I was going to Mobile Al to spend the 4 July with family and friends, We stayed at the Hampton Inn & Suites Mobile-Providence Park/Airport Area, we checked in on the 1st July and stayed till the 5th July. The big problem I had was with the bathroom sink, the water had very low pressure and I asked them if they could fix it and they told me that the pressure was set that way because they were conserving water and that all the rooms are that way. I shave with a razor and when the water pressure is that low it does not even wash the shaving cream off of the razor, it was very frustrating to say the least, like I said I work for the US Army and when we travel we try to stay in a Hampton Inn. I guess my big question is this stander for all your Hampton Inn and if it is my office will not be staying at any Hampton Inn, so please let me know.

karen mann
from Muscle Shoals, AL
We selected Hampton Inn for the location and breakfast but sadly the breakfast experience was a big disappointment. There was only one lady trying to keep up with a large amount of people and she was very frustrated as some customers were upset that she kept running out of food on the hot bar such as eggs and sausage along with the waffle batter. When I got my plate, she said sorry we are out of all the hot items which meant I had cold cereal and was lucky to get that. My suggestion would be to plan for the number of guests you have especially on the weekend and have back up help and food available. Also, it may be advisable to limit some food items such as the meat as some people were piling up their plates making it run out before others could receive theirs.

Gail Haack
from Two Rivers, WI
I was traveling with 4 other retirees headed to Shipshewana Indiana when we ran into construction on I80. We were in traffic for over one hour and had to find an exit as one of the ladies had an urinary problem. We saw a Hampton and thought since we stay in Hamptons when we travel in our group we would stop and use bathroom before we found place for lunch! We were denied use of the bathroom and it was actually locked! They did not want to hear of our trouble.
We will never stay in a Hampton since your policy is unreasonable and not customer friendly. Thankfully 1 mile down the road we found Portofino Gill at Briarleaf Golf Couuse and they were exceptionally wonderful to our needs! They won as we spent $150 on our lunch and they know how to treat customers! We have informed many of our friends and you have lost our business plus more. 1 in 20 rule applies to your poor service.

Amber Mason
from Hattiesburg, MS
My 5yr old son and I we're staying at the Hampton Inn Hattiesburg Mississippi and the card the room has been booked on was cancelled and two nights we're not paid for it was not my name and the manager was very rude to me he kicked my son and I out and then threatened to call the police only because two nights were not paid for which were not my fault because the room was not in my name and the card was not in my name I was strictly down as a guest of the person that got the room.
He proceeded to tell me if I did not leave the property he would have me arrested I have a lawyer advising me to sue Hampton Inn of Hattiesburg,Ms for pain and suffering in the event of throwing my son and I on the street for another person mistakes and public humiliation in the event of screaming cursing and putting my personal business into the public as well as my SS # birthday and name in the presence of other customers.
He was very unprofessional, rude, violent and out of control. I already have statements from onlookers and a very once valuable customer or your hotel as well as he and I are in the process of finishing construction on the Hampton and home two in Hattiesburg,Ms. I would like to discuss this matter farther if someone can please get back with me would be greatly appreciated. 6012979399 thank you have a blessed day hope to hear from the Hampton Inn very soon.

Pearlyna Tyous
from Lafayette, LA
It is now 4 a.m. On June 25, 2016. My family chose to host our family reunion at this location. Several members of our family woke up from bites of bed bugs. We went to the front counter to report bugs around 2 a.m. The receptionist smiled as if she knew what this was about. We then searched the Internet & found reviews of bed bugs just 2 days ago. This is very unacceptable. We were moved to another room down the hall, and it was still dirty. I spoke with the receptionist to see how we could be accommodated. I was told there were no more empty rooms on other floors, and a manager would not arrive until 7 a.m. I then called corporate, where they also told me there is nothing they cold do. So instead of sleeping at 4:15 a.m., I am writing this complaint. It's hard to sleep when you know they only way to get rid of bed bugs is to throw everything away.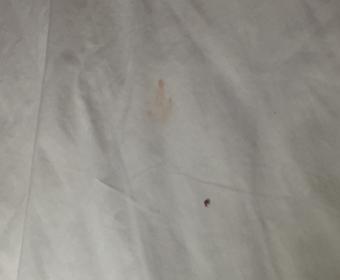 James Belch
from Pinehurst, NC
My wife and I stayed at the Hampton Inn on Eastwood in Wrightsville beach on June 10, 2016. Graduation that weekend so all hotels were full. The room's carpet was worn out, the a/c unit looked very old (but worked), the room was very musky. I have stayed in a lot of Hamp. Inns before but this one was very bad, especially for the price of $214.00. Oh, the mattress was very lumpy too. I did not complain to the front desk because I knew the hotel was full. I will stay at another hotel next time. Horrible room. Shame on Hampton Inn. Staff was very nice though.

David Vining
from New Iberia, LA
My Daughter blocked some rooms for her Wedding 6-10-16. The idiots you have running the facility swiped the quest's credit card and then debited the money out of my daughters account. Reached out to the people you have running the motel and they must have not made it to 6th Grade. They cant figure out how to put money back in here account. Will never recommend to stay at any affiliated motel going forward.

I had a walkin coupon for $89. I called the Haverhill location and was told there was availability at 5:15PM. When I got to hotel within 45 minutes they said they would not accept coupon for room because they were anticipating selling out. I was told by a representative they had rooms. When I explained what happened she put me through to guest service. He called the Haverhill location and was told one of the persons in my group was banned for smoking in his room. Absolutely not true or they would fined him. They just looking for a way out because they couldn't accept coupon. Very disappointing. Because they did not accept the coupon even though room was available a young child has to sleep in a car.

Sharon elliott
from Parkersburg, WV
Love Hampton, always look for them to stay in when traveling. Last night as entering, only girl working was on phone, never even acknowledged we came in, 8 min later waited on me. Never explained breakfast or anything. Room smelled very musty, bathroom way outdated, dirty walls, got up this morning to find roach on my toothbrush. Beds seemed fine, but not a pleasant stay. I saying all of this, I choose Hampton because they are always clean. Then you happen upon one like this, makes me not want to stay again. This place is going to give Hampton a bad reputation, please check into this hotel. I will continue to stay with Hampton but I will check out hotel before I will stay.

Debra Pidcock
from Encinitas, CA
We checked in on Saturday the 4th of June, that night I paid with my credit card, Sunday the 5th I paid cash and was told my check out date would be Thursday the 9th of June, Monday I paid cash again and was told the same date, Thursday the 9th was our check out date, I went down this morning Tuesday the 7th and was told the same thing as I have been told previously but when I went back to pay cash I was told that I had to be out tomorrow the 8th they had rented our room, they offered us another room but it was a king bed with a fold out couch for more money.
We have two small children to also move around which has now caused more stress on them and us. The people who worked the Saturday-Monday shift were very accomedating and polite but this morning I found the new shift to be rude and not helpful what so ever. I would very much like to be compensated for the night we were suppose to be in this room and I will report to BBB and inform the Chamber of Commerce not to recommend the Hampton on Glasshill Ford Road in Prescott Valley, Az.

Tara Gould
from Dayton, OH
Hello, My Husband recently suffered a heart attack on March 6th, and after he had healed, we decided that we needed a relaxing getaway. I called the Hampton Inn at 4755 Wilson Ave. S.W., Grandville, MI. and asked for a very quiet room. A young woman with a foreign accent helped me on the phone. My Con.# 97528084 was for April 10th and 11th and checking out on the 12th. We planned to rest, visit some friends and shop around a little. When we got to our room #407 we noticed a loud compressor noise over the toilet in the bathroom and thought maybe it would shut off in a while. It did not and ran all night and was so loud that it kept us both awake in bed! My husband Todd decided that something was wrong or broken and we needed to tell the front desk. We told them as we went out after breakfast and the girl with long curly hair said they would check it out or move us to another room. When we came back to the Hotel before dinner we were told that they had a different room for us and wanted us to move into #430. We went to the room but could still hear the loud compressor noise and decided it wasn't worth changing rooms and moving all our things. Our room didn't receive any room service and we needed clean towels also. My husband Todd needed to rest and was in the room, when suddenly between 5:00 and 6:00 P.M. there was a electrical power outage. I was out shopping and returned back to the Hotel, asked the people at the desk for clean towels, (they did not offer to bring them up to the fourth floor) and hiked all the way up with towels and packages.The elevator didn't work either. We sat in the dark, in the room, with no T.V. or lights for a couple hours, but the compressor ran non stop! I called down to the front desk and asked if they knew when the power might come back on? They said maybe by 11:00 P.M.??? I explained that my husband had to use a C-Pap machine and we needed electricity or he could not go to bed. I asked if they could call another Hampton Inn in the area for us, that we could move too? We were told no, they would not do that. There was nothing they would do but we could find our own Hotel. I called the Spring Hill Suites on 4274 Parkway Place, Grandville and explained our problem to the woman at the front desk. She told us the Hotels were owned by the same person and that she would help us, we could grab our bags and come right over. She was so helpful and accommodating. The best part was the room had electricity and was completely quiet! As we checked out of the Hampton, I asked if I would get a discount because we never got room service and they said no and had a rude attitude. We left there, frustrated, unrested and vowed to never go there again. We did however, have one night of rest at the quiet room in the Spring Hill Suite. We ended up paying full price for our miserable night at the Hampton. We have stayed at other Hampton Inns before and were never treated like this. I am sure other people will complain about the noise on the 4th floor. This was a very unpleasant experience for both of us. Feel free to chat with me about this. Sincerely, Tara Gould (989)550-8595

Called the hotel to modify my reservation spoke to a representative at the front desk who excepted the change, I was told I was all set with the reservation been modified. Checked into the hotel was not informed at time of check-in that I would be charged for cancellation fee. No one from the hotel advised me they were going to charge cancellation. Stayed two nights was charge for three general manager extremely rude his name is Anthony. Never have I had an experience like this at a Hampton Inn or Hilton property

I was charged 282.17 in February and this reservations was cancelled, I want my money back!!

i am a hilton honors member. I booked a week long stay at Hampton Inn Cumberland Mall, Vinings area of Atlanta. I usually love this place. I am a loyal customer (please check my history). The hotel was under construction. I was not told this when booking my reservation. I arrived late on a Friday night and I was out all day Saturday and Sunday. On Monday, the construction started again. They were working right on top of my room and outside my window. I could do no work. I asked to trasfer. The best the general manager, Timothy could offer was a La Quinta. I booked at this hotel for the convience, given I did not have a car with me. I tried to get past the noise. I asked to switch rooms. The forth floor was supposedly complete. The manager said there was no reason to move me because they were working all over and he couldnt promise there wouldnt be noise somewhere else. He told me that if i was being accomodating that I should leave. Again, I wanted the convience of this hotel and what I thought was quality. The fourth floor was finished. That is where the laundry room is located. I needed to wash clothes because I was there for over a week. NOPE! The laundry room wasnt running and I was given a map to a local laudry mat. Then I come back and there are workers in my shower and a mess.

My wife and I were guest of your hotel the weekend of March 30th at your Greensboro location at 3033 West Gate City Blvd. We checked in that Saturday afternoon and the room was in great shape (as always with Hampton) except for the fact the Air Conditioning Unit in the room was making a terrible noise. We went down to the front desk and notified the two young ladies at the front desk. I believe it was a Ms. Monroe and a young lady whose name started with an A??..We had to leave to go the the Basketball game (the Final Sixteen Tournaments) but they said they would get someone to check it out. Ms. Monroe took my cell phone number and said someone would give me a call with the status however no one ever called us. After the Basketball Game we went out to dinner and it was late when we got back to the Hotel. When we came in the lobby the young man on duty at that time (I believe his name was Malcolm). He was at the front desk. I questioned him about the Air Conditioning Unit problem however he said he did not know anything about it. When we got in the room the Air Condtioner was still making a terrible noise. We thought maybe we would be ok however with the noise it did not provide a restful night. The next morning upon check out I mentioned it to the young lady at the front desk however no one offered to make any type adjustment.....We have been a Hilton Honors Member for many years and have always been taken care of over the years except for 2 occasions and this was one of them. We use Hampton Inn always when travelling when one is available. I hate to bring this to your attention but this was very disappointing.
**Please see attached letter I sent to the General Manager (Casandra Gonzalez) on March 31st and I never received a response from this letter either...
Larry R. Scott Hilton Honors #250355644 Folio #199291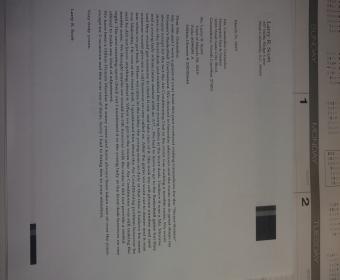 Brenda Williams
from Ranson, WV
My fiance and I stayed at one of your locations in Martinsburg WV and I must say I was very disturbed on how I saw the General Manager treat one of the staff. I thought bullying only happened in children. I heard her calling the older lady Bones and making fun of her with other employees. I later asked her if she was ok and with tears in her eyes she said yes. I can't believe that someone like this would be allowed to manage anyone. Definitely won't support this place again.

The air conditioner was loud and did not adequately cool the room. There was not enough parking. We had to park on the street and our vehicle had to be moved by 10:00 am or it would be towed. We had to listen to a barge and train every day and night. But worse was the staff two of whom charged us three times for the room. This was inconvenient as my wife had to go to our bank to file dispute forms on nearly $1600.00 in charges. It was the first of the month and it was holding funds needed to pay bills. We have stayed at many Hampton Inns and have a Hilton Rewards membership. We have always been completely satisfied and are not ones to complain. But our recent visit was unpleasant. I Talked to the staff several times on the phone and each time I was charged again for my stay.

This is NOT a complain, but a COMPLIMENT! The Hampton Inn in Gloucester Virginia is the absolute BEST! The people working there are so friendly. They treat you like family. My mom comes from a California and will ONLY STAY HERE!! Please recognize this location and the employees! They deserve it!

IMELDA MCALISTER
from Washington, DC
We stay at Hampton Inn in OC Md. Last Friday and Saturday. Got to find out the next morning Ours room actually have lots of ants.
I complaint to the front desk and I was told its normal this time of year. In my opinion I dont give shit if it normal or not they should not No wander that night I can't sleep I feel like something crawling on the bed.and I didn't find out the next morning that it was ANTS!!!

Susan Richards
from Ogden, UT
I was staying in room 411 at The Hampton Inn in Philadelphia on March 29th - April 1st. The early morning of March 30, which was about 12:15 AM, I was awakened to the sound of pounding on my door. Soon, I could hear the automatic key unlock the door, and then the door began to open! I called out, "Excuse me!" and a male voice said, "Oh, I'm sorry mam. I was leaving your bill."
At that point he closed the door and I was wide awake trying to figure out what happened and feeling vulnerable.

Kendralyn Sinclair
from Bedminster, NJ
A group of friends my boyfriend and myself got a hotel room on this day in kirksville Missouri. We checked in and our friends left to go get drinks so it was only my boyfriend and I in the room. When they came back with drinks we drank a bit and then we all decided to do something else even though we just got the room, so we checked out shortly thereafter. The room wasn't expensive so it wasn't a big deal to us, as we all walked out police approached us and we were accused of PROSTITUTION!!! We are all absolutely livid and will NEVER stay at this specific location again. They have lost all 5 of our business and the word will spread as this is a small area. Very bad move for whoever made that call. People get hotels for hangouts all the time, this accusation was absolutely ludicrous and they need reprimanded.

Hello my name is Florence Knight and i am an Event Planner. I have been given task to plan a Family Reunion for August 1-4, 2019. The family chose to stay at the Hampton Inn McDonough, 250 Avalon Ct., McDonough, GA 30253. I have spoken with the manager Shakila Hall on numerous occasions to no avail. She has repeatedly gotten the information wrong. Promised to send information out the same day and I received it a week later only after calling non-stop. After finally receiving the information it was still wrong. I have emailed, texted, and spoken to her over the telephone.
I have stayed with Hilton brands all over the country and this is a great disappointment. Being a Hilton reward member I have never experienced such non professionalism especially in booking several rooms for a span of days which are guaranteed money for the hotel.
i originally went through Group Reservations to book the rooms and Ms. Hall said she did not recognize the code or would not honor it though I gave her all the information. After her declining group reservations I still chose to do business and she cannot be bothered to return the correct information and book the rooms.
I was quoted $109, yet she writes the contract for $119. Please HELP! Is this your representation of your brand.
Florence Knight

Good afternoon. I stayed at Hampton Inn Old Town Alexandria the other weekend. I am a Marine reservist and was there on orders for drill. This being the case, no Marines should be giving their personal card information as the card information we provide for the hotel is given from someone else in the unit and it's with authorized money for billeting from the government. On Saturday night I bought a snack from the lobby and didn't think twice, however I just checked my bank account and was surprised to find $90 was taken from my account as a hold. It was not explained to me that that would happen at all when I purchased a snack. It was unauthorized by me. I called the hotel a minute ago and the lady who answered told me it was an "incidental damage fee" in case we damaged the room. I told her our card information should not be on file and she said "we take everyone's card." I told her that no, you don't, as no one else in my unit gave their card info because we shouldn't have to. All she said, rudely, was "Okay." I don't know about you but that doesn't seem like great customer service. We have been having issues with this lately and the Hampton's we stay at do not seem to understand this. I understand that it will be refunded to me but it shouldn't have been taken in the first place. I'm very upset that the money was taken from my account without my authority and with the customer service I received from Hampton Inn Old Town Alexendria.

I already submitted one today. But forgot to add. My complain is about our bed was a full size not big enough for grown adults. And to make it worst a table in wall by bed had very sharp corners. I hit my head twice on it . Management not friendly that is a bad trait to have in a hotel. Plymouth meeting area. I really think you should check into this. We travel a lot never ever had any problems with marriotts. Your hotel is a disgrace

We were at chem rd in Plymouth meeting. Had room two nights. Bed was not a queen smaller. We tried to change rooms were very rude. Hotel mgr black woman not friendly very poor people skills. We did not slerp at all. I am shocked at how they treated us. Never had any problems in any other hotels. These people need fired. Ruined our weekend. Obe man told us we could get other room next two women said no. They were the very rude. Obe heavy woman one mgr.

Dan Gaudreau
from Orlando, FL
Last night, we stayed at the Hampton Inn in Lumberton, North Carolina. Initially, everything was very nice - no issues. We stayed in room 201, our son and his financee', baby, stayed at 204. No issues. Very nice. We left approx. 6:30 am. Saturday, 4/6. I helped my son pack early Saturday. Late afternoon 4/6, we received a message from Kimberly in Lumberton, NC, stating that someone had been smoking in room 201 and that we were charged $150.00. We returned the call, spoke with Manager Dan, who gave us no other information other than the room smelled smoky. My wife spoke with him and suggested that he speak with staff as this is absurd. We do not smoke - never have - neither does our son (who happens to be highly allergic to any smoke and has been for years) - which is why we always ask for non-smoking. Dan stated that he did not want to accuse staff (but it's ok to accuse guests?). My son's fiancée called Dan and asked him who said this and what was the reason, Dan didn't know, said he would speak with staff and call back (he never called her back). Later, she (Kori) called Dan back and he said that the staff member smelled smoke?? Kori wanted to know what time the room was cleaned and what time the smoke was smelled as we left early a.m. We are very upset about this as I have stayed at Hampton Inn's before when I travel with co-workers and with various family members - NEVER A PROBLEM. When my wife called back Dan to get more information and again to say he should check with staff as this is really crazy -- he just continued to state "I'm not going to accuse my staff". It's ok to accuse guests of anything without any proof? Seems like a very poor way to do business.
I am requesting that you remove the $150.00 charge from our bill as this is unwarranted and unfair. I was in my son's room in a.m. helping him pack and there was no smell of smoke anywhere - HE HAS LIVED IN THE APARTMENT ATTACHED TO OUR HOME FOR SEVERAL YEARS AND WE ARE VERY FAMILIAR WITH HIM, HIS FIANCEE AND THEIR BABY - NOONE SMOKES ANYTHING!!!!!! We feel this is a setup from someone who was smoking in that room and blamed it on the guests. We would appreciate your checking into this as soon as possible. Manager Dan does not want to check into anything - he just prefers to blame the guest. WE HAVE TRAVELLED WITH OUR SON AND HIS FIANCEE, BABY, MANY TIMES IN MANY HOTELS/MOTELS AND THERE HAS NEVER EVER BEEN AN ISSUE. NOT ONCE. WE ARE INSULTED AND APPALLED BY THIS SITUATION.
Please check into this as soon as possible and remove this unfair charge, which we feel is a type of scam.
Thank you -
Dan Gaudreau

Barbara Gable
from Houston, TX
I would like someone from corporate office to contact me as soon as possible regarding the Hampton Inn on 35 North and Rittiman Road in San Antonio Texas. I rented a non-smoking room because that's all that was available and I can ensure you that no one smoked inside of that motel room and I'm being charged $250 I am highly upset my husband and I own a business and we frequently visit this Hampton Inn with never had any issues until now and like I said we travel for business I am needing somebody to credit the $250 back to my card as soon as possible because like I said there was no smoking in that room and according to the housekeeper on duty.. evidently your housekeeping manager said the room did smell like smoke and I don't understand that's not possible I'm not going to lie to you I did have my elderly brother with me and he is a heavy smoker so I could understand if maybe the room smelled like smoke because of our clothing and our luggage but I can assure you that smell was off of our clothes and Luggage he went outside and smoked you can review your cameras to verify I am highly upset with the service that I received. That was a young black woman on duty at the time and I think you need to send her for some refresher courses in customer service because she absolutely had none and she was rude .when I walked in to your lobby I waited approximately 5 minutes she never acknowledged me I had to actually yell out is anybody working here for her to come and help. And like I said my husband and myself due rent at this location quite frequently but after this incident I don't think I'm going to be back due to the fact I'm being charged $250 for a room that was not smoked in at all. I'm not very pleased with your customer service after I pay for my room I asked the young lady to send my receipt up to my room since I had to go register my brother for the hospital he was having surgery the next morning she was completely rude and said they did not do that anymore... I rented room number 308 at 2:46 p.m. on March 28th 2019 I did not return to my room until maybe 9 p.m. we showered and we went to bed so I don't understand how housekeeping seems to think the room smelled like smoke I'd love for you to review your cameras to see how many times my brother went outside to smoke also I failed to mention that the AC did not work I put it on 68 degrees and it eventually came on but the room never did cool down. I would greatly appreciate a return phone call from someone at corporate my phone number is 361-726-8872 my name is Barbara Gable please return my phone call at your earliest convenience I greatly appreciate it thank you so that we may resolve this issue because I really do enjoy staying at your Hilton there but I'm not sure if I'll ever return after the service I received and especially being billed $250 for nothing I feel like they're robbing me I'm highly upset about my experience on that day I look forward to hearing from someone from your corporate office thank you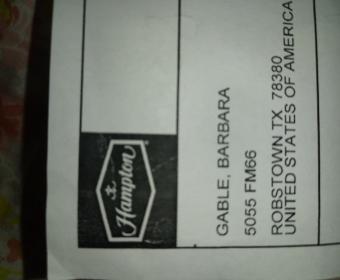 Barbara Blass
from Crofton, MD
Recent stay in Greece NY. shared a room with my brother. When I left we wanted me to pay for stay so far and get points and then transfer room to my brother. Instead they let me pay for room to that date but then transferred whole reservation to my brother. So he has all the points and nights. I've been told now that he's checked out nothing can be done to split it. This was not our fault! But one of us has to suffer. We both need nights to maintain silver status. This should be corrected.

Barry Wallman
from Newport Beach, CA
I've stayed at the Hampton Inn Downtown St Paul many times over the past few years.
I've generally booked with the hotel itself and received an excellent rate.
Yesterday I spoke with the new manager and asked for the same type of rate I've had in the past.
The manager was short and uncooperative and even suggested that I book the hotel stay through a 3rd party like Expedia.
Since Hilton / Hampton has to pay a 10-15% fee to a third party, why couldn't the manager just have given me my usual rate of approximately $115.00 a night?
I found the phone conversation troubling since the management has always worked with me in the past.
I'm pretty sure the hotel isn't sold out, and I'm by myself and hardly in the room.
Please check into my reservation for May 14-16 that was booked through Expedia at $135.10 a night.
By paying Expedia a minimum of 10% Hampton/Hilton effectively gets just $120
I'm not happy with either the bad uncooperative attitude I got from the manager yesterday, or the $134 plus tax rate.
Please let me know how to avoid this problem in the future.
Thanks. Barry Wallman

Sally L. Heathcoat
from Metamora, IL
We have always tried to stay at a Hampton Inn when we travel - clean, friendly with a very nice continental breakfast. On March 27, 2019, we were traveling to Peoria, IL, from Phoenix, AZ. Using my cellphone, I called the main number for Hampton about three or four o'clock PM to attempt to get a reservation for that night in Elk City, OK. In the midst of the conversation but before I gave the lady my credit card number, I lost service and so hung up, thinking we would just take a chance when we got there. Since my husband had driven from 11:30 PM the night before, he was extremely tired and asked if there was a Hampton Inn in Sayre, a town closer to where we were at the time. I looked up the motel on my iPhone - not the corporate number - and dialed that number. When I got the clerk on the phone, I made a reservation for that night and was told it would be $119.00 a night (a big cut he told me from the $129 per night normally) with our AARP and/or military discount and asked for directions to the motel from Route 40. Having already told me he was very busy, he put me on hold and said he would be right back. All the while we are driving. We got to Sayre and then past and I was still on hold - fully five or six minutes. The clerk told me he had sent through a confirmation to my e-mail (I finally got that confirmation on March 29 after talking to another lady.) Thinking I would get the same person on the line, I hung up on my end and placed the call again. A lady started to take my reservation until I explained my situation. She then told me that all reservations were non-refundable. My comment to her was that that should have been told to me when I first made the reservation, but the clerk said nothing about that policy nor did he read me from a card about that policy. The lady put me through to a man named Luis to file a complaint. He said the clerk should have read to me from a card about the non-refundable policy, and I assured him that had not happened. He listened to my complaint and assured me he would file the matter with corporate headquarters and that I should hear in about two days. I called my credit card provider who advised to call the motel back if I had not heard from them in a day or so. I then called Hampton Inn again to ask for a refund. An amount of $167.14 for the room and a surprise charge for $12.99 booking fee, even though I had booked directly through the Sayre Hampton Inn. The comment from this lady when I told her I had book directly through Sayre, she said in a terse manner, "Then call the Sayre Hampton Inn." Getting the message that they wanted the $12.99 fee, I said I would keep talking to her. I explained the situation again to her, and she said I would get an e-mail in about forty-eight hours. It is now April 3, and I still have not heard. Because I was not told initially that my reservation would be non-refundable, and because I asked for directions and was put on hold - I believed so the clerk could get the information, and because I was told one price but was charged another, and because I was charged a booking fee (also a fact I was not told during my first lost phone call trying to make a reservation in Elk City, OK) of $12.99, I am very disappointed in the customer service from a motel we have used many times over the years. I would appreciate your considering my information and refund both my erroneous room rate and fees (a total of $167.14) and the erroneous booking fee since I did not in fact book the room through the booking site/phone number listed. My name is Sally L. Heathcoat, 1195 Carolyn Court, East Peoria, IL, 61611, Phone 309-694-2824, and I used Master Card ending in 1894. A reply would be greatly appreciated. I would also suggest that you train all your clerks to start with the fact that reservations made later than three days prior to arrival (as in our case) will be non-refundable. That statement would have helped me accept that a reservation I had less than fifteen minutes was not refundable. Thank you for your consideration.

I run a business and my employees have been staying at Hampton Inns when they travel. Sometimes I need to call the Hampton Inn they stayed at and get a receipt. In the last two days, I have called the one in Asheboro, NC and Eufaula, Al. The calls will not go through. I also called on my cell phone and the message is that the number I have called is not accepting calls at this time.
What is going on with this.. I think they are turning off the phones. Yesterday, I kept calling the one in Asheboro, NC back and after about an hour,
I got through.
This is not good customer service and if I am going to have this problem all the time, I will have my employees stay elsewhere.
Anna Reynolds

Beware of this hotel specially the one in Columbus Ohio. I got a charge of $250.00 for having a Mexican food smell in my room which they said could of been smoking. I am 6 months pregnant and do not smoke but they accused me of smoking. When I asked for the evidence they were rude and did not provide me with any documents that validated them charging me that amount. I called corporate and they acted like they were going to help but then turned around and spoke to the sameness rude manager of the hotel and that was it. I am going to the better biz bureau to report them. This is not the first time this hotel has charged ransom people for fines that they didn't occur. Hey his is sick that they don't have to justify taking somebody's money.

Julia K Starks
from Rochester, NY
I stayed at hampton inn perrysburg on march 9th. When i checked out on the 10th, we got home and realized that my daughter had left her apple iphone headphones in the room. I immediately called the hotel and they said they had them and would mail them out the following day. I never received them so i called back the following week, spoke to someone else, a male, he said that he sees the note, and would tell his manager, and they would call me back. I never got a call back, so i called again, spoke to Ashley, on 3/25/19. She assured me they would be shipped out the following day and I'd receive them by the end of the week. I never did receive them. So I called back a fourth time, spoke with Shannon, and she said that they gave them to fed ex but fed ex apparently lost them. She said thar they would purchase a new pair and send them out on Monday 4/1, which is today. I called to verify with Ashley because i was told she would be there, but she wasnt. I am getting very annoyed with this process and tired of the terrible customer service. It has been almost a month of going back and forth and my daughter needs the headphones for school. I am hoping to have a good resolution but am not hopeful at this time.

Kathleen Beverly
from Cleveland, OH
If prices go up for spring break, you should make sure your breakfast is better quality. I have been Customer for over 30 yrs, today, I'm planning on leaving Hampton Inn, well look for new Hotels. Franklin Kentucky was my stay, very disappointed.

Tameka Jenkins
from Coal City, IL
These two ladies were absolutely unprofessional, rude, disgusting with there combative attitude to a paying customer my sister was getting married and we lost track of time one of the customer service ladies from desk called and was talking to my sister-in-law in a very degrading tone said that we were over on our time and we had 2 mins to get our things out or the cops will be called and actually they should have been called is what she stated and said that that's why we don't like doing business with locals because they take advantage I went down stairs to let them know how rude and unprofessional they handled us and instead of apologies on how we were treated there was just a bunch of back and forth of rude and aggressive behavior they ruin my sister day and her experience of getting into her wedding dress she was down stairs with her back exposed in the lobby I would suggest not spending any money or conducting any business to this establishment with these ladies at this location they are bad for business and they shine a negative light to this location and the Hampton Inn as a whole the location is 109 Manisha Drive McComb Ms 39648......

My wife and I travel often as we sponsor events all over the United States and usually chose the most economical lodging as possible which is usually La Quinta or Hampton Inn. This weekend we stayed in Yardley, PA at the Hampton Inn amd were very disappointed. Ridiculously loud room across from the laundry room. The employees show no respect for sleeping guests with the volume of their voice, icemaker was broken (for 6 months apparently) but my main concern was this and the reason I will never stay at another Hilton property. The toilet was overflowing so I called the front desk. They told me to come get a plunger. I told them I have a heart condition but they told me this was the only option. I have 4 stents due to congestive heart failure and Im plunging my own toilets in a room Im paying for

Cheryl Long
from Richmond, VA
The room we had in Hampton/Newport News, VA was disgusting. There was animal (from a long haired dog, maybe) all over the beds, the beside table, the carpet and the desk area. Our stay was awful. We were told there were no rooms available to switch us to. My daughter and I both suffer from asthma and allergies and today (our stay was last night) she is broke out in hives and having trouble breathing and I'm having trouble breathing as well. We are lucky we didn't end up in the ER! The hotels close by were all booked and it was almost midnight by the time we got settled in our room.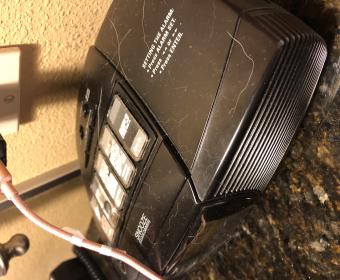 Bertha Omar
from Detroit, MI
I stayed on the first floor by the ice machine, and staff preparing breakfast, it was very loud, couldn't sleep in.. On checkout, I voice my complaints when checking out, I was told my a manager she would take some money off, I have been calling since Monday leaving messages, still haven't spoken to a manager, and to top it off, the front desk person was rude and hung the phone up in my face. Today is Thursday, still no call. I haven't never experienced anything like this from a KNOWN Business, so unprofessional.

RICHARD DAMBROSE
from Valley Stream, NY
i secured reservations on (thur) mar 21, 2019 for 2 adults, one room , and the confirmed price was $901.74 including all fees and taxes, BUT when i called on (tue) march 26, to get my confirmation number, my reservation was in the computer, BUT the price changed to $1318.00 including all fees and taxes. I WOULD BE SO PLEASED , IF CORPORATE , WILL STILL HONOR ME WITH THE ORIGINAL RATE, DUE TO THE INEFFICIENCY OF SOMEONE AT RESERVATIONS. THANK YOU, richard dambrose/retired vietnam veteran

Angela Thompson
from Columbus, OH
I stayed at the property at the Hampton Inn Mobile Alabama Tilman's corner. My husband and I checked in March 3 room 121. The !st night we had no heat. The next day we discovered bed bugs in both beds. ( I have video and pictures). We immediately packed our belongings and because there was no room available we waited for 2 hours in the lobby. We were eventually moved to room 326. The room appeared to be clean but the experience was nothing that we wanted to experience on vacation. We stayed for thru March 7. Needless to say when we returned home we had bites all over our body. I have to say we have never experienced anything of the sort. The manager and staff was helpful but as a Hilton member this was not a pleasant stay. I appreciate your time.

The front desk agent is rude and unprofessional. Gm manager Vanessa Bell shows favoritism toward her employees. She also has poor judgement when it comes to the guest in the hotel not to mention the head house keeper always grumpy, lazy and have no respect for her employees.

Joyce Vann
from Lufkin, TX
Stayed at the Hampton Inn in Temple, Texas on March 22, 2019, and had a horrible experience. The room was clean, nicely furnished, and okay in every way except the bed. It was hard as a brick and the coverings was so heavy, I had to take the comforter out of the duvet and use only the covering. It felt like sleeping between two hard rocks. NO SLEEP AT ALL. I complained to office and was told "I'm sorry". This is not what I expect from a first class hotel. This ruined my day and really surprised me. I travel often and will give them another chance since this was my first experience with this chain.

John Shore
from Baton Rouge, LA
I am attempting, without success, to check in my group of students (from the Louisiana School for Math, Science and the Arts) at the Hampton Inn on College Ave. in Lafayette, LA. I came to the hotel this morning and paid for our reserved rooms by check. At that time I was told the rooms would be ready by 3 pm. I returned to the hotel with my students at 3 pm, and as of right now, 4:40 pm, I am still waiting for my rooms to be ready. During this time several other groups who arrived later were able to check in ahead of us. I was told at 10:30 am that by paying for my rooms earlier I would be able to return and have rooms already assigned and basically have faster service. Since the last group to get rooms was JUST assigned rooms, it appears that I was penalized for being early and having my rooms assigned in advance. So here I am almost two hours after my arrival, keys waiting in a stack on the desk, and still not able to check in my group of students who have been on the road since 5 am. Never mind the fact that as the bus driver, I was counting on being able to catch a short nap before having to safely transport these students to their evening activities here in town. But that's not what is the most infuriating. When I arrived at 3 pm I was told, "We just need to put towels in the rooms." Clearly that was a lie. Then, since I was told that lie, I have not heard a word from anyone at the desk. They have not even looked in my direction for this entire time. Not one word of apology. Not one update. So just fifteen minutes ago I finally went up to the desk to ask that the deal was, and I was simply told, "Your rooms aren't ready." Again, not one detail. Not one estimate of when they might be ready. Not one word of apology or concern. Simply, "No, they're not ready." And now we're being ignored again. So, yes, as bad as it is that we are now almost two hours late getting checked, the worse transgression is the poor service. I don't like waiting. But I hate even more being lied to and then ignored. This is unacceptable.

Were do I start! We booked a (SUITE) online picked this hotel for the pool and how nice the room looked "online" we get there to find that there is no parking (we parked in a car garage and had to walk by skywalk to the actual hotel) there was no pool when the website we booked under said it had both of these then we got inside to get our room we were charged almost 200$ for a regular rinky dink room not the SUITE we picked out online. I asked the lady about the pool she said sorry we don't have one I said when we booked online it said you did she said sorry you will have to send pictures to the higher ups so they can change it! Same with the parking which made it extremely difficult to get into the room with all our baggage and children! Not happy at all. Pictures of what we booked online but definitely did not receive! Won't let me upload them all.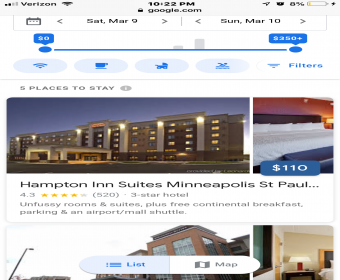 Jennifer Snyder
from Tulsa, OK
I booked a reservation thru Priceline.com for Hampton Inn Hotel on 03-19-2019 for my little boys 10th Birthday . He only had 2 other friends with him and they wanted to swim. When i booked the room nobody mentioned that the pool wad closed and under construction! and not to mention it was outside...So, i call the front desk and explain the problem they tell me since i booked the reservation thru a 3rd party i would need to contact them. I paid $127.00 for the room no price break. Anyway, i contact Priceline and they tell me to hold while they contact the hotel manager.a few minutes later they tell me the hotel refused to help us. All i was trying to get them to do was SWITCH our reservation to the Hampton inn right down the road. both parties Hamton Inn and Priceline pointed fingers @ each other and refused to help. My son went home and cried himself to sleep because i couldnt afford another $127.00 for another hotel room...Shame on Hampton Inn and Priceline !!!

We booked a 1 night stay in Pryor, OK. We had multiple issues from the get go. We arrived and the room I booked over the phone is not offered at the hotel. The room they put us in was no way big enough for 6 people. So they upgraded me to another room that would accommodate my family. Getting settled in that room, we found a nasty toothbrush behind the rolling ottomens, white toothpaste spots on the mirror in the bathroom. Bathroom floors not swept or mopped, shower was disgusting, hairs on the sheets. I requested we be moved. I inspected 2 other rooms, showers were not cleaned in either and one had hairs on and in the toilet, inspecting the 4th room, I agreed to take it only if the shower was scoured as the doors were dirty. After dropping off our bags we headed out to our destination. Upon arrival we pulled down the covers on the sofa bed and they had 2 yellow pee stains. The cot we requested had hars immbedded in the sheets and blanket. This is rediculous!

Mary Campbell
from Burnaby, BC
Hi, i recently stayed 2 night at the Hampton Inn Downtown Halifax. I was very dissatisfied. First at the price we played for parking. I had no idea that
I was going to be charged just about $50 to park my card for 2 night. And second I couldn't watched TV it gliched all night. Thanks Mary

I love staying at Hampton Inns. However, at the Hampton in Covington, GA, the bed was horrible. It was not much more than a cotton pad on a platform. It was the most horrible night I've ever had in a hotel, bar none. We had a king and there were four tiny pillows on the bed. We requested two more and I had to go down to the front desk to get them. Worst. Night. Ever.

Peggyvautrey8
from Shreveport, LA
Desk clerk,Hampton inn Lawton ok rude,rude would not give me a key to the room ,treaten to call the police and still charged me $116 for a room that I did not use . I will never use that hotel again.and was told to sleep on the streets she's. did not care. I would like to have my money back. She said at first that the room was not ready,this was about 2:00 . When she called it was almost 6:00 .and then I was told I could not get a key until my came. I explained to her that my daughter was not coming until the next day .she was very rude.

wayne stephens
from Marietta, GA
I can't get into my hilton honors account. my number is 865216158.I have talked to multiple people over the last three months, but nobody ever helps me. One person told me that my account had been closed and combined with another account,but I'm still getting marketing Emails.

Was the worse experience of my life!! They charged me over $600 for 2 rooms and WILL NOT give it back. As they said there was a noise complaint and I had to pay for the complainers rooms! Never ever heard of such a thing! I asked to see that in writing and they refused.. my basketball team is now going to lose sponsors because they took their traveling expenses and now cant make tournaments they need to make to keep sponsors

Trey Burnham
from Coram, NY
Horrible non existent customer service!!!! I have been a member for longer than I can remember and they gave all my rewards points to some scam artist college punk that has my same name and deleted my account and were supposed to investigate and get back to me several times and it's been over a month and still no call back or rewards points So this is Definatly Not the place to come if you are a Frequent traveler as I am!!

glenn barnes
from Bedminster, NJ
REF: ROOM NUMBER, 233/NKXU; 3-16-19>3-17-19; HH# 267695729 BLUE; CONFIRMATION NUMBER, 82071801.
Upon roo entry, founddirty (pink) wash cloth in door jam. Called front dest. Female voice advised was left by housekeeping, and apologized. She said the bill be "adjusted" to a lower amount; because of mistake. BILL WAS NOT LESSENED. DO SO. Confirm by immediate return email. Glenn Barnes 3-19-19

We checked in to the Hampton Inn at 950 Peppers Ferry Road, Wytheville Virginia on 3/13/19 at 4:07 p.m.
I went to take a hot bath that night and as I was sitting in the tub I run my hand along the side and it was nothing but scum. In the main room the mirror over the desk had never been cleaned you could take your finger and run it right down and leave a big Mark it's like it had not been dusted for a week. When I spend $100 or even $50, it doesn't actually matter how much, the point is the room should have been cleaned. I was very disappointed and when I talk to my daughter who also travels South she said that is where they stay. I informed them and they were a little shocked to say the least. I wanted to let you know that your housekeepers are not doing their job. Thank you so much.

During our stay in Holland, Michigan April 8-10 we had a hand gun taken from our bag in the room. It took your management a week, after many attempts by me, to finally gets any response. Then being told that they don't see anything suspicious on the video, not questioning anyone, that is all they can do. Not happy with that answer! We have stayed at this hotel many times and was happy for the most part with your facility. With this situation I don't feel I can ever stay there again.

Corey sherman
from Fulton, NY
my husband and myself went away for our anniversary just wanting to spend one night at a Hampton Inn in Clay New York. We paid for a Jacuzzi room. Unfortunately we had to leave at 10:30 pm not being able to spend the night. Around 8 PM our room started filling with the overwhelming smell of marijuana and cigarettes. This continued to get worse and worse. It wasn't just a little smell here in there the whole room was filled making it hard to breathe. We called the front desk they came up and said yes the whole floor smelled someone was definitely smoking. But there was nothing they could do. They handed us a bottle of Fabrezz. We tried to stick it out but by 10:30 we both had such bad headaches from the smell we could no longer stay. The person on the night shift told us we would be reimbursed and probably given a free night at another date. The next day I called the manager and what he said to me was yeah sorry about that will give you a refund. And that was it. I'm just very disappointed With this stay. You may want to review your policies about smoking and your hotels and how you compensate gas that have to leave because of an issue.

This past weekend had 2 rooms at your location in Emerson Ga. First let me say when making reservations was treated so nice by girl at desk named Amanda, upon arrival dealt with Paula which was so rude to me and daughter and preceded to tell us anything Amanda had said did not apply and we come back at 5 o'clock to get in rooms. Amanda has told us room might not be ready which I can understand, but not being able to use pool was promised faithfully, Paula continued to say pool was being cleaned and wasn't ready and would not be ready until 5 as well, l looked out no one working on pool , but there should have been because it was freezing in the so called heated pool, when Paula left next person girl I didn't bother to get her name as by this time after Paula had been so rude , I was just glad we were finally able to get in our rooms , was having my granddaughter 13th Birthday there so we could swim, new girl when I ask proceeds to tell me a part was ordered and didn't come in and indeed the pool was NOT heated , I wish when I checked in Paula would have been honest and told me this so I could have chose to make other plans, also that night I got a call saying we were making to much noise , only to find out after going to floor above us it was people up there being loud running in halls and the smell of marijuana was horrible, we reported this to front desk , not sure what happened with those guest, next day ask Paula about and why she didn't inform me pool was not operating properly she told me something entirely different about pool saying she knew nothing about it not being heated. Let me just say there were other people complaining about pool not to mention at breakfast rudest lady of all was in there acting as though she hated her job and the world, I was extremely disappointed in the service I got and feel you guys owe me something as I paid for your hotel thinking we could use HEATED pool and myself and all your customers were not informed of it NOT working. There are signs of other hotels being built in this area , it seems to me you should give the BEST service as possible now so you can keep customers when there will be lots of choices soon . Sandra Apperson
678-507-6734 tgnanny0304@gmail.com
Please respond

Dennis Tusi
from Washington D.C., DC
Stayed at the Hampton Inn 2000 N Ocean Ave Farmingville NY 11738 on Saturday 031619 - the desk staff provided very courteous service and early check in - the problem started about 8 PM we were in room 515 and rooms 523 - 525 - 527 were rented to a family? with many tweens mostly boys. These kids were unsupervised from the time they checked in until 3:30 AM the next morning - they were extremely loud, ran the hallways, used the stairs between floors, and when told to sop by my wife flipped her off ad laughed - we had driven quite a ways that day and needed to l eave early the next morning - I go dressed went to the front desk about 11 PM and asked security to go to the fifth floor which they did - security could not stay there and at 3:30 AM I called the front desk again asking for security to handle the problem - These kids had no adult supervision that I saw the whole night - why? My next call was going to be to the local police if the situation did not change but I guess security was able to round the4m up and back to their rooms - why did they have no adult supervision? Why did the front desk not police the situation more knowing previous complaints? We were offered to be moved but at 3:30 in the morning that was not an option for my wife and I. Beside we were trying to sleep why were the kids not moved somewhere else? We have used this hotel at this locations about 7 times this year and never really had a problem but did this time and will not stay at this location again, even though it is convenient, and local for a weekend getaway - too bad they could not handle the situation. Not acceptable

glenn barnes
from Bedminster, NJ
REF: ROOM 233/NKXU :::: HH# 267695729 :::: FOLIO NO / CHE 122734 A :::: CONF# 82071801
Upon entering the room, found a pink dirty wash cloth stuck in the door jam.
Called front desk. Unidentified femaile voice said was a housekeeping communication / signal. She apologized and advised she would "Adjust" the bill to a lower amount. Never happened. Upon leaving 3-17-19, am; asked front desk about:: "adjustment". No resolution.
I expect the 'adjustment' promised to be done.. !!!
RESPOND BY RETURN EMAIL ONLY. NO PHONE CALLS. Glenn Barnes
Have feedback for Hampton Inn?
Thanks for your feedback!
Sorry. Please try again later!