AT&T
AT&T Complaints Continued... (Page 5)
1009+ reviews added so far. Upset? Call AT&T corporate: 1 (800) 331-0500

My complain is with the mobil sale person ( in home expert integrated solutions ) . I switch from T Mobil to AT&T six moths ago . I switch 4 cell phones and gave it to the sales rep Irvin Bejarano 310-894-0707 email: ib260k@att.com . Now I been told that the cell are no where to be found and
the sales rep is not responding to my call or email .I owe the money to T Mobil and now I'm in collection . I have email and call customercarehelpyouswitch several times and I'm just getting the run around . Please advise who is the person that will be able to help me .My name is Rene Varela 323-404-0995 email : vare4@sbcglobal.net . Please help .
Thank you,

Joseph Bongiorno
from Alexander, AR
This is now my 2nd. attempt at trying to resolve an issue since Jan.2nd. 2019 !! Every day since Jan.2nd, between the hours of 2pm and 2:30pm, I have received a message from AT&T on my answering machine saying that 214 is scheduled for activation by 8pm. Be advised , that this call is becoming very bothersome and has absolutely nothing to do with me. I assume it has something to do with my DSL Internet service. I was activated by AT&T on Oct.9th. 2018. so I do not know why I am receiving these calls. I would appreciate it if this problem was rectified. I am getting tired of coming home to this message every single day !! I hope something can be done to resolve this annoying issue ? I do not want to listen to it the rest of my life !!! The last thing I was made aware of was that it would be looked into. But, I am still receiving the calls.I have been with AT&T for over 17years ! I do not believe that they want to lose a good customer because of this issue. ( But I'm getting real close. ) Something should be able to be done about this problem. Thank You, Joseph Bongiorno 501-922-0214 (607) This is the affected AT&T account #.

Jill
from Lake Havasu City, AZ
Ordered a replacement phone on Dec 18. FedEx claims to have delivered it Dec 20..but it was NOT delivered to my house. Called FedEx got hung up on.Called AT&T to report it not being delivered and that's where the nightmare began. Apparently there is this Mythical Back Office that they put you in when they don't want to deal with you. I have called numerous times..each time the representative has me on the phone for quite awhile and then.. told it's in that "back office" then tries to sell me other services. OR..they transferr me after pretending to view my case..to some other department and I have to explain myself AGAIN..only to be told its in that back office. We've been customers of AT&T for over 18 years..and I am disgusted. Its been about a month..no phone. We even went into a retail AT&T store. They couldn't even get through. If I could give them less than one star I would. Now that phone is appearing on my bill. Digusted.

Paul Bowan
from Dunnellon, FL
YOU LET MY VISA CARD INFORMATION OUT AND I GOT HACKED. I CALLED CUSTOMER SERVICE 6 TIMES AND GOT NO HELP. I WENT ON A CHAT SITE AND RELATED MY PROBLEM AND MARIO D WAS TO GET SOME INFORMATION BACK TO ME. AGAIN NO HELP. CHRISTIAN CM592 WAS GOING TO HELP ME. NO HELP. CALLED FRAUD DEPT. NO HELP. YOU JUST CAN NOT TRUST ATT.
CALLED IN TO CANCELL INSTALLATION 5 TIMES BUT GOT NO CONFORMATION AND INSTALLER WAS HERE WED.THE 9TH.
YOU GAVE OUT MY INFORMATION AND I WOULD LIKE TO KNOW WHAT YOU ARE GOING TO DO ABOUT IT.??? SO FAR YOU HAVE DONE NOTHING AT ALL.

Michael T Sahlin
from Rancho Cordova, CA
I have been an AT&T customer for a very long time. Cell phone since 2004, UVERSE and other products since I cannot remember.
Sometime on Wednesday, January 3rd, 2019 both my UVERSE and Internet went out. On Wednesday evening when I returned home from work, I called the service department to schedule a repair. They dutifully scheduled the repair for Thursday January 4th, 2019 between the hours of 12:00 and 2:00. My wife and 7 year old stayed home to wait for the repair person.
At about 1:45 I received a text saying that they had to re-schedule to 2:00 to 4:00 PM. At about 3:30 no one had come to the house so I called ATT repair and they told me that they would be there between 4:00 PM and 8:00 PM. At about 7:45 PM I received a call saying that they would not be coming and they wanted to schedule for Monday, January 7th. I told them that no one would be available at this time and date and the only time I had would be on Saturday or Sunday. The operator would not listen to me and scheduled the repair for that Monday. I tried calling several times but they insisted on not listening and kept telling me that the repair is scheduled for Monday, January 7th between 12:00 and 2:00. On Monday, January 7th I called again and spoke to Carolyn who finally scheduled my appointment for Tuesday, Jaunuary 8th between 12:00 and 2:00. I again explained to her that no one would be home until 6:00 as school has re-started and we have to work. Carolyn told me that she would follow up and make sure that even though we scheduled the appointment for this time she would communicate to the technician that no one would be at home until 6:00.
I have called several times to have this rectified, each phone call was at least an hour in length with most of that time on hold. I asked to speak to a supervisor and was told that none were available and they would call me back within an hour. The only call backs that I received were from a person named "Rod" to tell me that the technician would not be there on Thursday evening and from Carolyn who I believe is/was trying to get the situation repaired.
Well, January 8th came and went with no ATT Technician to fix the problem. I called and another hour on the phone was set up for Saturday, January 12. On Wednesday, Lori called and left a message for me that they will be unable to keep this appointment because of fiber upgrade this weekend and I needed to call to set up a new appointment. I called and was told that if I cancel Saturday's appointment I would be put in the back of the line for service. I tried to explain to the gal that the message told me that I needed to call and reschedule but to no avail.
I have not had UVERSE or Internet Service at my home since January 3rd, 2019 and it does not appear that I will have my service restored anytime in the near future. I am really confused about this extremely poor customer service from ATT since I have been a customer for many years.

Joseph Bongiorno
from Alexander, AR
To whom it may concern. Hope fully you can solve this problem that I have been having since January 2nd. 2019. Everyday at approximately 2:00 to 2:30, I have been receiving a phone message on my answering machine saying that 214 is scheduled for activation by 8 pm. I am assuming that this is regarding my Internet activation. Please be advised that on October 9th. 2018 my Internet service was activated by AT & T. So this phone call does not pertain to me ! I have made several calls to AT &T to solve this issue but to no avail. There is nothing wrong with my service. I do not appreciate coming home to this message on my answering machine everyday !! I would like it to stop because it is becoming very annoying. My name is Joseph Bongiorno. My phone # is 501-922-0214. I would appreciate it if this issue was rectified. I want these calls STOPPED. If possible, I would like someone to respond to this e-mail so as to know that I haven't wasted my time. Thank You. (P.S.,) I hope this problem can be taken care of ,or I may have to take it to the next level !! Joseph Bongiorno

8 consecutive residential ATT Fiber100 appointments cancelled!!
from Santa Cruz, CA
I ordered an upgrade from U-Verse to ATT Fiber100
scheduled a visititation window on Dec 29th (3 missed appointments) the next day Dec 30 (two missed appointments)
I lost U-Verse service in the first window.
I have been down 3 weeks
they shipped me a replacement modem and can't get it working

James L Nemec
from Merrill, WI

lennwood saunders
from Gaithersburg, MD
being charged $20 dollars extra a month because I won't sign up for auto pay. I've been with at&t 10 years and not once have I been late paying my bill. soon I will be saying good bye to your company

worst service ever. lied non stop. spent hours trying to fix situation. bill kept going up. $250 in 30 days for only internet? never had such bad experience. bill started at $30 a month, when I got it it was 70 per month then went up from. there. worst customer service.

Alvin Campbell
from Rogers, AR
I cancelled my ATT&T on October 27. 2018, received a statement for 136.83.
I called. speaking with customer service person named Bamier, who told me that I did not owe for the
this amount that I should have been charged for one day.The 136.83 was taken out of my account
after I had cancelled AT&T causing me to have a huge overdraft. I wrote a letter and called my
bank to dispute this withdrawal. The money was put back into my account. after speaking with another
customer service person at AT&T. Now I am getting a letter stating if I didn't pay my 136.83 it would be
turned over to collection, after 4 hours on the phone being passed from to one person to another asking
to speak to a manager or someone on the the finance department this could not be resolved, I had so
many reasons why this couldn't be resolved and I was absolutely astonished that the customer service
could not get me a manager. This is a terrible way to do business. I am frustrated, I was with your company for
almost 18 years and am appalled at the way I have been treated. I owe you one day of service and am happy to
pay it. I am not going to pay for service I did not use.
I was told that because i just had cell phone service, that they could not break it down to one day, how stupid
is that??? I think you had better have a training class for your Customer Service people so they know what they are supposed
to do I would appreciate to get this resolved as quickly as possible.
Alvin Campbell
acct number 359190360
wireless numbers
479 619 279 479 936 4524
PS I don't see how you can cancel my service on December 24, 2018
when I had already cancelled it on October 27. 2018

Sheri Wanless
from Tucker, GA
Signed up for AT&T about a month ago. The reason i signed up was because of a certain channel I like. (LMN) I was getting the channel in the beginning and now all of a sudden,, I have to upgrade to get the channel. The rep specifically said I would be getting this channel as part of the program along with a Western station that I signed up for.
LMN was the biggest reason I signed up for the service and now they take it away after a few days and i'm now stuck with a 2 yr contract.I'm paying almost a 100.00 a month for the internet and channels on my TV that is mostly channels trying to sell items. My gut feelings was telling me not to sign up with ATT due to the negative reviews. Always listen to your inner voice.

ALBERTO A Chapa
from Jackson, MS
I had an account with att u-vers # 254374857 returned the equipment bank in Jan 2018 by UPS per instructions of AT&T along with the account number. Now 11 months later they have sent this to collections for the dumb amount of $ 162.38 on 12/18/2018. I am sooooooooo pissed right now... that they did not try to reach me nor send me a letter about what was owed. I have been with AT&T for 12-13 years, they have my mailing address so there is no excuse for this crap ! I have call the collection company Diversified @ 904-247-5500 and talked to Michelle Gonzales and Greg Shaws (manager) to explain that I was never notified about this, and it would have been paid right then once I was notified. I did pay the amount with Greg over the phone, but with that being said I cant prove the equipment was sent because I have not longer the receipt from UPS when I shipped it, so had no choose but to pay this as I wanted this gone. The issue is not that you guys have this as a collection item and it has effected my credit score 100 points, and not I will be impacted because of this. I want AT&T to have this removed from my credit report as the mistake was not mine, I shipped the equipment.
Now the customer care team is going to look into this to see if they ever recvd the equipment. Should this not been done before you reported the account to collections ?
I want AT&T to fix this or I will get an attorney to get this corrected and will also call the BBB and report ATT along with the Federal Communications.

Kelly Newman
from Chicago, IL
I switched over from sprint last year to save money but instead the I'm paying $100 more than I was. I have a $700 bill in collections because you didn't pay my trade in phones. I have a home phone on my acct that has never been activated. And I didn't want. I have been to 3-4 Mn ATT stores and know one can help because they don't know what they are doing! I need to get my bill down $100 that I was promised. And upgrades for my phones as promised every 12 months with no additional fees! Very poor service disappointing!!

Ralph M Hunt
from Germantown, MD
My wife was talked into bundling several months ago our cell phones, direct tv service and our house phone witch was version service. Every since our house phone only works part of the time, and we lost our fax service. We have complained to the Barstow office where you pay your bill and have been told they will up the issue to the proper place in AT&T complaint dept. to get the issue resolved. To date no one has shown up to see what kind of problems we have here at our house with our wireless house phone and to say it only works part of the time. I'm asking you to send one of your expert tecks out here to see what the issue here is so we can have what we are paying for monthly witch we have not have since we were talked into months ago. Please call me on my cell phone at 760 267 3855 to see what the issue is here. Thank you. We have spent way to much money on your service that is not working. thank you again. Please respond.

Linda Korbel
from Raleigh, NC
Bill was switched to paperless without conformation from me as a customer. I notify them that I did not want this to happen and I received a letter that stated that my next billing would not come thru the mail. I do not trust e-mail enough to rely receiving my bill thru this method and I do not trust AT&T with any of my info to direct bill. I called and spoke to one person and she could help me and I was passed to another person, no info was provided to the next person. I had to provide all that info again. customer service??????? This person was off shore. No personal feelings for their customers just dollar signs AT&T. Gonna cost you in the end. This is not the problem I have had. U-Verse and mobile phone??

e l hendricks
from Dublin, GA
tried to find out about direct tv discounts for retired att employees no luck called at least 5 toll free numbers no luck maybe that is why spectrum service is so much better there stock is over 300 a share att is 30 a share if ceo an board stop being concerned about there on checks an start to work on problems maybe service would be better a change would be better than talk talk is cheap 4786763513

Lynda Crider
from Siloam Springs, AR
I wish I could give this horrible company a big ZERO. My husband is 80 yrs old and I am almost 67. We were no longer under contract with AT&T and wanted to buy new phones for Christmas. We were told if my husband dropped his number we could take advantage of the BOGO offer of buy one for me and get hubby's free. We did it and was told after all charges and tax our bill would be around 285.00 each month. It took me and Hubby from 11 to almost 7 o'clock on Nov. 27 to get these phones with no time for food. Hubby noticed a few days later that his old phone was still active. I called numerous times and stayed on the line for 30 minutes talking with nothing resolved. I called back to question charges and it took the second guy over one hour to go over all the bogus charges with me. AT @ T had presented me with a 400.00 + bill after me paying about $500.00 dollars for fees for the phones. They also said I had 6 lines and then changed that figure to 5 lines. I only have 4 lines. Nothing resolved but a small credit of $30. I CANNOT and WILL NOT PAY over $400 dollars for 4 lines when it was suppose to be buy one get one FREE on two of the lines. I asked to speak to a supervisor but AT & T refused each time to connect me. UPSET SENIOR CITIZENS IN LAS VEGAS!!!!!

Richard Watson
from Newark, NJ
I canceled my contract service and switched to a prepaid account. I called at&t billing (VESTA) and canceled my auto pay. AT&T has no record, but I have it on my call log.
In short: AT&T has structured their billing, service, contract, prepaid services so that you can't get a refund.
AT&T has no clear or defined path to get a refund. They can't be sued, so they have placed themselves above the law.

Judy Russell
from Washington D.C., DC
I do believe a monkey with a blindfold on could handle business better than the AT&T customer service people do. I called in to have my Tv & internet bundled (combine the 2 bills into 1). By September they were combined but not the bill. Called in Oct.~ Nov.( told it would "defiantly" be done by Dec. Well it ain't. Now by Jan. billing. Somebody don't have a clue what they are doing.o believe a monkey with a blindfold on could handle business better than the AT&T customer service people do. I called in to have my Tv & internet bundled (combine the 2 bills into 1). By September they were combined but not the bill. Called in Oct.~ Nov.( told it would "defiantly" be done by Dec. Well it ain't. Now by Jan. billing. Somebody don't have a clue what they are doing.

Installation for ATT U-verse has been scheduled and rescheduled 5 times after moving. The local store says out of our control, we don't have any options that is how ATT works now.

William Hamilton
from Fort Worth, TX
I called in to renew my contract and was told I could get fiber to the home for the same amount that I am currently paying so I explained that they had
just completed placing the fiber in my back yard but has not been lit yet. However your customer service department are selling a product that is not working they dispatch a tech just to confirm what I already know that I can not get fiber to my home even though it's right in my back yard because the engineers have not completed their job. The second problem that I have is trying to talk to someone in customer service that's not from the US and can barely speak English and I have to request to speak to someone in the US this is a problem. I live work and pay taxes in the US and when I pick up the phone to call a US company I should speak to someone here in the US. Your customer service is awful maybe if you focused on making the customer happy instead of trying to sell the customer something or upgrade their service things might just work out. I am on the phone right now with customer service and as usual I was told one thing this morning and its not in the notes and no one can seem to help me so I guess it's time for me to move to another company that want's my business and can delivery on what they say they can and have a English speaking customer service. I called back and finally got to speak to someone in retention and was told in order to correct the problem they would have to dispatch out a tech and I just had a tech out this morning. This is just one example of how the customer service department transfer you from one department to another and no one takes ownership

Brad pasmore
from Springboro, OH
I bought a two phones for the price of one deal at an AT&T satellite store but AT&T refuses to honor the deal and continues to charge me for both phones. The store admits fault but can not fix it and AT&T says the store has to fix the problem. Great job passing the buck back and forth. Can we choose 0 stars?

William Barona
from Jacksonville (Westside), FL
To whom it may Concern,
My Name is: William Barona Phone # (305) 510-1910
The Reason I'm writing this letter to inform you that I'm real disappointed with AT&T.
I've been with AT&T for a long while and had all you're I phone's from the beginning.
I recently upgraded my phone from an Iphone X to an IPhone Xs Max 512GB, which
Is a 1,500.00 dollar phone not to mention? Two after I received the phone I started to
Issues with it, but didn't reach out to Tat till yesterday I purchased the phone on
Nov 26, 2018 and Received it on Nov 28, 2018. My phone kept locking up and when I
Tried to restart it, it would take up 30min to reboot up. Which it is not normal, so I decided
To get ahold of you people yesterday on Dec 6, 2018, which I know I have 14 days to return this
Phone back to you guys. But all I wanted was to get my phone either fixed or replaced, but all I kept
Was getting the run around from you Guys. It started like this:
1: I called Customer service in the Morning of Dec 6,2016 and explained all the issues I was having with the phone and trouble shouted the fix and you're agent came to the conclusion that I needed to have my phone replaced and that I should pick up at your local At&T Store.
2. Went to Three different AT&T Stores, but two of them were out of the one I have. The last one
In Jacksonville, FL 9508 Crosshill Blvd (904) 317-2778 I went was the rudest AT&T store I've ever been in
I ask to have my phone replaced and they look at me like I was Crazy and Told Me I need to go to the
Apple store, which I explained to the about the 14 day return policy you have and they told me it wasn't
Their problem, so instead of making a big commotion, I left.
3. Got in my Car and started to drive Home, which is an Hour drive from where I live and after wasting my time and Gas driving all over Jacksonville looking to have my phone replaced. I decided to call you guys again. I went thru all the same thing I went with your prior Agent on the phone for 53min, then she told me that she was going to send me a shipping Label to return my phone back to you guys, after
My replacement got to me, but never happened. Then she transferred me to Apple technical support
And they didn't even know anything or why I was on the phone taking to them.
4. Call you customer Service Again, after being hung up on and got another Agent about 7:00Pm
And this Agent to me that they couldn't do anything for me. That the only thing I could do was file a claim with my insurance to have my for replace. Which I explained the whole fiasco bac to him and also
Got hung up by.
5. Finally Made Home and Called you guys once again, and received the same round around about me needing to speak to Apple. I told you're Agent that I didn't Buy the IPhone for $ 1,500.00 from Apple,
That I bought from you guys and she said that I still need to talk to Apple, which she transferred me to
And one again went thru all the same things I went thru with your agents and trouble shouted again and then I spoke to an Apple Supervisor, which Stayed that At&T needed to Swap my Phone out, Not
Apple. Since I had just purchased from you guys on Nov 28, 2018. And Still Have no Resolution.
6. I've been very pleased with AT&T all these years, Till Yesterday. And Considering Switching Carriers.

Jessie Wilson
from Chicago, IL
Jessie Wilson very upset concerning the experience I had with getting my elder sister service transferred. Annie Davis moved from 1706 st Charles rd to 2321 s 14th ave. REP work order transfer her from 1706 to 1706 I was told they had to redo work order and reschedule. No service on Nov 30th_ resch for Dec 1_ still no service- my sister live alone do not use cell phone, only phone she have house phone. She had to go without any service from Nov 30th to Dec 4th? No one showed up on Mon 3rd as promised_ keep in mind this was a medical emergency. My mother in law died in that same house trieding to get her phone turned on for a medical device. Att gave her the run around also.

Lori T
from Germantown, MD
I've been trying since my July billing cycle (it's December) to get an early long distance package cancellation fee removed from my bill. At the time in question I did NOT have a special long distance package and was using the basic unlimited long distance service. When I change my local calling package (and both services have different contract dates which would conveniently cause a fee no matter when you cancelled service) they tacked an extra $56.33 to my bill. I have all of the bill and all of the rep. numbers and when I call back this week I'm cancelling every service and I wish them the best of luck collecting any sort or cancellation fees.

Randall Horn
from Clover, SC
Received a spoof call from am AT&T number caller stated he was Sam Johnson with AT&T. Called AT&T and was directed to my phone service provider to block their number. (A service I have to pay for). Rep was rude, curt, and extremely unhelpful!
Yet another reason to NEVER use AT&T again!

Tammie Artesi
from Carrollton (Northwest Carrollton), TX
AT&T has dug a hole behind my fence to put in a line on Monday, November 26, 2018. First off, I was not notified of the service that was going to be done regarding digging up my yard. The dirt removed from the hole dug has been piled up against my brand new fence and is weight bearing. It is suppose to rain today which will cause much tension on the fence on top of that making stain marks and rotting the fence. I had my fence raised off the ground with a kick board to keep from the dirt rotting the wood. The hole digging started about 3 weeks ago in the yard across the street from me and the only activity since that time has been twice. I would like the dirt removed today off of my fence. If this problem is not solved within 24 hours I will contact my attorney and take further action.
Your cooperation in this matter would be greatly appreciated.
Tammie Artesi
2333 Baretta Dr
Mesquite, Texas 75181
972-839-9005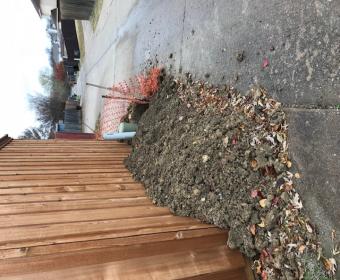 Nancy L Carroll
from Salinas, CA
Discontinued service package with ATT Uverse/directv. Returned equipment immediately and was then asked to prove it. Fortunately I had a receipt from shipper. I kept getting bills from AT&T but credits from Directv and called about confusion. AT&T told me to ignore the bills and they would send a correction. Instead they sent my account to collections. I have excellent credit and pay on time. The agent I talked to said it was documented that I called about the bills and was told I would get a correction. Now I'm told that the credit from Directv should have been applied to AT&T. You screwed up and now I have a ding on my credit.

Tish Loville
from Austin, TX
I've been trying to get service for over a month now and AT&T is just giving me the run a round on this. We will have appointments schedule and then you can they don't show an appointment and the tech people do not ever call to let you know that they are own their way or running late to the appointment. At this point I'm sick of AT&T will not telling me the truth and treating their customers this way. I want this issue resolve because I left one service to join this service because people say that they have no problems but I'm having too many problems with this company.

RUTH GROSE
from Euless, TX
My cable went out on 11/23/2018 and when I contacted AT&T I was given a date of 11/25/2018 for a tech to come out between the hours of 10am and 12 noon. I told the customer service rep, that I had to go to work by 1pm, she said she would place a note in the record. on 11/25/2018. I spoke with Mindy, Barbara and Stella, who all stated the tech was enroute and was held up on a previous call and will be at my apartment by 12 or 12:15. He did not arrive and I did not get a call from him until 1:39pm stating he was on the way. I was late for work and at work when I called. This is unacceptable for two reasons. One I take my work home and could not do anything on my computer because I had no service. Two, I have a job and it is very inconsiderate to think I should just wait on whatever time a tech decides to show up. It is not worth it. I no longer want the service and was told when I called to cancel by Tia, I would have to pay a disconnection fee of $300 dollars. She was not concerned that I did not have service and that no one arrived at the times stated to repair whatever the issues were, just that someone called me an hour and half after the scheduled time to say they were on the way, when I was at work. I have ATT service on two home addresses, and am going to cancel both. The customer service is not worth the headache, nor is the tech service working when they should. The communication is horrible. If al you can say to me is to "recap what they think they did for me" is most important than, AT&T missed the mark. I am not going to pay a $300 dollar disconnect fee when the service was not up to standard, and will fight it in court.

joyce Trawick
from Philadelphia, PA
I have been trying for several weeks to get a resolution to a telephone number assignment fixed. I have been assigned a telephone number that apparently has been left open for a former person who had this number. I have experience numerous calls including group texts. And now apparently a relative of the previous owner of the number as put a cash.app request and texted to my phone. All of this has been alerted to AT&T twice before but nothng resolved. All they did was block certain numbers, but I have many others that continued to text. I have chatted with someone on line and talked to someone to the recommended number to call. Still no progress. I have been given the run around in the store as well.While I plan to visit AT&T again, I am filing this complaint because no one called me back, or they made ridiculous, not helpful information except to block out the phone.

EILEEN M. DEVANEY
from Hanover Park, IL
We have called ATT customer support 4 times since June 2018. It is now November 22, 2018 and we called again. We pay on time and in full every month. We continue to get extremely poor service, no pictures, continuous error messages. You customer support people today Jeremy and Natalie were extremely poor in there help. Actually they did not help at all. Jeremy actually told me that he will not credit my account (since I am staring at a blank TV because we have not called every day about the problem. Again, we have called 4 times since June 2018. If that is not a consistent problem, I do not know what is. We have changed many boxes, HDMI cords (at our cost) and this does not permanently resolve the problem. Bottom line, we will change providers as soon as we can. Once again you have lost more customers.
Please do not email me and tell me "your sorry", I needed a credit on my account and Jeremy would not help with this. If your CEO received this kind of service, I don't think he/she would pay for the service. The right thing to have done today by Jeremy is give me the credit I was asking for, but he refused.
ATT did have good service at one time, but ATT must have needed to provide pay increases to its upper management so you cut corners and provide crappy boxes, crappy customer support and of course, we cannot forget you outsource everything to other countries.

Phil Stewart (Kenan Advantage Group)
from Sacramento, CA
I have been trying to get a static ip address for my Nighthawk LTE Mobile Hotspot Router (330-685-7775 / acct #: 287287665845) for almost 6 weeks. I began by contacting Mark Lorenz who after a week passed me off to Anthony Barile. Anthony passed me off to Robb Vandefifer who has been unable to provide me with the static ip I need. I've followed up with Anthony multiple times and contacted his Regional Director Mark Manriquez multiple times. All this has gotten me nowhere. I have a projected pending that depends on getting this device set up. I'm hoping someone at AT&T can help me get this seemingly routine task completed. Below is the latest email exchange that so far has gotten me nowhere.
----------------------------------------------------------------------------------------------
From: Phil Stewart
Sent: Tuesday, November 20, 2018 3:24 PM
To: MANRIQUEZ, MARK A <MM7537@att.com>
Subject: RE: Update,
Mark,
It has been almost 24 hrs since my last email and I've still not heard anything. Unfortunately, this has been a recurring pattern during my ordeal to get a static ip. I've received little to no help. What should have been a simple task has now taken over six weeks. Is there any way I can get this assigned to someone competent enough to take care of it without me having to check back over and over again. I'm hoping this isn't a normal level of customer service or that it isn't an indirect way of getting rid of me. My next step will have to be returning my device and going to another provider. I have a fiber circuit and 10 dsl lines with AT&T. I've never had this much trouble dealing with AT&T on any other issue.
-----Original Message-----
From: MANRIQUEZ, MARK A [mailto:MM7537@att.com]
Sent: Monday, November 19, 2018 4:54 PM
To: Phil Stewart <Phil.Stewart@thekag.com>; BARILE, ANTHONY T <ab2413@att.com>; 'Vandefifer, Robb' <rvandefifer@telecomtech.com>
Cc: 'Lorenz, Mark' <mlorenz@telecomtech.com>
Subject: RE: Update,
Team,
Please update the client.
Thank you...
Mark A. Manriquez
Regional Director
Northeast Region
AT&T National Business Select Markets
Office/Cell: 248 231 6119
mm7537@att.com
-----Original Message-----
From: Phil Stewart <Phil.Stewart@thekag.com>
Sent: Monday, November 19, 2018 7:40 PM
To: BARILE, ANTHONY T <ab2413@att.com>; Vandefifer, Robb <rvandefifer@telecomtech.com>
Cc: MANRIQUEZ, MARK A <MM7537@att.com>; Lorenz, Mark <mlorenz@telecomtech.com>
Subject: RE: Update,
No update today.
-----Original Message-----
From: Phil Stewart
Sent: Friday, November 16, 2018 4:19 PM
To: BARILE, ANTHONY T <ab2413@att.com>; Vandefifer, Robb <rvandefifer@telecomtech.com>
Cc: MANRIQUEZ, MARK A <MM7537@att.com>; Lorenz, Mark <mlorenz@telecomtech.com>
Subject: RE: Update,
Still nothing.
-----Original Message-----
From: BARILE, ANTHONY T [mailto:ab2413@att.com]
Sent: Wednesday, November 14, 2018 10:32 AM
To: Phil Stewart <Phil.Stewart@thekag.com>; Vandefifer, Robb <rvandefifer@telecomtech.com>
Cc: MANRIQUEZ, MARK A <MM7537@att.com>; Lorenz, Mark <mlorenz@telecomtech.com>
Subject: RE: Update,
Phil I will follow up.
Regards,
Tony
-----Original Message-----
From: Phil Stewart <Phil.Stewart@thekag.com>
Sent: Wednesday, November 14, 2018 1:31 PM
To: Vandefifer, Robb <rvandefifer@telecomtech.com>
Cc: BARILE, ANTHONY T <ab2413@att.com>; MANRIQUEZ, MARK A <MM7537@att.com>; Lorenz, Mark <mlorenz@telecomtech.com>
Subject: RE: Update,
Still no static ip.
-----Original Message-----
From: Vandefifer, Robb [mailto:rvandefifer@telecomtech.com]
Sent: Thursday, November 08, 2018 3:35 PM
To: Phil Stewart <Phil.Stewart@thekag.com>
Cc: ANTHONY T BARILE (AIS) <ab2413@att.com>; MARK A MANRIQUEZ <MM7537@att.com>; Lorenz, Mark <mlorenz@telecomtech.com>
Subject: Update,
Phil,
We apologize for the delay, per my voicemail we thought the issue would be resolved today. We have escalated this issue again today. We need to get the addendum contract to you to get the IP added. Static IP's are an issue on mobile devices to happen and they open them up for security concerns. We also know that in some cases they are needed. Our team is on this, I know you have heard that these last weeks. Please understand we will resolve this issues. We will continue to escalate this until it is resolved.
G. Robb Vandefifer
Account Manager
Telecom Technicians, Inc
Sent from my iPhone
734-716-2949

Margarite Gorewich
from Los Angeles, CA
HORRIBLE! I would give ATT ZERO stars!. This is the worst of the worst- with illiterate agents from the third world, with insufficient English, with no knowledge of simple things, not to mention their refusal to connect with an agent from US. I have absolutely slow Internet; my request to have a technician were unsuccessful ; I am charged fees, I have no explanation why; I complained written way- months ago- I never got an answer. Payment account info is not stored properly, my name is wrong and so forth! ATT, as Cox have monopoly in the area, where I live and I can't get out. My payment due date is changed all the times, I am forced to change my pass- all the time, I can't get medium intelligent person on the line to talk to! BOYCOTT ATT, IF YOU CAN!

Linda Theiss
from Houston, TX
November 1 2018 Called and cancelled wireless home phone. They didn't say anything about contract still in force. I thought it was over. 11/16/2018 get a new phone bill for $127.66. Not only are they charging for contract not ended but they also went up on my internet service from $30.00 to
$50.00. I guess they think everyone has a whole bunch of money. As a senior I can't afford those prices. Did they do anything to help me?.No. I think cusotmer service should tell people if their contract has not expired. I will never recommend Att to anyone. All they did was set up 2 payments for the bill. It is still going to be hard to pay second part of the bill. THANKS FOR NOTHING ATT.

James Gabrielson
from Minneapolis, MN
I contacted your "customer service" 800 number, yesterday. The person I spoke to was a woman with a foreign accent, most likely Filipina. I was stationed in the Philippines for over 3 years during my 30 year career in the U.S. Navy. I'm a retired Chief Radioman. I was calling because we did not receive a paper bill last month. She told me she couldn't access my account because their system was "doing an update". I couldn't get any help from her. She told me I would have to call back in 3-4 hours. Is this normal "customer service". We have had DirecTV service since approximately 1993. II stalled the original system myself. We recently had a tech out that swapped out the LNB and switched our service to SWM because we were having problems with the "Guide" saying "to be announced" on a lot of channels. Before the tech arrive another rep from ATT arrived to try and get us to switch our cell service over to ATT. He said I should call and complain because we are not receiving a discount for being Veteran. I'm a bit upset at ATT. Since DirecTV was purchased by ATT our service has been anything but stellar. Besides not receiving a paper bill last month the programming leaves a lot to be desired. We are considering canceling our service and going with either DISH or another service i.e, Netflix, Hulu, PlayStation View. Etc. We might be interested in switching our cell service however with the poor customer service we've received in the past from ATT I doubt that will happen. Customer service seems to be sorely lacking on the part of ATT.

Tiffany Hayes
from Gulfport, MS
I placed my first call on October 12, 2018 to establish service. I had a installation date set. The technician came out and was unable to install my uverse services because under ground cable needed to be installed. A date was set for this and they did not show on the original date. A week later some one finally came and installed the underground cable. I set up another installation date for November 10th. They arrived and were NOT able to install my service because not enough cable was put down underground. NOW I have to wait until NOV 25 for them to come back out for the 4th time, to put more cable. This is not right, I feel someone should have already came back out to put more cable down so I don't have to keep waiting. I want cable and internet. This was AT&T mistake. I think this should be expedited and done immediately.
228-282-5314

Douglas Leonard
from Sterling, VA
I called a week or so ago to try and lower my wireless bill. I was put on a unlimited data plan which is ok. However the next day I got a call from an Indian sounding woman. Who had my correct name and address. She said I could lower my wireless and direct tv bill to 99 dollars a month combined. First I needed to talk to her supervisor to get a promo code. An Indian sounding guy named "Brian"gets on the phone and says in order to get the promo. I had to purchase an Ebay gift card for 300 dollars to prepay 3 months. I could not use a credit card they would only take an Ebay card. He gave me this number to the "billing" department. 888 5882434. He also said I would also get hbo, cinemax and showtime free along with a 100 dollar visa gift card. The whole thing sounded pretty fishy to me and I didnt bite. I would rather change carriers than to run down to a store like Walmart to buy a gift card to activate a promo. I called Direct Tv since it was a combined bill. And the lady seemed to think it was a legit offer. I was transferred to an ATT. Department And the guy told me it was a scam. Anyway either you got hacked or its an inside job. I am concerned about my data. Please let me know how you will respond to this data breach. Actually this was the second time this happened in a month. The first one wanted an Amazon card wih 300 dollars.

Keith Nellums
from Little Rock, AR

william fenderson
from Trussville, AL
there are wires that has dropped from my house and is hanging over my driveway. I have called att on Monday the 12th of November and was told some one would be at my resident between 8am and 8pm on Wednesday the 14th. I informed the person I spoke with that I have grandchildren and needed the problem resolved. I have had alabama power and my current cable company come out and they both said the wires belong to att..I called back to att today and they said someone would call me within a hour and give me an update. well, it has been more than an hour and no call. again the problem need to be corrected so no one will possibly get hurt. please have this problem correct soon as it would be greatly appreciated. my cell # is 205-585-7863 and home # is 205-791-0717. thanking you in advance for help

Marsha Dempke
from Cincinnati, OH
Customer Service and Billing. I was a long time AT&T customer until August/September 2018. The reason is because I paid off a phone purchase early and my bill WENT UP! I ignored it the first time the bill came out, but after the second bill was even more, I called Customer Service to inquire as to WHY? Naturally, I had the irritation of speaking to someone that had no clue. But could offer me "it's a late charge for the previous bill" (because I was waiting for a corrected bill) to "an increase in taxes" (my area taxes didn't go up). I requested a supervisor. No available supervisor at that time, but was assured someone would contact me. I got tired of waiting and switched providers, and quite frankly, forgot about it. What does AT&T do? They can't call me back but they sure can turn over a $84.81 bill to a collection service! Prior to purchasing a phone, my monthly bill was $55. No one could tell me why the increase and when I quit service, I was only ONE WEEK into a new billing cycle! I chatted online with customer service today and neither Jovan nor Kharmelyn (Supervisor) could offer an explanation for an increase in the bill, but was quick to tell me it was turned over to collections because I didn't pay the bill. AND STILL NO EXPLANATION OFFERED FOR THE INCREASE! And still don't know if it will be taken off my credit report! Pitiful service and not worth the aggravation. But I intend to tell everyone that is online how badly I was treated.

Cecil Woods
from Oklahoma City, OK
My ATT Home Gateway Modem was acting up. Several keys functions weren't working an just about everything over the wireless network was being dropped regularly. It was difficult to stream anything over the wireless network and my wife who works from home was having a hard time stayhing connected to her job's VPN because of the wireless problems.
I contacted ATT customer service and the technician ran some test remotely and said that my modem needed to be replaced. She indicated that she had created an order for a new modem to be shipped to my house and that it would arrive in two - three business days. A week later, the modem had not arrived. I called AT&T and was told that the order had been cancelled, but no one knew why. No one a AT&T called me, texted me or emailed about the change in the order status, they just simply forgot about me. When I called back, they told me they would get the modem reordered, but the tech was unable to get "their" system to place an order. I was told that the "back office" group would take care of the problem and that I should get the new modem in 2-3 business days. Well of course, AT&T didn't get a new modem ordered and no one from the company called me to let me know that they were having problems with their systems. I called back several more times and every time I experienced the same level of ineptitude. No one at AT&T could place an order for a new modem for my account. After nearly two weeks of this ridiculous treatment, AT&T convinced me that the only way to get me a new modem was to have a technician come to my house. We set up a schedule for AT&T to arrive at my house between 8:30 & 9:30 AM on monday.
When Monday arrived, I waited for them to show. At 9:15, I received a message from AT&T which said that they were sorry they had missed me.
I thinking "what are they talking about", I've been setting here looking at my front door, with my phone in my lap waiting on the AT&T tech. No AT&T came to my house that morning and no one called or texted me either. In the days before my scheduled appointment, I had to confirm the appointment at least two times, yet they still don't show up and then act like it was my fault.
I called AT&T to find out what was going on, and I was given the story that the tech had come by my house and left because I wasn't at home. When I told the AT&T rep, that the tech was out right lying because I had waited for him all morning. The AT&T rep then changed the story to say that the tech had called me and that I didn't answer. That was also a lie. I urged the AT&T rep to look at my and the techs phone records to prove the tech's claim that I didn't answer the call was a lie. The rep gave me an excuse that the tech probably used a "personal" phone and they wouldn't have access to his call log. I again encouraged the rep to look at my call log since my cellular service is with AT&T. Again the rep had an excuse and replied that there wouldn't be a record if I didn't answer. We all know that was another lie as my phone log has a record of all my missed calls. Additionally, why would the rep hang up before my call was picked up by voice mail???? and then not leave a voice mail message.
If the truth be known, I'm sure that tech just didn't get around early enough that day to make my appointment. His/Her approach was to tell dispatch that I wasn't home and essentially blame the customer. AT&T set up another appointment for 12 - 2PM that day. Of course they didn't make that appointment either. Finally a 3rd appointment was arranged and a tech showed up around 5PM. That tech told me that it wasn't necessarily uncommon for techs to lie about missed appointments to their management. It seems to be a well know "secret" within AT&T that techs miss appointments all the time and blame it on taking longer than expected on the previous appointment or just out right not showing and then lying about the reason.
When my equipment and system is working, I like the service. However, when it is having problems, I dread calling AT&T for support because it ruins my entire day and sometimes my entire week. Most (not all but most) AT&T customer support reps don't sound professional or eager to help. It appears that AT&T contracts out lots of the customer support work to companies that are not well monitored by AT&T. I have called customer service before to hear what sounds like a party going on in the back ground with so much noise that I can't even hear the representative. Sometimes, I just hang up and keep calling back until I finally reach someone that sounds professional.
This last experience is making me seriously consider cutting the cable cord. The fact that I have TV and internet together makes it harder to switch between providers. Because there is so much equipment to install and remove, I don't like switching. However, if I go cut the cable cord and just go with internet service, the only thing that I have to change is the modem. Streaming seems like the way of the future and AT&T is aggressively pushing me over that cliff. I am at the point that I am going to purchase a streaming service to see how it goes. If I can live with, then I'm dropping the cable and AT&T and just going with the cheapest provider and changing every time I get lousy customer support.\
Regards, Cecil Woods

James D Greer
from Pembroke, KY
My phone line has been down for days. This has happened before. Why don't you do your damn jobs? I have called my congresswoman about this. I am a 100% Disabeled Veteran from injuries in Iraq! I need this phone system to work! Who is another service for my area. I will look into this and change A.S.A.P.!

Franklin McGoogan
from Tallahassee, FL
I have several complaints. The most recent is that while on a Caribbean Cruise I paid $50 for both my phone (850-509-0118) and my wife's phone (850-694-6641) to have voice and text. I received information on how to turn off data, which I followed. My wife's phone was billed $250 for the first 4 days of the trip and then billed some unknown amount for the last 3 (approximately $175). Her data was turned off and when I complained I was told that regardless of what AT&T told me, it was my responsibility to ensure no data made its way to my wife's phone. After the first $250 charge was made and I received no satisfaction from your service person, I checked to ensure I had no contract with AT&T and then I switched to Verizon. I have other AT&T complaints which I will identify later. Then on 9 November I received an email saying I was being charged $277.80 and told to click on "sign in" to see the bill. Of course I could not get to see my bill because my account was closed. I spoke with some person at your 800-331-0500 number who said that $277.80 was the bill and that was final. She also said that I was sent a bill via the post office to my house. That is not the truth either. I have not received a bill, and any reputable organization would not bill someone without a bill...but therein lies the complaint. You took advantage of my permitting you to use paperless billing by posting this charge to my American Express account without providing me any information on what the charges were for. I still have not seen a bill. Although after the bill was posted on Amex, your email said I could sign in to view, but would not allow me to. It said it was sending a verification code which was never received.
Other problems with AT&T are: Insufficient coverage (for example, at the airport when flight was canceled, I could not place a call from the gate area): voice mails would appear days after being left, text messages received out of order.
You have convinced me that I am not safe permitting any AT&T organization to bill me paperless. Therefore at my earliest opportunity I will also leave Directv, which unfortunately I have no complaint with except that they belong to AT&T.

Diane Dixson
from Spokane, WA
My Mother and I have been AT&T customers for several years; she lives in Arizona and I, in Washington. Before she came to visit me in Spokane for Thanksgiving, her smart phone was stolen from her purse while shopping. She reported the theft - by phone to AT&T, and they told her that they would lock the phone and send her a replacement within the next couple days. It was nearly two weeks before she left on her trip, but the phone never arrived... I told my mother that we would take care of things while she was visiting.
So, yesterday I took my mother to an AT&T store in Spokane. It was early afternoon and we had to wait for someone to help us. Initially there was a young guy who appeared to be training (later, he left to help other people) and a woman whose name tag read "Tina". My mother is older but very sharp and understands what is going on... she was trying to explain the situation and find out her options while I stood by quietly most of the time. I will say up front, Tina was disrespectful and rude to my mother. She said "I've never heard of any AT&T doing that" when we mentioned the replacement phone. Then when my mother leaned in as they brought up the records of the call, she said "Oh, this is all legalese, you wouldn't understand it". She spoke extremely condescendingly and cut her off with a very loud and unkind tone the whole time.
When I had heard enough of this, I asked Tina "What is the principal balance owed on her phone?", because I wanted to end this and go talk privately with my mother about her options. Tina told me the balance, and from that point on, if my mother asked a question or responded in a thoughtful way, Tina would quickly answer, then turn to me and ask if I understood and could I explain it to her later.
Tina's behavior was beyond disrespectful, rolling her eyes and making quips about us to the next customer as we walked out of the store. I wanted to turn and scold her for being so awful, but I saw it as a loosing battle and left.
I have over 5 years of experience in customer service, and if I had ever seen this type of behavior with any of my trainees, they would be given re-training and their first warning, leading to termination. What Tina didn't know is that although my mother is older, she has worked for in a variety of city government positions, customer service, billing and with computers, and though she acted oblivious, she was very hurt and embarrassed by this treatment.
I am recommending to her that she should cut all ties with AT&T at this point... as I will be doing.

Cora Garvin
from Fostoria, OH
charged for 6 months and never used this service those six months. moved out may 3rd 2018 told to cancel was never canceled as told charge may,june,july,aug, sept.and oct. $146 each of these month. moved away may 3rd paid and I wasn't living. want this money paid back to me. will contact lawyer if not paid back to me. telephone acct under 601 575 2200 moved away last may and never used service. but was charged for all those months. 6 months charged and didn't live there those 6 months. want money back. lot of money when I never had used service and still not living there. you had been told to turn off in may 2018 and it was never turned off. this is not right. so pay me back those six months. phone no. now 419 455 5868 moved from 300 n Decatur st union,ms 39365 last may now living at 849 n water st apt 106 tiffin,ohio 44883 send money back!!!!!!!! cora garvin

Grant Rowell
from Bella Vista, AR
About 3 0r 4 times per month I get a charge on my cell phone for time that I have NOT used. I admit that I am a very low volume user (479-721-3059) My phone is a flip type. I do not text. I use this thing for emergency type communication. I am about to have it shut down as I am tired of getting charged for time that I do not use. We do not use our phones for any internet or other stuff. I called your 800 number and reached a person that sounded like they were from India and I could hardly understand her. She insisted that the charges were for text messages. I do not receive Text messages except from At&T, so if you are charging me for that then stop sending me your stupid messages. If I cannot get this fixed then I will stop using it. I went without my cell for a bit over 2 weeks and did not miss it at all. Ether this will stop happening or you will lose a customer that has been with you for over 14 years. I expect a reply from someone who lives in the USA and speaks so as I can understand them. Thank you. Perhaps you might have picked up on the fact of my total dissatisfaction with your billing practices. I am old and cranky. but people like me pay your wages, we are called customers. Without us AT&T will not be. Thank you for taking care of this, Grant C. Rowell

Cheryl Sherman
from Green Bay, WI
I called to have a jack installed for our AT&T internet and Direct TV on the other side of our living room so we can change around our TV. The person told me that they could do that and it would cost $49 plus some taxes and $5.00 for something, I don't know what. They called it Use Tax Adjustment. Why do I have to pay for Use Tax. So the install was scheduled for the next day between 8 AM and Noon. An installer called at 11:10 AM and said that he would be filling in for the original guy but couldn't make it until 1:30 or so. I called my husband and told him and he wasn't happy so he called customer service but couldn't understand the rep because they didn't speak understandable English. Meanwhile I got a call back from the installer who said the the appointment that he was on got cancelled so he would be over in about a half an hour. He got here ant told my husband that he was from Direct TV so couldn't do any with the internet cable and proceeded to drill a hole in the floor for the cable and not install a jack because that would cost more money. He left and that evening I called the Direct TV phone number to explain what happened and she told me that I had to talk to someone at AT&T and transferred me. Talked with a very nice lady who understood and wanted to reverse the charge and start all over but couldn't do anything because she was from AT&T and the charge was from Direct TV. I needed to call Direct TV and explain to them. Ugh!!! Soooo, I called Direct TV and explained again and she told me that as far as they were concerned the job was completed so she couldn't reverse the charge. I told her that it wasn't done they way that I requested, but she could care less and pretty much told me "too bad so sad", I hung up!!!
Thanks for your feedback!
Sorry. Please try again later!