AT&T
AT&T Complaints Continued... (Page 6)
859+ reviews added so far. Upset? Call AT&T corporate: 1 (800) 331-0500

When walking into the store in greenfield wi next to Starbucks and an ice cream shop Leroy met me at the door friendly and asked how he could help me. I had told him I was waiting for my fiancé to come because he was going to add another line. My fiancé and I had thought that the store closed at 6 but it was 5 and were there at 440. Leroy had then asked well when will he be here, we close soon. Terrible thing to say to a customer. Anyhow he checked to see if he had the phone which they didn't and then he sent someone else to the store down the road, which he then redeemed himself. My fiancé and I did not know that we couldn't add a line unless we are the primary account holders. Our situation is a little different and his parents live in Florida which is impossible for her to be in the store with us. So we were told she could do it online and pick up the phone in the store. My fiancé asked of she did it now would we be able to get the phone today again we did not get a real answer besides I don't think our computer will update that quick. Needless to say we walked out of the store and searched and the phone was already available for pick up. We will not be back to that store.

My Nokia prepaid phone always goes back to the main screw in its own. I can be on a website, texting, ir what ever and it just back to the main screen. Gets really frustrating. It's only 3mos. Old and has always done this. And we need more apps to choose from, I would really like to have checkout 51 and other money saving apps. Not happy at all. I have been with att and had an iPhone before this and this phone is very frustrating.

Susan Davis
from Loganville, GA
We repeatedly have frudulent calls. thieves trying to get our credit card #, trying to steal from us ALL the time and AT&T can' t do anything about it. No way to block the calls when the thieves are using every trick in the book.

Ronnie Barker
from Owensboro, KY
Why is AT&T useing my name on Facebook??? Comes up that Ronnie Barker likes AT&T, You do not have my permission to do this, I can't see it but all of my friends do, have asked you not to do this, Rep.said it wasn't AT&T but open it up and you can see it is. comes up as part of a sports program you put on, Taken picture of it tonight from my friends I-pad. You are using me to Advertise, Stop it or take $50.00 off of each of my bills. Also on a bill two monts back I was told how much to send you for payment, aster adjustments made, I sent the amount I was told, last bill it was added back on as late payment---Your people will tell you anything just to get you off of the phone,,, But don't worry because I'm looking at other options, someone that don't tell me one thing and do something else. Thank you and have a great day..

Michael ashpaugh
from Boonville, MO
I was promised a deposit waiver and also that the messed up saying I had a 351 dollar past due amount and I did t. I also called in and got the run around with all departments and on one manager pretty much called me stupid and than I was told that managers would call me back on three different occasions and that didn't happen. I have a disabled daughter that I need a break bone and now I don't have one thanks to att customer support!

Doug Crabtree
from Madisonville, KY
I purchased a Otter Box phone cover with belt clip. Part # 6930 E . The purchase was made at the AT&T store, in Madisonville Ky. The purchase was made on 2/3/2015. On 3/28/2015 the clip broke, causing the phone to be lost for approximately 2 hours. I went to the Madisonville store, with the damaged clip and my receipt and asked the staff to replace the defective product. The AT&T staff informed me that they were unable to replace the defective product and that I should contact Otter Box for replacement.
I did not buy the product from Otter Box and feel that I should not have to contact Otter for replacement. I purchased the product from AT&T and feel it is AT&T's responsibility to replace the defective product, in store. Products were available in the store at the time I was there. At the time of the Phone cover, I also purchased a 5S phone and AT&T appeared to be very happy to accept my money for both. When I needed true customer support, AT&T was reluctant to do so. Customer service does not appear to be part of AT&T !!!!!!!!! Very unhappy customer !

Larry B Sargent
from Liberty, SC
I have called 8 times to straighten this Mess Out, My account # 864 638 5670 478 1975. We are PAYING for Nationwide Long Distance Calling ! For Months, Please Get somebody that can STRAIGHTEN this CRAP OUT ! IT STILL DON'T WORK ! We Have Family in other states we NEED TO CALL ! FIX The Damned Thing !

Carla Cahill
from Kansas City, MO
Retired, fixed income, called in Sept.2014 about monthly bill always increasing. Supervisor stated that my bill would be $124.00 plus tax. And under this contract I could not change carrier without penalty. I have made calls about every month trying to get someone to tell why bill is escalating every month. First was told that phone and internet had gone up. Next time I asked how can you raise my bill when I'm under contract. Was informed ATT was not raising my bill it was my users that were increasing. Tomato/tomato. With Google now in Grandview mo, you need to take better care of your customers. As soon as my contract, Sept., is up u can bet I'll be gone.

I used to have att a few years ago, my children were young and my wife and I rarely used it, so after a year we cancelled their services. Years later, we signed up with charter (not that their any good either) after their promo expired, we decided to go back to att. Currently, my wife works at home so she requires internet, at decent speeds, to keep up with her workload, as well as, the kids using the internet more now. So, I called up att and ordered a package from them, since we received a flyer in the mail on bundled packages. I ordered the uverse 200 and 18mbps internet, the csr set the appointment for a few days out. We decided to not cancel charter until att was up and running, to ensure that their wasn't any issues causing her downtime from work(good thing too!)
Anyway, I was told that the installer would call us the day before and within an hour of when he's supposed to show up. Needless to say, I didn't get the day before call and I was about an hour from my installation window, so I decided to call in to verify that installation was still happening that day. It turns out that my installation order had been cancelled because there is a "facilities issue" that needed to be fixed before I can have my order completed. So, I asked why wasn't I notified of this before my wife clocked out from work for the 3 hour window to ensure that she would be avail for install, as internet would be disrupted. They told me that they tried to call but the number was wrong, so I asked what number did you call. She told me a phone number that was out of state. I asked her how is it possible to get my ph # wrong if I used to be a customer and the many times I was verified of my number...she didn't know.
Anyway, she told me it would take them 2 weeks to fix the facilities issue and that I would get a call as soon as it was completed, so we can set an install date. So the date of the completed repair was supposed to be March 24th, 2015, I didn't get a call on the the 24th or 25th, so I decided to call on the 26th to find out what's going on now. Anyway, they said that the facilities issue was fixed but they didn't know when it was completed. So again, I asked why was I not called as promised. She said they tried, and again they couldn't reach me because my ph # was wrong again, so again I asked what number do you have? Again out of state #! REALLY???? Anyway, the previous operator told me that I would be compensated for my delay and what not, so I inquired with this CSR about it, and she had no idea what I was talking about.
She offered to not charge me on the $50 activation charge, whereupon I told her that considering I had to pay for charter to extend their service due to the fact that they failed to install my internet, which was already more then what they wanted to compensate me for. Also, the fact that I had to follow up with them after their failure to follow up on my account/order. She ended up having the supervisor call me back, so I needed to get off the line so she could call me. The "supervisor" called me back stating that she is reading over the notes that she was given about my account, I told her I doubt that the CSR would be able to notate all the challenges I've had regarding their company, she said okay... 5 seconds later (without saying anything else she hung up on me), so I decided I'd wait a couple minutes (could've been a dropped call right? WRONG), so I called back the number that she called from and now the number is now a disconnected #. uh huh whatever!
Anyway, the CSR had set my appointment for the next day from 9am-11am and told me that the installer will call me about an hour before he heads over... okay fine. So all morning I'm waiting for this call... no call. So, I decided to call again and find out what is going on, I told them I did not receive a call and it's now an hour and a half after the window that I was given. The CSR told me that at 8:47am, that the installer had logged in that he was on his way (again did not receive a call), so I told him you realize that my window was from 9am-11am don't you? And that it is now 1230, right? He said he understood that... but did not say anything else, so I prodded him with the understanding that it's an hour and half after the window and I still hadn't received a call, which would in turn change the window... right?
Anyway, he ensured me that the tech was on his way... so, I called my wife to update her on what's going on. As it turned out, the installer had gotten there at 9am (again, no ph call). Now the problem, as it turns out, the "facility issue" repair was not actually completed, so the tech had to call another tech to complete the facility issue repair... REALLY???? So, as it turns out the install took about 5 hours... AGAIN, REALLY??? I decided that instead of trying to reach out to another supervisor, who will probably also hang up on me... I'll have to wait for the online customer service survey to express my disdain. Honestly, if my wife didn't require internet I would've said screw all this! Granted, Charter is bad also but that is another story... also, with charter, att, and directv being the only choice available... really do we have a choice?

Christy Wheaton
from Omaha, NE
I had an ATT tech come to my new home to install all 3 ATT services. While the tech was at my new home he drilled a hole through my second story wall to the outside of my home. My roof is in a "barn" shape so when the tech drilled through the wall he put a hole about 2" around in my roof through my shingles. He then left with the job not completed, a second tech came out to complete the work and at that time my husband showed him the damage. That tech then called his supervisor out to take a look and he put a temporary patch on the hole and told us he would file a damage claim for us. We then received a letter in the mail that stated we had to contact them within 45 days to file a claim and have this fixed. My husband and I have been attempting to contact these people and are unable to reach anyone.
We call and get an answering machine that tells us to leave a message and they will contact us back and then they call back 4 days later and leave us a message and the whole process starts over again. It almost seems that we will not reach anyone in 45 days or less and then who will fix my roof? This is getting out of hand and I will email and call everyone I can until SOMEONE takes responsibility for this and fixes it. I expect an answer back in a reasonable amount of time to let me know what is being done about this and in the mean time I will be reaching out in other ways.
ATT customer
Christy Wheaton
850-525-4000
850-475-72324
wheatonchristy@gmail.com

Andja Marich
from Munster, IN
Have been unable to contact service representative for over 4 years. Finally reached someone today and they could not help because they had the incorrect driver's license number. I then was transferred to another number and was able to speak to an automated service. The automated service then put me on hold, which I am currently still waiting. Recording continues to state "please wait". Just got disconnected. Really? Need information sent to my home address!

I have been trying to get my phone service to work for the last two weeks and to no avail has anyone been able to help me,or tell me why my service is not working. I have spoken with more than twenty people in different states. I had one lady name Rochelle try to get me to get televison service. When I told her I did not want it she politely took it upon herself to say, why? don't you have money. How dare you ask me that. That is none of her business. Another person yelled at me and told me I was not suppose to have something on my phone. I truly thought i paid this bill so I can have whatever I desire. It has not gotten any better. My phone still doesn't work and they don't care because we have no other phone companies to go too. Well I have decided if this how retail people treat customers like me and you we are dome.

I ordered a tablet ,returned a tablet. I didn't like the tablet and asked if I returned could I have original tablet was told yes but AT&T will not send out tablet at original promotion. Was billed 57.15 and 14.99 for a tablet used one day.

Steffanie Caraway
from Corpus Christi, TX
EVERY month my bill seems to be different. I call the customer support line and the agent usu sally upgrades or credits my account, but then the next month, nothing has changed. This has been 2years now that I have called almost EVERY month to dispute charges. As of today, I am on the phone with att now and they are telling me that the gentleman who upgraded my account on December 23, 2014 upgraded it, but didn't leave any notes, not even his name. So, I have not only been overpaying $20 these past 3 months, but now they are raising it $70 and saying there is nothing they can do for me! WHY SHOULD THE CUSTOMER BE RESPONSIBLE FOR THE MISTAKES OF YOUR REPS??
I am a single mother and have been in and out of the hospital these past few months and it is absolutely ridiculous that I have to be on the phone for hours trying to figure out why YOUR REPS haven't done what they were suppose to? PLEASE CHECK MY ACCOUNT AND LOOK AT EVERYTHING THAT HAS TRANSPIRED THESE PAST 3YRS!!! ALSO, I deactivated my Automatic Draft, I think a year ago, because y'all kept drafting different amounts. After I deactivated my account and removed my CC information, y'all somehow STILL drafted over $200 out of my account! Which is very ILLEGAL!!! I was in the process of getting a lawyer on that matter, but I ended up letting it go, until NOW! I'm so frustrated with dealing with agents in different states and not EVER being able to get back to that same rep to hold them accountable for NOT doing their jobs or lying to customers about promotions and rates! WORST CUSTOMER SERVICE EVER!

Kalima Shahid
from Houston, TX
On 11/1/2014 I was offered a new package which included HD Discount for one year. This was verified on 11/15/2014 by rep. Fredlene. Every month I have to call to have my bill adjusted because I am billed for HD. On 2/24/15, rep Ms Mary adjusted my bill but said I will have to call in March again. When I called, (on 3/26/15 at 8.45am) I spoke to rep. Shae who could not help me so I spoke to her supervisor. The supervisor was rough with me, and even said there are no records of the date I quoted and all my previous bills were adjusted in error. She said I should have been billed the full amount since December 2014. As I am sure these conversations are recorded, someone in a senior position needs to investigate why the supervisor behaved this way and confirm whether what I am saying is true or not.

Called ATT to move phone service and internet, order was placed on 3/12/15. Called customer service 2 times to verify service turn on and all the times they conformed time and date for service activation at new residence. Finally at 4PM internet was active, but dial phone was not and ATT customer service showed service was to get turned on 3/25/15. Time came and went when service was to be turned on, called customer service and they are closed. Called repair department, they tell me there is nothing they can do, they don't even see a repair/ installation ticket for my service.When I tell them there is a medical alarm on the service there repair supervisor" Eva Jones ID # 942" tells me not there problem.To call again tomorrow and then she hung up.

Scott W
from Alpharetta, GA
After being a customer of AT&T for more than 35 years, my last experience may as well have been the straw that broke the camel's back. I was given the "opportunity" to upgrade my phone and was glad to do so. I ended up getting the latest Samsung Galaxy S5 Active. Great phone but that's where the "good" ends. When I bought the phone, I was told that they offer a "free" Samsung tablet. Having never owned one, I thought it would be nice to have since it was "free". The 1st one I received lasted about 1 day before it locked up and I had to return it. Once that was done, I received a letter 2 days later stating congratulations on adding this new line and to enter my access info to hollow my charges. That's where the "free" came back to me. I was told that since this is a cell tower dedicated tablet, there is a $10 monthly charge.
I don't need a tablet that tells me the same thing I get on my home computer and smart phone. I tried to return it and it was like pushing water uphill. I had to go as far as calling the Corp. customer service line and ask to speak with a manger. Since the box it came in was accidently thrown away, I was told they can't re-sell it and it was mine to keep. Not a chance. I had to threaten canceling 4 cell phones, a home phone and U-Verse internet. (That's another story since I was forced to give up my DSL which worked just fine. Not any faster and more expensive....)
They finally gave in but they said I had to ship it back in a box I had to buy "since they did not have any in their store. They had 2 on display right there in front of me......They gave me a return label and said have a nice day... Are you kidding? Run fast if you get a similar offer. Go buy a I PAD that is Wi-Fi ready and you don't have to pay a monthly fee. VERY disappointing. I hear Sprint and others will cut my rate in half. I think I need to look at this deeper......

When I started my service I especially asked about unlocking my phone as I travel internationally and to very small countries. I have enjoyed being able to purchase local SIM cards. I was told I needed to wait 14 days, but I would be able to unlock my phone then. Both VIA chat and at the local store personnel confirmed such. I waited 14 days and requested to be unlocked. I got a response back that I needed to wait 60 days. I waited 60 days now I'm told I have to buy out my contract, change my number and start over on a month to month plan. I personally like AT&T. I have used them at different times both personally and through work. If I had gone with T-Mobile I would have had a lower rate, more data usage, and my phone would have been unlocked at 14 days. I believe I was scammed on this one. I believe AT&T needs to do the right thing and retain they employees so bad information like never happens again.
I do want to stay with AT&T, but I want me phone unlocked as promised.

Blanche
from Dearborn, MI
At&t keeps going up with their prices and keep giving me the run around with the type of plan I have, one sale person said I have a month to month, then a other saleperson said it's a year plan. when I call to close my account, at&t want to charge with me $90.00 because I am flee up with their price change.

Jeremy Sullivan
from Pompano Beach, FL
Called to review purchase of I phone 5s 12.1GB ( charged 650 and was told that was the price at that time). However another sales representative said that price was associated with the the 32GB 5s. So no real explanation for the difference in cost was explained and no resolution. Also a sudden increase (63$) in my bundle service occurred and the explanation was given a promotion expired. To help reduce new rate another promotion was offered that still increased monthly bill (34$). I said that wouldn't work and was placed on hold to speak with an account specialist after 20 minutes I hung up thoroughly dissatisfied. Customer for almost 20 years.

Melissa Jones
from Fort Worth, TX
I received two monthly bills stating that I owed nothing for my ATT Uverse account. I had just switched and moved and so I did not think anything of this since I had payments that were pending. Then the next month I receive a bill for not only the billing month but the previous two months with an "apology" that the billing department had made an error and I now had these charges to answer to. This is fraud and is not correct. I will be addressing this with my attorney in that I have two bills that state I owe nothing for that time period and now I have a bill stating that I have charges from those two billing cycles. I should not have to pay for your inability to run a business correctly.

Kimberley Russell
from Houston, TX
I called into customer service today regarding my phone service being suspended. I was given several different stories by two different people as to why my first bill was so high. The third person i got was a supervisor in escalation. I explained to her as well as the two previous agents that i was at work and i have two disabled children i cannot speak in detail about whats going on can we set up payment for Friday march 27 2015 and i will call this evening and we can talk in depth about what is going on. The escalation female i spoke with who claimed her name was Michelle after refusing to give me her name said she couldn't do anything for me until i made a payment. I told her i could not till Friday she said there was nothing she could do for me. I told her to turn my phone back on and she said sorry cant do that.
I said then transfer me to someone who can and she said ill transfer you to the Spanish department and i told her you actually admitting to transferring me to the wrong department because im upset and your mad because im mad i said your in customer service u cant talk to me like that u can get fired she said no i wont no one will do anything to me. She said other very rude and mean things that i cannot remember because i am at work trying to concentrate and this has really affected my whole entire day. I have not received any notice that my bill was due by phone fax text email or regular mail. I do ot appreciate the way all of you representatives talked to me and i will tell every family member i have about how awful at&t is. I have revert been treated so badly and unprofessionally in my life.

Kelly Slayton
from New Smyrna Beach, FL
All of this is because some one at ATT disconnected SCADA data lines that have to be in compliance with NERC/FRCC/DOE, and fines can be levied at my company for mistakes made by ATT?!? The (3) pending circuit installs have been designed. Central Office cards are being expedited and will not be in until late Wednesday. Orders will be dispatched Thursday. As of an hour ago, I was unable to locate the orders in your express ticketing system. This may not be the case now, but at that time the order had a due date of 3/30. It was also pending dispatch and had not been picked up by a tech. This is where my disconnect comes in at. I can appreciate all hands on deck to resolve this, so let's show due diligence and someone up the chain please call me with answers. I have turned down many circuits and not removed translations or reassign OE'S the same day. New policy maybe? How this happened is not the matter. What does it take to get this fixed before COB today?

Mackenzie Wickersham
from Janesville, WI
Yes, So I have my At&t phone a little over four months and im getting messages 20 minutes later, my calls aren't showing up and it shuts down by itself... fix my problem ?

In my opinion customer serve at ATT has gone downhill BIG TIME, I dealt with Bill from Rochester NY, a customer service rep, found him to be nasty and rude so I asked to speak with a supervisor, he down right refused my request and said he could help me, I than insisted on speaking to a supervisor and he told me NO he will not transfer me to one. he sia he could help I told him that he didn't help me yet. Comcast had bad ratings on their customer service well I think Comcast got rid of their bad seeds and ATT hired them. I had Epix, the rep told me I didn't have to pay because I had the 450 package, well find out it was a promotion and find I'm paying for it. They say one thing and then do something else. Mind you all the do is show OLD movies and charge you for it, their programing is terrible, I get the movies from Red Box, they are current and cheap to rent, to rent a movie from ATT is $6:00 for something current.

Clinton C Glad
from Encinitas, CA
I have AT&T UVERSE phone, tv, &internet, two times this week they went out. About two weeks ago after having my tv interrupted off and on all winter a technician came out did some rewiring and changed my modem. This has not solved the problem. I am about ready to change carriers from AT&T.

I have been a customer with AT&T for over a year . Almost 5 months ago I was promise a reward card for up grading ..... the funny thing is I NEVER GOT THE AWARD CARD and have been giving the run around with AT&T every since. Now if i held my payment for over 5 months I would have been cut off. They have every excuse in the world as to why the card have not came and even went as far as saying the mail man is keeping it ... FUNNY - I get a monthly bill with no ISSUES

Mark Garcia
from Bastrop, TX
at&t i have two cell phones i always pay my bill every month. i dropped my phone no. and the glass cracked. i contacted at&t about and they told me to contact my insurance to see if i had coverage, which i did, they told me they would replace me with another phone and they would send me a return box to return it in.they told me that there was a deductible of 149.00 dollars. they told me they would it to my account.when the receive the phone that was to be repaired. i found out that i could have my regular phone repaired much cheaper.i contacted them before the deadline and told them i was returning their new phone because i made arrangement to have my old phone repaired because i had gotten use of it the told me when they receive the phone they would not add it to my account, they had already received the new phone and the insurance co.added the 149.00 dollars to my account. which came to 275.00 dollars. i cannot pay 275.00 dollars on my account. i told them i would pay my regular bii when due,and will not pay the 149.00 dollars the insurance added to my account.they did not repair my old phone.they want me to pay the 149.00 dollars and within 90 days they will refund me. at&t told me if i don't pay it they will charge me late charges. that's not fair.

Lugenia Twombly
from Enid, OK
My husband has terminal Brain cancer and we live on a very limited budget. I was with a different carrier and wanted to find a better cheaper plan! I called AT&T and spoke with a present at seven she assured me that she could get me a better plan for less money she also told me that they were having a promo and I would you see the hundred dollar credit for each phone. That there would be a one time fee of 40$ to connect my phone lines but that it would be dropped because I was getting the 200$ credit for the two phones. And my monthly bill would only be 105$ (30$ cheaper than I was paying at the other carrier) I thought wow great deal! Then I got my bill and it was 250$ nothing was credited as a matter of a fact they couldn't even find a promo and if there was one it wouldn't be added to my account for 10 weeks! That's not what i was told in the beginning but since I couldn't even find a promo and her notes I wouldn't be credited that anyway! On top of that my bill monthly would be 125$! I asked to speak to a supervisor but have yet to be able to! I feel very taken advantage of. I came to this company expecting better service. And I've only been disappointed lied to and handed a large bill that I can NOT afford to pay!

mitchell brown
from Bastrop, TX
I am sending this email due to a problem concerning my cell phone.i dropped my cell phone in january 2015 and broke the front glass. i contacted the insurance co.they told me i was covered but the deductable would be 149.00 dollars and would be added to my regular account, i thought about and said ok.so they sent me a new phone and it was not like my phone.so i checked arround and decided to get it fixed a a lower price. so i made contact and told them i decided to get it repaired. so they told me to send the new phone back in the returned box the sent the new phone in and they would take the 149.00 dollars off my account.they have received the phone long time before my account was due.so they sent me a bill of 275.00 dollars. they added the 149.00 dollars to my regular account,and i cannot pay that amount.i always pay my bill on time. the insurance co.has the returned phone. at&t tells they want me to pay the 275.00 dollars or they will charge me 5.00 dollars late charges every 5 days.i like a&t services,i cannot pay 275.00 dollars,i will pay my regular bill on time. we all are trying to survive.

Mike Fritz
from Adairsville, GA
Returned a cellphone for a warranty replacement and it was returned with a crack on the screen and the back cover pried off. You can see the tool marks by the SIM card slot. AT&T refused to honor the warranty and denied removing the back cover. Tried multiple times to get this resolved and they wont budge. If you ever have a warranty issue I would try and find a place local that you can take it to because if something happens after you ship it you will be stuck with a $420 bill.

That rollover data plan, doesn't really rollover. Not all that you have left over at the end of the month. Then the customer service rep tells me what I'm looking at on the phone is not accurate. So I had her tell me what she saw as accurate at the moment and I figured it out from what I saw on my phone, while on the phone, and my phone is acurate. So she referred me to next months bills. So many problems with AT&T

As a contractor I need to schedule a late payment after confirming a date with a representative a day later my service was suspended. I was hung up on twice (no I was not cussing).had I knew they couldn't arrange a late payment I would have made other arrangements. I feel like when they want me to upgrade they are sooooo nice but if I need help the customer service SUCKS . ANYWAY after 7 year so I am changing to verizon.i got lied to and ....well that just doesn't sit right with me.

I was having problems receiving and making phone calls on my iPhone. I contacted AT&T to inquire what the problem was. I had the misfortune of getting on the other line the worst customer service person, ever ... his name is Juan Lawrence. His attitude was basically " ... so what if you have a problem" He was totally disinterested and disconnected from the entire conversation, and he practically dared me to switch providers. It was a horrible experience ! I had never in my entire life had a conversation with such a pathetic worthless customer service provider.AT&T, you just lost a loyal customer.

Mildred And Sheila Phillips
from Philadelphia, PA
My daughter and I are At&t customers since 2006 I believe and honestly speaking had unpleasant situations with at&t ever since every few months there's a situation.: However this latest situation have been the worst thus far. I ordered a Samsung s 5 on Saturday February 28th. March 2nd I called to find out the status of the order. I was told by a Representative that the terms and condition wasn't accepted I went on line to accept the terms for the second time. called back to at&t spoke to a associate who said the same thing that the terms weren't accepted I said to the rep that I did and after I excepted the terms a box I believe appear in red writing that said I already excepted it This has been going on for going on three weeks. On Monday March 9th I spoke yet again to the at&t associate I explain to her every thing that has occur these past weeks. She in turn said to me that I didn't have to wait for the online order that continue to say pending I could go into the at&t store and get the phone after I cancel the online order. I took her suggestion and receive the phone
The at&t associate never told me that by going into the store that the price would change While in the store I called online with the help of at&t associate I cancel the order The rep also spoke to the online associate and ask for him to do something I forget what so that she can place the order . what ever it was needed to be done before she could continue with my order. I was charge an activation fee being that I didn't do the transaction on line I was also told by a associated that I could try to call and speak to the supervisor at the location where I brought the phone and ask if she could wave the activation fee I did that spoke to a gentleman who said his name was diamond He was suppose to give the supervisor my number so that she could call me back She was business at the time when I called I can't remember the young ladies name although I have that information on a piece of paper at home. I never received a call .
I called at&t for the last time today March 12, 2015 the associate I spoke said that the order wasn't cancel I paid for the taxes that needed to be paid in order to get the phone, with my credit card and I haven't received my funds as of today 3/12/15 Honesty speaking I should have found another provider after all the negative situations I've had with AT& T thus far. I've done everything I could do to resolve this matter I hope some one from this corporate office will help me resolve this matter and return my money.

Jerry L Woodbury
from Houston, TX
MY at&t uverse box shorted my LG TV main board HDMI ports, Will my TV be repaired. The unit in question was replaced.

lynn bond
from Endicott, NY
I bought a Android phone in February 2015 . It is March 2015 . On March 11, 2015 I was making dinner set the phone down on the counter to fix dinner . After dinner I went back and picked it up off the counter and went to use it . All I saw was lines jumping on the screen . I powered it down and brought it back up and it was fine again,. two minutes later the lines were back . I got in my car and drove to the nearest AT&T store for customer service to see what happened . The sales representative told me it looks like I should set it down more secure . He told me to buy a better secure phone . '
He said it might have a glitch in it . Let it set for a couple days to see if it will stop . The lines are jumping worse . It is a TO GO PHONE . I am very upset and not happy how this was handled . The representatives do not pay no attention and give quality service because it is a TO GO PHONE AND NOT A CONTRACT ! I do not understand that , I pay a monthly bill to AT&T just like everyone else does . AT&T are getting money from me just like everybody else is . He thinks it has a glitch in it and if it doesnt go away to buy another phone . Are you kidding me I just bought it a month ago. I can not run back and buy another phone cause it has a glitch in it !

Fred Thomas Green
from Arlington, TN
I initially acquired AT&T U-verse 450 back in July of 2011 with the first month and installation paid in advance ($391.66). I dropped the U-verse TV but kept the Internet and Telephone in May of 2013 ($100.63). I returned all of the rented equipment AT&T supplied for the TV service. I received a refund for the portion of the TV's month that I didn't use but not the month in advance that I'd initially paid. I continued to get request from AT&T to restart my TV service with them for $29.00 for 12 months for basic service.
On 09/10/2014 I talked with an AT&T Associate named Elyssa whereby she signed me up to switch back to U-verse TV and said that my U-verse Package of Internet, Telephone and U-verse 450 TV would be $184.00 per month, not including taxes and fees. AT&T Technician "Sharonda" came out to install my TV equipment and was surprised to see that my house was already set up for AT&T and all she had to do was switch out DIRECTV Boxes for AT&T's." Sharonda spent about twenty minutes switching out the boxes and adjusting the sets, two hours talking to my wife and I and then another hour and a half sitting in her truck.
My new bill arrived and I was floored, $608.65. There were one time fees totaling $247.00 plus one month advance fees again! I now have two wireless access points sitting atop my computer desk wired in series. AT&T ripped me off and refuses to consider that I've been defrauded.

William Echevarria
from Miami, FL
They are the biggest manipulators and are able to rip you off like if there's nothing wrong with that. I went into the store and needed and weren't able to give me any information or help me out in any way. They have no idea what they are doing.

sandra soule
from Jackson, MI
I have been experiencing reception difficulties since day one of my contract. After complaining to my local AT&T store the sales rep installed another "chip" which in his words would improve the reception. He also commented that if this "chip" didn't help they (at&t) probably have to do some upgrades to the cell tower. I live north of the reception tower. when i called to again complain about the reception or the lack there of the sales person flipped it back on me. Why have i continued my contract with them for the past 2 years without pursuing the reception issue? So she also told me that reception in my area is a "2". That's what the problem is. If that was a problem from the onset why wasn't i informed of it?
She did offer a fix - a mechanism to enhance the reception quality thru my dsl at a purchase price of $150.00. (there is a $75.00 rebate). So because i have lousy reception and didn't continue to complain the solution is a cost of $75.00 to me because at&t cannot provide the reception i can't get and was not aware of in the beginning. Really? There a 3 places in my house that i can get a signal - the bathroom (on the toilet), my downstairs at my computer desk and my nightstand in the upstairs bedroom. I was so frustrated this morning that i told the sales girl i couldn't talk to her and hung up the phone. Don't treat me like it's my fault. Honesty from the onset would have been nice. How is charging someone extra for services you cannot provide the customers responsibility? Have been with at&t 27 years.

I decided to go with AT&T two months ago. I bought an I phone 6 plus. The store is 1000 S. Dale Mabry Hwy, Tampa Florida, 33629. The person who sold me was Luis Lopez. We both speak English and Spanish, so, believe me no room for mistake. I was sure that I made all the questions and I understood everything, considering that nowadays they charge you for everything.He was very nice, but turned out to be lied right on my face.
1- the phone wouldn't charge, went to store told him about it. Can't do anything! Apple Store would take care of everything, no questions ask, they would give you a new one. NEVER, it took different visits,and they finally got it working for me ( one day old phone and they had nothing to do with it)
2- convince me to take a tablet home, free try for 14 days,no charge except 10 dollars monthly if I keep it. Did not even open it return it on the 10th day. My first bill came, with a charge of 40 dollars for the tablet, NEVER KNEW, there was a 40 dollar fee for the tablet connection in addition to the 10 dollar monthly..worse non- refundable. They saw in the record I returned it on time, but it did not matter. Luis, lied to me. I spent so much time in AT&T phone to get credit for it, they did finally.
3- now I received my 2nd bill and turns out to be Luis lied to me again, I got a plan 5 dollars monthly for International call to Peru and the minute is 1cent. Why not ? said Luis, For 1 cent you call to Peru, it is a great one!!. So I signed for plan. Now that I checked my bill 58 dollars in International calls, they charged me 25 cents per minute instead of 1 cent. I have spent so much of my time in customer service AGAIN. They would not take responsibility, they credit me 25 dollars but not the 58.
I am so done with them! It is so sad that a company like this, cannot be reliable, accountable, honest, trusted. It is deceiving . I want my money back!! You lied to me.

Deb Gritter
from Holland, MI
My complaint is that on feb 7th the infinity NASCAR car race was shown on fox sports one but someone at at&t figured we would rather watch people throwing darts rather watching the NASCAR race.which I cannt believe anyone would do. We got this service because it was going to show all the NASCAR races all year. The three top divisions of NASCAR were to be shown on fox one or fox two Along with certain ARCA races. So please explain to me why you did this and dont tell me it wasnt available because it was to the dish networks you people chose to not show it and I am very upset with you..Now is this going to continue? I will not watch darts come on give me a break how much does darts bring to you? I bet the ratings were not very high. So do I have to change to another network for phone internet and TV? I am sure that I am not the only one upset with you.

Valeria Garcia
from Chicago, IL
I been a customer with AT&T for almost 2 years and I do not appreciate and am not satisfied with the phone I purchased back in December 2014. The Samsung Galaxy S3 Mini is not operable at all times and is not functioning and calling when I want it to. This phone is JUNK! I know this phone may have insurance on it but I prefer to get another phone as a credit that I can pay its money worth monthly. I would like to escalate this issue to a supervisor or your corporate because I been having issues with your faulty device that is not worth paying for. I will be in touch with a rep tomorrow and try to get this issue taken care of unless someone can contact me right away. This phone has been giving me a huge headache and problems because this phone will not function. How am I supposed to talk to someone or do something on my phone if it doesn't work? This phone is accident free its just your performance and quality of the phone that makes it CRAP! I will be waiting for someone to contact me.

First I registered at a $28 rate for U-Verse internet. The very first month I was charged $66.50, to which they absolutely would not return my money but held it as "credit", which could then only be applied after 3 billing cycles(!). For the next 6 months I was charged $56 (DOUBLE) what I should be paying and I had to constantly call the company and request my payment reduction, something that took an hour and a half each time. Finally, when I thought I got the credit applied to my account, the contract was renewed without my authorization for another year. The month after I was charged for the previous bill (which should have been paid for with the credit) and the current month plus penalties. Beautiful.
After another 2 hours on the phone and going through 3 people who simply could not understand the 5th grade math, I finally managed to find someone very useful who fixed up my account. Never again will I do business with ATT.

donna murray
from Newark, DE
I called at&t regarding my bill. It seemed a lot higher this month. (approx. 100.00). I paid $200.00 on 3/4 of my bill and called 3/5 @ 12:00 approx. to find out the extra charges. One extra charge I was told was $59.00 for activation fee for tablet. I was never informed of activation fee. I was told my bill would be reviewed and receive a call back in 30 minutes. Never received a call. Text came thru at 5:30pm saying my account would be credited $40.00 (which I do appreciate) but, no explanation what $40.00 was. I called at&t told that activation fee was waived for my tablet $40.00( activation fee $59.00?). I called again and spoke with Cierra Brown going over my bill and talking about prorated fees. Kept asking if I understood or is this too confusing for me. Asked her not to talk to me like I was the dumb one. I have never complained to at&t before. I have always been treated very nice in the past and appreciative of that. I have been a customer for at least 15 to 18 years of more. I did not appreciate the way this was handled or spoken to. Usually receive a text asking to rate my phone calls and how I was treated not this time? (have always in the past gave very good feed back).

James Crain Acc:129774288
from Dallas, TX
3-6-15 I had to make phone to AT&T in FEB, and now in March due to fact that an AT&T agent changed my plan without my authorization. I had called in Feb to inquire about the account charges, she told me it was due to the tax rate. She then questioned me if want a phone, I said no that will increase my bill,then she tried another option, I said that will also increase my bill. I then told here I trying to decrease my bill. She then said she could give me discounted rate on my next two months bills, I said fine. In March I received my bill and my U-verse tv plan from 300 to the 450 plan. I never agreed or was asked to change my plan which increase my bill aroung $50. So, I called Friday 914 am. 3-16-2015 to have it changed back the agent said there were notes, and I told her I dont care what notes were in my file I never authorized the in Feb to make changes to my account. This agent should not be allowed to make changed my account on her behalf. Im pissed off know because I have to pay 131.61 instead the 86.11 I normally pay every month. If anything I should get a discount for paying ontime, yall dont have a discount for that do ya.

Laurie
from Kansas City, MO
I am writing in reference to the ending balance of $277.40. I have called three times, and of course, cannot understand the representatives. During the December call, the representative was to research the account and get back to me…never heard back from her. This week, I was on the phone one hour trying to resolve this issue but unfortunately was not able to. During this call, the first representative did not have a clue about anything and I could not understand her English. After 30 minutes with no resolution, I asked to speak to her supervisor so she transferred me to her supervisor in California. Again, I could not understand the supervisor, and of course, supervisor did not have a clue how to resolve issue at hand.
At 5:58 p.m. when it was time for her shift to end, she transferred me to "payments" without informing the payroll representative or myself that she was transferring my call. So within this one hour phone call, I was transferred three times, explaining the situation three times, and of course, the payroll representative could not assist me because she only takes payments. This is so ridiculous that AT&T has lost its customer service level of integrity. In the past, AT&T always had superb customer service, which has always been the reason I have maintained accounts with AT&T; however, this will no longer be the case. I have been with AT&T for over 10 years.
The above mentioned account was effective April, 2014. I terminated the account on November 26/28, 2014 because I was moving in with a friend who already had service. My final statement reflects 11 months of early termination fees, which is not accurate. All three representatives have agreed I should not be charged with 11 months BUT NONE have the knowledge or the tenacity to investigate and resolve the problem. It is easier to say they will call back, transfer the call, or disconnect our call. I would like some resolution to this situation so I can move on. I would appreciate feedback or a phone call from a representative who can speak English and rectify the problem.

bobby gadisonj
from Canton, OH
They keep on charging me the wrong amount I would of only have to pay29.99 for this month if adjustment was made to me account somebody isn't doing their job I a very angry customer every month I have to agure with them about my bill they keep charging me more and more each month if you guys can't get my bill right I just going Togo with some body else because into going to keep telling where you are charging way over board

This is by far the very worst company out there. I broke up with AT&T a few years ago. I used them for my home and mobile communications and after 12 plus years and in the end they just robbed me. I could kick myself now for forgiving them and giving them another chance to do business with them. This time I got screwed over even worse. PLEASE, PLEASE, PLEASE, Run from this company before they snatch your purse. I did not sign up for a contract, nor did I want a commitment, and expressed that at the time of purchase. I was told that I would not have a commitment, so I decided to give them a shot again in hopes that they would treat me as a valued customer.
Setting up my service was a nightmare and they billed me over $300 when i was told there was no fee to turn on my phone line. When I disconnected my service AT&T informed me over the phone that I would not have any disconnection fees (I checked). I should have known they would send me a huge bill regardless of what they said (close to $400 and that was not even the final bill). I called to complain, was very kind, but they could careless about you or myself. They are white collar thieves looking to swipe your wallet. I was told by the rep that they had sent me a letter that basically states we are allowed to rob you for any reason when and if you decide to use our service(s). Please run, there are better companies out there, AT&T is no longer the an American company, they are a terrorist company. I am actually embarrassed that I chose to do business with them.

ernest watts
from Grenada, MS
I have two accounts, have had for years. I couldn't understand why the amount was so different for each bill. I question the billing, AT&T was charging $21.00 on one bill for long distance service and 10.69 on the other. When ask why, i was told because we didn't have our services local and log distance tie together. I told them we did and had it for about 3 years. I was told they would start a investigation on it. I receive this bill still being charged the $21.00 for long distance. Also there was no way the math added up for that bill on services. It was explained to me in broken English the fuzzy math. There is no break down on the bill. I feel the numbers are put on the bill hopping you will not look too close. I hate calling AT&T to question any bill. I can't understand the person working there. I think that's what they want , to wear you down so you will just give up. Other than my phone internet service is $39.00 and the other account internet service is $42.37 a difference of $3.37. They should be the same. There again i don't understand why one internet service is different from the other. I think most people don't have two accounts that come to the same place where they can compare. I think AT&T with their fuzzy math is ripping all of us off.

Patrice fulmer
from San Antonio, TX
We needed to move our mother to a nursing home and after talking with a man from India for an hour and a half it was all set up. The day before the move, I called and after another hour and a half with another person from India, I was told they would be there before 6 pm. After 5:30 came and still no one. I called and after I got another person from India who after 30 minutes finally contected me to the install dept where I got an AMERICAN who said I was not even on the books. REALLY? Totally angry...

Patricia Monda
from Elgin, TX
I was going to change my phone and internet service to AT&T when I changed to DirectTV. I was told I would have the same phone number and it was not the same. I immediately cancelled and received an e-mail that it was cancelled. A modem had been sent to me already and I returned it with the form inside cancelled. It was received and verified as so with AT&T. I have called numerous times and they continue to send me bill, collection notices, and more bills. The last AT&T person on February 2nd said this was handled. Now I get another collection notice. I will call ponce more and then send all copies to the FCC, Consumer Relations, and the Attorney General of Texas.

Darol Myers
from Jacksonville, FL
I have been getting a statement for about two years for phone number 260 824 8071 acct 2113697 with a 5 cent credit on it. I have called every phone number on your statement ...everyone the people I talk to gave me. Been transferred only God knows how many times! I have written a letter to your company. I just want you to KEEP the 5 cents!!! I worked in Healthcare for 25 years ....we had a policy ...small balance/small credit balance policy we wrote off balances like this. PLEASE do this to this account. Working in the billing department of a hospital I know how costly statements are and postage....multiply that by (2) two YEARS ....DO YOU GET THE PICTURE? I am tired of these statements. Because of them we cancelled our landline and we have had it forever. Get your act together. I really would like an answer to this email...and by the way I have been told by several of your people they took care of it and we would not get anymore statements.....they were wrong.

George Bowers
from San Francisco, CA
For over 3 years and through 3 different accounts I've had nothing but problems with overcharges and phantom items billed to me to the tune of almost $2500 from 23 events. No joke.
It start with my original account which was a landline phone and DSL service. When I moved into a new apartment I hooked up my phone and there was a dial tone. I called ATT to have this turned off and establish new service. Gave them all my info and since it wasn't too far from my last place and only a few days I was able to keep my last phone number. A installation date was set two days later and the line disconnected a few hours later.
When the install technician never showed up I called, from a mobile phone, to find out why and found out that they wouldn't install new service until the outstanding bill, left by the previous occupant by the way, to which they pretty much accused me of trying to defraud them, was paid. After a day of speaking with customer service reps and managers pointing out the difference in account info and that I had service at a different location for all the time this other phone service was on it was finally resolved. In starting this new service I was to get a special promotion price, free install, modem and a $100 pre-paid credit card. The card was to take 6-8 weeks to receive.
My first bill I was charged $100 for installation. Which after few calls was resolved. The second month I was billed $100 for the modem which took a couple of days to get credited for. Now 10 weeks had gone by and I didn't receive my gift card so I called in about it. After alot of run around even though the offer was still running on their website they decided that they would just credit me $100 to my account. Somehow by this it nullified my promotional package and I was moved into a much higher phone plan and doubled internet charges which they tried to blame me for. This took like 3 days and like 10 calls to finally correct. That was just the start of my nightmare with ATT. Over the 1 1/2 year I had DSL service I was constantly bombarded with overcharges like being double billed for my internet service every 2-3 months or back billed for a higher rate having my service interrupted sometimes.
The last time I called in to work out still yet another overcharge I was sold into getting Uverse promising that it would consolidate alot of things and end these problems. It didn't. For another 2 years I've been charged for equipment I've never received. Installations and repairs that never happened or was needed or even asked for. Charged for equipment that was supposed to be free with promotions. Spontaneous changes to my bundle pricing with no apparent reason. Which have caused suspensions in my service around 12 times or so for days sometimes. All which is due to no fault on my part but which I've had to pay for. They don't pro-rate when they suspend service. You continue to pay until re-establish or discontinue. When I asked a billing rep to be reimbursed for all this accumulated time I was told there was nothing they could do that just being credited back the overcharges should be enough.
I plan to log a complaint with the Public Utilities Commission now. This is utter BS to me.

besheba Cunningham
from Charlotte, NC
I set payment agreement to be drafted out my account .I call and talk to customers service to stop the drafted because the money would not be in the account.but I told customer service I would go into a the AT&T store and pay the money .I pay the money at the store I call customer service and said I pay the 565.29 that I agree to don't draft my account the is not there customers sad ok miss. Cunningham thank you for being the best of. AT&T.a day later I checked my account I had return check for 565.29 From AT&T l call customers again to stop the draft he say ok miss Cunningham. Today later 565.29 had been. Drafted from my account.l call back to say. I need my back customer service.the first time at&t denied me my money back.i call again and after waiting 20 minutes i got a manager name Abby i had to cry just so she could. Agree to refund my money back. But i had. To go the bank and get statement and fax.it's a week and i have not gotten my money back.i have to overdraft fee. I am very disappointed in at&t i have. Been. Customer for. 10 year and i have internet with them.please help.miss Cunningham.

My neighbor locked the SIM card on her phone and they would not unlock it. They wanted to send verification to her email account. The lady doesn't even own a computer. Had to take her to the at&t store but they would not except her ID card. After trying to put me on the account so that I could unlock it some 45 minutes later, it wad finally fixed. Do they not understand that seniors don't understand computers?

Mary Elliott
from Fayetteville, NC
On 1/2/2015 my wireless was terminated with at&t. As of 2/14/2015 at&t is still auto debiting my account. The last amount was to be between $7 to $8 in a bill sent to me per two of there customer service representive. The auto debit of $31.05 on 1/14 was ok. HOWEVER the $73.38 was taken 2/14 out of my account and has not been refunded. My contract expired 4+ years ago. so there was no penalty. Services was for 12/27/2014 to 1/2/2015. the bill says used 34min INTERNATIONAL in the US and 4 texts INTERNATIONAL in the US. I have never called outside the US. The texts were not pictures so why the $73.38???? I have spoken to about six customer service reps. Two of them has transfer me to consumer cellular my new carrier. I have become so annoyed until it hurt to think about. I am tired and don't to want to think of it. I have permitted at&t to take minute and money before.

Michelle
from Hesperia, CA
Consistently use bait and switch tactics with promotions! Very poor customer service! Rude customer service reps! TV service is the worse I've ever experienced! I have wasted countless hours on the phone resolving issues with AT&T. My advice is to select a different carrier for your phone, TV, and internet services. Hate this organization! They are a nightmare!

AT&T will get as much money they can get when you cancel your account with them. they will have all the excuses in the world why they have added $200, $500 from your account. Believe me they are so good that they will not hear your complaint regarding your account. Tried to fight it but just brought aggravation and a headache. It is not win battle from them. A big company is prepared for everything that they make sure they can get as much money from the customers. In addition, their customer service is the worst service. Now I am glad I left AT&T and will tell all my friends and families t get away from that company! Now I am stuck to be paying $581.90. The only thing to resolve the problem is to pay it in full and if not it will be forwarded to collection agency.

Att Sucks (Out Loud). Thanks for robbing me on the long distance charges, since we just came back, Piss on you! I am disabled, No income,except my wifes. Just had shoulder replaced, I hope you BURN!

On Friday March 22, 2013 I called AT&T to discuss my current bill which I just received. In Oct we started the bundled billing I was advised my bill would be $124.00 for 2 years my first bill and subsequent bills have been $138.96 until this months bill which has increased to $145.10? in less then 6 months my bill has gone up. what happened to our agreement? I was on the phone over an hour and half yesterday I spoke with the Phillipines 3 times India 2 and someone in Oklahoma the last person either hung up or we were disconnected no one could explain to me why or make any sense. iI do not have the time or patience to go around the world to discuss my bill.There is no where on my bill with an address to send a complaint. I will send my bill this month in the amount of $138.96. I expect AT&T to keep their agreement. I would like someone from your company to call me before I change to Comcast Cable of Dish. It should be noted that We have been doing business with AT&T since 1979 we are both seniors on a fixed income. that is why we did the bundle.

WHen I purchased my new Iphone I was told that it could now FACETIME over cellular. Since I have had an unlimited data plan for me and my wife's phones since 2003, I was told by Apple this was ideal. After my PHONE told me to contact AT&T to activate FACETIME over cellular, the bait and switch began. AT&T insisted I had to drop my unlimited plan and go to a new "Shared Data" that would drop me to 2GB of data for BOTH phones. THe cost would be the same until I went over my data limit....then the price gouging would begin. Really? A customer with AT&T Cellular since 1996 and yet again no regard for loyalty by those who I've helped keep in business. PLEASE find some sanity and make a grandfather to this new plan.

Our family signed up joining family wireless phone plan with ATT Sale in Irvine, Ca. One of the line were told by the sales Michael H was a system generated error which resulted over charge $44.23 every month. The sales has credited me 3 months and he told us the problems will be fixed. History of all the email communications are available. After 5 months the $44.23/mo. overcharge still not resolved. And now has past the one month back out period.
The Sales person told me Nov,5th, 2012 to deduct $88.25 from the Nov 2012 bill. ATT wireless sent me letter to pay the $88.25 in full otherwise will disconnect all my wireless phone lines. ACC#337018282403 Credit my account for the full $129.46 and all related charges. Fix the system generated error back to agreed rate $9.99/mo. AT&T has drag this problem over the one month back out period. If the problem still not fixed, refund me 949-394-xxxx the activation fee and cancel this phone line.

I depend on my phone for my work. My office is in my phone. I'm paying insurance with AT&T and got a replacement iphone 4S, damaged. so I had to re-send it again, which means 5-7 days without phone for the second time. I didn't know that after paying for insurance what you get is a refurbish phone and not a new one. The insurance co. even told me that if I get the replacement and is damaged again, I will have to keep re-sending it as much as needed. So what is the use of paying for insurance if you don not have guaranteed of geting a reliable phone?
I think AT&T should inform the client that the insurance they offer is not a reliable one because the company dosen't sends new iphones as replacements. I' m very dissapointed with AT&T because I have been a responsible client for so many years, and I chose AT&T because I travel a lot as a missionary and the coverage is one of the best. I bought an iphone, because I need a reliable phone, as I need a reliable company as is supposed to be AT&T. Please make sure I get a new iphone, that I can rely on, as soon as possible. I'm willing to get the iphone 5 but I have to wait until May 2013 because of my contract. PLEASE, help me with this matter. Thank you, Lyssette Ruiz. ( The main account is under Yarley Nino)

I was happy with my DSL internet service. When I moved, I was convinced to switch my service from DSL to U-Verse, guaranteed that the rate will be the same. It was not. Then I had to wait 3 weeks until they figure out how to install it, then they disconnected my service with no reason and had to wait another 3-4 weeks. All this in within 1 year. The biggest problem is that there is nobody seems to care and I really hate switching to another company and being without internet again.

Recently decided to upgrade our service w/AT&T as our phones stopped working anyway so since they were giving the iphone 4 for .99 cents we decided to upgrade our service. What could posibly go wrong? Everything. Since the moment we walked into one of their stores, for a simple upgrade the first trip took over 2 1/2 hrs. They were having some kind of computer glitch. We walked out of the store after 2 1/2 hours w/out the phones but w/an upgraded contract or so we thought. We were told the phones would come in the mail in a week as they had run out. A week later what did we get we get a bill for the total due for the new upgraded service. A new bill? but we hadn't even gotten the phones yet nor had the account activated yet. We were told we would need the phones in order to do activation. After we received the phones, which was a few days after the bill had arrived, we went back to the store and this time we had the undesired privilage of waiting 3 hours as one of the lines was activated however my husbands line had a problem and so after 3 hours at this store we walked out, with one line working and w/a promise from some tech that they would call us back w/in one hour after they got problem fixed. The did indeed call to tell us they could not find the problem and they would call us the next day. Since my husband would not be home he asked them to speak to me the next day. NO CALL ever came so I contacted AT&T and spoke to one Rep and explained the whole story and as nice as she was she could not fix whatever problem was w/the phone line so she transfered me somewhere else and I had to retell the whole story once again to another Rep and she put me on hold and got her manager involved and 1 1/2 hours later no resolution, I told the Rep to call me back w/whatever info she found regarding the problem. She called back and left me a message saying that they could not get to the bottom of the problem and so that they were going to have to file case to get line restored so that another department could take a look and resolve the problem. Here is the kicker she said it would take ONE WEEK to get an answer. WHAT? to get a line reactivated. Called back looking for Linda but the girl that answered said there were tons of Reps and she didn'tknow who linda was. Asked for a supervisor as one week to get a line reactivated was unacceptable to us so i got a Rusty Anderson on the line. After explaining now the problem to Rusty he said there was a case already filed and they couldn't do anything else, he also said he needed to speak w/the owner of the account my husband. ??????? I just spoke to how many of your Reps that did not ask to speak to the owner of the account and after all this time on the phone, NOW you ask to speak to the owner of the account. That account bythe way up to a week ago was in my name but per the suggestion of one the Reps in order for us to get a corporate discount, transfered ownership of the accounts to my husband. I got my husband on my cell and asked Rusty if he could hear my husband to which he said yes but he wanted my husband to call directly to them. WHY if he could hear my husband why cant he just continue helping us? I tell you why because the girl I spoke to before Rusty said if I hung up and call back I would get a completly different person. Not acceptable at all. This Rusty was just trying to pass the buck as they say and hope someone else would get us and deal w/the problem instead of him. Rusty Anderson proceeded to tell me they had done all they were going to do and if I wasnt happy I could just take the phones and drop them off at the store we got them at. After like 3 weeks of trying to do a simple upgrade we are going to Verizon. They are offering the iphone 4 for FREE and for aproxametly the same price. Very unhappy w/the outcome of this problem as we have been w/AT&T for years and years before they were called AT&T .

Please, I bought a Nokia Booklet 3G from eBay unknowing to me the 3G was locked to AT&T service. I am in Finland and know one seems to have a clue as to how to unlock the 3G on the booklet. I was finally asked to contact AT&T to issue me with an unlock protocol.
Please my IMEI is 358232030169467
Please I am really desperate and would appreciate any help you could give. Thanks



Disclaimer: This complaint was submitted by Emmanuel N. on 08/30/2013 at IP address 85.157.78.222 using our AT&T Mobile complaint form. This opinions contained in this AT&T Mobile customer review titled, "Nokia Booklet 3G" do not reflect the opinions of this website.

I transferred my 3 yr AT&T DSL to a new address and was promised to get one year promotional service @$19/month. Since April I have been calling the AT&TÂ billing office that the cahrge of 35.84 is wrong and every tinme they assured me that it will be fixed. It has never occured and it appears nobody knows what they are doing. They will act like robots, your name your last 4 digit SS canyou offer you infor on promotion the bill will be fixed in 3 cycles. When you call nobody knows waht is going last call today they transferred me to the rewards section. Frustrating and what an inefficent company Still struggling to fix my meal further more they are charging 5-6 dollar to the bill because of late fee. I am amd and frustrated with AT&T!

I had dsl 6.0 for over a year, but only really hadabout 2.0 speed. I called numerous times to complain and got a different excuse everytime. Techs would come to my house and couldnt find anything wrong and just leave, or wouldnt even show up in the first place after wed wait all day. I was going to cancel my dsl when at&t said i could upgrade to uverse and that would fix my slow speeds.They said it would be $179. for the change, but with a $100 rebate it would be only $79.
My bill finally came and it was $304, and guess what-ITS NO FASTER THAN IT WAS TO BEGIN WITH. One of their so called techs came to our house and tried to tell us that my new xbox was bad my two new desktops were bad and our wii was bad and our new laptop were bad, lol. Then he change his story and said it takes 10 days for uverse to ramp up to full speed. Well thats a lie also, come to find out if a customer calls within 10 days of the tech leaving their home, it goes against the techs record.
I can honestly say that at&t has lied to me everytime ive talked to them, and they dont give a damn about keeping their customers. We ordered uverse over the phone - we have at@t internet and home phone. The agent said we had to bundle all. ATT now has our home listed as disconnected and listed to a different woman in the same town but our phone still rings to this number. The agent said we can get a $ 216 gift card - now impossible to get. Recived $90 internet bill on one phone that has unlimited data plan, $90 for going over limit- there is no limit on plan in place.
Internet service at home keeps going out and has to be rebooted and the sound quality in one room is no good and the company cant fix it. The company wont pick up their lines or operators drop calls on transfers. They have the wrong email address for us but their website wont allow us access to change information. I am cancelling everthing that was installed.

I signed up for an ATT UVERSE 200 / High speed internet bundle advertised at $90.00 per month with free HBO and Cinemax for 3 months. After 3 months ATT has billed me for a total of $497.99. They also started charging for HBO and Cinemax 2 months before the free promotional period was over. They also lied about the expiration of the free promo period on their Billing website, claiming the expiration was one month after the actual expiration.
Looking to join a class action lawsuit against these ridiculous billing practices.

I contacted At&t towards the end of June last year (2012) about an employee saying she was and could access my account. So I called and filed a complaint and had At&t put a passcode on my account so she couldn't access my account. She had also been texting me and harassing me through text messages. I had asked to to stop. She stopped until around Jan. 23rd, I believe. with her phone calls and text messages again. She stopped for awhile, but started back yesterday, Feb. 25th, 2013 with her texts messages harassing me again. I would like this employee of At&t to stop. Her name is Lisa Marie Nolan she works in sales in or around the Reno, Nevada area. Her phone number is 775-830-4713 thank you kindly

I set up service with ATT bundle department for Internet and TV. Yet 2 months later I still am fighting over incorrect billing, wrong services, mislead and lied to by sales agent, wasted over 40 hours of my personal life trying to correct your companies idiot errors. I will be filing a complaint with everyone possible over this and will not refer your services to anyone and will now be looking for another company to switch my tv, and internet and will also be looking to go to Verizon after almost 18 years with your company. I don't believe the customer is always right, but I know my initial conversation was recorded. I have spoke to over 20 different people and still not corrected to my original agreement. I will see you in court if you think I will pay what I did not agree to. I do not want to speak to another person in a foreign country either! I was promised a bill $69 a month bill for Internet, and direct tv with 3 receivers, one being HD DVR all free for 12 months. All on ONE BILL through ATT! I suggest you fix this and compensate me for the worst service and lost time with children, husband and life, and for my minutes being wasted on my cell phone.
Sincerely disgusted soon to be ex-customer
Tracy McGregor

We are in quite a pickle here and getting ready to cancel our accounts with AT&T. On September 19, 2012 Steven Meyers contacted us regarding the "special, discounted" pricing on upgrades. We took advantage of this "special" iPhone pricing and INITIALLY requested one iPhone 5 (####-6543) and one iPhone 4S (####-5005). I received an email confirmation of these account changes from Steven at 3:42P on 9-19-12. At 4:07P on 09-19-12, I replied to Steven's email requesting that we exchange the iPhone 4S (####-5005) for an iPhone 5. Steven responded, via email on 09-20-12 at 7:28A indicating that the order had already been processed and requested that I call him, which I did, immediately, and had to leave a voicemail message. Since I did not get a response of any sort from Steven, I sent him an email at 11:18A on 09-20-12, indicating that I had left him a voicemail message earlier that morning. Still no word from Steven, I sent him an email on 09-21-12 at 9:18A inquiring about the protocol to follow to get the iPhone 4S (####-5005) exchanged to an iPhone 5. Steven responding, via email, on 09-21-12 at 9:24A, stating "Basically the easiest option would be to issue you a return label for the 4S when it arrives, and once that is reported as returned, we can order the iPhone 5. Unfortunately because the order is processed and sent off, we can't reverse it until the phones are shipped to you. You do not want to refuse shipment though- that may mess up the whole upgrade process with the other ordered iPhone 5s. Accept the shipment when it comes in and e-mail me, and we will issue you a return label." So, on 10-04-12, I attempted to contact Steven, via email to advise him of the arrival of the iPhone 4S (####-5005) and immediately received an undeliverable email from postmaster@us.att.com. At this point I'm frustrated with AT&T and let the matter sit a few days, while I regained my composure, as not to be unprofessional. Naturally, other business came about and the phone matter disappeared from my priority list until Jeff Ringenberg called our office on Wednesday, 09-25-12. I contacted Jeff, via phone, and he had given my co-worker, Traci Beecher, a number to call to do the swap, indicating that if we had difficulties we should then contact Jeff. Well, obviously, we had problems and have attempted to get in touch with Jeff, via phone messages and emails.. However, it seems to be a pattern at AT&T to initiate Business Account contact and then disappear. Customer Service is certainly LACKING at AT&T. All we are trying to do is EXCHANGE a phone. I do NOT understand the difficulty with this request and would like to HOW we can complete this transaction? Please advise. I understand that we currently do not have a large business account with AT&T, but our Sprint account has over 90 devices (at $6k - $7k monthly) and we are seriously considering moving over to other cellular providers; however, at this point it looks like we'll have to work with Verizon. Thank you for your time and response.

In Jan 2012 you promised to credit us (William Kaupas 214-383-0410 9900 Derwent Plano TX 75025) approx $290 on our bill....for 11 months you have called off and on claiming to turn our phone off for non payment. We have always paid the balance of our phone each month, less this balance. Check the records.
We have spend hours on hours on the phone with your people, a number of times...each time we are promised it will resolved...and each tell you have lied to us. Now, I try to call and the telephone will not work because of the unpaid balance. This must be resolved...it has been going on for 11 months.....and you are hurting my credit.
If we cannot get this resolved my next email/letter will be letter to the FCC.
William Kaupas, 9900 Derwent Dr. Plano, Texas 75025 214-383-0410

I've been having trouble with my ATT Uverse connection for about a month now. It loses signal everyday every afternoon and comes and goes. I can't even you the house phone to complain because Uverse voice is lost also. I finally called ATT from my cell phone 0n Thursday 10-4-2012 and an appointment for a tech to come out Saturday afternoon between 12 and 4 pm.
The tech gets here around 2:30, without calling first that he is on his way. I explain the problem of the signal loss and ask me to show he the lines outside. While going through the house my wife arrives thru the back door and he tells here " Hey sweetheart what going on". My wife replied "I don't think so". I led the tech to the back of the house and opened a side gate to where he could go to his truck and back. I went back into the house where my wife was very upset and she said to me that it was a very inappropriate thing to say to a customer. And I agree. After about 30 minutes the tech rang the front door and said he wanted to test one of the receivers and the cable coming to it. I saw him hookup a meter to it and he said was getting 100% signal to it. He then said he was going out to the truck for about 10 minutes and I said okay. I closed the door behind him. I went back to talk to my wife in the kitchen and after about 5 minutes I went back to the bedroom were the tech had left the meter hooked up and found that the tech was back in the house. And without ringing the doorbell for me to let him back in. This really surprised me. I use to install Direct TV and Dish Network and we were thought to let the customer know when we were coming back in the house. Anyway he told me everything was working properly and he left. My wife and I watched some TV in the living room before leaving and it looked ok. When we got home around 10pm I noticed the TV's in the bedrooms were not working. I call ATT on Sunday Morning 10-7- 2012 and told the person on the phone that the tech did something or didn't do something right because all the TV's were working before he got there. She started to tell me to run this test and that test and I finally said that they needed to send a tech out to fix the problem. He then said to me that it is up to the tech to determine if the will be a service charge if it was something that we did to the service. I then told her that it was something that the service tech did because he said he installed some new parts outside. My wife then asked that she wanted to talk to a supervisor and complain about the techs actions and inappropriate remarks that he said to her. She did get to talk to someone else whether it was a supervisor or not. We have not heard anything back from ATT. I went outside afterwards to see what the tech had done outside the day before and saw where he had left their box wide open and the cable going to the other TV's disconnected from the coupler and the coupler just hanging. Also the side gate was left open. Thank God my English Bull Dog didn't get out. I re hooked up the cable to the coupler but left the rest of the techs work as he left it. Hopefully the next tech will turn it in to Quality Control...if ATT those has a QC department.

I am at my wits end. My life has been hell since falling prey to AT&T false and fraudulent promises...that is until you sign on the dotted line. I was told there was excellent coverage in my area so I switched carriers. Huge MISTAKE. I have now had 3 different microcells and all 5 of our phones freeze up after a 2 min. conversation.
What is worse is because the freeze up the call is not dropped the minutes keep adding up and you cannot end the calls. Sometimes the only way to end a call is to remove the battery allow phone to cool down ( all 5 phones different operating systems Android and windows and different manufacturers) and restart. When the phone freezes up it shows full signal strength and that it is connected to the microcell.
At first it was just voice , but now we are having as many issues with data and text. I have been on the phone with AT&T over 100 times only to be continually told "based on your minutes we show that you are using your phone successfully" No idiots based on the fact that we can not hang up our phones when the other end goes dead, it continues to rack up minutes. I have gone from using less then 600 min shared for 5 family phones to over 1500 before the end of the billing period.
I have told them to look at the actual numbers called and they will see a continued pattern of recall to the same number over and over again. And then finally they will see that a land based phone has to be used to contact a family member on the plan. So now I have 5 phones that dont work, I have had to have a land based phone installed which now goes against our minutes as it is no longer cell to cell! Its a nighmare. The only thing I have continually told them is that whenever we have a visitor to our house with a IPhone they never experience the nightmare we have.
I have asked AT&T to send us a refurbished IPHONE and lets see what happens but they refuse. They now say we cant guarantee service in your area, even though we were told it was excellent and based on their own web site our address shows good coverage. I have talked to the managers, manager manager and so on and so on only to be spit out the same lies and deceit.
I have also been told that I am the only person on the earth that is having this issue even thought there are countless other horror stories on the internet of the same issue with AT&T and specifically Samsung phones having this issue. My only recourse at this point is to file a Notice of Dispute and take them to Arbitration. I will be seeking relief for the costs of all phones, mental anguish, loss of business and withdrawal from the contract.
Never ever again will I sign a contract with a mobile carrier. They lie and will tell you anything to get your signature on their contract. Shame on you AT&T and shame on your customer service, tech support and Presidents office ( which is just a hyped up name for some idiot behind a desk who spits out a written response.)

Being hung up on and blocking my phone where I could not call back. On 12/28/12 I called to complain about a new phone that I had received and it was dropping calls and not holding a charge. I called to get a new phone and talked to Stacey Norfleet in Las Cruces New MX who was unable to help me & transferred me to Paul in technology who was also unable to help me so I asked to speak to his supervisor and he hung up on me and blocked my calls.
Monday 12/31/12I talked with Darnisha in So. Carolina who held me on the phone for over 25 minutes so I hung up. Called again talked to Brianna Johnson, Mobile AL who transferred me to Karisa Carniel in Ft. Lauderdale FL. I have my TV services, internet and cell phone all with AT&T and my quest is still unresolved. Can I get some help? Is this the best service we can get from AT&T?

A representative came to my house to sell me ATT Uverse. I reluctantly took the service and have had nothing but problems since. First my bill was more than I expected. Then a piece of equipent went bad. I was told that I would have to send it back within certain time. I had to drive 35 minutes to turn in equipment to the closest UPS store.
When I got there, they would not take it because they had no pick up order. Really? Then I had my service cut off because my bill was sent through email along with a million other ATT emails daily which I automatically deleted not realizing a bill was included. When I called to get this mess straightened out I was charge a huge reconnection fee. They would only take the charges off if I agreed to let them automatically draft my bank account. I had enough. I canceled service and was charge an early cancelation fee.
I refused to take equipment back since it was a 35 minute drive and was sent a prepaid UPS box to mail it back. I sent it back the next day after I received it. That was in January and I am being billed for this equipment, even though I have a receipt from UPS with tracking number and signature of person receiving it.
I have made numerous phone calls and ATT just can't find the equipment. Now I have been turned into collections. AT&T is the worse company I have ever dealt with. THEY SUCK!

I called AT&T in March to get long distance added to my home phone service. I was told by customer service that uverse was now available in my area and that all at&t customers where going to have to convert over to it. I was told that there would bo no charge for the modum and no installation charge. I agreed to go ahead and get converted.
In March, I received my regular bill of $136.00 and i also received a $260.00 for uverse. I called 7 or 8 times to customer service and each time I was told that I had to paid these bills. At one point someone finally took off 49.50 for the installation charges but there were other charges that were not removed and I was told that instead of the modum being free I had to keep the service for 30 days then I could file for a reward card which would take another 4 to 6 weeks before shipping.
So I ended up paying $210 in March for the uverse and I did not pay the 136 thinking that it would adjust down to zero once they had all the correct information in their system.
Now, in april I am being billed 76.00 for uverse (which is correct) but today I received a late payment bill for 112.00 for my regular old service. I called customer service and tried to explain that the old service was discontinued and since at&t always bills in advance that bill should have zeroed out.
I could not get them to understand that and when I asked for a district manager's phone number they ignored my question and stated that I had to pay the 112 plus the 76. I can not afford to pay them $200 a month two months in a row nor should I ever have had to pay this amount. It is not right and it is not fair what at&t is doing.

I am a 10 year customer of cingular/AT&T. Never have I experienced terrible service until Cingular merged with AT&T years ago. That's when my bill has tripled the amout from what it was.
Since last year Nov. 2012 My bill has raised $51 every month. I have called every month to rectify the situation but nothing has changed other then the money has increased. Everytime I call I get people to sell me something and they are completely RUDE & DISRESPECTFUL. Today I was told I'm stupid and the best option is to cancel my service and find another company to take my headache. The matter of this situation is that the customer service just and never will be where it was years ago. I'm a firm believer that if you have someone who is willing to make the decision to stay with a company for so long that they should be a "VIP" customer and get every kind of discount they offer. It's sad but AT&T will be losing our business over this reoccuring situation due to all the games they play with my money. I hope this can/will be resolved ASAP.

I am frequently getting texts about using 100% of my data plan and are being charged $10 for another GB. I have turned off background data sending from apps and I rarely save anything or watch videos yet these charges are being sent many times a month.
The charges are adding up and my poor mother has to pay it and when she attempts to get it fixed she is given excuses or lead in circles meanwhile at&t gains from this problem getting getting any where from $20-$50 dollars extra each month!

I pay about 135 or more a month for one phone line, since I am a college student with no laptop I use my iphone for everything. I called maybe only twice to complain about the huge amount I am paying every month in return for horrible Internet services. There were many other times where I would have called but just didnt have the time to explain to another representative the same story since I knew they would just tell me the same spiel about turning my phone on and off to connect with towers. I am fed up with how much I am paying every single month for one line especially when I turn my phone off to turn it on again, and it still doesn't work. I want to end my contract. This is ridiculous. It's so slow. Videos don't even load half of the time. The last three months it has gotten worse. If I am paying top dollar for Internet then it should be excellent. Not below average. I don't want to be offer any incentives to stay with att. I want to break my contract with no charge. Sometimes the GPS would take me to the wrong places. Siri is slow and inaccurate. Please answer back soon so we could end this matter. I won't go to any press or write any blogs about this bad experience. I just want to stop this contract because it doesn't make sense. I feel taken advantage of every month when I see my bill. I don't mind saving money ever month from work to pay for this bill if I had excellent services. Since I don't get what I was promise. I think it is fair for me to ask for an early termination.

I talked to a lady 3 days ago now and she said with all the problems that we are having with our phones and one being stolen that we could upgrade and add a line for .99 total $1.06 each. She offered us the Apple I Phone 4 and or the Exhilarete for that price. Also said that we can grandfather in our plan since you dont have that anymore Now I call and they say nope. Cant do. What is the deal with this company? I need 5 phones, 4 already on the plan and add another. Why can we not get help from anyone anymore? Please respond for we really need phones that dont hangup on us at anytime of day or night. That dont shut off and on when they want. We have been good customers and pay our bill. We dont have the money to buy full price and when they tell us .99 cents and add a line for .99 cents with no problem whats the problem? Help us out here please.

Our Uverse works during the day but about 6 pm each day a red light
Comes on and we cannot log on. The troubleshooting help on the
Internet does not help with this problem and if you call ATT you are
Told there is a 30 minute wait. What a way to run a business..

To Whom it may concern, I have been an AT&T Customer for nearly 30 years. A while back I received an email from AT&T suggesting I upgrade and extend my contract for two years as I normally have done for years...I did extensive research for two months to find a phone I would like and that would perform similarly to the Palm Pre Plus that I have been using for sometime. This phone has been a perfect device for my business and personal affairs. I finally decided on the Samsung Captivate Glide and ordered through 'MY ATT' online.
I signed up and did all the necessary agreement and service contract with specific plans, etc. Once my phone arrived in mail I began to follow instructions to transfer contacts and activate new phone until I realized that there was no instruction to transfer contacts other than 'one at a time' ( I had hundreds). At this point I called AT&T tech support and got an operator that seemed as though he was reading the same thing I had on my screen and I waited for him some twenty minutes to figure out what I figured out in five minutes myself. He advised me to go into the closest AT&T store location and that they would have to do this there.
This is where my big problems began. Once at this store I was greeted by the store manager and she motioned to an employee 'Jarel' (sp?) and said 'contact transfer' or something like that. For the next two hours I was in this store as and a guy named 'Garrett' (who chimed in to contribute his own particular style of discouragement) attempted to simply transfer my telephone contacts from my old device onto my new device. She was using a converter machine with different cables and then she would walk away and let Jarel work on it for a while...nobody really handling this with a solution but rather giving me various explanations or excuses as I heard them.
I could not and still cannot see why this would be such a mystery for a company that is marketing these phones, selling these phones, creating comparative views online and service, data and text plans...every imaginable phone combination (including mine!)of instructions to transfer contacts, etc. I would imagine that there would be some IT protocol for this type of situation as Palm Pre Plus is not exactly that antiquated of a phone.
I realized it was time for me to upgrade (even though this Palm is a fantastic device and works very efficiently doing things that some smart phones still do not do) and of course that is why I did! Stuck here in this Pasadena/ Colorado Blvd AT&T store I realized and knew ultimately that someone, somewhere would be able to handle this but that I was in the wrong place and/or at the wrong time. Eventually I was convinced by everyone that it was my fault for having such an unusual phone and that they had never experienced such a situation?!?
I know from reading that there are many thousands of customers with AT&T that use the Palm Pre and have or will need to have their contacts transferred at some point if they wish to upgrade...spend money on new phone and extend contract for two years like I did... once again. So, why did they give me this totally callous, irresponsible treatment and turning the whole situation around as if I was asking for too much and treating me as some sort of difficult customer? I really was not sure. It was a bit baffling to me. Normally when this type dynamic happens it is when someone is trying to take advantage and redirect away from a particular honest responsibility. I fell for it I guess ... after all they said... they tried for all that time and made a suggestions that I owed them the consideration for this. OK fair enough.
I was convinced ultimately this Saturday evening by Jarel that I would be able to take my old phone home and connect it to my desktop and sync all my telephone numbers. He said that night my sim card was empty and that my contacts were on my phone. I thought that was strange. She seemed exquisite at making herself scarce at opportune moments. I shook hands with Jarel, thanked him and left the store and headed home to set out on the task of transferring all my contacts...at this point was beginning to worry me. I had many years of accumulated telephone numbers of all my customers, family members, employees, friends, local vendors and business that I use daily.
Once home I discovered that all of my telephone numbers were gone. It wasn't long before I realized that the numbers must have been on the SIM card. The contacts that everyone at the store kept pointing out and had me go home with were only the synced contacts from my desktop already on my phone, most of which were only email adddresses. All my phone numbers had been erased. If they were aware of this then that would explain the strange behavior. If they were unaware then perhaps there would be a way to recover them. I was very concerned.
I could not imagine that they would not know they had erased my SIM card. It was too late, the store was closed when I called. I returned today (Sunday February 19, 2012). Having decided I was going to give everyone the benefit of the doubt I went in with an open mind and was only concerned with finding out if there was some way to recover these numbers as the alternative will be a long process of recovering them...and some I may not be able to get at all. In my reality I have to work come monday morning and this is going to create havoc. Having my own business is not having the dubious luxury of excuses, muddled smokescreens and discouragement while collecting a paycheck.
Almost as soon as I approached and her body language and manner in which she reacted was very telling that I was not going to get any help with this problem (as a reminder; a problem which occurred as a direct result of paying for goods and services, agreeing to a contract and following direction by AT&T personell to then thouroughly being abandoned in the lurch once things went awry) I still gave her the benefit of the doubt. I asked her if she could please relate to what I was experiencing and that it was my understanding that this whole transaction was marketed to me as a seamless transaction and now I am left hanging and having to deal with a mangaer taking this 'personal' as if it was about her.
I was appalled how much personal attention she seemed to be demanding and how unproffessional and irrespponsible this whole ordeal was. How did I get stuck in this situation? I got no resolve. Spent nearly an hour at the store arguing and of course Mr. Garrett was again pitching in his two cents only insofar as to offer more discouragement (help get me out of there) but no responsible 'take care of business' person could I find.
Except for the security guard, he seemed level headed and a straight shooter. really wished I could have done my business with him. I did notice that 'Jarel' was there in the store and the minute I walked in he disappeared in the back and when I asked for him said he was gone for the day. Another weird thing.
I left with the problem. I was hoping to find some efficient technical person that could perhaps convey what exactly had happened, maybe move forward with this whole thing in a responsible, productive way but instead I felt like I was dealing with a group of teenagers unable to confront problems and solve them without being sneaky and dishonest. All in all, as a paying loyal customer I was hoping to leave feeling a little better and confident about something through all this. Instead, I was distraught and angry.
I will proceed to see if I can hire a private technical person to look into this and If all else fails (and hopefully not) I will do the more inconvenient thing and return my phone, ask AT&T to cancel my contract on account of this breach and remain month to month as I was and keep my options open. Maybe this is a sign for a turning point for me to consider another carrier after all these years? I don't know. All the folks at this store seemed as if they would be perfectly ok with that. Probably nobody would care. I must get back to my life and my work now, this is a costly and time consuming issue!

My dad, my sister and myself decided to get my mom an iPad for Christmas. But first I called AT&T to make sure mom would be able to get service where she was. The lady I talked to was very nice telling me there was no problem in doing this, that was November 19,2012. She did tell me that in order to not be charged until when we needed it to call closer to Christmas. We called on December 19,2012 and talked to a Natalie who said there were no ports available in that area but she would put in a request for one.
She said to call back that Saturday. I did and was on the phone for 4 hours getting the run around everywhere. No one knew anything but were too busy to help and wanting to send me to someone else to bother. Even places like wireless service. Why send me to wireless phone service for DSL? Also, sent me to tech support with a person who I couldn't even understand but wanted me to tell him the # on the iPad! Why?
All I needed was to know when they would have Internet service for my mom in her area! Plus, and this is kinda funny, a lady asked me, while I was waiting for them to check on moms DSL, if I wanted mom to have her bills sent to her compute r so she could look up her information!! Can you believe that? I said NO, as I am trying to get her Internet service with you!! She said, oh, that's right...where does AT&T get these people??
I finally get off after feeling like I could scream! I go online to check at my house for mom and notice that they have her in the system for her phone # as trying to get Internet service. I call back after Christmas December 28,2012 and after talking to another lady that doesn't /can't help me she tells a man in the area /room with her who my sister, mom, dad and myself have the feeling doesn't want to talk to us.
He comes on all sighing and frustrated and tells me the best thing to do is go online at my house and sign her up with her address. So I go home and try to find it but only see where mom is in system and a date of January3,2013 as date for Internet to be processed. I call back that day and am on phone for almost 3 hours with same bunch of crap as before...switching me everywhere but where I need to go.
Plus, after demanding someone higher up I get a supervisor who is so rude that after asking what he can do for me puts me on hold while I explain. then after I finish I say hello! 3 times before he comes back on, I heard a click, and says while I was talking he was pulling some information. How rude! Then he says that if I can hold on a few more minutes he will try something...then it rings me over to tech support where I was at the beginning of the morning. This man says sorry but after all this there isn't anything you can do...
I can say this though, if I ever find a company that is even half as big as AT&T I WILL be seeing about going with them. My sister has already changed everything including their business because of all the trouble they had with AT&T and my husband thinks we need to too...if AT &T doesn't get their act together they won't be the largest anything!! people can only take so much before they look elsewhere...this has been an eye opener for me...
I've spent countless hours on the phone with nothing to show for it except my blood pressure spiking. My mom has an iPad that she can only play games on and my dad, sister And myself are out of $500, a gift mom has been waiting for that she can't use until someone in her area dies! I asked ATT about another port but nothing...my sister and her husband are looking into something, maybe they will have better luck with another company!!

First, a little background. I initially signed up for U-verse in July 2009, when it was first offered at my apartment complex. I love technology and I am the one people usually turn to for tech advice. I have recommended AT&T U-verse without reservation to anyone who asks my advice. I tell them that if U-verse is available in their area, it's the best TV/internet service available so it is a no-brainer as to who they should use as their service provider. Several of my recommendations have resulted in U-verse gaining more customers. I'm not telling you this because I expect something in return.
I have never even taken advantage of the referral bonus because I don't want people to think that is the reason I am recommending U-verse. I really appreciate a company that values their customers and does everything in their power to ensure that they offer the best products and services to consumers.
I tell you all of this to now give you a recap of the most recent interaction I had with U-verse support. I have had problems with service in the past, but have always had them resolved by AT&T's courteous and responsive customer service team. I had an issue when transferring service when I moved to a different apartment in the same apartment complex. This issue was handled promptly and with minimum service disruption. I have been completely satisfied with AT&T U-verse until now. Following is a timeline recap of the steps I took to have my service restored.
10/11/2011 - 6:00 A.M.
Woke up to find that my RG was unresponsive and could not get a signal. TV and internet services were completely down.
10/11/2011 - 6:30 P.M. - Time of call: 55 minutes
When I got home from work, my service was still down. I called U-verse support and the tech walked me through the troubleshooting steps. She eventually suggested replacing my RG with a new RG, which would arrive Thursday, 10/13/2011. I'm not an expert on AT&T's system, but I had doubts that the RG was the problem. I asked her to send out a tech to troubleshoot the problem, but she said that there would be a $149 charge to dispatch a tech without first trying to replace the RG. I conceded and asked her to ship me a new RG.
10/13/2011 - 8:00 P.M. - Time of call: 1 hour 25 minutes
I received the new RG and followed the steps to get it running as soon as I got home from work. The new RG was producing the same symptoms as the previous RG, confirming my suspicions that the RG was not the problem. I called U-verse support and the tech walked me through the same troubleshooting steps as the previous tech. She concluded that the RG was the problem and offered to ship out a replacement. I told her that the RG I was currently using was a replacement that I had just received today and told her my suspicions of it being a deeper problem, due to the new RG producing the same results as the previous RG.
I asked for a tech to be dispatched and she told me that there would be a $149 charge to dispatch a tech. I asked to speak to her supervisor. The supervisor agreed with me that there was a deeper issue and believed the RG to be functioning properly. She tried to transfer me to Tier 2 Support, but there was a problem reaching them. She then said that she was going to go ahead and have a tech dispatched to troubleshoot the problem. She scheduled a tech to come out on Friday, 10/14/2011, between 4:00 P.M. and 9:00 P.M.
10/14/2011 - 3:18 P.M. - Time of call: 4 minutes / 3 minutes
The service tech called me and told me that he was in route to my apartment and that he should arrive in 5-10 minutes. I told him that I was still at work and would leave immediately to meet him at my apartment. He said that he would go ahead and check the outside lines. My commute is usually around 30 minutes, but got stuck in traffic on the way home. The tech called again at 4:15 to let me know that he had checked the outside lines, and that he believed my inside lines were ok due to the fact that he could "see" my RG from outside the apartment. I told him that I would be home in 10 minutes and he said that he could not wait on me. He also stated that he was not qualified to troubleshoot the outside lines and that he would put in a call for an "outside line" technician to come out and check the outside lines.
10/15/2011 - 10:15 A.M. - Time of call: 36 minutes
I have yet to receive a call from AT&T, nor have I noticed an AT&T technician on site servicing anything. I called U-verse support again only to find out that the only thing that the technician had reported was that I was not available to let him in the apartment to check the lines. There was no record of the tech requesting another tech to check the outside lines. The customer supprot tech offered to set up another appointment for Sunday from 4:00 P.M. to 9:00 P.M. I told her that I had dinner plans during that time and that I would not be home. I asked her if a tech was available to come out today and she said that there were no open appointments.
On a side note, I had planned to have several of my family and friends over to my apartment to watch football, which I had to cancel due to not having TV service. I told her that I wished to cancel my service and she immediately transferred me to someone else. I told the second representative the whole story and told him that it looked like my only option was to cancel service. I told him that I still love U-verse and hated to cancel my service, but that this series of events was unacceptable. He agreed with me and told me that he would help me cancel my service, or that if I was willing to try, he would get this issue resolved.
He placed me on hold for about 5 minutes and then the phone started ringing. Someone from Tier 2 support answered and was unaware of my current situation. She said that my call must have been dropped and transferred to her somehow. I gave her a rundown of how I reached her and she offered to help. She told me that there was an opening for today from 12:00 P.M. to 4:00 P.M. and that she was not sure why the previous tech stated that all of the appointments for today were taken. She scheduled a tech to come troubleshoot the issue.
10/15/2011 - 3:45 P.M.
The service tech arrived and I told him the story of what was happening. He checked the line that plugs into the RG and could not get a signal. He checked the line in the wall where it enters the apartment and could not find a signal there either. He put in a ticket to have a tech come check the outside lines. He told me that the tech would call me and give me an update on what he finds and let me know when to expect my service to be restored.
10/15/2011 - 10:30 P.M.
I contact U-verse support to check on the status of my service outage. The representative advised me that the tech was currently working on the problem and that someone from AT&T would contact me once the issue has been resolved. He told me that service could be restored tonight, or if not tonight, first thing in the morning.
10/16/2011 - 9:45 A.M.
A tech showed up and said that he had checked the outside lines and that everything appeared to be working properly. He asked to come in to check the other lines. He checked the same lines that the tech checked the previous day and determined that the problem was either the wall jack or the cord running from the jack to the RG. He replaced the jack and ran a regular phone line to the RG. The RG finally connected and service was restored.
I have several issues with the way this process was handled. My main problem with this encounter was the lack of urgency on solving this issue. U-verse at one time had excellent customer service. What happened? I will be moving soon and I had planned to have U-verse as my TV and internet provider in my new home, but I am hesitant based on how this situation was handled.
The purpose of this letter is to inform AT&T management of my encounter, and hopefully have the current way AT&T handles customer service and technical support analyzed to make it better.
I schedule new service with att internet for a friday at 1.30 pm. After traveling 66 miles to my vacation home to meet the installer, no one showed up. Called att at 4.30 pm and they said I already had internet. I aske how is that poosible? They said that I dont have be there. Ok, but the agent tranferred me and the second agent said tha I do not qulify in my area for dsl? Ok, she tranferred me again and the third agent said I need uverse? Transferd again to a manager and he said it would cost me approx 200.00 for a new account. Today is monday and I dont know if I have a order in place or internet or if all these people from att have any clue or care.
Thank you for taking the time to read this.

Since October of 2012 when I added internet to my land line service they never can get my bill right. I called on 3-11-13 to try to get something straighten out went thought three people and then on the fourth person never was connected. Spent over an hour and never got any where. I want to know why every month I get charged a different amount? Example: Bill for home phone & internet 12-13 65.41. 1-13. 71.24. 2-13. 63.64 3-13. 67.41 . I was told it was going to be under 60.00 per month.
Also I had problems with my internet not working right in December. Three times a tech came out did some repairs outside and checked it out before they left. I had bad internet connection for 5 weeks . I finally figured out they had one of my connection plugged in the wrong port.
You can see for yourself how many times I have called in. It would of been more but I'm getting tired of not getting anywhere with your employees. I am not a happy customer.
Martha Rodriguez

I ask for internet service in December 2012, i change my mind and cancelled it on december 23 2012.They told me that everything was taken care of. Received a bill, and nothing was taken care of. i also recieved a box in the mail. I call and again they were taken care of it ,they also said they were going to send me a sticker to send the box back. Nothing 5 times I have call you people to get this cleared nothing. Received another Bill for 23.79. I spoke to and her name is liz and she said she was going to call me back. Nothing Nothing and Nothing. and still i get charge. Iam so fed up with the customer service on this company. I want something done.my phone number is 561 283 7284

I am working on a letter to AT&T explaining why my rejected fraud claim is in fact completely legitamate! Having repeatedly been given the run around with NO opportunity to talk directly with someone on the fraud unit I request the contact email for someone in charge ON THE FRAUD UNIT! Being placed on hold for 3 mins by an AT&T international care agent with incomplete details and only part of the story who spoke to the fraud dept on my behalf who then quickly rendered a decision against my claim is unacceptable!

Late last fall the grassy area at our curb was dug up and seeded to repair a phone problem our neighbor had directly across the street from us. My grassy area damaged is approx. 5 foot x 40 foot which is now full of rocks, mud and no grass. The reason my side of the street was dug up is because the main cables are on my side of the street. The neighbor who required the phone work is: Steve Ninast, 1239 Woodridge Trails Dr. Fenton, Mo. 63026. Their phone number is: 636-349-7608.
My name is Rich Lanigan, 1238 Woodridge Trails Dr. Fenton, Mo. 63026. My phone number is 636-343-8980.
I would like to have my lawn repaired.
Thank you.

I called AT&T to transfer my home service and a credit check was ran with out my knowledge or permission. I do not appreciate the fact that I was not informed of the credit check. Plus the fact, that it is ILLEGAL to perform a credit check without the knowledge of the consumer.

On Tuesday Dec. 3rd I called a reported my phone out, I still have a land line. The service department guy I spoke to said it would be 6-7 days to get it repaired. I asked why and he said they were behind on repairs. I said this would not work as our small business also opperates off our residential line. He did not care. I left it at that, on Friday, Dec. 6th, I called again and a very nice woman assissted me, and said they could fix it by Saturday the 8th ..a little better. Well I have waited all day and no show yet and not a single way to find out if anyone is actually going to show. My family, tenants and customers have had no way to contact us for 5 days this is so unacceptable. I have been a customer a long time and am greatly disappointed. Maybe they need to hire more workers and stop paying the CEO's...ect..so much money. We live where cell phones do not work, if there is an emergency....well let's hope not.

On the 29th Dec 2012, I had sent a request to IMEI unlock a iPhone 3GS. I had received a request number 1464442, it states that if any other quires are required that I would receive an email.
I have received nothing as of yet, and it has been more than 5 to 7 working days. I got the phone in Santa Domingo in Jan or Feb 2010, and I stay in South Africa, I don't have the slip from the shop that I had got the phone.
Can you please advice on the way forward, so that I can unlock the iPhone, I had got around it before by jailbreaking it but now it has been updated to 6.0.1 and the jailbreak does not work to unlock the phone.

I have been with AT&T ConnectTech for 12 years and I have finally had enough! They provide me with home phone and DSL service. Last week I lost internet service so I called and was put in touch with ConnectTech. After going through some of the basic modem related issues I was told I would have to purchase a plan to get the technical help to diagnose and correct my problem. I spend 2 full hours with 4 techs over the course of 2 days.
I was told I had a virus (turned out I didn't). I was told that my network driver was missing (turned out it wasn't). And finally I was told to remove everything from my computer and reprogram it (I am glad I did not follow that advice!). The ConnectTech techs were too concerned about getting me off the line as quick as they could. Well I stumbled upon the solution to my problem myself. My DSL service had to be reinstalled.
It was a simple fix that I did myself. I called ConnectTech and told them that their lack of service wasted my time and I am not paying to continue this service. I was told that I would have to pay an early termination fee of $150!!! I called back and spoke with a Billing Supervisor and he told me he would not waive the early termination fee because the techs spend 2 hours of time with me.
I told him ConnectTech provided me with 2 hours of wrong information and missed the simple fix! I received ZERO satisfaction!

I have a complaint. Yesterday, 11-03-11, I called with questions about getting DSL Basic Service (U-Verse for my area) and I got a Customer Service Rep who sounded inept and I no confidence in a single word she was saying. I told her this and she offered to transfer me to a manager. Her manager, Trevon from Los Angeles, was understanding and informative. Understanding of my frustrations, he offered me a rebate of $100 for the modem and a waiver of $36 for the activation fee, I accepted it. Unfortunately the call was dropped by my AT&T iPhone before he could complete the order so I had to call back.
I went throughout the automated system and got Doug, who said he was able to see that the manager, Trevon, was entering my order in and that he would transfer me over to him. What he actually did was put me back into the automated system (COMPLAINT #1)… I went through the prompts and got to Dion from Fresno, no employee number, and he said he was able to see the order Trevon was putting in but could not honor the rebate and wavier. He told me he emailed Trevon and was waiting for a reply. He took my contact number and said he would call me as soon as he heard from Trevon.
Concurrently he was taking my complaint on Doug and that his manager might be calling me back for more information… no call (COMPLAINT #2). I call back and the center was closed. I call back today, 11-04-11, and get CSR Andrew, and he couldn't help me because I'm a U-Verse customer. He tells me he'll connect me to a U-Verse agent and that he would warm transfer me… that wasn't done (COMPLAINT #3)… he drops me into the automated system.
Brenden, from U-Verse is trying to help me and he sees an outstanding balance of $1,775.23… my balance according to att.com is $342.18. He can't move forward and he says he'll put me on hold and he'll speak to the credit department to see if those charges of $1,775.23 were fraudulent… he doesn't put me on hold he cold transfers me to the National Credit Verification Dept (COMPLAIN #4). Kathy Daniels from National Credit Verification is unable to help me because their systems are down and I should call back after 20 minutes.
No one there seems to know what good customer service is about. Either that or they don't know how to put people on hold. I need retribution! An email back to me letting me know you got this and that those I have listed were reprimanded would be nice. Since starting this, I called 858.522.8918 for more service and they couldn't help until the "unpaid balance" was corrected. The National Credit Verification Dept's systems are still down so Cheryl, said she'll call me back Monday… we'll see what happens.

I have had my account with ATT for over 6 years, and I have had some trouble with my bill getting large, from returned checks. So I have some fault here as well. But I get very frustrated and unhappy when a payment arrangement is set up with AT&T and then not honored. On Nov 10, I spoke with Prina Cruz, badge number PB179M, she was very helpful and made some credits and payment arrangements on this account. We cancelled a payment that was due on the 14 for 749. And then made an arrangement of 394 on the 24, 394 on dec 8, and then the balance dec 16. That was set up and in place and I called again on the 19 to confirm this information. So on the 24 I made a payment of 394.
But after making the payment te computer said my account is still past due and subject to interruption. So I made another payment, I made the payment but new it was not going to go through. I wanted to at least make sure I followed my arrangements. Which I did with my first payment. So that week one payment went through and 2 were returned. But I made the first payment and it wen through. On dec 1, my service was interrupted. That's when all the problems really started. At that point they said they were not honoring the old arrangement and further I made new arrangements that I would have never done. After going back and forth several times with different managers. The rep I spoke to said they would accept half of the past due. Manager only said full balance.
So I accepted to do half. Confirmed with rep when 2nd payment would be due on dec 17. She then asked if she could take her break and call me back. So 10 min went by, called me I could not make the payment with a credit card. I asked to put in the system so I could make a payment later. I went into a att store after work, and made the payment in cash of 350. Called AT&T and waited 28 min for a rep, and then was hung up on. A rep at the store helped me and called in, he further said that management did not approve the deal, and the whole balance was due. So my true complaint was that payment arrangements with AT&T are not being honored by AT&T I will be forwarding a letter to the attorney general as well, as all this was happening to a survivor of Super storm sandy. I was out of work for 3 weeks and displaced for 2 weeks.

Hello,
My AT&T troubles started from the time we got on the telephone. I have never remembered my 4 digit pin but always give a password reminder & the same answer. For some reason this time it didnt work and the rep told me I had to go into a store with my picture ID. I've recently been in a car wreck and have a neck & back brace, but I guess that doesnt matter when it comes to federal regulations. I had to ask to speak to a manager and suggest to them that they call me on my phone number on my profile. It would've been helpful if he told me that they could do that and to answer the other line when they call. Instead he came back to the phone saying we called you twice and you didn't answer, at which point I asked was that him calling from the 803 number. I answered the line and we finally got down to business, but not before the rep Tiffany, came back on the line with her "how can I help you ma'am" that was dripping with sarcasm. Any who I disconnected my services Oct 22 and received a bill for roughly $150 for internet & U300. I have returned all equipment and was told that my 6 month promo expired in July, although I signed up with AT&T the end of March. I asked the rep, Tiffany, to send me copies of my bills so that I could try to make sense of this, since my OLB was disabled when I closed my account. She gleefully told me that she would have to charge me for it because they already sent me one courtesy bill. I was already upset with the whole security issue, but then to be told I cant look at the bills unless I find them. Well, my OLB is disabled and I signed up for paperless billing so help me understand this concept please.

I have an I-Phone that I am having trouble with the battery holding a charge. When I went to the local store and ask if they would help me with this problem they told me that my phone had just just went off of warenty and there was not much they could do for me. I was give a phone # to call and see if there coprate office would be able to help me. The person I talked to gave me 2 ways to slove the problem the frist was to send the phone to them and they would check the phone and make the decision if there was a problem if they found a problem they would fix the problem but this would take several weeks to complete so I would be with out a phone during that time so why have a phone that I cant use but yet pay the monthly bill on. The second way was they would send me a phone during the time they were looking at my phone for a cost of 180$ and the cost of the new battery that would cost me 80$. I would not get the 180$ back so with the 180$ and the cost of a new battery at 80$ I would pay more that the phone is worth. No matter what I do it is going to cost me a lot of money to fix a battery 180$ and the cost of the battery or the loss of my phone for several weeks. They are not giving a fair deal here so why not pay out my contract and change carriers and get a new phone at the cost of 200$ and the second phone free. What would you do here get screwed or change. Hope you can help in this matter and not give me the same bull----. Can you afford to lose a costomer over a batterry and all of the bad press you are going to get. I hope you are going to treat you costomers better than that but at this point in time I don't think you will. If I am ever ask about who I would recomend for a carrier it sure will not be you if you can't fix a battery problem with out costing a ton of money you don't need my help in getting more costomers to screw over.

After 4 years of terrible service...I finally had it. Call after call I was put off. Doubly frustrated due to the fact that I had to drive nearly two miles to get good enough reception just so that my call with their service would not be dropped. Yet time after time I was told that I had at least 2-3 bars of reception. They talked me into getting a mini cell booster. Told me to try it (at a cost of $199) and if I was not happy with it ...return it. Well I found out from my neighbor with the same problem that the mini cell does not help. So I called and went in to the store to return THE NEW UNOPENED package...only to be told that it needed to be returned within 14 days! No where on the shipping info/receipt did it state that...nor did the AT&T customer service person on the phone state such. So now I have a mini cell booster of no use. It is one thing after another with this company. The people on the other end are all friendly and polite...but...totally useless. It is an obvious game of burn the customer out so they will just suck it up and move on. It is experiences like these that cause people to "go postal"! I understand that things happen...but really....time and time and time again...it can't be just me. HELP!

Ryan Freyre
from Miami, FL
My family has had AT&T for the past 10 years to my dismay. Throughout this time the service has been awful I'm constantly being belittled by the employees that are trying to "help" me. We have been having issues with slow and unreliable internet for years and every time someone comes out to "fix" it they just end up testing the box saying it's all good here and walking off. The last technician that came this past August or June was the most help because he and I went through and tested the internet speed to prove my results but even when he saw the issue for himself he was unable to fix it. Every year I come home for holiday only to see that the wifi situation keeps getting worse. Someone get on this shit. I'm pissed.

Bernice Clements
from Pana, IL
Each month I am receiving a bill for service that I have never had. I have called customer service each and I am told it will be taken care of. Let me give some background. I live in an apartment which until 8/31 had a contract with NEWWAVE which allowed us to receive cable service at a discount. When we were notified, I shopped around and decided to go with DIRECTTV. Little did I know, until day of installation, that cable dishes could not be mounted to the building. I had to stay with NEWWAVE. When the AT&T installer arrived a couple days later, I explained to him. He told me not to worry that he would mark canceled. APPARENTLY NOT-----the customer service files indicate that I received box. I DID NOT AND I AM NOT GOING TO PAY A MONTHLY CHARGE. Please remove charges.

Daniel Devine
from Farmington, CT
In short because your time is valuable; I spoke to a rep from the retention department on 11-11-17. They offered a BOGO deal to add a line and a price of $99.00 for an additional iPhone 7. I informed them I had to call back due to needing to return to work. Today I began to contact them again through chat message. I explained again I would need to add a line and use the BOGO to get two iPhone 8 and therefore to keep everything simple instead of the iPhone 7 offer I would like to purchase 2 additional iPhone 8 phones for a total of 4 and having added a line I would have 5 lines. The chat lasted 45 minutes then I was transferred to a phone that was supposed to be a manager in Loyalty (I have been with ATT forever). The phone transferred me to a robot that disconnected me, then I was called back by sales they then transferred me back to loyalty as each department kept switching me back and forth. 2 hours on the phone and someone actually told me the first rep that I spoke to on the phone on the 11th was wrong. They should not have offered me the iPhone 7 for $99.00 as that was a promotion from 2 years ago. I explained I had been speaking to Xfinity voice and Verizon to shop for Black Friday options for the iPhone 8 and there are plenty of deals to be had. It made no sense to me to have to switch carriers to have At@t to try to win me back in less than 2 hours. I feel this type of charade is dishonest and I can't believe I was treated this way. All this should be documented in my account. Please Mr. Randall L. Stephenson, CEO learn to treat loyal customers better.
Sincerely Dan Devine

Joseph O Wright
from Richmond, KY
Constant DSL outages. No resolution after calling level one, level two, chatting with "Steve", two missed service appointments....and one kept service appointment. DSL goes out about every night!

George Callas
from Hemet, CA
Spent an hour on the phone with your AT&T service reps and complained about background noise which is continuous in YOUR LAND LINE. Your various "reps" clearly heard it. Reps did everything to discourage me from complaining even stating they did not recognize the information I was giving them which I read from your own bill. Finally I was cut off with a curt thank you. Would somebody plz fix the annoying noise in my home phone 951 929 5714 asap or I will be forced to cut off your next months check. I would appreciate a callback asap and the clock starts running now.
Account #: 951 929 5714 1484394. PS. Nobody recognized YOUR OWN INVOICE ON YOUR OWN LETTERHEAD BUT DID RECLUCTANTLY ACKNOWLEDGE THEY WERE WORKING FOR AT&t. wHAT A WAY TO RUN A CORP.

Thomas A. Ross
from Toledo, OH
Hello, my name is Tom Ross and my Direct TV account # is 18841432. We have direct TV and have had nothing but problems since June when it was installed. The system does not work anytime there is inclement weather and will take several days to recover once it has been knocked out following inclement weather. I contacted direct tv to cancel the service due to the poor performance and experienced the worst customer service I have ever encountered in a company. I asked to speak to a supervisor and then the supervisor's supervisor but to no avail. I was told that since we hadn't called in for service repairs we were not going to be helped. FYI - direct TV service lines are only open during normal business hours. My wife and I work 12-16 hour days in the medical field and cannot make personal calls from work. I literally had to take a vacation day to actually contact direct tv and try to resolve the issue. Customer service was so AWFUL that Ipent literally 2.5 hours on the phone trying to explain that we cannot simply call anytime and asked for our money back and the service to be cancelled.
The only resolution I was able to get was for the company to send out a technician that day (yesterday 11-10-17) to look at the installation. According to the technician (who was very helpful and excellent to work with BTW) the system was incorrectly installed originally and he indicated it was a miracle that we got any channels at all.
Once again we contacted direct TV (yesterday at 2:30 or so EST) to get our money back due to the improper installation and got put on hold for over an hour trying to get someone to assist. AT&T is the parent company for direct TV so i am reaching out to you for resolution. I would like the past 6 months fees refunded and the service cancelled as we are so disgusted with the lack of customer service and the ridiculous "run-around" you get trying to get issues resolved that we will never recommend direct TV to anyone. Please help me.

Bobbye Robinson
from Smyrna, GA
A sales lady came to our home and we decided to switch to ATT from Spectrum. She said all installation would be free for three TVs. The installer said she had to move the wiring under the house about ten ft. in the room with the modem. The SAME room we had the spectrum wiring. She never said a word about this costing an extra fee of $55.00. The contract stipulates that any extra installation fees would be discussed with the customer. It didn't happen! We feel this is a bad way to treat seniors, one of which is a veteran.

caleb a williams
from Hammonton, NJ
services i was with at@t for the last ten years never see the service so bad remember how bad the services was in the 90,s well it is back again so sad what,s up is a free app i was charge for a 2 minutes call charge me 8 minutes the weather was bad and bad recption i call after making the call and said to the customer service person this was a free call what.s up she said to it was a mistake i call later some one else told me it was not free , my services are in america not india they don,t care all they want is a pay check please takecare this problem else i will take my buisaness else where only on princeiable. phone number is 6093691924.

Trent matthews
from Smyrna, GA
Service was down app three days from 09/13/2017 through 9/16/17. Manager text because of my concern for the inconvenence. I was instructed to call for a credit after the boardband outage was complete for credit. I called immediately and was told I would rec a 30.00 credit. After two billing cycles l have not rec ed the credit. I called numerous times and was given a ticket #J93601302 on the three call. Last bill did not rec credit an called today 11/01/17 and was told I could get only 15.00 anothr rep stated 6.00. Asked for supervisor and was not allowed
7706962210 and 6785256681

calvin blythe
from Boynton Beach, FL
AT&T took money away from disabled person then cut service off ''
wrong in ever way . against a disabled person and big mistake
charge me 4450 for modem and money while no service , hurricane irma

Anthony p. hall
from Madison, VA
Very ,very poor repair service.Telephone is out an average of 2 times per month.Repair service tech. takes about 3 days to arrive. They work on it long enough to fix it,I dont know how, then on average it will work about 7 or 8 days, guess what? Out again. Worse service in the world to be such a large corporation.

My fax line quit working on Monday 10/30/2017
i was told by technical support the earliest they can come is Friday November/03
im a Pizza Delivery Store where i get an Average of 15 order on my fax
Fax LIne 615 846 1804
store number 615 231 1000

Johnnie Irving
from San Francisco, CA
My complaint is your customer service reps seems to have no clue as how to treat your customers. After my u-verse was increased in August I called to see if I could get it lowered and was advised that there was nothing more that could be done. So after going basic for a few weeks the lost of the channels still did not warrant the price I was being charged. I called in September, I believe it was the 6, spoke with a rep and set up a price of $119 for 24 months if I would switch my u-verse to direct tv. Now I am being told that I am not eligible for that rate before of me having phone service since 2013, that is not what I was told, so if you cannot honor your agreement I would like you to take me out of this one sided contract so that I can look for service with another company.

Doug Nelson
from Eugene, OR
Starting on Aug 23 we switched from a family plan that we had for many years to a unlimited plus plan along with switching to Direct tv so we could save money. our Bill should be 140 roughly every month but the last few months since switching over it has been almost 200 this is not what we have agreed to and i am extremely unhappy. Like i said i did this to save money not spend more. Every time I call in I get a different answer and they change the bill but every time it gets changed i then have a prorated bill and that yet still doesn't help me because my bill is more then it is supposed to be. I would like a answer and a solution to this or I will be taking my 20 plus years of business to a different company.

Christie wilkerson
from Montgomery, AL

Wayne Davis
from Colorado Springs, CO
I have had Service with ATT for 10 years I have a Cell Phone I call to have Unlimited service put on my cell phone that is Unlimited Data Plan the Girl of the phone told me because your a long time Customer we have a Gift for you it is a new Tablet and it is FREE I told her Nothing it free and she assured me there was only one charge for the Tablet that was $10.00 a month that's all I said ok I hope there is not a gimmick here just to sell me a Tablet she again assured no Gimmick well I got the tablet I put it on the charger and as it was charging up the Tablet started ringing I said what the heck is that well this tablet is a Phone I did not ask for a phone it has a dial and everything and I kept getting messages from Direct TV to set that up and they wanted a credit card Information for it to run it I did not ask for that and it had HBO and want me to set up an account I did not ask for that either the girl did not tell me anything about this stuff and she added up the billing and told me all this will cost me a month was $106.53 I told her that was fine but when I went on my billing on ATT it said they wanted $259.00 for the month of November this was not told to me I was being charged for the phone and a new phone number Direct TV and was going to be charged for HBO why do people lie to you on the phone I have trusted ATT for 10 years now and they do this to me, I don't no if the Girl gets a commission for selling Tablets or what but she socked it to me and this is not fear to me I wanted to keep the Tablet so Badly but I could not pay those High prices. I am a Disabled Vet and I am on SSI and I am having it hard enough but I keep the ATT account because they have been good to me for 10 years now I get this pulled on me and it is not right by ATT.
I took the Tablet back to the ATT store and I have 2 receipts for proof where I turned it in. Shame on ATT to do this.

Viola McEwan
from Eugene, OR
We had trouble with my DVD and called AT&T. They had me on the phone for 2HRS.and a half. Got nothing resolved. I an so tired of getting nothing resolved . Both me and my husband are in our late 70's and its hard to be on the phone that long.

Wesley Rees
from Gallatin, TN
Hello,
My name is Wesley Rees. I have been an AT+T customer since May 2016. At that time, I ordered internet service (U-verse) and had it installed at our new home. Within a few months, I saw the need for home phone service and added it.
Earlier this year, I began experiencing some issues with the internet service and called about having some service done. The reps checked remotely and said that they could reset some things from where they were. I continued to experience the issues until it started to affect our home phone service also.
I called in to have a tech come out and check things in and outside of our home. (The phone and internet service started to drop out for several hours during the daytime). The tech was supposed to come out one weekday afternoon. He called us an hour after his appointment was supposed to be over to let us know that he would be late. I told him not to come out, and that I was probably going to cancel the service with AT+T. Needless to say, I was not happy about this.
A few days later, I called in and requested a service call for a Saturday, when I would be at home from work. The same guy came out and did a few things- troubleshooting and feeling confident that he had solved the problem. Within an hour or two of him leaving, the issue occurred again and our service dropped out for about an hour or so. I called him from my Tracfone cell phone to let him know that the issue had not been resolved.
After a couple more weeks of this I saw that my AT+T bill was going up and was paying around $100 for internet and home phone service. Unhappy with the service, I attempted to call in to see what could be done to lower the bill. We do not use the amount of internet that we are given and I cancelled the international calling plan to help reduce the bill. An online chat rep, on August 20, stated that if we ordered wireless tablet service, that my overall AT+T bill would be reduced from around $100 to around $60. I questioned this, as it didn't seem right- that we could add a service and get our bill lowered. So I double-checked and was assured that this would be the case. ( I do not have a record of this chat now experience, and am kicking myself now, since I have been told that since I do not have a record, that I will now be charged an early termination fee).
A few days later, I was billed for the shipping of the tablet and received it. (I did not need a tablet, and only ordered service because I was told that it would lower my overall bill with AT+T). We continued to have service outage issues, and I was calling in after work to let them know how unhappy I was about the service. I wanted to cancel all service with AT+T, but you are the only providers in my area for internet, so I held off on cancelling. The outages continued and then, upon seeing that my bill did not decrease but instead went up(!!!) I called in to have the home phone and internet checked again. The same service tech came out and worked on the service at the house here, but by the time I got home from work, I was furious. Not happy that the online chat now rep was wrong in what she told me about the billing, and still experiencing the outage issues, I finally cancelled the home phone and wireless tablet service. I also told the chat now rep at this time that I only wanted to pay about $30 a month for internet and not the $50+ that I was currently paying. After being switched back and forth between departments, I was told that everything was taken care of. However, there was no indication of what I was supposed to do with the tablet in order to send it back. I had barely used the tablet and wanted to send it back because it was AT+T equipment and not mine. I had told the chat now reps that I wanted to send it back, but they did not inform me on what to do.
A few weeks later, while checking my account, it appeared that my billing was still messed up and was now being charged even more money for service that I was supposed to no longer have. Upon checking in with chat now reps, I was informed that I had not cancelled my wireless tablet service in time and was now going to pay for the early cancellation fee. I asked why this was the case, since I had been misinformed about the pricing. I was told then that since I did not have a record of the chat with the rep who ordered the service for me, that I would have to pay for all of the wireless tablet service and fees, including the cancellation fee. I told them that I should not have to pay the fees for services that I did not want. The rep said that I would have to pay them. I said that I would not pay for fees and services that were misrepresented to me.
And that is where we stand now. I have not paid for any of these services and fees and would like them removed from my bill. I have been told that this will not happen, and I stand by my statement that I will not pay for them.
So my question now is, How do I send back the AT+T tablet. I do not need it or want it and have cancelled the service. I have cancelled the home phone service, and would cancel the internet if I could find another provider in my area at a reasonable price. So the ball is in your court. I will await your response...
Respectfully and sincerely,
Wesley Rees

In May we called to get a land line hooked up to our house. The tech showed up and all he had to do was hook up the wires in the box outside of the house. The tech stated that he was told he was going to have to run new wire inside. I explained that I had already ran all of the wires inside the house so he would not need to do that. Tech checked the phones after he hooked them up and everything worked. The tech stated that he would note the file so we would not be charged as he did not have to do the extra work and would be approx $120 off . We received our bill with the charge on it for the Tech running the wire that he did not run. We were told that the file has been noted and sent for a Manger to approve and remove. We were told to only pay the difference and that AT&T would resolve the issue with the over charge. We have been going around since May It is now Oct. We have spoken with sever Managers and finally go the charges dropped. When the charges were dropped so was my long distance service. We have been calling for over 2 weeks trying to get our long distance service turned back on as my Wife and I work from home and this has caused a big issue. I would like to get this resolved as soon as possible I feel we have been way more than patient 6 months in the making now.

Nancy G. Riggins
from Fletcher, NC
I have been a customer of ATT since 2015 and prior to that my husband a former employee for 37 years. I am upset with the price increase of my bill since I went under contract. I went to Direct TV, then they were taken over by ATT and thus my prices continue to increase. I decided to go with another provider which gave me a price guaranteed for 2 years. I went back to ATT on Oct 5th to get a quote for my internet service. I was told it would be $47.00 monthly with a $15.00 credit giving me a price of $32.00 plus taxes. Today the 20th of Oct. when my contract with ATT would expire I cancelled my service with them and told the agent I wanted to continue my internet and gave her the price of $32.00 I was given. She came back and said my cost would be $54.00 a month with the $15.00 discount coming to $49.00 a month because of not having Direct TV. I am not the only one sick of ATT because of their price increases. I have no complaint with their services but only with their prices increases. Also the agent I spoke with today, tried to charge me with a cancellation fee until I assured her that was wrong, that my contract expired today. She then said she had pulled up the wrong account. I am sure she did, really? I would not recommend ATT to anyone. I am stuck with them for my internet for a year, but after that, I am through. I hope other customers will read these complaints before signing with ATT. Nancy Riggins Oct. 20, 2017.

Gerry Brown
from Monroe, LA
I was told my a representative before I joined AT&T on August 26 (cell phone) that my bill would be a certain amount but now that I have joined I am being told he misinformed me so now my bill is much higher. I do have a copy of our chat. I have called several times to correct this problem, I have spoken with a supervisor on tonight Oct. 15, 2017 only for him to get smart and very unprofessional.

Dorothy quick
from Hayward, CA
I have been trying to get internet at our place for 2 weeks now. I had a bundled plan with directv, I have my cable but still can't get a straight answer from anyone. I keep getting transferred to different departments, hung up on, and my credit ran every single time. I went from a 570 to a 419 in a matter of days because Everytime I call you run my credit! Why is that if I have an account already? Now my credit is too low to get service from anyone else. Was this the plan? So that I had no other option than to stay with you?

Syed ali
from Lawrenceville, GA
I have some grave concern inregard to my exp at att wireless retail store in lawrenceville ga 722 Collins hill . As a loyal Cust which I have been for ten yrs..
And same time it's a shame . That it's came down to loyal client have to file a complaint form. To get at & f to stop ruining a relationship of 10yrs. There is fraud that has occurred in during a visit at att wireless store for five minutes. To check out the new product .ans at same time was shopping a birthday gift did my wife's which was on 9-29. .so the fraud incident that occurred was on 9-27 as I mention I was in store . & it's a shams to mention that I went in with in mind to get new phone for wife but due to the unpleasant conversation with rep and type question I was being asked . I ran out of the store pretty much . I felt some ons trying to gather to much personal info so I stop from caring any further . I left shortly after I left I recieved voice mail from the SAMs rep wanting to know when I would come back and for me to call in regards to wanting some info . Which I did not same day my wife experienced some issue with her existing phone went black out not knowing what the seems the problem . We waste days from apple to AT&T to mall repair place but no one could tell what went wrong I wasted 2 days of my time going in circle.from pl to pl . My last option which was buying new one. But that also failed due to I being told that upgrade was already done & I was the new owner of i8 & cannot upgrade. & that if was dons at this particular store where I was on 27 sep well then this just beginning now wife with out phone with young kids not exceptable . So back to start again I was then told that fraud dept shut my wife's ph off ( this ph with no under contract or term) and with out warning or courtesy call . AT&T decide to kill my existing phone .after hours if waiting on hold I was told to go retail store and pick up new sim after that ph shokd be fine since tits reset by fraud dept .so we did and my wife went to same store that I did and. We where told we just purchased a new phone from them . And I couldn't even get new phone . Now we r still with out ph after store replacing SIM card phone still did turn back on . Now still I have been accused by rep on phone in person they all think I am thief & lier and request for arbitration dept to contact me ASAP but no response none I am requesting some one need to respond accordingly & investigate to the fact and answer to my concern my phone ruin due to fraud dept #2 paying for servics that is not active now I just received a bill with terms on new ph & ins as well for znd in amount $ 42 I have also filed a police report and I need att full investigate outcome report once it's completed. Obviously crime is being done by people who represent att and if this statement dosent alert att then they need to clean up the bad seed . Before it's too late thank you

Michael Schroeder
from New Orleans, LA
My AT&T account is 9852649108. My contact number is 985-264-9109.
This complaint is about Upper Level Customer Service personnel and NOT about the lower-level operators that answer the initial telephone calls. It is my opinion that the your 1st level operators are routinely given information by higher level managers that appease the customer when the upper lever manager has no intent of following through on the actions.
My experience involve and insurance claim that turned into a warranty claim and two and a half months of shear stupidity involving broken promises for resolution, callbacks, and credits. I cannot believe that it took AT&T from on/or about July 18, 2017 until on/or about October 11, 2017 to figure out that I had returned a telephone despite that fact that the information was publicly available via the newgistics.com website and that Customer Service Reps for AT&T and Asurion had acknowledged the return of the phone.
I easily have over four hours of phone time (conservative estimate) in trying to resolve this issue once AT&T decided that I had not returned a telephone. This does not include an initial answer as my calls have always been answered very quickly. This means that AT&t personnel also spent that much time on the phone.
I was promised a Credit for the missing phone was going to be applied at least three times. Starting with October 6, I was told three time I would be receiving a phone call from a supervisor. I never received a single phone call, message, or email from said persons. I was told three times that my problem had been escalated. So what. It did not product any results.
Why do I blame the upper-level supervisors? Because a good deal of my time was spent waiting for the agent to receive an answer or proposed action from their supervisor. This is why I don't blame the front end personnel.
Finally, I was given a number to call at Asurion where I was given a number for your Warranty Department. Problem was resolved in about two minutes. It turns out, the information had been available since July. It turns out that tracking information previously given to me by Asurion was correct and that I, as a consumer, was able to verify the device had been sent back. Why could no one tell me this before and why couldn't AT&T figure this out?

owedia sanders
from Arlington, TX
I've been with at&T since 2001. I recently changed my billing. I was offered unlimited data, unlimited text and free hbo for 60.00. I received a bill for 137.00 vs. 92.00. I called t mobile and can get a senior citizen discount for 70.00 which includes insurance protection. when I advised this to customer service they thought it best I change. I applied to unlock my phone which takes 24 hours but I wanted you to know a 17 year customer is leaving

Manuel del Puerto
from Opa-locka, FL
My name Rosario del Puerto my Phone 786 262 3490, my account # 152224776 under my husband name Manuel del Puerto. July 5, 2017 I talked with Mr. Sebastian I did a contract for one year for AT&T and DIRECT TV for 155.13 until April 2018. Now the bill is or 233.00. Before I wanted to cancel AT&T and Direct TV because I had very problems each month with the bill but AT&T told me that is going to give a credit for 80 dollars that why I didn't cancel it. After 3 months AT&T put me back the 80 dollars. Are you playing with me? Please try to find a solution and give a call back. Thank you Rosario/

Matthew Ory
from Houma, LA
My office has placed over 25 calls to have my number released to Charter when I moved office locations. I still do not have phone service that is potentially costing my business thousands of dollars. This has been an absolute joke. Legal action will be taken. AT&T has refused to release my phone number OF 985-446-3333 after several hours spent on the phone with you. This is disgusting customer service. I am cancelling any further affiliation with At&t.

I got a notification that my payment method failed. I realized it was the card that I had reported lost/stolen. I call and spoke to a rep becuase the system wasn't allowing me to just make the payment arrangement of ~$315.00. The rep stated that I could do it on line and then set up payment arrangements for the balance. I was able to make the $315.00 payment and was not able to set up the payment arrangement. The next rep I got named Debra was so unsympathetic and refused to listen to my explanation. She stated the entire amount was due. I informed her that I just made a $315.00 payment! She stated there was nothing she could do. I was naturally upset, because she seemed not to believe me when I told her that I made the payment and wanted to arrange for the balance. I have been a customer of AT & T since day one, having this account for over 20 years since the GTE Mobilnet days. She then stated it would be $5.00 for her to make a payment with her. I asked her to waive that fee as I really couldn't afford the $317 additional payment. She then changed her story and said she would need $100 to restore the account! I told her I get paid on Friday but she refused to assist. I got the distinct feeling that she was getting an incentive to get any kind of money, but once again I stated I just made a payment of $315.00. She had a mocking tone so I was getting upset over her attitude. She then stated that I would have a restoral fee of $35.00. I again asked her to waive that fee. Really? In all the time I have been a customer with a bill over $300.00 monthly she couldn't waive the fee? Once again I informed her it was not my fault my card was stolen ( and not to mention all the money in my wallet).
Please look into this matter and please listen to the first recording where I was misled. If reps are like that AT& T are bound to lose more customers.
Regards,
Diane Bettencourt
dsbettencourt@yahoo.com
(408) 931-4476

C Salcedo
from Ashburn, VA
AT&T Customer service department doesn't know what they are doing. I have been trying to get my mom's line block (she is 84 years old and doesn't know how to use the whatsup so she ended making long distance call) without success. Now after being promised that it will be done, I find out that it was not done and I am supposed to pay $600 in long distance calls.
I have a chat printout as a confirmation and for them it's not a valid proof. Are you serious?

Nancy Byrd 504 452 3805
from New Orleans, LA
I called about a replacement phone. salesperson offer buy one get on free with direct tv offer on phone for over an hour with both people
they both gave their good salesmen spill but when phones arrived I am being charged for 2 phones not one. was given miss info
called at&t customer service no help

Linda Russell
from Brooksville, FL
Was without service for 5 days due to hurricane. Been on the phone for over 1 hour, talked to 5 different persons. Got cut off, put on hole for 30 min. then cut off and told to call again. Reg. bill $91.03 being without service for 5 days was charged $93.00, what a company.

Wendy Griffin
from Birmingham, AL
When will my AT&T be back on - -I have no tv, no phone and no computer (using mine at work). How long will my service be out - I live in Birmingham, Alabama, zip code is 35224.
Have no complaints about U-verse...until now. There is no bad weather in the area or anything so....what happened?

Ruth Ann Hermann / Charles
from Festus, MO
Att agents need to be better informed. Was lied to about our internet plan we choose and amount we would to pay. Received first bill and it was for $85.41 not $30.00 . Called ATT and customer service agent did get bill down to $50.41 but still not correct amount. Was told < we would have to pay the $85.41 and I said "NO" because that was a incorrect amount. A few minutes after we came to a agreement, my internet was cancelled. I spent another hour on the phone trying to get my internet turned back on. Then was told I would need another modem because this one needed updated. So now I have to go thru with waiting for another modem ,setting it up and then reinstalling all my items back on a new modem. Every Att agent , except for the lady that reinstalled my internet, everybody else ,starting with the very first person we talked to about signing up for internet, has lied to us and told us misinformation. I don't know how Att has stayed in business so long, with such stupid prople working for them. I just heard a ad this morning on the radio, and ATT said, no activation fee or free modem and Wi-Fi. Apparently this message hasn't reached all the customer reps. Tired to telling Att reps how to do their job. I feel like I should be on the pay-roll. Can someone please get my bill straightened out.Thanks.

Pam Hinkle
from Morrisville, VT
Their cuatomer service is the pits! I wanted to add money to my prepaid account. The menu is not clear as to what button to push to add money to my account, so I pressed 0 to speak to a representative. I told the rep that I wanted to add money and told her the amount. She then rrpeated, "So you want to add money to your account? Everything I said, she repeated. She slso asked if it was from this phone number, and she was one digit off. Whatever happened to quick and efficient service?
The reason why I have been calling to add money this year is because I am dissatisfied with the way they have been handling the auto pay option, which I had for a few years with no problem - I had a certain amount taken out the 5th of the month and it was great! All of a sudden, they stopped withdrawing the money and after 2 months, I got a recorded message that my minutes were about to run out in 7 days. When I called to complain, I was on the phone with customer service for a half hour because she repeated everything I said. I then sent a letter to the President/CEO and I received a call from his assistant informing me that they don't withdraw the payment until two days before they expire. So for 5 days before, I would have to hear a recorded message before I make any call that my minutes are due to expire. MY REASON FOR WANTING TO HAVE A CERTAIN AMOUNT WITHDRAWN ON A CERTAIN DAY OF THE MONTH IS TO AVOID WAITING UNTIL THE LAST MINUTE!!! WHAT PART OF THIS DON'T YOU UNDERSTAND??? And who trains these customer service reps to repeat everything back to you with every sentence? What I want is to go back to have a certain amount taken out of my account on a certain day of EVERY MONTH, no matter how much I have in my account!!!

rita kappenstein
from Pottstown, PA
having trouble with iPhone 6 went to store two time said have to go to apple store drove 40 miles got my phone checke told me I had to go thru insurance I went last Tuesday had file for insurance still haven't got phone I really think people are not trained I am senior use my phone to keep in contact with grandkids really hard to believe I at my age get run around by people at store that don't know what there doimg

Gayle Day
from Decatur, GA
I have internet service for one year at $50.00 monthly. In August I received notice that my year would end in September and to contact AT&T prior to 09/15/2007. I contacted Terrell and asked if I could continue at $50 per month and explained my financial situation. He left a voicemail stating it would continue for 12 months at $50.00. I also received an order confirmation to that effect. However, the new confirmation was effective in August instead of September and contrary to what was promised, I received a bill for 60.00. If this could not be accomplished, Terrell should not have promised this. My concern is that AT&T failed to live up to the written and verbal confirmation. Then I was told if I cancelled, I would be liable for charges. Why? Since I was not given the arrangement that was agreed upon. Why should I be penalized for not receiving what I was promised. If necessary, i can send you the audio recording.

Lovell Ford
from Decatur, GA
I have contacted customer service approximately 4 times over the last week because my internet service is out. The automated system as well as the representatives there are saying that the outage is still existent. The rep I spoke to yesterday said services are normally restored in a 24 hours so I asked to speak with a supervisor. The supervisor I spoke to named Richard was chatting with me and did not give me a chance to type anything before disconnecting our chat session. I have not received any calls or notifications regarding an outage until I called only to have a supervisor be rude to me. This is some of the worst customer service I have experienced in a while and I am definitely shopping for a new carrier in my area!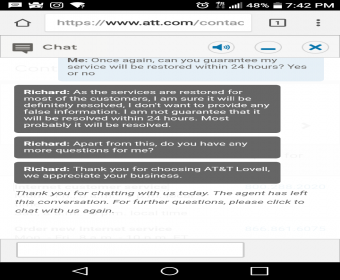 Rosa McDaniel
from San Diego, CA
To whom it may concern,
I am writing this letter to relay my great dissatisfaction with the services I received recently from AT&T. I am a disabled, elderly woman on a fixed income and appalled with the run around and poor customer service I was given as I attempted to retain services at my new residence. As a customer of AT&T of over 8 years, I had been pleased with the services provided, but this current ordeal has lasted over four months (from May 2017 to present), as I have been told incorrect information, stood up for appointments and promised things that have not come fruition. I would like to provide a brief overview of the egregious manner in which my case has been handled in hopes that something can be done.
In May of 2017, I moved to a new residence and requested that my cable services be instated at that location. Upon contacting AT&T customer service to begin the process, I was told that I had AT&T gear that I needed to return in order to clear the previous account. I told them that the items had been returned, but the system did not reflect that I had done so. Over a month and a half passed and numerous follow up calls later to verify if the account was cleared, I was continually told that the items were still shown on my account. This was a tremendous stressful situation for me, not to mention prolonged period of time that I did not have services in my new home. All the representatives I spoke to did not take the time to research the situation any further, which was perplexing to me to say the least.
I was finally able to speak to a manager and able to plead my situation for assistance. It was found that the account was cleared and I was promised a $200 gift card and a reduction in monthly services to $80 per month for phone, internet and cable for my inconvenience. The installation of services was ordered and scheduled at that time. The tech did not show up on the day and allotted, which was another added stress to an already absurd situation. When I called to advise AT&T that the tech did not come as scheduled, they researched and advised me that a $100 advance payment was needed, which I was not told about beforehand. If I had known this information during the initial call, I would have been prepared to pay it, but as I mentioned, I am on a fixed income and did not have the funds to retain the services at that time. More time passed and I saved the money to get the services, which I was then told that due to my credit, I had to pay a $449 non-refundable fee to obtain services, which I was not able to negotiate. An option for Direct TV was offered to me as the only option of services in my circumstance, which I had to check with my landlord to ensure that it was okay to have the equipment placed on the residence. The representative stated they would call me back, but never did so. Again, I had to call the AT&T customer service department back to say that I was interested in the Direct TV services. Hopeful at that point, I set up a new installation date. The tech arrived and again I was dismayed to find that he only bought hook ups for 2 rooms, which I had ordered 3. I called yet another time to verify the actual order and was able to get the situation rectified. At this point, as you can see after much time and stress, I finally received cable services after 4 months, but have yet to receive the internet and any of the guarantees I was promised from previous interactions with the company. I am hopeful that the company is interested in compensating me and my family for the blatant disregard for time and poor customer service it has displayed over the past 4 months, as it has definitely soured the perception of AT&T in my mind.
If there are any further questions or information needed pertaining to this situation, I can be reached at 619-715-0776 at your soonest. Minimally, I would like to receive some type of acknowledgement of this situation from the company to ensure that this is addressed in an appropriate manner because no one should have to enter such a stressful ordeal just to obtain internet, phone and cable services in their home. Thank you for your time and consideration in this matter.

Robin Bagster
from Boynton Beach, FL
On June 24, 2017 I switched my wireless service from TMobile to ATT. ATT promised to credit me up to $650.00 to pay for the phones I still owed to TMobile which was 2x$540.00. On June 24th, a trade in deduction was made for the phones of $376.00 and I was promised the balance in Visa cards to take care of the balance. I submitted my final TMobile bill TWICE because I was told I did not qualify for the credit the first time!! The second time they accepted it, however, 3 months later I finally received the Visas (9/16/17) for only $190.00 each because ATT decided to deduct an additional $150.00 for trade in from the approved amount of $340.00. First of all....why was the approved amount for $340 when the bill clearly stated I owed $540.00??? And secondly, deducting trade in twice totaling $676.00 on brand new LG V20 phones is outrageous!! How is this right??? ATT is making false claims that they will pay for your phones to switch over!!! I am pissed that I ever believed them.

Katherine
from Darien, IL
I ordered a new SIM card because the old one didn't work, but with one time visit at&t store, one time phone order, one time online chat order, and more than two week's waiting, I got no SIM card. When I talk to the online customer service, chatting with a person named Jennifer, the woman is even worse. I think I deserved a refund for so long a time not being served, but she didn't think so, and without asking if there is any question, she finished the chat!

We were promised 3 services for $68 dollars a month. Had them for 3 months and every month we are charged almost $100 more than that. End up spending 2 hours or more each month talking to numerous departments. They lower the bill, eventually, but the amount they take off is added to the next month's bill. They are unethical, I'm so fed up, I'm switching all my services to another company.

Maria Doody
from Houston, TX
My youngest son called a the week before to get service on Saturday, September 9th. Came to my house so that he could assist the AT&T service people with any questions. He spent a good part of the morning trying to find out where the service tech was. Speaking to someone in another country who knew nothing. I called later in the afternoon on Saturday to see why they still had not shown up to come check our equipment, since we believed that Hurricane Harvey had fried our receiver. This was a no show and a lot of static on the phone. Now I am being sent out new equipment that should arrived today (Tuesday, Sept 12) . What service, I am so tired of being jerked around with them. 281-484-4902
My oldest son had the same experience yesterday at his apartment NO SHOW, NO CALL- This service SUCKS!! 346-900-3989
So you know what AT&T Uverse needs to reimburse us for our time and does not deserve even one gold star.

Christine A. Lamachy
from Santa Clara, CA
Account: 116979669 [see attached image]
For TWENTY YEARS - - ALL my checks arrived on time and cleared my bank.
I got notification that a check (sent on Aug 12th) had not arrived by Aug 22nd (confirmed by bank. that it had not been posted to them)..
[Note: the USPS, apparently, has had some sort of deliver problem. because a first Comcast/xfinity check (mailed the same day that my first AT&T check was mailed) also never arrived, and i had to send a second check, too (on the same day as i sent my replacement check to AT&T]
I called the Philippians AT&T Support Center and spoke to "Lea" [ID no. 60197-5014].
She failed to document this: that i would be charged a late fee even if i sent a second check.
[Note: i could have walked 20 mins to a AT&T store at a mall to pay with cash or check or credit card if i knew i was going to owe an addition $10 that i can't afford]
MY UNDERSTAND WAS THAT I WOULD NOT (NOT) GET A LATE FEE CHARGE.
I understood from "Lea" that everything would be Okay, since i was sending a second check, SO LONG as it arrived before Sept 15th, WHICH IT DID (confirmed by my bank / posted Aug 28th).
I now have a new billing that includes a $9.00+ late charge with the bill totaling ten dollars more than normal.
[09-11-17]: Successive and Repeated phone calls to your incompetent Philippines' AT&T Support Center produced only people wanting to do power over me and not be supportive. [Hanna/ID= 4504 and Rachel/ID= ?] Repeatedly they refused to connect me with a supervisor who could remove the late fee which should not have been there in the first place. Then Hanna said she would call me back in 30mins. SHE DID NOT. || An hour later i called again (Rachel), and was finally to someone who was supposed to be a supervisor. I got to Bryan/ID= V3FP7Y6, who, supposedly, was a supervisor. His language was practically impossible to comprehend. His demeanor was the opposite of helpful. He kept trying to say i did not have the correct Account Passcode. I did. I always give it and it always is correct. Then he said he was in the cellphone department. It seemed to me he wanted to do-power over me and have control. The hostile attitude of Filipinos is generally combative, not polite and not accommodating. They demonstrated this toward me, an American [a 70 year old white lady in my case]. This is not good for your AT&T reputation and not good for your PR. || — IT WOULD BE SMART BUSINESS PRACTICE to honor the No Late Fee understanding i had and credit my next bill.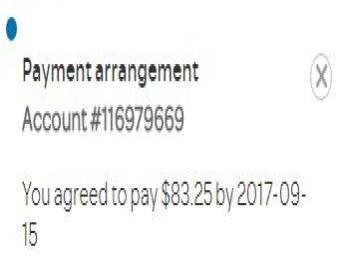 Yogita More
from Irving, TX
I was ATT Corporate store Employee. I was getting 50% discount. I lost job on 27th July 2017. I called same day to customer service to know up to which date I will get discount and they said up to that billing cycle. On 19th August I went to Beltline ,irving store and changed plan from post paid to prepaid and next month I got bill around 106 dollars. I did chat with customer service they adjusted amount and told me to pay $ 73.97, which I pad immediately. Still I was seeing 32.50 still needed to pay. I again called customer service and told them that I changed my plan the very first day and they said still I have to pay $32.50. As I was charged for whole month even though I have not used it. From her tone she was not ready to look in the matter or asking supervisor and was not ready to give me email added for making complaints. I am very upset with this. As an employee I was always feeling proud for working for my company and Team and I thought they will help me out as much as they can.My account no, is 177056942461. Please help me. Thanks.

X Alvarez
from Austin, TX
my bill is never the same every month and never in my favor.
when I call, get no help and when I asked to speak to supervisor they are not available and will call me within an hour RIGHT
no call back. I am very unsatisfied with their customer service ..

Cynthia Kalman
from Oak Creek, WI
Ive been a loyal customer of att for over 10 years. I bought my house and moved in 2 1/2 years ago. I transferred my u-verse to my house. I had noting but problems with it going in and out all the time. Countless phone calls and men coming to my home would never solve the problems. They convinced me that by installing direct tv, drilling into my brand new roof to install a dish would solveall these problems. I expressed concerns about my new roof having holes drilled into it. Att said it was the best option. Direct tv never worked properly. I had so many outages with internet and tv going down all the time. By all the time, I mean many times per week. I was charged 100 the day they came with the service man telling me I had to pay this fee or they would not install it. Then I find out I never should have been charged this because I was a current att customer. I never got reimbursed for this. Finally, after over a year of this, with service men coming out 5x in one week we decided to cancel due to att not providing the service in the contract they promised. The past 6 weeks, I have been on the phone with att to get the termination fees reversed as they told me they would do. The final bill is almost 321.00. I have been transferred 11 times in one almost 3 hour call, hung up on, the managers, customer care people and billing managers that promised this bill is being escalated and would be reversed in 24 hours, stated they would leave notes in my file, it is still not taken care of. Now my credit scare reflects late payment. I have a great credit scare and this does not sit lightly with me. The notes they state they cannot find. The agent id numbers I give them, they refuse to look up and ask them. I have asked for the ceo email or name to file a complaint, they refused to give me any name or email. They never reimbursed all the money I aid for services I could not use. ATT is quick to take all my payments, never late once in 10 years, but as soon as you cancel, they shun you. I'm to the point I am going to call my attorney and let him handle it. Why can't they reverse the charges and just do the RIGHT THING? Do NOT get att service. They do not take care of their customers before, during or after service.
Account# 103701486

Whitney DAiley
from Atmore, AL
They are selling Asurion Insurance for phones and not telling that they only cover liquid damages and physical damages for certain zipcodes and making you pay the same price for the insurance and will not find the address that does and mail the phn to be repaired and mail it back so everyone would ge treated equally. Why cant we get the same coverage for everyone if we all pay the same price for insurance but only have one option. you should tell customers this up front.

Cathy Pardee
from Carmel, IN
Hello,
I have tried to submit a complaint 4 times and get an error, talk again message only AFTER I finish filling out the form and submitting.
On Wednesday Sept. 6, 2017 between 5:00 and 5:30 p.m. EST my UVerse U200 cable went out briefly. When it reset and came back up local Indianapolis channel 13 WTHR had been taken off the lineup and was no longer available. I found that there is a contract dispute between ATT and WTHR.
To be clear I am not upset with WTHR, I am ANGRY with ATT. This type of contract dispute should NOT affect or involve customers!!
Customers pay a high cost for cable and if they want cable they have to pay it. This channel is not available since last night and still not available. I am still paying for cable! It may seen like a small thing since it is one channel BUT it is the principle that this type of thing is passed on to customers. If WTHR does not want to pay what ATT is asking, that should NOT AFFECT CUSTOMERS.
I am strongly considering leaving ATT. I will be following up and continue to voice my complaint through all resources.

Cathy Pardee
from Carmel, IN
Hello,
This is my third try to email a complaint. I could get all the way through and submit, then I would get a # (1504742100), an error message and it said to try again later.
On Wednesday September 6, 2017 between 5:00 and 5:30 p.m. EST my UVerse 200 cable went out. When it reset itself and came on, Indianapolis local channel 13 WTHR had a message that it had been taken off. I looked online and it has to do with a debate about money between ATT and WTHR
I am NOT angry with WTHR. I AM ANGRY with ATT. This type of thing should NOT affect paying customers!! Cable cost a lot and if you want cable you have to pay the price. If WTHR doesn't want to pay what ATT wants, that should NOT affect customers.
I will continue to voice my complaint and follow through.

Cathy Pardee
from Carmel, IN
Hello,
On Wednesday, September 6, 2017 between 5:00 and 5:30 p.m. EST, my UVerse U200 cable went off for a brief moment. When it reset itself and the cable came back on, local Indianapolis channel WTHR was not available. It seems there is some dispute between WTHR and AT&T re: money. So WTHR, cable channel 13, is unavailable to me, a paying customer.
Let me be clear-I am NOT upset with WTHR. I am ANGRY with AT&T. Contract and money disputes should not affect customers who pay quite a lot for cable. If WTHR does not justify paying what AT&T wants, it should NOT AFFECT CUSTOMERS!
I am strongly considering leaving AT&T. Cable charges are way too high and people have to pay it if they want cable. Now this.
I will be voicing my complaint to AT&T in any way I can and will continue to follow.
Thank you
Thanks for your feedback!
Sorry. Please try again later!