Samsung
Samsung Complaints Continued... (Page 3)
615+ reviews added so far. Upset? Call Samsung corporate: 973-601-6000

VIKAS KUMAR
from New Delhi, DL
YOUR CUSTOMER CARE SERVICE IS NOT GOOD MY FEELING IS NOT GOOD BECAUSE I HEAVED CALLING IN YOUR SAMSUNG HELP LINE NO SO MY CALL DISCONNECTED FROM YOUR SIDE

richard chest
from Fort Plain, NY
i had a curved 27 in moniter,the screen formed black lines in the inner screen.i called them and they send it in for repair.thats when the bad started.it has been over 3 months and alot of calls ,they keep on putting on hold and telling me lies.i just want what i paid for fixed or not.down rite scumbags

shelley klepp
from Hackettstown, NJ
I sent my watch into Samsung to be repaired on 2 occasions. First time they needed to replace parts and update software for a watch that was brand new. I received the watch back to find the same issue still happening. I sent the watch back in and just received an email that they are sending my watch back to me unrepaired. So I am going to receive a broken watch back. Does this make sense. I want to escalate this issue. In addition I bought a new watch for my husband back in Dec 2018 and right out of the box the watch did not work. Thank GOD Best Buy exchanged the watch Jan 2019 for a brand new one. It works but 5 months later the band broke. My husband barely wears the watch to begin with and the dozen of times he wears it the band breaks. I called about this as well and to date I still have not received a replacement band. You want a customer to shell out $800.00 for your products and yet your products are not reliable. I have contacted Samsung over 10x and still have not had my problem resolved.

Laura mayhew
from Biloxi, MS
I have sent my phone in twice and it still having the same issue they are blaming it on my network and it notbnd now I have to send it again I for them.to look at it or they want me to pay for it . I when I found nthe right person I was put on hold for 3 hours until.i was told that they were closed

gordon williams
from Lodi, CA
We purchased this refrigerator approx. 2 years ago.
The ice maker quit working 4 months ago. it would cost around $800.00 to repair.
3 days ago it quit cooling!! I called Samsung for support and they were not able to help me. It is 107 degrees here where I live. I was able to get a service technician (the one and only who could come immediately) He did his diagnostics and discovered that a board was out. Again now the ice maker doesn't work nor does this two year old $2500,00 refrigerator cool!! Imagine my frustration! A board was ordered and arrived today ( so far now,3 days) my family has not had a working $2500.00 refrigerator! The new board was put in and still no cooling!!! It was also determined a second problem, that the Freon was to low to cool. Again,have I said this is only a 2 year old $2500.00 Samsung appliance? The Freon was ordered and will not be here till Monday. So now my family has to be without a working refrigerator till Monday. This is appalling. I lost all the food in the refrigerator and now will not have, a working appliance till Monday of next week. So far I have paid $384.00 dollars for the board and installation and will be paying another $400.00 for the Freon and service. I am hoping that this letter inspires Samsung to replace this refrigerator at no cost to me. This is clearly a defective item and I would hope Samsung would support their customers. Please advise as to your resolution.

Britani Grundhauser
from Ashburn, VA
If I could give a zero I would. Washer has been broken 3 weeks now. I've gotten the run around. 10 week old, toddler, and we own a gym. Lots of laundry! Customer service has seemed promised me a solution by today. Now they're saying it'll be ANOTHER 7-10 business days. Today's Friday and of course they can't get started until Monday. My washer is 4 months old! I feel no real effort has been made to make this right. I just keep getting sent to different departments that have yet another step that needs to be taken.

I have ordered two S10+ on 14th and 24th March 2019. After ordering it showed that order will be delivered on 15th April due to stock shortage. I was not able to receive the devices because by that I have went outside Australia for two weeks. During that time the devices were sent back to Samsung. After I came back on 28th April, it has been a real struggle to request Samsung online customer care team to redeliver the device and its already middle of June and still I did not receive the device. I have inquired about the delivery multiple time and each they say they have emailed the back hand team to process the delivery. On my last call when asked for a definite answer and I was willing to hold on to the line until I get an answer the person serving me just hung up the phone. This is very disappointing experience and now I am stranded without a phone.
I would ask people from any Samsung department to look into this and at least give me proper answer other than "we have emailed".

James elias Langston
from Flint, MI
I purchased a full kitchen unit stove refrigerator dish washer microwave. my problem was the DW came without screws to mount to cabinet. the first call was in april the second call was in may screws were promised on the may call did not receive them. called again june 12th they are suppose to be on their way. the tenor of the last call in june was as if the problem was on me. the agent said something about an exception being made as if Samsung was doing me a favor I have a problem with that since Samsung caused the problem by not sending the screws in the first place.

SHIRLEY NELSON
from Yukon, OK
I purchased a flex 4 door model RF23J9011SG/AA SS# 07ZB43BK100585F IN MAY OF 2018 I PAID 2800.00 FOR THIS WHICH WAS MORE THAN REGULAR SIZE.I HAVE HAD NOTHING BUT PROBLEMS WITH THE ICE MAKER ITS SLOW THEN FREEZES UP CANT PRDUCE THE AMOUNT OF ICE NEEDED . IM 63 YEARS OLD I CANT AFFORD TO BUY NEW APPLIANCES . THIS SHOULD NOT HAVE ANY PROBLEMS I AM NOT HAPPY AT ALL WITH THIS PRODUCT I THINK YOU SHOULD COME GET IT AND TRADE ME FOR A REG. SIZE FRIDGE

Dave Hey
from Everett, WA
Asked for help with new washer and dryer. Agent told me to get SN for both from under the covers. Was away 6 minutes and got thrown in a standby queue, they never responded after I tried for an additional 20 minutes.

Richard Barber
from Rochester, NY
Samsung French Door refrigerator, Model RF260BEAESR/AA. Freezer door handle broke off on the right side due to flimsy plastic part. See attached pictures. Part # is DA67-03331. No parts company carried the part. Researched this part and found out (confirmed by chat talk with Samsung support) that you need to purchase the entire freezer door. Very poor design using plastic. Found that many others experienced the same problem with this part on the right side of freezer door handle. Very poor customer support expecting customers who spent over $1000 for refrigerator to spend several hundred additional dollars due to poor design and cheap materials. Will not buy a replacement door that may fail again and will not buy Samsung again.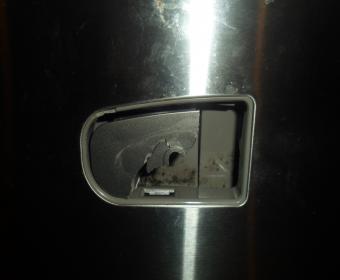 Donna DAgostino
from Holmes, PA
My tv wont turn on, repair guy comes at my house 5 min plugs tv in and says gotta get Samsung to approve it and left, I missed a whole day of work for nothing, call back spoke to mgr sent pics to Samsung they approved to have a repair guy come out and gave me a number to call. I call the number lady was down right rude and said she isn't doing the repair because she has other things to do and is to busy and for me to call back again. Now if this isn't resolved today or this weekend I will be going to my local news channel and social medis about your company and products that you clearly don't stand behind. I can pay 5000.00 for a tv and this can happen and yet you don't stand behind your word. I will be telling the better business bureau as well. I should not have to go through all this for a week now and my kids with no tv because you csr cant do their job. I sent pics to you already. And would like this to be fixed today, tomorrow, sunday .

Jeanne Harris
from Clarksburg, WV
I am very UNHAPPY with my new S10+ phone. I am a Sprint customer and have 5 phones on my account. We have 3 I-Phones, 1 Samsung S8 and my S10+. The data works on everyone's but mine. I cannot connect to the Internet most of the time. I get an error message that "I am Offline". My message are sending slowly or not at all.
I paid almost $1000 for this phone (computer) and that was only about two months ago. I have contact Assurion and they are sending me a "like new" or "new phone" (no guarantee that it will be new). I am ready to go back to the I-Phone because it appears that Samsung has not fixed the glitches on this phone.
Is there any way that Samsung will replace this phone for me with a comparable phone of the same quality and value. I have been a loyal customer for years with many of your phones since the Samsung Note 3. I believe you need to recall this phone and send out new ones that do NOT have this problems. As I can see there are MANY people complaining with the same issues.
Jeanne Harris
622 Dale Avenue
Clarksburg, WV 26301
304-669-9191

I bought earbuds in January 2019 returned them to Samsung. It's been 5 months I haven't gotten a replacement pair, a refund or anything. All I get is someone telling me my earbuds will be replaced along with a gift card for the difference. Just wait 7-10 days. I never get the product and I end up calling back just to be on hold for hours and go through the process again to still not recieve anything not even an apology. I have called them over 30x and have been told my product is on the way 5x. I still dont have anything but they have my money.

I bought Samsung A70 mobile on 5/5/2019, on 10/5/2019 I started using it, on 31/5/2019 the software stopped working (a black screen with only codes on it appeared), I went directly to Samsung Customer Service center, They reset the software and told me that all my data will erased because the software was down, and no one told me the reason, they told me use it 2 days and if this happened again we can take the mobile and exchange it.
Okay, I used the mobile 3 days and today 5/6/2019 the mobile stopped working again, but unfortunately all the customer service In my country are on vacation (Eid vacation) for another 3 days so they will open on 7/6/2019 and the last date for exchanging the mobile is 5/6/2019 (one month from the date I bought it).
Well if am facing a problem with my mobile during the vacation how should I react and where to go ?! this is so disappointing from a reputable company like samsung

Samsung is attempting to defraud me of my cell phone trade in value. Then they are lying saying they returned my phone which is a lie.

Dear sir/madam
I am using samsung A6plus i encrypted my sd card,minumum 1 year ago,i want to change my mobile so i descrypted my sd card in A6plus.it shows all document ones after i insert to my S8plus new mobile that time again message came to descrypt your sd card than i give my password it says please use your mobile where you descrypted,so again i use A6plus for this process so again same message came in A6plus also that *please use your mobile where you encrypted* i lost my all document please give me solution to recover my document

I have had 2 washers that have been leaking and the repair service company that I was using was removed by Samsung Customer Care. My washer is still leaking and has not been repaired. I have had 2 different repair companies that have come out and still broken. The first washer leaked after 3 weeks and was replaced 1 week later and then 4 weeks later it started leaking in the same place. model#WA50M7450AW/A4 and
S/N 01E557BKB04185P. I need my washer fixed or I am going to the BBB. Your customer service is very bad
Mara Fiscus
1702 Difford drive
Niles oh 44446
330-979-8959

talat masood sipra
from Karachi, SD
Dated: 24th May 2019
Chief Executive Officer/Country Manager Pakistan
SAMSUNG
SAMSUNG Service Centre at A-114 Block 5, Gulshane-Iqbal,
Karachi/Pakistan
COMPLAINT AGAINST SAMSUNG SMART SERVICE CENTRE, PAKISTAN
SUB: VERY BAD SAMSUNG CUSTOMER CARE SERVICE EXPERIENCE
REF. Samsung Fridge Model: 8RSA1STMG/XSG
S. # 46VU4aADK200031P
Dear Sirs,
1. Regarding fault in Samsung Fridge the following calls were made to the SAMSUNG Samart Customer Centre at A-114 Block 5, Gulshane-Iqbal, Karachi/Pakistan, which is self-evident about the services provided to customers:
Date called Time called Tel no. called Remarks
2019.05.03 12.11pm 92-080072678 Called by customer
2019.05.09 4.41pm 92-080072678 Called by customer
2019.05.09 After noon Mr. Shabbir, Technician visited and put a visual look at fried without having testing meter/instruments, took mobile photos and went away and charged Rs. 800/- vide receipt no. 1137 and no further contact/action by Samsung
2019.05.12 2.10pm 92-080072678 Incoming call from Customer Centre, estimate will follow
2019.05.13 10.49 am 92-21-34833371 Called by customer
2019.05.13 2.56 pm 92-21-34833372 Called by customer
2019.05.14 12.15 pm
Till 1.pm Customer personally visited the Samart Samsung Centre and discussed the issue and desired to meet the Manager/Asstt Manger, but the staff told they are absent/on leave. No one was available but a single man there.
2019.05.15 11.34am
11.32 am 92-21-34833372 Called by customer
2019.05.22 No action till this date when an email was sent to customer with an estimate. What the SAMSUNG staff was doing from 3rd to 22 May 2019??????
2. From the above table/statement, it will be clearly observed that the original complaint was lodged with the SAMSUNG Customer Care Centre on 03rd May, 2019 and the fridge is till un-factional.
3. The Centre responded on 9th May, 2019 after 06 days, and Mr. Shabbir, Technician visited on same day afternoon. Having a visual look at the Fridge without checking and also not accompanied any testing meter/equipment.
4. The technician told the customer that he will report to the Service Centre for further action but no body from Samsung turned up and contacted the customer till 14th May. 2019, when the customer himself visited the Repair Centre and again explained his problem and desired to see the Incharge/manager/Asstt. Manger.
5. The following is the response of Customer Care Staff:
1 The Manager is not available as he is on leave. Not available/absent
2 When Requested for Asstt. Manager, he was also absent and not available Not available/absent
3 Any other Admn. staff in line, but no one was available for discussions on the complaint. Not available/absent
4 However, The staff at smart centre including Guard simultaneously replied as above, whereas the duty GUARD is at gate and not to deal with customers and give answers to technical questions. What is fun of smart centre????? The Guard was not supposed to reply to customer about technical questions
5 Before visiting the
SAMSUNG Service Centre at A-114 Block 5, Gulshane-Iqbal, Karachi/Pakistan
Telephone no. 021-34833371-23, 0300-0507040 given at the bottom of Visit fee charging slip, No body attended calls in spite of many attempts on 14th May 2019
6 The complaint remained un-attended till date and the fridge also remained shut down/not working What action was taken by Customer Care centre till date????
7 On repeated requests Mr Sarfraz Khan was called from any room and the matter was discussed with him, but after listening he want back inside and did not come out again No satisfactory reply???
8 Visiting card of Mr. Asif Hussain was taken from the counter and also discussed with him on phone the problems. But he could not given any satisfactory reply. No satisfactory reply from him and no further action till date????
6. My complaint is of 3rd May, 2019, the technician visited on 9th May 2019, the customer visited the SAMSUNG smart Service Centre on 14th May, 2019 and further action was taken by the Service Centre till date and the SAMSUNG officials remained silent.
7. Now on 22nd May 2019, I receive an email from Mr. Junaid Raza, CRS Karachi followed by a telephone call after so many days with cc: to so many persons by him, whereas they were not available at centre on the visit of customer on 14th May 2019, and now from where they all came out and for what purpose???? Kindly explain it??? Or so many persons are dealing with my complaint and where were before?????
8. The Samsung Customer Centre sent a QUOTATION without any proper letter-head, showing a charge of Rs. 7,000/-. (details: Freezer Fan Motor Rs. 2,600/- and Labour repair charges. Rs. 2,400/-) Visit charges Rs. 800/- extra. (Refund it) what a wonderful fraud is this by the SAMSUNG people?????
9. In this connection, the SAMSUNG customer Service and its management must reply the following questions:
1 What action was taken by the SAMSUNG customer centre from 3rd May, 2019 till this email of 22nd May, 2019
2 Customer fridge remained closed during this period and till date and so on further. Our food staffs are being spoiled/destroyed during this very hot season. Who is responsible for this dereliction and joking with customers??????
3 We claim from SAMSUNG for loss/spoilage of our food stuffs for not repairing the fridge for such a very long period as we have to use the neighbourer's fridge.
4 From 3rd May 2019 till 22nd May, 2019 the date of email, all staff remained absent from duty/or on leave and why they did not respond earlier, as they now marked cc of this email to so many persons and for what purpose, kindly explain, and did not care to contact and repair the fridge?????
5 Is this not a clear blacking mailing the customer by the SAMSUNG staff for putting in trouble and loss including mental torture???? Who is responsible for all this situation???? Should the management would like to fire such type of responsible staff?????
10. What action has been taken to get the fridge repaired from 3rd May 2019 till date and further time/Dates and putting the customer in trouble in very hot season to remain without active fridge??????
11. Some documents attached for your information and advice.
Yours faithfully
Talat Masood Sipra
Mobile: 92-312-8932058
Email: sipra.masood@gmail.com
Affected customer of SAMSUNG
PS:
I am always available for further discussions on this issues with the SAMSUNG responsible person only, who could reply to above questions. Since I visited the SAMSUNG Service Centre on 14th May 2019 but no responsible persona was available and all were absent/on leave except counter person.
SUMMRY
TO CEO, COMPLAINT AGAINST SAMSUNG SMART CENTER,
FRIDGE MODEL RSA1STMG1/XSG SERIAL NO. 6VU4ADK200031P
The complaint lodged on 3rd May 2019 followed by many tel calls, the technician came on 9th May 2019 without any testing equipment/meter. looked on fridge took photo outside charged fee and went away and did not turn up. on 14th My 2019 the customer visited the SAMSUNG Smart center, repeated complaint and desired to meeting responsible Manager/Asstt Manager, but staff told that both are on leave and also no other responsible staff was available at Smart Center. thereafter no body came and attended the complaint. all our food stuff spoiled in very hot season.
today is 25th May 2019 and since 3rd May 2019 my fridge remained unattended/unrepaired.Kindly give me your emails to send you full details
Yours faithfully
Talat Masood Sipra
Mobile: 92-312-8932058
Email: sipra.masood@gmail.com
Affected customer of SAMSUNG

I have a Samsung refrigerator that is six years old and the ice maker broke,called and no Samsung service available and no service company would work on Samsung.Called your help line and they tried to help me repair it myself What A Joke. I found a repairmen that agreed to check it and needed a control board.Called to order one and part not available.No help offer.Look at your rating at about 1.2,I wish I had before I purchased this junk!!!

I am having no luck getting help from Technical Support and Case Management, regarding my cell phone.
Is there an e-mail that I can send a complaint to?
Thank you. Elizabeth

Defective mounting mechanism on a Samsung under mount microwave. After MANY attempts through Samsung service department to repair a warranty issue, over 4 months I still have no repair or replacement. It's now obvious Samsung policy is NOT to support their defective products.

Samsung Model RF23M8070SR/AA purchased on 04/29/2017. Since the purchased, four work orders have been executed to repair the refrigerator ice maker unit. Work Claim numbers as follows
1. 516617 - Replace auger
2. 511001 - Ice maker not working - replaced ice maker and auger tube
3. 469747 - Ice maker freezing over
4. 516617 - When doors close unit makes loud noise
All work was performed by a representative of Lakes Electronics, INC 2101 W Atlantic Blvd Pompano Beach FL 33069
As of 5/1/2019, the ice maker has quit working and is frozen over so that the ice bucket cannot be remove. This unit is absolutely the worst refrigerator I've owned. I will never purchase another Samsung item !!

I am telling from Comilla that I had been given a set of Comilla Customer Care. Today I have set a set of hits with a star, about two and a half months from now. But I have complained to you about Dhaka-Comilla that I have not received any Ansar for two and a half months from now. No Ansar they did not give me but Butt did not say anything else about your client care. What is wrong with us

simranjeet singh
from Montreal, QC
Actually my samsung s10 earphones is not work properly i want to exchange my earphones can i exchange because my phone have in warranty and i know accessory have also 6 month warranty

I purchased a j2 core phone when I was in Moldova on holiday. The phone has not worked after 1 week from date of purchased. I am now back in the USA and have called the customer service department and have not been able to correct my issue. They have directed me to websites that I can not read and telephone numbers that no one speaks English. I just need to know where to send this phone to be fixed or replaced. I have all of the purchase documentation. Where can I send it? I am a loyal customer of your products but now I am unhappy that I am unable to get the requested information. Please help.
Timothy Mathews
478-207-4637

timothy A mathews
from Macon, GA
I purchased a phone when I was in Moldova. I had the phone for 1 week and it does not work. I need to know where to send it to get repaired or replaced. I am now back in the USA and I can not get any help from the Customer Service Dept. They direct me to websites that I can not read. They provided a phone number but the people do not speak English. I have all documentation of the purchase and just want the phone fixed or replaced. I will not be back in Moldova until my next holiday. What do I do or where can I send this phone? I can not believe that a Company that is as large as yours can not rectify my issue. I have always purchased your products but at the moment I am frustrated. Please let me know what I can do.
Thank you,
Timothy Mathews
478-207-4637

Kris Benjamin
from Powell, OH
Two and half years ago we install new Samsung appliances in our kitchen. What junk they are and we have been sure to let all our friends and everyone we can know. We have already had to replace the dishwasher. The microwave, you try to warm over 5 minutes, it completely shuts itself off and you have to wait another half hour before you can use again. The stove does not heat evenly and the refrigerator ...... The shelves do not anchor firmly on the doors, the plastic cracks easily. The ice maker now leaks water and I literally have to defrost once a month and it now leaks and freezes below the vegetable drawers. We will never purchase a Samsung product of any kind again.

JERI GRIFFIN
from Seattle, WA
I have a Samsung galaxy S4 and it get so hot that I have to take my battery out and let it cool down. This happening 4 to 5 times a day. I am afraid it will catch on fire or explode.. Not sure what to do

Worst customer service we have ever ever had.....over 5 weeks of saying the part is in the mail and still nothing. These people are the worst they take ALL your money and within 7 months after buying it u r now on ur own. We will never ever buy a Samsung product again and will make sure everyone we know or ask us about Samsung know what kind of rude liars they are.

My fridge does not cool . My daughter contacted Service Centers in Egypt . One of the service centers displayed on Internet was fake and got money without repair . The second one was from the service center but took fees without examining the fridge and did not provide any services . Notice that I moved my fridge from Saudi Arabia to Egypt . My family is in bad need for this fridge . Kindly help us to get this fridge repaired . I think it needs no more than (Freon). You can contact me on +966503663183 or my daughter (Duaa) on 00201223248808.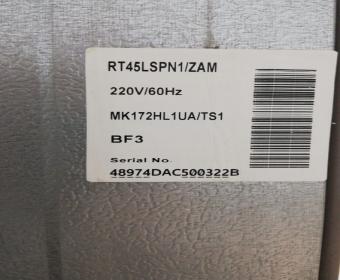 My 1.5 MT Split AC has cooling problem

during week of april 8 thru 12 I was trying to take advantage of you special discount pricing for you galaxy s10+ I added everything to my cart got my quote which consisted of 200 for my trade in plus a bonus 100 bringing my total down to 29 dollars and change a month for the phone with financing thru my sell phone carrier Verizon. I got to the point where I could proceed and then your website quite working. when I tried to finish i would get all kinds of error messages like "I don't have access to Samsung checkout" or "my session has expired" or "something went wrong" for a week i finally called to speak to someone and she said I needed a screenshot I told her there wasn't one because your website kept emptying my cart but i did have the chats emailed to me and then I was told that did not matter they needed a screenshot. this is a billion dollar corp what kind of company does not honor its own specials because the website is not working I shouldn't be penalized for something I had not to do with. I love samsung products but this is a little disheartening.

PRAMOD KUMAR
from New Delhi, DL
The General Manager (Sales),
Samsung Ltd,
Noida.
Dear Sir Sub: Repairing of Samsung Fridge.
This is to bring to your kind notice that I had purchased on Smsung Fridge bearing No: RR19K2727RJ from your authorized dealer Kay Dee Audionvision Pvt Ltd, Noida , Sector -18 in the year 2016. The above fridge showed some problem and unknowingly the terms of the purchase , the fridge was shown to some engineer who repaired it in a minor way . This has been done with a specific reason that my mother is a chronic patient and as per doctors advice her medicine are kept in the fridge for day to day use. Thereafter the fridge has been given good service until recently the fridge showed some problem again. I booked as complain on 10.3.2019 and 13.4.2019 ( your service order no 4278801512 and 4280733545 respectively) . However your engineers came through your above authorized dealer, who inspected and went away with the remark that the fridge was operated by unauthorized person.
That , I told them the truth that the fridge was shown to one outside engineer by my children in my absence and got it repaired at that time. I do admit that this is not as per your terms of sale. But I have approached thereafter your concern to tell me the problem , whether it can be repaired by you with cost or minimum charges despite the same is within guarantee period offered by you . But ignoring my requests your engineers are just going back without any information to coming back for the needful. I would request to your good self to kindly send the authorized engineer to get the fridge inspected and give the estimation of expenses involved so that the same can be repaired .
Being a consumer of your every product including the fridge, I hope , I have all the intention to have your kind help in this regard.
Please help.
Yours faithfully
(Pramod Kumar)
9650349523.
K-4 , Sector -11, Noida.

donald snider ticket number 5122708358
from Boerne, TX
my experience would rate a minus 5 at least. had an older top load washing, unbalanced. 1st repair came out was nice and told us if the unbalance continued they would come back to exchange a part. he was through direct tv. 2nd call repairman came out 530p.m. friday, said nothing was wrong. washer warranty had been extorted in the first call. happened again, called in repairman was to come, didn't show up, I called and was told we were getting a different machine, then someone called and told us we were getting a refund. I had sent pics, was told they got the acceptance letter but no pics. today was the last straw, what happened to the warranty? was told file was suspended due to no pics, sent again, was put on hold several times when i asked to speak with a supervisor, never got through. looked up complaint number got the customer service section who would not put me through until i told her what i was calling about. told her i wanted to grump to someone, no-one was available, i grumped at her, she was offended so i told her i was offended also, she thanked me for calling and wished me a good day. needless to say this will be my last samsung product. thank u for your time. dorothy, donalds wife

Geoff Tuckerman
from Hoppers Crossing, VIC
My mother is 86 years old and has medical issues, It is essential she has call recording on her samsung s8+ to remember what her doctor tells her, (WHY HAVE U BLOCKED HER CALL RECORDING} WHY DID U DO THIS TO HER. After an upgrade...
I purchased this phone because call recording worked on it. I do not care if the law is changed.
i will do every thing i can to find a phone that has call recording capability and do everything i can to tell the media how BAD google is.. FIX THIS ISSUE NOW !!!!!!
geofftuc@hotmail.com

My phone alert pop up notification for updated verson. Thinking it's the best thing for my phone, I soon realize I was wrong. My phone's characteristics are very undesirable and disappointing & now I hate to use at my phone. I dont think I'll buy the new S10 or an android until you guys figure it out.
Left in the dark not knowing what I was changing about my personal device just to update my system on Samsung's terms.
I should have a choice, be able to see what my phone will look like before continuing with the update.
If I wanted an iPhone I would have bought an iPhone, I go with Samsung for a good reason but now you created a wannabe Apple system.
MAKE SAMSUNG SAMSUNG AGAIN
It looks like it came as a phone for dummies & the person who designed it had no artist skills.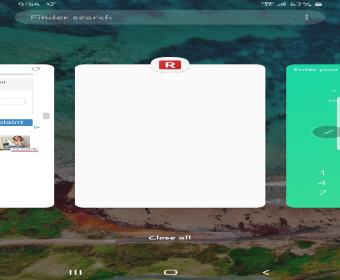 Terry Walling
from Kansas City, MO
A Walmart employee sold me a Samsung phone with a straight talk wireless plan, and instead used my account information after he assigned the plan to another person, and did what is call a port out scam, and hacking into my bank account through the use of my Samsung phone and the straight talk plan. This is all accurate and factual, and theft that has occurred is called fraud, and your company, along with others that have these employees who do this are doing nothing to rectify or correct, and/or correct thisd problem....

Amit Master
from Orlando, FL
Purchased a QLED TV - first order. Called my cousin who works for Samsung and added me to friends and family. Ordered second replacement tv and Samsung told me to cancel first one. I did. The second tv was supposed to arrive with discount. However, they never discounted, about 800 dollars. Anyway, they told me it was my fault I cancelled wrong tv when Samsung rep told me to call delivery company and refuse the first tv. I had to argue with customer service and supervisor and they kept blaming me. They opened a ticket to corporate and told me someone will call in 48 hours. No one did and they closed out ticket without any updates.
This company is pathetic and trying to blame customer. If more info is needed, please contact me.

April M. Silva
from San Francisco, CA
I bought in 2016 a Samsung top loader washer and dryer. My washer had a recall in which I exchanged with a front loader Samsung washer. No my dryer is having problems the drum was not turning when you started the dryer. We would open and rotate the drum and then it would work. Now the dryer is only staying on for 2 minutes. It will not stay on to dry the cloths. This is so frustrating when the items are only 3 years old. I asked a repair man and he said the motor has to be replaced. but he suggested not to do that because of all the trouble that Samsung products are having. No I will have to go buy a new dryer a maytag or GE. I am so frustrated and I will never buy a Samsung product. I even bought my son and daughter in law a Samsung washer. I hope they do not have the same problems I have had.

Chris
from Fort George G Meade, MD
Purchased Samsung Note 9 and Premium Care.
In early February I filed a claim for mechanical breakdown because the phone wasn't working.
Replacement phone was damaged so it was sent back and a new phone was supposed to be sent to me.
After 1.5 months, no new phone had been sent. Claim was closed and I had to file a new claim.
New claim was filed and deductible paid. After they took more of my money, they tell me the note 9 is out of stock and there is no expected date that I would be receiving a replacement phone.
2 months later I am still without the phone I paid $1000 for plus 11.99 a month for premium care, plus $100 deductible for the claim.
Samsung says they aren't responsible for premium care. Premium care says it's not their problem and they do not have the ability to refund.

Mark hudson
from Cleveland, OH
I submitted a claim to Samsung's premium care for a replacement device. I've been charged the amount of the deductible, yet phone hasn't shipped.. called in was told it would ship Monday, nope... Called in Tuesday (early) was told it would ship today ( meaning Tuesday). unsatisfied with that, called back 4 times total on Tuesday... Next time told a supervisor would call me back, never got the call, called back myself told it was out of stock, still unsatisfied called back, told my phone is in stock and there's nothing anyone can do. I work for doordash, I need a working screen in order to receive and accept orders, can't work. Already losing money each day ontop of the 99 dollars I've paid for a service (deductible) that hasn't been fulfilled and the best advice I've been given is to wait!!! Someone needs to be accountable for the lack of customer service. I even attempted to try and just upgrade the phone and pay the difference, nope. Wait please.... This is unacceptable, I get it, it's no one's fault I spoke to their hands are tied, but someone has to be accountable for this?? No??

Maryfrances Betts
from Abingdon, MD
On 3/29/19 I attempted to upgrade my S9 to an S10 using my Shop Samsung App . My offer was $550 when you upgrade an S9 to the S10.I tried to place the order and it changed to $300. Even though my offer on the app said $550. I tried again and came up with the same result. I got frustrated with the app and shut it down. I tried again on Saturday 3/30/19 with the same results. I tried again on Sunday and the app froze on me so I gave up on the app. Today (4/1/19) I initiated a chat and was told that the promotion expired yesterday even though it was and IS still showing as an offer on my app. I was told to uninstall and reinstall the app and I would see that the promotion was not available any longer. I did what they asked and found the promotion to still be on my app. At that point I took screen shots of promo to show it was still there. I placed a call to support at 5:10 p.m. to get clarification as to how Samsung can advertise this as an active promotion on my app but not honor it. I was told that it was a glitch on their app, but they refused to honor the promotion. I requested a supervisor and was transferred to Favio (id#68181) who identified himself as the floor supervisor. I once again explained the situation (by this time I have been on the phone for 1 hour 50 mins) and was told that I was seeing an outdated promotion because my app was not up to date. When I assured him that it was, but were getting no where, he sent me to tech support to "update my app". I asked Favio what I was to do when tech supported verified my app was up to date and he told me to call back. This ticket number was 1803870. I already told him several times that my app was up to date. Tech support verified that my app was up to date after I authorized them to remote in to my phone that my app was up to date and on auto updates. They also saw the $550 Trade up and Save Promotion on my app. I asked tech support to indicate this in their ticket (2208961581). I then requested to be transferred back to sales as I was going to follow up with Favio. I was transferred to Promotions where I was made to explain the situation all over again only to find out that they could not help and I needed Sales.. I was transferred to Sales where I asked to speak with Favio. Another person made me go through the entire issue again and told me that they wouldn't honor this because it is not available any longer even though it still shows on my app. I was put on hold a few times while he consulted with someone. He then came back the last time and told me to place my order on line and call back for a price match. He said that it was not guaranteed, but I should try it. After tonight, if this match is denied, I will definitely be going to Apple for all my future mobile needs.
I must say that after 4 hours 15 minutes dealing with this issue I have never been so disappointed with any company as I feel tonight.

I took my Samsung Galaxy S7 to the Samsung repair center in Hong Kong today for a replacement battery. They said that because it was an import model that they would charge extra to inspect it. Further it would take 3-4 weeks to obtain the battery -- and I would have to leave the phone with them the entire time! This is completely unacceptable. Why would it not be possible to order the part and for me to return with the device when it had arrived? Why would Samsung think it is acceptable to require my device to be held for that long?
Terrible experience which will lead my next purchase to be from a different manufacturer.

The ice maker its not working since the first time since 08/07/16 Geek Squad had to send a technician every tree 3 months my question is wat we are going to do after the guaranty protection plan expires they have come to fix this about 8 times.

patricia holman
from The Villages, FL
Why in the world would you put the ice maker in the refrigerator part of the appliance? Model #RF25HMEDBWW French Door Refrigerator.
I have had this ice maker de-iced 3 times by repair men. Apparently from opening and closing the refrigerator door it brings warm air into the main part which causes the ice maker to become warm and slightly defrosts and then freezes up and won't make ice cubes. Now I have resorted to using a hair dryer on low to defrost in order to avoid the $100.00 or so repair cost. I should have researched your product before purchasing. Sorry from the day I purchased. Could have bought a competitor's French Door Refrigerator.

Today I go to Greece Service at Athens Kallithea city at Sofokleous street and ask them to ensure me that if I give my Samsung gear s3 for change the battery they protect it and not scratch it.
The answer is that they throw me out and tell me to change it myself.
The employ of this service is very rude and not take anything to help me out with my warries about – please do something because this is the image of your cooperation – this rude woman that throw out anyone that have any concern about the quality of the service, and not take anything to help me get the trust that I need, and throw me out – is a very bad and unfriendly part of your company.
I am fan of Samsung products, get always the latest, have pay the gear s3 about 400 euro when they get out, and a rude woman is not even take some minute to ensure me that I get the watch done with out any marks, is make me so sad about the Samsung in general
I have file complains also in Greece, and everywhere I can because I believe in Samsung and I want to continue buy products and feel safe that a bad person is not represent the company its self.
Thank you in advanced
Charalampos Mavridis

Jane Millar
from Davenport, FL
We have a problem with a Samsung microwave which still on warranty and asked for technician service on Feb 5, 2019 and your ticket number is #5122288622. This microwave has been bought at Best Buy store at Davenport, Fl last sept 2018. We have sent couples times emails and even the saler of Best buy sent to Samsung a copy of the purchase and we never received any response from Samsung.
We are very desappointed about the service especially this microwave is always Under Samsung warranty? Why at this point we didn't receive any support from Samsung and still waiting for a technician visit to sort out this issue? Please take note that we need it and send us an email to set up an appointment with a technician and we will be at home waiting for him?
If we do not have any response from your department we will boycott your product even if we have been a good Samsung client.
Do not phone us, but please send an email for setting up an appointment?
Bruno for Mrs Jane Millar. Microwave model is ME 21M 706 BAG serial # 0B8C7W0JA.

My next phone will be a phone other than a Samsung phone. I am getting too may ads and it gets pretty tiring.

Susan Asmus
from Sacramento, CA
Your French door refrigerator's ice maker quit on me, again. It was the same problem before but the the computer went out. My last refrigerator's coil was on the outside and it is made of metal; and if yours is also made of metal why do I see on Youtubes, reviews and emails of the same problem from other people? I want to get my money back but the warranty always expired after 1 years is up. One guy said he unfreezed his frig ONCE a year, more than it should be for a new frig. What are you guys going to do about it so I can be a satisfied customer?
Have feedback for Samsung?
Thanks for your feedback!
Sorry. Please try again later!