Kohl's
Kohl's Complaints Continued... (Page 3)
349+ reviews added so far. Upset? Call Kohl's corporate: 262-703-7000

I went to kohls this evening with my kohls cash to make a purchase. I had a coupon, kohls cash, and a discount coupon. I was told I couldn't use the coupon, ok. Then I handed the cashier my gift card that I have 62.00 on. She said I needed to use my charge card to get the 20 percent savings. I said I don't want to charge and I handed her the gift card again. She got angry and demanded I give her my charge card. I cursed at her and left without any of the items. I lost my 10.00 kohls cash due to a cashier that was rude. I have never had any problems at kohls before. I could not believe this happened

Anduze Alexander
from Charlotte Amalie, T
For the last payment attemps something changed on my kohl's account which is no longer allowing me to make online payments using my checking account via mykholscharge account. It seems as making payments from mykholscharge has changed slightly , and your database needs to be updated. I spoke to Gabriele I.D.#2058 on 3/26/2015 @about 11:00a.m. est, but she was not knowledgeable or willing to help me find a way to get my problem fixed by someone else. I explained to her about the problem I was having making the payment and that it would be affecting my credit and all she was concerned about was having me pay with another form of payment. I told her to please log the call, and she stated she did under ticket #5330. I just want to continue using my checking account # that I have used for the last 6 years . Now my payments are now being late and something needs to be done to fix this, when I spoke to Gabriele, she told me that there was no way to fix this issue, her answer is unacceptable.... I need this problem fix, so please help or direct me to who in your company can fix this?

Loreli Pham
from Plainfield, IL
I just had an awful experience with Khol's credit card service. I accidentally made two payments within the same billing cycle which cleared from my account. I called to inquire about getting my money back and was told that since it cleared my account there was no way to refund me my money. I was not very happy knowing that I have balanced my checkbook accordingly to cover the spread of all my bills with not much left over. I explained to the representative and the supervisor on duty that I need the credit back so I can pay the rest of my bills. The response that I got was they were sorry, but I am not able to get my money back. The rep. told me that I should be glad that I payed extra for the month because I am paying my bill down faster. Really?!, but how can I pay my other bills if I allow Khol's to take my money? The supervisor told that if I request for the money back I would be charged a returned check fee of $25 on top of the fact that my payment does not go towards the next billing cycle. This is a load of crap!
I asked for her bosses name so I could file a complaint or at least a different number for customer complaints. She instead gave me an address to write to a P.O. Box. I am very disappointed that this is how Khol's handles issues. This is very sneaky and untrustworthy actions to me. There is not even an email address you can write to and at least walk away with the satisfaction that you know someone should read this complaint. I am NEVER shopping at Khols and telling others my negative experience with them. I would rate their process a 0. I am not a happy customer and their customer service is extremely poor.

Chris
from North Babylon, NY
Why cant I use my Kohls cash after date? STOP giving out the Kohls cash if you only have a week to use it. I did my shopping and now gave me $40 cash and $30 on line which I did not receive! I think you need to refund me the cash or allow everyone to use the Kohls cash within the month. Its a Joke..

mildred wuttke
from Holyoke, MA
I called on 3/19/15 to ask why I was charged $25 for a late fee. The person told me I didn't pay on my due date of 3/14/15. I explained that I didn't realize that I missed the payment. I said I had never missed a payment (in full) and asked if the $25 could be deleted. She said no--that I was late and that was the price. I have a friend who was surprised that it wasn't removed because she had missed payments on time a few times and always had the penalty cost removed. That's few times vs. once. She, I do not know her name, was very cold and not friendly. I've always had very good contact with your office people and store clerks and it has always been my favorite place to shop.

Geanean Misener
from Seneca, IL
I took my 2 daughters summer clothes shopping. First off, my oldest daughter is plus size & they had absolutely no clothes for her short of going to the womens department. The real problem started when I checked out, the girl at the checkout wasn't friendly at all, not a big deal but when my bill came to $240.00 I swiped my Kohls charge card which I haven't used in probably a couple years. She says to me that my card will not work & has to get a manager, manager comes over & asks me if I have a newer card? Well if I had a newer card I'm pretty sure I would have used it first, I tell him no, I have not received a new card. He then walks away from us & the cashier says just stares at me, I thought maybe the manager was coming back, that maybe he was getting me a credit form to fill out for a new card but he didn't come back. I said ok, I guess I'll pay with a different card! I was shocked that they didn't take the time to offer me a new card or fill out an application for a new card, instead I feel like I was looked down at for not having a new card.

Latrina Perkins
from Madison, WI
I had a bad experience with customer service twice in the same store. I never felt so uncomfortable going in a store,. I will not be going back Madison East, Madison, WI. They said they would talk to the young lady and that was it. I will shop online and that's it. I never go to that store again.

David elizondo
from Phoenix, AZ
I was at the Ahwatukee store in Arizona on Sunday 03/15/15 to use my 30% coupon for three Easter baskets for my children after waiting in line for 16 minutes I was told I could not use my coupon for Easter baskets or on consumable products as of January 2015. I mention to the Manager that the coupon does not indicate this as an exclusions. She said "sorry its our new policy". With no further consideration or concern about customer service satisfaction I was told "I could not use the coupon". I left without buying the baskets and left my useless coupon with the clerk. After leaving I called the store's customer Service and spoke with "Sam" and he said "I could use the coupon for Easter Baskets as far as he knows." This made me even more frustrated that customer service does not even know the policies of coupons. So then I called the Corporate customer service and they also was not helpful they said its the discretion of the store manager. So I guess its depends on the mood of the manager at the time of the situation. I am done with Koh'ls and so is my family. I was a very devoted and loyal customer until this happen.

Kay Clark
from Aurora, CO
I received a belt for Christmas my husband bought at Kohl's. He paid cash. The sticker price was $28. The belt had silver trim which after less than 10 times wearing the trim was coming off, poor quality merchandise. Took to Kohl's on Havana in Aurora, CO to exchange today. The same belt was not available in my size. Found a belt for $30 I liked and went to customer service. Was told without a receipt, which I didn't keep because I didn't expect it fall apart in 2 months I was told I could only receive a $6 credit even though the exact same belt is not on clearance and not selling fort that price. I was also told I could not pay the $2 difference, I had to get another $28 belt or settle for $6. I didn't like any of the $28 belts but took one anyway.
I asked if there was a 800 number I could call, was given the credit card number. After 15 minutes on the phone with them was told nothing could be done since it wasn't purchased on my credit card and that there was no other number to call. I informed him that I did not think every person in the world has a Kohl's credit card and if you pay in cash there is no one you can speak to? He did give me corporates number finally whom I fully intend to call. I have been a long time Kohl's customer, I do have a credit card, and have spent thousands of dollars over the years there. I wouldn't expect a belt to fall apart so fast to begin with, went out of my way today to try to get a new belt that I like, which now I have a ugly $28 belt, and spent my time calling and writing and I'm really upset. You may be losing a long time customer. If they had let me buy the $30 belt I would of been satisfied. It's not my fault the other one was a piece of junk! In my opinion they should of just let me trade.

Donald
from Pittsburgh, PA
How dare you...send an email to qualify for 100 dollar credit card but must answer a few simple questions? Too much personal information that I bailed out well before the end. Within minutes I was hammered with a slew of unwanted emails from companies based on the damn information your questionnaire required to complete the survey. Do me a favor...cancel my Kohl's card and I'll take my business to Walmart across the street.

susan sullivan
from Belton, SC
Would not even give one star but did not have a option for no stars.My Daughter and I both are Kohls card holders,and we buy often at kohls.I buy most of my Grand Babys clothes at the Anderson,S.C store.My daughter went in store to buy some things for her baby and she was followed around the store like a criminal.She asked for a Manager and the staff in the store claimed they did not know his name,Finally the Mananger was called and he denied that they were followed around the store but quickly changed his mind when he found out from one of his on staff that it was true.Some guy even said we should call police, my daughter said you should so I can prove harrassment from this store. This is no way to treat people so I hope other people will read this and respond,because the manangement and staff at the Anderson S.C store should all be replaced with people who know how to treat people.This happened in front of other customers so we do have witnesses to this horrible sterotyping. Something needs to be done about this store.!!!!

I went to return 4 pairs of jeans at Khol's in Hutchinson, KS that I purchased yesterday with a receipt, the store manager told me I didn't pay for 4 so I could exchange the 3 and purchase the 4th (again) I tried explaining to her I had not left the store knowing the cashier missed a pair or deleted them on accident.
She did not let me talk, she was very rude this inturn made me very upset, I told her shhhhhhhhh let me talk. She kept going being rude inferring that I had stolen a pair.... She then said out loud that she didn't give me a job because of this. ( I don't know this woman) in front of alot of Kohl's customers and her co workers she was yelling at me and over me.
She then to my surprise made a commet while cashing me our. "your such a BITCH" I knew I had to leave soon after that to prevent the situation from escalating. I have never had such an humiliating feeling in my life.

In early October 2012 I had noticed that the online payment scheduled with Kohls had not been processed. I called and was told by a Kohl's representative that if I paid the bill within the billing cycle, no report would be sent to the credit reporting agencies. I paid the bill, this was and is my only late payment situation for years.
Today I get a call from my banker telling me that Kohls reported a late payment and it has dropped my credit rating by 30 points. I called the Credit Card Customer Service Line 800-564-5740 to request that Kohls have this notation removed, I had to attempt to understand "Maurice" in El Salvador.
He proceeded to tell me that it was NOT Kohls fault and there was nothing he could do. He stated that if Kohls had mailed my statement or notification that the payment had not went through, they would have it removed.
While on hold at the beginning of the call, the announcements that there are situations with Kohls Online Payment System and a number of issues where customers were locked out inadvertently.
I want Kohls to honor their representative's original assurance, remove the late payment notation from my credit record.

I was told when I returned a coffee maker without a receipt, that corporate would have to send me a check. i asked for a store credit, they refused. Now after waiting almost two weeks, they send me a store credit. I already spent my cash because the Manager and the return lady said Corporate will be sending me a CHECK not a store credit,. I will never shop with Kohl's ever again.
I'm beyond mad. i was treated so poor by the lady from corporate returns, you would think I committed a crime. You advertise No questions asked on returns, what a joke, you should be sued. I spend so much money at Kohl's, not any more, I'm done, you lost a good customer.

today is dec. 1st 2012.. i shop at kohls all the time and never have had a problem with anyone in the store.. i was shopping today in the jewelry department and the lady helping me was very nice.. she offered to ring up my other purchases but i was using another coupon so i told her i wanted to do 2 seperate transations.. the other lady behing the counter butted in and was very rude.. she told me that its one coupon per transaction per day.. but on several ocations iv used 2 coupons in 2 seperate transaction.. her attitude and tone was by far the worst customer service i have recieved in the last year.. had she said it differently i would have not had a problem with coming back.. i have a charge card with kohls and after the way this lady talked and treated me, im am thinging about canceling my card and paying cash for anything i buy at kohls.. if i even come back!

I just visited the Kohls in Plainville, CT and waited at least 10 minutes in a check out line with one customer because the cashier was slow and chatty with the other customer only to have her then misring my item, complete the checkout and tell me I had to now waste more of my time to go to the back of the store to return and repay my only item. A complete waste of my time due to a lack of attention to her only job. I won't be back for awhile.

I have tried for a year and a half to get my correct address put on my bill and advertising material coming from Kohls. Everything is being sent to my parents in Georgia when in fact I live in Illinois. I have been in your store to try and have this corrected multiple times. I have called customer service numerous times and nothing that I have done by calling has corrected the problem. I have also tried to get this corrected online.
Nothing has worked to correct the problem!!!!!!!!!!!!!!!!!!!!!!!!!!!!!!!!!!!!
My correct address is:
Jeremy Efrom
279 Acorn Drive,
Streamwood Illinois 60107

When you purchase something at Kohls and use a discount and Kohls Cash, the store deducts the Kohls Cash first which minimizes the discount. So rather than receiving the whole Kohls Cash incentive, you only receive a percentage based on the other discount you used.

I purchased a razor for my husband for Christmas on 12/8/12 plus 3 other items. My subtotal came to 232.96, I had a 20% coupon which brought my bill to 199.41. Because of what I spent I received 30 dollars khol's cash which had to be spent by that following Sunday.
My husband and I went back to buy some Christmas for our children and used the khols cash plus. Afterwards my husband said of something different he would like for Christmas so I took the razor for a return at my earliest convience. Upon the return the sales clerk took 20% off of the item even though there were 3 other items on the receipt because of the original coupon and then proceeded to remove 30 dollars off for the Khols cash we spent.
The razor cost 199.99 and I received a refund of 139.08. Basically Khol's made 60 dollars off of me for free. I could justify the 20%, however, the 30 dollars khols cash that was given with an expiration date to use is a bit much to swallow. Basically I purchased the Khol's cash like a gift card. If I would have wanted a gift card I would have purchased one.
I went to spend about 40 dollars that day but left with nothing after robbed of my money. I am sorry that your customer service is this bad because me and my husband spend a lot of money at Khol's but unfortunatlly I will not be back if this is the moral of your company when we work hard for our money. When asked to speak to the manager I was told to call the corporate office.
After 3 different numbers and calls and still no one to help with this matter I turned to writing this complaint. I to work in customer service and would never turn down a customer to talk to my manager to help rectify the situation. This just adds to the frustration and dissatisfaction. I will certainly tell those I come in contact with how I was treated at Khol's and to be careful using "free" Khol's cash.

I am a frequent shopper at Kohl's- it's the one stop shop for almost everything; I'm in there at least once a week. My customer service experience at Kohl's is an A+; the employees are usually so friendly and go out of their way to help assist me if needed. Yesterdays experience at Kohl's was my first negative one. I had finally got around to signing for up my Kohl's rewards card and when I signed up, I recieved a card for 15% off. After shopping around for quite some time, Greisha cashed me out. Greisha was VERY rude to me and said that I couldn't use my 15% off card because I had already used it. (When it was issued to me, the cashier wrote the date that I had to use it by); I explained to her that in fact I hadn't used it yet, but rather I had to use it by the date that was written on there. Greisha gave me quite an attitude and agreed to scan it and snatched the money from my hand. I usually don't complain or make a big deal out of issues but I did want to post this, because this was my first negative experience at Kohl's.
Kohl's
2232 Delaware Ave, Buffalo NY

I bought over $150 worth of merchandise for my family for Christmas. I live where there is no Kohls for a good 3 hour drive. So of course I do most of my shopping online. Sometimes there are items that do not fit. So I was headed to the City, Provo Utah, so I decided that would be a good time to exchange my Kohls items that did not fit.
The Saturday after Christmas, I know is not a good time, but that is the only time I had until I don't know when. In the past I would take my kohls returns back and ask to give me instore credit and then shop around. No problems, EVER!!!!! This time was different. They told me that they changed their policy and I would loose my $10 Kohls cash if I did it that way.
So to not loose it the lady told me directly to go find something with the $40 tag price and we could exchange no problems. Well off course I wanted the same thing so that wasn't an issue, but like I said I order online the majority of the time, and after Christmas, of course they did not have the time. So my husband found another item that had the tag$40 on them.
I again waited inline for this ridiculous policy. When it was my turn of course the lady was no longer there and I had to deal with someone else. When I told her what the first lady told me. She understood what the lady first said. But when she rung them up, the item was now on clearance for $12. She said the item I picked out was on sale for $17 and that does not match each other.
I told her I understand but the $12 is not what I paid (having proof of payment) She told me that if I did not find a $12 item (even though that is not what I paid) I would still loose the $10 Kohls cash even though I kept all of my purchases other than this one item I wanted to just exchange. So now the retail amount that she was going to give me back on this item would be $4.
ARE YOU KIDDING ME!!!! I showed I paid $14 but because they did not fit, there was none to be found in the store, I would loose my Kohls cash that I previously earned and spent on more than $150 worth of items. I am a gold card holder and from this moment I have decided I would never shop at Kohls again!!!
The girl told me that if I did not use a receipt I would get back $6 instead of $4!! well yay since I paid more than that and you guys are in the business of taking money from consumers and not helping the consumer with any exchanges!!! This policy is the most stupidest thing I have ever seen!!!
If you want to take away peoples Kohls cash, you should take it out evenly on the times purchased, not just the time they NEED to EXCHANGE!!!! This is bogus and I have shredded my card already!!!!
The saddest part is, my brother-in-law is a store manager at a Kohls but I can not support a business that does not support the consumer!!!
BEST WISHES, NO LONGER A CUSTOMER OVER $10 KOHLS CASH!!!!

First I need to explain the reason for the delay of my complaint. My husband has been diagnosed with stage 4 terminal cancer. Therefore I'm sure you can understand our lives have not been the same since then. On the day of the 26th day 02 month 2012 I returned a diamond pendant at the value of $789.00. This piece of jewelry had been found in it's original wooden box in a dumpster. A local dumpster diver had come across it through out his daily routine. I purchased the necklace from him for $60.00. His asking price was $100.00'
I was compelled to find the owner of this beautiful piece of jewelry. On the day entered above is the day I entered your department store in Ranch San Diego, California. I spoke with the jewelry dept. manager Agnes and she told me that they would investigate to see if they could locate the purchaser. If the owner had been found that (would have been fabulous) I would be notified, and if not I was to call in 15 days to check the status of the corporate decision made.
She handed me a receipt with an 800# to call and follow directions. I live in Jamul Ca. 91935 which is surrounded by the Cleveland National forest. Our reception up in these mountains is less than to be desired. My husband has been diagnosed with stage 4 terminal cancer at the age of 52 he and I are on a very very low based income and really could not afford the set back of a mere $60.00. However when you are fighting the government (SSA) and with the monthly income of $592.00 $60.00 is alot.
I in he past have sent by US mail a letter to the headquarters with no response. These are the numbers on the receipt starting with the 800-837-0302, the date of receipt 02/26/2012, the 12 digit #734815726494, the remaining no.#s were on the bottom of the receipt 0067 / 0060???. The 12 digit # starting with 734 may have been 735. The receipt is no longer visible therefore one or two of these no.#s may have been transposed or to blurry to see.
However there has to be some type of record that pertains to my statement. Also the manager had estimated the amount of either a credit voucher or refund of $398.00. I am hoping to hear from you very soon and appreciate your time.
Sincerely Doreen L. Flores.

on Sept. 27th I placed an online order with Kohls - which I have done many times. The order clearly states my package will arrive between Oct.2 and Oct.8. When I did not get it by Oct.9, I call customer service. I was told that it went from Fedex to the Post office, where it was now - wrong, I had just come from the Post Office, but went back again as something that I ordered I needed TODAY and would not have ordered at all if it wasn't guarenteed to be here. The person that I spoke to ask me if I would like to reorder??? that wouldn't help much for today either! So now they have charged me but I still don't have my order.

The Ann Arbor Michigan store never has merchandise in stock. I got ripped off of $20 in kohls cash on 9/28/2012 because the merchandise was not in stock, the kiosk was broken and the line for the phone there was backed up. I had to make three seperate purchases on the same day , two were within 3 minutes of each other, one at the register and one by phone and the other one I placed online as soon as I returned home. They totaled $103.83 and did not get my Kohls cash because I was told it has to be one transaction. Well, now I am being punished because your store doesnt have the merchandise in stock, the kiosk is broken and the line to place an order by phone is too long for me to wait again. I was told to take it all back and then rebuy it. Well, by the time I drive there and suck up my gas, the Kohls cash cards are not worth it. I am ready to cancel my charge card. I dont shop there as often as I used to because it seems they never have merchandise in stock.

I called to enquire the status of my engagement ring bought through kohls by my fiance. He is part of the military and we are being relocated. As soon as I called I was greeted very unfriendly, the girl wouldn't give me her name when asked and placed me on hold. She did not sound like she wanted to help me at all. My phone call was passed along three times until I spoke to a manager named Chris, who reasurred me that I will get my ring in time of promised delivery (which is in ten days). I had a delema where we are too move right away and I let him know my concerns although he seemed confused on procedure of this type. He finally passed me off to a super rude lady named Mellisa who was also reluctant to give me concrete answer and cut me off and hung up.

I shop at Kohl's because I find great deals and receive $10 off coupons and on Saturday 3-30-13. I went in to use my coupon. It was for 10 off a 40 purchase including women's dress & casual shoes, handbags , fashion accessories & fashion jewelry
I did have a set of belts on my order, and also earrings. My receipt clearly lists the items under fashion accessories and jewelry.
The associate told me that the machine would not take my coupon and she did not know why, I told her that clearly a belt and the earrings are a part of fashion accessories and jewelry. I even called another manager or associate over and they said the same thing and said sometimes the register will not take the coupons. Well, this is the reason i came into the store, I spent 54.05 and did not get my 10 off. I think the correct thing to do was to give me the 10 off. I am very displeased. I will pay my card off and will not use it again. I have been a credit card holder for Kohl's and a customer for quite a long time. I would like to use my coupons when I purchase the listed items that are on the coupon.
Thanks, Fairese Branch Thrasher

A friend and I went to Our favorite kohl's tonight each with two $10 off coupons (2 from our emails and 2 from our mothers' emails). Anyway, we have gone before with multiple (but not obscene) amounts of coupons and cashiers have been very kind and let us use them. Tonight, while Christmas shopping, we went up to the register only to have a manager say we absolutely could not use them all due to the policy (perfectly fine! Some feel that way!).
The policy is not my complaint! So we made our first purchases, first hers, then mine, and backed ip from the register to review our remaining items. When you're a college student, every discount counts! While she held our bagged purchases away from the cart, I shuffled through the few items left deciding if I wished to pay $19.99 for an item I originally thought would be $10 cheaper (paying double what I expected?- worth rethinking). Then my friend said that the manager was going to every cashier and telling them we had already used our maximum amount of coupons for the night and not to let us blah blah blah.
All while pointing us out and watching us... How rude and unprofessional can you get?! I LOVE kohl's and have never had an incident like this before! We were both offended and shocked by her behavior :( She made us feel like criminals! Again, all I wanted to do was reevaluate and decide how much more money I was willing to spend! I will not be returning to the Kohl's on thomasville road in Tallahassee, FL again. No paying customer (or even someone just browsing) deserves to be treated like a criminal!

Back in July 2011 I opened a Kohl's credit card account at one of their registers after making a purchase and received a temporary use receipt with my credit card number on it. After a couple of weeks the receipt had expired. After one month, I still had not received my permanent credit card nor a bill. I called the customer service number at Kohl's (888-814-3555) and this rep with an indian accent told me sometimes it takes longer to receive the card, and to wait a little longer.
Sounded to me like he didn't want to do any work to investigate what the problem might be. Well, it is now mid-September 2011 and still no permanent credit card or bill. Late last night I received a voicemail message on my phone telling me to "Call Kohl's at 888-814-3555." The recording repeated that message at least 5 times and very loud and rude, I may add. This morning I called to find out they were calling about my missed payment from the same 888-814-3555 phone number.
I told the phone rep about my call to them in July but she didn't seem to care and told me if I didn't pay before the 22nd it would reflect badly on my credit rating. I'm going to Kohl's store tonight, paying the balance, and closing my account. (That's a joke - - since I didn't even receive the card yet.) I want NOTHING to do with them anymore. They can stuff their coupons. The problems aren't worth any savings. I suggest you do the same.

I made my Kohl's payment by my credit card and the clerk charged my credit twice for the same sum of approximately $450. I spoke with several managers more than one dozen times over the past three weeks requesting a credit reimbursement to my card, but they create various excuses about why this doesn't occur--especially pressing me to leave the balance of my Kohl's card. Given the irresponsible behaviors of the management and their poor follow through I am proceeding to report Kohl's to the Better Business Bureau and the District Attorney's Office for unfair business practices.

I purchased a pair of Lee Jeans at your store in Auburn, Al. I wore them a couple of times but they seemed to be extra large for the size I purchased. Now I have purchased several Lee Jeans and paid top dollar for them before. Well I happen to be in Newnan, Ga. and was at your store there. When I attempted to just swap the jeans the check out girls would not allow me to do so because she said they were not the same jeans and the ones that I picked out cost more. Well they came off the same table that I had brought before down at Auburn. May I commend your store at Auburn Tiger Town, it is great. They really stand behind their product but Newman would not swat them for me, so I had to get a refund even though the pants were seconds. Remember I am a loyal customer and paid my bill in a timely manner, but I will not shop at the Newnan store again. Khols in Tiger Town is the one for me.

I am at my wits end. Im pursuing taking kohls to court for harassment. I had a debt of a little over $400. Didn't pay on it for a while, so they sent the debt to collections. I have paid this debt in full to the collections agency it was sent to therefore resolving my debt. This was paid off on 10/13/2012. Since then I still receive 8-12 phone calls a day harassing me over this. I have spoke with several different employees from the call centers and at the Vancouver, WA location, explained this debt is no longer owed, and yet im still being harassed. It is now February 8th and I have received well over 1, 000 phone calls AFTER the debt had been paid. I have no idea what's the point of your call centers if you hire people that barely speak English and don't put in notes in your database properly. This is absurd and I refuse to let kohls off easy. If you are sending debts to collections, after you send it it is no longer kohls debt. That debt now belongs to the collections agency. Why are you not communicating with them on what debts have been paid, and what ones haven't? At this point im not answering any more of their calls due everyone I speak with from their company is incompetent. I just let them keep calling and I print & save all my call logs from my cell phone for court. I would NEVER recommend kohls to anyone!!! Very very poorly ran business.

I am complaining about the customer service at the Khols in Lake Worth, Texas. I went to the store on Friday the day after Thanksgiving just to change a pair of sweats. I am the second person in line waiting for help, and there are only 2 ladies working in the department. One lady was busy with a customer for at least 40 mins. the other lady was working with 2 customers at the same time. She then had to do some online searching for 1 of the customers. I am still waiting for service. The first lady finally finished with the lady who was there for 40 minutes. She looked at the line of people who were waiting for help and then she left, which now leaves us with the one lady who is still helping person with something online. The line by now had at least 8-10 people who by this time are a little unhappy. I have had 7 back surgeries and it is just hell for me to be standing that long with out movement. After about 10 minutes of the lady being gone I finally found a lady passing through and asked if anyone else could work in customer service. They finally brought the first lady back who apparently went to go eat lunch. Now common sense would tell me that the day after Thanksgiving would be very busy and there should have been more than 2 people working customer service. After almost an hour in line and a very painful back it was finally my turn. I asked the lady at customer service if there was a complaint department on line and I was sure to let all the people know that were standing in line. My actual buisness only took a mere 5 minutes. After that adventure and pain pills I have decided not to do my buisness in that Khols anymore. I will go out of my way to go to another store to do my shopping. I hope for Christmas this matter is taken care of and some thought is put into more people working in the customer service department.

Kohls makes it difficult for people to buy gifts for a registry online and have them shipped to them. Kohls makes whoever is registering fill out a shipping address when they register and this is where all the gifts go. If someone is having a shower don't you think they want to buy the gift and wrap it and give it to that person at the shower!!!
We have registered at several other places and their websites make it easy for people to chose where they want the gift shipped, so why kohls doesn't offer this option is ridiculous. But I guess we can expect this lack of customer service from the great company that treats people like they were idiots with their high mark ups and constant sales.

I purchased some shoes for my son for school and I never recieved them nor had i recieved an email or phone call that thery were not shipped and there was a problem . But the money was taken off my credit card. I called a day after the date that i was to have recieve the shoes and was told there was an ERROR IN SHIPPING and that i could reorder them and get the same 20% off . Well of course the shoes are no longer available. And my son is sneaking his sisters shoes to wear to school because his have not came and will not be coming . In the mean time I have to break up the sibbling rivary over shoes and take my son back to KOHLS to pick out another pair . That is such an inconvience and disappointing to my child .

How is it that now when you return a product, earned and then used the earned Kohls Cash from that purchase you do not get a credit for the amount you paid for the product. In the past it was that you would be offered a merchandise credit for the amount you paid for the product to use only in their store if Kohls cash was earned and used, this would then mean you would be spending that same amount of money in a Kohls store therefore putting the money back into the store. They have many new policies that I along with many friends that shop there were unaware of and a little angry with these as well as surprised.

We returned a Hallmark Christmas ornament that did not work.We used our Kohl's credit card and a ten dollar Kohl's cash to purchase it with.When we returned it on 12/11/2012 at Kohl's in Stow,Ohio,where we purchased it,we were credited $9.95 on our charge card and told they couldn't give us back our $10.00 Kohl's cash.We wanted to exchange the ornament,but there were none there,so we just had no choice but to return it.
It was not our fault it was not working and feel that we shouldn't have lost our Kohl's cash because what we had purchased was faulty.We do a lot of shopping at Kohl's and have always been with the quality of merchandise we have purchased.We feel that to not give us back our Kohl's cash is kind of like a slap in the face because we returned a broken ornament. Thank you for your time on this matter,Kathy Hall

My daughters and I were in Kohls shopping. Holly, my youngest daughter had her one month old and her three year old daughter with her. The three year old was acting up pretty badly. My daughter became frustrated, she put back the clothes she was going to buy and put her daughter in the Kohl's stroller and set with the baby carrier on top. unfortunately she forgot a couple of boxes of jewely and walked out of the store.
She tried to explain to the store manager that she was just trying to get her three year old out of the store because of the way she was acting. She was told, he did not care, she was stealing and she was going to be arrested. He refuse to let her call anyone to come and get the kids and went so far as trying to take her phone from her.
She was told that this was his area she was in now! The items in question were on sale for 23.88 each, but Larry, the manager, put down that they were 100 dollars each. I guess in his area he can change the price of an item for those individuals that he told me wasn't raised right. Falsely giving the amount of an item is no better than stealing even if it makes the story better.

I do not have a questions but need to make a complaint on the Customer Service that I received a few minutes ago. I am pretty new to your store charge practices. My daughter added me to her account and I received a card in February but I had no idea that all the ino was related to her inclkuding the SS number. I recentlt made 2 payments on the Kohl's account and wanted to make sure of 1. That the payments were properly logged and 2. The reamining balance of the account. I am again reminded why I never got an account with your company until now. You need to provide better Customer Service Training so that customers feel good about shopping with your company. My operator name was Bryan and was given TKA3315 asd the ID. I was chosen to randomly take a survey but he cut me off so that I was not able to do so otherwise I would have taken that route. I would appreictae a response to my complaint. Thank you!

On Jan.29, 2012 I went into a local Khols Department store to purchase an item that I seen in the Ad. I was instructed by a Sales Associated the item had to be purchased On Line only because of the size .The Sales Associated directed me to call Khols Customer Service online to place the order in the amount of $217.79. After giving the Sales Associate all my Personal Banking Credit/ Debit Card information in the event of placing the order on-line the order was decline.
After looking over my bank account I've notice a Khols charge in the amount of $78.69 however that purchase was not made.
IÂ have contacted Khols customer service after researching the data they see where the order was place and decline. After giving the Card information they didn't see any purchases made at Khols with that card. However i don't know why this charge was made in that amount I was informed to wait 72 hours being that it shows pending on my bank statement. I foresee this being Fraudulent and this has caused my account to go into an overdraft.

have been a Kohls department customer since this store came into my neighbnorhodd 8 to 10 years ago and have always had good experiences. I bought two watches for my parenst for christmas and haver paternized your store for many years. I went to the website this week and saw codes that instructed me to take to the cashier for an extra 15 percent off of my purchase and the code was good until 1/28/2012. The casher seemed open to accept the discount and that is when assistant store manager Mary walked up. Mary said flatly no; she would not take the coupon as I had to have a scannable coupon, That is not what the ad said; the internet ad said just give the codes to the cashier.
What disturbed me the most was Mary's Cocky attitude. Her attitude said "'I am in charge; I have no sympathy; I have no understanding; The answer is simply no and that is that. With the many dollars that I have spent with Kohls; taking an extra dollar or two off of this sweater would have only cemented me more as a long time Kohls customer. Mary needs to realize that this is not the only company in town and this is not the only Kohls store in town. I would have spoken to the manager had he been in the store.
Mary attitude towards me is totally unacceptable. If the Kohls site had allowed me to print a coupon; believe me I would have. The site however told me to take the printed codes to the cashier and they would take care of the rest. Mary owes me an apology and Mary needs an attitude adjustment so that she treats future Kohls customers with more dignity; understanding and respect; Or Mary needs to find herself a new line of work where she does not have to deal with customers as we are the ones who pay her salary.

I just returned from Christmas shopping, exclusively done at Kohl's this year. I forget to ask for gift receipts. I did not remember until I was home. I think your employees should automatically ask a customer if she needs gift receipts, especially during the holiday shopping season. Please consider having your employees do so. Also, if a person makes a return using a gift receipt, Kohl's knows exactly what was paid for the item and should give the customer a choice of a in-store credit, refund to credit card, or cash, if original purchase was paid in cash. I send presents purchased at Kohl's to family members in other cities. I want them to be able to return items for cash or credit card reimbursement. My teenage grandkids like gifts from Tilly's. I no longer shop there, because of a similar policy. 

I recieved a Khols.com e-Gift Card. Card Number- 6393052735539919127 Pin 2016 For My birthday. For the ammount of $200. Here is my Story... I was stainding in line waiting to purshase the items via Khols e-Gift Card. And Once It was my turn I presented the printed copy from the verification email I recieved with the card number and pin. The cashier clerk at store number 1226. Preceeded to tell me that she did not know what the piece of paper was and had never heard of a Khols e-Gift Card. She called for a manager.While waiting in line there were two other customers behind me. 'I' the customer apologised on my behalf to the other customers for the delay.
After all, the employees should know the way their company operates. The manager arrives her name is Tammy at store number 1226. I asked said," Yes mam, this is the Khols e-Gift Card that I printed off the internet. Do you know about the Khols e-Gift Card?" She responds directly, "No, I have never heard of an Khols e-Gift Card." She then trys to scan the bar code it didnt register. She then types in the numbers. And Sure enough a reciept was issued through the computer. And She did not once apologise to me for the delay or the customers behind me. I also made another remark. I said, " So your the manager?" She responds," Yes I am." and I say, " Wow, your a manager who is employed by this company and yet you dont know what an e-gift card is?
She replies," No I havent. Have a nice day sir." and as I was walking away the Manager Tammy at store number 1226 says, " Whatever!" and Both the Cashier and Manager start laughing. I said ," What is your name mam?!" She said, Tammy. That was the end of the proceeding. This is the kind of thing that would not make ANYONE happy. Plus this was my birthday present. And to be treated in that way was very disrespectful and makes me ponder wether or not to ever shop at Khols agian. My mother and father are very disappointed in the treatment I recieved. I hope this is taken seriously. 

To Whom It Concerns: I love shopping at our local Kohl's in Niles, Ohio except for one thing....the temperature in that store is too high!!. It is so uncomfortablly hot in that store beginning around the end of August (guessing when the heat is turned on) and on until summer (when A/C comes on) that I have had to leave before I wanted to because I felt sick from being overheated. I have complained a few times at the register and have gotten the same response....."we hear that all of the time."
The last time I was there, I mentioned it to the clerk, who said the same thing in response, and I told her I was surprised nothing was being done about it. She told me that it most likely was because the complaints never went further than that store and never got to corporate. That is why I am sending this complaint to you. You have to be losing business at this store because it is so hot in there during the fall and winter months that no one can stand it. I have seen people wiping sweat off of their faces while shopping in there. It is also foolish to spend so much money on overheating the place. I hope that you will look into this because I am tired of having to cut my shopping short due to the store temperature. 

On 4/13/13 as I was on my way home, I decided to stop at Kohl's in Groton, CT. I realized I forgot my 20% coupon as I went to check out. There was a young man in front of me and he also forgot his coupon, so the cashier gave him a 20% coupon he had and was very nice to him. It was my turn and I said I was sorry, but I also forgot my coupon at home cause I wasn't planning on doing any shopping. I got the third degree of how management is cracking down on them about giving coupon's out. I told him he just did it for the young gentleman in front of me. I shop at Kohl's all the time; I also have a gold card and get coupons in the mail all the time. I'm almost 60 years old and never felt so humiliated in my life. I have never been treated this way by any person in any store. He told me that I would have to pay for my items and bring the receipt back the next day with my coupon to receive my 20%. He had no problem giving it to the young man, but decided to give a 60 year old woman the third degree regarding a lousy 20% coupon. That's pretty sad. I did not purchase my items and told him to cram them. I used my credit card all the time, but after being treated in this way, I no longer intend to use it or shop there.

It's hard to believe that in 2013 a store as large and profitable as Kohl's doesn't have Auto Bill Pay - which is the process of directing a store to automatically charge your checking account or credit card. All my bills are Auto Pay. Kohl's offers great discounts and coupons BUT they make it up on the back end with folks like me (and I know I'm not alone) who forget to pay the bill and are then charged outrageous late fees! Kohl's has lost another customer forever - I just closed my account! Good-by Kohl's.

I am not upset with Koh l's but I am upset with the Food network blender #18018 that i bought there in early December. i only used it 1-2 times a week. This past week the plastic collar broke. I did some research on the internet and found only bad reviews on this blender. Most of them broke after a few uses. I need to know what to do. I no longer have the receipt or the box. I also noticed that Kohl's no longer carries defective blender. I feel that an item that cost $60.00 should last longer. I need to know if there is anything I can do. please get back to me as soon as possible.
LuAnn Winemiller

I sent my februarys payment early and kohls received it on Jan 28 and now they are saying I never payed my February bill and they put a late
fee on my acct. I didn't know I was going to be penilized for making a payment to early. They did it to me back in Oct. of last year also. I left it go
that time . I'm not letting it go this time. How can they say I never sent it. I sent the Feb statement with my payment. I called them and that is what they said. They will do nothing about it. Apparently they have a good system going to make themselves more money.

I bought a glass Christmas tree ornament and it was not wrapped in paper or double wrapped in plastic..just tossed in bag. It rolled on the seat of the car on the way home and we got home to find it broken.

just spent over an hour at kohls with my daughter shopping we had a large cart of things to buy. when I went to pay for it and was using my 30% coupon they mailed to my house they told me I had to put it on the kohls credit card. well the card is in my husbads name and i didnt have it on me. I was trying to pay with cash money and the store wouldnt take it. I cant beleave that kohls would not take 115 dollas in CASH MONEY. So they turned down a sale just because I wanted to pay with cash.

I was shopping at Kohl's store #303 in Greensboro, NC, and everything was fine accept for the management. They were constantly on the intercom calling for help here or there. Then one time, a woman got on the intercom and said "OK PEOPLE, WE ARE NOT GETTING THIS RIGHT", WE HAVE TO DO BETTER THAN THIS". It was an aweful experience. When I went to check out, I saw 2 people standing by the cash registers carrying clipboards and a microphone/headset. They were greeting people, but there body language was hateful (I can only assume they were the managers). I felt so bad for the cashiers. You could tell that they were under the gun, and doing the best they could. There was not a big crowd at the Kohl's store, and if everyday is like the day I went, there will never be a crowd at the Kohl's store.

I was shopping with my 2 grandsons to purchase school clothing. I had a coupon for $10 off childrens clothing. When I checked out I was told I could not use it. I had3 pair of shoes, one come from childrens dept. I purchased several shirts for my boys, both are not the average size I don' guess. I had both boys with me. One was seven years the other 12, I told the cashier the shoes and shirts were for and they were children........To me this is discrimitation against mygrandsons because of their size. I am sure other mothers or grandmothers have the same problem. I shop at Kohls quite a lot, but maybe Belks or other colthing stores colud understand what it means to have children oversized. I really did not think Kohls would stand there in front of me and other customers waiting and tell me my children were not considered children. I did go ahead and purchase over $100. My 7 year old did not understand what we were talking about and I am glad he didn"t. PLEASE try to understand before you send out coupons for children that they come in all sizes.

I purchased January 18, 2012 online with my Kohl's credit card a Dyson vaccum cleaner . I never received any Kohl's Cash incentive back because they said I submitted an order an an "unregistered guest" and will not honor any cash back incentive. A person would think that if they had a credit card by this store they would be considered to have an account and wouldn't have to order as a registered guest. This was only the second time I had ordered online at Kohl's and I did it the same way as I did the first time and received Kohl's cash back then, however, my first order amount wasn't as large as the vaccum amount. "Too much Kohl's cash to give back".
It appears to me that Kohl's doesn't want to do what their advertising appears to project. It also appears that they are using "bait and switch" tactics! I also am unable to check the status of my order because they said my password was wrong, so I changed it and now I'm blocked out of my account! I saved my money in order to buy this vaccum cleaner and did a lot of research to find the best buy. I thought I had found that at Kohl's because of their "Kohl's cash back offer", but it's looking like they don't stand up to their offers!

I went into the Fleming Island Kohl's in Florida zip code 32003 on 11/17/12. I was shopping around looking for a pair of white trousers, and I finally found them with no assistance of your employees. This was fine but then as I was looking for my size, I noticed there wasn't my size, but the mannequin had the trousers I needed in the correct size. So I looked around for an employee to help me get the trousers off the mannequin. When I did finally find an employee, she stated that the size I needed wasn't the size on the mannequin and that I should get a larger size. I found this very offensive and asked for a manager when the employee got the manager, she smirked and told the manager that I wanted the size off of the mannequin and that I actually needed a larger size, this is when both the manager and employee laughed. I will not be going back to this kohl's, and I'm very disappointed in the company overall for employing such negative and unpleasant people. I am not one to typically complain or take my time to send a complaint in but this was uncalled for and I do not want other people to have to deal with these same things. Thank you for your time.

I ordered $30 dollars worth of things from Kohl's online last month (September). I never received a bill in the mail & now my charges are over $100. Tell me how this is my mistake when nobody ever sent me the bill in the mail. I don't mean that I threw the bill away accidentally or just misplaced it, I mean I never received it. I never even got any kind of e-mail from Kohl's until today (10-21-12) stating that my bill was due. If I never received a bill or an e-mail, I again wonder how my bill should go from $30 to over $100!

After submitting check for payment, the associate said he needed an authorization number to complete transaction. He was confused, saying he never had to do this again and asked another associate for help. She (claims to be manager) said they have too much check fraud and randomly check people out for fraud. It took 20 minutes to complete. The associate made a phone call and kept spelling my name, saying my address, drivers number out loud several times in front of a long line of customers. I felt humiliated. The "manager" ignored my plight and when I told her how I felt, she ignored me (Jamie was her name) Then I had to give another piece of ID and had to watch the assoicate comparing my drivers license photo against my employee ID photo. After leaving the store almost in tears, I called the customer service desk. The woman said that Kohls does not do authorization for checks. Then I spoke to the store manager who said that they do and that she was sorry but that is their policy. I will never shop at Kohls again. They obviously do not care about losing a customer and have no respect for the privacy of their customers.

My fiance' and I come to kohl's maybe once a month on average, sometimes separately, and every single time we visit kohl's we are intolerantly badgered about opening a kohl's card! I said NO the first 3x stop harassing me! Today was the last draw; I felt insulted and agitated. I just came to look for christmas gift ideas and I was pestered for 5 minutes about the discounts, etc. I know what it is and if I want it I'll say yes at the register; if not, leave me alone about it!

My son and I visited the Danville store for the first time and spent money out of pocket and had lots of fun. The male salesperson in cologne and perfumes was really nice. No problem with customer service at all. We went back a second time and applied for a kohls credit card also spending money out of pocket. We were approved.
We were very excited and went back the third time to shop. I found a blouse, jeans and earings. I recognized one of the employees and she helped me match my outfit. I got to the register and a different person rang me up. I was under the impression that I had enough money on my charge to pay for the complete outfit. I was very embarrassed because I only had enough to buy the blouse. I went home and got on my computer and did a complimentary survey. The lady sent me out a new credit card with a $300.00 on it. I called and activated the card immediately and was very excited.
My son and I were in a car accident and I was very upset and needed some me time. So I went to kohls to get the rest of my outfit with the $300.00 credit. I was skeptical because of the last time I was there. So I went to the courtesy phone to verify the information. everything was a go. The card was activated with the $300.00 on it. I ended up shopping for at least 2 hours. When I got to the register they said I didn't have enough on the card. I was so embarrassed and upset. My time is worth something. I am not happy with any of this.
I didn't care for the was I was treated at the register either. I want my gas money reimbursed to and from the store as well as the 2 hours I spent wasting my time shopping there, as well as the original $300.00 credit I was promised. A non trusting customer.

i purchased dinner and lunch plates on 11/8/2011. i got to the register and paid with a $100. american express card, plus $30. Kohls cash, plus a $5.00 kohls card. The plates rang up at regular price and I told the girl that the plates were on sale. She in turn called for someone in houseware to check and that person returned a call saying the plates were not on sale. i bought the plates anyway. On 11/9/2011 i returned a defected plate and picked up another one and noticed the plates were on sale, so i went to customer service with my receipt and told them. they did make the return and the adjustment, however, she claims she had to put the money back on my american express card and said it would take 7 days before the money returned to my american express card.
Ultimately what has happened is that there is not more money on my kohls card, then there was the previous day. I used my american express card to SAVE money at Kohls. So even though i will ultimately get my money back on my american express card, she told me that i can't use my AE card to pay down my kohls card. So for something that was not my fault, it wound up costing me more. the purpose of me using my gift card, was not to have a higher kohl's balance. I don't understand why she just couldn't deduct the 30% sale from my kohls card. i'm very upset, i am not made of money!!!

I returned 2 idems that I payed cash for why did i not get full price that i payed for them?I would like to have my lawyer look into this.This is not right.The idems where never worn and also tags still on them im pretty upset with your business!

I received a call from a collection agency for Tina L. Williams, my maiden name They stated that I owed Kohl's $263.00 for an outstanding balance on a credit card account. This was a shock since I am and have been current with all my bills. I don't remember seeing any bill or correspondence from Kohl's for at least the last 2 years. The collection agency couldn't provide much information as to the nature of the charge and recommended that I call Kohl's. Kohl's also couldn't provide any information and referred me back to the collection agency. The collection agency then refused to show any statement itemizing the charge. So, after being treated as a criminal for trying to identify the debt, I am forced to pay the debt without any explanation as to why I owe this money. What a great racket! I take great pride in my responsibility and honesty to pay for what I purchase. All I wanted was someone to show me why they thought I owed the balance, and if valid, gladly pay the amount. Unfortunately, at Kohl's and Progressive Financial Services, there are no other possibilities other than being guilty of trying to steal and rip everybody off. I paid, not because someone from Kohl's or Progressive Financial Services courteously contacted me and explained that perhaps a bill fell through the cracks, but because of possible consequences to my credit record that I built up and take great pride in. I have no interest in shopping nor maintaining any relationship with a business that has no desire nor time to communicate with its customers and automatically assumes that its customers are trying to rip them off. Please make sure that my account is closed as I do not want you to profit from me with trumped up charges in the future.

I bought two items and on one item I used Kohls cash but since I returted everything they did not refund the full amount back to me. Secondly the Manager Larry was so dumb and unknowledgeable that he couldnt read the receipt to assist me it took him 45 min and then finally he gave me a number to BAHAMAS WInning LINE instead of Kohls Corporation. I am very mad and to them my money is joke and to do what ever they want. I complained to the Corp office still waiting for the answer. They turned my money into Merchandise Credit, I will file a case with a complaint against Kohls if this is not resolved, why does the store took MY MONEY AND TURNED INTO A MERCHANDISE CREDIT, THE STUPID UNPROFESSIONAL MANAGER COULD NOT ASSIST ME. I even asked for STORE MAMANGER he says to me that is who you are talking to and on his badge it says ASSISTANT MANAGER because he was scared to refer to a store manager, WHY??????????????????????????

I purchased a mattress topper from Kohls (via kohls.com) about two months ago. In that short period of time it started to sag and lose its shape even though I am a "lightweight," so to speak. I had charged the entire amount of the purchase on my VISA card as I've occasionally had problems using my Kohls charge card online. When I went to return the item today, they deducted $30 from the amount refunded because, they said, I had subsequently been given $30 of Kohls Cash which I had "spent." Of course I spent it!... but not ON the purchase of the mattress topper. I was not trying to scam the system in order to get "free" cash to spend at Kohls but, having been given the coupon i used it to buy a few rather useless items as it was time-limited, and so was I! I didn't save the receipt for the items because I knew they couldn't be returned as they'd been "purchased" with a coupon.
Seems to me since I bought the mattress topper in good faith and it failed as a product within a very short period of time, that I should have been refunded the full purchase price. Thank you.

At a hotel last weekend our vehicle along with 7 others in the parking lot were broken into. We had merchandise taken that was purchased on our Kohls charge as well as on American Express. While American Express offers a purchase protection plan free of charge and we our card is being credited, Kohls does not. Although the 5 representatives I spoke to at Kohls were all very nice, none could offer any type of compensation other that 30% off a re-purchase, which I often get anyway. When I was asked what I wanted and I suggested a gift card in any amount, I was told they could not do that.
I have been a MVC Kohls customer for 8 years. Because I love Kohls merchandise and prices, I will continue to shop at Kohls, but it will now be much less often. I was in your Kohls store located in Port orange yesterday and was about to make a purchase. I thought gee, I don't have a charge card so maybe with all the bargains going on I should get one. I have excellent credit and never, never, before in my life have I been denied a credit card. I was shocked and put out. I was holding up a line and everyone around me was aware of my problem. How embarrassing! Why in the world didn't they just send me to the office to take care of the matter insead of leaving me in that line with everyone getting backed up and getting angry at me for holding up that line.
After I made the purchase and was denied I tried to get answers as to why and no one could help me. I went to the service desk and they let me use their phone with a direct line to the main service department. They couldn't help me either. I was told someone would contact me within a few days. That is not what I wanted to hear......So I returned my merchandise, told them to forget my application for a charge card and don't bother me again. I do not like giving out personal data when it is going to sit in some bank station on some computer where who knows what will happen to it. But I do want an answer as to why I was denied and I don't want to wait for some stupid mail letter.

I was returning a christmas gift i gave to my husband I did not have the reciept on hand, the associate how was helping me could not figure out how to adjust the credit to my kohls charge, it kept giving her a clearance price when i paid more for it, she asked a manager Ken for help, he was on the other side of the register, he then said "yea what do you want", she did not want to tell him the situation from where she was because she would have to speak loudly and there were several customers in line.
She asked him if he can come around to the register, he then turned and rolled his eyes, when he got close to her she tried explaining the situation he did not let her finish, kept inturrupting her, so I tried to explain, and he rudely asked me well where is the reciept, I then told him it is at home, I just want to exchange this for a more expensive item and am willing to pay the difference
I also mentioned to him about the advertisments of not having to have a reciept if i put it on my charge card, he then gave me attitude rolled his eyes, I asked him to stop being rude to me and he says he is rude to me because im being snippy with him, I then said the reason I reacted was due to his demeanor, and that is not how you are to treat customers he than said look ma'am im trying to help you.
I cant do anything and he starting tapping on his computer and says it wont let me see, see, see, I than looked at the associate who kept apologizing for his attitude and asked he what his name was and left.

I returned a blouse to the NewPhiladelphia store today. It was a gift so I had no reciept. Lady at service desk told me I could get $3.43 back OR the best thing for me would be go shopping and find something in the store with price tag of $45.00. I set out to do so. I looked for at least an hour and found nothing for $45.00. Finally I found a nice skillet for $49.99 thinking maybe I could pay the balance. A different lady at the service desk said I had to find something for $45.00. She was sure I might find something in the silver jewelry. She knew there was some $45.00 items there. It would be best if I found a Chaps items, but did not have to. THERE WERE NO CHAPS ITEMS IN THAT STORE FOR $45.00. I proceded to jewelry and a nice young lady helped me find a $45.00 pair of earrings. A 3rd lady at service desk now tells me this is a clearance item and she could give me $3.43.
First lady still standing there said we can do an even exchange. Then she changed her mind and agreed with lady #3 that I can only get $3.43 and NO even exchange. I have now wasted 2 hours and got nothing. I am furious. Why did they waste my time? Tell me this in the first place. I took the blouse , jammed it back in the bag and said "I will just take it to Good Will!!! They may never see me in this store again. My back is killing me and they did not need to waste 2 hours of my time looking for something and not keeping their end of the bargain. Sorry, buy I find this completely out of line.

I visited the Kohl's store in Brown Deer, Wisconsin. I bought a necklace for my daugher-in-law for Christmas. As I checked out, the cashier failed to enter the 20% discount I had coming. She was polite, but said she could not fix the problem, but would have to complete the sale and then call a manager to fix the problem. I agreed and she went ahead with the sale.
She then called the manager several times, with no response. I was left standing there, looking like an idiot. This is definitely a way to get out of giving the appropriate discount. I guess the manager didn't feel it was important enough to even respond. The store was not busy at all! I was the only person at the check out and there was only one cashier! What was the problem. Manager on break or what? Had to leave, as I had many things to get done before the day ended. Poor customer service to say the very least!
Judy Bonlender

Kohls was the number 1 store ever for customer satisfaction. My wife does a lot of shopping at Koels and we were always impressed by the attitude of all salespeople. Things have definitely changed. Koels must have a completely new policies. They have gone from number one for cuStomer satisfaction, to last. For some reason coupons always get to us late, usually already expired by the tIme we get them. Customer service would always allow us to use them anyway since we live so far out of town.....not anymore. Same with Koels "cash" if we were a few days late they would allow us to use it. Not anymore. They have gone to always please the customer to rude and just average. Very disappointing !!!!

I received an Ad for Kohls in the mail, informing me that the Keurig MINI Plus coffee brewer was on sale for $99.99. The Ad said, " reg. $124.99. Receive a 27 K-Cup carousel with purchase, a $ 29.99 value! " I used the Kohl's Yes Pass (15% everything), which was good from August 9 through August 18. (I went on the 18th), which brought my coffee maker down to $ 84.99. But when the cashier went to ring up my sale, the register was charging me $29.99 for the FREE carousel. When I questioned her, she got on the phone and checked with the department, and they told her that the carousel was not free. If the Ad said that you will get a carousel with a purchase of that Keurig coffee-maker, why did the store attempt to charge me for it?? I ended up telling the cashier to take the carousel off of the sale, but I did buy the coffee-maker, nevertheless. But I am not happy with the advertising of Kohl's - it is either false advertising, or confusing, at the very least. This is the second Keurig coffee-maker I've purchased from Kohl's in the last few years, but it will probably be my last. Terry L. Sturgeon

recently shopped at Kohl's and this is not the first time I have been totally confused..they place there sales signs on racks that are not actually on sale..but below the item and confuses people..I thought one item was on sale when it was actually the item above it..I wasn't the only shopper..noticed the lady in the next aisle had the same problem..the item that was actually on sale had a bar in which the sign could be put on..but no it was on the item below ...don't know why they do this..but it is time wasting and a pain in the ****, working in retail for 27 years and have never figured out why they can't get the problem fixed...
I do love the store..but this is very frustrating to say the least..especially when you have spent hours looking and thought you had what you needed...

This is a complaint. I purchased 5 Hanes shirts at the store in Menomonee Falls on May 5, 2013. When I got home, I looked at the receipt and noticed it wasn't the price on the sign. At this purchase, I used $50 worth of Fun Cash (that I let expire by accident) and a $10 card I received for my birthday. Anyways, I returned the 5 shirts to the store in Delafield. The customer service rep refused to refund me my Kohl's cash or give me an in-store credit because the lady at the Menomonee Falls location rung it up as a 'item markdown'. Not only was I disappointed but I was angry. Never have I've been treated this way and I love to shop at Kohls. So, I'm requesting that you return my Fun Cash to me. Please look at the receipts of my purchase and return. Purchase ID # 999-9494-8680-4073-9898-7469-5195. Return receipt 0207-0026-6637-8. 

DO NOT ever order online from Kohls. I placed my order on 11/29/12, my credit card was charged right away, after 3 days of the order still showing the same status I emailed the Company....no response...emailed again...no response. Finally on 12/5/12 after 20 minutes of holds and computers , finally spoke with a human being. The CSR explained that there was a "glitch" in their system which did not update some of the orders to show that they had shipped. She even went so far as to "READ" a memo which they received from Corporate regarding the problem. She kept re-assuring me the entire order had shipped out together from the same warehouse but due to the "Glitch" could not get a tracking number. Well guess what, I received an email the next day stating a shipping label was created 12/6/12, but it was for only 1 item. Later in the day another email stating a shipping label was created 12/6/12 for the other 7 items. The kicker... they then sent a 3rd email stating they cancelled an item. Each shipment was from a different facility!! Oh and by the way.. the items are going to arrive on 12/14/12!!! Which means now we have to pay extra in shipping costs to get these items to family members for the holidays!! How can a Company of this size take more than 1 week to process an order????? I had ordered from (6) other online companies both major chains and smaller store DAYS after ordering from Kohls...and have already received every item. REALLY 1 week to process an order!!! NO THANKS!!! I will take my business elsewhere !!

We have been trying to buy products online - locked out of our account, could not get back in. All a nightmare, we could not complete a purchase we got an error. Tried to call them, on the phone for 50 minutes, in which universe does customer service keep you waiting for 50 minutes. This is ridiculous, I will NEVER Shop here again. Cheap prices but the website performance, phone service - all BAD BAD..

I am a regular Koh's shopper and I have never had any complaints. I received a gift certificate and went to the store in Doylestown Pa. i bought some clothing and paid for it and when I got to the car realized the girl at the register had charged me too much for one of the sweaters. I had bought two exactly alike. The sign above the sweaters said they had been reduced. This was not a clearance rack, but all items below were the same price. I went back in the store and went to the register, but was told I would need to go to customer service.
I waited for quite a while and when it was my turn the women asked me my problem and I told her I had bought two sweaters exactly the same, but they had been different colors. This very grouchy lady said just the one was on sale. I asked her if she could come over with me and I would show her where they all were and she could see for herself. She would not and made a big scene and that I could not have the sweater for that price. I got my money back for the one sweater and I went back to the rack and there was a very sweet girl there. I asked her why they would not believe me that they were all the same, just different colors.
She said I was positively right and should not have been spoken to that way. My husband went back to customer service to show the woman the sign and she just told him she did not want to hear anything about it. I went back to the register and did buy the sweater. If this is the way the help treat the customers I might not be going to Kohl's anymore. It is not my personality to complain, but thought you should know who is treating people like this. She was an elderly woman and unfortunately I dd not get her name.

I was wrongfully terminated on something that my own Lead does along with the rest of my team mates. I am filing a complaint against the corporation for not settling issues I had complained about in the past, Co worker bullying along with management bullying. My leadership and co workers have also with held work related information to me, and have not allowed me to suggest any ideas about how to save more money and help EFC 3 be more efficient, but they allowed my co workers to do so. I complain and they treat me like crap (Form of Retaliation) each time I express my opinion and thoughts. My leadership has allowed co worker bullying in the workplace and have threatened my career with Kohls on my occasions.

Cancel my card cause I will never shop your store again. Just the way you handle your credit card customers when it concerns late payments is absurd. I made the biggest mistake in getting a credit card thru you. The damage is done....better off without your piddly card. All for a credit line of $100.00. Boo. I have never been harassed as I have been by a department store as I have with Kohl's. 20-30 calls a day. Dang shame I have to put my phone on silent or reject calls. My boss is so pleased that my phone rings all day long while I am at work. So much for emergency calls only at work. Your emergency.....my $100.00 dollar credit account. Kiss my @ss Kohl's!

I paid off what I thought was my account only to find that the person who accepted my payment applied the funds to an account that was dismissed through bankruptsy over 5 years ago. I didn't even know about this account. I called to complain that they overcharged me and that is when I found that they could not find my payment.
When I complained about this, I was asked to fax over my payment information (which I did the very next day). The financial group who looked over my information found nothing amiss; but did not tell me why? I found out a month later, when still complaining, that I had inadvertantly applied the payment to a bankrupt account. When I explained that I did not, that whoever accepted my payment applied it to the wrong account.
I was told another inquiry would be completed with the same financial group. now I find out today (10/16/12) that Kohls will not listen to me any longer, does not care that I had no idea of this second account and that they are the ones that made the error. So now what do I do? I not only am responsible for paying off my account (again); but now I have all the extra fees because it took them 2 months to tell me they were not going to listen to me anymore.

today in your store i saw a worker being cursed and yelled at by another worker. come to find out the worker doing all the yelling was telling whats going on in the other worker house. it was a nasty sight to see this how this people interact with one another. i also found out that the troublemaker does not like this person at all. this is personal. its an situation that happens each time this person come to work. if your company likes this kind treatment of their employees, consumers want to know.

I recently went into our local Kohl's to shop for a new dress for work. I found a very cute dress by Jessica H- something. The tag had the dress marked at $14 and somewhere between the rack and the dressing room, the tag fell off. When I approached a sales associate, she kindly helped me locate another dress. We found another one in the same color for $52 and then another for $12 but in a different color.
She took me to a cash register to contact a manager about assisting me purchase the dress I wanted for the same price. Both the sales associate and the cashier had to call the manager four times before she finally and very slowly, taking almost 15 minutes, made her way to the register. As we tried to explain the situation, she continually interrupted and rudely declared that they were such drastically different prices due to the color. I have never in my life heard of that.
I've worked in many retail stores and managed an entire entertainment arena's merchandise department and that has never been an issue. Then she proceeds to pick at the price tag on the dress I brought to the front and while ripping off the sticker says that it was marked wrong. After all of this she continues to insinuate that we changed the tag to get a discount. That maybe my 16 year old sister tried to deliberately scam the company and put the wrong sticker on.
Then without another word walks off. I have never dealt with such a rude attitude and in a customer service position and as a manager at that! I was embarrased with other customers waiting in line behind me and for my sister and I being made out to be some theif of sorts. My mother owns a Kohl's charge card and she was furious when she found out.
We both love shopping at Kohl's and for the most part, the prices are nothing to be upset about but the treatment I received from a customer service "manager" is completely unnecessary and has left us all with a bad taste in our mouths. The sales associate and cashier were both friendly and apologized for her behavior and were reluctant to call her in the first place. I hope she doesn't treat all her employees and customers with the same attitude.
I am disappointed in Kohl's if this is the type of management staff that Kohl's hires and I will not be returning if that's what I can expect from a higher up.
They replied with a general apology and that someone would be contacting me shortly. That was 3 weeks ago, I still haven't heard anything. Had to submit another complaint, got another email but this time completely blank! It's insane and I've lost pretty much all respect for Kohl's. It's basically a K-mart with better commercials now.

I was very surprised to find that you are following in the footsteps of J.C. Penny and taking back the coupon reduction when the purchase totals way over what the coupon requires. I purchased aprox $160 worth of clothing and used two $10 cash coupons. One of the items was not hemmed properly and the side seams were not stitched properly. I returned the pants and the matching top and should have received credit in the amount of $ 42.00 plus tax. However, even though the total spent was still close to $100, your new way of doing things took back one of the $10 cash coupons that I earned and refunded only $32.00 plus tax. You would have been better off to phase out the program rather than change the rules after customers have purchased goods and been promised cash reductions on future purchases that totaled at least $10 per coupon used. Penny's did the same thing with their promised reductions and look where they are now. Hopefuly customers will realize the should use their remaining coupons on items that total only the amount of the coupon so they are utilizing the full value of the coupon. Or they may decide to shop somewhere else.

I was trying to look for a jacket at the newly remodeled Huber Heights OH store. Someone was sweeping and the sweeper noise was loud. You COULD get past that. I noticed the aisles were narrower in some areas than before. When the store first opened, the aisles were so tight, wheelchairs could not get around well. Then they fixed that problem and here it is again.
But the biggest complaint for me was to dodge the cords laying all over the floor. I tripped over one that had risen a little bit off the floor. There are no mirrors, so I went to find one. There it was on a post--but a large trash can about 5' high and loaded with cleaning stuff was in the way of the mirror.
I asked a lady if they HAD to clean during shopping hours. She said, " Yes, we keep the store very clean." When I mentioned the cords all over the floor, lack of mirrors and trash barrels in the way, she said that is just the way it is.
I gave her my 15% discount coupons one for now and one for the future weeks back and told her I was DONE with Kohl's. She didn't care.

I have been a loyal customer to Kohl's for quite a few years. I signed up last year for a Kohls department store card, which I used during Christmas season. After the holidays I started making small payments to Kohls to pay off the card. However, I have had to be out of work since the end of July due to having surgery. Yes, my account is past due. I have been trying to make small payments. However, Kohls has been calling me incessantly about my account, and it is making me very upset as is my husband. I have tried explaining my situation to whoever calls, which I have spoken to several people about. I am tired of repeating my story over and over to different. Why don't they take notes, or take my situation into consideration. The phone calls start before 8:30 in the morning, and don't end until about 8:30 at night. I don't need people calling my house 7 or 8 times a day. This is getting more than annoying. I have stopped answering their calls because I have nothing else to tell them at this time. As soon as I start back to work I will make a concerted effort to pay off my card. In the mean time, the phone calls need to stop. This is bordering on harrassment and I am about ready to contact the better business bureau. How many times do I have to reexplain myself? I don't feel like anyone is listening to me. I don't need phone calls before 8:30 in the morning.
Please do something about this. It makes me feel like cutting up my card and never using it again and never shopping at Kohls again because of this constant phone calling.

A little while ago I called Kohl's to have my wife added to my card. They said that they would sent me a form to fill out and fax or mail back. Well needless to say, they sent to form I filled it out and faxed it back on July 2012 at 1-888-246-0001 like it says to one the form. On October 10, 2012 after not hearing anything I called and they stated that they never received the form that at that time they were having faxing issues, (not my problem) so I faxed it again for the second time and kept to confirmation number of the fax this time. After not hearing anything again, I told my wife to go to the store, as she did. She presented to Kohls customer service with took both sheets showing that we faxed.
My wife explained to the customer service lady that she needed to purchase a few items and wanted to know if there would be a problem. My wife showed the lady the form that we had faxed several times. The service lady, stated she never seen a form like this and called Kohls. While on the phone with Kohls the customer service lady stated that they never received our faxes, and that she had no idea why, however that they would give my wife a 1 day pass to use in the store and that we my wife gets home she should have me Sean McMullen call Kohls and seeing that you had issues they would be able to process my request over the phone by asking a few simply questions. Well needless to say I called Kohls and I got talked to a customer service rep by the name of Rob.
He looked up my account and asked me a few questions and I then asked that he speak with my wife, considering she was the one that spoke to the Kohls customer service lady at Kohls and over the phone. I just wanted her to tell the rep, Robert what she was told to have me do. Which at this point I don''t care because I will be cancelling my account. I asked to speak to his supervisor, he put me on hold and then hung up on me
I have never experience anything like this in my life with a credit card company. Kohls you lost a loyal, spending customer as well as some family members and friends. Thank you, but we will be taking our money somewhere else. And as for your Rep Robert, you should invest on some customer service training for him, because he did all but swear at me over the phone.

I was shopping at Kohls on the eve of 3/30. The manager kept going around the store reminding the associated to get moving to avoid overtime. Then he kept announcing over the speaker to hurry and get in line. There was only 1 clerk and I was 4 back I'm line.
If he was going to be so insistent & get another clerk. Then he was going up and down repeatedly saying to hurry so everyone could get out of there and get be with their families.
All shoppers should have left their merchandise & walked out. Then he said he had an hours drive & wanted to get home to br withhis family. I'm a nurse- we work terrible hours & holidays.as do many other professionals. These things should have never been said in front of the customers. I don't want to know about his drive & have no pity for him.
The clerks were very nice & acted embarrssed with him. This was in Terre Haute, IN. Its too bad to let him ruin the store!. Thought you should know because if I encounter him again I will probably go elsewhere- where your business is wanted. He was rude & unprofessional.

I shopped at the kohls store located in Port Chester, NY just about a week ago. There was a woman heavy set, with curly brown hair, glasses and dressed more on the masculine side standing by the fitting rooms yelling at one of the employees. To start off this woman was not even wearing a name tag for me to get her by name. Secondly, i was absolutely appalled by this disrespectful behavior. I approached her to ask her a question about a pair of pants on sale and she abruptly said " you see the sign its 15% off." I shop at your story frequently but after this incident i assure you, this will be my very last visit to your store. I have many friends and family members who i have informed about this incident who will no longer be returning to your store. My niece who worked at kohls just last year said this woman's last name was Rivera and she worked as the store's loss prevention. Please do something about this woman's disrespectful attitude and you may want to improve your dress code because
what she was wearing was not proper attire. I am extremely unhappy with this incident.

Shopping at Kohl's South Lebanon yesterday afternoon. I was waiting in line after 3pm (the cut off time for the Early Bird) and witnessed a cashier tell another patron the the Early Bird was over but she would go aheah and honor it for them. I was 2 patrons behind them. When it came to my turn I was denied the Early Bird by another cahsier, The manager Julie was standing there and was asked if it was ok for her to go ahead and honor the specials and was told no. I have been a loyal customer of Kohl's and will continue but just want to voice my complaint. If it was given to one, it should also be given to another. This is my first complaint and hopefully the last.

I went looking for a carry on luggage piece. I found a samsonite bag that was on sale for $99.00 and it had a sign that said buy one piece and get a second piece at equal or lesser value for $1. I called the sales associate over and he told me that yes this was correct but I would be charge for the higher priced piece which I knew. So I take my 2 pieces to checkout and it didn't give me the second one for a dollar. I questioned this and the cashier called a supervisor who told me that I would have to pay regular price to get the second piece for $1.
I explained to her that nowhere did it say that but she refused to honor what was being advertised. I am a loyal kolh's shopper in store and online but this has left a bitter feeling with me. The advertisement was why I chose the luggage I did and I didn't have the time to take it back and look for a better deal. I'm in sales and if I give a customer a quote and they decide to buy I have to honor the price I offered.

I picked a number and stood waiting for over 20 minutes to purchase a gift card. When my number was picket the supervisor would not allow me to purchase the card un less I bought jewelry. There was no sign advising this when i got in line. The woman ahead of me purchased an item outside of the dept with no issues. The red headed female supervisor was very rude to me and after i asked for the store manager she said FINE ring him up over there.
I then decided I WILL NEVER shop at Kohls again and neither will my wife or family. This was a horrible experience. And i will take my business elsewhere . I feel that the only way to get back at these big box stores is to complain and then never come back. My purchases of gift cards was not small. I ended up,purchasing them from your competetor who was extremely courteous. I will also tell my friends and my clients about my experience at Kohs in meridian Idaho

I was shopping at the store located at Bay Parkway Brooklyn,NY on Dec.28,2011. The mananger of the store did not honor my 15% of coupon when I used my Kohls charge for my purchase. I had purchased two pairs of gloves,3 Kohls Cares books and 2 kohls care stuffed animals. I also had a $20 kohls cash coupon as well. My Kohls cash was applied, which only $19.20 came off because it can't be used for the purchase of Kohls Cares items. The cost of the two gloves came out to be a total of $19.20. I said to the mananger that the 15% didn't come off. He said he needed to void the entire order so that the 15% could be applied.
So I waited while the order was voided and then rung up again. Well the total did not change from the first time it was rung up. I again addressed this to the mananger and he proceeded to tell me that I received one of the stuffed animals for free. This was ridiculous because I had 7 items and that's what was exactly on my receipt. There was no minus of any item cost on my receipt. When I was showing him the receipt he then said that I received 15% off the gloves because it can not be used for Kohls Cares items.
Again, this is ridiculous because it was not on the receipt. In fact, as I stated before the total amount was no different then the first time the items were rung up. At this point it was infantile,and I was just too disgusted to continue to explain to this manager. In other words, I paid more then I should have. I didn't even get credit for the remaining $0.80. I know that it's not a lot of money that I am speaking about, but in today's economy every bit counts. I want to officially report this manager to his superiors. He was incompetent, unaccommodating, and argumentative.
I don't know his name but I can describe him and the time he was working at the store. He is an Africian American male about 5"10 and pudgy. He was working the night of Dec.28,2011 until closing. Before this I have never had a problem shopping in Kohls. I had always respected the kind of personnel that this store had employed. Everyone that I had come in contact with prior to this was compentent,polite,and very accommdating Howerver,I no longer feel that way. I am an advit shopper at Kohls,but if this kind of treatment happens again I will only do my shopping at Walmart.

I call Santa Clara Kohl store just now and they had me hold for one hour and never came back. I am checking an item SKU 92590760 see if they had in store. First, they ask me to hold for so long and then hung up on me. I had to call back several times and they kept me holding. They told me that they send someone to the floor to check and never got back. Time is almost an hour and they said they will get a manager to talk to me and still not hear back. What kinds of service is this? Is it take almost an hour to check something you have it or not. That is ridiculous. Othere Kohl's service was so fast. The reason I am calling Santa Clara is because other Kohl told me the item I am looking has 4 qty. I have to hang up after one hour hold for nothing.

I have been a long time customer and recently became a card member, I've even worked for kohl's in 08 but I was very upset when I went in today and the cashier told me I couldn't use my kohl's cash because it expired yesterday I would understand if it was week or even a few days expired but one day really is just ridiculous I don't always get to use my kohl's cash between the time give but when I do get a chance to try to make it I would hate to be denied because of one day.

I ordered a queen size mattress and received a king instead. I called and reordered the mattress and scheduled a pickup for the incorrect one I received. I explicitly explained the mattress had been opened and that's how we became aware that it was the wrong size. I was repeatedly told that was not a problem and it could still be picked up.
When UPS came to pick it up, we were told they would not take it because it was not in a box. Now it is my responsibility to find a way to get it to the store and return it or buy a king size box to put it in (where would one even find a box that size, mattresses typically come in plastic anyway, not a box). I do not have a way to get it to a store so now I will have to rent a UHAUL.
I have never received such poor customer service in my life. I am being penalized for a mistake that Kohl's made. I will NEVER make another purchase at Kohl's. It is astonishing to me that Kohl's has no solution for the problem they created and places the burden on the customer.

When I returned some of the items I bought my bonus bucks were deducted despite I had several hundred dollars remaining on that same reciept. When I questioned them about this they said they have no control. This is a rip off! No where is that indicated that would happen. To me its a scam and as a new customer with a new Kohls in our town I am very discouraged. I thought I had a new great place to do my business. However, I will not be played. There are too many other businesses that don't pull that junk! You have lost a customer IF that is your policy. I will give yall ample time to respond or to resolve this issue. However, I will have no choice to let all know about this and we live in a small town where reputation matters! Its time consumers stand up against scams and this is one worth sharing!!

I find the new advertisement from Kohl's on Black Friday to be very offensive in two instances. The first is when the lady in green puts her hand up in the elderly woman's face as they enter the store, and the other is when the green sweater lady STEALS something from another lady's cart as she was walking by. What kind of message is Kohl's sending? I'm not shopping there anymore.

I got a phone call and was told that I had a outstanding balance of over $100. I was very sick but told the person that I would be right out to the store to pay it off. I made a payment in July that I thought was for full amount. I never got a bill telling me that I owed more. They said that I had a e-mil account and i should have seen it. I never recieced a bill or email I had lost my voice and a very nice employee got on the phone and tried to settle the probem. She asked for an itemised bill to be sent to me. If I paid that day I would not have another late charge added.
I stood in line and I was bout 15 people back. I was so sick I had to leave. My husband paid my bill on line that day. Next week I got another call saying I owed money. Still having no audiable voice I told them it was taking care of. Yes i did get anohter late fee. I have destroyed my credit card. Kohls has caused me so much stress. This stree is not aimed toward the staff at Kohls Mansfield Oh. Trish a sales womane tried to help me out when i couldn't speak. She went way beyond what she had to do to help me. I never did ge an itemized bill.

Hi, I shoped at one of khol's stores in July and the lady at the desk told me if I open a credit card with Khols I could save 15% so I did. I then send them a money order for the amount I had purchaed my clothes and send it to the address I got from the girl in the store. Since I paid it right away I thought that is the reason I never recieved a bill from them. A week ago I applied for mortgage and they told me I was rejected because I had not paid my Khol's credit card. I called Khol's to find out they had charged me over $140 fees and intrest and never botherd to call or send me a bill. After talking with a superviser he admited that they send a bill and it was returned to them and never bothered to find out why. He was not sure why they did not call my phone. After going back and forth with him for over half an hour. He still charged me insurance and $10 for processing my payment over the phone and when I told him it was not fair to do that, since it was not my fault and I had not idea I had a balance with khol's he rudly hanged up on me. Please help me in this issue, since not only I have become a victim of something that was not my fault at all. I lost getting mortgage due to this issue and end up paying way more that the 15% that girl told me I could save. Thank you so much to see to this matter for me.

I had purchased an item for $ 64.46 incl 8.37% tax. I had received $15 kohls cash since the item price was more than $50. I was told when I return the item, the kohls cash will b deducted from my total. I returned the item and I was supposed to receive $64.46- $15=49.64
Instead kohls only refunded $48.22, they reduced the initial tax that I paid by reducing the price of the item. Customer service is not willing to refund the difference.

I picked out a pillow that had no price on it, I took it to a price check scanner,it came up as 13.99, that day this pillow was buy one get one for a dollar, when I went to check out I was told the pillow was $27.99 and I could get two fort his price, I did not purchase them, I was upset that there were no signs for the regular price or sale price for this pillow, and there were signs all over for the buy one get one for a dollar, in my mind if the pillow scanned for $13.99 than I should have been able to purchase it and another one for a dollar.

I purchased an online order on Christmas Day, to take advantage of the sale. I also had $50 in kohls cash for the purchase. When my order didn't arrive, I contacted customer service. They told me that Fed Ex had lost it, and the $ would be credited back to my account in a couple of weeks.
I replied that I wanted my order, that most of the items were not available any longer. Customer service has told me to re-order the items (which aren't available, so I can't) and they'll "adjust the price"--which is not possible, since I can't order the items.
SO...I wasted my time on the Christmas sale, AND am out $50 in kohls cash. I wouldn't have bought some of the items that earned me the cash if I'd known I couldn't use it, so I've been doubly screwed.
I've asked them to track my package that Fed Ex "lost", and heard no reply. I'm assuming Kohls will profit by Fed Ex reimbursing them for the merchandise. So, they've taken $50 kohls cash from me, plus a settlement from Fed Ex... pretty good deal for Kohls.
I'm absolutely disgusted with the customer service regarding this issue.

I will not be shopping at Kohl's any more because of at least two negative encounters with employees. The first incident occurred in 2009 when I was a college student with no form of ID, job, or good credit score. I was merely happy to get out to the mall and buy myself some new shirts with Christmas money. My mood was ruined when I went to check out and an older man proceeded to try to get me to sign up for the card. After it was clear that I didn't want to, he tried to get my e-mail. He was condescending to me and acted as if I must be rich or something because I wasn't concerned about coupons for my order. He made me feel like I was some spoiled brat for buying four shirts when I hadn't bought any clothes in two years. Then he tried to make me take the clothing hangers that I did not want!
I did not see this jerk again and my rare trips to Kohl's went pretty smoothly for the next few years. Still there was always the thought in the back of my mind about being harassed to get the card. I didn't shop there for the last three years, and it might be three years until I go again. A week ago I went to shop at Kohl's to buy two shirts. I was in a good mood until I got to the check out and it was clear that the young man was going to shove the card down my grandpa's throat and then mine. I informed him that I wasn't interested in opening any new cards and was using my Discover. He had the nerve to ask me again and I repeated myself. I was getting upset but thought he would leave me alone. However, he wouldn't talk about anything else and then proceeded to talk about the good points of the card "in case I changed my mind and wanted to open a card in the future." I told him that I would not be opening a card at Kohl's ever because I didn't like how much the employees bothered me about it.
Kohl's is also through Capital One, which I was suspicious of at the time. I work in a store that uses Capital One and they are an awful company. They treat customers like criminals. One time a woman was asked to call them because her grown step son had credit debt with them. She was not approved of the card because of this. A man I know wasn't allowed to use his card because of some type of error that was clearly their fault with the billing address. Capital One seems to approve nobody for our card unless they are 60 or older. Also Kohl's has the card only for use in the store, just like where I work, so it's a waste of time for me. All of these factors made me want to not open a credit card, besides not wanting to damage my credit score when I wouldn't be approved. I don't even like to ask people to open a credit card where I work because the company is crap. I would never harass them like Kohl's employees do.
Kohl's workers need to respect customers instead of treating them like a credit card sale. The Kohl's I had problems with is in New Towne Mall in New Philadelphia, Ohio.

Robert McClernan
from Atlantic City, NJ
I live a little over an hour from your Kohl s store in Egg Harbor, NJ. I am in the process of moving from Cape May County to Atlantic County. I called your store prior to driving there and asked if you had Kitchen Aid Toaster Ovens in stock. I was told Yes. On 2/6/15 Friday I went to your store approximately 2:20 PM. I went over to the appliance section, the toaster oven displays were at a minimal. They had no prices marked on any of the brands that you sold. There were only three people that I could find working, one cashier, one customer service and one person working in Jewelry. And after 35 minutes of trying to get someone to help me I approached a woman heading into the back room, I told her i needed help in appliances, her exact words " I will try to push someone your way." She said this as she was walking away form me going towards the back door, as ignorant as it could get.
I waited an additional 15 minutes at appliances and decided to leave. As I was leaving I ran across a manager, I believe his name was Steve, he walked over to appliances with me and apologized for my extended wait. Once we got to the appliance section he agreed that the displays with no prices was ridiculous. He would have someone take care of it immediately, meanwhile the Kitchen Aid toaster that I inquired abut was not in stock. I wasted my time, gas and tolls, along with a 20% off coupon because of this situation. Needless to say I will be purchasing a lot of new items for my new home, and depending on how Kohl s handles this situation. I may be purchasing what I need else where.

Pamela Schoch
from La Porte, IN
I was doing my online shopping first site kept kicking me off then declined my password! But mainly I placed order first doubled order had to redo whole order.then came to check out.made sure to have everything shipped to home. But it didn't let me review my order! When it said checkout I saw credit card was wrong so I proceeded to change cards it directly placed order! I got email confirmation. I then called customer service within 10 minutes. Not only would they not change payment info they wouldn't cancel either! Then they tell me I had item to be shipped to store! I can't drive and the nearest store is 20 minutes away!
I spend a lot of money at your store.it may not be much to you but for me it is.i would think there should have been some way to fix my situation since it was Not my fault!
I am very disappointed with my experience. I picked your site because I liked the service but this time I wasn't even given option to check my order.

Sheila Woods
from Jefferson City, MO
I purchased a gift card in the amount of $220 to buy the Blockbuster xbox one s. I got online at 12:01am Nov. 22 to find out it was out of stock. Really? I would like to turn my gift card in so I may purchase this product elsewhere

julia.amanti@yahoo.com
from Mazon, IL
Everytime I try to get into the website, I have to change my password. Today, I have had to change it about 5 times. What is the problem?
I just want to keep one password, but it keeps telling me to change it again, and again, and again. Help. Pick one of the passwords I want to use and let me keep it.

Donna Martin
from Madison, WI
Ordered an item to be delivered to a different address. Blocked until they could verify who I was. Fine. Glad they are watching out for me. However, after providing name, address, phone #, email address, last four digits of ssn. I was told I had to bring in 2 types of identification.... to the STORE! An hour away! Fine. Bring drivers license and bill from my HEALTH INSURANCE! Would not except the bill as I'd because it wasn't a utility bill. All our bills come electronically! Couldn't use online bill!! Told them to close account. Wouldn't close until I bring in another type of I'd!!! SO PISSED OFF WITH THE STUPITY!!!

Aleta Fairbanks
from Chicago, IL
I have a Kohl's account with the Metro North store in Kansas City as my store. I placed an online order today after reviewing the order I submitted to be shipped to my home. Then I noticed something was being sent to Riverside, Illinois store for pickup. I immediately contacted Kohl's customer service and was told I would have to call Riverside to cancel the order but only the item for in-store pickup would be cancelled. Since I believe this was extremely poor service, I asked for supervisor and was told the same thing. I requested to cancel the entire order because I was so unhappy. Both told me I couldn't cancel the order. I had called and was talking with the first representative with 6 minutes of placing the order. This is such an inconvenience that I will never shop with Kohl's again.

Phyllis Bowman
from Madisonville, KY
I purchased $277.82 for Christmas presents from your store 1019, Clarksville TN on Fri. Nov. 16 around 11 PM. It was a large order, I failed to get a man's coat. I should have had 3 sacks, I realized when home only had 2 bags but also a snow suit still had the security tag still attached. My husband called Sat.,11-17 talked with someone about this & told someone that I was on my way down with receipt. Your employee said "no problem as long as she has the receipt". We live 1 hour away in West.KY Mortons Gap. Upon arrival I was treated like a criminal (your person had to check surveillance cameras, describe person who checked me out (Chris), said the numbers on receipt didn't match any of their coats, asked for a description of coat, etc.) I noticed there was a coat hanging behind cashier in layaway, said it looked just like that. Upon getting the coat, it had paper with my name on it. All of a sudden the lady with the accent changed her mind and began apologizing. She also checked the security tag from the snow suit, it didn't work. The place was packed with customers who saw all I went through. I usually drive to Evansville IN to shop at Kohls. I will never again buy anything from Kohls in Clarksville, TN and will be afraid to even use Kohls in Evansville IN. I was publicly harassed like a common criminal. Never again.

Robert fiorentini
from Brunswick, OH
You seem to be out of many sizes before a season even starts !!! Kohl's has gone downhill !!

LaVonka K. Andeson
from Fond du Lac, WI
I cant login to complete my hiring process. We're currently trying to submit my background check. It's currently holding up my hiring process, I may not be able to work, because of this.

I use to think Kohl's was the best store to shop & save but something has changed within the store rules with the coupons & at this moment I would rather not get anymore of your coupons because after standing in line waiting then to get to the register and be told "oh, you can't use coupons on this item. How rude! Found the perfect jacket for myself at an awesome price and to be told that, I just wanted to walk out of your store because it has happen to me 2 other times on shoes & toys. Also the rudeness of an associate who was upset because I bothered her to check a price for me. She wouldn't even look at me. Kept her back to me. I'm sorry if she was having a bad day but it doesn't help your store at all. I worked with customers before. You always make them feel welcomed. Yes, I had a bad day at Kohl's in Columbus Indiana

Jennifer McDonald
from Suffolk, VA
I had an interview for a seasonal position as Kohls is one of my FAVORITE stores. I arrive and check in a couple minutes early. The customer service worker at the store was friendly, helpful, everything I'm use to. Ten minutes after informing the manager I had arrived for my interview no response. The cs rep apologized and reached out to the manager again. Twenty minutes later thee cs rep sees another employee and ask them to relay the message I am waiting for my interview. Another five minutes and the cs rep tries to call the manager and again pages the manager to cs area. Thirty-two minutes later the manager appears and takes me into her office. This is where she introduces herself and ask a few basic questions. Less than ten minutes later the manager doing my interview states she's "basically looking for smiling faces" and to "watch my email for an official job offer". I thank her and we walk out. Three days later no email so I call; no hiring managers are in the store. I call daily for five days until I reach the manager who interviewed me and told me to watch for my official offer and to follow the links to complete new hire paperwork and select an orientation class. By the time I actually get in touch with the manager who I had met with I received an mail stating I was NOT being offered a position. I questioned this when I finally was able to get the manager on the phone. She proceeded to tell me I must have miss understood, that all job offers come from a 3rd party and she's sorry I wasn't selected. I would NOT have turned down other interviews and job offers had I known I was waiting for a decision, not an official offer. I turned down multiple interviews and offers expecting Kohls to send me a link to join an orientation. My interviewer was very unprofessional and I have been so upset and disappointed I have been unable to reach out until now. I missed out on a holiday job back in Sept. I feel mislead, betrayed, and lied to. Since this incident I have not been shopping at Kohls and I plan on paying off my current charge account and closing it out. Never have I had such a negative experience that not only fell below standards and values of the company but it cost me money! I could have went on other interviews and accepted another job if I had been correctly informed that I would be notified regardless if I was chosen for a position or not. Worst experience ever and I feel I can no longer support a store who treats customers and potential employees in a such a manner.
Thank you for taking the time to read this,
Jennifer McDonald

Your store in Cedar Hill, Texas is the pits. I never shoo your clearance in the jr and womens departments because it is a total mess. I would have to stand there and dig. It has no size order, its messy and reminds me of shopping KMart when it was here. The employees are to busy chatting with each other to help anyone, I bought toys there last year thinking I could use coupons there til I found out the other day I can not, so now I have to go to Walmart and I hate Walmart. I love Kohls, but I have to go out of my way to go to a store that is not awful. I have had a couple of employees help me, a girl named Kim. I asked to speak to a manager and she helped me with my problem. As a whole, not good. Thank you for listening

Connie Page
from Xenia, OH
Purchased an order on line on November 4, 2018. I picked up several pieces at the store in Beavercreek, Ohio. Was charged 46.11 which has come out of my checking. Checked my bank account and there is also 2 more hold on my checking that amounts to 332. 13 on hold. With the additional 46.121 that has already been removed from checking that makes me paying 378.24. When I spoke to Michael and the supervisor Eliee Alvarez's she said nothing could be done. She said I basically should have had it on a Kohls credit card (do not want one). If my other changes comes in this will over draw me. The bank said I need to have you remove the 192.12 extra charge. I can not wait the 10 days. This was your fault not mine. I am very unhappy 2ith this. Hope you can help before I have to take it further. Connie Page Phone 9372074624. Address 568 Martin dr, Xenia, Ohio 45385. Order #5866525791.

DeAndra Bethel
from Owensboro, KY
Last Saturday, November 3, 2018 my husband and I went to Kohl's in Owensboro on Hwy. 54, to purchase a Rumba they had advertised in their Ad. It was my mistake that I read the ad wrong, the sale was for Thursday. Anyway, that's beside the point. They had 2 Rumba's setting side by side for $299.00 (the sign said) . When I finally got someone to help me, the clerk didn't know which one of the 2 (setting side by side) was for $299.00. The employee went and got the manager, she as well didn't know which one was either. Then she told me that neither one of them were for $299.00. I remarked she should take the sign down since it's misleading...She then said she wasn't in charge of the signs (seriously, she's the manager and can't take down signs?!!!!!!!!)
This was the same incident with women's clothing..they had a sign on top of the APT.. 9 dress slacks that said half off, which would have made the slacks on sale for $19.99. When I went to purchase the slacks, they told me they weren't on sale.!!!!!! I asked why was there a sign above the slacks stating 50% off and prices of how much they would be? The clerk went and looked at the sale, and there were a rack of shirts beside it! She said that is for the shirts! Again, misleading since the sign didn't have half off shirts or half off slacks, just had a sign stating 1/2 off!!!
Why do they put those kind of signs up and mislead customers like that?
Remaining
DeAndra Bethel
270-543-4390
deandratroutman19@gmail.com

Summer Wines
from Glendora, CA
worst customer service ever! No help in a lost delivery. I waited one month for items only to be told by FEDEX that delivery would be next day over and over.
Kohls did nothing. Sent me to call centers, chats, no email reply.
One month for shipping is NOT acceptable.
My kids had halloween items that never delivered , very disappointed.
Kohls has worst call center, chat is a waste of time.
Only shop in store for kohls, NEVER ONLINE!
FEDEX is terrible also

DONNA MCLAREN
from Conway, AR
Have shopped at Kohls for years - but rethinking it this holiday season. Store in Monroe, LA - had a problem with a price. Waited over 15 min
for a store manager (assistant responded) she was RUDE beyond belief. I was with 3 other customers having the same pricing problem.. She said" I wish I had stayed home today - this isn't even my department." We insisted on a store manager who finally showed up - by the way he was
looked very sloppy and un- professional. He grudgingly solved our problem - but was in no way polite or apologetic for the problem. If that's the
best you can do then I don't want be shopping there during the holidays when it's even harder to get service. (By the way we pushed the
assist button in housewares earlier in out visit - and after 10 minutes decided no one was coming so we didn't buy the comforter. Your loss -
lots of stores sell bedding.) My sisters and I have 13 grandchildren to shop for - hopefully there are stores out there that steill appreciate customers.

Suzanne Sloan
from Westmoreland, TN
I have made three separate online purchases from Kohls from a wedding registry. Even though the items have been purchased, the registry shows they have not been purchased and are needed. NO ONE, after five phone calls and two "chats", can mark the items as purchased. I don't want the couple to get duplicates, but, if someone cannot take care of this, that is exactly what will happen.

John M. Giordano 24 Louis Court Peekskill, N.Y. 10566
from Peekskill, NY
October 21, 2018
Dear Sir/Madam
On the evening of October 20, 2018 I went to the Kohl's store in Cortland Manor, N.Y. because I needed assistance with a Kohl's gift card. My kids gave me the gift card for my birthday, however, I either lost it or accidentally threw it out. I advised the manager at the store of this and she told me she would gladly help me by performing a "gift card flip". The manager's name was Destiny. She input the necessary information into her register's computer and was then prompted to contact the approval department to obtain an approval code. She contacted the approval department and, for approximately 1 ½ hours, she was given the run around by the staff there who seemed unable to give her the appropriate information she needed to complete the "flip" transaction. She was repeatedly transferred from one person to another and none of them were able to provide her with what she needed. The people she spoke to were Gerard, Louis, Bobby, John, and Danielle. Finally, after the long wait, and through her own ingenuity, she found a way to solve the issue and provide me with a replacement gift card.
First off, I would like to highly commend the manager Destiny for the outstanding customer service she provided. Through this entire frustrating ordeal she remained calm and professional and kept apologizing to my wife and I for the inconvenience we were experiencing. Also, in spite of the inadequacy of the staff at the approval department, she persevered until she was able to bring the ordeal to a conclusion and send me home with a replacement gift card. I think she should be acknowledged and rewarded for being an excellent employee and representative of your company. If I owned my own company, she is the type of employee I would want to have working for me.
I would also like to point out that her assistant Tasia was also helpful during this ordeal.
Secondly, as long time Kohl's customers, my wife and I were very discouraged to have to wait 1 ½ hours for a simple matter to be solved. If it weren't for the way Destiny and Tasia handled themselves, my wife and I would be looking elsewhere to shop. It seems incomprehensible that you have people working in an approval department who didn't have the knowledge or ability to provide the proper approval code to another employee so she could complete her customer's transaction. To have your employees and customers at one store spending 90 minutes of their time to complete something that should take 5-10 minutes, due to the inadequacy of employees at another location, is extremely poor business. Hopefully you will address this so it doesn't happen in the future to other customers.
Sincerely,
John M. Giordano
24 Louis Court
Peekskill, N.Y. 10566

Joanne Niewczyk
from Buffalo, NY
I would like to speak to a customer service person on my last order 5665361208 for the 200tc soft washed cotton percale full size sheet sheets that was pale green, item price 47.99. There is an imperfection on the flat sheet with white bleach marks on this sheet in different places. Please have someone call me on this matter. I was trying reach customer service but was not able to reach a person. My phone # is 716-822-4924.
Joanne Niewczyk

Autumn Lewis
from San Antonio, TX
San Antonio, TX (Forum location 78148). Went in to the store and could not find any staff to help me. When I did find staff, she could not direct me to the women's coats because she stated that she had no idea where they were. Called for a mgr. and 10 MINUTES LATER, she comes out and tells me she was on lunch. She also stated that they did not have coats "because Texas was a hot climate". It was around 730pm and 50 degrees outside. As a military healthcare provider, I find this type of customer service unacceptable.

Niki Mistelske
from Willow River, MN
I recently had a problem receiving my bill from Kohls - for 2-3 months my bill was returned to Kohls from my Post Office and marked as "undeliverable." At that time, I owed Kohls $55 but had forgotten about it because I didn't receive a bill. About 3 weeks ago I started receiving phone calls asking me to call Kohls and eventually spoke with a live person who informed me this was a collection service and that I owed Kohls money. Because of concerns this might be a scam, on Sept. 29 I went to the Kohls store in Duluth, MN to speak with someone about this. A clerk provided the business phone and I was able to speak to billing. The woman I spoke with was the one who told me the bills had been returned as undeliverable and that my $55 bill was now $158 due to late payment fees and the service fee for trying to collect. I explained I didn't pay the bill because I didn't get one, as she was already aware. I pointed out my good history of payment, requested the additional charges be waived and stated my intent once this issue was resolved to pay this bill while at Kohls. The Kohls representative agreed to waive the late payment fees, but said she couldn't waive the "service fee for collection" and quoted me a new total of $84.80 which I paid immediately after getting off the phone. While talking to her, I also asked about the impact of this mailing mistake on my credit rating and she stated this would have no impact. HOWEVER, a few days ago I submitted my bank application to maintain a personal line of credit I have had for years with my bank and received a call from my banker telling me my credit score had dropped too low and that the only thing negative on my credit report is an uncollected past due debt to Kohls in the amount of $55. I am not happy about this - not at all. I have filed a complaint with the postal service regarding my mail be returned to sender as undeliverable and I am filing this complaint with you because your representative has failed to act to restore my credit rating. ALSO, I called a number listed on-line to "talk to a human" and instead went through an automated system which informed me I have a current bill in the amount of $3.00 and I would like to know how that happened since I haven't shopped there since I paid in full the amount quoted by the Kohls representative. I would like a confirmation of some type in a timely manner that indicates this complaint has been viewed and will be taken care of. I thank you for your time and in advance for your anticipated quick response to this complaint.
Niki Mistelske
218-256-3801
nmistelske@hotmail.com

Jason Royal
from Douglasville, GA
I went to the Douglasville Khols for back to school shopping. I took in my Khols 30% off card that we had sent in the mail. I did not have my card. Usually, they will look it up. After two hours of shopping with my kids and trying on clothes we went to pay. They could not look up my card using my drivers license because I had a veterans license that was over 10 years old. They needed to call the office. The manager came over and it was a lady with a cleft lip and she refused to call and look up my number and she refused to let me use my debit card and get the 30% off. The clothes totaled to 500 dollars. 30% off was 150 off. She offered no solution and said they would not complete my transaction. Not only was that publicly embarrassing, her attitude was degrading in front of my kids. I left without the clothes, I cancelled mine and my wife's Khols card. We shopped at other stores that day but the embarrassment and wasted time on a Saturday was such a slap in the face. Our family, my father, my mother in law, and my kids now will never go there again. The customer service department made no effort to help they were happy to cancel the account. I hope at this point that company goes out of business.

michelle kelly
from Evergreen Park, IL
I did not receive 2 orders from kholes on line
I contacted them to tell them
they said it was delivered as the tracking number said it was
I explained not to my address it wasn't or at least I didnt receive it
I wait a week for them to reply back to check my neighbors and surrounding areas!!??
dont you think I would have done that before contacting them ?
so I email them that wait another week for them to reply and tell me
it will b 3 weeks to track the package????what the hell were they doing all this time ??but yet Im expected to pay a bill for merchandice not recieved ???this is the poorest customer service I have ever expiernced and will no longer ever shop here again
and I shop here a loT!! I dont even want the merchandice anymore after all this .I want my money back and I will spend it at a better place with better customer service

Bernardine Marsh
from Middle River, MD
I have purchased several PAIRS OF uRBAN PIPELINE CARGO shorts. After one or two washing the shorts go into holes at the same spot. It appears the material in the beige and tan shorts is dry rotten. It is like the material is becoming unwoven. In trying to fix this using a thin needle
the needle makes a whole in the fabric. I have never seen anything like this in all my years. Needless to say I will not buy this product again It is not my washing machine as other clothing does not go in holes. I have tried to contact the brand to no avail.
Bernie Marsh

christal
from Pittsburgh, PA
Please let me start by apologize about complaining. I get my bed pillows from Kohls because they hold up well and we love how fluffy they are. Now that you started rolling them they have lost there fluff and are flat. I've tried shaking them and putting them on air fluff in the dryer. Still flat. I realize Kohl's has limited space and this saves space tremendously but now the product falls short of satisfactory. Thank you for your time.

Gail White
from Nazareth, PA
Online/computer order done from store do not allow a change in order after only 30 minutes. I had a number incorrect on delivery address, phoned within 20 minutes - spend 15 minutes with Brenda in Mexico trying to find order and then was told that 30 minutes was exceeded and that my package was already in shipping!!!. Called back store representative who had no idea that 30 minutes was time limit. I will NEVER show at a Kohls AGAIN. Limited in store merchandise, coupon incentives and phone service are very poor.

I have been waiting 29 days for a corporate refund. My receipt says I will receive the check in 7 to 10 days. I called the 800 number on my receipt and after waiting for 2 hours on hold I had to hang up and never spoke to a live person. This is ridiculous. I'll never shop here again.

Melissa
from Haysville, KS
I have been a regular shopper at Kohl's for many years. I was very excited about receiving a recent $15 yes rewards on my account but was first having problems accessing on my phone. Then, I had surgery the last week and half of the end of July. Weeks before that were spent getting things done for surgery so my Kohl's yes rewards were not on my mind at the time. I finally remembered them at the beginning of August 1 and called to see if I could still use but was denied. It's discouraging that there is a good program but can only be used in a short time. I know a month is usually enough time for me but I had extraordinary circumstances last month. There should be an exception just for these kind of occurrences. This had discouraged me from shopping there at this time.

peggy jordan
from Westerville, OH
My daughter placed approximately 200.00 in clothing on hold today, 8-3-18, I waited in line at your service desk to pick up items and I had other items, and was going to make a payment on my account. I asked the woman who got my items if I could pay for them at the service desk, she said no and that I had to leave her line and get in the store line because the call the next person in the store line. I was not happy with her answer because I had waited in her line to leave and get in another line. If these were not school clothes for my grandchildren, I would have just left. I told her I could not believe her, she said if it is a problem I will check you out, At that point I told her I did not want her to help me at all. In the meantime, they did not call anyone over, there were 3 of them back there. No more customers in line, so she proceed to go the regular cash registers to wait on people. Please tell me what your protocol is. I called the customer service department spoke to Jennifer she understood my complaint, but did not know the protocol. I have been a loyal customer for years, but this incident is going to force me to pay off my kohl's account and cease using it. Please respond to my complaint. And teach your representatives appropriate customer service. FYI< I left your store and went over to Walmart and at their service desk, the clerk checked out a customers grocery, what a difference 2 stores make.

Never honor refunds. It's 5 months and still waiting . You'll die before they answer calls.

Susan Welday
from Victorville, CA
I purchased several items last week and used my 30% discount, (which I'm grateful for). I don't try the items on in the store because being in a
wheelchair makes it difficult. TODAY, I returned 2 items and was told I had to stroll the store, in a wheelchair, looking for the EXACT amount in order for me to keep the $10.00 voucher I received last week. I managed to find one item with the EXACT amount but couldn't find the other amount of $46.00 so, I chose an item for $48.00.. NOPE, NOT ACCEPTABLE.... Therefore, I lost my $10.00 voucher even tho I bought additional items........................ Perhaps, the policy could use a bit of revision. I've been a loyal customer since the opening of the Victorville store and I try not to take advantage of any situation. But, at the same time, consideration needs to be made for handicapped people. I think Macy's treats their customers better.
Thank you.

Gail Glantz
from West Hempstead, NY
On Sunday evening July 15th I was shopping in the store in Jericho, Jericho New York 11763 in the boys department. I found Tek Gear pants for 19.99 on a rack with a red sign above them that said "Sale buy one, half off second". When I scanned the item it did not show the half off as advertised. I found a saleswoman on the floor and showed her the display with the red sign. She immediately pulled down the sign and said it was wrong. I then went to customer service and told them about my issue. He said he could do nothing for me. I then asked for a manager. Mike the manager on duty at 8:52 p.m. came to customer service and did not want to hear anything I said including that the saleslady saw the sign and then took it down. He gave me all kinds of excuses that a child could have put it up, he couldn't sell them to me at the price and I would have to pay 19.99 each. I told him this was false advertising on the part of Kohl's. I told him if the sign shouldn't have been there, I'm sure it was there all day, that his sales help were not doing their job of checking displays, merchandise on shelves etc. I told him to check store cameras since I did not take these red signs from elsewhere and put them on top of this particular rack. He did not even want to verify my story with the saleslady who pulled the red signs down. I was very disappointed with his attitude that the customer is wrong. I shop quite often in Kohl's and purchase much of my grandchildren's clothing. I have attached the UPC codes for the items I wanted to purchase for your review.
Hoping to hear from you in the near future as to how you can resolve this issue.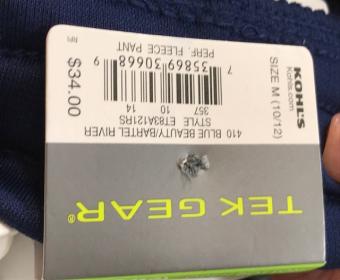 Maria Rice
from Ozark, MO
I spoke with Lisa in the Philippine's On July 13, 2018 concerning resetting my password. There was so much background noise that I had trouble hearing her. She was rude and didn't seem to understand what I needed. She didn't seem to understand that I only wanted to reset my password not place my order with her.She stated that if I had listened to her that I wouldn't have been on the phone with her so long. Yes, she speaks English but it appears that she doesn't have a grasp of the language enough to understand.

Patt Benoit
from Rochester, NH
hello,
I am writing to you because I am a bit confused Yesterday you had a wonderful sale . Two shirts for 10.00 , two towels for 14.00 just to name a few . These were on the ad that said online and in store one day sale When we went to the store the shirts were 9.99 and towels were 9.99 . When I pointed out the ad they said there is a price difference between on line and in store . How can this be ? I have shopped at Kohl for many years . This did not seem fair so I left my purchases as so did my sister and a few friends . Please would you take the time and explain why this happened
Thank you
Patricia Benoit
AmazinGrace44@Hotmail.com

TOM TRUEMAN
from Utica, MI
My Complaint is Regarding store Manager at Shelby Township MI.... MARIO
Being a former employee it took everything I had NOT to Deck him. The way he is DISRESPECTFUL to many Female Employees with the EXCEPTION OF HIS PLAYMATE "CHRISTIE". Not only is there a Definite SEXUAL ISSUE THEIR which can be verified by camera but she is also given treatment that others would be Fired immediately ...leaving for lunch without punching out, sitting in his office for hours on end while others are working short handed and then he reprimands employees in front of Christie , for NOT WORKING FAST ENOUGH OR OPENING CREDITS.
The way he disrespects Sue in Jewelry, he needs to be TERMINATED ASAP. He has said things to others that she is useless because of her age and that because she is diabetic others have to pick up her poor performance.
Mario and Christie both being married are a disgrace to being married. I'm sure if Their spouses were to find out they would be Divorced. And it couldn't happen to the two MOST DISGUSTING WORKERS KOHL'S HAS....
I have witnessed their x rated behavior in front of customers, in private..where I walked in on them ..only to be threatened to be fired.....Thank You For the favor...I have complained in the past to Corporate ....Nothing...Im sure Christie Husband being a Shelby Police Officer would love to see the pictures of the two of them...Funny how they ALWAYS CLOSE TOGETHER OR WORK THE SAME SHIFTS........
Mario is going to be sorry for his actions and disrespect for the way he treats and speaks to the coworkers Other then CHRISTIE.
CORPORATE GET OFF YOUR ASS AND DO SOMETHING WITH THIS PIG OR SOMEONE WILL.

mary Louise Scott
from Yorktown Heights, NY
Never try to reach corporate refund Dept. took two days to reach a live person, shame on Kohl's...

Candy Carter
from Victorville, CA
I've been shopping at Kohl's since they opened, never had a problem, great sales, the workers are all nice & very helpful my only complaint is I'm no longer getting sale adds to my e-Mail now I get them in the mail coupons & such. Recently I tried to open a Kohl's app. so I could go to it to use my rewards it says wrong E-Mail and or password now I've had the same E- Mail forever I can't get to my rewards to use them, I called the service dept. They were suppose to send me a 10$ coupon to use on my next purchase never came to my E- Mail agin I called to say it never came to my E-Mail Agin Now I'm not getting any E-Mail adds WHY??? All the other stores I shop at send me E-Mail Why all of a sudden I'm Not getting any & I can't get to my rewards to use them! Here's my E-Mail ottiset@aol.com Good luck I probably won't hear anything back from you either! I always pay my bills on time too! I guess this means I won't be getting my 10$ Birthday Gift in July thru my E-Mail either beings they can't seem to get to my E-Mail! Thanks for listening! Candy Carter

An EXTREMELY VALUABLE CUSTOMER
from Houston, TX
No Stars. Customer Service Employee Tiffany kept me on the phone over 1 HOUR to correct a mistake KOHL'S.COM made in taking away my $70.00 Kohl's cash without me making any purchase. She put me on Hold 5 or 6 times, and it took her over 1 HOUR to correct Kohl's MISTAKE and to place an order for 1 item on line. I believe she kept placing me on HOLD (so I would eventually hang up). This has been one of the WORST experiences I have had on line. I will NEVER purchase on line from KOHL's again, since they take your Kohl's cash away when an order is not processed. The customer service representative had no consideration for my time, as I had tried making the order on line, on May 9th about 4 times without any results. On May 10th I tried a couple more times to place the order on line without any results, only to have to deal with a Kohl's Customer Service Representative for over 1 HOUR to place an order for 1 item. (ZERO STARS) A huge waste of my time. This was an extremely simple problem which should have been resolved within minutes.

Barbara Rinker
from Marshfield, MO
I purchased a relic ladies watch on 5-20-17 and was told at the time of purchase that if the battery stopped working before the year was up that kohls would replace it free of charge. Well, the battery stopped on 3-16-18 so I took it to my local kohls store today, 3-17. Was told by the jewelry department that they no longer replaced batteries as of two months ago due to a policy change. I understand policy changes, but feel that my battery should have been replaced. It was not my fault that it stopped or that your policy changed. The clerk told me she no longer had any free batteries but she could sell me one for 10.00. I told her no thanks so went to speak to a supervisor, who told me she would give me 20% off of a new battery. I didn't do that either, but left very disappointed that kohls would not honor what I was told upon purchase. I'm not expecting that you will do anything about this either, but just feel this is not fair to me. I was very polite and just let them know that I thought is was very unfair. I walked past the jewelry counter, on my way out the store, and could hear the two discussing me at the jewelry counter. Not good protocol. Thank you for listening
Barbara

Wanita Phillips
from Portland, OR
Dear Sir/Madam:
I do not wish to complain. However, I would like to ask why you do a certain thing. My family often gives me Kohl's gift cards. However, I do not understand why that is not used the same as cash or credit. I often get your discounts - up to 30 % off. So far, the store associates will not let one use a discount with a gift card. I have two gift cards I have been saving for this reason only.
Also, what is the rule on not letting a customer use their given discount whether it be sent via mail or a Senior discount day, such as Wednesday, with a gift certificate. I do not think this is a good store policy. Punishment for gift certificates, knowing someone had to buy it from your store/company seems short sighted.
I see you only have a two star for your company. I wonder if things like this cause this problem. I am thinking of asking my family to get me gift certificates from other stores/companies.
I have been a card holder since you started your Kohl's store in Beaverton, Oregon and this is my first complaint.
Sincerely,
Wanita Phillips

Gayle Spann
from Cleveland, OH
A few days ago, I bought an Elite 30 cup coffee pot online, instore at your kiosk at the Macedonia, Ohio Kohls store.... ...Order 5459358258. The kiosk was not cooperating and it took me at least a half hour to complete my order. I had an employee first help me. The keys were sticking and printing the wrong letters. The employee spent plenty of time with me, but then I told her I could finish myself. I put in my credit card, then promo code but I wasn't fast enough and my order was lost. I had to start over, ready to tear my hair out because the kiosk would not work. It activated very slowly. I finally asked a second employee who helped me from start to finish. She was very patient with me also like the first employee was. At least you hire good people.
I can't believe this is how Kohls operates in getting a single sale. Those kiosks are junk. Both employees also had difficulty using them and they should have been familiar. They told me they were acting "slow" that day. Well, there is no excuse for this nonsense.
Get your act together Kohls or I will have to take my business elsewhere.
Gayle Spann

Linda Elledge
from Scottsdale, AZ
I was shopping in your store on Feb.,12,2018 around two pm.I was standing at your jewelry counter when a man walked rudely in front of me.There was a tight space about 25 inches and nobody behind me.It turns out he is your number two person --Frank who needs to learn how to be courteous and know what it means to have manners. He didn't utter a word of excuse me,but there was never a need to walk in front of me when we are the only people at that end of the counter and plenty of room to walk behind me.As a flight attendant with Alaska Airlines for many years I know a great deal about customer service and Frank needs to learn.
I told my husband that one action from him has made me rethink spending money in your store.
Regards,
Linda Elledge

Martha Sue Crawford
from Douglasville, GA
Problems with Kohl's.com. Spoke with Young Lady about my order and using my Kohl's Cash and Yes2 Rewards, along with a $10.00 gift card your company had sent me for my Birthday. She couldn't help me so I ask for a supervisor. Was put on hold for awhile, Not really put on hold because I continuously heard talking in the background. She finally said I have a supervisor that can talk to you, NOW!!! I heard music, then a ring, that rang quite a few times and then a recording that said no one was available, yet I had held on while she spoke with WHOEVER and then said I will transfer you!!! I left a message with MY NAME AND MY TELEPHONE NUMBER FOR WHOEVER TO RETURN MY CALL. THIS WAS AT AROUND 2:30 PM EASTERN STANDARD TIME AND IT IS NOW, ALMOST 6:30 and NO RESPONSE. I SPEND TO MUCH MONEY AT KOHL'S TO BE TREATED THIS WAY. I will be CLOSING MY ACCOUNT JUST AS SOON AS THIS INCIDENT IS TAKEN CARE OF IF THE OUTCOME IS NOT TO MY SATISFACTION!!!!!! RIDICULIOUS!!!!!! CUSTOMER SERVICE!!!!!
Martha Crawford
7709428658

Donna Shaffer
from Clinton, PA
I do 99% of my shopping online from multiple sites and have seldom had a complaint however this is such poor customer service I feel compelled to alert customers. Recently, I purchased a Christmas platter and a set of towels online. I was very excited as I had wanted this platter to match the bowl I had purchased in the store during the Christmas season. Much to my dismay the platter arrived in about 11 pieces! Can anyone explain to me how anyone would think placing a platter in a large box with a set of towels thrown on top with no paper, bubble wrap or packaging of any type was going to survive shipping?? I have never received any package that had absolutely NO packaging of any type. Even shoes and clothing arrive with packaging!! Apparently Kohls is trying to save money or something.
Honestly I seldom shop Kohls but I wanted to give them a try because my friends and family like them. From this experience I think I will be sticking with Penny's, Amazon and Walmart from now on. When I phoned to inform that this arrived severely damaged the response was 'well, you can reorder or see if a store still has it' Why would I reorder it when I know the shipping method is atrocious and if I wanted to shop in the store I wouldn't have ordered it online! To make things even worse, I was in the store after I ordered it, they had one left and I didn't buy it because I just purchased it online but hadn't received it yet. I am so disappointed I am considering shredding my card and not shopping here again. This was the worst online shopping experience I have ever had and I do a lot of it!!!

Brandi Feather
from Clarksburg, WV
I ordered two items from kohl's I only received one and when I called to question them about this the just kept repeating it would take 24 to 48 hour for someone to contact me an to tell me if the were going to send me an replacement and to check back with them repeatedly. To improve they should send the replacement right away and not be an jack ass about it.

Stephen J Lambert
from Greensboro, NC
On 11/13/17 at the Westridge Square store in Greensboro, NC, my assistant, Tess Hutchens, returned 6 dresses I had purchased for my daughter that did not fit. For a reason I did not understand I was only credited for 3 of the dresses and Tess was told that a "corporate refund' would need to be processed for the other 3 dresses. She was also told that the check would have to made out to her and sent to her mailing address. To date, she has not received a check for the credit, nor have I received a credit on my Kohl's card. I have called numerous times but can never get through.Two and a half months is a ridiculous amount of time to wait for a check/credit on items that Kohl's had returned to them. I am hopeful that I will hear back and this matter can be resolved before I take to social media to share my experience. Thank you in advance for your immediate assistance with this.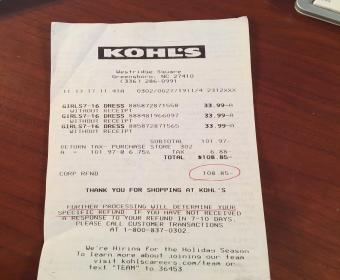 Paul Carroll
from Mission Viejo, CA
I noticed a negative report on my credit rating due to a single late payment of $75, which was immediately paid once it was discovered. If Kohl's is that quick to report a single event of such a low balance, I am cutting my Kohl's card and will never shop there again.
Paul Carroll
36 Los Platillos
Rancho Santa Margarita, CA 92688
(949) 636-9903

Varilee Koker
from New Lisbon, WI
On January 16, 2018 I placed an order (4720534518) and realized that I had the wrong shipping address so I canceled it immediately.
I then went on to the settings of my Kohls account and deleted two addresses leaving just my own as a shipping address.
On January 16, 2018 I then placed an order (5116558804) having it shipped to my home address: Varilee Koker, N8124 Clear Water Drive, New Lisbon, Wisconsin 53950.
Today when I went on the Kohls site to track the order, it had the wrong address on the order and it is now being shipped to my son's address: Scott Koker, 6521 42nd Avenue, Kenosha, Wisconsin 53142.
THAT address should not have been on your Kohls site! The order is now being sent to the wrong address and there will not be anyone there!
After spending 4 hours on the phone - first with Kohls who could have cared less about helping me; then UPS who informed me my order was not shipped from Kohls yet, then again with Kohls, then with the United States Post Office and then back with Kohls.
I am very upset. No one can help me get this order back to me. I live three hours from where the package is being delivered. This will be my last order I place with Kohls. You need to change the shipping with the orders - and have someone competent answering your phones. Varilee Koker

Dawn Shirvani
from Monroe, NY
Went to Kohls on 1/7/18 at approximately 4:00 pm to buy new pots and pans. Was interested in 10 piece Red Copper Cookware Set. Pulled up the Target website on my phone ad saw it was selling for 99.99. It was 179.99 at Kohls. Spoke to manager Jean regarding price matching, who then spoke to manager Dawn. I was told I had to bring in a paper flyer. Why would I drive to Target to get a flyer and drive all the way back to Kohls to purchase it? In this day and age of electronics, I see no reason why showing it on my phone, or having a manager pull it up on your store computer would not suffice. We have been able to do this in the past and have never had a problem.
I can be reached via email or at 845-774-5572.
Thank you.

Richard Arnone
from Jupiter, FL

Robin Hartmann
from Frederick, MD
While shopping at the Frederick, MD store on Thursday, December 14, 2017, I had the worst experience I've ever had in a Kohl's store. First, there was no selection of baby boy Christmas outfits (other than pajamas), but plenty of selection for girls. That was an inconvenience, but not so bad - I just figured they were sold out rather than not having sufficient stock. When I went to the cash register to check out, I picked up a Kohl's gift card. I asked the cashier BEFORE purchasing the gift card if that would count towards Kohl's cash and she said "YES". I bought a $100 gift card with the understanding that I would receive $20 K's cash for that item alone. I also purchased another $102 in other items for a total of $202, but the actual total I got credit for in K's cash was $196. The total K's cash I received was $10. The cashier said that wasn't right because I should have gotten $20 for the gift card, so she called the manager. The manager said you don't earn K's cash for the gift card. The cashier apologized and said she didn't know that. I then asked why I wasn't being given credit for the other $102 instead of $96 and she said part of that was tax. I told the manager I didn't want some of the items and she said could void the transaction & have the cashier re-ring everything or I could go to customer service to return what I didn't want, which is what I did. I didn't want the cashier having to re-ring everything while other customers were waiting. When I went to customer service, I said I wanted to return the gift card because I could have bought that at a local grocery store & earned gas points if I had known I wouldn't earn K's cash for it since I was given incorrect information by the Kohl's employee. The customer service lady called over another manager because she said you can't return gift cards. I told the manager I should receive some compensation for the gift card because I wouldn't have bought the gift card if I had been told there was no K's cash being earned on it & it was her employee who told me I would. The manager said they have a lot of new employees & she was not at all concerned that I was dissatisfied and told me I could not return the gift card and I couldn't get any additional Kohl's cash (or offer me a minimal dollar amount coupon) -- too bad, so sad was her opinion. I was never rude or unpleasant with any of the associates and didn't mention which cashier I had gone to because I wasn't trying to get anyone in trouble. I just don't think I should have been out of the extra $20 in Kohl's cash due to an employees mistake. I have been a Kohl's credit card holder for 10 years and never experienced such poor customer service. It was an unfortunate situation, but I don't think I should be out the extra Kohl's cash I thought I was receiving due to employees not being properly trained. Thank you, Robin
Have feedback for Kohl's?
Thanks for your feedback!
Sorry. Please try again later!